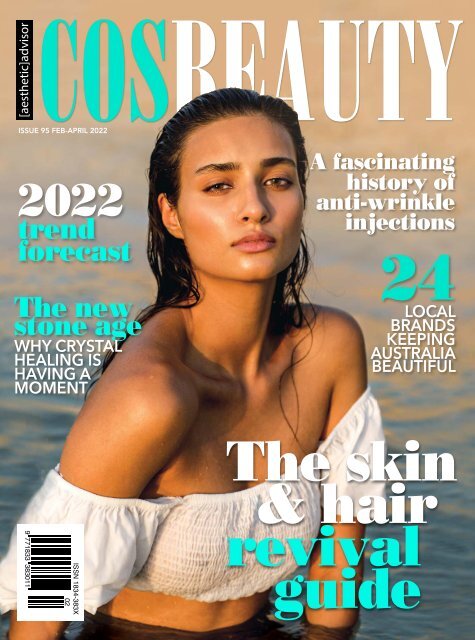 CosBeauty Magazine #95
CosBeauty is the #BeautyAddict's guide to lifestyle, health and beauty. In this issue: - 2022 Trend Forecast - The skin & hair revival guide - The New Stone Age: Why crystal healing is having a moment - A fascinating history of anti-wrinkle injections - 24 local brands keeping Australia beautiful
CosBeauty is the #BeautyAddict's guide to lifestyle, health and beauty.
In this issue:
- 2022 Trend Forecast
- The skin & hair revival guide
- The New Stone Age: Why crystal healing is having a moment
- A fascinating history of anti-wrinkle injections
- 24 local brands keeping Australia beautiful
SHOW MORE
SHOW LESS
You also want an ePaper? Increase the reach of your titles
YUMPU automatically turns print PDFs into web optimized ePapers that Google loves.
COSBEAUTY

ISSUE 95 FEB-APRIL 2022

2022

trend

forecast

The new

stone age

WHY CRYSTAL

HEALING IS

HAVING A

MOMENT

A fascinating

history of

anti-wrinkle

injections

24

LOCAL

BRANDS

KEEPING

AUSTRALIA

BEAUTIFUL

9 771833 383011

ISSN 1834-383X

02

The skin

& hair

revival

guide
---
.com.au

moisturising

in all forms

A range formulated with highly efficient

active ingredients that provide all skin types

with an optimal level of hydration.

Hyaluronic acid is a key ingredient within

the range, to help prevent dehydration at all

levels. This is combined with antioxidant and

anti-pollution active ingredients to provide

an additional protective action.

the element for skincare experts

mesoestetic.com.au | 1800 242 011
---
CLEAR + BRILLIANT

now

available

with

nicole

As we age, the amount of maintenance required to keep a youthful look will increase,

but getting started early is a huge advantage. Filling the gap between over-the-counter

treatments and more aggressive laser offerings, Clear + Brilliant creates and defi nes an

entirely new category of laser aesthetic treatments for clients moving along the skincare

continuum. Clear + Brilliant helps prevent and address early signs of ageing, resulting in a

brighter, more even skin tone. Treatments are comfortable, fast, effective and suitable for

all skin types. The results are both immediate and progressive, depending on the age and

condition of the skin. It is also great for those who are looking for short downtime and a quick

skin 'pick-me-up'. Call Nicole now to take advantage of an opening offer.

02 9327 7728

mobile 0410 627 767

mobile 0410 627 767

nicole@nicolesbeautysalon.com.au

nicole@nicolesbeautysalon.com.au

Shop 8, 401 - 407 New South Head Rd,

Shop 8, 401 - 407 New South Head Rd,

Double Bay NSW 2028

Double Bay NSW 2028

www.nicolesbeautysalon.com.au

www.nicolesbeautysalon.com.au
---
Improves

post-procedure

recovery with

immediate

impact

Visibly

regenerates

and restores skin

The World's Only Skincare

Powered by Ethically Derived Red Deer

Umbilical Cord Lining Stem Cells

Day 4 post procedure:

Decreased swelling on LHS

using CALECIM

Day 4 post procedure:

Decreased redness on LHS

using CALECIM

Post 2 weeks using

CALECIM

IT'S NO MIRACLE. IT'S SCIENCE ®

calecimprofessional.com.au | 1800 242 011
---
Dr Lisa is a female Specialist

Plastic and Cosmetic Surgeon

based in Sydney, Australia.

She has worked in France,

Germany and the USA.

Breast augmentation

Breast lift

Breast reduction

Abdominoplasty

Mummy makeover

Liposuction

Lip lift

Non-surgical facial

enhancement including

wrinkle injections

and fillers

1300 DR LISA I SUITE 8, LEVEL 6, 75 CROWN ST WOOLLOOMOOLOO, Sydney
---
SkinMTX

®

Clinically Researched Formulation

Elevate

Your Skincare

with Award-Winning SkinMTX ®

SkinMTX ® offers a complete range of dermatological-grade

formulations that push the boundaries of efficacy.

With active ingredients that offer unrivalled potency, SkinMTX ®

products are specially designed and formulated to penetrate

optimally into skin to achieve visible, proven results.

CLICK HERE &

RECEIVE

15% DISCOUNT +

2 FREE SAMPLES

USE CODE COSBTY15

VALID UNTIL 16/04/2022

skinmtx.com.au | 1800 242 011
---
46 The new stone age

Crystal healing, long the domain

of new-age pseudoscience,

is having a moment – and the

beauty industry wants in.

66 Post-summer hair revival

Tresses in distress? Prepare to

repair with these hydrating

hair heroes.

72 The Aussie brands keeping

Australia beautiful

Some of our favourite local

products to give you that

undeniable Aussie glow.

82 Cool, calm and collected

Is your skin sending out an SOS?

We have the products to help you

shield and repair your skin from

the sins of summer.

REGULARS

10 Editor's Letter

12 Beauty Insider

110 Ed's Faves

FEATURES

54 Skincare myths busted

Could the active ingredients in

your skincare product be doing

more damage than good to

your skin?

90 Beauty & beyond

Meet the lady bosses behind

two Australian success stories.

98 Under the knife: Is the Australian

cosmetic surgery industry

getting a facelift?

We report on the current

'cosmetic surgeon' crisis in

Australia and proposed changes

to the industry.

102 The most popular anti-ageing

treatmentof all time

As Botox Cosmetic celebrates

its 20th birthday this year,

we take a trip down memory

lane with the founders of this

revolutionary treatment.

BEAUTY

30 2022 beauty trend forecast

The future looks bright – with

a focus on sustainability,

diversity, accessibility and

personalisation.
---
WELLNESS

106 Everything you knew about

metabolism may be wrong

Recent research has shaken

widely held weight loss theories

to the core.

www.cosbeauty.com.au 9
---
From the

EDITOR

It's hard to believe we're already in February 2022! This year has already started

with its fair share of ups and downs – the down being we're still in the midst

of a pandemic, and the up being there is light at the end of the tunnel. In the

beauty world, the future certainly looks bright. For the first time, we are seeing a

shift in power, with consumers setting the trends and evolving beauty standards that put

inclusion, accessibility, diversity and sustainability at the fore. You can read more about

2022's forecast on page 30.

Shopping local is more important than ever in our collective quest for sustainable

beauty. A brand's footprint matters and as consumers we're increasingly making our

purchasing decisions based on a brand's environmental impact just as much as we are on

the product's efficacy. On page 72 we showcase some of the Aussie brands leading the

way with sustainable, eco-friendly, high-performing beauty products.

The Aussie summer is slowly drawing to a close. If, like me, you've enjoyed a bit too

much fun in the sun and saltwater, now's the time to repair your skin and hair from the

sins of summer. Check out our tried and tested favourite skincare products on page 82,

and our hair repair heroes on page 66.

We had so much fun this issue taking a trip down memory lane with the founders of

Botox Cosmetic. From page 102 you can learn about the birth of anti-wrinkle injections,

past, present and possible uses, and how it's become the most popular anti-ageing

treatment of all time.

For more inspirational stories, we're also proud to profile two Aussie success stories

in the local beauty industry on page 90. Plus, as always, we share the latest products and

treatments from both here and abroad.

Happy reading, and here's to a positive and empowering year ahead!

Issue 95

Feb – April 2022

Editor-in-Chief

Michelle Kearney

Art Director

Debbie Pilarinos

Writers

David Hickie,

Aimeé Rodrigues

Photographers

Debbie Pilarinos, ShutterStock

Distribution &

Subscription Enquiries

Bill Dunk

Phone 02 8095 6265 Mob 0410 528 582

Email bill@bellamedia.com.au

Advertising Enquiries

Michelle Kearney

Phone 02 8095 6265 Mob 0419 624 246

Email michelle@bellamedia.com.au

Editorial Enquiries

Michelle Kearney

Phone 02 8095 6265 Mob 0419 624 246

Email michelle@bellamedia.com.au

Produced & Published by Bella Media

ABN 86 082 157 695

Managing Director

Michelle Kearney

Chief Operating Officer

Bill Dunk

Public Relations, Marketing

& Event Organisation

Phone 02 8095 6265

OFFICE ADDRESS

Suite 2201, Level 22 Westfield Tower 2

101 Grafton St,

Bondi Junction NSW, 2022

Phone +61 2 8095 6265

www.bellamedia.com.au

Michelle Kearney

Editor-in-Chief

michelle@bellamedia.com.au

FIND US ON FACEBOOK

cosbeauty AND aestheticadvisor

FOLLOW US ON INSTAGRAM

cosbeauty AND aestheticadvisor_au

Visit our new website, www.aestheticadvisor.com.au, the trusted online resource

to: research procedures; find a skilled practitioner; read real reviews; and have

questions answered. You will be able to find out everything you want to know

about different aesthetic treatments, products and news. Leave a review of any

product or treatment you've tried or practitioner you've visited.

READ THE ONLINE EDITION PLUS MORE GREAT ARTICLES @

www.cosbeauty.com.au

Reproduction in whole or in part is not permitted without the

written authorisation of the publisher. All reasonable efforts have

been made to trace copyright holders. All manuscripts and articles

submitted for publication remain the property of The Bella Media

Group. This magazine contains general information only and does

not purport to be a substitute for medical advice. All readers

are advised to seek medical advice from a doctor if considering

cosmetic surgery. The publisher and the authors do not accept

any liability whatsoever in respect of an action taken by readers in

reliance on the recommendations set out in this magazine. Except

where specified in captions, photographs depict models who have

not necessarily received treatments described in this magazine.

Any 'before and after' photographs in CosBeauty Magazine

articles are of genuine patients. It is important to understand

that they represent one person's experience and there is

no guarantee that any other patient will experience similar results.
---
@cosbeauty

Beauty insider

THE WHO'S WHO AND WHAT'S NEW IN BEAUTY.

RIHANNA'S NEW LUXURY

FRAGRANCE DROPS

Defying categorisation, Fenty Eau

de Parfum is spicy and sweet all at

once and is designed to be worn

by all people, for all occasions.

Inspired by some of Rihanna's most

distinct memories and places from

throughout her life – Bridgetown,

Barbados; Grasse, France; New

York, New York; Paris, France;

Los Angeles, California – Rihanna

created Fenty Eau de Parfum as a

scent personal both to herself and

to others. It evokes the memories,

connections and experiences

unique to each person through the

power of scent.

'I wanted a rich colour that

really represented all genders

from across all walks of life,' says

Rihanna. 'Brown is my favourite

colour. Brown is who I am. Brown

is what I come from. If I'm going to

make a fragrance that represents

me, even the body language of

the bottle needs to marry that. So,

I wanted something brown, but

also transparent – so you could see

the liquid and the fragrance you're

about to experience.'

This is confidence in a bottle.

Where to buy: Fenty Eau de

Parfum ($225 AUD) is available

exclusively at FentyBeauty.com

in limited quantities and for

international shipping.

12
---
@cosbeauty

CELEBRATING THE YEAR

OF THE TIGER

February 1 marks the Lunar New

Year and the beginning of the Year

of the Tiger! To celebrate, some of

our favourite brands are offering

special edition sets and products.

SkinCeuticals' Lunar New Year

set takes the guesswork out of a

luxurious and efficacious skincare

routine with a kit designed to

soothe, calm and clarify the

complexion.

This limited-edition skincare

bundle is the perfect foray into

the world of SkinCeuticals, with

products combined to provide

advanced environmental protection

and soothe visible redness.

The skincare kit contains: Phyto

Corrective Essence Hydrating Mist

10ml, 3x Phloretin CF Vitamin C

Serum 4ml, Phyto Corrective Gel

Calming Serum 30ml, and 2x Phyto

Corrective Hydrating Masque 4ml.

SkinCeuticals Lunar New Year

Bundle is available for purchase

for $180 RRP on the SkinCeuticals

website and other stockists.

Clinique is celebrating the Lunar

New Year with four of its bright

stars refashioned in limited-edition

Year of the Tiger packaging:

Jumbo Dramatically Different

Moisturising Lotion+ 200ml $70,

Jumbo Dramatically Different Oil-

Control Gel 200ml $70, Jumbo Even

Better Clinical Radical Dark Spot

Corrector + Interruptor 100ml $195,

and Cheek Pop Highlighter in Gold

Celebration Pop $42.

Sisley Paris is also celebrating

the occasion with the release of a

limited-edition gift box including

five iconic luxury travel size Sisley

essentials with any $300+ Sisley

purchase at David Jones. The gift

set includes Lyslait 30ml, Floral

Toner 30ml, Black Rose Cream

Mask 10ml, All Day All

Year 10ml and Sisleÿa

L'Intégral Anti-Âge

Firming Serum 5ml.

www.cosbeauty.com.au 13
---
@cosbeauty

FUSSPOT COLLAGEN TEA'S NEW

SLEEP RANGE

Yes, you really can have it all!

Fusspot's Sleep Tea range – Cloud

Nine and Chai So High – helps you

to drift off to slumberland while

waking up with glowing skin.

Hydrolysed collagen peptides

are at the core of this Australianowned

consumable beauty product.

With premium quality collagen

peptides that help enhance inner

wellbeing, your complexion enjoys

the ingredients it needs to become

more luminous.

Cloud Nine tea is packed with

antioxidants to promote beauty

from within while helping you wind

down with a good night's sleep that

leaves you refreshed and glowing.

Ingredients: Chamomile flowers,

lemon balm leaf, passionflower,

lavender flowers, scullcap leaf with

hydrolysed collagen.

Chai So High is a tasty mix of

herbs and spices, whirled together

with hydrolysed collagen to give

your skin and body a boost.

Ingredients: Hydrolysed collagen,

spices including ground cinnamon,

ground ginger, ground cardamon,

turmeric powder, and ground cloves.

Where to buy: Head to

https://fusspottea.com/

SKIN FRUIT – SKINCARE

DESIGNED TO RESET YOUR SKIN

New on our radar is Skin Fruit, an

Australian-owned and operated

high-performance skincare range

designed for sensitive skin. The

cleanser and moisturiser feature

botanicals that work to help reset

and get your skin glowing, so you

can wake up feeling confident with

clearer skin.

Skin Fruit was founded in 2019

by pharmacist Amanda Dang who,

after years of trying out countless

products to help alleviate her own

skin sensitivity issues, became

hugely frustrated with the quantity of

products in the marketplace which

were ineffective, confusing and

weakened her skin barrier.

Amanda finally narrowed down

a few key ingredients which were

highly beneficial in restoring her

own skin. From this, she worked

together with a cosmetic chemist to

formulate a skincare range that was

intentionally minimal, purposeful,

and contained effective daily skin

botanical ingredients that were

soothing and rejuvenating to help

keep skin happy and clear from

breakouts, redness and itchiness.

The hero products include

the Non-Stripping Cleanser and

Protective Moisturizer, helping

to improve dryness, dehydration,

redness, and sensitivity.

Where to buy: Head to

https://skinfruit.com.au

14
---
@cosbeauty

IS CLINICAL ACTIVE PEEL

SYSTEM LAUNCHES

Internationally loved serious skincare brand

iS CLINICAL is launching a powerful yet

gentle, fast-acting 2-step at-home treatment

designed to polish and resurface skin

while providing hydration and antioxidant

protection. Set to become another one of

the brand's cult performers, the simple yet

ingenious system improves skin tone, texture

and smoothness and helps to reduce the

look of fine lines and wrinkles and pore size.

Read our full report on page 42.

Where to buy: For a list of stockists and

clinics, check out www.isclinical.com.au

NEW NATURAL HAIRCARE RANGE

YOUR HAIR WILL THANK YOU FOR

What if we paid as much attention to

the ingredients in our haircare as we did

our skincare? Well, 2022 is the year to

up your haircare game and shop cleaner

and greener. And weDo/ Professional is

making it a cinch.

Recently launched by the Wella

Company, weDo/ Professional is a range

of recyclable vegan hair products for

hair (and skin!), certified by the Vegan

Society and Cruelty Free International.

From sulphate-free shampoo and

plastic-free shampoo bars to siliconefree

hair oils and masks, create your

perfect hair care routine knowing this

eco-ethical brand follows a minimalist

formula design that ensures high

performance and peace of mind.

www.cosbeauty.com.au 15
---
Nothing is worth

more than laughter.

It is strength to

laugh and to abandon

oneself, to be light.

Frida

Kahlo

16
---
www.cosbeauty.com.au 17
---
A smile is a

curve that

sets everything

straight.

Phyllis Diller

www.cosbeauty.com.au 19
---
Those who do

not know how to

weep with their

whole heart don't

know how to

laugh either.

Golda Meir
---
www.cosbeauty.com.au 21
---
22

Credit: Featureflash Photo Agency / Shutterstock.com
---
Wit is the key, I

think, to anybody's

heart, because

who doesn't like

to laugh?

Julia

Roberts

www.cosbeauty.com.au 23
---
Laugh, my friend,

for laughter ignites

a fire within the pit

of your belly and

awakens your being.

STELLA

MCCARTNEY
---
Credit: lev radin / Shutterstock.com

www.cosbeauty.com.au 25
---
26

Credit: Sherlock_wijaya / Shutterstock.com
---
If you can make

a woman laugh,

you can make

her do anything.

Marilyn

Monroe

www.cosbeauty.com.au 27
---
I love people who

make me laugh.

I honestly think

it's the thing I like

most, to laugh. It

cures a multitude

of ills. It's probably

the most important

thing in a person.

Audrey

28
---
Hepburnw www.cosbeauty.com.au ww.cosbeauty.com.au 29
---
BEAUTY

30 www.cosbeauty.com.au
---
BEAUTY

TREND

FORECAST

THE FUTURE LOOKS BRIGHT

– WITH EMERGING BEAUTY

STANDARDS THAT PUT DIVERSITY AND

SUSTAINABILITY AT THE FORE.

www.cosbeauty.com.au 31
---
BEAUTY

Authenticity

1.

If anything good came out of 2020/21, it's the new and improved beauty

standards we're finally beginning to see. Brands are championing

diversity, inclusion and accessibility by expanding and adapting their

product offerings, helping us stay true to our authentic selves and

embracing what makes each of us special.

'The industry is progressive. When we talk about inclusion and

diversity, the industry has focused longer on trying to serve [customer]

needs, from an assortment standpoint, [compared to] other industries,'

Monica Arnaudo, Chief Merchandising Officer at Ulta Beauty, told

Glossy.co. 'What is happening [trend-wise] does have a larger impact

on the beauty landscape… The insights we've garnered and the trends

for the last couple of years have shaped the beauty landscape and will

continue to shape it. [Trend adoptions] are going to be even faster than

we've seen in the past.'

Rohan Widdison, founder and CEO of cosmetic formulator New

Laboratories, says one of the main trends we're expecting to see in

2022 is a shift in power from the beauty industry to the consumer.

'Instead of the beauty industry setting the trends which consumers

follow, 2022 will see more brands being consciously driven by social

awareness and led by consumers, instead of the traditional supplier

trend-setting approach which has been the way of the past,' he says.

3.

Sustainability

A brand's footprint is going to matter even more in 2022.

Sustainability is now an industry standard, and consumers are

making their purchasing decisions just as much on a brand's

environmental impact as they are on the product's efficacy. We want

to know exactly what goes into a product, how an ingredient is

sourced and harvested, how the product is made and manufactured

and how it can be recycled, refilled and reused.

'Consumers are becoming increasingly sustainably conscious and

are expecting their brands to do the same,' says Widdison. 'Whilst

nearly all companies have sustainable practices in place, consumers

are expecting more from their brands in this space, including more

plastic-free products, refillable packaging, fair and ethical sourcing

and a proactive approach to reducing overconsumption.'

In a recent Instagram survey of 1,200 weekly social media users

between 13- and 24-years old, one-third said they are interested

in learning more about clean makeup and skincare in 2022, buying

vegan makeup and plant-based skincare, and using fewer products.

32 www.cosbeauty.com.au
---
Credit: Charlie Edward / Shutterstock.com

2.

Digitalisation

With artificial intelligence (AI), 3D printing,

augmented reality and DNA analysis, the beauty

industry is becoming increasingly technologydriven

in delivering personalisation in ways that

the traditional cosmetic counter cannot,' says

Widdison. 'With consumers' needs changing and

demanding more custom and specific results,

such as exact skincare matches and personalised

formulas, digitalisation of the beauty industry will

continue to increase in 2022,' he shares.

4.

The curly

hair

revolution

'2022 is the year for curly hair to thrive! It's been a

long time coming – throughout the world, 65% of

our population are living with wavy, curly or Afro

(aka coily) hair,' says Rumbie Mutsiwa, founder of

RUMBIE & CO, Australia's leading curl specialist

salon. She says to look out for 'wash & go'

au naturel styles, curly bangs, the middle part,

the retro shag and braids.

High-puff hairstyles are also huge. According

to Pinterest's 2022 beauty trend roundup,

embracing the natural hair movement is driving

the popularity of high-puff hairstyles, the simple

and chic curly-girl updo.

'High puff hairstyle' searches grew 165% in the

period between October 2019 and September

2021, while 'natural hair bun styles' searches

increased 160%.

www.cosbeauty.com.au 33
---
Makeup

Report:

Natural Beauty

5.

BEAUTY

If more was less in 2021, this year we'll be seeing even

more pared-back looks. Think natural skin shining

through rather than your typical 'Instagram makeup'

look. Not matte, not extremely dewy, but something

silky in the middle.

1.

2.

3.

1. Sisley Phyto-Blanc Le Cushion (on counter 13 March 2022),

$170, 2. Arbonne Sheer Glow Highlight Stick, $69, 3. Trinny

London BFF Rebalance, $75, 4. Fenty Beauty Liquid Killawatt

Fluid Freestyle Highlighter in Hu$tla Baby, $39, 5. Charlotte

Tilbury Beautiful Skin Foundation in Warm, $65, 6. IT Cosmetics

Your Skin But Better CC+ Cream SPF50, $63, 7. Sisley Phyto-Teint

Nude, $120, 8. L'Oréal Paris True Match Nude Plumping Tinted

Serum, $39.95, 9. Youngblood Mineral Cosmetics Hydra-Glow

Treatment Balm, $79.95, 10. Ella Baché Superfluid Great SPF50+

Skin Tint, $56, 11. Lycogel Breathable Camouflage, $108, 12.

IT Cosmetics Confidence In A Cream 60ml, $75

4.

5.

7.

6.

34 www.cosbeauty.com.au
---
8.

9.

11.

12.

10.

www.cosbeauty.com.au 35
---
BEAUTY

6.

Makeup Report:

Bold & Creative

While a bit counterintuitive with the concurrent minimalist

skin look, pops of colour are also reemerging. Unleash your

creativity with graphic liners in red and sapphire, crystal eye

makeup (yes, using sticker face gems) and throwback glossy

lips in bright pinks and reds.

2.

1. L'Oreal Paris Paris Le Liner Signature Gold Velvet,

$18.33, 2. Rimmel London Exaggerate Waterproof

Eye Definer in Aqua Sparkle, $12.95, 3. Stila After

Hours Eye Shadow Palette $114.25, 4. Arbonne It's

All In The Eyes Eye Shadow Palette - Volume 2, $86,

5. Trinny London Eye2Eye Eyetallics in Persephone,

$34, 6. Trinny London Lip Luxe in Pookie, $40, 7.

Stila Glitter and Glow Liquid Eye Shadow in Kitten

Karma, $34, 8. Fenty Beauty Gloss Bomb Heat

Lip Luminizer + Plumper, $35, 9. NYX Professional

Makeup Glitter Primer $12.95, 10. Arbonne Glossed

Over Lip Gloss in Primrose, $40

4.

5.

3.

1.

7.

8.

6.

9.

10.

36 www.cosbeauty.com.au
---
Pantone Veri Peri

Colour of the Year

1.

2022's colour of the year is 'Very Peri', a periwinkle blue hue

with violet-red undertones that symbolises transition, new

possibilities and the global zeitgeist of the moment.

'The Pantone Colour of the Year reflects what is taking place

in our global culture, expressing what people are looking

for that colour can hope to answer,' says Laurie Pressman,

Vice President of the Pantone Colour Institute. 'Creating a

new colour for the first time in the history of our Pantone

Colour of the Year educational colour program reflects

the global innovation and transformation taking place. As

society continues to recognise colour as a critical form of

communication, and a way to express and affect ideas and

emotions and engage and connect, the complexity of this

new red violet-infused blue hue highlights the expansive

possibilities that lay before us.'

TikTok-ers are au fait with the colour purple. The platform's

purple blush trend has risen to makeup stardom – since the

trend began in October 2021, the hashtag #purpleblush has

garnered well over 16 million views on TikTok.

2.

3.

1. Sisley Phyto-Blush Twist Berry, $85, 2. Sisley Phyto-

Lip Twist Soft Berry, $60, 3. Anastasia Beverly Hills

Norvina Pro Pigment Eyeshadow Palette Vol 5, $110

4. OPI Infinite Shine Hollywood Collection Nail Polish

in Oh You Sing, Dance, Act and Produce, $22.95

4.

www.cosbeauty.com.au 37
---
SKIN
---
the

SKINCARE

SOLUTION

every skin

needs

WE'RE CALLING IT. MESOESTETIC'S

MOISTURISING SOLUTIONS MAY BE THE MOST

EXCEPTIONAL SKINCARE LINE WE'VE TRIED.

2022 is already looking better than

its predecessor, with mesoestetic

just dropping their new-look

moisturising solutions range. This is

moisturising at all levels for all skin

types, complete with antioxidant and

anti-pollution active ingredients for a

one-stop solution to your post-summer

skin hydration woes.

The moisturising solutions range

is formulated with highly effective

active ingredients that provide the

skin with an optimal level of hydration

to help maintain it in an optimal

aesthetic condition. It also offers

solutions tailored to the unique needs

of each skin type.

The mechanisms that regulate skin

hydration levels can become altered

by various factors (age, stress, hormonal

changes, environmental factors

and so on), which can cause a dull

complexion, rough and uneven skin

texture, deeper wrinkles, irritation,

etc. In order to help prevent

dehydration and maintain the skin

in its best condition, mesoestetic's

moisturising solutions feature a series

of products with highly effective active

ingredients.

The new-release hydra-vital light is

breaking skincare ground, helping to

prevent dehydration at all levels in the

skin and providing additional protective

action through antioxidant and antipollution

active ingredients.

www.cosbeauty.com.au 39
---
ha densimatrix, $159

SKIN

Intensive moisturising concentrate

with hyaluronic acid, suitable for

all skin types

ha densimatrix combines hyaluronic

acid in multiple molecular forms

for penetration at different levels. It

also includes the anti-hyaluronidase

complex, to protect HA from

degradation and help prevent

visible oxidation caused by external

aggressions, and the antiaging pro

complex, to help promote visible

firmness and elasticity, minimising

the appearance of wrinkles.

It has an anti-ageing, plumping

and protective action, and provides a

deeply intense and fresh hydration.

hydra-vital factor k, $149

Moisturising and nourishing cream

for normal and dry skin

hydra-vital factor k is a rich moisturising

cream with a protective action and an

exclusive formulation which provides

a very similar role to the natural

moisturising factor (containing amino

acids, urea, allantoin and lactic acid). In

addition, the key ingredient Vitamin E,

provides an antioxidant effect that helps

protect the skin against free radicals,

which are responsible for accelerating

visible skin ageing. Provides deep

hydration all day long.
---
hydravital mask, $118

Moisturising mask for dry and

dehydrated skin

hydravital mask is an intensive

moisturising mask that combines

hyaluronic acid and viola tricolor

extract in its formulation to

provide immediate, efficient and

homogeneous hydration. Thanks

to key ingredients argan oil and

panthenol, the skin recovers the lipids

essential for comfort and balance,

helping promote a restorative,

soothing and anti-redness action.

In addition, the formula's postbiotic

active ingredient (Lactobacillus

Ferment) enhances the balance of the

microbiota to help strengthen and

preserve the appearance of the skin

barrier, while active ingredient Urban

D-Tox helps protect the skin against

the visible effects of pollution.

It is perfect for applying after sun

exposure and can be stored in the

refrigerator to achieve a fresh cool

feeling in the hot months.

INTRODUCING

hydra-vital light

$118

Refreshing moisturising gel-cream for normal,

combination and oily skin

hydra-vital light, as the name suggests, has a

light and non-oily texture allowing for rapid

absorption. It provides an immediate feeling of

freshness, softness and comfort while helping

protect skin against the visible effects of

pollution. It is also perfect for summer skin that

can't tolerate heavy textures due to the heat.

hydra-vital light contains hyaluronic acid

in different molecular weights and forms,

providing optimal and lasting hydration; Urban

D-tox, an antioxidant and anti-pollution active

ingredient; and a plant-based polysaccharide

that helps aid in the repair of the skin barrier

function, therefore helping to prevent

transepidermal water loss.

Refreshing and with long-lasting hydration,

hydra-vital light is non-comedogenic and has

been dermatologically tested.

WHERE TO GET IT

The moisturising solutions range is available at mesoestetic clinics.

For more information, visit mesoestetic.com.au or call 1800 242 011

www.cosbeauty.com.au 41
---
SKIN

How to age-proof

your skin in

steps

POLISH AND PERFECT YOUR SKIN

WITH IS CLINICAL'S NEW CLINICALLY

ADVANCED AND BOTANICALLY

2BASED ACTIVE PEEL SYSTEM.

Vetted by dermatologists, backed

by hard science and praised

by many Hollywood A-listers,

it's hardly surprising iS CLINICAL

has reached cult status. The brand has

taken the skincare world by storm, due

to its effective, proven ingredients in

optimal concentrations that deliver

real, visible results.

And now iS CLINICAL has

launched its much-anticipated Active

Peel System, a gentle resurfacing

treatment that is revolutionising the

at-home skin treatment market.

iS Clinical Active Peel System is

an advanced two-step exfoliating
---
treatment based on botanical

ingredients that resurfaces and

rejuvenates the skin. This wellbalanced

system also moisturises and

brightens the skin while providing

the skin with antioxidant protection.

Designed to use every other day, the

result is smoother skin texture, more

even tone and a more youthful-looking

complexion. It's super easy to use, too;

the peel pads quickly and effectively

exfoliate and renew the skin without

the need for water or a removal

process.

UNIQUE 2-STEP

PROCESS

Cosmeceutical products for home use

have exponentially grown in popularity

since COVID-19 began. Although

several brands of home peel pads

are available, the Active Peel System

consists of a unique two-step process.

Step 1 is designed to provide

controlled exfoliation and assist with

the removal of devitalised skin. It

features a proprietary combination

of powerful yet gentle botanical acids

combined with soothing, nurturing

botanical extracts.

Step 2 is the neutraliser for Step

1 and also provides hydration and

rejuvenation. It features the

brand's proprietary botanical

extremozyme technology and Copper

Tripeptide-1 combined with soothing

active botanicals.

The Active Peel system may be used

as a stand-alone home facial treatment

system or to prep and support the skin

for more focused or aggressive in-office

treatments.

www.cosbeauty.com.au 43
---
SKIN

CLINICAL STUDY

RESULTS

A clinical study supported by iS Clinical

evaluated the benefits of the Active Peel

Improvements Improvements in fine lines and fine wrinkles, lines and texture, wrinkles, smoothness, texture, smoothness, luminosity, luminosit

radiance, brightness, radiance, brightness, and periorbital and periorbital wrinkles. wrinkles.

ACTIVE ACTIVE PEEL PEEL SYSTEM PEEL SYSTEM

59 Year Old 59 | Year Caucasian Old | Caucasian | Female | Female

System in improving dermal thickness/ Improvements Improvements in sagging, 19% fine sagging, lines 19% increase and fine wrinkles, increase lines and in expression wrinkles, lines, expression

density and visual appearance of the skin,

luminosity,

including fine lines and wrinkles, laxity/

DERMAL smoothness, luminosity, DERMAL THICKNESS/DENSITY

smoothness, texture, and texture, sallowness. and sallowness.

sagging, periorbital darkness, overall

by using by Active using Peel Active System Peel System

brightness, texture, pore size, radiance, 60 Year Old 60 | Native Year Old American | Native | American Female | Female

luminosity, tone and smoothness.

Thirty female subjects between 37 and

Improvements Improvements in appearance in appearance of lines & of wrinkles, lines & wrinkles, laxity/sagging, laxity/sagging, periorbital periorbital darkness,

64 years of age and of various ethnic

backgrounds participated in this study. overall brightness, overall brightness, texture, pore texture, size, pore radiance, size, radiance, luminosity, luminosity, tone, and tone, smoothness. and Subjects were instructed to cleanse their

BEFORE

8 weeks AFTER. Improvements in fine lines and wrinkles,

BEFORE BEFORE

texture, smoothness, luminosity,

8 WEEKS

radiance, brightness

8 WEEKS

and

face, and then use the two-step Active Peel

50 Year 50 Old Year | African Old | African American periorbital American wrinkles. | Female| Female

System every other evening on clean skin

and according to application instructions

for a period of eight weeks. Visia Improvements Improvements in fine lines and fine wrinkles, lines and sallowness, wrinkles, sallowness, texture, and texture, tone. and tone

photographs were taken of each subject at

intervals throughout the study.

48 Year Old 48 | Year Caucasian Old | Caucasian | Female | Female

In this study, skin density/thickness was

evaluated by dermal ultrasound. Higher

values for skin density/thickness correlate

to higher collagen content and younger age. BEFORE BEFORE

8 WEEKS 8 WEEKS

This indicates a more youthful appearance,

better skin recovery and resilience against

traction stress (as with gravity), and delayed

Improvements Improvements in hyperpigmentation, in hyperpigmentation, tone, texture, tone, brightness, texture, smoothness,

brightness, sm

onset of the visual appearance of ageing.

Visia photographs of subjects at 8 weeks

and underlying and inflammation.

underlying inflammation.

demonstrated improvements in sagging,

fine lines and wrinkles, expression lines, BEFORE

52

BEFORE

Year Old 52 | Latinx Year Old | Female | Latinx

4

|

WEEKS

Female

4 WEEKS

BEFORE

8 weeks AFTER. Improvements in appearance of lines

luminosity, smoothness, texture and

BEFORE BEFORE

and wrinkles, laxity/sagging, 8 WEEKS

periorbital darkness, 8 WEEKS overall

brightness, texture, pore size, radiance, luminosity, tone

sallowness, as well as improvements in

and smoothness.

hyperpigmentation, tone, brightness and

luminosity and underlying inflammation.

Ultrasound measurements of dermal

thickness/density indicated a 19% increase

in dermal thickness/density by using Active

Peel System compared with the baseline

at the start of the study. This correlates

to significant improvements in collagen

density and deposition.

Active Peel System was well tolerated by

all subjects and no product-related adverse

events occurred. CBM

BEFORE

BEFORE

BEFORE

8 weeks AFTER. Improvements in hyperpigmentation, tone,

texture, brightness, smoothness and underlying inflammation.

8 WEEKS

8 WEEKS
---
SKIN-LOVING

BENEFITS

Reduces the

appearance of fine lines

and wrinkles

Powerful, yet gently

resurfaces the skin

Improves skin tone,

texture and smoothness

Improves appearance

of hyperpigmentation,

photodamaged skin,

comedones

and congestion

Provides rapid and

long-term results

Supports collagen

and elastin production

Improves overall health

and integrity of the skin

Well tolerated

Excellent skin prep

for more aggressive

in-office procedures

WHERE TO BUY

Head to www.isclinical.com.au for a list of authorised

clinics and retailers in Australia and New Zealand.

www.cosbeauty.com.au 45
---
FEATURE

THE NEW

STONE AGE

WHY CRYSTALS

ARE THE NEW

BEAUTY TREND
---
CRYSTAL HEALING, LONG THE DOMAIN OF

NEW-AGE PSEUDOSCIENCE, IS HAVING A MOMENT

– AND THE BEAUTY INDUSTRY WANTS IN.

During a pretty grim past

couple of years, our homes

have become the centre of

our lives for most of us. Spending

so much time at home has spurred a

shift in our thinking; we've come to

realise the importance of creating a

space that supports our day-to-day

practicalities but also our emotional,

mental and spiritual wellbeing.

It's also been a time to practice

mindfulness and lavish ourselves with

the self-care we've all desperately

needed. It's no wonder then crystals

are trending right now, for uses

ranging from rejuvenating the aura

of our surroundings to releasing

negative energy in our body to even

energising our skin.

'Despite a lack of scientific

backing, new-age philosophies

are gaining momentum in an

environment where consumer

interest in emotional and spiritual

self-care is closely linked to physical

and mental health and overall

wellness,' says Irina Ene, researcher

at market intelligence agency, Mintel.

'Following centuries of Eastern

tradition, healing crystals and

energy cleansing have become

popular methods of promoting

emotional health. Apart from their

physical exfoliating and illuminating

properties, crystals and gemstones

also benefit from a reputed

vibrational energy that helps the user

to set intentions, address fears and

achieve emotional balance, offering

an opportunity to incorporate them

as part of modern self-care beauty

routines,' she says.

www.cosbeauty.com.au 47
---
FEATURE

BEAUTY BENEFITS OF

CRYSTALS

Crystal beauty regimens were part of many

ancient civilizations, with many cultures

believing crystals descended straight from

the heavens. Cleopatra even wore Lapis

Lazuli stones crushed as an eyeshadow

(now that's an expensive eyeshadow!). And

now they are increasingly making their way

into our modern beauty routines. Brands

are exploring the spiritual properties of

crystal healing to create beauty products

with aura-awakening benefits – in the form

of tools and gadgets as well as crystalinfused

beauty products.

Gua Sha tools, as well as jade and

rose quartz rollers, have helped propel

the rebirth of today's mainstream beauty

crystal trend. Gua Sha is a traditional

Chinese massage technique that uses a

smooth-edged tool to scrape the skin. It is

believed to redirect energy flow and relieve

tension in the muscles. The facial massage

is claimed to boost lymphatic drainage

and circulation, and consequently help to

improve skin tone and elasticity, smooth

wrinkles and improve jawline definition.

Crystals are also showing up in skincare

in the form of crystal or gemstone-infused

exfoliators, micellar waters, moisturisers,

cleansers, serums, oils, masks and even

makeup. It's thought that infusing crystals

such as rose quartz, tourmaline and

amethyst will interplay with our bodies'

energy fields (chakras) for a myriad of

skin-health benefits.

'They work at an "energetic" level,'

Sharon Hilditch, founder of

crystalclear.co.uk, told Healthline.

'Everything contains vibrational energy,

from our own bodies to stationary objects,

which are constantly fluctuating at varying

frequencies.'

It's believed that the potent energy within

these crystals has the power to influence

human energy, both at a physical and

spiritual level.

While there isn't any scientific evidence,

anecdotal evidence has shown this high

vibration energy has the power to improve

skin woes such as redness, breakouts, fine

lines and lacklustre complexions.

5

CRYSTALS THAT

BELONG IN

YOUR BEAUTY

ROUTINE

Tourmaline

Tourmaline is said to

energise, boost radiance,

detoxify the skin and

help soothe and resolve

blemishes.

Rainbow Moonstone

Known in the healing arts

as an anti-ageing crystal

connected to feminine energy,

moonstone is said to help

improve the look of fine lines

and wrinkles and an ageing

complexion.
---
Amethyst

Amethyst is more than just a pretty face. It is touted as restoring

balance and bringing equilibrium to 'hormonal' skin. It's said to

reduce oiliness and remove toxins, provide cleansing properties

and raise your vibration to ward off negative energies.

Rose quartz

Commonly used in facial rollers

for enhanced circulation, rose

quartz is now popping up

in skincare formulations. It's

believed to calm the skin, boost

circulation and restore vibrancy.

On a spiritual level, it's also

connected to the heart chakra,

so you'll also be dosing up on

some self-love to help you shine

from the inside out.

FAST

FACTS

A crystal is any solid material

in which the atoms, molecules

or ions are arranged in a highly

ordered repetitive pattern (similar

to the repeated motifs you would

find in a mosaic) that forms a

three-dimensional lattice, or

shape.

Types of crystals include quartz

(rose quartz and amethyst being

the most well-known), diamonds

and even snowflakes.

The process of crystal forming

is called crystallisation. In nature,

crystals often form when liquids

(such as magma, or liquid rock),

cools and hardens.

Interestingly, a gem can be a

crystal whereas a crystal will not

always be a gem.

Jade

Also well known as a skin

roller, beautiful jade is

believed to soothe sensitive,

irritated skin and promote

harmony and good luck.

www.cosbeauty.com.au 49
---
FEATURE

CELEB

CRYSTAL

CRUSHES

MIRANDA KERR

Did you know that each KORA Organics

product is infused with rose quartz,

Kerr's all-time favourite crystal?

'During the manufacturing process,

all Kora products are filtered and

energised through the rose quartz

crystals, so the vibration of self-love

flows into the products and on to our

customers,' she told Byrdie.com. 'I use

crystals every day, and carry them with

me everywhere. Rose quartz carries

soothing energy to encourage love

and acceptance towards both ourselves

and others.'

Credit: Ga Fullner / Shutterstock.com

ADELE

Adele is a big believer in the power of

crystals and how they affect her onstage

performances.

'I was so nervous about my comeback

show and I was panicking. I was out of

practice and I was busy being a Mum,'

she told The Sun. 'But it was one of the

best shows I've ever done and I had

these bloody crystals in my hand.'

As more 'proof' of crystal power, she

lost her crystals before the Grammys,

where technical issues plagued her

now-famous performance. 'The

Grammys came and I lost my f**king

crystals!' she explained. 'It turned

out to be the worst, most disastrous

performance that I have ever done.'
---
Credit: Tinseltown / Shutterstock.com

Credit: Featureflash Photo Agency / Shutterstock.com

KATY PERRY

Rumours are that Madonna gave Perry

her crystal healer's number after her

breakup with John Mayer back in 2014

and the singer has never looked back.

'I don't stay single for long,' Perry

told Cosmopolitan. 'I carry a lot of rose

quartz, which attracts the male. Maybe I

need to calm it down with the amethyst.'

KATE HUDSON

The actress told Marie Claire that she

keeps 'a crystal bowl filled with rose

quartz heart crystals' on her nightstand.

Credit: BAKOUNINE / Shutterstock.com

Credit: Kathy Hutchins / Shutterstock.com

VICTORIA BECKHAM

A devout believer in the power of

crystals, Beckham reportedly has

various crystals backstage at her fashion

shows to ward off bad energy and

promote creativity.

'I currently carry a black obsidian

skull crystal — it's for protection and

strength,' she told Vogue. 'I'm really

into crystals. I'm a real positive thinker.

I believe in creative visualisation — the

glass is always half full. I have no time for

anything negative. I bought crystals for

all my team, so they carry them, too.'

GWYNETH PALTROW

It's probably not a surprise that this New

Age health 'guru' is a fan of crystals.

Her wellness brand Goop even sells a

product that advocates women putting a

jade egg up their lady parts!

www.cosbeauty.com.au 51
---
FEATURE

MOST POPULAR

CRYSTALS FOR

MENTAL AND

EMOTIONAL

WELLBEING

Amethyst, opal and ruby are the most

sought-after crystals and gemstones,

according to PsychicWorld.com, which

conducted research on the crystals with

the most global searches on Amazon

in 2021. In joint second place are rose

quartz and obsidian. These healing

crystals are thought to expel negative

energy and rejuvenate your aura.

PsychicWorld.com also collaborated

with crystal healer Inbaal Honigman,

who provides insight into how to

harness the energy of the highestranking

crystals:

Opal

Creativity is at the heart of this

crystal. Opal removes blocks to

your creative self and through

this increases your sense of

self-worth and brings your

deepest truths to the forefront of

your conscious. In moments of

insecurity, take time to touch and

look at your Opal stone bringing

both calmness and confidence

to your aura. Let its creative flair

wash over you and embrace your

witty, friendly and open self.

Amethyst

This powerful crystal helps with all

things spiritual – working to promote

calmness, uplift your emotions and

activate your third eye. Through

simply placing this purple gem on

your forehead, navel or heart, angers

and frustrations will be immediately

released from your body, cleansing

your aura. Use this crystal to your

advantage when you need to keep

calm in challenging situations - take

a little amethyst in your pocket into

a job interview, or place one in your

car before a long drive to promote

mental stability.

Sources: https://www.mintel.com/blog/beauty-market-news/whats-the-deal-with-crystals-in-beauty

https://www.healthline.com/health/beauty-skin-care/gemstone-infused-beauty-products-are-they-worth-it
---
Ruby

Passion, courage and vitality are

qualities shared by red stones. Rubies

bring an added element of purification,

protection and good physical health. If

you struggle with motivation, wear your

ruby throughout the day to balance

your energies and clarify your goals,

promoting an abundant aura.

WHAT IS

CRYSTAL

HEALING?

Crystal healing uses crystals and

other stones as conduits for

natural healing energy. It is based

on the purported energetic

power of crystals and how they

affect the mind and body, by

absorbing, storing, releasing and

regulating energies.

Holding crystals or placing

them on the body is believed to

ward off negative energy and

encourage physical, emotional

and spiritual healing. It is thought

crystals do this by interacting

with your body's energy field,

or chakra. While some crystals

are said to alleviate stress,

others purportedly improve

concentration or creativity.

Whether you're a devout

believer of crystal healing or just

drawn to their beauty and cool

touch, crystals offer a serene selfcare

experience that promotes

mindfulness, reflection and

positive energy. And keeping

good vibes around never hurt

anybody. CBM

www.cosbeauty.com.au 53
---
Skincare

SKIN

myths

BUSTED

COULD THE ACTIVE INGREDIENTS IN YOUR

SKINCARE PRODUCT BE DOING MORE DAMAGE

THAN GOOD TO YOUR SKIN? WE CHAT TO

MESOESTETIC PHARMA GROUP PRODUCT

MANAGER MARIE CARMEN VAQUERO TO

SEPARATE FACT FROM FICTION.

Q. Can active acids in

cleansers and exfoliators

cause long-term damage?

Absolutely not. With regard to acids,

understanding the type of acid and

its concentration in a product is key

to understanding the benefits. For

example, the combination of acids in

mesoestetic ultimate micropeel has been

intentionally modulated to work gently

and gradually on the stratum corneum

at a surface level. The aim

is to help facilitate exfoliation and

to visibly smooth and refine skin

texture, enhancing the skin's natural

renewal process.
---
Q. Can AHAs such

as glycolic acid thin

the skin?

The use of AHAs in home care

products is highly regulated to ensure

that they do not pose a risk to the skin.

Again, understanding the type of acid

and its concentration in a product is

key to understanding the benefits.

Glycolic acid, within the family of

AHAs, is a molecule with a smaller

structure; therefore, unlike other acids,

it is capable of penetrating into the

deeper layers, making it a powerful and

effective acid.

Its presence in mesoestetic's

ultimate micropeel is very small.

By combining it with other acids,

such as lactic, malic, tartaric and

lactobionic acid, it can work effectively

to help encourage the renewal and

refining action in the skin without

compromising the barrier function.

Q. Should you use SPF30

or above if using acids

like AHAs and exfoliants

as they increase

sensitivity to UV light?

After using AHAs, you must apply

sunscreen. However, you should

not just be applying sunscreen when

using skincare with AHAs; sun

protection is an essential step in any

daily skincare routine.

www.cosbeauty.com.au 55
---
SKIN

Q. How important is

percentage strength when

it comes to AHAs?

AHAs are not found in excessively

high concentrations in home

care products, so as to ensure

skin tolerance.

A higher concentration of AHAs

provides a stronger action. As the

concentration increases in the formula,

it acidifies; that is, the product's pH

drops, reaching pH values that limit

its use exclusively to medical-aesthetic

professionals. We are referring to

products with a highly acidic pH,

such as chemical peels, products that

should be applied and supervised

by a professional.

Beyond the concentration of each

AHA, in home care products we use

different combinations to ensure an

effective exfoliating action. The main

issue with AHAs or acids in general is

skin tolerance, especially in sensitive

skin. This is why we recommend a

gradual use in this skin type, starting

with lower concentrations and limiting

the frequency of use.

Q. The best exfoliators

are those using granular

exfoliators. Is this true?

If not, what are the main

differences between

physical and chemical

exfoliation?

Exfoliators contain microparticles

that have a physical exfoliating action.

They eliminate dead skin through

mechanical action and the friction

exerted by these particles, but only

at a superficial level. This type of

exfoliation is very effective; however,

it may be more aggressive if not

carried out properly. Intense friction

or a strong massage with

the aim of achieving a better result

can cause micro-cuts in the skin,

damage the pores and even lead to

sensitive skin. Therefore, 'stronger'

does not mean better. This type of

exfoliation is not recommended for

sensitive skin.

On the other hand, chemical

exfoliation consists of applying acids

or enzymes that dissolve the bonds

between dead skin and tissue. The

main difference between physical and

chemical exfoliation is that chemical

does not require friction. This makes

chemical exfoliators more versatile,

which is why they can be found in

the form of cleansers, toners, serums

and creams.

Depending on the nature and

structure of the acid, they can reach

the deeper layers of the skin, achieving

longer lasting results that go beyond

simply renewing the surface layer.

Although this type of exfoliation

is suitable for all skin types, even

sensitive skin, it is important to

identify your skin type in order to use

the acid type that best suits your needs

and tolerance.

Q. Does exfoliation work

better on certain skin

types over others?

Exfoliation works well on all types of

skin, including sensitive skin. However,

based on your skin type, you should

choose an exfoliator that best suits

your needs and apply it as often as

your skin allows. For example, sensitive

skin is irritated and reddens easily,

so it requires formulas with gentle

exfoliating agents, such as enzyme

exfoliants, which are active substances

that encourage skin renewal, thus

improving the appearance of skin's

texture and smoothness.

Q. How often and when

should you exfoliate (AM

or PM)?

The frequency of use will depend on

your skin type and individual needs

and preferences, as well as whether you

are using physical or chemical peels.

With physical peels, which are more

aggressive, you should avoid daily use,

as excessive exfoliation could lead to

sensitive skin.

In terms of whether application is

better AM or PM, it depends on your

individual preference and skincare

routine. At night, the skin undergoes

a regeneration process to help recover

from the aggressions experienced

during the day.
---
Exfoliating at night enhances

this process; therefore, in terms of

renewal, it acts in synergy with this

natural biological process. However,

used in the morning, it helps to

eliminate impurities produced during

the night in order to avoid pore

obstruction, which, for example, may

be preferable in oily skin due to the

overproduction of sebum.

It is important to follow the

recommendations of a professional

in terms of application, frequency of

use and when to apply it based on the

type and condition of your skin at a

specific time.

Q. It's often said that

micellar water cannot

cope with waterproof

makeup and does

not cleanse the skin

thoroughly enough. Is

this true?

Waterproof makeup is formulated

with a base of oils and waxes and,

therefore, is lipid in nature. It is

commonly known that the best way

to remove oil is with oil itself; hence,

it is effectively removed using balms,

oil-based makeup removers or twophase

solutions, such as mesoestetic's

micellar biphasic.

Micellar biphasic is a makeup

remover combining an oil phase,

rich in omega 6, and an aqueous

phase that, unlike other biphasic

makeup removers, contains micelles.

The presence of micelles helps in a

more effective cleansing action in the

aqueous phase, eliminating the need

for excessive friction when removing

impurities and makeup. micellar

biphasic is not a micellar water; it

is a more comprehensive product

specifically formulated for eyes and

lips. CBM

PHYSICAL EXFOLIATORS

ELIMINATE DEAD

SKIN THROUGH

MECHANICAL ACTION

(MICROPARTICLES).

CHEMICAL EXFOLIATORS

USE ACIDS OR ENZYMES

THAT DISSOLVE THE

BONDS BETWEEN DEAD

SKIN AND TISSUE.

www.cosbeauty.com.au 57
---
GOT MASKNE?

GET HYDRAFACIAL!

SKIN

FIGHT BACK AGAINST

MASKNE AND JOIN

THE #GLOWVOLUTION

WITH HYDRAFACIAL,

THE NEXT-GEN SKIN

REJUVENATION

TREATMENT THAT HAS

AMASSED FANS THE

WORLD OVER.

Just when we're finally getting a handle on

our skin situation, there's an additional

assault we have to deal

with: maskne. Wearing a mask can trap dirt

and oil in your pores, seriously aggravating

skin and manifesting in irritation, dryness

and breakouts.

Since wearing a mask is essential during

these times, it's even more important to

give your skin all the help it needs! Step

in HydraFacial, the ultimate facial that

gently cleanses, cleans out pores and infuses

moisture back to where it's needed most.

HydraFacial has become one of the most

popular skin treatments for its gentle,

quick and highly effective skin resurfacing

treatment – and now it's become the facial

of choice to help combat maskne. Performed

somewhere in the world every 15 seconds

and adored by the A-list (Beyoncé, Kate

Winslet and Amy Poehler are just a few

fan-girls), HydraFacial is no ordinary facial.

In just three steps and 30 minutes, it offers

the best skin of your life and a very effective

solution to maskne.
---
SINCE WEARING A MASK IS ESSENTIAL DURING THESE

TIMES, IT'S EVEN MORE IMPORTANT TO GIVE YOUR SKIN

ALL THE HELP IT NEEDS.

WHAT'S

HYDRAFACIAL

FOR?

Fine lines + Wrinkles

Even Tone + Vibrancy

Skin Texture

Brown Spots

Oily + Congested Skin

Enlarged Pores

Maskne

WHAT EXACTLY IS

HYDRAFACIAL?

HydraFacial is an in-clinic facial cleanse,

skin resurfacing and antioxidant

boost in one quick, easy and pleasant

skincare session.

It uses advanced, patented vortex

technology to deeply cleanse the skin

and effectively deliver ingredients such

as hyaluronic acid, horse chestnut seed

extract, red algae extract, copper, zinc

and magnesium peptides.

HydraFacial also delivers powerful

antioxidants to counteract damage by

free radicals – from pollution, sun and

stress – which can degrade the skin

and accelerate the ageing process, as well

as the irritation and breakouts

from maskne.

Each HydraFacial treatment around

the world uses the same multi-step

treatment process to guarantee

consistent, noticeable skin revitalisation.

The three steps involved work together

to elevate good results on their own to

exceptional results synergistically.

The first step is the Cleanse + Peel,

which involves a deep cleanse and gentle

exfoliation and resurfacing to uncover

a new layer of skin. The second step

is Extract + Hydrate, which includes

a painless vortex extraction device

that removes debris from your pores

while delivering intense moisturisers

that nourish skin. The last step is

Fuse + Protect, which is an infusion

of hyaluronic acid, antioxidants and

vitamins that work to restore, plump and

hydrate the complexion.

Suitable for all skin types, HydraFacial

improves the appearance of maskne,

fine lines, wrinkles, congested and

enlarged pores, oily or acne prone skin,

hyperpigmentation and brown spots.

Each treatment creates an instant 'wow

factor' in terms of brighter, smoother

and more radiant skin.

Oh, and did we mention the whole

treatment takes just 30 minutes and

there is no downtime? This is our holy

grail of facials. CBM

WHERE TO GET IT

To find a HydraFacial practitioner in your area,

visit www.likeyourlook.com.au

www.cosbeauty.com.au 59
---
SkinMTX ®

SKIN

the targeted

skincare

solution we

all need

SKINMTX, AN AWARD-WINNING

DERMATOLOGICAL-GRADE SKINCARE

BRAND, OFFERS TARGETED

IN-CLINIC AND HOMECARE SKINCARE

SOLUTIONS THAT BOAST UNRIVALLED

POTENCY AND SUPERIOR RESULTS.

Now available in Australia,

SkinMTX is an award-winning,

dermatological-grade skincare

brand that leverages Swiss expertise

for clinically-proven skin treatment

solutions. In addition to an impressive

repertoire of in-clinic professional

treatments, the cult brand offers

targeted at-home solutions for a range

of skin types and needs.

Colour coded by skin concern,

SkinMTX products can easily be mixed

and matched to tailor treatment to your

specific needs.
---
SkinMTX Anti-Ageing

Activates your skin's restorative

ability to help preserve a

youthful-looking appearance

The SkinMTX Anti-Ageing range

features the signature active, Acetyl

Hexapeptide-8, which is clinically

proven to minimise the appearance

of fine lines and wrinkles caused

by repeated facial contractions. It

targets the same protein complex

as muscle relaxants, but in a less

invasive and non-permanent way.

The Anti-Ageing range also

features the revolutionary

TeloZyme Complex TM , which is

based on the Nobel Prize-winning

discovery of telomeres (the end

caps of DNA that protect the

chromosomes). Scientists have

discovered that as we grow

older, telomeres at the end of

our chromosomes shrink, which

accelerates the ageing process.

Chromosomal DNA is compromised

when the telomeres wear out, causing

cellular senescence.

SkinMTX's TeloZyme Complex TM is

clinically proven to target telomeres.

TeloZyme Youth Activator

A multi-faceted serum based on

the Nobel Prize-winning research of

telomere biology. Works at the key

matrix of skin's youthful appearance

to reinforce and protect skin's

structural integrity. Helps to visibly

redensify the skin and prevent the

visible signs of ageing.

TeloLift Neck Cream

Formulated exclusively for the specific

needs of the neck and décolleté to

help address visible signs of ageing.

The rich cream creates an invisible

supportive network, helping to regain

definition to the neckline.

Fine Line Eraser Serum

A potent serum formulated

with advanced peptides that

promotes youthful-looking skin.

It acts to markedly reduce the

appearance of fine lines and

wrinkles caused by repeated

contraction of facial muscles.

Ultimate Fine Line Eraser

An advanced cream formulation

that efficaciously helps defend

against the signs of ageing.

Nourishing and moisturising

active ingredients work

synergistically to help reduce

the appearance of expression

lines and wrinkles. Skin is

rejuvenated with increased

suppleness and firmness.

www.cosbeauty.com.au 61
---
SkinMTX Brightening

SkinMTX Brightening

SKIN

Helps minimise the appearance of

pigmentation, dark spots and scars

for luminous skin

The Brightening range's key active is

Alpha-Arbutin, which has been proven

to have a brightening effect on the

skin without the toxicity and irritation

associated with hydroquinone.

Hydroquinone has long been

considered the gold standard for

the treatment of hyperpigmentation.

While clinical studies report excellent

depigmentation responses induced

by 2% hydroquinone, it has also been

shown to cause adverse effects such

as dermatitis, loss of skin elasticity,

increased photosensitivity and postinflammatory

pigmentation.

Alpha-Arbutin has been proven

to have effective results, even when

compared to the chemically-similar

molecules of hydroquinone. In

addition to higher efficacy, it is also

more gentle than hydroquinone.

These characteristics make it the go-to

active for brightening of the

complexion and minimisation

of dark spots on the skin.

Alpha Optimal Brightener

Absorbs instantly into the

skin to help reduce the

appearance of spots and

freckles. Efficiently restores

a brightened complexion in

a shorter time compared to

conventional brightening formulas.

Alpha Illuminator

Imparts translucency and glow to the

complexion with its skin unifying actions.

It boosts moisture levels and helps

strengthen skin's barrier to reveal a

uniform skin tone, radiance and clarity.

Radiance Cleansing Wash

This non-stripping gel cleanser reveals

skin's natural radiance while helping

to keep the skin's hydrolipid film intact

to prevent over-drying and irritation.

Skin is refreshed and prepped for

optimal nutrient absorption from

succeeding skincare steps.

Lumi Cleansing Milk

This light and creamy cleanser

removes impurities, dissolves

makeup and dead skin cells

to leave skin feeling soft and

comfortable, and appearing

brighter and renewed.

SkinMTX Anti-Acne

Purifies skin for clarity and

long-lasting mattness

This range offers a reliable solution to

help treat and control the appearance of

blemishes. High-potency products are

specially formulated to penetrate into

the skin to help achieve visible results.

Together, the three specialist products

help unclog pores and blackheads, gently

cleanse and resurface skin and promote a

shine-free complexion.

Comedone Acti-Clear Lotion

Exfoliating actives help clear pore

blockages, dissolve excessive surface

build-up, prevent recurrence of

blackheads and defend against breakoutcausing

environmental aggressors. Pores

appear visibly refined, skin is smoother

and clarified.

Acti-Pure Cleansing Gel

A gentle yet effective cleanser that

dissolves impurities to leave skin

feeling clean and refreshed. The

gel deeply purifies and minimises

the look of pores without leaving

any tightness or residue. Helps

clear clogged follicles, soothes

inflammation and prevents the

appearance of future breakouts.

Acti-Matte Concentrate

This formulation is carefully

blended to strip away excess oil

while replenishing skin moisture,

preventing visible skin irritations

and promoting a healthy-looking,

balanced complexion. Pores are

blurred and skin texture smoothed

with an energised matte finish.
---
SkinMTX Dermat

Recommended for post-laser

and post-procedure

The demand for aesthetic medical and

surgical procedures has been steadily

increasing over the past 2 decades and

is forecasted to continue to grow. The

increase in demand is closely followed

by the increase in expectations for

a better outcome with minimal side

effects and shorter recovery time.

SkinMTX's Dermat Series is specially

formulated to provide essential

post-procedure care to maximise

the treatment outcome, optimise

recovery, minimise risks of infection

and scarring while providing comfort

from tenderness.

Delicate Cleansing Mousse

An ultra-gentle mousse designed

to cleanse delicate post-procedure

skin. Its frictionless, dense foam is

perfect for compromised skin, mildly

yet effectively removing dirt and

impurities while replenishing the skin's

Natural Moisturising Factor (NMF)

with amino acids and emollients to

preserve moisture balance. A blend

of 7 botanical extracts, vitamins A, B,

C, essential minerals and antioxidants

soothes skin sensitivity and irritation

after harsh treatments. It also helps

maintain skin's microbial balance to

help optimise the skin recovery process.

Hydrating Mist

A specially formulated mist to help

restore compromised skin after

undergoing harsh laser treatments or

aesthetic procedures. The fine spray

envelopes the skin with a soothing

protective layer, helping calm irritations

and restore comfort to sensitised skin.

Boosts the skin with optimal, lasting

hydration; keeping tightness and

dryness at bay.

Advanced Restorative Serum

An intensive care formulation that

aids in skin recovery after aggressive

aesthetic treatments, helping

compromised skin reclaim comfort and

equilibrium. Its intensively soothing and

moisturising properties help restore

skin balance, providing much needed

calming relief from burning sensations

that typically succeed a laser treatment.

Bio-mimetic peptides help reinstate

skin's integrity, creating an optimal

environment for skin recovery.

Advanced Reconditioning Cream

This protective cream is specially

formulated to offer aid in the recovery

of the skin barrier after harsh aesthetic

procedures. It helps protect the skin

from excessive dryness, visible redness

and irritations with its potent calming

and reparative ingredients. Designed to

create an optimum environment for skin

to recuperate, the complex of ceramide

and bisabolol provide a protective

"second skin", shielding the underlying

skin from external aggressors while

it helps the skin rebuild its moisture

barrier. Concurrently, a synergistic blend

of skin restoring actives promotes a

healthy-looking complexion, bringing

forth optimal skin restoration that

results in a renewed, pristine-looking

complexion.

www.cosbeauty.com.au 63
---
SkinMTX Special Care

SKIN

A special repertoire of products

to achieve a rigorous regimen for

youthful-looking skin

This intense skin restoration range

features patented key actives that

effectively boost critical aspects of

the skin rejuvenation process. These

include: BioRenew Peptide, which

helps boost skin's appearance;

PhytoActive+, which magnifies

the reparative powers of stem

cells for superior skin repair and

rejuvenation; ActiMarine Hydrator,

which boosts 3 major skin restorative

functions – the physical barrier,

chemical barrier, and hydra memory

function; and RejuvorA – a unique,

improved form of retinol complex

using a revolutionary encapsulation

system to help overcome the

disadvantages of conventional

retinol, while improving efficacy.

Peptide Serum+

This advanced multi-faceted serum

contains actives that has been

shown to improve skin renewal

by up to 88% in 15 days. Powerful

proprietary rejuvenating actives

and nutrient clusters are delivered

deep into the skin to encourage

equilibrium, helping reinforce skin's

resilience against environmental

aggressors and returning a youthfullook

to skin. Skin becomes wellhydrated

and complexion glows with

a lustrous shine.

Intense RejuvorA Cream

This hero anti-ageing product

provides impressive skin renewal

and rejuvenative actions – while

helping provide stellar protection

against free radicals and the signs of

ageing - making retinol rejuvenation

more effective to help improve the

appearance of wrinkles, brighten the

skin and retexturise the complexion.

Combining Vitamin C and E, the

active mix works synergistically to

help improve skin vitality, visibly

even out skin tone and fight against

free radicals and the appearance

of photoageing. As skin's innate

self-renewal system powers up, the

complexion revives with tonicity,

tautness and radiance.
---
Potent Eye Concentrate

Dramatically promotes the youthful

appearance of eyes with this intensive

eye contour formula specially

designed for skin's most delicate

areas. The exclusive combination of

advanced actives helps visibly smooth,

firm and tighten skin texture to reduce

the appearance of fine lines, crow's

feet and puffiness. It deeply infuses

skin with vital moisture, improving skin

tautness around the eye area.

Potent C

This Vitamin C concentrate promotes

an intensive brightening action to

target appearance of discolouration.

The inclusion of efficacious, potent

actives provides targeted action

to help brighten the appearance

of unsightly marks, dark spots and

freckles while building up skin's

defenses against the appearance of

future pigmentation.

Supreme Eye Brightening Gel

Brightening actives aid in diminishing

the appearance of dark circles to

restore vibrancy and luminosity of the

eye contours. Eye puffiness is visibly

reduced as caffeine helps stimulate

the drainage of excessive fluid.

Mineral-Rich Body Moisturizer

Specially formulated to remineralise

the skin, this mineral-rich hand and

body lotion pampers your skin with

ultimate delights while infusing skin

with essential nutrients from the Dead

Sea. Its luxurious texture ensures

smooth gliding without leaving a

sticky feel on the skin, enveloping the

skin with a veil of velvety softness. The

unsurpassed hydration benefits relieve

dryness, tightness and sensitive

reactions that are caused by skin

dehydration.

3 In 1 Matt Tinted Protector

Naturally shield and nourish skin every

day with this free radical-inhibitor,

vitamin-infused matt sun protection.

Provides sun protection plus

environmental protection. This light

universal-tinted formula helps corrects

uneven skin tones with an immediate

refined finish.

Skin Brightening Day Protector

A refreshing, non-greasy, emulsion

easily absorbed by skin provides

sun protection while enhancing skin

luminosity. A perfect balance of active

ingredients and innovative delivery

mechanisms.

Smart Shield Protector

This light, smooth tinted sun

protection blends seamlessly with

most skin types and colours, imparting

an even skin tone and light coverage

while providing defense against sun's

damaging rays. CBM

ABOUT SKINMTX

Made in Switzerland and Singapore, SkinMTX ®

is a dermatological-grade skincare brand

formulated for proven, sustainable results. Driving

innovations in aesthetic skincare for over two

decades, the brand has received worldwide

industry recognition for its cutting edge

technology and product efficacy. Most recently,

SkinMTX ® TeloZyme Youth Activator was

awarded the title 2021 Beauty Insider Best in Anti-

Ageing. This multifaceted serum, based on the

Nobel prize-winning discovery of telomeres, has

been specially formulated to target the integrity

of telomeres for younger looking skin.

WHERE TO GET IT

SkinMTX ® is exclusively available in select

clinics and at www.skinmtx.com.au.

www.cosbeauty.com.au 65
---
BEAUTY
---
POST-

SUMMER

HAIR

REVIVAL

TRESSES IN DISTRESS? PREPARE TO REPAIR WITH

THESE HYDRATING HAIR HEROES.

T

he summertime combination of sun, salt and

chlorine all conspire to strip hair of moisture,

leaving it frizzy, dry and dull. Thankfully, hair responds

well to a little TLC and, with the right products,

it's not too late to restore your crowning glory to its

most beautiful.

evo bradford

pin bristle brush, $50

www.cosbeauty.com.au

67
---
BACK TO BASICS

BEAUTY

Like skincare, a good basic hair care routine

is key to achieving results. Most of your

favourite brands offer ranges targeting

specific concerns and there are many

options for dry post-summer hair.

When it comes to daily care, it's worth

noting that your hair may not require

washing as often as you think it does. The

general consensus is that shampooing

should only take place every two to three

days and shampoo should be rinsed out

with lukewarm (not hot) water to help avoid

damage and moisture loss.

Prevention is far better than trying to cure

hair damage. By investing in a nourishing

conditioner, you are already well on your

way to preserving the health and lustre

of your hair. Top it off with a weekly hair

repair treatment. Once again, there are

many to choose from depending on your

preferences and needs – everything from

thick, rich hair masks to leave-in spray and

oil formulations.

When using an intensive conditioner or

treatment, wrap hair in a towel to keep heat

in and allow the product to penetrate. Five

minutes should be enough; hair is spongelike

in structure and once it is saturated it

cannot absorb more product no matter how

long you leave it on.
---
WE LOVE

1. Joico Hydra Splash Trio includes Hydrating Shampoo 300ml, Hydrating Conditioner 250ml and Replenishing Leave-in

100ml, $103.85, 2. Grow Longer Stronger Stimulating Scalp Scrub 140g, $16.99, 3. Joico Humidity Blocker+ Protective

Finishing Spray, $31.95, 4. Arbonne TrueSmooth Rich Lather Shampoo & Conditioner, $48 each, 5. Klorane Cupuacu

Shampoo and Conditioner 200ml, $14.99 each, 6. Oribe Shampoo for Moisture & Control 250ml, $68, and Conditioner

200ml, $72, 7.Wella Professionals Fusion Intense Repair Trio includes Shampoo 250ml, Conditioner 200ml and Mask

150ml, $94, 8. Wella Professionals Invigo Blonde Recharge Color Refreshing Shampoo and Conditioner, Cool Blonde

200ml, $28.95 each, 9. Philip Kingsley Moisture Extreme Shampoo 250ml & Conditioner 200ml, $44 each, 10. Pump

Anti Frizz Shampoo & Conditioner 205ml, $34.95 each.

www.cosbeauty.com.au 69
---
HAIR SOS

BEAUTY

If your hair is in dire need, look for intensive specialty hair

products such as an after-sun or post-pool rescue treatment,

which help to smooth damaged cuticles and protect against

split ends, breakage and environmental damage from wind,

sun, chlorine and sea salt. These can be used as a mask after

shampooing (leave it in for five minutes, then rinse out) or a

small amount can be applied daily to the ends of the hair to

protect and smooth.

Be on the lookout for formulations containing keratin,

amino acids, ceramides and shea butter which all work to

calm and nourish severely frazzled frizz and help reverse the

damaging effects of the sun, sea and chlorine. If you're on a

budget, coconut oil is a great DIY option for nourishing your

tresses without breaking the bank.

WE LOVE

1. Grow Longer Stronger Anti-Breakage Hair Mask 50ml,

$5.99, 2. Hair Rituel by Sisley Restructuring Nourishing

Balm 125g, $160, 3. Klorane Cupuacu Mask 150ml,

$25.99, 4. Hair Rituel by Sisley Protective Hair Fluid

150ml, $120, 5. Hair Rituel by Sisley Regenerating Hair

Care Mask 200ml, $130, 6. Hair Rituel by Sisley La Crème

230 150ml, $125, 7. Kemon Actyva Bellessere Oil, $39.95,

8. Davines Su Hair Mask 150ml, $46.95, 9. Philip Kingsley

Elasticizer 150ml, $72.75
---
The haircare

habits you

need to break!

Since hair is most fragile when it's wet, don't rip

a brush through it after swimming. Spray some

detangler on it, then use a wide-tooth comb to

minimise breakage.

Summer heat practically demands we throw

our hair back, but pulling our hair back too

tightly can cause breakage, particularly if hair

health is already compromised. Aim for loose

buns and ponytails, and let your hair down

before going to sleep at night.

Don't dive straight into the water without first

wetting your hair with fresh water. Hair is super

porous and absorbent. If you spray water over

your hair (or better yet apply hair oil or a mask)

before entering the pool or ocean, your tresses

won't soak up such high quantities of drying

and damaging salt and chlorine. CBM

1. Coco & Eve Like a Virgin Hair Masque

$57.90 2. Thanks To Nature Hydrate &

Nourish Masque 350ml, $20, 3. Philip

Kingsley Swimcap Water Resistant Mask 75ml,

$42, 4. Arbonne TrueSmooth Apple Vinegar

Hair Rinse, $37.

www.cosbeauty.com.au 71
---
BEAUTY

THE AUSSIE BRANDS

Australia

LIVING IN AUSTRALIA, THERE'S

A LOT TO BE THANKFUL FOR

– INCLUDING AN IMPRESSIVE

LINE-UP OF HOMEGROWN

BEAUTY BRANDS. HERE ARE

SOME OF OUR FAVOURITES

PRODUCTS TO GIVE YOU THAT

UNDENIABLE AUSSIE GLOW.

It's tough to stay looking good in one

of the world's harshest climates, but

we Aussies are the pros. With our

diverse soils and climates, Australia

has the luxury of growing its own

fresh produce, with very little need

to import from overseas. So as well

as ensuring the nation eats well, this

also helps Aussie brands lead the

way with sustainable, eco-friendly

beauty products. Quality ingredients,

formulations and manufacturing is

ensuring the Aussie beauty brand

continues to grow both locally and

throughout the world.

72 www.cosbeauty.com.au
---
KEEPING

beautiful

www.cosbeauty.com.au 73
---
24

BEAUTY

AUSSIE BEAUTY BRANDS

YOU SHOULD KNOW ABOUT

ASPECT MINERALS

Established in 2007 in Melbourne,

Aspect Skincare is one of the

leading cosmeceutical skincare

brands in Australia and New

Zealand, offering a range of

medical-grade cosmeceutical

products that deliver highperforming

active ingredients

to help cosmetically correct skin

without irritation. Following on

from their huge success in the

skincare space, the Aussie-made

brand extended its range last

year to include Aspect Minerals,

a comforting, high-performance

makeup line free from parabens,

SLS, mineral oil and vegan friendly.

TRY

Aspect Minerals Powder and

Liquid, $59 each

CONSERVING BEAUTY

Conserving Beauty is Australia's first

water-responsible beauty brand.

Water is a diminishing resource, with

research indicating that two-thirds of

the population will live in a watershortage

environment by 2035.

Conserving Beauty is on a mission

to reduce the beauty industry's

water footprint with innovative

products formulated entirely without

water, so that water isn't wasted

and the products you buy only

contain pure, active ingredients.

Most beauty products are 70-90%

water, with 2-20% active ingredients.

Conserving Beauty is made

with zero water and 100% active

ingredients (no 'fillers', preservatives

or fragrances whatsoever).

TRY

Conserving Beauty Conserve You

Face Oil, $55

VELA DAYS

Vela Days is an Australian luxury

hemp-based skincare range. Its

active compound, CannaComplex,

is derived from pharmaceutical

hemp seed extract and THC-free

hemp stem cells, offering antiinflammatory

and active healing

properties for calmer, smoother and

more radiant skin. Sustainability

is also at the core of Vela Days

ensuring its operations and all

suppliers are carbon neutral.

TRY

Vela Days Lipid Complex

CannaComplex Cleansing

Balm 100ml, $89; Oil Infusion

CannaComplex Fortifying Oil Serum

30ml, $110; Active Compound

CannaComplex Multi-Active Facial

Serum 30ml, $102
---
MINENSSEY

Minenssey skincare is dedicated

to creating potent formulas using

the best of Australia's botanical

ingredients. With an emphasis

on cultivating and maintaining

healthy skin, using an only-theessentials

approach, their formulas

are concentrated with the right

dosage of evidence-based active

ingredients – what they leave out is

just as important as what they put in.

TRY

Minenssey Treatment Mask,

5 Sheets, $50

BONDI SANDS

Australian owned and made (and

globally loved), Bondi Sands now

has its own skincare line in addition

to its best-selling self-tanning

products. High-quality formulas work

to help give you glowing, healthy

skin, hydrating and nourishing with

each application. These are the new

skin staples for any skin junkie.

TRY

Bondi Sands Fresh'n Up Nourishing

Gel Cleanser 150ml, $14.95; Gold'n

Hour Vitamin C Serum 30ml, $17.95;

Daydream Whipped Moisturiser

50ml, $16.95

DAVROE

Davroe's philosophy is simple: to

create an honest and pure range

of hair care products for everyone.

Owner Mary Centofanti and her

team make every effort to ensure

their products are natural, vegan,

sensitive to the environment and

only ever use ingredients of the

highest quality. They're also proudly

100% Australian made and owned

– and will seriously improve the

condition of your hair.

TRY

Davroe Argon Oil Instant Treatment,

$25.95

LOVEBYT

Meet your new oral hygiene crush.

LOVEBYT is a 100% natural, vegan

and fluoride-free toothpaste made

in Australia using a premium blend

of botanical ingredients andno nasty

chemicals. Backed by dentists, this

is *the* toxin-free oral health care

brand we've needed.

TRY

LOVBYT Mini Charcoal & Mint

Toothpaste, $8.95

POD ORGANICS

Pod Organics offers organic, vegan,

sustainable, ethically sourced

skincare products for the whole

family, inspired by Australian native

bushlands. Winner of three Organic

Beauty Awards for Best Clean

Products of 2021, this is a beautiful

collection of natural skincare and

products for the home.

TRY

Pod Organics All Over Nurturing

Balm, $13.95

VANESSA MEGAN

Vanessa Megan products are

handmade in Australia and are

certified Cruelty Free. The natural

range encompasses skincare,

body care and fragrance with

highly effective botanicals and

results-driven formulations. It's also

the exclusive skincare choice for

Gwinganna Lifestyle Retreat, winner

of the World's Best Eco Spa of 2020.

TRY

Vanessa Megan Cryō Rosé Ice

Cube Treatment, $34.95

www.cosbeauty.com.au 75
---
BEAUTY

TROPICOLOGY

Tropicology is one of the pioneers

of natural, sustainable, organic,

cruelty-free skincare. Its products are

the fruits, quite literally, of Tropical

Fruit World, a family-run biologically

sustainable plantation and tourist

attraction in the hinterland of

Kingscliff in NSW. Tropicology

skincare is inspired by the healing

and restorative properties of the

fruits and botanicals nurtured and

harvested on the farm, particularly

the avocado tree, of which they have

18 different varieties. Antioxidantrich

organic avocado oil is used in

all Tropicology products, further

complemented by active botanicals

and Australian native extracts.

TRY

Tropicology Avocado Lip Balm,

$19.95

THE SECRET SKINCARE

The Secret is Australia's first

prescription-only skincare range

and is founded by Perth-based

cosmetic doctors Dr Clara Hurst

and Dr Deb Cohen-Jones. Carefully

researched and formulated with

medical-strength ingredients such

as tretinoin and hydroquinone, The

Secret range is custom-made for

each patient to treat their specific

skin concerns. Each formulation

contains a unique combination of

prescription-strength ingredients

in a patented base which provides

the optimal carriage of these

compounds. The focus is on

increasing skin clarity, treating fine

lines and skin laxity, eliminating

pigmentation and breakouts and

achieving that coveted Secret glow.

TRY

The Secret The Serum, $130

INVISIBLE ZINC

Invisibe Zinc is to sunscreen what

Vegemite is to toast. This is suncare

made in Australia for the toughest of

Australian climates. Unlike chemical

sunscreens that absorb the sun's

UV rays, Invisible Zinc uses naturally

sourced Zinc Oxide to create a

protective shield on the surface of

your skin, reflecting both UVA and

UVB rays.

SUNBUTTER

Our oceans are under threat from

pollution, and many sunscreens

are contributing to the problem.

Whilst providing your skin with

UV protection, widely accepted

sunscreen chemicals are also

killing corals, causing toxic build-up

in marine animal tissues and

putting a strain on our ocean's

ecosystems. SunButter was founded

by two marine biologists with a

dedication to create the most

effective, environmentally gentle

and reef-safe Sunscreen formula on

the market, packaged in reusable

and recyclable tins. This is a new

generation of suncare that is skin

and earth conscious.

TRY

SunButter SPF 50 Water Resistant

Reef Safe Sunscreen, $29.95

TRY

Invisible Zinc Sheer Defence, $34
---
WE ARE FEEL GOOD INC.

Hailed as the sunscreen you can feel

good about, this Australian owned

and made suncare range is perfectly

suited to the adventure-driven

Aussie lifestyle. We Are Feel Good

Inc products are tested to hold up

in the toughest of climates, as well

as being paraben, oxybenzone,

octinoxate and PABA free. The

founders (including a doctor,

builder and pro surfer) wanted to

create a product that nourished

and supported the skin without

compromising sun protection

capabilities, so they added skinloving

ingredients like Vitamin E and

aloe vera to sweeten the deal.

SKINSTITUT

We've been using this Aussie

brand for years and will happily

sing its praises, namely that it's

affordable and delivers visible

change within the skin. Skinstitut

products use high-performance

active ingredients, advanced

delivery systems, and stable,

skin-syncing formulations which

are clean, cruelty-free, and vegan,

and don't use unnecessary filler

ingredients or excessive packaging.

DR ROEBUCK'S

Aussie-made Dr Roebuck's is taking

the world by storm with its clean,

pared-down approach to skincare.

The products contain only pure

botanicals and skin-safe ingredients

that have been ethically and

sustainably sourced. No fillers, no

nasties, no cruelty, no worries!

TRY TRY TRY

We Are Feel Good Inc. After Sun

Cooling Lotion, $19.95

Skinstitut Expert Refine AHA

Glycolic Toner, $59

Dr Roebuck's Byron 2-in-1 Mask +

Scrub, $40

www.cosbeauty.com.au 77
---
BEAUTY

SUNESCAPES

Born in Bondi, Sunescape is an

award-winning Australian-made and

owned sunless tanning range that

delivers natural-looking colour with a

delicious tropical scent. Formulated

without harmful ingredients,

Sunescape's products use certified

natural DHA and are fortified with

vitamins, antioxidants and plant

oils that nourish the skin, and

anti-ageing, hydrating and firming

ingredients that leave skin smooth

and replenished. All Sunescape

products are free from parabens,

petrochemicals and formaldehyde,

are proudly vegan and cruelty free.

We love it because it gives skin a

gorgeous colour, without dryness,

streaking, patchiness or the dreaded

orange undertone.

TRY

Sunescape Instant Self-Tan Mousse

250ml, $44.95; Hydrating Body

Butter, $29.95

EWE CARE

Ewe Care is Australia's first sheep

milk natural skincare range that

combines the benefits of sheep milk

with uniquely Tasmanian ingredients.

A high natural fat content makes

sheep milk a wonderfully nourishing

moisturiser that not only helps

reduce wrinkles and fine lines but

also provides essential antioxidants

via vitamins like A, C, D and E, as

well as AHA. Its anti-inflammatory

and anti-microbial properties

also help to reduce redness and

breakouts and make it ideal for use

on sensitive skin. Every aspect of

Ewe Care's packaging – from its

cream sachets, to the box they arrive

in – is compostable.

TRY

Ewe Day Cream 60ml + Raku

Ceramic Vessel, $165; Night Cream

60ml + Raku Ceramic Vessel, $180

ULTRADERM

Ultraderm is an Australian

cosmeceutical skincare company

founded in 2009 which uses

medical-grade ingredients to give

proven results for targeted skin

problems. The range – for both

at-home and in-clinic care – offers

a complete skincare protocol

suitable for conditions like

rosacea, acne, age prevention and

correction, pigmentation, stretch

marks and scarring.

TRY

Ultraderm Daily Protector Tinted

Base + Moisturiser SPF 30, $62

AESTHETICS RX

Aesthetics Rx is an Australian

cosmeceutical range of advanced

formulations using skin-correcting

anti-ageing ingredients based

on plant cell culture and biotechnology.

Their complex

blends of high-dose actives are

Australian made, vegan, cruelty

and paraben-free.

TRY

Aesthetics Rx B Serum, $109
---
QED SKINCARE

QED, founded by an Aussie

pharmacist, was specifically

formulated to target the needs

of sensitive skin, be it eczema,

psoriasis or acne-prone. Each and

every product developed has been

dermatologically tested on humans,

trialled and then re-tested, and is

fully backed by science – no fluff,

just a simple, scientific approach

to skincare. At its core, natural

ingredients are married with nontoxic

alternatives to create safe,

high-performance products free of

parabens, mineral oils, sulphates

and formaldehyde. Plus, it's 100%

Australian designed, formulated

and made.

TRY

QED Skincare The Body Cream

250g, $39; Balancing Facial Mist,

Neroli + Bergamot 125ml, $32

www.cosbeauty.com.au 79
---
BEAUTY

JURLIQUE

A true Aussie success story, Jurlique

was founded in 1985, and has been

a global leader in natural skincare

ever since. Jurlique offers natural

skincare and beauty products that

are powered by botanicals grown

for decades on their organic farm

in South Australia's Adelaide

Hills using a unique Bio-Intrinsic

extraction method. All botanicals are

hand planted and hand picked and

are free from synthetic pesticides

and fertilisers. By combining these

potent natural ingredients with

advanced skincare science, Jurlique

has grown to be a powerhouse in

Australia and around the world.

TRY

Jurlique Nutri-Define Supreme Eye

Contour Balm 15ml, $105; Rose

Hand Cream 125ml, $62

LUCAS' PAWPAW

OINTMENT

Ah, this Australian staple with its

distinctive red packaging is the

OG multi-tasking beauty product!

Made in Australia from pure

papaws, the powerhouse ointment

has antibacterial and antimicrobial

properties – and has an infinite

amount of beauty uses, including lip

balm, dry skin and split end remedy,

relief from skin irritation or eczema,

cuticle/nail moisturiser, and even

as a skin highlighter! The company

still operates in Brisbane where the

ointment continues to be produced.

You might be amazed to know that

the formula for the famous ointment

is still the same proven remedy

today as when it was created more

than 100 years ago.

DR NAOMI SKIN

You may know cosmetic physician

Dr Naomi McCullum as an Instagram

sensation with a wicked penchant

for a good meme, and now she has

her very own skincare range that

is quickly reaching cult status. The

clever, hard-working range is science

based, vegan and cruelty-free using

high tech ingredients from both

nature and the lab. It's a complete

skincare program – from cleansers

and corrective serums to cutting

edge beauty tools and devices –

that will have you on your way to

selfie-ready skin around the clock.

TRY

Dr Naomi Skin Catfish 10ml, $89

TRY

Lucas' Papaw Ointment 75g, $14.75

80 www.cosbeauty.com.au
---
&

Radiate

beauty

confidence

Using the latest technologies, our team of experts

is committed to help you achieve natural-looking

results in a relaxed and friendly setting.

Come in and experience the Skin Renu difference.

Our comprehensive treatment menu includes:

world-class wrinkle reduction and

lip enhancement

laser skin rejuvenation

CoolSculpting non-surgical fat reduction

Thermage non-surgical face lifting

medical peels

clinic-only premium skincare

Call us to book a complimentary consultation

02 9555 9506

www.skinrenu.com.au

16B Beattie St, Balmain, Sydney
---
SKIN

Cool, calm

and collected

IS YOUR SKIN SENDING OUT AN SOS? WE HAVE

THE PRODUCTS TO HELP YOU SHIELD AND REPAIR

YOUR SKIN FROM THE SINS OF SUMMER.

W

hile most of us crave

the summer sun, UV

exposure can leave your

skin dry, dehydrated and damaged.

With each Australian summer, in one

of the harshest climates on Earth,

skin damage accumulates, with every

bit of sun exposure contributing to

the way your face ages.

Over time, your skin loses its

elasticity. It can develop unsightly

brown spots, and previously

hidden blood vessels can become

visible to the naked eye. Lines and

wrinkles emerge as your formerly

vibrant complexion starts to appear

dehydrated and dull.

It's been said 80 percent of facial

ageing is caused by the sun, so

we need to prevent and repair. Of

course, sunscreen is numero uno

in any skincare regimen, but active

ingredients that work on a cellular

level to help undo sun damage and

protect against further premature

ageing. Look for antioxidants

like Vitamins A, C, E and B3

(niacinamide) and hyaluronic acid.

Vitamin A (retinol), in particular, is

a non-negotiable, as far we we're

concerned. It has been proven

to soften lines, rejuvenate skin

and stimulate skin cells to make

healthy collagen and boost natural

moisturising factors.

Hyaluronic acid (HA) is also an

essential weapon in the fight against

ageing, dry skin. It is a natural

component of the skin that seals

in moisture and helps keep skin

hydrated and plump – it attracts

up to 1,000 times its own weight in

water. As skin is damaged by the sun,

HA decreases and your skin loses the

ability to retain water. Concentrated

HA helps restore this lost volume.

Remember, what you use on

your skin on a daily basis will pay

dividends further down the track.

Quality skincare is one of the best

investments you can make to ageproof

your skin in the long run.

82 www.cosbeauty.com.au
---
www.cosbeauty.com.au 83
---
1.

the basics

2.

3.

SKIN

5.

6.

4.

7.

8.

9.

11. 12.

10.

13.

14. 15.

1. Go Bare Facial Cleansing Brush, $89, 2. Dr Naomi

Skin Clean Freak, $149, 3. Arbonne Bio-Hydria Gel

Cleanser, $35, 4. Priori R-Spinasome The Ultimate

Night Crème 50ml, $300, 5. Sisley Phyto-Blanc Le

Soin Brightening Protective Moisturiser 40ml, $420,

6. mesoestetic energy C Intensive Cream 50ml,

$159, 7. Enbacci microdermabrasion exfoliating

scrub with eco-friendly alumina beads, $45, 8. Dr

Naomi Skin Milk It 120ml, $59, 9. Dr Naomi Skin

Walk Of Shine 120ml, $59, 10. Hydropeptide Power

Luxe Hydra-Rich Infusion Cream $215, 11. Jurlique

Nourishing Cleansing Oil 200ml, $44, 12. Jurlique

Revitalising Cleansing Gel 200ml, $44, 13. Priori

R-Spinasome The Ultimate Day Crème 50ml, $300,

14. IT Cosmetics Confidence In A Cream 60ml, $75,

15. Kiehl's Ultra Facial Cream 50ml, $51
---
essential

protection

1. Skin MTX 3 in 1 Matt

Tinted Protector 30ml, $70,

2. Aspect Sun Physical Sun

Protection SPF 50+ Sunscreen

Cream 75g, $59, 3. asap

SPF50+ hydrating defence

100ml, $75, 4. mesoestetic

mesoprotech sun stick, $49.80,

5. Avéne Aqua Fluid SPF50+

40ml, $27.99, 6. O Cosmedics

Mineral Pro SPF 30+, $49

4.

5.

1.

2.

3.

6.

www.cosbeauty.com.au 85
---
2.

3.

4.

5.

6.

7.

8.

SKIN

1.

anti-ageing

and

ightening ightening

1. Arbonne Rescue & Renew Detox Gelée, $80, 2. Cemoy Hydra Ampoule Face Mask, $29.95, 3. BOOST

LAB Vitamin C Brightening Serum, $29.95, 4. BOOST LAB 2D Hyaluronic Hydro Boost, $29.95, 5. Sisley

Botanical D-Tox 30ml, $300, 6. Arbonne Intelligence Nourishing Facial Oil, $110, 7. asap super B complex

30ml, $105, 8. asap super C complex 30ml, $105, 9. Dr Naomi Skin LED It Glow at-home light therapy

mask, $595, 10. Aspect Super PD Complex 30ml, $135, 11. Image Skincare Illuma Intense Brightening

Serum, $92.50, 12. Skin MTX Alpha Optimal Brightener 30ml, $112, 13. QED Skincare Wrinkle Rewind

Repair Serum 30ml, $92, 14. Ella Baché Sensibeautics Intensive Recovery Serum, $111, 15. No7 Radiance+

15% Vitamin C Serum, $34.99, 16. Biologi Bqk Radiance Serum Duo, $138, 17. Dr. LeWinn's Intensive

Action Caviar Eye Serum 15ml, $79.95, 18. Kiehl's Calendula Serum-Infused Water Cream 50ml, $69, 19.

No7 HydraLuminous Water Concentrate 30ml, $29.99, 20. Medik8 Oxy-R Peptides 2 x 10ml, $124, 21.

Sisley Velvet Sleeping Mask 60ml, $170, 22. QED Skincare Wrinkle Rewind Face Cream, $66, 23. Santa

Maria Novella Vitamin F Cream 50ml, $137, 24. asap Liquid Platinum 130ml, $65, 25. Feniu Tongan

Coconut Oil, $79, 26. Image Skincare Vital C Hydrating Waterburst, $83, 27. O Cosmedics O-Biome

Hydrating & Setting Spray, $55, 28. Sisley Hydra-Flash 60ml, $260, 29. Susanne Kaufmann Hyaluron Serum

Moisturising, $223, 30. Susanne Kaufmann Nutrient Concentrate Skin Smoothing Serum, $216,

31. Minenssey Australian Clay Mask Revival Set, $79

23.

86 www.cosbeauty.com.au
---
9.

10. 11.

12.

15.

13. 14.

16.

17.

18.

19.

20.

21.

22.

29.

30.

24.

25.

26.

27.

28.

31.

www.cosbeauty.com.au 87
---
SKIN

specialty

products f f

pigmentation

1.

2.

3.

1. Sisleÿa L'Integral Anti-Age Radiance

Anti-Dark Spot Serum 30ml, $630, 2.

CALECIM Professional Professional

Pigment Solution, $269, 3. mesoestetic

mesoprotech melan 130 pigment control

50ml, $79.80
---
post-sun relief

1.

2.

3.

4.

1. Pure Fiji Aftersun Soothing Gel, $29.95,

2. Santa Maria Novella Aloe Gel For

Face & Body 250ml, $60, 3. Santa Maria

Novella After Sun Cream 150ml, $55, 4.

Davines SU Aftersun, $49.95, 5. Arbonne

SuperCalm Soothing Hydrator, $65

hydrating

body products

5.

1. Medik8 Smooth Body Exfoliating Kit: includes Smooth Body

Scrub, Smooth Body Mitt and Smooth Body Lotion, $99, 2.

SkinMTX Mineral Rich Body Moisturizer 100ml, $46, 3. Sisley

Le Sculpteur 200ml, $290, 4. Ciaté London Dewy Stix Body

Bronzing, Transparent, $37, 5. Kiehl's Crème de Corps 125ml $36,

6. Jurlique Exclusive Edition Rose Body Oil 200ml, $88, 7. PMD

Clean Body in Berry, $239

4.

1.

3.

6.

2.

5.

7.

www.cosbeauty.com.au 89
---
FEATURE

Beauty

&

beyond

MEET THE LADY BOSSES BEHIND TWO AUSTRALIAN SUCCESS STORIES:

COLOUR COSMETICS COLLECTION, VELVET CONCEPTS, AND SERIOUS

SKINCARE LINE, THE DERMAL DIARY. WORDS BY CLEO GLYDE.

CLEO GLYDE

The beauty industry –

encompassing skincare,

cosmetics, hair care, fragrances

and personal care – is undoubtedly a

huge part of our lives. But only very

few take the giant leap of creating their

own brand and manufacturing new

products for other women and men to

benefit from and enjoy. We chat with

Cassandra Nichterlein from Velvet

Concepts and Isabella Loneragan

from The Dermal Diary about their

entrepreneurial journeys.
---
Cassandra

Nichterlein

FOUNDER, VELVET CONCEPTS

You have been in beauty all your working life. How

did you start out?

When I was 21, I got a job at a really cool, trendy PR

agency. I was very lucky to be looking after great clients

such as Aveda and Becca Cosmetics, learning so much

at a young age and meeting the amazing creators

of these prestigious companies. I fell in love with the

industry straight away.

How did you take the next step of founding your

own Beauty PR agency and becoming the boss?

After working for other agencies for a decade, I

developed chronic fatigue and burnout from running

around too much and surviving on 10 coffees a day.

I decided I need to run my own schedule. I was also

inspired by the really great international brands that

weren't available here locally at the time, so I decided

to import them and do all the marketing. I started

Style Patisserie with some really special brands, such as

Butter London nail polish, and they blew up and sold

well from the start.

Your favourite international brands became your

clients. When did you decide to join in and become

a brand creator yourself?

I started my own line, Velvet Concepts, when it became

apparent that big conglomerates were snapping up so

many great new brands. I love exciting, up-and-coming

companies with passionate founders, great backstories

and a point of difference. I had developed a great

connection with local Australian retailers who knew

how to love and nurture these little brands and

grow them.

After a decade running my own PR firm, I saw global

companies gobble up these small, cool brands then

dial down what made them so special in the first

place. They would also remove them from boutique,

independent beauty stores to sell them exclusively

through massive commercial outlets instead, which was

heartbreaking for everyone.

Seeing as boutique retailers were getting fewer and

fewer options of stylish, beautiful products that aren't

available in mass retailers, I thought up my experiment:

perhaps I could create something that their loyal

beauty fans would love?

Did you research what kind of products those

would be or just do what appealed the most?

Heart or head?

Both! I've always adored the glamour of colour and

cosmetics. I used to put YSL ads under protective

contact sheets on all my exercise books in Year 8. I

also knew that small retailers have a more intimate

knowledge of their customers and could give me

constant insider knowledge that I could listen to

and respond to their feedback quite quickly. Big

corporates, on the hand, can take years to make

a product.

Now the fun part. How did you design your Velvet

Concepts collection from scratch?

Right from the get-go, I wanted to make the line

super luxe and minimal, which is what I like to buy. As

a customer, I'm not into overwhelming options at a

beauty counter. I just want direction: "this is the best

foundation", "this is the blackest eyeliner you asked

for", etc. I don't mind if there are a couple of choices,

but I don't want 25. Also, as much as I love a green,

sparkly eyeliner, that's not what I wear every day. My

mission was to make neutrals and staples; classic but

never boring. That was always my vision.

Velvet Concepts stands apart with its signature

lavender grey. What was it like to take the journey

from dream to packaged reality?

I was adamant that the packaging had to be a custom

colour. The majority of beauty packaging is black

and white, which I soon learned is cheaper because

www.cosbeauty.com.au 91
---
stock packaging is easier to come

by. I find all the really great brands

are associated with a distinctive

colour though. I've always loved the

combination of gold and grey. If I

had my way, everything in my

house and wardrobe would be

that colour combo!

FEATURE

What was the biggest challenge in

manufacturing?

Well, I knew that if I was going to

do this, I wanted to work with the

best possible people. And in the

beauty world, I believe Italians are

the best, full stop. However, I had to

learn to work on their schedule and

deal with the language and cultural

barriers. I was frustrated and did not

take it very well. Looking back on the

delays, I think, "Well, what else did

you expect?"

Manufacturing requires endless

patience, so you have to factor in a

lot of time to get it right. The path

is not linear, but up and down. You

will save yourself a lot of unnecessary

frustration if you understand that

that's what you're signing up for.

What qualities does an entrepreneur need to have

in the beauty game?

A thick skin. You can't be afraid to keep pushing,

refining, sending samples back or going back to the

drawing board. Any entrepreneur will tell you that if

you want something done your way, you have to stick

with it. Entrepreneurship isn't for everyone; you have

to be patient, dog-minded and tactful all at once.

Building a brand is really about building relationships,

which will have their ups and downs. It requires a longterm

view.

Did lockdown have a negative or positive effect?

Most of our product was already shipped over from

Italy, so it was quite good. Some things sell more than

others in lockdown – with masks, lip colour isn't as much

a priority as eyes. We will see it all come back. Before

the pandemic a lot of our customers would ordinarily

just buy something, but when everyone had more time

they started asking more questions. We could dedicate

time to chat with customers so it gave us a lovely

dynamic; we had FaceTime chats to match foundations!

Velvet Concepts

Luxe Lip Gloss in

Berry and Créme
---
How important is human interaction in an

increasingly online world?

With makeup and cosmetics – any business really –

customers will trust you when you give personalised

service. People know that they are dealing with an

automated program when they add to cart and

they accept that, but personalisation optimises the

experience. People assume we will just have a bot,

so when they get a real person interaction they are

really chuffed.

Who is your customer?

Someone with a natural, pared-down aesthetic who

wants curated, luxurious products. Essentially I made

the products with the ingredients and texture that I

wanted to use.

Velvet Concepts Eye

Gems Eyeshadow Stick In

Rose Quartz and Topaz

How did you decide on your price point?

The reality is that product manufacture is like cooking:

the better the ingredients, the more it costs. There are

so many fun, cheaper products out there; there was no

need for any more of that. There are also really, really

expensive French designer products available. There

wasn't anything that was really luxe and Australian. We

do have our own aesthetic and luxurious twist that is

unique to Australia. The idea was, can we export that?

That beautiful, pared down Aussie girl. We are no-fuss,

generally speaking, glamorous in our own way but not

uber put-together or perfect. There is a little bit of

undoneness about us, which I embrace.

Is it still exciting or just hard work?

I still get a thrill when orders come in. People

discover us through social media, beauty retailers and

independent shops. During lockdown, customers had

to go online to get access to more products.

Velvet Concepts Crème Chic Blush in Rosé

www.velvetconcepts.com

Giving birth to a new brand and three gorgeous

young children is no mean feat. Does working for

yourself make it work?

I had no kids when I started, but I was pregnant when I

ned o and made m fir amen. I rememer

thinking, this better bloody work because I am having

a baby!

I'm way more fussy about how I spend my time since

I had Alessia, Ezra and Raphael. When I was single,

I used to waste a lot of time doing silly things; I'm

eronall ar more eficen no.

I arrange certain days with a babysitter and pump all

my meetings into one block instead of running around

all over town, driving all over the place. I look back

and think, why didn't I do this before?

www.cosbeauty.com.au 93
---
FEATURE

The Dermal Diary It's All Here Day Cream

The Dermal Diary Purifying Cleanser

www.thedermaldiary.com

Isabella

Loneragan

FOUNDER, THE DERMAL DIARY

Did entrepreneurship come easy to you?

My drive has always been 50% be a business owner

and 50% be in the beauty industry. I started as a

facialist in 2007 in South Africa, running a traditional

beauty business, including nails, out of my spare

room. My business had one big plus: 180-degree

ocean views in Cape Town. Customers got to lie on a

treatment bed and look out to the ocean.

All businesses need a unique selling point. It's

hard to open on a high street and be a regular

therapist; what pulls customers in is some kind of

wow factor. Whether you have your own product or a

location that can't be beat, you need to differentiate

yourself somehow.

How did you switch from cosmetic grooming to

clinical expert?

I wanted something with more guts, a dermal

therapy role, so I studied and returned to Australia

in 2011. For four years I worked alongside incredible

dermatologists at a clinic, learning so much about
---
acne, rosacea, even mental health. I worked with amazing

products, such as Rationale, Aspect and Cosmedix, which

were great for specific concerns and were prescribed for

certain skin types and age groups.

The doctors tasked me with finding the best products,

so I researched the market and sourced a lot of different

options to treat all the different conditions I was seeing.

A lot of patients were on antibiotics for conditions like

acne. Repeat customers filling prescriptions would

confide that they didn't like the side effects, did we

have other solutions? I recommended some products

that would help, but realised that there was a massive

hole in the market for people who prefer an alternative

to medication.

How did you go back out on your own?

My career came to a crossroads. I could go back to

medical school for 10 years and become a dermatologist,

or set up my own skin therapy business and help people

in the field straight away. I backed myself and decided to

wing it. I had a side hustle to pay the mortgage and off

I went.

I chose the name The Dermal Diary because I had

a blog – back in 2015 when blogging was massive –

answering lots of questions about skin conditions, finding

the right sunscreen or why skin goes red. The name still

worked. I started my clinic in a small space and saw 11

clients on my first day, which was incredible. Old clients

from the dermatology clinic had googled my name.

How did you expand from in-person treatment to

manufacturing?

Two years into opening my own clinic, I hired a business

coach who challenged me to research creating my own

product. It hit me: I was having to juggle ingredients

from five brands to get my results. I spent a couple of

months researching pharmacies that create formulas and

design packaging.

What boxes did your new products have to tick?

They had to be Australian made, have recyclable

packaging, and you needed to be able to see how much

product remained, so customers weren't left in the lurch

one night when it ran out. My production size had to be

small to keep it fresh, and I wanted to design my own

logo. Luckily, I eventually found a company that could

do it all.

www.cosbeauty.com.au 95
---
FEATURE
---
What is The Dermal Diary routine you created?

I launched eight products initially: cleanser, toner,

three serums, and a couple of moisturisers.

Now I have about 25 products in total. As the

demand presented itself, I just developed more.

How much does feedback from The Dermal Diary

clinic influence the products?

It's huge. People make the mistake of making a

product and hoping people will like it, whereas it

may not even sell. Dermal Diary products have been

developed after years of listening to hundreds of

clients share what they like, don't like, want to pay

and the results that they are after. My experience with

real people shapes it; the clinic gave me all the case

studies I needed.

The clinic helped the product – does it work the

other way around?

Yes! I used to complain that I couldn't find the

perfect product for my clinic treatments. Now I

have it. Having a skincare line also saved me during

lockdown because I could still serve my customers

around the country even though the clinic itself was

shut down. No one else has it, and my clients are

hooked on the results. After three years, we already

had the sales momentum to get us through the

worst of the pandemic. Unsurprisingly, some clinics

never reopened because they couldn't survive two

lockdowns in two years.

day went from 7am to 9pm so that I could get where I

needed to go.

I now have two kids under two years old (a 4 monthold

and a 23 month-old), so I am behind the scenes a

lot more, taking maternity leave and paring down to

being in the clinic two days a fortnight. It's a balancing

act and the simple fact is that when I pull away, for

example while breastfeeding, of course the business

will suffer. Wherever you put energy will thrive. The

Dermal Diary is built on my effort so I can never

completely pull my foot off the accelerator. There is

no such thing as annual leave or sick pay and I still

need to be present, training and motivating my staff to

maintain standards.

What is your product of the moment?

I created the Dream Mask because women love the

idea of masks, but don't love taking them off. I found

a way to keep it simple. You can exfoliate, apply this

highly nourishing, probiotic mask, leave it on, then

sleep and dream in it – the lazy woman's mask! It fits

the gap perfectly and is still one of our best-selling

crowd pleasers. CBM

Which is most crucial to entrepreneurial success:

the idea or the passion behind it?

You have to love what you do and really enjoy it –

then it doesn't feel like you're working. I believe

that you do well when it's not only about the money.

Entrepreneurs are just not designed to work for other

people. I had so much drive and so many incredible

ideas but not everyone understood the vision and I

got frustrated. I don't like being told what to do. As

the boss, once you make a decision and implement

it, it's done.

What's your boss like to work for?

Haha! I laugh when people tell me how lucky I am

to work for myself because it's so flexible and I can

have time off. Yes, entrepreneurs can work when they

like, but ask them and they usually work all the time.

Initially when I was younger with incredible drive, my

www.cosbeauty.com.au 97
---
FEATURE

UNDER

THE

KNIFE

IS THE

AUSTRALIAN

COSMETIC

SURGERY

INDUSTRY

GETTING A

FACELIFT?
---
WE REPORT ON THE CURRENT 'COSMETIC

SURGEON' CRISIS IN AUSTRALIA AND

PROPOSED CHANGES TO THE INDUSTRY.

The recent and much

publicised joint investigation

between Four Corners, The

Age and Sydney Morning Herald

into some alarming practices at

a popular cosmetic surgery clinic

has put the Australian aesthetics

industry under close scrutiny and

prompted a renewed push for

increased regulation.

The debate is centred on the

use of the title 'cosmetic surgeon',

with health ministers calling for a

review of the industry and more

transparency for consumers.

The investigation reported

allegations of medical misconduct

by cosmetic surgeon Dr Daniel

Lanzer, including hygiene and safety

breaches, with multiple patients

saying botched surgeries left

them with pain or requiring further

medical treatment.

Shortly after the program aired in

October 2021, the Australian Health

Practitioner Regulation Agency

(AHPRA), the medical regulator,

launched an investigation into

Dr Lanzer. A statement on the

AHPRA website on October 30

said Dr Lanzer had agreed not to

practice medicine in Australia while

the investigation continued.

Since then, a senior associate at

Dr Lanzer's clinic, Dr Daniel Aronov

(a cosmetic surgeon with more than

13 million TikTok followers) has

also been banned from performing

cosmetic surgery in Australia and

ordered to remove all procedurerelated

material on social media.

LANDMARK REVIEWS

BY HEALTH REGULATOR

AND STATE AND

FEDERAL GOVERNMENTS

CALL FOR OVERHAUL OF

COSMETICS INDUSTRY

AHPRA works with Australia's

national boards to regulate

the country's registered health

practitioners. One of its purposes is

to manage complaints and concerns

raised about health practitioners.

The regulator is currently

undergoing a major review of the

cosmetic surgery sector, its firstever

review into patient safety.

AHPRA's review, led by the outgoing

Queensland Health Ombudsman

Andrew Brown, will examine the

advertising of cosmetic surgery,

the current codes of conduct and

protocols around how complaints

are handled.

AHPRA CEO Martin Fletcher said

the cosmetic industry had 'worrying

features' which made it riskier than

other areas of medicine.

FEDERAL HEALTH MINISTER GREG HUNT

HAS ASKED STATE HEALTH MINISTERS TO

MAKE NEW LAWS A PRIORITY.

www.cosbeauty.com.au 99
---
FEATURE

'Among them, corporate business

models that are allegedly placing

profit over patient safety, procedures

being undertaken for no medical

need, limited factual information

for consumers, and the exponential

growth in social media that often

emphasises benefits and downplays

risks,' he told the ABC.

'Cosmetic practice has rapidly

grown as a multi-million dollar

entrepreneurial industry with

practices and marketing methods

that raise ethical dilemmas,' he

added.

At the time of writing in mid-

December 2021, the federal and

state governments just launched

a landmark review aimed at

overhauling laws into who can call

themselves a cosmetic surgeon,

and increasing the penalties for

deceptive advertising and social

media abuses, according to the

Sydney Morning Herald.

Federal Health Minister Greg Hunt

has asked state health ministers to

make new laws a priority.

On December 12, the states and

Commonwealth released a 108-

page Regulation Impact Statement

(RIS) into the use of the title

'surgeon' and 'cosmetic surgeon'. It

will be open for public consultation*

until April 1, 2022, with the public

invited to anonymously provide

feedback about their experiences

and submissions.

According to the statement,

an anonymous survey and direct

submissions would help devise

policy responses to reform the

cosmetic procedures industry.

The consulting document

canvasses a series of options,

including restricting the title

'surgeon' under National Law

and undertaking major public

information campaigns.

Other options include

strengthening the existing

framework through administrative

rather than legislative mechanisms

and increasing provider liability for

non-economic damages.

A fourth option is to maintain the

status quo, but this seems unlikely.

The consulting document

said ministers were 'particularly'

concerned that the practice of

cosmetic surgery and widespread

use of the informal title 'cosmetic

surgeon' may be strongly and

disproportionately associated with

these risks and harm. It said there

was an information and power

asymmetry between patients and

practitioners, which was contributing

to the risk of consumer harm.

'It can be difficult for the public

to obtain information from neutral

and informed sources, particularly

as most cosmetic surgery

consumers obtain information about

prospective procedures from the

practitioners that perform those

procedures and from social media,'

the report says.

'This RIS is interested to discover

how widespread cosmetic surgery

resulting in significant harm and

complications [might] be, and

whether medical practitioners'

qualifications are contributing to

potential harm.'

It said advertising and marketing

material must comply with a series

of laws. Breaches of the law for

advertising offences can incur
---
THE CONSULTING DOCUMENT CANVASSES A SERIES

OF OPTIONS, INCLUDING RESTRICTING THE TITLE

'SURGEON' UNDER NATIONAL LAW AND UNDERTAKING

MAJOR PUBLIC INFORMATION CAMPAIGNS.

WHO CAN BE A

COSMETIC SURGEON?

WHO CAN BE A

PLASTIC SURGEON?

Often 'plastic surgeon' and 'cosmetic

surgeon' are used interchangeably,

but by law only practitioners who have

completed an additional 8-12 years of

specialist plastic surgical training, beyond

their medical degree, can call themselves

plastic surgeons.

financial penalties of $5,000 for each

advertising offence for an individual

and $10,000 for a body corporate.

Public consultation for the review

began on 21 December, 2021 and

closes on 1 April, 2022. A report is

expected around the middle of the

year. CBM

* If you would like to participate in

the survery, visit https://engage.vic.

gov.au/medical-practitioners-usetitle-surgeon-under-national-law

As it stands, anyone with a basic medical

degree is able to call themselves a

'cosmetic surgeon'. This means the

'cosmetic surgeon' title can cover a wide

spectrum of doctors, from those with no

formal surgical training to those who are

highly skilled with decades of experience.

This unusual 'loophole' can be exploited

because there is no formal pathway

for any doctor to specifically train in

cosmetic procedures – and it is this

'loophole' that health ministers are

currently consulting on.

Indeed, the title of 'cosmetic surgeon',

and who can use it, is at the forefront of

the federal and states review. This is a

space we will be watching closely.

www.cosbeauty.com.au 101
---
COSMETIC ENHANCEMENT

THE MOST

POPULAR

ANTI-AGEING

TREATMENT

OF ALL TIME
---
AS BOTOX COSMETIC

CELEBRATES ITS 20TH

BIRTHDAY THIS YEAR IN THE

UNITED STATES, WE TAKE

A TRIP DOWN MEMORY

LANE WITH THE FOUNDERS

OF THIS REVOLUTIONARY

TREATMENT.

Thought to be the most

powerful toxin known to

man and capable of causing

paralysis, millions of people

across the world have botulinum

toxin type A injections to address the

ageing effects of furrows, frowns and

wrinkles. What was once the domain

of the A-listers is now very much

entrenched in the 'every woman'

modern-day beauty arsenal and has

become a worldwide phenomenon.

THE BIRTH OF BOTOX

Although the cosmetic effect of

botulinum toxin on wrinkles was

first documented by a plastic

surgeon from Sacramento, it wasn't

until Canadian husband and wife

ophthalmologist and dermatologist

physicians Jean and Alastair

Carruthers published their research

in 1992 that 'Botox' for cosmetic

use was officially born. In 2002, it

was officially approved in the US

as a treatment for frown lines

in adults. (Australia had already

introduced Botox for cosmetic use

back in 1999.)

The birth of Botox to treat wrinkles

was something of an accident. As an

ophthalmologist, Jean Carruthers

had been using botulinum toxin

type A to treat blepharospasm – an

uncontrolled muscle spasm that

occurs in the eye.

'One of Jean's patients

complained that she hadn't been

treated in this area,' Dr Alastair

Carruthers told us during an

exclusive interview in San Diego

some years back, pointing to the

region between his eyes where

you'd imagine frown lines may

exist had he not discovered Botox's

'other' use.

"I didn't think you were spasming

there," my wife replied, to which the

patient explained, "But every time

you treat me there I get this overly

untroubled, unworried look and

my family tells me I look so much

better!"' he recalls.

www.cosbeauty.com.au 103
---
COSMETIC ENHANCEMENT

As a dermatologist, Alastair

Carruthers knew first-hand the

significance of this flyaway comment.

In the late 1980s, his cosmetic

toolbox was sadly lacking any

weapon capable of improving

the appearance of frown lines.

'We didn't have anything,' he

emphasises. 'Collagen was about it.'

It didn't take long for the

husband and wife team to begin

their exploration into the cosmetic

potential of botulinum toxin type

A. 'The very next day, Jean treated

our receptionist, Cathy,' says Dr

Carruthers. 'Cathy had witnessed

Jean inject hundreds of clients

so she knew it was a reasonable

procedure. A few days later, I saw

her and remember saying, "Wow",

because I hadn't seen anything like it

before,' he recalls.

With his cosmetic practice side by

side with his wife's ophthalmology

clinic, from that point on, Alastair

Carruthers would send his own

patients next door for treatment, any

time he met someone who wanted

to improve the appearance of their

forehead furrows.

Of course, without clinical

evidence the use of botulinum toxin

would not be the phenomenon it is

today. 'It took time, but we gradually

accumulated a number of people

and, in March 1991, we were able to

present our data,' he says.

The results were impressive, but

the timing poor. In 1991, the US FDA

(Food and Drug Administration) was

in the midst of threatening jail-time

for the illegal promotion of the

off-label use of Retin-A. 'And then

we come along and tell the FDA

we want to inject the most deadly

material known to humanity in order

to treat wrinkles,' Dr Carruthers says.

'Everyone said we were crazy.'

CAN BOTOX REALLY

MAKE US HAPPIER?

There is mounting evidence to suggest that Botox

injections in the forehead to stop us frowning can

not only make us look happier but feel it, too.

We smile just because we're happy and frown

when we're angry or sad. Or do we? Evidence is

mounting to suggest we can "trick" our brains into

a more positive outlook or out of a negative one by

consciously controlling our facial expressions. While

it's sometimes hard to control our emotions, it's

much easier to control our muscles.

Scientists have long believed that our emotions

are reinforced – perhaps even driven – by their

corresponding facial expressions, known in

psychology as the facial feedback hypothesis, ie if

we force a smile when we're feeling down, we will

actually start to feel happier. The theory is that if we

cannot physically frown, the brain feels there may be

less to frown about – the psychological equivalent of

the old song "when you're smiling, the whole world

smiles with you".

A spate of studies on Botox recipients have given

further weight to the argument that the brain can

be "tricked" into a better mood. Psychologists at

the University of Cardiff in Wales found that people

whose ability to frown is compromised by musclerelaxant

injections such as Botox are happier, on

average, than people who can frown.

The researchers administered an anxiety and

depression questionnaire to 25 women, half of

whom had received Botox. The Botox recipients

reported feeling happier and less anxious in general.

Significantly, they did not report feeling any more

attractive, which suggests that the emotional effects

were not driven by a psychological boost that could

come from the treatment's cosmetic nature.

'It would appear that the way we feel emotions

isn't just restricted to our brain – there are parts of

our bodies that help and reinforce the feelings we're

having,' says Michael Lewis, a co-author of the study.

'It's like a feedback loop.'
---
Cosmetic surgeons the world

over started to use it – off-label

– to improve the appearance of

frown lines, but it wasn't until 2002,

after formal clinical trials, that the

FDA approved Botox Cosmetic to

temporarily improve the appearance

of moderate to severe frown lines

between the eyebrows.

'It took a while, but with the

support of some key dermatologists,

it was as if all of a sudden there was

a critical mass and people started to

listen to us,' Dr Carruthers recalls.

Botox Cosmetic, as we know, went

on to become a major blockbuster,

estimated to bring in US$2 billion in

annual sales for Allergan.

Given that Botox can be

considered one of the most

successful symbioses in late-20thcentury

cosmetic medicine, it's

understandable to assume that Jean

and Alastair Carruthers went on to

become billionaires.

As two people upholding an

ethical position, however, they

refused to cash in. Although they

eventually went on to become

consultants with Allergan, the

multi-billion dollar company that

would launch Botox Cosmetic, and

which already owned the formula for

medical use, they never patented

their discovery.

'We took advice from a lawyer in

Toronto who was supposed to be an

expert and said that he did not think

this was a patentable idea. We have

since learned that it was indeed,' Dr

Carruthers told a Canadian magazine

back in 2010. 'Are there any regrets?

I guess so, but not major.'

WHAT EXACTLY IS

BOTULINUM TOXIN

AND WHAT CAN IT

TREAT?

Botulinum toxin is a protein

produced by the bacterium

Clostridium botulinum. It is a muscle

relaxant that is commonly used

for cosmetic facial enhancement,

particularly to treat crow's feet

around the eyes, the frown lines

between the eyebrows (glabellar

lines) and the worry lines across the

forehead. The marionette or sad

lines, from the corner of the mouth

to the chin, can be effectively treated

with botulinum toxin. It can also be

used to produce the effect of a brow

lift by relaxing the muscles that drag

down the brow.

In cosmetic procedures, botulinum

toxin works by blocking nerve

stimulation to wrinkle-causing

muscles, which prevents the muscle

from contracting and significantly

reduces wrinkles and fine lines.

www.cosbeauty.com.au 105
---
BOTOX: PAST, PRESENT

& POSSIBLE USES

COSMETIC ENHANCEMENT

Approved medical and cosmetic uses are shown in bold. Allergan is currently investigating or

has a patent pending on all other indications shown.

Chronic headaches

EYELID TWITCHING

Inner ear disorders

Neck pain

Thyroid disorder

FROWN LINES

CROSSED EYES

NECK MUSCLE

CONTRACTIONS

SEVERE UNDERARM SWEATING

Stretch mark reduction

Cranial nerve disorders

Facial spasms

Downturned mouth

Teeth grinding

Facilitating dental procedures

Vocal chord disorder

Oesophageal problems

(difficulty swallowing)

Relaxing blood vessels in heart disease

Cardiac muscle disorder

Ulcers and acid reflux disease

Reduced appetite

Pancreas disorders

Back pain

Intra-spinal pain

Overactive bladder

Essential tremor

(especially arms)

Buttock deformity

Benign enlarged prostate

Testicular pain

Anal fissure

JUVENILE CEREBRAL PALSY

Involuntary twitching

Bone tumour pain

Skeletal muscle pain

POST-STROKE LIMB SPASTICITY

Sources: Food and Drug Administration; Allergan; New York Times
---
NOT JUST A

PRETTY FACE

While many people think of botulinum

toxin as a modern-day treatment for

wrinkles, it has actually been used since

the 1960s to treat a range of medical

conditions. But its discovery actually

extends much further back in time.

In the 19th century, German

physician Justinus Christian Kerner first

recognised the potential therapeutic

uses of botulinum toxin. An 1815

outbreak of botulism (a dangerous

paralytic illness caused by the toxin

botulin) in southern Germany among

people who had eaten uncooked blood

sausage led Kerner to publish a precise

description of botulism's symptoms

– from blurred vision to progressive

muscle weakness, culminating in

respiratory failure. He postulated

that minute quantities of the diseaseproducing

substance might be able to

treat disorders of the nervous system.

In the 1970s, Dr Alan Scott of

the Smith-Kettlewell Eye Institute

demonstrated that botulinum toxin

was a powerful therapeutic agent that

could be used to treat ophthalmic

disorders associated with muscle

over-activity such as lazy eye or eyelid

spasms (blepharospasms). Since then,

it has been used to treat a variety of

involuntary muscle contractions or

disorders such as neck spasms (cervical

dystonia), to reduce symptoms of

an overactive bladder, relieve teeth

clenching and grinding, and even

as a migraine and tension headache

preventative.

Botulinum toxin is used in much

higher doses to treat children two years

of age or older suffering from cerebral

palsy to help them walk.

It can also be injected into the skin

to block the action of the nerves that

control sweat glands, and in this way

treat excessive localised sweating

(hyperhidrosis), especially severe

underarm sweating.

'TOX IN OZ:

BOTOX,

DYSPORT &

XEOMIN

Today, botulinum toxin is available for cosmetic

use in Australia under the brand names Botox,

Dysport and Xeomin, and all are TGA approved for

their ability to relax facial muscles and improve the

appearance of furrows between the eyes.

BE CONFIDENT IN WHO'S

INJECTING YOUR FACE

With cosmetic injections becoming as ubiquitous as

facials and haircuts, it's incredibly important – from

both a safety and an aesthetic perspective – that

your injector is accredited and experienced.

Cosmetic injections are medical procedures that

require a physical examination and history-taking

for a complete consultation. Like any medical

procedure, they also carry an element of risk.

In the rare event of serious complications arising,

you want to be assured you are in the best possible

hands to remedy the situation. Always be sure to

check the qualifications of your injector to ensure

you are being treated by a qualified and trained

practitioner.

Be aware that cheapest is not always best;

don't make your decision on price alone. After

all, it's your face, and your safety, we're talking

about. CBM

www.cosbeauty.com.au 107
---
WELLNESS

EVERYTHING

YOU THOUGHT

YOU KNEW

ABOUT

METABOLISM

MAY BE

WRONG

RECENT RESEARCH HAS SHAKEN

WIDELY HELD WEIGHT LOSS

THEORIES TO THE CORE. AS IT

TURNS OUT, YOU WON'T BE

ABLE TO BLAME A SLOW

METABOLISM FOR YOUR

WEIGHT GAIN ANYMORE.
---
WHILE SEVERAL FACTORS COULD EXPLAIN THE

THICKENING WAISTLINES THAT OFTEN EMERGE DURING

OUR PRIME WORKING YEARS, THE FINDINGS SUGGEST THAT

A CHANGING METABOLISM ISN'T ONE OF THEM.

Remember those heady days of

youth when it seemed we could

eat anything we want and not

gain weight? And now even so much

as a glance at a Tim Tam will send the

scales in the wrong direction? Our

metabolism has taken the brunt of

the blame for decades, but a landmark

2021 study * published in the journal

Science says metabolism in adulthood

does not slow as commonly believed.

'There are lots of physiological

changes that come with growing up

and getting older,' says study co-author

Herman Pontzer, associate professor

of evolutionary anthropology at

Duke University. 'Think puberty,

menopause, other phases of life.

What's weird is that the timing of our

"metabolic life stages" doesn't seem to

match those typical milestones.'

Total daily energy expenditure

reflects daily energy needs and is a

critical variable in human health and

physiology, but its trajectory over the

life course is poorly studied. Pontzer

and an international team of scientists

analysed the average calories burned

(daily energy expenditure) by more

than 6,600 people ranging from one

week old to age 95 across 29 countries

as they went about their daily lives.

SMASHING

4

THE

STAGES OF

METABOLISM

1.

From one week old up until age 1,

your metabolism is at its highest

level, accelerating until it is 50%

above the adult rate.

2.

From age 1 to 20, metabolism slows

down gradually at a rate of around

3% per year.

3.

Between ages 20 to 60, your

metabolism remains relatively stable.

4.

From age 60 onwards, it slows

down by about 0.7% a year.

www.cosbeauty.com.au 107
---
THE DATA SUGGEST THAT OUR

METABOLISMS DON'T REALLY START TO

DECLINE AGAIN UNTIL AFTER AGE 60.

WELLNESS

METABOLISM

MYTHS

Analysing energy expenditures across

the entire lifespan revealed some

surprises. Some people think of their

teens and 20s as the age when their

calorie-burning potential hits its peak.

But the researchers found that infants

had the highest metabolic rates of all; a

one-year-old burns calories 50% faster

for their body size than an adult.

After this initial surge in infancy,

the data show that metabolism slows

by about 3% each year until we reach

our 20s, when it levels off into a

new normal.

Despite the teen years being a time

of growth spurts, the researchers didn't

see any uptick in daily calorie needs in

adolescence after they took body size

into account. 'We really thought puberty

would be different and it's not,'

Pontzer says.

Midlife was another surprise. We've

been told that it's all downhill after

30 when it comes to our weight. But

while several factors could explain

the thickening waistlines that often

emerge during our prime working years,

the findings suggest that a changing

metabolism isn't one of them.

In fact, the researchers discovered

that energy expenditures during these

middle decades – our 20s, 30s, 40s and

50s -- were the most stable. Even during

pregnancy, a woman's calorie needs were

no more or less than expected given her

added bulk as the baby grows.

WHAT IS

METABOLISM?

Metabolism is the process by which

your body converts what you eat

and drink into energy. During this

complex process, calories in food and

beverages are combined with oxygen

to release the energy your body needs

to function.

Even at rest, your body needs

energy for all its 'hidden' functions

to keep you alive and your organs

functioning normally, such as breathing,

circulating blood, adjusting hormone

levels, growing and repairing cells, and

digesting food.

The minimum amount of energy

your body requires to perform these

chemical processes is called the basal

metabolic rate (BMR).

Your individual basal metabolic rate,

or metabolism, is determined by your

body size and composition, sex and

muscle composition. In addition to your

BMR, thermogenesis (food processing)

and physical activity determine how

many calories your body expends, or

burns, each day.

People who struggle to lose weight

often blame a slow metabolism. But

there's actually little evidence to

support this claim.

Conversely, research shows that

overweight people have faster

metabolisms than thinner people.

Larger bodies require more energy

to carry out basic bodily functions.

More often than not, the reason you're

putting on weight is not because of a

slow metabolism; it's because you're

eating and drinking more calories than

you're burning.
---
WHY 60

IS THE

NEW 30

The data collected in the study suggest

that our metabolisms don't really start

to decline again until after age 60. The

slowdown is gradual, only 0.7% a year.

But a person in their 90s needs 26%

fewer calories each day than someone

in midlife.

The findings suggest that other factors

lie behind the so-called 'middle-age

spread. Lost muscle mass as we get older

may be partly to blame, the researchers

say, since muscle burns more calories

than fat. But it's not the whole picture.

'It's because [our] cells are slowing

down,' Pontzer says.

The patterns held even when differing

activity levels were taken into account.

For a long time, what drives shifts in

energy expenditure has been difficult to

parse because ageing goes hand in hand

with so many other changes, Pontzer

says. But the research lends support to

the idea that it's more than age-related

changes in lifestyle or body composition.

'All of this points to the conclusion

that tissue metabolism, the work that

the cells are doing, is changing over the

course of the lifespan in ways we haven't

fully appreciated before,' he says. 'You

really need a big data set like this to get

at those questions.'

'These changes shed light on human

development and ageing and should

help shape nutrition and health

strategies across the life span,' the

authors conclude. CBM

Source: Today.Duke.edu

*

Daily Energy Expenditure Through the Human

Life Course,' Herman Pontzer, Yosuke Yamada,

Hiroyuki Sagayama, et al. Science, Aug. 12,

2021. DOI: 10.1126/science.abe5017

www.cosbeauty.com.au 109
---
BEAUTY

E d's

fa

ves
---
1.

2.

3.

4.

5.

6.

7.

8.

9.

10.

1. Lük Beautifood Lip + Body Love Collection, Pretty Pink Set, $89, 2. Jean Paul Gaultier Scandal Pour Homme Edt 100ml, $155,

3. Bottega Veneta Gold-plated ring, $830, 4. Trinny London Sheer Shimmer in Bunny, $40, 5. Trinny London Lash2Brow, $50, 6.

Christina Sikalias Beauty Luce Del Sole Eye Palette, $128, 7. Jean Paul Gaultier Le Belle EDT 100ml, $202, 8. Mavala Iconic Color's

Collection + Silicium Nail Polish in Inverness, Detroit, Manaus, Muscat, Rangoon and Salamanca, $8.95 each, 9. Christina Sikalias

Beauty Luce Del Sole Lip Gloss, $36, 10. Gucci GG Crystal-Embellished Earrings, $640

www.cosbeauty.com.au 111
---
3.

1.

2.

BEAUTY

4.

5.

6.

1. Morphe Mickey & Friends Truth Be Bold Artistry Palette, $50, 2. Morphe Mickey & Friends Truth Be Bold 6-Piece

Brush Set, $44, 3. Morphe Morphe X Sour Patch Kids Colorful Crew Beauty Sponge Set, $30, 4. Morphe Morphe X

Sour Patch Kids Candy Sweet Lip Scrub- Red Berry, $15, 5. Rimmel London Waterproof Wonder'proof Liners, 003

Precious Emerald, $15.95, 6. Loungeface Lash Mascara, $37

112
---
14.

13.

12.

7.

10.

8.

9.

11.

7. Sundae Shower Whipped Shower Foam Gift Pack: includes Pomegranate Fizz, Coconut Cream, Honey Honey and Cool

Mint, $68, 8. Recreation Beauty At Night We Dance EDP 50ml, $109, 9. evo water killer dry shampoo, $38, 10. Color

Wow Xtra Large Bombshell Volumizer, $58.85, 11. Cloud Nine Magical Quick Dry Potion 200ml, $45, 12. Cloud Nine The

Cordless Iron Pro, $595, 13. PMD Silversilk Headband, $5, 14. Versace La Medusa Small Handbag Lilac, $ 2,680

www.cosbeauty.com.au 113
---
BEAUTY

114
---
1.

2.

3.

5.

4.

7.

6.

8.

12.

11.

10.

9.

13.

1. Ciaté London Cheat Sheets Nail Wrap Kit, $21, 2. Skeyndor Fresh After Sun Emulsion 150ml, $44, 3. Cemoy

Timekeeper Eye Serum, $64.95, 4. QED Skincare The Hand Cream 250g, $72, 5. Dior Aqua Bottle With Shoulder Strap Off-

White Grained Calfskin And Dior Oblique Stainless Steel, $1,250, 6. Monat Makeup Vanishing Balm, $96, 7. Peter Thomas

Roth Full-Size Firm & Glow Icons 2-Piece Kit Includes, Firmx Peeling Gel 100ml and 24K Gold Pure Luxury Lift & Firm

Hydra-Gel Eye Patches 60 patches, $114, 8. Waterpik Water Flosser WF-10W010 Cordless Select, $79.99, 9. Grandiflora

Saskia 50ml, $195, 10. Ella Baché Retinol Renewal Eye Serum 15ml, $109, 11. Ella Baché Sunguard Great SPF 40, $49, 12.

Jurlique Restoring Shower Gel Lemon, Geranium & Clary Sage 300ml, $436, 13. Skeyndor Drops of D'Or 30ml, $69

www.cosbeauty.com.au 115
---
AestheticAdvisor is Australia's

trusted online resource to

research procedures, find a skilled

practitioner, read real reviews and

have questions answered.

www.aestheticadvisor.com.au