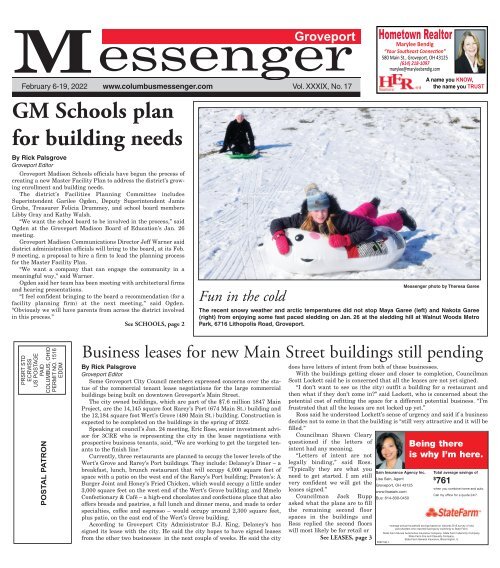 Groveport Messenger - February 6th, 2022
You also want an ePaper? Increase the reach of your titles
YUMPU automatically turns print PDFs into web optimized ePapers that Google loves.
Messenger

Groveport

February 6-19, 2022 www.columbusmessenger.com Vol. XXXIX, No. 17

GM Schools plan

for building needs

By Rick Palsgrove

Groveport Editor

Groveport Madison Schools officials have begun the process of

creating a new Master Facility Plan to address the district's growing

enrollment and building needs.

The district's Facilities Planning Committee includes

Superintendent Garilee Ogden, Deputy Superintendent Jamie

Grube, Treasurer Felicia Drummey, and school board members

Libby Gray and Kathy Walsh.

"We want the school board to be involved in the process," said

Ogden at the Groveport Madison Board of Education's Jan. 26

meeting.

Groveport Madison Communications Director Jeff Warner said

district administration officials will bring to the board, at its Feb.

9 meeting, a proposal to hire a firm to lead the planning process

for the Master Facility Plan.

"We want a company that can engage the community in a

meaningful way," said Warner.

Ogden said her team has been meeting with architectural firms

and hearing presentations.

"I feel confident bringing to the board a recommendation (for a

facility planning firm) at the next meeting," said Ogden.

"Obviously we will have parents from across the district involved

in this process."

See SCHOOLS, page 2

Fun in the cold

Hometown Realtor

Marylee Bendig

580 Main St., Groveport, OH 43125

(614) 218-1097

marylee@maryleebendig.com

A name you KNOW,

the name you TRUST

Messenger photo by Theresa Garee

The recent snowy weather and arctic temperatures did not stop Maya Garee (left) and Nakota Garee

(right) from enjoying some fast paced sledding on Jan. 26 at the sledding hill at Walnut Woods Metro

Park, 6716 Lithopolis Road, Groveport.

PRSRT STD

ECRWSS

US POSTAGE

PAID

COLUMBUS, OHIO

PERMIT NO. 1516

EDDM

POSTAL PATRON

Business leases for new Main Street buildings still pending

By Rick Palsgrove

Groveport Editor

Some Groveport City Council members expressed concerns over the status

of the commercial tenant lease negotiations for the large commercial

buildings being built on downtown Groveport's Main Street.

The city owned buildings, which are part of the $7.6 million 1847 Main

Project, are the 14,145 square foot Rarey's Port (674 Main St.) building and

the 12,184 square foot Wert's Grove (480 Main St.) building. Construction is

expected to be completed on the buildings in the spring of 2022.

Speaking at council's Jan. 24 meeting, Eric Ross, senior investment advisor

for 3CRE who is representing the city in the lease negotiations with

prospective business tenants, said, "We are working to get the targeted tenants

to the finish line."

Currently, three restaurants are planned to occupy the lower levels of the

Wert's Grove and Rarey's Port buildings. They include: Delaney's Diner — a

breakfast, lunch, brunch restaurant that will occupy 4,000 square feet of

space with a patio on the west end of the Rarey's Port building; Preston's: A

Burger Joint and Honey's Fried Chicken, which would occupy a little under

3,000 square feet on the west end of the Wert's Grove building; and Mmelo

Confectionary & Café — a high-end chocolates and confections place that also

offers breads and pastries, a full lunch and dinner menu, and made to order

specialties, coffee and espresso — would occupy around 2,300 square feet,

plus patio, on the east end of the Wert's Grove building.

According to Groveport City Administrator B.J. King, Delaney's has

signed its lease with the city. He said the city hopes to have signed leases

from the other two businesses in the next couple of weeks. He said the city

does have letters of intent from both of these businesses.

With the buildings getting closer and closer to completion, Councilman

Scott Lockett said he is concerned that all the leases are not yet signed.

"I don't want to see us (the city) outfit a building for a restaurant and

then what if they don't come in?" said Lockett, who is concerned about the

potential cost of refitting the space for a different potential business. "I'm

frustrated that all the leases are not locked up yet."

Ross said he understood Lockett's sense of urgency and said if a business

decides not to come in that the building is "still very attractive and it will be

filled."

Councilman Shawn Cleary

questioned if the letters of

intent had any meaning.

"Letters of intent are not

legally binding," said Ross.

"Typically they are what you

need to get started. I am still

very confident we will get the

leases signed."

Councilman Jack Rupp

asked what the plans are to fill

the remaining second floor

spaces in the buildings and

Ross replied the second floors

will most likely be for retail or

See LEASES, page 3

Sain Insurance Agency Inc.

Lisa Sain, Agent

Groveport, OH 43125

www.lisasain.com

Bus: 614-830-0450

Being there

is why I'm here.

Total average savings of

$

761

when you combine home and auto.

Call my office for a quote 24/7.

*average annual household savings based on national 2015 survey of new

policyholders who reported savings by switching to State Farm.

State Farm Murual Automotive Insurance Company, State Farm Indemnity Company,

State Farm Fire and Casualty Company,

State Farm General Insurance, Bloomington, IL

P097136.1
---
PAGE 2 - GROVEPORT MESSENGER - February 6, 2022

A FREE ESTIMATE

15 10 5

YOUR ENTIRE

PURCHASE *

% % %

OFF + OFF + OFF

Serving Your Community

Malek &

ATTORNEYS AT LAW Malek

Proudly Announcing

Adding New Attorneys

To Serve You!

WORKERS'

COMPENSATION

PERSONAL INJURY

WRONGFUL DEATH

SLIP & FALL INJURY

DOG BITE INJURY

SENIOR & MILITARY

DISCOUNTS

| Promo Number: 285

Since 1972

YEAR-ROUND

CLOG-FREE GUARANTEE

1-855-595-2102

TO THE FIRST

50 CALLERS! **

Prepare for unexpected

power outages with a

Generac home standby

generator

REQUEST A FREE QUOTE!

866-643-0438

FREE

7-Year Extended Warranty*

A $695 Value!

Limited Time Offer - Call for Details

Special Financing Available

Subject to Credit Approval

*To qualify, consumers must request a quote, purchase,

install and activate the generator with a participating dealer.

Call for a full list of terms and conditions.

Douglas, Ed, Jim

and Kip Malek

"Hablamos Español"

FREE Initial Consultation

www.maleklawfirm.com

614-444-7440

1227 S. High St., Columbus, OH 43206

SCHOOLS

Continued from page 1

Warner said the creation of the Master Facility

Plan could take at least a year and the plan must be

approved by the board.

He said steps in the process include: hiring a company

to complete updated enrollment projections; an

architect to complete a facilities assessment to explore

what buildings could be renovated, expanded, or

replaced; and the creation of the Master Facility Plan

that includes input from and engages with the community.

Warner said the district will follow Ohio Facilities

Construction Commission guidelines in creating the

Master Facility Plan.

"We do not know when funding from the OFCC will

be available so we want to get ahead," said Warner.

"We need space due to our growth and it will be good

to have a plan ready for when the OFCC says money is

available."

As of October 2021 (the customary time frame the

Ohio Department of Education uses to calculate enrollment),

the district had 6,271 students. In comparison,

enrollment was 5,569 in 2015-16.

"Overcrowding is the central issue we're facing, but

other factors that must be considered in the facilities

planning process include the age, condition, efficiency,

adaptability, and cost to maintain our existing elementary

and middle schools," said Warner. "It's important

to keep all of these factors in the forefront of the discussion."

According to Warner, the district has 24 modular

classrooms in use. There is a single quad-classroom

unit at Groveport Elementary, two double-classroom

units at Asbury Elementary and Dunloe Elementary,

FREE COVID

TESTING HERE

PCR & RAPID

No appointment Needed • No Insurance Needed

ALL WALK-INS WELCOME!

DATE: Tuesdays & Thursdays 5:00pm-6:30om

LOCATION:

4900 Hendron Rd., Groveport, OH 43125

(Cuthbert Greenhouse)

www.columbusmessenger.com

and six double-classroom units at Sedalia Elementary.

District officials indicated it is not known at this

time as to when a bond issue to fund new schools or

school improvements could appear before the voters on

the ballot.

Buildings' capacity and enrollments

Here are the capacity and enrollments (as of

December 2021) for Groveport Madison's elementary

and middle schools (a new 240,000 square foot, 1,500

student high school opened in 2018):

•Asbury Elementary — Built in 1963 with additions

in 1968 and 1969. Enrollment, 476. Functional capacity,

425.

•Dunloe Elementary — Built in 1967 with additions

in 1968 and 1969. Enrollment, 448. Functional capacity,

425.

•Glendening Elementary — Built in 1968 with addition

in 1974. Enrollment, 455. Functional capacity,

425.

•Groveport Elementary — Built in 1923.

Enrollment, 417. Functional capacity, 425. Placed on

the National Register of Historic Places in 2009.

•Madison Elementary — Built in 1967 with additions

in 1968 and 1969. Enrollment, 354. Functional

capacity, 425.

•Sedalia Elementary — Built in 1969 with addition

in 1974. Enrollment, 562. Functional capacity, 446.

•Middle School North — Built in 1975. Enrollment,

495. Functional capacity, 425.

•Middle School South — Built in 1975. Enrollment,

466. Functional capacity, 425.

•Middle School Central — Built in stages as a high

school between 1952-56. Enrollment, 448. Functional

capacity, 425. Placed on the National

Register of Historic Places in 2009.

However, since December, Warner said

now every building in the district, except for

Madison Elementary, is over capacity.

(Functional capacity is 85 percent of original

design capacity and reflects modern

requirements for classroom space and programming.

Source: Groveport Madison

Schools.)

Refinancing saves district money

Groveport Madison Treasurer Felicia

Drummey told the Groveport Madison

Board of Education on Jan. 26 that the district

was able to save money by refinancing

some of its debt.

"It's real money," said Drummey. "It's

real savings."

She said the refinancing lowered the

interest cost on the new high school from

4.1 percent to 2.98 percent, which is an estimated

total cash savings over the remaining

term of bonds of $5.3 million, or about

$206,790 per year starting in 2023.

Additionally, the refinancing of the

administrative District Service Center

building lowered the interest cost from 3.69

percent to 2.26 percent, which is an estimated

total cash savings over the remaining

term of $813,285, or about $62,000 per

year starting in 2023.

School board meetings

The Groveport Madison Board of

Education meets the second and fourth

Wednesday of the month at 7 p.m. at the

District Service Center, 4400 Marketing

Place, Suite B, Groveport.

The board may also schedule special

meetings, as needed.
---
www.columbusmessenger.com

More Main Street development

By Rick Palsgrove

Groveport Editor

The two large commercial buildings currently

being built in downtown Groveport

are not the only development being

planned for Main Street.

Groveport City Council is considering

legislation to amend the zoning for the 1.19

acre property located at 325 Main St. from

urban residential to select commercial

planned.

In paperwork filed with the city, the

property's owners, Aaron and Katherine

Carroll, are proposing to construct two, two

story mixed use commercial buildings in

two phases with business space on the first

floor and residential space on the second

floor. Phase 1 would be one 5,200 square

foot building and be expected to be completed

in 24 months. Phase 2 would be a 5,800

square foot building and also include demolishing

the existing more than century old,

approximately 1,100 square foot, single

family residence on the site. There is no projected

completion schedule yet for Phase 2.

"The plan is to develop two buildings on

the site but not at the same time," said

Groveport Development Director Jeff

Green. "I would anticipate construction

commencing in the spring."

Green said currently the plan calls for

six residential units on the second floor of

each building. It is anticipated there will

be 38 parking spaces on the site.

"The developer and his wife are dentists

and will have their practice on the first

floor and an optometrist will occupy the

LEASES

Continued from page 1

special business market use.

"There is interest in this project," said

Ross.

As of the Messenger's press time of Feb.

2, the remaining leases had not been

signed.

"Both Preston's and Mmelo experienced

some reluctance from a couple of their

investors that they're currently working

around," said Groveport Development

Director Jeff Green.

When asked what the city's next step

would be to fill the spaces in the building if

these businesses do not sign the leases,

Green said, "We will continue to market

the spaces to restaurants in the central

Ohio market. We have already been

approached by one prospective tenant."

Council viewpoints

Here are city council members' thoughts

(in alphabetical order) regarding the lease

negotiations:

•Shawn Cleary: "I originally was in

favor of only constructing one building as

part of this project, however, I do see the

potential of having both buildings. I'm concerned

what our next steps would be if we

don't get the signed leases, especially in

the economic climate we are in these days.

•Ed Dildine: "I have the confidence in

our City administration to get leases

signed if not with our original prospects

remainder of the first floor space," said

Green.

According to the filed paperwork, the

proposed mixed use development is "compatible

with existing and future land uses."

It notes Main Street consists of a mix of

residential and commercial uses along its

length, including across the street from

this property. It states the plan includes a

"recommended residential use in compliance

with the future land use plan" and

also includes a commercial use that "compliments

the neighborhood commercial

scale of Main Street."

"The mixed use development will help

blend the development with its neighboring

residential uses while also providing the

commercial use for the changing Main

Street corridor," reads the filing paperwork.

The city's planning and zoning commission

will discuss the rezoning request and

development plan for the property at its

meeting on Feb. 7 at 6 p.m. in the municipal

building, 655 Blacklick St.

Other news

•Council heard the second reading of

legislation regarding the city's annual

street maintenance program. The city's

2022 budget includes $300,000 for the program

plus $75,000 for drainage improvements.

Groveport City Administrator B.J.

King said the program includes crack sealing

several streets as well as repaving

Briar Grove Drive. There are also improvements

planned for Hickory Alley west of

College Street and Hickory Alley east of

Brook Alley.

but with others who are interested. This is

uncharted territory for all of us in these

uncertain times. This is a project I strongly

believe in for the growth of our city."

•Jean Ann Hilbert: "My hope is to have

both businesses locate in Groveport."

•Becky Hutson: "I'm not too concerned,

however, time is ticking and they are moving

at a great pace. With the economic and

shortage situation I understand their hesitation

to sign. I'm looking forward to honey

chicken and Preston's. I'm sticking with

build it and they will come. We are a great

city and these are awesome opportunities."

•Scott Lockett: "We are cautiously optimistic

that Preston's and Mmelo will sign

leases for spaces at Wert's Grove. If they

aren't signed soon we will have no choice

but to look for other possible tenants. I

remain optimistic we will be able to lease

out Wert's Grove and provide our residents

with the types of businesses they have

requested."

•Jack Rupp: "I understand our

prospects want to proceed with caution and

measure their risk. We must recognize the

risk to city, this is a considerable investment

for Groveport. If it does not pay off, it

could easily affect our ability to provide

city services at their current levels. It's

imperative that we secure leases."

Township Police statistics

December crime statistics from the

Madison Township Police: 3 accidents with

injuries, 6 animal complaints, 3 assaults,

73 patrol security checks Brobst Park, 3

burglary, 21 domestic complaints, 7 drunk,

2 fireworks complaints, 10 hit skip accidents,

11 juvenile complaints, 12

larceny/theft, 3 missing persons, 56 parking

violations, 2 person with gun, 20 property

damage accidents, 5 shots fired in

area, 5 suspicious cars, 27 suspicious persons,

21 suspicious persons/vehicles, 9

threats or harassment, 104 traffic stops,

and 5 vandalism. (Previously the Brobst

Park statistic was incorrectly described.)

February 6, 2022 - GROVEPORT MESSENGER - PAGE 3

Messenger delivery with

Sunday Dispatch to end

Due to delivery changes being made by

the Columbus Dispatch to its Sunday edition,

your Messenger newspaper will soon

no longer be delivered in with your Sunday

Dispatch. We appreciate your readership

and you can still receive news about your

community by subscribing to the

Messenger. See the subscription form on

page 8 of this edition of the Messenger to

see how you can subscribe for less than a

cup of coffee per issue. Thanks for reading

the Messenger!

Website:Expert-hvac.com

Phone:614-946-8461

Experthvacllc@gmail.com

Free estimates on

system installs

$70 preventative

maintenance (tune up)

Expert service - affordable prices - Locally owned from Groveport

Mention this ad and get $20 off a $85 service call.
---
PAGE 4 - GROVEPORT MESSENGER - February 6, 2022

Groveport history films

Two documentary films on the history of

Groveport, produced by the Groveport

Heritage Society and Midnet Media, are

now available for viewing online on

YouTube.

The films are: "Groveport: A Town and

Its People" and "The Story of John S. Rarey

and Cruiser."

Letters policy

The Groveport Messenger welcomes letters

to the editor. Letters cannot be libelous. Letters

that do not have a signature, address, and telephone

number, or are signed with a pseudonym,

will be rejected. PLEASE BE BRIEF AND TO

THE POINT. The Messenger reserves the right

to edit or refuse publication of any letter for any

reason. Opinions expressed in the letters are not

necessarily the views of the Messenger. Mail letters

to: Groveport Messenger, 3500 Sullivant

Avenue, Columbus, OH 43204; or by email to

southeast@columbusmessenger.com.

southeast

Messenger

(Distribution: 8,000)

Rick Palsgrove ...................................Groveport Editor

southeast@columbusmessenger.com

Published every other Sunday by

The Columbus Messenger Co.

3500 Sullivant Ave., Columbus, Ohio 43204-1887

(614) 272-5422

The Columbus Messenger Co. reserves the right to edit, reject or cancel

any advertisement or editorial copy at any time. The company is not

responsible for checking accuracy of items submitted for publication.

Errors in advertising copy must be called to the attention of the company

after first insertion and prior to a second insertion of the same advertising

copy.

Keep tabs on the latest news in

Groveport & Madison Township

Look for Groveport Messenger on

Become a fan!

BIRTHDAY • ENGAGEMENT • WEDDING • ANNIVERSARY

• GRADUATION • RETIREMENT

IN MEMORIUM • ARMED FORCES

Say it with an announcement ad in

the Messenger and spread the word.

You can download the appropriate form from

our Web site or stop by our office

Monday-Thursday, 8:30 a.m.-5 p.m.

Friday, 8:30 a.m.-2 p.m.

Columbus Messenger

3500 Sullivant Ave.

614-272-5422

www.columbusmessenger.com

www.columbusmessenger.com

Taking nature walks about town

One does not have to go to a park or a remote rural area to enjoy

a nature walk as I have found while taking walks in the residential

neighborhoods of Groveport that plants and wildlife abound in

a small town.

Depending on the season - from the busiest streets to the quietest

alleys and from the oldest parts of town to its newest neighborhoods

- one can find wonderful beds of bright flowers as well as

a bounty of blooming bushes and leafy trees.

It's nice to be familiar with where peonies pop up in yards in

the spring and where the day lilies shoot up in late summer. It's

fun to watch for magnolia trees blooming in spring and maples

glowing orange in the autumn sun. In winter one can hear the

bare tree limbs softly clacking into each other in the wind.

When seen from above in aerial photos, or if you are in a plane

or some other high up place, Groveport can look like a forest

because of its many trees. A while back I ran some photos in the

Messenger taken by Groveport Police Lt. Josh Short from atop

Groveport Town Hall and was struck by the view over the neighborhoods

of how thick and lush the tree canopy is in town.

It's not just well cared for flower beds and such that are pleasurable

natural sights. One can also come across wild beauty in the

forms of grasses, wildflowers, and thistles that sprout up from

cracks in pavement or along the edges of sidewalks and streets.

One summer a friend of mine and I while out on our walks

enjoyed watching the growth of a magnificent thistle that had

Madison Twp. recognizes

Black History Month

In a statement released Jan. 31,

Madison Township officials said they are

"happy to celebrate Black History Month

in such an appropriate way – by recognizing

the first person of color to serve as the

chair of the Board of Trustees, Michele

Reynolds."

The township also recognized Lt.

Rashid Taylor of the township fire department

and Officer Darrian Jackson of the

township police department.

"These men are representatives of the

community in their service to the public,

which is greatly appreciated by the residents,

and administration, of Madison

Township," according to the statement.

"Diversity is not an end goal or a quota to

meet. It is an ever-developing desire to represent

those we serve. Madison Township is

proud to have employees from various walks

of life, ethnicities, sexes, and backgrounds

that reflect the communities we serve."

We Love Our Veterans

Groveport Town Hall, 648 Main St.,

Groveport, will host the We Love Our

Veterans exhibit through March 25. The

city of Groveport is recognizing honorably

discharged military veterans from all

branches of service who reside in Franklin

County.

Valentines for Veterans

Spread the love and brighten a veteran's

day with a Valentine's Day card. Visit

Groveport Town Hall, 648 Main St.,

Groveport, before Feb. 14 to drop off or

design a Valentine's Day card to mail to

the Chillicothe VA Medical Center. For

information call 614-836-3333.

Groveport history

The Groveport Heritage Museum contains

photographs, artifacts, and documents

about Groveport's history.

The museum is located in Groveport

Town Hall, 648 Main St., and is open during

Groveport Town Hall's operating

hours.

Call 614-836-3333.

Walnut and Main

sprouted up along a

sidewalk. The thistle

grew tall with magnificently

long, sharp

needles. It looked fierce, proud, and defiant.

We named it, "Cactus Bro." It's gone now, no

doubt cut down in its prime by some lawn

implement, and we lamented its passing, but

it was something to see.

Animals abound in town. Squirrels scurry,

rabbits hop, chipmunks dart, birds sing

and soar, and butterflies flutter. At times I

have spotted skunks walking down the middle

of a street like they owned the place, raccoons

out for late night snack runs, and opossums

peering about among the houses and

yards. I've even seen a fox dancing at the

town's edge and have heard coyotes singing

off in the distance south toward the creek.

Editor's Notebook

Rick

Palsgrove

Sunlight and moonlight illuminate all of these natural wonders.

With each season the angle of the light from the sky changes

giving one a fresh perspective on what one sees.

It's all too beautiful.

Rick Palsgrove is editor of the Groveport Messenger.

Our Pictorial Past

by Rick Palsgrove

Groveport city council

Groveport City Council holds its regular

meetings at 6:30 p.m. on the second and

fourth Mondays of the month.

Council holds its committee of the whole

meeting on the third Monday each month

at 5:30 p.m. Meetings are held in the

municipal building, 655 Blacklick St.,

Groveport.

Photo courtesy of the Groveport Heritage Museum

This is a 1908 view of Groveport's Main Street looking west from Walnut Street.

Main Street was not paved until 1911. Evidence of two early modes of transportation

can be noted in this photo: the automobile parked to the left and the hitching

posts for horses along the street in front of the car.
---
www.columbusmessenger.com

Community Choir presents "Hooray for Hollywood"

By Rick Palsgrove

Groveport Editor

There are many talented people in the

community and they will be showcased at

the upcoming Groveport Madison Area

Community Choir show.

The performance, titled "Hooray for

Hollywood," will be held Feb. 26 at 1 p.m.

and at 7 p.m. in the Groveport Madison

High School auditorium, 4475 S. Hamilton

Road, Groveport.

"It was our intent this would be our next

show and when it got canceled in 2021 due

to the (COVID-19) pandemic we decided

why change it? So we kept the title and

here we are!" said Groveport Madison Area

Community Choir Director Terri

Christensen.

The show will feature choir members

singing such popular songs as "Hooray for

Hollywood," "Singing in the Rain," as well

as selections from "Grease," "The Wizard of

Oz," "Mamma Mia" and many more.

The show will be for a live audience only

and all persons attending will be required

to wear a mask per school guidelines.

"Staging has been different with the

pandemic but we've done our best to keep

all involved safe," said Christensen. "Some

(performers) still will be wearing masks to

perform and we'll have a special tribute to

the difficulties everyone has been through

the last couple years."

Some of the challenges the group has

faced rehearsing during the pandemic have

included social distancing and wearing

masks.

"We have actually livestreamed all of

our rehearsals as well as having in person

practice," said Christensen. "Last

September and October we actually met

outside at the Lutheran Church for practice.

Once we were granted usage of the

high school for rehearsals we met there

and distanced. On stage, distancing has

proven to be difficult but we are doing the

Eastland-Fairfield

State of the Schools

All are welcome to join Eastland-

Fairfield Career and Technical Schools for

its inaugural State of the Schools Address

to learn about the current status of the district,

its vision moving forward, and the

unveiling of a new brand.

It will be held Feb. 10. Doors open and

tours are available at 6 p.m. The State of

the Schools Address by Dr. Kimberly

Pietsch Miller, superintendent/CEO of

Eastland-Fairfield, begins at 6:30 p.m. The

event will be held at the Engineering

Technologies Center at Eastland Career

Center, 4465 S. Hamilton Road, Groveport.

The event is open to the public and there is

no cost to attend.

For information go online to

EastlandFairfield.com/StateOfTheSchools.

For those unable to attend in person, a live

stream of the State of the Schools Address

will be provided via the Eastland-Fairfield

best we can and the choir has been amazing

about adhering to the rules."

Christensen said a lot of time and effort

go into producing a show of this magnitude.

"The choir and volunteers put in countless

hours preparing music, staging the

production, building sets and props,

procuring and making costumes and lots of

other things," said Christensen. "We also

have a child care provider at every rehearsal

and during the shows we have a child

care team. There is a family who takes

care of providing a huge meal between

shows for the cast and crew every year. Ten

lobby volunteers are also part of the team.

All of the above teams are strictly volunteers!

Also, without the cooperation of the

Groveport Madison School District we

could not do this."

About the GMACC

"We've been around for many years but

this is our seventh big show," said

Christensen. "While we did not do the big

show in 2021 (due to the COVID-19 pandemic)

we did many virtual shows in cooperation

with Groveport Town Hall. These

shows can be found on YouTube. We are

down in numbers this year due to the pandemic,

but still strong at 55 members with

25 volunteers helping behind the scenes. In

addition to the 55 adults we have 14 kids

this year and several new members."

Christensen said an organization like

the Groveport Madison Area Community

Choir is good for the community because it

brings people of all backgrounds together

to create a "family."

"We are all different, we have different

beliefs, different opinions, different races,

we are all individuals but at the end of the

day we are family," said Christensen. "We

come together and give back to the community

in the way of entertainment, service to

others, and helping our fellow man through

charitable donations. We love each other

Facebook page, via Facebook Live. Video of

the event will be made available on the

EFCTS website the following week.

Cheerleaders excel

The 10-member Groveport Madison

High School Competition Cheerleaders

took first place in the non-tumbling division

of the Buckeye Nationals Competition

held at The Ohio State University on Jan.

16. The team competed on Jan. 29, at

Dublin Jerome High School hoping to qualify

for state competition.

Pelotonia not coming here

Groveport Police Chief Casey Adams

told Groveport City Council on Jan. 24 that

the annual Pelotonia bicycle tour, held in

August and which raises funds to fight

cancer, will not pass through Groveport for

the second straight year. In previous years

Pelotonia had passed through Groveport

and used Cruiser Park as a rest area.

and we love our community."

Tickets and information

Tickets are: $10 adult and $5 for children

age 12 and under. The ticket order

form is online under "Buy Tickets" at

gmcommunitychoir.org/buy-tickets.html.

You can also call Jeannie at 614-507-8022

February 6, 2022 - GROVEPORT MESSENGER - PAGE 5

Photo courtesy of the GMACC

Patty Upperman (front) and other members of the Groveport Madison Area Community

Choir at a recent rehearsal for the group's upcoming show, "Hooray for Hollywood."

or send an email to

GMACCTickets@gmail.com.

People can join the Groveport Madison

Area Community Choir by visiting its website

at www.gmcommunitychoir.org or

emailing gmcommunitychoir@gmail.com.

Valentine's Show

Mike Albert

&

The Big E Band

Tickets - $ 56.00

(Includes dinner)

Sat., February 12th

Villa Milano - 1630 Schrock Rd.

Doors Open - 5:30pm | Dinner - 6:30pm

Show -7:30pm

CALL FOR TICKETS

(614) 792-3135
---
PAGE 6 - GROVEPORT MESSENGER - February 6, 2022

www.columbusmessenger.com

Madison Township concerned about speeders

By Linda Dillman

Staff Writer

AUTO HOME

Beplerinsurance.com

614.837.4379

staff@beplerinsurance.com

3246 Noe Bixby Rd., Columbus, Ohio 43232

BETHANY LUTHERAN

CHURCH, LCMS

1000 Noe-Bixby Rd. Columbus, OH 43213

Telephone: 614-866-7755

Traditional Worship Service: 9:00 AM

Sunday School at 10:30 AM

Visit us on Facebook or

visit our website at:

bethanylutheranchurch@weebly.com

Speeding continues to be a thorn in the

side of Madison Township residents.

During a Jan. 20 Madison Township

trustees' meeting, Administrator Susan

Brobst reported on residents' concerns

regarding excessive speeding on Fullerton

Drive in the Blacklick Estates area and the

possibility of installing speed bumps.

"The complaint is high speeding all

along Fullerton," said Brobst. "They wanted

to know what can be done besides the

speed trailer."

Brobst recommended contacting the

Franklin County Engineer for recommendations

and a speed study.

Madison Township Police Chief Gary

York emphasized that an active police

presence in the area continues to issue traffic

tickets to violators and discourage those

who violate the law. The police department's

speed trailer was set up in the area

and collected speed data on two separate

occasions.

York said another area of concern is the

intersection of Hayes and Richardson

roads, which is maintained and serviced by

Franklin County and not under the direct

control of the township. A serious accident

at the intersection at the beginning of the

year reaffirmed line-of-sight and speeding

hazards which have impacted the area for

several years.

The county engineer's office was

apprised of the situation, which was also

done in the past. Previous suggestions to

address the situation included a traffic

light and a four-way stop, instead of the

current two-way, east-west stop.

However, in the case of the

Richardson/Hayes intersection and based

on similar studies, a four-way stop could

increase crashes due to the approved rate

of speed and a light would require major

road reconstruction to include turn lanes in

all directions.

Please visit the

Groveport Church

of your choice.

List your Worship

Services here.

For info. call 614-272-5422

Be a Part of Our Local Worship Guide

Our Worship Guide is geared toward celebrating faith and helping readers

connect with religious resources in our community. Make sure these readers

know how you can help with a presence in this very special section distributed to

more than 19,000 households in the Groveport area.

Contact us today to secure your spot in our Worship Guide.

614.272.5422 • kathy@columbusmessenger.com

Brobst asked the trustees for approval

to request the study and solicit recommendations

from the county engineer for the

Hayes/Richardson intersection. Trustee

Chair Michele Reynolds asked if the engineer

could help educate and involve residents

in the process. Trustee John

Pritchard suggested the township place the

speed trailer in the area.

"A letter requesting the county to look

into the safety concerns has been sent,"

said Brobst. "The line-of-sight impact for a

county maintained road versus a township

maintained road would only be that the

township would notify the property owner

versus the county. There is no known timeline

for this. However, I know the county

has already been reviewing this issue."

Residents are encouraged to call the

Franklin County Engineer's Office at 614-

525-3030 with their concerns and questions.

Body-worn cameras and police

Agencies around Ohio received grant

funding from Governor Mike DeWine to

purchase body-worn cameras for police officers,

including departments in the area.

According to Madison Township officials,

the Madison Township Police

Department is not on the list because it has

had body-worn and vehicle-mounted cameras

in operation for several years.

"One of my initial goals as chief was to

implement the use of body-worn cameras,"

said Madison Township Police Chief Gary

York. "Thanks to the tremendous support

from the Madison Township trustees, bodyworn

cameras were purchased for each

sworn officer in 2018. Recently, brand new

body-worn cameras were purchased

through an upgrade promotion from our

vendor, saving Madison Township more

than half the cost of purchasing these

advanced cameras. MTPD has worked to

set the bar in policing technology and

transparency in Franklin County law

enforcement."

Madison Township trustee John

Pritchard said that when the township first

purchased body cameras in 2018, the technology

was new in central Ohio.

"We were the only small department in

the area we knew of at that time working

toward the goal of transparency in policing.

This bold initiative required the MTPD to

upgrade our technology and the board to

work with the chief to implement rules on

the use of the body cams," said Pritchard.

"But despite the challenges, we knew this

technology would soon be the standard and

we wanted to be ahead of the curve for our

residents. It took a concerted effort

between the trustees, police chief, and the

police officers to successfully implement

the use of body cameras and we would be

happy to share our lessons learned with

the departments that are now getting the

technology."

Trustee chair Michele Reynolds said

body-worn cameras are an asset to the

policing of the township.

"We know the communities receiving

these grants will benefit," said Reynolds.

"These cameras are an excellent way to

protect the public, and our officers.

Congratulations to those who were awarded

funding.

Added Trustee Katherine Chipps,

"Having the cameras allows our officers to

be confident in their policing practices, and

residents to know there is accountability

for all parties. There have been several

instances where the body-worn footage has

been instrumental in investigations."

Messenger

South

Winter wonder

Messenger photo by Theresa Garee

This cardinal provided a dash of color to the January winter landscape along the

Pine Trail at Walnut Woods Metro Park near Groveport. The Pine Trail features tall

Norwegian pines that were planted years ago on the land when it was a nursery.
---
www.columbusmessenger.com

February 6, 2022 - GROVEPORT MESSENGER - PAGE 7

"e Royal Treatment" is boring, but sweet

If you are a fan of "Seinfeld," chances are

you can recall the scene in which Elaine

Benes becomes entranced while watching

two tires spinning in a circle. Shot primarily

as a throw-away moment in an episode of

season eight, it has since become one of the

most memorable scenes to come out of the

beloved sitcom from the 1990s.

What made it so unforgettable was not

just the way it was sold by the legendary

comedic actress Julia Louis-Dreyfus —

though her employment of a happily lit face

with a maniacally blank stare was sheer

perfection — but because it truly captures

those rare times we become afflicted with a

severe case of mush brain.

When in the mush brain state, things we

know objectively to be ridiculous suddenly

become tolerable, entertaining even. While

the probability is high that we will look

back on this moment with embarrassment,

the present is clouded with a sensation of

delight because our rational minds have

been stymied by a swirling vortex of stupid.

Remarkably, it has been quite a long

time since I have been completely overtaken

with this affliction but I sadly have to

report that I recently came down with this

rare disease via contact with a horrible

movie called "The Royal Treatment."

Watching this Netflix original — which is

a modern day retelling of a fairy tale — was

an interesting experience because I could

The Reel Deal

literally feel the hemispheres

of my brain

warring throughout.

The left hemisphere,

which is believed to

Dedra

Cordle

be the more analytical of the two, kept trying

to tell me that this was objectively terrible

and to find something else to watch but

my right hemisphere took control and

wouldn't allow me to. It just shut down all

thought function and told me to watch and

take comfort in a stupid, silly little film that

will be over in 96 minutes.

And so I did, just like Elaine with the

tires. And I am so completely embarrassed

to admit that I kinda liked this atrociously

awful movie despite itself, and in spite of

part of myself.

There are many questionable decisions

in this film, most revolving around the

script, the pacing, and the vanishing

accents used throughout, but the least

questionable thing about it is the reliance

on actress Laura Marano to play the part of

the modern-day princess Isabella, or "Izzy"

for short. Though the character is modeled

after the archetype Vanessa Hudgens

made popular with her similar Netflix fairy

tale films, Marano has crafted an empathetic

and optimistic character you can't

help but root for.

When the film begins, Izzy is a bit down

on her luck: her beauty shop has caught

fire, she had to use all of the planned travel

money to pay for the repairs, and her mother

is pressuring her to stay in this career

path though she desperately wants to do

something different with her life. With limited

funds, she feels stuck in her role as the

dutiful hairdressing daughter until one day

her luck changes thanks to a case of mistaken

identity.

When an errant voice command puts her

onto the path of the visiting Prince Thomas

of Lavania (Mena Massoud), it is squabbling

at first sight. Izzy is a no-nonsense

kind of character, one who sticks up for

those who cannot defend themselves. So,

when she witnesses Thomas's indifference

toward his staff who verbally berate the

housekeepers, she gives him a piece of her

mind before storming out of his life — and a

chance to make $500 for a quick trim.

Since no one has ever spoken to him like

that before, Thomas is intrigued and goes

to her quaint shop to apologize. Through

light conversation — and a helping of an

Italian meal that was on hand at the salon

— the two form a tentative friendship.

Wanting to help out his new friend,

Thomas hires Izzy and her salon team to

oversee his upcoming nuptials in the fictional

sea-side country of Lavania. Though

the narrative that follows has a very predictable

trajectory (they fall in love over

the course of two weeks, princely duty

rears its traditional head), the quiet chemistry

between the two leads helps sell their

rapidly growing feelings for each other.

Though it can be bland at times to watch

them together — Izzy herself calls Thomas

"cardboard" — the secondary characters jazz

up the film to somewhat respectable levels.

They include Izzy's colorful stylist friends

Destiny and Lola (played by Chelsie

Preston Crayford and Gracie Bentley-

Tsibuah, respectively) who are in charge of

doing classic hair and makeup for the bridal

party, Thomas' meddling assistant Walter

(Cameron Rhodes) and Thomas' fiancée

Lauren (Phoenix Connolly), who probably

should have been given more screen time

given how the film ends.

If you're in the mood for something

unchallenging, sweet, simple and a bit boring,

then "The Royal Treatment" will hit the

spot for you. While it isn't particularly creative,

nor does it add anything of value to

the romantic comedy genre, it does have its

own silly charm that will shamelessly suck

you down into a swirling vortex of shameless

and stupid fluff if given the chance.

Grade: C+

Dedra Cordle is a Messenger staff writer

and columnist.
---
PAGE 8 - GROVEPORT MESSENGER - February 6, 2022

Cruisers on the air

The Groveport Sports Network and Rick Cooper

provides live play-by-play coverage of Groveport

Madison High School athletic contests.

The broadcast includes high definition video and

live audio. Each broadcast begins 25 minutes prior to

the scheduled start time with the pre-game show.

Tune in after the game for interviews with players and

the head coach.

The broadcasts can be accessed free by anyone on

their computer or handheld device.

All broadcasts are available to view free on demand.

Go to www.facebook.com/groveportsportsnetwork.

The schedule - boys basketball (7:30 p.m.): Feb. 11 at

Newark; softball: March 26 at 11 a.m. vs. Westerville

North; April 9 at 11 a.m. vs. Gahanna; April 11 at 5:15

p.m. vs. Lancaster; April 15 at 5:15 p.m. vs. Newark;

April 30 at 10 a.m. vs. Canal Winchester; May 2 at

5:15 p.m. vs. Pickerington Central; May 4 at 5:15 p.m.

at Newark.

Special Olympics

The mission of Special Olympics Ohio and its

Groveport Special Olympics chapter is to provide year

round sports training and competition in a variety of

Olympic type sports for intellectually disabled individuals.

For information contact Penny and Cassandra Hilty

at groveportspecialolympics@gmail.com or at (614)

395-8992 or 395-6640.

Donations may be sent to Groveport Special

Olympics, P.O. Box 296, Groveport, OH 43125.

Messenger

Groveport

BEST COMMUNITY NEWSPAPER in Groveport

Pick-Up At These

Locations:

Groveport Senior Village - 5124 Hendron

Madison Township Office - 4575 Madison Lane

Paddock Pub/Groveport Golf Ctr. - 1005 Richardson Rd.

Southeast Library - 3980 S. Hamilton Rd.

Asbury Methodist Church - 4760 Winchester Pike

Groveport Municipal Building - 655 Blacklick St.

Groveport Town Hall - 648 Main St.

Dollar General Store - Groveport Rd. & Route 317

Flyers PIzza/Groveport - 296 Main St.

Ace Hardware - 726 Main St.

Little Italy Pizza - 619 Main St.

Huntington Bank/Groveport - 556 Main St.

Groveport Recreation Center - 7370 Groveport Rd.

READ US ONLINE: www.columbusmessenger.com

County approves budget

www.columbusmessenger.com

At their final meeting of 2021, the Franklin County

Commissioners voted unanimously in favor of a budget

for 2022 that is balanced and contains no fee or tax

increases.

"The past two years have been challenging, both for

our residents and for local governments all over the

country," said Board of Commissioners President,

Kevin Boyce. "Franklin County has been able to

weather this tough period well because we entered the

pandemic in a strong financial position due to smart,

conservative planning in years past."

The commissioners oversee 14 county agencies

directly and are responsible for the entire county's

budgets, including those of other elected officials and

agencies. Next year's all funds budget is $1.99 billion,

an increase of about 7.9 percent. The all funds budget

includes the general fund as well as state and federal

funding, and about 40 percent of it is used to fund

human and social services such as the Office on Aging,

Job and Family Services, ADAMH, and Children

Services.

"We're proud of our reputation for financial prudence,

and to be able to continue to invest in things

like affordable housing and economic development in

order to keep our county on the right track as we recover

from the pandemic and its health and economic

impacts," said Commissioner John O'Grady.

The commissioners held three public budget hearings

this fall to consider an original budget proposal

from county administration. The final budget incorporates

a few changes from that proposal, including

adjustments for additional contracts to use American

Rescue Plan funding in 2022 and to account for higher-than-expected

sales tax revenue. The

county's final 2022 general fund budget is

about $543 million, a 1.75 percent increase

over 2021. The general fund is mostly made

up of sales tax revenue and is largely used

to support public safety and justice initiatives

such as the sheriff and prosecutor's

offices, 911 call centers, and the court system.

"Many central Ohio families were

already living paycheck-to-paycheck, and

the pandemic has only exacerbated the barriers

that already excited," said

Commissioner Erica Crawley. "I've always

said, show me you budget and that will

show me your values. Our value is to invest

intentionally in our people. Our efforts this

year have been focused on helping our

neighbors survive and meet their basic

needs, such as staying in their home."

The budget will allow the commissioners

to add to the county's "rainy day fund,"

which has been steady at $62.5 million for

some years.

Additional information about the 2022

budget can be found at budget.franklincountyohio.gov/Budgets/2022.

Wagnalls Memorial Library

Wagnalls Memorial Library is located at

150 E. Columbus St., Lithopolis. all (614)

837-4765 or visit www.wagnalls.org.

Southeast Library

The Southeast Branch of the Columbus

Metropolitan Library is located at 3980 S.

Hamilton Road, Groveport. For information

visit www.columbuslibrary.org or call 614-

645-2275.
---
www.columbusmessenger.com

February 6, 6, 2022 - GROVEPORT MESSENGER - PAGE 9

CLASSIFIED ADS

Deadlines: Groveport and West editions, Wednesdays at 5 p.m., • South/Canal Winchester, Grove City, Madison editions, Tuesdays at 5 p.m.

All editions by phone, Tuesdays at 5 p.m. • Service Directory, Tuesdays at 5 p.m.

Messenger photo by Dedra Cordle

Pie iron cooking

About a dozen people travelled to Scioto Grove Metro Park

to participate in a pie iron cooking demonstration hosted by

Columbus and Franklin County Metro Parks on Jan. 29.

Pictured here, at left, is Justina Syu who is listening intently

as outdoor adventure programmer Kim Deal explains the

tricks of the fire-based cooking trade. "The first thing to

know about pie iron cooking is that it is an inexact science,"

said Deal. "If you think it needs another minute or two, it

could very well be burned to a crisp by then." If you missed

your chance to experience pie iron cooking, another

demonstration is planned at Scioto Grove on Feb. 19 at the

Arrowhead Picnic Area from 12:30-2 p.m. For information

visit metroparks.net.

Bugs and Birds Up Close

The Bugs & Birds Up Close Photography Exhibition is at the

Grange Insurance Audubon Center 505 W. Whittier St.,

Columbus, through March 13.

The exhibit features the work of photographers Richard

Schnuerer and David Greenberg.

Schnuerer's work includes 20-plus pieces showcasing Ohio raptors,

including hawks, owls, eagles and osprey. Learn how the

eagle has made a significant comeback in Ohio from only four

nesting pairs in 1979 to 700-plus nests in 2020. A special feature

of the snowy owl "Hedwig," who visited the Delaware area last

winter and became quite the celebrity, is also included. In addition

to the raptors, an exhibit of ruby-throated hummingbirds will also

be included to tell the story of these tiny birds and their journey

to Ohio and the Grange Insurance Audubon Center.

On the creepy side of things, the exhibition will include 20-plus

photographs by Greenberg, who presents mostly insects but also

includes spiders, millipedes, and other multi-legged, chitinencased

creatures, some flying, some eating (or being eaten), or

just staring at you suspiciously from their faceted, buggy eyes.

Greenberg's work also includes bees, among the most valuable

and most important creatures on earth because much of what we

eat depends on their efforts. His spiders may look scary, and

although they can sting if provoked, he reminds viewers that spiders

are less harmful than mosquitoes or ticks, because they do not

carry diseases, and they eat harmful insects. He also includes beautiful

butterflies, interesting moths, and a number of other multilegged

inhabitants of our planet in his exhibition photos.

xInformation

MARRIAGES BREAK DOWN

BECAUSE OF INCOMPATIBLE

PERSONALITIES

If you and your marital partner are

having trouble, come in and get your

Personality and IQ checked as this

may be the reason for your disputes.

Church of Scientology

of Central Ohio

1266 Dublin Road, Columbus, Ohio 43215

Information

ASSOCIATION ADS

Donate Your Car To

Veterans Today! Help and

Support our Veterans.

Fast - FREE pick up.

100% tax deductible. Call

1-800-245-0398

Business Owners.

Eliminate credit card

processing fees 100%,

pass on a legal 4% noncash

charge to the

customer. Chain stores

welcome. 337-849-8083

!!OLD GUITARS WANT-

ED!! GIBSON, FENDER,

MARTIN, Etc. 1930's to

1980's. TOP DOLLAR

PAID. CALL TOLL FREE

1-866-433-8277

LONG DISTANCE MOVING:

Call Today for a FREE

QUOTE from America's Most

Trusted Interstate Movers.

Let us take the stress out of

moving! Call now to speak to

one of our Quality Relocation

Specialists: 877-541-6320

Update your home with

beautiful new blinds &

shades. Free in-home

estimates make it

convenient to shop from

home. Professional

installation. Top quality -

Made in the USA. Free

consultation: 877-212-

7578. Ask about our

specials!

Stop worrying! SilverBills

eliminates the stress &

hassle of bill pmts.

Household

bills

guaranteed to be paid on

time as long as

appropriate funds are

available. No computer

necessary. Free trial/

custom quote 1-855-703-

0555

ASSOCIATION ADS

HOME BREAK-INS take

less than 60 SECONDS.

Don't wait! Protect your

family, your home, your

assets NOW for as little as

70¢ a day! Call 866-409-

0308

ENJOY 100% guaranteed,

delivered-to-the-door Omaha

Steaks! Get 8 FREE Filet

Mignon Burgers! Order the

Delightful Gift this holiday

season - ONLY $99.99 CALL

1-888-409-0645 and mention

code 65658LQY or visit

www.omahasteaks.com/

thegift1107

Hero takes stress out of

managing

medications.

Hero sorts & dispenses

meds, sends alerts at

dose times & handles

prescription refill &

delivery for you. Starting

at $24.99/month. No

initiation fee. 90-day riskfree

trial! 1-888-684-0280

DENTAL INSURANCE

from Physicians Mutual

Insurance Company.

Coverage for 350 plus

procedures. Real dental

insurance - NOT just a

discount plan. Do not wait!

Call now! Get your FREE

Dental Information Kit with

all the details! 1-877-553-

1891

www.dental50plus.com/

macnet#6258

Wesley Financial Group,

LLC Timeshare Cancellation

Experts Over

$50,000,000 in timeshare

debt & fees cancelled in

2019. Get free

informational package &

learn how to get rid of

your timeshare! Free

consultations. Over 450

positive reviews. 888-965-

0363

ASSOCIATION ADS

The bathroom of your

dreams for as little as

$149/month! BCI Bath &

Shower. Many options

available. Quality

materials & professional

installation. Senior &

Military Discounts

Available. Limited Time

Offer - FREE virtual inhome

consultation now

and SAVE 15%! Call

Today! 1-877-540-2780

Stroke & Cardiovascular

disease are leading

causes of death according

the AHA. Screenings can

provide peace of mind or

early detection! Call Life

Line Screening to

schedule a screening.

Special offer 5 screenings

for $149.. 1-833-549-4540

Replace your roof with the

best lookng and longest

lasting material! Steel

from Erie Metal Roofs!

Three styles and multiple

colors available.

Guaranteed to last a

lifetime! Limited Time

Offer - $500 Discount +

Additional 10% off install

(for military, health

workers & 1st responders)

Call Erie Metal Roofs: 1-

855-338-4807

VIAGRA and CIALIS

USERS! 50 Generic pills

SPECIAL $99.00. 100%

guaranteed. 24/7 CALL

NOW! 888-445-5928

Hablamos Espanol

DISH TV $64.99 FOR 190

Channels + $14.95 High

Speed Internet. Free Installation,

Smart HD DVR

Included,

Free Voice Remote.

Some restrictions

apply. Promo expires

1/21/22. 1-855-270-5098

HughesNet - Finally, superfast

internet no matter

where you live. 25 Mbps

just $59.99/mo! Unlimited

Data is Here. Stream

Video. Bundle TV &

Internet. Free Installation.

Call 866-499-0141

Put on your TVEars &

hear TV w/unmatched

clarity. TVEars Originaloriginally

$129.95 - now

w/this special offer oly

$59.95 w/code MCB59! 1-

833-530-1955

AMERICAN & FOREIGN

CLASSIC CARS AND

MOTORCYCLES

WANTED. $$PAYING

CA$H$$ Corvettes,

Mustangs, Jaguars, Austin

Healeys, Broncos,

Blazers, Ram Chargers,

AMX, and Triumphs

KRMiller1965@yahoo.com

717-577-8206

Internet &WIFI Starts at

$49 Call us Today to Get

Started. Find High-Speed

Internet with Fiber Optic

Technology No Credit

Check, No SSN Required.

Call us Today 866-396-

0515

xValentine Greeting

Happy

Valentine's

Day

To all Our

Readers

and

Customers

From the

Classified Dept.

Valentine Greeting

ASSOCIATION ADS

Paying top cash for men's

sportwatches! Rolex,

Breitling, Omega, Patek

Pillippe, Heuer, Daytona,

GMT, Submariner and

Speedmaster. Call 833-

603-3236

Long Distance moving.

Call for a free quote from

America's Most Trusted

Interstate Movers. Let us

take the stress out of

moving! Speak to a

relocation specialist! Call:

888-721-2194

Looking for assisted living,

memory care, or

independent living? A

Place for Mom simplifies

the process of finding

senior living at no cost to

your family. Call 1-833-

910-1576 today!

Don't let the stairs limit

your mobility! Discover

the ideal solution for

anyone who struggles on

the stairs, is concerned

about a fall or wants to

regain access to their

entire home. Call

AmeriGlide today! 1-844-

317-5246

Aloe Care Health, medical

alert system. The most

advanced medical alert

product on the market.

Voice-activated! No wi-fi

needed! Special offer-call

and mention offer code

CARE20 to get $20 off

Mobile Companion. Call

today-1-877-728-4065

ASSOCIATION ADS

Aloe Care Health, medical

alert system. The most

advanced medical alert

product on the market.

Voice-activated! No wi-fi

needed! Special offer

w/code CARE20 for $20

off Mobile Companion. 1-

855-521-5138

Become a Published

Author. We want to Read

Your Book! Dorrance

Publishing Trusted Since

1920 Consultation,

Production, Promotion and

Distribution. Call for Free

Author's Guide 1-833-719-

3029 or visit

http://dorranceinfo.com/acp

Stroke & Cardiovascular

disease are leading

causes of death according

the American Heart

Association. Screenings

can provide peace of mind

or early detection! Call

Life Line Screening to

schedule your screening.

Special offer - 5

screenings for $149. 1-

866-518-8391

Looking for assisted living,

memory care, or

independent living? A

Place for Mom simplifies

the process of finding

senior living at no cost to

your family. Call 1-833-

386-1995 today!
---
PAGE 10 - GROVEPORT MESSENGER - February 6, 2022

www.columbusmessenger.com

CLASSIFIED ADS

Deadlines: Groveport and West editions, Wednesdays at 5 p.m., • South/Canal Winchester, Grove City, Madison editions, Tuesdays at 5 p.m.

All editions by phone, Tuesdays at 5 p.m. • Service Directory, Tuesdays at 5 p.m.

xEmployment

New construction

plumbers needed:

Small company with over

25 years in business offering:

• Competitive pay

• Paid vacation • Matching IRA

• 5 paid holidays • Work vehicle

Contact Plumbing Solutions Inc.

(614) 235 6007

PlumbingSolutionsColumbus.com

ASSOCIATION ADS

VIAGRA & CIALIS! 60

pills for $99. 100 pills for

$150 FREE shipping.

Money back guaranteed!

1-844-596-4376

NOW HIRING BUS DRIVERS

$19.00 an Hour

CDL Drivers get $2,000 Sign On Bonus

Non-CDL $1,000 Sign On Bonus

Paid Training

Apply @ 4400 Marketing Pl., Groveport (Door 16) or http://careers.nellc.com/

614-836-4962

ASSOCIATION ADS

Become a Published

Author. We want to Read

Your Book! Dorrance

Publishing-Trusted by

Authors Since 1920

Book manuscript submissions

currently being reviewed.

Comprehensive Services:

Consultation, Production,

Promotion and Distribution. Call

for Your Free Author's Guide 1-

866-482-1576 or visit

http://dorranceinfo.com/macnet

Protect your home w/home

security monitored by

ADT. Starting at $27.99/

mo. Get free equipment

bundle including keypad,

motion sensor, wireless

door & windows sensors.

833-719-1073

HEARING AIDS!!

Buyone/get one FREE!

Nearly invisible, fully rechargeable

IN-EAR

NANO hearing aids

priced thousands less

than competitors! 45-day

trial! Call1-877-436-0234

DISH TV $64.99 FOR 190

Channels + $14.95 High

Speed Internet. Free Installation,

Smart HD DVR

Included, Free Voice Remote.

Some restrictions

apply. Promo expires

1/21/22. 1-855-270-5098

SELL YOUR ANTIQUE

OR CLASSIC CAR.

Advertise with us. You

choose where you want

to advertise. 800-450-

6631 visit macnetonline.

com for details.

Want Faster & Affordable

Internet? Get internet

service today with

Earthlink. Best internet &

WiFi Plans. Call us Today

to Get Started. Ask

about our specials! 866-

396-0515

Elminate gutter cleaning

forever! LeafFilter, the most

advanced debris-blockiing

gutter protection. Schedule

Free LeafFilter Estimate

today. 15% off Entire

Purchase. 10% Senior &

Military Discounts. Call 1-

855-995-2490

ASSOCIATION ADS

READER

ADVISORY

The National Trade Association

we belong to has

purchased the following

classifieds. Determining

the value of their service

or product is advised by

this publication. In order

to avoid misunderstandings,

some advertisers do

not offer "employment"

but rather supply the

readers with manuals, directories

and other materials

designed to help

their clients establish mail

order selling and other

businesses at home. Under

NO circumstance

should you send any

money in advance or give

the client your checking,

license ID or credit card

numbers. Also beware of

ads that claim to guarantee

loans regardless of

credit and note that if a

credit repair company

does business only over

the phone it's illegal to request

any money before

delivering its service. All

funds are based in US

dollars. Toll Free numbers

may or may not

reach Canada. Please

check with the Better

Business Bureau 614-

486-6336 or the Ohio Attorney

General's Consumer

Protection Section

614-466-4986 for more

information on the company

you are seeking to

do business with.

Employment

ASSOCIATION ADS

Eliminate gutter cleaning

forever! LeafFilter, the

most advanced debrisblocking

gutter protection.

Schedule a FREE LeafFilter

estimate today. 15% off

Entire Purchase. 10% Senior

& Military Discounts.

Call 1-855-791-1626

The Generac PWRcell

solar plus battery storage

system. Save money,

reduce reliance on

grid, prepare for outages

& power your home. Full

installation services. $0

down financing option.

Request free no obligation

quote. Call 1-855-

270-3785

Attention: If you or aloved

one worked around the

pesticide Roundup

(glyphosate) for at least 2

years and has been diagnosed

with non-Hodgkin's

lymphoma, you may be

entitled to compensation.

855-341-5793

The Generac PWRcell, a

solar plus battery storage

system. SAVE money,

reduce your reliance on

the grid, prepare for power

outages and power

your home. Full installation

services available. $0

Down Financing Option.

Request a FREE, no obligation,

quote today. Call

1-866-783-0292

ASSOCIATION ADS

Life Alert. One press of a

button sends help fast

24/7! At home and on

the go. Mobile Pendant

with GPS. Free first aid

kit (with subscription).

877-537-8817 Free brochure

Looking for auto insurance?

Find great deals

on the right auto insurance

to suit your needs.

Call today for a free

quote! 866-924-2397

IMPORTANT

NOTICE

The following states: CA,

CT, FL, IA, IL, IN, KY,

LA, MD, ME, MI, MN,

NE, NC, NH, OH, OK,

SC, SD, TX, VT and WA

requires seller of certain

business opportunities to

register with each state

before selling. Call to

verify lawful registration

before you buy.

AT&T Internet. Starting

at $40/month w/12-mo

agmt. 1 TB of data/mo.

Ask how to bundle &

SAVE! Geo & svc restrictions

apply. 1-888-796-

8850
---
www.columbusmessenger.com

xCome & Get It!

.

COME AND GET IT

Deadlines are Tuesdays by 5 pm.

Call For Publication Schedule 614-272-5422

Need to Get Rid of Something Fast - Advertise It Here For FREE!

FREE Garden Straw for gardens or bedding. Call for appointment for pickup.

Circle S Farms, 9015 London-Groveport Road, Grove City, 43123

Grove City - 614-878-7980

WOOD from two trees that we cut down two years ago. FREE.

Call me and let me know when you canp ick it up.

TH - Canal Winchester - 614-949-8963

Come and Get It! is a bi-weekly column that offers readers an opportunity to pass

along surplus building materials, furniture, electronic equipment, crafts, supplies,

appliances, plants or household goods to anybody who will come and get them - as

long as they're FREE. NO PETS! Just send us a brief note describing what you want to

get rid of, along with your name, address and phone number. Nonprofit organizations

are welcome to submit requests for donations of items.

Send information to The Columbus Messenger, Attention: Come and Get It, 3500

Sullivant Ave., Columbus, OH43204. Deadline is Tuesdays by 5 pm for following

Mondays publication. Messenger Newspapers is not responsible for any

complications that may occur. Please contact us when items are gone. 272-5422

Come & Get It!

xInformation

WORRIED? STRESSED OUT?

DEPRESSED?

BUY AND READ

D I A N E T I C S

THE MODERN SCIENCE OF MENTAL HEALTH

BY L. RON HUBBARD

May you never be the same again. Price: $25

CALL 614-974-3672

1266 Dublin Road, Columbus, Ohio 43215

Information

ASSOCIATION ADS

Train online to do medical

biling! Become a Medical

Office Professional at CTI!

Get trained & certified to

work in months! 888-572-

6790. The Mission,

Program Information and

Tuition is located at

CareerTechnical.edu/cons

umer-information. (M-F 8-

6 ET.

BATH & SHOWER UP-

DATES in as little as

ONE DAY! Affordable

prices - No payments for

18 months! Lifetime warranty

& professional installs.

Senior & Military

Discounts available. Call

855-761-1725

ASSOCIATION ADS

NEED IRS RELIEF

$10K-$125K+ Get Fresh

Start or Forgiveness.

Call 1-844-431-4716

Monday through Friday

7am-5pm PST

Donate your car to kids!

Fast free pickup running

or not - 24 hour response.

Maximum tax

donation. Help find missing

kids! 877-831-1448

READY TO BUY, SELL

OR RENT YOUR

VACATION HOME OR

HUNTING CAMP?

Advertise it here and in

neighboring publications.

We can help you. Contact

MACnet MEDIA @

800-450-6631 or visit our

site at MACnetOnline.

com

ASSOCIATION ADS

DENTAL INSURANCE-

Physicians Mutual Insurance

Company. Covers

350 procedures. Real

insurance - not a discount

plan. Get your free

dental Info kit! 1-888-

623-3036 . www.dental50plus.com/58

#6258

GENERAC Standby Generators

provide backup

power during utility power

outages, so your home

and family stay safe and

comfortable. Prepare

now. Free 7-year extended

warranty ($695 value!).

Request a free

quote today! Call for additional

terms and conditions.

1-855-465-7624

Directv Now. No Satellite.

$40/mo 65 Channels.

Stream news, live

events, sports & on demand

titles. No contract/

commitment. 1-866-825-

6523

Attention oxygen therapy

users! Inogen One G4 is

capable of full 24/7 oxygen

delivery. Only 2.8

pounds. Free info kit.

Call 877-929-9587

New authors wanted!

Page Publishing will help

self-publish your book.

Free author submission

kit! Limited offer! 866-

951-7214

Pest Control

Find Pest Control Experts

Near You! Don't let

pests overtake your

home. Protect your loved

ones! Call today to find

great deals on Pest

Control Services - 833-

872-0012

ASSOCIATION ADS

Wants to purchase minerals

and other oil and gas

interests. Send details to

P.O. Box 13557, Denver,

CO. 80201

HughesNet Satellite Internet

- Finally, no hard

data limits! Call today for

speeds up to 25mbps as

low as $59.99/mo! $75

gift card, terms apply. 1-

844-863-4478

DISH TV $64.99 190

Channels + $14.95 high

speed internet. FREE installation,

Smart HD DVR

included. Free Voice Remote.

Some Restrictions

apply. Promo Expires

1/21/22. 1-833-872-2545

Thinking about installing

a new shower? American

Standard makes it

easy. FREE design consulation.

Enjoy your

shower again! Call 1-

833-769-0995 today to

see how you can save

$1,000 on installation, or

visit www.newshowerdeal.com/mac

GENERAC Standby

Generators provide

backup power during

power outages, so your

home & family stay safe &

comfortable. Prepare now.

FREE 7-yr extended

warranty $695 value!

Request a free quote

today. Call for terms &

conditions. 1-844-334-

8353

CEMETERY LOTS

Forest Lawn Memorial Park

Garden of Good Shepherd -

4 sold as group $10,000

Lot 130 4 spaces,

Rd. access. 614-530-5583

HELP WANTED

FT Barber needed for well

established Barber Shop

in Upper Arlington.

Alfred's Barber Shop.

614-457-5432

Ask for Ronda

WANT TO BUY

WE BUY JUNK CARS

Call anytime 614-774-6797

BUYING VINYL RECORDS.

LPs and 45s - 1950-80s

Rock, Pop, Jazz, Soul.

614-831-0383

WANTS TO Purchase

minerals and other oil &

gas interests. Send details

to: P.O. Box 13557,

Denver, CO 80201

We Buy Junk Cars &

Trucks. Highest Prices

Paid. 614-395-8775

ANTIQUES

WANTED

Victrolas, Watches,

Clocks, Bookcases

Antiques, Furn.

Jeff 614-262-0676

or 614-783-2629

VACATION RENTALS

Englewood, Florida

Palm Manor Resort

Within minutes of white

sand Gulf beaches,

world famous Tarpon

fishing, golf courses, restaurants/shopping,

Bush

Gardens. 2 BR 2 BA

condos with all ammenities,

weekly/monthly, visit

www.palmmanor.com

or call 1-800-848-8141

February 6, 2022 - GROVEPORTMESSENGER - PAGE 11

xClassified Services

CONCRETE

614-297-7320

CHRIS RUH SR.

Cement Contractor

CARPET CLEANING

CARPET CLEANING

Any 5 areas ONLY $75

Home Powerwash-$99-$200

614-805-1084

Specializing in Pet Odors

CLEANING

Looking for Mrs. Clean?

For excellent cleaning serv

at reas. rates w/great refs,

dependable. 10% Seniorr

Disc. Free Est. Also runs

Errands - Gwen 614-226-5229

INFORMATION

ONLY

$50.00

For This Ad In Our

South/Canal Winchester

& Groveport

For Info Call

614-272-5422

GUTTERS

Bates & Sons

GUTTER CLEANING

5 ★ Google Reviews

614-586-3417

INFORMATION

CONCRETE

Serving Central Ohio

Since "1970"

B-B-B, Angis List, Super Service

Basement Walls

Repair, Clean & Seal

CONCRETE

AJ's Concrete,

Masonry

Good Work - Fair Prices

Block Foundations

Driveways • Sidewalks

Epoxy/Overlay Floors

Bonded-Ins. • Free Ests.

614-419-9932

www.hastingsnsons.com

Driveways & Extensions

Patio & Walkways,

Porches & Steps,

Garage/Basement Floors

Hot Tub/Shed Pads,

Stamped/colored concrete

Sealing of new &

existing concrete.

FREE ESTIMATES

Contact Adam

614-756-1754

hastingsandsons.

columbus@gmail.com

HEATING

HEATING

Complete System Clean & Check

$49.95

Free Carbon

Monoxide Testing

Gas-Oil-Electric Heat/Pumps

All Makes • All Models

45 yrs exp. • Sr. Discount

614-351-9025

INFORMATION

LOOK TO

THE PROFESSIONALS

IN OUR

SERVICE DIRECTORY

For Service

"That Is Out Of This World"

2/13 A

2/13 A

HOME

IMPROVEMENTS

SINCE 1973

Phil Bolon Contr.

Windows & Siding

Decks, Kitchens, Baths

Room Additions,

Flooring, Roofing

Bsmt Waterproofing

Deal With Small Non-Pressure Co.

47 Yrs. Exp. - Refs. Avail.

Lic.-Bond-Ins.

Free Est. - Financing Avail.

Member BBB Of Cent. OH

O.C.I.E.B. ID #24273

614-419-3977

or 614-863-9912

LAWN CARE

LET US MAINTAIN

YOUR LAWN & GARDEN

FOR YOU

Summer, Spring,

Winter or Fall

WE DO IT ALL!!!!

Lawn Cuts, Edging,

Trees & Shrubs, Garden,

Mulching, Hauling,

Garden Pond &

Home Maint.

Free Ests. Low Rates

$20 & Up

Kevin - 614-905-3117

PAINTING

A Job Well Done Again

A lic. General Contractor

Some Skilled Services

Incl: Painting • Stucco,

Repair•Carpentry•Exterior

Drainage & Home Maint.

Call Today! 614-235-1819

Classified Services

2/13

A/M

KLAUSMAN HOME

IMPROVEMENT

Siding-Windows-

Doors-Roofing-Soffit-

Fascia-Gutters-Trim

Earn FREE Seamless

Gutters with Siding Over

1000 Sq. Ft.

FREE Shutters with

Soffit & Trim

EPA Certified

Member of BBB

Financing Available

Over 20 yrs exp. • Free Est.

Licensed-Bonded-Insured

Owner & Operator

James 614-419-7500

C&JHandyman

Services LLC

Minor Plumbing

& Electric

Install Hot Water Tanks,

Dishwashers & Disposals

Also Fencing &

Interior/Exterior Painting

Free Est. ~ 18 Yrs. Exp.

CDC/EPA Approved Guidelines

614-284-2100

VACATION RENTALS

2/27 A

11/7 A

PLASTERING

DRYW

YWALL ALL &

PLASTER

1/30

A&M

REPAIR

Textured Ceilings

614-551-6963

Residential/Commercial

BIA

PLUMBING

CHRIS'

PLUMBING

"Plumbing & Drain Professional

That You Can Count On"

24 Hrs., 7 Days/Week

No Overtime Charges

24 Yrs. Exp. in Plumbing &

Drain Cleaning Field

Call For A Free Phone Estimate

$100.00 For Any Small Drain

614-622-4482

30% OFF with AD

MYERS

PLUMBING

Exp. Expert Plumbing

New Work & Fast Repairs

Lic. - Permit Available

Water • Sewer • Gas

614-633-9694

POWER WASHING

Bates & Sons

Soft Wash & Powerwash

5 ★ Google Reviews

614-586-3417

SEWING MACHINE

REPAIR

REPAIR all makes 24 hr.

service. Clean, oil, adjust

in your home. $49.95 all

work gtd. 614-890-5296

SNOW REMOVAL

GOOD NEIGHBORS

LAWN CARE

WINTER IS COMING!

"Leave Snow Removal To Us"

SNOW REMOVAL &

SALT SPREADING

Taking on New Accounts In The Area

Servicing Resid. & Comm.

12/19

Free Estimate E/SE

614-238-9237

614-937-0658

Ask For Bob

TREE SERVICES

BURNS TREE SERVICE

Trimming, Removal &

Stump Grinding.

614-584-2164

Brewer & Sons Tree Service

• Tree Removal

• Tree Trimming 2/13

A&M

• Stump Grinding

• Bucket Truck Services

Best Prices • Same Day Service

614-878-2568

2/27 A

2/13 A&M
---
PAGE 12 - GROVEPORT MESSENGER - February 6, 2022

www.columbusmessenger.com

Air Show returns to Rickenbacker in 2023

By Rick Palsgrove

Groveport Editor

Look to the sky for some exciting sights

in the summer of 2023.

That's because, after a several year

absence, the Columbus Air Show returns

on June 17-18, 2023 at Rickenbacker

International Airport, 2241 John Circle

Drive, Columbus.

"The last show at Rickenbacker Airport

was 2007's Gathering of Mustangs and

Legends that drew more than 150,000

guests," said Herb Gillen, president of Herb

Gillen Air Shows.

When asked why the air show is returning

after all these years, Gillen said, "Our

company has produced and marketed air

shows across the country and we've always

wanted to do a show here in our own hometown.

After a several year absence, the

Columbus Regional Airport Authority was

receptive to doing a show. There was consideration

of doing shows before this, but

due to different circumstances (airport construction,

lack of a jet team, other things)

the show did not move forward."

Performers and air show features

Gillen said the preliminary performer

lineup for the 2023 Columbus Air Show

includes the U.S. Navy Blue Angels, U.S.

Marine Corps C-130 "Fat Albert," The Ohio

Air National Guard KC-135, B-17 Flying

Fortress "Yankee Lady," B-25 Mitchell

"Rosie's Reply," C-47 Skytrain "Hairless

Joe," world aerobatic champion Rob

Holland, and the Smoke-n-Thunder Jet

Car.

"This is just the start and additional

performers and a static display lineup will

be announced in the future," said Gillen,

who added there will be a large ground display

area. "We anticipate a significant military

aircraft display area, there will also

be hands-on interactive activities for kids

of all ages, food, and fun."

The U.S. Navy Blue Angels

"We are excited beyond belief to host the

U.S. Navy Blue Angels at our first air show

back in Columbus," said Gillen. "The Blues

are known the world over for their high

energy and precision flying."

According to information provided by

Gillen, The Blue Angels demonstration

consists of six F/A-18 Super Hornets in the

iconic blue and yellow Navy colors. The

aircraft will fly at speeds approaching the

speed of sound and will perform maneuvers

with wing tips as close as 18 inches of separation.

The demonstration will also

include the Blue Angels' support aircraft,

the U.S. Marine Corps C-130 Hercules "Fat

Albert."

"With the Blue Angels as our headliner,

some very special vintage aircraft, the most

decorated active civilian aerobatic pilot in

Photo courtesy of the Herb Gillen Air Shows

The U.S. Navy Blue Angels will perform in Columbus for the first time in more than a

quarter century on June 17-18, 2023 when the Columbus Air Show takes to the skies

at Rickenbacker International Airport.

the U.S., and one of the top jet vehicle acts

in the world, we are starting to build what

will be one of the top shows in the country,

and we're just getting started," said Gillen.

Ticket and general information

Tickets are not yet available and pricing

and options are still being determined.

"There will be a variety of options

including general admission and several

limited quantity premium seating areas,"

said Gillen. "Tickets will only be available

online at www.ColumbusAirShow.com."

Visit www.ColumbusAirShow.com for

information and follow the show on

Facebook, Twitter, and Instagram.

About Rickenbacker Airport

"We are delighted to be able to host the

Columbus Air Show at Rickenbacker

International Airport," said Joseph

Nardone, president and CEO of the

Columbus Regional Airport Authority in a

press release. "Air shows inspire and

Schools want more

information from bus co.

entertain, and we look forward to bringing

that back to our community."

As a civil—military public airport,

Rickenbacker International Airport is also

home to the Ohio Air National Guard's

121st Air Refueling Wing, Ohio Army

National Guard's Army Aviation Support

Facility No. 2, the U.S Army, Navy and

Marine Corps Reserves, and the headquarters

for the Ohio Military Reserve.

Although the air show will be held on the

civilian side of the facility, it is anticipated

the local military units will be invited to

have a presence at the show.

"We are excited to see a return of air

shows to Columbus and Rickenbacker,"

said Col. Scott Lerdon, Wing Commander

of the 121st ARW in a press release. "We

look forward to being able to show the people

of Central Ohio some of what their Ohio

Air National Guard does."

At the Jan. 12 Groveport MadisonBoard

of Education meeting, the district's transportation

contractor, Petermann

Transportation made a presentation about

the company's efforts in providing transportation

for students.

According to Petermann officials, in

2020 (pre-COVID-19), the company ran

approximately 64 routes for the district.

However, due to staffing shortages since

that time, Petermann had to reduce the

number of routes to 49 (they currently have

50 drivers). Company officials stated that

optimally they would prefer to run closer to

70 routes, but they do not have the staff to

do so. They have six new candidates completing

their training, with four of them

scheduled to take their drivers test with

the state.

According to Groveport Madison Schools

officials, the board felt that the company's

update lacked the detail and data it had

expected to be provided. The board asked

Petermann's leadership team to come to

the February board meeting with a more

thorough assessment of the work done to

date and a detailed report regarding the

company's plans to resolve the long-standing

transportation service issues.

Groveport Garden Club

The Groveport Garden Club meets the

first Tuesday each month (unless otherwise

announced) at Groveport Zion

Lutheran Church, 6014 Groveport Road.

Call Marylee Bendig at (614) 218-1097.