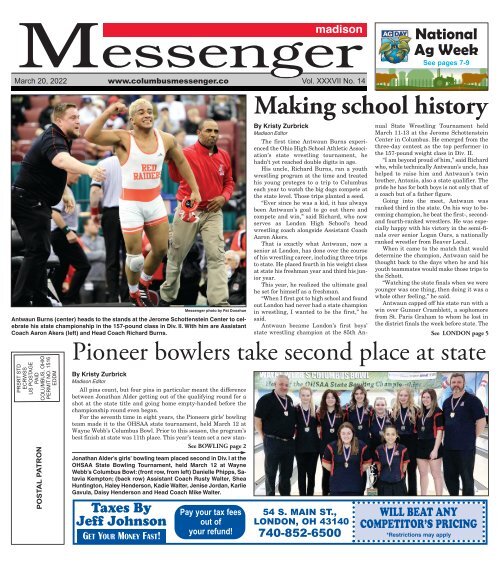 Madison Messenger - March 20th, 2022
You also want an ePaper? Increase the reach of your titles
YUMPU automatically turns print PDFs into web optimized ePapers that Google loves.
madison

National

Ag Week

See pages 7-9

March 20, 2022 www.columbusmessenger.co Vol. XXXVII No. 14

Making school history

Messenger photo by Pat Donahue

Antwaun Burns (center) heads to the stands at the Jerome Schottenstein Center to celebrate

his state championship in the 157-pound class in Div. II. With him are Assistant

Coach Aaron Akers (left) and Head Coach Richard Burns.

By Kristy Zurbrick

Madison Editor

The first time Antwaun Burns experienced

the Ohio High School Athletic Association's

state wrestling tournament, he

hadn't yet reached double digits in age.

His uncle, Richard Burns, ran a youth

wrestling program at the time and treated

his young proteges to a trip to Columbus

each year to watch the big dogs compete at

the state level. Those trips planted a seed.

"Ever since he was a kid, it has always

been Antwaun's goal to go out there and

compete and win," said Richard, who now

serves as London High School's head

wrestling coach alongside Assistant Coach

Aaron Akers.

That is exactly what Antwaun, now a

senior at London, has done over the course

of his wrestling career, including three trips

to state. He placed fourth in his weight class

at state his freshman year and third his junior

year.

This year, he realized the ultimate goal

he set for himself as a freshman.

"When I first got to high school and found

out London had never had a state champion

in wrestling, I wanted to be the first," he

said.

Antwaun became London's first boys'

state wrestling champion at the 85th An-

nual State Wrestling Tournament held

March 11-13 at the Jerome Schottenstein

Center in Columbus. He emerged from the

three-day contest as the top performer in

the 157-pound weight class in Div. II.

"I am beyond proud of him," said Richard

who, while technically Antwaun's uncle, has

helped to raise him and Antwaun's twin

brother, Antonio, also a state qualifier. The

pride he has for both boys is not only that of

a coach but of a father figure.

Going into the meet, Antwaun was

ranked third in the state. On his way to becoming

champion, he beat the first-, secondand

fourth-ranked wrestlers. He was especially

happy with his victory in the semi-finals

over senior Logan Ours, a nationally

ranked wrestler from Beaver Local.

When it came to the match that would

determine the champion, Antwaun said he

thought back to the days when he and his

youth teammates would make those trips to

the Schott.

"Watching the state finals when we were

younger was one thing, then doing it was a

whole other feeling," he said.

Antwaun capped off his state run with a

win over Gunner Cramblett, a sophomore

from St. Paris Graham to whom he lost in

the district finals the week before state. The

See LONDON page 5

Pioneer bowlers take second place at state

PRSRT STD

ECRWSS

US POSTAGE

PAID

COLUMBUS, OHIO

PERMIT NO. 1516

EDDM

By Kristy Zurbrick

Madison Editor

All pins count, but four pins in particular meant the difference

between Jonathan Alder getting out of the qualifying round for a

shot at the state title and going home empty-handed before the

championship round even began.

For the seventh time in eight years, the Pioneers girls' bowling

team made it to the OHSAA state tournament, held March 12 at

Wayne Webb's Columbus Bowl. Prior to this season, the program's

best finish at state was 11th place. This year's team set a new stan-

See BOWLING page 2

POSTAL PATRON

Jonathan Alder's girls' bowling team placed second in Div. I at the

OHSAA State Bowling Tournament, held March 12 at Wayne

Webb's Columbus Bowl: (front row, from left) Danielle Phipps, Satavia

Kempton; (back row) Assistant Coach Rusty Walter, Shea

Huntington, Haley Henderson, Kadie Walter, Jenise Jordan, Karlie

Gavula, Daisy Henderson and Head Coach Mike Walter.

Taxes By

Jeff Johnson

GET YOUR MONEY FAST!

Pay your tax fees

out of

your refund!

54 S. MAIN ST.,

LONDON, OH 43140

740-852-6500

WILL BEAT ANY

COMPETITOR'S PRICING

*Restrictions may apply
---
PAGE 2 - MADISON MESSENGER - March 20, 2022

BOWLING

Continued from page 1

dard, nabbing second place and the runnersup

trophy.

"We couldn't be happier for the kids and

all the families involved. It's a big group effort,"

said Rusty Walter who coaches the

team with his brother, Mike Walter. "It was

so high energy and a lot of emotions and just

a lot of fun. We really had a great time."

And about those four pins...

Through sectional and district competition,

16 teams qualify for the state tournament.

Once at state, those 16 teams compete

in a qualifying round to determine which

eight teams move on to compete for the state

title in the championship round. The qualifying

round starts with three regular games

in which five bowlers from each team complete

three individual games. Then, the five

bowlers combine to play three "baker"

games in which each team member bowls

two frames of each game. The scores from

both sets of games are combined.

"We struggled in the first (regular) game

of qualifying. The second game was better,

then we bowled a 926 in the third game

which jumped us from 13th place to eighth

place," Rusty said.

Next up were the baker games which

went fairly well, he continued, then came

the wait to see if the combined effort was

Antiques, Collectibles,

Jewelry, Vintage,

Home Decor, Militaria

and more!

America'

ica's s Fa

av vorite Treasure e Hunts!

Dec. 17 & 18

enough to earn a spot in the championship

round. As it turned out, Jonathan Alder

edged out Amherst Steele for the eighth and

final qualifying spot...by four points.

"We were all sitting in the bleachers,

waiting to hear who the top eight were,"

said Kadie Walter, a senior on the team and

Mike's daughter. "I wasn't sure if we were

going to make it or not. Once we heard, we

were jumping around and yelling, 'We made

it!'"

"We all went crazy—all the parents,

everybody. It's something I will never forget,"

said junior Danielle Phipps.

Once the team knew they had cleared the

first big hurdle, they reined in their emotions

as they faced their first opponent in

the championship round, Green out of the

Akron area. Green was the top team to

make it into the championship round. The

Pioneers lost the first two baker rounds

against the Bulldogs but took the next three

to win in exciting fashion.

The semi-finals against Troy went to a

five-game match, with the Pioneers pulling

out another victory to advance to the finals

where they faced the Big Blue bowlers of

Hamilton High School.

"We dropped the first game by three pins,

came back to win Game 2, lost Game 3, and

won game 4. In the last game, Hamilton

threw six strikes in a row to win the match

and the state title," Rusty said.

With the rollercoaster that was Jonathan

www.madisonmessengernews.com

Alder's experience at state, the top priority,

Kadie said, was making sure everyone kept

their cool from round to round and frame to

frame.

"I'm really proud of how everyone kept

themselves collected through stressful situations,"

she said. "Each person's morale affects

everybody else's morale. It was nice to

know your teammates had your back."

"We came together when we needed it,"

Danielle said. "We knew we had to pick each

other up, rely on our practicing, rely on our

coaching—that's what ultimately got us to

the finals."

About the experience overall, Danielle

added, "It was fun being around so much

other talent. Since we have so many seniors,

it was amazing to have that experience with

them."

The Pioneers ended their regular season

with a 16-0 record in the league and a 17-1

record overall. They were league and sectional

champs and finished second at district

behind two-time defending state

champion Gahanna Lincoln. Danielle was a

silver medalist at district. At state, she

bowled a 571 series to tie for 14th place in

the individual standings and earn Honorable

Mention All-Ohio honors.

Even though the program is losing five

seniors to graduation this year, the coaches

are excited about 2023.

"We think next year we can be nearly as

good, with Danielle being one of the best in

the state," Rusty said. "We have a really

good chance to have a good year next year."

While their regular season and run up to

and through the state tournament is over,

the 2022 Pioneers aren't done quite yet.

"We're looking at putting some things together

to take the girls to the high school

nationals in Louisville, Ky., on June 18,"

Rusty said, adding that a fundraiser is in

the works.

Jonathan Alder's finish at state makes

them eligible to participate at the U.S. High

School Bowling National Championship, a

competition organized by the U.S. High

School Bowling Foundation.

Town hall meetings set

to cover levy questions

The city of London is holding town hall

meetings to share information and collect

public input on proposed plans for a new police

department facility and a new community

center. The city has placed a 0.5

percent income tax on the May 3 ballot for

construction of the two new buildings and

for additional funding for the fire/EMS department.

The town hall meetings will take

place at 6 p.m. March 22, April 12 and April

26 at city hall, 20 S. Walnut St.

Public Employee Retirees meet

The Fayette-Madison Counties chapter of

the Ohio Public Employee Retirees will meet

at 12:30 p.m. March 23 at the Fayette County

Commission on Aging, 1179 S. Elm St., Washington

Court House. Any members may call

the Commission on Aging at (740) 335-2159 to

make an 11:30 a.m. lunch reservation if they

desire to have lunch prior to the meeting.
---
www.madisonmessengernews.com March 20, 2022 - MADISON MESSENGER - Page 3

LCS Fine Arts Festival returns

By Kristy Zurbrick

Madison Editor

London City Schools will celebrate student

music and art with its first Fine Arts

Festival since 2019.

The COVID-19 pandemic prevented the

district from holding the district-wide showcase

in 2020 and 2021. Organizers are

thrilled to announce its return, set for

March 26 from 12 to 3 p.m. at the high

school and elementary school.

"It's the only event in the district where

we get everybody together, where every ensemble

performs, and the only time when

you can see artwork from kindergarteners

to 12th-graders," said Amanda Gwinn, band

director for grades 5-12.

Among the highlights are nine pieces of

artwork by six London High School students

that made it to the second round of the Ohio

Governor's Youth Art Exhibition competition.

The high school band will perform the

piece they prepared for the recent Ohio

Music Education Association large-group

district contest.

The full music performance schedule is

as follows:

12 p.m.—Second-graders perform "The

Five Little Ducks" (high school gym)

12:40 p.m.—Middle school beginning band

(high school auditorium)

1 p.m.—Middle school combined choir

(high school gym)

1:20 p.m.—Seventh/eighth-grade band

(high school auditorium)

This portrait by Jozlyn Duffey, a London High School student,

made it to the second round of the Ohio Governor's Youth Art Exhibition

competition. It will be on display during the London Fine

Arts Festival.

1:40 p.m.—Elementary school choir (high school gym)

2 p.m.—High school band (high school auditorium)

2:20 p.m.—High School choir (high school gym)

2:40 p.m.—Fourth/fifth-grade recorders (high school auditorium)

In addition to the music performances and art displays, the FFA

will have livestock on hand and offer activities in rooms 805 and

806 at the high school. Industrial arts projects will be on display in

the high school commons.

"We are really excited to showcase all of the students' hard

work," Gwinn said.

The festival is free. No tickets are required. The high school and

elementary school are located adjacent to one another at 336 Elm

St. and 370 Elm St.

events and activities

Madison County Senior Center

The Madison County Senior Citizens Center, 280 W. High St.,

London, offers the following activities. The cafe is open to all ages,

Monday-Thursday, 11:30 a.m.-1 p.m. For details, call (740) 852-

3001.

• March 21—8:30 a.m., indoor walking/exercise class; 9 a.m.,

chair volleyball; 9:30 a.m., crocheting, knitting and needle crafts;

10:30 a.m., sitting exercises/strengthening; 1 p.m., euchre

• March 22—9 a.m.-3 p.m., quilting class; 10 a.m., bowling at

Madison Lanes

• March 23—8:30 a.m., indoor walking/exercise class; 9 a.m.,

chair volleyball; 10:30 a.m., aerobic/strengthening class; 12 p.m.,

bridge; 1 p.m., yoga stretch

• March 24—9 a.m., chair volleyball; 10:45 a.m., mystery lunch

departure

• March 25—8:30 a.m., indoor walking/exercise class; 9 a.m.,

painting class; 10 a.m., chimes; 1 p.m., free movie.

Mt. Sterling Community Center

The Mount Sterling Community Center is located at 164 E. Main

St. For details, call (740) 869-2453. Open daily for walking in the

gym, 10 a.m.-3 p.m.

• March 22—10-11 a.m., Take Off Pounds Sensibly

3-6 p.m., food pantry for income eligible households. Pre-packed

food boxes are delivered to your vehicle. Bring proof of residency at

your first visit and photo ID at every visit. Call the center for details.

8-9 p.m., Alcoholics Anonymous

• March 23—10 a.m.-3 p.m., sewing for adults

• March 25—10 6:30-7:30 p.m., bootcamp exercises

7:30-9 p.m., adult open volleyball

• March 26—10 a.m.-3 p.m., sewing for all

ages and abilities

10 a.m.-noon, WinCup Rummage Day

4 p.m., dodgeball tournament

• March 20—6:30-7:30 p.m.—Alcoholics

Anonymous

• April 2—10 a.m.-3 p.m., spring craft

bazaar at the community center and shop

hop in downtown Mount Sterling

• April 9—9 a.m.-noon, Mount Sterling's

"Egg-streme" Community Easter Jam.

The World's Most Advanced

Medical Alert System

Voice-Activated! No Wi-Fi Needed!

$20 OFF Mobile Companion

Offer code: CARE20

CALL NOW

1-855-521-5138

Prepare for unexpected

power outages with a

Generac home standby

generator

REQUEST A FREE QUOTE!

866-643-0438

FREE

7-Year Extended Warranty*

A $695 Value!

Limited Time Offer - Call for Details

Special Financing Available

Subject to Credit Approval

*To qualify, consumers must request a quote, purchase,

install and activate the generator with a participating dealer.

Call for a full list of terms and conditions.

LONDON CITY SCHOOLS

KINDERGARTEN REGISTRATION 2022

We will be registering our incoming Kindergarteners from April

4, 2022 to April 8, 2022. Please visit our website to schedule

an appointment. Your child does NOT need to be present

during the registration process, screenings will be completed

at a later date. It is necessary to have all of the required

paperwork, if the necessary paperwork is unavailable at your

scheduled appointment time, the student will be denied

registration at that time. To enter kindergarten your child must

be 5 years of age on or before August 1, 2022. Any questions

please call 740-852-5700 ext. 2117.

REQUIREMENTS

Completed Enrollment Packet

Certified Birth Certificate

Parent's Driver's License

Proof of Residency (utility bill or rental/lease agreement)

Custody Paperwork (if applicable)

Immunization Record

Current Physical
---
PAGE 4 - MADISON MESSENGER - March 20, 2022

www.madisonmessengernews.com

Alder and West Jeff wrestlers make state podium

By Kristy Zurbrick

Madison Editor

At the 85th Annual State Wrestling Tournament, the podium

was the place to be for wrestlers from Madison County. In addition

to several competitors from London (see story on page 1), one

Jonathan Alder athlete and one West Jefferson athlete finished

there seasons with medals around their necks.

Jonathan Alder

Oliver Byerly, a junior from Jonathan Alder, finished third in

the 150-pound weight class in Division II. He qualified for state last

year but didn't compete due to an injury he suffered the week before

the tournament. So, this year, he was raring to go.

"It was pretty awesome wrestling in front of that big of a crowd

in that big a stadium," Byerly said. The tournament took place at

the Jerome Schottenstein Center in Columbus.

In the match that determined who finished third, Byerly wrestled

the same opponent he had faced the morning before in quar-

ter-finals, senior Nicholas Abounader of

Cleveland Benedictine. In the quarter-finals,

Byerly eked out a last-second win. In

the finals, he left no doubt, controlling the

match from the start and finishing 12-6.

"We're super proud of him," said Coach

Tony Watson. "I've been around Oliver since

he was maybe 11. I've watched him wrestle

through junior high and high school. I've

seen him grow. It's been a great ride.

"He is a super good person, a great kid, a

great wrestler. I'm glad just for the opportunity

to be around him."

Byerly is already looking ahead to next

year.

"I want to come back and win the whole

thing," he said.

West Jefferson

Bryce Keckley, a senior from West Jefferson,

is a four-time state qualifier and now a

two-time state placer. He finished third in

2021.

Though his 2022 state experience didn't

go the way he wanted, Keckley still made

the podium with a sixth-place finish in the

175-pound class in Div. III.

"What he overcame to take sixth place is

a feat in and of itself," said his coach, Ryan

Browning.

Keckley suffered a severe shoulder injury

prior to the start of this season but went on

to wrestle the full season. Then, at state, he

won three of five matches before leaving the

tournament early with a knee injury.

Browning can't say enough about the

work ethic and character of the senior.

"Bryce is one of the hardest working

wrestlers I have ever seen, inside and outside

the wrestling room," he said. "He's just

a really good kid. He's who you want your

daughter to date and who you want your son

to become."

Keckley finished out his high school

wrestling career as West Jefferson's all-time

leading winner with 194 wins. He is being

recruited by Div. I colleges.

Messenger photos by Pat Donahue

Jonathan Alder's Oliver Byerly (top) takes control of his final

match at the state wrestling tournament. The junior notched a

12-6 victory over Cleveland Benedictine senior Nicholas

Abounader to claim third place in the 150-pound weight class in

Div. II.

West Jefferson senior Bryce Keckley (top) wrestles his way to a

11-2 win over Delphos St. John's senior Mason Vonderwell. The

two met up in the 175-pound weight class in Div. III at the state

tournament. Keckley won three of five matches before leaving the

tournament early with a knee injury. He finished in sixth place.

Wags Bakery opens in London

Messenger photo by Jeff Pfeil

Suzanne Williams (center), with help from her husband, Jon, cuts the ribbon on March 11 to officially open

her new store, Wags Bakery. Joining them are customers and their dogs along with representatives from

the Madison County Chamber of Commerce. Located at 8 E. First St. in London, Wags Bakery sells nutritious

treats for dogs, including selections that are all-natural with no artificial colors, sweeteners, salt or preservatives.

The store also sells an assortment of dog accessories, along with items for humans. One percent

of profits go to the Humane Society of Madison County. Currently, hours are: Monday-Wednesday, 12:30-6

p.m.; Friday, 12:30-6 p.m.; Saturday, 10 a.m.-4 p.m.; closed on Sunday and Thursday.
---
www.madisonmessengernews.com

LONDON

Continued from page 1

London contingent of fans erupted in cheers.

Richard hoisted Antwaun in the air in a

bear hug. Antwaun was all smiles and fist

pumps.

"It feels great," he said of the win and his

new place in the school history books. "I

want to thank the London community and

everyone who came out to support us and

everyone who was at home supporting. They

were rooting for all of us to do our best."

Antwaun's victory wasn't the only piece

of school history made on March 13. In addition

to his brother, Antonio, Antwaun

made the trip to state with two other fellow

seniors, Thadd Huff and Brady Fisher. The

tight-knit foursome dyed their hair blond,

as has become tradition at London for state

qualifiers ever since Richard mentioned he

dyed his hair when he wrestled at state in

his high school days. Together, bright hair

and all, they placed seventh as a team, the

highest state finish for a London wrestling

team.

"We just wanted to make the best of our

last run," Antwaun said. "I wouldn't have

wanted to do it with any other guys. When

we're all together, it's always fun and a lot

of laughs, and when it is time to get serious,

we put in the work."

Thadd Huff became a two-time state

placer, taking third in the 285-pound class.

Last year, he placed fourth. While his sights

were set on taking first this year, he said he

is happy with the results, which included a

win over the returning state champ in the

semi-finals.

"To finish off my career with wins and

beating the returning state champ felt really

good," he said. "Overall, I'm so happy

for Antwaun. It's been really cool being

teammates with him since we were really

young. And Rich has been my coach all

along. Finishing it all off on a really high

note was just a really great feeling for me

and just everybody."

Going into his third of five matches of the

tournament, Brady Fisher found himself in

the same position he was in at last year's

state tourney against the same opponent,

Collin Twigg of Wauseon. The person who

won would make the podium; the person

who lost would go home with nothing. In

2021, the two faced off in the 106-pound

class. Twigg won the match in the last 10

seconds with a takedown. This year, they

competed at 113 pounds, and it was Fisher's

turn for a late-match victory.

"I was down one point. I chose the bottom

(position). With 20 seconds left, I got a reverse

and rode him out as time expired to

win 2-1," Fisher recounted.

He went on to finish seventh. He said it

"felt great" to finally place at state, something

he's been working toward his whole

high school career. He also said he is processing

the idea that this part of his

wrestling journey is over.

"I've been with these guys pretty much

my whole life, pretty much since peewee...

It's crazy that it's all over now. Those guys

are like family to me," he said.

Antonio feels the same way and is proud

of what he and his teammates have accomplished.

"It wasn't easy. It took a lot of long nights

of hard work to get where we did," he said.

Antonio wrestled two matches at state in

the 215-pound weight class. He lost the first

one 1-2 in triple overtime and the second

one 0-5. Though he didn't place, he said he

is thankful to have finally gotten the full

Schottenstein state experience.

"I didn't make it to state my freshman

year. The tournament was cancelled because

of COVID my sophomore year. My

junior year, the tourney was held at a high

school," he said. "Finally, this year, it was

Messenger photos by Pat Donahue

(ABOVE) London senior Brady Fisher wrestles his way to a 9-3 victory over

Gannon Kazmirski of St. Clairesville. Fisher won three of his five matches at

the state tournament to take seventh place in the 113-pound class in Div. II.

(AT RIGHT) London senior Thadd Huff got off to a good start with a win in his

first match at the state tournament. He went on to win three more matches to

finish third in the 285-pound weight class.

London senior Antwaun Burns (right) faces off against St. Paris

Graham sophomore Gunner Cramblett in the final round of the

Div. II 157-pound weight class at the 85th Annual State Wrestling

Tournament. Burns won the match to become London's first boys'

state wrestling champion.

back at the Schott. Words can't really explain

what it's like coming out of that tunnel.

It's different for sure."

"I'm extremely happy for all four of these

guys," Richard said. "They have been part of

making history in London since they were

freshmen."

That first year, they and their teammates

won the school district's first league,

sectional and regional duals titles. The regional

title also made them the first London

squad to qualify as a team for the state

duals. They've went on to register some of

the highest state places as individuals in

school history and, now, the highest team

finish at state.

March 20, 2022 - MADISON MESSENGER - Page 5

London senior Antonio Burns (right) faces off against junior Ellisha

Baldridge of Millersburg West Holmes who came out on top

with a score of 5-1. Burns qualified for the state tournament by

finishing third in the districts in the 215-pound weight class.

"Those boys have set the bar for the rest

to come," Richard said. "It's exciting for

them to leave something behind for all these

kids to look up to. They showed that you

don't have to go to a big school program to

have the opportunity to win a state title.

They can do it right here in London."

Richard thanked London City Schools

and the London community for their support

of the wrestling program and for supporting

student-athletes "to be better, not

just on the football field or in the wrestling

room, but in the classroom, as well."

All four seniors who competed at state

this year have received multiple offers to

wrestle at the college level.
---
PAGE 6 - MADISON MESSENGER - March 20, 2022

DestinationOutlets.com

800-213-9083

8000 Factory Shops Blvd.

Jeffersonville, OH 43128

DOWNLOAD OUR

MEMBERSHIP APP

events and activities

Parenting Classes

Free Triple P Positive Parenting Program

classes will be held from 4:30 to 6:30

p.m. through April 6, at Hurt-Battelle Memorial

Library, 270 Lilly Chapel Rd., West

Jefferson. Sessions include free snacks, gift

cards, and materials. Parents are welcome

to attend all sessions or choose the date that

fits their schedule.

Making the classes possible are Action

For Children, Ohio Children's Trust Fund,

and Nationwide Children's Hospital.

For more information or to register, contact

Melinda Moreno at triplep@actionforchildren.org

or (614) 585-9725.

Prescription Drug Take-Back

The village of Plain City will host a prescription

drug take-back day 10 a.m.-2 p.m.

April 30 at the Pleasant Valley Fire Department,

650 W. Main St. Drop off unused, unneeded,

unwanted and/or expired

medications.

Power of the Purse

Spend a night out with your girlfriends—

good food, good music, good fun for a good

cause—at Madison County's Power of the

Purse. Hosted by United Way of Clark,

Champaign and Madison Counties, this

event benefits the Madison County Dolly

Parton Imagination Library.

www.madisonmessengernews.com

Power of the Purse is set for April 7, 5:30-

9 p.m., at the Fraternal Order of Eagles, 16

S. Union St., London. A silent auction, live

auction, entertainment, and food are

planned.

Tickets are $40 pre-sale or $45 at the

door ($25 of each ticket goes to the Dolly

Parton Imagination Library and is tax deductible.)

Buy tickets online at uwccmc.org

or call (937) 324-5551.

Blood Drives

The American Red Cross is holding blood

drives in Madison County. For more information

or to schedule an appointment, visit

www.redcrossblood.org and search by zip

code.

• March 23—Madison-Plains High

School, 800 Linson Rd., London, 8 a.m.-1:30

p.m.

• March 30—Fairhaven School, 510 Elm

St., London, 10 a.m.-4 p.m.

Pancake Breakfast

The Stokes Township/South Solon Fire

Department, 7105 E. Main St., South Solon,

is hosting a community pancake breakfast

June 18, 7:30 a.m.-noon. Donations of $7 per

adult and $3 per child are being asked. The

meal includes pancakes, eggs, sausage, and

milk, fruit punch of coffee. Pop can be purchased

for 50 cents. All proceeds benefit the

fire department.
---
www.madisonmessengernews.com

National Agriculture Week

March 20, 2022 - MADISON MESSENGER - Page 7

County welcomes new ag Extension educator

By Kristy Zurbrick

Madison Editor

There's a new face at Madison County's

Ohio State University Extension Office.

Amanda Douridas became the county's

new agriculture and natural resources Extension

educator on March 1. She replaces

Mary Griffith who had served in the position

since the fall of 2015.

Originally from southern Union County,

Amanda grew up on an old farmstead and

raised dairy feeders for 4-H. Her parents

weren't farmers, but she was surrounded by

a strong agricultural community.

"FFA is what really got me interested in

agriculture," said Amanda who was active

in FFA while a student at Fairbanks High

School.

She started working for a crop consulting

company while in high school and continued

to work for them while she pursued higher

education. She holds a bachelor's degree in

agribusiness and a master's degree in agriculture

economics, both from The Ohio State

University.

Amanda took her first step into Extension

work in 2008 as a title program coordinator

for environmental management in the

Food, Agricultural and Biological Engineering

Department on OSU's main campus.

She worked with farmers and manure applicators

on research and best practices for

manure application. For the last several

Amanda Douridas became Madison

County's new agriculture and natural resources

Extension educator on March 1.

Rod Kronk

Shari Henry, C.I.C, C.I.S.R

Ashley Woods, C.I.S.R

Kelly Jameson

Jon Green

years, she served as the agriculture and

natural resources educator for Champaign

County's Extension office.

Amanda and her husband, Nate Douridas,

have lived in Madison County since

"When the Madison County position

opened up, I wanted to apply so I

could get to know the community we

live in better, and I really enjoy the job.

It was a good opportunity."

2012. Nate is the farm

manager at the Molly

Caren Ag Center, home

of the Farm Science

Review.

"When the Madison

County position opened

up, I wanted to apply

so I could get to know

the community we live

in better, and I really

enjoy the job. It was a good opportunity,"

Amanda said.

Even before her official start date,

Amanda was making the rounds, getting to

know people. She attended a recent pesticide

recertification meeting and is meeting

with the Madison County Master Gardeners,

a group affiliated with OSU Extension.

She plans to get involved with various organizations

around the county.

Diving into her new job, Amanda is actively

seeking farmer participants for onfarm

research protocol studies. With

funding to help farmers, Extension is promoting

a nitrogen rate

trial. The office also is

working on pollinator

habitat and soybean

studies, along with

studies on seeding

rates for corn and soybeans.

"If there's something

specific you're interested

in studying on

your farm, I would be happy to help with

that, too," she said.

Amanda can be reached at the Madison

County OSU Extension office, 217 Elm St.,

London, (740) 852-0975. To sign up for the

monthly agriculture and natural resources

newsletter or for information on other topics,

go to http://go.osu.edu/AgEmails.

–Amanda Douridas,

OSU Extension agriculture and

natural resources educator

MERCHANTS NATIONAL BANK

CELEBRATES

AGRICULTURE!

March 20 th marks National Ag Day. A time when

producers, agricultural associations, corporations, agencies,

and countless others across America gather to recognize

and celebrate the abundance provided by Agriculture.

Come see our lending team

for your borrowing needs.

Left to right:

Cassie Williams, Steve Adams,

Ashley Stokes

Merchants National Bank supports Agriculture, not only

on Ag Day, but as we have done for the past 142 years and

will continue to do in the future! We admire and have a

sincere appreciation for our agricultural community!

We thank you,

Merchants National Bank

279 Lafayette St., London, OH 43140

740-852-4900
---
PAGE 8 - MADISON MESSENGER - March 20, 2022

www.madisonmessengernews.com

Rules and care guidance for raising chickens

By Amanda Douridas, Madison County

Ag & Natural Resources Extension Educator

The first chicks appeared in supply stores at the beginning of

March, and that means chick-rearing season is upon us. I have

my own backyard poultry flock, so I very much understand the

excitement, fun and joy these birds can bring, not to mention

food. However, a few missteps can lead to frustration and

heartache if your birds are not living their best life.

If you live inside the city or village limits, you do need to make

sure you are allowed to have poultry and under what conditions.

I did a little research into the municipalities around Madison

County, and here is what I found.

Regulations

Roosters are not allowed on most lots and chickens cannot free

range. Housing restrictions are written into ordinances and usually

require secure, covered coops that allow for free movement

and are predator proof. In some cases, a minimum square footage

per animal needs to be met. Most also require housing to be in

the backyard or not visible from the road.

London: Allows 6-10 chickens depending on lot size. A one-time

$50 permit is required, and an inspection will occur once chickens

are acquired. For the detailed ordinance, contact the city.

Plain City: One chicken is allowed per 725 square feet which

equates to 12 animals for a standard 8,700 square-foot lot. Roosters,

geese and turkey can be kept on lots that are at least one

acre, with other restrictions in place. The full ordinance can be

found at go.osu.edu/pcchickens.

West Jefferson: The village recently updated its legislation. A

maximum of four chickens are permitted. A one-time $50 permit

and an inspection are required. A conditional use permit may be

an option if poultry is being raised for 4-H, FFA, or a similar

youth organization. For the full set of rules, contact the village's

department of development at (614) 379-5250.

If you're thinking of raising chickens in our backyard, be sure to

check local laws to see if they are permitted.

Mount Sterling: No poultry or other farm animals are permitted

within village limits.

Care

It can be tempting to purchase those sweet little chicks or ducks

when you see them in the store, but please remember that they do

grow up and can live for several years, so it is important to ensure

you can care for them. Figuring out what to do with them after purchasing

is not an option. Whether you purchase from a hatchery or

supply store, a minimum number is required so they can maintain

sufficient body temperature during travel. Be prepared to care for

the minimum order or have a plan in place before they arrive for

what you will do with the extra.

Chicks have the same basic needs as

other living creatures: food, water and

shelter.

Shelter: You will need a brooder because

chicks have to be kept in an environment

that is 90-95 degrees for the

first two weeks. Drop the temperature by

5 degrees every week until they are 1

month old. They grow rapidly, so be prepared

to make space as they grow. Ensure

the housing is predator-proof, dry

and clean. Good ventilation is also important

to prevent illness and help with

drying. One to two square-feet per

chicken is a good estimate on space required

for adult birds.

Food: Use a starter feed for chicks

that has 18-20 percent protein for at

least five weeks. To prevent coccidiosis,

use a medicated feed containing Amprolium.

After five weeks, if you are raising

meat birds, use a grower feed; if raising

laying hens, use a layer feed. If you have

a mixed flock, you can use a grower feed

and supplement calcium. Layer feed is

too low in protein for grower birds and

will cause issues. Store feed in rodent

proof containers. Select a feeder that

keeps the feed clean and available to all

birds.

Water: Provide plenty of fresh water

every day. Select a waterer that keeps

the water clean and will not spill. Hanging

waterers and feeders do a nice job at

this. Chickens very easily figure out

where to get water, so do not worry if you

need to switch waterer types. If feeding

through the winter, you will probably

need a heated waterer. Chickens do not

sweat, so in hot weather, make sure they

See CHICKENS page 9
---
www.madisonmessengernews.com March 20, 2022 - MADISON MESSENGER - Page 9

March 30 field walk focuses on wheat evaluation

By Amanda Douridas,

Madison County

Ag & Natural Resources Extension Educator

Whether it's been a while since you've

grown wheat or since you have evaluated

a wheat field, it is time to freshen up on

how to do so. Even if you're considering

growing wheat for the first time, the upcoming

Wheat Refresh & Field Walk will

get you started on the right foot.

On March 30, Dr. Laura Lindsey, soybean

and small grain state specialist for

OSU Extension, will lead a field walk at

the Molly Caren Ag Center North Farm,

1782 State Rte. 38, London. The site is located

two miles north of the Farm Science

Review.

Lindsey will cover how to evaluate a

field coming out of winter and talk about

growth staging the wheat. Growth staging

is critical for nutrient and crop protection

applications. Lindsey also will share resources

and recommendations on disease

scouting and control.

Nate Douridas, farm manager at the

Molly Caren Ag Center, will have a

sprayer set up for nitrogen application

which will lead into recommendations for

wheat. An air seeder will be set up for discussions

on seeding timing, row spacing

and rates. A combine with a wheat-specific

setup will be on site, as well. An equipment

specialist from Ag-Pro Ohio will be on

hand to answer questions.

The event is free and runs from 8:30 to

10:30 a.m. To register, visit

https://go.osu.edu/wheatrefresh. Contact

information is requested for notifications

in the event of a cancellation.

Doughnuts, coffee and a limited number

of corn, soybean, wheat and alfalfa field

guides will be distributed. CCA credits offered:

1 CEU CM, 1 CEU NM.

Farm Bureau scholarships available

The Madison County Farm Bureau

will award scholarships to qualified high

school seniors or students enrolled in college

from Madison County who will be

pursuing further education. The deadline

to apply is March 31, 2022.

To apply, visit Madison.ofbf.org.

For more information, contact the

Madison County Farm Bureau office at

800-451-8908 or madison@ofbf.org.

A Wheat Refresh & Field Walk will take place March 30 at the Molly Caren Ag Center

in London. The free event is open to anyone.

CHICKENS

Continued from page 8

have access to cool water.

Biosecurity: Avian influenza is once

again threatening domestic birds as migrating

waterfowl move through our area. Keep

your birds separated from any areas where

waterfowl may be grazing. The Ohio Department

of Agriculture will test birds suspected

of having avian influenza. If you are

in contact with other poultry or waterfowl,

change your clothes, shower and disinfect

your shoes before interacting with your

poultry. For a list of vets that see poultry,

visit: https://vet.osu.edu/extension/poultry-resources.

Manure: Your birds will create manure.

Please handle this properly. It can

be composted and used in gardens. Some

municipalities require it to be disposed of

through garbage services. If the amount

of manure gets to be too much, reduce

your flock size to what you can handle.

For more information on poultry, visit:

https://u.osu.edu/poultry/.

Car - Home - Life - Boat - Farm

Business - Motorcycle - Bonds

An independent agency

representing
---
PAGE 10 - MADISON MESSENGER - March 20, 2022

www.madisonmessengernews.com
---
www.madisonmessengernews.com

obituaries

March 20, 2022 - MADISON MESSENGER - Page 11

PICKENS

Robert "Bob" E. Pickens Sr., 74, of London died on

Jan. 15, 2022, in his residence. Born on May 15, 1947,

in Dayton, he was a son of Robert B. and Althea Pickens.

A U.S. Navy veteran of the Vietnam War, Bob had

retired after 31 years from London Correctional Institution.

After retiring, he worked in private security for

20 years.

Survivors include: his wife of 53 years, Joyce A. (Duffey)

Pickens; daughter-in-law, Tina Watkins; brothers,

James (Sue) Pickens and Richard (Cindy) Daily; sisterin-law,

Shirley Poland; cousins, Betty Gregg, Brenda,

Jim, and Jacob Hollar; several nieces and nephews; and

close friend, David Hamby.

He was preceded in death by his parents and by his

son, Rob Pickens Jr., in 2021.

Per the family's request, visitation and funeral services

were not observed.

Memorials in Bob's name may be sent to: Humane

Society of Madison County, 2020 St. Rt. 142 NE, West

Jefferson, OH 43162.

The family as served by Eberle-Fisher Funeral Home

and Crematory, London. Condolences for the family

may be sent to www.eberlefisherfuneralhome.com.

SULLIVAN

Frances Louise Sullivan, 86, of Mount Sterling, Ohio,

passed away on March 6, 2022, after a short illness at

Mount Carmel Grove City.

Frances was born on July 29, 1935, to Mary and

George Palmer in Pickaway County. She graduated

from Clarksburg High School in 1954 where she played

for the basketball and volleyball teams, as well as being

a member of the Future Homemakers of America.

After graduation, she entered the workforce, taking

roles as cook and server at Wardells Party Home in

Williamsport where she learned to make the most

amazing dinner rolls that served her family for many

years. She ultimately retired from Wincup were she

worked for 20-plus years.

Frances was an avid game show watcher and home

participant. She loved to read and color in her adult coloring

books. She enjoyed a great hamburger and a side

of French fries, especially one coming from McDonald's.

She loved to cheer on the Buckeyes and watched every

game on TV that she could. She loved to go shopping

and exploring with her daughter, Marilyn, when she

was able and enjoyed listening to John play his guitar

and sing. You would always catch her tapping her toes

and enjoying his voice. She loved to call Christy and just

talk on the phone. She always started out with, "Hey,

Honey, it's me." She never did realize we could see caller

ID. She was a worrier about everyone and wanted to

make sure we all stayed safe. And until she was no

longer able to take care of everyone else, leaving herself

for last. She loved having her family around and loved

to just be near those she loved so she didn't mind at all.

Frances was preceded in death by: her parents; husband,

James Sullivan; son, Edward Allen Hunt

(Melissa); granddaughter, Crystal Lee Thomas; and sister,

Mary Beech.

She is survived by her children, Marilyn Russell,

John Hunt, and her sidekick granddaughter, Christine

(Brady) Sines. She is also survived by; grandchildren,

Carissa Clarkston of Oakland, Calif., Tammy Myers,

Brandon (Sarah) Hunt, Seth Hunt, and Kirstyn Hunt.

She was a great-grandmother to Ashley (Tyler) Holz,

Andrew Sines, Zachary Marrs, Austin Marrs, Matthew

(Destiny) Marrs, Michael (Shyanne) Thomas, J. Blake

Thomas, and Kevin Cliff of Kentucky. She was greatgreat-grandmother

to Ashton, Aiden, Kendell, Alayah,

Colston, Levi, and Kyleeah.

She leaves behind a very special niece, Carol Kidd,

of Springfield, Ohio—her original sidekick who went on

dates with her and shared her love for hamburgers. She

loved Carol very much and was so proud of the woman

and life she made for herself.

Beverly Dawson, her very best friend over the years.

No matter where life took them, they always made time

to call each other on birthdays and big events in their

lives. They worked together at Wincup and shared

many dances and many laughs. Your friendship meant

the world to her and she loved you very much.

Special thank-you to friends and neighbors, Tina and

Dennis Wycuff. I am not sure how she would have gotten

through without the help and compassion of these

two selfless people. From emergency calls no matter the

time of the night to the simple baked pies and goodies

she enjoyed so much. Your friendship meant more to her

then you will ever know, and our gratitude is endless.

Special thank-you to the 4th, 6th, and 7th-floor nursing

staff at Mount Carmel. Your compassion and care

was seen. Thank you for being there and caring for her

when we were not allowed to. Your compassion and care

went above and beyond. Thank you for taking special

care of our mother.

Visitation and services were held on March 11 at

Porter-Tidd Funeral Home, Mount Sterling. Frances

was laid to rest in Springlawn Cemetery in

Williamsport, Ohio. Please visit www.portertiddfuneralhome.com

to share favorite memories and to send condolences

to the family.

WILSON

Clarabelle Wilson, 90, of London died on March 12,

2022, in Sisters on Elm in London. Born on Sept. 2,

1931, in Madison County, she was a daughter of Milton

and Elizabeth (Boysel) Cook.

She retired from the former G.C. Murphy in London

after 31 years and later worked at Arbors of London.

She had belonged to the former Summerford United

Methodist Church.

Survivors include: her grandchildren, Kim Langston,

Lance Knief, Tyler Knief and Danielle (Mark) Call;

great-grandchildren, Justin, Ashley and Madison Knief,

Courtney Schultz, Sierra, Sidney and Chance Langston,

Katie and Kelsey Call; and several great-great grandchildren.

She was preceded in death by: her parents; husband,

Donald Wilson; son, Terry Knief; sisters, Alice Kell and

Margaret Cook; and nieces, Cathy and Cynthia Kell.

Visitation and funeral services were held on March

16 in Eberle-Fisher Funeral Home and Crematory, London,

with Pastor Wayne Stuntz officiating. Interment

will follow in Somerford Township Cemetery, London.

Memorials in Clarabelle's name may be made to a

charity of the donor's choice. Condolences for the family

may be shared at www.eberlefisherfuneralhome.com.

SHRYOCK

Roger Lowell Shryock, 70, of London died on March

12, 2022, at his home following an extended illness.

Obituaries

Notices

Roger was born on Oct. 27, 1951, in Coshocton to Harris and Janice

Shryock who preceded him in death. He was a graduate of Warsaw

River View High School and Ohio Northern University.

An avid golfer, Roger was a member of the London Country Club

and could be seen there daily, either golfing or mowing. He was a

longtime manager at Gander Mountain in Dayton and a member

of First United Methodist Church in London.

Roger is survived by: his wife of 50 years, Susan (Carmack) Shryock;

brother, Dane (Amy) Shryock of Coshocton; sister, Faith (Tom)

Ridenbaugh of Johnstown; brother-in-law, Ron Carmack of Erlanger,

Kentucky; and numerous nieces and nephews.

Calling hours were set for March 18 at Lynch Family Funeral

Home, London. The funeral service was set for March 19 at First

United Methodist Church, London.

Donations may be made to the Erin L. Nance Memorial Scholarship

Fund, London City Schools Treasurer Office, 380 Elm St.,

London, OH 43140: or the Madison Health Foundation, 210 N.

Main St., London, OH 43140.

Funeral arrangements have been entrusted to Lynch Family Funeral

Home & Cremation Service, London.

HARRINGTON

Donald L. Harrington, 81, of London died on March 13, 2022, at

home surrounded by his family. Born on Feb. 3, 1941, in London,

he was a son of Ernest and Martha (Bunner) Harrington.

He is survived by: children, Pam Harrington, Mary Jane

(Dwayne) Corson, Andy Harrington, Brian (Regina) Harrington,

and Jacob Harrington; several grandchildren and great-grandchildren;

and ex-wife, Paula Harrington.

Donald was preceded in death by his parents and sister, Mary.

Per his wishes, cremation will take place and inurnment will be

held at a later date in Somerford Township Cemetery.

The family is being served by Eberle-Fisher Funeral Home and

Crematory, London. Condolences may be shared at www.eberlefisherfuneralhome.com.

■ Pretend you didn't see this ad

■ Give your family a thoughtful, loving gift

Choose wisely.

Sure, you can flip the page and ignore this ad, but why would you?

Funeral preplanning is the most thoughtful gift you can give your

family and all it takes is a little bit of your time. Instead, why not

pick up the phone and call us today? We'll take you through

step-by-step and help you as you make your selections.Think of

it as your chance to be remembered as both wise and thoughtful.

Funeral Home and Crematory

103 North Main Street

London, Ohio 43140-1144

(740) 852-2345

www.eberlefisherfuneralhome.com

For the latest obituary information visit our website.

Updated daily. Find out more by visiting...

www.madisonmessengernews.com/obits.html
---
PAGE 12 - MADISON MESSENGER - March 20, 2022

www.madisonmessengernews.com

Grand opening set for WJ Roughrider facility

By Linda Dillman

Staff Writer

The ROC is up and running in West Jefferson.

Built at a cost of nearly $2 million, the

Roughrider Optimization Center (ROC) is a

120x160-foot open-span steel building located

between West Jefferson High School

and the baseball and softball fields.

It provides year-round practice space for

the school district's athletic teams and

marching band and a place for school projects

that need a large open space. The ROC

opened its doors to students and coaches on

March 7. An official grand opening for the

public is scheduled for April 11 at 6 p.m. before

the school board meeting at 7 p.m.

On March 14, the school board officially

accepted the optimization center from the

West Jefferson Athletic Boosters, who donated

the facility to the school district.

Richard Dickerson and his family spearheaded

the project. The facility was built entirely

with donated funds, labor, supplies

and equipment at no cost to Jefferson Local

Schools.

"The board is very grateful to Mr. Dickerson

and his family, the Athletic Boosters

and all who have contributed to this project

in any way," said board member David

Harper. "The ROC is a great addition to our

school's complex."

Eighth-grade basketball coach and

booster club President Kenny Love told the

board the facility was expected to take one

year to construct but was two years in the

making due to the pandemic.

"This blossomed from an idea to reality,"

Love said. "Dick Dickerson brought it to us,

so it really was his baby. A lot of shortfalls

were covered anonymously."

Originally, the estimated cost of the facility

was $500,000. In the end, it cost $1.9

million. That amount was covered with

$600,000 in cash donations and $1.3 million

in in-kind services and supplies.

"It puts us on par with other schools

across the state. It's a great facility," Love

said.

Superintendent Bill Mullett emphasized

the ROC was built at no cost to the school

district and said organizers are still accepting

donations. The structure currently has

no running water.

The donation campaign for the project

kicked off in 2019 with a $100,000 commitment

from the Dickerson family. In March

2020, Dickerson unveiled a draft drawing of

the ROC which has a maximum capacity of

200 people. At that time, commitments of

more than $300,000 were received by the

booster club.

In September 2021, Madison Health

made a $100,000 donation, payable in five

$20,000 annual installments.

CLASSIFIED ADS

Deadline: Tuesdays at 2 p.m.

To place an ad, call 740-852-0809 or stop by the London office at 78 S. Main Street

xCraft Shows xInformation xHeating & Cooling

Spring

INFORMATION

GET READY

FOR SPRING!

Try a New Hairstyle!

Come See Me At

My New Location!

Call Marilyn Weaver

For An Appt.

For a New Haircut/Color

614-348-6670

Relax Wellness

3663 Broadway

Grove City

Have Something To Sell?

Need To Rent That Property?

Try The Messenger!

For Info On

Placing An Ad Call

614-272-5422

Grove City High School

Band Boosters

GIFT & CRAFT BAZAAR

Saturday, March 26, 2022 9AM-5PM

Grove City High School

4665 Hoover Rd.

Homemade Breakfast & Lunch Served, Free Parking!

$5 Admission — Under 12 Free

ASSOCIATION ADS

Become a Published

Author. We want to Read

Your Book! Dorrance

Publishing-Trusted by

Authors Since 1920

Book manuscript submissions

currently being reviewed.

Comprehensive Services:

Consultation, Production,

Promotion and Distribution. Call

for Your Free Author's Guide 1-

866-482-1576 or visit

http://dorranceinfo.com/macnet

Directv Stream - The Best

of Live &On-Demand On

All Your Favorite Screens.

CHOICE Package,

$84.99/mo for 12 months.

Stream on 20 devices at

once in your home. HBO

Max FREE for 1 yr

(w/CHOICE Package or

higher.) Call for more

details today! (some

restrictions apply) Call IVS

1-866-629-6086

ASSOCIATION ADS

Stop worrying! SilverBills

eliminates the stress &

hassle of bill pmts.

Household

bills

guaranteed to be paid on

time as long as

appropriate funds are

available. No computer

necessary. Free trial/

custom quote 1-855-703-

0555

Long Distance moving.

Call for a free quote from

America's Most Trusted

Interstate Movers. Let us

take the stress out of

moving! Speak to a

relocation specialist! Call:

888-721-2194

SCIENTOLOGY CAN HELP YOU

We can give you

1. A higher IQ to handle your problems

2. Higher awareness to get a better job

3. More energy to make more money

4. Better health to breast life

5. Better morale to handle upsets

6. Less despair

7. More life

8. More years to live

Come to our free introductory workshop:

Monday-Friday at 7pm; Saturday & Sunday 2pm.

1266 Dublin Road,Columbus, Ohio 43215

ASSOCIATION ADS

Don't let the stairs limit

your mobility! Discover

the ideal solution for

anyone who struggles on

the stairs, is concerned

about a fall or wants to

regain access to their

entire home. Call

AmeriGlide today! 1-844-

317-5246

Donate Your Car To

Veterans Today! Help and

Support our Veterans.

Fast - FREE pick up.

100% tax deductible. Call

1-800-245-0398

Hero takes stress out of

managing medications.

Hero sorts & dispenses

meds, sends alerts at

dose times & handles

prescription refill &

delivery for you. Starting

at $24.99/month. No

initiation fee. 90-day riskfree

trial! 1-888-684-0280

ASSOCIATION ADS

Stroke & Cardiovascular

disease are leading

causes of death,

according the American

Heart Association.

Screenings can provide

peace of mind or early

detection! Contact Life

Line Screening to

schedule your screening.

Special offer - 5

screenings for $149.

1-866-518-8391

Looking for assisted living,

memory care, or

independent living? A

Place for Mom simplifies

the process of finding

senior living at no cost to

your family. Call 1-833-

910-1576 today!

ASSOCIATION ADS

LONG DISTANCE MOVING:

Call Today for a FREE

QUOTE from America's Most

Trusted Interstate Movers.

Let us take the stress out of

moving! Call now to speak to

one of our Quality Relocation

Specialists: 877-541-6320

Donate your car to kids!

Fast free pickup running

or not - 24 hour response.

Maximum tax

donation. Help find missing

kids! 877-831-1448

Update your home with

beautiful new blinds &

shades. Free in-home

estimates make it

convenient to shop from

home. Professional

installation. Top quality -

Made in the USA. Free

consultation: 877-212-

7578. Ask about our

specials!

DENTAL INSURANCE

from Physicians Mutual

Insurance Company.

Coverage for 350 plus

procedures. Real dental

insurance - NOT just a

discount plan. Do not wait!

Call now! Get your FREE

Dental Information Kit with

all the details! 1-877-553-

1891

www.dental50plus.com/

macnet#6258

Put on your TVEars &

hear TV w/unmatched

clarity. TVEars Originaloriginally

$129.95 - now

w/this special offer only

$59.95 w/code MCB59! 1-

833-530-1955

ASSOCIATION ADS

Replace your roof with the

best lookng and longest

lasting material. Steel

from Erie Metal Roofs!

Three styles and multiple

colors available.

Guaranteed to last a

lifetime! Limited Time

Offer - $500 Discount +

Additional 10% off install

(for military, health

workers & 1st responders)

Call Erie Metal Roofs: 1-

855-338-4807

The bathroom of your

dreams for as little as

$149/month! BCI Bath &

Shower. Many options

available. Quality

materials & professional

installation. Senior &

Military Discounts

Available. Limited Time

Offer - FREE virtual inhome

consultation now

and SAVE 15%! Call

Today! 1-877-540-2780

Call or

Email to

set up an

appointment.

ASSOCIATION ADS

Stroke & Cardiovascular

disease are leading

causes of death according

the AHA. Screenings can

provide peace of mind or

early detection! Call Life

Line Screening to

schedule a screening.

Special offer 5 screenings

for $149.. 1-833-549-4540

Wesley Financial Group,

LLC Timeshare Cancellation

Experts Over

$50,000,000 in timeshare

debt & fees cancelled in

2019. Get free

informational package &

learn how to get rid of

your timeshare! Free

consultations. Over 450

positive reviews. 888-965-

0363
---
www.madisonmessengernews.com

March 20, 2022 - MADISON MESSENGER - PAGE 13

CLASSIFIED ADS

Deadline: Tuesdays at 2 p.m.

To place an ad, call 740-852-0809 or stop by the London office at 78 S. Main Street

xLegal Notices

The following matters are the subject of this public notice by the

Ohio Environmental Protection Agency. The complete public notice,

including any additional instructions for submitting comments,

requesting information, a public hearing, or filing an appeal may be

obtained at: https://epa.ohio.gov/actions or Hearing Clerk, Ohio

EPA, 50 W. Town St. P.O. Box 1049, Columbus, Ohio 43216. Ph:

614-644-3037 email: HClerk@epa.ohio.gov

Final Issuance of Permit to Install

Madison County Commissioners

Facility Description: Wastewater

ID #: 1432430

Date of Action: 03/07/2022

This final action not preceded by proposed action and is appealable

to ERAC.

Project: Summerford Sanitary Sewer System

Project Location: 2795 Old Columbus Road, Somerford Twp

MM MARCH 20, 2022

IN THE COURT OF COMMON PLEAS

MADISON COUNTY, OHIO

PROBATE DIVISION, JUVENILE COURT

Case No. 22240014

Summons By Publication

Carmen JONES

vs.

Traci JONES & Raymond GRUNDY

To: Raymond Grundy, address unknown

A petition for custody of GRUNDY, WHITNEY J., DOB 01/10/2018, has

been filed in this Court. A pretrial hearing has been scheduled in this

Court at the Madison County Court House, 1 North Main Street, London,

OH 43140, on May 10, 2022 at 9:00 a.m., and at the call of the Court

thereafter.

You are hereby summoned that a petition for custody has been filed by

Carmen Jones. You are required to serve upon Carmen Jones a copy of

your answer to the petition for custody within 28 days of this publication.

Said answer must be filed with this Court within three (3) days after

service on Carmen Jones. If you fail to appear and defend, judgment by

default may be taken against you for the relief demanded in the petition.

You are indicated as being the parent of said minor child and notice of

said petition for custody is hereby provided in accordance with the law

and the provisions of RULE 16, Rules of Juvenile Procedure.

You may contact the Juvenile Court at 740­852­0760 with any questions.

CHRISTOPHER J. BROWN

Juvenile Judge

Madison County, Ohio

MM MARCH 20, 2022

MM2022196

The 2021 Annual Report for the

Madison County-London City

Health District

has been completed.

The report is available for review at

MCPH, 306 Lafayette Street, London,

between 8:30 a.m. and 4:30 p.m.

Monday-Friday.

Angel Staten

Fiscal Officer

MM MARCH 20, 2022

MM2022198

MM2022200

ASSOCIATION ADS

Aloe Care Health, medical

alert system. The most

advanced medical alert

product on the market.

Voice-activated! No wi-fi

needed! Special offer-call

and mention offer code

CARE20 to get $20 off

Mobile Companion. Call

today-1-877-728-4065

Eliminate gutter cleaning

forever! LeafFilter, the

most advanced debrisblocking

gutter protection.

Schedule a FREE LeafFilter

estimate today. 15% off

Entire Purchase. 10% Senior

& Military Discounts.

Call 1-855-791-1626

Thinking about installing

a new shower? American

Standard makes it

easy. FREE design consulation.

Enjoy your

shower again! Call 1-

833-769-0995 today to

see how you can save

$1,000 on installation, or

visit www.newshowerdeal.com/mac

The Generac PWRcell

solar plus battery storage

system. Save money,

reduce reliance on

grid, prepare for outages

& power your home. Full

installation services. $0

down financing option.

Request free no obligation

quote. Call 1-855-

270-3785

Sale of Real Estate

Madison County

Foreclosure Auction

Case# CV20210199

Lakeview Loan Servicing, LLC

vs

Terry L. Martin, Sr. et al.

The description of the property to be sold is as follows:

Property Address:

1017 Braxton Boulevard, London, Madison, Ohio,

43140

Legal Description:

Full Legal Listed on Public Website; Parcel Number:

31-03399.008

Bidding will be available only on www.Auction.com opening

on 04/12/2022 at 10:00 a.m. for a minimum of 7 days.

Property may be sold on a provisional sale date should the

third party purchaser fail to provide their deposit within the

allotted time.

Provisional Sale Date:

04/26/2022 at 10:00 a.m.

Sales subject to cancellation. The deposit required is $5000.00

to be paid by wire transfer within 2 hours of the sale ending.

No cash is permitted.

Purchaser shall be responsible for those costs, allowances,

and taxes that the proceeds of the sale are insufficient to

cover.

To view all sale details and terms for this property visit

www.Auction.com and enter the Search Code: CV20210199

into the search bar.

MM MARCH 20, 27 & APRIL 3, 2022

ASSOCIATION ADS

AMERICAN & FOREIGN

CLASSIC CARS AND

MOTORCYCLES

WANTED. $$PAYING

CA$H$$ Corvettes,

Mustangs, Jaguars, Austin

Healeys, Broncos,

Blazers, Ram Chargers,

AMX, and Triumphs

KRMiller1965@yahoo.com

717-577-8206

Paying top cash for men's

sportwatches! Rolex,

Breitling, Omega, Patek

Pillippe, Heuer, Daytona,

GMT, Submariner and

Speedmaster. Call 833-

603-3236

HughesNet - Finally,

super-fast internet no

matter where you live. 25

Mbps just $59.99/mo!

Unlimited Data is Here.

Sream Video. Bundle TV

& Internet.

Free

Installation. Call 866-499-

0141

AFFORDABLE HOME

SOLUTIONS! Foreclosures.

Rent to Own. Short

sales and more! Call Toll

Free 844-275-0948

MM2022197

ASSOCIATION ADS

Looking for auto insurance?

Find great deals

on the right auto insurance

to suit your needs.

Call today for a free

quote! 866-924-2397

!!OLD GUITARS WANT-

ED!! GIBSON, FENDER,

MARTIN, Etc. 1930's to

1980's. TOP DOLLAR

PAID. CALL TOLL FREE

1-866-433-8277

DISH TV $64.99 FOR 190

Channels + $14.95 High

Speed Internet. Free Installation,

Smart HD DVR

Included, Free Voice Remote.

Some restrictions

apply. Promo expires

1/23/23. 1-855-270-5098

Pest Control

Find Pest Control Experts

Near You! Don't let

pests overtake your

home. Protect your loved

ones! Call to find great

deals on Pest Control

Services - 833-872-0012

MADISON COUNTY BOARD OF ELECTIONS

VOTER REGISTRATION DEADLINE

Qualifications to register to vote:

• You are a citizen of the United States;

• You will be at least 18 years old on or before the day of the next general election.

• You will be a resident of Ohio for at least 30 days immediately before the election

in which you want to vote.

• You are not incarcerated (in jail or in prison) for a felony conviction.

• You have not been declared incompetent for voting purposes by a probate court.

• You have not been permanently disenfranchised for violating the election laws.

Methods to Voter Registration:

• Mail

• In-Person

• Online

Places you can register:

• The Madison County Board of Elections

• Any library

• BMV

• olvr.ohiosos.gov

Our office is located at 1423 State Route 38 SE, London, Ohio 43140 and is open

daily from 8:00 a.m. to 4:00 p.m. The Board Office will remaim open until

9:00 p.m. for the voter registration deadline on April 4, 2022.

MM MARCH 20, 2022

ASSOCIATION ADS

Elminate gutter cleaning

forever! LeafFilter, the most

advanced debris-blocking

gutter protection. Schedule

Free LeafFilter Estimate

today. 15% off Entire

Purchase. 10% Senior &

Military Discounts. Call 1-

855-995-2490

DENTAL INSURANCE-

Physicians Mutual Insurance

Company. Covers

350 procedures. Real

insurance - not a discount

plan. Get your free

dental Info kit! 1-888-

623-3036 . www.dental50plus.com/58

#6258

Directv Now. No Satellite.

$40/mo 65 Channels.

Stream news, live

events, sports & on demand

titles. No contract/

commitment. 1-866-825-

6523

Protect your home w/home

security monitored by

ADT. Starting at $27.99/

mo. Get free equipment

bundle including keypad,

motion sensor, wireless

door & windows sensors.

833-719-1073

DISH TV $64.99 for 190

Channels + $14.95 high

speed internet. FREE installation,

Smart HD DVR

included. Free Voice Remote.

Some Restrictions

apply. Promo Expires

1/21/23. 1-833-872-2545

MM2022199

NOTICE OF LEGISLATION PASSED BY THE COUNCIL OF THE

CITY OF LONDON, OHIO

Noce is hereby given to the passage of the

following ordinances or resoluons of the London

City Council. The complete text of each ordinance or

resoluon may be obtained or viewed at the offices

of the City Law Director or the City Auditor at 20

South Walnut Street, London, Ohio, or online at the

London City website: www.londonohio.gov

Ordinance 113­22 – An Ordinance amending 1064 of

the Codified Ordinances

Date of passage: 3/3/2022

Resoluon 115­22 ­ A Resoluon increasing

appropriaons

Date of passage: 3/3/2022

Resoluon 116­22 – A Resoluon increasing

appropriaons

Date of passage: 3/3/2022

Resoluon 125­22 – A Resoluon authorizing the

Board of Public Ulies to remove a bearing with a

cost in excess of the $25,000 limitaon

Date of passage: 3/3/2022

Resoluon 126­22 – A resoluon authorizing the

Board of Public Ulies to install a new bearing with

a cost in excess of the $25,000 limitaon

Date of passage: 3/3/2022

Amy Rees

Clerk of London City Council

MM MARCH 13 & 20, 2022

MM2022192
---
PAGE 14 - MADISON MESSENGER - March 20, 2022

www.madisonmessengernews.com

xEmployment

OPEN INTERVIEWS

ON WEDNESDAYS 10AM-1PM

WAREHOUSE UP TO $ 19.00/HR +

NO MANDATORY OT

$2K SIGN ON BONUS + NO WEEKENDS

ALSO SEEKING

2 ND SHIFT SUPERVISORS /

MAINTENANCE TECHNICIAN

1568 Georgesville Rd. Columbus 43228

APPLY PRIOR @ JOBS.MSCDIRECT.COM

Applicants must sucessfully pass a background check and drug screen.

Equal Opportunity Employer: Minority, female, veteran, individuals with disabilities, sexual orientation/gender identity.

Hiring - CDL - Class A Driver

53 ft. Pot Livestock Trailer

Newer Equipment - FT/PT available

Excellent Pay - Livestock experience

a plus but not necessary - Will Train!

Requirements - must be 23 years old,

2 years plus CDL Class A driving experience,

must past BMV check and drug test.

Cows R Us Transport LLC - London, OH - 330-749-9572

xInformation

The unconscious, subconscious or reactive

mind underlies and enslaves Man. It's the

source of your nightmares, unreasonable

fears, upsets and any insecurity.

GET RID OF YOUR REACTIVE MIND.

BUY AND READ

DIANETICS

The Modern Science of Mental Health

by L. Ron Hubbard

CALL 614‐974‐3672

1266 Dublin Road, Columbus, Ohio 43215

ASSOCIATION ADS

GENERAC Standby Generators

provide backup

power during utility power

outages, so your home

and family stay safe and

comfortable. Prepare

now. Free 7-year extended

warranty ($695 value!).

Request a free

quote today! Call for additional

terms and conditions.

1-855-465-7624

NEED IRS RELIEF

$10K-$125K+ Get Fresh

Start or Forgiveness.

Call 1-844-431-4716

Monday through Friday

7am-5pm PST

Wants to purchase minerals

and other oil and gas

interests. Send details to

P.O. Box 13557, Denver,

CO. 80201

WANTED

Host/Hostess • Back-Up Cooks

Grill • Servers • Dishwashers

You Can Work 29+ Hrs. Based on

Your Availability & Performance

Immediate Full/Part-time Openings

We Offer:

• Weekly Pay

• Paid Training

• No Tip Sharing

• Paid Vacation

• Employee Meal Discount

• Position/Salary Advancement Plan

• Discount Purchase Plan

Apply online at crackerbarrel.com/careers for

Hilliard Location 614-878-2027

ASSOCIATION ADS

READER

ADVISORY

The National Trade Association

we belong to has

purchased the following

classifieds. Determining

the value of their service

or product is advised by

this publication. In order

to avoid misunderstandings,

some advertisers do

not offer "employment"

but rather supply the

readers with manuals, directories

and other materials

designed to help

their clients establish mail

order selling and other

businesses at home. Under

NO circumstance

should you send any

money in advance or give

the client your checking,

license ID or credit card

numbers. Also beware of

ads that claim to guarantee

loans regardless of

credit and note that if a

credit repair company

does business only over

the phone it's illegal to request

any money before

delivering its service. All

funds are based in US

dollars. Toll Free numbers

may or may not

reach Canada. Please

check with the Better

Business Bureau 614-

486-6336 or the Ohio Attorney

General's Consumer

Protection Section

614-466-4986 for more

information on the company

you are seeking to

do business with.

VIAGRA and CIALIS

USERS! 50 Generic pills

SPECIAL $99.00. 100%

guaranteed. 24/7 CALL

NOW! 888-445-5928

Hablamos Espanol

GENERAC Standby

Generators provide

backup power during

power outages, so your

home & family stay safe &

comfortable. Prepare now.

FREE 7-yr extended

warranty $695 value!

Request a free quote

today. Call for terms &

conditions. 1-844-334-

8353

ASSOCIATION ADS

BATH & SHOWER UP-

DATES in as little as

ONE DAY! Affordable

prices - No payments for

18 months! Lifetime warranty

& professional installs.

Senior & Military

Discounts available. Call

855-761-1725

Looking for assisted living,

memory care, or

independent living? A

Place for Mom simplifies

the process of finding

senior living at no cost to

your family. Call 1-833-

386-1995 today!

$0 Down Financing - $2.5

Million $0 Down Real

Estate Investment Loans -

$250K No Collateral

Business and Busness

Startup Loans. Visit:

HardFunded.com

READY TO BUY, SELL

OR RENT YOUR

VACATION HOME OR

HUNTING CAMP?

Advertise it here and in

neighboring publications.

We can help you. Contact

MACnet MEDIA @

800-450-6631 or visit our

site at MACnetOnline.

com

Life Alert. One press of a

button sends help fast

24/7! At home and on

the go. Mobile Pendant

with GPS. Free first aid

kit (with subscription).

877-537-8817 Free brochure

SELL YOUR ANTIQUE

OR CLASSIC CAR.

Advertise with us. You

choose where you want

to advertise. 800-450-

6631 visit macnetonline.

com for details.

Train online to do medical

biling! Become a Medical

Office Professional at CTI!

Get trained & certified to

work in months! 888-572-

6790. The Mission,

Program Information and

Tuition is located at

CareerTechnical.edu/cons

umer-information. (M-F 8-

6 ET.

NOW HIRING BUS DRIVERS

$19.00 an Hour

CDL Drivers get $2,000 Sign On Bonus

Non-CDL $1,000 Sign On Bonus

Paid Training

Apply @ 4400 Marketing Pl., Groveport (Door 16) or http://careers.nellc.com/

614-836-4962

ASSOCIATION ADS

New authors wanted!

Page Publishing will help

self-publish your book.

Free author submission

kit! Limited offer! 866-

951-7214

Attention oxygen therapy

users! Inogen One G4 is

capable of full 24/7 oxygen

delivery. Only 2.8

pounds. Free info kit.

Call 877-929-9587

AT&T Internet. Starting

at $40/month w/12-mo

agmt. 1 TB of data/mo.

Ask how to bundle &

SAVE! Geo & svc restrictions

apply. 1-888-796-

8850

Attention: If you or aloved

one worked around the

pesticide Roundup

(glyphosate) for at least 2

years and has been diagnosed

with non-Hodgkin's

lymphoma, you may be

entitled to compensation.

855-341-5793

Want Faster & Affordable

Internet? Get internet

service today with

Earthlink. Best internet &

WiFi Plans. Call us Today

to Get Started. Ask

about our specials! 866-

396-0515

The Generac PWRcell, a

solar plus battery storage

system. SAVE money,

reduce your reliance on

the grid, prepare for power

outages and power

your home. Full installation

services available. $0

Down Financing Option.

Request a FREE, no obligation,

quote today. Call

1-866-783-0292

VIAGRA & CIALIS! 60

pills for $99. 100 pills for

$150 FREE shipping.

Money back guaranteed!

1-844-596-4376

HOME HEALTH AIDES

$13.00-$20.00 per hour

Choose your Schedule and Clients,

Benefits Available: Pay Advances,

Quarterly Bonuses, Paid Vacation,

401K w/matching, Medical/Dental/Legal

One year experience working for an employer

in caregiver role is preferred.

To apply, please visit v-angels.com

or text/call "career" to

614-80-ANGEL (802-6435)

ASSOCIATION ADS

IMPORTANT

NOTICE

The following states: CA,

CT, FL, IA, IL, IN, KY,

LA, MD, ME, MI, MN,

NE, NC, NH, OH, OK,

SC, SD, TX, VT and WA

requires seller of certain

business opportunities to

register with each state

before selling. Call to

verify lawful registration

before you buy.

Become a Published

Author. We want to Read

Your Book! Dorrance

Publishing Trusted Since

1920 Consultation,

Production, Promotion and

Distribution. Call for Free

Author's Guide 1-833-719-

3029 or visit http://

dorranceinfo.com/acp

Internet &WIFI Starts at

$49 Call us Today to Get

Started. Find High-Speed

Internet with Fiber Optic

Technology No Credit

Check, No SSN Required.

Call us Today 866-396-

0515

PETS

Kountry Klipping LLC

Pet Grooming

Daycare

By Terri Lynn

46 N. London St.

Mt. Sterling, OH 43143

(614) 354-7716

Bring in this ad for $5 off

4/10 M

BUSINESS

LOANS

BUSINESS LOANS

$5,000 to $25,000

Instant Approval

Same Day Funding

6 Months in Business

614-557-3536

WANT TO BUY

BUYING VINYL RECORDS.

LPs and 45s - 1950-80s

Rock, Pop, Jazz, Soul.

614-831-0383

ANTIQUES

WANTED

Victrolas, Watches,

Clocks, Bookcases

Antiques, Furn.

Jeff 614-262-0676

or 614-783-2629

We Buy Junk Cars &

Trucks. Highest Prices

Paid. 614-395-8775

WANTS TO Purchase

minerals and other oil &

gas interests. Send details

to: P.O. Box 13557,

Denver, CO 80201

VACATION RENTALS

Englewood, Florida

Palm Manor Resort

Within minutes of white

sand Gulf beaches,

world famous Tarpon

fishing, golf courses, restaurants/shopping,

Bush

Gardens. 2 BR 2 BA

condos with all ammenities,

weekly/monthly, visit

www.palmmanor.com

or call 1-800-848-8141
---
www.madisonmessengernews.com

March 20 2022 - MADISON MESSENGER - PAGE 15

xClassified Services

GARAGE DOORS

GARAGE DOORS

PEST CONTROL

PEST CONTROL

ROOFING

ROOFING

TREE SERVICES

TREE SERVICES

AUTO/MOTORCYCLE

REPAIR

SOUTHWEST CYCLE

SERVICE

Motorcycle & Power

Sports Service & Repair

Get your Ride

Ready for Spring!

Call Chris 614-580-6605

CLEANING

Taynor's Tidy

Touch

Now booking house

cleaning & laundry

folding services!

Call now for

CONCRETE

Jeff Boyd

4.3 M

pricing & availability.

Daily, Weekly &

Bi-weekly rates avail.

740-506-7087

ALL-CITY CUSTOM

CONCRETE

All Types Concrete Work

New or Tear Out-Replace

40 Yrs. Exp.

(614) 207-5430

Owner is On The Job!

EDDIE MOORE

CONSTRUCTION

Quality Concrete Work

Lt. Hauling & Room Add.,

Block Work & Excavation

Stamp Patios,

Bsmt. Wall Restoration

Over 35 Yrs Exp - Lic & Ins.

Free Ests. 614-871-3834

www.hastingsnsons.com

Driveways & Extensions

Patio & Walkways,

Porches & Steps,

Garage/Basement Floors

Hot Tub/Shed Pads,

Stamped/colored concrete

Sealing of new &

existing concrete.

FREE ESTIMATES

Contact Adam

614-756-1754

hastingsandsons.

columbus@gmail.com

FENCING

EAZY FENCE

Chain Link - Wood

No Job Too Big or Small

All Repairs ~ Free Est.

Insured. 614-670-2292

HAULING

Zane's Dumpster Rentals

4 days - $275.00

to drop off & haul away

$25 extra/day over 4 days

Tires - $10.00 each

No Hazardous Materials

Contact Zane Tabor

on Facebook or

Call 614-254-1131

HOME

IMPROVEMENTS

CHAPMAN

PROPERTY

MAINTENANCE

Call Jamie

Your Local Handyman

No Job Too Small!

614-598-0897

3/27 <

email:

chapm43140@gmail.com

chapmanproperty

maintenance.com

For Free Estimates

On Carpenter Work,

Roofs,

Siding,

Foundations,

Floors Jacked Up,

Call:

3/20 M

740-426-6731

740-505-1094

Ask For Marvin

WHITING COMPANY

HOME IMPROVEMENT

Basements, Walls

Ceilings and Texturing

Free Consultation

Family owned & operated

Contact Timothy

614-376-2701

4/10 A&M

TERMITE &

PEST CONTROL

614-367-9000

TORCO®

TERMINATES

TERMITES

Locally Owned & Operated. Any Pest. Anytime.

$

50 00 OFF Service

Free Termite Inspection

HOME

IMPROVEMENTS

Handyman Cafe

"Serving Up Solutions

For All Your Handyman

Remodeling Needs"

Painting, Flooring,

Bathrooms, Kitchens,

Doors/Windows,

Siding/Roofing

Home Repairs/Maintenance

740-837-0287

Accepting MC/Visa/AE/Discover

Mid-Ohio

Kitchen

and Bath, LLC

Joe Ober

Residential/Commercial

740-852-4544

614-879-5827

Choose Local & Save

midohiokitchenandbath.com

SLAGLE

HOME REMODELING

Baths, Kitchen,

Plumbing and Electrical.

All your Handyman needs

No Job too Big or Small

Over 30 Yrs. Exp. Lic.-Bond-Ins.

Jerry

614-332-3320

SINCE 1973

Phil Bolon Contr.

Windows & Siding

Decks, Kitchens, Baths

Room Additions,

Flooring, Roofing

Bsmt Waterproofing

Deal With Small Non-Pressure Co.

47 Yrs. Exp. - Refs. Avail.

Lic.-Bond-Ins.

2/13

A/M

Free Est. - Financing Avail.

Member BBB Of Cent. OH

O.C.I.E.B. ID #24273

614-419-3977

or 614-863-9912

4/3 M

4/3 M

4/3 M

HOME

REMODELING

Handyman Remodeling

Over 35 yrs exp.

Larry 614-376-7006

LAWN CARE

NEWMAN'S

LAWN

CARE

• Mowing

• Mulching

• Trimming

Free Estimates

740-837-0786

Over 35 Yrs. Exp.

MANNY'S LANDSCAPE

Free Estimates

Spring Clean-up, Mulching,

Patios, Trees Removed, etc.

Call 614-378-1237

BO KNOWS

LAWN CARE

Commercial & Residential

Services Including:

•Landscape Planning/Execution

•Hedge Trimming/Shaping

•Lawn Mowing/Maintenance

•Mulch Beds

•Spring/Fall Clean-ups

•Tree & Stump Removal

•Skid-steer Services

Free Estimate!

Now Hiring FT/PT Positions.

For more info

614-687-2219

INFORMATION

FOR ONLY

$26.00

You Can Reach

Over 15,000 Homes

For 4 Weeks In Our

Madison Messenger

For Info Call

740-852-0809

3/27 M

4/10 M

LANDSCAPING

QUALITY

LAWN &

LANDSCAPE

Steve Mast

COMMERCIAL &

RESIDENTIAL

• Mowing

• Mulching

• Trimming

• Removals

614-309-3338

Fully Insured

Free Estimates

PAINTING

WOW

Painting - Power Wash

Interior - Exterior

Residential & Commercial

Wood Repair

Drywall Repair

614-989-9759

Austin & Gary Bogenrife

Website: wwwpaintingllc.com

wowpainting@live.com

PLASTERING

DRYW

YWALL &

PLASTER

1/30

A&M

REPAIR

Textured Ceilings

614-551-6963

Residential/Commercial

BIA

PLUMBING

MYERS

PLUMBING

Exp. Expert Plumbing

New Work & Fast Repairs

Lic. - Permit Available

Water • Sewer • Gas

614-633-9694

Classified Services

4/10 M

3/27 M

2/13 A&M

PONDS & LAKES

AQUA-DIG-IT

CLEANING

614-359-2146

Jim @

aqua-dig-it.com

Tree Trimming

Tree Removal

Stump Grinding

FREE ESTIMATES

740-845-LAWN

SHOP THE CLASSIFIEDS!!

Only $1 per line

❏ Check for one additional FREE week.

Telephone: _________________________________________________________

Print Your Name:____________________________________________________

Last

First

Print Your Address:___________________________________________________

Print Your City:__________________________ State:_______ Zip:____________

Print Your Ad Below…

One word each space. BE SURE YOUR TELEPHONE NUMBER OR ADDRESS is included in your

advertisement. The lessor of 4 words or 22 characters per line. We reserve the right to use abbreviations

when actual space exceeds amount purchased.

1. __________ __________ __________ __________

2. __________ __________ __________ __________

3. __________ __________ __________ __________

4. __________ __________ __________ __________

5. __________ __________ __________ __________

6. __________ __________ __________ __________

Madison Messenger

78 S. Main St. • London, Ohio 43140

740-852-0809

$

6.19 M

Not Valid for Garage Sales

POWERWASHING

MRS. POWERWASH

Any house wash $149+tax

Single deck $69+tax

2 Tier deck $99+tax

Best Wash in Town

Over 45,000 washes

Ashley 614-771-3892

❏ Cash

❏ Check

❏ Money Order

❏ VISA ❏ MC

4/10 A&M

SEWING MACHINE

REPAIR

REPAIR all makes 24 hr.

service. Clean, oil, adjust

in your home. $49.95 all

work gtd. 614-890-5296

TREE SERVICES

Brewer & Sons Tree Service

• Tree Removal

• Tree Trimming 2/13

A&M

• Stump Grinding

• Bucket Truck Services

Best Prices • Same Day Service

614-878-2568

Credit Card Information

_____________________________

Credit Card Number

_____________________________

Exp. Date

Minimum Charge $5.00
---
PAGE 16 - MADISON MESSENGER - March 20, 2022

www.madisonmessengernews.com