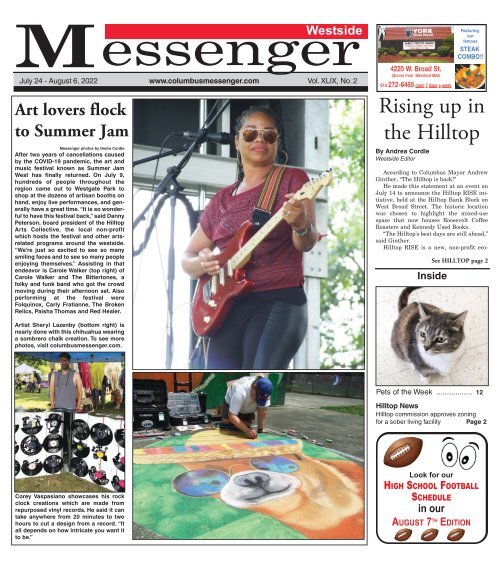 Westside Messenger - July 24th, 2022
You also want an ePaper? Increase the reach of your titles
YUMPU automatically turns print PDFs into web optimized ePapers that Google loves.
Messenger

Westside

July 24 - August 6, 2022 www.columbusmessenger.com Vol. XLIX, No. 2

Art lovers flock

to Summer Jam

Messenger photos by Dedra Cordle

After two years of cancellations caused

by the COVID-19 pandemic, the art and

music festival known as Summer Jam

West has finally returned. On July 9,

hundreds of people throughout the

region came out to Westgate Park to

shop at the dozens of artisan booths on

hand, enjoy live performances, and generally

have a great time. "It is so wonderful

to have this festival back," said Danny

Peterson, board president of the Hilltop

Arts Collective, the local non-profit

which hosts the festival and other artsrelated

programs around the westside.

"We're just so excited to see so many

smiling faces and to see so many people

enjoying themselves." Assisting in that

endeavor is Carole Walker (top right) of

Carole Walker and The Bittertones, a

folky and funk band who got the crowd

moving during their afternoon set. Also

performing at the festival were

Folquinox, Carly Fratianne, The Broken

Relics, Paisha Thomas and Red Healer.

4220 W. Broad St.

(Across from Westland Mall)

614 272-6485 open 7 days a week

Inside

Featuring

our

famous

STEAK

COMBO!!

Rising up in

the Hilltop

By Andrea Cordle

Westside Editor

According to Columbus Mayor Andrew

Ginther, "The Hilltop is back!"

He made this statement at an event on

July 14 to announce the Hilltop RISE initiative,

held at the Hilltop Bank Block on

West Broad Street. The historic location

was chosen to highlight the mixed-use

space that now houses Roosevelt Coffee

Roasters and Kennedy Used Books.

"The Hilltop's best days are still ahead,"

said Ginther.

Hilltop RISE is a new, non-profit eco-

See HILLTOP page 2

Artist Sheryl Lazenby (bottom right) is

nearly done with this chihuahua wearing

a sombrero chalk creation. To see more

photos, visit columbusmessenger.com.

Pets of the Week ................. 12

Hilltop News

Hilltop commission approves zoning

for a sober living facility Page 2

Corey Vaspasiano showcases his rock

clock creations which are made from

repurposed vinyl records. He said it can

take anywhere from 20 minutes to two

hours to cut a design from a record. "It

all depends on how intricate you want it

to be."

Look for our

HIGH SCHOOL FOOTBALL

SCHEDULE

in our

AUGUST 7 TH EDITION
---
PAGE 2 - WESTSIDE MESSENGER - July 24, 2022

Government Focus

By Katelyn Sattler

Staff Writer

The Greater Hilltop Area Commission approved a zoning

variance for a sober living facility. The action was

approved at the commission's July meeting.

Patricia Riley, an attorney representing CRN Housing,

presented the requested housing variance at 478 Ryan

Ave. to commissioners. The property is currently zoned

commercial but CRN would like it to be zoned for apartment

residential use to be used as a sober living style

shared living facility.

The building consists of nine apartments. CRN Housing

would like to place one to four individuals or family members

in each apartment. The two-bedroom, one bath apartments

would be leased as residential apartments contingent

on the sobriety of the individuals.

Tenants are not provided on-site care, skilled nursing,

meals, or single night stays. There are no live-in staff

members. Tenants are not court-ordered to reside in the

sober living facility.

CRN Housing has been operating as a shared living

facility at 478 Ryan Ave. for the past two years, unaware

it needed to file a variance to be used as a sober living facility.

"The housing is provided as a benefit of being engaged

in the program," said Riley. "All of the individuals who live

in this building need to be sober from any known

substances, unless they are prescribed a medication

to help them with their mental health or what

have you. In speaking with my client, some of the

concerns that were brought up to us were the parking

spaces. There are nine units and 17 parking

spaces available."

She added that, CRN Housing is willing to

reduce the number of units used for housing down

to seven, with one of the other units as an office, to

appease the commission.

"The goal is to help the individuals that will be

residing in this building to become law-abiding taxpaying

healthy family members," said Riley.

Keith Vukasinovich, chief executive officer of

CRN Healthcare said, "There's an actual curriculum

for drug treatment. The vast majority of folks

are there because they are in recovery, so it's sober

housing. Some do have co-occurring mental health

disorders, typically mild, anxieties or depressions.

If we should have applicants who need it, the intent

is to try and keep people stable after an initial crisis,

typically an overdose or hospitalization."

www.columbusmessenger.com

Variance granted for Hilltop sober living facility

HILLTOP

Continued from page 1

Participants are drug screened two to three times a

week.

Riley added, "No actual treatment is provided in this

building. It is for living purposes only. All treatment is provided

at the CRN Healthcare office, which is not on-site.

The residents will be responsible for their own cooking,

cleaning, and daily lives. The difference between traditional

apartments and the sober living units would be that

again, the tenancy is based on the requirement of sobriety."

Commissioner Patrick Barnacle was the only commissioner

who voted against the zoning variance.

"My no vote has nothing to do with objections to the living

facility. My one objection is that I prefer the normal

eviction process for the rights of the tenants. And I believe

you could, in your leases, basically provide essentially the

same level of services with the only stipulation that you

have to go through the extra steps to get rid of it," he said.

Vukasinovich responded, "The issue is we don't lease to

their provided housing as they participate in the clinical

services. If we were to create a lease eviction situation that

could potentially have us in a situation where all nine

units could be filled with clients who were refusing to participate

in services, and there would be literally nothing we

could do about it."

When asked by commissioner Victoria Bates-Frye what

his mission is for his program, Vukasinovich said, "I am

the child of two dead addicts, and I want to create the kind

of programs I wish they had so they would be able to see

their grandkids today. So my mission is to make sure that

nobody has a childhood like mine and the people who are

struggling with addiction get an opportunity to have the

life I think they should, that they're entitled to have, that

I want them to have."

The commission approved the variance 11-1. The legislation

will move on the Columbus City Council.

nomic community development corporation. It will

focus on development in the West Broad Street and

Sullivant Avenue commercial corridors.

"The Hilltop lags behind when it comes to economic

development," said Betty Jaynes, the chairwoman of

Hilltop RISE and a 40-year Hilltop resident.

Jaynes said the community development corporation

would work to revitalize the area by converting

already available commercial space into retail or small

business space.

Jaynes said she used restricted COVID-19 time to

research and launch this grassroots development corporation.

City leaders, business owners, and community

advocates all worked together to form Hilltop RISE

(Reconnect, Impact, Strengthen, Empower).

"This is the starting gate," said Jaynes. "There is a

lot of work to do."

According to the Hilltop RISE website, West Broad

Street has over 956,000 square feet of ground level

commercial space that spans 92 acres. Sullivant

Avenue has more than one million square feet of nonresidential

space.

This was appealing to Preston Steele, who is a local

business owner and is on the executive committee of

the community development corporation.

"The Hilltop had all the criteria we were looking

for," he said.

Steele acquired property in the Hilltop Bank Block

in 2019.

"It has affordable commercial space," said Steele.

"Why not the Hilltop?"

Local businessman John Rush, who is also vice

chairman of the RISE board, said they are seeking fair

chance employers.

"We want to grow and transform, but not at the

expense of pushing people out," said Rush.

Nick Bankston, a Columbus city council member,

said he believes this plan will revitalize the community

because the plan was developed by people in the community.

"This neighborhood will continue to thrive," said the

councilman. "I am excited about the future of the westside."

In June, city council approved an ordinance to provide

$100,000 in funding to support the administration

costs for the startup of the Hilltop RISE economic community

development corporation. This funding will

also cover the cost of hiring an executive director.

According to Jaynes, this will be a full-time position.

The executive director will work with the city,

county, COTA, and other groups and agencies to drive

economic development on the commercial corridors.

Jaynes said the Hilltop RISE board has formed a

search committee to develop a detailed job description

and begin recruiting for an executive director.

For additional information on the community development

corporation, visit HilltopRISE.org.
---
www.columbusmessenger.com

July 24, 2022 - WESTSIDE MESSENGER - PAGE 3

Summer, Sunshine & Savings!

Photo courtesy of Franklin County

Visitors checking out the new James A. Karnes Correction Center on the westside look

around one of the space pods. Each pod has built-in rooms for medical checks or other

professional visitation and its own area for recreation.

New jail to open on the westside

The Franklin County Commissioners

and Sheriff dedicated the new James A.

Karnes Corrections Center at 2551 Fisher

Road on the westside. The new facility is

scheduled to open later this year and will

replace the county's downtown jail, which

was built in the 1960s. It provides 864

beds, and a second phase of the new jail

will open next year with an additional 426

beds.

"This jail is a legacy project and one that

will serve our community for many years to

come," said board of commissioners president,

Erica Crawley. "And the way that it

can do that most effectively is by providing

mental health services, job training and

other educational programing so that our

neighbors in the jail are able to find success

when they become our neighbors outside of

the jail."

The county team responsible for planning

to replace the county's jail facilities

partnered with the National Institute of

Corrections and traveled the nation to visit

the country's most progressive and successful

jails. The James A. Karnes Corrections

Center combines all the best features in

use around the country including mental

health and detoxification centers, accommodations

for virtual visitation, natural

lighting for both inmates and deputies, and

training and programming space to help

prepare inmates for their return to the

community.

"If you want to know how a community

regards its people, you don't have to look

any farther than its jail," said commissioner

John O'Grady. "And with the new James

A. Karnes Corrections Center, we've finally

got a jail facility that's worthy of our community

and its residents."

The new facility is designed to accommodate

a new model of corrections focused

on Strategic Inmate Management and

Direct Supervision. It's a model in which

deputies share space in pods with the

incarcerated persons they're supervising.

Each pod has built-in rooms for medical

checks or other professional visitation and

its own area for recreation. The space will

allow for increase programing, training,

and education to prepare the inmates for

success when they return to the community,

and the updated philosophy has been

shown to make jails safer for both inmates

and staff.

"It's not just a jail, it's an investment in

rehabilitation," said commissioner Kevin

Boyce. "Bettering this infrastructure first

helps support those in a crisis situation, it

then reduces recidivism and generates positive

long-term outcomes."

Jim Karnes was the longest-serving

sheriff of Franklin County, capping off a

48-year career in law enforcement. Karnes

first joined the sheriff's office as a deputy

in the corrections division in 1963, and

served as sheriff from 1992 until his death

in 2011.

"We know that today's inmate is tomorrow's

neighbor," said Sheriff Dallas

Baldwin. "The vast majority of people who

enter our doors will leave the facility in a

few days. The sheriff's office is committed

to helping those individuals start down a

better path in the sincere hope they won't

come back to jail."

The James A. Karnes Corrections

Center encompasses nearly 430,000 square

feet and cost about $360 million to build.

The facility includes enough concrete to

build a sidewalk from Columbus to Dayton,

more than two miles of plumbing, and its

roof covers approximately four acres.

To learn more about Franklin County's

jail facilities, visit sheriff.franklincountyohio.gov.

Certificcate of Dep

5

APY *

%

12 Month CD

Minimum opening balance of $5,000

1.25

eposit Special

1.75 %

HURRY!

Limited time offer!

Apply online at Heartland.Bank/SummerCDspecial

or in person by visiting any of our 18 locations!

APY **

%

24 Month CD

Minimum opening balance of $500

*Annual Percentage Yield (APY). Minimum balance to open and maintain the advertised 12 month APY of 1.25% is $5,000. APY is accurate as of May 12, 2022. Maximum

deposit is $250,000. Please see your local branch office for disclosure information regarding terms and conditions. Penalty may be imposed for early withdrawal. Rates

are subject to change at any time. No brokers please. Limited time offer. Limited to one per household. Not valid with money currently on deposit at Heartland Bank.

Personal accounts only.

**Annual Percentage Yield (APY). Minimum balance to open and maintain the advertised 24 month APY of 1.75% is $500. APY is accurate as of May 12, 2022. Maximum

deposit is $250,000. Please see your local branch office for disclosure information regarding terms and conditions. Penalty may be imposed for early withdrawal. Rates

are subject to change at any time. No brokers please. Limited time offer. Limited to one per household. Not valid with money currently on deposit at Heartland Bank.

Personal accounts only.
---
PAGE 4 - WESTSIDE MESSENGER - July 24, 2022

A lifelong Columbus

westside resident, and

my friend, Dan Hawkins

passed away in March

of this year.

He didn't leave a huge

mark on the world, but

for those who knew him he left an indelible

imprint.

Dan was a character. He was a hard worker,

a true friend and though his life was hard

he never complained. He never missed a

day of work throughout his life.

If you needed something he would help

you if he could. He was full of humor, outspoken

opinions and just wanted to be

accepted and liked.

I'll never forget you, Dan and I know everyone

who knew you won't either.

Rest in Peace – Mary Beasley

WESTGATE UNITED

METHODIST CHURCH

61 S. Powell Ave., Columbus,OH 43204

Come - Let's Worship Together

and Meet our New Pastor

Nancy Day-Achauer!

Worship Service 9:00 a.m.

Sunday School 10:00 a.m.

westgateumc@sbcglobal.net

614-274-4271

GLENWOOD UM CHURCH

2833 Valleyview Dr.

(Corner of Valleyview & Hague Ave.)

(614) 274-8469

Pastor Leo A. Cunningham

Join us for In-Person

Sunday Worship at 10:45 a.m. or

Join us for Online Worship at

Glenwood UMC YouTube

http://tinyurl.com/GlenwoodUMC

By Amanda Ensinger

Staff Writer

A local township is looking toward the

future and recently held a special meeting

for strategic planning. During the Prairie

Township meeting, staff and trustees discussed

the 2023 budget.

Prairie Township Fire Chief Allen Scott

kicked off the meeting by discussing items

the department will need next year. This

includes the replacement and reprogramming

of radios, concrete and blacktop

repairs at Station 241 and replacement of a

grass fighter. According to Scott, the current

grass fighter is 26 years old and is

hard to find parts for repairs. Scott added

that replacements can cost around

$110,000.

"We also need a staff vehicle replacement,

and this could cost around $60,000,"

Scott said. "I also would like to replace

HOGE MEMORIAL

PRESBYTERIAN CHURCH

2930 W. Broad St., Columbus, Ohio 43204

Sundays at 10:30 a.m.

In Person Worship

Live Streaming Sunday Worship Service

at 10:30 a.m. on Hoge Facebook Page

Worship & Free Meal

Saturdays at 5:00 p.m.

www.hogemempresby.org

Be a Part of Our Local Worship Guide

Our upcoming Worship Guide is geared toward celebrating faith and helping readers connect with

religious resources in our community. Make sure these readers know how you can help with a presence in

this very special section distributed to more than 25,000 households in the Westside area.

Contact us today to secure your spot in our Worship Guide.

614.272.5422 • kathy@columbusmessenger.com

Messenger

Westside

Township Focus

Please visit the

Westside Church

of your choice.

List your Worship

Services here.

For info. call 614-272-5422

computers and cameras at Station 241.

Computers cost around $10,000 annually

and cameras approximately $8,500."

The township also has applied for a

Safer Grant. If awarded, it would create

nine new full-time firefighter positions.

"The cost would be $725,000 per year for

all nine new hires," Allen said. "The grant

will pay that for three years and we can

apply for an extension up to three additional

years. The grant covers salary and benefits."

The township is also applying for a

FEMA grant to replace Engine 243 at an

approximate cost of $600,000.

During the meeting, Prairie Township

Community Center Director Michael

Pollack gave an update on future plans for

the center. Among the items discussed was

an outdoor pool and gymnasium.

"There has been an increase in attendance

due to increased housing and not

many outdoor pool options," Pollack said.

"We could rent out the pool and gym,

increasing revenue. This pool could be

placed outside of the current pool and the

gym on the side of the building. The splash

pad could be moved to the (Galloway)

Sports Complex."

www.columbusmessenger.com

Prairie Township plans for the future

By Amanda Ensinger

Staff Writer

After an executive session, township

trustees approved several new positions, as

well as provided pay raises to township

employees.

At a recent Prairie Township meeting,

the board approved advertising for a fulltime

position at the community center, as

well as renamed the service director position

to the assistant township administrator/road

superintendent and agreed to pay

Dave McAninch $110,000 a year.

The board also approved renaming the

HR/operations coordinator to HR

director/fiscal coordinator and increasing

its salary to $70,000 per year.

At the meeting, residents also expressed

concern about an increase in crime in the

region, despite increasing their yearly pay

for police protection for the Franklin

County Sheriff's Office.

"There is an increased number of calls

regarding damaging of mailboxes and

shots fired in the southwest area," said

Deputy Burton Haren. "Deputies on all

three shifts have been made aware."

However, residents said there are a

variety of other issues they feel the sheriff's

office isn't addressing.

Other updates Pollack would like to see

in the coming years include Galloways

Sports Complex lighting. Currently there is

no lighting and the Galloway Baseball Club

is willing to help with costs.

Other improvements discussed included

resurfacing gym floor at a cost of up to

$10,000, replacement of the eroding pool

floor at a cost of $145,000, complete

replacement of the walking track by 2024,

replacement of fitness equipment, expansion

of the childcare room, and a pay

increases for full-time and part-time

employees.

"We will need to increase pay to stay

competitive," Pollack said. "We would like

to look into pay increases for camp, lifeguard,

and fitness instructors. I would also

like to look at filling vacant full-time positions."

The Prairie Township Commercial

Building and Zoning Department proposed

remodeling work areas and commercial

storage and would like to remodel the zoning

office to allow for more storage. They

also asked to purchase two new laptops at

$1,800 each and a computer mount for a

cost of up to $900.

Trustees approve new

positions and talk safety

"There is ongoing issues with prostitution,"

said Cheryl Cornelius, township resident.

"What is being done to address this?"

Haren explained there has not been a

lot of arrests or activity lately and to report

illegal activity if it is witnessed.

Haren added that due to a call from a

concerned citizen regarding suspicious

activity, deputies were able to make an

arrest, recover a stolen vehicle, stolen

property and drug paraphernalia as well.

"Detectives executed a large drug

seizure including arrests this week," Haren

said.

In other news, Scott Belcastro of Trebel

discussed the bankruptcy of his business

and the impact that will have on the township

residents' utility bills.

"We recently filed for Chapter 11 and

Volunteer Energy was chosen to service the

township from December 2021 to

December 2023 with a fixed rate of 4.59

cents per kw/hr," he said. "June 1 rates will

be upward of 6.5 to 7 cents per kw/hr."

Belcastro said residents should be

receiving letters in the mail stating they

will be put back in this utility and that

these new rates are AEP's default rate.

Residents are encouraged to contact

Trebel with any questions at 877-861-2772.
---
www.columbusmessenger.com July 24, 2022 - WESTSIDE MESSENGER - PAGE 5

around the westside

National Day Out

in South Central Hilltop

The South Central Hilltop Block Watch

will host a National day Out Neighborhood

Festival from 1 to 3 p.m. Aug. 13 at

Burroughs Park, 551 S. Richardson Ave. in

Columbus. The free safety event aims to

strengthen ties between police and the

community. There will also be a celebration

on the reconstruction at the park. For

more information, contact Lisa Boggs at

lisaboggs693@sbcglobal.net.

Outdoor movie at

Galloway Sports Complex

The Prairie Township Community

Center will host an outdoor movie on Aug.

4 at the Galloway Sports Complex, 1503

Galloway Road. The featured movie will be

"Field of Dreams." Gates will open at 7:30

p.m. and the movie will begin at sunset.

The event is free but participants are

asked to bring a non-perishable canned

food item that will be donated to a local

food pantry. For more information, visit

prairietownship.org.

TODD

BERRY

ENTERPRISES

the

Reception

house

At Raymond Memorial

3860 Trabue Rd. Columbus Ohio.

Presents

Phenomenal Dinner and Show

as we remember the music and life of Elvis Presley

with onscreen presentation and live performance

by tribute artist Todd Berry.

August 16

Doors Open at 6 p.m.

Show starts at 7 p.m.

Purchase your tickets online

http://www.toddberryonline/events

or call 614-763-5900

Deadline for purchasing tickets is

August 10th

Enjoy a great night and dinner catered by

Schmidt's catering event brought to you by

Todd Berry Enterprises dinner with Elvis.

Messenger photo by Dedra Cordle

Garden dedicated to veterans

When Amber Hudson and Elaine Fowler founded the M.A.S.H (Military and Service

Heroes) Food Pantry and Resource Center, they did so with an intention to create a

lavish garden within the community so that fresh and local fruits and vegetables

could be served to the veterans, first responders, and their families who need to

access the goods offered at the center. And while the establishment of said garden

may have taken longer than they had originally planned, they can now say their

dream has finally been realized. On July 13, Hudson and Fowler hosted a public

dedication and volunteer appreciation event as the M.A.S.H Honor Garden on

Harrisburg Pike officially opened for harvesting. "It is so exciting to finally see this

garden up and running, so to speak," said Hudson, a Navy veteran. According to the

co-founders, they were able to build the large garden at 5236 Harrisburg Pike after

receiving a grant from Home Depot and finding many willing green thumbs from

local businesses and civic groups who wanted to assist in the building of and the

tending to this special garden. There are currently 48 raised beds on the property,

most built by members of the Grove City Rotary Club and the American Legion Post

164, and they are filled with an assortment of fruits, vegetables and herbs that will

now help feed more than 100 local veterans, first responders and their families. "It

is so nice to be able to do this for our heroes," said Fowler. "Food is a great comfort,

a great way of bringing people together, and we hope this pantry and garden will be

able to help them as much as they have helped us." Pictured here Galloway resident

and Army veteran David Flannigan inspects the vegetables at the Honor Garden.
---
PAGE 6 - WESTSIDE MESSENGER - July 24, 2022

www.columbusmessenger.com

Back - to - School

We are the BEST community newspaper!

Need advertising? Call 614-272-5422 today.

PAID ADVERTISING

New Hilltop Early Learning Center

offers vital educational opportunities

A 2018 report from the Hilltop Early

Childhood Partnership showed that fewer children

residing in the Hilltop neighborhood were

enrolled in high-quality early learning programs

than anywhere else in the city.

Pre-kindergarten, designed for children ages

3-5, is not a requirement in the U.S. and as such

is often overlooked as a vital part of our children's

educational journeys.

However, research shows crucial brain development

happens in the first five years of life and

pre-kindergarten helps kids grow important skills

and develop a drive to learn. Beyond academics,

it's critical for developing empathy, self-regulation

of emotions, expression of feelings and

more.

The Hilltop Early Learning Center, opening

this fall on Clarendon Avenue, offers area families

a new educational opportunity for their preschool

age children.

"We're giving Hilltop families an advantage,"

said Paula Neal, Hilltop Partnership Director.

"Hilltop Early Learning Center prepares your

children to achieve at an early age, putting them a

step ahead by the time they reach kindergarten."

The curriculum is built specifically for the

Hilltop community by working with many partners

to embrace the cultures and traditions of the

neighborhood. Plus, it's free to attend.

"All children deserve opportunity, nurturing,

and support," said Neal. "We're removing the

standard barriers to early learning to ensure

Hilltop's children get access to a space that prepares

them for success in kindergarten and in

life."

Those wishing to learn more can visit hilltopearlylearning.org

or attend a community listening

session at the Hilltop Library on July 27 at

5:30 p.m.

Said Barud (left), a West High School graduate, is this year's recipient of the

Westgate Neighborhood Scholarship. He is pictured here with Westgate Neighbors

Association President Michael Blake.

West High School grad

recognized for leadership skills

The Westgate Neighbors Association

(WNA) announced that Said Barud, a

student at Columbus State University, is

the 2022 recipient of the Westgate

Neighborhood Scholarship. The scholarship,

currently in its eighth year, is open

to any student living in Westgate as well

as any current graduating senior at

West High School and recognizes strong

leadership skills and a commitment to

community service.

Barud is a recent high school graduate

of West High School and will be

majoring in biology, business and mathematics.

He plans to graduate in May of

2026 and is considering a career as a registered

nurse.

Barud and a group of friends created

a group called LGY that hosts annual

charity events in his neighborhood. He

has also volunteered at Sullivant

Garden Recreation Center for the last 10

years and has become a role model to

younger kids in his neighborhood.

The scholarship was established to

promote WNA's mission to improve the

viability, livability and overall quality of

life for the residents of the neighborhood.

Funding for the scholarship comes from

the proceeds of the Westgate Home and

Garden Tour held annually on the second

Saturday in June.

Michael Blake, president of the association,

said the organization re-evaluated

the eligibility requirements of the

scholarship for 2022 and now offers the

scholarship to any Westgate resident as

well as any current graduate of West

High School. The group also increased

the award amount from $500 to $1,000

due to rising tuition costs and book fees.

Blake was impressed with the applications

received this year, and strongly

believes it is important to support future

leaders so that they can continue making

a positive impact in the community.

The Westgate Neighbors Association

is a non-profit civic association. If you

would like to donate to the scholarship

fund or support the mission, visit westgateneighbors.org.
---
www.columbusmessenger.com

July 24, 2022 - WESTSIDE MESSENGER - PAGE 7

Back - to - School

How to gets students motivated to learn

Musical instrument drive

As it transitions to a school for arts, the

Central Point Preparatory Academy will

host a musical instrument drive so each

student will have an instrument. Those

interested are asked to drop off any gently

used musical instrument at 680

Harrisburg Pike in Columbus from July 15

through Aug. 30. For more information,

call 614-669-6305.

Looking for a safe, loving, learning environment

for your preschooler? ABC Christian

Preschool is a great choice.

Our small class sizes and dedicated staff

allows us to provide quality instruction and personalized

activities for your child.

We believe all children are created in God's

image with unique interests and approaches to

learning. ABC Preschool utilizes a "play-based"

curriculum, that allows children to develop at

their own levels while building strong language

news and notes

Students may need some time to adjust

at the beginning of a new school year.

Summer vacations typically lack the structure

of the school year, and it might be

unfair to expect kids to seamlessly slip

back into their more regimented lives as

students.

While some early school year sluggishness

might be normal, that should wear off

pretty quickly. If not, and students appear

to be struggling to get motivated for their

schoolwork, parents can try various strategies

that should help reignite youngsters'

passions for learning.

•Make your home more school-friendly.

Summer is a relaxing time of year when

parents have a tendency to relax rules

around the house. But come the school

year, parents must make sure their homes

are as conducive to studying as possible.

Resist the urge to turn the television on

each night so students are not distracted

from their studies. Keep the home quiet so

students are motivated to focus on their

studies.

•Encourage participation in extracurricular

activities. Various studies have

examined the relationship between

extracurricular activities and academic

performance. A 2002 study published in

the journal Sociology of Education found

that participation in extracurricular activities

is associated with improved grade

point average, increased college attendance

and reduced absenteeism. The link

between participation in extracurricular

activities and improved academic performance

is still in need of study, but such participation

may help children acclimate to

the structure of the school year more quickly

than they might if they do not participate

in such activities.

•Encourage curious youngsters. Kids

are curious, and fostering that curiosity

can be a great way for parents to get their

kids excited about learning. Whether its

during the school year and part of their

curriculum or on summer break, encourage

kids to engage in subjects that interest

them. As kids learn more about the topics

and subjects that interest them, they may

develop a passion for learning that they

can then take with them to the classroom.

•Express an interest in the subjects

children are studying. Another way to

motivate students at the dawn of a new

school year is to express an interest in the

subjects they're studying. Ask questions

about their studies and encourage them to

share their thoughts and opinions.

Engaging students about the subjects

they're studying can motivate them to

explore those subjects more deeply than

they otherwise might.

Century Village open house

The Southwest Franklin County

Historical Society welcomes groups and

individuals to Century Village, 4185

Orders Road. Tour the historic log house

and school from 2 to 4 p.m. the fourth

Saturday of each month, May through

September. For more information or to

schedule a visit to Century Village, contact

Steve Jackson at 614-871-0081.

PAID ADVERTISING

ABC Christian Preschool

now registering

and literacy skills.

Our ministry vision is the sharing of God's

love by supporting families through providing

reliable, affordable, quality childcare. ABC

Preschool partners with families through; frequent

progress communication, providing home

activities and various open house programs.

Registration is now open for the 2022-2023

school year. Limited class sizes to maintain safe

social distancing. Contact us today!

Motivating kids to be excited about their

schoolwork at the dawn of a new school

year can sometimes be difficult. But parents

can employ various strategies that can

help their children readjust to life in the

classroom and motivate them to perform to

the best of their abilities.

ENROLLING NOW!

3 – 5 Years

Our ministry mission: The support of Strong Families through Quality Childcare

PFCC vouchers accepted!

Ask us about the Ohio Scholarship Program.

¡ Bienvenidos Niño en edad preescola que hablan español ¡

3231 Briggs Road – Columbus, OH

www.facebook.com/ABCChristianPreschool

abcpreschool@briggsroadbaptist.org

614-578-3785

RDC Dance Center

3048 Southwest Blvd., Grove City | (614) 875-1044

OPEN HOUSE

Sunday, August 21st 3-5pm

Monday, August 22nd 5-7:30pm

We would like to meet and dance

with you this season!

Let's Dance!

Boys and Girls AGES 3 and up

TAP * JAZZ * BALLET

LYRICAL * TUMBLING

(For all ages)

COMBO CLASS (for ages 3-4)

OPENING DAY IS MONDAY, AUGUST 29th

(614) 875-1044

email > wendi@rdcdance.com website > www.rdcdance.com

(registration forms are on the site)
---
PAGE 8 - WESTSIDE MESSENGER - July 24, 2022

Messenger

Westside

We are the

BEST COMMUNITY NEWSPAPER

on the Westside

Pick-Up

At These

Locations:

Hilltop Library - 511 S. Hague Ave.

United Dairy Farmers - Hague & Sullivant Ave.

Alex Carry-Out - Binns & Sullivant Ave.

Dollar General - Kingsford & Sullivant

Dollar General - Georgesville & Atlanta

M & S Carry-Out - Georgesville & Atlanta

United Dairy Farmers - Georgesville & Parwick by Freeway

Thorton's Gas Station - Georgesville & Norton Rd.

Shell Gas Station - Georgesville & Norton Rd.

Kroger - Georgesville Square

Turkey Hill - Georgesville & Clime Rd.

United Dairy Farmers - Clime & Demorest Rd.

Walgreens - Clime & Demorest Rd.

Certified Gas Station - Briggs & Demorest Rd.

Kroger - Eakin Rd. & Harrisburg Pike

Speedway Gas Station - Eakin Rd. & Harrisburg Pike

Heartland Bank - Great Western Shopping Center

Walgreens - Harrusburg & Hopkins

Certified Gas Station - Broad St. & Orel

Walgreens - Hague Ave. & Broad St.

Marathon Gas Station - Georgesville & Industrial Rd.

La Plaza Tapatta - Georgesville & Hollywood Rd.

BP Gas Station - Georgesville Rd. & Broad St.

Westland Library - Lincoln Village Plaza

Giant Eagle - Lincoln Village Plaza

Thorton's Gas Station - 4990 W. Broad St.

Walgreens - Broad St. & Galloway Rd.

Kroger - Broad St. & Galloway Rd.

CVS Pharmacy - Norton & Hall Rd.

United Dairy Farmers - Norton & Hall Rd.

Circle K Gas Station - Norton & Hall Rd.

Dollar General - Norton & Hall Rd.

Marathon Gas Station - Broad St. & Murray Hill Rd.

Speedway Gas Station - Broad St. & Murray Hill Rd.

Dollar Tree - Broad St. & Murray Hill Rd.

Speedway Gas Station - Broad St. 7 Freeway

Sheetz Gas Station - Westland Mall

Speedway Gas Station - Broad St. & Wilson Rd.

Kroger - Consumer Square Shopping Center

Franklin Township Business Office - 2193 Frank Rd.

READ US ONLINE: www.columbusmessenger.com

Adapting a popular novel for another medium can

be a difficult undertaking, to say the least. Not only do

the directorial and writing teams have to determine

which material could be modified or cut altogether to

make the written word more viable on the screen or

stage, they also have to balance the demands and

expectation of the fervent fanbase. If they manage to

get it right, all who worked on the adaptation will be

hailed as heroes and their names will be etched onto

the walls of the halls of greatness forever. But if they

manage to get it wrong, however, all who worked on

the adaptation will be vocally eviscerated and their

names cast down into the pits of social media hell and

the depths of personal grievance grudges for all of eternity.

In the case of the newly released adaptation of

wildlife scientist Delia Owens' best-selling fictional

novel "Where the Crawdads Sing," there is a very good

chance director Olivia Newman, screenwriter Lucy

Alibar and the primary cast of actors will find themselves

in the former category, although their reception

into the hall may be a bit more tepid. While the cast

and crew have managed to make an incredibly faithful

adaptation of the 2018 atmospheric murder-mystery,

it does often stumble in its transition from page to

screen, making it feel more inert and static than viscerally

eerie or threatening.

Like the novel on which it is based, the film starts

with the discovery of a body. The year is 1969 and two

boys riding along the wooded pathways of a North

Carolina marsh find the partially submerged remains

of an adult male. It is later determined to be the body

of the town's Golden Boy Chase Andrews (Harris

Dickinson), a former high school football hero with an

apparent sterling reputation. Local law enforcement

officials initially surmise he fell to his death from the

rickety fire tower after a night of heavy drinking, but

a trip to the local bar and grill soon has them changing

their tune.

Since the Clark family moved to the semi-affluent

area decades prior, the townies have largely treated

them as pariahs. Deeply poor and living in isolation,

they are jeered at and mocked, especially the youngest

child Kya (played by Jojo Regina and then Daisy

Edgar-Jones) who becomes something of a myth when

word spreads she was abandoned by her family.

Derisively referred to as "The Marsh Girl," this "halfwoman,

half-wolf missing link" becomes the town's

prime suspect in Chase's untimely demise.

"She probably put a spell on him, lured him out

there, and killed him," says one bar patron as they talk

about the rumored and illicit relationship between the

two. Despite having just innuendoes and age-old biases

to go on — no fingerprints, footprints, or other materials

were found at the death scene — the police officers

decided to arrest Kya and charge her with his murder.

www.columbusmessenger.com

In Entertainment

Film version of novel gives a stripped down story

Mid-Ohio Indie Author Book Expo

From romance to horror to adventures for young

adults, the Mid-Ohio Indie Author Book Expo will feature

works from local and regional authors to satisfy

every literary appetite. This event will take place from

3 to 7 p.m. Aug. 13 at the Elks Lodge, 2140 Sonora

Drive in Grove City. Book lovers can get up close and

personal, discovering new authors, and purchasing

signed copies of their books.

Started in 2017 by local author Alicia Wiggins, the

Mid-Ohio Indie Author Book Expo is intended to showcase

the works of self-published authors who often

community events

The Reel Deal

Dedra Cordle

Like the book, the film

switches between the past and

the present, flashing between

Kya's lonely upbringing as she

tries to raise herself in the wild

marshes, her first blush of

teenage love with the wellmeaning

neighbor Tate Walker

(Taylor John Smith), her contemptuous relationship

with the two-faced Chase, and her time on trial for his

murder. But what works on the page doesn't also work

on the screen, and this set up is a primary example of

it not working the way it was intended.

While I was not the biggest fan of Owens' "Where

the Crawdads Sing," I thoroughly enjoyed the atmosphere

of her creation and her use of ambiguity as it

pertains to the murder-mystery portion of the plot. In

the novel, there are multiple suspects in Chase's death

and enough conflicting witness statements to muddy

the waters of who was seen where and when. In the

film, the finger is pointed directly at Kya and only Kya,

striping all sense of ambiguity and presenting a much

less complicated case during the integral courtroom

scenes.

And therein lies the main issue I had with the theatrical

adaptation of "Where the Crawdads Sing", the

stripping down of the hidden grittiness of the book.

Though lushly capturing the weird majesty of marshes

and swamps and the creatures that call it home, the

film douses everything with a sense of beauty, including

the childhood home of Kya. In my mind, this cabin

was a holler shack, the kind I saw while traveling to a

Kentucky town to see my paternal family's own holler

shack (a truly great vacation). In the film, which was

produced by Reese Witherspoon's Hello Sunshine

media company, it looks barely weathered and magical,

like you would find fairy lights strung up throughout

— it was genuinely a surprise when they never

showed up.

With the ambiguity of the murder and grittiness of

the people and the environment paired back, "Where

the Crawdads Sing" often feels like a fancy Hallmark

or Lifetime movie, designed to be pleasant to look at

and unoffensive and unchallenging. Though efficiently

acted, filmed, and written, there is something missing

within the spirit of this adaptation but not enough I

would say to turn away or turn off dedicated fans of the

book or newbies to the world of Kya Clark and Delia

Owens. Grade: C+

Dedra Cordle is a Messenger staff writer and columnist.

aren't included in larger book fairs. Some authors have

published works through traditional publishing houses

but at some point in their career decided to self-publish.

Readers will find a refreshing and exciting collection

of works from writers who are passionate, talented,

and eager to share their uniquely crafted stories.

This event will feature over 40 authors. Book giveaways

and special events for children make this a family-friendly,

fun, and memorable event. Admission and

parking are free.

For more information, contact Alicia Wiggins, event

organizer at info@midohioindies.com.
---
www.columbusmessenger.com

July WESTSIDE 24, 2022 MESSENGER - WESTSIDE MESSENGER - July 24, 2022 - PAGE 9

Practice fire safety

The Columbus Division of Fire is asking all city residents to

increase fire safety techniques and awareness in their homes.

Over the last four to six weeks, Columbus Fire has seen a significant

increase in not only the number of fatalities in fires, but in

fires in the community.

"This is a very concerning number of fire fatalities and fires in

our city," said Columbus Division of Fire Marshal David Baugh.

"We have had 15 fatalities this year. For the month of June, we

saw a nearly a 50 percent increase in fires."

"We are calling on the residents of our community to make a

conscious effort to put an end to this surge and we are here to help

them do that," said Fire Chief Jeffrey Happ. "This is a serious

issue in our city right now and the only way we can bring those

numbers down is by reinforcing proper fire safety precautions."

When it comes to fire safety, prevention is the key. Smoke

detectors are the first step. Smoke alarms that are properly

installed and maintained play a vital role in reducing fire deaths

and injuries. In collaboration with the Red Cross, Columbus Fire

offers free installation of smoke detectors that are good for 10

years.

Eliminating the causes of fires is also very important. The following

are some common causes:

• Smoking. This happens whether smoking near oxygen, or discarding

cigarettes near flammable items.

• Unattended cooking. Leaving food cooking on a stove top or

oven unattended can cause a fire in your kitchen that rapidly

spreads throughout a house

• Overloaded circuits or extension cords. Often an extension

cord is not rated to carry the load of some high amperage-drawing

appliances like air conditioners and refrigerators.

• Never let children use or play with matches or lighters.

Always keep those items out of reach of kids who are naturally

curious about such items.

When it comes to smoking, it always best to smoke outdoors.

When discarding cigarettes, do not discard them in vegetation

such as mulch, potted plants or landscaping, peat moss, dried

grasses, leaves or other things that could ignite easily. Before you

throw away butts and ashes, make sure they are out. Dousing in

water or sand is the best way to do that. Lastly, never smoke or

allow anyone to smoke where medical oxygen is used. Medical oxygen

can cause materials to ignite more easily and make fires burn

at a faster rate than normal. It can make an existing fire burn

faster and hotter.

Electrical fires can be prevented by simply understanding and

following basic electrical safety practices. Never overload an electrical

socket with too many plugs, which includes extension cords.

All power and extension cords should be checked regularly for

signs of fraying and cracking, and they should then be repaired or

replaced as needed. Power cords should not be stapled into place

or under rugs and furniture. Cords under rugs can pose a tripping

hazard and can overheat, while furniture can crush cord insulation.

It is essential to understand some critical reactions that can

help you in the event of a fire.

• First, Call 911

• Second, have and practice an escape plan from your house.

This should include a secondary way to exit different rooms in

your house, specifically bedrooms. Often the normal way we move

about our house may not be the safest way to exit when there is a

fire.

• Third, when sleeping, close your bedroom doors. Smoke and

fire spread can be delayed by this simple step that may give you

the seconds it takes to escape safely.

• Fourth, if leaving a room, feel the door for heat. If it is hot, do

not open it. If it is not hot, open just slightly to see if there is

smoke outside of the room. If either of these situations are present,

you should use the alternate escape route discussed earlier.

• Finally, when exiting, stay low to the ground. Smoke rises

and this may gave you a chance to escape while avoiding toxic

smoke.

To receive a free installed smoke alarm, call the Columbus

Division of Fire Smoke Detector Hotline at 614-724-0935.

CLASSIFIED ADS

Deadlines: Groveport and West editions, Wednesdays at 5 p.m., • South/Canal Winchester, Grove City, Madison editions, Tuesdays at 5 p.m.

All editions by phone, Tuesdays at 5 p.m. • Service Directory, Tuesdays at 5 p.m.

xPreschool/Daycare

INCREASE YOUR

FALL ENROLLMENT!

ADVERTISE YOUR

PRESCHOOL OR DAYCARE

in

The Westside Messenger

For More Info, CALL Kathy

614-272-5444

Preschool/Daycare

CEMETERY LOTS

Sunset Angel Garden, one

lot - $2200, Sunset's price

$2700. 614-271-9848

ASSOCIATION ADS

Aloe Care Health, medical

alert system. The most

advanced medical alert

product on the market.

Voice-activated! No wi-fi

needed! Special offer-call

and mention offer code

CARE20 to get $20 off

Mobile Companion. Call

today-1-877-728-4065

!!OLD GUITARS WANT-

ED!! GIBSON, FENDER,

MARTIN, Etc. 1930's to

1980's. TOP DOLLAR

PAID. CALL TOLL FREE

1-866-433-8277

BUYING CLASSIC CARS,

TRUCKS, SUVs

**American and Foreign**

Any Condition. Buying

entire car collections.

$$PAYING CA$H$$

Please call 717-577-8206

KRMiller1965@yahoo.com

Don't let the stairs limit

your mobility! Discover

the ideal solution for

anyone who struggles on

the stairs, is concerned

about a fall or wants to

regain access to their

entire home. Call

AmeriGlide today! 1-844-

317-5246

The bathroom of your

dreams for as little as

$149/month! BCI Bath &

Shower. Many options

available. Quality

materials & professional

installation. Senior &

Military Discounts

Available. Limited Time

Offer - FREE virtual inhome

consultation now

and SAVE 15%! Call

Today! 1-877-540-2780

ASSOCIATION ADS

READER

ADVISORY

The National Trade Association

we belong to has

purchased the following

classifieds. Determining

the value of their service

or product is advised by

this publication. In order

to avoid misunderstandings,

some advertisers do

not offer "employment"

but rather supply the

readers with manuals, directories

and other materials

designed to help

their clients establish mail

order selling and other

businesses at home. Under

NO circumstance

should you send any

money in advance or give

the client your checking,

license ID or credit card

numbers. Also beware of

ads that claim to guarantee

loans regardless of

credit and note that if a

credit repair company

does business only over

the phone it's illegal to request

any money before

delivering its service. All

funds are based in US

dollars. Toll Free numbers

may or may not

reach Canada. Please

check with the Better

Business Bureau 614-

486-6336 or the Ohio Attorney

General's Consumer

Protection Section

614-466-4986 for more

information on the company

you are seeking to

do business with.

LONG DISTANCE MOVING:

Call Today for a FREE

QUOTE from America's Most

Trusted Interstate Movers.

Let us take the stress out of

moving! Call now to speak to

one of our Quality Relocation

Specialists: 877-541-6320

xCome & Get It!

COME AND GET IT!

Need to Get Rid of Something Fast - Advertise It Here For FREE!

Deadlines are Mondays by 5 pm.

Call For Publication Schedule 614-272-5422

FREE Garden Straw for gardens or bedding. Call for appointment for pickup.

Circle S Farms, 9015 London-Groveport Road, Grove City, 43123

Grove City - 614-878-7980

.FREE - Downed Tree, needs cut into sections. Free for anyone that wants it.

CC - Obetz - 614-632-1013

FREE - Children's Wooden Play Set - Good Condition w/Sand Box under it, Step Ladder up

Slide to go down & a rope swing. Also separate Swing Set w/4 swings.

190 Inah Ave., Cols, 43228 near the Fire Dept.

West Columbus - 614-878-1930, ask for Linda

. Come and Get It! is a bi-weekly column that offers readers an opportunity to pass

along surplus building materials, furniture, electronic equipment, crafts, supplies,

appliances, plants or household goods to anybody who will come and get them - as

long as they're FREE. NO PETS! Just send us a brief note describing what you want to

get rid of, along with your name, address and phone number. Nonprofit organizations

are welcome to submit requests for donations of items.

Send information to The Columbus Messenger, Attention: Come and Get It, 3500

Sullivant Ave., Columbus, OH43204. Deadline is Tuesdays by 5 pm for following

Mondays publication. Messenger Newspapers is not responsible for any

complications that may occur. Please contact us when items are gone. 272-5422

ASSOCIATION ADS

Directv Stream - Carries

the Most Local MLB

Games! CHOICE

Package, $89.99/mo for

12 months. Stream on 20

devices in your home at

once. HBOMax included

for 3 mos (w/CHOICE

Package or higher.) No

annual contract, no hidden

fees! Some restrictions

apply. Call IVS 1-866-629-

6086

Become a Published

Author. We want to Read

Your Book! Dorrance

Publishing - Trusted by

Authors Since 1920

Book manuscript submissions

currently being reviewed.

Comprehensive Services:

Consultation, Production,

Promotion and Distribution. Call

for Your Free Author's Guide 1-

866-482-1576 or visit

http://dorranceinfo.com/macnet

Update your home with

beautiful new blinds &

shades. Free in-home

estimates make it

convenient to shop from

home. Professional

installation. Top quality -

Made in the USA. Free

consultation: 877-212-

7578. Ask about our

specials!

Aloe Care Health medical

alert system. The most

advanced medical alert

product on the market.

Voice-activated! No wi-fi

needed! Special offer

w/code CARE20 for $20

off Mobile Companion. 1-

855-341-5862

Come & Get It!

ASSOCIATION ADS

Paying top cash for men's

sportwatches! Rolex,

Breitling, Omega, Patek

Pillippe, Heuer, Daytona,

GMT, Submariner and

Speedmaster. Call 833-

603-3236

Become a Published

Author. We want to Read

Your Book! Dorrance

Publishing Trusted Since

1920 Consultation,

Production, Promotion &

Distribution. Call for Free

Author's Guide 1-877-729-

4998 or visit

dorranceinfo.com/ads

WANTED!

MOTORCYCLES!

ANTIQUE AND CLASSIC.

Honda, Kawasaki, Suzuki,

Yamaha, Triumph, BSA

and other foreign models.

$$PAYING CA$H$$

717-577-8206

KRMiller1965@yahoo.com

Discount air travel! Call

Flight Services for best

pricing on domestic &

international flights inside

& from the US. Serving

United, Delta, American &

Southwest &many more.

Free quote! Have travel

dates ready! 844-951-

2014

Safe Step. North

America's #1 Walk-in Tub.

Compreshensive lifetime

warranty. Top-of-the-line

installation and service.

Now featuring our FREE

shower package & $1600

off for a limited time!

Financing available. Call

Safe Step 1-833-356-1954

ASSOCIATION ADS

Protect your home from

pests safely and

affordablly. Pest, rodent,

termite and mosquito

control. Call for a quote or

inspection today 844-394-

9278

Put on your TVEars &

hear TV w/unmatched

clarity. TVEars Originaloriginally

$129.95 - now

w/this special offer only

$59.95 w/code MCB59! 1-

888-805-0840

Vivint Smart Security.

Professionally installed.

One connected system for

total peace of mind. Free

professional installation!

Four free months of

monitoring! Call to

customize your system. 1-

833-841-0737

NEED IRS RELIEF

$10K-$125K+ Get Fresh

Start or Forgiveness.

Call 1-844-431-4716

Monday through Friday

7am-5pm PST

Attention oxygen therapy

users! Inogen One G4 is

capable of full 24/7 oxygen

delivery. Only 2.8

pounds. Free info kit.

Call 877-929-9587
---
PAGE 10 - WESTSIDE MESSENGER - July 24, 2022

www.columbusmessenger.com

CLASSIFIED ADS

Deadlines: Groveport and West editions, Wednesdays at 5 p.m., • South/Canal Winchester, Grove City, Madison editions, Tuesdays at 5 p.m.

All editions by phone, Tuesdays at 5 p.m. • Service Directory, Tuesdays at 5 p.m.

xEmployment

OPEN HOUSE

FULL-TIME PICKING & PACKING

WEDNESDAY, JULY 27 th – 9AM-2PM

UP TO

$19/HR +

UP TO

$3K SIGN-ON

NO WEEKENDS • NO MANDATORY OT

1568 Georgesville Rd. Columbus, OH 43228

JOBS.MSCDIRECT.COM

Applicants must sucessfully pass a background check and drug screen.

Equal Opportunity Employer: Minority, female, veteran, individuals with disabilities, sexual orientation/gender identity.

ASSOCIATION ADS

Looking for assisted living,

memory care, or

independent living? A

Place for Mom simplifies

the process of finding

senior living at no cost to

your family. Call 1-833-

910-1576 today!

Internet &WIFI Starts at

$49 Call us Today to Get

Started. Find High-Speed

Internet with Fiber Optic

Technology No Credit

Check, No SSN Required.

Call us Today 866-396-

0515

HughesNet - Finally, superfast

internet no matter

where you live. 25 Mbps

just $59.99/mo! Unlimited

Data is Here. Stream

Video. Bundle TV &

Internet. Free Installation.

Call 866-499-0141

ASSOCIATION ADS

DISH Network. $59.99 for

190 channels! Blazing fast

internet. $19.99/mo. (where

available) Switch & get a

$100 Visa gift card. Free

voice remote. Free HD

DVR. Free streaming on all

devices. 1-866-979-4029

Vivint Smart Security.

Professionally installed.

One connected system for

total peace of mind. FREE

professional installation!

Four FREE months of

monitoring! Call to

customize your system. 1-

855-870-2073

Safe Step. North

America's #1 Walk-in Tub.

Compreshensive lifetime

warranty. Top-of-the-line

installation and service.

Now featuring our free

shower package & $1600

off - limited time!

Financing available. 1-

855-417-1306

ASSOCIATION ADS

Stroke & Cardiovascular

disease are leading

causes of death according

the American Heart

Association. Screenings

can provide peace of mind

or early detection! Call

Life Line Screening to

schedule your screening.

Special offer - 5

screenings for $149. 1-

866-518-8391

IMPORTANT

NOTICE

The following states: CA,

CT, FL, IA, IL, IN, KY,

LA, MD, ME, MI, MN,

NE, NC, NH, OH, OK,

SC, SD, TX, VT and WA

requires seller of certain

business opportunities to

register with each state

before selling. Call to

verify lawful registration

before you buy.

WANTED

Host/Hostess • Back-Up Cooks

Grill • Servers • Dishwashers

You Can Work 29+ Hrs. Based on

Your Availability & Performance

Immediate Full/Part-time Openings

We Offer:

• Weekly Pay

• Paid Training

• No Tip Sharing

• Paid Vacation

• Employee Meal Discount

• Position/Salary Advancement Plan

• Discount Purchase Plan

Apply online at crackerbarrel.com/careers for

Hilliard Location 614-878-2027

ASSOCIATION ADS

DISH TV $64.99 FOR 190

Channels + $14.95 High

Speed Internet. Free Installation,

Smart HD DVR

Included, Free Voice Remote.

Some restrictions

apply. Promo expires

1/21/23. 1-866-479-1516

The Generac PWRcell, a

solar plus battery storage

system. SAVE money,

reduce your reliance on

the grid, prepare for power

outages and power

your home. Full installation

services available. $0

Down Financing Option.

Request a FREE, no obligation,

quote today. Call

1-866-783-0292

Elminate gutter cleaning

forever! LeafFilter, the most

advanced debris-blocking

gutter protection. Schedule

Free LeafFilter Estimate

today. 15% off Entire

Purchase. 10% Senior &

Military Discounts. Call 1-

833-610-1936

Dental Insurance -

Physicians Mutual Insurance

Comopany. Covers 350

procedures/ Real insurance -

not a discount plan. Get your

free dental info kit! 1-855-

.526-1060 www/dental50

plus.com/ads #6258

SELL YOUR ANTIQUE

OR CLASSIC CAR.

Advertise with us. You

choose where you want

to advertise. 800-450-

6631 visit macnetonline.

com for details.

ASSOCIATION ADS

Attention Viagra users:

Generic 100 mg blue pills

or generic 20 mg yellow

pills. Get 45 plus 5 free

$99 + S/H. Call Today 1-

877-707-5518

Donate Your Car To

Veterans Today! Help and

Support our Veterans.

Fast - FREE pick up.

100% tax deductible. Call

1-800-245-0398

AT&T Internet. Starting at

$40/month w/12-mo agmt.

1 TB of data/mo. Ask how

to bundle & SAVE! Geo &

svc restrictions apply. 1-

855-364-3948

Prepare for power

outages today with a

GENERAC home standby

generator. $0 Down + Low

Monthly Pmt. Request a

free Quote. Call before the

next power outage: 1-855-

948-6176

DISH TV $64.99 for 190

Channels + $14.95 high

speed internet. FREE installation,

Smart HD DVR

included. Free Voice Remote.

Some Restrictions

apply. Promo Expires

1/21/23. 1-866-590-5561

BATH & SHOWER UP-

DATES in as little as

ONE DAY! Affordable

prices - No payments for

18 months! Lifetime warranty

& professional installs.

Senior & Military

Discounts available. Call

855-761-1725

Employment

"HELP WANTED"

SIGN

NOT WORKING?

TO ADVER

VERTISE

Call Kathy at

The Columbus Messenger

ASSOCIATION ADS

Protect your home w/home

security monitored by

ADT. Starting at $27.99/

mo. Get free equipment

bundle including keypad,

motion sensor, wireless

door & windows sensors.

833-719-1073

Eliminate gutter cleaning

forever! LeafFilter, the

most advanced debrisblocking

gutter protection.

Schedule a FREE LeafFilter

estimate today. 15% off

Entire Purchase. 10% Senior

& Military Discounts.

Call 1-855-791-1626

Replace your roof with the

best lookng and longest

lasting material -- Steel

from Erie Metal Roofs!

Three styles and multiple

colors available.

Guaranteed to last a

lifetime! Limited Time

Offer - $500 Discount +

Additional 10% off install

(for military, health

workers & 1st responders)

Call Erie Metal Roofs: 1-

855-338-4807

DENTAL INSURANCE

from Physicians Mutual

Insurance Company.

Coverage for 350 plus

procedures. Real dental

insurance - NOT just a

discount plan. Do not wait!

Call now! Get your FREE

Dental Information Kit with

all the details! 1-877-553-

1891

www.dental50plus.com/

macnet#6258

614-272-5422

ASSOCIATION ADS

Prepare for power outages

today with a GENERAC

home standby generator.

$0 Money Down + Low

Monthly Payment Options.

Request a FREEQuote--

Call now before the next

power outage. 1-855-465-

7624

The Generac PWRcell

solar plus battery storage

system. Save money,

reduce reliance on

grid, prepare for outages

& power your home. Full

installation services. $0

down financing option.

Request free no obligation

quote. Call 1-877-

539-0299

VIAGRA and CIALIS

USERS! 50 Generic pills

SPECIAL $99.00. 100%

guaranteed. 24/7 CALL

NOW! 888-445-5928

Hablamos Espanol

Wesley Financial Group,

LLC Timeshare Cancellation

Experts Over

$50,000,000 in timeshare

debt & fees cancelled in

2019. Get free

informational package &

learn how to get rid of

your timeshare! Free

consultations. Over 450

positive reviews. 888-965-

0363

Looking for auto insurance?

Find great deals

on the right auto insurance

to suit your needs.

Call today for a free

quote! 866-924-2397

CHILD CARE

OFFERED

Depend. Quality Child care

in loving hm. Exp. Mom, n-

smkr, hot meals, sncks,

playroom, fncd yd. Reas.

rates. Laurie at 853-2472

HELP WANTED

Kings Kids Daycare in

Grove City is hiring fun,

loving teachers for PT&

FT shifts. Pleaes email

sarragc@outlook.com or

call 614-539-0349.

PT Helper Needed

for Lawn Care Service

3-4 Days a Week

Call 614-935-1466

DATED SALE

RUMMAGE SALE

Fri, Aug 5 & Sat, Aug 6

9 am - 2 pm

Ss. Simon & Jude Church

9350 High Free Pike

West Jeff

GARAGE SALE

July 29 & 30, 9am-?

1272 Hathersage Pl, Galloway

Elec. stove, womens clothes,

size 18-24 mostly, all sizes

womens vintage clothes,

Fiestaware, hshld items &

misc., some furniture
---
www.colulmbusmessenger.com

xFocus on Rentals

July 24, 2022 - WESTSIDE MESSENGER - PAGE 11

xClassified Services

HILLTOP SENIOR VILLAGE

APARTMENTS

ONE & TWO BEDROOM APT. HOMES

Call or Visit Us Today! 1.614.276-3017

www.nationalchurchresidences.org

email: 0805@nationalchurchresidences.org

Affordable living for seniors ages 55+ & up

Mon. thru Fri. 9 am - 5 pm

Independent Senior Living

Spacious floor plans • Controlled access

24 Hr. Emergency Maintenance • Dishwasher

Emergency call system • Picnic area

Community/game room • Library

Meal program affiliate

Private party room • Elevator

Beauty Salon • On-Site Laundry

Air Conditioning • Cottage-Style Apartments

WEDGEWOOD

VILLAGE

1, 2 and 3 BR Apts.

Rent Based on Income.

Call 614-272-2800 or visit us

at 777 Wedgewood Dr.

TTY/TDD 711

EQUAL HOUSING OPPORTUNITIES

HAVE EMPTY

APARTMENTS?

RENT THEM BEFORE

SCHOOL STARTS!

Advertise It!

Call Kathy

The Columbus Messenger

614-272-5422

WANT TO BUY

WE BUY JUNK CARS

Call anytime 614-774-6797

ANTIQUES

WANTED

Victrolas, Watches,

Clocks, Bookcases

Antiques, Furn.

Jeff 614-262-0676

or 614-783-2629

We Buy Junk Cars &

Trucks. Highest Prices

Paid. 614-395-8775

BUYING VINYL RECORDS.

LPs and 45s - 1950-80s

Rock, Pop, Jazz, Soul.

614-831-0383

We Buy Cars & Trucks

$300-$3000.614-308-2626

Rentals

MISCELLANEOUS

FOR SALE

MISC. FOR SALE

GE Microwave, like new,

works great - $150.00

614-465-7763

Electric Wheelchair - If

interested, call 614-928-2352

RENTALS

Eakin-1 Br Apt, crpt, appls.

No Pets 614-560-3050

1BR Apartment

1965 Vaughn St. w/d incl.

$525//mo, dep. req.

740-400-4077

2 BR HOMES

Bsmt. $1000/mo

614-530-8097

REPLACE

AIR CONDITIONING

AIR CONDITIONING

Complete System

Clean & Check

$49.95

BLACKTOP

AGM OHIO

ROOFING &

SEALCOATING

Free Estimates

Cell 614-512-1699

INFORMATION

7/31 A

Free Electronic Leak Testing

All Makes • All Models

46 Yrs. Exp. • Senior Discount

614-351-9025

SANTIAGO'S

Sealcoating & Services LLC

Quality Materials Used

SUMMER IS HERE!

Driveway Seal & Repair!

Top Seal Cracks!

Residential & Commercial

Mulching, Edging & Clean-ups

"Ask for whatever you need."

BBB Accredited-Fully Insured

Call or text for Free Est.

614-649-1200

8/14

A/M

BLACKTOP SEALING

Driveways & Parking Lots

614-875-7588

CARPET CLEANING

CARPET CLEANING

Any 5 areas ONLY $75

Home Powerwash $99-$300

614-805-1084

Specializing in Pet Odors

Look To The

Professionals

In Our

Service Directory

For

Quality

Service

That Is

OUT

OF

THIS

WORLD!

CONCRETE

GALLION

CUSTOM CONCRETE LLC

Specializing in Custom Colors &

Custom Designs of Concrete.

Including Remove & Replace

44 yrs exp & Free Est.

Licensed & Insured

Reputation Built

On Quality

Ronnie

614-875-8364

See Us On Facebook

www.gallioncustom

concrete.com

EDDIE MOORE

CONSTRUCTION

Quality Concrete Work

Lt. Hauling & Room Add.,

Block Work & Excavation

Stamp Patios,

Bsmt. Wall Restoration

36 Yrs Exp - Lic & Ins.

Free Ests. 614-871-3834

ALL-CITY CUSTOM

CONCRETE

All Types Concrete Work

New or Tear Out-Replace

40 Yrs. Exp.

(614) 207-5430

Owner is On The Job!

AJ's Concrete,

Masonry

Good Work - Fair Prices

Block Foundations

Driveways • Sidewalks

Epoxy/Overlay Floors

Bonded-Ins. • Free Ests.

614-419-9932

www.hastingsnsons.com

Driveways & Extensions

Patio & Walkways,

Porches & Steps,

Garage/Basement Floors

Hot Tub/Shed Pads,

Stamped/colored concrete

Sealing of new &

existing concrete.

FREE ESTIMATES

Contact Adam

614-756-1754

hastingsandsons.

columbus@gmail.com

FENCING

EAZY FENCE

Chain Link - Wood

No Job Too Big or Small

All Repairs ~ Free Est.

Insured. 614-670-2292

GUTTERS

Bates & Sons

GUTTER CLEANING

5 ★ Google Reviews

614-586-3417

HAULING

DEAN'S HAULING

614-276-1958

DUMPSTER RENTAL

4 Days - $275 & Up

No Hazardous Materials

Tires - $10.00 each

Call 614-254-1131

7/31 W/SW

7/31 A

HOME

IMPROVEMENTS

KLAUSMAN HOME

IMPROVEMENT

Siding-Windows-

Doors-Roofing-Soffit-

Fascia-Gutters-Trim

Earn FREE Seamless

Gutters with Siding Over

1000 Sq. Ft.

FREE Shutters with

Soffit & Trim

EPA Certified

Member of BBB

Financing Available

Over 20 yrs exp. • Free Est.

Licensed-Bonded-Insured

Owner & Operator

James 614-419-7500

C&JHandyman

Services LLC

Minor Plumbing

& Electric

Install Hot Water Tanks,

Dishwashers & Disposals

Also Fencing &

Interior/Exterior Painting

Free Est. ~ 18 Yrs. Exp.

CDC/EPA Approved Guidelines

614-284-2100

SLAGLE

HOME REMODELING

Baths, Kitchen,

Plumbing and Electrical.

All your Handyman needs

No Job too Big or Small

Over 30 Yrs. Exp. Lic.-Bond-Ins.

Jerry

614-332-3320

HOME

REMODELING

8/14 A

7/17 A

7/31

SW/W

SINCE 1973

Phil Bolon Contr.

Windows & Siding

Decks, Kitchens, Baths

Room Additions,

Flooring, Roofing

Bsmt Waterproofing

Deal With Small Non-Pressure Co.

47 Yrs. Exp. - Refs. Avail.

Lic.-Bond-Ins.

7/31

A/M

Free Est. - Financing Avail.

Member BBB Of Cent. OH

O.C.I.E.B. ID #24273

614-419-3977

or 614-863-9912

MultiCraft Const.

& Handyman Services

All Types Handyman Services:

Decks, Fences

Kitchen/Baths

Window/doors installed

Interior Painting

Drywall Repairs

All Types of Flooring

Call/Text 614-774-2923

multicraftconstruction@gmail.com

7/31A

LANDSCAPING

Mowing, Light Hauling

Brush & Small Tree

Removal. 614-619-6903

A-1 QUALITY

TREE & LANDSCAPE

Family Owned

Serving Central Ohio

Since 2004

Bed & Yard Maint.

Weeding, Mulching, etc.

Hedge/Shrub Trimming

*Stump Removal

614-596-9504

Insured - Free Est.

ONYX

LANDSCAPING

614-407-5214

www.OnyxLandscapingllc.com

Full Service

Lawn Care

Start with Trust!!

LAWN CARE

The Lawn Barber

Cut, Trim, Blow away

Hedge Trimming, Edging

614-935-1466

Lawn Mowing-36 yrs exp.

Weekly cuts $25-up

Good ref. Free est. 10%

Sr. Disc. 614-738-9623

Christian's

Landscaping

Full Service Lawn Care

•Tree/Shrub Trimming

•Mulching •Tree Removal

7/31

•Powerwashing

w/gc/m

614-282-4443

LET US MAINTAIN

YOUR LAWN & GARDEN

FOR YOU

Summer, Spring,

Winter or Fall

WE DO IT ALL!!!!

Lawn Cuts, Edging,

Trees & Shrubs, Garden,

Mulching, Hauling,

Garden Pond &

Home Maint.

Free Ests. Low Rates

$20 & Up

Kevin - 614-905-3117

MOWER REPAIR

LAWN MOWER DR.

"House Calls Only"

Overall Checkups

Oil Change & Filter,

Spark Plug &

Blades Sharpened

MINOR REPAIR

John

614-395-7909

johnellis0333@sbcglobal.net

Classified Services

8/14 W/GC/M

7/17 A

PEST

CONTROL

TERMITE &

PEST CONTROL

614-367-9000

TORCO®

TERMINATES

TERMITES

Locally Owned & Operated. Any Pest. Anytime.

$

50 00 OFF Service

Free Termite Inspection

PAINTING

Painter Over 30 Yrs. Exp.

Free Est. Reas. Rates

Daniel - 614-226-4221

A Job Well Done Again

A lic. General Contractor

Some Skilled Services

Incl: Painting • Stucco,

Repair•Carpentry•Exterior

Drainage & Home Maint.

Call Today! 614-235-1819

PLASTERING

Plaster & Stucco

NEW AND

REPAIR

Established 1917

Geo. F. Neff & Co.

614-274-5629

DRYW

YWALL &

PLASTER

7/31

A&M

REPAIR

Textured Ceilings

614-551-6963

Residential/Commercial

BIA

PLUMBING

CHRIS'

PLUMBING

"Plumbing & Drain Professional

That You Can Count On"

24 Hrs., 7 Days/Week

No Overtime Charges

24 Yrs. Exp. in Plumbing &

Drain Cleaning Field

Call For A Free Phone Estimate

$100.00 For Any Small Drain

614-622-4482

30% OFF with AD

All About Drains & Plumb.

Will snake any small drain

$145. 614-778-2584

MYERS

PLUMBING

Exp. Expert Plumbing

New Const. & Fast Repairs

Lic. - Permit Available

Water • Sewer • Gas

614-633-9694

8/14 A

8/14 A&M

PEST

CONTROL

POWER WASHING

Bates & Sons

Soft Wash & Powerwash

5 ★ Google Reviews

614-586-3417

MRS. POWERWASH

Any house wash $149+tax

Single deck $69+tax

2 Tier deck $99+tax

Best Wash in Town

Over 45,000 washes

Ashley 614-771-3892

ROOFING

RETIRED

ROOFER

BBB "A+" Rating

All Types of Roof Repairs

• New Roof Installation

• Flashing

• Chimneys Rebuilt

• Flat Roof Specialist

• Roof Replacement

avail. upon request

All Work Guaranteed

614-352-7057

Free Estimates

SEWING MACHINE

REPAIR

REPAIR all makes 24 hr.

service. Clean, oil, adjust

in your home. $49.95 all

work gtd. 614-890-5296

TREE SERVICES

BURNS TREE SERVICE

Trimming, Removal &

Stump Grinding.

614-584-2164

Brewer & Sons Tree Service

• Tree Removal

• Tree Trimming 8/14

A&M

• Stump Grinding

• Bucket Truck Services

Best Prices • Same Day Service

614-878-2568

A-1 QUALITY

TREE & LANDSCAPE

Family Owned

Serving Central Ohio

Since 2004

614-596-9504

Insured - Free Est.

7/31 A&M

8/14 W/SW
---
PAGE 12 - WESTSIDE MESSENGER - July 24, 2022

Pets of the week

www.columbusmessenger.com

These furry friends are available

for adoption at local

rescues and shelters

Hilltop History & Heritage

This independent family business, Hilltop Dairy Twist, is located at 2860 Sullivant

Ave. on the Hilltop next to the Camp Chase Confederate Cemetery. It offers ice

cream treats as well as snacks, sandwiches, and drinks - all with outdoor seating

and on-premises parking. This has been a Hilltop landmark since at least the

1960s and is a great place to grab ice cream on a summer day. If you have a photo

to share, contact Stacy Berndsen-Campbell at stacyberndsen12@gmail.com.

Gerald is a friendly

guy who likes to

supervise. This 3-

year-old boy loves

treats and getting

affection. Because

he likes to be in

charge, he would do

best in a home without

other cats, but

dogs are just fine. Once he gets to know you,

Gerald will be your best friend, as long as you

are willing to listen to his beautiful singing

voice. Gerald is up for adoption through

Friends for Life Animal Haven.

FYI: fflah.org

Nikky is a sweet and

loving 6-year-old calico

who loves people.

She will follow a person

until they sit

down and then she'll

curl up on their lap

and purr. Nikky was a

porch cat and when

her owners moved,

she was left behind. She was very friendly

when a Colony Cats volunteer came to feed

her and was quite happy when the volunteer

brought her to the adoption center. Nikky

knows the center is better than a porch but

she also knows that the best life would be a

home and a lap of her very own. Contact

Colony Cats to adopt her.

FYI: colonycats.org

Briggs is a handsome

white cat and if

you look closely one

eye is blue and one is

green. Briggs was a

friendly guy hanging

out in a colony on

Central Avenue. He is

a quiet and contemplating

kind of guy. If you are interested in

meeting Briggs, contact Colony Cats.

FYI: colonycats.org

King Rico is just as

smart as he is handsome.

He quickly

bonds with his people,

loves to play, and

is eagerly looking for

a place to call home.

He has previously

done well with other

dogs of equal size, and will do best without

any small animals in the home. King Rico is

available for adoption at the Franklin County

Dog Shelter.

FYI: franklincountydogs.com

MEDICARE QUESTIONS?

Learn more about your

medicare options that you

may qualify for.

Too busy enjoying summer to think about Medicare?

As a local neighborhood agent, help finding the right plan is

closer than you THINK! Call or Text today 614-460-0601

Call me Today $0 Consultation $0 Fee

Terri Curcio 614-460-0601

"Who do you call about Medicare when all the commercials are gone?

A Local Licensed Agent!"

I'm here all year long providing Medicare members with the plan options that fit their needs. Also, we could review if

you qualify for extra help on your prescription copays, along with insulin coverage. Reviewing the plan information over

the phone or in person, you need to be confident in your decision. Guiding you on the right path to Medicare.