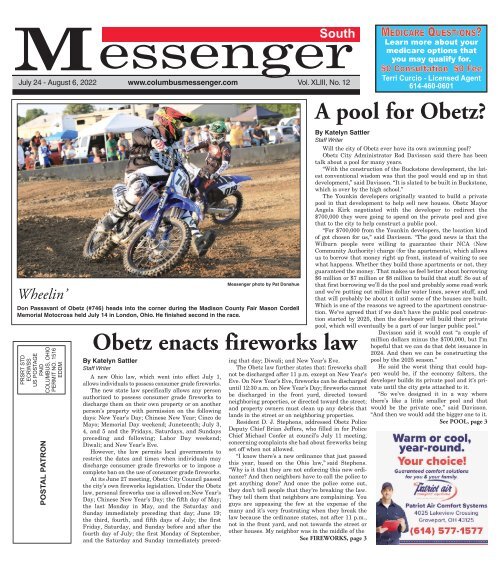 South Messenger - July 24th, 2022
Create successful ePaper yourself
Turn your PDF publications into a flip-book with our unique Google optimized e-Paper software.
Messenger

South

July 24 - August 6, 2022 www.columbusmessenger.com Vol. XLIII, No. 12

Wheelin'

PRSRT STD

ECRWSS

US POSTAGE

PAID

COLUMBUS, OHIO

PERMIT NO. 1516

EDDM

POSTAL PATRON

Messenger photo by Pat Donahue

Don Passavant of Obetz (#746) heads into the corner during the Madison County Fair Mason Cordell

Memorial Motocross held July 14 in London, Ohio. He finished second in the race.

MEDICARE QUESTIONS?

Learn more about your

medicare options that

you may qualify for.

$0 Consultation $0 Fee

Terri Curcio - Licensed Agent

614-460-0601

A pool for Obetz?

By Katelyn Sattler

Staff Writer

Obetz enacts fireworks law

By Katelyn Sattler

Staff Writer

A new Ohio law, which went into effect July 1,

allows individuals to possess consumer grade fireworks.

The new state law specifically allows any person

authorized to possess consumer grade fireworks to

discharge them on their own property or on another

person's property with permission on the following

days: New Year's Day; Chinese New Year; Cinco de

Mayo; Memorial Day weekend; Juneteenth; July 3,

4, and 5 and the Fridays, Saturdays, and Sundays

preceding and following; Labor Day weekend;

Diwali; and New Year's Eve.

However, the law permits local governments to

restrict the dates and times when individuals may

discharge consumer grade fireworks or to impose a

complete ban on the use of consumer grade fireworks.

At its June 27 meeting, Obetz City Council passed

the city's own fireworks legislation. Under the Obetz

law, personal fireworks use is allowed on:New Year's

Day; Chinese New Year's Day; the fifth day of May;

the last Monday in May, and the Saturday and

Sunday immediately preceding that day; June 19;

the third, fourth, and fifth days of July; the first

Friday, Saturday, and Sunday before and after the

fourth day of July; the first Monday of September,

and the Saturday and Sunday immediately preceding

that day; Diwali; and New Year's Eve.

The Obetz law further states that: fireworks shall

not be discharged after 11 p.m. except on New Year's

Eve. On New Year's Eve, fireworks can be discharged

until 12:30 a.m. on New Year's Day; fireworks cannot

be discharged in the front yard, directed toward

neighboring properties, or directed toward the street;

and property owners must clean up any debris that

lands in the street or on neighboring properties.

Resident D. J. Stephens, addressed Obetz Police

Deputy Chief Brian Jeffers, who filled in for Police

Chief Michael Confer at council's July 11 meeting,

concerning complaints she had about fireworks being

set off when not allowed.

"I know there's a new ordinance that just passed

this year, based on the Ohio law," said Stephens.

"Why is it that they are not enforcing this new ordinance?

And then neighbors have to call the police to

get anything done? And once the police come out,

they don't tell people that they're breaking the law.

They tell them that neighbors are complaining. You

guys are appeasing the few at the expense of the

many and it's very frustrating when they break the

law because the ordinance states, not after 11 p.m.,

not in the front yard, and not towards the street or

other houses. My neighbor was in the middle of the

See FIREWORKS, page 3

Will the city of Obetz ever have its own swimming pool?

Obetz City Administrator Rod Davisson said there has been

talk about a pool for many years.

"With the construction of the Buckstone development, the latest

conventional wisdom was that the pool would end up in that

development," said Davisson. "It is slated to be built in Buckstone,

which is over by the high school."

The Younkin developers originally wanted to build a private

pool in that development to help sell new houses. Obetz Mayor

Angela Kirk negotiated with the developer to redirect the

$700,000 they were going to spend on the private pool and give

that to the city to help construct a public pool.

"For $700,000 from the Younkin developers, the location kind

of got chosen for us," said Davisson. "The good news is that the

Wilburn people were willing to guarantee their NCA (New

Community Authority) charge (for the apartments), which allows

us to borrow that money right up front, instead of waiting to see

what happens. Whether they build those apartments or not, they

guaranteed the money. That makes us feel better about borrowing

$6 million or $7 million or $8 million to build that stuff. So out of

that first borrowing we'll do the pool and probably some road work

and we're putting out million dollar water lines, sewer stuff, and

that will probably be about it until some of the houses are built.

Which is one of the reasons we agreed to the apartment construction.

We've agreed that if we don't have the public pool construction

started by 2025, then the developer will build their private

pool, which will eventually be a part of our larger public pool."

Davisson said it would cost "a couple of

million dollars minus the $700,000, but I'm

hopeful that we can do that debt issuance in

2024. And then we can be constructing the

pool by the 2025 season."

He said the worst thing that could happen

would be, if the economy falters, the

developer builds its private pool and it's private

until the city gets attached to it.

"So we've designed it in a way where

there's like a little smaller pool and that

would be the private one," said Davisson.

"And then we would add the bigger one to it.

See POOL, page 3
---
PAGE 2 - SOUTH MESSENGER - July 24, 2022

We are the BEST community newspaper!

Need advertising?

Call 614-272-5422 today.

Dr. Hobbs

The Gilmore Group

Office: 614-834-HOME (4663)

Cell: 614-774-4416

www.GilmoreGroupHomes.com

3700 Parsons Ave.

Columbus, OH 43207

New Patients & Emergencies Always Welcome

(614) 491-5511

www.ScottAKellyDDS.com

IF IMPLANTS FAILS?

A dental implant is inserted into

the bone in order to support "permanent"

dentures. In effect, it is a

replacement for removable dentures.

The technique is getting better

each year. Records show that

some implants have now lasted

over 20 years.

However, what if an implant fails?

Would it leave your jaws in a worse

state than if you had worn conventional

dentures? The answer depends

on three factors:

1) How much bone was originally

available, and should the implants

have been done in the first place?

2) How well were the implants inserted

surgically and how well were

the teeth made?

Dr. Kelly

3) How long have the failed implants

remained in the mouth? If

the patient was a suitable candidate

to begin with, if everything

was done correctly, and if the failed

implant is removed as soon as possible,

there should be little or no

bone loss. Very often, another implant

can be inserted at a later date.

There is always the option for the

patient to go back to wearing conventional

dentures.

Prepared as a public service

to promote better dental health.

From the office of:

SCOTT A. KELLY, D.D.S.

Phone 614-491-5511

www.columbusmessenger.com

CW Blues and Ribfest is back

By Linda Dillman

Staff Writer

After a two-year hiatus, the Canal Winchester

Blues and Ribfest has returned.

Downtown will be alive with the sounds of 17 live

free musical performances on two stages and the beckoning

smell of award-winning barbecue July 29-30 on

High Street in the heart of the city.

"As always, we have an incredible line-up," said

Destination:Canal Winchester Executive Director

Karen Stiles. "The 2022 Main Stage includes three

national acts on Friday and five national acts on

Saturday. Headliner Davy Knowles' music has a wonderful

Celtic note to it even though he is described as a

blues-rock artist. We are looking forward to the return

of many of our favorites such as Joanna Connor, Ray

Fuller and Syla Burrell. We are also excited to hear the

sounds of Mike Zito and Annika Chambers. Both of

these musicians recently won multiple awards at the

2022 Blues Music Awards in Memphis."

According to Stiles, many familiar rib purveyors are

returning this year, such as Donna Rice from

Desperadoes, who was awarded first place several

years in a row. Attending rib vendors submit a five

samples of their ribs for the competition and a team of

five judges rate each team's samples on flavor, presentation

and texture.

In addition to racks of ribs roasting on open fires,

the festival also offers a variety of food trucks such as

Amish Donuts, Schmidt's Sausage, Lemon King and

Medallen's Gyros as well as vendors new to the Blues

and Ribfest.

"We always have a wonderful variety of non-rib food

vendors," said Stiles. "This event is fun for the entire

family. We have our Kids' Zone open until 8 p.m. each

night. This area includes, face painting, inflatables,

pony rides, balloon twisting and games."

A covered dining area adjacent to the main stage is

available. Festival goers may bring food inside a fancooled

Beer Garden and the Stradley Stage is surrounded

by covered picnic tables.

"We are expecting a huge turnout for this year's

event," said Stiles. "People are very excited to see the

Canal Winchester Blues and Ribfest return after being

canceled for two years due to COVID, though we

always have a huge crowd. We draw people from all

over Ohio and surrounding states, but we have, in past

years, met people who have come from Texas,

California, New York, and Canada to attend our event.

We typically have between 35,000 to 37,000 people

during our day and half event. We love the opportunity

Petey

Marshall

of Off the

Bone

BBQ

cooks up

a variety

of meats

for hungry

festival

visitors

at a

past

Canal

Winchest

er Blues

and

Ribfest.

Ed Robinson wows the crowd with his smooth

saxophone playing at a past Canal Winchester

Blues and Ribfest.

to share our community with those who have never visited

Canal Winchester. Our city is a wonderful place to

live and to visit."

There are several public parking locations throughout

historical downtown and on-street parking is also

available. High Street will be closed from Columbus

Street to Mound Street.

For information and a detailed lineup of performers

visit www.blueandribfest.com.
---
www.columbusmessenger.com

POOL

Continued from page 1

The goal for the public pool is that it is among the first projects

that needs to be accomplished. And so in the first issuance of debt,

which means essentially that the city's going to borrow money,

they borrow money against construction."

Other Obetz news

•Kirk announced the city will rename the park adjacent to the

Obetz Community Center on Obetz Avenue in honor of the previous

mayor, Greg Scott, who passed away. The park will be named

the D. Greg Scott Park to recognize him for his past service to the

city.

•Obetz City Councilman Guiles Richardson said AEP has been

cutting back the blue spruce trees along Recreation Trail and

wanted to cut them down.

"We decided we didn't want to ruin those trees," said

Richardson. "They're beautiful blue spruce trees. We're making

plans to replant them. Those trees are worth about $1,000 a piece

to replace, which would be about $43,000. Davey Tree Company

said they could replant those for about $24,000. So, until

September and October when we replant those, we'll be looking at

properties in different places because we don't want to kill the

trees. This will also save the city quite a bit of money."

•Obetz officials dealt with the formality of the tax budget at

city council's July 11 meeting.

"The tax budget is the budget we do in the middle of the summer

and is required by the IRS code, but not enforced by every

county," said Davisson. "Franklin County does enforce this and

requires us to submit a budget. It is not the operating budget,

which is submitted later in the year. The tax budget is submitted

to the county for the purpose of securing your property millage.

What we do is put together that budget and send that over to the

county auditors. Their goal is to ensure that there's still a need for

property tax allocation. We think there's still a need for ours. We

expect that they will approve that."

Messenger photo by Pat Donahue

Fortress Friday

Flicks

Fortress Friday Flicks made for a

fun free family event on July 15 in

Obetz. The Fortress big screen

and loud speakers transformed

into a drive-in movie featuring

"Space Jam 2." Gabriel, 10, and

his sister, Ariadne, 6, looked quite

cozy in the back of grandma's SUV

as they enjoyed the movie. While

on vacation in Obetz from Hawaii,

the two had never experienced the

fun and comfort of a drive-in

movie before. The next Fortress

Friday Flicks will be Aug. 12.

FIREWORKS

Continued from page 1

intersection. I think he started on the Friday before

the Fourth."

Jeffers asked if someone called to have an officer

dispatched there.

"Yes," said Stephens. "And then they started yelling

at neighbors for calling the police after the police left.

I mean, officers can drive around and see what's going

on in the air, right?"

Jeffers replied that the problem with driving

around and trying to find who shot off the fireworks is

difficult because the fireworks go up at weird angles.

"I know from trying to do this in the past," said

July 24, 2022 - SOUTH MESSENGER - PAGE 3

Jeffers. "It's hard to tell exactly what they come from a

lot of times."

"I'm upset because it scares my cat," said Stephens.

"If you're going to have an ordinance, it needs to be

enforced."

Obetz City Administrator Rod Davisson agreed it

needs to be enforced and said, "We will take a look at

who was out there and why they were giving that

advice."

Added Mayor Angela Kirk said city officials will

review the situation and have discussions with police

officer about enforcement.

MEDICARE QUESTIONS?

Learn more about your

medicare options that you

may qualify for.

Too busy enjoying summer to think about Medicare?

As a local neighborhood agent, help finding the right plan is

closer than you THINK! Call or Text today 614-460-0601

Call me Today $0 Consultation $0 Fee

Terri Curcio 614-460-0601

"Who do you call about Medicare when all the commercials are gone?

A Local Licensed Agent!"

I'm here all year long providing Medicare members with the plan options that fit their needs. Also, we could review if

you qualify for extra help on your prescription copays, along with insulin coverage. Reviewing the plan information over

the phone or in person, you need to be confident in your decision. Guiding you on the right path to Medicare.
---
PAGE 4 - SOUTH MESSENGER - July 24, 2022

Road projects

•In Lockbourne, $382,165 in road

improvements and truck turn around construction

for Commerce Street, Vause

Road, and Canal Road until October.

Includes a 42 day detour closure.

•In Hamilton Township, $1.8 million

roundabout construction, drainage, and

street lighting improvements at

Lockbourne Road at London-Groveport

Road from July until October. Includes 60

day detour closure.

Letters policy

The Messenger welcomes letters to the

editor. Letters cannot be libelous. Letters that

do not have a signature, address, and telephone

number, or are signed with a pseudonym,

will be rejected. PLEASE BE BRIEF

AND TO THE POINT. The Messenger

reserves the right to edit or refuse publication

of any letter for any reason. Opinions

expressed in the letters are not necessarily

the views of the Messenger. Mail letters to:

South Messenger, 3500 Sullivant Avenue,

Columbus, OH 43204; or email

southeast@columbusmessenger.com.

eastside

Messenger

(Distribution: 6,100)

Rick Palsgrove................................South Editor

southeast@columbusmessenger.com

Published every other Sunday by

The Columbus Messenger Co.

3500 Sullivant Ave., Columbus, Ohio 43204-1887

(614) 272-5422

Keep tabs on the news in Obetz

and Hamilton Township

Look for South Messenger on

Become a fan!

BIRTHDAY • ENGAGEMENT • WEDDING • ANNIVERSARY

• GRADUATION • RETIREMENT

IN MEMORIUM • ARMED FORCES

Say it with an announcement ad in

the Messenger and spread the word.

You can download the appropriate form from

our Web site or stop by our office

Monday-Thursday, 8:30 a.m.-5 p.m.

Friday, 8:30 a.m.-2 p.m.

Columbus Messenger

3500 Sullivant Ave.

614-272-5422

www.columbusmessenger.com

www.columbusmessenger.com

Heading west for the rodeo nationals

By Rick Palsgrove

Managing Editor

A pair of friends are fulfilling some rodeo

dreams this summer.

Arly Kisner of Groveport and Allie

Beerman of Columbus qualified for the

National High School Finals Rodeo in

Gillette, Wyoming, from July 17-23.

Kisner competes in team roping, breakaway

roping, goat tying, barrel racing and

pole bending events. She qualified for

Nationals in team roping, goat tying and

pole bending.

Beerman runs barrels and poles in her

rodeo events. She qualified for Nationals in

barrel racing.

Both attend Eastland Career Center.

Kathy Kisner, Arly's mother, said Arly

started riding horses at age seven. She said

Arly and Allie are rodeo friends.

"Arly began competing in rodeo events at

age 10," said Kathy. "She was introduced to

rodeo by family friends Kim McCutchen and

Valerie Burch."

Arly competes in rodeos with two horses -

Yoder, a 17-year-old gelding she has worked

with for two years; and Bunny, an 11 yearold

mare she has been competing with for

five years.

"Arly was named the Female Rookie of

the Year in the state of Ohio as this is her

first year competing," added Kathy.

Arly said she "loves the challenge of rodeo

and working towards getting faster times in

all her events."

Arly Kisner and her horse in action.

According to Arly, her most exciting and

memorable experience with rodeo was when

she broke the arena record for pole bending

at Crazy Woman Ranch in Lancaster during

the 2020-21 Winter Rodeo series.

Allie's horse's name is Shiner.

"Allie started riding when she was nine

and participated in some small local rodeos

and at age 14 she started competing in the

Ohio high school rodeo association," said

Allie's mother Robin Rodgers. "She loves

competing and when she has a good run, it

makes her feel like all the hard work she

puts in with Shiner pays off. Plus she enjoys

encouraging others to excel in their events."

According to Allie, one of her best

moments was going to Fort Worth earlier

this year to compete at the Junior Patriot

Rodeo.

"It was a great experience," said Allie.

Rodgers said Arly and Allie have been

friends since elementary school.

Ryan Gasser, Eastland-Fairfield Career

Center coordinator of communications and

marketing, said Arly, a junior, and Allie, a

senior, are both enrolled in the welding program

at Eastland Career Center. Arly's

home high school is Teays Valley and Allie's

is Hamilton Township.

"Having two area students and both being

welding students at Eastland Career Center

is pretty awesome," said Gasser.

Kathy said Arly would like to go on to college

and also compete in collegiate rodeo.

Rodgers said in the future Allie wants to

start her own welding business and continue Allie Beerman and Shiner in action.

rodeoing.

Photo courtesy of Abbey Schulz of Schulz photography

Photo courtesy of Robin Rodgers
---
www.columbusmessenger.com

Gravel vs. pavement

By Katelyn Sattler

Staff Writer

A Lisle Avenue property owner The

homeowner came before the Obetz

Planning and Zoning Commission on July

13 to apply for a variance to be able to keep

his graveled driveway.

The existing gravel driveway was

allegedly expanded without permits. Now

a large portion of the back yard has been

graveled and is used for parking vehicles.

The neighbors are opposed to granting the

variance. The property owner feels it is too

dangerous to back out onto Lisle Avenue

due to traffic. City of Obetz administration

officials are opposed to allowing the backyard

to remain graveled.

"The reason for this is backing out on

the driveway at seven o'clock in the morning

when all the Amazon trucks is impossible,

unsafe, also even opening the car door

with the neighbor's fence there is difficult

and there's not enough street lighting at

night and it's hard to see pulling out," said

the property owner. "So, that was the reason

for the turnaround."

Obetz Mayor Angela Kirk said the city

solved the Amazon truck problems.

"They don't drive through here anymore,"

said Kirk. "But, there wasn't a permit

and gravel's not permitted. You have to

either blacktop or concrete it."

Obetz Community Services Director

Stacey Boumis said, "I also note that it is

most likely too large. So you would ask him

to shrink that, to get the minimum size

Lockbourne Council

Lockbourne Village Council meets the

second and fourth Mondays of each month

at 7 p.m. at the Lockbourne Municipal

Building, 85 Commerce St., Lockbourne.

Hamilton school board

Hamilton Local Board of Education

meetings are held at 6 p.m. at the

Hamilton Local Education Center, 775

PAID ADVERTISING

Madison Christian students

excel with faith based education

Madison Christian School offers quality

Christian education with a classical approach for

preschool through 12th grade on a beautiful 64-

acre campus in Groveport, Ohio.

A commitment to biblical truth and a passion

for excellence permeate everything Madison

Christian does in and around the classroom.

Families experience a wonderful community in a

partnership to develop students into strong

Christian servants who will lead in their vocations,

churches, and families.

Students enjoy outstanding faith-based education,

quality athletic teams, fine arts offerings,

and other exciting extracurriculars in a safe community

environment. Madison Christian is

pleased to offer many diverse opportunities for

students to explore their interests as they grow

needed or the maximum size you would

potentially need to safely turn around."

"So what you would need to do is give

them that information regarding the maximum

size of that," said Kirk. "You will

either have to blacktop or concrete it. If

not, you're going have to turn it into a

yard."

Boumis said something could be

approved if the property owner is willing to

pay the fees for the variance.

The property owner maintained that he

needs a turnaround, but city officials reiterated

that it can't be gravel.

"City Engineer Mike Corbitt has some

fancy software. He can do a little math. I

can talk to him about it," said Boumis.

"I would be interested in seeing what

that turnaround actually needs to be versus

what it is," said the property owner.

"And you'd be willing to work with our

engineer to figure out what that size needs

to be?" asked Obetz City Councilman

Derek Varney.

"More than willing," said the property

owner.

"What about pavement/" asked Kirk.

"It's cheaper than concrete. It is what it

is," said the property owner.

In deciding a timeline, Boumis said,

"We've given the property owners up

through November to give them adequate

time in the summer to get that project

coordinated and materials ordered. We can

always extend it if need be."

Rathmell Road, Columbus. For information

visit www.hamilton-local.k12.oh.us.

Obetz Farmer's Market

The Obetz Farmers' Market is held on

the first Wednesday of the month from 4-7

p.m. from June through September in

downtown Obetz (across from 4256

Groveport Road, Obetz). It offers a selection

of baked goods, produce, meats, eggs,

and crafts.

into the confident young man or woman they will

become by graduation day.

Madison Christian's spiritual formation, rigorous

curriculum, and faculty mentoring all foster

some of the most important things parents can

give their children: a relationship with Jesus, an

excellent education, and a desire to bless and

serve others.

A current parent recently described Madison

Christian School as an "academically challenging

school that teaches from a strong biblical worldview.

Not only prepares your student for college

if they choose that path, but prepares them for

life."

Visit mcseaglesoh.org, call 614-497-3456, or

schedule a campus tour to learn more!

The Splash Pad in Obetz operates until

Sept. 5. Use of the facility is free and it is

open to residents and non-residents. Hours

are Monday - Sunday 11 a.m. to 7 p.m.

According to the city of Obetz, "The Splash

Pad is intended to be used by individuals

12 years and under. Individuals under the

age of 12 must be accompanied by someone

Splash Pad open

July 24, 2022 - SOUTH MESSENGER - PAGE 5

who is 16 years of age or older. Individuals

that are 13 years of age or older may enter

the Splash Pad if supervising children 6

years of age and under or an individual

with special needs." The Lancaster Park

shelter house is available for all Splash

Pad visitors. It is not available for rentals.

Call 614-491-1080 for information.
---
PAGE 6 - SOUTH MESSENGER - July 24, 2022

www.columbusmessenger.com

Air show expands

Photo courtesy of the Herb Gillen Air Shows

The U.S. Navy Blue Angels will perform in Columbus for the first time in more than a

quarter century at the Columbus Air Show Presented by Scotts on June 16, 17, 18,

2023 at Rickenbacker International Airport.

The Columbus Air Show Presented by

Scotts returns in 2023 with a three day

show from June 16, 17, and 18, 2023 at

Rickenbacker International Airport, 2241

John Circle Drive, Columbus.

This will be the first air show in

Columbus in more than 15 years. The last

show attracted more than 150,000 visitors,

according to air show officials.

According to air show officials, an extra

day was added to the show due to the

demand from the community. Ticket prices

for the Friday part of the show will be discounted

from the weekend dates.

Scotts Miracle-Gro Company has signed

on as the event's presenting sponsor.

Officials stated Scotts' partnership allowed

the show to expand.

The preliminary performer lineup for

the 2023 Columbus Air Show includes the

U.S. Navy Blue Angels, U.S. Marine Corps

C-130 "Fat Albert," The Ohio Air National

Guard KC-135, B-17 Flying Fortress

"Yankee Lady," B-25 Mitchell "Rosie's

Reply," C-47 Skytrain "Hairless Joe," world

aerobatic champion Rob Holland, and the

Smoke-n-Thunder Jet Car.

Lithopolis Honeyfest

The Lithopolis Honeyfest will be held

Sept. 9 from 3-7 p.m. and Sept. 10 from 10

a.m. to 7 p.m. in downtown Lithopolis. Free

admission, parking, and shuttle service.

The event features bee beards, beekeepers,

art, live music, honey bake-off, Ohio Honey

Show, honey extracting, hive inspection,

junior beekeeping, American Honey

Princess, food trucks, photo contest, honey,

and honey tasting. For information call

614-769-3824 or visit

lithopolishoneyfest.com.

"Saving the planet, one honey bee at a

time!"

Also part of the show will be the Scotts

Aviation Showcase, which will feature a

number of "warbirds" vintage military aircraft

participating each day in formation

flying and on static display.

General public ticket sales begin in early

August. There will be a variety of options

including general admission and several

limited quantity premium seating areas.

Tickets will only be available online at

www.ColumbusAirShow.com.

Visit www.ColumbusAirShow.com for

information and follow the show on

Facebook, Twitter, and Instagram.

As a civil—military public airport,

Rickenbacker International Airport is also

home to the Ohio Air National Guard's

121st Air Refueling Wing, Ohio Army

National Guard's Army Aviation Support

Facility No. 2, the U.S Army, Navy and

Marine Corps Reserves, and the headquarters

for the Ohio Military Reserve.

Although the air show will be held on the

civilian side of the facility, it is anticipated

the local military units will be invited to

have a presence at the show.

Obetz City Council

The Obetz Council is made up of six

elected officials who are elected at-large

and serving staggered four-year terms

under the rules of the Charter of the

Village of Obetz. Council meets the second

and fourth Mondays of each month at 6

p.m. in the Council Chambers at 4175

Alum Creek Drive, Obetz, to review and

pass legislation and hear concerns from the

residents.

If the meeting date occurs on a holiday,

the regular meeting is held on the next

Tuesday following the holiday. Call (614)

491-1080.
---
www.columbusmessenger.com

Film version does not do

justice to popular novel

The Reel Deal

Adapting a popular novel for another

medium can be a difficult undertaking, to

say the least.

Not only do the directorial and writing

teams have to determine which material

could be modified or cut altogether to make

the written word more viable on the screen

or stage, they also have to balance the

demands and expectation of the fervent

fanbase. If they manage to get it right, all

who worked on the adaptation will be

hailed as heroes and their names will be

etched onto the walls of the halls of greatness

forever. But if they manage to get it

wrong, however, all who worked on the

adaptation will be vocally eviscerated and

their names cast down into the pits of

social media hell and the depths of personal

grievance grudges for all of eternity.

In the case of the newly released adaptation

of wildlife scientist Delia Owens'

best-selling fictional novel "Where the

Crawdads Sing," there is a very good

chance director Olivia Newman, screenwriter

Lucy Alibar and the primary cast of

actors will find themselves in the former

category, although their reception into the

hall may be a bit more tepid. While the cast

and crew have managed to make an incredibly

faithful adaptation of the 2018 atmospheric

murder-mystery, it does often stumble

in its transition from page to screen,

making it feel more inert and static than

viscerally eerie or threatening.

Like the novel on which it is based, the

film starts with the discovery of a body.

The year is 1969 and two boys riding along

the wooded pathways of a North Carolina

marsh find the partially submerged

remains of an adult male. It is later determined

to be the body of the town's Golden

Boy Chase Andrews (Harris Dickinson), a

former high school football hero with an

apparent sterling reputation. Local law

enforcement officials initially surmise he

fell to his death from the rickety fire tower

after a night of heavy drinking, but a trip

to the local bar and grill soon has them

changing their tune.

Since the Clark family moved to the

semi-affluent area decades prior, the townies

have largely treated them as pariahs.

Deeply poor and living in isolation, they

are jeered at and mocked, especially the

youngest child Kya (played by Jojo Regina

and then Daisy Edgar-Jones) who becomes

something of a myth when word spreads

she was abandoned by her family.

Derisively referred to as "The Marsh Girl,"

this "half-woman, half-wolf missing link"

becomes the town's prime suspect in

Chase's untimely demise.

"She probably put a spell on him, lured

him out there, and killed him," says one

bar patron as they talk about the rumored

and illicit relationship between the two.

Despite having just innuendoes and ageold

biases to go on — no fingerprints, footprints,

or other materials

were found at

the death scene — the

police officers decided

to arrest Kya and

charge her with his murder.

Dedra

Cordle

Like the book, the film switches between

the past and the present, flashing between

Kya's lonely upbringing as she tries to raise

herself in the wild marshes, her first blush

of teenage love with the well-meaning

neighbor Tate Walker (Taylor John Smith),

her contemptuous relationship with the

two-faced Chase, and her time on trial for

his murder. But what works on the page

doesn't also work on the screen, and this set

up is a primary example of it not working

the way it was intended.

While I was not the biggest fan of Owens'

"Where the Crawdads Sing," I enjoyed the

atmosphere and her use of ambiguity as it

pertains to the murder-mystery portion of

the plot. In the novel, there are multiple

suspects in Chase's death and enough conflicting

witness statements to muddy the

waters of who was seen where and when. In

the film, the finger is pointed at Kya and

only Kya, striping all sense of ambiguity

and presenting a much less complicated

case during the integral courtroom scenes.

And therein lies the main issue I had

with the theatrical adaptation of "Where

the Crawdads Sing", the stripping down of

the hidden grittiness of the book. Though

lushly capturing the weird majesty of

marshes and swamps and the creatures

that call it home, the film douses everything

with a sense of beauty, including the

childhood home of Kya. In my mind, this

cabin was a holler shack, the kind I saw

while traveling to a Kentucky town to see

my paternal family's own holler shack (a

truly great vacation). In the film, which

was produced by Reese Witherspoon's

Hello Sunshine media company, it looks

barely weathered and magical, like you

would find fairy lights strung up throughout

— it was genuinely a surprise when

they never showed up.

With the ambiguity of the murder and

grittiness of the people and the environment

paired back, "Where the Crawdads

Sing" often feels like a fancy Hallmark or

Lifetime movie, designed to be pleasant to

look at and unoffensive and unchallenging.

Though efficiently acted, filmed, and written,

there is something missing within the

spirit of this adaptation but not enough I

would say to turn away or turn off dedicated

fans of the book or newbies to the world

of Kya Clark and Delia Owens.

Grade: C+

Dedra Cordle is a Messenger staff writer

and columnist.

July 24, 2022 - SOUTH MESSENGER - PAGE 7

HTHS Ranger Athletic Hall of Fame inductees

The Hamilton Township High School

Athletic Hall of Fame will hold its 2022

Hall of Fame induction ceremony on Sept.

2 prior to the start of the varsity football

game against Heath. The inductees are:

•Keith Cupp, class of 2001. A wrestler

whose record stands at 80-0 including winning

his second state title during his senior

season. He went on to the prestigious

National Wrestling Coaches Association

and competed in the Senior National

Championships. After defeating multiple

state champions and one four time state

champion, he finished as national runnerup

after a close one-point decision in the

finals. He went on to win an NAIA

National Title for Cumberland College,

becoming the first national champion in

their school history.

•Brandon Mancuso, class of 2001. He

participated in basketball for two years

and football and track & field for all four

years. While he showed excellent skills on

the football field and earned a varsity letter

all four years, his achievements in

track in various running events are where

he excelled. At the state track meet in 2001

Hann Farm's Market

'SWEET CORN'

IS HERE!

he finished second in 110's (by four hundredths

of second) and took first place in

the 300 hurdles.

•Austin Niemann, class of 2014. He

burnt up the track in the 400m and 800m

dashes as well as various relays. He holds

the school record for both indoor and outdoor

for the 200m, 400m, and 800m, 4x2

relay, and 4x4 relay. He is the HTHS

Alumni Stadium record holder for the

800m. He was a state qualifier, Division I,

in the 400m in both his junior and senior

years and was a state runner-up in the

400m his senior year.

•Sue McKnight, class of 1986, is this

year's Ranger Award of Merit winner. She

has volunteered in athletics for 30-plus

years, which started with taking tickets for

all middle school football games and moved

on from there. Now you can see her smiling

face at both middle and high football

games, volleyball matches, basketball, and

all home track meets. She has been

employed by the district since 2002 and is

currently the head cook at the middle

school.

4600 Lockbourne Road, Columbus, Ohio

HOURS: Mon. - Sat. 10am-6pm Sun. Noon - 5pm

(614)-491-0812

hannfarmsmarket.com Hann-Farm-Market-LLC
---
PAGE 8 - SOUTH MESSENGER - July 24, 2022

Kendall Collins is a survivor

www.columbusmessenger.com

By Linda Dillman

Staff Writer

There are many chapters to the story of

Kendall Collins, a woman shot 15 times by

her estranged husband in 2015 and left for

dead by the side of the road near the

Groveport Recreation Center.

Domestic abuse, a plea deal with a

lawyer that never should have happened,

gun violence, three months in Grant

Hospital and a series of 31 corrective surgeries

over seven years with more planned

are all a part of her life.

But Collins is the first person to tell you

that she is a survivor because of her family,

faith and fortitude.

The Lockbourne resident and her former

husband were high school sweethearts who

met in 2000.

"All throughout high school we dated

and attended two proms together," recalled

Collins. "We had a seemingly normal relationship,

young love you could say. From

the beginning he was controlling and jealous,

but I thought that meant he loved me.

We stayed together for many years with

rough patches and many break ups."

The couple had two children. Their relationship

continued to deteriorate, eventually

leading to multiple separations.

"In 2013 we hit a breaking point...he

locked me in my room while my children

were in the living room," said Collins. "We

ended up getting into a fight that began

with him tackling me to the ground. I called

the police that night and he was arrested

and taken to jail for domestic violence."

At his court hearing, he faced a felony

charge. However, Collins' lawyer advised

her to lower the charges to a criminal mischief–a

misdemeanor instead of a felony.

"The lawyer said he would be court

ordered to attend counselling and would

have to complete anger management courses.

I agreed to lower the charges down to a

misdemeanor," said Collins. "He attended

his counseling faithfully for the year and he

seemed to benefit from it. He seemed happier

and was less aggressive towards me

verbally and we did not have any other

physical fights during that time."

After the year was up, Collins said he

fell back into his previous pattern of

aggression. She filed for divorce in the summer

of 2015 and on Sept. 10 of that year,

her life changed forever.

Because the domestic abuse charges

were reduced to criminal mischief, her former

husband was able to buy a gun legally

at a gun store two days before he shot

Collins eight times in her right leg, three

times in the right arm, one time in the

stomach, once in the chest, once in the

lower back and once in the pelvic bone.

"We had just had a meeting two days

before (Sept. 8) with the lawyers and had

Messenger

South

BEST COMMUNITY NEWSPAPER

Pick-Up At These

Locations:

Ponderosa Steak House - 3875 S. High St.

Turkey Hill - 3900 S. High St.

Dollar Tree - 3754 S. High St.

Speedway Gas Stattion - 3860 S. High St.

Columbus Library - High St. & Highview

CVS Pharmacy - High St. & Williams Rd.

Walgreen's - High St. & Williams Rd.

Kelly's Market - 3453 Parsons Ave.

K & M Market - 4305 Andy Groom Blvd.

Stoney's Market - 3517 Lockbourne Rd.

Kroger - S. High St.

READ US ONLINE: www.columbusmessenger.com

Messenger photo by Linda Dillman

Kendall Collins of Lockbourne stands near a field by the Groveport Recreation

Center where she was shot 15 times in the early morning hours of Sept. 10, 2015.

signed paperwork for custody of the kids

and how we would separate the assets,"

said Collins. "After church, he called and

asked if I could meet him at Arby's on Alum

Creek to give me money for the kids. I

agreed to meet him after the kids were

asleep at my mom's house."

As soon as he got inside Collins' car, she

realized the meeting was a mistake. She

said he began screaming as she turned onto

Groveport Road.

"He did not let up as we drove a little

further," Collins recalled. "I was finally fed

up with his yelling and I told him that I

loved him, but I was no longer in love with

him. At that point he pulled out the gun

and laid it on his lap pointing it at me. I

remember how shiny it was, and it scared

me as I screamed. I remembered that there

was a cornfield beside the rec center, and I

thought that I could run and hide in the

cornfield to get away from him in the darkness

of the night."

She was about to open her door and run

when she saw police lights coming towards

her and did not know what to do. If she ran,

she thought the police might think she was

running away from them.

It was around 2:30 a.m.

"As I came to the stop sign, the police

had their lights on my car. My (former)

husband picked up the gun and cocked it.

Without thinking I reached over to him and

said 'Put the gun away. We can get out of

this.' He looked at me and said, 'I'm sorry it

has to be this way."

Groveport Police Sgt. Josh Guiler was

responding to another call when Guiler saw

Collins' auto in the recreation center driveway

facing southbound near a stop sign. He

watched her former husband attempt to

exit the car and then heard the distinctive

sound of a firearm hitting the pavement.

"I then pulled my service weapon out

and started to command him not to pick up

the gun," said Guiler. "I saw him reach for

the gun and as he did, he stayed ducked

down behind the passenger door. At this

point I believed he was going to grab the

gun and either come up shooting at me or

take off running."

Guiler found what happened next unbelievable.

"I saw his back turn as if he were going

to run away from the vehicle," said Guiler.

"He then fired two shots into the vehicle

which I believe hit Kendall Collins and ran

to the rear of Kendall's car. I then could

see him looking through the back windshield

for her. I then made a split second

decision to fire a shot through the front

windshield towards him hoping to pin him

down. While waiting on back-up I was very

focused watching for him to come back up.

I then saw Kendall crawling from the driver

seat to the passenger side of the vehicle.

I yelled for her to stay in the car but she fell

out on the ground in the fetal position facing

him and the rear of the vehicle."

Guiler said as soon as Kendall hit the

pavement, her former husband fired several

rounds at her, never coming up from behind

the vehicle. Guiler said he felt hopeless at

this point thinking he could not get to her in

time due to the distance between them.

"After he shot her several times, I knew

I had to get to her," said Guiler. "He finally

jumped up from behind the vehicle and

started running away pointing his firearm

See SURVIVOR, page 9
---
www.columbusmessenger.com July 24, 2022 - SOUTH MESSENGER - PAGE 9

SURVIVOR

Continued from page 8

at me. I then fired several more rounds at him as he

ran to the cornfield. He did fire one more shot."

Another sergeant arrived and kept watch on the

cornfield. Guiler heard Kendall yelling and moving and

could not believe she was still alive. Groveport Police

Officer Danny Amabile arrived on scene and the two

used a cruiser as a barricade to get to Collins.

"She rolled over from her side and said, 'Will you do

me a favor and get my hair out of my face?' I couldn't

believe she was still able to communicate with us and

I did move her hair out of her face," said Guiler, who

moved Kendall to a safe place. "She had to be moved

because the medics would not respond directly to her

because the scene was still active and we did not know

his location or if he was still a threat. As I sat her

down in the grass, I could see was losing a lot for blood

from her leg. Franklin County deputies were able to

escort the medics to her now that she was in a safe

place. They then took Kendall and were able to stabilize

her until they reached the hospital."

Guiler said several agencies responded to the scene,

including Hilliard's K-9 unit which helped locate

Collins' former husband in the cornfield. He was found

dead from an apparent self-inflicted gunshot wound.

On the way to the hospital, as one of Collins' lungs

started to collapse, she prayed to stay alive and

breathe. She said she made a silent pledge to God that

if she lived, she would tell everyone He saved her life

and had given her a purpose.

She was in a medically induced coma for 18 days

and spent three months in the hospital. She then spent

three months in a rehabilitation facility learning how

to walk again.

"I had to learn how to talk, walk, write and all basic

things all over again," said Collins. "It was a long

process. I was very lucky to have my current husband

Seth there with me every day. He helped keep me motivated

when I felt like giving up. Seth stayed with me

through everything. He has been my rock. Life has not

been easy for us, but we have made it together."

For women experiencing domestic abuse, Collins

urges them to leave before the situation escalates.

"It will get worse," Collins said. "Lean on your faith

and family, but get away from the abuser. Abusers do

not change. They only get worse when they lose that

control. Protect yourself and your children. A restraining

order is only a piece of paper."

For help 24 hours a day, seven days a week, call the

National Domestic Abuse Hotline, 1-800-799-7233

(SAFE); LSS Choices Crisis Line, 614-224-4663

(HOME); or the Ohio Domestic Violence Network, 1-

800-934-9840.

Emergency training

Photo courtesy of Madison Township Fire Department

On June 15, the Madison Township Fire Department participated in a multi-agency training exercise at

Rickenbacker International Airport that simulated a mass casualty event. Crews practiced medical evacuation,

emergency triage, aircraft fire suppression, and many more important skills. Over 140 volunteers

acted as victims with injuries in varying degrees of severity. The agencies involved included the Madison

Township Fire Department, Rickenbacker Fire Department, Ohio National Guard, Columbus Regional

Airport Authority Police, Franklin County Sheriff's Office, Box 15, American Red Cross, Franklin County

EMA & Homeland Security, Franklin County & Columbus Public Health, Air Evac, and COTA. "The exercise

was a great success," said Madison Township Fire Chief Derek Robinson. "It was well organized and all of

the participating entities worked well together. A special thank you to the Madison Township Fire

Department crews that handled the EMS sector of the event and to Assistant Chief Adams for his many

hours of preparing and helping organize the event."
---
PAGE 10 - SOUTH MESSENGER - July 24, 2022

www.columbusmessenger.com

CLASSIFIED ADS

Deadlines: Groveport and West editions, Wednesdays at 5 p.m., • South/Canal Winchester, Grove City, Madison editions, Tuesdays at 5 p.m.

All editions by phone, Tuesdays at 5 p.m. • Service Directory, Tuesdays at 5 p.m.

xEmployment xPreschool/Daycare xCome & Get It!

"HELP WANTED"

SIGN

NOT WORKING?

TO ADVER

VERTISE

Call Kathy at

The Columbus Messenger

614-272-5422

INCREASE YOUR

FALL ENROLLMENT!

ADVERTISE YOUR

PRESCHOOL OR DAYCARE

in

The South Messenger

For More Info, CALL Kathy

614-272-5444

Preschool/Daycare

COME AND GET IT!

Need to Get Rid of Something Fast - Advertise It Here For FREE!

Deadlines are Mondays by 5 pm.

Call For Publication Schedule 614-272-5422

FREE Garden Straw for gardens or bedding. Call for appointment for pickup.

Circle S Farms, 9015 London-Groveport Road, Grove City, 43123

Grove City - 614-878-7980

.FREE - Downed Tree, needs cut into sections. Free for anyone that wants it.

CC - Obetz - 614-632-1013

FREE - Children's Wooden Play Set - Good Condition w/Sand Box under it, Step Ladder up

Slide to go down & a rope swing. Also separate Swing Set w/4 swings.

190 Inah Ave., Cols, 43228 near the Fire Dept.

West Columbus - 614-878-1930, ask for Linda

. Come and Get It! is a bi-weekly column that offers readers an opportunity to pass

along surplus building materials, furniture, electronic equipment, crafts, supplies,

appliances, plants or household goods to anybody who will come and get them - as

long as they're FREE. NO PETS! Just send us a brief note describing what you want to

get rid of, along with your name, address and phone number. Nonprofit organizations

are welcome to submit requests for donations of items.

Send information to The Columbus Messenger, Attention: Come and Get It, 3500

Sullivant Ave., Columbus, OH43204. Deadline is Tuesdays by 5 pm for following

Mondays publication. Messenger Newspapers is not responsible for any

complications that may occur. Please contact us when items are gone. 272-5422

ASSOCIATION ADS

The bathroom of your

dreams for as little as

$149/month! BCI Bath &

Shower. Many options

available. Quality

materials & professional

installation. Senior &

Military Discounts

Available. Limited Time

Offer - FREE virtual inhome

consultation now

and SAVE 15%! Call

Today! 1-877-540-2780

Put on your TVEars &

hear TV w/unmatched

clarity. TVEars Originaloriginally

$129.95 - now

w/this special offer only

$59.95 w/code MCB59! 1-

888-805-0840

DENTAL INSURANCE

from Physicians Mutual

Insurance Company.

Coverage for 350 plus

procedures. Real dental

insurance - NOT just a

discount plan. Do not wait!

Call now! Get your FREE

Dental Information Kit with

all the details! 1-877-553-

1891

www.dental50plus.com/

macnet#6258

Employment

ASSOCIATION ADS

Replace your roof with the

best lookng and longest

lasting material -- Steel

from Erie Metal Roofs!

Three styles and multiple

colors available.

Guaranteed to last a

lifetime! Limited Time

Offer - $500 Discount +

Additional 10% off install

(for military, health

workers & 1st responders)

Call Erie Metal Roofs: 1-

855-338-4807

Looking for assisted living,

memory care, or

independent living? A

Place for Mom simplifies

the process of finding

senior living at no cost to

your family. Call 1-833-

910-1576 today!

Update your home with

beautiful new blinds &

shades. Free in-home

estimates make it

convenient to shop from

home. Professional

installation. Top quality -

Made in the USA. Free

consultation: 877-212-

7578. Ask about our

specials!

Safe Step. North

America's #1 Walk-in Tub.

Compreshensive lifetime

warranty. Top-of-the-line

installation and service.

Now featuring our FREE

shower package & $1600

off for a limited time!

Financing available. Call

Safe Step 1-833-356-1954

ASSOCIATION ADS

LONG DISTANCE MOVING:

Call Today for a FREE

QUOTE from America's Most

Trusted Interstate Movers.

Let us take the stress out of

moving! Call now to speak to

one of our Quality Relocation

Specialists: 877-541-6320

Aloe Care Health, medical

alert system. The most

advanced medical alert

product on the market.

Voice-activated! No wi-fi

needed! Special offer-call

and mention offer code

CARE20 to get $20 off

Mobile Companion. Call

today-1-877-728-4065

HughesNet - Finally, superfast

internet no matter

where you live. 25 Mbps

just $59.99/mo! Unlimited

Data is Here. Stream

Video. Bundle TV &

Internet. Free Installation.

Call 866-499-0141

Become a Published

Author. We want to Read

Your Book! Dorrance

Publishing - Trusted by

Authors Since 1920

Book manuscript submissions

currently being reviewed.

Comprehensive Services:

Consultation, Production,

Promotion and Distribution. Call

for Your Free Author's Guide 1-

866-482-1576 or visit

http://dorranceinfo.com/macnet

ASSOCIATION ADS

Paying top cash for men's

sportwatches! Rolex,

Breitling, Omega, Patek

Pillippe, Heuer, Daytona,

GMT, Submariner and

Speedmaster. Call 833-

603-3236

Directv Stream - Carries

the Most Local MLB

Games! CHOICE

Package, $89.99/mo for

12 months. Stream on 20

devices in your home at

once. HBOMax included

for 3 mos (w/CHOICE

Package or higher.) No

annual contract, no hidden

fees! Some restrictions

apply. Call IVS 1-866-629-

6086

Safe Step. North

America's #1 Walk-in Tub.

Compreshensive lifetime

warranty. Top-of-the-line

installation and service.

Now featuring our FREE

shower package & $1600

off for a limited time!

Financing available. Call

Safe Step 1-855-417-1306

Vivint Smart Security.

Professionally installed.

One connected system for

total peace of mind. FREE

professional installation!

Four FREE months of

monitoring! Call to

customize your system. 1-

855-870-2073

Discount air travel! Call

Flight Services for best

pricing on domestic &

international flights inside

& from the US. Serving

United, Delta, American &

Southwest &many more.

Free quote! Have travel

dates ready! 844-951-

2014

ASSOCIATION ADS

Aloe Care Health medical

alert system. The most

advanced medical alert

product on the market.

Voice-activated! No wi-fi

needed! Special offer

w/code CARE20 for $20

off Mobile Companion. 1-

855-341-5862

WANTED!

MOTORCYCLES!

ANTIQUE AND CLASSIC.

Honda, Kawasaki, Suzuki,

Yamaha, Triumph, BSA

and other foreign models.

$$PAYING CA$H$$

717-577-8206

KRMiller1965@yahoo.com

Become a Published

Author. We want to Read

Your Book! Dorrance

Publishing Trusted Since

1920 Consultation,

Production, Promotion &

Distribution. Call for Free

Author's Guide 1-877-729-

4998 or visit

dorranceinfo.com/ads

Don't let the stairs limit

your mobility! Discover

the ideal solution for

anyone who struggles on

the stairs, is concerned

about a fall or wants to

regain access to their

entire home. Call

AmeriGlide today! 1-844-

317-5246

ASSOCIATION ADS

BUYING CLASSIC CARS,

TRUCKS, SUVs

**American and Foreign**

Any Condition. Buying

entire car collections.

$$PAYING CA$H$$

Please call 717-577-8206

KRMiller1965@yahoo.com

DISH Network. $59.99 for

190 channels! Blazing fast

internet. $19.99/mo. (where

available) Switch & get a

$100 Visa gift card. Free

voice remote. Free HD

DVR. Free streaming on all

devices. 1-866-979-4029

Looking for assisted living,

memory care, or

independent living? A

Place for Mom simplifies

the process of finding

senior living at no cost to

your family. Call 1-844-

428-0445 today!

Stroke & Cardiovascular

disease are leading

causes of death according

the American Heart

Association. Screenings

can provide peace of mind

or early detection! Call

Life Line Screening to

schedule your screening.

Special offer - 5

screenings for $149. 1-

866-518-8391

DISH TV $64.99 for 190

Channels + $14.95 high

speed internet. FREE installation,

Smart HD DVR

included. Free Voice Remote.

Some Restrictions

apply. Promo Expires

1/21/23. 1-866-590-5561

Come & Get It!

ASSOCIATION ADS

AT&T Internet. Starting at

$40/month w/12-mo agmt.

1 TB of data/mo. Ask how

to bundle & SAVE! Geo &

svc restrictions apply. 1-

855-364-3948

Protect your home from

pests safely and

affordablly. Pest, rodent,

termite and mosquito

control. Call for a quote or

inspection today 844-394-

9278

Vivint Smart Security.

Professionally installed.

One connected system for

total peace of mind. Free

professional installation!

Four free moNths of

monitoring! Call to

customize your system. 1-

833-841-0737

Eliminate gutter cleaning

forever! LeafFilter, the

most advanced debrisblocking

gutter protection.

Schedule a FREE LeafFilter

estimate today. 15% off

Entire Purchase. 10% Senior

& Military Discounts.

Call 1-855-791-1626

VIAGRA and CIALIS

USERS! 50 Generic pills

SPECIAL $99.00. 100%

guaranteed. 24/7 CALL

NOW! 888-445-5928

Hablamos Espanol

ASSOCIATION ADS

DISH TV $64.99 FOR 190

Channels + $14.95 High

Speed Internet. Free Installation,

Smart HD DVR

Included, Free Voice Remote.

Some restrictions

apply. Promo expires

1/21/23. 1-866-479-1516

Elminate gutter cleaning

forever! LeafFilter, the most

advanced debris-blocking

gutter protection.

Schedule Free LeafFilter

Estimate today. 15% off

Entire Purchase. 10%

Senior & Military Discounts.

Call 1-833-610-1936

SELL YOUR ANTIQUE

OR CLASSIC CAR.

Advertise with us. You

choose where you want

to advertise. 800-450-

6631 visit macnetonline.

com for details.

The Generac PWRcell, a

solar plus battery storage

system. SAVE money,

reduce your reliance on

the grid, prepare for power

outages and power

your home. Full installation

services available. $0

Down Financing Option.

Request a FREE, no obligation,

quote today. Call

1-866-783-0292

Dental Insurance -

Physicians Mutual Insurance

Comopany. Covers 350

procedures/ Real insurance -

not a discount plan. Get your

free dental info kit! 1-855-

.526-1060 www/dental50

plus.com/ads #6258
---
www.colulmbusmessenger.com

xFocus on Rentals

HAVE EMPTY

APARTMENTS?

RENT THEM BEFORE

SCHOOL STARTS!

Advertise It!

Call Kathy

The Columbus Messenger

614-272-5422

Rentals

ASSOCIATION ADS

Donate Your Car To

Veterans Today! Help and

Support our Veterans.

Fast - FREE pick up.

100% tax deductible. Call

1-800-245-0398

Wesley Financial Group,

LLC Timeshare Cancellation

Experts Over

$50,000,000 in timeshare

debt & fees cancelled in

2019. Get free

informational package &

learn how to get rid of

your timeshare! Free

consultations. Over 450

positive reviews. 888-965-

0363

Attention oxygen therapy

users! Inogen One G4 is

capable of full 24/7 oxygen

delivery. Only 2.8

pounds. Free info kit.

Call 877-929-9587

Attention Viagra users:

Generic 100 mg blue pills

or generic 20 mg yellow

pills. Get 45 plus 5 free +

S/H. Call Today 1-877-

707-5518

!!OLD GUITARS WANT-

ED!! GIBSON, FENDER,

MARTIN, Etc. 1930's to

1980's. TOP DOLLAR

PAID. CALL TOLL FREE

1-866-433-8277

Prepare for power outages

today with a GENERAC

home standby generator.

$0 Money Down + Low

Monthly Payment Options.

Request a FREEQuote--

Call now before the next

power outage. 1-855-465-

7624

NEED IRS RELIEF

$10K-$125K+ Get Fresh

Start or Forgiveness.

Call 1-844-431-4716

Monday through Friday

7am-5pm PST

ASSOCIATION ADS

BATH & SHOWER UP-

DATES in as little as

ONE DAY! Affordable

prices - No payments for

18 months! Lifetime warranty

& professional installs.

Senior & Military

Discounts available. Call

855-761-1725

Prepare for power

outages today with a

GENERAC home standby

generator. $0 Down + Low

Monthly Pmt. Request a

free Quote. Call before the

next power outage: 1-855-

948-6176

IMPORTANT

NOTICE

The following states: CA,

CT, FL, IA, IL, IN, KY,

LA, MD, ME, MI, MN,

NE, NC, NH, OH, OK,

SC, SD, TX, VT and WA

requires seller of certain

business opportunities to

register with each state

before selling. Call to

verify lawful registration

before you buy.

Internet &WIFI Starts at

$49 Call us Today to Get

Started. Find High-Speed

Internet with Fiber Optic

Technology No Credit

Check, No SSN Required.

Call us Today 866-396-

0515

READY TO BUY, SELL

OR RENT YOUR

VACATION HOME OR

HUNTING CAMP?

Advertise it here and in

neighboring publications.

We can help you. Contact

MACnet MEDIA @

800-450-6631 or visit our

site at MACnetOnline.

com

The Generac PWRcell

solar plus battery storage

system. Save money,

reduce reliance on

grid, prepare for outages

& power your home. Full

installation services. $0

down financing option.

Request free no obligation

quote. Call 1-877-

539-0299

ASSOCIATION ADS

READER

ADVISORY

The National Trade Association

we belong to has

purchased the following

classifieds. Determining

the value of their service

or product is advised by

this publication. In order

to avoid misunderstandings,

some advertisers do

not offer "employment"

but rather supply the

readers with manuals, directories

and other materials

designed to help

their clients establish mail

order selling and other

businesses at home. Under

NO circumstance

should you send any

money in advance or give

the client your checking,

license ID or credit card

numbers. Also beware of

ads that claim to guarantee

loans regardless of

credit and note that if a

credit repair company

does business only over

the phone it's illegal to request

any money before

delivering its service. All

funds are based in US

dollars. Toll Free numbers

may or may not

reach Canada. Please

check with the Better

Business Bureau 614-

486-6336 or the Ohio Attorney

General's Consumer

Protection Section

614-466-4986 for more

information on the company

you are seeking to

do business with.

Looking for auto insurance?

Find great deals

on the right auto insurance

to suit your needs.

Call today for a free

quote! 866-924-2397

Protect your home w/home

security monitored by

ADT. Starting at $27.99/

mo. Get free equipment

bundle including keypad,

motion sensor, wireless

door & windows sensors.

833-719-1073

HELP WANTED

Kings Kids Daycare in

Grove City is hiring fun,

loving teachers for PT&

FT shifts. Pleaes email

sarragc@outlook.com or

call 614-539-0349

PT Helper Needed

for Lawn Care Service

3-4 Days a Week

Call 614-935-1466

WANT TO BUY

WE BUY JUNK CARS

Call anytime 614-774-6797

ANTIQUES

WANTED

Victrolas, Watches,

Clocks, Bookcases

Antiques, Furn.

Jeff 614-262-0676

or 614-783-2629

We Buy Junk Cars &

Trucks. Highest Prices

Paid. 614-395-8775

BUYING VINYL RECORDS.

LPs and 45s - 1950-80s

Rock, Pop, Jazz, Soul.

614-831-0383

We Buy Cars & Trucks

$300-$3000.614-308-2626

MISC.

FOR SALE

Electric Wheelchair - If

interested, call 614-928-2352

July 24, 2022 - SOUTH MESSENGER - PAGE 11

xClassified Services

AIR CONDITIONING

AIR CONDITIONING

Complete System

Clean & Check

$49.95

Free Electronic Leak Testing

All Makes • All Models

46 Yrs. Exp. • Senior Discount

614-351-9025

BLACKTOP

SANTIAGO'S

Sealcoating & Services LLC

Quality Materials Used

SUMMER IS HERE!

Driveway Seal & Repair!

Top Seal Cracks!

Residential & Commercial

Mulching, Edging & Clean-ups

"Ask for whatever you need."

BBB Accredited-Fully Insured

Call or text for Free Est.

614-649-1200

AGM OHIO

ROOFING &

SEALCOATING

Free Estimates

Cell 614-512-1699

CARPET CLEANING

CARPET CLEANING

Any 5 areas ONLY $75

Home Powerwash $99-$300

614-805-1084

Specializing in Pet Odors

CARPET SALES

CARPET

Gray Saxony

270 sq.ft. w/6 lb Pad

$398.00

Other Carpet AvailableA

Phone or text Ray

740-927-3504

Delivery & Inst. avail.

CLEANING

Looking for Mrs. Clean?

For excellent cleaning serv

at reas. rates w/great refs,

dependable. 10% Seniorr

Disc. Free Est. Also runs

Errands - Gwen 614-226-5229

INFORMATION

7/31 A

BLACKTOP SEALING

Driveways & Parking Lots

614-875-7588

8/14

A/M

FOR ONLY

$74.00

You Can Reach

Over 41,000 Homes

In

Groveport & South/

Canal Winchester

For Info Call

272-5422

7/31 e/se

CONCRETE

ALL-CITY CUSTOM

CONCRETE

All Types Concrete Work

New or Tear Out-Replace

40 Yrs. Exp.

(614) 207-5430

Owner is On The Job!

AJ's Concrete,

Masonry

Good Work - Fair Prices

Block Foundations

Driveways • Sidewalks

Epoxy/Overlay Floors

Bonded-Ins. • Free Ests.

614-419-9932

www.hastingsnsons.com

Driveways & Extensions

Patio & Walkways,

Porches & Steps,

Garage/Basement Floors

Hot Tub/Shed Pads,

Stamped/colored concrete

Sealing of new &

existing concrete.

FREE ESTIMATES

Contact Adam

614-756-1754

hastingsandsons.

columbus@gmail.com

EDDIE MOORE

CONSTRUCTION

Quality Concrete Work

Lt. Hauling & Room Add.,

Block Work & Excavation

Stamp Patios,

Bsmt. Wall Restoration

36 Yrs Exp - Lic & Ins.

Free Ests. 614-871-3834

INFORMATION

ONLY

$50.00

For This Ad In Our

South/Canal Winchester

& Groveport

For Info Call

614-272-5422

GUTTERS

Bates & Sons

GUTTER CLEANING

5 ★ Google Reviews

614-586-3417

HAULING

DEAN'S HAULING

614-276-1958

HOME

IMPROVEMENTS

SINCE 1973

Phil Bolon Contr.

Windows & Siding

Decks, Kitchens, Baths

Room Additions,

Flooring, Roofing

Bsmt Waterproofing

Deal With Small Non-Pressure Co.

47 Yrs. Exp. - Refs. Avail.

Lic.-Bond-Ins.

7/31

A/M

Free Est. - Financing Avail.

Member BBB Of Cent. OH

O.C.I.E.B. ID #24273

614-419-3977

or 614-863-9912

7/31 A

HOME

IMPROVEMENTS

KLAUSMAN HOME

IMPROVEMENT

Siding-Windows-

Doors-Roofing-Soffit-

Fascia-Gutters-Trim

Earn FREE Seamless

Gutters with Siding Over

1000 Sq. Ft.

FREE Shutters with

Soffit & Trim

EPA Certified

Member of BBB

Financing Available

Over 20 yrs exp. • Free Est.

Licensed-Bonded-Insured

Owner & Operator

James 614-419-7500

C&JHandyman

Services LLC

Minor Plumbing

& Electric

Install Hot Water Tanks,

Dishwashers & Disposals

Also Fencing &

Interior/Exterior Painting

Free Est. ~ 18 Yrs. Exp.

CDC/EPA Approved Guidelines

614-284-2100

HOME

REMODELING

MultiCraft Const.

& Handyman Services

All Types Handyman Services:

Decks, Fences

Kitchen/Baths

Window/doors installed

Interior Painting

Drywall Repairs

All Types of Flooring

Call/Text 614-774-2923

multicraftconstruction@gmail.com

LANDSCAPING

A-1 QUALITY

TREE & LANDSCAPE

Family Owned

Serving Central Ohio

Since 2004

Bed & Yard Maint.

Weeding, Mulching, etc.

Hedge/Shrub Trimming

*Stump Removal

614-596-9504

Insured - Free Est.

LAWN CARE

The Lawn Barber

Cut, Trim, Blow away

Hedge Trimming, Edging

614-935-1466

LET US MAINTAIN

YOUR LAWN & GARDEN

FOR YOU

Summer, Spring,

Winter or Fall

WE DO IT ALL!!!!

Lawn Cuts, Edging,

Trees & Shrubs, Garden,

Mulching, Hauling,

Garden Pond &

Home Maint.

Free Ests. Low Rates

$20 & Up

Kevin - 614-905-3117

Classified Services

8/14 A

7/17 A

7/31A

PEST

CONTROL

TERMITE &

PEST CONTROL

614-367-9000

TORCO®

TERMINATES

TERMITES

Locally Owned & Operated. Any Pest. Anytime.

$

50 00 OFF Service

Free Termite Inspection

LAWN CARE

LAWN REPAIR

Patchi - Refurbish

Total Redo's

Overseeding, Fertilization

Serving Central Ohio

since 2004

Free Estimates

614-596-9504

MOWER REPAIR

LAWN MOWER DR.

"House Calls Only"

Overall Checkups

Oil Change & Filter,

Spark Plug &

Blades Sharpened

MINOR REPAIR

John

614-395-7909

johnellis0333@sbcglobal.net

PAINTING

Painter Over 30 Yrs. Exp.

Free Est. Reas. Rates

Daniel - 614-226-4221

A Job Well Done Again

A lic. General Contractor

Some Skilled Services

Incl: Painting • Stucco,

Repair•Carpentry•Exterior

Drainage & Home Maint.

Call Today! 614-235-1819

PLUMBING

7/17 A

MYERS

PLUMBING

Exp. Expert Plumbing

New Const. & Fast Repairs

Lic. - Permit Available

Water • Sewer • Gas

614-633-9694

All About Drains & Plumb.

Will snake any small drain

$145. 614-778-2584

CHRIS'

PLUMBING

"Plumbing & Drain Professional

That You Can Count On"

24 Hrs., 7 Days/Week

No Overtime Charges

24 Yrs. Exp. in Plumbing &

Drain Cleaning Field

Call For A Free Phone Estimate

$100.00 For Any Small Drain

614-622-4482

30% OFF with AD

8/14 A&M

8/14 A

PEST

CONTROL

PLASTERING

DRYW

YWALL &

PLASTER

7/31

A&M

REPAIR

Textured Ceilings

614-551-6963

Residential/Commercial

BIA

POWERWASHING

POWERWASHING

at Reasonable Rates

Gwen 614-226-5229

MRS. POWERWASH

Any house wash $149+tax

Single deck $69+tax

2 Tier deck $99+tax

Best Wash in Town

Over 45,000 washes

Ashley 614-771-3892

Bates & Sons

Soft Wash & Powerwash

5 ★ Google Reviews

614-586-3417

SEWING MACHINE

REPAIR

REPAIR all makes 24 hr.

service. Clean, oil, adjust

in your home. $49.95 all

work gtd. 614-890-5296

TREE SERVICES

A-1 QUALITY

TREE & LANDSCAPE

Family Owned

Serving Central Ohio

Since 2004

614-596-9504

Insured - Free Est.

Brewer & Sons Tree Service

• Tree Removal

• Tree Trimming 8/14

A&M

• Stump Grinding

• Bucket Truck Services

Best Prices • Same Day Service

614-878-2568

BURNS TREE SERVICE

Trimming, Removal &

Stump Grinding.

614-584-2164

7/31 A&M
---
PAGE 12 - SOUTH MESSENGER - July 24, 2022

www.columbusmessenger.com