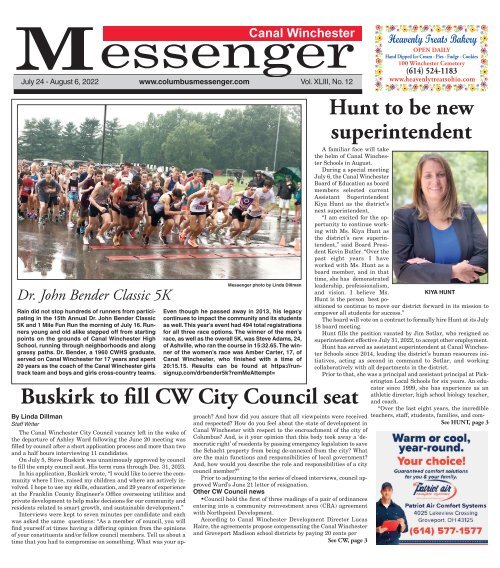 Canal Winchester Messenger - July 24, 2022
You also want an ePaper? Increase the reach of your titles
YUMPU automatically turns print PDFs into web optimized ePapers that Google loves.
Messenger

Canal Winchester

July 24 - August 6, 2022 www.columbusmessenger.com Vol. XLIII, No. 12

Heavenly Treats Bakery

OPEN DAILY

Hand Dipped Ice Cream - Pies - Fudge - Cookies

100 Winchester Cemetery

(614) 524-1183

www.heavenlytreatsohio.com

Dr. John Bender Classic 5K

Rain did not stop hundreds of runners from participating

in the 15th Annual Dr. John Bender Classic

5K and 1 Mile Fun Run the morning of July 16. Runners

young and old alike stepped off from starting

points on the grounds of Canal Winchester High

School, running through neighborhoods and along

grassy paths. Dr. Bender, a 1960 CWHS graduate,

served on Canal Winchester for 17 years and spent

20 years as the coach of the Canal Winchester girls

track team and boys and girls cross-country teams.

Messenger photo by Linda Dillman

Even though he passed away in 2013, his legacy

continues to impact the community and its students

as well. This year's event had 494 total registrations

for all three race options. The winner of the men's

race, as well as the overall 5K, was Steve Adams, 24,

of Ashville, who ran the course in 15:32.65. The winner

of the women's race was Amber Carter, 17, of

Canal Winchester, who finished with a time of

20:15.15. Results can be found at https://runsignup.com/drbender5k?remMeAttempt=

A familiar face will take

the helm of Canal Winchester

Schools in August.

During a special meeting

July 6, the Canal Winchester

Board of Education as board

members selected current

Buskirk to fill CW City Council seat

By Linda Dillman

Staff Writer

The Canal Winchester City Council vacancy left in the wake of

the departure of Ashley Ward following the June 20 meeting was

filled by council after a short application process and more than two

and a half hours interviewing 11 candidates.

On July 5, Steve Buskirk was unanimously approved by council

to fill the empty council seat. His term runs through Dec. 31, 2023.

In his application, Buskirk wrote, "I would like to serve the community

where I live, raised my children and where am actively involved.

I hope to use my skills, education, and 29 years of experience

at the Franklin County Engineer's Office overseeing utilities and

private development to help make decisions for our community and

residents related to smart growth, and sustainable development."

Interviews were kept to seven minutes per candidate and each

was asked the same questions: "As a member of council, you will

find yourself at times having a differing opinion from the opinions

of your constituents and/or fellow council members. Tell us about a

time that you had to compromise on something. What was your approach?

And how did you assure that all viewpoints were received

and respected? How do you feel about the state of development in

Canal Winchester with respect to the encroachment of the city of

Columbus? And, is it your opinion that this body took away a 'democratic

right' of residents by passing emergency legislation to save

the Schacht property from being de-annexed from the city? What

are the main functions and responsibilities of local government?

And, how would you describe the role and responsibilities of a city

council member?"

Prior to adjourning to the series of closed interviews, council approved

Ward's June 21 letter of resignation.

Other CW Council news

•Council held the first of three readings of a pair of ordinances

entering into a community reinvestment area (CRA) agreement

with Northpoint Development.

According to Canal Winchester Development Director Lucas

Haire, the agreements propose compensating the Canal Winchester

and Groveport Madison school districts by paying 20 cents per

See CW, page 3

Hunt to be new

superintendent

KIYA HUNT

Assistant Superintendent

Kiya Hunt as the district's

next superintendent.

"I am excited for the opportunity

to continue working

with Ms. Kiya Hunt as

the district's new superintendent,"

said Board President

Kevin Butler. "Over the

past eight years I have

worked with Ms. Hunt as a

board member, and in that

time, she has demonstrated

leadership, professionalism,

and vision. I believe Ms.

Hunt is the person best positioned

to continue to move our district forward in its mission to

empower all students for success."

The board will vote on a contract to formally hire Hunt at its July

18 board meeting.

Hunt fills the position vacated by Jim Sotlar, who resigned as

superintendent effective July 31, 2022, to accept other employment.

Hunt has served as assistant superintendent at Canal Winchester

Schools since 2014, leading the district's human resources initiatives,

acting as second in command to Sotlar, and working

collaboratively with all departments in the district.

Prior to that, she was a principal and assistant principal at Pickerington

Local Schools for six years. An educator

since 1999, she has experience as an

athletic director, high school biology teacher,

and coach.

"Over the last eight years, the incredible

teachers, staff, students, families, and com-

See HUNT, page 3
---
PAGE 2 - CANAL WINCHESTER MESSENGER - July 24, 2022

We are the BEST community newspaper!

Need advertising?

Call 614-272-5422 today.

The Gilmore Group

Office: 614-834-HOME (4663)

Cell: 614-774-4416

www.GilmoreGroupHomes.com

Canal Winchester

Messenger

BEST COMMUNITY NEWSPAPER in Canal Winchester

Pick-Up At These

Locations:

Walgreen's - Gender & Winchester Blvd.

BP Gas Station - Gender Rd. & Freeway

Aldi - Gender Rd. & Freeway (behind BP Station)

Kroger - Winchester Square

The Wigwam Restaurant - 4 South High St.

Marie Scramblers - 6402 Winchester Blvd.

Shade on the Canal - 19 South High St.

Canal Winchester Library - 115 Franklin St.

CW City Hall and Community Center – 45 E. Waterloo St.

Harvest Moon - 7 N. High St.

Rex Barber Shop - 1 W. Waterloo

Sunoco Gas Station - 501 W. Waterloo St.

Panera - 685 W. Waterloo St.

READ US ONLINE: www.columbusmessenger.com

www.columbusmessenger.com

CW Blues and Ribfest is back

By Linda Dillman

Staff Writer

After a two-year hiatus, the Canal Winchester Blues

and Ribfest has returned.

Downtown will be alive with the sounds of 17 live

free musical performances on two stages and the beckoning

smell of award-winning barbecue July 29-30 on

High Street in the heart of the city.

"As always, we have an incredible line-up," said Destination:Canal

Winchester Executive Director Karen

Stiles. "The 2022 Main Stage includes three national

acts on Friday and five national acts on Saturday.

Headliner Davy Knowles' music has a wonderful Celtic

note to it even though he is described as a blues-rock

artist. We are looking forward to the return of many of

our favorites such as Joanna Connor, Ray Fuller and

Syla Burrell. We are also excited to hear the sounds of

Mike Zito and Annika Chambers. Both of these musicians

recently won multiple awards at the 2022 Blues

Music Awards in Memphis."

According to Stiles, many familiar rib purveyors are

returning this year, such as Donna Rice from Desperadoes,

who was awarded first place several years in a

row. Attending rib vendors submit a five samples of

their ribs for the competition and a team of five judges

rate each team's samples on flavor, presentation and

texture.

In addition to racks of ribs roasting on open fires, the

festival also offers a variety of food trucks such as

Amish Donuts, Schmidt's Sausage, Lemon King and

Medallen's Gyros as well as vendors new to the Blues

and Ribfest.

"We always have a wonderful variety of non-rib food

vendors," said Stiles. "This event is fun for the entire

family. We have our Kids' Zone open until 8 p.m. each

night. This area includes, face painting, inflatables,

pony rides, balloon twisting and games."

A covered dining area adjacent to the main stage is

available. Festival goers may bring food inside a fancooled

Beer Garden and the Stradley Stage is surrounded

by covered picnic tables.

"We are expecting a huge turnout for this year's

event," said Stiles. "People are very excited to see the

Canal Winchester Blues and Ribfest return after being

canceled for two years due to COVID, though we always

have a huge crowd. We draw people from all over Ohio

and surrounding states, but we have, in past years, met

people who have come from Texas, California, New

York, and Canada to attend our event. We typically

have between 35,000 to 37,000 people during our day

and half event. We love the opportunity to share our

Petey

Marshall

of Off the

Bone

BBQ

cooks up

a variety

of meats

for hungry

festival

visitors

at a past

Canal

Winchester

Blues

and

Ribfest.

Ed Robinson wows the crowd with his smooth

saxophone playing at a past Canal Winchester

Blues and Ribfest.

community with those who have never visited Canal

Winchester. Our city is a wonderful place to live and to

visit."

There are several public parking locations throughout

historical downtown and on-street parking is also

available. High Street will be closed from Columbus

Street to Mound Street.

For information and a detailed lineup of performers

visit www.blueandribfest.com.
---
www.columbusmessenger.com July 24, 2022 - CANAL WINCHESTER MESSENGER - PAGE 3

CW Schools say farewell to Sotlar

By Linda Dillman

Staff Writer

During his last Canal Winchester Board

of Education meeting as superintendent,

Jim Sotlar, said it has been a pleasure to

serve the district.

"It's been an outstanding career," Sotlar

said. "It's been bittersweet knowing that I

won't have this going into the new year."

Kiya Hunt, Canal Winchester Schools assistant

superintendent since 2014, is expected

to become the district's next

superintendent.

"I know I am leaving the district in good

hands," said Sotlar. "We have a truly amazing

staff. My affection for Canal Winchester

Schools will never diminish and I'll still be

around. Make it a great day or not…the

choice is yours."

Board President Kevin Butler presented

Sotlar with a framed baseball jersey with

the number 10, signifying the number of

years the superintendent served in the district.

"We know 10 years is a long time," said

Butler. "Obviously, he made a big impact on

the district."

Other CW Schools news

•The board approved an agreement with

the Fairfield County Educational Service

Center for school psychologist services for

the 2022-23 school year.

Fairfield County will fill the position on

a fulltime basis for 205 days, of which 82

days are assigned to Canal Winchester beginning

Aug. 1 and ending July 31, 2023.

The district will reimburse the center for the

district's percentage of the contract plus a

five percent administrative fee.

The estimated total cost of Canal Winchester's

portion of the agreement is

$45,200 and evaluation of the person hired

for the position is the shared responsibility

of both the district and the county service

center.

"Typically, we will go through the

Franklin County Educational Service Center,"

Hunt said. "However, they were unable

to find us those services. We got lucky

through Fairfield County and they were

able to find the additional services we will

need."

•Canal Winchester Schools Treasurer

Nick Roberts gave an update on the close of

Canal Winchester's fiscal year status, including

a report of the Capital Spending

Plan.

The school district does not have a dedicated

tax levy and/or millage for capital expenditures.

An OFCC construction project at the

high school facility started in fiscal year

2017 and, as part of the project, the district

transferred $7.5 million from the general

fund for the local share of the project.

According to Roberts, the district was

also required to levy a half-mill tax for 23

years to maintain the new and renovated facility.

However, the district met this requirement

without levying new taxes by

transferring inside millage.

The annual amount allocated for the

maintenance requirement is $208,380.

Capital Spending Plan short-term land

improvement projects include paving the

parking lot at the middle school and auxiliary

gym, along with the playground at the

elementary schools; replacing the turf and

track at the high school stadium;

replace/renovate the press box and update

the bleachers for ADA compliance

Building improvements include roofing

projects on the high school's lower and gym

roofs, replacing high school gym equipment,

installation of a new turf training area and

construction of an addition to the maintenance

barn.

The list of technical and capitalized

equipment projects includes updating the

public address systems at the elementary

and middle schools, new copiers, an update

of the district's networking configuration,

replacement of the ice and water dispenser

at the operations center, a new carpet

cleaner and a new Gator vehicle for middle

school athletics.

New vehicles and buses are also a part of

the short-term plan. The district received a

See SCHOOLS, page 12

Madison Township

Police statistics

June crime statistics from the Madison

Township Police:

13 accidents with injuries, 2 animal complaints,

3 assaults, 86 patrol security checks

at Brobst Park, 2 burglary, 1 dog bite, 33 domestic

complaints, 2 drunk, 1 fight, 4 fireworks

complaints, 4 hit skip accidents, 14

juvenile complaints, 24 larceny/theft, 8

missing persons, 2 narcotics, 25 parking violations,

1 person with gun, 16 property

damage accidents, 7 shots fired in area, 1

suicide/suicide threat, 16 suspicious cars, 21

suspicious persons, 26 suspicious

persons/vehicles, 9 threats or harassment,

138 traffic stops, 6 vandalism.

Vacation Bible School --

At "Monumental"

kids explore the sunbaked Southwestern

desert as they dig into God's great love!

July 24-29, 6:30-9:00 p.m.

Bloom Baptist Church

4210 Cedar Hill Rd., Lithopolis, OH, 43136

ON-LINE REGISTRATION:

http://www.bloombaptist.org

HUNT

Continued from page 1

munity of Canal Winchester Schools have

become my family and I've been honored to

work with such a great group of committed

stakeholders," said Hunt. "I am excited to

become the next superintendent and to continue

to work together to make Canal Winchester

Schools a great place to live and

learn."

Hunt is a licensed superintendent, principal,

and teacher. She holds a bachelor's

degree in education from Urbana University,

a master's degree in education from

Marian College, and completed her superintendent's

licensure coursework at Ohio University.

She is a Certified Professional

Human Capital Leader in Education and a

CW

Continued from page 1

square foot of developed space annually in

lieu of taxes.

The pair of proposed warehouses are

528,000 square feet and 540,000 square feet

and the property is bisected by both school

districts.

"We can monitor the payments through

the tax incentive review process," said

Haire. "This also proposes sharing 25 percent

of income taxes with the school districts."

Canal Winchester Schools would receive

100 percent of the 25 percent income tax

revenue from the west building and Groveport

Madison Schools would receive 66 percent

of the east building revenue.

Credentialed Facilitator in culturally responsive

practices. Hunt is a member of the

Ohio Association of School Personnel Administrators,

the American Association of

School Personnel Administrators, the Buckeye

Association of School Administrators,

the Buckeye Association of School Administrators,

and the Central Ohio Human Resources

Directors.

The Canal Winchester Board of Education

was scheduled to vote on a contract for

Hunt at its regular board meeting at 7 p.m.

on July 18, in the board room at the Canal

Winchester Schools Education Center, 100

Washington St., Canal Winchester.

"They're (Groveport Madison) only 52

percent of that building and 12 percent of

the other building," said Haire, who estimated

tax revenue would generate a minimum

of $261,524 for Canal Winchester

schools and $130,289 for Groveport Madison.

"Also included is a community benefit

agreement that would include a $750,000

payment (per building) to the city of Canal

Winchester for a total of $1.5 million," said

Haire.

•Council is on a summer hiatus for the

remainder of July.Its next regular meeting

is Aug. 1.

For Appointment Information Call

(614) 837-7337

Meet Our Canal Winchester Physicians

Nicholas Stevens, MD

H. Scott Tyson, MD

Shari Burns, MD Wendy Stevens, MD Aila Co, MD

7750 Diley Road, Suite A, Canal Winchester, OH 43110
---
PAGE 4 - CANAL WINCHESTER MESSENGER - July 24, 2022

www.columbusmessenger.com

Down on the farm

reshing time

Messenger file photos

A golden wheat field is a beautiful sight and its appearance in July means it is grain

threshing season at Metro Parks' Slate Run Living Historical Farm, 1375 State Route

674 N., near Canal Winchester. On July 13-14, the farm workers use a 19th century era

horse powered threshing machine (at left) to separate the seed heads of wheat, oats,

barley and rye from straw stalks. Our 19th and early 20th century Central Ohio farming

ancestors used a machine similar to this. The wheat is planted in October, lies dormant

in the winter, grows again in the spring, and ripens in July when it is harvested. After

threshing, the wheat is sold for profit, fed to livestock, and some is saved for seed.

Pictured here, wheat stalks are tossed into the thresher from the farm wagon. Threshing

is hot, dusty work. One worker stands atop a wagon piled high with wheat and uses

a pitchfork to toss the wheat to another who runs it through the thresher. After the

wheat is separated the straw flies out a chute where another worker piles it up. A Slate

Run Living Historical Farm worker (above) drives the horses in a circle to to drive an

apparatus of belts and gears to power the threshing machine.

MEDICARE QUESTIONS?

Learn more about your

medicare options that you

may qualify for.

Too busy enjoying summer to think about Medicare?

As a local neighborhood agent, help finding the right plan is

closer than you THINK! Call or Text today 614-460-0601

Call me Today $0 Consultation $0 Fee

Terri Curcio 614-460-0601

"Who do you call about Medicare when all the commercials are gone?

A Local Licensed Agent!"

I'm here all year long providing Medicare members with the plan options that fit their needs. Also, we could review if

you qualify for extra help on your prescription copays, along with insulin coverage. Reviewing the plan information over

the phone or in person, you need to be confident in your decision. Guiding you on the right path to Medicare.
---
www.columbusmessenger.com July 24, 2022 - CANAL WINCHESTER MESSENGER - PAGE 5

CW recycling initiative

The city of Canal Winchester and

SWACO teamed up to introduce Recycle

Right, Make a Difference - an initiative

aimed at improving Franklin County's rate

of recycling.

The majority of Central Ohioans agree

that recycling and reducing waste can help

to reduce the impacts of climate change and

reflects well on our community.

While Franklin County's current rate of

recycling (51 percent) exceeds the national

average, more than three-fourths of all material

currently entering the county landfill

could have been recycled or composted. The

city of Canal Winchester wants to do its part

to improve recycling and protect the environment

and local economy.

In 2020, the city negotiated a new waste

hauling and recycling services contract with

Rumpke Waste & Recycling, which made

convenient, curbside recycling available to

3,000 households.

"In our first full year offering curbside recycling,

Rumpke collected over 575 tons of

recyclable material from our residents," said

Canal Winchester Mayor Mike Ebert.

"We're proud of that number, but we know

we can do better."

Now Canal Winchester is partnering

with SWACO to introduce Recycle Right, a

program designed to promote proper recycling

to residents using the curbside and

drop off programs. Utilizing recycling reminders,

information about what to recycle

and what to avoid putting in the curbside

recycling cart and providing access to a digital

search tool, the Recycle Right program

hopes to increase the effectiveness of recycling

in the city of Canal Winchester and, in

turn, further reduce Franklin County's reliance

on the landfill.

"It's no longer enough to simply recycle,

we must recycle correctly if we want to create

the greatest economic and environmental

benefits for Central Ohio," said Hanna

Greer-Brown, communications manager for

SWACO. "Recycling right is easy and convenient

to do and we applaud the city of

Canal Winchester for making it a priority."

One of the main goals of the Recycle

Right campaign is to reduce the amount of

non-recyclable items that are being put in

curbside recycling carts. Every year, items

like plastic bags, batteries and wire hangers

add delays, dangers and expenses to the recycling

process.

In Franklin County, the following materials

are accepted for recycling at the curb:

paper and cardboard; plastic bottles, cups,

jugs and tubs; glass bottles and jars; metal

cups and cans; and carton containers.

Everything else should be reused, donated,

composted or disposed of safely.

Proper recycling can have a lasting positive

impact on both the environment and on

local economies. The Recycle Right campaign

is designed to improve recycling and

the city of Canal Winchester's economy in

ways that will pay off for years to come.

To learn more about the Recycle Right

campaign or the many benefits of recycling,

visit www.RecycleRight.org or

http://www.canalwinchesterohio.gov/477/Tr

ash-and-Recycling-Service.

Movies in the Park

The city of Canal Winchester, in partnership

with Destination: Canal Winchester,

will host a free Movie in the Park this summer.

A family-friendly movie will be shown

outdoors at Hanners Park (458 Groveport

Road) on Aug. 12. The movie begins at about

9 p.m.

The August film will be selected next

month via a poll on the city's Facebook page.

Followers will be able to vote between two

movie titles, with the winning title being

played on Aug. 12.

Families may enjoy the movie from the

comfort of their vehicle or bring a chair or

blanket to watch from the lawn. Free snacks

and activities will be available at 8 p.m.

Visit www.canalwinchesterohio.gov or

call 614-834-9915 for information.

Labor Day Festival

The 100th Annual Canal Winchester

Labor Day Festival — Sept. 3, 4, 5. Hosted

by the CW Labor Day Committee in historic

downtown CW. Enjoy three days of family

fun at the oldest and largest Labor Day Festival

in Ohio. Live music, midway rides, car

show, parade, and more. This year's Sunday

headliner is Uncle Kracker, a country pop

artist with a number of Billboard 100 hits.

For information visit www.cwlaborday.org.

CW swimming pool open

The city of Canal Winchester invites you

to cool off this summer at the Canal Winchester

Municipal Swimming Pool. The pool

season began May 26 at noon and runs

through Sept. 4. A complete listing of pool

hours can be found on the city's website.

Visit the pool with friends and family

and take advantage of the wading pool, the

recreational pool with a waterfall feature, or

the competition pool including diving boards

and a climbing wall. Relax in one of the

pool's lounge chairs, or for extra shade,

enjoy the sun-sail area. Make your way to

the concession stand for hot dogs, pizza, nachos,

drinks, candy, chips, frozen treats, and

more.

Seasonal memberships and a number of

other pass options are available. The pool

is open to residents and non-residents. If

space is available, reduced-price membership

opportunities will open up after July 5.

Details on memberships and passes can be

found on the city's website.

All those wishing to visit the pool will be

required to have a pre-paid reservation, including

those with free admission. Reservations

and payments must be made online in

advance; absolutely no walk-up reservations

will be permitted.

The pool is available to rent for parties

on designated Friday, Saturday, and Sunday

evenings throughout the season. Dates

may be booked during the season on a first

come, first served basis, and must be booked

two weeks in advance. Check the city's website

for complete details, including rental

fees and available times.

Pool memberships and party sales are

now available to purchase on the city's website.

Visit www.canalwinchesterohio.gov for

information.

Canal Winchester Board

of Education meetings

The Canal Winchester Board of Education

meets on the third Monday of each

month at 7 p.m. in the Canal Winchester

Education Center, 100 Washington St. on

the second floor in room 204/206. The public

is welcome to attend.

We're Open to

Brighten your Day!

Grace Noelle Florals

Angela Roehrenbeck - Owner/Designer

• Fresh Beautiful Flower Arrangements

• Creative Design

• Weddings

CW City Council meetings

Canal Winchester City Council meetings

are held on the first and third Monday of

every month. Meetings begin at 7 p.m. The

meetings are open to the public. Council

meets in work session at 6 p.m. prior to each

city council meeting to discuss legislative

items and other issues of the city prior to

being included on a city council agenda.

• Birthdays

• Sympathy

• Special Occasions

614-829-2860

gracenoelleflorals.com / angela@noelleflorals.com
---
PAGE 6 - CANAL WINCHESTER MESSENGER - July 24, 2022

CW Schools news

Canal Winchester Schools are sticking

with the current four-tier building start

time system for the upcoming 2022-23

school year. The middle school hours are

7:15 a.m.–1:35 p.m.; high school is 7:55

a.m.–2:20 p.m.; Winchester Trail is 8:55

a.m.–3:05 p.m.; and Indian Trail is 9:35

a.m. to 3:45 p.m. In addition, lunch prices

will remain the same for the new school

year.

Barber Museum

The National Barber Museum in Canal

Winchester is located at 135 Franklin St.

(behind the former CW High School building).

The museum, housed in approximately

5,000 square feet, showcases art, artifacts,

and memorabilia from decades of the barbering

profession. For information call(614)

837-8400.

www.columbusmessenger.com

Air show expands

eastside

Messenger

(Distribution: 6,500)

Rick Palsgrove........................Canal Winchester Editor

southeast@columbusmessenger.com

Published every other Sunday by

The Columbus Messenger Co.

3500 Sullivant Ave., Columbus, Ohio 43204-1887

(614) 272-5422

Keep tabs on the news

in Canal Winchester

Look for CW Messenger on

Become a fan!

COME JOIN US FOR WORSHIP IN OUR

BEAUTIFUL HISTORIC CHAPEL

BRICE

UNITED METHODIST

CHURCH

3160 Brice Road, Brice, Ohio 43109

614-866-3025

Pastor Nick Shaw

Sunday Morning Worship Service - 10:30 a.m.

Be a Part of Our Local Worship Guide

Our Worship Guide is geared toward celebrating faith and helping readers

connect with religious resources in our community. Make sure these readers

know how you can help with a presence in this very special section distributed to

more than 19,000 households in the South/Canal Winchester area.

Contact us today to secure your spot in our Worship Guide.

614.272.5422 • kathy@columbusmessenger.com

Canal Winchester

Messenger

REDEMPTION

CITY CHURCH

11573 Lithopolis Rd NW

Lithopolis, Ohio 43136

YOU'RE INVITED

Sundays at 10:30 a.m.

Wednesdays at 7:15 p.m.

redemptioncitycolumbus

www.redemptioncitycolumbus.com

@redemptioncitycolumbus

Please visit a

Canal Winchester

Church of your choice.

List your Worship

Services here.

For info. call 614-272-5422

Photo courtesy of the Herb Gillen Air Shows

The U.S. Navy Blue Angels will perform in Columbus for the first time in more than a

quarter century at the Columbus Air Show Presented by Scotts on June 16, 17, 18, 2023

at Rickenbacker International Airport.

The Columbus Air Show Presented by

Scotts returns in 2023 with a three day

show from June 16, 17, and 18, 2023 at

Rickenbacker International Airport, 2241

John Circle Drive, Columbus.

This will be the first air show in Columbus

in more than 15 years. The last show attracted

more than 150,000 visitors,

according to air show officials.

According to air show officials, an extra

day was added to the show due to the demand

from the community. Ticket prices for

the Friday part of the show will be discounted

from the weekend dates.

Scotts Miracle-Gro Company has signed

on as the event's presenting sponsor. Officials

stated Scotts' partnership allowed the

show to expand.

The preliminary performer lineup for the

2023 Columbus Air Show includes the U.S.

Navy Blue Angels, U.S. Marine Corps C-130

"Fat Albert," The Ohio Air National Guard

KC-135, B-17 Flying Fortress "Yankee

Lady," B-25 Mitchell "Rosie's Reply," C-47

Skytrain "Hairless Joe," world aerobatic

champion Rob Holland, and the Smoke-n-

Lithopolis Honeyfest

The Lithopolis Honeyfest will be held

Sept. 9 from 3-7 p.m. and Sept. 10 from 10

a.m. to 7 p.m. in downtown Lithopolis. Free

admission, parking, and shuttle service. The

event features bee beards, beekeepers, art,

live music, honey bake-off, Ohio Honey

Show, honey extracting, hive inspection,

junior beekeeping, American Honey

Princess, food trucks, photo contest, honey,

and honey tasting. For information call 614-

769-3824 or visit lithopolishoneyfest.com.

"Saving the planet, one honey bee at a

time!"

Thunder Jet Car.

Also part of the show will be the Scotts

Aviation Showcase, which will feature a

number of "warbirds" vintage military aircraft

participating each day in formation flying

and on static display.

General public ticket sales begin in early

August. There will be a variety of options including

general admission and several limited

quantity premium seating areas.

Tickets will only be available online at

www.ColumbusAirShow.com.

Visit www.ColumbusAirShow.com for information

and follow the show on Facebook,

Twitter, and Instagram.

As a civil—military public airport, Rickenbacker

International Airport is also home

to the Ohio Air National Guard's 121st Air

Refueling Wing, Ohio Army National

Guard's Army Aviation Support Facility No.

2, the U.S Army, Navy and Marine Corps

Reserves, and the headquarters for the Ohio

Military Reserve. Although the air show will

be held on the civilian side of the facility, it

is anticipated the local military units will be

invited to have a presence at the show.

Special Olympics

The mission of Special Olympics Ohio

and its Groveport and Canal Winchester

Special Olympics chapter is to provide year

round sports training and competition in a

variety of Olympic type sports for intellectually

disabled individuals.

For information contact Penny and Cassandra

Hilty at

groveportspecialolympics@gmail.com or at

(614) 395-8992 or 395-6640.

Donations may be sent to Groveport Special

Olympics, P.O. Box 296, Groveport, OH

43125.
---
The city of Canal Winchester contracts

with Franklin County Public Health for

mosquito control.

Franklin County Public Health takes a

proactive, concentrated approach to mosquito

management.

The agency's Integrated Pest Management

Program focuses on prevention, education,

and controlling pests at their most

vulnerable stage while minimizing hazards

to the environment.

Data about mosquito breeding locations,

areas that traditionally have high adult

mosquito populations, and the frequency

and distribution of mosquito-borne diseases

throughout Franklin County is regularly

monitored and treatments are applied when

appropriate.

The city's Urban Forestry Department

will begin routine random larval mosquito

surveys in late May 2022, providing documentation

of mosquito production as a basis

for treatment. Native fathead minnows may

be released by the City as an aquatic biological

larval control, possibly offering some decrease

in local adult mosquito populations.

Residents can help by reporting areas

that they suspect may be mosquito breeding

grounds and by reporting increases in adult

mosquito activity to Franklin County Public

Health.

Mosquitoes breed easily in standing

water. Check for and drain any standing

water around your home to help control the

mosquito population.

Common and easily overlooked mosquito

habitats include: tires, buckets, cans, bottles,

and plastic containers; bird baths

(drain and refill every 3-4 days); wading or

kiddie pools (drain and refill frequently);

pools and hot tubs (keep chlorinated, covered,

or keep completely dry); pool covers

that hold water; boats, boat covers, and

tarps; pet food containers and water dishes;

clogged gutters and downspouts; leaky outside

faucets that create puddles; rain barrels

that are not properly screened or

treated; low areas that form puddles and

hold water; planters and pots, including

saucers and catch trays; trash cans (use

tight fitting lids and keep them covered);

mature trees that have developed holes that

hold water — fill the voids with sand; anything

that has the potential to hold even

small amounts of water.

Information about Franklin County Pub-

www.columbusmessenger.com July 24, 2022 - CANAL WINCHESTER MESSENGER - PAGE 7

lic Health's mosquito management program

Mosquito management

and a form report an area of concern is

Ohio State Fair

available online at mosquito.myfcph.org or

by calling Franklin County Public Health's

Mosquito Bite Line at (614)525-BITE

(2483).

Ohio EPA awards grants

for mosquito control

Forty-eight health departments and municipalities

in 42 counties are sharing

$813,610 in grant funding from Ohio EPA

for mosquito control activities, including

$143,000 to remove scrap tires, which can

become breeding grounds for mosquito larvae.

The funding will help mitigate the

spread of mosquito-borne viruses such as

Zika, West Nile, and La Cross Encephalitis.

The Mosquito Control Grant program

has been a major success and is a collaborative

effort among state and local agencies,

Ohio EPA Director Laurie Stevenson said.

Ohio EPA is pleased to continue offering

funding for mosquito control measures to

help communities reduce the risks of mosquito-borne

viruses and cleaning up scrap

tires that can become mosquito breeding

grounds.

In Central Ohio, Columbus Public

Health is receiving $3,700; Delaware Public

Health District is receiving $12,690; Fairfield

County Health Department is receiving

$24,440; Licking County Health

Department is receiving $25,000; Pickaway

County Public Health is receiving $23,670;

and Union County Health Department is receiving

$25,000.

Mosquito control grants specifically target:

mosquito surveillance; larval control;

adult mosquito control, such as spraying

where mosquito presence poses a risk to

public health; community outreach; and

breeding source reduction, including trash

or tire removal.

Grants are issued in collaboration with

the Ohio Department of Health's larger effort

to mitigate the potential for an outbreak

of mosquito-borne viruses. Over the last six

years, Ohio EPA and the Ohio Department

of Health have awarded $6.7 million to local

health departments and communities for

mosquito control programs.

Ohio EPA Awards $813,000 in Grants to

48 Local Agencies for Mosquito Control.

The 2022 Ohio State Fair will run from

July 27 to Aug. 7.

Rediscover the Ohio State Fair with

great food, fun games, thrilling rides, educational

activities, friendly competitions,

concerts, agriculture and more.

"The Ohio State Fair brings people together.

It's a place where we can all celebrate

our great state and make memories

that will last a lifetime," said Governor

Mike DeWine. "Fran and I absolutely love

fairs, none more than the Ohio State Fair.

We have experienced so many remarkable

moments with our children and grandchildren

at fairs over the years, and this summer,

we can't wait to enjoy the Ohio State

Fair once again."

This year's 167th Ohio State Fair is possible

thanks to the work of thousands of

staff members, exhibitors, volunteers, vendors,

partners, performers, concessionaires,

youth leaders and sponsors.

At this time, the Ohio State Fair staff are

working on enhancements that will make

this year's Ohio State Fair safe, fun, and

memorable.

Everyone's fair favorites will return including

the iconic butter cow, deep-fried

food on a stick, music, arts exhibitions, performances

by the All-Ohio State Fair Band

and Youth Choir, Smokey Bear, agriculture

displays, and more.

During the 2019 Ohio State Fair, 934,925

people attended during the event's 12-day

run.

These attendees came from each of

Ohio's 88 counties, all 50 states, the District

of Columbia, as well as Canada and Mexico.

Admission and parking

The fair's hours of operations are Monday

through Friday from 10 a.m. — 9 p.m.,

Saturday and Sunday from 9 a.m. — 9 p.m.

except Aug. 7, when admission gates close

at 6 p.m.

Gate admission prices: adults (ages 13-

59) — $10; youth (ages 6-12) — $8; senior

(ages 60+) — $8; children five and under —

free.

Buy early and save! Early Bird Admission

— $6 (valid May 1-31) (lowest price of

the year); Advance Admission — $8 (valid

June 1 — July 26 only; and Midway ride-allday

wristbands — $25 each (through July 26

only).

General parking is free to fairgoers in the

main lots north of the Cardinal Gate. Reserved

parking is not available to the general

public for purchase.

Midway hours: July 27 — 11 a.m. — 11

p.m.; July 28 — 11 a.m. — 11 p.m.; July 29 —

11 a.m. — midnight; July 30 — 10 a.m. — 11

p.m.; July 31 — 10 a.m. — 11 p.m.; Aug. 1 —

11 a.m. — 11 p.m.; Aug. 2 — 11 a.m. — 11 p.m.;

Aug. 3 — 10 a.m. — 11 p.m. (Sensory-friendly

morning); Aug. 4 — 11 a.m. — 11 p.m.; Aug. 5

— 11 a.m. — midnight; Aug. 6 — 10 a.m. — 11

p.m.; and Aug. 7 — 10 a.m. — 10 p.m.

The Ohio State Fair plans to follow applicable

state and local protocols related to

the spread of COVID-19. For information

visit ohiostatefair.com.

David Sells honored

Eastland-Fairfield instructor, and Groveport resident, David Sells

was named the Adult Options Teacher of the Year in the High

School Equivalency category at the Adult Education Event held

by the Ohio Department of Education and Ohio Department of

Higher Education at Columbus Downtown High School. Sells is

the Aspire Student Success Coordinator in the HSE program. He

manages Aspire instruction and Aspire business at Fairfield

County Job and Family Services in Lancaster. District officials

said his impact reaches beyond the classroom or distance education

settings. He works with caseworkers and county court officials

to serve underserved individuals. Sells graduated from

Groveport Madison High School, earned a bachelor's degree from

Franklin University, and a master's degree from the Rawlings

School of Divinity.

SELLS

DestinationOutlets.com

800-213-9083

8000 Factory Shops Blvd.

Jeffersonville, OH 43128

DOWNLOAD OUR

MEMBERSHIP APP
---
PAGE 8 - CANAL WINCHESTER MESSENGER - July 24, 2022

Kendall Collins is a survivor

www.columbusmessenger.com

By Linda Dillman

Staff Writer

There are many chapters to the story of

Kendall Collins, a woman shot 15 times by

her estranged husband in 2015 and left for

dead by the side of the road near the Groveport

Recreation Center.

Domestic abuse, a plea deal with a

lawyer that never should have happened,

gun violence, three months in Grant Hospital

and a series of 31 corrective surgeries

over seven years with more planned are all

a part of her life.

But Collins is the first person to tell you

that she is a survivor because of her family,

faith and fortitude.

The Lockbourne resident and her former

husband were high school sweethearts who

met in 2000.

"All throughout high school we dated and

attended two proms together," recalled

Collins. "We had a seemingly normal relationship,

young love you could say. From the

beginning he was controlling and jealous,

but I thought that meant he loved me. We

stayed together for many years with rough

patches and many break ups."

The couple had two children. Their relationship

continued to deteriorate, eventually

leading to multiple separations.

"In 2013 we hit a breaking point...he

locked me in my room while my children

were in the living room," said Collins. "We

ended up getting into a fight that began

with him tackling me to the ground. I called

the police that night and he was arrested

and taken to jail for domestic violence."

At his court hearing, he faced a felony

charge. However, Collins' lawyer advised

her to lower the charges to a criminal mischief–a

misdemeanor instead of a felony.

"The lawyer said he would be court ordered

to attend counselling and would have

to complete anger management courses. I

agreed to lower the charges down to a misdemeanor,"

said Collins. "He attended his

counseling faithfully for the year and he

seemed to benefit from it. He seemed happier

and was less aggressive towards me

verbally and we did not have any other

physical fights during that time."

After the year was up, Collins said he fell

back into his previous pattern of aggression.

She filed for divorce in the summer of 2015

and on Sept. 10 of that year, her life

changed forever.

Because the domestic abuse charges

were reduced to criminal mischief, her former

husband was able to buy a gun legally

at a gun store two days before he shot

Collins eight times in her right leg, three

times in the right arm, one time in the stomach,

once in the chest, once in the lower

back and once in the pelvic bone.

"We had just had a meeting two days before

(Sept. 8) with the lawyers and had

Messenger photo by Linda Dillman

Kendall Collins stands not far from a field near the Groveport Recreation Center

where she was shot 15 times in the early morning hours of Sept. 10, 2015.

signed paperwork for custody of the kids

and how we would separate the assets," said

Collins. "After church, he called and asked

if I could meet him at Arby's on Alum Creek

to give me money for the kids. I agreed to

meet him after the kids were asleep at my

mom's house."

As soon as he got inside Collins' car, she

realized the meeting was a mistake. She

said he began screaming as she turned onto

Groveport Road.

"He did not let up as we drove a little further,"

Collins recalled. "I was finally fed up

with his yelling and I told him that I loved

him, but I was no longer in love with him.

At that point he pulled out the gun and laid

it on his lap pointing it at me. I remember

how shiny it was, and it scared me as I

screamed. I remembered that there was a

cornfield beside the rec center, and I

thought that I could run and hide in the

cornfield to get away from him in the darkness

of the night."

She was about to open her door and run

when she saw police lights coming towards

her and did not know what to do. If she ran,

she thought the police might think she was

running away from them.

It was around 2:30 a.m.

"As I came to the stop sign, the police had

their lights on my car. My (former) husband

picked up the gun and cocked it. Without

thinking I reached over to him and said 'Put

the gun away. We can get out of this.' He

looked at me and said, 'I'm sorry it has to be

this way."

Groveport Police Sgt. Josh Guiler was responding

to another call when Guiler saw

Collins' auto in the recreation center driveway

facing southbound near a stop sign. He

watched her former husband attempt to exit

the car and then heard the distinctive sound

of a firearm hitting the pavement.

"I then pulled my service weapon out and

started to command him not to pick up the

gun," said Guiler. "I saw him reach for the

gun and as he did, he stayed ducked down

behind the passenger door. At this point I

believed he was going to grab the gun and

either come up shooting at me or take off

running."

Guiler found what happened next unbelievable.

"I saw his back turn as if he were going

to run away from the vehicle," said Guiler.

"He then fired two shots into the vehicle

which I believe hit Kendall Collins and ran

to the rear of Kendall's car. I then could see

him looking through the back windshield for

her. I then made a split second decision to

fire a shot through the front windshield towards

him hoping to pin him down. While

waiting on back-up I was very focused

watching for him to come back up. I then

saw Kendall crawling from the driver seat

to the passenger side of the vehicle. I yelled

for her to stay in the car but she fell out on

the ground in the fetal position facing him

and the rear of the vehicle."

Guiler said as soon as Kendall hit the

pavement, her former husband fired several

rounds at her, never coming up from behind

the vehicle. Guiler said he felt hopeless at

this point thinking he could not get to her

in time due to the distance between them.

"After he shot her several times, I knew

I had to get to her," said Guiler. "He finally

jumped up from behind the vehicle and

started running away pointing his firearm

See SURVIVOR, page 9
---
www.columbusmessenger.com July 24, 2022 - CANAL WINCHESTER MESSENGER - PAGE 9

SURVIVOR

Continued from page 8

at me. I then fired several more rounds at him as he ran

to the cornfield. He did fire one more shot."

Another sergeant arrived and kept watch on the

cornfield. Guiler heard Kendall yelling and moving and

could not believe she was still alive. Groveport Police

Officer Danny Amabile arrived on scene and the two

used a cruiser as a barricade to get to Collins.

"She rolled over from her side and said, 'Will you do

me a favor and get my hair out of my face?' I couldn't

believe she was still able to communicate with us and I

did move her hair out of her face," said Guiler, who

moved Kendall to a safe place. "She had to be moved because

the medics would not respond directly to her because

the scene was still active and we did not know his

location or if he was still a threat. As I sat her down in

the grass, I could see was losing a lot for blood from her

leg. Franklin County deputies were able to escort the

medics to her now that she was in a safe place. They

then took Kendall and were able to stabilize her until

they reached the hospital."

Guiler said several agencies responded to the scene,

including Hilliard's K-9 unit which helped locate

Collins' former husband in the cornfield. He was found

dead from an apparent self-inflicted gunshot wound.

On the way to the hospital, as one of Collins' lungs

started to collapse, she prayed to stay alive and breathe.

CW Library Branch

The Canal Winchester Branch of the Columbus Metropolitan

Library, 115 Franklin St., is located in the

rear portion of the former school at 100 Washington St.

For information visit www.columbuslibrary.org or call

614-645-2275.

Wagnalls Memorial Library

Wagnalls Memorial Library is located at 150 E.

libraries

She said she made a silent pledge to God that if she

lived, she would tell everyone He saved her life and had

given her a purpose.

She was in a medically induced coma for 18 days and

spent three months in the hospital. She then spent

three months in a rehabilitation facility learning how

to walk again.

"I had to learn how to talk, walk, write and all basic

things all over again," said Collins. "It was a long

process. I was very lucky to have my current husband

Seth there with me every day. He helped keep me motivated

when I felt like giving up. Seth stayed with me

through everything. He has been my rock. Life has not

been easy for us, but we have made it together."

For women experiencing domestic abuse, Collins

urges them to leave before the situation escalates.

"It will get worse," Collins said. "Lean on your faith

and family, but get away from the abuser. Abusers do

not change. They only get worse when they lose that

control. Protect yourself and your children. A restraining

order is only a piece of paper."

For help 24 hours a day, seven days a week, call the

National Domestic Abuse Hotline, 1-800-799-7233

(SAFE); LSS Choices Crisis Line, 614-224-4663

(HOME); or the Ohio Domestic Violence Network, 1-

800-934-9840.

Columbus St., Lithopolis. For information call (614)

837-4765 or visit www.wagnalls.org.

Southeast Library

The Southeast Branch of the Columbus Metropolitan

Library is located at 3980 S. Hamilton Road, Groveport.

For information visit www.columbuslibrary.org or call

614-645-2275.

Messenger

Canal Winchester

Our Pictorial Past by Rick Palsgrove

Madison Township firefighters

Photo courtesy of the Groveport Heritage Museum

In this photo from 1962, two Madison Township firefighters are posed in front of the former Madison Township

fire station that was once located on College Street in Groveport. The department has grown significantly

over the years and now has fire stations at three different locations: Gender Road, South Hamilton

Road, and Noe-Bixby Road.
---
PAGE 10 - CANAL WINCHESTER MESSENGER - July 24, 2022

www.columbusmessenger.com

CLASSIFIED ADS

Deadlines: Groveport and West editions, Wednesdays at 5 p.m., • South/Canal Winchester, Grove City, Madison editions, Tuesdays at 5 p.m.

All editions by phone, Tuesdays at 5 p.m. • Service Directory, Tuesdays at 5 p.m.

xEmployment xPreschool/Daycare xAdult Care

"HELP WANTED"

SIGN

NOT WORKING?

TO ADVER

VERTISE

Call Kathy at

The Columbus Messenger

614-272-5422

INCREASE YOUR

FALL ENROLLMENT!

ADVERTISE YOUR

PRESCHOOL OR DAYCARE

in

The

Canal Winchester Messenger

For More Info, CALL Kathy

614-272-5444

Preschool/Daycare

Adult Care

ASSOCIATION ADS

Become a Published

Author. We want to Read

Your Book! Dorrance

Publishing Trusted Since

1920 Consultation,

Production, Promotion &

Distribution. Call for Free

Author's Guide 1-877-729-

4998 or visit

dorranceinfo.com/ads

Directv Stream - Carries

the Most Local MLB

Games! CHOICE

Package, $89.99/mo for

12 months. Stream on 20

devices in your home at

once. HBOMax included

for 3 mos (w/CHOICE

Package or higher.) No

annual contract, no hidden

fees! Some restrictions

apply. Call IVS 1-866-629-

6086

Safe Step. North

America's #1 Walk-in Tub.

Compreshensive lifetime

warranty. Top-of-the-line

installation and service.

Now featuring our FREE

shower package & $1600

off for a limited time!

Financing available. Call

Safe Step 1-855-417-1306

Stroke & Cardiovascular

disease are leading

causes of death according

the American Heart

Association. Screenings

can provide peace of mind

or early detection! Call

Life Line Screening to

schedule your screening.

Special offer - 5

screenings for $149. 1-

866-518-8391

Employment

ASSOCIATION ADS

Vivint Smart Security.

Professionally installed.

One connected system for

total peace of mind. FREE

professional installation!

Four FREE months of

monitoring! Call to

customize your system. 1-

855-870-2073

New authors wanted!

Page Publishing will help

self-publish your book.

Free author submission

kit! Limited offer! 866-

951-7214

Safe Step. North

America's #1 Walk-in Tub.

Compreshensive lifetime

warranty. Top-of-the-line

installation and service.

Now featuring our FREE

shower package & $1600

off for a limited time!

Financing available. Call

Safe Step 1-833-356-1954

DENTAL INSURANCE

from Physicians Mutual

Insurance Company.

Coverage for 350 plus

procedures. Real dental

insurance - NOT just a

discount plan. Do not wait!

Call now! Get your FREE

Dental Information Kit with

all the details! 1-877-553-

1891

www.dental50plus.com/

macnet#6258

ASSOCIATION ADS

Don't let the stairs limit

your mobility! Discover

the ideal solution for

anyone who struggles on

the stairs, is concerned

about a fall or wants to

regain access to their

entire home. Call

AmeriGlide today! 1-844-

317-5246

Protect your home from

pests safely and

affordablly. Pest, rodent,

termite and mosquito

control. Call for a quote or

inspection today 844-394-

9278

The bathroom of your

dreams for as little as

$149/month! BCI Bath &

Shower. Many options

available. Quality

materials & professional

installation. Senior &

Military Discounts

Available. Limited Time

Offer - FREE virtual inhome

consultation now

and SAVE 15%! Call

Today! 1-877-540-2780

Replace your roof with the

best lookng and longest

lasting material -- Steel

from Erie Metal Roofs!

Three styles and multiple

colors available.

Guaranteed to last a

lifetime! Limited Time

Offer - $500 Discount +

Additional 10% off install

(for military, health

workers & 1st responders)

Call Erie Metal Roofs: 1-

855-338-4807

ASSOCIATION ADS

Paying top cash for men's

sportwatches! Rolex,

Breitling, Omega, Patek

Pillippe, Heuer, Daytona,

GMT, Submariner and

Speedmaster. Call 833-

603-3236

Aloe Care Health medical

alert system. The most

advanced medical alert

product on the market.

Voice-activated! No wi-fi

needed! Special offer

w/code CARE20 for $20

off Mobile Companion. 1-

855-341-5862

WANTED!

MOTORCYCLES!

ANTIQUE AND CLASSIC.

Honda, Kawasaki, Suzuki,

Yamaha, Triumph, BSA

and other foreign models.

$$PAYING CA$H$$

717-577-8206

KRMiller1965@yahoo.com

Vivint Smart Security.

Professionally installed.

One connected system for

total peace of mind. Free

professional installation!

Four free moNths of

monitoring! Call to

customize your system. 1-

833-841-0737

BUYING CLASSIC CARS,

TRUCKS, SUVs

**American and Foreign**

Any Condition. Buying

entire car collections.

$$PAYING CA$H$$

Please call 717-577-8206

KRMiller1965@yahoo.com

Discount air travel! Call

Flight Services for best

pricing on domestic &

international flights inside

& from the US. Serving

United, Delta, American &

Southwest &many more.

Free quote! Have travel

dates ready! 844-951-

2014

ASSOCIATION ADS

Prepare for power outages

today with a GENERAC

home standby generator.

$0 Money Down + Low

Monthly Payment Options.

Request a FREEQuote--

Call now before the next

power outage. 1-855-465-

7624

DISH Network. $59.99 for

190 channels! Blazing fast

internet. $19.99/mo. (where

available) Switch & get a

$100 Visa gift card. Free

voice remote. Free HD

DVR. Free streaming on all

devices. 1-866-979-4029

The Generac PWRcell, a

solar plus battery storage

system. SAVE money,

reduce your reliance on

the grid, prepare for power

outages and power

your home. Full installation

services available. $0

Down Financing Option.

Request a FREE, no obligation,

quote today. Call

1-866-783-0292

SELL YOUR ANTIQUE

OR CLASSIC CAR.

Advertise with us. You

choose where you want

to advertise. 800-450-

6631 visit macnetonline.

com for details.

DISH TV $64.99 FOR 190

Channels + $14.95 High

Speed Internet. Free Installation,

Smart HD DVR

Included, Free Voice Remote.

Some restrictions

apply. Promo expires

1/21/23. 1-866-479-1516

Eliminate gutter cleaning

forever! LeafFilter, the

most advanced debrisblocking

gutter protection.

Schedule a FREE LeafFilter

estimate today. 15% off

Entire Purchase. 10% Senior

& Military Discounts.

Call 1-855-791-1626

ASSOCIATION ADS

AT&T Internet. Starting at

$40/month w/12-mo agmt.

1 TB of data/mo. Ask how

to bundle & SAVE! Geo &

svc restrictions apply. 1-

855-364-3948

Elminate gutter cleaning

forever! LeafFilter, the most

advanced debris-blocking

gutter protection.

Schedule Free LeafFilter

Estimate today. 15% off

Entire Purchase. 10%

Senior & Military Discounts.

Call 1-833-610-1936

VIAGRA and CIALIS

USERS! 50 Generic pills

SPECIAL $99.00. 100%

guaranteed. 24/7 CALL

NOW! 888-445-5928

Hablamos Espanol

Directv Now. No Satellite.

$40/mo 65 Channels.

Stream news, live

events, sports & on demand

titles. No contract/

commitment. 1-866-825-

6523

NEED IRS RELIEF

$10K-$125K+ Get Fresh

Start or Forgiveness.

Call 1-844-431-4716

Monday through Friday

7am-5pm PST

Thinking about installing

a new shower? American

Standard makes it

easy. FREE design consulation.

Enjoy your

shower again! Call 1-

833-769-0995 today to

see how you can save

$1,000 on installation, or

visit www.newshowerdeal.com/mac

ASSOCIATION ADS

Attention oxygen therapy

users! Inogen One G4 is

capable of full 24/7 oxygen

delivery. Only 2.8

pounds. Free info kit.

Call 877-929-9587

Looking for auto insurance?

Find great deals

on the right auto insurance

to suit your needs.

Call today for a free

quote! 866-924-2397

Dental Insurance -

Physicians Mutual Insurance

Comopany. Covers 350

procedures/ Real insurance -

not a discount plan. Get your

free dental info kit! 1-855-

.526-1060 www/dental50

plus.com/ads #6258

BATH & SHOWER UP-

DATES in as little as

ONE DAY! Affordable

prices - No payments for

18 months! Lifetime warranty

& professional installs.

Senior & Military

Discounts available. Call

855-761-1725

Attention Viagra users:

Generic 100 mg blue pills

or generic 20 mg yellow

pills. Get 45 plus 5 free +

S/H. Call Today 1-877-

707-5518

Want Faster & Affordable

Internet? Get internet

service today with

Earthlink. Best internet &

WiFi Plans. Call us Today

to Get Started. Ask

about our specials! 866-

396-0515

DISH TV $64.99 for 190

Channels + $14.95 high

speed internet. FREE installation,

Smart HD DVR

included. Free Voice Remote.

Some Restrictions

apply. Promo Expires

1/21/23. 1-866-590-5561

ASSOCIATION ADS

Protect your home w/home

security monitored by

ADT. Starting at $27.99/

mo. Get free equipment

bundle including keypad,

motion sensor, wireless

door & windows sensors.

833-719-1073

READER

ADVISORY

The National Trade Association

we belong to has

purchased the following

classifieds. Determining

the value of their service

or product is advised by

this publication. In order

to avoid misunderstandings,

some advertisers do

not offer "employment"

but rather supply the

readers with manuals, directories

and other materials

designed to help

their clients establish mail

order selling and other

businesses at home. Under

NO circumstance

should you send any

money in advance or give

the client your checking,

license ID or credit card

numbers. Also beware of

ads that claim to guarantee

loans regardless of

credit and note that if a

credit repair company

does business only over

the phone it's illegal to request

any money before

delivering its service. All

funds are based in US

dollars. Toll Free numbers

may or may not

reach Canada. Please

check with the Better

Business Bureau 614-

486-6336 or the Ohio Attorney

General's Consumer

Protection Section

614-466-4986 for more

information on the company

you are seeking to

do business with.
---
www.columbusmessenger.com

xCome & Get It!

July 24, 2022 - CANAL WINCHESTER MESSENGER - PAGE 11

xClassified Services

COME AND GET IT!

Need to Get Rid of Something Fast - Advertise It Here For FREE!

Deadlines are Mondays by 5 pm.

Call For Publication Schedule 614-272-5422

FREE Garden Straw for gardens or bedding. Call for appointment for pickup.

Circle S Farms, 9015 London-Groveport Road, Grove City, 43123

Grove City - 614-878-7980

.FREE - Downed Tree, needs cut into sections. Free for anyone that wants it.

CC - Obetz - 614-632-1013

FREE - Children's Wooden Play Set - Good Condition w/Sand Box under it, Step Ladder up

Slide to go down & a rope swing. Also separate Swing Set w/4 swings.

190 Inah Ave., Cols, 43228 near the Fire Dept.

West Columbus - 614-878-1930, ask for Linda

. Come and Get It! is a bi-weekly column that offers readers an opportunity to pass

along surplus building materials, furniture, electronic equipment, crafts, supplies,

appliances, plants or household goods to anybody who will come and get them - as

long as they're FREE. NO PETS! Just send us a brief note describing what you want to

get rid of, along with your name, address and phone number. Nonprofit organizations

are welcome to submit requests for donations of items.

Send information to The Columbus Messenger, Attention: Come and Get It, 3500

Sullivant Ave., Columbus, OH43204. Deadline is Tuesdays by 5 pm for following

Mondays publication. Messenger Newspapers is not responsible for any

complications that may occur. Please contact us when items are gone. 272-5422

Come & Get It!

xFocus on Rentals

HAVE EMPTY

APARTMENTS?

RENT THEM BEFORE

SCHOOL STARTS!

Advertise It!

Call Kathy

The Columbus Messenger

614-272-5422

ASSOCIATION ADS

Prepare for power

outages today with a

GENERAC home standby

generator. $0 Down + Low

Monthly Pmt. Request a

free Quote. Call before the

next power outage: 1-855-

948-6176

READY TO BUY, SELL

OR RENT YOUR

VACATION HOME OR

HUNTING CAMP?

Advertise it here and in

neighboring publications.

We can help you. Contact

MACnet MEDIA @

800-450-6631 or visit our

site at MACnetOnline.

com

Rentals

ASSOCIATION ADS

Wesley Financial Group,

LLC Timeshare Cancellation

Experts Over

$50,000,000 in timeshare

debt & fees cancelled in

2019. Get free

informational package &

learn how to get rid of

your timeshare! Free

consultations. Over 450

positive reviews. 888-965-

0363

The Generac PWRcell

solar plus battery storage

system. Save money,

reduce reliance on

grid, prepare for outages

& power your home. Full

installation services. $0

down financing option.

Request free no obligation

quote. Call 1-877-

539-0299

ASSOCIATION ADS

IMPORTANT

NOTICE

The following states: CA,

CT, FL, IA, IL, IN, KY,

LA, MD, ME, MI, MN,

NE, NC, NH, OH, OK,

SC, SD, TX, VT and WA

requires seller of certain

business opportunities to

register with each state

before selling. Call to

verify lawful registration

before you buy.

HELP WANTED

Kings Kids Daycare in

Grove City is hiring fun,

loving teachers for PT&

FT shifts. Pleaes email

sarragc@outlook.com or

call 614-539-0349

PT Helper Needed

for Lawn Care Service

3-4 Days a Week

Call 614-935-1466

WANT TO BUY

We Buy Cars & Trucks

$300-$3000.614-308-2626

ANTIQUES

WANTED

Victrolas, Watches,

Clocks, Bookcases

Antiques, Furn.

Jeff 614-262-0676

or 614-783-2629

WE BUY JUNK CARS

Call anytime 614-774-6797

BUYING VINYL RECORDS.

LPs and 45s - 1950-80s

Rock, Pop, Jazz, Soul.

614-831-0383

We Buy Junk Cars &

Trucks. Highest Prices

Paid. 614-395-8775

MISC. FOR SALE

Electric Wheelchair - If

interested, call 614-928-2352

AIR CONDITIONING

AIR CONDITIONING

Complete System

Clean & Check

$49.95

BLACKTOP

AGM OHIO

ROOFING &

SEALCOATING

Free Estimates

Cell 614-512-1699

CARPET CLEANING

CARPET CLEANING

Any 5 areas ONLY $75

Home Powerwash $99-$300

614-805-1084

Specializing in Pet Odors

CARPET SALES

CARPET

Gray Saxony

270 sq.ft. w/6 lb Pad

$398.00

Other Carpet AvailableA

Phone or text Ray

740-927-3504

Delivery & Inst. avail.

CLEANING

Looking for Mrs. Clean?

For excellent cleaning serv

at reas. rates w/great refs,

dependable. 10% Seniorr

Disc. Free Est. Also runs

Errands - Gwen 614-226-5229

INFORMATION

7/31 A

Free Electronic Leak Testing

All Makes • All Models

46 Yrs. Exp. • Senior Discount

614-351-9025

SANTIAGO'S

Sealcoating & Services LLC

Quality Materials Used

SUMMER IS HERE!

Driveway Seal & Repair!

Top Seal Cracks!

Residential & Commercial

Mulching, Edging & Clean-ups

"Ask for whatever you need."

BBB Accredited-Fully Insured

Call or text for Free Est.

614-649-1200

8/14

A/M

BLACKTOP SEALING

Driveways & Parking Lots

614-875-7588

FOR ONLY

$74.00

You Can Reach

Over 41,000 Homes

In

Groveport & South/

Canal Winchester

For Info Call

272-5422

7/31 e/se

CONCRETE

www.hastingsnsons.com

Driveways & Extensions

Patio & Walkways,

Porches & Steps,

Garage/Basement Floors

Hot Tub/Shed Pads,

Stamped/colored concrete

Sealing of new &

existing concrete.

FREE ESTIMATES

Contact Adam

614-756-1754

hastingsandsons.

columbus@gmail.com

AJ's Concrete,

Masonry

Good Work - Fair Prices

Block Foundations

Driveways • Sidewalks

Epoxy/Overlay Floors

Bonded-Ins. • Free Ests.

614-419-9932

ALL-CITY CUSTOM

CONCRETE

All Types Concrete Work

New or Tear Out-Replace

40 Yrs. Exp.

(614) 207-5430

Owner is On The Job!

EDDIE MOORE

CONSTRUCTION

Quality Concrete Work

Lt. Hauling & Room Add.,

Block Work & Excavation

Stamp Patios,

Bsmt. Wall Restoration

36 Yrs Exp - Lic & Ins.

Free Ests. 614-871-3834

GUTTERS

Bates & Sons

GUTTER CLEANING

5 ★ Google Reviews

614-586-3417

HAULING

DEAN'S HAULING

614-276-1958

HOME

IMPROVEMENTS

SINCE 1973

Phil Bolon Contr.

Windows & Siding

Decks, Kitchens, Baths

Room Additions,

Flooring, Roofing

Bsmt Waterproofing

Deal With Small Non-Pressure Co.

47 Yrs. Exp. - Refs. Avail.

Lic.-Bond-Ins.

7/31

A/M

Free Est. - Financing Avail.

Member BBB Of Cent. OH

O.C.I.E.B. ID #24273

614-419-3977

or 614-863-9912

C&JHandyman

Services LLC

Minor Plumbing

& Electric

Install Hot Water Tanks,

Dishwashers & Disposals

Also Fencing &

Interior/Exterior Painting

Free Est. ~ 18 Yrs. Exp.

CDC/EPA Approved Guidelines

614-284-2100

7/31 A

7/17 A

HOME

IMPROVEMENTS

KLAUSMAN HOME

IMPROVEMENT

Siding-Windows-

Doors-Roofing-Soffit-

Fascia-Gutters-Trim

Earn FREE Seamless

Gutters with Siding Over

1000 Sq. Ft.

FREE Shutters with

Soffit & Trim

EPA Certified

Member of BBB

Financing Available

Over 20 yrs exp. • Free Est.

Licensed-Bonded-Insured

Owner & Operator

James 614-419-7500

HOME

REMODELING

MultiCraft Const.

& Handyman Services

All Types Handyman Services:

Decks, Fences

Kitchen/Baths

Window/doors installed

Interior Painting

Drywall Repairs

All Types of Flooring

Call/Text 614-774-2923

multicraftconstruction@gmail.com

LANDSCAPING

A-1 QUALITY

TREE & LANDSCAPE

Family Owned

Serving Central Ohio

Since 2004

Bed & Yard Maint.

Weeding, Mulching, etc.

Hedge/Shrub Trimming

*Stump Removal

614-596-9504

Insured - Free Est.

LAWN CARE

The Lawn Barber

Cut, Trim, Blow away

Hedge Trimming, Edging

614-935-1466

LAWN REPAIR

Patchi - Refurbish

Total Redo's

Overseeding, Fertilization

Serving Central Ohio

since 2004

Free Estimates

614-596-9504

LET US MAINTAIN

YOUR LAWN & GARDEN

FOR YOU

Summer, Spring,

Winter or Fall

WE DO IT ALL!!!!

Lawn Cuts, Edging,

Trees & Shrubs, Garden,

Mulching, Hauling,

Garden Pond &

Home Maint.

Free Ests. Low Rates

$20 & Up

Kevin - 614-905-3117

Classified Services

8/14 A

7/31A

PEST

CONTROL

TERMITE &

PEST CONTROL

614-367-9000

TORCO®

TERMINATES

TERMITES

Locally Owned & Operated. Any Pest. Anytime.

$

50 00 OFF Service

Free Termite Inspection

MOWER REPAIR

LAWN MOWER DR.

"House Calls Only"

Overall Checkups

Oil Change & Filter,

Spark Plug &

Blades Sharpened

MINOR REPAIR

John

614-395-7909

johnellis0333@sbcglobal.net

PAINTING

Painter Over 30 Yrs. Exp.

Free Est. Reas. Rates

Daniel - 614-226-4221

A Job Well Done Again

A lic. General Contractor

Some Skilled Services

Incl: Painting • Stucco,

Repair•Carpentry•Exterior

Drainage & Home Maint.

Call Today! 614-235-1819

PLUMBING

7/17 A

MYERS

PLUMBING

Exp. Expert Plumbing

New Const. & Fast Repairs

Lic. - Permit Available

Water • Sewer • Gas

614-633-9694

All About Drains & Plumb.

Will snake any small drain

$145. 614-778-2584

CHRIS'

PLUMBING

"Plumbing & Drain Professional

That You Can Count On"

24 Hrs., 7 Days/Week

No Overtime Charges

24 Yrs. Exp. in Plumbing &

Drain Cleaning Field

Call For A Free Phone Estimate

$100.00 For Any Small Drain

614-622-4482

30% OFF with AD

8/14 A&M

8/14 A

PEST

CONTROL

PLASTERING

DRYW

YWALL &

PLASTER

7/31

A&M

REPAIR

Textured Ceilings

614-551-6963

Residential/Commercial

BIA

POWERWASHING

POWERWASHING

at Reasonable Rates

Gwen 614-226-5229

MRS. POWERWASH

Any house wash $149+tax

Single deck $69+tax

2 Tier deck $99+tax

Best Wash in Town

Over 45,000 washes

Ashley 614-771-3892

Bates & Sons

Soft Wash & Powerwash

5 ★ Google Reviews

614-586-3417

SEWING MACHINE

REPAIR

REPAIR all makes 24 hr.

service. Clean, oil, adjust

in your home. $49.95 all

work gtd. 614-890-5296

TREE SERVICES

BURNS TREE SERVICE

Trimming, Removal &

Stump Grinding.

614-584-2164

Brewer & Sons Tree Service

• Tree Removal

• Tree Trimming 8/14

A&M

• Stump Grinding

• Bucket Truck Services

Best Prices • Same Day Service

614-878-2568

A-1 QUALITY

TREE & LANDSCAPE

Family Owned

Serving Central Ohio

Since 2004

614-596-9504

Insured - Free Est.

7/31 A&M
---
PAGE 12 - CANAL WINCHESTER MESSENGER - July 24, 2022

Canal Winchester

Farmers' Market

The 2022 Canal Winchester Farmers'

Market runs through Sept. 25.

Visit www.thecwfm.com for information.

SCHOOLS

Continued from page 3

$156,299 school bus grant to assist with the

purchase of three new buses.

The Capital Spending Plan Long-Term

Project wish list includes additions to the

middle school–such as a new gymnasium

that would also function as a multi-purpose

space– and new classrooms to address

overcrowding due to potential enrollment

increases.

Roberts anticipates the additions would

minimally increase operational costs with

no staff being added.

Additions are also on the long-term list

for kindergarten at either of the elementary

schools to accommodate full day sessions,

along with a new dedicated performing arts

center space at the high school.

A new intermediate building for students

in grades 4-6 would help reduce enrollment

numbers at the middle school and Winchester

Trail. However, according to Roberts, a

new building would severely increase operational

costs with a need to add additional

staff: teaching, administrative, custodial,

and secretarial.

Metro Parks wildlife advice

Summer is here and its the season for

calls about orphaned and abandoned animals.

Metro Parks is unable to rehabilitate

wildlife, but there are steps you can take.

According to Metro Parks officials, if you

find an animal in a park that is orphaned,

abandoned, or injured, leave it alone and

call the ranger cell number, posted on bulletin

boards and around the park. Sometimes,

babies are left alone while mom is

looking for food, and will return to the nest,

other times they will require care or monitoring.

Do not take them out of the park.

If you find an animal in your yard, leave

it be. Call the Ohio Wildlife Center 614-793-

9453 and leave a message, or visit their

website at ohiowildlifecenter.org for information

on how to help.

First ursday

The city of Groveport's First Thursday

summer festival series will be held the first

Thursday of August from 4:30-7:30 p.m. in

Cruiser Park, 4677 Bixby Road.

The event features food trucks, more

than 40 vendors, a petting zoo, kids' craft

tent and bounce house, a dog show in August,

and live music. The music schedule is:

Aug. 4 - Wade Dow & Darr Kovacs.

There will be giveaways to the first 200

attendees each date. Giveaways are: Aug. 4

- travel bowl. For information call 614-836-

3333.

Gerald is a friendly guy

who likes to supervise.

This 3-year-old boy

loves treats and getting

affection. Because he

likes to be in charge, he

would do best in a home

without other cats, but

dogs are just fine. Once

he gets to know you,

Gerald will be your best

friend, as long as you are willing to listen to his

beautiful singing voice. Gerald is up for adoption

through Friends for Life Animal Haven.

FYI: fflah.org

Nikky is a sweet and

loving 6-year-old calico

who loves people. She

will follow a person until

they sit down and then

she'll curl up on their lap

and purr. Nikky was a

porch cat and when her

owners moved, she was

left behind. She was very friendly when a

Colony Cats volunteer came to feed her and

was quite happy when the volunteer brought

her to the adoption center. Nikky knows the

center is better than a porch but she also

knows that the best life would be a home and

a lap of her very own. Contact Colony Cats to

adopt her.

FYI: colonycats.org

pets of the week

Briggs is a handsome

white cat and if you look

closely one eye is blue

and one is green. Briggs

was a friendly guy hanging

out in a colony on

Central Avenue. He is a

quiet and contemplating

kind of guy. If you are interested

in meeting

Briggs, contact Colony Cats.

FYI: colonycats.org

www.columbusmessenger.com

King Rico is just as

smart as he is handsome.

He quickly bonds

with his people, loves to

play, and is eagerly looking

for a place to call

home. He has previously

done well with

other dogs of equal size,

and will do best without any small animals in

the home. King Rico is available for adoption

at the Franklin County Dog Shelter.

FYI: franklincountydogs.com

pets of the week

These furry friends are available

for adoption at local rescues and

shelters.

RUB-A-DUB-DUB

RECYCLE

YOUR TUBS.

Plastic tubs are now recyclable.

Rinse them out, put the lids back on and recycle

all of your plastic tubs, bottles and jugs.

RecycleRight.org