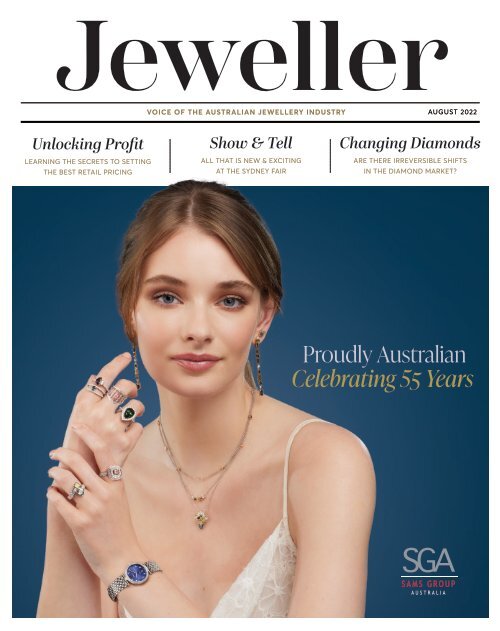 You also want an ePaper? Increase the reach of your titles
YUMPU automatically turns print PDFs into web optimized ePapers that Google loves.
VOICE OF THE AUSTRALIAN JEWELLERY INDUSTRY

AUGUST 2022

Unlocking Profit

LEARNING THE SECRETS TO SETTING

THE BEST RETAIL PRICING

Show & Tell

ALL THAT IS NEW & EXCITING

AT THE SYDNEY FAIR

Changing Diamonds

ARE THERE IRREVERSIBLE SHIFTS

IN THE DIAMOND MARKET?

SAMS GROUP

AUSTRALIA
---
Sapphire Dreams celebrates the natural wonders Australia has to

offer, in the form of unique, vibrant Sapphires. Expertly cut and

crafted, every stone has passed through the hands of our skilful

gem cutters. Mined on Australia's east coast, Sapphire Dreams

stones are sustainably sourced and crafted into immaculate,

luxurious jewellery pieces.

Our Australian sapphire jewellery is available in 9ct or 18ct White,

Rose or Yellow Gold, with many designs enhanced by sparkling,

elegant white diamonds.

SapphireDreams.com.au

Become a stockist today

02 9290 2199
---
Exquisite Argyle pink diamonds, exceptional

designs by Pink Kimberley

Become a stockist today

02 9290 2199

PinkKimberley.com.au
---
Find comfortable glamour in Blush Pink diamonds, elegant

designs, showcasing a beautiful glimpse of Australian history.

Become a stockist today 02 9290 2199
---
Solid Gold Collection

Become a stockist today

02 9290 2199

Established for over five decades, Classique is renowned for high quality,

elegant and ageless timepieces. Classique's Solid Gold range features wrist

and pocket watches, with the option for a diamond bezel. Every piece is

engineered with Swiss Quartz movement, for the ultimate luxury. Find stylish,

modern, classic, and timeless pieces at Classique.

ClassiqueWatches.com
---
(02) 9417 0177 / dgau.com.au

baume-et-mercier.com

Riviera Automatic, 42mm
---
Helping you shine

yesterday, today

& tomorrow.

YOUR LEADING SUPPLIER OF PINK ARGYLE, WHITE DIAMONDS & DIAMOND JEWELLERY

worldshiner.com
---
To schedule an appointment, please contact us:

L. J. WEST DIAMONDS INC. | 589 5th Ave, Suite 1102 | New York, NY 10017, U.S.A. | T +1 212 997 0940

L. J. WEST AU PTY LTD | Level 9, 225 St Georges Terrace | Perth, WA 6000, Australia | T +61 40 997 6981
---
Info@LJWestDiamonds.com | www.LJWestDiamonds.com | www.ScottWestDiamonds.com
---
Introducing our Revolutionary

3D Ring Configurator

1300 LIVADI (548234)

LIVADI.COM
---
THE

COMPLETE

PACKAGE

Supporting Australia's finest

independent jewellery retailers and

preferred supply partners with

innovation, technology, strategic marketing,

professional expertise, integrity and more.

With clarity and confidence,

we elevate independent retail.

What are you waiting for?

Josh Zarb - CEO

0448 416 070 | josh@jewellerscollective.com

jewellerscollective.com

#independentjewellerscollective
---
LEARNING THE SECRETS TO SETTING

THE BEST RETAIL PRICING

VOICE OF THE AUSTRALIAN JEWELLERY INDUSTRY

ALL THAT IS NEW & EXCITING

AT THE SYDNEY FAIR

AUGUST 2022

ARE THERE IRREVERSIBLE SHIFTS

IN THE DIAMOND MARKET?

AUSTRALIA

AUGUST 2022

Contents

This Month

Industry Facets

17 Editorial

20 Upfront

24 News

59 Show & Tell

36

39

110

112

10 YEARS AGO

Time Machine: August 2012

LEARN ABOUT GEMS

Pearls V: Exotics

MY BENCH

Yuki Mathwin

SOAPBOX

William Gant

59 SHOW & TELL

Fair preparation

Features

4The International Jewellery Fair will

take place in Sydney for the first time since

2019 later this month. Learn about the

new products on offer from suppliers.

41

49

94

RETAIL PRICING FEATURE

Find the right price for the right product

BUSINESS FEATURE

Three ways to rejuvinate a stagnant business

DIAMOND FEATURE

Lamenting natural diamond producers' missed income

Better Your Business

41 RETAIL PRICING FEATURE

Fine line

4Selecting the wrong product price

is a disaster for retailers. Too high?

Unachievable for customers. Too low?

The wrong message is communicated

about the quality of the product.

SAMUEL ORD explores the

complicated world of retail pricing.

104

106

107

108

109

BUSINESS STRATEGY

Customer service will make or break a business. KIZER AND BENDER explains why.

SELLING

DAVID BROCK explores the importance of quality over quantity in sales.

MANAGEMENT

Consumer behaviour myths are widespread. BRI WILLIAMS debunks common beliefs.

MARKETING & PR

SHANE O'NEILL puts the latest social media craze under the microscope.

LOGGED ON

MANDY EDWARDS outlines the perils of failing to update your social media strategy.

39 LEARN ABOUT GEMS

Exotics

4Extravagant pearls

come in a wide range

of colours, varieties

and forms, and some of

the world's rarest and

most unique come from

unexpected sources.

FRONT COVER Proudly Australian-owned and

operated, this year SAMS Group celebrates 55

years of dedication to innovative new brands,

inspiring creative trends, and delivering quality

service. Since its humble beginning in March of

1967 until today, SAMS Group continues to be a

market leader in luxury jewellery and impeccable

design involving high-quality Australian

gemstones. Visit: samsgroup.com.au

Unlocking Profit

Show & Tell Changing Diamonds

SAMS GROUP

August 2022 | 13
---
T H E W A T E R C H A M P I O N

The new Delfin Mecano is forged from the same

DNA as its brilliant 1960s forerunner, able to

function perfectly at up to 200m deep, thanks

to the Edox Double O-ring seals. Edox has

given the watch face an eye-catching makeover

with a skeletonised movement exposing

some of the intricate motions of the stunning

Calibre 853. Delfin – The Water champion.

(02) 9417 0177 | dgau.com.au
---
Editor's Desk

And it's another turn of event!

The industry is buzzing ahead of the most eagerly anticipated jewellery fair yet.

ANGELA HAN says everything points to this being a meeting of deep significance.

I am sure that when the exhibitors at the

last International Jewellery Fair were

packing up their stands on the final day

in 2019, no one would have thought the

next time they would be gathering in

Sydney would be in 2022!

Following a three-year hiatus caused

by the COVID-19 global pandemic, the

Sydney trade fair is back.

While there have been some smaller,

boutique-style events during 2020 and

2021 when it looked like the pandemic

was only passing through, nothing

compares to a full-scale jewellery fair at

Darling Harbour.

If there is anything that we learned

during the past three years, it's how

important face-to-face business events

are, and when it comes to buying events

– where retailers meet one-on-one with

suppliers – it's even more vital.

This was more true for the jewellery

industry where the touch and feel of a

product plays a major part in the financial

transaction – from determining how

light plays off the facet of a gemstone,

to reviewing the finishing on a ring with

fine craftsmanship, we quickly discovered

that business was better when we could

engage all senses.

That was never more evident than with

the various attempts to organise virtual

trade shows that effectively left us with a

permanent 'Zoom hangover'.

Not only did we all become zoomed

out by having to attend or participate

in, webinars, virtual events and trade

shows but the ability to switch off and not

have our engagement metrics tracked

constantly became exhausting.

Aside from the fact that the organisers

of these events always managed to claim

they were successful, I've still yet to

hear of any exhibiting suppliers say that

they're itching to do another virtual fair

because orders were through the roof.

In fact, the opposite was often true

as exhibitors felt that they'd wasted

resources and, in some cases, been

duped. After all, time and money

are luxuries that are in short supply,

especially in this economic climate!

While we have been somewhat fortunate

in Australia compared with many other

countries, the international trade show

industries are still slowly getting back

on their feet.

While JCK Las Vegas seems to have

basked in success with its 17,000 visitors

and 1,800 exhibitors, it's worth sparing a

thought for Hong Kong. It may well take

it some time to regain its dominance

as the premier destination location for

international jewellery buyers.

It should also be remembered that the

organisers of the upcoming Jewellery &

Gem World (JGW) Fair shifted this year's

exhibition from Hong Kong to Singapore.

It's set to take place on 27-30 September

and is said to be a more 'accessible' inperson

experience.

And while organiser Informa Markets

hopes the change of venue is a one-off

arrangement, we know that anything can

happen these days, as evidenced by its

recent decision to change locations due

to pandemic-related travel restrictions.

But back to our own jewellery fair, which

we will be more eagerly anticipating this

year than any before.

Busy and bustle at the fair

Not only are the suppliers preparing for

their first fair in three years, the buying

groups will be out in force.

Nationwide has made some major plans

for its presence at the Sydney fair. The

From

determining

how light plays

off the facet of

a gemstone, to

reviewing the

finishing on a

ring with fine

craftsmanship,

we quickly

discovered that

business was

better when we

could engage

all senses.

Annual Awards Dinner will be held on the

Sunday during the fair while a members'

night out to watch the Moulin Rouge

musical has also been organised.

In addition, workshop visits to tour the

facilities of Chemgold and Palloys have

been planned for members. Meanwhile

on the fair floor, Bill Sechos of Gem

Studies Laboratories will conduct four

diamond grading courses exclusively for

Nationwide members, alongside a dozen

other education training sessions.

Independent Jewellers Collective will

focus its activities around the theme:

A Brilliant Christmas and is set to host

a special members meeting over the

two days preceding the IJF where it will

present its 2022/2023 Marketing Calendar

and conduct Brilliant Christmas training

workshops where the keynote address

will be on how to market your business

in today's landscape.

Amidst a host of other exhibitors'

promotions, we celebrate some special

anniversaries of cornerstone Aussie

companies, like Duraflex Group Australia

(60 years) and SAMS Group (55 years)

which have also been exhibiting for many

decades at this same show.

Fair organiser Expertise Event will also

host retail strategist Debra Templar, who

will deliver six motivational and pragmatic

sessions for store-owners and managers,

and to top it off, the ever-popular Happy

Hour will take place on the Saturday

evening, before the fair closes.

As always, the Jeweller team is looking

forward to greeting you at the fair with

a magazine and copy of the Trade Fair

Directory!

Let's make it an event to remember!

Angela Han

Publisher

August 2022 | 17
---
Dedicated to innovating new brands, leading creative trends,

Dedicated to innovating new brands, leading creative trends,

preserving integrity and delivering quality

preserving integrity and delivering quality

With over 55 years of experience within the industry, Sams Group Australia is the

market leader in delivering quality timepieces and stunning jewellery to the Australian public.

In March 1967, Sam Der Bedrossian founded

Sams Watchmaker Jeweller Pty Ltd. To this day,

the company remains a fully Australian-owned

family business – a company that he still faithfully

manages.

Within a few years, he began to import movements

from Switzerland to design and assemble his own

watches under the brand name "Classique".

Sam is still passionate about every detail and

design of his watches, and remains completely

involved in every aspect, Sam Der starting Bedrossian with AM the

selection of world FOUNDER, quality parts MANAGING and components

DIRECTOR

that make up a Classique watch.

In 1991, Steve Der Bedrossian joined the family

business to help create and manage Classique

Watches. While gaining experience in the industry,

Steve In March had 1967, a vision Sam Der to extend Bedrossian further founded into the 100

domain per cent of fine Australian-owned, diamonds and Sams jewellery Watchmaker with an

Jeweller Pty Ltd., a company that he still faithfully

manages to this day.

Within a few years, he began to import movements

from Switzerland to design and assemble his own

watches under the brand name "Classique".

From Humble Beginnings

From Humble Beginnings

emphasis on Australian materials that represented

the very best of Australia and its rare beauty.

In 2010, the brands Pink Kimberley Diamonds

and Blush Pink Diamonds were established. The

use of Australian pink diamonds fell well within

the scope of company values of using only local

materials – and so the vision became creation.

With both brands being well-received by the

industry and consumers, the Australian Pink

Diamond Exchange and Sapphire Dreams were

launched

Steve Der

in

Bedrossian

2021 to further emphasise the

CHIEF EXECUTIVE OFFICER

importance and company belief in the quality and

rare beauty of Australian products.

Sams Group is proud to celebrate 55 years in the

industry and would like to thank the trade for the

decades emphasis of on support. Australian materials that represented

We

the

look

very

forward

best of

to

Australia

continuing

and its

our

rare

service

beauty.

to you.

In 2006, the brands Pink Kimberley Diamonds

and Blush Pink Diamonds were established. The

use of Australian pink diamonds fell well within

the scope of company values of using only local

materials – and so the vision became creation.

Sam is still passionate about every detail and

design of his watches, and remains completely

involved in every aspect, starting with the

selection of world quality parts and components

that make up a Classique watch.

In 1991, Steve Der Bedrossian joined the family

business to help create and manage Classique

Sam Der Bedrossian AM

Watches. While gaining experience in the industry,

FOUNDER, MANAGING DIRECTOR

Steve had a vision to extend further into the

With both brands gaining rapid popularity and

interest to both retailers and consumers, the

Australian Pink Diamond Exchange and Sapphire

Dreams were launched in 2021 to further

emphasise the importance and company belief in

the quality and rare beauty of Australian products.

Now with multiple landmark brands, Sams Group

Steve Der Bedrossian

is proud to celebrate 55 years in the industry

CHIEF EXECUTIVE OFFICER

and continue to serve the industry with the most

beautiful Australia has to offer the world.

samsgroup.com.au

orders@samsgroup.com.au • samsgroup.com.au •

02 9290 2199

02 9290 2199
---
SSAMS A GROUP O U P

AAUSTRALIA

U S T R ALI A

ESTABLISHED SINCE 1967

Classique Watches was founded in 1967, making

it the first brand within Sams Group Australia.

The luxurious timepieces are fitted with Swiss

Movements, featuring a design to suit any style.

Combining the natural beauty of Argyle pink

diamonds with award winning Australian

contemporary design. Elegance and luxury

are epitomised in Pink Kimberley's pieces.

Addressing market opportunity and high

demand, Blush Pink Diamonds was created

on the principle that jewellery with natural

pink Australian Argyle diamonds should be

affordable and accessible to every price range.

APDX is Australia's first digital marketplace

for buying and selling Argyle pink diamonds,

with the expert advice of gemmologists and

experienced jewellers on your side.

Taking inspiration from the natural wonders

of Australia, Sapphire Dreams showcases

incredible Australian Sapphires, set in modern

and luxurious designs.

Become a stockist today
---
Upfront

#Instagram hashtags to follow

Alpha Order

#iconicjewellery

5,440 POSTS

#dreamring

213,452 POSTS

#weddingjewelry

1,778,955 POSTS

#engagementring

7,201,778 POSTS

#australianopals

60,004 POSTS

HISTORIC GEMSTONE

Marie-Louis Diadem

#pearls

7,410,009 POSTS

#blackjewelry

97,111 POSTS

#goldnecklaces

151,003 POSTS

#ringinspo

105,999 POSTS

#winterjewellery

39,155 POSTS

4The Marie-Louise Diadem is a tiara

designed to hold 79 emeralds and

more than 1,000 diamonds, totaling

approximately 700 carats. The tiara is

a scrolling design of palmettes and

medallions in gold and silver. The tiara

was commission by Napoelon Bonaparte,

Emperor of France, as a gift to his second

wife, Marie-Louise of Austria. Following

her death, ownership of the tiara is a hotly debated topic.

Marie-Louise bequeathed the tiara to one of two people.

According to The Smithsonian, her aunt Archduchess Elise was

the recipient. The Louvre states that her cousin, Leopold II, Grand

Duke of Tuscany, was the heir. A descendant sold the tiara to Van Cleef

& Arpels in 1953. The emeralds were sold individually and in 1962,

were replaced with Persian turquoises totaling 540 carats. The Tiara is

currently on display at The Smithsonian in Washington DC.

Trend Spotting

4The pendulum has swung back in

favour of clip-on earrings after more

than four decades in the wilderness.

Gucci, Dolce & Gabbana, Dior, Oscar

Dela Renta and beloved designer

Alessandra Rich are all showcasing

new clip-on products US actress

Jennifer Garner, star of Alias and 13

Going On 30, recently revealed she's

long been a fan of clip-on earrings.

Image credit: @gwynethpaltrow

Stranger Things

Weird, wacky and wonderful

jewellery news from around the world

Rodents steal gold

4In a bizarre incident reported

from Mumbai, India, police

officers claim to have recovered

gold stolen by rats. A 45-year-old

woman informed the police that

approximately 100 grams of gold

had gone missing. Investigating

officers were led to a garbage

dump and after examining CCTV

footage, observed rodents entering

the abandoned bag, taking the

gold, and heading into a nearby

drain.Police recovered the gold

ornaments within a gutter nearby.

Closing after 277 years

4Thurlow Champness, a

jewellery store in Suffolk, Britain,

has confirmed the business

will cease operating soon. The

business has been run out of

the same store for 277 years.

The store opened in 1745, with

watchmaker George Lumley

selling watches, diamond jewellery,

gold pieces and clocks. Current

owner Trevor Salt is retiring after

more than four decades work.

Digital Brainwave

Thin as can be

Graff has been

taught the

importance

of prioritising

cybersecurity

measures.

4UK-based jewellery store Graff has

been given a firm lesson in the importance

of cybersecurity after paying more than

$US7 million in random to hackers. The

incident became public in early June when

representatives of Graff appeared in court in

London to sue an insurance provider.

According to the lawsuit, Graff was attacked

by Russian ransomware last year, leading

to threats to publish private client data. A

Graff spokesperson confirmed that a payout

was negotiated with the hackers to prevent

damage to customers.

Campaign Watch

4American actress Gwyneth Paltrow

has found herself under fire once again,

this time over the launch of a new

''everyday'' jewellery collection.

The 49-year-old recently launched a

jewellery line simply titled 'G' and was

branded as 'out of touch' by users

on social media. Marketing for the

jewellery branded the products as

''everyday'' despite featuring a

$7,900 gold necklace featuring

1.96-carat diamonds.

4Swiss watch manufacturer

Richard Mille has launched the

world's thinnest mechanical watch.

The Richard Mille Ferrari Ultra-Thin

has a profile of just 1.8mm, which

is approximately the thickness of a

human hair. The previous record for

world's thinnest watch was held by

Bugari's Octo Finissimo Ultra.

150 editions intricately crafted

titanium Richard Mille watch will be

released, retailing at approximately

$US1.7 million.

VOICE OF THE AUSTRALIAN JEWELLERY INDUSTRY

Published by Befindan Media Pty Ltd

Locked Bag 26, South Melbourne, VIC 3205 AUSTRALIA | ABN 66 638 077 648 | Phone: +61 3 9696 7200 | Subscriptions & Enquiries: info@jewellermagazine.com

Publisher Angela Han angela.han@jewellermagazine.com • Journalists Samuel Ord samuel.ord@jewellermagazine.com | Richard Chiu editorial@jewellermagazine.com

Production Coordinator Lauren McKinnon art@befindanmedia.com • Advertising Toli Podolak toli.podolak@jewellermagazine.com • Accounts Paul Blewitt finance@befindanmedia.com

Copyright All material appearing in Jeweller is subject to copyright. Reproduction in whole or in part is strictly forbidden without prior written consent of the publisher. Befindan Media Pty Ltd

strives to report accurately and fairly and it is our policy to correct significant errors of fact and misleading statements in the next available issue. All statements made, although based on information

believed to be reliable and accurate at the time, cannot be guaranteed and no fault or liability can be accepted for error or omission. Any comment relating to subjective opinions should be addressed to

the editor. Advertising The publisher reserves the right to omit or alter any advertisement to comply with Australian law and the advertiser agrees to indemnify the publisher for all damages or liabilities

arising from the published material.
---
sales@dsmjewels.com

DSMPACIFIC.COM

SYDNEY

Suite 911-912, Level 9, 155 King St.

The Trust Building Sydney,

NSW 2000 | 02 9232 1410

MELBOURNE

Suite 605A, Level 6, 227 Collins St.

The Wales Corner Building Melbourne,

VIC 3000 | 03 9650 3166
---
Natural Certified Diamonds | Natural Loose Diamonds

Lab Grown Certified Diamonds | Natural Fancy Colour Diamonds

Natural Matching Pair Diamonds | Natural Black Diamonds

Natural Diamond Jewellery | Lab Grown Diamond Jewellery
---
News

Jewellery fair scammers back in business as world exits pandemic

Jeweller decided to engage with one of the

scammers offering the attendee list for the

International Jewellery Fair. We asked for the

details of this list and the cost.

We were supposedly communicating with Henry

Johnston, a database and list expert from

an international research company based in

Pennsylvania, USA. Even though our email replies

were being sent during Australian business hours,

they were being quickly answered although it was

meant to be 3am in the US.

Jewellery show scammers are back in force as the

world 'reopens' after the global pandemic.

The scams – which were increasingly prevalent

before COVID forced the closure of most

international trade shows all around the world

– are very simple.

These scams tends to target three things: attendee

lists, fair directories and hotel reservations.

Attendee lists

This is the most common scam and involves

exhibitors being contacted by people who claim to

have an upcoming show's attendee list. For a price,

you buy complete contact details of every visitor -

before they even attend the event!

The scammers will often use the show name,

logo and/or show organiser's name in the

email signature.

Jeweller is aware of a number of emails

currently circulating stating, "We are offering

you the attendees contacts list of IJF

International Jewellery Fair 2022: Are you

interested to purchase?"

The email goes on to list attendee categories

including jewellery retailer, department store buyer,

watch or clock retailer, duty free retailer, jewellery

manufacturer and so on.

Fair directories

This scam entails exhibitors receiving an email

to update their company information in the

'International Fairs Directory', or another name

similar to the name of the exhibition they are

scheduled to attend.

These emails appear at a time when suppliers

are focusing on the trade show's planning.

A few years ago, a number of Australian jewellery

suppliers got caught by this scam when they found

themselves agreeing to pay €1,212 ($AU1,796) to

a company each year for three years for the

'privilege' of advertising in a directory, which had

no connection to any trade show.

Hotel reservations

This scam has not been as prominent in the

Australian jewellery industry; however, again it's

very simple: exhibitors are offered 'too good to

refuse' hotel deals only to discover they booked

rooms through a third-party room broker.

People arrive at a hotel only to find that no booking

exists and there is no recourse for the payment

of rooms. These 'brokers' falsely imply they are

affiliated with show management and secure

deposits and/or full prepayment fraudulently.

Gary Fitz-Roy, managing director Expertise Events

said that not only does he get calls every year from

jewellery exhibitors about the attendee list being

sold, he said his own business gets offers to buy

the attendee list of his own show!

"It's an old scam and no one running it is very

sophisticated. The scammers copy the exhibitors

list contact details from our website, as well as our

details as the fair organiser, and then try to sell us

an attendee list that they don't have.

"In fact, some years ago, when we launched

a new exhibition in another industry, the

scammers were trying to sell the attendee list

of a show that had never taken place. It was the

first event," Fitz-Roy said.

He advises exhibitors to ignore these emails:

"Suppliers and exhibitors and, more importantly,

visitors [retail buyers] need to be assured that

Expertise Events does not sell our database, the

scammers have no access to it.

"It's simply a fraud, just another internet scam."

Investigation

This publication receives many emails attempting

the attendee list scam, and a quick search of the

email address and/or adding the URL address of

the, so called, list broker will quickly expose the

scam. That is, while the email address can be, say,

john.smith@exhibitorlists.com, there will be no

website for the business Exhibitorlists.

We asked Johnston to call our office to discuss

the details. We were told the attendee list for a

show that had not taken place included the names,

addresses, phone numbers and email addresses

of 15,237 jewellery buyers scheduled to attend the

Sydney trade fair.

When the number of buyers was queried, the man –

who revealed he was an Indian national - confirmed

that the figure was correct. He also confirmed he

was located in Pennsylvania, the address on the

company's website, and explained that "he is on call

to answer questions, even at 3am in the morning!"

At this point, we asked if he could tell us how many

jewellery stores there are in Australia according to

his "extensive database of jewellery buyers".

He said he could provide that figure but first, he had

to "interrogate the database" at which point there

was fast and seemingly loudly exaggerated typing

(banging) on a keyboard to signify search queries.

The answer came back "more than 40,000".

Jeweller confirmed the question to Johnston and

he replied, "Yes, that's correct, there are more than

40,000 independent jewellery stores in Australia.

And we have all their contact details."

For the record, the total number of jewellery stores

in Australia, including chain stores such as Michael

Hill, Prouds, and so on, is fewer than 3,000!

Following further discussion - including a great

many more outrageous claims - we agreed to buy

the list.

We were presented with an invoice for $US500

listing the payment details for a National Australia

Bank account; however; the payment had to

be made via a specific Western Union office in

Sunshine, a western suburb of Melbourne.

Needless to say, the payment was never made,

even though we assured Mr Johnston that it had.

Fitz-Roy said the only way to deal with

scammers is not to reply. "It happens on all

of our shows and happens to other event

organisers all around the world.

"Expertise Events has the largest database of

jewellery retailers and buyers by far. We would

never sell, rent, or give away our lists."

24 | August 2022
---
News

June jewellery sales achieve mixed results; need for planning pushed

Australian jewellery sales saw mixed results across

product categories in June with the performance

roundup to the end of the financial year influenced

by impacts of the COVID-19 pandemic and

weather events, according to the latest Retail Edge

Consultant's market report.

Comparative sales dollars slightly increased by 1.9

per cent in June compared with the same period

last year but marked a significant increase by 19

per cent based when compared to June 2020.

An increase of 3.5 per cent was noted for

comparative units sold when measured against

June 2021, but revealed a decline of 6 per cent

when compared with June 2020.

Mike Dyer, sales manager, Retail Edge said, "The

end of the financial year and the start of the climb

to Christmas all encompassed in the simple flip of

a page on a calendar."

He stressed that planning for the new financial

year "has taken on an even greater importance" as

the latest data revealed mixed results and "point

towards the [end of financial year] sales maybe

having a greater influence than at the same time

last year."

Comparative average sales based on inventory

dropped by 2.6 per cent ($214) when compared

with the same period last year ($219) but marked

a strong 26 per cent increase from $169 when

measured against June 2020.

Diamond set precious jewellery sales declined by 15

per cent compared with June 2021 but indicated an

8 per cent increase based on a two-year difference.

Other categories also increased; colour stone

set precious jewellery rose by 13 per cent when

measured against last year, but revealed a strong

43 per cent increase compared with June 2020,

while non-stone precious jewellery saw a slight

increase of 1.2 per cent compared with June 2021

but marked a significant rise of 22 per cent when

measured against June 2020.

Sales dollars for laybys for new pieces and pickups/

cancellations rose by 15 per cent, which points to

increased cashflow and customer traffic, as well as

consumers carefully "planning and budgeting their

jewellery purchases."

However, sales dollars for services/repairs declined

by 27 per cent between new (incoming) pieces and

pickups/cancellations. A similar downtrend was

seen for special orders which dropped by 8 per cent

between new pieces and pickups/cancellations.

Dyer noted that the decline in services and special

orders should draw attention to marketing and

social media campaigns for those segments to

perform better.

"When looking at your 12-month planning,

remember to review suppliers as well as product

categories. As consumer product acceptance shifts,

you need to understand and adapt to maintain

market relevance," he added.

Experience Unmatched Service & Reliability

Precious Metals

Jewellery Production

REFINING | METALS | CASTING | CAD/CAM | FINDINGS

Visit us at Stand D17 > International Jewellery Fair

1300 984 751

sales@chemgold.com | www.chemgold.com

Follow us

Servicing Australia & New Zealand

Sydney: Unit 37, 34-36 Ralph St, Alexandria 2015

Melbourne: 1406/227 Collins St, Melbourne 3000
---
Email is dead.

Phone tag sucks.

Let text do the talking.

Podium is the messaging platform that gets

you more connected to your customers – all

through the power of two-way text.

Find out more by visiting Podium at Booth F44

Scan to find out more
---
Customers want

everything fast

and without friction.

Get the tools to give customers what they want –

and what you need to grow your business.

See why Podium is backed by Google and trusted

by over 100,000 businesses.

Find out more by visiting us at Booth F44

Scan to find out more
---
News

Record sales performance for Australian jewellery retailer

Despite Michael Hill['s shutdown of three stores in Australia

during the quarter, plus the loss of more than 10,000 store

hours, the company has been on a consistent uptrend for 12

successive quarters.

Brisbane-based jewellery retailer Michael Hill

International has announced a record year of sales

based on its latest trading report.

Store sales increased by 17 per cent for the

quarter and 7.3 per cent for the full year when

measured with the same period last year.

Same-store sales also increased by 8 per cent

for the year when compared with the same

period last year. Quarterly results saw an

increase of 2.1 per cent.

Daniel Bracken, CEO and managing director,

Michael Hill International said, "I'm delighted

with our full year trading results, despite the

continued backdrop of COVID disruptions and

the resulting loss of 10,000 store trading days,

we have delivered the highest sales and margin

in the history of the Michael Hill brand."

Digital sales also generated a record

performance with sales of more than $40 million

marked by an increase of 23 per cent compared

with the previous year and representing 7.1 per

cent of total sales for the group.

Despite the shutdown of three stores in Australia

during the quarter, plus the loss of more than

10,000 store hours, the company has been on a

consistent uptrend for 12 successive quarters.

Another key contributor to the sales performance is

the Brilliance by Michael Hill loyalty program which

has more than 1.4 million members to date.

"These results reaffirm our continuing journey

to elevate the Michael Hill brand through our

marketing, our product, our stores, and our

people," Bracken said, noting the challenges of

the COVID-19 pandemic and the uncertain global

economic environment.

"The business will continue to prioritise

key strategic initiatives across loyalty, retail

fundamentals, and digital expansion while

maintaining an elevated focus on capital

investment opportunities," he added.

The company has forecasted comparable earnings

before interest and taxes (EBIT) figures of between

$60 to $63 million for FY22.

Michael Hill International is listed both in the ASX

and NZX and operates 280 stores throughout

Australia, New Zealand, and Canada.

FIND US ON INSTAGRAM

MILLENNIUM_CHAIN

Australian leading wholesaler, specialising in manufacturing

9ct and 18ct yellow gold, rose gold and white gold.

Machine made and hand made, any kind, chains and bracelets,

bangles and findings. Suppliers to retailers and wholesalers.

MILLENNIUM CHAIN

P: 03 9650 5955 | E: sales@millenniumchain.com.au

www.millenniumchain.com.au
---
News

Millions in jewellery

mysteriously missing

Former jeweller convicted of grand larceny in US

The missing jewellery includes several high-end vintage and

rare pieces belonging to 18 jewellers participating in the

International Gem and Jewellery Show.

An estimated $US150 million ($AU221 million) of

jewellery loaded into an armoured vehicle and en

route to a trade show in Los Angeles has bizarrely

disappeared.

The missing jewellery includes several high-end

vintage and rare pieces belonging to 18 jewellers

participating in the International Gem and

Jewellery Show.

Some of the jewellers, as reported by CBS News,

have lost pieces that have been curated for the last

40 years.

The missing jewellery was being transported to the

Pasadena Convention Centre from another trade show

at the San Mateo Event Centre.

However, details on what has happened to the

jewellery remain a mystery as the owners say they are

yet to receive a detailed explanation from Brink's, the

owner of the armoured vehicle.

CBS News contacted a spokesperson for Brink's who

refused to disclose the nature of what is believed

to have been a robbery. CBS was unable to verify if

security footage or tracking devices from the vehicle

are available as a part of the investigation.

"Earlier this week, a loss incident involving a

Brink's vehicle occurred near Los Angeles," Brink's

statement reads.

"According to the information the customers provided

to us before they shipped their items, the total value of

the missing items is less than $US10 million.

"We are working with law enforcement, and we will

fully reimburse our customers for the value of their

assets that were stolen, in accordance with the terms

of our contract."

The Federal Bureau of Investigation is investigating

the case together with the LA Country Sheriff's

Department.

Nehal Modi has been convicted of first degree

grand larceny in the New York State Supreme

Court.

In December, a jury indicted Modi for one count

of grand larceny, defined as the theft or robbery

of an item valued at more than $US1 million.

According to Manhattan District Attorney

Alvin Bragg, between March and August 2015,

Modi made false representations regarding

a purported deal with Costco Wholesale

Corporation to obtain more than $US2.6 million

worth of diamonds from Lev Leviev Diamonds,

then liquidated the diamonds for his own

personal gain.

"This scheme unfolded in the heart of New York

City's historic diamond district., where Mr. Modi

conned and defrauded a Manhattan business

out of millions," said Bragg.

"Here, there was clear and conclusive evidence

Swiss luxury goods group Richemont has

reported stellar global sales for the first fiscal

quarter despite ongoing struggle in China.

The group's major jewellery maisons —

Cartier, Van Cleef & Arpels, and Buccellati

— climbed 20 per cent year-on-year to €3.02

billion ($AU4.48 billion) for the three months

ending June 30.

Revenue from watch brands such as Piaget,

Vacheron Constantin and A. Lange & Söhne

increased 18 per cent to €1 billion ($AU1.48

billion).

that Mr. Modi obtained these diamonds under

false pretenses and used them for quick cash."

Modi was once CEO of retail group Samuels

Jewelers, which shut down in 2019 after

its parent company, India's Gitanjali Group,

collapsed as a result of fraud committed against

Punjab National Bank.

Grand larceny in the first degree is a class B

felony under New York state law and carries

a minimum penalty of one to three years

imprisonment.

Sentencing is scheduled for July 22 and

according to reporting by Rapaport News,

Modi plans to appeal his conviction.

The 41-year-old is the younger brother of

infamous businessman Nirav Modi, 51, who is

currently behind bars in the UK for a range of

criminal offences including fraud and money

laundering.

Richemont celebrates strong opening quarter

Total revenue for Richemont for the quarter

reached €5.26 billion ($AU7.80 billion) – a 20

percent improvement compared with the first

fiscal quarter of last year.

The regional data was positive in the US

market, improving by 41 per cent compared

with last year. The US market accounted for

22 per cent of total sales. Europe improved by

41 per cent.

The Asia Pacific market performed negatively

with an 8 per cent decrease in sales,

attributed to the COVID pandemic.

The pandemic continues to hurt sales in

China too, with Richemont reporting a 37 per

cent drop in sales for the quarter.

Based in Switzerland, Richemont owns luxury

brands such as A. Lange & Söhne, Buccellati,

Cartier, Vacheron Constantin, and Van Cleef

& Arpels. Retail accounts for 58 per cent of

Richemont's sales.

28 | August 2022
---
News

Luxury jeweller sues insurer over cyber ransom

British luxury jeweller Graff has filed a lawsuit

against its insurer for refusing to cover a multimillion

dollar ransom payment.

Graff paid $US7.5 million in cryptocurrency to a

notorious Russian hacking syndicate, Conti, after

the company was hacked using ransomware in

September of 2021.

As a part of the extortion, the public leaking of

confidential client information was threatened

against Graff.

Graff's lawsuit has been made against Travelers

Companies Inc, stating that the ransom paid

in cryptocurrency to the criminals should have

been covered under its insurance policy.

A Graff spokesperson told Bloomberg, "We

are extremely frustrated and disappointed by

Travelers' attempt to avoid settlement of this

insured risk."

As reported in Jeweller last year, the hackers

reportedly stole high-profile identities from Graff

and leaked personal and sensitive information

on the 'dark web'.

In a bizarre twist, the hackers released a

statement of apology saying: "We found that our

sample data was not properly reviewed before

being uploaded to the blog" and it assured Saudi

Arabia, UAE, and Qatar families whose names

appeared on the leak that any information

pertaining to the royal family members "will be

deleted without any exposure and review."

The hackers removed 69,000 documents posted

online following the apology, which they claimed

represented only 1 per cent of their total haul.

In another statement, the group offered

assurances that none of the stolen files was

"sold on auctions or offered as samples, or

revealed in any other capacity to any third party."

Cybersecurity experts said the unexpected

response from the hackers could have been

borne out of fear of possible repercussions for

any customers on the list.

The hacked files included invoices, client lists,

receipts, and credit details of Graff clientele.

Graff was founded by British jewellery Laurence

Graff in 1960 and today operates more than 50

stores worldwide with locations in New York,

London, Las Vegas, Monte Carlo, Beijing, and

Melbourne.

Graff paid $US7.5 million in cryptocurrency to a notorious

Russian hacking syndicate, Conti, after the company was

hacked using ransomware in September of 2021.
---
News

Indian jeweller seizes world record with stunning ring

Ring fetches $US7.3 million

A diamond jeweller from India has entered the

Guinness World Records after creating a ring

that holds more than 24,000 diamonds.

The mushroom-shaped ring dubbed "The

Touch Of Ami" holds 24,679 white diamonds

and was made by Kerala-based SWA Diamonds.

The ring took 90 days to create and weighs

340 grams and is valued at $US95,243

($AU141,576).

Abdul Gafur Anadiyan, managing director SWA

Diamonds said, "It is our privilege and honour

that this ring was made in India"

"[The ring] marks the triumph of entrepreneurship

in the diamond sector of our state."

The design was inspired by the pink oyster

mushroom which symbolises immortality

in Indian culture. It was modeled using 3D

computer-aided design and the ring base

was molded in gold before being encrusted

in diamonds.

"A team of qualified independent diamond

experts and jewellery experts evaluated the

ring at IGI - International Gemological Institute

Lab," Anadiyan added. The previous record

was created in 2020 by another Indian jeweller

- Harshit Bansal of Renani Jewels, with a ring

featuring 12,638 diamonds.

SWA Diamonds is owned by jewellery

manufacturer and distributor Capestone.

The latest Poly Auction in Hong Kong has

collected more than $US25 million in sales, with

the highest price achieved by one particularly

impressive ring.

The auction was hosted on 13 July and

headlined by a ruby and diamond ring from

Cartier which sold for $US7.3 million

($AU10.6 million).

The ring features an 8.3-carat Burmese ruby

surrounded by white diamonds.

Among the other notable items was a necklace

with 43 jadeite beads and a diamond clasp,

which was sold for $US6.4 million ($AU9.3

million).

Another necklace, this one by Harry Winston,

featured 65.75 carats of Colombian emeralds

paired with diamonds and sold for $US4.9

million ($AU7.1 million).

A pair of 15.7-carat heart-shaped, D-color,

internally flawless diamonds sold for $US3.36

million ($AU4.8 million), toward the upper end

of the presale estimate.

Sales from the auction totalled $US25.1 million

($AU36.6 million).

18ct Diamond & Precious Coloured Gemstone Jewellery Collection

DJDIAMONDDESIGNS.COM.AU

Daniel Jacuk | 0412 071 103 | sales@djdiamonddesigns.com.au

See our range at Stand C44

International Jewellery Fair

August 27-29th
---
News

MoonSwatch won't be available online

Enthusiasts hoping to become owners of the Omega x Swatch Speedmaster

Bioceramic MoonSwatch will still need to attend a store in-person, with a

spokesperson confirming that online access will not be offered.

In March of this year, the release of the Moonswatch collection caused

mayhem outside of stores across the world, including in Melbourne

and Sydney.

The Moonswatch is the result of a collaboration between Omega

and Swatch and was priced at $AU380 per watch. That retail price is

dramatically cheaper compared with other Omega Speedmaster products,

which list for more than $AU7,000.

The watch collection offers customers the chance to own a timepiece close

to the iconic Omega Speedmaster at a fraction of the cost. Online auction

sites such as eBay quickly featured watches listed at more than five times

the retail price following the launch.

At locations in Melbourne and Sydney, lines formed in the early morning

outside stores, however, due to the limited availability of the product,

hundreds were left disappointed.

Swatch Group CEO Nick Hayek has now confirmed that the watch will

not be sold online, telling Fratello "There's no emotion in online buying."

"It's a carefully produced Swiss-made watch and not a commodity.

"The MoonSwatch is not about to make as much money as possible in

the shortest possible time period. So why should we sell it online?"

Swatch has 110 retail stores worldwide.

Hayek noted that after two years of pandemic restrictions, "it was about

time to celebrate and to bring the people back on the streets, meet

together, and revive the brick-and-mortar stores."

There are 11 models in the MoonSwatch collection representing the solar

system, with each model designed after one planetary figure. Each planet

from Mercury to Pluto is represented, as well as the Sun and Moon.

According to a Swatch spokesperson, there is currently a shortage of

Moonswatch products, with the company's website attributing this to

"overwhelming demand from Swatch fans all over the globe."

"We're working around the clock behind the scenes to make the 11 unique

watches and are replenishing our selected Swatch stores regularly with

this special collaborative collection between Swatch and Omega," the

website reads.

The statement noted the watches are not limited-edition timepieces,

so consumers may be able to purchase them soon once stocks are

replenished.

Timeless Elegance

The watch collection was launched on 26 March, with Australia being

one of the first countries to launch the model ahead of the US and

European markets.

The watches are designed and modeled after the iconic Omega

Speedmaster Professional Moonwatch, which was made famous after

US astronaut Buzz Aldrin wore the watch during the 1969 mission to

the Moon.

Luxury Pearl and Opal Jewellery

enquiries@ikecho.com.au

+61 2 9266 0636

www.ikecho.com.au
---
News

Anniversary celebration: Reflecting on 60 years of Duraflex

Duraflex Group Australia, one of Australia's

longest running jewellery industry suppliers

celebrates 60 years in business this year.

Throughout its operation the company has

weathered many storms, from economic

recessions and the global financial crisis to

the more recent global pandemic.

Anniversaries provoke not only celebration, but

also reflection, and Duraflex Group Australia

(DGA) managing director Phil Edwards told

Jeweller it was a time to look back, as well as

ahead.

"We are a close-knit team and we are very

proud of our company history," Edwards said.

"More than half the team have been with the

business for 10 years or more and our current

longest serving team member will celebrate

25 years with us in 2023.

"Our long-standing success in the industry is

testament to our long-standing relationships

with our retail partners. We've forged and

fostered these relationships over many years."

Early days

With a watch focus initially, Duraflex was founded

in 1962 by Ron Kearns and while ownership has

since changed hands the humble roots of the

business are reflected in the name today – an

amalgamation of "durable" and "flexible" - after

watch straps.

The business would eventually become the clear

leader for local supply of said watch straps,

before Ron Kearns partnered with his son Rod

who expanded the business into the distribution

of a limited range of jewellery.

Duraflex Group's stand at IJF 2018.

The next major change came in 2003, when

Phil Edwards acquired the business from the

Kearns family.

Edwards said his immediate focus at the time

was expanding Duraflex's international brand

distribution portfolio.

"The strategic expansion of our business was

essential," he said.

"The retail industry has transformed and shifted

direction over the decades and our ability as

a business to pivot and adapt and change and

champion innovation has proved critical.

"Working in close collaboration with retail

partners and constantly adapting to their diverse

business needs whilst striving to provide the

best products, pricing and service possible –

these points have always been the underpinning

of our success."

Thomas Sabo

The most significant of these brands would

be launched three years later in 2006. The

formation of a partnership with one little known

European jewellery brand - Thomas Sabo -

would dramatically change Duraflex's status

position in the local industry.

Thomas Sabo was founded in 1984 and took

more than two decades to gain international

recognition as the trade remained fiercly

divided between fine and fashion jewellery.

DGA opted to launch the brand at the Sydney

Trade Fair in August 2006 and in the early days,

trading struggled to gain traction.

It wasn't until the Charm Club collection was

launched in 2007 that popularity surged. Within

seven years, Thomas Sabo would be held by

more than 300 stockists across Australia and

New Zealand.

Edwards said that for DGA the success of the

Thomas Sabo distribution partnership marked

an evolution of the business.

"It proved pivotal to DGA's repositioning as

a multi-branded distributor and certainly in

hindsight was a defining moment," he said.

"It was also defining moment for the industry

and the development of the branded jewellery

category in our local market. DGA is immensely

proud to have been one of the leaders of the

category expansion."

Fast forward to 2022 and DGA distributes 16

major international brands while remaining a

fully Australian owned and operated business.

More than 1,100 retail stores are supplied by

the business, which remains based in

Chatswood, Sydney.

Pandemic

Recent years have been far from smooth sailing

for Australian retailers with the COVID pandemic

throwing more than a few spanners in the

works. Some impacts of the pandemic were

immediately clear such as major disruptions

to supply chains, a lack of direct access to

customers and rises in job insecurity.

Edwards said that simply surviving the

Rod Kearns and Phil Edwards

pandemic wasn't the company's aim – seeking a

strengthened positioned was also important.

"It all comes back to working in close

collaboration with our retail partners by tailoring

our services and support to directly assist their

unique and individual business needs during any

challenging period," Edwards said.

"For many, when the store doors were forced

shut they opened up online, and we were there

to assist by providing e-commerce and dropship

solutions. For others, it was about weathering

the storm together and preparing strategically

for reopening with extra support where it was

needed."

Duraflex Group's stand at IJF 2019.

"We also recently redeveloped a new upgraded

B2B Portal which is ready for launch. The aim is

to enable our retailers to place orders with more

efficiency and ease."

Over the past 60 years Duraflex has evolved

from watch straps to European branded

jewellery, a diamond range, and more recently

Swiss watches.

From here, Duraflex's attention turns to the

International Jewellery Fair, beginning in Sydney

on 27 August, where a distribution relationship

with Swiss watchmakers Edox will be launched

to a sea of eager buyers celebrating the first

large-scaling industry gathering since 2019.

34 | August 2022
---
FINE JEWELLERY MANUFACTURERS

available in 9ct & 18ct gold and platinum

MARKMCASKILL.COM.AU

+61 (08) 8352 1400 | sales@markmcaskill.com.au

ADELAIDE | BANGKOK
---
10 Years Ago

Time Machine: August 2012

A snapshot of the industry events making headlines this time 10 years ago in Jeweller.

Historic Headlines

4 Tiffany gets stamp on new metal

4 High tech on show at jewellery fair

4 Pandora launches new season collections

4 Police close in on $3 million jewellery gang

4 Sweet launch for Thomas Sabo diamond range

STILL RELEVANT 10 YEARS ON

DEBBIE MAYO-SMITH

"Building a customer base is an essential

part of any business and regaining

lost customers can be one of the most

efficient ways of doing it."

READ ALL HEADLINES IN FULL ON

JEWELLERMAGAZINE.COM

Zamel's guilty of misleading

consumers – again

The Federal Court has found that the Jewellery

Group, the company that operates Zamel's,

misled consumers about the level of savings to

be made during sales over an 18-month period.

The Court found that Zamel's, which at the time

of the offences consisted of between 93 and 101

stores, misrepresented the savings consumers

would make from purchasing items during sales

periods in respect of 44 jewellery items included

across six Zamel's catalogues and one flyer

distributed by national letter box drop, instore

and on Zamel's website between November

2008 and May 2010.

Rolex and Harry Winston

defend their brands

Rolex and Harry Winston have both proceeded

to take legal action against companies they feel

have damaged the value of their brands.

Watch giant Rolex is suing an American

online, pre-owned watch retailer for allegedly

breaching counterfeit laws.

Melrose.com, which according to its own

website sells restored luxury wristwatches,

including pre-owned men's and women's

Rolex watches, is being sued by Rolex for

using counterfeit parts in the restoration of its

watches. The Rolex lawsuit accuses Melrose.

com of using counterfeit parts on its restored

watches in a deliberate effort "to confuse and

deceive the public".

The Los Angeles Times reported in early August

that Rolex is seeking an injunction to prohibit the

online retailer from including counterfeit parts

on Rolex watches or even from mentioning the

brand on its website.

August 2012

ON THE COVER Maxum

Editor's Desk

4What's wrong with retail: "Over

the next few days, I pondered these

two shopping experiences. Abysmal

customer service is nothing new, but

it's certainly odd that it remains at a

time when consumers have a clear

alternative.

I mean, if retailers aren't going to

provide the human touch they regularly

claim is one of their advantages, or if

that human touch is unpleasant, then

why bother?"

Soapbox

4To brand or not to brand : "With that

in mind, I don't believe brands need

to be in competition with each other

– they can be in the same store and

have a relationship that compliments

one another. In fact, I'd like to see a

future with less competition and more

collaboration.

"Brands are born and die every day. To

keep mine alive, I think I'll give a little

more daily thought to the people behind

the store counter, the people parting

with their hard-earned, and the people

wearing and cherishing the Uberkate

brand."

– Kate Sutton,

founder and designer of Uberkate

Pandora Australia bucks

international trend

Despite a significant drop in international

revenue, Pandora's sales figures in Australia

last quarter indicate the brand is still going

strong.

Global jewellery giant Pandora may have

experienced a group revenue decrease of 9.5

per cent in the second quarter of 2012, but its

Australian figures indicate Australians are

still in love with brand's charms.

Pandora recorded a decrease in second

quarter revenue of 2.2 per cent in Australia,

comfortably outperforming the global

Pandora figures, which Pandora Australia

president David Allen was very pleasing to

see.

"Q2 was a very good quarter for us," Allen

said. "We were very pleased with the

performance of our seasonal collection

launched in March.

Aussie brand succeeds in

United Kingdom

Men's jewellery company Cudworth

Enterprises has appointed a distributor for

the United Kingdom and Ireland, and plans

to expand further afield in the future.

Southern hemisphere retailers seem to

possess an almost insatiable hunger for

European jewellery brands.

Homegrown supplier Cudworth will be

hoping that the trend can go both ways,

however, and has announced a partnership

with a UK-based distributor to sell its

products to British retailers.

36 | August 2022
---
SUPPORT SERVICES FOR

INDEPENDENT JEWELLERS

"We guarantee that you will be financially better off with Nationwide."

Colin Pocklington, Managing Director

• NETWORKING • COST SAVINGS • Business Planning

STAY 100% INDEPENDENT!

no fees

ever

• INDUSTRY SUPPORT • MARKETING • MEMBER REWARDS

Proud To Be A Part Of The

AUSTRALASIA'S LARGEST INDEPENDENT JEWELLERS GROUP

WANT TO LEARN MORE?

SCAN THE QR TO SEE HOW YOUR BUSINESS

COULD BENEFIT

UK & Ireland Australia, Fiji & New Zealand USA & Canada

+61 2 9418 0000 nationwidejewellers.com info@jgbs.com
---
Behind every gemstone,

there is a fascinating story

waiting to delight clients

around the world. Studying

with GAA brings the

expertise, networking and

confidence to build a solid

career in a multimilliondollar

industry. Joining

one of the most supportive

and passionate professional

communities of gemmologists

in Australia was one of the

best decision I ever made.

Gina Barreto FGAA DipDT

Gemmologist and Diamond Technologist

Diamond

Courses

Practical Diamond Grading

Advanced Practical Diamond Grading

Diploma in Diamond Technology

Enrolments now open

For more information

1300 436 338

learn@gem.org.au

www.gem.org.au

Be

Confident

Gem-Ed Australia

ADELAIDE BRISBANE HOBART MELBOURNE PERTH SYDNEY

Passionately educating the industry, gem enthusiasts

and consumers about gemstones
---
REVIEW

Gems

Pearls Part V: Examining the Exotics

Above: Moussaieff; David Morris; Clogau

Below: Kendra Scott; Amanya

To the average consumer, or even the

average jewellery sales assistant, pearls

are often known to be gloriously lustrous,

covered in glittering nacre, as close to

white as possible, and aiming to be

perfectly round.

But pearls may take many forms, borne

of a range of different sea creatures,

whether bivalve or gastropod, nacreous

or not.

Abalone - including Paua - pearls are

one of the better-known examples of

exotic pearls, given their popularity

and harvest in Australia's neighbouring

nation, New Zealand.

A type of nacreous pearl, the most

well-known Abalone variety displays a

unique and highly recognisable multitude

of blues, green, and brownish colours

with high iridescence - the highest of the

pearl-bearing molluscs.

Abalones may be natural pearls, forming

without human intervention of any kind,

or cultured with the introduction of a

shell seed.

Natural Abalone pearls range greatly

in size, from small seed pearls to large

specimens of more than 70mm. These

are often baroque in shape, and more

rarely near round. The cultured blister

pearls, however, typically range from

9mm through to 20mm or so.

These pearls form in the gastropod

Haliotis, which differ from the more

familiar pearl oysters in that they only

have one shell and no pearl sac.

The Haliotis Iris is also known as the Paua

shell or rainbow Abalone, and is the largest

species in New Zealand, with a maximum

shell size of around 18cm.

Other species include Haliotis fulgens,

which produce green, blue and coppercoloured

natural pearls with flecks of

fuchsia; and Haliotis rufescens – a red

abalone.

Across each species, Abalone pearls are

rarer than the more commonly known

varieties of cultured nacreous pearl.

For the gemmologist, characteristic

identifying features of the various Abalone

pearl species - besides their highly

desired multicoloured orient - includes

a botryoidal-like pattern on the surface

at magnification, and a chalky greenishyellow

fluorescent reaction under longwave

ultraviolet lighting.

Leaving nacre behind entirely, the

conch pearl proves there is beauty and

desirability in the organic nature of pearl

production, regardless of shine. Queen

conch pearls are a very rare gem that has

long been desired throughout history.

It is believed conch pearls have enjoyed

a rich history alongside their nacreous

counterparts, even symbolising a channel

of communication with gods of the sea

amongst the Inca peoples.

These white to brownish, salmon to pink

pearls are produced in the Lobatus gigas

mollusc (formally Strombus gigas) across

the Caribbean.

What these pearls lack in traditional

Abalone Pearl

Produced by the

haliotis, haliotis iris,

haliotis fulgens, haliotis

rufescens

Colour: Multiple

Found in: Australia, New

Zealand, South Africa,

Japan, North America

Mohs Hardness: 3.5

Lustre: Intense

Formula: CaCO ³

pearl lustre, they more than make up

for in the highly sought-after orangish

pink colours and a captivating porcelainlike

lustre. Conch pearls also feature

a distinctive flame-like structure that

imparts a silky appearance.

Typically, these pearls are baroque in

shape and most often between 3mm

and 8mm, with sizes surpassing

13mm being rare.

The approximate estimate of the

occurrence of gem-quality conch

pearls is one pearl in every 50,000

queen conch shells.

Pearls, in general, are always on the

more delicate side of gemstone choice,

and in the case of exotic pearls there

may be some extra precautions to take

to ensure your treasures last a lifetime.

Abalone pearls are often hollow and

therefore fragile; handle gently. Conch

pearls, on the other hand, may fade or

change colour if exposed to x-rays or

to sunlight over long periods of time.

Care should always be taken in both

cleaning and storing these organic gems.

Mikaelah Egan FGAA Dip DT

began her career in the industry at

Diamonds of Distinction in 2015. She now

balances her role at the Gemmological

Association of Australia with studying

geology at the University of Queensland.

Visit instagram.com/mikaelah.egan

For more information on gems and

gemmology ,go to www.gem.org.au

August 2022 | 39
---
AUGUST 27 – 29, 2022

ICC Sydney, Darling Harbour

HAVE YOU REGISTERED YET FOR THE

NATIONS TOP JEWELLERY EVENT?

WWW.JEWELLERYFAIR.COM.AU

AUGUST 27 – 29, 2022

ICC Sydney, Darling Harbour

Proudly

supported by

Diamond Sponsor

Gold Sponsor

Silver Sponsor

Organised by

Est. 1990
---
FEATURE

Retail Pricing Guide

Pricing doesn't matter

OH WAIT, YES IT DOES!

Fundamentally sound product pricing is crucial to the success of a retail jewellery business.

SAMUEL ORD explores the application of common strategies, and weighs the pros and cons of each.

As a small business, how do you set the

appropriate price for a product?

That's a question that every retailer should be able to

answer. Product pricing is an element of trade that will

make or break any business.

Surprisingly, this is an area in which many retailers report

a lack of confidence.

According to a recent study published by Retail Systems

Research, a US market intelligence company, there is a

notable difference in the way successful and unsuccessful

retailers view pricing strategy.

The study defined 'winners' as retailers with a sales growth

exceeding 4.5 per cent, and 'losers' as retailers who fail to

meet that average number.

The study concluded that just 64 per cent of the winners

consider themselves satisfied with their capabilities when

it comes to accurately pricing products.

According to the study, 67 per cent of the winners said

pricing optimisation was "absolutely vital". Only 42 per cent

of the losers agreed. None of the winners surveyed agreed

with the suggestion that no price optimising tools were

required for a business.

Bizarrely, two per cent of the losers agreed with that

sentiment! Perhaps that's not so bizarre, considering their

categorisation.

Brian Kilcourse, managing director Retail Systems

Research, says the study confirmed the importance of

correct pricing for retailers.

"In the end, retailers should know that closing the pricing

readiness gap is now a critical component of overall retail

strategy," he says.

"It is clear that in order to win, precision pricing is a musthave,

not a nice-to-have."

Another recent survey by web data platform Bright Data

suggested that consumers are increasingly fixated on price.

When asked which factors typically influence their

purchase decisions when shopping online, 82 per cent

of respondents said price. In addition, 74 per cent of

THE NUMBERS

Consumer

Behaviour

#1

driver of customer

satisfacton for

Gen Z consumers

is pricing.

75%

of Gen Z and

Millenial

consumers consult

at least one other

digital resource

before making

a significant

purchase.

#2

driver of customer

satisfaction for Gen Z

consumer was digital

experience.

47%

of all consumers prefer

to engage with retailers

by visiting a brick-andmortar

store.

Source: Verint

respondents said they would switch from their usual

retailer if they found a better price elsewhere.

Find the balance

What is not commonly known is that there are more than

20 different methods or strategies of price setting. (See

below) Some can, or should be, used for specific activites

and/or events.

In many ways, product pricing is like walking a tightrope:

Success in the pursuit of the appropriate pricing strategy

comes down to a balancing act, avoiding the extreme

pitfalls of failure on either side.

If the calculations are incorrect and the product is priced

too low, the long-term impact is dire. Low pricing may not

generate sufficient profit to cover costs, especially in the

event that sales volume is down.

In the end, retailers should know that closing the

pricing readiness gap is now a critical component

of overall retail strategy.

Customers are likely to fear that your product is inferior

to those offered by competitors if your product is notably

cheaper. Many customers are looking for value above cost,

after all.

Additionally, a retailer who sets a price too low is sending

a simple message to the rest of the market "our product

isn't as good as similar products on the market, and thus,

is worth less."

The perils of over-pricing are obvious. Sales volume will

drop as customers favour competitors with less expensive

products.

While the endgame in business is to produce profit, when

it comes to product pricing, this messaging or signalling is

just as important. Price setting is communication.

A luxury vehicle manufacturer such as Ferrari won't drop

the price of a car simply to match the prices offered by a

major manufacturer such as Toyota.

The way a product is priced is a message regarding the

August 2022 | 41
---
S E CUR E

E A RRI NG B ACK S

Retail Pricing Guide | FEATURE

$7,899

$8999

P r o u dly d e sig n e d a n d

m a n u fac t u r e d in the U K

ASK FOR A

HELPING HAND

value of that product, and when a retailer makes a product too

cheap you're cheapening the brand of the business in the process.

Tough task for jewellers

Establishing the correct pricing strategies can be more

challenging in the jewellery industry for a range of reasons,

including issues of transparency on the factors that go into

calculating the final value of a product.

S A F E

S ECU R E

NON-S LIP

H YPO-A LLERGE NIC

C OMFOR T ABLE

Nationwide Jewellers represents more than 500 independent jewellery

stores across Australia and New Zealand. Managing director Colin

Pocklington says educating members on the importance of precision

in pricing became a major focus many years ago.

"Around 20 or so years ago we recommended to all members that

they implement a higher pricing strategy," he says.

"This was in response to increased operating cost, specifically with

rent and labour as a percentage of sales.

"A pricing strategy needs to be based on the businesses financial

model, so that the resultant gross margin percentage will result in

a gross profit percentage that is within industry benchmarks, and

importantly, after covering all overheads provides a profit before tax [as

a percentage of sales] that will give an adequate return on investment.

Pocklington says that since education around product pricing

became a priority, Nationwide has explored options for best

communicating the information with members.

"Our benchmark surveys revealed that many members were not

achieving an adequate profit as a percentage of sales. "We also

introduced our Repair Price Book, as the vast majority of members

were not charging enough on repairs," he explains.

"Prices in the book are 'scientifically' calculated and based on

labour and material costs, and the number of minutes required for

each type of repair. We issue a new book about every two years, or

annually if needed, based on changes to material or labour costs."

So, with the importance of accurate product pricing firmly underlined,

it's time to explore some of the most valuable strategies.

Cost-based pricing

Cost-based pricing is by far the most common strategy employed

by retailers. It's a tactic that is easy to implement and given a

healthy sales volume, all but guarantees a profit.

A retailer calculates the total expenses associated with operation,

including direct material cost, direct labour cost, and other

overheads, and then adds an additional percentage to the final

sales price to ensure that a profit is returned.

Competera contributor Vladimir Kuchkanov explains "such a

pricing strategy ensures that a company receives a profit margin

that meets the anticipated rate of return."

"Cost-based pricing is widely used because of its simplicity and

the degree of information required to anticipate the profit.

(02) 9417 0177 | www.dgau.com.au
---
$3,895

At this point, cost plus pricing is better than value-based pricing

in cases when the data on costs and demand cannot be obtained

easily. Experts label cost-based pricing as one of the most rational

approaches toward profit maximisation."

Cost-based pricing is not only easy to implement, but it's also easy

for customers to understand. There are a number of important

disadvantages associated with the practice, however.

Cost-based pricing fails to factor in the pricing of

competitors, and if a competitor is producing the same

product at a cheaper cost, that competitor will generate

more profit in the long term.

Cost-based pricing fails to factor in the pricing of competitors, and

if a competitor is producing the same product at a cheaper cost,

that competitor will generate more profit in the long term.

In the same vein, consumers may be willing to pay more than a minor

percentage increase for a particular product, such as luxury watches.

If a product is mispriced, profit may be missed by a retailer or a

store may be viewed consumers as having an inferior product by

selling a product at a far cheaper rate than that of competitors.

Premium pricing

The premium pricing strategy is centred on communicating the

message that a retailer's product is superior to those offered by

the competition.

Implementing premium pricing is simple. Retailers assess

the market and their direct competitors and then price similar

products higher.

The aim of premium pricing is two-fold – as a retailer offering the

most expensive price, customers may infer that product is of the

highest quality compared with its cheaper counterparts.

In a scenario where two retailers have matching sales volume over

a similar product, the retailer implementing premium pricing will

have superior profit.

Jim Woodruff, Small Business Chron, says half-hearted

commitment to premium pricing will end in disaster.

"While it's natural to focus on and point out the weaknesses of

the competition, companies have more success with premium

pricing when they concentrate on creating value that makes their

products worth the higher prices," he says.

"Establishing a product with a high-priced image takes time,

money, and the efforts of everyone in the business. The entire

marketing program must project high quality, and the consumer

must be convinced that the product is worth every penny."

Featuring Swiss Quartz movement and elegant

white diamonds, Classique's diamond range is

unique and luxurious.

classiquewatches.com

ClassiqueWatches.com

Become a stockist today

sales@samsgroup.com.au

02 9290 2199
---
Retail Pricing Guide | FEATURE

Loss leader pricing

Hoping to attract new customers to your store? A loss

leader strategy could be an option, at various times.

Loss leader pricing is a marketing strategy in which

products are sold at a retail price set lower than the

wholesale price in order to attract new customers to a store.

The hope for retailers who employ loss-leading practices

is that once a customer is in a store, they will be enticed to

purchase additional products which are not priced below

wholesale price.

The most popular example of loss leading is supermarkets

selling milk. Milk as a product rarely generates profit for

supermarkets, however with fridges commonly located at

the rear of a store, customers are exposed to products that

do generate a profit while inside.

Deal Avo writer Aleksandra Holownia, says "the

assumption behind this strategy is quite straightforward.

"Some companies try to lure customers with prices for

specific products that are irresistibly low. This way, at least

according to their thinking, customers will more eagerly

walk in the store and buy more products, including those

that have normal prices."

Keystone pricing

Another common strategy that aims to simplify the sales

process is keystone pricing.

Keystone pricing is a simple equation, with a retailer

setting the price of a product at exactly double the

wholesale price.

Simplicity isn't the only advantage that comes with this

approach, as keystone pricing also offers a high-profit

margin and flexibility in range if minor adjustments needs

to be made at a later date.

Matt Ellsworth, Act On Intelligence, says it's a common

approach for retailers with a new product and little

background on the market.

"The most common use of keystone pricing is when a

retailer brings a new product to its shelves," he says.

"Without historical pricing data on the item, it's hard to

know the ideal sales price you should launch with.

"That's where keystone pricing comes in. By doubling the

wholesale cost and setting your initial sale price at that

level, you can generally get some kind of profit margin,

while gathering data on how customers reacted to the

initial price.

"If you find that customers aren't buying at the markup

level, you can use markdowns and discounts until the

WHAT LIES A HE A D

Consumer

Profile

64%

of retail executives

believe consumers

are willing to

spend more in

2022, but need to

rely on credit or

Buy Now Pay Later.

68%

of retail

executives expect

consumers to

favour businesses

with strong

"environmentally

friendly" focuses.

70%

of retail executives

believe that

growth in 2022

will be hampered

or disrupted

by employee

shortages.

58%

of retail executives

believe inflation

presents an

opportunity to

improve margins

and take price.

Source: Deloitte

selling price is more in line with customer expectations.

Likewise, if your sales volume is extremely high at launch,

you could raise the selling price to increase your margin."

There are a number of retail scenarios where keystone

pricing is inappropriate. Keystone pricing suffers in that

it doesn't factor in prices used by the competition, and if

other stores are notable less expensive, customers may

be driven away.

Competitive pricing

A competitive pricing strategy is a process of selecting

price points for products based on competitor pricing

in a particular market or niche.

Retailers who utilise competitive pricing move away from

pricing based on business costs or profit targets. The

competitive pricing strategy incorporates three other

pricing strategies – premium pricing, loss-leading pricing,

and equalling pricing in one, all-encompassing strategy.

Establishing a product with a high-priced image

takes time, money, and the efforts of everyone

in the business.

When a retailer commits to competitive pricing, they will

lower the prices of products to undercut competitors

on some products, while also raising the price of other

products to establish a premium or prestige brand.

The third aspect of premium pricing is price-matching –

offering customers a discount to match the price offered

by a competitor.

Profit Well contributor Vivian Guo, says competitive pricing

is difficult to get wrong. "It's rare to royally screw up using

this form of pricing," Guo says.

"If you have a fairly solid grasp on your product's quality, target

audience, and cost of production, this method will most likely

never lead to bankruptcy. It's kept your competitors afloat, so

similarly, it should do the same for you.

"In saturated industries like retail, competitor-based

pricing can be fairly accurate. After all, for most consumer

products there are millions of customers and enough data

to move pricing closer towards a methodology based on

market price and market share."

Recommended Retail Price

Recommended retail price (RRP), also known as

manufacturer suggested retail pricing (MSRP), is a strategy

commonly used by car dealers, while retailers of other

high-priced goods such as appliances, electronics, and

jewellery also employ the approach.

44 | August 2022
---
Watch: Daintree

As the name suggests, a RRP is provided to a retailer by the

manufacturer or supplier of the product. The price is supposed

to reflect the costs incurred during production and sales.

The use of the RRP strategy is effective at reducing inventory and

generating sales in a sluggish economy. Some retailers offer prices

at or below RRP as a part of clearances.

The downside to the strategy is a conflict with the theory of

competition. RRP also passes on the responsibility of pricing to

an external party, while the consequences for error will only be

experienced by the retailer in most circumstances.

Without historical pricing data on the item, it's hard

to know the ideal sales price you should launch with.

James Gordon, The Business Professor, says establishing

uniformity in the prices of products from store to store is an

important part of the process.

"Although such standardised prices ensure that consumers do not

have to overpay for the goods purchased, several retailers actually

sell products for lower prices than the MSRP [RRP]," Gordon says.

"This is typically done to move inventory from the shelves during

periods of slow sales or as part of competitive pricing strategies

aimed at outdoing the prices offered by competing retailers.

"Since retailers usually purchase products from [suppliers] at

wholesale prices that are well below the MSRP, it is possible to

offer huge discounts on the listed prices and still turn a profit."

Penetration pricing

Penetration pricing, as the name suggests, is a marketing strategy

that aims to attract new customers to a product or service.

Retailers offer lower prices than those offered by competitors –

sometimes accepting an initial loss – in exchange for engaging

with a new demographic.

Implementation is simple for retailers, beginning by researching

the prices offered by competitors, and adjusting prices in-store to

undercut the competition. The aim of the strategy is to build market

share with the hope of retaining customers once prices

are eventually raised to generate profit.

Francesca Nicasio, writer for Vend, says that switching brands isn't

a popular practice for consumers and that penetration pricing can

encourage a transition.

"90 per cent of people consider themselves equally [brand] loyal or

more [brand] loyal than they were a year ago. For new brands or

companies releasing new products, this isn't good news," she explains.

Nicasio continues by explaining that this issue is exacerbated for

small business that find themselves in competition against large

chain stores and international corporations.

(02) 9417 0177 | www.dgau.com.au
---
Retail Pricing Guide | FEATURE

4.55 CTS OF PAVÉ RUBIES,

3.9 CTS OF SAPPHIRE IN

PLATINUM, EARRINGS

KNOW THE DEFINITIONS

A-Z OF RETAIL PRICING STRATEGY

Absorption pricing

Price is determined by adding unit variable cost to the overhead and

managing costs and dividing by the amount of product units.

Competitive pricing

A process based on flexibility, with prices adjusted higher or lower

based on competitor pricing in certain markets.

Cost-based pricing

Direct material and labour costs, as well as overhead costs, are

combined and added to a mark-up percentage to generate profit.

Skimming

Price is raised so that fewer sales are required to break even.

Strategy targets early endorses of a product, usually used to rapidly

recover investment in product development.

Decoy pricing

Retailer offers a minimum of three products. Two of the three

products will be similarly priced and relatively expensive, the third

will be notably cheaper. This tactic drives customers to disregard

the cheaper product is inferior and choose between the two more

expensive options.

Freemium

Retailer offers a product for free but charges a premium for

advanced features, functionality or for related products and

services.

High-low pricing

Pricing differs between walk-in customers and those who join a

loyalty program. Loyalty program members receive promotions

such as coupons offering lowered prices.

Keystone pricing

Retail price is determined by doubling the wholesale price.

Loss leader

A product is sold by a retailer below cost in order to entice

customers to the store and purchase items priced to produce profit.

Marginal-cost pricing

A product price is set at or, slightly above, the marginal cost of

production. Used by businesses during times of poor sales.

Odd-Even pricing

A psychological strategy relating to the way odd and even numbers

are perceived by customers relating to price sensitivity. Price

sensitive customers prefer products to be priced on odd numbers.

Customers unbothered by price prefer items priced at an even

number.

Pay What You Want

Pay What You Want (PWYW) is a system where buyers are given

the chance to pay whatever price they deem the product to be

worth. Has been used previously by musicians and artists.

Penetration pricing

Price is set particularly low in order to generate first-time

customers in a new market. Price is raised once market

share is seized.

Predatory pricing

Predatory pricing is the practice of undercutting specific

competitors in a bid to drive a rival business out of a market.

Premium decoy pricing

A retailer sets the price of one product artificially high in order to

promote the sale of a second comparable product which has been

performing poorly.

Premium pricing

A product is priced high in order to maintain reputation. Customers

infer that based on price alone, the product is high quality.

Price discrimination

Prices are set differently for the same product in alternative

markets. Business may pursue this practice based on different

circumstances, such as location.

Price leadership

Rarely a deliberate strategy and more of market observation.

Dominant products tend to influence the price being set for inferior

products.

Psychological pricing

A catch-all term used to describe pricing strategies that relate to

subtle manipulation of customers, such as odd/even pricing.

Recommended retail pricing

Recommended retail pricing is provided by the manufacturer or

supplier of the product. The price reflects the costs incurred during

production and sales.

Target pricing business

Tactic in which the selling price of a product is calculated with the

aim of generating a rate of return relating to a prior investment.

Time-based pricing

Prices are finely tuned based on customer spending habits at

different times of the day and week. Prices are raised or lowered for

a product in order to maximise sales, usually an automated online

practice.

Time-sensitive pricing

Pricing tactic implemented on products with a short shelf life. While

perishables like food are an obvious example, retailers may use

time-sensitive pricing to make the most of a trend or fad, before

lowering the price once popularity wanes in order to clear inventory.

Value-based pricing

Price is determined by a retailer based on the estimated value of the

product to a customer, rather than in relation to production costs.

Variable pricing strategies

Includes the total cost of all variable characteristics associated with

the production of a product.

Yield management strategy

An all-encompassing pricing philosophy which values the buying

behaviour patterns of customers, environmental factors and market

price to successfully secure the most profit.

46 | August 2022
---
FEATURE | Retail Pricing Guide

"It's hard to bet on new entrants when you've

been using the same products from longstanding

brands. Penetration pricing provides

a solution to both problems."

Penetration pricing has some immediate and

obvious shortfalls for jewellery retailers.

Unsuccessful attempts at gaining more

market share can lead to insufficient funds for

business operations long-term, as well as lost

opportunities with customers who associate

higher prices with higher quality products.

Penetration pricing is commonly used by

supermarkets, streaming services, hotels,

and banks.

Weighing it up

While the pricing strategies listed above are all

important, there are many more to choose from.

When it comes to selecting the right pricing

strategy, it's important to start by setting targets

that are both measurable and attainable.

With those in place, you can then perform

market research, determining what methods

your competitors are using and what degree of

success they're having.

That kind of information won't be readily

available, but can be gleaned by speaking

with customers and analysing how they view

competitor pricing.

With targets in mind, knowledge of how your

competitors are approaching pricing, and an

understanding of how customers perceive the

market, a retailer is then ready to weigh up the

pros and cons of different pricing strategies and

determine which one best suits the market.

It's hard to bet on new entrants when you've

been using the same products from

long-standing brands.

Edge Retail Academy provides highly specialised

consulting services to US, Australian and New

Zealand retail jewellers. David Brown, president

and Jeweller contributor, says involving an outside

perspective can improve the pricing process.

"In my experience, the biggest barrier to

business owners setting the correct price is

their own mindset," Brown says.

"In many cases, items are set lower than

they could be because of assumptions and

expectations the owner held.

"The business owner put up barriers that aren't

necessary. Often the most successful pricing

strategies are the ones set by other people who

don't have an emotional 'buy-in' to the decision.

One of the most effective ways of pricing is to ask

someone who has no knowledge of the cost of

the item to tell you what they think it is worth.

Brown continues: "Again, this has often led

to higher pricing policies than a 'cost-plus'

mentality, especially where the staff are involved

and don't know the inputs. At the end of the day,

they are the ones who will be selling it!"

Just as there are different horses for different

courses, there are different pricing strategies

for different businesses.

In the same way that sending a champion

thoroughbred to an unsuitable racetrack could

end in disaster for all involved, so will adopting

the wrong pricing strategy for a retailer.

Every retailer has it's own unique factors and

quirks and failing to take them into consideration

when pursuing the correct pricing strategy is

opening the door to a nasty dismount!

AJG.com.au

Perfect Fit

Specialty jewellers insurance solution designed to match

your business. Gallagher have been developing insurance

solutions for jewellers for over 20 years.

Talk with an insurance broker who's advice is based on

practical, proven knowledge of the needs and challenges

facing jewellers in Australia.

47

1/4 PAGE BLOCK

ADVERTISEMENT

Come and see us at the International Jewellery Fair,

27 to 29 August. ICC Sydney, Darling Harbour.

CONNECT WITH US

Gretchen O'Brien

0419 678 149
---
www.centrestone.com.au

CENTRESTONE BENEFITS

WORLDWIDE COVER

ANYWHERE, ANYTIME

YOUR CLIENTS' CLAIMS

COME BACK TO YOU

THE JEWELLERY

INSURANCE SPECIALIST

INSTANT COVER,

NO WAITING PERIODS

4 DAYS

UP TO 150% COVER OF THE

INSURED AMOUNT

AGREED VALUE AND LIKE-

FOR-LIKE REPLACEMENT

FREE COVER

Partner with us today

NO EXCESS ON ALL CLAIMS

COVER FOR ACCIDENTAL

DAMAGE, LOSS &THEFT

ANNUAL REVALUATIONS TO

MATCH REPLACEMENT COST

COMMISSION

PAID FOR

EVERY POLICY.

ALL CLAIMS

COME BACK

TO YOU

Our Mission.

Offer the best product & service,

and implement seamless solutions

for jewellery insurance.

Our Solutions.

Implementing frictionless deployment

of jewellery insurance with technology

led innovation and solutions.

Your Success.

Fast, efficient and easy to use.

Build your customer loyalty and

additional revenue.

JOIN AS A PARTNER JEWELLER

CALL NOW

+61 2 8316 3995

Centrestone Jewellery Insurance

Lvl 11, 52 Phillip Street

Sydney 2000 NSW

Info@centrestone.com.au

www.centrestone.com.au
---
FEATURE

Internal Business Development

The three forms

of

RETAIL SUCCESS

With uncertainty on the horizon, the time has come for retailers to plan for ways to promote internal growth.

DAVID BROWN shares three important approaches to promote improvement from within a business.

In the world of business, it's not enough to simply

succeed once. Businesses must constantly reinvent,

recreate and rejuvinate in order to maintain

relationships with existing customers and forge new

partnerships with the customers of tomorrow.

US actress Lauren Bacall once said that "standing still is the

fastest way of moving backwards in a rapidly changing world."

That's an important concept small business must keep in

mind heading into the second half of 2022 and beyond.

If you're familiar with my work, you'll know that I'm a fan of

the 80/20 principle. It's the art of concentrating resources in

the 20 per cent of your business that can lead to 80 per cent

of the improvement in results.

There are many facets to business including marketing, staff

management, and sales development just to name a few.

What each of these areas have in common is that they can

be reliant on the actions of other people, such as advertisers,

sales staff and customers.

While each have their own 80/20 areas that represent a

worthwhile concentration of time and energy, business should

at first concentrate resources in areas where you can have

complete control of the outcome.

In digging through the monthly store performance data, there

are three key areas that I feel every business should review

and seek to improve. The beauty of each of these areas is

it's easy, through comparative data, to see how your store is

performing against others.

RE TA IL FIGURES

Deep Dive

60%

of retailers believe

new product ranges

should be the most

important focus to

boost sales.

72%

of retailers

highlight

shipping costs

as having a

material impact

on their input

costs

90%

of retailers

believe training

conditions will

improve (or

stay the same)

during 2022.

Source: Deloitte

The areas that you can control while having some of the

biggest impacts on your results are mark up, old product,

and controlled buying.

Markup

Pressure to generate sales and achieve sales targets often

results in a decrease in markup. After all, if it costs the customer

less they will buy more or say purchase quicker, right?

Wrong!

Take a look at other retail stores that have advertised

themselves as being the cheapest and count how many

of those are still trading.

The price-conscious customer has no loyalty. Remember

that the more sales you discount, the more you teach your

customers they shouldn't pay the ticketed price.

If being the cheapest was the answer then our shopping

centres would be crowded with identical stores selling on

price and high-end product would not have a marketplace

anymore, and yet we see a constant growth in new high-end

fashion brands all the time.

That doesn't mean you don't discount to get sales, just pick

the battles that you can win. The older the item, the happier

you should be to offer a discount.

Items that have good markups, such as those with a greater

than 200 per cent markup, have some inbuilt 'head room' to

negotiate with and still produce the sales your business needs

to generate enough profit.

August 2022 | 49
---
News

Internal Business Development | FEATURE

xxx

Xxxx

Review your past three months of sales and look at the markup achieved

on F-Fast sellers, fast sellers and old product.

If you have access to group comparison data you should be able to see

how you compare to your group average in your KPI report. Are you behind

or ahead of it? Look at your three-year comparison – is your markup

static or slipping?

1/2 PG V

ADVERTISEMENT

Bear Grylls Survival

3720 Sea series

Now may be the right time to review what markup that you need to

achieve to run your business. That is a key metric that you should review

at least every six months as the market and trading conditions are

continually changing around you.

It is critical that you know, at all times, when you are above or below that

markup figure. Reviewing that information at the end of the financial year

is too late to do anything about it.

Knowing this, you can project sales targets that give you the money

required to run your business. You can also formulate and monitor the

pricing of stock as it goes into your system.

The breadth and importance of this topic cannot be covered in these

few words but it is a starting point to driving this area of your business

forward.

Above all don't let your own attitude be the handbrake on developing your

mark up. On average, customers will pay more for products and services

than business owners believes.

xxxx

Give your customers the chance to prove it!

Xxxx

Old product

I mentioned above that it was best to focus on parts of the business with

which we could have complete control.

Most retailers understand this when it comes to markup. You can choose

what price you put on an item, and what price you want to sell it for.

For many, however, old product is viewed in a different light. Sadly, many

retailers don't see old product as something they can control. After all, they

argue, they can't force customers to make purchases at the end of the day.

What these retailers neglect to understand is the extent to which a

passive approach causes old product to age. You have a choice in how

long an item stays within your inventory.

Let's test this theory. Find a sample of old items from one department,

mark them down to $1 each and put them in the front window. Let me

know what's left at the end of the week.

Reading this it's easy to think I'm being a little flippant and I don't

recommend you take every item that hasn't sold in the last twelve

months and give it away.

(02) 9417 0177 | www.dgau.com.au
---
Bloom with us

Why Showcase Jewellers?

Our members enjoy a wide range of benefits, including but not limited to:

• Generous supplier discounts

• No joining fees

• Access to exclusive brand offerings

• Market-leading business systems

• In house marketing agency

• Experienced head office staff

• Diamond department with extensive range of loose diamonds

• A community of like minded people

Plus many more services and resources focussed on supporting the independent jewellery

business owner.

Want to learn more?

Contact us to receive a copy of our comprehensive services list to see all

the ways the Showcase Jewellers Buying Group can support your business.

Scan the QR code

or email:

enquiries@jimaco.com
---
Internal Business Development | FEATURE

Stock that is still technically

'new', less than 180 days old,

can rapidly become old. To get a

clearer picture of this concept,

produce a stock-by-age report

and organise by department to

see the number of units involved.

The point I'm making is that you choose to

accept whether an old product stays within the

store or not. If you really needed to you, always

have the option of reducing the price to $1 and

moving it quickly.

That's the real lesson here – you have control.

For retailers, feeling in control of what happens

within a business is directly related to the

success and profit a business generates.

It's the reason why many people start their own

business; the pursuit of feeling in control of the

decision-making process. A business owner can

choose whether they go to work or not. Feelings

of freedom in business come from control.

Old stock creates a number of issues. These

include capital becoming tied up, displays

looking tired and cluttered, and customers

possibly perieving a business as out of touch

with current market trends and fashions.

Old stock can also cause issues for sales staff,

who feel demotivated by a stagnant environment.

It's important to compare your sales-to-stock

ratio. In the past 12 months, there are fewer than

two, then potentially there is an old stock issue.

If you look at this figure for each department,

you'll gain a better understanding of how

widespread the issue is.

I suggest using the 12-month column to

dilute any possible one-off impacts, such

as an unusually slow month in any specific

department.

The age of stock is also important. Stock that is

still technically 'new', less than 180 days old, can

rapidly become old. To get a clearer picture of

this concept, produce a stock-by-age report and

organise by department to see the number of

units involved.

With so many retail sectors flooding the market

with 'sales' the traditional once-a-year attack on

old product may not produce the same results it

once did.

Certainly, retailers should still do this at the time

of year when they have achieved the best results,

it's important to continuously chip away at old

stock to get the best traction.

There are many strategies business owners can

employ to slowly, but surely, clear this inventory.

One approach may be a manager's special

cabinet, and another is paying incentives to sales

staff for clearing a specific product.

For retailers, feeling in control of what

happens within a business is directly related

to the success and profit a business generates.

Additionally, retailers may talk with the suppliers

of certain stock at the next buying group meeting

concerning stale inventory.

The starting point, however, is understanding

that you have control over the fate of old product

at all times.

Controlled buying

For many, one of the most enjoyable aspects of

owning and operating a store is the chance to

buy new product.

Thankfully, you aren't dealing with plastic bags

or masking tape. Rings, watches and jewellery in

general are fun things to buy and sell.

This enjoyment can be an Achilles heel for

some businesses, however. Many customers

experience a rush of adrenaline when making

a purchase, and it can be a similar experience

for retailers, with the added justification of the

purchase being for a business.

Controlling the urge to purchase, and ensuring

that you are buying for the right reasons, can be

one of the most difficult areas of self-control for

any store owner. The better control exerted by an

owner the more effective a business will become.

A well-reasoned buying plan must be tailored

with a number of factors in mind. During the

developing of a buying plan, the following

questions should be kept in mind:

• Debt reduction: Are you managing your cash

flow in order to reduce outstanding loans or

accounts?

• Inventory turnover: Are the current product

levels appropriate for needs of the business

right now?

• Diversity: Is the mixture of product

conducive to reaching sales targets? Are there

any balance issues that need addressing?

• Increasing average retail: Does the level of

product reflect overall sales targets?

• Restocking: Have you replaced inventory of

proven sellers?

There's a simple formula retailers can stick with

- purchases (stock in) must be less than cost

of sales (the original cost of the goods you have

sold) for any measured period of time.

Businesses must spend less on replacement

product than the value of what is sold. If this

continues indefinitely you will be reducing your

level of stock.

There is always the chance issues can surface

which challenge the parity of this formula, such

as deferred payments offered by suppliers,

branded products introducing new ranges, and

buying larger quantities of fast selling products.

If one hypothetical product is guaranteed to

sell, there is no cause for concern, because the

income may well be generated before the invoice

needs to be paid.

If another hypothetical product doesn't sell

before the invoice is due, then the problem

remains regardless of the payment terms. Every

product that a store possesses, that has not

been sold before payment is due, will lead to

reduced cash flow.

If 'fast sellers' represent 80 per cent of your

sales, then 80 per cent of your 'cost of sales' is

already pre-committed to replacing these items.

Thus 20 per cent of your cost of sales is

available for debt reduction, stock reduction, or

52 | August 2022
---
Just the edge

you need.

Know your business

and industry trends

anywhere, anytime.

At the beach or at a Trade Fair, review

your stock and sales performance from any

Supplier, even while you're on their stand.

Use pooled data to optimise profits by

knowing the best performing items and

emerging trends before you buy.

Are you ready to improve your retail profits?

• Mentoring & Management Consulting

• Fun and Effective Sales Training

• Seamless Succession Planning

07 5574 0322

mike@retailedgeconsultants.com

www.retailedgeconsultants.com.au
---
Internal Business Development | FEATURE

Purchasing new products

for a business is exciting,

but restraint is a must!

entrepreneurial buying of new stock that you have never had offered before.

If debt reduction, or stock reduction, is a part of your overall plan, then

this 20 per cent needs to be further reduced to provide a new stock

'open to buy' figure.

In other words, once you have allowed for the 80 per cent of items that

need to be repurchased, as well as the amount you want to reduce your

debt or product levels by, the balance remaining is what is left to spend

on new, unproven items.

If you spend anymore than this you are spending more than you have

coming in.

The key to getting this process right is to ensure that any new items,

regardless of how they are paid for, are deducted from the new open to

buy fund at the time of ordering.

If that's done, then a jeweller avoids the trap of being lured into a false

sense of how much capital is available to be spent.

Unless you have a specific plan to increase or decrease your product

levels, you should end each period with the same amount of product

as you started and ideally with the same percentage of fast sellers.

The only change should be new product replacing old product that

is no longer required. Using this benchmark is the most effective way

to measure your buying and keep it under control.

Good luck

Putting any forecasts for the future aside, all businesses have the chance

to provoke internal sales improvement by securing control over the

elements which can always be managed, regardless of external volatility

or stability.

It is critical that businesses are operating with accurate markup figures.

Reviewing that information at the end of the financial year is too late to

repair issues. Do it now!

Old and stagnant inventory is an issue that can always be addressed.

Resolving those kinds of product management issues is a great way of

reinforcing feelings of control and building confidence for business owners.

Our 9ct gold designs are fashionable and practical.

Choose from a selection of stackable rings,

elegant earrings and stunning pendants.

SapphireDreams.com.au

Become a stockist today

02 9290 2199

Purchasing new products for a business is exciting, but restraint is a

must! Before any new inventory is acquired it's essential that a business

is spending less than is coming in and that all this information is

measured and accounted for.

In the words of Tony Robbins – "it's our decisions, and not the conditions

of our lives, which determines our destiny."

DAVID BROWN is co-founder and business mentor with Retail Edge

Consultants and for more than 25 years has offered specialised training

and management services to retailers throughout Australia and New

Zealand. Learn more: retailedgeconsultants.com
---
Anyone can make a claim, but

unfortunately exaggeration is a blood

relative of falsehood and fiction.

As they say, the devil is in the details.

Numbers lead you to the detail and

the detail leads you to facts.
---
WORLD RANKINGS OF JEWELLERY

INDUSTRY PUBLICATIONS

As at 31 March 2022, Jeweller was ranked 65,246, in the world, well

ahead of other jewellery industry titles in more populous countries.

For example, the US magazines JCK, Instore, and National Jeweler,

ranked 87,514, 222,301 and 250,243 respectively, even though the

population of the US is much larger than Australia.

POSITION PUBLICATION COUNTRY

WORLD

RANKING

1 Jeweller Australia 65,246

2 JCK USA 87,514

3 Instore Magazine USA 222,301

4 National Jeweler USA 250,243

5 Retail Jeweller India 264,557

6 Jewellery Net Asia Hong Kong 371,672

7 Diamond World India 515,279

8 Professional Jeweller UK 550,812

9 Solitaire Magazine Singapore 842,952

10 Retail Jeweller Magazine UK 1,019,888

11 Indian Jeweller India 1,077,502

12 The Jewelry Magazine India 1,195,354

13 Jewellery Outlook UK 1,212,803

14 Jewellery World Australia 1,226,650

15 Art of Jewellery India 1,237,318

Which is why Jeweller remains #1.

Jeweller has been the leading voice of the Australian and New Zealand jewellery

industries for 25 years, and today we rank #1 in the world.

Alexa, the independent global ranking system for measuring website traffic and

readership, now ranks jewellermagazine.com as the most widely read industry

publication in the world – by far!

Better still, the daily time spent on jewellermagazine.com is more than 21 minutes,

which far exceeds all other international publications, which average only 2–3 minutes

per visitor. Moreover, our 'page views' is miles ahead of all other industry publications.

In addition, Jeweller's social media presence dominates and our eMags boast more

than 12.3 million reads.

The numbers speak for themselves - follow the leader, and follow the readers too!

16 Jewellery Focus UK 1,290,905

17 Jewellery Business Canada 1,388,929

18 Jewellers Network South Africa 1,436,224

19 Jewellery Monthly UK 2,196,837

20 Canadian Jeweller Canada 2,670,625

21 The Retail Jeweler USA 3,218,391

22 Preziosa Magazine Italy 3,582,030

23 Gold Book Magazine Turkey 4,099,295

24 Bangkok Gems & Jewellery Thailand 4,558,422

25 Hong Kong Jewellery Magazine Hong Kong 6,296,819

26 The New Jeweller UAE / India 10,992,912

27 Jewel Trendz India NO DATA

28 Solitaire International Singapore NO DATA

29 Jewellery Time New Zealand NO DATA

POSITION

TRADING PLATFORM /

PUBLICATION

COUNTRY

WORLD

RANKING

1 Rapaport Magazine* USA 139,695

2 Idex* Israel 370,487

VOICE OF THE AUSTRALIAN JEWELLERY INDUSTRY

Denotes titles connected to diamond trading platforms / publication
---
NUMBER OF PAGES VIEWED BY READERS

TIME SPENT ON JEWELLERY WEBSITES

BOUNCE RATE / PAGE 'STICKINESS'

Page Views is the number of times a reader visits any page

on a website. A higher Page View figure the better, because it

means readers are more engaged in the content. Jeweller's

Page View count of 12 leads all websites while most others

can only record a single Page View before the reader leaves.

Time-on-Page is the average time a reader spends on a page

while Time-On-Site is how long they spend on the site each day.

Jeweller leads the world with a Daily Time of 21.50 minutes,

while most other publications only manage 1-2 minutes. The

more time spent on a website, the better the global ranking.

The Bounce Rate measures the percentage of visits that

consist of only a single page view. It indicates the percentage

of readers that land on a website, and immediately leave

('bounce off') meaning a low bounce rate is optimal. Alexa

records Jeweller's Bounce Rate at less than 25 per cent.

POSITION PUBLICATION COUNTRY PAGE VIEWS

POSITION PUBLICATION COUNTRY

DAILY TIME

(IN MINUTES)

POSITION PUBLICATION COUNTRY

BOUNCE

RATE

1 Jeweller Australia 12.00

2 Retail Jeweller India 8.60

3 Jewellers Network South Africa 6.00

4 Jewellery Business Canada 4.00

5 Gold Book Magazine Turkey 4.00

6 Jewellery Net Asia Hong Kong 3.60

7 Solitaire Magazine Singapore 3.00

8 JCK USA 2.20

9 Jewellery Outlook UK 2.00

10 The Jewelry Magazine India 2.00

11 Jewellery Focus UK 2.00

12 Indian Jeweller India 2.00

13 Canadian Jeweller Canada 2.00

14 Jewellery Monthly UK 2.00

15 Instore Magazine USA 1.70

16 Diamond World India 1.50

17 National Jeweler USA 1.30

18 Professional Jeweller UK 1.10

19 Retail Jeweller Magazine UK 1.00

20 Art of Jewellery India 1.00

21 Jewellery World Australia 1.00

22 The Retail Jeweler USA 1.00

23 Preziosa Magazine Italy 1.00

24 Bangkok Gems & Jewellery Thailand 1.00

25 Hong Kong Jewellery Magazine Hong Kong 1.00

26 The New Jeweller UAE / India 1.00

27 Jewel Trendz India NO DATA

28 Solitaire International Singapore NO DATA

29 Jewellery Time New Zealand NO DATA

1 Jeweller Australia 21:50

2 Retail Jeweller India 14:59

3 Jewellers Network South Africa 12.22

4 Jewellery Net Asia Hong Kong 02.60

5 Art of Jewellery India 02.49

6 JCK USA 02.47

7 Indian Jeweller India 02.47

8 Gold Book Magazine Turkey 02.26

9 Jewellery World Australia 02.23

10 Instore Magazine USA 02.12

11 Diamond World India 02.03

12 Jewellery Outlook UK 01.53

13 Solitaire Magazine Singapore 01.51

14 National Jeweler USA 01.49

15 Jewellery Focus UK 01.32

16 Professional Jeweller UK 01.28

17 Jewellery Business Canada 01.17

18 The Jewelry Magazine India 01.05

19 Retail Jeweller Magazine UK 00.60

20 Jewellery Monthly UK 00.34

21 Jewel Trendz India NO DATA

22 Solitaire International Singapore NO DATA

23 Bangkok Gems & Jewellery Thailand NO DATA

24 The New Jeweller UAE / India NO DATA

25 Jewellery Time New Zealand NO DATA

26 Canadian Jeweller Canada NO DATA

27 The Retail Jeweler USA NO DATA

28 Preziosa Magazine Italy NO DATA

29 Hong Kong Jewellery Magazine Hong Kong NO DATA

2 Jeweller Australia 24.40%

1 Retail Jeweller India 22.70%

3 Jewellery Net Asia Hong Kong 36.80%

4 Retail Jeweller Magazine UK 45.50%

5 Jewellery Outlook UK 50.00%

6 Jewellery Business Canada 58.30%

7 The Jewelry Magazine India 60.00%

8 Jewellery Focus UK 62.50%

9 JCK USA 64.40%

10 Art of Jewellery India 69.20%

11 Diamond World India 69.80%

12 Professional Jeweller UK 72.20%

13 Instore Magazine USA 72.70%

14 Jewellery World Australia 78.60%

15 Indian Jeweller India 81.00%

16 National Jeweler USA 82.30%

17 Jewel Trendz India NO DATA

18 Jewellery Time New Zealand NO DATA

19 Canadian Jeweller Canada NO DATA

20 The Retail Jeweler USA NO DATA

21 Preziosa Magazine Italy NO DATA

22 Bangkok Gems & Jewellery Thailand NO DATA

23 Hong Kong Jewellery Magazine Hong Kong NO DATA

24 The New Jeweller UAE / India NO DATA

25 Jewellers Network South Africa NO DATA

26 Gold Book Magazine Turkey NO DATA

27 Solitaire Magazine Singapore NO DATA

28 Jewellery Monthly UK NO DATA

29 Solitaire International Singapore NO DATA

POSITION

TRADING PLATFORM /

PUBLICATION

COUNTRY

PAGE VIEWS

POSITION

TRADING PLATFORM /

PUBLICATION

COUNTRY

DAILY TIME

(IN MINUTES)

POSITION

TRADING PLATFORM /

PUBLICATION

COUNTRY

BOUNCE

RATE

1 Idex* Israel 1.60

2 Rapaport Magazine* USA 1.80

1 Rapaport Magazine* USA 02:20

2 Idex* Israel 02:06

1 Rapaport Magazine* USA 54.60%

2 Idex* Israel 63.70%

All data collated as at 31 March 2022
---
INTERNATIONAL JEWELLERY FAIR

Show & Tell

SHOW &

TELL

2022

The sky is the limit for buyers and suppliers alike at this

year's International Jewellery Fair - the first large-scale

gathering of the industry since 2019. In this exclusive

preview, take a sneak peek at what's on offer at the show.
---
Show & Tell | INTERNATIONAL JEWELLERY FAIR 2022

Alku

Galvin Watch Company

The Alku collection is inspired

by European dress watches

of the 1940s. A domed dial is

one of the key features in a

collection with vintage flair.

Galvin Watch Company took

the characteristics of this

style and fused it with Nordic

minimalist features on the dial.

galvinwatchcompany.com.au

STAND

B39

Ania Haie

Duraflex Group Australia

A daily jewellery must-have, this solid

14-carat gold mini padlock paired

with the delicately-crafted gold chain

provides a stunning accent to your

everyday look. A simple yet stunning

aesthetic piece that matches any style.

aniahaie.com.au

STAND

A07

APDX

SAMS Group Australia

The Australian Pink Diamond Index (APDX)

boasts Argyle pink diamonds in a variety of

different cuts and colours, accompanied by

expert advice and handling, for a smooth

investment process.

australianpinkdiamondexchange.com.au

STAND

F18

Arina Jewellery

Indian diamond jewellery manufacturing

company Arina Jewellery presents the

Diamonds of her Dreams collection, featuring

impeccably created and crafted jewellery.

arinajewellery.com

STAND

E46

Atlas Pearls

Over the past 29 years Atlas

Pearls, an Australian company, has

become one of the world's largest

producers of the much soughtafter,

white, and silver South Sea

pearls. Atlas Pearls produced

more than 560,000 pearls in 2021.

atlaspearls.com.au

STAND

G32

Autore Pearls

Autore's Timeless Collection. St Moritz earrings,

detailed in 18-carat white gold with white diamonds

and white South Sea Pearls. St Moritz pendant,

featuring 18-carat white gold with white diamonds

and a white South Sea Pearl. Single row diamond

eternity ring, with 18-carat white gold and white

diamonds paired with a white South Sea Pearl.

autorepearls.com.au

STAND

G09

Aztec Gold and Silver

Aztec Gold & Silver presents stunning new

pendants on sterling silver chains, available

with matching earrings. The stunning silver

range from Europe will also be available,

showcasing a wide variety of collections.

STAND

D44

Baume & Mercier

Duraflex Group Australia

Driven by the prestigious Baumatic

manufacture calibre, the Riviera 10616 is the

all-road Swiss watch. Its transparent blue

sapphire dial, interchangeable metal bracelet

and open caseback complete the sporty look.

dgau.com.au/baume-mercier

STAND

A07

60 | August 2022
---
THE WORLD'S FIRST DIGITAL MARKETPLACE EXCLUSIVELY

FOR ARGYLE PINK DIAMOND ENTHUSIASTS AND INVESTORS!

Australian Pink Diamond Exchange provides a smart and safe platform

to buy and sell your Argyle pink diamonds.

Every diamond we list undergoes and completes a strict authenticity verification process.

APDX will also arrange safe and secure transportation, no matter if you are buying or selling.

Our team has over 25 years of industry experience and expert knowledge

in working with Argyle pink diamonds.

Become an Authorised Agent

apdx.com.au sales@apdx.com.au 1800 344 008
---
»CELEBRATING

BEAUTY OF NATURE«

INTERCHANGEABLE

IJF

D01

Timesupply

jewellery + watches

p +61 (0)8 8221 5580

sales@timesupply.com.au | timesupply.com.au

exclusive distributor AU & NZ
---
Timesupply

jewellery + watches

p +61 (0)8 8221 5580

sales@timesupply.com.au | timesupply.com.au

exclusive distributor AU & NZ

IJF

D01
---
Show & Tell | INTERNATIONAL JEWELLERY FAIR 2022

BECKS

Inspired by natural forms

and environmental

awareness, BECKS

Cascade Collection is a

refreshing take on timeless

patterned wedders.

Available in a variety of

widths, Cascade features

patterns and colours to suit

a variety of preferences.

pwbeck.com.au

STAND

E01

Bella Donna Silver

Bella Donna Silver's

oval ring (12x16mm) is

available with amethyst,

blue topaz, and green

amethyst. The double

pear-shaped earrings

(8x5mm) are available

with the same gemstones.

belladonnasilver.com.au

STAND

A14

Blue Diamonds

STAND

A24

The Lightening Ridge opal,

gem and diamond set is a

showpiece statement, with the

striking necklace catching the

eye with four opals within an

array of diamonds. Set using

a floating diamond method,

giving exceptional brilliance.

Gem set oval links add colour

with yellow, blue sapphires,

tsavorite, and garnets creating

unique appeal.

Blush Pink Diamonds

SAMS Group Australia

The Blush Amelia Ring showcases

a round-cut Argyle pink diamond,

surrounded by a double halo, set

on a pave white diamond band.

The Kimberley Birgitte Wedder is a

simple band, featuring Argyle pink

diamonds, set in 18-carat rose gold.

pinkkimberley.com.au

STAND

F18

(02) 9417 0177 | www.dgau.com.au
---
EST. 1981

Show & Tell | INTERNATIONAL JEWELLERY FAIR 2022

GREAT WATCHES EST. 1981

DESERVE

A GREAT WATCH BATTERY

GREAT WATCHES DESERVE

A GREAT WATCH BATTERY

Blush Pink Diamonds

SAMS Group Australia

The Blush Hermione set features

sparkling round-cut Argyle pink

diamonds, set in an 18-carat rose

gold floral design and placed

delicately on a white gold band.

pinkkimberley.com.au

STAND

F18

YOUR ONE-STOP

YOUR SHOP ONE-STOP

FOR

WATCH YOUR SHOP ONE-STOP

BATTERY, FOR

WATCH TOOLS SHOP BATTERY,

& FOR

PARTS

WATCH TOOLS BATTERY,

& PARTS

TOOLS & PARTS

Fast delivery Australia wide

Fast delivery Australia wide

We Keep deliver your Australia watch wide

Keep repair your business watch

aliving Keep repair your and business watch

ticking

aliving repair and business ticking

Seiko and Energizer watch

batteries. alive Seiko and and Spare parts

Energizer ticking

supplier

watch

of Seiko, plus Seiko tools and

batteries. Spare parts supplier

High of Seiko, quality accessories.

plus Seiko tools watch and

batteries, German-made accessories. spare Beco parts,

Technic

tools watchmaker

German-made

and accessories

supplies and

Beco Technic

Heli watch care.

German-made watchmaker Beco supplies Technic and

As watchmaker a family Heli owned watch supplies and care.

operated and

business, As a Heli family watch we value

owned cleaning your

and care. business

operated

and support.

business, Family owned we value and your operated. business

We Proudly value your serving and business support.

the and jewellery support.

trade for over forty years.

Proudly serving the jewellery

trade Preferred for over supplier forty to years.

all four

buying groups.

Preferred Preferred supplier supplier to all to four

buying groups.

Free Call: 1800 244 354

Free Free It's

Call: Fax: easy 1800 to enquire

1800 028

244 887

354

or place your order.

It's Free easy Fax: to place 1800 your 028 order! 887

It's orders@thebatteryman.com.au

easy to place your order!

orders@thebatteryman.com.au

Bronzallure

Duraflex Group Australia

Designed and made in Italy, the

Felicia earrings with natural

stones and precious cubic zirconia

elements speak the language of

love and tenderness. Golden rose

patented alloy, 18-carat rose gold

plating, cubic zirconia and selected

natural gemstones – nickel-free,

cadmium-free and hypoallergenic.

bronzallure.com

Carmen Jewellers

Carmen Jewellers presents a

natural emerald collection. 14-carat

yellow gold natural emerald

(0.82-carat) and lab-grown diamond

(0.22-carat) earrings. 14-carat yellow

gold natural emerald (1.25-carat)

and lab-grown diamond (0.18-carat)

pendant. 14-carat yellow gold

natural emerald (1.17-carat) and

lab-grown diamond (0.18-carat) ring.

Centrestone Insurance

Centrestone Jewellery Insurance

offers customers an effortless

solution to insuring their precious

jewellery pieces by working closely

with a network of jewellers to offer

an insurance policy that is tailored

specifically for each unique piece of

jewellery. Policies are custommade

by jewellery experts with

comprehensive worldwide coverage.

centrestone.com.au

STAND

A07

STAND

G18

STAND

B10

All button batteries for trade use only.
---
Producing more than 550,000 pearls each year across 7 farm sites

throughout the South Seas, Atlas Pearls is a global leader in the

production of sustainable South Sea pearls, certified from the source.

Available online around the world.

ATLASPEARLSTRADE.COM
---
Show & Tell | INTERNATIONAL JEWELLERY FAIR 2022

Chemgold

chemgold.com

STAND

D17

Enhance and complete designs

with Chemgold's wide range of highquality

precious metal components.

Produced in Australia and Italy,

Chemgold's findings are made from

the finest materials which come in

18-carat, 9-carat and sterling silver.

Colours of Chemgold is

the full range of casting

alloys from the state-ofthe-art

precious metal

casting house of Chemgold.

The collection of alloys is

the largest in the country,

offering options in platinum,

white gold, yellow gold,

silver, bronze, and brass.

Classique

SAMS Group Australia

A Classique staple design, these

watches are available in an

array of metal and dial colours,

featuring a bracelet band and

round face, with the option for a

diamond bezel. Fitted with Swiss

quartz movement.

samsgroup.com.au

STAND

F18

Coeur de Lion

Timesupply

Coeur de Lion's new iconic Geo Cube style in fresh turquoise and

blue tones. Featuring a unique asymmetric design with crystal

pearls and cubes of natural semi-precious stones blue such as

aventurine, sodalite, howlite, and amazonite. Handmade in Germany.

timesupply.com.au

STAND

D01

Cudworth

Cudworth Enterprises

Hardware is the new collection for men

from Cudworth; semi-precious bead

neckpieces and bracelets stacked with

Italian leather bracelets. The collection

also features stainless steel neck chains

and bracelets in Ion plated colours such

as 14-carat gold, black, and gunmetal.

cudworthenterprises.com

STAND

C24

Diamonds by DGA

Duraflex Group Australia

Featuring the most beautiful selection of

jewellery finished to the highest quality,

our range includes 9-carat and 18-carat

gold diamond earrings, bracelets, rings

and pendants. The settings include;

claw, invisible, illusion plate pavé and

micro pavé. Our natural diamonds are

high-quality colour and clarity.

dgau.com.au

STAND

A07

DJ Diamond Designs

Featuring the most beautiful

selection of jewellery finished

to the highest quality, our

range includes 9-carat

and 18-carat gold diamond

earrings, bracelets, rings

and pendants. The settings

include; claw, invisible, illusion

plate pavé and micro pavé. Our

natural diamonds are highquality

colour and clarity

djdiamonddesigns.com.au

STAND

C44

68 | August 2022
---
Concept to Creation

YOUR JEWELLERY DESIGN BROUGHT TO LIFE

1300 886 108 | AUSTRALIA WIDE

palloys.com
---
Show & Tell | INTERNATIONAL JEWELLERY FAIR 2022

Ellendale Diamonds

ellendalediamonds.com.au

STAND

A23

18-carat white or yellow gold

rings. Each ring has a central

four-claw setting that features

cushion-cut Australian yellow

diamond (0.71/1.01) carats.

Upswept shoulders are grain set

with 16 white round brilliant cut

diamonds (0.24 carats).

18-carat white or rose gold

huggie style earrings. V claw end set

with 0.24 carats of white marquise

diamonds and bezel set with 0.06

carats of pink round diamonds from

the Argyle diamond mine.

EDOX

Duraflex Group Australia

Edox proudly acknowledges its heritage

but also embraces innovation and

imagination in its collections. Today, Edox

is known for its highly water-resistant

timepieces, complex hand-polished watch

cases and traditional hand assembling.

dgau.com.au

STAND

A07

18-carat white or rose gold knifeedge

style half hoop drop earrings.

Two removable enhancers feature

11mm Broome South Sea pearls with

white round diamonds (0.13 carats)

and 68 round pink diamonds (0.34

carats) from the Argyle diamond mine.

Specialists in Lab-Grown & Natural Diamonds

Gemstones

& Jewellery Manufacturing

T: (08) 9349 7861 | E: wholesale@pinnaclejewellers.com | www.pinnaclejewellers.com

pinnaclejewellers
---
(02) 9417 0177 | dgau.com.au
---
Show & Tell | INTERNATIONAL JEWELLERY FAIR 2022

Evotech

evotechpacific.com.au

STAND

G14

The EvoTech ProLaser

Welder is a table-top

laser welder designed

and manufactured in Italy.

Available in four variants,

namely 150J - 180J - 200J

and 200J-Plus which are

called EASY-1, EASY-2,

EASY-3, and EASY-3 Plus.

The L3 Magic Laser

Engraver provides

jewellers with an in-store

engraving option suitable

for all to use. The intuitive

software makes light

work of inside and outside

ring or bangle engraving,

flat engravings, and

image engraving.

Fabuleux Vous

Fabuleux Vous' La Pierre

Carnelian Long Necklace

features the warm, vibrant,

orange colours of the carnelian

stone, all placed on a sterling

silver curb chain. The total

length of the necklace is 85cm,

and comes with a 5cm extender.

fabuleuxvous.com

STAND

F14

Firegem

Paterson Fine Jewellery

Firegem's new cross-pendant features

a 9-carat yellow gold oval claw set

(7X5mm) with triplet opals and a single

diamond. Additonally, matching earrings

and a pendant crafted with triplet opals

and solid 9-carat yellow gold in an

elegant leaf-shaped pattern.

pfj.com.au

Georgini

westendcollection.com.au

STAND

F04

The Globe Bracelet by Georgini is inspired

by luxurious red carpet events and dazzles

with pearl and a simple chain adorned

with sprinkles of sparkle and the Georgini

emblem. Crafted from luxurious rhodium

plated 925 sterling silver it measures 16cm

with a 4cm extension.

Diamonds by Georgini features

stunning lab-grown diamonds,

laser-inscribed on the girdle with

a report number and a statement

that guarantees quality and

authenticity with the independent IGI

certification. 18-carat white gold ring

with a 1-carat solitaire diamond.

The Georgini Gold Collection is

crafted from 9-carat gold and set

with dazzling moissanite stones.

Features a round brilliant-cut

1.25-carat solitaire stone in a

claw setting as the centrepiece.

Stones run along the band, paired

with a flawless 9-carat gold band.

Gerrim

Gerrim's dazzling turqoise

and diamond earrings and

ring as well the stunning

necklace pendant.

gerrim.com

STAND

B13

Global Jewellery Concepts

Stunning ideal-cut zirconia necklace

set in 9-carat gold as a part of the

EverGem Summer collection.

STAND

B12

72 | August 2022
---
Show & Tell | INTERNATIONAL JEWELLERY FAIR 2022

Global Jewellery Concepts

Sapphire and diamond ring set in 18-carat

white gold. Part of the Myriad Diamonds

Summer Collection, also available in

ceylon sapphire and ruby.

evergem.com.au

STAND

B12

Grown Diamonds

Showcasing the world's

largest round lab-grown

diamond. This stunning

11.32-carat F VVS2 round

brilliant-cut diamond is IGI

certified, an ideal cut with

hearts and arrows.

growndiamonds.com.au

STAND

E10

Ikecho

Ikecho's best-selling 9-carat YG Keshi

freshwater pearl with a beautiful

18mm diamond pendant (0.03ct).

ikecho.com.au

STAND

E13

Classic collection

A golden touch to our timeless design.

Inspired by nature.

Find out more about the

Classic collection at www.mondaine.com

Ingersoll

West End Collection

The art of everyday luxury

defines the latest collection

from Ingersoll. Presenting

the Jazz Automatic Watch.

Featuring a skeleton dial

with a day/night and dual

time function the intricate

craftsmanship of the watch is

highlighted.

westendcollection.com.au

STAND

F04

(02) 9417 0177 | www.dgau.com.au
---
Show & Tell | INTERNATIONAL JEWELLERY FAIR 2022

Inspiring Pearls

inspiringpearls.com.au

STAND

C31

CUDWORTHENTERPRISES.COM

STAND C24

Remarkable white

button freshwater pearls

(9mm) set on matte

finish earrings. Available

in yellow gold-plated

sterling silver, or simple

sterling silver.

Remarkable

nucleated semi-baroque

natural multi-colour

freshwater pearl

necklace (10-12mm).

JAG

Duraflex Group Australia

JAG is a relaxed, understated and

versatile brand with a core product

offering that is considered in design.

Simple, clean lines defined by

quality fits and fabrications underpin

each Jag range. Jag is effortless and

relaxed in the Australian way.

dgau.com.au

STAND

A07
---
(02) 9417 0177 | dgau.com.au
---
Show & Tell | INTERNATIONAL JEWELLERY FAIR 2022

La Couronne

Discover the Elizabeth ring, La Couronne's

new trilogy birthstone range. The collection

pays homage to the Platinum Jubilee,

honing in on the theme of celebrating

one's unique and personal achievements.

Accompanied with shoulder diamonds and

set in 9-carat gold, the design is timeless.

lacouronnejewellery.com.au

STAND

C20

Limra Gems

STAND

H16

Limra Gems presents

a centred Colombian

emerald gemstone

surrounded by pigeon

blood red ruby and

white diamond. A

gold ring inspired by

Art Deco style.

LJ West

The Scott West Aureole Hoop

Earrings Collection, featuring

large (37mm) 18-carat yellow

gold with 268 stones of natural

pink diamonds (2.16-carat)

as well as 154 white melee

diamonds (1.42-carat).

scottwestdiamonds.com

STAND

F10

Luminox

Duraflex Group Australia

The new Pacific Diver Chrono

is a beautiful addition to the

Chronograph series. Defined

by a stainless steel case and

Carbonox unidirectional bezel,

it's a vital instrument for any

diver. This watch comes in a

stainless-steel bracelet.

luminox.com.au

STAND

A07

Mark McAskill Jewellery

Stunning new dress ring design

which features octagonal cut

lemon quartz stone (14x10mm)

which has been claw set in

9-carat yellow gold.

markmcaskill.com.au

STAND

C10

Maurice Lacroix

West End Collection

Maurice Lacroix unveils its

latest timepiece, the AIKON

Skeleton. Presented in a 39mm

stainless steel case, the modest

diameter of this watch promises

widespread appeal. Waterproof

with sapphire crystal glass.

westendcollection.com.au

STAND

F04

78 | August 2022
---
The experts

in coloured stones.

LOOSE DIAMONDS

LOOSE COLOURED GEMSTONES

DIAMOND & COLOURED STONE

ENGAGEMENT RINGS

WEDDING & DRESS RINGS

CAD DESIGN

SAPPHIREEXPORT.COM

07 3229 1250 sales@sapphirexport.com
---
Show & Tell | INTERNATIONAL JEWELLERY FAIR 2022

Mondaine

Duraflex Group Australia

Inspired by nature, the 40mm

stainless steel case, hands, and

indexes of this watch from the

Classic collection are matte-finished

preserving Mondaine's timeless

design and minimalist look. With a

deep sea blue dial and a Milanese

mesh strap, this timepiece pays

homage to the wonders of our seas.

dgau.com.au

STAND

A07

My Little Angel

Paterson Fine Jewellery

Headlined by remarkable

sterling silver, My Little

Angel is an open belcher

link bracelet that features

a little feet charm and a

pink enamel heart charm.

pfj.com.au

STAND

B01

NCF

These rock chains are meticulously

fabricated to emanate brilliance and

elegance, and are available in various

real gold plating and protected with

anti-tarnish treatment, finished as

bracelets, necklaces, and anklets.

ncfaus.com

STAND

B49

Nordgreen

West End Collection

Nordgreen's Unika gold 5-link

bracelet 32mm watch. Danish

design by Jakob Wagner for a

timeless look with interchangeable

straps for versatility.

westendcollection.com.au

STAND

F04

Specialising in:

• Argyle origin

• Coloured diamonds

• Synthetic diamonds

• Rough diamonds

DIAMOND LABORATORY

INCREASE

Y UR SALES

WITH LA COURONNE'S

COMPLETE MARKETING PACKAGE

COME AND

SEE US AT

THE INTERNATIONAL

JEWELLERY FAIR!

STAND

C20

Interest Free Finance Available For Approved Customers

Your Very Own Personalised Christmas Catalogue!

What we offer:

• Quick turnaround stock!

We dispatch all orders

received by 12pm for

delivery the following day

• Personalised catalogues

with your store name,

logo and address

• Fantastic range of

POS material

• Digital marketing package

Gifting

T H E S E A S O N O F

YOUR LOGO PRINTS HERE

$ 995

M2259

$ 249

M3157

$ 1195

M3155

www.deltadiamonds.com

0439 209 933

To view our range and order stock

visit us at www.lacouronnejewellery.com.au

or email us at sales@lacouronnejwl.com.au

For more information, call us now! 03 9764 2165

CATALOGUE

120979 LC Christmas Catalogue 2022_P1-7.indd 1 1/7/2022 9:45 am
---
INTERNATIONAL JEWELLERY FAIR 2022 | Show & Tell

Nomination

Timesupply

nomination-jewellery.com.au

STAND

D01

It's all about the colour with this

new range from the Nomination

Fashion collection. Features

beautiful sparkling zirconias in a

variety of shapes set in 22-carat

rose gold plated sterling silver.

OOZOO Timepieces

Our newest OOZOO Timepieces models include

gold and silver cases with coloured leather

straps in our 'vintage' slimline range. All

OOZOO watches feature Japanese quartz Miyota

movements that are water resistant to splash and

rain with a stainless-steel back that is nickel safe.

oozoo.com.au

STAND

E45

Three fashionable new bracelet

bases, including the on-trend

"oil slick" colour to add a new

dimension to this ever-popular

range. Unique interchangeable

rings and tops in new styles and

vibrant sparkling fashion colours -

such as ruby, emerald, chrysolite,

fuchsia, peridot, blue zircon and

purple velvet.

INTERNATIONAL JEWELLERY FAIR

SYDNEY | 27TH - 29TH AUGUST
---
Show & Tell | INTERNATIONAL JEWELLERY FAIR 2022

RINGERS WESTERN

OUTBACK WATCHES

Palloys

palloys.com

Born out of passion and the

art of jewellery, Livadi creates

commitment rings and jewellery,

with an emphasis on quality

craftsmanship using only the

finest materials.

STAND

C01

Paterson Fine Jewellery

STAND

B01

A new range of flat top signet rings

in a polished finish. 9-carat yellow

gold which comes in five unique

styles - the Drake, Declan, Dominic,

Daryl, and Dixon varieties.

New collection of ladies flexible

cuff bangles crafted in 9-carat yellow

gold. Available with zirconia and

blue topaz.

pfj.com.au

Become a stockist today

sales@samsgroup.com.au

02 9290 2199
---
(02) 9417 0177 | dgau.com.au
---
Show & Tell | INTERNATIONAL JEWELLERY FAIR 2022

Pink Kimberley

SAMS Group Australia

pinkkimberley.com.au

STAND

F18

Rare Argyle diamond

rings from Pink Kimberley

are crafted in floral

inspired settings, featuring

an array of round-cut

Argyle pink diamonds,

encrusted with white

diamonds, set in 18-carat

rose and white gold.

The Kimberley Kira set

features a matching pendant

and ring, with two overlapping

bands of Argyle pink and

white diamonds, set in

18-carat white and rose gold.

Poix & Troy

Poix & Troy Australia are brand

ambassadors and represent

some of the finest jewellery

houses from around the world.

Aiming to build strong personal

partnerships with incredible

designers and leading

manufacturers, to develop

dazzling and unique collections.

poixandtroy.com.au

STAND

G20

Podium

An award-winning technology company, developing

cloud-based software which specialises in customer

feedback and communication between businesses

and consumers. Developed with an aim to assist

businesses in improving their online reputation.

podium.com.au

STAND

F44

Police

Duraflex Group Australia

Police captures the essence of the

urban, free and rebellious street

spirit. Designed primarily for men,

the Police range also incorporates

unisex and ladies' styles from retro

to modern, glamorous to sporty.

Technology and design come

together seamlessly in timepieces

that feature top-quality materials

and functionality.

dgau.com.au

STAND

A07

Qudo

Timesupply

Unique interchangeable

rings and tops in new

styles and new vibrant

sparkling fashion colours

- such as ruby, emerald,

chrysolite, fuchsia,

peridot, blue zircon, and

purple velvet.

qudojewellery.com.au

STAND

D01

84 | August 2022
---
Find comfortable glamour in Blush Pink diamonds, elegant designs,

showcasing a beautiful glimpse of Australian history.

Become a stockist today

02 9290 2199
---
Show & Tell | INTERNATIONAL JEWELLERY FAIR 2022

RAS

Timesupply

New wearable art from Spanish

handmade brand RAS is inspired

by the nature around us. The

Tropic Ovals bangle features a

unique shaped wide cuff style

with an intricate leaf pattern.

timesupply.com.au

STAND

D01

Retail Edge

Know your business and industry

trends anywhere, anytime. At the beach

or at a trade fair, review your stock and

sales performance from any supplier,

even while you're on their stand. Use

pooled data to optimise profits by

knowing the best-performing items

and emerging trends before you buy.

retailedgeconsultants.com.au

STAND

E44

Salt & Pepper Diamonds

Salt and pepper diamonds are

mined,natural diamonds without

treatment. The heavily-included

nature of Salt and Pepper

Diamonds means they are all

unique and incomparable. They

have become a popular and

economical choice for Millennial

engagement rings and everyday

jewellery alike.

saltandpepperdiamonds.com.au

STAND

A20

Sapphire Dreams

SAMS Group Australia

sapphiredreams.com.au

STAND

F18

The beautiful Sapphire

Dreams Trilogy rings feature

Australian sapphires in teal,

blue, yellow, and green, set in

18-carat white and yellow gold

encrusted with white diamonds.

Scanlan & Co.

RJ Scanlan's Lux Collection

is made in Germany and is an

800-piece range of matching

pendants, earrings, and rings

has something for all tastes and

budgets. The manufacturing is

second to none from a company

that's been creating beautiful

jewellery for more than 80 years.

scanlanandco.com.au

STAND

G10

Halo-style 18-carat

Australian sapphire rings, from

Sapphire Dreams, are classic,

luxurious pieces. Featuring

an array of stones including

deep teal, green, yellow, and

everything in between.

86 | August 2022
---
Show & Tell | INTERNATIONAL JEWELLERY FAIR 2022

Shillcombe

matsjonasson.com.au

STAND

A02

Hand-made, collectable

Swedish crystal from Mats

Jonasson, Maleras. The blue bird,

kingfisher, puppy and red rose

designs will dazzle as a statement

piece reflecting the artisan,

glassmaking traditions combined

with innovative design."

Sekonda

Duraflex Group Australia

With a wide-range of ladies

and gents models, SEKONDA

combines elegance, fashion

and style at a competitive price

offering value to the Australian

consumer second to none.

SEKONDA is an ideal choice for

all astute customers of highquality,

value-for-money watches.

dgau.com.au

STAND

A07

Stones & Silver

Birthstone necklaces made

from .925 sterling silver

featuring a silver disc perfect

for engraving and a Preciosa

crystal for each month. Available

individually or as a set.

stonesandsilver.com.au

STAND

F02

Est.1968

AUSTRALIA'S WIDEST

RANGE OF GEMSTONES

ALL VARIETIES OF NATURAL

COLOURED GEMSTONES

Bracelets & Necklaces | Bangles | Earrings

Pendants | Fine Chains | Rings | Findings

Personalised Jewellery | Cufflinks

NATURAL FANCY

COLOURED DIAMONDS

OPALS AND PEARLS

MEMBER

03 9654 4449

Level 4, Wales Corner

227 Collins Street

Melbourne VIC 3000

gems@kandk.net.au

Email info@eugenesjewellery.com.au

Address 802/125 Swanston Street, Melbourne VIC 3000

Phone 03 9662 4486

eugenesjewellery.com.au
---
Made in Italy . Made in Italy .

BORN IN MILAN

Bronzallure is the Made in Italy brand that designs jewels in the exclusive

Golden Rosé alloy plated in 18kt rose gold. All the designs are hand-set

and hand-finished in-house. Family owned, third-generation of Jewellers

with over 60 years of experience.

QUALITY & COMFORT

Bronzallure jewels are the perfect union of avant-garde technology, fine

Italian manufacturing and a careful selection of the best natural stones.

All jewels are hypoallergenic, nickel, cadmium and lead-free, whilst

bearing a signed guarantee that certifies their excellent quality.

PATENTED INNOVATION

Bronzallure Milano innovation is the crafting of the particular Golden

Rosè® alloy, a newborn rose metal, which is through to the core of every

jewel. A result of 10 years of research, the unique formula provides

hypoallergenic, tarnish-resistant, lustrous and long term immutability of

colour.

(02) 9417 0177 | dgau.com.au
---
Show & Tell | INTERNATIONAL JEWELLERY FAIR 2022

Stones & Silver

Set in .925 sterling silver

these stunning stud chain

earrings are a must-have..

Additionally, the .925

sterling silver 7mm chain

link ring is right on trend.

stonesandsilver.com.au

STAND

F02

Thomas Sabo

Duraflex Group Australia

THOMAS SABO launches

Rainbow Heritage and Pearls

and Chains collections.

Colourful gemstones, elegant

creations and filigree details:

the new sterling silver

collection by THOMAS SABO is

all about confidence and hope.

thomassabo.com.au

STAND

A07

The Battery Man

thebatteryman.com.au

STAND

B19

Looking for new ways

to increase business? Try

a Seiko Watch Battery

Replacement Service. Ask us

about out Seiko Starter Kits.

NEW Seiko S880 digital

multi-tester for watches

and clocks. It measures

battery voltage, resistance

of coil block, light

segmentation and the

current consumptions of

circuit block or movement

module. Easy to use.

TW Steel

Duraflex Group Australia

The new Red Bull Ampol

Racing watch collection

celebrates one of the

most prolific teams in

motorsports. Powered by

Swiss Made movements

and high-end specs, the

three new performance

timepieces are built with

racing in mind and at heart.

twsteel.com.au

STAND

A07

UNOde50 Spain

Timesupply

New from the UNOde50 Extraordinary

Collection is this stylish OVNI range, bold

and modern organic styled link chains

with shimmering feature shell pearls.

unode50.com.au

STAND

D01

Virtual Diamond

Boutique

Virtual Diamond Boutique

puts the world's finest

diamonds, gemstones,

and finished jewellery

right in your hands. Rich

visual search and in-app

communications transform

the sourcing experience and

make you more efficient and

effective than ever before.

vdbapp.com

STAND

D46

Ven Diamonds

STAND

B38

Granted Australian

patent for a digital

vending machine

dispensing precious

items, dispensing GIA

certified diamonds

(5-point si1 and VS)

and 1-gram bullion

(Perth Mint).

90 | August 2022
---
Australia is enriched with amazing treasures. Sapphire Dreams pays

tribute to the beauty of natural Australian sapphires, sustainably

sourced from the sapphire fields of inland Eastern Australia. Our

Australian sapphire jewellery collection is crafted in 9ct or diamond

set 18ct gold. To achieve this level of uncompromised excellence,

all sapphires pass through the hands of our skilled gem cutters to

become one-of-a-kind, timeless masterpieces.

SapphireDreams.com.au

Become a stockist today

02 9290 2199
---
Show & Tell | INTERNATIONAL JEWELLERY FAIR 2022

WOLF 1834

Duraflex Group Australia

Classics are not created, they are born,

destined to be one-offs, different, unique,

and above all else, timeless. British

racing has, in a very short span of time,

become a classic and truly one of a kind.

dgau.com.au/wolf

STAND

A07

CHOOSE

COLOUR AT FV

World Shiner

World Shiner proudly

introduces a new range of

necklaces and bracelets

with natural and lab-grown

diamonds. The range

includes sizes ranging

from 2-point to 50-point.

worldshiner.com

STAND

G36

Worth & Douglas

Hunting for a ring

with a twist? These

new diamond wedding

rings include curved

and wishbone designs

with a modern twist.

Available in most alloys.

wdrings.com.au

STAND

E12

ZETAGS

ZETAGS provides everything you need to

print using the world's most advanced

solutions for jewellery. Get the world's most

durable tags exported to over 40 countries,

along with a cloud-based design and print

package that runs right from your Google

web browser.

zetags.com

STAND

F50

WWW.FVJEWELLERY.COM
---
TIME TO FUTURE PLAN...

IT'S ALL HERE!

AUGUST 27 – 29, 2022

ICC Sydney, Darling Harbour

jewelleryfair.com.au

Scan to register

Proudly

supported by

Diamond Sponsor

Gold Sponsor

Silver Sponsor

Organised by

Est. 1990
---
FEATURE

Diamond Industry Update

LAMENTING THE

Natural Diamond

Producers'

MISSED INCOME

The international diamond industry has been reshaped by the economic

sanctions imposed on Russia following the invasion of Ukraine. PRANAY

NARVEKAR and CHAIM EVEN ZOHAR of IDEX explore some of the most

significant changes to the market and the ramifications on the pipeline.
---
FEATURE | Diamond Industry Update

by PRANAY NARVEKAR &

CHAIM EVEN ZOHAR

It is well known that in 2021, the diamond

midstream and downstream sectors experienced

what was probably one of their best years in

recent memory, right up there alongside 2011.

In the euphoria, US$20 billion of potential and thus

unearned income was lost as a ripple effect of the

legitimisation of laboratory-grown diamonds (LGDs) by

De Beers. High Street jewelers and high-end jewellery

chains, traditionally the greatest defenders of the natural

product, have lost their inhibitions and are now the main

LGD drivers, without reputational fears.

Nevertheless, the entire industry not only saw a surge

in sales after the COVID outbreak in 2020, but also

experienced one of its most profitable years, something for

which it had been yearning. 2021 helped the industry 'rightsize'

its inventories and bring the overall business model

back in line with what it should be.

De Beers, champion of the natural diamond industry, triggered

the universal acceptance of the competing LGD product with

the launch in 2018 of its Lightbox range of diamonds. It's

now apparent this move heralded a point of no return for the

massive uptake of the LGD industry and the natural diamond

industry will now have to live with the implications.

Those who have followed our annual analysis for many years

will remember that we have said that eventually the price

differentiation between natural and LGD will disappear, and

the market will know only one product, called diamonds.

Fortunately, we aren't there yet!

With the launch of Lightbox, De Beers management said

they hoped to keep LGD prices in check and to corral LGD

into the impulse-purchase category. All this was backed by

a lot of research.

The reality is quite different; a bulk of LGD sales now cater

to the bridal market! Just read one of many headlines on

bridal websites: 'These are the best places to buy labgrown

diamond rings', or 'Maximise your budget without

sacrificing style'.

We find it difficult to believe that De Beers' research missed

this outcome.

K E Y STATS

Financial

figures from

the pipeline

$22.1bn

Polished diamond

sales, in US Dollars,

for 2021.

$10bn

Estimated total debt

in US Dollars in the

diamond midstream

in 2021.

$230m

Rough diamonds sold

by Gokhran, Russia's

state treasury, from

the stockpile in 2021.

$20b

The potentially

unearned income,

in US Dollars, for

diamond producers

as a result of De

Beers' launch of

Lightbox.

Pricing policies in natural and LGD diamonds are not all

that different. The bulk of LGD sales by value are in the

larger stones (pointers and carat-plus stones) and if LGD

stones were sold at natural prices, the size of the diamond

pipeline would probably nearly double from $US22 billion of

polished sales to $US40 billion.

While it can be argued that it might not necessarily be a

correct comparison, it highlights how big a dent the LGD

market has made in the natural diamond industry.

It is just a matter of time before countries that produce

natural diamonds fully realise the irreversible damage the

legitimisation of LGDs has caused to the natural diamond

pipeline. In any case, it's probably too late for Botswana and

Namibia to rebel against De Beers.

That is, the producing countries have also seen a steady

surge in demand, so they may find it difficult to measure

the 'unearned potential income'. The same counts for

achievable rough prices; without the LGD alternative on

the market prices would have increased much more.

Natural producers are the only pipeline participants who are

tied to natural diamonds. All others, including De Beers, are

enjoying the LGD fruits.

Market share transition

For the diamond industry, the US is the primary market

for diamond jewellery, which accounts for more than 50

per cent of the global market.

In 2021, the US market share of diamonds increased

from about 54 per cent to nearly 60 per cent.

Other markets also showed a good recovery follwoing the

2020 problems and overall the retail industry achieved a

growth of nearly 32 per cent, an increase of about $US85

billion. China and India were the other standout regions,

with Hong Kong also recovering well.

Retailers across the world had a dream run in 2021. Not

only did their sales improve, but the margins also improved

across retail. While an increase in online sales meant that

margins tightened, demand meant that the pricing power

of the retailers increased, leading to lower discounting and

effectively higher margins.

August 2022 | 95
---
Diamond Industry Update | FEATURE

CHART A: SEASONALLY ADJUSTED CONSUMPTION EXPENDITURE BY CATEGORY ($US BILLION)

Source: Bureau of Economic

Analysis, US Department of

Commerce

Chart adapted from IDEX

Jewelry and watches

Durable goods

Nondurable goods

Financial Services, Insurance & Non-profits

Personal consumption expenditures

Housing, Utilities, Healthcare & Other Services

Food, Accomodation & Personal Care Services

Transportation, Recreation & Personal Care Services

Additionally, LGD sales also increased significantly, often

providing better margins than the natural product.

Due to the bull-whip (or ripple) effect in the polished diamonds

pipeline, polished increased by about 55 per cent compared

to 2020 to reach $US22 billion. This was despite the fact that

retailers sold down from their existing inventories.

Part of this increase is attributable to the rise in prices, which

averaged about 10-15 per cent for the year. However, there

were specific areas that had a much more substantial price

rise.

The Argyle mine, which provided about 2-3 million carats

of mainly smaller and cheaper quality polished, closed in

late 2020 and by 2021 all rough from the Argyle mine was

exhausted. These goods were generally used in jewellery

mass-produced for the US market.

The prices for these goods remained manageable for a major

part of the year; however, in the last quarter, as polished

stocks from Argyle rough were used up, prices moved up

to levels that were about 30-40 per cent above that in the

previous year.

As previously mentioned, a big chunk of the business lost due

to the non-availability of the product from the Argyle mine was

made up by the LGD industry, for which 2021 was even better

than the previous year.

The penetration of LGD in the US market significantly

increased as more stores started experimenting with

maintaining LGD stock, and the LGD market suppliers have

made the most of the opportunity.

Unlike previous predictions of LGD being restricted to fashion

and lower-priced jewellery, bridal customers were also

purchasing LGDs in significant numbers.

This implied that larger stones, including in the 2-carat plus

range, remained in demand. What became apparent was that

retailers were offering customers a larger LGD in the same

budget, making it a value offering for customers.

At the lower end of the market, LGD jewellery could offer

a better-looking product than the jewellery with polished

diamonds from Argyle.

DI A MOND FIGURES

Going Deep

60%

Polished diamond

sales, in US

Dollars, for 2021.

26%

of the world's

rough diamond

supply by value

comes from

Russia

50%

of polished

diamonds used

in jewellery are

sourced from

Alrosa

95%

of diamonds

produced in

Russia are mined

by Alrosa

Change coming

While the market share of LGD-based jewellery is

constantly increasing, a good portion of the wholesale

demand for LGDs still continues to come from the

introduction in new stores, rather than end-product

demand.

But this will change because of the sophistication and

effectiveness of LGD promotions, including the marketing

spend by Lightbox.

Also, most of the suppliers of LGD jewellery come from

a natural diamond background and many of the same

practices such as memo offerings have started to be used

in the LGD industry to push sales.

Due to the bull-whip (or ripple) effect in the polished

diamonds pipeline, polished increased by about 55

per cent compared to 2020 to reach $US22 billion.

Actually, the same emotional love message, used for

natural diamonds, is now also applied to the LGD product.

Diamond polishing has been a highly competitive business

with very slim margins for most of the past decade.

However, 2021 was a pleasant exception. The generally

increasing polished prices meant that polishers were

generally able to enjoy much larger margins.

Apart from the margins, polishers also were able to 'rightsize'

their inventory. The high demand enabled them to sell

'non-moving' stock, and almost all types of goods found

buyers at an acceptable price.

The increased turnover and profits, along with the rightsizing

of the inventory, meant that many businesses in the

midstream were able to significantly reduce their leverage.

The total debt in the midstream was estimated to be a little

above $US10 billion.

While this was an increase over the previous year, it came

on the back of significantly higher turnovers. With lowinterest

rates, the industry would have wanted to take on

C

M

Y

CM

MY

CY

CMY

K

96 | August 2022
---
Grown Diamonds

See THE WORLD'S BIGGEST

Round Lab-grown Diamond

at International Jewellery Fair

11.32ct F VVS2 Round Lab-grown Diamond

27-29 Aug 2022 | ICC SYDNEY Darling Harbour

Grown Diamonds Booth E10

GROWNDIAMONDS.COM.AU

contact@growndiamonds.com.au

1800 849 291

Level 11, Suite 1102

227 Collins St

Melbourne VIC 3000
---
Diamond Seasonally Industry Adjusted Update Consumption | FEATURE

Expenditure

Source: Bureau of Economic Analysis, U.S. Department of Commerce

CHART B: SEASONALLY ADJUSTED

CONSUMPTION EXPENDITURE

– JEWELLERY ($US BILLION)

Source: Bureau of Economic

Analysis, US Department of

Commerce

Chart adapted from IDEX

-

-

-

Seasonly adjusted consumption expenditure (SEAC) Index

Year-on-Year change in SEAC for the month

more debt – but the prevailing banking reluctance to

'come back' to diamonds is still very visible.

It will take time to earn back the trust and

confidence that has been lost. Maybe this is for

the better!

When coupled with the highly profitable year, this

meant that the balance sheet of the midstream has

again become extremely healthy and the businesses

more bankable. In a manner, this strength allowed

the companies to indulge in the speculative frenzy

on rough prices in the first quarter of 2022.

Rough producers faced their own challenge in

2020, with many having to close their mines and

operations either due to no sales or due to COVID-19

outbreaks. Throughout 2021, most producers sold

all the rough they could produce.

A few of the larger rough producers were able

to even sell down all their excess stocks, which

they had built up over 2018 and 2019. Along with

the sales, profitability also increased significantly

for most producers, as rough prices followed

polished diamond prices.

However, they didn't see the boom they could

have had.

Overall the rough producers sold about $US15.47

billion of rough or an increase of about 65 per cent

in rough sales over 2020.

The rough market saw Gokhran, the Russian state

treasury, sell about $US230 million of rough from

their stockpile during 2021, which helped cool the

market, especially for the smaller goods.

While a couple of mines in Canada faced their

own issues, Gahcho Kué and Renard both had

production which is skewed to the lower end of

the quality spectrum.

The Renard mine had been struggling to stay

afloat; however, with the increase in prices in the

cheaper quality of goods, these mines and their

mining companies could get a new lease of life, as

the prices for cheaper diamonds are expected to

remain robust.

In a nutshell, the entire pipeline had a dream year,

with great sales growth and fabulous profitability for

most companies across the pipeline. What is more

interesting is examining some of the other factors

that accounted for the industry's success.

Pandemic a blessing in disguise

While on the one hand, the reluctance of banks to

finance the industry impacted the liquidity situation

(and return on capital employed decreased), the

consumers and downstream in general didn't have

to extend suppliers' credit on the same levels as in

previous years.

Governmental COVID-stimulus packages produced

tangible benefits for the jewellery sector.

Rough producers faced their own challenge in

2020, with many having to close their mines

and operations either due to no sales or due

to COVID-19 outbreaks.

As COVID spread globally, governments reacted

by imposing lockdowns and many businesses

struggled to operate in those situations. While

technology-based businesses could implement a

work-from-home policy, service businesses could

not do that and suffered greatly.

To alleviate this issue, governments offered various

stimulus packages to keep businesses afloat and

help them restart after the lockdowns were relaxed.

The US government offered the most generous

stimulus from all governments, and over the course

of two years, it amounted to nearly 25 per cent of the

total GDP of the country. The stimulus was offered

in various tranches and covered various different

payouts and subsidies by the government.

What is equally important from an analysis

perspective is the timing of the stimulus. A

quick summary of the stimulus packages,

which were released by the US government,

is shown in the table.

The dates in the table indicate when the stimulus

was approved. The amounts were actually spent

over a much longer period. The main points are that,

in real terms more than half of the money actually

reached the consumers wallets in 2021.

While many citizens did suffer in 2020 and a

stimulus was necessary, the continued flow of

stimulus in 2021 was the cherry on the cake, leading

to a tremendous boost for the US economy.

This boost in spending was uneven and was not felt

uniformly across all sectors. Certain sectors such

as services, hospitality, and transportation – many of

which could also be termed as essential expenses

for the consumers – faced severe headwinds as the

need for spending on these areas was reduced.

For example, the continued work-from-home

policies for many top paying tech companies,

automatically reduced fuel bills, a need for a vehicle,

need for restaurants and cafes, business travel

expenses, and so on.

The US consumer has not focused on savings

over the past few decades but the reduced need

for spending along with the stimulus meant that

consumers suddenly had extra funds in their

pockets.

Analysis of the data from the Bureau of Economic

Analysis, US Department of Commerce shows

the sectors that were the beneficiaries. Durable

goods, which includes jewellery, seem to be the

largest beneficiaries, as consumers seem to have

channeled their excess disposable income into

purchasing 'hard assets' for which they probably

aspired, but did not have the income to acquire.

98 | August 2022
---
TABLE A: STIMULUS PACKAGES RELEASED BY THE US GOVERNMENT

DURING THE COVID PANDEMIC

Chart adapted from IDEX

Stimulus Package Name

Passed

Date

Amount

($ billion)

Stimulus and Relief Package 1 & 2 Mar 2020 12 b

SRP 3 (CARES Act) and 3.5 Mar/Apr 2020 2,724 b

Lost Wage Assistance Jul 2020 44 b

SRP 4 Dec 2020 900 b

SRP 5 (America Rescue Plan) Mar 2021 1,900 b

Total Approved Stimulus

$5,580 b

Up until the first quarter of 2022, overall Personal Consumption expenditure

had risen by about 18 per cent compared to the first quarter of 2019, while

durable goods were up 43 per cent and jewellery was up by about 70 per cent.

Clearly, the industry was better placed to garner the aspirational

disposable income of consumers. Other US luxury sales also saw similar

increases in the 50 per cent range, but jewellery was clearly one of the

best performing sector.

Beware misleading headlines

There is generally a reference to year-on-year sales for the month in news

reports, and in many cases, these have made the headlines for their doubledigit

numbers. However, when sales have shown a large movement, it is

important to have a view of both the overall value as well as a year-on-year

(YoY) view of the sales.

In the first quarter of 2022 many reports showed a double-digit growth rate

on a YoY basis, and traders might have been misled into believing that the

industry had been growing spectacularly, possibly even fueling some of the

speculation which was seen in the first two months of the year.

Looking at the complete numbers (those provided by the US Bureau of

Economic Analysis are normalised on a month-to-month basis), we can

see that the sales have moved in a band post-June/July of 2021. In fact,

December, which is the peak season for the retail jewellery industry, had the

second-lowest values in the June–December period.

Dig deeper and you'll see a rapid increase in the January–April period of

2021, probably as consumer confidence increased along with some of the

stimulus checks reaching the consumers.

This means that even when absolute values remain in the same band for

Q1 2022, you will still see high double-digit YoY growth for the month, with

a decreasing pattern.

The absolute numbers tell us that even if sales were to remain at current

levels, you will start seeing low or negative YoY growth from June onwards.

Hence it might be prudent for the industry to temper its expectations for the

full year.

This stimulus money along with the quantitative easing by the central

bank – and low-interest rates – unleashed funds that found their way into

investments in the financial sector, which drove up asset prices across the

board - housing, stock markets, cryptocurrencies, or other assets - which

in turn fed into the demand through the wealth effect.

Credit card borrowing (the costliest debt) also fell significantly from the all-

THE WORLD'S FIRST

DIGITAL MARKETPLACE EXCLUSIVELY

FOR ARGYLE PINK DIAMOND

ENTHUSIASTS AND INVESTORS!

Australian Pink Diamond Exchange provides a

smart and safe platform for you to buy and sell

Argyle pink diamonds. Every diamond we list

undergoes and completes a strict authenticity

verification process. APDX will arrange safe

and secure transportation, whether you are

buying or selling. Our team has over 25 years

of industry experience and expert knowledge

working with Argyle pink diamonds.

Become an Authorised Agent

apdx.com.au

sales@apdx.com.au

1800 344 008
---
Diamond Industry Update | FEATURE

It is just a matter of time before

countries that produce natural

diamonds fully realise the irreversible

damage the legitimisation of LGDs

has caused to the natural diamond

pipeline. In any case, it's probably too

late for Botswana and Namibia to

rebel against De Beers.

Image: Diavik Mine

time high at the end of 2019 as many paid down

their borrowings.

Time to pay the bills

The 2021 party, however, seems to be ending and it

may be the time to pay the bills.

Most of the stimulus has been paid out and various

moratoriums, which had been introduced in the

US, have lapsed. The stimulus and the resulting

demand had pushed up prices and inflation to

levels not seen by the current generation.

The US Federal Reserve has already started

to react (though it could, arguably, be late) to

the higher inflation through increased interest

rates, and is set to reverse its quantitative easing

measures, albeit gradually. Consumer credit card

debt has been creeping up and might rival the

peak levels by the end of the year.

All this was expected to happen along with

the tightening in the labour markets, called

'great resignation' by the media. The rising

rates in the US have another knock-on effect,

that of strengthening the dollar. In normal

circumstances, a strong dollar is a negative

factor for growth in the diamond industry.

The 2022 financial market situation was on the

radar of most financial market observers and is

not a surprise. It was expected that the diamond

industry too would get back to its 'normal' state of

operations, besieged by the usual problems of low

growth and insufficient profitability.

Even a best-case scenario for the diamond industry

projected growth at a retail level of not more than

1-2 per cent for the year.

Even considering a flat scenario of a 0 per cent

growth implied that the polished sales would drop

by about $US1 billion and the rough demand would

be nearly flat, as the midstream is expected to

stock up again.

Looking at these projections the speculative frenzy

in the markets in the first two months of 2022 was

out of place and expected to correct.

All that was before the conflict in Ukraine started.

Impact of invasion

The Russian invasion of Ukraine and the resultant

actions taken by the Western governments

could totally upend any business projections or

plans which businesses might have budgeted

for, especially because of the way our industry is

placed, because about 26 per cent of the rough

by value, and about 32 per cent by volume, was

supplied by Alrosa, a company majority-owned

by the Russian government.

It is increasingly clear that Russia is waging

attrition warfare, a military strategy of belligerent

attempts to win by wearing down the enemy

to the point of collapse. This may take many

months, if not years – and the hostility might still

expand beyond other borders.

When the war began, the US followed by other

European governments, quickly applied financial

sanctions on the Russian government. They

later included companies like Alrosa, which,

they claimed, were financing the Russian war on

Ukraine.

The first round of US sanctions prevented Alrosa

from doing business in the US, something that

was almost negligible and had almost no impact.

The latter round of sanctions saw Alrosa added

to the Office of Foreign Assets Control Specially-

Designated Nationals list. This sanction is

much more damaging because it means that no

financial flows can pass through the US.

All transactions in the US dollar have to pass

through banks in the US and with this inclusion,

no bank would be willing to process any

payments from customers to Alrosa, thereby

throttling the source of income for the country.

When the sanctions were announced, the

industry adopted a wait-and-watch attitude.

The speculation in the first couple of months had

dulled the mid-stream's appetite for rough and,

in a way, the forced absence of rough supplies

from Russia was even considered a blessing in

disguise for the industry, which had started to

again pile on the stock and debt.

Companies were hoping for a quick resolution to

the conflict and wishing that things would go back

to normal. However, hope is not a strategy. As the

conflict drags on, the solution seems to be squarely

in the realm of politics.

Unfortunately, the fate of the conflict will seemingly

be determined by people who have very little to

lose, which would mean that a resolution and the

eventual lifting of financial sanctions seem to now

be a distant possibility.

Living with sanctions

The world had been effectively uni-polar – with

only one dominant nation – for more than 30

years. Nations across the world are now aware

of the damages that financial sanctions can

cause and now understand the will of the US

to weaponise them.

As we go forward, the world will start becoming

multi-polar – driven by multiple strong and

competing nations – once again with the trade

of different countries and blocs being primarily

restricted to each bloc separately.

In the past decade, financial sanctions have

increasingly become the US weapon of choice,

given its dominant position in the global financial

system. Raghuram Rajan, a leading economist,

termed financial sanctions as 'weapons of mass

destruction' due to their blunt nature in trying to

effect change.

While sanctions might be inhibitors and have a

preventive impact, they have not shown any success

in providing immediate solutions once a conflict has

100 | August 2022
---
FEATURE | Diamond Industry Update

TACY'S 2020 - 2022

DIAMOND PIPELINE | IN $US BILLION

FEATURE FIRST PUBLISHED

BY IDEX ONLINE

IDEXONLINE.COM

CHART D: PREPARED BY PHAROS BEAM CONSULTING

Direct costs of

rough production

7.3

Direct cost of production

Including stock value depreciation

Rough gem

Lab-grown

Rough production

value

14.07

AUSTRALIA

0.0

ANGOLA

1.7

DRC

0.35

BOTSWANA

4.7

NAMIBIA

0.84 1.42

RUSSIA

2.73

CANADA

1.53

ZIMBABWE

0.43

LESOTHO

0.12

OTHERS

0.25

USA, SINGAPORE,

MALAYSIA,RUSSIA&

OTHERS

2

Mines sales to

industry

15.47

INDEPENDENT

6.68

ALROSA

3.97

DE BEERS

4.82

POLISHED

LAB-GROWN

Net rough used for

local production

15.89

BELGIUM

0.15

ISRAEL

0.41

INDIA

13.2

USA

0.11

BOTSWANA

0.87

CHINA

0.54

RUSSIA

0.23

OTHERS

0.38

Value of polished

production

20.58

BELGIUM

0.19

ISRAEL

0.55

INDIA

17.13

USA

0.14

BOTSWANA

1.06

CHINA

0.69

RUSSIA

0.31

OTHERS

0.51

Polished sales

22.10

Value of recycled

polished

0.23

Value of recycled diamonds

(Consumer sell backs) re-entering pipeline

Retail Diamond

Content

21.89

USA&

CANADA

12.61

EUROPE

& SA

1.69

HK/CHINA

TAIWAN

2.47

JAPAN

0.97

INDIA

1.35

GULF&

TURKEY

1.39

REST OF

WORLD

1.41

Retail of Diamond

Jewellery

85.55

USA&

CANADA

51.23

EUROPE

& SA

5.37

HK/CHINA

TAIWAN

10.68

JAPAN

3.34

INDIA

4.94

GULF&

TURKEY

6.13

REST OF

WORLD

3.86

© 2022 COPYRIGHTS BY TACY LTD. AND

PHAROS BEAM CONSULTING LLP STRICTLY RESERVED.

REPUBLISHED WITH PERMISSION FROM PRANAY NARVEKAR

August 2022 | 101
---
Diamond Industry Update | FEATURE

De Beers' Lightbox

started. Countries and citizens may go well beyond

their perceived capacities to face sanctions when

they feel that they are being unjustly treated.

Without going into which side is justified in their

view, sanctions can be considered unilateral and

gaining their power from the dollar being the

primary global currency.

The manner in which governments have gone about

applying sanctions also reeks of hypocrisy. Some

countries give waivers to sanctions, which are

inconvenient, or can cause significant upheaval.

For example, waivers have been given on

products such as oil, natural gas, uranium and

titanium where Russia is a major supplier for

the nations applying the sanctions. Developing

nations have started complaining about the

impact of the sanctions on countries that are,

effectively, innocent bystanders.

Another notable aspect of this Russia-Ukraine

war was how quickly businesses, including

jewellery retailers and brands, decided that they

would not by Russian-origin diamonds. Many

have a constant customer interface and probably

reacted in this fashion due to their individual

political, social or moral compulsions.

These 'business sanctions' have further affected

the pitch for the industry. Alrosa, in fact, had been at

the forefront of promoting industry self-regulation

initiatives such as the Responsible Jewellery

Council, and the updated World Diamond Council

System of Warranties. It is ironic that now these

very same chain-of-warranty mechanisms are

being used by the industry to exclude Alrosa.

In future, other countries and companies might not

be willing to join such cooperative mechanisms,

as no country or company can confidently say that

it could not be next to face sanctions. Irrespective

of how long the sanctions last, it is clear that the

industry will find it extremely difficult to come to a

common ground, or agree on, any self-regulation

mechanism in the future.

New environment

It is clear that for the diamond industry, sanctions

are here to stay and the industry needs to be ready

for the long haul, and choose which side to take.

The sanctions will probably continue even after the

conflict stops.

One of the primary strengths of the industry is its

resilience and the adaptability of its companies,

as it has proven again and again over the decades.

Reports indicate that Russian rough has already

started finding its way to the market.

Without going into which side is justified

in their view, sanctions can be considered

unilateral and gaining their power from the

dollar being the primary global currency.

In the event that the industry transitions into a

multi-polar environment, companies clearly need

to take sides, having to scale down their business in

order for them to continue being compliant.

With the current regulations in place, the industry

is likely to be split down the middle, with some

companies abiding by the sanctions and other

companies dealing in Russian diamonds, but not

supplying them to the developed world.

We are confident even in a multi-polar world that

the industry will continue to adapt and thrive as it

has done in the past. Unfortunately sanctions tend

to provide the greatest reward to companies that

dodge sanctions, at the cost of the responsible

companies leading to a fall in the industry

compliance standards.

Matter of cost

The US has been trying for more than a decade

to get the diamond industry to segregate its

inventories. This was initially proposed for

diamonds from Zimbabwe. Various chain-ofcustody

initiatives were proposed by the US

government agencies to prevent Zimbabwean

diamonds being sold in the US. These efforts met

with at best partial success. Some diamonds from

Zimbabwe were easily identifiable and the volume

of supply from the country was limited.

The authors wrote extensively at that point about

the segregation of diamonds. The views expressed

remain the same even after 10 years, namely:

• Segregation of larger stones (>0.20 carats),

which are generally polished individually, can be

done managed by the industry.

• The challenge is in the smaller diamonds,

which are traded and sold in parcels with parcels

being mixed multiple times.

• It is still feasible to segregate diamonds,

however there is a significant cost, which

would need to be borne by the midstream for

maintaining the diamonds separately.

• The authors questioned the ability of the

midstream to bear those costs, which were

more than $US1 billion on an annual basis.

Costs had to be passed on to the consumer or

borne by the mines.

• It could mean an increase in polished prices

of more than 10 per cent in the concerned

category of goods.

Our observations in the matter still hold. However

with the current emotional support for Ukraine

and the general inflationary environment in many

developed nations, it might be easier to pass on

these costs to the consumers. It is to be seen

whether the resolve will remain once the consumer

attention moves on to other issues.

Availability

Aside from the cost perspective, the removal of

supplies from Alrosa could cause severe availability

problems for certain kinds of companies. As

mentioned, Alrosa diamonds represent about 26 per

cent of diamonds by value and about 32 per cent by

volume. Clearly, their diamonds are smaller with a

102 | August 2022
---
ETHICALLY MINED

LGD producers also

have not scaled up their

capacities to a stage

where they can replace

Alrosa production."

UNIQUE

BE AUTIFULLY FL AWED

NATURAL DIAMONDS

lower average cost as compared to the market.

The impact of the Alrosa sanctions across different categories of diamonds

is different, given the production mix of their mines.

Polished which is produced from Alrosa rough, has a much higher share in

diamond categories that are used by luxury, lifestyle, or high-fashion brands.

In many of these categories, Alrosa accounts for over 50 per cent of the

polished diamonds supplied.

Companies in these sectors could face serious issues in obtaining supplies,

especially in the latter half of 2022. It is indeed ironic, that many of these

luxury brands were some of the first to stop using Russian-origin diamonds.

Crossing the Rubicon

Luxury brands take great care in cultivating their image over decades

and most big brands have stayed away from using lab-grown diamonds

in their jewellery or watches. Going forward, with the Alrosa supplies not

useable, they could face a supply shock, as there might not be enough

diamonds to meet their requirements.

The question remains whether they will cross the Rubicon and decide

to use LGD in their luxury products and whether their consumers will

accept those products and the 'advertising spin' their marketing teams

will give for that decision.

The only segment that would be laughing all the way to the bank would be

the LGD industry.

Companies have had a phenomenal year, and supply shortages can lead to

new business opportunities for LGD jewellery companies, as retailers try to

fill their shelves for the upcoming Christmas and holiday season.

LGD producers also have not scaled up their capacities to a stage where

they can replace Alrosa production. For a change, they might see price

increases in the second half of 2022.

More than the incremental business, the shortages will open new

opportunities for LGD suppliers, as retailers who would have otherwise not

considered selling LGD jewellery are forced to go ahead and offer the product.

No wonder the current market conditions might seem like heaven for the LGD

industry, while diamond-producing countries continue to lick their wounds.

Diamonds from $10/ct

Full Range on display at STAND A20

opposite the Nationwide lounge at the

International Jewellery Fair

ICC Sydney, Darling Harbour

August 27-29

CHAIM EVEN-ZOHAR is a retired consultant to the diamond industry

and the former editor of the Israel Diamond Exchange's Diamond

Intelligence Briefs. PRANAY NARVEKAR is director of Pharos Beam

Consulting, a firm providing analysis and insights into the supply,

financing, and structure of the diamond industry.
---
BUSINESS

Strategy

Quick fix training tips for

outstanding customer care

When it comes to retail, fewer things matter more than providing quality customer service.

KIZER & BENDER offer practical ways to improve the impression left upon customers.

While it's true that we live in an everchanging

world, in the realm of retail,

one truth is standing the test of time –

the importance of high-quality customer

service.

Relationships with valuable customers can

be broken in an instant due to poor service.

According to a recent study by Redpoint

Global, a customer engagement and data

management company, 39 per cent of

customers surveyed said that will not do

business with a business that fails to offer

some kind of personalised experience.

Furthermore, business consultants

Verint Systems recently released a report

revealing that 64 per cent of customers

surveys have switched companies at least

once due to poor customer service.

Retailers should take note of the

visceral reaction customers have to

poor customer service, and conversely,

reflect on the lasting impact positive

interactions can have on the way a

customer views a business.

Over the years we've written extensively

about customer service, or more to the

point, the lack of it. Bad service is rampant

in every type of retail store and we've

experienced it ourselves.

For example, a salesperson at a bridal

store who couldn't be bothered to help

us find the perfect gown for an upcoming

wedding. A waitress, who took one meal to

our table, then waited a further 25 minutes

to deliver the second.

Then there was the staff member at the

arts and crafts store who couldn't tell us

about the products on offer because "she's

not a crafter." We could go on forever, and

we're sure you could too.

Too many customers expect to receive poor

service from staff members who are not

equipped to do their jobs.

If you're honest, you might even be willing

to admit that bad service occasionally

happens in your store as well. And when it

does, it's a big deal. There's an older retail

study to consider:

• 15 per cent of customers will refuse to

shop at a store again due to poor pricing.

• 15 per cent of customers will refuse

to shop at a store again due to poor

product selection

• 70 per cent of customers will refuse to

shop at a store again due to a negative

interaction with the staff.

Let that sink in for a moment! The good

news is that the 70 per cent statistic is

within your control.

How important is training in your store? You

have a big opportunity right in front of you.

Customers who visit your store will come

with high hopes and lists in hand. The

way they are treated while in the store

determines whether they return, and

perhaps even more importantly, what they

tell others about what they think about your

store.

Here's one last statistic to consider –

according to research performed by

business consultants thinkJar, just one

It's dangerous

to assume that

every staff

member knows

every product

inside and out,

so consider

hosting

monthly

meetings that

focus on new

product lines.

in 26 customers will report a negative

experience to the business itself.

That's just 13 per cent of customers! This

means that if your staff negatively impact

the reputation of your store, the chances

are you may not even hear about it. The

reputation of your store will be damaged,

and you won't have the chance to rectify

the issue.

Today is the perfect time to get your staff

focused and back on track!

Back to basics

It's important each member of staff has

a thorough understanding of the basic

principles of customer service.

There should be no uncertainty over

exactly how you expect customers to be

greeted, and how returns, special orders

and requests are to be handled.

Try to remember that not everyone shares

the same perspective on social graces

or has benefited from etiquette training.

What might seem like common sense to

you, with the benefit of experience, may not

have occurred to a younger employee.

Share with your staff the important impact

quality customer service has on your

business and the role they must play within

its implementation.

Prepare new hires for success

New hires need to feel comfortable and

productive from their very first day on

the job.

A New Associate Orientation Program

will ensure that they do. All employees

104 | August 2022
---
Business Strategy

need to feel a sense of victory and

accomplishment, so assign each new hire

a simple task to complete on their first day

of work. Remember to meet for a quick

discussion at the end of the shift to discuss

how the day went.

One effective approach is to pair

each new employee with a veteran of

the business who can mentor them

throughout their first weeks on the job.

Most employees focus on making a good

first impression and it's a lot easier to

ask an assigned mentor a question than

it is to ask the boss.

Hands-on training

Make product knowledge an important

part of your training program.

It's dangerous to assume that every staff

member knows every product inside and

out, so consider hosting monthly meetings

that focus on new product lines. Don't

forget about new applications for old

favorites and covering the basics.

To make it more straightforward, select

one particular category per meeting

and discuss what's important about the

product, its application, and technique.

Make these meetings hands-on training

sessions; it's much easier to sell a product

once you've handled it.

When the store is quiet you can conduct

your training right on the sales floor.

It's easy to point out what's important

about a product category when it's right

in front of you. You're sure to attract the

attention of customers, so let them in

the fun. They might even have a trick or

two to share.

Daily 10

Gather your staff on the sales floor each

morning, or at least three times per week,

for a short meeting before you open for

business.

Talk for 10 minutes about products,

techniques, applications, customer

requests, policies, trade shows, industry

news, associate experiences, and

upcoming events – whatever makes sense

that particular morning.

Offer your staff the opportunity to share

any information they feel is important

too, as their perspective can help you

gain stronger insight into the views of

your customers.

Clear and consistent communication

keeps everyone familiar and in the loop,

as well as on their toes.

Give me 5!

Here's another daily exercise that will

encourage increased sales performance.

At a staff meeting, hold up a product and

ask the sales staff to list any items that

could be added to the purchase to increase

the value of the sale.

Add-on selling is good for business and it's

good for customers. You'll up your average

sale and customers won't have to return

to the store to pick up the additional items

they need but forgot to buy.

On-going training programs

Devote one store meeting a month to staff

training.

Between these meetings, provide access

to books, websites, and videos for staff

members can study on their own. We know

retailers who allow their top performers to

attend classes offered at trade shows.

Others have set up in-store 'universities'

where employees are rewarded with

raises, and even promotions, each time

they earn a new 'degree' as a part of the

training.

Clear expectations

Set aside a few minutes each morning

to complete an opening checklist that

MORNING

MEETING

DISCUSSION

Products

Ensure

employees are

up to date on all

that's offered.

Technique

Remind

employees of

expectations

with customer

service.

News

Share any

relevant industry

developments or

business updates.

Calendar

Remind

employees of

any significant

upcoming events.

Feedback

Offer your

employees the

chance to share

any insight they

feel is important.

outlines everything planned for the store

across the coming day.

The checklist should include the daily

overall store sales goal, departmental

goals, item of the day, in-store specials,

classes, and upcoming sales, events, and

promotions.

In short, anything and everything staff

members need to know about the store.

Managers can also prepare a closing

checklist of tasks that need to be

completed before the store re-opens

the following day. The internet has many

templates available if you don't have time

to design your own.

Business cards

Every member of staff – full and part-time

– should have business cards that are

personalised with name and title.

You can buy hundreds of business cards

at most instant printers at very little cost.

salespeople, in particular, are worth this

small investment.

Remember that each card that's

distributed as a mini-advertisement for

your store.

Let your stars shine!

Why do all the training yourself when

your experienced members of staff

can help out?

Many stores have employees who excel

in differing areas. Allow experienced

employees to do the hands-on training

for that category or product line.

You can incorporate these experienced

employees into the approaches listed

above too - don't be afraid to delegate!

RICH KIZER and GEORGANNE

BENDER are retail strategists,

authors and consultants. Visit:

kizerandbender.com

August 2022 | 105
---
BUSINESS

Selling

Repairing our sales win rates

Quality over quantity is one of the most well-known pieces of business wisdom, however how many salespeople ever stop

and think about what it really means? DAVID BROCK explores the simple math behind an important business philosophy.

I've long discussed the importance of

win/loss analysis in improving business

performance, and to this day, I continue

to be amazed at how little we understand

about what causes us to win and lose in the

world of business.

It's important to understand why we win,

why we lose, and how we maximise our

performance and productivity.

Let's explore a straightforward example.

Assume three members of staff have the

same quota of $500,000 in annual sales

and each has the same average deal/sale

size of $10,000.

Let's also assume that they require the

same number of opportunities to find a

qualified sale. Let's assume 10 prospecting

efforts produce one qualified sale.

With a 20 per cent win rate, it takes

Salesperson A 2,500 prospective

opportunities to fulfill the quota.

Salesperson B, with a win rate of 30

per cent, can achieve that task in 1,670

prospective opportunities. Our strongest

performing hypothetical staff member,

Salesperson C, can achieve the quota with

1,000 prospective opportunities with a win

rate of 50 per cent.

This is the kind of maths all retailers

should be performing, however in reality,

I find very few sales teams, or managers,

who have spent time thinking about what

this means.

Ask the big questions

Sadly, the rare few managers and sales

staff who do track this kind of data tend to

view it as a kind of 'law of nature' and not

something that can be improved.

Across the many businesses I've

encountered, too few managers and sales

staff are willing to challenge themselves

and ask the important questions about

their practice.

How do we increase our win rates? How do

we increase our average deal/sale sizes?

How do we compress the sales cycle?

How do we create greater yield from our

Those with poorer win rates fall into the trap of chasing so many potential

sales they fail to invest the time needed to win at the macro level.

prospecting efforts? How do we effectively

improve the performance of each person

on the team?

When these kinds of questions are

proposed, the answer is always the same:

"Just do more!"

You may read this and find yourself

thinking, "Well Dave, you are just showing

that maths works, what's your point?"

Once we start looking at these big

questions with the above example in mind,

we must then ask what it is that causes

such a difference in the performance of

one salesperson to another.

What are the salespeople with 50 per cent

win rates doing differently than those

with few wins? How can we get others

to emulate the achievements of our elite

performers? These are the right questions.

Quality over quantity

Our simple example above treats

everything other than win rates as being

relatively equal, and we know that reality is

never that straightforward.

Sales staff with higher win rates tend to

have higher average deal/sales values.

The elite performers also tend to have

higher yields with their prospecting

efforts. It's natural that more successful

salespeople are more focused on the

right prospects and will rarely be caught

wasting time on low-quality opportunities.

It's natural that

more successful

salespeople are

more focused

on the right

prospects and

will rarely

be caught

wasting time

on low-quality

opportunities.

Because sales staff with higher win rates

need to chase fewer opportunities, they

can invest more time in the opportunities

they select. This practice dramatically

improves customer experience and by

extension, the propensity to purchase.

Comparatively, those with poorer win

rates fall into the trap of chasing so many

potential sales they fail to invest the time

needed to win at the macro level.

This is what I like to call a 'performance

death spiral' because by reducing the

time and energy spent on each individual

prospective customer, failing salespeople

chase much-needed wins by contacting

or dealing with more and more prospects,

falling into a vicious cycle of failure.

Over time, I've analysed businesses and

seen these kinds of trends repeating

themselves. Today, it's all too common to

see salespeople settling for single-digit

sales performances.

The far too common focus on volume

of contacts with prospective clients has

had a horrible impact on performance

on average. Many promote reducing the

amount of time spent on each call and

increasing the number of calls made or

increasing the number of emails sent out.

This is rarely the right message!

Focus on what works

The key to driving performance for

salespeople is rarely increasing overall

activity. Improvement comes from

producing more and more from each

individual sales opportunity.

Instead of doing more of what doesn't

work, faster, we must focus on what

works. Discovering what it is that produces

success within these interactions and

learning to execute more effectively.

DAVID BROCK is the founder of

Partners in Excellence, a consulting

and business services company. Brock

has a background in sales, marketing

and management. Learn more:

partnersinexcellenceblog.com

106 | August 2022
---
BUSINESS

Management

Five human behaviour myths busted

If behavioural science is so good, why aren't more people using it?

BRI WILLIAMS examines a few common myths about consumer decision-making.

There's something that has always

confounded me. When people read or hear

about behavioural economics, and more

broadly, behavioural science, they typically

get excited.

Suddenly the strange things people do, and

the strange decisions we make, start to

make sense.

Why do I over pack for my holiday?

Underestimate the time a project will take?

Buy stuff on sale, just because it's on sale?

The issue is we have the tendency to

quickly forget these insights. Sure, they

might return as a fun story or anecdote to

share at the next dinner party, but all-toooften

we completely miss the opportunity

to apply these insights to our professional

work.

Bottom line? The science of behavioural

influence has failed to influence behaviour!

Let's examine several beliefs about

behaviour that have been busted by

science, however, remain stubbornly

ingrained in the public's consciousness.

Money motivates us

After a point at which our basic needs are

met, money doesn't motivate performance.

In fact, in cognitively challenging

tasks, monetary incentives can impair

performance.

This should be widely understood by now,

however, what is the thing that comes

to mind immediately when we're talking

about motivating people? Money! When

we ask the people we're trying to motivate,

such as our sales staff, what do they think

would work best? Money!

Money is alluring for two reasons. It is

unequivocal. You know its value. A dollar

is a dollar. And secondly money is flexible.

You get to choose what you do with it.

But money is also impersonal and

transactional. It makes us more selfish,

creates a sense of entitlement and dilutes

reciprocity. When it comes to motivating

staff, we should look for other avenues

beyond simply a bigger payday.

Remember that people think based on emotions and feelings just as

often as they do cold, hard logic.

Know better do better

Education and information campaigns

are great. Great for advertising agencies,

that is, because they land big contracts to

create ads and collateral.

However, do information campaigns

change behaviour? Rarely!

Information doesn't mean 'info-motion'.

Knowing doesn't mean doing. We know we

should save for retirement, but in Australia

we have compulsory superannuation

because individuals can't be trusted to do it

themselves!

It's hard to argue with providing people

information, of course. It's safe. But it also

means the onus is shifted to the recipient

to engage with, understand and act on

what they learn.

Specify

The more specific your goal the better,

right? How else will you know what to

do? The problem with making your goals

precise is it makes them boring.

To paraphrase the words of behavioural

scientist and author Ayelet Fishbach, it

turns it into a chore, and we don't like

chores.

You are better making goals somewhat

abstract so you are reminded of the

purpose of your goal. Focusing on the

goal of 'looking after my fitness' is better

than 'going to the gym five times per

week' because it leaves the door for more

The more

specific your

goal, the better,

right? How else

will you know

what to do? The

problem with

making your

goals concrete

is it makes them

boring.

creative ways of achieving the goal.

People tend to think getting into the nittygritty

is the best approach. SMART goals

(specific, measurable, achievable, relevant

and time-bound), for example, that value

specificity and getting down to the tiny

details.

In a retail environment this seems to me to

be more about control and micromanaging

than it is about getting the best results

from your staff.

We are rational

The biggest myth of all is that we are

rational; that customers always make

decisions on the basis of facts and logic.

It's a nice thought; however, it's not true.

We have a habit of explaining most of our

day away. Logic is retrospective however;

we join the dots and explain our behaviour

in hindsight. Logic is also hypothetical and

we believe we'll act in a particular way in

a future circumstance, even though we

probably won't.

The problem, when it comes to influencing

people in an attempt to adjust their

behaviour, is we think logic will work as

a superior vehicle to play on feelings and

associations.

Think about it like this – and I'm doing it

right now – my article is trying to convince

you of the merit of behavioural science by

laying out my argument piece-by-piece. It's

human nature, but it's not always effective.

In order to get the best out of your staff,

don't be afraid to look for ways beyond just

money to promote improved performance.

Remember that people think based on

emotions and feelings just as often as they

do cold, hard logic. Find ways to make

goals achievable in a creative sense – avoid

becoming stagnant and trapped by detail.

BRI WILLIAMS is founder of People

Patterns, a specialist consultancy

that applies behavioural science to

everyday business issues.

Visit: www.briwilliams.com

August 2022 | 107
---
BUSINESS

Marketing & PR

To TikTok or not to TikTok?

There's a shiny new tool in the social media marketing world and it's called TikTok.

SHANE O'NEILL weighs up the pros and cons of the application for retailers.

The latest social media 'buzz' for business

is TikTok and the advantages it can offer

businesses. You could add it to your

marketing strategy, but should you?

Sure, TikTok is fun; however, is it the

right audience at the right time for a

retail jeweller?

Before you jump onto a new social media

platform, it's wise to define your goals in

using the channel.

You can't do everything and do it well,

and if you aren't doing something well,

what exactly are you doing?

Numbers

As a small business you can almost

justify joining just about any social media

channel. Depending on your strategy and

staff skills, it's possible to be successful

on various platforms.

However, that's not typical for most

retailers. Unless you have endless

marketing dollars, there are usually more

relevant channels than the newest social

channel du jour.

When Google+ was launched in 2011, many

thought it would be the Facebook killer.

Instead, it never caught on. Before you start

to dilute your marketing efforts with yet

another social media application, you must

complete your due diligence to determine if

it's the right fit.

Consider using this simple formula to help

rationalise adding or changing our social

media. Time + strategy + audience = effort

and money.

Ask yourself how much time you will

need to dedicate to maintaining the social

channel. You must understand how you'll

use the channel. Make sure the user base

is your target customer and it has large

enough base on a local level.

For example, how much time do you need

to invest in creating TikTok videos? Video is

certainly more time-consuming than static

images, but is also far more engaging. You

can and should create video content for any

channel you use.

Make sure the user base is your target customer and it has large enough

base on a local level.

So, the questions are what type of videos

should you create that you can use across

other channels, and do you have the time to

add TikTok videos?

Strategy

Before you add more social media

channels – and therefore work – define

your strategic objective. For the sake of

discussion, we'll assume the strategic

use of TikTok would be to target the bridal

customer, based on the profile of the

average user.

If that's the case, are you already targeting

bridal on social media? Most social media

users use multiple channels and TikTok

isn't the primary channel for most, so are

you planning to make TikTok your primary

bridal channel?

If so, is it better than what you are

currently using? For example, Instagram

is a great channel to target the bridal

audience as 31.5 per cent of US users

are between the ages of 25–34. That's

the prime bridal demographic. In fact,

54.4 per cent of US Instagram users are

between the ages of 18-34.

More than 40 per cent of Australians

reportedly have an Instagram account

as of 2021.

Oh, by the way, Instagram has also

launched its own take on the TikTok format,

called Reels, which may very well affect

TikTok's growth and user adaptation.

The bottom line

is it's easy to

get caught up

in the newest

social trends.

However, newer

social channels

often don't stack

up to other more

well-established

social channels,

for a litany of

reasons that

you need to

consider before

going down the

rabbit hole.

Audience

So, who's using TikTok the most?

Around 50-60 per cent of US users are

between the ages of 16-24. That's a large

number of users outside of the average age

of a typical bride at 28. More than seven

million Australians over the age of 18 use

the application according to a recent report,

the majority of which are female.

Moreover, some are still in high school

and the rest probably aren't prime for

bridal marketing efforts. Another reason

business gurus are touting TikTok is that it

gives you the chance to get in front of Gen Z.

I get it, but why?

They won't start becoming prime bridal

customers for at least another four or

five years. With the pace of technology

evolution, I'll bet we've all moved on to

something else.

Effort and money

So, now comes the $64,000 question; is

it worth the additional time and effort to

create and develop a TikTok presence,

and do you have sufficient marketing

dollars to allocate?

Would you take dollars away from more

strategically appropriate channels, such as

Instagram, to do so? From my perspective,

the answer should be no. Will TikTok grow

into a marketing juggernaut?

Maybe, but it's not there yet as there are

simply too many superior options for the

majority of jewellers and their marketing

dollars.

The bottom line is it's easy to get caught

up in social trends. However, newer social

channels often don't stack up to wellestablished

social channels, for a litany of

reasons that you need to consider before

going down the rabbit hole.

SHANE O'NEILL is vice president of

Fruchtman Marketing, a consultancy

company specialising in jewellery .

Learn More: fructman.com

108 | August 2022
---
BUSINESS

Logged On

Adapt or die!

Stay on top of the social media game

The social media landscape is always changing. MANDY EDWARDS says your

marketing strategy must adapt to reflect these changes to avoid failure.

The world of social media marketing

can change at a rapid and, sometimes,

frightening pace.

A website that once guaranteed a boost in

sales for a retailer can become obsolete

overnight. Proven methods of reaching the

right audience can become unpopular and

vanish in what feels like the blink of an eye.

The way your business posts, what your

business posts, and who your business

targets – it's all liable to change. If you're

not adapting how your business uses

social media to market your products to

customers, you're going to fail.

For example, within a 12-month period

around 2018, the following happened

– all more or less at once. Algorithm

changes were implemented by search

engines, advertising metrics were

adjusted, Facebook use began to notably

decline, Instagram use by consumer

audiences surged, and Twitter doubled

the character count.

Those were just the notable changes. It's

likely just the tip of the iceberg! In the

early days of social media marketing, the

system was relatively straightforward

- a business would run an account or

page, depending on the website, and post

content for its subscribers.

The content would reach the audience

unchanged via a feed. It reminds me of

the movie Field of Dreams, where the

protagonist is told "if you build it, he will

come!" The theory was the same. You had

access to your subscribers and were free

to push them in the direction of your digital

store by whatever method you chose.

There was no algorithm dictating who

saw what – how times have changed!

Fast forward to today and the landscape

is vastly different for businesses. There

is a science and psychology behind

social media marketing – and it's

changing all the time.

Audience

There's one thing that has changed very

Put yourself in the shoes of your followers and think closely about

your content.

little – the audience. The sensibilities of

the average customer haven't changed

too much and it's important we remember

those fundamentals.

Customers don't want to see sales

pitches. When it comes to digital content,

customers want to be given material

that matters to them. Customers aren't

interested in fluff – the stupid gimmicky

videos and jokes that make you want to gag.

Customers want relevant content with

substance. As a retailer, we must avoid

wasting the time of a customer by

posting meaningless "share this to win a

$25 gift card!" posts. Those posts clutter

the feed of not just our subscribers,

likely existing customers, but also their

friends and family – who may be our

customers of tomorrow.

Review your content

Retail businesses tend to spread

themselves out over many social media

networks, attempting to make the most of

platforms such as Facebook, Instagram,

Twitter, and LinkedIn.

Put yourself in the shoes of your followers

and think closely about your content. Are

you posting something that would make

you stop and read? Or does it look like

the most of the content online, worthy of

nothing more than scrolling by?

Think about how you compare to your

competitors. What does your content

Put yourself

in the shoes of

your followers

and think

closely about

your content.

Are you posting

something that

would make you

stop and read?

have in common with the material of your

closest rival? How does it differ? These are

the questions you should be asking before

posting – and not after!

Stay flexible

Digital marketing is going through an

evolution right now – in fact, it always is.

When social media was popularised

marketers quickly learned to exploit it.

Many business owners became an 'expert'

on using it as a marketing tool without

formal training. The tide turned and now

on websites such as Facebook, that kind of

content is penalised by algorithms.

To avoid getting swept up in the same

wave, focus on the basics of marketing.

Aim on relationship-building with your

audience and remember that it's not a

one-way street.

As a retailer, you have to be active and

responsive to everyone. Customers

have said for a long time that they want

meaningful, accurate, authentic, and

informative content.

Adapt your content as such. Get rid of

the fluff! Post content that will draw an

audience in, and make them act. Contact

potential customers directly and build a

relationship through social media. Form

your own community.

Customers always pursue more

personalised experiences, especially in

retail. Your business should use social

media to tailor the experience they have

with you. Consider posting about your

interactions with customers – feature your

customers with your products! Find a way

to connect the two.

Loyalty is key to long-term survival in

retail. This applies to the jewellery industry

more than most! The strongest will survive

and those who adapt will outlive the rest.

MANDY EDWARDS is founder of ME

Marketing Services, a social media

and management consultancy. Visit:

memarketingservices.com

August 2022 | 109
---
My Bench

Yuki Mathwin

Abrecht Bird Jewellers. Melbourne VIC

Age 45 • Years in Trade 8 • Training Four-year apprenticeship, certificate IV.

SIGNATURE PIECE

SATURN'S STORM

A massive hexagonal-shaped storm was discovered on

Saturn's north pole in the 1980s. The raging hurricane

is 32,000 kilometres in diameter and over the years has

been observed to have changed from a blue colour to a

more golden colour. It has six distinct sides, larger than

the size of the earth, which form the shape of a hexagon.

4FAVOURITE GEMSTONE That's a difficult question.

At the moment it's opal. I'm totally mesmerised by all

the colours.

4FAVOURITE METAL 18-carat yellow gold.

4FAVOURITE TOOL Hammer, there's something

about hammering. Maybe it's the noise, or the power

to manipulate metal, that I really enjoy.

4BEST NEW TOOL DISCOVERY I love our laser welder,

there is nothing it cannot do!

4BEST PART OF THE JOB Being able to talk about

jewellery all day.

4WORST PART OF THE JOB Two things. Waking up in

the middle of the night, thinking about a job. Constantly

dropping small diamonds. They're both pretty bad!

4BEST TIP FROM A JEWELLER You never stop learning.

4BEST TIP TO A JEWELLER Never give up.

4BIGGEST HEALTH CONCERN ON THE BENCH

My mental health, because I always feel inspired to

make myself jewellery, but don't have the time!

4LOVE JEWELLERY BECAUSE Jewellery is a form of

expression and can hold a lot of meaning. I love the

history of jewellery too, a piece can tell many stories.

110 | August 2022
---
OPINION

Soapbox

Chasing the pink paper

Provenance has never been more important for collectors of rare diamonds and gemstones.

WILLIAM GANT unveils the 'mysteries' of the fancy colour diamond market.

We all know the value of a diamond

varies considerably according to its

qualities.

And while the 4Cs – colour, clarity, cut,

carat – are the most familiar to the typical

diamond consumer, when it comes to colour

stones, two of the four can become more

confusing.

That is, providing a certificate from a

reputable diamond laboratory declaring a

white diamond's qualities leads to consumer

confidence that they have purchased

precisely what they had intended to buy –

particularly since they are unlikely to be able

to grade the stones themselves.

However, when fancy colour diamonds come

into play, the importance of certificates takes

on a whole new dimension.

For example, the value difference between

a Fancy and Fancy Light saturation is

enormous; the presence of secondary and

even tertiary colours can send the value

diving or soaring, depending on the hue;

and the overall brightness and tone can

significantly affect the value.

When it comes to important fancy-coloured

diamonds, it goes without saying that

certificates are sine qua non – essential –

when making a purchase.

And then we have the question of

provenance. From where did the

diamond originate?

Provenance has become a crucial factor

for collectors of the legendary Argyle

pink and violet diamonds. Such incredibly

rare stones from the now-closed Argyle

diamond mine in the remote Kimberley

region of Western Australia are as distinct

as they are beautiful.

The pinks possess a warm, feminine tone

like the shades of cherry blossoms, distinct

from the colder tones or orangey hues from

deposits elsewhere.

The violets redefined how the laboratories

classified this colour category; they are a

standout among fancy coloured diamonds

not only for belonging in the highest end

of the frequency band of colour, but also

because of their unique origin of colour.

That said, not many people are aware that

pink diamonds have also been mined in

South Africa, Canada, Russia and Brazil.

However most consumers want an Argyle

pink, and they want to be sure they get what

they paid for.

So, if 90 per cent of the world's pink

diamonds have been discovered in Western

Australia, it's important that the other

stones are not passed off as 'Argyle pinks'.

Unfortunately certificates from independent

labs typically do not state the origin of the

stone. It comes as no surprise then that

many collectors of Argyle pinks and violets

will demand certificates issued by the mine

itself, to prove beyond doubt that the stones

originated from the Argyle deposit.

However, Argyle-certified stones are

becoming scarcer by the day with the mine

no longer in production. Demand continues

to be intense. The value of pinks and violets

have grown; with limited supply and high

demand, it is a simple economic reality.

Importance of origin

What may not be well-appreciated is that

Argyle certificates – linked to the stones

by laser inscription – were only relatively

recently introduced in the mine's life cycle.

The issue of certificates for stones weighing

0.20 carats and above only commenced

in 2005; it was over a decade later when

smaller stones such as 10-pointers began to

be supplied with certificates.

This means that the vast majority of pink

and violet diamonds from the Argyle

deposit – including from the peak of the

mine's production around the turn of the

millennium, when Argyle produced fully

a third of the world's diamonds – are not

certified with inscriptions to link them.

The consequence of this is that collectors

who focus only on Argyle-certificated pink

and violet diamonds may miss out on the

It comes as no

surprise then

that many

collectors of

Argyle pinks

and violets

will demand

certificates

issued by the

mine itself, to

prove beyond

doubt that

the stones

originated

from the

Argyle deposit.

opportunity to acquire these beautiful

Australian treasures. Not to mention paying

a significant premium for that 'paper'.

Fortunately, laboratory analyses have

become increasingly sophisticated, enough

to be able to verify the origin of a diamond in

some instances.

Origin certificates are sometimes possible

because deposits can have certain

characteristics from atomic impurities

and age and temperature conditions – a

geological fingerprint, if you will – that

detailed optical and spectroscopic analyses

can reveal to show whether a stone had

originated from that deposit. This is

particularly important since tracking a

diamond from its rough state to polished is

not usually possible with 'historical' stones.

The advantage of stones originating from a

once-giant deposit like Argyle is that there

are numerous data points to support the

analyses.

Just as the art world has specialised

experts who can thoroughly analyse and

certify whether a particular oil painting is

an original, there are specialised diamond

laboratories that can thoroughly analyse

and certify whether a stone had originated

from the Argyle deposit.

Such detailed origin certificates are gaining

popularity, particularly when presented

together with certificates confirming the

stones' "usual" characteristics: size, shape

and colour.

Therefore, if you seek to acquire a pink or

violet diamond from the Argyle deposit,

your options will become far greater – and

perhaps more affordable – if you consider

origin-certified stones in addition to those

bearing the miner's certificates in your

search.

Name: William Gant

Business: LJ West Diamonds Australia

Position: Managing director

Location: Perth, WA

Years in the industry: 13

C

M

Y

CM

MY

CY

CMY

K

112 | August 2022
---
THE JEWELLERY

INSURANCE SPECIALIST

4 DAYS

FREE COVER

for your customers

COMMISSION

PAID FOR

EVERY POLICY.

ALL CLAIMS

COME BACK

TO YOU

CENTRESTONE BENEFITS

Our Service

Guarantee if the customer ever has a claim, the full replacement

cost is paid directly to you as the customers preferred jeweller,

not shopped around to the insurers preferred jewellers

WORLDWIDE COVER

ANYWHERE, ANYTIME

INSTANT COVER

NO WAITING PERIODS

AGREED VALUE AND LIKE-

FOR-LIKE REPLACEMENT

YOUR CLIENTS' CLAIMS

COME BACK TO YOU

UP TO 150% COVER OF

THE INSURED AMOUNT

NO EXCESS ON ALL CLAIMS

Like-for-like replacement to the same quality and craftsmanship

that was lost

We do annual revaluations so the item is never under-insured

Commission for every one of your customers that process a policy

Easy, fast claims process. Claims payments made within

5 business days

COVER FOR ACCIDENTAL

DAMAGE, LOSS &THEFT

ANNUAL REVALUATIONS TO

MATCH REPLACEMENT COST

www.centrestone.com.au

JOIN AS A PARTNER JEWELLER

CALL NOW

+61 2 8316 3995
---
Australia is enriched with amazing treasures. Sapphire Dreams pays tribute to the beauty of natural

Australian sapphires, ethically sourced from the sapphire fields of inland Eastern Australia.

To achieve this level of uncompromised excellence, all sapphires pass through the hands of our skilled

gem cutters to become one-of-a-kind, timeless masterpieces.

Our Australian sapphire jewellery collection is crafted in 9ct or diamond set 18ct gold. Sapphire

Dreams certifies and inscribes every sapphire greater than 0.75ct to ensure their Australian origin.

Become a stockist today

02 9290 2199

SapphireDreams.com.au Exquisite Argyle pink 02 diamonds, 9290 2199 exceptional designs by Pink Kimberley

PinkKimberley.com.au