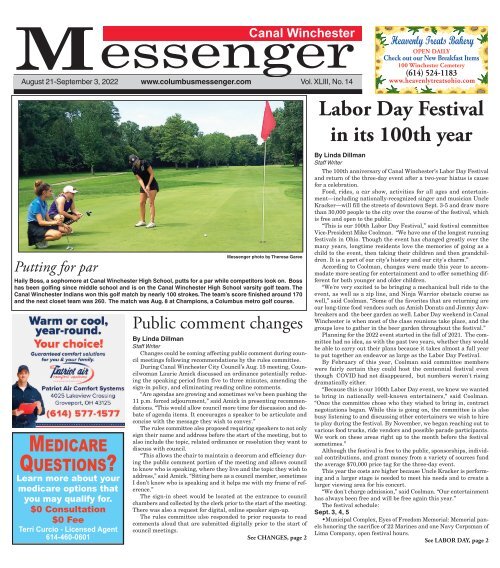 Canal Winchester Messenger - August 21st, 2022
You also want an ePaper? Increase the reach of your titles
YUMPU automatically turns print PDFs into web optimized ePapers that Google loves.
Messenger

Canal Winchester

August 21-September 3, 2022 www.columbusmessenger.com Vol. XLIII, No. 14

Heavenly Treats Bakery

OPEN DAILY

Check out our New Breakfast Items

100 Winchester Cemetery

(614) 524-1183

www.heavenlytreatsohio.com

Labor Day Festival

in its 100th year

Putting for par

MEDICARE

QUESTIONS?

Learn more about your

medicare options that

you may qualify for.

$0 Consultation

$0 Fee

Terri Curcio - Licensed Agent

614-460-0601

Messenger photo by Theresa Garee

Haily Boss, a sophomore at Canal Winchester High School, putts for a par while competitors look on. Boss

has been golfing since middle school and is on the Canal Winchester High School varsity golf team. The

Canal Winchester Indians won this golf match by nearly 100 strokes. The team's score finished around 170

and the next closet team was 260. The match was Aug. 8 at Champions, a Columbus metro golf course.

Public comment changes

By Linda Dillman

Staff Writer

Changes could be coming affecting public comment during council

meetings following recommendations by the rules committee.

During Canal Winchester City Council's Aug. 15 meeting, Councilwoman

Laurie Amick discussed an ordinance potentially reducing

the speaking period from five to three minutes, amending the

sign-in policy, and eliminating reading online comments.

"Are agendas are growing and sometimes we've been pushing the

11 p.m. forced adjournment," said Amick in presenting recommendations.

"This would allow council more time for discussion and debate

of agenda items. It encourages a speaker to be articulate and

concise with the message they wish to convey."

The rules committee also proposed requiring speakers to not only

sign their name and address before the start of the meeting, but to

also include the topic, related ordinance or resolution they want to

discuss with council.

"This allows the chair to maintain a decorum and efficiency during

the public comment portion of the meeting and allows council

to know who is speaking, where they live and the topic they wish to

address," said Amick. "Sitting here as a council member, sometimes

I don't know who is speaking and it helps me with my frame of reference."

The sign-in sheet would be located at the entrance to council

chambers and collected by the clerk prior to the start of the meeting.

There was also a request for digital, online speaker sign-up.

The rules committee also responded to prior requests to read

comments aloud that are submitted digitally prior to the start of

council meetings.

See CHANGES, page 2

By Linda Dillman

Staff Writer

The 100th anniversary of Canal Winchester's Labor Day Festival

and return of the three-day event after a two-year hiatus is cause

for a celebration.

Food, rides, a car show, activities for all ages and entertainment–including

nationally-recognized singer and musician Uncle

Kracker–will fill the streets of downtown Sept. 3-5 and draw more

than 30,000 people to the city over the course of the festival, which

is free and open to the public.

"This is our 100th Labor Day Festival," said festival committee

Vice-President Mike Coolman. "We have one of the longest running

festivals in Ohio. Though the event has changed greatly over the

many years, longtime residents love the memories of going as a

child to the event, then taking their children and then grandchildren.

It is a part of our city's history and our city's charm."

According to Coolman, changes were made this year to accommodate

more seating for entertainment and to offer something different

for both younger and older children.

"We're very excited to be bringing a mechanical bull ride to the

event, as well as a zip line, and Ninja Warrior obstacle course as

well," said Coolman. "Some of the favorites that are returning are

our long-time food vendors such as Amish Donuts and Jimmy Jawbreakers

and the beer garden as well. Labor Day weekend in Canal

Winchester is when most of the class reunions take place, and the

groups love to gather in the beer garden throughout the festival."

Planning for the 2022 event started in the fall of 2021. The committee

had no idea, as with the past two years, whether they would

be able to carry out their plans because it takes almost a full year

to put together an endeavor as large as the Labor Day Festival.

By February of this year, Coolman said committee members

were fairly certain they could host the centennial festival even

though COVID had not disappeared, but numbers weren't rising

dramatically either.

"Because this is our 100th Labor Day event, we knew we wanted

to bring in nationally well-known entertainers," said Coolman.

"Once the committee chose who they wished to bring in, contract

negotiations began. While this is going on, the committee is also

busy listening to and discussing other entertainers we wish to hire

to play during the festival. By November, we began reaching out to

various food trucks, ride vendors and possible parade participants.

We work on these areas right up to the month before the festival

sometimes."

Although the festival is free to the public, sponsorships, individual

contributions, and grant money from a variety of sources fund

the average $70,000 price tag for the three-day event.

This year the costs are higher because Uncle Kracker is performing

and a larger stage is needed to meet his needs and to create a

larger viewing area for his concert.

"We don't charge admission," said Coolman. "Our entertainment

has always been free and will be free again this year."

The festival schedule:

Sept. 3, 4, 5

•Municipal Complex, Eyes of Freedom Memorial: Memorial panels

honoring the sacrifice of 22 Marines and one Navy Corpsman of

Lima Company, open festival hours.

See LABOR DAY, page 2
---
PAGE 2 - CANAL WINCHESTER MESSENGER - August 21, 2022

Call today and receive a

FREE SHOWER PACKAGE

PLUS $1600 OFF

1-855-517-1892

With purchase of a new Safe Step Walk-In Tub. Not applicable with any previous

walk-in tub purchase. Offer available while supplies last. No cash value. Must present

offer at time of purchase. CSLB 1082165 NSCB 0082999 0083445

SPECIAL OFFER

3737 Abney Rd., Columbus $209,900

Great Ranch Home with No HOA! Almost 1200 square feet of living space.

3 bedroom, 1 1/2 BA, family room, 1st flr. laundry, fncd in yard, 1 c. gar.

Diane Todd - (614) 570-0803

580 Main St., Groveport, OH 43125

diane.todd@HERrealtors.com

The Marylee Bendig Team

Messenger

Canal Winchester

BEST COMMUNITY NEWSPAPER in Canal Winchester

Pick-Up At These

Locations:

Walgreen's - Gender & Winchester Blvd.

BP Gas Station - Gender Rd. & Freeway

Aldi - Gender Rd. & Freeway (behind BP Station)

Kroger - Winchester Square

The Wigwam Restaurant - 4 South High St.

Marie Scramblers - 6402 Winchester Blvd.

Shade on the Canal - 19 South High St.

Canal Winchester Library - 115 Franklin St.

CW City Hall and Community Center – 45 E. Waterloo St.

Harvest Moon - 7 N. High St.

Rex Barber Shop - 1 W. Waterloo

Sunoco Gas Station - 501 W. Waterloo St.

Panera - 685 W. Waterloo St.

READ US ONLINE: www.columbusmessenger.com

CHANGES

Continued from page 1

"They are a matter of public record," said Amick.

"They are published with the council packet. Anyone

can read them at any time including prior to the start

of the council meeting. The recommendation on the

table is that we no longer read those public comments

submitted electronically in advance."

Chamber of Commerce seeks help

The Chamber of Commerce is turning to the city to

help the organization facilitate a five-year strategic plan

by providing financial support in adding a full time employee.

With city support, and a candidate already in mind,

the position would focus on strategic planning, increasing

membership, and creating meaningful and intentional

training and certification opportunities for

members, while keeping membership costs and sponsorship

opportunities affordable for the business community.

In its proposal to the council, the chamber anticipates

offering an initial 90-day, $9,000 contract sourced

primarily through the organization's emergency fund,

while working through funding opportunities with the

city.

"I commend the chamber for doing an excellent job

in crafting their request," said Amick.

Chamber representative Kristin Ankrom said some

chambers receive financial support from cities, but generally

fundraising and membership fees keep chambers

afloat.

"We have realized over the last five years we are undercharging

for membership, undercharging for events,

and those are things we don't want to change right

away," said Ankrom. "We want to keep our members

and knowing that a lot of them are small business owners,

we don't want to increase the cost. Having that full

time person, they would be constantly out in the community,

at events, going into businesses. They would be

the face of the chamber of commerce."

Semi-annual reviews would be conducted with council

to update the city on the organization's progress towards

its goals.

The chamber is asking for a three-year commitment

from the city. The total base salary, benefits, training,

etc. for the full time position is estimated at $64,160;

year two is $66,845; and year three is $68,580.

LABOR DAY

www.columbusmessenger.com

According to the proposal, the average salary for an

executive director in Ohio was $78,590 as of June 28,

2022, but the range typically falls between $60,580 and

$97,067. Salary ranges can vary widely depending on

the city and other factors, including education, certifications,

additional skills and the number of years spent

in the profession.

The organization currently has a parttime paid position.

While Amos said there is value in a Chamber of Commerce,

she said she struggles with the proposal because

many of the city's downtown businesses are not members

of the local chamber.

"We have a downtown association. We have a restaurant

association," said Amos. "Will they be next in line

to ask us for similar things to support them. A lot of our

downtown businesses have come to us asking for grant

money. I'm just wondering if this opens us up for potential

concerns. We have to find a balance."

Over the last five years, the Canal Winchester

Chamber has taken steps to streamline their scope by

eliminating overlapping efforts with the city's workforce

development and Destination: Canal Winchester; grew

membership by eight percent; and had enough money

in savings to fund fixed business expenses for one year.

"We want our business community to thrive," said

Ankrom. "We want the chamber to be a support and advocate

for our businesses. We all want to see that

growth."

Council will continue discussion on the chamber's

proposal.

Property purchase

A tabled ordinance purchasing 20 S. High St. from

owner Donald Moody was brought back for action after

an environmental impact study was conducted.

While Development Director Lucas Haire said there

is some soil contamination, the site is not required to

undergo remediation. Due to the contamination, the approved

purchase price was renegotiated from $280,000

to $230,000.

"It's important we take control and get that cleaned

up for our future," said Amos, who also said the city has

access to more resources than a citizen purchasing the

site privately.

Continued from page 1

•Beer Pavilion, beer sampling, OSU vs. Notre Dame

on big screen televisions, Sept. 3.

•Food concessions and midway rides.

Sept. 3, noon -11 p.m.

Main Stage North

•Opening ceremony, noon; introduction of queen and

her court.

•4:40 p.m., Motown Sounds of Touch, a Dayton quartet

combining dance moves with hits from artists like

Earth, Wind and Fire, Stevie Wonder; the Jackson Fives

and the Temptations.

•9 p.m., Epic Eagles, a five-member Canadian tribute

band performing classic hits by the Eagles and Don

Henley.

Second Stage South

•2 p.m., Treble Catz, Canal Winchester's own Steve

Smith and his trio.

•6:30 p.m., Street Players, a versatile group of Midwest

musicians playing songs of the 1950s-today.

Stradley Gazebo

•Noon, Canal Winchester High School Steel Band.

Sept. 4, 10:30 a.m.-11 p.m.

•Cruise-In, registration begins at 9 a.m., awards presented

at 4 p.m.

•Ice Cream Social and Blue Ribbon Pie Contest, Historical

Complex, 10 W. Oak, 1-3 p.m., free ice cream.

•Stradley Greenspace, 2-3 p.m., Columbus Zoo and

Aquarium animal ambassadors.

Main Stage North

•6 p.m., At It Again, a country and southern rock

band.

•9 p.m., Uncle Kracker, Nashville recording artist

with a country groove and interactive concert.

Stradley Gazebo

•3 p.m., Mr. E

Sept. 5, 10:30 a.m.-6 p.m.

•Parade, 1 p.m., starts at the high school, winds its

way down Washington Street through town, up Waterloo

Street and ends west of the community pool.

Second Stage South

•2:30 p.m., Frank Squared.

Visit www.cwlaborday.org for information.
---
www.columbusmessenger.com August 21, 2022 - CANAL WINCHESTER MESSENGER - PAGE 3

Bakers to display their talents at annual pie contest

By Linda Dillman

Staff Writer

The Canal Winchester Area Historical

Society is turning back the hands of time to

an age when taking the top prize in a baking

competition was an honor awarded to the

best baker in town.

"When the city announced last year that

they were going to create Hometown Day,

the historical society wanted to create an

event that replicated what you used to see

at fairs around the nation," said Society Secretary

Jill Amos. "That is where the pie contest

came into play and what better event to

have it at but the ice cream social. The contest

was well received and we are still hosting

the ice-cream social so it seemed like a

great idea to repeat the event."

Bakers across the city are invited to vie

for top honors again this year by turning

simple, everyday ingredients into a blue-ribbon

worthy pie in the organization's second

annual Pie Contest on Sept. 4 during the

city's Labor Day Festival.

Amos said there were eight pies entered

in the 2021 competition, with two people

submitting more than one pie. Vangie

Barnes took home the coveted blue ribbon

last year.

"We had such a wide range of pies from

fruit to custard pies," said Amos.

During the contest, bakers bring their

covered pies to a table where they are issued

a number. Judges are later brought over to

start evaluating the pies on appearance,

color, texture, bake and flavor, in addition

to other judging criteria.

The pie contest, which is open to bakers

of all ages, is held outside and located next

to the historical society's ice-cream social,

which starts at 1 p.m. at 10 W. Oak St., is

free and open to the public.

Pies must be entered by the person who

made the pie and contestants may enter up

to two pies. Entries must be completely

homemade and based on a 9-10 inch pie

plate. No store bought pies, crusts, or fillings

may be used. A complete recipe must

be included with the entry and pies should

be made in a clean and safe environment.

"Our judges are volunteers from around

the community that are selected prior to the

event," said Amos. "Each judge is asked to

try a bite of each pie. Last year, several

judges had to sample twice to get to the final

choices. There were no bad pies submitted

last year, which made judging even more

challenging."

Pie contest entries must be dropped off

between 1:30 p.m. and 2 p.m., with judging

starting around 2:15 p.m.

According to Amos, there is only one blue

ribbon/category, but if the contest continues

to grow, the society could expand the competition

accordingly in the future.

Vangie Barnes was the 2021 winner of a blue ribbon in a Labor Day Festival piebaking

competition sponsored by the local historical society.
---
PAGE 4 - CANAL WINCHESTER MESSENGER - August 21, 2022

Peace Free Lutheran's

hot dog giveaway

Peace Free Lutheran Church in Canal

Winchester will have its annual hot dog

giveaway on Sept. 5 starting at 11:15 a.m.

until after the Labor Day parade starts.

There will be free hot dogs, chips, and water

at a tent at 88 W. Waterloo St.

Canal Winchester

Library Branch

The Canal Winchester Branch of the

Columbus Metropolitan Library, 115

Franklin St., is located in the rear portion

of the former school at 100 Washington St.

For information visit www.columbuslibrary.org

or call 614-645-2275.

www.columbusmessenger.com

Photo courtesy of the Frey family

Canal Winchester's Nolan Frey prepares to make a putt at a recent tournament.

Frey excels on golf course

By Rick Palsgrove

Managing Editor

Nolan Frey has had a successful summer

on the golf course and is looking for

even bigger things ahead.

The Canal Winchester High School

senior, who is in his third year of playing

varsity golf, has prepared for the upcoming

high school golf season by playing in

tournaments around the state this summer.

He placed second in the Columbus

Parks and Recreation junior amateur

event at the Airport Golf Course carding a

74.

"He has been playing well and slowly

moving up leaderboards, but finally

caught fire," said his father Barry Frey.

On July 25, Nolan won a Licking

County junior amateur event at Clover

Valley firing a plus four (76). Later he

traveled to Portage County where he

started the final round three shots back of

the leader Reece Davis, a Mogadore High

School graduate and alumni of their golf

team. The tournament was played at Kent

State University's home course Windmill

Lakes and Sunny Hill Golf Course. Nolan

rallied for a two shot victory in the Matt

Mishler Portage County Junior Amateur.

"Nolan has been swinging a golf club

since he could walk and joined the Canal

Winchester Middle School club team in

eighth grade," said Barry. "By the end of

freshman year he was hooked on the

sport. He worked with Bob Brokaw, a PGA

pro, a few times at Westerville Golf Center

before Brokaw retired."

In the first Canal Winchester varsity

golf match of year on Aug. 5, Nolan shot a

76 and finished tied for seventh in Pickerington

Invitational at Turnberry, two

shots back (the winner shot 74). The invitational

included 22 schools and 132 participants.

Nolan shot a plus one 73 in the Ohio

Capital Conference event at Apple Valley

and tied for first place with Michael Murray

from Westerville South. He is coached

by Rick Maharry.

Nolan said he enjoys the challenge of

golf.

"I like the mental aspects, the idea that

it's just you against the course and that ultimately

your success depends on your

ability to execute," said Nolan.

DestinationOutlets.com

800-213-9083

8000 Factory Shops Blvd.

Jeffersonville, OH 43128

DOWNLOAD OUR

MEMBERSHIP APP

Madison Township

Police statistics

July crime statistics from the Madison

Township Police: 11 accidents with injuries,

4 animal complaints, 2 assaults, 86 patrol

security checks at Brobst Park, 1 burglary,

33 domestic complaints, 2 driving under the

influence OVI, 1 fight, 8 fireworks complaints,

3 hit skip accidents, 13 juvenile

complaints, 16 larceny/theft, 3 missing persons,

28 parking violations, 1 person with

gun, 20 property damage accidents, 1 sex

offense, 4 shots fired in area, 1 stabbing, 2

suicide/suicide threat, 14 suspicious cars, 31

suspicious persons, 29 suspicious

persons/vehicles, 6 threats or harassment,

114 traffic stops,15 vandalism.

9/11 remembrance

A remembrance ceremony for 9/11 will be

held Sept. 11 at 1 pm.

The program will be held at Motts Military

Museum at 5075 S Hamilton Road in

Groveport. More information will be available

soon.
---
www.columbusmessenger.com August 21, 2022 - CANAL WINCHESTER MESSENGER - PAGE 5

Watching for the signs of the seasons

As summer steams along toward its midpoint,

I start to look for my purple pal in the

countryside.

Specifically, while I am out riding my bicycle

on the paths of Three Creeks Metro

Park, my eye scans the meadows as I watch

for my annual, colorful friend to appear.

By mid-summer, June's wildflowers

have had their day in the sun and have

waned. The soft, lush bright green grasses

of spring have transformed into sturdy,

more coarse blades of faded green as the

sun ekes away their moisture. The plants in

the meadows are all taller as July rolls by,

but their height does not match the glory of

what is to come.

In years past, I would not expect to see

my friend in the fields until August, but in

recent times I have noticed it gracing the

meadows in late July.

I watch for it with each bike ride as July

begins to blend into August. Then, on July

26, I saw it, along with many of its purple

brethren, gracing one of the big meadows of

Three Creeks Metro Park. Ironweed - big,

bright, beautiful, and bold - its royal purple

blooms standing out amongst all the green

of the fields.

Ironweed is a tall wildflower that can

grow three to eight feet high. It's a naturally

occurring flower and gets its name

from its strong stem. It attracts butterflies,

bees, and other pollinators.

Ironweed is a seasonal marker for me

Editor's Notebook

along with lightning

bugs in June; Resurrection

Lilies (which I

inaccurately call Day

Lilies because they

Rick

Palsgrove

shoot up from the ground so fast) in July or

August; Goldenrod in September; pumpkins

in October; and Peonies in spring.

Another seasonal clock marker for me is

noticing how the angle of sunlight changes

bit by bit from month to month and the

amount of daylight changes as the solar system

spins around in its cosmic dance.

But the first sight of Ironweed remains

special for me. It is an example of beauty

and strength. Its bloom lasts a while giving

each successive bike ride a visual treat.

When its magnificent purple bloom

fades, I know that summer is slipping into

autumn. But as I continue to bike the Three

Creeks Bike path into the fall and early

winter, the Ironweed's spent tall stem remains

as a promise that it's glorious bloom

was once there and that it will return again

when the air is steamy, the bugs are

buzzing, and the sun is high in the sky.

Rick Palsgrove is managing editor of the

Messenger Newspapers.

Decker Bridge

Our Pictorial Past

by Rick Palsgrove

Photo courtesy of the Groveport Heritage Museum

This is a photo, circa 1908, of a bridge known as the "Decker Bridge" that spanned

Walnut Creek on Richardson Road in Madison Township. The bridge was referred

to as the Decker Bridge for the Decker family, who were early settlers in Madison

Township and who owned land along the creek near Richardson Road.

MEDICARE QUESTIONS?

Learn more about your

medicare options that you

may qualify for.

Too busy enjoying summer to think about Medicare?

As a local neighborhood agent, help finding the right plan is

closer than you THINK! Call or Text today 614-460-0601

Call me Today $0 Consultation $0 Fee

Terri Curcio 614-460-0601

"Who do you call about Medicare when all the commercials are gone?

A Local Licensed Agent!"

I'm here all year long providing Medicare members with the plan options that fit their needs. Also, we could review if

you qualify for extra help on your prescription copays, along with insulin coverage. Reviewing the plan information over

the phone or in person, you need to be confident in your decision. Guiding you on the right path to Medicare.
---
PAGE 6 - CANAL WINCHESTER MESSENGER - August 21, 2022

Nakita and her brother

came into rescue after

their human mom

passed away. They

spent much time mourning

her loss. Nakita is

still very shy, but making

progress in her foster

home. She is very

sweet, loves head

scratches, Temptations

treats, and a fancy feast or two. She would do

best in a quiet home with someone patient

enough to earn her trust, but in due time she'll

be your best friend. Contact Colony Cats if

you'd like to meet Nakita.

FYI: colonycats.org

Asher was surrendered

to rescue after his former

family experienced

some serious medical

issues and couldn't continue

to care for him. He

is at the Colony Cats

adoption center now

looking for a new family.

Asher does have some

health issues. He is very

susceptible to upper

respiratory infections and may have a chronic

runny nose. He also needs a consistent diet to

help with some skin issues. This guy is so

friendly and affectionate though that you won't

care about those things. Asher lived in a house

pets of the week

with other cats and does well with them.

FYI: colonycats.org

Ivy Rose is a shy girl who is looking for someone

with a quiet home

and the patience to give

her the time she needs

to adjust. Ivy is not a lap

cat but can be affectionate

and likes to be near

you. Her favorite trick is

to flop on you when she

approaches you for affection. She gets along

with other cats and could potentially be good

with older children who would understand her

shyness. Ivy Rose needs a home of her very

own to flourish in, to love a family to her full potential.

Adopt her from Friends for Life Animal

Haven.

FYI: fflah.org

Wilson is such a cutie.

From the moment he

meets you, his tail will

never stop wagging. He

loves getting attention

and is in search of

someone who will give

him all the love and

belly rubs he deserves.

He would do best as your only furry friend and

must meet everyone living in his forever home

prior to adoption. Come meet this handsome

man today at the county shelter.

FYI: franklincountydogs.com

Lautenschleger joins CW Schools

A new director of curriculum for elementary

grades will join the Canal Winchester

Schools Leadership Team this fall, bringing

experience and perspective as a principal,

teacher, and leader in the private sector

serving education institutions to the district.

Craig Lautenschleger will work collaboratively

with the district's curriculum team

to support teachers and students through

design, implementation, and evaluation of

high-quality curriculum.

"Craig has a proven record of supporting

educators as a school administrator and

brings unique skills and perspectives to the

district from his work as a private sector

leader in the educational service industry,"

said Canal Winchester Schools Superintendent

Kiya Hunt. "His ability to build relationships,

collaborative nature, and fresh

ideas will be a great addition to our leadership

team and our district."

Lautenschleger began his career as a

fourth grade teacher at New Albany Intermediate

School and then served as that district's

Community Arts Coordinator. In

2008, he transitioned into educational leadership

roles, serving as a building principal

at River Valley Local Schools, Teays Valley

Local Schools, Marysville Exempted Village

Schools, and Columbus City Schools.

In 2015, he began his tenure in the private

sector as vice president of EnvisionEd-

Plus. In this position, he collaborated with

schools to redesign innovative programs or

re-envision existing schools, create sustainable

structures for instructional support,

www.columbusmessenger.com

provide professional development to administrators

and teachers, and served on numerous

Ohio Department of Education

committees. In 2020, Lautenschleger became

the National Strategy Officer for Modern

Teacher, LLC. In this role, he facilitated

goal setting, visioning, and on-going consultation

for education leadership teams and

provided best-practice leadership and professional

development for educators.

"Being a part of the Canal Winchester

Local Schools team is an honor," said Lautenschleger.

"Throughout my career, I have

focused on empowering teachers, principals,

and leaders so that they can support their

students in the best ways possible, and I'm

excited to join a district that shares that

commitment through their mission. Making

a difference for the students of Canal Winchester

is what it's all about!"

The Canal Winchester Board of Education

approved hiring Lautenschleger at a

special meeting on July 28. His hiring is the

final piece in restructuring administrative

roles in the district following Superintendent

Jim Sotlar's resignation.

Lautenschleger fills the position of

Cyndi Toledo, who is now the director of

human resources for the district, taking on

many of the personnel and hiring responsibilities

previously performed by the assistant

superintendent. He is joined on the

curriculum team by Deb Finck, director of

curriculum, secondary, and William Whitlach,

director of curriculum, data and assessment.

RUB-A-DUB-DUB

RECYCLE

YOUR TUBS.

Plastic tubs are now recyclable.

Rinse them out, put the lids back on and recycle

all of your plastic tubs, bottles and jugs.

RecycleRight.org
---
www.columbusmessenger.com August 21, 2022 - CANAL WINCHESTER MESSENGER - PAGE 7

areas of focus, other items may be brought

SWACO back to school tips

CW City Council meetings

before council as needed. Council work sessions

are open to the public.

eastside

Messenger

(Distribution: 6,500)

Rick Palsgrove........................Canal Winchester Editor

southeast@columbusmessenger.com

Published every other Sunday by

The Columbus Messenger Co.

3500 Sullivant Ave., Columbus, Ohio 43204-1887

(614) 272-5422

According to a 2021 National Retail

Foundation (NRF) back-to-school shopping

survey, American families can spend an average

of $850 on back-to-school supplies. Regardless

of your income, that can be painful

to your pocket.

If you're on a tight budget, finding extra

money for backpacks, lunch boxes, and laptops

can be stressful. SWACO has some tips

to help make back-to-school greener and

more affordable.

Reuse Items

•While it can be a thrill to buy new supplies

at the start of each school year, it's better

for your wallet and the environment to

reuse what you already have on hand. Before

heading to the store, inventory last

year's supplies to see what is still in good

working condition, versus buying everything

new.

•Kids grow fast, so it's not always possible

to continue to wear last year's school

clothes or reuse sports equipment. Before

buying new, check local secondhand stores

for greener (and cheaper) options. For families

who find themselves in need this year,

organizations like Charity Newsies provide

clothes and supplies free of charge.

•If you have to buy new, look for sustainable

school supplies, like notebooks made

with recycled paper or plantable pencils.

And remember to recycle any cardboard

packaging (like shoe boxes) or paper in a

curbside or drop-off recycling container.

•Consider buying used tech (computers,

laptops, tablets) from retailers that sell used

or refurbished equipment. If you'd like to donate

your old tech, learn more about

SWACO's E-Waste Diversion program at

swaco.org.

Sustainable Lunches

•Ditch the brown paper bags and pack

lunch in a reuseable lunch box along with a

BPA-free water bottle and reusable or

biodegradable utensils.

•We know kids love their snacks, but to

reduce packaging waste, avoid pre-packaged

foods and opt for whole foods instead,

like fruits, vegetables, legumes, nuts, whole

grains, meat, fish and eggs.

•Encourage your child to bring home

leftover food. Food scraps like apple cores

and banana peels can be brought back home

to be composted, and uneaten food can be

reused for dinner or tomorrow's lunch.

Hit the Road

•If you live close enough to school, consider

walking or biking. For those who may

be too young to go on their own, consider organizing

a "walkpool" with rotating parent

chaperones for a group of kids each week.

•For those who live further out and can't

take the bus, organize a group of families to

participate in a neighborhood carpool, alternating

on a regular basis.

Following these simple recommendations

will support a safer and more environmentally

friendly start to the school year.

For information, visit swaco.org.

Mosquito management

The city of Canal Winchester contracts

with Franklin County Public Health for

mosquito control.

Franklin County Public Health takes a

proactive, concentrated approach to mosquito

management. The agency's Integrated

Pest Management Program focuses on prevention,

education, and controlling pests at

their most vulnerable stage while minimizing

hazards to the environment. Data about

mosquito breeding locations, areas that traditionally

have high adult mosquito populations,

and the frequency and distribution of

mosquito-borne diseases throughout

Franklin County is regularly monitored and

treatments are applied when appropriate.

The city's Urban Forestry Department

will begin routine random larval mosquito

surveys in late May 2022, providing documentation

of mosquito production as a basis

for treatment. Native fathead minnows may

be released by the City as an aquatic biological

larval control, possibly offering some decrease

in local adult mosquito populations.

Residents can help by reporting areas

that they suspect may be mosquito breeding

grounds and by reporting increases in adult

mosquito activity to Franklin County Public

Health. Mosquitoes breed easily in standing

water. Check for and drain any standing

water around your home to help control the

mosquito population.

Common and easily overlooked mosquito

habitats include: tires, buckets, cans, bottles,

and plastic containers; bird baths

(drain and refill every 3-4 days); wading or

kiddie pools (drain and refill frequently);

pools and hot tubs (keep chlorinated, covered,

or keep completely dry); pool covers

that hold water; boats, boat covers, and

tarps; pet food containers and water dishes;

clogged gutters and downspouts; leaky outside

faucets that create puddles; rain barrels

that are not properly screened or

treated; low areas that form puddles and

hold water; planters and pots, including

saucers and catch trays; trash cans (use

tight fitting lids and keep them covered);

mature trees that have developed holes that

hold water — fill the voids with sand; anything

that has the potential to hold even

small amounts of water.

Information about Franklin County Public

Health's mosquito management program

and a form report an area of concern is

available online at mosquito.myfcph.org or

by calling Franklin County Public Health's

Mosquito Bite Line at (614)525-BITE

(2483).

Keep tabs on the news

in Canal Winchester

Look for CW Messenger on

Become a fan!

Canal Winchester City Council meetings

are held on the first and third Monday of

every month. Meetings begin at 7 p.m. The

meetings are open to the public.

CW Council work sessions

Canal Winchester City Council meets in

work session at 6 p.m. prior to each city

council meeting to discuss legislative items

and other issues of the city prior to being included

on a city council agenda. Council

work session consists of all members of

council with the vice-president serving as

chair. The work sessions are divided into

two areas of focus. The first work session of

the month focuses on finance/economic development

items and the second monthly

work session focuses on service/safety items.

While each work session includes specific

GRACE BIBLE CHURCH

424 Gender Rd., Canal Winchester

Telephone: 614-833-0700

SUNDAY SERVICES 9:30 & 11:00

Fall Women's Conference

Coming Oct. 21 & 22

Guest Speaker:

Amy Davidson of Mama Bear

Apologetics - Cost $25.00

http://app.onechurchsoftware.com/

gracebiblecw/events/4353

COME JOIN US FOR WORSHIP IN OUR

BEAUTIFUL HISTORIC CHAPEL

BRICE UNITED

METHODIST CHURCH

3160 Brice Road, Brice, Ohio 43109

614-866-3025

Pastor Nick Shaw

Sunday Morning Worship Service - 10:30 a.m.

Please join us August 28 for an outside

service followed by a church picnic

in the Prayer Garden.

Canal Winchester

Messenger

Wagnalls Memorial Library

Wagnalls Memorial Library is located at

150 E. Columbus St., Lithopolis. For information

call (614) 837-4765 or visit

www.wagnalls.org.

Southeast Library

The Southeast Branch of the Columbus

Metropolitan Library is located at 3980 S.

Hamilton Road, Groveport. For information

visit www.columbuslibrary.org or call 614-

645-2275.

CW Farmers' Market

The 2022 Canal Winchester Farmers'

Market runs through Sept. 25. Visit

www.thecwfm.com for information.

No matter where you are on life's journey,

you're welcome at

DAVID'S UNITED

CHURCH OF CHRIST

80 W. Columbus St., Canal Winchester

614-837-7734 www.davidsucc.net

10 a.m.-Worship Service

10:15 a.m. - Sunday School

Please join us on the front lawn September 5th at

11:15 am for a Community Labor Day Prayer prior to

attending the Canal Winchester Festival & Parade.

Please visit a

Canal Winchester

Church of your choice.

List your Worship

Services here.

For info. call 614-272-5422

Be a Part of Our Local Worship Guide

Our Worship Guide is geared toward celebrating faith and helping readers

connect with religious resources in our community. Make sure these readers

know how you can help with a presence in this very special section distributed to

more than 19,000 households in the South/Canal Winchester area.

Contact us today to secure your spot in our Worship Guide.

614.272.5422 • kathy@columbusmessenger.com
---
PAGE 8 - CANAL WINCHESTER MESSENGER - August 21, 2022

Lithopolis Honeyfest

The Lithopolis Honeyfest will be held Sept. 9 from 3-7 p.m. and

Sept. 10 from 10 a.m. to 7 p.m. in downtown Lithopolis.

Free admission, parking, and shuttle service.

The event features bee beards, beekeepers, art, live music, honey

bake-off, Ohio Honey Show, honey extracting, hive inspection, junior

beekeeping, American Honey Princess, food trucks, photo contest,

honey, and honey tasting.

For information call 614-769-3824 or visit

lithopolishoneyfest.com.

"Saving the planet, one honey bee at a time!"

The Gilmore Group

Office: 614-834-HOME (4663)

Cell: 614-774-4416

www.GilmoreGroupHomes.com

Messenger

Canal Winchester

BEST COMMUNITY NEWSPAPER in Canal Winchester

Pick-Up At These

Locations:

Walgreen's - Gender & Winchester Blvd.

BP Gas Station - Gender Rd. & Freeway

Aldi - Gender Rd. & Freeway (behind BP Station)

Kroger - Winchester Square

The Wigwam Restaurant - 4 South High St.

Marie Scramblers - 6402 Winchester Blvd.

Shade on the Canal - 19 South High St.

Canal Winchester Library - 115 Franklin St.

CW City Hall and Community Center – 45 E. Waterloo St.

Harvest Moon - 7 N. High St.

Rex Barber Shop - 1 W. Waterloo

Sunoco Gas Station - 501 W. Waterloo St.

Panera - 685 W. Waterloo St.

READ US ONLINE: www.columbusmessenger.com

Sink your teeth into "Day Shift"

While the mining of stories in the well-worn book on

vampiric lore has never truly gone out of style within

the entertainment industry, there has been a shift in

recent years to make these creatures of darkness more

humorous, and thus more palatable, to the masses.

However, there comes a time when the fan of the vampire

wishes to see something that is edgier than these

undead lightweights, but still wants the offering to

maintain an overall sense of dangerous and mischievous

fun.

Enter "Day Shift," a new Netflix original that attempts

to bring back a more serious type of vampire, but

not one that is so serious that it makes you dream of

closing a lid on your still breathing body just to escape

the banality (see, or rather don't see, "30 Days of

Night"). In this film, the majority of the vampires rarely

speak; instead, they use their rapidly contorting bodies

to inflict harm, horror, and a healthy dose of humor on

the audience and on those who dare try to kill them in

this bizarrely entertaining new universe.

Leading the charge on those who dare try to kill

them is Bud Jablonski (Jamie Foxx), a hard-working

guy who just wants to provide a better life for his 8-yearold

daughter Paige (Zion Broadnax). On his resume —

one he freely admits should be updated and sent out to

more reputable businesses — he is a long-serving and

committed cleaner of swimming pools in the San Fernando

Valley but it turns out this is just a front to hide

his primary source of income: hunting and killing the

vampires who reside in his beloved city.

In this world, killing vampires is a business — slayers

earn cash by selling the fangs of the vamps they slaughter.

And although Bud tends to kill a lot of them, his

wallet and his savings are not displaying his financial

rewards. This lack is due to the revoking of his membership

in the international vampire hunting union and

the low-ball figures he gets from black market dealers.

Upon finding out that his ex-wife plans to relocate to

Florida with their daughter in order to save money, Bud

knows that the only thing that he can do to keep them

in California is to try to get his union job back and kill

a bunch of vampires in the process — but by the book

this time. Although Bud figures the latter will not pose

an issue, he soon discovers that there are human and

Blood drive

Did you know about 62 percent of the U.S. population

is eligible to give blood, but, only about 3 percent does?

By making an appointment to help save lives with

the American Red Cross in August, donors can pump up

the blood supply and keep it from falling to shortage levels.

Platelet donors are especially needed now.

As a thank-you, all who come to give Aug. 1-31 will

be automatically entered for a chance to win gas for a

year, a $6,000 value. There will be three lucky winners.

Everyone who comes to give blood or platelets in August

will also receive a $10 e-gift card to a merchant of

choice. Donors can schedule an appointment to give

using the Red Cross Blood Donor app, by visiting Red-

CrossBlood.org or by calling 1-800-RED CROSS (1-800-

733-2767).

The next local blood drive will be in Groveport on

Aug. 29 from 1-7 p.m. at St Mary's Church Groveport,

5684 Groveport Road.

Road closure

Per the Franklin County Engineer's office, Hayes

Road between the intersection of Pontius Road and

Hayes Road and 7186 Braun Road will be closed for 60

days starting July 25 for road widening and resurfacing.

The Reel Deal

not-so-human complications at play

on his mission to earn money for

fangs. The human complication

comes in the form of Seth (Dave

Franco), a quasi-babysitter from the

union who is meant to oversee his

work and write down all of the code

violations, and the not-so-human

complication comes in the form of

Audrey San Fernando (Karla

Souza), a feared vampiress who is

not at all impressed with Bud's

www.columbusmessenger.com

Dedra

Cordle

slaughtering of her kin and the bloody mess he leaves

behind in his wake.

Although it is hard to find originality within the

vampire genre — the undead creatures of the night have

been around for more than a century and there have

been just as many interpretations in books, film and television

shows throughout — this film feels familiar yet

creatively fresh, and that is due in large part to the

smart script by Tyler Tice and Shay Hatten that is so

well-played by Foxx and Franco.

I have to admit that I wasn't really feeling this movie

until the 30 minute mark when Bud and Seth meet for

the first time. While impressed with the fight choreography

that takes place prior to this event, the human

action was lagging until these two started butting heads

and jockeying to see who could chew the most scenery.

Though this film likely could have stood on its own with

this clever script, it is these two who really made it so

effortlessly entertaining.

While this film doesn't always stick the landing or

pull off plot beats the way it wants to, "Day Shift" is a

terrific combination of humor, ferocity, and fun. And although

it won't be for every fan of the vampire, I think

it will be a good time for those looking to sink their teeth

into a fresh action horror that packs a bit of a punch.

Grade: C+

Dedra Cordle is a Messenger staff writer and columnist.

Detour route: westbound drivers on Hayes Road will follow

Richardson Road south to London-Lancaster Road,

west to Pontius Road, and north to Hayes Road. Eastbound

drivers will the follow the same route in the opposite

direction.

Concert at Zion Lutheran

The Reynoldsburg Community Band will perform an

outdoor concert on the back lawn of Groveport Zion

Lutheran Church, 6014 Groveport Road, on Sept. 11 at

6:30 p.m. The performance will include patriotic music

and a tribute to 9/11. There will be a drawing for a $50

Kroger gift card that folks can sign up to win. Miller's

Ice Cream Truck will serve ice cream.

Concert in the Park

The city of Groveport's Concert in the Park will be

held the last Saturday of the month in August in Heritage

Park, 551 Wirt Road. Bring a picnic dinner, a blanket

or lawn chair, and invite your friends and family to

this free concert series. Food Trucks will be available to

purchase food and non-alcoholic beverages from 5:30-8

p.m. Bands play from 6-8 p.m. Next performance: Aug.

27 - The Outlaw Uprising. For information call 614-836-

3333.
---
www.columbusmessenger.com August 21, 2022 - CANAL WINCHESTER MESSENGER - PAGE 9

Schools, Attn: Dr. Kimberly Pietsch Miller, 4300 Amalgamated

Place, Groveport, OH 43125

Eastland-Fairfield free and

The policy contains an outline of the hearing procedure.

reduced lunch program

Messenger

Canal Winchester

Households may apply for benefits any time during

the school year. If a household is not currently eligible

and if the household size increases or income decreases

because of unemployment or other reasons, the family

should contact the school to file a new application. Such

changes may make the children of the family eligible for

free or reduced-price benefits if the family income falls

at or below the levels shown above.

In accordance with federal civil rights law and U.S.

Department of Agriculture civil rights regulations and

policies, this institution is prohibited from discriminating

on the basis of race, color, national origin, sex (including

gender identity and sexual orientation),

disability, age, or reprisal or retaliation for prior civil

rights activity.

Program information may be made available in languages

other than English. Persons with disabilities

who require alternative means of communication to obtain

program information (e.g., Braille, large print, audiotape,

American Sign Language), should contact the

responsible state or local agency that administers the

program or USDA's TARGET Center at (202) 720-2600

or contact USDA through the Federal Relay Service at

(800) 877-8339.

To file a program discrimination complaint, a Complainant

should complete Form AD-3027, USDA Program

Discrimination Complaint Form which can be

obtained online at:

https://www.usda.gov/sites/default/files/documents/USD

A-OASCR%20P-Complaint-Form-0508-0002-508-11-28-

17Fax2Mail.pdf, from any USDA office, by calling (866)

632-9992, or by writing a letter addressed to USDA. The

letter must contain the complainant's name, address,

telephone number, and a written description of the alleged

discriminatory action in sufficient detail to inform

the Assistant Secretary for Civil Rights (ASCR) about

the nature and date of an alleged civil rights violation.

The completed AD-3027 form or letter must be submitted

to USDA by:

•Mail: U.S. Department of Agriculture, Office of the

Assistant Secretary for Civil Rights, 1400 Independence

Avenue, SW, Washington, D.C. 20250-9410; or

•Fax: (833) 256-1665 or (202) 690-7442; or

•Email: program.intake@usda.gov

This institution is an equal opportunity provider.

Eastland-Fairfield Career & Technical Schools announced

its 2022-23 program year policy for Free and

Reduced Price Meals for students unable to pay the full

price of meals served under the National School Lunch

and School Breakfast Program.

Each school office and the central office has a copy of

the policy, which may be reviewed by any interested

party.

The Federal Income Eligibility Guidelines will be

used to determine eligibility. Children from families

whose annual income is at or below the federal guidelines

are eligible for free and reduced-price meals.

Application forms are distributed to all homes in a

letter to parents or guardians. To apply for free and reduced-price

benefits, households should complete an application

and return it to the school. Additional copies

are available at the principal's office in each school. A

complete application is required. Households that currently

receive Special Nutrition Assistance Program

Benefits or Ohio Works First funds for a child must provide

the child's name, the SNAP or OWF case number

and signature of an adult household member on the application.

Households that do not receive SNAP or OWF

funds must provide the names of all household members,

the last four digits of the Social Security Number

of the adult signing the application or state "none" if the

adult does not have a Social Security Number, the

amount and source of income received by each household

member (state the monthly income) and the signature

of an adult household member. If any of this

information is missing, the school cannot process the application.

Families with children eligible for school meals may

be eligible for free health care coverage through Medicaid

and/or Ohio's Healthy Start & Healthy Families

programs. These programs include coverage for doctor

visits, immunizations, physicals, prescriptions, dental,

vision, mental health, substance abuse and more. Call

1-800-324-8680 for more information or to request an

application. Information can also be found on the web

at http://jfs.ohio.gov/ohp/consumers/familychild.stm.

Anyone who has an Ohio Medicaid card is already receiving

these services.

The information provided on the application is confidential

and will only be used for the purpose to determine

eligibility and may be verified at any time during

the school year by school or other program officials. To

discourage the possibility of misrepresentation, the application

forms contain a statement above the space for

signature certifying that all information furnished is

true and correct. Applications are being made in connection

with the receipt of federal funds. Schools or other

officials may check the information on the application at

any time during the school year. Deliberate misrepresentation

of information may subject the applicant to

prosecution under applicable state and federal laws.

Households will be notified of the approval or denial

of benefits.

Foster children are categorically eligible for free meal

benefits regardless of the household's income. If a family

has foster children living with them and wishes to apply

for such meals or milk for them, contact the school for

more information.

Under the provision of the policy, Eastland-Fairfield

Career & Technical Schools will review applications and

determine eligibility. If a parent or guardian disagrees

with the decision on the application or the result of verification,

the decision may be discussed with the determining

official on an informal basis. If a formal appeal

is desired, the household has the right to a fair hearing.

A fair hearing can be requested either orally or in writing

from: Eastland-Fairfield Career & Technical

Library School Help Centers

The Columbus Metropolitan Library's School Help

Centers for grades K-12 open Aug. 22 with staff and volunteers

are ready to help. These after-school spaces give

your students access to technology, resources and the library's

catalog of books and materials.

Visit columbuslibrary.org/school-help for information.

Hours vary by location. Local library School Help

Centers are:

•Southeast Branch, 3980 S. Hamilton Road, Groveport.

Monday-Thursday from 4-7 p.m. and Friday from

3-6 p.m.

•Canal Winchester Branch, 115 Franklin St., Canal

Winchester. Monday-Thursday from 3:30-6:30 p.m. and

Friday from 3-6 p.m.

•South High Branch, 3540 S. High St., Columbus.

Monday-Thursday from 3:30-6:30 p.m. and Friday from

3-6 p.m.

CW school board meetings

The Canal Winchester Board of Education meets on

the third Monday of each month at 7 p.m. in the Canal

Winchester Education Center, 100 Washington St. on

the second floor in room 204/206. The public is welcome

to attend.
---
PAGE 10 - CANAL WINCHESTER MESSENGER - August 21, 2022

www.columbusmessenger.com

CLASSIFIED ADS

Deadlines: Grove City, Canal Winchester & All editions, Mondays at Noon., • South, West & Madison editions, Tuesdays at 5 p.m.

All editions by phone, Mondays at Noon

xEmployment

xPreschool/Daycare

"HELP WANTED"

SIGN

NOT WORKING?

TO ADVER

VERTISE

Call Kathy at

The Columbus Messenger

272-5422

For More Info

Get A Head Start

on Fall Enrollment!

ADVERTISE Your

Preschool/Daycare

in the Messenger

Call KATHY at

The Columbus Messenger

614-272-5422

Preschool/Daycare

ASSOCIATION ADS

ASSOCIATION ADS

Employment

ASSOCIATION ADS ASSOCIATION ADS ASSOCIATION ADS ASSOCIATION ADS ASSOCIATION ADS

Stroke & Cardiovascular

disease are leading

causes of death according

the American Heart

Association. Screenings

can provide peace of mind

or early detection! Call

Life Line Screening to

schedule your screening.

Special offer - 5

screenings for $149. 1-

866-518-8391

Replace your roof with the

best lookng and longest

lasting material -- Steel

from Erie Metal Roofs!

Three styles and multiple

colors available.

Guaranteed to last a

lifetime! Limited Time

Offer - $500 Discount +

Additional 10% off install

(for military, health

workers & 1st responders)

Call Erie Metal Roofs: 1-

855-338-4807

Looking for assisted living,

memory care, or

independent living? A

Place for Mom simplifies

the process of finding

senior living at no cost to

your family. Call 1-833-

910-1576 today!

Safe Step. North

America's #1 Walk-in Tub.

Compreshensive lifetime

warranty. Top-of-the-line

installation and service.

Now featuring our FREE

shower package & $1600

off for a limited time!

Financing available. Call

Safe Step 1-833-356-1954

BUYING CLASSIC CARS,

TRUCKS, SUVs

**American and Foreign**

Any Condition. Buying

entire car collections.

$$PAYING CA$H$$

Please call 717-577-8206

KRMiller1965@yahoo.com

Update your home with

beautiful new blinds &

shades. Free in-home

estimates make it

convenient to shop from

home. Professional

installation. Top quality -

Made in the USA. Free

consultation: 877-212-

7578. Ask about our

specials!

The bathroom of your

dreams for as little as

$149/month! BCI Bath &

Shower. Many options

available. Quality

materials & professional

installation. Senior &

Military Discounts

Available. Limited Time

Offer - FREE virtual inhome

consultation now

and SAVE 15%! Call

Today! 1-877-540-2780

DENTAL INSURANCE

from Physicians Mutual

Insurance Company.

Coverage for 350 plus

procedures. Real dental

insurance - NOT just a

discount plan. Do not wait!

Call now! Get your FREE

Dental Information Kit with

all the details! 1-877-553-

1891

www.dental50plus.com/

macnet#6258

LONG DISTANCE MOVING:

Call Today for a FREE

QUOTE from America's Most

Trusted Interstate Movers.

Let us take the stress out of

moving! Call now to speak to

one of our Quality Relocation

Specialists: 877-541-6320

Internet &WIFI Starts at

$49 Call us Today to Get

Started. Find High-Speed

Internet with Fiber Optic

Technology No Credit

Check, No SSN Required.

Call us Today 866-396-

0515

Wesley Financial Group,

LLC Timeshare Cancellation

Experts Over

$50,000,000 in timeshare

debt & fees cancelled in

2019. Get free

informational package &

learn how to get rid of

your timeshare! Free

consultations. Over 450

positive reviews. 888-965-

0363

Vivint Smart Security.

Professionally installed.

One connected system for

total peace of mind. Free

professional installation!

Four free moNths of

monitoring! Call to

customize your system. 1-

833-841-0737

Protect your home from

pests safely and

affordablly. Pest, rodent,

termite and mosquito

control. Call for a quote or

inspection today 844-394-

9278

Don't let the stairs limit

your mobility! Discover

the ideal solution for

anyone who struggles on

the stairs, is concerned

about a fall or wants to

regain access to their

entire home. Call

AmeriGlide today! 1-844-

317-5246

DISH Network. $59.99 for

190 channels! Blazing fast

internet. $19.99/mo. (where

available) Switch & get a

$100 Visa gift card. Free

voice remote. Free HD

DVR. Free streaming on all

devices. 1-866-979-4029

Prepare for power outages

today with a GENERAC

home standby generator.

$0 Money Down + Low

Monthly Payment Options.

Request a FREEQuote--

Call now before the next

power outage. 1-855-465-

7624

DISH TV $64.99 for 190

Channels + $14.95 high

speed internet. FREE installation,

Smart HD DVR

included. Free Voice Remote.

Some Restrictions

apply. Promo Expires

1/21/23. 1-866-590-5561

WANTED!

MOTORCYCLES!

ANTIQUE AND CLASSIC.

Honda, Kawasaki, Suzuki,

Yamaha, Triumph, BSA

and other foreign models.

$$PAYING CA$H$$

717-577-8206

KRMiller1965@yahoo.com

DISH Network. $59.99 for

190 channels! Blazing fast

internet. $19.99/mo. (where

available) Switch & get a

$100 Visa gift card. Free

voice remote. Free HD

DVR. Free streaming on all

devices. 1-866-979-4029

HughesNet - Finally, superfast

internet no matter

where you live. 25 Mbps

just $59.99/mo! Unlimited

Data is Here. Stream

Video. Bundle TV &

Internet. Free Installation.

Call 866-499-0141

Elminate gutter cleaning

forever! LeafFilter, the most

advanced debris-blocking

gutter protection.

Schedule Free LeafFilter

Estimate today. 15% off

Entire Purchase. 10%

Senior & Military Discounts.

Call 1-833-610-1936

Discount air travel! Call

Flight Services for best

pricing on domestic &

international flights inside

& from the US. Serving

United, Delta, American &

Southwest &many more.

Free quote! Have travel

dates ready! 844-951-

2014

DIAGNOSED WITH

LUNG CANCER? You

may quliafy for a

substantial cash award -

even with smoking history.

NO obligation! We've

recovered millions. Let us

help!! Call 24/7, 1-888-

650-9135

ASSOCIATION ADS

VIAGRA and CIALIS

USERS! 50 Generic pills

SPECIAL $99.00. 100%

guaranteed. 24/7 CALL

NOW! 888-445-5928

Hablamos Espanol

SELL YOUR ANTIQUE

OR CLASSIC CAR.

Advertise with us. You

choose where you want

to advertise. 800-450-

6631 visit macnetonline.

com for details.

Eliminate gutter cleaning

forever! LeafFilter, the

most advanced debrisblocking

gutter protection.

Schedule a FREE LeafFilter

estimate today. 15% off

Entire Purchase. 10% Senior

& Military Discounts.

Call 1-855-791-1626

New authors wanted!

Page Publishing will help

self-publish your book.

Free author submission

kit! Limited offer! 866-

951-7214

AT&T Internet. Starting at

$40/month w/12-mo agmt.

1 TB of data/mo. Ask how

to bundle & SAVE! Geo &

svc restrictions apply. 1-

855-364-3948

Attention oxygen therapy

users! Inogen One G4 is

capable of full 24/7 oxygen

delivery. Only 2.8

pounds. Free info kit.

Call 877-929-9587

Looking for auto insurance?

Find great deals

on the right auto insurance

to suit your needs.

Call today for a free

quote! 866-924-2397

DISH TV $64.99 FOR 190

Channels + $14.95 High

Speed Internet. Free Installation,

Smart HD DVR

Included, Free Voice Remote.

Some restrictions

apply. Promo expires

1/21/23. 1-866-479-1516

Thinking about installing

a new shower? American

Standard makes it

easy. FREE design consulation.

Enjoy your

shower again! Call 1-

833-769-0995 today to

see how you can save

$1,000 on installation, or

visit www.newshowerdeal.com/mac

Prepare for power

outages today with a

GENERAC home standby

generator. $0 Down + Low

Monthly Pmt. Request a

free Quote. Call before the

next power outage: 1-855-

948-6176

Want Faster & Affordable

Internet? Get internet

service today with

Earthlink. Best internet &

WiFi Plans. Call us Today

to Get Started. Ask

about our specials! 866-

396-0515

NEED IRS RELIEF

$10K-$125K+ Get Fresh

Start or Forgiveness.

Call 1-844-431-4716

Monday through Friday

7am-5pm PST

READY TO BUY, SELL

OR RENT YOUR

VACATION HOME OR

HUNTING CAMP?

Advertise it here and in

neighboring publications.

We can help you. Contact

MACnet MEDIA @

800-450-6631 or visit our

site at MACnetOnline.

com

Protect your home w/home

security monitored by

ADT. Starting at $27.99/

mo. Get free equipment

bundle including keypad,

motion sensor, wireless

door & windows sensors.

833-719-1073

READER

ADVISORY

The National Trade Association

we belong to has

purchased the following

classifieds. Determining

the value of their service

or product is advised by

this publication. In order

to avoid misunderstandings,

some advertisers do

not offer "employment"

but rather supply the

readers with manuals, directories

and other materials

designed to help

their clients establish mail

order selling and other

businesses at home. Under

NO circumstance

should you send any

money in advance or give

the client your checking,

license ID or credit card

numbers. Also beware of

ads that claim to guarantee

loans regardless of

credit and note that if a

credit repair company

does business only over

the phone it's illegal to request

any money before

delivering its service. All

funds are based in US

dollars. Toll Free numbers

may or may not

reach Canada. Please

check with the Better

Business Bureau 614-

486-6336 or the Ohio Attorney

General's Consumer

Protection Section

614-466-4986 for more

information on the company

you are seeking to

do business with.
---
www.colulmbusmessenger.com

xCome & Get It!

August 21, 2022 - CANAL WINCHESTER MESSENGER - PAGE 11

xClassified Services

COME AND GET IT!

Need to Get Rid of Something Fast - Advertise It Here For FREE!

Deadlines are Mondays by 5 pm.

Call For Publication Schedule 614-272-5422

FREE Garden Straw for gardens or bedding. Call for appointment for pickup.

Circle S Farms, 9015 London-Groveport Road, Grove City, 43123

Grove City - 614-878-7980

FREE - Metal from old camper frame, Need a truck to pickup..

CC - Obetz - 614-632-1013

FREE - Antique Metal Twin Bed, 1900's, Good Condition.

MS - Grove City - 614-875-5316

FREE - Children's Wooden Play Set - Good Condition w/Sand Box under it, Step Ladder up

Slide to go down & a rope swing. Also separate Swing Set w/4 swings.

190 Inah Ave., Cols, 43228 near the Fire Dept.

West Columbus - 614-878-1930, ask for Linda

. Come and Get It! is a bi-weekly column that offers readers an opportunity to pass along

surplus building materials, furniture, electronic equipment, crafts, supplies, appliances,

plants or household goods to anybody who will come and get them - as long as they're

FREE. NO PETS! Just send us a brief note describing what you want to get rid of, along

with your name, address and phone number. Nonprofit organizations are welcome to

submit requests for donations of items.

Send information to The Columbus Messenger, Attention: Come and Get It, 3500

Sullivant Ave., Columbus, OH43204. Deadline is Tuesdays by 5 pm for following

Mondays publication. Messenger Newspapers is not responsible for any complications

that may occur. Please contact us when items are gone. 272-5422

Come & Get It!

xFocus on Rentals

APARTMENT MANAGERS

HAVE VACANCIES?

FILL THEM BEFORE

THE LEAVES FALL!

ADVERTISE YOUR

APARTMENT COMPLEX

IN THE MESSENGER

Call Kathy For More Info and Rates

614-272-5422

ASSOCIATION ADS

Dental Insurance -

Physicians Mutual Insurance

Comopany. Covers 350

procedures/ Real insurance -

not a discount plan. Get your

free dental info kit! 1-855-

.526-1060 www/dental50

plus.com/ads #6258

The Generac PWRcell

solar plus battery storage

system. Save money,

reduce reliance on

grid, prepare for outages

& power your home. Full

installation services. $0

down financing option.

Request free no obligation

quote. Call 1-877-

539-0299

Rentals

ASSOCIATION ADS

BATH & SHOWER UP-

DATES in as little as

ONE DAY! Affordable

prices - No payments for

18 months! Lifetime warranty

& professional installs.

Senior & Military

Discounts available. Call

855-761-1725

The Generac PWRcell, a

solar plus battery storage

system. SAVE money,

reduce your reliance on

the grid, prepare for power

outages and power

your home. Full installation

services available. $0

Down Financing Option.

Request a FREE, no obligation,

quote today. Call

1-866-783-0292

ASSOCIATION ADS

IMPORTANT

NOTICE

The following states: CA,

CT, FL, IA, IL, IN, KY,

LA, MD, ME, MI, MN,

NE, NC, NH, OH, OK,

SC, SD, TX, VT and WA

requires seller of certain

business opportunities to

register with each state

before selling. Call to

verify lawful registration

before you buy.

HELP WANTED

Kings Kids Daycare

in Grove City is hiring Fun,

Loving Teachers for PT &

FT shifts. Please email

sarragc@outlook.com or

call 614-539-0349

PETS

German Shepherd

Puppies, AKC registered.

Call or text for info - $800

614-405-4796

AKC German Shepherd

Puppies ready to go

August 29. Will have 1st

shots and be dewormed.

Taking deposits. 765-617-

4199

WANT TO BUY

WE BUY JUNK CARS

Call anytime 614-774-6797

ANTIQUES

WANTED

Victrolas, Watches,

Clocks, Bookcases

Antiques, Furn.

Jeff 614-262-0676

or 614-783-2629

We Buy Junk Cars &

Trucks. Highest Prices

Paid. 614-395-8775

MISC. FOR SALE

Electric Wheelchair - If

interested, call 614-928-2352

AIR CONDITIONING

AIR CONDITIONING

Complete System

Clean & Check

$49.95

BLACKTOP

SANTIAGO'S

Sealcoating & Services LLC

Quality Materials Used

FALL IS COMING!

Driveway Seal & Repair!

Top Seal Cracks!

Residential & Commercial

Mulching, Edging & Clean-ups

"Ask for whatever you need."

BBB Accredited-Fully Insured

Call or text for Free Est.

614-649-1200

AGM OHIO

ROOFING &

SEALCOATING

Free Estimates

Cell 614-599-0262

CARPET CLEANING

CARPET CLEANING

Any 5 areas ONLY $75

Home Powerwash $99-$300

614-805-1084

Specializing in Pet Odors

CARPET SALES

CARPET

Gray Saxony

270 sq.ft. w/6 lb Pad

$398.00

Other Carpet AvailableA

Phone or text Ray

740-927-3504

Delivery & Inst. avail.

CLEANING

Looking for Mrs. Clean?

For excellent cleaning serv

at reas. rates w/great refs,

dependable. 10% Seniorr

Disc. Free Est. Also runs

Errands - Gwen 614-226-5229

CONCRETE

8/28 A

Free Electronic Leak Testing

All Makes • All Models

46 Yrs. Exp. • Senior Discount

614-351-9025

BLACKTOP SEALING

Driveways & Parking Lots

614-875-7588

9/11

A/M

ALL-CITY CUSTOM

CONCRETE

All Types Concrete Work

New or Tear Out-Replace

40 Yrs. Exp.

(614) 207-5430

Owner is On The Job!

R&L

CONCRETE

&MASONRY

* Stone * Brick * Block

Masonry Repairs

614-917-8227

8/28 e/se

9/11 A

CONCRETE

AJ's Concrete,

Masonry

Good Work - Fair Prices

Block Foundations

Driveways • Sidewalks

Epoxy/Overlay Floors

Bonded-Ins. • Free Ests.

614-419-9932

www.hastingsnsons.com

Driveways & Extensions

Patio & Walkways,

Porches & Steps,

Garage/Basement Floors

Hot Tub/Shed Pads,

Stamped/colored concrete

Sealing of new &

existing concrete.

FREE ESTIMATES

Contact Adam

614-756-1754

hastingsandsons.

columbus@gmail.com

EDDIE MOORE

CONSTRUCTION

Quality Concrete Work

Lt. Hauling & Room Add.,

Block Work & Excavation

Stamp Patios,

Bsmt. Wall Restoration

35 Yrs Exp - Lic & Ins.

Free Ests. 614-871-3834

GUTTERS

Bates & Sons

GUTTER CLEANING

5 ★ Google Reviews

614-586-3417

HAULING

DEAN'S HAULING

614-276-1958

HOME

IMPROVEMENTS

SINCE 1973

Phil Bolon Contr.

Windows & Siding

Decks, Kitchens, Baths

Room Additions,

Flooring, Roofing

Bsmt Waterproofing

Deal With Small Non-Pressure Co.

47 Yrs. Exp. - Refs. Avail.

Lic.-Bond-Ins.

8/28

A/M

Free Est. - Financing Avail.

Member BBB Of Cent. OH

O.C.I.E.B. ID #24273

614-419-3977

or 614-863-9912

KLAUSMAN HOME

IMPROVEMENT

Siding-Windows-

Doors-Roofing-Soffit-

Fascia-Gutters-Trim

Earn FREE Seamless

Gutters with Siding Over

1000 Sq. Ft.

FREE Shutters with

Soffit & Trim

EPA Certified

Member of BBB

Financing Available

Over 20 yrs exp. • Free Est.

Licensed-Bonded-Insured

Owner & Operator

James 614-419-7500

8/28 A

9/11 A

HOME

IMPROVEMENTS

C&JHandyman

Services LLC

Minor Plumbing & Electric

Install Hot Water Tanks,

Dishwashers & Disposals

All Interior Remodels

Also Fencing &

Interior/Exterior Painting

Free Est. ~ 18 Yrs. Exp.

CDC/EPA Approved Guidelines

614-284-2100

HOME

REMODELING

Handyman Remodeling

Over 35 yrs exp.

Larry 614-376-7006

MultiCraft Const.

& Handyman Services

All Types Handyman Services:

Decks, Fences

Kitchen/Baths

Window/doors installed

Interior Painting

Drywall Repairs

All Types of Flooring

Call/Text 614-774-2923

multicraftconstruction@gmail.com

Charlies Handyman

Service

Over 40 yrs. exp.

Hot Water Tanks

Door Locks

Kitchen Remodels

Roofing * Siding

Bathrooms and more!

614-319-6010

blantoncharles894@gmail.com

LANDSCAPING

Mowing, Light Hauling

Brush & Small Tree

Removal. 614-619-6903

A-1 QUALITY

TREE & LANDSCAPE

Family Owned

Serving Central Ohio

Since 2004

Bed & Yard Maint.

Weeding, Mulching, etc.

Hedge/Shrub Trimming

*Stump Removal

614-596-9504

Insured - Free Est.

LAWN CARE

The Lawn Barber

Cut, Trim, Blow away

Hedge Trimming, Edging

614-935-1466

MANNY'S LANDSCAPE

Free Estimates

,Mulching, Trees Removed,

Patios, Powerwashing, etc.

Call 614-378-1237

LET US MAINTAIN

YOUR LAWN & GARDEN

FOR YOU

Summer, Spring,

Winter or Fall

WE DO IT ALL!!!!

Lawn Cuts, Edging,

Trees & Shrubs, Garden,

Mulching, Hauling,

Garden Pond &

Home Maint.

Free Ests. Low Rates

$20 & Up

Kevin - 614-905-3117

Classified Services

7/17 A

8/28A

PEST

CONTROL

TERMITE &

PEST CONTROL

614-367-9000

TORCO®

TERMINATES

TERMITES

Locally Owned & Operated. Any Pest. Anytime.

$

50 00 OFF Service

Free Termite Inspection

MASONRY

R&L

MASONRY

&CONCRETE

* Stone * Brick * Block

Masonry Repairs

614-917-8227

PAINTING

Painter Over 30 Yrs. Exp.

Free Est. Reas. Rates

Daniel - 614-226-4221

A Job Well Done Again

A lic. General Contractor

Some Skilled Services

Incl: Painting • Stucco,

Repair•Carpentry•Exterior

Drainage & Home Maint.

Call Today! 614-235-1819

PLASTERING

DRYW

YWALL &

PLASTER

8/28

A&M

REPAIR

Textured Ceilings

614-551-6963

Residential/Commercial

BIA

PLUMBING

All About Drains & Plumb.

Will snake any small drain

$145. 614-778-2584

CHRIS'

PLUMBING

"Plumbing & Drain Professional

That You Can Count On"

24 Hrs., 7 Days/Week

No Overtime Charges

24 Yrs. Exp. in Plumbing &

Drain Cleaning Field

Call For A Free Phone Estimate

$100.00 For Any Small Drain

614-622-4482

30% OFF with AD

9/11 A

9/11 A

PEST

CONTROL

POOL/SPA

MAINTENANCE

K&L Spa Cleaning

Hot Tub Cleaning and

Weekly Maintenance

Keith 614-316-9809

POWERWASHING

POWERWASHING

at Reasonable Rates

Gwen 614-226-5229

Bates & Sons

Soft Wash & Powerwash

5 ★ Google Reviews

614-586-3417

MRS. POWERWASH

Any house wash $149+tax

Single deck $69+tax

2 Tier deck $99+tax

Best Wash in Town

Over 45,000 washes

Ashley 614-771-3892

INFORMATION

ONLY

$50.00

For This Ad In Our

South/Canal Winchester

& Groveport

For Info Call

614-272-5422

SEWING MACHINE

REPAIR

REPAIR all makes 24 hr.

service. Clean, oil, adjust

in your home. $49.95 all

work gtd. 614-890-5296

TREE SERVICES

A-1 QUALITY

TREE & LANDSCAPE

Family Owned

Serving Central Ohio

Since 2004

614-596-9504

Insured - Free Est.

Warren Brewer Tree Service

• Tree Removal

• Tree Trimming 9/11

A&M

• Stump Grinding

• Bucket Truck Services

Best Prices • Same Day Service

614-878-2568

BURNS TREE SERVICE

Trimming, Removal &

Stump Grinding.

614-584-2164

8/28 A&M
---
PAGE 12 - CANAL WINCHESTER MESSENGER - August 21, 2022

www.columbusmessenger.com

50% OFF ON ALL IN STOCK

JOHN HARDY, ALEX AND ANI

MERCHANDISE

JEWELRY CLEANING