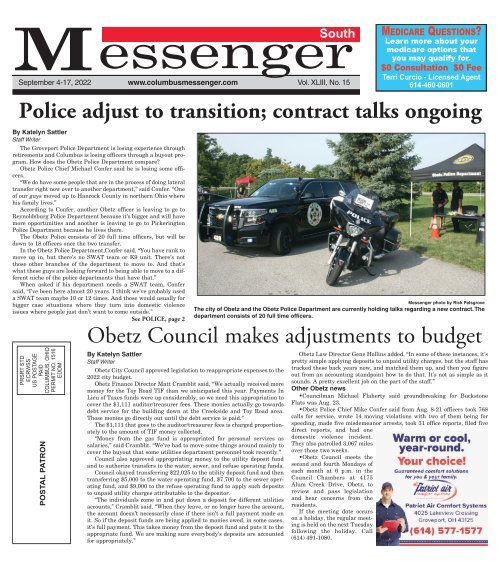 South Messenger - September 4th, 2022
Create successful ePaper yourself
Turn your PDF publications into a flip-book with our unique Google optimized e-Paper software.
Messenger

South

September 4-17, 2022 www.columbusmessenger.com Vol. XLIII, No. 15

MEDICARE QUESTIONS?

Learn more about your

medicare options that

you may qualify for.

$0 Consultation $0 Fee

Terri Curcio - Licensed Agent

614-460-0601

Police adjust to transition; contract talks ongoing

By Katelyn Sattler

Staff Writer

The Groveport Police Department is losing experience through

retirements and Columbus is losing officers through a buyout program.

How does the Obetz Police Department compare?

Obetz Police Chief Michael Confer said he is losing some officers.

"We do have some people that are in the process of doing lateral

transfer right now over to another department," said Confer. "One

of our guys moved up to Hancock County in northern Ohio where

his family lives."

According to Confer, another Obetz officer is leaving to go to

Reynoldsburg Police Department because it's bigger and will have

more opportunities and another is leaving to go to Pickerington

Police Department because he lives there.

The Obetz Police consists of 20 full time officers, but will be

down to 18 officers once the two transfer.

In the Obetz Police Department,Confer said, "You have rank to

move up in, but there's no SWAT team or K9 unit. There's not

those other branches of the department to move to. And that's

what these guys are looking forward to being able to move to a different

niche of the police departments that have that."

When asked if his department needs a SWAT team, Confer

said, "I've been here almost 20 years. I think we've probably used

a SWAT team maybe 10 or 12 times. And those would usually for

bigger case situations where they turn into domestic violence

issues where people just don't want to come outside."

See POLICE, page 2

PRSRT STD

ECRWSS

US POSTAGE

PAID

COLUMBUS, OHIO

PERMIT NO. 1516

EDDM

POSTAL PATRON

Messenger photo by Rick Palsgrove

The city of Obetz and the Obetz Police Department are currently holding talks regarding a new contract. The

department consists of 20 full time officers.

Obetz Council makes adjustments to budget

By Katelyn Sattler

Staff Writer

Obetz City Council approved legislation to reappropriate expenses to the

2022 city budget.

Obetz Finance Director Matt Cramblit said, "We actually received more

money for the Toy Road TIF than we anticipated this year. Payments In

Lieu of Taxes funds were up considerably, so we need this appropriation to

cover the $1,111 auditor/treasurer fees. These monies actually go towards

debt service for the building down at the Creekside and Toy Road area.

Those monies go directly out until the debt service is paid."

The $1,111 that goes to the auditor/treasurer fees is charged proportionately

to the amount of TIF money collected.

"Money from the gas fund is appropriated for personal services as

salaries," said Cramblit. "We've had to move some things around mainly to

cover the buyout that some utilities department personnel took recently."

Council also approved appropriating money to the utility deposit fund

and to authorize transfers to the water, sewer, and refuse operating funds.

Council okayed transferring $22,025 to the utility deposit fund and then

transferring $5,000 to the water operating fund, $7,700 to the sewer operating

fund, and $9,000 to the refuse operating fund to apply such deposits

to unpaid utility charges attributable to the depositor.

"The individuals come in and put down a deposit for different utilities

accounts," Cramblit said. "When they leave, or no longer have the account,

the account doesn't necessarily close if there isn't a full payment made on

it. So if the deposit funds are being applied to monies owed, in some cases,

it's full payment. This takes money from the deposit fund and puts it to the

appropriate fund. We are making sure everybody's deposits are accounted

for appropriately."

Obetz Law Director Gene Hollins added, "In some of these instances, it's

pretty simple applying deposits to unpaid utility charges, but the staff has

tracked these back years now, and matched them up, and then you figure

out from an accounting standpoint how to do that. It's not as simple as it

sounds. A pretty excellent job on the part of the staff."

Other Obetz news

•Councilman Michael Flaherty said groundbreaking for Buckstone

Flats was Aug. 23.

•Obetz Police Chief Mike Confer said from Aug. 8-21 officers took 768

calls for service, wrote 14 moving violations with two of them being for

speeding, made five misdemeanor arrests, took 31 office reports, filed five

direct reports, and had one

domestic violence incident.

They also patrolled 3,067 miles

over those two weeks.

•Obetz Council meets the

second and fourth Mondays of

each month at 6 p.m. in the

Council Chambers at 4175

Alum Creek Drive, Obetz, to

review and pass legislation

and hear concerns from the

residents.

If the meeting date occurs

on a holiday, the regular meeting

is held on the next Tuesday

following the holiday. Call

(614) 491-1080.
---
PAGE 2 - SOUTH MESSENGER - September 4, 2022

The Gilmore Group

Office: 614-834-HOME (4663)

Cell: 614-774-4416

www.GilmoreGroupHomes.com

www.columbusmessenger.com

Obetz Historians to sell bricks

By Katelyn Sattler

Staff Writer

The Obetz Historians are selling Obetz commemorative

bricks and Obetz Historians t-shirts as fundraisers.

The group's mission is to preserve the history of

"Obetz Junction" and "The Village of Obetz."

The purchase of a brick helps fund the building of

"The Obetz History Wall" or "The Obetz History

Walkway," which will possibly be located at the gazebo

in Veterans Park. There will be more information on

this in the future.

The Obetz Historians are a (501 c 3) non-profit, so

donations are tax-deductible.

A $100 donation will purchase a 4x8 inch brick. A

$250 donation will purchase am 8x8 inch brick. A $350

donation will purchase a 12x12 inch brick.

Veterans bricks will be gray with logos of the

branch of military service. All others will be red.

Orders can be purchased and paid for at www.bricksengraving.com/obetz-historians.

Businesses are encouraged to buy bricks and provide

a black and white high resolution logo to be used

on their bricks.

Anyone with a connection to Obetz can buy a brick.

The sooner the bricks are purchased, the more likely

they will be on the wall or walkway that will be built.

The group's goal is 250 bricks.

Dr. Hobbs

3700 Parsons Ave.

Columbus, OH 43207

New Patients & Emergencies Always Welcome

(614) 491-5511

www.ScottAKellyDDS.com

WHAT IS GUM DISEASE?

Most people don't realize how

common periodontal disease (also

known as gum disease) is. Three

out of every four adults have some

form of the disease. In its early

reversible stage, called gingivitis,

gums can become red, swollen and

bleed easily. When the disease

progresses to the bone, which

supports the teeth, it is called

periodontitis. At this point it can

cause irreversible damage. In the

advanced stages of the disease, the

bone and soft tissues which

support the teeth are destroyed

and this may cause the teeth to

become loose, fall out, or have to

be removed by a dentist.

Dr. Kelly

Except in rare cases, gum disease

can be prevented by thorough

daily plaque removal by brushing

and flossing, eating a balanced diet

and by regularly visiting your

dentist for professional cleanings.

When plaque is not removed, it

hardens into a rough porous

deposit called tartar. Tartar is what

causes most of the eventual

damage and can only be removed

by a dental professional.

Prepared as a public service

to promote better dental health.

From the office of:

SCOTT A. KELLY, D.D.S.

Phone 614-491-5511

Obetz Farmer's Market

The Obetz Farmers' Market is held on the first

Wednesday of the month from 4-7 p.m. through

September in downtown Obetz (across from 4256

Groveport Road, Obetz). It offers a selection of baked

goods, produce, meats, eggs, and crafts.

Ranger ticket prices

The 2022-23 Hamilton Township Rangers and Mid-

State League ticket prices are - high school contests: $7

for adults and students; middle school contests: $5 for

adults and students. Senior citizens will be admitted

POLICE

Continued from page 1

When Obetz does call for a SWAT team, it calls

Franklin County first and then call Columbus SWAT.

In discussing the need for new officers, Confer said,

"I don't know how the recruiting process is going to go

yet because we are a city now. And, as a village, you

didn't have to go by all the same rules to do national

testing network and all the stuff that cities have to do.

So I actually have to get with my human resources

department and we have to narrow down exactly what

the rules are per charter as to what the process is

going to be to recruit new people in."

Obetz is in contract negotiations with the Fraternal

Order of Police. It's not currently known what will

change concerning recruiting of new officers.

"That depends on what they negotiate in their contract

of how they feel things should be done to what

falls under management right of the way we want to do

things," said Confer. "But until that contract is all

done, I couldn't tell you how the process will go."

When asked how the negotiations are progressing,

Confer said, "We meet a couple of times a month. We

don't have a meeting this coming couple of weeks

because of the Zucchinifest. We'll get back together at

the end of September. And depending on what the snafus

are between what they want and what we want

between the city and the officers. Until we come to an

agreement, it can be a couple of years. It can be three

months. It just depends on how it goes."

Confer said there are two supervisors and two officers

that work on the FOP side.

"So imagine that two sides of a table and on this

side of the table is (city administrator) Rod Davisson

and (deputy city administrator) Mike Corbitt, Law

Director Gene Hollins, and (deputy chief) Brian

Jeffers, and me, and our attorneys," said Confer. "And

on the other side is the FOP guys, two of our officers,

and two of our supervisors. So we can all hash stuff

out, back and forth."

He said the individuals who are elected for the FOP

free of charge at home events. Home event tickets will

be sold through the link above. No cash tickets will be

sold. Away games may also only offer online ticket

sales, depending on the opponent and their ticket policy.

Ticket prices for OHSAA Tournament contests will

be the ticket rate set by the OHSAA and the Central

District Athletic Board.

Southeast Library

The Southeast Branch of the Columbus

Metropolitan Library is located at 3980 S. Hamilton

Road, Groveport. For information visit www.columbuslibrary.org

or call 614-645-2275.

side are representing the rest of the department.

"That is, they're there to answer questions about

what the department as a whole wants," said Confer.

"When we have questions, they help answer those. And

when we have questions for the FOP, they collaborate

answers to get back to us."

Once the two sides agree on a contract, it will need

to be approved by Obetz City Council.

Confer could retire in about six years and will start

implementing a succession plan in about three years.

"The Groveport Police are going through retirement

right now, so they're having to fill those spots," said

Confer. "But our time's coming in the next five or six

years. There's a crew of us that have been here forever

and ever that are going to retire. So we're in the

process of working through that succession planning

and getting everything together to start filling spots

for our retirements. Using me for an example, in six

years I'll be eligible to retire. So in three years, whoever

is sitting in my deputy chief spot at that time, I will

start feeding that person everything that I can give

them that's locked up in this head of mine. So prepare

them to take over when it's my time to go."

Deputy Chief Brian Jeffers could retire before

Confer, so there could be a new deputy before Confer

retires. Confer said all the sergeants, corporals, and

officers will know generally how things are done before

Jeffers leaves and during the transition.

Confer added, "I don't personally get to pick the

deputy chief. It's a whole hiring process that everyone

has to come through. But once we make that selection,

we start the training process. Right now, Jeffers works

directly with the sergeants and he's feeding them his

knowledge, everything that he's learned over the

years. So one of those sergeants will more than likely

get moved up to his position. And then also what he's

already fed them, then I'll start feeding them my stuff

to take over when I retire."
---
www.columbusmessenger.com

September 4, 2022 - SOUTH MESSENGER - PAGE 3
---
PAGE 4 - SOUTH MESSENGER - September 4, 2022

www.columbusmessenger.com

Foundation to help

Hamilton Local Schools

By Linda Dillman

Staff Writer

The arrival of a Google data center on

Columbus' southside will benefit Hamilton

Local Schools long into the future by helping

kick start a foundation supporting the

district.

"When development tax abatements are

offered, they have to make the school district

whole and one of the things we negotiated

with Google was to support the academic

foundation,"said Hamilton Schools

Superintendent Mark Tyler.

A quarter million dollars of seed money

from the tech company helped set the stage

for creation of the Hamilton Local

Education Foundation, which is funded

through donations and fundraising.

"We have been very fortunate to start

off with a very generous donation made, on

the behalf of Google, by Magellan

Enterprises," said organizer Scott Shaw.

"Google has decided to give a significant

sum of money to the foundation for us to

utilize to help the students and staff of

Hamilton Local Schools. Google is a great

partner to have, and their donation allows

the foundation to truly make an impact

from its infancy without the unknown of

where funds are going to be generated. It

allows us to step back, re-evaluate what we

are doing and really start to develop a plan

that will sustain the foundation for years

to come."

According to fellow organizer Carla

Shaw, the foundation benefits staff and

students through their AIM Grant classroom

and project program.

The grants support innovative and creative

programming and materials enhancing

the learning environment of Hamilton

Local Schools.

The first round of grants will be awarded

this fall after teachers apply for funding

and the board reviews and votes on awarding

grants.

Carla said the idea of the foundation

was initially created during the COVID

school closures in the spring of 2020.

"Scott and I, as educators, could see that

there was going to be a need for support for

the students and the staff of Hamilton

Local Schools when we returned," said

Carla. "Scott really took the lead and

began working on bylaws and paperwork

to form a 501(c)(3) in order to set a path

forward for the future of the foundation. At

first, it was just Scott and I working behind

the scenes getting everything in line.

Quickly we were joined by other members

of the board of directors, but the process

took a solid year and half with our first official

meeting taking place in December of

2021."

The foundation's board is comprised primarily

of Hamilton Township alumni along

with a parent representative, school board

liaison and school staff representative.

Currently, the foundation is pushing to

become more visible in the community.

Projects in development include a

Grand Raffle this fall and a comedy night

fundraising event. Members of the foundation

are taking part in the Obetz

Zucchinifest parade, which they hope will

generate community interest in their

efforts and ways to support the schools.

"So much of the early work was behind

the scenes, we want people to know that

the Hamilton Local Education Foundation

is here, we are excited to help the students

and staff of Hamilton Local Schools, and

we are an organization worth putting your

support behind," said Carla. "This past

spring, Scott and I attended an Auction

Night for the Teays Valley Education

Foundation. It was a great learning experience.

As an organization that has been

around for over a decade, the TVEF

showed us a great example of what we plan

to become. We are just not there yet."

The husband and wife team feels the

Hamilton Local Education Foundation is

important and impactful in the local community

because a primary purpose of the

organization is to bridge the gap between

the school and the business community.

"We can host events, fundraisers, and

solicit donations in a manner that allows

businesses to make an impact at Hamilton

Local Schools that may otherwise not be

easy for them to accomplish," said Scott.

Carla added, "Scott and I consider it a

privilege to work alongside Superintendent

Mark Tyler, the Hamilton Local School

Board, and the community of Hamilton

Local Schools. We hope that we are doing

everything in our power to develop an

organization that will be running strong

long after we are gone and that generations

of Hamilton Local students see the

impact of the work being done today."

eastside

Messenger

(Distribution: 6,100)

Rick Palsgrove................................South Editor

southeast@columbusmessenger.com

Published every other Sunday by

The Columbus Messenger Co.

3500 Sullivant Ave., Columbus, Ohio 43204-1887

(614) 272-5422

Keep tabs on the news in Obetz

and Hamilton Township

Look for South Messenger on

Become a fan!
---
www.columbusmessenger.com

9/11 remembrance

A remembrance ceremony for 9/11 will be held Sept.

11 at 1 pm. at Motts Military Museum at 5075 S

Hamilton Road in Groveport. The program ins presented

by the Madison Township Fire Department in conjunction

with Motts Military Museum.

Guest speakers are Motts Military Museum

Director Warren Motts, retired Madison Township

Fire Chief Robert Bates, FDNY EMS member Stephen

Spelman, and Lt. Dominick Maggiore from FDNY

EMS.

The Groveport Madison High School choir will sing

the "National Anthem," Shane Cartmill and Alexander

Poth will perform "TAPS," there will be a 21 gun salute

by the Groveport Police, a bell ceremony, and bagpipes

performing "Amazing Grace."

The museum will open at 11 a.m. that day and

admission is free.

Lockbourne Council

Lockbourne Village Council meets the second and

fourth Mondays of each month at 7 p.m.

Council meets at the Lockbourne Municipal

Building, 85 Commerce St., Lockbourne.

Emergency services in Obetz

Emergency medical, fire, and rescue services in the

Obetz area are provided by either the Hamilton

Township Fire Department or Madison Township Fire

Department depending on your location.

For non-emergencies, call the Hamilton Township

Fire Department at (614) 491-1013. The Madison

Township Fire Department may be reached at (614)

837-7883.

Concert at Zion Lutheran

The Reynoldsburg Community Band will perform

an outdoor concert on the back lawn of Groveport Zion

Lutheran Church, 6014 Groveport Road, on Sept. 11 at

6:30 p.m.

The performance will include patriotic music and a

tribute to 9/11. There will be a drawing for a $50

Kroger gift card that folks can sign up to win. Miller's

Ice Cream Truck will serve ice cream.

Columbus Chorus performs

Rise and shine for brunch with the Columbus

Chorus Sweet Adelines at Groveport Town Hall, 648

Main St., on Nov. 19 from 10:30 a.m. to noon.

Admission is free. RSVP by Nov. 16. Call 614-836-

3333.

Groveport KidsFest

KidsFest 2022 will be held Sept. 17 from 9 a.m. to

noon at the Groveport Recreation Center in Groveport

Park, 7370 Groveport Road. This free, fun, family

event includes touch-a-truck, Cops-N-Kids, kids'

crafts, activities, demonstrations, giveaways, food, and

more.

There will be a dog variety show at 9:30 a.m. and

11:30 a.m. presented by Team Zoom dog performers.

For information call 614-836-3333.

CW Farmers' Market

The 2022 Canal Winchester Farmers' Market runs

through Sept. 25. Visit www.thecwfm.com for information.

September 4, 2022 - SOUTH MESSENGER - PAGE 5

columbusmessenger.com

Be a Part of Our

Local Worship Guide

Our upcoming Worship Guide is geared toward

celebrating faith and helping readers connect with

religious resources in our community. Make sure these

readers know how you can help with a presence in this

very special section distributed to more than 20,000

households in the South area.

The cost is $20 per issue. (must run twice)

Contact us today to secure your spot in Worship Guide.

614.272.5422 • kathy@columbusmessenger.com

Messenger

South

MEDICARE QUESTIONS?

Learn more about your

medicare options that you

may qualify for.

Too busy enjoying summer to think about Medicare?

As a local neighborhood agent, help finding the right plan is

closer than you THINK! Call or Text today 614-460-0601

Call me Today $0 Consultation $0 Fee

Terri Curcio 614-460-0601

"Who do you call about Medicare when all the commercials are gone?

A Local Licensed Agent!"

I'm here all year long providing Medicare members with the plan options that fit their needs. Also, we could review if

you qualify for extra help on your prescription copays, along with insulin coverage. Reviewing the plan information over

the phone or in person, you need to be confident in your decision. Guiding you on the right path to Medicare.
---
PAGE 6 - SOUTH MESSENGER - September 4, 2022

www.columbusmessenger.com

Looking to the past and future at Lockbourne school reunion

By Linda Dillman

Staff Writer

Former students who spent their elementary days in a

Lockbourne school building gathered for a third annual

reunion inside the two-story structure recently returned to

its original late 1800s glory.

"Of all the events we have, this is my favorite," said

Lockbourne Mayor Christie Ward during the Aug. 24 celebration

attended by past pupils who learned the basics of

reading, writing and arithmetic as far back as the late

1930s.

Village of Lockbourne organizers furnished the luncheon

while individuals provided the memories of days past

spent inside the two-story structure, May Day celebrations,

and principal/teacher George Cole, who also lived in

Lockbourne.

"We love to hear the stories," said Ward.

Call today and receive a

FREE SHOWER PACKAGE

PLUS $1600 OFF

1-855-517-1892

With purchase of a new Safe Step Walk-In Tub. Not applicable with any previous

walk-in tub purchase. Offer available while supplies last. No cash value. Must present

offer at time of purchase. CSLB 1082165 NSCB 0082999 0083445

SPECIAL OFFER

Messenger

South

BEST COMMUNITY NEWSPAPER

Pick-Up At These

Locations:

Ponderosa Steak House - 3875 S. High St.

Turkey Hill - 3900 S. High St.

Dollar Tree - 3754 S. High St.

Speedway Gas Stattion - 3860 S. High St.

Columbus Library - High St. & Highview

CVS Pharmacy - High St. & Williams Rd.

Walgreen's - High St. & Williams Rd.

Kelly's Market - 3453 Parsons Ave.

K & M Market - 4305 Andy Groom Blvd.

Stoney's Market - 3517 Lockbourne Rd.

Kroger - S. High St.

READ US ONLINE: www.columbusmessenger.com

Hamilton Local Schools Superintendent Mark Tyler

then took attendees to the future with a presentation

about township changes impacting the district, including

development of farm land that once produced crops and fed

cattle and swine. He said, while he acknowledges the love

for the rural nature of the township, it is not realistic to

maintain that way of life anymore and is beyond the control

of district leaders.

"We're making the best of it. I do support growth and

development," said Tyler before outlining upcoming Obetz

projects across Lockbourne and Rathmell roads from the

high school.

"There are two primary developments. All the greenspace

will be developed from Rathmell and Lockbourne to

Parsons Avenue. High-end condos are going in beginning

there and the project is taking shape."

Infrastructure improvements are also underway along

Lockbourne Road across from the Hamilton Meadows subdivision

for another development. Tyler said the

projects are expected to take eight to 10 years for

full build-out.

"We don't know exactly how it will impact the

schools," said Tyler, who reported the design

includes a potential community center, pool, athletic

facility, restaurants and shops. "At full build out

they expect 900 units. There are two factors we

won't know until we get there–how fast and how

many children will come. If we see the numbers the

developer and our architect are predicting, it's

roughly 400 students and we'll be okay."

If the estimate of new students holds, Tyler does

not expect there will be a need for district expansion,

but administrators are prepared just in case.

"We are not in any way panicked," said Tyler.

"We have a really good school system. We've lost

some enrollment and we'll likely see new builds

bring us back up to our high water mark. Our

schools are in great shape, both brick and mortar

and financially as well."

In returning back to the past via the present,

New Ranger softball coach

Messenger photo by Linda Dillman

Ruth VanGundy (left) graduated from Hamilton Township

High School in 1951, but still returns to her old elementary

school stomping grounds in Lockbourne during the

village's annual school reunion celebration. Pictured

with VanGundy is Lockbourne Mayor Christie Ward

(right).

Tyler told the former Hamilton students it is humbling for

him to see people years removed from school that continue

to come back and still have a reverence for a building that

provided their early education.

Hamilton Township Schools announced the selection

of Bailey Moore as the next head varsity softball

coach of Hamilton Township High School.

"I have had the pleasure of knowing Coach Moore

since her junior year in high school when she transferred

to us from Gahanna Christian," said former varsity

softball coach Sami Tollison. "As a player, she was

hard working, determined and always willing to go the

extra mile to help those around her. She was every

coach's dream, and had the academics and heart to back

it up. Coach Moore held the Hamilton home run record

until this past season. When she returned from playing

collegiate softball, I knew that she had so much more to

give to this game and our program. She has worked

with our program at every level, and I am not sure what

is greater, her love for the game or her passion for the

girls she coaches. It is a blessing to be able to leave

something that me and my family love so dearly in the

hands of someone we know who will continue to foster a

love for this game to our athletes at all levels."

Moore graduated from Hamilton Township High

School in 2015. She played softball at Hamilton

Township and the collegiate level, with experience from

Cedarville University and Ohio Christian University.

Bailey has over five years of coaching experience at

Hamilton Township which includes middle school, junior

varsity, and varsity experience.

"Coach Moore's familiarity to with our students,

schools, parents and softball program will be a tremendous

asset to her success here at Hamilton Township

High School," said Matt Thompson, athletic director.

"We are excited for this announcement and that Bailey

Moore will be our next head softball coach at Hamilton

Township."

Library School Help Centers

The Columbus Metropolitan Library's School Help

Centers for grades K-12 open Aug. 22 with staff and

volunteers are ready to help. These after-school spaces

give your students access to technology, resources and

the library's catalog of books and materials.

Visit columbuslibrary.org/school-help for information.

Hours vary by location. Local library School Help

Centers are:

•Southeast Branch, 3980 S. Hamilton Road,

Groveport. Monday-Thursday from 4-7 p.m. and

Friday from 3-6 p.m.

•Canal Winchester Branch, 115 Franklin St., Canal

Winchester. Monday-Thursday from 3:30-6:30 p.m.

and Friday from 3-6 p.m.

•South High Branch, 3540 S. High St., Columbus.

Monday-Thursday from 3:30-6:30 p.m. and Friday

from 3-6 p.m.

Hamilton school board

Hamilton Local Board of Education meetings are

held at 6 p.m. at the Hamilton Local Education Center,

775 Rathmell Road, Columbus. For information on

meeting dates visit www.hamilton-local.k12.oh.us.
---
www.columbusmessenger.com

September 4, 2022 - SOUTH MESSENGER - PAGE 7

e plot leaves the audience 'spinning'

Although Jeff Baena is not a prolific

director or a well-known screenwriter, his

work thus far in the industry has garnered

him a reputation as someone who is capable

of piercing the hearts of an audience

with eccentric comedies that examine the

meaning of life (2004's "I Heart

Huckabees") and also causing the minds of

an audience to go into a state of bewilderment

with eccentric comedies that examine

the meaning of life (2014's "Life After

Beth"; 2017's "The Little Hours"; and

2020's "Horse Girl").

With a majority of his credits listed

above, one might argue that his earliest

foray was only as successful or as memorable

because it was co-written and directed

by the prolific and well-known David O.

Russell but that is something one has to

push back on, just a little bit. While the end

result of his work can be hit or miss, there

is something about it that just makes you

want to give it a try, especially if you have

built up a tolerance to strange and unusual

movies.

That inquisitiveness about his work is

what brought me to "Spin Me Round,"

another eccentric comedy that examines

the meaning of life. Released on demand

this weekend, the film doesn't delve as

deeply or spend a lot of time pondering the

question in relation to his prior films, but it

does hit on those existential themes of

"What are we doing here?" and "Why am I

doing what I'm doing?"

Asking herself that question on a near

daily basis is Amber, the central character

played by Alison Brie. Amber is a very

guarded person, one not quite willing to

take a leap of faith, but years before the

story in the movie begins, she did just that

The Reel Deal

by leaving her financially

secure job as a

manager of a popular

Italian eatery to open

her own restaurant

with her flaky

boyfriend. When the

film opens, she is

Dedra

Cordle

back at her old position

at Tuscan Grove,

working tirelessly to

build back her savings

after her restaurant

and her relationship went up into

flames (figuratively for the former, probably

literally with the latter).

To acknowledge the "dedication of his

workers," Tuscan Grove's CEO Nick

Martucci (a delightfully wacky Alessandro

Nivola) invites Amber and a number of

other managers across the region to attend

an all-expense paid trip to the Tuscan

Grove Institute in Italy where they will be

immersed in "cuisine and culture" while

staying in a lush villa. At first, Amber is

hesitant to attend this lavish affair, but she

is lured by the promise of trying something

new, something different, and possibly

finding love again — romantic love and the

love for her job and life.

Immediately, she gets an inkling that

things are not as they were promised —

their guide Craig (Ben Sinclair) wants their

passports for safe-keeping and their "lush

villa" is in the back of a lush villa, overlooking

the dumpsters — but she tries to make

the best of her situation by striking up

awkward work-like friendships with fellow

Tuscan Grove branch managers Deb (Molly

Shannon), Susie (Debby Ryan), Jen (Ayden

Mayeri), Dana (Zach Woods) and Fran (Tim

Heidecker).

The part of this movie that works the

best is within this ensemble as they all

work well off of each other; but they are

soon split apart as Nick (the Tuscan Grove

CEO) casts his eye on Amber, dreamily

wooing her as he likens her to his deceased

sister.

As their ethically questionable relationship

begins to deepen, and as Nick begins

to introduce Amber to a new world of

intrigue, the film kinda loses the plot and

begins to unravel as a whole. There is a

whole subplot involving Nick's assistant

Kat (Audrey Plaza), the disappearance of

the lovelorn chef that gave them culinary

tips (a hysterical Lauren Weedman) the

"poisoning" of her fellow managers, and the

strange behavior of the elite company Nick

keeps, to name a few.

Although each of these subplots are very

entertaining (it takes a while for all of them

to make sense) it gives "Spin Me Round" a

sense of unbalance and it makes the audience

feel as if it isn't quite sure what it

wants to be. Is it a romance? A satirical

romance? Is it a murder-mystery? Is it an

abduction story? Is it pointed commentary

about relationships as a whole? Or perhaps

pointed commentary about work and

wealth? At times, it tries to be all those

things, but as stated before its zaniness

and its messaging work within the ensemble,

not quite as much without it.

With plenty of laughs and absurdity to

go around, there is a lot to enjoy with "Spin

Me Round" but try as hard as the cast and

their impeccable comedic timing might,

they cannot entirely save the struggling

narrative that runs throughout the movie

or the plot that feels like it is just throwing

things at the wall to see what sticks.

Grade: C

Dedra Cordle is a Messenger staff writer

and columnist.

Lithopolis

Honeyfest

The Lithopolis Honeyfest

is Sept. 9 from 3-7 p.m.

and Sept. 10 from 10

a.m. to 7 p.m. in

Lithopolis. Free admission,

parking, and shuttle

service. It features

bee beards, beekeepers,

art, music, bake-off, Ohio

Honey Show, honey

extracting, hive inspection,

American Honey

Princess, food, photo

contest, and honey tasting.

For information call

614-769-3824 or visit

lithopolishoneyfest.com.

Pictured here is third

generation beekeeper,

Tess Conrad, looking for

the queen bee, honey,

and baby bees in an

open hive demonstration

at a past honeyfest.
---
PAGE 8 - SOUTH MESSENGER - September 4, 2022

Messenger photo by

Dedra Cordle

Wag!fest

It was a day for

the dogs at Prairie

Oaks Metro Park.

On Aug. 27, several

hundred

canines from

across the state

descended upon

the park's Darby

Bend Lakes area

to participate in

the annual animal

fiesta known as

Wag!Fest. For six

hours, pooches of

all ages and

breeds were able

to play in the

water, meet new

friends, test their

agility at an

obstacle course,

and generally

have a dog-gone

good time. Shown

here trying to

have an even better

time during her trip to the Water Bark Beach is 1.5-year-old Juniper. Her

human companion, Austin Wolfe of Obetz, was waiting for the dock to clear to

toss her toy, but she was not appreciative of the lag time.

Faith and

Hope, both

4 - m o n t h s -

old, came

from a feral

cat colony.

Both girls

are quite shy

but should

warm up

once they

get settled into a new home. Faith would like

to be adopted with her sister, Hope, or with

existing pets for her to bond with. Hope would

be a great companion for someone who likes

to enjoy life's quiet moments. These kittens

are available for adoption through Friends for

Life Animal Haven.

FYI: fflah.org

Clara is a sweet girl

who is looking for

someone to love. Her

owner died and left her

heartbroken, but this 3-

year-old is learning to

love again.

She is a little shy but

warms up quickly. She

enjoys pets, treats, and a warm area to rest.

Meet Clara at the Colony Cats cage-free

adoption center.

FYI: colonycats.org

Ginger Mae is an independent cat who likes

pets of the week

her alone time, but will

let you know when she

would like you to pet

her. She is docile and

gentle, and since being

moved to the busy

adoption center, is usually

hiding, often in a litter

box. She's a beautiful

Maine Coone mix.

Adopt her through

Colony Cats.

FYI: colonycats.org

www.columbusmessenger.com

Sweet Pea is a very

sweet girl who is quiet,

likes car rides, and

would love a home as

your one and only so

she doesn't have to

share her people's

attention. She does

have allergies but her skin has improved

since starting her allergy medication. She is

available for adoption or foster through the

Franklin County Dog Shelter.

FYI: franklincountydogs.com

pets of the week

These furry friends are available

for adoption at local rescues and

shelters.

SEARCHING

for More Qualified Employees?

October 16, 2022

Deadline:

October 7, 2022 at Noon

Special employment Section Featuring:

Job Openings • Job Fairs • Full and Part

Time Employment

Seasonal Job Opportunities and more

ALL ADS ARE IN FULL COLOR. Contact us by phone or online to discuss specialadvertising rates that are

available for this section as well as combination rate discounts for advertising in multiple coverage areas.

Canal Winchester • Grove City • Groveport • Madison • South • Westside

614-272-5422

Kathy@columbusmessenger.com

Doughenry@columbusmessenger.com
---
www.columbusmessenger.com September 4, 2022 - SOUTH MESSENGER - PAGE 9

diameter and the other 30 feet in diameter,

Mounds

was located near the intersection of Rohr

and Lockbourne roads. One is still slightly

CLASSIFIED ADS

visible today.

One of the largest township earthworks,

a conical mound at 300 feet in diameter,

was located on a farm owned by the

O'Harra family. According to Prosper Deadlines: Grove City, Groveport & All editions - Mondays at Noon.

Wetmore in "Earthworks of Franklin

County, Ohio" (1888), "…a large portion of

West, Canal Winchester, South & Madison editions -Tuesdays at 5 p.m.

it (was) removed to gravel pikes (roads) in

ASSOCIATION ADS

the neighborhood. A road has been dug

through the center, but it is five to eight

feet above the original level of the mound."

As more land was plowed under by

farmers, the ancient mounds disappeared

from the landscape and the original township

xCraft Shows

topography further eroded with the ASSOCIATION ADS

construction of modern housing and commercial

developments.

A closer look at land features can often

reveal history buried beneath the soil or

explain strange jogs in a road.

If you look at a map of Hamilton

Township, regardless if it was created in

2019 or 1895, Lockbourne Road is shown

as a straight line traveling north and

south. However, that line is interrupted at

one small spot just north of the intersection

at London-Groveport Road.

The "bump in the road," as indicated on

an 1856 county map and Caldwell's 1872

Atlas, skirted a small lake fed by a tributary

of the Gahanna River, now known as

Big Walnut Creek. Looking west, the site

was home to a large-scale gravel operation

and a private residence.

Scattered throughout the atlas are

other interesting topographical features,

including Native American forts and

mounds.

On elevated land in the northwest quadrant

of the township, sandwiched between

the feeder canal linking Columbus with

Lockbourne and what is now High Street

was an ancient fort. According to the 1880

"History of Franklin and Pickaway

Counties," a mile east of the site were

mounds where implements and human

bones were excavated.

Baker's Hill was one of at least 15

mounds in the township. It was 75 feet in

diameter at its base and 15 feet high.

Other smaller mounds dotted the landscape.

A pair of mounds, one at 50 feet in

Planks on Parsons

OHIO STATE

2O22 FOOTBALL SCHEDULE

SEPT 3 vs. Notre Dame OCT 22 vs. Iowa

SEPT 10 vs. Arkansas State OCT 29 at Penn State

SEPT 17 vs. Toledo NOV 5 at Northwestern

SEPT 24 vs. Wisconsin NOV 12 vs. Indiana

OCT 1 vs. Rutgers NOV 19 at Maryland

OCT 8 at Michigan State NOV 26 vs. Michigan

SAVE THIS

Hamilton historical tidbits

•Masonic Lockbourne Lodge No. 232

was created on Nov. 18, 1852 and granted

a charter less than a year later. The

Lockbourne post office was established in

1837 and William Moneypenny opened a

distillery in the village two years later. It

was destroyed in an 1853 fire. At one time,

saloons outnumbered churches in

Lockbourne, which was considered a rough

and tumble place during the height of the

canal system.

(Information from the "1880 History of

Franklin & Pickaway Counties, Ohio.")

SCHEDULE

JOIN US FOR ALL THE GAMES

WE DELIVER TO ALL OF

FRANKLIN COUNTY

743 PARSONS AVE. 614-445-7221

www.plankscafe.com

HAPPY HOUR NOON - 9 PM SUNDAYS

Become a Published

Author. We want to Read

Your Book! Dorrance

Publishing Trusted Since

1920 Consultation,

Production, Promotion &

Distribution. Call for Free

Author's Guide 1-877-729-

4998 or visit

dorranceinfo.com/ads

Don't let the stairs limit

your mobility! Discover

the ideal solution for

anyone who struggles on

the stairs, is concerned

about a fall or wants to

regain access to their

entire home. Call

AmeriGlide today! 1-844-

317-5246

Paying top cash for men's

sportwatches! Rolex,

Breitling, Omega, Patek

Pillippe, Heuer, Daytona,

GMT, Submariner and

Speedmaster. Call 833-

603-3236

Attention oxygen therapy

users! Inogen One G4 is

capable of full 24/7 oxygen

delivery. Only 2.8

pounds. Free info kit.

Call 877-929-9587

Become a Published

Author. We want to Read

Your Book! Dorrance

Publishing - Trusted by

Authors Since 1920

Book manuscript submissions

currently being reviewed.

Comprehensive Services:

Consultation, Production,

Promotion and Distribution. Call

for Your Free Author's Guide 1-

866-482-1576 or visit

http://dorranceinfo.com/macnet

Internet &WIFI Starts at

$49 Call us Today to Get

Started. Find High-Speed

Internet with Fiber Optic

Technology No Credit

Check, No SSN Required.

Call us Today 866-396-

0515

Directv Stream - Carries

the Most Local MLB

Games!

CHOICE

Package, $89.99/mo for

12 months. Stream on 20

devices in your home at

once. HBOMax included

for 3 mos (w/CHOICE

Package or higher.) No

annual contract, no hidden

fees! Some restrictions

apply. Call IVS 1-866-629-

6086

Stroke & Cardiovascular

disease are leading

causes of death according

the American Heart

Association. Screenings

can provide peace of mind

or early detection! Call

Life Line Screening to

schedule your screening.

Special offer - 5

screenings for $149. 1-

866-518-8391

Put on your TVEars &

hear TV w/unmatched

clarity. TVEars Originaloriginally

$129.95 - now

w/this special offer only

$59.95 w/code MCB59! 1-

888-805-0840

Aloe Care Health medical

alert system. Most

advanced medical alert

product on the market.

Voice-activated! No wi-fi

needed! Special offer

w/code CARE20 for $20

off Mobile Companion. 1-

855-341-5862

HughesNet - Finally, superfast

internet no matter

where you live. 25 Mbps

just $59.99/mo! Unlimited

Data is Here. Stream

Video. Bundle TV &

Internet. Free Installation.

Call 866-499-0141

Update your home with

beautiful new blinds &

shades. Free in-home

estimates make it

convenient to shop from

home. Professional

installation. Top quality -

Made in the USA. Free

consultation: 877-212-

7578. Ask about our

specials!

WANTED!

MOTORCYCLES!

ANTIQUE AND CLASSIC.

Honda, Kawasaki, Suzuki,

Yamaha, Triumph, BSA

and other foreign models.

$$PAYING CA$H$$

717-577-8206

KRMiller1965@yahoo.com

Looking for assisted living,

memory care, or

independent living? A

Place for Mom simplifies

the process of finding

senior living at no cost to

your family. Call 1-833-

910-1576 today!

Replace your roof with the

best lookng and longest

lasting material -- Steel

from Erie Metal Roofs!

Three styles and multiple

colors available.

Guaranteed to last a

lifetime! Limited Time

Offer - $500 Discount +

Additional 10% off install

(for military, health

workers & 1st responders)

Call Erie Metal Roofs: 1-

855-338-4807

Wesley Financial Group,

LLC Timeshare Cancellation

Experts Over

$50,000,000 in timeshare

debt & fees cancelled in

2019. Get free

informational package &

learn how to get rid of

your timeshare! Free

consultations. Over 450

positive reviews. 888-965-

0363

BUYING CLASSIC CARS,

TRUCKS, SUVs

**American and Foreign**

Any Condition. Buying

entire car collections.

$$PAYING CA$H$$

Please call 717-577-8206

KRMiller1965@yahoo.com

ADVER

VERTISE

Your Fall F

Craft Show

Bazaar or

Bake Sale!

In The Columbus Messenger!!

and reach over 20,000 homes

in the West & Southwest areas

Call Kathy

614-272-5422

Craft Shows

ASSOCIATION ADS

DENTAL INSURANCE

from Physicians Mutual

Insurance Company.

Coverage for 350 plus

procedures. Real dental

insurance - NOT just a

discount plan. Do not wait!

Call now! Get your FREE

Dental Information Kit with

all the details! 1-877-553-

1891

www.dental50plus.com/

macnet#6258

Safe Step. North

America's #1 Walk-in Tub.

Compreshensive lifetime

warranty. Top-of-the-line

installation and service.

Now featuring our FREE

shower package & $1600

off for a limited time!

Financing available. Call

Safe Step 1-833-356-1954

Donate Your Car To

Veterans Today! Help and

Support our Veterans.

Fast - FREE pick up.

100% tax deductible. Call

1-800-245-0398

The bathroom of your

dreams for as little as

$149/month! BCI Bath &

Shower. Many options

available. Quality

materials & professional

installation. Senior &

Military Discounts

Available. Limited Time

Offer - FREE virtual inhome

consultation now

and SAVE 15%! Call

Today! 1-877-540-2780

ASSOCIATION ADS

Aloe Care Health, medical

alert system. The most

advanced medical alert

product on the market.

Voice-activated! No wi-fi

needed! Special offer-call

and mention offer code

CARE20 to get $20 off

Mobile Companion. Call

today-1-877-728-4065

!!OLD GUITARS WANT-

ED!! GIBSON, FENDER,

MARTIN, Etc. 1930's to

1980's. TOP DOLLAR

PAID. CALL TOLL FREE

1-866-433-8277

REPOSSESSED VEHICLE?

Missed payments after

2015? You may be entitled

to substantial money and

improved credit REPO

ALERT! FREE LEGAL

ADVICE 1-800-601-0808

Vivint Smart Security.

Professionally installed.

One connected system for

total peace of mind. FREE

professional installation!

Four FREE months of

monitoring! Call to

customize your system. 1-

855-870-2073
---
PAGE 10 - SOUTH MESSENGER - September 4, 2022

www.columbusmessenger.com

CLASSIFIED ADS

Deadlines: Grove City, Groveport & All editions - Mondays at Noon.

West, Canal Winchester, South & Madison editions -Tuesdays at 5 p.m.

xEmployment

ASSOCIATION ADS

NOW HIRING

CDL Drivers and

Diesel Technicians

In Canal Winchester, OH!

$5000 Sign-on Bonuses!

Competitive Pay, Great Benefits!

Requirements:

18+ years of age

2+ Years of Experience

Call or apply online for

immediate consideration!

1-877-220-5627

careers.wm.com

Equal Opportunity Employer Minority/

Female/Disability/Veteran

ASSOCIATION ADS

Looking for assisted living,

memory care, or

independent living? A

Place for Mom simplifies

the process of finding

senior living at no cost to

your family. Call 1-844-

428-0445 today!

DISH Network. $59.99 for

190 channels! Blazing fast

internet. $19.99/mo. (where

available) Switch & get a

$100 Visa gift card. Free

voice remote. Free HD

DVR. Free streaming on all

devices. 1-866-979-4029

DISH Network. $59.99 for

190 channels! Blazing fast

internet. $19.99/mo. (where

available) Switch & get a

$100 Visa gift card. Free

voice remote. Free HD

DVR. Free streaming on all

devices. 1-866-979-4029

Discount air travel! Call

Flight Services for best

pricing on domestic &

international flights inside

& from the US. Serving

United, Delta, American &

Southwest &many more.

Free quote! Have travel

dates ready! 844-951-

2014

ASSOCIATION ADS

DIAGNOSED WITH

LUNG CANCER? You

may quliafy for a

substantial cash award -

even with smoking history.

NO obligation! We've

recovered millions. Let us

help!! Call 24/7, 1-888-

650-9135

The Generac PWRcell

solar plus battery storage

system. Save money,

reduce reliance on

grid, prepare for outages

& power your home. Full

installation services. $0

down financing option.

Request free no obligation

quote. Call 1-877-

539-0299

Protect your home from

pests safely and

affordablly. Pest, rodent,

termite and mosquito

control. Call for a quote or

inspection today 844-394-

9278

DISH TV $64.99 FOR 190

Channels + $14.95 High

Speed Internet. Free Installation,

Smart HD DVR

Included, Free Voice Remote.

Some restrictions

apply. Promo expires

1/21/23. 1-866-479-1516

Vivint Smart Security.

Professionally installed.

One connected system for

total peace of mind. Free

professional installation!

Four free moNths of

monitoring! Call to

customize your system. 1-

833-841-0737

Eliminate gutter cleaning

forever! LeafFilter, the

most advanced debrisblocking

gutter protection.

Schedule a FREE LeafFilter

estimate today. 15% off

Entire Purchase. 10% Senior

& Military Discounts.

Call 1-855-791-1626

VIAGRA and CIALIS

USERS! 50 Generic pills

SPECIAL $99.00. 100%

guaranteed. 24/7 CALL

NOW! 888-445-5928

Hablamos Espanol

The Generac PWRcell, a

solar plus battery storage

system. SAVE money,

reduce your reliance on

the grid, prepare for power

outages and power

your home. Full installation

services available. $0

Down Financing Option.

Request a FREE, no obligation,

quote today. Call

1-866-783-0292

SELL YOUR ANTIQUE

OR CLASSIC CAR.

Advertise with us. You

choose where you want

to advertise. 800-450-

6631 visit macnetonline.

com for details.

Employment

ASSOCIATION ADS

Dental Insurance -

Physicians Mutual Insurance

Comopany. Covers 350

procedures/ Real insurance -

not a discount plan. Get your

free dental info kit! 1-855-

.526-1060 www/dental50

plus.com/ads #6258

DISH TV $64.99 for 190

Channels + $14.95 high

speed internet. FREE installation,

Smart HD DVR

included. Free Voice Remote.

Some Restrictions

apply. Promo Expires

1/21/23. 1-866-590-5561

AT&T Internet. Starting at

$40/month w/12-mo agmt.

1 TB of data/mo. Ask how

to bundle & SAVE! Geo &

svc restrictions apply. 1-

855-364-3948

REPOSSESSED VEHICLE?

Missed payments after

2015? You may be entitled

to substantial money and

improved credit REPO

ALERT! FREE LEGAL

ADVICE 1-800-601-0808

Protect your home w/home

security monitored by

ADT. Starting at $27.99/

mo. Get free equipment

bundle including keypad,

motion sensor, wireless

door & windows sensors.

833-719-1073

SEARCHING

for More Qualified Employees?

October 16 th , 2022

Deadline: October 7 th , 2022 At Noon

Special employment Section Featuring:

Job Openings

Job Fairs

Full and Part Time Employment

Seasonal Job Opportunities and more

ALL ADS ARE IN FULL COLOR. Contact us by phone or online to discuss special

advertising rates that are available for this section as well as combination rate

discounts for advertising in multiple coverage areas.

Canal Winchester • Grove City • Groveport • Madison • South • Westside

ASSOCIATION ADS

Elminate gutter cleaning

forever! LeafFilter, the most

advanced debris-blocking

gutter protection.

Schedule Free LeafFilter

Estimate today. 15% off

Entire Purchase. 10%

Senior & Military Discounts.

Call 1-833-610-1936

Prepare for power

outages today with a

GENERAC home standby

generator. $0 Down + Low

Monthly Pmt. Request a

free Quote. Call before the

next power outage: 1-855-

948-6176

614-272-5422

Kathy@columbusmessenger.com

Doughenry@columbusmessenger.com

ASSOCIATION ADS

Looking for auto insurance?

Find great deals

on the right auto insurance

to suit your needs.

Call today for a free

quote! 866-924-2397

Thinking about installing

a new shower? American

Standard makes it

easy. FREE design consulation.

Enjoy your

shower again! Call 1-

833-769-0995 today to

see how you can save

$1,000 on installation, or

visit www.newshowerdeal.com/mac
---
www.colulmbusmessenger.com

xCome & Get It!

September 4, 2022 - SOUTH MESSENGER - PAGE 11

xClassified Services

COME AND GET IT!

Need to Get Rid of Something Fast - Advertise It Here For FREE!

Deadlines are Mondays by Noon

Call For Publication Schedule 614-272-5422

FREE Garden Straw for gardens or bedding. Call for appointment for pickup.

Circle S Farms, 9015 London-Groveport Road, Grove City, 43123

Grove City - 614-878-7980

FREE - Metal from old camper frame, Need a truck to pickup..

CC - Obetz - 614-632-1013

Baby Grand Piano, Mahogany wood w/bench;

Futon Frame & Mattress w/suede-like cover, full size, gently used.

N/B - Grove City - 614-875-8860

FREE - Children's Wooden Play Set - Good Condition w/Sand Box under it, Step Ladder up

Slide to go down & a rope swing. Also separate Swing Set w/4 swings.

190 Inah Ave., Cols, 43228 near the Fire Dept.

West Columbus - 614-878-1930, ask for Linda

. Come and Get It! is a bi-weekly column that offers readers an opportunity to pass along

surplus building materials, furniture, electronic equipment, crafts, supplies, appliances,

plants or household goods to anybody who will come and get them - as long as they're

FREE. NO PETS! Just send us a brief note describing what you want to get rid of, along

with your name, address and phone number. Nonprofit organizations are welcome to

submit requests for donations of items.

Send information to The Columbus Messenger, Attention: Come and Get It, 3500

Sullivant Ave., Columbus, OH43204. Deadline is Mondays at NOON for following

Sunday's publication. Messenger Newspapers is not responsible for any complications

that may occur. Please contact us when items are gone. 272-5422

ASSOCIATION ADS

BATH & SHOWER UP-

DATES in as little as

ONE DAY! Affordable

prices - No payments for

18 months! Lifetime warranty

& professional installs.

Senior & Military

Discounts available. Call

855-761-1725

IMPORTANT

NOTICE

The following states: CA,

CT, FL, IA, IL, IN, KY,

LA, MD, ME, MI, MN,

NE, NC, NH, OH, OK,

SC, SD, TX, VT and WA

requires seller of certain

business opportunities to

register with each state

before selling. Call to

verify lawful registration

before you buy.

READY TO BUY, SELL

OR RENT YOUR

VACATION HOME OR

HUNTING CAMP?

Advertise it here and in

neighboring publications.

We can help you. Contact

MACnet MEDIA @

800-450-6631 or visit our

site at MACnetOnline.

com

Prepare for power outages

today with a GENERAC

home standby generator.

$0 Money Down + Low

Monthly Payment Options.

Request a FREEQuote--

Call now before the next

power outage. 1-855-465-

7624

Want Faster & Affordable

Internet? Get internet

service today with

Earthlink. Best internet &

WiFi Plans. Call us Today

to Get Started. Ask

about our specials! 866-

396-0515

Come & Get It!

ASSOCIATION ADS

Attention Viagra users:

Generic 100 mg blue pills

or generic 20 mg yellow

pills. Get 45 plus 5 free +

S/H. Call Today 1-877-

707-5518

NEED IRS RELIEF

$10K-$125K+ Get Fresh

Start or Forgiveness.

Call 1-844-431-4716

Monday through Friday

7am-5pm PST

READER

ADVISORY

The National Trade Association

we belong to has

purchased the following

classifieds. Determining

the value of their service

or product is advised by

this publication. In order

to avoid misunderstandings,

some advertisers do

not offer "employment"

but rather supply the

readers with manuals, directories

and other materials

designed to help

their clients establish mail

order selling and other

businesses at home. Under

NO circumstance

should you send any

money in advance or give

the client your checking,

license ID or credit card

numbers. Also beware of

ads that claim to guarantee

loans regardless of

credit and note that if a

credit repair company

does business only over

the phone it's illegal to request

any money before

delivering its service. All

funds are based in US

dollars. Toll Free numbers

may or may not

reach Canada. Please

check with the Better

Business Bureau 614-

486-6336 or the Ohio Attorney

General's Consumer

Protection Section

614-466-4986 for more

information on the company

you are seeking to

do business with.

INSURANCE

Medicare New Benefit

Medicare-Zero Premium

Free Doctor visit, free ride,

free food card, free

prescrptions.614-805-1084

HELP WANTED

Kings Kids Daycare

in Grove City is hiring Fun,

Loving Teachers for PT &

FT shifts. Please email

sarragc@outlook.com or

call 614-539-0349

PETS

HOMING PIGEONS

614-662-8655

WANT TO BUY

WE BUY JUNK CARS

Call anytime 614-774-6797

ANTIQUES

WANTED

Victrolas, Watches,

Clocks, Bookcases

Antiques, Furn.

Jeff 614-262-0676

or 614-783-2629

We Buy Cars & Trucks

$300-$3000.614-308-2626

We Buy Junk Cars &

Trucks. Highest Prices

Paid. 614-395-8775

MISC.

FOR SALE

Spring Free R769 Meium

Round Trampoline, 2 yrs

old, like new. $500 OBO -

Cash Only. 614-619-4038

USED VEHICLES

2004 Chevy - $2500 firm

740-973-2482

AIR CONDITIONING

AIR CONDITIONING

Complete System

Clean & Check

$49.95

Free Electronic Leak Testing

All Makes • All Models

46 Yrs. Exp. • Senior Discount

614-351-9025

BLACKTOP

SANTIAGO'S

Sealcoating & Services LLC

Quality Materials Used

FALL IS COMING!

Driveway Seal & Repair!

Top Seal Cracks!

Residential & Commercial

Mulching, Edging & Clean-ups

"Ask for whatever you need."

BBB Accredited-Fully Insured

Call or text for Free Est.

614-649-1200

AGM OHIO

ROOFING &

SEALCOATING

Free Estimates

Cell 614-599-0262

CARPET CLEANING

CARPET CLEANING

Any 5 areas ONLY $75

Home Powerwash $99-$300

614-805-1084

Specializing in Pet Odors

CARPET SALES

CARPET

Gray Saxony

270 sq.ft. w/6 lb Pad

$398.00

Other Carpet AvailableA

Phone or text Ray

740-927-3504

Delivery & Inst. avail.

CLEANING

Looking for Mrs. Clean?

For excellent cleaning serv

at reas. rates w/great refs,

dependable. 10% Seniorr

Disc. Free Est. Also runs

Errands - Gwen 614-226-5229

INFORMATION

9/25 A

BLACKTOP SEALING

Driveways & Parking Lots

614-875-7588

9/11

A/M

9/25 e/se

CONCRETE

AJ's Concrete,

Masonry

Good Work - Fair Prices

Block Foundations

Driveways • Sidewalks

Epoxy/Overlay Floors

Bonded-Ins. • Free Ests.

614-419-9932

www.hastingsnsons.com

Driveways & Extensions

Patio & Walkways,

Porches & Steps,

Garage/Basement Floors

Hot Tub/Shed Pads,

Stamped/colored concrete

Sealing of new &

existing concrete.

FREE ESTIMATES

Contact Adam

614-756-1754

hastingsandsons.

columbus@gmail.com

R&L

CONCRETE

&MASONRY

* Stone * Brick * Block

Masonry Repairs

614-917-8227

ALL-CITY CUSTOM

CONCRETE

All Types Concrete Work

New or Tear Out-Replace

40 Yrs. Exp.

(614) 207-5430

Owner is On The Job!

EDDIE MOORE

CONSTRUCTION

Quality Concrete Work

Lt. Hauling & Room Add.,

Block Work & Excavation

Stamp Patios,

B6mt. Wall Restoration

35 Yrs Exp - Lic & Ins.

Free Ests. 614-871-3834

INFORMATION

ONLY

$50.00

For This Ad In Our

South/Canal Winchester

& Groveport

For Info Call

614-272-5422

GUTTERS

GUTTER CLEANING

614-323-0128

Bates & Sons

GUTTER CLEANING

5 ★ Google Reviews

614-586-3417

INFORMATION

LOOK TO

THE PROFESSIONALS

IN OUR

SERVICE DIRECTORY

For Service

"That Is Out Of This World"

9/25 A

9/11 A

HAULING

DEAN'S HAULING

614-276-1958

HOME

IMPROVEMENTS

SINCE 1973

Phil Bolon Contr.

Windows & Siding

Decks, Kitchens, Baths

Room Additions,

Flooring, Roofing

Bsmt Waterproofing

Deal With Small Non-Pressure Co.

47 Yrs. Exp. - Refs. Avail.

Lic.-Bond-Ins.

Free Est. - Financing Avail.

Member BBB Of Cent. OH

O.C.I.E.B. ID #24273

614-419-3977

or 614-863-9912

C&JHandyman

Services LLC

Minor Plumbing & Electric

Install Hot Water Tanks,

Dishwashers & Disposals

All Interior Remodels

Also Fencing &

Interior/Exterior Painting

Free Est. ~ 18 Yrs. Exp.

CDC/EPA Approved Guidelines

614-284-2100

Handyman Remodeling

Over 35 yrs exp.

Larry 614-376-7006

Charlies Handyman

Service

Over 40 yrs. exp.

Hot Water Tanks

Door Locks

Kitchen Remodels

Roofing * Siding

Bathrooms and more!

614-319-6010

blantoncharles894@gmail.com

MultiCraft Const.

& Handyman Services

All Types Handyman Services:

Decks, Fences

Kitchen/Baths

Window/doors installed

Interior Painting

Drywall Repairs

All Types of Flooring

Call/Text 614-774-2923

multicraftconstruction@gmail.com

LANDSCAPING

LAWN CARE

The Lawn Barber

Cut, Trim, Blow away

Hedge Trimming, Edging

614-935-1466

LET US MAINTAIN

YOUR LAWN & GARDEN

FOR YOU

Summer, Spring,

Winter or Fall

WE DO IT ALL!!!!

Lawn Cuts, Edging,

Trees & Shrubs, Garden,

Mulching, Hauling,

Garden Pond &

Home Maint.

Free Ests. Low Rates

$20 & Up

Kevin - 614-905-3117

INFORMATION

PAINTING

A Job Well Done Again

A lic. General Contractor

Some Skilled Services

Incl: Painting • Stucco,

Repair•Carpentry•Exterior

Drainage & Home Maint.

Call Today! 614-235-1819

Painter Over 30 Yrs. Exp.

Free Est. Reas. Rates

Daniel - 614-226-4221

PLASTERING

DRYW

YWALL &

PLASTER

9/25

A&M

REPAIR

Textured Ceilings

614-551-6963

Residential/Commercial

BIA

Classified Services

9/25

A/M

KLAUSMAN HOME

IMPROVEMENT

Siding-Windows-

Doors-Roofing-Soffit-

Fascia-Gutters-Trim

Earn FREE Seamless

Gutters with Siding Over

1000 Sq. Ft.

FREE Shutters with

Soffit & Trim

EPA Certified

Member of BBB

Financing Available

Over 20 yrs exp. • Free Est.

Licensed-Bonded-Insured

Owner & Operator

James 614-419-7500

HOME

REMODELING

9/11 A

7/17 A

9/25 A

A-1 QUALITY

TREE & LANDSCAPE

Family Owned

Serving Central Ohio

Since 2004

Bed & Yard Maint.

Weeding, Mulching, etc.

Hedge/Shrub Trimming

*Stump Removal

614-596-9504

Insured - Free Est.

FOR ONLY

$74.00

You Can Reach

Over 41,000 Homes

In

Groveport & South/

Canal Winchester

For Info Call

272-5422

MASONRY

R&L

MASONRY

&CONCRETE

* Stone * Brick * Block

Masonry Repairs

614-917-8227

9/11 A

PLUMBING

MYERS

PLUMBING

Exp. Expert Plumbing

New Const. & Fast Repairs

Lic. - Permit Available

Water • Sewer • Gas

614-633-9694

All About Drains & Plumb.

Will snake any small drain

$145. 614-778-2584

CHRIS'

PLUMBING

"Plumbing & Drain Professional

That You Can Count On"

24 Hrs., 7 Days/Week

No Overtime Charges

24 Yrs. Exp. in Plumbing &

Drain Cleaning Field

Call For A Free Phone Estimate

$100.00 For Any Small Drain

614-622-4482

30% OFF with AD

POOL/SPA

MAINTENANCE

K&L Spa Cleaning

Hot Tub Cleaning and

Weekly Maintenance

Keith 614-316-9809

POWERWASHING

POWERWASHING

at Reasonable Rates

Gwen 614-226-5229

Bates & Sons

Soft Wash & Powerwash

5 ★ Google Reviews

614-586-3417

MRS. POWERWASH

Any house wash $149+tax

Single deck $69+tax

2 Tier deck $99+tax

Best Wash in Town

Over 45,000 washes

Ashley 614-771-3892

SEWING MACHINE

REPAIR

REPAIR all makes 24 hr.

service. Clean, oil, adjust

in your home. $49.95 all

work gtd. 614-890-5296

TREE SERVICES

BURNS TREE SERVICE

Trimming, Removal &

Stump Grinding.

614-584-2164

Warren Brewer Tree Service

• Tree Removal

• Tree Trimming 9/11

A&M

• Stump Grinding

• Bucket Truck Services

Best Prices • Same Day Service

614-878-2568

A-1 QUALITY

TREE & LANDSCAPE

Family Owned

Serving Central Ohio

Since 2004

614-596-9504

Insured - Free Est.

9/25 A&M

9/25 A&M

9/11 A
---
PAGE 12 - SOUTH MESSENGER - September 4, 2022

www.columbusmessenger.com