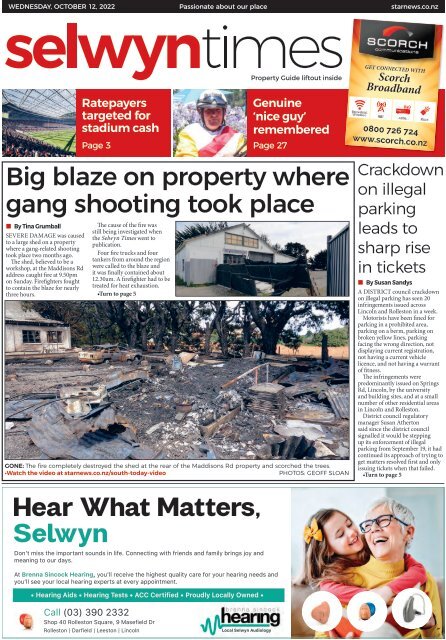 Selwyn_Times: October 12, 2022
Create successful ePaper yourself
Turn your PDF publications into a flip-book with our unique Google optimized e-Paper software.
WEDNESDAY, OCTOBER 12, 2022

Passionate about our place

starnews.co.nz

Ratepayers

targeted for

stadium cash

Page 3

Property Guide liftout inside

Genuine

'nice guy'

remembered

Page 27

GET CONNECTED WITH

Scorch

Broadband

0800 726 724

www.scorch.co.nz

Big blaze on property where

gang shooting took place

• By Tina Grumball

SEVERE DAMAGE was caused

to a large shed on a property

where a gang-related shooting

took place two months ago.

The shed, believed to be a

workshop, at the Maddisons Rd

address caught fire at 9.50pm

on Sunday. Firefighters fought

to contain the blaze for nearly

three hours.

The cause of the fire was

still being investigated when

the Selwyn Times went to

publication.

Four fire trucks and four

tankers from around the region

were called to the blaze and

it was finally contained about

12.30am. A firefighter had to be

treated for heat exhaustion.

•Turn to page 5

GONE: The fire completely destroyed the shed at the rear of the Maddisons Rd property and scorched the trees.

•Watch the video at starnews.co.nz/south-today-video

PHOTOS: GEOFF SLOAN

Crackdown

on illegal

parking

leads to

sharp rise

in tickets

• By Susan Sandys

A DISTRICT council crackdown

on illegal parking has seen 20

infringements issued across

Lincoln and Rolleston in a week.

Motorists have been fined for

parking in a prohibited area,

parking on a berm, parking on

broken yellow lines, parking

facing the wrong direction, not

displaying current registration,

not having a current vehicle

licence, and not having a warrant

of fitness.

The infringements were

predominantly issued on Springs

Rd, Lincoln, by the university

and building sites, and at a small

number of other residential areas

in Lincoln and Rolleston.

District council regulatory

manager Susan Atherton

said since the district council

signalled it would be stepping

up its enforcement of illegal

parking from September 19, it had

continued its approach of trying to

get matters resolved first and only

issuing tickets when that failed.

•Turn to page 5

Hear What Matters,

Selwyn

Don't miss the important sounds in life. Connecting with friends and family brings joy and

meaning to our days.

At Brenna Sincock Hearing, you'll receive the highest quality care for your hearing needs and

you'll see your local hearing experts at every appointment.

• Hearing Aids • Hearing Tests • ACC Certified • Proudly Locally Owned •

Call (03) 390 2332

Shop 40 Rolleston Square, 9 Masefield Dr

Rolleston | Darfield | Leeston | Lincoln

Local Selwyn Audiology
---
2 Selwyn Times Wednesday October 12 2022

DELIVERERS WANTED!

Are you honest, reliable and over

the age of 11? Why not earn money

and get fit doing it. Get in touch

with your interest today:

deliveries@alliedpress.co.nz

029 983 2293

Your local community newspaper connects

neighbours in the following suburbs

Ladbrooks • Tai Tapu • Leeston • Lincoln

Southbridge • Prebbleton

Rolleston • Burnham • Kirwee

West Melton • Darfield • Arthur's Pass

50,000 readers every week.

ADVERTISING

Nielsen Media NRS

Lynette Evans

Ph: 021 222 7831

lynette.evans@starmedia.kiwi

from the editor's desk

BE PREPARED to be asked

fairly soon to help pay for

the $683 million multi-use

stadium in Christchurch.

New Christchurch Mayor

Phil Mauger made his intentions

clear at the weekend –

he wants Selwyn and other

district councils to stump

up. He sees the stadium as a

regional one, not Christchurch's

(see page 3).

There has been a fair bit

of debate for and against

Selwyn fronting up.

Rates are expected to go

up annually by an average

of six per cent over the next

several years. Given the

growth of the district and

news

Stroll around historic village

The Selwyn Spring Show has newly-refurbished buildings on display at the

Selwyn Heritage Centre.

Pages 8 & 9

the increasing cost of infrastructure,

that figure might

be conservative.

And with no sign of living

costs slowing it might

be a case of mentioning to

Mauger that Rolling Stones'

number: You Can't Always

Get What You Want.

– Barry Clarke

barry@starmedia.kiwi

NEWS

Susan Sandys

Ph: 021 914 742

susan.sandys@starmedia.kiwi

news

New chieftain named

Hororata resident Kate Foster is now the 2022 Hororata Highland

Games chieftain.

GENERAL INQUIRIES Ph 379 7100

CLASSIFIED ADVERTISING Ph 379 1100

www.starmedia.kiwi

Page 13

Smile with confidence

BEFORE

Full or Partial Dentures

Immediate Dentures

Winz Approved

aFtER

Insurance Claims

Urgent Denture Repair & Reline

Payment Options Available

914 Colombo St | Ph: 03 365 2859 | www.cosmeticdentureclinic.co.nz

Consultations Soft Landscape Plans Delivery & Planting

Allwood Trees, 913 Shands Road,

Prebbleton 7676

Phone: (03) 349 9240

allwood.co.nz

Allwood-Trees-Limited

allwoodtrees

Quotations

Landscaping

Construction &

Garden Maintenance

Spring

A great time to

plant
---
NEWLY-elected Christchurch

Mayor Phil Mauger says one of

his early goals is to get financial

commitment for the multi-use

stadium Te Kaha from Selwyn

and other Canterbury district

councils like Ashburton,

Waimakariri and Hurunui.

But he says

he is expecting

some resistance.

"We've got

to have a conversation

with

them – if you

don't ask you

Phil Mauger never know,"

he told Stuff.

He said the stadium needed to

be approached as a Canterbury

facility.

Mauger said there would be

talks in the near future.

The central city stadium

has steadily blown out in cost

on the back of delays, design

changes and rapidly increasing

construction costs. It will be

used for sports matches and

concerts.

The Christchurch City Council

company set up to build it is

confident the current $683 million

price tag – a $150 million

blowout on its previous costings

– won't rise further.

Selwyn Mayor Sam

Broughton, re-elected for his

third term on Saturday, said in

spite of Mauger's comments, the

district council's position had

not changed.

"We have not received

any formal requests for

funding, but if do receive

a request, then any contribution

from Selwyn

would have to be subject

to consultation with our

community, he said.

District councillors

canvassed by the Selwyn

Times in July were concerned

about the impact helping

to pay for the stadium would

Latest Canterbury news at starnews.co.nz

have on ratepayers, who were

faced with an average rise of six

per cent over the next several

years.

Ratepayers would need

to be consulted on their

views in either the annual

or long term plans, they

believed.

Annual plans set rates

which mirrors what

the district council will

spend money on in any

given year, while long

term plans forecast

spending and development over

a 10 year period.

In July, district councillor

Nicole Reid said she would have

expected Selwyn would have

been consulted with on the

stadium before now if it was an

intention of Christchurch City

Council to request funding.

"We have already undertaken

our annual plan budget for this

financial year so if any stadium

funding request is received from

CCC, this would have to go

through next year's annual plan

consultation with our community

for the 2023/2024 financial

year," she said.

Said Deputy Mayor Malcolm

NEWS 3

Selwyn to be asked for stadium money

Sam

Broughton

Wednesday October 12 2022 Selwyn Times

•HAVE YOUR

SAY: What do

you think of new

Christchurch City

Council mayor

Phil Mauger's

comments. Email

barry@starmedia.

kiwi Keep

responses ro 200

words or less

Lyall: "The stadium proposal

has come about from a funding

agreement between the Crown

and Christchurch City. It is only

after the budget has blown out

that it has been suggested that

Selwyn should contribute.

"We have only 29,000 rateable

properties ,any funding decision

needs to be made by the

Canterbury region and would

need to be put before the public

for consultation in an annual

plan process. The corporate

entities that will benefit from the

stadium should also be asked to

contribute."

Bras and

shape Wear

SHOPPING AT ITS BEST

• No under wires

• Straps do not fall down

• Full support from beneath the bust

• Front-opening modifications

• Breast Prostheses fitted & supplied

• Esther is a registered

health provider

• Unique shape wear

Formerly

Jeunique Bra

FREE

CONSULTATIONS

& FITTINGS

Esther Rökk UnderFashions

For appointments please phone 0211674537

82 Milns Rd, Halswell • www.eru.co.nz

NUMBER ONE SUPPLIER

TO THE NZ JET BOATING

COMMUNITY FOR OVER

50 YEARS

• Part Boats & Hulls

• Turn Key Packages

• New Jet Units

• Custom Fabrication

• Expert Advice

SERVICING

03 962 0505

Lunns Road, Middleton

• Spare Parts Retailer

• Jet Unit Refurbishment

• Engine Tune-Ups

• Insurance Repairs

• Impellor Reconditioning

Team Ange and Chris

Proven

marketing

strategies

+ +

Proven

communication

commitments

= Proven results!

Proven

negotiation

skills

Your proven lifestyle and residential real estate team focused on

achieving the best possible outcome for you

2022

Heat Pumps

Call Team Ange and Chris today

Angela Hunt 021 548 777 | Chris Moore 027 288 0563

pb.co.nz

Property Brokers Ltd Licensed REAA 2008

PB059928
---
Selwyn Times Wednesday October 12 2022

4

NEWS

Latest Canterbury news at starnews.co.nz

Time catches up with Woods;

• By Susan Sandys

"IT LOOKS like I'm past my

used-by date," said 80-year-old

Bill Woods as he reflected on

losing out in the local body

elections.

Not only was Woods slammed

in the three-candidate mayoral

race, being the lowest polling

candidate with just 1876 votes,

he did not receive enough votes

for re-election to the Malvern

Community Board.

Incumbent Sam Broughton

will enter his third term as mayor

after winning with a 11,863 majority.

Newcomer Sean Ellis fills

the one vacancy in the Tawera

Community Subdivision of the

board, having won with 490

votes, compared to Woods' 268

votes.

Woods said he felt neither

bitter nor sad about not being

able to return to the board, just

"possibly a little disappointed."

"But nothing much, I have

been beaten that many times, it

doesn't matter."

He lost the mayoralty at

the 2019 election as well, but

received 4485 votes that time.

Woods has regularly stood

for mayor since serving in the

role from 1992 to 1995. His local

body service stretches back as far

Bill

Sam

Woods Broughton

as 1989 when he first became a

Selwyn District councillor.

The Springfield resident, who

was this year awarded a Queen's

Service Medal in the Queen's

Birthday Honours, said he was

proud of his many achievements

for the community within that

time. He now doubted he would

ever stand for election again.

Fellow mayoral hopeful Calvin

Payne was also slammed in the

mayoral race, with 3148 votes,

well behind winning candidate

Sam Broughton, who returns to

the role, having received 15,011

votes.

Broughton told the Selwyn

Times it was "very exciting" and

he was "very pleased."

"I just think it's an affirmation

really, of the good space that our

district is in," Broughton said.

For roles on the district

council, the election saw all

councillors who stood win their

seats back, bar one. For the

two-seat Malvern ward, district

councillor Jenny Gallagher

received 1572 votes, not enough

to beat either fellow incumbent

Bob Mugford, 1755 votes, or

top-polling newcomer Lydia

Gliddon, 2541 votes.

Gliddon campaigned on a platform

of wanting to see her home

district of Malvern flourish, with

her priorities being delivering

the basics of roading, water and

community support, planning

for future growth and keeping

rates affordable.

Fellow newcomers on the

district council are Phil Dean,

who was the top-polling candidate

in the three-seat Rolleston

ward, receiving 3366 votes, and

Elizabeth Mundt, who was the

second-to-top polling candidate

in the Ellesmere ward, receiving

1578 votes.

Dean is former police senior

sergeant and an active member

of CentreStage Rolleston, who

said while campaigning it was

essential the district council had

processes ensuring community

voices would be heard. Mundt

was among speakers at an

anti-chlorination meeting, and

among her campaign messages

was the need to protect the district's

water infrastructure from

privatisation.

Meanwhile, Ellis will have

fellow newcomers serving

alongside him on the Malvern

Community Board, of Payne,

Bruce Russell and Sharn Nu'u.
---
Wednesday October 12 2022 Selwyn Times

Latest Canterbury news at starnews.co.nz

Broughton bolts in

THE LOCAL government elections saw

42.29 per cent (20,427) of enrolled Selwyn

residents cast their vote. Here are the

preliminary results, excluding special votes:

Mayoralty

BROUGHTON, Sam 15,011

PAYNE, Calvin 3148

WOODS, Bill 1876

Informal – 8

Blank voting papers – 383

Malvern Ward (two seats)

GLIDDON, Lydia 2541

MUGFORD, Bob 1755

GALLAGHER, Jenny 1572

WILSHIRE, Samuel 1483

SAMUEL, Samantha 1456

CLEMENS, Andrea 639

Informal 3

Blank voting papers - 106

Rolleston Ward (three

seats)

DEAN, Phil 3366

Community Board results

Tawera Community Subdivision

(one seat)

Votes received

ELLIS, Sean 490

WOODS, Bill 268

FROST, Vicky 153

Informal 4

Blank voting papers 53

REID, Nicole 3070

MCINNES, Sophie 2416

PRATAP, Moneel 2212

PAYNE, Calvin 1612

STENHOUSE, Mel 1515

Informal – 0

Blank voting papers 93

Ellesmere Ward (two

seats)

EPIHA, Shane Ngapou O Te Hahi

2025

Hawkins Subdivision

(two seats)

No election required. The following

are elected

MAY, Ken

NU'U, Sharn

MUNDT, Elizabeth 1578

ARCHER, Elle 1375

Informal – 1

Blank voting papers – 107

Springs Ward (three seats)

LYALL, Malcolm 4304

MILLER, Grant 4254

HASSON, Debra 3297

COLLOTY, Dave 2279

Informal – 0

Blank voting papers – 240

West Melton Subdivision

No election required. The following

are elected

PAYNE, Calvin – Know Payne, Know

Gain

RUSSELL, Bruce

NEWS 5

Evacuations

•From page 1

Another crew was at the scene on

Monday morning to dampen some

hot spots.

The site was in the news three

months ago when a man was shot in

early July. Police arrested two men

with gang affiliations in the days

after the incident. A 31-year-old

Mongols MC affiliate was charged

with wounding with intent to cause

grevious bodily harm and unlawful

possession of a firearm.

He pleaded not guilty and elected a

trial by jury. His is next due to appear

in the Christchurch District Court on

December 15.

A neighbour near the property said

the fire was "not a nice wake-up call

for us."

They were evacuated for about an

hour but returned to their home quite

quickly.

When asked if the building was

unoccupied, she said she had not seen

any activity for a while and thought

whoever lived there had moved out.

Solutions sought

•From page 1

In the first week, only three infringements

were issued, however,

this increased to 20 last week.

"These locations were assessed

following complaints received from

members of the public and where a

solutions-based approach had already

been tried. We have continued with

our approach of trying to get matters

resolved first, and only issuing tickets

where that fails," Atherton said.

Next generation retirement living

VILLAS SELLING NOW

BOOK A TOUR ON 0800 KARAKA

OR KARAKAPINES.CO.NZ

"If you sell your home we believe you

should get the benefit. That's only fair."

ADAM YATES - CEO KARAKA PINES VILLAGES

"Fair value has been a hot topic around retirement communities recently.

Capital gain is just one thing we've always offered. But there's more to it than

that. I want our villages to be places I'd like to live myself."

Fairness is what drives our new approach to retirement living, and choices are a large part of that.

From our wide choice of well-designed homes, deciding whether you want fixed or non-fixed fees,

or even whether you want to do your own garden or not, a Karaka Pines Village gives you the

choices to stay independant without any of the burdens – we call that fair value.

CHRISTCHURCH | VILLAS SELLING NOW

Woodcroft Estate

34 Kendon Drive Levi Park, Rolleston

AUCKLAND | NEW SHOWHOME OPEN

Karaka Lifestyle Estate

333 Bremner Road, Drury

ROTORUA | VILLAS AVAILABLE NOW

Karaka Pines Regency Park Estate

3A Brent Road, Owhata

WAIHI BEACH | VILLAS SELLING NOW

Karaka Pines Waihi Beach

8 Browns Drive

HAMILTON | NEW SHOWHOME OPEN

Karaka Pines Rototuna

75 Hare Puke Drive, Flagstaff

TAURANGA | VILLAS AVAILABLE NOW

Kempton Park Village

40 Te Paeroa Road, Bethlehem
---
C

M

Y

CM

MY

CY

CMY

K

Neovia Plinth Sign.pdf 1 13/09/21 3:41 PM

6 Selwyn Times Wednesday October 12 2022

Splendour

in Selwyn

at 8 Vernon DriVe, LincoLn

new menu

aVaiLabLe now!

Unit 1, 8 Vernon Drive

www.mexicalifresh.co.nz

orDer onLine

Unit 1, 8 Vernon Drive

www.burgerwisconsin.co.nz

When selling with us you can be confident that

you will receive the level of service you deserve.

Unit 3, 8 Vernon Drive | 0800 EAGARS

www.lincoln.mikepero.com

Closed Monday, Tue-Sun Lunch 12pm-2pm, Dinner 5pm-9pm

Unit 4, 8 Vernon Drive | www.nomnom.lincoln@gmail.com

BUSINESS PREMISE TO LEASE Call Mike – 027 570 7674

So much more on offer at

8 Vernon Drive, Lincoln

Large selection of PYO (Pick Your Own) and

Pre-Packed Sushi.

Hot and Yummy Donburi Bowl, Bento,

Japanese Curry, Dumplings, Seafood, crispy

squid and many more options to choose from

Unit 2, 8 Vernon Drive | 03 321 7900

@Sushiyalincoln

Mughlai Indian Cuisine

Call in today to reserve your table or order online.

www.mughalkitchen.co.nz | Ph: 03 421 4555

Unit 6, 8 Vernon Drive, Lincoln

Phone 020 4089 3123

open mon-Fri 9am – 6pm / Sat 10am – 4pm

Unit 8 - 8 Vernon Dr

Ph 03 420 0358

Now Open 24/7

Unit 9, 8 Vernon Drive

Stylish + curated pre-loved clothing

Unit 11, 8 Vernon Drive | Ph: 022 211 1005

www.reinvent.co.nz

Leading a new era in

financial services

Unit 14, 8 Vernon Drive | Ph: 03 325 2409

www.neovia.co.nz

In Selwyn, you can find an oasis

of beauty, tranquillity and a

stunning collection of plants at

Broadfield Garden, 250 Selwyn

Road. It is the perfect spot for a

few hours of relaxation, a picnic

or even the venue for weddings

and other special occasions.

David started planting with a

blank canvas in 1993, and nearly

30 years later, the 4.8-hectare

property now has 3.5 hectares

of beautiful landscape. Architect

Robert Watson planned the area, but

with a wealth of knowledge, David was

the one to do the selection and planting.

As a result, the garden comprises a

mixture of contemporary plantings.

The garden has won awards, including

the NZ Institute of Horticulture's

six-star garden awarded 'Garden of

International Significance.' It is a labour

of love for David, but he now has a

helper five days a week, helping with

various tasks, including four hours of

lawnmowing.

Entering Broadfield Garden, your eye

is drawn down the 120-metre hedgebordered

walk towards the Sedge Pond

and, from there, the spectacular central

feature water canal. Different sections

house Camellia, Rhododendron,

Azalea, Deciduous and Rose gardens

with many splashes of colour. You

will also find a new large vegetable

garden with beehives and a fruit cage

to protect the many types of fruit

from birds. For a shaded walk, you

can wander through the Kauri Forest

with over 100 kauri trees, the Beech

Forest or the Lowland Forest, where

you will see trees important to our

native forest landscape. Throughout

the gardens, you will find eye-catching

artworks, sculptures, knickknacks and

novelty pieces so that you will discover

something new no matter where you

look.

In the Perennial Garden, you'll come

across a small slate-roofed cottage

with slate tiles originally sourced from

Brougham Street's Nazareth House. The

cottage was built by David and Dave

Fals, who for 17 years helped develop

the garden. It contains a selection of

horticultural books and photos of

the property before planting in 1993.

David states, "The cottage is really an

anchor for the end of the East-West

vista." Meanwhile, a Heritage Shed has

a collection of old garden equipment

and an assortment of items from times

past. A viewing mound created from the

canal excavation provides a view over

the garden and a line of sight to the Port

Hills and the Southern Alps.

For a perfect photo location, function

venue, garden visit, or guided tour,

Broadfield Garden, 250 Selwyn Road,

is open every Wednesday and Saturday

from 8.00 am to 4.30 pm (and by

arrangement, phone 027 4334099).

The cost is $15 for adults and free for

children.
---
Wednesday October 12 2022 Selwyn Times

Latest Canterbury news at starnews.co.nz

NEWS 7

Ford Courier missing

after brazen theft

• By Susan Sandys

DANI MURRAY of Leeston

was recovering from surgery

when her 2006 Ford Courier

was brazenly stolen out of her

driveway as she slept.

The red ute was locked and

parked in the short driveway

of her home on Chapman St

behind a closed gate and about

12m from the house.

It was taken overnight Sunday

last week, sometime between

when she had seen it about

10pm that evening, and about

5.30am the next day when her

partner noticed it was gone.

Police responding told her

they thought it was a targeted

theft.

Murray thought the ute was

quite rare and would have held

its value since she bought it

about six years ago for about

$12,000. She believed there

would have been two or more

culprits, who broke into it and

quietly pushed it out of the

driveway, because if the engine

started it would of woken her

up.

While grateful the car was

insured, she said it was a blow

to have it stolen as she was two

weeks into a six-week recovery

period for major surgery.

"It was bad luck all round,"

she said.

Murray wanted people to keep

a look out for the vehicle and

report any sightings to police. At

the time of the theft, its licence

plate is LBP358.

Kakaha name given to

new Prebbleton park

• By Susan Sandys

PREBBLETON'S emerging $17.2

million, 22ha park on Birchs Rd

has been named Kakaha Park.

The first stage of 10ha in the

south-east corner is expected to

be completed later this month

and open to the

public late next

month as new-sown

grass matures.

It includes a dog

park, dog park

carpark, Leadleys

Rd car parks,

three-and-a-half lit sports fields,

walking tracks, cycle tracks and

playground features.

The second stage is to include

installation of changerooms,

pathways and lighting. It is due

for completion June next year

and work is well underway.

The name was gifted to the

district by Te Taumutu Rūnanga

and Te Ngāi Tūāhuriri Rūnanga.

District council acting major

projects manager Phil Millar said

all plants in Kakaha Park would

be New Zealand natives, "so the

name fits nicely with that."

Kakaha, which is the bush

lily species Astelia fragrans, is

believed to have grown on the

Canterbury Plains

prior to European

settlement. It was

used in conjunction

with other plants

for weaving.

The name kakaha

recognises the

location of the park in a network

of mahika kai (food and resource

gathering) sites on the plains.

"The connection to the trails

and sites of mahika kai is special

as well, as this park links in

with the existing rail trail cycle

network and our modern trails

across the plains, connecting

from Lincoln through to

Prebbleton and on," Millar

said.

spring

SALE

Now on – selected items in store & online.

Sono Queen

Boxed Mattress

WAS $

599

Carson 5 Piece

Dining Set – W120

WAS $

869

NOW

$

759

NOW

$

479

DON'T MISS OUT ON OUR SPRING SALE HOT DEALS!

Elyse

3 Seater – Steel

WAS $

1599

Woodwall Ballet Desk – Dark

NOW $

229

Koko Rocking

Chair – Blush

NOW $

479

Tipaz Tallboy

NOW $

799

Capri Outdoor

Single Seater

– White

NOW $

925

NOW

$

1399

24

MONTHS INTEREST FREE*

with q Mastercard

*Available on Long Term Finance (LTF) purchases until 17/10/22. Minimum spend

$499. Exclusions may apply. Lending Criteria, $50 annual account fee, fees, T&C's

apply. An Establishment fee of $55 (first LTF transaction) or a $35 Advance Fee

(subsequent LTF transactions) applies. Standard Interest Rate, currently 25.99%

p.a. applies to any outstanding balance at end of interest free period. Rate and

fees correct as at date of publication, subject to change. Mastercard is a registered

trademark and the circles design is a trademark of Mastercard International

Incorporated.

Scan to find store

250 Moorhouse Ave, Christchurch

0800 TARGET (0800 827438)

targetfurniture.co.nz

Offers and product prices advertised here expire

17/10/22. Sale Excludes Accessories.
---
Selwyn Times Wednesday October 12 2022

8

NEWS

Latest Canterbury news at starnews.co.nz

Stroll around historic village and

Visitors to the Selwyn

Spring Show this

weekend will be able to

view newly refurbished

historical buildings and

a growing museum

at Selwyn Heritage

Centre, adjoining the

showgrounds. Susan

Sandys reports

VOLUNTEERS are bringing

dilapidated historic buildings

from around Ellesmere back to

life at Selwyn Heritage Centre.

The 1870s Southbridge Jail

and 1880s Carroll Cottage are

looking as good as new. They

will soon be accompanied by two

additional 1800s buildings at the

Leeston site, which are set to get

the same treatment of relocation

to the centre and a full

makeover, with one to

have a replica saddlery

shop built onto it.

Ellesmere Heritage Park

Trust operates the centre,

and will be opening it up

to Selwyn Spring Show

visitors this Saturday. It

will be the first time members

of the public will have

an opportunity to view

the buildings since they were officially

opened in August.

Deputy chairman Grant

Grant

Clausen

Ellesmere Heritage Park Trust chairman Ray Maginness addresses members of the public at the official opening of

Carroll Cottage and the Southbridge Jail, with deputy chairman Grant Clausen. Right – Former Ellesmere Printing

Company operator Brian Reid (left) views an 1800s printing press he donated, at the heritage centre museum, with

Ellesmere A&P Association immediate past president Andrew Benny.

Clausen said he and fellow

volunteers were looking forward

to show weekend when the

results of their hard work over

the last two years would be on

display.

"So people can see

that we have been busy!

We are really pleased of

where we are at the moment,

and what we have

been able to achieve with

our limited resources,"

Clausen said.

A large shed on-site

which serves as the centre's

museum will also be open

for viewing. The shed has historic

items donated and retrieved

from local homes, businesses

HERITAGE VALUE: Hans Dierck is pictured third from left

outside his saddlery shop in 1899.

and farms. It is generally opened

to the public only three or four

days each year.

The shed has a display which

was officially opened the same

day as the jail and cottage. It

is a 1950s shop front replica of

Free Bros Butchers and Bakers

of Leeston, with equipment and

tools from that era.

The two latest buildings which

have been acquired are a small

1800s weatherboard home

from Leeston and Lake Rd near

Leeston Park, which once had

a saddlery shop attached to it,

and a long narrow shed with

shingled roof from the early

settler Drumroslyn farm of

Southbridge.

Clausen has a copy of an 1899

photo of the former saddlery

shop. The shop's owner, Hans

Dierck, is pictured standing

outside with others.

MEET CHRISTOPHER LUXON

Hear the National Party Leader's vision

for New Zealand and his plans to take

the country forward.

Friday 14 October, 4.30pm – 6.00pm

Rolleston College Theatre (enter via Broadlands Drive)

631 Springston Rolleston Road, Rolleston

Nicola Grigg MP for Selwyn

Contact: Nicola.GriggMP@parliament.govt.nz

03 344 2800

Authorised by Nicola Grigg, Parliament Buildings, Wgtn.
---
Latest Canterbury news at starnews.co.nz

Wednesday October 12 2022 Selwyn Times

NEWS 9

museum at Selwyn Spring Show

Clausen said Selwyn Heritage

Centre would be replicating the

shop and its signage, building

this on to the weatherboard

home. He personally had some

old saddlery equipment which

would be able to be used in the

displays at the building, as his

grandfather had also once operated

the shop.

The other building, from

Southbridge, was a long narrow

one, in a "pretty rough" state,

which may have had timber for

building the former two-storey

1870s homestead on the farm of

Drumroslyn stored in it.

"It would have taken months

to build the house, so it may have

been used to store the timber. It's

iconic, because it's a lovely old

weather board building and it has

shingles on the roof," Clausen

said.

The buildings restored by the

trust's volunteers are brought

back to top condition, with

artefacts from their era displayed

inside. Visitors wondering what

the walls might reveal if they

could speak, are given clues with

information about the buildings

also displayed.

Up to 20 of the trust's volunteers

from throughout Ellesmere

turn out for the centre's regular

working bees, held at least once

a week.

"Within the community, there's

REPLICA: The Free Bros Butchers and Bakers display was

officially opened recently.

a lot of people who care about

where we have come from, about

our history, who are passionate

about it," Clausen said.

"With an article of history,

once it's lost, you can't reproduce

it. So it's about saving that article

to be able to show to the current

younger generation and future

young generations. We are fully

committed to preserving and displaying

the original articles that

people used in their lives."

A story on display about the

Southbridge Jail reveals an escapee

in 1880 remained at large

for several days, after the constable

in charge accidentally left the

door on its chain when he was

called away to a disturbance in

town. The prisoner had been able

MEARES WILLIAMS

LAWYERS

Over 10 Years in Selwyn

ROLLESTON OFFICE

80A Rolleston Drive, Rolleston

$456

$525

Belinda Ferguson

Anita Molloy-Roberts

Olivia Johnston

Maddy France

Kieran Heenan

Ruby Jones

W: www.meareswilliams.co.nz

T: (03) 374 2547

E: reception

@meareswilliams.co.nz

Offices also located at:

43 Gerald Street, Lincoln

225 Papanui Road, Christchurch

to slide his long fingers around

the door to unhinge the chain.

The incident resulted in these

chains being removed from jail

doors throughout the country.

The small jail was built in response

to a need, which had been

particularly evident at harvest

time when there was a "rowdy

element" in the district.

It was opened in 1876, alongside

a new police station and

stables, enabling Southbridge to

become the new police headquarters

for Selwyn.

Carroll Cottage was built in the

1880s by Irish settlers Edward

and Annie Carroll. They raised

their six children there.

Clausen said he welcomed

district council plans to work

BEFORE AND AFTER: Southbridge Jail (left) and Carroll

Cottage await renovation by volunteers two years ago.

RELOCATION: This cottage

on Leeston and Lake Rd

will move to the Selwyn

Heritage Centre and have a

replica saddlery shop built

onto it.

with Selwyn heritage groups on

developing a heritage strategy,

and give consideration to a $20

annual rate for heritage as part of

the 2022-2023 annual plan.

Ultimately the trust was aiming

to give the shed housing its

museum a $1 million update and

have it opened permanently as a

district-wide attraction.

Clausen said such a rate would

go some way towards funding

this. Currently its funding was in

the form of grants from various

organisations such as the district

council and Rata Foundation. It

was also helped by local donations

and at-cost materials from

supportive businesses.

•Selwyn Heritage Centre

will be open for the day

October 15, admission

is free. Entrance will be

via the Selwyn Spring

Show at Ellesmere A&P

Showgrounds at Leeston.

Planning an event?

We can show you a great time!

Corporate Events

• Meetings • Seminars/Workshops

• Conferences • 500 seat Auditorium

• Bar and catering options

• Two large Conference areas

Technical Services

• Experienced in-house technician • Audio/Visual equipment • Lighting

TAKE CHARGE WITH STIHL BATTERY TOOLS

STIHL FSA 57

LINETRIMMER

KIT

•AK 10 BATTERY

•AL 101 CHARGER

$456

$525

STIHL HSA 56

HEDGETRIMMER

KIT

•AK 10 BATTERY

•AL 101 CHARGER

$456

03 307 2010

211A Wills Street, Ashburton 7700

admin@ateventcentre.co.nz

STIHL BGA 57

LEAF BLOWER

KIT

•AK 20 BATTERY

•AL 101 CHARGER

BUY ALL 3 TOOLS WITH ONE AK 20 BATTERY & AL 101 CHARGER FOR ONLY $935

$525

Terms & Conditions apply.

Offer valid until 31 October 2022,

while stocks last.

Coupon Deal In store only.

STIHL SHOP FOSTERS

559 Blenheim Road,

Sockburn, Christchurch

03 343 6339

STIHL SHOP NORTHWOOD

554 Main North Road

Belfast, Christchurch

03 974 2469

STIHL SHOP RANGIORA

Corner Lineside & Station Road

Rangiora

03 313 3398
---
10 Selwyn Times Wednesday October 12 2022

RURAL | LIFESTYLE | RESIDENTIAL

NEW LISTING

OPEN HOME

WEST MELTON Weedons Ross Road

Leasehold Farming Opportunity

• 175 ha bare land, of which 20ha is in trees, the

rest for farming

• Well subdivided into 20 paddocks with stock

water in all paddocks

• Three-stand raised board woolshed with attached

covered yard (400 capacity), three-bay shed, and

cattle yards

• Good internal access via well-formed track, stop

bank and fenced to allow ease of stock

movement

• Irrigation for approximately 20ha

DEADLINE PRIVATE TREATY

Plus GST (if any)

(Unless Sold Prior)

Closes 12.00pm, Tuesday 15

November

Dan van der Salm

M 021 918 233

E dan.vandersalm@pggwrightson.co.nz

]

Michael Bickley

M 027 555 0777

E michael.bickley@pggwrightson.co.nz

KIRWEE 10 Saint Andrews Lane

Private, Quiet & Space

This property of 1027sqm has living the good life

written all over it, and the modern permanent material

home is set back from the road in a quiet cul-de-sac.

Well fenced for security for small children or a pet or

two. The home offers a large open-plan kitchen, with

walk-in pantry, dining, and family area with a separate

lounge. Sliding glass doors lead out to a west-facing

patio area and the garden. Up the hallway are four

large bedrooms, an office (complete with fibre), family

bathroom, and the master with a walk-in robe and

modern en suite. Internal access is derived from a

double garage.

DEADLINE PRIVATE TREATY

GST Inclusive

(Unless Sold Prior)

Closes 2.00pm, Thursday 20 October

VIEW 1.00-1.30pm, Sunday 16

October

Min Cookson

M 027 249 5417

E min.cookson@pggwrightson.co.nz

pggwre.co.nz/LCN36709

pggwre.co.nz/LCN36609

FANTASTIC

OPPORTUNITY!

LIST

WIN

AND

Just list your property with one of our Darfield salespeople

listed below during August, September and October to go in

the draw to win an action packed weekend for two in

Kaikoura valued at $3,118 *T&Cs apply

In conjunction with PGG Wrightson Real Estate,

Darfield and South Pacific Helicopters, Kaikoura.

Mark Terry 027 572 2559

Karen Hennessy 027 967 0186

Min Cookson 027 249 5417

Rob McGregor 021 334 469

Linda McCarthy 022 692 6090

Sam Davidson

Sales Manager

027 488 8269

PGG Wrightson Real Estate Limited, licensed under REAA 2008

6/19 Gerald Street, LINCOLN

42 South Terrace, DARFIELD

Phone: 03 341 4301 | Email: christchurch@pggwre.co.nz

Helping grow the country

For more great listings, visit www.pggwre.co.nz

PGG Wrightson Real Estate Limited, licensed under the REAA 2008

Helping grow the country
---
THE ANNUAL Darfield

Artweek was opened on Friday

by Selwyn MP Nicola Grigg at

the Darfield Recreation Centre.

About 150 guests attended

the exhibition, held by Malvern

Community Arts Council,

viewing 375 artworks by 160

artists on display.

Organisers said the quality of

artwork was high, and testimony

to the "breadth of artistic talent"

in their community.

THe MCAC premier award

went to Darfield artist Vicki

Knudsen for her painting All

Said & Done. Judge Dorle

Pauli praised Knudsen for her

use of medium giving great

effect "to express the stillness,

timeless dignity and perhaps

mournfulness of a scene which

is often overlooked in our busy,

everyday lives."

THe Friends of MCAC

Award went to Jo Loughnan of

Christchurch for her "fresh and

informal" mixed media work,

Waves.

Other awards included the

Buddle Findlay Award, which

went to Annika Maenpaa for

Red Thread; the RJ Crouch

Award which went to Rolleston

artist Margaret White for The

Estuary; the Gordon Harris

award which went to Gray

Leanard of Prebbleton for his

complete set of miniatures.

In the youth category, which is

in its second year and attracted

many entries, The Bob Gillard

Youth Award went to Ainsley

Worling of Ashburton for her

watercolour Stagnant, while

the Drawing Room youth merit

Latest Canterbury news at starnews.co.nz

Award-winning artwork

on display at Darfield

Left: Vicki Knudsen with her painting All Said & Done and

Molly Mannering, of Darfield, winner of the Drawing Room

youth merit award.

A bit stiff in the morning?

award went to Molly Mannering

of Darfield for her work

Chewing Gum for Eyes.

• Darfield Artweek is

open with free admission

daily 10am-5pm, and

Sunday 10am to 4pm.

• By Susan Sandys

MALVERN Community Patrol

chair Harvey Polglase wanted to

paint over the graffiti on a small

railway shed at Darfield – but

could not get approval from

KiwiRail.

Polglase said he wanted to do

the job himself when KiwiRail

failed to remove the graffiti from

the shed and it sat there for more

than a month.

"People doing the graffiti

haven't got any qualms walking

onto railway property. We were

quite happy to do the same thing,

if it was helping out," Polglase

said.

He said it was important graffiti

was removed or painted over

quickly as it brought down the

tone of an area and vandals may

be encouraged to put more graffiti

there. Polglase first noticed the

railway shed graffiti early last

month. He submitted a request

for removal to the district council.

It informed him his request had

been forwarded to KiwiRail.

He did not hear back from

KiwiRail and the graffiti remained

there several days later,

so he phoned its 0800 number.

However, the property department

extension rang but no-one

answered. He then managed to

get hold of a KiwiRail contractor

he knew in the Malvern area.

Wednesday October 12 2022 Selwyn Times

NEWS 11

Patrol's bid to remove

graffiti denied

'Famous for their roasts!'

The contractor told him he had

not been informed of the job from

KiwiRail. As the weeks dragged

on, with no sign of the graffiti

being removed, the contractor declined

a request from Polglase to

allow Malvern Community Patrol

members to paint over the graffiti.

Polglase said he and fellow patrol

members were frustrated by the

delay as the district council would

remove graffiti on its property

within two days.

A KiwiRail spokesperson told

Selwyn Times graffiti removal

was undertaken by its work gangs,

which promptly removed "offensive

or threatening" graffiti.

KiwiRail had organised for the

Darfield graffiti to be removed by

the area's team members "when

they are next at the site and have

the staff availability, resources

and time to remove it."

The job could not be undertaken

by members of the public.

"As it is both dangerous and

illegal to enter the rail corridor

without a permit.

School

Holidays

The perfect

excuse

to stay in

bed longer

in the

mornings.

Try this easy, full body

stretching routine

to unstiffen those

morning joints before

jumping out of bed!

Only $20 and 1/2

the profits will go to

supporting the Lincoln

volunteer fire brigade.

Available at

stretchingsloth.com

RESTAURANT & CAFÉ

Weekend Brunch

Check out our extensive brunch

selection. Special kid's menu too.

Saturday & Sunday 10am-2pm

Seniors SPECIAL

Two courses $24

Soup/Roast or

Roast/Dessert

Special available lunch only

Monday - Friday 12pm - 2.30pm

$20

TREAT THE

FAMILY!

Kid's 2 course

special

We are family

friendly.

Great Kids menu

plus designated

play area.

$13

The

RACECOURSE HOTEL

& Motorlodge

118 Racecourse Rd, Sockburn,

Christchurch. Ph 03 342 7150

www.racecoursehotel.co.nz

FROM

$

4780

We help you

grow it &

mow it

WE SERVICE ALL MAJOR BRANDS OF

OUTDOOR POWER EQUIPMENT:

• Riders

• Lawnmowers

• Chainsaws

• Brush Cutters

• Hedge Trimmers

• Blowers

FREE

EARMUFFS

THIS OCTOBER!

Get yours with every finished

product purchased in October.

p. 03 324 3880

22 Station St, Leeston

thinkwatercanterbury.co.nz
---
12 Selwyn Times Wednesday October 12 2022
---
Wednesday October 12 2022 Selwyn Times

NEWS 13

Highland games

chieftain has four

generation legacy

FOURTH-generation

Hororata resident and

historian, Kate Foster,

has been named the 2022

Hororata Highland Games

chieftain.

Kate is the 'keeper of

the local stories', not just

of her family but of the

Hororata community, she

is passionate about the

history of the area.

A descendant of

prominent politician Sir

John Hall, remembered as

a parliamentary advocate

for the Votes for Women

campaign, Kate has deep

roots in Hororata.

Sir John Hall was

passionate about the

community of Hororata

and the wider area. In

the 19th-century he was

involved with establishing

many of the facilities that

are use today such as the

domain, the hall and the

church.

He was an innovative

farmer pioneering

new technologies on his

run, Terrace Station. Kate

now lives in the Terrace

Station homestead, her

ancestral home, and is

a trustee of the Terrace

Station Charitable Trust

which is responsible for

its care as a listed heritage

building.

"This rural area is

renowned for leading

the way, innovating, and

making things happen for

its community,'' Foster

said. "The Hororata

Domain, where the Games

is held, has been in the care

of the community for 144

years and has hosted many

wonderful events.

"In the early 1900s

people would travel by

HISTORIAN: Kate Foster is passionate about the

Hororata community.

train from Christchurch

to Coalgate and then

walk the 6km to Hororata

to enjoy a day at the

horse races. Newspaper

reports describe other

jovial gatherings, with

entertaining activities,

including at one time

tossing cabers. So, you see

that what we are doing

now with the Hororata

Highland Games is just

carrying on this tradition,

one of which we are very

proud,'' she said.

"I am honoured to

be the chieftain for the

11 th Hororata Highland

Games. I think what we are

achieving as a community

is extraordinary and we are

successful because we work

together.

"Our next project is

developing the Hororata

CAN YOU

HELP?

Dementia Canterbury

Annual Appeal

Dates: Friday 18th and Saturday 19th

November 2022

Can we "Appeal" to you to help

collect?

Teams/Service Groups of 6-8 to

oversee a site for a day, individuals to

collect for 2-hour slots.

Hall and the land around

it into a community hub,

taking what our forbears

like Sir John Hall left us

and making sure it serves

our people for the next

century."

Said executive officer

of the trust Cindy

Driscoll: "The games is

all about our community,

we are making history

with this event right

now. Having Kate as the

chieftain is special, she is

a leader who gives much

of her time to a number of

community organisations.

She helps connect us to our

past while encouraging us

to look to the future.''

The 11 th Hororata

Highland Games

will be held in the

Hororata Domain

November 5.

Please phone or email 03 379 2590 extn 216 appeal@dementiacanterbury.org.nz

Legal Matters

Legal Quarrel? Don't rest

on your laurels!

If you believe that you have a

legal claim, New Zealand law

requires that you actively take

steps to pursue it within a defined

period of time. If you fail to do so,

the claim cannot proceed. This is

known as the limitation period.

In a debt recovery/money claims

context, a person usually only has

a period of six years to recover

the debt before the limitation

periods prohibits them from

doing so.

Section 11 of the Limitation Act

2010 records that it is a defence

to a claim for money if the

defendant can prove that the

date on which the claim is filed is

at least 6 years after the date of

the act or omission on which the

claim is based. The law requires

claimants to make claims for

monetary or other relief without

undue delay by providing

defendants with defences to stale

claims.

The six-year timeframe

commences on the date the

debt is owed to the creditor, or

the date the debtor last makes

part payment of the debt. If the

creditor fails to actively pursue

the debt within the limitation

period, they will be precluded

from doing so at a later date.

The limitation period may

be extended in certain

circumstances, such as by a "late

knowledge date". For monetary

claims the late knowledge

extension is 3 years, with a 15

year long-stop.

The purpose of the limitation

period is to promote the prompt

application of justice. It prevents

people from making old claims

against others and, if creditors

fail to bring their claim within

the prescribed timeframe, they

risk being unable to bring a claim

altogether.

Get in contact with us early to

discuss your claim, or the claim

that has been brought against

you. We can assess the limitation

period together with any other

causes of action, or defences,

depending on what side of

the claim are you on. We have

experts in this area of the law

ready to take away some of the

stress and to assist you.

Please contact us to make an appointment

in one of the four convenient office locations

Darfield • Ashburton • Rolleston • Christchurch

Kate Warren (Senior Associate)

Mobile: 0273843054

Email: kate.warren@tp.co.nz

Rolleston & Darfield office: 03 317 9099

Christchurch office: 03 374 9999

Ashburton office: 03 308 4188

Rural and Agricultural Law, Conveyancing, refinancing, leasing & property transactions,

Land acquisitions, boundary adjustment and subdivision, Insurance Law, Occupation Right Agreements

and Estate and Succession Planning, including Enduring Powers of Attorney, Trusts, and Wills.
---
14 Selwyn Times Wednesday October 12 2022

BAYLEYS CANTERBURY

IS PROUD TO SPONSOR

THE ELLESMERE

A&P ASSOCIATION

SELWYN

2022

SPRING

SHOW

Saturday 15 October

Ellesmere Showgrounds

1650 Leeston Road

As part of our commitment to the Show,

we are proudly presenting the Bayleys

Matson & Allan Young Achiever Award,

celebrating outstanding young achievers

in their communities.

Join us at the Bayleys tent for a sausage

sizzle and the chance to win with our

Guess the Weight of the Pig competition.

bayleysselwyn.co.nz

Bayleys Darfield

62 South Terrace

03 975 4559

Bayleys Leeston

70 High Street

03 375 4700

Bayleys Rolleston

92 Rolleston Drive

03 347 9949

WHALAN AND PARTNERS LTD, BAYLEYS, LICENSED UNDER THE REA ACT 2008

Residential / Commercial / Rural / Property Services
---
since Environment Canterbury

climate-change emergency

Reflecting on three years of achievement

by sea-level rise this century and threatened and facing increased

our productive and protected land pressures due to river system

Environment

jeopardised by the arrival and change.

spread of new, exotic weeds and Wetlands are also ecosystems

Canterbury Chair

pests from warmer climates. at-risk nationally and regionally,

Jenny Hughey

All these eventualities have degraded by draining, damming

to be planned and prepared for, and diversion affecting their

and enhance that work.

fleet hybrid or long-range electric

and Environment Canterbury ability to sequester carbon,

That work included setting by 2022. Carbon emissions from

will remain in the vanguard of cleanse freshwater and mitigate

THREE YEARS ago, I had the Throughout this upheaval,

up a climate-change integration air travel across the organisation

these climate change efforts. flooding, as well as impacting on

honour and privilege of being our council was determined to

sworn programme in as chair in the of Long-term Canterbury's Plan maintain are offset a connection via our own with biodiversity the

One example is the $40 million biodiversity and mahinga kai.

regional 2018-28, council ensuring – our climate first fully change community programmes. and bring people into

Waimakariri River flood

With biosecurity, we are

elected was actively council considered in just under across a the democratic According process.

protection project, completed putting greater emphasis on the

to a Madworld report

decade. workstreams, increasing visibility In in this, 2019, we our succeeded.

late last year. The network of risks of new pests establishing

gross emissions were

of The the electoral science and cycle what means we there know For 2253 instance, tonnes the of number carbon of

floodgates and stopbanks will in Canterbury. Warming

dioxide

is about now the a 'changing impact of climate the guard' submissions (CO2) equivalent, received for compared our

protect half a million people and temperatures, changing soils and

with

and, change as I on write Canterbury, this, the final and votes liaising most removals recent Annual of 7883 Plan tonnes was

$8 billion of community and new land uses mean new weeds

of CO2- TEAM: business Departing assets from councillors a possible Phil Clearwater, especially, will Lan be Pham, able to Jenny gain a Hughey, Megan Hands,

of on the the latest issue election with iwi are and being regional remarkable equivalent (2800), through and our it was efficiency Nicole

"super

Marshall

flood".

and Tumu Taiao Iaean

better

Cranwell

foothold

at

across

their

the

final

region.

council meeting. Tumu

tallied.

partners, other local authorities

empowering

efforts and

to

from

have

forestry

so many

planting Taiao Yvette Couch-Lewis was unable to attend in person.

The last major flood was in

and

I decided

central

not

government.

to stand for reelection

as I believe it's the right In fact, one of the most

While December there were 1957, many when parts Action curb to Impact reliance Fund on to fossil help fuels and working with communities to

voices

across

influence

2700 hectares.

our decisions.

More broadly, we have to

As an organisation, we have The changing climate will pose

time for some new energy around rewarding aspects of my time in achievements of Coutts that Island I'm in fiercely Belfast and community find environmentally groups deliver great suitable hear as many views as possible,

the

also

table.

made significant progress in

council

many

has

risks

been

to life

hearing

and livelihood

from proud Kainga of, a few were in swamped particular by stand river projects alternatives, on the ground. such as electricity making and decisions and finding a

addressing In stepping our aside, own I have greenhousegas

emissions, reflecting with on the our council's We we saw have more seen people how occasional, than ever • The metres passing per of second the Canterbury (cumecs). our staff, transport. including our chief I believe the incoming

found you

in

–

Canterbury.

the public.

In recent years out: flow peaking at 3990 cubic I'd also hydrogen, like to congratulate to power our public way forward.

myself

time Christchurch together and building all that receiving we've a attend but extreme, council meetings weather and events have Regional The protection Council (Ngāi scheme Tahu has been executive When and her my predecessor,

Steve group is set up well to take our

achieved. "market-leading" energy efficiency speak had at huge our effects citizens' on forums, residents and Representation) designed to Act defend (to be Christchurch in for their Lowndes commitment retired to as chair of work further, and I wish them

rating To those of 5.0 councillors out of 6 in who've the year sharing infrastructure ideas and around providing the a South parliament from a as flood the Bill of as passed much was

6500 implementing this council the Living late last Wage. year, he tremendous success for the term

also to February chosen not on to the return, National I sounding Island. board.

simply cumecs. magic)

We recently highlighted applied some to be of the an big ahead.

sincerely Australian thank Built you Environment for your These conversations driest parts of shaped our region, • Establishing Environment public Canterbury's facing accredited changes Living on Wage the way. employer. He was And finally, I would like to

contribution Rating System and New wish Zealand. you well our along work the and Marlborough helped us coast and committees leadership of biodiversity and If successful, optimistic we'll we be the would first be able to thank you, the community,

wherever The building's your journey features takes include you. understand across much the impacts of the Canterbury of our • The biosecurity launch of programmes It's Time, is also regional deal council with to the gain "pressing this issues" for of getting involved and being

184 It's solar fair to panels say our which term can was activities Plains, on are communities. expected to get This even Canterbury underpinned – a region-wide by climate-change recognition. climate change and sustainability. interested in your region. This is

punctuated generate more by disruption than 55,000 – from has drier. gone North-westerly a long way towards storms are campaign concerns. to raise awareness I'm passionate I share his about confidence. how wage As a how democracy should function.

flooding kilowatt events hours of to Covid-19 electricity per restoring predicted democracy to become at the more intense, of climate Canterbury's change issues distinct and braided levels can community, affect people's and as ability a council, We couldn't have done what we

lockdowns. year.

regional with torrential council. alpine rainstorms challenges rivers and unique wetlands face to access we basic are taking rights some such as bold steps did to without you.

There pandemic has been meant 26% we reduction were This turning type our of participation braided rivers is into • Making many challenges. public transport The rivers form housing ensure and actively we are participate in a better place to

unable per staff to

It's member get out and in a emissions about

year

as

since Environment Canterbury

vital roaring to a healthy rapids, democracy, fuelling landslides

cheaper a vital and ecological more accessible, link and with provide in society. cope with the changing climate

much since 30 as we June would 2010. have We liked. now have I thank and causing every one widespread of you who erosion. the scene an abundant set for next food year's supply trial and Being and a councillor the tests it is will not set about us. But

access It forced to electric us all to and look hybrid at new took Canterbury's the time to tell coastal us what you of $2 nesting flat fares grounds for 26 species of sitting there in an office will always and imposing be a need to do

ways

vehicles

of declared working.

and hope to have half our communities a climate-change will be threatened native birds – most classified emergency

think.

• Launching the Waitaha as

rules on

more.

people. It's about

JENNY HUGHEY explains what

the council has been doing.

Tripping The formal declaration the of a light fantastic

state of climate emergency across

Canterbury was one of the most

for hall's centenary Jenny event Hughey

serious, and colourful, moments

in the regional council's more than

30-year history.

and enhance that work.

fleet hybrid or long-range electric

ABOUT 70 A year Springston ago this Saturday,

That work included setting by 2022. Carbon emissions from

South Soldiers at 11.49am, Memorial Environment

up a climate-change integration air travel across the organisation

Hall supporters Canterbury danced became the New Zealand's programme in the Long-term Plan are offset via our own biodiversity

night away first at council a community to proclaim such an 2018-28, ensuring climate change programmes.

social recently. emergency, formally dedicating was actively considered across According to a Madworld report

Local itself band to Algal consideration Bloom of climate workstreams, increasing visibility in 2019, our gross emissions were

provided change the music at the at heart the of all it does.

of the science and what we know 2253 tonnes of carbon dioxide

Spring Fling The event, declaration held highlighted to

about the impact of climate (CO2) equivalent, compared with

raise funds that all for the the work hall's Environment

change on Canterbury, and liaising removals of 7883 tonnes of CO2-

centenary

Canterbury

event, to

does

be held

– from

on the issue with iwi and regional equivalent through our efficiency

freshwater management to

on Anzac Weekend next "A mixed partners, crowd of other local authorities a few more modern efforts pop and from forestry planting

biodiversity and biosecurity,

year.

oldies through and to central government. tunes. Raffles and across spot 2700 hectares.

transport and urban development

Spokesperson to air quality, Mike and also regional

teenagers had As fun an organisation, prizes we have kept things The fun changing and climate will pose

Glover leadership said about – $700 has a was climate dancing change to a also mix made of significant an progress excellent in shared many supper risks to life and livelihood

raised. focus.

classic pop and addressing soul to our own greenhousegas

emissions, with our

we have seen how occasional,

was enjoyed by all." in Canterbury. In recent years

Currently, under the Resource

Management Act, regional Christchurch building receiving a but extreme, weather SELWYN events have

councils are required only to adapt "market-leading" energy efficiency had huge effects on residents and

to climate change, not mitigate rating of 5.0 out of 6 in the year infrastructure around the South

it – that responsibility is the to February on the National Island.

Government's, but could change. Australian Built Environment The driest parts of our region,

Even in 'adapt mode' many Rating System New Zealand. along the Marlborough coast and

of Environment Canterbury's The building's features include across much of the Canterbury

existing policies and plans already 184 solar panels which can Plains, are expected Tuesdays

to get even

contribute to reduced emissions. generate more than 55,000 drier. North-westerly storms are

In declaring the climate

kilowatt hours of electricity per predicted to become more intense,

emergency, the Council noted it year.

with torrential alpine rainstorms

would continue to show leadership There has been a 26% reduction turning our braided rivers into

on climate-change and do so per staff member in emissions roaring rapids, fuelling landslides

without adding new programmes since 30 June 2010. We now have and causing widespread erosion.

at ratepayers' Division of expense. Tuffnell Drainage It also gave Ltd access to electric and hybrid

Canterbury's coastal

staff a clear mandate to continue

communities will be threatened

We

unblock

drains

vehicles and hope to have half our

Call us now 03 974 3561

Now servicing the Selwyn District

based out of Rolleston and Leeston

Environment

Canterbury Chair

High pressure waterblasting • CCTV • 7 days a week service

SPORTS CENTRE

ENQUIRE AT

SELWYNSPORTSCENTRE.CO.NZ

SELWYNSPORTSCENTRE

by sea-level rise this century and

our productive and protected land

jeopardised by the arrival and

spread of new, exotic weeds and

pests from warmer climates.

All these eventualities have

to be planned and prepared for,

and Environment Canterbury

will remain in the vanguard of

these climate change efforts.

One example is the $40 million

Waimakariri River flood

protection project, completed

late last year. The network of

floodgates and stopbanks will

protect half a million people and

$8 billion of community and

business assets from a possible

"super flood".

The last major flood was in

December 1957, when parts

of Coutts Island in Belfast and

Kainga were swamped by river

flow peaking at 3990 cubic

metres per second (cumecs).

The protection scheme has been

designed to defend Christchurch

from a flood of as much as 6500

cumecs.

Environment Canterbury's

leadership of biodiversity and

biosecurity programmes is also

underpinned by climate-change

concerns.

Canterbury's distinct braided

rivers and unique wetlands face

many challenges. The rivers form

a vital ecological link and provide

an abundant food supply and

nesting grounds for 26 species of

native birds – most classified as

Wednesday October 12 2022 Selwyn Times 15

CORPORATE FLOORBALL

Skills Session 25 October, 6.30–7.30pm

Games 1–29 November, 6.30–9.30pm

threatened and facing increased

pressures due to river system

change.

Wetlands are also ecosystems

at-risk nationally and regionally,

degraded by draining, damming

and diversion affecting their

ability to sequester carbon,

cleanse freshwater and mitigate

flooding, as well as impacting on

biodiversity and mahinga kai.

With biosecurity, we are

putting greater emphasis on the

risks of new pests establishing

in Canterbury. Warming

temperatures, changing soils and

new land uses mean new weeds

especially, will be able to gain a

better foothold across the region.

More broadly, we have to

curb reliance on fossil fuels and

find environmentally suitable

alternatives, such as electricity and

hydrogen, to power our public

transport.

When my predecessor Steve

Lowndes retired as chair of

this council late last year, he

highlighted some of the big

changes on the way. He was

optimistic we would be able to

deal with the "pressing issues" of

climate change and sustainability.

I share his confidence. As a

community, and as a council,

we are taking some bold steps to

ensure we are in a better place to

cope with the changing climate

and the tests it will set us. But

there will always be a need to do

Begin the floorball league with a skills session to hone your floorball skills,

fitness and agility, run by National Floorball players.

more.

Games commence 1 November and run for 25 minutes with an additional

15 minutes warm up.
---
16 Selwyn Times Wednesday October 12 2022
---
Held annually in October, SWELL –

Ageing Well in Selwyn aims to bring older

residents together through organisations

and activities which support wellbeing

and inclusion within the community.

The hero event of the two-week series is

the SWELL Expo on Monday 17 October,

9am to 2.30pm at the Lincoln Event

Centre.

Free to attend, it's an opportunity

to connect with over 70 exhibitors;

gain valuable knowledge and get your

Christmas shopping done early at a

variety of market stalls.

Learn which social activities and

community groups in Selwyn to join

and find out everything you need to

know about healthcare, life planning,

volunteering and travel.

Presentation topics include:

• Retirement villages – all you need to

know

• Ageing and disability

• Living stronger for longer

• Starting your own business

• Powers of attorney, wills, and

occupational rights agreements

• Advance care planning

• Succession law

• Hāpai access card

• Online safety and scams

• Brain health – minimising the risk of

dementia

• Accessing Ministry of Social

Development support

There will be plenty of spaces to rest

up and take a break. Complimentary tea

and coffee is provided, with barista coffee

also available for purchase. Listen to live

entertainment while enjoying gourmet

sandwiches and homestyle baking from

our on-site food stall.

There are some great prizes up for

grabs at the event too, so get your friends

together and come along to this fun and

informative day out!

From 10 – 23 October there are a

number of SWELL community events to

take part in. Give something different a

go or try a new skill. The SWELL activity

series has something for everyone.

Take a stroll through some of Selwyn's

most beautiful gardens or take a guided

walk at Harts Creek in Leeston, or the

Liffey trail in Lincoln – both rich with

fascinating flora, fauna and native birdlife.

Tie up your laces and go for walk around

Selwyn Sport Centre's 240m indoor

walking track. While you're there, try your

hand at table tennis, pickleball and indoor

bowls.

Get creative with embroidery and cross

stitch, create a scrapbook to keep all your

memories or paint your own watercolour

greeting card.

To find out more and book yourself

in, pick up a copy of the What's on in

Selwyn brochure from your local library

or Council Community Centre or go to:

selwyn.govt.nz/swell

Monday 17 October

9am–2.30pm

Lincoln Event Centre

Celebrating the wellbeing and

Wednesday October 12 2022 Selwyn Times 17

inclusion of Selwyn's older residents

Try something new with SWELL activity series

Creating with you your stress free transition from:

• Work to retirement

• Family home to a living place that better

meets your changing needs

027 2828 449 / 0800 487 267 | robyn.j@transitionnavigators.co.nz

www.transitionnavigators.co.nz
---
18 Selwyn Times Wednesday October 12 2022

Admin

office

er

Habgood

Lounge

Kitchen

2

Kitchen 3

9am–2.30pm

Bar

Tod Lounge

Monday 17 October

Kitchen 4

Lincoln Event Centre

North Entry Foyer

e

Kitchen 1

Spin

Suite

Store Room

Change

Room 1

Staff Room

Site Plan

Change

Room 2

First

Aid

Services

Store

1

EXIT

36

ENTRY

1 2 3 4 5 6 7 8 9 10 11 12

Nicholas Hall

35

55

37 38 39 40 56 57 58 59

41

60 13

34

54

42

73

61

14

33

32

31

53

52

51

43

44

45

72

71

70

62

63

64

15

FIRE

EXIT

30

50

49

48

47

46

69

68

67

66

65

16

Stage

29

28 27 26 25 24 23 22 21 20 19 18 17

AGENCY/ORGANISATION

SITE

Info Desk 1

Selwyn District Council Active 2

Te Whatu Ora - Older Persons' Health 3

Volunteering Canterbury 4

Richard Marchant Funeral Celebrant 5

Death Cafe 6

Lincoln and Districts Community Care

Association Inc

Transition Navigators 8

Lincoln & Districts Historical Society 9

Community Energy Action 10

Advance Care Planning 11

Eldernet Limited 12

Parry Field Lawyers 13

Selwyn Libraries 14

Ryman Healthcare 15

Aspire Canterbury 16

Citizens Advice Bureau 17

Senior Move Managers 18

The Boulevard Village 19

Neat Spaces 20

Silver Start Ups 21

Blind Low Vision 22

Glaucoma NZ Support Group 23

NZ Disability Trust 24

7

AGENCY/ORGANISATION

SITE

Zumba Gold 25

Arvida 26

Age Concern Canterbury 27

Brenna Sincock Hearing 28

BUPA 29

Sustainability Expo 30

The Nationwide Health and Disability

Advocacy Service

Probus Club 32

Screen South 33

Selwyn District Council Driver Safety 34

Fire and Emergency NZ 35

St John's Ambulance Services 36

Selwyn Central Community Care 37

Epilepsy NZ Canterbury/West Coast 38

Healthcare New Zealand 39

Freedom Alarms 40

Belly Full 41

Book Discussion Scheme 42

The Fifth Season 43

Multiple Sclerosis and Parkinsons Canterbury 44

Dementia Canterbury 45

Wander Search 46

Diabetes Christchurch Inc 47

Heart Foundation 48

31

AGENCY/ORGANISATION

SITE

ACCESS 49

The Aged Advisor 50

CanBreathe 51

Tavendale & Partners Law 52

Rejuvenate You 53

Summerset Retirement Villages 54

Hep C Mobile Service - Te Whatu Ora 56

Cancer Society 57

Rural Reflexology 58

Oasis Salvation Army 59

65 Alive 60

Life Unlimited Hearing 61

Nurse Maude Association 62

Sport Canterbury 63

Te Whatu Ora - Falls & Fractures

Liaison Service

Canterbury Women's Institute 65

Lincoln Bowling 66

Glenlothian Farm 67

Lion's Club of Rolleston & Selwyn 68

Selwyn Prostate Cancer Foundation

Support Group

MSD Senior Support 70

Presbyterian Support USI 71

Elder Care Canterbury 72

64

69
---
Wednesday October 12 2022 Selwyn Times 19

Monday 17 October

9am–2.30pm

Lincoln Event Centre

What's on?

Time Habgood Lounge Tod Lounge

9.30am

Ageing and Disability

Prudence Walker, Disabled Persons Assembly

Gain insight about adapting and accommodating acquired

impairments whilst maintaining independence.

Polio – Then and now

Jessie Snowdon, On the Go Physio

Find out the effect that polio is having on people in 2022 and what

help is available with the new Christchurch Polio Hub.

10.00am

The Hāpai Access Card – Making access easy

Susan Jackman, Hāpai Access Card

Designed to assist disabled persons; this presentation will explain

how the Hāpai Access Card works, where it can be used and how

to apply.

Services provided by the Ministry of Social Development (MSD)

Graeme Anderson, MSD

How to access MSD services, everything you need to know

about superannuation, obtaining help with medical expenses and

accommodation costs, plus one-off emergency assistance with

glasses and dental.

10.30am

Brain Health – Minimising the risk of

getting dementia

Lee Andrews, Dementia Canterbury

Explore some of the lifestyle factors that you can take advantage

of to help reduce your personal risk of getting dementia.

Retirement Village Resident's Rights

Nigel Matthews, Retirement Village Residents Association

This presentation will give some practical advice to village living and

look at some of the questions to ask before signing on the dotted line.

11.00am

Advance Care Planning

Jenna Cook, CDHB

Starting an Advance Care Plan is a great step towards living well

with serious illness, empowering you with a voice when you can

no longer speak for yourself and reducing stress and anxiety in

loved ones.

Succession Law and Occupation Right Agreements

Kate Warren, Lawyer

Find out about lifetime rights to occupying a dwelling within a

retirement village (Occupation Right Agreements) and discuss the

likelihood of changes around succession laws.

11.30am

Start Your Own Business Later in Life

Dr Chris Kirk, Univentures

Research shows that those over 50 who are setting up a new

venture have their own set of unique advantages and challenges.

Come and find out what it's all about!

Online Safety and Scams

Aram Raof-Karim, University of Canterbury

Cyber criminals, scams and computer viruses are real threats we need

to watch out for. Join me as we talk about how to spot when things

aren't quite right and what to do to keep you and your family safe.

12.00pm

Live Stronger for Longer

Lily Purdon, Sport Canterbury

A talk about ageing and the importance of strength and balance

activities and how to access these within your local community

12.30pm

1.00pm

What Age Concern offers and Elder Abuse

Age Concern

Find out what Age Concern is all about from information to

advocacy, education and social interaction. We will also touch on

Elder Abuse and how victims can

be protected.

Wills and Enduring Powers of Attorney

Cora Granger, Parry Field Lawyers

Learn what Wills and Powers of Attorney are, how to get them in

place, things to consider when preparing them and what can go

wrong when you don't have them.

1.30pm

Health and Disability Advocacy

Rachael Beever, Health and Disability

Advocacy Service

This presentation will focus on how this advocacy service

supports people to resolve their concerns about the health or

disability service they are receiving.

Lincoln Bridge Club

Come along and have a go!
---
20 Selwyn Times Wednesday October 12 2022

Del & Cindy

Endurance cyclists and Ryman residents

ACTIVE AGEING AT RYMAN

Ryman's village communities make it

easy to stay active and connected with

like-minded people. Our wide variety of

optional activities and events means there

is always something you can get involved

in like our ACC approved and accredited

Triple A exercise programme. Designed to

enhance our residents quality of life and

overall wellbeing.

WE CAN'T WAIT TO SEE YOU AT

THE SWELL EXPO

Proudly founded in Canterbury, we

love to support our local community

and can't wait to see you at the expo!

Chat to Wendy our Sales Advisor from

Kevin Hickman village in Riccarton

Park, and Blanche from our community

engagement team to learn about our

Ryman villages in the Canterbury region

and our proposed Rolleston village.

Proposed Rolleston village site - which will offer

independent living in our modern townhouses,

as well as assisted living in a serviced apartment,

resthome, hospital and specialist dementia care.

Visit stand 15 at the Swell Expo

for more information.

rymanhealthcare.co.nz
---
Wednesday October 12 2022 Selwyn Times

Latest Canterbury news at starnews.co.nz

SPORT 21

Tough start for newcomers Peninsula

COUNTRY cricket's premier

newcomers Peninsula-Harbour

received a baptism of fire

on Saturday, suffering a sixwicket

loss to Weedons on the

opening day of the new season.

Just days after a polar blast

brought snow to the region's

alpine and low-lying areas,

sunshine welcomed the start of

the 2022/23 Canterbury Country

Premier One Day competition.

Weedons, Darfield, Leeston-

Southbridge and Sefton had winning

starts at the weekend in the

race for the Fulton/Wright Cup.

At a picturesque Rhodes Park

on the fringe of the Port Hills,

home XI Peninsula-Harbour, who

won promotion to the top flight

last year, was upset by one of the

competition favourites, Weedons.

Opener Ben Cairns (34 runs off

55 balls) looked solid at the top of

the order on a greenish but pacy

wicket, but didn't have anyone

stick around with him.

And when Jack Parker removed

him caught-and-bowled, as one

of his four wickets, the home side

were struggling, especially against

the quality spin twins of the bigturning

Blake Coburn (2/22) and

left-arm orthodox Jeremy Benton

(1/12), and were all out in the

37th over for a sub-par score of

128.

Defending the small total,

the combined side got the start

they would've talked about at

the change of innings and had

Weedons reeling early at 8/2.

But James Richards showed

his class with a fine half-century,

with Todd Inness (25 off 33) and

Benton finishing the job with an

unbeaten 25 runs off 51 balls.

Reigning champions Darfield

thumped a disappointing

Ohoka by nine wickets, after rolling

the visitors for just 125.

Jesse Frew and Liam Foulkes

both snared three wickets in

restricting a powerful batting unit

to a meagre score that was never

enough.

Henry Shipley, who had a

breakout season for Canterbury

last year and was named player of

the year along with best bowler,

made an unbeaten 49, and was

there with Nick Jenkins (47 not

out) when they knocked off the

win inside 17 overs.

Leeston Park witnessed some

POWER:

Henry

Shipley,

seen here

in action for

Canterbury,

made an

unbeaten 49

contributing

to a win

for Darfield

against

Ohoka on

Saturday.

PHOTO:

GETTY

major milestones on Saturday,

with the home team Leeston-

Southbridge securing a hardfought

win over Cheviot behind a

match-winning unbeaten century

from Harry Chamberlain and five

wickets, including a hat-trick by

ex-Dutch international and Canterbury

Country cricket manager

Tim Gruijters.

The visiting Magpies made

181/9 in their allotted 45 overs

behind a well-made 46 from rising

star Archie Redfern.

Leeston-Southbridge timed

their chase well, largely thanks to

a superb knock from Chamberlian

whose 101 not out guided his

side to a five-wicket win with four

overs to spare.

Sefton crushed Oxford-Rangiora

by 145 runs after an impressive

all-round display.

Batting first at Sefton Domain,

the Seals made 217/5 in their 45

overs, with contributions through

the order, before rolling Oxford-

Rangiora, which has picked up

some Southbrook players after

the 'Brook's struggles last season,

for just 72.

Short scorecard:

Peninsula-Harbour 128 (B Cairns

34, H Matheson 24; J Parker 4/23;

C Robson 2/20, B Coburn 2/22);

lost to Weedons 132/4 (J Richards

50, T Inness 25, J Benton 25no).

Ohoka 125 (G Mauger 21, R

Mariu 20; J Frew 3/12; L Foulkes

3/14); lost to Darfield 126/1 (H

Shipley 49no, N Jenkins 47no, Z

Foulkes 21).

Cheviot 181/9 (A Redfern 46; T

Gruijters 5/14); lost to Leeston-

Southbridge (H Chamberlain

101no).

Sefton 217/5 (T Harrison 48,

L Taylor 46, C Warner 33no;

G Singh 3/43); beat Oxford-

Rangiora 72 (C Scott 23; C

Warner 4/17, M Smith 2/6,H

Howell 2/19).

Let's connect

at the Selwyn Spring Show

Orion's friendly team will be at the Selwyn Spring

Show, in Leeston. We'll be keeping the people of

Canterbury up-to-date on everything from how to

work safely around power lines to tree trimming

and which trees are safe to plant near lines.

Win a

chainsaw!

Enter at the show

15 October 2022

We're here to keep you and the community safe,

so if you have any questions — let's connect!

To find out more visit:

oriongroup.co.nz

03 363 9898 | 0800 363 9898
---
22 Selwyn Times Wednesday October 12 2022

Selwyn district 2022 election

preliminary results

MAYORALTY

VOTES RECEIVED

BROUGHTON, Sam 15,011

PAYNE, Calvin 3,148

WOODS, Bill 1,876

Kakaha Park weaves new

opportunities for recreation

A new Springs Ward park will weave together the history of the Canterbury

plains with opportunities to make new stories in sports and recreation.

The first stage of Kakaha Park on Birchs and Leadleys Road south of

Prebbleton is set to open in late November, with sports fields, a dog exercise

area and off-road cycling and walking trails among the first areas to open.

The name Kakaha Park has been gifted to the Selwyn District by Te Taumutu

Rūnanga and Te Ngāi Tūāhuriri Rūnanga for the 22 hectare park.

Kakaha is the Māori word for the plant species Astelia fragrans or bush lily –

a native flax-like plant often used for weaving by Māori, in conjunction with

harakeke, kiekie, pīngao, to provide different colours and texture.

The name Kakaha Park recognises the location of this park in the network of

mahika kai (food gathering) sites on Kā Pākihi Whakatekateka o Waitaha, the

Canterbury Plains. There is evidence of kakaha on the Canterbury Plains prior

to European settlement.

"We're really grateful to both rūnanga for gifting us a beautiful name that ties

in with the history of the area and the unique nature of this park, which will be

something different for Selwyn. All plants in Kakaha Park will be New Zealand

natives, so the name fits nicely with that. The connection to the trails and

sites of mahika kai is special as well, as this park links in with the existing rail

trail cycle network and our modern trails across the Plains, connecting from

Lincoln through to Prebbleton and on," says Council Acting Major Projects

Manager Phil Millar.

The $17.2 million park is a three-stage project, providing additional recreation

space for the rapidly growing area.

The first stage will include three full-size and one half-size lit playing fields,

wide walking and cycling paths, and a number of cycle features such as

jumps, boardwalks and a snake run, as well as a mini playground, car parking

and toilets.

The further stages will see a changing room and car parking opening next

year, followed by more off-road bike trails, a water way and large areas of

native planting over the next five years.

Community in Action Series

Are you looking for support to set up or manage a successful trust or

community organisation?

Selwyn District Council, in partnership with Ask Right, PPA, CCA and

Volunteering Canterbury, is offering five, free, 90-minute workshops for Selwyn

residents and community groups on important topics relating to governance

and management.

Grant Writing and Applications; Governance 101; Understanding Financial

Reports; Fundraising, and Putting Purpose into Action are among the subjects

that will be covered at the events being held every Wednesday from 19 October

until 16 November at the West Melton Community Recreation Centre 6-7.30pm.

Bookings are essential and can be made at events.humanitix.com/communityin-action

MALVERN WARD (2 VACANCIES)

GLIDDON, Lydia (Independent) 2,541

MUGFORD, Bob (Independent) 1,755

GALLAGHER, Jenny 1,572

WILSHIRE, Samuel 1,483

SAMUEL, Samantha 1,456

CLEMENS, Andrea (Independent) 639

ROLLESTON WARD (3 VACANCIES)

DEAN, Phil 3,366

REID, Nicole 3,070

MCINNES, Sophie 2,416

PRATAP, Moneel (Independent) 2,212

PAYNE, Calvin 1,612

STENHOUSE, Mel (Independent) 1,515

ELLESMERE WARD (2 VACANCIES)

EPIHA, Shane Ngapou O Te Hahi (Independent) 2,025

MUNDT, Elizabeth (Independent) 1,578

ARCHER, Elle (Independent) 1,375

SPRINGS WARD (3 VACANCIES)

LYALL, Malcolm 4,304

MILLER, Grant 4,254

HASSON, Debra (Independent) 3,297

COLLOTY, Dave (Independent) 2,279

Malvern Community Board

TAWERA COMMUNITY SUBDIVISION

(1 VACANCY)

ELLIS, Sean 490

WOODS, Bill 268

FROST, Vicky 153

HAWKINS SUBDIVISION

NO ELECTION WAS REQUIRED. THE FOLLOWING ARE ELECTED:

VOTES RECEIVED

VOTES RECEIVED

VOTES RECEIVED

VOTES RECEIVED

VOTES RECEIVED

Ken May

Sharn Nu'u

WEST MELTON SUBDIVISION

NO ELECTION WAS REQUIRED. THE FOLLOWING ARE ELECTED:

Calvin Payne

10 – 23 October 2022

selwyn.govt.nz/swell

Bruce Russell

Preliminary results include all ordinary votes received and counted, but not all

special votes. Official results, with all ordinary votes and all special votes counted,

will be released by Thursday 13 October at selwyn.govt/elections.

Council Call

SELWYN DISTRICT COUNCIL

Norman Kirk Drive, Rolleston

Ph 0800 SELWYN (735 996)

TE ARA ĀTEA

56 Tennyson Street, Rolleston

Ph 347 2880

DARFIELD LIBRARY & SERVICE CENTRE

1 South Terrace, Darfield

Ph 318 8338 or 347 2780

CC121022
---
Wednesday October 12 2022 Selwyn Times 23

Apply now for 2023 Selwyn Youth Council

Young people who want to make a difference in their community and provide a voice for youth are

being encouraged to put their name forward for the Selwyn Youth Council.

Applications for next year's Youth Council are now open to those aged 12-24 years, who live in the

Selwyn district. Applications are welcome until 31 October 2022.

"Being on the Council is a really good way to advocate for things that are important to young people

in the Selwyn District," Chair Rue Jeche says. "If you want something to change, it's one of the best

ways to go about it."

Among the issues the Youth Council has worked on in the last year were collecting young people's

views on vaping and smoking, and how youth are celebrated in the district. It was instrumental in

helping to decide what would go in the Rolleston town centre youth space, and made decisions on

funding for the Selwyn Youth Project Fund. The Youth Council has also attended civil and Council

events, including CultureFest.

Prospective youth councillors need to be available to attend meetings and events across Selwyn,

and be able to work with other people as part of a team.

Overall, the Council needs to broadly represent Selwyn district's young people in relation to gender,

geography, age, ethnicity and skills.

The full Youth Council meets several times throughout the year, but Rue says most members are

part of sub-committees that meet every few weeks to deal with specific issues in more depth.

To see the selection process or apply to be on next year's Youth Council, visit selwyn.govt.nz/

community/youth-council. Application forms must be completed by Monday 31 October.

Notices

Alcohol notices

Tap and Go Limited has applied for a new on

licence. Objections to the application are open

until 24 October.

Ratana Limited has applied for a new on

licence. Objections to the application are open

until 26 October.

The Canterbury Hospitality Group Limited

(The Pedal Pusher, Rolleston) has applied for

the renewal of its on licence. Objections to this

application are open until 28 October.

For more information visit selwyn.govt.nz/

alcoholnotices

Dog microchipping

This free monthly service is available on Friday

14 October at:

• Darfield Library, 9-9.30am

Meetings

Public Forums: Council, Community Board and local committee meetings are open to the public. Time

is available at the start of meetings for people to speak on matters of concern. Please notify Therese

Davel or Bernadette Ryan if you wish to speak at the Council meeting at least five days before

the meeting.

Township, Hall and Reserve Committees: To list or make changes to meeting details, email

meeting.changes@selwyn.govt.nz or phone 0800 SELWYN (735996) by 9am Wednesday the week

before publication.

COUNCIL & COMMUNITY BOARD MEETINGS

Council Meeting*

Wednesday 16 November

1pm Rolleston Council Offices

* Livestreamed on the Council website and YouTube channel

ON THE

ROADS

On the Roads

• Lincoln Library, 9-9.30am

• Rolleston Council Offices, 11-11.30am

• Leeston Library & Service Centre – no clinic

this time

If your dog was first registered after 30 June

2006 and is not a working dog, the law requires

him or her to be microchipped.

• Clinics last for 30 minutes

• Rolleston venue is Norman Kirk Drive (off

Rolleston Drive).

• Microchipping will not take place if wet.

• Clinics in Darfield and Leeston will be

alternated each month

Any questions regarding microchipping, please

contact Animal Control on 0800 SELWYN

(735996).

DISTRICT COMMITTEE MEETINGS

Rolleston Residents' Association Inc

Monday 31 October 7.30pm

Rolleston Community Centre

Springfield Township Committee

Tuesday 1 November 7.30pm

Tawera Memorial Hall

Springston Community Committee

Wednesday 19 October 7.30pm

Errol Tweedy Pavilion, Springston Reserve

East Maddisons Road is closed between Lemonwood Drive and 570 East Maddisons

Road until 4 November, while the subdivision owners carry out works to install a

sewer main. A detour is in place.

Stop/go controls are in place from 10-190 Whitecliffs Road for the construction of

the next stage of the Whitecliffs to Glentunnel Walkway.

Haldon Road is closed for 300 metres from Bealey Road for a seal extension.

Repairs are taking place on Telegraph Road between Essendon Road and Charing

Cross, and on Selwyn Lake Road.

All dates are weather dependent. Please take care around work sites and follow

site signage. Follow the QR code with this story for a map of these works, or view

our road closures map at selwyn.govt.nz/roadclosures.

Event Guide

Thursday 13 October

Kids' Market and Clothes Swap

West Melton Community and Recreation

Centre, 1 - 3pm

Buy or sell some pre-loved treasures! Grab

unwanted toys, sports gear and books, and set

up a stall to make some pocket money over the

school holidays. $5 per stall, caregiver required.

Bookings essential at selwyn.govt.nz/events.

Drop-in. Free.

Thursday 13 October

Grandparents' Bingo

Lincoln Event Centre, 10.30am - 12 noon

Bring along the grandkids and try your luck

at winning some great prizes. $3 per person,

bookings required at selwyn.govt.nz/events

Friday 14 October

Device Drop-in Fridays

Lincoln (10am-12pm), Darfield (1.30-3.30pm)

and Leeston Libraries (2pm-4pm)

Our weekly device drop-in sessions at Darfield,

Leeston and Lincoln are informal support

groups to help familiarise yourself with your

digital device. Whether it's a tablet or mobile

phone, someone will be able to help you with

the basics.

Saturday 15 October

Repair Café with Envirotown

Te Ara Ātea, 10am – 1pm

Join Lincoln Envirotown for their popular

Repair Café. The team will endeavour to repair

clothes, electrical appliances, household goods,

bicycles, and anything you bring in free-ofcharge.

Under 10 years must be accompanied

by an adult. Free. Bookings not required.

Sunday 16 October

Board Games Club

Te Ara Ātea, 1.30 - 3pm

Love board games? Play a variety of exciting

games with like minded players. Suitable for all

experience levels. Free. Bookings not required.

Monday 17 October

Teen Space

Darfield Library, 3.30 - 4.30pm

Develop your passion for arts, technology and

practical skills at Darfield Library. Collaborate

and create wild artistic creations, VR, PS5s, and

much more. Suitable for 13 years and above.

Free. Bookings not required.

FOR MORE COUNCIL EVENTS VISIT

SELWYN.GOVT.NZ/EVENTS

LEESTON LIBRARY & SERVICE CENTRE

19 Messines Street, Leeston

Ph 347 2871

LINCOLN LIBRARY & SERVICE CENTRE

Gerald Street, Lincoln

Ph 347 2876

0800 SELWYN

SELWYN.GOVT.NZ

SELWYNDISTRICTCOUNCIL
---
Selwyn Times Wednesday October 12 2022

rolleston

business hub

Jones Road and Industrial Zone

Spring electrical

maintenance

The team at Laser Electrical believe it is

essential that your home and workplace

are well maintained and serviced to a high

standard to reduce risk and to help keep

you and those around you safe.

The company's qualified team are

experienced across a range of electrical

systems and can provide maintenance and

servicing for lighting, home automation

and control, power, heating and ventilation,

energy efficiency and solar power, and data

communications and more

Does your switchboard need attention

or have your lights blown? If you need an

electrical repair or you are worried about

the safety, Laser Electrical can help. One

of their team can visit your

home and get the job done

safely and efficiently all

while keeping you informed

throughout the process.

Laser Electrical is a highly

professional company

with the credentials

and experience to work

alongside you to create a

home perfectly tailored to

your needs, committed to

providing you with transparent, concise

and regularly updated communication.

Situated together, Laser Electrical and

Laser Plumbing are conveniently located in

their landmark building across the railway

lines in Rolleston.

Locally owned and operated, Laser

Electrical is linked to the nationwide Laser

operations, giving their customers access to

a wide range of quality electrical products.

Laser Electrical is located at 831 Jones

Road, phone 0800 527 3748. Opening

hours are Monday to Friday from 8am

until 5pm with the team on call 24/7.

Email Rolleston@laserelectrical.co.nz or

visit: www.laserelectrical.co.nz.

Cars | Trucks | Boats

• Lubes

• Engine Tuning

• Servicing • Brakes

• Fleet Work • Maxxis Tyres

• Diesel Injector • Batteries

& Pump Servicing • WOFs

• Wheel Alignments • Cambelts

And much more!

839 Jones Road, P.O. Box 16, Rolleston

Ph Simon on 347 7110 or Mob 027 272 9213

Monday-Friday 7am-5pm

Is your vehicle not running to it's

full potential? Is it lacking power

or blowing black smoke?

Diesel Fix can give you a no Fuss assessment

• Large selection of service exchange pumps and injectors available

• Specialist in fuel injection and efi injector repairs

• Diesel and Petrol Injectors repairs • Compression testing

• Diesel injection pump repairs

• Vehicle scanning and diagnostic

DIESEL FIX

Open Hours:

Mon to Fri 8am - 5pm

DIESEL SPECIALISTS Sat 9am -1pm

821 Jones Road, Rolleston | Phone 027 4368 154 or 03 347 7108

24

NEWS

BACKYARD CRITTERS

Mike Bowie is an ecologist who specialises in

entomology (insects and other invertebrates). Each

week he introduces a new species found in his

backyard at Lincoln. His column aims to raise public

awareness of biodiversity, the variety of living things

around us. Check out the full list of invertebrates found

at www.inaturalist.org/projects/backyard-biodiversitybugs-in-my-lincoln-section

Colours characterise

orb-weaver spiders

I LOVE orb-weaver

spiders, not just because of

their spiral wheel-shaped

webs, but also for their

diversity of colours and

shapes.

A reddish coloured one

I found last week in the

garden was identified as

the sooty orb-weaver (Salsa

fuliginata).

It appears to have been

originally placed in the

genus Cyclosa containing

180 other species but has

recently been reviewed by

arachnologists and placed

in a new genus called Salsa

containing only seven

species from Australia,

Papua New Guinea, New

Caledonia and Lord Howe

Island.

Salsa fuliginata was

first recorded in New

Zealand in the 1800s

but appeared to have

died out as they were not

recorded again until 2008

when photographed in

Hamilton.

The sooty orb-weaver

has a large variety of colour

patterns, making them

hard to describe. Body

length also varies, with

females at 11mm and

males only 7mm long.

Orb-weaver spiders such

as these are known to

disperse by ballooning

on silk threads in wind

currents across the Tasman

Sea from Australia to New

Zealand.

It is quite likely this

The orb-weaver spider has a variation of colour

patterns.

introduced species has

arrived here in the same

way. Taxonomists often

name their new species or

genera after an anatomical

part of an organism, or the

location it was found, or

someone famous, but in

this case the authors who

named this genus Salsa

did so because it was their

favourite dance.
---
Wednesday October 12 2022 Selwyn Times 25

X-TRAIL

RUNOUT

Nissan X-Trail ST 2WD 7 Seater

+CCF

$39,990+ORC

3 YEARS

CHRISTCHURCH NISSAN, 380 Moorhouse Avenue, Christchurch

Ph: 03 595 6820

www.christchurchnissan.co.nz

FREE SERVICE

Complimentary 3 years/45,000km (whichever occurs first) no cost service applies to X-TRAIL T32 models first registered from September 1st 2022. The complimentary service offer to be carried

out by Christchurch Nissan includes all items listed in the service schedule including parts, lubricants and labour. Excludes all lease and some fleet purchasers. Offer available while stocks last.

christchurchnissan.co.nz

GTR 230

This watercraft is one of the

easiest ways to get into the

musclecraft scene. It comes

with a powerful supercharged

230-hp Rotax engine and

it is now equipped with the

exclusive LinQ Quick-Attach

System for cargo and the 100W

Bluetooth Audio System.

FEATURE HIGHLIGHTS

BRP Audio - Premium System

(Optional)

The industry's first

manufacturer-installed

truly waterproof

Bluetooth‡ audio system.

VTS (Variable Trim System)

Provides handlebaractivated

settings so

riders can easily find the

ideal trim for

varying conditions.

Swim Platform with Integrated

LinQ® System

Exclusive quick-attach

system on a large swim

platform that allows for

easy installation of

storage accessories.

ROTAX® 1630 ACE

230-hp Engine

This powerful engine

comes standard with

a supercharger and

external intercooler.

It is optimized to run

on regular fuel, which

lowers fuel costs.

GTI Hull

This moderate V-shaped

hull guarantees a stable,

enjoyable ride in variable

water conditions.

Confident, predictable

handling but incredibly

playful when you want it

to be.

Large Front Storage

An impressive 40 gallons

of sealed storage space

allows riders to safely

stow belongings while

riding.
---
26 Selwyn Times Wednesday October 12 2022

STYLE & QUALITY

FOR LESS

WWW.AFFORDABLEFURNITURE.NZ

Keara Corner

Suite

Linea Sideboard

WAS $3199

$

2899

WAS $1950

$

1750

Cove Barstool

WAS $189

$

169

Fuji Barstool Deep Oak

WAS $219

$

199

QUALITY

FURNITURE

Furniture

Affordable

PRICE TAG

NOW IN STOCK

—LAST WEEK—

WAS $259

$

239

Wishbone

Dinning Chair

Flynn

Dining Chair

WAS $189

$

179

LiLuva Dining Chair

Forged

Collection

Astra

Collection

STOCK ETA TWO WEEKS

Extension table $1239 $1139

Bench $319 $289

Buffet $1539 $1419

Chair $239 $219

Bedside From $209 $189

4 Drawer Tallboy $529 $489

4 Drawer Lowboy $419 $479

Mirror $129 $139

Available in White, Black & Beech

Palm Beach Lounge Setting

Outdoor

Raglan Egg Chair

Furniture

WAS $3149

$

2899

3 Seater + Coffee Table + 2 Arm Chairs

NOW IN STOCK

WAS $1049

$

899

FREE

CARPARKING

SOUTH CITY

BATH ST

WE ARE

HERE

255 MOORHOUSE AVE

REBEL SPORT

COLOMBO ST

WWW.AFFORDABLEFURNITURE.NZ

MON-FRI 9:30AM – 5:00PM

SAT-SUN 10AM – 5:00PM

0800 268 264
---
Wednesday October 12 2022 Selwyn Times

Latest Canterbury news at starnews.co.nz

RACING 27

Murray Edmonds – one of the

genuine 'nice guys' of the game

• By Frank Marrion

THERE WERE no surprises

when the support for Murray

Edmonds' recent fundraising

night at Addington proved quite

overwhelming.

Edmonds was one of the genuine

'nice guys' of the game who

would pretty much do anything

for anybody and one never heard

a bad word about him.

The overall support extended

to Edmonds and wife Kelly was

also overwhelming during his

brief illness with a brain tumour.

Edmonds died last week at the

age of 62 – it was only about 10

weeks ago that out of the blue he

collapsed while feeding out and

was rushed to hospital.

The initial diagnosis was

encouraging but the tumour

proved inoperable and Edmonds

lost the use of his left arm and

leg, which was shattering for a

man who liked to keep active

and loved working his horses.

Edmonds had trained next to

the Motukarara racecourse for

38 years and had the last of 377

wins when Get Back scored at

Addington in late August.

Watching Our Coin and

Gerard O'Reilly had briefly

looked like giving Edmonds a

fairytale ending by winning at

Addington a fortnight ago on

his fundraising night, which was

sold out in a matter of hours.

The large crowd on hand for

the event erupted when Watching

Our Coin hit the front at the

100m mark, but he was nabbed

right on the line by Rakanotta

and Carter Dalgety, beaten just a

half head.

Edmonds usually drove his

own team and had 345 wins in

that respect, the last with Watching

Our Coin at Addington in

February.

He was driving right up until

the time of his surprise and fatal

illness.

Watching Our Coin pretty

much summed up Edmonds' attitude

to training for his owners.

He was acutely aware of the

costs involved in racing horses

and did his utmost to keep them

to a minimum, often doing stuff

for people without charging

them.

He avoided calling vets whenever

possible although Kelly used

to be a vet nurse for Bob McKay

in Riccarton and between them

they could usually manage most

issues.

"That was probably to his

detriment to some extent, but it

summed up how much he cared

about people," said younger

brother Craig.

"He was very loyal to his owners

and his owners were very

loyal to him.

"Guys that worked for him

along the way like Michael

Howard, Darren Simpson, Todd

Macfarlane and Brent White,

they became like family.

"Brent actually lived on the

property for quite a while."

Howard and his father Graham

were among those to help

with the team when Edmonds

was sidelined.

Ray McNally also helped out

stable employee Brett Gillan in

those remaining months and

many others contributed in other

ways.

"Jimmy Curtin would also

come and help with fast work

along with Tim Williams when

he could."

The Edmonds family grew up

in Lower Hutt and Craig can

recall being introduced to trainers

at nearby Hutt Park by an

Irishman called Wesley 'Paddy'

Armstrong when they were

about 9-10.

"I wound up helping out Bill

Marwick and Murray worked

by Brian Hunter, a cousin of Ian

Hunter and I think Charlie.

"Trainers would also come up

from Canterbury and Murray

wound up working for Colin

Berkett in his school holidays.

"He moved to Canterbury

when he was 18 and Colin also

had Mike DeFilippi working for

him in those days.

"When Mike went out of his

own, he asked Murray to work

for him."

Edmonds married when he

was 24 and bought the Motukarara

property shortly after from

Alex Purdon.

His first training win was with

Idle Thoughts, who Edmonds

drove to win a double at the

Marlborough meeting in February,

1986.

Edmonds had already driven

several winners at that point

including 15 as a junior driver,

the first with the Mike DeFilippitrained

Abel Royal at Methven

in September, 1979, or 43 years

ago.

Abel Royal was raced by

Edmonds' mother Gloria so he

was no doubt doing much of the

work with him.

Edmonds had his first big

win when Anvil Lad won the

Group 2 Forbury Park 4yo Pacing

Championship in February,

1992, with DeFilippi driving.

Anvil Lad had been purchased

by Graham Beirne after

qualifying for Edmonds and was

Beirne's first horse.

He won nine races with Edmonds

driving him in the other

eight, with the last of them at

Addington when he beat Blossom

Lady.

Edmonds took Anvil Lad to

the Inter Dominions at Albion

Park in April, 1993, but failed to

qualify for the final won by Jack

Morris.

Murray

Edmonds

had

considerable

harness

racing

success. He

died last

week.

Edmonds trained and drove

the filly Breton Abbe to win

the Hambletonian Classic a

few weeks after that Forbury

Park feature and a few months

later, they won the Group 2

Rosso Antico Trotting Stakes in

Auckland.

The Rosso Antico became the

Group 1 Great Northern Trotting

Derby in 2002.

Edmonds won 18 races that

season and 22 the following year,

while he achieved a career high

24 training wins in 2000 and had

23 in 2008.

It was in the winter of 1999

that Edmonds won the Sales

Series race for two-year-old trotters

with Flip Flop in Auckland,

while Sun Del (2nd in Trotting

Stakes, Sires Stakes & Sales race

at two) and New Year Whiz (2nd

NZ Trotting Derby) were other

top young trotters in the stable

around that time.

Edmonds was going to win

the Sales race for two-year-old

trotters at Addington in 2006,

but Ronnie Coute galloped after

hitting the front less than 100m

from the finish. The Sundon

gelding redeemed himself 10

months later by winning the

three-year-old Sales race.

Around this time, Edmonds

had his best performer in Running

On Time, like Ronnie

Coute another Sundon gelding

which had been bought at the

yearling sales by Eric 'Cookie'

Inward of Nelson.

Running On Time was beaten

by Sovereignty in the Sires Stakes

and the Great Northern Derby in

2008 and the following year he

finished third in the Group 1 NZ

Trotting FFA on Cup Day, beaten

half a length by Speculate.

Running On Time won 10

races and $138,000, while a

short time later Edmonds

trained a good Muscle Mass

trotting filly for Inwood in K D

Muscles.

She was second in the Sales

race at three at Addington

to Thebestlove and was also

runner-up in the Trotting Oaks

to Majestic Time before a sale to

Australia, where she won nine

races in nine months in Victoria

and finished second in the

Group 1 Knight Pistol to Sunny

Ruby.

Not long after, Edmonds

trained a son of Muscle Mass in

Heavyweight Hero as a two-yearold

for Inwood.

Edmonds drove him to finish

second in the Sales race and

third in the Sires Stakes at Addington

to Enghien.

But following the passing of

Inwood, the family wanted the

horses gone, so Edmonds arranged

his sale to Todd Macfarlane,

and in his first race for him,

Heavyweight Hero was beaten a

head at the Jewels in Cambridge

by Custodian.

Edmonds' name had become

synonymous with trotters over

the years and 215 or almost twothirds

of his training wins were

with them.

Anvil Lad was easily the best

of his pacers while he trained

another good one for Beirne in

Anvil James before his sale to

Western Australia.

One of Edmonds' last pacing

winners in Teds Legacy is being

raced by another one of his loyal

owners in Ian Sunckell, a son of

Ted who also had horses with

Edmonds.

Teds Legacy and Get Back

were Edmonds' last starters in

the same race at Addington last

Friday night.

Edmonds' oldest son Scott

used to be the track manager at

Motukarara and helped out Edmonds

at the stables from time

to time.

He now owns a couple of gyms

and has a landscaping business,

while Edmonds' daughter Lisa

is a beautician and runs her

business out of one of those

gyms in Lincoln.

– HarnessXpress
---
28 Selwyn Times Wednesday October 12 2022

CHRISTCHURCH

CREMATORIUM

FUNERALS

CROSSWORD

1 2 3 4 5 6 7 8

9 10

263

SUDOKU

Every row, column and box should

contain the digits 1 to 9.

WordBuilder

WORDBUILDER

163

6

K S R

S A P

11 12

13 14 15 16 17

18 19 20

How many words of three or more letters,

How including many plurals, words can you of make three from or the more six

letters, using each letter only once? No foreign

words or words beginning with a capital are

from allowed. the There's six letters, at least one using six-letter each word. only

once?

TODAY

Good 17 Very Good 21 Excellent 25

Solution 162: ace, act, ape, apt, ate, cake, cap, cape,

cat, cep, eat, kea, kept, pace, pack, PACKET, pact,

pat, pate, pea, peak, peat, peck, pet, tack, take, tap,

word.

tape, tea, teak, tec.

letters, including plurals, can you make

No words beginning with a capital are

allowed. There's at least one six-letter

Good 17 Very Good 21 Excellent 25

21 22 23 24

25 26

27 28

Across

1. Outdo (7)

5. Express an opinion (5,2)

9. Drives out (5)

10. Eggplant (9)

11. Porous (9)

12. Cut in two (5)

13. Perch (5)

15. Attacker (9)

18. Capitulate (9)

19. Social blunder (5)

21. Rent (5)

23. Building (9)

25. Similar (9)

26. Black and white mammal (5)

27. Interpreter (7)

28. Excess (7)

Decoder

Down

1. Bung (7)

2. Cistern (9)

3. Passageway (5)

4. Right (nautical) (9)

5. Sword (5)

6. Inhabitant of Earth (9)

7. Major source of food for baleen

whales (5)

8. Excuse (7)

14. Consequently (9)

16. Startles (9)

17. Wealth (9)

18. Rescue (7)

20. Stylish (7)

22. Saying (5)

23. Cooker (5)

24. Cavort (5)

Tel: 020 7622 1467 Fax: 020 7622 1522

Email: info@knightfeatures.co.uk

20 Crescent Grove, London SW4 7AH

Supplied by KNIGHT FEATURES

X V A I J M W B K Z G H F

14 15 16 17 18 19 20 21 22 23 24 25 26

S R N U D P E L Y C Q O T

1 2 3 4 5 6 7 8 9 10 11 12 13

A B C D E F G H I J K L M N O P Q R S T U V W X Y Z

1 2 3 4 5 6 7 8 9 10 11 12 13

N U R

14 15 16 17 18 19 20 21 22 23 24 25 26

All puzzles copyright

T H E P U Z Z L E C O M P A N Y

www.thepuzzlecompany.co.nz

4 8 7 24 11 23

A F Shuker

SOLUTION

No.163

Crossword

Across: 1. Surpass, 5.

Speak up, 9. Ousts, 10.

Aubergine, 11. Permeable,

12. Halve, 13. Roost, 15.

Assailant, 18. Surrender,

19. Gaffe, 21. Lease, 23.

Structure, 25. Analogous,

26. Panda, 27. Exegete, 28.

Surfeit.

Down: 1. Stopper, 2.

Reservoir, 3. Aisle, 4.

Starboard, 5. Sabre, 6.

Earthling, 7. Krill, 8. Pretext,

14. Therefore, 16. Surprises,

17. Affluence, 18. Salvage,

20. Elegant, 22. Adage, 23.

Stove, 24. Caper.

WordBuilder

ark, arks, ask, asks, asp,

asps, ass, par, park, parks,

pars, pas, pass, rap, raps,

rasp, rasps, sap, saps,

sark, ska, spa, spar, spark,

SPARKS, spars, spas.

Sudoku

Each number in our DECODER grid represents a different

letter - there is a number for all 26 letters of the alphabet.

DECODER

Enter the given letters into all squares with matching numbers.

The challenge now is to work out which letters are represented

Each by the number other represents numbers. a As different you get letter the of letters, the alphabet. enter them Write into the

given the main letters grid, into all and squares the reference with matching grid. numbers. To keep Now track work of out the

which letters letters you are have represented found, cross by them other off numbers. the alphabet provided.

1 10 2 17 19 6 16 1 13 25 19 16

8 3 3 16 16 3

19 12 1 11 4 7 6 8 16 1 19 16

1 4 4 15 1 8

18 4 13 7 19 12 3 12 13 12 3 9

N O T

2 1 12 17 10 1

21 7 16 13 7 3 24 16 1 22 7 13

16 19 17 25 7 4

1 13 16 8 20 16 2 13 19 16 3 9

25 23 25 19 17 4

26 2 17 24 17 5 16 3 13 17 10 1

4 3 1 2 17 25

8 17 24 25 13 1 7 14 10 4 1 7

A B C D E F G H I J K L M N O P Q R S T U V W X Y Z

1 2 3 4 5 6 7 8 9 10 11 12 13

N O T

14 15 16 17 18 19 20 21 22 23 24 25 26

SOLUTION

No.162

163

1 2 3 4 5 6 7 8 9 10 11 12 13

E L I N O P V T S A F D R

J Y M X H B U Z K W Q G C

14 15 16 17 18 19 20 21 22 23 24 25 26

R

U

N

A F Shuker

Supplied by KNIGHT CREMATORIUM

FEATURES

FUNERALS

20 Crescent Grove, London SW4 7AH

Tel: 020 7622 1467 Fax: 020 7622 1522

Email: info@knightfeatures.co.uk

23 3 1 22 24 20 22 24 5 11 12 4

24 2 8 1 25

3 24 7 24 16 3 10

20 12 2 2 24 4 19 10 4 21 24 19

26 26 19 24 23 17

19 26 9 22 19 24 4 9 24 24

11 21 3 5 24 11 13 26 4 20

10 17 6 23 12 10

4 10 11 9 24 18 11 12 21 4 24 19

24 12 9 23 12 24 17

9 14 26 1 1 23 24 9 20 24 4 24

CHRISTCHURCH
---
Wednesday October 12 2022 Selwyn Times 29

Christchurch

16 Watts Rd, Sockburn.

tradedepot.co.nz

BIRTHDAY

ON NOW

Fridge Freezer

Total Frost Free

Black Stainless Steel

Smart+ Cooling Technology

French Door

Fridge Freezer

TOTAL FROST FREE

Stainless Steel

790mm

W I D E

Side-by-side

Fridge Freezer

Total Frost-Free

Inverter

890mm

W I D E

Side-by-side

Fridge Freezer

Black Glass

Multi Air Flow System

894mm

W I D E

207 l

404 l

584 l

584 l

$

499

LOW PRICE

352209

24 Month Warranty

$

899

WAS $ 1099

353404

24 Month Warranty

$

1099

LOW PRICE

353584

24 Month Warranty

$

1499

WAS $ 1599

353587

24 Months Warranty

Wall Oven

9 Function

Soft Close Door

70 l

60cm

W I D E

Induction Cooktop

Touch Control

Boost Function

Tripple Glazed Door

60cm

W I D E

G3 Wall Oven

8 Function

Black Stainless

82 l

60cm

W I D E

MIDEA Gas Cooktop

4 Burners

Tempered Glass

Italian Made

SABAF Burners

NZ & AUSTRALIA

GAS SAFETY

CERTIFICATION

60cm

W I D E

$

399

WAS $ 479

310603

24 Month Warranty

$

399

WAS $ 449

320251

24 Month Warranty

$

589

LOW PRICE

310503

24 Month Warranty

$

379

LOW PRICE

320368

24 Month Warranty

Fremont Wall Vanity, Wall Side Cabinet

& Framed Mirror

Stone Resin Top

Black Woodgrain

900mm

W I D E

350mm

W I D E

Locke Square Shower

Novo Wall Vanity

& Nero Toilet Suite

600mm

W I D E

900mm

W I D E

Hudson Wall Vanity, Wall Side Cabinet

& Mila Mirror Cabinet

Handleless Design

Soft Close

Forest Grain

900mm

W I D E

VOGUE Storm Shower Tower

Square Rain Head

Black

Multi Diverter

Watermark Approved

$

999

LOW PRICE

908268

5 Year Warranty

900mm

W I D E

$

1299

LOW PRICE

908224

5 Year Warranty

$

999

LOW PRICE

908050

5 Year Warranty

1000mm

W I D E

$

379

LOW PRICE

246145

3 Year Warranty

Storm

Freestanding

Dishwasher

12 Place, 2 Rack

6 programs

4.5 Stars WELS

$

435

LOW PRICE

348220

24 Month Warranty

60cm

W I D E

Double Drawer

Dishwasher

14 Place

4.5 Stars WELS

Stainless Steel

$

1599

WAS $ 1799

340950

36 Month Warranty

60cm

W I D E

Aurora Plus Smart

Heat Pump

DC Inverter

WIFI Ready

R32 Gas

Energy Efficient

Room Size: 15 ~ 25m²

$ 899

LOW EXPO PRICE

370726

5 Year Warranty

2.5KW

Hot Water Cylinder

Mains Pressure

MEP's Standards

IPX4

$

699

WAS $ 999

786170

5 Year Warranty

170 l

2.5KW

Prices Guaranteed as of 16/10/22. Subject to change.

CAN-C 30

KITCHENS | BATHROOMS | APPLIANCES
---
Selwyn Times Wednesday October 12 2022

30

NEWS

Latest Canterbury news at starnews.co.nz

With the cold snap over, plant now

• By Henri Ham

OCTOBER is here and other

than the recent cold snap

gardeners are taking advantage

of the warmer weather to ramp

up production from their

vegetable gardens.

Cucumber, chillies, tomato

varieties, pumpkin are already

available and more are on the

way.

October planting guide

Garden maintenance

1 Deadhead flowers to encourage

more growth

2 Clean your garden tools,

apply some olive oil to prevent

rust.

3 Remove moss from paths and

driveways.

4 Feed strawberries and passionfruit.

5 Keep mulching for soil

moisture retention and to reduce

weed growth.

6 Stagger planting quick consumables

like lettuces.

Edible garden

You've been waiting and here

they are. Cucumbers, chillies,

pumpkins, tomatoes, rhubarb,

kohlrabi and zucchini.

For new gardeners, zucchini,

tomatoes, lettuces are easy vegetables

to grow.

An all-time favourite is

kumara. Kumara has a wonderful

taste and can be cooked in

many different ways – roasted,

steamed, boiled, and even

candied. Get your kumara beds

ready. Kumara prefers a nonacidic

soil. Stagger planting

quick consumables like lettuces

and spring onions.

Flower garden

Gazanias, livingstone daisies,

gypsophila, dianthus, marigolds,

petunias, sunflowers are good

to plant now. Planting flowers

in your garden attracts pollinators.

Plant a mix of annual and

HEALTH: Get your green vegetables in the garden now for

a bumper summer harvest.

perennial flowers to make sure

that there are flowers in bloom

in your garden at the same time

your vegetable plants are flowering.

This will help increase your

yield.

Herb garden

Get your herb gardens established

before summer. Planting

herbs next to vegetables also

helps repel pests. Coriander,

parsley, dill, oregano seedlings

are already available.

Lawn care

As we welcome new growth,

let's not forget our lawns.

The mix of rain and sunny

weather will make your lawns

grow quickly this time of the

year.

Keep them healthy by using

lawn fertiliser. It contains

nitrogen that encourages healthy

growth and fights against disease

while suppressing weeds. It also

has phosphorus which helps

with root growth and sulphate

of iron that keep your lawns lush

and green.

This is the time to experiment.

Try new vegetables and grow

new flowers.

Canterbury

Timber & Hardware

Rural Farm

Shed Series

The CTH Rural Farm

Shed Series is your

affordable choice

for feed or vehicle

storage, workshop, or

utility shed. Designed

and engineered for

Canterbury's high

wind and 0.9kpa

snow loading they are

available in a range of

kitset sizes and prices

to suit most budgets.

Call in today for your free quote!

167 Manion Road, Rolleston

P 03 347 7465 E sheds@cthl.co.nz W www.cthl.co.nz

Monday-Friday: 7am-5pm Saturday: 8am-12pm

oN sAle Now!

Now only

$35.80

Plus $5 P&H per copy

AvAilAble from stAr mediA:

Level One, 359 Lincoln Road

Addington, Christchurch

Phone 379 7100

ANNUAL SALE of

PLANTS

Lincoln University Nursery (Farm Road)

On Wednesday 19 th October

Continues Thursday if plants still available

Time from 10am

Range Shrubs, trees,

indoor plants, bedding

plants and vegetable

seedlings.

Directions Access

via Gate Two (off

Ellesmere Junction Road)

and right at Nursery

Greenhouse Centre sign.

EFT-POS available

Are you ready to grow?

For real Kiwi gardeners who like

to get their hands dirty.

SUBSCRIBE AND

SAVE UP TO

22 %

Subscriptions 0800 77 77 10

kiwigardenermagazine.co.nz
---
Wednesday October 12 2022 Selwyn Times

Latest Canterbury news at starnews.co.nz

GARDENING 31

RICH: It's time to add fertiliser or compost to the garden and have stakes ready to secure your tomatoes.

Prepare soil before it's too late

FOR MANY years, Labour

Weekend has been the traditional

time for planting out a full range

of summer vegetables and flowers.

Hopefully you have planned

ahead and prepared your soil

ready for planting. If not, then

add in plenty of compost or

garden mix and combine well

with your existing soil before you

plant out.

There is something special

about growing your own vegetables

– watching them grow from

seed/seedling to a scrumptious

crop through your own tender

loving care might be why they

taste better!

No matter how big or small the

space available; you can successfully

grow veges in regular garden

beds, raised beds or in pots and

containers.

Tasty vegetables to plant now

include beans, beetroot, carrots,

celery, corn, cucumber, onions,

peas, pumpkin, radish, potatoes,

spinach, tomatoes and zucchini,

not to mention the great range of

lettuces available.

If space really is an issue,

there are plenty of dwarf

varieties you can grow. For

plants that need support like

tomatoes or beans, put your

support stakes/structures in place

before you plant your young

plant – so you don't disturb the

roots later on. Use old pantyhose

to tie plants to support structures

– they are soft, so won't damage

the stem.

Summer flowering annuals

can also be planted now in either

Garden

In the

beds or large containers. Flower

varieties to grow are alyssum,

aster, cornflower, cosmos, livingstone

daisy, lobelia, marigold,

nemesia, portulaca, petunia, statice,

salvia, stock, sunflowers and

zinnia – to name just a few.

Also, think about planting

some varieties in your vegetable

garden to help attract bees and

other beneficial insects to aid

pollination.

Fresh herbs can also now be

safely planted, such as basil,

chives, dill, marjoram, mint,

oregano, parsley, sage, tarragon,

thyme and rosemary.

They can be grown successfully

in containers or in the garden,

preferring a hot, free-draining

site.

As trees and shrubs come

into spring growth use fertiliser

include your fruit and citrus

trees.

Do not apply fertiliser in very

dry hot conditions such as the

peak of summer when plants

can suffer from heat or moisture

stress.

with intelligro

The cost of buying fresh produce has gone up

significantly, so why not try your hand at growing

your own. As the weather warms up, we can start

to plant more veggie seedlings outside. Vegepods

and planter boxes are great options for starting

out and are great for those that are renting or are

short on space. Fill them with our Veggie Garden

Mix, grab some seedlings and away you go.

Lawn Time

It's time to fertilise your lawns now, giving them

a good boost going into the growing season. Look

out for signs of red thread, moss and grass grub

and get on top of them before it gets too bad.

Establish a regular watering plan, and raise the

height of your mower slightly. Check out our new

lawn care range in store and online.

BaGGeD SUPeR SaVeR!

Save up to 30% when you mix and match our Organic Compost, Veggie Garden Mix,

All Purpose Potting Mix, Screened Soil, Garden Mix and Peat. Simply pick any of the

products in the list, and once you hit the volume bracket the price drops!

PRODUCT RRP$ 2-9 BAGS 10-19 BAGS 20+ BAGS 30+ BAGS

Compost 35L $8.50 $7.65 $6.80 $5.95 $ 5.50

All Purpose Potting 35L $17.00 $15.30 $13.60 $11.90

Veggie Mix 35L $13.50 $12.15 $10.80 $9.45

Peat 35L $13.50 $12.15 $10.80 $9.45

Garden Soil Mix 20L $8.50 $7.65 $6.80 $ 5.95

Screened Soil 20L $7.00 $6.30 $5.60 $4.90

Labour Weekend hours: Sat 22nd Oct 7.30am–5.30pm, Sun 23rd & Mon 24th Oct 8.30am–4.30pm

August – April opening hours: Monday – Saturday 7.00am – 5.30pm, Sunday 8.30am – 4.30pm

261 Manion Road, Weedons 7677 | P: 03 347 9012 | E: info@igro.co.nz

www.igro.nz /igro.co.nz /intelligro_nz
---
2013 Volkswagen

Tiguan TSi

h tp: /kaywa.me/8aVDQ

Download the Kaywa Qr Code reader (A p Store &Android market) and scan your code!

my Kaywa Qr-Code

w.valuecarswarehouse.co.nz

CELLULAR

See page 5 for more info!

2

h tp: /kaywa.me/8aVDQ

Download the Kaywa QR Code Reader (a p Store &android Market) and scan your code!

REVERSE CAMERAS

My Kaywa QR-Code

w.valuecarswarehouse.co.nz

PARKING SENSORS

0800 212 777

Ce l 021 855 884

GPS/TRACKING

motor vehicle purchase

See our ad on page 2

32 Selwyn Times Wednesday October 12 2022

Plug-in hybrid a first for Lexus

IT'S BECOMING a common

conversation when I'm arranging a

time to pick up a media evaluation

car – I'm often told: "It's on charge

now and will be ready for you later

in the day.''

On charge meaning it's an

electric vehicle or plug-in hybrid.

That was the case when I was

confirming the schedule for the

Lexus NX 450h+ F-Sport, a fourcylinder

petrol engine sport utility

vehicle that has hybrid propulsion

and plug-in charging capability.

While hybrids are very familiar

through a host of Lexus and Toyota

products, the NX 450h+ is Lexus'

first plug-in model and I can report

it is a beauty, it carries all of the

typical Lexus attributes along with

the technology that keeps pace

with all of the luxury brands. It

must be said, too, that the driveline

across the NX hybrid range is

a development, it is the latest

generation hybrid system and it is

remarkably sophisticated.

The NX series has entered a new

generation, it's just landed and it

is bold yet beautiful in terms of

design and style. There are three

variants – a self-charging hybrid

(NX 350h) and the NX 450h+. In

both variants the petrol engine is

aided by electric motors. The NX

350h is front-wheel-drive, with one

motor helping to drive the front

wheels; the NX 350h Limited and

the NX 450h+ are all-wheel drive,

with two motors – one helping to

drive the front wheels and a second

driving the rear wheels.

With the bigger battery, the NX

450h+ has a longer electric-only

drive range and more power than

the self-charging hybrid. Lexus

claims an 87km distance can be

travelled on electric power only

and, as with all of today's electric

models, charging can be made

from a designated charge port

using the type 2 cable, or from

domestic supply using a three-pin

outlet.

The latter was what I used and it's

important to me that the cable has

good length; I'm pleased to report

at 8m it is a whopper, by far being

the most generous I've experienced

with any EV, it easily reached the

plug in my garage.

Sure, good time is needed to

charge from domestic supply (five

to nine hours), but if you get into

the habit of plugging in, it's quite

easy to maintain the batteries to

the top end. If you are in a rush,

Lexus claim 80 per cent of capacity

can be reached in 30min from the

nationwide charging stations.

On the subject of figures, Lexus

lists the NX 450h+ with 136kW

and 227Nm from the petrol

engine. Add in 134kW/270Nm

from the front electric motor and

40kW/121Nm from the rear and

TECHNOLOGY: The NX 450h+ will charge from low

capacity to 80 per cent in around 30min at a designated

charge port.

LEXUS NX 450h+ F-SPORT: New generation model has bold design and styling cues.

you have startling performance on

offer.

With such high outputs there

is no shortage of what is needed

to accelerate and make pace with

traffic. The NX 450h+ is quick

with a standstill to 100kmh time of

6.3sec and 4.7sec to make 120km/h

from 80km/h, the highway

overtake very spirited and relaxing

as a driver.

More importantly are the figures

of battery capacity, the NX 450h+

has the highest output Lexus/

Toyota offer at 18.1kWh.

Of course, when battery capacity

is depleted, the driveline returns

to normal petrol only mode, and

it's also in that mode where engine

development really makes a point,

fuel thrift is engineered into the

manufacturing process, the 2487cc

unit is rated with a 5.5-litre per

100km combined cycle average. At

best possible usage there's also the

1.4l/100km figure that comes with

full hybrid mode.

Not only is the NX 450h+ a

masterpiece in terms of efficiency,

it is the epitome of quality and

luxury that you can always expect

from the company, it is sublime

in its sophistication, and that

should be a given after paying over

$100k.

To be precise, the NX 450h+

sits at $107,990, the NX 350h

and NX 350h Ltd list at $92,700

and $101,900 respectively.

• Price – Lexus NX 450h+,

$107,900

• Dimensions – Length,

4660mm; width,

1865mm; height,

1670mm

• Configuration – Fourcylinder,

four-wheeldrive,

2487cc, 136kW,

227Nm, continuously

variable automatic

• Performance –

0-100km/h, 6.3sec

• Fuel usage – 1.4l/100km

Unfortunately, they are well over

the $80k threshold that would

net you a Government Clean Car

Programme rebate.

Column space won't allow for

comprehensive detailing but I can

report that everything that can

be built into the car is there for

comfort, convenience and safety.

In true Lexus fashion the entire

NX series is plush, and given it is

a mid-to-full size SUV there is no

shortage of space so the feeling of

comfort is well emphasised.

On the road the NX 450h+

cruises sedately, it covers ground

quickly and quietly, it is the

quintessential SUV in terms of

how it travels, but it has hidden

depth in terms of handling. Even

though it is tall at over 1.6m, there

is little gravitational force over the

suspension, the spring and damper

rates have quality settings that

are biased towards comfort, but

somehow the balance in a corner is

perfect, while the suspension deals

to road ripples without an in-cabin

effect.

Even though four-wheel-drive

is constant, the NX 450h+ isn't a

cross-country charger, but with

188mm of ground clearance it

has a system that will allow you

to explore tracks that don't have

severe undulations.

Although, to do that you

may need to get your order

in quick-smart because like

most of today's new models

the NX 450h+ is chock-full of

electronic components and that

makes it difficult to source the

semi-conductors in this age of

supply shortages, resulting in

manufacturing delays. There's no

doubt there will be a lengthy wait

for a new NX but it will be well

worth it.

I adore the NX 450h+, it reeks of

refinement and the interior layout

is exquisite in terms of materials,

level of specification and attention

to detail, which all adds up to

high comfort levels, and that is

something that Lexus has focussed

on ever since it landed in our

market in 1989.

I'm due to drive the NX 350

Limited soon, I simply can't wait.

has motoring covered!

Incorporating

ISSUE 667 | FrIday 20 novEmbEr 2020

iggest range of vehicles

location!

2011 Jaguar

XF Premium

$18,999

See inside for this week's

4WD feature!

sherborne st, edgeware

se Ave | P: (03) 366 7768 | www.valuecarswarehouse.co.nz

See page 4 for more info!

free

best motorbuys

Incorporating

ISSUE 668 | FrIday 27 NovEmbEr 2020

275 Colombo street, Christchurch

For more see their advert on pages 6 & 7

Ce l 021 855 884

Incorporating

ISSUE 669 | FrIday 4 dEcEmbEr 2020

See inside for this week's

Classic Car feature!

PH 03 web

www.drivesouth.co.nz

One Owner!

40 Years Finance

Experience

Cannot be Beaten!

• Talk to us about finance for your next

motor vehicle purchase

Specialising in Finance for Private Purchases

Very quick approvals, sensational interest rates

• From no deposit (terms & conditions may apply)

Hiace spares

Cnr Main South Rd and Epsom Rd, Christchurch

Ph: 03 348 4129 | avoncityford.com

2015 IsuZu D-mAX

4WD Ls D/CAb

NZ new, 3.0 intercooled turbo/dsl,

auto, rare flatdeck with ladder/pipe

racks, reverse cam, service history.

$34,995 $192pw

For more see their advert on page 31

free

best motorbuys

www.drivesouth.co.nz

See inside for this week's

marine feature!

free

best motorbuys

The South Island's leading motoring resource,

filled with news, reviews and dealer listings.

From family cars to work trucks, and supercars

to SUVs. No matter what you're looking for,

you can find it all with Drivesouth.

Magazine available for FREE every Friday

at a convenient pick up point near you!

The biggest range of vehicles

in one location!

Now Available @ NZ Van Spares

www.drivesouth.co.nz

2.4 auto, alloys, ABS, twin airbags.

2005 toyota rav

$20,999

$9,990

40 Years Finance

2008 bmW 320i

2.0lt Petrol, 5 Dr Station wagon,

Climate Control, ABS Braking,

.nz

CAR AUDIO

AUDIO VISUAL

CAR SECURITY

32 Moorhouse Ave | P: (03) 366 7768 | www.valuecarswarehouse.co.nz

MOBILE INSTALLATION SERVICE

RADAR DETECTORS

DASH CAMERAS

Cannot be Beaten!

$10,974 NoW $7,974 + orC

Experience

Automatic. $34.63pw.

AERIALS

• Talk to us about finance for your next

Specialising in Finance for Private Purchas

• Very quick approvals, sensation

• From no deposit (term
---
Wednesday October 12 2022 Selwyn Times 33

Classifieds Contact us today Phone our local team 03 379 1100

YOur GuIde TO

TrusTed Trades and

PrOFessIOnaL servIces

TRACTOR SERVICE

AND REPAIR

Massey Ferguson

Ford / International / Fiat

Ph 0274 317 259

ELLESMERE

AUTO ELECTRICAL

• Air Conditioning • WOF Repairs

• Oil Change & Servicing

• Diagnostics - Computer Scanning

• Wiring & Wiring Repairs

• Alternators • Starter Motors

• Mechanical Repairs • Tyres • Batteries

Loan car available

Workshop Location: 84 Hayes Rd, Ladbrooks

Mobile Auto Electrician

022 644 9664

Excavations

• Driveways

• Car Parks

• Site Cleaning

• Demolition

• Farm Tracks

• Drain Cleaning

• Stump & Hedge

Removal

• Asphalt Concrete

Wide range

oF TruckS

DRIVEWAYS

HARRIS

BULLDOZING LIMITED

For a Free Quote

on your next project

Phone Steve on

021 338 247

• Driveways

• Car Parks

• Lifestyle Blocks

• Site Clearing

& General

Earthmoving

Mark 021 345 571

or Paul 021 705 996

Email harrisbull@xtra.co.nz

www.harrisbulldozing.co.nz

All Work Guaranteed

Please phone for a free quote

• Tennis Courts &

Swimming Pools

• Chip Seal Driveways

• Diggers – 2 Ton

up to 20 Ton

• Excavators

• Bobcat & Drilling

• For Posthole &

Fence hole

Free

QuoTe

GLAZING

TWISTY GLASS &

GLAZING LTD

• Mirrors • Pet Door Specialists

• Splashbacks • All Broken Windows

THE CAT DOOR MAN

Phone Cushla or Darren Twist

027 352 6225

TRELLIS

DIRECT FROM THE

FACTORY

For: Outdoor Privacy, Windbreak, Decorative.

All Styles made to your requirements.

Optional: Painting, Installation, & Local Delivery Service.

Phone or Email your measurements

FOR A FREE QUOTE

Email: towntrellis@xtra.co.nz Phone: 03 3494995

Address: 38A Waterloo Road

www.towntrellis.co.nz

STOP BIRDS

hail, leaves, snow & vermin from

blocking & damaging your spouting

Quality materials: BHP Colorbond steel mesh with

unique patented louvre will even keep out pine needles.

Will not rust or sag with age or load. 10 year warranty,

range of colours.

Proven in Australia & New Zealand over the last 15 years.

FOR SAFE, PURE DRINKING

WATER FROM YOUR ROOF.

NOW AVAILABLE: STAINLESS STEEL

MICO MESH

Call Rohan anytime Mon-Sat for a

no-obligation assessment & quote

03 982 8850 0800 486532

www.gumleaf.co.nz

No job to big or small.

Supply carpet, underlay and garage carpet.

Experienced in installing second hand carpet.

Carpet samples.

Free measure and quote!

Call David 0272319931

www.davidfarmercarpetlayer.co.nz

shelterbelt trimming

Boundary Trimming

Call Tony Dempsey

Mobile 0274 323 943

GARAGE DOORS

The Genuine

Custom Made Garage

Door Professionals

0800 661 366

info@custommade.co.nz

Auckland, Christchurch, Wanaka

www.custommade.co.nz

To place your advertisement

contact Vicky Sayers

379 1100 or email

vicky.sayers@starmedia.kiwi

BPH ProPerty Maintenance

• Lawns & Gardens

• HedGe CLean Ups

• deCks & LandsCapinG

projeCts

• window & door repairs

• GeneraL HoUseHoLd

MaintenanCe

• Handy Man jobs

• LifestyLe work

call Brent MoBile 021 676 336

Re Roofing

Roof Repairs

Approved Age Concern provider

Over 30 years experience

Licensed Building Practitioner

N A BARRELL

ROOFING LTD

Ph: 0275 389 415

Email: nabroofing@xtra.co.nz

Working in the Selwyn District

Specialising in lifestyle & small farms

• Shelter

trimming

• Mulching

• Paddock

topping

Franklin Shelter Trimming

Dallis Yates 021 287 4668

franklinsheltertrimming@outlook.com

Follow us on Facebook

Ph Mike: 027 272 8058 OR 03 324 4323 A/H | sales@gmcontracting.co.nz www.gmcontracting.co.nz

ADD SOME

COLOUR

TO YOUR ADVERT!

Division of Tuffnell Drainage Ltd

We unblock drains

Call us now 03 974 3561

Now servicing the Selwyn District

based out of Rolleston and Leeston

High pressure waterblasting

CCTV • 7 days a week service
---
34 Selwyn Times Wednesday October 12 2022

Classifieds Contact us today Phone our local team 03 379 1100

YOur GuIde TO

TrusTed Trades and

PrOFessIOnaL servIces

To place your advertisement contact Vicky Sayers

379 1100 or email vicky.sayers@starmedia.kiwi

TRACTOR SERVICE

AND REPAIR

Massey Ferguson

Ford / International / Fiat

Ph 0274 317 259

LIFESTYLE BLOCK MOBILE SHEARING

NO JOB TOO BIG OR TOO SMALL

• Shearing • Crutching • Tailing

• Drenching • Foot Trimming

• Single & Double Crutching Trailers

A professional, friendly service

Call Shaun Adams for a free quote

021 204 1274 or 03 960 3112

adamsshearing.com

• shearing contracting • mobile shearing trailer • mobile crutching trailer

$

290

FROM

5m 3

Free

delivery

GARDENING SUPPLIES

Making your great outdoors greater

GARDEN SOIL

50/50 Screened topsoil /

compost blend

www.mainscapegardensupplies.co.nz

DRY SCREENED

TOPSOIL

Contact Us 1543 Springs Road, Lincoln

021 241 7908 sales@mainscape.co.nz

Mon - Fri 8am - 5pm Sat 8am - 3pm

'we sell businesses'

landscaping

$

230

FROM

5m 3

Thinking of selling?

Looking to buy?

Free

delivery

Clyth MacLeod,

NZ's longest running

business brokerage,

is now represented in

Christchurch.

Email for a FREE copy

of our useful 'Business

Sellers Guide'

Call now for a confidential chat.

Joanne Bush 021 177 6009

joanne@cmbusiness.co.nz

Licensed Salesperson REAA 2008

www.cmbusiness.co.nz

Landscape

Construction and

Garden Maintenance

You can have your gardens, trees,

shrubs, plants and lawns maintained to look their best

all year round, for a great price.

Residential & Commercial Landscaping

• Maintenance • Pruning • Reconstruction & Rejuvenation

• Rental Property and Commercial Maintenance

• Pre-Sale Tidy-Ups

New Home Landscaping

Lawns • Gardens • Decks • Paving • Water Features

• Quality • Value for money • Experienced • Punctual

• Professional • Flexible • Knowledgeable • Reliable

Call Ross Legg - 027 222 0388

Email ross@revivelandscaping.co.nz

www.revivelandscaping.co.nz

UDI PAINTING &

DECORATING

For all painting and

decorating services.

Fully Qualified

• Interior &

Exterior Painting

• Wallpapering

• Plastering

• Roof Painting

Quality Services

FREE QUOTES

Contact Udi Aale

Ph. 021 074 2075

FOR ALL YOUR

★Garden Clean-ups

★Pruning

★Lawn Mowing

★Garden Maintenance

Call us today for a FREE quote

PH 0800 4 546 546

(0800 4 JIMJIM)

BATHROOM TILER

wet area waterproofing,

underfloor heating, soap

boxes, old to new, for best

results, call Devon on 021

375-888 or 03 329 5511

CARPET LAYING

Exp. Repairs, uplifting,

relaying, restretching.

Phone John on 0800

003181, 027 240 7416

jflattery@xtra.co.nz

CARRs CHIMNEY

CLEANING

Servicing Lincoln,

Tai Tapu, Motukarara,

Ladbrooks, Broadfields,

Springston & Prebbleton,

$70 a Chimney. Phone

Rodney 03 324 2999 &

leave a message.

CHIM CHIM CHIMNEY

sWEEPs

We'll sweep your

logburner's flue, check

firebricks, baffles, airtubes

& controls. We're experts

on coal-rangers, and can

sweep any sized open fire.

We quote & undertake

repairs, flue extensions &

install bird netting. 0800

22 44 64 www.chimchim.

nz

WINDOW TINTING

tintawindow

advanced film solutions

99% uv block

fade protection

heat control

reduce glare

25 Years Experience

privacy films

frosting designs

non-darkening films

Workmanship Guaranteed

Lifetime Warranties on Most Films

UV

block

ELECTRICIAN (REG)

Prompt, quality. Call Jack

027 206 0080

FREE CCTV DRAIN

CAMERA CHECK

Have you checked

your drains since the

earthquake? Call now: 022

375 8506

Bellamy's

Furniture

Furniture made to

order and restoration

by tradesman with

35yrs experience.

PH Stephen

021 073 2624

LOCAL PLUMBER

No job too big or too

small! Plumbing,

Drainage, Gas, Blocked

Drains, Excavation, Gutter

Cleaning. Call Now: 022

375 8506

POWER TOOLs

REPAIRs

Parts & Sales for over 40

years. All main brands

serviced. Grossman Trade

Tools, 23 Watts Road,

Christchurch. Ph 389 9230

RJB PLUMBING

Renovations, New Houses,

Hot Water Cylinders,

Kitchens Bathroom

Upgrades, Laundries,

General Maintenance ,

Water Filters. Phone Mark

0278690026

sTUMP GRINDING

Best price guarantee

Tony 0275 588 895

sTUMP GRINDING

Best price guarantee Tony

0275 588 895

EST.

1979

Arthur's

Roof & Property

Moss Kill & Proof

Silicone Sealing

Roof Repairs

Gutter Clean/Repairs

Pest Control

Butynol Roof Repairs

Bird Proofing

03 347 2635

arthursroofandproperty.co.nz

Free Quotes Canterbury and Districts

03 365 3653 0800 368 468

Cars Wanted

OLD VEHICLES

WANTED

Sell your old and unwanted vehicles for cash!

CAR - VAN - TRUCK - 4X4 - UTE - CAMPERVAN

Dead or alive, no WOF, no REGO, accident damaged, water

damaged, fire damaged, insurance write off, deregistered.

All makes and models - petrol and diesel

Cars Wanted

CLASSIC Car wanted

1950s, 60s, 70s, 80s, or a

modern classic.

American, Japanese,

English or what have

you., Mazda RX2, 3, or

4. Keeping options open.

Text me with what you

have, I can call / txt you

back, Ph 021 861 732.

Clothing &

Accessories

RETRO Clothing wanted

for a dress up 70's party.

Would love to get a

safari suit but anything

considered.Ph or txt

021861732

Heating

Log Fires

Pellet Fires

Heat Pumps

Sales

Service

Installations

Free Quotes

03 343 1651

472 Blenheim Rd

www.heatstore.co.nz

To Lease

Office space to lease,

CBD area. 60 - 100 sqm.

Comp priced. Flexible

lease period. Call Shane

for more details on 021

381 765

Wanted To Buy

WANTED

OLD TOYS

• Matchbox • Dinky

• Corgi • Fun Ho!

• Tinplate • Tonka

• Pedal Cars

Ph: 027 293 6139

or 027 414 2426

Wanted To Buy

Vintage push bike wanted.

I'm looking for an old

chopper or dragster bike.,

had one when I was a

kid. Want to put it on the

mancave wall. can be

in any condition ph/txt

021861732

Public Notices

0800 245 246

info@kingcashforcars.co.nz

Vehicles Wanted

CAR REMOVALS

$$CASH PAID$$

CARS, VANS, UTES

& 4X4 WANTED

NZ OWNED

AND

OPERATED

FOR

24 YEARS

We use world class vehicle

depollution systems

0800 77 80 80

www.pickapart.co.nz

Situations Vacant

Machinery Assembly

Team Member

Do you have a strong mechanical aptitude with an

eye for detail and looking for your next challenge?

…Then you need to talk to us!

Power Farming are looking for a mechanically

minded person to join our South Island assembly

team, assembling agricultural tractors and

machinery. In return, we are offering:

• A competitive salary

• The opportunity to work within a small,

efficient, and fun team

• The opportunity to develop your skills and work

with industry leading brands

If this sounds like the opportunity you have been

looking for then apply online today via our website

www.powerfarmingcareers.com.

To apply head to:

powerfarmingcareers.com/Vacancies

& enter reference code: 6114911

Applications close 04 November 2022
---
Wednesday October 12 2022 Selwyn Times 35

Classifieds Contact us today Phone our local team 03 379 1100

Situations Vacant

Travlon Coachlines

Casual Bus Drivers Required

P endorsement helpful.

Class 2 Licence.

Great way to be part of the

community and get out and about.

Please phone 021 337 299

Situations Vacant

Ashburton Super Liquor are looking

for a Bottle Store Manager

You must have a passion for the liquor

industry, a knack for dealing with people,

an understanding of new products and the

ability to manage a high performing store.

Must have skills:

• A minimum of 2 years' or more experience

in the liquor industry would be an

advantage

• Strong interpersonal and selling skills

• Excellent customer service, rapport

building and people management skills

• High energy and a passion for the industry

• Qualification - Manager's Certificate

• Willing to work under pressure.

• Stock control and ordering

If this sounds like you, please email your CV

plus a covering letter to

ops@ashburtonclub.co.nz

www.pggwrightson.co.nz

Situations Vacant

Customer Service Representative

PGG Wrightson is looking for part-time Customer Service Representative to join our Leeston

Rural Supplies Store. General duties include customer service, sales and merchandise

management. We are looking for someone to join our team that is passionate about retail sales

and has knowledge of the local rural sector.

Apply now or to find out more about working at PGG Wrightson or view other opportunities

visit https://careers.pggwrightson.co.nz/search and enter reference number: 20560NSP.

Applications close on Friday, 21 October 2022.

Helping grow the country

ADVERTISE YOUR BUSINESS HERE

Phone for further details

(03) 379 1100

Registered Nurse - Ellesmere Community Hospital

Mō te tūnga - About the role

Ellesmere Community Hospital is looking to re-open in October 2022. The hospital located in is a busy community, provides a

comprehensive range of health services, including general practitioner referrals for short term care, aged residential care (including

respite) and palliative and end of life care.

Ko wai koe - About you

You will need sound clinical experience, confidence in your assessment and problem solving skills, excellent interpersonal skills, proven

leadership skills and the ability to work autonomously under pressure. We are looking for a passionate Registered Nurse who is keen to

develop their career and undertake further study to enhance the workplace within Ellesmere. Sound assessment and leadership skills,

adaptability, team work, and confidence are imperative to this role.

This is a part-time (0.4 FTE), permanent position. There is a possibility that more hours could become available in the future. Availability

for all shifts - morning, afternoon and nights shifts - are essential. For night shifts, you will be the sole care registered nurse for the hospital,

as such, the position requires an experienced RN. During the day shifts, you will oversee Healthcare assistants as you care for up to ten

patients, five of which are Hospital Level care residents.

Ngā pūkenga me ngā wheako - Skills and experience

• Acute medical or surgical experience is essential

• NZ Registered Nurse with current Annual Practising Certificate

Mō mātou - About us

From July this year the Canterbury DHB transitioned across to Te Whatu Ora - Health NZ. This is a great opportunity to make a difference at

a time of significant change in the healthcare sector.

Tono ināianei - Apply Now

Applications are only accepted online so please visit our website at www.cdhbcareers.co.nz to complete an application.
---
36 Selwyn Times Wednesday October 12 2022
---
LiFt oUt

FeAtURing the BeSt

PRoPeRtieS AcRoSS

the SeLWYn DiStRict

PUBLiSheD eVeRY WeDneSDAY

Week commencing WeDneSDAY, 12th octoBeR, 2022

We're Moving North, Must Sell!

4 2 2 3

Built in 2015, this stunning home is packed full of features and

desirable qualities than even the most discerning buyer will love.

With classic Linea cladding and sought-after triple garaging, this

home has fantastic curb appeal and sets up what is waiting for you

inside.

The well configured layout maximises family life to a tee and offers

you plenty of light, sun and space.

The stylish kitchen boasts two wall ovens, double fridge space,

amble bench space and generous walk-in-pantry.

A designated study nook is positioned perfectly so you can

keep an eye on the kids doing their homework plus an adjoining

separate family room gives you that extra space to relax or for

entertaining and complements the main living area. Two sets of

bi-fold doors from both living areas flow out to the covered patio

area and overlooks the 767m2 section...offering plenty of options

for the kids and pets to play.

Extras include: Archgola, tiled showers in both bathrooms with

underfloor heating, separate toilet with basin, Large separate

laundry, storage room, two heat pumps, off street parking with

room for the boat or trailer plus attic storage.

Due to work commitments, our lovely owners are regretfully

selling their cherished home and making the trip up North.

Situated at the end of a quiet cul-de-sac in Faringdon, close to the

Southpoint retail and food complex and zoned for Lemonwood

Grove and Rolleston Christian Schools, this fantastic property is a

real winner!

Deadline sale: Wednesday 26th October

at 2pm (unless sold prior)

harcourts.co.nz/RL2725

Caine Hopcroft

Contact:

Mobile: 027 330 1002

Phone:03 347 1411

Email: caine.hopcroft@harcourts.co.nz

Four Seasons Realty 2017 Ltd | Licensed Agent REAA 2008

9 Whitney Court, Rolleston

Viewing: Sunday 1.30pm – 2.00pm

Hornby Office 03 349 9919

Lincoln Office 03 662 9933

MEET YOUR

Rolleston Office 03 347 4711

SELWYNTeam Four Seasons Realty 2017 Ltd | Licensed Agent REAA 2008

Four Seasons Realty
---
2

Four Seasons Realty

Four Seasons Realty
---
3

Four Seasons Realty

Four Seasons Realty

AUCTION

WED

12 OCTOBER 2:00 PM

RUSSLEY GOLF CLUB

428 MEMORIAL AVENUE, CHRISTCHURCH.

Auctions

Four Seasons Realty

(Unless sold prior)

THIS WEEK

AUCTION

Rangiora 38 Aspen Street

Harcourts ID: PLS4873

AUCTION

LIVE AUCTION STREAM

Hanmer Springs 30 Lochiel Drive

Harcourts ID: HS22266 www.harcourtsauctions.co.nz

Nathan & Becky Gilbert

021 668 925 | 027 909 0384

Harley & June Manion

021 149 8050 | 021 823 824

AUCTION

Hillmorton 9/34 John Campbell Crescent

Harcourts ID: RL2715

AUCTION

Hanmer Springs 91 Chalet Crescent

Harcourts ID: HS22276

Katie Harrison

021 135 0887

Jackie Frame & Sue Mercer

027 435 9810 | 027 436 8548

AUCTION

Somerfield 2 Milton Street

Harcourts ID: RG2723

AUCTION

Ilam 244a Waimari Road

Harcourts ID: BF37458

Ferg Spain

027 608 4768

Geoffrey Twiss

027 738 6145

AUCTION

Cashmere 4/55 Holliss Avenue

Harcourts ID: BF37464

AUCTION

Kirwee 1694 Hoskyns Road

Harcourts ID: RL2720

Glen Young

022 493 7037

Ferg Spain

027 608 4768

Your home for local property

Four Seasons Realty 2017 Ltd Licensed Agent REAA 2008

Four Seasons Realty
---
4

Congratulations!

TO OUR TOP 20 PERFORMERS

FOR THE SECOND QUARTER

JULY - SEPTEMBER 2022

Experience, Local Knowledge, Focus and Commitment.

01

02

03

04

05

CHRISTINE TALLOTT

RANGIORA

CAINE HOPCROFT

ROLLESTON

RHIANNON MOSS

BELFAST

GEMMA + SUE ROBERTS

BELFAST

KATIE HARRISON

ROLLESTON

06

07

08

09

10

MITCH + MANA

THE PALMS

GLEN YOUNG

BELFAST

FERG SPAIN

ROLLESTON

MIKE BROWN

HORNBY

LINDA VEITCH

RANGIORA

11

12

13

14

15

GEOFFREY TWISS

BELFAST

RICHARD + SUE WOERLEE

RANGIORA

JAN GREEN

LINCOLN

BILL DOWLE

BELFAST

JASON DAY

ROLLESTON

16

17

18

19

20

LISA TIPPEN

RANGIORA

HARLEY MANION

HANMER SPRINGS

JACKIE FRAME

HANMER SPRINGS

ROSS MITCHELL

LINCOLN

LEIGH + DIV

RANGIORA

These outstanding results are all thanks to our clients. We take pride in

working harder, adding value and getting the best results for you.

If you want a team where outstanding service = outstanding results, talk

to a Harcourts Four Seasons Sales Consultant today!

Four Seasons Realty

Your home for local property

Four Seasons Realty 2017 Ltd Licensed Agent REAA 2008 0800 789 1011 fourseasons@harcourts.co.nz
---
5

Greendale 1856 Coaltrack Road

Considerable Country Charm

A tree-lined driveway, an expansive established garden, set a classy scene on arrival to this stunning 224m2 (approximately)

character bungalow. Its accompanying eight-car garaging will send your lifestyle into top gear.

• Four spacious bedrooms, master with ensuite

• Plenty of outbuildings, including a mancave

• Expansive deck and wrap-around veranda

• Crafted with Oamaru stone and weatherboard

Soaking up rural seclusion, it's only 10 minutes from Darfield and under half an hour from Rolleston to propose a highly

appealing lifestyle opportunity. Contact me for more information.

Property Brokers Ltd Licensed REAA 2008 | pb.co.nz

4 2 2 8

Deadline Sale closes Wednesday 19th October, 2022 at 4.00pm,

(unless sold prior)

View Sun 16 Oct 12.30 - 1.00pm

Web pb.co.nz/DFL108494

Simon Anderson

M 021 0828 5532

E simon.anderson@pb.co.nz

Your local

Rural Specialist

Thinking of selling?

Call Simon for service that

makes a difference.

Simon Anderson

Rural/Lifestyle Sales Consultant

M 021 0828 5532

E simon.anderson@pb.co.nz

pb.co.nz

Property Brokers Ltd Licensed REAA 2008

PB062361
---
6

Leeston 623 Leeston Dunsandel Road

Killinchy Gold

Showcasing thoughtful design, space and position this superb country lifestyle property located on a well-manicured

easy care 1.3-hectare (approximately) block at Killinchy is sure to appeal above the rest.

The 276m2 (approximately) family home built in 2011 enjoys many outstanding features including 4 generous

double bedrooms with master enjoying a tiled ensuite and WIR. A well-appointed kitchen with scullery located in the

spacious open plan dining/living flowing seamlessly to covered deck and outdoor patio areas ideal for entertaining,

Separate media room featuring gas fire and external access. Family bathroom with tiled shower complemented by a

separate toilet and separate laundry located adjacent to the internal access double garage. Heating supplied by two

heat pumps accompanied by gas fire and heat transfer system ensures comfortable living in all seasons. Outbuildings

include 3 bay fully enclosed shed with 3 roller doors and power connected. 5kw grid tied solar power system. The

established grounds have been developed with excellent attention to detail offering enviable privacy and shelter for

your family and friends to enjoy.

Don't miss your opportunity to secure this outstanding lifestyle within commuting distance of Christchurch City and

Airport. We highly recommend your inspection.

Property Brokers Ltd Licensed REAA 2008 | pb.co.nz

4 2 2 2

Deadline Sale closes Thursday 3rd November, 2022 at

3.00pm, (unless sold prior)

View Thu 13 Oct 5.30 - 6.15pm

Sun 16 Oct 1.30 - 2.15pm

Web pb.co.nz/DFL107264

Gareth Cox

M 021 250 9714 P 03 975 4506

E gareth@pb.co.nz

Fliss Cox

M 021 354 779

E felicityc@pb.co.nz

Proud to be here
---
7

Springston Chamberlains Road

Blank Canvas

15.7ha of productive soil situated on Chamberlains Road (Goulds Road End). 4 post and wire fenced paddocks of Temuka &

Peat Soils. Ideal 1st farm or lifestyle block. Currently used as stock breeding and finishing plus arable crops. Excellent location

within 10 minutes drive to Rolleston and with consent to build or relocate your new home.

Deadline Sale closes Thursday 20th October, 2022 at 2.00pm,

(unless sold prior)

View By appointment

Web pb.co.nz/LER108197

Noel Lowery

M 027 432 8859

E noell@pb.co.nz

Irwell Selwyn Lake Road

Irrigated 55ha in two titles

Located in the popular and productive Irwell District this property is well set up and offers the opportunity for the purchaser to

walk in and commence their farming operation with immediate effect. Perfectly set up with a travelling Turborain Irrigator

and an ample water consent of 30l/sec from a 37.75m well this property has produced excellent yields of Seed Peas, Wheat,

Radish, Mustard and Linseed in recent years and also provided grazing for store lambs. This property would also make an ideal

support block in the way of cut and carry through grass silage, chopped maize or lucerne. The property is well serviced with an

all weather lane, shelter, two road frontages and the two titles offering opportunities for the future.

Tender closes 4.00pm, Thu 17th Nov, 2022, Property Brokers

Leeston, 74 High Street, Leeston, 7632

View By appointment

Web pb.co.nz/LER109666

Stephan Knowler AREINZ

M 027 229 9522 E stephan.knowler@pb.co.nz

Noel Lowery

M 027 432 8859

E noell@pb.co.nz

Property Brokers Ltd Licensed REAA 2008 | pb.co.nz

Proud to be here
---
8

West Melton 295A Jowers Road

When town and country collide!

295a Jowers Road offers a wonderful opportunity for those looking for lifestyle living without sacrificing anything that

residential living offers. This 8403m2 lifestyle block offers easy lifestyle in a fantastic location, with great privacy and

space. As you enter the property through the tree lined driveway, an imminent sense of quality greets you as you

arrive at the 256m2, 3 bedroom + office, architecturally designed home. The open plan living area is spacious and ties

perfectly with an outdoor entertaining area. Capturing all day sun, this area makes for fantastic family living or

entertaining. An absolute feature of the living area is the modern kitchen, complete with stone top benchtops,

modern appliances and a large walk in butlers pantry. The spacious master bedroom enjoys all day sun and boosts a

quality, tiled ensuite and good sized walk in robe. 2 large double bedrooms complete with wardrobes are supported by

a large, tiled family bathroom. The home also features a study/office, separate laundry and a large double garage,

with a real feature being the storage options throughout the home. The property is fenced into 2 paddocks and is

complete with a 3 bay implement shed. If you have been thinking lifestyle but didn't want to sacrifice the quality and

convenience of a residential home, then this could well be the property you've been waiting for.

Property Brokers Ltd Licensed REAA 2008 | pb.co.nz

3 2 1 2

Tender closes 5.00pm, Wed 26th Oct, 2022 (unless sold

prior)

View Sun 16 Oct 2.30 - 3.15pm

Web pb.co.nz/ROL102243

Chris Moore

M 027 288 0563

E chris.moore@pb.co.nz

Justin Le Lievre

M 022 628 1306

E justinl@pb.co.nz

Proud to be here
---
9

Rolleston 7 Fairhurst Place

Refined Luxury with an Emphasis on Space!

This delightful, modern home has been meticulously designed and boosts innovative inclusions for 21st century living. As you

arrive at the property via the gated entrance, you will be instantly impressed. The 369m2 home, set on a 1,656m2 section

offers a wonderful balance of superb quality, privacy, security and spacious family living. Featuring a large spacious living area

and a stunning open plan kitchen/dining complete with top of the line Bosch appliances, a Schweigen Rangehood, island

bench and walk in pantry, entertaining and catering will be a pleasure. The private patio is easily accessible from the open

plan kitchen and living area, allowing for great indoor-outdoor flow. A separate lounge provides the perfect environment for

family and friends to relax in a quiet space, with the added bonus of a study nook complete with 2m glass desk and storage.

The size and scale continues throughout the home with high ceilings, spacious bedrooms with sliding doors leading out to the

backyard and a master suite with ensuite, large walk in robe, and access out onto a private patio. Private, secure and peaceful,

this stunning home really needs to be viewed to be truly appreciated!

4 2 2 4

Deadline Sale closes Wednesday 2nd November, 2022 at

5.00pm, (unless sold prior)

View Sun 16 Oct 1.00 - 1.45pm

Web pb.co.nz/ROU108069

Chris Moore

M 027 288 0563

E chris.moore@pb.co.nz

Rolleston 12 Grace Way

Enjoy summer entertaining!

With summer just around the corner, you will absolutely love the fabulous outdoor space this home offers! Sited well on its

750sqm section to capture the sun right throughout the day, this home provides the perfect place to host bbqs with family &

friends or watch the kids play. Warm & welcoming, the home itself features an open plan kitchen/living/dining room that flows

out to the large deck, overlooking the generous back yard. The kitchen is well designed, offers stone bench tops and factuality

is a key component here. The separate living room offers space for a growing family to spread out, or enjoy sitting in the sun

reading a book. 3 bedrooms all offer built in robes and are serviced with a lovely updated bathroom with full tiled walls to add

to the luxury appeal. The master suite offers generous space for bedroom furniture, plus a walk-in robe and a lovely full tiled

updated ensuite for you to enjoy. Heating is sorted with a heat pump and ventilation system throughout to help keep the

home warm and dry, and hot water is gas. Our vendors have new plans on the horizon & are ready to pass on their much-loved

home to one lucky family to enjoy for years to come.

Property Brokers Ltd Licensed REAA 2008 | pb.co.nz

4 2 2 2

Deadline Sale closes Wednesday 19th October, 2022 at 6.00pm,

(unless sold prior)

View Sun 16 Oct 12.00 - 12.30pm

Web pb.co.nz/ROU109341

Chris Moore

M 027 288 0563

E chris.moore@pb.co.nz

Proud to be here
---
10

Rolleston 13F Fairfield Way

Affordable family living

With an exciting change on the horizon, our vendor's instructions are clear! Present all offers at deadline! This whole property

is well designed and offers very spacious living areas and sizable bedrooms too. Being double glazed throughout and placed

well for the sun, the home is lovely and warm, but rest assured the log burner will definitely keep you toasty warm during the

winter months. The Master bedroom is serviced with an en-suite and walk in robe and the main bathroom and separate toilet

caters for the additional 3 bedrooms. There is good off street parking for extra cars and a carpeted double garage which also

houses the laundry. The section offers space for the kids to kick the ball around, or a short stroll to the local park for a change

of scenery and great playground. If security is important to you, this property boasts a great FBI system. This home truly

offers fantastic buying in Rolleston and quick action is recommended!

4 2 2 2

Deadline Sale closes Thursday 20th October, 2022 at 5.00pm,

(unless sold prior)

View Sun 16 Oct 12.15 - 12.45pm

Web pb.co.nz/ROU107637

Chris Moore

M 027 288 0563

E chris.moore@pb.co.nz

Rolleston 68 Quartz Drive

Sure to be a winner!

Built post-quake, this beautifully presented 3-bedroom home offers views out onto the reserve at Stonebrook Park. The kids

will love running around in the park and feeding the ducks right on your doorstep! In the open plan kitchen/dining/living, floor

to ceiling windows fill the area with natural light and a ranch stacker leads out onto the patio, creating a great indoor-outdoor

flow to the tidy easy care back yard. Keeping you toasty warm during these cooler months is a heat pump and a wonderful

eco low emission log burner. All the bedrooms have double robes and large floor-to-ceiling windows which capture the sun

throughout the day. The Master also benefits from its own ensuite. The further 2 double bedrooms are serviced by the main

all-in-one bathroom, which also has a heated towel rail, separate shower and bath. The laundry is located in the internal access

double garage, with a door that leads out to a concreted area with the washing line and a garden shed. The easy-care gardens

have been recently landscaped but there is still scope to stamp your own mark. Enjoy the peace and serenity this beautiful

home offers. It is sure to be a winner!

Property Brokers Ltd Licensed REAA 2008 | pb.co.nz

3 2 1 2

Deadline Sale closes Wednesday 19th October, 2022 at 4.00pm,

(unless sold prior)

View Thu 13 Oct 1.00 - 1.30pm

Sun 16 Oct 1.00 - 1.30pm

Web pb.co.nz/ROU89273

Chris Moore

M 027 288 0563

E chris.moore@pb.co.nz

Proud to be here
---
11

Rolleston 10A Baxter Crescent

DESIRABLE FAMILY HOME IN GREAT LOCATION

Bright and vibrant living with immaculate presentation and a premium location make this five bedroom home on

941m2 an irresistible choice. Conveniently located, this property blends a little bit of that town and country feel.

Spread over 284m2, the layout is effortlessly functional and focuses on a comfortable family lifestyle. On offer here is

five double bedrooms accompanied by stylish bathroom facilities, two masters with their own ensuites and walk in

robes and patio areas. The two separate living areas are spacious and heated by a large log burner (on wetback) and

heat pump; offering a relaxed and cosy ambience. The well-appointed kitchen with its wall oven, gas hob and walk in

pantry and abundance of space and storage will keep the cook in the house well satisfied. Some of the additional

features of this home include; study nook, carpeted garage, car port and a great outdoor living area. One of the stand

out features of this property has to be the large 941m2 private and secure section. Astute buyers will appreciate that

larger sections are becoming increasingly harder to find and coupled with a fantastic family home, makes for

intelligent buying. A must view. TO BE SOLD BY DEADLINE SALE Offers to be presented on or before 12pm, Thursday

27th October 2022 (unless sold prior)

Property Brokers Ltd Licensed REAA 2008 | pb.co.nz

5 3 2 2

Deadline Sale closes Thursday 27th October, 2022 at

12.00pm, (unless sold prior)

View Wed 12 Oct 5.00 - 5.30pm

Sun 16 Oct 1.45 - 2.15pm

Web pb.co.nz/LEU109351

Cameron McRae

M 027 769 6696

E cameron.mcrae@pb.co.nz

Proud to be here
---
12

Rolleston 103a Lowes Road

Entertainers Delight both indoor and outdoor

My vendors have their sights set on new horizons, paving the way for a new family to enjoy this stylish and immaculately

presented home positioned on a 778m2 section (approx). From the moment you step through the front door it is obvious this

spacious 255m2 home is set apart by quality design and premium materials, and a meticulous configuration and flow that will

be envied by all. A few key features of the home; Separate lounge with recessed ceiling and gas fire, Open plan

kitchen/living/dining and study nook, Tri-stone bench tops, Bosch appliances, walk in pantry, Alfresco dining, large Kwila decks

with Pergola canopy and outdoor pizza oven, Separate laundry and good storage throughout, Generous master, fully tiled ensuite,

double vanity, underfloor heating and walk in robe, Beautifully landscaped garden with plenty of fruit trees and

irrigation, Double garage with drive-through and parking for an extra vehicle, Large shed with work bench, Mod cons include

App to open the garage door and a security camera. The Rolleston shops are a short 2-minute drive, plus the Selwyn pools,

Foster Park, the sports complex, dog park are not too far away. Zoned for Clearview Primary School.

Property Brokers Ltd Licensed REAA 2008 | pb.co.nz

4 2 2 2

Deadline Sale closes Tuesday 25th October, 2022 at 2.00pm,

(unless sold prior)

View Wed 12 Oct 12.00 - 12.30pm

Sun 16 Oct 2.30 - 3.00pm

Web pb.co.nz/LIU108729

Dawn Pollard

M 022 073 7580

E dawn.pollard@pb.co.nz

Selling? Buying?

For all your real estate needs think

Property Brokers Lincoln first!

Call us today

Holly Siddons

020 4153 5251

Dawn Pollard

022 073 7580

Tanya Marillier

027 383 3844

Monty Marillier

021 943 973

pb.co.nz

Property Brokers Ltd Licensed REAA 2008

PB063617
---
2

[Edition datE]

13

What build requirements are there?

Explore what a new stage will look like.

Buying in a subdivision

Section availability is mostly in new

housing estates and the district generally

has a number to choose from, especially in

Rolleston and Lincoln.

Factors influencing section choice will be:

the distance from your workplace, ease of

travelling, services available, size and price

of available sections, and where you would

like to live.

Ground conditions may also be a

consideration. In Selwyn, the land

is generally good for building with

only a standard 364 foundation often

required. Many people are choosing a

RibRaft foundation as it offers seismic

strengthening and may work out more

economical.

A factor which should be high on your

list should be the covenants a developer has

in place and whether these will present any

issues for you.

Any new housing subdivision is likely

to have covenants stipulating what can

and cannot be constructed, in terms of

minimum and maximum house size on

a given section, and aesthetic features

like the roof pitch, acceptable claddings,

landscaping and what is permitted on view

from the street.

The covenants will be supplied with the

Purchase and Sale Agreement. Read these,

asking your lawyer for advice and checking

with your builder to ensure these can be

met before signing on the dotted line.

Before finalising your house plan

with your builder and building consent

application is lodged with Council, send

this and a landscape plan to the developer

for approval. This will avoid costly changes

or problems down the line. There may

be a charge associated with Developer's

Approval or a refundable bond may be

incurred. This process is put in place to

protect the overall look and integrity of

the housing estate and ensure any damage

incurred during construction is put right.

Certain covenants may seem annoying

however, they protect the environment you

are buying into and can be accommodated

with good design.

The standard of builds in respective

subdivisions may vary from smaller

economic housing to larger sections and

homes. There may also be variations in

the features in each subdivision such as

the street width, number of children's play

areas, walkways and beautification.

Where you are purchasing off a plan for

a section in a new stage of a subdivision,

ask questions so you appreciate what the

area will ultimately look like. Doing your

homework will help give you surety that

what is proposed will happen. This includes

when title is due, something which can be

slowed by Council consent requirements or

the weather delaying earthworks.

Closeness to schools, shops and public

transport may also be considerations,

especially if you want your children to have

independence by walk to school, a park

or sporting activities. Consider how each

subdivision might suit your lifestyle.
---
14

BETTER

SO YOU CAN GET BACK TO

THE THINGS YOU LOVE SOONER

Connecting people and property is what we do,

and we've always endeavoured to do it better.

By putting our clients first.

Let's work together | bayleys.co.nz/canterbury

Bayleys Darfield 03 975 4559 | Bayleys Leeston 03 375 4700 | Bayleys Rolleston 03 347 9949

LICENSED UNDER THE REA ACT 2008

AIRPOINTS PROGRAMME TERMS AND CONDITIONS APPLY
---
15

NEW LISTING

Burnham 162 Burdons Road

High-performing, once in a lifetime opportunity

This highly-productive Burnham dairy farm boasts an exceptional location and a superior homestead designed to

house your family in luxury. The 250.5828-hectare property has proven performance showing consistently with the

average production over the past four seasons at 573,381kgMS, along with low costs, this is a very profitable

property. The meticulous attention to detail on this farm sets it apart from others. Simple and efficient systems,

environmentally sound with quality infrastructure and irrigation means it's well set up for the new owners. The

centrally located 70-bail rotary shed with Read milking plant has new automatic cup removers, Tru-test auto draft

system and includes large feed pads. The immaculately maintained farm is complemented by an equally impressive

home, second three-bedroom home, and a further four-bedroom home.

bayleys.co.nz/5519481

250.5828ha

Deadline Sale (unless sold prior)

12pm, Fri 4 Nov 2022

3 Deans Avenue, Chch

View by appointment

Chris Flanagan 027 433 4657

Ben Turner 027 530 1400

Craig Blackburn 027 489 7225

WHALAN AND PARTNERS LTD, BAYLEYS, LICENSED UNDER THE REA ACT 2008

Charing Cross 684 Telegraph Road

A property to be proud of

Exceptional quality, immaculately presented 205.3495ha property. The excellent system of lanes across the farm

means you can drive throughout the property without opening a gate, enabling ease of management and

movement. Irrigated from good wells, with the addition of CPW water, providing both reliability and simplicity. The

excellent infrastructure includes Turbo rain irrigators and Zimmatic pivots, there are outbuildings aplenty along

with grain storage making this property well set up for a multitude of uses, the property also ticks the required

boxes for dairy support. Unique and striking, the house combines adobe mudbrick with solid timber joinery and the

result is a property many would feel privileged to call home. This is an example of a property that truly has

options, with highly regarded soils, robust water resources and excellent infrastructure.

bayleys.co.nz/5519472

205ha 3 2 2

Deadline Sale (unless sold prior)

12pm, Tue 1 Nov 2022

3 Deans Avenue, Chch

View by appointment

Ben Turner 027 530 1400

ben.turner@bayleys.co.nz

Craig Blackburn 027 489 7225

WHALAN AND PARTNERS LTD, BAYLEYS, LICENSED UNDER THE REA ACT 2008

bayleys.co.nz
---
16

Boundary lines are indicative only

Darfield 1103 Greendale Road

Superb rural refinement - two hectares (more or less)

Contemporary character pervades this private rural residence which offers a lifestyle of first-class excellence. An

impressive open-plan living layout with its contemporary kitchen, sophisticated appliances and butler's pantry

represents the social hub, while the separate lounge is geared towards winding down in comfort. Embracing three

bedrooms, the master is superb, enjoying outdoor access, a deluxe walk-through robe and a well-appointed

ensuite. A highly-specified bathroom services the remaining two bedrooms, which include built-in robes, plus there

is a separate powder room for guests. Settled atop the floor plan is a highly versatile mezzanine. A separate

sleepout, equipped with a bathroom and gas water heating, is also plumbed for a kitchen. Outdoors includes two

paddocks, around 50 oak trees, an expansive steel framed garage with power and a separate woodshed.

bayleys.co.nz/5519419

4 2 2 5

Deadline Sale (unless sold prior)

1pm, Tue 8 Nov 2022

View by appointment

Chris Jones 027 220 5043

chris.jones@bayleys.co.nz

Sam Sidey 027 346 3500

sam.sidey@bayleys.co.nz

WHALAN AND PARTNERS LTD, BAYLEYS, LICENSED UNDER THE REA ACT 2008

Leeston 10 Palladio Avenue

Contemporary country winner

Ideally situated on a quiet street in Leeston's sought-after Monticello development with a sunny aspect and

attractive outlook, this 181sqm (approx) four-bedroom, two-bathroom home presents a rare opportunity for

discerning buyers. Crisp, sleek, and chic, the spacious wraparound kitchen with built-in appliances and a scullery

naturally flows through to the dining area on one side with deck access and an adjoining living area complete with a

comforting log burner where you will find a safe haven to retreat from the day-to-day stresses of life. The lounge is

an abundant space with large sliding doors opening to the 56sqm (approx) deck to offer seamless alfresco living,

and morning and evening sunshine amidst grounds that have been designed with a thoughtful mixture of soft and

hard landscaping and a large lawn that makes it ideally suited for entertaining.

4 1 2 2

For Sale offers invited over $749,000

Phone for viewing times

John Bailey 027 893 0234

john.bailey@bayleys.co.nz

WHALAN AND PARTNERS LTD, BAYLEYS, LICENSED UNDER THE REA ACT 2008

bayleys.co.nz/5519504

bayleys.co.nz
---
17

Boundary lines are indicative only

Ladbrooks 118 McDrurys Road

Little River 4449 Christchurch Akaroa Road

Relaxed multi-generational

living in Ladbrooks

Contributing immense appeal to this 6,032sqm (just

under two acres) property is the large home with

potential to add value, an array of outbuildings, a treelined

drive, protection from the cold easterly winds

and the lack of upkeep of a conventional lifestyle

block. Centrally located only a few hundred metres

from Ladbrooks School, and just over five minutes'

drive to Prebbleton, Halswell, Tai Tapu or Lincoln and

14km from central Christchurch, this is an exceptional

opportunity awaiting one fortunate purchaser.

bayleys.co.nz/5519535

4+1 3+1 2+1

Deadline Sale (unless sold prior)

1pm, Thu 27 Oct 2022

Phone for viewing times

Chris Jones 027 220 5043

chris.jones@bayleys.co.nz

Sam Sidey 027 346 3500

sam.sidey@bayleys.co.nz

WHALAN AND PARTNERS LTD, BAYLEYS, LICENSED REAA 2008

Commercial investment

Situated in Cooptown, Little River, this 2,023sqm

(more or less) property includes a large (as-is-whereis)

lockable building and a smaller storage shed. The

vacant buildings would be well-suited for a range of

uses. Originally built as a dairy factory and used as an

automotive workshop over the last 59 years, the

property has a continuing income with a lease to Allied

Petroleum Limited, included with the sale. The

property is fully fenced and is currently supplied with

both water and power. Situated on the Main Road, this

is a fantastic space noticed often by visitors to the

Peninsula.

bayleys.co.nz/5518992

2,023sqm

Deadline Sale (unless sold prior)

12pm, Fri 28 Oct 2022

3 Deans Avenue, Chch

View by appointment

Evan Marshall 027 221 0910

evan.marshall@bayleys.co.nz

Peter Foley 021 754 737

WHALAN AND PARTNERS LTD, BAYLEYS, LICENSED REAA 2008

Boundary lines are indicative only

Boundary lines are indicative only

Prebbleton Lots 2, 3, 4 & 9, 1/82 Blakes Road

Blade Mews - subdivision earthworks now completed

Lots 2, 3, 4 and 9 (550sqm each) - $480,000 each

A desirable location nestled amongst quality built homes with access via Hinterland Drive, Blade Mews offers an

effortless lifestyle. Blade Mews is just steps into the Prebbleton township providing all of your daily essentials

including 'The Prebbleton Village'. Also, an easy commute is ensured into the central city being only approximately

15-minutes' drive via the Southern Motorway.

At Blade Mews you will find quality TC1 sections with services to the boundary and titles for sections due around

December 2022. Please note two-storey dwellings are not permitted.

550sqm

Asking Price $480,000

View by appointment

Chris Jones 027 220 5043

chris.jones@bayleys.co.nz

Nathan Collett 027 826 1535

nathan.collett@bayleys.co.nz

WHALAN AND PARTNERS LTD, BAYLEYS, LICENSED UNDER THE REA ACT 2008

bayleys.co.nz/5517946

bayleys.co.nz
---
18

Rolleston 55 Farnborough Way

Hurry, this won't last long

Freshly painted for the benefit of the new owners, this smart two bedroom home is ready for immediate occupancy.

Whether you are a first home buyer, a downsizer or are looking for a sound investment property, early viewing is

recommended, as properties in this price bracket are highly sought-after. The open plan living room, which is

orientated to benefit from all-day sun, extends out to the established, private rear garden of the 292sqm section.

The master bedroom has direct access to the family bathroom, which also services the second double bedroom.

Situated in a lovely wide street, just a short stroll to Faringdon's eateries and shops, this immaculately presented

home, built by Golden Homes in 2015, is ready to be snapped up!

bayleys.co.nz/5519350

2 1 1 1

Asking Price $595,000

View by appointment

Sarah Booth 027 527 8258

sarah.booth@bayleys.co.nz

Nick Booth 027 306 3186

nick.booth@bayleys.co.nz

WHALAN AND PARTNERS LTD, BAYLEYS, LICENSED UNDER THE REA ACT 2008

Rolleston 1 Othello Drive

Central location, vendor motivation

With the benefit of mature plantings around the spacious 786sqm section, here you can experience an established

setting yet enjoy the benefits of a modern family home with lots of desirable features. The over-height entry leads

into a huge, sunny open plan living room, also with higher stud ceilings to enhance the feeling of light and

spaciousness; and the separate lounge provides an additional space for the whole family to spread out. From the

well-appointed kitchen, complete with stone benchtops and a walk-in pantry, there is a lovely open aspect to the

patio and fully-fenced rear garden. The practical floor plan comprises three double bedrooms next to the central

family bathroom for convenience, with the expansive master bedroom appreciating a walk-in robe and ensuite. A

dedicated office beside the front door is perfect as a work from home option or even a hobby space.

4 2 2 2

For Sale offers invited over $799,000

View by appointment

Nick Booth 027 306 3186

nick.booth@bayleys.co.nz

WHALAN AND PARTNERS LTD, BAYLEYS, LICENSED UNDER THE REA ACT 2008

bayleys.co.nz/5519532

bayleys.co.nz
---
19

NEW LISTING

Rolleston 56 Hardingstone Drive

So central and so many features

Spread across an impressive 257sqm footprint, it is evident this home has been designed with both indoor and

outdoor entertaining in mind. The wide entry flows effortlessly to the spacious open-plan living area and separate

lounge at the heart of the home. Ease of entertaining over the upcoming summer months is assured in the high-spec

kitchen, complete with Corian benchtops, quality appliances, a plumbed double fridge space and a scullery with its

own sink. The expansive master suite is sure to appeal, complemented by an impressive walk-in robe and ensuite

with a tiled shower. Three additional generously proportioned bedrooms, one with its own walk-in wardrobe, are

sure to cater to sleeping arrangements. Sought-after carpeted triple car garaging and an abundance of off-street

parking are bound to tempt.

4 2 2 3

Deadline Sale (unless sold prior)

4pm, Wed 26 Oct 2022

View 12-12.30pm Sun 16 Oct

Nick Booth 027 306 3186

nick.booth@bayleys.co.nz

WHALAN AND PARTNERS LTD, BAYLEYS, LICENSED UNDER THE REA ACT 2008

bayleys.co.nz/5519598

Rolleston 31-41 Westland Place

Rolleston 39 Burford Way

Office opportunity, Rolleston

Step up to style

3 1 2 2

Locate your business in one of New Zealand's largest

growing suburbs, just 20 minutes from Christchurch's

CBD and 25 minutes from the Christchurch

International Airport.

This leasing opportunity consists of first floor modern

office measuring at approximately 426sqm on the one

floor plate, with both lift and stair access. The space

presents great natural light complemented by an ideal

mix of open plan and individual offices/meeting

rooms.

bayleys.co.nz/5519026

Price by Negotiation

View by appointment

Graeme Donaldson 021 225 2130

graeme.donaldson@bayleys.co.nz

Alex White 027 785 4211

alex.white@bayleys.co.nz

WHALAN AND PARTNERS LTD, BAYLEYS, LICENSED REAA 2008

Proudly positioned upon a superbly tended corner site

in Faringdon sits this three-bedroom brick and linear

beauty, which extends a warm welcome to the

modern-day family. The kitchen incorporates superb

storage, trusted appliances and is armed with an

island bench. A sun-loaded outdoor area runs

alongside the living room and is hemmed by the

beautifully established landscaped gardens.

Practicality has also been prioritised by excellent

storage and the presence of a heat pump for yearlong

comfort. This fully fenced property also plays

host to a garden shed, a raised vegetable garden.

Deadline Sale (unless sold prior)

1pm, Wed 19 Oct 2022

Phone for viewing times

Nathan Collett 027 826 1535

nathan.collett@bayleys.co.nz

Bianca Davidson 027 322 9055

bianca.davidson@bayleys.co.nz

WHALAN AND PARTNERS LTD, BAYLEYS, LICENSED REAA 2008

bayleys.co.nz/5519487

bayleys.co.nz
---
20

Southbridge 29 Sarsfield Street

Get in quick

Sheltered by established trees and greenery with a woodland section, this peaceful bungalow has been updated

and offers an ideal prospect for first home buyers looking for a reliable property in the heart of Southbridge's

friendly environs. The light-filled open plan kitchen and dining area have a modern breakfast bar and a great

wraparound design with plenty of storage and has an adjoining natural flow through to the spacious lounge. A log

fire and heat pump alongside ceiling and wall insulation ensure the climate is controlled throughout the year. The

neutral and updated colour scheme is modern and there is a splendid opportunity to move in and enjoy the

property immediately. Accommodation is provided by three generous double bedrooms, which share a large family

bathroom with a shower over the bath, while a separate laundry caters for the practicalities of life.

3 1 1 2 1

Deadline Sale (unless sold prior)

1pm, Thu 13 Oct 2022

3 Deans Avenue, Chch

Phone for viewing times

Suzy McPherson 027 695 0519

suzy.mcpherson@bayleys.co.nz

WHALAN AND PARTNERS LTD, BAYLEYS, LICENSED UNDER THE REA ACT 2008

bayleys.co.nz/5519489

Southbridge 312 Wabys Road

The way home

Families looking for privacy, charm and modern convenience will be immediately taken with this beautifully situated

four-bedroom, two-bathroom home on the outskirts of Southbridge that is ideally suited for country living and sits

on a 4.6 ha (approximately) lifestyle block within an idyllic rural setting. Open plan kitchen, dining and living are at

the heart of this home; the spacious wraparound kitchen is a generous space with a breakfast bar and an attached

dining area that presents the perfect space for family living. Expansive and separate, the lounge offers light-filled

outlooks to the surrounding grounds, French doors that provide easy access to the patio area, and a log burner with

a heat transfer system alongside double glazing to keep the space warm and cosy in winter.

4.6868ha 4 2

Deadline Sale (unless sold prior)

1pm, Tue 25 Oct 2022

Phone for viewing times

John Bailey 027 893 0234

john.bailey@bayleys.co.nz

WHALAN AND PARTNERS LTD, BAYLEYS, LICENSED UNDER THE REA ACT 2008

bayleys.co.nz/5519556

bayleys.co.nz
---
2

[Edition datE]

21

Buying a property with trees

enjoyment of their land, which means

that you can't let your trees become a

problem at their place (and vice versa).

If your neighbours have trees that are

giving you grief, think carefully before

swinging an axe or chainsaw. Legally, you

are entitled to trim any branches or roots

from a tree (or large shrub, or plant) that

encroach on your property unless they

are protected, in which case you may

need resource consent first. However, for

the sake of being a decent human being,

it's a good idea to talk to the tree's owners

first. Don't be tempted to take matters

into your own hands and poison the tree,

or trespass onto a neighbour's property

to chop parts of it off. One way to resolve

the situation is to seek advice from a

professional arborist. Getting an expert

to prune the tree in a way that doesn't

destroy it completely will be far cheaper

than engaging a lawyer.

In the worst-case scenario, if you can't sort

out tree issues with a chat over the fence

or the aid of an arborist, it may be time to

seek help from the Disputes Tribunal or

the District Court. If the trees are causing

a nuisance, such as blocking views and/

or light, and you're unable to come to an

agreement with the neighbour, you can

apply to the District Court for an order to

get the neighbour to trim or remove the

tree.

For independent advice on buying or

selling property, check out settled.govt.

nz.

Whoever said 'the best time to plant a tree

was 20 years ago' obviously never dealt

with overhanging branches, wayward

roots or grumpy neighbours. As anyone

who lives in a leafy area will tell you, trees

can cause no end of bother. Trees can

block views, damage fences and interfere

with power lines. Roots can disrupt pipes,

branches can reduce sunlight availability,

leaves can block gutters and windfall fruit

can attract rodents. It's a wonder people

ever plant them!

These problems are often caused by wellmeaning

property owners who plant

trees without thinking about how big

they will grow. By the time a tree is wellestablished,

it may be already wreaking

havoc both overhead and underground.

Overhanging branches may present

obvious hassles, but tree roots are usually

out of sight, out of mind until they start

to snaking their way into retaining walls,

foundations or drains (at which point they

become difficult to ignore and expensive

to re-route).

If you own a property, you are allowed

to do whatever you like to your trees,

within the bounds of the law that says

you have the right to the ordinary use and

enjoyment of your land. This is subject

to any protection that may apply to your

trees. If they're protected (for example,

because they are historic, considered

to be significant or needed to prevent

erosion), you may need to get resource

consent before doing anything to them.

Remember that you can't unreasonably

interfere with your neighbours' use and

Boundary lines are indicative only

Springston 428 Leeston Road

Top notch dairy opportunity

Situated on the doorstep of Lincoln township, this solid farming operation is ready for the new owner to capitalise

on the existing infrastructure and past performance. Currently milking approximately 400 cows through the 39 a-

side herringbone shed, the farm has enjoyed consistent production of approx. 200,000kgMS per annum in recent

years. At approximately 111.9443 hectares (more or less), the property includes two dwellings; a four-bedroom

family home kept cosy and warm year-round by two log burners and a heat pump and a second three-bedroom

home, which gives you options for staff accommodation or rental income. Farm performance is assisted by Allflex

collars for mating and animal-health monitoring, in-shed feeding, Protrack drafting technology plus an automated

teat sprayer to maximise efficiency. The yards and feed pad can accommodate approximately 400 cows.

bayleys.co.nz/5519043

111.9443ha

Deadline Sale (unless sold prior)

12pm, Wed 26 Oct 2022

3 Deans Avenue, Chch

View by appointment

Ben Turner 027 530 1400

ben.turner@bayleys.co.nz

Evan Marshall 027 221 0910

WHALAN AND PARTNERS LTD, BAYLEYS, LICENSED UNDER THE REA ACT 2008
---
22
---
23
---
24
---
25
---
2

26

[Edition datE]

Show homes

the ultimate way to shop around

Across the selwyn district, we are blessed with an

extensive array of very good quality show homes.

Building companies build show

homes to demonstrate their

workmanship, display innovative

design ideas and present a snapshot

into a new and luxurious lifestyle,

featuring all the latest in materials,

fittings and fixtures.

A show home can inspire you in a way

nothing else can. You can absorb the

ambiance they present and admire the

innovative techniques, new materials

and technology.

You can ask questions, take notes

and compare. You can see at a glance

features you would love to emulate or

would avoid when building your home.

Best of all, you ;will see the building

companies' attention to detail.

Show homes are the perfect way to get

a good idea of pricing, discover good

quality and value, learn about superior

use of space, future-proofing, ongoing

maintenance and long-term returns.

So what are you waiting for? Check

out our maps, grab a notepad and

pencil and begin the exciting project of

building your own home.

LOOKING FOR DESIGN INSPIRATION?

Visit one of our stunning showhomes to gather ideas for your dream home

Faringdon, 47 Lanner Drive, Rolleston

Faringdon, 49 Lanner Drive, Rolleston

SHOWHOMES

Both showhomes

Open Wed-Sun 12pm-4pm

SHOWrOOM / OfficE

31 Watts Road, Sockburn

Open Mon-Fri 9am-5pm

0800 844 488

signature.co.nz

30th November 2022

Rolleston Brass Band

Sam Allcorn - Cadets

Selwyn Diwali

Selwyn Motor Fest

Darfield Toy Library
---
27

Your guide to Show Homes & New Sections

in the Selwyn District

Faye Homes showcases the

latest trends for new builds

The Te Whariki show home village

in Lincoln provides an opportunity to

discover what's new in the new home

world by revisiting companies to see the

latest designs and trends.

Faye Homes is no exception with their

Southfield Drive corner property bringing

a new development in kitchens that is,

according to their sales team, popular

overseas, particularly in apartment living.

In the kitchen two matching vertical bifold

doors fold out from recesses in front of

the oven to match up with the cupboard

doors on the left and the pantry doors on

the right.

Other upgrade options that feature

include the skylights and sun tunnels,

ducted heating, schist cladding (to match

the internal schist wall in the hallway) and

the outdoor gas fire.

In the kitchen, stylish Bosch appliances

and black tapware create an impression

while the fridge sits in the pantry with

a third sink available for the after party

clean-up.

The Te Whariki show home also

continues to surprise with a clever setup

in the family bathroom with separate

basin, toilet and shower areas that can be

shut off from each other – imagine how

much easier that would make the morning

rush!

Featuring the impressive outdoor fire, a

large sheltered deck can be accessed from

the lounge and living rooms - and the

kitchen – opening out towards the huge

corner section. The perfect space to create

another room for entertaining and long

summer nights.

A second smaller deck opens from the

master bedroom which also has a walkin-robe

which takes up the entire width

of the room. There are three other double

bedrooms suitable for a range of family

sizes or separate study spaces.

A galley style laundry is spacious with

heaps of storage and opens outdoors

making washing day more convenient. In

the double garage there is a Tesla charging

unit for electric vehicles – a definite plus

these days.

The Faye Homes in Southfield Drive

is well worth a visit and is open from

Wednesdays to Sundays, 12pm until 4pm.

Your award winning partner in home building.

PRINGLEHOMES.CO.NZ
---
28

THIS WEEKS SELWYN DISTRICT

Wednesday 12 October

12.00pm – 12.30pm

5.00pm – 5.30pm

6.00pm – 6.30pm

Thursday 13 October

12.30pm – 1.00pm

1.00pm 1.30pm

1.00pm – 1.30pm

5.30pm – 6.15pm

Saturday 15 October

12.00pm – 12.30pm

12.15pm – 12.45pm

12.30pm – 1.00pm

12.45pm – 1.15pm

1.00pm 1.30pm

1.00pm 1.30pm

1.00pm 1.30pm

1.00pm 1.30pm

1.30pm – 2.00pm

1.30pm – 2.00pm

2.00pm – 2.30pm

2.15pm – 2.45pm

Sunday 16 October

11.00am – 11.30am

11.00am – 11.30am

11.00am – 11.30am

11.00am – 11.30am

11.30am – 12.00pm

11.30am – 12.00pm

11.45am – 12.15pm

12.00pm – 12.30pm

12.00pm – 12.30pm

103a Lowes Road, Rolleston

Property Brokers

10a Baxter Crescent, Rolleston

Property Brokers

53a Park Lane, Rolleston

Ray White Town & Lifestyle

2/266 Halswell Road, Halswell

Ray White Town & Lifestyle

25 Edward Law Boulevard,Prebbleton

Harcourts

68 Quartz Drive, Rolleston

Property Brokers

623 Leeston Dunsandel Road, Leeston

Property Brokers

13 Tiny Hill Drive,Rolleston

Harcourts

17 Owen Drive, Darfield

Harcourts

2/266 Halswell Road, Halswell

Ray White Town & Lifestyle

129 Shillingford Boulevard,Rolleston

Harcourts

1 Soar Terrace, Rolleston

Harcourts

876 Selwyn Road,Rolleston

Harcourts

25 Edward Law Boulevard,Prebbleton

Harcourts

73 Preston avenue, West Melton

Harcourts

9 Maltby Drive, Rolleston

Harcourts

9 Whitney Court,Rolleston

Harcourts

22 ardrossan Way, Tai Tapu

Ray White Town & Lifestyle

6 Vaughan Drive, Rolleston

Harcourts

22 Fairhurst Place, Rolleston

Ray White Town & Lifestyle

69 Hume Street, Sydenham

Ray White Town & Lifestyle

94 Oaks Drive, Lincoln

Bayleys Canterbury

24 Bentley Drive, Rolleston

Bayleys Canterbury

14 Papatahora Drive, Lincoln

Ray White Town & Lifestyle

7 Nicolau avenue, Rolleston

Ray White Town & Lifestyle

79 Charlbury Drive, Rolleston

Ray White Town & Lifestyle

99 Renoir Drive, Rolleston

Property Brokers

155a Lowes Road, Rolleston

Property Brokers

12.00pm – 12.30pm

12.00pm – 12.30pm

12.00pm – 12.30pm

12.00pm – 12.30pm

12.00pm – 12.30pm

12.00pm – 12.30pm

12.00pm – 12.30pm

12.00pm – 12.30pm

12.00pm – 12.30pm

12.00pm – 12.30pm

12.00pm – 1.15pm

12.15pm – 12.45pm

12.15pm – 12.45pm

12.30pm – 1.00pm

12.30pm – 1.00pm

12.30pm – 1.00pm

12.30pm – 1.00pm

12.30pm – 1.00pm

12.30pm – 1.00pm

12.30pm – 1.00pm

12.45pm – 1.15pm

1.00pm 1.30pm

1.00pm – 1.30pm

1.00pm – 1.30pm

1.00pm – 1.30pm

1.00pm – 1.30pm

1.00pm – 1.30pm

1.00pm – 1.30pm

1.00pm – 1.30pm

1.00pm – 1.30pm

1.00pm – 1.30pm

1.00pm – 1.45pm

1.15pm – 1.45pm

12 Grace Way, Rolleston

Property Brokers

36 Liffey Springs Drive, Lincoln

Property Brokers

16 Fibonacci Way, Leeston

Property Brokers

56 Hardingstone Drive, Rolleston

Bayleys Canterbury

7 alpha Way, Rolleston

Ray White Town & Lifestyle

14 Talon Drive, Rolleston

Bayleys Canterbury

53a Park Lane, Rolleston

Ray White Town & Lifestyle

729 East Maddisons Road, Rolleston

Ray White Town & Lifestyle

1 Clydesdale Way, Lincoln

Ray White Town & Lifestyle

626 East Maddisons Road, Rolleston

Property Brokers

25 Edward Law Boulevard,Prebbleton

Harcourts

17 Owen Drive, Darfield

Harcourts

5 allingham Lane, Rolleston

Ray White Town & Lifestyle

13 Tiny Hill Drive,Rolleston

Harcourts

18 Patiki Street, Lincoln

Bayleys Canterbury

19 Hungerford Drive, Rolleston

Ray White Town & Lifestyle

2309 Main South Road, Burnham

Ray White Town & Lifestyle

6 Vaughan Drive, Rolleston

Harcourts

1856 Coaltrack Road, Greendale

Property Brokers

2/266 Halswell Road, Halswell

Ray White Town & Lifestyle

129 Shillingford Boulevard,Rolleston

Harcourts

876 Selwyn Road,Rolleston

Harcourts

153 Curraghs Road, Rolleston

Property Brokers

13F Fairfield Way, Rolleston

Property Brokers

10 Palladio avenue, Leeston

Bayleys Canterbury

76 Thornborough Drive,Rolleston

Bayleys Canterbury

26 Taita Drive,Rolleston

Bayleys Canterbury

1 Colebrook Drive, Rolleston

Ray White Town & Lifestyle

21 andesite Drive, Rolleston

Ray White Town & Lifestyle

34 Heathridge Way, Lincoln

Ray White Town & Lifestyle

6 archie Lane, Rolleston

Property Brokers

7 Fairhurst Place, Rolleston

Property Brokers

139 Wards Road, Rolleston

Ray White Town & Lifestyle

1.15pm – 1.45pm

1.30pm – 2.00pm

1.30pm – 2.00pm

1.30pm – 2.00pm

1.30pm – 2.00pm

1.30pm – 2.00pm

1.30pm – 2.00pm

1.30pm – 2.15pm

1.30pm – 2.15pm

1.45pm – 2.15pm

1.45pm – 2.15pm

1.45pm – 2.15pm

2.00pm – 2.30pm

2.00pm – 2.30pm

2.00pm – 2.30pm

2.00pm – 2.30pm

2.15pm – 2.45pm

2.15pm – 3.00pm

2.30pm – 3.00pm

2.30pm – 3.00pm

2.30pm – 3.00pm

2.30pm – 3.00pm

2.30pm – 3.15pm

3.00pm – 3.30pm

3.00pm – 3..30pm

3.00pm – 3.30pm

3.00pm – 3.30pm

3.00pm – 3.30pm

3.45pm – 4.15ppm

26 Michaels Road, Tai Tapu

Ray White Town & Lifestyle

9 Maltby Drive, Rolleston

Harcourts

73 Preston avenue, West Melton

Harcourts

Lot 51 Jean archie Drive, Rolleston

Ray White Town & Lifestyle

9 Whitney Court,Rolleston

Harcourts

55 Manse Road, Leeston

Property Brokers

3 Milrose Court, Lincoln

Bayleys Canterbury

623 Leeston Dunsandel Road, Leeston

Property Brokers

537 Springston Rolleston Rd,Rolleston

Bayleys Canterbury

312 Wabys Road, Southbridge

Bayleys Canterbury

15 Ocean View Place, Rakaia Huts

Ray White Town & Lifestyle

10a Baxter Crescent, Rolleston

Property Brokers

37 Wigmore Crescent,Rolleston

Bayleys Canterbury

1 Soar Terrace, Rolleston

Harcourts

12 The Mews, Lincoln

Ray White Town & Lifestyle

28 Stanford Way, Rolleston

Ray White Town & Lifestyle

17C Kingsdowne Drive, West Melton

Ray White Town & Lifestyle

1694 Hoskyns Road, Kirwee

Harcourts

17 Stables Drive,Lincoln

Bayleys Canterbury

103a Lowes Road, Rolleston

Property Brokers

38 Selwyn Street, Leeston

Property Brokers

68 Quartz Drive, Rolleston

Property Brokers

295a Jowers Road, West Melton

Property Brokers

27 Burford Way, Rolleston

Ray White Town & Lifestyle

2 Corriedale Lane, West Melton

Ray White Town & Lifestyle

718 Stables Road, Rolleston

Bayleys Canterbury

59 Halswell Junction Road,Halswell

Harcourts

33 Stables Drive, Lincoln

Bayleys Canterbury

63 Shepherd avenue, West Melton

Ray White Town & Lifestyle

For full details of all

Open Homes, please

contact the Real

Estate companies

RAY WHITE

Rolleston 03 347 9988

www.rwrolleston.co.nz

West Melton 03 347 9933

www.rwwestmelton.co.nz

Lincoln 03 325 7299

www.rwlincoln.co.nz

PROPERTY BROKERS

www.propertybrokers.co.nz

Rolleston 03 929 0306

Darfield 03 975 4506

Leeston 03 929 0306

Lincoln 03 595 6954

HARCOURTS

www.fourseasons.harcourts.co.nz

Hornby 03 349 9919

Rolleston 03 347 4711

Lincoln 03 662 9933

BAYLEYS

www.bayleys.co.nz

Rolleston +64 3 347 9949

Darfield +64 3 9754559

Leeston +64 3 324 3704

Christchurch +64 3 375 4700

CHECK OUT THE

SELWYN TIMES

PROPERTY

DIRECTORY

EVERY

WEDNESDAY

FOR THE BEST

OF PROPERTY

IN THE SELWYN

DISTRICT

House and Land Packages

From $645,000

Start your new lifestyle

in Christchurch

Signature Homes has a range of House

& Land packages available and all for a

fixed price. Contact Signature Homes

Christchurch South to discuss your new

home requirements today.

0800 844 488 | signature.co.nz

TKR20221001