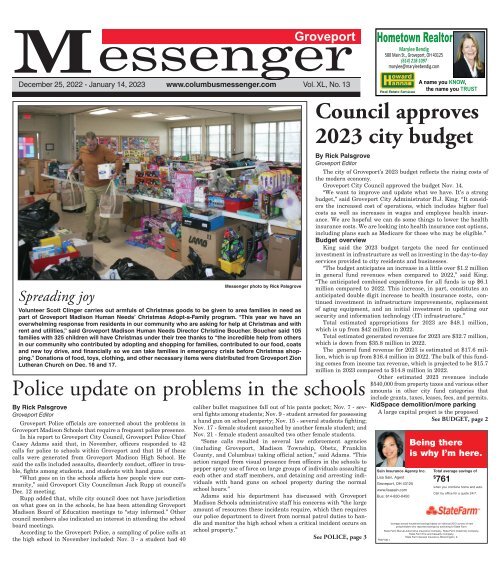 Groveport Messenger - December 25th, 2022
You also want an ePaper? Increase the reach of your titles
YUMPU automatically turns print PDFs into web optimized ePapers that Google loves.
Messenger

Groveport

December 25, 2022 - January 14, 2023 www.columbusmessenger.com Vol. XL, No. 13

Spreading joy

Messenger photo by Rick Palsgrove

Volunteer Scott Clinger carries out armfuls of Christmas goods to be given to area families in need as

part of Groveport Madison Human Needs' Christmas Adopt-a-Family program. "This year we have an

overwhelming response from residents in our community who are asking for help at Christmas and with

rent and utilities," said Groveport Madison Human Needs Director Christine Boucher. Boucher said 105

families with 325 children will have Christmas under their tree thanks to "the incredible help from others

in our community who contributed by adopting and shopping for families, contributed to our food, coats

and new toy drive, and financially so we can take families in emergency crisis before Christmas shopping."

Donations of food, toys, clothing, and other necessary items were distributed from Groveport Zion

Lutheran Church on Dec. 16 and 17.

Hometown Realtor

Marylee Bendig

580 Main St., Groveport, OH 43125

(614) 218-1097

marylee@maryleebendig.com

Sain Insurance Agency Inc.

Lisa Sain, Agent

Groveport, OH 43125

www.lisasain.com

Bus: 614-830-0450

A name you KNOW,

the name you TRUST

Council approves

2023 city budget

By Rick Palsgrove

Groveport Editor

Police update on problems in the schools

By Rick Palsgrove

Groveport Editor

Groveport Police officials are concerned about the problems in

Groveport Madison Schools that require a frequent police presence.

In his report to Groveport City Council, Groveport Police Chief

Casey Adams said that, in November, officers responded to 42

calls for police to schools within Groveport and that 16 of these

calls were generated from Groveport Madison High School. He

said the calls included assaults, disorderly conduct, officer in trouble,

fights among students, and students with hand guns.

"What goes on in the schools affects how people view our community,"

said Groveport City Councilman Jack Rupp at council's

Dec. 12 meeting.

Rupp added that, while city council does not have jurisdiction

on what goes on in the schools, he has been attending Groveport

Madison Board of Education meetings to "stay informed." Other

council members also indicated an interest in attending the school

board meetings.

According to the Groveport Police, a sampling of police calls at

the high school in November included: Nov. 3 - a student had 40

caliber bullet magazines fall out of his pants pocket; Nov. 7 - several

fights among students; Nov. 9 - student arrested for possessing

a hand gun on school property; Nov. 15 - several students fighting;

Nov. 17 - female student assaulted by another female student; and

Nov. 21 - female student assaulted two other female students.

"Some calls resulted in several law enforcement agencies

(including Groveport, Madison Township, Obetz, Franklin

County, and Columbus) taking official action," said Adams. "This

action ranged from visual presence from officers in the schools to

pepper spray use of force on large groups of individuals assaulting

each other and staff members, and detaining and arresting individuals

with hand guns on school property during the normal

school hours."

Adams said his department has discussed with Groveport

Madison Schools administrative staff his concerns with "the large

amount of resources these incidents require, which then requires

our police department to divert from normal patrol duties to handle

and monitor the high school when a critical incident occurs on

school property."

See POLICE, page 3

The city of Groveport's 2023 budget reflects the rising costs of

the modern economy.

Groveport City Council approved the budget Nov. 14.

"We want to improve and update what we have. It's a strong

budget," said Groveport City Administrator B.J. King. "It considers

the increased cost of operations, which includes higher fuel

costs as well as increases in wages and employee health insurance.

We are hopeful we can do some things to lower the health

insurance costs. We are looking into health insurance cost options,

including plans such as Medicare for those who may be eligible."

Budget overview

King said the 2023 budget targets the need for continued

investment in infrastructure as well as investing in the day-to-day

services provided to city residents and businesses.

"The budget anticipates an increase in a little over $1.2 million

in general fund revenues when compared to 2022," said King.

"The anticipated combined expenditures for all funds is up $6.1

million compared to 2022. This increase, in part, constitutes an

anticipated double digit increase to health insurance costs, continued

investment in infrastructure improvements, replacement

of aging equipment, and an initial investment in updating our

security and information technology (IT) infrastructure."

Total estimated appropriations for 2023 are $48.1 million,

which is up from $42 million in 2022.

Total estimated generated revenues for 2023 are $32.7 million,

which is down from $35.8 million in 2022.

The general fund revenue for 2023 is estimated at $17.6 million,

which is up from $16.4 million in 2022. The bulk of this funding

comes from income tax revenue, which is projected to be $15.7

million in 2023 compared to $14.8 million in 2022.

Other estimated 2023 revenues include

$540,000 from property taxes and various other

amounts in other city fund categories that

include grants, taxes, leases, fees, and permits.

KidSpace demolition/more parking

A large capital project is the proposed

See BUDGET, page 2

Being there

is why I'm here.

Total average savings of

$

761

when you combine home and auto.

Call my office for a quote 24/7.

*average annual household savings based on national 2015 survey of new

policyholders who reported savings by switching to State Farm.

State Farm Murual Automotive Insurance Company, State Farm Indemnity Company,

State Farm Fire and Casualty Company,

State Farm General Insurance, Bloomington, IL

P097136.1
---
PAGE 2 - GROVEPORT MESSENGER - December 25, 2022

America'

ica's s Fa Fa

av av vorite Treasure ure e Hunts!

2022

EXCLUSIVE LIMITED TIME OFFER!

20 % +

%

OFF

OFF

YOUR ENTIRE

PURCHASE *

FINANCING THAT FITS YOUR BUDGET! 1

1 Subject to credit approval. Call for details.

Promo Code: 285

10

SENIORS &

MILITARY!

FREE GUTTER ALIGNMENT + FREE GUTTER CLEANING*

Dec. 17 & 18

Holiday Hours...

Christmas Eve - Christmas Day - Closed

New Years Eve - Closed @ 6pm for New Years Eve Party!

Jan. 9-15 Closed for Sanity Break :-

1005 Richardson Road, Groveport, OH 43125

614-610-9688 www.thepaddockpub.com

The Gilmore Group

Office: 614-834-HOME (4663)

Cell: 614-774-4416

www.GilmoreGroupHomes.com

YEAR-ROUND

CLOG-FREE GUARANTEE

A FREE ESTIMATE

1-855-595-2102

Antiques, Collectibles,

Jewelry, Vintage,

Home Decor, Militaria

and more!

2023

Jan. 28 & 29

Feb. 25 & 26

Mar. 25 & 26

BUDGET

Continued from page 1

demolition of KidSpace, 630 Wirt Road, and replacing

it with additional public parking at a cost of $500,000.

King said several downtown area businesses have

expressed a need for more public parking and the city

is looking at its options.

He said city officials will not make a decision on

demolishing KidSpace until, "We have a firm home for

the kids' programs housed there. No KidSpace programs

will be sacrificed."

He said a possible home for the KidSpace programs

could be Groveport Town Hall at 648 Main St.

Currently the public parking lots south of Main

Street are often full.

"We're looking at how to fulfill our need for more

parking downtown," said King.

King said the timing of when the proposed demolition

of KidSpace would take place and when the parking

spaces would be added is to be determined.

"Assuming the budget is approved, we would proceed

with getting design quotes for the project," said

King. "I anticipate this would occur in mid-summer

2023."

King said the number of new parking spaces that

would be created is to be determined after all requirements

are put into the plan.

"The plan would be designed once an engineering

firm is hired for the project," said King.

King said the $500,000 cost is for the entire project,

including demolition of KidSpace and parking lot construction.

The building was built in 1955 and was originally

the Groveport Municipal Building for many years and

later was home to the senior center. KidSpace moved

into the building in the early 2000s after the senior

center moved to the Groveport Recreation Center.

According to King, there are other cost factors to

consider regarding the KidSpace building as the 67-

year-old structure has leaks, needs a new roof at an

estimated cost of $70,000, and the HVAC system

needs to be replaced.

The KidSpace building also includes two public art

works - a mural on an interior wall depicting

Groveport during the Ohio and Erie Canal era and a

Groveport Elementary student art project on an exterior

wall. When asked if these art works would be

saved, King said, "This is all based on the condition of

the murals and the design of the project. This will be

determined during design of the project."

Wert's Grove/Rarey's Port buildings

The budget includes $1.1 million for the interior

construction build out of the second floors of the new

Wert's Grove and Rarey's Port buildings ($550,000 for

each).

"The second floors (of these buildings) were funded

by tax revenue (i.e. income tax)," said King "That

being the case, the spaces can't be directly leased to for

profit companies. The uses must be government

(which is non-profit) or other non-profit organizations.

The first floors were funded by non-tax revenue, so via

the Community Investment Corporation, the spaces

could be directly leased to for profit companies."

Construction is progressing on the 14,145 square

foot Rarey's Port (674 Main St.) and the 12,184 square

foot Wert's Grove (480 Main St.) buildings that are

part of the city of Groveport's 1847 Main Project.

The potential opening dates of the buildings' first

floor businesses is expected at the end of 2022 or early

2023.

Delaney's Diner — a breakfast, lunch, brunch

restaurant — will occupy space in the Rarey's Port

building. Little Italy Pizza, which has operated at 619

Main St. for 43 years, plans to move into the Wert's

Grove building.

www.columbusmessenger.com

"We want to improve and update what

we have. It's a strong budget."

-B.J. King

City administrator

Little Italy will occupy the entire first floor of the

Wert's Grove building. Delaney's Diner will occupy

4,958 square feet of the first floor of the Rarey's Port

building on the west end of the building, including the

patio. City officials are seeking tenants for the remaining

2,059 square feet of the Rarey's Port building's first

floor.

Other capital improvement projects

"The capital budget is one percent higher than last

year," said King.

Some significant capital projects and purchases

proposed for 2023 include:

•$550,000 for street maintenance;

"The streets to be included in the street maintenance

program will be determined in early 2023," said

King. "Our process is to have our engineer and Public

Works Department assess the conditions of roads and

determine costs."

•$110,000 for street maintenance/stormwater:

•$240,000 for police patrol vehicles and equipment;

•$220,000 for the west Bixby Road pavement rehabilitation;

•$80,000 for IT server upgrade; $50,000 for IT

switch upgrade; and $30,000 for IT firewall upgrade;

King said these information technology upgrades

are important, "To keep us protected from current

cyber threats that exist for all organizations today.

Additionally, to make sure that our systems are compliant,

secure, and seamlessly operational for day-today

business."

•$80,000 for fitness equipment at the recreation

center;

•$55,000 for Marketing Place reconstruction;

•$40,000 for Degenhart Park playground equipment;

$35,000 for Blacklick Park playground equipment;

and $20,000 for tennis court repairs;

•$225,000 for the golf course entrance driveway;

•$30,000 for sidewalk replacements;

•$63,000 for an all terrain vehicle/snow equipment;

•$62,000 for a utility truck;

•$210,000 for a two and a half ton truck;

•$155,000 for a roadside mowing tractor;

•$107,000 for a rough mower for the golf course;

•$84,000 for a triplex mower for the golf course; and

•$317,384 for recreation and aquatic center maintenance,

repairs, and upgrades.

Budgets in previous years mentioned the proposed

construction of a new additional water tower, but that

project is not included in the 2023 budget.

"The additional water tower, when listed with infrastructure

priorities, was determined to be a lower

need," said King. "We understand the importance of

redundancy for our water system, however, the system

we currently have in place is sufficient to meet our

needs."

Other proposed appropriations

The 2023 general fund appropriations are estimated

at $21 million, which is up from $20.1 million in

2022. Some other proposed 2023 appropriations:

•Revenue sharing with Groveport Madison Schools,

$1.3 million; and

•Funding for festivals including $59,450 for the

Fourth of July; $25,000 for Christmas - A Heritage

Holiday; $29,050 for Apple Butter Day; and $21,050

for the Farmers Market and First Thursdays.
---
www.columbusmessenger.com

A fight in GMHS classroom

By Rick Palsgrove

Groveport Editor

Another fight broke out at Groveport

Madison High School.

According to Groveport Police Lt. Josh

Short, on Dec. 5, three to four male students

allegedly assaulted another male

student in a classroom.

"We are being told that this fight was in

retaliation for a fight that occurred off

school property during or after the varsity

basketball game on Dec. 2," said Short,

who added the case remains under investigation.

He said there were no guns or weapons

involved and no injuries were reported at

the time of the incident.

According to Short, three male students

were charged with disorderly conduct for

the initial fight. Another male student was

charged with disorderly conduct for

attempting to fight with the three males

students. A female was arrested for

obstructing official business and resisting

arrest when she attempted to stop the

school resource officer from arresting one

of the male students.

"The school resource officer and school

staff are still investigating the incident

and additional charges are expected," said

Short. "I cannot speak to what discipline

the school will levy.

Strict process dictates discipline

"From my observations there is an issue

in the high school when it comes to basic

every day respect, decorum, and discipline,"

said Short. "A simple walk through

will give you the distinct impression that

the students are running the building. I

would never have behaved in such a manner

when I navigated the halls of

Groveport Madison High School back in

the 1990s."

However, Short added that what concerned

district parents need to take a look

at is the laws and regulations that the

Ohio state legislature and state board of

education have put in place that dictates

specifically how school district administrators

can discipline.

"Parents are mistaken if they believe

that a district can simply just suspend or

expel a student whenever and for whatever

they want," said Short. "There is a very

strict process that districts must follow

and, as with most bureaucracy, it is not

timely. This becomes even more problematic

with a student that has an individual

education plan making 'regular' forms of

discipline even more difficult to attain.

There is certainly a significant divide

between what parents think should happen

and what actually can happen. We feel

the same frustration on the law enforcement

side when we criminally charge a

student in one of these significant violent

incidents and the juvenile court metes our

virtually no consequence."

Safety committee established

In light of several recent incidents of

discipline problems, fights, and the possession

of guns by students at the high school,

district officials are taking steps to

improve security and safety.

One thing among the many safety

improvements being pursued is the creation

of a safety committee. According to

district officials, approximately 25 parents,

staff members, students, and other officials

joined Deputy Superintendent Paul

Smathers at the new safety committee's

first meeting recently. The group will meet

monthly to discuss various safety-related

issues throughout the school district.

Information from the meetings will be

posted online at

www.gocruisers.org/SafetySecurity.aspx

Safety hotline

Students and adults can anonymously

share information with school officials and

law enforcement about threats to student

safety by calling or texting to 844-SaferOH

(844-723-3764). Calls are answered by the

Ohio Homeland Security's Threat

Assessment and Prevention Unit. When

action is needed, the TAP Unit immediately

notifies school officials, law enforcement

agencies and others, if necessary.

Messenger holiday schedule

The Messenger will alter its print publication

schedule for the upcoming holiday

season. The Messenger print publication

and delivery date for the remainder of 2022

will be Dec. 25. After that, print publication

will resume following the holidays on

Jan. 15 and then every other week after

that. Thanks for reading the Messenger!

December 25, 2022 - GROVEPORT MESSENGER - PAGE 3

Groveport history films

Two documentary films on the history of

Groveport, produced by the Groveport

Heritage Society and Midnet Media, are

now available for viewing online on

YouTube.

The films are: "Groveport: A Town and

Its People" and "The Story of John S. Rarey

and Cruiser."

The LARGEST SELECTION of IN-STOCK

Kitchen Cabinets

Home Outlet is your sourc

e for quality in-stock kitchen cabinets for your home.

Whether you need project ideas and inspiration or you' re ready to roll up your

sleeves and get started, our experienced store represen

ntatives are ready to help

with completely FREE Kit

chen Planning services

. Or, start your project online at

homeoutlet.com.

POLICE

Continued from page 1

He said district officials understand and

have "become more proactive" in their

responses. He said school officials are

working with security consultants and

other schools to "find better ways to resolve

incidents before they get out of control."

The high school uses two school

resource officers, one from the Groveport

Police and one from the Madison Township

Police. He said Madison Township's SRO

officer will spend more time at the high

school and less time at schools in the

northern portion of the district.

Adams said officers make every attempt

to identify and criminally charge those who

have committed the crime of violence.

"We understand that the police cannot

arrest our way of this problem within our

schools, but our response will send a clear

message that actions have consequences

and we will not tolerate criminal behavior

in our schools that place our students in

danger."

He added that the Groveport Madison

Schools superintendent's office has

informed him that the district is taking a

"stronger stance" when it comes to administrative

code violations and "holding students

accountable for their actions."

Police and district officials meet regularly

to discuss safety and security measures

in the schools.

"Myself and Lt. (Josh) Short have had

several meetings with the school administration,"

said Adams.

North Columbus

2433 East Dublin Granville Road

614-794-9330

Two Convenient n Loc

ations to Serve You

West Columbus

4117 West Broad Street

614-274-9842
---
PAGE 4 - GROVEPORT MESSENGER - December 25, 2022

Rec Center now paid for

By Rick Palsgrove

Groveport Editor

Eighteen years ago the city of Groveport

made an investment to enhance the recreation

offerings in the city. It paid off in

facilities that provide fun and fitness and

now the city's monetary investment is also

paid in full.

Groveport Finance Director Jason Carr

told Groveport City Council on Dec. 12 that

the city has paid off the debt on the

Groveport Recreation Center. The 60,000

square foot recreation center, located at

7370 Groveport Road, was built in 2004.

"On Oct. 1, 2002, the city issued $16 million

income tax revenue bonds for a period

of 20 years to construct the Recreation

Center and outdoor Aquatic Center," said

Carr.

According to Carr, the original cost to

build each facility was $14.8 million and

$1.9 million for the recreation center and

outdoor aquatic center, respectively.

"These costs do not include repairs,

maintenance, operations, etc. but original

costs," said Carr. "The bonds were refinanced

on March 1, 2012 to secure a lower

income tax rate but did not change the final

maturity year of 2022. The bonds were

retired based on the stated amortization

schedule."

Street maintenance program

The city's 2023 budget includes

$550,000 for street paving/pavement maintenance

and $110,000 for stormwater

improvements associated with the street

program. A list of the streets that will

receive work in 2023 is pending.

Also, the Groveport Municipal Golf

Course driveway will be repaved in 2023. It

will be included in the street maintenance

program bid and remaining funds remaining

from the cart path replacement project

will go towards the driveway project.

"It's in pretty bad shape," said

Groveport City Administrator B.J. King,

who added the golf course driveway work

will consist of edging, milling, and resurfacing.

Councilman Shawn Cleary asked if the

driveway could be widened.

City Engineer Steve Farst replied, "If

you widen it people will drive faster on it. It

would also cost more to widen it. It's an old

road and we don't know what's under it."

Other news

•Council approved a zoning variance

request for property at "0" Hendron Road

(site of the former Groveport Madison

Recreation Club swimming pool site, which

is now a vacant lot) to allow for the construction

of 4,070 square foot veterinary

clinic.

However, council did amend the legislation

to not allow any outdoor kennels or

boarding of animals on the site.

www.columbusmessenger.com

Cruiser on the move

Photo courtesy of Michelle Nickerson

Groveport Madison Cruiser varsity basketball player Savon Dennis heads down

the court during a game against the Hartley Hawks on Dec. 13 at Groveport

Madison High School. The Hawks topped the Cruisers 71-66.

DestinationOutlets.com

800-213-9083

8000 Factory Shops Blvd.

Jeffersonville, OH 43128

DOWNLOAD OUR

MEMBERSHIP APP

Photo courtesy of Eastland-

Fairfield

Toy

donation

Students in the

Cosmetology program

at Eastland Career

Center collected more

than 200 toys and

books to benefit local

children during the holidays

through the

Afterschool Child

Enrichment program.

The toy drive benefits

students at multiple

local elementary

schools, including

Dunloe and Asbury elementary

schools in

Groveport Madison and

Taylor and Rosehill elementary

schools in

Reynoldsburg.
---
www.columbusmessenger.com

Creating positive school climate

to promote student well being

A positive school climate — where students

feel a sense of safety and belonging

and positive relationships between students

and staff prevail — is our daily focus

in Groveport Madison Schools.

Jamie

Grube

Guest column

Our principals,

teachers, counselors,

social workers, and

support staff work

hard to develop

strong, trusting relationships

with our

students. These relationships

are the core

of our efforts to

improve safety and

promote respect and

inclusion among students

and adults. It's

also from these relationships

that we

most often learn

about potential safety-related

concerns.

Measuring school climate

It's one thing to believe your school or

school district has a positive climate and

culture, but hard data is necessary to know

for sure. That's why twice annually, our

students and staff participate in surveys to

gather each school's culture, climate, and

safety-related data. The surveys are created

and conducted by a third-party expert in

measuring school climate and other related

metrics. We closely monitor this data and

watch for trends.

Social-emotional support

Studies show that social-emotional

skills — such as problem-solving, self-regulation,

social awareness, and empathy —

help improve academics, reduce negative

social behaviors like bullying, and create

positive classroom climates. Social-emotional

skills also help kids successfully

manage everyday life.

The District has invested heavily in curriculum,

training, and other resources to

help our students develop social-emotional

skills, and provide them with the necessary

strategies and tactics to address their

behaviors, as well as how to respond to the

conduct of others appropriately.

Appropriate interventions

Groveport Madison Schools uses a

Multi-tiered System of Support — a framework

for supporting students' behavioral,

academic, social, emotional, and mental

health. Family engagement throughout the

process is essential.

Addressing discipline guidelines

and police involvement

Students need to be held accountable for

their actions and each infraction or incident

is unique and must be addressed as

such. The district utilizes a progressive

discipline model where the goal is the prevention

of a recurrence of the negative

behavior by helping students learn from

their mistakes.

We will not tolerate students who are

uncooperative, disrespectful or present a

safety threat to others. In these circumstances,

Ohio law permits a school administrator

to recommend a student (grades 4-

12 only) be suspended for up to 10 days, as

long as the behavior isn't a result of a disability.

For more severe infractions, Ohio law

allows the superintendent to expel students

from school for up to 80 days and up to one

year if the student has a gun or knife on

school property, makes a bomb threat, or

commits a crime that results in serious physical

harm to another person or property.

In situations where an assault takes

place, a student or adult brings a weapon

onto school property, or other serious safety

concerns, the district will ask the police

to press charges against the individuals in

question.

Our schools are a reflection and representation

of the communities we serve. We

look forward to working in partnership

with our students, families, staff, and community

to create a positive climate and culture

where we all feel safe and welcomed.

Jamie Grube is superintendent of

Groveport Madison Local Schools.

around Groveport and Madison Township

GMHS students learn

about different trades

In November, sophomores from

Groveport Madison High School tried a

variety of job skills from controlling an

excavator to smoothing concrete at the

Central Ohio Skilled Trades Expo. Skilled

trades jobs are high-demand career

options. Networking with the organizations

represented at the Ohio Army

National Guard Recruiting Center was a

21st century skill set valued in today's

world.

Instructor Zach Cowan said, "The kids

enjoyed it and were surprised to see all the

options. They didn't realize how specific

construction jobs are. It was great to see

our students so invested and interacting

with the expo workers. The kids were

engaged and asking questions. The students

were motivated and interested in the

career pathways they were sharing."

Groveport Garden Club

The Groveport Garden Club meets the

first Tuesday each month at Groveport

Zion Lutheran Church, 6014 Groveport

Road. Call (614) 218-1097.

Letters policy

The Groveport Messenger welcomes letters to

the editor. Letters cannot be libelous. Letters that do

not have a signature, address, and telephone number,

or are signed with a pseudonym, will be rejected.

PLEASE BE BRIEF AND TO THE POINT. The

Messenger reserves the right to edit or refuse publication

of any letter for any reason. Opinions

expressed in the letters are not necessarily the

views of the Messenger. Mail letters to: Groveport

Messenger, 3500 Sullivant Avenue, Columbus, OH

43204; or by email to southeast@columbusmessenger.com.

Keep tabs on the latest news in

Groveport & Madison Township

Look for Groveport Messenger on

December 25, 2022 - GROVEPORT MESSENGER - PAGE 5

Celebrate New Year's Eve

Starring

Become a fan!

southeast

Messenger

(Distribution: 8,000)

Rick Palsgrove ...................................Groveport Editor

southeast@columbusmessenger.com

Published every other Sunday by

The Columbus Messenger Co.

3500 Sullivant Ave., Columbus, Ohio 43204-1887

(614) 272-5422

The Columbus Messenger Co. reserves the right to edit, reject or cancel

any advertisement or editorial copy at any time. The company is not

responsible for checking accuracy of items submitted for publication.

Errors in advertising copy must be called to the attention of the company

after first insertion and prior to a second insertion of the same advertising

copy.

with ELVIS

Mike Albert

Prices Per Couple

Overnight Package - $319

Party Only Packages - $250

Single Overnight - $219

Prices include

Dinner, Drinks, Room,

Party favors, Full Breakfast

Make Your Plans NOW!

614-792-3135

columbusmessenger.com

AUTO HOME

Beplerinsurance.com

614.837.4379

staff@beplerinsurance.com

3246 Noe Bixby Rd., Columbus, Ohio 43232

The Big "E " Band

Crowne Plaza • 6500 Doubletree Ave. (formerly Marriott North)
---
PAGE 6 - GROVEPORT MESSENGER - December 25, 2022

www.columbusmessenger.com

Groveport

Messenger

BEST COMMUNITY NEWSPAPER in Groveport

FREE

Pick-Up At These

Locations:

Groveport Senior Village - 5124 Hendron

Madison Township Office - 4575 Madison Lane

Paddock Pub/Groveport Golf Ctr. - 1005 Richardson Rd.

Southeast Library - 3980 S. Hamilton Rd.

Asbury Methodist Church - 4760 Winchester Pike

Groveport Municipal Building - 655 Blacklick St.

Groveport Town Hall - 648 Main St.

Flyers PIzza/Groveport - 296 Main St.

Ace Hardware - 726 Main St.

Little Italy Pizza - 619 Main St.

Huntington Bank/Groveport - 556 Main St.

Groveport Recreation Center - 7370 Groveport Rd.

Krogers - Main St.

Groveport Methodist Church - 512 Main St.

READ US ONLINE: www.columbusmessenger.com

GYAA cheer champs

The Groveport Youth Athletic Association's Senior Cheerleading Squad recently took first place honors for

the second straight year at the WGP 18th annual Cheer and Dance Challenge. The GYAA team took home

the Senior Non-Mount championship trophy, with more than 30 teams and duets competing in this year's

competition at Mifflin High School. Many on the squad have cheered together since last year's championship

run. The team is coached by Lindsay Maggs and Assistant Coach Erica Hale, and members include:

Leilani Ayers, LonDon Ayers, Sky Barlow, Aubree Barnett, Lexi Fox, Addyson Hale, Estell Hale, Maile

Kaltenborn, Ava McDonald, Kaydince McKee, Lauren Morrison, Ava Quinonez, Lexi Rodriguez, Sara

Shearer and Amber Leigh Shelly.

Our Family Caring For Yours

Website:Expert-hvac.com

Phone:614-946-8461

Experthvacllc@gmail.com

FREE ESTIMATES

on system installs

$100 Preventative Maintenance (tune up)

Expert service - affordable prices - Locally owned from Groveport

Mention this ad and get $20 off a $110 service call.

Dr. Sacheen Garrison

5055 S. Hamilton Road

Groveport, OH 43125 614-836-0500

www.groveportsmiles.com

Income tax revenue

The city of Groveport's income tax revenue

year-to-date as of Nov. 30 was $20.6

million, which is 22 percent higher than

the same time in 2021, according to

Groveport Finance Director Jason Carr.

Carr noted the general fund balance was

$9.3 million as of Nov. 30 or $1.7 million

higher than the same time last year.

Income tax revenues year-to-date comprise

57 percent of all city revenues, the largest

part of all the city's revenues.

Groveport Police statistics

November crime statistics, according to

the Groveport Police: 26 accidents, 10

assaults, 3 burglaries, 13 domestic disputes,

0 domestic violence, 0 OVI and alcohol,

9 thefts/robberies, 1 stolen/unauthorized

use, 4 missing persons, 5 weapon

related calls, 2 narcotic related offenses, 4

threats, 1 vandalism, 8 juvenile complaints,

79 traffic citations, 0 sex related

crimes, 42 school related calls, 9 suicide

attempts/mental health.

Groveport city council

Groveport City Council holds its regular

meetings at 6:30 p.m. on the second and

fourth Mondays of the month. Council

holds its committee of the whole meeting

on the third Monday each month at 5:30

p.m. Meetings are held in the municipal

building, 655 Blacklick St., Groveport.

School board meetings

The Groveport Madison Board of

Education meets the second and fourth

Wednesday of the month at 7 p.m. at the

District Service Center, 4400 Marketing

Place, Suite B, Groveport. The board may

also schedule special meetings, as needed.

Podcast honored

The Baker Creative BusHuddle

(Business Huddle) podcast hosted by

Michele Cuthbert was selected for honorable

mention in the website element/podcast

category of the MarCom Awards 2022.

This year's competition included more

than 6,000 entries from throughout the

United States, Canada and 43 other countries.

Judges awarded entrants exceeding

a high standard of excellence with work

serving as a benchmark for the industry.

Baker Creative was among the 13 percent

receiving honorable mention accolades.

Boy Scout Troop 71

Groveport area scouts of Boy Scout

Troop 71 meet at Groveport United

Methodist Church, 512 Main St. Cub

Scouts, boys and girls in grades K-5, meet

on Mondays at 6:30 p.m. Boy Scouts ages

11-18 meet Tuesdays at 7 p.m. The Girls

Troop ages 11-18 meets Tuesdays at 7 p.m.

For information visit Beascout.org or contact

Tina Dillman at

christinadillman@aol.com.
---
www.columbusmessenger.com

Township looks for set electric rates

By Linda Dillman

Staff Writer

The Madison Township trustees

approved an agreement with Archer

Energy for electricity aggregation in hopes

it will help resident save on utility costs

later next year.

The agreement signed on Dec. 15

enables Archer to shop for a fixed 12-

month rate and present their findings to

the trustees no later than June 2023.

Purchasing electricity in the fall and

spring ensures savings versus utility company

default prices.

Treble LLC representative Scott

Belcastro said the township will have a

fixed rate determined by then.

"We are committing to Archer (now),

but we don't have the actual fixed rate,"

said Madison Township Administrator

Susan Brobst. "This gives both sides the

intent."

Other Madison Township news

•The trustees approved a fire department

purchase of a new 2025 aerial ladder

apparatus from the Sutphen Corporation.

The purchase price, minus a $38,940 prepayment

discount, is $1.18 million.

Fire Chief Derek Robinson said, by committing

to the purchase now, the township

can save between $300,000 to $400,000. He

said equipment like the 75-foot Quint style

ladder continues to escalate in cost and

build out time grows longer.

The purchase of the ladder truck is necessary,

according to Robinson, because

building heights–such as warehouses and

hotels/motels–are starting to exceed the

reach of current equipment, which forces

the township to rely on mutual aid

resources.

"Our ground ladders cannot reach the

roof of the warehouses," Robinson said,

"and we will now have the capability. Our

mutual aid partners might be caught up in

a call (delaying response times). It will better

serve our community."

Trustee John Pritchard said equipment

costs are escalating rapidly and supply

chain issues currently push the purchase

out three years.

"With this (ladder truck) we can take

care of our own," said Pritchard.

•Trustee Chairwoman Michele

Reynolds is stepping down at the end of the

year to serve as a state senator for District

3 beginning Jan. 1. She said her expectations

for her replacement is to fill the position

with someone not only good for the

township now, but who also intends to run

in the fall to keep the position.

"We have to lay out a timeline," said

Pritchard. "Thirty days will go by quickly.

I would like a robust process to determine

who the best candidate will be. We're going

to have an interview process. Give them

situations we deal with and see how they

analyze the process. A background check is

crucial. Hopefully this person will serve

the township for many years."

The official selection process for

Reynolds' replacement will not be

announced until January and the position

must be filled by Jan. 30.

Messenger photo by

Rick Palsgrove

Merry

Christmas!

Santa Claus

says, "A Merry

Christmas and

a Happy New

Year to one and

all!"

December 25, 2022 - GROVEPORT MESSENGER - PAGE 7

Website:Expert-hvac.com

Phone:614-946-8461

Experthvacllc@gmail.com

FREE ESTIMATES

on system installs

$100 Preventative Maintenance (tune up)

Expert service - affordable prices - Locally owned from Groveport

Mention this ad and get $20 off a $110 service call.

Messenger photos by Rick Palsgrove

Festive inflatables

Paul and Shelly Clark, who operate

Paddock Pub, spread Christmas cheer

each year by sharing their large collection

of holiday inflatables with the community.

This is the third year they have

set up their large display of colorful holiday

inflatables lining the driveway to

Paddock Pub and the clubhouse of the

Groveport Municipal Golf Course, located

at 1005 Richardson Road in

Groveport. Pictured here is Santa Claus

and the Abominable Snowman. Among

the collection are snowmen, The Grinch,

penguins, reindeer, gingerbread men, a

tall toy soldier, Christmas trees, teddy

bears, a unicorn, various animals, holiday

television and movie characters,

and many more.

ASBURY SOUTH UMC

4760 Winchester Pike, Columbus, Ohio 43232

Telephone: 614-837-4601

Rev. Sherri Upchurch Blackwell

Sunday Worship 10 a.m. Inside and Parking Lot

Sunday School 9 a.m.

SAVE THE DATE

New Year's Eve - December 31, 2022

Come Celebrate With Us At 8:00 p.m.

A night for family, food, music & fun!

Be a Part of Our Local Worship Guide

Our Worship Guide is geared toward celebrating faith and helping readers

connect with religious resources in our community. Make sure these readers

know how you can help with a presence in this very special section distributed to

more than 19,000 households in the Groveport area.

Contact us today to secure your spot in our Worship Guide.

614.272.5422 • kathy@columbusmessenger.com

Groveport

Messenger

REDEMPTION

CITY CHURCH

11573 Lithopolis Rd NW

Lithopolis, Ohio 43136

Is moving to 3919 Brice Rd.

Canal Winchester, OH 43110

Our 1st Service at this new location is

CHRISTMAS DAY at 6:00 p.m.

Pastor Jeff Clay will be preaching
---
PAGE 8 - GROVEPORT MESSENGER - December 25, 2022

I am a hard-core, tradition-driven holiday decorator.

My love of Christmas dates

back decades and many of the

knick-knacks and baubles that

hung on my tree as a child made

the journey through time and

space to the house I call home.

A partially burnt candle in the

shape of a fireplace and chimney,

with a single strand of greenery

and a tiny Merry Christmas banner, has a special

place in a hutch once owned by my grandparents. The

red brick has faded to a light pink, but a small faux fire

decal still shines bright.

Next to the candle is a jumbo pine cone with a face

crafted out of simple cotton and smaller pinecone arms

holding a decorated candle. It was given to me when I

was six years old and spent a summer visiting Vienna

with my mother. The pine cone was plucked from a forest

in Austria and, in the early 1960s when I received

it, was already decades old.

On top of my tree is a celluloid Santa face mounted

on an eight inch round pleated aluminum circle. It

crowned my childhood Christmas trees.

When I got married in the mid-1970s, my beloved

tree topper was passed on to me by my parents. Santa

once had a full curly beard, but lost some of his luster

over the years as the glue holding him to the metal circle

dried and his fiberglass curls fell off.

Last year, the topper got a makeover, but with modern

materials, the beard is not as curly and shiny.

www.columbusmessenger.com

Traditional decorations connect to the past

Places

Linda

Dillman

Perched on top of a hutch in another room is a sad

little 18-inch tree that most people–but not me–

would have tossed in the trash years ago. Its 20

branches of a green, cellophane-like material function

as needles mounted on thin wire branches, albeit

noticeably thinner as the years move on.

A block of green painted wood serves as the base

and still bears the original Grants (a long gone S. High

St. store in Great Southern Shopping Center) price

sticker–a princely one dollar.

The sticker is a reminder of my seven-year-old self,

who saved up chore money to buy the little tree. It

traveled across America and the Pacific ocean to Japan

before making it back home to Ohio for good.

Gold garland is draped around the tree in our den–

the one that stands guard over our presents until

Christmas Day–and is another childhood holdover.

The garland, like the little tree from Grants, has also

lost a lot of its original luster. It's been cobbled back

together over the decades as portions of the string

holding it in one piece become weak and break. It now

sheds more than our dog, but I would never replace the

garland (nor the dog). It is too precious and even in its

state of disrepair,

I continue to see its beauty.

Shiny new ornaments, sturdy modern faux trees,

tree toppers and garlands that don't shed are nice.

However, there is nothing like looking at their older,

aging counterparts and taking comfort in knowing that

they are a link to the past and a keeper of memories for

the future.

Linda Dillman is a Messenger staff writer.

Our Pictorial Past by Rick Palsgrove

Church sanctuary

Photo courtesy of the Groveport Heritage Museum

This is the sanctuary of the Groveport Zion Lutheran Church as it looked in the early to mid-20th century.

Visible in the photo are the altar, the pulpit, and pews. The congregation formed in 1911 and originally met

for services in Groveport Town Hall and later Bigelow Hall until it built a church on the northwest corner

of Main and Center streets at a cost of $20,000. The church was dedicated in 1918 and served the congregation

until the late 1960s/early 1970s when a new Lutheran church was built at 6014 Groveport Road. The

former Lutheran church at Main and Center streets is now home to the Gateway Church congregation.
---
www.columbusmessenger.com

December 25, 2022 - GROVEPORT MESSENGER - PAGE 9

CLASSIFIED ADS

Deadlines: Grove City, Groveport & All editions - Mondays at Noon.

West, Canal Winchester, South & Madison editions -Tuesdays at 5 p.m.

xGreeting

The Classified Department

THE COLUMBUS MESSENGER

LEGAL NOTICE

Class Action against

Grant Hospital for

malpractice & negligence.

Free to join. 614-278-9498

Class Action against The

City of Grove City (2.5

miliion) & Grove City

Police (2.5 million) for

bodily harm & abuse of

power. Free to join. 614-

278-9498

INFORMATION

NEED SOMETHING

DONE THIS WINTER?

CHECK OUT OUR

CLASSIFIED SERVICES!

FOR

ADVERTISING

INFO. CALL

614-272-5422

THE COLUMBUS

MESSENGER

Greeting

ASSOCIATION ADS

Vivint Smart Security.

Professionally installed.

One connected system for

total peace of mind. Free

professional installation!

Four free months of

monitoring! Call to

customize your system. 1-

833-841-0737

Are you receiving

SSDI/SSI Benefits? You

may be eligible for

additional benefits. CALL

US TODAY Citizen

Disability 1-888-490-6616

Become a Published

Author. We want to Read

Your Book! Dorrance

Publishing Trusted Since

1920 Consultation,

Production, Promotion &

Distribution. Call for Free

Author's Guide 1-877-729-

4998 or visit

dorranceinfo.com/ads

2

0

2

23

ASSOCIATION ADS

The bathroom of your

dreams for as little as

$149/month! BCI Bath &

Shower. Many options

available. Quality

materials & professional

installation. Senior &

Military Discounts

Available. Limited Time

Offer - FREE virtual inhome

consultation now

and SAVE 15%! Call

Today! 1-877-540-2780

Don't let the stairs limit

your mobility! Discover

the ideal solution for

anyone who struggles on

the stairs, is concerned

about a fall or wants to

regain access to their

entire home. Call

AmeriGlide today! 1-844-

317-5246

Wesley Financial Group,

LLC Timeshare Cancellation

Experts Over

$50,000,000 in timeshare

debt & fees cancelled in

2019. Get free

informational package &

learn how to get rid of

your timeshare! Free

consultations. Over 450

positive reviews. 888-965-

0363

xPreschool/Daycare

advertise

YOUR DAY CARE

OR PRESCHOOL

Call Kathy

at The Messenger

For More Info

272-5422

Preschool/Daycare

ASSOCIATION ADS

FREE $20 Cash App

Everyone! Yes It's Real.

Very Limited supply until

we run out! Go to

Free20Now.com

Switch and save up to

$250/yr on talk, text &

data. No contract or

hidden fees. Unlimited talk

& text with flexible data

plans.

Premium

nationwide coverage.

100% U.S. based

customer service. Limited

time get $50 off any new

account. Use code

GIFT50. 1-855-903-3048

Switch and save up to

$250/yr on talk, text & data.

No contract or hidden fees.

Unlimited talk & text with

flexible data plans.

Premium nationwide

coverage. 100% U.S.

based customer service.

Limited time offer - get $50

off any new account. Use

code GIFT50. For more

information1-888-684-1169

Attention Homeowners! If

you have water damage

and need cleanup

services, call us! We'll get

in & work with your

insurance agency to get

your home repaired and

your life back to normwl

ASAP! 855-767-7031

Vivint Smart Security.

Professionally installed.

One connected system for

total peace of mind. FREE

professional installation!

Four FREE months of

monitoring! Call now to

customize your system. 1-

855-870-2073

ASSOCIATION ADS

Safe Step. North

America's #1 Walk-in Tub.

Compreshensive lifetime

warranty. Top-of-the-line

installation and service.

Now featuring our FREE

shower package & $1600

off - limited time!Call

Today! Financing

available. Call Safe Step

1-833-356-1954

Replace your roof with the

best lookng and longest

lasting material -- Steel

from Erie Metal Roofs!

Three styles and multiple

colors available.

Guaranteed to last a

lifetime! Limited Time

Offer - $500 Discount +

Additional 10% off install

(for military, health

workers & 1st responders)

Call Erie Metal Roofs: 1-

855-338-4807

Put on your TVEars &

hear TV w/unmatched

clarity. TVEars Originaloriginally

$129.95 - now

w/this special offer only

$59.95 w/code MCB59! 1-

888-805-0840

MobileHelp, America's

premier mobile medical

alert system. Whether

you're home or away. For

safety & peace of mind.

No long term contracts!

Free brochure! 1-888-489-

3936

Stroke & Cardiovascular

disease are leading

causes of death according

the American Heart

Association. Screenings

can provide peace of mind

or early detection! Call

Life Line Screening to

schedule your screening.

Special offer - 5

screenings for $149. 1-

866-518-8391

xPublic Notice

Assessment of Community

Interest in Establishing a

Restoration Advisory Board

for Former Lockbourne

Air Force Base

The U.S. Army Corps of Engineers (USACE) is conducting environmental investigations

at the former Lockbourne Air Force Base (AFB) located in Columbus, Franklin and

Pickaway Counties, Ohio. Multiple environmental restoration projects have been

identified within the FUDS property that require further environmental investigation to

identify potential hazards, define extent of contamination, where found, and mitigate

potential risks.

The former Lockbourne AFB is a formerly used defense site (FUDS) in Columbus, Ohio.

The property was used as a training base for B-17 and glider crews from 1942 to 1949,

and later became an Air Force Strategic Air Command Base and then a Tactical Air

Command Base. It was transferred to the Ohio Air National Guard in 1980 and renamed

the Rickenbacker Air National Guard Base. In 1984, approximately 1,640 acres (of the

original 4,370 acres) were conveyed to the Rickenbacker Port Authority, which renamed

the site Rickenbacker International Airport. The airport is now owned and operated by

the Columbus Regional Airport Authority.

As part of any environmental restoration activities, the Department of Defense (DoD)

encourages community involvement through Restoration Advisory Boards (RABs). A RAB

provides an interactive opportunity for stakeholders to have early involvement in the

environmental restoration process. There is currently no RAB at the former Lockbourne

AFB; therefore, the Louisville District periodically re-evaluates community interest in

forming a RAB while environmental restoration activities are ongoing.

USACE Louisville District welcomes public feedback regarding interest in re-establishing

a RAB for the former Kincheloe Air Force Base property. Inquiries should be directed to

Charles Delano, Louisville District Public Affairs Office, 600 Dr. Martin Luther King Jr. Place,

Louisville, KY 40202, FUDSLRLPublicComments@usace.army.mil (502) 315-6769 by 30

January 2023. If there is sufficient and sustained community interest, the Louisville

District will consider re-establishing a RAB for the former Lockbourne Air Force Base

property.

The information repository, which contains additional project documents, is housed at

the Columbus Metropolitan Library Southeast Branch, 3980 S. Hamilton Road, Groveport,

OH 43125.

Attention: Cities & Townships

ADVERTISE

YOUR LEGAL/

PUBLIC NOTICES

The South Messenger now covers

Obetz, Canal Winchester,

Madison Twp. and Hamilton Township

CALL KATHY at the

COLUMBUS

MESSENGER

NEWSPAPERS

614-272-5422

kathy@columbusmessenger.com

Public Notice
---
PAGE 10 - GROVEPORT MESSENGER - December 25, 2022

www.colulmbusmessenger.com

xEmployment

ASSOCIATION ADS

HughesNet - Finally, superfast

internet no matter

where you live. 25 Mbps

just $59.99/mo! Unlimited

Data is Here. Stream

Video. Bundle TV &

Internet. Free Installation.

Call 866-499-0141

Elminate gutter cleaning

forever! LeafFilter, the most

advanced debris-blockiing

gutter protection. Schedule

Free LeafFilter Estimate

today. 20% off Entire

Purchase. 10% Senior &

Military Discounts. Call 1-

833-610-1936

Safe Step. North

America's #1 Walk-in Tub.

Compreshensive lifetime

warranty. Top-of-the-line

installation and service.

Now featuring our free

shower package & $1600

off - limited time!

Financing available. 1-

855-417-1306

Internet &WIFI Starts at

$49 Call us Today to Get

Started. Find High-Speed

Internet with Fiber Optic

Technology No Credit

Check, No SSN Required.

Call us Today 866-396-

0515

ASSOCIATION ADS

Beltone Hearing Aids.

Voted @1 hearing Care

retailer. Rechargeable,,

weather & sweatproof.

Easily connect music,

audio & calls to your

hearing aids. Starting at

$799. Call today & get

25% off plus a free

cleaning kit with purchase.

Expires 3/31/2023. Call 1-

866-625-4985

Donate your car, truck,

boat, RV and more to

support our veterans!

Schedule a FAST, FREE

vehicle pickup and receive

a top tax deduction! Call

Veteran Car Donations at

1-877-327-0686 today!

WANTED!

MOTORCYCLES!

ANTIQUE AND CLASSIC.

Honda, Kawasaki, Suzuki,

Yamaha, Triumph, BSA

and other foreign models.

$$PAYING CA$H$$

717-577-8206

KRMiller1965@yahoo.com

ASSOCIATION ADS

Donate Your Car To

Veterans Today! Help and

Support our Veterans.

Fast - FREE pick up.

100% tax deductible. Call

1-800-245-0398

BUYING CLASSIC CARS,

TRUCKS, SUVs

**American and Foreign**

Any Condition. Buying

entire car collections.

$$PAYING CA$H$$

Please call 717-577-8206

KRMiller1965@yahoo.com

DIAGNOSED WITH

LUNG CANCER? You

may quliafy for a

substantial cash award -

even with smoking history.

NO obligation! We've

recovered millions. Let us

help!! Call 24/7, 1-888-

650-9135

Directv Stream - Carries

the Most Local MLB

Games! CHOICE

Package, $89.99/mo for

12 months. Stream on 20

devices in your home at

once. HBOMax included

for 3 mos (w/CHOICE

Package or higher.) No

annual contract, no hidden

fees! Some restrictions

apply. Call IVS 1-866-629-

6086

ASSOCIATION ADS

READER

ADVISORY

The National Trade Association

we belong to has

purchased the following

classifieds. Determining

the value of their service

or product is advised by

this publication. In order

to avoid misunderstandings,

some advertisers do

not offer "employment"

but rather supply the

readers with manuals, directories

and other materials

designed to help

their clients establish mail

order selling and other

businesses at home. Under

NO circumstance

should you send any

money in advance or give

the client your checking,

license ID or credit card

numbers. Also beware of

ads that claim to guarantee

loans regardless of

credit and note that if a

credit repair company

does business only over

the phone it's illegal to request

any money before

delivering its service. All

funds are based in US

dollars. Toll Free numbers

may or may not

reach Canada. Please

check with the Better

Business Bureau 614-

486-6336 or the Ohio Attorney

General's Consumer

Protection Section

614-466-4986 for more

information on the company

you are seeking to

do business with.

ASSOCIATION ADS

DENTAL INSURANCE

from Physicians Mutual

Insurance Company.

Coverage for 350 plus

procedures. Real dental

insurance - NOT just a

discount plan. Do not wait!

Call now! Get your FREE

Dental Information Kit with

all the details! 1-877-553-

1891

www.dental50plus.com/

macnet#6258

Free high speed internet if

qualified. Govt. pgm for

recipients of select pgms

incl. Medicaid, SNAP

Housing Assistance, WIC,

Veterans Pension,

Survivor Benefits, Lifeline,

Tribal. 15 GB Internet.

Android tablet free w/onetime

$20 copay. Free

shipping. Call Maxsip

Telecom! 1-833-758-3892

Become a Published

Author. We want to Read

Your Book! Dorrance

Publishing-Trusted by

Authors Since 1920

Book manuscript submissions

currently being reviewed.

Comprehensive Services:

Consultation, Production,

Promotion and Distribution. Call

for Your Free Author's Guide 1-

866-482-1576 or visit

dorranceinfo.com/macnet

The Generac PWRcell, a

solar plus battery storage

system. SAVE money,

reduce your reliance on

the grid, prepare for power

outages and power

your home. Full installation

services available. $0

Down Financing Option.

Request a FREE, no obligation,

quote today. Call

1-866-783-0292

Employment

"HELP WANTED" ANTED"

SIGN

NOT WORKING?

TO ADVER

VERTISE

Call Kathy at

The Columbus Messenger

ASSOCIATION ADS

Eliminate gutter cleaning

forever! LeafFilter, the

most advanced debrisblocking

gutter protection.

Schedule a FREE

LeafFilter estimate today.

20% off Entire Purchase.

Plus 10% Senior & Military

Discounts. Call 1-855-

791-1626

DISH TV $64.99 for 190

Channels + $14.95 high

speed internet. FREE installation,

Smart HD DVR

included. Free Voice Remote.

Some Restrictions

apply. Promo Expires

1/21/23. 1-866-590-5561

SELL YOUR ANTIQUE

OR CLASSIC CAR.

Advertise with us. You

choose where you want

to advertise. 800-450-

6631 visit macnetonline.

com for details.

AT&T Internet. Starting at

$40/month w/12-mo agmt.

1 TB of data/mo. Ask how

to bundle & SAVE! Geo &

svc restrictions apply. 1-

855-364-3948

614-272-5422

ASSOCIATION ADS

Looking for auto insurance?

Find great deals

on the right auto insurance

to suit your needs.

Call today for a free

quote! 866-924-2397

IMPORTANT

NOTICE

The following states: CA,

CT, FL, IA, IL, IN, KY,

LA, MD, ME, MI, MN,

NE, NC, NH, OH, OK,

SC, SD, TX, VT and WA

requires seller of certain

business opportunities to

register with each state

before selling. Call to

verify lawful registration

before you buy.

Want Faster & Affordable

Internet? Get internet

service today with

Earthlink. Best internet &

WiFi Plans. Call us Today

to Get Started. Ask

about our specials! 866-

396-0515

The Generac PWRcell

solar plus battery storage

system. Save money,

reduce reliance on

grid, prepare for outages

& power your home. Full

installation services. $0

down financing option.

Request free no obligation

quote. Call 1-877-

539-0299

ASSOCIATION ADS

Attention Viagra users:

Generic 100 mg blue pills

or generic 20 mg yellow

pills. Get 45 plus 5 free +

S/H. Call Today 1-877-

707-5518

BATH & SHOWER UP-

DATES in as little as

ONE DAY! Affordable

prices - No payments for

18 months! Lifetime warranty

& professional installs.

Senior & Military

Discounts available. Call

855-761-1725

READY TO BUY, SELL

OR RENT YOUR

VACATION HOME OR

HUNTING CAMP?

Advertise it here and in

neighboring publications.

We can help you. Contact

MACnet MEDIA @

800-450-6631 or visit our

site at MACnetOnline.

com

Dental Insurance -

Physicians Mutual Insurance

Comopany. Covers 350

procedures/ Real insurance -

not a discount plan. Get your

free dental info kit! 1-855-

.526-1060 www/dental50

plus.com/ads #6258
---
www.columbusmessenger.com

xCome & Get It!

COME AND GET IT!

Need to Get Rid of Something Fast - Advertise It Here For FREE!

Deadlines are Mondays by Noon

Call For Publication Schedule 614-272-5422

FREE Garden Straw for gardens or bedding. Call for appointment for pickup.

Circle S Farms, 9015 London-Groveport Road, Grove City, 43123

Grove City - 614-878-7980

FREE - Metal from old camper frame, Need a truck to pickup..

CC - Obetz - 614-632-1013

FREE - Children's Wooden Play Set - Good Condition w/Sand Box under it, Step Ladder up

Slide to go down & a rope swing. Also separate Swing Set w/4 swings.

190 Inah Ave., Cols, 43228 near the Fire Dept.

West Columbus - 614-878-1930, ask for Linda

FREE - Firewood - All you want! U cut U Haul. Text me if you want it.

Obetz - 614-519-7986

Come and Get It! is a bi-weekly column that offers readers an opportunity to pass

along surplus building materials, furniture, electronic equipment, crafts, supplies,

appliances, plants or household goods to anybody who will come and get them - as

long as they're FREE. NO PETS! Just send us a brief note describing what you want to

get rid of, along with your name, address and phone number. Nonprofit organizations

are welcome to submit requests for donations of items.

Send information to The Columbus Messenger, Attention: Come and Get It, 3500

Sullivant Ave., Columbus, OH43204. Deadline is Mondays at NOON for following

Sunday's publication. Messenger Newspapers is not responsible for any complications

that may occur. Please contact us when items are gone. 272-5422

Come & Get It!

xFocus on Rentals

WANT TO RENT THAT APARTMENT

BEFORE THE SNOW FLIES?

Advertise It!!

CALL KATHY

For Rate Information

at the Columbus Messenger

614-272-5422

ASSOCIATION ADS

!!OLD GUITARS WANT-

ED!! GIBSON, FENDER,

MARTIN, Etc. 1930's to

1980's. TOP DOLLAR

PAID. CALL TOLL FREE

1-866-433-8277

NEED IRS RELIEF

$10K-$125K+ Get Fresh

Start or Forgiveness.

Call 1-877-705-1472

Monday through Friday

7am-5pm PST

Rentals

ASSOCIATION ADS

Prepare for power outages

today with a GENERAC

home standby generator.

$0 Money Down + Low

Monthly Payment Options.

Request a FREEQuote--

Call now before the next

power outage. 1-855-465-

7624

Caring for an aging loved

one? Wondering about

options like senior-living

communities and in-home

care? Caring.com's

Family Advisors help take

the guesswork for your

family. Free, no-obligation

consult: 1-855-759-1407

ASSOCIATION ADS

Protect your home w/home

security monitored by

ADT. Starting at $27.99/

mo. Get free equipment

bundle including keypad,

motion sensor, wireless

door & windows sensors.

833-719-1073

Attention oxygen therapy

users! Inogen One G4 is

capable of full 24/7 oxygen

delivery. Only 2.8

pounds. Free info kit.

Call 877-929-9587

DISH TV $64.99 FOR 190

Channels + $14.95 High

Speed Internet. Free Installation,

Smart HD DVR

Included, Free Voice Remote.

Some restrictions

apply. Promo expires

1/21/23. 1-866-479-1516

VIAGRA and CIALIS

USERS! 50 Generic pills

SPECIAL $99.00. 100%

guaranteed. 24/7 CALL

NOW! 888-445-5928

Hablamos Espanol

Prepare for power

outages today with a

GENERAC home standby

generator. $0 Down + Low

Monthly Pmt. Request a

free Quote. Call before the

next power outage: 1-855-

948-6176

Thinking about installing

a new shower? American

Standard makes it

easy. FREE design consulation.

Enjoy your

shower again! Call 1-

833-769-0995 today to

see how you can save

$1,000 on installation, or

visit www.newshowerdeal.com/mac

ASSOCIATION ADS

See...

You Looked!

Newspaper

Ads Catch

The Eye!

Call

272-5422

For Info. &

Pricing

HELP WANTED

Kings Kids Daycare

in Grove City is hiring Fun,

Loving Teachers for PT &

FT shifts. Please email

sarragc@outlook.com or

call 614-539-0349

Licensed Barber Needed

to take over for retiring

barber. Full or Parttime.

located in Great Southern

Shopping Center. Call

Cindy for more info

614-239-1976

INSURANCE

Medicare New Benefit

Medicare-Zero Premium

Free Doctor visit, free ride,

free food card, free

prescrptions.614-805-1084

WANT TO BUY

We Buy Cars & Trucks

$300-$3000.614-308-2626

WE BUY JUNK CARS

Call anytime 614-774-6797

ANTIQUES

WANTED

Victrolas, Watches,

Clocks, Bookcases

Antiques, Furn.

Jeff 614-262-0676

or 614-783-2629

We Buy Junk Cars &

Trucks. Highest Prices

Paid. 614-395-8775

MISC.

FOR SALE

HP PRINTER

CARTRIDGES FOR SALE

HP 901 Color Cartridges (3);

HP 901XL and 901 Color

Multi Pack (1);

HP 901XL Black(1).

$15.00 each.

Columbus Messenger,

3500 Sullivant Ave.

Call Office 614-272-5422

OUT OF TOWN

PROPERTY

5.02 Wooded Acres for

sale near S. Pittsburg. TN.

No utilities. $40K. Can be

seen on Zillow.com.

Private owner.

yallgit1@yahoo.com

USED VEHICLES

1991 Cadillac - runs good

305 Chevy motor ?

1-740-973-3206

December 25, 2022 - GROVEPORT MESSENGER - PAGE 11

xClassified Services

CARPET CLEANING

CARPET CLEANING

Any 5 areas ONLY $75

614-805-1084

Specializing in Pet Odors

CARPET SALES

CARPET

Gray Saxony

270 sq.ft. w/6 lb Pad

$398.00

Other Carpet AvailableA

Phone or text Ray

740-927-3504

Delivery & Inst. avail.

CLEANING

Looking for Mrs. Clean?

For excellent cleaning serv

at reas. rates w/great refs,

dependable. 10% Seniorr

Disc. Also does Painting. Free

Est. Gwen 614-226-5229

DEEP CLEANING &

WALL WASHING

Call Judy 614-746-0273

INFORMATION

ONLY

$50.00

For This Ad In Our

South/Canal Winchester

& Groveport

For Info Call

614-272-5422

CONCRETE

AJ's Concrete,

Masonry

Good Work - Fair Prices

Block Foundations

Driveways • Sidewalks

Epoxy/Overlay Floors

Bonded-Ins. • Free Ests.

614-419-9932

www.hastingsnsons.com

Driveways & Extensions

Patio & Walkways,

Porches & Steps,

Garage/Basement Floors

Hot Tub/Shed Pads,

Stamped/colored concrete

Sealing of new &

existing concrete.

FREE ESTIMATES

Contact Adam

614-756-1754

hastingsandsons.

columbus@gmail.com

INFORMATION

1/8 e/se

12/18 A

HAULING

JUNK REMOVAL

AL

AND MORE LLC

• Junk Removal

• Demolition

• Hoarding

614-352-0442

10% OFF FOR

SENIORS & VETERANS

HEATING & COOLING

HVAC

HEATING & A/C

Fast Service - Licensed

614-633-9694

HOME

IMPROVEMENTS

C&JHandyman

Services LLC

Minor Plumbing & Electric

Install Hot Water Tanks,

Dishwashers & Disposals

All Interior Remodels

Also Fencing &

Interior/Exterior Painting

Free Est. ~ 18 Yrs. Exp.

CDC/EPA Approved Guidelines

614-284-2100

SINCE 1973

Phil Bolon Contr.

Windows & Siding

Decks, Kitchens, Baths

Room Additions,

Flooring, Roofing

Bsmt Waterproofing

Deal With Small Non-Pressure Co.

47 Yrs. Exp. - Refs. Avail.

Lic.-Bond-Ins.

12/18

A/M

Free Est. - Financing Avail.

Member BBB Of Cent. OH

O.C.I.E.B. ID #24273

614-419-3977

or 614-863-9912

INFORMATION

LOOK TO

THE PROFESSIONALS

IN OUR

SERVICE DIRECTORY

For Service

"That Is Out Of This World"

1/8 W

12/4 A

HOME

IMPROVEMENTS

CandC

Handyman Services LLC

"See The Difference"

l

614-378-7469

Remodels,

12/18

A

Water Heaters,

Plumbing, Fence,

Sidewalks, Decks,

Int./Ext. Paintng

& Electrical Work

Handyman - outdoor &

indoor. Reasonable Rates

614-634-2244

KLAUSMAN HOME

IMPROVEMENT

Siding-Windows-

Doors-Roofing-Soffit-

Fascia-Gutters-Trim

Earn FREE Seamless

Gutters with Siding Over

1000 Sq. Ft.

FREE Shutters with

Soffit & Trim

EPA Certified

Member of BBB

Financing Available

Over 20 yrs exp. • Free Est.

Licensed-Bonded-Insured

Owner & Operator

James 614-419-7500

HOME

MAINTENANCE

HANDYMAN SERVICES

614-235-1819

HOME

REMODELING

MultiCraft Const.

& Handyman Services

All Types Handyman Services:

Decks, Fences

Kitchen/Baths

Window/doors installed

Interior Painting

Drywall Repairs

All Types of Flooring

Call/Text 614-774-2923

multicraftconstruction@gmail.com

Charlies Handyman

Service

Over 40 yrs. exp.

Hot Water Tanks

Door Locks

Kitchen/Bath Remodels

Roofmg * Siding

Porches & Decks

614-319-6010

blantoncharles894@gmail.com

LAWN CARE

LET US MAINTAIN

YOUR LAWN & GARDEN

FOR YOU

Summer, Spring,

Winter or Fall

WE DO IT ALL!!!!

Lawn Cuts, Edging,

Trees & Shrubs, Garden,

Mulching, Hauling,

Garden Pond &

Home Maint.

Free Ests. Low Rates

$20 & Up

Kevin - 614-905-3117

Classified Services

1/8 A

1/22 A

PAINTING

Painter Over 30 Yrs. Exp.

Free Est. Reas. Rates

Daniel - 614-226-4221

PLASTERING

DRYW

YWALL &

PLASTER

12/18

A&M

REPAIR

AIR

Textured Ceilings

614-551-6963

Residential/Commercial

BIA

PLUMBING

All About Drains & Plumb.

Will snake any small drain

$145. 614-778-2584

MYERS

PLUMBING

Exp Expert Plumbing

New Const. & Fast Repairs

Lic. - Permit AVailable

Water * Sewer * Gas

614-633-9694

CHRIS'

PLUMBING

"Plumbing & Drain Professional

That You Can Count On"

24 Hrs., 7 Days/Week

No Overtime Charges

24 Yrs. Exp. in Plumbing &

Drain Cleaning Field

Call For A Free Phone Estimate

$100.00 For Any Small Drain

614-622-4482

30% OFF with AD

POOL/SPA

MAINTENANCE

K&L Spa Cleaning

Hot Tub Cleaning and

Weekly Maintenance

Keith 614-316-9809

SEWING MACHINE

REPAIR

REPAIR all makes 24 hr.

service. Clean, oil, adjust

in your home. $49.95 all

work gtd. 614-890-5296

SNOW REMOVAL

GOOD NEIGHBORS

SNOW REMOVAL

SNOW & SALT SERVICE

PLOWING

• Driveways

• Sidewalks

• Parking Lots

WE ALSO DO CHURCHES

Cell-614-937-0658

614-238-9237

Ask For Bob 12/18

E/SE

TREE SERVICES

Warren Brewer Tree Service

• Tree Removal

• Tree Trimming

• Stump Grinding

1/8

A&M

• Bucket Truck Services

Best Prices • Same Day Service

614-878-2568

BURNS TREE SERVICE

Trimming, Removal &

Stump Grinding.

614-584-2164

1/8 A
---
PAGE 12 - GROVEPORT MESSENGER - December 25, 2022

www.columbusmessenger.com

WE WISH YOU A MERRY CHRISTMAS

AND A HAPPY NEW YEAR!

We really appreciate your patience, cooperation and support through the

Challenges and changes this past year has brought to our community.

Thanks for shopping locally, and may the year ahead be a happy,

healthy and prosperous one!

Merry Christmas

Howard Hanna Real Estate Services Groveport.

Marylee Bendig

Hometown Realtor!

We are "Your Southeast Connection."

580 Main St., Groveport, OH 43125

(641) 218-1097

Thank You For Your Business!

Lisa Sain, Agent

4444 Professional Parkway

Groveport, OH 43125

www.lisasain.com

614-830-0450

Proudly supporting our troops

and their families.

Remember all those serving

in the Military

that are unable to be home

for the Holidays.

5075 S. Hamilton Rd.,

Groveport, OH

614-836-1500

www.mottsmilitarymuseum.org

Happy Holidays!!!

GROVEPORT ACE HARDWARE

726 Main St., Groveport, OH 43125

(614) 836-9810

Thanks for your Business!!

Groveport

Messenger

3500 Sullivant Ave., Columbus, OH 43204

614-272-5422