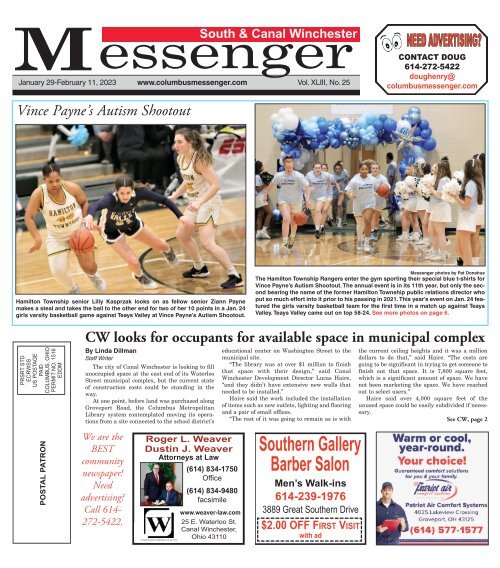 South & Canal Winchester Messenger - January 29th, 2023
You also want an ePaper? Increase the reach of your titles
YUMPU automatically turns print PDFs into web optimized ePapers that Google loves.
Messenger

South & Canal Winchester

January 29-February 11, 2023 www.columbusmessenger.com Vol. XLIII, No. 25

NEED ADVERTISING?

CONTACT DOUG

614-272-5422

doughenry@

columbusmessenger.com

Vince Payne's Autism Shootout

Hamilton Township senior Lilly Kasprzak looks on as fellow senior Ziann Payne

makes a steal and takes the ball to the other end for two of her 10 points in a Jan. 24

girls varsity basketball game against Teays Valley at Vince Payne's Autism Shootout.

Messenger photos by Pat Donahue

The Hamilton Township Rangers enter the gym sporting their special blue t-shirts for

Vince Payne's Autism Shootout. The annual event is in its 11th year, but only the second

bearing the name of the former Hamilton Township public relations director who

put so much effort into it prior to his passing in 2021. This year's event on Jan. 24 featured

the girls varsity basketball team for the first time in a match up against Teays

Valley. Teays Valley came out on top 58-24. See more photos on page 6.

PRSRT STD

ECRWSS

US POSTAGE

PAID

COLUMBUS, OHIO

PERMIT NO. 1516

EDDM

POSTAL PATRON

CW looks for occupants for available space in municipal complex

By Linda Dillman

Staff Writer

The city of Canal Winchester is looking to fill

unoccupied space at the east end of its Waterloo

Street municipal complex, but the current state

of construction costs could be standing in the

way.

At one point, before land was purchased along

Groveport Road, the Columbus Metropolitan

Library system contemplated moving its operations

from a site connected to the school district's

We are the

BEST

community

newspaper!

Need

advertising?

Call 614-

272-5422.

Roger L. Weaver

Dustin J. Weaver

Attorneys at Law

(614) 834-1750

Office

(614) 834-9480

facsimile

"A name you know, Experience you can trust"

www.weaver-law.com

25 E. Waterloo St.

Canal Winchester,

Ohio 43110

educational center on Washington Street to the

municipal site.

"The library was at over $1 million to finish

that space with their design," said Canal

Winchester Development Director Lucas Haire,

"and they didn't have extensive new walls that

needed to be installed."

Haire said the work included the installation

of items such as new outlets, lighting and flooring

and a pair of small offices.

"The rest of it was going to remain as is with

Southern Gallery

Barber Salon

Men's Walk-ins

614-239-1976

3889 Great Southern Drive

$2.00 OFF FIRST VISIT

with ad

the current ceiling heights and it was a million

dollars to do that," said Haire. "The costs are

going to be significant in trying to get someone to

finish out that space. It is 7,800 square feet,

which is a significant amount of space. We have

not been marketing the space. We have reached

out to select users."

Haire said over 4,000 square feet of the

unused space could be easily subdivided if necessary.

See CW, page 2
---
PAGE 2 - SOUTH & CANAL WINCHESTER MESSENGER - January 29, 2023

The Gilmore Group

Office: 614-834-HOME (4663)

Cell: 614-774-4416

www.GilmoreGroupHomes.com

www.columbusmessenger.com

A new approach with city employees

By Katelyn Sattler

Staff Writer

The city of Obetz has implemented a new schedule

where employees work four nine-hour days per week,

for a total of 36 hours, with the remaining four hours

being physical and mental wellness time.

This plan was rolled out with Obetz City Council's

approval of the new employee handbook.

"Our employees will be required for four hours a

week to dedicate time to their physical and mental

well-being in some form or fashion," said Obetz City

Administrator Rod Davisson. "That can be yoga, meditation,

exercise, whatever that is. They will physically

do their job for 36 hours. They'll spend four additional

hours on 'PM Time' which counts as work time."

Employees will still be paid for 40 hours of work a

week. With one extra day off a week with this schedule,

employees will get 52 more days off a year.

"It's more costly to us," said Davisson. "It's not free.

But I think we end up with happier, healthier, motivated,

more efficient employees on more efficient

schedule with more time off."

Obetz also increased their paid holidays from 12

days to 17 days and increased sick time by 24 hours.

Vacation time was increased. Employees will

receive 40 hours of vacation when hired, 80 hours during

years one and two, 120 hours after three years of

service, 160 hours during years four to eight, 180 hours

during years nine to 13, 200 hours during years 14-19,

and it maxes out at 240 for 20 or more years of service.

The annual bonus was renamed the year-end

longevity bonus and it kicks in during year 0-1 of

employment with the city at $750 and increases with

each year of employment. At year five, the longevity

bonus is $877, at year 10, it's $1,067, at year 15, it's

$1,298, at year 20, it's $1,580, at year 25, it's $1,922,

and maxes out at year 30 at $2,338.

Part-time employees will receive a year-end

longevity bonus, which will depend on the number of

hours worked in the calendar year.

"The workforce has changed, the workforce is

changing, and this workforce wants a better work-life

balance," said Davisson. "They're not solely driven by

money, as long as they can afford to live. If they can

live, they want more time off. So we said, 'All right,

here's more time off instead of more money.'"

Concerning annual raises, Davisson said, "There's a

raise in there, but it's not the raise you would have otherwise.

It's a trade off. You got more time off for a

smaller raise. It's still decent compensation. It's substantial,

this year as we've switched to kind of city pay

rates. But after this it'll be more of the 3 percent per

year you typically see."

Addressing the question of whether this new schedule

will cause staffing issues, Davisson said, "No. We

think it will increase productivity. We have split the

work week so that our public facing operations won't

have any change."

Concerning a potential decrease in worker productivity,

Davisson said, "It can't happen. What we've said

to them is, 'If we see any drop off in productivity or efficiency,

this all goes away. And you can very easily be

back to a regular 40 hour workweek.' We're betting

that they're going to want this schedule so bad that

they're gonna increase their effort, productivity and

deal with anything to keep it. And we think it's going

to increase productivity for us and increase the services

for the city."

Davisson said it will also help the city of Obetz to

attract people, retain people, create happier people.

"We think it will ultimately tie into the physical fitness

of our people," said Davisson. "There are strings

that come with that four hours. We will begin to roll in

HSA money based on performance standards, ultimately.

If you want your full HSA money, you may

have to quit smoking or you may have to pass a test or

you have to show that you've done X number of workouts.

That won't roll in the first year, but it'll roll in as

we get it going. Ultimately we hope then to have a

healthier, happier staff that's more motivated to do

more work in less time. And that's the bet we've taken,

which is, there are not many people out there trying

this, and it's novel, for sure."

Dr. Hobbs

3700 Parsons Ave.

Columbus, OH 43207

New Patients & Emergencies Always Welcome

(614) 491-5511

www.ScottAKellyDDS.com

LEUKOPLAKIA

Dr. Kelly

The term leukoplakia comes

from a Greek word meaning white

plate, an apt description of the

white patches that characterize

this disorder. Ill-fitting dentures or

a rough tooth rubbing against the

cheek or gums is a common

cause.

When white patches develop in

the mouths of smokers as the

body's natural protection against

the heat of tobacco smoke, the

condition is called smoker's

keratosis. Patches also occur if a

cud of chewing tobacco or snuff

is held in the mouth for extended

periods.

You may notice a white or grayish

patch that develops on the inside

of one cheek or on your

tongue. After a while, it may become

rough and sensitive to hot

or spicy foods. If you do observe

such a patch, see your dentist. If

the patch persists after treatment,

a biopsy specimen of the area

may be taken and examined

under a microscope. About three

percent of such patches are early

signs of mouth cancer.

Prepared as a public service to

promote better dental health.

From the office of:

SCOTT A. KELLY, D.D.S.

Phone 614-491-5511

SOUPer Bowl XII

CW

Continued from page 1

Councilwoman Laurie Amick said she hates to see

a public space paid for by taxpayers just sit idle.

Councilman Bob Clark added, "People aren't going

to come in and spend a million dollars on a project they

don't have control over the land or the building. That's

a tough sell. It will have to be a little sweeter deal."

McGill Park

Contract Services Administrator Bill Sims said the

city of Canal Winchester received one proposal for construction

of a three-season shelter house at McGill

Canal Winchester Human Services will host its

annual SOUPer Bowl on Feb. 12 from 11 a.m. to 2 p.m.

at 80 Covenant Way, Canal Winchester. There will be

free homemade soup and dessert as well as a half time

bake sale and silent auction.

You can help Canal Winchester Human Services by

donating baked goods for the bake sale or donating

themed gift basket, gift certificates, art works, or special

services for the silent auction.

The goal is to raise money for Canal Winchester

Human Services' operational costs.

For information email pantry.coord@cwhumanservices.org

for bake sale items and anna.ross@cwhumanservices.org

for silent auction items. For information

email aletha.mullins@cwhumanservices.org.

Proposed development

A developer is proposing to build more than 500

rental homes, townhouses and apartments, along with

a small strip shopping center, on 72 acres near Canal

Winchester on the northwest corner of Winchester

Pike and Brice Road in Madison Township. The developer

has requested for the property to be rezoned and

annexed into the city of Columbus. Currently the property

is in the Canal Winchester school district, but per

original Win-Win Agreement documents, if the property

is annexed into the city of Columbus it will become

part of the Columbus City Schools district.

Park.

"It costs less than the last time around," said Sims,

"however, it's still expensive."

According to Sims, the proposed cost for an open

shelter house is approximately $787,000. The cost for

an enclosed shelter house is $862,000, which Sims said

would allow a longer period of use during the year.

The proposed 60 x 40-foot building could seat over

100 people and includes a warming kitchen.
---
www.columbusmessenger.com

CW school board meetings

The Canal Winchester Board of

Education meets on the third Monday of

each month at 7 p.m. in the Canal

Winchester Education Center, 100

Washington St. on the second floor in room

204/206.

The public is welcome to attend.

January 29, 2023 - SOUTH & CANAL WINCHESTER MESSENGER - PAGE 3

Hamilton school board

Hamilton Local Board of Education

meetings are held at 6 p.m. at the

Hamilton Local Education Center, 775

Rathmell Road, Columbus.

For information on meeting dates visit

www.hamilton-local.k12.oh.us.

> edwardjones.com | Member SIPC

We're more than just a great rate

Bank-issued,

FDIC-insured

4.60%

1-year

APY*

Gideon Hall

Financial Advisor

6335 Winchester Blvd Suite A

Canal Winchester, OH 43110

614-382-8133

* Annual Percentage Yield (APY) effective 01/20/2023. CDs offered by Edward Jones are bank-issued and FDIC-insured up to $250,000

(principal and interest accrued but not yet paid) per depositor, per insured depository institution, for each account ownership category. Please visit

www.fdic.gov or contact your financial advisor for additional information. Subject to availability and price change. CD values are subject to interest

rate risk such that when interest rates rise, the prices of CDs can decrease. If CDs are sold prior to maturity, the investor can lose principal value.

FDIC insurance does not cover losses in market value. Early withdrawal may not be permitted. Yields quoted are net of all commissions. CDs

require the distribution of interest and do not allow interest to compound. CDs offered through Edward Jones are issued by banks and thrifts

nationwide. All CDs sold by Edward Jones are registered with the Depository Trust Corp. (DTC).

FDI-1916M-A © 2022 EDWARD D. JONES & CO., L.P. ALL RIGHTS RESERVED. AECSPAD

Messenger photos by Pat Donahue

CW falls to

Cruisers

Canal Winchester's Ashton Sweigart

(above) shoots over the Groveport

Madison defense for two of his 10

points during a Jan. 17 boys varsity

basketball match up at Groveport that

saw the Cruisers come out on top 62-

57. (At right) Canal Winchester's

Dionte James of fires up a three pointer

on his way to a team leading 13

points. (Below) Canal Winchester's

Dionte James gets past Groveport

defender Kanyeh De'Groat.

Valentine's Show

with ELVIS

Mike Albert

&

The Big E Band

Tickets - $ 58.00

(Includes dinner)

Sat., February 11th

Villa Milano - 1630 Schrock Rd.

Doors Open - 5:30pm | Dinner - 6:30pm

Show -7:30pm

CALL FOR TICKETS

(614) 792-3135
---
PAGE 4 - SOUTH & CANAL WINCHESTER MESSENGER - January 29, 2023

Obetz City Council

The Obetz Council meets the second and fourth Mondays of

each month at 6 p.m. in the Council Chambers at 4175 Alum

Creek Drive, Obetz, to review and pass legislation and hear concerns

from the residents. If the meeting date occurs on a holiday,

the regular meeting is held on the next Tuesday following the holiday.

Call (614) 491-1080.

Call today and receive a

FREE SHOWER PACKAGE

PLUS $1600 OFF

1-855-417-1306

With purchase of a new Safe Step Walk-In Tub. Not applicable with any previous

walk-in tub purchase. Offer available while supplies last. No cash value. Must present

offer at time of purchase. CSLB 1082165 NSCB 0082999 0083445

SPECIAL OFFER

Off First Month

of New Service!

USE PROMO CODE: GZ59O

www.columbusmessenger.com

Obetz updates appropriations

By Katelyn Sattler

Staff Writer

Obetz City Council approved some changes to the

city's 2023 appropriations.

Changes include:

•Mayor Angela Kirk said the amount set aside for

the siren fees (for the sirens that go off every

Wednesday) has been increased from is $9,000 to

$10,000. The city pays the fee in part to Franklin

County to help offset costs for operating and maintaining

the sirens.

•The appropriation for the mayor's court computer

was $750, but it has been increased by $4,000 to

$4,750. Law Director Gene Hollins said, "The city has

a subscription payment for mayor's court software that

we use. We've always had this computer fund, but

apparently, in the past, accumulating here and there,

and this is the perfect type of expenditure for it. So this

year we figured out that we were taking out of the general

fund. We shifted over to the computer fund. We

will reduce the general fund expenditure by $4,750 and

pay for it through the mayor's court computer fund."

•Authorizing payment on a contract with Waste

Management of Ohio. The current amount is $505,000

which will be increased to $517,000. In this ordinance,

council authorized a payment not to exceed $37,197 to

Waste Management of Ohio.

Other news

•Council approved the annexation of 35+_ acres

from Hamilton Township to the city of Obetz. This is

the southern most edge of the Wilburn farm, which is

the property along the Big Walnut Creek, which the

city has designated as park land.

•Kirk said the structure on the Warner farm, across

from the high school, has been demolished - there's

nothing left out there now. The Junkyard Lounge has

also been demolished.

•Police Chief Mike Confer said a new officer,

Damon Caruso, will start on Feb. 5. He's currently in

Ashville as an officer with about 10 years of service

there.

•Confer said that in the last couple of weeks, the

police department has taken 878 calls for service.

Officers patrolled 3,143 miles in that time. They issued

27 moving citations, four of which were speeding, three

parking citations, three misdemeanor arrests. They've

taken 27 offense reports and nine crash reports.

•City Engineer / Deputy City Administrator Mike

Corbitt said the front two buildings on the Perkins'

property will be demolished soon, which will help with

the Sheetz project. Davey's Tree Service has started to

cut down trees.

•Corbitt said the city is looking into water line projects

that are coming up. The lead time for the water

line is close to 30 weeks, as opposed to the 16 week lead

time for the water line the city ordered last year for the

Buckstone development.

America'

ica's s Fa

av av vorite Treasure ure e Hunts!

2023

CALL CONSUMER CELLULAR

855-642-3605

© 2023 Consumer Cellular Inc. For promo details please call 855-642-3605

Jan. 28

& 29

Feb. 25

& 26

Mar. 25

& 26

Antiques, Collectibles,

Jewelry, Vintage,

Home Decor, Militaria

and more!

Nov. 25 & 26

Dec. 16 & 17

CW City Council meetings

Canal Winchester City Council meetings are held on the first

and third Monday of every month. Meetings begin at 7 p.m. The

meetings are open to the public.

Council meets in work session at 6 p.m. prior to each city council

meeting to discuss legislative items and other issues of the city

prior to being included on a city council agenda. The first work

session of the month focuses on finance/economic development

items and the second monthly work session focuses on

service/safety items. While each work session includes specific

areas of focus, other items may be brought before council as needed.

OBITUARY NOTICES

Your Affordable Alternative

Messenger Newspapers

On-line & In Print

Your notice will be published on-line Monday through Friday

the day after we receive them. We will provide you with your

low on-line and print costs:

SAMPLE

On-Line $ 45.00

1-Paper Print 2x5=10 @12.90/in $129.00

$174.00

Tell your funeral director to send your notices to

pdmessenger5422@gmail.com

or Call

Columbus Messenger at 614-272-5422

Dill's honored

Dill's Greenhouse, located at 5800

Rager Road in Groveport, won Franklin

County Auditor Mike Stinziano's

November True Transactions Award for

its use of accurate scales and scanners in

the sale of its quality nursery products.

"Congratulations to Dill's and their outstanding

team for their use of accurate

scales and scanners with their high-quality

plants and greenhouse items,"

Stinziano said. "Dill's staff work with

Weights and Measures to ensure customers

get all that they paid for."

We are the BEST

community newspaper!

Need advertising? Call 614-272-5422.

eastside

Messenger

(Distribution: 10,000)

Rick Palsgrove................................South & CW Editor

southeast@columbusmessenger.com

Published every other Sunday by

The Columbus Messenger Co.

3500 Sullivant Ave., Columbus, Ohio 43204-1887

(614) 272-5422

Keep tabs on the news in CW,

Obetz, and Hamilton Twp.

Look for South & CW Messenger on

Become a fan!
---
www.columbusmessenger.com

January 29, 2023 - SOUTH & CANAL WINCHESTER MESSENGER - PAGE 5
---
PAGE 6 - SOUTH & CANAL WINCHESTER MESSENGER - January 29, 2023

www.columbusmessenger.com

Vince Payne's Autism Shootout

Messenger photos by Pat Donahue

Hamilton Township cheerleaders were dressed in blue during the Jan. 24 Vince

Payne's Autism Shootout to help raise funds and awareness for students with autism.

Hamilton Township senior Morgan Fannin was determined to get the loose ball during

the Jan. 24 game with Teays Valley held at Hamilton Township. Teays Valley won 58-24.
---
ActiveLifestyles

www.columbusmessenger.com

January 29, 2023 - SOUTH & CANAL WINCHESTER MESSENGER - PAGE 7

A bi-monthly feature celebrating our community's senior citizens

Fun ways to stay active

Physical activity is an important component

of overall health. Health experts

advise that exercise can increase lean body

mass, prevent conditions like diabetes and

cardiovascular disease, improve balance,

and positively affect mental health/cognition.

Exercise also can foster socialization

with others, helping people overcome boredom

and isolation.Explore these methods

for staying active.

Explore senior center offerings

Hikes, walking tours, dances, and other

activities all serve as entertaining ways to

get out and about while meeting some fitness

goals.

Garden or do yard work

The Office of Disease Prevention and

Health Promotions says adults should get

150 minutes of moderate exercise per

week. Raking leaves, mowing the lawn,

digging in flower beds, trimming bushes,

and other outdoor tasks could help a person

meet this quota in a way that doesn't

seem like exercise at all.

Play games with grandchildren

Take infants or toddlers for walks or

push them in strollers. Attach a child seat

or towing carriage to a bicycle and ride

around the neighborhood. Play games such

as hide-and-seek. If it's snowing, make a

snowman.

Take up a new hobby

Perhaps learning to salsa dance or taking

Zumba will be fun? Pickleball has

caught on across the nation.

The sport is a mix of tennis, racquetball

and badminton that caters to all ages.

Joining a bowling team is another way to

get active and meet new people.

PAID ADVERTISING

HEAP Assistance

The Ohio Department of Development and

Central Ohio Area Agency on Aging want to

remind senior citizens in Ohio that assistance is

available to help with their home energy bills.

The Home Energy Assistance Program (HEAP)

helps Ohioans at or below 175 percent of the federal

poverty guidelines pay their heating bills.

Applied directly to the customer's utility or

bulk fuel bill, the benefit can help manage heating

costs. Senior citizens may go to their local Area

Agency on Aging office for help with assembling

the required documents and completing their

HEAP application. Senior citizens may also visit

www.energyhelp.ohio.gov to apply online or to

download a copy of the application.

When applying, individuals need to have

copies of the following documents: most recent

utility bills, a list of all household members

(including birth dates and Social Security numbers),

proof of income for the past 30 days for all

household members (12 months for certain

income types), proof of U.S. citizenship or legal

residency for all household members, and proof

of disability (if applicable). HEAP benefits are

applied to an individual's energy bill after

January 1st. Applications for the HEAP program

must be received by May 31, 2023.

For more information or assistance with

applying for a HEAP benefit, contact Andy

Haggard, 614-645-7186.

To be connected to your local Energy

Assistance provider, call (800) 282-0880 (hearing

impaired clients may dial 711 for assistance) or

visit www.energyhelp.ohio.gov.

Call today

Start today

no minimums!

1 Hr. up to 24 Hr. Care

We send you the Best Home Caregivers

Rates as low as $16.46 an hour!

"We Do Things Your Way"

614-80-ANGEL (614-802-6435)

Call or text for info. www.v-angels.com

Financial help for home energy bills is available to income-eligible

Ohioans through the Home Energy Assistance Program (HEAP).

Applied directly to the customer's utility or bulk fuel bill,

For more information or assistance with applying for a

614-645-7186.

Your

Connection

to Care

coaaa.org

Applications for the HEAP program

must be received by May 31, 2023.

energyhelp.ohio.gov
---
PAGE 8 - SOUTH & CANAL WINCHESTER MESSENGER - January 29, 2023

PAID ADVERTISING

Be confident

in your plan

Medicare's Annual Enrollment Period (AEP)

2023 is officially over. But you still can enroll

into a Medicare Advantage Plan that has a 5-star

plan rating!

My name is Ralph Curcio, I live in Franklin

County – available to review your plans options

in person. You are welcome to contact me directly

at 614-603-0852 or email me at

RWCURCIO@GMAIL.COM. We could have a

virtual meeting, a face-to-face meeting or I'll

mail plan information to your attention for

review. I am not an operator in a call center – you

are welcome to call anytime during the year with

questions.

Also, we can complete the online application

for Low Income Subsidy (LIS), which would provide

a savings toward your Rx co-pays and more,

if you qualify. I work with major insurance carriers

available in Ohio and nationally, not just one

or two plans. Select the plan that benefits you for

the coming year, lowest possible co-pays for

services and medications while including your

current physicians. Some of the plan options may

include dental, vision, a monthly food allowance

along with a fitness program. $0 cost for my consultation

and enrollment services. You need to be

confident in the plan you select!

Obetz Ice Rink

The Obetz Ice Rink is open for the season

on weekdays from 5-8 p.m. and from

noon to 7 p.m. on weekends. The rink,

located in Lancaster Park, is open to

everyone this year. Admission is free for

Obetz residents. Non-residents must purchase

a $5 day pass (cash only). You must

bring proof of residency (Obetz water bill

or recent pay stub with Obetz income tax)

with you on your first visit. Minors must

have a parent/guardian sign a waiver on

their first visit.

Two-hour limits may be enforced on

Saturday and Sunday if the rink is nearing

capacity.

On any given day, the ice rink may shut

down due to weather to preserve the

integrity of the ice. This will be at the staff

member's discretion and can happen

before or during a skating session. All closures

or delays will be posted to the Obetz

Facebook page. Visit obetz.oh.us or call

614-491-1080 for information and ice rink

rules.

GriefShare group

Groveport United Methodist Church,

512 Main St., will sponsor a GriefShare

group commencing Feb. 2 at 7 p.m.

Register online at

www.griefshare.org/groups/161477. for

information email groveportgriefsharegroup@gmail.com.

Active Lifestyles

Wagnalls Memorial

Library in Lithopolis

Wagnalls Memorial Library is located

at 150 E. Columbus St., Lithopolis. all

(614) 837-4765 or visit www.wagnalls.org.

www.columbusmessenger.com

PAID ADVERTISING

Programs offer help seniors

thrive, age in place

For the last 30 years, the Franklin County

Office on Aging has been widely known for its

exemplary work on behalf of older adults.

Adhering to its mission in providing centralized

access to diverse programs, the Office on Aging

provides services and programs to approximately

60,000 seniors every year.

Through compassion and empowerment, the

agency provides Franklin County seniors ages 60

and older individualized services and connectivity

to community resources to help them age in

place. The agency's most popular program,

Franklin County Senior Options, offers services

such as Home-Delivered Meals, Personal Care,

Respite Care, Homemaker Services, Medical

Transportation, Emergency Response Systems

and Minor Home Repair. These services help ease

the minds of family members by connecting them

to support services in order to provide the best

Southeast Library

The Southeast Branch of the Columbus

Metropolitan Library is located at 3980 S.

Hamilton Road, Groveport. For information

visit www.columbuslibrary.org or call

614-645-2275.

care for their older parent, family member or

friend with limited abilities.

The agency also provides Caregiver and

Kinship Support programs. These programs are in

place to assist caregivers and kinship families

with free, short-term services that are available

once a calendar year. Services include, but are not

limited to, assistance with appliances, mattress

and box spring sets, as well as utility and rental

assistance.

The Office on Aging also administers Adult

Protective Services (APS) to protect older adults

susceptible to abuse, neglect and exploitation.

APS provides case planning, monitoring, and

evaluation to the older adult, as well as link them

to the appropriate agencies for services.

To learn more about the Franklin County

Office on Aging and the services available, call

(614) 525-6200 or visit Officeonaging.org.

Medicare Annual Open Enrollment Period (AEP) is over

- will I have to pay a penalty if I keep working after I turn 65, and decide to keep my

group plan?

- are there any 5 Star Medicare rated plans in my county, that I can enroll into

throughout the year?

-

review more than 2 or 3 plan options.

- I need help in paying my Rx copays, any assistance available?

Terri Curcio Call today 614-460-0601

-$0 fee or $0 Consultation cost

Medicare Agent Ohio Lic. #43449

-Be confident in your plan selection, keep your doctors, and find the lowest

copays for your medications.

limited to those plans we do offer in your area. Please contact Medicare.gov or

1-800-MEDICARE to get information on all of
---
www.columbusmessenger.com

Active Lifestyles

January 29, 2023 - SOUTH & CANAL WINCHESTER MESSENGER - PAGE 9

Franklin County Board of Commissioners: Commissioner John O'Grady, President, Commissioner Kevin L. Boyce, Commissioner Erica C. Crawley

The Franklin County Board of Commissioners and The Franklin County Office on Aging join with the Messenger Newspaper in providing this update on aging issues in Franklin County.

Franklin County Office on Aging

Extends Free Home-Delivered Meals Program

Through End of 2023

The Franklin County Office on Aging has extended its free

Home-Delivered Meals program through the end of 2023. With

this extension, Franklin County residents aged 60 and older are

eligible to receive free home-delivered meals without income

verification through Dec. 31, 2023. In April 2020, at the start of

the COVID-19 pandemic, the Franklin County Office on Aging

paused any income verification requirements for home-delivered

meals – a service available through the agency's Franklin

County Senior Options program.

"While the pandemic is now more manageable, many older

adults simply cannot afford the increased price of groceries or

meals due to their fixed incomes, as well as the impact of inflation,"

said Interim Director Chanda Wingo. "Extending this

service through 2023 gives our seniors continued access to

affordable and nutritious food that is crucial in maintaining

their health and well-being."

through Franklin County Senior Options, which has been providing

community-based services to residents since 1993.

Senior Options empowers Franklin County residents aged 60

and older with the necessary tools needed to maintain their

independence. Additional services available through Senior

Options include adult day care, personal care, respite care,

minor home repair and emergency response systems. The program

also helps ease the minds of family members by connecting

them to support services so they can provide the best care

for their older parent, family member or friend with limited

abilities.

To sign up for free home-delivered meals or to learn more about

the services available through the Franklin County Office on

Aging, call (614) 525-6200 or visit officeonaging.org.

The agency delivered over 1.1 million meals to FranklinCounty

seniors in 2022, serving over 7,000 residents – a 25% increase

from residents served in 2021.

The Agency's home-delivered meals program is offered
---
PAGE 10 - SOUTH & CANAL WINCHESTER MESSENGER - January 29, 2023

Obetz Council president

Obetz City Councilman Mike Kimbler

was elected Obetz City Council president

pro-tem for 2023.

New traffic signal coming

Groveport City Engineer Steve Farst

reported that the Franklin County

DestinationOutlets.com

800-213-9083

8000 Factory Shops Blvd.

Jeffersonville, OH 43128

LIVE PUBLIC

AUTO AUCTION

50+ VEHICLES WILL SELL 02/11/23

30+ WILL SELL WITH NO RESERVE!

Preview the inventory online

BIDONCARSLANCASTER.COM

1250 COLLINS ROAD NW

LANCASTER, OHIO 43130

740-935-1180

Engineer plans to install a traffic light at

the intersection of Rohr and Pontius roads

sometime in 2023.

Lockbourne Council

Lockbourne Village Council meets the

second and fourth Mondays of each month

at 7 p.m. at the Lockbourne Municipal

Building, 85 Commerce St., Lockbourne.

DOWNLOAD OUR

MEMBERSHIP APP

www.columbusmessenger.com

Women's self-defense class

offered by township police

By Linda Dillman

$5,000 donation from Canal Winchester to

Staff Writer

fund fire prevention equipment. Items

Learning self defense is a valuable tool

include residential smoke detectors, carbon

for women.

monoxide detectors, and fire extinguishers.

A free Woman's Self Defense class will

"It's something we're going to use in our

be held March 18 from 8 a.m. to noon, at

fire prevention bureau," Robinson said.

the Madison Township Community Center,

The fire department provides free

4575 Madison Lane, Groveport. Space is

smoke detectors and installation services,

limited to 30 participants.

when necessary, to residents in need. For

"The year's first course is a one day

information, call the fire department nonemergency

number at 614-837-7883.

class for ages 14 and up," said Madison

Township Police Chief Gary York.

•It might take a while for the Madison

Participants will discuss and learn

Township Police to fill three open positions

defense tactics from both standing and

according to the response from the latest

ground positions. Madison Township police

round of applications. York said an early

officers will lead the instruction and provide

hands-on training. Modifications are

November employment posting on social

media netted 12 applications.

available for people with concerns about

However, after an initial review of the

their ability.

applicants, rounds of December interviews

To register, call the police department

and ranking, only one candidate is completing

the background process. The aver-

at 614-836-5355 or email

policeadmin@madisontownship.org.

age cost to the township for the process is

Information is also available on the department's

Facebook page.

$1,800 per candidate.

York said officers are reaching out to

police academies to cultivate interest.

Other Madison Township news

"We're not going to put people on (duty)

•Madison Township Fire Chief Derek

just for the sake of putting them on," said

Robinson said his department received a

York.

CWAHS seeks volunteers

By Rick Palsgrove

Managing Editor

The Canal Winchester Area Historical

Society has been preserving local history

for 48 years and is looking for helping

hands to continue its work.

Founded in 1975 to "preserve and promote

the rich history of our community,"

the CWAHS currently has approximately

200 members.

"The CWAHS is dedicated to preserving

the history and legacy of our beautiful community,"

said Bruna Brundige. "The society

is committed to educational engagement

with those of all ages. We are currently in

the process of establishing a CW Museum

with a projected opening in early 2024.

Housed in one of the school buildings, the

museum will continue to enlighten students

and adults about our rich and important

standing in central Ohio."

She said volunteers are important to the

CWAHS and its efforts to preserve local

history and to hold special events.

"With so many events throughout the

year, we need many more than the 14

board members to make it all happen," said

Brundige.

Some of the events the CWAHS holds

throughout the year include: the Annual

Gala — May 6; Golf Outing - June 2;

Hosting CW Farmers Market - May to

September; Ice Cream Social & Blue

Ribbon Pie Contest — Labor Day weekend;

Founders Day — Oct. 14; The Historic

Ghost Tour — October; and A Storybook

"With so many events throughout

the year, we need many more than

the 14 board members to make it all

happen."

- Bruna Brundige

CWAHS

Christmas — Dec. 1 and 2.

The CWAHS also cares for the historical

complex at Oak and North High streets,

which includes the O.P. Chaney Grain

Elevator, the Prentiss School, and the

Queen of the Line train depot.

"The train depot is call the Queen of the

Line because it was considered the finest

depot," said Brundige. "The O.P. Chaney

Grain Elevator, currently under renovation,

is one of the very last of its age and

type left in the midwest. The Prentiss

School is a beautiful example of a mid

1800s schoolhouse. To have all three of

these on one property is truly a gift for all

to enjoy."

The CWAHS is funded through memberships,

hosted events, private donations,

and grants.

Membership costs are: Individual,

$10/year; Student, $8/year; Family,

$30/year; Corporate, $100/year; and

Lifetime Member, $1.

For information about the CWAHS and

to contact the society about volunteer

opportunities visit cwhistory.org.
---
www.columbusmessenger.com

Photo courtesy of Eastland-Fairfield

Robotics & Automation is one of the new high school programs

at Eastland-Fairfield Career & Technical Schools.

Eastland-Fairfield programs expand

Eastland-Fairfield Career & Technical Schools will expand

programming for high school students in 2023-24. Applications

are being accepted for eligible high school students.

New to the high school lineup for the 2023-24 school year will

be Robotics & Automation, which will be housed at Eastland

Career Center in Groveport. The Robotics & Automation program

addresses industry needs at the crossroads of mechanical,

electrical, and computer engineering. The program will prepare

students for a pathway toward additional education in the engineering,

mechatronics, and/or automation fields, or to enter the

workforce as an operator or technician immediately upon graduation.

Careers may guide students toward industries such as

manufacturing, mining, aviation, and transport.

Also in the fall of 2023 will be the revamped Natural

Resource Management satellite program, which will be housed

at New Albany-Plain Local High School. The 75-acre wetland

nature preserve in New Albany will serve as students' laboratory,

giving them the best opportunity to examine, explore, and

study the natural world and the problems that surround it.

Two existing programs will also see expansion. Teaching

Professions, a program designed to give students interested in

pursuing a career in education, will open a second section at

Fairfield Career Center. The program features the same elements

as the satellite program in Gahanna-Lincoln High School,

which introduces students to a variety of classroom settings and

management styles to educate the students of tomorrow.

The addition of these programs and sections occurs following

the largest incoming first-year class at EFCTS in its history,

nearly topping 1,000 new students entering the 2022-23 school

year. The 2022-23 school year also featured the introduction of

a Sports Medicine program at Gahanna-Lincoln and New

Albany-Plain Local high schools, an additional section of

Employability Prep, and the relocation of multiple programs in

order to better serve the student population.

For information on these and any of Eastland-Fairfield's programs,

visit EastlandFairfield.com/programs.

Family tours are available to view program labs, preview

academic learning spaces, and meet with Career Services specialists.

Visit EastlandFairfield.com/tours more information.

Applications are being accepted through the summer. The

priority application period ends Feb. 10. To apply or to review

the application process, visit EastlandFairfield.com/apply.

Dave Dobos

STATE REPRESENTATIVE

What a

whirlwind of a

January it has

been!

With a mere 21 days under my belt as a state

legislator, I am working hard to "learn the

ropes" at the State House and meet as many

people as possible to so I can become effective

quickly and advocate tirelessly for our

District.

On January 3, I was officially sworn in as the

State Representative for Ohio's 10th House

District. Representing the passions and interests

of the citizens of West, Southwest, and

South Columbus, Urbancrest, and Grove City,

I will continue to work for the economic opportunity

and prosperity and quality education

our District deserves. Although my

journey as State Representative has just

begun, I am eager to fulfill these promises as

I endeavor to ensure that all the citizens from

our District's communities have access to a

comfortable life through good-paying jobs

and careers, safe school environments, and

first-class educational opportunities.

Pictured below is a snapshot of me officially

swearing into office. In this photo, I am accompanied

by my two sons, Alex (left) and

Joseph (right), both of whom are an extremely

important part of my life. Additionally,

I am accompanied by Ohio Supreme

Court Associate Justice Pat Fischer and outgoing

Ohio House Speaker Bob Cupp.

I also am proud to announce that on Monday,

January 23, I was named Vice Chair of the

Higher Education Committee. After serving

eight years on the Columbus Board of Education

and over 40 years interviewing prospective

undergraduate students for my alma

mater, the Massachusetts Institute of Technology

(MIT), I am confident that I can help

shape the brightest future for young people

as they pursue their advanced education.

Furthermore, I am happy to announce that I

also was appointed as one of two legislators

to the Ohio Rare Disease Advisory Council.

(Dave Dobos represents the 10th District in

the Ohio House of Representatives. He reports

regularly on his activities in this position

and his campaign has paid for this communication

with you.)

Paid Advertisement

January 29, 2023 - SOUTH & CANAL WINCHESTER MESSENGER - PAGE 11

Messenger

South & Canal Winchester

ONLY $65.00
---
PAGE 12 - SOUTH & CANAL WINCHESTER MESSENGER - January - January 29, 29, 2023 2023

Canal Winchester

Messenger

BEST COMMUNITY NEWSPAPER in Canal Winchester

FREE

Pick-Up At These Locations:

Walgreen's - Gender & Winchester Blvd.

BP Gas Station - Gender Rd. & Freeway

Aldi - Gender Rd. & Freeway (behind BP Station)

Kroger - Winchester Square

The Wigwam Restaurant - 4 South High St.

Marie Scramblers - 6402 Winchester Blvd.

Shade on the Canal - 19 South High St.

Canal Winchester Library - 115 Franklin St.

CW City Hall and Community Center – 45 E. Waterloo St.

Harvest Moon - 7 N. High St.

Rex Barber Shop - 1 W. Waterloo

Sunoco Gas Station - 501 W. Waterloo St.

Panzera - 685 W. Waterloo St.

Save & Smoke - 6211 Winchester Blvd.

Firestone - 38 W. Waterloo St.

Waffle House - 5755 Gender Rd.

Kroger - 3588 Gender Rd.

Speedway - 6399 Refugee Rd.

READ US ONLINE: www.columbusmessenger.com

Messenger

South

BEST COMMUNITY NEWSPAPER

FREE

At These

Locations:

Ponderosa Steak House - 3875 S. High St.

Turkey Hill - 3900 S. High St.

Dollar Tree - 3754 S. High St.

Speedway Gas Stattion - 3860 S. High St.

Columbus Library - High St. & Highview

CVS Pharmacy - High St. & Williams Rd.

Walgreen's - High St. & Williams Rd.

Kelly's Market - 3453 Parsons Ave.

K & M Market - 4305 Andy Groom Blvd.

Stoney's Market - 3517 Lockbourne Rd.

Kroger - S. High St.

READ US ONLINE: www.columbusmessenger.com

I was driving down the street one day and noticed

each house had about three or four cars in the driveway

- one house, multiple cars.

Memories came to my mind. What I remember was,

one house, one car.

The dad drove to work and the children walked,

rode their bikes, or took the bus to school.

Dad worked to pay the bills while mom stayed

home, did the laundry, ironed the clothes, cleaned the

house, and cooked and served meals for the whole family.

Then, better times came, or so they say.

An automatic washing machine was invented - of

course for a price - but it helped mom.

Then came a dryer, a television, a dishwasher, and

so on, all at a cost. So mom had to get a part time job

to help pay for all these new work savers.

Mom bought a new robe to wear around the house

as her house dresses just would not do. Then came

babysitter fees.

Mom had to get a full time job so now she needed a

car to get to work. A car that needed gasoline and

insurance, more expenses.

The kids grew up, moved out, and got married. That

didn't last long. One of the kids and his or her mate

moved back home to save money for a house, washing

machine, dryer, television, etc.

You get the picture. So now we have four cars in the

driveway!

Mom's getting tired by now, so they eat out more

www.columbusmessenger.com

www.columbusmessebger.com

CLASSIFIED ADS

Deadlines: Grove City, Groveport & All editions - Mondays at Noon.

West, Canal Winchester, South & Madison editions -Tuesdays at 5 p.m.

xCraft Show

ADVERTISE

Your Spring Craft Show

Bazaar or Bake Sale!

Call Kathy

272-5422

For More Info

Craft Show

letter

Changes we go through

LEGAL NOTICES

Class Action against The

City of Grove City (2.5

miliion) & Grove City

Police (2.5 million) for

bodily harm & abuse of

power. Free to join. 614-

778-3864

Class Action against

Grant Hospital for

malpractice & negligence.

Free to join. 614-778-3864

ASSOCIATION ADS

FREE $20 Cash App

Everyone! Yes It's Real.

Very Limited supply until

we run out! Go to

Free20Now.com

The bathroom of your

dreams for as little as

$149/month! BCI Bath &

Shower. Many options

available. Quality

materials & professional

installation. Senior &

Military Discounts

Available. Limited Time

Offer - FREE virtual inhome

consultation now

and SAVE 15%! Call

Today! 1-877-540-2780

Attention oxygen therapy

users! Inogen One G4 is

capable of full 24/7 oxygen

delivery. Only 2.8

pounds. Free info kit.

Call 877-929-9587

often - another expense.

In time the kids move out and mom goes on Social

Security.

She also goes back to washing clothes, cooking,

cleaning, and taking naps. She takes care of the grandchildren

so their parents can go to work and buy cars,

washing machines, televisions, etc.

Now there is just one car in the driveway. But other

cars are coming and going all day long. This makes

grandma and grandpa happy knowing they are still

needed to take care of their grandchildren. They are

still wanted and loved.

And they are especially happy that all their appliances

are paid for, including the car in the driveway!

Patty Brown

Groveport

Letters policy

The Messenger welcomes letters to the editor. Letters

cannot be libelous. Letters that do not have a signature,

address, and telephone number, or are signed with a

pseudonym, will be rejected.The Messenger reserves the

right to edit or refuse publication of any letter for any reason.

Opinions expressed in the letters are not necessarily

the views of the Messenger. Mail letters to: South/Canal

Winchester Messenger, 3500 Sullivant Avenue,

Columbus, OH 43204; or email southeast@columbusmessenger.com.

xAdult Care

Call today

Start today

no minimums!

1 Hr. up to 24 Hr. Care

We send you the Best Home Caregivers

Rates as low as $16.46 an hour!

"We Do Things Your Way"

614-80-ANGEL (614-802-6435)

Call or text for info. www.v-angels.com

Adult Care
---
www.columbusmessenger.com

January 29, 2023 - SOUTH & CANAL WINCHESTER MESSENGER - PAGE 13

CLASSIFIED ADS

Deadlines: Grove City, Groveport & All editions - Mondays at Noon.

West, Canal Winchester, South & Madison editions -Tuesdays at 5 p.m.

xEmployment

"HELP WANTED"

SIGN

NOT WORKING?

TO ADVER

VERTISE

ASSOCIATION ADS

Vivint Smart Security.

Professionally installed.

One connected system for

total peace of mind. FREE

professional installation!

Four FREE months of

monitoring! Call now to

customize your system. 1-

855-870-2073

Safe Step. North

America's #1 Walk-in Tub.

Compreshensive lifetime

warranty. Top-of-the-line

installation and service.

Now featuring our FREE

shower package & $1600

off - limited time! Call

Today! Financing

available. Call Safe Step

1-833-356-1954

Switch and save up to

$250/yr on talk, text & data.

No contract or hidden fees.

Unlimited talk & text with

flexible data plans.

Premium nationwide

coverage. 100% U.S.

based customer service.

Limited time offer - get $50

off any new account. Use

code GIFT50. For more

information1-888-684-1169

Free high speed internet if

qualified. Govt. pgm for

recipients of select pgms

incl. Medicaid, SNAP

Housing Assistance, WIC,

Veterans Pension,

Survivor Benefits, Lifeline,

Tribal. 15 GB Internet.

Android tablet free w/onetime

$20 copay. Free

shipping. Call Maxsip

Telecom! 1-833-758-3892

Call Kathy at

The Columbus Messenger

614-272-5422

F or More Info

ASSOCIATION ADS

DISH TV $64.99 FOR 190

Channels + $14.95 High

Speed Internet. Free Installation,

Smart HD DVR

Included, Free Voice Remote.

Some restrictions

apply. Promo expires

1/21/23. 1-866-479-1516

DIAGNOSED WITH

LUNG CANCER? You

may quliafy for a

substantial cash award -

even with smoking history.

NO obligation! We've

recovered millions. Let us

help!! Call 24/7, 1-888-

650-9135

Switch and save up to

$250/yr on talk, text &

data. No contract or

hidden fees. Unlimited talk

& text with flexible data

plans.

Premium

nationwide coverage.

100% U.S. based

customer service. Limited

time get $50 off any new

account. Use code

GIFT50. 1-855-903-3048

Metal Roofing &Siding For

Houses, Barns, Sheds etc.

36" Coverage, Painted $2.35

LF, Bare $1.45 to $1.70 LF,

Rainbow $1.35 LF. Sold as

Seconds. Made in Ephrata,

Pa. 717-445-5222

Dental Insurance -

Physicians Mutual Insurance

Comopany. Covers 350

procedures/ Real insurance -

not a discount plan. Get your

free dental info kit! 1-855-

.526-1060 www/dental50

plus.com/ads #6258

ASSOCIATION ADS

Eliminate gutter cleaning

forever! LeafFilter, the

most advanced debrisblocking

gutter protection.

Schedule a FREE

LeafFilter estimate today.

20% off Entire Purchase.

Plus 10% Senior & Military

Discounts. Call 1-855-

791-1626

Looking for auto insurance?

Find great deals

on the right auto insurance

to suit your needs.

Call today for a free

quote! 866-924-2397

Want Faster & Affordable

Internet? Get internet

service today with

Earthlink. Best internet &

WiFi Plans. Call us Today

to Get Started. Ask

about our specials! 866-

396-0515

NEED IRS RELIEF

$10K-$125K+ Get Fresh

Start or Forgiveness.

Call 1-877-705-1472

Monday through Friday

7am-5pm PST

AT&T Internet. Starting at

$40/month w/12-mo agmt.

1 TB of data/mo. Ask how

to bundle & SAVE! Geo &

svc restrictions apply. 1-

855-364-3948

Donate Your Car To

Veterans Today! Help and

Support our Veterans.

Fast - FREE pick up.

100% tax deductible. Call

1-800-245-0398

ASSOCIATION ADS

READER

ADVISORY

The National Trade Association

we belong to has

purchased the following

classifieds. Determining

the value of their service

or product is advised by

this publication. In order

to avoid misunderstandings,

some advertisers do

not offer "employment"

but rather supply the

readers with manuals, directories

and other materials

designed to help

their clients establish mail

order selling and other

businesses at home. Under

NO circumstance

should you send any

money in advance or give

the client your checking,

license ID or credit card

numbers. Also beware of

ads that claim to guarantee

loans regardless of

credit and note that if a

credit repair company

does business only over

the phone it's illegal to request

any money before

delivering its service. All

funds are based in US

dollars. Toll Free numbers

may or may not

reach Canada. Please

check with the Better

Business Bureau 614-

486-6336 or the Ohio Attorney

General's Consumer

Protection Section

614-466-4986 for more

information on the company

you are seeking to

do business with.

Employment

O'Neil Tents is a premier tent and event equipment rental provider and customer manufactured

vinyl solutions expert located in Canal Winchester Ohio. We are seeking a

responsible, reliable, self motivated full time individual to assist our team with

customer service responsibilities and administrative duties.

Job Duties would include:

Answering telephones, custom inquiries, processing orders, follow up on quotes and

general customer service.

Excellent customer service and communications skill are very important.

The ideal applicant should have the ability to learn quickly, retain training, problem

solve and think independently. Also be able to multitask in a fast paced work

environment.

Must have strong computer skills and working knowledge of Microsoft Word, Excel,

and Quickbooks. Previous bookkeeping skills or education is preferred.

Benefits:

• Paid vacation and personal time • Paid holidays • Health insurance program

Starting wage will be based on experience. Minimum starting wage of $17/hour

Full time schedule is Monday-Friday 8am-4:30pm

NOW HIRING DRIVERS - STARTING AT $19.00/Hr.

Apply at

895 Walnut Street, Canal Winchester, OH 43110

ASSOCIATION ADS

The Generac PWRcell, a

solar plus battery storage

system. SAVE money,

reduce your reliance on

the grid, prepare for power

outages and power

your home. Full installation

services available. $0

Down Financing Option.

Request a FREE, no obligation,

quote today. Call

1-866-783-0292

Prepare for power outages

today with a GENERAC

home standby generator.

$0 Money Down + Low

Monthly Payment Options.

Request a FREEQuote--

Call now before the next

power outage. 1-855-465-

7624

ASSOCIATION ADS ASSOCIATION ADS ASSOCIATION ADS

The Generac PWRcell

solar plus battery storage

system. Save money,

reduce reliance on

grid, prepare for outages

& power your home. Full

installation services. $0

down financing option.

Request free no obligation

quote. Call 1-877-

539-0299

BATH & SHOWER UP-

DATES in as little as

ONE DAY! Affordable

prices - No payments for

18 months! Lifetime warranty

& professional installs.

Senior & Military

Discounts available. Call

855-761-1725

Stroke & Cardiovascular

disease are leading

causes of death according

the American Heart

Association. Screenings

can provide peace of mind

or early detection! Call

Life Line Screening to

schedule your screening.

Special offer - 5

screenings for $149. 1-

866-518-8391

Attention Homeowners! If

you have water damage

and need cleanup

services, call us! We'll get

in & work with your

insurance agency to get

your home repaired and

your life back to normal

ASAP! 855-767-7031

MobileHelp, America's

premier mobile medical

alert system. Whether

you're home or away. For

safety & peace of mind.

No long term contracts!

Free brochure! 1-888-489-

3936

Wesley Financial Group,

LLC Timeshare Cancellation

Experts Over

$50,000,000 in timeshare

debt & fees cancelled in

2019. Get free

informational package &

learn how to get rid of

your timeshare! Free

consultations. Over 450

positive reviews. 888-965-

0363
---
PAGE 14 - SOUTH & CANAL WINCHESTER MESSENGER - January 29, 2023

www.colulmbusmessenger.com

xEmployment

JOB

FAIR

OR OPEN

INTERVIEWS?

CALL KATHY

TO ADVERTISE

272-5422

ASSOCIATION ADS

HughesNet - Finally, superfast

internet no matter

where you live. 25 Mbps

just $59.99/mo! Unlimited

Data is Here. Stream

Video. Bundle TV &

Internet. Free Installation.

Call 866-499-0141

Safe Step. North

America's #1 Walk-in Tub.

Compreshensive lifetime

warranty.

Top-of-the-line

installation and service.

Now featuring our free

shower package & $1600

off - limited time!

Financing available. 1-

855-417-1306

Internet &WIFI Starts at

$49 Call us Today to Get

Started. Find High-Speed

Internet with Fiber Optic

Technology No Credit

Check, No SSN Required.

Call us Today 866-396-

0515

Donate your car, truck,

boat, RV and more to

support our veterans!

Schedule a FAST, FREE

vehicle pickup and receive

a top tax deduction! Call

Veteran Car Donations at

1-877-327-0686 today!

ASSOCIATION ADS

Are you receiving

SSDI/SSI Benefits? You

may be eligible for

additional benefits. CALL

US TODAY Citizen

Disability 1-888-490-6616

!!OLD GUITARS WANT-

ED!! GIBSON, FENDER,

MARTIN, Etc. 1930's to

1980's. TOP DOLLAR

PAID. CALL TOLL FREE

1-866-433-8277

WANTED!

MOTORCYCLES!

ANTIQUE AND CLASSIC.

Honda, Kawasaki, Suzuki,

Yamaha, Triumph, BSA

and other foreign models.

$$PAYING CA$H$$

717-577-8206

KRMiller1965@yahoo.com

DIRECTV Stream -

Carries the Most Local

MLB Games! CHOICE

Package, $89.99/mo for

12 months. Stream on 20

devices in your home at

once. HBOMax included

for 3 mos (w/CHOICE

Package or higher.) No

annual contract, no hidden

fees! Some restrictions

apply. Call IVS 1-866-629-

6086

ASSOCIATION ADS

Become a Published

Author. We want to Read

Your Book! Dorrance

Publishing Trusted Since

1920 Consultation,

Production, Promotion &

Distribution. Call for Free

Author's Guide 1-877-729-

4998 or visit

dorranceinfo.com/ads

BUYING CLASSIC CARS,

TRUCKS, SUVs

**American and Foreign**

Any Condition. Buying

entire car collections.

$$PAYING CA$H$$

Please call 717-577-8206

KRMiller1965@yahoo.com

DENTAL INSURANCE

from Physicians Mutual

Insurance Company.

Coverage for 350 plus

procedures. Real dental

insurance - NOT just a

discount plan. Do not wait!

Call now! Get your FREE

Dental Information Kit with

all the details! 1-877-553-

1891

www.dental50plus.com/

macnet#6258

Employment

ASSOCIATION ADS

Attention Viagra users:

Generic 100 mg blue pills

or generic 20 mg yellow

pills. Get 45 plus 5 free +

S/H. Call Today 1-877-

707-5518

Become a Published

Author. We want to Read

Your Book! Dorrance

Publishing-Trusted by

Authors Since 1920

Book manuscript submissions

currently being reviewed.

Comprehensive Services:

Consultation, Production,

Promotion and Distribution. Call

for Your Free Author's Guide 1-

866-482-1576 or visit

dorranceinfo.com/macnet

Don't let the stairs limit

your mobility! Discover

the ideal solution for

anyone who struggles on

the stairs, is concerned

about a fall or wants to

regain access to their

entire home. Call

AmeriGlide today! 1-844-

317-5246

VIAGRA and CIALIS

USERS! 50 Generic pills

SPECIAL $99.00. 100%

guaranteed. 24/7 CALL

NOW! 888-445-5928

Hablamos Espanol

ASSOCIATION ADS

Caring for an aging loved

one? Wondering about

options like senior-living

communities and in-home

care? Caring.com's

Family Advisors help take

the guesswork for your

family. Free, no-obligation

consult: 1-855-759-1407

Replace your roof with the

best lookng and longest

lasting material -- Steel

from Erie Metal Roofs!

Three styles and multiple

colors available.

Guaranteed to last a

lifetime! Limited Time

Offer - $500 Discount +

Additional 10% off install

(for military, health

workers & 1st responders)

Call Erie Metal Roofs: 1-

855-338-4807

Thinking about installing

a new shower? American

Standard makes it

easy. FREE design consulation.

Enjoy your

shower again! Call 1-

833-769-0995 today to

see how you can save

$1,000 on installation, or

visit www.newshowerdeal.com/mac

ASSOCIATION ADS

Vivint Smart Security.

Professionally installed.

One connected system for

total peace of mind. Free

professional installation!

Four free months of

monitoring! Call to

customize your system. 1-

833-841-0737

Prepare for power

outages today with a

GENERAC home standby

generator. $0 Down + Low

Monthly Pmt. Request a

free Quote. Call before the

next power outage: 1-855-

948-6176

DISH TV $64.99 for 190

Channels + $14.95 high

speed internet. FREE installation,

Smart HD DVR

included. Free Voice Remote.

Some Restrictions

apply. Promo Expires

1/21/23. 1-866-590-5561

Elminate gutter cleaning

forever! LeafFilter, the most

advanced debris-blockiing

gutter protection. Schedule

Free LeafFilter Estimate

today. 20% off Entire

Purchase. 10% Senior &

Military Discounts. Call 1-

833-610-1936
---
www.columbusmessenger.com

xCome & Get It!

COME AND GET IT!

Need to Get Rid of Something Fast - Advertise It Here For FREE!

Deadlines are Mondays by Noon

Call For Publication Schedule 614-272-5422

FREE Garden Straw for gardens or bedding. Call for appointment for pickup.

Circle S Farms, 9015 London-Groveport Road, Grove City, 43123

Grove City - 614-878-7980

FREE - Metal from old camper frame, Need a truck to pickup..

CC - Obetz - 614-632-1013

FREE - Children's Wooden Play Set - Good Condition w/Sand Box under it, Step Ladder up

Slide to go down & a rope swing. Also separate Swing Set w/4 swings.

190 Inah Ave., Cols, 43228 near the Fire Dept.

West Columbus - 614-878-1930, ask for Linda

FREE - Firewood - All you want! U cut U Haul. Text me if you want it.

Obetz - 614-519-7986

Come and Get It! is a bi-weekly column that offers readers an opportunity to pass

along surplus building materials, furniture, electronic equipment, crafts, supplies,

appliances, plants or household goods to anybody who will come and get them - as

long as they're FREE. NO PETS! Just send us a brief note describing what you want to

get rid of, along with your name, address and phone number. Nonprofit organizations

are welcome to submit requests for donations of items.

Send information to The Columbus Messenger, Attention: Come and Get It, 3500

Sullivant Ave., Columbus, OH43204. Deadline is Mondays at NOON for following

Sunday's publication. Messenger Newspapers is not responsible for any complications

that may occur. Please contact us when items are gone. 272-5422

Come & Get It!

Check Out Our Website @

www.columbusmessenger.com

SHOP THE CLASSIFIEDS!!

Only $1 per line

columbus

❏ Check for one additional FREE week.

Telephone: _________________________________________________________

Print Your Name:____________________________________________________

Last

First

Print Your Address:___________________________________________________

Print Your City:__________________________ State:_______ Zip:____________

Columbus Messenger

3500 Sullivant Ave. • Columbus, Ohio 43204

614-272-5422

classified@columbusmessenger.com

$

Not Valid for Garage Sales

West ___ Southwest ___ East ___ Southeast ___ Madison___

Print Your Ad Below…

One word each space. BE SURE YOUR TELEPHONE NUMBER OR ADDRESS is included in your

advertisement. The lessor of 4 words or 22 characters per line. We reserve the right to use abbreviations

when actual space exceeds amount purchased.

1. __________ __________ __________ __________

2. __________ __________ __________ __________

3. __________ __________ __________ __________

4. __________ __________ __________ __________

5. __________ __________ __________ __________

6. __________ __________ __________ __________

❏ Cash

❏ Check

❏ Money Order

❏ VISA ❏ MC

Credit Card

Information

___

__________________________

Credit Card Number

____________

__(___)__

Exp. Date 3 digit code

Minimum Charge $5.00

xFocus on Rentals

APARTMENT MANAGERS

HAVE VACANCIES?

FILL THEM BEFORE

THE FLOWERS BLOOM!

ADVERTISE

IT!

Call The Messenger

For More Info and Rates

614-272-5422

ASSOCIATION ADS

Protect your home w/home

security monitored by

ADT. Starting at $27.99/

mo. Get free equipment

bundle including keypad,

motion sensor, wireless

door & windows sensors.

833-719-1073

IMPORTANT

NOTICE

The following states: CA,

CT, FL, IA, IL, IN, KY,

LA, MD, ME, MI, MN,

NE, NC, NH, OH, OK,

SC, SD, TX, VT and WA

requires seller of certain

business opportunities to

register with each state

before selling. Call to

verify lawful registration

before you buy.

READY TO BUY, SELL

OR RENT YOUR

VACATION HOME OR

HUNTING CAMP?

Advertise it here and in

neighboring publications.

We can help you. Contact

MACnet MEDIA @

800-450-6631 or visit our

site at MACnetOnline.

com

SELL YOUR ANTIQUE

OR CLASSIC CAR.

Advertise with us. You

choose where you want

to advertise. 800-450-

6631 visit macnetonline.

com for details.

HELP WANTED

HOME INSTEAD

is hiring Caregivers

to provide in home

care for Seniors.

We offer

competitive pay and a

week of paid vacaton.

Shift and hours

can be flexible.

614-849-0200

Kings Kids Daycare

in Grove City is hiring Fun,

Loving Teachers for PT &

FT shifts. Please email

sarragc@outlook.com or

call 614-539-0349

Rentals

2/19A&M

ASSOCIATION ADS

Have Something

To Sell?

Need To Rent

That Property?

Try The

Messenger!

For Info On Placing

An Ad Call

614-272-5422

PETS

CKC German Shepherd

Pups, up-to-date on shots,

worming, microchip. Call

or text for info

614-519-5596

AKC St. Bernard puppies.

Born 7/29/22. Current Vet

checks. Please leave

message on phone

number 740-852-4167.

WANT TO BUY

WE BUY JUNK CARS

Call anytime 614-774-6797

ANTIQUES

WANTED

Victrolas, Watches,

Clocks, Bookcases

Antiques, Furn.

Jeff 614-262-0676

or 614-783-2629

We Buy Cars & Trucks

$300-$3000.614-308-2626

We Buy Junk Cars &

Trucks. Highest Prices

Paid. 614-395-8775

MISC.

FOR SALE

Tractor Tires on rims.

13.6-38 off Oliver 88.

Good WT Ion Tread. $400

cash. 614-332-5782, ask

for Dave

HP PRINTER

CARTRIDGES FOR SALE

HP 901 Color Cartridges (3);

HP 901XL and 901 Color

Multi Pack (1);

HP 901XL Black(1).

$15.00 each.

Columbus Messenger,

3500 Sullivant Ave.

Call Office 614-272-5422

January 29, 2023 - SOUTH & CANAL WINCHESTER MESSENGER - PAGE 15

xClassified Services

CARPET SALES

CARPET

Gray Saxony

270 sq.ft. w/6 lb Pad

$398.00

Other Carpet AvailableA

Phone or text Ray

740-927-3504

Delivery & Inst. avail.

CLEANING

Looking for Mrs. Clean?

For excellent cleaning serv

at reas. rates w/great refs,

dependable. 10% Seniorr

Disc. Also does Painting. Free

Est. Gwen 614-226-5229

DEEP CLEANING &

WALL WASHING

Call Judy 614-746-0273

CONCRETE

AJ's Concrete,

Masonry

Good Work - Fair Prices

Block Foundations

Driveways • Sidewalks

Epoxy/Overlay Floors

Bonded-Ins. • Free Ests.

614-419-9932

www.hastingsnsons.com

Driveways & Extensions

Patio & Walkways,

Porches & Steps,

Garage/Basement Floors

Hot Tub/Shed Pads,

Stamped/colored concrete

Sealing of new &

existing concrete.

FREE ESTIMATES

Contact Adam

614-756-1754

hastingsandsons.

columbus@gmail.com

HAULING

JUNK REMOVAL

AND MORE LLC

• Junk Removal

• Demolition

• Hoarding

614-352-0442

10% OFF FOR

SENIORS & VETERANS

HEATING & COOLING

HVAC

HEATING & A/C

Fast Service - Licensed

614-633-9694

HOME

IMPROVEMENT

C&JHandyman

Services LLC

Minor Plumbing & Electric

Install Hot Water Tanks,

Dishwashers & Disposals

All Interior Remodels

Also Fencing &

Interior/Exterior Painting

Free Est. ~ 18 Yrs. Exp.

CDC/EPA Approved Guidelines

614-284-2100

1/8 e/se

2/19 A

1/8 W

12/4 A

HOME

IMPROVEMENTS

SINCE 1973

Phil Bolon Contr.

Windows & Siding

Decks, Kitchens, Baths

Room Additions,

Flooring, Roofing

Bsmt Waterproofing

Deal With Small Non-Pressure Co.

47 Yrs. Exp. - Refs. Avail.

Lic.-Bond-Ins.

Free Est. - Financing Avail.

Member BBB Of Cent. OH

O.C.I.E.B. ID #24273

614-419-3977

or 614-863-9912

LAWN CARE

LET US MAINTAIN

YOUR LAWN & GARDEN

FOR YOU

Summer, Spring,

Winter or Fall

WE DO IT ALL!!!!

Lawn Cuts, Edging,

Trees & Shrubs, Garden,

Mulching, Hauling,

Garden Pond &

Home Maint.

Free Ests. Low Rates

$20 & Up

Kevin - 614-905-3117

PLASTERING

DRYW

YWALL &

PLASTER REPAIR

Textured Ceilings

Popcorn Ceiling Removal

Call Randy

614-551-6963

Residential/Commercial - BIA

PLUMBING

CHRIS'

PLUMBING

"Plumbing & Drain Professional

That You Can Count On"

24 Hrs., 7 Days/Week

No Overtime Charges

24 Yrs. Exp. in Plumbing &

Drain Cleaning Field

Call For A Free Phone Estimate

$100.00 For Any Small Drain

614-622-4482

30% OFF with AD

TREE SERVICES

Warren Brewer Tree Service

• Tree Removal

• Tree Trimming

• Stump Grinding

• Bucket Truck Services

Best Prices • Same Day Service

614-878-2568

Classified Services

2/19

A/M

CandC

Handyman Services LLC

"See The Difference"

l

614-378-7469

Int./Ext. Remodels,

Water Heaters,

Plumbing, Fence,

Sidewalks, Decks,

Int./Ext. Paintng

& Electrical Work

Handyman - outdoor &

indoor. Reasonable Rates

614-634-2244

KLAUSMAN HOME

IMPROVEMENT

Siding-Windows-

Doors-Roofing-Soffit-

Fascia-Gutters-Trim

Earn FREE Seamless

Gutters with Siding Over

1000 Sq. Ft.

FREE Shutters with

Soffit & Trim

EPA Certified

Member of BBB

Financing Available

Over 20 yrs exp. • Free Est.

Licensed-Bonded-Insured

Owner & Operator

James 614-419-7500

HOME

MAINTENANCE

HANDYMAN SERVICES

614-235-1819

HOME

REMODELING

Charlies Handyman

Service

Over 40 yrs. exp.

Hot Water Tanks

Door Locks

Kitchen/Bath Remodels

Roofmg * Siding

Porches & Decks

614-319-6010

blantoncharles894@gmail.com

MultiCraft Const.

& Handyman Services

All Types Handyman Services:

Decks, Fences

Kitchen/Baths

Window/doors installed

Interior Painting

Drywall Repairs

All Types of Flooring

Call/Text 614-774-2923

multicraftconstruction@gmail.com

2/19A

1/8 A

2/19 A

MYERS

PLUMBING

Exp Expert Plumbing

New Const. & Fast Repairs

Lic. - Permit AVailable

Water * Sewer * Gas

614-633-9694

All About Drains & Plumb.

Will snake any small drain

$145. 614-778-2584

POOL/SPA

MAINTENANCE

K&L Spa Cleaning

Hot Tub Cleaning and

Weekly Maintenance

Keith 614-316-9809

SEWING MACHINE

REPAIR

REPAIR all makes 24 hr.

service. Clean, oil, adjust

in your home. $49.95 all

work gtd. 614-890-5296

2/5 A&M

1/8 A

1/8

A&M
---
PAGE 16 - SOUTH & CANAL WINCHESTER MESSENGER - January 29, 2023

www.columbusmessenger.com