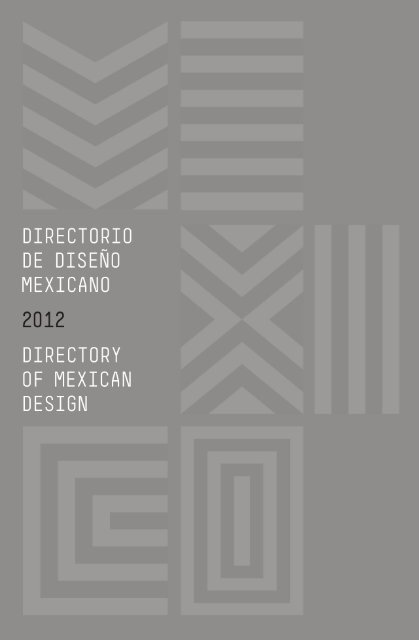 Directorio de Diseño Mexicano - Centro
Directorio de Diseño Mexicano - Centro
Directorio de Diseño Mexicano - Centro
SHOW MORE
SHOW LESS
You also want an ePaper? Increase the reach of your titles
YUMPU automatically turns print PDFs into web optimized ePapers that Google loves.
DIRECTORIO

DE DISEÑO

MEXICANO

2012

DIRECTORY

OF MEXICAN

DESIGN
---
FoREwoRd

centro, a university specializing in creative studies, and ProMéxico,

a governmental entity that fosters investment and Mexican

foreign commerce, have collaborated to produce the first Mexican

Design Directory.

This publication aims to promote the work of Mexican designers,

both within and outside Mexico. It provides individuals and

companies looking for products or services from Mexican designers,

with direct contact information in order to create and fulfill

commercial and cultural projects more efficiently.

This directory is an inclusive first effort that will be consolidated

over time and updated in future electronic and printed versions.

The Mexican Design Directory is an extraordinary initiative

which further extends the projects that centro and ProMéxico

have developed in recent years to foster the development,

economic growth and recognition of the Mexican design sector.

For Destination: Mexico New International Design at the MoMA

Design Store, ProMéxico collaborated as the development partner

and centro as the cultural one.

We extend our deepest thanks to everyone who participated

in the creation of the Mexican Design Directory. We also congratulate

all the designers for their excellent work which, as the essence of its

content, has made this publication possible.

Carlos Guzmán Bofil

ProMéxico

dIRECToR

Gina Diez Barroso de Franklin

Centro de diseño, cine y televisión

PRESIdENT

PRESENTACIÓN

centro, universidad especializada en estudios creativos

y ProMéxico, entidad del Gobierno Federal encargada de fomentar

la inversión y el comercio exterior de México, suman esfuerzos

para crear el primer Directorio de Diseño Mexicano.

La meta principal de esta publicación es ser una herramienta

para difundir y promover la oferta exportable de los

diseñadores mexicanos tanto en nuestro país como en el extranjero.

Queremos que este directorio sirva como un vínculo directo

para personas y empresas que requieren servicios o productos

de diseñadores mexicanos, con el fin de generar y concretar

proyectos —tanto comerciales como culturales— de la manera más

ágil y eficiente.

El objetivo de este trabajo en curso ha sido ser incluyente; un primer

esfuerzo que busca consolidarse a través de los años y actualizarse

tanto en versiones electrónicas como en futuras ediciones impresas.

El Directorio de Diseño Mexicano es una magna iniciativa

que se suma a proyectos que ambas instituciones han realizado

en los últimos años para fomentar el desarrollo, crecimiento

económico y reconocimiento del sector del diseño en México. Como

antecedente inmediato de colaboración entre centro y ProMéxico

tenemos el referente de Destination: Mexico New International

Design at the MoMA Design Store. En este proyecto ProMéxico apoyó

como socio promotor y centro como socio cultural.

Agradecemos sinceramente la labor de todos los involucrados

en su realización y felicitamos a todos los diseñadores por su excelente

trabajo que finalmente es lo que hace posible esta publicación.

Carlos Guzmán Bofil

ProMéxico

dIRECToR

Gina Diez Barroso de Franklin

Centro de diseño, cine y televisión

PRESIdENTA
---
INDEX

Graphic Design and Visual Communication

Furniture and Product Design

Fashion and Textile Design

Interior Design

Digital Media

Sponsors

Alphabetic Index

About ProMéxico

About CENTRO

Acknowledgements

Credits

8

130

267

319

371

393

413

418

421

422

432

ÍNDICE

Diseño Gráfico y Comunicación Visual

Diseño de Mobiliario y Producto

Diseño Textil y Moda

Interiorismo

Medios Digitales

Patrocinadores

Índice alfabético

Acerca de ProMéxico

Acerca de CENTRO

Agradecimientos

Créditos
---
6US

ABRACADABRA

DESIGN BUREAU

AE

MARU AGUZZI

SAMUEL ALAZRAKI

ALBERTO VALENCIA | AV DISEÑO

JORGE ALDERETE

LUIS ALMEIDA HERRERA

TANIA ÁLVAREZ ZALDÍVAR

AMARILLO CENTRO DE DISEÑO

ANAGRAMA

ANGASA

ENRIQUE ARELLANO

AXIOMACERO

BANG BURÓ

BD MARK

FÉLIX BELTRÁN

BRANDLAB

BUTIC

MARU CALVA

FERNANDO CAMACHO

CHARLO MAGNO

CÍTRICO GRÁFICO

DANIELA CORREA FIELD

ALEJANDRO CRUZ

MARÍA JOSÉ CUEVAS

DESIGN CENTER TM

DIN ESTUDIO

DISEÑO PORFAVOR

DRAFFT DISEÑADORES ASOCIADOS

DSV

DX

E-IMAGINARIUM

EDICIONES MALINALCO

EL CEJAS

EL HÁBITAT CREATIVO

EMBLEM

ESTUDIO FRUTAS Y VERDURAS

ESTUDIO JAMAICA

ETRA PUBLICIDAD

EXPLORARE

FÁBULA Y MORALEJA

GAMMA

GOGH DESSAN

GORILA PROJECT

GRUPO EDITORIAL MULTIMEDIOS

DAVID HERNÁNDEZ MÉNDEZ

HULA+HULA

HYPERBRAND DESIGN

ICONO SEIS

IDEOGRÁFICO

IGLOO

INDEX BURÓ CREATIVO

INDEX STUDIO

JORGE BROZON VALLEJO |

TRES LAB VISUAL

KARIMAYO

ERIKA KRUTZFELD Y SABINA

SANTANA

LEOLAB

LEONORA BURÓ CREATIVO

DISEÑO GRÁFICO Y

COMUNICACIÓN VISUAL

GRAPHIC DESIGN AND VISUAL

COMMUNICATION

JONATHAN LÓPEZ HUEVART

GURAM LUBAGGI JIMÉNEZ

MAGUNCIA | ANTONIETA CRUZ

MANO DE PAPEL

GABRIEL MARTÍNEZ MEAVE

MATADOR PROJECTS

MATRUSHKA STUDIO

MEMOMA

ELIZABETH MIRANDA

MÚSICOS DEL TITANIC

NATURAL VALUES

ANA NICOLAU

OKTAEDRO

REGINA OLIVARES

ORANGESTUDIO

SANTIAGO OSNAYA BALTIERRA

OXIGNO BRANDING MULTISESORIAL

PATATÍ PATATÁ

PERIFERIA TALLER GRÁFICO

ARMANDO PINEDA CRUZ

PLAYMOY, CARTELES DE AUTOR

PRIMAL

ANDRÉS MARIO RAMÍREZ CUEVAS

RANDOM DESIGN STUDIO

RED BASICOLOR

RED PRINTING

REPUBLIC OF NOTHING

EVA LUCÍA REYES

ROCKET COMUNICACIÓN VISUAL

FERNANDO RODRÍGUEZ ÁLVAREZ

MARIANA RODRÍGUEZ OLVERA

S. CONSULTORES EN DISEÑO

SALAS BASSANI

SÉ, TALLER DE IDEAS

SELVA HERNÁNDEZ |

EDICIONES ACAPULCO

SHE-MAROD ESTUDIO

SOCIEDAD ANÓNIMA

SOCIEDAD FUNCIONAL

SOF LÓPEZ

SOL CONSULTORES

STOP DISEÑO GRÁFICO

STORM. DISEÑO+COMUNICACIÓN

SUMA+

SUSTITUTO. PROYECTOS VISUALES

TALLER DE COMUNICACIÓN GRÁFICA |

TCGREAT

TD2

THE LEGACY

THE NEST

THRILL STATION

TRAGAFUEGOS DISEÑO

TRILCE EDICIONES

UFFA | CREATIVOS VISUALES

ANA IVETTE VALENZUELA VILLAREAL

PRISCILA VANNEUVILLE

VERSUS ESTUDIO

IVÁN VILLA CANO

OLIVIA VIVANCO

VLA. LABORATORIO VISUAL

WEEATDESIGN

ZOVECK ESTUDIO
---
6US AbRACADAbRA

ww.gamati.com.mx

gusreyesasid@prodigy.net.mx

49-C, 246 x 42 y 46

Fracc. Francisco de Montejo

Mérida, 97203

10

Uriarte Talavera

1994

Diseño de la línea de envase y embalaje, rediseño

de marca y diseño de impresos promocionales.

Realizado junto con la ldg Alejandra Garza Garza.

Design of a line of containers and packaging,

redesign of the trademark and design of printed

promos. Carried out in collaboration with Graphic

Designer Alejandra Garza Garza.

www.abracadabra.com.mx

elveno@abracadabra.com.mx

49 a Sur 4918, int. 7

Puebla, 72190

Bienal de Arte Veracruz

Instituto Veracruzano de la Cultura |

Culture Institute of Veracruz

2011

Se desarrolló la identidad visual considerando

la diversidad cultural del Estado de Veracruz

a través de sus diez regiones. Es una simbiosis

entre la tradición cultural veracruzana

y la contemporánea.

The visual identity of the cultural diversity of

Veracruz through its ten regions. It is a symbiosis

between the cultural and contemporary

traditions of Veracruz.

11
---
DESIGN BUREAU AE

12

@dbureau

Design-Bureau-Soulsight

-Mexico

Orizaba 184

Col. Roma

Mexico, D.F., 06700

Kinky

Consecuencias

Consequences

2011

En colaboración con | In collaboration with:

Carlos González Nacif, Benjamín Sánchez, Octavio Macías

Diseño gráfico para el décimo disco

de Susana Zabaleta.

Graphic design for Susana Zabaleta's

tenth album.

www.aeagence.com

ele.sip@gmail.com

Lope de Vega 160, int 1

Col. Polanco

México, D.F., 11500

Mateos Consultores

Luis Mateos

2009

Diseño de identidad visual (logotipo,

aplicaciones, página web) para despacho de

consultoría en tecnologías de información.

Visual identity design (logo, applications,

webpage) for this it consultancy firm.

13
---
MARU AGUzzI SAMUEL ALAzRAkI

14

www.gransalon.org

maru@gransalon.org

Aguascalientes 98

Col. Condesa

México, D.F., 06760

Frente

2011

El periódico semanal gratuito Frente surgió

como una alternativa a las demás plataformas

de comunicación. El concepto detrás del

diseño fue crear una mezcla de "periódico

clásico" con plantilla, tipografías y estilo

de foto contemporáneos.

The free weekly newspaper Frente emerged

as an alternative to other communication

platforms. The concept behind the design was

to create a mixture mixture of a "classic

newspaper" with a contemporary style of

template, font and photo.

www.samuelalazraki.tumblr.com

s.alazraki@gmail.com

Lago Tanganica 5, int. 604

Col. Granda

México, D.F., 11520

Identidad Gráfica m a c h i n a

MACHINA Graphic Identity

m a c h i n a

2011

Diseño de identidad gráfica para la marca

de Wearable Technology ganadora del wayra

Campus Party Mexico 2011. La imagen nace

de los lenguajes de programación utilizados

para programar los gadgets electrónicos.

The design of the graphic identity for Wearable

Technology, winner of the wayra Campus

Party Mexico 2011. The image emerges from

the programming language used

for the programming of electronic gadgets.

15
---
ALbERtO VALENCIA | AV DISEÑO

www.avdiseno.com.mx

alberto@avdiseno.com.mx

Villa de Allende 310

Col. Las Fuentes

México, D.F., 57600

16

Caligrafía

Caligraphy

Diversos | Several clients

2010-2011

Proyectos desarrollados con caligrafía y rotulación

para diversos clientes.

Projects developed in calligraphy and different

fonts for several clients.

www.jorgealderete.com

contacto@jorgealderete.com

Álvaro Obregón 24, int. 8

Col. Roma

México, D.F., 06700

El Eternauta

rm

2011

JORGE ALDEREtE

Diseño de portada y cuidado de la primera

edición mexicana de un clásico de la historieta

argentina, El Eternauta creado por Oesterheld

y Solano López y publicado por primera

vez en 1957.

Cover design and revision of the first edition

of a classic Argentinian comic, El Eternauta was

created by Oesterheld and Solano López and it

was first published in 1957.

17
---
LUIS ALMEIDA hERRERA tANIA ÁLVAREz zALDíVAR

18

luis.almeida@me.com Festival Internacional Cervantino |

www.zaldivartania.com

Auditorio Nacional

1972 | 2011

t@zaldivartania.com

Primero de Mayo 206-5

Col. San Pedro de los Pinos

México, D.F., 03800

Un solo recurso, positivo y negativo,

genera la gola de Cervantes | La fachada

del recinto sobre fondo negro remite

a la noche.

A single resource, positive and negative,

generates Cervantes's ruffle | Against a black

backdrop, the venue's facade evocates

the night.

José Ma. Tornel 20 bis

Col. San Miguel

Chapultepec

México, D.F., 11850

Estruch

Estudi Arola

2011

En colaboración con | In collaboration with: Raquel Quevedo

Tipografía e Identidad diseñada para

la comunicación gráfica del restaurante

Estruch, en Barcelona.

Identity and typography designed

for the graphic communication of the

restaurant Estruch, in Barcelona.

19
---
AMARILLO CENtRO DE DISEÑO

www.amarilloespacio.com.mx

informes@amarilloespacio.com.mx

@amarillocentro

amarillocentrografico

Antonio Franceschy 17

Xalapa, 91000

20

Gultoys

Amarillo Centro de Diseño

2008-2009

En colaboración con | In collaboration with: Aída Aguilera Rocha,

Juan Carlos Vázquez Padilla, Joan Xavier Vázquez Acosta

Como parte de las conmemoraciones

de los 400 años de amistad entre Japón y México,

se presentó una exposición en Tokio. Se crearon

tres juguetes de papel llamados Gultoys:

un alebrije, un olmeca y una jarocha.

As part of the celebrations of the 400 years

of friendship between Japan and Mexico, we

presented an exhibition in Tokyo was presented.

We manufactured three paper toys called

Gultoys: alebrije, the Olmec and the Jarocha

were manufactured.

www.anagrama.com

hello@anagrama.com

General Naranjo 224

Col. San Pedro, Centro

Monterrey, 66230

Theurel & Thomas

2010

ANAGRAMA

Theurel & Thomas es la primer pâtisserie de

México especializada en el macarrón francés,

el postre de mayor auge en la repostería francesa.

Theurel & Thomas is the first pâtisserie

in Mexico specializing in French macaroon,

a classic French pastry.

21
---
ANGASA

www.angasamexico.com

hola@alejandra-anton.com

Anaxágoras 736-1

Col. Narvarte

México, D.F., 03020

22

Híncale el diente a un libro

filij

2010

Cartel ganador del primer lugar en el concurso

Invitemos a leer organizado por el Consejo

Nacional para la Cultura y las Artes (conaculta)

y la Feria Internacional del Libro Infantil y

Juvenil (filij).

Winning poster in the competition Invitemos a

leer organized by the Consejo Nacional para la

Cultura y las Artes (conaculta) and the Feria

Internacional del Libro Infantil y Juvenil (filij).

www.enriquearellano.com

enrique.arellano@gmail.com

Bucareli 68 (8)

Col. Centro

México, D.F., 06040

ENRIqUE ARELLANO ARANGO

Libro Un Chant d'Amour

Un Chant d'Amour Book

Silvia Gruner

2009

Diseño y diagramación.

Design and diagramming.

23
---
AxIOMACERO

www.axiomacero.com

info@axiomacero.com

axiomacero.wordpress.com

@axiomacero

axiomacero.disenografico

Axiomacero

Padre Mier 1111

Col. Centro

Nuevo León, 64000

24

Bios

Bios Ambiental

2011

Creación de identidad para la empresa Bios

Ambiental, la cual realiza labores ecológicas

a través de la limpia en industria y calles.

El diseño se inspiró en la misión verde de la

compañía.

Creation of the identity of the Bios Ambiental

Company, which carry out ecological works

through the cleaning of industries and streets.

The design was inspired by the ecological mission

of the company.

www.bangburo.com

info@bangburo.com

@bangburo

Pachuca 150 PB

Col. Condesa

México, D.F., 06140

Dunk House

Nike

2008

bANG bURÓ

La Dunk House fue un espacio dedicado

al zapato Dunk de Nike en la Ciudad de México.

Durante dos meses se creó una experiencia

que combinaba la historia del zapato, con

el diseño, arte y música.

Dunk House was a space in Mexico City

dedicated to the Dunk Nike shoes. For two

months a special experience was created

which combined the history and

design of shoes with design, art and music.

25
---
D MARk

www.bdmark.com

info@bdmark.com

José Guadalupe Zuno 2129

Col. Americana

Guadalajara, 44160

26

Revista Ojo de Careyes

Ojo de Careyes Magazine

Costa de Careyes

Costa Careyes es de los destinos más

exclusivos de México. Desarrollo de concepto

y contenidos, diseño editorial, ilustración,

equipo de redacción, traducción y edición.

Costa de Careyes is one of the most exclusive

destinations in Mexico. Development

of concept and contents, editing design,

illustration, editorial staff, translation,

and editing.

felixbeltran@infinitum.com.mx Steelmex

1985

Sonora 144, 401 A

Col. Condesa

México, D.F., 06100

FéLIx bELtRÁN

La necesidad era una marca que identificara

a un fabricante de perfiles de metal. La aplicación

coherente de la marca era importante como

parte de sus características.

It was important to create a brand, which

would identify a manufacturer of metal profiles.

It was of paramount importance to create

a coherent brand.

27
---
RANDLAb

www.brandlab.com.mx

laura@brandlab.com.mx

Prolongación Paseo

de la Reforma 39-105

Col. Paseo de las Lomas

México, D.F., 01330

28

unicofresco

Jumex

2001

Diseño de línea "Premium" de jugos

de naranja y toronja.

Design of the orange and grapefruit

"Premium" line.

www.lebutic.com

carmen@lebutic.com

Tabasco 119

Col. Roma

México, D.F., 06700

Museo Memoria y Tolerancia

2007 | 2010

bUtIC

Diseño museográfico, diseño gráfico y foto

murales pisos +4 y +5 (exhibición permanente

de genocidios a partir del Siglo xx).

Museum design, photomurals and graphic

design of the 4th and 5th floors (permanent

exhibition of genocides from the 20th century onwards).

29
---
MARU CALVA FERNANDO CAMAChO

www.marucalva.com

marucalva@gmail.com

Río Amazonas 26-4

Col. Cuauhtémoc

México, D.F., 06500

30

Libro Arte Correo

Museo de la Ciudad de México | rm

2011

Libro dedicado al Arte Correo en México entre

los años 1964-1989. Incluye obra de artistas como

Hansjörg Mayer, Ulises Carrión, Mathias Goeritz,

Ray Johnson, Pedro Friedeberg, Felipe Ehrenberg,

Marcos Kurtycz y Dieter Roth, entre otros.

Book dedicated to Mail Art in Mexico between

1964-1989. Including work by artists such as

Hansjörg Mayer, Ulises Carrión, Mathias Goeritz,

Ray Johnson, Peter Friedeberg, Felipe Ehrenberg,

Marcos Kurtycz, and Dieter Roth, among others.

www.carrer.mx

contacto@carrer.mx

@carrer3

Frontera 22

Col. Roma

México, D.F., 06700

glp Asesores

2010

glp Asesores es un despacho de asesoría

contable, con las siglas de su fundadora,

quien decidió desarrollar su imagen

corporativa para sumar valor a la empresa

y sus servicios con sus clientes.

glp Asesores is an accountant's consultancy

firm, whose initials stand for the founder,

who decided to develop a corporate image

to increase the importance of the enterprise

and services given to its clients.

31
---
ChARLO MAGNO

www.charlomagno.com

charlomagno@gmail.com

@charlomagno

magnodesign

Palestina 7

Col. Roma

México, D.F., 64700

32

Houses* The Magazine

FreeWay Guía Comercial

Commercial Guide Freeway

Conceptualización y desarrollo de houses*

The Magazine, revista que aporta información

valiosa al sector del desarrollo inmobiliario

en Monterrey.

Concept and development of houses*

The Magazine, a magazine which contributes

valuable information for the development

of real estate in Monterrey.

www.citricografico.com

ricardo@citricografico.com

@ricardocitrico

@citricografico

Coahuila 188

Col. Roma

México, D.F., 06700

CítRICO GRÁFICO

Campaña Radar 7 | Diseño de campaña

Uno + Infinito

Radar Campaign 7 | Design of the campaign

Uno + Infinito

Festival de México | Museo Universitario

Arte Contemporáneo muac-unam

Mexico Festival | Universitary Museum

of Contemporary Art muac-unam

2009 | 2010

Imagen gráfica y campaña de Radar 7, espacio

de exploración sonora | Diseño de imagen gráfica

y campaña impresa del Ciclo Uno + Infinito.

Graphic image and campaign for Radar 7,

sound exploration space | Design of graphic

image and campaign for the cycle

Uno + Infinito.

33
---
DANIELA CORREA FIELD

www.danielacorrea.com

daniela.correa.field@gmail.com

Jojutla 31-2

Col. Condesa

México, D.F., 06100

34

Imagina el futuro

Centro de diseño, cine y televisión

2008

En colaboración con / In collaboration with:

Santiago da Silva Barra, Priscilla Vanneuville Izaguirre

Diseño de la invitación para la ceremonia de

graduación de la primera generación de centro

de diseño, cine y televisión.

Designing of a graduation ceremony invitation

for the first generation of Centro, University

of design, film and media.

www.solidiseno.com

solidiseno@yahoo.com.mx

Monte Líbano 865

Col. Lomas de Chapultepec

México, D.F., 11000

ALEJANDRO CRUz

Identidad corporativa Jean Ingenieros

Jean Ingenieros Corporate Image

Jean Ingenieros

2010

En colaboración con | In collaboration with: Alejandro Joaquín

Cruz Navarro y Laura Lourdes Zogbi Rocha

Esta empresa de ingeniería estructural requería

una identidad contemporánea y actual, relacionada

con la exactitud y el dinamismo del trabajo

estructural. Se procuró una imagen fresca y colorida.

This structural engineering company needed

a contemporary and up-to-date identity closely

related to the accuracy and dynamic of

structural work. It was intended for a fresh and

colorful image.

35
---
MARíA JOSé CUEVAS DESIGN CENtER tM

www.mariajosecuevas.com

cuevasmariajose@mac.com

Flora 1

Col. Roma

México, D.F., 06700

36

Identidad Gráfica cine tonalá

Graphic Identity Cine Tonalá

Cine Tonalá

2012

El Cine Tonalá es una sala de cine

independiente que exhibirá películas

nacionales e internacionales que

no cuentan con distribución comercial.

Cine Tonalá is an independent cinema

hall that will exhibit local and international

films that do not have commercial

distribution.

franz@dctm.mx

Alica 60

Col. Lomas Virreyes

México, D.F., 11000

Jarritos

Grupo Aga

2009

Rediseño de la etiqueta.

Re-design of label.

37
---
DIN EStUDIO

www.dinestudio.com

contacto@dinestudio.com

@DinEstudio

dinestudio

Av. Industrialización 4, int. B

Col. Álamos 2da sección

Querétaro, 76160

38

Tango Tea

2012

Creación de concepto e imagen, mobiliario

y arquitectura, para franquicia.

Creation of concept, image, furniture

and architecture for the franchise.

www.disenoporfavor.com

andres@disenoporfavor.com

disenoporfavor.tumblr.com

vimeo.com/user6197109/videos

@DisenoPorfavor

Diseño-Porfavor

Francisco Murguía 5-int. 5

Col. Condesa

México, D.F., 06100

DISEÑO pORFAVOR

Tipografía Camposanto

Camposanto letterpress

TypeBrainFonts&Lettering

2011

Tipografía inspirada en la obra de José Guadalupe

Posada, la cual rescata rasgos del grabado y rinde

tributo a nuestras tradiciones mexicanas.

Fonts inspired by the work of José Guadalupe

Posada, which recaptures the distinctive features

of engraving and pays homage to our Mexican

traditions.

39
---
DRAFFt DISEÑADORES ASOCIADOS

www.drafft.mx

administracion@drafft.mx

Anatole France 13

Col. Polanco

México, D.F., 11500

40

Interceramic

1998

Se realizó para Interceramic: diseño de

la identidad corporativa, diseño de la guía

rápida de uso de logotipo de la marca

y diseño de papelería.

We worked for Interceramic in the design of

their corporate identity, the design of the

logo for the quick guide and stationery design.

www.behance.net/dsalgado

daniela.salgado@gmail.com

@ds_v

pinterest.com/rodacaca

Campeche 252-402

Col. Condesa

México, D.F., 06100

Identidad de Marca

Trademark identity

Stereosonique Films

2010

DSV

Identidad de marca para Stereosonique Films.

Stereosonique Films trademark image.

41
---
Dx

Av. Cuauhtémoc 829-11

Col. Del Valle

México, D.F., 03100

42

dx@axtel.net Revista dx

Dx Magazine

Proyecto Personal | Personal Project

1998-2004

Publicación de diseño gráfico y editorial

realizado de 1998 a 2004.

Graphic design and editing publication

from 1998 to 2004.

www.e-imaginarium.com

edwin@e-imaginarium.com

Privada del Meco 2134

Huejotzingo

Puebla, 74160

E-IMAGINARIUM

Señalización de la Universidad

Iberoamericana

Iberoamericana University signage

Universidad iberoamericana, campus Puebla

2007

En colaboración con / In collaboration with:

Omar Salinas Bedolla

Este proyecto consistió en el diseño de

la señalización de la universidad. El objetivo

era proyectar un diseño moderno que

mostrara el campus como una opción fresca

y vanguardista.

This project consisted in designing all the

signage at the campus. The objective

was to introduce a modern design highlighting

the fresh and avant-garde campus.

43
---
EDICIONES MALINALCO

www.edicionesmalinalco.com

info@edicionesmalinalco.com

ediciones.malinalco

Frontera 112- 5

Col. Roma

México, D.F., 06700

44

Libretas de Publicidad

MoMA Design Store, Mumedi, Educal, Map, Acsi

2006

Realización de 28 modelos de libretas con

arillo, tomando en cuenta tanto la publicidad

de los años 30 como 50.

Production of 28 notebook models with

spiral binding, incorporating ideas from

advertising of the 1930s and 1950s.

www.elcejas.com

soy@elcejas.com

Ciruela Casa G, Lote 13821

Col. Club de Golf La Ceiba

Mérida, 97302

EL CEJAS

Aceite de Oliva

Olive Oil

Chef Enrique Olvera | Cooperativa Olvera

2008

Empaque sostenible para aceite de oliva

del Chef Enrique Olvera. Botellas abandonadas

de una farmacéutica que se limpiaron

con sandblast. Proyecto publicado en Big Book

of Packaging y Green Graphics.

Sustainable packaging for Chef Enrique

Olvera's olive oil. Abandoned bottles from

a pharmaceutical company were sandblasted

to clean them. The project was published

in Big Book of Packaging and Green Graphics.

45
---
EL hÁbItAt CREAtIVO

27 Oriente 27

Col. El Carmen

Puebla, 72530

46

jesusedbm@gmail.com Grito en la Pared

ehc

2005-2010

En colaboración con / In collaboration with: Jesús Eladio

Barrientos Mora, Valeria Guerrero Garduño

Colectivo de cartel integrado por más

de 100 diseñadores de todo México, dedicado

a transmitir mensajes sociales sin fines de

lucro; se han realizado más de 40 exposiciones

y 15 proyectos.

A collective of posters by more than 100 designers

throughout Mexico, dedicated to transmitting

non-lucrative social messages; more than

40 exhibitions have been held and 15 projects

have been done.

www.mblm.com

ebenitez@mblm.com

Teotihuacán 17

Col. Condesa

México, D.F., 06100

Reposiciones Alsea

Alsea

2010

EMbLEM

Se ayudó a este líder, operador de franquicias

globales en Latinoamérica, a incrementar

su visibilidad y conectarse con los consumidores

de sus marcas, resaltando los momentos

especiales de sus clientes.

This leading global franchising operator in Latin

America was helped to increase its visibility

and to connect with its customers, highlighting

the most important moments of its clients.

47
---
EStUDIO FRUtAS Y VERDURAS

Gutenberg 61-14

Col. Verónica Anzures

México, D.F., 11590

48

diegomieryteran@gmail.com Barro y fuego.

El arte de la alfarería de Oaxaca

Innovando la Tradición A.C.

2011

Dirección de arte, edición y diseño editorial para

el libro Barro y fuego, escrito por Eric Mindling,

Una visión panorámica de la alfarería tradicional

en Oaxaca.

Art direction, editing and publishing design

of the book Barro y fuego, written by Eric Mindling.

A panoramic vision of the traditional silverwork

of Oaxaca.

www.estudiojamaica.com

sergio@estudiojamaica.com

estudiojamaica

Ámsterdam 33b-int. 7

Col. Condesa

México, D.F., 06100

EStUDIO JAMAICA

Ambientación Gráfica

Shasa

2008

Muro desarrollado con hilos, logrando una

figura humana, así como gráficos basados

en iconográfica de normas de lavado.

Wall enveloped with threads, creating

a human figure, as well as graphics based

on the iconography of cleaning norms.

49
---
EtRA pUbLICIDAD

www.etrapublicidad.com

leticia@etrapublicidad.com

Av. Insurgentes Sur 1168

oficina 301

Col. Del Valle

México, D.F., 03200

50

Diseño de portada dvd Callejón

de los Milagros

Cover design of the Callejón de los Milagros dvd

Alameda Films

2001

Este diseño ganó sobre otras propuestas

y fue presentado en el lanzamiento oficial

de la película en dvd.

This design beat other proposals and

was presented at the official launching

of the dvd of the movie.

www.explorare.com

info@explorare.com

Chinantla 9

Col. La Paz

Puebla, 72160

Libro El otro Blas

El otro Blas book

Blas Cernicchiaro Maimone

2008

ExpLORARE

El cliente presentó una recopilación

de fotografías tomadas en los años 20 por

su padre. Buscaba: "hacer un homenaje

a su padre, a su vena artística: la fotografía."

A client presented a compilation of

photographs taken in the 1920's by his father.

He was looking to: "pay homage to

his father, to his artistic vein: photography."

51
---
FÁbULA Y MORALEJA

www.fabulaymoraleja.com

afuego@fabulaymoraleja.com

Fabulaymoraleja.blogstpot.com

@flowmil

Fábula y Moraleja

Laberinto de Creta 341-3

Col. Tepepan

México, D.F., 16020

52

Invitación de boda

Wedding invitation

Gustavo y Alma

2010

La pareja quería para sus invitaciones de boda

algo relacionado con la naturaleza. Se utilizó

caligrafía hecha a mano para crear este vínculo

personal como si fuera una carta.

The couple wanted nature-related wedding

invitations. Hand-written calligraphy

was used in order to create this personal bond

as if it were a letter.

www.gammaestudio.com

edgar7dg@hotmail.com

Ures 87, int. 1

Col. Roma

México, D.F., 06700

Sputnik

Sputnik

1999

Creación de imagen y concepto gráfico.

Imagen del logo y creación de concepto

fotográfico y tipográfico.

Creation of its image and graphic concept.

Logo and creation of the photographic

and fonts concept.

GAMMA

53
---
GOGh DESSAN

www.goghdessan.net

goghdessan@gmail.com

GoghDessan

Insurgentes 19,

despacho 601

Col. San Rafael

México, D.F., 06470

54

Folder-Brochure

Na-at Technologies

2009

Diseño para presentar los servicios que

ofrece la empresa.

Design to present the services offered

by the company.

www.gorilaproject.com

victor@gorilaproject.com

Skype.victoraranda

@gorilaproject

@victor_aranda

Agustín Ahumada 310-Z

Col. Lomas de Virreyes

México, D.F., 11000

GORILA pROJECt

Diseño de etiqueta

Label Design

ims

2007

Diseño de etiqueta para shampoo y

acondicionador de una marca norteamericana.

Label design for the shampoo and hair

conditioner of a us brand.

55
---
GRUpO EDItORIAL MULtIMEDIOS

www.revistaorigama.com.mx

info@revistaorigama.com.mx

Calle 3 Planta Alta 271

int. 5 x 38 y 40

Fraccionamiento Campestre

Mérida, 97120

56

ORIGAMA®

origama Arte y Cultura Contemporánea

2010

Diseño de logotipo, editorial y de contenido para

la primera y tercera edición de la revista

en versión impresa.

Logo, editorial and content design for

the first and third editions of the magazine

in its printed version.

www.davidhernandez.com.mx

hernandez.david@gmail.com

@MisterEscorpion

Kopoma 328

Pedregal de San Nicolás

México, D.F., 14100

DAVID hERNÁNDEz MéNDEz

Mexican—American War

csm

2008

Parte del proyecto de Maestría, infografía

de una serie de cuatro carteles. En ésta

se muestra la cronología de la guerra entre

México y Estados Unidos.

Part of his Master's project, infographics

of a series of four posters. This one shows the

chronology of the Mexican—American War.

57
---
hULA+hULA

www.hulahula.com.mx

aloha@hulahula.com

Av. Canal

de Miramontes 2320

Col. Avante

México, D.F., 04460

58

Festival Internacional de Cine

Fantástico y Terror Mórbido

Fantastic Film and Morbid Terror

International Festival

Spiderland

2009-2011

Desarrollo del concepto y diseño gráfico

para el Festival Mórbido.

Development of the concept and graphic

design for the Morbid Festival.

www.hyperbrand.com.mx

l.flores@hyperbrand.com

@Hyper_Brand

HyperBrand

Sonora 166, 4to piso

Col. Condesa

México, D.F., 06100

hYpERbRAND DESIGN

abcxyz

2011

Se diseñó el futuro para una nueva compañía

de bienes raíces de la ciudad de México. Se creó

un nombre diferente para marcar una posición

en el mercado.

The future of a new real estate company

in Mexico City was designed. A different name

for market placement was created.

59
---
ICONO SEIS

www.iconoseis.com

svc@iconoseis.com

@iconoseis

iconoseis

Pastizal 52

Col. Atlanta

Edo. de México, 54740

60

Equine Horses | Haspring Agua Mineral

2011

Proyecto de identidad corporativa para Equine

Training Horses | Diseño de etiqueta para Agua

Mineral Haspring.

Project for the corporate identity of Equine

Training Horses | Label design for Haspring

Natural Spring Water.

www.ideografico.com

contacto@ideografico.com

Antequer 307-2

Col. Jalatlaco

Oaxaca, 68080

Empaques Chocolate

Chocolate Packaging

Chocolate Mayordomo

2010

IDEOGRÁFICO

Diseño de dos familias de empaques para

chocolates oaxaqueños.

Design of two packages for Oaxacan chocolates.

61
---
IGLOO INDEx bURÓ CREAtIVO

www.igloo.mx

contacto@igloo.mx

Extremadura 116, int. A3

Col. Insurgentes Mixcoac

México, D.F., 03920

62

Nike Air xxv

2005

Diseño y dirección de arte de la publicación

especial de Peace Magazine publicada en Toronto,

Canadá, conmemorando el xxv aniversario

de Nike Air.

Design and art direction of the special issue

of Peace Magazine published in Toronto, Canada,

commemorating the 25th anniversary of

Nike Air.

www.indexburocreativo.mx

info@indexburocreativo.mx

info@index-cb.com

indexburocreativo

Chihuahua 82-302

Col. Roma

México, D.F., 06700

Identidad Corporativa

Corporate Identity

Aurora Roma Club

2012

Identidad corporativa, naming e imagen de la

marca para bar en la colonia Roma. Se buscaba

generar una imagen sofisticada.

Corporate identity, naming and brand image

for a bar in the Roma neighborhood. The

objective was to create a sophisticated image.

63
---
INDEx StUDIO JORGE bROzON VALLEJO |

tRES LAb VISUAL

www.indx.mx

omar@indx.mx

Av. México 133, int. 5

Col. Condesa

México, D.F., 06100

64

New York Awake

h.c.r.h

2000

Diseño de carteles y publicación

para el colectivo artístico hcrh

(Comité de Reivindicación Humana).

Design of posters and a publication

for the artistic group hcrh (Comité

de Reivindicación Humana).

jbrozon@prodigy.net.mx

Acapulco 13, int. 7

Col. Roma

México, D.F., 06700

Catálogo de la exposición

Así es, ahora es ahora

Catalogue of the exhibition It is the way

it is, now is now

Laboratorio Arte Alameda | Luis Felipe Ortega

2010

Catálogo para la exposición individual

del artista Luis Felipe Ortega en el Laboratorio

Arte Alameda.

Catalogue for the individual exhibition of artist

Luis Felipe Ortega in the Art Laboratory Alameda.

65
---
kARIMAYO éRIkA kRUtzFELD

Y SAbINA SANtANA

www.karimayo.com

karina@karimayo.com

@karimayo

KariMayo.page

General León 45 102

Col. San Miguel

Chapultepec

México, D.F., 11850

66

De aquí a Mayo

Autoproducción | Self-production

2011

Máscaras, amuletos y ofrendas.

Una exploración de la dualidad que confluye

en formas tanto lúdicas como simbólicas.

Masks, amulets and offerings. An exploration

of the duality that comes together in recreational

and symbolic ways.

www.sabinasantana.com

sabinasantana@gmail.com

Chilpancingo 39, int. 101

Col. Condesa

México, D.F., 06100

Molusko: diseño identidad corporativa

Molusko: Corporate identity image

Chaman de los Monteros | Leopoldo Domínguez

2008-2010

Diseño de imagen para restaurante bar

en Playa del Carmen.

Image design for a restaurant with bar service

at Playa del Carmen.

67
---
LEOLAb LEONORA bURÓ CREAtIVO

www.leolab.mx

hello@leolab.mx

@leo_lab

Tamaulipas 36-703

Col. Condesa

México, D.F., 06100

68

LS/Tea Sommelier

2011

Leticia Sáenz es la primer sommelier

de té en México. Se diseñó su identidad

corporativa y los empaques para toda

su gama de productos. La línea gráfica

es fresca, atractiva e innovadora.

Leticia Sáenz was the first tea sommelier

in Mexico. Her corporate identity,

as well as all the packaging for her variety

of products were designed. The graphic

design is fresh, attractive and innovative.

www.leonora.com.mx

anahi@leonora.com.mx

Agustín Melgar 26-6

Col. Condesa

México, D.F., 06100

Identidad Corporativa Wayssen |

Identidad Corporativa Semecor

Wayssen Corporate Identity | Semecor Corporate

Identity

Grupo Wayssen | Semecor

2010 | 2010

Identidad para empresa de soluciones

en tecnología informática | Identidad y diseño

web para empresa de instrumental médico.

Brand identity for a technology solutions

company | Brand identity and web page for

a medical instruments company.

69
---
JONAthAN LÓpEz hUEVARt GURAM LUbAGGI JIMéNEz

www.huevart.com

villanueva416@hotmail.com

@huevart

huevart

Periférico Sur 7666, casa 416

Col. Ex Hacienda Coapa

México, D.F., 14330

70

SongwiththeWind

Personal | Personal Project

Diseño de carteles que retoman elementos

básicos de los posters de películas. Comunican

la idea general de dos canciones: Death rides

a horse (RussianCircles) y Safer Waters (Chevelle).

Poster design reintroducing basic elements

from movie posters. They transmit the

general idea of two songs: Death rides a horse

(RussianCircles) and Safer Waters (Chevelle).

guramlubaggi@gmail.com

Jardines de la Riviera 14

Col. Naucalpan

Edo. de México, 53140

Cd Singles

Snow Patrol

2006

Diseño de arte para los sencillos Set the Fire to the

Third Bar y Open Your Eyes del álbum Eyes Open

de Snow Patrol.

Art design for the singles Set the Fire to the Third

Bar and Open Your Eyes from Eyes Open album

by Snow Patrol.

71
---
MAGUNCIA ANtONIEtA CRUz MANO DE pApEL

www.antonietacruz.com

www.maguncia.com

antonietacruz@gmail.com

Trípoli 307-10

Col. Portales

México, D.F., 03300

72

Chillida | México 68:

una identitad olímpica

Chillida | Mexico 68: An olympic identity

Landucci | Museo de Arte Moderno. Conaculta

2002

Libro realizado para la exposición de Chillida

en el Palacio Nacional de Bellas Artes | Libro

realizado para la exposición de México 68

en el Museo de Arte Moderno.

Book created for the Chillida exhibition

at the National Fine Arts Palace | Book created

for the Mexico 68 exhibition at the Museum

of Modern Art.

www.manodepapel.com

manodepapel@yahoo.com.mx

Pestalozzi 636 Int. 4

Col. Narvarte

México, D.F., 03020

Cartel

Poster

Autogestión | Self-management

2009-2010

Diversos carteles de índole social/cultural

que aprovechan el diseño como auxiliar en la

medición del estado de ánimo de la sociedad.

Several posters with cultural and social

contents that use design as an aid to measure

society's state of mind.

73
---
GAbRIEL MARtíNEz MEAVE MAtADOR pROJECtS

www.meave.org

www.kimera.com.mx

gabriel@kimera.com.mx

@gmmeave

gabrielmeave

Herschel 18-302

Col. Anzures

México, D.F., 11590

74

Tipografía Institucional

para la Presidencia de México

Institutional Typography

for the Mexican Presidency

Gobierno Federal | Ideograma Consultores

Diseño de familia tipográfica digital para

la Presidencia de la República y el Gobierno

Federal de México.

Design of the digital letterpress

for the Presidency of Mexico and the

Federal Government.

www.matadorprojects.com

isr@matadorprojects.com

Sierra Mojada 447, int. 302

Lomas de Chapultepec

México, D.F., 11000

PE Deco

Paola Ezquerro

2010

Desarrollo creativo de logotipo, marca, identidad

corporativa, material gráfico y papelería.

Design of logo, brand development, corporate

identity, graphic material and stationery.

75
---
MAtRUShkA StUDIO MEMOMA

www.mtrshk.com

contacto@mtrshk.com

@MTRSHK

MatrushkaStudio

Cerrada Juan Cordero 14

Col. Nochebuena

México, D.F., 03720

76

Branding & Packaging frts&ygrt

Esqüis Foods

2011

El empaque transparente busca que se vea

el contenido: frutas frescas y yogurt orgánico.

El logo es una abstracción; se eliminaron

las vocales para poder leer el nombre en español

y en inglés.

The objective of the transparent package

is to show its content: dry fruits and

organic yogurt. It has an abstract logo:

vowels were omitted so the name could

be read in both Spanish and English.

www.memoma.tv

juan@memoma.tv

Havre 68, int. 2

Col. Juárez

México, D.F., 06600

frets

2010

Sistema de identidad visual para frets.

Nueva franquicia de comida rápida dedicada

totalmente a papas fritas en todas las

variedades y con ingredientes tan ilimitados

como las posibilidades de su identidad.

New franchise for fast food dedicated

to French Fries in all their forms

and with ingredients as unlimited as the

possibilities of their identity.

77
---
ELIzAbEth MIRANDA

www.elizabethmiranda.net

hello@elizabethmiranda.net

ducra.design@hotmail.com

@eMiranda_design

em.portafolio@gmail.com

Hernando de Alvarado 3240

Col. Jardines de la Paz

Guadalajara, Jalisco, 44860

78

cmüller

Christian Müller

2011

Diseño de imagen corporativa y desarrollo

de ilustraciones digitales para marca de ropa

y accesorios.

Design of corporate image and development

of digital illustration for a clothes and

accessories brand.

www.musicosdeltitanic.com

violin@musicosdeltitanic.com

Cda. Colegio Militar 18ª

México, D.F., 11400

MúSICOS DEL tItANIC

Autismo

Autism

Diversamente

2009

Cartel para una organización no gubernamental

de ayuda a las personas con autismo.

Poster for a non-governmental organization

that helps people with autism.

79
---
NAtURAL VALUES ANA NICOLAU

www.naturalvalues.mx

www.cartonesdeleche.

blogspot.com

thenaturalvalues@gmail.com

@naturalvalues

Málaga 30-101

Col. Extremadura

Insurgentes

México, D.F., 03740

80

Secret Places Collection

Urban Outfitters

2011

Arte cuyo concepto se basó en la interpretación

de lugares recónditos, destinos oníricos

y lugares míticos.

Art whose main concept was based on

the interpretation of hidden places, oneiric

destinations and mythic places.

www.ananisousa.tumblr.com

ananicolausousa@gmail.com

Galeana 63

Col. Acapantzingo

Cuernavaca, 62440

Agua de Leyendas

Elisava

2011

En colaboración con / In collaboration with: Berta Gironella

Vargas, Stela Diego, Glenis Dias y Mario A. Fernández Arbaje

El objetivo fue introducir la marca serbia en

España. Desarrollo de estrategia de comunicación

y rediseño de botella y empaque.

The aim was to introduce the Serbian brand in

Spain. Development of communication strategy

and redesign of bottle and packaging.

81
---
OktAEDRO REGINA OLIVARES

www.oktaedro.com

anibaltron@hotmail.com

Niños Héroes 1087

Col. Moderna

Guadalajara, 44190

82

Olio

Colectivo Cabezas Cuadradas

2010

Elaboración de cartel para exposición colectiva

organizada por el colectivo Cabezas Cuadradas

para la campaña de recolección de cabello

por el derrame de petróleo de la bp en el Golfo

de México.

The design of a poster for a collective exhibition

organized by the Cabezas Cuadradas Colectivo

for the hair collection campaign for the bp

oil spill in the Gulf of Mexico.

olivares_alberti@yahoo.com

Lope de Vega 237, int. 3

Chapultepec Morales

México, D.F., 11570

Miguel Castro Leñero 1995-2005 |

Mapethé. Santuario de prodigios

Miguel Castro Leñero 1995-2005 | Mapethé.

A Wonders Sanctuary

Miguel Castro Leñero | Universidad Autónoma del

Estado de Hidalgo | Miguel Castro Leñero | Hidalgo

State Autonomous University

2005 | 2004

Catálogo de obra del artista plástico mexicano

Miguel Castro Leñero. | Libro sobre el convento

del siglo XVIII, localizado en la Sierra Gorda.

Fotografías de Francisco Kochen.

Catalogue of work by Mexican plastic artist

Miguel Castro Leñero | Book on the 18

83

th-Century

convent located in Sierra Gorda Mountains.

Photographs by Francisco Kochen.
---
ORANGEStUDIO SANtIAGO OSNAYA bALtIERRA

www.orangestudio.com.mx

arali@orangestudio.com.mx

Xochicalco 8080

Col. Santa Cruz Atoyac

México, D.F., 03310

84

Cafécaffe-Banding and Packing

CaféCaffe

2010

En colaboración con | In collaboration with: Aralí Camacho

Jiménez y Rubén Jiménez Ríos

Diseño de branding para cafeterías y puntos

de venta de café ubicadas en México. Diseño de

embalaje: vasos, bolsas de café, etc.

Branding design for coffee shops and selling

points in Mexico. Packaging design of glasses,

coffee bags, etc.

www.lafabricadesuenos.com.mx

vosanova_24@hotmail.com

Ticomán 105

Col. San Andrés

México, D.F., 02240

Alfabeto para venta exclusiva

del dca en Escocia

Alphabet for exclusive sale of dca in Scotland

Dundee Contemporary Arts

2010

Diseño de una serie de carteles tipográficos

elaborados en serigrafía. Se busca resaltar el

potencial que tienen las letras en el aprendizaje

de la lectoescritura.

Design of a series of silkscreened letterpress

posters. The aim is to emphasize the potential

that letters have in the learning of reading

and writing.

85
---
OxIGNO bRANDING

MULtISENSORIAL

www.oxigno.com

gustavofernandez@oxigno.com

Sudamérica 301

Col. Vistahermosa

Monterrey, 64620

86

ugo coffee bar

Tostadora de Café La Fuente S.A. de C.V.

Creación de nombre, concepto creativo, canción

temática, sitio web, diseño arquitectónico,

decoración de interiores, publicidad y empaques

para una nueva franquicia de cafeterías

en el norte de México.

Creation of name, creative concept, jingles,

website, architectural design, interior design,

publicity and packaging for a new coffee

shops franchise in north Mexico.

daniella_22@hotmail.com

Filipinas 910, AC-2

Col. Portales Sur

México, D.F., 03300

pAtAtí pAtAtÁ

La historia de mi máquina de escribir

enap

2010

Maqueta realizada en el curso de Diseño

Editorial iii de la licenciatura en

Diseño y Comunicación Visual de la enap.

Se trata de un libro ilustrado, dirigido

a jóvenes lectores.

Model constructed in the course Editing

Design iii of the Bachelor Degree in Design

and Visual Communication at the enap.

It is an illustrated book for young readers.

87
---
pERIFERIA tALLER GRÁFICO

www.periferia.com.mx

cristina@periferia.com.mx

Orizaba 36-403

Col. Roma Norte

México, D.F., 06700

88

Museo Tamayo-INBA | Casa Vecina,

Fundación del Centro Histórico

2011

Diseño y formación de catálogo para

la exposición Incidentes de viaje, espejo

en Yucatán y otros lugares, Museo

Tamayo | Diseño y formación de

publicación Vox Populi.

Design and creation of the exhibition catalogue

Incidentes de viaje, espejo en Yucatán y

otros lugares, Tamayo Museum | Design and

elaboration of the VoxPopuli publication.

www.typoster.blogspot.com

abc.filo@gmail.com

Volcán Colima, Mza. 2

Lote 27

Col. La Pradera

México, D.F., 07500

ARMANDO pINEDA CRUz

abc | Shammed Peace

Amnistía Internacional | Good 50x70

2006 | 2007 y 2009

Carteles diseñados para promover la

concientización del uso de armas y el respeto

a los derechos humanos | Carteles diseñados

para el evento Good 50x70, con el tema:

Human rights violations y Women Give Life

to Africa.

Poster design to promote awareness of

the use of weapons, and to point out human

rights | The design of posters for the

Good 50x70 event entitled Human Rights

Violations and Women Give Life to Africa.

89
---
pLAYMOY, CARtELES DE AUtOR pRIMAL

www.playmoy.com

moy7moy@gmail.com

Av. Paseo Lomas

del Bosque 2700-63

Col. Lomas del Bosque

Guadalajara, 45118

90

Paz sin dignidad

Chicago International Poster Biennial

2010

Es común encontrar en los discursos de políticos

temas y tratados por la paz. Sin embargo,

la paz es usada como mercancía y secuestrada

para conseguir fines que se alejan de esas

buenas intenciones.

It is normal to come across peace treatises

and peace topics in political speeches. However,

peace has been merchandised and kidnaped

so as to obtain certain goals, which

are out of line with these good intentions.

www.primal.mx

h.juarez@primalmatter.com

@primalstudio

primalstudio

Santiago 208

Col. Santiago Sur

México, D.F., 08800

Scribepedia

Scribe

2010

Estrategia y diseño de la enciclopedia del papel:

un sistema visual de características e identidad

para cada segmento de mercado. Funge como

invitación a los actores relevantes en la industria

del papel.

Strategies and design for the paper encyclopedia:

a visual system with characteristics and identity

for every market segment. An invitation for

outstanding participants in the paper industry.

91
---
ANDRéS MARIO RAMíREz CUEVAS

andresmarioramirezcuevas@

gmail.com

Esperanza 957-104

Col. Narvarte

México, D.F., 03020

92

Diseño de Colección Ideazapato

Ideazapato Collection Design

Obra Negra / José Manuel Mateo

2011-2012

Diseño de colección de libros ilustrados.

Design for an illustrated book collection.

www.randomdesign.com.mx

contacto@randomdesign.com.mx

Camino del Barranco 4556

Col. Cortijo del Río

Monterrey, 64890

RANDOM DESIGN StUDIO

Xamaica | adtech

Kabah Muebles Mexicano S.A. | Grupo de Edificación

Adtech S.A. de C.V.

2011

Proyecto de branding para una mueblería

en Monterrey, concepto minimalista con analogía

a la flor de jamaica | Proyecto conceptual

para una constructora de Tlaxiaco. Se utilizó

una analogía sobre textura de varillas corrugadas.

Branding project for a furniture shop in

Monterrey, minimalistic concept with an analogy

toward hibiscus flower | Conceptual project

for a building company at Tlaxiaco. It is

an analogy on the texture of corrugated rods.

93
---
F. | Ph.: Pim Schalkwijk

RED bASICOLOR RED pRINtING

www.red-basicolor.com

maria@red-basicolor.com

Amatlán 22

Col. Condesa

México, D.F., 06140

94

Escenas de cantina

Pim Schalkwijk

2011

Catálogo de la exposición Escenas de Cantina,

instalaciones fotográficas.

Catalogue for the exhibition Escenas de Cantina,

photographic installations.

www.red-printing.com

emanuel@red-printing.com

@manu_red

red.studio.qr.

Priv. Colinas de San

Fernando, MZ M L 6

Col. Colinas de Santa Cruz

Querétaro, 76135

Elaboración de Logo de Abastos por ti

Creation of the logo Abastos por ti

Central de Abastos, Querétaro

2011

Se elaboró el logo del proyecto "Abastos por ti"

de la central de abastos del Estado de Querétaro.

Creation of the Querétaro's wholesale food

market logo Abastos por ti.

95
---
REpUbLIC OF NOthING

www.republicofnothing.com

eric@republicofnothing.com

@ericleonhdez

Hacienda de Zacatepec 432

Col. Hacienda de Echegaray

Naucalpan de Juárez

Edo. de México, 53300

96

rasdet

rasdet

(Red Académica sobre desastres en Tabasco)

2010

rasdet comisionó una identidad gráfica

que los dotara de reconocimiento inmediato.

rasdet commissioned a graphic identity that

would make them easily recognizable.

evarem@gmail.com Construyendo Patrias. Iberoamérica

1810-1824

Fomento Cultural Banamex, A.C.

(titular de los derechos patrimoniales de la obra)

2010

Huatusco 21-402

Col. Roma

México, D.F., 06760

EVA LUCíA REYES

En colaboración con | In collaboration with: Fomento Cultural

Banamex, A.C.

Publicación realizada en el ámbito de la

celebración del bicentenario de la Independencia

de México. Premio Quorum 2011 en la categoría

libro de arte y premio Antonio García Cubas 2011.

Publication made in the context of the celebration

of the bicentennial of the Independence of

Mexico. It was granted the Quorum Award 2011 in

the category of 'art book' and the Antonio García

Cubas Award.

97
---
ROCkEt COMUNICACIÓN VISUAL FERNANDO RODRíGUEz ÁLVAREz

rocketcomunicacionvisual.com

ostyrock@gmail.com

@ostyrocket

Rocket Comunicación Visual

Prolongación

Ocotepec 294-1

Col. San Jerónimo Lídice

México, D.F., 10200

98

A4 Restaurante

A4 Restaurant

Esther Iturralde

2009

Se desarrolló la imagen y concepto para

el restaurante A4. El concepto del restaurante

sigue esta misma dinámica al unir letras

y números dependiendo del menú: tapas T2,

postres P3, platos fuertes F1.

We designed the image and concept of A4

the restaurant, which have the same dynamic

of joining letters and numbers depending

on the menu: tapas T2, desserts P3, main

dishes F1.

www.ediciongraficadesign.

blogspot.com

frodriguez@me.com

@fernando_arbos

fernando.rodriguez.arbos

Francisco Díaz

Covarrubias 6-C

Col. San Rafael

México, D.F., 06470

Carteles Bicentenario

Bicentennial Posters

U Veracruzana | Colectivo Toledo70

2010

Carteles para celebrar el Bicentenario de

la Independencia y el Centenario de la Revolución

Mexicana, así como el 70º aniversario del

pintor Francisco Toledo y el 80º del diseñador

Vicente Rojo.

Posters to commemorate the Bicentenary of

Mexican Independence and Mexican Revolution

Centenary, as well as the 70th and 80th anniversary of painter Francisco Toledo and

designer Vicente Rojo respectively.

99
---
MARIANA RODRíGUEz OLVERA

www.wineart.com.mx

mariana.rodriguez@wineart.

com.mx

@Wineartmx

WineArt o Wineartmx

Calle de Los Jardines 714 int. 3

Zapopan

Jalisco, 45040

100

Wine+Art

Vino Mexicano de Edición Especial | Wine+Art

Mexican Wine, Special edition | Wine+Art

En colaboración con | In collaboration with:

María Guadalupe Torres Salas

Wine+Art tiene la misión de promover el vino

y el arte, principalmente mexicanos, tomando

en cuenta el diseño.

The main objective of Wine+Art is to promote

wine and art, mainly Mexican, taking into

consideration their design.

www.ese.com.mx

eduardosan@ese.com.mx

Campeche 284-1

Col. Condesa

México, D.F., 06100

S. CONSULtORES EN DISEÑO

Frutos de vida

Sin Secretos S.A. de C.V.

2012

En colaboración con | In collaboration with:

Rodrigo Fernández de la Reguera

Diseño de identidad y desarrollo de envases

para jugos mexicanos 100% naturales.

El concepto gráfico se basó en la personalidad

de distintas aves, cada una relacionada con

su mezcla de frutas.

Image design and container development

for 100% natural Mexican juices. The graphic

concept was based on the personalities of

several birds, each one linked with a mix

of fruit.

101
---
F. | Ph.: Gerardo Sutter

SALAS bASSANI Sé, tALLER DE IDEAS

www.frontespizio.com.mx

info@frontespizio.com.mx

Fray García Guerra 115

Lomas de Chapultepec

México, D.F., 11000

102

código d.f. México, destellos de plata

Revista Código 06140 | tane

Código 06140 Magazine

2010 | 2007

La edición bilingüe hace un recorrido por la última

década del siglo xx y la primera del xxi: obras,

exposiciones, proyectos y actores. Conmemora

los 50 años de la firma más prestigiosa de plata

en México.

The bilingual publication travels through the

history of the artworks, exhibitions, and actors

of the last decade of the 20th century and

the first of the 21st century. It commemorates the

50th anniversary of the most prestigious silver

firm in Mexico.

www.taller-se.com

jacobo@taller-se.com

Guerrero Sur 34

Centro Histórico

Querétaro, 76000

Rediseño de la marca turística Querétaro

Redesign of tourist brand Querétaro

Secretaría de Turismo del Estado de Querétaro

2006-2009

La esencia de la marca se definió como: la buena

vida. Durante cuatro años se desarrollaron

alrededor de 200 materiales para cinco grandes

departamentos de comunicación.

The essence of the brand was defined as

The Good Life. For four years, around

200 materials were developed for five big

communication departments.

103
---
SELVA hERNÁNDEz |

EDICIONES ACApULCO

www.edicionesacapulco.mx

info@edicionesacapulco.mx

@librosyacapulco

edicionesacapulco

Acapulco 13-7

Col. Roma

México, D.F., 06700

104

Siempre te amaré

I will always Love You

Ediciones Acapulco

2012

Después de revisar, seleccionar y editar

más de cien libretas de dibujos, diseñamos

un libro con materiales económicos;

impreso y encuadernado en pequeños

talleres mexicanos.

After revising, selecting and editing more

than a hundred sketchbooks, we designed

a book with cheap materials, printed

and bound in small Mexican workshops.

www.she-marod.com

patricia_marod@hotmail.com

Insurgentes Norte 176

Col. Santa María La Ribera

México, D.F., 06400

ShE—MAROD StUDIO

Revista Entribu

Grupo Dupay S.A. de C.V.

Entribu es una publicación que a través

del arte, la ciencia, las ideas, la palabra

y la crítica, transgrede el sentido común.

Entribu is a publication, which transgresses

common sense through art, science, ideas,

words and criticism.

105
---
SOCIEDAD ANÓNIMA SOCIEDAD FUNCIONAL

www.sociedadanonima.mx

rotovar@sociedadanonima.mx

Mazatlán 5, edificio L-1

Col. Condesa

México, D.F., 06140

106

Auténtico Tequila Alacrán

Authentic Alacrán Tequila

2010

Diseño de marca, botella y concepto.

Design of the brand, bottle and concept.

www.sociedadfuncional.org

marisol@sociedadfuncional.org

@somosfuncional

Sociedad Funcional

Guanajuato 198

Col. Roma

México, D.F., 06700

Sputnik

Editorial alce

2000-2003

Revista mensual de cultura digital

publicada en la Ciudad de México de forma

independiente

Monthly magazine of digital culture

independently published in Mexico City

107
---
SOF LÓpEz SOL CONSULtORES

www.cargocollective.com/

soflopez

nurusofi@hotmail.com

Fray Martín de Valencia 221

Col. Roble Norte

Nuevo León, 33466

108

Branding unouno arquitectura

Unouno arquitectura

2011

Desarrollo de imagen de marca y letterhead

para un despacho de arquitectura.

Trademark image and letterhead for an

architect's studio.

www.solconsultores.com.mx

castillo@solconsultores.com.mx

Vito Alessio Robles 166

Col. Florida

México, D.F., 01030

Del Monte

ConAgraFoods

2011

Rediseño, unificación de identidad,

actualización de personaje y guías de

marca para diversas categorías.

Redesign, identity unification,

updating of characters and guides

for several categories.

109
---
StOp DISEÑO GRÁFICO StORM. DISEÑO+COMUNICACIÓN

www.stopdiseno.com Directorio Las páginas verdes

www.storm.com.mx

The Green Pages Directory

lauramm@storm.com.mx

New Ventures México-lpv

@storm_diseno

2011

storm.diseno

Guillermo González

Camarena 1450, Piso 7

Col. Santa Fe

México, D.F., 01210

110

Diseño y formación editorial de las cuatro

ediciones del directorio de productos

y servicios sustentables. Se distribuyeron

200, 000 ejemplares de manera gratuita

en toda la República Mexicana.

Design and editing of the four phone

directory editions for sustainable products

and services. In Mexico 200,000 directories

were distributed at no charge.

Sur 75, ext. 4404, int. 3

Col. Viaducto Piedad

México, D.F., 08200

Anuncio Q Solutions

Q Solutions Ad

Q Solutions

2010

En colaboración con | In collaboration with: Laura Mónica

Mendoza Gutiérrez, Christian Arredondo López

Diseño de anuncio de la agencia de

investigación de mercadeo Q Solutions,

para la revista amai.

Design of an advertisement for a

research-marketing agency Q Solutions

for amai Magazine.

111
---
SUMA+

www.sumaeweb.com/2011

daniel.borgaro@gmail.com

Francisco Ramírez 43-402

Col. San Miguel Chapultepec

México, D.F., 11840

112

Hi

Suma+

2011

El Mantra o la forma en que suma+ se

aproxima al diseño hoy. Folleto digital que

muestra metodología, casos y experiencia.

The mantra or shape in which suma+

approaches to design today. A digital brochure

showing methodology, cases and experience.

SUStItUtO. pROYECtOS VISUALES

www.sustituto.com.mx

sustituto.tumblr.com

juancarlos@sustituto.com.mx

@sustitwits

Sustituto. Proyectos visuales.

Av. San Luis Potosí

11 int. A010

Col. Roma

México, D.F., 06700

Carta Magna

Varios | Several clients

2011

En colaboración con | In collaboration with:

Aya Misaki y Soluciones Gráficas

Carta Magna está dedicada a desmenuzar

las diferentes partes de la capital sugiriendo

recorridos por las zonas más atractivas

de la ciudad.

Carta Magna is dedicated to analyzing

the different parts of Mexico City by suggesting

excursions to its most attractive neighborhoods.

113
---
tALLER DE COMUNICACIÓN

GRÁFICA | tCGREAt

www.tcg.mx

tcg@prodigy.net.mx

@tcgmx

Ámsterdam 266-4

Col. Condesa

México, D.F., 06100

114

Libros y catálogos de arte

Art books and catalogues

2011

Se especializa en el diseño y producción

de proyectos de carácter cultural entre ellos:

Museo Amparo, Museo Nacional de Arte, Museo

Tamayo, Fomento Cultural Banamex, Museo

de Arte Contemporáneo de Monterrey, Fundación

Colección/Jumex, Centro Cultural de España.

The studio specializes in the design and

production of cultural projects including:

Museo Amparo, Museo Nacional de Arte, Museo

Tamayo, Fomento Cultural Banamex, Museo

de Arte Contemporáneo de Monterrey, Fundación

Colección/Jumex, Centro Cultural de España.

www.td2.com.mx

r.trevino@td2.com.mx

@designer141

Río Tíber 91-502

Col. Cuauhtémoc

México, D.F., 06500

Libro Bicentenario up

Bicentennial up Book

Ediciones eca / Universidad Panamericana

2010

tD2

Una publicación pensada para conmemorar

el Bicentenario de la Independencia

y el Centenario de la Revolución. Se diseñó

pensando en actualidad urbana y atención

a detalles no tan conocidos del lugar.

A publication aimed to commemorate the

Mexican Independence Bicentennial and

Revolution Centenary. It was designed taking

into account the urban living and pointing

out lesser-known details of the place.

115
---
thE LEGACY thE NESt

www.thelegacy.com.mx

mario@thelegacy.com.mx

@TheLegacy_mx

The-Legacy

José María del Castillo

Velasco 29

Col. San José Insurgentes

México, D.F., 11280

116

Kit de Catalogación Tang: Diseño

Estructural

Kraft Foods de México

2011

Desarrolló un Kit especial de catalogación

(ecológico y no convencional) para presentar

el nuevo Tang. El diseño y componentes

hablan de su nueva fórmula: más natural

y saludable para el consumidor.

Development of a special catalogue kit, both

ecological and unconventional, to introduce

the new Tang. The design and main

characteristics show its new formula: more

natural and healthy for the consumer.

www.nestbranding.com

pio@nestbranding.com

theNestBranding

Coronel Ontañón 1080-B

Col. Estadio

San Luis Potosí, 78000

Revista rgb Artes Visuales

rgb Artes Visuales Magazine

Cristina Cuellar

2010

rgb es una publicación bimestral gratuita

dedicada a la difusión del arte contemporáneo

y sus nuevas formas de realizarlo, en una revistacatálogo

que reúne a los mejores exponentes.

rgb is a free bimonthly publication dedicated

to the channeling of contemporary art

and the new ways it does so. It is a magazinecatalogue,

which presents the best designers.

117
---
thRILL StAtION tRAGAFUEGOS DISEÑO

www.thrillstation.com

www.thrillstation.com/blog/

belloc@thrillstation.com

@thrillstation

lllillSTATION

Paseo de la Costa 96

Col. Costa Coral

Nuevo Vallarta

Jalisco, 63738

118

¡WOW!

wham S.A. de C.V.

2007-2011

Director creativo, conceptualista y realizador

de la primera y más grande marca de juguetes

sexuales para adultos ¡WOW!

Creative manager, conceptualist and producer

of the first and biggest adult's sexual toys

brand ¡WOW!

www.tragafuegos.mx

tragafuegos_diseno@yahoo.

com.mx

Av. México 71 PB

Col. Condesa

México, D.F., 06170

Compartir

Share

Compartir Fundación Social, i.a.p.

2011

En colaboración con | In collaboration with: Guillermo Méndez

Varela, Guillermo Méndez Varela, Carlos Garibay

Elaboración de la imagen gráfica anual

de los Premios Compartir y su respectiva

ceremonia de entrega.

Design of the annual graphic image of

Premios Compatir and its Award Ceremony.

119
---
tRILCE EDICIONES UFFA | CREAtIVOS VISUALES

www.trilce.com.mx

admon@trilce.com.mx

Euler 152-403

Polanco

México, D.F., 11560

120

Espectacular de Lucha Libre | Pedro

Friedeberg

Wrestling Poster | Pedro Friedeberg

Trilce Ediciones

2005 | 2010

La fotógrafa Lourdes Grobet se ha adentrado

en el mundo de la lucha libre y festejos | Pedro

Friedeberg es casi imposible de atrapar por

la densidad casi barroca de sus imágenes.

Photographer Lourdes Grobet has entered

the wrestling world and its celebrations | It is

almost impossible to capture the essence of

Pedro Friedberg because of the almost Baroque

style density of his images.

www.uffa.mx

hola@uffa.mx

@UFFAMX

UFFAmx

Zacatecas 70 int. 306

Col. Roma

México, D.F., 06700

Integral

Diseño de identidad, página web y señalética.

Integral es un coworking, es decir, varios

diseñadores independientes comparten una

misma oficina y está dividida en áreas: diseño,

deli, print, espacio y taller.

Image design, web page and signage design.

Integral is a co-working space where several

designers work independently but share

the same office space. It has five areas: design,

deli, print, space and studio.

121
---
ANA IVEttE VALENzUELA

VILLAREAL

122

ivettevv@gmail.com Cartel Un Desierto para la Danza 13 |

faot Festival Alfonso Ortiz Tirado 2010

Instituto Sonorense de Cultura

2005 | 2010

Cerrada Monet 17

Jardines de Mónaco

Hermosillo

Sonora, 83288

En colaboración con | In collaboration with:

Juan Casanova, Aldo Siles

El ángel negro y la mujer pintada representan

las contradicciones y la ambigüedad de

actitudes y valores del ser humano | El faot,

escenario por excelencia para la interpretación

del canto operístico.

The black angel and the woman represent

contradictions and ambiguity of the attitudes

and values of human beings | The faot, the

scenario is used to stage opera.

www.prisca.co

priscilavanneuville@gmail.com

Juan de la Barrera 95-202

Col. Condesa

México, D.F., 06140

pRISCILA VANNEUVILLE

Alias

Damián Ortega

Orozco: 2009, Meireles: 2009, Dean: 2010,

Hammons: 2011

Alias es un proyecto editorial de libros de arte

contemporáneo. Diseño y formación

de cuatro títulos: Fotogravedad de Gabriel Orozco,

Cildo Meireles, Teignmouth Electron de Tacita

Dean y Por esto estamos aquí de David Hammons.

Alias is an independent publishing project

of books on contemporary art. There are four titles

designed and formed: Fotogravedad

by Gabriel Orozco, Cildo Meireles, Teignmouth

Electron by Tacita Dean, and Por esto estamos

aquí by David Hammons.

123
---
VERSUS EStUDIO IVÁN VILLA CANO

www.versusestudio.com

www.versusestudio.com

oscar@versusesto.com

@versusestudio

VersusEstudio

Av. Matamoros 457

Pte. Altos

Torreón, Coahuila, 27000

124

Guía Turística Torreón-Mundial sub-17

Municipio de Torreón Coahuila

En colaboración con | In collaboration with: Rebeca Anaya

Martínez, Oscar González de la Torre, Benjamín Balderas Rubio

Se realizó una guía turística en formato revista

cuyo objetivo era dar información general

sobre la ciudad, historia, cultura, gastronomía,

entretenimiento y turismo.

Creation of a tourist guide in magazine format

whose objective was to give general information

about the city and its history, culture,

gastronomy, entertainment and tourism.

www.conexionew.com

behance.net/displayoff/frame

Pinterest.com/web360´

navyi2@hotmail.com

@Conexion Web 360

Conexión Web 360

8 Oriente 612

Col. Centro

San Andrés Cholula

Puebla, 72810

Carteles Sociales

Social Posters

2009

Cartel diseñado en contra de la casa de animales.

Diseñado en honor a Nelson Mandela y publicado

en el libro Memorias de Pared.

Anti animal-hunting poster designed in honor

of Nelson Mandela and published in the book

Memorias de la Pared.

125
---
OLIVIA VIVANCO VLA. LAbORAtORIO VISUAL

olivia.vivanco@gmail.com Urba urba

www.laboratoriovisual.com.mx Relatos e Historias en México

Imanes fotográficos

vrs.susana@gmail.com Stories and Tales in Mexico

Photographic magnets

@laboratorioVLA

Editorial Raíces

Los imanes son un soporte amigable para

laboratorio visual

2011

llevar ciertas escenas de lo cotidiano.

Diseño y formación de revista mensual

Serapio Rendón 10-306

Col. San Rafael

México, D.F., 06470

Así, se desarrollaron dos series, arte urbano

y escenas cotidianas en la ciudad.

Magnets are a friendly way to show certain

Victoria 110-305

Col. Centro

México, D.F., 06050

especializada en Historia de México.

Se distribuye en toda la República Mexicana.

Se diseña a partir del número 33.

everyday scenes. Two sets of scenes

The design and formation of a specialized

were developed, urban art and everyday

magazine printed monthly about Mexican

scenes in the city.

history with issue number 33. It is distributed

throughout the country.

126

127
---
WEEAtDESIGN zOVECk EStUDIO

www.weeatdesign.com

info@weeatdesign.com

@WeEatDesign

WeEatDesign

Calle 19, 334 x 10 y 12

Col. San Esteban

Mérida, 97149

128

Hosttweiler: Premium Hosting

Hosttweiler

2011

Naming y branding para empresa de compra

de dominios y hospedaje web premium,

incluyendo logotipo, tarjeta de presentación, hoja

membretada, postal y pines.

Naming and branding of a buying domain

names and premium web hosting company,

including logo, business card, letterhead,

postcards and pin numbers.

www.zoveck.com

valiente@zoveck.com

Córdoba 219-301

Col. Roma

México, D.F., 06700

Central Films | Nomad

2006 | 2011

Diseño de imagen y concepto de la productora

de video Central Films | Diseño de logotipo

y papelería para tienda de moda en Australia.

Image design and concept created by the

video producer Central Films | Logo

and stationery design for a fashion store

in Australia.

129
---
001-8-100 DESIGN Y DISEÑO

MARCELA AGUILAR ENCINAS

AIR DESIGN

AJONJOLÍ POR FERNANDA MELGAREJO

AKELE MOBILIARIO

ALIMAÑA TOYS

ALTERA ESTUDIO

MARTHA ÁLVAREZ MONTERO

ARD ATELIER

ARRE TALLER

ARTA CERÁMICA

AVEX DISEÑO INDUSTRIAL

BAMBOOCYCLES

BASBAG

BÁSICA

BENIK

ADRIANA BERBER

BIWUA | FRANCISCO JAVIER

NAVARRO QUESADA

BRANDESIGN

C. RICARDO | SUIT ESTUDIO

LAURA PATRICIA CACHÚ PAVÓN

MARISOL CENTENO

CITRO

COLECTIVO 1050º

COLECTIVO HECHO A MANO

MARÍA DEL CARMEN CORDERA

LASCURÁIN

COREDESIGN

LUCIANA CORRES

XÓCHITL MARISSA DÁVILA ORDÓÑEZ

DDI DESPACHO DE DISEÑO

INDUSTRIAL

DÉJATE QUERER

KARLA DÍAZ

DIEZ

DISÉMICA

DISEÑO NEKO

DOIZPE

VANESSA DRUMMOND

DUTZI DESIGN | ARIANE DUTZI

EBA (EMERGENCY BASIC ALLIES)

EDICIONES JALAPA

JORGE DIEGO ETIENNE

FLOR&PLATA

VALERIA FLORESCANO

FOU FOU CHAT BY THE TERROR

SISTERS

FUSCA

GALERÍA MEXICANA DE DISEÑO

VALENTÍN GARAL

RICARDO GARZA MARCOS

GENA

GESTA

EMILIANO GODOY

GRUPO KINETICA

GUADALUPE ACEVEDO JOYERÍA

MOISÉS HERNÁNDEZ

HIERVE-DISEÑERÍA

IGUANA 4 STUDIO

IK JOYEROS

JORGE RODZ | HUNPEL

JPEG

K.NOX

KIMBAL

LA CARPINTERÍA MX

LA COBOS

LA JABONERA

LA PLATERÍA | ÁVILA Y MEDINA

SONIA LARTIGUE

LE PORC-SHOP FURNITURE WORKSHOP

CECILIA LEÓN DE LA BARRA

DISEÑO DE MOBILIARIO

Y PRODUCTO

JANE LÓPEZ RENAUD

LOS LIBROS DE LEONARDO

LUDENS | IVÁN HERNÁNDEZ

QUINTELA

MARTHA ALICIA MADRID RODRÍGUEZ

MAGGIE GALTON DESIGN

MANUEL ÁLVAREZ FUENTES | MAFDI

MARAKAME

MARCA RECICLADA

ENOK MARINES CRUZ

VÍCTOR GERARDO MARTÍNEZ

MÁS KENADA DISEÑO

MASIOSARE STUDIO

MAURICIO VALDÉS | LA REVOLUCIÓN

MEXICANA DEL DISEÑO

MIGUEL MELGAREJO

LUIS MERCADO

MÉXICO EN PAPEL

MILKA MANIFESTO

MOOID LAB

MURO ROJO

NABLA

NEL COLECTIVO

LAURA NORIEGA

NOS

NOUVEL STUDIO

SEBASTIÁN OCAMPO SALAMERO

ODABASHIAN

OFICINA 3

OKURRENZZIA CASA DE DISEÑO

OMELETTE BY HÉCTOR GALVÁN

PARQUE COLABORATIVO

DALIA PASCAL

PIRUETA

PIRWI

FURnITURE AnD

PRODUCT DESIgn

POPALIPANA

QBOX

ORFEO QUAGLIATA

QUINTA ESENCIA - LABORATORIO

DE DISEÑO EXPERIMENTAL

REGINA REYES

JULIA REYES RETANA CAMPILLO

RITUALES CONTEMPORÁNEOS

RML DISEÑO

ROCOCO

ARIEL ROJO

S.A. [ANÓNIMA] ARQUITECTURA

ADRIAAN JAN SCHALKWIJK LINCOLN

VIK SERVÍN

ROBERT SMITH

SNUVYKO

MARTA CARMELA SOTELO

TALAVERA SANTA CATARINA

TALLER EXPERIMENTAL DE CERÁMICA

TALLER SERRA

TALLER TIERRA Y PLATA

TOLOACHE

FRANCISCO TORRES

JESSICA TORRES

TSIMANI STUDIO

PERLA VALTIERRA

MARTHA VARGAS

LUIS VEGA

VF VIRGINIA FUERTES

CHRISTIAN VIVANCO

MICHELLE WESTHOLM Y VIK SERVÍN

YDEAZ

SEAN YOO

ZONA MAGENTA
---
001-8-100 DESIgn Y DISEÑO MARCELA AgUILAR EnCInAS

www.001-8-100.com

jn.ntonio.lpz.gvr@gmail.com

@Jn_ntonio

uno.ocho.cien

Rubén Darío 39-4

Col. Bosques de Chapultepec

México, D.F., 11580

132

Xoxoctic

Familia López Guevara

2011

Tres jardineras definen un terraza exterior

y funcionan como cortina creando una sutil

barrera visual que da privacidad a los espacios

interiores sin necesidad de cerrar su vista.

A terrace is defined by 3 windows-jardinières

for hanging plants. These delimitate the visual

field subtly and confer privacy without

entirely blocking the view.

www.marcelaaguilar.com.mx

maguilar@campus.lag.itesm.mx

Juan Brittingham 230

Col. Los Ángeles

Torreón, 27140

Exposición

Exhibition

Museo Arocena

2011

Participación en la muestra México en Plata (abril

a agosto de 2012) con la pieza llamada Armonía.

Participation of the piece Armonía (Harmony)

in the Mexico in Silver Exhibition at the Arocena

Museum, Torreón, Coahuila (April-August 2012).

133
---
AIR DESIgn AjOnjOLí POR

FERnAnDA MELgAREjO

www.airdesign.com.mx

airdesign@airdesign.com.mx

deavy.guevara@

airdesign.com.mx

@AirdesignSparco

AirDesignCenter

Av. Dr. Gustavo Baz 43

Tlalnepantla

Edo. de México, 54080

134

Siemens-Flextronics Mamographic

Station Plastic Covers

Siemens-Flextronics

2010

Este equipo para la detección de cáncer de mama

fue desarrollado por Flextronics Italia, Siemens

Alemania y Air Design México. Ha ganado

premios de diseño industrial tanto en Europa

como en Estados Unidos.

Flextronics Italy, Siemens Germany, and Air

Design México developed this state-of-the-art

medical piece of equipment for breast

cancer detection. It is an award winner for

Industrial Design Competitions in Europe and

United States.

www.arteajonjoli.com

fermelga@gmail.com

1a de Fresnos 157

Col. Jurica

Querétaro, 7100

Catalogo Ajonjolí

Ajonjoli (Sesame) catalogue

2009-2011

Tiendas especializadas, modo, momedi

Productos de diseño en cerámica inspirados en

la herencia cultural artesanal mexicana por

medio de objetos funcionales contemporáneos.

Ceramic design products inspired in the

traditional Mexican cultural heritage through

functional and contemporary objects.

135
---
AkELE MOBILIARIO ALIMAÑA TOYS

www.ppakele.com

jakele@ppakele.com

Calle 11 de agosto

de 1859-1797

Col. Leyes de Reforma

México, D.F., 09310

136

Brick

Hotel Brick

2009

Instalación de sillas modelo Tula en los

espacios exteriores del hotel en la inauguración

del establecimiento.

Tula Chairs were installed at the outdoor

spaces of the hotel for its opening.

www.alimana.com.mx

belalvarez@alimana.com.mx

Salina Cruz 23, int. 3

Col. Roma

México, D.F., 06760

Cata-Cat

Catatonia Films

2008-2009

En colaboración con| In collaboration with: Maurycy Gomulicki

Personaje diseñado para casa Catatonia Films

usando su logotipo como cara del personaje.

Ha llegado a ser un icono en el medio de las casas

productoras, post-productoras y agencias

de publicidad en México.

Character created for Catatonia Films, using

their logo as the face of the character. It is a

well-known icon to producers, post-producers

and advertising agencies in Mexico.

137
---
ALTERA ESTUDIO MARThA ÁLvAREz MOnTERO

www.alteraestudio.com

antonio@alteraestudio.com

Colonias 555

Col. Americana

Guadalajara, 44160

138

Arbrero

Particular

Private owner

2009

Mueble para exhibición o almacenamiento

de revistas y libros, fabricado en multiplay con

una cara de textura de pizarrón.

Furniture for exhibiting and storing books and

magazines, made in plywood. One of its surfaces

has a blackboard finish.

www.alvarezmartha.com

m@alvarezmartha.com

La Gran Vía 54

Col. El Dorado

Tlalnepantla

Edo. de México, 54020

Tótem

2011

Macetas apilables para hortaliza decorativa.

Pieza seleccionada en la 5ta bienal de cerámica

utilitaria del museo Franz Mayer. Cerámica

de alta temperatura, largo 28cm, ancho 23cm,

altura 18cm.

Stackable pots for decorative greenery.

The piece was selected for the Franz Mayer 5th Utilitarian Ceramics Biennial. High-temperature

ceramics, 28 cm long, 23 cm wide, 18 cm tall.

139
---
ARD ATELIER ARRE TALLER

ard-atelier.com

rigel@ard-atelier.com

@ARD_Atelier

ARD-atelier

Manuel Márquez Sterling

34-Bis, int. II-106

Col. Centro

México, D.F., 06070

140

JC Lamp

Producto de línea

Catalogue product

2011

Jc es una lámpara de piso que combina

elementos de la estética industrial: bidones

de gasolina, cableado eléctrico de uso rudo

y clavijas industriales. Denota la belleza

hallada en los objetos menos previstos.

Jc is a lamp that combines elements

of industrial aesthetics: gasoline containers,

heavy-duty wiring, and industrial plugs.

Jc points at the beauty found in the least

suspected objects.

www.arretaller.com

arre_taller@yahoo.com.mx

Oriente 251 - 87

Col. Agrícola Oriental

México, D.F., 08500

Carrito Tashi

Tashi trolley

Ideacero

2010

Punto de venta de sushi, en el cual se aprovecha

el espacio tanto del operador como de los

enseres; es transportable, seguro y funcional;

proyectado en materiales resistentes

y duraderos a la intemperie.

Sushi stand that makes the most of

the available space for the operator and the

necessary equipment. It is portable, safe,

and functional. Made with resistant and

long-lasting outdoor materials.

141
---
F. I Ph.: David Osnaya

ARTA CERÁMICA AvEX DISEÑO InDUSTRIAL

www.artaceramica.com

info@artaceramica.com

Grecia 87

Col. Los Encinos

México, D.F., 14239

142

Lámpara Polar

Polar Lamp

Arta Cerámica Edición Limitada

2009

Es un objeto inspirado en el cambio climático.

Esta pieza surge de la desvalorización que tiene

un objeto plástico producido a gran escala

en nuestra época y cómo se ha convertido en

un factor importante de la crisis climática.

It is an object inspired in climate change.

This piece comes from the total loss of value

in our time of a mass-produced plastic object,

and how it has become an important

factor in the climate crisis.

www.avex.com.mx

ortegahijar@gmail.com

Álvaro Obregón 154 C

Col. Roma

México, D.F., 06700

Muebles BIVO

2010

Identidad de marca y plan de negocios para

la marca de mobiliario sustentable bivo.

Para el diseño de línea de productos se hizo

investigación en técnicas, materiales y

aplicaciones. Estos son muebles modulares

y de bajo impacto.

Brand identity and business plan for the

bivo sustainable furniture. Research

in techniques, materials, and applications

was conducted in order to design the line

of products. These furniture pieces

are accessible, modular, and of low impact.

143
---
BAMBOOCYCLES BASBAg

www.bamboocycles.com

info@bamboocycles.com

@bamboocycles

bamboocycles

Unión 73 A

Col. Escandón

México, D.F., 11800

144

uc-02

Bamboocycles S.A. de C.V.

2011

Pensada para el paseo diario, La uc-02 es una

bicicleta de bambú elegante y sencilla. Ideal para

aquellos que disfrutan del simple andar.

Designed for casual rides, UC-02 is a simple and

elegant bicycle, ideal to enjoy a relaxed stroll.

www.basbag.com.mx

recicla@basbag.com.mx

@MyBasbag

basbag

Camino Real a Cholula 4816

Local 2

Ex Hacienda La Concepción

Buenavista, Puebla, 72810

Línea Sheepy

2011

Creada para reciclar el material de

las maquiladoras productoras de cobijas

y cobertores.

Created to recycle the leftover material of

the production of blankets and bedspreads.

145
---
BÁSICA BEnIk

www.labasica.com

basiquismo@hotmail.com

Bolívar 924

Col. Postal

México, D.F., 03410

146

Número 4

Number 4

Moda In Casa

2011

Silla hecha en triplay, usando como

herramienta principal un cnc, inspirada

en los boxeadores, juguetes mexicanos.

Plywood chair inspired on Mexican toys

(boxers), using mostly cnc equipment

for its manufacture.

www.benik.com.mx

info@benik.com.mx

15 de septiembre 106

Col. León de los Aldama

Guanajuato, 37000

Bolsas Benik

Benik Bags

2009

Producto actualmente comercializado

y exportado. Proyecto y marca de diseño

con identidad mexicana que rescata

materiales como el papel picado, listones,

plumas y confeti, encapsulados en pvc.

This project includes the design and

manufacture of bags with Mexican identity.

They incorporate traditional materials

such as punched paper, feathers, and confetti

encapsulated in pvc.

147
---
ADRIAnA BERBER BIwUA | FRAnCISCO jAvIER

nAvARRO QUESADA

www.adrianaberber.com

ventas@adrianaberber.com

Cuilapan 512

Col. Vicente Guerrero

Toluca, 50110

148

Empowering women in jewelry

supply chains itc

itc, se y siny

2011

Proyecto de exportación impulsado

por la Secretaría de Economía, el Instituto

de Plata en NY y el International Trade

Center en Ginebra, el cual incluyó a diez

diseñadoras mexicanas que utilizan la plata

como material de expresión.

An initiative of the Mexican Ministry

of Economy, the New York Silver Institute,

and the Geneva Trade Center that

included 10 Mexican designers who use

silver as medium.

www.biwua.com

info@biwua.com

Rubén Darío 1531-A

Col. Providencia 2da sección

Guadalajara, 45030

Cuadrato

Palacio de Hierro

2009

Cuadrato evoca el poder de un círculo

inmerso en un cuadro. Se busca concentrar

la energía del portador y canalizarla

a través del glamour y el deseo.

Cuadrato evocates the power of a circle

within a square. This piece is aimed

at concentrate the carrier's energy and

channel it through glamour and desire.

149
---
BRAnDESIgn C. RICARDO | SUIT ESTUDIO

www.brandesign.com.mx

diego.gueren@gmail.com

@BranDesignMx

BranDesignMx

Buenos Aires 2643

Col. Providencia

Guadalajara, 44630

150

Línea Meztiq

Meztiq

2011

Línea de mobiliario que utiliza madera

antigua como materia prima; ebanistería

esmerada y terminados como la cera

de abeja para completar piezas con mucha

historia, personalidad y valor estético.

This furniture line uses old wood as raw

material, refined cabinet-making,

and finishes such as beeswax, in order

to attain pieces with remarkable aesthetic

value, personality, and history.

www.suitmuebles.blogspot.com

rcontreras@suitmuebles.com

Av. Eugenio Garza Sada 427

Col. Alta Vista

Monterrey, 64834

La mesuita de colores

The color suitable

2011

Mesa desarmable para espacios reducidos.

Consta de 4 placas de madera de 40 x 60 cm.

Se guarda y transporta fácilmente, puede

configurarse según las necesidades del cliente.

Collapsible table for reduced spaces. It consists

of 4 wooden panels of 40 x 60 cm. It is easy

to store and transport, and it can be customized.

151
---
LAURA PATRICIA CAChú PAvón MARISOL CEnTEnO

patycachu@yahoo.com.mx Rosas

www.biyuu.wordpress.com

Roses

Producción para venta en boutiques

2009

biyuumc@gmail.com

Aniceto Ortega 869

Col. Del Valle

México, D.F., 03100

152

Bolsa para dama joven con inspiración:

"Reciclaje". Algodón 100% bordado

con flores de papel y plástico reutilizado,

asa de madera recuperada.

A young-lady bag with motto: recycle. 100%

cotton embroidered with flowers made

out of reused paper and plastic, and reused

wood handle.

Monte Alto 10

Col. Balcones

de la Herradura

Huixquilucan

Edo. de México, 52785

Bi Yuu Sueños

Bi Yuu Dreams

Ana María (soma)

2011

Recreación contemporánea inspirada

en juguetes de palma. Juega con elementos

como la ampliación de escala y el contraste

de color.

A contemporary recreation of palm woven

toys. This is a square rug that plays with

design elements such as increasing scale and

color contrast.

153
---
F. I Ph.: Luis Tierrasnegras

CITRO COLECTIvO 1050°

www.citro.com.mx

citrodiseno@gmail.com

CitroIDS

PIT 3 Av. Heroico Colegio

Militar 4709

Col. Nombre de Dios

Chihuahua, 31300

154

srd

Magdalena Domínguez

2011

Mueble multifuncional que permite almacenar

aparatos electrónicos y otros objetos de manera

oculta, conservando la estética del mueble.

Sus puertas superiores tienen amortiguadores

hidráulicos y las inferiores son deslizables.

Multi-purpose piece of furniture intended

to organize and store electronic devices

and other objects while keeping a clean look.

The top doors have hydraulic shock

absorbers and the bottom doors slide.

www.1050grados.com

1050grados@gmail.com

colectivo de ceramica

1050 grados

Gutemberg 61-14

Col. Anzures

México, D.F., 11590

San Bartolo Coyotepec

Artesanos de San Bartolo Coyotepec

2009

En colaboración con artesanos y diseñadores

se desarrollaron híbridos a partir de objetos

tradicionales de Oaxaca y objetos industriales,

usando metodologías de evolución del objeto

inspiradas en la biología.

In collaboration with artisans and designers,

hybrids of traditional Oaxacan crafts

and industrial objects were developed. Object

evolution methodologies inspired in biology

were employed in the process.

155
---
COLECTIvO hEChO A MAnO MARíA DEL CARMEn

CORDERA DE LASCURÁIn

www.hechoamano-colectivo.

blogspot.com

colectivohechoamano@

gmail.com

Hegel 346-9

Col. Polanco

México, D.F., 11570

156

hecho a mano: Nuevos Procesos

Colaborativos de Diseño

hand-made: New Collaborative

Processes in Design

Casa del Lago

2010

El colectivo participó en la exposición hecho

a mano: Nuevos Procesos Colaborativos

de Diseño, curada por Cecilia León de la Barra,

para Casa del Lago.

The collective was part of the "hand-made:

New Collaborative Processes in Design"

exhibition, curated by Cecilia León de la Barra

at Casa del Lago, Mexico City.

www.galeriamexicana.mx

carmen@galeriamexicana.mx

@carmencordera

Carmen Cordera

Anatole France 13

Col. Polanco

México, D.F., 11560

Mesa Canícula

Canícula Table

En colaboración con | In collaboration with: Paula Bello

Basada en el concepto de Lazzy Susan.

Realizada en acero inoxidable y canicas.

Based on the Lazzy Susan concept.

Manufactured in stainless steel and marbles.

157
---
COREDESIgn LUCIAnA CORRES

www.cor-des.com

beto@cor-des.com

Privada San José Actipan 3

Col. Ex Hacienda Actipan

Puebla, 72760

158

Bicicleta de carga

Cargo Bike

Cargociclo

2011

Diseño y desarrollo de una bicicleta

de carga, basada en un sistema patentado

de tracción delantera, y dirección trasera;

al mejorar su ergonomía y diseño mecánico,

permite mover cargas más pesadas,

con menor esfuerzo.

This new cargo bike was designed and

developed from a new, copyrighted front-wheel

drive and rear-steering system. By improving

its ergonomics and mechanic design, this

vehicle allows users to transport heavier loads

with less effort.

www.lucianacorres.com

lucianact@yahoo.com

Río Tíber 27-5

Col. Cuauhtémoc

México, D.F., 06500

Destination Mexico

2011

Línea producida para Destination Mexico 2012

en el MoMA.

Articles produced for MoMA, Destination

Mexico 2012.

159
---
XóChITL MARISSA

DÁvILA ORDóÑEz

www.xmdavila.com

xmdavila@gmail.com

@xmdavila

Calle Guerrero 300

Col. Unidad Nacional

Madero, Tamaulipas, 89410

160

Chula en primavera

2012

Elaboración de piezas en colores inspirados

en el folclore mexicano, combinaciones

contrastadas y llamativas, en materiales como

el hilo de algodón y piedras como howlita

y turquesa, entre otras.

Manufacture of items whose colors are inspired

on Mexican folklore: contrasts and striking

combinations; materials such as cotton thread,

turquoise and howlite, among others.

www.despachodi.com

marcela@despachodi.com

Protasio Tagle 41-2

Col. San Miguel

Chapultepec

México, D.F., 11850

DDI DESPAChO DE DISEÑO

InDUSTRIAL

ConsolaMoon

masisa

2010

Desarrollamos una pieza a partir de

la topografía de la luna utilizando tecnología

de corte cnc y paneles sobrepuestos para

generar una visión tridimensional.

We developed a piece based on moon's

topography with the use of cnc cutting

technology and by superimposing panels

to generate a three-dimensional vision.

161
---
DéjATE QUERER kARLA DíAz

www.dejatequerer.mx

djtquerer@gmail.com

Agua Cristalina 200

Col. Tlalpuente

México, D.F., 14460

162

Tapete Coral

Coral Rug

2011

Diseño textil creado a partir del tejido a mano

de piezas de fieltro 100% de lana. Su forma evoca

un arrecife, un ambiente lleno de textura

y vida. El tapete Coral puede adquirir diferentes

formatos y dimensiones.

Textile design created with 100% wool, handwoven

pieces. The Coral Rug evokes a reef,

an atmosphere full of texture and life. Coral Rug

can be produced in several formats and sizes.

www.kokomo.com.mx

karla@kokomo.com.mx

diaz_merino@hotmail.com

Durango 214-201

Col. Roma

México, D.F., 06700

La vie est gratuite

Cristina García Quevedo

2010

Librero en mdf de 9 mm, con repisas que

se quitan y se ponen, en tres tonos (arena,

espuma, turquesa). Con leyenda en vinil.

9 mm mdf bookcase with removable

shelves. Available in 3 tones (sand, foam,

and turquoise). It has a vinyl legend.

163
---
DIEz DISéMICA

www.diezexport.com

rodrigo@exportacionesdiez.com

Palmas 520

Col. Lomas de Chapultepec

México, D.F., 11000

164

Lámpara Conciencia

Conscience Lamp

Hunter Douglas México

2011

En colaboración con | In collaboration with :

3Form Hunter Douglas

Diseño de colección de luminarias inspiradas

en los materiales de la marca. Presentación

de la marca Plumen en México.

Design of light fixtures inspired in the

brand's materials. Introduction of the Plumen

brand in Mexico.

www.disemica.tumblr.com

disemi.k@gmail.com

disemica

Callejón de

las Hortensias 255

Ciudad Bugambilias

Jalisco, 45238

Molca

Dimueble

2011

Mueble de descanso para uso comercial.

La carcasa es de fibra de vidrio reforzada con

resina poliéster, con un relleno de espuma

de poliuretano de alta densidad. El acabado

es de pintura en esmalte brillante.

Resting piece of furniture, intended for

commercial use. The carcass is made of glass

fiber, fortified with polyester resin.

The filling is high-density polyurethane foam,

and it is painted with a glossy enamel finish.

165
---
DISEÑO nEkO DOIzPE

www.nekomexico.com

productos@nekomexico.com

Altata 51-402

Col. Condesa

México, D.F., 06170

166

Banca Cuernavaca

Cuernavaca Bench

2010

Neko recicla motores viejos para producir

su línea de mobiliario urbano. En la Banca

Cuernavaca, el uso de aluminio permite crear

líneas que fluyen y que evocan una

rama que nace del piso. De ahí su nombre.

Neko recycles old engines in order to

make urban furniture. Using aluminum

allows them to create flowing lines.

Cuernavaca bench evokes a branch coming

out of the ground, thus its name.

www.doizpe.com

info@doizpe.com

Perpetua 1

5ª Sección de Lomas Verdes

Edo. de México, 53120

doizpe Spreading Mexican

Beauty Collection

Tienda en línea

On-line store

2012

Esta colección incorpora inspiraciones en artesanía

otomí y huichol, así como aplicaciones

de éstas. Evoca experiencias en lugares donde

ha vivido la diseñadora y lo que significa para ella

ser mexicana.

This collection involves inspiration in Otomi

and Huichol crafts. It evokes experiences

in different places where the designer has lived,

and what being Mexican means to her.

167
---
vAnESSA DRUMMOnD DUTzI DESIgn | ARIAnE DUTzI

www.vanessadrummond.com

vandrummond@hotmail.com

Newton 42, int. 1

Col. Polanco

México, D.F., 11560

168

Colección anillos en cristal

Crystal rings, collection

2010

Colección de anillos intercambiables, con 10

opciones de colores, combinados con plata 925.

Los anillos embonan de forma armoniosa.

A collection of interchangeable rings,

available in 10 colors with 925 silver. All rings

fit each other harmoniously.

www.dutzidesign.com

info@ dutzidesign.com

@dutzidesign

Ariane Dutzi

Calle 42-217

Col. San Juan

Valladolid

Yucatán, 97780

Vintage Burlap

Todas las bolsas dutzi son diseñadas por

Ariane Dutzi y hechas a mano por artesanos

locales, principalmente mujeres mayas,

en su taller en Valladolid, Yucatán. Dutzi utiliza

mayor mente materiales reciclados.

All dutzi bags are designed by Ariane Dutzi

and hand-made by local craftspeople,

mostly Mayan women, in her workshop

at Valladolid, Yucatan. Dutzi uses recycled

materials mostly.

169
---
F. I Ph.: Fernando Etulain

EBA (EMERgEnCY BASIC ALLIES) EDICIOnES jALAPA

www.eba-bag.com

eretoxqui@gmail.com

Progreso 214, int. 2

Col. Escandón

México, D.F., 11800

170

Emergency Bag

MoMA Design Store

2010

La EBA bag es un pequeño estuche que

al abrirlo se convierte en una espaciosa bolsa

de emergencia, la cual se puede cargar

dentro del bolso, por lo que no es necesario

usar una de plástico.

Eba bag is a small case, which becomes a big

emergency bag once it is opened. This bag

can be carried inside the everyday purse, which

makes it unnecessary to use plastic bags.

www.edicionesjalapa.com

info@edicionesjalapa.com

Jalapa 27

Col. Roma

México, D.F., 06700

Elements

Ediciones Jalapa

En colaboración con | In collaboration with: Nicolas Le Moigne

2011

Colección de muebles (banquitos, mesas bajas,

libreros y estanterías) en aluminio, donde la

construcción por dobleces ingeniosos le confieren

un carácter simple y elegante.

Furniture collection (stools, low tables and

bookshelves) in aluminum, where the ingenious

construction using folds gives it a simple and

elegant character.

171
---
jORgE DIEgO ETIEnnE FLOR&PLATA

www.jorgediegoetienne.com

info@jorgediegoetienne.com

Vía Augusta 177

Fuentes del Valle

San Pedro Garza García

Nuevo León, 66220

172

Choose your bullets

Colección del estudio

"La pluma es más poderosa que la espada"

- Choose your bullets es un accesorio

de escritorio que pone de relieve el arma

más poderosa que tenemos como sociedad:

nuestras ideas y pensamientos.

"The pen is more powerful than the sword"

-Choose your bullets is a desk accessory that

emphasizes that the most powerful weapon

that societies have are ideas and thoughts.

andreanunezunda@gmail.com

Sabino 102-10

Rancho Cortés

Cuernavaca

Morelos, 62120

Mil hojas

A Thousand Leaves

Flor&Plata

2010

Brazalete de plata mexicana 925 trabajada

y calada a mano.

925 Mexican sterling silver bracelet, hand-made.

173
---
vALERIA FLORESCAnO FOU FOU ChAT BY ThE

TERROR SISTERS

www.valeriaflorescano.com

valeria.florescano@gmail.com

Av. Veracruz 85

Col. Condesa

México, D.F., 06140

174

Velas escamadas

Scaled Candles

En colaboración con | In collaboration with:

José Alvárez, Petra Mendoza

La serie se creó con la técnica de las velas

escamadas. Se buscó innovar con formas limpias,

juguetonas y geométricas que remitan a las velas

colgadas en las mercerías.

The series was created using the Scaled Candle

technique. New ways to innovate with clean,

geometric and playful shapes that resemble

candles hanging inside a shop were explored.

www.foufouchat.com

foufouchat@hotmail.com

Circuito de Lancashire 63

Condado de Sayavedra

Atizapán de Zaragoza

Edo. de México, 52938

Colección Alba

Swarovsky Elements

2011

Basada en la tendencia Chalk de Swarovski

Elements, esta colección se inspira en el universo

íntimo de la mujer romántica. Usa materiales

como el tul, el cristal, las perlas, la resina

y los componentes vintage.

Based on the Chalk trend by Swarovski Elements,

this collection is inspired on the intimate

world of the romantic woman. It uses materials

such as tulle, crystal, pearls, resin, and

vintage components.

175
---
FUSCA gALERíA MEXICAnA DE DISEÑO

www.fusca.mx

oscar@fusca.mx

Gran Caimán 15, sm312

mz 12 lote 15

Col. Residencial Isla Azul

Cancún, 77560

176

Colección de mobiliario exterior

Outdoor furniture collection

Fusca

2009

Inspirada por las sombras que producen

las palmeras con el sol, la colección está pensada

para espacios abiertos.

Inspired on the shades of palm trees

in the sunlight, this collection is intended

for outdoor use.

www.galeriamexicana.mx

administracion@

galeriamexicana.mx

@2020gmd

GdeDiseno

Anatole France 13

Col. Polanco

México, D.F., 11560

Línea 20|20

2010

Línea para conmemorar los 20 años de la gmd.

El término "visión 20/20" se refiere a la distancia

en pies entre el sujeto y el gráfico. 20 diseñadores

de trayectoria y 20 nuevos talentos conforman

esta ecléctica colección.

This line was created to commemorate 20 years

of gmd. The term "20/20 vision" refers to

the distance in feet between subject and graphic.

20 renowned Designers and 20 new talents

conform this ecclectic collection.

177
---
vALEnTín gARAL RICARDO gARzA MARCOS

www.valentingaral.es

irigoyen@valentingaral.es

Anatole France 13

Col. Polanco

México, D.F., 11570

178

Banca familiar

Family bench

Le Porc Shop

2011

Realizada en madera sólida de sauce llorón,

la Banca Familiar está destinada a los

"no espacios". Funciona como banca de lazos

familiares propuesta para convertirse

en un punto de encuentro, de plática

y de conservación de las relaciones sociales.

A bench made of solid weeping-willow

wood, it is intended for non-spaces. Its purpose

is to become a meeting point, strengthening

family-bonds, fostering conversation,

and the conservation of social relations.

www.rgarzamarcos.com

www.onomo.mx

rgarzamarcos@gmail.com

Cataluña 1024

Col. Privanzas 5° sector

Monterrey, 64750

Lightboy & Lightgirl

2010

Lámparas de escritorio de madera sólida

que representan las icónicas siluetas

de género masculino y femenino. Lightboy

se fabrica en madera de nogal y Lightgirl

en madera de maple.

Solid wood desk lamps representing the

iconic shapes of feminine / masculine gender.

Lightboy is made of walnut wood, and

Lightgirl of maple wood.

179
---
gEnA gESTA

daniela@gen-a.mx Pina 4

www.gestaproject.com

Casa Espíritu Santo

sebastian@gestaproject.com

2011

gesta

Campos Elíseos 414 B

Col. Polanco

México, D.F., 11560

180

pina 4 es un librero de tablón de pino

americano que también funciona como escalera

desfasada para acceder a un tapanco. Se buscó

mantener la ligereza espacial, y se realizó

como librero y como escritorio.

pina 4 is a bookcase made of American

pine that serves also as staircase to access the

loft. The bookcase had to maintain a lightness

and practical use of space in order to work.

It was produced as bookcase and as desk.

Hernández Álvarez 352, int. 2

Col. Barrio San Juan de Dios

León

Guanajuato, 22044

Tequileros Adobe Guadalupe

Adobe Guadalupe Tequila Glasses

Viñedo Adobe Guadalupe

2011

El viñedo Adobe Guadalupe nos pidió

desarrollar una línea de vasos tequileros

inspirados en las etiquetas de sus

vinos y mezcal, diseñadas por Sebastián

Beltrán; se produjeron 301 sets de

vasos tequileros.

The Adobe Guadalupe Vineyard asked

us to develop a line of tequila glasses inspired

on the labels of their wines and mescal,

which were designed by Sebastián Beltrán;

301 tequila glass sets were produced.

181
---
EMILIAnO gODOY gRUPO kInETICA

www.emilianogodoy.com

info@godoylab.com

@godoyemiliano

Nuevo León 150-403

Col. Condesa

México, D.F., 06140

182

Canasta

Basket

Nouvel Studio

2008

Esta pieza se diseñó a partir de moldes en

desuso de Nouvel Studio. Por medio

de cortes en frío se generó una pieza nueva,

sin la inversión o el impacto ambiental

de producir un nuevo molde.

This piece was designed using casts by Nouvel

Studio that had fallen in disuse. By using

cold cuts, a new piece was created without

the investment or ecological impact of making

a new cast.

www.kinetica.com.mx

imoreno@grupokinetica.com.mx

Monte de los Olivos 410

Parque Industrial Monte

de los Olivos

Nuevo León, 66359

Candil

Chandelier

Restaurante Montero

2011

En colaboración con | In collaboration with:

Anagrama and Grupo Kinética

Está sujeto a siete metros del piso y funciona

como iluminación y decoración principal de la

recepción del Restaurante Montero en el centro

histórico de Saltillo.

The chandelier hangs seven meters (23 ft) from

the floor and it works as a light source and

main decoration at the Montero Restaurant lobby,

at the historic center of Saltillo City.

183
---
gUADALUPE ACEvEDO jOYERíA MOISéS hERnÁnDEz

www.guadalupeacevedo.com

lupacevedo@hotmail.com

guadalupeacevedojoyeria

Lerdo de Tejada 34, piso 3

Col. Centro

Actopan

Hidalgo, 42500

184

Colección Coma

2010

Piezas derivadas del diseño de un anillo

ajustable a la medida. Aretes, gargantilla,

pulsera y anillo fabricados en plata 925

y caucho sintético.

These pieces derive from the design

of an adjustable ring. Earrings, choker,

bracelet, and rings are made of 925

silver and synthetic rubber.

www.moises-hernandez.com

info@moises-hernandez.com

Farallones 58

Acueducto de Guadalupe

México, D.F., 07270

Tie

Bauhaus Möbel®

2010

Los tirantes y las corbatas han tenido un lugar

importante dentro de la historia de la moda.

La silla Tie los utiliza para adquirir una identidad

propia y dar un soporte a la espalda.

Throughout time, suspenders and ties have

placed a relevant part in the history of fashion.

The Tie Chair uses them in order to acquire

an identity of its own and to provide support

for the back.

185
---
hIERvE-DISEÑERíA IgUAnA 4 STUDIO

www.hierve.com

buzon@hierve.com

Guanajuato 131, int. 402

Col. Roma

México, D.F., 06700

186

Ropero

Wardrobe

2012

Sistema modular para el guardado de ropa

inspirado en los roperos y vitrinas tradicionales;

es un sistema flexible, ligero, transparente

y altamente personalizable. Es ideal para casa,

hoteles y comercios.

A modular system for storing clothes inspired in

traditional wardrobes and cabinets: it is flexible,

transparent, light and highly customizable. It is

ideal for homes, hotels and shops.

www.iguana4studio.com

iguana4studio@gmail.com

Repúblicas 241, int. L

Col. Santa Cruz Atoyac

México, D.F., 03310

Posavasos MASmenos

MASmenos coasters

MoMA Design Store

2010

Más diseño Menos desecho es una línea

de accesorios que busca aprovechar el material

al 100%. Están cortados en láser para maximizar

la manufactura. Material: triplay chapado

encino, acabado natural de cera.

More design Less waste is a line of accessories

that makes the most of materials. By laser

cutting them we maximize the manufacture.

Material: oak plywood with a natural

wax finish.

187
---
Ik jOYEROS jORgE RODz | hUnPEL

www.i-ka.com

f@i-ka.com

@ikjoyeros

ik joyeros

Av. Hidalgo 27

Col. del Carmen Coyoacán

México, D.F., 04100

188

Colección Cuatro

Cuatro Collection

muac

2009

Creación de piezas para presentación en

el Museo Universitario de Arte Contemporáneo

(muac). El cubo es el referente de esta colección,

ya sea en masa o en vacío. El color también

es esencial al diseño.

Pieces created for the National University

Museum of Contemporary Art (muac). The cube

is the reference of this collection, be it the mass

or the empty space created by its silhouette.

Color is essential to the design.

www.behance.net/Jorge_Rodz

jorge.rodzz@gmail.com

Prolongación Alcatraces 56

Casa 28

San Salvador Tizatlalli

Metepec

Edo. de México, 52172

Chevy C2. Componentes de interior

Chevy C2. Interior components

General Motors de México

Jorge Rodríguez formó parte del equipo

que desarrolló el Chevrolet Chevy C2 (habitáculo

del conductor e interiores). El proyecto recibió

el Chairman´s Honors Award y el premio nacional

de diseño Quorum 2004.

Jorge Rodríguez was part of the team that

designed the driver's cabin of the Chevrolet

Chevy C2. The project won the Chairman's

Honors Award and, in 2004, the Quorum

National Design Award.

189
---
jPEg k.nOX

www.jpeg.mx

jpegmex@gmail.com

@jpegmex

JPEGmex

Privada Alborada 24-402

Col. Pedregal del Maurel

México, D.F., 04720

190

Totes

Celeste Concept store, Sicario store, Happening

Concept store

2011

Una serie de siete diseños diferentes, hechos

para totes de gran tamaño (60 cm de lado),

forradas y con bolsa interna. Diseño creado

por computadora e impresión sobre tela.

A series of 7 different designs, made for

large tote bags (60 cm wide), lined, with an

inside pocket. Computer created designs,

printed on fabric.

www.knox.mx

kitchen.studio@knox.mx

Av. Francisco I. Madero Ote.

6500, int. 309

Parque Industrial

Morelia, 58200

Colección wak

Producto de línea

Catalogue product

2009

En colaboración con | In collaboration with: Fernando Enríquez

La colección wak fue diseñada para k.nox

Kitchen Studio. Este diseño contemporáneo fue

realizado mediante un proceso de producción

de bajo consumo de recursos energéticos.

wak Collection was designed for k.nox

Kitchen Studio. This contemporary design was

made in a production process of low consume

of energetic resources.

191
---
kIMBAL LA CARPInTERíA MX

www.kimbal.com.mx

kimbal_13@hotmail.com

Calle 122-314

Col. Yucalpeten

Mérida, 97238

192

Patrón de repetición

Repetition pattern

rococo

2011

Rococó reinventa lo antiguo a través del arte

y el diseño contemporáneos. Bajo esta premisa

se creó Hurracarrana, un patrón de repetición

inspirado en los ídolos de la lucha libre.

Each piece of the Rococó design firm

reinterprets the past through contemporary

art and design. A repetition pattern inspired

on Mexican wrestling idols, Hurracarrana

was created in this spirit.

www.lacarpinteria.mx

contacto.roe@me.com

Casa Amarilla 82

Col. Reforma Pensil

México, D.F., 11430

Mesa Comedor

Dining Table

Personal

2010

Mesa Comedor: 3.00 m x 1.20 m | Madera de

Banak con acabado en cera de abeja.

Dining table: 118.1 in x 47.24 in | Banak wood

with beeswax finish.

193
---
LA COBOS LA jABOnERA

www.lacobos.com

carolacobos@lacobos.com

info@lacobos.com

Calle 44-322 por 43 y 45

Col. Benito Juárez Norte

Mérida, 97119

194

Colección Ecorigen

Ecorigen Collection

2011

Una colección inspirada en la cultura Maya,

sus formas arquitectónicas, su numerología

y su interpretación de la vida.

A collection inspired in the Mayan culture,

their architecture, numerology, and their

life interpretation.

www.lajabonera.com

lali@lajabonera.com

Pino Suárez 292-D

Col. Centro

Querétaro, 76000

Interfon Bot

Intec de México

2010

Rediseño de la línea de frentes para calle,

buscando un posicionamiento en el mercado

por medio de diseño y marca. Basado

en la elegancia y amabilidad del mayordomo

como metáfora formal, fue ganador de

Quorum 2011.

This is a redesign of street facades that looks

for a position in the market through design

and brand. Based on the kindness and

elegance of the butler as a formal metaphor,

this design is a winner from Quorum 2011.

195
---
LA PLATERíA | ÁvILA Y MEDInA SOnIA LARTIgUE

www.laplateria.mx

maguilera@laplateria.mx

@LaPlateria

La Plateria

Blvd. Independencia 220 Ote.

Col. Los Ángeles

Torreón, 27000

196

Colección Vitrales

Stained Glass Collection

Pasarela itesm Campus Laguna

2011

Una colección de cinco piezas: collar

semirrígido, brazalete, anillo, aretes y una

pieza adicional que puede ser cualquier

otro accesorio. Materiales: plata, fragmentos

de vitrales de colores y listones.

A collection of 5 pieces: a semi-rigid necklace,

a bracelet, a ring, earrings, and an additional

piece that can be any other accessory.

Materials: silver, stained-glass, and ribbons.

www.candelaluz.net

candelamx@gmail.com

Bajío 231, int. 1

Col. Roma

México, D.F., 06760

Colección Candela

Candela Collection

2010

Candela es una colección de lámparas

hechas a mano que busca revalorar

las técnicas locales y los oficios a través

del diseño de pequeñas colecciones

de objetos de uso doméstico.

Candela is a collection of handmade lamps,

intended to reassess local techniques

and trades by designing small collections

of domestic use objects.

197
---
LE PORC-ShOP

FURnITURE wORkShOP

www.leporcshop.com

info@leporcshop.com

@leporcshop

LePorc

Goya 568

Col. Prados Providencia

Guadalajara, 44670

198

Mesa burra

Donkey Table

2009

Esta es una mesa robusta que fue concebida

inicialmente para trabajar, aunque

también funciona como mesa de comedor.

El cliente puede elegir el color y terminado

en cada ocasión. Madera sólida de

parota o álamo.

This is a robust furniture. Initially conceived

as a working table, it also works as a

dining table. Customers can pick the color

and finish of their table, and it is available

on solid elephant ear tree or poplar.

www.cecilialeondelabarra

.com.mx

cleondelabarra@gmail.com

Lago Meru 78-5

Col. Granada

México, D.F., 11520

CECILIA LEón DE LA BARRA

Plástico Fino

Fine Plastic

2010

Esta colección de floreros surge de la observación

de las piezas de plástico que se usan para

ofrendas (en panteones, altares). La forma no

cambia, sólo el material: de plástico inyectado

a cerámica.

This collection of vases is the result of an

exploration of plastic pieces commonly used

in Mexican offerings (altars, cemeteries).

Only the materials change, not the form: instead

of plastic vases, these are pieces of pottery.

199
---
jAnE LóPEz REnAUD LOS LIBROS DE LEOnARDO

www.kukuti.com.mx

jane.lopez.r@gmail.com

Coronado Mz. 3-A Lt. 17

Col. El paraíso

México, D.F., 09230

200

Desarrollo de la marca comercial Kúkuti

Kúkuti's Commercial Brand Development

2008

Desarrollo de una marca propia enfocada

al sector infantil y juvenil, que ofrece conceptos

divertidos e innovadores a través de la mezcla

de materiales como plata, acrílico, botones,

plumas y pompones de tela.

The development of a proper brand that aims

to children and young public. It offers funny

and innovative concepts through a combination

of materials such as silver, acrylic, buttons,

pens and fabric pompoms.

www.loslibrosdeleonardo.com

leocruz3@hotmail.com

Hortensia 90

Col. Florida

México, D.F., 01030

Libretas chuecas

Irregular notebooks

MoMA Design Store

2012

Es una libreta de forma irregular con la huella

de una mano impresa. Logramos un diseño

innovador alterando la forma rectangular de

las encuadernaciones tradicionales.

A notebook of irregular shape with the imprint

of a hand palm. We achieved an innovative

design by altering the rectangular shape of

traditional bindings.

201
---
LUDEnS | IvÁn hERnÁnDEz

QUInTELA

www.ludens.com.mx

ivan@ludens.com.mx

@tallerludens

taller ludens

Yautepec 45

Col. Condesa

México, D.F., 06140

202

Juguetes Habitables

Habitable Toys

2012

Línea de muebles inspirada en juguetes que

fomentan la interacción con el usuario.

A furniture line inspired in toys that encourage

user's interaction.

www.gossler.com.mx

mquistian@gossler.com.mx

@Marthaaliciamad

Privada de los Laureles 32

Villas Santorini

Torreón

Coahuila, 27105

MARThA ALICIA MADRID

RODRígUEz

Pasarela Club Rotario

Club Rotario Runway

Lydia Lavín

2011

Elaboración de copelas de plata 925

perforadas y trabajadas con una técnica

de bordado de punto de cruz con hilo

100% de algodón. Estas joyas se elaboraron

para que las portara la diseñadora Lydia

Lavín en una pasarela.

925 Silver cupels and cross-stitching

technique, using 100% cotton thread. These

jewels were made to be worn by designer

Lydia Lavín at her runway for the Torreón

Rotary Club.

203
---
MAggIE gALTOn DESIgn MAnUEL ÁLvAREz

FUEnTES | MAFDI

www.maggiegalton.com

maggie@maggiegalton.com

Hegel 346-9

Col. Chapultepec Morales

México, D.F., 11560

204

Pujol

Enrique Olvera

2010

Diseño de piezas de servicio de mesa

para Enrique Olvera, chef y dueño de Pujol,

uno de los 50 mejores restaurantes

del mundo. Entre las piezas realizadas:

tortilleros con tela artesanal, saleros de ónix

y cucharas de madera sustentable.

Design of table-service pieces for Enrique

Olvera, chef and owner of Pujol, one of the 50

top restaurants in the world. Among the pieces

are tortilla containers made of artisanal

fabrics, onyx saltshakers, and sustainable

wood spoons.

www.mafdi.com.mx

malvarezf@gmail.com

Torre Lationamericana

Piso 29

Col. Centro

México, D.F., 06000

Comal Martona

MAFdi

2003

Un producto mexicano tradicional. Construido

en acero esmaltado, la base y el comal en cobre

martillado con las técnicas artesanales de

Sta. Clara del Cobre, Michoacán.

A traditional Mexican product. Built in enameled

steel, its base and griddle are made in hammered

copper using a craftsmanship technique from

Santa Clara del Cobre, Michoacán.

205
---
MARAkAME MARCA RECICLADA

www.behance.net/marakame

marakamejoyeriamx@

gmail.com

Treviño 2738a

Col. Chepevera

Monterrey, 64000

206

Muertos de Bling

Bling Dead

Marakame

2010

Brazalete hecho en plata 925, inspirado en el

papel picado usado el Día de Muertos en México.

925 silver bracelet, inspired on the punched

paper used on the Day of the Dead in Mexico.

www.marcareciclada.com

contacto@marcareciclada.com

@marca_reciclada

marca reciclada

Magnolia 24-1

Col. Guerrero

México, D.F., 06300

Centro Cultural de España

Cultural Center of Spain in Mexico

2006

Diseño y producción de línea de accesorios

y productos diversos. La gráfica integra parte

de sus instalaciones, exposiciones y

entorno urbano.

Design and production of a series of accessories

and products. The Graphics used in the

design integrate the installations of the place,

the exhibitions and urban surroundings.

207
---
EnOk MARInES CRUz víCTOR gERARDO MARTínEz

www.enok.mx

contacto@enok.com.mx

Alondra 616 A

Col. San Sebastián

León

Guanajuato, 37450

208

Exhibidor para producto Long voyage

Display for Long voyage products

Exhibidor en isla para bolsa de dama,

vista 360 grados, fabricado en mdf, mdf con

chapa de ocume y madera de ocume.

Island display for bags, 360° view.

Manufactured in mdf, mdf and Okume

paneling, and Okume wood.

www.vgmtheory.com

vgm@vgmtheory.com

Lago Yuriria 405

Col. Cumbres del lago

Juriquilla

Querétaro, 76230

Pandora

vgm

2008

Cajonera multidireccional expuesta en

el Museo de Arte de Querétaro y en el Franz

Mayer Ciudad de México.

Multi-directional chest of drawers exhibited

at the Querétaro Art Museum and the Franz

Mayer Museum in Mexico City.

209
---
MÁS kEnADA DISEÑO MASIOSARE STUDIO

www.maskenadadiseno.com

maskenadadiseno@hotmail.com

Ciruelos 4 bis

Col. Los Cipreses

México, D.F., 04830

210

Separadores de libros ¡Así sí leo!

Now I do read! Bookmarks

Instituto Tecnológico de Monterrey

2011

Para estos separadores de libros se usó

un material más duradero que el cartón

(polipropileno/plástico) para hacerlos

funcionales y llamativos. Se buscó fomentar

la lectura por medio de una interacción

más divertida entre el lector y el libro.

These bookmarks (made of polypropylene)

are more durable than cardboard ones.

Their aim is to evoke a fun interaction

between the reader and the book and thus

stimulate reading.

www.masiosarestudio.com

info@masiosareestudio.com

@masiosarestudio

masiosarestudio

Necaxa 111 bis, int. 1

Col. Portales

México, D.F., 03300

Flaca-lámpara de acero inoxidable

Skinny-stainless steel lamp

Productos ms

2009

Flaca es una lámpara para escritorio de acero

inoxidable, que reduce al mínimo el desperdicio

de material. Consume sólo 6 watts, al usar

tecnología led. Premio a la Innovación en el

Concurso de Diseño en Acero Inoxidable 2009.

Skinny is a stainless steel desk lamp, which

reduces the waste of raw materials to the

minimum. As an led lamp, it consumes only

6 watts. It won the Innovation prize in the

Mexican Stainless Steel Design Contest in 2009.

211
---
MAURICIO vALDéS | LA REvOLUCIón

MEXICAnA DEL DISEÑO

www.coroflot.com/

mauriciovaldes

mauriciovaldes@prodigy.net.mx

Filiberto Gómez 25

Centro Industrial

Tlalnepantla de Baz

Edo. de México, 54000

212

nova frutero

nova fruit bowl

La Revolución Mexicana del Diseño

El frutero Nova fue el diseño que le dio a México

el Red Dot Design Award 2008 | 2009

por diseño de producto. También fue nominado

para el premio alemán de diseño 2012, entre

otras distinciones.

The Nova fruit bowl awarded Mexico the Red

Dot Design Award 2008 | 2009 in the product

design category. It was also nominated

to the German Design Award 2012, among

other distinctions.

me@migmel.com

Anna Palownastraat 26b1

Rotterdam

Holanda, 3014JD

MIgUEL MELgAREjO

Bookmarks

Diacril

2009

Separadores de libro provocativos, diseñados

para invitar a los lectores a regresar a su lectura.

Provocative bookmarks designed to invite

readers to go back to their books.

213
---
LUIS MERCADO MéXICO En PAPEL

www.luismercadorojo.com

luis@luismercadorojo.com

Constituyentes 91-402

Col. San Miguel

Chapultepec

México, D.F., 11850

214

Mesa Hiab

Hiab Table

Pirwi

2010

Mesa hecha de triplay enchapado,

estructuralmente confiable pero ligera;

la superficie de vidrio permite

ver la estructura.

Table made of plywood veneer, light

but structurally reliable. The glass surface

allows people to view the structure.

www.mexicoenpapel.com

ralbin@mexicoenpapel.com

@MexicoenPapel

MéxicoEnPapel

Homero 205, despacho 601

Col. Polanco

México, D.F., 11650

Bordado Oaxaqueño

Oaxacan embroidery

2009

Interpretación contemporánea de Bordado

Oaxaqueño para portada de libreta.

Contemporary interpretation of Oaxacan

embroidery for notebook cover.

215
---
F. I Ph.: Mexport

MILkA MAnIFESTO MOOID LAB

www.milkamanifesto.com

info@milkamanifesto.com

Vía Rómulo 614

Col. Fuentes del Valle

Monterrey, 66220

216

Heart Donor

2008

Vidrio artesanal hecho con emociones.

Se inspira en las dos connotaciones del corazón:

el órgano y el sentimiento. Pieza fabricada

en vidrio, para reflejar la fragilidad y delicadeza

del corazón.

Artisanal glass made with emotions.

The connotations of the heart, both the organ

and the site of feeling, inspire this piece.

It is made of glass, in order to reflect the fragility

of the heart.

www.mooid.mx

@mooidlab

mooidlab

Av. Universidad 50

Plaza Riviera L45

Querétaro, 76000

Guerrero Águila

Eagle Warrior

Federación Mexicana de Futbol

Mexican Football Federation

2008

La copa Guerrero Águila se entrega a los equipos

ganadores de los torneos de ida y vuelta en la

primera división del Futbol Mexicano. El jugador

de futbol y el Guerrero Águila son análogos

en su lucha por el triunfo.

The Eagle Warrior cup is awarded to the winner

team of the First Division Mexican Football

Tournament. The football player and the Eagle

Warrior are analogous in their fight for glory.

217
---
MURO ROjO nABLA

www.murorojo.com

jorge@murorojo.com

alberto@albertoburgaleta.com

Ejército Nacional 540

Col. Polanco

México, D.F., 11550

218

Colección de mobiliario 2C

2C Furniture Collection

lmr

2010

Muebles contemporáneos con un fondo

clásico y relajado en materiales nobles

como lino, piel y madera. Disponible en varias

medidas y acabados.

Contemporary furniture with classic and relaxed

background materials such as linen, leather and

wood. Available in various sizes and finishes.

www.nabla.com.mx

nablalaboratorio@gmail.com

@nablalab

nablalab

Irlanda 64

Col. San Andrés Tlalpan

México, D.F., 04040

Maraña + Güerita

2011

Muebles complementarios inspirados en

la forma de ensamblar, montar y desmontar

un mercado sobre ruedas. Ambos caben

en una caja al desmontarlos. La silla Güerita

es apilable y ligera.

Complementary chair and desk, inspired

on the way that street markets are assembled

and dissassembled. Maraña and Güerita

can be fitted into a box for transportation.

Güerita is a light and stackable chair.

219
---
nEL COLECTIvO LAURA nORIEgA

www.nel.com.mx

info@nel.com.mx

Lago Meru 78-5

Col. Granada

México, D.F., 11520

220

Pack of dogs

Pirwi

2007

Perritos de madera multifuncionales,

fabricados en madera de teka, con nombres

de luchadores mexicanos: Perro aguayo,

Místico, Alushe y el Santo.

Wooden multi-purpose pieces in the shape

of dogs; they are made of teak wood and their

names honor Mexican wrestling champions:

the Saint, the Mystic, et al.

www.lauranoriega.net

info@lauranoriega.net

Iztaccíhuatl 90

Ciudad del Sol

Zapopan, 45050

Lámpara Tiripiti

Tiripiti Lamp

Diseño + Artesanía

2012

Lámpara Tiripiti (oro en purépecha), ofrece

un tributo a las culturas precolombinas a través

de la luz que proyecta. El brillo se intensifica

en su interior, develando además el golpeteo

del martillado al encenderse. Material: cobre.

Tiripiti means gold in Purepecha. This lamp

is a tribute to the greatness of Pre-Columbian

cultures. Light is intensified inside it and,

when the lamp is on, it reveals the hammering

work on the copper.

221
---
nOS nOUvEL STUDIO

www.nos.mx

nos@nos.mx

Protasio Tagle 41, piso 2

Col. San Miguel

Chapultepec

México, D.F., 11850

222

360° Fly-In

nos

2011

360° Fly-in es un comedero para pájaros,

hecho de materiales orgánicos y reciclables,

que se enrolla en árboles de diferente

diámetro sin dañarlos. Sólo requiere

4 tornillos: 2 para el techo y 2 para la base.

360° Fly-in is a bird feeder, made of organic

materials, that can be recycled. It is easily

installed on trees without damaging them

and it only requires 4 screws: 2 at the base

and 2 at the top.

www.nouvelstudio.com

acamachop@nouvelstudio.com

@nouvelstudio

Nouvel-Studio

Gral. Agustín Millán 10

Col. San Andrés Atoto

Naucalpan

Edo. de México, 53500

Jarra Monja

Nun Decanter

Héctor Esrawe diseñó esta decantadora

con vaso de cristal soplado.

Héctor Esrawe designed this decanter

with its blown crystal glass.

223
---
SEBASTIÁn OCAMPO SALAMERO ODABAShIAn

www.fidar.com.mx Equipal

www.odabashian.com

2004, 2006

jaime@odabashian.com

Proyecto de mobiliario basado en el mueble

prehispánico. La propuesta busca establecer

un diálogo entre el pasado y el presente a través

@hotelrugs

on.fb.me/jbvQYz

Luis G. León 25

Col. Copilco el Alto

México, D.F., 04360

de la relectura de un mueble icónico de

la cultura mexicana. Se desarrollo una versión

en fresno y otra en aluminio.

Furniture project inspired by prehispanic

chairs. The proposals aim to establish

a dialogue between past and present through

the reinterpretation of an iconic furniture

of Mexican culture. It was produced both

in ash wood and aluminum.

Av. Insurgentes Sur 34

Col. Juárez

México, D.F., 06600

224

Tapete de Asfalto

Asphalt rug

En colaboración con | In collaboration with:

Gonzalo Tassier de la Maza

Exposición de tapetes tejidos a mano por talleres

de Odabashian, diseñados por dieciocho

de los más destacados arquitectos, diseñadores

gráficos e industriales de México (Museo Franz

Mayer, abril-mayo de 2011).

Exhibition of hand-knit rugs by Odabashian,

in collaboration with 18 of the most renowned

architects, graphic, and industral Designers in

Mexico (Franz Mayer Museum, April-May, 2011).

225
---
OFICInA 3 OkURREnzzIA CASA DE DISEÑO

www.oficina3.com

diego@oficina3.com

Durango 272-A

Col. Roma

México, D.F., 06700

226

Comercial B

JSa Arquitectura

2011

Se desarrolló un muro modular para mostrar

los proyectos más importantes en un

periodo de más de diez años. Los proyectos

se pueden acomodar de distintas maneras

para propiciar la interacción.

A modular wall was designed to display the

client's most important projects in a 10-year

span. Each cover can be placed at different

angles in order to promote interaction

with visitors.

www.okurrenzzia.com

jokusono@okurrenzzia.com

Platón Sánchez 613 Sur

Col. Barrio Antiguo

Monterrey, 64000

Circulight

GE Lighting

1998

Diseño de lámpara ahorradora circular

que permite un ahorro del 40% de plástico

de un modelo anterior. Su diseño,

ingeniería y manufactura son mexicanos.

Design of a circular, light-saving lamp,

in which we managed to save 40% of the

plastic used in the previous model.

The lamp was engineered and manufactured

entirely in Mexico.

227
---
OMELETTE BY héCTOR gALvÁn PARQUE COLABORATIvO

www.omelette.com.mx

info@omelette.com.mx

Chihuahua 78 int. 2

Col. Roma Norte

México, D.F., 06700

228

El compadre

2005

El Compadre es una pieza sumamente

ligera que revisa y sintetiza la vieja

silla de playa de las costas del Golfo

de México.

The Compadre is an extremely light

piece that reviews and synthesizes

the traditional chair from the coast

of the Gulf of Mexico.

www.parquecolaborativo.com

carlos@parquecolaborativo.com

Paseo San Jorge 2626

Col. Valle Real

Zapopan

Jalisco, 45019

Petit Comité

2010

Colección de mobiliario inspirado en

las sillas tradicionales de la cultura popular

mexicana. Elementos como la varilla

de acero y el plástico pvc recrean tejidos

tradicionales con un toque moderno

y fresco.

Furniture collection inspired on the

Mexican popular culture of traditional

chairs. Simple elements, such as steel

rods and pvc plastic recreate traditional

weaving designs with a modern,

fresh touch.

229
---
F. I Ph.: Industrias Peñoles

DALIA PASCAL PIRUETA

www.daliapascal.com

ventas@daliapascal.com

@daliapascal

Dalia Pascal Accesorios

Av. de las Fuentes 35

1er piso. A-2

Col. Lomas de Tecamachalco

Naucalpan

Edo. de México, 53950

230

Brazalete Palomas en Papel Picado

Pigeons in Punched Paper Bracelet

Instituto Nacional de Bellas Artes

National Fine Arts Institute

2008

Pieza ganadora del primer lugar en la categoría

profesional del Premio Nacional de Joyería 2008,

Plata del Siglo xxi. Brazalete realizado en Plata

925. Tiene un peso de 98 gramos. Representación

de una pieza de papel picado en plata.

This jewel won the first prize in the professional

category of the 2008 Jewelry National Award,

21st Century Silver Contest. It is a bracelet made

of 925 silver; its weight is 98 grams. This piece

emulates Mexican punched paper in silver.

www.pirueta.net

paulina.gonzalezortega@

gmail.com

Álvaro Obregón 154-C

Col. Roma

México, D.F., 06700

Perchero

Clothes rack

2011

Perchero está inspirado en el movimiento

de un trompo al girar. Está diseñado en madera

y puede ser ajustado en múltiples combinaciones,

permitiendo al usuario acomodarlo de acuerdo

al espacio del muro y al gusto personal.

Perchero is inspired in the motion of a spinning

"trompo" (a popular Mexican toy). It is designed

in wood and can be adjusted in multiple

combinations, allowing the user to accommodate

it according to the wall space and personal taste.

231
---
PIRwI POPALIPAnA

www.pirwi.com

info@pirwi.com

@pirwi

Alejandro Dumas 124

Col. Polanco

México, D.F., 11560

232

Centipede

En colaboración con | In collaboration with: Héctor Esrawe

Colección de bancas Centipede

Centipede benches collection

www.popalipana.com

hello@popalipana.com

Fuente del Deseo 15

Col. Lomas de Tecamachalco

Huixquilucan

Edo. de México, 52780

San Salvador

Libre

2011

La forma define la función. Su silueta

es simple y ligera, se ajusta a la posición

del usuario. Así, San Salvador asegura

el soporte ergonómico dependiendo

la presión aplicada en diferentes puntos.

Form defines function. Its simple and light

silhouette bends in order to adjust to

the user's position, thus ensuring ergonomic

sustain, depending on the pressure applied

at different points.

233
---
QBOX ORFEO QUAgLIATA

www.cubosymas.com.mx

cubosymas@gmail.com

Balcón Español 113

Balcones del Acueducto

Querétaro, 76024

234

Madera Prensada

Pressed wood

LaboratorioK

2011

Mesa de centro, construida con base

en una tarima industrial de madera prensada

que le da cuerpo. Es un objeto dinámico

y multifuncional por su ligereza y por

la incorporación de ruedas a la estructura.

This is a coffee table whose body is built

by a hardboard paneling industrial platform.

It is a dynamic, multifunctional and

lightweight object, as it is set on wheels.

www.phuzedesign.com

orfeo@phuzedesign.com

Ignacio Allende 5

Col. Lázaro Cárdenas

Naucalpan

Edo. de México, 53560

Disco

Disc

Swarovski

2010

En el 2010 Orfeo ganó el primer lugar de joyería

del concurso Hand Made Liquid Inspired

de Swarovski Elements®. Como resultado creó

una línea de joyería con piezas de vidrio huecas,

llenas de Swarovski Elements®.

In 2010 Orfeo won the first price of the

Hand Made Liquid Inspired contest of Swarovski

Elements®. As a result, he created a jewelry

line with pieces of hollow glass filled with

Swarovski Elements®.

235
---
QUInTAESEnCIA-LABORATORIO DE

DISEÑO EXPERIMEnTAL

www.5Q.com.mx

jerry.arzate@gmail.com

Calzada de Tlalpan 2521

Col. Xotepingo

México, D.F., 04610

236

AutoPuma CA-21

Universidad Nacional Autónoma de México

2007

Proyecto de diseño para el futuro que propone

un transporte impulsado por pilas de hidrógeno.

Estudios de movilidad, análisis antropométricos,

diseño conceptual, styling y fabricación

de un prototipo funcional dieron forma al ca-21.

Design project for the future that proposes

a transport fueled by hydrogen cells. Mobility

studies, anthropometric analysis, conceptual

design, styling and production of a functional

prototype shaped ca-21.

www.reginareyes.com

info@reginareyes.com

Calero 1, Casa 2

Col. San Ángel

México, D.F., 01000

REgInA REYES

Lanzamiento de la Colección

Regina Reyes

Launch of Regina Reyes Collection

gmd, Ce de Casa y Galería Orfebre

2009

Generación de una pieza icono (anillo flor de

resina sobre plata) que representa la femineidad

y la modernidad de la mujer de hoy.

Production of an iconic piece (resin flower

ring on silver) that represents femininity and

modernity of today's woman.

237
---
jULIA REYES RETAnA CAMPILLO RITUALES COnTEMPORÁnEOS

www.chocorockandroll.

blogspot.com

julitareyesretana@gmail.com

Rivera 22

Col. Insurgentes Cuicuilco

México, D.F., 04500

238

Los abrigaditos

The snuggies

Autoproducción

Self-production

2011

Son tres muñecos abrazables: Ella, Él y el Ratón

Pérez, están muy abrigados con ropa de colores

porque hace frío. Son ilustraciones originales

estampadas a mano con tintas termocrómicas

en tela de algodón.

Three cuddly toys: She, He and the Tooth Fairy,

are cozy and warm despite cold weather thanks

to their multicolor clothing. Original illustrations

hand-stamped with thermo-chromic inks

on cotton fabric.

www.RitualesCo.com

marianarzate@gmail.com

Dr. Carmona y Valle 126

Col. Doctores

México, D.F., 06720

Rituales Contemporáneos-Networking

Contemporary Rituals-Networking

2011

Nuestro proyecto busca desarrollar a nivel

nacional una red de talleres que promuevan

las capacidades de artesanos y diseñadores

para rescatar la tradición y fomentar

la economía creativa local.

Our project seeks to develop a nationwide

network of workshops to promote the skills

of craftsmen and designers, to rescue

tradition and to promote the economy of

local creativity.

239
---
RML DISEÑO ROCOCO

www.rmldiseno.com

lruiz@rmldiseno.com

rmldiseño

Rosario Castellanos 2315

Country Sol, Guadalupe

Nuevo León, 67174

240

Tree Table

Ceballos Gutiérrez

2011

La mesa "Árbol" está conformada de cinco

piezas desarmables. El concepto resulta

de una abstracción gráfica de un árbol. Pieza

finalista de la Bienal Nacional de Diseño 2011.

The Tree Table is made of 5 disassembling

pieces. The concept is the result of the

graphic abstraction of a tree. The piece was

finalist at the 2011 National Design Biennial.

www.rococo.mx

agustin@rococo.mx

Havre 64

Col. Juárez

México, D.F., 06600

Banca Maximiliano Zapata

2011

Banca inspirada en el settee francés,

tapizada con telas tradicionales mexicanas

hechas a mano.

A bench inspired on a French settee,

using traditional hand-made Mexican

fabrics as upholstery.

241
---
ARIEL ROjO S.A.[AnónIMA] ARQUITECTURA

www.arielrojo.com

ariel@arielrojo.com

Tlaxcala 180, PB

Col. Condesa

México, D.F., 06170

242

Cerdo ahorrador

Saving Pig

Más que una lámpara, es un mensaje

para combatir la crisis energética mundial.

Combinando dos elementos, una alcancía

y una lámpara de bajo consumo

eléctrico, se logra una brillante idea para

hacer conciencia.

More than a lamp, this is a message to fight

the worldwide energy crisis. By combining

two elements, a piggy bank and an

energy-saving lamp, we get lightened

in ecological awareness.

www.anonima.com.mx

sm@anonima.com.mx

ec@anonima.com.mx

@SA_Anonima

Av. Revolución 23 int. 2B

Col. Tacubaya

México, D.F., 11870

Comedor a la batalla naval

Naval Battle Dining Room

Privado

Private

2011

Comedor-área de trabajo formado por una

"mesa a la batalla naval" y un par de sillas.

El mueble se entiende no sólo por su

función implícita: sus partes tienen doble

uso (brazos-perchero) e integran áreas

de guardado.

Dining-work table consisting of a "naval

battle table" and 2 walk in chairs. The parts

of the furniture serve 2 purposes (the arms

are clothes racks ) and below the surfaces

there are storing cabinets.

243
---
ADRIÁn jAn

SChLAkwIjk LInCOLn

aschalkwijk@gmail.com Librero cce

www.vikservin.com

Bookcase cce

Centro Cultural de España en México

Cultural Center of Spain in Mexico

2003

vikservin@gmail.com

Escondida 24

Col. Santa Catarina

México, D.F., 04010

244

Este librero es el resultado de una propuesta

donde el material (una lámina de acero)

y los procesos de transformación logran una

función estructural y útil al mismo tiempo.

This bookcase is the result of a proposal

where the material (a sheet of steel) and the

transformation processes achieve their

structural requirements while being useful

at the same time.

Dr. García Diego 157 A

Col. Doctores

México, D.F., 06720

Banco No. 1

No. 1 Stool

2010

vIk SERvín

Banco hecho en madera y pintura acrílica

de tres patas en homenaje a los bancos

tradicionales daneses.

Three-legged stool made of wood and acrylic

paint as a tribute to Danish traditional stools.

245
---
ROBERT SMITh SnUvYkO

www.roberttsmith.yolasite.com

rtsmithcarter@yahoo.com

Robert Timothy Smith

Retorno de la 7 Sur 5322-A

Col. Prados Agua Azul

Puebla, 72430

246

Stole Collar

Stole Necklace

Galería Blanca

Blanca Gallery

2011

Hecho de listón tipo popotillo y organza

texturizada a mano con una técnica

artesanal. El Stole Collar puede ser utilizado

en diferentes posiciones al colocarlo

alrededor del cuello. Piezas únicas.

Made of organza ribbon and textured

by hand with a craft technique, the Stole

Collar can be used in different positions

to fit it around the neck. Unique pieces.

www.snuvyko.com

snuvyko@hotmail.com

Calle oriente 31

Mz. 24, Local 6

Col. Unión de Guadalupe

Edo. de México, 56606

Hairy Threads

Aventura Mundo

World Adventure

2009

El trabajo está inspirado en la naturaleza.

Utilizando materiales como la plata,

piel, hilos, estambre y rondanas, se diseñaron

artículos como anillos, collares, bolsas

y sandalias.

It is inspired in nature. Using materials

such as silver, leather, thread, yarn

and washers, items such as rings, necklaces,

bags and sandals were designed.

247
---
MARTA CARMELA SOTELO TALAvERA SAnTA CATARInA

www.martacarmela.com

maca@martacarmela.com

@martacarmelasotelo

martacarmelasotelo

Centro Comercial Santa Teresa

Blvd. Adolfo López

Mateos 4020, Local 24-A

Col. Jardines del Pedregal

México, D.F., 01900

248

Gemas Tejidas

Weaved Gems

Marta Carmela Sotelo

2009

Colección tejida en crochet con alambre

de acero inoxidable y nylon en diferentes colores.

Estas piezas orgánicas son montadas en

plata, plata pavonada y rex con baño de oro.

A collection weaved in crochet with stainless

steel wire and nylon in different colors.

These organic pieces are mounted on silver,

oxidized silver, and gold plated rex silver.

www.talaverastacatarina.com

capasso@prodigy.net.mx

Prolongación 14

Oriente, 1402

San Andrés Cholula

Puebla, 72810

Series Flores | Arte Popular Poblano

Flowers Series | Popular Art from Puebla

Instituto de Artesanias del Estado de Puebla

Handicrafts Institute from the State of Puebla

2010 | 2011

En colaboración con | In collaboration with: Fernanda Gamboa

y Simona Capasso

Para la Exposición de Arte Popular de Puebla

en Berlín fueron seleccionadas 2 piezas. Estas

piezas son una mezcla entre la tradición de la

Talavera y lo contemporáneo del diseño gráfico.

Two exclusive pieces were selected for the Popular

Art from Puebla Exhibition in Berlin. These pieces

are a combination of the Mexican talavera

tiles tradition and contemporary graphic design.

249
---
TALLER EXPERIMEnTAL

DE CERÁMICA

www.ceramicadiazdecossio.

com.mx

adcossio@yahoo.com.mx

Centenario 63

Col. Del Carmen Coyoacán

México, D.F., 04100

250

Jarras pulqueras

Jars for pulque

Piezas de cerámica de autor.

Designer ceramic pieces.

www.tallerserra.com

tallerserra@yahoo.com

Vicente Suárez 38-4

Col. Condesa

México, D.F., 06170

Collar Upsala

Upsala necklace

Framenti

2011

TALLER SERRA

Collar tejido a mano sobre estructura de plata

con cuentas de plata y cristal checo.

Handwoven necklace on silver structure, with

silver beads and Czech glass.

251
---
TALLER TIERRA Y PLATA TOLOAChE

www.cristinacelis.com

celismas@hotmail.com

San Marcos 134

Tlalpan

México, D.F., 14000

252

Cotidiano

Quotidian

2010

Vasijas de cerámica en alta temperatura

inspiradas en lo cotidiano: cubetas

y cartón corrugado. Producción en serie por

medio de moldes de yeso para vaciado de

pasta cerámica. Horneado final y esmaltado

a temperatura de 1300ºC.

High temperature clay pots, inspired

on everyday life: buckets and corrugated

cardboard. Serial production using

plaster casts. Final baking and glaze at

2372ºF.

www.toloache.mx

bern@toloache.mx

@toloachetoys

toloachetoys

Tabachines 69

Col. Jardines de Atizapán

Edo. de México, 52978

Hikuri

Toloache

2009

La palabra Hikuri significa peyote, venado

y libertad. Este es un juguete de tela

con cara de fotovinil; se creó un software

para cambiar el tono y color en cada

cara, así que cada uno es único y la edición

tiene 500 piezas.

Hikuri means peyote, deer, and freedom.

Hikuri is a fabric toy with a Photo vinyl face;

the colors and hues can be changed

by means of a software designed for this

purpose, so that each toy of this edition

of 500 is unique.

253
---
F. I Ph.: Fernando Etulain

FRAnCISCO TORRES jESSICA TORRES

www.edicionesjalapa.com

franc_torres@yahoo.com

Huichapan 1, int. 4

Col. Condesa

México, D.F., 06100

254

Mesa jaula

Cage table

Ediciones Jalapa

Jalapa Editions

2012

Colección de tres mesas bajas de mármol con

estructura de metal.

Collection of three marble side-tables with

metal frames.

www.jessicatorres.mx

bag@jessicatorres.mx

Av. Las Fuentes 147-A

Col. Las Fuentes

Zapopan

Jalisco, 45070

Kunaatxi

Autoproducción

2012

Esta colección nace del compromiso de

la marca con mostrar la diversidad cultural

de México; en este caso inspirado en

los zapotecas, para lo cual incorpora bordados

tradicionales propios de los huipiles.

This collection arises from the brand's

commitment to show the cultural diversity

of Mexico, in this case inspired by the

Zapotecs, incorporating the traditional

embroidering found in "huipiles".

255
---
TSIMAnI STUDIO PERLA vALTIERRA

www.tsimanistudio.com

info@tsimani.com

Ocotlán 13

Col. Barros Sierra

México, D.F., 10380

256

Colección Serpentina

Streamer Collection

2006

Elaborada con papel enrollado de colores;

técnica propuesta para realizar recipientes,

objetos decorativos y piezas artísticas.

Parte de la colección está de venta en tiendas

especializadas de diseño.

This collection uses rolled up paper in

different colors; this technique is aimed

for containers, decorative pieces, and

art pieces production. Part of this collection

is for sale in specialized design stores.

www.perlavaltierra.tumblr.com

perlitadf@gmail.com

Vito Alessio Robles 76-3

Col. Florida

México, D.F., 01030

Molcajetes

Personal

2008

Inspirado en el tradicional molcajete

mesoamericano, este producto

es un botanero producido en cerámica.

Primer lugar en la 4ta Bienal de Cerámica

Utilitaria del Museo Franz Mayer

y el primer lugar en el premio de diseño

Clara Porset 2008.

Inspired in the traditional Mesoamerican

mortar, this is a ceramic piece for

hors-d'oeuvres. First prize at the 4th Utilitarian Biennial of the Franz Mayer

Museum, and Clara Porset Design

Award 2008.

257
---
MARThA vARgAS LUIS vEgA

www.marthavargas.com

info@marthavargas.com

Porfirio Díaz 138-301

Col. Extremadura

Insurgentes

México, D.F., 03740

258

Colección Corsage

Corsage Collection

2011

Se explora un jardín en el que florecen

prendedores, gargantillas, aretes y anillos

esculpidos en plata, madera y plata

bañada en oro amarillo.

This is the exploration of a garden

in which brooches, necklaces, earrings,

and rings flower. They are carved in

silver, wood, and gold-enameled silver.

www.inanimal.com

luisvegamx@gmail.com

@inanimal

inanimal

Calle 27, 55-int. 2

Col. San Pedro de los Pinos

México, D.F., 03800

Muerto Alcancía

Dead Coin Bank

2011

Inanimal es una analogía de "inhumano", como

una referencia a la falta de empatía entre

personas y objetos, derivada de la producción

masiva. La negación de ser animal describe

al objeto en forma y función.

Inanimal is an analogy of the word "inhuman",

and it refers to the lack of empathy

between people and objects derived from

mass production. The negation of being animal

defines the object, both in form and function.

259
---
vF vIRgInIA FUERTES ChRISTIAn vIvAnCO

www.virginiafuertes.

blogspot.com

magufu@gmail.com

@FuertesVF

Playa Hornos 356

Col. Reforma Iztaccíhuatl

México, D.F., 08810

260

Amazonas

Hotel Condesa DF & Hotel W Ciudad de México

2011

Amazonas es una colección que utiliza piel

natural de bajo impacto ecológico, por

no utilizar químicos en los procesos de teñido

de la piel. Se evita así la liberación de tóxicos

al medio ambiente.

Amazonas is a collection that uses eco-friendly

natural leather; no chemicals are used in

the dyeing process, in order to reduce ecological

impact. No toxic waste is produced in

their manufacture.

www.christianvivanco.com

christian@christianvivanco.com

@chris_vivanco

León Guzman 344

Col. Alamitos

San Luis Potosí, 78280

De una ciudad perdida

From a Lost City

2011

Cajoneras inspiradas en la arquitectura

improvisada y fuera de control existente

en las ciudades perdidas de los países en

desarrollo, ya sea Latinoamérica, África

o Asia.

Drawers architecturally inspired from

improvised and out of control cities

of developing countries, whether in Latin

America, Africa or Asia.

261
---
MIChELLE wESThOLM | vIk

SERvín

www.vikservin.com

vikservin@gmail.com

Dr. García Diego 157 A

Col. Doctores

México, D.F., 06720

262

Pulque Lamp

Lámpara hecha con una botella de cristal

antigua, con un switch diseñado en aluminio

para encenderla. El cable está tejido

en diferentes colores y el socket es de madera

hecha a la medida.

A lamp made with an old glass bottle. It has

an on/off switch designed in aluminum.

The cable is woven in different colors and the

socket is from custom-made wood.

www.ydeaz.com

edgar@ydeaz.com

@ydeaz

Av. Hidalgo 16, int. 2

Col. San Francisco

Culhuacán

México, D.F., 04430

Punky

Pawlin | Rusia

2012

Robot-toy: es interactivo y tiene un

comportamiento independiente debido

al trabajo con "redes neurales".

Su esencia intelectual consiste en mostrar

signos de un ser vivo y adaptarse

al entorno del usuario.

An interactive robot-toy that shows

independent behavior, given

that it works using "neural networks".

Its intellectual essence consists

on showing life signs and adapting

itself to the user's environment.

YDEAz

263
---
SEAn YOO zOnA MAgEnTA

www.seanyoo.com

sean@seanyoo.com

Ámsterdam 218, int. 401

Col. Condesa

México, D.F., 06100

264

Willow

Sean Yoo

2009

Willow es la interpretación contemporánea

de Sean Yoo de una silla Hans Wegner,

el seminal diseñador danés, quien contribuyó

a la popularidad internacional del diseño danés

moderno. Madera de cerezo y asiento de piel.

Willow is Sean Yoo's contemporary interpretation

of a Hans Wegner's chair, the seminal

Danish furniture designer who contributed to

the international popularity of modern Danish

design. Cherry wood and leather seat.

www.zonamagenta.com

zonamagenta@gmail.com

Islas Jónicas 117

Col. Loma Linda

Querétaro, 76090

My Chair

Salone Internazionale del Mobile

2011

Silla desarmable sin uso de herramientas.

Finalista en concurso dimueble 2011.

Se expuso en el Salone Internazionale del Mobile

2011 y en el design fest, Guadalajara 2011.

Collapsible chair without tools. Finalist

in dimueble Contest 2011. Exhibited at the

Salone Internazionale del Mobile 2011

and the design fest, Guadalajara 2011.

265
---
DISEÑO TEXTIL Y MODa

FaShIOn anD TEXTILE DESIgn

JAZMÍN ALDAZ CERVANTES

AMOATO STUDIO

ANACANI | VERDE LIMÓN

BAÖB MÉXICO

CAMOMILLA

CÉSAR ALCOCER | AULIO

CHULA

CIHUAH (VANESSA GUCKEL)

CÍTRICO

CLAUDIA CORNEW

ALEJANDRA DE COSS

DISEÑOS MAYRO

CHRISTIANE ENGELL

ETHNOLOGY

FÁBRICA SOCIAL

FEMININE AND MASCULINE |

FRANCISCO RODRÍGUEZ

CARLA FERNÁNDEZ

FLORES PARA FRIDA

GOODBYE FOLK

SANDRA GUTIÉRREZ

ROBERTO HALLER

PAOLA HERNÁNDEZ

CRISTIAN JASSO

LYDIA LAVÍN

DANIEL LEGORRETA

PAULINA LÓPEZ

LOS VLADIMIROVICH | MARATH &

YURIK MENSWEAR COLLECTIVE

ISABELLE MANHES

MANOV

MARIKA VERA

SOPHIA MASSUN

ELRICH MENDOZA

MI-TU CALZADO

MINOLA BY ADRIANA SOTO

OLGA OLIVARES

CARLOS ORTEGA

OZUNA

JAVIER EDUARDO PIÑA NEGRETE

PINEDA COVALÍN

PINK MAGNOLIA

MARIANA SÁNCHEZ NAVARRO

SANDRA WEIL COUTURE

SENSACIONAL DE DISEÑO

SILVIA SUÁREZ - TEXTILES

TRADICIONALES EN INDUMENTARIA

SUYAY CANAH

TIENDITA FIU FIU

TRISTA

U+U

UNMARKED

YEMA TEXTILES
---
JazMín aLDaz CErvanTES aMOaTO STuDIO

www.jazminaldaz.com

aldaz.jazmin@gmail.com

Av. Libertad 210

Fracc. Río Bravo

Tamaulipas, 88900

268

Silencio

Silence

Ismael Nava Alejos

2009

El cortometraje está situado en un circo

a principios del siglo xx. Aldaz diseñó

todo el vestuario y maquilló las prendas

de acuerdo a las situaciones.

This short movie is set in a circus in the

early 20th century. Aldaz was in charge

of the costume design and preparations.

www.amoatostudio.com

falconmelissa@hotmail.com

Coahuila 46, int. 101 A

Col. Cuajimalpa

México, D.F., 05000

Bijoux, Fantasías en moda joyería

Bijoux, Fantasy in fashion and jewelry

Barbara Berger

2011

La coleccionista Barbara Berger presentó

una exhibición de moda y joyería en el Museo

Franz Mayer en 2011 para la que realizamos

una intervención con 25 cabezas de animales

en papel.

The collector Barbara Berger presented

a fashion and jewelry show in the Franz Mayer

Museum on March 2011 for which we created

25 animal heads on paper.

269
---
F. | Ph.: Rodrigo Valero

anaCanI | vErDE LIMón BaöB MéXICO

www.anacani.blogspot.com

anacani@gmail.com

verdelimon

Montes de Oca 19

Col. Condesa

México, D.F., 03340

270

Diseño textil

Textile design

2011-2012

Diseño de estampados para aplicaciones

textiles, pintura en seda, telas estampadas

para ropa, bolsas, mascadas, etc.

Design patterns for textile, silk painting,

printed fabrics for clothing, bags,

scarves, etc.

www.baob.com.mx

baobmexico@gmail.com

@baobmexico

f.baobmexico

Parque Molino de Flores 4

Col. El Parque

Naucalpan

Edo. de México, 53398

Baöb México

2009-2011

Las piezas son creadas con telas ecológicas

y materiales reciclados, cómodos funcionales,

pensados para la vida diaria.

The pieces are created using organic fabrics

and recycled materials, comfortable and

functional, designed for everyday life.

271
---
CaMOMILLa CéSar aLCOCEr | auLIO

www.camomilla.com.mx

info@camomilla.com.mx

Cerrada de Cortés 75

Col. Tlacopac San Ángel

México, D.F., 01040

272

Colección Otoño | Invierno 2011

Fall | Winter 2011 Collection

2011

Camomilla busca convertirse en un referente

de moda y calidad en la ropa de tejido de punto

por su nivel de diseño, variedad de colores y

excelencia de materiales a un precio accesible.

Camomilla seeks to become a benchmark

for knitted fashion and quality clothing relying

on its great design, variety of colors and

great materials, as well as its affordable prices.

www.auliosport.mx

aulio@mail.com

Francisco Sosa 44

Col. Del Carmen Coyoacán

México, D.F., 04100

Ropa intima deportiva puma

Sports underwear puma

Puma usa

2001

Diseño de un concepto original de ropa íntima

deportiva unisex.

Original concept for puma Sports underwear.

273
---
ChuLa CIhuah (vanESSa guCkEL)

www.chula.com.mx

carla@la-chula.com

Guerrero 300

Col. Unidad Nacional

Tamaulipas, 89410

274

Chula Primavera

Chula Spring

Chula

2012

Elaboración de piezas en colores inspirados

en el folclore mexicano. Combinaciones

contrastadas llamativas en materiales como

hilo de algodón y piedras como la turquesa.

Development of pieces in colors inspired

by Mexican folklore. Contrasting and striking

combinations in materials like cotton yarn

and gems such as turquoise.

www.cihuah.com

vanessa@cihuah.com

@cihuah

Cihuah

Zacatecas 55-203

Col. Roma

México, D.F., 06700

Federal, 06700

2V

2011

Una línea de ropa inspirada en arquitectura.

A clothing line inspired by architecture.

275
---
CíTrICO CLauDIa COrnEw

www.citrico-moda.blogspot.com

citricomoda@yahoo.com.mx

citrico/moda

Las Cruces 24, int. 7

Col. Centro

México, D.F., 06019

276

Cotton Forum

Cotton Inc.

2007

Colección de diseño verano 2008 utilizando

telas en blanco con contrastes en colores vivos

de Cotton Inc.

2008 summer collection using Cotton

Inc. fabrics in white with contrasting bright

colors.

www.claudiacornew.com

claudia@cornew.com

Tennyson 240

Col. Polanco

México, D.F., 11560

Destination: Mexico

MoMA Design Store

2011

Colección de diseños exclusivamente

hechos para la tienda MoMA en Nueva York.

Designs exclusively made for MoMA

New York.

277
---
aLEJanDra DE COSS DISEÑOS MaYrO

www.alejandradecoss.com

alejandradecoss@hotmail.com

Cerrada de Cipreses 1408-4

Col. El Barreal

San Andrés Cholula

Puebla, 72814

278

Colección Otoño 2011

Winter 2011 collection

2011

En la búsqueda de una nueva definición

del lujo, Alejandra de Coss incluye técnicas

de confección artesanales con gran

conocimiento del cuerpo femenino, a través

de una estética reconocible y una minuciosa

selección de materiales.

In search of a new definition of luxury,

Alejandra de Coss includes artisanal

dressmaking techniques that show a great

knowledge of the feminine body, through

a recognizable aesthetic and a meticulous

material selection.

www.mayro.com.mx

may_laparte@hotmail.com

Bayoneta 30

Col. San Pedro de los Pinos

México, D.F., 03100

Mint

Liverpool, S.A. de C.V.

2012

Ropa de cama disponible en tamaños individual,

matrimonial, queen y king.

Bedding available in single, double, queen and

king sizes.

279
---
ChrISTIanE EngELL EThnOLOgY

engell.chris@gmail.com

MemoriesOfDrella

Bernardo Quintana 590 -27E

Col. Lomas de Santa Fe

México, D.F., 01210

280

Colección Hypnagogia I 2011 Memories

of Drella

Hypnagogia Colection | 2011 Memories of Drella

2010-2011

Colección de 8 looks creada como tesis basada

en el tema de Hypnagogia como marco

teórico y la interpretación de un mundo onírico

como proceso de diseño.

Collection of 8 looks created as a thesis

based on Hypnagogia theoretical framework

and the interpretation of a dream world as

the design process.

www.ethnology.com.mx

contacto@ethnology.com.mx

@ethnology_mx

Ethnology

Av. Río Tecolutla 48

Col. Paseos de Churubusco

México, D.F., 09030

Collar Ohsobirdy!

Necklace Ohsobirdy!

2011

Collar para la segunda colección de Ethnology,

Ethereal Woodland, cuya inspiración fueron

la flora y fauna de los bosques, el estilo de vida

hippie y los festivales de música estivales.

Necklace for Ethnology's second collection,

Ethereal Woodland, inspired in the

flora and fauna of the forests, the hippie

lifestyle and summer music festivals.

281
---
FáBrICa SOCIaL FEMInInE anD MaSCuLInE |

FranCISCO rODríguEz

www.fabricasocial.org

info@fabricasocial.org

@fabricasocial

@paola_delarosa

fabricasocialorg

Boutique

Isabel La Católica 30, Local 14

Col. Centro

México, D.F., 06000

Showroom

Córdoba 67, int. 7

Col. Roma

México, D.F., 06700

282

Bufandas Julia

Julia Scarves

2011

En colaboración con | In collaboration with:

Daniela Gremion, Dulce Martínez y el Grupo de Mujeres

Tejedoras de Zinacantán, Chiapas

Bufandas y chalinas 100% de algodón

elaboradas en telar de cintura por mujeres

Tzotsiles del Estado de Chiapas.

Scarves and shawls 100%-cotton made,

knitted with a back loom by Tzotzil

indigenous women from Chiapas, Mexico.

www.feminineandmasculine.com

info@feminineandmasculine.com

@f_and_m

Lic. Jose Hdz. Delgado 312

Col. Las Trojes

León

Guanajuato, 37227

The Stardusters

2012

Colección para el verano del 2012, cuenta con

sandalias, plataformas y zapatillas oxfords.

Summer collection 2012. Sandals, platforms

and oxfords.

283
---
CarLa FErnánDEz FLOrES Para FrIDa

www.carlafernandez.com

carlaflora2@gmail.com

Chihuahua 78-5

Col. Roma

México, D.F., 06700

284

Taller Flora, A.C.

Flora Workshop

Asociación civil que se dedica a trabajar

con comunidades indígenas para

promover el trabajo artesanal y seguir

desarrollando las técnicas que

han utilizado desde hace mucho tiempo.

Civil association that works with indigenous

people to promote craftsmanship and

to keep on developing the techniques that

they have been using for long.

www.floresparafrida.com

floresparafridamx@gmail.com

@floresparafrida

flores para frida

Aldama 1005

Col. Centro

Chihuahua, 31000

Otoño | Invierno 2009

Fall | Winter 2009

Colección de sombreros y tocados basada

en diferentes épocas y culturas.

A collection of hats and headgear based

on different times and cultures.

285
---
gOODBYE FOLk SanDra guTIérrEz

www.goodbyefolk.com

graficogoodbyefolk@gmail.com

@goodbyefolk

goodbyefolk

Colima 198

Col. Roma

México, D.F., 06700

286

Dylan Boots Dots

2011

Zapatos de piel hechos a mano

con materiales de primera calidad,

con un diseño retro inspirado en

el movimiento musical de los años

sesenta y un toque contemporáneo.

Leather shoes crafted with quality

materials, with a retro design inspired

by the musical movement of the 60s

and a contemporary twist.

www.collection-milagro.com

milagromex@hotmail.com

Colección Milagro by

Sandra Gutiérrez

Show Room: Galería Colectivo 4

Hidalgo 4, Centro, San Miguel

de Allende, 06140

Hotel Boutique Hacienda

de Guadalupe

Cuernavaca 35, Col. Condesa

México D. F., 06140

Broche flor en "charomesa"

Flower brooch in "charomesa"

MoMA Design Store

2004

Broche realizado a mano en plástico tradicional.

Handmade brooch in traditional plastic.

287
---
OBErTO haLLEr PaOLa hErnánDEz

www.robertohaller.com

robertohaller@hotmail.com

@haller_mexico

Haller

Álvaro Obregón 130, L-9

Col. Roma

México, D.F., 06700

288

Futurismo Pop

Pop Futurism

L'Oreal París México

2009

Esta colección está inspirada en

un estilo artístico figurativo de gran

desarrollo en los años cincuenta

y sesenta.

This collection is inspired by a

figurative art style developed in the

fifties and sixties.

www.paolahernandez.com

paola@paolahernandez.com

@PHernandezNY

PaolaHernandezNY

195 Chrystie Street, 701B

New York, 10002

Paola Hernández. Fall 2012 "Untitled",

Men's trench | Showroom Seven

2012

Paola Hernández lanza la marca en Nueva York

con prendas disponibles en Showroom Seven.

Paola Hernández launches her brand in New

York with items available at Showroom Seven.

289
---
CrISTIan JaSSO LYDIa Lavín

rasbilldi@hotmail.com

Prisma footwear

Av. Guanajuato 117-2

Col. Jardines del Moral

León, 37160

290

Colección atemporal Prisma Footwear

Prisma Footwear Collection

Varios

Diseño y desarrollo de colección

atemporal de calzado urbano casual.

La colección consta de dos modelos

pertenecientes a la línea Prisma

Footwear, proyecto independiente.

Design and development of a timeless

line of urban, casual footwear.

The collection comprises two models

that belong to Prisma Footwear line;

it is an independent project.

www.lydialavin.com

rp@lydialavin.com

@lydialavin

lydialavin

Guanajuato 5

Col. Roma

México, D.F., 06700

Texturas de una hacienda mexicana

Textures of a Mexican hacienda

Mercedes Benz

2011

Las haciendas mexicanas son fascinantes,

encierran miles de historias objetos

igual de maravillosos. El colorido es cálido

de tonos ligeramente apastelados

y se inspira en el amanecer.

Mexican haciendas are fascinating;

within their walls, they keep remarkable

stories and objects. The warm hues

that predominate in them evoke dawn.

This collection is inspired on dawn.

291
---
DanIEL LEgOrrETa PauLIna LóPEz

www.clashdamage.com

daniel.legorreta@hotmail.com

clashdamagedenim

Calculistas 59

Col. Sifón

México, D.F., 09400

292

Insane at mortem

Boutiques

2008

Cuestiona la sanidad mental de un mundo

sumido en la amnesia colectiva.

It questions the sanity of a world plunged

into collective amnesia.

www.paulinalopez.com.mx

moda@paulinalopez.com.mx

@PLFASHION

2do. Retorno de Agua 65

Col. Jardines del Pedregal

México, D.F., 01900

Blue Moon Otoño | Invierno 2011

Blue Moon Fall | Winter 2011

2011

En colaboración con | In collaboration with:

Blanca Santa María, Irene Ponce Bruna da Silva

Presentado en la Mercedes Benz Fashion

Week dfashion México, este es un vestido

inspirado en Your Song de Elton John,

firmado por él en noviembre de 2010.

Patrocinio de Berger Joyeros y Brantano.

Presented at the Mercedes Benz Fashion

Week dfashion Mexico, this dress is

inspired in Your Song, by Elton John, and

was signed by him on November 2010.

Sponsored by Berger Jewelers

and Brantano.

293
---
LOS vLaDIMIrOvICh | MaraTh

& YurIk MEnSwEar COLLECTIvE

www.losvladimirovich.com

thor@losvladimirovich.com

Antigua Taxqueña 93

Col. Parque San Andrés

México, D.F., 04040

294

The Good Son SS12

lvm&.mc

2011

Cualquier individuo violando las ideas

y valores de su familia nuclear demuestra

que es digno de pertenecer.

Any individual who goes against the

ideas and values of his/her nuclear family

shows that he/she is worthy of it.

www.manhesmassun.com

isabellemanhes@gmail.com

Nazas 65

Col. Cuauhtémoc

México, D.F., 06500

Manhes

2011

ISaBELLE ManhES

Camisas de hombre con detalles en puño,

cuello, hechas de algodón, confeccionadas

en Veracruz.

Men's shirts with collar and cuff details

made of cotton in Veracruz.

295
---
ManOv MarIka vEra

www.manovmanov.com

soypavel@hotmail.com

República de Paraguay 15-8

Col. Centro

México, D.F., 06020

296

1.1 Vest

Amauri Miranda

2012

Chaleco realizado a partir de

la deconstrucción de un saco.

Vest tailored from a coat's

deconstruction.

www.marikavera.com

info@marikavera.com

@MarikaVera

Marika Vera

Praga 44, 4to. piso

Col. Juárez

México, D.F., 06600

Venus in Furs

2012

En esta nueva colección el diseño

combina sensualidad con libidinosidad.

Las prendas tienen accesos discretos

creados por la superposición de telas.

This new collection combines design

sensuality and lust. The garments

have discrete access created

by the superposition of fabrics.

297
---
SOPhIE MaSSun ELrICh MEnDOza

www.sophiemassun.com

smassun@yahoo.com

Benjamin Hill 218

Col. Condesa

México, D.F., 06100

298

Colección Africana

African Collection

Mercedes Benz DFashion P | V 2012

2011

Vestido con inspiración africana

African inspired dress

www.hellrich.com

elrich@gmail.com

Tamaulipas 190

Col. Condesa

México, D.F., 06100

Tshirts HellricH O | I 2012

HellricH®

2011

Colección de playeras para la marca HellricH®

Otoño | Invierno 2011.

Shirt Collection for the Fall | Winter season

2011 for HellricH®.

299
---
MI-Tu CaLzaDO MInOLa BY aDrIana SOTO

calzadomitu@gmail.com

mitucalzado

Jardín Checo 107

Col. Gran Jardín

León

Guanajuato, 37138

300

Blind Love

Laura Carrillo, patrocinado por Comex

Laura Carrillo, sponsored by Comex

2011

Calzado para la pasarela Blind Love

de la diseñadora Laura Carrillo (Chabe),

participante del reality show

Project Runway.

Shoes for catwalk Blind Love created

by designer Laura Carrillo (Chabe),

former participant of the reality show

Project Runway.

www.minola.com.mx

contacto@minola.com.mx

Antonia 158

Col. San Jerónimo

México, D.F., 10200

Minola by Adriana Soto

Mujeres

Women

2011

Su estilo es muy femenino, con un toque

arriesgado, para lograr un equilibrio entre

la ternura y la fuerza interior. Utiliza materiales

como piel con acabados en gamuza,

acharolados con estampados románticos.

Feminine style with a risky touch, striking

a balance between tenderness and

inner strength. Materials like leather finished

in suede and patent leather with romantic

prints were used.

301
---
OLga OLIvarES CarLOS OrTEga

www.olgaolivares.com.mx

lailarai@yahoo.com.mx

Desierto de los Leones 6559

Col. San Bartolo Ameyalco

México, D.F., 01800

302

Filia | Memories from Earth

Proyecto Terminal, Centro de diseño,

cine y televisión.

Final Project, Centro, University

for design, film and media.

2009

Memories From Earth es una colección

que reflexiona acerca de la relación hombre

–animal a través de la historia.

Memories From Earth is a collection

that reflects on the relationship man

–animal throughout history.

www.carlosortega.mx

carlos@carlosortega.mx

Lamartine 328-901

Col. Polanco

México, D.F., 11570

ifm Post-Grad Program ifm

2006

Varios proyectos realizados durante

el Fashion Design Post-Graduate Program

del Institut Français de la Mode.

Several projects made for the Fashion

Design Post-Graduate Program

at the Institut Français de la Mode.

303
---
Ozuna JavIEr EDuarDO PIÑa nEgrETE

welcome2mybox.tumblr.com

osuraul@gmail.com

@raulozuna

ozuna showroom

Tulancingo 1110

Col. Mitras Centro

Monterrey, 64460

304

fractal ss | 2012

idm

2012

Colección presentada en International

Designers México.

Collection presented at International

Designers Mexico.

javo_1905@hotmail.com

Molino de las Flores 206

Fracc. Bosques del Refugio

León

Guanajuato, 37123

Calzado

Footwear

2011

En colaboración con | In collaboration with:

Centro de diseño, cine y televisión

El calzado se realizó mediante un proceso

conceptual, un desarrollo completamente

artesanal. Cada cuna fue tallada a mano.

The footwear was made using a conceptual

process, and developed with artisan

craftsmanship. Each cradle was carved

by hand.

305
---
PInEDa COvaLín PInk MagnOLIa

www.cristinapineda.com

eva@pinedacovalin.com

Sinaloa 237

Col. Roma

México, D.F., 06700

306

Pavo Real

Peacock

Diseño inspirado en el pavorreal. Su bello

plumaje subsiste en el arte de los penachos

utilizados en las danzas prehispánicas

de hoy día y que forman parte de la tradición

mexicana.

The peacock inspires this design. Its magnificent

feathers have been incorporated into art for

centuries. They are still used in the headdresses

worn by those who practice derivations

of Pre-hispanic dances.

www.pinkmagnolia.com.mx

pavowong@pinkmagnolia.

com.mx

Río Tíber 91-302

Col. Cuauhtémoc

México, D.F., 06500

Chic Dolores

Plataforma Mercedes Benz DF Fashion México

Mercedes Benz D.F. Fashion Mexico

2011-2012

Colección Chic Dolores, 20 salidas

para otoño e invierno.

Chic Collection Dolores, 20 outfits

for fall and winter.

307
---
MarIana SánChEz navarrO SanDra wEIL COuTurE

www.msancheznavarro.com

mariana.sancheznavarro@

gmail.com

Montaña de Omoa 12

Col. Jardines de la Montaña

México, D.F., 14210

308

Colección Primavera | Verano 2012

Spring | Summer Collection 2012

Boutiques

2012

Colección con inspiración en Marruecos,

piezas caladas en liga de oro.

Moroccan-inspired collection, fretwork

in gold.

www.sandraweil.com

sandra@sandraweil.com

Seneca 429-3

Col. Polanco

México, D.F., 11560

sima

Melt Management

2011-2012

Ready-to-wear, Otoño | Invierno 2012-2013

Ready to wear, Fall | Winter 2012-2013

309
---
SEnSaCIOnaL DE DISEÑO SILvIa SuárEz-TEXTILES

TraDICIOnaLES En InDuMEnTarIa

www.sensacional.mx

anaelisa@sensacional.com

Euler 152-403

Col. Polanco

México, D.F., 11560

310

Moda sensacional playera

Sensacional Beach fashion

Sensacional de diseño

2012

Playera de algodón para dama & caballero,

estampado de carteles de lucha libre

en serigrafía.

Woman & man T-shirt, cotton, with

wrestling posters, printed in serigraphy

www.silviasuarez.com

contacto@silviasuarez.com

Calle Gurrión 110-1

Col. Centro

Oaxaca, 68000

Fashion Experience Tour Oaxaca

- Noviembre 2011

Silvia Suárez

2011

Indumentaria con inspiración en los colores

originales de las fachadas de antiguas casas

de la ciudad de Oaxaca.

Clothing inspired in the original colors of the

facades of old houses in the city of Oaxaca.

311
---
SuYaY Canah

www.suyaycanah.com

piero.b@suyaycanah.com

suyaycanah@gmail.com

@suyaycanah

suyaycanah

Municipio Libre 141-11

Col. Portales

México, D.F., 03300

312

Textiles con sello artesanal

Textiles with an Artisan Twist

Boutiques de Morelos

Boutiques in Morelos

2011

Textiles con sellos únicos como los bordados

artesanales de diferentes comunidades

mexicanas. Se emplean procesos industriales

y artesanales para optimizar la producción y

mejorar la calidad y diseño en las piezas.

Unique textiles such as embroidery of different

Mexican communities. Industrial and artisan

processes are used to optimize production and

improve quality and design.

www.tiendita-fiufiu.com

thebuenavista@hotmail.com

Instituto Literario 401-A

Col. Cinco de Mayo

Toluca

Edo. de México, 50150

TIEnDITa FIu FIu

Mucha muchacha

2011

Promoción de marca y producto a nivel

nacional, con manufactura de piezas únicas

en calzado de piel diseños exclusivos.

Intervención de imagen fotografía

de producto.

Brand merchandising and manufacture

of unique leather footwear pieces with

exclusive designs. Intervention of product's

image and photography.

313
---
F. I Ph.: Jesús Martínez

TrISTa u+u

www.trista.com.mx

prtrista@trista.com.mx

@brandtrista

brandtrista

2a. Cerrada Lago Silverio 36

Col. Anáhuac

México, D.F., 11320

314

Las Primeras Voces

The First Voices

2011

En colaboración con I In collaboration with:

Nora@contempomodels, Loli@contempomodels,

Manuel Horta, Mauricio Salazar

Esta colección surge de la búsqueda

por generar un cambio en el entorno y desafiar

los límites, hallando maneras de reflejar

a los pueblos indígenas y la botánica Mexicana.

This collection comes from wanting to change

our environment and oppose its limits,

finding ways to reflect indigenous peoples and

the Mexican botany.

www.urielurban.com

info@urielurban.com

@UrielUrban

U+U

Mario Rojas Avendaño 177

Col. San Simón Ticumac

México, D.F., 03660

FW11

U+U

2010-2011

El concepto recrea el uso de la piel como

más que una superficie viva del organismo

toma la influencia social de la vestimenta

dentro de las sociedades prehispánicas.

The concept recreates the use of leather

as something more than the living

surface of the body and takes the social

influence of clothing in pre-Hispanic

societies.

315
---
unMarkED YEMa TEXTILES

www.unmarked.mx

info@unmarked.mx

Chiapas 303 B

Col. Arbide

Guanajuato, 37060

316

Mountain Señor

Mr. Mountain

Headquarter, Happening Store, Ships Japan

2012

Hecha en León, Guanajuato, inspirada

en la bota militar de la II Guerra Mundial.

Para su fabricación se utilizó materiales

de la más alta calidad producidos

en México.

Made in León, Guanajuato, inspired

in the jackboot of World War II.

For its manufacture, only premium

materials produced in Mexico

were used.

www.yema.tv

daniellatrigo@gmail.com

Pachuca 171

Col. Condesa

México, D.F., 06140

Herrerías

Ironworks

Venta La Guerrilla

La Guerrilla Selling point

2009

Serie limitada de estampados derivados

de una investigación visual de herrerías

en edificios de la Colonia Condesa.

Limited number of prints derived from

a visual investigation of ironworks

in Condesa neighborhood buildings in

Mexico City.

317
---
ALBERTO BURGALETA INTERIORISMO |

BURGADINA

VÍCTOR ALCÉRRECA MOLINA

ALGRECA

LORENZO ÁLVAREZ

ÁNIMA CREATIVA

ARCO ARQUITECTURA CONTEMPORÁNEA

B-HUBER

BILLY BLANCO DESIGNS

JOSHUA BORNSTEIN Y AMÍN SUÁREZ

C CÚBICA ARQUITECTOS

ADÁN CARABÉS

CASUS-CANICA AZUL

MAURICIO CHACÓN GRANADOS

ABRAHAM CHEREM

DEFORMA ESTUDIO CREATIVO

DUPUIS

EL CIELO ARQUITECTOS | ARMANDO

HASHIMOTO - SURELLA SEGU

ELOISE KAZAN | VESTUARIO

ESCENOGRAFÍA E ILUSTRACIÓN

EMILIO DIB | RAMÓN GARCÍA

ARQUITECTOS

EMILIO MENCHACA WIESBACH |

NODO ESPACIO

ESRAWE STUDIO

EZEQUIEL FARCA

CLAUDIA GRAJALES | COLECCIÓN

INTERIORISMO

GRUPO DIARQ

INTERIORISMO

INTERIOR DESIgN

FRANCISCO HANHAUSEN MARISCAL

KABABIE ARQUITECTOS

LATEX

MAC-L LEMUS MONTAÑO ARQUITECTOS

MARTÍNEZ & SORDO

MAURICIO Y SEBASTIÁN LARA |

EOS MÉXICO

ATTANASIO MAZZONE

FERNANDO MURGUÍA MECA

Y GERARDO RAMOS

RAÚL FRANCISCO NAVARRETE GIL

NOWICKA STUDIO

PAOLA CALZADA ARQUITECTOS

PASCAL ARQUITECTOS

PUNTO DE APOYO EXPOSICIONES

QUADRANTE PLÁSTICO

ROOF OFFICE

ROW STUDIO

ROY AZAR ARQUITECTOS

SERGIO VILLEGAS DISEÑO ESCÉNICO

SPACE MÉXICO

STUDI-OSC

STUDIO NUMO

STUDIO ROCA

URIBE KRAYER DISEÑO

DE INTERIORES

Y CONSULTORÍA DE ARTE

USOARQUITECTURA

AURELIO VÁZQUEZ DURÁN

LILIANA VÉLEZ
---
AlbERTO buRgAlETA

INTERIORISMO | buRgADINA

www.albertoburgaleta.com

www.mexicoenblanco.com

alberto@albertoburgaleta.com

info@mexicoenblanco.com

Revolución 1428-82

Col. Guadalupe Inn

México, D.F., 01020

320

Restaurante Leblon | SC-A

Leblon Invest S.L. | Burgadina

2008 | 2010

Leblon es un restaurante con servicio de bar

en un edificio catalogado | Colección de tapetes

realizados de manera artesanal en lana tejida

a mano en telar de cintura.

Leblon is a restaurant with bar service inside

a catalogued building | Collection of rugs

made using traditional hand-woven wool

on a backstrap loom.

F. | Ph.: Rafael Gamo

VícTOR AlcéRREcA MOlINA

www.victoralcerreca.com

victor.am@gmail.com

Colorado 53-503

Col. Nápoles

México, D.F., 03810

Casa en la Cañada

House in the Glen

Privado | Private Owner

2010-2011

Proyecto arquitectónico y de interiorismo

para una vivienda unifamiliar en el Estado

de México. En una espacio contemporáneo

y neutro, los portones y los luminarios

antiguos fueron los principales motivos.

Architectural and interior design for a house

in the State of Mexico. In a contemporary and

neutral space, the gates and antique fixtures

were the main motif.

321
---
F. | Ph.: Fernando Etulain

AlgREcA lORENzO ÁlVAREz

www.algreca.com

algreca.p@gmail.com

@AlgrecaTesari

Algreca Tesari

Mariano Escobedo 193

Col. Anáhuac

México, D.F., 11320

322

Pastelería La Dulce

La Dulce Cake Shop

Lorea Lagar (La Dulce)

2010

En colaboración con | In collaboration with: Paola De Alberti Romero

En La Dulce se hornean recetas de la abuela

y se muestran en la vitrina como joyas. En un fondo

blanco de vivos turquesa, la decoración y los

muebles evocan el mundo de la repostería con

un estilo romántico.

In La Dulce grandma's recipes are baked and

displayed as jewels. With a white background

and vivid turquoise colors, the decoration and

furniture are evocative of the world of baking

in a romantic style.

www.lorenzoalvarez.com.mx

info@lorenzoalvarez.com.mx

@lorenzoalvarez

Torre Latinoamericana

piso 29

Col. Centro

México, D.F., 06007

Salón Privado 40, Torre Latinoamericana

Private Room 40, Latinoamericana Tower

Miralto

2012

Muros y columnas se vuelven un espejo

negro que refleja la ciudad multiplicándola

en el espacio bañado de azul por el

anuncio de neón. La mesa de aluminio forma

una sola pieza que sube para reconfigurar

el salón.

Walls and columns become a black mirror

reflecting the city and multiplying it in a space

bathed in blue by the neon sign. The aluminum

table is a piece that rises to reconfigure

the room.

323
---
ÁNIMA cREATIVA ARcO ARquITEcTuRA

cONTEMpORÁNEA

www.animacreativa.com.mx

hector@animacreativa.com.mx

Atletas 2

Col. Country Club

México, D.F., 04220

324

basel

sears

2011

Concepto minimalista, elegante y muy fino.

Así describimos el nuevo concepto de esta marca

de ropa para dama llamada basel.

Minimalistic, elegant and refined is the

description for this new concept of the basel

label's women's clothing line.

www.ar-co.com.mx

arcoarq@circulocuadrado.com.mx

Insurgentes Sur 993, Piso 3

Col. Nápoles

México, D.F., 03810

Casa lc

lc House

Privado | Private owner

2011

El proyecto de remodelación que se propuso

para esta casa fue un gran reto que combinó

la integración del interior y el exterior con

importantes cambios que dieran un ambiente

más cálido y contemporáneo.

This house restoration project was a huge

challenge as it combined the integration of the

exterior and the interior, with important

changes creating a warmer and more

contemporary atmosphere.

325
---
-HubER bIlly blANcO DESIgNS

www.b-huber.com

bibiana@b-huber.com

b-huber (diseño industrial)

Calzada Paraísos 88

Ciudad Granja

Zapopan

Jalisco, 45010

326

Del Carmen Concept Hotel,

Bar Juan Rulfo

Boutique Hotel

Alejandro Michel Leaño y Guillermo Mungía

2010

Desarrollo de concepto e interiorismo para hotel

boutique en el centro histórico de Guadalajara.

Los espacios y objetos reflejan la magia expresiva

de los surrealistas de la ruptura mexicana.

Development of concept and interior design for

a boutique hotel in downtown Guadalajara. The

spaces and objects reflect the expressive magic of

Mexican surrealism of the "ruptura" generation.

www.billyblancodesigns.com

david@billyblancodesigns.com

@bbdtweet

billyblancodesigns

Plan de Barrancas 32

Col. Lomas Altas

México, D.F., 11950

Casa de las Palmas

Palm House

Privado | Private owner

2011

Un espacio donde la estructura es parte

del diseño. Los elementos arquitectónicos

son la cimentación para el juego de matices,

texturas y materiales. Diseños clásicos

en las molduras contrastan con elementos

rectilíneos de la chimenea, librero y muebles.

A space where the structure is part of the

design. Architectural elements are the

foundation of a game of shades, textures and

materials. The moldings classic designs

contrast with the rectilinear elements of the

fireplace, bookcase and furniture.

327
---
JOSHuA bORNSTEIN

y AMíN SuÁREz

www.grupodedisenadores.com

grupodca@prodigy.net.mx

@grupo_dca

grupo de diseñadores DCA

Alpes 1245-D

Col. Lomas de Chapultepec

México, D.F., 11000

328

Residencia parnaso

Parnaso residence

Privado | Private owner

2011

Una residencia antigua, adosándole las

comodidades de la vida moderna, otorgándole

el justo balance entre la función, intimidad

y personalidad que se requiere.

An antique villa with the comforts of modern

life and the right balance between function,

intimacy and personality.

www.ccubicaarquitectos.com

mcoello@ccubicaarquitectos.com

CCubica Arquitectos

Paseo de los Laureles 458

Piso 6, despacho 604

Col. Bosques de las Lomas

México, D.F., 05120

c cÚbIcA ARquITEcTOS

Las Suites

Grupo Procesa

2011

En colaboración con | In collaboration with:

Arq. Andrés Cesarman, Arq. Emilio Cabrero y Arq. Marco Coello

Proyecto arquitectónico y de interiores en

Polanco que toma la historia del lugar y lo

interpreta de una manera contemporánea.

Architectonic project and interior design

in Polanco that takes the history of the place

and interprets it with a contemporary view.

329
---
ADÁN cARAbéS cASuS-cANIcA Azul

www.adancarabes.com

ac@adancarabes.com

Huchapan 25-5

Col. Condesa

México, D.F., 06170

330

amsterdam

Particular | Private owner

2011

Diseño de interiores y mobiliario "white chic"

del departamento en la Hipódromo Condesa.

Como base se utilizó el color blanco,

incorporando al ambiente mobiliario de diseño

artesanal y colección de arte de distintas épocas.

An apartment in Condesa neighborhood

in which the interior design and "white chic"

furnishing is based on white. It also incorporates

artisan design and an art collection that

gathers different periods.

www.casus-canica.com

www.casusdesign.blogspot.com

carlacasus@gmail.com

Mazatlán 152-2

Col. Condesa

México, D.F., 06140

Recámara infantil

Children's Room

Familia Albiztegui | The Albiztegui Family

2011

En colaboración con | In collaboration with: DI. Carla Lemus

Castro y DI. María Mercedes Castañeda Domínguez

Diseño y producción de muebles, tapete, cojines

y accesorios para la recámara de una niña.

Se utilizó madera y vidrio para los muebles.

El tapete es de lana y el móvil de tela de tul.

Design and production of furniture, rugs,

cushions and accessories for a little girl's room.

Wood and glass were used for the furniture.

The rug is made of wool and the mobile of tulle.

331
---
MAuRIcIO cHAcóN gRANADOS AbRAHAM cHEREM

Cafetales 19

And. Mz-d Lt 28b

Col. Culhuacán

México, D.F., 04939

332

massmedia_man@yahoo.com.mx

MauricioChaconEscenoLab

Netas Divinas

Unicable, Televisa Networks

2007

Es un programa de entretenimiento de Televisa

Networks, conducido por cuatro mujeres

con diferentes personalidades. El espacio

es minimalista y en él se reúnen amigas para

conversar sobre temas diversos.

A Televisa Networks entertainment program,

hosted by four women with different

personalities. In this minimalistic space, friends

gather to talk about different subjects.

www.cheremserrano.com

info@cheremserrano.com

Bosque de Radiatas 50-PB

Col. Bosques de las Lomas

México, D.F., 05120

El Japonez

Gastronómica Nigiri | Nigiri gastronomy

2008

Arquitectura de interiores con una imagen

unitaria, pero a la vez distinta de su antecesor.

Cada sitio está perfectamente equilibrado

con el resto. La fuerza de la madera y el cristal

fueron los elementos que marcaron el diseño

de esta obra con imagen singular.

Interior design with a unitary image. Every

space is in equilibrium with the rest. The strength

of both wood and glass are the leading design

traits of this work of outstanding singularity.

333
---
DEFORMA ESTuDIO cREATIVO

www.deforma.mx

christian.qs@hotmail.com

Iztaccíhuatl 1342-18

Col. Ciudad del Sol

Guadalajara, 45050

334

Rey Cobra Bistró

Rey Cobra- Ricardo Santana

2010

Un pequeño restaurante de 45m2 busca

crear un lugar acogedor para poder sentarse

y sentirse como en un día de picnic.

A small 45 square meter restaurant that

creates a cozy place where you can sit and feel

like in a picnic.

www.dupuis.com.mx

info@dupuis.com.mx

Palmas 240

Col. Lomas de Chapultepec

México, D.F., 11000

Design House

Design Week

2011

DupuIS

Conviven dos lenguajes, el industrial y el de

los materiales naturales. Los objetos a la vista

en el espacio abierto enriquecen la textura

del lugar.

Two languages coexist, that of industrial

design and the voice of more natural materials.

The objects in the open space enrich the

texture of the place.

335
---
El cIElO ARquITEcTOS | ARMANDO

HASHIMOTO-SuREllA SEgu

www.elcielo.biz

elcieloarquitectos@gmail.com

Plaza Río de Janeiro 53 -402

Col. Roma

México, D.F., 06700

336

Oficinas Ache Producciones

Privado | Private owner

2007

El proyecto propone una imagen actual

que proyecte actividad y estabilidad

para una agencia de publicidad en crecimiento.

El programa requiere espacio de trabajo abierto

para 22 personas, que estará enmarcado

por la oficina de la dirección y la sala de juntas.

The project proposes a contemporary image

to a growing advertising agency. The program

requires an open workspace for 22 people,

which will be framed by the management office

and the boardroom.

F. | Ph.: Martín Gavica

ElOISE KAzÁN | VESTuARIO,

EScENOgRAFíA E IluSTRAcIóN

www.eloisekazan.com

eloise@eloisecazan.com

Juárez 49

Col. San Andrés Totoltepec

México, D.F., 14400

Siderus Nuncius

Delfos Danza Contemporánea

Delfos Contemporary Dance

2009

Diseño de escenografía y vestuario para el proyecto

Siderus Nuncius. Homenaje interdisciplinario

al astrónomo Galileo Galilei, comisionado

por el Festival internacional de Música y Escena

y el Festival Internacional Cervantino en el 2009.

Set and costume design for the Siderus

Nuncius project. It is a tribute to the astronomer

Galileo Galilei, commissioned by the

International Festival of Music & Performance

and the International Cervantes Festival

in 2009.

337
---
EMIlIO DIb | RAMóN gARcíA

ARquITEcTOS

milodib@hotmail.com

ramongarcia@hotmail.com

Sudermann 302

Col. Polanco

México, D.F., 11560

338

Casa Residencial las Villas

Las Villas Residency.

seo Placas y Plafones de México

2011

Casa de 800m 2 estilo contemporáneo.

800 square meters house in contemporary style.

www.nodoespacio.com

menchaca@nodoespacio.com

Ámsterdam 91

Col. Condesa

México, D.F., 06100

EMIlIO MENcHAcA

WIESbAcH | NODO ESpAcIO

Cocina Palacio de Hierro

Palacio de Hierro kitchen

Palacio de Hierro | Palacio de Hierro

department store

2011

En colaboración con | In collaboration with:

Nodo Espacio S.A. de C.V.

Diseño de imagen para el departamento de

cocina y blancos de Palacio de Hierro Interlomas,

incluye diseño de mobiliario.

Image design for the kitchen, bedding

and bathroom sections of the Palacio de Hierro

store in Interlomas, furnishings included.

339
---
F. | Ph.: Jaime Navarro

F. | Ph.: Jaime Navarro

ESRAWE STuDIO EzEquIEl FARcA

www.esrawe.com

medios@esrawe.com

Alejandro Dumas 161

Col. Polanco

México, D.F., 11560

340

Cielito Querido Café

En colaboración con | In collaboration with: cadena+asoc.®

cielito® se inspira tanto en los rotulistas

latinoamericanos como en la gráfica

de productos en antiguas tiendas de raya.

Así se genera un lenguaje gráfico propio

de una cultura rica en su historia pero

dispuesta a reinventarse y reconquistar

al mercado.

cielito® is based on both Latin American

signwriters and the graphics of old stores.

These sources generate a graphic language

of its own, reflecting a culture willing

to reinvent itself and recover the market by

means of its distinctive features.

www.ezequielfarca.com

luisv@ezequielfarca.com

Campos Elíseos 158

Col. Polanco

México, D.F., 11560

Casa Santa Fe

Santa Fe House

Particular | Private owner

2010

En colaboración con | In collaboration with:

Fernanda de la Mora y Carlos Salgado

El espacio se transforma para crear zonas

de descanso con colores suaves y materiales

naturales, tales como madera de olmo

y mármol Arabescato.

The space is transformed in order to create

areas for relaxation comprising soft

colors and natural materials, such as elm

wood and Arabescato marble.

341
---
clAuDIA gRAJAlES |

cOlEccIóN INTERIORISMO

www.coleccioninteriorismo.com

cg@coleccioninteriorismo.com

Lateral México-Toluca 1235

local 18

Plaza Zentrica

Col. Lomas de Santa Fé

México, D.F., 05300

342

Casa rf

Privado | Private owner

2009

Este proyecto de interiorismo buscó reflejar

la tranquilidad del ambiente que rodea la casa

en el interior.

This interior design project reflects the tranquility

of the environment surrounding the house,

stones floors and tree trunks as beams remind

of nature.

F. | Ph.: Billy Doran, Eclipse Photography

www.diarq.com

pcherny@diarq.com

Prado Sur 230

Col. Lomas de Chapultepec

México, D.F., 11000

Residencia en Vail

Residence in Vail

Gina Diez Barroso Azcárraga

2007

gRupO DIARq

El ambiente acogedor otorgado por la paleta

de materiales: maderas preciosas, ónix,

pergamino, seda, gamuza y piel; se fusiona con

el lenguaje de su contexto: la espectacular

vista de las montañas de Gore Range.

The cozy ambience reinforced by the material

selection: precious woods, onyx, parchment,

silk, suede and leather; fuses with its context's

language: the spectacular views of The

Gore Range.

343
---
FRANcIScO HANHAuSEN MARIScAl

www.hanhausen.com

francisco@hanhausen.com

Alpes 912 Bis

Col. Lomas De Chapultepec

México, D.F., 11000

344

Yucatán Country Club

2010

Ubicado en Mérida, Yucatán. El concepto

de diseño era "Cape Lodge Safari en la ciudad",

utilizando materiales pétreos, con acabados

finamente pulidos, pieles, y telas con motivos

"animal print".

Located in Mérida, Yucatán. The design concept

was "Cape Safari Lodge in the city" using stone

materials, finely polished finishes, leather, and

fabrics with "animal print" motifs.

www.tienda-ka.com.mx

kababie@circulocuadrado.com.mx

Juan Vázquez

de Mella 481 1-416

Col. Polanco

México, D.F., 11510

KAbAbIE ARquITEcTOS

Departamento Anatole France

Anatole France Apartment

Privado | Private owner

2011

Un espacio bien iluminado es sinónimo de vida,

y en este departamento la luz natural y artificial

desempeñaron un papel muy importante para

transmitir la energía y dinamismo de la familia

que habita en él.

A well-illuminated space is a synonym for life,

and within this apartment natural and artificial

light play an important role in transferring

the energy and dynamism of the family who

lives there.

345
---
lATEX

www.latexdesign.com

landgrave@latexdesign.com

@latexdesign

latex

Córdoba 67-1

Col. Roma

México, D.F., 06700

346

20 años contando

ibope agb México / Museum +

2011

Concepto, textos, guiones, ambientación gráfica,

producción multimedia, web y audiovisual para

la exposición que explicaba las funciones que

ibope ejecuta en la industria de la comunicación.

Concepts, texts, scripts, graphic design,

multimedia, web and audiovisual production

for the exhibition that shows the functions

of ibope within the communications industry.

www.mac-l.com.mx

pmontano@mac-l.com.mx

@Arq_MacL

Mac L Arquitectos

Av. Lomas de Sotelo 1112,

piso 2

Col. Loma Hermosa

México, D.F., 11200

MAc-l lEMuS MONTAñO

ARquITEcTOS

Maersk

Oficinas e interiores corporativos.

Corporate offices and interior design.

347
---
MARTíNEz & SORDO MAuRIcIO y SEbASTIÁN lARA

| EOS MéXIcO

www.martinez-sordo.com

margarita.perezcuellar@

martinez-sordo.com

@martinezsordo

martinezsordo

Altavista 147 1er. piso

Col. San Ángel

México, D.F., 01060

348

Departamento St Regis

St Regis Apartment

2012

Departamento clásico contemporáneo

sofisticado y funcional. Los espacios se integran

de manera que se pierde la noción del tamaño.

Se logra un equilibrio de sofisticación y confort.

It is a sophisticated, classic, contemporary and

functional apartment. The spaces are integrated

in such way that you might lose the sense

of space. It achieves a balance of sophistication

and comfort.

www.eosmexico.com

eos@eosmexico.com

@mauricio_lara

@sebastian_eos

eosmexico

Magnolia 191

Col. Las Amapas

Tlajomulco de Zúñiga

Jalisco, 45640

D stock gourmet

Constructores y desarrolladores inmobiliarios

de la bahía S.A. de C.V.

En colaboración con | In collaboration with: Joaquín Briseño,

Ana Rodríguez, Francisco Rodríguez, Darius Lau, Aldo Cancino,

Cristina Aguilar

Proyecto de diseño integral en Nuevo Vallarta,

Nayarit. Generamos desde el concepto

a la tienda terminada, incluyendo la identidad

gráfica y los objetos promocionales de la

marca D stock gourmet.

Design of a gourmet store in Nuevo Vallarta,

Nayarit. Everything was generated, from the

concept to the last detail of the store, including

uniforms, graphic identity, and giveaways.

349
---
ATTANASIO MAzzONE FERNANDO MuRguíA MEcA

y gERARDO RAMOS

www.interactiondesign-lab.it

www.attanasiomazzone.

jimdo.com

mazzoneattanasio@gmail.com

Aventaderos 15

Col. Ex Hacienda de San José

Toluca

Edo. de México, 50210

350

Doha Memories

Qatar Foundation+Virginia Commonwealth

University

2010

En colaboración con | In collaboration with:

Stefano Mirti, Cesilia Pirovano, Bruna Cortinovis,

Alessandro Contini y Michelle Aquila

Museo Interactivo de la memoria en Doha, Qatar

sobre evolución histórica, económica y cultural.

An interactive memory museum in Doha, Qatar,

about historical, economic and cultural evolution.

ciapirello@gmail.com

Romero de Valle 372

Col. Lorenzo Boturini

México, D.F., 15820

Sala de Cerámica y Platería,

Museo Franz Mayer

Ceramics and Silverwork Hall,

Franz Mayer Museum

Museo Franz Mayer | Franz Mayer Museum

Diseño de dos de las principales salas

museográficas del Museo Franz Mayer:

la de Cerámica y Platería. Incluye el mobiliario

museográfico, así como la manera

de exponer las piezas.

Design of two of the most important exhibition

halls at the Franz Mayer Museum-the Ceramic

and Silverwork exhibition halls. It includes

the museums' furniture, as well as the way of

exhibiting the pieces.

351
---
F. | Ph.: Andrea López Hernández

RAÚl FRANcIScO NAVARRETE gIl NOWIcKA STuDIO

raulnavgil@hotmail.com Stand Envases Universales

www.nowickastudio.com

Universal Containers stand

Envases Universales

2011

nowickastudio@gmail.com

Av. Vía Muerta 424

Col. Luis Echeverría

Boca del Río

Veracruz, 94298

352

Diseño y producción de un stand de 12 x 9m.

de dos niveles. El nivel superior es de 6 x 6m.

Se montó para Expo Pack 2011 en Centro

Banamex, México, D.F.

Design and production of a two level 12m x 9m

stand for the company Envases Universales.

It was set for Expo Pack 2011 at Centro Banamex,

in Mexico City.

Luis G. Urbina 4, PH 3

Col. Polanco

México, D.F., 11500

Hall

DesignWeek México

2011

El Hall de Design House 2011 está inspirado

en momentos de abundancia y carencia.

Contrasta materiales y superficies ostentosas

con elementos de origen humilde pero

de gran expresividad.

The 2011 Design House Hall is inspired

by moments of both abundance and scarcity.

It contrasts ostentatious materials and surfaces

with modest but expressive elements.

353
---
F. | Ph.: Jaime Navarro

pAOlA cAlzADA ARquITEcTOS pAScAl ARquITEcTOS

www. paolacalzadaarquitectos.

com

paola@paolacalzadaarquitectos.com

@paolacalzada

paolacalzadaarq

Homero 820

Col. Polanco

México, D.F., 11500

354

Casa Bosques de las Lomas

Bosques de las Lomas House

Privado | Private owner

2011

En colaboración con | In collaboration with: Jimena Cordero

Iturbide, Arkitech y Lissame Construcciones y Servicios

Traer la casa de la década de 1970 a la actualidad

llevó a una reestructuración a través de patios

interiores y entradas de luz por toda la casa.

Bringing this 1970s house to the present

day lead to a restructuring through the use

of interior courtyards and natural light.

www.pascalarquitectos.com

pascal@pascalarquitectos.com

Atlatunco 99

Col. San Miguel Tecamachalco

Naucalpan,

Edo. de México, 53970

Casa de Meditación

Meditation House

Comunidad Monte Sinai | Monte Sinai Community

2006

Esta obra promueve la introspección y la paz

visual a través de un manejo discreto

de materiales e iluminación. Se inspiraron en

las mastabas del antiguo Egipto y en los templos

mayas de Palenque.

This work promotes introspection and visual

peace through the prudent use of materials

and illumination. They were inspired by the

mastabas of Ancient Egypt and by the Mayan

temples of Palenque.

355
---
puNTO DE ApOyO EXpOSIcIONES quADRANTE plÁSTIcO

www.puntodeapoyo.com.mx

ftoledo@puntodeapoyo.com.mx

Blvd. Adolfo López Mateos

206 Esq. Calle 4

Col. San Pedro de los Pinos

México, D.F., 01180

356

Stand Uniliver anam (Monterrey)

Art Display

2011

Diseño, producción y montaje de un stand

comercial de 180m2 para Unilever

en la exposición de la Asociación Nacional

de Abarroteros Mayoristas en Monterrey.

Design, production and assembly of a 180 square

meter commercial stand for Unilever at the

National Association of Groceries Wholesale

Exhibition in Monterrey.

www.quadrante.com.mx

carlosquadrante@mail.com

Obrero Mundial 891

Col. Álamos

México, D.F., 03400

Museo Zacatecano

Zacatecano Museum

Gobierno del Estado de Zacatecas

Zacatecas Government

2010

Diseño integral museográfico del Museo

Zacatecano: desarrollo conceptual, proyecto

ejecutivo, investigación, diseño, mobiliario,

gráfica, montaje de colecciones, iluminación

y producción de medios electrónicos.

Total museum design: conceptual design,

construction documents, research, design,

furniture, graphics, mounting of the collection,

lighting and electronic media production.

357
---
F. | Ph.: Sófocles Hernández

ROOF OFFIcE ROW STuDIO

www.roof-office.com

rodrigo@roof-office.com

@roofoffice

roofoffice

Vicente Suárez 38-8

Col. Condesa

México, D.F., 06140

358

Carrozza

Carriage

Carrozza Sibarita | Sybaritic Carriage

2011

Un espacio de triple uso que debe transformarse

según la hora. La luz determina ese cambio.

Luz fría en la mañana (cafetería), luz cálida en la

tarde (restaurante) y luz cálida y baja en

la noche (bar).

A multifunctional space that changes according

to daytime. Light determines this change:

cold light in the morning (coffee-bar), warm light

in the afternoon (restaurant) and warm,

low light at night (bar).

www.rowarch.com

amo@rowarch.com

@alvarorow @tatisarch

@arefonsusdixit

ROWStudio

Palmas 1145

Col. Lomas de Chapultepec

México, D.F., 11000

Estación Glocal

Glocal Station

Revista Glocal Design | Glocal Design Magazine

2011

En colaboración con | In collaboration with:

Álvaro Hernández Félix, Nadia Hernández Félix, Alfonso

Maldonado Ochoa

Stand de exhibiciones para la revista Glocal

Design en Hábitat Expo 2011.

An exhibition display stand for Glocal Design

magazine at the 2001 Habitat Expo.

359
---
ROy AzAR ARquITEcTOS SERgIO VIllEgAS

DISEñO EScéNIcO

www.royazararquitectos.com

ra@royazararquitectos.com

Prado Norte 125-PB

Col. Lomas de Chapultepec

México, D.F., 11000

360

L'Ôtel San Miguel de Allende

L'Ôtel Group

2011

Este hotel boutique fue concebido como un

santuario que combina sofisticación

y tranquilidad. Experiencias de edición limitada

fueron creadas para una estancia placentera.

This boutique hotel was designed as a shrine

that combines sophistication and tranquility.

Limited edition experiences were created

for a pleasant stay.

www.sergiovillegas.com

sergio@sergiovillegas.com

@sergioscenic

sergioscenic

C. Relox 20 int. 1-A

Col. Chimalistac

México, D.F., 01070

Nadando con Tiburones

Swimming with Sharks

Teatro Insurgentes | Insurgentes Theater

2012

En colaboración con | In collaboration with: Michael Lesslie,

Bruno Bichir, Sergio Villegas, Matías Gorlero y Alain Kerriou

Diseño de escenografía para la obra Nadando con

Tiburones drigida por Bruno Bichir y estelarizada

por Demián Bichir, Alfonso Herrera

y Ana de la Reguera.

Set design for the play Nadando con Tiburones

(Swimming with Sharks) directed by Bruno Bichir,

starring Demián Bichir, Alfonso Herrera

and Ana de la Reguera

361
---
SpAcE MéXIcO

www.spacemex.com

juancarlos.baumgartner@

thinkspace.biz

Blvd. Adolfo López Mateos

2777, 1er. piso

Col. Progreso

México, D.F., 01080

362

Empresa de Alta Tecnología

Hi-Tech Enterprise

2010

Organización líder con atmósfera de tecnología

y modernidad acorde a las exigencias de la

empresa para las próximas décadas.

Leading organization with an atmosphere

of technology and modernity, according to the

demands of the company for the decades

to come.

www.studi-osc.com

cortes@studi-osc.com

Bengala 1 PB

Col. Zacahuitzco

México, D.F., 03550

STuDI-OSc

México a través de las causas

Mexico through its causes

Museo del Estanquillo, Colección Carlos Monsiváis

Estanquillo Museum, Carlos Monsiváis Collection

Diciembre 2009 a marzo 2010

December 2009 to March 2012

Se realizó el proyecto ejecutivo museográfico

y la coordinación de proyecto: producción

de mobiliario, gráfica museográfica, soportes

para colección, logística y montaje.

Museum's design documents and coordination

of the project were carried out: furniture,

graphics, supporting structures for the collection,

logistics and mounting.

363
---
F. | Ph.: Ana Melo

STuDIO NuMO STuDIO ROcA

www.numo.mx

yesica@numo.mx

@studionumo

Studionumo

Av. La Noria 20, A7-201

Col. Paseos del Sur

México, D.F., 16010

364

Hum San Ángel

hum. Tu casa, tu templo | hum. Your house, your

temple

2011

hum es una boutique de textiles artesanales

de la India para el hogar. El espacio arquitectónico

sugiere una estética sumamente sofisticada

y contemporánea con una clara influencia india.

hum is an Indian handicraft textiles boutique

for the house. The space shows a sophisticated

and contemporary aesthetics with an

Indian influence.

www.studioroca.com

studioroca@studioroca.com

@studioroca

studioroca

Showroom

Horacio 907

Col. Polanco

México, D.F., 11560

Ámsterdam 271 PB

Col. Condesa

México, D.F., 06170

Loft Reforma

Reforma Loft

Privado | Private owner

2011

En colaboración con | In collaboration with: Gabriel Carral

Loft Reforma, un concepto residencial

original que consistió en la transformación

de una auténtica fábrica de papel en

la ciudad de Puebla.

This concept is an original residential project

that implied the transformation of an authentic

paper factory into a loft in the city of Puebla

in Mexico.

365
---
uRIbE KRAyER DISEñO DE

INTERIORES y cONSulTORíA DE ARTE

www.uribekrayer.com

erica@uribekrayer.com

ofelia@uribekrayer.com

Gobernador José Guadalupe

Covarrubias 57-16

Col. San Miguel Chapultepec

México, D.F., 11850

366

Rancho R+R

Ranch R+R

Privado | Private owner

2007

Residencia ubicada dentro de uno

de los desarrollos más exclusivos en Punta

Mita, Nayarit. El concepto de interiores

se basa en lograr un diseño

fresco, contemporáneo, minimalista.

Private residence located in one of the

most exclusive developments in Punta

Mita, Nayarit. The interior concept

is based on achieving a cool, contemporary

and minimalist style.

F. | Ph.: Héctor Armando Herrera

www.usoarquitectura.com

info@usoarquitectura.com

@usoarquitectura

usoarquitectura

Av. Contreras 246-201

Col. San Jerónimo Lídice

México, D.F., 10200

uSOARquITEcTuRA

Accesolab

2010

En colaboración con | In collaboration with:

Gabriel Salazar, Fernando Castañón (Proyecto | Project)

Se diseñaron las nuevas oficinas corporativas

de Accesolab, una empresa con 20 años de

experiencia en la comercialización de sofisticados

equipos para laboratorios de investigación.

Design of the new Accesolab corporative offices,

a company with 20 years' experience

in trading sophisticated equipment for research

laboratories.

367
---
AuRElIO VÁzquEz DuRÁN

www.din.com.mx

ava@din.com.mx

Av. Paseo de

las Palmas 765-504

Col. Lomas de Chapultepec

México, D.F., 11000

368

Hotel Pop Life

Pop Life Hotel

2011

Ubicado en la ciudad de México, su concepto

gira alrededor del color y la dinámica psicodélica

de los años 60 y 70. La iluminación y el mobiliario

reflejan la influencia del Pop Art y el modernismo.

It is located in Mexico City and its concept

deals with the coloring and the psychedelic

dynamics of 60s and 70s. Lighting and furniture

reflect a Pop Art and modernist influence.

www.lilianavelez.net

vliliana@yahoo.com

Tlaxcala 190

Col. Condesa

México, D.F., 06100

lIlIANA VélEz

centro de diseño, cine y televisión

centro, University for design, film and media

2004

La idea era crear el concepto de una tienda

de diseño que posteriormente pudiera servir de

aparador a los diseños de los estudiantes

de la Universidad.

The main idea was to create the concept

of a design shop where students could showcase

their work.

369
---
MEDIOS DIGITALES

DIGITAL MEDIA

3INDESIGN

DENUMERIS INTERACTIVE

ÉRAMOS TANTOS ESTUDIO VISUAL

FUFURUFO

GAMOL

GRUPO W

HAIKU

HOTPIXEL

ARMANDO JAIMES AGUILAR

MARCO VINICIO MORALES ABURTO |

KULTNATION

PIXTLAN

RECORRIDOS VIRTUALES

SAKE GROUP

SALÓN

SUSTAM

TABLOIDE

VISUALMA COLLECTIVE

XIBALBA STUDIOS

XPLAYE DISEÑO
---
3InDESIGn DEnuMErIS InTErAcTIvE

www.3indesign.com

pablo@3indesign.com

@3indesign

3indesign

Estudiantina 6

Col. Colina del Sur

México, D.F., 01430

372

Txinda

2011

Página web promocional Txinda brinda

al usuario la experiencia de dar a conocer

los personajes de la marca y su aplicación

en promocionales. Se generaron

ambientes de acuerdo a la caracterización

de cada personaje.

Txinda promotional website provides

the user with an experience that

presents the characters of the brand

and its promotional application.

Environments were generated according

to the description of each character.

@denumeris

denumeris

Blvd. Adolfo López Mateos

1900 piso 2

Col. Los Alpes

México, D.F., 01010

muac (Museo Universitario de Arte

Contemporáneo de la unam)

muac (Universitary Museum of

Contemporary Art)

unam

2011

Diseño, desarrollo e implementación de la página

web y la Marquesina (6 pantallas tipo videowall)

localizadas en la taquilla. Desarrollamos

un sistema que permite la administración

de contenido.

Design, development and implementation

of the website and the marquee

(6 screens video-wall type) located at the

box office. We also developed a system

for content management.

373
---
ÉrAMOS TAnTOS ESTuDIO vISuAL FuFuruFO

www.eramostantos.com.mx

tantos@eramostantos.com.mx

Suiza 16

Col. Portales

México, D.F., 03300

374

La Gran Familia Mexicana

The Great Mexican Family

Instantia

2005-2011

Serie de agendas temáticas que rinden

homenaje a los personajes más emblemáticos

de la cultura y la historia de México

en siete ediciones diferentes hechas entre

el 2005 y el 2011.

A series of thematic notebooks that pay

homage to emblematic characters

of the Mexican culture and history in seven

distinct editions elaborated between

2005 and 2011.

www.fufurufo.com.mx

alserviciodelabanda@

fufurufo.com.mx

Norte 89 a – 20

Col. Sindicato

de Electricistas

México, D.F., 02060

Portal Totalplay

Total play Telecomunicaciones, S.A. de C.V.

2011

El diseño, como ninguna otra profesión,

permite moldear y construir el futuro,

tal como se hizo con Totalplay, cubriendo

la necesidad de expresar en su portal

una imagen fresca, dinámica e innovadora.

More than any other profession, it is design

that allows the shape and building of

the future, as it was done with Totalplay,

covering the need to express on its website

a fresh, dynamic and innovative image.

375
---
GAMOL GrupO W

www.gamol.com.mx

octavio@gamol.com.mx

Galileo 317-101

Col. Polanco

México, D.F., 11560

376

Mastretta Cars

Mastretta

2002

El primer auto deportivo mexicano,

fue Trending Topic en Twitter por semanas.

Sitio web en inglés y español con registro

de tráfico de casi 40 mil usuarios diarios.

First sports car ever design in Mexico.

It established itself as a twitter Trending

Topic for several weeks. The website

both in English and Spanish registerd

traffic of around 40,000 daily users.

www.grupow.com

sdavila@grupow.com

Privada Obregón 1366

Col. Centro

México, D.F., 25000

Stuntman

Unilever

2006

Stuntman es un juguete irrompible.

El usuario vive la experiencia de golpear

y arrojar al personaje principal contra

diferentes lugares en la interfase

sin hacerle daño, pero sobre todo, sin

hacerlo sudar.

Stuntman is an unbreakable toy.

You can live the experience of throwing

around and banging on the main

character against different places of the

interphase without actually damaging

the toy, but above all, without sweating.

377
---
HAIku HOTpIxEL

www.haiku.com.mx

gabo@haiku.com.mx

@hola_haiku

haiku.mx

Moscú 5, 1er. piso

Col. Americana

Guadalajara, 44160

378

Arlequín

Ediciones Arlequín

Arlequín Press

2012

Rediseño de identidad gráfica y sitio

web. Hubo tan buena recepción

que la editorial también comisionó

el diseño de las portadas de sus

nuevos títulos.

Redesign of graphic identity and web

site. It was so well received that

the publisher also comissioned the

design of its new titles.

www.hotpixel.mx

info@hotpixel.mx

Lago Texcoco 112

Col. Anáhuac

México, D.F., 11320

Pabellón Cambio Climático

– Parque Bicentenario

Climate Change Pavillion – Bicentenial Park

Poink Technologies

2010

Se combinaron diversas disciplinas a fin de

medir nuestro impacto en el planeta. Se crearon

instalaciones interactivas que permiten visualizar

la huella de carbono, así como recomendaciones

para cuidar nuestro planeta.

Combination of different disciplines in order

to measure our impact on the planet as well as

interactive devices showing the carbon

print and recomendations to take better care

of the planet.

379
---
ArMAnDO JAIMES AGuILAr MArcO vInIcIO MOrALES

AburTO | kuLTnATIOn

www.cannibaldesign.tv

armjaimes@gmail.com

Ricardo Orozco 61, lote 2ª

México, D.F., 14250

380

Brand Identity Golden Edge

Televisa Networks

2012

Se diseñó una imagen varonil de trazos

rectos y volúmenes amplios. Combinación

de color rojo y negro con acentos

amarillos. Un canal enfocado al publico

masculino en tv de paga; una mezcla

de dinamismo y fuerza.

A manly image with straight lines and

large volumes. A combination of

red and black with yellow accents for a

male-audience channel in pay tv; a mix

of dynamism and strength.

www.kultnation.com

hello@kultnation.com

https://vimeo.com/24569413

Dallas 84

Col. Nápoles

México, D.F., 03810

Offf Barcelona 2011

Partner Titles

2011

Créditos de clausura y de patrocinadores

comisionados por el Festival de arte digital

y nuevos medios de Barcelona: offf.

Closing credits and commissioned sponsors

for the Barcelona digital art Festival and

new media: offf.

381
---
pIxTLAn rEcOrrIDOS vIrTuALES

www.pixtlan.com

oscar@pixtlan.com

Davos 2, Residencial

Vista Márquez

Col. Lomas de Angelópolis

San Andrés Cholula

Puebla, 72830

382

Micrositios Volkswagen

Volkswagen Microsite

Volkswagen de México y Volkswagen de Argentina

2007

Diseño de sistema de identidad gráfica,

portadas y contenidos de discos musicales,

sitio web, redes sociales, flyers de eventos

y boletines electrónicos, entre otros.

Design of the graphic identity system,

record covers of musical content, website,

social networking, event flyers,

newsletters and others.

www.recorridosvirtuales.com

aura@recorridosvirtuales.com

Sur 71-A 437

Col. Justo Sierra

México, D.F., 09460

Recorrido Virtual del Puerto

Lázaro Cárdenas

Virtual Tour of Lázaro Cárdenas Port

Administración Portuaria Integral de Lázaro

Cardenas, S.A. de C.V.

Lázaro Cárdenas Port Administration

2011

La visita virtual al Puerto Lázaro Cárdenas

permite explorar la inmensidad y diversidad

de las instalaciones de uno de los puertos

más importantes de México.

The virtual tour of Lázaro Cárdenas Port

allows an exploration of the vastness

and diversity of the facilities of one of the

most important ports in Mexico.

383
---
SAkE GrOup SALón

www.sakegroup.com

info@sakegroup.com

Michellet 55

Col. Anzures

México, D.F., 11590

384

Web Rafa Ortiz

Rafa Ortiz

2010

Desarrollo de página web y blog del gran

deportista Rafa Ortiz.

Development of website and blog of

the great athlete Rafa Ortiz.

www.salon-df.org

jorge@salon-df.org

Gob. José Ceballos 10

Col. San Miguel

Chapultepec

México, D.F., 11850

Abstract Possible

Maria Lind

2010

Participación en el proyecto "Abstract

Possible" de la curadora Maria Lind. Salón

se encargó de la conceptualización

y coordinación de una serie de eventos

públicos en torno a la exposición y

de la producción de material de referencia.

Participation in the project "Abstract

Possible" by curator Maria Lind. Salon was

in charge of the conceptualization and

coordination of a series of public events

around the exhibition, and of the production

of reference material.

385
---
SuSTAM TAbLOIDE

www.sustam.com

info@sustam.com

Sustam

Andrómeda 3788

Col. La Calma

Zapopan

Jalisco, 45010

386

Website Boca 21

Boca 21

2010

Sitio web del restaurante Boca 21.

Website for the restaurant Boca 21.

www.tabloide.mx

malcala@gmail.com

Flora 1

Col. Roma

México, D.F., 06700

Página Web del Museo

Experimental El Eco

Website of El Eco Experimental Museum

unam

2008

Diseño y arquitectura de información.

Design and architecture of information.

387
---
vISuALMA cOLLEcTIvE xIbALbA STuDIOS

www.visualma.com

andiandoendo@hotmail.com

España 1374 b

Col. Moderna

Guadalajara, 44190

388

Estructura mapping 3D

3D mapping structure

Massive Trance

2011

En colaboración | In collaboration: Diego Delmar, Israel Ramírez,

Diego Mora, Josué Page, Andrea Alcaraz, Óscar Sánchez,

Christian Almanza, Diego Álvarez, Daniel Muñoz, Pablo Fortes

Mapeo de 9 horas con varios niveles translúcidos

proyectado sobre un escenario de 16 por

8 metros, asistieron más de 6 mil espectadores.

9 hours mapping with various translucent

levels projected on a 16 by 8 meters set, more

than 6,000 spectators assisted the event.

www.xibalbastudios.com

brenda@xibalbastudios.com

C. Castelar 1434 Pte

Col. Pío X

Monterrey, 64710

MilitAnt

Público en general

General public

2011-2012

Es un videojuego de plataforma en un mundo

de 3D en donde el jugador es una hormiga

soldado que trata de defender su hormiguero de

una invasión total de otras naciones de insectos.

It is a 3D platform game in which the player

is a soldier-ant trying to protect its nest from an

invasion from other insect nations.

389
---
xpLAyE DISEñO

www.xplaye.com

hola@xplaye.com

@xplaye

xplaye

Bahía de las Islas 3619-B

Col. Rincón de la Primavera

Monterrey, 64834

390

Seguiremos Siendo

Espina Bífida de Nuevo León

Spina Bifida from Nuevo Leon

Proyecto probono en el cual se diseñó

la logística de un evento publicitario altruista

para obtener donativos. Café Tacvba

colaboró en el proyecto, captando la atención

de los medios para ayudar a niños con

espina bífida.

Pro bono project involved logistics design

of an altruistic advertising event to collect

donations. Café Tacvba collaborated

on the project getting the attention of mass

media to help children with spina bifida.
---
No. 101

28-03-11

$80.ºº

www.a.com.mx

Papel: VERGÊ PLUS

DIAMANTE 220 grs.

GARRIGOSA STUDIO

FOTOGRAFÍA IRREAL

ARIEL ROJO

POR UNA TRAVESURA

RIGOLETTI

UN 10 EN DISEÑO

www.a.com.mx

SIGNI

30 AÑOS DE DISEÑO

COCA-COLA LIGHT

DISEÑO PARA SENTIRSE BIEN

ROOM SERVICE

CREACIÓN DE ESPACIOS
---
Manchester #13-1st floor, Col. Juárez, CP 06600 México D.F.

Phone +52(55) 23.38.55.34 / info@glocal.mx

www.glocal.mx FB: Glocal Design Twitter: @Glocal_Design
---
Hôtel

AMERICANO

Chelsea New York
---
132 001-8-100 DESIGN Y DISEÑO

372 3INDESIGN

10 6US

11 ABRACADABRA

12 DESIGN BUREAU

13 AE

133 AGUILAR ENCINAS, MARCELA

14 AGUZZI, MARU

134 AIR DESIGN

135 AJONJOLÍ POR FERNANDA

MELGAREJO

136 AKELE MOBILIARIO

15 ALAZRAKI, SAMUEL

320 ALBERTO BURGALETA

INTERIORISMO | BURGADINA

16 ALBERTO VALENCIA |

AV DISEÑO

321 ALCÉRRECA MOLINA, VÍCTOR

268 ALDAZ CERVANTES, JAZMÍN

17 ALDERETE, JORGE

322 ALGRECA

137 ALIMAÑA TOYS

18 ALMEIDA HERRERA, LUIS

138 ALTERA ESTUDIO

139 ÁLVAREZ MONTERO, MARTHA

19 ÁLVAREZ ZALDÍVAR, TANIA

323 ÁLVAREZ, LORENZO

20 AMARILLO CENTRO DE DISEÑO

269 AMOATO STUDIO

270 ANACANI | VERDE LIMÓN

21 ANAGRAMA

22 ANGASA

324 ÁNIMA CREATIVA

325 ARCO ARQUITECTURA

CONTEMPORÁNEA

140 ARD ATELIER

23 ARELLANO, ENRIQUE

141 ARRE TALLER

ÍNDICE ALFABÉTICO

ALPHABETIC INDEX

142 ARTA CERÁMICA

143 AVEX DISEÑO INDUSTRIAL

24 AXIOMACERO

326 B-HUBER

144 BAMBOOCYCLES

25 BANG BURÓ

271 BAÖB MÉXICO

145 BASBAG

146 BÁSICA

26 BD MARK

27 BELTRÁN, FÉLIX

147 BENIK

148 BERBER, ADRIANA

327 BILLY BLANCO DESIGNS

149 BIWUA | FRANCISCO JAVIER

NAVARRO QUESADA

328 BORNSTEIN, JOSHUA

Y SUÁREZ, AMÍN

150 BRANDESIGN

28 BRANDLAB

151 C. RICARDO | SUIT ESTUDIO

29 BUTIC

329 C CÚBICA ARQUITECTOS

152 CACHÚ PAVÓN, LAURA

PATRICIA

30 CALVA, MARU

31 CAMACHO, FERNANDO

272 CAMOMILLA

330 CARABÉS, ADÁN

331 CASUS-CANICA AZUL

153 CENTENO, MARISOL

273 CÉSAR ALCOCER | AULIO

332 CHACÓN GRANADOS, MAURICIO

32 CHARLO MAGNO

333 CHEREM, ABRAHAM

274 CHULA

275 CIHUAH (VANESSA GUCKEL)

276 CÍTRICO
---
33 CÍTRICO GRÁFICO

154 CITRO

342 CLAUDIA GRAJALES |

COLECCIÓN INTERIORISMO

155 COLECTIVO 1050º

156 COLECTIVO HECHO A MANO

157 CORDERA LASCURÁIN, MARÍA

DEL CARMEN

158 COREDESIGN

277 CORNEW, CLAUDIA

34 CORREA FIELD, DANIELA

159 CORRES, LUCIANA

278 DE COSS, ALEJANDRA

35 CRUZ, ALEJANDRO

36 CUEVAS, MARÍA JOSÉ

160 DÁVILA ORDÓÑEZ, XÓCHITL

MARISSA

161 DDI DESPACHO DE DISEÑO

INDUSTRIAL

334 DEFORMA ESTUDIO CREATIVO

162 DÉJATE QUERER

373 DENUMERIS INTERACTIVE

37 DESIGN CENTER TM

163 DÍAZ, KARLA

164 DIEZ

38 DIN ESTUDIO

165 DISÉMICA

166 DISEÑO NEKO

39 DISEÑO PORFAVOR

279 DISEÑOS MAYRO

1 6 7 DOIZPE

40 DRAFFT DISEÑADORES

ASOCIADOS

168 DRUMMOND, VANESSA

41 DSV

335 DUPUIS

169 DUTZI DESIGN | ARIANE DUTZI

42 DX

43 E-IMAGINARIUM

170 EBA

(EMERGENCY BASIC ALLIES)

171 EDICIONES JALAPA

44 EDICIONES MALINALCO

45 EL CEJAS

336 EL CIELO ARQUITECTOS |

ARMANDO HASHIMOTO - SURELLA

SEGU

46 EL HÁBITAT CREATIVO

337 ELOISE KAZAN | VESTUARIO,

ESCENOGRAFÍA E ILUSTRACIÓN

47 EMBLEM

338 EMILIO DIB | RAMÓN GARCÍA

ARQUITECTOS

339 EMILIO MENCHACA WIESBACH |

NODO ESPACIO

280 ENGELL, CHRISTIANE

374 ÉRAMOS TANTOS ESTUDIO

VISUAL

340 ESRAWE STUDIO

48 ESTUDIO FRUTAS Y VERDURAS

49 ESTUDIO JAMAICA

281 ETHNOLOGY

172 ETIENNE, JORGE DIEGO

50 ETRA PUBLICIDAD

51 EXPLORARE

282 FÁBRICA SOCIAL

52 FÁBULA Y MORALEJA

341 FARCA, EZEQUIEL

283 FEMININE AND MASCULINE |

FRANCISCO RODRÍGUEZ

284 FERNÁNDEZ, CARLA

173 FLOR&PLATA

285 FLORES PARA FRIDA

174 FLORESCANO, VALERIA

175 FOU FOU CHAT BY THE TERROR

SISTERS

375 FUFURUFO

176 FUSCA

177 GALERÍA MEXICANA DE DISEÑO

53 GAMMA

376 GAMOL

178 GARAL, VALENTÍN

179 GARZA MARCOS, RICARDO

180 GENA

181 GESTA

182 GODOY, EMILIANO

54 GOGH DESSAN

286 GOODBYE FOLK

55 GORILA PROJECT

343 GRUPO DIARQ

56 GRUPO EDITORIAL MULTIMEDIOS

183 GRUPO KINETICA

377 GRUPO W

184 GUADALUPE ACEVEDO JOYERÍA

287 GUTIÉRREZ, SANDRA

378 HAIKU

288 HALLER, ROBERTO

344 HANHAUSEN MARISCAL,

FRANCISCO

57 HERNÁNDEZ MÉNDEZ, DAVID

185 HERNÁNDEZ, MOISÉS

289 HERNÁNDEZ, PAOLA

186 HIERVE-DISEÑERÍA

379 HOTPIXEL

58 HULA+HULA

59 HYPERBRAND DESIGN

60 ICONO SEIS

61 IDEOGRÁFICO

62 IGLOO

187 IGUANA 4 STUDIO

188 IK JOYEROS

63 INDEX BURÓ CREATIVO

64 INDEX STUDIO

380 JAIMES AGUILAR, ARMANDO

290 JASSO, CRISTIAN

65 JORGE BROZON VALLEJO | TRES

LAB VISUAL

189 JORGE RODZ | HUNPEL

190 JPEG

191 K.NOX

345 KABABIE ARQUITECTOS

66 KARIMAYO

192 KIMBAL

67 KRUTZFELD, ERIKA Y SANTANA,

SABINA

193 LA CARPINTERÍA MX

194 LA COBOS

195 LA JABONERA

196 LA PLATERÍA | ÁVILA

Y MEDINA

197 LARTIGUE, SONIA

346 LATEX

291 LAVÍN, LYDIA

198 LE PORC-SHOP FURNITURE

WORKSHOP

292 LEGORRETA, DANIEL

68 LEOLAB

199 LEÓN DE LA BARRA, CECILIA

69 LEONORA BURÓ CREATIVO

70 LÓPEZ HUEVART, JONATHAN

200 LÓPEZ RENAUD, JANE

293 LÓPEZ, PAULINA

201 LOS LIBROS DE LEONARDO

294 LOS VLADIMIROVICH | MARATH

& YURIK MENSWEAR COLLECTIVE

71 LUBAGGI JIMÉNEZ, GURAM

202 LUDENS | IVÁN HERNÁNDEZ

QUINTELA

347 MAC-L LEMUS MONTAÑO

ARQUITECTOS

203 MADRID RODRÍGUEZ, MARTHA

ALICIA

204 MAGGIE GALTON DESIGN

72 MAGUNCIA | ANTONIETA CRUZ

295 MANHES, ISABELLE

73 MANO DE PAPEL

296 MANOV

205 MANUEL ÁLVAREZ FUENTES |

MAFDI

206 MARAKAME

207 MARCA RECICLADA

381 MARCO VINICIO MORALES

ABURTO | KULTNATION

297 MARIKA VERA

208 MARINES CRUZ, ENOK

348 MARTÍNEZ & SORDO

74 MARTÍNEZ MEAVE, GABRIEL

209 MARTÍNEZ, VÍCTOR GERARDO

210 MÁS KENADA DISEÑO

211 MASIOSARE STUDIO

298 MASSUN, SOPHIA

75 MATADOR PROJECTS

76 MATRUSHKA STUDIO

212 MAURICIO VALDÉS |

LA REVOLUCIÓN MEXICANA

DEL DISEÑO
---
349 MAURICIO Y SEBASTIÁN

LARA | EOS MÉXICO

350 MAZZONE, ATTANASIO

213 MELGAREJO, MIGUEL

77 MEMOMA

299 MENDOZA, ELRICH

214 MERCADO, LUIS

215 MÉXICO EN PAPEL

300 MI-TU CALZADO

216 MILKA MANIFESTO

301 MINOLA BY ADRIANA SOTO

78 MIRANDA, ELIZABETH

217 MOOID LAB

351 MURGUÍA MECA, FERNANDO

Y RAMOS, GERARDO

218 MURO ROJO

79 MÚSICOS DEL TITANIC

219 NABLA

80 NATURAL VALUES

352 NAVARRETE GIL, RAÚL

FRANCISCO

220 NEL COLECTIVO

81 NICOLAU, ANA

221 NORIEGA, LAURA

222 NOS

223 NOUVEL STUDIO

353 NOWICKA STUDIO

224 OCAMPO SALAMERO, SEBASTIÁN

225 ODABASHIAN

226 OFICINA 3

82 OKTAEDRO

227 OKURRENZZIA CASA DE DISEÑO

302 OLIVARES, OLGA

83 OLIVARES, REGINA

228 OMELETTE BY HÉCTOR GALVÁN

84 ORANGESTUDIO

303 ORTEGA, CARLOS

85 OSNAYA BALTIERRA, SANTIAGO

86 OXIGNO BRANDING

MULTISESORIAL

304 OZUNA

354 PAOLA CALZADA ARQUITECTOS

229 PARQUE COLABORATIVO

355 PASCAL ARQUITECTOS

230 PASCAL, DALIA

87 PATATÍ PATATÁ

88 PERIFERIA TALLER GRÁFICO

305 PIÑA NEGRETE, JAVIER

EDUARDO

306 PINEDA COVALÍN

89 PINEDA CRUZ, ARMANDO

307 PINK MAGNOLIA

231 PIRUETA

232 PIRWI

382 PIXTLAN

90 PLAYMOY, CARTELES DE AUTOR

233 POPALIPANA

91 PRIMAL

356 PUNTO DE APOYO EXPOSICIONES

234 QBOX

357 QUADRANTE PLÁSTICO

235 QUAGLIATA, ORFEO

236 QUINTA ESENCIA -

LABORATORIO DE DISEÑO

EXPERIMENTAL

92 RAMÍREZ CUEVAS, ANDRÉS MARIO

93 RANDOM DESIGN STUDIO

383 RECORRIDOS VIRTUALES

94 RED BASICOLOR

95 RED PRINTING

96 REPUBLIC OF NOTHING

97 REYES, EVA LUCÍA

237 REYES, REGINA

238 REYES RETANA CAMPILLO,

JULIA

239 RITUALES CONTEMPORÁNEOS

240 RML DISEÑO

98 ROCKET COMUNICACIÓN VISUAL

241 ROCOCO

99 RODRÍGUEZ ÁLVAREZ, FERNANDO

100 RODRÍGUEZ OLVERA, MARIANA

242 ROJO, ARIEL

358 ROOF OFFICE

359 ROW STUDIO

360 ROY AZAR ARQUITECTOS

101 S. CONSULTORES EN DISEÑO

243 S.A. [ANÓNIMA]

ARQUITECTURA

384 SAKE GROUP

102 SALAS BASSANI

385 SALÓN

308 SÁNCHEZ NAVARRO, MARIANA

309 SANDRA WEIL COUTURE

244 SCHLAKWIJK LINCOLN,

ADRIAAN JAN

103 SÉ, TALLER DE IDEAS

104 SELVA HERNÁNDEZ | EDICIONES

ACAPULCO

310 SENSACIONAL DE DISEÑO

361 SERGIO VILLEGAS DISEÑO

ESCÉNICO

245 SERVÍN, VIK

105 SHE-MAROD ESTUDIO

311 SILVIA SUÁREZ - TEXTILES

TRADICIONALES EN

INDUMENTARIA

246 SMITH, ROBERT

247 SNUVYKO

106 SOCIEDAD ANÓNIMA

107 SOCIEDAD FUNCIONAL

108 SOF LÓPEZ

109 SOL CONSULTORES

248 SOTELO, MARTA CARMELA

362 SPACE MÉXICO

110 STOP DISEÑO GRÁFICO

111 STORM. DISEÑO+COMUNICACIÓN

363 STUDI-OSC

364 STUDIO NUMO

365 STUDIO ROCA

112 SUMA+

386 SUSTAM

113 SUSTITUTO. PROYECTOS

VISALES

312 SUYAY CANAH

387 TABLOIDE

249 TALAVERA SANTA CATARINA

114 TALLER DE COMUNICACIÓN

GRÁFICA | TCGREAT

250TALLER EXPERIMENTAL DE

CERÁMICA

251 TALLER SERRA

252 TALLER TIERRA Y PLATA

115 TD2

116 THE LEGACY

117 THE NEST

118 THRILL STATION

313 TIENDITA FIU FIU

253 TOLOACHE

254 TORRES, FRANCISCO

255 TORRES, JESSICA

119 TRAGAFUEGOS DISEÑO

120 TRILCE EDICIONES

314 TRISTA

256 TSIMANI STUDIO

315 U+U

121 UFFA | CREATIVOS VISUALES

316 UNMARKED

366 URIBE KRAYER DISEÑO DE

INTERIORES Y CONSULTORÍA

DE ARTE

367 USOARQUITECTURA

122 VALENZUELA VILLAREAL,

ANA IVETTE

257 VALTIERRA, PERLA

123 VANNEUVILLE, PRISCILA

258 VARGAS, MARTHA

368 VÁZQUEZ DURÁN, AURELIO

259 VEGA, LUIS

369 VÉLEZ, LILIANA

124 VERSUS ESTUDIO

260 VF VIRGINIA FUERTES

125 VILLA CANO, IVÁN

388 VISUALMA COLLECTIVE

261 VIVANCO, CHRISTIAN

126 VIVANCO, OLIVIA

127 VLA. LABORATORIO VISUAL

128 WEEATDESIGN

262 WESTHOLM, MICHELLE

Y SERVÍN, VIK

389 XIBALBA STUDIOS

390 XPLAYE DISEÑO

263 YDEAZ

317 YEMA TEXTILES

264 YOO, SEAN

265 ZONA MAGENTA

129 ZOVECK ESTUDIO
---
AbOUT pROMÉxICO

ProMéxico is the Federal Government agency responsible

for strengthening Mexico's participation in the international

economy. To that end, it supports the export activity

of companies established in Mexico and coordinates actions

to attract foreign investment to national territory. ProMéxico

was established in June 2007 by Presidential Decree under

the concept of public trust fund assigned to the

Ministry of Economy.

Contact | further information

ACERCA DE pROMÉxICO

ProMéxico es la agencia del gobierno federal responsable

del fortalecimiento de la participación de México en la economía

internacional. Para lograr ese objetivo, apoya la actividad

exportadora de empresas establecidas en México y coordina

las acciones de atracción de inversiones al territorio

nacional. ProMéxico fue establecido en junio 2007 por Decreto

Presidencial bajo la figura de Fideicomiso público adscrito

a la Secretaría de Economía.

Contacto | información adicional

+52 (55) 5447 7000

promexico@promexico.gob.mx

@ProMexicoTW

Promexico
---
ACERCA DE CENTRO

centro es una institución de educación superior especializada

en diseño, cine, medios digitales y comunicación. Destacados

profesionales imparten programas de vanguardia con

un enfoque interdisciplinario y emprendedor, y con un cuidado

balance entre la idea y la ejecución, el talento y la disciplina,

el riesgo y la certeza.

Más allá de ser una universidad para la formación de futuros

líderes, centro es una plataforma para la investigación,

el emprendimiento y el diálogo alrededor de la creatividad.

Impulsa el diseño a través de exposiciones, conferencias,

talleres y proyectos colaborativos con la industria e instituciones

culturales y gubernamentales.

AbOUT CENTRO

centro is an institution for higher education specialized

in design, film, media and communication. Prominent

professionals teach with an interdisciplinary

and entrepreneurial focus, and a careful balance between

idea and implementation, talent and discipline, risk

and certainty.

Apart from being an institution that trains future creative

leaders, centro serves as a platform to carry out research,

and to undertake and discuss ideas about creativity. It promotes

design by organizing exhibitions, conferences, workshops

and collaborative projects developed with the private and

public sector as well as cultural institutions.

Contacto | información adicional

Contact | further information

+52 (55) 2789 9000

promocion@centro.edu.mx

@centro_news

CENTRO diseño | cine | televisión

centro.edu.mx
---
centro y ProMéxico agradecen profundamente a todos los consejeros

que contribuyeron en la revisión y complementación de los registros

incluidos en el directorio, por su compromiso y dedicación.

centro and ProMéxico would like to express sincere thanks to all

the advisors for their commitment and dedication in reviewing and

complementing the entries included in the directory.

Manuel Alcalá

Diseño en Medios Digitales centro |

Tabloide

Víctor Alcérreca

Taller de Arquitectura

Greta Arcila

Revista Glocal

Marco Coello

ifi President-Elect (Mexico) | C Cúbica

Carmen Cordera

Galería Mexicana de Diseño | Drafft

Diseñadores

Josué Ibáñez

Hot Pixel

Uzyel Karp

Comunicación Visual centro |

Taller de comunicación gráfica

Ricardo Lozano

Cítrico Gráfico

Por su papel fundamental en el origen de este proyecto cuando

trabajaban en ProMéxico, agradecemos especialmente a:

For making this endeavor possible while working at ProMéxico,

we give special thanks to:

Bruno Ferrari

Secretario de Economía

Enrique Perret

Secretario Técnico de la Competitividad

Liza Niles

Diseño Textil y Moda centro

Beata Nowicka

Arquitectura de interiores centro |

Nowicka Studio

Sebastián Ocampo

Diseño Industrial centro

Pamela Ocampo

Estilista

Ariel Rojo

Ariel Rojo Design Studio

Ricardo Salas

Diseño Gráfico Universidad Anáhuac |

Frontespizio

José Alfredo Silva

Trista

Lola Sosa

Artista Visual, Miembro del Sistema

Nacional de Creadores de Arte (snca)

Este directorio no hubiera sido posible sin el invaluable apoyo

y compromiso de las siguientes personas:

This directory would not have been possible without the invaluable

support of the following people:

Miquel Adrià, Samuel Alazraki, Nadia Benavides, Rob Anderson,

Brian Bergeron, Jorge Calderón, Maui Cittadini, Franklin Collado,

Elena Cruz, Julio Derbez, Lourdes Franco, Lizeth Galván,

Bernardita Hoces, Abel Ibáñez, Teresa Isunza, Gisela de León,

Bonnie MacKay, Verónica Monsivais, Oficina ProMéxico NY,

Antonio Pérez, Ricardo Porrero, Alenia Sammy, Emilio Sánchez

González, Juan Fernando Santos, Anna Magdalena Schober,

Pamela Shaw, Danae Salazar, Kathy Thornton-Bias, Juan Carlos

Téllez- Girón, Chalin Tulyathan, Israel Rodríguez, Carlos Romero,

Bibiana Ruiz Esparza, Gerardo Zaldívar, Fabiola Zamora.

Centro de diseño, cine y televisión

Gina Diez Barroso de Franklin

pRESIDENTA | pRESIDENT

Abraham Franklin Silverstein

VICEpRESIDENTE | VICEpRESIDENT

ProMéxico

Carlos Guzmán Bofil

DIRECTOR GENRAL | CEO
---
DIRECTORIO DE DISEÑO MExICANO | DIRECTORY OF MExICAN DESIGN

Dirección de proyecto | Project Director

Kerstin Scheuch

Coordinación y logística | Coordination and logistics

Samuel Rivera

Renata Becerril

Asistencia de coordinación | Assistant Coordinator

Lorena Mier

Diseño | Design

Taller de comunicación gráfica

Portada | Cover

Juan Arturo García

Formación | Typesetting

Daniela Correa Field

Desarrollo Web | Web development

Manuel Alcalá

Leslie García

Prensa y Relaciones públicas | Press and Public relations

José Casanova

Brenda Zamora

Apoyo administrativo | Administrative support

Patricia Sierra

Kristal Salcedo

Corrección de estilo y traducción | Copy editing and translation

Jimena Bugallo, Luisa Reyes Retana,

María José Gómez, Gerardo Piña

Centro de Diseño y Comunicación S.C.

ProMéxico

Todos los derechos reservados, 2012

isbn: 978-607-95850-0-6

Este directorio se terminó de imprimir el 12 de abril de 2012, al conmemorarse

51 años de que Yuri Gagarin se convirtió en el primer ser humano que viajó al espacio

en la nave Vostok 3KA-3. A una distancia máxima de 327 kms de la tierra.

Para su formación se emplearon la familia tipográfica Thesis Basic, diseñada por Luc(as)

de Groot en 1994 y la tipografía Simple, diseñada por Dimitri Bruni y Manuel Krebs.

Se imprimieron 10,000 ejemplares.