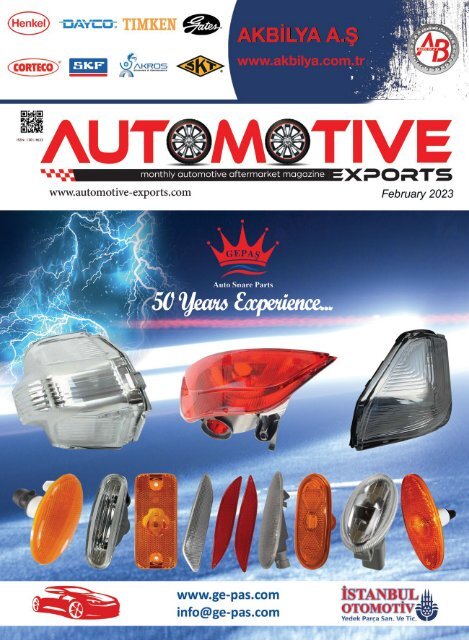 Automotive Exports February 2023
You also want an ePaper? Increase the reach of your titles
YUMPU automatically turns print PDFs into web optimized ePapers that Google loves.
1
---
Monthly automotive aftermarket magazine

GROUP CHAIRMAN

H. FERRUH ISIK

PUBLISHER:

İstmag Magazin Gazetecilik

İç ve Dış Ticaret Ltd. Şti.

Managing Editor (Responsible)

Mehmet Söztutan

mehmet.soztutan@img.com.tr

Advertising Managers

Adem Saçın

+90 505 577 36 42

adem.sacin@img.com.tr

EDİToR

Mehmet Soztutan, Editor-in-Chief

mehmet.soztutan@img.com.tr

Enes Karadayı

enes.karadayi@img.com.tr

International Marketing Coordinator

Ayca Sarioglu

ayca.sarioglu@img.com.tr

Editor

Yusuf Okçu

yusuf.okcu@img.com.tr

Finance Manager

Cuma Karaman

cuma.karaman@img.com.tr

Digital Assets Manager

Emre Yener

emre.yener@img.com.tr

Technical Manager

Tayfun Aydın

tayfun.aydin@img.com.tr

Design & Graphics

Sami aktaş

sami.aktas@img.com.tr

Accountant

Yusuf Demirkazık

yusuf.demirkazik@img.com.tr

Subsciption

İsmail Özçelik

ismail.ozcelik@img.com.tr

HEAD OFFICE:

İstmag Magazin Gazetecilik

İç ve Dış Ticaret Ltd. Şti.

Ihlas Media Center

Merkez Mah. 29 Ekim Caddesi No: 11B / 21

Yenibosna Bahcelievler, Istanbul / TÜRKİYE

Tel: +90 212 454 22 22

www.img.com.tr sales@img.com.tr

KONYA:

Metin Demir

Hazım Uluşahin İş Merkezi C Blok

Kat: 6 No: 603-604-605 KONYA

Tel: (90.332)238 10 71 Fax: (90.332)238 01 74

PRINTED BY:

İHLAS GAZETECİLİK A.Ş.

Merkez Mahallesi 29 Ekim Caddesi İhlas Plaza

No:11 A/41 Yenibosna–Bahçelievler/ İSTANBUL

Tel: 0212 454 30 00

www.ihlasmatbaacilik.com

Dynamism prevails as usual…

The Turkish automotive industry, which was originally founded for

import-substitution purposes and focused on the domestic market for a long period,

transformed itself into a production base for a number of global models.

In motor vehicles, a large number of EU legislation was adopted. Türkiye has been

continuing efforts to introduce the relevant legal arrangements, and significant progress

has been achieved in this field.

The Turkish automotive industry is one of the four largest exporting and leading investor

industries of the Turkish economy. It is an economically strategic sector in terms of its

significant contribution to the national production and development, direct and indirect

employment and level of technology in Türkiye.

The Turkish automotive parts industry is strong and competitive. It has developed in parallel

with the development of Türkiye's automotive industry both in quality and production

volumes.

The Turkish automotive parts and components industry has now developed to the stage

where it is at a level ready to take advantage of the globalisation and structural changes in

the world automotive industry. A number of firms active in the industry have been named

the "co-designer" in the global vehicles manufactured in Türkiye.

The Turkish automotive supplier industry produces almost all types of parts,

components and spare parts such as engines and engine parts, power train parts and

components, brake and clutch parts and components, hydraulic and pneumatic systems,

suspension systems, security systems, rubber and plastic parts, chassis, frames and parts,

casting and forging, electrical equipment and parts, lighting systems, accumulator

batteries, seats etc.

Our publications, by participating in major international fairs and exhibitions, remain at

the service of those businesses people seeking to increase their share in the increasingly

competitive foreign markets.

Next month, we will participate in Equip Auto Algeria, 2023 to convey the message of

Turkish automotive exporters.

We are convinced that fairs and exhibitions would be instrumental to increase business

opportunities in the automotive industry.

We wish lucrative trade for all participants.

automotiveexport

automotiveexports
---
Türkiye probes automobile market over

stockpiling, price hikes

Türkiye launched an investigation into

the automobile sector over allegations of

stockpiling and unjustified price increases.

The probe will cover about 260,000

vehicles that were sold since September

last year, the Treasury and Finance Ministry

said in a statement, adding that detailed

information had been requested from 13

distributors and 257 dealerships regarding

the sale process of the vehicles.

Among others, buyers were also requested

to provide information on whether they

made payments for the vehicles in person.

They were also asked whether they

were forced to purchase accessories and

whether the payments for these were

made in person or via bank. The statement

said inquiries were also made about cash

proceeds and potential payments above

list prices. Charges above list prices will be

considered tax evasion, it underscored.

February 2023 10
---
Automotive

industry targets

$34 billion in

exports this year

Türkiye's automotive industry aims to

generate $34 billion in export revenues this

year, the Automotive Industry Exporters'

Association (OİB) has said.

"Despite the economic slowdown in

Europe, our largest export market, and

changes in demand conditions, we

managed to increase our export revenues

both in December and the whole of 2022,"

said Baran Çelik, president of the OİB.

In 2023, which marks the centennial of the

republic, the automotive industry targets to

reclaim the title of most-exporting sector

by generating $34 billion in sales to foreign

markets, Çelik said in a statement.

Commenting on the performance of the

local carmakers, Çelik noted that export

revenues amounted to around $31 billion

in 2022. "We lost some $3 billion due to

the euro-dollar exchange rate."

The industry faced multiple challenges

last year, including the chip shortage,

high inflation, rising energy prices and the

looming risk of global recession, he said.

"Those problems worsened with the

Russian-Ukraine war. However, the

automotive industry succeeded in boosting

its export revenues both in December and

2022 as a whole," Çelik added.

Last month, exports grew 6.7 percent from

a year ago to touch $3.16 billion, which

marked an all-time-high monthly figure

for the automotive sector and accounted

for 13.8 percent of Türkiye's overall export

revenues, according to data from the OİB.

Exports by the automotive supply sector

stood at $1.12 billion, exhibiting an annual

increase of 7 percent. This subsector's

sales to Germany, its largest market, fell

1 percent, but its exports to Russia and

France leaped 56 percent and 18 percent,

respectively.

Local companies' passenger car exports

generated $1.11 billion in revenue, rising

19 percent from December 2021.

France was the automotive sector's largest

export market in December 2022. Exports

to this country increased 15 percent yearon-year

to $506 million. The OİB reported

a 3 percent rise in exports to Germany

to $358mn. Italy boosted its purchase

from the Turkish automotive sector by 11

percent to $318mn.

The share of the European Union in the

sector's exports was 66.4 percent. Sales to

the bloc grew 11 percent from December

2021 to $2 billion. In the whole of 2022,

the industry's export revenues increased

by 5.7 percent compared to 2021 to

stand at $31 billion, which marked the

second-highest export figure ever for the

automotive sector. The supply industry's

exports were up 10 percent last year to

reach $12.98 billion. The European Union

accounted for 64.7 percent - or $20 billion -

of the automotive industry's total exports.

Sales to the Middle Eastern countries rose

20 percent, but exports to Africa dropped

19 percent, the OİB said.

February 2023 12
---
Türkiye's Togg, tech ventures join

CES extravaganza

More than a thousand companies

and startups, including Türkiye's first

domestically produced electric vehicle

brand, have gathered to showcase their

products and the latest innovations at the

world's biggest tech expo.

The annual CES consumer electronics

extravaganza opened its doors in Las

Vegas with organizers hoping to recapture

the excitement of the pre-pandemic years

and companies hoping to get the most out

of the show, produce some buzz around

their gadgets and capture the attention of

investors.

The CES stage is where Togg, a

manufacturer of Türkiye's first electric

vehicle (EV), made its international debut

last year when it showed off its "Transition

Concept Smart Device," an all-electric

fastback concept car.

Fresh from rolling out the long-anticipated

automobile brand, Türkiye has been

highlighting not only the fact that Togg

will be battery powered but also all the

features that will make it more than just

a car.

Formerly known as the Consumer

Electronics Show, the expo has

increasingly become a stage for showing

off electric cars that are becoming

internet-linked computers on wheels.

Companies and startups mainly showcase

innovations in virtual reality, robotics and

consumer tech items.

Calling itself a technology brand that

blends digital and physical experiences,

Togg, along with many other software

and mobility-oriented ventures, returned

to CES this year to explore new global

partnership and investment opportunities

and display its mobility solutions.

The company says it is exhibiting its vision

for the personalized mobility experience

of the "day after tomorrow."

CES is also hosting one of the largest

gatherings of the startup ecosystem at

Eureka Park, the main exhibition space for

ventures from around the world.

Turkish startups supported by the

Scientific and Technological Research

Council of Türkiye (TÜBITAK) and the

Istanbul Development Agency (ISTKA) are

seeking to explore new partnerships and

opportunities abroad and meet investors

who can help their businesses grow.

Instead of consumer electronics for which

it is formerly known, Vestel is, together

with Togg, showing off mobility-focused

energy solutions. It is displaying charging

solutions, including one it developed

for Togg's charging station brand called

Trugo and its parent conglomerate Zorlu's

charging network brand Zorlu Energy

Solutions (ZES).

Among others, Fark Labs, an innovation

and transformation hub, is gathering

ventures engaged in mobility and with a

focus on global growth under a single roof.

More than 40 startups from Türkiye are

said to be attending the CES 2023 edition.

CES has a theme for the first time: how

technology addresses the world's biggest

challenges. The momentous event

announced it partnered with the World

Academy of Art and Science (WAAS) to

showcase the critical role of technology in

support of the United Nations' efforts to

advance human security for all.

February 2023 18
---
"Human Security for All" is a theme

throughout the show, from conference

programming to keynotes highlighting

innovation and products improving the

lives of people around the world.

"CES is the world's most exciting

technology event, from startups in Eureka

Park to global brands on the main stages,"

said Gary Shapiro, president and CEO of

the Consumer Technology Association

(CTA).

"We are thrilled to spotlight thousands of

innovative companies at this year's show.

Tech advances are helping to solve the

world's greatest challenges, and CES 2023

will set the agenda for the year ahead,"

Shapiro noted.

Set to last through, CES is getting back to

normal after the past two shows. It went

utterly virtual in 2021 and saw a significant

drop in 2022 attendance because of the

pandemic. The organizers are hoping to

reach more than 100,000 participants

this year. This year's attendees include big

names like Amazon and Facebook parent

Meta, as well as Google, Canon, Intel,

Hisense, LG Electronics, Nikon, Samsung,

TCL and Voxx.The show changed its name

to CES several years ago to better reflect

the changing industry and the event,

which had expanded beyond audio and

video to include automotive, digital

health, smartphones, wearables and other

technologies. Togg is at CES showcasing

a unique technology experience space

that appeals to users' senses of sight,

smell, hearing, and touch. It has designed

an experience to bring visitors together

with the experience of a sustainable

and connected mobility future in a

900-square-meter (9,985-square-foot)

area called the "Digital Mobility Garden."

The "Digital Mobility Garden," where

concepts such as human and technology,

art and science, mind and heart, unity and

diversity in the world of duality meet, tells

the future of mobility with digital art.

Togg set up what it calls the Beyond X

area, designed by Togg Design Studio and

developed together with Pininfarina. The

area gives hints of the future of mobility

and offers a personalized mobility

experience to the participants.

A sculptural and circular capsule set

up by Togg as part of its Beyond X

area featuring visuals on personalized

mobility experience is seen at CES 2023,

the world's largest annual consumer

electronics show, at the Las Vegas

Convention Center, in Las Vegas, Nevada,

U.S.

Starting their journey in a tunnel, visitors

experience mobility accompanied by

visual art that challenges the imagination

in a sculptural and circular capsule.

Participants can experience one of four

possible scenarios such as Saturn, Forest,

Futuristic City and Artistic Türkiye in the

most suitable music and environment.

Beyond X activates the mind, soul, heart

and four senses with an extraordinary

digital experience.

World's biggest auto show

The presence of auto companies at CES

this year is the biggest ever. Nearly 300

exhibitors are grouped in a dedicated hall,

promising to make it one of the largest

auto shows in the world.

Global launches and keynote events by

Stellantis, BMW and other heavyweights

lead into exhibits featuring the latest in

self-driving technology, electric vehicles

and personalized mobility devices for land,

air and sea.

Other big names at CES include Candela

Marine Technology, GM, Italdesign

Giugiaro, Magna, MobilEye, Waymo, RYSE

and Volvo Penta.

CES is showcasing another rising trend,

namely health care innovations, which

are also one of the major themes at the

gathering.

The past few years have shown that

consumers want to take their health into

their own hands. CES 2023 is bringing even

more digital health innovations and brands

to the global stage, seeking to show how

rapidly this market is growing.

It seeks to mainly showcase advancements

in digital therapeutics, mental wellness,

women's health tech and telemedicine.

CTA's Digital Health Studio features the

latest technology for diagnostic and

treatment functions and highlights the

importance of remote connectivity for

accessible health care.

In addition, global brands like John Deere,

LG, Samsung and Siemens are showing

February

2023

20
---
how innovation can conserve energy and

increase power generation, produce more

sustainable agricultural systems, power

intelligent cities and support access to

clean water.

Büyütech, a manufacturer of camerarelated

advanced driver-assistance system

(ADAS) solutions, is working on the design

and development of a concept integrated

into new-generation vehicles consisting

of a set of sensors, cameras and radars

to make the roads safer and driving more

comfortable.

Büyütech, a Fark Labs startup that is

attending CES for the second time, is also

having its solutions tested by Togg.

ADAS systems are considered an important

step in moving toward autonomous

driving. The ADAS camera on the front side

activates when necessary for greater safety,

helping drivers detect and avoid hazards.

Büyütech's ADAS system consisting of

cameras is revolutionizing how a vehicle

perceives the world and provides reliable

object and environment recognition

functions.

Its solution meets the safety function

requirements for the General Safety

Regulation (GSR) and EU-NCAP 2023/2025

star compliance and supports Level 2 and

Level 2-plus autonomous driving.

Saykal, one of the initiatives supported by

Fark Labs and headquartered in IT Valley,

produces electronic sensors used in car

doors and seat belts and conducts research

in various fields spreading to chip design.

Its sensors are used in Togg vehicles' doors

and their seat belts.

Saykal has over a decade of experience

developing electronic products and

embedded software for various industries,

particularly automotive. It works on

advanced technology detection and

imaging systems for strategic and scalable

sectors on a global scale.

The company was founded thanks to a

capital support program extended by

Industry and Technology Ministry in 2010.

As a venture from Türkiye, Saykal

Electronics CEO Yücel Saykal says they

have been centering efforts on software

technology and engineering works over the

last 12 years.

Saykal noted that they look to increase

their business volume and expand their

customer portfolio by strengthening their

infrastructure with the support of their

investors, stressing an aim to make Saykal a

tech player on a global scale.

Another venture attending CES 2023

is Optiyol, a startup supported by Fark

Labs and a graduate of Türk Telekom TT

Ventures' acceleration program PILOT.

Optiyol is a next-generation approach

to route optimization that pledges to

transform delivery management and meet

the standards in supply chain management

processes.

It features a mobile driver application and

offers companies smart route-planning

software. Optiyol provides multi-stop route

planning and dynamic route optimization

to take last-mile delivery service to the next

level.

Founded by Tuba Gözbaşı and Ozan

Gözbaşı, Optiyol provides a unique

software as a service (SaaS) routing

solution to many sectors carrying out

logistics operations, from fast-moving

consumer goods and retail to e-commerce

and transportation.

It digitalizes both micro-distribution

and macro-distribution operations for

its customers with specially designed

algorithms for the supply chain needs of

enterprises.

Providing timely and cost-effective

transportation of shipments with dynamic

route optimization, Optiyol says it offers

a reduction in fuel costs by 15%-25%,

the number of trips by 5%-10%, while

increasing on-time delivery rates by 20%-

30%.

The mobile driver application allows

vehicles and orders to be monitored in

real-time. It enables the sender, carrier and

buyers to be informed instantly about the

entire transportation process from end to

end.

February

2023

22
---
ARES S1 Coupé painted by the artist

Daniela Boo for Art Basel Miami

ARES Modena, the Italian Lifestyle

brand, is gearing up for Art Basel 2022

by collaborating with artist Daniela Boo

painted front elements of the ARES S1

Coupé model located in its studio in the

Miami Design District.

Art Basel is one of the most important

events in Miami with many collectors and

connoisseurs gathering in South Florida for

the occasion.

The Modena-based company initiated

a strategic shift in 2021, moving

from a provider of custom aesthetics

enhancement services for the luxury car

industry to the manufacturing of its own,

self-designed luxury models. The Italian

Lifestyle brand is now further accelerating

with the creation of new range of electric

mobility luxury products allowing ARES to

pivot and tap into an even higher growth

segment.

Alongside the new product launches

ARES is also developing and expanding its

network of Studios, opening three new

sites (Bologna International Airport, Milan

and London) by the end of 2022.

To support this ambitious plan, the

Company announced in August 2022 the

admission of three new shareholders with

profound experience in the automotive,

finance and luxury sectors: Alfredo

Altavilla, Boris Collardi and Marco Bizzarri.

They join the board of director of ARES, in

addition to the Swiss entrepreneur Philippe

Gaydoul, who joined as shareholder of

ARES in 2019.

The company opened the Miami Studio

in 2021 to provide the North American

market a unique location to immerse

themselves in the brand philosophy and

product line. All products are hand built

as per the client's specification utilizing

the highest level of engineering and finest

materials.

Daniela Boo has a history of painting iconic

supercars and was selected by various

automotive brands for unique artistic

expressions, her creative work combines

hyper realism and speed. A number of

these aesthetic vehicles are on display in

museums and private collections globally.

Daniela Boo is represented in Miami by

BlackTower Gallery, a contemporary art

space located in the Design District.

February 2023 24
---
Their main objective is to connect art,

collecting, and aesthetic enjoyment.

BlackTower Gallery offers a wide range of

creative proposals, governed by quality

criteria and constant experimentation.

The art car culture evolved in the 1960s,

and there is rich tradition over the years

that has transformed the body of an

automobile into a new canvas for artists to

display their talents and passion. Many of

these art cars have been inspired by movies

or personal visions of the artist, they also

provide a sense of individuality. Events

throughout the United States have been

organized to showcase these masterpieces,

and there is an increased interest in these

types of works of art.

The combination of curves on the exterior

body with art can create an emotional

influence and arouse desire, it is all about

having a meaningful aesthetic feel. The

fusion of shapes and colors can give the

vehicle a unique personality which pushes

the boundaries of design and artisan skills.

The United States has one of the most

unique and diversified car cultures in the

world. The fascination and romance for

the automobile has been around since the

car was first invented. The car was a form

of individual independence and personal

mobility to explore new cities in the privacy

of your own space.

Dany Bahar, CEO and co-Founder of ARES

Modena, commented: "I am delighted by

the collaboration between ARES and the

artist Daniela Boo, I believe it represents a

new confirmation of the constant growth

of the company towards a luxury brand

focused on art and lifestyle experiences."

ARES MODENA, ENGINEERS OF

EMOTIONS

ARES' unique facility delivers a new level

of design, development, manufacture and

sales of coach-built and unique cars in the

heart of Italy and through an expanding

global network of studios. The advanced

23,000 m² ARES facility in Modena opened

in January 2018 and, in bringing all

facets of coachbuilding under one roof,

immediately set a new global standard for

the design, development, production and

handover of bespoke, personalised and

unique cars.

ARES' CEO Dany Bahar, along with his

long-term Dubai-based business partner

and ARES Executive Chairman, Waleed Al

Ghafari, founded ARES and spotted the

opportunity to move the coachbuilding

business to another level of service by

developing the world's first 'concept-tocreation'

coachbuilding facility. Together

they attracted a group of experienced and

passionate multinational shareholders.

For the first time, every aspect of bringing

automotive dreams to reality take place

under one roof in rapid time and to an

extremely high level of quality. It is a

unique combination of luxury car brand

resources with artisan principles and skills.

Merging traditional Italian craftsmanship

values with the advanced ones, ARES

realises the dreams and visions of

enthusiasts creating one-off, unparalleled

vehicles, impossible to obtain elsewhere.

To this end, a shared creative experience

that aims at providing a completely tailormade

product. This is the ultimate answer

to the ongoing demand for customisation

and the desire to stand out from the crowd

of our own time.

February

2023

26
---
Türkiye aims to

make $16B in

exports to Iraq

in 2023

Türkiye aims to reach $16 billion in exports

to Iraq in 2023 to put it in second place

in the ranking of countries to which it

makes the highest sales, Foreign Economic

Relations Board (DEİK) Türkiye-Iraq

Business Council Chairperson Halit Acar

said.

Acar told Anadolu Agency (AA) that

Türkiye-Iraq relations are progressing

and exports to the country are increasing

day by day. Sharing that $12.6 billion was

exported to Iraq in the 11 months of this

year, Acar said that while Iraq was the fifth

in the list of the countries with the highest

exports in 2021, it rose to third place this

year.Stating that the highest exports to Iraq

were made from Istanbul with $2.6 billion,

Gaziantep with $1.8 billion and Mardin

with $833 million, Acar said: "We aim to

export over $14 billion by the end of 2022."

"Last year, we made an export of $11.2

billion. When we look at it as of the year,

we see an increase of 25%." Stating that

products such as cereals, pulses, oil seeds,

chemicals, paper and forestry materials,

furniture and steel are exported to Iraq,

Acar said, "There are great opportunities in

Iraq. A new government was formed about

1.5 months ago. The current government is

planning to invest in many areas and I hope

that Türkiye will definitely take a share in

these areas."

He said that Türkiye has high standards

of production and has companies that

have proved their success in the sectors

they operate, one of them being the

construction sector. There are plenty of

projects that Turkish contractors can play

a role in Iraq, he said, citing electricity,

mass housing, agricultural irrigation

and infrastructure, superstructure and

transportation projects as examples

in addition to the Mosul Organized

Industrial Zone construction area, health

centers or school contracting. A budget

of approximately $100 billion has been

allocated for those projects, Acar said,

stressing that "Turkish businesspeople

need to benefit from this budget."

"Iraq is both our long-time friend and

neighbor country.

The warmer relations we have between the

two countries, the more our trade benefits

from this," he added.

February 2023 28
---
Toyota top-selling automaker for 3rd year in row

Japan's Toyota was the world's top-selling

automaker in 2022, retaining its lead over

German rival Volkswagen for the third year,

company data showed .

Despite the chip shortage and Covidrelated

supply chain disruption, Toyota

and its subsidiaries sold nearly 10.5 million

vehicles last year, around the same as in

2021.

In comparison, Volkswagen Group – which

held the top spot until 2020 when it was

overtaken by Toyota – sold 8.3 million units

last year, an annual drop of 7%.

"Despite the impact of production

constraints caused by the spread

of COVID-19, increased demand for

semiconductors, and other factors, global

sales were at the same level year-onyear

as a result of solid demand centered

around Asia," the Japanese car giant said.

In 2022, Toyota sold 2.7 million electrified

vehicles, around 5% more than the

previous year. The vast majority of those –

2.6 million – were hybrid models.

Toyota pioneered hybrid cars, but some

critics say the company has been slow to

make the shift to battery-powered engines

even as demand soars for low-emission

automobiles.

A year ago, Toyota hiked its targets for the

sector and announced it would roll out 30

Battery-powered electric models by the

end of the decade.

Mio Kato, an analyst at Lightstream

Research who publishes on Smartkarma,

told Agence France-Presse (AFP) that

Toyota was likely to keep its top-selling

crown in the near term.

"In terms of the actual volumes, it will

still be difficult for Volkswagen or General

Motors to surpass Toyota easily because

both are under more pressure in China

with their internal combustion engine

business," he said.

Electric-only carmakers like China's BYD will

one day pose "a genuine threat" to Toyota,

he said, because they have strong battery

technology and "more experience and

better branding" with EVs.

But electric-only automakers are still

too small to have a realistic chance of

competing with legacy carmakers for

several years at least, Kato said.

Toyota named Koji Sato its new president

and CEO, replacing third-generation

chief executive Akio Toyoda in a surprise

reshuffle of the company's leadership.

February 2023 30
---
Türkiye's

construction

machinery

sector increases

capacity

Türkiye's construction equipment sector

worked by increasing its production

capacity in 2022 in order to keep

up with the intense domestic and

international demands, a prominent sector

representative has said.

"Although 2022 was a difficult year for

the real estate sector trying to recover

from the impact of the pandemic, efforts

for production, export, and employment

continued uninterruptedly," Nadir Akgün,

chairman of the board of directors

of Türkiye Construction Equipment

Distributors and Manufacturers Association

(İMDER), said.

"As the Turkish construction machinery

sector, we worked hard to meet the intense

domestic and international demands in

2022. We are faced with growing demand

every day," he added. "We are trying to

keep up with the demands by increasing our

production capacity and working hours."

Akgün noted that the Turkish market ranks

fifth in Europe in terms of volume.

"Türkiye is the third fastest growing

country on average for the last decade with

its growth rate," he said. "We export to

133 countries in total, especially in Europe,

Middle East, Russia, North Africa and

Central Asia markets."

İMDER is working to have a say in the

transformation process in the global

economy, Akgün said.

"There are important changes in the global

economy such as digitalization, climate

change and changes in supply chains,"

he added. "In order to have a say in the

transformation process, we are shaping our

road map with 'Digitalization, Zero Carbon

Footprint and Sharing Economy' models."

The "third International Construction and

Material Handling Machinery Congress

and Rental Summit" will be held in Istanbul

Haliç Congress Center on Oct. 3 and 4,

Akgün said.

"The summit will be held with the

participation of approximately 1,000 senior

sector representatives and bureaucrats

from more than 55 different countries

and over 200 national and international

companies," he added.

February 2023 32
---
Tesla owners in

China protest

surprise price

cuts they missed

Hundreds of Tesla owners gathered at the

automaker's showrooms and distribution

centers in China. They demanded rebates

and credit after sudden price cuts they

said meant they had overpaid for electric

cars they bought earlier.

About 200 recent buyers of the Tesla

Model Y and Model 3 gathered at a Tesla

delivery center in Shanghai to protest

against the U.S. carmaker's decision to

slash prices for the second time in three

months. Many said they had believed

that prices Tesla charged for its cars late

last year would not be cut as abruptly

or as profoundly as the automaker just

announced in a move to spur sales and

support production at its Shanghai plant.

In addition, the scheduled expiration

of a government subsidy at the end of

2022 also drove many to finalize their

purchases. Videos posted on social

media showed crowds at Tesla stores and

February 2023 36
---
delivery centers in other Chinese cities

from Chengdu to Shenzhen, suggesting

broader consumer backlash.

Surprise discounts, Tesla's EV prices in

China are now between 13% and 24%

below their September levels.

Analysts have said Tesla's move was

likely to boost its sales, which tumbled

in December, and force other EV makers

to cut prices too, at a time of faltering

demand in the world's largest market for

battery-powered cars.

While established automakers often

discount to manage inventory and keep

factories running when demand weakens,

Tesla operates without dealerships, and

transparent pricing has been part of its

brand image.

"It may be a normal business practice, but

this is not how a responsible enterprise

should behave," said one Tesla owner

protesting at the company's delivery center

in Shanghai's Minhang suburb who gave his

surname as Zhang.

He and the other Tesla owners, who said

they had taken delivery in the final months

of 2022, said they were frustrated with the

abruptness of price cut and Tesla's lack of

an explanation to recent buyers.

Zhang said police facilitated a meeting

between Tesla staff and the assembled

owners at which the owners handed over

a list of demands, including an apology and

compensation or other credits. He added

the Tesla staff had agreed to respond.

About a dozen police officers could be seen

at the Shanghai protest, and most of the

videos of the other demonstrations also

showed a significant police presence at the

Tesla sites.

Protests are not a rare occurrence in China.

Over the years, people have come out in

large numbers over issues such as financial

or property scams. Still, authorities have

been on higher alert after protests in

Chinese cities and top universities at

the end of November against COVID-19

restrictions.

Other videos of Tesla owners protesting

were also posted on Chinese social media

platforms.

One video, which Reuters verified was

filmed at a Tesla store in the southwestern

city of Chengdu, showed a crowd chanting,

"Return the money, refund our cars."

Another, which appeared to be filmed

in Beijing, showed police cars arriving to

disperse crowds outside a Tesla store.

Reuters was unable to verify the content

of either video. Tesla does not plan to

compensate buyers who took delivery

before the most recent price cut, a

spokesman for Tesla China told.

He did not respond when asked to

comment on the protests.

China accounted for about a third of Tesla's

global sales in 2021 and its Shanghai

factory, which employs about 20,000

workers, is its single most productive and

profitable plant.

Analysts have been optimistic about the

potential for Tesla's price cuts to drive sales

growth a year after announcing its next

new vehicle, the Cybertruck.

"Nowhere else in the world is Tesla faced

with the kind of competitors that they have

here (in China)," said Bill Russo, head of

consultancy Automobility Ltd in Shanghai.

"They are in a much bigger EV market with

companies that can price more aggressively

than they can, until now."

In 2021, Tesla faced a public relations storm

after an unhappy customer climbed on a

car at the Shanghai auto show to protest

against the company's handling of her

complaints about her car's brakes.

Tesla responded by apologizing to

Chinese consumers for not addressing the

complaints in a timely way.

February 2023 38
---
EBRD to provide

largest-ever

loan to support

EV adoption in

Türkiye

The European Bank for Reconstruction and

Development (EBRD) is providing a $110

million loan to Enerjisa Enerji A.S. in Türkiye

to finance a comprehensive investment

package that includes expanding the

country's electric vehicle (EV) charging

infrastructure.

The proceeds of the loan will enable

Enerjisa to modernise its electricity

distribution network with efficient

equipment and smart-grid applications

and expand its EV charging infrastructure.

The investments are part of a capital

expenditure programme approved by the

country's energy regulator.

Esarj, one of Enerjisa's subsidiaries,

was one of Türkiye's first EV charging

companies and remains a key player in the

field. Enerjisa, itself, is a major electricity

distributor, serving a quarter of Türkiye's

population.

In addition to modernizing grid applications

and expanding its EV charging network, the

investment will allow Enerjisa to expand

its distributed energy business through its

Enerjisa Customer Solutions subsidiary,

which provides sustainable and innovative

energy solutions.

The loan was approved by the EBRD's

Managing Director for Sustainable

Infrastructure Group, Nandita Parshad, and

Enerjisa Energy's CEO Murat Pınar, at the

EBRD's London headquarters.

"This is the largest-ever financing for

electric vehicle charging and distributed

generation that the EBRD has sponsored

anywhere in the world and thus it is

groundbreaking for us," Parshad told

Anadolu Agency (AA) after the approval.

She said while the financing is significant in

terms of size but it is even more important

as it supports environment-friendly

transportation, which is relatively new but

has a scope of being an essential sector

in the future. The EBRD, Parshad said, has

financed different renewable and clean

energy projects in Türkiye but financing

electric vehicle charging is pushing the

bank's operations to the next level. "In a

year, we tend to finance 1.5 billion pounds

($1.6 billion) equivalent in Türkiye and this

February 2023 40
---
$110 million is about 8% of what we do in

a country in a year as a single transaction.

We will learn a lot from this project," she

stated.

Enerjisa Energy CEO Pınar said the

renewable energy capacity growth

worldwide in the next five years is set to be

equal the growth achieved in the past 20

years.

"Türkiye is expected to increase its

renewable capacity by about 65% in the

next five years. The electric vehicle pool

in Türkiye is anticipated to reach at least

2 million in 2030, similar to the global

trend in the electric vehicle market. While

leading this rapid transformation, it is of

great significance to promptly carry out

sustainable and efficient investments that

prioritize technology," he said.

"Thus, we will increase our investments

that enables us to offer solutions to our

customers with renewable resources,

expand the electric vehicle charging

infrastructure and upgrade our electricity

distribution network with more efficient

and technological equipment as well as

smart grid practices thanks to the financing

we are supplied via this agreement with

the EBRD," added Pinar.

Parshad said reaching net zero emissions,

which a significant number of countries

have committed to, needs increasing

electrification and moving sources of

electricity to renewable sources.

"Every country is going to have to double

and triple the amount of electricity that

it generates if they decarbonize their

economies. Looking at a market as big

as Türkiye and the energy transition that

Türkiye needs to make. That electrification

needs to be happening today," she said,

adding that this is business growth and

that electric vehicle infrastructure needs

to be put in place first before people start

buying electric cars. "So it is an essential

prerequisite for decarbonizing transport,"

Parshad underlined.

On the EBRD's new financing plans in

Türkiye, she said the long-term strategy

and focus in Türkiye is more renewables,

electrification and more shift toward

renewable sources of other sectors as 2023

marks a milestone for the EBRD in terms of

all activities.

The bank pledged to ensure alignment of

all its activities with the goals of the Paris

Agreement by Jan. 1. As of the beginning

of this year, the bank's investments

from direct lending to providing indirect

financing through financial institutions will

be aligned and assessed according to the

goals of Paris climate accord.

The Paris Agreement is a legally binding

international treaty adopted by 196

countries in 2015 in Paris. The goal of the

agreement is to limit global warming to 1.5

degrees Celsius (2.7 degrees Fahrenheit) by

the end of the century.

Clean sources are now not only good for

the climate but also the economic option in

most economies.

"Investing in renewables is actually bringing

costs down and improving infrastructure

at a lower cost than before. I think that

imperative to invest in greener and

renewables will become an even stronger

economic imperative going forward. The

geopolitical challenges we have witnessed

on the energy side also make renewables

the most secure form of energy by far," she

concluded.

The EBRD is active in 36 economies from

Central Europe to Central Asia, the Western

Balkans, and the Southern and Eastern

Mediterranean.

The EBRD is a leading institutional investor

Türkiye. Since 2009, the Bank has invested

more than 16.9 billion pounds in various

sectors of the country's economy, almost

all of it in the private sector.

February

41 2023
---
Rohde & Schwarz launches Benchmarker

3 to drive network benchmarking evolution

The end-user quality of experience

(QoE) for a mobile network is one the

main factors influencing customer churn

and has a direct impact on the business

of mobile network operators (MNOs).

Rohde & Schwarz, global market leader

in network benchmarking, introduces its

next generation benchmarking solution

which allows MNOs to master increasing

challenges from technological innovation

as well as cost, time and competitive

pressures. The new solution reduces

complexity and helps MNOs make

decisions about systematic and end-user

centric network improvements.

Driven by overall technological evolution

in telecommunications, the entire mobile

network ecosystem is becoming more and

more dynamic and complex for MNOs.

Versatile network technologies up-to

5G, infrastructure and new architecture

like Open RAN co-exist, and the ongoing

deployment of private networks adds

more complexity. Today's relevant mobile

network information and data can be

obsolete tomorrow. Therefore, it is

essential for MNOs to efficiently collect

and process data in a very short time to

maximize benefits. To this end, Rohde &

Schwarz is launching the next generation

benchmarking solution, featuring the

Benchmarker 3 data collection platform

and a set of unique features that will

allow MNOs to reduce complexity and

costs while gaining more value out of their

collected data.

High data quality for reliable results

Since the beginnings of cellular technology,

Rohde & Schwarz has been a pioneer

and market leader for RF and QoE-centric

testing solutions. Now, the company is

introducing Benchmarker 3, the third

generation of its own benchmarking

hardware and the technological core

of the data collection equipment.

Rohde & Schwarz experts designed

and manufactured the new hardware,

bringing together decades of expertise

in hardware product engineering and

in-house production, close collaboration

with customers and extensive experience

from multi-national network benchmarking

projects. Benchmarker 3 offers a reduced

footprint for easier installation and fewer

computing components for the same

number of measurement devices making

it easier to configure and maintain. New

airflow management enables temperature

control also for devices that tend to

overheat when handling high 5G data

throughput. The modular concept enables

an easy expansion that can be applied

to new installations as well as existing

Benchmarker II systems.

All these factors are combined in the new

Benchmarker 3 and ensure uniform, stable

conditions and highly reliable operations

during large-scale network benchmarking

measurement campaigns. In summary,

the data collection platform has higher

performance, a more compact design, is

lighter, consumes less power and is fully

backward compatible with the components

of its forerunner Benchmarker II.

February 2023 44
---
Smart campaign automation to reduce OPEX

To reduce operational expenses (OPEX) and simplify tiresome

recurring tasks, Rohde & Schwarz offers cloud-based

configurations as well as a set of state-of-the-art features to

remotely control and monitor the test system. Along with the

launch of Benchmarker 3, Rohde & Schwarz is introducing

new smart end-to-end campaign automation management

that automates multiple background tasks for the entire

workflow of a network benchmarking measurement

campaign and orchestrates data collection, fleet management

and post processing.

More value from data in shorter time

Extracting fast and relevant insights from the collected

data is key, especially since more dynamic and versatile

network environments require shorter reaction times. In

order to address this, Rohde & Schwarz has enhanced its

proven SmartAnalytics suite with new features, including the

generation of automated insights and reports, more efficient

management of big data from continuous benchmarking

campaigns combined with new special data structures for

long-term and historical trend analysis as well as smart

end-to-end campaign automation. In combination with

machine learning assisted test use cases, SmartAnalytics now

has higher performance and can extract more value out of

collected data in shorter time than ever before.

Harmonized test methodology reduces complexity

Rohde & Schwarz network benchmarking solutions support

the ETSI (European Telecommunications Standards Institute)

harmonized test methodology documented in TR 103 559.

The integrative scoring methodology substantially reduces

complexity since it indicates the network performance based

on terabytes of aggregated data in a single performance

score per operator. Moreover, SmartAnalytics offers a

seamless direct drill down feature that navigates in a few

clicks from the high-level view to the application view and

down to lower layers, including the physical network layer.

Users can retrieve single test samples from terabytes of data,

identify root-causes of failed test samples and understand

how these impact QoE. The Rohde & Schwarz network

benchmarking solutions empower mobile network operators

and regulatory authorities across the globe to transparently

and systematically assess and increase the quality and

performance of mobile networks, in order to enhance the

perceived quality for end-users

45
---
Togg to enter

foreign markets

in two years

The aim is to commence the export of

domestically produced Togg vehicles in two

years after the vehicles are introduced to

the local market, Industry and Technology

Minister Mustafa Varank has said.

Varank visited Togg's "Digital Mobility

Garden" at the major CES tech show in the

U.S.

Togg, the country's first homemade electric

vehicle, will start to collect pre-orders in

February.

"We will see Togg vehicles on [Türkiye's]

roads toward the end of March. Our target

is to start exporting [Togg] two years after

they are introduced to the local market,"

Varank said.

Works are underway to obtain necessary

permissions for Togg vehicles in several

countries but chiefly in Europe, he added.

"Presently, there is demand [of Togg

vehicles] from the world's different

regions…from the Middle East, Central Asia

and Europe," Varank said.

The inauguration of the Togg factory took

place on Oct. 29, 2022, in the Gemlik

district of the industrial province of

Bursa, and the first car rolled off from the

assembly line with a ceremony attended by

President Recep Tayyip Erdoğan.

Togg plans to produce 20,000 C-SUV

vehicles this year, and its plant will initially

have an annual production capacity of

100,000 vehicles but the capacity will

later rise to 175,000 units as Togg starts to

manufacture new models.

Togg has plans to list on a stock exchange

abroad, Gürcan Karakaş, its CEO, said in

November last year.

"Listing our shares has always been part of

our plans. But our primary target is a stock

market listing abroad," he said at that time.

"We think we should do that on a large

stock exchange with our share in the

market at that time," Karakaş said without

providing other details. The introduction

of Togg vehicles is expected to give a boost

to electric vehicles in Türkiye. Including

new models to be introduced by other

carmakers, electric vehicle sales in Türkiye

are expected to reach 40,000 units in

2023, which means the share of EVs in

total vehicle sales will climb to 7 percent.

A total of 7,733 electric vehicles were

sold in Türkiye last year, up 172 percent

from 2021, according to data from the

Automotive Distributors' and Mobility

Association (ODMD). Electric vehicle s

February 2023 46
---
McLaren Applied and Elaphe to enhance

EV packaging, efficiency and driving dynamics

McLaren Applied has partnered with

in-wheel motor specialists Elaphe to help

automakers boost overall electric vehicle

(EV) performance. The British engineering

and technology pioneer is combining its

next-generation IPG5 800V silicon carbide

inverter with Elaphe's range of in-wheel

motors creating a highly efficient system

that will enhance EV packaging, efficiency

and driving dynamics.

At just 3.79L in size and weighing 5.5

kilograms, IPG5 provides unrivalled power

density, efficiency and motor control.

Alongside Elaphe's compact high-torque

in-wheel motor, the combined powertrain

solution saves space, unlocking new

possibilities for EV packaging.

Derived from decades of innovation in

top tier automotive and motorsports

applications, McLaren Applied's IPG5

is highly controllable, offering variable

switching frequencies and unparalleled

motor response. The variability in switching

frequency up to 32kHz enables engineers

to use a faster, more efficient and

lightweight drivetrain.

"We believe efficiency and driving

dynamics will play an important part in the

next waves of electrification," commented

Stephen Lambert, Head of Electrification

at McLaren Applied. "Our IPG5 800V

inverter enables customers to run different

switching frequencies. And with variable

switching frequencies comes the ability to

run higher speed motors that are smaller

and lighter. By combining IPG5 with

Elaphe's high speed in-wheel motors, we're

not only making the EV powertrain more

responsive and efficient, we're making it

more cost-effective too. That's a compelling

proposition."

"Elaphe is on a mission to make cars safer,

more convenient and more exciting to

drive. This is why we are fully committed

to removing all mechanical constraints and

making the powertrain software defined,"

said Dr. Gorazd Gotovac, CTO of Elaphe

Propulsion Technologies. "An efficient and

highly responsive powertrain system is

at the core of this, which is why McLaren

Applied is the most natural partner and

their IPG5 inverter is a perfect fit for

our system. Combined with our motor

control and powertrain control software it

provides unprecedented controllability and

efficiency."

The automotive team at McLaren Applied

sees efficiency as leading what it describes

as the next 'wave' of electrification. The

first involved early pioneers of technology,

the second, current wave is denoted by the

breakthrough of EVs to the mainstream.

The third stage is efficiency and will see

inverter technology rapidly adopt silicon

carbide (SiC) semiconductors, especially

in 800V architectures and vehicles that

need longer range where efficient power

electronics are key.

The fourth stage focuses on drivability and

adding character back into the powertrains

of electric vehicles, improving driver

engagement and differentiation from the

competition. "High switching frequencies

and the ability to control the drivetrain

more sensitively enables you to start

programming different characteristics into

the drivetrain. With this, we can introduce

character that some might say is lacking

from EVs," adds Lambert.

The next-generation IPG5 800V silicon

carbide inverter can power electric motors

to more than 400kW peak, 250 kW

continuous, at an unprecedented weight

and volume. It has been designed for

automotive applications, including direct

drive, that are capable of operating highspeed

motors efficiently and adhere to ISO

26262 ASIL-D standards.

February 2023 48
---
Bulgaria signs

deal to use

Türkiye's gas

terminals

Bulgaria on Jan. 3 gained access to Türkiye's

terminals and gas transmission network

under a long-term deal that will help the

country replace supplies once provided by

Russia.

Bulgaria's state gas company Bulgargaz

and the Turkish gas transmission company

Botas signed a 13-year deal that grants

the Balkan neighbor access to Türkiye's

terminals for liquefied natural gas.

According to Bulgaria's Energy Minister,

Rosen Hristov, the agreement solves the

problem of Bulgaria's lack of sufficient

infrastructure for unloading liquefied

natural gas. Bulgaria, which ahead of

Moscow's invasion in Ukraine was almost

fully dependent on Russian gas, is looking

for alternative gas supplies at reasonable

prices after Russia cut off deliveries in April

over Sofia's refusal to pay in rubles, the

Russian currency.

Under the current deal, the liquefied

natural gas that Bulgaria will buy on

international markets will be unloaded

and processed in Turkish LNG terminals

and then transferred via the Botas gas

network to Bulgaria.The deal foresees up

to 1.5 billion cubic meters of natural gas

being transferred annually to Bulgaria from

Türkiye. Bulgaria has already signed a longterm

contract with Azerbaijan for nearly 1

billion cubic meters of natural gas which it

receives via Türkiye's gas network.

The rest of Bulgaria's needs, which are

slightly more than 3 billion cubic meters

per year, is covered through LNG imports

from Greece.

February 2023 52
---
Tesla makes China boss

highest-profile executive after Musk

Tesla's China chief Tom Zhu has been

promoted to take direct oversight of the

electric carmaker's U.S. assembly plants as

well as sales operations in North America

and Europe, according to an internal

posting of reporting lines reviewed by

Reuters.

The Tesla posting showed that Zhu's title

of vice president for Greater China had

not changed and that he also retained

his responsibilities as Tesla's most senior

executive for sales in the rest of Asia.

The move makes Zhu the highest-profile

executive at Tesla after Chief Executive Elon

Musk, with direct oversight for deliveries in

all of its major markets and operations of

its key production hubs.

The reporting lines for Zhu would keep

Tesla's vehicle design and development –

both areas where Musk has been heavily

involved – separate while an apparent

deputy to Musk on the more near-term

challenges of managing global sales and

output.

Tesla did not immediately respond to a

Reuters request for comment.

Reuters reviewed the organizational chart

that had been posted internally by Tesla

and confirmed the change with two people

who had seen it. They asked not to be

named because they were not authorized

to discuss the matter.

Zhu and a team of his reports were brought

in by Tesla late last year to troubleshoot

production issues in the U.S., driving an

expectation among his colleagues then that

he was being groomed for a bigger role.

Zhu's appointment to a global role comes

when Musk has been distracted by his

acquisition of Twitter and Tesla analysts

and investors have urged action that would

deepen the senior executive bench and

allow him to focus on Tesla.

Under Zhu, Tesla's Shanghai plant

rebounded strongly from COVID-19

lockdowns in China.

Tesla said that it had delivered 405,278

vehicles in the fourth quarter, short of

Wall Street estimates, according to data

compiled by Refinitiv.

The company had delivered 308,600

vehicles in the same period a year earlier.

The Tesla managers reporting to Zhu

include: Jason Shawhan, director of

manufacturing at the Gigafactory in

Texas; Hrushikesh Sagar, senior director of

manufacturing at Tesla's Fremont factory;

Joe Ward, vice president in charge of

Europe, the Middle East and Africa; and

Troy Jones, vice president of North America

sales and service, according to the Tesla

notice on reporting lines reviewed by

Reuters.

February 2023 54
---
Tesla country managers in China, Japan,

Australia and New Zealand continued to

report to Zhu, the notice revealed.

Zhu does not have a direct report at Tesla's

still-ramping Berlin plant, but a person with

knowledge of the matter said responsibility

for that operation would come with the

reporting line for Amsterdam-based Ward.

Ward could not be immediately reached for

comment.

Zhu, who was born in China but now

holds a New Zealand passport, joined

Tesla in 2014. Before that he was a project

manager at a company established by

his MBA classmates at Duke University,

advising Chinese contractors working on

infrastructure projects in Africa.

During Shanghai's two-month COVID-19

lockdown, Zhu was among the first batch

of employees sleeping in the factory as

they sought to keep it running, people who

work with him have said.

Zhu, a no-fuss manager who sports a buzz

cut, favors Tesla-branded fleece jackets

and has lived in a government-subsidized

apartment that is a 10-minute drive from

the Shanghai Gigafactory. It was not

immediately clear whether he would move

after his promotion. He takes charge of

Tesla's main production hubs when the

company is readying for the launch of

cyberattack and a revamped version of

its Model 3 sedan. Tesla has also said it is

developing a cheaper electric vehicle but

has not provided details on that plan.

When Tesla posted a picture on Twitter last

month to celebrate its Austin, Texas, plant

hitting a production milestone for its Model

Y, Zhu was among hundreds of workers

smiling on the factory floor.

Allan Wang, who was promoted to vice

president in charge of sales in China in July,

was listed as the legal representative for

the operation in registration papers filed

with Chinese regulators in a change by the

company last month.

Tesla board member James Murdoch said

in November the company had recently

identified a potential successor to Musk

without naming the person. Murdoch did

not respond to a request for comment.

Elecktrek previously reported that Zhu

would take responsibility for U.S. sales,

delivery and service.

February

55 2023
---
Everrati completes build of first redefined electric

Porsche 911 (964) for Us Market

Everrati Automotive Limited (Everrati),

the leading technology company

specialising in the redefining and

futureproofing of automotive icons through

the integration of

cutting-edge electric vehicle (EV)

powertrains, has completed the build of its

first Porsche 911 (964) for the US market.

Featuring a state-of-the-art OEMgrade

electric powertrain designed and

developed at its global headquarters in

Oxfordshire, England, the full build of the

redefined 911 (964) has been carried out to

the highest standards by Everrati's technical

partner, Aria Group.

Based in Irvine, California, Aria has peerless

expertise in low-volume, high-end vehicle

engineering production supporting

world-leading OEMs and reimagination

specialists, an arrangement which enables

Everrati to manufacture on both sides of

the Atlantic.

With multiple 911 (964) models in build,

demand for Everrati's products is surging

in North America, with customers in

multiple US States, and in Canada. The

first completed US built cars are now

ready for delivery and signify the UKbased

company's continued growth in all

global markets and momentum as the

international go-to creator of dream car

electrification. Its advanced bespoke

OEM-grade electric powertrain technology

transforms and preserves masterpieces

of automotive engineering and design,

into rolling pieces of art that are not

only sustainable luxury models fit for the

21st century but also can be enjoyed for

multiple generations.

"It is a huge milestone for Everrati to see

the completion of our first US customer

car, which will now undergo final predelivery

testing before handover to the

customer. This is both a sign of our rapidly

growing presence in markets around

the globe, especially North America,

and a representation of the shifting

paradigm in car ownership for a conscious,

progressive, and responsible generation.

Our Signature 911 (964) is a redefinition

of an automotive icon that will have its

legacy live on for generations to enjoy.

It is a truly sustainable supercar. I'd like

to thank our partners, Aria Group, who

from their state-of-the art base in Irvine,

California, have expertly led the build of

our first customer car - and are building

multiple redefined 911 (964) models for

Everrati customers - showing just why

they are the leaders in low-volume, highend

vehicle engineering and production,"

commented Justin Lunny, Everrati Founder

and CEO. The 964 generation of the 911

came onto the market in 1989 and remains

a symbol of performance and engineering,

matched by Everrati's passion to preserve

and redefine this legacy. Everrati's

'Signature' wide body edition is based

upon a fully restored 911 (964), featuring

carbon fibre body elements and a stateof-the-art

EV powertrain: a 62kWh battery

pack and battery management system,

capable of delivering an emission-free

range of more than 200 miles and sub-4-

second 0-60mph acceleration. Combined

AC and DC Fast charging completes the

high-tech specification. The development of

Everrati's leading powertrain technology is

supported by a robust network of extremely

experienced and best-in-class partners and

suppliers to deliver OEM-grade products,

processes, and quality. Its growing portfolio

of redefined automotive icons now includes

electric versions of the Porsche 911 (964)

Coupe, Targa, Cabriolet, Range Rover Classic,

Land Rover Defender, Land Rover Series,

GT40, and Mercedes-Benz W113 SL Pagoda.

February 2023 58
---
Automotive

market expanded

6 percent last

year

The combined sales of passenger cars and

light commercial vehicles (LCV) increased

by 6.2 percent in 2022 from the previous

year to more than 780,000.

Passenger car sales grew 5.5 percent

to 593,000, data from the Automotive

Distributors' and Mobility Association

(ODMD).

The light commercial vehicle market

expanded by 8.6 percent as a total of

191,000 LCVs were sold in Türkiye last year.

In December alone, total vehicle sales

leaped 85 percent from December 2021 to

reach 115,000.

The ODMD reported that passenger sales

rose by 99.2 percent year-on-year last

month to around 87,000, while the LCV

sales grew 55.2 percent to 28,500.

The combined sales of passenger cars and

LCVs last month were, however, 0.8 percent

lower than the 10-year December average.

In December, 1,519 electric vehicles (EVs)

were sold on the local market. Even though

sales soared 252 percent from the same

month of 2021, EV sales accounted for only

1.8 percent of all vehicle sales in Türkiye.

In the whole of 2022, EV sales amounted to

7,7300, showing an increase of 171 percent

from the previous year.

As domestically produced Togg is

preparing to enter the market this year,

electric vehicle sales are expected to rise

to 40,000 in 2023. Hybrid vehicle sales

grew 30 percent last year from 2021 to

64,387, accounting for 11 percent of all

vehicle sales, while in December alone,

sales increased 104 percent year-on-year

to 8,794. The country's large automotive

industry is optimistic that, despite

challenges, it may increase its export

revenues this year compared to 2022.

The automotive sector aims to generate

$34 billion in exports this year, up from

$31 billion in 2022, said the Automotive

Industry Exporters' Association (OİB)

earlier. The industry managed to increase

its export revenues by 5.7 percent last

year from 2021, even though it faced

strong headwinds, including the troubles in

Europe's economy, its main export market,

the chip shortage, elevated inflation, higher

energy costs and the looming recession

risks in the global economy, OİB head Baran

Çelik said.

February 2023 60
---
'SK On plans to scrap battery venture in

Türkiye with Ford, Koç'

South Korean electric vehicle battery

maker SK On said it has not decided

whether to pursue a battery cell venture

in Türkiye with Ford Motor Co and Turkish

conglomerate Koç Holding, after signing a

memorandum of understanding (MoU) in

March. The Dong-A Ilbo daily newspaper

earlier reported, citing an unidentified

source, that SK On plans to scrap the

idea due to a weak macro economic

environment.

"After signing the MoU in March 2022, we

have been discussing the joint venture case

in Turkey, but discussions have not been

completed. The final decision whether or

not to halt negotiations regarding the joint

venture has not been made yet," SK On

said in a statement.

SK On is the wholly owned battery unit of

SK Innovation Co Ltd, and counts Hyundai

Motor Co, Volkswagen AG and Ford Motor

among its customers.

In announcing the joint venture plans in

March, SK On said the partners aimed

for annual production capacity of 30-45

gigawatt hours (GWh) with production

starting in 2025. SK On has battery

manufacturing sites in South Korea, China,

Hungary and the United States.

February 2023 62
---
Türkiye on its way to become energy hub

The natural gas deal with Bulgaria is a step

forward in Türkiye's efforts to become an

energy hub, Energy Minister Fatih Dönmez

has said.

"With this agreement, natural gas could be

transmitted not only to Bulgaria but other

countries via Bulgaria," Dönmez added.

On Jan. 3, Türkiye and Bulgaria signed an

agreement for the transmission of up to 1.5

billion cubic meters of natural gas a year.

The new deal covers a 13-year period.

Dönmez traveled to the Bulgarian capital

Sofia to attend the signing ceremony.

The gas deal was inked between the two

countries by the general managers of

the Turkish Petroleum Pipeline Company

(BOTAŞ) and Bulgargaz.

"The deal means almost 20 billion cubic

meters of gas trade in 13 years. We will also

be able to provide service to all European

countries via Bulgaria," Dönmez said.

The minister recalled that the natural gas

agreement was signed only three weeks

after President Recep Tayyip Erdoğan met

his Bulgarian counterpart, Rumen Radev, in

Istanbul.

Türkiye has been working over the past

years to position itself as an energy hub,

Dönmez said.

"We have plans to establish a natural gas

trade center. We have largely completed

our physical infrastructure for this initiative.

The deal [with Bulgaria] means that we are

reaping the first fruits of these efforts."

Dönmez reminded the energy cooperation

between Türkiye and Bulgaria has a long

history. "Türkiye received the first natural

gas via Ukraine, Romania and Bulgaria. This

pipeline has been offline over the past two

years. Now the direction of gas flow will

reverse," the minister said.

February 2023 66
---
Turkish business world calls for 'urgent' solution amid EU visa row

Asenior Turkish business official called for

a swift solution to the European Union

visa issue, which has triggered public

outcry and prompted Ankara to vow

countermeasures.

Turkish nationals have been complaining

of lengthy processing times and a growing

number of EU visa rejections since last

year, in a row that frustrated Ankara, which

called the efforts "deliberate."

The issue has reached "serious dimensions"

for the Turkish businesspeople and traders,

said Rifat Hisarcıklıoğlu, chair of the Union

of Chambers and Commodity Exchanges of

Türkiye (TOBB).

"The visa issue has recently reached

serious dimensions for the business world,

and transport quotas have also negatively

affected bilateral trade," Hisarcıklıoğlu told

an event in the Aegean province of Izmir.

"We need to find an urgent solution to the

issues of visa and transport quotas."

Turkish officials have called for a swift

solution, lower fees, permits for multivisa

entries and "fairer" evaluation

standards for people like academicians and

businesspeople in terms of economic and

educational activities.

Türkiye and the bloc enjoy good trade

ties and decades of migration, however,

relations are strained over multiple

issues, including the prolonged process of

modernization and expansion of the scope

of the current customs union agreement

and EU policies on refugees from Syria.

Before the coronavirus pandemic,

Schengen states received more than

900,000 visa applications annually from

Türkiye, but that figure dropped to around

270,000 in 2021. Citizens from all Schengen

countries are exempt from visas when

visiting Türkiye, most for up to 90 days, and

some can enter with only their ID cards,

according to Türkiye's Foreign Ministry

website. Hisarcıklıoğlu said they always

consider relations with the EU as a priority.

He stressed that the customs union

deal, a modernization of which would

comprehensively shake up economic

relations between the sides, has been the

most important tool for the transformation

of Türkiye's production capacity.

The host of disagreements between Ankara

and Brussels over recent years has been

stalling the negotiations for the update of

the agreement. A deeper 1990s-era trade

agreement would be expanded to services,

farm goods and public procurement.

The modernization would bring Türkiye

fully into the internal market of the world's

largest trading bloc, allowing almost all

goods and services to flow unhindered.

"The accession negotiations have further

expanded and deepened Türkiye's

transformation process. The accession

process has stalled in recent years. As the

Turkish business world, we are not happy

about this situation. If we take into account

the current problems that our countries

are facing, the need to revive relations is

obvious," Hisarcıklıoğlu said.

Bilateral trade surged fourfold in the last

quarter century, he noted, stating that the

exchange of goods between Türkiye and

the EU reached about $196 billion as of

2022.

"Companies support the updating of the

customs union. The European Union's

enterprises also support the cooperation

between the EU and Türkiye on the Green

Deal and the single digital market. There is

a very favorable environment for Türkiye

and the EU to further advance their

economic relations," Hisarcıklıoğlu noted.

Türkiye is the only non-EU country with

a customs union agreement with the

bloc. The deal was struck in 1995. In its

Dec. 21, 2016 assessment, the European

Commission proposed revamping the deal.

The current customs union agreement

only covers a limited range of industrial

products and excludes agriculture, public

procurement, e-commerce and services.

February 2023 68
---
Türkiye plant

pitched to build

new Toyota C-HR

plug-in hybrid

Toyota announced its second generation

Toyota C-HR will be manufactured at the

Japanese automaker's plant in Türkiye,

marking it the first plug-in hybrid passenger

car to be produced in the country.

Available in hybrid and plug-in hybrid

versions, the new Toyota C-HR will be

produced at Toyota Motor Manufacturing

Türkiye (TMMT) in the northwestern

province of Sakarya, the company said.

In addition, TMMT will be Toyota's first

European plant to start producing plug-in

hybrid vehicles and the first to be equipped

with a battery production line, it noted.

The carmaker said the 100% electrified

powertrain line-up of the new Toyota C-HR

"reflects Toyota's commitment to offer

appropriate carbon reduction opportunities

to the largest and most competitive market

segment in Europe."

"In addition to the hybrid version, the new

plug-in hybrid Toyota C-HR with locally

assembled batteries will further expand

Toyota's multi-technology offer toward its

target of 100% CO2 reduction in its vehicle

line-up in Europe by 2035," the statement

read.

Alongside the vehicle production line,

TMMT will build a new plug-in battery

assembly line with a capacity of 75,000

units per year within its facility, it said.

Plug-in hybrid battery assembly will start

in December 2023, around 60 new skilled

jobs.

Toyota said the investment for the project

will be around 317 million euros ($345.72

million), bringing the overall cumulative

investment in TMMT to around 2.3 billion

euros.

In the scope of the new model investment,

it said the TMMT will improve and

enhance its production line, whilst laying

down the framework to meet the future

requirements of production diversity and

flexibility.

Toyota says it is committed to achieving

full carbon neutrality in Europe by 2040,

and is targeting carbon neutrality in all its

manufacturing facilities by 2030. TMMT

says it is progressing toward this goal by

introducing technologies that minimize

energy consumption while at the same

time, switching to renewable energy within

the Sakarya plant.

These measures include the introduction

of new paint shop technologies which

minimize CO2 emissions and the use of

solar energy which aims to make the plant

self-sufficient in its energy use.

"In this project, which reveals TMMT's

high-quality vehicle production experience

and advanced engineering ability, we will

implement our responsibilities with great

dedication. This represents an exciting

step forward for TMMT's future as it

continues to produce popular attractive

and high quality models," said Erdoğan

Şahin, president and CEO at Toyota Motor

Manufacturing Türkiye.

"This project once again confirms that our

production facility in Sakarya is a globally

important place for Toyota," Şahin noted.

"We are proud to announce that TMMT

will produce the second-generation

Toyota C-HR including the first plug-in

hybrid vehicle in Europe. The outstanding

performance and dedication which our

TMMT employees deliver will make this

new model a great success, just like its

predecessor," said Marvin Cooke, executive

vice president in charge of manufacturing

at Toyota Motor Europe.

"It also marks another important

milestone with the start of our first

battery assembly line in Europe, which

is an important step in our European

electrification plan," Cooke said.

February 2023 72
---
Europe ends

bad inflation

year with some

relief but costs

still high

Price gains in Europe eased again in

December, bringing some relief for the

continent that ended a bad year for

inflation. While the cost of living is still

painfully high, the slowdown is a sign

that the worst might be over for weary

consumers.

The consumer price index (CPI) for the 19

countries that used the euro currency rose

9.2% in December from a year earlier, the

slowest pace since August, the European

Union statistics agency Eurostat said.

Croatia joined the eurozone on Jan. 1.

It was the second straight decline in

inflation since June 2021. In November,

the rate dipped to 10.1% after peaking at a

record 10.6% in the previous month.

Households and businesses across Europe

have been plagued by surging energy costs

since Russia launched its war in Ukraine in

February, which played havoc with oil and

natural gas markets and has been the main

driver of inflation.

The latest numbers indicate that the energy

crisis may be easing for now. Energy price

rises slowed to 25.7%, down from 34.9% in

November and 41.5% in October.

Natural gas prices have slipped from

all-time highs this summer as Europe

has largely filled its storage for winter

with supplies from other countries, while

warmer-than-usual weather has reduced

fears of a shortage during the heating

season.

Food price gains, the other significant

factor driving up European inflation, held

pretty steady. Prices for food, alcohol and

tobacco rose at a 13.8% annual pace in

December, slightly higher than the month

before.

Inflation has also been worsened by

bottlenecks in raw materials and parts

supplies amid rebounding global consumer

demand after COVID-19 pandemic

restrictions ended.

"The peak in inflation is likely behind us

now, but far more relevant for the economy

and policymakers is whether inflation will

February 2023 74
---
structurally trend back to 2% from here

on," said Bert Colijn, senior eurozone

economist at ING Bank.

So-called core inflation, which excludes

volatile food and energy costs, climbed to

5.2% last month from November's 5%, as

prices rose for services and goods such as

clothing, appliances, cars and computers.

Colijn and other economists said that

European Central Bank (ECB) officials will

likely roll out more interest rate hikes to get

inflation back to their 2% target.

Soaring costs for energy and food have

threatened a recession and fed labor unrest

as wages fail to keep pace with the price

rises. Across Europe, subway staff, hospital

workers, train drivers, postal workers and

air traffic controllers have gone on strike,

threatening political turmoil.

In a sign that energy costs remain a worry

for political leaders, French President

Emmanuel Macron urged energy suppliers

to renegotiate what he called "abusive

contracts" with small businesses to ensure

"reasonable" price hikes.

Macron spoke to bakers at the presidential

palace for a traditional Epiphany kings cake

ceremony, underscoring how energy and

food prices are intertwined.

"Like you, I've had enough people making

excessive profits on the crisis," he said.

The French government has capped natural

gas and electricity price hikes to 15%

this year for consumers and some tinny

companies that don't use much energy.

But more energy-intensive businesses,

like bakeries, aren't covered, leaving some

facing closure because they can't pay their

bills. While governments have offered

relief on high energy bills, central banks are

battling inflation by hiking interest rates.

Last month, the European Central Bank

raised its benchmark rate by half a point,

slowing its record pace of interest rate

increases slightly but promising that more

hikes are on the way. It matched actions

taken by counterparts in the U.S., United

Kingdom and elsewhere.

"The eurozone economy is at best

stagnating, and persistently strong core

inflation means the ECB will feel duty

bound to press on with its tightening cycle

for a while yet," said Andrew Kenningham,

chief Europe economist for Capital

Economics.

February

75 2023
---
Chinese giant

Alibaba to invest

over $1B in

Türkiye

Chinese e-commerce giant Alibaba plans

to invest over $1 billion (TL 18.75 billion) in

Türkiye, Alibaba President Michael Evans

said during a visit to Turkuvaz Media Group

in Istanbul.

"There is a great production power in

Türkiye, which is the most advantageous

country in the world in this sense," he said.

Evans said that there are always volatilities

in economies, and there are opportunities

when one considers the long term.

"We will continue to invest in small- and

medium-sized enterprises (SMEs) and

tradesmen in Türkiye."

He said that they "will carry Türkiye's

production power and export potential to

Europe and the Middle East."

He also said many G-20 countries have

consumption power, but there is no

production power.

"Countries with high technology

infrastructure and production power will

come to the fore. Since we see that Türkiye

is very strong in these two areas, it will

definitely be advantageous in the G-20," he

said.

Evans also commented on the questions

on Türkiye's largest e-commerce company,

Trendyol, which, backed by Alibaba,

became Türkiye's first "decacorn."

Asked whether Alibaba has a stock market

plan in Türkiye with Trendyol, Evans said,

"Going public has both advantages and

disadvantages. I think it is advantageous

to be a public company. But Trendyol

management should decide this."

"If they want to go public, we will support

them, as Trendyol grows," he said.

Trendyol Group President Çağlayan Çetin

meanwhile stated that the company has

many investors and that there is no need to

go public and raise capital at the moment.

"We do not have a short-term plan. If we

achieve the growth targets we want in a

short time, it may be in three to five years,"

he explained.

Çetin also said that for the first time,

a Turkish brand is the main sponsor of

the Olympics and that products such as

ready-made clothing and souvenirs to be

sold during the Olympics will be produced

in Türkiye and exported to 100 countries

through Trendyol.

Trendyol, one of Türkiye's best-known

e-retail platforms, has received foreign

investor backing and holds a leading

position in the country's fragmented

e-commerce market.

Since 2018, Alibaba has been a strategic

investor in Trendyol, which has been

reported to have been planning a duallisting

initial public offering (IPO) in New

York or London when its income from

foreign sales reaches 30%-35% of its total

revenue.

February 2023 78