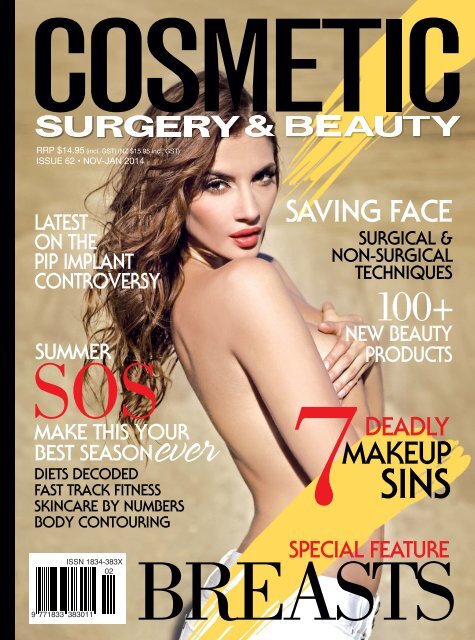 Cosmetic Surgery and Beauty Magazine #62
Cosmetic Surgery & Beauty Magazine is the definitive guide to the aesthetic medicine industry for anyone considering a treatment therapy or surgical procedure. This quality quarterly publication contains comprehensive information about practitioners, equipment, techniques, processes and options, presented clearly and completely. The strong emphasis on input by industry professionals provides profiles of the practitioners and understanding of their approach to each procedure, enabling readers to make informed choices in their initial approaches to deciding what will best suit their needs. Hundreds of untouched before-and-after photographs provided by the practitioners themselves graphically illustrate both treatable conditions and the results that can be obtained. Cosmetic Surgery & Beauty Magazine is essential reading for anyone wishing to inform themselves about the options available in aesthetic medicine in Australia.
Cosmetic Surgery & Beauty Magazine is the definitive guide to the aesthetic medicine industry for anyone considering a treatment therapy or surgical procedure. This quality quarterly publication contains comprehensive information about practitioners, equipment, techniques, processes and options, presented clearly and completely. The strong emphasis on input by industry professionals provides profiles of the practitioners and understanding of their approach to each procedure, enabling readers to make informed choices in their initial approaches to deciding what will best suit their needs. Hundreds of untouched before-and-after photographs provided by the practitioners themselves graphically illustrate both treatable conditions and the results that can be obtained. Cosmetic Surgery & Beauty Magazine is essential reading for anyone wishing to inform themselves about the options available in aesthetic medicine in Australia.
SHOW MORE
SHOW LESS
Create successful ePaper yourself
Turn your PDF publications into a flip-book with our unique Google optimized e-Paper software.
RRP $14.95 (incl. GST) (NZ $15.95 incl. GST)

ISSUE 62 • NOV-JAN 2014

LATEST

ON THE

PIP IMPLANT

CONTROVERSY

SUMMER

SOS

MAKE THIS YOUR

BEST SEASON

DIETS DECODED

FAST TRACK FITNESS

SKINCARE BY NUMBERS

BODY CONTOURING

9 771833 383011

ISSN 1834-383X

02

ever

SAVING FACE

SURGICAL &

NON-SURGICAL

TECHNIQUES

7

100+

NEW BEAUTY

PRODUCTS

DEADLY

MAKEUP

SINS

SPECIAL FEATURE

BREASTS
---
acTual rhiNoplasTy paTiENT's oF dr William mooNEy

DR WILLIAM MOONEY

ENT & Facial cosmETic surgEoN

sydNEy's rhiNoplasTy spEcialisT

www.drwilliammooney.com.au

FACE PLUS MEDISPA

• Laser Therapy • skin Care

• CosmeTiC injeCTabLes

www.faceplus.com.au

Ph: (02) 9389 4497

FOLLOW DR MOONEY ON:
---
EXc E llENc E

sydNEy ' s rhiN oplasT y spE cialisT

suite 1902 Level 19, Westfield Tower 2, 101 Grafton st bondi junction sydney nsW 2022
---
No more

tattoo regrets...

PicoSure for fast and

effective tattoo removal

Erase unwanted tattoos with PicoSure, the world's first picosecond

aesthetic laser treatment available for fast and effective tattoo removal.

PicoSure targets unwanted ink more effectively than ever before,

successfully removing difficult ink colors, such as blues and greens,

as well as previously treated tattoos. Fewer treatments, faster recovery

time, and greater results are achievable with PicoSure's ground-breaking

picosecond technology.

picosure.com.au

cynosureaustralia.com

© 2013 Cynosure, Inc. Cynosure is a registered trademark and

PicoSure is a trademark of Cynosure, Inc. ALL RIGHTS RESERVED.
---
Before

After 20 treatments

Q-Switched Nd:YAG

Photo courtesy of Cynosure, Inc.

After 6 treatments

PicoSure

Before & After 3 treatments

Photo courtesy of K. Arndt, MD & J. Dover, MD

Before & After 3 treatments

Photo courtesy of Cynosure, Inc.

Before & After 3 treatments

Photo courtesy of R G. Geronemus, MD
---
FACIAL REJUVENATION &

RHINOPLASTY SPECIALIST

HARMONY,

BALANCE,

Reduce the signs of ageing with

natural-looking results for a

refreshed and youthful appearance

ARTISTRY
---
Prosthodontics

& Implant Surgery

DESIGNER SMILES TM

Centre for cosmetic, reconstructive

and implant dentistry

Dr Sarkis Nalbandian completed his Bachelor of Dental Surgery with

Honours in 1983 and Diploma in Clinical Dentistry (Oral Implants) in

2000 at The University of Sydney. He also completed his Masters in

Prosthodontics in 2004 at the prestigious King's College, University

of London with distinction. He is a fellow of the Royal Australasian

College of Dental Surgeons.

B.D.S. (Hons.) Uni.Syd.

FRACDS

Grad. Dip. Clin. Dent. (Oral Implants) Uni.Syd.

M.Clin.Dent (Prosthodontics) King's College Uni. London

Dr Nalbandian specialises in Dental Implants and Prosthodontics

for treating simple to complex dental, functional and aesthetic

problems.

He lectures on topics including Dental Implantology, Prosthodontics

and Implant Surgery.

He maintains a specialised practice in Sydney limited to Aesthetics,

Prosthodontics & Implant Surgery.

Dr Sarkis Nalbandian

B.D.S. (Hons.) Dip. Clin. Dent. (Oral Implants) Uni.Syd. FRACDS

M.Clin.Dent (Prosthodontics) King's College Uni.London

Designer Smiles

17 Gerard Street Cremorne NSW 2090

For more information call

02 9953 4189

Fax 02 9953 4358

www.designersmiles.com.au
---
Dr Alex Phoon

MBBS BSc (Med)

MS (Plast)

FRACS

Plastic Surgeon

HARMONY,

BALANCE,

ARTISTRY

Silkwood Medical

Level 4, 75 Grafton Street Bondi Junction NSW 2022

Telephone 1300 SILKWOOD or 1300 745 596

www.silkwoodmedical.com.au
---
QR code: http://www.synergieminerals.com/

®

clinical grade cosmeceuticals . clean science philosophy

Lucy, actual user of Synergie Skin ®

• Proven results created to protect, change and nurture

• Proudly formulated and manufactured in Australia by

an Australian scientist

• Only available at selected clinics and salons

Contact us for more information

1300 689 619

WWW.SYNERGIESKIN.COM
---
Dr Pouria Moradi

MBBS BSc (Med)

MRCS (Eng)

FRACS

Plastic Surgeon

HARMONY,

BALANCE,

ARTISTRY

Silkwood Medical

Level 4, 75 Grafton Street Bondi Junction NSW 2022

Telephone 1300 SILKWOOD or 1300 745 596

www.silkwoodmedical.com.au
---
You deserve

to have a Clear

Complexion

I know what it is like to have your confidence

affected by how you feel about your skin.

Having problem skin since my teens, I discovered

ground-breaking technologies that were able

to restore my skin to its original health and

appearance. And I can do the same for you.

As a registered nurse, I head up a team of

qualified doctors and nurses who utilise the

latest technology to bring about dramatic

results, in a safe and caring environment.

So if there's something bothering you about

your skin, come and find out how we can help.

Suzie Hoitink, RN

Founder of the Clear Complexions Clinics

Associate Member of the ACCS & ACSM

clearcomplexions.com.au

Balmain

2A Rowntree St.

T 02 9555 7287

Bruce

Cnr of Thynne & Watkin St.

T 02 6251 8889

Erindale

1/43 Comrie St.

T 02 6231 0003

Gungahlin

Suite 13, The Marketplace

T 02 6241 7660
---
Body Balance

Dr John Flynn

cosmedic&

Dr John Flynn

skin clinic

Reshaping can create

cosmedic&

the look you want

skin clinic

Breast augmentation can

enhance the natural size

and shape of your breasts

Refi nement in Cosmetic Surgery

With breast augmentation, your natural form can be

enhanced and complemented. This results in a balanced

and symmetrical effect that suits your individual body type

and achieves a feminine silhouette.

Liposuction to Shape and Contour

With liposuction, Dr John Flynn can reshape and contour

your form to achieve balance between your body's

proportions. Areas such as the abdomen and inner and

outer thighs respond particularly well to this procedure.

CERTIFIED

IN COSMETIC

SURGERY

Dr John Flynn

M.B., B.S., Dip. R.A.C.O.G., F.R.A.C.G.P.

Dip. P. Dermatology., F.A.C.C.S.

Fellow of the Australasian College of Cosmetic Surgery

Certifi ed by the American Board of Laser Surgery

Dr John Flynn has over 20 years of experience as

a medical practitioner on the Gold Coast

AD Flynn.indd 1

CERTIFIED

IN COSMETIC

SURGERY

20/4/09 9:01:39 AM

AD Flynn.indd 1

For more information or to make an

appointment call Cosmedic and Skin Clinic

1300 88 13 88

Southport | Gold Coast

Suite 2, 98 Marine Pde, Southport 4215

www.cosmedic.com.au | info@cosmedic.com.au

Dr John Flynn

20/4/09 9:01:39 AM

cosmedic& skin clinic

Dr John Flynn
---
www.biodermis.com.au
---
The Australasian College of Cosmetic Surgery

Raising Standards,

Protecting Patients

Dedicated to quality, ethical

and responsible practice.

Accreditation is Important

All Fellows of the Australasian College of Cosmetic

Surgery (FACCS) are specifically trained in cosmetic

surgery and are required by the College to maintain

their skills through a Continuing Professional

Development programme.

All Fellows of the Faculty of Medicine (FFMACCS)

are specifically trained in cosmetic medicine and

are required by the College to maintain their skills

through a Continuing Professional Development

programme.

CERTIFIED

IN COSMETIC

SURGERY

If doctors display this Seal,

you can be assured they

comply with the College's

exemplary standards of its

Code of Practice, available

at www.accs.org.au

How qualified is your doctor?

Do they have the right to display these symbols?

For further information about the College

and its members and Fellows in your state call:

1800 804 781

admin@accs.org.au

www.cosmeticsurgery.org.au
---
CONFERENCE ORGANISER

F: +61 2 9368 1500

ARTISTRY

INTEGRITY

EXCELLENCE

AUSTRALASIAN COLLEGE

.

A C C.

S

. .

OF COSMETIC SURGERY
---
AESTHETIC & MEDICAL LASER & ENERGY BASED SYSTEMS

INNOVATIVE SYSTEMS • PROVEN SCIENCE • EXCEPTIONAL VALUE

SOLARI

Square Pulse

Technology

THIS CHANGES

EVERYTHING

CLARITY

Long Pulsed

Alexandrite &

Nd:YAG Laser

SPEED. VERSATILITY.

QUALITY

ADVANTAGE

Diode Laser Hair

Removal

SPEED AND

RESULTS WITHOUT

COMPROMISE

ACTION II

4 in 1 Innovative of

Er:YAG Aesthetic Laser

DUAL FRACTIONAL

REJUVENATION &

SHINING

ACCUSCULPT II

1444 nm Micropulsed Nd:YAG

Laser

PRECISE FACIAL & BODY

CONTOURING

SPECTRA

Dual Mode

Q-switched

Nd:YAG Laser

TAKE YOUR PRACTICE

TO THE NEXT LEVEL

eCO2

Fractional CO2 Laser

A NEW TREND FOR

SKIN CARE CLINICS

HEALITE II

SERIES

830, 633, 415 nm LED

Phototherapy System

DISCOVER THE TRUE

SCIENCE OF LED

PHOTOTHERAPY

MOSAIC HP

1550 nm Er:Glass

Fractional Laser

NON-ABLATIVE

FRACTIONAL LASER

INFINI

2 in 1 Fractional RF

A NEW DIMENSION IN RF

CONTACT US FOR A FULL PRODUCT

CATALOGUE & INFORMATION PACK

Call: 1300 LUTRONIC

588766

www.lutronic.com.au

Australian Authorised Distributor

Allure Medical Group. 11 Joynton Av. Zetland. NSW

Tel: 02 8208 7778 - Email: info@alluremedical.com.au - Web: www.alluremedical.com.au

Australian TGA Medical Device Compliant - Innni ARTG# 208237, Spectra ARTG# 210425
---
DISCOVER THE TRUE SCIENCE OF LED PHOTOTHERAPY!

A NOVEL PHOTOTHERAPEUTIC APPROACH INVOLVING

PHOTOSEQUENCING WITH 590 NM AND 830 NM LED ENERGY.

HEALITE II

THE MOST ADVANCED

PHOTOTHERAPY SYSTEM

Dr Glen Calderhead, the father

of 830 nm LED phototherapy,

and a key figure in the

development of Healite II.

Distributed by

www.advancedcosmeceuticals.com.au

38 Automotive Drive Wangara WA 6065 T: 08 9409 5433 | 1800 242 011

| SA | NT | NSW | WA | QLD | VIC | Available at selected clinics and professionals

FINANCE OPTIONS AVAILABLE
---
Look and feel good, from top to toe

Dr Joseph Georghy & Dr Vera Georghy have

over 65 years of clinical experience between them.

EXCLUSIVE COSMETIC SERVICES

Dr Georghy is a world pioneer in PhotoTherm ® , a revolutionary

procedure used to improve the appearance of rosacea, acne and acne

scarring, freckles, moles, age spots, large pores, wrinkles, vitiligo,

pigmentation, cellulite, scars and keloids.

Dr Georghy has developed HelioTherm ® , an exciting new procedure

designed to reduce fat deposits and improve the tone and texture of the

skin. Ideal for reshaping the abdomen, thighs, buttocks and other areas

with no downtime. Call today for more information.

Other services include

• Superbug acne therapy

• Scarless facelift

• HelioTherm ® Facelift

• Wrinkle reduction

• LipoSculpture

• Stretch mark treatment

• Breast reduction (non-surgical)

• Hair-laser stimulation

• Skin cancer treatment

• Labiaplasty & Hymenoplasty

• Excessive sweating correction

• Ultroid non-surgical haemorrhoid

therapy

COMPREHENSIVE DENTAL SERVICES

Discover the smile of your dreams thanks

to dental services from Dr Vera Georghy

• Painless dentistry

• Porcelain veneers, crowns and bridges

• White fi llings

• Old fi llings replaced

• Preventative dentistry

• Home bleaching

• Mouth guards

SPECIAL

Consultation

Cleaning, scaling &

Teeth

Whitening

DR JOSEPH GEORGHY

AMEC Specialist Surgeon (Ljubljana, Slovenia)

B.Sc. General Surgery (Zagreb, Croatia) Fellow

of the European Society of Aesthetic Surgery,

Cosmetic Physician; FFMACCS, Degree in Anti-

Aging & Regenerative Medicine (Germany) Member

of the American Academy of Cosmetic Surgery

DR VERA GEORGHY

Dental Surgeon, University of Adelaide,

Fellow, Diplomate & Lifetime Member in

the World Congress of Minimally Invasive

Dentistry (WCMID).

Voted Clinician of the Year 2009 San

Francisco, USA

NORTH SHORE

COSMETIC

313 Pacifi c Highway

North Sydney NSW 2060 (Opposite Hazelbank Rd)

02 9956 7200

www.northshorecosmetic.com.au

email: doctors@sydneycosmetic.com
---
Once in a generation.

A New Range from Hovan's Group

Younger Skin Today, Love Affair for Life

Hovan's Group Pty Ltd,

maker of the world famous

Bikini Saver & Hovan's ® Gold Ingrown hair products

www.hovansgroup.com.au sales@hovansgroup.com.au

Call Toll Free: 1300 88 66 55

Made in Australia with Marine Herbal & Stem Cell ingredients
---
contents

regulars

26 Editor's letter

28 Contributors

32 Newsfront

42 Where does that come from?

Queen Elizabeth I: a toxic beauty

167 How to subscribe

186 Directory

features

52 Beauty and the breast

The allure and enigma of breasts

56 Breast options and choices

The many components of

breast augmentation

60 PIP implants

What have we learned?

88 Diets decoded

We investigate the top

trending diets

90 The smarter way to work out

The benefits of high intensity

interval training

142 Skincare for all ages

What to use and when

160 Safeguard your skin

How to choose a quality sunscreen

172 7 deadly makeup skins

Our guide to avoiding

makeup mishaps

industry

36 Regenerative medicine

Behind the scenes at the

BioBridge Conference

40 Non-surgical meeting

Highlights from the ASAPS

non-surgical symposium

44 Reap the rewards

The many benefits of customer

loyalty programs

46 Cosmetex 2014

What's on the agenda

breasts

50 Perfect fit

New lingerie range specifically

for augmented breasts

62 Your guide to breast

augmentation 2014

70 Breast curves

Creating the perfect

shape for you

74 Breast augmentation

case study

76 The case for polyurethane

breast implants

78 Balanced proportions

Rejuvenating the ageing breast

84 Restoring shapely breasts

Breast reduction surgery

body

93 The numerous benefits of

resistance training

96 Defining touch

All about body implants

98 The modern tummy tuck

Abdominoplasty explained

100 Refine your shape

Microcannula liposuction

102 Body contouring

Non-surgical body shaping

104 Trim and tone

Reduce fat and tighten skin

intimate surgery

106 Speaking out

Empowering women

with options

108 What lies beneath

Cosmetic and functional benefits

of female genital surgery

teeth

112 Rejuvenate your smile

Ultra-thin porcelain veneers

114 Teeth whitening

Next-generation technology
---
you have youth in your blood

Regen PRP pioneering platelet rich plasma since 2003

RegenLab has been pioneering the use of autologous platelet rich plasma for skin cell renewal

since 2003.

The proven Regen ACR PRP system concentrates powerful growth factors contained in our

blood, before reinjecting them back into the skin.

By harnessing the growth factors contained in our blood, it's possible to accelerate and

increase tissue regeneration by stimulating collagen production, stem cell migration,

differentiation, and proliferation, and stimulation of new blood vessels, nutrients, antioxidants

and the other components of the extracellular matrix.

www.amsl.com.au • www.regenlab.com • 1800 201 760
---
SUBSCRIBE NOW!

contents

The fi rst 10 subscribers receive a free pack

from Synergie Skin valued at $129 each

Synergie Skin offers the ultimate Anti-Ageing Skincare Kit

The pack contains the essentials needed to help promote overall skin

health and radiance: Gentle Cleanser; Ultimate A Serum; Vitamin B

Serum; Pure-C Crystals; and Reclaim Anti-Ageing Moisturiser.

Synergie Skin's newest product, SuperSerum, is also included in the

kit. It combines the power of scientifi cally generated peptides and

microbial biotechnology to create the ultimate anti-ageing serum

with clinical data to support results. This revolutionary

serum is the culmination of years of scientifi c research

into the biology and natural ageing processes of skin.

see page 167

face

116 Refresh your look

Facelift case study

118 Bespoke beauty

An individual approach to face,

neck and nose surgery

122 In profile

Male nose and chin surgery

124 Let's hear it for the boys

Facial rejuvenation just for men

126 Great skin at every age

The 'layer cake' approach to

skin health and beauty

128 Building beauty from within

An injectable that targets skin

ageing from within

130 The skin revolution

World-first dual-mode

radiofrequency device

134 Energise your skin

Light-based energy to boost

skin health and cellular activity

136 Platelet-rich plasma

therapy (PRP)

Use your own cells to restore

lost volume

cosmetic tattoo

140 Restoring confidence

Cosmetic and medical tattooing

skin

146 The royal suite

New skincare range to target

signs of ageing

148 Spot-on skin

Treating pigmentation

150 Vitamin D link to vitiligo

154 Your best skin ever

A personalised approach

156 Tattoo removal revolution

Breakthrough laser treatment

158 Cosmeceutical skincare

beauty & spa

170 Hair extensions

174 Beauty buzz

Latest beauty products

180 Get glowing

Shedding light on illuminators

185 Editor's favourites

cover stories

50 Breast special

60 PIP implant update

88 Diets decoded

90 Fast track fitness

98 Body contouring

142 Skincare by numbers

172 7 deadly makeup sins

174 100+ beauty products

Now you can subscribe online at

www.cosbeauty.com.au
---
LETTER

FROM THE EDITOR

Another year gone and what a full and fulfi lling one it's been for

me – both professionally and personally. On a professional level,

the calendar year was jam-packed with innovative conferences

Ahighlighting the continuing advances in aesthetics and anti-ageing.

My most recent travel was to the US, where I also had the opportunity

to discuss the current proliferation of traditional, new and emerging media

channels. The big talk these days is how to get the most from marketing

efforts – the overwhelming view is that the most successful strategies take

a multi-media approach, integrating both print and online marketing.

There are very good reasons for this as, according to recent research,

print advertising is the number-one driver in directing consumers to

websites. Here at Bella Media, we've embraced this cross-platform

approach by integrating websites and electronic initiatives with print offerings to enhance

the client and consumer experience. It's an exciting time to be part of publishing and content

provision, with the ability to interact with and engage an ever-expanding audience.

On a personal level, I've also adopted this integrated approach to my lifestyle. I believe

a holistic outlook is integral to optimising health, wellbeing and beauty. The importance of

an active lifestyle and maintaining a healthy weight are both key to enjoying good health

for longer, and I have had a rigorous eight months of training for the New York Marathon.

Unfortunately, a leg injury has hindered this goal, so I am now looking to the Gold Coast

Marathon in July 2014.

In this issue, we look at the benefi ts of high intensity interval training on page 90 and

investigate whether today's top trending diets really do work on page 88. There's also great

advice on page 142 on the right skincare for your age, as well as the seven makeup sins to

avoid at all cost on page 172.

A holistic approach is especially important in the cosmetic surgery arena – the best

results are often seen when aesthetic treatments are combined with a healthy lifestyle and,

importantly, realistic expectations of what cosmetic surgery can achieve. While a procedure

can go a long way in improving self-confi dence, it should not be viewed as a panacea.

One of the cosmetic surgeries with the highest patient satisfaction levels, when done

for the right reasons, is breast augmentation. This issue contains our annual Breast Special

from page 50, and we've compiled an array of information to help you make an informed

choice on all aspects of the procedure – and to help you achieve the best possible results.

The Bella Media team and I wish all of our readers a happy and healthy 2014 – and

we look forward to continuing to bring you comprehensive, authoritative and relevant

information about cosmetic surgery and beauty.

Michelle Kearney

Editor-in-Chief

michelle@bellamedia.com.au

Michelle Kearney is sole director of The Bella Media Group and no other parties or individuals have any fi nancial interest in the

company or in Australian Cosmetic Surgery & Beauty Magazine (ACSBM). Reproduction in whole or in part is not permitted without

the written authorisation of the publisher. All reasonable efforts have been made to trace copyright holders. All manuscripts and

articles submitted for publication remain the property of The Bella Media Group. This magazine contains general information only and

does not purport to be a substitute for medical advice. All readers are advised to seek medical advice from a doctor if considering

cosmetic surgery. The publisher and the authors do not accept any liability whatsoever in respect of an action taken by readers in

reliance on the recommendations set out in this magazine. Except where specifi ed in captions, photographs depict models who have

not necessarily received treatments described in this magazine.

Advertising Policy ACSBM follows and upholds the Australian Competition and Consumer Commission (ACCC) Guidelines to

Advertising Medical Services, the Therapeutic Goods Administration (TGA) advertising regulations for therapeutic goods and services,

and individual state Medical Board guidelines. All reasonable effort is made by ACSBM to ensure that all advertisements accepted

for publication follow these guidelines. Copies of these guidelines are available from the individual agencies and boards. ACSBM

reserves the right to reject advertising that is in breach of these guidelines. All ACSBM advertisers assume sole responsibility and

liability for statements contained in their advertising copy, and hold harmless and indemnify ACSBM, Bella Media, and offi cers,

directors and employees from and against all liability, loss, claim, damages, costs or expenses arising out of matter contained in the

advertising. Advertisers accept these terms and responsibilities when signing an advertising contract with ACSBM.

www.cosbeauty.com.au

Read the digital edition at www.zinio.com

Issue 62

NOV - JAN 2014

Editor-in-Chief

Michelle Kearney

Editorial Director

Aimée Surtenich

Production Coordinator

Camila Kawashita

Art Directors

Debbie Pilarinos,

Stéphanie Blandin de Chalain

Writers

Caitlin Bishop, Tara Casey,

Nicola Donovan, Lizzy Fowler,

Aimée Surtenich

Photographers

Debbie Pilarinos, ShutterStock, Picdesk

Distribution & Subscription

Enquiries

Bill Dunk

Phone 02 9398 2755 Fax 02 9398 2855

Email acsmag@bellamedia.com.au

Advertising Enquiries

Michelle Kearney

Phone 02 9398 2755 Mob 0419 624 246

Email michelle@bellamedia.com.au

Lauren Vescio

Phone 02 9398 2755 Mob 0431 400 381

Email lauren@bellamedia.com.au

Editorial Enquiries

Michelle Kearney, Aimée Surtenich

Phone 02 9398 2755 Fax 02 9398 2855

Email acsmag@bellamedia.com.au

Produced & Published by Bella Media

ABN 86 082 157 695

Managing Director

Michelle Kearney

General Manager

Bill Dunk

find us on

Facebook

australian cosmetic

surgery magazine,

bella beauty magazine,

cosmetic beauty

directory

follow us

on Twitter

@cosmetic_beauty

@bellamedia

Public Relations, Marketing

& Event Organisation

Phone 02 9398 2755 Fax 02 9398 2855

Office address

Level 1, 42a Frenchmans Road

Randwick, NSW, 2031

Phone +61 2 9398 2755 Fax +61 2 9398 2855

www.bellamedia.com.au

All 'before and after' photographs in

Australian Cosmetic Surgery Magazine

articles are of genuine patients. It is

important to understand that they represent

one person's experience and there is

no guarantee that any other patient will

experience similar results.

26
---
Expertise is Everything

More than 30 Years Experience in Cosmetic Plastic Surgery

Specialising in all Facial, Breast and Body Surgery

The Cosmetic and

Restorative Surgery Clinic

20 Manning Road,

Double Bay

02 9362 7400

Fax: 02 9328 6036

Email: info@cosmeticsurgeryoz.com

Dr Darryl J Hodgkinson

MB, BS (Hons), FRCS (C), FACS, FACCS

American Board of Plastic Surgery

Cosmetic Plastic Surgeon

www.cosmeticsurgeryoz.com

The definitive website for all your cosmetic surgical queries. More than 50

megabytes of information and hundreds of Dr Hodgkinson's outstanding results.
---
CONTRIBUTORS

Ricky Allen Dr John Flynn Dr Joseph Georghy Dr Paul Gerarchi Val Glover-Hovan

Dr Doug Grose Suzie Hoitink Dr Darryl Hodgkinson Eva Karpati Dr Jim Leavesley

Dr Steven Liew Dr Vlad Milovic Dr William Mooney Dr Colin Moore Dr Pouria Moradi

Dr Sarkis Nalbandian Dr Warwick Nettle Dr Oseka Onuma Dr Alex Phoon Rita Porreca

Dr Michael Rich Dr Kourosh Tavakoli Terri Vinson

28 www.cosbeauty.com.au
---
RHINOPLASTY SPECIALIST

MBBS, BSc (MED), MS (UNSW),

FRACS (PLAST)

Dr Tavakoli is a renowned

cosmetic plastic surgeon

who is a Fellow of the Royal

Australasian College of Surgeons

and a Member of the Australian

Society of Plastic Surgeons.

He specialises in all aspects of

facial cosmetic surgery, with a

particular interest in cosmetic

rhinoplasty and facelift.

Follow Dr Tavakoli on

New premises: Suite 1, 376 New South Head Road, Double Bay

1300 368 107 | drtavakoli.com.au
---
JOSEPH

MOURAD

Hair & Beauty

AWARD

WINNING

STYLIST & HAIR

EXTENSION

SPECIALIST

Joseph Mourad's

styling, colour and

hair extension

techniques are

sought the world

over, with celebrity

clients including

singer and host

Mel B and Grammywinning

recording

artist Mya.

COMPETITIVE

PRICES

475 New South Head Rd Double Bay Sydney

02 9328 2277

WWW.JOSEPHMOURAD.COM.AU

FEATURED ON THE TODAY SHOW!
---
Microcannula Liposuction

By Dr Michael Rich

Dr Rich has been performing liposuction in Australia since

1992 after training in the United States with Dr Jeffrey Klein

(acknowledged to be the 'father of modern liposuction'). With

20 years of experience and thousands of procedures, Dr Rich is

considered a leader in Australia for liposuction. He has chaired

liposuction symposiums at the World Congress of Dermatology

and has chaired the liposuction symposium for the

Australian College of Cosmetic Surgery.

Microcannula Liposuction offers:

• The benefit of being performed under local anaesthetic

• Minimised risk of bleeding, bruising and discomfort

• Smoother liposuction results

• Virtually undetectable scars

• Skin tightening and retraction over the ensuing months

• Minimal downtime

Microcannula Liposuction can be used for:

• Abdomen

• Love handles

• Legs

• Buttocks

Member of:

• Arms

• Back

• Breasts – male and female

• Double chin and jowls

MELBOURNE CLINIC

SYDNEY CLINIC

enRich Dermatology & Cosmetic Surgery Centre

872 High St, Armadale

www.mrich.com.au

03 9500 9500

The Facial Rejuvenation Clinic

263 George St, Sydney

www.facialrejuvenation.com.au

1300 88 99 35
---
newsfront

NEWSFRONT

CATCH UP WITH THE LATEST IN THE INDUSTRY...

East meets West

Dr Darryl Hodgkinson reports on the 4th Aesthetic Meeting between

the International Society of Aesthetic Plastic Surgeons and the China

Society of Plastic Surgeons in Shanghai.

Held on 24 October, 2013, 250 attendees and 15 international faculty

met in Shanghai. The main emphasis was on eyelid surgery, particularly the

experiences of the Korean and Taiwan surgeons treating ptosis.

Most interesting to me were the breast sessions, with a review of

anaplastic large cell lymphoma associated with textured implants, and the

somewhat controversial use of texturing in contemporary implants.

Presentations on face lifting showed a variety of techniques – some of

them quite invasive, some of them less invasive – to try to elevate the midface,

cheeks and jowl areas.

There was also extensive discussion about non-surgical procedures,

including fat injections. There is a lot of enthusiasm about this technique, but

in my opinion I believe there is not enough science to support the enthusiasm

at this point; I believe the same can be said for 'stem cell' face lifting.

4 Apps to help you butt it out this New Year

Kick the habit and reap the numerous health and cosmetic benefi ts! Here are four

tried-and-tested apps worth downloading to help you give up smoking – and stay smoke-free.

Livestrong My Quit Coach

Available for the iPhone | Free

Track your progress with this welldesigned

app that will help you see

how well you're doing on a monthly,

daily – even hourly – basis, awarding

achievement badges depending on

your progress.

My QuitBuddy

Available for iPhone

and Android | Free

This app, developed by the Australian

National Preventative Health Agency,

includes quit tips, countdowns,

motivational messages and nifty

features such as a 'panic button'

designed to provide a range of

distractions when cravings hit a

high note.

QuitNow!

Available for iPhone,

Android and Blackberry | Free

As well as outlining how much money

you've saved from avoiding your

regular cigarette purchases, the app

delivers messages indicating how

much your health has improved

since starting your journey, based on

information from the

World Health Organisation.

Quit Smoking Now with Max Kirsten

Available for iPhone, iPad

and Android | $7.49/$4.99

Having helped thousands of

people give up smoking through

hypnotherapy, Max Kirsten has taken

his Quit Smoking programme to the

smartphone. With features, fact cards

and a smoking calculator, alongside

all the audio sessions, this app has

been rated amongst the world's

best apps.

32 www.cosbeauty.com.au
---
Natural diversity

Women's Health Victoria has recently launched

Australia's fi rst online 'labia library', displaying real,

not pornographic, images of the female anatomy to

show the natural variations that can occur between

women's bodies and to education women that there

is more than one defi nition of 'normal' when it comes

to the vagina.

The aim of Labialibrary.com.au is to alleviate

common concerns about labia size and shape, and

to help reduce body image anxiety. The site features

a photo gallery of 20 unaltered vulvas to increase

awareness about what 'normal' looks like.

Palomar Acquired

by Cynosure

Cynosure, a leading company in laser and light based

treatments for minimally invasive and non-invasive aesthetic

applications, recently acquired medical device company

Palomar.

The acquisition of Palomar is set to complement

Cynosure's product range and customer base, with

added product and service revenues and stronger global

distribution network.

Joseph Caruso, Chairman, President and Chief

Executive Offi cer of Palomar says: "Both companies share

the same passion for innovation, and this combination

creates a single, unifi ed organization that is positioned for

continued success."

Cynosure is a leading developer and manufacturer of a

broad array of light-based aesthetic and medical treatment

systems. Cynosure's products are used to provide a diverse

range of treatment applications such as hair removal, skin

rejuvenation and scar reduction, as well as the treatment of

vascular lesions.

Exercise: a weapon

against dementia?

New research has found physical activity is key to leading

a 'brain-healthy' lifestyle and can help fi ght the progression

of dementia.

The study, released by Alzheimer's Australia and Fitness

Australia, combined and reviewed the latest research from

Australia and around the world. It found those hours on

the treadmill can go a long way in improving brain health,

increasing memory and refi ning cognitive skills.

Importantly, these improvements occur alongside a

decreased chance of developing dementia and, in cases

of existent dementia, a reduction in the disease's progress.

Co-author of the study Dr Maree Farrow from The University

of Melbourne explains the importance of these fi ndings:

'Research has found that about half of Alzheimer's

disease cases are potentially attributable to risk factors you

can change,' Farrow says. 'Physical activity has a signifi cant

positive impact on brain health and can reduce the risk of

developing dementia.'
---
newsfront

HARNESS

YOUR HEALING

POWER

DR GLEN CALDERHEAD REVEALED HOW HEALITE II CAN

BE USED TO REJUVENATE THE SKIN AND ACCELERATE

HEALING AT A WORKSHOP HOSTED BY ADVANCED

COSMECEUTICALS. CAITLIN BISHOP REPORTS.

On the cutting-edge of anti-ageing and regenerative

medicine, Advance Cosmeceuticals hosted a workshop

investigating the latest developments in skincare and

regenerative light therapy at Sydney's Hilton Hotel in

August 2013.

The workshop featured American cosmetic surgeon and

dermatologist Dr Ronald Moy, who spoke about the benefi ts

and science behind skincare line DNAEGF Renewal, and

internationally recognised Scottish scientist Dr Glen Calderhead,

who spoke on the regenerative benefi ts of Healite II.

Healite II is a therapeutic and healing light therapy that can

be used as a standalone aesthetic treatment, or to accelerate

healing following more invasive procedures. It calls upon different

light wavelengths, including infrared, to stimulate cellular activity

in the dermis and underlying tissue. This is effective in helping

to accelerate wound healing, increase microcirculation, treat

active acne and rejuvenate the complexion.

Treatment with Healite involves the delivery of yellow light, at

590nm, and infrared light, at 830nm. Dr Calderhead explains

the two wavelengths target different areas.

'Treatment with Healite II starts with one minute of yellow

light, which stimulates cells in the epidermis,' he says. 'The

yellow light targets keratinocytes and merkel cells, which are

highly endowed with mitochondria, or energy stores. This fl oods

the epidermis with energy and prepares the skin for the delivery

of infrared light, which targets the dermis and underlying tissue.'

Dr Calderhead explains infrared light activates cellular

membranes and enhances microcirculation in the dermis,

increasing cellular turnover and fl ooding the site with oxygen

and nutrients. He showed several case studies where treatment

with Healite II not only achieved rejuvenation at the treatment

site but also caused a larger systemic effect – where heat,

increased blood fl ow and heightened cellular activity occurred

throughout the body after treatment.

Treatment with Healite II can be used for facial

rejuvenation, and also to accelerate healing following more

invasive procedures such as laser treatment or cosmetic

surgery. Because of its regenerative and healing properties,

Healite II is effective in helping to reduce the amount of

bruising, swelling and scarring post-operatively.

'By harnessing the body's natural processes and

accelerating and boosting their activity, Healite II can be

used for a variety of rejuvenating and healing applications,'

says Dr Calderhead. 'It heightens blood fl ow, which delivers

increased oxygen and nutrients to the treatment site, and

incurs a rejuvenating, brightening and energising effect.'

34 www.cosbeauty.com.au
---
New from Allergan

Allergan has introduced dermal fi llers Juvederm

Volbella and Juvederm Volift to Australia. Used

to enhance the lips, reduce the appearance of

wrinkles and fi ne lines and restore volume, the fi llers

are formulated with a local anaesthetic to reduce

discomfort during treatment.

At the launch, French plastic surgeon Dr Herve

Raspaldo shared his experience in using dermal

fi llers for facial rejuvenation: 'The loss of volume in

the face is now also recognised as a fundamental

part of ageing and can be treated using minimally

invasive procedures and products to provide a more

natural, relaxed look.'

Sydney plastic surgeon Dr Steven Liew agrees:

'Juvederm Volbella and Juvederm Volift are a

welcome addition to current treatments that

rejuvenate the face and restore volume.'

Minimally-invasive solutions

Japanese plastic surgeon and internationally renowned researcher

Dr Yohei Tanaka spoke on the benefi ts of non-invasive methods

for body contouring and facial rejuvenation at a recent breakfast

hosted by Cutera. He spoke on the benefi ts of the Cutera systems

TruSculpt and Titan, which use radiofrequency and infrared

technology to achieve aesthetic results.

Dr Tanaka presented several case studies on TruSculpt, showing

its effect on wrinkle reduction and general facial rejuvenation, as

well as his non-invasive body contouring results using Titan.

Cynosure Acquires Palomar

Cynosure, a leading company in light-based treatments for

minimally invasive and non-invasive aesthetic applications, recently

acquired medical device company Palomar.

The acquisition of Palomar is set to complement Cynosure's

product range and customer base, with added product and

service, and stronger global distribution network.

Joseph Caruso, Chairman, President and Chief Executive

Offi cer of Palomar says: "Both companies share the same passion

for innovation, and this combination creates a single, unifi ed

organisation that is positioned for continued success.

Cynosure is a leading developer and manufacturer of a broad

array of light-based aesthetic and medical treatment systems.

Its products are used to provide a diverse range of treatment

applications such as hair removal, tattoo removal, skin rejuvenation

and scar reduction.
---
industry

A Regenerative Revolution

An amalgamation of world leaders in regenerative medicine met in

Venice for the 5th International BioBridge Foundation Conference.

Caitlin Bishop reports.

The canals of Venice framed the innovative, inspiring

and cutting-edge hub of the 5th International

BioBridge Foundation Conference, held in September

2013. Some of the world's greatest minds in regenerative

medicine, alongside cosmetic and medical practitioners,

scientists, commercial professionals and biotechnology

experts, descended on the beautiful Italian city to discuss,

dissect and advance the field of regenerative medicine.

Australian guest speakers included Dr Herbert Hooi, Nicole

Belle RN and Dr Philip Lim.

BioBridge is a foundation dedicated to funding research

and ongoing education in regenerative medicine. In support

of this, RegenLab hosted the Venice conference and

put together two days of keynote talks, workshops and

discussions. Regen Lab has been at the forefront of technical

and science-based solutions in Australia since 2007, when

it received TGA registration for Regen Platelet Rich Plasma

(PRP). Indeed, according to Dr Abbas Al-Taif in Sydney, it was

PRP that was the main focus of this year's BioBridge event.

'Most of the topics covered at the BioBridge conference

in Venice were based on detailed medical applications

for the use of autologous PRP in the field of regenerative

medicine,' says Dr Al-Taif.

The potential for using PRP in conjunction with fat

transfer in both medical and aesthetic settings was a hot

topic at the 2013 event. Indeed, PRP has been touted to

improve graft adherence, endurance and survival following

surgical procedures

'PRP can be used with fat transfer in both breast

augmentation and facial rejuvenation procedures,' Dr

Al-Taif says. 'Stem cells and fat transfer applications were

also part of the conference agenda.'

36 www.cosbeauty.com.au
---
industry

Autologous PRP

Signifying an innovative and endlessly applicable

rejuvenating therapy, autologous PRP utilises a

concentration of human platelets to promote healing in

both hard and soft tissues. It is used in orthopaedics, sports

medicine, wound healing, neurosurgery, dentistry and

ophthalmology, as well as in cosmetic, plastic, maxillofacial

and cardiothoracic surgery.

'Platelets are not only important for clotting of the blood

but actually play a much greater role in the repair and

modelling of tissue,' explains cosmetic physician Dr May

Marr from Lennox Head in NSW. 'They orchestrate the

repair and rejuvenation process via growth factor proteins,

which is how cells communicate with each other.'

The treatment involves sampling the patient's own

blood, centrifuging the sample to effectively concentrate

the platelets in a small volume of plasma, and reinjecting the

Regenerative medicine is a

"Golden Field" of creative

thoughts, scientific knowledge

and practical applications

One of the speakers at this year's conference, Dr Ali

Modaressi, a plastic surgeon from Geneva, uses PRP

with many different surgical and non-surgical aesthetic

procedures. 'We use Regen PRP in a wide variety of facial

plastic and reconstructive procedures,' he says. 'I have

found Regen PRP aids in healing, reduces bruising and

swelling, and expedites the healing process after surgical

procedures such as facelift and rhinoplasty. Regen PRP

can also enhance the effects of laser treatment, resulting

in even better outcomes, particularly in the reduction of

lines and wrinkles and the improvement of skin tone, colour

and texture.'


Regenerative medicine

In Australia, regenerative medicine, and the use of PRP, is an

emerging field gaining significant attention. The possibilities

that lay in utilising the body's own processes to repair and

replace damaged tissue has profound implications in both

medical and aesthetic rejuvenation.

'Regenerative medicine is a "Golden Field" of creative

thoughts, scientific knowledge and practical applications.

Moving forward, we need to find safe and creative ways for

its management, and continue to explore the different ways

we can use a person's own tissue to achieve results,' Dr

Al-Taif concludes. csbm

concentrated product into the treatment area. Platelets act

as vehicles for the delivery of growth factors, which induce

the proliferation of fibroblasts, osteoblasts and endothelial

cells. Simply put, treatment with PRP kickstarts cellular

processes for a regenerative effect.

'I find PRP is one of the most safe and successful

modalities in regenerative medicine,' Dr Al-Taif explains.

'I use it for face and neck skin rejuvenation; scalp hair

regrowth; scar treatment; and hand rejuvenation. I am also

preparing future scientific studies into the use of PRP for

both erectile dysfunction and vulvo-vaginal rejuvenation.'

PRP and cosmetic medicine

It's thanks to companies such as RegenLab that treatment

with PRP has gained such traction in a cosmetic setting.

PRP is now a popular addition to aesthetic surgery clinics

throughout Australia, and can be used as both a standalone

treatment or in conjunction with other modalities.

The treatment is effective in improving skin texture and

radiance, reducing the appearance of wrinkles and fine

lines, and fading dark circles under the eyes. Fuelling the

dermis with growth factors and stimulating the cell renewal

process, PRP can be injected around the eyes, across

the cheeks, midface and forehead, along the jaw line and

décolletage, and on the backs of the hands.

www.cosbeauty.com.au 37
---
industry

What is Regenerative Medicine?

Regenerative medicine research:

• Investigates ways to help the human body repair,

replace, restore and regenerate damaged tissues

and organs

• Uses cells, genes or other biological building

blocks, along with bioengineered materials

and technologies

• Focuses on restoring the remarkable tissue

regenerative capacity that all humans have

before birth

Regenerative medicine scientists are asking:

• How do some human tissues (our skin,

blood cells and lining of the digestive tract)

naturally regenerate?

• What determines this ability of cells? What

switches it on and off?

• How do newts re-grow their tail or limb, or fish

regenerate their fins or heart? What biological

and molecular processes make this happen?

• Do the parts of our bodies that do not regenerate

(such as the brain and heart) retain a latent ability

to regenerate?

Regenerative medicine could:

• Halt, reverse and prevent damage to vital organs

such as kidneys, livers and even hearts

• Grow new vital organs for people with organ

failure due to disease, injury or genetic conditions

• Treat and cure diabetes through stem cell therapies

• Reverse the effects of neuro-degenerative

diseases such as dementia, Alzheimer's disease

and Parkinson's disease

• Stop the body attacking itself in auto-immune

diseases including multiple sclerosis, type 1

diabetes, Crohn's disease and rheumatoid arthritis

• Treat cancer by building on current stem cell

therapies such as bone marrow transplants

for leukaemia

• Prevent ageing

Regenerative medicine can involve:

• Regeneration of tissues by injecting or implanting

regeneration-competent cells (usually derived

from adult or embryonic stem cells)

• Protecting cells and tissue from damage due to

disease or injury (e.g. by preventing cell death)

• Inducing regeneration in tissue by recruitment

of a patient's own cells to the tissue or using

proteins or gene delivery to stimulate cell division

in the tissue

• Prevention of inflammation and scarring in tissues

to better enable the use of these methods

Before and After photos courtesy of Nita

McHugh from Rejuven8 in Penrith, Sydney

38 www.cosbeauty.com.au
---
industry

A5M: The latest in anti-ageing

caitlin bishop reports on The AustralAsian Academy of Anti-Ageing

Medicine conference (a5m), which highlighted advancements in both

aesthetic and anti-ageing medicine.

Scientists, plastic and cosmetic surgeons and

researchers descended upon Melbourne last

August for the AustralAsian Academy of Anti-Ageing

Medicine (A5M) conference. From the theory of beauty and

aesthetics to the importance of gut bacteria, the two-day

event presented a range of topics, integral to combating

the signs, diseases and conditions associated with ageing.

With a theme entitled 'Obesity and the Metabolic

Syndrome: An integrative practice', the talks, workshops

and demonstrations took a holistic approach to anti-ageing

practice. International keynote speakers included Dr Mark

Donohoe, Professor Garry Egger, Dr Thierry Hertoghe and

Dr Steven Dayan, and the topics ranged from skin health to

the connection between obesity and the brain.

In a talk on 'The Unifying Theory of Beauty', American

plastic surgeon and author Dr Steven Dayan spoke about

his goals in aesthetic medicine. He explained his expertise

lies in the space between beauty and attractiveness.

'Beauty is primal and raw; it's an energy that fuels

evolution,' Dr Dayan says. 'According to evolutionary

biologists, our only purpose on Earth is to procreate

and the brain is pre-wired to look for signs of fertility. These

signs of fertility are manifested as beauty to our eyes.

However, beauty and attractiveness are two different

things: beauty is fundamental but attractiveness combines

many difference elements, most importantly confidence.

This is where I work.'

In a somewhat controversial approach to aesthetic

medicine, Dr Dayan explains his job is not to make people

beautiful; it's to make people feel more confident.

'The number-one element to attractiveness is confidence;

if we can help to make someone more confident, we can

help them be more attractive,' Dr Dayan says. 'As a plastic

surgeon, it's not necessarily my primary aim to make

people look beautiful, it's about making them feel beautiful

– sometimes it requires surgery, while other times nonsurgical

rejuvenation is all that is required.'

In taking this subtle approach to aesthetic rejuvenation,

Dr Dayan stresses the importance of striving for naturallooking

results in facial rejuvenation. He showcased several

case studies, where minimal changes – for example using

filler to slightly upturn the corners of the mouth, achieved

significant and aesthetically pleasing results.

Minimal changes can create

significant and aesthetically

pleasing results

Dr Dayan's talks were heard alongside lectures on the

links between intestinal bacteria and overall health, how

the processed foods we eat can cause chronic, systemic

inflammation and how obesity may well be related to a

whole range of previously unconsidered factors – from gut

flora and genetics to inflammation and climate change.

The variety of knowledge and high level of expertise at

A5M left those in attendance enthused and motivated to

continue their work into anti-ageing medicine.

Indeed, the mixture of topics covered, and the originality

of ideas broached and expanded upon, certainly fuelled

stimulating discussion at the exciting and thoughtprovoking

future possibilities in both aesthetic and medical

anti-ageing science. csbm

www.cosbeauty.com.au 39
---
industry

ASAPS 2013

Non-Surgical Symposium

The 2nd Annual Non-Surgical Symposium,

hosted by ASAPS and the CPSA, explored the

extensive possibilities in the world of nonsurgical

rejuvenation. Caitlin Bishop reports.

Signifying a joint pathway towards future non-surgical

advancements, the Australasian Society of Aesthetic

Plastic Surgery (ASAPS) and the Cosmetic Physicians

Society of Australasia (CPSA) hosted the second annual

Non-Surgical Symposium at Sydney's Hilton Hotel in August

2013. An amalgamation of plastic surgeons, dermatologists,

cosmetic doctors and physicians descended upon the city

for the four-day conference and were presented with talks,

discussions and workshops from the world's best in nonsurgical

rejuvenation.

The partnership of ASAPS and the CPSA is an indication

of the future potential of aesthetic medicine – combining

both surgical and non-surgical techniques to optimise results

in cosmetic rejuvenation. The conference hosted several

international keynote speakers, including French facial plastic

surgeon Dr Herve Raspaldo, Singapore plastic surgeon Dr

Woffles Wu, American plastic surgeon Dr Michael Kane,

dermatologist Dr Henry Chan and plastic surgeon Dr Wilson

Ho, both from Hong Kong, American dermatologist Dr Zoe

Draelos and German dermatologist Dr Sabine Zenker.

With presentations on acne treatments, facial rejuvenation,

fat reduction, body contouring, skin tightening, fat grafting and

different methods for laser, microneedling and injectables, the

conference was a comprehensive dissection of the possibilities

in non-surgical rejuvenation – or 'beautification' as Dr Woffles

Wu put it. How these methods could be used as an alternative

or adjunct to aesthetic surgery was extensively discussed.

'Non-surgical procedures can bridge the gap to surgery, and

the two approaches complement each other extensively,' Dr

Raspaldo explains. 'By combining the two, or having multiple

modalities with which to treat each patient, the results are

improved and patient satisfaction is increased.'

Many of the workshops explored different ways to

rejuvenate the face, and various ideas on 'defining beauty'

were shared. Sydney plastic surgeon Dr Steven Liew explained

ageing is multifaceted, and achieving an aesthetically pleasing

result in facial rejuvenation involves a multi-modal approach.

He believes combining surgical and non-surgical procedures

Photos courtesy of Woodrow Wilson

40 www.cosbeauty.com.au
---
industry

can, in some cases, more effectively address the different

elements of ageing.

'Facial ageing is complex – there's volume loss,

loosening of the skin and changes to the skin itself, as well

as the bone and soft tissue,' Dr Liew says. 'While surgery

can tighten skin, it does not necessarily address skin quality

or volume loss. Now, with the combination of surgical

and non-surgical methods, we can create natural-looking

results that are more aesthetically pleasing, because several

factors of ageing are addressed, not just skin tightening.'

Dr Raspaldo believes establishing a heart-shaped facial

structure is key to an aesthetically pleasing result. He

commonly uses dermal fillers and injectables to smooth

facial junctions and contours in facial rejuvenation.

'In my opinion, when the lower face is slimmer than

the mid and upper face, the face looks more attractive

– it's important to emphasise the mid-face and restore a

heart-shaped volume,' Dr Raspaldo explains. 'Anti-wrinkle

injections and dermal fillers can be effective in restoring

symmetry and volume, diminishing lines and smoothing

facial junctions. For example, removing the shadow in

the cheek-jowl hollow can make the face appear more

naturally youthful.'

Notably, skin health, and the importance of combining

skincare and cosmetic treatments for optimal results, was

not forgotten. Dr Zoe Draelos spoke on different topical

ingredients, including stem cell creams and potential

cellulite solutions. Dr Sabine Zenker shared her expertise

and experience in using active, chemical peels, particularly

in treating hormonal melasma, and also ran workshops

on emerging technologies such as Platelet Rich Plasma.

Dr Greg Goodman revealed a unique and effective way to

treat acne scarring using fillers and biopsies, while a talk

by Melbourne cosmetic scientist Terri Vinson explored the

'future of cosmeceuticals'.

However, it was not all hard work and discussion. The

conference was opened by a cocktail reception at the

Hilton's Zeta bar and the four days were concluded with

a gala dinner at Sydney's Town Hall. The record-breaking

attendance of both delegates and trade alike made for a

vibrant and lively atmosphere throughout the conference.

The level of enthusiasm from both national and

international speakers conveyed the passion that stems

from the extensive possibilities, and powerful collaborations,

in the world of aesthetics. Indeed, if the second annual

Non-Surgical Symposium is anything to go by – the future

of both surgical and non-surgical rejuvenation is

impressively bright.

'In the future we will see younger people taking earlier

action by improving skin quality and correcting the signs

of ageing as they arise,' Dr Liew explains. 'If we start using

non-surgical methods earlier, we may reduce the need for

some surgery. We will be seeing a strong combination of

non-surgical and surgical approaches in the future.' csbm

www.cosbeauty.com.au 41
---
column

Queen Elizabeth I:

toxic beauty?

42 www.cosbeauty.com.au
---
column

Where did that come from? In his regular column Dr Jim Leavesley

examines the history and origins of a medical topic.

The use of cosmetics goes back centuries, to Ancient

Egypt and beyond. For one renowned woman of

history, her use of cosmetics almost killed her. I refer

to Queen Elizabeth I of England.

Her mother, Anne Boleyn, was already pregnant to her

lover, Henry VIII, who had already had an affair with Anne's

sister, when Anne and Henry married. Elizabeth (and not the

longed-for son) was born in 1533. As it was, Anne Boleyn

was beheaded for infidelity three years later and Elizabeth

was declared illegitimate. Nonetheless, she succeeded to the

throne in 1558.

Before becoming queen, Elizabeth had contracted

smallpox, a serious infectious disease with a significant

death toll at the time. If you survived, it left you scarred and

pockmarked for life. Elizabeth survived and the disease is

now extinct.

Beneath the flawless skin and

rich red hair was a face and body

poisoned by makeup

Not unnaturally, the young monarch wished to be all

glorious, glamorous and a celebrated beauty throughout

the courts of Europe and to this end used many cosmetics

for the rest of her life. She died in 1603 aged 69, and to the

end maintained her ageless glamour by displaying the then

fashionable stark white flawless skin with the aid of heavy

makeup and a red wig.

The hair bit was simple, with the flaming wig easily

sitting on her balding head. As she aged her black teeth,

foul smelling from lack of even rudimentary dental hygiene,

were less easily hidden and their appearance restricted her

indulging in conversation. Her grossly smallpox-pitted skin

and wrinkles around her ageing eyes were skilfully hidden

with layer upon layer of caustic cosmetic applications

comprising white lead and vinegar.

The vinegar was bad enough, but it was the white lead

that was the killer and threatened her life for many years.

Lead is highly toxic, especially if in constant contact with

the skin from which it is easily absorbed, or inhaled in dust

from dry-up creams. It leads to gross anaemia from the

destruction of red blood cells or the interference with their

manufacture in the marrow.

When this 'beauty treatment' was removed at night, she

looked (as indeed she was) haggard, drawn and pale, but

it was only her ladies-in-waiting who ever saw the sorry

sight. In the morning it was the job of these trusted few to

reconstruct the regal face to enable the queen to confront

her adoring public. As time went on, the lead compound

was applied more thickly. Vivid red colour was also added

to her lips and cheeks, derived from chemical red mercury

sulphide. Mercury products are even more dangerous than

lead, so every time the tired anaemic Elizabeth closed her

lips, she ingested the toxic substances.

With the advancing years she began to display symptoms

of mercury poisoning such as lack of coordination, memory

loss, irritability, depression, fatigue from the lead-induced

anaemia and peripheral nerve changes from the mercury.

In 1599, Robert Devereux, the Earl of Essex, broke

protocol and one morning burst into the royal apartment.

He was gobsmacked to see his queen's wrinkled skin, the

few wispy grey hairs around several bald patches and a

face pale au natural rather than white from lead paste.

There was no gutter press then so there was no front

page display embellished by images from a hidden camera

hidden in Essex's doublet. But he could hardly be expected

to keep such a coup to himself, resulting in news spreading

quickly. The Earl got his comeuppance, however, when he

was cited for treason and after languishing in the Tower of

London for some time was executed in 1601.

Queen Elizabeth kept going in the knowledge that with

her strength of character and resolve to carry on regardless,

she represented what England was all about. Early in her life

she spoke in public fluently, eloquently and with conviction.

Her speech at Tilbury in 1588, given as the Spanish Armada

approached, has lived on in world literature: 'I know I have

the body of a weak and feeble woman, but I have the heart

of a king, and a king of England, too'.

She may have foreseen how her body was reacting

to the toxic cosmetics. As more teeth fell out, her diction

could not be easily understood and the royal court became

a much quieter and less jolly place.

Eventually, she refused to be undressed and put

to bed, fearing that once she lay down she would

never get up again; the emollients had affected

her reason and brain. To divert attention from her

decaying body, she took to wearing numerous

strings of pearls and other jewellery.

So the magnificent paintings we know of the

feisty lady are really a lie. Beneath the apparently

flawless skin and rich red hair was a face and

body poisoned with makeup worn to

maintain the fiction of a fearless

and youthful queen.

Nevertheless, Elizabeth I

remains one of England's

most famous and highly

regarded monarchs. csbm

www.cosbeauty.com.au 43
---
industry

Reap the rewards

BOTH CLINICS AND THEIR CUSTOMERS ARE SET TO BE REWARDED WITH THE

LATEST LOYALTY SOFTWARE FROM SHORTCUTS. CAITLIN BISHOP REPORTS.

It's that element that drives people through the door

time and time again, it's at the heart of every business's

continued success and, without it, the momentum of any

cosmetic clinic, surgery or hair salon would falter. Customer

loyalty is the key to a thriving business and, with the latest

software from Shortcuts, clinics of any size can reap the

rewards of boosting customer dedication.

Shortcuts is in the process of launching a new loyalty

feature, signifying a step up from the standard loyalty

system already on offer. The new program affords greater

fl exibility, heightened integration and a stronger consumer

focus. Clinics can customise the program to specifi cally suit

their customer, product and service.

'The sky is the limit,' says Shortcuts educator Brooke

Morkham-Calvert. 'Our designers work with clinics to

establish a program that is suitable for their customers,

services and branding. Clients can give us their vision for

an "ideal package" and we work with that.'

How does a loyalty program work?

The loyalty program acts like a frequent fl yer system,

where points are earned for a certain amount of money

spent in-clinic.

The system encourages clients to return for future

services or purchases, in order to be rewarded with

44 www.cosbeauty.com.au
---
industry

additional points. These points can then be redeemed

according to the guidelines established by the clinic.

While the program can be customised for each salon or

clinic, there are certain pre-defi ned packages available for

easy implementation and adoption.

One option affords 10 points for every dollar spent on

services, and fi ve points for every dollar spent on product.

Another package affords 15 points for every $100 dollars

spent in-clinic. These can be accompanied with additional

specials, such as double points on Tuesdays or when a

series of appointments are made.

Adding a touch of exclusivity to the points-based

system, the loyalty program can also be built around a

customisable multi-tiered system.

Customer loyalty is key, and

businesses of any size can

reap the rewards of boosting

customer satisfaction

5

reasons to boost your

customer loyalty

• Customer loyalty drives repeat business

and helps shield your practice against

price competition

• Loyal customers act as brand ambassadors

and can become an invaluable marketing

asset for your practice or clinic

• By rewarding customers and cultivating

loyalty, it becomes easier to up-sell and

cross-sell between products and services

• It's more cost-effective to keep existing

clients than attracting new business

• Loyal customers are more likely to provide

timely, honest and valuable feedback

'Clinics can move clients into different tiers of loyalty

depending on their spending or visiting habits,' Morkham-

Calvert says. 'The Bronze Club may represent a basic

loyalty program, while the Gold or Platinum tiers could afford

higher rewards, double points or additional promotions.

The possibilities are endless!'

The loyalty feature works in perfect conjunction with the

existing Shortcuts software. Points and promotions can be

seamlessly incorporated into the Shortcuts personalised

marketing system, Set & Forget Marketing. At the same

time, data from Spotlight, the Shortcuts automated ratings

and reviews system, can be used to effectively customise

and target the rewards system.

Shortcuts provides extensive training during the

implementation of all software, and this guidance is backed

up by a 24-hour support system. Importantly, the rewards

program can be universalised across franchises, meaning

clients can earn and redeem points at different branches of

the same company. Because the data is not held in-store,

but rather in a Shortcuts 'cloud', the loyalty information is

accessible and applicable across stations.

'Customer loyalty is so important,' Morkham-Calvert

says. 'Clinics are often selling a product or service that

customers could potentially receive down the road. A loyalty

program encourages clients to come back – even just for a

simple service – because they are rewarded for doing so.'

In a world where competition no longer has physical

bounds – indeed, products can be bought over the internet

and consumers are willing to travel for their cosmetic and

beauty procedures – customer loyalty is one way to ensure

business remains not only sustainable but also thriving.

The Shortcuts loyalty system not only continues to drive

existing customers through the door but also encourages

them to share and talk about the benefi ts associated

with receiving services, and reaping the rewards, at your

clinic. csbm

For more information visit www.shortcuts.com.au

www.cosbeauty.com.au 45
---
industry

Cosmetex 2014

Cosmetex will bring the latest in cosmetic medicine and cosmetic

surgery to the Gold Coast in may, 2014. Caitlin Bishop reports.

46 www.cosbeauty.com.au
---
industry

An amalgamation of cosmetic and plastic surgeons

will descend upon the Gold Coast in May 2014

for the annual Cosmetex conference. Each

year, Cosmetex forms a hotbed for cosmetic medical

practitioners to exchange information, uncover possibilities

and cultivate ideas to advance the world of aesthetics.

The conference, which is run by the Australasian College

of Cosmetic Surgery (ACCS), is celebrating its 5th year

under the Cosmetex banner and will be held at the Royal

Pines Resort on the Gold Coast. The resort is located 15

minutes from the iconic Surfers Paradise and will bring a

touch of tropical luxuriousness to the cutting-edge medical

program and buzzing social agenda.

Meetings such as Cosmetex

are important for the sharing of

ideas within a multidisciplinary

and multicultural environment

of experts

The 2014 meeting will welcome Chicago plastic surgeon

and author of New York Times bestseller 'Subliminally

Exposed' Dr Steven Dayan, as a keynote speaker.

Dr Dayan is internationally recognised for his investigation

into the elements that define beauty. He remains on

the front-line of cosmetic techniques and is integral in

infiltrating these developments into the wider field of

aesthetic medicine.

'Meetings such as Cosmetex are important for the

sharing of ideas within a multidisciplinary and multicultural

environment of experts,' Dr Dayan says. 'Every time I travel

to Australia I come back with some new way of thinking

that either changes the way I practice now or sparks me

towards another way of thinking.'

With a program that covers everything from laser

treatments to breast augmentation, Cosmetex will host

presentations and workshops by experts from a variety

of fields. Dr Dayan explains combining surgical and nonsurgical

options can go great lengths in achieving optimum

and holistic patient care.

'Where surgery starts and non-surgery leaves off is a

relative, and often arbitrarily, set marker,' he explains. 'I look

at the patient as a whole and do my best to determine what

treatments are most likely to help them reach their goals.

Sometimes that means surgery; other times it will mean

non-surgical treatments or skincare.'

Perhaps one of the most exciting outcomes of meetings

like Cosmetex is the opportunity for collaboration between

The Royal Pines Resort

Smart, contemporary and set on a world-class golf

course, RACV Royal Pines Resort offers everything

needed for a sun-kissed holiday on the Gold Coast,

Queensland's most famous stretch of coastline.

Positioned at the heart of the region's sand

belt, the 100-hectare resort is midway between

the sparkling coastline and the lush beauty of the

hinterland rainforests.

The resort itself stands at the centre of beautiful

established gardens, with 331 stylish rooms and

premium spa suites offering views across the

hinterlands and Gold Coast skyline. Free internet

access will help you stay connected during your

stay at the resort.

A golfer's dream, there's also plenty to help you

unwind after a busy day, with a renowned Day Spa

and lagoon pool to lap up the autumn sun.

professionals and, in turn, advancements in surgical

techniques, treatment options and patient care. 'I foresee

a future of minimally invasive interventions with less pain,'

says Dr Dayan. 'I believe that pain is one of the final frontiers

to conquer in aesthetic medicine.'

Talks on using stem cells and fat transfer for more

effective results will punctuate discussions on facial surgery,

breast surgery and skin rejuvenation. 'I am fascinated and

very enthused about new developments with fat transfer

and stem cells,' Dr Dayan says.

A segment on 'Business and Marketing' is also on the

agenda, and will grant insight into industry innovations,

marketing possibilities and managing social media.

'Unlike a generation ago, just being good at what you

are doing is not enough,' Dr Dayan says. 'Today, with the

overload of information and misinformation that bombards

consumers, it can be difficult to be heard. Understanding

some of the mechanisms of how to run a small business is

critical to continuing to practice our craft in the way in which

we envision.'

Cosmetex will also have a jam-packed social program.

A track record of lively cocktail events and spectacular gala

dinners promises an enjoyable and sociable three days.

In combining a comprehensive educational program, expert

delegates and an exciting social agenda, Cosmetex 2014 is

sure to fuel registrants with new ideas and fresh inspiration to

enhance their work in cosmetic medicine. csbm

www.cosbeauty.com.au 47
---
industry

Q&A with

ACCS President

Dr Soo-Keat Lim

The Australasian College of Cosmetic Surgery's

(ACCS) new president Dr Soo-Keat Lim discusses

the values and goals of the college.

Q

Over the past decade or so, cosmetic surgery has

gone from marginal to mainstream. What role does

the ACCS play in protecting patients and raising

standards in the industry?

A

The ACCS plays an important role in the

cosmetic enhancement industry in Australia and

the Asia Pacific. First, it is the only college of

its kind in this region to have a well-developed training

program dedicated to producing highly skilled cosmetic

surgeons and physicians who are trained to the highest

international standards.

Second, through its Continuing Medical Education

(CME) program, the College assists its Fellows to maintain

their high standard of care and skill through continuance

study, attendances at of local and international cosmetic

conferences, and participating in relevant Masterclasses.

Third, the College has developed a code of practice

that gives its Fellows the tools to provide their patients

with greater protection than that found in other regulations

or guidelines.

And last, looking towards the future, the College has

laid the foundation for a re-certification or re-validation

program, as part of CPD, to maintain standards and skills

of its Fellows after 10 years from original certification. This

will ensure our Fellows' ongoing fitness and competence in

their chosen fields.

Q

Why does the ACCS believe cosmetic medical

practice should be recognised as its own medical

specialty?

A

Cosmetic medical practice is broadly divided into

two separate fields: invasive (surgical) and noninvasive

(medical).

Cosmetic surgery involves procedures such as breast

augmentation, facelifts, rhinoplasty, blepharoplasty,

abdominoplasty (tummy tuck) and neck lift.

The non-invasive, or medical area, covers such

procedures as filler, used in lip enhancement and nonsurgical

facelifts; anti-wrinkle injections; sclerotherapy

(treatment of varicose and spißder veins by injections);

facial veins treatment; laser therapy and other forms of

light-based therapy for facial rejuvenation, hair removal,

tattoo removal and acne management; PRP (Platelet

Rich Plasma) treatment; stem cell therapy; and fat cell

reduction therapy.

Liposuction and liposculpture under tumescent local

anaesthetic is often placed in this field or in a separate

section referred to as minimally invasive.

Practising cosmetic procedures at the highest standard

requires special knowledge and skill not normally found

in doctors working in general medicine or in specialists

working in general surgery or even in some cases of

plastic surgery.

Cosmetic Medical Practice is a well defined and unique

medical specialty, practiced by medical practitioners from

various specialties including dermatology, general surgery,

general practice, plastic and reconstructive surgery, oral

and maxillofacial surgery, ophthalmology, otolaryngology

and gynaecology.

The factor which unifies this divergent group

of practitioners is that they all need to obtain

additional specialised education, training and experience

beyond their original area of postgraduate specialisation

and training before becoming competent in cosmetic

medical practice.

If a new specialty is recognised, any organisation of

doctors or training facility in the country will be able to

apply to have their training scheme, qualifications and

48 www.cosbeauty.com.au
---
industry

accreditation processes assessed against the requirements

of the specialty as set out by the AMC, in order to be an

accrediting organisation in the specialty of Cosmetic

Medical Practice.

Q

What are some initiatives the College has

undertaken to further raise standards in the industry

and protect patients?

A

The ACCS has made an application to the AMC

(Australian Medical Council) to have Cosmetic

Medical Practice recognised as a Medical Specialty

so that doctors wishing to practice in this specialty will be

required to obtain a high level of knowledge and skill from

a recognised college which can provide the training to the

highest international standards.

Over the past 10 years or so, the ACCS has convened

an internationally recognised annual conference called

Cosmetex, where it has invited international experts in the

cosmetic industry to share their knowledge and technical

skill with Australian cosmetic medical practitioners.

Cosmetex is the biggest cosmetic conference in our

region (over 600 delegates) and features highly in the

international cosmetic conference calendar, catering for

doctors of many disciplines who wish to enhance their

cosmetic surgery and medicine skills and knowledge.

The ACCS has developed procedure-specifi c registers

to list Fellows who have performed 50 or more cases in a

specifi c procedure to demonstrate their level of experience

in that procedure.

The ACCS publishes a patient information brochure

to advise consumers on questions to consider before

deciding to have a cosmetic medical or surgical procedure

and where to seek assistance if something goes wrong

or they are dissatisfi ed. This brochure is available from

the surgeries of our Fellows or from the college website:

www.cosmeticsurgery.org.au

Q

What advice would you give to prospective

patients who are interested in undergoing cosmetic

enhancement procedures?

A

My advice to prospective patients is to look beyond

the hype of glossy advertisements and colourful

websites. Word of mouth is one way to choose the

right doctor. Another is to choose a doctor who has the

letters FACCS or FFMACCS behind their names, because

these are Fellows of the Australasian College of Cosmetic

Surgery who have been trained and certifi ed to a high

standard in cosmetic surgery or medicine.

FACCS are Fellows who have been trained primarily in

Cosmetic Surgery and FFMACCS are Fellows who have

been trained primarily in Cosmetic Medicine and those with

The Australasian

College of Cosmetic

Surgery (ACCS)

The ACCS is a multi-disciplinary body including

general surgeons, dermatologists, ear nose and

throat surgeons, ophthalmologists and other doctors

who specialise in cosmetic surgery.

The factor that unifi es this divergent group is

that they all need to obtain additional specialised

education, training and experience beyond their

original area of postgraduate specialisation before

becoming competent in cosmetic medical practice.

Vision

To have Cosmetic Medical Practice recognised as

a new medical specialty, performed only by certifi ed

cosmetic practitioners.

Mission

To ensure the safe provision of cosmetic surgery

and non-surgical procedures (such as laser and

light treatments, dermal fi llers and wrinkle relaxant

injections) to the Australian general community

through supply of appropriately trained and certifi ed

medical practitioners.

Diploma of Lipoplasty (ACCS) are Fellows with additional

training in tumescent liposuction and liposculpture under

local anaesthesia.

You can also contact the college on 1800 804 781 to

check if they are listed under a procedure-specifi c register

of the procedure you are interested in to further assure

yourself of the experience and skill of the doctor.

More information can be obtained about how to get the

most out of your consultation with your doctor by looking at

the College's website: www.cosmeticsurgery.com.au.

www.cosbeauty.com.au 49
---
easts

Size

me up!

FINDING THE PERFECT BRA AFTER BREAST AUGMENTATION JUST GOT

EASIER, THANKS TO THE NEWLY LAUNCHED 'UNREAL' RANGE FROM

BRAS N THINGS. AIMÉE SURTENICH REPORTS.

Shopping for new bras is an exciting prospect for

many women following breast implant surgery, but

it can be challenging to fi nd a bra that fi ts your new

proportions. In response to growing demand, Bras n Things

has designed the 'Unreal' bra collection specifi cally for

women with breast implants – the fi rst of its kind in Australia.

Whether you're after lacy, racy or practical, the 'Unreal'

collection offers a variety of styles, shapes and colours.

The new range is also suited for women with naturally

large busts who want support without the excess coverage

typically found with bigger cup sizes.

'We spoke extensively to women with breast implants

about their experience, their requirements and what they

feel was lacking in the lingerie market right now,' says

Bras n Things design director Marie Savvas.

'Augmented breasts don't require the same level of

infrastructure, coverage and support other bras require in

fuller cup sizing,' she explains. 'The 'Unreal' range omits

chunky, cumbersome shoulder straps, heavy-weight

fabrics and linings which can feel like a harness. It's a well

thought-out selection of great bras in full cups with smaller

body sizing that cater perfectly to augmented breasts as

well as a fi rm natural bust.'

The styles and shapes vary, and there's one to suit every

occasion – from everyday comfort bras to sexy sheers in

underwire and non-underwire options. The silhouette is also

taken into consideration, with an assortment of plunge and

demi shapes to best suit teardrop and round profi le implants.

'We have a super comfy essentials bra for everyday

wear with a light contour cup and light padded strap to

ease the extra weight being carried over the shoulder,' says

Marie. 'The collection also features ultra-sexy unpadded

or padded lacy bras and corsets, available with or without

underwire. It's important to note that all underwires are

slightly wider than most bras to cater for an implant with a

wider base, which means no digging or pinching the skin.'

The new collection also includes bras for post-surgical

wear. 'For a period of time after surgery non-wired bras

are prescribed,' says Marie. 'We've countered the typical

crop top worn after surgery with our non-wire triangle bra

with contoured cups (for no-show nipple). It features a

plunging neckline so the wearer can still feel fabulous in an

unstructured garment.'

All bras undergo a rigorous wear test to ensure the

highest standard in quality and fi t. Bras come in a size range

from 8D-14E, with more specialty shapes such as strapless

and convertible styles set to hit the shelves in the near future.

A new bust size means a new bra wardrobe, and the

new 'Unreal' range from Bras n Things means shopping

just got a whole lot easier! csbm

50 www.cosbeauty.com.au
---
Beauty

& the

Breast

52 www.cosbeauty.com.au
---
feature

Symbols of fertility, sexuality and life-giving sustenance, breasts

have long been regarded as objects of feminine beauty.

AimÉe Surtenich reports

Few would deny the power breasts can yield – from

symbolising maternal love to appealing to our

aesthetic sensibilities.

Breasts have been objects of adoration throughout

the centuries. Artists, sculptors, poets, novelists, later

filmmakers and television producers have never tired of

extolling the beguiling hypnotism breasts.

Breasts, no matter the size, have also been powerful

cultural and fashion icons, helped launch social movements

and boosted showbusiness careers. From the flattened

breasts of the 1920s flappers to the exaggerated contours

of Pamela Anderson, breast 'fashions' have altered over

time in the Western world depending on the cultural,

political and moral standards across the decades. What

remains consistent, however, is the mysterious allure the

human female breast bestows.

Breasts have long been

powerful cultural and fashion

icons, representing the political

and moral standards of the time

These powerfully symbolic organs are more than just

the sum of their parts; they also represent notions of

maternal love and sustenance, with the ability to succour

newborns with nutrient-rich milk. Indeed, breasts are

such an important part of the human anatomy that they

take shape in the unborn embryo within a couple of months

of conception.

Human females are the only mammals with permanently

enlarged breasts. In his ground-breaking 1967 book, The

Naked Ape, British zoologist Desmond Morris proposed

that the breasts we know today are an evolutionary sideeffect

of bipedal locomotion. He asserted that their more

rounded shape means they are mainly a sexual signalling

device rather than simply for providing milk for infants.

According to Morris's hypothesis, as humans began to

walk upright on two legs, enlarged female breasts evolved

as a mimic of the female rear – a relic from the days when

humans walked on all fours and buttocks were the primary

sexual signal.

Evolutionary studies have found that female figures with

slender bodies, a low waist-to-hip ratio (the ratio of the

circumference of the waist to that of the hips) and large

breasts are rated as the most attractive, healthy, femininelooking

and desirable.

Polish research has shown that women with large breasts

and a small waist had larger amounts of female hormones

than women who did not have these attributes. It's no

surprise then that this physique is considered attractive

because a low WHR (in other words, a curvaceous body)

is believed to correspond to the optimal fat distribution for

high fertility. In evolutionary terms, put simply, the more

fertile a woman appears, the more attractive they are in the

eyes of their beholder.

Research shows that a WHR of 0.7 and a WBR (waistto-breast

ratio) of 0.7 are considered the ideal (though

only a small percentage of women are born with this

combination!). This can be represented as equivalent to two

equal inverted triangles.

Of course, in addition to biology, we are also influenced

by popular culture. Research has shown that television not

only reflects societal preferences but also shapes them.

What makes an

alluring breast?

While everyone's perception of beauty differs, there

are some general characteristics of an attractive

breast, including:

• A gentle slope from the shoulder to the peak of

the breast at the nipple

• The nipple is located on the centre of the breast

mound and tilted slightly outwards and upwards

• A gentle arc from the nipple to underneath

the breast

• A good cleavage

• A silhouette line so that when standing fronton,

a gentle bulge is evident on the side of the

chest wall

www.cosbeauty.com.au 53
---
feature

Breasts

and

cosmetic

surgery

Many women view their breasts as a vital

component of their gender identity, as the

female breast is one of the prime visual cues

of femininity, motherhood and sensuality.

It's no surprise then that breast

augmentation is one of the most popular

cosmetic procedures. Some women seek

implant surgery to correct congenital or

developmental abnormalities, while others

wish to repair the toll of breastfeeding or

the natural ageing process by restoring their

breasts to a more youthful shape and position.

Other women want to have a larger bust size

which is more proportionate to their overall

body shape.

Surgery, however, is not a decision to be

taken lightly. A thorough understanding of

what to expect on the day of surgery, and

in the weeks, months and years afterwards

is important for anyone considering breast

augmentation. Preparation – psychologically

and emotionally as well as physically – is

essential to a successful breast augmentation

that meets your expectations.

You should thoroughly discuss your

goals and motivations with a skilled and

experienced surgeon you can trust and

with whom you feel comfortable. Listening

to the surgeon's feedback and advice can

help ensure expectations and motivations

are realistic. Your satisfaction with breast

augmentation results ultimately depends on

your understanding of the capabilities and

limitations of the procedure.

Studies on viewers' ideal body proportions by Professor

Kristen Harrison, from the University of Michigan's

Department of Communication Studies in the US, have

shown that the television 'worldview' of the ideal female

waist and hips could be described as relatively extreme:

thinner is better.

In contrast, the television worldview of the ideal female

bust is more moderate: medium is ideal. Harrison's work

was the first to empirically link the curvaceously thin female

body ideal with media exposure.

The evolution, psychology and overall mystique of the

female breast continues to fascinate, the cause of which is

triggered from innate biological cues and societal norms of

the day. csbm

Breast components

Nipple – the most anterior part of the breast, it is a

small projection of skin containing the outlets for the

lactiferous ducts

Areola – skin around the nipple that contains the glands

that help to lubricate the nipple during breastfeeding

Lobules – milk glands that produce and supply milk

Milk ducts – small tubes that transfer milk from the lobules

to the nipples

Fat and connective tissue – provides the volume for the

breasts and supports the milk-producing areas of the breast

54 www.cosbeauty.com.au
---
feature

Your

breasts

your

options

From the shape and type of the breast implant through to

the incision site and placement, there are many components

of breast augmenation. AimÉe Surtenich reports.

56 www.cosbeauty.com.au
---
feature

There is no one breast implant type, size, shape,

texture, location placement and incision site for

everyone. A thorough consultation with your surgeon

– taking into account your body shape, existing breasts

and individual circumstances – is essential to best achieve

your goals, desires and expectations.

Types of implant

Breast implants are either saline filled or silicone gel filled and

are typically produced in round and teardrop (anatomical)

shapes, with a smooth, textured or polyurethane foamcovered

surface.

Saline-filled implants

Saline implants have a silicone outer shell that is filled with

a medical-grade saltwater solution which is completely

biocompatible. Saline implants generally feel firmer than

silicone gel implants and, due to their thinner consistency,

tend to wrinkle more readily. Deflation is also a potential

problem and requires replacement if this occurs. However, if

this does occur, the leaking saline solution will be absorbed

by your body without posing any health risks.

Silicone gel-filled implants

Most implants used in Australia are silicone gel filled. The

silicone gel is cohesive, meaning it is pre-shaped with a

viscous, Turkish Delight-type consistency. Because the gel

is not runny or liquid in property, its use in breast implants

minimises the risk of leakage problems. Many surgeons

and patients also find silicone implants generally feel softer

and more like natural breasts than saline implants.

Just like saline implants, there is a risk of rupture. If the

implant leaks, it is more difficult to replace, often requiring

removal of the capsule around the implant as well.

Size

Your body shape and individual preferences are the main

determinants of implant size. Breast implants do not come

in cup sizes but instead come in cubic centimetres (cc).

Discussing your desired breast size, trying on different

implant sizes and shapes in your bra and looking at

before and after photographs from breast augmentation

procedures can all help you to choose the most appropriate

size for your body.

Shapes and forms

There are generally two different forms of breast implants:

round or teardrop (anatomical) shaped.

Round implants, depending on their fill, can give a

defined round shape or assume more of a teardrop form

when the patient is upright. They tend to provide more

upper pole fullness than anatomical implants, which are

fuller in the lower pole.

Anatomical implants demand a greater degree of

accuracy in positioning and if they shift after surgery, the

shape of the breast may be distorted. They normally have

a textured surface to avoid rotation. Teardrop implants can

provide greater projection in proportion to the size of the

base, making them particularly suitable for women with

little natural breast tissue.

While the size of the base of the implant is limited by

your chest wall, the choice of projection is to a large extent

a personal one. If you have adequate breast tissue and a

shape you are happy with, you may opt for a low-profile

implant that will simply increase the size of your breasts.

Your body shape, breast tissue

and individual goals are the main

determinants of implant size

If you wish to create cleavage or if your breasts have

some degree of sag, a high-profile implant might be a

more suitable option. Your surgeon can help you with this

important aspect of implant selection.

Textures: smooth vs textured

The shell of a breast implant can be either smooth

or textured. Smooth implants may give a smoother look

and feel in some patients, but generally have a greater risk

of capsular contracture. It occurs when the body forms

a capsule of fibrous tissue around the implant which can

make the implant feel hard and often distort its shape.

Textured implants tend to minimise the incidence of

capsular contracture and promote tissue adherence which

may help maintain proper implant positioning.

Polyurethane foam-coated implants have a unique

foam surface that significantly decreases the risk of

capsular contracture – the foam covering becomes part

of the capsule and makes it less prone to contracting. As

the polyurethane-foam coating grips the tissue, it means

there is a less likelihood of rotation and displacement.

Incision sites

1. Inframammary

The inframammary incision is made in the crease under the

breast. The surgeon creates a pocket for the breast implant,

which is slid up through the incision, then positioned behind

the nipple. The scar is hidden in the crease under the breast

and is not normally visible when wearing a bikini top.

There is some uncertainty involved in placing the incision

with regard to its position on the augmented breast. While

this is not a problem for an experienced surgeon, it can

present difficulties when there is little breast tissue or

natural crease.

www.cosbeauty.com.au 57
---
feature

2. Periareolar

The periareolar incision is made around the nipple at the

outer limit of the areola so that there is areola skin on both

sides of the incision where scarring is least visible.

The breast implant is inserted through the incision into a

prepared pocket, then positioned behind the nipple.

One advantage is that there may be no visible scar

because of the colour and texture of the areola. This

incision allows the implant to be placed precisely in the

pocket formation.

The disadvantage is that it involves cutting through

breast tissue and ducts, and sensitivity in the nipple may

therefore be reduced.

3.Transaxillary

The transaxillary incision is made in the natural crease of the

armpit and a channel is created down to the breast. This

may be performed with an endoscope (a small tube with a

surgical light and camera in the end) to provide visibility. The

implant is inserted and moved through the channel into a

prepared pocket, then positioned behind the nipple.

The scar is virtually invisible in the armpit fold and lack

of tension makes for straightforward healing. There is no

scar on the breasts.

Disadvantages include the fact that the transaxillary site

is relatively far from the breast, where the surgeon needs

to create a pocket to house the implant, so visibility is

limited. If the scar heals poorly, it is noticeable in bikinis and

sleeveless tops. If capsular contracture develops, another

incision will be necessary for treatment.

4.Transumbilical or navel (TUBA)

The TUBA incision is made on the rim of the navel. A tunnel

is made under the skin through the subcutaneous fat

layer on the torso into the layer of loose tissue between

the breast and pectoral muscles.

After a pocket is created in the breast, the implant is

inserted through the incision and moved up into the

breast area, then positioned behind the nipple.

There are no incisions or scars in the breast area,

however this site can only be used for saline implants.

The distance of the incision from the breast can reduce

the surgeon's ability to control bleeding and to position

implant correctly.

Implant placements

Experienced surgeons base their implant placement

decisions on factors such as the quantity of breast tissue,

natural breast size and symmetry, the dimension and shape

of the chest wall, the amount of subcutaneous fat and the

quality of breast skin.

It is important you are well-informed about all of the

options available, as well as the suitability of each option

for your individual body type, preferences and your ultimate

desired result.

In general, there are three placement options:

subglandular (in front of the muscle), submuscular (behind

the muscle), and dual plane (partially under the muscle).

Subglandular

The subglandular pocket is created between the breast

tissue and the pectoral muscle. This position resembles the

plane of normal breast tissue and the implant is positioned

in front of the muscle.

Sometimes the implant is covered by a thin membrane,

the fascia, which lies on top of the muscle. This is called

subfascial placement.

The subglandular position is suitable if you who have

sufficient breast tissue to cover the top of the implant. This

procedure is faster and may be more comfortable for the

patient than submuscular placement.

If you are thin and do not have sufficient breast tissue,

the edge of the implant may be visible. Any rippling of

the implant will be more noticeable in this position. With

smooth implants, some studies have reported an increase

in capsular contracture with this position.

Submuscular

The implant is placed under the pectoralis major muscle

after some release of the inferior muscular attachments.

Most of the implant is positioned under the muscle.

This position creates the most natural-looking contour

at the top of the breast in thin patients and those with very

little breast tissue. There is a decreased chance of visible

and palpable implant edges or rippling.

There may be more postoperative discomfort and a

longer recovery period. The implants may appear high at

first and take longer to drop. The 'Snoopy' deformity where

breast tissue falls downwards and forwards away from the

implant is more common with this placement.

Dual plane

The implant is placed partially beneath the pectoral muscle

in the upper pole, where the implant edges tend to be

most visible, while the lower half of the implant is in the

subglandular plane.

This placement is best suited if you have insufficient

tissue to cover the implant at the top of the breast but

need the bottom of the implant to fully expand the lower

half of the breast due to sag or a tight crease under

the breast.

This position minimises the rippling and edge effect in

thin patients while helping to avoid abnormal contours in

the lower half of the breast. It does, however, involve more

complex surgery, which if not performed correctly may result

in visible deformities when the pectoral muscles are

contracted. csbm

58 www.cosbeauty.com.au
---
feature

What is capsular

contracture?

Capsular contracture, or hardening of the breast, is thought

to be the most common complication of breast implant

surgery. It can occur at any time but more commonly in the

months immediately after surgery.

During surgery, a pocket is made for the implant in the

breast tissue. After the implant has been inserted, the

body naturally forms a capsule of fibrous tissue around the

implant. This lining or capsule is formed by the body's living

tissue, and is the body's natural response. The capsule

allows the implant to look and feel quite natural. In some

cases, however, the capsule begins to tighten, causing

a shrink-wrap effect and squeezing the implant that it

surrounds. Depending on the severity, the breast can feel

firm or hard, become distorted and cause pain.

It is not actually the implant that has hardened – the

shrinking of the capsule compresses the implant and

causes it to feel hard, but if the implant is removed it is still

in its original soft state.

Though the exact causes of capsular contracture

are unknown, there are factors that may lead to this

complication, including seroma (the development of

extra fluid around the implant), haematoma, infection and

smoking. Another contributing factor is the placement of

the implant above the chest muscle. When the implant is

placed below the muscle, capsular contracture is said to be

typically less likely to occur.

To treat capsular contracture, there are both surgical

and non-surgical options, although generally most cases

of capsular contracture will require secondary surgery to

remove the implant. If the implants are replaced, to prevent

reoccurrence a new pocket should be made as fresh tissue

needs to be in contact with the implant.

Open capsulectomy is the most successful treatment

for capsular contracture. In this procedure, the surgeon

removes the scar capsule through a submammary or

periareolar incision. Once the capsule is removed, the body

forms a fresh capsule around the breast implant.

Open capsulotomy requires the surgeon to make an

incision in the tissue pocket and cut the capsule to release

the tension on the implant. The scar tissue is not removed.

It is possible to perform this procedure via a transaxillary

incision as well as the inframammary and periareolar

incisions. There is a high recurrence rate with this procedure.

For both open capsulectomy and open capsulotomy,

patients are given a local anaesthetic with intravenous

sedation or general anaesthesia.

Closed capsulotomy involves the surgeon squeezing

the capsule and implant with the aim of opening up the

scar tissue. Implant manufacturers do not recommend this

as it can lead to possible rupture of the implant.

Although not a cure, many surgeons suggest that

patients take a regular dose of Vitamin E for the first year

after breast augmentation as it can help to keep tissue soft.

Additionally, external ultrasound may help reduce swelling

and inflammation and increase blood circulation to the

implant capsule.

Finally, accolate is an anti-inflammatory used in the

treatment of asthma and has been shown, in minor

studies, to help reverse early capsular contracture. This is

a relatively new and experimental treatment with no longterm

statistical data so if elected it should be proceeded

with cautiously.

Other risks

and complications

There are risks with all surgeries, and breast augmentation

is no exception. While breast implant surgery is typically a

predictable and safe procedure, it's wise to know what can

potentially go wrong.

In addition to capsular contracture, long-term risks

and complications can include rippling of the implant,

sensation loss or change of the breasts and nipples,

implant displacement or rotation, rupture of the implant,

interference with standard mammography, and breastfeeding

difficulties.

Breast implants have a limited lifespan and will most

likely need to be replaced or removed at some stage.

Further surgery may also be required to address problems

that may occur. csbm

www.cosbeauty.com.au 59
---
easts

PIP

Implant

Crisis:

Lessons

Learned

Three years on from the PIP implant scandal, we ask: what lessons

can be learned by the cosmetic community and public alike?

Lizzy Fowler reports.

In April 2010, French authorities banned the use of

implants manufactured by Poly Implant Prothèse (PIP),

having discovered the company had been using nonauthorised,

industrial-grade silicone.

In Australia, the news was quietly announced on

the Therapeutic Goods Administration's (TGA) website.

However, many of the 5,000+ Australian women with PIP

implants remained unaware of the situation until 18 months

later, when headlines around the world carried the news

that a French woman had been left with a rare and fatal

form of blood cancer following the rupture of her faulty

PIP implants.

While some plastic and cosmetic surgeons who had

been using PIP implants had made an effort to contact their

patients following the April 2010 recall, others had not. For

many women, the shocking headlines of December 2011

were the first they heard of their potentially risky implants.

Six months later, the UK Health Department broke the

news that its own study into the implants had concluded

PIP implants were two to six times more likely to rupture

than other brands within five years of surgery. The French

government was quick to announce it would pay to remove

the implants from the 30,000 affected women in France,

and some other European nations followed suit.

Around 400,000 women from 65 countries around

the world were thought to have received PIP implants.

In Australia, where 13,000 PIP implants were supplied

between 1998 and 2010, the official line was – and remains

– not to remove the implants if they showed no sign

of rupture.

60 www.cosbeauty.com.au
---
easts

Three years since PIP implants were recalled, this

advice is based on extensive testing by the TGA and

other international regulatory bodies, which have found no

evidence that the risks involved with the use of PIP breast

implants are any greater than those for any other brand of

silicone gel-filled breast implants.

Indeed, the TGA has performed and reported on a large

number of tests on the chemical and properties, physical

properties and the biological safety of the gels and shells

of PIP breast implants and, in an effort to try to determine

whether the gel in PIP implants may be toxic, the TGA and

other agencies have conducted cytotoxicity, intradermal

irritation and mutagenicity tests on the implants.

According to the TGA, the tests proved negative in every

case, yet to provide further assurance of a lack of toxicity,

and on the recommendation of the Chief Medical Officer's

Clinical Advisory Committee, the TGA commissioned further

chemical screening tests from two separate laboratories.

The screening tests were conducted on samples from 10

different batches of PIP implants and no concerning organic

compounds were detected in any of the gels from the 10

batches tested.

Although tests performed by the TGA on ruptured

implants taken from Australian patients were found to

contain traces of the cyclosiloxanes D4, D5 and D6

(chemical compounds used in the manufacture of silicones

and a variety of personal care products), a toxicological

assessment determined that these compounds at the

levels detected does not pose a health threat.

Although the prophylactic removal of the implants is

therefore not recommended, the TGA does advise all

women who know they have PIP implants to contact their

surgeon for detailed consultation.

'It is important that decisions made by patients and

their treating doctors about the need for further surgery

are formed by the best available evidence, and take each

individual patient's circumstances fully into account,' a

statement released by the TGA in February 2013 reads.

'People with PIP implants, and those who are unsure

about the brand of their breast implants, are strongly

encouraged to consult their GP or surgeon for individual

clinical assessment and advice.'

Having used PIP implants exclusively between 2005

and 2008, Perth plastic surgeon Dr Tim Cooper has taken

a more proactive approach to managing his patients'

concerns. Since the implants were recalled in April 2010,

he has contacted each of his 145 patients with PIP

implants, advising them of the risks and inviting them for an

ultrasound to check the integrity of their implants. 'Some

had gone interstate or overseas, but I managed to contact

around 80 percent of my patients who had undergone

breast augmentation with PIP implants,' he says.

Unlike the TGA, Dr Cooper believes it is preferable for

patients with PIP implants to have them removed, and

Dual concerns

According to Dr Cooper, there are two issues with the

PIP implants. The first concern is the quality of the

silicone encased within the shell.

'No one knows the carcinogenic potential of the

silicone,' he says. 'My consistent message is, "Get

them out". If you're going to withdraw it from sale, why

leave it in the body?'

The second is the high rupture rate. Having

conducted tests at the Royal Perth Hospital on the

physical and mechanical properties of the implants,

Dr Cooper found that the shell wall of the implants

varied in thickness, leaving some surfaces weaker than

others. In the same vein, the manufacturer's stamp,

present on each implant, breached the shell of the

implant, leaving it more prone to rupture, according to

Dr Cooper.

Although no implant can be expected to last more

than 10 years, and all carry a risk of rupture, Dr Cooper's

tests identified a 17 percent overall rate of rupture over

4.5 years – considerably higher than other brands.

around 50 percent of his patients without ruptured implants

opted to have them removed anyway. 'They are a defective

product and my advice to all women with PIP implants is to

have them removed,' he says.

While the PIP implant crisis has been of personal

concern to hundreds of thousands of women, it has also

highlighted a need for an official record of the women

carrying the faulty implants.

In response to a Senate Committee inquiry into the

handling of the PIP scandal, the Australian Federal

Government embraced the recommendation by the

Committee that an opt-out Breast Implant Registry be

established as a priority.

In the May 2013 Budget, the government allocated

$5.1 million to establish and maintain two clinical registries

– one for breast implants, the other for cardiac devices.

'The government agrees that an opt-out approach will

be adopted by the new breast implant register, in line with

the recommendation of the Australian Commission on

Safety and Quality in Health Care,' it said.

The government also agreed to extend until 11

March 2015 the access of women with PIP implants to

Medicare rebates for MRI scans to detect any leakages or

abnormalities involving the implants.

Ultimately, the PIP implant crisis highlighted the need

for greater visibility and accountability when it comes to

the administration of medical devices, and a mandatory

national database will make managing any future, similar

situations somewhat easier. csbm

www.cosbeauty.com.au 61
---
easts

ACTUAL PATIENT OF DR TAVAKOLI

Your guide to breast

augmentation 2014

62 www.cosbeauty.com.au
---
easts

Sydney plastic surgeon Dr Kourosh Tavakoli explains his approach

to achieving an attractive, natural-looking breast augmentation.

Breast augmentation procedures continue to rise

year on year, and the demand for natural-looking

breasts is even more apparent. As a plastic surgeon

specialising in breast augmentation and lifting procedures,

I have been privileged to treat a large number of patients

in my Sydney clinics and have drawn from this wide

experience to perfect my formula for breast augmentation.

A well-augmented breast has a natural fullness, with

gentle sloping off the chest wall. There should be natural

cleavage without webbing between the breasts and only a

certain amount of perkiness.

There are three main telltale signs of unnatural-looking

breast augmentation: a visible implant margin, resembling

the 'Posh Spice' or 'Pamela Anderson' look; an implant

that is too large for a person's frame; and a breast that is

too perky and sits up like rigid peaks with no small amount

of natural droop.

Before undergoing surgery, it is beneficial for patients to

review photographic examples of the breasts they would

like and to convey their wants to the surgeon so there is

a clear, visual understanding of the desired result. Please

note that these photos can only be used as a guide.

Incision placement

There are three choices about where to make the skin

incisions for breast enlargement. They can be in the breast

fold (inframammary), around the nipple (periareolar) or

underneath the armpit (transaxillary).

These incisions can all produce scarring, ranging from

barely perceptible to significant. But patients are ultimately

far more concerned with the final shape and size of their

breasts than the location of their scar. In fact, the rate of scar

revision for unsatisfactory scarring in breast augmentation

is less than 0.05 percent. My clinic also has the Fraxel

laser, which works very well in most scars to eliminate the

redness and improve the scar's texture.

Generally, the majority of my patients opt for the

inframammary incision (breast fold). I also find this incision

has the least amount of interference with breastfeeding and

nipple sensation and it generally heals very well.

Implant shape

The choice of implant varies from round to teardrop shapes.

The round implant comes in both low- and high-profile

varieties. The shape variation is in the width and projection

of the implant for any given size.

The spectrum of breast implants available can therefore

provide great versatility in achieving a more natural look.

The majority of patients in my practice elect to have roundshaped

implants. The round implant tends to be ideal for

those patients with well-shaped natural breasts who desire

a straightforward enlargement.

In general, breast augmentation

should be in proportion or

slightly out of proportion to the

overall body shape

Use of the teardrop (anatomical) shape depends on

the patient's desire, as well as her breast shape. It can be

the ideal choice for women who have mild droopy and/or

tuberous breasts. Mild elevation of the nipple in relation to

the breast mound can be achieved without the need for

extra scars on the actual breast (unlike breast lift scars).

In moderate to severe cases of droopiness, a breast lift

must be performed at the same time as breast augmentation

in order to restore aesthetic shape.

Implant size

Breast implant size is one of the most important decisions

in breast augmentation. Because of this, a good surgeon

will take several approaches to help the patient make the

best decision based on her anatomy, personal preferences

and the appearance she wishes to achieve.

In general, attractive breast augmentation should be

in proportion or slightly out of proportion to the woman's

overall body shape.

Final breast implant size is a complex function of the

elasticity of a patient's skin envelope, chest wall diameter

and implant dimensions but most importantly pre-existing

breast volume. I measure the patient's breast and chest

shape, paying particular attention to the base and projection

of the breasts. This gives me an idea of what size implant

will help achieve the patient's desired size. In most cases,

there is a breast implant that will be an ideal match for the

diameter of the patient's natural breast.

www.cosbeauty.com.au 63
---
easts

Choosing a breast implant smaller than the patient's

natural breast shape will not provide the proper cleavage

and shape following the procedure. Similarly, choosing

a breast implant too large for the patient's natural chest

shape is more likely to give an unnatural appearance. It is

noteworthy that very large implants can create more issues

and future complications such as stretch marks, implant

migration and symmastia.

Pocket position

The next consideration is where to place the breast implant

– on top of or behind the muscle. In general, I prefer to

place breast implants behind the muscle so they are

partially covered.

I find the pectoralis muscle allows a smooth take-off

from the chest wall. It is also my opinion that placing the

implant under the muscle will, in the long run, help negate

breast droopiness. A further advantage of the submuscular

pocket is a lower rate of capsular contracture.

In most cases, there is a breast

implant that will be an ideal

match for the diameter of the

patient's natural breast

One negative of the submuscular pocket is that it may

create 'winking' on animation or flexing of the pectoralis

muscle. Implant migration and displacement is also more

likely in this pocket.

In women with mildly droopy (ptotic) breasts, I use the

dual-pocket technique of dissecting both on top of and

underneath the pectoral muscle, but inserting the breast

implant behind the muscle.

In rare cases of moderate droopy breasts where the

patient does not wish to undergo a breast lift procedure

for fear of scarring, I will consider placement of the implant

on top of the muscle. This pocket is referred to in the

plastic surgery literature as 'subglandular' or 'subfascial'.

Generally speaking, it has excellent short-term benefits but

in my opinion far less long-term advantages compared with

the 'submuscular' or 'subpectoral' pocket placement.

Implant coating

Implant surfaces can be smooth, textured or polyurethanefoam

coated. The reason for the invention of differing

implant surfaces has been to create the 'perfect' implant

that has a low capsular contracture rate and yet feels soft

and natural. No matter what the coating on the outside of

Essential Clinical Parameters

There are six main clinical parameters for breast

implants on initial consultation:

1. Patient's body build and height

2. Patient's own breast size, shape and symmetry

3. Nipple position in relation to the breast mound

4. The quality of the breast skin (such as thickness

and occurrence of stretch marks)

5. Chest wall shape and dimension (hollowed vs

'pigeon chest' walls)

6. Patient's desire for new cup size: under-proportion,

in-proportion or over-proportion augmentation

the implants is, the inside material of all the implants I use

are still silicone gel.

Generally speaking, textured or rough surface implants

are said to reduce the rate of capsular hardening or

contracture and have a lower rate of migration, but they

are also known to create more wrinkling and rippling issues

later on. This wrinkling is normally felt in the lower edge of

the breast where the implant is closest to the skin surface.

Smooth implants may give a smoother look and softer

feel in many cases, particularly in thinner patients, but the

downside is that the patient needs to massage the implants

for three months to help prevent capsular hardening.

My recommendation is to use textured implants in

patients predisposed to capsulisation and also for extremely

fit, athletic women who may shift the implant pocket due

to overexertion.

Going forward, polyurethane implants are a viable

alternative to textured implants. Polyurethane-coated

implants (P-URE) from the manufacturer Silimed are

proving to be very effective in the prevention of capsular

contracture. Currently, I prefer to use these implants in

selected primary cases and all revisional cases of capsular

contracture.

Silicone vs saline

I very commonly use the cohesive silicone gel and rarely the

saline-filled breast implants. The new generation siliconegel

breast implant is very safe and generally feels and looks

more like a natural breast.

Most breast augmentation operations in Australia are

performed with silicone-gel breast implants (98 percent).

The gel usually comes in low and high cohesiveness (soft

touch or firm touch). Typically, the firmer gel implants are

'form responsive' like the gel found in the teardrop implants.

The round implants can be soft (80 percent fill) or firm (100

percent fill), depending on the manufacturer. csbm

64 www.cosbeauty.com.au
---
easts

BEFORE (29 year old female, 6', nil pregnancies)

AFTER breast augmentation by Dr Tavakoli (440 FX anatomical (teardrop)

implant, submuscular pocket, full C cup)

BEFORE (27 year old female, nil 5'8", pregnancies)

AFTER breast augmentation by Dr Tavakoli (350g anatomical Brazilian

P-URE implant, full C cup)

BEFORE (20 year old female, 4'9", nil pregnancies)

AFTER breast augmentation by Dr Tavakoli (230cc ultra high implant,

submuscular pocket, A to C cup)

www.cosbeauty.com.au 65
---
easts

BEFORE (28 year old female, 5'5", nil pregnancies)

AFTER breast augmentation by Dr Tavakoli (350g moderate plus profile, round

gel submuscular (subpectoral) pocket, full C cup)

BEFORE (23 year old female, 5'8", nil pregnancies)

AFTER breast augmentation by Dr Tavakoli (400cc high round gel

implant, submuscular pocket, A to C+ cup)

BEFORE (22 year old female, 5'1", single pregnancy, no breastfeeding)

AFTER breast augmentation by Dr Tavakoli (260g moderate profile, round gel

submuscular (subpectoral) pocket, average C cup)

66 www.cosbeauty.com.au
---
easts

BEFORE (21 year old female, 5'2", nil pregnancies)

AFTER breast augmentation by Dr Tavakoli (250 high profile round implant,

submuscular pocket, moderate chest wall, A cup to D cup)

BEFORE (25 year old female, 5'6", nil pregnancies)

AFTER breast augmentation by Dr Tavakoli (420 high profile anatomical implants,

submuscular pocket, moderate chest wall, A cup to full C cup)

BEFORE (32 year old female, 5'6", three pregnancies)

AFTER breast augmentation by Dr Tavakoli (320 moderate profile anatomical

implants, submuscular pocket, average chest wall width, A cup to full C cup)

www.cosbeauty.com.au 67
---
easts

BEFORE (24 year old female, 5'7", nil pregnancies)

AFTER breast augmentation by Dr Tavakoli (390g moderate profile, submuscular

(subpectoral) pocket, full C cup)

BEFORE (40 year old female, 5'6", two pregnancies)

AFTER breast augmentation by Dr Tavakoli (320 FX anatomical (teardrop) implant,

submuscular pocket, A- to large B cup)

BEFORE (24 year old female, 5'2", nil pregnancies)

AFTER breast augmentation by Dr Tavakoli (380g ultra high profile smooth

gel, submuscular (subpectoral) pocket, full C cup)

68 www.cosbeauty.com.au
---
BREAST AUGMENTATION SPECIALIST

MBBS, BSc (MED), MS (UNSW),

FRACS (PLAST)

Dr Tavakoli is a renowned cosmetic

plastic surgeon who is a Fellow

of the Royal Australasian College

of Surgeons and a Member of

the Australian Society of Plastic

Surgeons. He subspecialises in all

aspects of cosmetic breast surgery

and is considered an industry

leader in primary and corrective

breast augmentation surgery.

Follow Dr Tavakoli on

New premises: Suite 1, 376 New South Head Road, Double Bay

1300 368 107 | drtavakoli.com.au
---
easts

Breast curves:

creating the

perfect shape

and fit for you

SYDNEY PLASTIC SURGEON

DR STEVEN LIEW SHARES HIS

EXPERTISE IN CREATING BEAUTIFUL,

NATURAL-LOOKING CURVES.

One of the critical decisions to be made when

considering breast augmentation is not just the cup

size but also the degree of fullness in the upper part

of the breast.

Sydney plastic surgeon Dr Steven Liew says that as

surgical procedures and implant types have become

more advanced over the past decade, a good surgeon

can effectively customise a breast shape to match the

requirements of each patient.

Dr Liew says patients, too, are more sophisticated in

their approach to breast augmentation. Where previously

they were focussed almost entirely on breast size, most

patients are now more aware of the fi ner aesthetics involved

– such as the degree of perkiness and breast fullness in the

upper chest – in producing their perfect breast shape.

The three types of upper breast fullness include:

• A gentle slope from the chest to the nipple, almost a

straight line

• A gentle curve with some degree of fullness

• A very full convex curve, the so-called 'Wonderbra' look.

'Breast augmentation is such a personal decision,'

says Dr Liew, 'so surgeons need to take time and care to

work with each patient – including family members where

requested – to ensure they understand the physical and

emotional impacts involved.'

Different body types, personalities and the kind of

clothes the patient likes to wear are all factors to be

considered, says Dr Liew, to ensure the new breast shape

is the perfect fi t for each individual. csbm

Actual patient of Dr Liew

70 www.cosbeauty.com.au
---
easts

BEFORE

AFTER breast augmentation by Dr Liew

BEFORE

AFTER breast augmentation by Dr Liew

BEFORE

AFTER breast augmentation by Dr Liew

This young female requested a very natural-looking breast enhancement, with conservative natural upper pole fullness. A

teardrop implant was chosen to create gentle upper pole fullness with a gentle slope from the chest to the nipple.

www.cosbeauty.com.au 71
---
easts

BEFORE

AFTER breast augmentation by Dr Liew

BEFORE

AFTER breast augmentation by Dr Liew

BEFORE

AFTER breast augmentation by Dr Liew

A full D cup enhancement with high profile round implant, to create the fullness and 'Wonderbra' look as requested by the

patient. 'I never want to wear a pushup bra again,' she said.

72 www.cosbeauty.com.au
---
easts

BEFORE

AFTER breast augmentation by Dr Liew

AFTER breast augmentation by Dr Liew (glamour shot)

A moderate profile round implant is used to create a moderate amount of upper pole fullness, resulting in beautifully proportioned youthful-looking breasts.

BEFORE

AFTER breast augmentation by Dr Liew

AFTER breast augmentation by Dr Liew (glamour shot)

A high profile round implant is used to create a full upper pole fullness as requested. The end result demonstrates a convex curve to the upper part of the breasts, well demonstrated

in the creative 'after' shot.

BEFORE

AFTER breast augmentation by Dr Liew

AFTER breast augmentation by Dr Liew (glamour shot)

A DD cup enhancement with extra high profile round implant to create the extreme fullness and 'Wonderbra' look as requested.

www.cosbeauty.com.au 73
---
easts

A personal

journey

in breast

augmentation

One patient describes how breast

augmentation with Dr Vlad Milovic

helped boost her confidence and

bring her body into proportion.

Caitlin Bishop reports.

Actual patient of Dr Milovic

From lost volume to an asymmetrical shape, breast

augmentation surgery is undergone for a variety

of reasons, and the surgery, implant choice and

recovery process is an individual journey for each patient.

Canberra plastic surgeon Dr Vlad Milovic has built his

practice around this philosophy. He understands that

achieving the desired outcome in breast augmentation

takes time, communication and a personalised approach.

One patient, Sam, who was looking to bring her body

into proportion by increasing her bust size, approached Dr

Milovic after spending years considering the decision.

'I finally decided I would go ahead – it was a decision I

made for myself, for confidence reasons,' Sam explains.

'I approached several doctors but decided on Dr Vlad

because I'd heard he was highly experienced and achieved

great results.'

As part of the consultation process, Dr Milovic uses

3D breast simulation to demonstrate the look of different

implants on the patient's body. This can assist in selecting

the shape and size of implant and can help establish

realistic patient expectations going into surgery.

'The 3D imaging really made a difference for me – it

was great to see such a realistic version of my body with

implants,' Sam says. 'Initially, it was one of the factors that

helped me decide to go ahead with Dr Vlad. Now, looking

back, it's amazing because the result is almost identical to

the 3D simulation.'

Dr Milovic typically opts for silicone gel implants,

with either a textured or smooth surface, in his breast

augmentation surgeries. He says the cohesive gel implants

hold together uniformly and afford a more natural look and

feel once inserted.

In the pre-surgery consultation, Dr Milovic discussed

options in implant size, surface, shape and profile. While

74 www.cosbeauty.com.au
---
easts

Sam had an idea of the cup size she was after, she ended

up selecting an implant one size bigger than originally

anticipated. 'Dr Vlad recommended a bigger implant to

bring my body more effectively into proportion,' Sam says.

'He advised I could be disappointed with the result using

smaller implants. The 3D simulation helped in making me

comfortable with this decision.'

Coming into surgery, Sam's main concerns involved

the possibility of scarring and stretch marks following the

operation. Dr Milovic works with his patents to minimise

scarring and, during surgery, he keeps the incision sites as

inconspicuous as possible. He also provides patients with

a post-operative treatment plan to accelerate healing and

reduce the appearance of scarring. The plan can include

several options, from silicone gel creams to laser therapy,

depending on patient preferences.

'Dr Vlad worked with me in the six months leading up to

surgery to help prepare me both physically and mentally,'

Sam says. 'In the final appointment before the operation,

he walked me through the whole process once more and

reminded me of things to prepare to help with recovery.'

On the day of the surgery, Sam arrived at the hospital

at 7am. By 8:30am she was under anaesthetic. She saw

Dr Milovic as soon as she awoke, around two hours later,

and opted to return home that day. 'The hospital was

fantastic,' Sam says. 'All the staff were accommodating,

kind and comforting.'

Depending on the patient's age and medical history,

breast augmentation is commonly a day surgery, with no

overnight stay required. Prescribed painkillers and easy-touse

compression garments mean recovery can begin in the

comfort of the patient's home. Importantly, Dr Milovic gives

patients his direct number with instructions to call should an

urgent situation arise.

'Following surgery I had a bad reaction to the painkillers

I was prescribed,' Sam says. 'Around 4am the next

morning I felt really unwell so I called Dr Vlad; he answered

the phone straightaway and told me what to do to manage

the situation.'

A week after surgery, Sam returned to Dr Milovic to have

her stitches removed. He advised using Siltape and Bio-Oil

on the incision sites to help reduce scarring. It took around

three weeks for the swelling to go down after surgery, and

Sam says she began to feel comfortable once the swelling

had decreased. Now, just over a year later, Sam confirms

she is happy with the results and her decision to undergo

breast augmentation.

'I'm so happy with the results; it's one of the best

decisions I've ever made,' Sam says. 'I've had no problems

in recovery and I'm very happy with how my scars have

healed – I've recommended Dr Vlad to several other

girlfriends. It's been over a year since the operation, but I

am still so excited about the results. I'm excited for summer

– I can properly fit swimwear now! csbm

BEFORE

BEFORE

BEFORE

AFTER breast augmentation by Dr Milovic

AFTER breast augmentation by Dr Milovic

AFTER breast augmentation by Dr Milovic

www.cosbeauty.com.au 75
---
easts

breast

benefits

Sydney cosmetic surgeon

Dr Colin Moore believes

polyurethane implants are

the gold standard. AimÉe

Surtenich reports.

Breast augmentation has one of the highest patient

satisfaction rates, offering more natural-looking

results than ever before. Importantly, technological

advancements to the implants themselves have also meant

the procedure offers greater long-term safety.

Sydney cosmetic surgeon Dr Colin Moore believes

polyurethane-coated P-URE implants offer the best of both

worlds: enhanced, natural-looking breasts with an excellent

safety profile.

'In my experience, polyurethane-coated breast implants

produce very natural-looking results while minimising the

risk of the most common complications associated with

breast augmentation,' he says. 'I believe polyurethanecoated

P-URE implants have provided a significant

breakthrough in breast implant surgery.'

A natural look

Most women considering breast augmentation surgery

don't want a significant increase in volume. Rather, they are

seeking to enhance their natural bust size, create a more

proportionate overall figure, or restore the shape and size

of their breasts after breastfeeding or the ageing process.

'A key concern for a lot of women thinking about breast

augmentation is whether or not their breasts will look

"natural" following surgery,' says Dr Moore. 'While ensuring

a natural-looking result comes down to accurately measuring

the proportions of each patient, I also believe that advances

in breast implants mean that it is easier than ever to achieve

natural-looking curves.'

Whether or not a natural look is desired, extensive

consultation is essential in deciding upon the final shape,

size and placement of the implant. 'Sometimes patients

describe an aesthetic which is not achievable because of

their physical limitations,' explains Dr Moore. 'By measuring

the proportions of the body, as well as skin thickness and

breast tissue composition, together the surgeon and patient

can determine the best breast size for the patient.'

Long-term safety

All breast implants come with the risk of rippling, moving

and capsular contraction, but Dr Moore believes the risk of

these is significantly less with P-URE implants.

Part of the success of polyurethane implants is their

ability to reduce the rate of capsular contracture, which

is the hardening and distortion of implants as the body

forms a scar capsule around them. The textured surface of

P-URE implants forces the body's collagen to surround the

implant in a criss-cross pattern, preventing contraction and

lessening the chance of implant distortion.

'A number of studies have shown there is only a one

percent risk of capsular contracture with polyurethanecoated

implants, which is a significant improvement on

the 10 percent risk associated with saline and silicone

implants,' says Dr Moore.

'This is one of the many reasons I believe patients should

choose P-URE implants. With the right surgeon and the

proper patient consultation, I believe these implants can

create superior results.'

With careful planning and correct implant selection, Dr

Moore believes an experienced surgeon can help women

achieve the breast shape and size that best complements

their overall figure and aesthetic goals. csbm

76 www.cosbeauty.com.au
---
easts

1

BEFORE

AFTER breast augmentation by Dr Moore

2

BEFORE

AFTER breast augmentation by Dr Moore

3

BEFORE (exisiting scar on left breast)

AFTER breast augmentation by Dr Moore

4

BEFORE (tubular breast deformity)

AFTER breast augmentation by Dr Moore

www.cosbeauty.com.au 77
---
easts

Balanced

proportions

Dr John Flynn from Queensland

TAkes an individualised approach to

achieve a balanced and harmonious

contour in breast rejuvenation

surgery. Caitlin Bishop reports.

Breast rejuvenation surgery – whether augmentation,

reduction or lift (mastopexy) – can significantly

boost a woman's self-esteem and confidence when

chosen for the right reasons.

John Flynn from Queensland understands many breast

rejuvenation patients are simply looking to bring their

body into proportion, perhaps due to underdevelopment,

asymmetry or changes associated with pregnancy and

breastfeeding, as well as the natural ageing process.

'The overall aim of breast rejuvenation procedures is to

balance the body's proportions into a pleasing, feminine

silhouette,' Dr Flynn explains. 'Although changing your

breasts will not, in itself, change you, it can be effective in

restoring self-esteem and body confidence.'

As we age, gravity, a loss in skin quality and a reduction

in renewal processes can leave all parts of the body – not

just the face – somewhat deteriorated. Such age-related

changes to the breast, for example a loss in volume and an

'empty' look or a change in shape, are common reasons for

women seeking surgery.

'There are a number of issues associated with ageing

that affect the breasts,' says Dr Flynn. 'The issues to

consider are loss of volume, the texture and tone of breast

tissue and the inevitable sagging of the breasts. All women

will be affected by some of these issues during their lives,

because of the natural ageing process.'

Procedures that restore volume, but also lift the breast

tissue, can be effective in creating a more youthful and

natural-looking result in breast rejuvenation. A breast lift, or

mastopexy, can improve the shape and positioning of the

breasts, while also adjusting the nipple areola complex.

The overall aim is to balance

the body's proportions into a

pleasing, feminine silhouette

All surgeries can be performed on-site at Dr Flynn's fully

licensed and registered day hospital on the Gold Coast.

'Certainly, restoring volume using breast implants is

a key measure, however there are times when lifting and

tightening of the breast tissue is of equal importance and

sometimes I perform a combination of these procedures,'

Dr Flynn says. 'The principle purpose is to create body

balance, where the proportions are in harmony.'

A breast lift, combined with augmentation or reduction,

encompasses a total rejuvenation of breast tissue. The

78 www.cosbeauty.com.au
---
easts

size and shape of the breasts are adjusted, excess skin is

removed and the tissue is remodelled.

'In a mastopexy, the available breast tissue can be

compressed and lifted to help restore a fullness of texture

and tone,' Dr Flynn says. 'The lifted breasts will have a

more pert, youthful appearance. This can be combined

with volume reduction, in a reduction mastopexy, or implant

insertion, in an augmentation mastopexy.'

Dr Flynn explains patients should be aware that

mastopexy involves a different type of scarring from

traditional breast implant surgery: 'Typically, the surgical

approach is through an incision around the nipple, and

in some cases there may also be a vertical scar from

the nipple to the inframammary fold (the breast crease),'

he says.

In deciding upon surgery, education

and realistic expectations are paramount

to achieving a positive result. Dr Flynn

believes women who are well informed

of the procedure, and realistic in their

expectations, are most likely to be pleased

with the result.

'We recognise that patients may

differ in what they regard as ideal body

proportions, so this is something that

needs to be discussed with their chosen

doctor at consultation,' he says. 'In an

BEFORE

initial consultation, the surgical options

should be fully explored, including the risks,

limitations and potential complications.'

In helping shape these expectations,

and to better understand each patient's

concerns and desires himself, Dr Flynn

uses 3D imaging technology during the

pre-operative consultation process.

'Each woman is different, and it

is important to find a personalised,

customisable solution to suit each

individual patient,' Dr Flynn explains. 'The

3D simulation software provides a clear

interface for surgeons and patients to

communicate with each other.'

For patients looking to also recontour

their lower half, Dr Flynn has refined the

"Body Balance" approach, where the

patient's own fat is harvested to help

improve body shape. In this, fat is removed

during liposuction and then redistributed

into the breasts for an enhanced effect.

According to Dr Flynn, an emerging

concept in this area involves the use of

stem cells in fat transfers, which help

BEFORE

improve the consistency of the result.

Whether it is to fill volume, reduce tissue or lift heavy

breasts, there is a range of surgical options to help achieve

a more youthful and aesthetic contour. In balancing

proportions, correcting asymmetry or rejuvenating the

breasts, results can help boost confidence and heighten

body image. Dr Flynn believes breast rejuvenation is a

highly personalised process and everything – from the initial

consultation to choosing the most suitable implant type –

should be a personal decision.

'Each woman is different in their reasons for, and

expectations of, breast rejuvenation surgery. Even in

deciding upon an implant, there are a variety of shapes

and sizes to choose from because every patient is unique,'

Dr Flynn explains. 'It is important to find a personalised

solution to suit each individual.' csbm

AFTER breast augmentation by Dr Flynn

BEFORE AFTER breast reduction by Dr Flynn

AFTER breast lift by Dr Flynn

www.cosbeauty.com.au 79
---
easts

Sticking

power

Dr Hamish Farrow finds Silimed polyurethane implants can help

reduce the risk of post-surgical complications. Caitlin Bishop reports.

In a clinic mainly dedicated to breast surgery, offering

augmentations, lifts and reconstructions, the

importance of using reliable implants, with a low risk of

complication, is paramount to achieving optimum results.

Dr Hamish Farrow, a plastic surgeon from Hawthorn in

Victoria, believes Silimed implants offer the best option

in certain cases and are effective in lowering the risk of

capsular contracture.

'I believe Silimed polyurethane implants are less likely

to give problems in the future,' Dr Farrow says. 'They

significantly lower the risk of capsular contracture and

effectively retain their positioning after surgery.'

Distributed in Australia by Device Technologies, Silimed

implants were designed to address the most common

complication associated with breast implant surgery

– capsular contracture. This is when the scar capsule

that naturally forms around the breast implant begins to

contract, causing the implant to become distorted, hard and

sometimes painful. The textured surface of polyurethane

implants prevents the collagen fibres of the scar tissue

aligning, inhibiting contraction and implant interference.

Dr Farrow says this benefit is particularly important in

reconstruction surgery following a mastectomy, when much

of the breast tissue has been removed

'Following a mastectomy, the chances of capsular

contracture are drastically increased due to excessive

scarring,' he says. 'Polyurethane-coated implants have less

than a one percent chance of capsular contracture at 10

years and beyond after surgery, making them an invaluable

option in these reconstructive cases.'

In aesthetic breast augmentation, the choice to undergo

surgery is always a personal one – perhaps to add volume,

correct asymmetry or reshape tuberous breasts. Dr Farrow

says the choice of implant depends on patient concerns and

expectations, as well as their skin quality and breast tissue.

'I see a range of patients for aesthetic surgery, with a

variety of concerns,' he says. 'There are younger patients,

around 18 to 25 years old, or those who are a little older

and hoping to bring their body back to what it was before

having children and breastfeeding. These patient groups

have different expectations and are usually suited to

different implants, because of the changes in skin quality

during ageing.'

As well as reducing capsular contracture, the

polyurethane texture also means a stronger adherence

to the surrounding breast tissue. While this leaves limited

room for error in implant positioning during surgery, it can

be effective in reducing implant movement, rotation or

displacement postoperatively.

'Silimed polyurethane implants hold their shape and

position very effectively,' Dr Farrow says. 'This is of enormous

value in thinner or saggier skin, when the surrounding

tissue is likely to droop but the implants will still retain their

positioning. In younger and firmer skin, however, I generally

80 www.cosbeauty.com.au
---
easts

opt to use a smooth, round implant – simply because the

polyurethane implants can appear quite defined, and ample

breast tissue is needed to achieve a natural-looking result.'

Because of their capacity to adhere to surrounding

tissue, Dr Farrow commonly uses Silimed implants in

revision surgery, particularly in cases of malpositioned

implants. 'When I correct malpositioned implants, I always

A thorough consultation is

essential in deciding upon

implant type, size, surfacing and

positioning before breast

augmentation surgery

use Silimed polyurethane implants,' he says. 'For example,

I recently revised one case where smooth, round implants

had not held to the tissue and had drifted towards the

midline. In cases like this, there is nothing better than using

an implant that will stick.'

Because of this 'sticking power', the level of natural

movement afforded by polyurethane implants after surgery

is somewhat less than those of a smooth or textured

surface. For this reason, Dr Farrow typically places Silimed

polyurethane implants in the subglandular plane – between

the mammary gland and the pectoralis muscle.

'I generally place polyurethane implants above the

muscle, because that way the muscle movement provides

some movement to the implant, achieving a more naturallooking

result,' he explains. 'However, there must be

adequate breast tissue for this approach to work.'

While Silimed implants afford a viable option in many

breast augmentation cases, and can be effective in reducing

common complications following surgery, Dr Farrow

believes it is important to take an individualised approach

with each patient in implant selection. He recommends

patients bring photographs of breasts they find attractive

to the initial consultation; to help him better understand the

size, shape and proportion they are looking to achieve, as

well as their expectations.

'Silimed implants have quite a defined shape, so can

appear quite obvious without sufficient tissue coverage,

however they do hold position nicely and reduce the risk

of capsular contracture and implant displacement following

surgery,' Dr Farrow says. 'A thorough consultation process,

to determine what the patient sees as a positive and

negative result, is essential in deciding upon implant type,

size, surfacing and positioning before breast augmentation

surgery.' csbm

1

BEFORE

after breast augmentation by Dr Farrow

2

BEFORE

after breast augmentation by Dr Farrow

www.cosbeauty.com.au 81
---
easts

Breast

appeal

Melbourne plastic surgeon Dr Carmen Munteanu believes silimed

P-URE breast implants offer a safer choice. Caitlin Bishop reports.

There are several factors to consider when deciding

on breast augmentation: the size, shape and type of

implant; the site of the incision; the surgical position of

the implant; and how to prepare for recovery.

At the forefront of these decisions is optimum results

and expedited healing, patient satisfaction and, of particular

importance, to minimise potential risks and complications.

Silimed implants, distributed in Australia by Device

Technologies, are designed to counter the risk of one of

the most common complications in breast augmentation –

capsular contracture.

Capsular contracture is seen in the hardening and

distortion of breast implants following breast augmentation

surgery. When an implant is inserted into the breast

pocket, scar tissue forms around the implant as part of the

body's natural healing response. If this scar tissue begins

to contract, the implant itself is squashed, leading to a

hardened, distorted appearance.

The polyurethane-foam coated implants from Silimed

have been designed to counter this, reducing the risk

from around 10 percent to about one percent. By using

a polyurethane-foam coating, Silimed implants prevent

the alignment of collagen fibres in scar tissue, therefore

significantly inhibiting contracture.

Melbourne plastic surgeon Dr Carmen Munteanu uses

Silimed implants in her clinic and says she has achieved

effective results in reducing incidences of capsular

contracture, as well as protecting against a range of other

potential complications.

'I use both textured and polyurethane-foam coated

implants from Silimed – although the polyurethane implants

have become more and more appealing due to a number of

qualities,' Dr Munteanu explains. 'In addition to decreasing

the risk of capsular contracture, downward displacement

and rotation are reported to be the lowest in polyurethanecoated

implants.'

As well as reducing the risk of capsular contracture,

the polyurethane-foam coating helps the implant better

adhere to the surrounding tissue, helping to prevent

movement following insertion.

'These implants have a high adherence to the surrounding

tissue, which leaves little room for error in planning and

placing the implants,' Dr Munteanu says. 'I also use a

number of "implant stabilisers", such as garments and

bandeaus, following surgery.'

All Silimed breast implants are filled with soft cohesive

silicone gel. This is designed to maintain shape and

softness and allows for more natural movement following

surgery, according to Dr Munteanu.

Polyurethane-foam coated

implants have become more and

more appealing due to a number

of qualities

Silimed breast implants come in a selection of shapes:

round, anatomical (teardrop) or conical. Dr Munteanu has

recently introduced the conically shaped polyurethanefoam

coated implants to her clinic, alongside the round and

anatomical selections.

'Conical shaped implants combine the advantages of

an anatomical shaped implant – a nice, natural-looking

contour, lift of the breast and nipple areola complex –

while minimising the potential disadvantage of rotation and

insufficient fullness,' Dr Munteanu explains.

While Silimed implants offer a viable option in breast

augmentation surgery, Dr Munteanu works with patients

individually to decide on an implant that is best suited to

their body, breast tissue and expectations.

'I am very particular and thorough in choosing the

implants for each patient,' she says. 'To achieve beautifying,

natural-looking and stable results, a personalised approach

is absolutely essential.' csbm

82 www.cosbeauty.com.au
---
Desired

WHAT IS YOUR

LOOK?

Getting back to what you had or obtaining the look you always wanted.

Silimed offers an extensive range of shapes and sizes, textured or polyurethane

breast implants to suit any desire.

Talk to your surgeon about your desired look and experience the Silimed difference.

Always read the label. Use only as directed. Your surgeon will advise you whether this product is suitable for you.

silimed@device.com.au | www.pureimplants.com.au
---
easts

Restoring shapely breasts

Sydney plastic surgeon Dr Pouria Moradi explains the functional and

cosmetic benefits of breast reduction. AimÉe Surtenich reports.

For many women, overly large or sagging breasts can

be a burden both physically and psychologically.

Sydney plastic surgeon Dr Pouria Moradi sees

firsthand how breast reduction surgery can be a life-altering

event for women suffering from physical discomfort and low

self-confidence due to their large bust size.

'In my experience, women seek a breast reduction for

two main reasons: function and aesthetics,' he says. 'From

a functional point of view, many women want smaller breasts

to alleviate neck and back pain, postural problems, bra strap

grooves, chronic sweating and infection under the breast

crease, as well as physical discomfort when participating in

sports and other activities.'

Aesthetically, patients want to reclaim more youthful and

shapely breasts and not have their chest dominate their

appearance. 'From a cosmetic perspective, women want

to restore the shape, size and position of their breasts. The

change in breast shape may have been caused by pregnancy,

breastfeeding, the ageing process, or after losing a large

amount of weight,' Dr Moradi explains. 'By removing excess

breast tissue, reshaping the breast and repositioning the

nipple-areola complex higher on the breast mound, a more

youthful and aesthetically pleasing result can be achieved.'

The consultation process is a vital part of any cosmetic

surgery. 'The first step is establishing a great rapport between

the patient and surgeon and to start an honest and open

dialogue about the goals of the patient – some want to keep

the size of their breasts but want a lift; others, particularly

after breastfeeding, want a smaller bust size,' he says.

'Ultimately, the final goal has to fit with the patient's overall

body shape to create a more proportionate silhouette, and

also fit their personality with a breast size they are most

comfortable and confident with. To this end, I also use 3-D

digital imaging tools, so together we can get a realistic picture

of what the final result will likely be.'

Breast reduction (reduction mammoplasty) is a surgical

procedure that reduces, lifts and reshapes the breast. 'The

procedure is aimed at removing excessive breast and fatty

tissue, leaving the patient with a smaller and better-shaped

breast,' Dr Moradi explains.

According to Dr Moradi, in the past a breast reduction

relied more on repositioning the skin, whereas today's

preferred surgical technique is to focus on moulding the

breast tissue internally (medically called a glanduloplasty)

and then redraping the skin accordingly. He says the benefits

of this approach are good long-term fullness, better shape

and minimised scarring.

Depending on the amount of breast tissue to be removed,

many reduction procedures usually call for just one vertical

incision around the areola down to the breast crease (vertical,

or 'lollipop' technique), or an additional incision along the

crease as well (inverted-T, or 'anchor' technique).

Importantly, Dr Moradi says modern breast reduction

techniques should not affect a woman's ability to breastfeed

in the future, nor will it interfere with mammogram readings.

Dr Moradi's preferred surgical approach is the inverted-T

incision. 'I believe this offers the best results in terms of the

final breast shape and wound healing. However, for a smaller

84 www.cosbeauty.com.au
---
easts

reduction or for someone with good skin laxity, a vertical scar

only may be more appropriate.'

'For me, there are three key elements in breast reduction

surgery: maintaining nipple sensation and function; creating

the most appropriate skin envelope for reshaping the breast

and discreet scarring; and shaping of the breast itself.'

Breast reduction is performed under general anaesthetic.

Recovery takes around two weeks, but most patients can

resume work after a week or so, depending on the level of

activity required in their job. Full activity, including sports and

exercise can usually be resumed after six weeks.

Like any surgery, a breast reduction comes with certain

risks and complications, which makes it especially important

for patients to choose a skilled and experienced surgeon.

Dr Moradi believes these risks can be minimised with

a detailed pre-operative assessment, meticulous surgical

planning and proper postoperative care. 'I devise a preoperative

plan for each of my patients to optimise their

1

health and healing capacity before surgery,' he explains.

'We look at what medications or over-the-counter vitamins

they are taking, and get their blood pressure under control

if necessary. It's also essential that patients stop smoking

well in advance of surgery.'

To ensure optimal long-term results and to expedite

healing, special dressings and garments are worn during the

recovery period. Advanced scar management techniques

are also employed so that, over time, the scars should

become barely perceptible.

'Most of my patients realise just how much their heavy

breasts were a physical and emotional burden on their lives,'

says Dr Moradi. 'A lot of patients have even lost weight after

the surgery, as they are now able to exercise without the

physical limitations they once had.'

With proper planning, surgical technique and aftercare, a

breast reduction can represent a new lease on life for many

women. csbm

2

BEFORE

One year AFTER breast reduction by Dr Moradi

3

BEFORE

Two months AFTER breast reduction by Dr Moradi

BEFORE

Three months AFTER breast reduction by Dr Moradi

www.cosbeauty.com.au 85
---
easts

Optimise your recovery

CareFix garments provide support, increase comfort and accelerate

the healing process after surgery. Caitlin Bishop reports.

Enhancing comfort and paving the way to a speedy

recovery is paramount in the days following surgery.

Compression garments are used to provide support

after procedures such as breast augmentation, liposuction,

abdominoplasty and facelift surgery. Effective in improving

comfort and regulating blood flow, compression garments

act to reduce swelling and bruising post-operatively and are

a key component in expediting the healing process.

The CareFix range of compression garments, distributed

in Australia by Statina Healthcare, is built upon the pillars

of comfort, functionality and ease of use. By comfortably

pressing the skin and underlying tissue together directly

after an operation, CareFix compression garments help

prevent sagging in the skin and promote smoother and

faster healing after surgery.

Canberra plastic surgeon Dr Vlad Milovic uses the

CareFix range of post-surgical bras in his clinic. He believes

the medical-grade textiles of the CareFix range provide

more comfort to his patients than some other garments,

an important factor considering the bras are worn when

the skin is tender and sensitive directly after breast surgery.

'The CareFix range has been designed with maximum

comfort in mind, without compromising on functionality,'

he explains. 'In my experience, the material itself is

better tolerated by patients than some other brands, which

can be quite abrasive.'

Alongside the comfort factor, CareFix post-surgical

bras assist in achieving optimal long-term results. For

example, one of the main risks associated with breast

augmentation is implant displacement, when the implant

shifts or rotates from its desired position. This can occur

if the implant has been positioned incorrectly, when the

surrounding tissue is excessively stretched or in response

to trauma. Typically, implant displacement is more likely in

cases of larger implants, as gravity acts upon the weight

of the implant.

In guarding against this risk of displacement, Dr Milovic

encourages his clients to wear compression bras for six

weeks following surgery. 'Compression garments are

designed to provide support,' he says. 'Patients can't rely

on regular underwear or sports bras to provide the strength

and support they need after breast augmentation.'

Although the bras needs to be worn 24/7 in the weeks

post-operatively, the garments can be taken off to shower

and have a front-closure clasp for convenience – perfect for

women who are tender after surgery.

The CareFix range has been

designed with maximum comfort

and functionality in mind

The most recent addition to the CareFix range is the

Breast Implant Stabiliser Band, which is designed to help

stabilise and position the implant in the first two weeks

following surgery. This allows the implant to settle into its

position more quickly and can reduce recovery time.

While the label 'compression garment' doesn't sound so

enticing, the CareFix garments are anything but dowdy. The

bras come in a range of colours and, as they're latex free,

the risk of irritation during use is eliminated.

No matter what the surgery, prompting a fast and

comfortable recovery is essential in the weeks following

surgery, as these steps can have a significant impact on

the final result. Thanks to compression garments such as

those by CareFix, patients can look forward to recovering

from surgery in comfort and functional ease. csbm

86 www.cosbeauty.com.au
---
feature

STOP

THE

PRESS!

Did that get

your attention?

HERE'S WHY:

Print ads rank #1 for commanding

consumer attention*

Print magazines are the #1

preferred place to look at an ad*

Print magazines rank #1 for

advertising acceptance**

Magazines are #1 for reader

engagement**

Next-generation

marketing

Capture and engage your clients with

a personalised e-Book to showcase

your services. Having your own

bespoke eBook – either with or

without hardcopy – enhances your

profi le and turns your publication into

a viral marketing campaign!

* Source: Adobe Systems Click Here Study, October 2012

** Source: ORC Caravan, February 2013

Why integrate print and digital?

It's never been more important to have an integrated print

and digital marketing strategy. International research has

proven that print media – notably magazines – drive online

search and purchases. The two mediums exist side by side

to capture and engage an optimum audience.

At Bella Media, we have embraced this next-generation

marketing by integrating print and digital marketing to

enhance the client and consumer experience.

Hair Restoration by

Dr Russell Knudsen

Your name here

Call our expert team to fi nd out more about our bespoke

print and online services:

Tel: 9398 2755

Email: lauren@bellamedia.com.au

www.bellamedia.com.au

Plastic Surgery by

Dr Warwick Nettle
---
feature

Decoded

Diets

The Paleo, 5:2 and Atkins diets are popular methods for weight loss.

Caitlin Bishop investigates whether they really do work.

As science develops, attitudes change and trends

evolve, emerging ideals are continually used in an

attempt to find an answer to weight loss. Different

diets, with various approaches and philosophies, are

endlessly tried and tested. Here, three of the most highly

trending diets – the Paleo diet, 5:2 diet and Atkins diet – are

dissected, and the principles behind them unravelled.

Paleo diet

The Paleo diet is built on the premise that humans existed

for thousands of years without the artificial and processed

foods so prevalent in the modern-day diet. This approach

strips the diet from any refined sugars, refined grains and

processed foods to mimic the way our ancient ancestors

ate thousands of years ago.

It partners high amounts of protein and fat with low

levels of carbohydrates, similar to the way Homo Sapiens

thrived in the Palaeolithic era, or stone age. This intake is

supplemented with a high levels of whole grains, fruits and

vegetables in a 'plant and animal' derived design.

In their book, The Paleo Diet for Athletes, Loren Cordain

and Joe Friel associate the diet with both weight loss and

overall health benefits.

'Seventy percent of the US diet is made up of food that

modern man has created, and this food is made up of the

same ingredients: refined grains, refined sugars, processed

vegetable oil, salt, artificial flavouring and perhaps some

88 www.cosbeauty.com.au
---
feature

processed dairy product,' the authors say. 'These foods

have displaced more healthful fruits, vegetables, lean meats

and seafood in our diets, and it's hurting our health.'

They go on to explain the Paleo diet typically results in

weight loss, because of the way naturally derived foods work

harmoniously in the body. This diet is high in animal proteins,

which deliver high concentrations of branched chain amino

acids (BCAA) that help build and repair muscle. It is touted

to prevent the blood from getting too acidic, which is a

common by-product of eating too much processed foods.

And it is said to boost the immune system by combining

trace nutrients, such as antioxidant vitamins and minerals

that come from fruits, vegetables and lean meats.

The way we fuel our bodies –

in the quantities and types of

food we ingest – always incurs a

larger systemic effect

The diet has received criticism for its practicality and

the soundness of its background science. Critics have

suggested the diet of our Palaeolithic ancestors relied

much more heavily on starches, and therefore the premise

is invalidated. Additionally, some scientists have pointed out

that our ancestors simply did not live long enough to suffer

the diseases of the modern day – questioning the reliability

of the diet's heralded heath benefits.

5:2 (intermittent fasting) diet

Developed by medical journalist Dr Michael Mosley, the

fast diet, or 5:2 diet, takes an unusual approach to dieting.

Typically, weight loss regimes involve calorie counting,

stringent food types and regular meals. The Fast Diet turns

this platform on its head, with people eating normally for

five days and then 'fasting' – or cutting calorie intake to

a quarter of the normal level – for two days. It is touted to

assist in weight loss (believed to induce an average loss of

0.46kg per week) and is believed to benefit overall health

and longevity.

This effect on overall health, and not just body weight,

is associated with a reduction in inflammation, brought on

by periods of fasting. The way we fuel our bodies – in the

quantities and types of food we ingest – always incurs a

larger systemic effect.

Meals high in saturated fat and calories have been

associated with an increase in inflammatory markers in

the body which, if continued, can lead to widespread

chronic inflammation and disease. Intermittent fasting is

said to be effective in relieving the body of this inflammation,

leading to reduced oxidative damage and increased

immune resistance.

'Intermittent fasting and caloric restriction enhance

cardiovascular and brain functions and improve several risk

factors for coronary artery disease and stroke, including a

reduction in blood pressure and increased insulin sensitivity,'

explains Dr Mark Mattson in his article published in The

Journal of Nutritional Biochemistry.

Similarly, Dr Mark Donohoe, who spoke at the

AustralAsian Academy of Anti-Ageing Medicine conference,

explains periods of low food intake can impact our intestinal

bacteria to strengthen the immune system.

'During a time of low food availability, the gut microbes

experience a starvation effect,' he explains. 'Only the

stronger bacterium survive starvation, and these become

dominant in the gut, boosting general immunity.'

Dr Donohoe did concede there's no evidence to suggest

24 hours of fasting is sufficient to achieve this widespread

effect, however further research is needed.

Atkins diet

One of the problems commonly associated with dieting is

the tendency to stick with the food plan for a certain amount

of time, before reverting back to old habits. The Atkins diet

attempts to change these habits, establishing a long-lasting

and relatively easy-to-maintain approach to eating. In fact,

it combines this promise of longevity alongside a food plan

that includes the unthinkable – real butter, cream cheese,

eggs and bacon and extra avocado, in a seemingly win-win

dietary regime.

The aim of the Atkins diet is to break the carb and blood

sugar cycle, where carbohydrates are used for energy, and

excess carbohydrates are turned to insulin or fat in the body.

Instead, by filling the diet with proteins, fibres and fats and

drastically cutting the amount of carbohydrates consumed,

the diet forces the body to adopt a fat-burning state. In this,

fats are stored more efficiently and those stubborn pockets

of fatty tissue are gradually broken down.

While this diet, like many carb-cutting diets, has been

shown to achieve effective results in weight loss, the high

reliance on foods high in fat has received some criticism

for its implications on wider health. Some researchers

have concerns whether a long-term adoption of the Atkins

diet could be associated with increased risk of heart

disease, stroke or cancer, because of the replacement of

carbohydrates with a high-fat intake. csbm

www.cosbeauty.com.au 89
---
feature

the

smarter

way to

work

out

90 www.cosbeauty.com.au
---
feature

When it comes to weight loss, scientists believe it's possible to

exercise less, yet lose more weight. Lizzy Fowler reports.

Imagine a world where losing weight didn't involve hours

spent sweating in the gym, and excess kilos simply fell

off. Where in 20 minutes you could burn more calories

and lose more fat than you could after a week packed with

time-consuming jogs.

Believe it or not, this idea isn't far-fetched. This is the

reality of high intensity interval training (HIIT) – an exercise

regimen that asks for little of your time yet delivers maximum

results. Scientists and exercise professionals around the

world have built on years of research, and have proven the

benefits of short bursts of intensive exercise.

How much exercise is enough?

Over half of all Australian adults are overweight or obese. It's

perhaps not surprising, therefore, that the diet and weight

loss industries are thriving. From healthy home-delivered

meal plans to enticing gym memberships and personal

trainers promising long-lasting results, we're constantly

exposed to options to help us cut our calories and trim fat

from our physique.

When it comes to getting physical, the Australian

government recommends adults (those aged between 18

and 64) integrate at least 30 minutes of moderate-intensity

physical activity on most, preferably all, days of the week.

While the health benefits of moderate exercise are plentiful,

when it comes to losing weight, an increasing body of

research suggests you will do better to cut back on the

length of time you commit to exercise whilst increasing the

intensity of your workout.

A study published in the Journal of the American

Medical Association followed the exercise habits of more

than 34,000 women. It concluded that it took about an

hour a day of moderate exercising to maintain weight.

This research backed up by the findings of the (US-based)

National Weight Control Registry, which reported that 90

percent of people who have successfully lost weight, and

kept it off, exercise on average for an hour a day.

However, this research also tells us that even one hour

of moderate intensity exercise every day is not enough to

lose weight.

Workout for weight loss

A much more effective way to work out is to take part in

high-intensity circuit and interval training. High intensity

interval training refers to short bursts of high intensity

exercise periods broken up by rest or relief periods and

can be applied to any cardiovascular workout. In one study,

Sydney scientists reported that sprint training for just 60

minutes a week burns the same amount of body fat as

jogging for seven hours a week.

Sprint training for just 60

minutes a week burns the same

amount of body fat as jogging

for seven hours a week

'We've been searching for about 10 years for the

minimum amount of exercise you can do with the biggest

health impact factor,' Dr Steve Boutcher, the lead researcher

said when the study was published.

Dr Boutcher, who is an exercise physiologist and

associate professor at the University of NSW, believes the

high-intensity training regime followed in the study provides

the ideal amount of exercise intensity for health benefits,

including weight loss, in a short time period.

As part of the program, participants sprinted on an

exercise bike for eight seconds, and raised their heart rate

to between 80 percent and 90 percent of its maximum rate,

followed by 12 seconds of slow peddling.

'In three 20-minute sessions a week, they're only

working hard for eight minutes,' Dr Boutcher said.

www.cosbeauty.com.au 91
---
feature

Sample Workout

According to Sydney personal trainer and fi tness

expert Scotty Gooding, the 'Tabata' interpretation

of interval training offers an easy way to integrate

intervals into your workout regime.

'The exercise physiologist Izumi Tabata

devised an exercise protocol based on 20

seconds of intensive training followed by 10

seconds of recovery for four minutes,' he says.

'Analysis of the results showed both anaerobic

and aerobic improvements.' While you can apply

the Tabata technique to any exercise, Gooding

recommends the following exercises. 'The key

is to give it 100 percent during each 20 second

interval,' he says.

If you have any history of injuries, please

consult your physical therapist and personal

trainer before performing any of these exercises.

1. Killer sprawls: The sprawl is a full

body movement that involves some

of the largest muscles in the body.

Start with a tuck jump, bend down

and move into a push up position.

Jump your legs back in and return

to standing.

2. Mountain climbers: In a push up

position, bring one leg forwards whilst

keeping the other extended. Start the

workout by kicking the extended leg

forwards, moving the other back. To

make the workout harder, keep the

front foot fl oating off the ground.

3. Split lunges: Stand with your

toes facing forward and your feet

approximately one foot apart. Step your

right foot out approximately three feet

in front of your body. Slowly bend your

right knew, lowering your body down

to the ground. Push yourself back up

to standing. Bring the right foot back

to the starting position and repeat with

your left foot.

Over the course of 12 weeks, most participants lost an

average of 2kg of fat and gained 1.1kg of muscle mass in

their trunk and legs.

During the study, scientists found that fast sprinting

caused the body to release high levels of a specifi c group of

hormones, called catecholamines, which drive the release

of fat, especially abdominal and visceral fat, from fat stores

so it can be burned by working muscles.

According to Dr Boutcher, lower intensity activities

such as walking and swimming would not be capable of

achieving the same results.

Why is HIIT more effective?

Exercise scientists used to believe that 'steady state' cardio

exercise was superior for fat loss because relatively more

fat is used by the body as fuel at lower exercise intensities

than at higher intensities. You may burn more fat relative to

glycogen when you go for a walk, but the total amount of

fat lost during a walk is considerably less than if you train at

higher intensities.

During these intensive workouts, the fat/glycogen ratio

is lower, but you burn much more fat. Add this to the fact

that interval training allows you to exercise at very high

intensities for a much longer period of time, and you can

see why HIIT is such a hit when it comes to weight loss.

As an added bonus, some research suggest there's also

an afterburn effect known as excess post-exercise oxygen

consumption (EPOC), which means your metabolism and

ability to burn calories increases for up to 24 hours after

interval training.

Intervals also benefi t your health

Whilst Boutcher's research focused on the weight loss, a

more recent British study revealed that short, sharp bursts

of exercise are better at warding off heart disease than

longer, less strenuous sessions.

Comparing men who took part in high-intensity sprints

on an exercise bike with those who walked for half an hour

on a treadmill, Dr Gray from Aberdeen University found that

short bursts of intensive exercise spur the liver into taking in

more fat from the blood, before storing it, or burning it off.

'Our study showed that higher intensity shorter intervals

of exercise might be a more effective method to improve

health and reduce the time commitment to exercise,' said

Dr Gray.

As obesity continues to affect the nation's health,

the discovery that shorter bursts of activity can achieve

outstanding results – both in terms of weight loss and

overall health – gives hope that more of us may be inclined

to exercise. csbm

92 www.cosbeauty.com.au
---
ellafitness

body

keeping up Benefits appearances of

resistance

want to flaunt a toned and terrific bod this summer? here are some

exercise essentials to help get you started. words by Jarrat wood

training

Some people train for health, some people for Chest: push-ups

performance and some people train for appearance. There is really no better all-round exercise than the push-up

Vanity aside, training for appearance is a realistic when training outdoors. Place your hands shoulder width

option. Everyone has a body part that they wish was bigger or slightly wider with your wrists slightly above the nipple

Strength training can provide an array

or smaller.

line but below your shoulders. If you wish to focus more on

If you plan to train for appearance then remember

of health

some your

benefits,

chest muscles,

including

place your hands

a

a

faster

little wider and move

important health and safety guidelines: metabolism your and elbows better away from the flexibility, body as you lower says yourself.

• Training opposing muscle groups unevenly Russell can lead to Cox To focus from more Regenesis on the triceps bring Fitness. your hands a little

postural and functional deficiencies.

closer to your body and keep your elbows close to your body

• Health should be the number-one priority with an as you lower yourself to the ground. Beginners should try

exercise program and all exercise has an element of risk. push-ups from the knees. If this is too difficult try push ups

• There is a limit to how much you can vary your appearance. on a raised bench with feet on the floor or against a wall

Genetics will always be an overriding determinant of (the more upright you are the easier the push up will be.

your appearance.

Advanced trainers should try a full length push up raising

So you want to get into shape – maybe it's part of your shape of your physique. Precise controlled movements

New Year's resolution or maybe you just want to look offer

one leg

a conditioning

in the air to increase

effect, resulting

the load on

in firmer

the upper

and

body.

betterdefined

muscles.

The

your

following

best for

are

the

some

beach

'cosmetic

and pool

fitness'

season.

suggestions

Whatever

for

your

training

reasons,

outdoors

you

as

should

the summer

be thinking

months

about

approach.

incorporating

Break Abdominals

Resistance training should be undertaken as part of a

weights

down your

training

program

into your

into

workouts.

body parts: legs, back, chest and

balanced

While defined

approach

abdominals

to exercise

is appealing

and diet.

to

Cardiovascular

many people,

abdominals.

Strength training uses resistance in the form of weights training

the most

should

significant

form a

effect

significant

that abdominals

portion of

have

your overall

on our

or even your own body weight to strengthen and condition routine

appearance

and be

is in

of

regards

varied intensities

to posture.

to

Try

gain

the

the

following

most benefit.

sit-up

the

Legs:

musculoskeletal

stair running

system, improving muscle tone and Consult

variation

your

to assist

local

you

fitness

with walking

professional

and sitting

for a

tall.

customised

endurance.

By running

It's

stairs

also been

you will

shown

pace

to

a

improve

higher

mental

load on

clarity

the

approach

Lie flat

to

on

your

the floor,

exercise

sit up

routine

and raise

and

one

see

knee

your

to

GP

your

before

chest,

and

hamstring,

psychological

gluteal

health.

muscles and calves. Making your way

undertaking

meeting as

any

your

intense

torso and

training

thigh

program.

are both

csbm

almost vertical.

back

First

downhill

and foremost,

slowly will

resistance

load the

training

quadriceps

increases

ensuring

the

an Focus on staying as tall as possible without crumbling your

number

all-round

of

leg

calories

workout.

your

Try

body

doing

burns,

normal

not

running

only during

or walking

your

posture. Raise your straight leg at the same time so that your

workout,

intervals

but

with

for

some

a period

variations

of time

as

afterwards.

you advance.

heel Reap is just off the the rewards ground. Lower of to the ground and repeat.

Including weights training in your exercise routine is a

Try resistance 8-10 repetitions training: on each leg. For advanced trainers, try 2

bit Back: like investing reverse in the flyes future. The benefits of increased

legs

•

at

Increased

a time. Beginners

calorie burn

should

for

complete

two hours

the leg movements

calorie It's difficult burning to train due your to exercise back without extend heading way beyond to the gym, the as above after without completing the sit your up. workout

period but to of add time some you definition spend exercising, to your trapezius with your and metabolism rhomboids • You Increased should always base metabolic seek the advice rate (BMR) of a registered so you fitness

being (the major elevated muscles for a between couple of your hours shoulder after your blades) workout. try a professional burn more before calories undertaking 24/7 any program. Visit your local

This reverse means fly and you extension. burn more calories all day, every day, even gym • for Enhanced the personalised physique guidance with a targeted you require. program bella

when Lie you're face down sitting on on a bench, the couch raise your relaxing. arms And out to a your boosted sides, • Stronger bones

metabolism then move your can lead arms to in reduced an arc above overall your body head. fat. Reverse the Jarrat • Greater Wood is a flexibility personal trainer and the gym manager at Regenesis

movement The second back major to the benefit starting to position. resistance For a training more advanced is that Fitness • Better in Edgecliff, injury Sydney. prevention For more information call 02 9363 0376

you workout can target use some particular dumbbells muscle for extra groups resistance. to enhance the or visit www.regenesisfitness.com.au

Re-energise with

Regenesis Fitness, an

exclusive, friendly and

professional club, without

the crowds. Flexible

membership options

available.

Cnr New South Head Rd & Ocean Ave, Edgecliff

02 9363 0376 info@regenesisfitness.com.au

www.regenesisfitness.com.au

112 // 93 bellaBEAUTY

AUSTRALIAN COSMETIC SURGERY
---
ody

Get your

body

beach-ready

With summer shining upon us,

the desire to shape up is high.

Head to Titan Fitness and make

the most of your motivATIon.

Nicola Donovan reports.

With the warmer seasons well and truly upon us,

so is the season of the bikini. And while the

idea of stripping down to a swimsuit can be

daunting to some, it can also ignite a desire to shape up.

The team at Titan Fitness acknowledges that everybody

has individual needs. Because of this, they've set out to

provide programs, facilities and services that will help gym

members target their specific body concerns. The four

storeys of expansive fitness rooms are decked out with

advanced gym equipment where you can train solo or enjoy

the latest group fitness programs.

Personal training

Titan Fitness personal trainers are dedicated to helping

you achieve results. Ensuring you make the most of your

time in the club, the certified trainers are on hand to advise,

assist and motivate.

Former professional rugby league player Daniel Conn

is one of the personal trainers at Titan Fitness. Having

played for the Sydney Roosters, Gold Coast Titans and the

Canterbury Bulldogs, Conn knows precisely what it takes

to reach your fitness goals.

'There's a lot of information thrown around a gym – from

diet advice to how someone should be training,' he says.

'But not all of it's correct, and certainly doesn't apply to

everyone. A personal trainer will assess your individual level

of fitness, and take into consideration any limitations posed

by injury or lifestyle.'

Group fitness

The gym is packed with cardiovascular and weighttraining

equipment. However, for those who thrive off the

motivation of others when working out, a variety of group

fitness classes are offered at Titan. These include Les Mills

Body Pump, Body Combat and Body Balance, Spin Class,

Boxing and Zumba. Group fitness programs can provide an

enjoyable environment for you to exercise in, with classes

like Zumba providing a fun yet challenging workout.

There are also freestyle classes on offer, including 30Min

Hit, Total Body, Fat Burner, Killer Kardio and MMAXFIT.

Nutrition

Including exercise into your daily routine will invite numerous

health benefits into your life. However, if you're after specific

fitness results, nutrition also plays a fundamental role. The

team at Titan Fitness recognises that you can't rely solely

on exercise, and aims to eliminate any confusion you may

have with nutrition by providing easy-to-understand advice.

To this end, Titan offers diet plans which focus on simple,

healthy meals that, when united with regular exercise, will

help you to achieve your fitness goals. csbm

94 www.cosbeauty.com.au
---
JOIN TITAN FITNESS

FOR 14 DAYS

FOR FREE AND

TRANSFORM

YOUR BODY *

29-31 ALFREDA STREET,

COOGEE NSW 2034

PH: (02) 9665 4058

FAX: (02) 9664 1881

WWW.TITANFITNESS.COM.AU

FREE 14 DAY MEMBERSHIP WORTH

SIMPLY DETACH THIS VOUCHER AND TAKE IT WITH YOU TO

TITAN FITNESS IN COOGEE, SYDNEY

$

140

✃

*FOR FIRST-TIME MEMBERS ONLY. MUST BE A LOCAL RESIDENT AGED OVER 18. ID TO BE SHOWN ON REDEMPTION OF THE VOUCHER.

OFFER ENDS 31/12/13.
---
ody

Defining

touch

IMPLANTECH

body implants

to enhance

musculature for

both medical

and aesthetic

purposes. Caitlin

Bishop reports.

Body implants are used to create definition and

volume to a range of areas on the body. Considered

an international industry leader, Allied Biomedical,

an Implantech company has been designing and

manufacturing facial and body implants for more than

20 years. Their products are distributed in Australia by

Precise Medical Supplies.

Using state of the art design technology, the implants are

anatomically shaped and symmetrical, with a predictable

volume and tapered edges. These factors are important

in achieving consistent, natural-looking results, without

noticeable or palpable margins.

Sydney plastic surgeon Dr Howard De Torres says

Implantech implants are effective in adding volume and

definition to numerous areas of the body. 'Body implants

can be used to treat a range of medical and aesthetic

concerns,' he explains. 'For example, I use calf implants

to treat muscle atrophy, withered legs, club feet or in cases

where the muscle simply hasn't developed.'

Dr De Torres also says the solid consistency of

Implantech products can help protect against post-surgical

complications. 'In using calf implants, you are putting

an implant into a very tight spot and it takes some time

before the implant settles into the tissue,' he explains.

'Because the implants from Implantech are quite solid

in consistency, any bulging or distortion after surgery is

almost impossible.'

Body implants are commonly used in aesthetic

augmentation to shape, emphasise and define musculature.

Sydney plastic surgeon Dr Robert Drielsma, who has been

using Implantech for around 15 years, commonly uses calf

implants to reshape the lower leg.

'In my experience, the most common patient demand

for body contouring is calf augmentation – for which these

implants are ideal,' Dr Drielsma says. 'In males, body

building is a common underlying factor when general body

building has achieved great results everywhere except the

calves, which have remained relatively under-defined. In

women, aesthetic contour of the calves is the primary goal.'

The appropriate size, shape and positioning of the

96 www.cosbeauty.com.au
---
implant must be expertly determined before insertion. Dr

Drielsma explains the consultation process is important

in establishing the right fit for each patient. 'For calf

augmentation, the sex of the patient, and their concerns

and goals, are important factors, and also whether single

or double calf implants are desired or needed,' he says.

'It is helpful to strap "tester" implants on the calves to

help determine the ideal size.'

Importantly, the solid silicone consistency of

Implantech products means they are 'carvable', or can

be adjusted before surgery for an optimum fit for each

individual patient.

In my experience, once

Implantech body implants are

in, patients can generally

forget about them; they can last

20 to 30 years with no

complications

Dr De Torres explains how Implantech products can

be customised to each patient. 'There are a range of sizes

from Precise Medical. I decide on the most appropriate

size of implant after measuring the calf, or any other

area to be treated, during the initial consultation with my

patient,' he says.

'Because the implants are solid, it is possible to trim

the edges for a more effective fit. In these cases, I will opt

for larger sized implants and trim them according to the

patient's individual needs.'

Following calf augmentation, once the implants have

settled in, Dr De Torres explains the results are usually

long lasting with minimal complications.

'With body implants from Implantech, the results

are usually "set and forget",' Dr De Torres explains. 'In

my experience, once the implants are in, patients can

generally forget about them; they typically last 20 to 30

years with no complications.'

In an industry where quality, predictability and

endurance is paramount, excellence in both implant

design and technology is essential. Implantech implants

from Precise Medical Supplies are a viable option to

achieve optimum results with minimal complications in

body implant surgery.

'Implantech implants come in a variety of shapes,

sizes and degrees of firmness that suit a range of body

augmentation applications,' Dr Drielsma says. 'The fact

they are solid silicone and carvable means they can be

easily modified at the time of surgery to conform more

effectively and precisely to the patient's body.' csbm

SOMETIMES NO AMOUNT

OF WEIGHT TRAINING

CAN GET YOU THE RESULT

YOU DESIRE

PRE-FORMED & CUSTOM

BODY IMPLANTS

Enjoy a more clearly defi ned physique

and musculature with body implants

from Allied Biomedical, an Implantech

company.

These implants may also be used to

help correct muscle atrophy resulting

from injury or illness.

Implantech Body Implants can defi ne

and add volume to:

• CALVES • FACE • CHEST

•ARMS • BUTTOCKS

TO FIND A PRACTITIONER NEAR YOU CALL:

PRECISE MEDICAL SUPPLIES

1800 689 400

WWW.PRECISEMEDICAL.COM.AU

www.cosbeauty.com.au 97
---
ody

The modern tummy tuck

Sydney plastic surgeon Dr Alex Phoon describes how abdominoplasty

can help restore the shape and silhouette of pre-baby bodies.

Abdominoplasty is the medical term for what is

commonly known as a tummy tuck. Traditionally,

it involves the removal of some or all of the

lower abdominal skin and fat below the belly button and

tightening of the central core abdominal muscles. Modern

abdominoplasty has now evolved to use the complementary

technique of liposculpture to contour the waist, lower back

and upper abdomen at the same time. It is one of the most

common plastic surgical procedures performed today,

particularly for women after they have had children.

Changes to the body after pregnancy are entirely normal

and are partly due to the ageing process, as well as how

women's bodies have to adapt for pregnancy. The extent of

these changes can vary from one person to the next; one

woman may have almost no changes at all after pregnancy,

while the next may have profound muscle weakness,

hernias and stretch marks.

There is no doubt pressure in society for women to

achieve their pre-pregnancy figure in the shortest possible

time. This is potentially unhealthy for both the mother and

child. In such a busy and exhausting time of their lives,

women should be allowed to focus on returning to good

health and looking after their children without people

pushing the idea they should be at their pre-baby size.

But what happens when, despite all the healthy dieting

and exercise, women are still unhappy with their figure? This

decision is a very personal one for any woman to make, but

abdominoplasty may be the answer.

Part of the problem is that skin will often contract to a

point but beyond that may remain loose. Any stretch marks

tend to be permanent. With an appropriate exercise plan,

some women will have their abdominal muscles come back

together but others will find there will be a gap, or what is

known medically as a 'diastasis' of the rectus abdominus

muscles. In the most extreme cases, there may also be

hernias, such as the patient in Case 1. When there is excess

skin combined with a separation of the central abdominal

muscles, there can be both a functional and cosmetic

problem where surgery may be the only thing that might help.

Abdominoplasty involves removing this excess skin and

fat from below the belly button and tightening the abdominal

muscles at the same time. The final scar is made as low as

possible, ideally at the level of the bikini or the underwear line.

The belly button is repositioned once the skin is pulled down.

The procedure involves a general anaesthetic

and a few days in hospital post-operatively. Most

patients can resume work after a couple of weeks

and can return to light activities after about one week.

Long-term results can be maintained with a healthy lifestyle.

For the right patient, an

abdominoplasty, or tummy tuck,

can make a huge impact on their

quality of life

Wherever possible I also include liposculpture to the

'muffin top' or flank area to accentuate a woman's silhouette

at the same time. These areas can be difficult to target

through diet and exercise alone. My personal philosophy

is to create the best tummy possible for each patient while

improving post-operative pain and healing.

I routinely use quilting stitches internally to minimise the

length of time my patients have drains and the latest Pain-

Buster anaesthetic pump device. This local anaesthetic

infusion device has revolutionised my patient care, with

the vast majority of patients not needing anything more

than Panadol in the first few days post-op. This means a

98 www.cosbeauty.com.au
---
ody

lower reliance on drugs such as morphine which can cause

nausea as well as bloating, sleepiness and discomfort.

Scar management techniques are also employed postoperatively

to minimise the appearance of the scar.

Like any surgery, abdominoplasty comes with inherent

risks and complications, which makes it especially important

for patients to choose a skilled and experienced surgeon.

The consultation is also a key component to ensuring

optimal results. Together, the patient and surgeon devise

1

an operative plan to achieve the best results possible. I also

use 3D Vectra digital imaging, which enables us to map out

the finer details of the operation and get an idea of what the

final result will most likely be.

For the right patient, an abdominoplasty can make

a huge impact on their quality of life. A good diet and

exercise will always be the mainstay of a healthy lifestyle,

but a tummy tuck may be a viable option when these simply

aren't enough. csbm

BEFORE

Two weeks AFTER surgery by Dr Phoon

This woman had twins and, despite being very fit and active, her central muscles had split and she had a resultant hernia at the

level of the belly button and lower abdominal bulge. Excess loose skin, the hernia and the separated muscle were all treated with an

abdominoplasty without liposuction.

2

BEFORE

Three weeks AFTER surgery by Dr Phoon

This woman had six children and wanted an abdominoplasty to improve the contour around her waist. A standard abdominoplasty was

performed with liposuction to the flank and lower back (3L removed).

3

BEFORE

Four weeks AFTER surgery by Dr Phoon

This woman had lost a significant amount of weight. She has had no previous pregnancies but a previous breast reduction and she

now felt her bust was too small and out of balance for her frame. She had abdominoplasty and liposuction with additional breast

augmentation at the same time.

Photos taken from 3D images of real before and after photos.

www.cosbeauty.com.au 99
---
feature body

refine

your

shape

Melbourne and sydney

dermatologist

Dr Michael Rich says

microcannula liposuction

offers optimum body

contouring results.

Caitlin Bishop reports.

Trained by Dr Jeffrey Klein, one of the world pioneers in

liposuction technique, Melbourne cosmetic surgeon

Dr Michael Rich is considered an expert in body

contouring and has been performing liposuction for more

than 20 years. A leader in the Australian field, Dr Rich

performs his procedures with a microcannula – as opposed

to a regular cannula – and has a long-standing history of

effective, reliable and consistent results.

'The most important facet in achieving pleasing

outcomes in liposuction is a natural-looking result with

no irregularities and no divets,' Dr Rich explains. 'Without

clothes on, no one should be able to tell the patient has had

liposuction performed.'

In addition to liposuction, Dr Rich performs a wide variety

of surgical and non-surgical procedures from his clinic

'EnRich' in Melbourne, as well as Dr Garry Cussell's 'The

Facial Rejuvenation Clinic' in Sydney.

Technique

Dr Rich explains the use of a microcannula in liposuction

is key to achieving the desired natural-looking results.

Traditionally, liposuction was performed with a larger

cannula to aid the extraction of larger volumes of fat.

'The use of a microcannula takes longer and requires

more precise work, as it is a true sculpturing procedure,'

Dr Rich explains. 'A large cannula enables the operator to

perform the liposuction more quickly, but at the expense

of accuracy. The large cannula can cause more bruising

and more bleeding, and there is a higher risk of grooves,

depressions and irregularities in the final result.'

Dr Rich uses the 'tumescent' technique in his liposuction

procedures. This involves infiltrating the treatment area –

or fatty pockets – with 'tumescent fluid' before suctioning

the fat out. The tumescent fluid is a combination of

anaesthetic, to numb the area, a small amount of adrenaline,

to constrict blood vessels and reduce post-procedure

bleeding, and sodium bicarbonate to soften the fat and

assist in extraction.

Having trained with Dr Klein, who pioneered the

tumescent technique in 1985, Dr Rich believes it affords

more consistent results and presents a lower risk of

complications. 'Dr Klein's ground-breaking work into

tumescence revolutionised liposuction and drastically

lowered the risk of complication,' Dr Rich says.

'I've looked at every single other technique over the

years, including how to use different laser devices and

cannulas in liposuction, and I believe the best procedure,

100 www.cosbeauty.com.au
---
ody

with the lowest risk of complication, is the way Dr Klein

states it should be performed.'

Dr Rich uses liposuction to treat several areas of the

body, including the chin, jowls, neck, breasts, chest, arms,

full body torso, thighs, knees and ankles. He explains fat

deposition varies between genders, and fat accumulation

– particularly stubborn, difficult-to-shift fatty pockets –

increases naturally with age.

'Women usually have more gynoid fat, which is just

below the skin, and men typically have more android fat,

which is inside the abdominal cavity,' he explains. 'The most

common treatment areas in females include the abdomen,

hips, outer and inner thighs, and neck. In men, common

concerns are male breasts, the stomach and love handles.

With age, there tends to be weight gain and increased fat

deposition in both males and females.'

Skin retraction

Skin retraction, which is the even moulding of skin to

the body's new contours, is a common concern in

liposuction patients. Dr Rich explains

the skin's elasticity should be sufficient

to incur adequate skin retraction in

most liposuction patients, however

adjunctive treatments can be used to

optimise the result.

'In most patients, superficial

liposuction is more than adequate to

achieve sufficient skin retraction,' Dr

Rich says. 'In patients who have lost a lot

of weight or older patients with skin that

doesn't retract as well, radiofrequency

devices can be used to heat the skin

and cause added retraction. When a

large volume of fat is extracted during

liposuction, removing the excess skin

via surgery may be necessary.'

BEFORE

remove isolated pockets of fat, for example in the chin,

to achieve an aesthetic result – the procedure should not

be considered an "easy way out" or a replacement for

lifestyle changes.'

For those looking to undergo liposuction, Dr Rich

explains establishing realistic expectations and explicit trust

in their doctor is essential coming into the procedure.

'Possibly, the most important question for each patient

is: "are my expectations realistic?" It is very important to

understand that, while liposuction can remove the bulk

of fat and achieve skin retraction, it will not necessarily

improve other aspects in their life,' Dr Rich says. 'The

patient must have a rapport with, and confidence in, the

surgeon performing their procedure, and should research

the doctor's experience before going ahead.'

'I encourage my patients to write down every question

and apprehensive thought they have before making a

decision. These should include: will I have adequate benefit,

will my skin retract, will I be able to function adequately

post-procedure and, most importantly, will I achieve what I

want to achieve?' Dr Rich concludes. csbm

AFTER microcannula liposuction by Dr Rich

results &

Expectations

While Dr Rich performs liposuction on

a variety of patients who have differing

concerns, expectations and body

types, he explains liposuction should

not be seen as an alternative to a

healthy lifestyle.

'The person who is most suitable

for liposuction is not overweight but

may have stubborn fatty pockets that

they wish to remove,' Dr Rich says.

'While an overweight patient can still

undergo liposuction – particularly to

BEFORE

AFTER microcannula liposuction by Dr Rich

www.cosbeauty.com.au 101
---
ody

Refine

your figure

Liposonix is a non-invasive option for body contouring, designed to

shed one dress size in just one treatment. Caitlin Bishop reports.

Despite a steady commitment to dieting, or

unwavering dedication to an exercise program,

some pockets of fatty tissue can be difficult to

budge. It could be that you're genetically predisposed to

love handles or excess abdominal fat, or perhaps your

body is simply determined to hold onto those fatty pockets

on the thighs, upper arms or hips. Whatever the reasons,

Liposonix, distributed by Solta Medical, provides a nonsurgical

alternative to conquering these problem areas.

Liposonix uses targeted, high-energy ultrasound to melt

fat in the subcutaneous fat layer (the fat layer directly under

the skin) without harming the skin's superficial layers. This

helps to tighten, slim and tone the body's contours, and

can be effective in reducing fat on the abdomen, waistline,

arms, thighs and buttocks.

'Liposonix melts away fat, leaving the skin unharmed.

This technology has been used for many years to dissolve

kidney stones and has a proven safety record,' says Sydney

plastic surgeon Dr Charles Cope.

'In my opinion, Liposonix has two main advantages

over other non-surgical fat reduction systems: only one

treatment is required; and there is a lower risk of contour

irregularity problems that can occur with other systems on

the market.'

The aim of Liposonix is to

reshape and contour the body.

It is designed for people who

have tried everything and

can't lose localised, stubborn

pockets of fat

Designed to shed one dress size in just one treatment,

Liposonix targets high-intensity ultrasound energy at a

specific depth in the fat layer to cause a rapid, but localised,

rise in temperature. Above a temperature of 56 degrees

Centigrade, irreversible cell death occurs and the targeted

fat cells are permanently destroyed.

102 www.cosbeauty.com.au
---
ody

Sydney cosmetic surgeon Dr Jack Ting explains Liposonix

should not be considered an alternative to weight loss, but

can achieve effective results in shifting problem areas.

'Liposonix focuses on one particular area at a certain

depth, and a pinch of one inch of fat is required at the

treatment site,' Dr Ting explains. 'The aim of Liposonix is to

reshape the body; it is not a substitute for losing weight. It

is designed for people who have tried everything and can't

lose localised, stubborn pockets of fat.'

A consultation is required to determine if a patient is

suitable for treatment with Liposonix and,

1

typically, just one treatment is sufficient to

achieve effective results. The procedure takes

around one hour and can be used in conjunction

with other modalities, as Dr Cope describes.

'The treatment takes between 60 and 90

minutes and, for the best results, patients take

oral analgesia, so the patient can tolerate higher

treatment settings,' he explains. 'Liposonix

can also be used in conjunction with a medical

2

grade laser, to improve the texture and surface

of the skin, especially stretch marks.'

Dr Ting uses a 'stacking' technique to

achieve optimum results in Liposonix treatment.

'I use a high energy dosage for more effective

results,' Dr Ting explains. 'Stacking means I treat

the same section repeatedly, without letting the

area cool down – as opposed to moving across

the treatment area and returning to re-treat the

section later. I commonly perform three passes

3

on each section.'

Although there is minimal downtime,

treatment with Liposonix may induce mild

discomfort in the days following the procedure,

though no bed rest is needed.

'Patients can return to work and normal

everyday activities the day after treatment,' Dr

Cope says. 'The area may be sore for a few days,

especially when performing vigorous exercise,

but there is no need to restrict any activities.'

Following treatment, the liquefied fat

cells are removed from the body via natural

4

metabolic processes. Once these fat pockets

are removed, it is difficult to increase fat in the

same area. Because of this, and to avoid any

possible contour irregularities, it is important to

maintain a healthy exercise and diet regimen

after treatment with Liposonix.

'The improved contour from a Liposonix

treatment can be maintained with a healthy diet

and exercise program, which should be part of

BEFORE

BEFORE

BEFORE

BEFORE

everyone's lifestyle,' continues Dr Cope. 'There have never

been any reported cases of contour irregularities with the

Liposonix treatment.'

Liposonix offers a viable option in improving the body's

contours without the downtime associated with surgery.

Just as summer calls for bikinis and sundresses, exercise

or diet programs can sometimes require a helping hand in

achieving desired results. Liposonix can go great lengths in

optimising the outcome of healthy hard work, and refining

and reshaping the figure. csbm

6 weeks AFTER treatment with Liposonix

12 weeks AFTER treatment with Liposonix

8 weeks AFTER treatment with Liposonix

4 weeks AFTER treatment with Liposonix

www.cosbeauty.com.au 103
---
ody

Trim

& tone

EXILIS TREATMENT IS EFFECTIVE IN REDUCING FAT,

REFINING CONTOURS AND TIGHTENING SKIN ON BOTH THE

FACE AND BODY. CAITLIN BISHOP REPORTS.

Designed to conquer stubborn fatty pockets,

refi ne contours and regenerate the skin's support

structure, Exilis from Device Technologies offers

a trimming, tightening and toning effect. From slimming

the waistline to refi ning the jaw angle, the non-invasive

treatment can be used on several areas and combines

monopolar radiofrequency (RF) and ultrasound technology

for faster, more effective results.

'We have been using Exilis for a year, and have achieved

circumferential reduction, improvement in skin laxity on

both the face and body, and smoother, tighter skin,' says

Queensland plastic surgeon Dr Mark Magnusson.

By targeting the radiofrequency and ultrasound energy

at specifi c depths in the subcutaneous fat layer, Exilis

induces deep thermal heating to increase metabolic activity

and initiate lipolysis – the death of fat cells.

As the fat cell volume decreases, the surrounding

collagen is also affected. The collagen fi bres unravel in the

heat, triggering the body's natural healing response and

stimulating the production of new collagen at the site. This

results in skin tightening, alongside fat reduction.

For fat reduction, Exilis targets different levels of

subcutaneous fat and a contact cooling system is used

to protect the epidermis. It is effective in circumferential

reduction and reducing isolated fatty pockets.

'Fat reduction with Exilis is best suited to patients who

are a healthy, level weight,' says Tasmanian plastic surgeon

Dr Gary Kode. 'It is used to treat pockets of stubborn fatty

tissue that are not affected by exercise or diet. It's a noninvasive

treatment that can achieve great results in refi ning

the fi gure and contours.'

For fat removal, each layer of fat is targeted separately.

The fi rst pass targets deep fat, with the machine set to full

power. The settings can then be reduced to target the middle

layers, and then reduced again for a third pass, targeting

superfi cial fat. A fourth pass using just radiofrequency is

then made to tighten the skin.

Treatment with Exilis should not incur any downtime,

and no anaesthesia is required during treatment. 'During an

Exilis treatment you will experience an intense heat but my

patients don't report any discomfort,' says Dr Magnusson.

'Most people say it feels relaxing like a hot stone massage.'

Multiple sessions are often required to maximise results

in Exilis treatment. Typically, four treatments are performed,

one to two weeks apart.

Exilis can also be used in combination with more

aggressive cosmetic procedures for a synergistic effect.

For example, using Exilis after fractional CO2 skin

resurfacing can greatly improve the skin tightening effect

of laser skin rejuvenation.

The full results of Exilis are usually seen three months

after treatment, once collagen synthesis has occurred

and the dead fat cells have been naturally metabolised by

the body. In fat reduction, each treatment takes 30 to 45

minutes and multiple passes are made on the specifi c body

area to target different levels in the subcutaneous tissue.

In a revolutionary combination of radiofrequency and

ultrasound technology, Exilis offers an effective and noninvasive

way to help slim and tone the body. csbm

BEFORE

BEFORE

AFTER Exilis treatment (photos courtesy of

Device Technologies)

AFTER Exilis treatment (photos courtesy of

Device Technologies)

104 www.cosbeauty.com.au
---
MAKE EVERYDAY

"A Skinny Jeans Day"

Exilis redefines Non-Invasive body & facial treatments.

Melt away centimetres, the non-surgical way.

BEFORE

AFTER BEFORE AFTER

Your Exilis Specialist Clinic

NEW SOUTH WALES

Elixxir Medispa

Dr Michael Miroshnik

Bondi Junction

1300 854 610

www.elixxirmedispa.com.au

Face Today Mediclinic

Chatswood

1300 668 573

www.facetoday.com.au

Alpha Cosmetic Clinic

Dr Phil Caraiscos

Hurstville

02 9579 2777

www.alphacosmedicclinic.com.au

QUEENSLAND

Face Today Mediclinic

Cairns

07 4053 3021

www.facetoday.com.au

Allure Clinic

Dr Mark Magnusson

Toowoomba

1300 662 960

www.allurecosmeticclinic.com.au

Sunshine Vein Clinic

Dr Hugo Pin

Peregian Beach

1300 698 346

www.sunshineveinclinic.com.au

VICTORIA

Rejuvenex Medical Aesthetic

& Laser Clinic

Blackburn South

03 9877 2366

www.rejuevenex.com.au

TASMANIA

Launceston Plastic Surgery

Dr Gary Kode

Launceston

03 6334 9313

WESTERN AUSTRALIA

Bramis Facial Rejuvenation Clinic

Dr Mela Brankov

Subiaco

08 6161 5425

www.bramis.com.au

Dermedica

Dr Joanna Teh

Scarborough

08 9205 1995

www.dermedica.com.au

E: exilis@device.com.au | W: www.device.com.au/exilis
---
intimate surgery

Speaking

out

Gynaecologist and pelvic

reconstructive surgeon

Dr Oseka Onuma says vaginal

rejuvenation can be an

empowering option for many

women. AimÉe Surtenich reports.

Talking openly about concerns relating to the vagina

can be challenging for women. The question 'am I

normal?' can plague women of all ages, particularly

when it comes to the appearance and function of the

vagina and urinary system.

Dr Oseka Onuma, a gynaecologist and pelvic

reconstructive surgeon, says one of the most pertinent

issues in the field of gynaecology is the lack of open and

honest dialogue, both in mainstream society and the

medical community, which leads to many obstacles in

women seeking treatment. One of the effects of not having

an open forum for gynaecological concerns is a widespread

misunderstanding of what is classified as 'normal' – both in

terms of vaginal anatomy and urogynaecological problems.

'There is a very wide spectrum of what is "normal",' says

Dr Onuma. 'I never make assumptions; the real problem

may be more subtle than the one being expressed. I want

to know not only the symptoms but also the length of time

they have been endured and how the patient's quality of

life is being affected. After a thorough examination, the

correlation of the clinical findings with the symptoms results

in higher success rates – both in terms of the surgery and

patient satisfaction.'

Functional and cosmetic rejuvenation

All women are born with differently shaped genitalia, and

with the effects of childbirth and age, many can suffer from

problems with their genitalia that can make them feel very

self-conscious and unhappy, often affecting relationships

with sexual partners.

'Childbirth can change the shape and tone of vaginal

tissue, sometimes resulting in embarrassment and

occasionally loss of sexual satisfaction,' Dr Onuma says.

'After childbirth, sufferers often try to ignore any reduced

ability to contract the vaginal walls, the feeling of "looseness'

and reduced sensation during intercourse.'

Women seeking vaginal rejuvenation are usually

concerned about both the appearance and the discomfort

caused by oversized, elongated or asymmetrical labia

minora. Other concerns that can be addressed by surgery

include protrusions or a lump within the vagina, scar tissue,

discomfort or sagging at the entrance to the vagina, and

loose or weak vaginal muscles, mainly caused through the

muscles stretching during childbirth.

There is a range of surgical options available which can

correct these problems. One is laser reduction labioplasty,

which can sculpt the elongated or unequal labial minora

as desired. 'Labioplasty techniques can reconstruct

conditions that are a result of the ageing process, childbirth

trauma or injury,' says Dr Onuma.

The procedure can provide a more aesthetically attractive

vulva. The vulvar structures (including the labia minora,

labia majora, mons pubis, perineum, entrance to the vagina

and hymen) can be surgically enhanced, both functionally

and aesthetically.

Female urinary incontinence

Female stress urinary incontinence is caused predominantly

by an improperly functioning urethra, not the bladder.

Normally, the urethra, when properly supported by strong

106 www.cosbeauty.com.au
---
feature

Laser Vaginal

Rejuvenation TM

pelvic floor muscles and healthy connective tissue,

maintains a tight seal to prevent involuntary urine loss.

When a woman suffers from stress urinary incontinence,

weakened muscle and pelvic tissue don't support the

urethra adequately. As a result, the urethra doesn't maintain

a tight seal during exercise or other movement such as

coughing or laughing, and urine escapes.

'Women with stress incontinence generally have a

reduced impression of their own wellbeing and attraction to

others, and this can affect their relationships with intimate

partners,' says Dr Onuma.

No one should suffer conditions

that can be treated. Part of being

a woman is taking control by

having access to choice

One technique Dr Onuma employs is the tensionless

vaginal tape, or TVT, sling. It is a minimally invasive procedure

during which a Prolene tape sling is inserted to correct

stress urinary incontinence. It requires a short operation and

recovery is typically rapid. Rejection and infection are rare.

The Prolene mesh is inserted through the vagina and

positioned underneath the urethra, creating a supportive

sling, which is held in place by surrounding tissues rather

than sutured into position. During movement or exercise,

the mesh supports the urethra, allowing it to maintain its

seal to prevent urine loss.

'It's important to listen to the concerns of the individual

patient, assess them with examination and appropriate

investigations to establish a diagnosis, and then offer a

series of potential solutions with detailed discussion about

how each approach might impact positively or negatively if

adopted,' says Dr Onuma.

'During consultation, I encourage my patients to express

themselves openly and, importantly, to make them feel more

comfortable with what are usually very normal concerns,'

he says.

Providing knowledge, choices and alternatives is an

essential part of delivering a quality medical service to

improve the function of the vagina and urinary system – and

the quality of life of each patient.

'No woman needs to suffer conditions that can be

treated. Part of being a woman is not "putting up with it",

but taking control by having access to choice,' Dr Onuma

concludes. csbm

SPECIALISING IN

• Aesthetic and functional

labial surgery

• Curing urinary incontinence

• Restoring pelvic support

• Enhancing sexual gratification

• Resolving menstrual dysfunction

OUR MISSION

To empower women

with knowledge, choice

and alternatives

Dr Oseka Onuma

BSc MJur MBBS FRCOG

FRANZCOG

Gynaecologist &

Pelvic Reconstructive Surgeon

Laser Vaginal Rejuvenation

Institute of Adelaide

Robe Terrace Specialist Centre Suite

4 Robe Terrace, Medindie

South Australia 5081

Phone 08 8344 6085

Facsimile 08 8344 6087

Email rooms@dronuma.com

www.dronuma.com

www.cosbeauty.com.au 107
---
intimate surgery

What lies beneath

Sydney cosmetic surgeon Dr Colin Moore explains the cosmetic and

functional benefits of genital surgery. AimÉe Surtenich reports.

S

Page 1

GEMENT

idening

ds

tomy Reversal

ry

(Lyn)

.com

OORE

There's more to vaginal rejuvenation than creating a

'designer vagina'. In addition to improved aesthetics,

it can alleviate discomfort, pain and hygiene issues,

as well as improve sexual pleasure.

'Importantly, vaginal abnormalities can often inhibit a

woman's self-confidence and sexual satisfaction and, left

untreated, can result in both physical and psychological

concerns,' says Sydney cosmetic surgeon Dr Colin Moore.

Women who seek vaginal surgery often notice changes

to their vagina after giving birth or as a result of the ageing

process. Depending on the patient's concerns, there are a

number of surgical options that can correct aesthetic and

functional concerns.

'After giving birth, some women experience stretched

muscles and skin that can significantly change the shape

of the vagina, both internally and externally,' says Dr Moore.

'In such cases, it's important to adopt a holistic approach:

MEN'S & WOMEN'S

Cosmetic Surgery

'A New You'

• Penis Enlargement – permanent

• Circumcision • Abnormalities (bends)

• Impotence • Vasectomy • Testicular Implants

• Breast Enlargement/Reduction • Tummy Tuck

• Face/Eye Lift • Vaginal Cosmetic/Surgical Repairs

EARS EXPERIENCE

B R I S B A N E

ITAL

Y

ent

y

gery

(Lyn)

.com

THE AUSTRALIAN CENTRE FOR COSMETIC SURGERY

Dr Colin Moore

MBBS, FRCS, FRACS, FACCS

www.drcolinmoore.com.au

To recieve an information pack call Lyn on

0414 251 234 or 1300 malepenissurgery

VISIT THE BEFORE ANd AFTER

pHOTO GALLERY AT

drcolinmoore.com/general/gallery.html

Finance options available

tightening both the weakened vaginal muscles and trimming

excess labial tissue. I work with each patient to decide on the

most appropriate treatment option for vaginal rejuvenation.'

Vaginoplasty vs labioplasty

A vaginoplasty is a day procedure which involves tightening

the sling muscles in the vagina by lifting the muscles,

removing excess vaginal lining and reattaching the muscles.

'It's important, though, that patients have realistic

expectations; surgery will not make them a teenager again,'

explains Dr Moore. 'We can't over-tighten stretched vaginal

muscles as this can cause muscle cramps and spasms

during intercourse. This is where a senior surgeon's

experience is essential.'

A labioplasty involves excising and sealing excess,

roughened tissue that can cause the labial folds to look

asymmetrical or stretched. According to Dr Moore, younger

patients usually opt for labioplasty alone to correct an

uneven appearance of the labial folds.

'Essentially, labioplasty involves either removing a

roughened edge or reducing the edges of the labia minora

back to the same level as the labia majora, and often

reducing excess skin covering the clitoral hood.'

A labioplasty can also improve vaginal hygiene. 'With

large labia, urine can become trapped, allowing bacteria

from the bowel to migrate and colonise in the urethra,' Dr

Moore explains. 'For many women, labioplasty surgery can

rectify this.'

G-spot augmentation

For women seeking to improve their sexual satisfaction,

G-spot augmentation offers a long-lasting solution.

The G-spot lies on the front wall of the vagina and can

cause significant pelvic floor contraction during orgasm.

'G-spot augmentation usually involves a transurethral injection

of dermal filler into the middle layer of the vaginal wall to make

a G-spot orgasm more intense, which can be very liberating

for some women,' says Dr Moore.

According to Dr Moore, there is one main limitation to

this surgery: the ability to experience a G-spot orgasm

needs to be developed beforehand as augmentation of the

area does not guarantee a G-spot orgasm.

As with any surgery, there are potential risks and

complications, but when performed by an appropriately

trained and skilled surgeon, the risks are minimal. csbm

108 www.cosbeauty.com.au
---
Join us online

www.cosbeauty.com.au

Jump online to get your fi x of beauty news, product reviews and to research

the latest aesthetic procedures and treatments!

Super-fast access to the

exact subject your heart

desires, whether this

be directories, articles,

procedures or blogs.

Interactive features including photo galleries,

slideshows and videos that will keep your eyes

entertained and your mouse clicking over.

Join the conversation and be in the running to win

the latest skincare, body products and makeup!

Find a doctor or clinic in your

area with our Directory, a

comprehensive A to Z

of professionals and

businesses from across

the nation to keep you

looking your best.

Get involved! Tweet us to

tell us what you think or

give us a shout by 'liking'

our Facebook page. We'd

love to hear your feedback

and ideas.

Find out about mustattend

seminars and

soirees in the industry via

our Events section.

Features and

articles packed with

comprehensive,

relevant information

about cosmetic

surgery, beauty and

industry news!

Cosmetic procedures from an educated and informed

source makes our Procedures section a go-to if you're

considering a nip/tuck or even just a tweak.

Overwhelmed with the Social Media options available?

Let Bella Media do the work for you.

The growth of Social Media can't be ignored. Bella

Media can help you work through the myriad of options

to optimise your reach within these channels. We can

assist with all aspects of a Social Media campaign,

from setting up accounts and profi le information to

content creation and distribution of updates.

Bella Media's Social Media Management services include:

• Facebook Business Pages creation and information setup

• Twitter account creation and profi le setup

• Youtube Channel creation

• Slideshare account creation

• Blog creation and profi le setup

• Google+ account creation and profi le setup

• Email Signature links

• Supply of website code to include all social media channels

• Continuing tailored blog/microblog copy

Call Bella Media now on 02 9398 2755
---
ody

Arrived in

Australia –

The Isavela

compression

range

The Isavela compression range

is launching in Australia,

revolutionising post-surgical care

in a selection of comfortable,

functional and effective garments.

Caitlin Bishop reports.

After any cosmetic surgery, the importance of postoperative

care should not be overlooked. One way

to maximise comfort and improve healing after

surgery is to choose quality compression garments.

The Isavela range of compression garments, recently

launched in Australia, uses the latest technology to improve

comfort and hygiene and provide post-operative support

to the treated area. Distributed by Statina Healthcare, the

garments provide support, enhance comfort and boost

circulation following surgery.

The use of compression garments can go a long way in

expediting the recovery process. By increasing blood flow

to the treated area, compression garments are believed to

110 www.cosbeauty.com.au
---
ody

reduce swelling and bruising, and aid in accelerating and

normalising the healing process.

The Isavela brand was born in the US and prides itself

on remaining at the forefront of compression science. The

range includes everything from breast support to abdominal

binders. All Isavela garments are made with Naturexx fabric,

which regulates moisture to keep the wearer cool and

dry. The system is designed to evaporate body moisture

and prevent the production of bacteria during use – an

important factor in post-operative care. The fabric itself

is soft and smooth, designed to heighten comfort while

providing optimal, post-surgical support.

Surgical bras

There is an extensive range of Isavela bras suitable for

recovery from breast augmentation, reduction, mastopexy

and reconstruction. Particularly in breast augmentation,

compression garments are worn post-operatively to aid in

healing and help counter the risk of implant displacement.

By applying gentle and homogenous pressure to the skin

and underlying tissue directly following surgery, the implant

settles more quickly into the tissue pocket, and a smoother

result, without skin rippling, is more easily achieved.

Designed to provide support and lift, as well as

compression, the Isavela bras have no underwiring and

enhance body shape in comfortable functionality.

Body contouring

Following an abdominoplasty (tummy tuck) or liposuction,

compression garments or girdles are often worn to improve

blood circulation, reduce the risk of fluid accumulation and

accelerate healing. A compression garment also helps the

healing skin to drape more naturally over the body's new,

slimmer contours.

Isavela has a range of mid- and full-body compression

garments, alongside a specialised line of abdominal binders.

Each compression garment is adjustable with straps, and

there are several design options, varying in length and

bust style. Notably, the material used in the abdominal

binders stretches in all directions to afford homogenised

compression while allowing the body to move naturally.

Facial wear

In recovering from face or neck surgery, compression is

again needed to regulate blood flow and accelerate the

healing process. However, the extent of movement in

the facial muscles, and the possibility of sudden, violent

movements – for example, sneezing and coughing – can

make compression difficult.

The Facial Compression and Chin Support garments

from Isavela are designed to minimise discomfort and

soften the impact of facial muscle movement. Some of

the designs have the option of a support strap around the

back of the neck or across the forehead, as well as differing

lengths of neck compression.

No matter what the line, the Isavela garments are elegant

in both design and style. With subtle seams, smooth

material and stylish cuts, wearers can enjoy the feel of their

reshaped body or breasts in outfits that complement and

enhance their figure.

Increasing comfort and kick-starting the healing process

is essential in those first weeks following surgery and, now,

with the newest compression range at Statina Healthcare,

comfort and functionality can be enjoyed more effectively

than ever before. csbm

Why are compression

garments necessary

after surgery?

• Increases blood circulation

• Reduces propensity of swelling and bruising

• Helps prevent fluid accumulation

• Helps prevent implant displacement

• Increases comfort post-operatively

Visit www.isavela.com.au for more information.

www.cosbeauty.com.au 111
---
teeth

Ultra-thin

porcelain

veneers:

preserving your

teeth & enhancing

your smile

SYDNEY AESTHETIC RECONSTRUCTIVE DENTIST DR SARKIS NALBANDIAN

EXPLAINS A MINIMALLY INVASIVE APPROACH TO TOOTH REJUVENATION IS

SOMETIMES THE BEST WAY TO BALANCE FACIAL AESTHETICS AND RESTORE A

BEAUTIFUL SMILE. CAITLIN BISHOP REPORTS.

In a personalised approach to smile rejuvenation, Sydney

aesthetic reconstructive dentist Dr Sarkis Nalbandian

uses minimally invasive techniques to preserve and

optimise the patient's natural smile.

He believes taking a highly individualised approach

– considering the patient's dental and facial aesthetic

parameters, alongside comfort and function – achieves the

best result in cosmetic dentistry.

'Smile rejuvenation is all about the face, not just the

teeth,' Dr Nalbandian explains. 'It is of utmost important

to understand how smile design should complement the

patient's facial aesthetics.'

Though Dr Nalbandian is experienced in using a variety

of methods for smile rejuvenation, he often recommends

ultra-thin porcelain veneers to achieve a signifi cant, though

minimally invasive, smile transformation.

These ultra-thin porcelain veneers are specially

designed by Dr Nalbandian and his technical team. They

can be sculptured to fi t each patient and are designed to

build upon, and preserve, the natural teeth. These can be

applied in Dr Nalbandian's 'one visit smile lift' and cause

little disruption to natural tooth enamel.

'Once tooth enamel is gone, it's gone for good,' he

explains. 'Minimal intervention is key, as it is important to

preserve enamel and work with what nature gave us.'

Once tooth enamel is gone, it's

gone for good – which is why

minimal intervention is key in

preserving tooth enamel

Importantly, treatment with ultra-thin porcelain veneers

can achieve immediate results and affords fl exible options

for future revision. 'The beauty of this treatment is that

we can improve the patient's smile while still keeping

their options open for future orthodontic realignment,' Dr

Nalbandian explains.

112 www.cosbeauty.com.au
---
teeth

While veneers signify the faster route to

aesthetic smile rejuvenation, careful planning

is still required prior to the procedure. Dr

Nalbandian believes that digital smile design

software doesn't reflect the patient's true smile

and the way rejuvenation might impact the

patient's speech, smile dynamics and comfort.

Instead, Dr Nalbandian works within the

mouth to accurately prepare the most suitable

treatment for each patient.

'Smile design is an art form and I work within

the mouth directly to diagnose and plan the

best treatments for my patients,' Dr Nalbandian

says. 'The challenge is to create natural smiles

that complement the patient's beauty and

facial aesthetic. This demands an individualised

approach, and cannot be digitalised.'

Ultra-thin porcelain

veneers can achieve a

beautiful result with minimal

tooth intervention

Before treatment, Dr Nalbandian takes

photographs of the patient from three angles

– front, oblique and profile – to establish the

most important aspects of their smile, and

evaluate the interplay between their lips, gums

and teeth.

Importantly, Dr Nalbandian recognises the

smile and facial aging go hand-in-hand. He

believes the impact of facial ageing and time

are important elements to consider in any

cosmetic dentistry.

Ultra-thin porcelain veneers can address the

gaps, chips, discolouring and misalignment

caused by age, certain foods and teeth

grinding. Dr Nalbandian explains the 'one visit

smile lift' can achieve effective results in both

beautifying and preserving the patient's smile.

'Patients of all ages can undergo this

treatment, providing there is correct diagnosis

and extensive planning prior to the procedure,'

he explains. 'Ultra-thin veneers can create

beautiful, natural-looking smiles. After

treatment, patients often tell me "everyone

comments on how nice I look, but no one can

pin-point that my teeth have changed!"' csbm

CASE STUDY

For suitable candidates, Dr Nalbandian performs the 'One Visit Smile

Lift' using ultra-thin porcelain veneers. Depending on the patient,

this approach could involve anything from tooth veneers and gum

contouring to teeth whitening and reshaping.

One such patient approached Dr Nalbandian after a long

history of limited success in using porcelain veneers to rejuvenate

her smile.

'This particular patient was concerned about the colour and

shape of her teeth, as well as her smile arch and gum asymmetry,'

Dr Nalbandian explains. 'She approached me after having had

a few cases of porcelain veneers placed and then ultimately removed

by another dentist.'

The patient was concerned that the veneers she'd had in the

past appeared artificial, and she did not wish to have people notice

she'd undergone cosmetic dentistry.

She approached Dr Nalbandian for a more individualised

rejuvenation, and the result was achieved in two treatment sessions

following thorough diagnostics.

'An aesthetic result should imitate nature and, using ultrathin

porcelain veneers, we can achieve a beautiful, natural-looking

result,' Dr Nalbandian concludes.

BEFORE

BEFORE

AFTER cosmetic dentistry by Dr Nalbandian

AFTER cosmetic dentistry by Dr Nalbandian

www.cosbeauty.com.au 113
---
teeth

Brighten your smile

The Smartbleach 3LT is a revolutionary teeth-whitening system designed

to brighten, rejuvenate and beautify your smile. Caitlin Bishop reports.

There's nothing like a bright, white and healthy smile

for boosting self-confidence and refreshing our

appearance. Yet as we age – alongside those sweet

treats, black coffees and red wines – our smile can become

yellowed, marked and dull. Smartbleach 3LT signifies

the latest in teeth whitening technology in a non-laser,

photochemical whitening system.

Smartbleach 3LT, distributed by High Tech Laser, is

built on the same principles as the original Smartbleach

whitening system – where a photo-reactive gel is applied to

the teeth and exposed to light of a certain wavelength. The

reaction between the light and the gel breaks down stained

molecules on the teeth, homogenising colour and reducing

the appearance of discolouration.

Sydney cosmetic dentist Dr Mark Levi uses Smartbleach

at his clinic, and believes it affords more consistent results

with less discomfort than other systems.

'In teeth whitening, it all comes down to the reaction

between the gel and the light source,' Dr Levi explains.

'Smartbleach 3LT optimises this reaction in a unique gellight

combination for more consistent and predictable

results with minimal discomfort.'

The system has been designed to effectively treat all

kinds of tooth stains, including tetracycline stains, which

can occur after taking antibiotics during childhood, when

the development of tooth structure is affected.

Queensland cosmetic dentist Dr David Cox uses

Smartbleach to treat a variety of teeth stains. 'We treat

almost any type of tooth discolouration using Smartbleach,'

he says. 'It can be effective in treating coffee marks, genetic

yellowing and even the more stubborn stains caused by

certain antibiotics.'

Smartbleach uses a unique

gel-light combination for

more predictable results with

minimal discomfort

Smartbleach uses a specialised alkaline gel for superior

whitening results. This delivers a high concentration of

oxygen radicals – which break down stains – without

damaging the enamel. Importantly, the reaction between

the light and gel is photochemical, not photothermal, as

seen in other systems. This protects the teeth against

thermal damage, as Dr Cox explains.

'Photothermal reactions heat the tooth and there can

be damage to the nerve if overheated even by a few

degrees,' he says. 'Smartbleach 3LT uses a photochemical

reaction, which creates oxygen radicals with no associated

heat. There is also a photodynamic reaction to increase

114 www.cosbeauty.com.au
---
teeth

the concentration of oxygen radicals for more effective

teeth whitening.'

A treatment with Smartbleach 3LT takes under an

hour. Before treatment, the teeth are polished and buffed

in preparation. A coating is applied around the teeth to

protect the gums and no anaesthetic is needed.

One patient of Dr Levi, Sharon, recently had a tooth

whitening treatment with Smartbleach and was happily

surprised with the results. 'I was very apprehensive about

getting my teeth whitened,' she says. 'I was doubtful if

it would work, as I had discoloured teeth from antibiotic

stains. I've just finished my second treatment, and am

extremely pleased with the results. I could see improvement

straightaway, which I didn't think was possible! I went back

to my regular dentist and she was as surprised as I was.'

While Sharon opted to have two treatments, and is

considering a third, Dr Levi says one treatment is typically

sufficient to achieve an effective result.

'In my experience, there is always an effective result

with Smartbleach, and one treatment is usually all that is

required,' Dr Levi says. 'In Sharon's case, the results have

been amazing – my team and I are blown away.'

There is no downtime following treatment with

Smartbleach and results should be evident immediately.

Patients are encouraged to avoid deeply coloured foods

such as black coffee, red wine and tomato sauce for the

first 48 to 72 hours following treatment.

Dr Cox explains results will vary but can last up to several

years. 'For intrinsic staining, which is inside the tooth as

opposed to on the surface, the results can last many years,

if not indefinitely,' he says. 'As for surface staining, the

results will depend on dietary habits but can last for years.'

'The level of whitening varies between patients, but

I believe the Smartbleach system is in a class of its own

for treating the more stubborn discolourations,' Dr Cox

concludes. csbm

1

BEFORE

2

AFTER Smartbleach 3LT by Dr Levi

BEFORE

3

AFTER Smartbleach 3LT by Dr Levi

BEFORE

AFTER Smartbleach 3LT by Dr Levi

www.cosbeauty.com.au 115
---
face

Refresh

your

outlook

SYDNEY PLASTIC SURGEON

DR DARRYL HODGKINSON EXPLAINS

HIS APPROACH TO CREATING

REFRESHED AND NATURAL-LOOKING

RESULTS IN FACELIFT PROCEDURES.

CAITLIN BISHOP REPORTS.

While non-invasive methods for facial rejuvenation

can go a long way in bridging the path to

surgery, the results achieved in a surgical facelift

are superior in countering skin laxity, reducing wrinkles

and folds, and improving a tired-looking appearance. Yet

the decision to undergo surgery can be a big one, and

natural-looking results are a common concern for people

considering a facelift.

Sydney plastic surgeon Dr Darryl Hodgkinson has

more than 30 years' experience in facelift surgery. With a

philosophy to leave his facelift patients looking and feeling

like themselves – only more youthful, refreshed and vibrant

– Dr Hodgkinson is skilled in a variety of facelift techniques

and takes an individualised approach with each patient.

One patient, Trish Riley, who has worked with Dr

Hodgkinson as a theatre sister for the past six years, has

recently undergone a facelift procedure by him.

'It has been two months since surgery,' says Trish. 'I'm

very pleased with the results and the best thing is, people

don't realise I've had it done. They look at me and say, "You're

looking great" but can never pick what has changed.'

As part of the ageing process, fat pockets in the midcheeks

tend to loose volume and drop, leading to sagging

jowls. This is accompanied by shrinking of the facial skeleton

and a weakening in the skin's structure, contributing to

wrinkles, deeps folds and a loss of skin resilience. A facelift

is a surgical procedure that elevates and re-drapes the

facial skin and its underlying structures to eliminate this

drooping effect.

In Trish's case, she simply wanted her appearance

rejuvenated, something she believes is an important career

move. 'I felt like I was beginning to look more and more like

my mother – not that there's anything wrong with that! I just

felt my appearance needed refreshing,' she says. 'I think

keeping up appearances is important in order to stay in the

workforce for longer.'

In preparing for her surgery, Trish had consultations with

Dr Hodgkinson to address her areas of concern, establish

her expectations and discuss what results were possible.

Before the operation, pre-operative photographs were

taken and Trish was marked up for surgery.

During a face lifting procedure, incisions are made along

the hairline, or in the crease in front of and behind the ear, and

under the chin. Dr Hodgkinson typically combines a deep

plane facelift and neck lift, where the fat, muscles and skin

are re-suspended to create a more youthful-looking neck

and jaw contour. It is important that the skin is re-draped

gently across the newly sculpted tissue, to avoid any tension

at the incision sites and reduce the risk of scarring.

Two months after my facelift, I

know it's one of the best things

I've ever done for myself

Post-operatively, facelift patients generally experience

swelling, mild bruising and some numbness. Trish found

her recovery to be more comfortable and less debilitating

than she expected.

'I needed paracetamol in the fi rst fi ve days following the

operation. The fi rst 24-48 hours were very quiet; I couldn't

move my mouth much and there was some discomfort and

tension around my cheeks,' she explains. 'I went back to

work 10 days after my operation. I was a bit swollen but

only had one minor bruise on my chin.'

116 www.cosbeauty.com.au
---
face

Now, two months after her operation, Trish is pleased with

the results and happy with her decision to undergo surgery:

'My jaw line is more defined and the wrinkles in my neck are

reduced. Every day, as the swelling goes down, the results

keep getting better.'

Dr Hodgkinson takes a holistic approach when it comes

to facial rejuvenation and often combines procedures

such as a facelift, brow lift, neck lift, eyelid surgery, skin

resurfacing and cheek or chin implants to create the best

results possible for facial harmony and balance.

In taking an individualised approach, Dr Hodgkinson

works with each patient to determine their concerns and

establish the best way to achieve natural- and youthfullooking

results.

'Because I'd worked with Dr Hodgkinson for six years,

I was confident in his expertise in creating a naturallooking

facelift,' Trish explains. 'I may not have considered

surgery if I hadn't worked in the industry, but I'm so happy

I did because it's one of the best things I've ever done for

myself.' csbm

BEFORE

Two months AFTER facelift by Dr Hodgkinson

BEFORE

Two months AFTER facelift by Dr Hodgkinson

www.cosbeauty.com.au 117
---
face

Bespoke beauty

Sydney facial surgeon Dr Paul Gerarchi says an

individualised approach to facial rejuvenation is key to beautiful,

natural-looking results. Tara Casey reports.

Any facial surgery should enhance a person's

features while maintaining their individuality. 'I firmly

believe in adopting a tailored approach to facial

surgery, paying particular attention to the individual features

of each patient and their desired results,' says Sydney facial

surgeon Dr Paul Gerarchi.

A key component in achieving natural-looking results is

to find a surgeon skilled and experienced in facial surgery.

Of equal importance is selecting a surgeon with whom

the patient feels comfortable discussing his or her issues,

expectations and desired outcomes.

'Patients looking to undergo facial surgery – whether a

facelift, necklift or rhinoplasty – should feel they can talk

openly and honestly with their surgeon and confident they

can achieve the desired result,' says Dr Gerarchi.

With age, the appearance of the face changes in three

key ways. First, the skin loses its elasticity and ligaments

lose their tone, causing the face to descend and sag.

'The cheeks fall, deep nasolabial folds appear, jowling

and laxity in the neck occur, and fat begins to accumulate

under the chin,' Dr Gerarchi explains. 'The muscle in the

neck also starts to weaken, producing distinctive horizontal

(platysmal) bands.'

Second, facial volume starts to deplete with age, which

can be particularly evident in the cheek area and around

the chin.

'I often combine a microfat fat transfer procedure with

a facelift in order to increase the volume of the cheeks

and other areas of the face that have become deficient,'

explains Dr Gerarchi.

Third, the quality of the skin itself deteriorates due

to intrinsic and extrinsic ageing. 'To help iron out any

pigmentation, fine wrinkles and some of the deeper

wrinkles, a fractionated carbon dioxide laser can rejuvenate

the skin and help restore overall freshness to the face.

'By paying attention to these three areas of the ageing

face, we can restore contours and angles of the face to

revitalise both the patient's appearance and their selfconfidence,'

says Dr Gerarchi.

Facelift and necklift

Facial surgery deals with the intrinsic ageing that occurs in

the facial shape. By paying attention to the three areas of

the face – the skin, volume and face shape – we can restore

contours and angles of the face to revitalise the patient's

appearance and confidence.'

Facial surgery can restore

contours and angles of the face to

revitalise the patient's

appearance and confidence

All of Dr Gerarchi's face- and necklifting techniques

involve repositioning the superficial musculoaponeurotic

system (SMAS) and deeper plane. 'In order to achieve

a natural-looking result, it's important to resuspend the

structures beneath the skin, and then just allow the skin to

re-drape in a non-tensioned fashion over the re-elevated

and rejuvenated deeper structures of the face,' Dr Gerarchi

explains.

The SMAS technique concentrates on the underlying

connective tissue and muscle layer of the facial anatomy

known as the superficial musculoaponeurotic system. By

tightening this foundational tissue before repositioning

and removing excess skin, the shape of the face can be

improved without creating noticeable tension.

The neck is another area that often betrays an aged

appearance. 'Over time, the jaw loses definition and fat

accumulates under the chin,' Dr Gerarchi explains. 'The

skin loosens and the angle between the chin and the throat

118 www.cosbeauty.com.au
---
face

can no longer be seen well. The neck may also develop

prominent bands as the platysma weakens.'

Dr Gerarchi tailors his approach to necklifting depending

on the exact concerns of each patient, such as the degree

of laxity, skin excess and extent of fatty tissue, as well as

any other concerns they may have. He targets the deeper

SMAS, as well as tightens the muscles at the anterior part

of the front of the neck. 'Tissue and skin are elevated to

a more youthful position. Resultant scars are usually

inconspicuous and fade significantly over time. Importantly,

the effect achieved with comprehensive necklift surgery is

long lasting,' he says.

1

BEFORE

AFTER face, neck and mid-face lift by Dr Gerarchi

2

BEFORE

AFTER facelift, necklift and fat transfer by Dr Gerarchi

www.cosbeauty.com.au 119
---
face

Rhinoplasty

'Creating a nose that is suited to each patient comes down

to three steps: knowing the limitations of what can be

achieved in that patient whilst still achieving an excellent

outcome; really listening to a patient's desires; and by using

computer imaging to help the patient visualise how their

appearance will change,' Dr Gerarchi explains.

To achieve optimal results that are in proportion with

the patient's other facial features, Dr Gerarchi believes

a heightened aesthetic sensibility is essential. 'I also use

digital imaging to show how the nose will most likely look

after surgery, which helps the patient and surgeon to

discuss (and see) what's achievable,' he adds.

Dr Gerarchi performs the majority of his rhinoplasty

procedures using the open technique: 'Because the inner

structures of the nose are exposed, the surgeon has

greater visibility than with closed rhinoplasty, and is able to

work with more precision and freedom. Open rhinoplasty is

therefore often chosen for more complicated cases, where

considerable work may be required in order to achieve the

desired outcome.'

'The open technique is all about longevity and preserving

the appearance and structure of the nose for the longer

term,' Dr Gerarchi concludes. csbm

3

BEFORE

AFTER revision rhinoplasty by Dr Gerarchi

4

BEFORE

AFTER rhinoplasty by Dr Gerarchi

120 www.cosbeauty.com.au
---
FACE & NECK LIFTS.

RHINOPLASTY.

EYELID SURGERY.

Dr Paul Gerarchi

FACIAL AESTHETIC SURGEON

EXPERIENCE & QUALITY

The Face Institute

Phone 02 9412 4599

Suite 4, 12 -14 Malvern Avenue

Chatswood NSW 2067

www.thefaceinstitute.com.au
---
face

in

profile

Sydney plastic surgeon

Dr Warwick Nettle explains how

nose reconstruction improved

both the appearance and

function of this patient's nose.

AimÉe Surtenich reports.

Nose reconstruction can do more than change a

person's look – it can also change their outlook.

When someone has lived with a nose they don't

feel comfortable with, have chronic difficulty breathing or

have a nose that doesn't fit their personality, rhinoplasty can

significantly boost a person's self-esteem.

'An abnormally shaped nose can affect a person

psychologically,' says Sydney plastic surgeon Dr Warwick

Nettle. 'Often this can go beyond simply feeling insecure

about your looks and stem from a lifetime of experiences

and adverse reactions from other people.'

In this case study, for example, the patient felt his 'boxerlike'

nose belied his true personality. Having suffered trauma

to his nose at seven years old, he had become used to

people making false assumptions about him based on his

appearance. This was a particular concern to him as a

customer service representative.

'The flattened appearance of his nose was further

accentuated by a very prominent chin, which he was teased

about throughout his youth,' says Dr Nettle.

Additionally, due to the structural problems of his nose

and resultant blockages, the patient had difficulty breathing.

He wanted a dual outcome: to be able to breathe normally,

and to have a more proportionate nose and chin to achieve

a more pleasing overall facial aesthetic.

Appearance and function

Cosmetically, injury to this patient's nose as a child and

numerous nasal reconstructions prior to visiting Dr Nettle

had left him with a misshapen and 'smashed-in' nose.

Functionally, there was a significant deformity of the

internal nose – including the bridge, nasal cartilage and

airway – which made breathing through the nose difficult.

'Nose reconstruction is as much about improving a

patient's breathing and functionality of the nose as it is

about creating a more balanced facial aesthetic,' says Dr

Nettle. 'In this case, revision rhinoplasty was necessary to

make both functional and cosmetic changes to correct the

outcomes of his previous surgeries.'

The procedure is more complicated than primary

rhinoplasty, and patients should choose a surgeon who

has extensive experience in revisions. 'This is inherently

a difficult procedure, striving for the complex interrelationships

between structure and breathing functionality

and proportion and shape to create facial balance and

harmony,' he says.

The exact procedure will vary from one patient to

the next, and the issues that need to be corrected will

vary. Some people require minor touch-ups, while other

cases are more complicated and involve deformities of

the underlying bones and cartilages, as was the case for

this patient.

'In revision rhinoplasty, the nose generally needs to

either be built up or shaved down,' Dr Nettle explains.

'More often than not, as in this patient's case, it needs to be

built up as excessive tissue has been removed.'

If this occurs, it's preferable to use the patient's own

material, ideally taken from the septum (midline cartilage in

the nose) as it is the most malleable. However, if it has been

removed in the primary rhinoplasty, ear cartilage and even

synthetic materials can also be used.

In this case study, Dr Nettle performed an open

rhinoplasty (where the incision is made at the base of the

columnella) to completely reconstruct the bridge, cartilage

and airway. He used the patient's septal cartilage as a type

122 www.cosbeauty.com.au
---
face

of scaffolding to give structure and strength to the nose, as

well as ear cartilage to improve the nasal tip.

'Open rhinoplasty involves carefully working with the

inner structure of the nose. This commonly involves

straightening the septum, reducing the size of the turbinates

(the small bones which control and humidify airflow) and

valves without affecting how the patient breathes or, in

cases where the function of the nose was an initial concern,

enhancing their breathing ability,' he explains. 'I perform the

majority of my nose surgeries using the "open" technique.

I believe it affords greater control when manipulating the

underlying bones and cartilages, as well as better longer

term results.'

In the same surgery, Dr Nettle also reduced the size of

this man's chin to create a more balanced appearance. 'In

a lot of cases, we build up the chin using a chin implant to

make a large nose look smaller, but in this case we wanted

to create the opposite effect. Through an incision made in

the natural crease of the chin, I removed excess soft tissue,

muscle and fat to slim down his prominent chin and make

his nose appear larger.'

The procedure was performed under general anaesthetic,

lasting around three-and-a-half hours. The patient stayed

overnight and went home with a splint on his nose, which

he wore for about five days. Stitches were removed on day

six and he returned to work within two weeks.

Dr Nettle said his patient is extremely happy with his

results: 'He feels like the shape of his nose no longer

dominates his appearance and he can finally breathe

properly! It really has offered him a new lease on life.'

'Importantly, the aesthetics of the face aren't dependent

on one or two facial features; it's about how these features

complement and enhance each other, as well as the

patient's personality. By reconstructing this patient's nose

and reducing the size of his chin, we were able to create

better facial harmony, which is one of the most important

and fulfilling aspects of any face surgery procedure,' Dr

Nettle concludes. csbm

BEFORE

AFTER revision rhinoplasty and chin reduction surgery by Dr Nettle

BEFORE

AFTER revision rhinoplasty and chin reduction surgery by Dr Nettle

www.cosbeauty.com.au 123
---
face

let's

hear it

for the

boys

Skin Clinic@Blyss offers a

range of targeted treatments to

rejuvenate the male complexion.

Caitlin Bishop reports.

Keeping up appearances and warding off the signs of

ageing can be important for a number of reasons,

not least the confidence that comes with looking as

young, healthy and vibrant as you feel.

But it's not just the domain of women. As cosmetic

treatments continually move from marginal to mainstream,

more and more men are seeking 'a little help' to hold back

the signs of ageing and stay competitive in the workforce

for longer, among other reasons. According to statistics

from the American Society of Plastic Surgeons, the number

of cosmetic procedures performed on men has increased

more than 106 percent over the past 15 years, with similar

trends seen here in Australia.

Skin Clinic@Blyss, located in Clovelly, in Sydney's

Eastern Suburbs, has heeded the rise in male cosmetic

procedures by recently introducing 'Man Time', a timeslot

solely dedicated to treating males with a range of

specialised skin rejuvenation techniques.

'We've implemented "Man time" at Blyss to change the

feel of what is traditionally seen as a female domain,' says

Jodie King, who established Skin Clinic@Blyss15 years

ago. 'Some common male concerns include blackheads

or congestion of the skin, shaving rashes or irritations,

and acne, which is often more severe in men due to their

higher levels of testosterone.'

The differences between male and female skin call for

a different approach to skin therapy and rejuvenation. The

practitioners at Skin Clinic@Blyss are expertly trained in

providing the best treatment for individual skin types.

'Men have an oilier and thicker skin (up to 25 percent

thicker) than women, therefore it can be much more robust,'

King explains. 'Also, as men are constantly shaving and are

less likely to protect their skin with sunblock or hydrating

products, a different treatment approach is needed to gain

the best results.'

Non-invasive treatments, which incur minimal or no

down time, are popular options for men hoping to boost

skin health and combat signs of premature ageing. For

example, microhydrabrasion – a two-part exfoliation

technique – is effective in cleansing and unclogging the

124 www.cosbeauty.com.au
---
skin, while certain light therapies, such as LED or Intense

Pulsed Light (IPL), stimulate cellular activity in the dermis to

improve the appearance of photoaged skin.

'The male skin responds very well to any resurfacing

treatments, unclogging pores and brightening the skin,'

King explains. 'Most people these days, including men, do

not want downtime following a treatment. For this reason,

microhydrabrasion is one of our biggest male procedures

as well as LED treatments and IPL for treating vascular

lesions, pigmentation, rosacea and large pores'

As is evident in the 'Man Time' innovation, the practitioners

at Skin Clinic@Blyss understand the importance of

discretion when dealing in cosmetic procedures. King

says the therapists aim for a 'fresh, not frozen' look and

are experienced in using anti-wrinkle injections, platelet rich

plasma (PRP), IPL therapy and chemical peels to achieve

effective, but natural-looking, results.

We have recently implemented

'Man time' at the clinic, to change

the feel of what is traditionally

seen as a female domain

'When performing anti-wrinkle injections, we prefer to

use smaller amounts of product so the patient's expression

is not restricted,' King explains. 'Treatment with PRP is

another viable option for improving tone and texture by

utilising the body's natural cells. PRP is an extract of growth

factors from the patients' own blood and is injected to

regenerate skin at a cellular level.'

Notably, the team at Skin Clinic@Blyss takes a holistic

approach to skin rejuvenation. With each treatment, advice

on optimising results through home care and possible

lifestyle measures ensures each patient gains the utmost

from their in-clinic procedure.

'As well as a balanced diet, reducing alcohol consumption

and quitting smoking, we recommend each client has a

strong skincare

pure

regimen, which includes

blyss

a good quality

physical sunblock, antioxidants and Vitamin A,' King says.

click

here

Off

www.cosbeauty.com.au

Put your best

face forward with

Skin CliniC

Specialising in advanced non-surgical

treatments for problem skin, anti-ageing,

and damaged skin, Blyss Skin Clinic Clovelly

uses the latest technology in medical

needling, iPl, Photofacials, resurfacing and

ionzyme treatments. our highly qualified

skin care therapists have been achieving

amazing results for over 15 years using

trusted techniques.

our relaxed and discreet atmosphere will

leave you feeling refreshed and confidant.

treatments

• ionzyme treatments

• Platelet-rich Plasma

• lED Photofacials

• iPl Photorejuvenation

• Photodynamic therapy

• Facials

• resurfacing

• Dermaroller

• Anti-wrinkle injections

• Dermal Fillers

• Eye treatments

'A good skincare routine, individually tailored according to

skin type, plays a big part in maximising the outcomes of • Permanent hair

our treatments.' GeT yOur friends TO like us On facebOOk and yOu reduction will receive (iPl)

Whether it's to maintain a career trajectory or even to

• Electrolysis

boost luck in the dating scene, cosmetic treatments can

30% facial TreaTmenTs *

• waxing

help brighten and refresh the complexion in both male and

female skin. fOr Skin yOu Clinic@Blyss and yOur offers friends a holistic, whO professional 'like' us. help us reach 200 likes!

and personalised approach to skin rejuvenation, keeping

each patient's concerns, desires and expectations foremost

in their approach to achieving optimal results. csbm

phone 02 9664 8011

shop 2/214 clovelly road,

clovelly Nsw 2031

www.blyssclovelly.com.au

TreaT DaD This

FaTher's Day To The

King For a Day 'Man
---
feature face

great

skin at

any age

Sydney facial plastic surgeon

Dr William Mooney shares his

'layer cake approach' to skin

radiance and facial rejuvenation.

AimÉe Surtenich reports.

Face Plus Medispa by Sydney facial plastic surgeon

Dr William Mooney offers a bespoke selection of

the latest anti-ageing, skincare and facial aesthetic

treatments. It's a serene, modern and luxurious haven for

those looking to achieve the ultimate in skin health and

beauty – with natural-looking results that enhance, not

change, your individual look.

'Whether it's good quality skincare, laser skin resurfacing,

injectables or medical-grade facials, my philosophy to

achieving the best possible results involves what I refer to

as 'the layer cake' approach. In my experience, smaller,

incremental changes that target different layers of the

skin yield the most satisfying and natural-looking results,'

says Dr Mooney.

'Subtlety is key. 'Natural" is always going to be more

attractive than looking artificial or "too done",' he continues.

'By addressing the skin in layers, much like the cake

metaphor, we can correct areas of concern and get the skin

looking and functioning its best – for many years to come.'

At Face Plus, Dr Mooney and his team of qualified

nurses and aestheticians tailor an innovative treatment

menu according to each client's needs. 'We offer a free

skin assessment, whereby we discuss the current state

of the patient's skin, their areas of concern, the aesthetic

treatments most appropriate for them, as well as their

lifestyle habits.'

'Importantly, not everything has to be done at once;

patients can pick and choose from their customised

menu the treatments or skincare products they wish to

use according to their wishes and budgets. We draw up a

Dr Mooney's top 3 tips

when visiting a medispa

1. Go somewhere reputable, with a highly skilled

and experienced team that offers the whole

suite of cutting-edge, evidence-based aesthetic

treatments and results-driven skincare.

2. Aim for a natural look – smaller incremental

changes are paramount to achieving this.

3. Do something that's within your budget – stress

and worry are some of the biggest premature

agers around, so make sure your treatment plan

is within your means.

longer term treatment and skincare plan for them – what's

right for them in their 20s and 30s won't necessarily be as

effective in their 40s and 50s.'

According to Dr Mooney, the benefits of a long-term

anti-ageing skincare plan, incorporating smaller changes

into a person's beauty regimen now, can help avoid the

need for invasive cosmetic surgery and lengthy downtimes

further down the track, while also allowing them to retain

their natural look and individuality.

'The concept of waiting until gravity and the ageing

process have really taken hold is antiquated. Now, with

such advances in skincare and non-surgical treatments, we

can help turn back the clock on ageing, sun-damaged skin

126 www.cosbeauty.com.au
---
feature face

so that each client looks good for their age in their 30s, 40s,

50s and beyond,' he says.

The first step, says Dr Mooney, is to repair and optimise

the skin itself. 'There's no doubt that Australia has a beachloving

culture – but unfortunately all those years spent

baking in the sun become evident more and more over

time,' he explains. 'Sun-damage is the number-one culprit

of poor skin quality, especially among those 40 and older.

So, using the layer cake analogy, we first optimise the

surface of the skin to fix solar damage and improve nonuniform

skin, pigmentation, redness and dyschromia. Then

we start looking at correcting the deeper skin layers.'

'Whether you're in your 20s or 50s, we always start with

a skincare plan targeted to your particular needs, severity

of skin ageing and skin type. This always includes a good

quality broad-spectrum sunblock to help prevent further

damage,' says Dr Mooney.

skin care In your 20s

In your 20s, incorporating nourishing facials, such as the

Dr. Spiller Biocosmetics Enzyme Facial, into a skin treatment

program is beneficial to help even skin tone and texture,

improve acne and acne scarring, and enhance the overall

health and look of the skin.

skin care in your 30s

'In your 30s, it may be appropriate to start alternating facials

with laser skin rejuvenation,' says Dr Mooney. 'Face Plus

offers the Laser Genesis, a non-ablative laser that resurfaces

the skin and stimulates new collagen production. Not only

does it improve the general appearance of your skin but

it also reduces pore size and blackheads, targets active

acne, tightens skin, diminishes the appearance of scars

and reduces rosacea. Many people in this age bracket also

start to consider subtle use of injectables to minimise fine

lines and wrinkles.'

skin care in your 40s+

In this decade and beyond, the signs of ageing can really

begin to manifest. Loss of volume, skin laxity and deeper

lines and wrinkles on the face all become more noticeable.

With ageing, fat pads diminish in the face and can cause

hollowing in the cheeks, and a sunken or gaunt look.

Dr Mooney explains there are many innovative nonsurgical

treatments that can achieve significant results that

replace lost volume and turn back the clock.

'In addition to the Laser Genesis, the Titan skin tightening

laser targets the deeper layers of the skin to tighten, tone

and lift sagging, loose skin without surgery, while also

improving the condition of the skin and minimising fine lines

and wrinkles,' he says.

Platelet-rich plasma (PRP) therapy is another modality

the medispa offers. This is a treatment that harnesses the

patient's own blood platele ts to stimulate new cell growth.

Extracted from the patient's blood, platelet rich plasma

contains high concentrations of growth factors, which

are bioactive stimulators known to accelerate the natural

healing process. Injected into areas such as the face and

décolletage, PRP activates the skin's stem cells, enhancing

the formation of new collagen at the site. The result is a

natural rejuvenation from the inside out that continues to

improve over time.

'With PRP, we are enhancing the structure and integrity

of the skin from within,' Dr Mooney explains. 'Once we

have the optimised foundation for the skin, we may look at

addressing specific areas with fillers and muscle relaxants.

I find, though, after other skin rejuvenation techniques have

been employed such as PRP or laser therapy, a much

smaller amount of injectables is required to achieve the

best result.'

'Judicious use of injectable fillers can replace the

volume that has been lost – nothing more, nothing

less – we want you to look like "you", just years younger,'

he continues.

With a 'less is more' philosophy, Dr Mooney believes

the key to achieving – and maintaining – a youthful- and

natural-looking appearance is offering subtle, incremental

treatments tailored to each individual. csbm

www.cosbeauty.com.au 127
---
face

Building

beauty

from

within

Sculptra is a deep facial

injectable designed to fortify

facial structure and stimulate

collagen production in the

dermis. Caitlin Bishop reports.

As we age, the natural production of collagen slows,

resulting in a loss in volume and an increase in

skin laxity. By stimulating the production of dermal

collagen, and rebuilding the facial foundations, Sculptra

from iNova can regenerate the skin and refine facial

contours for a natural-looking, more youthful result.

Sculptra, which is a deep facial injectable, targets

the underlying causes of ageing in redefining the facial

structure and stimulating the production of new

collagen in the skin. Dr Kate Howsan from Queensland

explains this two-fold effect can achieve effective results

in facial rejuvenation.

'I believe Sculptra is the most potent collagen

stimulator we have,' says Dr Howsan. 'As we age, there is

a loss in the facial skeleton and deep fat. Sculptra is

effective in replacing this, to create a more youthful version

of the facial structure.'

Sculptra Aesthetic is made from poly-L-lactic acid,

which is biocompatible and biodegradable. Dr Howsan

128 www.cosbeauty.com.au
---
face

injects Sculptra deeply on to the bone, and explains the

product can be used on all areas of the face.

'The results are outstanding because Sculptra can be

injected so deeply; the product communicates with the

skin to produce collagen and create a youthful looking

glow,' she continues. 'It really is a global, whole face

treatment. I divide the face into upper, middle and lower

thirds to decide which areas need the most attention.'

As Sculptra settles into the tissue and begins to stimulate

the production of new collagen – or neocollagenesis – in the

dermis, the foundation of the face is fortified. This restores

volume and gradually counters the appearance of shallow

and deep facial wrinkles on the skin's surface.

I believe Sculptra is the most

potent collagen stimulator we

have; it regenerates skin and

fortifies the facial structure

'Because Sculptra builds upon the natural facial

foundations, it is applicable to a wide variety of cases,'

Dr Howsan explains. 'The skeletal and deep fat reduction

associated with ageing begins in the late 20s, though, due

to skin resilience and elasticity, the effects are generally not

seen until a decade later. I advise we begin to rebuild the

facial structure before the loss is even noticed. Optimum

results are usually seen in patients between 30 and 50

years of age.'

The amount of treatments needed varies between

patients, and is typically dependent on age. Dr Howsan

commonly recommends between five and seven vials of

product per patient, which would be administered over three

to four treatments, around six weeks apart.

During treatment, topical anaesthetic is applied

before injection, though Dr Howsan explains the

level of discomfort is not severe.

'Topical anaesthetic helps psychologically,

but I don't think it has too much effect on

the level of discomfort, simply because the

injections are so deep,' Dr Howsan explains.

'In my experience, the treatment feels more like

an ache, it isn't a sharp pain; it just feels like a

little bit of pressure applied to the bone.'

Following treatment, patients generally

experience some swelling – which usually gives

BEFORE

an indication of the final result, as the swelling

mirrors the pattern of the deeper injections.

Some redness, bruising and numbness can be expected

post-procedure, but Dr Howsan explains the downtime is

typically minimal. 'Because the injections are administered

so deeply, I find bruising is quite rare after Sculptra,' she

says. 'Some people can experience slight numbness but

most patients can return to work straight after treatment.'

The volumising, regenerative and refining effect

takes time to appear following treatment with Sculptra.

Neocollagenesis typically takes around 12 weeks to occur,

and patients can expect results to continue to improve in

the four to five months after the procedure.

Results typically last up to two years, and Dr Howsan

generally recommends re-treatment after 15 to 18 months.

In a more thorough approach to facial rejuvenation,

Sculptra can be used alongside other procedures for a

more universal result.

'I often use Sculptra in association with other modalities,'

Dr Howsan says. 'Sculptra cannot be used in the lip,

so I may use filler to plump the lips. Similarly, not much

Sculptra is used on the forehead so I will use fillers and

anti-wrinkle injections to counter fine surface lines in this

area. It is important to balance all aspects of the face, so

I commonly use a combination of injectables to achieve a

natural-looking, all-encompassing result.'

Sculptra simulates the body's natural regenerative

response and reforms a more youthful facial support

structure. It replaces lost collagen to boost skin integrity and

resilience, while also recreating more aesthetic contours.

'I like to explain it to my patients as a table and tablecloth

effect,' Dr Howsan says. 'The skeletal structure and

deep fatty tissue represent the table, and these elements

determine the state of the tablecloth. Using Sculptra,

the table is fortified and the tablecloth is refreshed and

rejuvenated also, in an all-encompassing and long-lasting,

anti-ageing effect.' csbm

25 months AFTER Sculptra treatment (5 vials)

Photos courtesy of iNova. Individual results may

vary. Photos untouched.

www.cosbeauty.com.au 129
---
face

The skin revolution

One pATIent shares how treatment with Infini helped improve her skin

tone and texture, counter skin laxity and refine facial contours.

Caitlin Bishop reports.

As the quality of collagen in the dermis deteriorates

with age, the resilience and integrity of the skin's

support structure declines also, leading to volume

loss, skin laxity and facial folds and wrinkles.

Seeking a solution to combat this process, Desi

approached the Australian Skin Face Body clinic in Geelong.

After an extensive consultation she was recommended

a new procedure, designed to leave the skin refreshed,

smoothed and volumised.

The Infini from Lutronic is new to Australian shores and

signifies the world's first dual-mode fractional radiofrequency

(RF) platform, delivering both microneedling fractional RF

and superficial fractional RF.

'My major concern was that, over time, I had begun to

lose volume from the fat pads in my face, which left me

with an aged appearance,' says Desi. 'Because Infini has

two modes, it grants rejuvenation both inside and out. I

therefore hoped it would improve both the contour of my

face and the texture of my skin.'

Infini is unique in its approach to treating both the

superficial and deeper layers of the skin. It combines

microneedling fractional radiofrequency (MFR) and

superficial fractional radiofrequency (SFR) to create a

stronger skin structure, and a firmer and more youthfullooking

complexion.

MFR uses insulated microneedles to deliver RF energy

to the dermis (the connective tissue layer of the skin located

below the epidermis). This causes controlled areas of

coagulation, or tissue shrinkage, and triggers the body's

natural healing response, promoting collagen production

without damaging the skin's superficial layers.

Complementing this, the SFR technology delivers

thermal energy via two channels to penetrate both the

epidermis and the dermis. SFR also provides micro ablation

on the skin's upper layers, to illuminate the complexion and

homogenise skin texture.

By combining radiofrequency energies, at different levels

in the skin, a thorough and effective regeneration can be

130 www.cosbeauty.com.au
---
face

achieved. This is complemented by the use of microneedles

in MFR, as microneedling, even without radiofrequency

technology, can stimulate collagen production in the dermis

and improve skin tone, structure and texture. In this unique

amalgamation of technologies and delivery levels, Infini

affords a 3-D facial rejuvenation.

'Infini treatments commonly address wrinkles, facial

and neck skin quality, and acne scars, though it's also

been tested on stretch marks and skin laxity,' says Dr

Calderhead, director of scientific affairs at Lutronic. 'Infini

Two to three weeks after one

Infini treatment I saw a

tightening and firming of my

skin and overall rejuvenation

is not the answer to everything, however it I believe it is a

bridge between non-surgical and surgical procedures.'

During treatment, multiple passes of the Infini are

performed to target different levels in the skin and address

the patient's skin complaints. More aggressive parameters

are used on areas of concern – for example to refine the jaw

line or combat wrinkles on the forehead.

'Before treatment, a dermal therapist examined my skin

and I explained the areas I really wanted to improve,' Desi

says. 'Going into treatment, my face was cleansed, dried

and I was given high-grade, topical anaesthetic. This was

left on for 45 minutes underneath a coating of cling wrap,

which was removed just before the treatment began. The

practitioner then methodically treated sections of my face,

using more aggressive settings on those areas I was most

concerned about.'

Similarly, the parameters are adjusted according to

the depth of targeted tissue. It is important to use lower

parameters on the skin's superficial layers, to avoid

damaging the epidermis, while higher energy is used to

trigger a healing response in the deeper dermal layer.

'In the first pass, the needle depth could be anywhere

between 0.5 and 3.5mm,' Dr Calderhead explains.

'Typically, females have 2 to 2.5mm of facial skin, so we

would normally start at 2mm for the cheeks and 1.5mm for

areas over bony tissue. After the first pass, the physician

will go to the next depth, which might be 1mm deep, and

use slightly lower parameters.'

Patients can generally expect some swelling, redness

and sensitivity in the days following treatment. In some

cases, Infini will induce mild bruising – particularly under

the eyes.

Dr Calderhead recommends some aftercare following

the procedure, to optimise results and assist in healing.

'The tiny microneedle wounds should heal within 12

hours, so the patient can go home and gently wash at

night before giving themselves a thorough wash the

following day,' Dr Calderhead says. 'We discourage

patients from using aggressive cleansers or any products

containing powerful scrubbing agents for a couple of weeks

following treatment.'

As with most non-invasive therapies, multiple

treatments are generally required to achieve the desired

outcome. Typically, two treatments, four weeks apart, are

recommended for optimal results, though patients will often

select to undergo more treatments to further enhance results.

According to Dr Calderhead, new collagen fibres begin

to form around four weeks after treatment and results from

Infini should be evident within 10 weeks.

Desi chose to undergo four treatments with Infini

and now, as the results of new collagen production and

remodelling become clear, she is more than satisfied with

the results.

'Even after one Infini treatment, I noticed a difference in

my complexion,' she says. 'After two to three weeks I saw

a tightening and firming of my skin. I've found it to be a

fantastic treatment for overall facial rejuvenation.' csbm

BEFORE

BEFORE

BEFORE

AFTER acne scar treatment with Infini.

Courtesy of S. Savant, MD, India

AFTER scar revision with Infini. Courtesy of

Devrim Gursoy, MD, Turkey

AFTER skin laxity treatment with Infini.

Courtesy of Devrim Gursoy, MD, Turkey

www.cosbeauty.com.au 131
---
Introducing

INFINI

Sydney plastic surgeon Dr Darryl Hodgkinson says the non-surgical

Infini treatment uses breakthrough technology to deliver amazing

results for all skin types.

Infini is a non-surgical, minimally invasive treatment to

induce skin tightening, skin remodelling, as well as collagen

and elastin stimulation for optimal skin rejuvenation.

Recently introduced to Australia – and currently only

available in NSW at the Cosmetic and Restorative Surgery

Clinic – Infini from Lutronic is the world's first 2-in-1 fractional

radiofrequency (RF) platform, capable of delivering both

microneedling fractional RF and superficial fractional RF.

In my experience, what makes INFINI different to other

fractional radiofrequency systems is that it provides complete

control over treatment depth and energy levels to enable a

multi-layered treatment approach with no electrothermal

damage to the skin, making it a treatment that can be used

year round as opposed to some treatments which are best

avoided in the summer months.

Infini's two handpieces allow for the delivery of the RF

energy to be precisely targeted and controlled into a specific

layer of the dermis up to 3.5mm in depth. csbm

One machine, two treatments

Infini MFR. Micro needling fractional radiofrequency

(MFR) has fine needles which puncture the skin

to deliver the radiofrequency to the deeper levels

of the dermis, providing a 3-D delivery of energy

to maximise skin volumisation while dramatically

tightening and rejuvenating the skin.

Infini SFR. Superficial fractional radiofrequency

(SFR) employs a minimally invasive delivery of

radiofrequency to the epidermis and dermis for

resurfacing the skin and stimulating the production of

collagen for more toned and refined skin.

By combining both technologies, Infini targets the

superficial and deeper layers of the skin and can be

tailored to address a variety of skin concerns.

Infini treatment can

be used for:

• Photoaged skin

• Skin rejuvenation

• Skin tightening and lifting

• Skin laxity

• Large pores

• Active inflammatory acne

• Acne scars

• Excessive sebum secretion

BEFORE

AFTER treatment with Infini

(photo courtesy of Franco Lauro, MD, Italy)

132 www.cosbeauty.com.au
---
face

Energise

your skin

Healite II from Lutronic

can rejuvenate the skin and

accelerate healing after more

invasive procedures. Caitlin

Bishop reports.

Healite II is a therapeutic system that boosts skin

health, heightens cellular activity, increases blood

flow and stimulates collagen production in the

dermis. It calls upon light energy to kick-start cellular

processes in the skin and underlying tissue. It is effective in

facial rejuvenation and commonly used to optimise healing

following more invasive procedures.

The system, by medical device company Lutronic and

distributed by Allure Medical Group, harnesses light energy

at a certain wavelength to stimulate cellular activity and

enhance microcirculation. Blood, oxygen and nutrients

flood the treatment area, increasing cellular activity for a

non-ablative, and painless, skin rejuvenation. Healite II is

used to help treat active acne, reduce the appearance of

wrinkles, scarring and photoageing, and improve skin tone,

texture and luminosity.

134 www.cosbeauty.com.au
---
face

Treatment

Rejuvenation with Healite II uses both yellow and infrared

light. The yellow light, at 590nm, is designed to 'precondition'

the tissue before treatment with infrared, at 830nm. This

'preconditioning' enhances dermal responsiveness and

maximises treatment effi cacy.

During treatment, the fi rst minute involves only yellow

light, which targets the epidermis. Following this, infrared

is introduced to afford deeper penetration. Total treatment

time with Healite II is 11 minutes.

'Yellow light is delivered at a low intensity and low dose

to activate cells in the epidermis,' explains Dr

Glen Calderhead, director of scientifi c affairs

at Lutronic. 'We aim for keratinocytes and

merkel cells, as both of these are highly

endowed with mitochondria – which release energy.

Following this, the infrared at 830nm is introduced. This

penetrates the deeper dermis and beyond.'

Healite II uses a system called 'optical lens array

technology' to concentrate the light energy and achieve

faster, effective and consistent results.

'Optical lens array technology allows us to achieve the

optimum level for tissue regeneration, which is 60 joules

per square centimetre, more quickly,' Dr Calderhead says.

'Studies have shown greater light concentration, over a

shorter time period, induces a signifi cantly higher increase

in cell activity compared with other systems. Eleven

minutes with Healite II, compared with 20 minutes with

another system, is good for the patient and for the doctor.'

Healing benefits

Because Healite II is considered a therapeutic and healing

treatment, it is commonly used following more invasive

procedures such as laser treatment or cosmetic surgery.

It assists in reducing post-procedure bruising, swelling and

redness and can help prevent scar formation. Because of

its regenerative properties, Healite II can help maximise

results and minimise recovery time after certain procedures.

Yet the benefi t of Healite doesn't end at the treatment

site. Dr Calderhead explains Healite II has a systemic effect

that can impact the body as a whole.

'Healite II incurs a larger systemic effect due to blood

fl ow,' Dr Calderhead says. 'During treatment, all sorts of

interesting photoproducts, such as growth factors, are

produced. These get picked up in the blood and carried

throughout the body. Patients leave a treatment feeling

revitalised and relaxed.'

About Healite II

Non-invasive Low-Level Light

Therapy

Skin rejuvenating treatment

Powerful enough to penetrate the

dermis and beyond

Works at a subcellular, cellular and

tissue level

Can be used alone or as an

adjunct to therapy such as PDT

Can help in wound healing, hair

regrowth, facial rejuvenation and

treating active acne

Long-term results

Arguably, one of the most remarkable results of treatment

with Healite II is the way it boosts the body's natural

reservoirs of anti-ageing constituents. When it targets

fi broblasts (which produce collagen and elastin), Healite

II doesn't just improve skin structure but also boosts the

reservoir of collagen-producing stem cells. Similarly, the

infrared light triggers the release of antioxidants in the

dermis, which provide protection against UV stress.

'When the infrared light hits mast cells in the dermis, they

release a product called Superoxide dismutase (SOD),' Dr

Calderhead says. 'This is a super antioxidant that remains

in the tissue for up to six months. The minute you're

exposed to some UV oxidative stress, the damaging effect

is quenched because the SODs are waiting.'

Treatment with Healite improves skin radiance and

fuels the body with energising cellular activity. By targeting

the body's natural regenerative processes, Healite II

enhances skin structure, texture and resilience. 'Healite II

improves skin health, stimulates collagen production and

increases cellular activity. The great thing is; the skin is

doing it naturally, Healite II just accelerates the process,' Dr

Calderhead concludes. csbm

For more information visit alluremedical.com.au

www.cosbeauty.com.au 135
---
face

Face

of the

future

The Angel Lift uses your own cells

to restore volume and revitalise skin.

AimÉe Surtenich reports.

Used in medical applications the world over for tissue

rejuvenation, sports medicine and advanced wound

care, platelet-rich plasma (PRP) treatment such as

the Angel Lift is gaining popularity across the globe for its

ability to restore volume and rejuvenate the skin.

Platelet-rich plasma is a biological skin rejuvenation

treatment that uses the patient's own cells (in the form

of platelet-rich plasma) to repair and regenerate new skin

tissue and increase collagen production.

Extracted from the patient's own blood, PRP spurs the

skin's stem cells into action and contains high concentrations

of growth factors, which are bioactive stimulators known

to accelerate the natural healing process. Injected into

areas such as the face, décolletage and upper arms, PRP

triggers the skin's stem cells, enhancing the formation of

136 www.cosbeauty.com.au
---
face

new collagen at the site. The result is a natural rejuvenation

that continues to improve over time.

While it's possible to use a range of devices to extract

and concentrate PRP, a growing body of research suggests

that the actual concentration of platelets in the PRP is

critical to achieving optimal results.

Recently introduced to Australia, the Angel Whole

Blood Separation System used in the Angel Lift employs

cutting-edge technology to extract only the highest quality

and concentration of platelets. This customisable cellseparation

technology affords clinicians greater control over

the platelet concentrations they use, enabling them to tailor

treatment to each patient's individual needs.

Platelet-rich plasma treatment

uses the patient's own cells to

regenerate new skin tissue and

increase collagen production

The Angel Lift is suitable for full-face rejuvenation,

treating fine lines and wrinkles, improving skin tone, texture

and contours, and adding lost volume.

'In my experience, the Angel PRP system achieves a

highly effective regeneration of connective tissue,' says

Sydney facial plastic surgeon Dr William Mooney. 'As a

result of Angel's rich platelet count, patients are seeing

restored volume in their skin, greatly improved skin texture

and tone, improvement to their fine lines and wrinkles, as

well as improved facial contours.'

During the procedure, blood is taken from the patient,

spun in the Angel Whole Blood Separation System

centrifuge to extract the platelets, before being reinjected

into the treatment area. There, the activated platelets

release growth factors, which facilitate cell growth, the

formation of blood capillaries and, most importantly, the

building of new collagen.

In order to be effective in activating stem cells, the

injected PRP concentration must be four to six times the

patient's whole blood platelet count. The Angel system

achieves this benchmark using a double spin centrifuge

system, while also affording an individualised approach to

skin rejuvenation. 'PRP is an exact science and cannot be

guessed,' Dr Mooney says. 'Angel separates the red blood

cells, white blood cells, plasma and platelets into separate

compartments, enabling the clinician to design the exact

recipe required for the condition of the skin presented.'

The fragile nature of platelets means injections must

be performed with care and precision. The injections

themselves are necessary because, in order to function,

the growth factors in PRP must connect to cell membrane

receptors below the skin. The method of injection can also

be suited according to patient concerns; injections into the

subcutaneous tissue can be effective in restoring volume,

while shallow injections can improve the appearance of

lines and degenerated skin texture.

An added advantage of the Angel Lift is that the higher

concentrations of platelets mean results can be achieved

in fewer treatments. 'With Angel, patients are seeing more

significant results that are visible sooner,' Dr Mooney

explains. 'This is because Angel produces very rich PRP

concentrations – up to six times the body's blood platelet

count – which stimulates stem cells in the skin. We are

also noticing patients require fewer treatments to see

improvement in their collagen and elastin.'

The procedure itself takes about an hour and some

patient preparation is required. It is important to be hydrated

on the day of the procedure, as this makes it easier to take

blood from the arm. 'We will review a patient's medical

history before proceeding with the treatment and apply

topical anaesthetic or local anaesthetic if required,' says

Dr Mooney. 'A face rejuvenation will take approximately 45

minutes, however larger areas such as the upper arms may

take longer.'

Results are typically seen after one treatment, and will

continue to improve over time. After this, maintenance

treatments are usually recommended annually, although,

depending on the patient's skin complaint, a series of

treatments closer together may be recommended.

There is typically minimal downtime and, because the

patient produces their own treatment serum (their own

blood plasma), the risk of allergy or transmissible diseases

with the Angel Lift is non-existent.

Using technology that allows for an individual approach

to facial rejuvenation, Angel's system is designed to be

time-efficient and effective, flexible in treating different

conditions and precise in tailoring each treatment to the

patient. The blood volume separation can be adjusted

according to patient concerns, and the double centrifuge

system ensures a high concentration of platelets will induce

effective results with minimal downtime.

It's useful for full-face

rejuvenation, treating fine lines

and wrinkles, improving skin

tone and adding lost volume

The Angel Lift triggers a natural rejuvenation from

within the skin, to brighten the complexion, improve the

appearance of fine lines and wrinkles and boost the skin's

support structure. 'I believe treatment with Angel PRP is an

effective option for anyone looking to improve the integrity

and overall look of their skin,' Dr Mooney concludes. csbm

www.cosbeauty.com.au 137
---
Platelet

Rich

Plasma:

The Gold

Standard in PRP

Only Angel PRP offers

customisable cell

separation for superior skin

rejuvenation results.

Angel PRP brings the most

sophisticated autologous PRP system

to Australia. It uses cutting edge

technology to extract the highest

concentrations of platelets for

long-lasting skin rejuvenation.

• Whole face rejuvenation

• Crow's feet and heavy eyelids

• Frown lines and wrinkles

• Lower face, jaw and lip lines

• Chest, neck ageing and lines

• Hands, upper and lower arms

• Legs, thighs, knees

• Abdomen, post-pregnancy and

skin tightening

• Legs, thighs, knees

• Loss of elasticity and collagen

• Post-surgery healing

• Sports medicine

info@medtel.com.au

Call Medtel – Regenerative Medicine

for more information

1300 886 385

www.medtel.com.au • www.prprejuvenate.com • www.cytomedix.com
---
face

tailored

results

Skin Renu clinic offers a combination of minimally invasive treatments

to rejuvenate the ageing face. Tara Casey reports.

Ageing is a multi-faceted process, and can result in

a number of changes to the appearance, including

the emergence of fine lines, wrinkles, discolouration,

surface veins and lax skin. At Skin Renu laser and skin

clinic in Sydney, the staff take a holistic approach to antiageing

and skin rejuvenation, not only offering patients a

range of procedures to achieve the results they desire, but

also offering skin cancer checks to ensure skin retains its

optimum health and radiance. By targeting each of the

concerns together, patients can look forward to an overall

rejuvenated appearance.

'It makes sense as sun-lovers here in Australia to

incorporate skin heath with rejuvenation treatments,' says

Dr Nada Kolak, one of Skin Renu's doctors. 'Healthy skin is

beautiful skin. I like to make sure beauty is more than skin

deep and to this end I offer all my patients skin checks.'

Given each age group has its common skin concerns,

an experienced therapist who is familiar with procedures

utilising the latest proven technology can help achieve the

skin radiance a client is seeking.

The Thermage non-surgical skin tightening system

is one treatment the clinic employs to tighten existing

collagen and stimulate the production of new collagen. The

treatment can be used to address issues such as skin laxity

and fine lines. Thermage can strengthen existing collagen

and stimulate the production of new collagen to renew

contours and improve the texture of the skin's surface.

According to Dr Kolak, the results of this non-invasive

treatment vary from subtle to dramatic, depending on the

individual person and the extent of ageing.

Dr Kolak views injectables as another cornerstone of

anti-ageing treatments. Volume loss and wrinkles are some

of the major and inevitable changes that occur to our faces

over time. Fillers and muscle relaxants can help restore

facial volume, add contour to the face and relax away

wrinkles and fine lines.

A series of injectable wrinkle treatments to soften lines

and prevent new ones forming can be performed in the one

visit. These are particularly beneficial for correcting frown

lines and crow's feet at the corners of the eyes.

The goal is improve the client's

appearance in a natural way

so they look refreshed rather

than overworked

Experienced injectors such as Dr Kolak say their goal is

to improve their client's appearance in a natural way so that

friends and family see a refreshed rather than overworked

result. Skin Renu's philosophy is to improve a person's

appearance, not change their overall look.

'To achieve a refreshed, natural-looking result, subtlety

is the key,' says Dr Kolak. 'Non-surgical anti-ageing

combination therapies which offer little or no downtime

can effectively help delay the signs of ageing and turn back

the clock to reveal a more healthy and beautiful-looking

complexion.' csbm

www.cosbeauty.com.au 139
---
cosmetic tattoo

RESTORING

CONFIDENCE

SYDNEY COSMETIC TATTOOIST

RITA PORRECA SAYS PERMANENT

MAKEUP AND RESTORATIVE COSMETIC

TATTOO TECHNIQUES CAN ENHANCE

BEAUTY – AND SELF-CONFIDENCE.

AIMÉE SURTENICH REPORTS.

Permanent makeup has become a well-known and

popular treatment in the beauty industry, but the

benefi ts of cosmetic tattooing extend well beyond

enhancing facial features.

Medical tattooing

Cosmetic tattooing can also be useful for people recovering

from a medical condition or procedure. According to

Sydney cosmetic tattooist Rita Porreca, paramedical tattoo

techniques are often used to recreate the areola of women

who have undergone reconstructive breast surgery.

Areola re-pigmentation is often the fi nal stage of breast

reconstruction and is also considered by those with areola

colour loss. After the breast reconstruction is completed,

the tattooing process may begin around six to 12 weeks

after surgery.

'In my experience, paramedical cosmetic tattooing can

help restore a woman's self-confi dence, particularly for

those who have undergone a mastectomy. It can signify a

big step forward in the healing process, both physically and

psychologically,' she says.

To this end, Porreca also offers Multitrepannic Collagen

Actuation (MCA). This skin relaxation treatment helps to

rejuvenate scar tissue and stimulate the skin to produce its

own melanin in areas where surface scar tissue is present,

further improving the appearance of skin post-surgery or

improving the appearance of burns.

Cosmetic tattooing can also improve the appearance

of skin conditions such as vitiligo, a disease characterised

by patches of skin discolouration where there is a loss of

natural skin pigmentation. Intricate paramedical tattooing

140 www.cosbeauty.com.au
---
SPMUC FP(NEW) 30/4/07 1:30 PM Page 1

techniques can camouflage the depigmentation, with longlasting

results.

It can also recreate the look of hair for alopecia sufferers,

timeless and

timeless

a health condition deriving from the immune

and

system (white

effortless beauty

blood cells), which results in the arrest of the hair growth

stage, including facial hair and eyelashes.

Cosmetic tattooing

effortless beauty

SPMUC FP(NEW) 30/4/07 1:30 PM Page 1

'In When 1984 it my comes dream to eyes, was to lips, create face, a

Also called permanent makeup, cosmetic tattooing is most Centre body, skin that and provided training, personalised we are the

well known for its ability to define eyebrows, contour and beauty experts' solutions expert. With with more natural than and 22

colour lips and emphasise the eyes with eyeliner.

lasting years' experience results – a world we have above developed

'With a range of pigments to choose from, eyeliner traditional an excellent beauty reputation salons.' with doctors

tattooing provides permanent makeup that allows the – and Rita surgeons. Porreca, We Founder also work & MDclosely

timeless and effortless

with surgeons in post-operative

beauty

wearer to sleep, swim and exercise without the smudge

care.

factor,' says Porreca. 'Eyebrow cosmetic tattooing also When – Rita it Porreca, comes to Founder Eyes, Lips, & MDFace, Body, Skin and

can restore vibrancy to the entire eye area and help Training

SPCP,

we

AAM,

are

AACT,

the experts'

APAA

expert. We also work closely

those who have plucked too much, or have scars or gaps with surgeons on post-operative care.

in their eyebrows.'

Similarly, lip tattooing can be ideal for women lacking a 'In 1984 my dream was to create a

SERVICES WE PROVIDE

defined lip shape, have pale lips or just want to enhance the

Centre that provided personalised

SERVICES WE PROVIDE

beauty solutions with natural and

look of their pout.

Cosmetic Tattooing

lasting results – a world above

Cosmetic 'Whether Tattooing for cosmetic or paramedical reasons, when

traditional beauty Medical salons.' Tattooing

performed Eyebrowsby Hair an experienced stroke to shaded and highly brows skilled to practitioner, give you more of a

– Rita Porreca, Founder Skin & Needling

MD

long-lasting natural appearance cosmetic tattoo treatments can significantly

enhance BEFORE

Eyeliner a Subtle person's to Dramatic appearance or to and, define turn, your their eye selfesteem,'

Porreca concludes. csbm

When it comes

Dermal Planning Peels

shape

Lips From lip liner to full lips & blends we make your lips look good with Non to Laser Eyes, Lips, Tattoo Face, Removal

Body, Skin and

Training we are the experts' expert. We also work closely

an ideal shape and colour all the time.

with surgeons Cosmetic on post-operative Tattooing care. Courses

Medical Tattooing

Areola re-pigmentation Is the final stage of breast reconstruction and is AFTER FULL LIP TATTOOING

also What considered by is those permanent

with areola colour loss.

SERVICES WE PROVIDE

Corrective Camouflage Can bring a natural skin colour back to scars

Cosmetic and makeup?

burns Tattooing

Eyebrows Hair stroke to shaded brows to give you more of a BEFORE FULL LIP COLOUR

AFTER FULL LIP COSMETIC TATTOOING

natural Skin Permanent Needling appearance makeup, also called cosmetic tattooing

Eyeliner Needling Subtle treatment to Dramatic for wrinkles, or to acne define scars your & eye scar shape relaxation

BEFORE

or micro-tattoo, is the placement of solid particles

BEFORE

Lips Skin

of From Rejuvenation

colour lip (pigment) liner to full below lips the & blends skin to we create make the your lips look good with

an Is ideal impression for shape the of rebuilding and cosmetics, colour of all new either collagen time. on the and face lightening to pigmentation.

BEFORE EYE LINER TOP AND BOTTOM

AFTER EYE LINER TOP AND BOTTOM

enhance eyebrows, the lips or the eye line, or all

Medical IPL over Hair the Tattooing Removal body to diminish the appearance of scars

Areola Enables re-pigmentation hair removal from Is nearly the final every stage part of of breast the body reconstruction quickly and is AFTER FULL LIP TATTOOING

and other skin imperfections. The pigment is placed

also AFTER EYEBROW TATTOOING

and in efficiently considered

the skin with

by

a fine

those

needle.

with areola colour loss.

Corrective A primary Camouflage aim of permanent Can bring makeup a natural is to achieve skin colour back to scars

and

Medical

burns

Skin Peels/Microdermabrasion

BEFORE EYEBROW TATTOOING

AFTER EYEBROW TATTOOING

balance of the facial features by accentuating your

Skin treatments ranging from Green Peel, CosMedix Peels

best features, deaccentuating your worst and

Skin & Microdermabrasion Needling to give you a natural healthy glow.

harmonising skin tones.

Needling treatment for wrinkles, acne scars & scar relaxation

Cosmetic Clients Dermal should Fillers seek & the Mesotherapy

help of a cosmetic 02 9569 BEFORE 7799 follow us on

Skin tattooist Rejuvenation with extensive experience in cosmetic and

Cosmetic Tattooing Courses

Level 1, 157 Great North Road

Is ideal paramedical for the rebuilding tattooing to of achieve new collagen optimal results. and lightening pigmentation.

Learn, up-skill and expand with professional cosmetic tattooing Five training.

AFTER AEROLA TATTOOING

Dock NSW 2046

IPL Hair Removal

Email: info@spmuc.com.au

Enables hair removal from nearly every part of the body quickly Web: www.spmuc.com.au

www.cosbeauty.com.au

AFTER EYEBROW TATTOOING

and efficiently
---
feature

skincare for all ages

WITH A TUNED-IN SKIN ROUTINE IT'S POSSIBLE TO HAVE YOUR SKIN LOOKING ITS

BEST, NO MATTER WHAT YOUR AGE. TARA CASEY REPORTS.

We all know that age is just a number, but when it

comes to our skin, time waits for no one. Certain

skin concerns are more prevalent during different

decades in our life – from pimples as a teen to battling dark

eye circles thanks to those late nights of our 20s. The fi rst

signs of ageing creep up in our 30s, with wrinkles becoming

fi rmly entrenched in our 40s, and the inevitable effects of

gravity starting to take their toll in our 50s.

But the news isn't all bad. Caring for your skin and

putting your best face forward has never been easier

with the huge range of targeted skincare products and

treatments available.

Teens

Getting into a good skincare regime in your teens not only

helps resolve some of the teen angst-causing skin issues

but it also forms good habits for the coming decades. First

up, ditch the bar of soap and switch to a facial cleanser that

suits your skin type!

Many teens fi nd oily skin is their main concern, so a gelbased

cleanser is ideal – perhaps one that includes salicylic

acid to help clear acne. Cleanse morning and at night –

sleeping in your makeup after getting home from a party is

a huge no-no.

Whoever spread the rumour that those with oily skin

don't need a moisturiser is just plain wrong. Use a light,

non-comedogenic, oil-free moisturiser after you cleanse.

A clay mask applied once a week will deep-clean your

pores, and use an exfoliator twice a week to remove the

build-up of dead skin cells. Make sure you're gentle – if you

over scrub, your skin may break out.

Not to sound like a mother, but you simply must use sun

protection – the younger you start, the better. Not only does

it protect your skin from the sun but 90 percent of premature

ageing is caused by UV exposure – you'll be thankful for

this advice in 15 years.

If you suffer from acne, a topical treatment using salicylic

acid or tea tree oil can work wonders. For severe cases, a

prescribed treatment from a GP may be a good option.

20-something

If skin has a heyday, your 20s is it. The worst of teen

problem skin is typically behind you and you're yet to

bear the hallmarks of ageing. However, this decade is all

about damage control. Your hormones are still balancing

themselves, so stick to oil-free, gentle cleansers,

moisturisers and makeup.

Try adding some products with antioxidants to combat

free radicals and balance the effects those nights out have

on your skin. Green tea, soy, lycopene and Vitamin C are

all good options.

Foamy gel cleansers and light moisturisers are suffi cient

at this age, perhaps a milky cleanser if you're prone to dry

skin. Sunscreen is essential, so apply a day cream with SPF

and UV protection to your face and décolletage.

Of an eve, use a hydrating fl uid or an oil-free moisturiser

along with a mild hydrating eye gel to stave off early signs

of ageing.

142 www.cosbeauty.com.au
---
feature

Exfoliating speeds up the natural sloughing process of

the skin and helps keeps you baby-faced and blackheadfree.

A grainy mechanical exfoliator or something with alpha

hydroxy acids (AHAs) will do the job.

Many dermatologists suggest starting on Vitamin

A-derivative retinoids, which are considered by many as the

gold standard for reducing fi ne lines, stimulating collagen

and treating acne.

Microdermabrasion treatments and Vitamin C facials

will keep your skin glowing. Secondly, introducing some

products with Vitamin A derivatives is key at this age.

Retinol can be found in low doses in many over-thecounter

night creams and serums or, for stronger dose

retinoids, creams and gels may be prescribed by your

aesthetician, dermatologist or GP in some cases.

Use your UVA/UVB sunscreen religiously, as it's in your

30s that the effects of more than three decades in the sun

begin to become apparent in lost collagen and elasticity

and the resulting fi ne lines around the eyes and lips.

30-something

Even if you've taken good care of your skin, it becomes

a little drier and sun damage may begin to appear in your

30s, so it's motivation to start getting with the times.

As you age, keep adjusting your routine. Your midto-late

30s is a great time to start using nutrient-packed

serums and active night creams.

Use a creamy cleanser, perhaps with AHAs to encourage

exfoliation in the morning; in the evening a calming milky

cleanser can work wonders. Use creamy moisturisers to

lock in hydration (apply over damp skin) and continue with

eye creams at night.

40-something

Kick it up a notch as the signs of ageing deepen. In your

40s you should seek products with plumping and fi rming

benefi ts. Those beach holidays have started to catch up

and your skin may lose tightness, begin to look dull and

pores may enlarge.

Spots and discolouration may appear and, because it

doesn't refl ect light evenly, your complexion is losing some

of its glow. The gradual loss of collagen and elasticity is

part of intrinsic ageing and becomes more apparent in the

furrows and frown lines of 40-something skin. Vitamin C

can boost the synthesis of collagen, especially when it is

applied in a potent and active form.

www.cosbeauty.com.au 143
---
feature

Additionally, prescription retinoids containing Vitamin A

acid used topically help fi ght nasty free radicals and can

reduce brown spots, increase exfoliation and collagen

production, thicken the epidermis and improve sun

damage. If your skin can't tolerate a retinoid every night,

use it every other night.

You may also be considering anti-wrinkle injections to

smooth your complexion and as a preventative method

for future wrinkle formation. Injectables help diminish and

softens lines and wrinkles on the face and can refresh your

overall appearance.

Vitamin A derivatives are

considered by many as the gold

standard for reducing fine lines

Chemical peels are also good for refi ning the skin's

surface, and fi ller injections can replenish volume and boost

collagen production.

Of course, it's essential you continue using rich face and

eye serums on a nightly basis, with moisturising properties

such as hyaluronic acid, shea butter or oils. Along with

your broad-spectrum moisturiser, add in a couple of

creams, lotions or serums containing at least two types of

antioxidants. For crepey skin try a formula with peptides,

which have been shown to strengthen collagen.

50-something and onwards

This is the time to put your skincare regime into high gear.

Loss of oestrogen, which gives your skin its elasticity and

hydration, sees deeper wrinkles form, drooping eyelids and

expression lines around the mouth and forehead.

Cell turnover is much slower and you'll notice dryness

and loss of suppleness. Expression lines start to remain

static and pores are more visible. You also may have

developed spider veins and hyperpigmentation (age spots),

as well as pre-cancerous spots from sun damage.

Wash morning and night with a creamy cleanser and

apply a serum containing peptides or an antioxidant such

as Vitamin C when your face is still damp. Anti-ageing

or wrinkle-reducing prescription formulas containing

retinol or glycolic acid products can reduce fi ne lines and

wrinkles, improve skin texture, tone and colour and help

boost hydration.

Glycolic acid has been found to trigger new formation of

collagen to plump cells and reduce wrinkles on the skin's

surface. Consider taking a coenzyme Q10 supplement

every day. Studies have shown this may help prevent skin

cancer, which commonly appears in this decade.

Laser skin resurfacing can offer an effective solution

to diminish wrinkles, scarring and age spots, as well as

improving the overall appearance of your skin. This is

also the age where cosmetic surgical procedures may be

seriously considered to help restore your more youthful

looks of yesteryear. csbm

144 www.cosbeauty.com.au
---
fit for a princess

Give your skin the royal treatment

with Princess Skincare

DAILY YOUTH

Moisturising Gel

ANTI-AGEING

Vitalizing Serum

RECOVERY

Soothing Essence

REJUVENATION

Hyaluronic Acid Mask

Green Tea Mask

Made with 100 percent rayon,

non-woven fabrics

CONTACT: INSIGHT AESTHETICS

Ph: 1300 737 393

info@insightsurgical.com.au

www.insightsurgical.com.au
---
skin

The royal

suite of

skincare

PRINCESS SKINCARE OFFERS

AN ALL-ENCOMPASSING APPROACH

TO FACIAL ANTI-AGEING AND

REJUVENATION. CAITLIN

BISHOP REPORTS.

Stemming from a holistic philosophy, Princess

Skincare, distributed in Australia by Insight

Aesthetics, provides a high-quality and

professional pathway to skin health.

With a history spanning 30 years, Princess

was born when CROMA – a European leader

in ophthalmology, orthopaedics and viscoelastics –

decided to expand its expertise into the fi eld of aesthetics.

Today, complete with a skincare range, treatment masks

and dermal fi llers, Princess affords an all-encompassing

approach to skin health and aesthetic rejuvenation.

In a cutting-edge skincare line, Princess has infused

a range of serums and gels with active ingredients

designed to boost skin health and combat the signs

of ageing. Princess has been diligent in including only

ingredients that are shown to truly benefi t the skin, and

the range is effective in helping to address a variety of

skin concerns and conditions.

Designed to extend the youthfulness of your skin,

the Daily Youth Moisturising Gel provides gentle, longlasting

hydration to homogenise skin texture and

achieve a luminescent glow. The experts at Princess

Skincare advise a quality moisturiser should be applied

daily to replenish the skin and prevent the wrinkles and

unevenness commonly associated with dehydration.

In a two-fold effect, the Daily Youth Moisturising Gel

is also designed to enhance the production of collagen

146 www.cosbeauty.com.au
---
skin

and elastin in the skin, to improve skin integrity, structure

and resilience. For a more direct, concentrated approach,

the Anti-Ageing Vitalising Serum helps promote younger

looking skin and reduce the common signs of skin ageing.

The serum is formulated to brighten and tone – reducing

the appearance of pores and uneven texture. Because of

their consistency, serums achieve a higher penetration into

the epidermal layers, meaning the ingredients are delivered

deeply to act within the skin. This benefi t means the Anti-

Ageing Vitalising Serum can help minimise the appearance

of fi ne lines and wrinkles and increase the skin's resilience

to environmental stressors.

One of the most compounding factors in skin ageing is

sun exposure. Damage from ultra violet (UV) radiation works

to magnify and accelerate the intrinsic ageing process,

leading to pigmentation, increased skin laxity, wrinkles and

uneven texture. To fi ght these premature signs of ageing,

and counter the dermal stress brought on by sun exposure,

the Recovery Soothing Essence from Princess Skincare

improves skin health and is designed to relax, soothe and

rejuvenate the complexion.

Scientifi cally designed to complement the everyday

skincare range, Princess Skincare Masks are an integral

part of the Princess approach to anti-ageing. There are

two Princess Masks: the Hyaluronic Acid Mask and Green

Tea Mask. They can be used to optimise skin health and

radiance, as well as to prime skin before surgery or to help

Princess Skincare addresses

a wide variety of skin concerns

and conditions

expedite healing post-procedure. These are cloth masks,

designed to hydrate the skin, minimise the look of wrinkles,

smooth the skin's texture and brighten the complexion.

The Hyaluronic Acid Mask uses hyaluronic acid

(HA), a component that occurs naturally in the body,

to boost hydration and activate cellular proliferation in

the skin. It combines HA with Imperata Cylindrica for

intense moisturisation, alongside liquorice root and algae

extracts, which are high in antioxidant vitamins. This mask

demonstrates high anti-ageing potential and helps maintain

the skin's elasticity and fi rmness.

The Green Tea Mask has a soothing, revitalising and

protective effect for general skin rejuvenation. It combines

green tea with additional antioxidants to hydrate, strengthen

and protect the skin against external stressors. csbm

The Princess suite of injectables

Sometimes, even with the most diligent, proactive and

suitable skincare regimens, a slightly more aggressive

approach is required to maintain facial youthfulness.

During ageing, there is a loss in both the facial

skeleton and deeper fatty tissue, meaning the

skin's structure is depleted and a loss in volume

becomes evident.

Dermal fi llers can be effective in replenishing

this volume and reducing the appearance of deep

wrinkles and folds. Insight Aesthetics has a range

of Princess dermal fi llers, suitable for treating the

lips, facial lines, wrinkles and facial folds. They are

designed to typically last between six to twelve

months and are effective in refi ning the facial contour

and revolumising the face.

In a collection of active skincare and complementary

treatments, Princess from Insight Aesthetics affords

an all-encompassing approach to anti-ageing and

facial rejuvenation.

The skincare is designed to boost skin health, and

is effective both as a standalone treatment and to

boost results following more invasive modalities. With

skincare, facial masks and dermal fi llers, Princess

signifi es a 'one-stop-shop' to facial rejuvenation and

anti-ageing results.

www.cosbeauty.com.au 147
---
skin

Spot-on skin

Suzie Hoitink from Clear Complexions Clinics says customised skincare

and treatment plans can go a long way in treating skin pigmentation.

AimÉe Surtenich reports.

According to Suzie Hoitink, registered nurse and

founder of the award-winning Clear Complexions

Clinics, there's no silver bullet when it comes to

healthy, beautiful skin.

'It's about knowing how to put the right combination

of skincare and treatments together for each individual,

and establishing a plan that keeps their skin healthy going

forward,' she says.

A common skin complaint, particularly after a long hot

Australian summer, is hyperpigmentation, or 'sun spots' on

the face. Caused by increased melanin (the skin's natural

pigment), hyperpigmentation is triggered by sun damage,

hormones, trauma and some diseases.

'Hyperpigmentation is typically caused by four factors:

sun exposure; hormones (melasma); post-inflammatory

hyperpigmentation caused by trauma to the skin such as

acne scarring, surgery and over-aggressive skin treatments;

and congenital or autoimmune diseases,' Suzie explains.

Darker pigmented spots on the skin are the end result

of hyperpigmentation, but the true damage is seen below

the surface. Patches of melanin can accumulate below

the skin's upper layer without any visible, tell-tale signs

presenting on the surface.

'Pigmentation starts below the surface,' Suzie continues.

'It's usually only when people start to see brown patches or

sun spots on the surface of their skin that they start looking

at treatment options.'

'Rarely in Australia do we have a patient who doesn't

have hyperpigmentation, and vascular or capillary damage

as well,' she continues. 'Skin starts to act and look

older than it should, leading to more wrinkles, more skin

discolouration, and uneven skin texture and tone.'

Hyperpigmentation is one of the most difficult and

volatile skin conditions to treat and, while there is no one

'cure', with the right skincare and treatment plan, it can be

controlled and managed.

The first step is to have a thorough and detailed

consultation with the client. Clear Complexions nurses

148 www.cosbeauty.com.au
---
skin

address patient history, concerns, previous treatments

and expectations. They also utilise the latest diagnostic

software, which looks at the skin below the surface.

'Essentially, we want a "map" of the skin to ascertain

exactly what is needed to bring it back to optimal health

and radiance,' says Suzie. 'With the imaging results as a

guide, the patient will be educated in understanding the

true state of their skin and provided with a path forward in

skin care and treatment. The process of diagnostic imaging

is not only about safety and choosing the right treatment

for the client but also about education. The patient needs

to understand how and why we're going to repair, maintain

and prevent further damage to their skin.'

We don't just want to improve

your skin now; we want you

to look good for your age in

10 years time

As no two skins are alike, Clear Complexions Clinics

provide an individualised multi-modality approach to

treating skin concerns. 'Our nurses are trained in, and have

access to, different ways to treat hyperpigmentation. We

don't want to just improve your skin now; we want you to

look good for your age in 10 years time,' Suzie says

For example, Intense Pulsed Light (IPL) treatment

can be used to gently lighten the appearance of visible

pigmentation spots, while prescribed at-home skincare

loaded with antioxidants such as Vitamin A can calm

overactive melanocytes and slow down the surfacing of

pigmentation. Mild peels can also be used to accelerate the

removal of dead, pigmented skin cells. These treatments

are complemented with advice on lifestyle changes to

reduce the risk of hyperpigmentation stimulation.

Suzie says Clear Complexions Clinic patients can

expect to see and feel real improvements following any

treatment. 'Whether it's treating hyperpigmentation,

using injectables to help combat wrinkles or lost volume,

or employing laser therapies and platelet-rich plasma

treatment for all-over facial rejuvenation, we hold ourselves

accountable,' she says.

'The main focus of my team and I is improving the

health and beauty of our clients' skin. We are not just in

the business of skincare; we are committed to our clients

and believe real beauty comes from feeling confident in

the skin you're in,' says Suzie. 'Our personalised multimodality

approach to skin health and beauty has made a

real difference to the complexion of our clients.' csbm

BEFORE

BEFORE

Intrinsic vs extrinsic causes

Hormonal hyperpigmentation. Also called

melasma, this type can appear around the lips, eyes

or in a band across or down the forehead. Referred

to as the 'mask of pregnancy', melasma arises in

response to oestrogen and progesterone fluctuations,

as these stimulate melanocytes, which are pigmentproducing

cells.

Sun-induced hyperpigmentation. Pigmentation

caused by sun damage is similar to freckling in

appearance and sits more superficially on the skin

compared with melasma. It occurs when melanin

levels increase to protect against sun exposure.

Post-injury hyperpigmentation. Acting like an

'umbrella' to protect against DNA mutation, melanin

levels rise in reaction to skin trauma, such as after

surgery. These protective peaks of melanin can cause

hyperpigmentation damage. Notably, these incidences

of melasma, sun damage and post-inflammatory

hyperpigmentation initially appear underneath the

skin's surface, invisible to the naked eye.

AFTER pigmentation treatment (actual client

of Clear Complexions Clinic)

AFTER two IPL treatments for pigmentation

(actual client of Clear Complexions Clinic)

www.cosbeauty.com.au 149
---
skin

Vitiligo linked

with Vitamin D

Sydney cosmetic surgeon Dr Joseph Georghy believes he has

untangled the mystery of what causes vitiligo and has pioneered a new

medical treatment for the skin condition. AimÉe Surtenich reports.

Vitiligo is a skin disorder that causes depigmentation

from areas of the skin, resulting in white spots or

patches. It occurs when melanocytes, the cells

responsible for skin pigmentation, are 'poisoned' and die or

are unable to function properly and produce melanin.

Despite research, the cause of vitiligo is considered

unknown. Dr Georghy believes that he's got the answer:

Vitamin D deficiency may be one, if not the main, cause

of vitiligo. He has carried out numerous blood tests on his

patients who suffer from vitiligo and has found that virtually

all of them had Vitamin D deficiency.

Dr Georghy proposes that the severity of the disease is

directly related to the severity of the Vitamin D deficiency.

'Genetic predisposition and stress may be aggravating

factors,' he says. 'However, from my research, children

developing vitiligo early in their life have one or both parents

who are Vitamin D deficient.' He believes that children who

develop vitiligo at a very young age are also Vitamin D

deficient or they may have inherited 'defective' DNA from

their parents. He attributes these findings to intrauterine

Vitamin D deficiency, lack of sun exposure during developing

years and nutritional deficiency or combination of both.

'Vitamin D is essential for normal melanocyte function,'

Dr Georghy explains, 'so a deficiency may cause abnormal

DNA methylation and genetic alteration, resulting not only in

vitiligo but in numerous skin conditions.'

New combined treatment for vitiligo

'I use PhotoDynamic HelioTherm combined with MicroPen

micro-needling and platelet-rich plasma treatment,' says

Dr Georghy. 'This triggers a cascade of bio-stimulating

processes that ultimately results in skin repigmentation.

Patients are also treated with high doses of Vitamin D,

CoQ-10 or other supplements they may be deficient in.'

Platelet-rich plasma (PRP). This plasma is a naturally

occurring component extracted from your own blood. The

concentrated platelets found in PRP have huge amounts of

growth factors, bioactive and signalling proteins, which are

released when PRP is injected into tissue.

MicroPen micro-needling. 'I believe the MicroPen has

revolutionised the practice of treating skin conditions,' says

Dr Georghy. 'It is a slim, cordless, light and ergonomic design

which fits in the palm of your hand. During the procedure, tiny

needles are used to create controlled micro-injuries to the skin

in order to produce collagen and elastin. In my experience, it

is much faster than any other device on the market, allowing

a more comfortable treatment for my patients.'

PhotoDynamic HelioTherm. PhotoDynamic Therapy

(PDT) is a treatment that uses a substance called a

HelioTherm photosensitiser. It helps the light and the heat

to be absorbed and accumulated in the skin and underlying

tissues, resulting in better skin contraction and collagen

formation. 'I use a sensitiser I specifically developed, which

is applied topically. PDT does not cause photosensitivity

and overall has a good safety profile,' says Dr Georghy.

'HelioTherm employs light and heat energy delivered

simultaneously to the treated areas. It is the only device on the

market that results in deep and homogenous heat penetration

to the underlying skin structures: fat, muscles, ligaments,'

he continues. Dr Georghy believes that HelioTherm in

combination with Vitamin D therapy, bio-stimulates the

'dormant' melanocytic stem cells (stimulates your own stem

cells), corrects the faulty DNA by improving DNA methylation

and eliminates 'oxidative stress'.

The biological effects of HelioTherm have been published

in the textbook of The American Academy of Anti-Aging

Medicine, Anti-Aging Therapeutics, Vol IX. 'The biological

effects of this unique treatment are countless. The sky is

the limit,' he says.

Dr Georghy says this combined treatment kickstarts

a cavalcade of biological effects: immediate antiinflammatory

effects, formation of new blood vessels,

improvement of oxygen supply and metabolic turnover at

a cellular level, resulting in stimulation or re-activation of

your own dormant stem cells to produce new, active and

functional melanocytes.

'Skin texture starts improving within several days. Repigmentation

will begin within few months, with best results

seen after 12 to 18 months,' he concludes. csbm

150 www.cosbeauty.com.au
---
skin

1

BEFORE

2

BEFORE

3

BEFORE

4

BEFORE

5

AFTER IPL (PhotoTherm) and Photodynamic HelioTherm by Dr Georghy

AFTER IPL (PhotoTherm) and Photodynamic HelioTherm by Dr Georghy

AFTER IPL (PhotoTherm) and Photodynamic HelioTherm by Dr Georghy

AFTER IPL (PhotoTherm) and Photodynamic HelioTherm by Dr Georghy

BEFORE

AFTER IPL (PhotoTherm) and Photodynamic HelioTherm by Dr Georghy

www.cosbeauty.com.au 151
---
skin

On

a

roll

The cordless Eclipse MicroPen is the latest advancement in skin

needling technology and can correct a variety of skin concerns.

AimÉe Surtenich reports.

Composed of medical-grade stainless steel, the

Eclipse MicroPen is the first completely cordless

fractional automated microneedling device for

treating various dermatologic indications.

For the right patient, microneedling with the MicroPen

offers an effective alternative to common skin resurfacing

techniques such as laser therapy and dermal rollers.

'I am very enthusiastic about the new MicroPen skin

needling device,' says Sydney cosmetic surgeon Dr

Joseph Georghy, one of the first adopters of the MicroPen

in Australia. 'I believe it has the potential to revolutionise

the practice of treating many skin conditions, as well as for

overall facial rejuvenation,' he continues. 'Its slim, light and

ergonomic design fits in the palm of your hand, enabling a

more efficient and comfortable treatment.'

How does microneedling work?

Microneedling creates multiple microscopic injuries in the

epidermis, sometimes referred to as collagen induction

therapy. The micro injuries trigger the production of collagen

and elastin, the building blocks of smoother, healthier

looking skin. The result is a more even toned, tighter and

radiant skin as the new healthy skin cells work to rejuvenate

skin from the inside out.

In this way, it works like any fractionated procedure,

perforating multiple pin-point holes at various depths in the

skin to trigger the body's natural healing response.

The MicroPen's fractionated turbo safety needle

is designed to cause minimal trauma to the skin and

surrounding tissue while still achieving desired end points

necessary for collagen remodelling.

Benefits include improved skin

tone and texture, and overall

younger looking skin

The MicroPen consists of 12 32-gauge medical grade

needles arranged in a fractionated pattern in order to cause

the necessary skin injury while leaving healthy skin in tact in

between each micro perforation.

The turbo safety pistol pulsates at a rate of 8500 RPM

to ensure optimal patient comfort and shorter treatment

time. Needle depth is adjustable from 0 to 2.75mm, allowing

the practitioner to adjust the level of treatment according to

the patient's needs.

During the procedure, the pen is gently pressed

against the skin while simultaneously gliding in one direction

152 www.cosbeauty.com.au
---
skin

until the entire treatment area has been covered. The

procedure takes around 15 to 30 minutes, depending on

the area treated.

'Importantly, the MicroPen's cordless, portable design

allows the practitioner to move more freely during treatment,

affording greater control and accessibility to the patient's

target areas,' says Dr Georghy.

The tiny microchannels created by the MicroPen are also

ideal for the absorption of topical skincare products such

as hyaluronic acid, lightening serums or wound-healing

topicals, allowing diffusion of product into those deeper

skin layers at a cellular level.

Microneedling is also ideal to use in conjunction with

platelet-rich plasma (PRP) treatment, to maximise the skin

rejuvenation results of PRP.

Results and safety

The benefits of microneedling include a reduction in the

appearance of fine lines and wrinkles, improved skin tone

and texture, and an overall younger looking skin.

Micro-needling also has a positive effect on

hyperpigmentation as well as on hypopigmentation, acne

and surgical scars, and stretch marks.

The MicroPen is safe to use on numerous parts of the

body, including the face, neck, décolletage, arms, hands,

legs, abdomen and back.

Patients can typically resume their everyday activities

straight after treatment. Mild redness and some

inflammation of the skin is typical, but this should dissipate

after a day or two in most cases and can be covered by

mineral makeup if desired.

Visible changes to the skin develop over the course

of several days and weeks. Results are cumulative, and

continue to improve up to six months after treatment as

collagen production continues.

Some patients only require a single treatment, once

per year to achieve, and maintain, optimal results. However,

it is recommended for most patients to receive a series

of two to three treatments spaced around six to eight

weeks apart. For patients with deep-set wrinkles, advanced

photoageing, stretch marks or acne scars, it is advised to

receive six to eight sessions at six-week intervals.

The MicroPen has an excellent safety profile, featuring

a disposable tip and a cross-infection protection system

to offer safe, reliable and consistent results. 'I believe

the MicroPen heralds a technological breakthrough in

microneedling treatment,' Dr Georghy concludes. csbm

ROLL BACK THE YEARS

WITH THE ECLIPSE MICROPEN

A breakthrough for beautiful skin

The Eclipse MicroPen uses tiny sterile needles to create

controlled micro-injuries to the skin for radiant results.

The MicroPen is a slim, portable, cordless design which fi ts

in the palm of your hand. It gives the practitioner superior

control during micro-needling treatment, while affording a

faster and more comfortable procedure for the client.

The skin benefi ts of micro-needling include:

• Improving fi ne lines

• Tightening skin and improving tone

• Promoting collagen and elastin production

• Reducing the appearance of acne scarring,

pigmentation and stretch marks

To learn more about the unique

benefi ts of the Eclipse MicroPen call

1300 068 357

www.aventionglobal.com

www.cosbeauty.com.au 153
---
skin

Your best skin ever

Sydney aesthetician Eva Karpati says a personalised approach to skin

rejuvenation yields the best results. AimÉe Surtenich reports.

Sydney aesthetician Eva Karpati takes an individualised

approach to skin rejuvenation. 'There's no set routine

when it comes to beautifying the skin,' she says. 'I

work with each client to assess their specific skin type and

concerns and then devise a bespoke treatment plan to

achieve ultimate skin radiance.'

The first step is a thorough consultation to accurately

assess the condition of each client's skin and to listen to

their concerns. 'The consultation process is paramount,'

explains Karpati. 'It is so important for me – and the client

– to first thoroughly understand what we are dealing with

and how to deal with it effectively. To this end, I always use

visual imaging software in my consultations to ascertain the

extent of the problem and the best way to address it. Every

person needs an individualised approach. What's right for

someone in their 20s and 30s may not be right for someone

in their 40s and 50s.'

The Karpati Medispa offers an array of treatments

utilising the latest in advanced non-surgical IPL and LED

machinery to treat a variety of skin conditions.

'To achieve optimal results that really target specific

concerns, a state of the art and powerful machine is

necessary,' says Karpati. 'The laser I use has two fractional

heads: the 1410nm is effective for fine lines and open

pores, while the 1540nm is useful for skin tightening and

reducing the appearance of acne scarring.'

The non-ablative microfractional laser offers three

treatment depths, enabling the practitioner to customise

each treatment according to the client's individual

cosmetic concerns.

'We use different wavelengths, which allow us not only to

meet different needs – whether it's to address pigmentation,

vascular spots, acne scarring or overall skin rejuvenation –

but also to treat different skin types safely, from the darkest

to the lightest,' says Karpati.

Fractional skin resurfacing uses laser energy to create

microscopic injuries in the skin. In non-ablative treatments,

the laser coagulates the affected tissue, and the body's

natural healing mechanisms kick in to create new, healthy

tissue to replace the coagulated tissue. The result is

healthier, younger looking skin.

According to Karpati, fractional laser systems have

revolutionised skin rejuvenation. 'Rather than "burning"

the surface of the skin, fractional lasers work in the deeper

layers to promote collagen renewal, leaving the surface

virtually untouched,' she says.

'Unlike ablative laser procedures, which vaporise, rather

than coagulate the tissue, in most cases non-ablative

procedures involve minimal to no redness and swelling,

and patients can return to their day-to-day activities

immediately,' she adds.

Patients will typically see a noticeable improvement to

the appearance of their skin after just one laser therapy

session, although Karpati usually recommends four to six

treatments spaced four to six weeks apart in order to see

maximum benefit.

'Results will continue to improve over time as new

collagen is produced,' she says. 'Best of all, as patients

have more treatments, results will just keep getting better

and better.'

'With age, the cumulative effects of lifestyle choices can

take their toll on the face. Skin loses firmness and radiance,

wrinkles can become ingrained and uneven pigmentation

can mar the complexion,' says Karpati.

'Advances in laser technology over the past five

years have meant the visible signs of chronological

and environmental ageing can be significantly reduced

and sometimes reversed, with treatments that take the

equivalent of a lunch hour and require little or no downtime,'

she concludes. csbm

154 www.cosbeauty.com.au
---
Hair removal revolution for

blonde, red, grey and white hair

Until recently, the effectiveness of laser and IPL

permanent hair reduction depended on factors such

as darker hair colour and paler skin types.

With the Adéna IPL system, there's now a solution

to treating grey, blonde, white and red hair, as well

as darker skin types – heralding a breakthrough in

these notoriously difficult-to-treat hair colours and

skin types.

The Adéna is able to target blonde, grey, white and

red hairs because it doesn't rely on the hair pigment

to absorb the light energy. Instead, the Adéna IPL

directly targets the blood vessels at the bottom of

the hair follicle.

Unlike other light depilation treatments, hairs are

not vaporised by IPL. Rather, the heat coagulates the

blood vessels in the bottom of the hair follicle but the

hairs remain in the skin and often become attached

to the epidermis. They will fall out after one to three

weeks as the epidermis renews itself.

Because the additional wavelengths emitted by the

Adéna system target haemoglobin and not melanin,

it can also effectively work on darker complexions

without risk of burning or hypopigmentation.

'For fair-haired or dark-skinned people wishing to

remove unwanted body hair, the Adéna offers a giant

leap forward in permanent hair reduction technology,'

concludes Karpati.

BEFORE

AFTER non-ablative fractional rejuvenation

BEFORE

AFTER non-ablative fractional rejuvenation

www.cosbeauty.com.au
---
skin

Tattoo

removal

revolution

PICOSURE SIGNALS A BREAKTHROUGH

IN LASER TATTOO REMOVAL, OFFERING

FEWER AND FASTER TREATMENTS

WITH SUPERIOR RESULTS.

AIMÉE SURTENICH REPORTS.

Thanks to the advancement in tattoo removal

technology, regrettable tattoos don't have to last a

lifetime. The new PicoSure laser from Cynosure is the

fi rst and only picosecond laser for tattoo removal and is set

to become the new standard in clearing tattoos.

Signifying a breakthrough in laser technology, PicoSure

delivers ultra-short bursts of energy to the skin in trillionths

of a second.

'I believe the PicoSure laser is the new technological

advancement in laser tattoo removal,' says US dermatologic

cosmetic surgeon Dr Raminder Saluja. 'In my experience,

it provides safer and more effective treatment for patients

looking for tattoo and pigment removal.'

In the past, tattoo removal has typically been diffi cult,

involving multiple treatments and falling short at completely

removing stubborn blue and green inks. 'PicoSure's main

BEFORE

AFTER seven treatments with traditional Q-switched

nanosecond laser

AFTER one treatment with PicoSure laser

(photos courtesy of Dr Raminder Saluja)

156 www.cosbeauty.com.au
---
skin

advantage is that energy is pulsed in the trillionths of

seconds,' says Dr Saluja. 'Its primary mode of shattering

the ink is from the intense photo-mechanical wave that is

created, and not as much from photothermal effects as

seen with traditional nanosecond lasers. Clinically, what

makes it superior for me (and my patients) is the greater

degree of clearance of ink per treatment, which means less

time going from having a tattoo to clearing the tattoo.'

Because of the intense wave that is created, lower

fluences (the energy delivered per unit area) can be utilised

to achieve ink particle fragmentation. 'We have found

that the smaller the particles are, the more efficient the

body's ability to clear the ink particles,' explains Dr Saluja.

'Additionally, because of the lower fluences used, the risk of

scarring and fibrosis is also reduced.'

I believe the PicoSure is the

new technological advancement

in laser tattoo removal

PicoSure is equipped with an Alexandrite wavelength

(755nm). This wavelength has the ability to target difficult

colours, including green, blue, purple, black and brown

inks. 'I find the PicoSure laser to be exceptional in treating

green, blue, purple and black ink,' says Dr Saluja. 'I do

caution my patients, however, that while I cannot promise

total disappearance of the tattoo, the PicoSure is the best

technology we have in trying to achieve that outcome.'

PicoSure uses the patented PressureWave technology

to shatter the smallest of target ink particles, meaning it

can remove tattoos in fewer treatment sessions than with

traditional lasers. 'Tattoos can be cleared in as little as one

to three treatments, depending on the location, layering

and colour of the tattoo,' says Dr Saluja. 'I fire the laser at

a repetition rate of 10hz so the treatment itself is very fast.'

Dr Saluja says that while PicoSure is more comfortable

than previous lasers, patients may still experience some

discomfort. 'I typically use cold air on the area being treated

to make patients more comfortable, and if I am treating a

tattoo around the axillary area, flank or spine, I may also use

a topical anaesthetic.'

Patients may experience some blistering immediately

post-laser, purpura (purple or red-coloured patches at the

treatment site) and skin redness, especially if it is their first

treatment, but this should subside over the next day or two.

'If a patient does blister, in my experience these heal well,

with no residual scarring seen thus far,' says Dr Saluja.

'All in all, I believe PicoSure has transformed the

category of tattoo treatment,' she continues. 'Patients

have been very happy, especially those that have had 12

or more treatments with a Q-switched nanosecond laser

and know the amount of lightening they typically achieved

BEFORE

AFTER two PicoSure treatments (photos

courtesy of Dr Alex Kaplan)

between their previous laser treatments. When they have

one PicoSure treatment, they are amazed at the level of ink

reduction in comparison to their previous treatments.'

'I always ask my patients what their initial motivation was

to have their tattoo placed and, equally, what motivated

them to now have it removed.

'My most amazing story was an inner city teenager who

cleaned up her life and decided to go into the military. She

had a tattoo on her neck and needed to have it removed to

continue on her career path. She is the first in her family to

set goals and create a vision towards a better life. To be a

small part in helping her achieve her goals is both humbling

and rewarding.' csbm

On the pulse

What is PicoSure?

PicoSure is the first picosecond aesthetic laser

specifically designed to treat tattoos. It delivers ultrashort

pulse bursts of energy to the skin in trillionths of

a second, making it 100 times shorter than traditional

tattoo removal lasers.

How does it work?

PicoSure creates an intense photo-mechanical

impact to shatter the target ink with fewer treatments

and less fluence.

How does it compare?

Traditional Q-switched nanosecond lasers typically

rely on photothermal action to deliver heat to the

pigment and surrounding tissue and generally

produce a small fraction of the power generated by

a picosecond laser.

PicoSure uses the patented PressureWave

technology to shatter the smallest of ink particles,

clearing even stubborn blue and green inks, as well

as previously recalcitrant tattoos that failed to clear.

www.cosbeauty.com.au 157
---
skin

First line

of defence

Allmedic skincare protects

the skin against environmental

damage and helps slow the

natural ageing process.

Caitlin Bishop reports.

From prohibiting infection to regulating water loss, the

body's largest organ – the skin – plays a diverse and

essential role in protecting the body and maintaining

its homeostasis.

Yet the skin's frontline role in immunity makes it extremely

prone to damage from environmental factors, the effects

of which can accelerate the ageing process.

Quality skincare plays a pivotal role in delaying and

even reversing the appearance of ageing. The allmedic

products, which are specifically designed to strengthen

the epidermis, go a long way in combating age spots,

blemishes, dry and scaly skin, and fine lines brought on by

environmental damage.

'The allmedic range has been formulated with several

goals in mind: to help repair and normalise the skin and to

help protect and maintain the skin in a healthy condition,'

says Queensland cosmetic physician Dr Douglas Grose.

'They are designed to help stabilise the skin's pH, remove

dead skin cells, as well as repair, protect and strengthen

the epidermis.'

Cornified

envelope

Epidermis

stratum

corneum

Cornified

envelope

stratum

corneum

Epidermis

dermis

dermis

Micrograph of the stratum corneum showing dry, rough and scaly skin

Micrograph of a normal, stable and stratified stratum corneum

158 www.cosbeauty.com.au
---
The acid mantle

The acid mantle is a slightly acidic film on the skin's

surface. It's controlled by the skin's sebaceous glands

and is responsible for the dewy, smooth and even tone of

healthy skin. Dr Grose explains the acidity of the acid mantle

– with a pH between 4.5 and 5.5 – is vital in the process

of skin cell renewal. 'The epidermis is continually renewing

itself from the bottom layer up,' he says. 'The old skin cells

fall off as part of this renewal process, and this is achieved

by an enzyme called stratum corneum chymotryptic enzyme

(SCCE). For this enzyme to function regularly, it requires a

skin pH on the acidic side.'

When the skin becomes more alkaline, as opposed to

acidic, its ability to preserve water is reduced because the

bilipid layer responsible for retaining water in the skin requires

an acidic environment. This layer, found in the outermost layer

of the skin, is designed to retain moisture in the skin and at

the same time repel noxious chemicals. Normal function is

essential to skin health. Breakdown of this layer results in the

dry, itchy skin commonly seen in people as they get older.

Dr Grose says allmedic's face and body cleanser, and

the non-soap bar, bring the skin to the correct pH. This

helps maintain the natural epidermal barrier, without causing

dehydration, while effectively cleansing the skin of any makeup,

dirt and grime in the process.

Exfoliation

As the skin renews itself, and keratinocytes (skin cells)

move up through the epidermal layer, the removal of dead

cells from the skin's surface is essential. When this process

slows down, the epidermis becomes thinner and a buildup

of damaged skin cells can occur, causing unevenness,

dehydration and, in some cases, triggering the process

of skin cancer formation. Both chemical and mechanical

exfoliation can assist in increasing skin cell turnover,

removing damaged cells and thickening the epidermis.

The allmedic scrub is a mechanical exfoliator that uses

cellulose beads to gently remove dead skin cells. This can

be combined with either allmedic Body Repair Cream or

Face Repair Cream, which are chemical exfoliants that

contain active concentrations of alpha hydroxy acids.

These are naturally occurring compounds, which help break

the bonds that hold skin cells together and speed up the

process of skin renewal.

Sun protection

Environmental damage manifests itself in everything from

wrinkles to skin laxity through a process called photoageing.

By either reflecting or absorbing UV radiation, ingredients in

sunscreens work to protect the skin against sun damage and

inhibit the effects of photoageing. The allmedic SPF 50+ Face

and Body Moisturising Sunscreen provides broad-spectrum

UVA and UVB protection but also contains Niacinamide, or

Vitamin B, which works to help hydrate the skin, reduce the

appearance of skin pigmentation and improve its elasticity,

tone and texture. csbm

www.cosbeauty.com.au

Doctor Designed,

Developed & Recommended

When

BIGGER

o Exclusive supply to doctors only

o Supported by science and research

Convenience · Optimal Results · Reduced Risk

· Improved Satisfaction

Contact us on:

1300 652 969

admin@allmedic.org.au

www.allmedic.org.au

is better

Introducing the New allmedic TM

Super ContourFlex LED

ü

ü

ü

o Red and Blue LEDs in a large, flexible head, which

moulds around the treatment area so PDT can be

performed on large or multiple areas in one

illumination (shorter treatment time)

üo Optimal power and illumination for reduced risk of

immunosuppression, incubation and patient

discomfort during PDT

üo Blue LED wavelength matches peak absorbtion

and activation of ALA

üo Soft touch control panel and distance sensor for

convenience and ease of use

Follow us on

www.facebook.com/

allmedic
---
feature

Safeguard

your skin

There's no such thing as a safe tan. Here's how

to choose the best sunscreens for blocking

damaging UV rays. Nicola Donovan reports.

With Australia's warm and sunny climate, many

of us are intrinsically drawn to lying in the sun –

but be warned. According to the Department of

Health and Ageing, approximately two in three Australians

will be diagnosed with skin cancer before the age of 70.

One of the best ways to protect yourself against the sun's

harmful rays is by using a sunscreen. But it's important to

know the differences in how they work in order to choose

the best option for your skin.

Organic vs inorganic sunscreens

Inorganic sunscreens, also known as 'mineral' or 'physical'

sunscreens, work by reflecting or scattering UV rays and

radiation. Some sunscreens combine both organic and

inorganic components. Two types of inorganic sunscreens

available are zinc oxide and titanium dioxide. Both provide

broad-spectrum UVA and UVB protection and are gentle

enough for everyday use. Zinc oxide is especially useful for

people with sensitive skin, as it rarely causes skin irritation.

Organic, or 'chemical', sunscreens are composed of

several active ingredients because no single chemical

ingredient blocks the entire UV spectrum (unlike inorganic

spectrum). Instead, most chemicals only block a narrow

region of the UV spectrum – the majority of chemical agents

used in sunscreens work in the UVB region but only a few

chemicals block UVA rays.

The choice between organic and chemical is a personal

preference and may depend on your usage and skin type.

What does SPF 50+ mean?

Last summer saw Australia introduced to SPF 50+ sun

protection. But how much stronger is this super-strength

sun protection really? According to Ric Williams, research

and development manager at NexGen Pharmaceuticals, a

sunscreen with SPF 15 blocks 93.3 percent of UVB rays,

whilst a sunscreen with SPF 50 blocks as much as 98

percent. However, that doesn't mean that it should be used

less or not applied as often.

'The difference of 4.7 percent between an SPF 15 and

SPF 50 would not seem significant to most people,' says

Williams. 'However, the higher the SPF, the better protected

you are from UVA, and especially UVA II radiation.

Although UVB is the primary cause of sunburn and skin

cancer, UVA radiation is what causes photoageing – ageing

from the sun that can result in wrinkles, sunspots and

uneven skin tone and texture, and pigmentation.

No matter what level of protection you choose however,

the best advice is to apply your sunscreen properly. 'The

prudent course of action is to reapply your sunscreen at

regular intervals during the day to ensure an adequate film

is maintained,' says Williams.

The purpose of routinely reapplying sunscreen is to

ensure that it is still covering the skin properly. Even if a

SPF 30 sunscreen is reapplied regularly, if the intensity of

the UV radiation is high enough and if the skin is exposed

for long enough, invisible damage, or even sunburn, could

occur.' csbm

What is SPF?

Sunscreens are merely filters, and all of them will let

some UV radiation through at varying rates indicated

by the Sun Protection Factor (SPF) rating. The level

of SPF given to each sunscreen is measured using

a complex mathematical equation, and refers to

the amount of ultraviolet radiation required to cause

sunburn with the sunscreen on, as a multiple of the

amount required without the sunscreen.

The protection given to individuals by a certain level

of sunscreen will vary depending on:

• The amount applied

• The frequency of application

• The skin type of the user

• Immersion in water through swimming

• The extent a person sweats

• Amount of sunscreen absorbed by the skin

160 www.cosbeauty.com.au
---
skin

CHANGE

YOUR SKIN

A LEADER IN SKIN HEALTH AND

BEAUTY, OBAGI SKINCARE

LOOKS SET TO REVOLUTIONISE

COSMECEUTICALS IN AUSTRALIA.

CAITLIN BISHOP REPORTS.

Built on the philosophy of changing the skin to

optimise skin health, Obagi Skincare, distributed

by iNova, brings established credibility, cuttingedge

science and a selection of revolutionary ranges to

Australian skincare.

'Originally, Obagi was developed by a small group of

physicians in the US who wanted to prepare a patient's skin

for cosmetic procedures,' says International Obagi Trainer,

Aimee DeMarais. 'So the very origination of the brand as

a skincare line was to boost skin health and help maintain

results following treatment.'

The Obagi ideology is built

around changing skin, and

boosting skin health, from the

inside out

Today, it's become a great standalone product; the

Obagi ideology is built around changing skin, and increasing

skin health, from the inside out,' she continues.

Effective in treating a range of skin concerns, Obagi is

formulated to help reduce and prevent pigmentation and

improve the appearance of fi ne lines, wrinkles and scarring.

The products are designed to counter skin laxity and

enhance skin tone and texture. Certain ranges are specially

formulated to effectively treat adult acne and combat

specifi c signs of ageing.

SKIN TRANSFORMATION

Obagi's transformation ranges are complete skincare

regimes designed to effectively address and improve all

elements of skin health. The Nu-Derm, Clenzi Derm and

Obagi-C RX System ranges all incorporate active ingredients

that work within the skin to purify the complexion and help

combat the signs of ageing.

Nu-Derm is an anti-ageing therapy designed to transform

skin behaviour at a cellular level. The range is used to help

reduce the appearance of age spots, fi ne lines and wrinkles,

skin laxity, pigmentation, uneven texture and redness.

The Clenzi-derm is specifi cally formulated to remedy

adult acne, and the Obagi-C RX System uses Vitamin C

to help counter the early signs of ageing.

These transformation systems are available alongside

targeted solution creams, which are formulated to address

more specifi c areas of concern – for example, décolletage

treatments and eye contour products.

'It is the combination and balance of active ingredients,

growth factors, antioxidants and alpha hydroxy acids that

ensure each component in an Obagi product is working

at an optimum level. By partnering different ingredients

and products, Obagi changes skin from the inside out,'

DeMarais concludes. csbm

VITAMIN C:

A SKINCARE ESSENTIAL

Used to boost results as an adjunct to the

transformation systems, the Obagi Professional-C

Serums protect the skin against environmental

damage and help reduce the signs of skin ageing.

The serums are available in three strengths

– 10, 15 and 20 percent – and are formulated to

deliver maximum antioxidant protection against

harmful free radicals. Professional-C Serums can

be tailored to suit any skin type, for a brightening,

protective and rejuvenating effect.

www.cosbeauty.com.au 161
---
skin

Reprogram

your skin

DNAEFG Renewal is the latest skincare range from Advanced

Cosmeceuticals and is designed to reprogram the skin to look, act

and feel more youthful. Caitlin Bishop reports.

While dynamic wrinkles can be linked to overexpressive

brow muscles, sunspots to ultraviolet

radiation and skin laxity to those ever-deteriorating

collagen fibres, the way these factors manifest to impact the

rate and extent of skin ageing is related to DNA damage.

During the process of ageing, damage occurs to the DNA

of skin cells and, as these damaged cells renew, the quality,

resilience and integrity of the skin deteriorates.

In targeting this process and helping the skin to look and

feel more youthful, US dermatologist and former president

of the American Academy of Dermatology Dr Ronald Moy

has developed a results-driven skincare line. The range,

called DNAEGF Renewal, is distributed by Advanced

Cosmeceuticals and is formulated to help repair and correct

for anti-ageing effects.

'The link between DNA damage and ageing is seen in

all the components of the skin,' Dr Moy explains. 'When

collagen fibroblasts are damaged in their DNA, they will

replicate and continue making abnormal or insufficient

collagen, which causes the skin to become thinner. The

162 www.cosbeauty.com.au
---
skin

enhance natural skin regeneration. While the use of GFs in

skincare is not new, skincare products typically use growth

factors derived from E. Coli, or bacteria. DNAEGF Renewal

is the first range to use barley-derived growth factors, which

are touted to be more stable, pure and effective in repairing

damaged skin.

'E-coli products should be refrigerated because they're

not very stable,' says Dr Moy. 'This is due to contaminants

called endotoxins that develop in bacteria over time. We

were the first to look at barley-derived growth factors from

a cosmetic perspective. They're stable, don't have to be

refrigerated and, quite simply, they just work.'

The range is clinically

proven to help decrease wrinkles

and pore size, as well as lift

and tighten the skin of the eyes

and lower face

same process is seen when DNA damage occurs in

pigment cells, which eventually become pigmented lesions.

The range stemmed from Dr Moy's work into preventing

the development of skin cancers in sun-damaged skin.

In using DNA repair enzymes to reverse pre-cancerous

sunspots, Dr Moy found the treatment held significant antiageing

benefits.

'It was really the prevention of cancer that we started

with, as there are several articles on the treatment and

prevention of cancer using DNA repair enzymes,' Dr

Moy explains.

'When we started using the first version of the creams,

we found it to be effective in helping to prevent skin cancers

but we also saw dramatic anti-ageing results,' he says.

'Ageing and cancer go hand-in-hand: DNA damage leads

to cosmetic concerns, and DNA damage in its severest

stage leads to cancer. This range cosmetically enhances

the skin, while also helping to slow down skin ageing and

unwanted skin conditions.'

Alongside DNA repair enzymes, the range uses growth

factors (GF) to help stimulate the skin's stem cells and

Yet the key to any skincare range, Dr Moy explains, is

concentration. The use of active, anti-ageing ingredients

is immaterial if the concentration of these ingredients isn't

strong enough to make a difference.

'The concentration has to be sufficient,' he continues.

'I established the GF concentration by reviewing literature

– GFs have been used in wound healing and I chose the

concentration that was found to be an optimal dose for

effective results in wound-healing studies.'

The DNAEGF Renewal range features seven products:

Growth Factor Serum; Intensive Renewal; Night Renewal;

Eye Renewal; Intensive Moisturiser with Sun Protection;

Foaming Cleanser; and Scar Therapy.

Because of its protective nature and blanket influence

– helping to reverse damage in everything from pigment

to collagen – the range is suitable for all skin types and

results are 
typically seen within a month of regular use.

The ingredients possess anti-inflammatory ingredients,

meaning the products can be adopted easily and irritation

is rare. The effects of DNAEGF Renewal can be seen in the

tone, texture and integrity of the skin.

'By helping to replenish those DNA repair enzymes

that have been compromised by our environment and

bad habits, DNAEGF Renewal is clinically proven to help

decrease wrinkles and pore size, as well as lift and tighten

the skin of the eyes and lower face,' Dr Moy says.

'At the end of the day, youthful skin is the result of

repairing the damage already done and preventing further

damage in the future,' he concludes. csbm

www.cosbeauty.com.au 163
---
skin

The SEED

principle of

formulating

skincare

SYNERGIE FOUNDER AND COSMETIC

CHEMIST TERRI VINSON SHARES HER

APPROACH TO FORMULATING QUALITY

COSMECEUTICAL SKINCARE.

164 www.cosbeauty.com.au
---
skin

Formulating cosmeceutical skincare is based on

complex chemistry. It's not simply throwing together

various active ingredients and expecting a result.

Any cosmetic formulator must respect and have a deep

understanding of:

• How ingredients interact with human cells

• How ingredients react with each other

• Clinical data (both in vivo and in vitro) to support scientific

claims

• Advances in technology and cosmetic science.

Most over-the-counter (OTC) products are created for a

budget and often more money is spent by the manufacturer

on marketing and packaging than the contents on the

bottle! Consumers are now becoming aware of the media

hype and are savvier than ever in understanding ingredients.

When I begin a new formulation, I always refer to my

'SEED' acronym, a principle I have followed for many years.

In short, for a finished product to exert the desired benefits,

each active ingredient must adhere to my SEED principle of

formulating. These are the fundamental parameters I require

in each active ingredient when I consider formulating with

it. In my opinion, viable ingredients and finished products

must exhibit the factors outlined below.

The SEED principle

Stability. The ingredient/finished product must not be prone

to oxidation or breakdown under normal environmental

conditions. This includes UV light, heat, oxygen or water.

For example, when considering Vitamin A topicals, pure

retinol and retinaldehyde are relatively unstable forms of

Vitamin A. However, Retinol Molecular, the next generation

of retinol, is stabilised into a molecular film which is highly

penetrating and does not break down.

Vitamin C, according to White Paper data, is most

effective as L-ascorbic acid and not the derivatives (such as

MAP and ascorbyl palmitate). However, the pure L-ascorbic

acid molecule is highly unstable in water and in solution; it

begins to oxidise within hours, rendering it ineffective. The

ideal method of delivering stable Vitamin C is by keeping

the L-ascorbic crystals dry and adding the aqueous

liquid at time of application. There is also a new oil-based

(anhydrous) L-ascorbic acid which is highly stable due to

encapsulation and protection from air and water.

Effectiveness. The ingredient/finished product must

exhibit skin benefits and actually work! The benefits are

as diverse as the needs of the client and include reducing

fine lines and sun damage, and improving blemishes,

pigmentation, redness, irritation and dryness. Clinical data

must be available to support the benefits. I strongly advise

all skin professionals to read and evaluate clinical data

when considering new products.

Elegance. The finished formulation must have that elegant

'feel good' tactile quality and must not have an offensive

fragrance. No matter how good the product is, the customer

simply must find using it a pleasant experience. I learnt this

valuable lesson long ago!

Delivery. The cosmeceutical active ingredients must be

able to reach the target cell to create the desired biological

effects. The delivery method depends on a number of

factors, including:

• The depth and location of the target cells (epidermis

or dermis)

• The size and structure of the cosmeceutical molecule.

Large protein particles such as collagen and stem

cells do not penetrate the outer layers.

• The acidity/alkalinity of the ingredient and finished

product. Formulating guidelines must be adhered to

and the final pH of the product must be compatible

with all other ingredients. For example, Niacinamide

(Vitamin B3) is a very stable molecule at a certain pH

level. However, it must not be included in a highly

acidic solution as it will hydrolyse to nicotinic acid and

become ineffective. Furthermore, low molecular weight,

highly acidic or highly alkaline ingredients more readily

penetrate the skin. However, this may also lead to skin

irritation so it must be carefully evaluated.

Developing cosmeceutical skincare isn't simply taking a

collection of ingredients, mixing them together and sealing

the bottle! It is an exacting science whereby formulators

must understand the chemistry and synergy of ingredients

and perform extensive research and trials before eventual

release to the market.

My SEED principle summarises and highlights what

I base my formulating principles on. It is also what skin

professionals should base their decisions on and educate

their clients with, to ensure the most effective skincare

results. csbm

www.cosbeauty.com.au 165
---
skin

Renew your

complexion

The new Love Life skincare

range from Hovan's Group helps

optimise skin HEALTH and fight the

signs of an ageing complexion.

Nicola Donovan reports.

The most significant step in creating a flawless

complexion is first ensuring your skin is in good

health. Besides a nutritious diet and drinking enough

water, your largest organ relies on a quality skincare regime

to guarantee it looks its best.

As we age, our skin requires extra care and support, and

the new Love Life skincare range from Hovan's Group can

go great lengths in keeping the signs of ageing at bay.

The Love Life range offers four results-driven anti-ageing

products. Inspired by industry veteran Val Glover-Hovan,

the cosmetics have been formulated after years of research

with Australian bioscientists, offering 'results not promises'.

Ingredients have been hand-selected for their ability to

protect skin cells from environmental stresses, support skin

metabolism and promote rejuvenation from within.

Perfect Day –

Anti-Ageing Moisturiser

Moisturising is crucial when it comes to warding off fine lines

and keeping skin well hydrated. A potent herbal formula,

Perfect Day Moisturiser helps to reduce the signs of ageing

and enhance skin appearance. The formula contains

a complex of collagen-promoting glucosaminoplycans

and galactomannans; linoleic acids, which assist rapid

penetration while helping to firm the skin; and stem cells of

apple fruit to help stimulate the renewal of skin cells.

Perfect Night –

Retinol Renewal Complex

Serums typically penetrate the skin deeper than creams,

and contain more active ingredients to target specific beauty

concerns. The Perfect Night Retinol Renewal Complex is a

soothing night serum that addresses ageing concerns. The

formula contains Vitamin A to enhance collagen synthesis;

linoleic acid to promote and maintain skin health; Vitamin

E and Tamanu oil to restore skin health; seabuckthorn

seed oil as an antioxidant; passionflower to sooth and calm;

and licorice to reduce inflammation and irritation.

Eyes Best –

Exotic Eye Gel

Eye creams are essential for helping to keep the thin,

delicate under-eye area hydrated and smooth. The Eyes

Best Gel formulation is a potent eye cream that helps to

reduce the dark areas under the eyes, while reducing the

appearance of crow's feet. The formula contains Tamanu oil,

which is known for its healing properties, and a mix of herbs

to stimulate collagen synthesis. It's also fortified with kiwifruit

enzymes, antioxidant grape seed, Vitamin E and green tea.

Beauty Light –

Lightening Cream

Hyperpigmentation can develop due to a variety of reasons

– from sun damage to hormones during pregnancy. Often

making skin tone uneven, pigmentation is a common beauty

concern. Alpha fruit acids and citrus extract in the Beauty

Light Lightening Cream target darker skin spots to help

reduce their appearance. The cream has a broad-spectrum

sunscreen to help prevent further pigmentation, as well as

the triple action of urva-ursi (bearberry), arbutin and zinc

glycinate to help stop the browning action of melanocyte

production. csbm

166 www.cosbeauty.com.au
---
SUBSCRIBE NOW!

The fi rst 10 subscribers receive a free pack

from Synergie Skin valued at $129 each

Synergie Skin offers the ultimate Anti-Ageing Skincare Kit

The pack contains the essentials needed to help promote overall skin

health and radiance: Gentle Cleanser; Ultimate A Serum; Vitamin B

Serum; Pure-C Crystals; and Reclaim Anti-Ageing Moisturiser.

Synergie Skin's newest product, SuperSerum, is also included in the

kit. It combines the power of scientifi cally generated peptides and

microbial biotechnology to create the ultimate anti-ageing serum,

with clinical data to support results. This revolutionary serum is the

culmination of years of scientifi c research into the biology and

natural ageing processes of skin.

SUBSCRIPTION (tick option)

1 year subscription for issues 63 - 66

❏ Within Australia $50 (includes p&h)

❏ International $110 (includes p&h)

2 year subscription for issues 63 - 70

❏ Within Australia $100 (includes p&h)

❏ International $220 (includes p&h)

DELIVERY DETAILS

Name............................................................................................

Address........................................................................................

.......................................................Postcode...............................

State...............................................Country.................................

Telephone no...............................................................................

Email.............................................................................................

BACK ISSUES

I wish to receive.............................. (indicate number of copies)

of Issue(s)........................................... (indicate Issue number)

PAYMENT OPTIONS

❏ Cheque/money order payable to Bella Media Group Pty Ltd

OR

❏ MasterCard ❏ Visa ❏ American Express

❏ Within Australia $14.95 + $5 (p&h) = $19.95 per copy

❏ International $14.95 + $15 (p&h) = $29.95 per copy

Card no

CCV Number.........................

SPECIAL OFFER Back Issues – Set of 10

❏ Within Australia $65 + $50 (p&h) = $115

❏ International $65 + $150 (p&h) = $215

TO SUBSCRIBE

Name on card.........................................Expiry date ...../...../.....

Signature.......................................................................................

Final total $...............................................................................

by PHONE +61 2 9398 2755

or FAX +61 2 9398 2855

or POST Level 1, 42a Frenchmans Rd, Randwick, NSW, 2031

or ONLINE www.cosbeauty.com.au
---
eauty & spa

That's a wrap!

LOSE 15 CENTIMETRES FAST WITH THE INTERNATIONAL BODY WRAP FROM

NICOLE'S BEAUTY SALON. AIMÉE SURTENICH REPORTS.

If you want a last-minute centimetre-stripping option for

a special occasion or to kick-start your body after the

party-fuelled festive season, the International Body Wrap

offers a solution. It's guaranteed to take 15cm off your total

body circumference. And the best part? The treatment is

free if you don't blitz the minimum 15cm.

Detox your body

The International Body Wrap uses Dead Sea clay to cleanse

and detoxify your body of impurities such as toxins and

free radicals.

Your body is fi rst measured and marked up so that your

exact centimetre loss can be calculated after the treatment.

Then you are wrapped from head to toe with bandages

soaked in natural Dead Sea clay.

'The all-natural clay solution acts like a giant poultice

and draws out toxins and impurities from your body while

cleansing your skin and leaving it softer, smoother and

more toned,' says Nicole Gruodiene from Nicole's Beauty

Salon in Double Bay, Sydney. 'As the clay particles become

hydrated, they expand and absorb many times their own

weight in body toxins.'

After an hour, the wraps are removed to reveal skin

that is more radiant and toned with an improved overall

appearance. Skin tissue is compressed and the soft fatty

tissues are compacted, resulting in a reduction of body

circumference. The result? Your body ends up trimmer and

more toned without any weight loss. The centimetres lost

are not a result of water loss and therefore results should

last at least 30 days – and signifi cantly longer if you watch

your weight and lead a healthy lifestyle.

'A full body wrap is a great treatment to detoxify, hydrate

and slim the body,' adds Gruodiene. 'It produces results

after just one treatment, or you can opt for a course to gain

even greater results.'

The benefi ts don't stop there. Detoxifying the body offers

a host of beauty and health advantages, including improved

circulation, refi ned skin texture and higher energy levels.

Detox your skin

If the festive season is taking a toll on your body, it's

likely your face will also benefi t from a little detox. A

summer treatment plan incorporating sea salt scrubs and

moisturisi