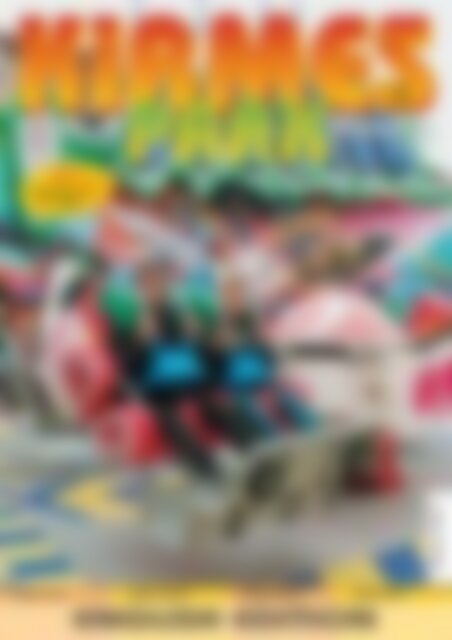 KIRMES & Park REVUE (English) Weert (NL) (Vorschau)
You also want an ePaper? Increase the reach of your titles
YUMPU automatically turns print PDFs into web optimized ePapers that Google loves.
N o 209

& Revue Gebühr

12/2014

12/2014

€ 9,50

£ 8,00

$ 13,00

Gebühr

bezahlt

B 14432

Extra

Kirmes & DIETZ

Wall Calendar

2015

VDZ No 77467

WEERT (NL)

CRAZY FRUITS THUNDERBOLT RATATOUILLE

ENGLISH EDITION
---
Familie

Cornelius

Ein herzlicher Dank an alle Veranstalter und Behörden für die vertrauensvolle

Zusammenarbeit. Wir empfehlen uns als zuverlässiger Partner für die Saison 2015!

Schaustellerbetrieb Otto Cornelius • Wallenhorst

Mobil: 0178/520 69 65 oder 0178/520 64 65

www.grossriesenrad.com • E-Mail: office@grossriesenrad.com
---
&

Revue

INDEX

ISSN 1436-6525

appears 12 x per year

■ Gemi Verlags GmbH

Pfaffenhofener Straße 3

85293 Reichertshausen

Tel.: +49 (0) 84 41/40 22-0

Fax: +49 (0) 84 41/718 46

info@gemiverlag.de

www.kirmesparkrevue.de

■ Managing Directors

Gerd Reddersen

Rudolf Neumeier

■ Chief Editor

Karl Ruisinger

■ International Representative

Translation, Advertisements

Agi Reddersen

Tel.: +49 (0 ) 84 41/8 10 57

Fax: +49 (0 ) 84 41/8 61 05

www.ag-advertising.de

Kirmes.A@t-online.de

■ Editorial Manager "Kirmes"

Ralf Schmitt

■ Editorial Manager "Park"

Frank Lanfer

■ Representative Great Britain

Michele Emmett

Tel.: +44(0)7811 915118

michele.emmett@googlemail.com

■ Representative USA

Shari Viox

Tel.: USA 314-477-8224

Shari@VioxLLC.com

■ Calendar of Events

Richard Veldhuis

■ Production

Westner Medien GmbH

■ Printing

Kössinger AG Schierling

■ Advertisements

GEMI Verlags GmbH

■ Sales and Marketing

Gerd Reddersen

■ Subscriptions

DataM-Services GmbH

Postfach 91 61

97091 Würzburg

Tel. +49 (0) 931/4170-178

(Mo-Do 8-17, Fr 8-15)

Fax +49 (0) 931/4170-179

services-abo@verlagsunion.de

■ Cover

Norman Vogt

ESU (European Showmen's Union):

Info: Page 62/63

Applies to advertisement price list 1/12

from 01.07.2012

All rights reserved. No part of this magazine

may be duplicated or published without written

permission from the publisher. This prohibition

also pertains to the commercial duplication

by copying, input into an electronic

database, and duplication onto a CD-ROM.

Certified active member of the

DECEMBER 2014

KALEIDOSCOPE

Facts – Observations – Short Portraits . . . 4

NEW PRODUCTS

Premières and Announcements . . . . . 10

SPECIAL

Weert (NL). . . . . . . . . . . . . 12

SALES WAGONS

Herzenswünsche. . . . . . . . . . . 20

GASTRONOMY

Grill-Scheune . . . . . . . . . . . . 22

KIDDIE RIDES

Splash Ball & Co.. . . . . . . . . . . 24

A LOOK BACK

Reports about Specially Selected Events . . 26

TECHNOLOGY

Crazy Outback . . . . . . . . . . . 48

NOSTALGIA

Exhibition in Essen . . . . . . . . . . 52

EXOTIC

Crazy Fruits . . . . . . . . . . . . 58

COASTER

Thunderbolt . . . . . . . . . . . . 64

TOP ACT

Ratatouille . . . . . . . . . . . . . 70

INTERVIEW

Legoland Germany . . . . . . . . . . 74

WATERPARK

Skara Sommarland . . . . . . . . . . 78

MAGAZINE

Current News from the Park-Scene. . . . . 82

PREVIEW

Calendar of Events . . . . . . . . . . 90

YOUR ENTRANCE TO OUR WEBSITE

3
---
KALEIDOSCOPE

SALOON

Georg-Erich

Löwenthal with his partner

and the "Saloon"

Text & Photos: Norman Vogt

Georg-Erich Löwenthal

from Essingen in Baden

Württemberg, who has

been touring the "Saloon –

The Wild-West Gambling

Hall" pick up trolley for four

years, has ordered 20 new

"E-Claw" pick up trolleys

from the Belgian Elaut firm

and incorporated them into

the attraction that he had

taken over from the Zöllner

firm, who had built the attraction themselves in 2010.

Earlier, the young showman toured together with his

parents, gaining the family knowledge at the Continental

pick stand as well as practical skills in operating a

games booth. After the takeover of the pickup

trolley, he founded his own firm. Ever since, he

has made regular guest appearances at the

Volksfest events in Stuttgart, the Bietigheim

Horse Market, the Crange Fair, the Eisleben

Wiesenmarkt, the Bopfingen Ipfmesse and the

Nördlingen Volksfest. In the evenings, the new

pick up trolleys are illuminated in continuously

changing colours. Löwenthal attaches great

attention to licensed products as prizes. For this

year's Cannstatt Volksfest in Stuttgart, for

example, he ordered a high number of soft teddy

bears with red chequered shirts and a 1-litre beer

mug with the name of the state capital embroidered on

them. The construction has ground measurements of 12

x 5 metres, is 6 metres high, and has electrical requirements

of 25 kW.

■

SCHOKOFRÜCHTE DELUXE

Text & Photos:

Nils Benthien

Danny Müller and his

new "Schokofrüchte Deluxe"

At the Stoppelmarkt in Vechta,

Danny Müller presented his new

attraction the "Schokofrüchte

Deluxe".

The sales wagon was built by the

Helmich firm, reconstructed by

Michael Wustrack from Karlshöfen,

and has a large bay. Its artwork

and design come from Borys

Shipov, who has already painted

several operations for the Müller

showman family. The sales wagon, illuminated by

LED lights, has a front length of 7 metres, a depth of

3.50 metres and a height of 5 metres. The products

on offer include chocolate coated and glazed fruits.

Only Belgian praline chocolate is used – the six

flavours offered being full-cream milk, strawberry,

white chocolate, dark chocolate, lemon, and

cappuccino. Danny Müller will tour his operation

mainly across Northern Germany. After the Vechta

Stoppelmarkt, this year's tour schedule included,

among other venues, Bruchhausen-Vilsen and

Oldenburg.

■

4
---
MEGA KING TOWER-NEWS

KALEIDOSCOPE

Text: Ralf Schmitt

Photos: Archiv

TRIP TO THE SKY

Shortly before the time of going to

press, Andreas and Claudia Zinnecker

surprised us with interesting news

relating to their "Mega King Tower"

Freefall Tower.

In the coming season – more precisely –

already at the beginning of the season –

the "Mega King Tower" will feature

numerous changes. In the words of

Hannes Lackner from the Funtime

Handels GmbH, a letter from the manufacturer

Funtime, received by the editorial

office, says: "Confirmation: The following

new features will be realised on your construction:

Rotating passenger gondola

accommodating 24 people; gondola

rotating up the entire tower height; lighting

of passenger gondola." Moreover the

manufacturer has confirmed delivery by

March 2015. Andreas Zinnecker explains

that the gondola will also be rotating

during the ride – and will be elevated by

high-quality corkscrew mechanics. Zinnecker

also underlines that it will be the first

example with this rotating technology, yet

retaining its current capacity of 24

passengers all the same. For this "upgrade",

the "Mega King Tower" was transported

to the manufacturer in Austria after

its guest appearance at the Hochheim

Markt in mid-November. And what about the heralded

Christmas Market appearance in Berlin? "Nonetheless,

we will fulfil our contract at the larger Christmas Market

Alexa in Berlin," said Andreas Zinnecker. For this

engagement, a Funtime construction of identical height

has been hired, which will be equipped with the "Mega

King Tower" equipment (paybox, backflash, etc.). "We

know that many fans in the capital city region have been

looking forward to our Berlin appearance for a long time

– just as we do!" says Andreas Zinnecker. Also redesigned

during the winter break will be the "XXL"

Swing recently taken over.

■

Text & Photo: Helmut Bresler

Going up some seven

metres into the skies – a

dream for the residents

of the Behindertenzentrum

has now come true.

The Kinderfest (kiddie

festival) in Nürnberg is a

fixture in the calendar of

events for families. To mark

the occasion of the 40 th

anniversary, the organisers

contracted the

nostalgic Ferris Wheel

from Robert Drliczek from

Fürth. The public was thrilled

and the Ferris Wheel

was very well frequented.

Even handicapped guests

were able to enjoy the ride

experience. All the earnings

went to the Behindertenzentrum.

In addition to

the nostalgic Ferris Wheel

the Drliczek family also

operate the two tall "Orion"

Ferris Wheels. ■

5
---
KALEIDOSCOPE

LUCKY LUCK

"Lucky Luck" – new

from Willy Engelbert Schmidt

Showmen and elected city

councillors: Ronald Morawski

(top) and Hans Blum (below)

Text & Photos: Nils Benthien

Willy Engelbert Schmidt from Oldenburg has been

touring the "Lucky Luck" shooting gallery since

the beginning of this year. The Schmidt family has

been successfully operating shooting galleries for fully

three generations. Willy's grandfather,

Burkhardt Schmidt,

toured a 12-metre long shooting

gallery, and his father Will

operates a handgun range as

well as a regular shooting

gallery. "Lucky Luck" can also

be rebuilt into a handgun range,

where every customer can shoot

four times. On the back as well

as on the front of the card, there

are seven red dots, three of

which are marked with a cross

on the back. Those hitting the crossed dots have the

choice among the prizes. The attraction has ground

measurements of 8.5 x 2.5 m and a height of 4.90 m. In

the coming winter a new LED name sign is to be made.

This season, the attraction appeared at, among other

venues, Wilhelmshaven, Jever, and Oldenburg. ■

CITY COUNCILLORS: HANS BLUM AND RONALD MORAWSKI

Text & Photos: Helmut Bresler

In the Bavarian municipal elections this spring, the

number of showman representatives acting as city

councillors has doubled from one to two.

Hans Blum is an "old hand" in politics. Since 2001, he

has been a member of the Weiden city council for the

CSU political party, was always re-elected, and has

now become deputy chairman of the CSU. He holds

various positions in the BLV (Bavarian State Association)

of the Weiden-Amberg district branch, is

currently general manager of the Arbeitsgemeinschaft

Jahrmärkte und Volksfest (fair and Volksfest event

working group) in Weiden, and fairground director at

the Weiden Volksfest and Schützenfest. He operates

several snack booths, two kiddie rides, and a games

and shooting gallery. The Fürth showman Ronald

Morawski, an active member of the CSU of many years

standing, was elected to the local city parliament for

the first time. He ran for office once before some six

years ago. Campaigning on a promising 9 th place within

the party's list of candidates he managed to win. As

election campaign manager, he organised many

events and has now, among other positions, become

District Manager of the CSU. With his Tiffany jewellery

boutique he has established a very good reputation

and has recently intensified his commitment to a snack

and beverage booth.

■

6
---
Wir wünschen ein gesegnetes Weihnachtsfest und

ein friedliches neues Jahr! Und wir freuen uns auf

das Finale auf dem Rostocker Weihnachtsmarkt.
---
NEW PRODUCTS

IE PARK / SOLI BUMPER CARS

Unique design with a

supporting structure from

tubular steel, opposed to

fibreglass

The new bumper car NK.01

from IE Park/Soli from different

perspectives

Photos: IE Park/Soli Bumper Cars

The Italian manufacturer IE Park/Soli Bumper

Cars has recently added a new model to its

bumper car range with a number of innovative

design features and "eco-friendly" credentials.

The new NK.01 model features a unique design

with a tubular steel supporting structure on the

body exterior, as opposed to fibreglass. According

to the manufacturer, the new design results in a

higher resistance to impacts and vibrations. The

body of the car can be made of different types of

high-strength plastic materials and can be clear,

coloured or decorated in a theme of the customer's

choice. With the aid of a special colour system,

customers can choose the colours of the car body

as well as of the tubular steel structure. Of key

significance, however, is the fact that the innovative

addition uses recyclable materials, meaning

that at the end of the chaise's life the tubular

steel frame and the car body will be 100% recyclable.

Moreover, power consumption of the

NK.01 has been considerably reduced by the use

of a special 'chopper' electronics board for power

control, which can be set to limit the maximum

current supplied to the motor. Additionally, the use

of the latest LED lighting technology offers a high

lighting level with low energy consumption, long

life and easy maintenance. The new positioning of

the LED lights inside the tubular frame guarantees

not only protection against impacts and tampering,

but also, due to the use of RGB colours, there are

many colour options available, according to the

programming of the Master-MPD1 electronics

board. In addition to the programming of the

lighting colour the Master-MPD1 electronics board

also allows the management of the digital touch

display and any interactive games on board the

chaise, while a built-in accelerometer detects the

car collisions and turns them into light plays or

images to appear on the chaise's digital display.

The digital touch screen can also be used by the

operator for advertising purposes and the display

of the company logo, the score of interactive

games, and videos pre-loaded into the internal

memory. Moreover, it allows riders to select different

modes from a special menu such as music

during the ride, games and the web cam. "We are

continually developing our SOLI bumper car programme

with the introduction of new models, and

the NK.01 is yet another major development for

many different reasons, not least due to its

stunning design and its environmentally friendly

credentials," said IE Park sales director Andrea

Munari. The NK.01 joins the SOLI Bumper Car

range in the company's 85 th anniversary year and

continues the expansion of what is currently,

according to the manufacturer, one of the most

comprehensive programmes of small, medium

and large sized vehicles for all requirements in the

bumper car sector.

■

10
---
SPECIAL

The Weert fair takes

place in the city centre

In the small town located in the

south of the Netherlands one of

the largest Dutch fair events, the

Stadskermis, is celebrated every

year in early autumn. From 26 th

September to 1 st October 2014,

the Weert town centre was transformed

into a spacious fairground

once again. To mark the

occasion of the 600 th anniversary

of the town, it was an extra-large

fair event with a number of

novelty attractions, unique for

the Netherlands.

Text & Photos: Norman Vogt

The retail sector enticed

with special fairground discounts

Weert (NL)

Due to its cosy flair, the Weert Fair is highly

popular and enjoys an excellent reputation

among the some 1 million visitors from Holland and

the neighbouring countries. Each of the seven towncentre

squares is a fairground in its own right, and

visitors can experience, taste, smell and enjoy the

typical fair atmosphere everywhere. The event enjoys

high ranking in popularity not only among

national showmen, but also ride attractions from

Germany can be encountered at the lucrative sixday

event every year. On the 1.7 km fun-mile,

spreading from the market square to Neue

Markt, Dries, Stationsplein, Langpoort, Bassin

and on up to the Kasteelplein, visitors were

able to experience and enjoy a fair event appealing

to all the senses once again, offering wellknown

and successful as well as spectacular

novelty attractions. Moreover, concession stalls of

every kind were built up on the streets between the

individual fairgrounds, and an ample selection of

fried sausages, Hamburgers, kebabs, steaks,

pizzas, fried chips, crêpes, Churros, or sweet delicacies

provided visitors with food and drink. Particularly

noticeable were a number of modern

bakeries, conspicuous due to their beautiful nostalgic

design. At the unmanageably

large number of games booths

visitors were able to not only win

classic soft toys but – with a bit

of luck – also high-quality prizes,

such as flat-screen TV-sets, bicycles,

and stereos.

Thanks to the organising Weert

town authorities making sure that

the fair offered sufficient and

Due to the occasion of the

city's 600 th birthday it was an

extra large and attractive fair in

Weert

12
---
SPECIAL

Attractive rides and

constructions were spread all

over the complete inner city

area

affordable attractions for young

and old alike, so that visitors are

able to enjoy themselves all day

by arranging fare prices and entrance

fees with the showmen, the

fare at most rides was between

€1.20 and €2 this year; only at

highly spectacular attractions did visitors have to

pay up to €4 for a ride. Compared to similar events

these are truly 'dumping prices', and resulted in the

different rides operating at full capacity most of the

time and long queues forming in front of the pay

boxes on peak days.

Special Fair Offers

The nearby retailers also participate in the event,

enticing customers with special fair offers, or

"Kermis Korting", prominently advertised in the

shop windows. Due to this year's

town anniversary, more than 130

showman operations received

coveted contracts for the event.

In addition to well-known and

successful attractions, a couple

of novelties unique for the

Netherlands were also chosen

from the applications received.

With "The Tower" from Ad and

Willy Ordelmann built by Funtime,

a brand new freefall tower

celebrated its première on the

Bassin-Platz. The spectacular

novelty, which came to the

Netherlands directly from the

Austrian manufacturer, lured

many spectators even during the

week of build-up. Due to its rotating

gondolas, "The Tower" pro-

13
---
SPECIAL

Jump right into the fun!

vides its passengers with a terrific all-round view

before the freefall. Built up next to the tower were the

"Spinning Coaster" (Buwalda) and the "New York"

dodgem track (Hinzen), along with the "Geister

Villa" (Bram v/d Molengraft-Sipkema), spruced up

with new ghosts, creepy effects, and a ghost fountain,

at the end of the street. Moreover, a com-

14
---
SPECIAL

"Cake Walk", "Fun Circus" and

probably the first joint ride for

two young guests

pressed air ride for children and a number of concession

stalls enticed the public to this fairground.

After a short walk visitors reached the Kasteelplein,

which was mainly occupied by towering rides, such

as the "Europarad" (Vallentgoed), which provided

its passengers with a magnificent view. Placed next

to the Ferris Wheel was the three-level "Boobytrap

Hotel" funhouse (Albers) with three-dimensional

figures of Marilyn Munroe, Elvis Presley, and James

Dean decorating its front. Many a "Selfie" was taken

while passing these figures. In addition to the "Big

Apple" family coaster (Buwalda) this fairground also

accommodated two looping rides, the towering "Inversion

XXL" (Ordelman) going through a lot of loopings

high up in the air and, coming from Germany,

the Weert debutante "Booster" (Löffelhardt) with

side-tilted loopings. Further along the course,

coming from the family coaster, visitors encountered

a kiddie ride before reaching the "X-Factory"

Miami (Boesveld), the seats of which tilted forwards

over the fountains, providing a lot of fun and waterhappy

faces. Passing the "Montgolifiere" (Finke-

Zarnikau) and a bungee-trampoline, visitors reached

the market square, where the double storey

"Grande Carroussel de Maastricht" ride (Ropers),

which was well-attended (not only by children),

made its rounds in front of the setting of timehonoured

buildings. Built up diagonally opposite

was the very beautiful "Ice Jet" Matterhorn (Ropers)

particularly noticeable due to its fantastic painting

and ample light show. Further along to the right,

visitors eventually came to Neue Markt occupied by

the appealingly designed "Magic Aladdin" (Kroon)

flying carpet and the "Tropicana" Caterpillar ride

(van Reeken). At the end of the fairground, the

"Breakdance" (Hoefnagels) made its rounds, children

could enjoy the "Bootjesmolen" water ride

16
---
(Eeringa) and the "Fun Circus" Walkthrough construction

(Moonen) provided visitors with a disorientating

experience on two levels.

Passing several concession stalls, a pony ride and

the fortune teller in the pedestrian precinct, visitors

reached the Langpoort, where there appeared a

Poffertjes booth, a mini-dodgem, and the kiddie ride

"Adventure Ride" was built up in its foremost section.

With the "Predator" (Löffelhardt), moved back

somewhat from the course, another spectacular

Weert novelty could be encountered in the same

area.

This ride was heralded as the most spectacular

novelty on the town's website. The ride from

Germany was very well received by the guests and

scored well not only with adolescents, but with

older visitors too. Clearly visible from any distance,

the "Sound Machine" (Hoefnagels) was built up on

the Stationsplein. In the evenings it was virtually

besieged by the younger generation. Moreover, the

course inside the "Cake Walk" (Hoefnagels) – an indispensable

'must' at most Dutch fairgrounds, with

Very varied

amusement offers was also

available for the smaller

fairground visitors

17
---
SPECIAL

Confectionary offers at Weert

Californian nuts and hearty

specialities from the German

swivel grill

its many effects, such as shaking floor, rolling barrel,

conveyor belt, or rotating disc – invited the public to

test their balance. Inside "Das Omen", yet another

Walkthrough construction, visitors were able to

negotiate an adventurous path through the jungle

and a temple. Walking along an underpass, visitors

came to the "Jumper Jumper", a smashing jump

ride highly popular in the Netherlands. Only a few

metres from there, the KMG swing "Ultimalte" (de

Weijer) whirled its passengers through the skies,

before visitors reached the "Dries", which accommodated

further speedy ride attractions.

Built up on the rear top-end site, the "Euro Coaster"

(Buwalda) gondolas raced past the closely adjoining

houses. The giant propeller "Booster Maxx"

(de Voer) could hardly cope with the rush of passengers

already in the early evening hours. Built up

opposite were the classic Mack ride "Hully Gully",

18
---
ent fairgrounds. On Friday, business at the event –

open daily from 1 p.m. to midnight – was quite

modest due to rainy weather. The weather improved

from Saturday though, and five beautiful late

summer days and hot temperatures resulted in a

rush of visitors. The Weert Fair closed with a fireworks

display, accompanied by music, held on the

last evening.

■

Shooting galleries,

games and vending machines

City centre fairground –

always appealing to find

something new behind

buildings and on street corners

operated under the name of "Disco Dancer"

(Broers) in Holland, and the "Crazy Beach" polyp

(van Tol). In this location, the younger visitors were

able to enjoy the "Tea Cups" (Sokolowski-Dekens)

and a "walking waterballss", as well as a "Crossbahn".

Parking facilities were available all around the differ-

19
---
SALES WAGONS

HERZENSWÜNSCHE

Melanie Weeber fulfils

the desires of hearts

Text & Photos: Norman Vogt

Melanie Weeber from Stuttgart celebrated the

première of her new "Herzenswünsche" ("heart's

desires") at the Cannstatt Volksfest. The showwoman

has specialised in the marking of gingerbread

hearts in many different sizes. However, she

not only offers individually inscribed hearts, but

also pre-designed ones with many different

declarations of enduring love!

Melanie Weeber founded her gingerbread heart

painting operation four years ago with a simple

wooden booth. The new operation was built by the

Warendorf Verkaufswagen GmbH in Beelen and

appealingly designed by the Elfering firm. The front

was decorated with hearts as well as an unusual

"piping bag". The operation, which was equipped

with many LED-lights, is dominated by light-green

colours. Its name sign was made

of Plexiglas and it was also

equipped with LED-lighting. All the

lighting elements and light strips

on the exterior and inside the

sales wagon were installed and

cabled by the show-woman's

brother, Alexander Weeber. But most importantly, the

gingerbread hearts! They are all individually decorated

with icing, which is then briefly dried in an oven,

and as previously stated, many are 'personalised'

according to customer wishes by Melanie Weeber

herself. After drying, the hearts are sealed in plastic

film. A remarkable new service provides for the

printing of a photo on edible icing paper, which is

glued to the heart. The photo can be sent to Melanie

Weeber via Smartphone. For customers it is highly

interesting to watch a heart being embellished

according to their wishes. After the successful

première in Stuttgart, Melanie Weeber presented her

new attraction at the Basle Herbstmesse, where

"Herzenswünsche" was very well received also by the

Swiss public. The sales wagon has ground measurements

of 7 x 2.50 metres, a height of 4.90 metres and

electrical requirements of 10 kW.

■

20
---
GASTRONOMY

GRILL SCHEUNE

"Grill Scheune" from Metz

Roland and Diana Metz.

Right: the beverage outlet was

visually adapted to the

"Grill Scheune"

Text & Photos: Norman Vogt

At this year's Stuttgart Frühlingsfest, Diana

and Roland Metz from Wiesloch opened

their new gastronomic booth "Grill Scheune",

built and punctually completed by

Spezialfahrzeugbau Pfaff from Bad Lausick,

near Leipzig.

With the new operation, the Metz family, who

have already been operating a smaller snack

booth for some time, offer their guests the

opportunity to enjoy food and drinks in a cosy

atmosphere. "Grill Scheune" also includes a

matching beverage outlet and the "Scheune",

or "barn" with many roofed-over seating

possibilities. During transport, the latter also

serves as a baggage van for the seats and

decoration elements. The beverage outlet used to be

a part of the smaller snack booth, but was superficially

altered to suit the new operation and covered with

wood, just as were the other operations. On the roof of

the more than 4-metre tall "Grill Scheune" there is a

small tower and a chimney, a large picture hanging on

the back wall shows an Alpine landscape, and the

amply decorated beer garden offers 150 seats. Fully

assembled with all these sections, the gastronomic

operation has a total size of 22 metres and is 11

metres in depth. Among other delicacies, the menu at

the grill offers fried sausages, hamburgers, steaks and

fried chips. Moreover, the "Metz´schen Riesen Hot

Dog", or Metz' giant hot dog, a variant of the Thüringen

Bratwurst is served as a "special" in a baguette with

onions, gherkin, ketchup and mustard for big

appetites. Build-up and dismantling is done by means

of a remote-controlled hydraulic system. After the

successful première at the Stuttgart Frühlingsfest, the

Metz family presented the "Grill Scheune" mainly at

various events in Baden Württemberg and Bavaria, as

well as at the Cannstatt Volksfest in Stuttgart and other

venues.

■

22
---
KIDDIE RIDES

SPLASH BALL & CO.

Five years ago, Björn Eggers

from Hannover founded "Vergnügungsbetriebe

Eggers jun."

and has been operating his

attractions with two permanent

employees at Volksfest events,

city festivals, and private events.

Even though he mainly tours

throughout Northern Germany,

appearances can often be

throughout the whole of the

country.

Text & Photos:

Uwe Holzmann

"Splash Ball" and swing

boat from Eggers

The main attraction since August 2012 has

been the "Splash Ball", which can be built up

in two sizes on a substructure made of heavy

load flooring and with ample decoration, according

to the organiser's wishes. The larger

attraction offers five water balls, and the smaller

version three, suitable for children and people

up to 90 kg with oxygen for up to 30

minutes and constantly cleaned by

steam. The water is also constantly

cleaned by a filter pump, and underwater

lighting provides fantastic

effects during operation. The construction

is framed by a backflash with

multicolour LED-lighting, and next year

there will also be a name sign also with

LED-lighting. For 2015, two rollers

accommodating two people – be it

children or adults, and thus a fantastic

possibility for joint family fun – have

been purchased for the pool. The firm's

attraction contingent also includes the

"Skyline Jumper", a bungee construction built on

a trailer according to the standard DIN EN 13814

in 2014, and perfectly suitable for city festivals

due to its compact ground measurements and

rapid build-up and dismantling.

The Latex jump ropes are suitable for people of

up to 100 kg and 6-metre jumps. additionally,

there is the "Bayrische Supa Gaudi Schaukel"

swing, built in 1960 and presented at the Cannstatt

Wasen way back then, thoroughly restored

and colourfully painted in a Bavarian style by

Eggers himself.

The 4-ship swing, which can also be built up

brace-free, is operated at about 15 events a

year. Björn Eggers' attraction contingent is

rounded off by a Punch and Judy show (mainly

presented at Christmas Markets, such as

Schloss Bückeburg and in Stadthagen, but also

at many city festivals) and a crêpes-booth. Next

year, a chain ride with 20 seats, decorated and

painted as the "Circusflieger", is to be added to

the fleet of attractions.

■

24
---
Abenteuerspaß auf höchstem Niveau

Wir wünschen allen Veranstaltern und Kollegen ein gesegnetes Weihnachtsfest und einen guten Rutsch

ins Jahr 2015! Auch in der neuen Saison sind wir Ihr zuverlässiger Vertragspartner.

www.pirates-adventure.de • E-Mail: schneider-pirat@web.de • Tel. 0163 / 858 26 76
---
MUNICH – OIDE WIESN

Wiesn and underscore the difference to the hustle and

bustle on the larger Wiesn-fairground, even though

historic attractions – such as the Russe "nostalgic

wheel", Crinoline, or two-storey carousel, which logically

should be built up in the old Wiesn section – also

appear at the "Wiesn proper".

"Evergreen"

Ernst's Gallopers made a guest

appearance at the Oiden Wiesn

for the first time

Text: Karl Ruisinger

Photos: Helmut Bresler

The Wiesn organisers lovingly define the Oide

Wiesn as "boarisch, griabig and gmiatlich", or

"Bavarian, pleasant and cosy" in the Bavarian

dialect. "Families and elderly people, fans of the

modern folk music scene as well as traditionalists

– there is something on offer to suit everybody's

taste".

Nowadays, finding a seat in the historic section has

become difficult, however. At the weekend and on

peak days, this section is just as buzzing with

activities as in the main section of the Oktoberfest,

especially if you are looking for seats to relax and

enjoy a one-litre Maß of beer in the Keferloher Krug

tent. As a result, it is hardly surprising that beer was

served not only in the two main tents, but also in the

"Velodrom" for the first time. It is mainly the showman

attractions that enhance the peaceful flair of the Oide

While a number of older constructions, such as the

"Calypso", a chain ride, "Fahrt ins Paradies", a Caterpillar

Ride, a nostalgic dodgem or the "Hexn-Wipp'n",

have now established themselves on the Oide Wiesn,

there were also premières – for example, of the

magnificent "Evergreen" two-storey carousel from the

Ernst family, the components of which date back to

1910. The different original carousel horses in particular,

coming from the traditional Friedrich Heyn firm,

make the ride a "museum piece". Therefore it was built

up directly in front of the museum tent, located slightly

off the circuit course, but was nonetheless very wellattended.

According to the official Wiesn review, the

two other showman debutantes on the Oide Wiesn –

Karl Heinz Widmann with the fairytale carousel, and

Maximilian Fritz with the shooting gallery with

mechanic targets – were also "satisfied and excited

about the public's positive response." The shooting

gallery (by the way, already presented on the Wiesn

once before in 1989) became the subject of

journalistic and political discussion during the course

of the event. As several targets at the shooting gallery,

dating from between 1880 and 1920, depicted black

people, the SZ newspaper commented, "Racism is no

fun." That is certainly true, of course, but it is also

questionable to immediately speak of "political

correctness" with regard to a historic object dating

from this period.

■

26
---
Rudolf Schütze • Geisterbahnen und Belustigungen

Über 90 Jahre Geisterbahn-Tradition: Erschrecken statt verschrecken!

Immer wieder neue Qualitätsgeister

aus deutscher und europäischer

Spitzenproduktion

Geisterbahnen für die

ganze Familie

Die Geisterkutsche nimmt dich mit auf die Reise durch die Dunkelheit

ins Reich der Geister, Dämonen und Untoten.

Jetzt ganz neu:

Clowni: die Verwandlung vom Clown zum bösen Geist

Der Seelensauger – er will auch deine Seele!

Die Hexe Walburga – sie wartet nur auf dich!

Der Gefangene hinter Gittern! Ist er wirklich gefangen?

Hüte dich vor dem Geisternetz – es lässt dich nicht mehr los!

Einmalig: Die Geister-Grusel-

Rekommandations-Show

Jetzt mit neuem Schriftzug • Neueste Energie effiziente LED Beleuchtung

Fantastisch farbintensives Lichterspiel auch tagsüber!

Wir bedanken uns bei unseren Vertragspartnern für die vertrauensvolle

Zusammenarbeit und empfehlen uns für die neue Saison.

Planen Sie Ihre Geisterstunden mit uns!

Rudolf Schütze • Geisterbahnen & Belustigungen • Oberhausen

Tel. 0178 / 658 59 52 • E-Mail: info@schuetze-geisterbahn.de
---
A LOOK BACK

BAD DÜRKHEIM

above

The Wurstmarkt from

Figure on the "Daemonium"

and Becker's "Breakdance"

Text & Photos: Norman Vogt

The 598 th staging of the largest wine festival in

the world, the Bad Dürkheim Wurstmarkt, was

celebrated on the Brühlwiese-fairground from

12 th to 22 nd September this year.

Special attention was attached to the "noise"

issue this time due to the fact that some Bad

Dürkheim residents keep complaining about the

noise level at the Wurstmarkt and would like to

see the festival end long before midnight. As a

result, the organisers have to find a solution to

counter this threat. Therefore, one day before the

opening the noise level of all the attractions were

measured, adjusted and the volume control was

sealed by the Struktur- und Genehmigungsdirektion

(SGD) Süd from Neustadt. At the

measuring points at the edge of the fairground

the permitted volume of a maximum of 70

decibels from 10 p.m. was occasionally exceeded

by 5 decibels, due to the noise from the

visitors. This autumn, the Dürkheim Mayor Wolfgang

Lutz will come to an agreement with the

SGD Süd about how to counter plaintiff residents.

It is hard to fathom that the Wurstmarkt might

have to close earlier due to what a few people do.

One can only hope that this will not happen and

that a solution acceptable to both sides will be

found.

This year's Wurstmarkt was very successful once

again. It was possible to contract the "Mega King

Tower" (A. Zinnecker) as a prominent novelty.

Another novelty this year, the looping swing "The

King" (A. Zinnecker) was constantly in heavy

demand after sundown. As a result, passengers

had to put up with queues of people waiting to

be whirled through the air. Further novelties

contracted were "Dr. Lehmanns Horror Lazarett"

and the "Berg und Tal" coaster (Schneider).

Other rides presented once again were the

"Bayern Wippe" (Krüger) "Super-Wellenflug"

(Nickel), "Take Off" (Ruppert), "Happy Sailor"

(Howey), "Hot Shot" (Dölle), the "Jupiter" Ferris

Wheel (Barth-Kipp), "Looping the Loop" (von

Olnhausen), giant slide (Göbel), the "Millennium"

dodgem track and the "Rallye Monte Carlo"

28
---
Wir bedanken uns bei unseren

Vertragspartnern für die

vertrauensvolle Zusammenarbeit

und empfehlen uns

für die neue Saison.

Ein herzlicher Dank

an alle, die uns

in unserem

Premierenjahr

so fantastisch

unterstützt haben!

Neu für 2015!

Eine sprechende Hexe

& Nebeneffekte

Ricardo Arens • Hagen • Tel. 0173-429 08 51 • Mail: knusperhausarens@aol.com
---
(Fackler). After a long absence,

visitors once again encountered

Becker's "Breakdance",

the "Daemonium"

ghost ride, and Blume's "Event

Tower", and younger visitors

were able to enjoy a number of

kiddie rides. The highlights included

the literary morning pint

event, two fireworks displays

that were well worth experiencing,

and the autograph

session of the 1. FC Kaiserslautern

football team, which is

very popular with the people

from the Palatinate – despite

having played in the second

ivision for several years now. ■

A LOOK BACK

Top novelty at the

Dürkheim Wurstmarkt:

Zinnecker's "Mega King Tower"

HAAN

Text & Photos:

Michael Petersen

The opening of the Haan Fair at the "Jupiter" Ferris

Wheel on 27 th September in marvellously sunny late

summer weather and high temperatures was

followed by four days of celebrations in the middle

of this garden town.

At the weekend, the fair was at its best, and there was

barely any room to move on the fairground on the

Saturday evening and Sunday afternoon. This was a

surprise even for participants of many years standing.

"We have not seen a crowd like this for a long time,"

the showmen agreed happily as the heavy visitor

attendance reflected in their financial results. Business

was somewhat modest only on Monday in the early

evening hours due to light rainfall. When the colourful

fireworks display heralded the end of the Haan Fair late

on Tuesday evening, many showmen may well have

felt sorry. Once again, the management team headed

by Reiner Skroblies had done a good job and presented

an appealingly laid out fairground with new

approvals providing ample variety and new

perspectives. On the Wednesday afternoon prior to its

opening, many amateur photographers came to the

market square to take photos of the arrival of the major

rides and the manoeuvring of the "Hexentanz"

centre trailer onto the site at the dismantled

fountain. Other attractions built up were the "Villa

Wahnsinn" – contracted as a novelty for Haan, the

"Hawaii Swing", which enthralled the visitors as a

replacement for the "Südseewellen", the chain ride

from Fuhrmann, which made an appearance

instead of the Wave-Swinger, and Weber's "Flash",

which was virtually besieged. Preserving the

traditions of the town-centre fair, the careful

approval of novelties, extensive advertising, and

the fact that the region surrounding Haan boasts

an exceptionally high number of fans of the event

guarantee its success.

■

Fairground

impressions of Haan

31
---
A LOOK BACK

HANNOVER

Rush of visitors at the

Oktoberfest in Hannover on

"German Unification Day"

Tapping of the keg in

Hannover: Mayor Hermann,

AGV General Manager Arthur

Armbrecht, and Adrian Klie

from Gilde-Brauerei

Advertising campaign from

the showman youth in the

Hannover pedestrian precinct

Text & Photos: Uwe Holzmann

When a working group of showmen from

Hannover established an Oktoberfest on the

centrally located Schützenplatz of the state

capital, nobody could have guessed that the

"Oktoberfest Hannover" would evolve into one

of the largest and most popular Oktoberfest

events in Germany.

In a ceremonial act during the opening of this year's

event on 19 th September, the 50 th anniversary of the

event was celebrated, and the board and members

of the "Arbeitsgemeinschaft für Volksfeste in

Hannover", headed by Arthur Armbrecht, had once

again gone out of their way to present an appealing

Oktoberfest event with many novelties, attractions,

and special events. On the Thursday afternoon

before the opening, the showman youth had built up

an information stall in the city centre on Kröpcke,

where flyers and gingerbread hearts were distributed

and free rides could be won at the Wheel of

Fortune. Highlights on the fairground this year were

the "Wilde Maus" from Barth, the 60-metre "Around

the World" tower chain

ride from Van der Beek-

Dauphin, the "Poseidon"

water ride from Heitmann-Schneider

and

the Ferris Wheel from the

Wilhelm firm. A colourful

mixture of ride attractions

for young and old

alike, including the

"Breakdance" (Hainlein-

Noack), "Shaker2 (Wilhelm),

"Magic" (Meyer),

"Air Crash" (Wingender),

"Rocket" (Weber) and

"Heisse Räder" (Armbrecht) provided a lot of ride

fun and thrills. They were joined by newly purchased

"Schlittenfahrt" from the Thelen family, celebrating

its première. The fun sector was represented by "Die

große Geisterbahn" (Schütze), "Remmi-Demmi"

(Janßen), "Kristallpalast" (Sturm) and "Tal der

Könige" (Bügler). Further attractions built up were

the dodgem tracks (Thelen and Armbrecht), and

younger visitors were able to enjoy the "Kuddel der

Hai" kiddie coaster (Belli), "Bungee" (Ahrend),

"Käptn Jimmy" and Moglis "Traumfahrt" (W.O.

Ahrend), "Top Drive No.1", a Jet Ride (Müller), a

kiddie scooter (Kröker) and "Spanische Reitschule"

(Liebtrau), as well as a selection of kiddie rides. In

the beer tents from Marris and Ahrend an Oktoberfest-style

entertainment programme was on offer,

the beer gardens at a number of snack and beverage

operations featured autumnal as well as

Bavarian-style "blue-white" decoration, inviting

visitors to linger and enjoy, and a colourful mixture

of confectionery stalls, snack booths, shooting

galleries, games and sales stalls rounded off the

cornucopia of attractions. Every Friday a terrific fireworks

display was held on the Oktoberfest fairground,

and on 3 rd October, the Oktoberfest was

incorporated into the festivities to mark the

occasion of the Tag der deutschen Einheit (German

Unification Day) celebrated in Hannover, the state

capital of Lower-Saxony this year, and in the evening

a light, water and fireworks show took place on or

above the fairground adjoining Maschsee. In the

end, the organisers were able to announce a highly

positive review; the public (including many

families) appreciated the event's harmonious

concept, and enjoyed the friendly autumn weather

at the largest Oktoberfest in Northern Germany. The

showmen were particularly satisfied with the final

weekend of the event.

■

32
---
Mit Liebe zum Detail und dem Drang zur Perfektion

19 m breit

9 m tief

Buchen Sie uns jetzt für die Saison 2015!

www.ghost-entertainment.de

Hotline: 0177/314 87 12 und 0178/466 57 44 • Mail: a.burghard84@gmx.de • facebook Ghost – Der Geisterdschungel
---
EISLEBEN

Text & Photos: Rolf Orschel

From 19 th to 22 nd September, the 493 rd staging of

"the Wiese" – as the locals call the Wiesenmarkt –

once again enticed hundreds of thousands of

visitors to Luther's City of Eisleben.

As usual, the Wiesenmarkt began on the Friday at 2

p.m. with a historic procession boasting some 1,000

participants from the market square to the fairground,

where Mayor Jutta Fischer officially opened the

Wiesenmarkt with the tapping of the keg inside the

huge beer tent at 3 p.m. With 4,000 front metres on

the 80,000 m 2 fairground, visitors were able to enjoy a

cornucopia of ride and funhouse attractions as well as

concession stalls of all kinds. Moreover, 128

marketers with all kinds of goods invited the public to

a stroll across the large bric-a-brac market on Lindenallee.

New for Eisleben were, among others, the "Beach

Jumper" (Wegener), "Cinema 6D" (Weiß), "Der

Burner" (Meisel), the "Hawaii Swing" Alpine bob

(Schaak), "Adrenalin" free fall tower (Bügler) and the

Horror Show (Barth). The "Bellevue" Ferris Wheel from

Bruch, which appeared at the Eisleben Wiese for the

seventh time, was once again the landmark of the

event. Further attractions built up were the "Auf

Manitus Spuren" water ride (Heitmann-Schneider),

"Frisbee" (Ruppert), "Jaguarbahn" (Neutzsch),

"Breakdance" (Meyer), "Flipper" (Splitt), "Spider"

(Meyer), "Gaudi Schunkler" (Kazimierski), "Europa

Ring" (Rohleder), "Sling Shot" (Printschler), 2 dodgem

tracks (Hickmann and Meyer), "Montgolfiere" (Finke-

Zarnikau), "Ghost" (Burghard), "Top Spin" (Scheele),

"Sound Machine" (Welte), "Happy Family" (Heine),

"Aqua Velis" and "Fun Street" (L.Hofmann), as well as

"Mäusestadt" (Brambach), "Crazy Outback" (Hofmann-Jehn),

"Hippie Trip" (Eisenhauer), "Around the

World" (van der Beek-Dauphin), "Mexico City" (Walkhoefer-Fischer),

"Crazy Mouse" (Janßen), "High

Explosive" (Vorlop), "Piraten Rutsche" (Meyer),

"Eclipse" (Korten), "Spuk" ghost ride (Sipkema-

Lütjens) and the "Happy Butterfly" (Magerstedt).

Despite the high number of rides and tracks, a

spectacular major ride was missing this time. The

younger visitors were able to enjoy a kiddie railway, 2

kiddie track rides, a kiddie scooter, a kiddie Hully

Gully, Jet Ride, "Samba", 1 kiddie carousel, a pony

ride and nostalgic Gallopers. They were joined by 5

Continental pick stands, 11 shooting galleries, 22

games booths and arcade machines, and 2 beer

tents.

A total of 64 snack and drink booths were clearly too

much of a good thing. At the time of our visit, we

noticed that a number of gastronomic operations were

deserted for hours on end. Moreover, several

operations from regular participants of many years

standing with loyally returning customers were no

longer approved and replaced by experienced

gastronomic operations. Even though the occupation

and layout of the fairground, which was the size of 12

football pitches, made a good impression, some rides

impressions

Eisleben Wiesenmarkt

35
---
A LOOK BACK

were unfavourably placed. For example, the "Gaudi

Schunkler" built up in front of the emergency exit on

Wiesenstraße West got hardly any attention, and the

"High Explosiv" coaster standing at the main

entrance on Wiesenstraße Süd could not manifest its

usual striking appearance, as all one could see was

the station, which seemed to be a concession stall

from any distance. Let's talk about business: The

weather was bad this year. Due to rainfall on Friday

and continuous rain on the Sunday and Monday, turnover

did not live up to the showmen's expectations.

Only on the Saturday evening, a rush of visitors

resulted in long queues at the rides and tracks.

Despite the masses of visitors, the tills did not ring at

every attraction however, and a number of attractions

suffered from a lack of customer interest. Moreover,

some operators of sales stalls clearly noticed that

visitors no longer spend money so readily. A magnificent

fireworks display on Monday evening at 10 p.m.

marked the end of the Wiesenmarkt.

■

SCHWABMÜNCHEN

Ample variety

at the Michaeli-Markt in

Schwabmünchen

Text & Photos: Norman Vogt

Every year in autumn (this year from 25 th to 30 th

September), the 6-day Michaeli-Markt with more

than 300 marketers and merchants, known far

beyond its city borders, opens its gates in the

small town of Schwabmünchen, located some 24

km from Augsburg.

Market Sunday is always on the Sunday before St.

Michael's Day. According to official documents

Schwabmünchen was granted the right to have a

market in 1562. While the bric-a-brac market

boasting a generous selection of textiles, sweets,

household goods, jewellery and other goods was

held from 27 th to 29 th September, the fairground was

open three days longer. Young people were enticed

by the "Rollover" Shake (Zinnecker), and families

enjoyed the chain ride (Diebold) and the "Schnee

36
---
Der Kristall-Palast

...immer ein Lächeln voraus!

Doppelter Spaß: Glas-Labyrinth mit 120 Spezial-Glasscheiben

und Lachkabinett mit 11 lebensgroßen Zerrspiegeln

Zum Saisonfinale in

London (Hyde Park)

Winter Wonderland

www.kristall-palast.de

Wir bedanken uns für die vertrauensvolle Zusammenarbeit und empfehlen uns für die neue Saison!

Ralf Sturm • Tel. 0178/2158930 • E-Mail: ralf@sturm.st
---
WILLKOMMEN IN ESSEN!

2015 – METROPOLE DES RUHRGEBIETS – 2015

Für die attraktive Gestaltung der traditionellen Kirmesveranstaltungen im Stadtgebiet Groß-Essen

suchen wir gepflegte Schaustellergeschäfte aller Fachsparten.

Frühjahrskirmes Essen-Altenessen

auf dem Marktplatz – mit verkaufsoffenem Sonntag

Freitag 27. März bis Sonntag 29. März

Osterkirmes Essen-Borbeck

im Schlosspark – mit großer Ostereiersuche

Ostersamstag 04. April bis Sonntag 12. April

Maikirmes Essen-Steele

Grendplatz und Kaiser-Otto-Platz – NEU! Tanz in den Mai

(insbesondere auch kleine Familienfahrgeschäfte und

"Randgeschäfte" gesucht)

Donnerstag 30. April bis Sonntag 03. Mai

Großes

GRUGA-Sommerfest

Superkirmes mit Europas größtem Flohmarkt!

Freitag 17. Juli bis Sonntag 26. Juli

Woddelkirmes Essen-Heisingen

in Verbindung mit großem Straßenfest!

Samstag 29. August und Sonntag 30. August

Appeltatenkirmes Essen-Werden

"Ludgeruskirmes" – seit über 700 Jahren! Verbunden mit Kirchfest

und Prozession. Verkaufsoffener Sonntag. DAS traditionelle

Essener Volksfest! (insbesondere Fahr- und Spielgeschäfte gesucht)

Samstag 05. September bis Dienstag 08. September

Kirmes Essen-Kupferdreh auf dem Marktplatz

Samstag 12. September bis Montag 14. September

Herbstkirmes Essen-Altenessen

mit großem Stadtfest. Verkaufsoffener Sonntag.

(insbesondere Familienfahrgeschäfte bis 18,00 m Durchmesser gesucht)

Freitag 18. September bis Sonntag 20. September

Herbstkirmes Essen-Steele

Grendplatz und Kaiser-Otto-Platz

(insbesondere auch kleine Familienfahrgeschäfte und "Randgeschäfte" gesucht)

Samstag 10. Oktober bis Dienstag 13. Oktober

Bewerbungen – mit den üblichen Unterlagen – erwartet die

I.G.S. mbh (Ritter/Müller), Hachestraße 68, 45127 Essen

als Beauftragte der Essener Berufsverbände.

Bewerbungsschluss ist – auch für Essener Kollegen – am 15. Dezember 2014

Zur Information: Um unsere ehrenamtlichen Mitglieder zu entlasten, werden keine schriftlichen Absagen erteilt.

Sofern ein(e) Bewerber(in) keinen Vertrag erhält, gilt das als Absage. Für diese Regelung bitten wir um Verständnis.
---
A LOOK BACK

Impressions of

Schwabmünchen

Circus" Switchback (Moser). Other attractions

presented were a dodgem track

(Diebold) and the swing boat (Kreis), along

with a classic kiddie ride and a Jet Ride for

children. In the large beer tent adjoining

the fairground visitors were able to enjoy

traditional dishes accompanied by proper

brass band music. In the end, all the showmen

were satisfied with their financial

results.

■

ERFURT

Text & Photos:

Rolf Orschel

When the Erfurt Oktoberfest closed its gates after

16 opening days, all the participants were happy

about new record-breaking visitor numbers – and

some of them even about a new record turnover.

From 27 th September to 12 th October, the state

capital of Thuringia celebrated a Volksfest of a

superlative order in mostly beautiful weather.

One does not necessarily have to travel to Munich to

experience a proper Oktoberfest. The Erfurt version is

much smaller however, and definitely not worldfamous.

Nevertheless, this year's staging of the

largest Oktoberfest in Thuringia was certainly well

worth seeing, with special crowd pullers being Erfurt

novelties such as the "Wheel of Vision" Ferris Wheel

(Bruch), "Artistico" (Köhrmann), "Commander"

(Hahnstein), the "Pirates Adventure" adventure construction

(Schneider) and "Mäuse Stadt" (Brambach).

Other ride attractions approved were the "Breakdance"

(Hentrich), "Piraten Fluss" (Heitmann-

Schneider), dodgem track (Krebs), and the "Fun

Street" (L. Hofmann), children were able to enjoy a Jet

Ride, a kiddie carousel, a kiddie track ride and

Gallopers. Apart from the Erfurt brewery beer tent, 18

snack and beverage booths provided the visitors with

food and drinks. They were joined by 5 confectionary

booths, 2 Continental pick stands, as well as 16

games booths and arcade machines. The attractions

were appealingly arranged and well spread over the

circuit course. As the flagpoles at the northern

entrance to the Domplatz had been removed, 715

front metres could be occupied by 55 showman

attractions chosen from more than 400 applications

in Erfurt

Bruch's "Wheel of Vision"

39
---
The Oktoberfest on the

Domplatz in Erfurt

for the first time. This way, the dodgem track could be

moved closer to the cathedral's wall and the water ride

could be built up on the inner northern cross row,

resulting in a more appealing layout of this and the

middle section of the fairground. The Ferris Wheel,

one of the largest transportable Ferris Wheels with airconditioned,

closed and panoramic glass gondolas

made its first-time appearance in Erfurt. "During the

summer, the Ferris Wheel, transported in 25 ocean

containers, had been presented in Danzig," explained

Richard Krolzig from the Bruch firm presenting its

"Bellevue" Ferris Wheel at the Oktoberfest every two

years since 2005. Back then derided by its colleagues

in Munich and Stuttgart, Erfurt turned out to be a

superb venue for the showman operation. "The

reason for the success is the connection between the

Volksfest and city tourism. This year, the strategy of

the first cooperation with the tourist office was: 'Those

booking a guided city tour or a hotel bed get a

reduced ride on the Ferris Wheel as a bonus'," Krolzig

added. Under terrific weather conditions, more

visitors than usual rushed to the fairground even

during the first weekend – and business on the public

holiday, the family days and the middle weekend was

absolutely sensational. Particularly striking was the

fact that more guests visited the Oktoberfest wearing

dirndls and lederhosen than in the last few years, even

though their outfit sometimes looked more like a

carnival costume. With about 700,000 guests, this

year's Oktoberfest – according to the Cultural Affairs

Office – was the most attractive and successful Erfurt

Volksfest of past years.

■

FÜRTH

Text & Photos:

Helmut Bresler

Skyline: Construction

cranes and Ferris Wheel Below:

Regular guest of many years in

Fürth: "Sylter Backfischrutsche"

Once again, everything was

perfect in Fürth. The boom of

the last few years continues,

fantastic weather, first-class

occupancy, and endless

masses of visitors and next

to no incidents recorded in

the police report.

Fürth is and remains the top

event in Franconia, enticing

visitors from the surrounding region to Nürnberg's

neighbouring city. Visitors are attracted by the city

centre flair, showmen and marketers, as well as a

harmonious supporting programme. The closing

review registered far more than one million visitors as

well as four personal injury offences and 15 thefts. The

new schedule, according to which the event was

already open on the public holiday (Friday 3 rd October)

and in ideal weather, attracted visitors in droves.

There was barely any room left to move on the fairground

street, which was closed to road traffic during

the event, and there was a rush of activity during the

build-up time. Due to the arm of a huge construction

crane protruding into its flight path, the huge "Sky-

Dance" chain ride had to be relocated.

The regular participant concerned reluctantly agreed

to relocate. Currently, a giant shopping centre is being

built in the direct vicinity of this year's 13-day event on

what is actually the largest construction site in Fürth

since the Second World War. Next year at Kärwa time,

the new consumer palace will already have opened.

Without a doubt, the aforementioned "Sky Dance" from

Nülken, with its new tower top equipped with a variety

of LED light effects of extreme brilliance and presented

in Fürth for the first time, was the conspicuous landmark

this year.

The Störzer brothers celebrated yet another Fürth

première with their season novelty "Black Out", built up

on the ride site next to the Jüdisches Museum (Jewish

museum). For many years, plans for the construction

40
---
Fläche: 12,5 m Front x 10,5 m Tiefe

Karibik-Feeling pur!

NEU

Unebenheiten: kein Problem!

Beatrice & Hans Dreyer • Nürnberg

hans.dreyer@gmx.de • 0163 / 47 52 410

facebook.com/Beachwalkingdreyer

KIRMES WANDKALENDER 2015

Bestellen Sie weitere Exemplare auf Hochglanzpapier! (Formular S. 94)
---
of a new residential and office building have been delayed – much to the

delight of many Kärwa fans. Now the construction crane is coming up and

the space is definitely lost. It could be replaced by the area in front of the

fire station, once the fire brigade has moved to its new station. With his

"Old Shining House", Ludwig Barth presented yet another novelty. There

have also been intensive discussions among the participating showmen

about the imminent loss of the site where they park their caravans, due to

further building operations. The Fürth authorities as the organiser must

step in and provide for an alternative.

Manfred Jipp has presented his "Sylter Backfischrutsche" for 25 years

and virtually attained cult status. The unforgettable fairground director

Manfred Duttenhöfer had seen the attractions during a visit to the Bremen

Freimarkt at the time of its staging and had been impressed by its visual

appearance and the quality of the products. Manfred Jipp still recalls the

words and quotes them from his memory: "Your operation looks really

good. I have a site for you at the Fürth Kärwa. Go there, even if you do not

earn anything at the beginning." This made Manfred Jipp speechless, he

applied in Fürth – and got the contract immediately! "So, I dared the

experiment – not knowing what would happen", he says. Used to success,

he opened his operation on the first opening day – and felt like he was an

exhibit in the zoo! "The visitors virtually hovered around us, being greatly

surprised, and hardly anybody found themselves at the checkout. I

wanted to pack up and leave," was his reaction. A newspaper article

published in the Fürther Nachrichten newspaper reporting on the novelty

proved to be a real turning point. Its description of the delicacies served

in the Sylter Backfischrutsche resulted in a rush of visitors. The initial

scepticism changed into enthusiasm, and today the 10 metre tower on the

traffic island is an indispensable fixture at the Kärwa. Manfred Jipp fondly

thinks back to those days and at the traditional regular showmen's

meeting this story is a cherished anecdote. The new record issue of

120,000 "Kärwataler" coins sold by the branches of the Fürth Sparkasse

bank were sold out within a couple of hours in only one afternoon. Kärwa

and economics spokesman Horst Müller is proud of the Kärwa's unflagging

attractiveness as a family event. "We don't define ourselves by beer

consumption – and this is a good thing!" is his credo. The ample supporting

programme included two exhibitions well worth seeing of classic 1:87-

scale and 1:22-scale models. The 46-page programme was available in

an edition of 65,000 examples, and 1,200 advertising posters with an

appealing Kärwa motif were deployed throughout the region. ■

FÜRTH ADVERTISING TEAM

It may be a truism, but a classic truth all the same. A successful event

requires advertising and new ideas and has to meet the spirit of the

times, without forgetting the essence of the event. And basic good

advertising requires committed people doing the job. In Fürth there

are committed people like these, who put their heart and soul into

their event – in addition to their own business. During the last few

years they managed to organise many a special event, such as the

barrel organ park, a Kärwa exhibition, the Kärwa App, the participation

in the harvest festival procession, cinema advertising

throughout the surrounding region, the breakfast on the Ferris Wheel

and taxi advertising. Currently, the team is proud of the new entrance

gate to the city hall, which has now been inaugurated and is admired

and beloved by the visitors. Further gates are planned but are

proving difficult to finance. The advertising team has been existing

for 20 years, and is financed firstly with an advertising budget

derived from the fairground fees, and secondly by sponsors. New

patrons are currently considering financial support for the team. ■

Season novelty in Fürth: Störzer "Black Out" ride

The showman advertising team (f.l.t.r.): Hannes

Grauberger, Marco Ulrich, Patrick Ulrich (seated), Michael

Drliczek, Joachim Ulrich, and Helmut Dölle (standing)

43
---
A LOOK BACK

OXFORD (UK)

Top attraction in Oxford:

Danter's "Air"

"Mini-Miami" and a view of the

crowded festival streets

Text & Photos: Marcus Gaines

As always it was a squash and squeeze in Oxford

city centre for the annual St. Giles fair. The event

took place on the busiest main street of the city,

which always takes place on Monday and Tuesday

after "St. Giles Day" (1 st September) – this time from

the 8 th to the 9 th of September.

The origins of the event go back to the year 1625 and

changed into a fair with rides at the beginning of the

18 th century. The St. Giles Fair is organised by the

Oxford City Council and the Showman's Guild of Great

Britain and counts these days as one of the best fair

events in Great Britain. The main street used as the

festival grounds is only closed off on the Sunday

before the beginning of the event. The complication of

needing trees to be trimmed and the deadly accuracy

in the build-up of rides takes a little more time than

usual. Road signs and traffic lights also test the ingenuity

of the showmen building up their attractions.

As a mark of respect to the nearby churches, the showmen

stop work during the Sunday religious services,

44
---
adding to the time it takes to build up. Taking place on

the first Monday and Tuesday after St Giles' Day,

means that as is common, the fair falls just outside the

school holidays which only finish 6 days earlier. So the

daytimes proved a little quiet. But come evening, the

late summer sunshine that brought the previous 7 days

of grey skies to an end, meant the street was packed

shoulder to shoulder with thousands of visitors.

There were rides offering

something for everybody

Highly popular at St.

Giles Fair is "Candy Floss".

Left: Chadwick's "Ghost Train"

XX 45
---
Multiple presentations

of Miami and Waltzer

attractions at Oxford

Despite the high numbers, not all rides were full;

visitors seemed to be highly selective of where to

spend their money. There were three Waltzers in

attendance provided by Billy Hebborn, Ashley Rogers

and Paul Nichols. Hebborn's "Super" Waltzer appeared

to be the busiest running almost nonstop, seemingly

the impressive lighting rig and decent sound system

was attracting teenagers, whilst Ashley Rogers'

Waltzer, which didn't look as impressive and wasn't in

the heart of the fair, didn't seem to be doing as well.

"Air" also wasn't as popular as

last year. At £5 it was one on the

most expensive rides in attendance.

Abie Danter Jnr. once

again showed off the slickness

and smartness of his operation.

With 1 person taking

money, 1 person managing the

queue, 1 person operating the

ride and 6 people helping to

batch and load the gondolas,

the ride was barely stationary

all night. Popular rides included Wilsons' "Super Bowl",

Bunn's "Tagada", Wilsons' Speed Booster despite also

costing £5 and running for less than 1 minute, the 3

Miami's (West, Hill, and Danter Jnr.). and Sedgewick-

's "Rock Rage" (KMG Inversion) was another ride that

barely stood still. The "Star Flyer" on loan from Joey

Noyce and Freddie Stokes Jnr. made its first appearance

at Oxford. Noyce is currently buying his own Star

Flyer which should ready soon. Its close proximity, especially

when running at full speed, to nearby historic

buildings added to the thrill of the ride. Being a new

novelty to the fair also ensured it was kept busy. Other

rides included Holland's and Nichols' bumper cars,

Woodford's Gallopers and Green's Ferris Wheel,

Sheldon's "Twister" Twist, Matthews' "Rotor", Phillips

"Airwolf", together with the "Extreme", "Evolution" and

"Orbiter". The kids were also well catered to with a vast

array of juvenile rides, among them the impressive

looking boat-themed junior "1001 Nights" called

"Captain Hook" from Gregory. And for those too small

to ride any of the 3 Miami's, there was a 4 th in attendance,

the "Mini Miami" especially for the little ones. ■

LUXEMBURG

Text & Photos:

Michael Petersen

Crowd puller: The

Schueberfouer in Luxembourg

At the opening of the

Schueberfouer (22 nd August to

10 th September) the weather

was quite poor. Continuous

rain on the first weekend prevented

a dream start to the

exceptional European Volksfest

this year.

When the weather improved

after the first weekend, the

Schueberfouer was again at its

best. Heavy visitor attendance

throughout the event, also on

weekdays, brought about very

good financial results. At the

weekends, visitor numbers –

46
---
A LOOK BACK

A partial view of the

fairground in Luxembourg

and thus turnover – increased even further. To see

what is possible in Luxembourg is barely believable.

Even the Volksfest in the city centre benefits

from the prosperity of the small and economically

successful country. The details at the Schueberfouer

are completely different. For example, while

fairground visitors in Germany buy 100 or 200 g of

roasted almonds as a rule, at the Schueberfouer

they buy 500 g or an extra-large bag of soft nougat

for €24 for the whole family for immediate consumption,

and once again for taking home! However,

one must not forget that the Schueberfouer in

Luxembourg is the only fair event with many major

rides in this small country and that most of its

inhabitants do not visit any other fair. Dagmar

Osselmann with her "Diamond" dodgem track

made a first-time appearance at the Schueberfouer

– and was enthusiastic about her first

engagement abroad. She was not only happy

about her financial results, but also pleasantly surprised

by the friendliness and the professional

work of those responsible, and the politeness of the

visitors. "It was a superb event full of wonderful

experiences. I am looking forward to next year in

Luxembourg," she said. The layout of the fairground

turned out to be quite difficult. There is no

circuit course with cross rows but the fairground

was divided into various smaller plots resulting in

very many top-end sites. As the area is more vaast

than the eye can take in, there is always something

new to discover. The skilled fairground directors

Marc Weydert and Laurant Schwaller do a very

good job in laying out the area with their considerable

experience and aptitude. The two ghost rides

placed at the opposite ends of the area respectively

could not have been built up further apart from

each other. With the rising area, the rides also grew

in height. As a result, the towering "Skyfall" freefall

tower (Goetzke) built up as the visual highlight on

the highest site of the

area, seemed to be even

taller. That was a clever

feature and looked

fantastic. The "Bellevue"

Ferris Wheel was also very

well placed. Standing

almost in the middle of the

area, it provided passengers

with an impressive

view over the Schueberfouer

and Luxembourg

City. Gastronomic operations

with ample menus

– ranging from fried

sausages to complete

meals – provided the

visitors with food and

drinks. Even at lunchtime,

the restaurant tents were

well-attended and the

snack booths heavily

crowded. The prizes at the

games booths also differ

from those in Germany. In

Luxembourg prizes to be

won are high-quality, such

as flat screen TV sets,

laptops, smart phones and other high-priced

electrical appliances, as there is no upper limit on

commodity prizes.

A high number of special events provided

additional diversion at the Schueberfouer. RTL

radio had a studio in a beer tent and broadcast

detailed reports from the event every day. In the

evening of the last opening day, the Schueberfouer,

which lived up to its excellent reputation

once again this year, was closed with a magnificent

fireworks display.

■

Kult: A Schouberfouer

without "Bayernkurve" is hard

to imagine

47
---
TECHNOLOGY

"Crazy Outback" from

Hofmann-Jehn

The Hofmann-Jehn family from

Wutha-Farnroda near Eisenach

have been touring Walkthrough

constructions ever since 2001.

On two levels, their "Crazy Outback"

funhouse, built by the

Schwalmstadt Dietz Fahrzeugbau

firm in 2008, takes visitors

on a trip through Australia's

"outback" accompanied by a lot

of fun and many surprises. The

Kirmes & Park Revue has documented

the build-up of this extraordinary

funhouse.

Text: Rolf Orschel

Photos: Rolf Orschel, Norman Vogt

(1)

Crazy Outback

Upon the arrival of the two transport vehicles at

the fairground, the centre trailer is manoeuvred

into its position on the measured site, before the

baggage van is then manoeuvred next to the site.

(1)

Next, the water container is lifted from

the centre trailer by crane and placed

on the right side. After that, the axles

are removed, the centrepiece is

balanced with the aid of the built-in

hydraulic cylinder and carefully propped up. The

build-up begins with laying out, balancing and

propping up the floor segments and assembling the

two stairwells. Once the balcony has been unfolded,

the connection members of the second level can be

set up and secured by bolts.

(2)

Then the stillages with the

scaffolding segments of the

second level are lifted by

crane onto the centrepiece.

(3, 4, and 5)

When the scaffolding has

been fully assembled, the

blind front is installed on the

right side, the 'virtual' water

tower is mounted with aid of

the crane, and the water containment

with the alternately

tilting mobile floors is set up,

balanced and propped up.

(6 and 7)

This done, the blind front is

installed on the left side, and

the paybox is unloaded by

48
---
(2)

TECHNOLOGY

The floor segments

are laid out and the

stairwells are mounted

crane from the traction unit and

placed on the paybox platform. (8

and 9)

Next, the name sign scaffolding and

the multi-coloured name sign itself are mounted

above the funhouse by crane. (10)

Once the name sign has been mounted, the tarpaulins

can be pulled up and tied together as well

as secured to the scaffolding. (11)

(4)

(3)

(5)

INFO

Technische Daten:

■ Front: 21 m

■ Depth: 12 m

■ Height: 15 m

■ Power: 50 kW

■ 2 transport vehicles

(centre trailer, baggage van)

49
---
(6)

(7)

After that, the rear and front rounding boards of the

upper level are mounted with the aid of the crane,

the roofs are installed and the balcony handrails are

mounted. (12 and 13)

When the upper level has been finished, the speaking

and water-spraying animated figure "Mann im

Toilettenhäuschen", or "man in the dunny", is put up

as a special eye catcher in the middle of the lower

exterior decoration, before the striking and more

than 8 metre tall wind wheel is assembled on the

ground and set on top of the paybox by crane. (14

and 15)

(9)

(8)

50
---
(10)

TECHNOLOGY

The name sign

is mounted

(11)

(12)

Once the large glass labyrinth

with triangularly arranged glass

panes and mirrors, which visitors

have to negotiate before they can

exit the funhouse has been

assembled, the other fun effects

are also installed. (16)

Finally, with the handrails and the

exterior decoration mounted and

the complete cabling and the

maintenance work carried out,

the build-up – which takes 4 men

and about 15 hours – is completed.

■

(13)

(14) (15) (16)

51
---
EXHIBITION ESSEN

Text & Photos:

Michael Petersen

For years, a host of exhibitions on various topics have been

held in the quite spacious offices of the Stadtsparkasse bank

in the city centre of Essen. On 5 th September this year, a twoweek

special exhibition on the occasion of the 95 th anniversary

of the "Schaustellerverbandes Essen Ruhrgebiet

von 1919 e.V." Showman Association closed its gates.

During a conversation, Sparkasse Branch Director Ragmar

Kalks, and Albert Ritter, Chairman of the Schaustellerverbandes

Essen-Ruhrgebiet von 1919 e.V., who have been friends for

twenty years, decided to hold a one-day exhibition on the history

of the showman industry at the branch.

Eventually, the 95 th anniversary of the Schaustellerverbandes

Essen-Ruhrgebiet provided the perfect occasion for a journey

through the history of showman industry. The Showman

Association is a union of the Bottrop, Dinslaken and Mülheim a.

d. Ruhr sections, and also incorporates the office of the Arbeitsgemeinschaft

der Schausteller in Nordrhein-Westfalen (working

group of showmen in North Rhine-Westphalia). The exhibition

was also the very beginning of a number of festive events including,

among others, the European Showman Congress held to

mark the upcoming 100 th anniversary of the Essen Showman

Association in 2019. Albert Ritter thanked Sparkasse Essen for

providing the branch offices for the exhibition, and for being a

reliable partner for the showman industry of many years.

The heart of the exhibition was the historic carousel of the Fredebeul

family, which also provided numerous further exhibits. The

other exhibits came from the collections of Albert Ritter, Rico

Rasch, Peter Saller and Richard Müller. The exhibition also

included carousel figures carved from wood from the Hennecke

firm, a mechanical monkey, decoration elements, various

mounts and advertising boards. Treasures like these are rarely

exhibited in such a limited space. Another eye catcher was the

components of a cinematographic theatre from the Ritter family.

In addition to numerous decoration elements and components,

visitors were also able to admire an old projector. The journey

through the world of showmen was very well received by the

visitors.

■

"Feo – der sprechende Kopf – lebend", advertising board

for a show booth, ca. 1960, and car for a Switchback, ca. 1934,

sheet iron on wood construction

Exhibition space provided: Sparkasse Branch Director

Ragmar Kalks Right: Panopticom advertising board, ca. 1960

52
---
NOSTALGIA

A carousel horse and a

Venetian gala gondola,

baroque, probably from the

Hübner firm, Neustadt/Orla,

ca. 1890

Historic mounts and chaises

Details of the centre crown

of a Hennecke kiddie carousel,

about 1940

Top: Rounding board

painting of a wooden horse

carousel, about 1900, and

kiddie carousel "Mondrakete"

centre decoration, about 1930

53
---
NOSTALGIA

A gem at the exhibition

was the fully mechanical

monkey figure with electric

drive, doing exercises, ca. 1880

Kiddie carousel, ca. 1920

Historic dodgem chaise and a "Modell

Nr. 7" carousel carriage, Karussellfabrik Friedrich

Heyn, ca. 1897

54
---
NOSTALGIA

Lighting decoration of the

"Olympicus" boxing booth,

ca. 1960; light strips of the

Kinematographen-Theater

Ritter, ca. 1950; a showman's

winch, ca 1920; and the historic

water starter of a carousel

Important figures from

contemporary history behind glass

Front section and chaise of a ghost ride –

first use of polyester with fibreglass as support

material, ca. 1955

Front section, ca. 1955

Historic tractors and

showman wagons called

attention to the exhibition in

front of the Sparkasse building

55
---
Decoration elements of the Ritter-Kinematograph, about

1968 and a historic Blinker vending machine, ca. 1940

Memories of the heydays of the show booths: "Marie-

Luise – das Mädchen mit den 2 Köpfen" and a façade part

56
---
NOSTALGIA

For visitors of the

anniversary exhibition of the

Schaustellerverband Essen

Ruhrgebiet von 1919 e.V. there

was a lot to be discovered in

the foyer at the Sparkasse

bank, Essen

57
---
EXOTIC

In Germany an exotic

ride: "Crazy Fruits" from

René Stey

Since the beginning of this year,

the Ludwigsburg showman René

Stey has been touring what is –

certainly for the German tour

scene – a truly exotic ride; a "Zig

Zag" of Spanish origin. In 2009

the ride, built by the Spanish

Safeco firm in 1986 and operated

by the Swiss Murer showman

family for 23 years, was taken

over by René Stey, who – having

put it into storage for quite some

time – thoroughly redesigned it

and has now introduced it to the

fairground circuit under the

name of "Crazy Fruits".

Text: Norman Vogt

Photos: Norman Vogt, Archiv Stey

Crazy Fruits

Stey, who also owns a dodgem track, worked on the

redesign of the ride throughout last winter, and it

took him a lot of time and work to transform the ride

into the "Crazy Fruits". However, the result is

well worth seeing. All 18 gondolas have been

appealingly painted. While 17 of them have

been painted as lemons, oranges, melons,

strawberries, pineapples or coconuts, René

Stey immortalized the name and the portrait of his

daughter on one of the gondolas as well as on the

backflash.

René Stey

58
---
EXOTIC

The attraction in detail

The centre of the ride and the

backflash mounted to the

baggage van, have also been

painted with funny and cheeky

looking fruits. Moreover, the

three arms and the centre of

the ride are decorated with

plastic examples.

Not only the visual appearance of the ride was

renewed, but also many worn parts were also replaced,

the electronic system was overhauled and the

electrical equipment was rewired. The numerous

The baggage van is also

the backflash façade

59
---
EXOTIC

The ride is presented

mainly on small to

medium-sized fairgrounds

in Southern Germany

characteristic light arcs and the gondola roofs were

retained, however. René Stey opened the unusual,

unique ride in Hofen near Stuttgart in spring. Afterwards,

the ride was mainly presented at minor events

in Southern Germany, where it was very well received

by the public. The ride is perfectly family-friendly, and

in addition to the rotating mast in the centre of the ride,

the planet wheels with the gondolas mounted to the

arms rotate counter to the running direction. Relocating

the ride requires 2 transport vehicles (a centre

trailer and a baggage van). The "Crazy Fruits" has

ground measurements of 14 x 16 metres, a height of 5

metres and electrical requirements of about 30 kW. ■

to its redesign

The ride prior

60
---
Ausschreibungen

in der

Die Kirmes & Park Revue ist das

ideale Medium für Ausschreibungen

Ihrer Volksfeste und Weihnachtsmärkte.

Mit einer Ausschreibung Ihrer

Veranstaltung in der Kirmes & Park

Revue erreichen Sie nahezu flächendeckend

die Schaustellerbetriebe in

Deutschland und in unseren Nachbarländern

– und das zu einem

außergewöhnlich günstigen Preis.

Dazu genießen Sie mit Ihrer

Ausschreibung folgende Vorteile:

• Bei Mangel an geeigneten

Bewerbern oder kurzfristigen

Absagen von Schaustellern

haben Sie die Möglichkeit einer

kostenlosen Suchanfrage in

der Service-Rubrik

"Freie Termine – Freie Plätze"

in der Kirmes & Park Revue

• Kostenlose Gestaltung Ihrer

Ausschreibungsanzeigen

• alle Farben (z. B. Städte- oder

Firmenlogo) kostenlos !

GEMI Verlags GmbH

Pfaffenhofener Straße 3

85293 Reichertshausen

Telefon: 08441/4022-0

Telefax: 08441/71846

E-mail: info@gemiverlag.de

Nülken

Hamburg

SKY

DANCE

Wir wünschen Ihnen eine

frohe Weihnachtszeit

und einen guten Start

ins neue Jahr!

Familie Peer Nülken

Tel. 0178/478 32 46

55 m hoch

24 Sitze

Wir danken unseren

Vertragspartnern für das

entgegengebrachte Vertrauen.

Planen Sie mit uns

die neue Saison 2015!

NEU: Jetzt mit

multifunktionaler

LED-Krone

Anzeigen in der

Kirmes & Park Revue

buchen Sie bei:

Gemi Verlags GmbH

Markus Westner

Tel. 08441/402213

Fax 08441/498829

anzeigen@gemiverlag.de

Bitte liefern Sie

Anzeigen per E-mail

als pdf oder jpg

mit mindestens

300 dpi Auflösung.
---
European Showmen's Union

Europäische Schausteller-Union

Union Foraine Européenne

International non-government organisation (NGO) • Established in 1954

President Albert Ritter

ESU: European Showmen Exempted from Professional Driver Qualification

Requirements following Exemption in the National Laws

Showmen transport their own inventory and not

third-party goods.

Photo: ESU

For the European Showman Union the

legal position is clear: Showmen in

Europe do not need to participate in

further training programmes for professional

drivers.

The ESU cites the EU-directive 2003/

59/EG, which in Article 2 g, means: this

directive does not pertain to drivers of

vehicles transporting material or equipment

that the driver requires for his

profession, and provided that the driving

of the vehicle is not the driver's main

profession."

Targeting the quality assurance of the vehicle

operator's profession, the EU Parliament introduced

in 2003 the European "Directive for the

basic qualifications and advanced training of

drivers of vehicles for the carrying of goods and

persons" (Directive 2003/59/EG). These objectives

were to be implemented in member

countries by September 2006.

To ensure that driver activity in professional

goods and person transport is to be exercised

by correctly qualified persons, there is also according

to Article 3, a directive in addition to the

basic qualifications that the professional driver

undertakes further training. Member countries

were directed to introduce a corresponding

system for advanced training.

For the ESU there is a definite border between

the professional goods carrier and the showman

profession. Showmen are not professional

drivers. They earn their money at the Volksfests

and not by transporting third-party goods.

Under the circumstances an exemption of

showmen from professional driver training in

all EU countries is necessary.

The ESU demands EU countries to make an exemption

for showmen in the case of the implementation

of the EU-guideline 2003/59/EG into

national law. In the Netherlands, Switzerland,

Belgium, Germany and Austria this exemption

is already a feature of the relative law.

The Austrian Federal Ministry for Transport, Innovation

and Technology (bmvit) decreed on

8.5.2014 (170.627/0004-IV/ST4/2014): "Obligation

pursuant to Article 19 Sec. 3 Z 7, drivers of

vehicles transporting materials of equipment

that the driver requires for use in his/her profession

and provided that driving is not the

main profession of the driver, the evidence of

driver qualification is exempted (Code 95 in

driver's licence).

In the opinion of the bmvit, drivers of showman

vehicles also fall under the mentioned exemption

when they for example transport roundabout

constructions to events, and built up the

attraction after the transportation, and other

said goods are used as the main profession of

the driver (e.g. ticket sales, technology checks,

maintenance, cleaning etc). This type of transportation

falls under the exemption rules of the

§ 19 Sec. 3 Z 7 GütbefG, and the driver of such a

vehicle does not require driver qualification

proof."

In Germany the new professional driver qualification

law (BKrFQG) has been defined. Showmen

fall under the exemption under § 1 Sec. 2

No. 5 BKrFQG, as they transport materials and or

equipment for the practice of their profession

and as the driving of the said vehicle is not their

main profession. The profession of the showman

has been listed as an exemption according

to § 1 Sec. 2 No. 5 BKrFQG, which means here

"Pertains to the transportation of showman

equipment (e.g. rides, circus tents) for showman

operation."

Regular's Table of the European Showman Youth Union at Stuttgart

The Showman-youth met up at the Cannstatt

Wasen on the 7th October at the first

ESJU-regular's table.

The regulars' table is the new event of the European

Showman Youth Union, and offers the

participants the possibility to meet young

showmen from all over Europe, and to discuss

current business themes. ESJU-President Kevin

Kratzsch emphasised: "The regular's table serves

communication and networking, whilst in

the process the pleasant togetherness

shouldn't come too short." Participants at

Stuttgart discussed current themes of the profession

such as the Europanorm 13814 for ride

constructions and the recognition of the European

Volksfests as an intangible Cultural Heritage

by UNESCO. Earlier Kevin Kratzsch explained

in his welcoming speech the tasks and targets

of the ESJU as the youth organisation of the

European Showman Union. He referred to the

meaning of a friendly and collegial coexistence

of the European Showman Youth reaching far

over the borders. "We are inviting all showman

youth in Europe to create the future of the ESU

and ESJU together", explained Kevin Kratzsch

and announced further events, for example the

Federal Delegates Convention of the DSB from

the 13th to 15th of January 2015 in Aachen.

Meeting of the Showman Youth Union at the

Cannstatter Wasen in Stuttgart. Photo: ESU
---
European Showmen's Union • Europäische Schausteller-Union • Union Foraine Européenne

Showman Meeting in the Border Triangle

Invitation to Showman Political Breakfast in the European City Aachen

Aachen is the city of Charlemagne, the coronation

of kings, the European peace treaties,

and the International Charlemagne Prize. A

further source of pride for the city is the

"Öcher Bend" with its roots going back to the

15th century, and which is a popular international

meeting place for fairground fans

and showmen from Germany, Belgian, and

the Netherlands. Within the frames of the

66th Federal Delegates Convention of the

German Showman Association, the European

Showman Union extends an invitation

to a showman-political breakfast in Aachen

on the 13th January 2015 at 10:00 a.m.

"Volksfest – Unlimited Pleasure!!!" is the motto

of the DSB-annual meeting, where traditionally

the European show persons meet to exchange

information and opinions. The ESU-breakfast

offers plenty of opportunities for the discussion

of current showman themes. Finally, starting at

4 p.m. a rally will begin at the Eurogress Aachen

of the German Showman Associations with prominent

guests from politics and economy. The

The "Öcher Bend", the most popular Volksfest in the area near to Netherlands and Belgium. Photo: DSB

ESU requests member associations to bring

along their traditional flags for the flag parade.

The Federal Delegates Convention will be accompanied

by a colourful programme to which

all European Showmen are cordially invited.

Traditional flags at the DSB rally. Photo: ESU

Publishing Information

Publisher:

European

________________________

Showmen's Union (ESU)

Responsible for contents:

Albert Ritter, rittera@dsbev.de

________________________

Editor:

Christoph Jansen, jansenc@dsbev.de

________________________

Address:

Europäische Schausteller-Union

c/o Deutscher Schaustellerbund e.V.

Am Weidendamm 1A • D-10117 Berlin

Tel.: 0049 (0)30 590 09 97 80

Fax: 0049 (0)30 590 09 97 87

E-Mail: mail@dsbev.de

Internet: www.esu-ufe.eu

Wir machen Freizeit zum Vergnügen!

We make spare time for the pleasure!

Nous faisons du temps libre comme le plaisir!

Rendiamo a tempo libero il piacere!

Vi gjør spare tid gleden!

Hacemos el tiempo libre en la diversión!

Mi hogy felesleges ido az élvezet!

Vi gør fritid den fornøjelse!

Mozemy uczynic czas wolny na przyjemnosci!

Wij maken tot vrije tijd het genoegen!

Vi gör extra- tid nöjet!

VYTVARIME volny cas na zábavu!

Hotel Information

aachen tourist service e.v. • Telephone: +49 241 18029-50 • Fax: +49 241 18029-30

E-Mail: incoming@aachen-tourist.de • Internet: www.aachen-tourist.de

Talks Among the

Show Women

During the ESU-Meeting in the

middle of September in Amsterdam,

a meeting of the European

Show Woman Union (ES-

FU) took place, where in a social

group, international friendships

were cultivated.

Our photo (v.l.t.r.) shows Christiane

Schäfer, President Rosa

Severeyns, Vice President Anika

Theunisz and Vice President

Jenny Bossle.
---
COASTER

Intensive airtime can

be experienced again on the

beach from Coney Island

What do you do with a piece of

land just 15 m wide by 250 m

long? You squeeze in Zamperla's

first major Looping Coaster!

Text:

Photos:

Marcus Gaines

Marcus Gaines,

Zamperla

Thunderbolt

Skip forward to 2010 and a part of Coney

Island looked much more inviting; Luna

Park felt a safe and inviting environment in

an otherwise worrying part of the City of

New York. That initial success lead to the

Luna Park has certainly evolved since it first rapid expansion of Luna Park, and a new section

debuted in 2010, in fact the whole boardwalk of went into operation in 2011. "The Scream Zone"

Coney Island has changed, and very much for the opened on a disused piece of land on the other

better.

side of the famous Deno's Wonder Wheel Park.

A visit to Coney Island in 2008 left one feeling very Everybody was so impressed by the signal effect

unsafe, the area looked undesirable and not that Central Amusement International (CAI), a

somewhere to want to visit alone or worse with the subsidiary of the Italian manufacturer Zamperla

whole family. The once famous amusement area Rides had given on the whole area, that the City

offered only crumbling retail outlets and chubby of New York subsequently granted the company

restaurant buildings, abandoned rides rusting the lease of all the retail and restaurant outlets

away, disused areas of land overgrown with along the boardwalk, and also that of the infamous

weeds, and there was even a guy taking his pet Coney Island "Cyclone" wooden coaster, from the

alligator for a walk.

year 1929.

64
---
Now in control of a prime section of the boardwalk,

CAI went about redeveloping it further with shiny

new restaurants and a retail outlet that offers far

better merchandise than some of tourist tat of the

past. All of which has helped changed the audience

visiting the shores of Coney Island with many

more families now venturing out of the city to the

public beach.

Then came the small matter of the "Cyclone". Within

days of taking over the running of it, the once

near empty accident report book of Luna Park had

begun to fill at a rapid rate. Valerio Ferrari, President

of CAI, knew he had to do something about

it and quick, and brought in the team of Great

Coasters International. Over past successive

winters 75% of the main track has been re-profiled

and replaced. When taking a ride, passengers

quickly become aware of the section still to be

done, but the budget for that is about to be signed

off. Ferrari is still undecided about what to do

about the lift hill, drive gear and of course the

trains. There's been criticism from purists about

the refurbishment of the "Cyclone" so far, but the

ride remains aggressive without the violence it

once had. If kids can now ride it without getting off

with a bloody nose, isn't that a good thing?

65
---
COASTER

With a height of 35

metres, the "Thunderbolt"

coaster can be seen from

afar and brings attention to

the new Coney Island

FAST FACTS

■ Opening: 14 th Juni 2014

■ Track length: 610 m

■ Track height: 35 m

■ Speed: 90 km/h

■ 4 Inversions

■ Acceleration:

-1,3 g bis +4,3 g

■ Ride time: 1 min 55 sec

■ Pure ride time (1 st Drop to

final brakes): 38 sec

■ 3 cars, total for 9 pass.

■ Capacity: 500 p.p.h.

■ Dynamics: Stengel GmbH

■ Manufacturer: Zamperla,

Altavilla Vicentina, Italy

■ Operator: Luna Park, Coney

Island / Brooklyn, USA

Option to Lease More Land

Then in late 2012 the City of New York came to

Ferrari with the option to take on the lease of a plot

of land a few yards away from the "Scream Zone",

but it was an awkward size. By happy coincidence

the young team of developers and engineers at

Zamperla had come up with a concept for a new

major coaster design, and they set about creating

a layout that could be shoehorned into the narrow

plot of land. A pitch back to the City, and the lease

was signed, along with the extension of the ten

year lease for the existing sites of Luna Park, now

agreed until 2027. Not that Ferrari was too concerned

about the original lease duration as Luna

Park is providing a significant return on the

investment CAI has made. Plus the park has been

an ideal showroom for Zamperla's ride catalogue,

and they've been able to use the site as a training

ground for buyers of their rides.

Zamperla presented a layout for the first time at

IAAPA 2013, and in June 2014, the new coaster

that carries the traditional Coney Island name

"Thunderbolt", was opened.

The separate entrance is naturally on the Boardwalk

and riders enter straight into the station.

Although separated from both the "Scream Zone"

and the original Luna Park, a stroll along the

Boardwalk is no different to a stroll along the paths

of any other amusement park, and the same ticket

system is in place.

As soon as one sees the new cars two "whys?"

come to mind. Why have they configured three

seats across in three rows? Why do they have

seatbelt straps across the shoulders that don't

seem to touch the riders? But when one knows the

answers there's a hint of genius perhaps? The

reason for having 3 seats across instead of the

typical two or four is that Disney has done a study

of their park demographics. The traditional family

66
---
of four is in decline, with more families being just

a three. Disney are increasingly building rides

designed for three people. So Zamperla figured

they'd follow the master and design a new train

three across. The seat belts that go over the shoulder

are just in case the train should stop upside

down or in a position that riders put a lot of weight

on the thigh restraint. They are designed to take

the upper torso weight and relieve the pressure

on the thighs. They're not provided out of concern

that the thigh restraint could fail, they're purely to

offer comfort in a problem.

Once sitting in the raised and pretty comfy seats,

riders can pull down on their lap bars which come

down like overhead restraints. Sitting in the front,

leaving the station is a bizarrely scary moment.

Right in front is a solid concrete wall and the track

turns into a 180° curve to the left to miss it. But with

the wheels set back behind the front row of seats

one doesn't turn when expected, and it actually

feels like nearly crashing into the wall. A 125 foot

vertical lift hill follows. The lift hill doesn't have any

ratchets should the lift hill fail, instead unlike many

other vertical lift hills it has copper plates found on

magnetic braking systems. The reason for this is

that if the lift hill was to fail the car would gently

make its way back to the bottom where an

evacuation could be done far more quickly and

easily than if the train was sitting on a ratchet

somewhere in a vertical position.

The 90° steep lift follows a

steep drop as well

An unusual as well as

breathtaking Z-turnaround

67
---
Our conversation partner:

Valerio Ferrari, President of

Central Amusement International

At the top there's no chance to check out the views

before diving vertically down and pulling up into a

vertical loop. No sooner out of the loop and it's into

the next inversion, a Zero-G-Roll. Sadly this first

portion of the ride isn't pleasant, as there's a hard

sideways shunt at the bottom of the first drop and

the train is hunting left and right through the

inversions. The general public didn't seem too

phased by it, but more experienced riders know

it's not great. Ferrari is quick to point out that

"Thunderbolt" is a prototype and promises that in

2015 these sections will be smooth.

A Stengel Dive travels into the Dive Loop at the far

end, and signals the start of a much smoother and

more graceful ride experience. A shockingly good

airtime hill that really lifts the rear

end off the seat and shows the

excellence of the thigh restraints

takes passengers over

to the far side of the plot for the

return home. What comes next

is a wonderfully smooth and

totally unexpected corkscrew,

which is taken at a pretty rapid

speed. The journey ends with a

final flourish of super intense airtime

bunny hills.

It's unsurprising that there's

been a lot of interest in the ride

from other parks. Its footprint

shows that most parks could

squeeze it in, maybe running

along the edge of the park or

even between existing rides.

Ferrari says that "Thunderbolt"

is a work in progress. Already

he has plans to change the shape of the bars that

hold the lap restraint, and he also feels that the

seats are a little uncomfortable in places, so some

additional pieces of padding will be added. He

also doesn't like how visible some of the mechanics

are on the seat backs, so some additional

trim will be installed to hide them. All these comments

are a sign of a company not settling for a

good ride, but wanting an excellent ride. To be

honest the ride is pretty close to that already, and

if they can truly smooth out the first couple of elements,

it will be an excellent ride. When one considers

the factors of the size and budget, and that

this is their first attempt at something on this scale,

Zamperla has created a phenomenal coaster. ■

68
---
TOP ACT

The new Darkride at

the Disneyland Resort Paris

is a 4D-attraction for the

whole family

One of the largest extensions at

the French Disney Studios Park

since its opening in 2002 is the

"La Place de Rémy" with the indoor

ride "Ratatouille: L'Aventure

Totalement Toquée de Rémy".

Text:

Dr. H. Jürgen Kagelmann

Photos: Dr. H. Jürgen Kagelmann,

Disneyland Resort Paris

In the "Gusteau"

restaurant, attractions and

reality merge together

Ratatouille

One of the largest extensions at the French

Disney Studios Park since its opening in 2002

is the "La Place de Rémy" with the indoor ride "Ratatouille:

L'Aventure Totalement Toquée de Rémy".

The second Disney Park really needed a new

attraction, as the visitor numbers – putting it kindly

– were only increasing slowly. And something had

to be done at long last. At great expense a typical

Parisian quarter was reproduced, containing many

architectural elements from authentic Paris – for

example Place Dauphine, the Boulevard Haussmann

and the fountains at Place des Vosges. Just

exactly how expensive it all was, remains a secret

as usual, but the figures hover between 150 and

220 million Euro. The importance of this new

investment has also been underlined by the fact

that even Disney boss Bob Iger travelled to

Paris for the inauguration. The thematic background

is one of the most popular and successful

Disney films, which has also been muchpraised

for its technology: the Oscar winner

"Ra-ta-touille" from 2007. The focus is on the very

likable brown rat Remy (a real glutton), and his

experiences in a Parisian gourmet restaurant where

he helps awkward apprentice chef Linguini to cook,

and to constantly escape from the dreaded and

mean chef Skinner.

There are many clues to the characters of the film

on the area: a pretty waterfall with images of Remy,

Linguini's bike and Colette's motor scooter for

example. Details for those who have time and are

in the mood for a search: the spray nozzles of the

pretty fountains are champagne bottles.

Now however more about the long awaited ride

attraction, which is embedded in the famous

"Gusteau's Restaurant". Some of the few guests

during the short soft-opening phase had the

opportunity to test it – all others interested

came by the thousands to the

official opening on the 10 th July. The

waiting time in the morning was on

average an amazing three hours; a

FastPass issued around 11 a.m. was

valid around 4:30 p.m.! This huge enthusiasm

shows just how much many

Disney fans had been waiting for a

new attraction at the Studio Park.

It's a 3D- Family-Darkride, which, as

is usual at Disney, is wild but not too

wild, and is excellently designed with

sophisticated storytelling. The project

for realization apparently already

began five years ago, resulting now

in four and half minutes of pure fun.

The film scenes, shot by Brad Bird,

70
---
the director of the original film, are all new by the

way. The most important gag – and simultaneously

the biggest difficulty for the Imagineers and technicians

– is the "rat-perspective". The idea is that all

guests become small rats to go on an adventure

trip – and in the perception of a small 18 centimetres

sized rat everything looks umpteen times larger.

However the results of this challenge can only be

described as very successful.

The storyline provides that we are all friends of

Remy. We go through typical dark corridors after we

have received our 3D-glasses, firstly to the famous

"Gusteau's Restaurant", with its illuminated name

sign shining over the Parisian roofs, and then to the

loading area. Six cars are waiting here that are

called "Ratmobiles", designed as friendly bluegrey

or brown rats. Each "Ratmobile" seats 6 guests

in groups of three.

They appear to rotate uncontrollably and the ride

begins! The first scene is shown as a huge 3-D-

Projection of the glass roof of Gusteau's Restaurant,

where Remy is talking to the ghost of Gusteau (by

the way there's a remarkable resemblance to Oliver

Hardy), in French and English.

Through the roof one sees restaurant personnel

working assiduously in the kitchen. Suddenly the

Ratmobile "falls" through the roof into the restaurant

kitchen – this simulated and dizzying drop is the first

highlight. As the hot-headed chef Skinner perceives

"us" rats, panic and total hectic breaks out

and a wild chase begins, Remy repeatedly finds a

way out of the mopping brooms of the humans; the

Ratmobiles move at a breathtaking pace whilst

everything is going haywire in the kitchen.

Next scene: The way leads into the cooling

chamber of the restaurant with its supply of huge

capsicums, oranges, sausages, fish, cheeses, and

hams – and cold air blows over us. The attraction

is multisensory: those who have a good sense of

smell register the aromas. The wild ride travels on

– this time under the stove and oven – warm air

blows over us.

The ride through the

cooling chamber even contains

odours and temperature

changes for the ride guests

71
---
TOP ACT

Passengers explore

the restaurant world from

the view of rats in the

so-called "Rat-Mobiles"

The outside and inside

designs are – as usual for

Disney – excellent

Suddenly we arrive in the refined restaurant where

Skinner is serving the well known and dreaded

critic Anton Ego. He drops the champagne bottle

in shock, and the hunt begins anew.

Naturally there's a way to escape again, this time

through a mouse or rather rat hole, and the ride

continues through narrow passages with sudden

drops. And finally we arrive in the kitchen where

Remy and his friends are occupied in cooking a

wonderful meal for the very impressed Linguini –

another highlight. Three assistant rats open a

champagne bottle and we all receive a few drops

of champagne (water). The last scene shows the

underground rat kingdom where mice and rats are

sitting at their small restaurant tables feasting

happily. A happy end – "Enjoy food and life" is the

message.

The loading platform is located in

a lovely glass facade that affords

an inviting view into the "real"

restaurant of the new theme

area, the "Bistrot Chez Rémy".

Here at the entrance there is a huge book that was

written by Remy's idol Gusteau – his philosophy so

to say: "Yes, anyone can cook."

In accordance with the story idea, all guests here

are as small as rats; or rather the interior is huge.

Champagne corks serve as a seating opportunity,

huge plates divide seating areas. The tables look

like large jam jars, and a huge pasta colander

functions as a chandelier. On the terrace there is a

gigantic champagne bottle with the yearly dates of

2007 and 2014 – logical – dedicated to the year of

the film and of the ride.

There's place for 370 guests, and the price is at

Parisian level (it could be worse). The many odds

and ends are great, which is almost always typical

when Disney takes something to hand: for example

72
---
the newspaper article on the wall with the famous

critic and restaurant guru Anton Ego, or the huge

cutlery and the sign at the exit in the form of a large

champagne cork.

A lot has been done here so that the Ratmobiles

follow varied and differently programmed ways,

and constantly move in other constellations, which

actually is hardly noticed by anybody due to concentration

on what is happening. The Disney

developed LPS-Technology (local positioning

system) has already been tried out at Disneyland

Tokyo ("Pooh's Hunny Hunt" and "Aquatopia"), and

at Disneyland Hong Kong ("Mystic Manor"), so it's

not really new.

Apart from this, the "Ratatouille" ride is a real

novelty for Disneyland Paris at long last – the

"Tower of Terror" only finally made it to Paris 10 years

after its introduction in Orlando. The highly interesting

mixture of a technically innovative ride

system and 3D-/4D-projections plus the consistently

solid "rat-scale" perspective with breathtaking

hectic and a lot of wit all make this ride construction

something very special. With this impressive

attraction that is in no other Disney Park, Disney

Studios have paved the way to a high value park.

Although there is still a lot missing, and the overall

atmosphere still leaves much to be desired, "Ratatouille"

is really something.

As so often is the case, Disney is keeping silent

regarding technical data, and there are even contradictions

regarding manufacturer details. Originally

the hardware was to be built by the Netherlands

Company ETF. However due to strict contract conditions

ETF apparently stepped back, and Disney

Imagineering – as is so often officially announced

– has built the attraction itself. Even during Disney's

lifetime, this explanation was claimed officially and

vehemently.

■

Naturally there are also a

whole lot of merchandising

products pertaining to

"Ratatouille"

Massive rush on

opening days

73
---
INTERVIEW

Martin Kring is the new

and very likeable Manager

at Legoland Deutschland

Resort

Legoland Deutschland has a new

Manager since the 1 st August – 46

year-old Martin Kring from Denmark,

replacing Hans Aksel

Pedersen after his five and half

year term of office. Shortly

before the end of the season we

spoke to him about his first

months in Germany.

Text:

Photos:

Frank Lanfer

Legoland Deutschland

Legoland Deutschland

Resort, Frank Lanfer

Mr Kring, how long have you been with

Merlin and Lego, and what did you do beforehand?

By the way Malaysia – this was the first

Legoland in Asia. Are there differences to the

European locations?

The initial new premium

hotel delayed this once in Lego-

City-style, would not only delight

children

I started with Lego 24 years ago, first in the EDVdepartment

at Legoland Billund and later in Switzerland.

From 2001 to 2006 I was at Windsor, initially

also in EDV, but afterwards I was Director of Operations

for three years. Due to family circumstances

my wife and I wanted to return to Denmark with our

daughter where I took over park operation at Legoland

Billund. In autumn 2013 I took over temporary

management of Legoland Malaysia for three

months, and now I'm here in Günzburg.

Apart from the weather with a very high

humidity and the possibility of year-round operation,

it was the first theme park ever in the country!

The local guests didn't even know what a theme

park was, and additionally Malaysia didn't have

such a long tradition with the Lego brand as

Germany. It was very exciting, but functioned well.

Until then a Legoland had only been

erected in countries where the brand Lego was

74
---
firmly anchored traditionally. That was not the

case in Asia and also not in Dubai, where

another Legoland is to come into being in 2016.

That's naturally not true for the whole of Asia,

as our location in Malaysia is only 30 minutes away

from Singapore where there are many international

residents as well as tourists. And for example the

brand Lego is very strongly represented in Japan.

This is the reason that the potential locations Tokyo

and Günzburg were in strong competition 15 years

ago. As is already well known, we will be opening

another Legoland in Nagoya in 2017. Malaysia

and Dubai are both markets with a strong growth

potential. Additionally both locations are being

financed by external investors; for example in

Malaysia by the Themed Attractions Resorts (TAR),

which also erected the Hello Kitty Park there as

owner, whilst Merlin Entertainments supplied the

licence and operates the park under a management

contract.

Back to Legoland Deutschland: Your predecessor

upgraded the park from a "One Day

Attraction" to a "Multiple-Day Resort". Will this

development continue?

Why is the German Legoland much more

successful with its overnight guest numbers?

That's not quite correct. When Legoland

Florida opened its hotel in 2015, then each park

had its own overnight accommodation possibilities.

Without a hotel one reaches only residents

within a neighbouring region of two hours by car,

but with an operating hotel the catchment area is

extended to four to five hours driving time. And

Legoland Deutschland has a central location in

Europe with Italy, Austria, and Switzerland being

important catchment areas. But the visitor groups

from the Czech Republic are also becoming more

important to us. Additionally Bavaria is an excellent

tourist region – and many visitors from the Netherlands

often stay overnight with us when they are on

their way to Italy. The resort-strategy is very important

for every Legoland; only Windsor for example

doesn't have so many foreign visitors as there are

no county borders nearby. Therefore we will be

continuing with further investment in the extension

of our holiday villages.

There's talk of a new type of hotel concept

for 2016.

Martin Kring standing

before the attraction "Ningago"

from Gerstlauer, which was

distinguished this year at the

European Star Awards

Very definitely. We will continue the successful

positioning of Legoland Deutschland as family

holiday destination, and extend our overnight stay

capacity from the current 1,900 beds. Our longterm

vision is 4,000 beds, and the next extension

phase could well begin within the next couple of

years.

Apart from Legoland Billund, in other Legoland

Parks there are only one or even no hotels.

Plans were actually for a premium hotel in the

style of a city with fire brigade and police station

built of Lego bricks, reflecting the particularly

successful product range of "Lego City" in

Germany. However that would have been a new

type of project for the Merlin Group. The 150 room

sized complex was estimated to cost around 30

million Euro; it would have cost around 500 Euro

per family per night. The latest visitor surveys

revealed that our overnight accommodation

75
---
These statistics from 2013

show the catchment area and

the actual overnight stay

numbers for Legoland-holiday

village, which were 12% higher

than 2012 (this year there was

another increase due to a great

season and a new overnight

accommodation capacity with

the new "Königsburg"; see KPR

8/2014)

possibilities and particularly our two castles score

better at the moment than a high priced Legoland

hotel. For this reason we made a short-term

decision in the middle of October that there will be

no new overnight accommodation concept introduced,

but rather the extension of our current

offers. Whether or not we will be building a third

castle or new houses with family rooms has not yet

been decided.

With the decision against building a year

round operating hotel, will the water park

project planned for 2017 also be stopped?

Legoland Parks in Malaysia, Florida and California

already have water parks, so we know what

functions. Theming, colours, and Lego models will

play a big role, but interaction is also very important

to us because visitors should be a part of the

experience. There will never be any thrill slides that

are located at other fun pools, as our main target

group is children between two and twelve years of

age, accompanied by their parents or grandparents.

And when will there be a new attraction at

the Legoland-Park?

With our two castles we currently have over

102 guest rooms that we can operate all year

round, but one must consider if this is really

enough. But a water park is still in our "Vision 2020".

Naturally the theme park remains our basis,

and we have already planned a novelty for the upcoming

season. However what it actually is cannot

to be revealed yet.

The statistics from the

Legoland Parks show: families with

children between 3 and 12 years

of age are the larger visitor group

Are there any further details about this

optional water park project?

We don't have a current concept, but the

largest part of the water park will be indoors. The

Maybe an attraction or a new area fitting to

the theme "Lego Friends"?

In actual fact this product range that was

especially developed for young girls is very

successful. The five girly figures

in the series have the appeal of

a type of "boy-group", and an

accompanying film can be seen

in the internet in order to "breath

real life" into the characters.

Whether or not there will ever be

a "Lego Friends" attraction has

not yet been decided. Although

young girls can also be interested

in typical boy themes such

as castles, knights and princesses,

it's not the same vice versa.

Thank you very much for

the interview. We wish you

many pleasant and successful

years at Legoland Deutschland.

76
---
WATERPARK

The "Cobra" water

slide is a combination of

various elements, and with

that is full in trend

20° Celsius and sunshine – this

extremely positive weather

report for the Axvall region,

home to Skara Sommarland,

definitely increased the anticipation

for this year's novelty,

the "Cobra".

Skara Sommarland

Text & Photos:

Marc Spies

But as it always is with weather reports, there

were only twelve instead of the promised 20

degrees, and torrential rain instead of sunshine.

Situations that only make minimal fun at a water

park – at least if one is not Scandinavian!

Scandinavians don't appear to be affected by

general weather conditions at all, and use the

water slides as though it was the most normal

thing in the world. This fact, as well as for Swedish

conditions an excellent summer with many sunny

days one after another, provided for a distinct

increase in visitor numbers to over 350,000

during the season – a season that takes place

only during the summer holidays in Sweden; this

year there were a mere 69 days.

From this number one can already recognise the

popularity of Skara Sommarland and the importance

of a leisure destination for visitors from

Sweden and Norway. Most of them spend their

summer holidays in the park-owned camping

area with 500 sites for caravans and tents, or in

the 300 park-owned small houses.

78
---
Transformation into a Leisure Park

Skara was founded in 1984 by Bert Karlsson, a

manager in the music branch, in order to among

others host festivals and concerts. In the following

years the area was extended into a theme

park, with among others a Powered Coaster from

Mack as well as a Stand-up Coaster von Intamin,

which however found a new home at La Ronde

(Canada) a few years ago. These days there are

additionally a "Free-Fly" coaster from S&S as well

as a number of attractions from the no long existing

CentrO-Park.

The main focus of the operating group Parks &

Resorts Scandinavia and its current CEO Hans

Ericsson, also operating the Kolmårdensdjur Park

and Gröna Lund, is the renovation and extension

of the water park area. And so the "Vortex" funnel

slide from Dutch manufacturer Van Egdom was

renewed, the "Wildriver" repainted, and in 2012

and 2013 the "Racer" slide was equipped with four

lanes, and a Freefall slide was also installed

together with "Sky Drop" cabins from ProSlide.

Additionally there is also a wave pool and a larger

water-play installation for children.

Punctually to the start of the 2014 season this

year's novelty "Cobra" also from ProSlide, was

completed. This slide, type "TornadoWave", offers

place for four passengers in a cloverleaf formed

boat and the quintessence of the "TornadoWave"

of masses of airtime along the 116 metres long

and 13 metres high attraction!

79
---
The ride sequence itself can be described as fast:

after passengers have taken their places – ideally

four – the ride begins at a leisurely pace initially.

After a few metres a right curve follows,

meandering into a steep drop – and the boat

together with happily screaming riders, drops into

the depths.

What Goes Up Must Come Down!

Whilst passengers already become aware during

the drop that their butt easily looses contact with

the boat, it's the same situation with the following

element "The Wall", pure airtime – and the heavier

the boat is loaded, the more there is of it. After

what seems like weightlessness lasting forever,

the ride travels downwards again, before the boat

goes through a small ascent, into a right curve as

well as a drop into the catch basin. The boat is

received there by a park employee and sent onto

the starting platform by way of a conveyor

system; the visitors follow mostly on foot.

Summary

"Cobra" – due to its missing cone element at the

beginning – is clearly shorter as its counterpart at

Siam Park by the name of "Kinarree", but offers the

same fun factor for a wide range public. Although

this slide is more of an intensive high-thrill construction,

it is also used by visitors who generally

wouldn't take part in a slide of the freefall calibre.

And so "Cobra" is an ideal extension for Skara

Sommarland – and in all weather conditions! ■

80
---
FAMILYPARK NEUSIEDLERSEE

Familypark Neusiedlersee

erected many new attractions

for 2014

Text & Photos:

Wolfgang Payer

The old "Butterfly" from the Heege firm was

dismantled and a newer and larger "Butterfly",

the XL-version, was built up on the same location.

This attraction with the term "Adlerflug" received

a beautifully themed vehicle. The new attraction is

27 metres long, 7.5 metres high and the car

speeds downwards at 35 kilometres per hour with

a maximum of 2 g. The capacity is 80 passengers

per hour.

In the park area "Bauernhof" the ride "Fasseltanz"

was erected by the Metallbau Emmeln firm, which

depicts a wine press. The eight gondolas have

been designed as wine barrels, and the riding

guests can influence their own rotation by way of

a hand wheel in the middle of the gondola.

The old petting zoo was demolished

and rebuilt. It is now

called "Tante Mizzi's kleine

Farm" and is occupied by

goats, sheep, hens and rabbits.

The large 1,800m 2 area contains

stalls in a ring form located

around a central visitor area

whereby the animals can withdraw

into rest zones. There is a

large area where the goats and

sheep can be petted. Two seesaws

in donkey designs that

stem from a park in Germany

and were restored beforehand,

and an oven-potato restaurant

round off the offers in this area.

The climbing garden "Sumpfburg"

has been extended

around a water-experience-jetty. Spray mist,

watering cans, and buckets provide a lot of wet

surprises from above, which can be triggered by

water cannons outside.

The train sets have been replaced on the kiddie

train, which now has a higher capacity. All new

attractions have been fittingly placed into the

already existing theming as was the case last year,

by the Familypark. In order to avoid waiting times

at the cash registers, visitors have been able to

book their admittance tickets online as well since

the past season, and store them on their mobile

phones.

And last but not least: For the first time a Halloween

event has been presented.

■

82
---
HEIDE-PARK

Text:

Marc Spies

For a long time there were thoughts to develop

the park from the classic day trip attraction to a

multiple-day destination with overnight accommodation.

For this purpose the Hotel Port Royal

as well as the Holiday Camp were erected in the

past.

In order to make a stay attractive for other target

groups as well, the novelty "Flug der Dämonen"

from B&M was erected and the portfolio of Holiday

Camp was extended. Since this summer, shortterm

holiday guests could spend their time in rebuilt

small Volkswagen licensed busses – affectionately

known in Germany as the "Bully". "Many associate

the VW Bulli with the hippy era, and we've achieved

this feeling now in our Surfer-Camp", explained

Sabrina de Carvalho, Manageress of the Heide-

Park Resort. There are a total of seven Bullies – all

equipped amongst others with hi-fi equipment and

bed, each available for a maximum of two persons.

For those who find this all too down-to-earth, they

can use the newly opened high wire garden in July

called "Indianerkletterpfad" at the Holiday Camp.

With a permanent safety system, various elements

can be swung on up to ten metres in height; the

level of difficulty can be chosen by the participants

thanks to the four different courses. As a highlight

there are also zip lines on the courses with a high

difficulty level. This attraction will be operated as an

up-charge, and will be first open in the late afternoon;

however it will be available for day visitors

earlier. Additionally such high wire gardens are also

interesting in the areas of incentive and teambuilding,

which are also on offer from Heide-Park in

the off-season. There are also concrete plans for

next year for extension: currently a swimming pool

together with slides and a sauna landscape are

being erected for the Hotel Port Royal.

■

DJURS SOMMERLAND

Text:

Text:

Frank Lanfer

Djurs Sommerland

The famous theme

park in the western

part of Denmark will

be extending its

attraction contingent

further. Following the

erection of a "Pirate"-

ship from Huss Rides

in the past season, a

completely new

theme land dedicated

to the farmer's land is

to be erected for

families in the upcoming

season 2015.

The "Bondegårdsland" will replace the earlier

kiddie land "Lileputland", and will be extended to

twice the size at 7,500 m 2 . There will be 10 new ride

constructions that will come from the firms

Zamperla, Metallbau Emmeln, Wooddesign and

Zierer, amongst them a family coaster and an interactive

ride.

"The whole area will be transformed into a massive

farmer's universe, which will be implemented by the

specialists at Jora Entertainment. So there is no

doubt that we will be able to open an exciting theme

area for families with children next year", said

Henrik B. Nielsen, CEO of Djurs Sommerland with

assurance.

■

83
---
CREALY GREAT ADVENTURE PARK

Whilst the largest part of this

year's extensive investment in

the United Kingdom flowed as

branded attractions into constructions

such as "CBeebies

Land" at Alton Towers, "Hello

Kitty Secret Garden" in Drusillas

Park and "Angry Birds Land" at

Thorpe Park, Crealy decided to

waive a brand name. With this

step this year's extension with

five new ride constructions was

cheaper by far than other large

projects in Great Britain.

Text & Photos:

Marcus Gaines

An existing indoor area has been transformed

into "Atlantis". A new fascia on the exterior and

new murals and lighting inside has created an

undersea world perfect for all year fun.

"Atlantis" is home to four rides, three of which are

brand new. "Shark Bay" is a junior coaster from SBF

Visa, where riders travel around a figure of eight

track, aboard a shark. "Neptune's Sea Cups" is a

"Mini Tea Cup" ride from Zamperla. "Super Subs"

is a suitably themed so called "Junior Jet" ride. And

"Dolphin Drop" is a re-themed already existing

Zamperla "Jumpin' Star" tower ride. Additionally

there's also the "Blue Lagoon", a soft play area for

children who are too small to ride one of these

attractions.

Outside, towards the centre of the park is a new

"Midi Family Swinger" from Zamperla, which is

named "The Flying Machine". It's been installed in

an area that was previously just grass, and another

new ride is expected to join it in coming years. "The

Honey Swing" has been temporarily put alongside

it, having been moved to make way for "Atlantis".

"Dino Jeeps" is essentially a "Convoy" ride from

Zamperla, with jeeps instead of lorries, but the

theming has made it into a superb family ride. The

convoy of jeeps head off through a landscape of

static and animatronics dinosaurs with mist effects

and creative landscaping. The ride finishes when

heading inside a building to come face to face with

mean velociraptors and a roaring T-Rex, the perfect

spot for the Onride photo.

If the new rides aren't enough there's also a new

84
---
show "The Pirates of Crealy Cove, Curse of the New

Recruits". Four children are given the chance to

become pirates and take on the Captain in a sword

fight. At the end of the show everyone is encouraged

to join the pirates for a ride on the nearby

"Flying Dutchman" swing boat ride.

The past couple of years have been dedicated to

opening "Crealy Meadows", a caravan and camping

site, next to the park. So an investment in new

rides was much needed, especially with it being the

25 th anniversary year.

That investment is

already proving worthwhile

with an 11% increase

in visitors over

the same period last

year.

■

Crealy's General

Manager Josh Haywood

TRIPSDRILL

Text:

Photos:

Frank Lanfer

Tripsdrill

The anniversary attraction was

already available to all visitors

last year – in the form of the

launchde looping coaster

"Karacho" built by Gerstlauer.

However for the 85-year anniversary

the visitors themselves

are giving Erlebnispark

Tripsdrill a gift with an increase

in all areas: 2014

showed 72,000 visitors, 15,500

annual passes were sold, and

in the Natur-Resort there was a

nearly 100% occupancy rate

(in the park's opened months).

So it's no wonder that the operating family Fischer

intends to erect 15 new tree houses, each

accommodating 4 persons, by next spring. With

this step the Natur-Resort that is located next to the

park's own wildlife park will then have over 20 treehouses

and 20 shepherd's wagons with a total

capacity of 190 beds available.

These by the way can also be booked during the

winter months on all weekends, holidays and public

holidays (parallel to the opening times of the Wildparadise).

Also planned for the 2015 season is a new theme

restaurant with a large conference area, which will

also complete the design around "Karacho". ■

85
---
NEW LITERATURE

Christmas is just around the

corner, and this year there are a

number of books appearing on

the market pertaining to the

theme amusement once again.

We are presenting here a small

choice of German books.

Text: Dr. Sacha Szabo, Frank Lanfer

Theme Parks and Strategic Marketing

When one makes the decision to found a park or

make an investment then it's possible, as everybody

who has been involved with Sim City or

another construction simulation knows, just how

quickly things can go wrong. If this involves a real

project and not a virtual one, failure may well lead

to ruin – particularly when even during the strategic

planning in the run-up to a park opening, the

definition of the target market as well as the target

groups have not been established, or only

insufficiently. This is the problem to which Dominik

Rossmann has dedicated his studies.

Naturally that kind of project is not so easy. Certain

things have to be clarified: what are the target

groups and which are the target markets. This has

to be meticulously defined for a study. So it's no

wonder that this book of over 450 pages covers this

subject. The author orientates himself strongly on

the work of Heinz-Günter Vesper, about the age of

recreation. It is due to the concentration on the

definitional preliminary work that the concepts have

not been spread, but ultimately separate to other

developments and not concentrating on matters in

depth.

Marketing is always more than simply advertising;

marketing serves additionally to open up additional

business fields. The book introduces a blueprint

that should be well noted when the decision has

been made to found a park. It can also be a helpful

decision matrix before a large investment is considered

in an already existing park. In this way the

relevant factors for the park's success is determined.

These facts are clarified and defined after

which a strategic marketing plan is undertaken. The

concept has been developed on the basis of the

works of Heribert Meffert. The third step is the

definition stringently worked into the concept, leading

to the result.

Those however who hope to get an insight into the

concrete decision process of certain parks will be

disappointed. It is a work that features in particular

the consistent implementation of a certain task. The

book is not recommended for park fans as the work

is far too abstract. For decision-makers the model

is in turn too theoretical in practice. It is a book that

shows what one should do, but does not show how

to do it. That is achieved by – according to the blurb

– the agency Ulysses Management, headed by

Dominik Rossmann. Back to the book: the insights

of this study can be agreed upon unreservedly: one

should know their clients when bringing a product

on the market.

The study "Freizeitparks und strategisches Marketing"

is published in 2. Editions by Ulysses Management,

Munich (ISBN: 978-3-9808057-9-7) and

costs 48,60 Euro.

A Reprint about Travelling Showmen

The source of all misunderstandings has been

newly established! "As much as the picture of

'itinerant people' and the 'travellers of today' have

changed in the public eye – the past travels with

them." There's no more appropriate a way of

explaining the reason why it is well worthwhile

taking a look into the "Hampe" book than what is

expressed by the words of Oliver Müller, President

of the Landesverbandes Schausteller und Marktkaufleute

Nordrhein e.V.

Theodor Hampe wrote the first social history

account of showmanship around the turn of the 19 th

century. Nevertheless he made the cardinal

mistake of wanting to constrain all possible and

completely different population groups into a single

group of "travelling entertainers" at any price. This

was simply impossible, and the reason right up to

these days for many a misunderstanding and

erroneous perception of the showman industry.

However, what Hampe actually emphatically

valued is the use of very extensive material, so that

many historic developments are comprehensible.

One should not read Hampe uncritically; actually it

should definitely be read critically because it's only

then that his charm unfolds.

Naturally there a number of paragraphs that are not

pertinent to current times, and are even of a tendentious

character. But one shouldn't forget that the

book was written over 100 years ago, and also its

particular importance for the understanding of

showmanship. However, one does wonder why it

was hidden away and remained in the "poison

cabinet" of cultural studies, and when it was first

available the Gothic script didn't allow for relaxing

read. All these problems have been remedied in the

new edition from Hampe, in which it has been

transcribed from old German Gothic script to Latin

script. Now every interested person can get a

picture of where many preconceptions stem without

a problem.

The republication of the 248-page book "Fahrende

Leute: Die fahrenden Leute in der deutschen

Vergangenheit" is published by Books on Demand,

Norderstedt (ISBN: 978-3735762047I) and costs

39,90 Euro.

Book about Roland Mack

When entering a theme park, one enters a noncustomary

world. A world that looks so much different

to everyday life. The colourful scenes and the

embedded attractions touch upon all senses of the

visitors, and carries them off to a worry-free world

for the duration of the visit. All the more curious then

is what actually these scenes harbour. Benno

Stieber, a journalist from Karlsruhe, allows readers

86
---
of his book "Roland Mack – Herr der Achterbahnen"

a look behind the scenes of the imposing facade of

Europa-Park. Those who have been interested in

the history of the park until now have reached for

the weighty tome from Willi Thoma "200 Jahre

Mack", from the year 1988. Nevertheless this book

to a large extent is more of a company chronicle,

very exciting but not a book one would take on a

train or read to relax on the sofa. The book from

Stieber is completely different. It has a light and

quickly readable text, the centre point being entrepreneur

Roland Mack.

A personality is introduced here in strong lines

which go something like this: "Roland Mack pulls

the strings and brings everything together. He's the

person from whom all impulses have come until this

day". His character is defined in delicate lines:

"Roland Mack is an impatient boss. He is always

exhausting and it's often hectic with him. All who

work closely with him say that he travels at an

immense speed, he is a force when everybody else

is tired." The book is about Roland Mack and so this

person stands as the centre point. The park actually

just plays the background music. And it's therefore

rather exciting to listen to how the idea for the

park substantiated. The name Europa-Park actually

came from Europa-See at Breisach, where the

park should have been build according to the first

ideas. Readers receive a subjectively imparted

view of the development of the park from the

beginning, when Franz Mack was still frying

sausages at the park. It relates the suspense

caused by the constantly increasing volume of

traffic, leading right up to the completion of the park

with varied overnight accommodation, to the

current planning of a water park.

This is by no means a disadvantage as Roland

Mack gives the park a human face. One, that in

comparison to many fictitious logos, doesn't

appear artificial and can build up a natural and

mutual trust. It is the human side of Roland Mack

that is shown. It shows fights for ideas, but also for

recognition. And many triumphs over critics are

also celebrated in the book. Europa-Park is a

respected institution worldwide but that's no reason

for Roland Mack to get airborne. This is underlined

in many ways, such as the decline to open a park

in the Ukraine, but in particular the renovation of the

parent company in Waldkirch. Due to the operational

dominance of the park there was an unhealthy

dependence and the story of Schwarzkopf before

the eyes, so work was commenced on the recovery

of the company. Many areas were closed down,

others modernised with technical improvements

such as the patented zero plane, which made it

possible to form tracks in such a way that it resulted

in a completely smooth ride feeling on coasters.

As the development of the "Silver Star" went to

B&M, so "blue fire" stands for the recovery

of the parent company. One part that

attracts attention in the book, and this

should not be taken as negative, is the

chapter "Künstliche Welten" (Artificial

Worlds). Benno Stieber notes here that the

"Theme Park with its staging here is even

(more) honest than most. In a theme park,

the boundary to staging is marked with a

fence." Thanks to Stieber's book one can

take a look over that fence.

The book can be purchased in book shops

or directly at the park. Herder Verlag,

Freiburg (ISBN 978-3-451-30752-2) – Price

17,99 Euro (Ebook 13,99 Euro)

Book about Playmobil's History

On the occasion of the 40-year anniversary

of Playmobil, the Kirmes & Park Revue presented

an in depth report in its July Edition about

Playmobil-Park. In the process we had forgotten to

make reference to a book publicized by the

Freiburg Sociologist Hannah Köpper and Sacha

Szabo. The small play figures were to be examined

from a scientific viewpoint, and a number of

distinguished scientists were invited to take part.

The result is a very special piece of scientific entertainment.

Although much of the work is of a

scientific nature, it's still to be read with a twinkle in

the eye. Katharina Zeppezauer-Wachauer attempts

to portray the history that emerges. The well known

Journalist Manuel Loren examines the historical

reference to the figures from the viewpoint of

historical science. Yvonne Niekrenz, a Sociologist

from Rostock, puts the body of the plastic figures

at the centre point. Darijana Hahn shows just how

often and why Playmobil is used as an

illustrative object. Sacha Szabo questions

the female image of the Playmobil figures,

and draws a line from the earlier figures with

skirts, to the princesses and onto the

pregnant "Anna". Not really to be taken too

literally, but funny to read, is the section

about why Playmobil figures don't have a

nose. So much is revealed – they reproduce

faster than humans in that an injection

moulding machine is an integral part of their

propagation. Overall a cute and entertaining

text.

Unfortunately there was no response from

Playmobil FunPark, but for lovers of the

small plastic figures the text is well worth

buying. The Book "Playmobil durchleuchtet

– Wissenschaftliche Analysen und Diagnosen

des weltbekannten Spielzeugs" is

published by Tectum, Marburg (ISBN: 978-

3-8288-3022-6) and costs 19,90 Euro. ■

87
---
FARUP SOMMERLAND

It doesn't happen too often in the

world: the possibility not only to

overnight at a theme park, but

directly in it!

Text:

Frank Lanfer

Photos: Farup Sommerland

From spring 2016 this exclusive experience will

be possible at the Danish Fårup Sommerland, as

the first park-owned hotel will be erected directly on

the centrally located park

lake. Overnight guests of

the 4-Star-Hotel in 51

family rooms will have a

direct view of the top

attractions at the park: the

Suspended Coaster "Orkanen"

from Vekoma, the

Wooden Coaster "Falken"

from S&S and the Launch

Coaster "Lynet" from

Gerstlauer. Naturally Park

Manager S¢ren Kragelund

is sure of an increase in the

multi-day visitor numbers,

who want to linger and

enjoy in Northern Denmark

not far from the sandy

beaches of North Jutland: "The hotel marks a new

era for Fårup. With the hotel we are expanding our

service and offers significantly for our guests." ■

GRÖNA LUND

Text:

Frank Lanfer

The Swedish theme park Gröna Lund will receive

a new attraction in 2015.

The park that is located in the

capital city of Stockholm will have

a new Walkthrough construction

completed by the opening of the

upcoming season, which will be

called "House of Nightmares".

Additionally, Gröna Lund has

entered into cooperation with the

American manufacturer Sally

Corp., which will implement the

storyline with digital technology

and lifelike animatronics. The technology

will be supported by live

actors who will cause creepy

moments in various rooms. Ride Manager Peter

Osbeck: "At the moment we are discussing the age

limit, because this horror attraction will not be ideal

for everybody."

■

88
---
PREVIEW

A calendar of events can be found here for the month of

December in alphabetical order. Additional information

about individual events is listed below.

■

A■ Altenburg/Thüringen 28.11.-21.12.

N■ Neubrandenburg 29.11.-21.12.

■ GB Chester 27.11.-04.01.

■ GB Coventry 26.12.-03.01.

■ GB Dundee 31.12.-02.01.

■ GB Edinburgh 27.11.-04.01.

■ GB Edinburgh 27.12.-04.01.

■ GB Glasgow 19.12.-11.01.

■ GB Leeds, W.Yorks 31.12.-01.01.

■ GB Lincoln 04.12.-07.12.

■ GB Liverpool 09.11.-23.12.

■ GB London 20.11.-01.01.

■ GB London 22.11.-04.01.

■ GB Malton, Yorks 14.11.-06.12.

■ GB Manchester 27.12.-04.01.

■ GB Manchester 12.12.-04.01.

■ GB Newcastle 15.11.-06.01.

■ GB Nottingham 20.11.-04.01.

■ GB Plymouth, Devon 20.11.-03.01.

■ GB Swansea 13.11.-04.01.

■ GB Wrexham, Denb 18.12.-01.01.

20. NOVEMBER (THURSDAY)

GB London

■ Festive Fair until 01.01.

GB Nottingham

■ Winter Wonderland until 04.01.

GB Plymouth, Devon

■ Winter Festival until 03.01.

21. NOVEMBER (FRIDAY)

PL Breslau=Wroclaw

■ Weihnachtsmarkt until 23.12.

22. NOVEMBER (SATURDAY)

B■ Bad Salzungen 29.11.-21.12.

■ Bautzen 28.11.-21.12.

■ Berlin 24.11.-04.01.

■ Berlin-Mitte 24.11.-28.12.

■ Berlin-Mitte 24.11.-28.12.

■ Berlin-Spandau 26.11.-28.12.

■ Bernau/Berlin 11.12.-14.12.

■ Bitterfeld-Wolfen 05.12.-07.12.

■ Brandenburg/Havel 29.11.-21.12.

P■ Plauen 25.11.-21.12.

R■ Rostock 27.11.-22.12.

S■ Stendal 11.12.-14.12.

■ Stralsund 27.11.-22.12.

■ I Genova=Genua 06.12.-18.01.

■ IRL Dublin 06.12.-11.01.

■ NL Groningen 25.12.-04.01.

■ NL Maastricht 29.11.-30.12.

■ PL Breslau=Wroclaw 21.11.-23.12.

7. NOVEMBER (FRIDAY)

CH Bern

■ Lunapark, Herbstmesse

until 07.12.

F Annecy

■ Foire Saint-André until 07.12.

F Carcassonne

■ Foire Foraine de Novembre

until 07.12.

GB London

■ Hyde Park Winter Wonderland

until 04.01.

C■ Chemnitz 28.11.-23.12.

■ Coswig/Dresden 05.12.-07.12.

■ Cottbus 27.11.-23.12.

D■ Dresden 27.11.-23.12.

E■ Erfurt 25.11.-22.12.

T■ Templin 11.12.-14.12.

W■ Weimar/Thüringen 25.11.-04.01.

■ Werdau/Sachsen 11.12.-14.12.

Z■ Zehdenick 05.12.-07.12.

20359 Hamburg

■ Dom-Markt until 07.12.

Behörde für Wirtschaft Verkehr Innovation

Wellenflug, Breakdance, Wilde Maus, Geisterhotel,

Eclipse, Konga, Frisbee, Flipper, Sky

Dance, Viva Mexico, Double Jump, Rotor,

Love Dream, Dom-Dancer, Geisterbahn, Teststrecke,

Rock & Roller Coaster, Rocket, Shaker,

Riesenrad, Dom-Geister, Apres Ski Party,

Encounter, Happy Family, Omni, Magic House,

Irrgarten

Participants: ca. 250

B Mons=Bergen

■ Foire d'Automne until 07.12.

24. NOVEMBER (MONDAY)

06108 Halle/Saale

■ Advent-Weihnachtsmarkt

until 23.12.

Stadt

10178 Berlin-Mitte

■ Weihnachtszeit am Roten Rathaus

until 28.12.

Laubinger/Fredersdorf

Riesenrad

F■ Frankfurt/Oder 28.11.-22.12.

G■ Gera 27.11.-23.12.

■ Greifswald 28.11.-21.12.

■ Güstrow 05.12.-21.12.

H■ Halle/Saale 24.11.-23.12.

■ Hamburg 07.11.-07.12.

■ Havelberg 04.12.-07.12.

J■ Jena 25.11.-22.12.

L■ Leipzig 25.11.-21.12.

■ Lemgo 04.12.-07.12.

M■ Magdeburg 24.11.-30.12.

■ Zwickau 25.11.-23.12.

International

■ B Brüssel 28.11.-04.01.

■ B Hasselt 15.11.-04.01.

■ B Mons=Bergen 07.11.-07.12.

■ B St.Nicolas 06.12.-21.12.

■ CH Bern 22.11.-07.12.

■ CH Frauenfeld 29.11.-01.12.

■ ES Alicante 05.12.-18.01.

■ F Alès 13.12.-11.01.

■ F Annecy 22.11.-07.12.

■ F Béziers 13.12.-11.01.

■ F Brest-Penfeld 13.12.-11.01.

■ F Cannes 05.12.-11.01.

■ F Carcassonne 22.11.-07.12.

■ F Lisieux 20.12.-18.01.

■ F Lyon-Chassieu 13.12.-25.01.

■ F Nice 06.12.-04.01.

■ F Rennes 06.12.-04.01.

■ GB Aberystwyth, Card 29.11.-01.12.

■ GB Bolton, Lancs 19.12.-03.01.

■ GB Cardiff, S. Glam. 31.12.-01.01.

■ GB Cardiff, S. Glam. 13.11.-04.01.

9. NOVEMBER (SUNDAY)

GB Liverpool

■ One Christmas in the Park

until 23.12.

13. NOVEMBER (THURSDAY)

GB Cardiff, S. Glam.

■ Winter Wonderland until 04.01.

GB Swansea, South Wales

■ Winter Winterland

until 04.01.

14. NOVEMBER (FRIDAY)

GB Malton, Yorks

■ Hirings Fair until 06.12.

Only on Fridays and Saturdays

15. NOVEMBER (SATURDAY)

B Hasselt

■ Winterland until 04.01.

GB Newcastle-upon-Tyne

■ Winter Wonderland

until 06.01.

10178 Berlin-Mitte

■ Weihnachtsmarkt Wintertraum

am Alexa until 28.12.

Charles Blume Vergnügungsbetriebe/Hude

Tower, Willi der Wurm, Freddys Company,

Crazy Outback, Fun House, Commander, Wellenflug,

Riesenrad, Wilde Maus, Black Hole,

Love Express, Cinema 6D, Booster Maxxx,

Chaos Airport, Halloween, Voodoo Jumper,

Bruch-Pilot

10789 Berlin

■ Weihnachtsmarkt City West

until 04.01.

Schausteller Verband Berlin e.V.

39104 Magdeburg

■ Weihnachtsmarkt

until 30.12.

Closed on December 24 and 25

Magdeb.Weihnachtsmärkte GmbH

Riesenrad, Mäuse-Spektakel, Rutsche

25. NOVEMBER (TUESDAY)

04177 Leipzig

■ Weihnachtsmarkt

until 21.12.

Riesenrad

07703 Jena

■ Weihnachtsmarkt

until 22.12.

JenaKultur, Märkte und Stadtfeste

Riesenrad, Cortina Jet

90
---
08056 Zwickau

■ Weihnachtsmarkt until 23.12.

08523 Plauen

■ Weihnachtsmarkt until 21.12.

99084 Erfurt

■ Weihnachtsmarkt until 22.12.

Stadt

Riesenrad

99423 Weimar

■ Weihnachtsmarkt until 04.01.

26. NOVEMBER (WEDNESDAY)

13591 Berlin-Spandau

■ Weihnachtstraum am Rathaus

until 28.12.

Th.H.Wollenschläger/Falkensee

Time Factory

27. NOVEMBER (THURSDAY)

01067 Dresden

■ Striezelmarkt until 23.12.

03046 Cottbus

■ Weihnachtsmarkt until 23.12.

COEX Veranstaltungs GmbH & Co. KG

07545 Gera

■ Weihnachts- und Märchenmarkt

until 23.12.

Stadt

18055 Rostock

■ Weihnachtsmarkt until 22.12.

Großmarkt Rostock GmbH

Riesenrad, Monster, Avenger, Nostalgie-Riesenrad,

Speedy Gonzales, City Sky Liner, Breakdance,

Wellenflug, Montgolfiere, Freddy's

Circus, Geistervilla, Weihnachts-Labyrinth

Participants: ca. 250

18439 Stralsund

■ Weihnachtsmarkt until 22.12.

GB Chester

■ Winter Wonderland until 04.01.

17033 Neubrandenburg

■ Weihnachtsmarkt until 21.12.

36433 Bad Salzungen

■ Weihnachtsmarkt until 21.12.

CH Frauenfeld

■ Klausmarkt until 01.12.

GB Aberystwyth, Card

■ November Fair (Third) until 01.12.

NL Maastricht

■ Kerstmarkt Magisch Maastricht

until 30.12.

4. DECEMBER (THURSDAY)

32657 Lemgo

■ Kläschenmarkt until 07.12.

Stadt

39539 Havelberg

■ Weihnachtsmarkt until 07.12.

GB Lincoln

■ Christmas Fair until 07.12.

5. DECEMBER (FRIDAY)

01640 Coswig

■ Weihnachtsmarkt until 07.12.

06766 Bitterfeld-Wolfen

■ Weihnachtsmarkt until 07.12.

Stadt

16792 Zehdenick

■ Weihnachtsmarkt until 07.12.

18273 Güstrow

■ Weihnachtsmarkt until 21.12.

ES Alicante

■ Feria de Navidad until 18.01.

F Cannes

■ Foire de Noël, Fête d'Hiver

until 11.01.

Die Familie Frank Oberschelp

wünscht ein gesegnetes Weihnachtsfest

und ein friedliches neues Jahr.

Von Herzen danken wir unseren

Vertragspartnern und Fahrgästen

für die sehr erfolgreiche Saison.

12. DECEMBER (FRIDAY)

GB Manchester

■ Winter Wonderland until 04.01.

13. DECEMBER (SATURDAY)

FRANK OBERSCHELP

Tel.0163/7709459

www.high-impress.de

25. DECEMBER (THURSDAY)

NL Groningen

■ Kerstplaza until 04.01.

26. DECEMBER (FRIDAY)

GB Edinburgh

■ Christmas Wonderland Winter

Festival until 04.01.

28. NOVEMBER (FRIDAY)

02625 Bautzen

■ Bautzener Wenzelsmarkt

until 21.12.

04600 Altenburg

■ Weihnachtsmarkt until 21.12.

09111 Chemnitz

■ Weihnachtsmarkt until 23.12.

15234 Frankfurt/Oder

■ Weihnachtsmarkt Kirmes

until 22.12.

17489 Greifswald

■ Weihnachtsmarkt until 21.12.

B Brussel=Bruxelles=Brüssel

■ Kerstmarkt/Weihnachtsmarkt

until 04.01.

29. NOVEMBER (SATURDAY)

6. DECEMBER (SATURDAY)

B Sint-Niklaas=St.Nicolas

■ Winterkermis until 21.12.

F Nice

■ Foire d'Hiver Attractive until 04.01.

F Rennes

■ Fête Foraine d'Hiver until 04.01.

I Genova=Genua

■ Luna Park until 18.01.

IRL Dublin

■ Funderland & Christmas Wonderland

until 11.01.

11. DECEMBER (THURSDAY)

08412 Werdau

■ Weihnachtsmarkt until 14.12.

16321 Bernau

■ Weihnachtsmarkt until 14.12.

17268 Templin

■ Weihnachtsmarkt until 14.12.

F Alès

■ Fête Foraine de Noël until 11.01.

F Béziers

■ Foire de Décembre until 11.01.

F Brest-Penfeld

■ American Lunapark until 11.01.

F Lyon-Chassieu

■ Euro-Park-Loisirs until 25.01.

18. DECEMBER (THURSDAY)

GB Wrexham, Denb

■ Christmas Fair until 01.01.

19. DECEMBER (FRIDAY)

GB Bolton, Lancs

■ Christmas Fair bis 03.01.

GB Glasgow

■ SECC Irn-Bru Carnival

until 11.01.

20. DECEMBER (SATURDAY)

GB Coventry

■ Hearsall Common Christmas

Funfair until 03.01.

27. DECEMBER (SATURDAY)

GB Edinburgh

■ Hogmanay Street Fair

until 04.01.

GB Manchester

■ New Year Street Fair

until 04.01.

31. DECEMBER (WEDNESDAY)

GB Cardiff, S. Glam.

■ Calennig Fair

until 01.01.

GB Dundee

■ Hogmanay Fair

until 02.01.

GB Leeds, W.Yorks

■ New Year's Fair until 01.01.

14770 Brandenburg/Havel

■ Weihnachtsmarkt until 21.12.

39576 Stendal

■ Weihnachtsmarkt

until 14.12.

F Lisieux

■ Fête Foraine de Noël until 18.01.

No responsibility for accuracy!

91
---
❑

❑

❑

ABONNEMENT-AUFTRAG

Ich bestelle hiermit die nächsten 12 Ausgaben von KIRMES & PARK Revue ab Heft-Nr.

zum Abonnementpreis von 96,– € inkl. 7 % MWSt. und Versand (Deutschland)

Ich bestelle hiermit die nächsten 6 Ausgaben von KIRMES & PARK Revue ab Heft-Nr.

zum Abonnementpreis von 51,– € inkl. 7 % MWSt. und Versand (nur innerhalb Deutschlands)

Ich bestelle hiermit die nächsten 12 Ausgaben von KIRMES & PARK Revue ab Heft-Nr.

❑ Europa Normalpost zum Abonnementpreis von 114,– € inkl. Porto und Versand

❑ Europa Luftpost und Übersee zum Abonnementpreis von 126,– € inkl. Porto und Versand

Ich wünsche die angekreuzte Zahlungsweise:

❑ durch Bankeinzug. Die Einzugsermächtigung erlischt mit Kündigung des Abonnements.

IBAN

BIC

❑ gegen Rechnung. Bitte kein Geld einsenden, Rechnung abwarten.

❑ per Kreditkarte. Bitte ankreuzen: ❑ Visa ❑ Mastercard ❑ Diners Club ❑ American Express

Karten-Nr.:

gültig bis:

Das Abonnement verlängert sich jeweils um ein weiteres Jahr, wenn es nicht spätestens 6 Wochen vor Ablauf schriftlich gekündigt wurde.

Name

Straße

PLZ/Ort Datum Unterschrift

Bitte einsenden an: Gemi Verlags GmbH, Postfach, 85291 Reichertshausen

Diese Bestellung kann ich innerhalb von 10 Tagen schriftlich bei der Gemi Verlags GmbH, Postfach, 85291 Reichertshausen widerrufen.

Die Widerrufsfrist beginnt 3 Tage nach Datum des Poststempels meiner Bestellung. Zur Wahrung der Frist genügt das rechtzeitige Absenden.

Ort/Datum

Unterschrift

✂

❑

❑

❑

SUBSCRIPTION-ORDER

I order the next 12 editions of the KIRMES & PARK Revue in English from issue Nr.

at a subscription price of 102,– € incl. 7 % MWSt. and postage (Germany)

I order the next 6 editions of the KIRMES & PARK Revue in English from issue Nr.

at a subscription price of 57,– € incl. 7 % MWSt. and postage (Germany)

I order the next 12 editions of the KIRMES & PARK Revue in English from issue Nr.

❑ Europe normal post at a subscription price of 120,– € incl. postage and handling

❑ Europe airmail and other countries at a subscription price of 132,– € incl. postage and handling

❑ I will pay by credit card. ❑ Visa ❑ Mastercard ❑ Diners Club ❑ American Express

Card Nr.:

Expiry Date:

❑ I require an invoice.

The subscription is automatically extended a further year if a written cancellation is not received 6 weeks prior to the end of the subscription.

Name

Street

Postcode/City Date Signature

Please send to: Gemi Verlags GmbH, Postfach, 85291 Reichertshausen

This subscription order can be called in writing within 10 days by notifying Gemi Verlags GmbH, Postfach, 85291 Reichertshausen, Germany. The

time limit for cancellation begins 3 day after the date of posting my order. The time limit is ensured and proved by the timely posting of cancellation.

Date/City

Signature

92
---
Ihr Partner für das Schaustellergewerbe

D-34613 Ziegenhain • Kasseler Str. 44 • Tel. 0 66 91 / 35 36 • Fax 0 66 91 / 59 97

mail@Dietz-Fahrzeugbau.de

www.Dietz-Fahrzeugbau.de

Ausspielungswagen Moderne Verkaufswagen nach nach Ihren Wünschen

FOR SALE

Mack Salon Mobile Home,

very well looked after, partitioning:

Veranda, kitchen, lounge

room, bathroom, bedroom.

Please contact Tel.+ 49

(0)151/22568133

"Flasher Turbine" Mondial,

height 62 m Tel. + 49 (0)

662334675 (French) Tel. + 49

(0) 685107950 (German)

PURCHASE

Cash buyer searching for

cars from ride type L'Autopede

from Belgium, please offer

all you have. Tel: + 31

653486142

EMPLOYMENT

Polish manpower – find personnel

from Poland here Tel.

0048604891314

Veranstaltungen 2015

des Dresdner Schaustellerverbandes e.V.

Dresdner Frühlingsfest 04.04.2015 – 26.04.2015

Dresdner Vogelwiese 10.07.2015 – 20.07.2015

Dresdner Herbstfest 10.10.2015 – 25.10.2015

Termin vom Herbstfest unter Vorbehalt, Änderung möglich

Lorenzmarkt in Lorenzkirch 14.08.2015 – 17.08.2015

Weinfest in Radebeul 25.09.2015 – 27.09.2015

Oktoberfest in Riesa 02.10.2015 – 04.10.2015

Im Hinblick auf das Auswahlverfahren sind Spiel-, Fahr- und Eintrittspreise

bei den Veranstaltungen anzugeben.

Bewerbungen mit den üblichen Unterlagen sowie ausreichend Rückporto

– für jede Veranstaltung getrennt – richten Sie bitte an den

Dresdner Schaustellerverband e.V. • Postfach 29 01 55 • 01147 Dresden

Bewerbungsschluss ist der 31.12.2014

Zulassungen für alle Feste werden erteilt bis 31.01.2015

Sollte Ihnen bis Ende des Zulassungstermins kein Vertragsangebot vorliegen, so gilt dies als Absage!

International

Representative

Advertisements:

AG Advertising

Agi Reddersen

Tel. 08441/81057

Fax 08441/86105

Kirmes.A@t-online.de

Zu verkaufen:

3 Etagen

Belustigung

• Namhafter deutscher

Hersteller

• Modernste Bauart

• Interessanter Preis

Anfragen unter Chiffre

K04-11/14 an

Gemi Verlags GmbH, Postfach,

85291 Reichertshausen

Datenanlieferung für Anzeigen

Bitte liefern Sie Anzeigen per E-mail als pdf

oder jpg mit mindestens 300 dpi Auflösung an

anzeigen@gemiverlag.de

•

BUDERO

THE TARPAULIN

FOR THE SHOWMAN

• • • • • •

•

• • • • • • • •

• • • • • • • • • • • •

All types of tarpaulins according to

your requirements, for large and small

ride, show, and walk-through operations

BUDERO B.V.

Vrijkenstraat 2

6088 PA Roggel NL

Ph. (0031) 475/492445

Fax (0031) 475/494390

www.budero.com

93
---
KIRMES WANDKALENDER 2015

Unseren attraktiven Wandkalender, der gefaltet dieser Ausgabe beiliegt,

gibt es auch in hochwertiger Ausführung – gedruckt auf Hochglanzpapier

in deutlich höherer Papierstärke und ungefaltet.

Weihnachtsangebot für unsere Leser: 3 Wandkalender 2015

in Spezialverpackung (gerollt) zum Selbstkostenpreis

für nur € 15,- incl. Verpackung und Versand

(nur Inland und solange der Vorrat reicht)

✃

Einfach Coupon

1. ausschneiden,

2. ausfüllen und

abschicken an:

Gemi Verlags GmbH

Postfach

85291 Reichertshausen

B E S T E L L U N G

✘Ich bestelle x 3 Stück

Wandkalender 2015

zum Preis von je 15,– Euro (3 Stück)

(incl. Porto + Verpackung)

Versand nur im Inland

3. Gesamtbetrag

Ich zahle (Zutreffendes bitte ankreuzen)

Vorkasse bar (liegt bei)

Euro

Name, Vorname

Straße, Hausnummer

PLZ, Ort

Telefon

Ort, Datum, Unterschrift

Bankeinzug:

IBAN

BIC
---
Rolf Auf dem Berge

Lawyer

Focal point: transportation law and claims for damages

Member of the Association of Transportation Law

of the German Bar Association

Am Markt 14

49565 Bramsche

Telephone +49 (0) 54 61/ 30 30

Telefax +49 (0) 54 61/ 26 41

Mobile +49 (0) 172 / 30196 94

E-Mail: info@auf-dem-berge.de

Schausteller-Versicherungen

Transport – Haftpflicht – Kfz

Altersvorsorge – Unfall – Kranken

Klaus Rübenstrunk

Hagener Straße 244 • 44229 Dortmund

Tel.: (02 31) 9 76 10 20 • Fax: (02 31) 9 76 10 21

Mobil: 0171 / 828 58 68

E-Mail: vb-ruebenstrunk@t-online.de

APPRAISAL-OFFICE

Gerd Römgens

Expert appraisal for the Showman Industry, Damages,

Conservation of Evidence, and Appraisal Reports

Tel. +49 (0) 171/ 264 89 29 and +49 (0) 2154/208308

Fax: +49 (0) 2154 / 20 83 13

Mail: sv-buero-roemgens@arcor.de

www.sv-roemgens.de u. www.roemgens.de

Gerd Römgens • Jupiterstr. 17 • 47877 Willich

www.kirmesparkrevue.de

M

I

N

I

–

A

D

V

E

R

T

I

S

M

E

N

T

S

Text

❑ IN THE NEXT POSSIBLE EDITION

www.gemiverlag.de

4 lines:

11,- €

5 lines::

14,- €

6 lines::

17,- €

7 lines::

20,- €

8 lines::

23,- €

9 lines::

26,- €

10 lines::

29,- €

PLEASE COMPLETE IN BLOCK LETTERS AND WITH SPACE BETWEEN WORDS!

❑ IN EDITION NR./MONTH

Text price for 1x Edition €

❑ Please insert my advertisment under a code number (Cost 5,– €) €

❑ Specimen copy (5,50 € incl. postage & handling per edition) €

❑ The advertisment should appear for months (Multiply by total price) €

❑ 10 % discount for 12 months ❑ 5 % discount for 6 months €

❑ The total amount can be debited to my credit card, details below. TOTAL €

❑ Visa ❑ Matercard ❑ Diners Club ❑

Card-Nr.

Christian Name

Street

City/Date

Expiry date

Surname

Postcode/City/Country

Signature

American Express

Basic

rate for

1-3 Lines:

8,- €

categories

(please mark with a cross)

❑ For Sale

❑ Purchase

❑ Job Market

❑ Business

Connections

❑ Deadlines

❑ Contacts

❑ Model Construction

YOUR MINI-AD WILL ALSO BE PRESENTED FREE OF CHARGE UNDER WWW.KIRMESPARKREVUE.DE!

FOR FORMAT ADVERTISMENT

please contact us on

Tel. 49 (0) 8441/4022 13

Please send to:

Gemi Verlags GmbH

Postfach

85291 Reichertshausen

Please complete

without fail!

– Publication only by advanced payment or credit card. –

95
---
•

BUDERO

TARPAULINS

• • • • • •

Contact person also for Germany

D. Hinzen

Tel. (0031) 6 531450 03

•

• • • • • • • •

• • • • • • • • • •

US-Trailer

& Zubehör

aus Elkhart, Indiana

Tel. 06195-960507

www.trvtrading.com

Tel. 07191/ 34 0135

www.miba-electronic.de

Wet Protect Feuchtigkeitsschutz

Fax 07191/ 34 0136

Die einzige Modellbahn

im Ausstellungswagen

www.modellbahnschau.de

Telefon 01 72 / 5 38 56 79

• 01069 Dresden, Wiener Platz 4

• 01097 Dresden-Neustadt, Schlesischer Platz 1

• 01109 Dresden, Wilhelmine-Reichard-Ring 1

• 04109 Leipzig, Hbf, Willy-Brand-Platz 5

• 06112 Halle, Hbf, Bahnhofplatz 1

• 06844 Dessau, Fritz-Hesse-Str. 7

• 10117 Berlin-Friedrichstr., Georgenstr. 14-18

• 10178 Berlin, Alexanderplatz, Dircksenstraße

✘ 10178 Berlin, Ladenzeile / Abgang S-Bahn

• 10243 Berlin, Am Ostbahnhof

• 10623 Berlin, Fernbahnhof Zoo

• 10829 Berlin-Südkreuz/West, Neumannstr.

• 12439 Berlin-Schöneweide, M.-Brückner-Str. 42

• 12521 Berlin, Flughafen-Schönefeld, Terminal D E G

• 12681 Berlin, Boxberger Str. 3-9 / Haus 3 / Halle 2 West

• 13405 Berlin, Flughafen Tegel, Haupthalle, Bon Voyage

• 16515 Oranienburg, Stralsunder Str.

• 18055 Rostock, Hauptbahnhof

✘ 20099 Hamburg, Hbf., Glockengiesserwall

• 20354 Hamburg, Bahnhof Dammtor, Theodor-Heuss-Platz

• 21337 Lüneburg, Bahnhofstr.

• 22335 Hamburg, Flughafenstr.

✘ 22765 Hamburg, Paul-Nevermann-Platz

• 23558 Lübeck, Am Bahnhof

• 24114 Kiel, Sophienblatt 27-29

• 24145 Kiel, Bunsenstr. 1c

• 25980 Westerland, Tinnumer Str. 11

• 26122 Oldenburg, Hauptbahnhof

• 26125 Oldenburg, Wilhelmshavener Heerstr. 32

• 26382 Wilhelmshaven, Bahnhofsplatz 1

• 26721 Emden, Bahnhofsplatz

• 26789 Leer, Bahnhofsplatz

• 27472 Cuxhaven, Bahnhof Haus 1

• 27570 Bremerhaven, Friedrich-Ebert-Str. 73

• 27749 Delmenhorst, Wittekindstr. 10/ZOB

✘ 28195 Bremen, Bahnhofsplatz 15

• 28199 Bremen, im Flughafen, Flughafenallee 20

• 29525 Uelzen, Am Bahnhof

• 30159 Hannover, Ernst-August-Platz 1

• 30669 Hannover, Flughafen, Terminal A

• 31134 Hildesheim, Bahnhofsplatz

• 31582 Nienburg, Bahnhofstraße

• 32052 Herford, Bahnhofsplatz 1

• 33102 Paderborn, Bahnhofstr. 29

• 33330 Gütersloh, Willy-Brandt-Platz-2

• 33602 Bielefeld, Hauptbahnhof

• 34117 Kassel, Bahnhofsplatz 1

• 34131 Kassel, Wilhelmshöher Allee 253

• 35037 Marburg, Bahnhofstr. 33

• 35390 Gießen, Bahnhofstr. 102

• 37073 Goettingen, Bahnhofsplatz 1

• 38102 Braunschweig, Berliner Platz 1

✘ 39104 Magdeburg, Bahnhofstr. 68

• 40210 Düsseldorf, Hauptbahnhof

• 40474 Düsseldorf, Flughafenstr. 120 T.B

• 41061 Mönchengladbach, Europaplatz

• 41236 Mönchengladbach, Bahnhofstr. 66

• 41460 Neuss, Presse & Buch im Bhf., Theodor-Heuss-Platz

Service

KIRMES FOR SALE IN RAILWAY STATION BOOK SHOPS

✘ shows where ENGLISH VERSIONS are available

• 42103 Wuppertal, Döppersberg 37

• 42277 Wuppertal, Berliner Platz 15

• 42283 Wuppertal, Winklerstraße 2

• 42697 Solingen, Bahnstraße 5

• 42859 Remscheid, Bahnhofsplatz 12

• 44137 Dortmund, Koenigswall 15

• 44629 Herne, Bahnhofsplatz

• 44649 Herne, Heinz-Rühmann-Platz

• 44787 Bochum, Buddenbergplatz, Süd-Ausgang

✘ 45127 Essen, Hauptbahnhof

• 45468 Mülheim, Dieter-aus-dem-Siepen-Platz 3

• 45657 Recklinghausen, Große Pferdekamp Str.

• 45879 Gelsenkirchen, Im Bahnhof

• 46045 Oberhausen, Hauptbahnhof

• 46395 Bocholt, Hindenburg Str. 1

• 46446 Emmerich, im Bahnhof

• 46535 Dinslaken, im Bahnhof

• 47051 Duisburg, Mercatorstr. 17

• 47798 Krefeld, Im Hauptbahnhof

• 48143 Münster, Berliner Platz

• 48431 Rheine, Hauptbahnhof 1

• 49074 Osnabrück, Im Bahnhof

• 49356 Diepholz, Am Bahnhof

• 50169 Kerpen, Bahnhofstr. 9

• 50667 Köln, Bahnhof 1

• 50667 Köln, Trankgasse 11

• 50679 Köln-Deutz, Otto-Platz 7

• 52064 Aachen, Bahnhofsplatz 2a

• 52351 Düren, Hauptbahnhof

• 53111 Bonn, Am Hauptbahnhof

• 53173 Bonn-Bad Godesberg, Moltkestr. 43

• 53721 Siegburg, Europaplatz

• 53879 Euskirchen, Bahnhofstraße

• 54292 Trier, Bahnhofsplatz 1

• 55116 Mainz, Bahnhofsplatz 1

• 55543 Bad Kreuznach, Europaplatz

• 56068 Koblenz, Bahnhofsplatz 2

• 57072 Siegen, Am Bahnhof 16

• 58089 Hagen, Berliner Platz 3

• 58239 Schwerte, Bahnhofstraße 35

• 58452 Witten, Bergerstr. 35

• 58644 Iserlohn, Bahnhofsplatz 2

• 59065 Hamm, Willy-Brandt-Platz 1

• 59227 Ahlen, Bahnhofsplatz

• 59423 Unna, Bahnhofstr. 74

• 59494 Soest, Bahnhofstr. 2

• 59759 Arnsberg, Bahnhofstr. 136

✘ 60051 Frankfurt, Im Hauptbahnhof

• 60594 Frankfurt, Diesterwegplatz 51

• 61169 Friedberg, Hanauer Str. 44

• 63450 Hanau, Im Hauptbahnhof

• 63739 Aschaffenburg, Ludwigstr. 2, Hbf.

• 64293 Darmstadt, Platz der Deutschen Einheit

• 64625 Bensheim, Amershamplatz 1

• 65190 Wiesbaden, Bahnhofsplatz 2

• 65428 Rüsselsheim, Im Hauptbahnhof

• 65929 Frankfurt-Höchst, Dalbergstr. 1

• 66111 Saarbrücken, Im Hauptbahnhof

• 66424 Homburg, Im Bahnhof

• 66538 Neunkirchen, Bahnhofstraße

• 66606 St. Wendel, Mommstr. 2, Bahnh.

• 66740 Saarlouis, Bahnhofsplatz 11

• 67434 Neustadt, Bahnhofsplatz 4

• 67547 Worms, Hauptbahnhof

✘ 67547 Worms, Bahnhofstr. 11

• 67655 Kaiserslautern, Bahnhofstraße 1

✘ 68161 Mannheim, Bahnhofsplatz 17

✘ 69115 Heidelberg 1, Willy-Brandt-Platz 5

✘ 70173 Stuttgart, Arnulf-Klett-Platz 2

• 70174 Stuttgart-Mitte, Th.-Heuss-Passagen

• 70372 Stuttgart/Bad Cannstatt, Bahnhofstr. 30

✘ 71032 Böblingen, Talstr. 18

• 71638 Ludwigsburg, Bahnhof 14-18

• 72072 Tübingen, Europaplatz 17

• 72764 Reutlingen, Bahnhofstr. 3

✘ 73430 Aalen, Bahnhofstr. 1

• 74072 Heilbronn, Bahnhofstraße 30

• 74321 Bietigheim-Bissingen, Bahnhofspl. 1

• 74889 Sinsheim, Friedrichstr. 25

• 75175 Pforzheim, Bahnhofsplatz

✘ 76137 Karlsruhe, Bahnhofsplatz 1

• 76227 Karlsruhe, Hauptbahnstraße 1

• 76646 Bruchsal, Bahnhofsplatz 12

• 78462 Konstanz, Bahnhofsplatz 43

• 79098 Freiburg, Bismarckallee 3

✘ 80335 München, Hauptbahnhof, Arnulfstr. 3

✘ 81667 München, Orleansplatz 10

• 84032 Landshut, Bahnhofsplatz

• 86150 Augsburg, Viktoriastraße 1

• 86154 Augsburg, Ulmer Str. 53

• 87435 Kempten, Bahnhofplatz

• 87509 Immenstadt, Bahnhofstr. 39

• 87527 Sonthofen, Bahnhofstraße

• 87561 Oberstdorf, Bahnhofsplatz 1

• 87700 Memmingen, Bahnhofstr. 3

• 89073 Ulm, Hauptbahnhof

• 89312 Günzburg, Bahnhofsplatz 5

✘ 90411 Nürnberg, Flughafenstr. 100

✘ 90443 Nürnberg, Bahnhofsplatz 9

• 92224 Amberg, Kaiser-Ludwig-Ring 5

• 92318 Neumarkt, Bahnlinie 5/HBF

• 92637 Weiden, Bahnhofstr. 28

• 93047 Regensburg, Bahnhofstr. 18

• 94032 Passau, Bahnhofsplatz 29

• 94315 Straubing, Bahnhofsplatz 13

• 95028 Hof, Bahnhofsplatz 12

• 95326 Kulmbach, Bahnhofsplatz 1

• 95444 Bayreuth, Bahnhofstr. 20

• 95615 Marktredwitz, Bahnhofsplatz 7

• 96052 Bamberg, Ludwigstraße 6

• 96215 Lichtenfels, Bahnhofsplatz

• 96450 Coburg, Lossaustr. 4

✘ 97070 Würzburg, Bahnhofstr. 4

• 97424 Schweinfurt, Im Bahnhof

• 99084 Erfurt, Willy-Brandt-Platz 12

Karussells der Spitzenklasse

R. VÖLZ

Industriestr. 3

44577 Castrop-Rauxel

Tel. 0 23 67/83 37

Fax 0 23 67/17 67

Nach wie vor liefern wir:

Schindeldächer,

Reetdächer, Mauerwerke

www.karussell-voelz.de

96
---
Ihr Partner für das Schaustellergewerbe

D-34613 Ziegenhain

Kasseler Str. 44

Tel. 0 66 91 / 35 36

Fax 0 66 91 / 59 97

Osterkirmes

Bergheim

im Rhein-Erft-Kreis

04.04. bis 12.04.2015

Anfragen an: Fredy von der Gathen

Huppertsthaler Weg 4 • 50189 Elsdorf

Tel. 0171 / 6 87 68 47

Verkaufswagen bis 3,5 to

speziell nach Ihren Wünschen gefertigt

mail@Dietz-Fahrzeugbau.de

www.Dietz-Fahrzeugbau.de

Anzeigenschluss

für die Januar-Ausgabe

ist der 08. Dezember

BREISACH

Weinfest

Kaiserstuhl-Tuniberg

vom 28.08. bis 31.08.2015

Bewerbungen von Geschäften aller Art

sind bis 31. Dez. 2014 zu richten an:

Jürgen Hahn • Schaustellerbetriebe

Im Unteren Angel 54 • 77652 Offenburg

Zulassungen ergehen durch schriftliche Verträge bis 20.01.2015.

Bewerbungen, die bis zu diesem Zeitpunkt keine Verträge erhalten haben, gelten als abgesagt.

Marktstände werden nur nach schriftlicher Anmeldung und in beschränkter

Anzahl zugelassen. Die Zulassung erfolgt nur in schriftlicher Form.

Von einer Anreise ohne schriftliche Zulassung ist dringend abzusehen.

97