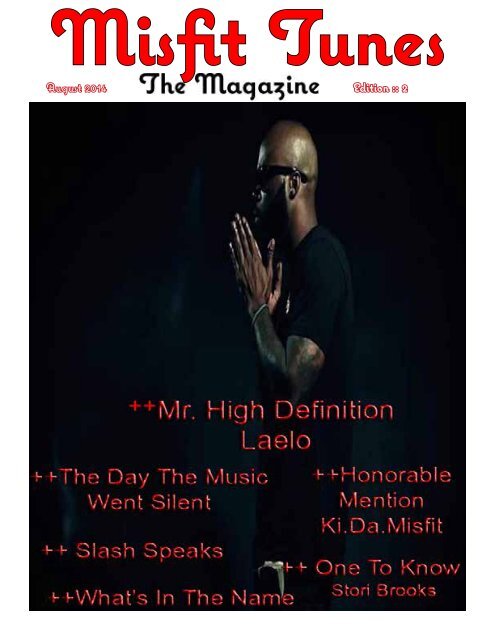 Misfit Tunes The Magazine September 2014
Misfit Tunes is an organization dedicated to promoting domestic as well as international Indie and/or little known artists from all genres of music to the awaiting masses. In this issue :: * Mr. High Definition: Laelo * The Day The Music Went Silent * What's In The Name * One To Know: Stori Brooks *Honorable Mention: The Head Misfit In Charge Ki.Da,Misfit * Slash Speaks: Avi Thirst * Inspiration fron Twin: Life Is Not That Difficult Plus lots of Misfit Tunes' Must Haves (music we recommend you check out). ~misfit movement let's make it count!!! ISSN: 2375-2432 www.misfittunes.com
Misfit Tunes is an organization dedicated to promoting domestic as well as international Indie and/or little known artists from all genres of music to the awaiting masses. In this issue :: * Mr. High Definition: Laelo * The Day The Music Went Silent * What's In The Name * One To Know: Stori Brooks *Honorable Mention: The Head Misfit In Charge Ki.Da,Misfit * Slash Speaks: Avi Thirst * Inspiration fron Twin: Life Is Not That Difficult Plus lots of Misfit Tunes' Must Haves (music we recommend you check out). ~misfit movement let's make it count!!!

ISSN: 2375-2432
www.misfittunes.com
SHOW MORE
SHOW LESS
You also want an ePaper? Increase the reach of your titles
YUMPU automatically turns print PDFs into web optimized ePapers that Google loves.
Misfit Tunes

August 2014 Edition :: 2
---
Misfit Tunes'

Must Haves

Title: Happy Feelings Artist: Ethan Spalding

Video

IamEthanSpalding

IamEthanSpalding

EthanSpalding

EthanSpalding

Title: Over and Over Artist: B-Jay Banks

BJayBanks

BJayBanks

BJayBanks

BJayBanks

Title: Poke It Out Artist: B. Morgan

1290 Bay Dale Drive

Suite 213

Arnold, MD 21012

202-656-8626

info@shopcapitalcity.com

COPYRIGHT © 2013

IamBMorgan

IamBMorgan

IamBMorgan

Capital City Co.

RnBMorgan

Capital City Co.

Capital City Co.

2 3
---
TABLE Of CONTENTS

Editor in chief :: K. Simms Ki_Misfit Ki_Da_Misfit Ki Misfit

High Definition Hitter 16

One to Know 22 Honarable Mention 32

Stori Brooks

Misfit Tunes'

Must Haves Videos

Videos worth watching

click to watch

Misfit Tunes'

Must Haves Downloads

Albums/Mixtapes

worth the download click to download

Take The Pledge 28

Laelo

Ki.Da.Misfit

The Day The Music

Went Silent 9

The lack of public outrage for the

muder of Mike Brown by the music

industry's elite

What's In A Name 30

The importance of selecting a proper

stage name.

Life Isn't Difficult 38

Inspirational message from

TwinIsFine

Slash Speaks 36

The Avi shorten version of Avatar

thirst per

SlashWaterboy

What is Misfit Tunes

Misfit Tunes is an organization

dedicated to

promoting domestic as

well as international Indie and/or

little know artists from all genres of

music to the awaiting masses. We

use several vehicles to promote the

artists' work, such as:

Misfit Tunes' blog, which can be

found at www.misfittunes.blogspot.

com , receives thousands of views

daily from all around the country.

We also boast international visitors

from places like Canada, the UK,

Ireland, and Jamaica, to name a

few. We update the blog weekly

with new music and videos.

Why does Misfit Tunes do it

We do it for two main reasons:

1. We do it for the LOVE of the

music. The current top 40 selection

leaves Misfit Tunes wanting

more from music, which is why we

promote indie and/or little known

artists. The music industry has

become so saturated with clones

that the music has gotten lost in

translation or merely forgotten. We

believe it our duty to keep good

music relevant!

2. We do it to change the industry.

It is our belief that the industry has

become too much about money and

no longer about the art of creating

music. With the current state of

the economy and the advent of so

many free internet tools to make

music, it's now the perfect time to

usher industry change.

Now that you know who Misfit

Tunes are and what we do, we

would like to invite you to build a

wonderful working relationship.

Again our services are completely

FREE of cost for artist. We would

appreciate you sending us your

music, videos, upcoming events,

pictures, and/or any other information

you would like us to share. By

sending an email to Misfit Tunes at

submissions@misfittunes.com. We

request that you to ask your fans,

followers, and supporters to support

Misfit Tunes. By increasing

our supporters, we can reach more

people. The more people we can

reach the bigger Misfit Tunes will

grow. Our growth will ensure more

people will be exposed to your music,

which in turn, will potentially

increase your fan base.

We would also like to request any

promotional merchandise you can

spare, as we would like to begin

running contests to get people to

engage more with the artists as

well as Misfit Tunes. The more

people we get to engage with Misfit

Tunes, the better we can serve the

indie market. We fully understand

Misfit Tunes need the support of

artists to reach our full potential as

we are nothing without the music!

How can I as an artist support Misfit

Tunes

· Keep us informed on your

career by emailing us an artist

bio, your music, pictures, videos,

and any information on upcoming

projects.

. Encourage your fans to support

Misfit Tunes. The more people we

have supporting Misfit Tunes the

more people with which to share

not just your music, but also the

other artists' music we support.

. Provide Misfit Tunes with exclusives.

Let us be the first to break

a new video or song, as well as

details on upcoming events or new

projects.

. Invite us to events. If you are

having an album release, performance,

and/or any event you'd like

us to cover, send us press credentials

or put us on your guest list. If

we are in your area we will gladly

enjoy covering your event. We

want to support all events, however

that can become very costly potentially

taking funds away from the

services we provide since we don't

charge for our services.

. Make Misfit Tunes your #1

source for indie news, music, and

videos.

Remember, we do this for the love

of the music! So if you love your

music and want to support an organization

that will love your music

as much as you do, look no further

than Misfit Tunes!

~ misfit movement let's make it

count!!!

links::

Misfit Tunes

Misfit Tunes

Misfit Tunes

4 5
---
Misfit Tunes'

Must Haves

Title: War Backwards Artist: Ralphy London

Video

RalphyLondon

RalphyLondon

LunchMoneyGang

LunchMoneyTheBand

Title: No Love Artist: Laelo

Laelosmokesgood

Laelo202

HDSociety

HDLife TV

Title: Sheesh Artist: The Demon$

TheDemons215

TheDemons

WeirdArtSocity

WeirdArtSocity

The Demon$ Tv

WeirdArtSocity

www.WeirdArtSociety.com

6 7
---
The Day the

Music went

The day the music went their swanky lairs. As their was a gruesome scene and yet

silent was August 9, fan and supporters around not the titans still remain silent.

2014 a hot Saturday just the United States but also The questions began to stir:

silent

afternoon Michael Brown an

eighteen year old male was

walking with a friend when

the pair was stopped by a

police officer investigating

an allege crime. What happen

next shook the core of American

society! Michael Brown

who was unarmed was shot

six times by the officer investigating

the allege crime. His

body would lay in the street

uncovered for hours until

finally being removed.

Why would the music stop

Why would yet another senseless

gun fatality cause the

music to go silent People are

killing one another with guns

at a far more alarming rate

than ever before and officers

are at the center of countless

brutality cases. So why now

has the music gone silent!

On that hot Saturday afternoon

the titans of the music

industry disappeared from

the stages and retreated into

around the world cried out in

pain and disbelief. The titans

remain silent comfortably

tucked away from the pains

and struggles of that fatal day.

For days many called out

for their superstars to come to

their aide while others straight

out demanded more from

the wealthy superstars. Yet

these great titans sat in their

lairs oblivious to the plight of

their fans fighting for justice.

Justice for yet another young

man publicly murdered for an

alleged crime he was never

charged with, arrested for, nor

convicted of.

As the days followed tensions

grew leading to violent

battles between protesters

and police officers. The scene

appeared plucked straight

from a movie based on unrest

in a foreign country included

tanks, tear gas, rubber bullets,

menacing German shepherds,

and screams for change. It

"Where are they" "Why are

they not here using their celebrity

to bring awareness"

I to asked these questions

but then quickly changed

gears and began questioning

myself. Why do I expect the

music industry elites, the titan,

to speak up and speak out

for justice The answer came

quickly and clearly because

if we the fans did not support

them they would not have

such swanky lairs to hide

out in! The answer hurled

another question through my

thoughts. Why do I believe

the titans celebrity would

shed light on the injustice

Once again the answer came

quickly because what they eat

for lunch is broadcast daily

across a large majority of media

outlets so naturally their

disgust with the events on that

fatal hot Saturday afternoon.

Now if you challenge yourself,

dig a little deeper and

8 9
---
ask yourself are not those

very same titans, the music

elite, merely men and women

just like you and I Once that

question is asked the titans

then become mere human

beings that like the rest of

the world are shocked and

in disbelief that an unarmed

teenager was gunned down

in the streets while visiting

his Grandmother days before

starting college by a police

officer sworn to serve and protect

that very same teenager.

We should not assume nor

expect anything more from

the music elite than we do

ourselves.

Just because we support

them and their music we need

to also understand they feel

they same pains and share the

same fears we all have.

More importantly with the

reports of police officers

threatening the lives of reporters

and peaceful protesters

the titans celebrity may not

protect them. A bullet does not

care how much money you

make.

The greatest strength of the

titans, their celebrity, would

have no impact on the media.

As the media coverage early

on in the unrest was little to

none. It was a complete media

blackout. Once the media

coverage began it was criticized

as being questionable to

say the least.

So in times of in justice and

unrest instead of crying out

to and demanding the titans

come to the rescue understand

the titan are merely humans

just like you that share the

same heartache and disgust.

Understand they will need and

want the same time to process

and heal from the hurt.

The fact of the matter is

until all people recognize an

injustice against one is an

injustice against all this wont

be the last time the MUSIC

GOES SILENT.

Foolish Radio

Thurdays

noon - 2pm est

on

www.Listenvision.com

FoolishRadio

10 11
---
Misfit Tunes'

Must Haves

Title: Headless Nobody Artist: Centri

Released: 8/2014

Download

Tony Robbins // M.O.M.M. // Powder Keg (Prod by Dig Dug) // A&R //

Boric Acid Interlude // Boric Acid // r2s // That's Why I Rap Like This ("Say

Waddup") feat Supastar Straps and Blaq Poet // We Write Killas (feat. Dokta

Strange and Earthadox) // RhymeGlue feat Skyzoo // Gutter Slums) //Let Me

Live feat Shea Doll // Rot The Body scratches by Fred Ones // Becoming) //

Chronicles feat Awkword and HipHop_Mike

Centri

Centri

Title: The Eargasm Artist: Hipstrumentals

Released: 7/2014

CentriMusic

Welcome // Get it // Tell Me // Facedown feat. Madame T, G of Primetime

Band // Train // Show You feat. J. St. Paul,Kash // One Night // Your World //

Whats Up // Ridiculous // Light Pink Into feat. Charmz FROM London // Light

Pink // Bust it SNIPPET // ISuKRAZY // OG Dom // My Place // Couldn't Be

feat. Keezy // Kill Me // Throw It Back // Stupid // Dis Dat // Thank God feat.

Taygo // Crash feat. Madame T // You See It OUTRO // Studio

Hipstrumentals

Hipstrumentals

Title: Grand By Design Artist: Sheila D. Yeah

Released: 8/2014

Hipstrumentals

The Rebirth (Prod. Toan Tracks) // Stars Align (Prod. W.R.A.B Mell) // Show

& Tell (Prod. Millz Douglas) // Free (Prod. Mighty Mark) // Young.Girl.Wild

(Prod. YG! Beats) // The Lights (Prod. Kyle Henley & NierMusic) // Heart-

Breaker (Prod. Sham Trax) // Call It What You Want (Prod. Grand Cru) //

Flash (Prod. YG! Beats) // I Don't Wanna (Prod. Millz Douglas) // Thunder

Feat. Lex Luger & Marlo (Prod. Lex Luger)

www.A3Cfestival.com

SheilaDYeah SheilaDYeah SheilaDYeah

12 13
---
Do you want to

advertise

with

Misfit Tunes'

Must Haves

Title: The Mixtape Artist: Marlee In The Mixx

Released: 9/2014

Indigo

Upendi

Have You Ever Been

Looking For The Sun

Love Murderer

Download

misfit tunes

the magazine

Email

MarleeInTheMixx

MarleeInTheMixx

Title: LL Cool Jess Artist: Jessica Betts

Released: 6/2014

MarleeInTheMixx

I Need Luv // Missin' you More // Where R We Now (feat. Dirdy

Red) // #FeelsSoGood // Holding On // Sleep in the Morning (feat.

Temper) // Animal (She's Crazy) // Love Is Special

info@misfittunes.com

~misfit movement let's make

it count!!!

JessicaBettsMusic JessicaBettsMusic JessicaBetts

Title: Eleven Artist: Kim Joyce

Released: 10/2013

Into // Welcome To My Club // Head Games // I Like It // Stripper

Pole ft. Shawnna // For You // Baby // Go Party // I Think He Likes

Me // Kryptonite // Music At Night ft. BBanga // Say My Name //

Nights Like This // Overrated // So Good // Drive // Addict // Chucks

To My Fited // Aw Shit

Misfit Tunes Misfit Tunes Misfit Tunes Misfit Tunes

KimJoyceMusic

KimJoyceMusic

KimJoyce

14 15
---
Laelo pronounced lay low

formally Laelo Hood relocated

to the Washington,

DC metropolitan area in

1996 from St. Louis, MO. He

generated an immediate buzz

on the underground rap scene

battling in local nightclubs.

He slaughtered countless rappers

while demolishing mics

and stages around the DMV

[DC//MD//VA] area. His destruction

led to opportunities

for him to open up for a few

well known Go-Go bands.

Laelo credits life as his main

musical inspiration followed

closely by rappers Jay-Z, Nas,

and 2Pac. Jay-Z because of

his consistency and business

acumen, Nas because of his

dedication and writing style,

and 2Pac because of his passion.

Many have of his fans

sight these very same adjectives

when describing their

favorites rapper and or explain

why they support Laelo. More

often that not fans state Laelo

is a passionated rapper who

has embraced the business

side of the music who delivers

well written masterpieces with

great consistency.

In 2006 ten years after his

arrival in Washington, DC

Laelo independently released

his debut album, "Ghetto

Prophet: Water of Life." The

foundation of the album is the

trials and tribulations an artist

goes through on their musical

journey.

"A Man will be a Man" tells

of his struggle to be the man

he wanted to become versus

the man society expected him

to be. The title track of the

album "Water of Life" is a

Ghetto prophet:

Water For Life

very significant song to him

also. "I think it has the strongest

message on the album

and that wasn't by accident."

With captivating lyrics like

"I'm a man first hustler second/

in the streets connected/

respected not because I carry

my weapon/ but cause I'm a

young black male motivated

with intelligence/ plus I

make music 100% relevant."

"Creep," an erotic tale of his

infidelities, is guaranteed to

be a hit with ladies. And yes

dudes you will vibe with the

track also. "Intimate Friends"

is an illustrative depiction of

friends with benefits boosting

lines like "Lift ya up lay ya

down on ya back/ push ya legs

way back/ im going downtown

I'll be right back." "I

Feel Good" was an instant hit

in the area. So much so that

the listeners of Washington,

DC's WPGC's Home Jamz

show hosted by DJ Heat and

DJ Dirty Rico voted the song

#1 consecutively for five

weeks. It is the final song to

be retired into the WPGC 95.5

Home Jamz Hall of Fame. "A

Man Will Be a Man" is still

hailed by fans as one of

Laelo's best records ever.

In 2009, Laelo signed a two

project deal with Washington,

DC based label, Inner Loop

Media Group. Inner Loop

Records is a lifestyle based

entertainment company focused

on providing platforms

for musical creativity and

strategic musical exposure.

In 2010 believing The High

Definition Society had great

potential to be the definition

of a seriously dope grassroots

movement. Laelo and his

producer Str8 Beatz launched

"The High Definition Society"

or "HD Life" which instantly

connected with a growing

fan-base of "Lifers" across the

world.

The "HD Life" is based on

the concept of seeing life with

a clear view and not letting it

be clouded by things like hate,

judgment, or social expectations..

People just gravitated

towards to movement and

what he represented. People in

other parts of the country were

flooding twitter timelines with

#HDLife. With such an outpouring

of support from fans

Laelo came up with the term

16 17
---
"The Lifers."

"Lifers" is a term that he

came up with to identify his

real fans and affiliates. Lifers

are the people who make their

own paths in life and are determined

to reach the light at

the end of said path by giving

everything in themselves to

that mission.

Having an army of fans

and supporters, "The Lifers,"

Group. The album was a

passionate raw display of his

dissatisfaction with the DMV

[DC//MD//VA] music scene.

Laelo admits he was angry

due to the fact he was not

receiving the recognition he

knew he deserved in the DMV

[DC//MD//VA] music scene.

The lack of recognition began

to frustrate Laelo tremendously.

It was not that fans of the

of the 1978ers evokes memories

Curtis Mayfield and Issac

Hayes during their hay days of

old 70's funk music. "Hooked

On You" featuring Maimouna

Youseff produced by Decompose

is a coming of age tale

of a young man in love with

a girl no good for him with

an old school Motown feel.

"Trust Nobody" featuring

Muggsy Malone produced

behind him Laelo closed out

2010 securing sponsorship

from up and coming clothing

line Marijuana & Bullshit and

natural rolling paper company

Raw Rolling Papers.

In 2011 Laelo released his

second album, "F*ck The

World" on Inner Loop Media

fuck the world

DMV underground rap scene

did not respect Laelo. On the

contrary they held him with

the utmost respect however

they did not put him in the upper

echelon of local emcees.

Which upset Laelo even more.

His frustrations, four years

of struggle, hardships and his

trying to figure out what his

life was going to be, can be

heard on much of the album.

"Cool" featuring label mate

Lyriciss and good friend local

rapper Pro'Verb is a bonus

track produced by Slimkat78

by Bad Abbot is a grimy get

it how you get reminder of

how the game will eat you up

and spit you out if you are not

careful.

"Fu*k The World" will

always hold a special place

in Laelo's heart as it was the

album that woke the Internet

up to his skills as well as had

the streets in love with is rage

filled flow.

After releasing multiple visuals

for both projects, Laelo

went back to the lab immediately

to get started on his next

18 19
---
Life in high definition

album.

To wrap up 2011 Laelo

released his third album,

"Life In High Definition."

The album is sponsored by

Raw Rolling Papers and

Marijuana & Bullshit Clothing

Company. It has features

from many of the DMV elite

such as Tabi Bonney, Smoke

Dza, Lyriciss, Chaundon, Mic

Lungz and many more. The

features garnered Laelo more

attention from industry power

brokers and underground fans

alike The album also boosted

some heavy hitter production

from Bad Abbot, Str8 Beatz,

G Money and Smoke Trix.

"Life In High Definition"

speaks to Laelo's growth and

maturity. The album is by far

his lightest album. No longer

angry or dissatisfied he wanted

to make people feel good

with this album. Is built of

sixteen tracks of witty wordplay

undeniable production

and a smokers vibe. A stand

out track is "So Many Things"

featuring Blak King and Reesa

Renee is a snare driven

track warning about getting

distracted my so many of

life's things.

With "Life In High Definition"

Laelo put himself in the

top tier of artist in Washington,

DC underground music

scene in many of the eyes of

supporters. He has also become

one of the faces of the

marijuana culture in the DMV.

Which he believes is kind of

cool.

Laelo's new sound took his

career to a new level. People

all across the World Wide

Web started to pay close attention

to what the rapper would

do next. What he did surprised

everyone! Laelo for personal

reasons, he took almost a year

off from music not dropping a

new music until 2012.

In 2012 after taking almost

two years off he sounds

battle ready and re-charged

Laelo released his fourth album,"Lifers

Never Die." The

album has an all star line up

of features from Uptown XO,

Black Boo, Gods'illa, Awthentik,

Alison Carney, Violet

Rocker, and Precious Joubert.

Production is supplied by Str8

Beatz, Matcy P, Sergio Cortez,

Awthentik, DCypher, Nowah

Beatz, and Hec Dolo.

"Niggas Ain't Grindin'" featuring

and produced by Awthentik

is a shot aimed squarely

at the skinny jean craze

plaguing the rap game. "I'm

A Hustler Baby" produced by

Str8 Beatz is an ode dedicated

to Laelo's never ending hustle.

"This Is My Home," featuring

Uptown XO and Black Boo

(of Mambo Sauce) produced

by Matcy P is a salute to Laelo's

city, Washington DC.

"Lifers Never Die" has been

branded Laelo's most mature

piece of work. He credits his

ability to balance entertaining

and educating while still

making a cohesive project in

sound and theme with making

this his best album.

In 2014 A3C Circuit tour

made it's second to last stop in

Washington, DC looking for

a fire spitting MC to grace the

A3C tenth anniversary stage

in Atlanta, GA. The competilifers

never die

tion was thick with each artist

that graced the stage putting

on stellar performances. However

at the end of the night

Laelo was crowned the victor

and invited to perform during

the A3C Festival.

An opportunity like A3C

mean Laelo will be able to

expose his slightly aggressive

style with a marijuana influenced

vibe to one of the biggest

hip-hop festivals in the

country.

Laelo has vowed to "first

and foremost KILL every

stage that I touch! Gain new

fans. Then after that, build

working relationship that

can help me move my career

forward. Also, sell some merchandise

and spread the word

about my brand. As well as

put on the best show possible

and put on for his city, Washington,

DC.

Laelo makes all kinds of

hip-hop music. He speaks

on his real life experiences

in records hoping to inspire,

encourage or simply help

someone get by. That's why

his new album is titled "Deeper

Than Plenty, Higher Than

Most." That title embodies

Laelo as an artist. He loves

hip-hop. And needs the industry

to embrace he is not a

rookie. Having dropped his

first album in 2006. The grind

made him appreciate every

win. People are starting to

pay attention. Do not be left

behind lay your eyes and ears

on Laelo now so that he can

prove he is Mr. High Definition

links::

laelosmokesgood

laelo202

hdsociety

hdlifetv

videos ::

20 21

no love

niggas ain't grindin'

freedom ain't free

cool
---
one to know

stori brooks

Stori Brooks is a blossoming

female emcee

coming to you from

South Carolina. We had the

pleasure of asking her a few

questions and enjoyed ever

answer. After reading this

piece and checking out her

music I am sure you'll have

enjoyed every answer as well

as became a fan.

Read // Listen // Enjoy

Misfit Tunes: How did you

come up with your stage

name

Stori Brooks: A friend of

mine said I should call myself

Stori because I always have a

story to tell. My other friend

said, "Yea, that's a dope name

because that's the alien's

name in 5th Element!" It's

not. But it stuck anyway.

Misfit Tunes: What are your

influences

Stori Brooks: Every awesome

thing that exists and all of the

un-awesome so that I can do

the opposite.

Misfit Tunes: Why are you a

rapper

Stori Brooks: Hip-Hop is the

only religion that I would

claim, so, I gotta testify.

Misfit Tunes: If you were not

rapping what would you be

doing

Stori Brooks: I would probably

be a lawyer by now.

Misfit Tunes: How would you

describe your sound/music

Stori Brooks: I'm a lover of

music and I respect it. When I

take on a song its exactly how

I'm feeling at the moment so

it could change any minute.

It'll always be from my heart

though.

Misfit Tunes: What does your

lyrics say about you/your

character

Stori Brooks: That I'm myself

and I have an odd sense of

humor and I have an English

Degree and that I'm not a

gangster but I'm not a punk :)

Misfit Tunes: Do you love

your music Tell me about

that love how it feels, where

it has taken you, the sacrifices

you have made for it.

Stori Brooks: I love my music,

and I hope people feel half

of what I feel when I make it.

I've met a lot of wonderful

people, had people look at me

in an admiring daze as well

as people throwing shade. I

think I've put myself up to the

public's scrutiny for the sake

of doing what I love. That's

something I never would have

done otherwise.

Misfit Tunes: What kind of

impact if any do you want

your music to have on your

fans

Stori Brooks: I just want my

music to give you that Feel

Good Feeling! And that its

okay to be yourself even if it's

different from everybody else!

It's okay... swag it out. And

never give up.

Misfit Tunes: What are your

goals

Stori Brooks: To have more

assets to make awesome music

and videos and to provide

opportunities for others dying

for the same thing.

Misfit Tunes: What is your

definition of success

Stori Brooks: Being happy

and being able to help others

find their happiness too.

Misfit Tunes: How will you

know when you have "made

it"

Stori Brooks: When I can

wake up when I want to!

Misfit Tunes: Do you have a

team behind you

Stori Brooks: Not a team

exactly. People mess with me

and I'm thankful for that. The

team thing is weird to me.

Seems too conditional and

binding. Love me and I'll love

you for it and I'll support you

if I like what you're doing.

Misfit Tunes: How many live

performances have you done

Tell me about your best performance

what made it the

best. Tell me about your worst

22 23
---
performance what made it bad

and what lesson did it teach

you.

Stori Brooks: I've performed

a good bit but not enough. It's

never enough. But Atlanta has

so many opportunities to perform.

The worst experience

I've had live is when me and

the DJ argued on stage before

we went on... then he messed

up the music and kind of

laughed about it. The lesson

it taught me was to not mix

music and relationships, ha ha

Misfit Tunes: What's next for

you

Stori Brooks: I'm really excited

about this upcoming tape

although its in its zygote stages.

I just want to make good

music, it sounds so basic but it

feels so big to me.

Misfit Tunes: Where do you

see yourself this time next

year

Stori Brooks: As a rapper in

law school LoL

We wish Stori the best of

luck! She is well on her way

to major success as either a

dope female emcee, a lawyer,

or a dope female emcee lawyer

either way she is definitely

one to know.

singles::

thot process

links::

7thstori

7thstori

storibrooks

storibrooksmmkay

untitled 4:10

storibrooksmusic

www. revoltmusicconference.com

24 25
---
109 Ingraham St. Suite 302 Brooklyn,

NY 11237

(address is not a storefront)

Misfit Tunes'

Must Haves

Title: Da Virus Artist: Lil Sleepy 202 Released: 8/2014

Download

ChiRaq (Intro) // All I Think About // No Flex Zone // I Heard (Jackin) Migos

Diss // Im In Love Wit It // Move Dat Dope // Rollin Boos (Freestyle) // Hit Her

(Freestyle) // Studio // Stay High // Another Weed Song // Erytime U C Me //

Stoner // Im Da Shit (Freestyle Interlude) // I Kno U Dont Like It // Like A Muh

Fucka // Time // Bands(I Done Ran Thru Em) Ft Tomboy Tay and Byllz // Look

At Me // April Fools Freestyle // White Girl (Wet) // You Know it Ft J LANE //

On Some Ugh Shit // Danny Glover Cover Ft Big Woo // Awkward Freestyle

// Trap Going Crazy (Prod. by Young Double) // FreeSwag // Auto (OUTRO):

Project OOO // Another Nigga // Champ LB: Goosin Me // I Dont Fuck Wit //

GoodWood is a company & brand focused on creativity and design. We offer a variety of products

and accesories with an unlimited ability to design and customize your own. We have collaborated

with artists, brands and agencies to create unique products and worked with many stores

and brands to create their signage, POP display and special projects including custom boxes and

package design.

All of the products made by GoodWood are created and designed in Brooklyn, New York.

© 2014 GoodWoodNYC

LilSleepy202

Title: Odds Against Me Artist: Yung E Released: 12/2013

Aint Lettin Up [Prod. By Enduhstreatz] // Dont Concern Me [Prod. By Enduhstreatz]

// Go Wild [Prod. By Mo Digga] // Sheets n Blend ft. DWE, Roc Mikey

[Prod. By Enduhstreatz] // Fly ft. Lu Lu Fall [Prod. By Tee Walker] // 202 Boy

[Prod. By Mo Digga] // Glamorous ft. Blackman, Hot Rizzle [Prod. By Enduhstreatz]

// No Question ft. Face Man, G Money$ [Prod. By Bigg Moon] // Dat

Body ft. Phil Ade [Prod. By Bigg Moon] // Have It Up [Prod. By Mo Digga] //

Act Like Ya Kno [Prod. By Enduhstreatz] // What Yu Drinkin ft. Mbea [Prod. By

Kirk] // Move Lika Boss ft. Hot Rizzle, Blackman [Prod. By Tee Walker] // The

Spot Light ft. Hollywood Black [Prod. By Elzy] // Nothin Worth Havin Comes

Easy [Prod. By Mo Digga] //

Binessman_E

LilSleepy202

Binessman_E

LilSleepy202

Title: Rugraps Artist: Ralphy London Released: 2/2014

I'm Doper // Look Good // Kidulthood (Ft. Flawless Da Lawless) // Ooo

Ooo! // Makaveli // Pure Bliss (Ft. Niya Wells) // Feelins // Bored AF (Ft. The

Palmer Squares) // Blunt Trauma // WAR Backwards // Find You // SALT //

O'Clock // So Make It // Outlawz (Ft. Kenny Wizard) // Rugraps (Ft. Lunch

Money Gang)

www.GOODWOODNYC.com

Good Wood NYC GoodWoodNY GoodWood NYC

RalphyLondon

RalphyLondon

LunchMoney

TheBand

26 27
---
pledgenorip pledgenorip pledgenorip pledgenorip

No Reckless Internet

Posting better

known as No R.I.P.

is a movement started and

led by entertainment mogul

and rapper Waka Flocka's

mother, Debra Antney. Ms.

Antney and her family have

had documented turbulent relationships

with several blogs

and other media outlets which

have sensationalized stories

to garner popularity for their

site as well as to drive traffic

to the site. These tumultuous

relationships cost Ms Antney

her twenty-two year old son

Caodes "KayO" Scott.

During the 2013 Christmas

Holiday season the stresses

and pressures of the world

forced KayO to do the only

thing he knew to ease the

pain and end his own life.

KayO's kind heart often wept

due to the malicious, reckless,

and thoughtless people

who spread vicious rumors as

well as fueled harmful gossip

about not only himself but

his mother and other family

members.

Ms. Antney is determined

her son's silenced voice be

heard by the world! She also

hopes to speak for the millions

of people living through

the same storm while encouraging

positive change in

not just media but also in the

Global Online Community.

"In every test there is testimony.

Through all adversity

there is a lesson to be learned.

And in cleaning up the mess

around us often times you'll

find a message." For Ms.

Antney and the supporters

of the No R.I.P. movement

the message is simple… NO

RECKLESS INTERNET

POSTING! NO R.I.P.

What It Means to Pledge No

R.I.P.

* KayO never supported the

saying "Rest in Peace" because

he believed that people

lived on in their spirits

forever. Instead, he would

say "Long Live" to whoever

transitioned on. In loving

memory of Caodes "KayO"

Scott, the No R.I.P. movement

will take on a life of its

own and continue. No R.I.P.

#LLKayO

* When you gossip and

spread rumors and recklessly

post about people's lives, you

are speaking death - killing

their spirits, killing their reputations,

killing their relationships,

killing their hope and

so much more. Stop speaking

death. No R.I.P.

* We are afforded the rights

of free speech, freedom of the

press, etc. However, we also

have a humane responsibility

to each other. As media, we

encourage all bloggers and

other members of the media

to take the No R.I.P. pledge

and post responsibly on your

site; report responsibly on

your shows. As a community,

care for one another. Be

mindful that words do hurt

and can cause damage. Focus

on the positive, not the negative.

Focus on the truth, and

not the gossip and the rumors.

Stop the reckless, hurtful and

destructive gossip. Whether

you are media or the general

public, please post responsibly.

No Reckless Internet Posting!

No R.I.P.

If you are a blogger, media

entity or personality, or other

member of the media, we

invite and encourage you to

take the No R.I.P. pledge. We

simply ask those blog and

media sites that take the No

R.I.P. pledge to download

the official No R.I.P. logo

and post it to your website

and social media pages - this

logo placement will serve as

a visible badge which lets the

public know that your site is

one that has pledged to post

responsibly.

28 29
---
What's your stage

name The most

asked question

of any artist. Developing a

stage name is often seen as

the easiest step when starting

your music career. Developing

a stage name is actually the

hardest step. Perhaps not for

all but for many selecting a

stage name is a daunting task.

Coming up with your stage

name is not rocket science

true yet it should have your

full attention and should be

given the necessary time to

get it right.

Let us take a look at rapper /

actor Lil Bow Wow as he is a

prime example of stage name

older now and it's too many

Lil's."

Then again in 2014 Bow

Wow announced he was

changing his stage name from

Bow Wow to his birth name,

Shad Moss, claiming that he

made a lot of history as Bow

Wow now it is time for the

next chapter and new challenges.

And "Bow Wow"

was no longer a suitable stage

name because he is now an

actor, a father, and a host. He

also pointed out that he has

matured from the boy he was

early on his career / life.

I am not saying Shad did not

think his original stage name,

Lil Bow Wow, out thoroughly

WHAT'S IN A NAME

does your stage name fit your music

stage name. Yes an expiration

date "Lil" may be suitable

when you are a teenager but

five / ten years later it may

just expose your age thusly

acting as an expiration date.

Your stage name should be

viewed as your super hero

name. It should be:

* Something catchy and flashy

not bawdy, a name that embodies

your sound and energy.

* Something that withstands

the times. Avoid current popular

brands or trends. They

might not be popular next

year.

* Something people are

comfortable saying in front

of their parents. Do not use

CityOfGodShop

www.CITYOFGODSHOP.com

© 2014 CityOfGodShop

CityOfGodShop

dilemma.

When he started his career

in 2000 at the tender age of

thirteen Lil Bow Wow, a playful

play on legendary rapper

and his idol, Snoop Dogg,

name, appeared to be an appropriate

stage name for the

adolescent rapper.

As he started to grow into

a young adult he found the

"Lil" a bit of a hindrance to

his career's growth. In 2002

he dropped the "Lil" from his

stage name becoming Bow

Wow stating "I changed my

name because I'm getting

yet I am merely using him as

both an example and a cautionary

tale.

Your stage name should fit

not just you the artist but also

your music. If your music is

about positive energy and love

a name like #1 Killer might

not be the right name for you.

Resist the urge to copy

your favorite entertainers

name they had it first! Also

ask yourself where do you

see yourself and your music

in five and/or ten years. The

answer will help you avoid

placing an expiration on your

profanity or vulgarity in your

name radio will neither appreciate

the name nor play your

music.

Your stage name should be

as meaningful and memorable

as the name your parents gave

to you. It should be as unique

and original as well. It should

stir curiosity and encourage

people to listen to your music

and watch your videos.

Your stage name should not

restrict. It should allow you

and your music to grow freely

in any direction that suits your

career.

30 31
---
the head misfit

in charge

ki.da.misfit

What better way to introduce

you to Misfit Tunes than

to interview the CEO and

Founder Ki Da Misfit.

Here's a short interview to

get you better acquainted….

Misfit Tunes: Where did you

grow up

Ki Da Misfit: I grew up in

Southeast DC. Barry Farms

to be exact and later off Martin

Luther King Jr Ave.

MT: What started your love

for music

Ki: Well my uncle Gary was

a DJ and my mom was really

into music. She always had

a lot of records and kept the

record player going. It was always

music in my house and I

just fell into the music and fell

in love. It was a connection

I had to it, and since I was an

only child, music became my

best friend. Wherever I was,

whatever I was doing, music

was always involved.

MT: What was the first song

that really made you appreciate

music

Ki: It's really hard to pick an

individual song that I can say

turned me on to music. There

were a lot of artists that I got

into very early like Phil Collins,

Natalie Cole, The Barcays.

My mom played a lot

of music and my grandmother

kept the radio on so it was just

music in general. The way

I connected to it, the way it

made me feel. Asking me to

pick a song is like asking a

parent to pick their favorite

child.

MT: So can you pick 5 artists

that you can say are your

favorite

Ki: Nina Simone is very

high on that list. I really like

Led Zeppelin. Jay-Z and Lil

Wayne are both big motivators

for me. It's really hard to

narrow it down….Phil Collins,

The Police, it's so many

artists that I love and appreciate

for different reasons. I

could go on for years with this

list! Those are the artists that

I would definitely want to take

to a deserted island with me.

MT: What prompted you to

start Misfit Tunes

Ki: Well, I was looking for

something outside of the Top

40 hits. I wanted to hear good

music from everywhere. It's

my infatuation with and love

for music. And it just seems

like the music industry is so

saturated with droids and

duplicates that I felt like if no

one helped the independent

artist get a leg up, then they

would remain underground

superstars and the truth is

that the industry needs them.

Everyone sounds and looks

so much alike that I'm not as

excited and interested in the

Top 40 as I once was. But I

do get excited about a lot of

the underground artists and

musicians I've found on Twitter,

Facebook, Instagram, and

Sound Cloud. It's something

new and fresh and their appreciation

for the music coupled

with their hunger for music

is very refreshing. I just put

their hunger for music together

with my love for music

and desire to help people and

Misfit Tunes was born.

MT: Why do you want to

help people and you're not

looking for anything in return

Ki: I've never been one to do

something to get something in

return. What I get out of this

is the chance to hear all of this

great music. I get music sent

to me daily and I sit in awe

and wonder why they haven't

been signed to a major label.

That's what I get out of it. As

far as finances, you can't do

what you love and always expect

financial compensation.

Getting paid is a bonus, it's

the cherry on top that I don't

necessarily need to have.

When it comes, I definitely

appreciate it, but I don't go

into a situation LOOKING for

the money. A lot of these artists

are struggling themselves

trying to put food on their

families tables. Blessings

flow freely when you give and

do from the heart.

32 33
---
MT: What is it that you look

for in a good song

Ki: It's a feeling. When I

hear it, does it move me Do

I connect to it right away Is

the artist really into it You

know, some of the music I've

gotten, it doesn't seem like the

artist is really connected with

the track…it shows through.

But then a lot of the music

I get, you can just hear how

the artist is connected with

the music and feels good. So

what I look for is just something

that I can connect to,

whether it's the track, the

words, the hook, the way the

artists' voice rides the track.

But it's always different because

I like different genres

of music. I initially look for

an "IT" factor….that thing we

call the Misfit Gene around

the office. You don't really

know what "it" is, but when

you hear it you say "yeah,

they've got that Misfit Gene."

MT: What is your ultimate

goal for Misfit Tunes

Ki: Ultimately I want it to

be the artists' favorite vehicle

and platform to get their music

out. I want it to be somewhere

where you can come

and not have to be a member,

you don't have to provide us

with your information to listen

to good music. You can join

a mailing list to get updates

if you want, but it's not required.

I just really want it to

be a vehicle for the artists to

get exposure, to connect with

their fans, and the people that

want to support them and love

that genre of music. Ultimate

if I can find sponsors or investors

that may be interested in

a small tour, nothing grand,

to get them more exposure. I

want to see how far I can go

as a tool for the artists. This

is going to be the first phase

of the Misfit Movement.

We're trying to encompass

all media….TV, radio, everything!

The world is so

angry right now, much angrier

than it used to be. There's

a lot of stuff going on with

the government, politicians,

unemployment, and police

brutality that I want to infuse

some happiness and good

times back into the world….

and what better way to do that

than with good music.

Fun Facts About Ki

Misfit Tunes: Favorite time of

day:

Ki Da Misfit: Night time.

Late late night when the city

is asleep. There's a stillness, a

calmness, a true allure. Between

midnight and dawn....

that's my favorite time. It's

just quiet.

MT: Favorite car:

Ki: It's tied between a '67

Mustang and a Porsche 911

Carrera.

MT: Favorite Meal:

Ki: Fried BBQ chicken with

peas and mashed potatoes....or

potatoes au gratin.

MT: Favorite Shoe:

Ki: Chuck Taylors. It's a shoe

that goes with everything

from shorts to a suit!

MT: Favorite vacation destination

Ki: I LOVE Santa Monica.

The energy there is great!

MT: Favorite Movie

Ki: Love Jones

MT: Most annoying sound

Ki: The sound of someone

complaining.

MT: Favorite sound

Ki: Laughter

MT: Least favorite word

Ki: Hate...it's such a strong

word and causes so much pain

in the world.

MT: Favorite curse word

Ki: FUCK!!!

MT: What will God say when

you get to the Pearly Gates

Ki: I hope he will say "Welcome,

you did a great job."

Fabes_Sole

WHOISFABE.com

Fabes_Sole@yahoo.

com

© 2014 Fabes Sole

Fabes Sole Sauce

Professional Sole Restoration

Projected Restores:

4oz - 2-3 pairs depending on condition.

8oz - 4-5 pairs depending on condition.

16oz - 8-10 pairs depending on condition.

*EACH ORDER COMES WITH DETAILED INSTRUCTIONS*

www.TeeZeeWatches.com

TeeZee_Watches

TeeZee_Watches

TeeZee_Watches

34 35
---
slash speaks...

Sup yahl... Tis yah man

Slash. DO NOT hold these

words against me... cuz if

you do.. I shan't give a fuck!

OKAY Okay..

The Avi... ( shorter version of

avatar ) ... is the most important

part of social media... it

is the start of all thirst. It is

what causes Him/Her to want

to speak to U... initially. I

often sit on twitter and watch

people.... mainly women...

talkin about thirst. Um...but

what do u EXPECT when

u are half or FULLY naked

in your avi!!! Men will be

men... and unfortunately...

the thirst of women is NOT

often mentioned... like yahl

aren't capable.. I blame

NIGGAS. Niggas need to

hold you women accountable

for THIRST the way yahl do

them.

But taking this to another level....

lets go back to where this

prolly all started. The YA-

HOO IM's and the BP/Myspace

pages.... People learned

The avi

(shorter version of avatar)

early that folks are very

superficial. Women stealing

other women's pictures..

pretending to be them.. and

gain "followers" or "friends"

... people showing pics with

just the chin to the forehead..

so u cant see that they weigh

350... We as HUMANS are all

about the outer... the inner is

only important after different

levels of approval.

ugly women give you the

lengthy away shot... often

with just body.. if they have

a decent one... fellas often

do the same. And lets be

real... we all seen ugly... YOU

KNOW IF YO ASS UGLY ...

at least by "popular opinion"

of ugly... cuz beauty is in the

eye... These days UGLY dont

eem matter as much as it did

before... if you a ugly nigga...

u just gotta be willing to trick

and have a decent personality..and

make at least 3 pretty

girls publicly like u and say u

have "swag"... and walah... u

gettin puss. Ugly gals on the

other hand... have vagina's...

and often use them to gain

popularity... and if they have a

body... in THIER mind... they

cute ... I LAFF.. cuz u can be

phat as PAM GRIER, baby...

but if u look like Ms Ceily...

baby.. ur a phat monkey....

even trolls get called cute

sometime. LOL

Now.. I think its safe to say

that AVI's affect followers

and friends counts.... women

with BUTTNAKED pics...

typically get the followers...

followed by generally pretty

women... followed by women

whom openly type alotta hoe

shyt so that negroes wanna

fcuk, along with a semi supposedly

sexy avi... I ain't

MAD at yahl at all... STAY

NAKED... but do NOT berate

a man for being a man. If

u dont ENJOY the "thirst"..

which i KNOW most of u do..

because you NEED that type

of attention to feel good...

then cut the complaints and

comments... put up avi's dat

don't say THIRST after me...

Now.. fellas... unless u have

100% female followers....

save the peen pic avis and

naked shirt bathroom pics

mayne.. your MALE followers

wish NOT to see that shyt!

Make a ladies only page... and

let your sausage scroll on they

timeline got dammit.. FOR

ME that's an immediate

unfollow unfriend... Sure it

gets u a few followers... and

the thirst u obviously need for

validation.... but ultimately...

ull just look like a man

whore.. and women don't

wanna like man whores...

cuz man whores carry alotta

STDs!!

Fellas whom have a female

as your avi....thats trickery....

u obviously are just tryna

get yah followers up... and it

looks desperate... UNLESS u

find artistic ways to do it like

@JudahOnTheBeat ... (he

and @DMVixen have the best

Avi's to me#FYI) ... but at

the end of the day, mayne... u

want followers THAT BAD/

BUY EM.. fuck it.. who

cares... its YOUR money...

Its YOURS U SPEND IT...

buy the shyts and look like ur

popular.................until u get

found out... and even then..

if YOU don't care... people

won't! LOL

I really think there should be

more to your decision process

for Friending or Following

then the avi.... at least read a

bio... or the TL a lil bit... see

what you gettin into... but the

whole #THIRST is real thing

has to end... shyt.

And Slash said it.. FCUK

INSTAGRAM ...aka #Thirsta-

Gram

and fcuk spell checking this

shyt!

~THE END

~ @Slashwaterboy

follow @Slashwaterboy at ur

OWN risk..

if u got comments or issues or

wanna be a topic of SLASH

SPEAKS... Hit the inbox

gnahtg@gmail.com

slashwaterboy

slashwaterboy

slashwaterboy

36 37
---
Life isn't difficult, decisions don't have to be hard, we make things hard on

our own. Though we do a good job at making misery and being miserable, God

won't leave us in our misery. We have to learn to ask for forgiveness by opening

up our heart and by opening our hands, and just receiving it. When living

in misery your doubting mind will always have you second guessing but your

inner heart will always know the truth. Dwelling on past transgressions will

get you nowhere but in the past, and you can't move forward if your past has

you

Caught up, blaming others and feeling sorry for yourself. I say this all the time

" Be real with yourself, if you can't Be real with anyone else". We are so hard

on ourselves because we know our full potential, because we know we can do

better, because we want to succeed no matter what, but you will fail before

you try if you are harboring past hurt, and past misery. This is a continuation

to my previous writing, I felted the need to put emphasis on misery and how

some just let it take a hold and consume them until they are feeble and broken

down. When it comes to misery, you'll be shocked at the all the excuses and reasons

why people are this way, my husband cheated on me with my best friend,

nothing ever goes my way in life, why has God forsaken me, no one loves me, I

came from a broken home etc... There are no reasons as to why in my eyes that

people shouldn't be happy. The devil loves that he can easily manipulate his way

into these people's minds . Stop making excuses and blaming everyone but the

person whose responsible and has control over their life which is yourself. The

world may be cold but our hearts are warm, wake up and take your life back,

tell the devil he's evicted and Christ has given you a stay away order along

with a prayer of protection! ~Twin is fine

38 39
---
SPORTS ZONE

SPZN SPZN SPZN

Elite

www.SportsZoneElite.com

SPORTS ZONE

SPZN

SPZN

SPZN

Elite

www.SportsZoneElite.com

Reesa's Picks

Reesa's Picks

40 41