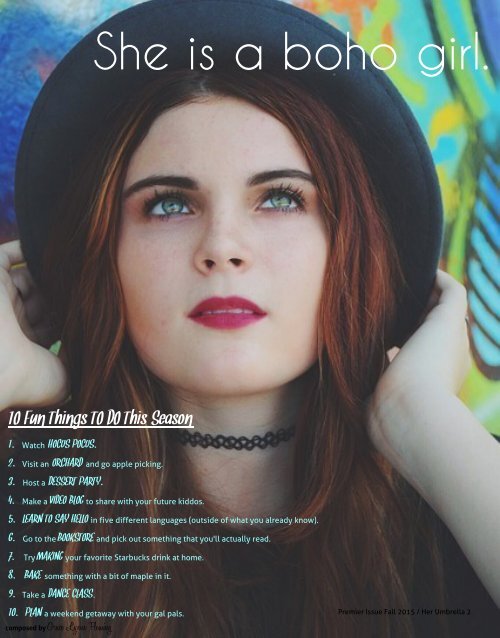 Her Umbrella Premiere Issue Fall 2015
Her Umbrella is a women's digital, lifestyle magazine dedicated to creating a life outside the lines.

Published quarterly during the changing of the seasons, you'll find a bohemian, free-spirited style woven throughout its pages. Every woman has an umbrella with a variety of likes, dislikes, stories and memories hidden underneath. And we're looking to uncover them.

Our premiere issue features bigger contributor highlights, a variety of topics - intertwined without rhyme or reason. We've nixed the rules and forewent table of contents and the like to be a freer, more unmatched way of exploring. It's not perfect but it's an inspirational start to a dream. Enjoy!
She is a boho girl.

10 Fun Things TOD0 This Season

1. Watch HOCUSPOCUS.

2. Visit an ORCHARDand go apple picking.

3. Host a DESSERTPARTY.

4. Make a VIDEOBLOGto share with your future kiddos.

5. LEARNTOSAYHELOin five different languages (outside of what you already know).

6. Go to the BOOKSTOREand pick out something that you'll actually read.

7. Try MAKINGyour favorite Starbucks drink at home.

8. BAKEsomething with a bit of maple in it.

9. Take a DANCECLASS.

10. PLANa weekend getaway with your gal pals.

composed by GraceLynneFleming

Premier Issue Fall 2015 / Her Umbrella 2