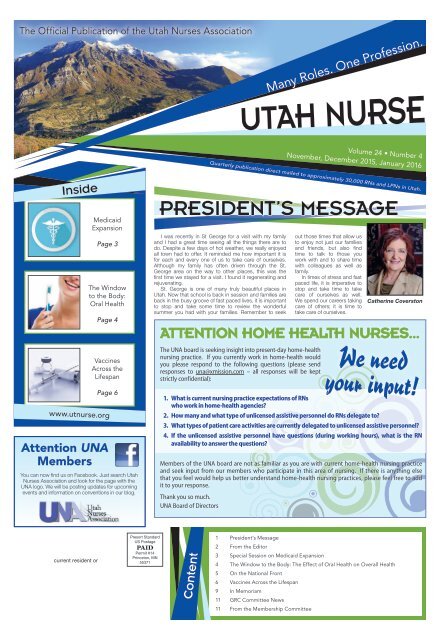 Utah Nurse - November 2015
You also want an ePaper? Increase the reach of your titles
YUMPU automatically turns print PDFs into web optimized ePapers that Google loves.
The Official Publication of the Utah Nurses Association

Many Roles. One Profession.

UTAH NURSE

Volume 24 • Number 4

November, December 2015, January 2016

Inside

Medicaid

Expansion

Page 3

The Window

to the Body:

Oral Health

Page 4

Vaccines

Across the

Lifespan

Page 6

www.utnurse.org

Attention UNA

Members

You can now find us on Facebook. Just search Utah

Nurses Association and look for the page with the

UNA logo. We will be posting updates for upcoming

events and information on conventions in our blog.

Quarterly publication direct mailed to approximately 30,000 RNs and LPNs in Utah.

PRESIDENT'S MESSAGE

I was recently in St George for a visit with my family

and I had a great time seeing all the things there are to

do. Despite a few days of hot weather, we really enjoyed

all town had to offer. It reminded me how important it is

for each and every one of us to take care of ourselves.

Although my family has often driven through the St.

George area on the way to other places, this was the

first time we stayed for a visit. I found it regenerating and

rejuvenating.

St. George is one of many truly beautiful places in

Utah. Now that school is back in session and families are

back in the busy groove of fast paced lives, it is important

to stop and take some time to review the wonderful

summer you had with your families. Remember to seek

out those times that allow us

to enjoy not just our families

and friends, but also find

time to talk to those you

work with and to share time

with colleagues as well as

family.

In times of stress and fast

paced life, it is imperative to

stop and take time to take

care of ourselves as well.

We spend our careers taking

care of others; it is time to

take care of ourselves.

Catherine Coverston

ATTENTION HOME HEALTH NURSES...

The UNA board is seeking insight into present-day home-health

nursing practice. If you currently work in home-health would

you please respond to the following questions (please send

responses to una@xmission.com – all responses will be kept

strictly confidential):

1. What is current nursing practice expectations of RNs

who work in home-health agencies?

2. How many and what type of unlicensed assistive personnel do RNs delegate to?

3. What types of patient care activities are currently delegated to unlicensed assistive personnel?

4. If the unlicensed assistive personnel have questions (during working hours), what is the RN

availability to answer the questions?

Members of the UNA board are not as familiar as you are with current home-health nursing practice

and seek input from our members who participate in this area of nursing. If there is anything else

that you feel would help us better understand home-health nursing practices, please feel free to add

it to your response.

Thank you so much.

UNA Board of Directors

We need

your input!

current resident or

Presort Standard

US Postage

PAID

Permit #14

Princeton, MN

55371

Content

1 President's Message

2 From the Editor

3 Special Session on Medicaid Expansion

4 The Window to the Body: The Effect of Oral Health on Overall Health

5 On the National Front

6 Vaccines Across the Lifespan

9 In Memoriam

11 GRC Committee News

11 From the Membership Committee
---
Page 2 • Utah Nurse November, December 2015, January 2016

FROM THE

EDITOR

Aimee McLean, BSN, RN, CCHP

Hello fellow Utah nurses! Fall us upon us and with the

changing colors in the leaves, we will see some changes

at the UNA as well. The yearly election has now passed

and we will be welcoming in a few new board members

and others will take on new positions. As always, we

continue to encourage each and every one of you to join

the UNA and to participate in leadership for our state.

Each and every voice is important and we would love to

hear from all of you. I encourage letters to the editor with

things that excite you or infuriate you or just interest you.

If it is important to you it is likely important to many other

nurses across the state. We understand that life is busy

and sometimes we are not in a position to fully participate

in professional organizations, but most of us can find

a few minutes to write an email or send a letter. Our

careers are not only our livelihood; they are our passions.

As you read this issue, please also be thinking of things

that are important to you as a nurse or things you would

be interested in learning more about. Then drop us a

quick line to let us know what you think. Let me know

what you enjoyed, what you didn't and what you would

like to see in future issues. Fall is a time for change; help

us to change in a way that better supports you and all

you do. Have a wonderful holiday season!

Nephi, Utah

Orthopedic Surgery | General Surgery

24/7 Emergency Department

Obstetrical Care | Radiology w/MRI

Respiratory Therapy | Full-Service Lab

Physical & Occupational Therapy

Home Health & Hospice

Big Hospital Services with Small Home Town Care

Our Nurses Make A Difference

Become Part of Our Team!

Located just off Interstate 15 and only 30

minutes from Provo, Utah's third largest city,

Nephi offers a quiet, small town lifestyle with

easy access to big city amenities.

It's the perfect place to live and work.

www.cvmed.net | Nephi, Utah | 435-623-3105

PUBLICATION

The Utah Nurse Publication Schedule for 2016

Issue

Material Due to UNA Office

Feb/March/April 2016 December 7, 2015

Guidelines for Article Development

The UNA welcomes articles for publication. There is

no payment for articles published in the Utah Nurse.

1. Articles should be microsoft word using a 12 point

font.

2. Article length should not exceed five (5) pages

8 x 11

3. All reference should be cited at the end of the

article.

4. Articles (if possible) should be submitted

electronically.

Submissions should be sent to: una@xmission.com or

Attn: Editorial Committee | Utah Nurses Association

4505 S. Wasatch Blvd., Suite 330B

Salt Lake City, UT 84124

Phone: 801-272-4510

NIGHTINGALE

TRIBUTE

The basic Nightingale

Tribute to be offered in

a nurses funeral will take

about two minutes to deliver

and can fit in many different

areas of any funeral service. The

words, pronouns and content can and should

be changed to meet the circumstances. The

presentation of a white rose by the speaker

or by all nurses in attendance is an optional

salute to the nurse. To read and print the basic

tribute, please go to: http://www.ksnurses.

com/the-nightingale-tribute.html or go to the

Kansas State Nurses Association and look under

the publication tab.

utnurse.org

Published by:

Arthur L. Davis

Publishing Agency, Inc.

Utah Navajo Health System, Inc.

We are a not-for-profit Community

Health Center providing medical,

dental and behavioral health care

in neighborhoods throughout the

northern portion of the Navajo Nation

and southeastern Utah. We provide

primary health care to men, women,

and children, regardless of citizenship

status, nationality or ability to pay.

To view current openings and apply online, visit

www.unhsinc.org

Usually, a healthcare provider's license is their most important

asset. Disciplinary and malpractice action taken against that

license not only becomes public information, but can have

a devastating impact on one's ability to practice. Catherine

Larson has over 20 years of experience defending providers in

these matters. Her expertise can help guide you through this

challenging process.

www.strongandhanni.com

clarson@strongandhanni.com • 801.532.7080

102 South 200 East, Suite 800, Salt Lake City, UT 84111

9350 South 150 East, Suite 820, Sandy, UT 84070

2015 BOARD OF DIRECTORS

President

Catherine Coverston, PhD, RN

Past President

Kathleen, Kaufman, MS, RN

First Vice President

Peggy H. Anderson, MSN, RN

Second Vice President Aimee McLean, BSN, RN, CCHP

Secretary

Alana Jacobs, PhD, APRN

Treasurer

Karen de la Cruz, MSN, RN, AACNP/FNP

DIRECTORS AT LARGE

Sharon K. Dingman, DNP, RN

Amy Marie White, BSN, RN

STAFF MEMBERS

Office Manager

Continuing Education

Lobbyist

Editor

COMMITTEE

CHAIRS & LIAISONS

Lisa Trim

Open

Justin Stewart

Aimee McLean, BSN, RN, CCHP

By-Laws

Continuing Education

Open

Finance

Karen de la Cruz, MSN, RN, AACNP/FNP

Government Relations

Kathleen Kaufman, MS, RN

Membership

Sharon K. Dingman, DNP, RN

Nominating Ginette (Ginny) Pepper PhD, RN, FAAN, FGSA

Marguerite Brown, MS, RN

Monte Roberts DNP, RN

UTAH NURSES FOUNDATION

President

Marianne Craven, PhD, RN

Kathleen Kaufman, MS, RN

Catherine Coverston, PhD, RN

ANA MEMBERSHIP

ASSEMBLY REPRESENTATIVES

Catherine Coverston, PhD, RN

Donna Richards, PhD, RN

PRODUCTION

Publisher

Arthur L. Davis Publishing Agency, Inc.

Editor and Publisher are not responsible nor liable for editorial

or news content.

Utah Nurse is published four times a year, February, May,

August, November, for the Utah Nurses Association, a

constituent member of the American Nurses Association. Utah

Nurse provides a forum for members to express their opinions.

Views expressed are the responsibility of the authors and are

not necessarily those of the members of the UNA.

Articles and letters for publication are welcomed by the

editorial committee. UNA Editorial Committee reserves the

right to accept of reject articles, advertisements, editorials, and

letters for the Utah Nurse. The editorial committee reserves

the right to edit articles, editorials, and letters.

Address editorial comments and inquiries to the following

address:

Utah Nurses Association, Attn: Editorial Committee

4505 S. Wasatch Blvd., Suite 330B

Salt Lake City, UT 84124

una@xmission.com, 801-272-4510

No parts of this publication may be reproduced without

permission.

Subscription to Utah Nurse is included with membership to

the Utah Nurses Association. Complementary copies are sent

to all registered nurses in Utah. Subscriptions available to nonnurse

or nurses outside Utah for $25. Circulation 30,000.

All address changes should be directed to DOPL at (801) 530-

6628.

For advertising rates and information, please contact Arthur L.

Davis Publishing Agency, Inc., 517 Washington Street, PO Box

216, Cedar Falls, Iowa 50613, (800) 626-4081, sales@aldpub.

com. UNA and the Arthur L. Davis Publishing Agency, Inc.

reserve the right to reject any advertisement. Responsibility for

errors in advertising is limited to corrections in the next issue

or refund of price of advertisement.

Acceptance of advertising does not imply endorsement

or approval by the Utah Nurses Association of products

advertised, the advertisers, or the claims made. Rejection

of an advertisement does not imply a product offered for

advertising is without merit, or that the manufacturer lacks

integrity, or that this association disapproves of the product

or its use. UNA and the Arthur L. Davis Publishing Agency,

Inc. shall not be held liable for any consequences resulting

from purchase or use of an advertiser's product. Articles

appearing in this publication express the opinions of the

authors; they do not necessarily reflect views of the staff,

board, or membership of UNA or those of the national or local

associations.
---
November, December 2015, January 2016 Utah Nurse • Page 3

All but Seven Republican Legislators Vote "NO"

to Special Session on Medicaid Expansion in 2015

(Fiscal bottom-line outweighs human lives.)

Kathleen Kaufman, GRC Chair

RyLee Curtis, Senior Health Policy Analyst

at the Utah Health Policy Project

The closed door meeting of the Republican caucus

on October 13th has shown the true lack of courage

in our Republican legislators. Seven voted in favor

of an interim session to decide the matter…the rest

voted no – a lack of support voted in private without

accountability to the public. No chance to debate in

public, no chance for the public to hear legislators'

actual positions. YOU need to determine how your

Republican legislator voted, hold them accountable,

and REMEMBER this lack of faith in the open

democratic process. There will be no interim session

to consider this crucial legislation and more Utahns

will die waiting for care.

Some history: In the aftermath of the U.S. Supreme

Court (SCOTUS) ruling that protected the Affordable

Care Act's (ACA) premium subsidies for over 80,000

Utahns, prospects were looking up for finally closing

Utah's Medicaid coverage gap. (Now approximately

53,000 minimum wage, part time employees are

the people who still need covered by a Medicaid

expansion-type plan.) With the SCOTUS ruling,

generous providers who have been giving care

essentially for free will have many patients now able

to buy subsidized commercial insurance and the

providers will receive commercial insurance rates for

their care. This is an improvement for the providers'

bottom line.

"This ruling lets us really kind of ramp it up," House

Speaker Greg Hughes, (R-Draper) told reporter Glen

Mills at ABC-4. "It's not going to be in the next week

or so, but now I think we're a lot closer than we were

prior to knowing what the landscape would look like."

By "us," Speaker Hughes is referring to the "Gang of

Six," a special group of policymakers created on the

last day of the 2015 legislative session to negotiate a

solution to Utah's coverage gap by a July 31 deadline.

The gang, made up of Gov. Herbert, Lt. Gov. Cox,

President Niederhauser, Speaker Hughes, Sen.

Shiozawa, and Rep. Dunnigan has been meeting

regularly ever since.

But July 31st came and went, quickly, and without

a solid proposal. Instead the gang put forth what they

called a conceptual framework on which all the gang

could agree. Basically they agreed on three things: 1)

they all wanted to close the Medicaid gap completely

and offer coverage to low-income Utahns earning

between 0-133% FPL; 2) they wanted to draw down

the full federal funding available to the state under

the ACA to implement expansion; and 3) they wanted

to assess the industries that will benefit most from

expansion, and have them help pay for the program

(think hospitals, providers, pharmacies, and the like).

The gang had also announced its continued desire

to call a special session in October to finally provide

coverage to Utahns who desperately need it.

October is now here and 53,000 low-income

Utahns are still living in the Medicaid coverage gap,

Utahns want our lawmakers to buckle down to fix

it. Utah's coverage gap is a man-made disaster that

requires effective public policy that is not beyond

the reach of our legislature. Many of our red state

neighbors are ready for a red state solution to the

coverage gap, and Utah seemed very close to

delivering a working template. Our state had an

unprecedented opportunity to lead on the biggest

health care dilemma facing 21 legislatures across the

country.

With the King v. Burwell court decision behind us,

the realistic policy-based challenges the Gang needs

to overcome are 1) budgeting the overall cost of the

program, and 2) determining who bears the risk if the

cost goes over projections.

In interviews, both Sen. Brian Shiozawa and

Speaker Greg Hughes indicated a desire to have

hospitals, providers, and the pharmaceutical

industries help the state mitigate the risks of

potential cost overruns. While this seemed to be

good news, it may have been a clever ploy to build

up provider resistance so the bill could not pass.

Some providers and facilities bitterly complained at

being assessed for providing Medicaid care. They

protest that they already are being reimbursed at

very low rates by Medicaid. Are they overlooking

that many of their former charity patients will now

have subsidized commercial insurance that will now

reimburse them at regular commercial rates? And

the former charity patients who go on Medicaid

actually would have SOME payment at admittedly

low Medicaid rates.

We expect the Gang of Six to develop a funding

system that engages the state to put its "skin in

the game." So long as the plan follows the key

principles of closing the coverage gap completely

with a comprehensive health benefit and bringing the

maximum amount of tax dollars back to the state—

we are on board with finding payment options. We

think a great place to start is to review the significant

cost budget savings other states achieved after they

expanded Medicaid. And look at the potential savings

in our correction system in Utah that serves as the

largest mental health facility in Utah – paid for totally

with tax dollars.

This article is a collaboration between Kathleen

Kaufman, GRC Chair, and RyLee Curtis, Senior

Health Policy Analyst at the Utah Health Policy

Project.

INTERNET NURSING

UTAH NURSES ASSOCIATION receives its Internet

services due to a generous grant from XMission,

Utah's largest and best local Internet Service

Provider. For more information on XMission's

services and pricing visit XMission on the Web at

www.xmission.com or call 801-539-0852.

Please visit the Utah Nurses

Association's Web Page!

utnurse.org

Visit our site regularly for the most current updates

and information on UNA activities. You can

obtain a listing of Continuing Education Modules

available through UNA or a listing of seminars and

conferences that offer CE credits.

www.nursingALD.com

Your always-on resource for nursing jobs, research, & events.

• Search job listings in all 50

states, and filter by location

& credentials

• Browse our online database

of articles and content

• Find events for nursing

professionals in

your area

Find your

career today!

Your future starts here.

Nurses – Welcome to Wyoming!

Wyoming Behavioral Institute, an 85-bed acute care

psychiatric hospital is now recruiting in Casper, Wyoming.

Wyoming Behavioral Institute is the premier leader in

providing behavioral health services and treatment in

Wyoming and the Rocky Mountain West.

We pride ourselves in providing the highest quality

of nursing care. If you are an experienced nurse, or a

recent graduate, and have a commitment to service

excellence we look forward to hearing from you and

having you join our team today.

RNs • LPNs • New Grads Welcome!

We offer excellent compensation and

full benefits package. Interested applicants please

visit our website and apply online.

www.wbihelp.com

Wyoming Behavioral Institute has been accredited by The Joint Commission (TJC)

and is licensed by the State of Wyoming's Department of Health.

Wyoming Behavioral Institute is owned, managed and operated by a subsidiary

of Universal Health Services, Inc., one of the largest providers of high-quality

healthcare in the nation.

Positions Available:

Nurse Recruiter • Director of Critical Care • CRNA's • Nurse Practitioners

• Nurse Managers for Oncology, ED, & Float Pool

• Nurse Supervisors – Inpatient Nursing Units,

Peds, Med Surg & Women's Services

• RN Documentation Specialist

• RN – ICU, ER, OR, PACU, Oncology, Ortho,

Med Surg & Float Pool, L & D, GYN, Rehab, Progressive Care Unit

Differentiators:

Relocation & Sign-On Package for Nurses & Management,

Employee Housing Program, Advanced Cerner Technology,

Enhanced Employee Development Programs

Exceptional Medicine, Extraordinary Care to Every Person, Every Day.

Send your resume to apply@stvin.org or call (505) 913-5730.
---
Page 4 • Utah Nurse November, December 2015, January 2016

The Window to the Body:

The Effect of Oral Health on Overall Health

Kristi Merrill, RDH Utah Department of Health Oral Health Program Intern

According to the CDC, approximately 47.2% of adults in the U.S. ages 30 or older

have been diagnosed with some form of periodontal disease (CDC, 2015c). Periodontal

disease is an infection of the tissues that surround and stabilize teeth so they can

function in their proper place. Periodontal disease can affect not only the gum tissue

but also the alveolar bone of the jaw, both of which are responsible for supporting the

teeth (Kuo, p. 417).

Why should nurses be concerned about the condition of a person's oral

health?

Many diseases are in various ways, affected by oral health. The mouth is the

beginning of the gastrointestinal tract and is an entry window to the body. Oral health

can be a determining factor in prognosis of diseases happening within the body. It is

also a place where bacteria are constantly present, and vascularity running to teeth

and gum tissue serves as a conduit for infectious bacteria to travel from the mouth

to the rest of the body, affecting it systemically. If a person has poor oral hygiene

and a systemic disease, this compromises a person's oral as well as overall health.

Nurses can play an important role in their patients overall health by understanding and

identifying the relationship between oral health and systemic disease.

Diabetes

Proper management of diabetes is very important to promote and protect both

oral and systemic health. With the increasing prevalence of diabetes, collaboration of

healthcare providers has become even more important as health issues are addressed.

In 2011, approximately 20.8 million people in the United States had been diagnosed

with diabetes, an increase from 5.5 million in 1980 (CDC, 2015b). Due to their chronic

inflammatory characteristics, both diabetes and periodontal disease are exacerbated

by increased inflammatory marker levels, which are elevated when these conditions are

not adequately managed. Thus, if periodontitis is uncontrolled, then diabetes is less

controllable and vice versa (Kumar, 2015). Because of this relationship, periodontitis is

We Need RNs!

Moab Regional Hospital is seeking dedicated,

qualified and experienced individuals with current

and unencumbered RN licensure in Utah (or compact

state) to work in Acute Care.

New Grads are encouraged to apply. MRH is eligible

for some student loan forgiveness programs.

For more information, please visit mrhmoab.org

or contact Katherine Sullivan,

Director of Human Resources at

katherines@mrhmoab.org or 435-719-3600

Moab Regional Hospital

Moab Regional Hospital is a busy 17-bed

Critical Access Hospital and is the leading

healthcare facility in Southeastern Utah,

serving thousands of patients each year.

EOE

now considered a complication of diabetes. If a patient with diabetes has uncontrolled

periodontitis, it can induce insulin resistance and result in poor glycemic control (Kuo,

p. 420). Diabetic patients have an exaggerated response to periodontal pathogens

due to the increase in circulating inflammatory mediators. When diabetes is unstable,

it promotes the breakdown of collagen. This breakdown occurs around teeth in the

gum tissue and in the bone support surrounding teeth, resulting in tissue destruction

and eventually tooth loss. Decreased wound healing is another complication of

diabetes, which may contribute to existing periodontal condition by slowing healing.

This occurrence can continue to cycle and hinder management or worsen the diabetic

condition (Kumar, p. 256). Management of both conditions is necessary when both are

present. It is therefore important for all healthcare providers to be able to identify the

presence of inflammation and poor oral health in diabetic patients so they can seek the

treatment they need to manage their health.

Cancer

Cancer is a disease that can change every aspect of a person's life, including their

oral health. Nurses can play an important part in the identification of oral cancer. The

most common oral cancers found are related to the use of tobacco. Although oral

cancer is fairly rare (2-4%), about 75% of oral cancers are caused by tobacco use

(CDC, 2013). In 2013, approximately 42.1 million adults in the US smoked (CDC, 2015a).

Statistics from 2012 show that of every 100 adults, 4 used smokeless tobacco (CDC,

2015d). The head and neck area is very vascular and oral cancer can easily spread

to vital organs like the lungs, heart, and brain. Oral cancer screenings are part of the

dental hygiene standard of care. Nurses can perform the same screenings and also

discuss smoking cessation with their patients.

Dental Infections

In addition to periodontal disease, presence of tooth decay is relevant to all

healthcare providers. In 2009, Utah hospitals saw over 8,700 patients in emergency

departments for visits addressing dental and jaw concerns (Pew, p. 4). Patients are

going to emergency departments for issues like tooth pain and sepsis from a dental

infection because they delay treatment for their problems until they become major

issues. These patients aren't able to receive adequate treatment in the emergency

department because hospitals aren't equipped to provide dental care. Pew Center on

the States (2012) reports that "A study of low-income patients with toothaches found

that among those who went to an emergency room, 80 percent needed subsequent

care from a dentist" (p. 3). This occurrence creates a burden for emergency

departments and time and effort may be wasted when patients aren't seen in

appropriate clinics.

According to the Pew Center on the States (2012), poor oral health affects children's

academic performance due to missed school days. This can also translate to adults

missing work due to dental problems, which affects their income. Patients' everyday

lives are affected by the state of their health, including what is happening in the mouth.

As more healthcare providers are able to assist with early identification of dental

problems, referrals can be made so patients can be treated in settings more suitable to

fit their needs.

Identifying Infection

In efforts to promote wellness, nurses can be great advocates for oral health.

Nurses can help minimize the effects of oral infections like cavities and gum disease

through prompt identification and referral to dental care providers. Healthy gum

tissue is light pink, is tight to the teeth, does not bleed and is not painful. Signs and

symptoms of infection include plaque and calculus (tartar) accumulation, red, swollen

gum tissue, bleeding, gum recession, and aching or loose teeth (Kuo, p.420). If these

are identified, regular visits to the dentist every six months should be encouraged as

well as consistent home care, including with brushing twice a day for two minutes and

flossing once a day.

Oral health is important to systemic health and the overall wellbeing of patients

as described in the selected examples. Patients can truly benefit from nurses

evaluating oral care as part of their assessment of the patients overall health. Oral

health promotion is being integrated interprofessionally through programs like Smiles

for Life. It was developed as a national oral health curriculum, and is endorsed by

the American Dental Association, American Dental Hygiene Association, American

Academy of Pediatrics, National Association of Community Health Centers, and many

others (Smiles for Life, n.d.). Its online source, www.smilesforlifeoralhealth.org, has free

educational modules for health professionals to use as they learn how to integrate oral

health promotion. With the large workforce of over three million nurses and over 150,

000 nurse practitioners (Dolce, p. 1), evaluation and referral for dental care can be

improved greatly as nurses understand their role in oral health promotion.

Resources

A Costly Dental Destination Hospital Care Means States Pay Dearly. (2012). Pew Children's

Dental Campaign, 1-22.

Dolce, M., Haber, J., & Shelley, D. (2012). Oral Health Nursing Education and Practice Program.

Nursing Research and Practice, 1-5.

Fast Facts. (2015, April 15). Retrieved July 30, 2015, from http://www.cdc.gov/tobacco/data_

statistics/fact_sheets/fast_facts/index.htm#ref

Kumar, M., Mishra, L., Mohanty, R., & Nayak, R. (2014). "Diabetes and gum disease: The diabolic

duo". Diabetes & Metabolic Syndrome: Clinical Research & Reviews, 255-258.

Kuo, L., Polson, A., & Kang, T. (2007). Associations between periodontal diseases and systemic

diseases: A review of the inter-relationships and interactions with diabetes, respiratory

diseases, cardiovascular diseases and osteoporosis. Public Health, 417-433.

Number (in Millions) of Civilian, Noninstitutionalized Adults with Diagnosed Diabetes, United

States, 1980–2011. (2013, March 2). Retrieved July 30, 2015, from http://www.cdc.gov/

diabetes/statistics/prev/national/figadults.htm

Oral Cancer. (2013, July 10). Retrieved July 30, 2015, from http://www.cdc.gov/OralHealth/

publications/factsheets/oral_cancer/oc_facts.htm

Periodontal Disease. (2015, March 10). Retrieved July 30, 2015, from http://www.cdc.gov/

OralHealth/periodontal_disease/index.htm

Smiles for Life: A National Oral Health Curriculum. (n.d.). Retrieved August 1, 2015, from http://

www.smilesforlifeoralhealth.org

Smokeless Tobacco Use in the United States. (2015, July 13). Retrieved July 30, 2015, from

http://www.cdc.gov/tobacco/data_statistics/fact_sheets/smokeless/use_us/#national
---
November, December 2015, January 2016 Utah Nurse • Page 5

ON THE NATIONAL FRONT

UNA sent Angela York to represent the state of Utah at

the ANA-C/SNA Annual Lobbyist Meeting in Washington

DC. Hot topics trending nationally included Medicaid

Expansion, the AARP Family Caregiver Act, the Nurse

Licensure Compact, APRNs -making the business

case, transition to practice, best models; Community

Paramedics delivering home health care in rural settings,

mandatory immunizations and many more.

ANA continues to keep the same stance in regards

to the Nurse Licensure Compact. Taken from meeting

minutes, "The RN Compact approved in May 2015 is

being marketed and is referred to as the "enhanced"

Compact based on higher standards to which NCSBN

identifies as: (1) the criminal background check (CBC)

(state and federal) and (2) restriction of those from ever

having been convicted of a felony from acquiring a

multistate license."

For background and ANA's position which was

reaffirmed at the 2015 Membership Assembly Please

see http://www.nursingworld.org/MainMenuCategories/

Policy-Advocacy/State/Legislative-Agenda-Reports/

LicensureCompact and ANA Issue Brief: Nursing

Licensure Portability Options and Information for

Registered Nurses at http://www.nursingworld.org/

MainMenuCategories/Policy-Advocacy/Positions-and-

Resolutions/Issue-Briefs.

Do any of the above topics spark your interest?

Wondering how these national issues affect you as a nurse

here in Utah? Have an opinion on any of these matters?

If you would like to find out more, UNA would love to

have your voice in our Government Relations Committee.

Please e-mail unaleglist@xmission.com and we will send

you the latest information.

Pictured Above: Angela York (Utah), Kim Froehlich (Idaho), Robin Schaeffer (Arizona), Marketa Houskova

(ANA/California), Roxanne Gould (ANA/California), and Liz Dietz (ANA/California)

Exceptional People,

Extraordinary Care

nortonsoundhealth.org

CONTACT RHONDA: rmschneider@nshcorp.org

Bring your talents

to Western

Alaska

877.538.3142

APPLY NOW

• Competitive Wages

• Generous Benefits

• Hiring Bonuses

NSHC is an equal opporunity employer affording

native preference under PL93-638. AA/M/F/D.

We are a Drug Free Workplace and background

checks are required for all positions.

Pictured Above: Representatives Angela York (Utah),

Robin Schaeffer (Arizona) and Kim Froehlich (Idaho)

Mountain's Edge Hospital has a welcoming friendly environment for our patients

and staff. With highly qualified staff and state-of-the art technology, we provide our

community with excellent service and impeccable treatment.

Now Seeking RN Opportunities

Case Management • ER • ICU • Med/Surg

OB • OR • Outpatient Clinics • PACU • PHN

www.tchealth.org • 928-283-2432

TCRHCCHR@tchealth.org

We are currently recruiting for the following positions:

CCRNs • ICU Nurses • Registered Nurses

RN - Clinical Informatics • Telemetry Techs • Wound Care RN

RNs with at least one (1) year acute care experience.

ICU experience necessary for our High Observation Unit.

Competitive benefit package available for full-time associates.

"A new day in providing compassionate care"

Please submit your resume to:

suzanne.dessaints@fundltc.com or fax number: (702) 777-7131

8656 West Patrick Lane, Las Vegas, NV 89148

Drug Free/Smoke Free Workplace

Equal Opportunity Employer

M/F/H/V

1 hour from Grand Canyon, Monument Valley, Lake Powell, and Flagstaff.
---
Page 6 • Utah Nurse November, December 2015, January 2016

JOIN OUR TEAM!

William Bee Ririe Hospital

located in Ely, NV

A friendly rural community in

mountainous Eastern Nevada

RN Positions Available

$7,500 Sign On/Relocation Bonus

We offer generous benefits; State retirement (PERS);

very competitive salaries.

William Bee Ririe Hospital shall abide by the requirements of

41 CFR 60-300.5(a) and CFR 60-741(a).

Contact:

Vicki Pearce, vicki@wbrhely.org

775-289-3467 Ext. 299

or apply online at www.wbrhely.org

CLINICAL NURSING FACULTY

Full time or part time teaching opportunity in the BS nursing program

on the Career Line. Specific needs in the areas of pediatrics,

psychiatric-mental health, and adult acute care clinical courses.

Other core areas include EBP, health assessment, health systems and

policy, and pathophysiology. MS required, doctoral degree preferred.

For a career line faculty position please apply at:

https://utah.peopleadmin.com/postings/45592

Part time adjunct teaching positions also available–contact

Dr. Alexa Doig at alexa.doig@nurs.utah.edu

The University of Utah is an Equal Opportunity/Affirmative Action employer and educator. Minorities,

women, veterans, and those with disabilities are strongly encouraged to apply. Veterans' preference

is extended to qualified veterans. Reasonable disability accommodations will be provided with

adequate notice. For additional information about the University's commitment to equal opportunity

and access see: http://www.utah.edu/nondiscrimination/.

Vaccines Across the Lifespan

Audrey M. Stevenson PhD, MPH, MSN, FNP-BC

Although most individuals are aware of the need

for childhood vaccines, a large number of teens

and adults have not received all recommended

vaccines. These vaccines are critically needed at

all ages to prevent diseases and their sequelae

including long-term illness, hospitalization, and

even death. The percentage of adults that have

received all recommended vaccines is well below the

recommended levels needed to achieve herd immunity.

The purpose of this article is to provide nurses with

information on the importance of promoting vaccines

to individuals across the lifespan.

Vaccines are an important protective mechanism

in order to keep individuals themselves as well as

others in the community healthy. According to the

Center for Disease Control (CDC), vaccine preventable

diseases are responsible each year for an average

of 226,000 hospitalizations due to influenza with

mortality between 3,000 and 49,000 people due to

influenza and its complications, with the majority of

those being adult. There were approximately 32,000

cases of invasive pneumococcal disease in 2012, with

approximately 3,300 deaths. Currently, in the United

States, between 800,000 and 1.4 million people

suffer from chronic hepatitis B, which can lead to

complications such as liver cancer. HPV is responsible

for 17,000 cancers in women and 9,000 cancers in

men in the U.S. each year, with 4,000 women losing

their life each year from cervical cancer as a result of

HPV infection.

The factors that influence the need for vaccines

include: the age of the individual, personal health

conditions, occupation, lifestyle, international travel

and receipt of previous vaccines.

Why are Adult Vaccine Levels Low?

Older adults have traditionally had better vaccine

rates for immunizations such of influenza and

pneumococcal than younger adults and teens. Many

younger adults assume that only children and teens

need vaccine. In many cases young adults aren't

aware that they may be missing vaccines that they

didn't receive in childhood such as vaccines against

Hepatitis A and B. They may also not be aware that

some vaccines, such as Tetanus and Diphtheria

booster doses every 10 years to continue to provide

protection as the vaccine's efficacy begins to wane.

Another reason that many adults don't receive

vaccines is that they are unaware of the seriousness

of particular diseases and do not feel susceptible to

contracting the disease. Few adults today have ever

personally experienced or known anyone who has had

many of the diseases that vaccines prevent, leading

to a false perception of safety that actually harms

the entire community. Adults are also susceptible

to misinformation about the need for or safety of

particular vaccines.

How to Determine if You are Missing Needed

Vaccine?

Individuals are often unsure of the vaccines needed

for themselves or their family members. The Centers

for Disease Control and Prevention has a number

of resources to provide both individuals healthcare

professional information on vaccine topics. One tool

that is particularly helpful is a quiz on required vaccines

for adults and adolescents. (http://www2.cdc.gov/nip/

adultimmsched/)

Adult Vaccines (19 and older)

Although many adults may have received some

or all of the recommended vaccines in childhood it is

important for each individual to review their vaccine

record to ensure that they are fully protected. The

following are the vaccines recommended for individuals

18 and older:

• Influenza (yearly)

• Tetanus, diphtheria, pertussis (Td/Tdap)

• Varicella

• Zoster

• Human papillomavirus (HPV) for both Females and

Males

• Measles, mumps, rubella (MMR)

• Pneumococcal 13-valent conjugate (PCV13)

• Pneumococcal polysaccharide (PPSV23)

• Meningococcal

• Hepatitis A

• Hepatitis B

• Haemophilus Influenzae type B (HIB)

Access Points

Historically the only place that an individual could

receive a vaccine was at the individual's healthcare

provider's office, which has changed in recent years.

In addition to receiving vaccines at your healthcare

provider's office, individuals can receive most the

recommended vaccines at pharmacies, Urgent Care

Centers and other community locations. In addition,

many employers recognize the importance of vaccinating

employees and provide flu and other vaccines at the

workplace.

Implications for Nurses

• Become a vaccine champion

• Be familiar with and recommend all of the vaccines

needed by your patients

• Set the example by ensuring that you have

received all of the recommended and required

vaccines to protect your health and the health of

others.

For more information and helpful vaccine tools go to:

http://www.cdc.gov/vaccines

For a vaccine app: http://www.cdc.gov/vaccines/

schedules/hcp/schedule-app.html

Symbii Home Health and Hospice is now hiring

RNs, CNAs, PTs and OTs in the following

counties: Weber, Davis, Salt Lake, Wasatch,

Utah, Carbon and Emery.

Come be a part of our fast growing team!

Please send resumes to

dnorth@symbiihealth.com or call 801-493-8926.
---
November, December 2015, January 2016 Utah Nurse • Page 7

Invitation to apply for the following positions:

ASSOCIATE DEGREE NURSING PROGRAM

• Nursing Program Instructor

MSN, nursing education experience required.

NURSING ASSISTANT PROGRAM

• Nursing Assistant Instructor

Long term care experience required.

View full job descriptions at:

http://www.navajotech.edu/index.php/human-resources

Contact Human Resources at 505-786-4109

The Utah

Department of Corrections

IS HIRING!

Come work in a dynamic

environment as part of a

multidisciplinary, collaborative team!

Current openings:

Physician, physician assistant,

psychiatrist and registered nurses.

We offer a competitive compensation and benefits

package, with paid holidays, vacations, sick leave,

health insurance and retirement.

SEE STATEJOBS.UTAH.GOV
---
Page 8 • Utah Nurse November, December 2015, January 2016

from the Board and Staff of the Utah Nurses Association
---
November, December 2015, January 2016 Utah Nurse • Page 9

Joann Benson passed away September 2015. She

went to LPN school in 1961 and returned again in 1977

for her RN degree at Weber State College. She worked in

the Operating Room at the University of Utah for 25 years

and retired in 1990.

Leonore Bonacci passed away August 31, 2015. She

studied nursing at St. Luke's Hospital School of Nursing

in Chicago and graduated in 1942. During World War

II, she enlisted in the Army Nurse Corps and served in

England, France, Luxembourg, Austria and Germany. In

1945, she served in Weimar, Germany, at the liberation

of the Buchenwald concentration camp. In Utah, she

worked as a nurse in Salt Lake City and enjoyed a

long career as an operating room nurse at Carbon and

Castleview Hospitals, she retired as the OR Supervisor

and Administrator at Castleview Hospital.

Nga Trieu Carman passed away September 4, 2015.

She attended, graduated from, and was honored by the

University of Utah. She spent years caring for others

and worked in various areas such as the ICU, mental

health, pediatrics, and hospice. She also attended and

graduated from Westminster becoming a Family Nurse

Practitioner, continuing her mission to nurture the world

and care for those in need.

IN MEMORIAM

Judith Kiernan passed away July 28, 2015. Judy

served as Assistant Dean for Community Service

and Faculty Practice at the University of Utah College

of Nursing. In October of 1986, she accepted the

position as Director of Nursing for Medical/Surgical

and Rehabilitation at the Health Sciences Center.

Relentless in her pursuit of education and knowledge,

Judy then pursued her doctoral degree. She earned

her PhD in Health Service Administration in 1992 from

the University of Utah. Dr. Kiernan was presented

the 1995 Administration Award by the Utah Nursing

Association, an award given annually to an individual

who demonstrates excellence in nursing service

administration, including skills in management, decisionmaking

and dedication to continually improving the

nursing profession.

Hughlene Skousen Urry passed away August 12,

2015. Hughlene attended nursing school in Salt Lake

City, Utah, where she graduated with a Bachelors Degree

in Nursing in 1947. She spent many years serving others

as a nurse at the Salt Lake General Hospital and the

University of Utah hospital.

2016

TELEMEDICINE

CONFERENCE

SEATTLE,

WASHINGTON

MARCH 21–23

RN to BSN Online Program

• No Campus

Visits

• Liberal Transfer

Credits

Telehealth:

Spanning the

Care Continuum

Conference &

Telehealth 101

Workshop – $300

Visit www.nrtrc.org

Call 406-237-8665

for information

MSN Online Program

• Classes That Fit

Your Schedule

• Competitive

Tuition

BSN-LINC: 1-877-656-1483 or bsn-linc.wisconsin.edu

MSN-LINC: 1-888-674-8942 or uwgb.edu/nursing/msn

You work hard developing your educational programs

Make your best exceptional

Learn how to apply at www.utnurse.org/Education

• PN-RN Program

Ephraim & Richfield Campuses

• LPN Program

Ephraim, Nephi & Richfield Campuses

Affordable housing and

tuition assistance is

available.

Contact us today for

more details!

Melissa Blackner:

435-893-2232

Or Amber Epling:

435-893-2228

melissa.blackner@snow.edu

www.snow.edu/alliedhealth

We are seeking Registered Nurses

in the following areas and locations:

• Home Health (Tucumcari and Clovis) • ICU (Clovis)

• Case Management (Clovis) • Outpatient (Clovis)

• Med Surg/ER (Clovis and Tucumcari) • Pediatric (Clovis)

• Nursing Leadership (Clovis)

We offer an excellent compensation

and benefits package.

We are an equal opportunity employer and all qualified applicants will

receive consideration for employment without regard to race, color, age,

religion, sex, national origin, sexual orientation, gender identity,

disability status, protected veteran status, or any other characteristic

protected by law.

For more information contact:

www.phs.org

(575) 769-7339 or (575) 769-7166

PHS is committed to ensuring a drug-free workplace
---
Page 10 • Utah Nurse November, December 2015, January 2016

Nursing Grant-in-Aid Scholarships – Utah Nurses Foundation – Guidelines

The guidelines listed below shall be followed to assist in ensuring the best possible coordination

of efforts in receiving and processing nursing student requests for scholarships. Scholarships will be

awarded for tuition and books only.

SCHOLARSHIP INFORMATION

• Scholarships must be postmarked by June 1 or October 1 of each calendar year to be

considered.

• Applicants will receive notice of the Board's recommendations by July 15 and October 15 of

each calendar year.

• Recipients are only eligible to receive scholarships twice.

• Applicants must abide by the criteria listed below.

GENERAL SCHOLARSHIP CRITERIA

The applicant must:

• Have a cumulative grade point average, which is equivalent to a 3.0 or higher on a 4.0 scale.

• Be a United States citizen and a resident of Utah.

• Have completed a minimum of one semester of core nursing courses prior to application.

• If a student in undergraduate nursing programs, be involved in the school's chapter of the

National Student Nurses Association.

• If a registered nurse completing a Baccalaureate Degree or an Advanced Nursing Degree, be

a member of Utah Nurses Association (state only) or a member of Utah Nurses Association/

American Nurses Association.

• Submit a personal narrative describing his/her anticipated role in nursing in the state of Utah,

which will be evaluated by the Scholarship Committee.

• Submit three original letters of recommendation. Letters submitted from faculty advisor and

employer must be originals addressed to the Utah Nurses Foundation Scholarship Committee.

• Be enrolled in six credit hours or more per semester to be considered. Preference will be given

to applicants engaged in full-time study.

• Demonstrate a financial need. All of the applicant's resources for financial aid (scholarships,

loans, wages, gifts, etc.) must be clearly and correctly listed (and include dollar amounts and

duration of each source of aid) on the application

• The Scholarship Committee shall consider the following priorities in making scholarship

recommendations to the Board of Trustees

◦ RNs pursuing BSN

◦ Graduate and postgraduate nursing study

◦ Formal nursing programs - advanced practice nurses

◦ Students enrolled in undergraduate nursing programs

• The Applicant is required to submit the following with the completed application form:

• Copy of current official transcript of grades (no grade reports).

• Three letters of recommendation.

◦ One must be from a faculty advisor and

◦ One must be from an employer. (If the applicant has been unemployed for greater than

1 year, one must be from someone who can address the applicant's work ethic, either

through volunteer service or some other form.)

◦ At least one should reflect applicant's commitment to nursing.

◦ All must be in original form and must be

◦ Signed and addressed to the UNF scholarship committee.

• Narrative statement describing your anticipated role in nursing in Utah, upon completion of the

nursing program.

• Letter from the school verifying the applicant's acceptance in the nursing program.

• Copy of ID from National Student Nurses Association or Utah Nurses Association with

membership number.

AGREEMENT

In the event of a scholarship award, the nursing student agrees to work for a Utah Health Care

Facility or Utah Educational Institution as a full-time employee for a period of one year, or part-time

for a period of two years.

Student recipient agrees to join the Utah Nurses Association within 6 months of graduation at the

advertised reduced rate.

If for any reason the educational program and/or work in Utah is not completed, the scholarship

monies will be reimbursed to the Utah Nurses Foundation by the nursing student.

Date:

Name:

Present

Address:

Permanent

Address:

NURSING GRANT-IN-AID SCHOLARSHIPS

Application

Street City State Zip

Street City State Zip

Telephone Home

Work

Number:

Please indicate school of nursing to which you would apply a UNF scholarship.

Starting Date:

Expected Graduation Date:

Current and previous nursing experience (if applicable) - Attach Resume

Where did you obtain your information about UNF and its scholarship program?

Reason for scholarship need.

Description of scholarship amounts requested

(itemize tuition and books for each quarter or semester as well as financial support available).

Please use this format and attach to application.

Semester Expense Description Amount Requested Financial Support Available

$ $

Estimated total for academic year: $ $

List amounts of all other financial support available (i.e. awards, loans, gifts, scholarships,

tuition reimbursements, wages, parents, spouse). Please attach to application.

The undersigned applicant agrees that if this application is accepted and an award made, the

applicant will be bound by the terms and conditions of the award. The applicant certifies that the

above statements are true and correct and are given for the purpose of obtaining a UNF

scholarship. The Utah Nurses Foundation is authorized to verify the statements contained herein

and all information contained on this application will be held in confidence.

Signature:

Date:

Send completed application to:

UTAH NURSES FOUNDATION

c/o Utah Nurses Association

4505 South Wasatch Blvd #330B

Salt Lake City, UT 84124

If you have any questions regarding the application, you may send an email to

una@xmission.com.

SimpleWreath specializes in handmade, natural looking wreaths

that enhance the beauty of your home, both inside and out.

Etsy:

http://www.etsy.com/shop/

simplewreath

Facebook:

https://www.facebook.com/

simplewreath

E-mail:

simplewreath@gmail.com

Custom orders & monograms

available!

Please enjoy

10% off with

coupon code:

NURSE10

Plan to attend Promise Hospital's RN open house

on November 19th and 20th from 9–3 or reach out to

Joseph.Anderson@Promisehealthcare.com • (801) 408-2116

Best of State

2015 Winner

Nursing

www.promise-saltlake.com

Southwest Region

Indian Health Service

The Southwest Region Indian Health Service

is seeking Registered Nurses in multiple

specialties including Medical/Surgical, ER,

OB/L&D and Leadership Roles. Bring your

innovative spirit to improve the health status of

our Native American population.

Why Nurses Choose IHS:

• Loan Repayment Program –

Up to $20,000 annually

• Competitive Salaries

• 10% evening/night differential

• 25% weekend differential

• 26 vacation days

• 13 sick days, 10 Federal holidays

• Numerous health plans to choose;

continue in retirement

• Transfer opportunities–1 license/50 states

• Outstanding Federal Retirement Plan,

and much more

Our nursing career opportunities are available

in rural and urban locations throughout

the states of Arizona, Nevada and Utah.

The Southwest Region also has the largest

Medical Center in the Indian Health Service

located in downtown Phoenix.

Nurses interested in a rewarding career, please contact

Kevin Long at 602-364-5178, or

email Kevin at Kevin.long@ihs.gov.

I hope we'll talk soon.

Your Southwest adventure awaits you.
---
November, December 2015, January 2016 Utah Nurse • Page 11

Join UNA Today!

Visit

www.utnurse.org

GRC COMMITTEE NEWS

Kathleen Kaufman, MS, RN, GRC Chair

The interim session has moved on and we have heard

passionate testimony about legalization of medical marijuana

in the Health and Human Services Committee hearings.

The upcoming meeting will most likely be about care for the

elderly in this state with AARP pushing for greater delegation

to CNAs in the home and Rep. Rebecca Chavez-Hauck

presenting information on death with dignity. To see what

the Interim schedule is, go to www.le.utah.gov and open

the calendar. The scheduled material for each committee is

posted by at least 24 hours before the interim meeting…and

sometimes several days earlier.

The major topic left on the interim agenda will be the care

of the elderly. Two meetings of the HHS committee have

already covered possible legalization of medical marijuana in

Utah and the first session of the interim focused on liability

issues for health care providers and possible expansion of

the Medicaid drug list to include more psycho-active drugs.

Of course the elephant in the room is the hanging issue of

increasing access to healthcare for the poor in Utah. Please

see the article on Medicaid Expansion in this newsletter.

Please take action. Call or email, or do both, YOUR legislator

and explain your position. Always begin the subject line with

"Constituent is concerned about…." This tells the legislator

you are important to them. Include you address with zip

code so they KNOW you are a constituent. Hold YOUR

legislator accountable and do convey your appreciation as

well as you criticism.

The Government Relations Committee is looking

for someone to step up into leadership position in this

committee. We have one person who is willing to be cochair.

Would you like this opportunity and challenge? We do

all our work online so you do not need to travel and most

work is done during the 45 day general session in January,

February, and March. Some years there are many issues

touching nurses and healthcare in Utah…some year not

so many. If you are interested, please contact Lisa Trim in

the UNA office. Lisa will pass your interest on to Kathleen

Kaufman who, due to health issues, is going to have to step

down from this position. I have enjoyed working with this

committee and I hope to stay active on the Hill…I will be glad

to mentor you if needed—Kathleen.

Provo Canyon School is looking

for RNs to join our team, working

together to hope, heal, and inspire.

Basic knowledge of normal/abnormal

psychology is helpful.

Camp Laurel, a private, co-ed, residential camp in Maine seeks

a Nurse Manager, Charge Nurses and Staff Nurses. Often

claimed as one of New England's premier summer camps,

Laurel boasts excellent facilities and a well-staffed medical

team. NPs, RNs, LPNs and Recent Grads are all welcomed to

apply. Excellent Salary, Travel Allowance, Room and Board.

For more information visit www.camplaurel.com,

email staff@camplaurel.com or call 800-327-3509.

FROM THE

MEMBERSHIP

COMMITTEE

Contributing authors

Sharon K. Dingman, DNP, RN, Chair

Lori Goucher, MSN, RN

Angela York, BSN, RN

Hello Members,

The Membership Committee continues to listen to our

members and respond to the 2014 Survey regarding the

members interests and accomplishments. As members,

if you have news about what the UNA members are

doing in your area, please send us an email so we

may include you and your activities in our Membership

Updates in the Utah Nurse in the future. Continue to

watch the UNA Website for news updates.

We are in the works of updating the content of UNA's

website. Part of UNA's mission to "advocate, educate

and be a voice for all nurses in Utah," involves having

an online presence with quality resources. If you have

suggestions, questions or comments on items we should

include or improve upon with our online community—

please let us know by calling into our office or emailing our

membership committee at unamembership@xmission.com.

Our intern from the University of Utah, Angela York,

has completed her internship with a project geared

towards teaching new and existing members of UNA

how to inform policy with advocacy tools online. Please

stay tuned to the website regarding this valuable

resource for our members.

For more information and to apply,

visit us directly at:

www.provocanyon.com/careers

RNs Needed

Expanding community-based

ambulatory healthcare center needs

• RN Care Coordination Supervisor

• RN – triage (2)

• RN – staff (2)

Send CV to

careers@chanevada.org

RN–BSN

Already licensed as a

Registered Nurse?

If you are looking to expand your

education and take the next step in your

nursing career, contact us today.

Online Classes Available

Applications will be accepted for

FALL 2016 from April 18 – July 1.

Contact us for

more information

hafenka@uvu.edu

801-863-6317

www.uvu.edu/nursing
---
Page 12 • Utah Nurse November, December 2015, January 2016

NURSING EDUCATION

UTAH STATE UNIVERSITY IS SEEKING APPLICANTS for

Nursing Program Coordinator at Our Tooele Campus.

For more information about available opportunities,

please visit jobs.usu.edu.