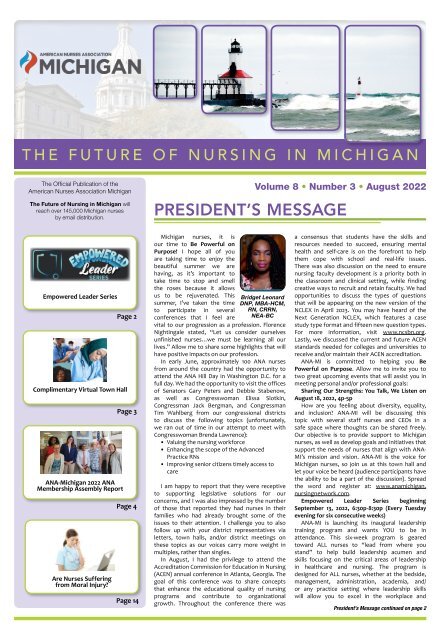 Future of Nursing in MI - August 2022
Create successful ePaper yourself
Turn your PDF publications into a flip-book with our unique Google optimized e-Paper software.
THE FUTURE OF NURSING IN MICHIGAN

The Official Publication of the

American Nurses Association Michigan

The Future of Nursing in Michigan will

reach over 145,000 Michigan nurses

by email distribution.

Volume 8 • Number 3 • August 2022

PRESIDENT'S MESSAGE

ANA-Michigan is launching its inaugural Empowered Leader Series this fall. The program will

be held virtually over the course of six Tuesday evenings in September and October from

6:30 pm – 8:30 pm EST beginning on September 13.

Empowered Leader Series

Takeaways from this series include 12 CEs, leadership strategies you can immediately

incorporate into your current role as well as exclusive access to thought leaders in Michigan

nursing. In addition you will also receive the book "Emotional Intelligence 2.0," by Travis

Bradberry and Jean Greaves as well as an online assessment on your emotional intelligence

(EQ) .

Page 2

Sessions will feature several ANA-MI members as speakers who will present and lead

discussions throughout the series. This is your opportunity to learn from, connect with, and

build your network with these Michigan nursing leaders whose knowledge and experience will

be invaluable in your nursing professional development.

Week 1: Becoming a Leader

Register today as space is limited for this first-time event!

Register

Week 1 will bring valuable insight into how you can move from a "managing" to a "leading" mindset.

You will discover insights into emotional intelligence, your own EQ abilities and how to grow through

areas of challenge. Additionally, you will hear from a leading nurse professional on the future vision of

the nursing profession. Finally, you will be introduced to your FORUM group that you will work with for

the duration of the program.

Learning Objectives:

Complimentary Virtual Town Hall

Learn how to change your mindset and actions to align with key leadership principles

Understand the essence of Emotional Intelligence and how it can improve your leadership

abilities, and career potential

Develop the ability to plan for your career based on how the nursing profession is evolving in

2022 and beyond

al Town Hall

lusion in Nursing

e Listen

Featured Speakers for Sessions 1 and 2

ANA-Michigan 2022 ANA

Membership Assembly Report

ANA-Michigan Are Nurses Suffering 2022 ANA

Membership from Moral Assembly Injury? Report

Page 3

View the featured speakers for sessions 1 and 2 below. Additional speakers will be announced in the

coming weeks.

0 pm- 5:00 pm EST

ke to engage with you to share information

rtant topic of Diversity, Equality & Inclusion

The virtual town hall is designed as an

join the conversation and to share your

ng in Michigan. Our objective is to provide

ls and future initiatives that align with ANA-

Michigan.

ce as a strong community of nurses in

ractice. Our strength is our solution-focused

g profession in a dynamic healthcare

tient safety.

es in Michigan. If you are not currently a

n hall and see what ANA-MI is doing to

today to reserve your spot in this

​ ​ ​ ​

Page 4

Page 14

Michigan nurses, it is

our time to Be Powerful on

Purpose! I hope all of you

are taking time to enjoy the

beautiful summer we are

having, as it's important to

take time to stop and smell

the roses because it allows

us to be rejuvenated. This

summer, I've taken the time

to participate in several

conferences that I feel are

Bridget Leonard

DNP, MBA-HCM,

RN, CRRN,

NEA-BC

vital to our progression as a profession. Florence

Nightingale stated, "Let us consider ourselves

unfinished nurses…we must be learning all our

lives." Allow me to share some highlights that will

have positive impacts on our profession.

In early June, approximately 100 ANA nurses

from around the country had the opportunity to

attend the ANA Hill Day in Washington D.C. for a

full day. We had the opportunity to visit the offices

of Senators Gary Peters and Debbie Stabenow,

as well as Congresswoman Elissa Slotkin,

Congressman Jack Bergman, and Congressman

Tim Wahlberg from our congressional districts

to discuss the following topics (unfortunately,

we ran out of time in our attempt to meet with

Congresswoman Brenda Lawrence):

• Valuing the nursing workforce

• Enhancing the scope of the Advanced

Practice RNs

• Improving senior citizens timely access to

care

I am happy to report that they were receptive

to supporting legislative solutions for our

concerns, and I was also impressed by the number

of those that reported they had nurses in their

families who had already brought some of the

issues to their attention. I challenge you to also

follow up with your district representatives via

letters, town halls, and/or district meetings on

these topics as our voices carry more weight in

multiples, rather than singles.

In August, I had the privilege to attend the

Accreditation Commission for Education in Nursing

(ACEN) annual conference in Atlanta, Georgia. The

goal of this conference was to share concepts

that enhance the educational quality of nursing

programs and contribute to organizational

growth. Throughout the conference there was

a consensus that students have the skills and

resources needed to succeed, ensuring mental

health and self-care is on the forefront to help

them cope with school and real-life issues.

There was also discussion on the need to ensure

nursing faculty development is a priority both in

the classroom and clinical setting, while finding

creative ways to recruit and retain faculty. We had

opportunities to discuss the types of questions

that will be appearing on the new version of the

NCLEX in April 2023. You may have heard of the

Next Generation NCLEX, which features a case

study type format and fifteen new question types.

For more information, visit www.ncsbn.org.

Lastly, we discussed the current and future ACEN

standards needed for colleges and universities to

receive and/or maintain their ACEN accreditation.

ANA-MI is committed to helping you Be

Powerful on Purpose. Allow me to invite you to

two great upcoming events that will assist you in

meeting personal and/or professional goals:

Sharing Our Strengths: You Talk, We Listen on

August 18, 2022, 4p-5p

How are you feeling about diversity, equality,

and inclusion? ANA-MI will be discussing this

topic with several staff nurses and CEOs in a

safe space where thoughts can be shared freely.

Our objective is to provide support to Michigan

nurses, as well as develop goals and initiatives that

support the needs of nurses that align with ANA-

MI's mission and vision. ANA-MI is the voice for

Michigan nurses, so join us at this town hall and

let your voice be heard (audience participants have

the ability to be a part of the discussion). Spread

the word and register at: www.anamichigan.

nursingnetwork.com.

Empowered Leader Series beginning

September 13, 2022, 6:30p-8:30p (Every Tuesday

evening for six consecutive weeks)

ANA-MI is launching its inaugural leadership

training program and wants YOU to be in

attendance. This six-week program is geared

toward ALL nurses to "lead from where you

stand" to help build leadership acumen and

skills focusing on the critical areas of leadership

in healthcare and nursing. The program is

designed for ALL nurses, whether at the bedside,

management, administration, academia, and/

or any practice setting where leadership skills

will allow you to excel in the workplace and

President's Message continued on page 2
---
Page 2 The Future of Nursing in Michigan August, September, October 2022

Attend the ANA-MI Empowered Leader Series

ANA-Michigan's inaugural Empowered Leader Series was created with nurses in mind to help them

uncover and develop leadership traits that will allow them to excel in the workplace and build stronger

relationships with co-workers, supervisors, patients, families, and others.

Register

Throughout the series, you will have engaging conversations and learn from some of Michigan's

knowledgeable and experienced nurse leaders, including:

CONTACT INFORMATION

ANA-Michigan

2501 Jolly Road, Suite 110

Okemos, MI 48864

517-325-5306

nurse@ana-michigan.org

EXECUTIVE DIRECTOR

Tobi Lyon, MBA, CAE

The Future of Nursing in Michigan is published

quarterly every February, May, August and

November by the Arthur L. Davis Publishing

Agency, Inc. Subscriber rates are available for

$25.

ANA-MI President

Bridget Leonard, DNP, MBA,

RN, CRRN, NEA-BC

Linda Dunmore, MSN, RN, NE-

BC, CPHQ, CHSP

Remy Bruder, DNP, RN

For advertising rates and information, please

contact Arthur L. Davis Publishing Agency,

Inc., PO Box 216, Cedar Falls, Iowa 50613. (800)

626-4081, sales@aldpub.com.

ANA-Michigan and the Arthur L. Davis

Publishing Agency, Inc. reserve the right to

reject any advertisement. Responsibility for

errors in advertising is limited to corrections

in the next issue or refund of price of

advertisement.

Jonnie Hamilton, DNP, MSHSA,

PNP-BC, NE-BC, RN

Margaret Calarco

PhD, RN, NEA-BC

Barbara Medvec, DNP, MSA,

MSN, NEA-BC

Dr. Linda Buck

DNP, MSN/ED, RN

You can also earn 12 continuing education hours for completing this series.

Gerardo "Gerry" Infante,

​BSN, RN

Evelyn "Evie" Sweeney

Lobbyist, MHSA

The Empowered Leader Series takes place on six Tuesday evenings in September and October

from 6:30pm – 8:30pm EST beginning on September 13. Read more about the series! Space is

limited for this first-time event.

Acceptance of advertising does not imply

endorsement or approval by the American

Nurses Association Michigan of the products

advertised, the advertisers or the claims

made. Rejection of an advertisement

does not imply that a product offered for

advertising is without merit, or that the

manufacturer lacks integrity, or that this

association disapproves of the product

or its use. American Nurses Association

Michigan and the Arthur L. Davis Publishing

Agency, Inc. shall not be held liable for any

consequences resulting from purchase or use

of advertisers' products. Articles appearing

in this publication express the opinions of

the authors; they do not necessarily reflect

views of the staff, board, or membership of

American Nurses Association Michigan, or

those of the American Nurses Association.

Register

This event offers 12.0 contact hours to attendees. Accreditation Info: This activity will be submitted to the Ohio Nurses Association for approval

to award contact hours. The Ohio Nurses Association is accredited as an approver of nursing continuing professional development by the

American Nurses Credentialing Center's Commission on Accreditation. (OBN-001-91).

ANA-Michigan | ana-michigan.org

​ ​ ​ ​

have thousands

We

nursing jobs!

of

President's Message continued from page 1

build stronger professional relationships. Spread

the word and register at www.anamichigan.

nursingnetwork.com.

As I conclude this letter to you, I want to

stress that this role is more than just a title;

it is a commitment to needed changes and

Being Powerful on Purpose. If you have any

suggestions to help improve nursing practice for

Michigan nurses, feel free to send me an email

at president@ana-michigan.org. We are in this

TOGETHER. Maya Angelou stated, "We may

encounter many defeats, but we must not be

defeated."

Find your dream job now.
---
August, September, October 2022 The Future of Nursing in Michigan Page 3

MESSAGE FROM THE EXECUTIVE DIRECTOR

"Inclusion is not a matter of political correctness. It's the

key to growth." – Jesse Jackson

As we look to the recent past, there has been a need

for resiliency and a theme of overcoming. As we look

forward and imagine our future, I recognize a desire for

more inclusivity and a necessity for unity. Fortunately,

ANA-Michigan's members and leaders continue to drive

initiatives and design policies and procedures to restore

what has been and forge a stronger future. We have

learned much through the pandemic, including what

Tobi Lyon,

MBA, CAE

we need to unlearn. Like anything else, I am hopeful that through listening,

deliberation, action, and advocacy, our nurses will leverage their compassion

and commitment to their profession to see and hear one another so that

the next generation can go further. Managing the complexities of modern

healthcare while trying to leave things and each other better than we found

them is no small undertaking – but neither is nursing. So, let's keep going.

This is where your ANA membership comes in; you and your colleagues

bring your voices to the issues nurses face through the opportunities ANA

offers. By serving on committees and other leadership roles, you impact the

topics discussed that affect nurses in Michigan. I encourage you to continue

this work and to urge your fellow nurses who are not yet members to add

their voices to the critical nursing issues in 2022 and beyond.

You can read the ANA Membership Assembly's full report. Still, I want

to reiterate the success of what was accomplished and commend all

participants, representatives, and constituents for their efforts, dialogue,

and strategy influencing solutions and outcomes. Much of what we are

focused on in our current initiatives is a byproduct of what was determined

during this time together.

From tributing board members and those lost to COVID-19 to tackling

workplace violence issues and President Grant's annual report, our

community came together in person to honor, challenge, and support

one another. The next Town Hall on August 18 has been designed with the

Membership Assembly's objectives in mind and will serve as an open forum

for our nurses to join the conversation about DEI and what we can do to

honor ANA's Racial Reckoning Statement. If you can't join this Town Hall,

which is free to members and non-members, make sure you follow our event

page on our website or look for them in our weekly e-newsletter sent every

Friday.

Do you want to develop additional leadership skills that will help you excel

in the workplace? If so, attend our newly launched virtual Empowered Leader

Series, which starts on September 13 and occurs once a week for six weeks

in the evenings. If you don't, others in your network may benefit from this

series, so consider passing this information on to them and encourage them

to register. I promise you this will be like no other educational opportunity

you have ever attended before and will push you in new ways that will

empower your future.

Our Education Committee is excited about the upcoming annual

conference, which will be held on February 23 and 24, 2023, at the Blue

Water Convention Center in Port Huron. Have you added these dates to

your calendar? If not, make sure you do, as this will be a great time to shake

off those winter blues and re-energize with your colleagues. This will be an

opportunity for Michigan nurses to connect and discuss key topics, including

restoring passion for nursing, innovation, DEI, full practice authority,

workplace violence, and safe staffing levels in all care settings. Save the date

and plan to attend!

Fall is just around the corner, which means we will soon be putting out the

call for completing a consent to serve form to join one of our committees

or to serve on the board of directors. This is a great way to expand your

network connections and share your talents with the association by being a

part of driving the future of nursing in Michigan. This call will be coming out

to you in September and October.

Fun fact for this issue: Did you know that more than 75 individuals applied

for scholarships and grants that are available for those planning to enter

nursing? I am proud that the ANA-Michigan Foundation is always looking

toward the future by supporting nursing through financial assistance. You

can find more information about the scholarships on the ANA-MI Foundation

website.

We should continue to embody all those we represent (or, in our case, care

for), and that is everyone. While I could go on and on about the work of nurses,

the efforts of ANA-Michigan, and the shifting tide and reckoning that is upon us,

it is time to listen. So, I am setting even my highest esteem and coming to the

table with ears open and a whole heart. I encourage each of you to do the same.
---
Page 4 The Future of Nursing in Michigan August, September, October 2022

ANA-MICHIGAN

2022 ANA Membership Assembly Report

Bridget Leonard, Barbara Medvec and Anne Kreft

On Friday June 10, 2022, the ANA 2022

Membership Assembly meeting began at the

Grand Hyatt in Washington D.C. This was the

first live Membership Assembly held since the

beginning of the pandemic in 2020.

President Bridget Leonard, President-Elect

Barbara Medvec, Membership Assembly

Representative Anne Kreft and Past-President

Julia Stocker Schneider attended. In addition,

ANA Nominating Committee members MaryLee

Pakieser (also NEC candidate for 2022) and Linda

Taft attended the 2022 Membership Assembly

meeting. It was exciting to gather and see

colleagues from across the country in person.

Prior to the start of the meeting, ANA Hill

Day occurred on Thursday June 9, 2022. ANA-

MI members Leonard, Medvec, Kreft, Stocker

Schnieder and Pakieser participated in meetings

with Congressional Representatives, Rep. Jack

Bergman MI-01 (R), Rep. Tim Walberg MI-07

(R), Rep. Brenda Lawrence MI-14(D), Rep. Elissa

Slotkin MI-08 (D), as well as Senators Gary Peters

MI-S (D) and Debbie Stabenow MI-S (D). Issues

carried to the elected officials included supporting

the full practice authority of Advanced Practice

Registered Nurses (APRNs), Improving Seniors'

Timely Access to Care Act of 2021 (S.3018/H.R.3173)

and talking points around valuing the nursing

workforce through reduction in workplace

violence and mandatory overtime.

The ANA President's and National Awards

Ceremony were also held on the evening of June

9, 2022, and recognized Michigan's own Jonnie

Hamilton, DNP, PhD, MS, BSN, RN as the Mary

Mahoney Award winner which acknowledges

significant contributions made by an individual

registered nurse or a group of registered nurses to

integration within the nursing profession.

President Ernest Grant, through his annual

report to the organization, presented the work of

the ANA's Racial Reckoning Statement. President

Grant then held the membership hearing on the

statement. In 2021, the ANA began an intense

effort to understand its own history in relation

to racism in nursing. The outcome of this

examination was an initial reckoning statement

that serves as an apology to nurses of color who

have been harmed by decisions and omissions

made by the ANA that contributed to racism in

the profession. Through this statement, ANA

has launched a sustained effort dedicated to

ongoing reckoning and reconciliation. Through

this hearing, there was overwhelming gratitude

and praise for the reckoning statement. There was

acknowledgement that this work is long overdue.

Discussion around quotes in the document were

identified and discussion that ANA must "walk the

talk" through planned action steps. Next steps

include reviewing policies for bias. Future work

includes looking at harms, as well as including

considerations for global, spiritual, and ethical

perspectives.

Debbie Hatmaker reported on the ANA

Enterprise and the strategic goals to elevate

the profession of nursing globally, to engage all

nurses to ensure professional success, to evolve

the practice of nursing to transform health and

healthcare, and to enable transformational

capabilities through operational excellence. It was

noted ANA Enterprise has continued to exceed its

growth and revenue operations. This allows for

continued focus on improving the practices within

our nursing profession.

Professional Policy Committee facilitated the

three dialogue forums for the 2022 Membership

Assembly.

Dialogue Forum #1: Impact of Climate Change

on Health was submitted by members from

ANA Board of Directors, New Hampshire Nurses

Association, ANA-Michigan, ANA-Vermont,

Minnesota Organization of Registered Nurses,

Alliance of Nursing for Health Environments

and with assistance from Michigan Clinicians for

Climate Action. Recommendations and additions

to this proposal were discussed and additional

actions presented.

Dialogue Forum #2: Advancing Solutions to

Address Verbal Abuse and Workplace Violence

Across the Continuum of Care. Often, healthcare

stakeholders' approaches to workplace violence

(WPC) in healthcare focuses on responses to,

and prevention of, physical assaults in hospitals.

Discussions often overlook verbal abuse, which

Friday, June 10, 2022

The first day of the Membership Assembly

included participants and representatives from

ANA's constituent and state nurses associations,

the Individual Member Division, and specialty

nursing organizational affiliates, as well as the ANA

Board of Directors. Annual updates and reports

were presented by the President, ANA Subsidiaries

and Constituent Associations (American Academy

of Nursing, American Nursing Credentialing

Center, American Nurses Foundation and National

Student Nurses Association), as well as the

ANA Chief Nursing Officer, and ANA Treasurer.

Attendees participated through discussion, polling,

networking, and tabletop working sessions.

Left to Right: Julia Stocker Schneider, Bridget

Leonard and MaryLee Pakieser enjoy the

sunshine of a June day at the Capitol Building in

Washington, D.C.

Want to Do More to

Support Your Association?

Left to Right: Bridget Leonard, MaryLee

Pakieser, Julia Stocker Schneider and Anne Kreft

make their way to Membership Assembly events

in June.

Consider all the ways you can become an

engaged ANA-Michigan member!

- Run for an open board position

- Join a committee

- Write an article for the weekly or quarterly

newsletter

- Participate in ANA-Michigan events

- Let us know if there are things we should be

aware of and promoting on your behalf

Left to Right: Bridget Leonard, Anne Kreft,

MaryLee Pakieser, Julia Stocker Schneider and

Barb Medvec meet with congressional staffers at

Senator Gary Peters' office in Washington, D.C.

AMERICAN NURSES ASSOCIATION

MICHIGAN
---
August, September, October 2022 The Future of Nursing in Michigan Page 5

can be a risk factor for physical violence. In

addition, practice and policy recommendations

developed for inpatient settings may not be

appropriate or helpful in community settings,

such as schools, community health centers, public

health facilities, and similar places where WPV can

occur. To safeguard all nurses from risks of harm

and abuse, the nursing community must assume

a culture of safety and zero-tolerance stance and

provide action steps in all settings that recognize

diverse forms of abuse and threat. This was

submitted to the ANA Board by the New Jersey

State Nurses Association, National Association of

School Nurses. Feedback included implementing

those actions to promote a culture of safety and

zero tolerance at the constituent, state and IMD

associations.

Dialogue Forum #3: Nurse Staffing. This

forum was established by the Professional

Policy Committee of the ANA. The discussion

focused on ANA's current policy and approach

to nurse staffing, along with several other state

and specialty-level strategies. With the stress of

the COVID-19 pandemic, which highlighted and

exacerbated long standing nurse staffing issues,

this was determined to be a good time to take a

pulse check on where ANA, the C/SNAs and IMD

stand on this pain point for nursing. The goal

was to provide any direction for change that may

be needed, particularly about ANA's positioning

related to nurse-to-patient ratios. Any revisioning

of ANA's policy should be developed between July

and December 2022.

The day ended with the Candidate Forum

presentations and Regional Meetings, as well as

the ANA PAC Reception.

Saturday, June 11, 2022

This session began with Membership Assembly

voting for the vacancies of Board President,

Secretary, Director-At-Large, Director-At-

Large Staff Nurse and Nominations & Elections

Committee.

President Ernest Grant opened the session

and greetings from the International Council of

Nursing (ICN) were presented. ANA CEO Pam

Cipriano provided an overview and update on

the directions for ANA and nursing moving into

the future of healthcare. Outgoing members

of the ANA Board were recognized. In addition,

a tribute to ANA members who had passed

away in 2021/2022 were provided through the

Nightingale Tribute, with members lost to

COVID-19 highlighted. Networking sessions for the

day focused on Amplifying the Voice of the Nurse,

What is the Value of a Nurse?, Understanding and

Fulfilling Member Needs, Addressing the U.S.

Opioid Crisis, State Based Innovation Incubators

and Feedback on Revision of the Nursing

Administration: Scope and Standards of Practice.

The Membership Assembly continued with

the report of the ANA Professional Policy

Committee with the unanimous support for

the Racial Reckoning Statement. The Dialogue

Forum Statements for Impact of Climate Change

on Health, Advancing Solutions to Address

Verbal Abuse and Workplace Violence Across

the Continuum of Care, and Nurse Staffing were

adopted with revisions by the Assembly. The

report of the Head Teller announced the newly

elected ANA officials as: President: Jennifer Mensik

Kennedy; Secretary: Amanda Oliver; Director-At-

Large: Edward Briggs, and Jennifer Gil; Director-At-

Large Staff Nurse: David Garcia and Nominating and

Elections Committee: MaryLee Pakieser, Patricia

Travis, and Kimberly Velez.

Closing comments were provided by President

Grant regarding the end of his term as ANA

President and the meeting was then adjourned.

Left to Right; Julia Stocker Schneider, MaryLee

Pakieser, Barb Medvec, Anne Kreft, and

Bridget Leonard get ready to head out to their

congressional office visits.

Left to Right: Julia Stocker Schneider, Bridget

Leonard, Anne Kreft, Barb Medvec, and MaryLee

Pakieser get ready to knock on Congressman

Jack Bergman's door during ANA Hill Day.

The U.S. Capitol Building on the day the ANA-MI

nurses visited congressional offices.
---
Page 6 The Future of Nursing in Michigan August, September, October 2022

ANA-Michigan

Foundation Welcomes

Two New Board

Members

The ANA-Michigan Foundation is pleased to

welcome two new individuals to its Board of

Directors. We are thrilled to have their time,

dedication and leadership on the board as the

foundation works to further its goals in 2022.

Looking for a way to give back to nurses as they

continue to battle the pandemic on the front lines?

Make a donation to the ANA-Michigan Nurses Foundation

and support the future of nursing.

Nancy C. Martin,

DNP, RN

Director 3-Year Term

Cheri Wollack,

RN

Director 2-Year Term

Hiring LPNs and RNs to

Join our Team

Lenawee Medical Care

Facility is proud to serve

senior care patients through

a holistic approach. Our

nursing home is set up in

mini-communities that

are clean, vibrant and

active, exhibiting an at-home atmosphere that is personalized

for each resident. We offer traditional nursing services such

as therapy, hospice care, long-term care, and skilled nursing.

Our rehabilitative therapy services include physical therapy,

occupational therapy, and speech therapy, along with therapeutic

recreation.

Our mission: It is our commitment to provide quality care that

respects each individual, honors dignity and promotes the highest

level of well-being.

• $10,000 Sign On Bonus

• Tuition Assistance Program

• Excellent Benefits Package - including Medical, Dental,

Vision, Short-Term Disability, Life Insurance

• Retirement Plan with employer matching

• 12- hour shifts with flexibility in scheduling

• Opportunity for growth and continued learning

For more information, contact:

Lenawee Medical Care Facility

Adrian,MI

517-263-6794

www.lenaweemedicalcarefacility.org

Donations can be made online or via

personal check. You can even set up

reccuring donations!

Please visit www.ana-michigan.foundation to

make an online donation and to learn more about

the mission, vision and goals of the foundation.

Checks can be made payable to:

ANA-Michigan Nurses Foundation

They can be mailed to:

2501 Jolly Road, Suite 110, Okemos, MI 48864

The ANA-Michigan Nurses Foundation is a 501(c)3 organization,

and all donations are tax deductible.

$

Aleda E. Lutz VA Medical Center is

NOW HIRING

Registered Nurse - Community Living Center

(Geriatric and Extended Care)

Registered Nurse Specialty Care

Licensed Practical Nurse - Primary Care

(Grayling, Cadillac, Oscoda, Traverse City)

Licensed Practical Nurse - Specialty Care (Ortho, Pain)

RN Educator (Staff) Saginaw

1 RN Educator (staff) Gaylord and CBOCs

1 RN Veteran Health Education Coordinator (Veterans)

Contact

Phone: 989-497-2500 ext: 11469

Email: vhasagnurserecruiter@va.gov
---
August, September, October 2022 The Future of Nursing in Michigan Page 7

Michigan Approves ADN to

BSN Program at Community

Colleges in Partnership with

Four-Year Schools

By Evelyn Zois Sweeney of Muchmore Harrington Smalley Associates

The state legislature has passed a sweeping $76 billion fiscal year 2022-

2023 budget which includes transformative investments across education,

healthcare, and workforce training. This year's budget was bolstered by

unprecedented windfalls in the state's general fund and federal COVIDrelated

relief dollars. Included in the school aid and higher education budget,

Senate Bill 845 has $56 million appropriated for the "Michigan ADN to BSN

completion grant program," signifying the first-time higher education

universities and community colleges have reached a compromise on this

important workforce effort.

The crux of the legislative effort includes awarding each eligible

community college a minimum of $2 million to support the creation and

execution of a program that would allow an individual in the state who

has attained an associate degree in nursing to complete a bachelor's of

science degree in nursing. The initiative requires a partnership between the

community college and a BSN-granting public university or a not-for-profit

independent four-year college or university.

The BSN-granting institution would be responsible for designing,

delivering, and maintaining the completion program, including admissions,

curriculum design and accreditation, with strategic input from employers

and community colleges. The BSN completion courses would need to be

taught at least partially in person on community college campuses, but

course delivery methods would need to be informed by the expressed needs

of the learners in that community.

The legislation also encourages opportunities for joint faculty

appointments for qualified community college faculty to teach BSN

completion courses as adjunct or part-time faculty at the BSN-granting

institution. The legislation is also intentional about bolstering student

success by ensuring the community college or BSN-granting institutions offer

career service, financial aid, mental health counseling and academic advising

support. The bill also indicates the collaborating entities should assume a

minimum five-year agreement unless adequate data and evidence support

discontinuing the partnership before five years has elapsed.

The appropriation bill was signed by the Governor on July 14, but does

not take effect until October 1, 2022. The agreement between the 4-year

degree granting institutions and community colleges is being heralded as

a major breakthrough in negotiations, mitigating the need for separate

legislation (House Bills 5556 and 5557) that had proved contentious within

the legislature. All interested parties are hopeful the legislation can prove

impactful, both for nursing students and the communities they hope to

practice in.

Just Say No;

How to Prevent Burnout

By Nadine K. Wodwaski in collaboration with the ANA-Michigan Nursing &

Health Policy Committee Members

Did you know that overworked nurses are at risk for fatigue that

can lead to burnout? They can jeopardize patients' health and possibly

damage their own mental and physical well-being. Many nurses like to

go above and beyond to be the best nurses. We want to do a good job,

and we say yes to almost everything, from picking up shifts, to working

late, and floating, etc. That means we say yes to everything except

ourselves. We have the power to say NO, but saying NO is a skill that is

hard to acquire. It is an inherently uncomfortable word to say. However,

we need to advocate for ourselves and contribute to our greater good.

By saying NO, you are saying YES to you. So, let us learn how to set

healthy boundaries for ourselves in our profession.

There is an art of saying NO without sounding awkward, damaging

relationships, or feeling guilty. NO can be a standalone sentence. Keep it

short! Many times we use far too many words when all we mean to say

is, "No, thanks!" Conciseness is the essence of confidence. If you sound

sure, people usually will accept that your mind is made up and will not

try to talk you out of your decision. That means you should not explain

when saying NO. Once you realize that you need time for yourself, it is

relatively easy (yes, I said pretty easy) to say NO without an explanation

or excuse. If you are afraid of coming off as robotic or unnatural, it

helps to rehearse saying NO in front of a mirror.

Declining tactfully and thoughtfully conveys respect for the other

person and yourself. Another piece of advice: add NO to your body

language. When you decide to say NO, turn your torso away so you are

not facing them. Cross your arms to cut off communication further.

This is a natural defense mechanism and an uninviting posture. Point

your toes away, towards where you want to go signaling your interest is

elsewhere. Once you signal NO with your body, it is easier for you to say

no.

While saying NO is exceedingly helpful, NO one will reap the benefits

unless you say NO gracefully. Yes, saying NO is a practiced skill and helps

you advocate for yourself in nursing, which is necessary for your selfcare.

No nurse wants to feel burned out like a burned-out lightbulb. By

saying NO, you are putting yourself first, keeping yourself strong and

whole so you can take care of others. Saying NO is declaring YES to

what matters; a healthy and fulfilling life. Make yourself priority #1!
---
Page 8 The Future of Nursing in Michigan August, September, October 2022

Nursing Crisis Fatigue and the Hope for Change

By Beth Ammerman, the ANA-MI Nursing & Health

Policy Committee Chair, and committee members:

Alexa Andersen, Marina Andriyakhova, Debbie

Bach-Stante, Ramona Berry, Wanda Chukwu, Sarah

Jennings, Holly Thalman, and Nadine Wodwaski

Nurses are in crisis! As the rest of the world is

bouncing back from the COVID-19 pandemic and

returning to normalcy with relaxed workplace

rules including no longer masking, no pre-entry

questioning, and a general feeling that the

pandemic is nearing the end, for nurses and other

healthcare workers, COVID-19 is still very real. We

are still wearing masks and personal protective

equipment at work, which is most of our waking

hours, and we are still caring for very ill patients.

We are still living in the COVID-19 pandemic, and

it lingers on… and on… and is taking a toll on

us. A study by Sriharan, West, Almost & Hamza

(2021) reported evidence from both the COVID-19

pandemic and previous pandemics and shows

that "nurses experience the highest levels of

psychological distress compared with other health

professionals."

Crisis fatigue is a very real concept that "people

often experience when faced with a chronic

stressor that creates continuous challenges in

their life." (Caldwell-Harvey & Coelho, 2020). Crisis

fatigue is a feeling experienced by many nurses in

healthcare systems today resulting in low morale,

feelings of inadequacy, frustration, and despair.

Many nurses are leaving their jobs in hospitals and

healthcare systems due to crisis fatigue. For some,

it results in more than changing jobs as nurses are

dealing with crisis fatigue in various ways. While

some nurses are fleeing organized healthcare

to pursue other careers, others are turning to

travel nursing for better pay. Those left behind

are struggling with the idea that they are working

alongside travel nurses and doing the same job

for less pay. The morale they gained from having a

cohesive team of supportive coworkers in the past

is now disrupted due to increased work demands,

transient coworkers, and staff vacancies. So, what

lies ahead for nursing?

In a time when nurses are desperately needed

in acute care (hospital) settings, they are being

drawn away from different nursing opportunities

in search of a better work/life balance. The appeal

for employment that better matches nurses'

expectations have furthered the challenge to

find nurses willing to care for the most acutely ill

patients. Five main factors shift nurses away from

acute care nursing: workplace environment and

demands, overutilization of staff, the appeal of

non-acute care options, imposter syndrome, and

the intent of many nurses to further their degrees

often leading them to administrative or other nonacute

care work. This has led to changes in how

nurses interact in the workplace and the need to

place additional demands on the nurses.

Workplace Environment and Demands

The COVID-19 pandemic brought changes in

the schedule, culture, and comfort of the acute

care nursing workplace. The schedule of a nurse

working three 12-hour shifts per week used to

be the envy of many other professionals; get the

work done, and still have four days to spend with

family and personal life. During the pandemic,

many professionals in other careers shifted from

working five 8–10-hour days per week in an office

to the flexibility of working from home, and they

have never returned to the brick-and-mortar

workplace. During the pandemic, nurses were not

only required to leave their homes, but to enter

settings with a new deadly virus and work longer

hours, with mandated overtime, to compensate

for the lack of human resources (nurses and other

hospital employees).

Additionally, nurses were gowned, gloved, and

masked for long shifts, becoming physically and

emotionally drained while caring for consistently

overflowing patient counts. The rationing of

personal protective equipment, combined with

staffing shortages and other inpatient staff

fearful to enter rooms, led to non-nursing tasks

becoming the responsibility of direct care nurses.

Since nurses were masked and gowned and in

the patients' rooms already, they were now also

emptying trash cans, delivering food trays, and

holding tablets so the patients could communicate

electronically with family and physicians. Ongoing

staffing shortages among all levels of inpatient

staff have led to the continuation of these work

conditions. Nurses are weary and crisis fatigue has

set in.

One solution is to have transformational nurse

leaders which can have a positive influence on

managing these challenges.

Today's nurse leader will have to understand

the impact of nursing on a global level. The

current pandemic has caused a financial strain on

America's health care system. Stamps et al. (2021)

noted that nurses reported feeling unsupported

by uninformed or misinformed peers and family,

as well as lonely when caring for a client diagnosed

with COVID-19. Many nurses during COVID-19 have

taken early retirement packages or decided to

work as travel nurses because of the increased

payments received from the agencies hiring. The

current nursing shortage, workload imbalances,

and nurses' burnout during the pandemic have

also contributed to many nurses facing emotional

and physical strain while working.

The added layer of stress while working during

a pandemic has led nurses to be in crisis mode. To

help address the issue concerning nurses' fatigue,

retention, onboarding training, and training new

graduates, many healthcare facilities are reaching

out to foreign nurses to help fill in the gaps due to

challenges with staffing.

According to the American Nurses Association

(2020), there is a national nursing shortage. With

rising openings and employment, the U.S. Bureau

of Labor Statistics projects 194,500 average annual

openings for registered nurses between 2020 and

2030, with employment projected to grow by 9%.

This shortage has led to many healthcare facilities

returning to utilizing nursing agencies and nurses

from different countries to fill the gaps. There is

a need for all nurses - including those with titles

such as chief nursing officer, nurse manager, and

charge nurse, as well as frontline nurses, to act as

transformational leaders. According to Boamah

(2022), nurse leaders practicing transformational

leadership can be an effective way to improve

workplace culture and improve retention.

According to Stamps et al. (2021), "nurse

leaders" support is essential to creating a safe

workplace in which nursing staff are protected,

supported, educated, and empowered. Nurse

leaders can first ensure that they are advocating

for nursing staff members by involving nurses

in the decisions that impact their practice

environment. This collaborative approach would

create a communicative plan that includes

everyone involved in providing patient-centered

care. Nurse leaders and all staff members can

promote advocacy by agreeing to treat support

staff, new graduates, and visiting nurses as

professionals and equals. The commitment to

open communication and collaboration will lead

to nurses developing additional conflict resolution

skills while working under duress. Nurse leaders

and staff members feeling empowered to act as

leaders will assist in the commitment to providing

quality service and care to our patients during

these times of transition. There is a need to create

a workplace culture where staff members feel

supported and empowered, as well as knowing

how to care for themselves.

Overutilization of Staff

Exhaustion and illness have led to a human

resources crisis in nursing. Furthermore, 21%

percent of nurses polled in a national survey

reported the intention to leave their job within

a year (Koehler & Olds, 2022). Other studies have

shown even higher rates of intent to leave. Those

who were willing and able have persevered, but

the seemingly few that covered for the many have

reached their breaking point. The overutilization

of acute care staff through mandated overtime

and refusal of requests for leave is a complex issue

and clearly, the demand for the scarce resource

of nurses is driving complicated decision-making.

However, refusing nurses breaks that are essential

to their health and wellbeing is accelerating their

rapid exits. A research study found two common

interests for bedside nurses across generations:

reasonable workload and manageable staffing

(Koehler & Olds, 2022). Focusing on these areas is

imperative to improving retention.

Appeal of Non-Acute Care Options

When nurses leave the bedside, where do

they go? Many nurses are seeking employment

in non-acute care (non-hospital) settings. In

addition to the drive to leave bedside nursing for

the reasons already listed, the decrease in pay to

step away from the hospital is no longer a barrier.

Traditionally, pay for working in a hospital was

better than working in an office. However, nurses

are in demand, which has increased compensation.

Registered nursing jobs administering aesthetic

injection treatments such as Botox Cosmetic

(onabotulinumtoxinA) provides nurses with

compensation just as well, if not better, along with

the added bonus of "normal business hours" and

often less stress and physical demand. Nurses

have recognized that they can make the same

amount of money in a less stressful, healthier

environment, working a regular schedule.

Imposter Syndrome

In every new role, there is an adjustment period

where professional standards, responsibilities,

and expectations are identified. Unfortunately,

when high achievers fail to fully internalize their

accomplishments despite their obvious successes,

it leaves them with a sense of self-doubt and fear

of exposure as a fraud leading them to believe

they are fooling others into thinking they are more

capable than they are (Clance and Imes, 1978). This

is called Imposter Syndrome. Imposter Syndrome

in nursing is common and can occur in up to 82%

of individuals (Bravata et al., 2020). It can be very

distressing and have consequential effects on

job satisfaction and personal performance. In

nursing, the novice nurse is vulnerable to feelings

of doubt when it comes to feeling ready to meet

the expectations of their patients, colleagues, and

themselves. This often destroys self-confidence

and a sense of belonging, and can lead to burnout

and decreased job satisfaction. This cascade then

leads them to work outside their comfort level,

ultimately feeling the need to leave the nursing

profession. This also leads to crisis fatigue in many

new nurses.
---
August, September, October 2022 The Future of Nursing in Michigan Page 9

The COVID-19 pandemic left many organizations

adapting to a reduced workforce while many

were forced into a work-from-home life instead

of the office. Everything from higher education,

appointments, and meetings became remote

with the use of platforms such as Zoom and

Microsoft Teams. The pressures to meet

performance expectations left a toxic taste with

many (Plotnikof & Utof, 2021). Additionally, being

isolated led to more social media scrolling and

comparing filtered lives of others, seemingly full of

accomplishments, with their own. This led to those

who reported working with more responsibilities

and less supervision, ultimately increasing

thoughts of self-doubt and fear of exposure as a

fraud.

There is not a lot of consensuses around

evidence-based treatments for Imposter Syndrome;

however, it is suggested that raising awareness

helps to manage Imposter Syndrome both

personally and within an organizational setting.

Imposter Syndrome can be difficult to identify,

as many conceal their perceived inadequacies.

Having open communication and discussions of

performance between managers, preceptors,

and new nurses helps to highlight the differences

of feeling incompetent and being incompetent,

as they are two very different things. Whether

employees are working on-site or working from

a home office, offering career development

activities and having access to resources such

as resilience training helps to reduce symptoms

of Imposter Syndrome (Bravata et al., 2020).

Effects can also be mitigated by setting healthy

expectations and creating cultures where

employees' accomplishments are acknowledged

and celebrated.

As we know nurses are leaving for a variety of

reasons, and those who are left behind are often

stressed, overworked, underappreciated, and

understaffed; where do we turn to get more help?

There is a need to revisit the way nurses deliver

care in the acute care setting.

Role of LPNs in Acute Care

In light of the recent decrease in the registered

nurse (RN) workforce in acute care, licensed

practical nurses (LPN) are being brought back

to the field. Several hospital systems across

the country are expanding new graduate RN

programs and bringing back the RN-LPN team

nursing. Over the last two decades, Magnet status

has been a goal for the standard of practice for

healthcare systems. Magnet status is an award

for the highest ranking of nursing whereby

education and development of nurses is stressed:

"throughout every career stage, leading to greater

autonomy at the bedside" (ANCC, 2022). Evidencebased

sources steered Magnet designations

toward creating and maintaining a nursing

workforce that is Bachelor of Science (BSN)-

prepared. This trend has nearly eliminated LPNs

from the in-patient departments, but with the

shortage of RNs, is now the time to bring these

nursing professionals back on board?

Currently, 584 out of 6,093 hospitals in the

United States have designated Magnet status, or

9.3% (ANCC, 2022). The Bureau of Labor Statistics

projects the need for both RN and LPN jobs to

increase by 9% from 2020 to 2030 (Bureau of Labor

Statistics, U.S. Department of Labor, 2022). What

does it mean for LPNs? What would it mean for

hospital systems that "phased out" non-BSNprepared

nurses? The answers are not the same

for everyone, but there are options. Incorporating

LPNs into the acute care setting decreases the

staffing shortage; however, clear policies on

the role, duties, and responsibilities consistent

with the scope of practice in a specific state are

necessary.

While LPNs were once actively working in

hospital settings, the push for an all-RN workforce

left many LPNs working in alternative settings like

outpatient clinics and long-term care facilities.

With the severe RN shortage that we as a country

are now experiencing, is this the time to bring

the LPN back into the acute care setting to help

alleviate this shortage? What would the care

model look like? Would this be temporary with the

LPNs present only for the crisis, only to be sent

back out of the hospitals again in a few years?

LPN to RN transition programs and

incentives should be clearly defined to provide

opportunities for professional growth and longterm

employment should the hospital consider

applying for Magnet status. The time when LPNs

were "phased out" of the acute care is fresh in

our memory; therefore, it is imperative to be

straightforward in describing the setting in which

the role might only be temporary. One way is a

short-term contract for LPNs not pursuing the

RN-BSN path, and another is monetary incentives

for "seasoned" LPNs that previously worked

in comparable settings. In addition, it is fair to

expect that each hospital considers ways to offer

LPNs to practice within their scope of practice

in acute care. This will allow more skilled nursing

professionals to assist in the current staffing

shortage crisis.

Nursing Crisis Fatigue and the..continued on page 10
---
Your Dream

Find

Job Now!

Nursing

Page 10 The Future of Nursing in Michigan August, September, October 2022

Nursing Crisis Fatigue and the..continued from page 9

Newly hired nurses often volunteer to demonstrate team spirit. Often,

short-lived when it is painfully obvious no one else is volunteering. Next, they

realize volunteering does not exempt mandates to work over, extra days,

and holidays, and that approved planned time off may be compromised.

The nurses that assert themselves and decline extra assignments may face

retaliation. The managers have an obligation to safely staff their areas; their

job description includes implementing necessary measures to accomplish

safe staffing. Third-party staffing ("the pool") is not an option. If critically

necessary, managers assign themselves to fill the void. The common

denominator for staffing is the nurse managers. How they accomplish this

feat depends on their personality and management style. It is essential for

managers to establish staffing standards that are fair and equitable to their

team. Examples include: the "pull list," establishing standards to address

breeched assignments, discussions with feedback from staff to improve

staffing issues; otherwise, staff that disagrees with the unit practices will

consider leaving.

Intent of Many Nurses to Further Their Degrees or Seek Non-Inpatient Care

Options

The appeal of advanced degrees and the opportunities away from the

bedside that those degrees present are factors that impact nurses. Some

faculty report that nursing students already have their sights on advanced

degrees, even before graduating with their BSN degree. At this time, it is

easier than ever to pursue advanced degrees that will lead to administrative

roles or Advanced Practice RN (APRN) careers with more regular schedules

and often in outpatient office environments. There are approximately

400 nurse practitioner programs currently in the United States (American

Association of Nurse Practitioners, 2022). In addition to a large number of

schools, there are flexible options for learning, such as online or face-to-face

programs. APRNs (inpatient and outpatient) are facing crisis fatigue as well,

and those RNs seeking to become Nurse Practitioners (NP) are sometimes

disillusioned once they get the degree and are leaving the APRN role, too.

It is not just advanced degrees that nursing students are eyeing; however,

it is careers in aesthetics and population health careers, as well. Some

students are requesting additional time in non-acute settings for their final

projects or transition experiences during their final days in undergraduate

programs, as opposed to the traditional acute care rotations. Some nursing

students are requesting that the full complement of their clinical placement

experiences occur outside the acute care setting. Students cite the appeal

of the environment and want a schedule conducive to work/life balance or

family life. Recognizing the new and different expectations for work/life

balance will be crucial to innovative change that effectively redevelops and

sustains a solid workforce at the bedside.

Conclusion

Today's nurses are facing many challenges. Addressing these issues will

require ongoing support, and collaborating together will ensure that patientcentered

care, teamwork & collaboration, safety, and quality improvement

are maintained during these uncertain times. Nurses will still be committed

to improving positive clinical outcomes, acting as transformational leaders in

our healthcare communities.

References

American Nurse Association (2020). Nurses in Workforce. Retrieved from https://www.

nursingworld.org/practice-policy/workforce/

American Association of Nurse Practitioners. (2022, April). NP Fact Sheet. https://www.aanp.

org/about/all-about-nps/np-fact-sheet

Boamah SA. The impact of transformational leadership on nurse faculty satisfaction and

burnout during the COVID-19 pandemic: A moderated mediated analysis. J Adv Nurs. 2022

Mar 17:10.1111/jan.15198. doi: 10.1111/jan.15198. Epub ahead of print. PMID: 35301738; PMCID:

PMC9111819.

Bravata D.M., Madhusudhan D.K., Boroff M., Cokley K.O. (2020). Commentary: Prevalence,

Predictors, and Treatment of Imposter Syndrome: A Systematic Review. Journal of Mental

Health Clinical Psychology, 4(3), 12-16.

Bureau of Labor Statistics, U.S. Department of Labor. (April, 2022). Occupational Outlook

Handbook. https://www.bls.gov/ooh/healthcare/registered-nurses.htm

Caldwell-Harvey, Taisha, and Steph Coelho. "Crisis Fatigue: Definition, Symptoms, and How

to Cope." Medical News Today, MediLexicon International, 6 Nov. 2020, https://www.

medicalnewstoday.com/articles/crisis-fatigue.

Clance P.R. & Imes S.A. (1978). The imposter phenomenon in high achieving women:

dynamics and therapeutic intervention. Psychotherapy: Theory, Research and Practice;

15(3), 241-247.

John, S. (2019). IMPOSTER SYNDROME: Why nurses question their competence. The Nursing

Times, 115(2), 23-24.

Koehler, T., & Olds, D. (2022). Generational differences in nurses' intention to leave. Western

Journal of Nursing Research, 44(5), 446–455. https://doi.org/10.1177/0193945921999608

Plotnikof,M. & Utoft E.H. (2021). The "new normal" of academia in pandemic times:

Resisting toxicity through care. Gender, Work, & Organization, 1-13. https://doi.org/10.1111/

gwao.12778

Sriharan, A., West, K. J., Almost, J., & Hamza, A. (2021). COVID-19-Related Occupational

Burnout and Moral Distress among Nurses: A Rapid Scoping Review. Nursing Leadership

(1910-622X), 34(1), 7–19. https://doi-org.proxy.lib.umich.edu/10.12927/cjnl.2021.26459

Stamps, D. C., Foley, S. M., Gales, J., Lovetro, C., Alley, R., Opett, K., Glessner, T., & Faggiano,

S. (2021). Nurse Leaders Advocate for Nurses Across a Health Care System: COVID-19.

Nurse leader, 19(2), 159–164. https://doi.org/10.1016/j.mnl.2020.07.011 https://www.ncbi.

nlm.nih.gov/pmc/articles/PMC7386289/

The American Nursing Credentialing Center. (April, 2022). Find a Magnet Organization. Find a

Magnet Organization | ANCC | ANA Enterprise (nursingworld.org)
---
August, September, October 2022 The Future of Nursing in Michigan Page 11

Meeting the Nurse Staffing Challenge, Part Two: Retention Tips

Georgia Reiner, MS, CPHRM, Risk Specialist, NSO

As discussed in the first article in this

two-part series on nursing recruitment and

retention, ensuring appropriate nurse staffing

levels is key to the financial health of healthcare

organizations like hospitals and skilled nursing

facilities. High-quality nursing care helps to

reduce the likelihood of patient safety events

and costly medical malpractice lawsuits related

to missed errors. This means it is critical

for leaders to engage in effective retention

strategies.

The second of a two-part series, this article

addresses effective retention strategies that

leaders can utilize to help reduce turnover of

nursing staff.

Retention

The 2021 National Health Care Retention and

RN Staffing Report notes that the average cost

of turnover for a hospital-based RN was $44,400

in 2020. This makes retention a key part of an

organization's staffing strategies. You need

to work closely with human resources staff

to ensure retention strategies are efficient,

effective, and in-line with organizational

strategies.

Conduct "stay" interviews. Stay interviews

help you identify employees who might be

thinking about leaving the organization and

identify what factors are most important for

staying. You can use the information to create

an individual retention plan and to inform your

larger retention efforts for the unit. Here are

some examples of questions you can use to help

elicit useful information during stay interviews:

• What do you look forward to each day

when you commute to work?

• What are you learning here, and what do

you want to learn?

• Why do you stay here?

• When is the last time you thought about

leaving and what prompted it?

• What can I do to make your job better for

you?

them to the individual's interest. For example, a

nurse who drinks coffee every day may enjoy a

Starbucks card, but one who loves to read might

prefer a card from Barnes & Noble.

Support career development. Explore nurses'

professional goals and how you can help meet

them during stay interviews and other ongoing

professional development conversations. It's a

good idea to keep a mental list of options such

as serving on committees, acting as a preceptor,

and leading project teams. Offer meaningful

opportunities for professional growth based

on performance, rather than solely based on

tenure. Outline for your staff the types of

experiences or skills that are most valuable for

advancement and reinforce the value of bedside

nursing experience for nurses' long-term career

growth.

Consider a job embeddedness approach.

Job embeddedness (JE) focuses on why people

stay in their jobs as opposed to why they leave.

A study by Reitz and colleagues found it's a

good predictor of nurses' intent to stay. JE

looks at ties related to organizations and the

community where they exist. These ties are

considered in three dimensions: links (formal

and informal connections people have with

their organizations or communities), fit (how

compatible people feel with their organizations

or communities), and sacrifice (material and

psychological losses people would experience

by leaving their organizations or communities).

You can leverage these dimensions to promote

retention. For example, to help promote JE with

the organization:

• Links: Involve nurses in committees and

shared governance.

• Fit: Recruit nurses whose goals align with

the organization's goals.

• Sacrifice: Align vacation time and

retirement plans with the time of service.

A multifaceted approach

Nurse staffing challenges are unlikely to

ease anytime soon. Leaders will need to be

creative and take a multifaceted approach to

recruitment and retention. These efforts will

help gain—and keep—staff. Doing so helps

reduce the costs of lawsuits related to errors,

but, most importantly, provides optimal patient

outcomes.

References

Advisory Board. Struggling to keep entry-level staff

engaged? Try a performance-based career ladder. 2017.

https://www.advisory.com/blog/2017/02/pef-careerladder

CNA & NSO. Nurse Professional Liability Exposure Claim

Report: 4th Edition: Minimizing Risk, Achieving

Excellence. 2020. https://www.nso.com/Learning/

Artifacts/Claim-Reports/Minimizing-Risk-Achieving-

Excellence

Malliaris AP, Phillips J, Bakerjian, D. Nursing and Patient

Safety. Agency for Healthcare Research and Quality.

2021. https://psnet.ahrq.gov/primer/nursing-andpatient-safety

NSI Nursing Solutions, Inc. 2021 National health care

retention and RN staffing report. 2021. https://www.

nsinursingsolutions.com/Documents/Library/NSI_

National_Health_Care_Retention_Report.pdf

Reitz O, Anderson M, Hill PD. Job embeddedness and

nurse retention. Nurs Admin Q. 2010;34(3):190-200.

Saver C. Retaining nurses in a post-pandemic era—Part 1.

OR Manager. 2021;37(9):12-15.

Sherman RO. The Nuts and Bolts of Nursing Leadership: Your

Toolkit for Success. Rose. O. Sherman; 2021.

Disclaimer: The information offered within this

article reflects general principles only and does not

constitute legal advice by Nurses Service Organization

(NSO) or establish appropriate or acceptable standards

of professional conduct. Readers should consult with an

attorney if they have specific concerns. Neither Affinity

Insurance Services, Inc. nor NSO assumes any liability

for how this information is applied in practice or for the

accuracy of this information.

This risk management information was provided

by Nurses Service Organization (NSO), the nation's

largest provider of nurses' professional liability

insurance coverage for over 550,000 nurses since 1976.

The individual professional liability insurance policy

administered through NSO is underwritten by American

Casualty Company of Reading, Pennsylvania, a CNA

company. Reproduction without permission of the

publisher is prohibited. For questions, send an e-mail to

service@nso.com or call 1-800-247-1500. www.nso.com.

Promote a healthy work environment. For

example, implement zero tolerance policies for

patient or visitor violence against nurses and

policies that discourage providers from bullying

their colleagues. Beyond policies, it is also

important to ensure lines of communication are

open, so your staff feel comfortable speaking

with you when they identify problem areas.

Make rounds daily and listen to staff closely. Ask

them questions such as, "What do you need to

do your job more effectively?" If it's something

that you can take care of, do so and let them

know it's been done. If you can't address the

issue, explain why and, if appropriate, note that

it may be able to be addressed in the future.

Avoid sign-on bonuses. Sign-on bonuses

may help to ease staffing woes short term, but

don't ensure commitment, and can even lead to

resentment from current staff. Instead, focus

on improving nurses' pay scales or offering

retention bonuses to show appreciation for your

nursing staff's commitment to the organization.

Recognize employees. Recognition is an easy,

but often underutilized, retention tactic. Take

every opportunity to offer words of praise. To

reinforce the behavior, specify what specifically

was done to earn praise. Small rewards such as

gift cards can also be effective, but try to match

April 15, 2024

4

October 15, 2023
---
Page 12 The Future of Nursing in Michigan August, September, October 2022

Comparing, Criticizing and Complaining:

The Detrimental Effects of Gossip

By Nicole Cerrini, BSN, RN,

Owner of Nicole Cerrini Health

& Wellness

While I was attempting

to eat my breakfast in peace

at work, I found myself

surrounded by others who

were either complaining about

their neighbors, demoralizing their colleagues or

expressing general disdain for their life situations.

It was extremely hard to continue to listen to all

of this, and even harder not to try to redirect their

conversations.

This life is way too short to constantly be

gossiping and welcoming negativity with open

arms. I recently listened to a podcast by Jay

Shetty (On Purpose) and he discusses the three

C's: Comparing, Criticizing and Complaining. It is

overwhelming when you are able to take a step

back and observe yourself from this standpoint.

Even smaller complaints or "simple" gossip can

largely affect your daily life and how certain things

affect you. It's extremely draining when you are

surrounded by negativity, and once you're selfaware

of this issue, it becomes toxic being around

those who continuously put down others or

themselves.

Comparing yourself to others is one of the

most common thoughts we have. Whether

you're comparing life circumstances, weight,

friendships, spouses, etc., it all plays a part in

how you generally feel about yourself and in turn

affects your relationships with others. I am guilty

of comparing myself in certain situations, but now

that I am aware of it, I'm able to not only catch

myself in the moment, but also put a positive

spin on it. The next time you observe yourself

comparing in any way, try to recognize that it's

simply your way of realizing what you desire and

figuring out what that means for you.

Criticizing is another huge habit that leads

to general problems with yourself and your

relationships. Whether you are being critical of

yourself or others, you instill the stigma that

something isn't good enough for you. It's very

possible that you are likely criticizing those close

to you and may not even be aware of it. Petty

gossip, such as talking about a family member

behind their back or judging the person in line

in front of you at the grocery store, are both

examples of how criticism can creep up in your

daily life and put a negative twist on your values.

Once you really begin to see how often this

happens, it's incredible to feel the shift as you

start to create new habits that steer clear from

judgment.

Complaining is probably one of the harder

habits to break when it comes to the three C's.

There are a few people in my life who always seem

to be complaining about something/someone at

all times. It's exhausting listening to it, and even

more exhausting trying to get them to see a

different perspective. If you compare complaining

to the Law of Attraction, it makes a lot of sense

that the complaints seem to never end. What you

put out, you always get back! Very few people

can take a step back and realize that they are

the common denominator in their problems.

Every single situation can always be viewed in

a positive light, even if it may seem impossible.

The minute you decide to replace your complaint

with something you're thankful for, you will

immediately feel better and those around you will

notice this shift as well.

It's not easy to turn the magnifying glass on

yourself and realize the negative habits you have

made your norm. But once you really make an

effort to notice when you're comparing, criticizing

or complaining, the easier it will become to not

only notice these habits, but to break them. You

are the only one in control of your life and how

you react to it. No one else can take the wheel for

you and steer you in a positive direction. You have

to want it for yourself, but once you do decide

to make this shift, you will be amazed at the

opportunities that open for you.

Michigan Department of Corrections

NOW HIRING

REGISTERED NURSES

AND

GRADUATE NURSES!

$5,000 sign on bonus*

$250 retention bonus pilot*

Great pay and Benefits

Opportunities for advancement

13 paid Holidays (14 every other year)

To apply, visit www.michigan.gov/mdocjobs.

*For RN/approved locations only
---
August, September, October 2022 The Future of Nursing in Michigan Page 13

Innovating Toward an Improved Future of Nursing

Innovation is the current

buzz word in health care.

When hearing this term,

what immediately comes

to mind is the application

of new technologies and

reorganization of current

structures. The Michigan

Department of Health and

Human Services, Office of

Nursing Programs: Nursing

Safety and Workforce Planning

Deborah Bach-

Stante, BSN,

MPH, MSW

(MDHHS-ONP) is excited to support innovation

through technology, data, and continuous

improvement of our efforts through engagement

with nursing stakeholders throughout Michigan.

MDHHS-ONP has spent the past several years

supporting efforts to increase and disseminate

virtual clinical education resources throughout the

state. These resources were developed through

nursing academic and practice partnerships with

community organizations serving individuals

who encounter barriers to accessing culturally

competent and accessible healthcare services in

Michigan. In addition, the ONP has supported and

disseminated training for faculty on best practices

and resources for virtual nursing education.

The virtual clinical education resources are

designed to improve nurses' understanding of

the impacts of social determinants of health and

inequities on individuals in Michigan.

These resources are freely available using the

following link:

Virtual Nursing Clinical Education Resources

(michigan.gov)

The virtual clinical education training may be

accessed using the following link:

Navigating the Way Forward: Resources and

Best Practices to Embed Virtual Resources in

Clinical Education Webinar (michigan.gov)

While innovation includes these things, the

broader definition of this term also encompasses

a more comprehensive renewal. Labor shortages,

new technologies, and acknowledgement of

the impacts of implicit bias, racism and societal

inequities are placing increasing pressure on

the systems that provide services affecting the

health and wellness of the population. To address

these pressures, the nursing profession needs to

leverage available information and resources to

take a bold stance on innovating for the future.

In addition to incorporating new and important

data, structures and resources, it is time to rid

ourselves of vestigial structures, including those

practices, policies and processes that only serve to

maintain the status quo. We stand on a precipice

as bold leaders throughout all areas and levels of

nursing to strive to move the profession forward

into a better future for both the profession and

the individuals, families and communities that we

serve. To clarify, in this context, the word leader

does not reference only those who hold certain

professional titles or serve in specifically defined

leadership roles in nursing or other healthcare

organizations that are designing strategies to

address these issues. The word leader is used

to refer to the professional leadership taught in

nursing educational programs throughout the

state that is inherent to all nursing roles and

responsibilities.

Thus, nurses and nursing stakeholders

throughout the state are encouraged to view

the longitudinal analysis of diversity data,

currently in process, that will appear in the

2022 Michigan Nursing Licensure Survey Report

and the associated analysis of workplace

violence data collected over the past three

years. This data, while limited by the number

and representativeness of respondents, is

not intended as an endpoint, to serve as

documentation of the current state of the

profession, to be viewed once and put on a shelf,

or only used as a citation in grant proposals

and research efforts. This data will serve as

a tool to inform a larger dialogue regarding a

comprehensive renewal of the nursing profession

in Michigan.

The ONP would like to invite nursing

stakeholders throughout Michigan to participate

in the collaborative process of dialogue to be

embarked upon in the fall of 2022. Armed with

the available data, individuals who choose to

participate in this process will collaborate on

identifying long and short-term priorities to be

used in the design of an action plan for how the

ONP will continue promoting safe patient care

in all nursing practice environments, advancing

the safe practice of the nursing profession,

and ensuring a continuous supply of highquality

direct care nurses, nursing faculty and

nursing educational programs. Individuals who

are interested in engaging in this constructive

dialogue are encouraged to email Casey Klein

at kleinc7@michigan.gov to have their name

and contact information added to the list of

stakeholders to be invited to participate in this

process. It is only through the collective efforts of

all facets of nursing stakeholders that embarking

upon the path forged through a collaborative

process may assist in ushering in a future of

nursing that can be embraced by current and

future nursing professionals and nursing students

throughout Michigan.

ANA-MI Foundation Awards

First Annual Grants and Scholarships

By Myrna Holland, MSN, RN, ANA-MI Foundation

President

As this newsletter is going to press, the ANA-

MI Foundation board members are selecting the

first recipients of the foundation's initial round of

scholarships and grants. When you have finished

reading this article, you can visit the foundation's

website, www.ana-mi.foundation, to learn about

the awardees.

The awards were established for pre-licensure

students who have completed two semesters

of nursing courses. Our goal is to support timely

graduation and entry into the professional work

force. For this first round, the two scholarships

being granted are for $2,500 each. One is the

Dorothea Milbrandt Leadership Scholarship and

the other is the Academic Excellence Scholarship.

The additional $2,500 is being distributed in

amounts up to $500 to address specific financial

obstacles which interfere with an individual's

ability to complete their education in a timely and

less challenging manner.

There were many worthy applicants and making

the final selections is not going to be easy. We plan

to share some of their goals and achievements

with you, because we are sure their stories will

enhance your positive feelings about the future of

nursing.

The Foundation Board will be working to

continue and expand this scholarship program,

as well as prioritize the other purposes of our

foundation. Of course, these goals require

consistent funding, so we hope that all of our

members will find a way to make a tax-deductible

donation to help us grow. There are several

ways to do that. When you visit www.ana-mi.

foundation there are links to donate by PayPal or

by credit or debit card on a monthly or one time

basis, as well as information on where to send a

check. For individuals who have IRA mandatory

distributions, talk to your financial advisor about

your contribution prior to paying federal taxes. Or

you can consider a foundation donation as a part

of your estate planning. This was how Dorothea's

foresight helped establish our foundation.

Remember that contributing to the foundation

doesn't just have to come from you. How many

times have you had a family member or friends

talk about their positive experiences with nurses?

How many times have you heard people rave

about how much the nurses' care, compassion

and skills meant to them and their loved ones'

health and well-being? Talk to them again about it

or next time, use that opportunity to suggest that

they honor and support those nurses through a

donation to the ANA-Michigan Foundation. It is yet

another way that we can support "Nurses Helping

Nurses."
---
Page 14 The Future of Nursing in Michigan August, September, October 2022

Are Nurses Suffering from Moral Injury?

By Donna Craig, RN, JD

Since January 2020,

the United States has

documented close to 90

million cases of COVID,

resulting in more than one

million deaths. 1 During the

same time period, Michigan

experienced more than 2.6

million COVID cases, resulting

in more than 37,000 deaths. 2

While the number of COVID

Donna J. Craig,

RN, JD

cases continues to decrease, there is no doubt

that the mental impact on nurses who cared for

COVID patients will be felt for some time. This

mental effect has sometimes been described as

"burnout" or a "Post-Traumatic Stress Disorder"

reaction. Perhaps a more accurate description

would be described as "moral injury."

What Is Moral Injury? The term "moral injury"

refers to the lasting emotional, psychological,

social, behavioral, and spiritual impacts of

actions that violate a person's core moral

values and behavioral expectations. 3 This occurs

when individuals are unable to contextualize

their actions or other's actions with their core

values. 4 The research on how and why moral

injury occurs was initially associated with the

moral conflicts faced by the military during

wartime, particularly during the Vietnam War. 5

While moral injury is not currently considered

a mental disorder, it shares common symptoms

with Post-Traumatic Stress Disorder ("PTSD"),

including avoidance, hypervigilance, intrusive

thoughts, distressing dreams related to the

event, and social problems. 6 Moral injury can

occur when an individual finds himself in a

high-stakes situation with no good choices. For

nurses that may mean doling out patient care in

such a way that not everyone's medical needs

can be addressed even though nurses truly want

to provide the best care possible. Nurses are

faced with deciding who to treat first; which

patients receive limited resources; and how

do nurses best use limited time when multiple

patients need help. Added to that are nurses

who found themselves without the right tools,

equipment or training to save a patient's life,

leaving them feeling helpless and inadequate in

a profession dedicated to caring for patients.

Moral Injury Is Not Burnout - Moral injury

affects a person's sense of right and wrong,

which is different than what is characterized as

"burnout." The term moral injury represents a

situation of witnessing care or offering care that

conflicts with one's internal compass of right

and wrong. 7 Burnout is a state of emotional,

mental, and often physical exhaustion brought

on by prolonged or repeated stress. 8 Burnout is

not associated with a person's core values.

Moral Injury Versus PTSD – While there is

overlap between the symptoms of moral injury

and PTSD, such as guilt, shame, betrayal and

loss of trust, unlike PTSD, individuals don't

necessarily experience hyperarousal (senses are

on high alert as a result of trauma) with moral

injury. 9 The triggering event(s) for PTSD results

from a life-threatening experience that leads

to chronic hypervigilance and fear; it is difficult

to ever feel safe. 10 Moral injury involves loss

of trust; it is not a disorder, but a reasonable

response to having one's ethical compass

thrown off track. 11 How events result in moral

injury is demonstrated in Figure 1. 12

Assessing and Addressing Moral Injury

– While some studies have shown traumafocused

PTSD treatment such as Prolonged

Exposure (PE) [use of imaginal exposures

to reduce the intensity and frequency of

symptoms] and Cognitive Processing Therapy

(CPT) [emotional processing by replacing

fears with accurate information] effectively

reduce trauma-related guilt and shame, PE

and CPT may not be sufficient for treatment of

individuals with moral injuries. 13 On the bright

side, there are some emerging treatments that

are meant to specifically target moral injury

and its core components, such as "Acceptance

and Commitment Therapy," which focuses

on helping individuals live in accordance with

their values. 14 Another treatment is "Adaptive

Disclosure," which assists individuals with

processing moral injury through imaginary

dialogue and apportioning blame, making

amends and in some versions, self-compassion

and mindfulness meditations. 15 For moral

injuries resulting from religious or spiritual

core value conflicts, the "Building Spiritual

Strength" program addresses concerns about

the relationship with a Higher Power, as well

as challenges with forgiveness. 16 In addition

to in-person therapy and counseling, mobile

apps have been developed to help individuals

address the symptoms of moral injury. Those

mobile apps include: "COVID Coach" 17 and

"Provider Resilience from the National Center

for Telehealth & Technology." 18

Nurses need not suffer from long-term

negative outcomes from caring for COVID

patients. With assistance, nurses may be able

to incorporate their experiences for their own

growth and to help others. Management in

health care settings can also be instrumental

in caring for nurses in the workplace. But, for

those who cannot overcome the resulting

effects of moral injuries, there is hope that

counseling and/or mobile apps may be useful

tools for a brighter future.

Donna J. Craig, RN, JD, is legal counsel to the

ANA-Michigan Chapter and the Michigan Council

of Nurse Practitioners. She practiced as a cardiac

care nurse for several years before a chance

opportunity to audit a graduate course in health

care law and ethics changed her career path. That

course propelled her to earn her law degree. After

law school, Ms. Craig joined a medical malpractice

defense law firm before transitioning her focus

to health care corporate and administrative law

matters. For over 20 years she has maintained her

private health law practice, representing health

care providers and facilities in business, licensure

and compliance matters. For her expertise and

accomplishments, Detroit's dbusiness Magazine

awarded Ms. Craig its Top Lawyer in Health Care

Law award on three occasions. Ms. Craig has the

distinction and is proud of being a bar member

of the Supreme Court of the United States of

America. For more information about The Health

Law Center, go to www.healthlawcenterplc.com.

1 COVID Data Tracker, Centers for Disease Control

and Prevention; https://covid.cdc.gov/covid-datatracker/#datatracker-home

2 Id.

3 What is Moral Injury, The Moral Injury Project, Syracuse

University; www.moralinjuryproject.syredu/aboutmoral-injury/

4 Id.

5 Barnes, H. et.al. 2016. Moral Injury and PTSD: Often Cooccurring

Yet Mechanistically Different, Psychiatry

Online, (2016); https://neuro.psychiatryonline.org/

doi/10.1176/appi.neuropsych.19020036

6 Id.

7 Id.

8 Burnout, Psychology Today; https://www.

psychologytoday.com/us/basics/burnout

9 Norman, S.B., Maguen, S., Moral Injury, PTSD:

National Centers for PTSD; https://www.ptsd.va.gov/

professional/treat/cooccurring/moral_injury.asp

10 Moral Injury, Psychology Today, https://www.

psychologytoday.com/us/basics/moral-injury

11 Id.

12 Equipping Individuals, Leaders, & Organizations Facing

Challenge and Change, The Resilience Resource, https://

theresilienceresource.org/moral-injury/

13 Held, P., Klassen, B.J., Brennan, M.P, Zalter, A.K, Using

Prolonged Expressive and Cognitive Processing Therapy

to Treat Veterans with Moral Injury Based PTSD: Two Case

Examples, National Library of Medicine, (2017) https://

www.ncbi.nlm.nih.gov/pmc/articles/PMC6103315/

14 Farmsworth, J.K., Drescher, K.D., Evans, W., & Walser,

R.D. (2017) A Functional Approach to Understanding

and Treating Military-Related Moral Injury, Journal of

Contextual Behavioral Science, 6(4), 391-397 (2017);

https://www.sciencedirect.com/science/article/abs/pii/

S2212144717300601

15 Gray, M.J., Schorr, Y., Nash, W, Lebowitz, L., Amidon, A.,

Lansing, A., Maglion, J.< Lang, A.J., & Litz, B.T. Adaptive

Disclosure: An Open Trail of a Novel Exposure-Based

Intervention for Service Members with Combat-Related

Psychological Stress Injuries, Behavior Therapy, 43(2,

407-415, (2012); https://doi.org/10.1016/j.beth.2011.09.001

16 Harris, J.K., Usset, T., Voecks, C., Thuras, P., Currieer,

J., & Erbes, C., Spiritually Integrated Care for PTSD:

A Randomized Controlled Trial of "Building Spiritual

Strength". Psychiatry Research, 267, 420-428, (2018);

https://pubmed.ncbi.nlm.nih.gov/29980120/

17 COVID Coach Mobile App; U.S. Department of Veteran

Affairs; https://mobile.va.gov/app/covid-coach

18 Provider Resilience Mobile App; Health IT Outcomes,

(2013); https://www.healthitoutcomes.com/doc/

resilience-mobile-military-health-care-providers-0001