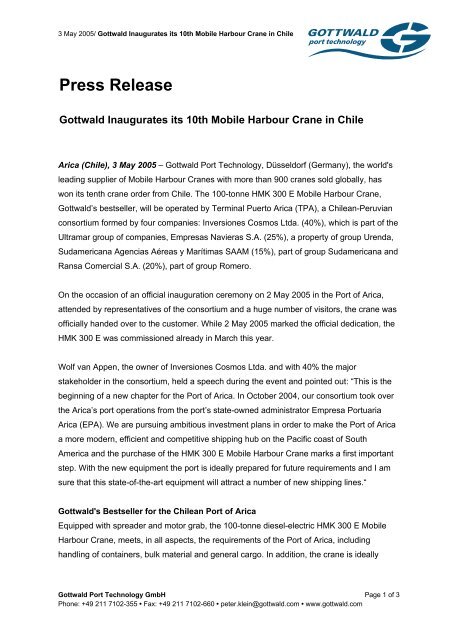 Press Release - Gottwald Port Technology
Press Release - Gottwald Port Technology
Press Release - Gottwald Port Technology
SHOW MORE
SHOW LESS
Create successful ePaper yourself
Turn your PDF publications into a flip-book with our unique Google optimized e-Paper software.
3 May 2005/ Gottwald Inaugurates its 10th Mobile Harbour Crane in Chile

Press Release

Gottwald Inaugurates its 10th Mobile Harbour Crane in Chile

Arica (Chile), 3 May 2005 – Gottwald Port Technology, Düsseldorf (Germany), the world's

leading supplier of Mobile Harbour Cranes with more than 900 cranes sold globally, has

won its tenth crane order from Chile. The 100-tonne HMK 300 E Mobile Harbour Crane,

Gottwald's bestseller, will be operated by Terminal Puerto Arica (TPA), a Chilean-Peruvian

consortium formed by four companies: Inversiones Cosmos Ltda. (40%), which is part of the

Ultramar group of companies, Empresas Navieras S.A. (25%), a property of group Urenda,

Sudamericana Agencias Aéreas y Marítimas SAAM (15%), part of group Sudamericana and

Ransa Comercial S.A. (20%), part of group Romero.

On the occasion of an official inauguration ceremony on 2 May 2005 in the Port of Arica,

attended by representatives of the consortium and a huge number of visitors, the crane was

officially handed over to the customer. While 2 May 2005 marked the official dedication, the

HMK 300 E was commissioned already in March this year.

Wolf van Appen, the owner of Inversiones Cosmos Ltda. and with 40% the major

stakeholder in the consortium, held a speech during the event and pointed out: "This is the

beginning of a new chapter for the Port of Arica. In October 2004, our consortium took over

the Arica's port operations from the port's state-owned administrator Empresa Portuaria

Arica (EPA). We are pursuing ambitious investment plans in order to make the Port of Arica

a more modern, efficient and competitive shipping hub on the Pacific coast of South

America and the purchase of the HMK 300 E Mobile Harbour Crane marks a first important

step. With the new equipment the port is ideally prepared for future requirements and I am

sure that this state-of-the-art equipment will attract a number of new shipping lines."

Gottwald's Bestseller for the Chilean Port of Arica

Equipped with spreader and motor grab, the 100-tonne diesel-electric HMK 300 E Mobile

Harbour Crane, meets, in all aspects, the requirements of the Port of Arica, including

handling of containers, bulk material and general cargo. In addition, the crane is ideally

Gottwald Port Technology GmbH

Page 1 of 3

Phone: +49 211 7102-355 • Fax: +49 211 7102-660 • peter.klein@gottwald.com • www.gottwald.com
---
3 May 2005/ Gottwald Inaugurates its 10th Mobile Harbour Crane in Chile

suited to service also larger-sized, e.g. Panamax vessels. So far, the cargo handled in the

Port of Arica was loaded and unloaded by ships' on-board cranes, which led to long vessel

stay times. Matías Laso, General Manager of TPA: "The upgrading will help us to

significantly increase our handling capacity. We are convinced that the HMK 300 E Mobile

Harbour Crane is a top-of-the-range product, which has already proven its performance and

reliability in Chile."

Gottwald in Chile

Commenting on the new order, Miguel Fernandez Young, General Manager of Commercial

Fesanco S.A., Gottwald's representative in Chile since 1998, said: "We are very proud of

our contribution to the development of the Port of Arica. This order is all the more pleasing

since this is the first Gottwald crane in Chile's northernmost city. Arica is an important port,

not only for Chile, but also neighbouring countries, above all Bolivia." Together with the new

order, there are ten Gottwald Mobile Harbour Cranes in operation in Chile, including eight

HMK 280 E and two HMK 300 E. Gottwald cranes operate in many important Chilean ports,

i.e. Antofagasta, Iquique, Mejillones, San Antonio, San Vicente, Valparaíso, and now also

Arica.

After Sales Service – Consignment Stock Warehouse in Chile

To further enhance the after sales service in South America, Gottwald set up a consignment

stock warehouse in 2001 in Iquique near Arica. From Iquique, spare parts are delivered to

the entire South American region. For the new HMK 300 E crane in Arica this means fast

and reliable supply with commonly used components. In addition, Fesanco and TPA have

signed a customised service contract, including, amongst others, a technician at site and a

stand-by service engineer ready to come to Arica at any time. Gottwald's representative

Fesanco also has its own service support stations in Valparaíso and Antofagasta. Matías

Laso: "Our decision in favour of Gottwald has proven to be the right one. From on-time

delivery and assembly through final commissioning and support, Gottwald stands for total

quality. And the customised service contract will ensure cost-effective operation and

guarantee reliable maintenance service based on state-of-the art technology and up-to-date

standards."

Order Intake of 19 Mobile Harbour Cranes as of End-March 2005

The HMK 300 E for Chile was one of 19 cranes ordered during this year's first three months.

"2005 has started well for Gottwald Port Technology", said Dirk Kiessling, Gottwald's Chief

Gottwald Port Technology GmbH

Page 2 of 3

Phone: +49 211 7102-355 • Fax: +49 211 7102-660 • peter.klein@gottwald.com • www.gottwald.com
---
3 May 2005/ Gottwald Inaugurates its 10th Mobile Harbour Crane in Chile

Executive Officer. "The continuing success of our Harbour Crane series reflects our position

as inventor and at the same time world's leading supplier of Mobile Harbour Cranes. But

Gottwald is not all about HMK Mobile Harbour Cranes. Our company invests a sizeable

portion of its efforts in new solutions. Our philosophy is to create products that create

markets, to show customers new ways in crane technology and application – not to follow

them. Some 25 HSK Portal Harbour Cranes sold to date worldwide and the newly launched

HPK Harbour Pontoon Crane reaffirm our position as unchallenged pacesetter in innovative

harbour crane concepts based on Mobile Harbour Crane technology."

About Gottwald Port Technology

Gottwald Port Technology GmbH, located in Düsseldorf (Germany), is the world's leading

supplier of Mobile Harbour Cranes (HMK series). The company produces a comprehensive

range of Mobile Harbour Cranes with lifting capacities of up to 120 tonnes and radii of up to

56 m, in addition to the rail-mounted Portal Harbour Cranes (HSK series), the Wide Span

Gantries (WSG series) launched at the beginning of 2003 and the HPK Harbour Pontoon

Cranes launched in summer 2004. Apart from this, Gottwald offers a multitude of services

for terminal operators. These services range from conceptual design and operational layout,

basic engineering of equipment and systems to Automated Guided Vehicles (AGV) and

Automated Container Stackers (ACS). The company presently has a workforce of around

700 employees in Düsseldorf and the turnover for the financial year 2003/2004 (as of 30

September) was €195 million.

For further information, contact:

Gottwald Port Technology GmbH

Postfach 18 03 43 • 40570 Düsseldorf • Germany

Peter Klein

Phone: +49 (0)211 7102-355 • Mobile: +49 (0) 173 722 10 74

Fax: +49 (0)211 7102-660

peter.klein@gottwald.com

Gottwald Port Technology GmbH

Page 3 of 3

Phone: +49 211 7102-355 • Fax: +49 211 7102-660 • peter.klein@gottwald.com • www.gottwald.com