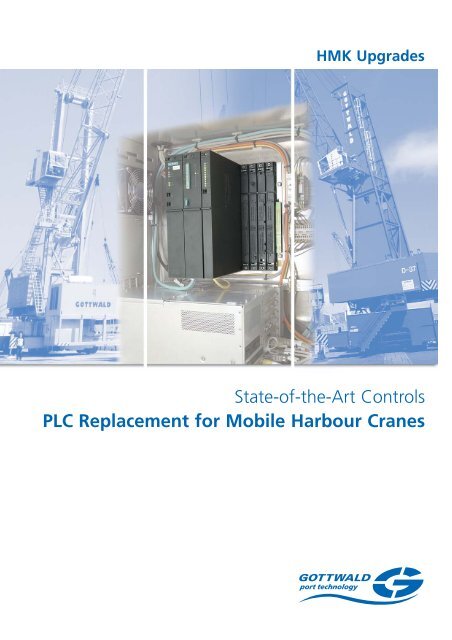 HMK Upgrades - Gottwald Port Technology
HMK Upgrades - Gottwald Port Technology
HMK Upgrades - Gottwald Port Technology
SHOW MORE
SHOW LESS
You also want an ePaper? Increase the reach of your titles
YUMPU automatically turns print PDFs into web optimized ePapers that Google loves.
HMK Upgrades

State-of-the-Art Controls

PLC Replacement for Mobile Harbour Cranes
---
2

Systematic Upgrades

Leading-edge Control Units

Upgrades are a Key Aspect of our

Service Portfolio

Having sold some 1,300 crane units,

we are the world's No. 1 in the field of

Mobile Harbour Cranes. In operation

for many decades, Gottwald cranes

have proved to be reliable and

economical.

To ensure that these features are

guaranteed throughout the crane's

service life and to adapt it to meet

current and future technical and

commercial demands, more and more

customers are applying upgrades.

Control Unit Upgrades

Since their launch, Mobile Harbour

Cranes have been subject to a programme

of continuous improvement.

Both powerful and versatile, they are

indispensable in today's cargo handling

environment.

In line with these developments,

considerable progress has also been

achieved in crane control systems.

State-of-the-art control systems

guarantee not only more accurate

positioning and regulation of the

electronic components but also

provide the terminal operator with

a wide range of diagnostic tools.

Broadly Based Upgrades

To enable Gottwald cranes to be

fitted with the latest control systems

with a view to enhancing availability

and reliability, we have developed a

number of upgrades based on the

Siemens S7 PLC 400 CPU which are

Order our Control Unit Upgrade

and you will receive:

■ In-depth advice and planning

■ Refitting and test-run

■ Full warranty for 12 months

designed not only to meet customers'

needs but also to reflect their budgets.

The upgrades cover the full range

from a basic PLC upgrade through to

a full control unit overhaul including

the PLC, panels and drives.

Upgrading your Control Unit

Provides many Benefits

Retrofitting a new unit – from the

basic upgrade to a full system refit –

will provide you with the following

benefits:

■ State-of-the-art, reliable hardware

components

■ Long-term availability of spare parts

■ Use of a single Profi Data Bus

■ Continued use of your existing

secondary control components

such as relays, circuit breakers etc.

■ The latest Siemens notebook with

the S7 multitasking environment

■ Latest drive systems with improved

functionality

Basic PLC Upgrade

The basic PLC upgrade involves

replacing older Siemens S5 controllers

with an S7 PLC 400 CPU solution.

This is a replacement of the S5

system with the S7 equivalent and

involves replacement of some hardware

components.

Schematic layout of the crane control unit

PLC 400 with

Siemens S7

control system
---
Tower Cab

Superstructure

Chassis

6RA70 Drive

Apart from the S7 PLC 400 CPU, the

extended upgrade package incorporates

the HMI panels and replacement

Siemens master drives. This complete

solution, in particular, guarantees you

the most comprehensive diagnostics

capabilities and spare-part availability

coupled with enhanced reliability and

service back-up.

Clear layout of all

required information

Basic PLC and Panels Upgrade

This upgrade level involves not only

the adaptation of the S5 to S7 and

the replacement of certain hardware

components but also two new HMI

panels with the corresponding

displays in the electrics room and

tower cab.

These displays are directly connected

to the new system data bus and

show all required operating data.

The display in the electrics room also

shows additional crane specific data

which allows the crane owner to keep

tabs on key operating and status

data in realtime.

Option

State-of-the-art Siemens master drives

Comprehensive Diagnostics

Capabilities

■ Latest technology based on triedand-tested

components

■ Powerful CPU for high-end

performance

■ Compact modules enable the

number of cards to be reduced

■ Enhanced visual fault checking via

the new electrics room panel

■ Precise identification of faulty

modules via graphic user interface

(including chassis)

■ Single Profi Bus throughout

■ Single CPU and interface

■ Fanless system

■ Improved operating system

■ Latest Siemens Colour Field PG,

W2000 environment with S7

preinstalled

■ Improved diagnostics for drive faults

■ Does not require separate monitor

interface card

■ Superstructure monitor can be

"slaved" to tower cab monitor

3
---
Comprehensive Service from Gottwald

Rich in Ideas, Innovative, Responsive and Flexible

As the world's leading manufacturer

of Mobile Harbour Cranes, providing

our customers with the full range

of skilled and capable services is a

matter of pride. These services are

not merely based on a comprehensive

range of existing services, but

are constantly reviewed to ensure

currency and compliance with

customer needs.

Our service portfolio currently

includes field service, troubleshooting,

spare parts, service agreements,

24-hour call-up, crane personnel

instruction and documentation.

We are supported by a worldwide

network of Service Representatives

who possess excellent technical skills

and have a good command of the

respective local language, paving the

way for smooth communication.

Within the context of our highly

customer-driven service strategy,

we have developed a wide range

of upgrades.

Upgrades for

Mobile Harbour Cranes

■ Diesel engine

■ Diesel generator unit

(Powerpack)

■ Controller system from S5 to S7

■ External power supply

■ Slot PLC

■ Radio remote control system

Regional Service Station

Using an external power supply ensures a

sustained reduction in operating overheads

service@gottwald.com

Gottwald Port Technology GmbH • Postfach 18 03 43 • 40570 Düsseldorf, Germany

Phone: +49 211 7102-0 • Fax: +49 211 7102-3740 • service@gottwald.com • www.gottwald.com

Gottwald Port Technology GmbH – A subsidiary of Demag Cranes AG

Upgrade Controls 03/08.09 UK S+S

Subject to change without notice