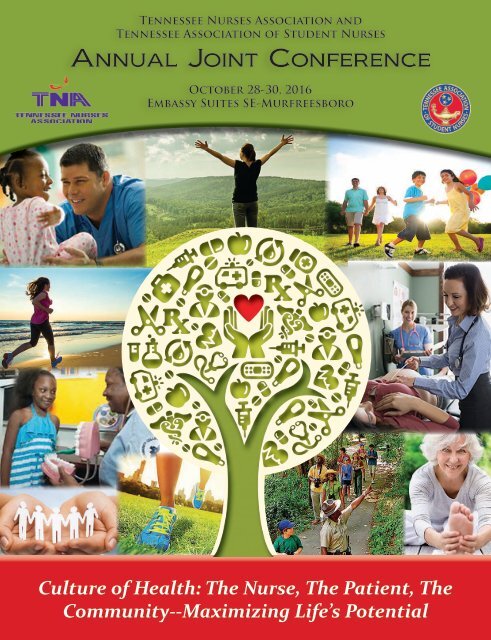 2016 TNA–TASN Joint Conference
Create successful ePaper yourself
Turn your PDF publications into a flip-book with our unique Google optimized e-Paper software.
Culture of Health: The Nurse, The Patient, The

Community--Maximizing Life's Potential
---
Culture of Health: The Nurse, The Patient, The Community – Maximizing Life's Potential

Culture of Health: The Nurse, The Patient,

The Community – Maximizing Life's Potential

October 28–30, 2016 | Murfreesboro, TN | Embassy Suites SE – Murfreesboro

Table of Contents

Welcome from the TNA President. .................................................................... 3

Welcome from the TNA Executive Director. ............................................................. 5

Welcome from the Tennessee Association of Student Nurses. .............................................. 9

2016 TNA & TASN Conference Schedule. ............................................................. 11

Embassy Suites Floor Plan Meeting Rooms. ........................................................... 17

General Announcements. .......................................................................... 19

Meet Our Keynote Speaker. ........................................................................ 21

Meet the Presenters .............................................................................. 22

2016 Membership Assembly Rules and Information ..................................................... 29

Disclosures to Participants, Continuing Nursing Education Instructions. ..................................... 30

Introduction to Robert's Rules of Order ............................................................... 31

2015–2017 Legislative and Health Policy Statements .................................................... 33

Tennessee Nurses Political Action Committee (TNPAC). .................................................. 35

TNPAC Legislative Participants. ..................................................................... 38

Nightingale Tribute & Memoriam. .................................................................... 43

TNA Board of Directors and Staff. ................................................................... 44

TNA District Map. ................................................................................ 45

2016 Slate of Candidates. ......................................................................... 46

Poster Abstracts. ................................................................................ 49

TNA Financials .................................................................................. 62

TNA Area of Interest Form. ......................................................................... 66

TNA Past Presidents. ............................................................................. 67

Tennessee Nurses Foundation (TNF) – Mission – Goals – Initiatives ......................................... 68

TNF Board of Trust Roster. . . . . . . . . . . . . . . . . . . . . . . . . . . . . . . . . . . . . . . . . . . . . . . . . . . . . . . . . . . . . . . . . . . . . . . . . 71

TNA Member Benefits. ............................................................................ 73

TNA 2017 Events. ................................................................................ 74

Printed and Published for the Tennessee Nurses Association by:

Arthur L. Davis Publishing Agency

517 Washington, P.O. Box 216, Cedar Falls, IA 50613

(319) 277-2414

www.tnaonline.org

Published by:

Arthur L. Davis

Publishing Agency, Inc.

1
---
2
---
Culture of Health: The Nurse, The Patient, The Community – Maximizing Life's Potential

Welcome from the TNA President

Sandy Murabito, Ed.D, MSN, RN

On behalf of the TNA Board of Directors & staff, I welcome you to the 2016 Tennessee Nurses

Association & Tennessee Association of Student Nurses Annual Conference. This is our

seventh consecutive year in linking arms with TASN, and we appreciate the ability to partner

with these emerging nurse professionals.

This year's conference Culture of Health: The Nurse, The Patient, The Community:

Maximizing Life's Potential, is a topic in which we are all invested. In particular, registered

nurses have much power to contribute to the vision and work of promoting and sustaining

health, wellbeing and equity across our state. Our intention is that this conference will

energize and amplify our work in caring for ourselves, our patients and our communities.

There is something in this conference for everyone including educational sessions, poster

sessions, legislative updates, networking and FUN! My most favorite part of the conference

weekend is bringing nurse professionals from across our state together in one place. The expertise and talent we have

in our organization is rich and diverse. The relationships built and nurtured during this time are, in my opinion, one of the

best values in attending. I encourage you to enjoy and take part in the conference events.

3
---
TAKE

YOUR PLACE

in NURSING

ADVANCE YOUR CAREER!

RN - BSN Online Contact Dr. Carol Murch, cmurch@murraystate.edu

BSN Contact the School of Nursing, 270.809.2193

Advanced Practice DNP Options:

Family Nurse Practitioner • Nurse Anesthesia • Post-Master's DNP Program

For more information contact:

Dina Byers, Ph.D., APRN, ACNS-BC • dbyers@murraystate.edu • 270.809.6223

« More than 15 years experience in educating advanced practice nurses to

meet the complex health care needs of society.

« Strong faculty committed to excellence in education and practice.

www.murraystate.edu/nursing

Equal education and employment opportunities M/F/D, AA employer

4
---
Culture of Health: The Nurse, The Patient, The Community – Maximizing Life's Potential

Welcome from the Executive Director

Sharon Adkins MSN, RN

Welcome to the 2016 TNA & TASN Joint Conference, Culture of Health: The Nurse, The

Patient, The Community – Maximizing Life's Potential. Once again, we are excited to be

joining the future of nursing – our students – as we learn together, discuss issues, share

our stories and have fun! What a wonderful opportunity to pass on a bit of our wisdom and

experience to students just beginning the journey that many of us have been traveling a long

time.

This year we take a look at health and its many dimensions. From the healing power of humor,

sexual health, and spiritual well-being to leadership, substance abuse, and mentoring, you

will see the wide variety of topics and expertise to be presented. Take full advantage of all

that is offered.

The Membership Assembly will do the work of the association… giving direction, setting

priorities, and dealing with issues of importance to our patients and our profession. As in the past, this is also an

opportunity to support the work of TNPAC and TNF by "bidding often and bidding high" in both the TNF silent auction

and the TNPAC live auction…Christmas is just around the corner and what better way to shop!

Two events are very special, the Welcome Reception and the Awards Gala. Be sure to attend, to relax, to celebrate and

to have fun. This year's conference is a time to re-connect, re-energize, and re-commit to the work before us. It is a time

to engage with others, explore new ideas, and expand our vision for the future. I look forward to spending these next

days with you…my colleagues and friends.

This year's conference has been diligently planned under the

direction of Jenny Webb (TNA Board Director of Education)

and our 2016 Conference Planning Committee.

Please thank the following individuals for their yearlong

effort in planning our annual conference:

Keeley Bowman

Takeitha Chambers

Patsy Crihfield

Evelyn Jones-Talley

Christina Ketron

Carla Kirkland

Canaan Lindsay

Ashleigh McMahan

Sandy Murabito

Gladys Nance

Billie Sills

Ginger Smith

Susan Smith

Donna Wallace

Jenny Webb

Raven Wentworth

Stephanie White

Tracy Wilson

5
---
6
---
Culture of Health: The Nurse, The Patient, The Community – Maximizing Life's Potential

7
---
8
---
Culture of Health: The Nurse, The Patient, The Community – Maximizing Life's Potential

Welcome from the Tennessee Association of Student Nurses

Gladys Nance, BSN, RN, TASN President 2015-2016

Greetings from the Tennessee Association of Student Nurses and welcome to the 2016 TNA

and TASN annual joint conference! I would like to personally thank you for your willingness to

attend the conference and your commitment to this wonderful association. This conference

is an opportunity to develop as a professional nurse and network with one another. It will

provide a wealth of information that you will be able to bring back to your school or practice.

Take this as an opportunity to challenge yourself and partake in the multiple sessions TNA

and TASN will be providing. If you have joined us before, I encourage you to foster our

newcomers and share your experience. Lastly, I would like to extend a special thank you to

the 2015- 2016 TASN Board of Directors for their hard work and dedication. Thank you TASN

for a great year and for allowing me to represent you!

9
---
10
---
Culture of Health: The Nurse, The Patient, The Community – Maximizing Life's Potential

2016 TNA & TASN Conference Schedule

11
---
12
---
Culture of Health: The Nurse, The Patient, The Community – Maximizing Life's Potential

2016 TNA & TASN Conference Schedule

13
---
Committed to Excellence.

Committed to You.

Thank you to our faculty

for serving in TNA leadership.

• Bachelor of Science in Nursing

• Accelerated BSN for Second-Degree

Students

• RN to BSN

• Associate degree to BSN dual degree

• LPN to BSN

• Master of Science in Nursing

• Clinical Nurse Leader

• Post-Master's Certificate Program

• PhD in Nursing

• Doctor of Nursing Practice (BSN or MSN

to DNP)

• Professional Development Programs

Sandy Murabito

Tracy Wilson

Sandy Murabito MSN,

EdD, RN Assistant Professor of

Nursing – President, Tennessee

Nurses Association

Donna Copenhaver MSN,

EdD, RN Assistant Professor of

Nursing – Secretary, Tennessee

Nurses Association

Tracy Wilson MSN, DNP,

RN, FNP-BC, CNE Assistant

Professor of Nursing – Nominating

Committee Member,

Tennessee Nurses Association

Loretta Bond PhD, RN, CNE

Assistant Professor Nursing – Vice-

President, District #3, Nashville

Donna Copenhaver

Loretta Bond

Many graduate and undergraduate programs are available online.

ETSU.edu/nursing

888-37-NURSE

www.belmont.edu

ENSURING ACCESS TO

QUALITY HEALTHCARE

FOR ALL TENNESSEANS.

It's our priority. Nurses help make it possible.

WWW.THA.COM

14
---
Culture of Health: The Nurse, The Patient, The Community – Maximizing Life's Potential

2016 TNA & TASN Conference Schedule

15
---
BlueCare Tennessee recognizes that a multi-faceted strategy is necessary to support

effective provider education. Our goal is to provide up-to-date information in a

centralized location that will assist your office practice.

BlueCare Tennessee and BlueCare,

Independent Licensees of BlueCross BlueShield Association

Please visit our website at

bluecare.bcbst.com

to find the latest news regarding claims billing instructions,

TennCare program requirements, quick reference guides, specialized

programs, frequently asked questions, helpful forms, tutorials, and toolkits.

16
---
Culture of Health: The Nurse, The Patient, The Community – Maximizing Life's Potential

Embassy Suites Meeting Rooms

17
---
18
---
Culture of Health: The Nurse, The Patient, The Community – Maximizing Life's Potential

General Announcements

Welcome to the 2016 TNA & TASN Joint Conference! Please greet the new members and first-timers and make them

feel welcome. New Members have lavender ribbons and First Time Attendees have turquoise ribbons.

The Tennessee Nurses Political Action Committee, (TNPAC), will host a Legislative panel on Friday from 2:15-3:45 p.m.

in rooms Mirabella B-D. This will be a great opportunity for conference participants to dialogue with invited legislators as

well as discuss current issues facing the nursing profession in today's political climate.

Join us Friday evening between 6:00 – 9:00 p.m. for food and fun during the Welcome Reception and Exhibits. Enjoy

networking time, participate in the costume contest, take a shot at the photo booth, and meet and greet exhibitors.

The Tennessee Nurses Foundation Silent Auction opens Friday at 10:00 a.m. in Mirabella A. Donations can be dropped

off until 11:00 a.m. Saturday morning. The auction will close Saturday at 4:30 p.m.

ZUMBA classes will be held Saturday and Sunday mornings at 7 a.m. in Mirabella J. Don't miss this chance to start your

morning off with a bang!

On Saturday, the Exhibit Hall is open to all attendees in conjunction with the Schools of Nursing Luncheon. Please visit

the exhibitors and sponsors who support your profession through TNA. The lunch is complimentary for those registered

for the entire conference or for Saturday only, but you must have made a reservation. If you made a reservation, you

should have received a luncheon ticket with your name badge. Please bring your ticket with you for admittance to the

Luncheon. Guest Luncheon tickets may be purchased for $30.00 based on availability.

Your registration fee includes a ticket to attend Saturday evening's TNA Awards Gala. You should have received the

ticket with your name badge. Please bring the ticket with you for admittance to the Gala. Space is limited for this event,

but based upon availability, you may purchase guest Gala tickets for $45 each. Please inquire at the TNA registration

desk for additional tickets.

TNPAC will feature the second Annual District Basket Challenge and Auction during the Awards Gala. All proceeds will

support TNPAC efforts in reaching its 2016 fundraising goal. Please take this opportunity to bid high and often.

Sunday morning's Sunrise Service will be held in Cambridge A at 7:30 a.m. Gary Crotty and Wilhelmina Davis will lead

the service and Kathryn Denton is providing special music.

For General Sessions held in the Membership Assembly meeting room, please gather near the front of the room. There

is no assigned seating for General Sessions, however; for Membership Assembly business sessions it is important that

you sit in the designated area for members and nonmembers of TNA. District signs will be posted so you can gather

with your district colleagues.

Not a TNA member? Join TNA now and receive $25 off your Full rate annual membership dues. Don't miss this

opportunity! Many members tell us they are where they are today because of the connections they have made

through TNA.

Your input and opinions help TNA improve conferences for future years. Individual session evaluation forms are included

in your conference folder. When leaving the conference, please drop off your completed evaluation form and Attendance

Verification/Certificate form (yellow copy) at the registration desk.

Again, welcome to the 2016 TNA & TASN Annual Conference!

Registration Hours

Friday: 8:00 a.m. – 6:00 p.m.

Saturday: 7:00 a.m. – 4:30 p.m.

Sunday: 7:30 a.m. – 10:00 a.m.

VOTE on Sunday

Vote Sunday morning between 7:30 – 9:00 a.m. in

Mirabella A. Election results will be announced during

the closing of the Membership Assembly.

19
---
DCH Offering $5,000 Sign-On Bonus to Eligible RNs

Career Flexibility. That's what opportunity at the DCH Health System is all

about. We offer a variety of working environments to fit your style, from

a regional referral medical center to community hospitals to home health

agencies. With our wide range of service, you can move within our system as

your professional goals change, while maintaining your benefits and status.

That's flexibility. That's DCH.

Acute Cardiac Care Unit / Medical/Surgical Unit / Stroke &

Neuro Telemetry Unit / Clinical Resource Team (Float Pool)

Renal & Acute Care / MICU / Psych/North Harbor

*Call 205-333-4772 for details.

For more information and to apply online, visit the DCH website at www.dchsystem.com.

Bilingual candidates encouraged to apply. DCH Health System is an EOE.

dchsystem.com

DCH REGIONAL MEDICAL CENTER - Tuscaloosa, AL

NORTHPORT MEDICAL CENTER - Northport, AL

20
---
Culture of Health: The Nurse, The Patient, The Community – Maximizing Life's Potential

2016 Tennessee Nurses Association Awards Gala

Saturday, October 29, 2016 | 7:00 pm – 9:00 pm

Music by Jeff Nelson

Award Recipients will be honored with the following:

Outstanding Member Award

Professional Promise Award

Nursing Excellence in Education Award

Nursing Excellence in Administration Award

Nursing Excellence in Direct Care Award

Lifetime Achievement Award

Alma E. Gault Leadership Award

Louise Browning Political Nurse Award

100% Faculty Membership Certificate of Recognition

President's Membership Certificate of Recognition

21
---
Culture of Health: The Nurse, The Patient, The Community – Maximizing Life's Potential

Friday

2016 Presenters

Saturday (continued)

Dispelling the Myths of Suicide

Clark Flatt

Founder and President

Jason Foundation, Hendersonville

Nursing for the Greater Good:

The Healthcare Gap in Tennessee

and How You Can Help the Healing

Co-Presenters

Margaret Ecker, RN, MS

Retired, formerly Outreach Coordinator

at Tennessee Justice Center, Nashville

and

Clare Sullivan, MSPH, RN, MSN

Vice President, THCC Executive Board

Tennessee Health Care Campaign,

Nashville

Saturday

Implementation of a Motivational

Interviewing Program to Assist

Intrapartum Nurses in Identifying

Barriers and Health Behaviors that

Reduce Breastfeeding Rates

Leigh Ann Breckenridge, DNP, MSN, RN

Assistant clinical professor, University

of Memphis, Loewenberg College of

Nursing, Memphis

Surviving Shift Work

Jennifer Hensley, EdD, CNM,

WHNP-BC, LCCE

Associate Professor, WHNP Program,

Vanderbilt University School of Nursing,

Nashville

Ten Evidence-based, Efficient, and

Effective Strategies to Safeguard

Your Nursing Practice When Caring

for Patients Taking Opioids

Karen Hande, DNP, ANP-BC

Assistant Professor, Vanderbilt

University School of Nursing, Nashville

Screening, Brief Intervention, and

Referral for Treatment: A Tool for

Early Identification for Substance

Abuse Risks

Patsy Crihfield, DNP, APRN, FNP-BC,

PMHNP-BC, PMHS

Associate Dean of Graduate Programs

and Professor of Nursing, Union

University, Ripley

Spiritual Well-Being: Are Nurses

Prepared to Provide Spiritual Care

Nancy LaBine, PhD, MSN, RN

Director of Nursing, Cleveland State

Community College, Cleveland

Promoting Positive Sexual Health for

Your Patients: It's All About Quality

of Life

Diane Todd Pace, PhD, APRN, FNP-BC,

NCMP, FAANP

Associate Professor/Director DNP Program

UTHSC College of Nursing, Memphis

Starting That Crucial Conversation:

Preparing Your Patient, Family

and Significant Other for Life's

Inevitable Event

Emma Murray, DNP, APRN, ACNP-BC,

FCCS

Asst. Professor, Department of

Acute and Tertiary Care, University

of Tennessee Health Science Center,

College of Nursing, Memphis

22
---
Culture of Health: The Nurse, The Patient, The Community – Maximizing Life's Potential

Saturday (continued)

2016 Presenters

Sunday (continued)

Should Nurses Go Vegan?

(How to Avoid Eating Our Young)

Jennie Anderson, MSN, RN, CVRN-BC

Lead Faculty Chattanooga College PN

Program, Chattanooga

Mentoring a Bond of Trust

Cathy Yancey, RN, CCM

Certified Case Manager, Baptist

Memorial Hospital, Memphis

Achieving Cultural Competence in

the Health Care Profession

Linda Darnell, MSN, RN

Associate Professor of Nursing, Austin

Peay State University, Clarksville

Sunday

Care of the LGBT Patient

Self-Care: What's It Got to Do With

Leadership

Deborah Lee, PhD, RN

President, Better Choices Wellness

Certified Integrative Health Coach

Instructor, Integrative Health Coach

Professional Training Program, Duke

Integrative Medicine

Research Specialist, College of Health and Human

Services, Western Kentucky University

Jesse M. Ehrenfeld, M.D., M.P.H.

Associate Professor of Anesthesiology,

Surgery, Biomedical Informatics &

Health Policy

Director, Education Research – Office of

Health Sciences Education

Director, Program for LGBTI Health

Associate Director, Vanderbilt Anesthesiology &

Perioperative Informatics Research Division

Department of Anesthesiology | Vanderbilt University

School of Medicine, Nashville

Integrating a Quality Improvement

Framework into Nursing Student-Led

Community Health Project

Co-Presenters

Natasha McClure, MSN, PNP-BC

Instructor of Nursing, Vanderbilt School

of Nursing

and

Carrie Plummer, PhD, ANP-BC

Instructor of Nursing, Vanderbilt School

of Nursing

23
---
Why make

Providence Health

your next step?

When you're a leader you

want the best. Providence

Health, the Midlands' leader in

cardiovascular and orthopedic

inpatient care, is accepting

applications for experienced

nurses in these positions/units:

Critical Care,

Medical-Surgical,

Emergency,

General Surgery,

Orthopedic Surgery,

PACU and Cath Lab.

Up to $7500 sign on bonus

Personally rewarding.

At Providence, nursing is more than a career.

It's a calling. As the Midlands' only faith-based

hospital system, our nurses and clinicians

collaborate to treat the whole person: body,

mind and spirit.

Future-focused.

Our nurses enjoy competitive compensation

and benefits, support in professional growth

and personal development and rewards

for initiative and innovation. Our workplace

values compassion, collaboration, respect and

courage. For you and for our patients.

Join a leader.

To learn more or to apply online, visit

YourProvidenceHealth.com

or email, Jami.Overcash@

ProvidenceHospitals.com

24
---
Culture of Health: The Nurse, The Patient, The Community – Maximizing Life's Potential

25
---
Online Certificate in

Legal Nurse Consulting

Active RN Required.

• Ongoing registration throughout the year

with 6 months to complete

• Convenient, self-paced study

• Access to experienced Legal

Nurse Consultants, dedicated to your success

• Earn a certificate of completion from

Duke University

• Approved for up to 42 Continuing Nursing

Education credits*

www.learnmore.duke.edu

919-684-2601 • legalnurse@duke.edu

* This continuing nursing education activity was approved by the North

Carolina Nurses Association, an accredited approver by the American Nurses

Credentialing Center's Commission on Accreditation.

26
---
Culture of Health: The Nurse, The Patient, The Community – Maximizing Life's Potential

Annual TNA DISTRICT BASKETS

Challenge and LIVE AUCTION

Saturday, October 29, 2016

Awards Gala

REMINDER: ALL PROCEEDS BENEFIT TNPAC

27
---
The mission of Tennessee Family

Solutions, Inc. (TFS) is to help people with

severe developmental disabilities lead safe,

stable and personally fulfilling lifestyles in

Tennessee communities.

801 2nd Avenue, S

Nashville, TN 37210

(615) 255-8870

nashvilletfs.org

Be comfortable at work!

The perfect scrub pant for those who live in yoga pants.

Yoga scrub pants by MC 2 are so

comfortable you'll need a pair for home

and for work. They have the same EZ-

FLEX fabric you've come to love from

the rest of Med Couture's line, with the

added comfort of a knit waistband.

Front side pockets, double cargo pockets and an extra

accessory pocket mean these pants aren't just stylish,

they're highly functional.

Try a pair today!

Available now at

28
---
Culture of Health: The Nurse, The Patient, The Community – Maximizing Life's Potential

2016 Membership Assembly Rules & Information

Membership Assembly (MA) General Rules of Order

1. All TNA members may speak. Before addressing

the MA, it is necessary to secure the floor by going

to a nearby microphone. After recognition by the

President, the member shall state his or her name and

district before speaking.

2. Any TNA member may make motions.

3. All motions shall be presented to the President in

writing on the forms provided.

4. TNA members shall be limited to three minutes when

speaking.

5. No member who has already had the floor in debate

on the immediate pending question shall be entitled

to the floor a second time until others who wish to be

heard on the question have had an opportunity to

speak.

6. The voting body shall consist of the Board of

Directors, Past Presidents, and TNA members in

attendance.

7. Only the resolves of resolutions/proposals shall be

acted upon by the MA.

8. The President may suspend the Rules in order to

allow a nonmember to speak.

9. All cell phones, pagers and other devices shall be

silenced throughout meetings during MA.

Guidelines for Discussion on Resolutions/Proposals

4. The sponsor may withdraw a resolution/proposal at

any point in the review process.

5. Only the resolves of resolutions/proposals shall be

acted upon by the MA.

Continuing Nursing Education (CNE) Credit

RN participants attending CE sessions will be awarded

contact hours. The procedure is as follows:

1. Complete the CNE Evaluation and leave it in the tray

at the registration desk before you leave.

2. Complete an Attendance Verification of CNE Activity

listing the sessions you attend. Participants must

attend an entire CNE session to receive credit.

3. Detach the yellow copy of the Attendance Verification

form and leave it in the tray at the registration desk.

4. Retain the white copy for your professional portfolio.

Registration

Friday: 8:00 a.m. – 6:00 p.m.

Saturday: 7:00a.m. – 4:30 p.m.

Sunday: 7:30a.m. – 10:00 a.m.

Conference Badges

All meetings of the conference are open to registered

participants. Exclusive of invited guests, attendance at any

meeting other than the Awards Gala, Welcome Reception

or School of Nurses Luncheon requires the payment of at

least one day's registration.

1. To facilitate discussion, comments will be limited to

three minutes, and no member may speak more

than once to a question if someone who has not

spoken wishes to do so.

2. Individuals who suggest substantial changes in the

wording of any proposal are asked to submit those

changes in writing before the hearing is adjourned.

3. Sponsors or the Reference Committee may perfect

the resolution/proposal for presentation to the MA

after completion of the hearings.

29
---
Culture of Health: The Nurse, The Patient, The Community – Maximizing Life's Potential

Disclosures to Participants

Purpose

Participants will gain knowledge on a broad range of health related topics and strategies that they can integrate into

their practice.

Contact Hour Credit

Participants at the 2016 TNA & TASN Joint Conference can earn a maximum of 10 contact hours for attending.

Official Accreditation Statement

The Tennessee Nurses Association is accredited as a provider of continuing nursing education by the American Nurses

Credentialing Center's Commission on Accreditation.

Requirements for Successful Completion for Continuing Education Credit

To receive contact hour credit for each session attended, attendees must

• Be seated in the session room no later than five minutes after it has started.

• Remain in the session until the scheduled ending time.

• Complete and submit the Evaluation Form(s) and the Verification of Attendance/Certificate Form listing each

session attended. Turn in the yellow copy before you leave the conference.

Conflicts of Interest

The ANCC has established guidelines whereby all speakers must disclose any affiliations which may cause a

conflict of interest.

A Conflict of Interest occurs when an individual has an opportunity to affect educational content about health-care

products or services of a commercial interest with which she/he has a financial relationship.

No conflicts of interest were disclosed.

Commercial Support

Sponsors have made contributions to Tennessee Nurses Association in support of the 2016 TNA & TASN Joint

Conference: See handout included in the conference packet for a final list.

Non-Endorsement of Products

The Tennessee Nurses Association's accredited provider status refers only to continuing nursing education activities

and does not imply that there is real or implied endorsement of any product, service, or company referred to in this

activity nor of any company subsidizing costs related to the activity.

Off-label Product Use

This CNE activity does not include any unannounced information about off-label use of a product for a purpose other

than that for which it was approved by the Food and Drug Administration (FDA).

30
---
Culture of Health: The Nurse, The Patient, The Community – Maximizing Life's Potential

Introduction to Robert's Rules of Order

What Is Parliamentary Procedure?

It is a set of rules for conduct at meetings that allows everyone to be heard and to make decisions without

confusion.

Why is Parliamentary Procedure Important?

Because it's a time tested method of conducting business at meetings and public gatherings. It can be adapted to

fit the needs of any organization. Today, Robert's Rules of Order newly revised is the basic handbook of operation

for most clubs, organizations and other groups. So it's important that everyone know these basic rules!

Organizations using parliamentary procedure usually follow a fixed order of business. Below is a typical example:

1. Call to order.

2. Roll call of members present.

3. Reading of minutes of last meeting.

4. Officers reports.

5. Committee reports.

6. Special orders – Important business previously designated for consideration at this meeting.

7. Unfinished business.

8. New business.

9. Announcements.

10. Adjournment.

The method used by members to express themselves is in the form of moving motions. A motion is a proposal that

the entire membership take action or a stand on an issue. Individual members can:

1. Call to order.

2. Second motions.

3. Debate motions.

4. Vote on motions.

There are four Basic Types of Motions:

1. Main Motions: The purpose of a main motion is to introduce items to the membership for their consideration. They

cannot be made when any other motion is on the floor, and yield to privileged, subsidiary, and incidental motions.

2. Subsidiary Motions: Their purpose is to change or affect how a main motion is handled, and is voted on before

a main motion.

3. Privileged Motions: Their purpose is to bring up items that are urgent about special or important matters

unrelated to pending business.

4. Incidental Motions: Their purpose is to provide a means of questioning procedure concerning other motions

and must be considered before the other motion.

How are Motions Presented?

1. Obtaining the floor

a. Wait until the last speaker has finished.

b. Rise and address the Chairman by saying, "Mr. /Madam Chairman, or Mr. /Madam President."

c. Wait until the Chairman recognizes you.

2. Make Your Motion

a. Speak in a clear and concise manner.

b. Always state a motion affirmatively. Say, "I move that we ..." rather than, "I move that we do not ...."

c. Avoid personalities and stay on your subject.

3. Wait for Someone to Second Your Motion

4. Another member will second your motion or the Chairman will call for a second.

5. If there is no second to your motion it is lost.

6. The Chairman States Your Motion

a. The Chairman will say, "it has been moved and seconded that we ..." Thus placing your motion before the

membership for consideration and action.

b. The membership then either debates your motion, or may move directly to a vote.

c. Once your motion is presented to the membership by the chairman it becomes "assembly property," and

cannot be changed by you without the consent of the members.

31
---
Culture of Health: The Nurse, The Patient, The Community – Maximizing Life's Potential

7. Expanding on Your Motion

a. The time for you to speak in favor of your motion is at this point in time, rather than at the time you

present it.

b. The mover is always allowed to speak first.

c. All comments and debate must be directed to the chairman.

d. Keep to the time limit for speaking that has been established.

e. The mover may speak again only after other speakers are finished, unless called upon by the Chairman.

8. Putting the Question to the Membership

a. The Chairman asks, "Are you ready to vote on the question?"

b. If there is no more discussion, a vote is taken.

c. On a motion to move the previous question may be adapted.

Voting on a Motion:

The method of vote on any motion depends on the situation and the by-laws of policy of your organization. There are

five methods used to vote by most organizations, they are:

1. By Voice – The Chairman asks those in favor to say, "aye," those opposed to say "no." Any member may move

for an exact count.

2. By Roll Call – Each member answers "yes" or "no" as his name is called. This method is used when a record of

each person's vote is required.

3. By General Consent – When a motion is not likely to be opposed, the Chairman says, "if there is no objection

..." The membership shows agreement by their silence, however if one member says, "I object," the item must

be put to a vote.

4. By Division – This is a slight verification of a voice vote. It does not require a count unless the chairman so

desires. Members raise their hands or stand.

5. By Ballot – Members write their vote on a slip of paper; this method is used when secrecy is desired.

There are two other motions that are commonly used that relate to voting.

1. Motion to Table – This motion is often used in the attempt to "kill" a motion. The option is always present, however, to

"take from the table," for reconsideration by the membership.

2. Motion to Postpone Indefinitely – This is often used as a means of parliamentary strategy and allows opponents of

motion to test their strength without an actual vote being taken. Also, debate is once again open on the main motion.

Parliamentary Procedure is the best way to get things done at your meetings. But, it will only work if you

use it properly.

1. Allow motions that are in order.

2. Have members obtain the floor properly.

3. Speak clearly and concisely.

4. Obey the rules of debate.

Most importantly, BE COURTEOUS.

32
---
Culture of Health: The Nurse, The Patient, The Community – Maximizing Life's Potential

2015-2017 Legislative and Health Policy Statements

Introduction: The Tennessee Nurses Association (TNA) is the professional association representing Tennessee's

approximately 100,000 registered nurses. This position paper outlines the basic philosophy of the TNA's Membership

Assembly relative to health care policy which may be addressed by the Tennessee General Assembly and the U.S.

Congress.

Mission: To improve health and health care for all Tennesseans and residents of the state, advance nurse

leaders and the practice of nursing as essential to improvement efforts and transformational change, and serve

as the voice for professional nurses.

The American Nurses Association's Code of Ethics outlines foundational provisions that frame TNA's initiatives and actions.

Vision: TNA supports a transformed health care delivery system that ensures that all Tennesseans and residents of the

state are able to access equitable and affordable essential services when and where they need them. The transformed

system envisioned by TNA is patient-centered, promotes inter-professional collaboration and care coordination to

improve patient outcomes and experiences, primary care and prevention are priorities, value is emphasized, and there is

expanded use of information technology to promote efficiency and effectiveness.

Goals: TNA is supportive of initiatives that improve health and health care and advance the following goals:

Optimal health system performance, including:

Improved patient care experiences;

Improved population health; and

Reduced per capita cost for health care.

Access to high-quality, affordable and acceptable care for all Tennesseans and residents of the state, including:

Provision of a standardized package of essential health care services provided and financed by public and private

plans with protection against catastrophic costs and impoverishment; and

Direct access to a full range of professional registered nurses and other qualified providers in a variety of settings

Full practice authority and enhanced participation in the delivery of care and policymaking for all professional

nurses, including:

Support for the Tennessee Board of Nursing as the sole regulatory authority over nursing education and practice;

Adoption of the Consensus Model for APRN Regulation: Licensure, Accreditation, Certification, and Education (2008);

Elimination of financial, regulatory, organizational, and institutional barriers to the practice of professional nursing;

Participation of registered nurses on all local, state, and national health care advisory, policymaking, and governing

boards, committees, and task forces; and

Inclusion of APRNs as licensed independent providers (LIPs) in hospital licensure rules, health plans, and health

care facilities.

33
---
Culture of Health: The Nurse, The Patient, The Community – Maximizing Life's Potential

Assuring an adequate, competent and diverse nursing workforce to meet current and projected health care

demands, including:

Improved data collection and information infrastructure to inform policymaking, planning, and evaluation;

Promotion of higher levels of education and training through seamless academic progression, inter-professional

education of health professionals, and lifelong learning;

Funding for nursing students and faculty, including loan forgiveness programs; and

Support for nurse safety in the patient care environment, staffing effectiveness plans, whistleblower protection, and

bans on mandatory overtime.

34
---
Culture of Health: The Nurse, The Patient, The Community – Maximizing Life's Potential

35
---
Culture of Health: The Nurse, The Patient, The Community – Maximizing Life's Potential

Thanks to the following for their 2016

contributions and support!

Sharon Adkins

Diana Baker

Leigh Ann Breckenridge

Cynthia A. Borum

Debra Chyka

Donna Copenhaver

Patricia Cunningham

Sharon Davis

Francisca Farrar

Mary Bess Griffith

Amy Hamlin

Richard Henighan

Derenda Hodge

Aranya Hyers

Florence Jones

Pam Jones

LaKenya Kellum

Jill Kinch

Shelley A. Miller

Jenny Mullen

Sandra Murabito

Allyson Neal

Wendy Nehring

Diane Pace

Janie Parmley

Charlyne Parson

Louanne O'Dell

Kimberly Perry

Chaundel Presley

Melissa Ott

Kathy Putman

Christine Reed

Sheila Ridner

Frances W. Billie Sills

Greater Memphis APRN

Tracey Stansberry

Peggy Strong

Debra Sullivan

Elizabeth Haley Vance

Jennie Walls

Jenny Webb

Raven Wentworth

TN ACNM Affiliate

TNA District 3 – Music City

36
---
Culture of Health: The Nurse, The Patient, The Community – Maximizing Life's Potential

37
---
Culture of Health: The Nurse, The Patient, The Community – Maximizing Life's Potential

2016 TNPAC Legislative Participants

Senator Mark Green – Clarksville

Senate District 22 – Stewart, Houston and Montgomery Counties

1st Vice Chair, Senate Commerce and Labor Committee; Member of the Senate Energy, Agriculture

and Natural Resources Committee; and Member of Senate State and Local Government

Representative Mary Littleton – Dickson

House District 78 – Cheatham and parts of Dickson Counties

Vice Chair, House State Government Committee; Member of the House Health Committee;

and Member of House State Government Subcommittee

Representative Sherry Jones – Nashville

House District 59 – Parts of Davidson County

Member of the House Civil Justice Committee; House Health Committee and

House Civil Justice Subcommittee

Representative Joe Pitts – Clarksville

House District 67 – Montgomery County

Member of the House Education Instruction and Program Committee; House Insurance and

Banking Committee; House Ethics and House Education Instruction and Program Subcommittee

38
---
Culture of Health: The Nurse, The Patient, The Community – Maximizing Life's Potential

"It's the Season of Giving" and TNA would like to help with your Happy

Holidays shopping through a special LIMITED TIME OFFER.

For every NEW TNA membership you refer from October 28th through

November 30th TNA will send you a $25 Amazon e-gift card, "no limit"

on the number of new members you recruit during this campaign.

*** IMPORTANT! The new member MUST list your name and email

address as "Person who referred me to TNA" when he/she joins either online

at www.tnaonline.org (preferred) or by printed application for you to receive

credit for new membership(s) and $25 Amazon e-gift card(s).

*** Don't Forget, when shopping with Amazon through the TNA website, you

are supporting TNA, the Voice for all Registered Nurses in Tennessee!

Simply visit www.tnaonline.org, and click "Shop Now"

39
---
Culture of Health: The Nurse, The Patient, The Community – Maximizing Life's Potential

A VERY SPECIAL THANKS

2016 Sponsors and Exhibitors

(At Press Time)

Conference SPONSORS

40
---
Culture of Health: The Nurse, The Patient, The Community – Maximizing Life's Potential

School of Nursing Luncheon SPONSORS

41
---
Culture of Health: The Nurse, The Patient, The Community – Maximizing Life's Potential

EXHIBITORS

AQUINAS COLLEGE

BELMONT UNIVERSITY

BLUE CROSS BLUE SHIELD OF TENNESSEE

BLUECARE TENNESSEE

CAPSTONE COLLEGE OF NURSING – UNIVERSITY OF ALABAMA

CHALLENGER CORPORATION

CHAMBERLAIN COLLEGE OF NURSING

CHAMELEON CORPORATION

EASLEY WINERY

EAST TENNESSEE STATE UNIVERSITY - COLLEGE OF NURSING

ERLANGER HEALTH SYSTEM

FREEMAN FINANCIAL GROUP

HEALTHTRUST WORKFORCE SOLUTIONS

HURST REVIEW SERVICES

KAPLAN NURSING

KING UNIVERSITY

METHODIST LEBONHEUR HEALTHCARE

ONE MAIN FINANCIAL/SPRINGLEAF

PIKEVILLE MEDICAL CENTER

PLATINUM EDUCATIONAL GROUP

RELODE

SYLVIA RAYFIELD & ASSOCIATES, INC./ICAN PUBLISHING, INC

TENNESSEE DRUG CARD

TN PROFESSIONAL ASSISTANCE PROGRAM (TNPAP)

THE GIDEONS INTERNATIONAL

THE NEXT DOOR

TRISTAR HEALTH

UAB SCHOOL OF NURSING

UNION UNIVERSITY SCHOOL OF NURSING

UNIVERSITY OF MEMPHIS – LOWENBURG COLLEGE OF NURSING

UNIVERSITY OF TENNESSEE HEALTH SCIENCE CENTER – COLLEGE OF NURSING

UNIVERSITY OF TENNESSEE AT CHATTANOOGA

UNIVERSITY OF TENNESSEE KNOXVILLE – COLLEGE OF NURSING

VANDERBILT UNIVERSITY SCHOOL OF NURSING

WESTBERG INSTITUTE FOR FAITH COMMUNITY NURSING

WESTERN GOVERNORS UNIVERSITY

42
---
Culture of Health: The Nurse, The Patient, The Community – Maximizing Life's Potential

43
---
Culture of Health: The Nurse, The Patient, The Community – Maximizing Life's Potential

2016 TNA Board of Directors and Staff

Sandy Murabito

MSN, Ed.D, RN

President

Nashville

Billie Sills

MSN, RN, CLNC

Past President,

Johnson City

Haley Vance

DNP, APRN, CPNP-AC

Vice President

Nashville

Donna Copenhaver

EdD, MSN, RN

Secretary

Eagleville

Mary Bess Griffith

MSN, RN, CS, FNP

Treasurer

Union City

Amy Hamlin

Ph.D, MSN, APN,

FNP-BC

Director - Operations

Ashland City

Deb Chyka

DNP, RN

Director - Membership

Knoxville

Jenny Webb

PhD(c), MSN, RN, CNE

Director - Education

Humboldt

Sharon Davis

DNP, APRN, WHNP-BC

Director – Government

Affairs

Powell

Chaundel Presley

DNP, FNP-BC

Director - Practice

Lafayette

Debra Henline

Sullivan

PhD, MSN, RN,

CNE, COI

Representative –

Presidents Council

Readyville

TNA Staff

Sharon A. Adkins

MSN, RN

Executive Director

Diane

Cunningham

Executive Assistant

Wilhelmina Davis

Manager of

Government

Affairs/Lobbyist

Kathryn Denton

Manager of Marketing,

Member Services/IT

Managing Editor -

Tennessee Nurse

Tracy Depp

Communications

Administrator

44
---
Culture of Health: The Nurse, The Patient, The Community – Maximizing Life's Potential

District Map

45
---
Culture of Health: The Nurse, The Patient, The Community – Maximizing Life's Potential

Tennessee Nurses Association

2016 Slate of Candidates and Statements

President Elect – vote for one (1)

Elizabeth "Haley" Vance, DNP, APRN, CPNP-AC

District 3

Associate in Neurological Surgery; Pediatric Nurse Practitioner

Vanderbilt University Medical Center, Nashville

Resides in Nashville

I have had the privilege of serving as Vice President of TNA for the past 2 years. It has been an honor to work alongside

a fantastic board and TNA staff to grow the organization and represent nurses across the state. I look forward to an

opportunity to continue to serve as we seek to advocate for nurses and advance nursing practice in the years to come.

Vice President – vote for one (1)

La-Kenya N. Kellum, DNP, RN, NE-BC, CNML

District 1

Clinical Director

Le Bonheur Children's Hospital, Memphis

Resides in Memphis

RN for over 16 years. TNA/ANA member since 2000 with over 14 years of leadership experience. Past TNA secretary,

chair of Nominating Committee and TNF board member. I have served on several committees at the state level

including the education committee, nursing practice committee and operations committee. At the district level (District

One), I have served in several positions including vice president, president, and treasurer. I also served as an ANA

delegate (2007, 2009). My strengths include energy and drive to accomplish goals. I am interested in serving as TNA

Vice President because new opportunities create challenges allowing for the growth of knowledge and innovation in a

diverse environment.

Treasurer – vote for one (1)

Mary Bess Griffith, PhD(c), RN, CS, FNP, CNE

District 10

Director, Nursing Department

Bethel University, McKenzie

Resides in Union City

I have served in this position for one term. I would appreciate the opportunity to serve one more term to complete some

projects that are in process, such as, developing a treasurer's training program, a Dean's recruiting packet, and a license

plate marketing packet for Deans. I would like the chance to increase membership in TNA thus revenue in the budget.

46
---
Culture of Health: The Nurse, The Patient, The Community – Maximizing Life's Potential

Nominating Committee – vote for two (2)

Tracy R. Wilson, DNP, MSN.ED, RN, FNP-BC, CNE

District 15

Assistant Professor

Belmont University, Nashville

Resides in Nashville

I am currently completing my first term on the Nominating Committee. I have enjoyed being a part of this committee and

learning the process of how elections are put together. It has allowed me to be introduced to many other people in TNA

that maybe I would not have had the opportunity to meet. I would love to continue my service and help to provide an

excellent group of members that are able to serve our association.

Belinda Fleming, PhD, APRN, FNP-BC

District 1

Director, FNP Program

University of Memphis, Memphis

Resides in Memphis

Hello, I am Belinda Fleming and I am running for Nomination Committee. I have nursing experience as a staff nurse,

a public health nurse, advance practice nurse and nursing instructor. I am very interested in the future of nursing and

hope to positively influence the next generation. I am a career long member of TNA and I have enjoyed the benefits of

the positive effects it has had on my profession. TNA has helped me to grow and it is my hope that as a member of this

committee that I may contribute and encourage others to contribute to the profession. All nurses should be members.

Jenny Webb PhD(c), RN, CNE

District 6

Assistant Professor of Nursing

Bethel University, McKenzie

Resides in Humboldt

Director – Education – vote for one (1)

I am currently serving as the Director of Education for TNA and have really enjoyed the experiences I have had in this

position. I have been a nurse educator for the past 5 years and obtained my CNE in July 2015. I completed the MSN

program with a focus in education from Union University and am currently completing my PhD with a focus in education

from the University of Tennessee at Knoxville.

47
---
Culture of Health: The Nurse, The Patient, The Community – Maximizing Life's Potential

Director – Membership – vote for one (1)

Allyson Neal, DNP, APRN, PMHNP-BC, CNS-BC, CPNP

District 2

Assistant Professor

University of TN Health Science Center, Memphis

Psychiatric Nurse Practitioner

Helen Ross McNabb-Sevier County

Resides in Sevierville

I have been a member of TNA since 1995, have served as District 4 President, past member of Advanced Practice

committee, current member of Full Practice Authority Committee. I believe the profession of Nursing is best advanced

with a strong membership and would appreciate the opportunity to work toward an increase in membership, not only

numbers but in activity as well.

Karen Hande, DNP, ANP-BC

District 3

Assistant Professor

Vanderbilt University School of Nursing, Nashville

Resides in Brentwood

Karen Hande is DNP prepared adult health board certified nurse practitioner. She earned her BSN from the University

of Connecticut in 1999 and was employed as a bone marrow transplant nurse at Brigham and Women's Hospital in

Boston, Massachusetts. Karen furthered her education at Boston College and earned an MSN. Her experience as a

nurse practitioner began at Dana Farber Cancer Institute in the hematology outpatient clinic. She continued her practice

in adult primary care in outpatient clinics in Connecticut and Tennessee. Her pursuit for a practice doctorate was

commenced at Vanderbilt University School of Nursing in Nashville, Tennessee in 2013. Karen is an assistant professor

at the Vanderbilt University School of Nursing in the DNP program. Karen also practices at the Vanderbilt Ingram Cancer

Center in the Supportive Care Clinic.

48
---
Culture of Health: The Nurse, The Patient, The Community – Maximizing Life's Potential

Adolescents and Apps: Bad Connections

Patsy E. Crihfield DNP, APRN, FNP-BC, PMHNP-BC, PMHS

Poster Presentation Abstracts

Problem: Technology and social media have expanded our abilities to be more informed and to reach out to a greater number of

people and resources. However, these advances have increased the risks of encountering unwanted and often harmful contacts for a

vulnerable population.

Background: Technology, especially the smart phone, provides opportunities to improve communication and share educational and

personal information. Approximately 75% of adolescents in the US have access to a smart phone. 93% of adolescents report they

use the phone to avoid boredom. Smart phones can pose a risk, especially to adolescents who are not developmentally mature and

lack discernment about the safety of phone applications. Most applications pose little or no threat to the physical or emotional safety

of the adolescents. Unfortunately, some expose adolescents to negative or dangerous influences. The highlight of most questionable

applications is anonymity. This can be simultaneously alluring and threatening if the contact person has inappropriate intentions.

Many companies admit that filtering systems are not failsafe. For example, Chatroulette, Kik, Omegle, and others have reported

problems with inappropriate content, including sexting and pornography.

Summary and Implications: Health care providers need to recognize the positive and negative aspects of technology use by

adolescents. We have opportunities in a multitude of settings to educate parents and adolescents about the vigilant use of social

media and open the dialogue about safe practices to avoid harm. Recommendations and data from reliable sources provide us with

the information to provide accurate information to both adolescents and parents.

An Innovative Approach in Prevention of Pneumocystis Jirovecii Pneumonia in

Patients with Human Immunodeficiency Virus

Tracy McClinton, DNP, AG-ACNP, BC

Pneumocystis pneumonia (PCP) is a common opportunistic infection in individuals with human immunodeficiency virus (HIV) and a

CD4 count less than 200, as well as individuals who have advanced to the Acquired Immunodeficiency Disease Syndrome (AIDS).

In 2015 Tennessee was ranked 12th of the top 15 states leading with AIDS diagnoses in the United States. The Centers for Disease

Control and Prevention estimate a mortality rate of 5% to 40% for those treated for PCP and a mortality rate of 100% for those not

treated. The recommendation for HIV patients with a CD4 count less than 200 is treatment with PCP prophylaxis. An innovative

approach is evaluation of treatment decisions and development of a force field to document such decisions.

Background: Increase number of individuals with human immunodeficiency virus in the community.

Objective: To determine whether patients with human immunodeficiency virus (HIV) with a CD4 lymphocyte count of
---
Culture of Health: The Nurse, The Patient, The Community – Maximizing Life's Potential

The goal of this project was to promote increased parental satisfaction in relation to their child's care, as well as to promote improved

outcomes in this population. The aims were to create and implement a care coordination tool to be implemented for patients with

special health care needs; increase collaboration among providers; and improve referral to community resources for this patient

population.

Materials and Methods: Tools used for implementation of the project were the QI "Chronic Care Checklist, the Tennessee Disability

Pathfinder and community resource list, and the "Family/ Caregiver Survey" developed by the Center for Medical Home Implementation.

The checklist was administered to identified patients aged 0-22 years old, within the primary care pediatric office during regularly

scheduled visits for illness or well-visits. Pre-intervention data was obtained using the "Family/Caregiver Survey" mailed to randomly

selected families identified as having one or more children with a chronic condition. Post-intervention data was obtained from families

which received the intervention.

Results/Discussion: Responses obtained from the "Family/Caregiver Survey" revealed a 30% increase in family satisfaction with

care as indicated by an "Excellent" response to a survey question regarding level of care provided in the primary care setting.

Additional investigation of completed checklists reveals that 57% of patients who took part in implementation received a referral for a

service, specialty, or education regarding community resources.

Collaborative Care for Chronically ill Children: Inter-professional Education to Care for

Children with Multiple Chronic Conditions and their Families

Sandra Mixer, PhD, RN, CTN-A

Background: One in fifteen children are diagnosed with multiple chronic conditions (MCC). Definition of MCC is as follows:

• Two or more physical illnesses/poor health conditions OR one or more physical illnesses with a mental health condition

• Duration of ≥ 1 year

• Ongoing medical attention or limited ADLs

Care of children with these conditions involves multiple providers and management of care including medications. Often care is

fragmented, unorganized and causes undo stress on families.

Goals:

• 3 year grant (2014-2017) collaboration with UT-Knoxville College of Nursing, Graduate School of Medicine, & East Tennessee

Children's Hospital

• Inter-professional Education: PNP & MD student team training to solve clinical care problems in simulation & acute, primary,

and home settings.

o Enhance communication

o Promote understanding provider role & responsibilities

o Family- and relationship-centered care

• Add acute care track to PNP program.

• Roadmap for sustainable IPE at UTKCON

Methods:

Simulation

• Teams include PNP and medical students

• 18 scenarios with cultural diversity such as LGBT, physical disabilities, Hispanic, Rural Appalachian, Asian, generational

dynamics

Inter-professional home visits

Preliminary Findings:

• Approximately 100% increase in amount of PNP students (from 8 to 15) with newly developed acute care track addition.

• Increased collaboration between medical and PNP students in simulation and home visits

• Four families of MCC children "teaching" student teams about life experiences of families with chronically ill children

• Positive student evaluations of IPE process with children with MCC

50
---
Culture of Health: The Nurse, The Patient, The Community – Maximizing Life's Potential

Cultivating Civility in Nursing

Amy Black, MSN, APN, FNP-BC

Eve Rice, DNP, MSN, CPNP

Bettina Shank, MSN, BSN, RN

Incivility, bullying, and lateral violence are a few words used to describe unhealthy behaviors that can negatively affect any workforce

environment. The American Nurses Association (ANA) has recognized these unhealthy, unproductive behaviors as a very serious issue in

the field of nursing (ANA, 2015). Nurse educators are in a key position to set the tone and expectation of professional behaviors through

professional role modeling and instruction.

The purpose of this study is to first identify perceptions and concerns regarding uncivil behaviors among nurse educators in academia.

In order to implement an evidence-based initiative cultivating civility in nursing, faculty must first take self-inventory. The methods used

were pre- and post-intervention surveys (Workplace Incivility Survey© and Healthy Workplace Inventory©) from 21 nursing faculty which

provided insight into nursing faculty's perceptions of civility in the academic setting. Based upon our findings, our recommendation includes

creating a civility team consisting of faculty/students, a civility pledge utilizing Provision 1.5 from the ANA Code of Ethics (ANA, 2015),

motto, ground rules for conduct, a mandatory civility meeting with faculty/students each semester, and implementing evidenced-based

strategies for addressing incivility such as Team Strategies & Tools to Enhance Performance & Patient Safety (TeamSTEPPS), utilizing the

CUS (Concerned, Uncomfortable, Safety) model of communication (AHRQ, 2016; Clark, 2015). Finally, nurse educators are leaders who

play a key role in cultivating a culture of civility in nursing. By exemplifying these healthy behaviors, nurse educators provide a platform to

begin an initiative of culture change within the field of nursing.

Driving Down Business: Preventing Geriatric Trauma

April Humphrey, BSN, RN

It quickly became obvious to us just how frequent falls in the community are happening in our elderly patient population when we began

reviewing the data from last year. 45% of the total admissions to our level one trauma center were in relation to falls. When reviewing

national data we found that the Center for Disease Control report that one out of every 3 adults age 65 and older fall every year and less

than half talk to their healthcare providers about their fall. After reading alarming data as an organization, we decided that it was time to

make an impact on these numbers and drive down our business by focus on falls in the community. This presentation will discuss our

multidisciplinary approach senior safety and fall prevention. You will also learn how we teamed with our local office on aging to provide

multiple educational series in the community. Finally we will discuss our success with implementation of A Matter of Balance fall prevention

program. The University of Tennessee Medical Center is the only licensed provider of Matter of Balance in East Tennessee. We hope to be

given the opportunity to share with other healthcare professionals how we founded our community falls prevention education program and

also give ideas on how to build or expand your own program.

Effective Stress Reducing Strategies for Nurses

Raven Wentworth, DNP, APRN, AGPCNP-BC, FNP-BC

Meg Yates, BSN Student

The purpose of this poster presentation will be to identify stress-reducing strategies that any nurse can utilize despite their employment

setting. Stress in the workplace has been identified as a major contributor to burnout and frequent job turnover. Burnout and turnover

not only negatively affects the nurse, but also the organization and patient outcomes. A literature review will be conducted to reveal what

strategies have been identified and proven to be effective. Three strategies, based on the evidence, will then be discussed and presented.

Empowering a Culture of Safety and Healthy Nurses: Prevention of Nurse Fatigue and

Shift Work Sleep Disorder

Debbie Ellison, PhD, MSN

Francisca Farrar, Ed.D, MSN, BSN

Missy Blanks, MSN, BSN

Nurses are not only caretakers for patients, but lead lives outside of the work environment. Unfortunately, some of the daily activities

and responsibilities of nurses outside of the nursing profession may interfere with patient care outcomes and patient safety. The ability of

nurses to balance work and family life is one stressor that leads to sleep deprivation and the lack of caring for one's own well-being, such

as unhealthy eating habits and lack of exercise due to fatigue and exhaustion. It is vital that nurses learn the importance of caring for one's

own health first in order to become more efficient health care professionals who cares for others.

Nursing is a caring profession that is physically and mentally draining. Most nurses work twelve hour shifts that are challenging and taxing

on the body. This applies also to nurse executives and nurse educators. Overtime demands and the economic need to work a second job

51
---
Culture of Health: The Nurse, The Patient, The Community – Maximizing Life's Potential

adds extra stress to the body and mind. An imbalance in healthy working hours causes fatigue and even exhaustion. Nurses are at risk

for developing a shift work sleep disorder and are at risk for extreme fatigue, errors, work-related injury, and medical conditions such as

diabetes, hypertension, cancer, obesity, and adverse reproductive outcomes due to sleep deprivation.

Healthy work hours, adequate sleep, power naps at work, and balancing family/work/school are discussed with recommendations to

empower a healthy practice environment. Case reports with analysis and recommendations are discussed to overcome these barriers.

Empowering International Adolescents Towards Healthy Behaviors

Amanda MacLurg, BS, MSN Student

Kelsey Moore, MSN Student

Caitlin Nelson, BS, MSN Student

Problem Addressed: International adolescents have increased rates of risky health behaviors, barriers to health care, and chronic disease

risk factors.

Objectives: Ten nursing students collaborated with a local nonprofit to improve their adolescent participants' health outcomes by

increasing knowledge of nutrition and first aid, conflict resolution techniques, and engagement in mindfulness and healthcare career

education.

Methods/Procedures: Adolescent participants, enrolled in a local nonprofit after-school program, identified concerns regarding knowledge

deficits and health education needs on a stakeholder survey. In response, nursing students provided a series of five, one to three hour,

evidence-based interventions including: role play, teach back, and interactive activities. The interventions addressed: nutrition, first aid,

mindfulness, conflict resolution, and healthcare careers. Project outcomes focused on acquisition of topic-specific knowledge and were

measured by pre- and post-test.

Findings: Participants self-reported a range of 20% to 47% increases in topic-specific knowledge. During post- intervention debriefings

participants expressed high satisfaction with topics and teaching methods. They also noted benefits of interactions and education with

nursing students.

Recommendations for Future Practice/Research: Future research should focus on obtaining data related to behavioral changes and

health outcomes rather than knowledge acquisition. In addition, longitudinal cohort studies could be performed to assess the effectiveness

of interventions on long-term behavior change and reduction of risky behaviors. Researchers may also consider utilizing control and

intervention groups to assess the development of chronic disease risk factors.

Empowering VA Nurses through Shared Governance

Teris Webb, MSN, BSN

Problem: Successful shared governance implementation challenges the status quo and depends on nursing leadership cultivating a

collaborative and autonomous environment. Shared Governance requires the participation of nurses who exhibit a professional identity that

reflects a responsible, empowered, equitable role and an understanding of the professional identity of nursing which is often lacking from a

culture of the status quo.

Objective: The pilot team of a unionized federal hospital used a shared governance model to develop a "healthier work environment."

Using the recommendations from the American Nurses Credentialing Center and the Institute of Medicine healthy work environment

characteristics: workplace cleanliness, order and collaborative relationships were chosen as their first project.

Method: Using the 5S Model of Improvement, the nurses focused on three initiatives. Patient care concerns involved safe communication

of patient care status, the appearance of work space and the function of providing cleanliness to patients' area. Nursing developed

strategies to address and measure results.

Findings: Three projects were implemented: organization of visible nursing areas consequently eliminating clutter; Implemented a smoother

process of delivering, changing and removing linen from patients' room and developed a Nursing Assistant Hand-Off report between shifts

to assure a smooth and safe transition of care.

Consequently, post-shared governance nurse satisfaction scores improved overall.

Recommendations: Shared governance can be initiated in the most resistant cultures. Nurses' professional identities are transformed;

they become patient focused, autonomous and more satisfied with their practice.

Investigation into the impact of using shared governance on professional identity in similar environment is needed.

52
---
Culture of Health: The Nurse, The Patient, The Community – Maximizing Life's Potential

Fall Reducing Strategies In The Nursing Home Patient

Amanda Barber, BSN Student

Maria Escamilla, BSN Student

Caitlin Harper, BSN Student

Kyle Trent, BSN Student

We will be presenting on research that has been proven effective to reduce falls concentrated to the nursing home population.

Our presentation will include a visual poster board and a written research paper. Our research will include articles ranging from a

broad spectrum of interventions to single proven interventions that reduce falls. The research to prevent falls in the elderly is vital

in decreasing acute traumatic injuries that can and often times result in long term damage. This leads to further debilitating disease

processes and a higher cost of health care. Our goal is to educate and provide a wide variety of measures in not only fall prevention,

but also the reduction of risk factors as well. This information is critical to excellent health care services in all aspects of nursing.

Fill the Pantry

McKinley Agatha-Mancebo, BA, MSN Student

Charlene Donovan, Ph.D

Katelyn Engbert, MS, BS, BA, MSN Student

Allison Mitchell, BA, MSN Student

Haley Pace, BS, MSN Student

Background and Purpose: Children with poor access to healthy food are at risk for many negative health outcomes. A group of

nursing students worked with a preschool in an under-resourced community in a large metropolitan area. Over a third of students

qualify for a weekend food supplement "backpack program," exemplifying the need for an intervention to increase student access

to essential food resources. We developed a process to distribute healthy food along with the backpack program and built the

infrastructure for a school food pantry so there was a designated location to accept food donations.

Methods: To obtain resources needed to create and stock the food pantry, we worked to develop relationships with community

stakeholders, compiled a list of those willing to pledge to the program and began accepting donations.

Results: Through cash donations and partnerships with organizations, we were able to purchase the pantry infrastructure and

obtained cash donations and commitments for produce donations for the upcoming school year.

Limitations: As this project was part of a course assignment, we had a time constraint of 9 months to understand the community's

needs and work to develop relationships. To address this limitation, we developed a plan to transition the project to incoming

students to ensure continuity.

Discussion: Developing the food pantry and food donation project will get healthy produce to the school children to help fill their

nutritional gaps and ultimately improve health outcomes. This approach is scalable to other pre-K schools with children who have

limited access to food.

Green Means Go: School Based Asthma Self-Assessment Program

Taylor Johnson, BS, MSN Student

Mackenzie Seibert, BS, MSN Student

Problem addressed: In an effort to increase school attendance and reduce asthma-related truancies in pre-kindergarten through fourth

grade we addressed gaps in asthma knowledge among students, teachers and parents at an elementary school in Nashville, Tennessee.

Objectives: This project aimed to teach students with asthma to perform daily self-assessments, educate teachers to identify symptoms

and help with assessments, and improve communication with parents regarding their child's asthma symptoms while at school.

Methods/Procedures: Students who self-identified as having asthma were educated to perform daily asthma self-assessments

during a 30 minute session. Teachers were provided a 20 minute education session. Students documented their asthma zone

daily on a calendar. Parents were notified if the student had two consecutive yellow zone days. Parents were invited to an asthma

presentation and offered home visits to address environmental triggers.

53
---
Culture of Health: The Nurse, The Patient, The Community – Maximizing Life's Potential

Findings: Of 90 students who participated, 100% verbally demonstrated an age-appropriate understanding of asthma and could

self-identify their zone. Daily asthma zone reporting was 26% overall; however, three classrooms had 0% participation. One parent

attended the asthma information session, one home visit was completed and no parent notifications were returned.

Recommendations for Practice: Teacher feedback indicated participation would have been higher if initiated at the start of the

academic year. Limited parental involvement hindered efforts to improve communication between the school and parents regarding

asthma. The program was recognized by the school system as the sole resource for children with asthma and will move forward as

an initiative to specifically address children with asthma-related truancies.

Identifying Caregivers in Primary Care to Influence Keeping Elderly Patients in the Home

Carissa Myers, BSN, DNP Student

Lisa Ousley, DNP

Florence Weierbach, PhD

There are many barriers present to keeping elderly in the home. One of these barriers is lack of identifying and supporting caregivers

of these patients. Informal caregivers provide the majority of care for elderly patients residing in the community. Being able to identify

and support these caregivers in the primary care setting may prevent caregiver burden, with a primary goal of keeping the care

recipient in the home. This interactive presentation objectives include; exploring the influences of the caregiver role and the elderly's

ability to stay in the home, critiquing the existing evidence for identifying caregivers of elderly patients and introducing and describing

ongoing research within a Tennessee Primary Care Practice.

Implementing an Innovative Advanced Practice Preceptor Development Program:

Assuring Quality Clinical Education and Practice Transitions

Susan Bosworth, MSN, APRN, FNP-BC

Janet Myers, DNP, APRN, FNP/GNP-BC, ADM-BC, CDE, NE-BC, CLNC

Clinicians, nurse administrators, graduate nursing educators and students acknowledge the challenges inherent in securing advanced

practice preceptors who are passionate, skillful, experienced providers who also demonstrate a zest for teaching. Advanced practice

registered nurse (APRN) preceptors provide a unique, valued, and critical role in a graduate nursing student's clinical education, as

well as the professional acclimation and practice transition of novice and experienced providers.

To maximize clinical learning and onboarding experiences, APRN preceptors must demonstrate skills in learner assessment and

evaluation, interprofessional communication, effective role modeling, and appropriate socialization of individuals to specified roles,

practice settings, and organizational culture.

Based on a needs assessment and gap analysis of advanced practice providers conducted in early 2015, an academic medical

center developed and implemented an innovative, structured advanced practice preceptor program. The program's objective was

to effectively transition and successfully assimilate students, novice and established clinicians into a diverse, complex healthcare

system. Blending on-line and didactic training, the targeted curriculum coaches preceptors to elicit critical thinking, demonstrate

effectual communication, facilitate interprofessional team building, apply conflict management skills, model professionalism, and

evaluate clinical and social competence.

Launched in late 2015, the program utilizes a tiered, multi-modal approach to learning. The resulting program has yielded fully

functioning core team members with preceptors who optimize student's educational experiences and transition and onboard

professionals while serving as a compelling recruitment and retention strategy. Data extraction from the first two cohorts shows that

there was a statistically significant improvement in the assessment and evaluation portions of precepting.

Improving the Quality of Healthcare in Rural Tennessee Adolescents: Fostering

Resilience Through Effective Coping Mechanisms

Vanessa H. Phipps, DNP, MSN, CPNP-PC

Purpose: The purpose of this project was to identify coping mechanisms utilized by some rural Tennessee adolescents.

Methodology: A descriptive design was utilized to identify coping strategies utilized by rural Tennessee adolescents based on

answers to the self-answered questionnaire A-COPE. The convenience sample consisted of 15 adolescents encountered at a small

rural health clinic.

54
---
Culture of Health: The Nurse, The Patient, The Community – Maximizing Life's Potential

Results: The adolescents who participated in this project recorded various coping mechanisms (positive and negative) while residing

in a community where many citizens participate in risky behaviors. Although the sample size was small, this project can provide a

starting point for healthcare providers as they encounter adolescents who are in need of assistance with identifying effective coping

mechanism in their own lives.

Implications for practice: By understanding and identifying current coping mechanisms, healthcare providers are better equipped

to determine areas where at-risk adolescents need help to develop positive coping mechanisms and to find ways to reduce negative

coping mechanisms in the vulnerable population. Thus, healthcare providers can better serve the adolescent population and help

adolescents in transitioning into young adulthood. These professionals' heightened awareness will also lead to greater psychological

and physical health among at-risk adolescents.

Incivility in the Nursing Work Environment

Elizabeth De Leon, BSN Student

Meredith Morris, BSN Student

Today, we have reached a society where healthcare is ever expanding, changing, and evolving. Baby boomers are aging and diseases

are rocketing, resulting in an increased demand for nurses. According to the National Council of State Boards of Nursing and The

Forum of State Nursing Workforce Centers (2013), 55% of the RN workforce is age 50 or older. In addition, the Health Resources

and Services Administration predicts more than 1 million registered nurses will reach retirement age within the next 10 to 15 years.

(Nursing Shortage, 2014). The process to becoming a nurse all begins with nursing school. Nursing school is a demanding time for

anyone who commits to it and can be emotionally, physically and mentally draining. As nursing students enter the hospital, the only

thing they have to cling to is all that they have studied. The unit floor is where they finally begin putting what they know into practice.

Nursing students work with the staff to gain invaluable experience to further their learning. Staff with hostile attitudes can impair the

way nursing students further their practice. It can negatively impinge on their confidence thus decreasing competency. Demands

of the profession and time continue to be factors that affect the nurse-student relationship. Rather than having a supportive nurse

that empowers others to do their best, we are seeing nurses experiencing burnout and compassion fatigue resulting in a toxic work

environment. Have we as a nursing profession progressed beyond eating our young or is it still a problem today?

In patients with long term indwelling catheters, is routine and PRN catheter care with

antimicrobial solutions alone enough to prevent CAUTI's?

Tammy Maxwell, BSN Student

Brianna Newsome, BSN Student

Samuel Seaton, BSN Student

Catherine Williams, BSN Student

In this presentation, we will discuss if routine and PRN catheter care with antimicrobial solutions alone is enough to prevent CAUTI's

in patients with long term indwelling catheters. Studies indicate that with one month of catheterization, which is also considered the

differentiation between short- and long-term catheterization, the daily risk of bacteriuria approaches 100%. This is due to the fact

that over time, a layer of microbes forms on the catheter surface. The longer a catheter is in place, the more microbes are produced;

therefore, increasing the risk of urinary tract infection. These microbes tightly adhere to the catheter surface and are extremely

resistant to antimicrobial solutions, necessitating removal of the catheter to successfully eradicate an infection. Cleansing with

antimicrobial agents alone is not sufficient in preventing CAUTI's due to the microbes' adherence to the catheters surface.

Keywords: catheterization, bacteriuria, urinary tract infections, CAUTI, antimicrobial

Interprofessional Problem Solving through Community Health: An Interdisciplinary

Global Health Immersion Pilot

Chelsea Biegler, BA, MSN Student

Background: The increasing globalization of healthcare has created a high demand for professionals trained in cultural competence

and interdisciplinary decision-making. Nurses, who deliver 90% of healthcare worldwide, are well suited to address complex global

health issues. However, few international educational opportunities exist for nursing students through which they may learn to

navigate diverse cultural and professional landscapes.

Objective: This pilot integrated community health nursing clinical experience with an existing business course to teach students

to work abroad as part of an interdisciplinary team. The project aimed to increase awareness of the central role of nursing in global

health and foster collaboration among members of the nursing school and several other university departments.

55
---
Culture of Health: The Nurse, The Patient, The Community – Maximizing Life's Potential

Methods: Students completed course work in social entrepreneurship and poverty alleviation and worked in teams to determine

project deliverables. Students traveled to partner sites throughout Central America to implement planned interventions according to

each organization's needs.

Results: Six nursing students successfully participated in the course and completed project deliverables. Students reported a greater

understanding of the role professional nurses play in global health and a greater appreciation for the benefits of interdisciplinary teamwork.

Conclusion: By integrating global health experiences into the core nursing curriculum, universities can increase the number of

graduate nurses who are equipped to care for patients in global communities. In order to advance the role of nursing in global health,

it is critical to continue to develop opportunities for real world experiential learning.

Introducing Global Population Health Competencies into the Baccaulaureate Nursing

(BSN) Curriculum

Katelyn Erickson, BSN Student

Cathy Taylor, DrPH, MSN, RN

Karah Walters, BSN Student

Problem: Nurses are increasingly asked to incorporate global public health/population health competencies into their practice and to

deliver culturally sensitive, evidence- based care, yet there are few accepted standards to guide introduction of these concepts into

the baccalaureate nursing (BSN) curriculum.

Methods: The study abroad, Public Health Perspectives Maymester at Belmont University comprises a novel approach to introducing

this content. Beginning with a 2- day immersion experience in local and regional public health systems and strategies aimed at

protecting and promoting health locally, students learned about comprehensive health information systems, health and illness trends

and determinants of health in the United States (U.S.). Subsequent travel and assignments focused on systems of care, resources

and patient outcome comparisons between the U.S., the United Kingdom and the Republic of Ireland provided opportunities for

students to assess the health of selected populations and to identify inequities in access, care and outcomes. Cultural, behavioral,

socioeconomic and policy-related contributors to health and illness in selected populations were examined.

Results: All students demonstrated improved concept-based pre- and post-test scores as well as satisfactory competence in basic

public health and population health skills, e.g., locating and using epidemiologic data to assess population health and inequities

in care and outcomes as well as identification of contributors to health and wellbeing at the population level. Student feedback

indicated the experience was meaningful.

Recommendations: The study abroad, Maymester immersion experience is an acceptable strategy for introducing basic global

public health/population health competencies at the BSN level.

It's Not a Matter of If It Will Happen, But When It Will Happen: Surviving a Catastrophic

Electronic Documentation Event

Dallas Gail Broyles, DNP, MSN, BSN

Louann S. O'Dell, DNP, MS, BSN

The purpose of the presentation is to increase participants' awareness on the importance of recognizing and owning clinical

technology downtime processes. Believing organizational downtime processes are in place without ongoing review will be severely

tested during an extended downtime event. The presentation supports the conference theme by identifying strategies to deal with

rapid change by establishing ongoing collaborative partnerships as they relate to catastrophic downtime events to ensure quality

of care, continuity of care, and data capture. A recent catastrophic downtime event magnified the need to be better prepared

for extended downtime occurrences. As clinicians adopt and become reliant upon clinical technologies in their clinical workflow,

disruptions to access, system availability, and downtime can have serious consequences on healthcare outcomes and patient care.

Downtime processes had a major impact on ancillary departmental functions, communications, and productivity that impacted

patient care outcomes including data capture, staffing patterns, productivity, finance, Meaningful Use, and regulatory requirements.

Dependence upon electronic documentation systems' automation of processes has resulted in the fragmentation of previously

known paper documentation and associated clinical workflow processes. Strategies should include ongoing education, evaluation of

downtime forms, and improved downtime communication with all collaborative partners, including academic institutions. Strategies

and processes should be hardwired through ongoing drills, practice, and evaluation. Just as disaster drills include community

agencies, downtime drills should involve all partnerships and community stakeholders. Nurses can be instrumental in promoting a

culture of health-even in catastrophic events. Surviving a catastrophic electronic documentation event requires thorough planning

and pre-established collaborative partnerships.

56
---
Culture of Health: The Nurse, The Patient, The Community – Maximizing Life's Potential

Location, Location, Location: Exploring Healthy Aging in Three Diverse Living Environments

Deborah Ellison, PhD, MSN, BSN

Kristen Hershey, PhD, MSN, BSN, RN

Tasha Ruffin, MSN, BSN

Older adults live in a variety of settings including skilled nursing facilities, senior independent or assisted living communities, and

independent living in the general community. Each of these settings has benefits and drawbacks to promoting healthy aging. The

lived experience of three seniors living in three different communities will be explored to identify how healthy aging can be improved

in each of those settings. For example, skilled nursing facilities may have safety benefits over independent living, but autonomy

is often sacrificed. Best practices in living environments for older adults such as principles of The Eden Alternative, the American

Association of Retired Persons (AARP), the Administration on Aging (AOA), and the Centers for Medicare and Medicaid Services

will be used as a lens to view how each environment could be improved. Understanding how to maximize the benefits and minimize

the drawbacks of each setting will assist the nurse in promoting healthy aging regardless of the living environment. Understanding

benefits and drawbacks of a variety of settings will also provide the nurse with the knowledge to help clients and families make

informed decisions on where and how they live during their senior years.

Mindfulness Centered Stress Reduction: A Phase II Study

Karen Hande, DNP, MSN, BSN

Carrie Plummer, PhD, MSN

Background: While certain levels of stress can be beneficial in promoting learning and motivation, high levels and/or extended

periods can prove detrimental to mental and physical health. Mindfulness Centered Stress Reduction (MCSR) is a tool by which

MCSR practitioners may promote improved physical and psychological health as well as quality of life (QoL).

Problem Statement: While certain levels of stress can be beneficial in promoting learning and motivation, high levels of stress can

prove detrimental to a student's mental and physical health.

Purpose: The purpose of this study was to expand a pilot study to further examine the effect of a MCSR intervention on the

perceived stress levels, mindfulness, self-compassion, and overall quality of life of nursing students enrolled in an intensive,

accelerated Masters of Science in Nursing (MSN) Program.

Methods: 46 participants were randomly assigned to undergo MCSR training and 75 served as a control group. The MCSR

intervention included twenty, 1.5-hour weekly sessions of MCSR training, including: gentle yoga movements, Tai Chi, Qigong, and

guided meditation and breathing exercises. All participants completed a demographic form, the Holmes-Rahe Life Stress Inventory,

the Perceived Stress Scale (PSS-10), the Cognitive and Affective Mindfulness Scale-Revised (CAMS-R), and the World Health

Organization Quality of Life - Brief (WHO-BREF) scale at four study intervals.

Results: A comparison of the intervention to the control group data at weeks 0, 10, 20, and 32 is still pending at time of abstract submission.

Discussion and Conclusions: The discussion and final conclusions are pending at this time.

More Money, More Problems?: The Effect of Family-Based Psychoeducation on

Depression and Anxiety in Affluent Adolescents

Kendra Osborn, BA, MSN PMHNP Student

Background: Early studies have demonstrated that affluent teenagers have anxiety, depression, and substance abuse rates similar

to that of teenagers from low socioeconomic backgrounds. Current evidence has revealed that family-focused psychoeducation

alleviates symptoms of depression and anxiety in adolescents, but its efficacy has not yet been evaluated in affluent teens.

Objectives: This project sought to explore the efficacy of the use of family-based psychoeducation to improve mental health

outcomes in affluent teens.

Methods: A literature search using the search engines PsychInfo, Google Scholar, PubMed for peer reviewed articles from 2012-

2015. Key words used included: "adolescents, anxiety, depression, affluence, family-based psychoeducation."

57
---
Culture of Health: The Nurse, The Patient, The Community – Maximizing Life's Potential

Results: The scholarly evidence revealed that adolescents from affluent families have high levels of depression anxiety, and stress.

Affluence alone was not found to be a risk factor to mental illness but rather "competitive norms" and perceived parental pressure in

affluent communities acts as a mediating factor that could lead to negative adolescent adjustment (Kaslow et al, 2012). One study

demonstrated that this relationship could be buffered by organized activity involvement (Randall, Bohnert & Travers, 2015). Familybased

interventions proved to be effective for depression and anxiety in the adolescent population (Bhasin, Sharma, and Saini, 2010).

Conclusion: Based on this review of evidence-based literature, it is hypothesized that family-focused psychoeducation can be used

for prevention and early detection of mental illness in affluent adolescents by acting on the mediating factor, perceived parental

pressure. Further studies are warranted to test this hypothesis. By using the current evidence to guide practice, mental health

outcomes will improve and death by suicide will be prevented in this population often overlooked by healthcare providers.

Nursing Care for Depressed Elderly in Nursing Homes and in Home Health

Morgan Cinkovich, BSN Student

Joseph Flamm, BSN Student

Amanda Oliver, BSN Student

Jeffery Whitby, BSN Student

Depression is a common psychiatric disorder among the elderly. Research has shown that there are significant differences in the

way nurses treat depression in the elderly population living in a nursing facility and the elderly population living in their own homes.

Nursing interventions include pharmacological (administering medications) and nonpharmacological (tailoring to their emotional and

social needs) interventions. Nurses working in nursing facilities can provide many of the same nonpharmacological interventions as

nurses working in the home health setting, however, nurses working in the home health setting can provide more one on one care.

The home health nurse can really zone in and focus on the one patient, where as a nurse working in a nursing facility has many

patients in their care and many times cannot provide that one on one care when it is most needed.

Promoting Effective Patient Communication in Vulnerable Women

Ginny Moore, DNP

The ability of patients to communicate effectively with health care providers has been associated with improved outcomes and

increased patient satisfaction. At highest risk for lack of essential communication skills are vulnerable populations. This poster

presentation describes the promotion of effective patient communication skills in communities of women recovering from lives of

addiction, violence, and prostitution. Conference participants will learn methods of instruction for teaching essential communication

skills in vulnerable populations.

Promoting Wellness for Your Total Hip and Total Knee Replacement Patients

Ginger Thomann, BSN, RN

Wellness is defined as "the quality or state of being healthy in body and mind, especially as the result of deliberate effort." At

the University of Tennessee Medical Center, we performed over 1,100 joint replacements last year and understand that it is our

responsibility to give patients every opportunity to be well. As care providers, we play a major role in the "deliberate effort" to ensure

wellness for our patients. We will share how we provide wellness opportunities through our Joint Class, Pre-Admission Testing, the

Institute for Healthcare Improvement's ProjectJOINTS, utilizing TXA to decrease blood transfusions, Day of Surgery Mobilization, and

an average length of stay of 2.4 days. Participants will learn how to implement best practice to promote wellness for total hip and

total knee replacement patients.

Putting it all together: Using live simulation in the large classroom setting to enhance

clinical reasoning in applying principles of client centered care

Heather Flynn, MSN, RN

Within small group skills lab, nurse learners are adequately prepared learning psychomotor skills required to meet the physical needs

of their patients. Opportunities for psychological skill development may be included on occasion within this setting, but are routinely

deficient for various reasons, such as inadequate time or space. Understanding the benefits that role-playing can offer, the classroom

was flipped, and a form of live simulation in the large setting was implemented with the objective of learners demonstrating clinical

58
---
Culture of Health: The Nurse, The Patient, The Community – Maximizing Life's Potential

reasoning through their ability to operationalize core concepts of client centered care within the clinical setting. This strategy included

faculty members performing brief case scenarios with a focus on incorporating principles of client centered care that had been

emphasized during previous course weeks including: culture, spirituality, gender, communication, learning preferences and patient

teaching strategies.

After each role play simulation, class discussions included identification of which components of care were evident, analysis of

strengths and weaknesses, and identification of alternative therapeutic client centered skills. Learners were then encouraged, but not

required, to replay the scenario, followed by an informal debriefing. All learners were active participants through reflection showing

critical thinking and reasoning.

Use of live simulation in the large classroom can allow for consistent skilled learning experiences for students. Learners have the

opportunity to observe, analyze, evaluate, and practice interventions that focus upon client centered care that is unique to an

individual's needs and capacities, resulting in the enhancement of critical reasoning necessary when caring for future patients.

The Development, Implementation, and Evaluation of a Web-Based Learning Module

on Advance Care Planning: Enhancing the Knowledge of Clinical and Advance

Practice Nurses in Tennessee

Holly Dillon Dockery, BSN, RN

It is believed that when healthcare professionals address advance care planning (ACP) in practice, the quality of life (QOL) for both

aging individuals and those facing the end-of-life (EOL) is increased and healthcare costs associated with unnecessary medical

treatments is decreased. However, many ACP gaps and practice barriers surrounding ACP remain. Due to the growing population

of adults with chronic and comorbid health conditions seeking care in a complex healthcare economy, members of the healthcare

workforce such as nurses would benefit from ACP education. Due to limited funding for professional continuing education, the use of

a web- based learning module has been suggested as one way to reach out to healthcare workers to improve ACP processes.

The "Self Entitlement Theory": Equipping Nurses with Skills and Self-awareness to

Care for the Demanding and Difficult" Patient

Traci Brackin, DNPc, APRN, FNP-BC, CWOCN, CFCN

Introduction

This discussion is regarding a very sensitive topic for nurses at the bedside and in leadership positions. Since healthcare institutions

are now rated and reimbursed accordingly for patient satisfaction scores, hospital and healthcare administrators are trying to

find creative ways to "handle" the demanding and difficult patients. This discussion will review the "Self Entitlement Theory" and

components from other professions for a theoretical framework that nurses can utilize to build skills to interact with and meet the

needs of this patient population. Similarly, we can adopt a self-awareness regarding the patient perspective and interact accordingly.

This discussion will involve motivational and engaging elements of the nursing profession that allow us to maintain a very professional

patient nurse relationship while caring for our patients. This is certainly a delicate topic of conversation, but very much needed for

every bedside nurse and nurse leader currently in practice.

Abbreviated Outline

I. Introduction

II. Self Entitlement Theory

A. Background

1. Personal journey in nursing

2. Implications for practice

B. Theories from other professions

1. Psychology

2. Sociology

C. Other nursing theories related to care

1. Hildegard Peplau

2. Betty Neuman

3. Martha Rogers

4. Virginia Henderson

D. Economical and societal factors

1. New government policies

2. Patient satisfaction

3. Leadership/Administration standards

III. Interventions

A. Nurse/Patient relationship

B. Leadership Intervention

C. Boundaries

D. Practice Pearles

IV. Outcomes

1. Improved patient care

2. Healthy work environment

3. Supportive Leadership

4. Improved nurse satisfaction

59
---
Culture of Health: The Nurse, The Patient, The Community – Maximizing Life's Potential

The Specialty Practice of Faith Community Nursing: Promoting a Culture of Health for All

Sharon T. Hinton, DMin, MSN, RN-BC

Faith community nursing provides a wholistic link between health care, faith communities, and the community at large. Participants

in this interactive presentation will gain insight and understanding of how the specialty practice of faith community nursing applies

sound principles of evidence-based nursing practice with wholistic care of body, mind, and spirit to individuals, families, and diverse

populations across the life span. Historical foundations, description and development of various practice models and educational

requirements for certification along with examples of congregational , community and professional collaboration to provide outreach

to the surrounding community including options for serving at-risk populations such as the aged, working poor, and rural populations

will also be discussed.

The View From The Other Side of the Bedrail: A Qualitative Study of the Patient

Experience of Critical Illness

Judith A. Rosenburg, PhD, MS, MPH

Within small group skills lab, nurse learners are adequately prepared learning psychomotor skills required to meet the physical needs

of their patients. Opportunities for psychological skill development may be

Qualitative research is a collection of observation based methods employed by nurses when studying human populations and

experiences (Denzin, Sage Handbook of Qualitative Research). Among these methods is "ethnography," wherein open-ended

informal interactions with study subjects form the basis of observation. In some situations, the observer may also be the subject,

creating "auto-ethnography" (Bochner, Evocative Autoethnography). In late 2015 the author, a nurse practitioner, anthropologist, and

teacher of nurses in training, experienced a severe illness, followed by 33 days in acute care hospitalization and 42 days in skilled

nursing facilities. This presentation provides an auto-ethnography based on the author's experiences as a patient, viewed through

the lens of her professional roles. Key observations to be discussed were experiences of isolation, imprisonment, depression, and

disorientation. Professional hospital staff have distinct duties that generally revolve around a patient's physical, but not mental being.

The author frequently felt as though she was an inconvenience. Experiences of disorientation were exacerbated when the author

was moved from one facility or room to another, or when one group of caregiving staff would rotate off and be replaced with another.

Additional observations were that as a patient, the author felt to be equated with her illness, but seldom acknowledged as being

mentally and cognitively intact.

The Whole Person Wellness Project: Lessons Learned and Implications for Promoting

Health in a Faith Community

Sharon Caldwell Jones, DNP, MS, SM, BSN

Problem: Chronic diseases are epidemic. Personal knowledge, empowerment, and behavior change are essential to promote health.

Faith communities are places that can impact health because of the long term relationships, access to all ages, and a shared culture.

Incorporating health into the faith culture can impact large numbers of diverse people.

Objectives:

1. Empower participants with knowledge regarding a wholistic approach and how small personal choices can improve one's own health

2. Begin development of a faith community nurse practice site.

Methods/Procedures: A $5,000 grant was awarded from the Tennessee Department of Health and IRB approval was obtained. An

educational/ health-coaching type of intervention program was delivered to two different aggregates in one faith community over a 5

month period in 10 sessions. Two groups were targeted for the intervention: people in a recovery program and people not involved in a

recovery program. The Wellness Inventory TM wheel was used as the framework and included a wholistic approach. Blood pressure,

height and weight were measured pre- and post-intervention. Pre- and post-intervention surveys included the SF36, the URICA, and the

Wellness Inventory assessment. Personal goals each session and a qualitative evaluation at the end were also assessed.

Findings/Recommendations: Data is being currently analyzed. The time frame of 5 months was challenging for all participants; no

one in recovery programs completed the intervention. Participants reported being surprised about all the dimensions that impact

personal health.

Study findings and recommendations will be reported.

60
---
Culture of Health: The Nurse, The Patient, The Community – Maximizing Life's Potential

61
---
Culture of Health: The Nurse, The Patient, The Community – Maximizing Life's Potential

62
---
Culture of Health: The Nurse, The Patient, The Community – Maximizing Life's Potential

63
---
Culture of Health: The Nurse, The Patient, The Community – Maximizing Life's Potential

64
---
Culture of Health: The Nurse, The Patient, The Community – Maximizing Life's Potential

65
---
Culture of Health: The Nurse, The Patient, The Community – Maximizing Life's Potential

66
---
Culture of Health: The Nurse, The Patient, The Community – Maximizing Life's Potential

TNA PAST PRESIDENTS

*Mrs. Lena A. Warner ...................................................................... 1905–1918

*Nina E. Wootton. ......................................................................... 1918–1919

*Myrtle Marion Archer. ..................................................................... 1920–1921

*Mrs. Daisy Gould. ........................................................................ 1921–1923

*Mrs. Myrtle E. Blair. ....................................................................... 1924–1925

*Abbie Roberts ........................................................................... 1926–1927

*Mrs. Corrine B. Hunn. ..................................................................... 1928–1929

*Hazel Lee Goff. .......................................................................... 1930–1932

*Nancy Rice (Nashville). .................................................................... 1933–1935

*Aurelia B. Potts (Nashville). ................................................................. 1936–1937

*Mattie E. Malone (Memphis) ................................................................ 1938–1939

*Lennis Ault (Knoxville) ..................................................................... 1940–1942

*Frances H. Cunningham (Memphis). .......................................................... 1942–1944

*Beatrice M. Clutch (Nashville) ............................................................... 1944–1948

*Ruth Neil Murry (Memphis) ................................................................. 1948–1950

*Elizabeth H. Killeffer (Cookeville). ............................................................ 1950–1952

*Violet M. Crook (Union City). ................................................................ 1952–1955

*Catherine M. Sterling (Memphis). ............................................................ 1956–1959

*Vesta L. Swartz (Johnson City) .............................................................. 1960–1961

*Mary Frances Smith (Memphis). ............................................................. 1962–1966

*Dorothy L. Griscom (Memphis) .............................................................. 1966–1969

*Dorothy Hocker (Nashville). ................................................................. 1969–1971

*Mary Evelyn Kemp (Nashville). .............................................................. 1971–1973

*Erline Gore (Nashville) ..................................................................... 1973–1975

Patsy B. McClure (Knoxville). ................................................................ 1975–1977

*Emma Lou Harris (Chattanooga). ............................................................ 1977–1979

*Mary Windham (Clarksville). ................................................................ 1979–1981

Annie J. Carter (Nashville). .................................................................. 1981–1983

Margaret Heins (Knoxville). .................................................................. 1983–1985

Virginia Trotter Betts (Nashville). .............................................................. 1985–1987

Margaret Heins (Knoxville). .................................................................. 1987–1989

Frances Edwards (Nashville). ................................................................ 1989–1993

Carol Blankenship (Johnson City). ............................................................ 1993–1995

Sharon Adkins (Nashville). .................................................................. 1995–1997

Peggy Strong (Memphis). ................................................................... 1997–1999

Gary Crotty (Knoxville). ..................................................................... 1999–2001

Wanda Neal Hooper (Nashville) . ............................................................. 2001–2003

*Maureen Nalle (Knoxville). .................................................................. 2003–2005

Susan Sanders (Lynchburg) ................................................................. 2005–2007

Laura Beth Brown (Nashville) ................................................................ 2007–2009

Elizabeth H. Smith (Piney Flats). . . . . . . . . . . . . . . . . . . . . . . . . . . . . . . . . . . . . . . . . . . . . . . . . . . . . . . . . . . . . . .2009–2011

Lena Patterson (Ooltewah). ................................................................. 2011–2012

Jill S. Kinch (Nashville) (Interim President) ...................................................... 2012–2013

Billie Sills (Johnson City). ................................................................... 2013–2015

*deceased

67
---
Culture of Health: The Nurse, The Patient, The Community – Maximizing Life's Potential

68
---
Culture of Health: The Nurse, The Patient, The Community – Maximizing Life's Potential

69
---
Culture of Health: The Nurse, The Patient, The Community – Maximizing Life's Potential

70
---
Culture of Health: The Nurse, The Patient, The Community – Maximizing Life's Potential

2016–2017 TNF Board of Trust and Staff

Sue MacArthur

Ed.D, APRN, BC

President

Columbia

Sandy Murabito

Ed.D, MSN, RN

Ex-Officio

Nashville

Sandra Marklin

MSN, RN, Ph.D

Nashville

Amy Hamlin

Ph.D, MSN, FNP-BC, APN

Vice President

Ashland City

Sharon Chapman

MSN, RN, APN-CNS

Maryville

Tommie Norris

DNS, RN

Collierville

Janice Harris

MSN, RN

Treasurer

Wartrace

Donna Copenhaver

Ed.D, MSN, RN

Eagleville

Billie Sills

MSN, CLNC, RN

Johnson City

Dara Rogers

BSN, RN, OCN

Secretary

Murfreesboro

Doris Davenport

DSN, RN, PNP

Clarksville

Karen Starr

MSN, RN, LADAC, MAC

Nashville

STAFF

Mary Bess Griffith

MSN,RN,Ph.D(c),CS,FNP

Union City

Haley Vance

DNP, APRN, CPNP-AC

Nashville

Sharon Adkins

MSN, RN

TNF Executive Director

Bill Jolley

Vice President,

TN Hospital Association

Non-Nurse Community

Leader

Sue Willoughby

BSN, RN

Franklin

Mike Harkreader

MS, RN, CARN

TnPAP Executive Director

Kathryn Denton

TNF Program Manager

71
---
Culture of Health: The Nurse, The Patient, The Community – Maximizing Life's Potential

72
---
Culture of Health: The Nurse, The Patient, The Community – Maximizing Life's Potential

TNA Member Benefits-at-a-Glance

Check Out Our New Benefits!

• TNA Visa Awards –

Commerce Bank

Get the card that rewards you

and supports TNA with every

purchase. Visit tnaonline.org/

Visa for details.

• One Main Financial

Provides a wide variety of personal loans to meet your

needs, from auto loan refinance, debt consolidation, and

home improvement projects to travel excursion and more!

Visit www.onemainfinancial.com/TNAnurses for details.

• Snazzy Traveler

This is a FREE benefit to members of TNA. A private

travel reservation site that provides free access to

exclusive wholesale pricing on hotels, resorts, cruises,

car rentals and travel activities. Save up to 75% on

more than 400,000 hotels and resorts worldwide! Visit:

SnazzyTraveler.com/TNA for details!

• COMING SOON! Walden University

A U.S. regionally accredited university offering online

bachelor's, master's, and doctoral degrees. 10% tuition

benefit offered.

Other Benefits:

• Free Online Continuing Education—Available at no or

reduced cost through ANA Members Only

• OJIN: The Online Journal of Issues in Nursing – The

current issue of this peer reviewed electronic journal

is available only through ANA MembersOnly on

Nursingworld.org

• Free weekly Legislative Updates and PRN Alerts

when the Tennessee Legislature is in session

• Free monthly e-newsletter TNA News Express for

Members

• American Nurse Today – ANA's official monthly (six

print/six electronic) journal packed with information you

can use in your practice.

• The American Nurse – published every other month to

keep you current on nursing policy and ANA issues you

need to know

• Leading edge conferences and exciting educational

events at the national, state and local levels at member

discounted rates

• Find and post employment opportunities at TNA's online

Career Center. Click the Career Center link at tnaonline.

org

• Protect yourself with Professional Liability Insurance

through Mercer Consumer

• Financial and Long Term Care planning through

Innovative Financial Group, LLC

• Enhance and extend your leadership skills through ANA's

Leadership Institute

• Numerous networking opportunities

• Discounted products through nursesbooks.org,

the official publishing arm of ANA

• As a member, you will save up to $125 on an ANCC

Initial Certification and $150 on Recertification

• Provide opportunities to comment on policy

development at state and federal levels and give

input on scopes and standards of nursing and specialty

practice

• Tennessee Nurses Foundation's scholarships and Grants

programs—Turn to page 68

• American Nurses Foundation—Nursing Research Grant

Fund

• Discussion groups—free subscription to TNA's Listservs

• Information and Position Statements – affecting your

practice, your profession and the policies that impact us all –

via ANA MembersOnly on NursingWorld.org

• UNA Prescription Drug Card Program. Savings of up

to 75% on both brand and generic medications

• Term Life Insurance offered by Hartford Life and

Accident Insurance Company

• Auto Insurance offered by Nationwide

Visit tnaonline.org



VISIT tnaonline.org for member benefits or call 615-254-0350

73
---
Culture of Health: The Nurse, The Patient, The Community – Maximizing Life's Potential

Visit tnaonline.org/Visa

74
---
Culture of Health: The Nurse, The Patient, The Community – Maximizing Life's Potential

75
---
Culture of Health: The Nurse, The Patient, The Community – Maximizing Life's Potential

76
---
Culture of Health: The Nurse, The Patient, The Community – Maximizing Life's Potential

77
---
Culture of Health: The Nurse, The Patient, The Community – Maximizing Life's Potential

2015 TNA & TASN Conference Highlights

78
---
Culture of Health: The Nurse, The Patient, The Community – Maximizing Life's Potential

2017

www.tnaonline.org

79
---
Culture of Health: The Nurse, The Patient, The Community – Maximizing Life's Potential

80