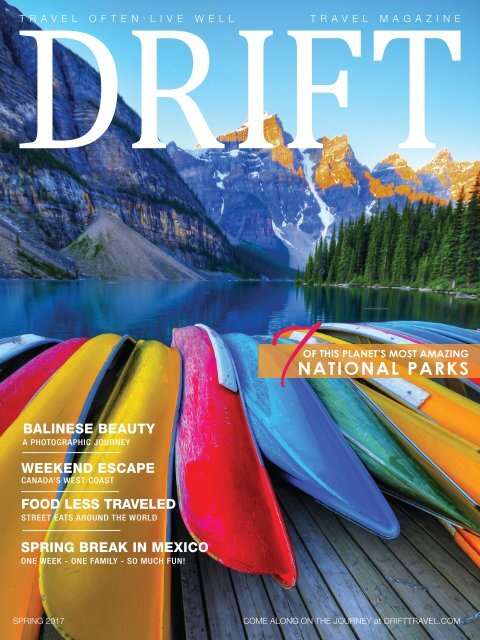 DRIFT Travel Spring 2017
In this issue of DRIFT, we are off to explore the world with interesting articles and exquisite travel photography from more than 30 countries! Enjoy a photographic journey of Balinese culture, a family spring break trip to Mexico, and DRIFT picks for the seven most beautiful national parks on the planet!
In this issue of DRIFT, we are off to explore the world with interesting articles and exquisite travel photography from more than 30 countries! Enjoy a photographic journey of Balinese culture, a family spring break trip to Mexico, and DRIFT picks for the seven most beautiful national parks on the planet!
SHOW MORE
SHOW LESS
You also want an ePaper? Increase the reach of your titles
YUMPU automatically turns print PDFs into web optimized ePapers that Google loves.
TRAVEL OFTEN . LIVE WELL

TRAVEL MAGAZINE

7

OF THIS PLANET'S MOST AMAZING

NATIONAL PARKS

BALINESE BEAUTY

A PHOTOGRAPHIC JOURNEY

WEEKEND ESCAPE

CANADA'S WEST COAST

FOOD LESS TRAVELED

STREET EATS AROUND THE WORLD

SPRING BREAK IN MEXICO

ONE WEEK - ONE FAMILY - SO MUCH FUN!

SPRING 2017

COME ALONG ON THE JOURNEY at DRIFTTRAVEL.COM
---
Baden-Baden

– the elegant Spa-Resort in the Black Forest

Discover the town in 360 degrees

The modern Caracalla Spa

The Museum Frieder Burda

Baden-Baden city center

Today, the town of Baden-Baden presents itself as a modern spa resort and cultural centre.

Here, all relaxation needs are catered for thanks to the thermal baths with their 2000-year-old

history and the magnificent parks and gardens. Besides these, attractions such as Europe's

Located

second largest

in in

opera

the

house

Black

and

Forest,

concert

Baden-Baden

hall – the Festspielhaus,

combines

the Kurhaus,

Mediterranean

the Trinkhalle,

flair with the elegance of the Belle

Epoque the theatre and the Culture cosmopolitanism Mile traversing the of parks a major and gardens city. of Baden-Baden, the Lichtentaler Allee with its two thermal baths is an oasis for

spa,

enable

beauty

Baden-Baden

and

to

wellness.

position itself

The

as

town,

a refined

where

international

everything

hotspot.

is in walking distance, is also a paradise for culture

enthusiast. Join on a virtual The tour Festspielhaus of our town. Experience - Germany's Baden-Baden biggest up close opera and in 360 house, degrees many museums and "the world's most

with the enclosed virtual reality viewer. Or scan the pictures in this brochure with your mobile

beautiful casino", according to Marlene Dietrich, are located in Baden-Baden.

device for an impressive, 360-degree, augmented reality experience of the sights – and that's

without using the VR viewer.

The world's "most beautiful casino"

DOWNLOAD: Install the free virtual reality &

360°- tour app on your mobile device.

1. DOWNLOAD: install the free virtual & augmented reality app on your mobile device.

2. Augmented reality experience using this brochure. SCAN: align the camera with one of the pictures in the brochure

and explore the attraction in 360 degrees.

3. Virtual reality experience with the VR viewer. Be a part of the action and visit our attractions in 360 degrees with

the enclosed VR viewer. Open the packaging for more information.

Have fun!

For more information:

Baden-Baden Visitors

& Convention Office

www.baden-baden.com/en

info@baden-baden.com

+49 (0)7221 275 200

All photographs © Baden-Baden Kur & Tourismus GmbH
---
INSIDE this issue

NATIONAL PARKS

10 Our Top 7 on the planet.

16 TRAVEL GEAR

Trending portable products.

FOOD LESS TRAVELED

18 Street food around the world.

24 AT A GLANCE

Romantic universe in Bora Bora.

44 BALINESE CULTURE

An Indonesian photographic journey.

TRAVEL OFTEN . LIVE WELL

TRAVEL MAGAZINE

28 FAMILY SPRING BREAK

Let's take the kids to Mexico.

56 MUSIC FESTIVALS

Must attend festivals for 2017.

BALINESE BEAUTY

A PHOTOGRAPHIC JOURNEY

WEEKEND ESCAPE

CANADA'S WEST COAST

FOOD LESS TRAVELED

STREET EATS AROUND THE WORLD

7

MOST INSPIRING

NATIONAL PARKS ON THE PLANET

VANCOUVER CANADA

32 48 hours on the West Coast.

36 WEEKEND PACKING

Eric Himel's getaway packing advice.

64 TRAVELLING EDITOR

Ovolo Southside in Hong Kong.

68 ICONIC NY LANDMARK

The Waldorf-Astoria closes its doors.

SPRING BREAK IN MEXICO

ONE WEEK - ONE FAMILY - SO MUCH FUN!

SPRING 2017

COME ALONG ON THE JOURNEY at DRIFTTRAVEL.COM

SPRING 2017

Spring is in the air and travel lovers

like you are planning their next big

adventure. From family and couple

getaways, to adventure, foodie

and cultural journeys, this issue of

DRIFT brings you countries, hotels

and events for every type of traveler.

Come along on the journey!

38 GIRLS WEEKEND

Sharing time in Victoria, B.C.

FASCINATING ECUADOR

72 Quito and its many delights.

76 #WHERETONEXT

A Northern Ireland road trip.

4 . DRIFTTRAVEL.COM
---
The Ultimate

America's Cup Experience

Fierce competition. Contagious excitement. Timeless

tradition. It all ties together at the America's Cup.

As an official charter yacht supplier of the 35th

America's Cup in Bermuda, The Moorings welcomes

you aboard this summer for a one of a kind spectator

experience on your own all-inclusive Crewed Sail

catamaran with expert captain and gourmet chef.

Reserve your yacht today to claim the best view for the

biggest sailing event of the year.

UNFORGETTABLE MOMENTS

on the water

Call 800.669.6529 or visit moorings.com/americas-cup
---
a travel note from the

EDITOR

64

Tolkien once wrote:

NOT ALL THOSE WHO

WANDER ARE LOST.

So true! Once, we were all nomads; a

race that was never meant to stay in

one place for a lifetime. Perhaps that

is why so many of us have an insatiable need to discover the world. I love

to journey to new places. Don't you?

In this issue of DRIFT, we are off to explore the world with interesting

articles and exquisite travel photography from more than 30 countries!

Enjoy a photographic journey of Balinese culture, a family spring break

trip to Mexico, and DRIFT picks for the seven most beautiful national

parks on the planet!

It is the season of fresh beginnings,

and the perfect time to plan the trip

of a lifetime. What is on your travel

bucket list? I would love to hear about

your travel plans as well as countries,

events or cultures you would like to see

featured in DRIFT. Email me or tag me

on Instagram (below). I cannot wait

to hear from you. In the meantime,

turn the page and come along on the

journey!

Travel often and live well,

Tracey Drake

Editor-In-Chief | Creative Director

email: editor@DRIFTtravel.com

instagram: @TraceyDrakeEditor

72

Oh, the places I've been!

38

GIRLS ONLY WEEKEND IN

VICTORIA, BC CANADA

This vibrant coastal city on

Vancouver Island is the perfect

place to stay, spa, eat and shop.

64

WHERE THE COOL KIDS

STAY IN HONG KONG

Spacious, chic and affordable

living in Hong Kong is hard to

find and I uncovered a rare gem!

72

FINDING THE PAST IN A

MODERN ECUADOR

Unexpectedly modern, and

unapologetically traditional -

two reasons I love Quito.

6 . DRIFTTRAVEL.COM
---
The Hidden Gem of

the Med

found at Avaton

Avaton Luxury Villas Resort is a stylish

and contemporary beach front escape

overlooking the sparkling turquoise waters of

Komitsa Bay in Athos Peninsula, Halkidiki,

Greece.

Avaton consists of an exclusive collection of 16

villas, providing a unique sophisticated lifestyle

experience. Most of the villas include private

pools, leading down to lush Mediterranean

gardens and a pristine beach.

Your personal butler and chef, upon request,

and an exclusive mini bar and wine list add to

the discerning pleasure. Luxurious massage

treatments, private transfer with

helicopter and limousine, and memorable

cruises around Greek islands and along

the breathtaking coastline complete your

ultimate seaside experience.

For more info, please visit: www.avaton.com
---
PUBLISHER

GLOSSY MEDIA

EDITOR-IN-CHIEF | CREATIVE DIRECTOR

TRACEY DRAKE

PRODUCTION/EDITORIAL

FRANK BURES, BONNIE CONRAD, JANE CROSS,

ELIZABETH DEAN, LEE DRAKE, TRACEY DRAKE,

ERIC HIMEL, JOSIE SALDAT, SARAH SMITH, SYLVIA

TENNANT, RUSS WALSH

CREATIVE | PHOTOGRAPHY

10 ACRES, ADOBE STOCK, BOOKING.COM, BURNING

MAN FESTIVAL, STEVE DRAKE, DANA HUTCHINGS,

MAGNOLIA HOTEL, NIKE, OLO VICTORIA, OVOLO

HOTELS, SILK ROAD, SHUTTERSTOCK, DIMA

SIDELNIKOV, TOMORROWLAND, WALDORF-ASTORIA

SALES & CIRCULATION DIRECTOR

STEVE DRAKE

ADVERTISING & PUBLISHING RIGHTS INQUIRIES

sales@DRIFTtravel.com | www.DRIFTtravel.com

Published by: Glossy Media

All rights reserved. No part of DRIFT magazine may be

copied or reproduced without permission.

© COPYRIGHT DRIFT TRAVEL MAGAZINE

GLOSSY MEDIA

2015-2017
---
every single day, more than

8 MILLION PEOPLE

get on an airplane & travel

every single issue, more than

4.5 MILLION TRAVELERS

are exposed to your marketing message

BRING YOUR BRAND ALONG ON OUR TRAVEL JOURNEY...

ADVERTISING, ADVERTORIAL & PRODUCT PLACEMENT:

sales@DRIFTtravel.com
---
There is a deligh

open. There are

hidden spirit of th

its mystery, its m

1. Banff National Park

10 . DRIFTTRAVEL.COM
---
2017NATIONAL

PARKS

7TO VISIT IN

BY: JOSIE SALDAT

Regarded as somewhat of a lost travel

art, national parks have fallen from the

peripheral of many travelers. However,

the roots of why we travel, and the many

wonders we hope to discover on our

journeys, is deeply seeded in the world's

national parks. DRIFT is sharing our

recommendations for seven outstanding

national parks. You might want to

include one of these in your travel plans!

t in the hardy life of the

no words that can tell the

e wilderness that can reveal

elancholy and its charm.

THEODORE ROOSEVELT

1BANFF NATIONAL PARK

Canada

Known as "The Canadian Rockies"

or "the high backbone of the lower

48", the Rocky Mountains is a span

of dramatic and diverse wilderness

stretching 3,000 miles with peak

elevation at Mount Elbert of 14,449

feet. On the Canadian side of the

Rockies lies its crown jewel, Banff

National Park, which is Canada's first

National Park and the world's third.

Covering 2,564 square miles, the park

consists of glacier mountains, lush

forest, fresh raging rivers, valleys and

hot springs.

TRAVEL OFTEN . LIVE WELL . 11
---
2. Iguaza National Park

2IGUAZÚ NATIONAL PARK

Argentina

Located in the Northeastern tip

of Argentina and bordering Brazil

lies one of the world's most visually

stunning natural sites, Iguazú National

Park. The heart of the park is a

semicircular waterfall which covers

2,700 miles in width and 262 feet

in height and flows into the Iguazú

River's "big water". Dense broadleaf

forest covers a protected area of 259

square miles. This park is home to

an array of rare endangered species

including the giant otter and anteater

and was declared an UNESCO World

Heritage to protect the environment

and value as heritage to humanity.

3GREAT SMOKY MOUNTAIN

NATIONAL PARK

United States of America

Nestled between North Carolina and

Tennessee is a magical mountainous

region, The Great Smoky Mountain

National Park. Not only is this the

busiest park in the nation – over nine

million visitors per year, but also

one of the oldest mountain ranges

in America. Spanning across 816

square miles, this park is filled with

hikers, campers, wildlife enthusiasts,

bikers, horseback riders and more.

With a large range of vegetation and

old-growth and home to over one

hundred native species, the park is an

international biosphere reserve.

12 . DRIFTTRAVEL.COM
---
4ETOSHA NATIONAL PARK

Namibia

Covering a vast total of 8,598 square

miles in Namibia, Etosha National

Park is one of the world's greatest

wildlife sanctuaries. Mirages blur the

distant horizon on this enormous

stretch of white sand that matches

the size of Holland. During dry

season, herds of animals flock to

waterholes and visitors can experience

the majestic scenery of wildlife on

the savanna plains. Etosha is home

to elephants, giraffes, zebras, lions,

leopards, cheetahs and many other

game as well as 340 bird species.

3. Great Smoky Mountain National Park,

4. Etosha National Park

TRAVEL OFTEN . LIVE WELL . 13
---
14 . DRIFTTRAVEL.COM

5. Great Barrier Reef Marine Park, Australia
---
5GREAT BARRIER REEF

MARINE PARK

Australia

Accessible by sea or sky, the

Great Barrier Reef off the coast

of Queensland, Australia is the

largest living structure on Earth.

This 1,430 mile long park is

known as "Australia's great natural

wonder" and is visible from space.

It is home to the world's largest

coral reef; this natural masterpiece

is heaven to scuba divers and

snorkelers wanting to study

marine species.

6FUJI-HAKONE-IZU

NATIONAL PARK

Japan

It is no wonder why this National

Park is one of the most sought

after places to soak in mother

nature. The park is divided into

four large scale areas including

hot springs and Japan's tallest

mountain, Mt. Fuji at 12,388 feet

above sea level. Originating from

volcanic activity, this park covers

463 square miles and is noted

for representing the true natural

beauty of Japan.

7

FIORDLAND

NATIONAL PARK

New Zealand

Occupying the southwest corner

of the South Island of New

Zealand is Fiordland National

Park. 4,826 square miles of

skyscraper fiords and wonderment

of unexplored land with only 311

miles of walking trails, which

barley scratch the surface of New

Zealand's largest National Park.

Mitre Peak, at 5,551 feet above the

sea level is one of the numerous

remarkable sights here.

6. Fuji-Hakone-Izu National Park, Japan

7. Fiordland National Park, New Zealand

TRAVEL OFTEN . LIVE WELL . 15
---
TRAVEL GEAR

HOT NEW TRAVEL PRODUCTS

BY: RUSS WALSH

POCKETPOWER: SOLAR

CHARGER

Portable solar charger, which can

be folded and easily fit into your

pocket. When you're outdoors,

in the jungle, or on the mountain

and your phone battery dies, the

PocketPower will keep you charged.

meigeinc.com

A SMARTER SUITCASE

Modern technology in a classic

package. A smart suitcase for

everyone. Handbag dock, tracking

system, built-in scale, detachable

charging station and protective

packing system are just a few of its

fashion forward features.

floatti.com

16 . DRIFTTRAVEL.COM
---
CASHEW SMART WALLET

World's first smart wallet with

fingerprint access. Cashew is

connected to your smartphone

using Bluetooth to ensure your

wallet is always by your side. No

more misplaced cards, cash or

IDs again. With cutting-edge

technology and unparalleled design,

you need this.

gocashew.com

POCKET TRANSLATOR

Meet Travis, the world's first smart

pocket translator powered by

artificial intelligence. Supports

voice translation in more than 80

languages for full global coverage.

travistranslator.com

TRAVEL OFTEN . LIVE WELL . 17
---
#havefoodwilltravel

18 . DRIFTTRAVEL.COM
---
THE FOOD

LESS TRAVELED

BY: FRANK BURES

The best meal I ever ate was at a

roadside restaurant in the middle

of Nigeria. I was in a microbus

heading north through an

otherworldly landscape strewn

with giant boulders. It was midmorning

when we pulled over

at an open-air restaurant. The

counter where people were

ordering was jammed. An old man,

seeing my confusion, explained

the menu and ordered for me.

We sat down, and the waiter

brought our food: a ball of

pounded yam and a bowl of

egusi soup, made with crushed

melon seeds and containing a

hunk of beef. The waiter asked

if I wanted utensils. I looked

around. No one else had them.

The old man leaned over. 'You

know,' he remarked, 'they say

your food tastes better when

you eat it with your hands.'

So I waved the waiter off, broke

off a piece of yam, dipped it in

the soup, and scooped up a piece

of the meat. It all melted together

in my mouth, sweet, savory, and

delicious. The meat was tender

and rich from stewing in a sauce.

Sometimes I still wonder why that

meal was so transcendent. I was

very hungry, but that can't have

been the whole reason. It must

have had something to do with

the experience with the people,

the place, the journey itself.

TRAVEL OFTEN . LIVE WELL . 19
---
Of the 5,000 or so meals

I've eaten in my life so

far, only a few stand out

in my mind. Most of those

I've eaten while traveling.

I remember, for example, sitting

with my wife in a field next to

the Cloudy Bay Vineyards in

Marlborough, New Zealand, with

some cheese and bread. In the

tasting room, we'd emptied our

pockets and pushed a pile of change

across the counter for the cheapest

bottle of sauvignon blanc they had.

We lay in the grass, gazing at the

mountains in the distance, sipping

one of the best wines in the world.

I can still taste its fruity crispness. I

felt the same sense of perfection at

a pizzeria in Italy and at a tiny holein-the-wall

restaurant in Thailand.

Some meals, of course, are

memorable for less idyllic reasons.

In Tanzania, where I was teaching

school, we were once served rice

with a kind of cow stew poured

over it. Dora, the other American

teacher, leaned over to me.

'Do you want these?' she asked,

pointing to some large meaty

tubes and a bit of stomach lining.

'Sure,' I said. When no one was

looking, she forked them onto

my plate. I ate them happily.

Strange food can be one of the great

joys of travel, but there's an art to

eating it. It has to do with letting go

of what you think food should be,

and being open to what it is. If you

can do this, you will be rewarded

with an expanded sense of what

20 . DRIFTTRAVEL.COM
---
you can love. You will also, with

any luck, develop a strong stomach.

Even then, food may sometimes

defeat you. On my way through

Burkina Faso in West Africa, my

bus pulled over near some vendors,

and everyone climbed down to

get something to eat. Cuts of goat

and sheep sizzled on a grill. I got

a packet of mutton wrapped in

newspaper, which was salty and

delicious. But I was still hungry, so

I pointed to something else, which

was half the price. This seemed

like a bargain until I realized after

a few bites that I'd ordered a kind

of meat Twinkie: a creamy fat

center encased in a golden layer

of tripe. It remains one of the few

things I haven't been able to finish.

The search for new and different

flavors has long been one of the

great joys of travel. In fact, the

quest for flavors helped drive the

age of exploration. When Vasco

da Gama landed on the Malabar

Coast of India, he was asked what

he'd come for. He said, 'Christ

and spices.' Columbus headed

west for the same reason, and

when Magellan's ship arrived in

Spain in 1522 (without Magellan)

after sailing around the world,

it was loaded down with spices.

Travel is written in the

food in front of you.

If you go to Bologna, Italy, you

might order lasagna in hopes of

eating an authentic Italian meal.

And it is one except that two

of the main ingredients are not

native to Italy. Pasta arrived from

North Africa in the early Middle

STRANGE FOOD CAN

BE ONE OF THE GREAT

JOYS OF TRAVEL

BUT THERE'S AN ART TO EATING IT.

IT HAS TO DO WITH LETTING GO OF

WHAT YOU THINK FOOD SHOULD BE

AND BEING OPEN TO WHAT IT IS.

TRAVEL OFTEN . LIVE WELL . 21
---
22 . DRIFTTRAVEL.COM
---
Ages, and the tomato which came

from the Americas along with

potatoes, corn, peppers, avocados,

and squash didn't appear in

Italian recipes until the 1700s,

and was originally called pomo

di moro, or 'apple of the Moors.'

Everywhere people have traveled,

conquered, or proselytized, they

have left culinary tracks. The

baguette is sold all across Frenchspeaking

West Africa, where it's

sliced open and slathered with

meats and sauces. In former

French colonies like Vietnam and

Cambodia, you will find those

same baguettes filled with cilantro,

marinated meat, and vegetables.

Across East Africa, corn is a staple of

local diets, often ground and made

into a kind of porridge. In Somalia,

the Italian and Indian influences

have led to dishes such as pasta

with goat meat and mild curries.

As I walk around Minneapolis,

where I live now, I inhale the

smells of kitchens from around

the world. I stroll through Asian

grocery stores and wonder at the

fishballs and giant waterbugs. At

a little Vietnamese restaurant,

where no English is spoken, I

stop in regularly for the banh

mi sandwich. At an East African

restaurant, not far from my house,

the ugali (stiff maize porridge)

and nyama choma (roasted meat)

bring me closer to Tanzania

than I've been in many years.

And that is what I love most about

food when opening my mouth

means opening my mind, and I'm

transported into another world.

FIVE TIPS FOR STREET EATING

You'll find some of the best (and cheapest) food in the world at street stalls. Many travelers fear what their

local health department might say, but the food is often at least as safe as your hotel buffet. Here are a

few tips:

1. GET IT HOT: Fresh off the fire is best, so look for food that's prepared while you wait.

2. FOLLOW THE CROWD: Local people know which food is the best, and the safest.

3. HOLD THE MAYO: A condiment such as mayonnaise must be refrigerated. If a sandwich

looks like it's been sitting out for a while, steer clear.

4. ICE? NOT SO NICE: Order drinks without ice, because you don't know if treated water was

used to make the cubes.

5. LIVE A LITTLE: If you do get a stomach bug, it's usually not a big deal and will pass in a day

or so. If you're worried about it, bring along some Pepto-Bismol or Imodium.

TRAVEL OFTEN . LIVE WELL . 23
---
AT A GLANCE:

BORA BORA

24 . DRIFTTRAVEL.COM
---
CENTRE OF

THE ROMANTIC

UNIVERSE

BY: ELIZABETH DEAN

On this mystical island with

its necklace of white-fringed

coral islets, Four Seasons

Resort Bora Bora redefines the

South Seas escape. Exotic overwater

suites, sprawling beach

front villas with pools and a

cathedral-like spa immerse

you in ultramodern comforts

and the warm and welcoming

spirit of French Polynesia.

Romantics from around the

world have laid claim to this

island where castle-like Mount

Otemanu pierces the sky and

perfect white sand beaches give

way to emerald waters. From the

dramatic scenery to the privacy

and amenities of the over-water

bungalows, Bora Bora is the most

romantic island in the world.

TRAVEL OFTEN . LIVE WELL . 25
---
Tidal bore rafting.

There's nothing quite like that moment when the river shifts

directions and goes from serene to exhilarating. And just think,

rafting the most extreme tides in the world is only one of the

things in Nova Scotia that will make your heart skip a beat.

A real-life

discovery

channel.

Explore all there is to do at NovaScotia.com
---
SPRING BREAK

LET'S TAKE THE KIDS TO MEXICO

28 . DRIFTTRAVEL.COM
---
BY: TODD TALBOT

Since attending a friend's wedding

in Playa Del Carmen a few years

ago, our children have been missing

Mexico. Many times, they have

come up with the brilliant idea;

"Let's go to Mexico today!" So when

my wife and I found ourselves with

a week off, we jumped at the chance

to take the kids back to the land of

warm weather and all-you-can-eat

Jell-O!

With the stress of flying, living

out of suitcases, sleeping in close

quarters and eating out every

meal in public, family trips may

not always feel relaxing. An allinclusive

resort can certainly take

the work out of the vacation and

most of the stress too.

Turning the family vacation into a holiday!

TRAVEL OFTEN . LIVE WELL . 29
---
Our first step was choosing

a vacation package through

AirTransat. We went online and

chose the 'family' option. Their

website (transat.com) populates

all the options for southern

destinations in the Family

Collection. These properties are

geared towards families because

they offer multiple activities and

options for the kids which in

turn provides a relaxing holiday

for parents. All the resorts in the

Family Collection accommodate

families of four or more.

Here's what we loved about our

family vacation in Cancun …

WHITE SANDY BEACH

Trading in the rocky shores and

ice cold waters of the west coast for

sand that you can sink your feet

into and a tropical ocean can really

set the mind at ease. We spent the

first day of our stay at Dreams Playa

Mujeres alternating between the

surf and the sand; jumping waves,

building sand castles or laying in

the sun. By the time we finished

our ultimate sand fortress we

couldn't believe it was dinnertime

already.

KID FRIENDLY DINING

Our kids do not love eating

out for the main reason that

they have to be patient for

everything. With the allinclusive

buffet at our resort

there was never a wait for

a table and the kids could

go straight to the food and

choose exactly what they

wanted to eat. And the

promised reward of a

wiggly-jiggly dessert, made

healthy dinner choices that

much more enticing.

30 . DRIFTTRAVEL.COM
---
KIDS CLUB

Because family vacations often

turn into kid vacations served

by parents, some adult time is

the final step to really feeling like

you got away from it all. The

Explorer's Club at Dreams Playa

Mujeres really was a benefit.

There were so many fun things

for the kids to do including

bungee trampoline jumping,

a climbing wall, water park,

smoothies, movies, arts and crafts

and Lego-building. Our kids

didn't miss us at all. We were able

to go to dinner or for a swim in

the adult infinity pool and connect

with each other.

At the heart of it all, connecting

with each other makes any vacation

great but with all-inclusive meals,

a kids' club and the beach at your

fingertips, a Mexican holiday

makes it a dream…for everyone

in the family.

TRAVEL OFTEN . LIVE WELL . 31
---
48HOURS IN...

VANCOUVER

BY: SYLVIA TENNANT

There is much to discover in

British Columbia's largest city. It's

packed with trendy, sophisticated

neighborhoods that deliver a

combination of laid-back coastal

vibes, multicultural diversity and

tailored luxury offerings. Vancouver

has consistently ranked in the top

10 best global travel destinations

and is one of the most livable cities

on the planet. Hugging the Pacific

coastline, one can easily get lost in

the surrounding natural wonders

and forget that a fully-loaded

metropolis lies here.

STAY

The Rosewood

Hotel Georgia's

outstanding downtown location

and historical significance is my top

pick for a stay in the City of Glass.

Opened in 1927, this was the first

hotel to bring luxurious ambiance

to Vancouver and it has hosted a

long list of royalty and Hollywood's

elite ever since. The Rosewood

offers a glimpse back to that time

with its opulent decor and swanky

Prohibition Bar, where you'll find

live jazz and an impressive cocktail

list. The rooms are spacious and

elegant with plenty of specialized

amenities (including a 24-hour

fragrance butler). The hotel also

features an extensive Canadian art

collection sprinkled throughout

the lobby and halls. If you're an

over-packer like me, do not worry,

Marlene Dietrich once brought 40

suitcases with her.

EAT

Start with breakfast

and tea at Canada's

only TWG Tea Salon (1070 W.

Georgia Street). Conveniently

located just a few blocks from the

Rosewood Hotel Georgia, this

mecca of luxury tea culture boasts

a collection of over 800 varieties of

elegant blends and harvests derived

from source gardens in every teaproducing

country in the world.

They also offer an incredible array

of tea-infused gastronomy - I'm still

dreaming of the Darjeeling Quiche.

Wonderfully formal, yet warm and

inviting, the TWG Tea experience is

world-class.

Or head to the ocean for dinner.

On the edge of downtown is

Ancora Waterfront Dining and

Patio (1600 Howe Street, #2), a

restaurant inspired by the Pacific

Northwest. Their menu draws on

Peruvian and Japanese influences,

featuring sustainable seafood and

local ingredients. Cultural fusion

is a hallmark of Vancouver and the

dining scene is no exception.

TWG Tea Salon

32 . DRIFTTRAVEL.COM
---
Skyline view - Vancouver, British Columbia, Canada

The best

WANDER

part

about Vancouver is that it caters

to a variety of interests within a

very localized area. Adventurous?

Hike the Grouse Grind to be

rewarded with awe-inspiring views

and fresh mountain air. Love a

good stroll? The Sea Wall around

Stanley Park is easily accessible and

wonderfully scenic, especially at

sunset. Granville Island has been

a top tourist destination for years,

and for good reason. It is filled with

the colors, smells, and energy of a

fast-paced food market, and is lined

with an assortment of artisan shops

and locally owned eateries. While

I do recommend a structured visit,

leave some wiggle room in your

schedule – you never know when a

pod of whales will put on a show.

Vancouver is

SHOP bursting with

great shopping. From South

Granville's long row of boutiques to

Main Street's colorful array of local

goods, there is a district to suit

Rosewood Hotel Georgia

TRAVEL OFTEN . LIVE WELL . 33
---
Eastside Flea Market

taste. My advice? Have a game plan.

If you happen to be in the city on

a weekend, you may have a shot at

experiencing one of Vancouver's

newest cultural hubs, the Eastside

Flea. As a vintage-obsessed serial

shopper, I can confirm that it

doesn't get any better than this.

Some of Vancouver's best pickers

are curated among emerging local

brands and artisanal foods to create

what I believe to be the best kind

of shopping: sustainably minded,

community-driven and inclusive.

Add old-school music playlists and

a bar? Not. To. Be. Missed.

48 HRS

So there

it is. My

recommendations for your most

amazing forty eight hours in

Vancouver. Whether you're passing

through or a returning traveler,

you'll find a million reasons to fall

in love with this vibrant coastal city.

Granville Island Public Market

34 . DRIFTTRAVEL.COM
---
The Case for Better Travel.

www.raden.com
---
Eric Himel's

LIFE+STYLE

ERIC HIMEL (erichimel.com)

is a widely known celebrity stylist, fashion expert

and media personality. Himel attended Parson's

School of Design and trained under Project

Runway's Tim Gunn. Now based in Los Angeles,

Himel's roster of celebrity clientele has included

Jenny McCarthy, Giuliana Rancic, Pete Wentz,

Gabby Douglas and more. Eric is best known

for his signature Closet Purge and now offers

Virtual Styling Sessions.

We are all guilty of over packing. It seems to be almost

impossible to figure out what you want to take and

what you will NEVER use. Do you really need a 28"

suitcase for two or three days?

FOR HER

What you DON'T need:

1. MORE THAN 3 PAIRS OF SHOES: A pair for

night with some height, a pair for day and a pair for

activities or play (pack 2 + wear 1).

2. MORE THAN 4 MAKEUP ITEMS: A lipstick that

works day to night, mascara, a multi-stick and a

sheer foundation with SPF. (*Leave the eye shadow,

contouring kit and eyeliner at home).

3. MORE THAN ONE PAIR OF JEANS: Pick a

cropped medium wash with a little stretch that

works with flats and heels.

4. LOADS OF JEWELRY: Two pairs of earrings (one

stud and one dangle for night), a cuff that goes from

day to night and one necklace. Pick a metal: silver

or gold.

5. BULKY SWEATERS: They are not versatile and

take up too much suitcase real estate! Think multitasking

layers!

HIS & HERS

10 THINGS YOU DON'T NEED

ON A WEEKEND AWAY!

36 . DRIFTTRAVEL.COM
---
FOR HIM

What you DON'T need:

1. SHAVING GEAR: Go ahead - let it grow for the

weekend! Beards have been proven to produce

pheromones. Grrrrrrrrrr!

2. RANDOM ITEMS: Think in terms of outfits that

you will actually need. Men tend to under-pack

and what they do pack is usually what they don't

need. Think Garanimals for adults. .

3. YOUR FAVE SPORTS TEAM APPAREL: Unless

you are headed to the Superbowl for your weekend

away, save it for your buddies at home. You're a

grownup - dress like one.

4. BAD SHOES: As in old, worn, out of date and not

in style. A pair for night, a pair for day and a pair

for activities or play (pack 2 + wear 1)

5. ALL YOUR SPORTS GEAR: It's only a weekend,

you won't have time to use it all and unless you are

a scratch golfer with custom clubs, you can rent

whatever you need.

ERIC'S EXPERT TRIP TIPS:

• Your skin is your biggest organ, protect it

with a hat and sunscreen.

• Leave delicate or items that wrinkle easily at

home - you don't need the headache.

• A weekend trip demands a carry-on suitcase

- no waiting time for your luggage and no

chance of it getting lost.

TRAVEL OFTEN . LIVE WELL . 37
---
38 . DRIFTTRAVEL.COM

GIRLS WEEKEND

IN VICTORIA ON VANCOUVER ISLAND, CANADA
---
BY: TRACEY DRAKE

I have come to learn that weekend

getaways are a necessary ingredient

for sanity. A few days stolen from

the chaos of everyday living.

Somewhere not too far away and

with someone you love spending

time with.

A few months ago, I spent a weekend

in Victoria, BC on Canada's West

Coast, with my very good friend,

Dana. Together, we planned the

perfect retreat that included a

lovely boutique hotel, amazing

locally sourced dining, sightseeing,

spa time and of course, shopping!

With the mildest weather in all of

Canada, and pretty as an English

postcard charm, Victoria is a

wonderful island city that hums

with tourist activity pretty much all

year. The historic downtown core

hugs up against the beautiful inner

harbor and almost everything is

within walking distance.

TRAVEL OFTEN . LIVE WELL . 39
---
Dana and I were searching for a boutique hotel property

that could live up to our much anticipated girls

weekend. We chose Magnolia Hotel & Spa, located at

623 Courtney Street in the downtown center, just one

block from the water. It is a 64-room boutique hotel

that offers elegant and spacious updated suites, onsite

dining, a full-service spa, and genuine hospitality

that did not go unnoticed. For the last four years, The

Magnolia Hotel & Spa as been named Top Luxury Hotel

in Canada by TripAdvisor's® Travelers' Choice® awards -

we were obviously in good hotel hands!

It's the little things...

We each had our own hotel rooms (one of

us is a night owl and one of us snores!). Our

7th floor rooms overlooked the city and had

a refined mix of dark wood furniture with

modern touches, and raw silk inspired walls.

The bathroom, which offered L'Occitane

toiletries, was truly spa-like with a huge

soaker tub and separate glass shower. The

room details like the oversized plush

"curl up with champagne for a girls talk

marathon" armchairs, cozy gas fireplace and

evening views of the twinkling lights on the

BC Parliament buildings made our stay that

much more memorable.

40 . DRIFTTRAVEL.COM
---
Staff always remembered our names and nothing was

overlooked; we reveled in being made feel special with

nightly turn-down service, handmade chocolates on our

bedside tables, fresh fruit and in-house filtered water.

Hot breakfast was included, and Catalano's Restaurant

on the hotel's main level, serves up a lovely morning

menu with specialty coffees and eggs Benedict.

Of course, a girls weekend is not complete without an

indulgent trip to the spa and it was awesome that we

didn't have to leave the building to get pampered! We

both opted for the Transformation Pedicure, which

began with a luxurious foot soak,

followed by customized exfoliation, nail

shaping, cuticle grooming, lotion and

polish. Feeling like royalty, Dana chose

ruby red and I chose sapphire blue for

our polish colors.

We were relaxed, polished and ready to

take on the city!

Dana and I both appreciated that the

Magnolia staff were so knowledgeable

about Victoria, and provided us with

insider tips on the best places to visit,

suggestions on where to eat dinner, and

even pointed us in the direction of a

TRAVEL OFTEN . LIVE WELL . 41
---
STORE ST

4

3

FISGARD ST

local pop-up trunk show and sale

that featured a collective of three

local fashion shops, happening the

weekend of our visit. Although, I'm

still not sure if we should thank the

concierge for that last tip - Dana

and I definitely did our fair share of

designer bargain shopping!

SUPERIOR ST

MICHIGAN ST

The Magnolia has custom local

shopping and walking guides,

curated bike trails and our favorite

was the Tea-Riffic Trail which

teaches you about Victoria's unique

tea culture and gives you a handy

map in case you want to go on a tea

crawl. We did.

LEWIS ST

MENZIES ST

DALLAS RD

OSWEGO ST

QUEBEC ST

COURTNEY ST

GOVERNMENT ST

Inner

Harbour

MENZIES ST

WHARF ST

BC

Parliament

Buildings

SIMCOE ST

NIAGARA ST

YATES ST

2

6

DOUGLAS ST

GOVERNMENT ST

1

DOUGLAS ST

DOUGLAS ST

DOUGLAS ST

BELLEVILLE ST

PANDORA AVE

VIEW ST

BROUGHTON

ST

COURTNEY ST

HUMBOLDT ST

BLANSHARD ST

Beacon

Hill

Park

DALLAS RD

ARBUTUS WAY

BLANSHARD ST

FAIRFIELD RD

SOUTHGATE ST

QUADRA ST

CAMAS CIR

QUADRA ST

HUMBOLDT ST

CIRCLE DR

VANCOUVER ST

HAMLEY ST

JOHNSON ST

VANCOUVER ST

PENDERGAST ST

SUTLAJ ST

OLIPHANT

ST

COOK ST

COOK ST

FORT ST

M C CLURE

ST

RICHARDSON

ST

COLLINSON

ST

PAKINGTON ST

SOUTHGATE ST

HILDA ST

OSCAR ST

MCKENZIE ST

OXFORD ST

CHAPMAN ST

MAY ST

LEONARD ST

COOK ST

FAIRFIELD RD

LINDEN AVE

HARBINGER AVE

OSMOND

ST

RICHARDSON ST

CORNWALL ST

FORT ST

MOSS ST

MOSS ST

MOSS ST MOSS ST

DURBAN ST

ROYAL TERR

ROCKLAND AVE

KIPLING

ST

MANOR

RD

THURLOW RD

FAIRFIELD RD

RICHARDSON ST

BROOKE ST

CLIFFORD ST

ARNOLD AVE

Ross Bay

Cemetary

STANNARD AVE

FAIRFIELD RD

ROCKLAND AVE

MONTGOMERY AVE

ST CHARLES ST

DESPARD AVE

WARREN GARDENS

ST CHARLES ST

RICHARDSON ST

CHANDLER AVE

EARLE ST

FAIRFIELD RD

WILDWOOD AVE

BEACHWOOD AVE

RICHMOND AVE

GONZALES AVE

RICHMOND AVE

ROBERTSON ST

RICHMOND AVE

IRVING RD

FOUL BAY RD

FOUL BAY RD

5

Our favorite of the day was Silk

Road Tea. We popped in (624

Government Street) for a workshop

and made decadent chocolate and

matcha tea truffles - they were

delicious! Silk Road also has a retail

store filled with wonderful tea, body

and lifestyle products.

Dana and I had a few other favorite

stops and shops including North

America's oldest Chinatown

(Fisgard Street), Lore General Store

(1322 Government Street), Violette

Boutique (1303 Government

Street), Little Gold (Market Square/

Johnson Street), Papery (669 Fort

Street) and The Milkman's Daughter

(1713 Government Street).

Time to eat...

It is amazing how much food you

can pack into a weekend, and true

to most travel, culinary experiences

were an important part of our

Victoria getaway. There were a few

stand-outs for us.

Ten Acres Kitchen was outstanding.

Tucked away (614 Humboldt

42 . DRIFTTRAVEL.COM
---
Street) down a hall and through

big doors, you will be blown away

by its sophisticated ambiance and

impressive menu. Ingredients are

sourced from their own working

farm and you can really taste the

difference. Plates are created by a

skilled chef with an exceptional

palate. We recommend:

Meat & Cheese Board: House cured meats

and local cheese - house made jam,

olives, pickled vegetables, ale and

caraway mustard.

Chicken Liver Pate: Sliced thick and

served with toasted puff rice, freshly

baked brioche.

Grilled Celery Root: Wild mushrooms,

potato chips, black pepper sauce.

Duck Breast: Lentils, fennel, charred

pear puree, pear duck sauce.

If it is true that a change is as

good as a rest, then it is also true

that when you combine a quick

weekend rest with a change of

scenery, and share it with a good

friend, it is doubly restorative and

rejuvenating. Unfortunately, life

doesn't always allow for long trips

and vacations. Think about packing

your weekender bag and doing a

little West Coast island hopping.

Local Berryman Farm Pork Belly: N'duja

croquettes, roasted parsnips, pickled

apple, apple cider, n'duja gastrique.

Chocolate Ganache: Chocolate ganache,

house made farm sorbet, honeycomb,

berry coulis, chocolate streusel.

OLO Restaurant is another must

try restaurant in Victoria (509

Fisgard Street) that specializes

in farm to table organic cuisine.

It is small but the atmosphere is

warm and welcoming. We highly

recommend the following dishes:

TRAVEL OFTEN . LIVE WELL . 43
---
44 . DRIFTTRAVEL.COM
---
B A L I

a photographic journey

Featured Photographer: Steve Drake

Steve has traveled more than 50,000 miles over the last

twelve months, photographing people, places and events

around the globe. In a recent trip to Indonesia, Steve's

lens was captivated with the rare authenticity and cultural

richness of Bali and he captured a series of images that

tell the stunning story of every day Balinese life.

TRAVEL OFTEN . LIVE WELL . 45
---
46 . DRIFTTRAVEL.COM
---
Photographer Notes (left, above and previous page):

Tirta Empul (which means Holy Spring) temple is a Hindu Balinese water temple

that was constructed around a water spring during the Warmadew Dynasty in 962

A.D. Balinese Hindus consider the water to be sacred, and make the pilgrimage from

all over Indonesia, to worship at Tirta Empul.

TRAVEL OFTEN . LIVE WELL . 47
---
48 . DRIFTTRAVEL.COM
---
Photographer Notes (left and below):

The Sacred Monkey Forest Sanctuary in Ubud is a popular

tourist attraction. However, it is also an important nature

reserve and Hindu temple to the Balinese people. Capturing

families of monkeys, including newborns, in their habitat

was exceptional.

TRAVEL OFTEN . LIVE WELL . 49
---
50 . DRIFTTRAVEL.COM
---
Photographer Notes:

Known as a Pura, Hindu temples are a place of worship for the

Balinese people. Temples are constructed in accordance to rules

and rituals rooted in Balinese architecture. As a photographer,

it is an honor to be able to photograph and document the special

religious temples in Bali.

TRAVEL OFTEN . LIVE WELL . 51
---
52 . DRIFTTRAVEL.COM
---
Photographer Notes (left and above):

Frequent offerings to the Hindu Gods are part of daily living in Bali, and

you quickly notice colorful flowers everywhere. It is customary in Bali, when

praying or entering a temple of worship to wear a sarong and selendang (sash).

TRAVEL OFTEN . LIVE WELL . 53
---
BALI, INDONESIA is an island in

Southeast Asia, known for its lush

jungles, working rice paddies, volcanic

mountains and amazing beaches. Bali

is home to three million people as well

as many temples and religious sites

including Tanah Lot, Uluwatu and

Tirta Empul. Arts, culture and wellness

are alive and well in Bali, making it a

favorite travel destination for those

seeking authentic and immersive

experiences. Seminyak, Sanur and Ubud

are popular tourist towns. The island

is also known for yoga and meditation

retreats. To learn more about travel

to Bali, visit balitourismboard.org.

Photographer Notes:

Rice is a staple food in

the diet of all Indonesian

people and rice farming

holds an important place in

Balinese culture. It also dots

the distinctively Balinese

landscape.

54 . DRIFTTRAVEL.COM
---
Bali is one of the few cultures with origins in one of the great

ancient cultures which is still alive.

ARTHUR ERIKSON

TRAVEL OFTEN . LIVE WELL . 55
---
56 . DRIFTTRAVEL.COM
---
seven worldwide

FESTIVALS

you need to see

BY: JOSIE SALDAT

If your travel plans this summer include experiencing

a music festival up close and personal, we've done the

legwork for you. Here are seven of the best festivals on

the planet, and oh - don't forget to your gum boots!

1GLASTONBURY

Worthy Farm, Somerset, UK

June 21-25

Radiohead, Ed Sheeren and the Foo Fighters have

been confirmed amongst this year's line-up and you

can always expect top-charting artists to grace the

iconic Glastonbury stages. For festival attendees, this

festival really does have everything. It is not only

the largest greenfield festival, but is also has distinct

socio-geographic regions with a Pyramid in the

center of the grounds. Stretching over 900 acres in

the Vale of Avalon, Glastonbury has steadily grown

in popularity and size over the past four decades

since their opening in 1970.

FESTIVAL FACT:

The festival will have a drive-in cinema this year.

TICKETS:

glastonburyfestivals.co.uk

TRAVEL OFTEN . LIVE WELL . 57
---
2EXIT

Petrovaradin, Serbia

July 6-9

This award-winning summer music festival held at

the Petrovaradin Fortress in the city of Novi Sad,

originated as a youth movement. Known for their

diverse selection of performers and enthusiastic

crowds of youth, Exit continues to draw in unique

international rock, pop and EDM sensations. With an

incredible historic medieval setting and the positive

energy of Novi Sad the festival has welcomed millions

of people from over 60 countries over the years.

FESTIVAL FACT:

Began in 2000 when a crowd of students fighting for

democracy rallied against the Milosevic regime.

TICKETS:

exitfest.org

58 . DRIFTTRAVEL.COM
---
3TOMORROWLAND

Boom, Belgium

July 21-23 & July 28-30

Tomorrowland has become one of the largest and

most unique electronic music festivals (EDM) with

an emphasis on free spirit mentality and good vibes

only. Priding themselves upon their other worldly art

installations, Tomorrowland welcomes more than a

quarter of a million people to dance and celebrate in

their artistic valley. With 30 stages and over 400 DJ's,

this extravagant festival has been a front runner for

the best vibrant and eccentric style.

FESTIVAL FACT: Inside the main stage there is a VIP

restaurant, fronted by a Michelin star chef, boasting

some of the finest cuisine, Each plate of food can cost

$1,000, but some of the proceeds go to charity!

TICKETS:

tomorrowland.com

4PEMBERTON

Pemberton, BC, Canada

July 13-16

Just north of Whistler, British Columbia, Pemberton

Music Festival happens in the valley near Mount

Currie. Dubbed as "Canada's biggest camping and

music event", Pemberton has gained popularity

quickly in the few years it's been around. The festival

grounds includes camping for over 40,000 attendees

spread over several acres. Powered by top-charting

headliners, crowds include a diverse group of

generations.

FESTIVAL FACT:

The festival gives back to its location. The Pemberton

Music Festival Community Fund has given over

$100,000 in grants to non-profits supporting

community developments.

TICKETS:

pembertonmusicfestival.com

TRAVEL OFTEN . LIVE WELL . 59
---
5SPLENDOUR IN THE GRASS

Byron Bay, Australia

July 21-23

Australia's largest winter music festival attracts a new

community into the surf hub of Byron Bay. Mixing

contemporary artists and major headline acts, this

festival has welcomed Coldplay, The Strokes, Kanye

West and more - mixing top charting musicians with

fashion and beauty pop-ups from Kiehl's, Rimmel

London and Aveda! So the answer is yes, you can get

a pre-festival blow-out.

FESTIVAL FACT:

Splendour in the Grass offers a stylish escape to the

on-going music – a day spa and a mini mall!

TICKETS:

splendourinthegrass.com

6ROCK EN SEINE

Paris, France

August 25-27

If rock music is your genre of choice, Rock en Seine is

for you! This three-day rock music festival in Paris is

situated in the Park of "Domaine national de Saint-

Cloud" a garden designed in the 17th century. The

festival offers acts from rock, indie and rap mega-

stars and since 2003 has grown to be one of the most

anticipated musical events in Europe. Five stages will

continuously host musicians – so with every turn a

new genre of live music will grace your ears.

FESTIVAL FACT:

There's a mini festival on the ground outskirts with

music and workshops for 6-10 year olds.

TICKETS:

rockenseine.com

60 . DRIFTTRAVEL.COM
---
TRAVEL OFTEN . LIVE WELL . 61
---
62 . DRIFTTRAVEL.COM
---
7BURNING MAN

Black Rock Desert, Nevada, USA

August 27-September 4

Festival-goers join forces and co-create "Black Rock

City", the temporary metropolis for the week long

festival dedicated to art, community and radical selfexpression.

Each year a new theme is set – 2017 is

Radical Ritual. More than a music festival, Burning

Man has become a cultural movement that digs

deep into music, art, and fashion with an immersive

atmosphere offering the experience of a lifetime.

FESTIVAL FACT:

The festival is guided by ten principles that attendees

are encouraged to embrace: radical inclusion, gifting,

decommodification, radical self-reliance, radical

self- expression, communal effort, civic responsibility,

leaving no trace, participation and immediacy.

TICKETS:

burningman.org

TRAVEL OFTEN . LIVE WELL . 63
---
the

editor

when was the last time

BY: TRACEY DRAKE

My first time in Hong Kong and

I wanted to make sure that I had

a unique experience. I know that

everyone stays in the Central and

Kowloon districts, where you can

find big brand hotels, fine dining

and designer shops, but I wasn't

looking for that kind of Hong Kong

memory. I went on a quest to find out

where adventurous, urban travelers

were staying in Hong Kong and I

happened upon Ovolo Southside. I

am so glad that I did.

Set in the up-and-coming Southside

neighborhood, this hip area is

teeming with art galleries, coffee

shops, and green spaces with easy .

64 . DRIFTTRAVEL.COM
---
you saw something for the first time?

OVOLO SOUTHSIDE - HONG KONG

TRAVEL OFTEN . LIVE WELL . 65
---
access to transit. Before I checked

in, I knew that Ovolo Southside

was formerly a warehouse, but I

was so pleased to see that Ovolo

Hotels had maintained much of the

building's original industrial charm

- embracing its working class roots,

which cleverly speaks to a whole new

generation of world travelers.

The loft-like rooms are trendy and

well thought out, with great modern

amenities, AppleTV, free mini-bar

and room to stretch out after a long

day of sightseeing. The main lobby

(LoLounge) is uber chic, with a firstrate

Italian coffee bar, pool table and

Mid Century modern decor that

doubles as a comfortable lounge and

common work area. I wanted to live

in Above, the rooftop bar lounge -

like literally move in! It was the best

66 . DRIFTTRAVEL.COM

place to just relax, order a cocktail

and take in the stellar views.

The artwork on and around the

hotel is quite something. You could

spend hours just taking it all in, and

learning about the Hong Kong artists

that created each piece. I had a few

favorites - the Made In Hong Kong

neon sign that was tucked away in a

stairway, the wordy elevator interior

and the graffiti murals on the walls

outside Cirqle, the modern bistrostyle

restaurant on the fourth floor.

Whatever your Hong Kong day looks

like, you can get everywhere from

here. One afternoon, we walked

down to Aberdeen Fishing Village -

an unforgettable experience. Another

day, we hopped on a bus, grabbed the

MTR and headed to Tai Po Market

with Hong Kong Food Tours for an

exceptional day of authentic, local

cuisine (including snake soup). If

you're a foodie, I highly recommend

this tour.

Hong Kong's first warehouse

conversion hotel, Ovolo Southside is

a master-class in urban architecture

and contemporary art, and a perfect

option for those looking for a fresh,

new take on a Hong Kong experience.

Learn more about Ovolo Southside

at ovolohotels.com.

FOLLOW

@TraceyDrakeEditor

on Instagram & Twitter

or search hashtag #TheTravellingEditor
---
TRAVEL OFTEN . LIVE WELL . 67
---
68 . DRIFTTRAVEL.COM
---
THINGS YOU NEVER KNEW ABOUT NEW YORK'S

WALDORF ASTORIA

BY: SARAH SMITH | BOOKING.COM

N

othing speaks grand Americana more than the Waldorf Astoria New York hotel. Home-away-fromhome

to kings and queens, it is American hospitality royalty at its best. The curtain went down

on the hotel's historic 86-year run on Park Avenue in March, and the property will now undergo

a multi-year renovation and partial condominium conversion. The hotel was sold in early 2015 to

Angang Insurance Group for a whopping $1.95 Billion dollars - the most expensive hotel ever sold. Here are a

few more things you probably didn't know about New York's Waldorf Astoria hotel.

WALDORF SALAD, EGGS BENEDICT & RED VELVET CUPCAKES

WERE INVENTED HERE

Presidential

U.S. President Herbert Hoover opened the hotel in

October 1931. Every U.S. president since then has

stayed in the 2,245-square-foot Presidential Suite.

Historical Firsts

It was the first hotel to offer room service in the

U.S. and the first major hotel in the world to

employ women as chefs, beginning in 1931. It was

also the first hotel to feature electricity and private

bathrooms in all its rooms.

Tasty Fare

The delicious truth is that the Waldorf Salad, Eggs

Benedict, Red Velvet cupcakes and Thousand

Island salad dressing were invented there.

Secret Train Tunnel

There's a hidden train tunnel that runs from

Grand Central to the base of the Waldorf Astoria.

President Roosevelt used this secret tunnel to

enter the hotel so that people didn't know he was

in a wheelchair.

Star Power

Celebrities have routinely stayed at the hotel since

it opened including: Elizabeth Taylor, Richard

Burton, Brad Pitt, Angelina Jolie, Charlie Chaplin,

Ava Gardner, Liv Ullmann, Judy Garland, Edward

G. Robinson, Gregory Peck, Carey Grant, Cole

Porter, John Wayne, Tony Bennett, Jack Benny,

Katharine Hepburn, Spencer Tracy, Muhammad

Ali, Ginger Rogers and Vince Lombardi.

TRAVEL OFTEN . LIVE WELL . 69
---
Marilyn Monroe Suite

Hollywood legend Marilyn

Monroe stayed at the hotel for

several months in 1955. The

suite was named in her honor.

Largest Suite

The Cole Porter Suite is a fivebedroom,

five-and-a-half-bath

suite that's roughly 4,300 square

feet, and went for $150,000 a

month. Porter lived there for 25

years and wrote several famous

songs in the room. His piano

remained in the suite.

Home Away From Home

Frank Sinatra paid $1 million a

year for the Cole Porter Suite,

his personal home away from

home from 1979 to 1988.

3 in a Tub

The Elizabeth Taylor Suite has

the largest and most exquisite

bathtub which can easily

accommodate three people.

Most Requested Room

Room 42R, the Royal Suite,

located on the top floor is the

most requested room. It was

the residence of the Duke (King

Edward) and Duchess (Bessie

'Wallis' Simpson) of Windsor

for over 10 years. The Duchess

had the suite painted light

blue which was later named

'Wedgewood Blue.'

Quiet on the Set

The Waldorf Astoria New York

has been a filming location for

numerous films and TV series,

"THE DIFFICULT

IMMEDIATELY,

THE IMPOSSIBLE TAKES

A FEW MOMENTS LONGER."

70 . DRIFTTRAVEL.COM
---
including Coming to America,

Serendipity, Maid in Manhattan,

Mr. and Mrs. Smith, and The

Pink Panther.

Impeccable Service

"The difficult immediately, the

impossible takes a few moments

longer," is considered the hotel

motto. They once had a request

to raise a guest's toilet seat by

one centimeter which they did.

Silver Medalists

The hotel employed eight fulltime

silver polishers.

Rooftop Garden

The rooftop was used to cultivate

gardens of fresh vegetables and

herbs and beehives for honey.

On the 20th floor roof, there

were six beehives with 350,000

bees. The 'Top of the Waldorf '

honey was used in culinary

specials, cocktails and at the

Guerlain Spa located in The

Towers of the Waldorf Astoria.

100-Year Deal

Hilton Worldwide will continue

to operate the Waldorf Astoria

New York under a 100-year

management agreement.

Thanks for the memories

and the distinctive New York

history. We can't wait to

see the reimagined Waldorf

Astoria New York in a few

years time.

TRAVEL OFTEN . LIVE WELL . 71
---
QUITO

ECUADOR

BY: TRACEY DRAKE

72 . DRIFTTRAVEL.COM
---
It is a land of multiple identities. Everywhere you turn, whether on

the city streets or traveling through the countryside. Quito, Ecuador

is evolving into a cosmopolitan city, without ever turning its back

on its Andean roots. A well-dressed businessman walks alongside a

woman in traditional Ecuadorian dress; contemporary glass encased

structures dot the urban skyline, watched over by the Virgin Statue atop

El Panecillo.

With a population of 1.6 Million people, Quito is a city built in the

sky, located 9,186 feet above sea level, and the highest elevation of any

capital city in the world. When I first arrived, I often found myself

breathless (from the beautiful scenery as well as the lack of oxygen),

and was grateful that Pablo, my incredibly gallant and knowledgeable

city guide, set a moderate pace for the first few days, allowing time to

acclimate to the altitude. The geography of the city is long and narrow,

just five kilometres wide and eighty kilometres long. Because of its

geographical location and proximity to the equator, the sun rises at 6:00

a.m. and sets at 6:00 p.m., every day of the year. Even if the day is hot,

the evening usually requires a light jacket.

In 1978, Quito became one of just two cities (Krakow is the other) to be

designated a UNESCO World Cultural Heritage Site, thanks to the well

preserved historic center of Quito. That alone is worth the plane ticket;

architecture in this city is awe-inspiring and in such wonderful repair.

FOR FURTHER INFORMATION ON TRAVEL TO

QUITO, ECUADOR, VISIT WWW.QUITO.COM.EC

TRAVEL OFTEN . LIVE WELL . 73
---
There was so much to do and see

in Quito and the surrounding

areas that the week simply flew by.

Spending time on the city streets,

in the old historic centre as well

as the modern business district,

offered up a true sense of where the

city had come from, and where it

was headed. The trip to the Middle

of the World was an absolute blast

and a 'must do' lifetime experience.

The food culture here was quite

unexpected for me, with so many

refined culinary delights, both

traditional dishes and worldly

modern fare. The markets were

something I looked forward to

and they did not disappoint; the

churches and cultural buildings

a sheer joy to discover, and the

best part of this South American

city is its people. Yes, I bought an

Ecuadoran hammock and locally

crafted trinkets, but the greatest gift

I came home with is the memory

of meeting so many authentic

Ecuadorian people, who were so

proud and boldly enthusiastic

to share their home, history and

culture with me.

Ecuador was magnificent and I

loved it all; every experience,

every morsel, every moment.

If it's not on your travel bucket

list, it should be. Write it down.

74 . DRIFTTRAVEL.COM
---
FAVORITE PLACES:

Tren Ecuador: I took an eye opening train ride

through the Ecuadorian countryside and Andes

Mountains. Traversing through small villages, we

stopped in Boliche for a wonderful guided walk

through Cotopaxi National Park and disembarked in

Machachi to witness a traditional folkloric dance.

Mitad Del Mundo: An unforgettable afternoon

spent at the middle of the world, standing at 0-0-0

latitude, with a foot in each hemisphere in front of

the Equatorial Monument, and experiencing the

gravitational effects of this locale.

Otovalo Market: The outdoor Mercado in the Plaza

de los Ponchos was captivating! Endless booths

were brimming with colorful woven wool textiles

for which the indigenous Otavaleños are known.

Friendly merchants sold everything from textiles

and leather goods, Panama hats and painted pottery.

NEW FLAVORS:

Biscochos Cayambe: In the rose gardens of La

Compania Roses Hacienda, I was offered this rich,

buttery flaky pastry, and it was love at first bite. Later

that same day, we stopped in Cayambe, and I bought

a half dozen for me!

Canelazo: It is a delicious hot drink, the Ecuadorian

equivalent of a Hot Toddy, but the South American

version is made with sugar cane alcohol, sugar and

cinnamon. They serve it up perfectly at El Pobre

Diablo restaurant.

Cherimoya: In English, it is Custard Apple – a

delicious fruit that I first sampled on the streets of

downtown Quito and then hunted it down at the

Inaquito Market. The flesh is soft, sweet and tastes

like a mellow blend of banana and pineapple. Mark

Twain called Cherimoya "the most delicious fruit

known to man".

TRAVEL OFTEN . LIVE WELL . 75
---
#WHERETONEXT

THE RUGGED BEAUTY OF NORTHERN IRELAND

It is a place of diversity and contrasts. For the millions of tourists that visit Northern Ireland each year,

it always surprizes and astounds. From the liveliness of Belfast, to the awe-inspiring Giants Causeway

and the pristine landscapes, it is a place that everyone must visit - at least once in a lifetime. Watch

for Northern Ireland - coming soon to the Summer 2017 issue of DRIFT magazine.

76 . DRIFTTRAVEL.COM
---
DRIFT travel magazine

@DRIFTTRAVEL

+ FOLLOW

When is the last time you saw something for the very

fi rst time? DRIFT travels to unforgettable places.

Come along on the journey. Travel Often. Live Well.

www.DRIFTtravel.com

Come along

on the journey

click here to follow us on

@DRIFTtravel

also on

Share your travel photos with 4.5 Million readers worldwide

Use hashtag #DRIFTtravel on Instagram
---
Travelling well

means rest assured.

Explore other travellers' #lifewelltravelled experiences

and share your own memorable moments.

cathaypacific.com/lifewelltravelled