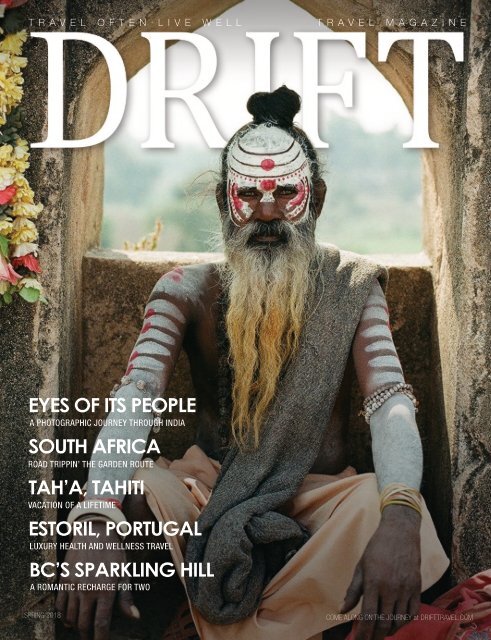 DRIFT Travel Spring 2018
Travel with DRIFT to India, South Africa, Tahiti, Portugal, Canada and more great places. Looking for camera backpacks? Check out the Peak Design Everyday Backpack in the Travel Gear column.
Travel with DRIFT to India, South Africa, Tahiti, Portugal, Canada and more great places. Looking for camera backpacks? Check out the Peak Design Everyday Backpack in the Travel Gear column.
SHOW MORE
SHOW LESS
You also want an ePaper? Increase the reach of your titles
YUMPU automatically turns print PDFs into web optimized ePapers that Google loves.
TRAVEL OFTEN . LIVE WELL

TRAVEL MAGAZINE

EYES OF ITS PEOPLE

A PHOTOGRAPHIC JOURNEY THROUGH INDIA

SOUTH AFRICA

ROAD TRIPPIN' THE GARDEN ROUTE

TAH'A, TAHITI

VACATION OF A LIFETIME

ESTORIL, PORTUGAL

LUXURY HEALTH AND WELLNESS TRAVEL

BC'S SPARKLING HILL

A ROMANTIC RECHARGE FOR TWO

SPRING 2018

COME ALONG ON THE JOURNEY at DRIFTTRAVEL.COM
---
2 . DRIFTTRAVEL.COM
---
TRAVEL OFTEN . LIVE WELL . 3
---
PUBLISHER

GLOSSY MEDIA

CREATIVE DIRECTOR

STEVE DRAKE

PRODUCTION/EDITORIAL

ERIC HIMEL, IAN PEDERSEN, RUSS WALSH, ERIN

CEBULA, TODD TALBOT, JULIE LEVENTHAL, SYLVIA

TENNANT. ALLISON LETHERBARROW, KARA LATTA,

PAUL JOSEPH, STEFANIE NISSEN, BIANCA MARTINEZ,

PAOLA ARENCIBIA

CREATIVE | PHOTOGRAPHY

ERIN CEBULA, THE MOORING, TODD TALBOT, SOPHIE

MERRELL, JULIE LEVENTHAL, SYLVIA TENNANT,

ALLISON LETHERBARROW, DOLPHIN POINTS VILLS,

TRVL PORTER, PALACIO ESTORIL HOTEL, BOOKING.

COM, ADOBE STOCK, SPARKLING HILL RESORT, PEAK

DESIGN. DANNER, BARRIER METHOD

ADVERTISING & PUBLISHING RIGHTS INQUIRIES

sales@DRIFTtravel.com | www.DRIFTtravel.com

Published by: Glossy Media

All rights reserved. No part of DRIFT magazine may be

copied or reproduced without permission.

© COPYRIGHT DRIFT TRAVEL MAGAZINE

GLOSSY MEDIA

2015-2018

4 . DRIFTTRAVEL.COM
---
INSIDE this issue

6 ERIC HIMEL'S STYLE 12 TRAVEL GEAR

Top 10 carry-on must packs

A look at new travel products

8 TAHA'S, TAHITI

Floating tropical dreams

14 SOUTH AFRICA

Road trippin' with Erin Cebula

TRAVEL OFTEN . LIVE WELL

EYES OF ITS PEOPLE

A PHOTOGRAPHIC JOURNEY THROUGH INDIA

SOUTH AFRICA

RAOD TRIPPIN' THE GARDEN ROUTE

TAH'A, TAHITI

VACATION OF A LIFETIME

ESTORIL, PORTUGAL

LUXURY HEALTH AND WELLNESS TRAVEL

BC'S SPARKLING HILL

A ROMANTIC RECHARGE FOR TWO

SPRING 2018

TRAVEL MAGAZINE

COME ALONG ON THE JOURNEY at DRIFTTRAVEL.COM

20 B.C's SPARKLING HILL

The Talbots romantic retreat

24 PEOPLE OF INDIA

Sophie Merrell's photographic journey

THREE DAYS IN VAIL

36 Leave your skiis at home

40 NOVA SCOTIA

Authentic maritime hospitality

56 PORTUGAL

Health & fitness travel

LUXURY TRAVEL

60 Private jets & more

SPRING 2018

From Canada's coasts and

Tahitian islands, to the roads of

South Africa and the streets of

India, DRIFT magazine s taking

you on the ultimate spring travel

vacation. No passport required.

NAXOS & AMORGOS

46 A Greek holiday on foot

50 LOS ANGELES

Shop like a celebrity

KEY LARGO, FLORIDA

62 Dolphin Points Villa

TRAVEL OFTEN . LIVE WELL . 5
---
Eric Himel's

LIFE+STYLE

BY: ERIC HIMEL

Soft Lightweight Scarf

Oversized, cashmere and paper

thin, this multi-purpose piece

doubles as both scarf and

wrap for chilly restaurants and

museums.

FALIERO SARTI

STYLISH SNEAKERS

Designer sneakers are so

omnipresent today that you don't

have to sacrifice comfort over

style anymore. Choose a metallic

pair to up the chic quotient and

walk for hours, even up hills and

cobblestone streets.

TOD'S

Rain Slicker

These new crop of rain jackets

are one part utilitarian, two parts

style and they fold neatly into

your bag for easy accessibility.

Jersey Dress

This material is forgiving for

packing, comfortable for wearing

and versatile enough to go from

day to night.

NORMA KAMALI

HUNTER

ERIC HIMEL (erichimel.com)

is a widely known celebrity stylist, fashion expert and media personality. Himel attended

Parson's School of Design and trained under Project Runway's Tim Gunn. Now based in

Los Angeles, Himel's roster of celebrity clientele has included Jenny McCarthy, Giuliana

Rancic, Pete Wentz, Gabby Douglas and more. Eric is best known for his signature Closet

Purge and now offers Virtual Styling Sessions.

6 . DRIFTTRAVEL.COM
---
Polarized Aviators

Aviators are universally flattering

and add that extra cool factor to

any ensemble. Polarized is just

smart.

TOM FORD

Statement Heels

A block heeled statement shoe

will be the only nighttime shoe

you need seamlessly moving

between multiple outfits.

PRADA

2-in-1 Bag

A bag that doubles as a cross

body by day and a clutch by

night will optimize your packing

space and simplify your options.

VALENTINO

Sexy Comfort Jeans

Stretch, cropped and midrise,

these jeans will have you

covered in flats or heels without

stretching out after a long day's

adventure.

J BRAND

Convertible Earrings

An earring that converts into a

stud for day and a drop for night.

Well isn't that clever!

EQUIPMENT

TRAVELING WITH

A CARRY-ON – 10 THINGS

YOU MUST PACK

70's Inspired Blouse

Billowy like a cool breeze, this

staple is the essence of casual

vacation chic.

TRAVEL OFTEN . LIVE WELL . 7
---
Yacht

Charters

The Vacation of a Lifetime

on the water in Taha'a, Tahiti

BY: IAN PEDERSEN

8 . DRIFTTRAVEL.COM
---
When people think of

a dream vacation

in the islands of

French Polynesia,

the island that is usually at the top

of their list is Bora Bora. In reality

though, the archipelago consists of

several other islands worthy of every

traveler's bucket list.

Those that have the privilege of

undocking on a life-changing yacht

charter vacation in Tahiti with a

local skipper on board will be able

to discover the hidden treasures

and splendid beauty that reigns

supreme throughout the crystalclear

waters of Taha'a. Here is what

an unforgettable Taha'a sailing

adventure could look like for you:

TRAVEL OFTEN . LIVE WELL . 9
---
On your first morning, go ashore

on Taha'a and tour one of the local

vanilla plantations. The locals

who own the small plantation are

extremely friendly. The vanilla

plants bloom between July and

October. One flower lives for only

six hours and all the blossoms must

be hand pollinated to produce the

vanilla beans.

The plantation has a beautiful

little shop where you can purchase

gourmet vanilla beans, vanillainfused

coffee & sugar, and a

variety of other unique products

to take home from your travels.

The store even accepts credit cards,

dollars and francs to cater to its

international guests.

Next sail to Apu Bay on Taha'a which

is a great spot for an overnight

anchorage. After a quick lunch

on board your private Moorings

sailing catamaran go ashore to tour

a family-owned black pearl farm

that is over 20 years old. This farm

at Apu Bay produces 20,000 pearls

a year. It takes the oysters five years

to deliver their first pearl and their

average life expectancy is 20 years.

In the evening, have a traditional

Polynesian dinner at the nearby

Ficus restaurant. You will be greeted

with a delicious cocktail and then

seated in a hut made entirely of

palm trees. Live palm trees serve as

the pillars of the pavilion and palm

leaves are used for the roof. The

meal will be prepared on layers of

coals and then covered in banana

leaves. The food cooks for over

four hours before its big reveal.

Everything is delicious, especially

the tapioca style pudding dessert.

- And the live entertainment with

traditional music and dancers

makes the experience extra special

and enjoyable.

On your next day in Taha'a, sail

to the northwest side of the island

near Le Taha'a Island Resort &

Spa. This resort has picture perfect

bungalows on the water. You can

anchor near the resort and take the

dinghy (a small inflatable rubber

boat that comes with every yacht)

over to the coral reef garden and

experience world-class snorkeling

that you won't forget soon. There

is a current that will take you along

over the top of the coral reefs that

are teeming with butterfly fish, eels

and other species that seem to be

just as curious about you as you are

of them.

A trip like this is something you will

be talking about for the rest of your

life. While there are many other

Society Islands in French Polynesia

to discover and glide through on

your Moorings catamaran, Taha'a

and its turquoise waters could just

become your favorite. You simply

have to see it to believe it.

Experience Taha'a Tahiti and 20

other breathtaking destinations

worldwide on a yacht charter

vacation with The Moorings, to

learn more visit moorings.com

10 . DRIFTTRAVEL.COM
---
Call 800.669.6529

moorings.com/drift

unplug

When sinking in life's unyielding

wave of technology, disconnect from

the rush and slip into island-time.

Cast off with The Moorings, let your

worries melt away, remember how

to live in the moment—one nautical

mile at a time.

TRAVEL OFTEN . LIVE WELL . 11
---
TRAVEL GEAR

HOT NEW TRAVEL PRODUCTS

BY: RUSS WALSH

Danner South Rim 600

Built for warm-weather hiking,

the South Rim is a lightweight

hiker with classic Danner style and

proven Danner comfort. Danner

took the ultra-cushioning Vibram®

SPE platform from their bestselling

Mountain 600 hiking boot

and added a lightweight suede and

mesh upper for breathability. The

Vibram® Fuga outsole features selfadapting

lugs and MegaGrip® for

maximum traction on slick and

uneven surfaces, making the South

Rim the ideal companion on the trail

next summer.

danner.com

The Barrier Method

Board the plane wrapping yourself up in this Infinity

Scarf to reduce your risk of getting sick while

traveling. Wearing it should ease your mind and

put you in a state of relaxation so you can feel rested

when you arrive at your destination. Antibacterial

(Chitosante), odor resistant, lightweight, wicking,

UPF 50, breathable, non-pilling, wrinkle-resistant.

thebarriermethod.com

12 . DRIFTTRAVEL.COM
---
CAPTURE

Capture is a secure, convenient, accessible way to carry

your camera. Unlike a camera strap, Capture keeps your

camera rigidly stable while hiking, biking, or moving

around the studio. Unlike a camera bag, Capture keeps

your camera instantly accessible with the click of a button.

peakdesign.com

SLIDE

Slide can be worn as a sling, neck, or shoulder

strap. Dual quick-adjusters provide instant

access and easy reconfiguration. Unique

Anchor Link system connects quickly and

dual points of connection keep your camera

more stable than traditional sling straps.

EVERYDAY BACKPACK

A pack that adapts to your ever-changing gear, lifestyle and environment,

the Everyday Backpack give you unrivaled accessibility, expandability,

and organization. The patented MagLatch provides lightning fast top

access, with dual side-loading via two weatherproof side zips. FlexFold

dividers keep photo, drone, or everyday gear organized, protected,

and not bunched at the bottom of your bag. Internally padded

accessory pockets keep small items in check. Dedicated sleeve for up

to 15" laptop, tablet, and documents. Ultra clean aesthetic, all-custom

hardware, minimal dangling straps. Weatherproof 400D nylon canvas

shell. Available in 20L and 30L sizes.

TRAVEL OFTEN . LIVE WELL . 13
---
ROAD

TRIPPIN'

the Garden Route, South Africa

BY: ERIN CEBULA

Erin Cebula has been a fixture on Canadian Television since landing the

coveted role of Community/Arts Reporter for BC's #1 Station in 2000.

Her compassionate approach to lifestyle reporting has graced the likes of

Vancouver talk show Urban Rush, 6 Degrees of TV, Canucks Pay-Per-View,

HGTV Canada's feel good hit "Makeover Wish" and Entertainment Tonight

Canada from 2005-2017.

14 . DRIFTTRAVEL.COM
---
When I began researching South Africa, I came across dozens of must-dos. Bloggers and tour companies

raved on about the majesty of Kruger National Park, the cool grittiness of Johannesburg and the bounty

of the wine lands. But it was the Garden Route - a stretch of forested, coastal area between Mossel Bay

and Port Elizabeth - that appeared near the top of every single list I dug up, and I'm a sucker for top

tens. As I continued searching, I was thrilled to learn that this 300km stretch encompasses dramatic peaks,

indigenous temperate forests, pine plantations, rocky coves and glorious sandy beaches. The wildlife and

outdoor activities were continually described as "remarkable" and almost every beach town boasted fresh

oysters galore. This was all I needed to hear!

My adventure kicked off in what locals refer to as The Mother City. Cape Town is bright, bustling and home

to 4 million people. It's built on a peninsula beneath imposing Table Mountain and is the crown jewel

of South Africa's southwest coast. Some say it resembles the fair city of Vancouver, but Cape Town has

something Vancity just doesn't, and that's drama. The mountains are jagged and rough, the neighborhoods

are technicolor wild and the ocean is the aquamarine of your dreams. I loved it instantly, and my affection

only grew when I checked into Kensington Place.

TRAVEL OFTEN . LIVE WELL . 15
---
I chose this award-winning

boutique hotel for many reasons.

It's located in the charming suburb

of Higgovale, which has a West

Hollywood feel and is steps away

from Cape Town's coolest bars and

restaurants. There are only 8 rooms

and every single luxe one of them

has a private terrace with views

of the harbor and surrounding

mountains. The design is cozy,

but contemporary, and there are

lush gardens at every turn. The

staff turned out to be as helpful in

person as they were on-line, and

we relied heavily on their expert

food and fun recommendations. I

was particularly impressed by the

fact that we were warmly greeted

with a cocktail, and just the right

amount of chit chat at (the very

late check-in hour of) 11pm.

At the top of Kensington Place's

food reco list was The Shortmarket

Club, a new hot spot I had

managed to secure a reservation

for some 2 months earlier. This

buzzed about offering from Luke

Dale-Roberts of The Test Kitchen

fame, is tucked away in a heritage

building just off vibey Bree street.

As the name suggests, it has a

clubby feel, but not the icky kind.

The space is sexy and opulent - in

an old world way - and as soon as

you enter you feel as if you've been

let in on a juicy secret. The menu is

beautifully balanced; with options

for veggie and seafood lovers and

for those who live for braai. BBQ

is huge in South Africa, and The

Shortmarket Club honors that

tradition beautifully with grass

fed cuts from local farmers. I had

to indulge in one of these tasty

filets, along with burnt leeks with

16 . DRIFTTRAVEL.COM
---
stracciatella and the insanely

delicious sambal matah tuna. I've

had tuna a hundred ways, but

never swimming in sambal oelek,

ginger, hot coconut oil and lime.

To. Die. For.

The next morning - with a belly

still full - I embarked on the first

(driving) leg of my Garden Route

adventure. The goal was to make

it to Knysna, a charming town

built on the northern shore of a

large warm-water estuary some 6

hrs away. This was to be our base

camp for two days of wilderness

exploring and oyster eating. So,

with a strong Americano in hand,

I bid a fond farewell to Cape Town

and began the winding accent

through the mountains and past

the posh suburbs of Clifton and

Camps Bay. Driving on the left

took a little getting used to, but

I managed to arrive in Knysna

unharmed and ahead of schedule.

After settling into my turbineturned-boutique

hotel on Thesen's

Island (yes, you heard right), the

hubby and I hit the town fixed on

slurping back as many molluscs

as possible. Seafood institution,

34 Degrees South was by far our

favorite, serving up delicious wild

oysters direct from local waters.

Next on the menu: hiking the

world famous Robberg Bay Trail.

This 11km loop circles a rugged

peninsula that looks out on the

Tsitsikamma mountains, and is

both a national monument and

a World Heritage Site. The views

are spectacular at every turn, and

some of the rocks you're bound

to climb date back over 120

million years. The area is also a

protected marine park and home

TRAVEL OFTEN . LIVE WELL . 17
---
to dolphins, Black Oystercatchers,

Cape Gulls and surprisingly stinky

Cape Fur Seals. My husband and

I finished the challenging hike

in just over 3hrs, but didn't quite

escape unscathed. I still feel bad

for asking poor Shawn to climb up

a slippery, lichen covered rock for

a photo op.

To ease Shawn's suffering (and

get myself out of the dog house) I

took him for lunch at the famous

East Head Cafe. This gem of a

restaurant overlooks the Knysna

Heads and serves up globally

inspired seafood, salads and damn

good cocktails. To me, this is what

every waterfront cafe should aspire

to be; buzzing, casual and all about

fresh, no-fuss food. We scored one

of the coveted outdoor tables with

lagoon views and stuffed ourselves

silly with spicy Cape Malay curry

and the best fresh fish and chips of

our lives.

Next stop was Plettenberg Bay,

or 'Plett' as it's more commonly

known. Thousands of local and

international tourists flock to this

resort town over the Christmas

break - so if your looking for laid

back beach vibes, keep on driving.

Personally, I was looking forward

to a little action after 2 nights in

sleepy Knysna, so my injured

wingman and I bee-lined it to

Central beach for a solid afternoon

of bar hopping followed by sushi

at the very popular Fat Fish. The

rest of our evening in Plett is a

little fuzzy, but I'm pretty sure it

was fun!

Surprisingly, I hit the road early

18 . DRIFTTRAVEL.COM
---
the next day with sights set on

Tsitsikamma National Park and

its mosaic of ecosystems. This was

our final day on the Garden Route,

and I wanted to spend it in a park

with 80 kilometers of pristine

coastline and an oceanfront pub.

And yes, Tsitsikamma has both

of these things! It also offer short

scenic strolls, strenuous five-day

hikes like the Otter Trail and even

the worlds highest bridge bungee

at 216 meters. And no, I didn't do

it. I threw myself off a bridge for

my 24th birthday and I don't need

to do that again. Instead I chose

to explore Storms River; hiking

over suspension bridges, through

deep gorges and along rugged cliff

edges. And as I had hoped, we

wrapped this final, incredible leg

of the journey with a cold pint of

Castle overlooking a raging Indian

Ocean. And if that's not a must-do,

I'm not sure what is.

Side note: Cape Town is currently

experience the worst drought in

its history. After three years of

minimal rainfall, the city is now

in a state of emergency, with locals

and visitors limited to 50 liters (a

90s shower and one flush) per day.

Tourists are less affected by the

drought than residents, as hotels

and B&B's have a dispensation

to use more water - but if you do

chose to visit, please do your best

to conserve this precious resource.

TRAVEL OFTEN . LIVE WELL . 19
---
SPARKLING HILL RESORT

a romantic recharge for two

BY: TODD TALBOT

20 . DRIFTTRAVEL.COM
---
You may or may not have heard of

Predator Ridge, if you're me you've

heard of it, my wife, (no interest in golf)

not so much. Now there is another reason

to add Predator Ridge to your travel-log, and it may

just get your wife fully invested. Sparkling Hill Resort

is not just a Swarovski adorned hotel with 180 degree

sweeping lake and mountain views, as if that weren't

enough to peak your interest, the resort is so much more.

TRAVEL OFTEN . LIVE WELL . 21
---
Rebecca and I have been "moving"

for a couple of months now. With

the ups and downs and issues

constantly needing to be dealt

with surrounding our home reno,

spending quality time together,

other than choosing finishings,

takes a backseat. The opportunity to

get away from it all and reconnect

was a big reason why we booked the

grandparents on kid-duty for the

weekend and took a road trip to the

Okanagan.

We'd heard about Sparkling Hill

before the need to visit presented

itself. They tout themselves as

a full-body wellness experience.

There are yoga classes, therapists on

site and 40,000 square feet of spa

amenities to be enjoyed.

Each room comes equipped with a

built in starry sky to match the one

that will present itself outside your

window during European spa hour,

as well as bath robes and slippers

that one may don at arrival and

lounge in for the duration of his/her

stay. In fact dining for breakfast in

robes is recommended which means

you can do one of my favorite

things, roll out of bed straight into

your morning cup of coffee without

a second thought.

The highlight of our stay was

our treatment in the Cryo Cold

Chamber at the KurSpa. There

was a lot of talk leading up to our

afternoon appointment on our

second day. Patrons who had

already experienced it told us

it was "fun" while shaking their

heads, others laughed and said it

was crazy. Our attendant, Paul,

compared it to bungee jumping,

to which, I thought, I would

never go bungee jumping! But

Paul's assistant, who watches from

22 . DRIFTTRAVEL.COM
---
the outside of the chamber and

announces the halfway point, was

much more 'real' about it. The

gist of it is, it's not an enjoyable

experience but you can do it.

Multiple treatments over time are

said to heal injuries and afflictions

like arthritis as well as possibly

alleviate sleeping issues. But the

main thing for Rebecca and I to

get out of our one-time visit was

an adrenalin rush and a boost

in energy post-treatment. I was

second-guessing signing up for

it until I learned that Paul is in

there with clients ten times a day.

He's spent those three and half

minutes on the inside thousands

of times. Well then, we could do it

once. And now that we have- I can

recommend it.

The rest of our stay was just

heavenly relaxation and indulgent

couple-time bliss. The options of

aromas and temperatures in the

saunas and steam rooms make

one feel like a kid in a candy store,

the infinity pool is picturesque,

the serenity room- even more

picturesque, the food is great and

the rooms are roomy with enough

space for two in a crystal-shaped

soaker tub. And if your wife is

reluctant to share tub time at first,

there are many other crystal-shaped

adornments available in the on-site

Swarovski retailer that are bribeworthy

and may make your nights

at the Sparkling Hill Resort truly the

most exciting part of your stay.

Wink, wink.

TRAVEL OFTEN . LIVE WELL . 23
---
an exploration

of people

Varanasi, Uttar Pradesh

A 'sadhu' or holy person peacefully sleeps on the ghats in Varanasi that lead to the banks of

the River Ganges, one of the most sacred rivers to Hindus.

24 . DRIFTTRAVEL.COM
---
INDIA

a photographic journey

Featured Photographer: Sophie Merrell

I was brought up in London and went to Edinburgh University where

I studied Anthropology. The subject taught me a great awareness

for and interest in different cultures. When researching the 'Night

Flowers', a sub-culture based in London's West End, I found that

photography was a powerful tool to record those I interviewed. I

continued my exploration of people in India with my 35mm camera

always at hand.

Equipment: Nikon FM3, 35mm - All shot in 35mm film.

Website: www.sophie-alice-merrell.squarespace.com

Instagram: sophalicemerrell

TRAVEL OFTEN . LIVE WELL . 25
---
26 . DRIFTTRAVEL.COM
---
Amritsar, Punjab

Women seek calmness away from the main area of the Golden

Temple. This area reveals an unfinished brick facade and a stained

concrete wall, contrasting with the white marble ground.

TRAVEL OFTEN . LIVE WELL . 27
---
Bundi, Rajasthan

The language barrier between us

meant that all we could do was

smile and laugh, but that was all

we needed. They laughed, then I

did, then they laughed harder.

Udaipur, Rajasthan

A Muslim man in his traditional

Shalwar Kameez drinks a cup of

chai as he watches the world go by,

perched on a mat he has placed

down for himself.

28 . DRIFTTRAVEL.COM
---
Udaipur, Rajasthan

A Rajasthani woman, clad top-to-toe in silver jewelry, plays a game using chalk and stones.

Behind me people gathered to watch her play against her opponent.

TRAVEL OFTEN . LIVE WELL . 29
---
Orchha, Madhya Pradesh

A 'sadhu' has covered his face and arms with ash and paint and dyed his beard with

henna for a festival celebrating the wedding of their King, Raja Ram.

30 . DRIFTTRAVEL.COM
---
Amritsar, Punjab

A rickshaw driver takes a break in the hectic city of

Amritsar, where tens of thousands of people come to

visit the Sikh Golden Temple every day.

TRAVEL OFTEN . LIVE WELL . 31
---
32 . DRIFTTRAVEL.COM

Bundi, Rajasthan

These men wear traditional Rajasthani clothes, with their

brightly colored turbans and white dhotis. One of them

smokes a 'beedi' cigarette.
---
Varanasi, Uttar Pradesh

A street barber shaves his customer's beard attentively. No need

for a shop, his bag is hung on the wall and tools are laid out.

TRAVEL OFTEN . LIVE WELL . 33
---
Rohat, Rajasthan

It was the second time I walked

past this lady and her son in their

village so I smiled in recognition

and gestured to my camera.

34 . DRIFTTRAVEL.COM
---
"photography gives me an excuse to travel,

and traveling gives me a fantastic opportunity to take photographs"

Jodhpur, Rajasthan

People wait their turn to buy packets of tea. Tea is a hugely important element to

Indian culture and the constant queue of people outside this shop demonstrated this.

TRAVEL OFTEN . LIVE WELL . 35
---
3Days in

Vail

at The Sonnenalp Hotel

BY: JULIE LEVENTHAL

While most people go to Vail, Colorado for the epic ski conditions, the locals will tell you

that they came for the winter and stayed for the summer. In the summer months, with the

flowers in bloom and warmer weather you can enjoy the beautiful fresh air, scenic vistas

and an abundance of water sports, hiking trails and golf courses. With 72 hours in the Vail

Valley here is a perfect itinerary.

36 . DRIFTTRAVEL.COM
---
Day 1

9:00 am-9:30 am

Take a moment to sit back and relax

by Sonnenalp's Tranquility Pool and

enjoy Vail's iconic views and crisp

mountain air.

12:00 pm-1:00 pm

Bring your appetite to Vail's

landmark spot, Pepi's Restaurant,

which has been opened for over

50 years. This vintage eatery serves

up Old World Classics as well as a

variety of unique meats such as boar,

elk, venison and caribou, all carved

table side for those looking to enjoy

some local delicacies.

4:00 pm-5:00 pm

Relax in your luxury suite, recently

renovated and boasting unique

amenities including oversized

bathrooms, Bavarian decor and

lovely fireplaces.

7:00 pm-9:00 pm

End your night at the King's Club

offering nightly live entertainment.

Enjoy a specialty drink from the top

shelf selection, a glass of wine or

German beer while you relax by the

fireplace and listen to great music

from local musicians.

8:00 am-9:00 am

Start your day off with a bountiful

European style buffet at Ludwig's.

Breakfast is served on the beautiful

glass enclosed terrace surrounded by

Colorado's Rocky Mountains.

10:00 am-12:00 pm

Explore the town and shop through

Vail Village enjoying favorites such

as Valbruna and Gorsuch.

1:00 pm-3:00 pm

Treat yourself at one of Vail's

top rated spas- Sonnenalp Spa.

Rejuvenate your mind and body with

an array of unique treatment options.

You can try the Bavarian Body Polish,

which incorporates a full body scrub

and a relaxing moisturizing treatment

or the 80-minute Detoxifying Mud

Wrap. Locals love to freshen it up

with a Vitamin C Fresh Peel that

leaves your skin immediately softer

and smoother with noticeable

improvements in skin tone and

texture.

5:00 pm-7:00 pm

Wine and dine on European cuisine

in a classic-Swiss style setting at the

Swiss Chalet, offering guests the

ultimate alpine dining experience.

Traditional Käse Spätzle (homemade

Swiss dumpling topped with cheese

and crispy onions) and delicious

fondues all make your dining

experience quite delectable. Save

room for freshly made desserts like

their Austrian apple strudel and

chocolate fondue.

TRAVEL OFTEN . LIVE WELL . 37
---
Day 2

8:30 am-9:30 am

Begin the day with something sweet

at Big Bear Bistro like a nutella and

banana crepe or enjoy something

savory instead. Try the delicious

wild-caught, smoked sockeye salmon

served freshly on a toasted bagel.

9:30 am-1:00 pm

Take advantage of Vail's summertime

activities by exploring the mountain

on foot. Take a hiking tour with

Sonnenalp's trusted guides like Kara

Schmidt who have complete intimate

access to some of the most beautiful

trails in the Vail Valley.

12:00 pm-1:00 pm

Round-up friends and family and

head over to Bully Ranch for a fun

casual, western-style lunch. The

Southwestern and American menu

includes their signature chicken wings

and famous Bully Burgers. Take a

seat outside and enjoy a cold beer.

Dogs are invited too.

1:00 pm-4:00 pm

Take a tour of the Rockies via

bicycle with one of Sonnenalp's

adventure tour guides. With miles

of trails and flowers in bloom, this

epic trail ride will be a beautiful

way to see the scenery.

6:00 pm-8:00 pm

Dinner at Mountain Standard is a

must do on every trip to Vail and a

definite local favorite. Enjoy some

shrimp and grits and rocky mountain

trout at this gastro-pub boasting a

lively crowd and open kitchen.

4:00 pm-6:00 pm

Unwind from the day and begin your

evening with a specialty cocktail by

the fire at the Kings Club.

8:00 pm

Vail Ale House has over twenty

local beers on tap. Hop on over and

enjoy the evening as live DJ's spin

the night away or try a flight at the

10th Mountain Whiskey and Spirit

Company at their new location by the

covered bridge.

38 . DRIFTTRAVEL.COM
---
Day 3

9:00 am-12:00 pm

Take some "tee" time at Sonnenalp

Club's 7,100-yard championship

links style course. It sits in the sun

drenched valley of Edwards, 16 miles

west of Vail Village. Or, if golf isn't

quite your thing - try Sonnenalp's

morning stand up paddle-boarding

class followed by a riverside lunch

and some aerial yoga.

3:00 pm-4:00 pm

Need a boost of energy?

Sonnenalp's Oxygen Bar is the

perfect fix. Choose scents like

eucalyptus, lavender, peppermint,

wintergreen and lemon grass.

The oxygen treatment also aids

in symptoms related to altitude

sickness including: shortness of

breath, lightheartedness, dizziness,

headaches, fatigue, weakness, and

nausea.

7:00 pm

Afterwards, have a glass or two at

Root and Flower from their extensive

list of wine-by-the-glass selections or

signature craft cocktails.

8:00 am-9:00 am

Fuel up on a mean cup of coffee

and get down on some Southern

style food such as Alpenrose's biscuit

and gravy dish - complete with their

famous house-made sausage gravy.

2:00 pm-3:00 pm

Exercise your creativity with a

poolside pottery class. Sonnenalp

offers this unique opportunity to paint

outdoors and decorate your own

personalized souvenir to take home.

Selections include but not limited to

picture frames, flower pots or coffee

mugs.

5:00 pm-7:00pm

Treat yourself to something fancy

this evening and take the gondola

ride up to Game Creek. You'll be

treated to a private multi-course

tasting menu featuring unique and

tasty international fare such as lamb

tartare, rabbit with purple potatoes

and venison with red onion jam.

9:00

End your trip at the Red Lion

listening to live music with the locals

reminiscing about great times in

Colorado and pondering when you'll

be back.

TRAVEL OFTEN . LIVE WELL . 39
---
Nova

Scotia

BY: SYLVIA TENNANT

As a West Coaster, I have to admit that

my prior knowledge of the Maritimes is

not extensive. In fact, up until this trip, I

had basically just assumed that I was in

for a wander around something similar to

a postcard – rugged seaside landscapes,

brightly colored homes, and fishing-related

charm. And while all those things exist,

Nova Scotia surprised me in ways I

had not expected. My partner Rod and I

had fell in love with this beautiful treasure

tucked into the east coast of Canada.

With only six nights to spare, we transferred

quickly from tarmac to rental car

and headed straight for the highway. Our

road trip took us to three distinctly different

towns, each shaped by its unique history

and all within a morning's drive of

one another.

40 . DRIFTTRAVEL.COM
---
Annapolis Royal

Located in a trough between two

parallel mountain ranges on the

shores of the Bay of Fundy, the

Annapolis Valley hosts over a dozen

vineyards and orchards. The success

of these crops is due in part to the

shelter these mountains provide,

and you can quite literally smell

the apples in the air. On the south

bank of the Annapolis River lay our

destination, Annapolis Royal.

Although small in size, this

quaint town boasts homes grand

in stature (some of which would

surely be considered museums

in my hometown of Vancouver).

The Queen Anne Inn is the

exemplification of this elaborate

19th-century architecture. Built

in 1865 as a private residence, the

mansion appears almost exactly

today as it did over 150 years go.

It's unique Victorian charm extends

from floor to 10-foot ceiling

and the rooms offer a balance of

luxurious modern comfort and

cherished heritage. I was in awe of

the antique-filled chambers and

discovered through chatting with

innkeeper, Kate, that the home was

once owned by an antiques dealer

who tastefully filled it with prized

pieces from all corners of the globe.

A sunset stroll along the riverside

led us to Restaurant Composé,

featuring an eclectic mix of

traditional Austrian fare and

Neptunian favorites. If you're

feeling adventurous, do as the

locals do and order the 'surprise' set

menu. The haddock fillet beurre de

noix was a savory way to kick-start

a memorable week of East Coast

dining.

TRAVEL OFTEN . LIVE WELL . 41
---
Lunenberg

The next morning we cruised

diagonally across the province,

with a quick stop to have a paddle

in Kejimkujik National Park

(hourly canoe rentals available).

Our destination for the next two

nights was the working seaport

of Lunenberg, named a UNESCO

world heritage site in part for

the preservation of its prismatic

streetscape. The Mariner King Inn

is centrally located in the heart of

Old Town and a convenient choice

for those wanting to explore on

foot. From here, we didn't have

to go far to discover our best find

in Lunenberg, Rime Restaurant +

Wine Bar.

42 . DRIFTTRAVEL.COM
---
Chef Jeffrey MacNeil has lined the

walls of his establishment with

hundreds of homemade canned

goods. At the time of our visit,

MacNeil had gone 11 months

without buying tomatoes from

California, opting instead to source

his vegetables seasonally. "If it's

local, it's in a jar downstairs," he

states, while pouring us cocktails

made with gin from Ironworks

Distillery down the street. My

top pick on the exceptionally

sustainable menu? His hot-pot

inspired chowder. It features pork

belly, smoked kohlrabi, maitake

mushrooms, and a quail egg, all

poached in a broth of diluted

clam liquor and fermented pepper

juice. This dish is a testament to

his farm-to-table method, with all

ingredients sourced from regional

producers.

TRAVEL OFTEN . LIVE WELL . 43
---
Halifax

Our last stop was the provincial

capital, Halifax. Decidedly the land

of boutique inns, our downtown

accommodations were tucked

three floors up in the attic of the

elegant Waverley. We entered the

chinoiserie-style premier room

by turning on a lamp decorated

with dragons and were welcomed

by a statue of a life-sized gilded

emperor. That night, we slept on a

centuries-old Chinese wedding bed.

Our curiosity led us to roam the

decorated halls which turned into

an encounter with visiting ghost

hunters, armed with EMF readers

and hoping for a little activity from

some of the inn's past visitors (P.T.

Barnum and Oscar Wilde, to name

a few).

I tend to rank my love of cities

by the quality of their vintage

stores, and Halifax takes the cake

with Elsie's Used Clothing (1530

Queen St). Their racks are filled

with a bounty of high-end pieces

at wonderful price points and I

emerged hours later, teary-eyed and

dressed in my new handmade finds

- a wool beret, oversized leopard

print silk blazer, and 1970's woven

mohair jacket. I returned multiple

times to have conversations with

owner Maureen Elsie, its Haligonian

curator. Let me assure you - this

shop alone justifies a cross-country

flight.

After rifling through decades of

clothing, a well-deserved star

anise and papaya gin and tonic at

Highwayman was in order. Named

after the novel by Alfred Noyes, this

literary-themed restaurant and bar

is filled on a Wednesday night with

patrons and warm ambiance. As for

the food, a refined and impressive

multi-course tasting journey

from ocean to land was served

to us on inlaid tables. Although

44 . DRIFTTRAVEL.COM
---
the menu changes seasonally, I

highly recommend the charcuterie

board, which incorporates a tasty

array of sobrassada, chorizo, and

salchichon-style pork sausages

cured in-house. I can safely say that

Highwayman has the talent and

presence to set the bar for the next

generation of dining establishments

in this city.

On our last morning, we popped

into PAVIA Cafe on the top floor

of the central library for one last

view of the city and a quick espresso

before our flight. We sat above the

fog, overlooking the harbor. Halifax

is in a growth phase, literally

and figuratively. There seemed

to be transition and refinement

throughout, but one thing will

forever be consistent: that good ol'

Maritime hospitality.

TRAVEL OFTEN . LIVE WELL . 45
---
Naxos and Amorgos

on foot

BY: ALLISON LETHERBARROW

46 . DRIFTTRAVEL.COM
---
Perhaps the ferry should have put me off. The creaks and groans of the ship

were only slightly outdone by the emphatic wailing of the Greek woman

sitting opposite me, her husband's hand caught in a death grip in hers. We

all watched through the portholes as time and again, our brave little ship

tilted so severely that the windows of the lounge were submerged beneath

the roiling sea. However, this was just another ordinary day for the Express

Skopilites; swift-hulled legend of the Cyclades.

I had just spent four wonderful days on the island of Naxos, just south of its

better-known cousin, Mykonos. Being an enthusiastic walker and craving

some late autumn sunshine, I had booked a self-guided walking tour

through On Foot Holidays to the islands of Naxos and Amorgos. Although

I had walked with On Foot Holidays before, I had never visited the Cyclades

and their centre-based hiking route offered an interesting itinerary. Four

days of roaming the Naxian hills combined with a daily dose of swimming

in azure waters, meant I was thoroughly relaxed when I boarded the ferry

to take me from Naxos to Amorgos…. little was I to know what awaited.

Overall, I found the turbulent ferry-crossing highly enjoyable, even if it

was only for the pleasure of watching the impassioned antics of my fellow

Greek passengers. Much to the Greek woman's surprise I am sure, we finally

arrived at the small island of Amorgos.

Amorgos is much quieter than Naxos and the lack of the tourist taint has

left the town and its inhabitants charmingly preserved. After lingering on

the sea-view balcony of my hotel room, I went in search of dinner. I had

TRAVEL OFTEN . LIVE WELL . 47
---
spotted a few restaurants, their

facades decorated with candles

and tea lights. I made little

progress however as I quickly

found myself in the middle of a

local celebration. A large crowd of

people surrounded the vigorous

movements of young men and

women, all in traditional dress,

dancing in synchronization as

instruments were played with

astonishing energy. Food and

drink was passed around to the

crowd and small children weaved

their way in and out of the dancers,

snatching honey-cakes from the

food bedecked tables. I extricated

myself from the throng before I

too, was whisked away onto the

dance floor and I went in search of

dinner.

The next few days saw me become

thoroughly acquainted with

Amorgos in the most personal

way possible – on foot. My route

notes from On Foot Holidays led

me faithfully along tiny forgotten

pathways and up over high ridge

tops and never failed to deliver

me safely again back to my hotel.

I passed reluctant donkeys being

led up ancient kalderimi (mule

tracks) by cheerful old men, their

white teeth gleaming in their sunbrowned

faces. I sat on verdant

hillsides and ate a picnic lunch

while tiny lizards scampered over

my legs and boots. I visited the

unpronounceable Hozoviotissa

Monastery and sipped at tea while

monks proffered dishes of Turkish

Delight.

The walking directions were

faultless in their accuracy and

attention to detail, allowing me

to roam (a single, female walker)

48 . DRIFTTRAVEL.COM
---
completely at leisure across the

undeveloped island. All the walks

started from the town where I was

staying, so I could pick and choose

which walk I wanted to do when.

It's hard to settle upon a favorite

walk. During my stay on Naxos

and Amorgos I walked about six

or seven trails, each in their own

way delightful and interesting, but

above all, beautiful. The ability

to completely immerse yourself

in your natural surroundings,

undisturbed by the goings on

of the world - whether it's the

numbing drone of technology or

the exhausting buzz of human

commotion - is a luxury peculiar

to walking holidays, and one that

On Foot Holidays has made their

specialty.

I'm not sure which of On Foot's

many walks I will explore next, but

I know that wherever it may be, it

will certainly be an experience to

remember.

For more information:

www.onfootholidays.co.uk

TRAVEL OFTEN . LIVE WELL . 49
---
Shop Like a

Celebrity

in Los Angeles

BY: KARA LATTA

50 . DRIFTTRAVEL.COM
---
They're just like us—those people

we see on the silver screen and on

our home screens—winning awards

or landing in the gossip pages

and TMZ. Some shop at the same

grocery stores, malls and boutiques,

eat in the same restaurants, and

even get their prescriptions filled

at CVS—just like us. But they also

spend time shopping at stores that

may just be above our paychecks.

So in tribute to the more glamorous

side of things—here are some

shopping districts where you may

see some of them— the celebrities

while in Los Angeles.

WESTFIELD CENTURY CITY

With its $800 million dollar

makeover, Westfield Century City is

the shopping destination to watch.

While the center is currently open

with limited shops, dining, and the

AMC 15, the renovation is expected

to be complete in summer 2017.

The result will be a glamorous

shopping mecca spanning 1.3

million square feet, including

200 shops, a new three-story

Nordstrom, a completely renovated

three-story Bloomingdale's, a new

two-story Macy's, a new state-ofthe-art

Equinox fitness club and

spa—and the West Coast's first

Eataly, an expansion of the giant

food marketplace from New York.

Celebrity designer Kelly Wearstler

(who has her own store on Melrose)

is creating a new environment

with mid-century modern design,

open space, shaded trellises and

canopies of trees. Celebrities

are sure to flock to new stores

like Bonobos, Current Elliott,

Equipment, Joie, Maje, Sandro, and

Zadig & Voltaire, as well as Oprah's

favorite Compartes Chocolates

and Sugarfina, coveted by Jessica

Alba and Sharon Osbourne. And

then of course, there's California

Pizza Kitchen's partnership with

Casamigos Tequila—owned by

George Clooney and Rande Gerber,

so there's a little bit of 'celebrity' in

your cocktail.

TRAVEL OFTEN . LIVE WELL . 51
---
THE GROVE

Located adjacent to The Original

Farmers Market at Third and

Fairfax, The Grove evokes a

little walking village that is

both historic and modern. It is

practically an everyday occurrence

to see celebrities stroll the street.

Nordstrom is a big draw here, as

is Dylan's Candy Bar, a celebrity

favorite. Justin Bieber took his little

sister shopping at American Girl;

Niall Horan from One Direction

was spotted at Crate and Barrel;

Julianne Hough and Brooks Laich

picked up some casual clothes at J

Crew; Selma Blair bought Nikes;

Sarah Paulson and Holland Taylor

take breaks from their schedules

with shopping and lunch; Chris

Pratt and Anna Faris have been seen

strolling the grounds and hopping

on a trolley with their young son.

LARCHMONT VILLAGE

There's a low-key vibe to this small

town street adjacent to Windsor

Square and Hancock Park. Part

of the celebrity attraction is that

many live in the area, but the

street is also around the corner

from Paramount Studios and a

good place to take a break from

filming. Café Gratitude is the "it"

spot for plant-based eating and

counts Mandy Moore, Jonathan

Jackson, Megan Fox, Diane Argon,

Ariana Grande, and Emma Roberts

among its customers. Trina Turk

and Mr. Turk just moved from its

West Third Street location - Mindy

Kaling, Taylor Swift, Viola Davis,

and Lisa Rinna are among its fans.

Christina Ricci, Emma Roberts and

Lucy Hale have been known to pick

up products from the Larchmont

Beauty Center. And Go Get 'Em

Tiger is known as one of the best

stops for coffee and a pastry -

Joe Jonas seems to like it. Dress

like a celebrity with finds from

Ampersand, a consignment/resale

store that could carry one of your

favorite celeb's gently worn Prada,

Christian Louboutin or Chanel.

52 . DRIFTTRAVEL.COM
---
"THE GOLDEN TRIANGLE" -

BEVERLY HILLS

The world-famous shopping district

in Beverly Hills known locally as

"The Golden Triangle" attracts a

mix of tourists, Angelenos, and of

course celebrities. Chrissy Teigen

and John Legend were recently

seen shopping with daughter, Luna

at Louis Vuitton. Sofia Vergara

picked up shoes at Saks Fifth

Avenue. Barneys New York is a

favorite of Jennifer Aniston and

Justin Theroux, as well as Bruce

Springsteen and Patti Scialfa when

they are in town. Dakota Johnson

has been seen looking through the

racks at Ralph Lauren. Emily Blunt

and Michael Buble shop Harry

Harris Shoes for their tyke. Jill

Roberts' boutique attracts Reese

Witherspoon, Jennifer Garner,

Jordana Brewster, and Lena Heady.

And for a quick snack while

shopping, Go Greek Yogurteria

is often a 'go-to' for Kylie and

Kendall Jenner, Whitney Port, Ellen

Pompeo, Harry Styles, Mila Kunis

and Ashton Kutcher.

STUDIO CITY

The Sunday Studio City Farmers

Market is a big draw with the likes

of Julie Bowen, Ludo Lefebrve, Lisa

Rinna and Harry Hamlin, Gwen

Stefani, J.K. Simmons, and Dave

Grohl—most often with kids in tow.

Justin Hartley recently purchased

an engagement ring at Matthew's

Jewelers designed by Michael B.

on Ventura Boulevard for his now

wife, Chrishell Strause. Sasha Farber

proposed to Emma Slater during

"Dancing With The Stars" with a

custom design from Matthew's. And

just down the street, Hilary Duff

picks up pup treats at Maxwell Dog.

Justin Timberlake and Jessica Biel

favor shopping at Whole Foods,

while Angelina Jolie has been seen

shopping at Gelson's with - and

without - Brad Pitt. For a onestop-shop

for men's fashion, Sy

Devore famously dressed the Rat

Pack (Frank Sinatra, Dean Martin,

Sammy Davis, Jr.,), Elvis Presley,

Nat King Cole, and President

John F. Kennedy. Modern stars are

also customers, including George

Clooney, Bryan Cranston, Matt

Damon, and Andy Garcia.

TRAVEL OFTEN . LIVE WELL . 53
---
SANTA MONICA PLACE & MORE

This sleek open-air mall is located

at the western end of the Metro

Expo Line, just a few blocks

from the beach, and is anchored

by Bloomingdale's, Nordstrom,

Barneys, and a 14-screen Arclight

Theater. There is a mix of boutiques,

but Louis Vuitton, Tiffany & Co, All

Saints, The Kooples, Hugo Boss, and

DVF are among those that claim

the star power and are the places

most likely to spot a celeb. Take it

to the rooftop dining deck to The

Curious Palate or Sonoma Wine

Garden to see if anyone famous is

taking a shopping break—or take a

walk to the newly redone Michael's

Restaurant where Gwyneth Paltrow

is known to hold court.

Located south of Santa Monica,

Abbot Kinney in Venice is also a

hot spot, particularly Gjelina and

nearby shops where Leonardo

DiCaprio, Lana Del Rey, Jessica

Alba, and Zoe Saldana have been

seen perusing wares.

54 . DRIFTTRAVEL.COM

MALIBU

The main shopping attractions in

this beach side community are

the Malibu Country Mart and the

adjacent Malibu Lumber Yard.

Hot tip for celeb sightings: hang

around stores like John Varvatos,

Madison, Oliver Peoples, Planet

Blue, Ron Herman, Paige Denim,

James Perse, Alice + Olivia, or

take a class at Five Point Yoga. Eat

at Tra Di Noi, Mr. Chow, Malibu

Kitchen, Taverna Tony, Howdy's, or

the Cindy Crawford-Rande Gerber

owned, Café Habana, and you're

sure to see a celebrity. It's a favorite

stomping ground of Miranda Kerr,

Jason Statham, Tori Spelling, Simon

Cowell, Pink, Justin Bieber, LeAnn

Rimes, the Osbournes, Adam

Sandler, the Beckhams, Suzanne

Somers, Jane Seymour, Pierce

Brosnan, Reese Witherspoon, Ray

Liotta—and that's just a start.
---
TRAVEL OFTEN . LIVE WELL . 55
---
Health and

Fitness Travel

Palacio Estoril Hotel,

Golf & Spa in Portugal

BY: PAUL JOSEPH

56 . DRIFTTRAVEL.COM
---
For those who appreciate

grandeur and luxury, set in the

heart of Estoril and a short walk

from the nearest cafes, shops and

beaches, Palacio Estoril attracts

wellness, golf and spa lovers with

a flair for culture offering lavish

interiors set in lush gardens. Paul

Joseph, co-founder of Health

and Fitness Travel, the wellness

holiday specialists, gives insight

into Portugal's hottest wellness

spot; with a colorful clientele

from politicians and pop stars,

to footballers and royal family.

TRAVEL OFTEN . LIVE WELL . 57
---
Getting There

Lisbon airport is a 30-minute

drive from the hotel and the

train station is a short walk

away. The hotel is a 5-minute

walk from Tamariz beach and

its promenade lined with bars

and terrace cafés to enjoy the sea

and sun. Also, just yards away is

the famous Estoril Casino, the

largest in Europe. On the Estoril

Coast and in Sintra alone, golfers

can enjoy seven magnificent golf

courses including Palácio's own

famous course, Estoril Golf, just

1 km away, which presents a real

challenge to all players.

The Hotel & Accommodation

1930's elegance and history is

reflected throughout the hotel.

The lobby and entrance are so

grand, it's very entrancing. In

keeping with the theme of the

hotel, my room was lavishly

decorated, providing a sense of

timeless comfort and creating

idyllic ambiance to relax and

unwind.

The Spa

collagen and improve muscle

tone. The thermal pool for Watsu

(also known as water shiatsu)

is an amazing therapeutic

treatment with a mix of massage,

floating and being cradled like a

baby, whilst being slowly swirled

around.

The Hamman offers a sanctuary

where I felt completely at peace,

the water jets dissolved the

tension from by body, specifically

in my lower back and shoulders;

words cannot describe just how

revitalized I felt after, which

encouraged the best night sleep

I had in over a month.

The state-of-the-art Banyan

Tree Spa and medical facility

at Palacio Estoril is a haven of

thick white spa robes, subdued

lighting and shiny decor.

The spa has a two-method

way with high-tech medical

diagnostic tests to find out how

we're aging and what's going on

with our hormones and health,

but also a range of treatments

designed to ease stress, loss of

58 . DRIFTTRAVEL.COM
---
The Fitness

Fitness is a key component

of wellness at Palacio Estoril,

and there are a wide variety of

fitness classes available, from

Barre and yoga, to Tae Bo and

Hydrogymanstics. Pilates was a

genuinely pleasant experience,

the class was small, permitting

one-on-one time with the

instructor. The body toning

group class was intense, fun

and encouraging to be around

others doing the same workout,

and although my muscles were

sore after, it was nothing that

couldn't be fixed with a quick

trip to the spa and hydro circuit

to rejuvenate.

In addition to all the group

classes, there is also a 200m2

gym. With the supervision of

expert personal trainers, gain

strength and improve your fitness

through the resorts philosophy

of functional training.

Restaurants

During my stay, I had the

pleasure of frequenting both inhouse

restaurants; Bougainvillea

Terrace, a chic and stylish eatery

overlooking the pool, and Grill

Four Seasons, an elegant and

sophisticated dining space.

The first thing I noticed when

perusing the menus was the

enormous variety of dish options

available. From international

dishes to Portuguese staples,

there were preferences to satisfy

even the most discerning of

palettes.

I deemed it necessary to try a

few dishes from the 'healthy

menu' available at both

restaurants. My first choice was

the vegetarian 'Wild mushroom

and vegetable quinoa risotto'. It

was outstanding. The chef, aka

sorcerer, somehow managed

to create a well-balanced, low

calorie (370kcal), healthy meal

without compromising the

defining full-flavor and velvety

consistency of a risotto.

The Sights

The view over the Bay of Cascais

is not one I could forget easily.

Just minutes from the hotels

perimeter, which encircles

beautiful gardens, you arrive at

the attractive beach promenade,

humming with shops, cafes and

life. I would highly recommend

one of the free morning walks

down to here, with the refreshing

sea air. Only 30 minutes (by

car) or 20 minutes (by train)

you arrive at Lisbon, Portugal's

bustling capital city. Named one

of Europe's most charismatic and

vibrant cities, a must on the todo

list.

If you're serious about improving

your health and well-being,

Palacio Estoril is the place for

you. The central location gives

you the freedom to leave the

hotel and explore if you desire,

yet by no means compromises

your ability to relax. The

selection of wellness programs

and fitness classes on offer are

extensive, and the staff go above

and beyond their duty to ensure

your stay is the best it can be.

TRAVEL OFTEN . LIVE WELL . 59
---
Luxury is no longer a thing of

the past. As Samantha Shankman

stated "Luxury is in the midst of

a metamorphosis. While luxury

once meant the most expensive

or most well-known product or

experience, today it's become a way

of being or moving throughout

the world." Luxury travel, fashion

and technology go hand-in-hand

and these areas are constantly

evolving because our expectations

of certain experiences are changing

at a more rapid pace. Luxury travel

is no longer about coveted brands

or popular destinations, but more

about the experience.

"Our guests are seeking out

experiences that help them express

who they are, so their approach

to luxury continues to be less

formal, entirely more personal, and

defined more by their interests and

mindset than their geography and

demographic," Tina Edmundson,

global brand officer at Marriott

International, said in the report.

Luxury Fashion in Travel

Fashion and style have always

been a form of self expression.

We all know that style is a way of

saying who you are without having

to speak, in the words of Rachel

Zoe. It's the first impression that

someone receives.

BY: STEFANIE NISSEN & BIANCA MARTINEZ

Trvl Porter is a new way to travel

and experience fashion. They are

a luxury style concierge service

that personalizes a travel wardrobe

Guide to Luxury

Travel Reinvented

60 . DRIFTTRAVEL.COM
---
ased on your trip and style details.

They send clothing options for you

to approve and then those items

are shipped directly to your hotel

upon check-in. Imagine opening

the doors of your hotel closet and

seeing your pre-styled designer

wardrobe waiting just for you.

The luxury of this service is that it's

entirely customized to your unique

style and needs for your trip. They

save you time by outfit planning

and packing and eliminate large

luggage, which saves you the hassle

and also additional baggage fees.

An additional perk of this service

is that they are working with local

designers to feature a flavor of the

culture so you get to discover new

brands and products in the city

you are visiting. Also, if you fall in

love with an item they provide a

discount off the retail price. The fact

that you get to "try before you buy"

is such a fun way to add new pieces

to your existing wardrobe.

Luxury Hotels + Ondemand

Private Jets

Frequent travelers always appreciate

a home away from home, but with

luxury sensibilities. Hotels and

residential towers are becoming

top notch thanks to notable fashion

designers like Missoni, Fendi, and

Armani who are designing haute

home goods and luxury real estate,

which creates a unique experience

that resembles each luxury

brand. With such genius minds

behind this transformation it's no

wonder people are drawn to these

properties and it doesn't stop there.

On the transportation front, ondemand

private jets are enhancing

the overall travel experience with

top of the line accommodations.

Jet Smarter has made private jet

travel more accessible, convenient,

and infinitely more efficient. Their

members can create shared and

private flights on their own time,

or find seats on flights created by

fellow members. All through a

simple mobile app. There are other

private jet memberships with a

similar business model, such as Surf

Air, Wheels Up, XOJet and NetsJets.

Luxury Travel Technology

+ Products

As jet-setters advance in the

journey of discovery through

travel, they are also redefining

the way technology plays a role

in their experience from finding

the flight, booking the room and

car, to reserving a table, exploring

the city and even communicating

in another language. We have

become dependent on technology

for traveling and as we continue

to explore the world, technology

will constantly evolve to make our

experience even better.

Remembering to print and bring

along your plane ticket is becoming

a thing of the past. TripCase has

your back as your own personal

travel agent. It has everything from

your travel documents, an itinerary

to hold all those trendy spots you

discovered, to reminding you of

reservations during your trip. It's

sometimes hard getting around a

new destination if you don't speak

their language, but translation apps

like Google Translate, TripLingo,

and iTranslate are available to

enhance your trip experience in

foreign cultures. Away luggage

is functional because it has a usb

charger built in, which results in

the ability to keep your devices fully

charged at all times. All of these

travel technologies and products

make your journey that much more

convenient.

TRAVEL OFTEN . LIVE WELL . 61
---
The

Living is Easy

At Dolphin Points Villa in Key Largo

BY: PAOLA ARENCIBIA

62 . DRIFTTRAVEL.COM
---
The laid back pastel feel of

The Florida Keys makes

if feel like it is springtime

there all year. After

a challenging summer in 2017,

watching the patented ease of the

Keys get tussled by Hurricane Irma, I

was left wondering if the experience

had somehow dampened or changed

the character of the place.

It has not.

Dolphin Points Villa is a

romantic quiet luxury getaway

nestled right off Overseas

Highway. It is elegance Key's

style, which means you're just as

welcome in your flip-flops and

jean shorts as you are in your

Sunday's best.

The magic of the Keys is as much

about what you get to do as it is

about all you don't have to do.

Everything is only minutes away

- just take a left or a right on the

highway. That is, if you want

to leave the property at all. On

impact, the villa looks like an

inviting plantation style home

in on the area's signature pale

blues. There are six such villas,

and while the property feels

tight nit and intimate, you feel

miles away from each other too.

Perhaps it's because what you

don't have in horizontal distance

is made up for in height. My

family and I were in a spacious

two story, three-bedroom villa

with a wrap-around balcony.

The vaulted ceiling went up

another story. The open layout

gave you a view of the kitchen,

dining room, family room and

seating area in one glance. Each

room had its own TV, spacious

closet and bathroom.

TRAVEL OFTEN . LIVE WELL . 63
---
A quick walk down the gravel

driveway brought us to the dock.

To the right was a gorgeous sandy

lot that lends itself to picturesque

wedding ceremonies, quiet

sunset views or a play area for

large colorful iguanas who dip

in and out of the water with

abandon. To the left is a small

strip of beach from where we

kayaked, paddle boarded and

tossed sandbags during rounds

of corn hole, all before noon. In

the background we could hear

the dolphins from Dolphin Plus

chirping in the background.

Dolphin Plus is a marine

mammal home and research

and education center adjacent to

Dolphin Point Villas. Our guest

relations' manager, Sharon, made

appointments for us to swim

with dolphins on our first day.

They provided us with wet suits,

a short education session and

then we were off. We got to pet,

train, kiss and ride the dolphins.

While the chill of the water took

our breath away, we were quickly

enthralled by the beauty of the

animals and the bond they have

with their trainers.

When it was time to eat, dining

options are cleverly curated

right offshore. Many restaurants

along the strip offer all manner

of lobster, scallop and shrimp

dishes. Some locations even

offer to cook your BYO catch.

And of course, the key lime pie

is a must. We had more than a

little of each at the Lazy Lobster,

which offers fine dining options,

indoor or out, in T-shirt or

buttoned down. We also took

advantage of the fully stocked

64 . DRIFTTRAVEL.COM
---
and comfortable villa kitchen.

We had both a Publix and a

Winn Dixie just minutes from

us to procure items for pancakes,

sandwiches and sangrias.

The next morning after drinking

our coffee on the veranda and

looking for manatees on the

dock, we drove six minutes to the

African Queen. This is a canal

cruise on the actual African

Queen from the Katherine

Hepburn and Humphrey Bogart

movie of the same name. This

is an hour and half canal cruise

aboard a seaworthy historical

landmark. The ride takes you

through waterfront mansions

into open water and back again.

You learn about the history of

the boat and little bit about its

most famous passengers.

Guests of Dolphin Point Villas

can count on the staff as both

experts and locals for getting

insider advice on living the easy

life in Key Largo even if it's just

for a few days.

For more information about

Dolphin Point Villas, visit

dolphinpointvillas.com.

TRAVEL OFTEN . LIVE WELL . 65
---
DRIFT travel magazine

@DRIFTTRAVEL

+ FOLLOW

When is the last time you saw something for the very

first time? DRIFT travels to unforgettable places.

Come along on the journey. Travel Often. Live Well.

www.DRIFTtravel.com

Come along

on the journey

click here to follow us on

@DRIFTtravel

also on

Share your travel photos with 4.5 Million readers worldwide

Use hashtag #DRIFTtravel on Instagram

66 . DRIFTTRAVEL.COM
---
The Case for Better Travel.

www.raden.com

TRAVEL OFTEN . LIVE WELL . 67
---
Tidal bore rafting.

There's nothing quite like that moment when the river shifts

directions and goes from serene to exhilarating. And just think,

rafting the most extreme tides in the world is only one of the

things in Nova Scotia that will make your heart skip a beat.

A real-life

discovery

channel.

Explore all there is to do at NovaScotia.com

TRAVEL OFTEN . LIVE WELL . 68