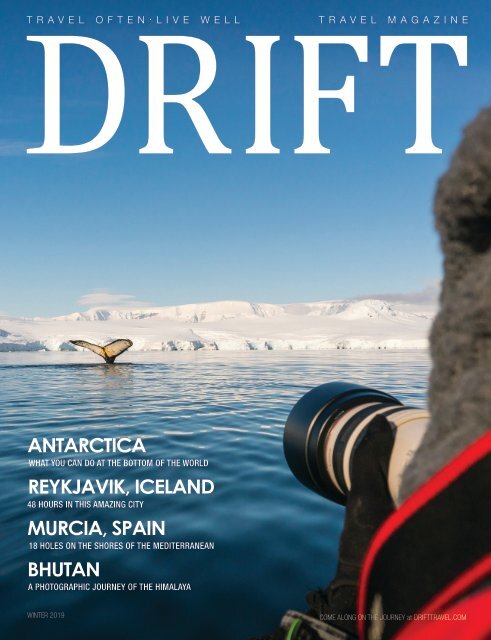 DRIFT Travel Winter 2019
Our world is full of wonderful place to visit in the winter months and in this issue of DRIFT we travel from the far north to the extreme south, with a few stops in between. Come along on the journey as we make new friends and maybe find time for a little golf.
Our world is full of wonderful place to visit in the winter months and in this issue of DRIFT we travel from the far north to the extreme south, with a few stops in between. Come along on the journey as we make new friends and maybe find time for a little golf.
SHOW MORE
SHOW LESS
Create successful ePaper yourself
Turn your PDF publications into a flip-book with our unique Google optimized e-Paper software.
TRAVEL OFTEN . LIVE WELL

TRAVEL MAGAZINE

ANTARCTICA

WHAT YOU CAN DO AT THE BOTTOM OF THE WORLD

REYKJAVIK, ICELAND

48 HOURS IN THIS AMAZING CITY

MURCIA, SPAIN

18 HOLES ON THE SHORES OF THE MEDITERRANEAN

BHUTAN

A PHOTOGRAPHIC JOURNEY OF THE HIMALAYA

WINTER 2019

COME ALONG ON THE JOURNEY at DRIFTTRAVEL.COM
---
TRAVEL OFTEN . LIVE WELL . 1
---
_

UNLOCK

MEXICO

CITY

_

IGNACIA

GUEST

HOUSE

JALAPA 208 CASA B,

COLONIA ROMA, 06700,

MEXICO CITY

hola@ignacia.mx

ignacia.mx

IGNACIAMX

IGNACIAMX

2 . DRIFTTRAVEL.COM
---
INSIDE this issue

6 REYKJAVIK, ICELAND

So much to see and only 48hrs.

12 TRAVEL GEAR

Trending gadgets and stuff.

16 BHUTAN

A photographic journey

28 GOLF TRAVEL

Murcia, Spain for 18 holes

THE 7th CONTINENT

32 What to except in Antarctica

40 SOCIAL MEDIA

Does it have an impact on travel

44 VARANASI

And the River Goddess Ganga

52 WHEN COLD IS HOT

Destination to visit in the winter

LEND A HELPING HAND

60 Travel leaves a positive impact

66 STAR GAZING

Whistler Film Festival

70 PHOTO TIPS

Capture the perfect shot in London

74 FOR THE LOVE OF FOOD

Ireland offers up some great cuisine

Our world is full of wonderful

place to visit in the winter months

and in this issue of DRIFT we travel

from the far north to the extreme

south, with a few stops in between.

Come along on the journey as we

make new friends and maybe find

time for a little golf.

TRAVEL OFTEN . LIVE WELL . 3
---
PUBLISHER

GLOSSY MEDIA

CREATIVE DIRECTOR

STEVE DRAKE

PRODUCTION/EDITORIAL

STEVE DRAKE, WAKE UP REYKJAVIK, 101 HOTEL,

BLUE LAGGON, CHRISTOPHER KLINGE, LA MANGA

CLUB, JANE LEE, FRANKLIN BRAECKMAN,

OCEANWIDE EXPEDITIONS, KOUSHIK CHATTERJEE,

ANNIE HENNESSEY, BRITNEY HOPE,

LESLEY DIANA, EMILY FORD

CREATIVE | PHOTOGRAPHY

BOOKING.COM, ADOBE STOCK, WOW AIRLINE,

STEVE DRAKE, ALIBIBAR, PIXABAY.COM,

WIKIMEDIA, WAKE UP REYKJAVIK, 101 HOTEL,

CHRISTOPHER KLINGE, LA MANGA CLUB,

OCEANWIDE EXPEDITIONS, KOUSHIK CHATTERJEE,

LESLEY DIANA

ADVERTISING & PUBLISHING RIGHTS INQUIRIES

sales@DRIFTtravel.com | www.DRIFTtravel.com

Published by: Glossy Media

All rights reserved. No part of DRIFT magazine may be

copied or reproduced without permission.

© COPYRIGHT DRIFT TRAVEL MAGAZINE

GLOSSY MEDIA

2015-2019

4 . DRIFTTRAVEL.COM
---
CONTEST

TIME!

Culture V1 - White NOISE CANCELING Headphones

Pause the Culture V1's Automatically via Integrated Motion Sensors by Simply Removing

or Placing around Neck. Control your Song and Volume by Simply Swiping the Right

Ear-Cap. Create a Truly Immersive Audio Experience via Our Lab-Tested Active Noise

Cancellation, Providing Best-in-Class 98% Cancellation Effectiveness!

CLICK HERE TO ENTER!!

or visit drifttravel.com/giveaways/headphones/

TRAVEL OFTEN . LIVE WELL . 5
---
48HOURS IN...

Reykjavik

ICELAND

BY: STEVE DRAKE

6 . DRIFTTRAVEL.COM
---
GETTING THERE

WOW Airlines

wowair.com

Iceland has become a hot spot

for travelers of all age and with

expanded service to North America

WOW Airlines discounted

price point bring this wonderful

destination within the reach of

budget conscious travelers.

The airline was founded by

entrepreneur Skúli Mogensen

in November 2011 and with the

addition of many new North

American cities WOW is the perfect

choice regardless of your budget.

Their website states that WOW

is a "happy low-fare and longhaul

airline" and that is absolutely

correct. I fly 1000's of miles every

year and the WOW crew is by far

the friendliest I have encountered

so far.

The words comfort, and budget

don't often work their way into the

same sentence, but with WOW

airlines you will find what I think

is above average legroom for an

economy flight. The WOW air fleet

consists of the Airbus A320, A321,

and A330 aircraft and operate one

of the youngest fleets.

TRAVEL OFTEN . LIVE WELL . 7
---
WHAT TO DO

It wouldn't be traveling without

trying the local cuisine and the best

way to taste the homegrown fare is

on a food tour. We choose Wake Up

Reykjavik food walks as our guide,

so we would discovery the best of

Reykjavik had to offer.

First stop was hidden gem called the

Icelandic Bar or Íslenski Barinn that

featured one of the most traditional

Icelandic foods, the Kjötsúpa or

Meat soup. This is a lamb soup

with root vegetables that has been

keeping Icelanders warm since the

beginning of time.

Then to the Ostabúðin, or the

Cheese shop for a little meat and

cheese. From there we headed to

Loki, one of the most popular cafe´s

in Reykjavík for something that

I have never ordered before, Rye

Bread Ice Cream. This homemade

ice cream with rye bread has

chocolate and rhubarb syrup on top

- it´s so delicious.

You cannot go to Iceland without

trying the amazing Icelandic Hot

dog and that was our next stop,

the famous Hot Dog stand where

Bill Clinton said he had the best

hot dog in the world! Ein með

öllu or one with everything is the

Icelandic tradition, packed with

ketchup, mustard and a mayobased

relish called remúaði with

both raw onions and then crispy

deep-fried onions. This lamb hot

dog is probably the one spot will

remember the most.

We finish the tour off at Apótek,

a high-end restaurant located

in one of the oldest pharmacies

in Reykjavík. They use the little

apothecary bottles for both milk

and sugar, very cute and the perfect

way to finish this amazing culinary

adventure around Reykjavík.

8 . DRIFTTRAVEL.COM
---
WHERE TO STAY

101 Hotel

101hotel.is

We arrived in Reykjavik on a rather

dull October day. As we entered the

lobby of 101 Hotel we greeted by

warmth of the lobby fireplace and

a kind smile from the front desk

staff. Occupying a historic 1930s

building in downtown Reykjavik

101 Hotel boast great views of

the harbor. Being in the heart of

Reykjavik and directly across from

the Ingólfur Arnarson memorial,

you'll find yourself close to many

great restaurants and quaint village

shops.

After a 5-hour flight we were happy

to move in to our well-appointed

room. The minimalist décor was

refreshing and as I pulled open

the blinds the room filled with the

afternoon sun.

We had access to free high-speed

wireless internet, a CD/DVD

player, satellite TV, safe, bathrobes,

slippers, hairdryer, a well-stocked

minibar. There was also an inroom

boutique with Blue Lagoon

products. Bathroom amenities are

by Aveda and bed linens are by

Quagliotti. Very conformable and

everything we needed.

Be sure to take advantage of the

luxurious basement gym and spa

with a steam bath and jacuzzi allows

you to completely unwind and relax.

While waling throughout the hotel

pay special attention to the art.

101 Hotel's Icelandic art collection

includes art work by many Icelandic

leading artists.

TRAVEL OFTEN . LIVE WELL . 9
---
WHAT TO DO

The Blue Lagoon – What can I say,

this place was AMAZING, it's no

wonder Instagram is loaded with so

many Blue Lagoon photos.

The Bláa lónið or Blue Lagoon is a

geothermal spa located in a lava field

near Grindavík on the Reykjanes

Peninsula. The warm waters are

rich in minerals like silica and sulfur

and bathing in the Blue Lagoon

is reputed to help some people

suffering from skin diseases such

as psoriasis. The water temperature

in the bathing and swimming area

of the lagoon averages 37–39 °C

(99–102 °F).

Once you're in the lagoon head over

to the Mud Bar for your silica mud

mask. Used in tandem, silica and

algae unlock the door to healthy,

luminous, ageless skin.

Heat things up even more with a

visit to the sauna or steam room.

Now you will be ready to truly relax,

I recommend the in-water massage.

You are surrounded in the warm

Blue Lagoon while receiving your

massage - deep and relaxing – out

of this world. Also, be sure to take

home some of the Blue Lagoon skin

care products.

10 . DRIFTTRAVEL.COM
---
TRAVEL OFTEN . LIVE WELL . 11
---
HOT NEW TRAVEL PRODUCTS

TRAVEL GEAR

BY: RUSS WALSH

CULTURE V1

Wireless Noise Canceling Headphones

Noise canceling headphones are a must for travelers

and the Coulture V1 is the ones I pack in my bag. True

immersive audio/sound with lab tested 98% active noise

cancellation. Featuring automatic pause & play, omnidirectional

mics for crystal clear phone calls and 20-

40 hours of wireless battery life. Need to plug in to the

airlines audio system? No problem with the go wired &

plug in aux cable that is included. Comes with a selfcontained

hard-shell case that's easy to pack.

cultureaudio.com

12 . DRIFTTRAVEL.COM
---
FOUR RABBIT - Tsunami Jacket

The tsunami jacket is a sustainable, recyclable,

ultralight weight, packable, water-resistant, wind proof,

breathable, travel layer. With an innovative design its

not only, zero- waste (nothing goes to the landfill during

jacket construction) it is the ultimate take it every where

you go travel jacket. With a fit to accommodate a myriad

of sizes, it has a plethora of unique features. Deep hood,

internal and external pockets, inside zip guard, two way

front zipper, vents and pleats to maximize mobility, and

ties at the hood and hem.

fourrabbit.com

DR. MOTION'S

Everyday compression socks

For those of you who wear compression

sock, regardless of why know style was

never their strong suit. Until now! Without

sacrificing quality, Dr. Motion has created a

line of compression socks for all with quality,

comfort, style and at price points that won't

break the bank. Primarily microfiber nylon

or cotton and specially treated to be antimicrobial

and anti-odor, these compression

socks can be worn all day, everyday for all

activities with any outfit.

drmotionsocks.com

TRAVEL OFTEN . LIVE WELL . 13
---
GRESSO TITANIUM EYEWEAR

Weightless feel and essential comfort

can be found in every pair of GRESSO

glasses. Carl Zeiss nylon lenses,

German-engineered titanium double

spring hinges, 3D adjustable titanium

nose pads that сan be tailored for a

custom fit and ultra-soft silicone temple

tips will increased grip while reducing

pressure points are just some of the

amazing features in these glasses. All

GRESSO frames are laser cut from a

single piece of titanium and do not have

welded joints, always the critical points in

every pair of traditional glasses. They are

flexible, bendable, and unbreakable.

With outstanding memory, the frame will

always return to its original shape.

gresso.com

MUKISHOES - Sustainable Barefoot Shoes

MUKISHOES are versatile and unisex barefoot shoes, which

are fairly produced in Portugal with organic, natural and

recycled materials, for people with an active lifestyle. Having

a thin, flexible, and flat (no drop from heel to toe) sole, to

give the sensation of walking barefoot. Also, a wide-toe box

follows the natural shape of our feet. Beautiful, comfortable

and versatile.

mukishoes.com

14 . DRIFTTRAVEL.COM
---
LitraTorch - LED lighting

LitraTorch is a versatile adventure photo

and video light. At 1.5"x1.5" in size, the

Torch provides 800 lumen of continuous,

high quality light and fits in your pocket.

Each Torch comes with a White Diffuser,

Belt Clip, GoPro ¼ 20 Finger Mount, USB

Charging Cable, 2 Magnetic Mounts and

Cold Shoe Mount. Waterproof, drop

proof, aluminum body construction with

a light that is flicker free,

smooth light pattern.

litra.com

TRAVEL OFTEN . LIVE WELL . 15
---
The Tiger's Nest Monastery, also known as Paro Taktsang, is one of Bhutan's most iconic sites. The

hike to this site is a climb of about two hours on well worn trails to an elevation of about 10,000 feet.

Well worth the hike to this amazing view and a history of Bhutan.

16 . DRIFTTRAVEL.COM
---
Bhutan

a photographic journey

Featured Photographer:

Christopher Klinge

I've been a professional photographer, based

in Madison WI USA, for 15 years, focusing on

photographing for commercial clients. In 2007 I

traveled to Cambodia to photograph the country.

That trip started my passion for travel. Since 2007

I have been to 16 different countries, and quickly

discovered travel photography is my passion.

Discovering new places, people, cultures, and

getting out of my "comfort zone" has been a truly

important part of my life. Travel photography

has become a focus of my career.

Website: giraffeboyproductions.com

Instagram: @chrisklingephoto

Equipment: Nikon D800Nikon 50mm/1.4Nikon

85mm/1.8Nikon 35mm/1.8Nikon

70-300/4.5-5.6Nikon 18-55/3.5-5.6

TRAVEL OFTEN . LIVE WELL . 17
---
18 . DRIFTTRAVEL.COM
---
Dochula Pass in Bhutan on the way to Punakha. There are 108

memorial chortens or stupas built by the order of the eldest Queen

Mother. They are a memorial to 108 Bhutanese Soldiers. A beautiful

view with the Himalaya mountains in the background.

TRAVEL OFTEN . LIVE WELL . 19
---
An amazing local woman at the prayer wheels in the Gangtey Valley.

The people of Bhutan are so friendly. This woman was so kind to let me

take her photo.

20 . DRIFTTRAVEL.COM
---
Young monks playing a serious game of marbles between classes at a

Monastery in Thimphu.

TRAVEL OFTEN . LIVE WELL . 21
---
22 . DRIFTTRAVEL.COM

Monks descending

the steps at Punakha

Dzong.
---
Tachogang Lhakhang bridge, built in the fifteenth century. It is on

the way from Paro to Thimphu. There is a new bridge for tourists

adorned with many prayer flags. Often a first stop for tourists on the

way from Paro to the capital of Thimphu.

TRAVEL OFTEN . LIVE WELL . 23
---
A local woman praying outside the Memorial Stupa in Thimphu. The

red around her mouth comes from chewing an Areca nut wrapped in a

Betel leaf with lime, known as Doma.

A local man praying outside the Thimphu Chorten also known as

the Memorial Stupa. The stupa was built to honor the third King of

Bhutan.

24 . DRIFTTRAVEL.COM
---
Small prayer flags at a stop outside of Punakha.

Local school children on their way home from school on a hiking trail

in Gangtey Valley.

TRAVEL OFTEN . LIVE WELL . 25
---
Buddha Dordenma Statue in the Thimphu Valley of Bhutan. The statue

is one of the largest in the world. It measures out at 169 feet and is made

of bronze and gilded in gold.

26 . DRIFTTRAVEL.COM
---
TRAVEL OFTEN . LIVE WELL . 27
---
La Manga Club

Murcia, Spain

BY: STEVE DRAKE

"Golf is the closest game to the game we call life. You get bad

breaks from good shots; you get good breaks from bad shots –

but you have to play the ball where it lies." Bobby Jones

28 . DRIFTTRAVEL.COM
---
When Robert Dean Putman was

appointed to design the two golf

courses for LMCG, he was given

carte blanche to use the available

land as he saw fit, the only condition

being that the resulting courses

should be of championship

standard. Work began on marking

out the courses in January 1971 and

in February of the same year the

diggers set to work to create the 14

lakes, 200 bunkers and 36 fairways

and greens. Ten months later

construction was complete, and the

courses were ready for play.

Despite the feverish pace what

emerged were two courses that

could be both challenging for the

pros when needed yet forgiving

for the club members thus quickly

establish La Manga Club as the

premier golf resort in Spain. A title

that still stands today, 47 years later.

The South Course has been

the venue for many major

professional tournaments, including

several Spanish Opens, PGA

Championships, for both men and

women. At almost 6,500 metres

from the white tees, it has water

hazards on 15 of its 18 holes, wide

fairways and a good combination of

short and long holes.

The front nine are particularly

challenging with two par 3s in

excess of 200 metres and some

daunting par 4s, which call for

accurate driving between lakes and

bunkers. The back nine, although

shorter, has a number of intriguing

dog-leg holes.

Palm trees, lakes and natural storm

gullies known as 'barrancos' are key

features of the North Course, which

is slightly shorter than the South,

with tighter fairways and larger

greens.

The ideal course for all players.

TRAVEL OFTEN . LIVE WELL . 29
---
The West Course, (newest of the

three) with its frequent changes in

elevation, offers a different set of

challenges. The front nine demand

accurate driving to avoid the

'barrancos' (natural storm gullies),

while the back nine, up amongst the

hills, is more open but nonetheless

challenging. The 18th hole, being

at one of the highest points on the

course offers the most amazing view.

From the tees you can see the entire

resort, surrounding hillsides and the

beautiful blue Mediterranean.

The Hotel

Principe Felipe is all that you

would expect from a 5-star resort.

Distinguished Spanish design

with elegant décor. 192 rooms

fully equipped and designed for

maximum comfort. Included is

access to saunas, steam rooms,

indoor pool and gym at the Wellness

Centre, Free Wi-Fi and Free internal

transport service to get from place

to place within the resort.

The Amapola Restaurant, located in

the Principe Felipe 5* Hotel, is the

ideal place to enjoy delicious and

traditional Mediterranean cuisine,

all of which is made with seasonal

products that are grown locally.

Sol y Sombra Restaurant was one of

my favorite spots. Located alongside

the swimming pool and over

looking parts of the golf course, Sol

y Sombra is the spot to enjoy snacks

or lunch and cool refreshments.

30 . DRIFTTRAVEL.COM
---
The Spa

The Wellness Centre at La Manga

Club is the perfect place to restore

your mind, body and spirit. The

spa menu is well thought out and

includes massages, facials, ritual

scrubs and mani-pedis. I might

suggest the C+C BODY treatment.

An exquisite ritual which starts with

a citrus bead exfoliation, a soufflé of

bitter oranges in a treatment mask

and a reshaping body massage

Closing Thoughts...

When you start planning your next

golf getaway, make sure La Manga

Club is high on the list. The weather

is superb, the accommodations

are 5-star and the staff are always

friendly and helpful. But most

importantly, the courses are in

excellent condition and offer just the

right amount of challenge for golfer

of all skill levels.

TRAVEL OFTEN . LIVE WELL . 31
---
Antarctica

Seven essential adventures

BY: FRANKLIN BRAECKMAN

Unless you're a scientist, there's no such thing as a means-to-an-end Antarctica trip.

Merely being in that otherworldly wilderness of ice is reason enough to make the

journey – even, we wager, for the scientists who travel to Antarctica solely for

research.

Still, that doesn't mean there aren't things you can do to maximize your Antarctic

experience.

32 . DRIFTTRAVEL.COM
---
Cross the Antarctic gateway: the Drake Passage

As most Antarctica cruises require you to sail the Drake Passage (crossing from Argentina to the

Antarctic Continent), this is the one part of the list that's generally unavoidable.

But this is a good thing: While sailing the Drake, you'll see a voluminous cast of seabirds not

possible for those who simply fly to Antarctica.

You'll also win a sense of accomplishment, having undergone the traditional Antarctic "rite of

passage."

For those prone to seasickness, the Drake Passage crossing may require a few meds and an optimistic

mindset, but those are easy trades against the splendors of Antarctica.

So stock your pills, read your Shackleton, and do not go gentle into that blue dawn.

TRAVEL OFTEN . LIVE WELL . 33
---
Watch Antarctic whales from a ship or Zodiac

Humpback, minke, blue, orca, sei, fin… The list goes on.

Boating to, from, and around Antarctica (whether in an ice-strengthened vessel or Zodiac) will give you

the chance to spot several species of whale. As evidence, check out Oceanwide Expeditions' extensive

supply of whale-watching cruises.

The question now is, will you bring a camera keen enough and photography skills honed enough to

preserve the Antarctic moments in pictures?

Remember, time and tide wait for no one. And neither do whales.

34 . DRIFTTRAVEL.COM
---
Kayak

Antarctica's

crystalline bays

If you're craving close contact

with icebergs, ice floes, and

icy Antarctic seas, nothing

delivers these better than

kayaking – except maybe

scuba diving, but we'll cover

that later.

If you're not quite ready for

the plunge, however, try a

kayak. It's warmer.

Let veteran kayak guides

show you around the

crystalline polar seas, where

you'll get views of Antarctica

only enjoyed by a few lucky

travelers and the more

curious marine mammals.

All you have to do is soak

up the silence, breathe the

bracing air, and glide by the

power of your own two arms.

TRAVEL OFTEN . LIVE WELL . 35
---
Make pals with a few hundred penguins

More so even than whales, Antarctica is famed for its plentiful penguin population.

Just about everywhere you go along the Antarctic coastline, penguins are not far away. And some places have

these flightless birds in spades, supporting breeding colonies that number in the thousands.

In fact, some Antarctica trips are neatly categorized by the penguin species you're likely to encounter: gentoos,

Adélies, kings, chinstraps, you get the idea.

36 . DRIFTTRAVEL.COM
---
Camp under the Southern Hemisphere stars

Remember that part about reading your Shackleton?

Antarctic camping lets you live like Shackleton.

Actually, Shackleton had it much worse during his expeditions. But hey, they're called expedition cruises,

not polar torture simulations. When you camp with a competent cruise operator, you'll have as much

comfort as a snow dugout and mummy bag can afford.

And just watch that Southern Cross twinkle in the polar sky…

TRAVEL OFTEN . LIVE WELL . 37
---
Soar over the Antarctic sea and snow in a helicopter

Why just walk when you can also sail, and why just sail when you can also fly?

On select Antarctica voyages, such as some of Oceanwide Expeditions' Weddell and Ross Sea cruises, you can

survey the far southern icescapes from a seabird's-eye-view.

Join a helicopter group and let the pilots astound you with soaring aerial sweeps of the Antarctic wilderness.

If you think it looks amazing standing along the shoreline, you won't believe how it looks several hundred

meters above it.

38 . DRIFTTRAVEL.COM
---
Take the true polar plunge: Antarctica scuba diving

Kayaking is great, camping is a blast, but there are few activities that divide the certified snow fiend from

the ordinary Antarctic traveler so completely as polar scuba diving.

And not just anyone can do it, at least not without a lot of practice.

Due to the inherent difficulty of this activity, you're often required to have at least 30 dry-suit cold-water

dives under your belt before joining such dive programs.

But if you have this documentation, good for you! You're in line to experience one of the rarest pleasures

of the polar world: an exotic tour of its icy underbelly.

So suit up, strap in, and enjoy a whole new world of Antarctic colors and creatures.

To learn more visit oceanwide-expeditions.com

TRAVEL OFTEN . LIVE WELL . 39
---
How will social media impact

the way we travel in 2019?

BY: JANE LEE

Does social media impact where

and how you travel? From looking

to favorite social media influencers

for genuine travel inspiration,

to considering making a career

out of travel itself and sometimes

falling into the pressures of having

a compelling online presence, it

seems that travel and social media

work hand in hand. Booking.com

surveyed 21,500 travelers across 29

countries to find out just how social

media will continue to change the

way we travel in 2019.

SOCIAL

40 . DRIFTTRAVEL.COM
---
TRAVEL OFTEN . LIVE WELL . 41MEDIA

Past time or full-time

For most, the odd check-in, beach

selfie or family snap upload is enough

of a social media fix, but for many who

dream of traveling the world as a social

media influencer, it's not. 17% see travel

as a potential opportunity to earn a

living as an influencer or travel blogger,

as opposed to having a traditional, fulltime

job.
---
Social Stimulus

In today's world, traveling with social media at our

fingertips is visibly very different to the days before it was

so accessible. People no longer rely on guidebooks and

oversized paper maps to navigate a new location. Instead

they have instant access to real-time information and look

for inspiration from real people via social media. Many go

so far as to recreate a pose from one of their favorite celebs

or Instagrammers.

42 . DRIFTTRAVEL.COM
---
#Unattainable Instagram

The year of 2019 will see an increased focus on travel

influencing that is genuine and honest. The most popular

social media travel channels will be those creating

practical, useable content more so than inaccessible or

fake imagery. While travelers want to view content that

they feel is real, there are some who fall to the pressures

of social media. Many are guilty for having used an older,

more flattering photo of themselves on holiday from a

previous trip, for the trip they were on, while others will

snap a photo of an accommodation pretending they were

staying there when in fact they were staying elsewhere.

Booking.com's study also found that over one quarter

of travelers say that they prefer unique and quirky

accommodation (26%) over more traditional places. Two

fifths value being unique in their travels, looking to visit a

destination that none of their friends have been to (43%).

And though all good things must come to an end, some

travelers pretend to still be on vacation when in fact,

they're home sweet home. Maybe sometimes living

vicariously through our own social media pages beats

living in reality?

TRAVEL OFTEN . LIVE WELL . 43
---
Varanasi

BY: KOUSHIK CHATTERJEE

A wildlife and travel photographer

from India as well as a Photography

Expedition leader

Equipment: Nikon as my primary

gear and Tamron Lenses

Website: earthpicturesque.com

Instagram: @earthpicturesque

Varanasi, Benaras (or Kashi) is one of the oldest

living cities in the world – and legend has it, that

it was here that Shiva and Parvati stood, at the

beginning of time. A vibrant confluence of many

things – myth, reality, culture, mystery, spirituality,

knowledge and architecture, Varanasi is more than

a destination to visit, it is an experience.

44 . DRIFTTRAVEL.COM
---
For any globetrotter traveling to Varanasi the prime attraction is towards the

Varanasi ghat. The early morning sun hung large and low in the sky. Slowly, it

rose, shining brightly, casting a dewy glow over the holy river and the ghats.

TRAVEL OFTEN . LIVE WELL . 45
---
I loved the magical light filtering through the claustrophobic alleys. You would never

know when you might cross paths with a moody cow or other residents. This is Kāshi

(Where the soul finds salvation). Like this dog takes her siesta very seriously.

46 . DRIFTTRAVEL.COM
---
The architecture of the buildings rising up from the ghats is interesting,

and the color of the buildings is surpassed only by the color of life in

this charismatic city.

TRAVEL OFTEN . LIVE WELL . 47
---
48 . DRIFTTRAVEL.COM

With hundreds of temples, and countless pilgrims coming to Varanasi every

day the Flower sellers from nearby cities like Gazipur, Jaunpur, Pratapgarh

also come here to buy flowers to be sold in local markets.
---
Walking on the ghats of Ganga in Kashi is like a looking at a slice of life – where devotion

and playfulness co-exist. Here a child offering evening prayer to river Ganga.

Varanasi effortlessly blends the new with the old. Tourists jostle with the cows and the pilgrim

crowds and most find peace in the most cacophonous environment they are likely to ever find.

People in Varanasi prefers to wear white and orange outfits of cotton made. Saffron dress is preferred

by religious people and Hindu saints. A thin cotton-made towel (locally called "Gamcha") is another

distinguishing feature of Varanasi people. It is a multi-utility cloth piece which is used in various

ways like as handkerchief, towel, turban. Like here a cute kid witnessing the innumerable travelers

and devotees gathering and passing-by.

TRAVEL OFTEN . LIVE WELL . 49
---
50 . DRIFTTRAVEL.COM

The Ganga Aarti is one of the most beautiful experiences in India. The spiritually uplifting

ceremony is performed daily to honor the River Goddess Ganga. It's common to place a

small candle inside a cup made from leaves and flowers and float it down the river. It is

a common ritual for pilgrims to release them on the holy Ganges as they make a wish.

Hundreds of candles can be seen floating on the river each night.
---
TRAVEL OFTEN . LIVE WELL . 51
---
Cities that are Cool

when it is COLD

BY: ANNIE HENNESSEY

STOCKHOLM, SWEDEN

In addition to being the world's

design powerhouse, Stockholm

is also a Nobel Prize contender

for Scandinavia's friendliest

citizens. No matter how cold

the temperature outside, you'll

be warmly welcomed with open

arms to this urban city, where

medieval alleys, majestic parks

and an awe-inspiring Royal

Palace will leave you eager to

explore. From December to

February travelers have very

high chances to enjoy the snow

around the city.

Where to stay: Located one floor below the popular

Urban Deli restaurant and marketplace in central

Stockholm, the trendy Hotel With Urban Deli features

industrial-modern rooms near the lively Stureplan

dining and shopping area.

52 . DRIFTTRAVEL.COM
---
REYKJAVIK, ICELAND

Iceland rumbles with volcanoes

and geysers and in Reykjavik,

the capital city, the urban and

natural worlds meld together.

See how Hallgrímskirkja

Church, one of the tallest

structures in Iceland, rises

into the sky like an ice wave

or plunge into the geothermal

waters of Nauthólsvík Beach and

warm up faster than you can

say "Eyjafjallajökull"! January is

the coldest month of the year in

Reykjavik and although snow is

not 100% guaranteed, chances

of enjoying the fluffy white snow

are high.

Where to stay: Occupying

a historic 1930s building in

downtown Reykjavik you'll find

101 Hotel. Chicly designed,

this hotel is a stylish haven for

travelers.

TRAVEL OFTEN . LIVE WELL . 53
---
EDINBURGH, UK

There's something about

Edinburgh and storytelling.

After all, this is the city that

inspired Barrie, Stevenson and

Rowling. Bundle up and let

your imagination take flight

in Old Town's maze of streets

and write your own story in the

home of haggis (a savory local

cuisine), single malt whisky and

deep-fried Mars bars. During

the winter months, Edinburgh

becomes an atmospheric

destination with cozy cafes and

bars to warm up in and meet the

locals.

Where to stay: Opposite

historic Calton Hill Park, The

Hedges Bed & Breakfast is a

traditional guesthouse with

spacious rooms and an inclusive

breakfast.

54 . DRIFTTRAVEL.COM
---
CHICAGO, USA

Nicked named the Windy City,

Chicago experiences its coldest

months in January and February.

Standing proud along the shores

of Lake Michigan, Chicago is

down-to-earth, friendly, and

abounding in culture. Don't let

the cold stop you! Ice skating in

Millennium Park and shopping

on world-famous Michigan

Avenue are only some of the

activities travelers can enjoy

during the chill of the winter

months.

Where to stay: Just blocks

away from the luxury shopping,

dining and entertainment of

Michigan Avenue's Magnificent

Mile, the boutique Kimpton

Gray Hotel is in the heart of

Chicago. Guests can warm up

and relax on the hotel's rooftop

bar and take advantage of the

complimentary evening wine

hour.

TRAVEL OFTEN . LIVE WELL . 55
---
Built on a sheer cliff called

Cape Diamond, Québec City is

a genuine gem. While the old

town, where you can uncover

the city's European roots, is

enchanting year around, it takes

on a whole new dimension of

wonder in the winter. So take

a bite-sized trip packed with

culture along Rue du Petit

Champlain – it bubbles over

with bars and bistros that serve

everything from hearty pub grub

to fancy nouvelle cuisine.

Where to stay: Along the St.

Lawrence River, steps from the

shopping on Le Petit Champlain

Auberge Saint-Antoine is a

stylish hotel with luxurious

guestrooms in Quebec City's

Old-Port area.

56 . DRIFTTRAVEL.COM
---
SAPPORO, JAPAN

Want to feel like a kid again in

2019, if so this year, bring the kid

in you out at the annual Snow

Festival in the capital of the

Japanese prefecture of Hokkaido.

This yearly event is hosted every

February and is very popular

amongst both domestic and

international travelers. Snow is

almost guaranteed every winter,

so put on your boots and gloves

and get ready for a snowball

fight.

Where to stay: Grids Sapporo

Hotel & Hostel is in the Sapporo

City Centre district, 400

metres from Odori Park. The

property features dormitory

and private units, as well as a

female dormitory room. Visitors

can leave their baggage at the

property's storage space and

relax and stay warm in the

shared lounge before exploring

the cool city.

TRAVEL OFTEN . LIVE WELL . 57
---
ST. PETERSBURG, RUSSIA

In the winter, St. Petersburg is

like a real-life snow-globe full

of splendid cathedrals, snowy

parks and charming bridges –

perfect for the 34% of scenerystricken

Canadian travelers that

have said that taking photos for

social media is what they look

forward to the most when going

on vacation. During winter the

city can be covered in snow,

but bundle up, the average

temperature is -6°C during

January and February.

Where to stay: The exclusive

5-star State Hermitage Museum

Official Hotel is set in the 1830's

mansion in the centre of Saint

Petersburg and represents the

atmosphere of the original

Hermitage Museum. Guests will

have the opportunity to stay in

luxurious rooms and suites with

elegant furnishings, designed by

Italian woodwork masters from

Florence.

58 . DRIFTTRAVEL.COM
---
TRAVEL OFTEN . LIVE WELL . 59
---
TRAVEL WITH PURPOSE IN 2019

BY BRITNEY HOPE

Now more than ever before, travel can be a catalyst for positive social change, an

economic driver for environmental conservation, and transformative – in nearly every

sense of the word. This coming year, instead of looking at travel as merely a means of

discovery and exploration, consider how your trip plans could be more purposeful,

whether that means challenging yourself physically, seeking out a road less traveled, or

making a meaningful impact on the destination you visit.

Don't know where to start? Here are five purposeful holidays for 2019 from the experts at

Bannikin Travel & Tourism.

60 . DRIFTTRAVEL.COM
---
Start the year off right by making travel

plans that leave a positive impact.

EMBRACE PERMACULTURE PRINCIPLES

In an attempt to honor our natural resources, permaculture is a growing travel trend which encourages greater respect

for the earth. In April 2019, the first boutique ecolodge of its kind will open its doors in Colombia, ushering in a new

era of experiential travel in South America. Cannúa, an 18-room retreat set within 27-acres of protected forest, was

conceptualized as a permaculture retreat from the very beginning, and its overall holistic approach has been rooted

in permaculture principles. Specifically designed to exist in harmony with its natural surroundings using sustainablysourced

building materials such as bamboo and compressed earth blocks, Cannúa will supply its on-site restaurant

with two acres of organic gardens and permaculture-informed food forests. cannua.com

TRAVEL OFTEN . LIVE WELL . 61
---
BE A CITIZEN SCIENTIST

Citizen science, the act of collecting data on flora and fauna, is a great way to give back in-destination. Rainforest

Expeditions' four lodges, a group of retreats in Tambopata, Peru, have designed such experiences called Wired

Amazon, an initiative of interactive science projects created specifically for travelers. Among these activities is

Discover a New Species, an experience led by Dr. Juan Cardos which studies a rich biodiversity of insect families.

Similarly, travelers with Rainforest Expeditions can also partake in the Tambopata Macaw Project which researches

how Macaws live in the rainforest. perunature.com

62 . DRIFTTRAVEL.COM
---
GO INTO THE WOODS

There's never been a better time to disconnect from our devices and go on a natural escape where unplugging is not

just encouraged - it's necessary. Beautiful hikes into ancient, thousand-acre forests, stunning mountainscapes in

remote lodges and long walks on unchartered coastlines are just as enjoyable without a hashtag. New Zealand Walking

Tours guides lead travelers through paths less trodden that reach locations not accessible by land vehicles, so guests

can expect a renewed sense of energy and opportunities for quiet contemplation with every step. As John Lennon once

said, life is what happens when you're busy making plans, and in today's context, life is what happens between Wi-Fi

signals. newzealandwalkingtours.com

TRAVEL OFTEN . LIVE WELL . 63
---
DIG DEEPER IN-DESTINATION

While Earth may not have many places left undiscovered, there are plenty of opportunities to dig deeper into

existing destinations and uncover cultures that may have otherwise gone unnoticed. Ireland, a country filled with

deep history, is still home to communities rich with ancient Irish culture. Discover the Emerald Isle's great outdoors

with Wilderness Ireland's hike along the Wicklow Way, or explore remote, historic towns which still honor Ireland's

ancient culture. One such place is Dingle, which boasts of the 6th century Reask Monastic Site. This ancient city is

also home to some of the oldest archaeological sites in the country, such as the Gallarus Oratory, said to be the best

preserved early Christian Church in Ireland, and the Dún Beag Fort, which dates back over 2000 years to 500 BC.

wildernessireland.com

64 . DRIFTTRAVEL.COM
---
COMMUNITY CONSCIOUS EXPLORATIONS

Choosing socially-aware travel that involves slow food, local initiatives, and responsible destination development is a

way to make travel more purposeful. Adventure Canada's circumnavigation of Newfoundland delivers all of the above.

Visit the Indigenous community of Miawpukek, whose residents have successfully married centuries-old traditions

with contemporary culture. Also journey to L'Anse aux Meadows, a well-preserved UNESCO World Heritage Site -

and home to a 1000-year-old Norse settlement. adventurecanada.com

TRAVEL OFTEN . LIVE WELL . 65
---
Where Mountains

and Movies Meet

Whistler Film Festival - Canada's Coolest Film Festival'

BY: LESLEY DIANA

"This year was demonstrably our best event ever, with enthusiastic sold out screenings. Two thirds of

our programming was Canadian, and 46% of the films were directed by women," said Paul Gratton,

WFF Director of Programming. "There was also more diversity in the selection, with stories told

by people of color (IF BEALE STREET COULD TALK), Indigenous (FALLS AROUND HER,

RED ROVER and TROUBLE IN THE GARDEN) and films dealing with the LGBTQ community

(ROOBHA, LOVE SCOTT). In many ways, you could measure the increasing sophistication and

openness of Whistler audiences to quality cinema from around the world."

66 . DRIFTTRAVEL.COM
---
Eighteen years ago the Whistler Film

Festival (WFF) set on an adventure

to host films and filmmakers from

around the world. Today the festival

continues to grow and is recognized

for screening Oscar contenders

before they have a wide release.

Held each year for five days on the

first weekend in December, the 2018

festival top billing opened with the

sold out screening of the feature film

MARY QUEEN OF SCOTS starring

Oscar nominees Saoirse Ronan (Lady

Bird) and Margot Robbie (I Tonya)

before its wide release in North

American theaters. Josie Rourke's

breathtakingly beautiful directorial

debut chronicles the family rivalry

and explores the turbulent life

between Queen Elizabeth (Robbie)

and Mary (Ronan), when the latter

attempted to overthrow her cousin's

seat on the English throne. The other

highly anticipated films screened

were IF BEALE STREET COULD

TALK, the first film from director

Barry Jenkins since winning the

Academy Award for Best Picture

with MOONLIGHT. The Whistler

Film Festival's Audience Award went

to ON THE BASIS OF SEX, Mimi

Leder's topical biography of Supreme

Court Justice Ruth Bader Ginsburg

played by Felicity Jones. It's the

under-the-radar product that WFF

does best.

At the time of writing this article

the 2019 Golden Globe and SAG

Awards announced many actors

and best film nominations included

the films screened at the Whistler

Film Festival.

I have been attending the film

festival for many years and this is

one of the best festivals to attend if

a film industry career is calling you.

The festival makes it easy to attend

workshops and networking parties,

meet actors and directors while

networking with like-minded people.

With more than 1,000 submissions,

festivalgoers experienced 85 films

from over 12 countries, including

leading award season fare, meritable

Canadian content and more female

directed films than ever before.

"In 2018 at our 18th edition, the

Whistler Film Festival truly come

of age as a filmmaker's festival,"

said Shauna Hardy Mishaw, WFF

Executive Director and Founder.

"The level of talent and industry that

came together to participate in our

Film Festival, Content Summit and

Talent Programs was by far the most

impressive to date. We maintained

our commitment to making media

equitable with our Women on Top

Series and being inclusive of diverse

voices throughout our programming,

which included an increased focus

on more Indigenous and diverse

talent and stories."

The event features four themed days

with 30 interactive sessions designed

to foster business connections and

collaborations for filmmakers and

dealmakers through high-level

keynotes and panel discussions

on topics that range from finance,

marketing, distribution and

technology to export. With guest

experts attending from across

Canada and the USA, the Whistler

Film Festival remains a place for the

industry to meet and do business and

includes some of the top talent and

executives in the business.

There is something magical about

a film festival in the mountains. I

went up early to take in some of the

sight and adventures that Whistler

has to offer.

TRAVEL OFTEN . LIVE WELL . 67
---
While you're there...

Flying High

I have a fear of heights so when I was

invited to try Superfly Ziplines I took

on the challenge to conquering my

fear by flying through the trees. For

anyone who seeks adventure, this is

the 'ticket to ride.' The brochure says:

"We all crave what is beyond the

everyday. The new, the exciting, the

unordinary. Where we don't just pass

the time, we forget it even exists. This

is our chance to reboot. Where fun

is the great enabler, and now is all

that matters. This is the adventure we

live for. To seek out the places where

we grow." I must admit I was rather

proud of myself once my feet hit the

ground after the last line.

Superfly Ziplines operates with a

unique harness system that creates

the most comfortable ride possible as

you fly from mountain to mountain

so you feel safe. All four ziplines at

Superfly have two lines that run sideby-side,

which allows you to share

your experience while you race down

the lines at speeds reaching up to 100

km per hour! The Adventure Group

is located at Cougar Mountain,

just a quick ten-minute drive from

Whistler Village and is also home to

Snowmobile Tours. agwhistler.com

68 . DRIFTTRAVEL.COM
---
Where to Stay

Hot, Cold, Relax, Repeat!

With all the exhilaration behind me

Scandinave Spa is an experience.

As a unit publicist on TV series

many of the cast that I've worked

travel to Whistler on their days off

to reboot after grueling 12-hour

days on set. I had to see what they

were talking about.

Scandinave Spa in Whistler is

the perfect destination to enjoy

relaxation in the heart of nature.

Engulfed in a peaceful spruce and

cedar forest this 25,000 square foot

outdoor day spa is a Nordic-inspired

oasis of calm. Their philosophy is to

disconnect from your busy life and

enjoy pure relaxation as you breathe

in the invigorating mountain air.

No phones allowed! Experience the

unique sensation of contrasting hot,

cold, relax and repeat. Allow a few

hours to follow the cycle to soothe

tired muscles, eliminate toxins

and improve circulation. Warm

your body in the Eucalyptus steam

room, hot baths or wood burning

Finnish sauna then cool down in

the refreshing Nordic waterfalls,

cold plunges or outdoor shower. Be

Brave!! It is chilly but invigorating!!

Then experience the Multi-Purpose

Yoga Studio, Relaxation Rooms or

Sun Deck, terraces with three to four

rotations you will experience the true

meaning of relaxation. scandinave.

com/whistler/

This year I booked into the Four

Seasons Whistler. My first stop was

for spiked hot chocolate and s'mores

by the vintage camper and fire pit. I

then got to unwind in the luxury of

my room with the fireplace warming

me up. While lying in bed writing

this article I really took the time to

enjoy the hotel rather than just using

it as a place to sleep. Rooms are well

appointed – a luxurious bathroom,

a table for work – and – a walk in

closet! I settled in for the night.

After a restful night sleep, rather than

rushing I ordered from the 'Laze &

Graze' breakfast menu. I ordered the

Coast Mountain Breakfast in bed.

Too much to eat in one setting, I went

for a swim in their heated pool while

big snowflakes floated down. One

of the most memorable moments I

have ever experienced! I also had a

steam and hot tub before heading

back up to my room to nibble. So

relaxed that it was hard to find the

energy to pack. It brought new

meaning to the phrase 'checked out'!

fourseasons.com/whistler

After a full five days of the festival you

may want to gather your thoughts as

you reflect on all the talent, the films,

the workshops, the networking that

you have experienced.

TRAVEL OFTEN . LIVE WELL . 69
---
Photographing

BY: EMILY FORD

London's

Most

Iconic

Monuments

70 . DRIFTTRAVEL.COM
---
London is one of the greatest cities in the world.

There are so many iconic and historical sites that,

as a photographer, it can be hard to know where to

get started. Whether you're a tourist snapping on

your mobile or planning a trip specifically to take

photos, you need to have a plan. We've created this

guide to outline so of the top locations in London for

photography.

The Houses of Parliament and Big Ben

Perhaps the most 'English' view is that of the

Houses of Parliament, also known as the Palace of

Westminster. The location, next to the River Thames,

has been used as a royal palace since the 11th century,

but the current building has been in place since 1840.

The clock tower of Big Ben is one of the most famous

landmarks in the world.

To get the best shot, head to the South Bank and get a

wide-angle shot from across the river. If you want to

get closer, walk across Westminster Bridge and take

some shots down the river.

St Paul's Cathedral

TRAVEL OFTEN . LIVE WELL . 71
---
One of the landmarks you

can see from the top of

The Shard is St Paul's

Cathedral. As one of the

most important buildings

in London, there has been a

church on the site since AD 604.

The domed roof of the current

structure has been there since 1697.

For the ideal angle of the Cathedral,

head to the Millennium Bridge and

take your shot from there. You can

also get a great view of the Tate

Modern.

The Tower Bridge

Next to Big Ben, Tower Bridge

is one of the most recognizable

structures in London. This

suspension bridge was completed

in 1894 and spans the Thames.

Many people confuse it with

London Bridge, which is far less

impressive.

You can get a great picture

of Tower Bridge from either

side of the river, but from

some angles, you can also get some

of London's modern skyline in the

background, including The Gherkin.

The London Eye

This giant Ferris wheel is the UK's

most popular paid tourist attraction.

It was opened to the public as part

of the Millennium celebrations

and has firmly established itself in

popular culture. Not only can you

get some great shots of it, but riding

it affords some excellent views of

London.

72 . DRIFTTRAVEL.COM
---
Buckingham Palace

Another famous destination is

Buckingham Palace, the London

residence of the royal family. As one

of the top tourist locations, it's going

to be very busy, so it can be hard to

get that ideal shot. However, if you

head to the fountain in front of the

Palace gates early in the morning,

you might get a lucky shot.

If you plan on seeing the changing

of the guard, head to the back of the

Palace near the gardens.

Abbey Road

You may have heard of a small band

from Liverpool called The Beatles.

They had some popularity back in

the 60s. One of the most iconic

shots of the Fab Four was taken

on Abbey Road zebra crossing,

near the studio of the same

name. If you're in any way a

fan of the quartet, or some

of the other huge names

who have recorded there,

you should definitely take a

picture.

Canary Wharf

London's financial district is home

to a number of skyscrapers and

impressive buildings. If you can

get a shot at sunrise, you're almost

guaranteed a good picture. You be

asked by security what you're doing,

but if you head to Cabot Square,

you can get an amazing view of the

Wharf across the river.

TRAVEL OFTEN . LIVE WELL . 73
---
eat your way across the

Emerald Isle

BY BRITNEY HOPE

Rooted in tradition but defined

by innovation, Ireland's cuisine is

often underestimated by many a

food-loving traveler. In fact, most

people may not know that long

before its famous 19th century

famine, Ireland was heavily reliedupon

for its culinary exports

– namely, its meats, seafood and

dairy. Since then, the Emerald

Isle has really come into its own

as an up-and-coming epicurean

destination, and visitors can find

everything from foraged greens

and freshly-caught ceviche to

savoury seafood chowder and

delicious handmade cheeses. Of

course, the farmers and artisans

crafting these tasty treasures

are scattered to the wind across

the country, and not all the

experiences below are readily

available, so having a guide who

can hook you up with the right

tailor-made experience – like the

folks at Wilderness Ireland – really

comes in handy.

Here are a few great reasons why

you should start packing – and

working up an appetite – for your

next trip to Ireland.

74 . DRIFTTRAVEL.COM
---
While colcannon (a creamy

concoction of potatoes, butter

and greens) is largely considered

the ultimate of Irish comfort

foods, there's so much more to

this country's culinary landscape

than cabbage and spuds. Belfast, a

growing favorite for urban foodies

– and typically less pricey than

Dublin – has excellent restaurants

serving up everything from high

tea to homestyle pub food to

traditional dishes with a modern

twist. Check out both Belfast's

cuisine and history before hiking

the Causeway Coastal Route and

Donegal. If you're thinking of

biking the Kerry Peninsulas, both

Kerry and Cork have a reputation

for mixing traditional dishes with

fresh new ingredients sourced

from across the country.

The wild shores of Ireland are

full of delicious and edible items

often overlooked by most. For

adventurous families, explore the

rugged coastlines of Connemara

with a local seaweed and foraging

expert to learn about their value as

an Irish "superfood" (some enjoy

it in cheese, soups and even as

dessert)! In southwest Ireland, sail

the waters of Kerry in search of

sashimi-grade goods for a custommade

picnic lunch. Foragingto-fork

is another popular way

to explore the rugged valleys of

Kerry. Set out on a guided salad

trek to collect fennel, kelp and

other free-growing greens, then

enjoy your harvest in the kitchen

of a local farmhouse.

TRAVEL OFTEN . LIVE WELL . 75
---
Perhaps unsurprisingly, Ireland's

great sweeping landscapes

have made an ideal pasture for

livestock agriculture – and its

grasses, often grown in the salty

sea breeze, make for some truly

excellent grass-fed butter, cheese

and ice cream. The Aran Islands

are beloved for encapsulating

Irish traditions, be that the Irish

language, traditional music and

dance or tasty farm-to-fork

products – particularly, goat's

cheese. Take a break from hiking

Connemara and the Cliffs of

Moher to visit a goat farm on Inis

Mór, and learn how they make

their goat's cheese, gouda and feta

products before sampling some

of the very best grass-fed cheese

around.

Sligo, or Sligeach in Irish, literally

translates to "shelly place" –

implying that the region's famed

Lissadell Mussels, oysters and

other shellfish were enjoyed

long before we had a name for

them. In fact, many lovers of

moules-frites may be surprised

to find that Lissadell Mussels are

a fan-favourite of chefs in both

London and Paris. Should you

find yourself hiking the mountains

of Connemara and Mayo, be sure

to stop in at an oyster farm, where

visitors can sample the wares of

Ireland's aquaculture – paired

with a pint of Guinness, of course.

Prefer your seafood fully-cooked

after a long day's hike? Dingle

boasts a great selection of seafoodonly

eateries where you can

indulge in a daily catch prepared

crispy, creamy, chargrilled or in

chowder form.

76 . DRIFTTRAVEL.COM
---
Speaking of chowder – being a

seaside trove of ocean bounty,

Ireland's seafood chowder is a

source of pride throughout the

island, with many pubs claiming

to boast a first-rate recipe. The

search for the island's champion

chowder is a favorite pastime

of visitors and locals alike, and

though legend tells of a converted

barn in northern Donegal that

serves up a truly beautiful bowl,

everyone knows that the hunt is

half the fun. Hop on a cycling tour

of the cliffs and coast of Donegal

to weigh in on which bowl is best.

There's plenty of ways to wash

it all down… Naturally, the best

way to enjoy a delicious dish in

Ireland is with a perfect pairing –

whether that be whiskey, Guinness

or gin. The Irish word for whiskey

literally translates to "the water

of life" – a fitting phrase for a

country known for its distilleries.

Old Bushmills Distillery, licensed

in 1608 and one of Ireland's

most respected, is only a stone's

throw from the iconic Dunluce

Castle and Giant's Causeway on

Northern Ireland's Causeway

Coast. Not to be outdone, gin is

another popular Irish liqueur,

thanks to the island's abundance

of juniper. Visit Ireland's Ancient

East where you'll meet a local

forager to collect your own

juniper before going back school

at the Listoke Distillery and Gin

School for a lesson in field-toglass

mixology that ends with your

very own bottle of gin.

TRAVEL OFTEN . LIVE WELL . 77
---
SUBTLE CRYSTAL JEWELRY FOR THE MODERN BOHÈME

VANCOUVER, CANADA

78 . DRIFTTRAVEL.COM