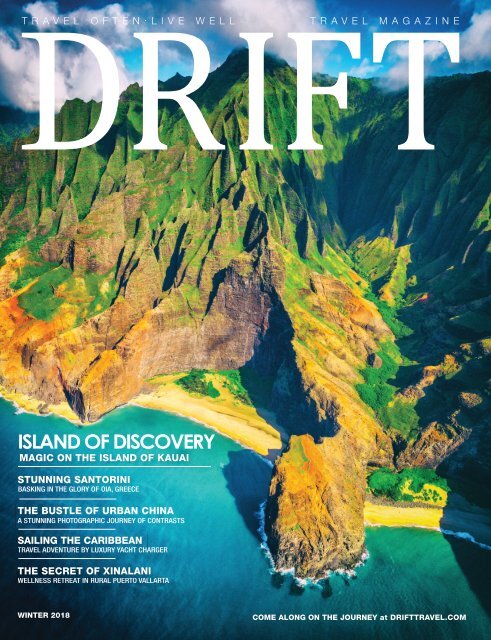 DRIFT Travel Winter 2018
ISLAND OF DISCOVERY - MAGIC ON THE ISLAND OF KAUAI - BASKING IN THE GLORY OF OIA, GREECE - THE BUSTLE OF URBAN CHINA - SAILING THE CARIBBEAN - WELLNESS RETREAT IN RURAL PUERTO VALLARTA
ISLAND OF DISCOVERY - MAGIC ON THE ISLAND OF KAUAI - BASKING IN THE GLORY OF OIA, GREECE - THE BUSTLE OF URBAN CHINA - SAILING THE CARIBBEAN - WELLNESS RETREAT IN RURAL PUERTO VALLARTA
SHOW MORE
SHOW LESS
Create successful ePaper yourself
Turn your PDF publications into a flip-book with our unique Google optimized e-Paper software.
TRAVEL OFTEN . LIVE WELL

TRAVEL MAGAZINE

ISLAND OF DISCOVERY

MAGIC ON THE ISLAND OF KAUAI

STUNNING SANTORINI

BASKING IN THE GLORY OF OIA, GREECE

THE BUSTLE OF URBAN CHINA

A STUNNING PHOTOGRAPHIC JOURNEY OF CONTRASTS

SAILING THE CARIBBEAN

TRAVEL ADVENTURE BY LUXURY YACHT CHARGER

THE SECRET OF XINALANI

WELLNESS RETREAT IN RURAL PUERTO VALLARTA

WINTER 2018

COME ALONG ON THE JOURNEY at DRIFTTRAVEL.COM
---
The Hidden Gem of

the Med

found at Avaton

Avaton Luxury Villas Resort is a stylish and

contemporary beachfront escape overlooking

the sparkling turquoise waters of Komitsa Bay in

Athos Peninsula, Halkidiki, Greece.

Avaton consists of an exclusive collection of 16

villas, providing an unique lifestyle experience.

Most of the villas include private pools, leading

down to lush Mediterranean gardens and a

pristine beach.

Your personal butler and chef, upon request,

and an exclusive mini bar and wine list add to

the unique savor pleasure.

Sensational massage treatments, private

transfer with helicopter and limousine and

memorable cruises along the nearby islands

and breathtaking coastline, complete the

ultimate seaside sophistication experience.

For more info please visit: www.avaton.com
---
SUBTLE CRYSTAL JEWELRY FOR THE MODERN BOHÈME

VANCOUVER, CANADA
---
INSIDE this issue

KATIKIES, GREECE

10 Blue and breathtaking.

ERIC HIMEL'S STYLE

14 What to pack for the beach.

16 KAUAI, HAWAII

The island of discovery.

SAN SEBASTIAN, SPAIN

22 The artist of Spanish Pintxo.

TRAVEL OFTEN . LIVE WELL

ISLAND OF DISCOVERY

MAGIC ON THE ISLAND OF KAUAI

STUNNING SANTORINI

BASKING IN THE GLORY OF OIA, GREECE

THE BUSTLE OF URBAN CHINA

A STUNNING PHOTOGRAPHIC JOURNEY OF CONTRASTS

SAILING THE CARIBBEAN

TRAVEL ADVENTURE BY LUXURY YACHT CHARGER

THE SECRET OF XINALANI

WELLNESS RETREAT IN RURAL PUERTO VALLARTA

WINTER 2018

TRAVEL MAGAZINE

COME ALONG ON THE JOURNEY at DRIFTTRAVEL.COM

26 2018 TRAVEL TRENDS

An insider's look at what's to come.

32 URBAN CHINA

A telling photographic journey.

42 TRAVEL GEAR

New products for ultimate comfort.

44 ETHIOPIA, AFRICA

A journey to Africa's horn.

58 VICTORIA, CANADA

Wildlife photographer of the year.

LAS VEGAS, NEVADA

66 Savory bites and neon lights.

WINTER 2018

No matter what type of travel

adventure you are seeking, the winter

issue of DRIFT magazine has it. From

sun and sands in Mexico, Hawaii

and the tropics of Belize to fun and

adventure in Las Vegas, Spain and

the depths of Africa.

52 TRAVELING EDITOR

An escape to Xinalani in Mexico.

54 LUXURY SAILING

Unique travel by yacht charters.

MECKLENBURG, GERMANY

76 Exploring Rhineland by boat.

4 . DRIFTTRAVEL.COM
---
PUBLISHER

GLOSSY MEDIA

EDITOR-IN-CHIEF | CREATIVE DIRECTOR

TRACEY DRAKE

PRODUCTION/EDITORIAL

BRITTANY BALLANTINE, SARAH CASEWIT, TERRY

COLBY, DONALD, CONTURSI, ELIZABETH DEAN,

TRACEY DRAKE, STEVE DRAKE, ERIC HIMEL, JULIE

LEVENTHAL, PETER MANDEL, LAINA MCWHORTER,

IAN PEDERSEN, MICHAEL SHERIDAN, SYLVIA

TENNANT, RUSS WALSH

CREATIVE | PHOTOGRAPHY

LAURENT BALLESTA, BOOKING.COM, STEVE

DRAKE, FEATUREWELL, JUSTIN HOFMAN, KATIKIES

HOTELS, TYOHAR KASTIEL, QING LIN, DAVID LLOYD,

MOORINGS.COM, PAUL MORRISON, ROYAL BC

MUSEUM, NAYA TRAVELER, MICHAEL SHERIDAN,

SHUTTERSTOCK, ADOBE STOCK, WORLD LUXURY SPA

AWARDS, WORLD LUXURY RESTAURANT AWARDS,

XINALANI RESORT

SALES & DISTRIBUTION DIRECTOR

STEVE DRAKE

ADVERTISING & PUBLISHING RIGHTS INQUIRIES

sales@DRIFTtravel.com | www.DRIFTtravel.com

Published by: Glossy Media

All rights reserved. No part of DRIFT magazine may be

copied or reproduced without permission.

© COPYRIGHT DRIFT TRAVEL MAGAZINE

GLOSSY MEDIA

2015-2018
---
every single day, more than

8 MILLION PEOPLE

get on an airplane & travel

every single issue, more than

4.5 MILLION TRAVELERS

could be reading your brand message

TRAVEL MAGAZINE

BRING YOUR BRAND ALONG ON THE TRAVEL JOURNEY...

DRIFTtravel.com sales@DRIFTtravel.com
---
KATIKIES

Oia, Greece

BY: ELIZABETH DEAN

8 . DRIFTTRAVEL.COM
---
Oia is a dreamy little Grecian town on Santorini, located amongst the Cyclades of Greece.

The town is reminiscent of a rich oil painting, with the island's striking natural colors juxtaposed by the

vivid white cycladic architecture that spills down the hillside to the Aegean Sea below. Perched on the

Caldera cliffs, 300 feet above the Aegean Sea, is one of Greece's most prestigious hotels, Katikies Hotel

in Oia Santorini. Katikies offers guests the intimacy of a boutique hotel with unprecedented luxuries. The

hotel has been masterfully designed to complement the natural flow of the cliff-side it gently hangs from, with

infinity pools, bridges, cottages and balcony's tumbling delicately over the land.

TRAVEL OFTEN . LIVE WELL . 9
---
The exterior of Katikies Hotel seamlessly transitions

into the interior design. Suites offer clean palettes

with gentle powder blue textiles, and brilliant white

bathrooms are created from the finest natural

materials. Greek antiques have been hand-picked to

match the traditional beamed ceilings, infusing the

spaces with a subtle reference to Greece's past. The

elegant suites have been adorned with every modern

day luxury, which is a clear contrast to the classic air

of purity and simplicity.

Private terraces ensure the finest views over the

Aegean Sea and stir contemplative and reflective

thought. Your days at Katikies will commence with

masterfully designed breakfasts on your terrace. At

night, leaving the terrace doors open, and having the

soft white curtains fan gentle sea breezes over you,

creates a near saintly sleeping experience.

When you are not basking in the sanctity of your

suite, there are several dining experiences to enjoy. If

you're hoping to remain in one of the infinity pools,

Katikies boasts one of Santorini's most legendary

pool bars and poolside restaurants. The remarkable

poolside restaurant is informally credited as

characterizing the magical culinary vibe at the hotel.

Katikies is also famed for a superb sunset ceremonial

local wine tasting.

Perhaps the most exclusive experience at Katikies

is the intimate four table dining space on the hotels

secret rooftop veranda, perched on the volcano rim.

No doubt, one of the most romantic candle lit dining

experiences in the world.

The holiness of Katikies Hotel may just make you

forget that beyond its borders, lays one of the finest

towns for exploring in Greece.

10 . DRIFTTRAVEL.COM
---
THE "GRANDE DAME"

DESIGNED IN THE AEGEAN CYCLADIC

ARCHITECTURE STYLE, AND BUILT UPON A

HISTORY AS SPECTACULAR AS ITS FREE FORM

FANTASY ARCHITECTURAL FORMATION OF

STAIRS, BRIDGES, CUBIST COTTAGES, INFINITY

POOLS AND CALDERA VIEWS.

TRAVEL OFTEN . LIVE WELL . 11
---
Eric Himel's

LIFE+STYLE

BY: ERIC HIMEL

ZIMMERMANN

Winter can only mean one

thing, bathing suit season.

Well, not exactly, but if you

are taking a resort vacation

during this cold season,

bathing suits are surely in

order. Lack of sun, outdoor

activities and exercise paired

with holiday eating do not

help the matter, so the 3 C's,

Color, Cut and Coverups, are

essential to keep you looking

and feeling great on the

beach and by the pool. Add

accessories and voilà, you are

sun-ready!

NOT YOUR MOTHER'S ONE PIECE

One-piece bathing suits no longer have to be relegated to

the categories of 'frumpy' or 'muumuu-esque'. There are so

many iterations of them now, that they can take a proud

position beside their cousin counterpart, the bikini, and

can be just as sexy and chic. Low cut, strategically placed

cutouts and strapless versions offer choices galore. And you

can still feel sexy and utilize the extra material to cover the

areas that may not be up to par.

JCREW

UNDER COVER

Cover-ups serve to transition to and from your room to

pool and beach, double as an outfit for lunch, and cover

a multitude of sins. Choose your style based on what you

consider are your best and worst features: a sarong conceals

cellulite, a shorter cover-up shows off great legs while a long

V-neck sleeveless style shows off décolleté and toned arms.

For solid color bathing suits, pair with a solid color coverup

to match giving off a monochromatic look or choose a

fun pattern that will bring out the color of your suit. For a

print bathing suit, choose one of the colors in the suit and

wear a solid color cover-up. A transparent cover-up allows

you to show an outline of your body while still letting you

feel 'covered up'. Choose fabrics that breathe or have a loose

knit for both style and comfort in the heat.

THE LAST RESORT PACKING FOR THE BEACH

ERIC HIMEL (erichimel.com)

is a widely known celebrity stylist, fashion expert and media personality. Himel attended

Parson's School of Design and trained under Project Runway's Tim Gunn. Now based in

Los Angeles, Himel's roster of celebrity clientele has included Jenny McCarthy, Giuliana

Rancic, Pete Wentz, Gabby Douglas and more. Eric is best known for his signature Closet

Purge and now offers Virtual Styling Sessions.

12 . DRIFTTRAVEL.COM
---
ACCESSORIZE THIS

Accessories for bathing suits are

like accessories for any outfit,

they can turn a ho-hum into a

'wow'! But since bathing suits

are naturally sporty, avoid overthe-top

accessories as there is a

fine line between the chic and

the ridiculous. Hats and glasses

are de rigueur. Choose a wide

brimmed hat for protection as

well as glamour while sunglasses

should be one-part practical (UVA

and UVB protection) and one

part attitude. For jewelry, the key

is in the materials and the bling

factor. Gold emulates the sun while

clear materials look like sculpted

water. While it may be ok for

Mariah Carey to wear diamond

drop earrings by the pool, I would

suggest avoiding that look.

MISSONI

ERIC'S BATHING SUIT STYLE GUIDE:

BANDEAU A strapless bikini top offering bare shoulders for no

tan lines. Because of less support, they are best suited for cup

sizes A-C.

BOY SHORTS Bathing suit bottoms that provide full coverage

with a lower leg cut.

ONEONE

SWIMWEAR

BRAZILIAN Swimwear with a thong like bottom. Absolute least

amount of butt coverage possible.

MAILLOT (pronounced my-oh) Another name for a one-piece

swimsuit.

MONOKINI A one piece suit that has the look of a bikini, but

with minimal fabric or connectivity between the top and bottom

of the suit.

EUGENIA KIM

TANGA A very small bikini with minimal coverage on the

backside (although not as small as a thong or Brazilian).

TANKINI A two-piece bathing suit consisting of a tank top and a

bikini bottom.

TRAVEL OFTEN . LIVE WELL . 13
---
Yacht

Charters

BY: IAN PEDERSEN

14 . DRIFTTRAVEL.COM
---
The world today is very

different from the way

it was just a decade ago.

Everything and everyone

is connected. Through television

and the internet and the everlasting

wave of social media, we are all

online, connected and seemingly in

perpetual motion at all times and

without end. So where does one

go when you are ready to finally

disconnect?

The solution for many vacationers

is to travel. The tropics are always

there to offer warm sunshine, balmy

breezes and the refreshment of a dip

in calm, clear waters or the sip of a

cocktail on the beach. The simple

delights of enjoying the best that

nature has to offer has beckoned to

millions of travelers over the years.

But there exists another type of

vacation that elevates this experience

to new heights: a yacht charter.

TRAVEL OFTEN . LIVE WELL . 15
---
Say the term "yacht charter" and

images of mega yachts, jet skis and

helicopters immediately spring to

mind. But the yacht charter industry

has evolved leaps and bounds

in the last few decades, and has

become much more accessible

to anyone interested in truly disconnecting,

and experiencing the

beauty of the destination in which

they are traveling. Companies like

The Moorings, who operate in over

20 exotic destinations worldwide,

offer private yachts of a reasonable

size, ideal for small parties of 4 to

10 guests. Assemble your closest

friends and family, fly to your destination

of choice, and prepare to

set sail on your own private yacht

for a week of fun in the sun.

Are you a boater? You can captain

the boat yourself for the ultimate in

privacy and flexibility, or you can hire

a professional skipper and have him

do the work for you.

Interested in an even more luxurious

experience? Opt for an all-inclusive

crewed yacht, complete with a captain

and gourmet chef to prepare cocktails

and hors d'oeuvres for your group for

next-level relaxation.

There is no greater peace than to

experience life aboard an all-inclusive

sailing yacht with the engines off,

and nothing but the sound of the

wind whistling through the sails and

the water rushing below while your

captain expertly directs your boat to

the next island paradise.

Wake up each day to a new

destination as you watch the sun rise

over the horizon. Take a morning

plunge into crystal clear Caribbean

waters and rejuvenate the senses. Set

sail for a remote island only accessible

by boat and enjoy exploring secluded

beaches and pristine coral reefs all by

yourselves. Then, anchor offshore the

nearest beach bar and enjoy evening

cocktails while your chef prepares

dinner on board. At night, lay on

deck and gaze at the night sky in its

true brilliance, far from the lights of

the city.

This is no ordinary vacation. This is

not a cruise with 3,000 of your closest

friends. This is a once-in-a-lifetime

experience once reserved only for the

rich and famous, and now accessible

for today's experiential traveler. Break

free from the TV, from your phone

and from every worry back home

and slip into island time. Set sail and

connect with the things that really

matter: with your friends and with

your family; with the beauty of the

world around you. Paradise is out

there. What are you waiting for?

The cost of a typical 7-day allinclusive

charter varies widely by

season and travel destination, but

an average charter starts at around

$15,000. Split between 3 couples, that

comes to $2,500 per person, or about

the cost of a high-end all-inclusive

resort. www.moorings.com

16 . DRIFTTRAVEL.COM
---
Call 800.669.6529

moorings.com/drift

unplug

When sinking in life's unyielding

wave of technology, disconnect

from the rush and slip into

island-time. Leave reality on the

dock in exchange for uncommon

coordinates and unlimited

adventure on-demand. Cast

off with The Moorings, let your

worries melt away, remember

how to live in the moment—one

nautical mile at a time.

TRAVEL OFTEN . LIVE WELL . 17
---
18 . DRIFTTRAVEL.COM
---
ESCAPE TO

KAUAI, HAWAII

BY: SYLVIA TENNANT

As the oldest of the Hawaiian Islands, Kauai,

aptly-named Garden Isle, is an escape for

those who wish to explore the unrivaled

natural beauty that extends from the majestic peaks of the

ancient Napali coastline to the mazes of underwater reefs

where some of the world's most colorful species co-exist

in bustling metropolises.

Kauai is not simply a

vacation destination. It's a

feeling, a spirit, a way of

embracing life.

The Hawaiian Islands are geographically the most

isolated inhabited landmasses on earth. Kauai is the

fourth largest, with over 50 miles of pristine white sand

beaches and more than 80% unsettled land to explore.

Lihue, the main port of entry into Kauai, is nestled on

the eastern side between the North and South shores.

There you will find Kalapakī beach, which is edged by the

lush tropical gardens of the Kauai Marriott Resort. This

protected cove is known as one of the most swimmable

shores on the island. During the day, relax in a private

shaded cabana with a full service bar at your fingertips,

attend a lei-making session, or lounge next to the 26,000-

foot swimming pool, which hosts impressive fountains

and flowering lounge areas. In the evening, I suggest a

candlelit dinner of fresh-caught fish for two accompanied

by acoustic guitar in one of the airy gazebos. The view

overlooking this property is superb from the privacy of

your dining experience.

For those with only a few days to spare, the beauty of

Kauai is also in its accessibility. Trees dripping with

mangoes and vast coffee plantation fields are reasons

to remember why the drive is just as beautiful as the

destination. From Lihue, take the highway to the South

Shore where you'll find the quaint town of Hanapepe

Bay. Set sail to the north from the local marina into

Kauai's dynamic seas on a romantic cruise alongside the

TRAVEL OFTEN . LIVE WELL . 19
---
striking ancient cliffs and valleys of the famous

Napali coast. I suggest Captain Andy's luxury

catamarans for ultimate comfort, because

counting waterfalls from a first-class vessel

is an experience one should not live without.

Expect relaxing Hawaiian music, excellent

snorkeling, on-board showers, flavorful meals,

and entertaining staff personalities. Take the

morning sail, as afternoon winds can make the

return trip quite choppy. For the slightly more

adventurous couple, the Kalalau Trail Hike to

Hanakapi'ai Beach hosted by Kayak Kauai is a

fabulous day hike option that begins the trail

of the 22-mile journey on foot to the same

destination. It is just as breathtaking, and the

aroma of plumeria flowers combined with

stunning views is worthy of the effort.

The romantic island way of life is present

within the upscale district of Halele'a, which

sits on the North Shore of Kauai. The St. Regis

Princeville is my top pick within this area for

ultra-exclusive accommodations. Built into a

cliff, this lavish resort is consistently rated one

of the top places in the world to be engaged,

and for good reason. From private beachside

yoga in the morning to the famous nightly

champagne sabering ritual, the details of a

St. Regis experience are truly extraordinary.

Have dinner at the open-air Makana

Terrace overlooking Hanalei Bay, which

hosts the perfect viewpoint of magnificent

Kauai sunsets next to Mount Makana. The

local culture and traditions of this magical

island are integrated into a romantic dining

occasion, which serves sophisticated, original

plates made with locally farmed ingredients

from an award-winning team. It is both

intimate and unbelievable, considering

each table is dwarfed by majestic views of

paradise. Couples seeking an indulgent spa

experience should consider staying here, for

the therapeutic private room retreats are not

to be missed.

Exploring the lush rain forest of Kauai

is most memorable on horseback, and

Princeville Ranch Adventures hosted what

quickly became my favorite tour of the trip.

Expert guides unraveled the cultural history

20 . DRIFTTRAVEL.COM
---
of the area as we leisurely rode on gentle horses through

grasslands and tropical backcountry. A short hike through

picturesque hala trees brought us to a secluded waterfall,

where lunch was served and swimming in the clear pools

was encouraged. I highly recommend this tour for the

photo opportunities, as the waterfall's basin is stunning,

safe and easily accessible. For those who prefer to have

two feet on the ground, the world-renowned 18-hole

Makai golf course is five minutes up the road and built

alongside stunning ocean views.

Hawaii's Island

of Discovery

Slightly west from Princeville lies the beautiful town

of Hanalei. Surrounded by century-old taro fields, it

has been said that Hawaiians travel to this historic

community to reconnect with Old Hawaii and enjoy the

simplicity of Hanalei life.

During the day, order lunch from the Hanalei Taro and

Juice Co. food truck and wander down to the famous pier,

forever immortalized in the film South Pacific. The shops

in Hanalei are run by warm-hearted locals and filled with

colorful, well-priced, interesting finds. Brands such as

Stone Cold Fox and Mara Hoffmann are stocked at the I

Heart Hanalei Beach Boutique, which has a beautifully

curated selection of stylish beachwear. Date night is more

relaxed here and should definitely start at Barracuda,

which has a regionally inspired menu and trendy, openconcept

vibe. Do yourself a favor and order the local

North Shore Honeycomb with goat cheese and Fuji apple

which pairs perfectly with any one of their handcrafted

cocktails. A trip to Kauai wouldn't be complete without

a Mai Tai at the charming family-run Tahiti Nui bar,

where waitresses go from taking orders to spontaneously

dancing the hula to the sounds of live music. This is the

spot to enjoy a romantic party atmosphere and dance

the night away. Don't be surprised if you find yourself

lined up behind a Hollywood A-lister at the bar- many

celebrities own property in Hanalei.

After a late night with the locals, wake up slow and head

into the lush emerald Kauai interior for a relaxing float

down the open canals, tunnels, and flumes of the former

Lihue sugar plantation. Sit in a comfortable tube, put on a

headlamp, and experience the flowing waters originating

from Mount Waialeale, all while being surrounded by

remarkably green tropical backcountry. Don't forget a

waterproof camera, because this tour runs through one of

the most picturesque secluded areas of Kauai.

TRAVEL OFTEN . LIVE WELL . 21
---
If you're in the mood to take morning walks in the sand

between palm trees and waves, the Kòa Kea Hotel and

Resort at Poipu Beach on the South Shore is a boutique

property to consider. Both humans and endangered

monk seals bake under the sun in the trade wind breeze,

surrounded by an intoxicating floral scent that seems

to follow you wherever you are on this island. The soft

rustle of palm leaves and happy bird songs set the scene

for couples to fall easily into blissful relaxation. Order the

soufflé pancakes and POG (pineapple orange guava) juice

for breakfast- you will not be disappointed.

Should you want to wander outside of the property

for a local dining adventure, the South Shore is lucky

enough to be home to visionary chef Roy Yamaguchi's

Eating House 1849, where the juxtaposition of tropical

views and slick industrial-inspired décor is as visually

impactful as the combination of local ingredients and

haute cuisine plated within its kitchen. After dinner, be

sure to take a romantic stroll under the stars along the

promenade of Kukui'ula. With talented buskers around

every corner, this outdoor shopping district is defined by

its attention to detail, with free valet service, lantern-filled

banana trees, roaming hula dancers, and lively bars and

restaurants setting an energetic but cozy atmosphere.

Upon leaving Kauai, it is certain that the happy locals,

turquoise surf, and breathtaking skies will have you

reminiscing fondly. Mother Nature took her time with

this island, and hidden within the exquisite natural

beauty lies some of the world's best customizable

accommodations and attractions. Whether visiting for a

week or staying for a lifetime, Kauai is the perfect place to

create your most meaningful memories.

22 . DRIFTTRAVEL.COM
---
TRAVEL OFTEN . LIVE WELL . 23
---
24 . DRIFTTRAVEL.COM
---
SPAIN

EXPLORING pintxo IN

SAN SEBASTIAN

BY: TERRY COLBY

In this glitzy, seaside resort town

in Basque Country, locals in black

berets mingle with tourists along the

narrow, stone streets edged by the

gleaming Bay of La Concha, just 12

miles from the border with France.

You know it's a mecca for foodies

because there are currently five

Michelin-starred restaurants in this

city of fewer than 200,000 people,

including Arzak and Akelare, both

honored with the premier three stars

for 2013.

But you don't have to drop a bundle

and reserve your spot far in advance

to explore some of the finest Basque

cuisine. That's because you're in the

birthplace of the pintxo (pronounced

pin-cho) and there's no shortage of

places where you can sample this

ultimate finger food.

Pintxo bars aren't as upscale as the

starred restaurants, of course. But

they offer an appealing gastronomic

experience that melds tradition

and innovation with the Basque

love of fresh, local ingredients and

the camaraderie that comes from

sharing food and drink in a casual

atmosphere with friends and family.

TRAVEL OFTEN . LIVE WELL . 25
---
Pintxos are not as large as tapas, the

small plates of Spanish cuisine that

have become ubiquitous across the

U.S., and are designed to be just a

bite or two, often served on just a

napkin, not a plate.

And while visiting a pintxo bar can

be a casual outing, there's a definite

style of pintxo dining that locals

practice and travelers would be wise

to observe, a kind of pintxo pub

crawl, if you will.

Here are two pieces of advice--

offered by Gabriella Ranalli of

Tenedor Tours, which takes tourists

on culinary excursions in San

Sebastian--that will help you have

the best experience and will keep

you from being labeled a tourist.

1. Eat only one pintxo at each bar as

each has its specialty. Savor it, along

with a glass of wine, and move on to

the next place.

2. Most pintxos are served on

napkins, and the way you dispose

of the napkins will mark you either

as a local or an outsider. When you

are finished, don't leave the napkin

on the bar or look for a garbage

container. To demonstrate true

Basque style, raise the napkin into

the air and throw it to the ground

under the bar. Don't just drop it like

a kid feeding vegetables to the dog.

True locals fling to the floor with

flair, take one last swig of wine, and

move on to the next place.

San Sebastian is about 60 miles from

Bilbao, the largest city in northern

Spain's Basque Autonomous

Community, which is home to

the iconic Guggenheim Museum,

and where there is no shortage of

pintxos. A culinary excursion can

easily include both cities with easy

26 . DRIFTTRAVEL.COM
---
connections via car, bus or train,

and enough pintxos to fill your

stomach. Ranalli's Tenedor Tours

offers culinary-themed experiences

for travelers to the Basque region

including cooking classes, market

trips and visits to Basque cooking

clubs. She'll even take you on a

walking tour of her favorite pintxo

bars in San Sebastian. If you prefer

to go it on your own, here are some

pintxo bars in the city's old town that

are worth a visit:

• Borda Berri on Calle Fermin for

stewed beef cheeks.

• Txepetxa on Calle Pescaderia for

the best anchovies in town.

• Bar Nestor on Calle Pescaderia

for the best tortilla, a Spanish

egg dish, not a Mexican wrap.

• Casa Urola on Calle Fermin

Calbeton for artichoke pinxtos.

• Al Fuego Negro on Calle 31 de

Agosto for the rice, tomato and

egg pinxtos.

In San Sebastian, you must also

stop in at the Hotel Maria Cristina,

a grande dame extraordinaire, if

not for a stay then at least to savor a

gin and tonic, one of the hotel bar's

specialties. An overnight would be

a splurge for sure, but it's extremely

luxe and in a great location.

Whenever I'm in Spain, I try to

stay at one of the government-run

paradores, refurbished historical

buildings turned into hotels. About a

half hour's drive from San Sebastian

is the Parador de Hondarribia, one

of my favorites. It's a 10th Century

castle with an especially nice feel

with views of France. Hondarribia

is a fishing village, a picturesque

town with stone streets, homey

restaurants, specialty shops and

great water views.

In Bilbao, the Guggenheim Museum

is a modern art-lover's dream. But

even if that's not your thing, the

museum is engaging and surprising

in the way space is used. It's definitely

worth a visit. A good place to stay

is the Gran Hotel Silken Domine,

which is just across the street from

the museum. It's a luxury spot with a

modern art feel and a bit of whimsy

in a great location.

TRAVEL OFTEN . LIVE WELL . 27
---
From new technology frontiers to walking your way

to wellness and big bucket list expeditions, here are

Booking.com's biggest travel trends for 2018

28 28 . . DRIFTTRAVEL.COM
---
2018

TRAVEL PREDICTIONS

Booking for inspiration for your 2018 travel? Facilitating

reservations for more than 1,500,000 room nights each day,

the experts at Booking.com, the global leader in connecting

travelers with the widest choice of incredible places to stay, have

combined customer insights from over 128 million real guest reviews

with research from 19,000 travelers across 26 countries around

the world to reveal the biggest travel predictions for 2018.

1. NEW TECH FRONTIERS

Immersive experiences will

reach the next level in 2018, with

travelers looking to technology

to help better understand a

destination or accommodation

before they book. Artificial

intelligence and digital technology

are helping consumers turn the

corner when it comes to smart

destination intuition, reshaping

the way we research, book and

experience travel. Almost a third

(29%) of global travelers say they

are comfortable letting a computer

plan an upcoming trip based on

data from their previous travel

history and half (50%) don't mind

if they deal with a real person or

computer, so long as any questions

are answered. Over six in 10 (64%)

of travelers say they would like to

'try before they buy' with a virtual

reality preview, while 50% find

that personalized suggestions

for destinations and things to do

encourages them to book a trip.

Taking all the hard work and

stress out of decision making, in

2018 technology will continue to

guide us seamlessly to find the

best stays and experiences for us.

2. DREAM TO REALITY

2018 is the year to dream big as 45%

of travelers have a travel bucket

list in mind and the majority of

those (82%) will aim to tick one

or more destinations off their list

in the coming year. The yearning

for experiences over material

possessions continues and drives

our desire for more incredible and

memorable trips. With dwindling

patience, instantaneous appetites

and empowered by technology,

travelers in 2018 will seize

the moment like never before.

Most likely to feature on a bucket

list is seeing one of the wonders

of the world, as almost half of

travelers (47%) will look to tick

this off in 2018. Over a third (35%)

yearn to tantalize their taste buds

by trying a local delicacy, 34%

want to head to an island paradise

and 34% are thrill seekers wanting

to visit a world famous theme

park. Adrenalin junkies should

consider Orlando, USA, The Gold

Coast in Australia and Dubai,

United Arab Emirates the top

destinations endorsed by Booking.

com travelers for theme parks.

TRAVEL OFTEN . LIVE WELL . 29
---
The other top travel activities to

complete in 2018 look set to be

experiencing a unique cultural

event (28%), learning a new skill

(27%), going on an epic road or

rail journey (25%) and visiting a

remote or challenging location

(25%).

3. RETRO REBOOT

As well as new experiences,

travelers will be revisiting their

favorite childhood memories as

part of their trips in 2018. Blending

the future with the past, next year's

travelers will be inspired to return

to previously loved destinations

and explore them in a whole new

way. A third of travelers (34%)

will consider a holiday they

experienced as a child for 2018.

These popularity of these vintage

vacations stems from the feelings

of nostalgia and happiness the

destinations evoke. Travelers say

that former family holidays recall

the fondest memories, even more

so than childhood sweethearts or

family pets. Millennials look set

to be even more sentimental with

44% of 18 to 34 year olds keen

to hark back to favorite family

destinations. With 60% of travelers

in 2018 intending to post on social

media each day, we can expect to

see these nostalgic places brought

back to the future and captured for

social posterity.

4. POP CULTURE PILGRIMAGE

With the world at our finger tips,

we rely on many sources to inspire

us to travel to new destinations.

Tapping into our passions is one

way of helping to identify the

locations most suited to us - from

30 . DRIFTTRAVEL.COM
---
culture and entertainment, to food

and history. In 2018, television

shows, films, sport and social

media in particular look set to

have an increasingly significant

sway over booking decisions, as

travelers turn to pop culture for

their travel inspiration. Reading

blogs or watching YouTuber

recommendations will spark ideas

for four in ten (39%) travelers

and on screen locations from

television, film or music videos

will win over 36% of travelers

in the coming year. More than

a fifth (22%) of travelers will be

tempted by traveling for a major

sporting event, with 43% of those

considering a summer of football

in Russia.

The top television program

locations travelers most want to

visit in 2018 are Croatia, Spain

and Iceland inspired by Game of

Thrones (29%), London as seen in

Sherlock and the Crown (21% and

13%), New York and Manhattan

from Billions (13%) and Los

Angeles viewed in Entourage

(10%).

5. WALK TO WELLNESS

The trend for wellness getaways

isn't slowing down for 2018, with

almost double the amount of

people planning to take health and

wellbeing trips in 2018 compared

to 2017. Trips enjoying particular

prominence will be those that

involve traveling on two feet. A

brilliant way to take in the local

landscape, walking will be the

ultimate way to explore next year,

with 56% of travelers saying they

want to do walking or hiking

trips in 2018. A new generation of

walkers will lace up their boots.

Other health and wellness inspired

activities high on the travel agenda

in 2018 include visiting a spa

or receiving beauty treatments

(33%), cycling (24%), water sport

activities (22%), taking a full body

detox holiday (17%), going on a

yoga retreat (16%), running (16%)

and undertaking meditation/

mindfulness (15%). Embracing

such experiences is popular

with travelers, with 59% saying

they prioritize experiences over

material items when on holiday.

Partaking in a health and wellness

trip may also be good for the mind,

as over half (55%) say that going

on holiday is a moment for them

to reflect and make better lifestyle

choices – something which can be

easily facilitated through a health

and wellness trip.

TRAVEL OFTEN . LIVE WELL . 31
---
6. ECONOMIC INTUITION

Every year, travelers are becoming

savvier, especially when it comes

to getting the most for their

money. With significant numbers

basing their traveling decisions

on finance-related matters,

2018 will see travelers looking

to be even more economically

intuitive. Nearly half (47%) will

take currency exchange rates into

consideration when planning

travels, and almost the same

amount (48%) will think about the

economic climate of a destination

before making the decision to

travel. Good news for the retail

industry, a third of travelers (30%)

also plan to make more purchases

from airport duty free shops in

2018 and one in four (26%) will

even go on holiday specifically to

buy goods such as fashion items

because they are cheaper than in

their home country.

More confident to follow their own

intuition, travelers are less obliged

to follow the herd, with over

half (57%) wanting to do more

independent travel in 2018, placing

growing value on personalized

endeavors, looking for the best

deals and putting together their

own packages – all with the help

of apps and technology. Almost

half of travelers (44%) will

use travel apps more in 2018,

with technology continuously

developing to make travel stress

free in 2018. This includes geolocation

technology directing

you to your accommodation, all

within one click from your app,

or planning activities while on

holiday in just a few simple taps of

your smart phone, as over two in

five (41%) expect to do in 2018.

32 . DRIFTTRAVEL.COM
---
7. GREAT MATE ESCAPE

2018 is gearing up to be all about

the group get-away. When asked

who their 2018 travel companions

were likely to be, the segment

with the biggest increase when

compared to 2017, was traveling

with a group of friends, increasing

from 21% to 25%.

With 2018 shaping up to be all

about the experience, it's not just

about the destination but also

the people that matter to create

memories. Mate's escapes are the

ultimate social time away from

our everyday pressures, reducing

stress and building connections

with your friends. With the world

only a click away it's never been

easier to find the perfect place to

stay and explore with a large group

of friends looking for adventure

across every corner of the globe.

Friend based getaways also have

financial advantages as four in 10

(42%) said that joint holidays with

friends will allow them to stay in

accommodation they wouldn't be

able to afford on their own.

8. LIVE LIKE A LOCAL

(NOT WITH ONE)

In 2018, rental homes are going

to be particularly popular – not

just for travelers looking to stay

in one, but also home owners who

are thinking of inviting others to

stay in their own abode. One in

three travelers (33%) say they'd

prefer to stay in a holiday rental (a

holiday home or apartment) over a

hotel and one in five (21%) would

consider listing their home on a

travel accommodation site.

When it comes to playing the role

of a host, travelers reveal that it

isn't about having them there all

the time. Travelers are keen to

have a local experience and will

look to hosts for their expertise,

as a quarter of travelers say it

will be important that their host

has strong local knowledge about

local food and places to visit

(25%), but travelers will want the

flexibility to interact with hosts on

their own terms. In 2018, it will be

important for travelers that their

host is available but not too overbearing

(30%) and one in 10 (12%)

want a host who they don't have to

speak to at all.

Pepijn Rijvers, Chief Marketing

Officer at Booking.com

comments: "As technology

continues to advance, it's also

advancing and enhancing the

way we travel. It empowers

us to plan the perfect holiday

and makes it easier to

explore further and with more

confidence, flexibility and

options than ever before."

TRAVEL OFTEN . LIVE WELL . 33
---
Photographer Notes:

Fenghuang, China - Fisherman at Night Fenghuang is illuminated by

thousands of red lanterns and atmospheric lighting along the river. This

fisherman and his head torch nearly went unnoticed in front of the backdrop.
---
London born and bred, studied in Kuala Lumpur, once

drove to Mongolia, and most recently journeyed the Trans-

Siberian railway to Beijing. Michael Sheridan has had photos

published in National Geographic Traveler Magazine, been

shortlisted for photography awards in The Telegraph and

The Guardian, and had photos exhibited at WOMAD Music

Festival. His love of travel spawned a love of photography,

and markets, sports matches, and train journeys are his

favorite ways to see and photograph a destination, as they

combine new revelations with observing local life.

Equipment: Olympus E-PM1, Panisonic Lumix G 20mm

f/1.7 prime lens, Olympus M.Zuiko Digital ED 40-150mm

1:4.0-5.6 R zoom lens

Website : pleasemindtheyak.com

Instagram : @michaelcharlessheridan

TRAVEL OFTEN . LIVE WELL . 35
---
36 . DRIFTTRAVEL.COM
---
Photographer Notes:

Fenghuang, China - Rickety Structures The traditional architecture of Fenghuang earned

the town status as a UNESCO World Heritage site. The curved tiled roofs and deep green river

are China at its most dreamy oriental best.

TRAVEL OFTEN . LIVE WELL . 37
---
38 . DRIFTTRAVEL.COM
---
Photographer Notes:

Fenghuang, China - Chinese Chess (left top) Fenghuang's town squares are the social hub,

where hundreds of elderly people come to mingle, chat, sing, and more often that not, play

Xiangqi, also known as Chinese chess.

Lijiang, China - Fruit Stall (left bottom) An elderly woman watches over her colorful fruit

stall in ancient Lijiang's old town. People work hard into their elder years in China, and do so

proudly too.

Fenghuang, China - Local Worker (below) A local worker wearing a traditional wicker hat

to shade himself from the heat of the midday sun.

TRAVEL OFTEN . LIVE WELL . 39
---
Photographer Notes:

Beijing, China - Hutongs (below) Beijing's atmospheric hutongs are the heart of the city and a great

window into Chinese life. The small family homes are packed in, such that people live, socialize, and

even set up businesses on their doorsteps.

Shanghai, China - Nanjing Lu Shops (right top) One of the country's busiest streets, entirely

pedestrianized, and the epitome of modern wealthy China and their consumer culture, with every

inch covered in neon signs.

Fenghuang, China - Live Music (right bottom) Ancient Fenghuang is a beautiful place, and the

Chinese know it too. The live music is not one of those charms. Still, it is a wonderful insight into the

crazy Chinese nightlife, and should not be missed.

40 . DRIFTTRAVEL.COM
---
TRAVEL OFTEN . LIVE WELL . 41
---
CHINA, the fourth most visited country

in the world is a wild mix of ancient and

contemporary; trends and traditions and its

1.37 billion citizens offer a glimpse into a

culture that proudly walks the line between

modern diversity and time honored sameness.

The ancient treasures and modern wonders

of China span 5,000 years of culture and

history. The natural beauty, fascinating

heritage, authentic cuisine, and state-ofthe-art

cities enthrall, excite and amaze its

56 million tourists. To plan your travels

to China, or to learn more, visit the China

National Trust Office - www.cnto.org.

Photographer Notes:

Xishuangbanna, China - Kids on Bike In

a tiny village in rural Xishuangbanna, these

boys raced around on a moped having the

time of their lives. The juxtaposition of their

traditional Buddhist robes with the modern

machinery sums up China nicely.

42 . DRIFTTRAVEL.COM
---
We shall not cease from exploration. And the end of all one's

exploring will be to arrive where we started. And know the place

for the first time.

T.S. ELIOT

TRAVEL OFTEN . LIVE WELL . 43
---
TRAVEL GEAR

HOT NEW TRAVEL PRODUCTS

BY: RUSS WALSH

The Case Studio

Custom cases for smart phones,

tablets and notebooks. Personalize

every detail of your case - any color,

any pattern, any case. Folding cases,

sleek or touch cases available.

thecasestudio.com

Transcend DrivePro 520 Dash Camera

For those very concerned with safety on the road,

the DrivePro 520 is an ideal dual lens dash camera

that provides drivers and passengers with optimum

protection. In the event of a collision, the DrivePro

520's motion G-Sensor will detect the impact and

instantly trigger emergency recording mode. This is

a must have for your rental car.

transcend-info.com

44 . DRIFTTRAVEL.COM
---
The Paq Carry-On Travel Bag

Perfect for those who want to make the most out

of their carry-on item. Rotating buckle allows

for easy transformation between backpack and

duffel bag. Shoulder and hip belts to move freely

keeping the paq in the most ergonomic position

as you walk.

paqbags.com

SCORKL

Breathe underwater with TOTAL

freedom - Scorkl is lightweight,

portable, refillable via hand pump and

gives you up to 10min underwater.

Misuse of the Scorkl can be dangerous.

Please follow safety instructions.

scorkl.com

TRAVEL OFTEN . LIVE WELL . 45
---
Ever since I started working in travel, Ethiopia settled itself in the back of my mind as the

ultimate "naya" destination. Growing up on the opposite side of Africa, I was intrigued by this

seemingly different and mysterious country that shared my continent. As a university student

of comparative religion, I studied Abyssinia's colossal past, its millennia of history intertwined

with the spread of Judaism, Christianity and Islam. I marveled at Ethiopia's knack for keeping to its own

on a continent that was ravished by colonization.

After launching Naya Traveler a year and a half ago with a portfolio of destinations that highlight the

'places we call home,' my partners and I were faced with the exciting challenge to determine where to

explore next. Our travel philosophy is deeply rooted in the value of rich culture and heritage, and thus, it

was almost too easy to agree on Ethiopia.

46 . DRIFTTRAVEL.COM
---
Journey

to Ethiopia

BY: SARAH CASEWIT

TRAVEL OFTEN . LIVE WELL . 47
---
48 . DRIFTTRAVEL.COM
---
Ethiopia is one of those destinations that requires travelers to be prepared on many levels, not only physically, but also

emotionally and spiritually. The sacred spaces, diverse peoples and beguiling landscapes demand readiness and receptivity

on the part of the traveler. Thus, early this year, we prepared ourselves for something absolutely remarkable, and our

experience was nothing short of that.

Among all the safari trips, glamping expeditions and wild adventures that are stealing the show in today's travel industry,

Ethiopia seems to take the backseat. However, rapid growth and development is seeing the country open up to tourism,

while remaining raw and untouched. The cultural diversity of Ethiopia allows for a very dynamic and enlightening travel

experience that takes you from the anthropological beginnings of mankind and the profound history and spirituality of

Christian Orthodox beliefs, to the tribal heart of the African continent in the Omo Valley, all nestled amongst the natural

beauty that paints the country north to south.

TRAVEL OFTEN . LIVE WELL . 49
---
50 . DRIFTTRAVEL.COM
---
We ventured across the country's immense northern plateau and the tribal regions of the south in the company of our

guide and friend, Yared Zerihun. We flew above arid landscapes and rocky mountains, drove through valleys and national

parks, and hiked along dirt roads leading to small villages fringed with welcoming smiles.

In the "Noble North", we glided along the blue waters of Lake Tana to greet the monks and nuns of the 500-year old island

monasteries. We strolled through the curious medieval castles of Gondar and trekked along the rock hewn churches of

Lalibela in traditional clothes. We walked along the 3000-year old pathways of Queen of Sheba's palace in Axum, and

dined on mouthwatering Enjira and Tibs.

To the south, an entirely different culture and people welcomed us. The Omo Valley is rough and raw - perhaps one of the

most ethnographically diverse regions in the world. Our journey along muddy roads took us to the small towns of Arba

Minch, Konso and Turmi where we had the opportunity to witness some of the last living tribes of our time. The chief

of the Dorze tribe showed us his family home and invited us to a meal in his beautiful village. The women of the Hamer

tribe graciously gave us shelter in their hut as we waited out a rainstorm. The Karo tribe told us stories over a campfire.

Every day offered an exciting and transformative experience. In fact, one of the most remarkable travel moments of my

life took place during an early morning mass at Bet Gabriel in Lalibela. Thanks to Yared and his approachable personality,

we were allowed to enter the heart of the limestone church set in the hills of Lalibela, during this auspicious ceremony.

In this cramped, sacred space overflowing with incense and serenity, I was surrounded by pilgrims and priests who were

too enthralled by their own singing to care about the intruders. I moved with the ebb and flow of the gentle crowd, and

TRAVEL OFTEN . LIVE WELL . 51
---
knew this was a moment I would never forget. Yared walked us through his country's history with great pride. Tracing its

roots to the 2nd millennium BC, Ethiopia is famous for being the first in many areas. It is widely considered as the region

from which modern humans first set out for the Middle East and beyond. Of course, we also have Ethiopia to thank for

the coffee bean, which was discovered in its fertile valleys. As he leafed through a 500-year old bible at the Ark of the

Covenant in Axum, Yared explained that Ethiopia's ancient Ge'ez script is one of the oldest alphabets still in use in the

world.

Not to give in completely to cliches, but Ethiopia revealed itself as a diamond in the rough and shine it did. Its exceptional

culture and traditions surpassed my expectations, leaving me to redefine today's overused term of "experiential travel".

Ethiopia is perspective-shifting with its indestructible identity and proud people, offering a journey of a lifetime.

For more information on guided travel to Ethiopia, visit nayatraveler.com

52 . DRIFTTRAVEL.COM
---
TRAVEL OFTEN . LIVE WELL . 53
---
the

editor

when was the last time you saw

something for the first time?

BY: TRACEY DRAKE

Tucked into the lush mountainous

terrain and perched peacefully

over the sparkling Pacific Ocean

sits Xinalani Retreat. If you were

boating by, and didn't know what

to look for, you'd probably miss

it. In fact, there is no other way

to reach Xinalani Resort, except

by boat. The level of privacy here;

the personal feeling of enveloped

bliss are unlike any I have ever

experienced.

Pronounced she-nah-lah-knee, Xinalani is as an exclusive

yoga retreat centre just outside of Puerto Vallarta,

Mexico. This truly is an eco-resort, with stunning open

air guest accommodations, natural lighting, and minimal

technological distractions. Yes, there is wi-fi in the main

lobby area (if you must but please don't) but they are quick

to tell you their connectivity is terrible. Meals, which are

included, are healthy and delicious. My favorite part of

breakfast was the fresh juice smoothie of the day.

Enjoy the spa facilities, lounge on the gorgeous white

beach, learn to meditate and if you choose, take part in

yoga classes. I would describe Xinalani as a destination

that commands your attention but isn't demanding of your

time; compelling you to focus on you and your well being.

It is a place to genuinely breathe and regroup.claim your

personal balance (heck—maybe even your sanity). Along

This slice of personal paradise is a place far removed from

my everyday life, and perhaps slightly outside my comfort

zone. Chances are good that also rings true for you. That

is precisely why Xinalani is a place that each of us needs…

no, not needs—deserves. I know I did. Now it's your turn.

I am no yogi (that's an understatement!),

54 . DRIFTTRAVEL.COM
---
BEFORE YOU GO:

• Eco Chic Suites: All 23 rooms are open air, palm

thatched cabins that fl oat on stilts, overlooking the ocean.

• Stairway to Heaven: There are lots of stairs; 176 to

be precise with 215 feet of elevation from the beach to

the top jungle room. I used that walking time to enjoy the

jungle and be alone with my thoughts.

• Booking a Flight: Xinalani is only accessible by boat,

and only during daylight hours. It is important to book

your fl ight to arrive in Puerto Vallarta before 4:30pm and

depart after 11:30am.

• Pack Light: You truly do not need a lot here. Xinalani

specifi cally tells you not to bring yoga props, laptop, hair

appliances, soap or shampoo. Oh, and leave your stress

at home too.

• City Fix: If you feel the need to escape the solitude

and go into Puerto Vallarta for a little shopping and

sightseeing, there is a water tax ($20pp) that goes to and

from Xinalani frequently.

FOR FURTHER INFORMATION, VISIT

XINALANIRETREAT.COM

TRAVEL OFTEN . LIVE WELL . 55
---
The popular exhibition Wildlife Photographer of

the Year, developed and produced by The Natural

History Museum in London, is back until April

2, 2018, and it alone makes it worth a trip to

Vancouver Island in British Columbia, Canada.

"We are pleased to bring this world-renowned

exhibition to British Columbia," says Royal BC

Museum CEO Prof. Jack Lohman. "We have the

privilege of showcasing the work of some of the world's

best nature photographers and wildlife experts."

Photographs from the annual competition are

displayed in large scale format, on dramatic back-lit

displays. Marvel at the immense skill, patience and

perseverance of wildlife photographers as well as the

beauty, wonder and diversity of the natural world.

Just as interesting as the images are the stories behind

them: what it took to get the photo and insights into

the subjects—info provided beside each photograph.

To complement the exhibition, the Royal BC Museum

is offering a number of unique and engaging related

events and programing including Spring Break

Camps for aspiring young shutterbugs in March.

The Royal BC Museum explores the human history

and natural history, advances new knowledge

and understanding of British Columbia, and

provides a dynamic forum for discussion and a

place for reflection. The museum and archives

celebrate culture and history, telling stories

in ways that enlighten, stimulate and inspire.

56 . DRIFTTRAVEL.COM
---
The Insiders by Qing Lin, China

Finalist 2017, Under Water

The bulbous tips of the aptly named magnificent anemone's tentacles contain cells that sting most fish. But the clown

anemonefish goes unharmed thanks to mucus secreted over its skin, which tricks the anemone into thinking it is brushing

against itself. Both species benefit. The anemonefish gains protection from its predators, which daren't risk being stung,

and it also feeds on parasites and debris among the tentacles; at the same time, it improves water circulation (fanning its

fins as it swims), scares away the anemone's predators and may even lure in prey for it. Photo credit: Qing Lin / Wildlife

Photographer of the Year.

TRAVEL OFTEN . LIVE WELL . 57
---
The Power of the Matriarch by David Lloyd, New Zealand/UK (right)

Finalist 2017, Animal Portraits

At dusk, in Kenya's Maasai Mara National Reserve, David waited for the herd of elephants on their evening trek to a

waterhole. As they got closer to his vehicle, he could see that the mellow light from the fast-setting sun was emphasizing

every wrinkle and hair. For a photographer who enjoys working with texture, this was a gift. When they were just a few

meters away, he could see the different qualities of different parts of their bodies – the deep ridges of their trunks, the mudcaked

ears and the patina of dried dirt on their tusks. Photo credit: David Lloyd / Wildlife Photographer of the Year.

Swim Gym by Laurent Ballesta, France (below)

Finalist 2017, Behavior: Mammals

'We were still a few meters from the surface, when I heard the strange noises,' says Laurent. Suspecting Weddell seals –

known for their repertoire of at least 34 different underwater call types – he approached slowly. It was early spring in

east Antarctica, and a mother was introducing her pup to the icy water. The world's most southerly breeding mammal,

a Weddell seal gives birth on the ice and takes her pup swimming after a week or two. The pair, unbothered by Laurent's

presence, slid effortlessly between the sheets of the frozen labyrinth. Adults are accomplished divers, reaching depths

of more than 600 meters (1,970 feet) and submerging for up to 82 minutes. 'They looked so at ease, where I felt so

inappropriate,' says Laurent. Relying on light through the ice above, he captured the curious gaze of the pup, the arc of its

body mirroring that of its watchful mother.. Photo credit: Laurent Ballesta / Wildlife Photographer of the Year.

58 . DRIFTTRAVEL.COM
---
TRAVEL OFTEN . LIVE WELL . 59
---
Resplendent Delivery by Tyohar Kastiel, Israel

Finalist 2017, Behavior: Birds

Tyohar watched the pair of resplendent quetzals from dawn to dusk for more than a week as they delivered fruits and the

occasional insect or lizard to their two chicks. Resplendent quetzals usually nest in thicker forest, but this pair had picked a

tree in a partly logged area in the Costa Rican cloud forest of San Gerardo de Dota. The additional light made it easier for

Tyohar to catch the iridescent color of the male's dazzling emerald and crimson body plumage and tail streamers, despite

his fast, erratic flight pattern. But the light also made it easier for the birds to see Tyohar. So he would arrive before dawn,

sit in the same place and wear the same jacket, with the result that the pair accepted his presence and continued to stuff

food into their chicks' beaks every hour or so. Photo credit: Tyohar Kastiel / Wildlife Photographer of the Year.

60 . DRIFTTRAVEL.COM
---
Sewage surfer by Justin Hofman, USA

Finalist 2017, The Wildlife Photojournalist Award: Single Image

Seahorses hitch rides on the currents by grabbing floating objects such as seaweed with their delicate prehensile tails. Justin

watched with delight as this tiny estuary seahorse 'almost hopped' from one bit of bouncing natural debris to the next,

bobbing around near the surface on a reef near Sumbawa Island, Indonesia. But as the tide started to come in, the mood

changed. The water contained more and more decidedly unnatural objects – mainly bits of plastic – and a film of sewage

sludge covered the surface, all sluicing towards the shore. The seahorse let go of a piece of seagrass and seized a long, wispy

piece of clear plastic. As a brisk wind at the surface picked up, making conditions bumpier, the seahorse took advantage

of something that offered a more stable raft: a waterlogged plastic cottonbud. Photo credit: Justin Hofman / Wildlife

Photographer of the Year.

TRAVEL OFTEN . LIVE WELL . 61
---
Bear Hug by Ashleigh Scully, USA

Finalist 2017, Young Wildlife Photographer of the Year,

11 -14 Years

This past summer I visited Lake Clark National Park

in Alaska, to photograph Alaskan brown bears. Having

photographed a few distant grizzly bears in Wyoming

before, I was eager to observe these bears more closely,

and I desperately wanted a window into their family

behavior. I was lucky enough to watch two separate brown

bear sows with spring cubs. I watched them browse for

sedge grass in the meadows, forage for clams on the beach

during low tide, sleep on the forest edges and most of all,

play. The spring cubs were full of energy. This mother in

particular was extremely patient with her cubs as they

romped around and tried to get her attention. This young

cub seemed to think that it was big enough to wrestle mom

to the sand. Despite all of its efforts, mom stood firm, but

did so with a bit of a smile. I'm sure she was happy to know

that this cub was a fighter, as this attitude would serve the

cub well as it learned to survive along the Alaskan coast.

Photo credit: Ashleigh Scully / Wildlife Photographer of

the Year.

62 . DRIFTTRAVEL.COM
---
TRAVEL OFTEN . LIVE WELL . 63
---
Savory Bites

& Neon Lights

BY: DONALD CONTURSI
---
Culinary Adventures Take Flight in Las Vegas

our tour guide tell us fascinating

facts and stories about the city and

resorts.

On a recent trip to Las

Vegas, I couldn't wait

to explore all the

fine restaurants this

glittering city has to offer. But with

only so many free hours and only so

much stomach capacity, I knew I had

to choose wisely from the hundreds

of establishments here. Thankfully,

I discovered the "Savory Bites &

Neon Lights'' culinary tour by Lip

Smacking Foodie Tours, which took

the guesswork out of it all.

The company did all the work for

me – vetting the best restaurants

to not only come up with a

curated tour to five of the most

preeminent ones on the Vegas

Strip, but also to select the most

noteworthy three or four dishes

at each one to try. The five-hour

experience was so efficient. I never

would have been able to make it to

that many restaurants on my own

in one night. Plus, I practically felt

like royalty. At every restaurant

visited, I never had to wait in line;

I was just whisked to a great table

already set up for our tour group.

It was the ultimate in pampering.

This exciting evening started at 6

p.m. in front of the ARIA Resort

& Casino, where we then walked

to five nearby restaurants: Bardot

Brasserie and Sage at ARIA,

Estiatorio Milos and Scarpetta at

The Cosmopolitan of Las Vegas,

and Cucina by Wolfgang Puck

inside The Shops at Crystals. At

each stop, our group spent about

30 minutes enjoying gourmet

eats such as escargot at Bardot

Brasserie and grilled octopus at

Estiatorio Milos, while listening to

We were then driven by shuttle to

Maverick Helicopters terminal,

where we boarded a helicopter for

a beautiful flight over the Strip,

allowing us to see Vegas in a whole

different way – high above with a

bird's eye view of the Stratosphere,

and other landmark resorts, all

magically lit up at night.

At the end of the night, I was

conveniently dropped off at my

hotel by the shuttle. The cost of the

tour was $299 per person. It was

money well spent, considering

all the restaurants we visited, the

array of dishes we got to try, and

the incredible helicopter tour that

none of us would have probably

ever thought to do otherwise.

TRAVEL OFTEN . LIVE WELL . 65
---
48HOURS IN...

San Ignacio, Belize

BY: JULIE LEVENTHAL

Belize, formerly British

Honduras, gained its

independence from the

United Kingdom in 1981

and boasts a small population of

approximately 350,000. Visiting

Belize is easier than ever now, with

more airlines from Los Angeles,

Denver, Atlanta, Houston and

Newark, offering direct flights to

Belize City.

As you drive west from Belize City

airport you will see cattle ranches,

orange orchards lining the roads,

fields of sugarcane and papaya

and avocado trees. The capital city,

66 . DRIFTTRAVEL.COM

Belmopan is about one hour from

Belize City airport but many travelers

continue straight to San Ignacio.

STAY

The San Ignacio

Resort Hotel is a

premier destination to experience all

of Belize's activities on your family

bucket list and just steps away from

San Ignacio Town. The property is

centrally located for adventure tours

to nearby archaeological parks, caves

and nature reserves. The hotel boasts

views of the rain forest and wildlife

from each of its 26 rooms. The Regal

Rooms, Family Room and Royal

Suite offer enough space for a family

of three to six and kids under 11 are

always free.

Family established and owned, San

Ignacio Resort Hotel goes the extra

mile for its guests and provides a

hassle-free vacation for families by

organizing an array of activities for

children of all ages. Kids love the

large swimming pool and the whole

family can enjoy the Medicinal Trails

and its award-winning Green Iguana

Conservation Project.

Located on-site, the Green Iguana

Conservation Project, is an interactive

exhibit that educates guests on the

life of Green Iguanas and allows for

an up close and personal experience

with the reptile. We met Oscar and

Stargazer, along with other iguanas,

some as large as six feet and got to see

the way Nigel has taken care of them

in the sanctuary. This self-sustained

project, which began in 1996, allows

guests to participate in their "Adopt

an Iguana Program" and the "Iguana

Kids Club", two programs aimed at

fostering relationships between the

species and visitors.

Guests looking to learn more about

Belize's foliage and how it plays a role

in the ecosystem, can do so on the tour

of medicinal plants and herbs found

within the resort's 17-acre private

estate. The guided tour took us on

hiking trails through the lush tropical

rain forest for a hands-on educational
---
AT A GLANCE

SAN IGNACIO TOWN

FACTS:

• San Ignacio is situated on

the banks of the Macal River,

about 63 miles (101 km) west

of Belize City and 22 miles (35

km) west of the country's capital:

Belmopan.

• The town was originally named El

Cayo by the Spanish

• San Ignacio serves as the

cultural-economic hub of Cayo

District.

tour of natural remedies that were

used by the Mayan community to

heal numerous illnesses. We learned

how oregano can cure an earache and

the plants and tree bark that you can

use in your tea to prevent nausea and

menstrual cramps or improve male

impotency.

On site bird watching was another

one of our favorite amenities offered

by San Ignacio Resort Hotel. It

included an experienced guided walk

that took us through the jungle in

the early morning to enjoy the sights

and sounds of San Ignacio's feathery

friends. But watch out for toucans and

other exotic birds that soar through

the jungle spreading their colorful

wings. Some got close enough to

snap a photo while other would just

join you on a nearby branch as you sit

and enjoy your morning coffee on the

patio overlooking the jungle.

WHAT TO DO:

• Green Iguana Conservation

Project

• Belize Botanic Gardens

• Cahal Pech Mayan Ruins.

• San Ignacio Market

• Horseback Ride to Xunantunich

Maya Ruins

• Crystal Cave and Blue Hole

National Park Day Trip

• Mopan River Kayaking and

Xunantunich Tour

TRAVEL OFTEN . LIVE WELL . 67
---
EAT

Lunch at Benny's with

specialties such as

Cow Foot Soup and Pibil (pork meat

cooked underground served with

vegetable sauce and corn tortillas).

Running W Steakhouse & Restaurant

inside the San Ignacio Resort Hotel

includes great cuts such as the

black Angus rib eye or the 21-day

aged NY strip. You can also try the

Lebanese sample platter of lamb

kebab, vegetables, pita bread and

the families own hummus recipe. If

you are lucky enough to be there on

a Wednesday when Trey is hosting

Steak Your Claim Night, he will grill

everything right on the deck in front

of you using his own sauces and

techniques.

At Ko-Ox Han-Nah the lamb chops

with coconut rice and the curries are

highlights! Make sure to finish with

ice cream from Molly's Ice Cream

Shoppe next door to Crave.

Live music can be enjoyed on the

patio of Running W Steak House.

Local singers and bands will

serenade you as you enjoy a rain

forest cocktail (secret recipe) or

purple parrot (Blue Curacao, vodka,

pineapple and grenadine) poured by

Keith at the bar.

68 . DRIFTTRAVEL.COM
---
TRAVEL OFTEN . LIVE WELL . 69
---
SEE

Hike up to Xunantinich

Mayan Ruins imagining

what life was like in Mayan Times or

listen to San Ignacio Resort Hotel's

expert tour guide Cruz as he educates

you on Mayan cultures and traditions.

From the top of the tallest ruin you

can see all the way to Guatemala. On

a hot day remember to wear a hat and

bring water, this is a steep one.

The name Xunantunich derives from

the Yucatec Maya language and means

"Stone Woman."

Xunantunich was first explored in

the 1800's by Dr. Thomas Gann a

British medical officer. The first

recorded photograph of the site was

taken in 1904 and displayed in the

Peabody Museum of Archaeology, in

Cambridge, Massachusetts, for many

years.

PLAY

Head over to

Hanna Stables for a

horseback ride with Santiago and his

team along the Mopan River Valley.

Explore the jungle on horseback

passing through cattle farms and wide

open trails along the river. You may

70 . DRIFTTRAVEL.COM
---
even come across a howler monkey

and some iguanas climbing in the

trees. After you can stop at the market

along the river for local souvenirs

such as handmade hammocks and

secret boxes carved by the locals.

Or hit the road to the Barton Creek

Cave Tour. Put on your helmets with

the headlight attached and enter into

Barton Creek Caves. Our guide Cruz

highlighted the history of the cave

and its many archaeological findings.

Paddling in your canoe in the dark,

watch out for bats and sharp corners

in the cave and make sure to dive in

the water to refresh yourself on the

way out! This one is not to be missed!

48 HRS

MUST

There are many

other off-property

tours and activities where you can

indulge your adventurous side. Day

tours to the Mayan Ruins, such as

Tikal in Guatemala and Caracol

(about 2 hours from the hotel), Macal

River canoing, a visit to the Howler

Monkey Sanctuary or the Belize zoo,

are just a few.

TRAVEL OFTEN . LIVE WELL . 71
---
World Luxury

Spa & Restaurant

Awards 2017 Winners

ArmaniSPA at Armani Hotel Milano - Italy

Global Winner, Best Luxury Rooftop Spa

Lagoon Spa Seminyak - Indonesia

Global Winner, Best Luxury Destination Spa

Este Fitness & Spa - Bulgaria

Global Winner, Best Luxury Fitness Spa

Ithaa Undersea Restaurant- Maldives - 2017 - Global Restaurant of the Year

Harnn Heritage Spa at Intercontinental Danang Sun Peninsula - Vietnam - 2017

Global Spa of the Year

72 . DRIFTTRAVEL.COM
---
Cavalli Club, Restaurant & Lounge - Dubai

Global Winner, Best Restaurant Bar

The Seven Seas Wine Bar & Restaurant - Thailand

Global Winner, Best Luxury Scenic Setting

The World Luxury Spa Awards and World Luxury Restaurant Awards are established

global organizations providing luxury spas and restaurants with recognition for

world-class service excellence provided to guests. Setting the basis for service

industry standards around the world, the companies pride themselves on

acknowledging luxury spas and restaurants in their relevant categories during the

annual voting phase. Votes are garnered through various marketing channels from

guests, showcasing yet again the true value of service excellence.

Voting for the 2017 award year saw over 100,000 votes from happy customers around

the globe placing their stamp of approval on their establishment of choice. "One of

the most favorable ways to award service excellence is by allowing people to have their

say, and hearing from the public is a popular manner in which to make a decision

on where you will stay, spa or dine. An award of this stature signifies quality, service

delivery and much sought after luxury. All of which have made our participants

what they are today, winners in the luxury hospitality field." says Marna Lourens,

Executive Manager for the World Luxury Spa Awards. Winning participants receive

awards in their respective categories on a country, regional, continent and global

basis, purely from guest votes.

The 2017 grand gala celebration, the night which honors these fine establishments,

took place on 22 July and was proudly hosted by the exquisite JW Marriott Hotel

Hanoi. Nearly 200 participants joined the evening in anticipation of what was to come.

"The most coveted award on the evening is our Global Spa and Global Restaurant of

the Year Awards. Each year the task to determine these top establishments begins

after voting has closed and we announce to our winners if they have been successful.

We are six senior managers who take weeks to decide, as voting is not the only criteria

we look at to bestow this prestigious award. A multitude of factors come in to play;

brand, location, overall guest satisfaction from online reviews, services and facilities,

design, and even menu offerings whether spa or restaurant. It is important to look at

each establishment as an individual as well, some are on an island, some are in cities

or in a desert, it is not always possible to compare apples with apples when defining

luxury. This year the focus was on unique design with a touch of classy elegance,

and we were as such proud to award Global Spa of the Year to Harnn Heritage Spa at

InterContinental Danang Sun Peninsula Resort, and Global Restaurant of the Year to

Ithaa Undersea Restaurant at Conrad Maldives Rangali Island." says Joanna Evans,

Marketing Communications Manager for the World Luxury Awards.

The evening was as glamorous as one would expect from a JW Marriott brand hotel;

a delectable 6-course fine dining menu adorned each table throughout the night and

was paired with fine wines and champagne from Moët et Chandon. Entertainment

included a Dragon Dance, a Vietnamese based string quartet performance by Độc

Cầm - Toxic Quartet, and a local Ao Dai Dance, all of which added to the evening's

Asian flair.

"We welcome luxury establishments from around the globe to participate in these

exciting awards, to proudly show the world what they have to offer in terms of luxury

and service excellence." says Linda Cooper, Executive Manager for the World Luxury

Restaurant Awards.

Host Hotel

www.marriott.com

www.luxuryspaawards.com

www.luxuryrestaurantawards.com

TRAVEL OFTEN . LIVE WELL . 73
---
Discover the historical charms of

Mecklenburg, Germany

by boat

BY: BRITTANY BALLENTINE
---
Exploring the land of automotive and limitless expressways

on a boat may seem a little peculiar. However, Germany's

romantic waterways offer a unique and scenic perspective

on the country's rich history and natural beauty. Cruise

through these majestic rivers and uncover some of the

country's hidden gems along the way. From medieval

castles to national parks and beautiful little towns, the

week-long journey aboard a self-drive boat with Le Boat

from Marina Wolfsbruch to Plau am See is one the most

exceptional voyages in the country.

Before putting on your captain's hat, spend a day in Brandenburg's

most romantic town of Rheinsberg, only moments

away from Marina-Wolfsbruch. Surrounded by captivating

landscapes, this quaint town is ideal for the history

buff. Pay a visit to the Renaissance Palace of Rheinsberg ,

a place where many believe Frederick the Great spent the

happiest years of his life when he was Crown Prince. Set on

the eastern shores of Lake Grienerick, the fortress was built

in the 1500s and today serves as a museum. Along the water

next to the Le Boat base, you'll find plenty of charming

restaurants perfect for lunch or dinner.

Traveling north on the canal from Marina-Wolfsbruch will

take you to the second largest lake in the country, Lake

Müritz. Protected by the National Park, the region is home

to an incredible number of bird species, crystal-clear waters

and beautiful scenery, so make sure take your time cruising

through here. If you're looking for a romantic night on the

boat, prepare your own BBQ dinner and enjoy the sunset

over dinner on the roof deck.

TRAVEL OFTEN . LIVE WELL . 75
---
Must-visit towns along the way:

Röbel

As you cruise along Lake Müritz, you will pass by the pretty

town of Röbel which displays a distinctive maritime character.

Sprinkled along the promenade and color alleys of the old town

center, you'll find a selection of whimsical cafes and restaurants

to grab a bite. If you're feeling the need to dip into the regions

rich history, consider a visit to the town's picturesque churches,

St. Marein and St Nikolai.

Malchow

The historical old island town of Malchow is well worth a stop.

Featuring a huge mill, a 12th century church and a 15-metre long

revolving bridge, linking the island to the shore, it's no wonder this

is one of the top destinations in the Mecklenburg Lake District.

Klink

The municipality of Klink lies on the shores of Lake Müritz.

Make a quick pit stop to stock up your supplies at the bakery,

butcher and supermarket then cool off and unwind on the quiet

sandy beach before heading back to the boat!

76 . DRIFTTRAVEL.COM
---
Waren

This busy tourist center of Müritz with an impressive

Mediterranean flair and lively boardwalk is another must-see.

The lively restaurants, bars and cafés nearby provides an idyllic

spot to sit back and enjoy the views of the lake. Stroll through

the old cobblestone streets and discover the striking historical

architecture. End the day the way the Germans do, with a nice

cold beer in one of the harbor bistros, to the sound of a nostalgic

accordion.

Plau-am-See

As you approach the shores of Plauer See, you will be greeted

by the spectacular lighthouse at the entrance to the Müritz-Elde

waterway. The city marina is ideally situated for exploring the old

town with its many half-timbered houses. A visit to St. Mary's

church from the 13th century is an absolute must. And, if you

can climb the 120 steps of the church tower you'll be rewarded

with a simply breath-taking panoramic view over the stunning

lake landscape.

Useful tips:

• The self-drive experience is license free but you will need to put aside two hours for pre-departure briefing,

so make sure you factor this into your travel itinerary.

• The best thing about a self-drive boat trip is that you can just drop the anchor and stay wherever you are.

Don't think too much and enjoy every moment through the journey!

• Try not to sleep in too late as one of the highlights on a boat is being able to sip on your coffee on the sun

deck of the boat and watch the sunrise in the most natural setting.

About Le Boat

Le Boat is Europe's leading boating vacation company, with over 40 years of experience. The company owns and

operates one of the largest and most stylish selections of rental boats in Europe.

TRAVEL OFTEN . LIVE WELL . 77
---
DRIFT travel magazine

@DRIFTTRAVEL

+ FOLLOW

When is the last time you saw something for the very

fi rst time? DRIFT travels to unforgettable places.

Come along on the journey. Travel Often. Live Well.

www.DRIFTtravel.com

Come along

on the journey

click here to follow us on

@DRIFTtravel

also on

Share your travel photos with 4.5 Million readers worldwide

Use hashtag #DRIFTtravel on Instagram
---
The Case for Better Travel.

www.raden.com
---
80,800

CANADIANS

WILL DIE THIS YEAR

FROM CANCER

WE CAN'T ACT

FAST ENOUGH

When you give to Stand Up To Cancer Canada

you enable top researchers and doctors to

work together — in real time — to accelerate

breakthrough treatments for patients today.

ACT NOW. SAVE LIVES.

Please visit standuptocancer.ca to donate now.

Photo by Greg Williams.

Idris Elba

Stand Up To Cancer Ambassador

Stand Up To Cancer Canada is a program of EIF Canada, a Canadian Registered Charity (Reg. #80550 6730 RR0001).

Stand Up To Cancer Canada brand marks are licensed trademarks of the Entertainment Industry Foundation.