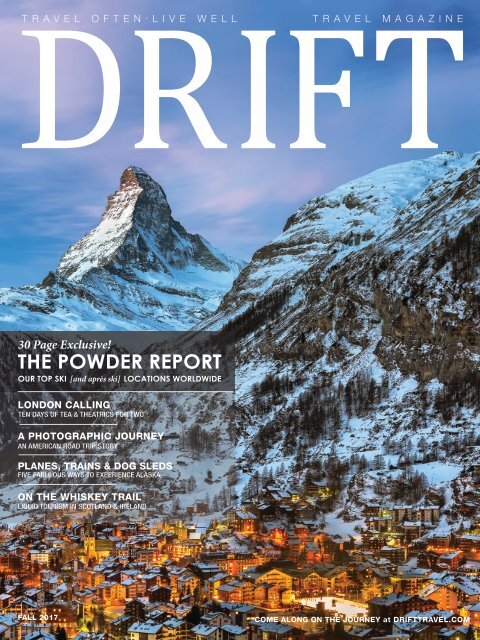 DRIFT Travel Fall 2017
It's for those readers that the DRIFT team has compiled our first ever 30-page Powder Report that includes our recommendations for seven exceptional ski regions, including mountain conditions and location amenities, on and off the slopes. Did your favorite ski town make our list? In addition to seven worldly winter destinations, this issue of DRIFT travel magazine takes you around the globe to share travel experiences in London, Napa Valley, Bogotá, Tromsø, New York, and Provence. Plus, make sure you check out this issue's A Photographic Journey, with inspiring American Road Trip photography by Laina McWhorter.
It's for those readers that the DRIFT team has compiled our first ever 30-page Powder Report that includes our recommendations for seven exceptional ski regions, including mountain conditions and location amenities, on and off the slopes. Did your favorite ski town make our list?

In addition to seven worldly winter destinations, this issue of DRIFT travel magazine takes you around the globe to share travel experiences in London, Napa Valley, Bogotá, Tromsø, New York, and Provence. Plus, make sure you check out this issue's A Photographic Journey, with inspiring American Road Trip photography by Laina McWhorter.
SHOW MORE
SHOW LESS
Create successful ePaper yourself
Turn your PDF publications into a flip-book with our unique Google optimized e-Paper software.
TRAVEL OFTEN . LIVE WELL

TRAVEL MAGAZINE

30 Page Exclusive!

THE POWDER REPORT

OUR TOP SKI [and après ski] LOCATIONS WORLDWIDE

LONDON CALLING

TEN DAYS OF TEA & THEATRICS FOR TWO

A PHOTOGRAPHIC JOURNEY

AN AMERICAN ROAD TRIP STORY

PLANES, TRAINS & DOG SLEDS

FIVE FABULOUS WAYS TO EXPERIENCE ALASKA

ON THE WHISKEY TRAIL

LIQUID TOURISM IN SCOTLAND & IRELAND

FALL 2017

COME ALONG ON THE JOURNEY at DRIFTTRAVEL.COM
---
The Ultimate

America's Cup Experience

Fierce competition. Contagious excitement. Timeless

tradition. It all ties together at the America's Cup.

As an official charter yacht supplier of the 35th

America's Cup in Bermuda, The Moorings welcomes

you aboard this summer for a one of a kind spectator

experience on your own all-inclusive Crewed Sail

catamaran with expert captain and gourmet chef.

Reserve your yacht today to claim the best view for the

biggest sailing event of the year.

UNFORGETTABLE MOMENTS

on the water

Call 800.669.6529 or visit moorings.com/americas-cup
---
Aruba awaits your arrival

And take advantage of this limited offer!

Your Adult-Only Boutique hotel choice

LOCATED ON PALM BEACH, ARUBA

$599

5-NIGHTS IN ARUBA

Inclusive all taxes & Servive charges

Travel till December 15' 2017

Promo Code: DRIFT

THE ADULTS ONLY

BOUTIQUE HOTEL

www.brickellbayaruba.com

l

Located on Palm Beach in Aruba

Added value facilities

Deluxe Rooms & Free WiFi

Best beach area in Aruba

Added value rooms

Added value hotel facilities

Brickell Bay Beach Club & Spa boutique hotel is a privately owned Boutique hotel,

located on the beautiful island of Aruba, in the midst of the prestigious strip of

Palm Beach offering guest white sand beaches and surrounded by over 35 top

rated restaurants. The hotel offers newly renovated Superior and Deluxe rooms

and suites. Guests enjoy free WiFi, nightly turn-down service with fresh ice bucket

reell, fresh towels and chocolates, with luxury bathroom amenities and all the

added value room features you will come to expect from a premier boutique

hotel.

Brickell Bay Beach Club & Spa is the only "Adults Only" boutique hotel on Palm

Beach, providing guests with added value facilities and service, and with friendly

and helpful staff catering to all your needs during your stay in Aruba.

LIMITED OFFER ONLY

PACKAGE INCLUSIVE OF:

5-Night Accommodation / 2-Personal

Inclusive Continental-Plus Breakfast

Welcoming cocktail on arrival.

$40 Casino Match-play voucher.

$50 Hotel - Food & Beverage credit

Complimentary bottled water in rooms.

Added value amenities and services.

J.E. IRAUSQUIN BOULEVARD #370, PALM BEACH

ARUBA, DUTCH CARIBBEAN ISLANDS

tel. +(297) 586-0900

fax. +(297) 586-4957

VISIT:

www.brickellbayaruba.com

TOLL-FREE RESERVATION

1-800-324-6965
---
INSIDE this issue

AT A GLANCE 10 Tromsø, Norway.

12 ALASKA

Five ways to see the magic.

16 WHISKEY TRAIL

Liquid tourism in the U.K.

THE POWDER REPORT

20 Where you must ski this year.

TRAVEL OFTEN . LIVE WELL

TRAVEL MAGAZINE

52 AMERICAN ROAD TRIP

A photographic journey.

82 TRAVELLING EDITOR

A continental road trip to Napa.

LONDON CALLING

68 Tea and theatre travels.

86 ROSE ALL DAY

Best spots to enjoy this pink trend.

30 Page Exclusive!

THE POWDER REPORT

OUR TOP SKI [and après ski] LOCATIONS WORLDWIDE

LONDON CALLING

TEN DAYS OF TEA & THEATRICS FOR TWO

74 TRAVEL GEAR

New products for ultimate comfort.

90 CARRY-ON IN STYLE

The perfect weekender luggage.

A PHOTOGRAPHIC JOURNEY

AN AMERICAN ROAD TRIP STORY

PLANES, TRAINS & DOG SLEDS

FIVE FABULOUS WAYS TO EXPERIENCE ALASKA

ON THE WHISKEY TRAIL

LIQUID TOURISM IN SCOTLAND & IRELAND

76 BOGOTÁ, COLOMBIA

Emeralds and culinary delights.

92 #WHERETONEXT

2018 tropical getaway guide.

FALL 2017

COME ALONG ON THE JOURNEY at DRIFTTRAVEL.COM

FALL 2017

Get ready for one heck of a travel

adventure. The fall issue of DRIFT

brings you amazing ski destinations,

and worldly travel inspiration from

more than 30 countries. Come along

on the journey!

4 . DRIFTTRAVEL.COM
---
a travel note from the

EDITOR

TOP 7

SKI

DESTINATIONS

WORLDWIDE

I have never been so excited for ski

season and not because I am addicted to

skiing. I like to ski but admittedly, it is not my

daydreaming passion like it is for so many of

our travel readers - maybe you? It's for those

readers that the DRIFT team has compiled our

first ever 30-page Powder Report that includes

our recommendations for seven exceptional

ski regions, including mountain conditions

and location amenities, on and off the slopes.

Did your favorite ski town make our list?

In addition to seven worldly winter destinations, this issue of DRIFT

travel magazine takes you around the globe to share travel experiences

in London, Napa Valley, Bogotá, Tromsø, New York, and Provence. Plus,

make sure you check out this issue's A Photographic Journey, with inspiring

American Road Trip photography by Laina McWhorter.

Fall means different things to different travelers. This issue is packed

with travel ideas for every type of adventurer. Turn the page, get inspired

and come along on the journey!

Travel often and live well,

20

FOLLOW

@TraceyDrakeEditor

on Instagram & Twitter

or search hashtag #TheTravellingEditor

Oh, the places I've been!

36

WHISTLER VILLAGE, CANADA

Getting ready for ski season has

been a big topic of conversation

at DRIFT and I took an exciting

trip to Whistler, B.C. and stayed at

the most magical boutique hotel.

I cannot wait to share Nita Lake

Lodge with you!

Tracey Drake

Editor-In-Chief | Creative Director

email: editor@DRIFTtravel.com

instagram: @TraceyDrakeEditor

82

82

NAPA VALLEY, CALIFORNIA

When you combine a fine car with

fine wine, you know it's going to be

a great road trip! And so it went

behind the wheel of a 2017 Lincoln

Continental and a journey to Napa

Valley's Calistoga Ranch.

6 . DRIFTTRAVEL.COM
---
The Hidden Gem of

the Med

found at Avaton

Avaton Luxury Villas Resort is a stylish and

contemporary beachfront escape overlooking

the sparkling turquoise waters of Komitsa Bay in

Athos Peninsula, Halkidiki, Greece.

Avaton consists of an exclusive collection of 16

villas, providing an unique lifestyle experience.

Most of the villas include private pools, leading

down to lush Mediterranean gardens and a

pristine beach.

Your personal butler and chef, upon request,

and an exclusive mini bar and wine list add to

the unique savor pleasure.

Sensational massage treatments, private

transfer with helicopter and limousine and

memorable cruises along the nearby islands

and breathtaking coastline, complete the

ultimate seaside sophistication experience.

For more info please visit: www.avaton.com
---
PUBLISHER

GLOSSY MEDIA

EDITOR-IN-CHIEF | CREATIVE DIRECTOR

TRACEY DRAKE

PRODUCTION/EDITORIAL

FRANK BURES, JANE CROSS, ELIZABETH DEAN,

TRACEY DRAKE, STEVE DRAKE, PETER MANDEL,

LAINA MCWHORTER, SHEILA MAY, TLELL NAKARO,

JOSIE SALDAT,TODD TALBOT, SYLVIA TENNANT, RUSS

WALSH, SARAH ZAJAC

CREATIVE | PHOTOGRAPHY

ADOBE STOCK, CALISTOGA RANCH RESORT, DEER

VALLEY SKI RESORT, STEVE DRAKE, ENTREE

DESTINATIONS, FEATUREWELL, LAINA MCWHORTER,

LINCOLN MOTORS, PARK CITY, PAUL MORRISON, NITA

LAKE LODGE, PAN PACIFIC HOTELS, JOSIE SALDAT,

SHUTTERSTOCK, WHISTLER TOURISM, VISIT BRITAIN,

WORLD LUXURY SPA AWARDS, WORLD LUXURY

RESTAURANT AWARDS

SALES & DISTRIBUTION DIRECTOR

STEVE DRAKE

ADVERTISING & PUBLISHING RIGHTS INQUIRIES

sales@DRIFTtravel.com | www.DRIFTtravel.com

Published by: Glossy Media

All rights reserved. No part of DRIFT magazine may be

copied or reproduced without permission.

© COPYRIGHT DRIFT TRAVEL MAGAZINE

GLOSSY MEDIA

2015-2017
---
every single day, more than

8 MILLION PEOPLE

get on an airplane & travel

every single issue, more than

4.5 MILLION TRAVELERS

could be reading your brand message

TRAVEL MAGAZINE

BRING YOUR BRAND ALONG ON THE TRAVEL JOURNEY...

DRIFTtravel.com sales@DRIFTtravel.com
---
AT A GLANCE:

Tromsø, Norway

10 . DRIFTTRAVEL.COM
---
THE ARCTIC'S GATE KEEPER

BY: ELIZABETH DEAN

C

limbing towards the top of the

world, into the cool clutches

of the Arctic Circle is the

Norwegian city of Tromsø. The quaint

town stirs memories of beautiful hand

drawn books that were the wonder of

childhood, where pages were filled

with charming jewel toned houses,

white washed terrain and puffing

chimneys. Isolated and enchanting,

the cool climate is no hindrance

to the adventurous soul who seeks

the Tromsø night sky and the utter

brilliance of its Aurora Borealis.

Don't miss the city's stunning Arctic

Cathedral, reminiscent of a fantastical

ice tepee. Fondly nicknamed "The

Gateway to the Arctic", Tromsø is one

of the world's best places to view the

natural phenomenon of the Northern

Lights, with planned excursions

available. Winter sporting activities,

cross country skiing and off-piste

skiing are local favorites, or take a cable

car to the top of Storsteinen Mountain

and experience the region from above.

There is an abundance of local shops,

numerous festivals, cultural events and

an unstoppable nightlife.

TRAVEL OFTEN . LIVE WELL . 11
---
12 . DRIFTTRAVEL.COM
---
ALASKA

5 WAYS TO EXPERIENCE

THE LAST FRONTIER

BY: TLELL NAKARKO

The Last Frontier can be discovered

through a variety of mediums, but the

best ways are those which take you

behind the scenes to experience this

great land as the locals do. Alaska is

majestic, impressive and unforgettable

– and your experiences will be epic. As

recommended by Entrée Destinations,

experts in curating bespoke experiences

for adventurous travelers, here are the

top five ways (and places) to get a taste of

this diverse and striking state.

ALASKA BY RAIL

Denali National Park

Traveling either by Anchorage or

Fairbanks, this scenic journey to

Alaska's tallest peak will provide

glimpses of stunning backcountry

otherwise unseen. Cross the rushing

rapids of the Knik River, admire the

Chugach Mountain range or take a pit

stop in the historic town of Talkeetna.

TRAVEL OFTEN . LIVE WELL . 13
---
14 . DRIFTTRAVEL.COM
---
ALASKA ON FOOT

Anchorage

The largest city in Alaska is best

discovered on foot, where you can

take in the history from a local

expert. Despite the fact that it's a

bustling metropolis, Anchorage is

home to approximately 250 black

bears who can be found roaming

the trails and parks within the city.

You may just meet a moose – in the

city center, they're a surprisingly

common sight!

ALASKA BY SEA

Kenai Fjords National Park

Nearly forty glaciers flow from

the Harding Icefield, one of the

Kenai Fjords' central features.

Break through icebergs and admire

calving glaciers right in front of

you. Whether you're in a large ship

or a small kayak, the best vantage

point is from the water where you

can paddle alongside sea lions,

humpbacks and killer whales.

ALASKA BY AIR

Wrangell St. Elias National Park

The largest National Park in

America, Wrangell St. Elias is the

same size as Yellowstone, Yosemite,

and the country of Switzerland

combined! The only way to

appreciate the sheer vastness is

to take it in by air. Soar over

volcanoes, spot bears and caribou

and land on untouched beaches,

glaciers and meadows – all in the

same day.

ALASKA BY DOG SLED

Juneau Icefields

Imagine whizzing across an

icefield, led by a team of happy

Alaskan huskies. Touching down

by helicopter, you'll meet the dogs

and professional musher where

you'll learn about the "Last Great

Race on Earth", the 1150 mile-long

Iditarod. Cuddle with the new

pups-in-training, and then hop on

your sled for the ride of your life!

Learn more about exploring Alaska:

www.entreedestinations.com

TRAVEL OFTEN . LIVE WELL . 15
---
BY: PETER MANDEL

Shots of courage.

Lightning in a bottle.

Bottoms up.

Whiskey has its own liquid poetry. Sip it and you talk, or

sing. My Scottish cousins can be almost eloquent about

the drink itself. It is, they say, an education. As richly

cultural as wine.

This started me thinking. If wine has terroir - the special traditions,

soils, sunny hillsides that end up affecting its taste on your

tongue, what about alcohol that's distilled from grain? Would

it matter if it came from sacks of barley that had matured

in Indiana? Or did Scotland and Ireland (supposedly the

birthplace of the drink, with records dating back to 1405)

have something no one else could claim?

I began to map out a trip to those distillery-dotted

countries to try and find out. But since I am a whiskey

amateur, not an aficionado, I'd want to get a fullfledged

vacation out of my route. It wouldn't be a

string of cellar tastings. I wanted plates of potatoes

and meat pies in pubs, philosophical walks by the sea,

and whatever local quirks I could find.

Landing in Dublin, I am met by morning, and by rain.

I head directly to the first distillery on my list. This one

belongs to Jameson and it's a replica of how its Bow Street

warehouse might have looked when Irish whiskey was

made back in the 1780s, when the company was founded.

16 . DRIFTTRAVEL.COM
---
Unlike scotches, which are double distilled, Irish

whiskies are distilled three times for smoothness and I'm

especially eager to see what Jameson has to show visitors

since it's currently North America's most requested

brand. One of the things it has are mannequins like you

might see in a museum. Replica workers stack up barrels.

Realistic cats glare at tourists, guarding the grain.

One of the best parts for me is learning a little about the

label's master barrel-makers, or coopers. I pore over a list

of cooper nicknames. 'Duck-Egg' Byrne was an admired

craftsman here. 'Snowball' Mills another. Not to mention

the legendary 'Nizzler' Brannigan. None of them seem to

be on duty at the moment. But, well, I can tell. These are

men I would have liked to drink with.

I catch a bus the next morning for County Cork to

check out Jameson's Midleton distillery, about 160 miles

southwest. It's been drizzling throughout the night and

there's so much green in the landscape that even tree-

TRAVEL OFTEN . LIVE WELL . 17
---
trunks seem tinged with it. This could be moss, I think.

Or it could be jet lag.

By the time we arrive, I'm more than ready for a dram.

It turns out I am not disappointed. Along with other

samples, I enjoy some sips of 12-year-old Midleton

Distillery Reserve which eases down as if it were a rare

and gentle sherry. According to the guide who's pouring,

Irish whiskey is not just a popular drink at the moment.

"It's on fire. It's a lighter taste," he tells us, than scotches.

"Easier drinking. A gateway, you might say, for the

ladies."

On to Kilbeggan in County Westmeath which, I've read,

dates back to the mid-1700s. It's one of two distilleries in

Ireland that bill themselves as the 'oldest in the world.'

Here I find some tastes of the history I've been craving.

There's a water wheel from the 19th century that creaks

and splashes as it turns, and I'm delighted that a good

chunk of the original machinery is still in place.

I get to talking with a shy-looking person who is listening

intently throughout my tour. Turns out he is a spy: Willie

McCarter, the distillery's executive director. "Do you live

anywhere near Boston?" he asks. When I say yes, his face

spreads out into a Santa Claus smile. "I miss it," he tells

me wistfully. "I was at MIT years ago. Spent much of my

time there at a pub called The Plough & Stars."

Remembering pints of my own at The Plough, I do a

tour and tasting at the last Irish distillery on my list,

Bushmills, which has a list of regulations for us lucky

visitors: no mobile phones, no pictures and no food

allowed. But, should we require them, 'ear protectors are

available on request.' Bushmills, we discover, scoffs at

Kilbeggan's lineage, bragging that its own roots go back

even farther, to 1608.

I don't have hopes of sorting this battle out, and back

on the road, I check out signs for a tuber-themed

amusement park called 'Taytoland' (might be fun if

I had more time) and try some Rowntree's Randoms

candy to clear my palate.

For my scotch whiskey tastings, I head for Islay

(pronounced 'Eye-lah'), the southernmost island in

Scotland's Inner Hebrides, which is only about 25 miles

north of the Irish coast. Sometimes called The Queen of

the Hebrides, Islay is known for its strong peaty flavors.

Scotches distilled here tend to be single malts, as opposed

to the blends I've mostly encountered in Ireland.

Instead of flying or boarding a ferry, I chip in for a share

of a charter boat with some other Americans I've met.

18 . DRIFTTRAVEL.COM
---
What we get is something called the Kintyre Express

- a 'Storm Force' - brand rigid inflatable speedboat. In

minutes, we are shooting spray and ricocheting off the

tops of whitecaps. This may be the Irish Sea, but in the

glinting sunlight, it says Scotland, Scotland, Scotland: It

is as blue as a loch.

My first Scottish distillery feels more convoluted than

what I've seen so far. A study in shiny brass and scoured

copper, Laphroaig is almost steampunk with its valves

and pipes and dials. If Willie Wonka owned a distillery

instead of a chocolate factory this would be it.

My tastes here are on the strong side. I feel like I'm

swallowing liquid oysters that have been smoked over an

open fire. But the label's freshly whitewashed buildings

and waterfront views make me linger long into the

evening before heading to town.

Islay is a place of gorse and green. Bumps and ripples

of land are neatly carpeted, and along the island's sandy

edge, flocks of sheep and clumps of cattle come very

close to the sea. At the Bowmore distillery, the tour guide

lets us climb up to the kiln that's used for drying barley

and pad around on the beach-like dunes of grain. One

ingenious man flops down to wave his arms and make a

barley angel - something everyone has to try.

The Ardbeg distillery in the

village of Port Ellen is even more

of a surprise. There's a SPECIAL

— TODAY ONLY! at the on-site

café: 'The Islay Lamb and Haggis

Burger.' It's topped with cheddar

and, according to the sign, with

an 'Ardbeg-infused 10-year-old

special sauce.'

Just as I'm thinking of ordering

one, my tour group is joined

by Hamish Torrie, one of the

company's top managers. He's

sporting a pair of pea-green

tartan slacks and is eager to

tell us about a test tube full

of Ardbeg that at this very

moment, is being 'aged in space.'

Say what?

"It's an experiment, you see," explains Torrie. "A bit of

whiskey, a sliver of barrel-wood. Shot that off to the

International Space Station."

"But why?" inserts a visitor.

"Science!" says Torrie. "We wanted to see how Ardbeg

ages in zero gravity."

"What will happen?" interrupts someone else.

"To be honest," says Torrie. "We have absolutely no idea."

I'm down to my trip's last dregs. One more tasting to do

— at Lagavulin — and it is a good one. Maybe it is the

coziness of carpet, the plates of marmalade and jam, a

pre-drink bite of a scone. But the whiskies here turn out

to be my favorites of all, including a 16-year-old single

malt that seems a perfect blend of Irish easiness and

Scottish strength of character: something distinctive in

the nose and, slowly, sunset-to-gloaming, sliding down.

As we tourists complete our work with rows of glasses,

we're told to blurt out impressions of what is on the

tongue.

"Berries!" says a man.

"I rather think it's raisins,"

corrects his friend.

I'd like to shout my own

impressions, but it would

not go well. I realize that

my tastes are strange.

They're mixed up with

the names of coopers.

With a mill wheel. With

grain angels. And with

nighttime rain.

"Ireland!" I might yell.

Everyone would turn. And

I would have to try, with

my final sips, to explain.

TRAVEL OFTEN . LIVE WELL . 19
---
20 . DRIFTTRAVEL.COM

ANNUAL POWDER REPORT
---
TOP 7

SKI

DESTINATIONS

WORLDWIDE

Ski season is finally here!

For those in search of the best ski

and snowboarding activities on the

planet, this is DRIFT magazine's

first ever guide and our top 7 picks

for best ski regions. From Canada

and the United States, to France

and Italy, we have compiled a

30-page report with at-a-glance

powder conditions for each of

our top seven including mountain

statistics and après ski info - as

well as in-depth features on two of

our favorites - Whistler, B.C. and

Park City, Utah.

Turn the page and get ready for

an unforgettable ski season...

TRAVEL OFTEN . LIVE WELL . 21
---
Elevation

Base - 200m

Peak - 1054m

Runs 35

18% beginner

35% intermediate

26% advanced

21% expert

Longest run

3.5 km

Lift system 12

2 high speed six pack chair

1 high speed quad chair

9 surface

Terrain parks 2

Average Annual

Snowfall

KVITFJELL

230cm

NORWAY

Touted as the best skiing in Norway and

some of the best on the planet, Kvitfjell Ski

Resort offers slopes for beginners, experts

and families. Kvitfjell is situated 45 minutes

north of Lillehammer, and offers excellent

snow conditions. This is a ski enthusiast's

paradise. Peace, quiet and groomed runs allow

enthusiasts to perfect their sport without the

queues or masses of tourists. The snow arrives

in October and stays to late April, and Kvitfjell

offer skiing and snowboarding for all skill

levels.

Kvitfjell is a place for quiet après ski enjoyment

and family relaxation, and is a destination that

is free of junk food and deep fried foods.

HOME OF THE 1994 OLYMPIC WINTER

GAMES, LILLEHAMMER IS THE IDEAL

HOLIDAY DESTINATION FOR TRAVELERS

IN SEARCH OF AMAZING ADVENTURE IN

THE GREAT OUTDOORS.

Lillehammer

22 . DRIFTTRAVEL.COM
---
TRAVEL OFTEN . LIVE WELL . 23
---
COURCHEVEL

Elevation

Base - 1350m

Peak - 2738m

Runs 99

23% beginner

35% intermediate

32% advanced

10% expert

Longest run

9 km

Lift system 52

10 gondolas

11 high speed six pack chair

4 high speed quad chair

3 triple chair

25 surface

Terrain parks 1

Average Annual

Snowfall

800cm

FRANCE

Courchevel, boasting the highest number of

skilled and multilingual instructors in Europe,

is a snowy playground for skiers of all ages

and abilities. There are many non-ski activities

also including the popular toboggan run from

La Croisette to Courchevel Village on a 1.5

kilometer run.

New for Courchevel for the 2017-2018 season

is an exciting 3000 meter toboggan run with

a 450 meter vertical descent, four tunnels and

LeMans style straight aways! Also new this

season is the 1650 Moriond Gondola which will

get skiers up the mountain faster in modern

bubble comfort - and additional snow making

equipment will ensure the mountain can handle

the increased traffic.

Les Trois Vallées ski REGION IN

FRANCE, WHICH INCLUDES COURCHEVEL,

is the biggest interconnected ski

area ON THE PLANET.

Les Trois Vallées

24 . DRIFTTRAVEL.COM
---
TRAVEL OFTEN . LIVE WELL . 25
---
Ski Trip

Essentials

Before you head out onto the slopes this

season, take a look around. Is it time to

update or upgrade your tools and toys? If

you're game, check out DRIFT magazine's

top 5 must have ski and snowboard

products for 2018.

SPORTUBE SERIES 3 EXPANDABLE

SKI/SNOWBOARD TRAVEL CASE

The perfect hard body, ultra

padded and TSA approved locking

case is the only one to travel with!

Expandable from 42"-72" so it will

hold 2 snowboards with boots and

bindings or one snowboard and

one pair or skis or 3 pairs of adult

skis with poles, or 2 adult/2 kids

skis with poles. It protects your

gear and saves you time, money

and peace of mind at the airport!

sportube.com

26 . DRIFTTRAVEL.COM
---
KOMPERDELL

FATSO CARBON

VARIO POLES

Ideally designed for powder,

the ingenious grip has been

extended to 43cm to assist in

ski maneuvers. Straps have a

quick release mechanism and

the poles are ultra lightweight

ready to handle any mountain.

komperdell.com

GOPRO HERO5 BLACK

This is nothing like your HERO4. The new HERO5 takes

action shots to a whole new stratosphere with handsfree

voice control, advanced video stabilization, and a 2"

touch display for easy playback and editing right on the

device. No need to leave the slopes to capture, edit and

view awesome video.

gopro.com

HESTRA ALPINE PRO

ERGO GRIP INCLINE GLOVES

A short, supple and close-fitting ski glove

with durable Army leather

in the palm and cowhide

on the back of the hand.

Built with Ergo Grip

construction providing

great grip and dexterity.

hestragloves.com

GARMIN FENIX 5 WATCH

Touted as the best ski/snowboard watch on the market,

it is definitely our pick! The Fenix 5 watch from Garmin

has an automatic run counter with auto pause while you

are on your way back up the mountain. This intelligent

watch also records your speed, distance and vertical drop

data. Invest in the optional fabric strap that let's you wear

the watch over your jacket cuff.

garmin.com

TRAVEL OFTEN . LIVE WELL . 27
---
VAIL SKI RESORT

Elevation

Base - 2474m

Peak - 3526m

Runs 195

18% beginner

29% intermediate

28% advanced

25% expert

Longest run

6.4 km

Lift system 31

2 gondola

3 high speed six pack chair

14 high speed quad chair

1 quad chair

2 triple chair

Terrain parks 4

Average Annual

Snowfall

897cm

When Vail started running lifts in 1962,

opening 7 legendary back bowls and Blue Sky

Basin were still just blueprints and a dream.

Decades later, Vail continues to push the limits

on improving lifts, gondolas, on-mountain

facilities, events, and helping to foster a

dynamic town experience. At the base of the

mountain, Vail village is timeless and vibrant

with an excellent culinary and great shopping.

Known for that light and fluffy Colorado

powder, Vail also boasts the most groomed

terrain on the planet. From the front side to

the back bowls, there is intermediate-friendly

terrain off of every lift, while experts can

challenge themselves on iconic runs and glades.

New this year, Vail replaced Sun Up Express lift

(#9) with a 4-passenger chair.

with 5,200 acres, vail is one of the

largest ski resorts in the world

and HAS BEEN a FAVORITE vacation

destination for winter sport

enthusiasts for more than 50 years.

Vail

USA

28 . DRIFTTRAVEL.COM
---
TRAVEL OFTEN . LIVE WELL . 29
---
Elevation

Base - 1500m

Peak - 3330m

Runs 37

0% beginner

36% intermediate

37% advanced

27% expert

Longest run

15 km

Lift system 39 total

12 gondolas

4 high speed quad chair

9 quad chair

13 surface

Terrain parks 1

Average Annual

Snowfall

VERBIER

841cm

Situated in the south-western part of

Switzerland, Verbier is bordered by France to

the west and Italy to the south. During the

winter, Verbier becomes a skiers paradise.

Verbier forms part of the 'Four Valleys' ski

area - the four valleys being Verbier, Thyon,

Veysonnaz and Nendaz.

Home of the Xtreme Verbier - the final stop on

the Freeride World Tour. The most prestigious

extreme skiing and snowboarding contest is

held in Verbier on the famous Bec des Rosses

mountain every March.

Verbier boasts some of the best après ski

nightlife in the Swiss Alps. Casbah Club and

Club Taratata play techno music, for a younger

crowd while The Farm Club in the Hotel Nevai

caters to a more sophisticated clientele.

Verbier, one of Europe's largest ski

regions, is a chalet-style WINTER

village that sits atop a sunwashed

plateau with views of majestic

mountain peaks.

Valais Canton

SWITZERLAND

30 . DRIFTTRAVEL.COM
---
TRAVEL OFTEN . LIVE WELL . 31
---
Elevation

Base - 2050m

Peak - 3480m

Runs 78

0% beginner

18% intermediate

65% advanced

13% expert

Longest run

20 km

Lift system 19

4 gondola

2 high speed six pack chair

4 quad chair

1 triple chair

1 double chair

3 surface

Terrain parks 1

Average Annual

Snowfall

CERVINIA

250 cm

ITALY

With access to Europe's highest lifts, and

proud holder of the best snow record in Italy,

Breuil-Cervinia is one of the world's leading

resorts, that links with Valtournenche, and

Zermatt in Switzerland. Best for beginner

and intermediate skiers, but with access to

Zermatt's more challenging slopes, the ski area

as whole is hugely varied with lots to offer all

levels. Heliskiing is available as well access to

'IndianPark' the popular snow park that is 400

meters long and 100 meters wide.

One of Italy's more lively après ski resorts,

the atmosphere is particularly vibrant on the

weekends. There are many shops, restaurants

and other outdoor activities at Cervinia to keep

the non-skier busy.

Originally a mountaineering spot,

high-altitude, Breuil-Cervinia is now

a welcoming village of contrasting

architectural styles, EXCEPTIONAL

VISTAS AND easy access to the slopes.

Aosta Valley

32 . DRIFTTRAVEL.COM
---
TRAVEL OFTEN . LIVE WELL . 33
---
WHISTLER-BLACKCOMB

Elevation

Base - 675m

Peak - 2284m

Runs 200

18 – beginner

55 – intermediate

22 – advanced

5 – expert

Longest run

11 km

Lift system 37

4 gondola

1 high speed six pack chair

13 high speed quad chair

4 triple chair

15 surface

Terrain parks 5

Average Annual

Snowfall - 1,170 cm

Located just two hours north of Vancouver in

British Columbia's Canada's coastal mountains,

Whistler takes winter adventure to places never

imagined with two mountains - Whistler and

Blackcomb. With the most skiable terrain in

North America, Whistler Blackcomb spans

8,171 acres, with varied terrain and a record

breaking Peak 2 Peak Gondola. With an

award winning ski school, designated family

zones, enchanted Tree Fort and Magic Castle,

and thrilling Coca-Cola Tube Park, this is a

destination for all ages and abilities.

Ski right up to one of our three slopeside bars

for excellent food, drinks, and live music to

get you dancing in your ski boots. Back in the

village, there is an abundance of nightlife, fine

restaurants, shops, spas and activities.

Whistler is one of NORTH AMERICA'S

largest ski resorts. Besides skiing

and snowboarding, the area offers

snowshoeing, toboggan runs and ski

jumping at Olympic Park - built for

the 2010 Olympic Winter Games.

Whistler

CANADA

34 . DRIFTTRAVEL.COM
---
Photo Credit: Paul Morrison

TRAVEL OFTEN . LIVE WELL . 35
---
BY: TRACEY DRAKE & JOSIE SALDAT
---
The mountain town of Whistler, British Columbia has become a busy little mecca with a reputation

for world-class powder, exceptional dining, fine hotels and unparalleled health, spa and wellness

activities. North America's largest alpine village is located just two hours north of Vancouver. Single

travelers, couples or family fun; ski snowboard or nature enthusiast - Whistler Village has it all and

those who have been to Canada's winter wonderland know only too well that one visit is not even

close to being enough. Here is why we love it...

IN THE SKY

• Peak 2 Peak Gondola – longest and highest lift

in the world with best vantage points of British

Columbia's wilderness from the clouds above

and valleys below through the glass bottom cab.

• Zipline through forests and across rivers. Try

The Sasquatch, North America's longest zipline.

ON THE SLOPES

• Enjoy skiing, boarding or snowmobiling on

over 8,100 acres of snow covering the two

mountains: Whistler and Blackcomb.

• Blackcomb's Coca-Cola Tube Park includes

1000 feet of sliding terrain with a conveyor to

bring you back to the top so you can do it again!

ON THE GROUND

• Stroll through Whistler Village amongst the

thousands of colored lights that sparkle at night.

• Skate in the Olympic Plaza – rentals, music and

lights add to the effortlessly magical evening!

• Cruise the valley trail, a trail that connects

Whistlers lakes, parks, trails and neighborhoods.

• Dog sled across snow covered landscapes – a

unique Canadian experience pulled by a team

of Arctic bred sled dogs.

• Try Whistler Core, an amazing 5500 sq. ft.

indoor rock climbing wall.

• Visit Whistler's new Audain Art Museum -

with an extensive B.C. First Nations collection

and the largest exhibit of Emily Carr artwork.

• Eat, drink and meet the locals in the dozens of

walkable restaurants, bars, galleries and shops

to keep you warm and occupied - many with

breathtaking views of the mountains. A few of

our favorites that you should try this season:

1. Incredible Spanish small plates served at

Bar Oso. Atmosphere and village square

location are amazing.

2. Uniquely Canadian poutine with

caramelized onions at Zogs Dogs (utterly

delicious!).

3. Vodka room at Bearfoot Bistro is a must

do! At -32C (-25F) the Ketel One Ice

Room provides the optimal environment

for drinking this complex spirit.

Photo Credit: Paul Morrison

TRAVEL OFTEN . LIVE WELL . 37
---
NITA LAKE LODGE

WHISTLER CREEKSIDE

BY: TRACEY DRAKE

Perched elegantly on a pristine

glacier fed lake, Nita Lake Lodge

is just a five-minute shuttle

(complimentary) ride from the

heart of Whistler Village. The

massive wood lodge that greets

you as you arrive at the property is

located a mere 500 meters from the

base of Whistler Mountain in the

Creekside community. It is quiet,

it is thankfully removed from the

business of Whistler Village and it

is a divine place to relax, recharge

and reconnect.

Our lakefront suite was spacious

and charming with a fireplace

wall that separated the living and

sleeping areas. Expansive windows

and a balcony overlooking Nita

Lake quickly became a favorite

spot to convene for drinks and

conversation; early morning with

coffee and late evening with a great

bottle of local wine.

The spa bathroom featured a

massive soaker tub and a 2-person

stone tiled glass shower. I was

also impressed that the toiletries

provided were L'Occitane, one of

my favorite brands.

Dining at Nita Lake Lodge was

certainly a treat! Lunch at Fix

Café was homemade heaven, with

delicious breads and pastries,

expertly brewed coffee and one of

the best fruit smoothies I have ever

had. Dinner at Aura Restaurant

was a multi-course sensation, and

we reveled in every mouthful.

This is also the type of property

that you just want to spend time

in the public spaces. Cure Lounge,

was recently refurbished with

oversize lodge furnishings and it is

fabulous. I recommend sampling

from their signature cocktail menu.

I recommend trying the Canadian

Whiskey Flight and the Don

Draper Sour Craft cocktail.

The Spa at Nita Lake Lodge was

just what I needed! The relaxation

lounge was filled with natural

light and comfortable chaises. The

rooftop hot tub and eucalyptus

steam room were divine, and the

treatments were professional and

much needed.

Nestled in the snowy mountains,

surrounded by B.C.'s naturally wild

awesomeness and created to elevate

your senses and expectations of

what a great destination resort

should be, Nita Lake Lodge is

the perfect place to vacation in

Whistler. It absolutely lives up to

its reputation of being exceptional,

intimate, authentic.

38 . DRIFTTRAVEL.COM
---
WHAT I LOVED:

• Stunning West Coast architecture.

• Suites overlook magical Nita Lake.

• Unbeatable views of the mountains.

• Away from the hustle of Whistler Village.

• Free shuttle to/from shops, town or slopes.

• World class menu in Aura Restaurant.

• Amazing cocktail menu in Cure Lounge.

TRAVEL OFTEN . LIVE WELL . 39
---
PAN PACIFIC HOTEL

WHISTLER MOUNTAINSIDE

BY: JOSIE SALDAT

There is something special about

finding a hotel that make you feel

at home while miles away. Residing

in the largest alpine resort in North

America, Pan Pacific paves its very

own way in catering to visitors as

well as locals. Within the pedestrian

Whistler Village hub are their two

properties – The Village location

and Mountainside location (where I

stayed), both situated at the bottom

of the Whistler Mountain just

seconds away from the gondolas

– the convenience is undeniably

unbeatable! Reflecting the natural

beauty of the valley, Pan Pacific

brings in elements of familiarity

and comfort contributing to an

overall "lodge" essence. Wooden

attributes and warming décor are

consistent throughout the suites.

From the studio to the penthouse,

all suites include a small balcony

(with a view to die for), living room

area and full-size kitchen making

it a livable layout for families and

travel groups.

Whatever you search for in an

alpine escape, Pan Pacific is the

perfect home base to explore

Whistler. Whether it be relaxing in

the saltwater pool, skiing the slopes

or strolling the village shopping, it

is truly a destination where there

is something for everyone. Amidst

an iconic Canadian landscape

of the mountains and valley, the

surroundings provide visitors

with the natural playground they

search for. Accessibility is at the

forefront with their slope-side valet

ski storage and complimentary inresort

shuttle, making it even easier

for guests to zoom in on their

passion – the powder!

As a dog owner, I was so glad to see

that as a luxury hotel they provide

creature comforts for guests and

their pets!

40 . DRIFTTRAVEL.COM
---
Located in the lobby of the

Mountainside location, The Duhb

Linn Gate Irish Pub brings a warm

welcoming atmosphere for global

guests. In a pristine location this

pub is quite possibly the number

one "hot-spot" in the après ski

scene. From sautéing in the

kitchen to shredding on the slopes,

Chef Victor Pulleyblank brings his

down-to-earth attitude and use

of fresh local ingredients to the

varied menu of elevate pub dishes

like his infamous Pork Belly –

which is acquired locally from

Two Rivers, slow cooked with

caramelized apple sauce and

roasted root veggies and finished

off with a touch of maple syrup.

Wake up and sip your coffee overlooking the chairlift

in your robe and slippers – the mountains are calling!

Download the free Pan Pacific Mountainside's APP and

search local events and view local restaurants, pubs,

fitness clubs and outdoor tour groups.

WHAT I LOVED:

• Cozy lodge-style aesthetic

• Views of the mountains and valley

• 24- hour front desk

• Complimentary breakfast

• Bike and Ski storage

• Closest accommodations to the

Whistler Mountain

• Knowledgeable and friendly staff

• Gym, Sauna and hot tubs

TRAVEL OFTEN . LIVE WELL . 41
---
Elevation

Base - 2002m

Peak - 2916m

Runs 101

27% beginner

41% intermediate

27% advanced

5% expert

Longest run

DEER VALLEY

5 km

Lift system 24

1 gondola

12 high speed quad chair

1 quad chair

5 triple chair

2 double chair

4 surface

Terrain park 0

Average Annual

Snowfall

762cm

Deer Valley Resort is nestled in the Wasatch

Mountains of Utah in the historic mining town

of Park City. Deer Valley is consistently ranked

#1 in guest service among ski resorts in North

America and delivers an unmatched experience.

Deer Valley offers uniformed ski valets,

immaculately groomed slopes and on-site child

care. The region includes six mountains – Little

Baldy Peak, Bald Eagle, Bald, Flagstaff, Empire

and Lady Morgan – offering a great snow

experience for skiers of all abilities.

Après ski is a big part of the Deer Valley culture

- although tailored to more family friendly and

less about rowdy nightlife. There are lots of

shops as well as non-skier activities, along with

an excellent range of award-winning dining

options on the slopes and in Park City.

DEER VALLEY IS east of Salt Lake

City, Utah - host of the 2002 2002

Olympic WINTER GAMES WHICH is now

predominantly a training facility.

In town, Main Street is lined with

buildings built during a 19thcentury

silver mining boom.

Park City

USA

42 . DRIFTTRAVEL.COM
---
TRAVEL OFTEN . LIVE WELL . 43
---
48HOURS IN...

PARK CITY, UTAH

BY: STEVE DRAKE

I used to love to ski! Then life, kids

and work got in the way and my

skis sat (pretty much unused) for

most of the last decade. So, heading

to Park City, Utah on a ski trip left

me feeling excited for the adventure

and apprehensive if I could conquer

this mountain. In the end there was

no reason to worry - it's a place for

every age and every skill level. I had

an absolute blast.

Just a short thirty minute drive from

the Salt Lake City airport, Park City

is a quaint little village with great

old west history. Originally famous

for silver mining, which brought

George Hearst (the father of

William Randolph Hearst) to Park

City. His Ontario Mine, purchased

for $30,000, produced more than

$50 million in silver in its lifetime.

In more recent times, the city is

known for hosting many of the

2002 Winter Olympic Games and

of course, is home to the Sundance

Film Festival. Park City has

diversity to offer visitors.

STAY

Deer Valley Resort

area offers a wide

range of accommodation options,

as well as select properties in the

surrounding Park City area. We

stayed at Black Bear Lodge by

Resorts West. This cozy chalet style

condo felt right at home in the

heart of Silver Lake at Deer Valley

Resort. The exposed wood interior,

mountain-esque interior design,

open plan living and massive log

framed bed meant I could kick back

and relax after skiing, and most

importantly, soothe my aching

muscles in the private hot tub. I

really enjoyed the home-style family

feel of our lodge accommodation

and the gourmet kitchen that was

open to the cozy living space.

This is not a ski-in, ski-out location

but the lifts were a short walk away.

Personally, I preferred that. It meant

peace and quiet outside my condo

windows and the opportunity to

take in uninterrupted views.

44 . DRIFTTRAVEL.COM
---
AT A GLANCE

DEER VALLEY RESORT

FACTS:

• Deer Valley is a ski resort

only. Snowboards are

carving boards are not

permitted.

• Getting to the slopes is a

15-minute walk or 3-minute

drive from Main Street.

• Park City Transit but system

is free to use and gear

friendly.

SKI AREA PERKS:

• Limited number of skiers on

the mountain at any time.

• Guests can ship their ski

equipment to and from the

resort via FedEx.

• Deer Valley Resort offers

complimentary parking at

five base area parking lots

along with a complimentary

shuttle to Snow Park Lodge.

• Skiing or not, there are

plenty of other activities to

keep you in the winter spirit

including dog sledding,

horse-drawn sleigh rides,

hot air ballooning and more.

• Discounted lodging and lift

ticket packages available.

• On-site resort lift ticket

sales.

TRAVEL OFTEN . LIVE WELL . 45
---
EAT

The Zagat Restaurant

Guide lists Deer Vally

Seafood Buffet as "America's Top

Restaurant" and they were right.

The choice of fresh seafood seems

almost endless. Fresh Dungeness

crab, mountains of Pacific white

shrimp, house-smoked wild

Alaskan salmon, freshly shucked

West Coast oysters and Hawaiian

poke tuna are just the tip of the

iceberg.

Blind Dog Sushi (I know sushi is

not top of mind when you think

skiing) but this place is a must.

The atmosphere is laid back and

well suited to the rustic Utah

lifestyle. I recommend trying the

Hamachi Belly Sashimi Salad.

It has incredible flavors. Also

popular is the Lollipop Roll - with

tuna, salmon, avocado rolled in

cucumber & ponzu. I loved the

chalk art on the walls, especially

"People who love to eat are always

the best people". True.

SIP

Belly up to the bar at

High West Distillery

Saloon and enjoy some well crafted

spirits. Located on Park Avenue in

Park City, and surrounded by other

early 1800s silver rush buildings,

the High West Distillery's decor

embraces the region's old west roots.

Start off with a light cocktail,

maybe the Whiskey Collins or the

Silent Stranger. Both are delicious

and made with American Prairie

Bourbon. Then move up to a shot

of Double Rye. This is the most

exciting member of the High West

Distillery family. Dubbed as the

spiciest rye whiskey in the world,

this marriage of two rye whiskies

from two different distilleries is

perfect for sipping.
---
TRAVEL OFTEN . LIVE WELL . 47
---
SEE

The Alf Engen Ski

Museum should be

on your list of sights to see. You

can share in the thrill, excitement

and unsurpassed beauty of the

2002 Winter Olympic Games as it

comes to life in this state-of-theart

museum. Upon entering the

museum, you'll be surrounded

by the stunning banner art that

decorated buildings in downtown

Salt Lake City during the Winter

Games. Touch screen displays,

videos and a virtual reality ski

theater add to the experience. Make

sure you check out the display

showing the US Olympic Team's ski

fashion from years gone by.

PLAY

Skiing is always

great fun but

there are so many other winter

activities you can do in Park City.

For the snowmobile enthusiast,

Summit Meadows Adventures

offers beautiful scenic views of the

Wasatch Mountains - definitely a

bucket worthy experience. They also

offer guided snowmobile tours on

groomed trails and complimentary

transportation to and from Park

City. Don't forget your ski goggles!

One of my favorite moments was

reaching for gold with a speedy

run down the Comet Bobsled in

the Utah Olympic Park. This is

the same track used in the 2002

Olympic Winter Games - and man,

it is exhilarating! From loading

the sled for the journey up the

mountain, to climbing into the very

tight quarters of the rocket-like

frame, our four-person sled was

driven by a professional pilot and

reached speeds in excess of 100km.

Unforgettable!

48 . DRIFTTRAVEL.COM
---
MUST

After a great

morning on

the slopes, and proudly surveying

that my body was intact and no

worse for wear, I was ready for a

celebratory break. So I headed over

to the Veuve Clicquot yurt at the

Montage Hotel for a light lunch and

a glass of premium bubbly. Their

Après Ski menu features savory

gourmet bites including caviar,

local cheeses and charcuterie, and

(my favorite) decadent white truffle

popcorn.

48 HRS

Park City

offers small

town charm with a history that you

can see, feel, taste and experience.

The skiing is world class, the

surroundings are truly authentic to

their location. If you are a little like

me, and your skis are kind of rusty,

and you look for quality activities

off the slopes, this is the kind of

place that you go back to time and

time again. My two days spent in

Park City were filled with high

moments - altitudes, adventures,

adrenaline and awesomeness.

TRAVEL OFTEN . LIVE WELL . 49
---
DRIFT travel magazine

@DRIFTTRAVEL

+ FOLLOW

When is the last time you saw something for the very

first time? DRIFT travels to unforgettable places.

Come along on the journey. Travel Often. Live Well.

www.DRIFTtravel.com

Come along

on the journey

click here to follow us on

@DRIFTtravel

also on

Share your travel photos with 4.5 Million readers worldwide

Use hashtag #DRIFTtravel on Instagram
---
Photographer Notes:

Get your kitsch on Route 66! Relics from

the past, such as this truck, line the historic

highway in Seligman, Arizona, reminding

visitors of a time when it accommodated

thousands of travelers heading West. The town

contains a significant collection of railroad

and auto related commercial architecture,

offering visitors an understanding of what

kinds of commercial establishments were

available to motorists. In 1978, the new

Interstate 40 opened, bypassing Seligman,

and signaled the end of an era for Route 66.
---
Laina McWhorter is a street photographer, activist, vagabond,

mom, wannabe rock star and a really, really big nerd. She has

journeyed to the Grand Cayman Islands, Canada, Mexico,

Bali and 48 out of 50 of the United States of America with

her camera. Laina's artwork has appeared in a variety of

publications and media outlets including HBO's original TV

series Enlightened starring Laura Dern, GSNTV's hit show

Skin Wars, featuring Ru Paul, Hawaii 5-0 on CBS TV. Laina

spent more than 5 years shooting women's roller derby as

the staff photographer of the Arizona Roller Derby League,

earning herself the derby name, Triggerhappy.

In January 2017, Laina began a solo, cross-country road

trip to attend the Women's March in Washington, D.C.

this collection of photos represent Laina's unique view on

everyday America.

Website : lainamcwhorter.com

Instagram : @laina_mcwhorter_photography_

TRAVEL OFTEN . LIVE WELL . 53
---
Photographer Notes:

Music and history lovers flocking to the Mississippi Delta region won't want to miss

the rare opportunity to lay their weary bones down at the Shack Up Inn on the

Hopson Plantation, just a few miles from the legendary Crossroads, Highways 49

and 61 in Clarksdale. Guests can choose to sleep in a renovated Cotton Gin or

a shotgun house, such as the one pictured here, which plays a significant role in

the folklore and culture of the south. Superstition holds that ghosts and spirits are

attracted to shotgun houses because they may pass straight through them, and many

of the homes were built with doors that were misaligned on purpose to keep the

traveling spirits out. "The Ritz they ain't", but visitors craving history and the blues

enjoy all the modern conveniences of today along with the experience of sleeping in

an authentic sharecropper's shack of yesterday.

54 . DRIFTTRAVEL.COM
---
TRAVEL OFTEN . LIVE WELL . 55
---
56 . DRIFTTRAVEL.COM
---
Photographer Notes :

Traveling the back roads in between Highways 49 and 61 in the heart

of the Delta, blues lovers can chase the ghosts of music legends on the

Mississippi Blues Trail. Be sure not to miss the "Birthplace of the Blues",

pictured here. Dockery Farms is a plantation that was established in

1895 to produce cotton, America's biggest export at the time. African

Americans who worked at Dockery, including blues pioneer Charley

Patton, created a culture that inspired the music we know as the blues.

Their ballads strongly influenced the development of popular music all

over the world.

THAT MISSISSIPPI SOUND,

THAT DELTA SOUND, IS IN THEM OLD RECORDS.

YOU CAN HEAR IT

ALL THE WAY THROUGH.

- MUDDY WATERS -

Photographer Notes :

A shop window reflects a colorful mix of Delta characters found in

Clarksdale, Mississippi, a small town that claims to be the "crossroads

of culture and quirkiness with a heavy dose of the blues". Visit the hotel

that was once a hospital that refused to admit the infamous blues singer

Bessie Smith because of the color of her skin contributing to her death,

dine at a restaurant co-owned and frequented by Morgan Freeman or

visit the Crossroads where folklore claims the legendary blues artist,

Robert Johnson sold his soul to the devil in exchange for his talent of

playing the guitar.

TRAVEL OFTEN . LIVE WELL . 57
---
58 . DRIFTTRAVEL.COM
---
Photographer Notes :

This railroad track near Greenwood, Mississippi, is one of many in the deep South that helped the

more fortunate African Americans escape a life of oppression in the early part of the 20th century.

During the 1950's-1960's the Civil Rights movement came to a head in this region following the

Brown vs. The Board of Education ruling and lynching of 14-year-old, Emmett Till. A battleground

for equality, Greenwood was home to several active Civil Rights organizations who, along with the

town's African American residents, volunteers and activists were arrested in nonviolent protests,

subjected to economic retaliation and repeated violence by police and whites.

TRAVEL OFTEN . LIVE WELL . 59
---
60 . DRIFTTRAVEL.COM
---
Photographer Notes:

(ABOVE) An oasis of color known as Graffiti Alley resides in the heart of Baltimore and is the only

place in the state of Maryland that offers a legal safe space for artists seeking a canvas where they

can express themselves and practice their art without the fear of being locked up.

(LEFT) New Orleans, Louisiana is full of amazing street art such as the elusive Banksy's stencil of

a girl with an umbrella. Many believe this piece is a metaphor for the failure of the levees during

hurricane Katrina in 2005 whose catastrophic effects on the city can still be seen today.

TRAVEL OFTEN . LIVE WELL . 61
---
Photographer Notes:

The Supai Motel in Seligman,

Arizona entices Route 66

travelers to stay for the night

with flashy neon lights,

a gimmick practiced

by many businesses

located along the

Mother Road to

obtain more

customers.

62 . DRIFTTRAVEL.COM
---
Photographer Notes:

(ABOVE) A soda fountain in Williams,

Arizona uses 1950's memorabilia to give

diners an authentic Route 66 experience

while enjoying a break from the Mother

Road with a burger and shake.

Photographer Notes:

(BELOW) A mural celebrating the cult

classic film Easy Rider about a twowheeled,

cross country road trip adorns

the walls of the Aztec Motel on Route 66

in Seligman, Arizona.

TRAVEL OFTEN . LIVE WELL . 63
---
UNITED STATES OF AMERICA is

a sprawling, diverse country that covers 3.8

million square miles and is home to more than

325 million Americans. From coastal California

and the Rockies, to the Midwest, deep South

and urban East Coast, the United States is in

the top 20 of the world's most mega-diverse

countries due to its wide range of geography,

climates and wildlife. This diversity makes for

one of the most epic cross-country road trips.

To plan your American adventure or to learn

more about travel to the USA - visittheusa.com.

Photographer Notes:

(ABOVE) An eager contestant gets her

amphibious friend ready for the frog

jumping competition held at the annual

Tom Sawyer Days Festival in Hannibal,

Missouri.

(RIGHT) A Boy Scout displays his

patriotism during a Veteran's Day parade

in Phoenix, Arizona.

64 . DRIFTTRAVEL.COM
---
It's in those quiet little towns, at the edge of the world, that you will

find the salt of the earth people who make you feel right at home."

AARON LAURITSEN, AUTHOR:

100 DAYS DRIVE: THE GREAT NORTH AMERICAN ROAD TRIP

TRAVEL OFTEN . LIVE WELL . 65
---
World Luxury

Spa & Restaurant

Awards 2017 Winners

ArmaniSPA at Armani Hotel Milano - Italy

Global Winner, Best Luxury Rooftop Spa

Lagoon Spa Seminyak - Indonesia

Global Winner, Best Luxury Destination Spa

Este Fitness & Spa - Bulgaria

Global Winner, Best Luxury Fitness Spa

Ithaa Undersea Restaurant- Maldives - 2017 - Global Restaurant of the Year

Harnn Heritage Spa at Intercontinental Danang Sun Peninsula - Vietnam - 2017

Global Spa of the Year

66 . DRIFTTRAVEL.COM
---
Cavalli Club, Restaurant & Lounge - Dubai

Global Winner, Best Restaurant Bar

The Seven Seas Wine Bar & Restaurant - Thailand

Global Winner, Best Luxury Scenic Setting

The World Luxury Spa Awards and World Luxury Restaurant Awards are established

global organizations providing luxury spas and restaurants with recognition for

world-class service excellence provided to guests. Setting the basis for service

industry standards around the world, the companies pride themselves on

acknowledging luxury spas and restaurants in their relevant categories during the

annual voting phase. Votes are garnered through various marketing channels from

guests, showcasing yet again the true value of service excellence.

Voting for the 2017 award year saw over 100,000 votes from happy customers around

the globe placing their stamp of approval on their establishment of choice. "One of

the most favorable ways to award service excellence is by allowing people to have their

say, and hearing from the public is a popular manner in which to make a decision

on where you will stay, spa or dine. An award of this stature signifies quality, service

delivery and much sought after luxury. All of which have made our participants

what they are today, winners in the luxury hospitality field." says Marna Lourens,

Executive Manager for the World Luxury Spa Awards. Winning participants receive

awards in their respective categories on a country, regional, continent and global

basis, purely from guest votes.

The 2017 grand gala celebration, the night which honors these fine establishments,

took place on 22 July and was proudly hosted by the exquisite JW Marriott Hotel

Hanoi. Nearly 200 participants joined the evening in anticipation of what was to come.

"The most coveted award on the evening is our Global Spa and Global Restaurant of

the Year Awards. Each year the task to determine these top establishments begins

after voting has closed and we announce to our winners if they have been successful.

We are six senior managers who take weeks to decide, as voting is not the only criteria

we look at to bestow this prestigious award. A multitude of factors come in to play;

brand, location, overall guest satisfaction from online reviews, services and facilities,

design, and even menu offerings whether spa or restaurant. It is important to look at

each establishment as an individual as well, some are on an island, some are in cities

or in a desert, it is not always possible to compare apples with apples when defining

luxury. This year the focus was on unique design with a touch of classy elegance,

and we were as such proud to award Global Spa of the Year to Harnn Heritage Spa at

InterContinental Danang Sun Peninsula Resort, and Global Restaurant of the Year to

Ithaa Undersea Restaurant at Conrad Maldives Rangali Island." says Joanna Evans,

Marketing Communications Manager for the World Luxury Awards.

The evening was as glamorous as one would expect from a JW Marriott brand hotel;

a delectable 6-course fine dining menu adorned each table throughout the night and

was paired with fine wines and champagne from Moët et Chandon. Entertainment

included a Dragon Dance, a Vietnamese based string quartet performance by Độc

Cầm - Toxic Quartet, and a local Ao Dai Dance, all of which added to the evening's

Asian flair.

"We welcome luxury establishments from around the globe to participate in these

exciting awards, to proudly show the world what they have to offer in terms of luxury

and service excellence." says Linda Cooper, Executive Manager for the World Luxury

Restaurant Awards.

Host Hotel

www.marriott.com

www.luxuryspaawards.com

www.luxuryrestaurantawards.com

TRAVEL OFTEN . LIVE WELL . 67
---
68 . DRIFTTRAVEL.COM
---
BY: TODD & REBECCA TALBOT

Few cities in the world are more

'bucket list' worthy than London,

England. It mixes incredibly

rich history with a modern

metropolitan vibe. For Rebecca

and I, our visit began with a ride

courtesy of my old college mate

Grant (the impetus for our trip was

my 20 year theatre school reunion),

from renowned Heathrow airport

to London Center- straight into a

sea of cars, iconic black cabs and

red double-deckers making slow

progress along streets lined with

TRAVEL OFTEN . LIVE WELL . 69
---
multi-million pound properties,

new-builds juxtaposed with stately

brick-stacked buildings from the

1800s, and from the moment we

set foot on the old cobblestoned

streets behind the Phoenix theatre,

our anticipation for a remarkable

holiday became a reality.

It was Rebecca's first time to

England and securing tickets to the

theatre was the first thing on her

list but jet lag was number two, and

we took care of that with a nap, at

4:00 in the afternoon.

We stayed at the Antheneum, a

boutique hotel which recently

underwent a full renovation to

keep it current without losing the

art deco savoir faire, enhanced by

the legendary doormen greeting us

outside in full top hat and tails. Even

before reaching the lobby, the hotel

welcomes guests with a living wall,

echoing the tranquility of Green

Park just across the street. On the

other side of the park proudly

resides Buckingham Palace and at

the end of Piccadilly in the opposite

direction is Piccadilly Circus. We

hadn't even done anything yet and

our minds were blown.

Jet lag also gave us no desire to

eat dinner at dinner-time, so we

skipped it, which meant we were

starving when we woke up at 2am.

Room service provided all our

favorite comfort foods, we ordered

three meals off the menu, ordered

a movie on TV, ate, watched the

whole thing and went back to sleep.

It was ridiculous and delectable.

When we planned our stay in

London, I had no idea that we

would end up seeing a different

show every night we were there,

but with the world's greatest live

theatre at our doorstep, we couldn't

resist. The TKTS booth resides

in Leicester Square, so we visited

there almost every day. Our top

three of the nine performances we

attended were:

1. The Play that Goes Wrong

I don't think I've laughed so much

at the same joke - ever! I thought

I'd stop laughing but they got me

every time, ab-forming laughter.

70 . DRIFTTRAVEL.COM
---
2. The Book of Mormon

Also funny but the musical version

and dangerously irreverent. Our

tickets for this show were acquired

by lottery, we tried on three

different nights to score tickets but

the boys in the show were doing

the same thing to get tickets for

their friends, apparently, so they

had much better odds. We finally

got wise and had some buds come

along to put their names in the

draw as well and ended up with

four cheap seats in the front row.

Worth the effort.

3. 42nd Street

Spine tingling, old school musical

that will leave you singing and

dancing in the streets after the show.
---
We didn't just go to the theatre though, we saw the

sights, we shopped the shops, we ate the food and for

that we wore proper walking shoes and loaded up an

Oyster card. Good for the tube or the bus, the Oyster

card will get you where you want to go, without hailing

a cab and with the added benefit of saying, "Let's take

the tube". Here is our must-do list of sights and bites...

1. Buckingham Palace

And this is a word to the locals as well because you live

there, and if you haven't seen it, you absolutely should:

go do the walking tour. Strap on those headsets, walk

up that grand staircase, through the state rooms and

gallery and then go buy yourself a tea cup in the

shop at the end. Rebecca can't stop talking about that

superfluously expensive tea cup. *Rebecca note: it was

adequately priced for a beautiful turquoise and goldtrimmed,

Royal Albert, Queen Victoria's Jubilee bone

china tea cup. Tea cup collectors unite!

2. Fortnum & Mason

This was recommended to us from a good friend at

home and we gladly pass it along. The Christmas Shop

on the top floor (take the stairs, they are an excellent

piece of time travel) boasts Holiday cheer year-round

and is another good spot for a souvenir if you don't

like tea cups *who doesn't like tea cups?! And if you get

hungry while you browse, head down to the cafeteria

for tea and sandwiches, both are on point.

3. Covent Garden

Great window (and booth) shopping. It's a great vibe, a

great location, and Rebecca would like you to know that

Whittard's original tea shop is there. Pots of steeping

tea can be found at every turn so you can sample before

you buy. Yes please!

4. Victoria and Albert Museum

With multiple museums to choose from, we had trouble

making up our minds and went to two (the British War

Time Museum gets a mention here, the layout was

confusing at times however the time line of the First

World War on the bottom floor was thorough and

impressive and a must-see) We did not give ourselves

enough time at the V and A, first of all, because it's the

world's largest museum of decorative art and design

(over 4 million objects) and second of all because they

had a theatre exhibit. Theatre geeks unite!

72 . DRIFTTRAVEL.COM
---
5. La Perla

This might have been what

was actually on Rebecca's

bucket list but it doesn't

hurt for a couple to go

together - comfy couch,

drinks and a great view.

6. The Savoy

If a throwback rich

and ornate piano bar

experience is what you are

in the mood for, head over

to the iconic Savoy for a

bevy and a chin wag.

7. The Shard and

Tower Bridge

The perspective and glam

atop the Shard is very

cool, then take a late night

romantic walk over the

iconic Tower Bridge (commonly mistaken for

London Bridge because of the song)

8. High Tea

We were pleasantly surprised with the atmosphere at

the open, airy Palm Court at the Langham but the real

reason to go here is the all-you-can-eat sandwiches.

They just keep coming around with the platters until

you finally say, no thanks I'm full. Save room for the

scones and clotted cream of course but the desserts are

nicer to look at than to eat.

When staying at the

Athenaeum, excellent

food and drink are at your

fingertips 24/7. We made

sure to experience dinner

at Galvin with Michelinstarred

London chefs Chris

and Jeff Galvin. Nothing

like five-star food in an

unpretentious atmosphere.

Trying something new,

with drinks recommended

by the wait-staff, we were

pleasantly surprised, but if

you're into a nightcap, the

famous Whiskey collection at

The Bar is the real deal. It's a

really cool spot to hang out in

a swanky grotto-like setting

and draw from their famous

Whiskey Collection.

We have been talking about going back to London

since the day we left. Ten days was not long enough for

us (although it was more than enough for our kids to

miss us a bunch). Maybe next time we'll get to see the

insides of those churches. London calling… again!

9. Alley Eateries

Get lost in the back streets of London. Go find those

little gems you will recognize from movies and songs

plus small eateries packed with locals, and pubs where

people are spilling out onto the sidewalk, where you

too can enjoy a pint and a chat.

10. Westminster Abbey and St. Paul's Cathedral

If this is up your alley, make sure you check what time

you're going because I don't think you can always go

inside. We were happy to take a photo with the Abbey,

skip the inside and choreograph a dance on the steps of

St. Paul's but skip that tour as well.

TRAVEL OFTEN . LIVE WELL . 73
---
TRAVEL GEAR

HOT NEW TRAVEL PRODUCTS

BY: RUSS WALSH

MIGGO PICTAR ONE

& ONE PLUS

Take control of your iPhone 6/7/8

camera with a camera grip that

features 5 external buttons for

unmatched control and ergonomic

slip-free grip. With unique features

such as manual focus, shutter

priority, ISO priority and more.

mymiggo.com

ZENDURE EXTERNAL BATTERY

Backup power is a must for the modern

traveler. Make this your permanent travel

companion. Available is several sizes (3,350

to 26,800 MAH) with 2nd generation ZEN+

technology, dual-injection molding and

ABS/PC composite.

zendure.com

74 . DRIFTTRAVEL.COM
---
MACK'S FLIGHTGUARD AIRPLANE

PRESSURE RELIEF EAR PLUGS

Release the pressure and pain from flying. Unique PR3TM

design with ceramic filter is laboratory tested and proven to

relieve air pressure and reduce noise (Noise Reduction Rating

(NRR) – 26 decibels) for a more relaxing flight. With a firm

stem and super soft flanges to ensure a comfortable fit.

macksearplugs.com

SONDRE TRAVEL

VOYAGE PILLOW

The compact, comfortable and

multi-functional travel pillow with

built-in band & eye shade.

sondretravel.com

ARDEN COVE FASHIONABLE

ANTI-THEFT CROSSBODY

With anti-theft and stylish waterproof

material, this bag has the best travel

features. Pockets for phones and

passports, locking zippers, slash proof,

RFID blocking material and a full

crossbody strap. Oh, did I mention

stylish as well?

ardencove.com

TRAVEL OFTEN . LIVE WELL . 75
---
76 . DRIFTTRAVEL.COM
---
BOGOTÁ

COLOMBIA

ONE HOTEL FOUR DAYS

&SEVEN EMERALDS

BY: SYLVIA TENNANT

One of South America's premier

cultural destinations, Bogotá has

evolved beyond the shadowy

history of its scandalous past into

an abundant playground of luxury

tourist attractions. While the

formality of the Colombian capital

is still evident in the monumental

colonial buildings and free

museums scattered throughout the

city's districts, the cordial semblance

of order is dwarfed by a passionate

liveliness that extends throughout

its winding, graffiti-lined streets.

TRAVEL OFTEN . LIVE WELL . 77
---
Experiencing the best of Bogotá

with only four days to spare

requires some research. As a sleepdeprived

columnist, adjusting

to a significantly higher altitude,

convenience and comfort are

high on my list of hotel priorities.

Fortunately, the NH Collection

Bogotá Teleport Royal Hotel, which

is a contemporary upscale hotel, is

nestled into the beautiful northern

section of Bogotá. This is also where

the longest continental mountain

range in the world, the Andes,

meets a vibrant business district and

surrounding elegant neighborhoods.

The NH spa treatments, expansive

suites, and marble bathrooms were

truly impressive.

The heart of the city's art scene

lies within Bogotá's first official

neighborhood, La Candelaria.

This trendy, bohemian district is

defined by its old-world charm and

historical relevance. Although I only

had one day to roam the cobblestone

streets, there are a few must see

attractions. Start early at the Museo

Del Oro, one of South America's best

museums, with a selection of the

largest collection of pre-Hispanic

gold art in the world. Perfectly

preserved relics are exhibited

alongside bilingual descriptions

that illustrate the many different

cultures that once resided

here. On Sundays, entrance is

complimentary after 3pm.

There is a large artisan market

across the street, which I quickly

discovered was a mecca for

poncho and gift shopping. Bring

cash and buy in bulk because

the garment quality and prices

are incredible. My adventure

continued down Calle 11 to the

Museo Botero, a free modern

art museum that houses an

internationally acclaimed

78 . DRIFTTRAVEL.COM
---
collection donated by renowned

Colombian artist, Fernando Botero.

The space is stunning and peaceful,

with garden-lined fountains and art

by Picasso, Monet, Matisse, Dalí,

and Botero himself.

A trip of this nature would not be

complete without an in-depth look

into the booming culinary scene

of this lively cosmopolitan capital.

Within its mountainous landscape, I

experienced everything from street

food to canapés. Bogotá delivered

with both variety and ingenuity.

I had the pleasure of watching

Top Chef Spain and Master Chef

Colombia judge, Paco Roncero,

create a series of plates for the

Collection Bogotá Teleport Royal

Hotel's gala. He is the culinary

advisor for the hotel group. My

inner foodie was at once spoiled and

star struck. His scientific flair for

molecular gastronomy has earned

him a variety of accolades including

a two-Michelin star award. When

asked where he would choose to

have his last meal on earth, he

quickly replied, "With Andres Carne

del Res".

Located just beyond the outskirts

of Bogotá, the indescribable

combination of fine dining and allnight

dance club atmosphere was

well worth the drive. Upon arrival,

guests are treated to a large shot

of aguardiente (direct translation:

firewater), Colombia's national

alcoholic drink. My initiation was

complete. The restaurant itself

is a surreal disco town that seats

2000 people, has a 19-page menu,

and is 2.76 miles square. I dined

on a selection of small plates and

Argentinian steak while costumed

entertainers roamed the candlelit

alleys and neon dance floors

between tables.

TRAVEL OFTEN . LIVE WELL . 79
---
Alternately, if you're looking to keep the party

within the downtown district, the Gaira Café

Cumbia House is my recommendation for live

music and a coastal inspired menu. Owned by

popular Colombian singer, Carlos Vives, the

piñata filled multi-level restaurant is impressively

designed with a stage that hosts an 11-piece house

band.

Although I thoroughly enjoyed shopping for

ponchos, I wasn't leaving Bogotá without an

emerald. The eastern portion of the Andes,

between Boyaca and Cundinamarca, is where most

Colombian emeralds are

mined. I found beautiful,

high-quality specimens

from a mine in Muzo at

Don Esteban Joyeros in

the Centro Comercial

Hacienda Santa Bárbara

(conveniently located

around the corner from

my hotel). The house

jeweler had my new ring

re-sized within 48 hours,

spoke a bit of English, and

certified all of his stones.

The overall experience

was so lovely that I

returned with the entire

British press team to show

them where to purchase

emeralds.

The transformation of

Bogotá continues to

fascinate those willing

to push past its somewhat modest exteriors. The

mentality of insurgency is no longer. Crime rates

continue to decrease as business development

booms. In the past five years, the city's streets have

steadily filled with tourists looking to uncover the

cultural gems that lie within this urban jungle.

With a population almost equal to that of New

York City, the contagious buzz of Bogotá is certain

to satisfy all the senses.

80 . DRIFTTRAVEL.COM
---
TRAVEL OFTEN . LIVE WELL . 81
---
the

editor

when was the last time you saw

something for the first time?

BY: TRACEY DRAKE

You know - it's funny. Although I

travel a lot, I'd never been drawn to

Napa Valley. And although I love

luxury cars, I've never considered

myself a Lincoln kind of girl.

My grandfather drove a Lincoln.

It was this big, black imposing

car that seemed to take up two

city blocks. So no one was as

surprised as me to learn that the

2017 Lincoln Continental is sleek,

luxurious and truly sexy. It has

enough curves to satisfy my need

for a little femininity in my car.

Definitely not my grandpa's Lincoln.

And so it happened, that over the

course of road trip from San Francisco

to Calistoga Ranch in Napa Valley,

I fell in love with a boutique hotel

and a new era of luxury vehicles.

82 . DRIFTTRAVEL.COM
---
A CONTINENTAL ROAD TRIP TO NAPA VALLEY

TRAVEL OFTEN . LIVE WELL . 83
---
THE FINER POINTS

• Getting Here: From San Francisco International Airport, by way of

the Bay Bridge, it took us one hour and fifty minutes in our 2017

Lincoln Continental to reach Calistoga Ranch. It was an easy,

scenic drive that set the tone for our 3-day weekend.

• Spa: Nestled in the wooden canyon, The Auberge Spa at Calistoga

Ranch is a rejuvenating natural Napa spa sanctuary. Try the

Calistoga Cure - a therapeutic body scrub followed by a private

outdoor mud bath that ends with a classic massage.

• Dining: World class menus that are inspired by local food and wine.

If you get the chance, have dinner in Calistoga Ranch's famous

Wine Cave - a truly unique dining experience.

FOLLOW

@TraceyDrakeEditor

on Instagram & Twitter

or search hashtag #TheTravellingEditor

84 . DRIFTTRAVEL.COM
---
Calistoga Ranch is a quiet oasis,

tucked into the natural beauty of

Napa Valley, California. This place

- it personifies the word retreat.

Calistoga Ranch is an Auberge

Resorts Collection hotel. They

proudly boast that this is a place

where nature is the primary

amenity. They got it right.

The 157-acre property features an

enchanting lane way (photo left),

majestic rolling hills, ancient forests

and a private lake. There are fifty

rooms in total, but you rarely see

other guests as each of the private

lodges is set amidst lush forests.

We stayed in a one-bedroom lodge

(shown right) and it was so private

and restful. With bedroom and

living room in separate buildings,

it felt Balinese in design. Our

outdoor deck, which featured a

fireplace, comfy lounge chairs and

a sunken hot tub, nicely bridged

the two buildings. Each lodge

is enveloped in nature, and the

lulling sounds of a rocky stream

passed by our bedroom window.

With an outdoor swimming pool,

award winning spa, and several

dining options, you could stay put

and go nowhere at all. I was thrilled

that I was able to visit the chicken

coop and gather my own farm fresh

eggs for my morning breakfast.

Calistoga Ranch is the kind

of place where you can truly

retreat to reconnect with

yourself, your partner and with

nature. There are more than

80 vineyards in the Calistoga

region, so you are well situated

for day trips to as many different

wineries as you care to sample.

TRAVEL OFTEN . LIVE WELL . 85
---
86 . DRIFTTRAVEL.COM
---
ON VACATION: TOP DESTINATIONS TO ENJOY

#RoséAllDay

by: Sarah Zajac | Booking.com

I

t's official, the #RoséAllDay phenomenon has gone global! The pretty, palepink

drink has invaded Instagram feeds around the world. Whether, you

prefer a traditional 6-ounce pour of the blushing wine or you're a Frosé

lover at heart, it seems the rosé mania is here to stay. It is a high speed boozy

trend is no longer just for the ladies or backyard barbecues. A-list celebrity wine

makers like Angelia Jolie and Drew Barrymore have helped solidify this wine trend,

but savvy wine lovers the world over are buying into it. According to Fortune

magazine, "Rosé is reporting sharp sales increases that far out pace the broader

$38 billion wine industry. Wine industry experts are lauding the popularity

of rosé, saying it is a female-driven movement that has lured more men and

found popularity beyond beach-front enclaves like the Hamptons and Miami."

So where in the world can you enjoy the best rosé wines?

You can make rosé wines from almost any grape

ANYWHERE IN THE WORLD

CHICAGO, ILLINOIS

The Hampton Social restaurant (pictured left) in

Chicago, Illinois has probably the most famous

#RoséAllDay Instagram photo opportunity in

the world. Inspired by the beach side Hamptons

resorts, this stylish restaurant serves seafood

dishes and beach-themed cocktails. Look out for

the neon pink sign and enjoy the happiest happy

hour you could imagine with half priced glasses

of Rosé and half priced pizzas Monday to Friday

from 4-7 pm.

While you're in town stay inside the beautifully

restored landmark building, the Chicago

Athletic Association Hotel and enjoy the popular

rooftop restaurant, Cindy's. With a dedicated

"Rosé All Day" section on the menu, its one of

the best places to enjoy a glass in the Windy city

while enjoying panoramic view of Millennium

Park.

PROVENCE, FRANCE

Hard core fans of the pink drink can go straight

to the source - Provence. Thanks to its climate

and location, generations of expert winemakers

have been producing award winning rosé in

the region. Chances are if you drink the pink

bubbly beverage, you've tasted one from here! A

wine tour through Provence is a trip for a true

Rosé aficionado to show off their knowledge.

Stay in stunning vineyard hotels that produce

award winning Provençal Rosé wine such as

TRAVEL OFTEN . LIVE WELL . 87
---
the Hotel Château de Berne

(pictured above), a working

wine estate in the heart of

Provence, France that offers

an outdoor swimming pool

and restaurant serving food

prepared with local and

homegrown produce.

LONDON, ENGLAND

Rosé is the drink of the

moment in London! At Sketch

restaurant (picture top right

- opposite page) in Mayfair,

you can sip on a glass of Rosé

in the immersive pink room

to match your drink. HOT

TIP: When you visit Sketch

be sure to check out the

famous intergalactic-themed

bathroom! Next, visit the

Worship Street Whistling Shop,

an underground drinking den

that was inspired by Victorian

gin palaces and feels like you're

walking into a Charles Dickens

novel. Along with an extensive

cocktail menu and a gin

masterclass, this unique bar

offers a range of top English

sparkling wines which of

course includes Rosé!

The latest addition to London's

roster of quirky venues is the

highly anticipated hotel, The

Ned. Housed in the former

Midland Bank this epic hotel

holds nine restaurants, a

rooftop pool with a fantastic

view of St Paul's Cathedral and

a cocktail bar hidden behind

an original.

"WHATEVER YOU DO

POUR YOURSELF

INTO IT."

- Robert Mondavi -

88 . DRIFTTRAVEL.COM
---
NEW YORK, NEW YORK

If you like Rosé then you'll

love frosé, basically a slushie

for adults! Legend has it,

the cocktail was invented

at Bar Primi in New York.

It's no wonder the Big

Apple is responsible for this

breakthrough thanks to its

thriving night life scene, world

class food and drink standards.

Cool down and enjoy some

frosé while taking in a skyline

view of its hometown at the

Plunge Park Avenue lounge

(pictured center right) atop

the Gansevoort Park Avenue

Hotel. This trendy rooftop pool

lounge also serves alcoholic ice

pops on its summer cocktail

menu.

THE HAMPTONS, NEW YORK

Finally, we have the Hamptons,

where there seems to be

shortage of rosé almost

every summer! Known for

being the seaside getaway

for New York's elite, it's here

where urbanites let loose at

extravagant summer parties,

held almost every weekend.

Not surprisingly, rosé, frosé

or anything pink and bubbly,

is the drink of choice at these

exclusive events, which might

explain the shortages. To cope

with the demand Wölffer

Estate, a local winery, opened

a rosé drive-thru (pictured

right) this summer where you

can stop by on your way to the

beach to pick up rosé by the

case, glass or bottle!

TRAVEL OFTEN . LIVE WELL . 89
---
CARRY on

IN

STYLE

With the cost of checking luggage at the airport, more of us are looking for

the best carry-on suitcase or weekender bag. There are some great options

on the market, that hold a lot of stuff and still manage to be hip and stylish.

These are our four top quick trip picks!

VICTORINOX SWISS ARMY

Spectra Extra-Capacity Carry-On

The ultimate in light, expandable carry-on

luggage. It looks good, rolls effortlessly and

holds a lot of clothing. 9.4"x16.5"x21.7"

swissarmy.com

BY: JANE CROSS

LIPAULT PARIS

Lady Plume Wheeled

Weekend Bag

Sophisticated and chic, this

wheeled satchel is made of durable

reinforced nylon and offers

easy access to the large main

compartment. 20"x13.5"x13.5"

samsonite.ca

MARKET CANVAS

The Weekender in

Rustic Tobacco

The perfect his or hers

weekend bag that is easy

to carry, beautiful to look

at, and holds a whole lot of

stuff! 18"x12"x12"

marketcanvasleather.com

PLANET TRAVELER

SC1 Smart Carry-On

A super smart case with intelligent,

common sense travel features: robotic

biometric lock, global tracker, weighing

system, smart battery, 3 USB ports and

anti-theft alerts you control with the

app. 10.5"x 22.5"x14.2"

planettravelerusa.com

90 . DRIFTTRAVEL.COM
---
Baden-Baden

– the elegant Spa-Resort in the Black Forest

Discover the town in 360 degrees

The modern Caracalla Spa

The Museum Frieder Burda

Baden-Baden city center

Today, the town of Baden-Baden presents itself as a modern spa resort and cultural centre.

Here, all relaxation needs are catered for thanks to the thermal baths with their 2000-year-old

history and the magnificent parks and gardens. Besides these, attractions such as Europe's

Located

second largest

in in

opera

the

house

Black

and

Forest,

concert

Baden-Baden

hall – the Festspielhaus,

combines

the Kurhaus,

Mediterranean

the Trinkhalle,

flair with the elegance of the Belle

Epoque the theatre and the Culture cosmopolitanism Mile traversing the of parks a major and gardens city. of Baden-Baden, the Lichtentaler Allee with its two thermal baths is an oasis for

spa,

enable

beauty

Baden-Baden

and

to

wellness.

position itself

The

as

town,

a refined

where

international

everything

hotspot.

is in walking distance, is also a paradise for culture

enthusiast. Join on a virtual The tour Festspielhaus of our town. Experience - Germany's Baden-Baden biggest up close opera and in 360 house, degrees many museums and "the world's most

with the enclosed virtual reality viewer. Or scan the pictures in this brochure with your mobile

beautiful casino", according to Marlene Dietrich, are located in Baden-Baden.

device for an impressive, 360-degree, augmented reality experience of the sights – and that's

without using the VR viewer.

The world's "most beautiful casino"

DOWNLOAD: Install the free virtual reality &

360°- tour app on your mobile device.

1. DOWNLOAD: install the free virtual & augmented reality app on your mobile device.

2. Augmented reality experience using this brochure. SCAN: align the camera with one of the pictures in the brochure

and explore the attraction in 360 degrees.

3. Virtual reality experience with the VR viewer. Be a part of the action and visit our attractions in 360 degrees with

the enclosed VR viewer. Open the packaging for more information.

Have fun!

For more information:

Baden-Baden Visitors

& Convention Office

www.baden-baden.com/en

info@baden-baden.com

+49 (0)7221 275 200

All photographs © Baden-Baden Kur & Tourismus GmbH
---
#WHERETONEXT

LET'S GET

TROPICAL

Snow, sleet and cold days

are just ahead! Millions of

travelers take off during the

winter months to somewhere

sunny and tropical.

Watch for DRIFT's exclusive

Tropical Getaway Guide

featuring fab locations

worldwide with details on

which exceptional hotels,

beaches, scuba diving, water

adventures, guaranteed

weather and doable short

trip tropical destinations you

should be booking.

Coming to the Holiday 2017

issue of DRIFT magazine.

92 . DRIFTTRAVEL.COM
---
The Case for Better Travel.

www.raden.com