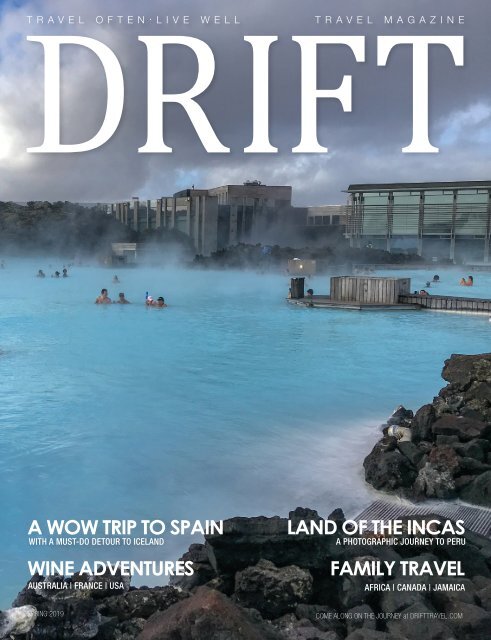 DRIFT Travel Spring 2019
In this issue DRIFT takes the family on vacation. From the wilds of Africa to an iconic luxury hotel that caters to kids, there's a perfect family destination waiting for you. Come along on the journey as we discover a world of fun and adventure.
In this issue DRIFT takes the family on vacation. From the wilds of Africa to an iconic luxury hotel that caters to kids, there's a perfect family destination waiting for you. Come along on the journey as we discover a world of fun and adventure.
SHOW MORE
SHOW LESS
You also want an ePaper? Increase the reach of your titles
YUMPU automatically turns print PDFs into web optimized ePapers that Google loves.
TRAVEL OFTEN . LIVE WELL

TRAVEL MAGAZINE

A WOW TRIP TO SPAIN

WITH A MUST-DO DETOUR TO ICELAND

WINE ADVENTURES

AUSTRALIA | FRANCE | USA

LAND OF THE INCAS

A PHOTOGRAPHIC JOURNEY TO PERU

FAMILY TRAVEL

AFRICA | CANADA | JAMAICA

SPRING 2019

COME ALONG ON THE JOURNEY at DRIFTTRAVEL.COM
---
_

UNLOCK

MEXICO

CITY

_

IGNACIA

GUEST

HOUSE

JALAPA 208 CASA B,

COLONIA ROMA, 06700,

MEXICO CITY

hola@ignacia.mx

ignacia.mx

IGNACIAMX

IGNACIAMX

2 . DRIFTTRAVEL.COM
---
TRAVEL OFTEN . LIVE WELL . 1
---
2 . DRIFTTRAVEL.COM
---
INSIDE this issue

7 TRAVEL STYLE

Chic tips for the stylish nomad.

8 48 HOURS

Winnipeg, Canada in two days.

14 TRAVEL GEAR

Trending good stuff for travelers.

18

SPAIN VIA ICELAND

Two countries – one unforgettable

adventure.

26 PARIS WINE BARS

All natural wines with a French flair.

32 LET'S TAKE THE KIDS

Family travel on Canada's West Coast.

PHOTOGRAPHIC JOURNEY

38 Peru, the land of the Incas.

52 FAMILY ON SAFARI

A first timer's guide for families.

58

WINING IN AUSTRALIA

Emerging South Australian wine

culture.

LAND OF THE BLUE DRAGON

60 Vietnam's story in pictures.

70 WOMEN IN WINE

Celebrating women's history month.

In this issue DRIFT takes the

family on vacation. From the wilds

of Africa to an iconic luxury hotel

that caters to kids, there's a perfect

family destination waiting for

you. Come along on the journey

as we discover a world of fun and

adventure.

EXPATS GUIDE TO BELIZE

74 Is this dream destination for you?

80 FAMILY VACATIONS

Hotels and hotspots for kids of all ages.

TRAVEL OFTEN . LIVE WELL . 3
---
PUBLISHER

GLOSSY MEDIA

CREATIVE DIRECTOR

STEVE DRAKE

PRODUCTION/EDITORIAL

STEVE DRAKE, WAKE UP REYKJAVIK, DONI BELAU,

RUSS WALSH, REBECCA TALBOT, MARY ANNE

KENNEDY, ZOEY GOTO, KATIE MERRIAM,

ALEXANDRA LOWDER, MIKE COBB,

LAURA D'ANGELO, JON ANDRASZ,

ERIC HIMEL

CREATIVE | PHOTOGRAPHY

BOOKING.COM, ADOBE STOCK, WOW AIRLINE,

INN AT THE FORKS, TOURISM WINNIPEG,

TOURISM MANITOBA, STEVE DRAKE,

PIXABAY.COM, ASSINIBOINE PARK ZOO,

THE FORKS, SAMSUNG, WESLEY GIBBS,

HOTEL BAHIA CALPE, DONI BELAU, BLUE LAGOON,

AFRICA ODYSSEY, TODD TALBOT, REBECCA TALBOT,

KATIE MERRIAM, FAIRMONT EMPRESS HOTEL,

TIM WEST, JON ANDRASZ, HALL FAMILY, EVE FAN,

CAYE CAULKER,WILDERNESS SAFARIS,

FLORIANNE VIALLES, MARION GAMBIN, WIKIMEDIA

ADVERTISING & PUBLISHING RIGHTS INQUIRIES

sales@DRIFTtravel.com | www.DRIFTtravel.com

Published by: Glossy Media

All rights reserved. No part of DRIFT magazine may be

copied or reproduced without permission.

© COPYRIGHT DRIFT TRAVEL MAGAZINE

GLOSSY MEDIA

2015-2019

4 . DRIFTTRAVEL.COM
---
CONTEST

TIME!

ATTENTION all photographers - this giveaway is for you!

In this issue we have full licensed copies of the famed Aurora HDR & Luminar 3

photo editing software. Aurora HDR 2019, its fourth generation, high dynamic

range editor, whose predecessor is the current Mac App of the Year. Luminar

has enabled photographers to edit photos in a more creative and effective way,

through Artificial Intelligence (AI) tools like Accent AI and AI Sky Enhancer,

new Looks and more. With the addition of libraries in Luminar, Luminar 3 is an

all-in-one solution for both editing and managing photos.

CLICK HERE TO ENTER!!

or visit drifttravel.com/giveaways/skylum

TRAVEL OFTEN . LIVE WELL . 5
---
Bags designed to be efficient, protective and

extremely durable

Get through TSA faster and with ease

Designed to protect your tech and belongings,

with plenty of pockets

6 . DRIFTTRAVEL.COM

Learn more at www.ec-bc.com
---
Eric Himel's

LIFE+STYLE

Hermès, $2150,

hermes.com

Alessandra Rich, $2125,

netaporter.com

Chloé Sunglasses, $476,

holtrenfrew.com

ONCOUR Designer Leather

Handbag, $375,

oncour.com

Valentino, $795,

valentino.com

ERIC'S TIPS:

• DO wear flowy materials that

catch the breeze

• DO pack comfortable Espadrilles

for off-boat excursions for uneven

walking surfaces

• DO avoid anchor motifs - too

literal

• DO bring your good jewelry

FASHION ON THE HIGH SEAS

Dress like you will be sailing on the South Pacific, not like you are in

the cast of South Pacific.

Fashion on the high seas should be one part glamour, one part

elevated nautical chic! Embrace clean navy and white color palettes,

and add accessories that mimic rope, chain and portholes motifs!

ERIC HIMEL (erichimel.com)

is a widely known celebrity stylist, fashion expert and media personality. Himel attended

Parson's School of Design and trained under Project Runway's Tim Gunn. Now based in

Los Angeles, Himel's roster of celebrity clientele has included Jenny McCarthy, Giuliana

Rancic, Pete Wentz, Gabby Douglas and more. Eric is best known for his signature Closet

Purge and now offers Virtual Styling Sessions.

TRAVEL OFTEN . LIVE WELL . 7
---
48HOURS IN...

Winnipeg

CANADA

BY: STEVE DRAKE

8 . DRIFTTRAVEL.COM
---
WHERE TO STAY

Inn at the Forks

innforks.com

In Winnipeg, where the

Assiniboine and Red Rivers

meet; in the middle of the

historic and cultural center of the

city – this is where you will find

the Inn on the Forks. A modern

yet relaxed hotel ready to call

your home away from home.

"The best of Winnipeg is right

here at our doorstep. Come

explore where the rivers meet -

there's no place else you'll want

to be." - Joel Waterman General

Manager, Inn at the Forks

Rooms and suites have the

perfect balance of luxury,

sophistication, comfort, and

convenience and all in the

heart of downtown Winnipeg.

Signature custom blown glass

vanities are the feature of the

bathroom, along with exclusive

locally-made Riverstone Spa

amenities. Guestrooms include

a mini-fridge with beer, wine

and snacks for purchase,

complimentary filtered water

service, and the best views

in Winnipeg. I particularly

appreciated the convenient

bedside USB ports.

TRAVEL OFTEN . LIVE WELL . 9
---
WHAT TO DO

JOURNEY TO CHURCHILL

Assiniboine Park Zoo

The award-winning Journey to

Churchill exhibit is home to

polar bears, muskoxen, Arctic

fox and other northern species.

It is the most comprehensive

northern species exhibit of its

kind in the world.

Visitors experience a variety

of naturalistic landscapes

and animal viewing areas.

Interpretive signage and

interactive displays invite visitors

to learn about biodiversity,

climate change and conservation.

It is an educational classroom

like no other, inviting

exploration, challenging thinking

and promoting personal action.

CANADIAN MUSEUM FOR

HUMAN RIGHTS

The Canadian Museum for

Human Rights is the only

museum in the world to explore

the concept of human rights

as an aspiration for all people.

Using multimedia technology

and other innovative approaches

to storytelling, the museum

creates inspiring encounters with

human rights for all ages and

abilities, in a visitor experience

unlike any other.

10 . DRIFTTRAVEL.COM
---
THE FORKS

Remember to save some time

to roam The Forks. Walk,

skate or cycle along the

frozen Assiniboine and Red

Rivers, stopping to view the

amazing warming huts that are

strategically placed on the river

skating course.

The Forks Market offers a great

escape from the cold. Now home

to a vibrant + deliciously eclectic

food hall featuring the best in

local offerings on the main floor

and fantastic local maker and

retail options on the second floor

The Common is must stop

for the wine or beer lover.

Sommelier Veronique Rivest has

curated a great lineup of beers

and wines for taste testing. Think

hearty stouts and rich reds,

perfect for a chilly post-skate

sip, alongside brighter brews and

crisp whites with hints of citrus

and honey.

A winter visit to Winnipeg

wouldn't be complete without a

game of Crokicurl, a Canadian

winter sport first played in

Winnipeg. The game is a large

scale hybrid of curling and the

board game Crokinole. Such

fun!

TRAVEL OFTEN . LIVE WELL . 11
---
WHERE TO EAT

PASSERO the latest restaurant

from celebrated Winnipeg chef

Scott Bagshaw. It features Italian

cuisine with menu items such

as scallop crudo with lomo and

lemon oil, salt-roasted beets with

pistachio butter, blood orange

and salsa verde, and of course,

plenty of delicious house pastas.

TALL GRASS PRAIRIE

BREAD COMPANY is a bakery

dedicated to providing an

exceptional product that respects

the earth, those who grow, mill,

bake and buy the food. This is a

bakery for people to see, smell,

taste and touch the goodness of

the land - real, organic wheat,

milled and baked into healthy,

delicious products.

CLEMENTINE CAFE -

Breakfast, brunch or lunch -

make sure you find time to eat

here! The menu is varied and

inventive. Porridge with mixed

grains, coconut, pineapple puree,

berries, cashews. Roasted

mushroom toast with kale,

tare, truffle cheese, white bean

purée, poached egg. My personal

favorite was the Burger Dip 2.0, a

beef & bacon patty, basil & white

cheddar aioli, pickled white

onion, herbs, phớ jus.

12 . DRIFTTRAVEL.COM
---
DEER + ALMOND

Located in the heart of the

Exchange, chef Mandel Hitzer

has created the restaurant of his

dreams. Full of friends, laughter

and music, Deer + Almond

serves tapas-style dishes, perfect

for sharing in a relaxed and

comfy environment. Try the

roast chicken & kale salad – so

yummy!

TRAVEL OFTEN . LIVE WELL . 13
---
HOT NEW TRAVEL PRODUCTS

TRAVEL GEAR

BY: RUSS WALSH

SUMSUNG GALAXY S10

Celebrating 10 years of great Galaxy phones,

Samsung releases what may be the best cell phone

ever, the Galaxy S10. Nineteen options to choose

from, Galaxy S10 is the device that delivers choice

without compromise. Ultrasonic Fingerprint unlock

– So no more fumbles to unlock Galaxy S10. The

Cinematic Infi nity Display is uninterrupted, super bright

and vibrant. If that wasn't enough, Galaxy S10 can

also wirelessly charge other devices.

If you're like me, the camera may be the most important

feature. If so then you're going to fall in love with the

S10's multiple cameras. Telephoto, Wide-angle and

Ultra Wide cameras, available with just a touch. It's

like a full kit of lens in your pocket.

DRIFT Travel took the new S10 to Cancun, check the

photos – no re-touching – no fi lter. The S10 camera

deliver well saturated colors, well balance exposure

with awesome shadow detail.

samsung.com

14 . DRIFTTRAVEL.COM
---
MARINE LAYER - Products for Men

What guy wouldn't want a little rescue from the damage

done by sun exposure. Here's a skincare trio that's perfect

to take with you and use while you relax on your next

fl ight.

Port Products Marine Layer® Age-Fighting Trio. This antiaging

set of Under Eye Recovery Gel, Sol Defense SPF

17 Daily Moisturizer and Intense Recovery Treatment is

packed with potent marine ingredients like red algae and

sea kelp that work wonders both in the moment and in

the long run—instantly bringing your skin back to life while

fi ghting long-term damage.

themotley.com

TRAVEL OFTEN . LIVE WELL . 15
---
INTREPID BELT BY UNBELTS

This is a lifetime belt. Buy it once, and they'll

repair or replace it forever. A rugged belt that

has all the hallmarks of an Unbelt: insanely

comfortable, machine washable and travelfriendly.

You'll also find some hidden bonuses

like a secret pocket, a no-slip inner grip, and

elastic made out of recycled water bottles.

Unbelts was founded with two goals in mind:

helping you feel great in your jeans, but also

creating quality jobs for the people at the

beginning of our supply chain.

unbelts.com

VESICA - Smart Luggage

The luggage that's more than a suitcase – It's also

an app.

The 100% polycarbonate shell, non-rip nylon interiors

with an Anti-Microbial coating, and padding for our

external laptop sleeve. Comfortable trolley handle

and easy access to the 2 charging posts featuring

a 10400 mAh removable lithium-ion rechargeable

battery. TSA/ FAA approved combination lock keep

your belongings secure while traveling.

The APP – It's so much more than a companion for

the luggage, it helps you build a complete travel

itinerary. Customize your profile and the app will

suggest curated travel options including restaurants,

culture, outdoor recreation and nightlife. Track your

travel statistics, time in the air, destinations visited

and more. No luggage is lost with their Ping GPS

system. Using GPS, Bluetooth, and cellular you now

have the ability to know where your luggage is 24/7

vesica.com

16 . DRIFTTRAVEL.COM
---
CEPTICS WORLD TRAVEL ADAPTER KIT

Perfect Travel Adapter Kit

Grounded Adapter + Surge Protection

2 USB + 2 US Outlets

Smart Voltage Indicator

Safe & High Quality (ETL Listed)

Compact & Light (2.75" x 3.75" x 1.5", 5 oz)

2-Year Limited Warranty

13-Travel Adapter Attachments Included

This adapter kit doesn't convert voltage so make

sure the devices connected to the adapter support

the AC voltage indicated.

ceptics.com

TRAVEL OFTEN . LIVE WELL . 17
---
A WOW

TRIP TO

SPAIN VIA

ICELAND

BY: STEVE DRAKE

Travel to Europe has long

been accessible for North

Americans, but it hasn't always

been affordable or exciting. But

imagine if in a span of just two

weeks you could experience

two diverse countries for less

money than your average flight

to a single country? WOW Air is

making it easy to do just that.

18 . DRIFTTRAVEL.COM
---
WOW Air pioneered the long haul,

low cost stopover flight model and

recently was awarded the CAPA

Aviation Award for Excellence

for Low-Cost Airline of the Year

2018. The award is bestowed

upon an airline that has been the

biggest standout strategically, has

established itself as a leader, has

been most innovative and has

provided a benchmark for others

to follow. For an airline that is just

seven years old, that is quite a feat.

Having flown WOW twice now,

I can see why. The airplanes are

immaculate, the legroom is larger

than normal, the flight crew are

exceptional (I love their magenta

retro style uniforms) and the

flights are very affordable.

TRAVEL OFTEN . LIVE WELL . 19
---
We flew from Toronto, Canada

to Alicante, Spain via Iceland and

it was magnificent. On our way

to Spain, we landed (very early

morning) at Reykjavik Keflavik

International Airport and had a

10-hour layover in Iceland. So we

rented a car and went to explore

Reykjavik, which is about a

40-minute drive from the airport.

It was the perfect amount of time to

explore this small Viking inspired

city, experience an Icelandic

meal, do a little bit of shopping

(save room in your suitcase for an

Icelandic wool sweater or blanket),

and finish with a leisurely drive

back to the airport to board our

flight to Spain.

It was early October and the

weather on the Costa Blanca was

glorious (warm and sunny) but

the tourist mobs had retreated

for the season. I recommend

Spain this time of year – locals

are more relaxed, there are no

lineups and deals are a plenty. We

landed in Alicante, rented a car

20 . DRIFTTRAVEL.COM
---
and meandered along the coast

with stops in Valencia, Sitges

and Barcelona before driving to

Cartagena and Malaga before

ending back in Alicante for a

sojourn. Truly, I could write an

entire feature just about our

Spanish experience on the white

coast but for this article – and I

will at a later date – but for now,

I wanted to share just one of the

gems on our road trip – Calpe.

Calpe is in the province of

Alicante region of Spain, and is

a tiny Mediterranean hilly beach

town nestled at the foot of the

Natural Park of Penyal d'Ifac.

The waters are blue, the beaches

are white and although it is a bit

of a sleepy town, it doesn't lack

in things to do and see. Calpe

has a rich history and because of

its coastal location has attracted

many different settlers over the

centuries including Iberian tribes,

Romans, Christians and Moors.

In its more recent history, Calpe

was a productive fishing village

that progressed into a lucrative

TRAVEL OFTEN . LIVE WELL . 21
---
seaside retreat for travelers. One of

the most impressive sites in Calpe

is the Rock of Ifach. Also a nature

reserve, it rises from the sea into

a rocky towner that measures an

incredible 332 meters high. The

Rock of Ifach is a popular climb

where you can reach the summit

via a (nerve jangling) tunnel

through the upper part of the

rock. Less dangerous adventure

activities in Calpe include a sailing

club, windsurfing, water-skiing,

world class golf and plenty of

coastal walking. With a typical

Mediterranean climate and 3,000

hours of sunshine each year,

Calpe enjoys warm days, cool sea

breezes and wind shelter from the

mountains.

We stayed at the beachfront

Hotel Bahia Calpe by Pierre &

Vacances. The location of this

hotel was amazing – walk out the

front door, down a few steps and

right onto silky sand and into

salty waters. Our spacious room

22 . DRIFTTRAVEL.COM
---
overlooked the Mediterranean Sea

with tremendous views to Rock

of Ifach. The hotel's flexible late

arrival was appreciated and the

morning breakfast (included in the

room rate) was the best of our trip

in either country. The Wi-Fi was

strong and the air conditioning was

cold. There was a store just down

the street for basic supplies and

the local restaurants were friendly,

delicious and cheap! When you

think of Spain or visiting the Costa

Blanca, Calpe is not as popular as

other Costa Blanca beach towns,

but it should be. It is bucket worthy

for many reasons. After three days,

we left feeling relaxed, rejuvenated

and feeling like we had connected

with local culture, and still had

money left in our wallets – which

was important as we headed to

Barcelona (more on that later)!

On our return trip from Spain, we

chose a three day layover in Iceland

so we could experience all corners

of this unique island. My wife

TRAVEL OFTEN . LIVE WELL . 23
---
efers to this enigmatic country as

the bright side of the moon. The

topography, the geysers, the black

volcanic beaches, the roads that

seemingly lead to nowhere and the

tiny villages along the way – it is a

country that every traveler should

experience at least once. For a real

treat, spend an afternoon at the

Blue Lagoon.

Flying back to Toronto with WOW

Air, we spent one night at the

airport and chose the Alt Toronto

hotel. It offers such convenience

to the airport, especially for early

morning flights. The hotel is

bright, modern and comfortable

with rooms that are spacious and

relaxing. Every day, more than

1,100 airplanes take off and land

at Toronto's Pearson International

Airport. That is a lot of people,

coming and going. I love airport

hotels because I find it fascinating

to watch airplanes come and go

from my hotel room window;

wondering where people have

24 . DRIFTTRAVEL.COM
---
een or why they are traveling.

WOW Air might have chosen

their name for brand identity and

perhaps the impact of the name

splashed across a brightly painted

plane – but the name is appropriate.

The level of service, airline staff,

food on board and the attention

to care and detail all wowed me. I

am a fan and I look forward to my

next European adventure with an

Icelandic stopover very soon.

TRAVEL OFTEN . LIVE WELL . 25
---
Discovering All Natural

Wine Bars in Paris

BY: DONI BELAU

Natural wine is all the rage in Paris and the fervor has been raging for many years now. That's why its

surprising that it really hasn't caught on as much in the states, even in New York City where we love to

adopt a trend. No self-respecting foodie in Paris would turn their nose up at natural wine or look at you

with a dumb stare when you mention it but here both are the most common responses to the subject. There

is simply no important restaurant in the city of light that doesn't have natural wine on its list whereas I may

only find a few bottles sprinkled on the better lists here in NY and oddly the sommeliers do not advertise

or push it. Quelle domage!

For those unfamiliar, natural wine can be described as wine made without many additives and using the

least amount of intervention possible. No added sulphates means less headaches in the morning which

we can all be grateful for. Natural wines do taste slightly different than wine you are probably used to, so

taking a natural wine tasting tour is a wonderful way to learn about it the next time you are in Paris. If you

don't have access to Michael Issac, my go to expert and Sommelier who knows natural wine like the back

of his hand or you are unable to take a tour with Gastronomes, then go ahead and enjoy several of my picks

below on your own. Cheers!

26 . DRIFTTRAVEL.COM
---
1

Yard

At Yard you'll eat and drink well

and enjoy the company and

conviviality around you. Situated

on an tiny street in the 11th, on a

warm night people spill out onto

the rue. This hotspot is owned by

two sisters and the natural wine is

selected by Clovis Ochin, a wellknown

natural wine distributor.

Break out and try some of their

funkier, farm-ier even effervescent

natural glasses backing it up with

some of their clean Mediterranean

food. When I was there our

group sat outside ordered several

different wines and immediately

began chatting with our neighbors

- its that kind of place.

2

Jones

In an unfinished industrial space

in the 11th arrondissement you

can chat, chew and sip some of the

best natural wine around. Owned

by restauranteur Flo Ciccoli this

place is cooler than cool sporting

a distinct hipster vibe sans the

attitude. A good night is pretty

much guaranteed if you start or

end it here. The wine list is 100%

natural so order what feels right

and or sit down for a meal of

market fresh vegetable forward

cuisine. Reservations suggested.

TRAVEL OFTEN . LIVE WELL . 27
---
3

Les Papilles

An oldie but a goodie, this might be one of the first real

Parisian wine bars I ever went to years ago. I love how one

can simply take a bottle off the shelf because this latin quarter

spot doubles as a wine store by day. You can choose a nice

bottle by a non-interventionist winemaker that marry's

nicely with whatever they are serving that night, bottles are

imminently affordable because they charge the same price as

a wine store would plus a 7 euro corkage fee. No 60% markup

here. This is a one-set-menu kind of resto based on what the

chef discovered that day in the market. This idea is something

many Parisian restaurants have taken to doing over the past

decade. Considering it allows the chef to waste less and focus

more on creating just several perfect dishes, I'm a huge fan

of the concept. Ask for guidance on choosing the wine if you

are a newbie.

28 . DRIFTTRAVEL.COM
---
4

Coup D'Oeil

A newer and more casual place then

Les Papilles feel free to stop in here,

grab a stool, order a glass and a snack.

Situated in the always-fun 11th

arrondissement, there are a few seats

outside and in summer you can enjoy

a nice sunset while drinking some

very approachable natural wines. The

owner and passionate natural wine

connoisseur David Rougier charms

as do the French shareable tapas on

offer. Or sit down to a proper meal,

at lunch a 3-course menu will run

you just 18 euros. The offerings are

simple, fresh and done with panache.

When I was there last fall, every bite

and sip we had was perfection.

5

Frenchie Bar à Vins

This extremely well-known wine bar is the little sister to Frenchie across the street in the 2nd arr. that

wears its Michelin Star proudly. Both the wine bar and the resto are very difficult to get into, the word

got out years ago and the lines still keep forming. So, yes its hard to get in, and you'll have to sit on a

stool but the food is as superb as the wine. If you can put up with the hassle, its worth it. Make sure

to order lots of appetizers and share them. Take advantage of the reasonable per glass price and try

a number of different wines. Pro Tip: Begin standing in line at least 1/2 hour before they open and

chances are you'll get in. Of course its easier earlier in the week rather than a Friday night.

TRAVEL OFTEN . LIVE WELL . 29
---
6

Le Baron Rouge

Go on a Sunday so you can try

the oysters from the grower who

drives up from Archachon to

present his pearls. Stand in line as

he shucks a plate for you outside.

This is the most affordable wine

bar on the list and probably

the most fun. Located in the

underrated 12th arrondissement

they actually pour you a glass or a

bottle out of a tap from one of the

many small barrels stacked along

the wall. Beware, the place can get

absolutely packed but after a few

glasses of 3 euro wine you'll be

chatting and sharing space with

your mostly Parisian neighbors.

7

Freddy's

Squish into the bar at this hot spot in

the 6th and order several different

kinds of wine and small plates to

create your own tasting. I'm a fan

of the industrial decor I just wish

it wasn't as popular or crowded

because when I went one of us

had to stand. However each plate

we tasted was superb and made

bearing the crowd almost bearable.

Go early or late if you want to have

a calmer experience. You'll have a

tiny area to rest your plate and glass

but you won't be disappointed. No

reservations accepted.

30 . DRIFTTRAVEL.COM
---
8

Companie sur Vin Surnaturel

When you are sick of standing

in line, being squished against a

wall or having to stand while you

drink your vin naturel, head to this

more adult-friendly spot opened

by the three boys of Experimental

Cocktail fame. The decor by their

go-to gal Dorothée Meilichzon

soothes and comforts as do the

sharable plates and proper glasses

of wine. You'll pay a bit more

for the ease as well as the huge

selection of wines both natural and

otherwise but sometimes ponying

up is worth it. Situated on my old

rue in Paris' tony St. Germain area

the neighborhood ambiance suits

the grown-up in us all.

Doni Belau is the author of Paris Cocktails as well as the creator of Girls' Guide to Paris. She guides

tours for women-only groups throughout France each year. She divides her time between NYC,

Paris and her home outside of Bordeaux in Southwestern France.

TRAVEL OFTEN . LIVE WELL . 31
---
Let's Take the Kids to

Canada's Castle on the Coast

BY: REBECCA TALBOT

Fairmont Empress takes care of parents and kids – in luxury style!

32 . DRIFTTRAVEL.COM
---
Fairmont Empress Hotel is Forbes Four-Star, 4 Diamond

rating, with Fairmont Gold, Willow Stream Spa and world

famous Empress 1908 gin, automatically makes you think...

family vacation!!! Well, maybe it didn't make you think that,

but it should. When you're in the mood for sophisticated old

world charm, Canada's Castle on the Coast mixes upscale

and family friendly so well, it's the perfect holiday to keep

everyone happy. Of course, your kids would be happy with a

trip to Disneyland but when the family is tagging along on a

business trip, hotels often treat them as just that… tag-alongs.

Not at The Empress; this luxury hotel has recognized this

conundrum and created a family package that checks all the

boxes.

From the moment we arrived on Vancouver Island

via Helijet, our vacation with the Empress began with

Fairmont's BMW car service to the hotel. Our bags traveled

ahead of us to our room while we checked in at the

Fairmont Gold concierge, who informed us of the benefits

of the gold lounge including food service times, where to

find board games and an honor bar featuring Todd's favorite

purple Empress 1908 Gin.

Once in our room, the kids discovered a brilliant little

'camp out' set up just for them. The Empress "Let's Take the

Kids" package includes a tent for the kids complete with

pint-sized robes, sweet treats, stuffed Bengal tigers, and an

TRAVEL OFTEN . LIVE WELL . 33
---
activity book that sends them on a scavenger hunt

all around the hotel. Our two loved the special

attention and spent much time in the tent with

their toys. They completed the scavenger hunt by

the end of the trip and were so excited to choose

their prizes.

The big kids (Todd and I) were thrilled to have a

date at the Q restaurant! The house made flax and

farrow bread, warm from the oven, and served

with the whipped butter and honey from the

hotel's own bees, is not to be missed. But the most

impressive thing about our date was the nanny

service that made it all happen. A Spoon Full of

Sugar Nanny Service sent their very own Mary

Poppins complete with British accent and a bag of

tricks to entertain the kiddies. Getting back to the

room with sound asleep children was the greatest

gift we could have received, because bedtime with

the kids in hotel rooms always requires the most

out of a parent's patience!

The business on this particular excursion was an

event sponsored by Fairmont Empress, benefitting

BC Children's Hospital Foundation and the kids

and their families who have to travel for care. In

keeping with the family theme, we put our kids

to work at the Shine Fashion Tea and got all the

34 . DRIFTTRAVEL.COM
---
Talbots participating in the event. With Todd and I

as event hosts and emcees, and Ashlyn and Kesler

modeling in the kids fashion show, we were able

to have our cake and eat it too - literally because

the event included high tea complete with scones,

clotted cream and cakes!

TRAVEL OFTEN . LIVE WELL . 35
---
The event has grown quite popular in Victoria

and though attendees are happy to just be there

enjoying high tea in fancy hats, they are also

contributing to the lives of the 8,000 children a

year who need to travel from the island to BC

Children's hospital in mainland Vancouver. It's a

fundraiser that we are proud to be involved in and

to teach our kids the difference they can make

by volunteering. Although they might be doing

it for those little bottles of shampoo with their

own names on it, we can only hope that the bigger

picture will sink in as we continue to include them

in the work we do. We are grateful to the Empress

hotel for giving us this opportunity and treating us

as they do with all of their guests, like royalty.

36 . DRIFTTRAVEL.COM
---
KNOW BEFORE YOU GO:

Fairmont Empress sits majestically

overlooking Victoria's inner harbor.

It has a walk score of 98 and so a car

is really not necessary. There is much

to do with the family within walking

distance of the hotel including the Royal

BC Museum, Victoria Bug Zoo, and

checking out the authentic totem poles

in Beacon Hill Park.

Traveling from Vancouver to Victoria,

two harbor-to-harbor options include

Helijet which is a fantastic 35-minute

helicopter ride with spectacular views or

V2V Vacations which offers a leisurely,

luxury focused 3-hour ferry cruise.

Travel to Victoria is great any time of

year. During the summer, the city fills

with stunning flowers, sailboats and

tourists. Spring and fall are a treat in

the city, as hotel prices are lower and

there is less tourist congestion. If you are

coming from a cold climate, try Victoria

during the winter, as the city boasts the

most temperate climate in Canada.

TRAVEL OFTEN . LIVE WELL . 37
---
Cristo Blanco is massive statue of Jesus Christ which sits atop the city's mountainside and symbolizes

Peru's predominantly Catholic religion. It is illuminated at night and distinctively visible from the

Plaza de Aromas.

38 . DRIFTTRAVEL.COM
---
PERU

a photographic journey

Featured Photographer:

Jon Andrasz

At a very young age I had always envisioned

myself traveling the world and exploring diverse

cultures. Despite working in the insurance field,

photography has always been my passion and I

have been fortunate to visit over 40 countries.

I believe that every image is an expression of

individuality and symbolizes a unique perspective

and view of the world as seen through the eyes of

the photographer. I have never shied away from

last-minute trips and this Peruvian excursion was

no exception.

Website: shutterbugsafari.com

Instagram: @shutterbugsafari

Equipment: Nikon D700 with a Nikkor 24-70mm

F2.8 and a 10.5mm Fisheye lens

TRAVEL OFTEN . LIVE WELL . 39
---
40 . DRIFTTRAVEL.COM
---
Cusco's Plaza de Aromas comes to life in the early evening hours and

serves as a popular gathering place for both locals and tourists.

TRAVEL OFTEN . LIVE WELL . 41
---
Pan Chuta is traditional hand-made bread that is more than just a

food staple. This delicious local bread is often given as a gift and is

entrenched in Cusco's culture and society.

There is no shortage of photo opportunities if you like vibrant images.

Most locals are happy and honored to show off their colorful clothing.

42 . DRIFTTRAVEL.COM
---
Llamas and Alpacas are often kept as pets in many rural

communities and considered a part of the family.

TRAVEL OFTEN . LIVE WELL . 43
---
Masks have always been a part Cusco's culture and these colorful Devil Balaclavas are

usually worn during carnival season but can also keep you warm on chilly days.

44 . DRIFTTRAVEL.COM
---
TRAVEL OFTEN . LIVE WELL . 45
---
The Sacsayhuaman Ruins capture over 3000 years of historic battles with the

Spaniards. The region is considered as a sacred and spiritual place to most Peruvians.

46 . DRIFTTRAVEL.COM
---
The construction of these massive stones remains a

mystery due to the lack of technology at the time.

TRAVEL OFTEN . LIVE WELL . 47
---
Llamas can be found roaming freely throughout the

mountainous landscape as well as wondering through the

streets of Cusco. These domesticated animals have been used

for centuries as transporters but are now valued more for their

fur which can yield various fabrics.

48 . DRIFTTRAVEL.COM
---
There are various ways to get to Machu Picchu from Cusco but trains are

usually the quickest and most reliable. Upon arrival in Agues Calientes,

you will still need to hop on a shuttle bus to reach Machu Picchu.

TRAVEL OFTEN . LIVE WELL . 49
---
50 . DRIFTTRAVEL.COM
---
People often ask me what Machu Picchu is like and I tell them that it looks

exactly as it does in photographs but there is no way to capture its energy and

sense of spirituality until you visit this magical site.

TRAVEL OFTEN . LIVE WELL . 51
---
A First-Timer's Guide

to a Family Safari

BY ZOEY GOTO

I was recently asked to name the best place to take kids on holiday, and without

missing a beat I knew the answer – on an African safari! Whilst this may not be an

obvious choice for many families, a safari trip with children is well worth putting

on to the table for consideration. The close proximity to wild animals and exposure

to different cultures, combined with a crop of new eco-luxe camps, set against

the striking beauty of the African bush, creates a memorable experience that can

enrich the whole family.

Having recently returned from an epic three-camp safari tour of Botswana, with

my seven-year old daughter in tow, here are my tips for how to prepare and get the

most out of this once in a lifetime family trip.

52 . DRIFTTRAVEL.COM
---
Before You Go

If vaccinations are needed or not

will depend on where you are up

to with your boosters and your

chosen destination. Aim to speak

to a travel healthcare practitioner

6-8 weeks in advance of travel.

Malaria tablets may be required,

depending on the region and the

season, but note that smaller,

easier to swallow tablets are now

available for kids. If it transpires

that you and your family need to

have vaccinations, don't let this

deter you! For our Botswana trip,

my daughter and I had to have a

booster injection each and take

malaria tablets, but this paled in

significance compared to what we

gained from our amazing safari

experience.

TRAVEL OFTEN . LIVE WELL . 53
---
What to Pack for a Safari

If you are planning on staying at

a more remote safari camp, this

may involve getting there in a

light aircraft. Generally, the small

charter planes will have a weight

limit on the luggage, so packing

light is essential. Thankfully, all

of the camps that we stayed at

offered a complimentary, sameday

laundry service, so we only

needed a handful of outfits.

However, although daytime

temperatures in the bush can soar,

the morning game drives can be

surprisingly chilly, so make sure

you include warm layers.

Safari essentials include a camera

for all those amazing wildlife

photos (Vtech have a decent

camera for kids), a sunhat and

sunblock, insect spray, jeans, a

pair of shorts, a few t-shirts, a

fleece, closed shoes, swimwear,

binoculars and a good book. Born

Free by Joy Adamson and The

No. 1 Ladies' Detective Agency

by Alexander McCall Smith, both

make good safari reading.

Where to Stay

For a stress-free safari with kids,

make sure you book with an

operator who is experienced

in family tours. We chose to

stay at three camps run by

Wilderness Safaris, who have

54 . DRIFTTRAVEL.COM
---
camps throughout Africa and a

reputation for being the best in

the business for safaris with kids,

with larger family lodges, kid's

menus, most importantly, safari

activities specifically tailored for

children.

Families visiting the Wilderness

Safaris camps also get their own

Bush Buddy – a dedicated mentor

who is on-hand to enhance the

kid's safari experience and help

out with childcare. Amazingly,

this service is complimentary

for families and was one of the

highlights of the trip for my

daughter, who learnt to make

beaded African jewelery and

to play the traditional game

of Morabaraba with marbles,

which she has since taught her

classmates back at home!

If you're looking for a region

teaming with wildlife, then

Botswana's Okavango Delta a

great option. It offers the variety

of both land and water activities

to keep things interesting, and is

home to some of the most diverse

wildlife on the planet. Expect to

see lions hunting just feet away,

hippos wallowing in lakes and

curious elephants coming right

up to the safari jeep.

TRAVEL OFTEN . LIVE WELL . 55
---
What Does a Typical Safari

Day Look Like?

Generally, your safari day will

involve two separate activities,

starting with an early morning

game drive. For a safari with

children, it is worth paying extra

for private activities, so you can

go at their pace and come back to

the camp early if they tire.

Following lunch and some

downtime back at the camp,

the afternoon activity could be

another game drive, a walking

safari tracking the animals,

visiting a local village, taking a

traditional mokoro canoe down

the waterways or even viewing the

animals from above, in a hot air

balloon. When researching and

booking a family safari, it is worth

ensuring that the camp offers a

few different activity options, so

that children don't get bored.

What Do You Do In the

Evening?

Many camps also offer night time

safari drives, or cultural activities.

During our stay at Tubu Tree, a

camp built into the treetops in

the Jao Reserve, we were treated

an evening of traditional African

songs and dance, performed

around a campfire, with a

dramatic sun setting over the

dusty plains.

56 . DRIFTTRAVEL.COM
---
Try to find a camp where you

can sleep in a safari tent, as this

is a great way to connect with

nature and can be particularly

entertaining at night. With just

canvas between you and the

wildlife, drifting off to sleep whilst

listening to nature's chorus, which

can include lions roaring, is a

very immersive and memorable

experience for children.

What is the Best Age to

Take a Child on Safari?

It depends on your child's level

of maturity, but eight years is

generally considered a good age

for a child to gain the most from

a safari. Game drives can be long

and the children will need to

exercise some control around the

wild animals, so as not to scare

them. However, if you wanted

to take younger children, many

camps will allow babies and

toddlers and some offer childminding

facilities.

What Is The Best Time Of

Year for a Family Safari?

The good news is that there isn't a

bad time to visit Africa on safari,

as each season has its own unique

charm. The wet season can offer

more in terms of waterborne

activities and is particularly

scenic, whilst the dry season is

the best time for wildlife viewing.

Easter is a good time for spotting

baby animals, which is always a

hit with children!

Anything Else I Should

Consider?

Most African safari camps will

have a restricted or no Wi-Fi,

so you may be signing up for

a digital detox. However, with

nature's classroom on your

doorstep, there is so much to keep

the children entertained that this

can feel very beneficial after a

couple of days of adjustment.

Finally, it may be worth preparing

a few activities to keep the

children entertained on game

drives. Think animal and bird

checklists, a game of spot the

animal tracks or some wildlife

quiz printouts, for the inevitable

moments when there is a lull

in the animal spotting. And

a notebook and pen, for your

budding conservationists to

keep a record of their incredible

adventure!

Africa Odyssey - Wilderness

Safaris trip to Botswana -

africaodyssey.com

TRAVEL OFTEN . LIVE WELL . 57
---
Wine & Food

tours in South Australia

BY: MARY ANNE KENNEDY

Are you looking to enjoy a true South Australian food and

wine experience? Meet the makers; enjoy their fine food

and wine, experience the hospitality of friendly people

and relish the special ingredient...WINE! A Taste of South

Australia offers tours ranging from serious wine, to hands on fun

food and wine experiences.

Incorporating what is the essential ingredients of South Australia.

They give visitors the opportunity to enjoy these secrets and very

special gems in all a premium tour format.

They have private and small group tours to the wine regions of South

Australia as well as special half day experiences that can incorporate

Adelaide with highlights of wine, food, wildlife and aboriginal

experience which are tailor-made to your needs. They also create

many extended tours from one to several days for couples to groups,

that can cater to the more serious wine lovers, families, or those

wanting a unique experience tailored to their own special interests.

For more information visit tastesa.com.au.

58 . DRIFTTRAVEL.COM
---
Live like a local

and get the

taste, texture

and essence

of life in

South Australia

TRAVEL OFTEN . LIVE WELL . 59
---
Vietnam

BY: KATIE MERRIAM

Kansas native Katie Merriam

received her MFA in Film

Production from USC, and

uses her cinematographer's

eye to record the beautiful, the

interesting, and the just plain

weird images of life and her

travels.

Instagram: @katability

60 . DRIFTTRAVEL.COM
---
Hoi An is famous for it's silk lanterns and nightly light show and

festivities. This shop sits right on the river and is run by a family who

hand craft their lanterns to sell.

TRAVEL OFTEN . LIVE WELL . 61
---
In the heart of the Marble Mountain near Da Nang

stands a 20 foot statue of Buddha. The perfect place to

practice peace of mind, while bats fly over head.

62 . DRIFTTRAVEL.COM
---
Real men wear flowers. The scholar warrior statues at the burial

site of Emperor Tu Duc look dashing in their silent stances,

though none could be taller than the Emperor himself.

TRAVEL OFTEN . LIVE WELL . 63
---
A tour guide, dressed in the traditional Ao dai and

conical hat, steps inside for one moment, taking a break

from the sun and her group of multinational tourists.

64 . DRIFTTRAVEL.COM
---
A fishing boat glides through the water near ancient

limestone islands of Ha Long Bay in Northern Vietnam.

Mekong Delta fisherman use a circular net and

amazing throwing technique to catch fish for

themselves and the floating market nearby.

TRAVEL OFTEN . LIVE WELL . 65
---
In a small pottery village in northern Vietnam, family members make

their wares for the markets. One of the ladies rolls out the clay for the

other to shape into the large pottery their family is known for making.

66 . DRIFTTRAVEL.COM
---
On Coconut Island in the Mekong Delta area,

a family still makes tasty coconut candy in the

traditional manner. Dental fillings beware.

TRAVEL OFTEN . LIVE WELL . 67
---
A monkey lives the good life near Cao Dai temple in Southern Vietnam.

We were advised that they would take our cell phones if we got too close

but apparently they were looking for iphones and not androids.

Water buffalo graze along the only highway that stretches the length of

the country. These archetypal animals seem completely unaware of any

changing customs or tourists excitedly snapping their pictures.

68 . DRIFTTRAVEL.COM
---
A traditional lantern hangs near a shrine in the iconic

Japanese covered bridge that dates back to the 18th century,

situated in the ancient port city, Hoi An.

TRAVEL OFTEN . LIVE WELL . 69
---
Women

in Wine

BY: ALEXANDRA LOWDER

Napa Valley is known around the world as a region that produces incredible

wines, and with well over 400 wineries in Napa and Sonoma counties, it is often

hard for brands to stand out from the rest of the pack; that is certainly not the

case for BACA Wines. One of Napa Valley's newest brands is making a big splash

in the wine industry by being one of the only brands to be almost completely

spearheaded by women. Owned by Kathryn Walt Hall and Craig Hall, BACA is a

fresh, new luxury California Zinfandel that fosters a sense of adventure. BACA,

founded in 2018, is led by both Director Jennifer Brown and Winemaker Alison

Frichtl Hollister, who have set out to create a wine that is nuanced, honest, current

and fun. BACA is all about getting outside and making the most of each moment,

which is something that feels natural to so many of its followers.

70 . DRIFTTRAVEL.COM
---
While BACA celebrates the diversity that having women leaders brings to the

company each and every day, they also pay special attention to International

Women's Month and Day. The theme of this year's Women's Day, happening

on March 8th, is #BalanceForBetter, which is all about the effort for gender

equality both professionally and personally. With far fewer than 50% of Napa

Valley Wineries having female winemakers, BACA is incredibly fortunate to

have Alison as their rock-star winemaker. They are even further shattering

glass ceilings with the stand-out leadership of Director Jennifer Brown.

Jennifer Brown leads brand development, marketing strategies, and operational

plans, as well as spearheads Direct-to-Consumer and Wholesale channels for

the newly launched luxury wine brand. Prior to working at HALL & WALT,

Jennifer was the founder of Omghow / Girl Karma Inc., a social platform and

positive destination for teen girls.

TRAVEL OFTEN . LIVE WELL . 71
---
"At BACA." says Brown, "we have women in leadership positions across all

parts of the company, including myself as the director of BACA and Alison

Frichtl Hollister, as our winemaker. Women have touched every aspect of our

wine – from the women in the fields who help pick the grapes to our Creative

Manager Christy Logan, who designed our wine label. We know that having

women and men at our winery increases diversity of thought and creates

a better product. For example, I have often thought that women taste wine

differently than men do, so having both Alison and Steve Leveque, our VP of

Winemaking, in the winemaking process results in better wine."

Jennifer grew up in the wine industry. Some of her fondest childhood memories

are skipping through her family's Zinfandel vineyards in Redwood Valley

with her brother. As a little girl, she would pick out stones from the vineyards

to inspire her mother, Vintner Kathryn Hall, to choose a background for their

family's original WALT labels.

72 . DRIFTTRAVEL.COM
---
"On a personal note, I grew up with a strong female role model, who showed

me what it means to be a woman who knows her power. My mother, Kathryn

Hall, has been a trailblazer in male-dominated industries. She was one of only

a few women in her law school class; she was an ambassador to Austria, when

most of her predecessors and employees were men; she is a vintner when

most in the wine industry are men. I feel very proud to be a female leader

and to work with so many smart, capable women and men." Shares Director

Jennifer Brown.

BACA's message has inspired celebrities, influencers and wine lovers alike

have join forces in support of this female led brand. Check out BACA's

Instagram @BACAWines using the hashtag #ForTheZin to learn how you can

get involved. Throughout the month of March, we are raising our glasses to

the strong women who surround us in all aspects of life. Cheers to finding a

#BalanceForBetter.

BACA is part of the HALL Family of wine brands and is produced at HALL

Wines in St. Helena. For more information, please visit www.bacawines.com.

TRAVEL OFTEN . LIVE WELL . 73
---
"CAN I FIND A HIGHER

QUALITY OF LIFE FOR A

LOWER PRICE?"

BY: MIKE COBB

When most people think of

paradise it's usually sunny

and warm year-round, crystal

blue waters, pristine beaches,

stress-free tranquility. Often

there's an icy margarita in

there somewhere too. And

while different people imagine

different versions of nirvana,

there's usually one common

thread in trying to take those

dreams from fantasy to reality.

74 . DRIFTTRAVEL.COM
---
If you can achieve that, consider

it paradise found. And thankfully

you can…you don't have to suffer

Milton's dilemma. That's because

there is just such a place and

it's only a few hours from your

nearest airport.

It's no secret that for many years

the best bang for your North

American dollar was Central

and South America. But with the

overexposure of many traditional

expat hotspots like Costa Rica,

prices for foreigners looking to

relocate abroad have inflated

beyond ideal. Consider then, the

newest Caribbean darling for inthe-know

expats...Belize!

While some savvy international

minds have figured out the

wonders that Belize has to offer,

the country is still in its infancy of

growing popularity. With worldclass

diving, fly fishing, beautiful

Caribbean climate and beaches,

Mayan ruins in the jungle, colorful

culture, and a host of top financial

and investment opportunities,

Belize is the expat secret that's

about to be let out of the bag.

Real Estate Affordability

For those interested in investing

and owning foreign real estate,

Belize is a buyer's market. Whether

for commercial property, rental

property or even personal

property to use for yourself

and your family, the economic

landscape of Belize is the perfect

place for foreign capital injection.

TRAVEL OFTEN . LIVE WELL . 75
---
The reason is two-fold – one,

while other countries in the

region with a developmental head

start were receiving press, Belize

was waiting just out of sight,

working on its infrastructure.

When neighboring countries

became too pricey, insightful

investors turned their attention

toward Belize, particularly the

island of Ambergris Caye, which

is surrounded by the crystal blue

waters of the Caribbean. The result

is an island with the infrastructure

and quality-of-life opportunities

to attract tourists and expats in

waves. And two, its cost of living

hasn't yet caught up. Real estate

prices are increasing as people

catch on, but where we stand here

in early 2019, assertive investors

are still well ahead of the curve.

Growing Tourism

The heartbeat of any good tourism

sector is the ease of travel in and

out of the country. With tourist

demand and international flights

increasing every year into Belize,

the Belize City International

Airport (BZE) is well underway on

a projected 130,000-square-foot

expansion and renovation. This

includes expanded baggage claim,

increased duty-free shopping,

additional check-in counters

and departure gates, as well as

expanded aircraft parking.

76 . DRIFTTRAVEL.COM
---
In 2011, tourism in Belize

accounted for 12 percent of

the country's GDP, bringing in

$176M. By the end of 2018, that

number had grown to over 38

percent generating over $244M in

revenues for the country.

In 2015, 1.3 million tourists visited

the small Caribbean nation and

in 2016, tourism-related jobs

made up nearly 13 percent of the

country's employment. 2017 saw

an increase in arrivals in all 12

months of the year, accounting for

7.8 percent growth and monthly

overnight arrivals reached highs of

49,000 visitors by December. There

was a 14.6 percent increase in

overnight arrivals in 2018, which

equates to a boost of more than

62,000 visitors to the country.

For two consecutive years, Belize

has been featured prominently

by National Geographic for both

its tourist-friendly offerings and

its conservation efforts to protect

the famed Belize Barrier Reef.

Proudly, due to intensive training

and education efforts, the reef

in Belize was recently removed

from the UNESCO Danger List.

Last year, Belize was named in the

publication's "Best Winter Trips

2018," and this year was the only

Central American nation included

in the list of "Best Trips 2019."

TRAVEL OFTEN . LIVE WELL . 77
---
Caribbean Culture

Unlike many of the other

tourist hotspots in the region,

Belize has been able to preserve

its unadulterated Caribbean

charm. You won't find any chain

restaurants or large shopping

complexes. With infrastructure

developing to satisfy North

American standards of living,

Belize has been able to make

necessary improvements without

trading advancement for culture.

The local color is alive and

well, evidenced by the fresh

markets, locally-owned shops

and restaurants, well-preserved

archeological sites, and historical

architecture. Those interested

in diving, fishing, snorkeling,

and incredible Mayan ruins will

find unparalleled adventure

in Belize. And U.S. expats and

investors won't have to overcome

too many cultural boundaries

in order to assimilate. English

is the country's official language

and many of the local businesses

accept U.S. currency.

Tropical Climate

Belize enjoys a Caribbean subtropical

climate that many expats

find to be a welcome change

from their home country. Expect

two seasons, rainy and dry,

and average temperatures on

the mainland falling between

73°F and 75°F, although in the

lowland jungles, the daytime

78 . DRIFTTRAVEL.COM
---
temperatures will be in the

90's. The picturesque island of

Ambergris Caye sees average

temperatures hovering around

77°F and receives great sea

breezes. Anyone looking to

escape the weight of Seasonal

Affective Disorder will welcome

Belize with open arms.

Untapped Investment

Opportunities

Belize is the perfect example

of an untapped market.

Idyllic natural landscape,

countless leisure and adventure

opportunities, very affordable

real estate, a push towards firstworld

tourism infrastructure,

and an undersaturated business

market. This means huge

potential for those willing to

invest in the country.

Pair this with close proximity

to North America – less than

two hours from Miami and

Houston – the ease of opening

a business in the country, the

English language, attractive

banking, trust and corporate

registry laws, and you have a

formula for success. Residency is

easy to obtain and maintain and

the locals are very welcoming to

outsiders. If you're serious about

dipping your toes into the crystal

blue waters of international

investing and real estate, Belize

is a regional opportunity you

should examine right now.

TRAVEL OFTEN . LIVE WELL . 79
---
The perfect family

vacation for kids

of all ages

BY LAURA D'ANGELO

Fun in the sun looks very different to babies, school-aged kids and teens.

Whether you're a new Mom looking for tips on how to travel with your baby for

the first time, or a Dad seeking a resort cool enough to convince your teen to

come away with the family on vacation, then this guide is for you.

To learn more about Sunwing's top-rated family resorts, check out reviews by

the tour operators trusted team of travel savvy Kidcationers who ensure familyfriendly

resorts are kid-tested and parent-approved!

80 . DRIFTTRAVEL.COM
---
Teens can ride non-stop waves at Royalton Bavaro Resort and Spa, Dominican Republic

It's often hard to convince teens to join the family vacation but if you pick a resort like Royalton

Bavaro Resort and Spa they may even ask to bring their friends along too! From practicing their

hang ten surf skills on FlowRider® – the ultimate surf machine, to learning new skills on the water

with complimentary kayaking and paddle boarding, there's plenty to fill their days with Instaworthy

moments. Evenings can be spent at the Hangout Teens Lounge equipped with video games, pool

tables and more or grabbing a burger with their friends at one of the many relaxed eateries, while

you take advantage of the resort's plentiful à la carte dining options.

TRAVEL OFTEN . LIVE WELL . 81
---
Preschoolers can join the Paw Patrol at Nickelodeon

Hotels and Resorts Punta Cana, Dominican Republic

Nickelodeon Hotels and Resorts Punta Cana is a preschooler's

paradise where cartoons come to life. Little ones can meet their

favorite Nickelodeon characters including Dora the Explorer,

the Teenage Mutant Ninja Turtles, Paw Patrol and more! Kids

can get slimed at the Aqua Nick Playground featuring a kiddie

splash pad or glide down a two-story slide into a ball pit at the

supervised kids club. For an unforgettable experience, families

can stay in SpongeBob's one-of-a-kind Pineapple Villa.

82 . DRIFTTRAVEL.COM
---
Schoolchildren won't want to skip class at Planet Hollywood Beach Resort, Costa Rica

Planet Hollywood Beach Resort Costa Rica might be the only vacation destination where the

kids will ask to go back to school: stage school that is. A favorite activity at the resort's Star

Kids Club is the performance arts program. Complete with a wardrobe room full of red carpetready

costumes, video recording equipment and a green screen, mini-rock stars and aspiring

Hollywood divas can learn how to write chart-topping hits or take centre stage in their very own

movie.

TRAVEL OFTEN . LIVE WELL . 83
---
84 . DRIFTTRAVEL.COM

Tweens can saddle up at Jewel Runaway Bay

Beach and Golf Resort's water park, Jamaica

Home to not only one of the area's largest water parks,

Jewel Lagoon Water Park, but its own Wild West inspired

ranch, Jewel Runaway Bay Beach and Golf Resort has

everything to keep this tricky age group entertained.

From zooming down daring slides to horseriding and

honing their 'cowboy skills' learning how to lasso by day

to an evening laser tag or s'mores by the beach bonfire,

you may just convince them to leave that cell phone in the

room (well for a few hours at least!).
---
LIFE

IN THE

FACE OF

CANCER

ERIC McCORMACK

Stand Up To Cancer Canada

Ambassador

We all have a story to tell and no matter who

you are – a mother, a son, a best friend –

cancer will change your life forever. But with

research, we can change the story and help

Canadians affected by cancer to live their lives

to the fullest.

Join Stand Up To Cancer Canada and the

Canadian Cancer Society to learn more about

the groundbreaking research and clinical trials

that translate into life-saving treatments that

may help you or your loved ones.

TOGETHER, WE CAN CHANGE

THE FACE OF CANCER.

Visit StandUpToCancer.ca/CCS to learn more.

Photo

ANDREW ECCLES

Stand Up To Cancer Canada is a Canadian Registered Charity (Reg. # 80550 6730 RR0001).

Stand Up To Cancer and the design trademarks are trademarks of the Entertainment Industry

Foundation, used under license.

TRAVEL OFTEN . LIVE WELL . 85
---
#WHERETONEXT

CANCUN, MEXICO

Cancún, Mexican - on the Yucatán Peninsula

bordering the Caribbean Sea. Known for its

beaches, numerous resorts and nightlife.

DRIFT Travel spends a week at the new

Royalton Suites Cancun Resort and Spa. A

5-star beachfront, all-inclusive family-friendly

Mexico spa resort.

86 . DRIFTTRAVEL.COM