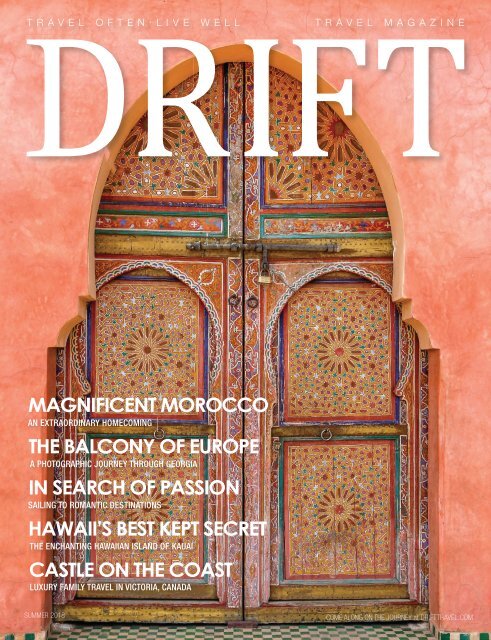 DRIFT Travel
From lush green mountainsides in Georgia and ancient Croatia cities, to Canada's coastal castle and a homecoming in Morocco, this issue of DRIFT magazine takes you on the ultimate travel adventure. No passport required.
From lush green mountainsides in Georgia and ancient Croatia cities, to Canada's coastal castle and a homecoming in Morocco, this issue of DRIFT magazine takes you on the ultimate travel adventure. No passport required.
SHOW MORE
SHOW LESS
You also want an ePaper? Increase the reach of your titles
YUMPU automatically turns print PDFs into web optimized ePapers that Google loves.
TRAVEL OFTEN . LIVE WELL

TRAVEL MAGAZINE

MAGNIFICENT MOROCCO

AN EXTRAORDINARY HOMECOMING

THE BALCONY OF EUROPE

A PHOTOGRAPHIC JOURNEY THROUGH GEORGIA

IN SEARCH OF PASSION

SAILING TO ROMANTIC DESTINATIONS

HAWAII'S BEST KEPT SECRET

THE ENCHANTING HAWAIIAN ISLAND OF KAUAI

CASTLE ON THE COAST

LUXURY FAMILY TRAVEL IN VICTORIA, CANADA

SUMMER 2018

COME ALONG ON THE JOURNEY at DRIFTTRAVEL.COM
---
2 . DRIFTTRAVEL.COM
---
CONTEST

TIME!

Forged from aerospace grade titanium, the Hook provides the ultimate in comfort

and durability. And with their lifetime guarantee, you never have to worry about

taking them along for the adventure.

The Hook's classic styling and revolutionary titanium construction is the foundation

for the entire William Painter line. It was created to challenge outdated ideas.

or visit drifttravel.com/giveaways/giveaway-sunglasses/

TRAVEL OFTEN . LIVE WELL . 3
---
PUBLISHER

GLOSSY MEDIA

CREATIVE DIRECTOR

STEVE DRAKE

PRODUCTION/EDITORIAL

ERIC HIMEL, BETSY CROWFOOT, RUSS WALSH,

REBECCA TALBOT, LESLEY DIANA, SARAH CASEWIT,

RUSSEL JAMES, LAUREN ECKSTROM, J L THOMPSON,

LINDSEY CLARKE, LYNNE MACDONALD

CREATIVE | PHOTOGRAPHY

THE MOORING, TODD TALBOT, REBECCA TALBOT,

BOOKING.COM, ADOBE STOCK, LESLEY DIANA,

SARAH CASEWIT, HELLY HANSON, SHERATON KAUAI

RESORT, KAUAI SEA TOURS, KAUAI BACKCOUNTRY

ADVENTURES, FAIRMONT EMPRESS HOTEL, RUSSELL

JAMES, LAUREN ECKSTROM, STEVE DRAKE

ADVERTISING & PUBLISHING RIGHTS INQUIRIES

sales@DRIFTtravel.com | www.DRIFTtravel.com

Published by: Glossy Media

All rights reserved. No part of DRIFT magazine may be

copied or reproduced without permission.

© COPYRIGHT DRIFT TRAVEL MAGAZINE

GLOSSY MEDIA

2015-2018

4 . DRIFTTRAVEL.COM
---
INSIDE this issue

MAGNIFICENT MOROCCO

6 An extraordinary journey home

IN SEARCH OF PASSION

14 Romantic sailing destinations

20 TRAVEL GEAR

New and cool travel products

INSTAGRAM WORTHY

22 Places that require no filters

32 CASTLE ON THE COAST

A luxe family vacation in Victoria, BC

TRAVEL OFTEN . LIVE WELL

TRAVEL MAGAZINE

READY TO WHERE?

38 Eric Himel's Life + Style

40 YOGA EN ROUTE

Yoga hacks for travelers

CRUISING HOT SPOTS

60 5 trending destinations

HOME TO MOROCCO

A JOURNEY HOME FOR SARAH CASEWIT

EYES OF ITS PEOPLE

A PHOTOGRAPHIC JOURNEY THROUGH GEORGIA

PASSIONATE PLACES

SAILING TO ROMANCE DESTINATIONS

KAUAI, HAWAII

THE ENCHANTINF HAWAIIAN ISLAND

GREAT VIEWS

INSTAGRAM WORTHY RESORTS

THE BALCONY OF EUROPE

46 A Photographic Journey to Georgia

56 CROATIA

A vacation to the past

66 GLASGOW

Scotland's city of art & culture

70 KAUAI

Hawaii's best kept secret

MAY/JUNE 2018

COME ALONG ON THE JOURNEY at DRIFTTRAVEL.COM

From lush green mountainsides

in Georgia and ancient Croatia

cities, to Canada's coastal castle

and a homecoming in Morocco,

this issue of DRIFT magazine

takes you on the ultimate travel

adventure. No passport required.

TRAVEL OFTEN . LIVE WELL . 5
---
6 . DRIFTTRAVEL.COM
---
Morocco

A Journey

Back Home

BY: SARAH CASEWIT

Feeling hungover from my 11-

hour flight to Casablanca, I

approach the immigration desk

where a friendly face with a bushy

mustache greets me with "Salaam"

(literally meaning "peace"). Dazed

from exhaustion, I respond

"Alaykum Salaam" and hand over

my passport. He scans my ID page

with a watchful eye. Name. Sarah

Casewit. Place of Birth. Morocco.

Nationality. USA. He looks up at

me and asks in Arabic, "Where's

your Moroccan passport? I

can't let you through without a

Moroccan ID."

Stunned out of my stupor, I

realize my mistake. Never speak

in Arabic to the immigrations

guy. It's just confusing and leads

to open-ended questions about

my identity that I can't begin to

answer. I quickly switch back to

English and play it cool. I say that

I am an American who happened

to be born in Morocco, and that I

am merely a tourist in his country.

My country, too, really, but I kept

that to myself.

TRAVEL OFTEN . LIVE WELL . 7
---
8 . DRIFTTRAVEL.COM
---
I'll be honest. I never thought I'd

return to Morocco as a traveler -

especially having lived here for 20

years. Isn't travel supposed to offer

perpetual excitement of being in

an unfamiliar place? Shouldn't it

have an element of the unknown

by default? That's what I thought

too, until recently.

Born in Marrakech in the late

80s and raised in Fez and Rabat

throughout the 90s, I lived in a

relatively untouched Morocco,

before it gained worldwide fame as

a boho-chic tourist hotspot; before

the big hotel chains took over the

desert palmeraie. As a family, we

traveled far and wide across the

country, embracing every aspect

of the culture as our own. We used

to spend our summer holidays in

the azure town of Chefchaouen,

spring breaks in the Ourika Valley,

and winter vacations skiing down

the Atlas Mountains.

My parents reluctantly accepted

that their four blond children

spoke terribly broken English and

couldn't name the 50 states. But

hey, they started it. They made it

a point to completely immerse us

into Moroccan culture and raise us

with its deep-rooted values. Arabic

was my first language and I knew

little to nothing about American

culture. I went to Moroccan public

schools and had a very traditional

lifestyle. Couscous on Fridays-

-as is the Moroccan custom;

haggling for slippers in the souk;

getting kaftans made at the tailor;

riding public transport at age

eight; splashing around the local

hammam; and so on. This was a

home to me and nothing out of the

ordinary. But I realize this now: I

was living every traveler's fantasy

childhood without knowing it and

I am forever indebted to Morocco.

I left Morocco to study religion

and culture in different parts of the

TRAVEL OFTEN . LIVE WELL . 9
---
10 . DRIFTTRAVEL.COM
---
world. I later had the opportunity

of working in the luxury travel

industry for some years, where

I paired my knowledge with

logistical expertise. Once I

discovered my love for travel

and realized its transformative

capacity on one's soul, I decided

to launch Naya Traveler with two

like-minded and inspiring women

who share my vision. It is personal

for me. I want to offer a way

of exploring cultures that pays

tribute to my childhood, to my

incredibly fortunate experience

growing up in Morocco. Needless

to say, Morocco had to be one of

our main destinations at Naya

Traveler.

Titus Burckhardt, a family

friend who dedicated his life

to protecting the old Fez as a

UNESCO heritage site, once said:

"In order to understand a culture,

it is necessary to feel affinity for

its values." I have more than just

an affinity to Morocco's cultural

values. They are practically my

own. So, I decide to go back to

Morocco--this time as a traveler,

which brings me back to the

beginning of my story.

Being a stranger in Morocco is...

a strange feeling. It's like meeting

your ex after an awkward breakup

- we've all been there, right? Will

he recognize me? Will I remember

him as I left him? Does he still

think of me like I do?

The moment I clear customs, I

am treated as a foreigner and

spoken to as a newcomer. It is

jarring and leaves me with a sense

of loss. Questioning your own

identity when you think you have

it all figured out is quite a startling

experience.

However, after getting over

the overwhelming feeling of

disconnect, I start to see Morocco

in a whole new light; one that

is fed by my renewed curiosity

and reverence to its cultural

diversity and sophistication. My

TRAVEL OFTEN . LIVE WELL . 11
---
mission with Naya Traveler was

to develop experiences that were

true to the culture, authentic and

unique. Thanks to this purpose

that spearheaded my journey,

I became aware of subtleties

that I had taken for granted as a

child. The palpable spirituality in

people's mannerisms. The strength

of tradition that continues to

withstand the influences of

modern society. The dazzling

colors, sounds and smells that can't

be captured on Instagram. The

unshakable faith people have in

destiny and fate. The mindblowing

number of sacred spaces in every

village, town and city. My home

country is manifesting itself in a

new light, right before my very

eyes.

During my "re-familiarization"

trip, I trace my footsteps back

to places I knew well growing

up and rekindle my relationship

with familiar landscapes. I

am comforted by the strong

acquaintance yet inspired by

a revived sense of wonder.

Marrakesh is even livelier than I

had left it, filled with an energy

that can only be found within its

pink walls. Fez retains its medieval

feel and undeniable sacred history

that reverberates from the ancient

alleyways. Rabat, the seaward

gem of Morocco, is still calm and

collected yet newly dynamic and

metropolitan. The villages of Imlil

and Asni in the Atlas Mountains

are maybe more developed than

I remember, but Berber culture

remains strong and dominant.

The far-flung villages in Zagora,

to my surprise, have not changed

one bit.

The most defining moment

during this journey takes place

in an adobe house, tucked deep

in the High Atlas Mountains,

overlooking the Ziz Valley. I am

sitting with a Berber family on

12 . DRIFTTRAVEL.COM
---
the patio of their beautiful home,

sharing a pot of tea, homemade

bread, and a bowl of exquisite olive

oil from the local mill. The father

has a kind face with sharp features

and piercing eyes--typical traits of

Berber men from the region.

He is telling me about life in his

village and I share stories of my

childhood spent near this valley.

His daughter takes my hand to

show me their simple house: rustic

carpets and plush pillows seem to

be the entirety of their belongings.

She describes her daily life to me

and asks me about my own. As

we're sitting on the floor, talking

and giggling away, I feel an

overwhelming sense of gratitude

for being given the opportunity to

connect and learn from a local in

such an intimate setting.

It is after such experiences that I

feel inspired to create journeys

that go beyond the tourist

route, that don't just scratch the

surface. Thanks to Naya Traveler,

I am blessed, yet again, with

the opportunity to learn from

Morocco and gain a brand new

perspective. I am able to pair my

past with the present in a way that

allows me to focus on the true

essence of Morocco's culture and

traditions. It is an opportunity of

a lifetime--to design trips with all

my heart and soul.

They say travel should take you to

new places and uncharted lands

for the full effect. This is partly

true. Exploring your own backyard

with a renewed perspective and a

fresh sense of appreciation can

be just as enriching, if not even

more enriching. It can take what

you already know to a deeper,

transformative level and allow

you to penetrate the intricacies of

a culture in a way you would have

never imagined before.

Follow Naya Traveler:

@nayatraveler

www.nayatraveler.com

TRAVEL OFTEN . LIVE WELL . 13
---
Islands of

Romance

Sail away to these passionate places

BY: BETSY CROWFOOT

14 . DRIFTTRAVEL.COM
---
Whether you are

planning your

honeymoon,

a surprise for

your special someone, or any

other romantic getaway, nothing

says romance like secluded

beaches, golden sunsets,

champagne, and a private yacht

under your feet. Let us whisk you

away to five passionate places

that will surely impress the object

of your affection.

TRAVEL OFTEN . LIVE WELL . 15
---
Tobago Cays – Does the dream of a stirring sail on a lively cobalt sea

get your blood running? Set course on an invigorating reach from St.

Vincent, then pick up a mooring inside Horseshoe Reef: a crescent of

white foam separating your little piece of paradise from the roaring

Atlantic. Calm and protected, you swim with turtles and rays, and loll

on deck blissfully while Boat Boys in colorful dinghies deliver drinks

and provisions. Rest up: it's a bracing sail back to St. Vincent, where

an island of exploration awaits.

Abacos – Surprise your loved one with a stress-free getaway to the

Abacos. These northernmost islands of the Bahamas archipelago

are just an hour from Florida's east coast; perfect if a long weekend

is all you can squeeze in. Cruise the scattered slender isles abreast

Marsh Harbor and enjoy romantic strolls on endless white sandy

beaches. Venture to Hope Town, a charming island settlement where

you can rent bikes to explore the windswept turf by day, the bars and

restaurants at night.

British Virgin Islands – The BVI is party central! Don't come here

for solitude; but if you want to meet new friends and enjoy the

camaraderie of other sailors from around the world, this postcardlike

setting is the place. Despite hurricane damage, the BVI is up and

running and as beautiful as ever. Famed bars have been rebuilt, and

the nightlife grand. Dance yourselves into a lather at Foxy's (or any of

a dozen iconic beach bars) and zip back to the boat for a moonlight

skinny dip in the balmy waters. We won't tell.

16 . DRIFTTRAVEL.COM
---
TRAVEL OFTEN . LIVE WELL . 17
---
French Polynesia – Fragrant breezes that caress your skin. Juicy ripe fruits that run down your chin. The

pulsating beat of the lively music. Coral reefs sprinkled with a confetti of fish. French Polynesia engages

every one of your senses, as you paddle, hike, dive and explore the bounty of one exotic island after

another. Evoke the ancient Polynesian voyagers, with the wind and the stars as your guide. Get into the

rhythm of the tropics, in Tonga or Tahiti.

Grenada – Your bonding break soars to new heights in Grenada: the adventure island. Swim in tepid seas

in the morning and rinse off in a cool waterfall in the afternoon. All told, this lush 134-square-mile island

offers a ridiculous amount of opportunities for togetherness: sail, swim, hike, bike, fish, kayak, river tube,

play golf, cricket and tennis. You can even snorkel or dive on an underwater sculpture garden.

What to do with that hearty appetite you've worked up? Well it is the Spice Island, so belly up. This Garden

of Eden hosts a bounty of fruits, vegetables and spices, which local restaurateurs aren't shy about using.

www.moorings.com

18 . DRIFTTRAVEL.COM
---
Call 800.669.6529

moorings.com/drift

unwind

Life doesn't come with a reset button,

but an undocked vacation without

limits could be the next best thing.

Out here, sitting on the edge of the

world, carefree living comes naturally

and undisturbed paradise beckons

in every direction. With every breath,

capture another unforgettable moment

on the water, and unwind—one

blissful exhale at a time.

TRAVEL OFTEN . LIVE WELL . 19
---
TRAVEL GEAR

HOT NEW TRAVEL PRODUCTS

BY: RUSS WALSH

Helly Hansen - Nagoya Jacket

A lightweight raincoat with 2 layer Helly

Tech® fabric keeps you dry whilst the

minimalistic trims and detailing adds to

this understated coat. Great for summer

travel and easy to pack. In line with the

five elements in Japanese philosophy the

Influences Raincoat is simplistic, pure and

designed with a straightforward approach.

hellyhansen.com

The Neck Hammock

If you suffer form neck or back

pain, here is some easy to pack

relief. The Neck Hammock is a

simple device that attaches to any

door for neck pain relief in just

ten minutes or less. Simply wrap

it around any doorway, lie down,

stretch out your neck muscles,

and say goodbye to neck pain.

neckhammock.com

20 . DRIFTTRAVEL.COM
---
LAY/N/GO

Washable cosmetic bag that converts into an

easily transportable handled clutch allowing for

quick and effortless use, clean-up and storage

of your cosmetics. No more dumping your

collection onto a towel or having to worry

about your cosmetics rolling off the counter and

onto the floor. After each use, simply pull the

drawstring and the cosmetic bag is converted

back into a completely sealed soft clutch.

theartofcarryon.com

Odorless Socks

The MP Magic socks incorporate a

super comfortable design, with silver,

copper and zinc-infused, integrated

with mineral substance, antibacterial

fabrics that work hard to make your

feet odorless! These innovative

socks are odorless, comfortable,

antibacterial, super durable, and

breathable. This metal infusion

technique was originally developed

for the aerospace industry.

meltmall.com

TRAVEL OFTEN . LIVE WELL . 21
---
Instagram

Worthy

Places

22 . DRIFTTRAVEL.COM
---
NO FILTERS REQUIRED

TRAVEL OFTEN . LIVE WELL . 23
---
Azulik – Adult Eco-Resort and Maya Spa – Tulum, Mexico

Nature lovers, check-in and chill out under the stars at candle-lit hideaway Azulik

Eco Resort. This adults-only beach resort offers beautiful wooden tree houses made

from Mexican-royal-ebony Khatalosh and features floor-to-ceiling windows providing

unmatched natural light - just what you need to capture that glowing magic hour selfie.

Thanks to the secluded location overlooking the lush jungle and Caribbean Sea, that

perfect shot will be a cinch to capture. See previous page for birds-eye view.

24 . DRIFTTRAVEL.COM
---
Alpin Panorama Hotel Hubertus - Valdaora, Italy

Featuring the largest rooftop terrace in Valdaora, Hotel Hubertus is an ideal place to

admire the breathtaking views of the Dolomites and the Vedrette di Ries Mountains.

As pools go, Hotel Hubertus' sky-high infinity pool is probably one of the world's most

dramatic. Take a picture from an unusual viewpoint and you've got yourself a fabulous

Instagram post that will be sure to make your friends' jaws drop.

TRAVEL OFTEN . LIVE WELL . 25
---
The Cambrian – Adelboden, Switzerland

It's no secret that certain types of photos generate more Likes than others on Instagram,

and we think pool shots with a mountainous backdrop will fare quite well amongst your

followers. With panoramic views of the Swiss Alps, The Cambrian is located in the center

of Adelboden and features an outdoor heated pool overlooking the mountains. Snap a

shot and take a dip pre or après-ski, or skip the slopes altogether and float around until it's

fondue time. This is Switzerland, after all.

26 . DRIFTTRAVEL.COM
---
O Céu de Boipeba – Ilha de Boipeba, Brazil

Lush green jungles, unspoiled beaches, the pristine waters of the South Atlantic, and a

beautiful clear blue sky – your uninterrupted Brazilian view is courtesy of Céu de Boipeba

guest house on Boipeba Island. Relax in one of the hammocks overlooking the Praia de

Cueira, and enjoy a refreshing cocktail before capturing and posting an eye-catching image

for your followers to see (and Like!). Feeling adventurous? Trek along the beach to Morere

where low tides attract tourists looking to take a dip in the natural pools.

TRAVEL OFTEN . LIVE WELL . 27
---
Royal Mansour Marrakech – Marrakech, Morocco

A spectacular masterpiece that showcase the handiwork of Morocco's most skilled artisans,

Royal Mansour Marrakech is surely Marrakech's best-dressed stay that reflects the true

essence of Moroccan tradition. Don't forget to stop by Marrakech's labyrinth of colourful

markets with traditional goods and exotic aromas that will have your senses working

overtime with smells, sounds and sights you (and your followers) will never forget. After

maxing and relaxing in what feels like a real life Insta-worthy shot, we don't blame you

for being inspired to take the Moroccan aesthetic home with you! After all, you're not

alone, a study by Booking.com found that approximately 41% of travelers feel inspired to

undertake interior design work when they return home from a holiday.

28 . DRIFTTRAVEL.COM
---
Las Alcobas Napa Valley – St. Helena, California, USA

Enjoy the sweeping Napa Valley views from the comfort of your private balcony at Las

Alcobas Napa Valley, a new spa retreat in wine hotspot St Helena. Offering gorgeous

views of the Napa Valley harvest action, it's also located near the Culinary Institute of

America at Greystone and is also a great base to explore the nearby Kornell Champagne

Cellars. Here guests are more than welcome to start, finish and keep the day rolling with

a glass of wine – or few.

TRAVEL OFTEN . LIVE WELL . 29
---
The Surin Phuket – Phuket, Thailand

Surrounded by coconut trees on Pansea Beach's white sand beach with matching clear turquoise

waters, this beachfront property on the private bay is the perfect tropical getaway,

and perfect location to capture your next Instagram gem. From a stunning sunset over

the Andaman Sea to a picture-perfect meal of authentic Thai Cuisine, The Surin Phuket is

every aesthetic-lover's dream come true.

30 . DRIFTTRAVEL.COM
---
Hale Kamalani Villa – Laie, Hawaii

Representing Hawaii in Booking.com's "Book The U.S." campaign, this four-bedroom

home has all the luxury amenities you could ask for in a purely natural Hawaii setting.

With two outdoor showers, a private pool and a balcony that overlooks the ocean, you'll

want to spend most of your time enjoying the beautiful outdoors and snapping those

ready-to-post Insta shots. Take a walk along the white sandy beach, jump in the ocean for

a refreshing swim or venture into the green rainforest mountains. Everywhere you go will

surround you with the world's most unbelievably lush beauty.

TRAVEL OFTEN . LIVE WELL . 31
---
a family vacation to

Canada's Castle

on the Coast

BY: REBECCA TALBOT

32 . DRIFTTRAVEL.COM
---
During the celebrations of

Canada's 150th last year, our kids

came home from school after a

visit from the consulate asking

if they had ever been to our

Province's capital. We thought

about it and realized, no! Before

having kids, Todd and I enjoyed

renting scooters together in

Victoria, visiting all of our old

haunts, (we both had stints

living on the Island in the past),

so we added the journey to our

list of things we wanted to do

with the kids.

TRAVEL OFTEN . LIVE WELL . 33
---
The opportunity for a royal

weekend presented itself when I

was invited for the first time to

join Todd as co-emcee for the

SHINE Fashion Tea, a fundraiser

for the BC Children's Hospital

Foundation being held at the

harbor front Fairmont Empresss

Hotel.

The event, the hotel and the

general feeling for the whole

weekend was one that evoked

nostalgic hankerings for a

romantic era gone by. As a

bonus, we were able to fit the

whole trip into one weekend,

without the kids missing any

school thanks to a 30 minute

HeliJet ride and limousine

shuttle service to and from

Fairmont Empress via their

BMW car. The more we travel,

the more we find these little

things which speed up travel

time and maximize time spent at

our destination, well worth the

added cost.

34 . DRIFTTRAVEL.COM
---
TRAVEL OFTEN . LIVE WELL . 35
---
With so many opportunities

for making memories, resting

and relaxing right at our hotel,

we had to make sure we took a

couple of excursions to see the

city. We took a drive around the

harbor to see the parliament

buildings and into Cadboro Bay

where people were out enjoying

the shoreline and walks down the

36 . DRIFTTRAVEL.COM

spits. The kids were especially

thrilled with a couple of hours

at the Royal BC Museum, seeing

the whales and going on the

pirate ship before an evening

stroll down Government Street

to experience quaint little shops

fit into historic old buildings.

Back at the hotel, being a guest

for a couple of nights felt like

a gift. The rich history of the

Empress Hotel has recently

been revived due to a $60

Million dollar renovation. We

were able to enjoy a relaxed

prince and princess afternoon

tea on couches in the elegant

Lobby Lounge and a visit by tea

sommelier, Christian Elsing.

We were lucky to sample many
---
of his recommendations later

in the Fairmont Gold lounge, a

serene room outfitted in dusky

blue fabrics and gold accents

gleaming in the sunlight that

streamed through the large

windows overlooking the harbor.

A few dips in the warm "Mrs.

Bosa's" pool (as the locals

referred to it) wore out the

kids before dinner at Q at the

Empress restaurant. Floor to

ceiling portraits of the Empress

herself, Queen Victoria, are hung

on one wall of the restaurant

to perpetually assess the great

gatsby inspired dining room. In

a hotel that begins with service

and ends with Art Deco inspired

nods to royalty and history, I

have to assume that the austere

expressions captured on each of

her faces are looks of approval.

And for commoners like us, it

gave us a taste of nobility for a

day or two.

TRAVEL OFTEN . LIVE WELL . 37
---
Eric Himel's

LIFE+STYLE

BY: ERIC HIMEL

The Fanny Pack

Cinched around your waist or

worn cross-body, this sensible

bag leaves you handsfree to take

selfies all day long.

YUZEFI BELT BAG

READY TO WHERE?!

The Sunhat

Protection, yes, fashion, most

definitely. Hide under a wide

brim hat to block the rays as well

as your eye-rolling.

KATE SPADE NEW YORK

'OUT AND ABOUT' SUNHAT

ERIC HIMEL (erichimel.com)

is a widely known celebrity stylist, fashion expert and media personality. Himel attended

Parson's School of Design and trained under Project Runway's Tim Gunn. Now based in

Los Angeles, Himel's roster of celebrity clientele has included Jenny McCarthy, Giuliana

Rancic, Pete Wentz, Gabby Douglas and more. Eric is best known for his signature Closet

Purge and now offers Virtual Styling Sessions.

38 . DRIFTTRAVEL.COM
---
LUCKY FOR YOU, CHIC ITERATIONS OF

THE AMERICAN-TRAVELING-IN-EUROPE

TROPES ARE AU COURANT SO YOU DO

NOT HAVE TO SACRIFICE COMFORT

AND PRACTICALITY FOR STYLE THIS

SUMMER.

The Sensible Shoe

Laces to strap you in and a

platform to cushion your stride

while you maneuver narrow

cobblestone walkways.

The Cargo Pant

Short and cropped, this new cargo

is more streamline cool-chic, less

paratrooper.

DL1961 'ELLIOT SLOUCHY SLIM CARGO'

JOIE 'DABNIS PLATFORM SNEAKERS'

The Flip Sunglass

No more loosing your sunglasses,

just flip these shades up and

seamlessly move between cafes

without squinting.

GARRETT LEIGHT X MARK MCNAIRY 'VALDESE CHARLIE'

TRAVEL OFTEN . LIVE WELL . 39
---
Yoga Lovers

Travel Hacks

BY: LAUREN ECKSTROM

40 . DRIFTTRAVEL.COM
---
If you love yoga and thrive in

the daily ritual of stepping onto

your mat, you know it can be

difficult to maintain a practice

while on the road. As a globe

trotting yoga and meditation

teacher, I understand this

challenge firsthand. After

traveling across almost every

continent, I've evolved a

personal approach to sustaining

a daily practice with minimal

interruption and maximum

benefit.

Travel Hack #1: Bring your

practice essentials with you, and

make them travel size! Before

you go on a trip, ask yourself: If

I'm going to practice everyday

what do I absolutely need

to have with me in order to

maintain this commitment? The

answer to this question might

be different for everyone, but

decide for yourself what your

"must have" item or items are

and commit to packing them.

If you're staying at a hotel with

a gym or fitness center, call or

email ahead of your stay and

see if they have mats available.

Ask if the hotel can place a

mat in your room when you

arrive. If not, pack a travel mat.

While travel mats are thin, they

are still worth bringing along.

Having a mat with you is a

reminder to practice daily and

TRAVEL OFTEN . LIVE WELL . 41
---
a travel mat skips the hassle of

lugging a large, heavy mat on

your back during long travel

days. Travel mats fold easily

and take up limited space in

a suitcase. When you arrive,

unpack and set your mat out

so that it's ready for you first

thing in the morning. This helps

set the tone and reminds you

of your commitment to a daily

practice. If you like practicing

with props, use extra pillows

from the hotel bed as bolsters

or folded towels from the

bathroom as blocks!

Before each trip I create a

small sachet of my favorite

crystals (rose quartz and clear

quartz) and essential oil rollons

(lavender and frankincense

from Pangea Organics). These

items are small, light, and easily

slip into my carryon. They are a

reminder of the importance of

my daily ritual no matter where

I am in the world.

Finally, I download my favorite

playlists to my phone so I have

a variety of music to practice to

with soundscapes ranging from

chill and ambient to energizing

and uplifting. You can find my

favorite playlists on Spotify

here: https://open.spotify.com/

user/125578900

42 . DRIFTTRAVEL.COM
---
Travel Hack #2: Remaining

energized and healthy enough

to step onto your mat each day

is key. No matter where I'm

traveling I bring 3 essential

ingredients to support my

overall health: a nightly pre/probiotic,

a daily dose of greens,

and portable healthy snacks.

A pre/pro-biotic helps ensure

healthy digestion. Most people

have heard of probiotics but I

turn to a combination of pre and

probiotics for complete digestive

health. As every traveler knows,

airplanes, time zone changes,

and dietary shifts can result

in traveler's constipation. The

heaviness created from slow

digestion interferes with your

energy and can even contribute

to mood swings and lowered

immunity. Taking a nightly dose

of pre/probiotic helps support

healthy digestion and keeps

you feeling excited to step onto

your mat in the morning. My

go-to pre/probiotic is Prescript

Assist which doesn't have to be

refrigerated and travels easily.

Depending on where you're

traveling, you might not have

access to fresh veggies. While

nothing can replace fresh leafy

greens, you can support your

daily veggie intake with an

easy to mix green powder such

as Green Vibrance. Pour one

packet or scoop of green powder

into a reusable bottle, add 8

oz of filtered water, shake and

drink first thing in the morning.

This daily dose of greens

enhances immunity and keeps

your body healthy.

Most importantly, be prepared

with snacks! Before every trip

I make a quick stop at the local

health food store for travel

snacks that easily fit into my

carryon or purse. I purchase

snacks not only for my travel

days but also for the days I'm

on the road. This ensures

that I always have something

healthy to turn to no matter

where I am in the world - and

it means I avoid stomach bugs

by staying away from roadside

food, unfiltered water, or other

potential traveler pitfalls. My

go-to snacks include dried,

unsweetened and unsulfured

mango for fiber, raw almonds

for good fat and energy, Justin's

almond butter packets for

protein, and Endangered Species

Fair Trade dark chocolate for

something sweet (a must!).

TRAVEL OFTEN . LIVE WELL . 43
---
Travel Hack #3: Keep a journal.

Practicing while traveling is

a unique experience. Many

of the most profound and

meaningful breakthroughs in

my yoga practice have occurred

while I was practicing abroad.

You might be exposed to a

new environment - the sounds

of nature, the challenge of

a different atmosphere or

temperature. As you tune into

your body's daily needs, your

practice evolves from an organic

place and what you discover

very well might surprise you.

Keeping a journal of your daily

experiences is a wonderful

way to re enforce the gratitude

you have for your practice, the

insights that surface along the

way, and the special memories

created in distant places through

your practice.

If you prefer to be guided by

a teacher, jump onto the hotel

wifi and stream classes to

your smartphone, laptop or

tablet with my online platform

for yoga and meditation,

Inner Dimension Media,

innerdimensionmedia.com. This

is a great way to share yoga with

everyone you are traveling with

and a great way to stay active,

connected and feeling healthy

your entire trip.

Enjoy your travels and share

with us how you maintain your

practice while on the road!

44 . DRIFTTRAVEL.COM

laureneckstrom.com
---
TRAVEL OFTEN . LIVE WELL . 45
---
Georgia is not a

country you visit,

but one that you

experience!

Pheasant's Tears Winery is a must visit. It may as well be the best restaurant in all of

Georgia. It is a winery that produces organic unfiltered wines in the millenniums-old

Georgian tradition; most interesting part is that they don't have a food menu; the head chef

creates a Georgian feast which is served to guests who choose to have a meal here.

46 . DRIFTTRAVEL.COM
---
GEORGIA

a photographic journey

Featured Photographer: Russell James

Born and brought up in the Kingdom of Bahrain, day job at a

Hospitality Management Consultancy... But photography has

always been my true passion at heart. Nature and landscape

photography drives me. I like to pick a destination every year

and visit to improve my photography. I believe that for any

type of photography it's not important to have, or immediately

invest, in the best photography equipment. Rather master

what equipment you already have as you learn something new

every day. This was put to test when I took a short three day

trip with my wife to the country of Georgia in June 2017. Being

a short trip I didn't want to lug around a lot of equipment, so I

just carried my Sony A77II with a Sigma 10MM F2.8 Fisheye

Lens and a very handy Sony RX100M3.

Instagram: @russelrj

TRAVEL OFTEN . LIVE WELL . 47
---
48 . DRIFTTRAVEL.COM
---
These breathtaking valleys of the Kazbegi region become a ski resort

in winter, but June, everything was in bloom, snowcaps were melting

and green pastures as far as the eye could see.

TRAVEL OFTEN . LIVE WELL . 49
---
Sitting on a steep hillside

overlooking the Alazani Valley,

Bodhe St. Nimo Monastery dates

back to the 9th century, but very

recently restored and remodeled.

50 . DRIFTTRAVEL.COM

Christian Artwork on the walls

and ceilings of one of the churches

at the St. Nino Monastery, the

colors are absolutely stunning.
---
The brick and domed rooftops of the baths bubble up like the water itself. According to

legend, it was these Tbilisi Old City Sulphur Springs that enticed King Vakhtang Georgasali

to settle the land and declare it the new capital city in the 5thcentury AD. Interestingly this

image captures the old and new parts of the city in one frame.

TRAVEL OFTEN . LIVE WELL . 51
---
52 . DRIFTTRAVEL.COM
---
This is traditional Georgian candy;

made from grape must and flour...

and a variety of nuts and raisins.

Before heading to Kazbegi, we had a

brief stopover at a local market, where

we were treated to some churchkhela

and chacha (grape vodka).

TRAVEL OFTEN . LIVE WELL . 53
---
This is what early mornings in June looks like in the Old City of

Tbilisi. Technically Georgia is located in Eurasia, but its own

people describe it in a very lovely way, it's the balcony of Europe.

54 . DRIFTTRAVEL.COM
---
The Gergeti Church is quite an uphill climb and well preserved, this image shows

part of the protective rock wall built around it.

A full view of the "Devils Valley" was nothing short of heavenly, this was quite a difficult

shot to capture, to get every detail in the frame I asked a fellow tourist to hold me while I

leaned forward from the monument's balcony, definitely worth it.

TRAVEL OFTEN . LIVE WELL . 55
---
Croatia

a vacation to the past

BY: J L THOMPSON

56 . DRIFTTRAVEL.COM
---
The tiny country of Croatia is a must-visit location for lovers of

history, art, and the old-world Mediterranean. With towns that

look like they are straight out of the Renaissance to castles from the

Middle Ages, much of the country still looks like a long-vanished

world. The country is so full of ancient Roman ruins, baroque

churches, and houses built centuries ago that a trip across Croatia

can seem like a trip back in time.

TRAVEL OFTEN . LIVE WELL . 57
---
Old World Towns

The town of Osijek, built in

a Gothic, baroque style, is a

must-see for the sake of its

amazing architecture. Trogir is

a fascinating fortified town that

was built in the Middle Ages.

The Istria peninsula is home to a

number of towns that have stood

since the days of the Roman

Empire. However, travelers who

want to pack the most into the

least time need to visit the Island

of Rab. This island is covered in

historical monuments and the

inhabitants put on a wide variety

of traditional cultural activities

and historic performances. The

island is also home to regions of

breathtaking natural wilderness.

Korcula, an island sitting just off

of the major city of Dubrovnik,

still sees regular performances of

the traditional weapon dance, the

Moreška.

Castles

Croatia has all the castles and

fortresses that anyone could want

to see. The fortress of St. Nicholas,

in Sibenik, is a particularly

interesting sightseeing attraction.

It was built out on the ocean,

and is still in perfect condition.

The Castle of St. Michael is more

than 1,000 years old. The city

of Dubrovnik actually is a giant

fortress. It is surrounded by walls

that are so thick that they actually

have roads running inside them.

The Rector's Palace displays finely

detailed ancient carvings and now

serves as a museum.

58 . DRIFTTRAVEL.COM
---
The Natural World

Rock climbers come from all over

the world to Paklenica's Great

Gorge. This stunning feature of

the natural world looks like a

scene out of a fantasy movie. The

Krka National Park is filled with

long chains of beautiful stepped

waterfalls. Systems of mineral

water lakes that are colored like

jewels adorn the Plitvice Lakes

National Park. Sunbathers flock

to the Makarska Riviera, a region

famous for its pristine beaches

and nightclubs.

Croatia is a land of wonders,

both natural and man-made.

What makes traveling there

worthwhile, though, is the way

that so much of it seems to still

exist in a world that has long

since vanished. Throughout the

country, people keep folkways

and artistic traditions of the

Baroque culture alive. It is well

worth not just a sightseeing trip,

but an extended stay.

TRAVEL OFTEN . LIVE WELL . 59
---
Top Cruises

5for 2018

60 . DRIFTTRAVEL.COM
---
No travel option affords you the opportunity to see the beauty of the

world quite the way a cruise liner does. While some packages limit the

amount of time you spend in a destination, the variety of locations on

offer make the short stays worthwhile. Variety is, as they say, the spice

of life. The wonders of all seven continents are available to you from the

comfort and luxury of a cruise ship, and these are the destinations you

should be considering on your next vacation.

The Caribbean

The Caribbean is the ultimate cruise destination. It's home to more than 7000 islands which feature white

sand beaches and crystal waters, making it the perfect beach vacation spot.

What's more, these islands all boast excellent temperatures for sunbathing thanks to the Caribbean's

proximity to the equator. You don't need to leave the ship to enjoy the weather, though. You can still soak up

the heat while island hopping.

Cruises around the Caribbean tend to be short, because sailing between islands is quick and easy. You can

touch down on a Barbados beach and within a few days be enjoying the refreshing waters of St. Thomas.

The destinations you can travel to by cruise ship are incredibly diverse in the Caribbean. Where you go is

essentially up to you.

TRAVEL OFTEN . LIVE WELL . 61
---
New Zealand

New Zealand is famed for its inspiring landscape, most of which you can appreciate from the comfort of

a cruise liner. As an island nation, the country is accessible by boat from all directions, whether you're

interested in the high-rise skyline of Auckland or the rural wonders of Christchurch. Most cruises circle the

island before returning home, with stop-offs plentiful around the fjords in the south-west. Here, there's little

more to admire than the clear waters and gorgeous highland views.

Finding a cruise that takes you down to New Zealand isn't difficult, because the local residents themselves

have a great love for exploring the ocean. In 2017 alone, more than 190,000 people boarded a cruise from the

country, with thousands more expected to do the same across the following year. Given New Zealand's intense

fascination with cruising, the island's ports have grown prepared to cater to all those traveling from abroad via

boat.

62 . DRIFTTRAVEL.COM
---
Experience France in Canada

France isn't only embodied in Canada by the language that a portion of them speak. Spots like Saint Pierre

and Miquelon off the Newfoundland coast recreate the essence of France without you having to cross the

Atlantic. From typical cuisine found in the local patisseries to the museums set further back inland, there's

an authenticity to these municipalities that you won't find elsewhere. Cruises departing from Fort Lauderdale

and Miami make regular trips to the archipelago, particularly in the spring and summer months.

The borders of Antarctica

TRAVEL OFTEN . LIVE WELL . 63
---
Antarctica

Antarctica is not incredibly habitable to humans. The freezing temperatures and barren landscape pose a

serious threat to life. However, with some of the most breathtaking views in the world, a trip to the continent

is a once-in-a-lifetime experience. Depending on the cruise you embark on, the option to step ashore the

icy wonderland may be available. This is reserved for smaller ships that can smoothly navigate the delicate

environment of the Antarctic.

Most standard cruise liners skirt along the edge of the continent, providing families and travelers with a taste

of Antarctica without encroaching too far. These journeys can be picked up from all around the coast and

frequently loop around South America, often stopping at destinations like Wilhelmina Bay and Fortuna Bay.

64 . DRIFTTRAVEL.COM
---
Italy

For your 2018 vacation, consider booking one that docks in the Italian capital of Rome. This ancient city is

home to cultural wonders like the Colosseum and the Vatican, and its rich history will provide a welcome

contrast to the joviality of your cruise journey. On a two to three week cruise, you can travel across the

Atlantic and along Europe's southern shores, with additional stops in cities like Malaga and Venice.

Cruise liners have the flexibility and resources to travel near enough everywhere in the world now. These

destinations only skim the surface of where you should vacation in 2018, but they're most certainly the best to

travel to. Let us know if we've missed out anywhere else people should consider visiting.

TRAVEL OFTEN . LIVE WELL . 65
---
Glasgow

city of art and culture

66 . DRIFTTRAVEL.COM
---
BY: LYNNE MACDONALD

Glasgow's industrial heritage may have earned it a rough

and rugged image. However, closer acquaintance reveals

a vibrant city bursting with culture and hospitality.

Recently named a UNESCO City of Music, Glasgow offers

an assortment of attractions. With a variety of festivals

spread across the year, tourists will enjoy top-quality

entertainment no matter when they visit.

TRAVEL OFTEN . LIVE WELL . 67
---
With 130 music events each week,

on average, Glasgow has been

described by Time Magazine

as 'Europe's secret capital of

music'. Whether you would

prefer to attend a classical recital

in the plush surroundings of

the Royal Concert Hall or catch

an unsigned band at King Tut's

Wahwah Hut, Glasgow has it

covered. Alongside permanent

venues, such as Barrowlands,

The Arches and O2 Academy,

Glasgow offers a range of

festivals throughout the year.

Internationally renowned acts

mingle with emerging talent

at Celtic Connections and the

Glasgow International Jazz

Festival. For that traditional

Scottish sound, Piping Live

celebrates the bagpipe in all its

forms and culminates with the

World Pipe Band Championships,

which brings together over 8,000

pipers at Glasgow Green every

August.

Glasgow has a diverse and

accessible theatrical tradition. You

can enjoy a lavish touring show

at the King's or, if you are pushed

for time, grab a Play, a Pie and a

Pint at Oran Mor. The Citizens,

the Tron and the Tramway

offer innovative programs of

contemporary work and new

twists on the classics. Glasgow is

also the home of Scottish Opera

and Scottish Ballet, who perform

regularly at the Theatre Royal.

There is always something to

smile about at The Stand Comedy

68 . DRIFTTRAVEL.COM
---
Club as it is open seven nights a

week hosting a range of comic

talent from established acts to

absolute newcomers. Their weekly

open mic night offers a showcase

for beginners, with some of the

acts appearing for their very first

outing. The comedy quotient

peaks in the spring with the

Glasgow International Comedy

Festival. Over the last nine years,

this has grown to more than 400

comedy shows at over 50 venues

throughout the city.

Kelvingrove Art Gallery and

Museum is the largest civic

museum and art gallery in

the United Kingdom. With an

audience-focused, family-friendly

approach, Kelvingrove presents

its 8,000 diverse exhibits in an

engaging and accessible manner.

Designed by Charles Rennie

Mackintosh and operating as

school up to 1979, Scotland

Street School contains interactive

displays and classroom settings

allowing you a glimpse of

education from the Victorian era

to the recent past. The Riverside

Museum, due to open June 2011,

celebrates transport and travel

whilst the People's Palace gives

a flavor of Glasgow Life over the

years. All of Glasgow's publiclyowned

museums offer free entry.

Whether you are visiting Glasgow

for a short-break or a fortnight's

holiday, you will have no difficulty

finding cultural activities of

interest to everyone.

TRAVEL OFTEN . LIVE WELL . 69
---
Kauai Hawaii's

Best Kept Secret

70 . DRIFTTRAVEL.COM
---
BY: LESLEY DIANA

I

discovered the beautiful island

of Kauai many years ago,

completely by accident. While

on vacation, we grew tired of

the hustle and bustle of Oahu, and

wanted to explore another island.

The next plane was going to Kauai, so

on a whim, we bought tickets and off

we flew on an adventure to an island

that would continue calling me back

for years to come. I even considered

relocating there at one point. Then,

work got in the way. It took 25 years

for me to finally go back with my

son. As soon as he stepped off the

plane, he also realized that there is

something magical about Kauai.

After landing in Lihue, we rented

a car (a must if you want to

explore the island) and headed to

the tunnel of trees, the gateway

to Poipu, to stay at the Sheraton

Kauai Resort. The stunning resort

is situated on 20 acres of Kauai's

southern shoreline with access

to pristine white-sand beaches

and crystal-clear waters. One of

the few hotels grandfathered in,

the hotel is situated right on the

beach, with two fresh-water pools,

a hot tub, and two incredible

restaurants: Lava's on Poipu

Beach and Rum Fire Restaurant.

Everything we needed was at our

fingertips.

We were lucky enough to be the first

occupants in the newly renovated

beach-side ocean view rooms, just

what everyone dreams of when

they book a tropical vacation.

The hospitality was nothing short

of outstanding. Dining at Rum

Fire at sunset is an awe-inspiring

experience. The brussel sprouts are

a must-try item on their diverse

menu, and once you put one in

your mouth, you'll understand

why. Rum Fire Poipu Beach offers

a modern Kauai dining experience

with spectacular 180-degree

ocean views. Rum Fire's menu

serves locally sourced cuisine

with a global influence, featuring

selections that will please even

the most discriminating palates.

Highlights of the menu include the

Maui Nui venison tartare (local

venison) and any of their freshfish

dishes, such as the wasabi peacrusted

ahi or the crab-crusted

fresh catch of the day. The ahi poke

flatbread dish is a twist from your

typical poke dish and for dessert,

the Bibingka waffles with locally

made green tea ice cream or the

Baked Kauai – their take on Baked

Alaska, torched tableside is worth

saving room for.

The Sheraton Kauai Resort

is an involved member of

its community, with several

charitable programs set up at the

resort to give back to the island.

When dining at Table 53 in Rum

Fire or when you book Bungalow

No. 5 poolside for full-day access

TRAVEL OFTEN . LIVE WELL . 71
---
to the amenities, the proceeds go

directly to Charity Walk Kauai to

benefit more than 60 non-profit

organizations providing critical

services on the island.

There is something special about

the air, the scenery, the mountains,

the sea, the people, and the stories

in Kauai. It's almost as if you've

stepped into a different world. One

that is underdeveloped, with no

skyscrapers blocking the view of

the natural beauty of the island.

Kauai was the last island to join the

Hawaiian Islands. In the end, it took

diplomacy, a royal kidnapping,

and an arranged marriage to bring

Kauai into the kingdom of Hawaii.

Compared to the other islands,

Kauai is smaller, less populated,

more rural, and more laid back.

Visitors come to explore the

island's natural wonders and whitesand

beaches that provide ample

opportunity to surf, snorkel, scuba

dive or just relax by the water.

72 . DRIFTTRAVEL.COM

Tourist development reached

Kauai much later than the other

islands, so the island has a

larger proportion of timeshares,

condominiums, and bed and

breakfasts. Also, a strict cap on

building heights (hotels can be no

more than 40 feet high), prevent

the development of the megaresorts

and towering skyscrapers

found on the other islands. The

local rule is that nothing can be

built taller than a coconut tree.

One look at a map will show you

an important difference between

Kauai and the more populous

islands of Hawaii. Due to the

massive Waimea Canyon and Na

Pali Coast, no roads circle the

island. Once you've made the

drive along the south shore to

Waimea and seen the canyon, the

only options are to go west on dirt

roads to Polihale Beach or turn

around and go back to Princeville

and Na Pali on the north shore.

However, the island is compact

enough that both ends of the

road can be seen in the same day.

But, the Garden Island cannot

be enjoyed or appreciated if you

are pressed for time, and along

many of Kauai's streets and main

highway there are wild roosters,

chickens and cats that may slow

down your travel.

I've never been one for taking
---
tours while on vacation, but since

I was writing an article about our

Kauai adventures, it seemed like

the perfect time to try, and I'm so

glad I did. The tour guides are very

knowledgeable, and I learned some

interesting facts about the island.

What fascinated me most was

how much land philanthropists

have given back to the island to

prevent Kauai becoming overcommercialized

like many other

tropical islands.

Kauai is a golfers paradise. Walter

McByde, a sugar magnate and golf

fanatic, built the Kukuiolono Park

and Golf Course that only charges

9 dollars a day for unlimited play.

When Walter died in 1930, he

donated the course to the state

of Hawaii so the locals can have

a golf course that they can afford

to play on. Expect wind sweeping

over the terrain, lots of trees, a few

fairway hazards, and maybe a wild

chicken pecking at the greens.

For our first tour, we woke up at

dawn to take the Kauai Sea Tours

on a Deluxe Catamaran Snorkel

Trip to experience the majestic Na

Pali coast, on the spacious 60-foot,

custom designed catamaran. As we

headed up north to NaPali along

the southwest coast of Kauai we

got to see playful spinner dolphins

skimming and leaping out of the

waters, sea turtles, sea birds and

Humpback Whale watching in

season (December – April) and

more.

TRAVEL OFTEN . LIVE WELL . 73
---
Our experienced captain was

entertaining with history and

legends of Kauai, marine life

ecology, and tales of all the land

that has been given to the island. He

also points out where feature films

and TV series were shot, the last

battle place, and where Jacqueline

Kennedy went to recuperate after

JFK's assassination. We then

stopped to swim and snorkel enjoy

the underwater sights of a variety

of fish and turtles swimming by.

Our next adventure was Kauai

Backcountry Adventures'

Mountain Tubing experience. We

learned about the island's history,

culture, and natural environment,

while we visited spectacular lands

with breathtaking vistas and

fantastic scenery.

74 . DRIFTTRAVEL.COM

We grabbed a tube, donned a

helmet with a headlamp, and

jumped into the gently flowing

waters through open canals and

tunnels hand-dug a century ago

by plantation workers. The waters

originate near the top of Mount

Waialeale, one of the wettest spots

in the world.

Many filmmakers have been

inspired by Kauai's beauty using

the stunning backdrop for epic

stories, from "South Pacific" to

"Jurassic Park: The Lost World."

You can take a movie tour to learn

about the more than 60 feature

films shot on location in Kauai or

you can discover them for yourself.

I found it very interesting to see

the list of movies and TV series

filmed on the island, including:

"Raiders of the Lost Ark", "Blue

Hawaii" "Fantasy Island", "South

Pacific", "Honeymoon in Vegas",

"Lilo & Stitch", "Lord of the Flies",

"Throw Mama from the Train",

"King Kong", "Six Days/Seven

Nights", "Hook", and "George of

the Jungle", to name a few.
---
DRIFT travel magazine

@DRIFTTRAVEL

+ FOLLOW

When is the last time you saw something for the very

fi rst time? DRIFT travels to unforgettable places.

Come along on the journey. Travel Often. Live Well.

www.DRIFTtravel.com

Come along

on the journey

click here to follow us on

@DRIFTtravel

also on

Share your travel photos with 4.5 Million readers worldwide

Use hashtag #DRIFTtravel on Instagram

76 . DRIFTTRAVEL.COM
---
TRAVEL OFTEN . LIVE WELL . 77
---
78 . DRIFTTRAVEL.COM