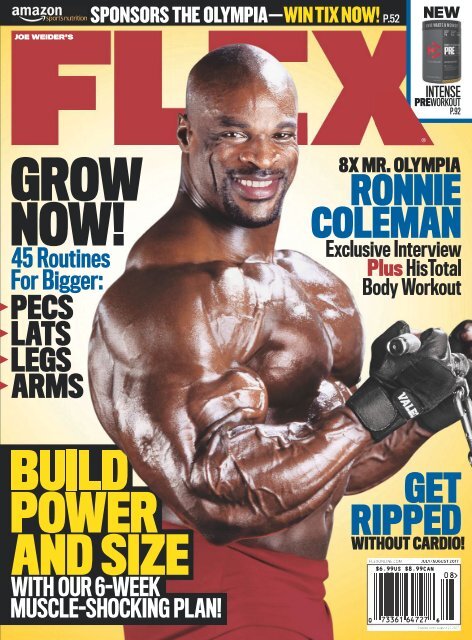 Flex_USA_JulyAugust_2017_2
Create successful ePaper yourself
Turn your PDF publications into a flip-book with our unique Google optimized e-Paper software.
SPONSORS THE OLYMPIA—WIN TIX NOW! P.52

NEW

INTENSE

PREWORKOUT

P.92

GROW

NOW!

45 Routines

For Bigger:

PECS

LATS

LEGS

ARMS

8X MR. OLYMPIA

RONNIE

COLEMAN

Exclusive Interview

Plus HisTotal

Body Workout

POWER

AND SIZE

WITH OUR 6-WEEK

MUSCLE-SHOCKING PLAN!

GET

RIPPED

WITHOUT CARDIO!
---
T R A I N I N G W I L L N E V E R B E T H E S A M E .
---
NEW PRE-WORKOUT

COMING SOON TO:

Find a retailer near you at

DYMATIZE.COM
---
INSIDE THIS MONTH

JULY/AUGUST 2017

COVER PHOTOGRAPH BY ROBERT REIFF

DEPARTMENTS

16

CHAIRMAN'S LETTER

A message from our

chairman, president, and

CEO, David J. Pecker.

18

ONLINE

Stay current with all the

hot topics trending now at

FLEXonline.com.

20

HIT LIST

Everything you need to

know this month to make

life worth living.

FEATURES

30

THE LION OF WINTER

Ten years after he last

competed, the eight-time

Mr. Olympia is older, wiser,

bruised, and battered,

but he's still irrepressibly

Ronnie "Ain't Nuthin' but a

Peanut" Coleman.

100

MACHINE-MADE PECS

This machine-only

chest routine will make

your pecs grow.

110

GET RIPPED...WITH NO

CARDIO!

Ignite hypertrophy and

melt away fat.

136

ARNOLD: IN HIS

OWN WORDS

On July 30, Arnold

Schwarzenegger

126

celebrates his 70th

birthday. It's been a

remarkable 70 years in

which he attained No. 1

status in bodybuilding,

Hollywood, and California

politics. We review the life

and extraordinary times

of Arnold through the

prism of his own words.

142

PROFESSIONAL BADASS

From hockey fights to

high heels, IFBB pro

bikini competitor Katie

Chung Hua proves she's

a force in fitness.

176

RISE AND DINE

Start your day with these

protein-packed recipes.

182

POWERBUILDING 2.0

Combine the best

of powerlifting and

bodybuilding to build

dense muscle and freak

strength in six weeks.

192

NO MORE BAD

WORKOUTS

Use indicator sets to

customize your training

for maximum results.

202

THE NEW MECCA

OF MUSCLE

How Bev Francis'

Powerhouse Gym

became the most

legendary bodybuilding

center on the planet.

22

JUST THE FACTS

Groundbreaking research

and must-have tips in

the training and nutrition

universe.

45

1ST SET

All the happenings with

Mr. Olympia Phil Heath,

212 Olympia champ Flex

Lewis, the entire Team

Weider roster, and more.

67

LIFT

Techniques that work,

routines that produce

results, and other things

to help you make the

most of your gym time.

83

FOOD & SUPPS

Everything you need to

eat, drink, or mix first and

then drink, to help you

reach your bodybuilding

and fitness goals.

212

LAST SET

Contest results, athlete

updates, and more.

224

THE SHOT

This moment from 2009

featured the Father of

Bodybuilding, the late Joe

Weider, in his last FLEX

photo shoot.

COURTESY OF WEIDER HEALTH & FITNESS; CHRIS LUND

14 FLEX | JULY/AUG '17
---
Algeria Argentina Australia Bahrain Belarus Belgium Chile Croatia Ecuador Egypt France Germany Gibraltar

FROM THE CHAIRMAN

LUCKY 7?

PHIL HEATH IS AIMING

TO BECOME THE OLYMPIA-

WINS RECORD HOLDER,

BUT HE NEEDS TO CAPTURE

SANDOW NO. 7 FIRST

ON THIS MONTH'S COVER

we feature a man many consider

to be history's greatest bodybuilder:

eight-time Mr. Olympia Ronnie

Coleman. During his peak years,

Ronnie was so dominant that his

closest rivals would all but concede

that they were competing for second

place—before the contest! To date,

the only other person to notch eight

Olympia victories is Lee Haney, every

bit the bodybuilding legend as is

King Coleman. Yet this year we may

witness a challenger to Ronnie's and

Lee's all-time record come within one

victory of matching these two legends.

Phil Heath has already won six

straight Sandows and will be going for

a seventh on Sept. 16. You might

assume that as the six-time defending

champ, victory No. 7 is all but assured.

Yet a win is far from guaranteed.

Dexter Jackson, Shawn Rhoden,

Big Ramy, Cedric McMillan, Roelly

Winklaar, and surging stars like

Brandon Curry, Dallas McCarver, and

Sergio Oliva Jr. would all love to be the

man who deposes the king. Uneasy

lies the head that wears the crown,

it is said, and Phil Heath knows that

he will need to be at the top of his

game if he wants to keep his crown

firmly in place.

Of course, men's open bodybuilding

is but one of many, many exciting

competitions and expo spectacles

taking place in Vegas. For details

on all that will be happening Olympia

Weekend, and to purchase a ticket, go

to mrolympia.com. And if you do join

us this September, you may very

well get to shake hands with Ronnie,

Lee, and the select few who have

earned the title Mr. Olympia over the

past 52 years.

CHAIRMAN AND CHIEF EXECUTIVE OFFICER

DAVID PECKER

EDITORIAL

VP/Editorial Director

SHAWN PERINE

Managing Editor, Enthusiast Group/Books

BRIAN GOOD

West Coast Editor DAVE IAN LEE

Senior Editor ZACK ZEIGLER

Senior Writer GREG MERRITT

Senior Web Editor ANGELICA NEBBIA

Editor ANDREW GUTMAN

Copy Chief PEARL AMY SVERDLIN

Copy Editors

JEFF TOMKO, YEUN LITTLEFIELD,

STEVE LEVINE

Research JAMES RILEY

Editorial Production Director

RUSSELL MENDOZA

Editorial Associate Director

VICTOR KIM

Digital Director DECLAN O'KELLY

Editorial Assistant ROSE MCNULTY

ART

Art Director RAMÓN GAMARRA

Designer CYNTHIA NG

Contributing Designer SEAN OTTO

Photo Director ANTHONY NOLAN

Staff Photographer/Photo Editor

ERICA SCHULTZ

Photo Editor GABY CHIANG

EDITORIAL CONTRIBUTORS

MICHAEL BERG, ADAM BIBLE,

ERIC BROSER, BRYAN HAYCOCK,

ROGER LOCKRIDGE, STEVEN STIEFEL,

JOE WUEBBEN

PHOTO & ART CONTRIBUTORS

Photographers

IAN SPANIER,

CHARLES LOWTHIAN, PER BERNAL

Contributors

ALBERT BUSEK, CARUSO, BILL COMSTOCK,

ISAAC HINDS, KEVIN HORTON,

CHRIS LUND, CHRIS NICOLL,

ROB PICK, PAVEL YTHJALL, ART ZELLER

PRODUCTION

Production Manager ANN MCCAFFREY

Distribution Manager MARC MELCHER

INTERNATIONAL PUBLISHING,

ENTHUSIAST GROUP

Group Publisher SAMANTHA LUND

TEL: +44 (1) 1423 550 848

e-mail: slund@weideruk.com

FOREIGN EDITIONS

ADVERTISING

EVP/Group Publishing Director

CHRIS SCARDINO

Associate Publisher-Integrated Marketing

JAMES CRESS

Advertising Director DARA MARKUS

Associate Director of Marketing

SAMANTHA DITATA

EASTERN SALES OFFICE

4 New York Plaza,

4th Floor, New York,

NY 10004; (212) 339-1900; fax (212) 510-1947

Digital Sales Manager MIKE MYERS

Digital Account Manager EMILY KUHN

Business Manager IVELISE ESTREMERA

Administrative Assistant TRACY GUNTHORPE

DETROIT SALES OFFICE

RPM Associates, 285 Coats Road,

Suite 206, Lake Orion, MI 48362;

(248) 690-7013

Detroit Sales Representative JAY GAGEN

MIDWESTERN SALES OFFICE

1005 West Grove Street, Arlington Heights,

IL 60005; (312) 545-8041; fax (847) 749-0469

Sales Director DARRIN KLAPPRODT

WESTERN SALES OFFICE

6420 Wilshire Blvd., 15th Floor,

Los Angeles, CA 90048; (818) 595-0473

Senior Account Director TALIN BOUSTANI

SOUTHEASTERN SALES OFFICE

1000 American Media Way, Boca Raton,

FL 33464-1000; (561) 997-7733;

fax (561) 266-0664

WEIDER PUBLICATIONS, LLC

A SUBSIDIARY OF AMERICAN MEDIA INC.

CHAIRMAN, PRESIDENT

& CHIEF EXECUTIVE OFFICER

DAVID PECKER

Executive Vice President/

Chief Marketing Officer KEVIN HYSON

Executive Vice President/Chief Financial Officer/

Chief Operating Officer CHRIS POLIMENI

Executive Vice President, Digital Media

Operations/CIO DAVID THOMPSON

Senior Vice President/Chief Digital Officer

BRIAN KROSKI

Senior Vice President, Operations ROB M. O'NEILL

Vice President, Consumer Marketing

EPHRAIM R. BRENNAN

President of the IFBB Professional League

JIM MANION

Founder and Chairman Emeritus

JOE WEIDER (1920–2013)

DAVID J. PECKER

Chairman, President,

and Chief Executive Offi

of American Media Inc.

Guatemala Ireland Italy Jordan Kazakhstan Kuwait Latvia Lebanon Lithuania Luxembourg Malta Mexico Netherlands New Zealand Oman

Paraguay Peru Philippines Qatar Russia Saudi Arabia Spain Syria Thailand Turkey United Kingdom Uruguay Venezuela

DISCLAIMER Please consult your physician before beginning any exercise

or diet program, or when making changes in an existing program.

PRINTED IN USA

WE ASSUME NO RESPONSIBILITY FOR RETURNING UNSOLICITED MATERIAL, INCLUDING

BUT NOT LIMITED TO PHOTOS, ARTWORK, MANUSCRIPTS, AND LETTERS.

16 FLEX | JULY/AUG '17
---
NEW!

1

DUAL-DELIVERY

TECHNOLOGY

EXCLUSIVE TO

HYDROXYCUT ®

THE WORLD'S FIRST-EVER

DUAL-DELIVERY COMBINATION CAPSULE

Hydroxycut ® SX-7 ® Revolution is the world's fi rst and only

side-by-side dual-delivery thermogenic. Powders are the favored

delivery system for most pill products because they can deliver

more active ingredients in the right doses. Other ingredients are

preferably taken as liquids, such as CLA. Separating the capsule

into two halves allows for a delivery system that succeeds the

limitations of outdated liquid and powder pills used by many

competitor products. The impermeable membrane maintains

ingredient stability for rapid diffusion. It's technology meeting

efficacy without compromise, and it's available exclusively at GNC.

T

ADVANCED WEIGHT LOSS

Subjects taking C. canephora robusta

lost an average of 10.95 lbs. in 60 days

with a low-calorie diet, and 3.7 lbs. in

8 weeks with a calorie-reduced diet

and moderate exercise.

UNMATCHED NEUROSENSORY

Unrivaled sensory experience from

an advanced Neurosensory Matrix

including huperzine A, choline

bitartrate, yohimbe and lion's mane.

ULTIMATE THERMOGENESIS

Extreme energy, enhanced mental

focus and ultimate thermogenesis

from a precise and scientifically

researched dose of caffeine anhydrous.

COMBINATION

CAPSULE

Ingredient stability

maintained through

impermeable isolation

ENCAPSULATED

LIQUID

Featuring premium

Clarinol ® A-95 CLA – the

most concentrated source

SEPARATION

MEMBRANE

World's first

hermetically sealed

membrane

AVAILABLE

EXCLUSIVELY AT

1

Based on AC Nielsen FDMx sales data for Hydroxycut ® caplets.

Facebook logo is owned by Facebook Inc. Read the entire label and follow directions. © 2017

MUSCLETECH.COM
---
PHIL HEATH

FLEX LEWIS

JUAN MOREL

STEVE KUCLO

IFBB VANCOUVER PRO

The third-annual Vancouver Pro/Am on July 8 to 9 showcases IFBB Pro League

competition and BCABBA Provincial Championships. All IFBB pro division

winners qualify for this year's Olympia Weekend. At the expo, Battle Field Fight

League will host a professional and amateur event that will be a stepping-stone

to the UFC. Plus, it includes the Canadian National Qualifier for powerlifting and

the BC Provincial Championships for strongman and -woman. Be sure to watch

coverage at FLEXonline.com. For more, go to vancouverproshow.com.

WILLIAM BONAC

SHAWN RHODEN

LIKE US AT FACEBOOK.COM/FLEXMAGAZINE AND

INTERACT WITH OUR 2 MILLION OTHER FANS.

CHECK OUT OUR DAILY UPDATES BY FOLLOWING US

ON TWITTER AT @FLEX_MAGAZINE.

AMIR MARANDI

18 FLEX | JULY/AUG '17
---
NEW! 1

exCLUSiVe

THE BEST WORKOUTS

ULTIMATE PRE-WORKOUT EXPERIENCE

MuscleTech ® researchers have once again redefined the pre-workout

category! Shatter SX-7 ® Revolution features never-before-seen

dual-phase, multi-particulate technology, engineered for explosive

energy and enhanced focus. The cutting-edge formulation is designed

to increase nitric oxide levels, promoting vasodilation for enhanced

nutrient delivery and intense muscle pumps. It also contains a

scientifically studied dose of betaine for superior gains in lean

muscle, strength and power. Take your workouts to the next level with

Shatter SX-7 ® Revolution, the most powerful pre-workout on the market.

1 INTENSE PUMPS & MUSCLEBUILDING POWER

A powerful dual-dose combination of both L-citrulline plus

L-citrulline peptides for intense muscle pumps, as well as a

scientifically studied dose of betaine for superior gains in lean

muscle, strength and power!

2 ENHANCED MUSCLE AND STRENGTH

A 3.2g scientific dose of CarnoSyn ® beta-alanine shown to

enhance the muscle- and strength-building process.

3 EXPLOSIVE ENERGY & ULTIMATE NEUROSENSORY

Featuring never-before-seen encapsulated TeaCrine ® ActivSphere,

plus lion's mane, guayusa, and both immediate- and sustainedrelease

caffeine for the best focus, energy and intensity.

250mg

TEACRINE ®

ACTIVSPHERE *

*Per 2 scoops

3g

L-CITRULLINE

AND PEPFORM ®

L-CITRULLINE PEPTIDES*

3.2g

CARNOSYN ®

BETA-ALANINE*

AVAILABLE

EXCLUSIVELY AT

1 MuscleTech ® is America's #1 Selling Bodybuilding Supplement Brand based on cumulative wholesale dollar sales 2001 to present.

Facebook logo is owned by Facebook Inc. Read the entire label and follow directions. © 2017

MUSCLETECH.COM
---
5 THINGS

TO KNOW

THIS MONTH

5.11 RECON

TRAINER

These trainers are

lightweight and flexible

and constructed mainly

of breathable mesh

with a durable leather

overlay that can stand

up to outdoor training.

The best part: They

won't break the bank.

$59.99, 511tactical.com

TRX GO

While it shouldn't make

up your entire routine,

training with your own

body weight recruits

more of your core

and better challenges

your muscular stability.

Also, consider that

curling your own body

weight is more than

you could ever load up

with your barbell. The

TRX Go is portable,

durable, and lightweight

and hangs from any

power rack, tree,

or pole. $129.95,

trxtraining.com

June 7

DR TEAL'S EPSOM SALT

MUSCLEMEDS

CARNIVOR MASS

BIG STEER

MuscleMeds' Carnivor Mass

has 50 grams of protein per

four scoops, and its aminos

are 350% more concentrated

than those in steak. It also

features iSpike, an exclusive

tech that quickly boosts

insulin, so you get an anabolic

impact that promotes muscle

growth and tissue repair. For

guys who can't get enough of

Carnivor, the company has

introduced the Big Steer

option, a full 15-pound tub

of beef protein powder

goodness for maximum gains.

musclemedsrx.com

$5.50 for 3 lbs, bedbathandbeyond.com

COURTESY OF SONY PICTURES ENTERTAINMENT INC.

20 FLEX | JULY/AUG '17
---
A COMPREHENSIVE, FULLY-DOSED

A.M./P.M. VITAPAK ® PROGRAM.

Scientifically designed to meet intense nutritional needs.

Meticulously delivered over time. For brutally real results.

Featuring:

- Raw Nutrients Multivitamin - Clinical Strength Omega-3s

- Liver Guard

- Digestive Enzymes

- GlucoBolic - ZMAg P.M.

BRUTE SCIENCE

NEW & ONLY AT GNC

GNC.COM/BEYONDRAW
---
JUST THE FACTS

FEEL-GOOD WAVES

According to a study

from New Mexico

Highlands University,

the pressure waves

that are created when

we walk send waves

through the arteries that

significantly modify and

can increase the supply

of blood to the brain.

Scientists discovered

that even though you

hit with a lighter step

when walking, it creates

a larger pressure wave

that boosts blood flow

to the brain even more

than running, optimizing

brain function and giving

us a sense of well-being.

A HAPPY

WALK

UP AND DOWN

U. of Georgia researchers found that 10 minutes

of walking up and down stairs at a moderate pace

was more effective at energizing people than

taking 50 milligrams of caffeine, about what you'd

get from a half cup of coffee or 12 ounces of soda.

POTTY MOUTH

A British Psychological

Society study found

that using profanity

before pedaling on a

stationary bike and

before squeezing a

handgrip produced

more pedaling power

and a stronger grip.

CHRIS LUND; KEVIN HORTON

22 FLEX | JULY/AUG '17
---
JUST THE FACTS

HEALTH & NUTRITION

GLUTEN-FREE BAD FOR

HEART HEALTH

70

Percentage of

your daily sodium

intake that you

get from packaged

foods and eating

out, according to a

study in the journal

Circulation.

PERFECT PARTNERS

Scientists at Johns Hopkins studied

the survey responses and records of

more than 10,000 Americans spanning

almost 20 years and found that there

seems to be a direct relationship

between exercise and vitamin D that

supersedes the health benefits of

either factor by itself.

The more the subjects exercised,

the more vitamin D they had in their

blood. In addition, the most active

people—who also had the highest levels

of vitamin D—ended up with the lowest

risk of developing heart disease in

the future.

GETTY IMAGES

SODA AND BRAIN DAMAGE

Two Boston University diet

soda studies found that the

fructose in regular sugary

soda may harm your brain

and switching to artificially

sweetened soda may make

you more likely to have a

stroke or develop dementia.

FREEZE IT

24 FLEX | JULY/AUG '17
---
INSTANT CLASSICS.

NEW! ISO100®

PEANUT BUTTER

& CHOCOLATE PEANUT BUTTER

The award-winning 100% Whey Protein Isolate

is now available in new game-changing, absurdly

delicious peanut butter & chocolate peanut butter

flavors. It's the same fast-digesting, hydrolyzed,

100% whey protein isolate, developed with studied

amounts of protein and BCAAs per serving.

Crush your goals with ISO100.

ISO100 ®

TYPICAL AMOUNTS PER SERVING

PROTEIN

25 g 5.5 BCAAS

g SUGAR

---
FLEX PRESENTS

KATIE

CHUNG

HUA

PHOTOGRAPH BY

PER BERNAL
---
THE LEGENDARY AND BRUTAL WORKOUTS THAT BUILT THE PHYSIQUE

OF EIGHT-TIME MR. OLYMPIA RONNIE COLEMAN ("LIGHT WEIGHT, BABY!")

3 FLEX | JULY/AUG '17
---
MONDAY

TUESDAY

BACK

BICEPS

LEGS

EXERCISE SETS REPS

Barbell Curl 3 12

EXERCISE SETS REPS

Deadlift 4 6–12

Dumbbell Curl 3 12

Squat 5 10–12

Barbell Row 3 10–12

Cable Curl 3 12

Leg Press 4 10–12

CHRIS LUND, KEVIN HORTON

T-bar Row 3 10–12

One-arm

Dumbbell Row 3 10–12

SHOULDERS (P.M.)

Military Press 4 10–12

Seated

Dumbbell Press 4 12

Superset with

Front Dumbbell Raise 4 12

Walking Lunge 3 100 yd

Stiff-legged Deadlift 3 12

Seated Leg Curl 3 12
---
WEDNESDAY

CHEST

EXERCISE SETS REPS

Barbell Bench Press 5 8–12

Incline Barbell Press 3 8–12

Decline Barbell Press 3 8–12

Dumbbell Flye 3 8–12

TRICEPS

Overhead Extension 3 12

Dumbbell Overhead

Extension 4 12

Close-grip Bench Press 4 12

CALVES

Standing Calf Raise 4 12

Toe Press 4 12

THURSDAY

BACK

EXERCISE SETS REPS

Barbell Row 5 10–12

Pulley Row 4 10–12

Lat Pulldown 3 10–12

Rear Lat Pulldown 3 10–12

BICEPS

Incline Dumbbell Curl 3 12

Machine

Preacher Curl 3 12

Superset with

Cable Curl 3 12

SHOULDERS (P.M.)

Seated

Dumbbell Press 4 12

Lateral Raise 3 8–25

Machine Lateral 3 8–25

5 FLEX | JULY/AUG '17
---
SATURDAY

CHEST

EXERCISE SETS REPS

Flat Bench

Dumbbell Press 4 8–12

Incline Dumbbell Press 3 8–12

Decline Dumbbell Press 3 8–12

Dumbbell Flye 3 8–12

TRICEPS

Skull Crusher 4 12

Machine Dip 4 12

Superset with

Overhead Extension 4 12

CALVES

Donkey Calf Raise 4 12

Seated Calf Raise 4 12

FRIDAY

LEGS

EXERCISE SETS REPS

Leg Extension 4 30

Front Squat 4 12–15

Hack Squat 3 12–15

KEVIN HORTON, CHRIS LUND (2)

Standing Leg Curl 3 12–15

Lying Leg Curl 4 12–15

MROLYMPIA.COM 6
---
THE

TEN YEARS AFTER HE LAST

COMPETED, THE EIGHT-TIME

MR. OLYMPIA IS OLDER, WISER,

BRUISED, AND BATTERED AND

HARBORS AN UNWANTED

CONSTANT COMPANION, BUT

HE'S STILL IRREPRESSIBLY

RONNIE "AIN'T NUTHIN' BUT A

PEANUT" COLEMAN.

LION OF

WINTER

BY PETER McGOUGH

MROLYMPIA.COM 31
---
IT'S ALWAYS

THERE,

ALWAYS.

Oh, the intensity levels fluctuate;

some days are not as bad as

others, but it's always there. Like

death, taxes, and that annoying

little Brit lizard on the Geico ads,

it's always there; a throbbing

reminder of the ransom paid for

past glories. What's always there?

In the case of eight-time (1998–

2006) Mr. Olympia Ronnie Coleman,

it's pain. At times stultifying pain,

but it doesn't stop him from

being who he is and sustaining a

philosophy he has followed since

he started competitive bodybuilding

back in 1990.

This writer knows the pain

is always there. I've seen it in

his eyes. Let me tell you a story.

Rewind to Sunday, March 6,

earlier this year. I'm in the lobby

of the Hilton Hotel in downtown

Columbus, OH, the day after the

conclusion of the 2017 Arnold

Classic. It's just after 6 p.m., and

my wife and I are ready to go out

CHRIS LUND

32 FLEX | JULY/AUG '17
---
KEVIN HORTON; CHRIS LUND

gy j

set to leave the lobby when a

hobbling Ronnie Coleman

appears, navigating his way

through the hotel's revolving

doors. He is supported by two

crutches, the legacy of surgeries

from the past 10 years. He beams

that big smile that has toured and

beguiled the

Arguably more

famous for the

weights he

pushed in the gym

than for winning

eight straight

Mr. Olympias,

Ronnie Coleman

remains a bodybuilder's

bodybuilder

through

and through.

bodybuilding

world for nearly

three decades.

Incidentally, in

reference to the

sobriquet "the

Big Nasty," it

does not really

fit him, as that

smile could

light up Ohio. I

approach Ronnie

and give him the

traditional hug and exclaim, "Wow!

Ronnie, is it raining outside? Your

top is wet."

He grins and responds, "Nah, I

just got back from the gym—that's

sweat, man."

He is a little unsteady as I ask

almost incredulously, "You can

hardly walk. What are you doing

going to the gym after you have

manned a booth the whole

weekend, when anyone else who

MROLYMPIA.COM 33
---
is here this evening is relaxing?"

In that Southern lilt, Ronnie

says, "I train every single day.

It's something I do, like going to

church—it's my duty."

Despite his assurance, it just

didn't make sense to me that

he would submit his battered body

to daily punishment, especially

when he has every excuse to just

put the dumbbells down and do

curls with a few brews instead.

It seemed incongruous to me

that he is still using the tools that

caused his incapacitation. But

then I'm not Ronnie Coleman—you

may have noticed.

On that blustery Columbus

evening we said our goodbyes,

but the riddle of why Ronnie was

still repping intrigued me, and I

was determined to investigate his

rationale on a deeper level at the

next available opportunity.

Big Ronnie was

an underdog

to Flex Wheeler,

Kevin Levrone,

Shawn Ray, and

a host of others

going into the

1998 Mr. Olympia.

But he did what

those future

legends never

accomplished.

THE INTERVIEW

That chance came when my old

buddy Shawn Perine, now VP and

editorial director at AMI, asked

me to interview Ronnie to get an

update on his present situation.

In opening, Ronnie listed the

multiple surgeries he's had since

2007, the largesse from having

eight Sandows on his mantelpiece.

(On mine I have a photograph

of me as

a 5-year-old

St. Hugh's milk

monitor and

one of crazy

Uncle Arthur

strangling a

stoat.) The

surgeries

represent a

crazy list—our

subject has

been involved

in more operations than Dwight

Eisenhower in World War II. Neck,

hips, back, knees, legs (why did

the lyric "My hip bones connected

to my backbone" drift into my

consciousness?)—they've all been

the focus of a surgeon's knife.

It's the back surgeries that

have been the most debilitating

and have left him in crutch mode.

The most serious took place on

Feb. 2, 2016, a few days before

he was about to get on a plane to

fly home from Russia, when his

legs gave way and he couldn't

walk. The problem was that four

big screws inserted into his lower

back during an earlier operation

had broken and rendered

him to nonwalking status. The

subsequent operation to insert

stronger screws took 13 hours,

confining him to a hospital

bed for a whole month as he

became even more acquainted

with his unwanted companion:

constant pain.

At that February 2016 point he

was told that he would be on

crutches for two years, during

which time he would follow a

CHRIS LUND

34 FLEX | JULY/AUG '17
---
NO GAIN, PLENTY

OF PAIN

constant pain for many years now.

Luckily, I've always had a high

tolerance for pain. A lot of people

are in a much worse place than

me, so I don't dwell on it or feel

sorry for myself. Look, I've been

training for 28 years. Bodybuilding

started out as a hobby for me.

I joined the Arlington, TX, police

department when I was 26. A

fellow officer trained at the local

Metroflex gym and persuaded me

to go along and join him. The gym

owner, Brian Dobson, saw me and

told me I could be a bodybuilding

world champion and said I should

compete. I said, 'Nah, I don't want

to do any bodybuilding, because

you have to do all that dieting and

the circumstances are. Even with

my injuries I'm able to train every

body part. But, nah, I don't train

heavy anymore."

Relieved that his days of

800-pound squats are behind

him. I ask him, given his present

tribulations, does he ever in the

dead of night ruminate on the

situation and regret giving his

body such a pounding over so

many years? (For the record,

besides those 800-pound squats,

he'd rep out on the bench with

CHRIS LUND

FLEX |
---
500 pounds, do barbell rows with

600 pounds, and complete seated

presses with 375 pounds.)

He almost shrieks in defiance,

"No! No! I keep a positive mindset

in everything I do. Do I regret

using such heavy weights? No,

those weights took me to eight

Olympia titles when I never

thought I'd win one. Those

weights enabled me to retire from

my job as a police officer. The

results of those heavy weights

took me all over the world to

meet so many enthusiastic

fans. It enabled me to buy my

mom a brand-new house and a

succession of new cars as a way

of thanking her for the sacrifices

she made for me. I never dreamed

I would be able to repay her like

that. I never dreamed I would be

driving around in a Rolls-Royce.

I've done everything I ever

wanted to do in life because of

bodybuilding and those heavy

weights. There can be no better

thing in life than getting paid well

for just doing your hobby. So,

no, I have no regrets about how I

trained—don't even think about it."

NO COMEBACKS

After finishing fourth at the 2007

Mr. Olympia, Ronnie still entertained

thoughts of competing. As

recently as 2012 he said he hadn't

ruled it out. It always seemed to me

that Ronnie, maybe more than any

other bodybuilder, loved competing

and reveled in the onstage

connection with an audience.

Right: Coleman took on all

challengers, such as Jay Cutler

(center) and Victor Martinez.

Below: He bested Cutler with

this final rear lat spread to

win the Challenge Round at the

2004 Mr. Olympia.

KEVIN HORTON

38 FLEX | JULY/AUG '17
---
Who was the greatest

bodybuilder of all time? The

debate continues. In this

virtual posedown, Coleman

and Arnold Schwarzenegger

hit their best poses. You be

the judge.

40 FLEX | JULY/AUG '17

So how big a wrench was it

for him to finally accept that he

would never compete again? He

answered softly and slowly: "I

didn't want to let go. It was really

difficult for me to accept it was

over. I wanted to go on competing,

but my back injury gave me so

much pain and restricted my

movements and workload so much

that I had to face facts and let go.

I hated to admit it was over, but I

knew there was no chance I could

compete again at the highest level.

So it was hard, but on the other

hand there was a fait accompli feel

about it. There was no room for

discussion—I had no choice. I told

myself, 'You had a fabulous career;

the truth is, you overachieved in

winning eight Olympias. You've

achieved a lot, and now as you

look back at your legacy you have

a lot to be proud of.' "

His final words, "I'm happy with

the life I've lived and the one I'm

living now."

And Ronnie, we're happy with

the joy you gave us as you ruled

your particular jungle like the lion

you are, and the ferocious and

brave lion you continue to be. The

pain is always there, but also

always there is your remarkable

spirit and fortitude. You taught us

many things in the gym and

onstage, but with your present

circumstances, with your undying

resolve, positive attitude,

and sheer will to persevere

you are teaching us all how to

embrace and live life. Thanks,

Ronnie, for the memories

and the lessons. Enjoy your

winter; you've earned it.

KEVIN HORTON; PER BERNAL; ART ZELLER/FITNESS PUBLICATIONS INC./COURTESY of WEIDER HEALTH & FITNESS
---
1 ST ALL

THE HOT

TOPICS IN

BODYBUILDING

& FITNESS

48

PER BERNAL

Mr. Olympia Phil Heath talks

about the role of money in

the sport and a possible

posedown with Flex Lewis.

PAGE 46

The 212 Olympia champ Flex

Lewis opens up about his

various business ventures in

the bodybuilding industry.

PAGE 52

Don't have a regular training

partner to help ramp up

the intensity? Merlin has

tricks for those who do it solo.

PAGE 54

Francis Benfatto had a

classic physique before

classic physique existed.

Here's his biceps routine.

PAGE 58

MROLYMPIA.COM 45
---
1ST SET

ASK THE CHAMP

BY PHIL HEATH,

SIX-TIME REIGNING MR. OLYMPIA

DIVIDENDS

QUESTIONS

ABOUT MONEY

AND A POSSIBLE POSEDOWN

WITH THE 212 CHAMP

AS BODYBUILDING

GROWS IN POPULARITY,

DO YOU WORRY ABOUT

THE INFLUENCE OF

MONEY ON THE SPORT?

I'm not worried at all. That's the

kind of worry we want to have.

If it all goes to the athletes, then it's

a good thing for the athletes, and

it's a good thing for the sport.

It's not like the NFL—we don't have

data to quantify what kind of

money is in the sport and where it

all goes. Now that we're growing

again, I hope that will improve,

and that the athletes will benefit

from the growth as well.

THE LIGHTWEIGHT

CHAMP, FLEX

LEWIS, HAS SAID HE

WOULD LIKE TO DO A

POSEDOWN ONSTAGE

AT THE O WITH YOU,

TO SHOW THE WORLD

HOW THE LIGHTWEIGHT

AND HEAVYWEIGHT

CHAMPIONS COMPARE.

IS THAT SOMETHING

YOU'D CONSIDER DOING?

I think it's flattering. Flex Lewis

is a champion, no doubt. I like the

idea—show what it's about the

way Arnold and Franco did. But I

would need to know more

before I could get 100% behind

the idea. The way the O contests

are structured now is different

than it was when lightweight

and heavyweight competed as

one group. What is the benefit of

doing it—and is the benefit for

the audience or the bodybuilders

or both? Would it be an exhibition

or a contest to win? Those

would be some things I'd want

to clarify first.

WHAT'S THE

MAXIMUM

WEIGHT YOU ALLOW

YOURSELF DURING

THE OFF-SEASON?

280 pounds.

PER BERNAL

46 FLEX | JULY/AUG '17
---
SUPERIOR

WHEY

PEPTIDE

FORMULA

From the biggest name in performance

protein comes a brand-new, superior

100% whey protein formula – NITRO-TECH ®

100% WHEY GOLD. It features fast-absorbing

whey peptides for a powerful insulin spike

and superior amino acid uptake. Each scoop

serves up 24g of cold-filtered, ultra-premium

protein, 5.5g of BCAAs, and 4g of glutamine

and precursor. Plus, this 100% whey formula

contains no added active ingredients or

inferior fillers. All this in a formula your

taste buds and muscles will love!

• Featuring whey peptides & isolate

as primary protein sources

• Superior amino acid profile for improved

muscle protein synthesis & recovery

• An award-winning taste you'll love

• Limited-time bonus of up to 0.5 lbs. FREE

10% FREE

WITH OUR 5.5 LB. BOTTLE

Get 5.5 lbs. of NITRO-TECH ®

100% WHEY GOLD premium protein

for the price of 5 lbs.

TRY THESE DELICIOUS FLAVORS:

DOUBLE RICH CHOCOLATE

STRAWBERRY

CHOCOLATE CARAMEL BROWNIE

CHOCOLATE PEANUT BUTTER

NITRO-TECH ®

100% WHEY GOLD

Other 100%

Whey Proteins

ULTIMATE MUSCLEBUILDING

RAPID ABSORPTION

SUPERIOR PROTEIN

MuscleTech ® is America's #1 Selling Bodybuilding Supplement Brand based on cumulative wholesale dollar sales

2001 to present. Facebook logo is owned by Facebook Inc. Read the entire label and follow directions. © 2017

MUSCLETECH.COM
---
1ST SET

O ZONE

I GOT

SOMETHING

TO SAY...

JOE WEIDER'S 2017

OLYMPIA WEEKEND is just

around the corner, and as you can

imagine, things are heating up!

Josh Brown sat down with Mr. O

top contender Shawn Rhoden,

2016 Bikini O champ Courtney

King, and 2017 Bikini International

winner Angelica Teixeira for a

series of hard-hitting interviews.

Here are some excerpts to

whet your appetite. For the full

interviews, go to mrolympia.com.

FLEXATRON

FIRED UP!

Shawn Rhoden, last year's

Mr. Olympia runner-up, unloads on

the reigning Mr. O. You gotta read it

to believe it.

BIGGEST PET PEEVE

People who try to be something

that they're not.

HE'S A THREE-TIMER

Phil [Heath] won only three Olympias

to begin with. So, saying Phil has

what it takes to be a 10-time Olympia

winner—hey, congratulations on the

six that you won, but in my opinion,

you should have won only three. Kai

[Greene] should have won in 2014.

2015, and 2016. I don't think Phil should

have won.

10? GIMME A BREAK!

To say Phil is going to win 10

Mr. Olympias is disrespectful to all

the other athletes. I don't know if

he's trying to psych himself up, but

that shit doesn't do anything for me

but make me shake my head and say,

"Hey, good luck!" There are too many

good bodybuilders out there. Phil isn't

that far out from everybody else. He's

not dominating the sport. In 2012, yes,

he looked great. Last year he was a

little bit better, but he wasn't someone

you could shake your head at and

say, "Hey, you know what? He's going

to win 10 Mr. Olympias."

STILL MORE ON

WINNING 10

You can't be Mr. Olympia and

have people boo you. You can't be

Mr. Olympia and have the audience

walking out during the Olympia

speech. So I don't see him winning

10. Not while I'm competing.

LOW-ENERGY SHAWN?

That's a bunch of bullshit. [Laughing]

I pride myself on certain things when

it comes to bodybuilding. When you

spend a lot of time practicing your

posing, you're not supposed to be

up there shaking like a leaf. Practice

makes perfect. There's a look of

confidence that says, "Hey, I've

done all I could possibly do."

Bodybuilding is an art. It's supposed

to look effortless. You're not

supposed to be onstage fighting

yourself to hit a pose. You should be

able to hit a pose, have it pop, yet still

look relaxed."

MY VICTORY SPEECH

Thank you, guys, for walking with

me. Thank you, guys, for your support

and standing by me. I told you guys it

was coming, and here we are. We did

it together.

PER BERNAL

48 FLEX | JULY/AUG '17
---
NEW!

A NEW GENERATION OF

SUPERIOR

CASEIN

PROTEIN

g

Introducing NITRO-TECH ® CASEIN GOLD,

a superior formula from MuscleTech ®

featuring micellar casein. This premium

formula delivers musclebuilding

amino acids to resting muscles for

up to eight hours. It contains 24g of

protein and 10g of naturally occurring

BCAAs, glutamine and precursor.

What's more, each serving contains

only 1g of sugar and less than 0.5g of

fat. With NITRO-TECH ® CASEIN GOLD,

there's no grittiness like you'll find in

inferior caseins, only a silky smooth

texture. Welcome to the new frontier

of casein protein!

• Cleaner vs. other caseins –

less fat and sugar

• Available in limited time

2.5 lb. and 5 lb. bonus sizes

• Get 25% more free servings

AVAILABLE IN 3 DELICIOUS FLAVORS:

CHOCOLATE SUPREME

25%

FREE

7 FREE

SERVINGS!

1

2

3

4

5

6 7

FEATURES MICELLAR CASEIN

8-HOUR SUSTAINED RELEASE

NO GRITTY TEXTURE

MuscleTech ® is America's #1 Selling Bodybuilding Supplement Brand based on cumulative wholesale dollar sales

2001 to present. Facebook logo is owned by Facebook Inc. Read the entire label and follow directions. © 2017

MUSCLETECH.COM
---
1ST SET

O ZONE

DO THE CLAWS

COME OUT?

COURTNEY I feel that the bikini

division is the cattiest, where some

girls won't talk to one another. It's like,

why? I feel like, me, I get along with

every single athlete. I'm never rude.

That reminds me of high school

stuff and not how I'd like to represent

the IFBB.

ANGELICA Thank God, no.

Backstage the feeling is nothing is ever

going to happen until we line up—then,

OK, it's on. But when we're backstage,

we kind of have fun. So, I can't

complain. I've never had this problem.

GETTING R-E-S-P-E-C-T

COURTNEY I do feel like we're

getting more respect. I feel like the

bikini girls are setting a more athletic

but feminine look. It's showing you

can't just go and do yoga and train a

couple of times a week. We train five,

six, or even seven times a week like

any other athlete.

ANGELICA I think the respect is

growing for sure. More people from

outside the bodybuilding world come

up and say how much they see how

hard I diet, how dedicated I am, and

how I'm giving it 100%.

BIKINI RUMBLE

Bikini O champ Courtney King and

Angelica Teixeira, who avenged

her 2016 O runner-up by beating King

earlier this year at the Bikini International

(by one point!), open up about their

newfound rivalry.

BIGGEST FEAR IN LIFE

COURTNEY KING Not doing

something I'm truly passionate about.

A goal for me beyond the stage would

be to focus on the bigger picture by

helping people with holistic nutrition

and pursuing what I really want to do

beyond competing.

ANGELICA TEIXEIRA I'm very

close to my family, so to lose

someone very close. So, you know,

the only thing that I really fear in

life is someone that I really love

could die. Thank God that everybody

is healthy.

IF I COULD CHANGE...

COURTNEY Not being such a

people pleaser to everyone. I tend to

do what other people want to do

unless I put my foot down.

ANGELICA My feet! I don't like

my feet.

UNDER PRESSURE

COURTNEY Pressure fuels

me. When you're on top, everyone

wants to knock you off. I did the

Arnold, and I did have pressure.

People were asking me, "Why are you

doing the show?" I said, "To prove I

could still do it!" I actually got

second to Angelica, but that is gonna

fuel me so much more for the

Olympia. Don't look outside at

anyone else, stay in your own head,

and just focus on yourself, you

can push past pressure and

produce results.

ANGELICA I don't worry about

who is going to be there. We have

social media, of course, so I see

other photos that come out. But I'm

never trying to compare myself to

them. I like to keep focused on myself

and try to do my best.

FAKERS BEWARE

COURTNEY I don't like to bash

anyone. Whatever you think the ideal

look of fitness is to you, whether

it's vegan, competing, having a fake

butt—or whatever. Of course, I

don't think Photoshop sends the

right message, because it portrays

something fake or false to the

audience. At the end of the day, as

I said, whatever you think fitness

should be is what you should follow.

ANGELICA I feel a little down

sometimes, because I see some

people faking the fitness lifestyle. I'm

not saying everybody is like this, but

some people put on gym clothes, act

like they are going to exercise, but

they aren't. They take a [fake] picture

and buy followers and do very well.

Sadly, most people can't see what's

going on. I like to go to the gym

and build muscle. That's why I love

bodybuilding. I have nothing against

these people, but at least be real.

Like, "OK, I bought it; this is an

implant." Because if you are telling

your followers and you're giving them

a booty workout to get a booty like

yours, but you bought it, how is that

a good message? Photoshop is also

an issue. It gives the illusion of a

perfect body. I go to the gym no less

than five times a week, and it'll never

be perfect. With a touch of the mouse,

[some of the stars on social media]

will be perfect. A lot of followers

believe it and give up.

PER BERNAL

50 FLEX | JULY/AUG '17
---
CUTTING-EDGE TECHNOLOGY WITH

EXPLOSIVE

ENERGY & THERMOGENESIS

MICROBEAD TECHNOLOGY

An elite physique isn't given to you – you have to

build it. Push yourself past your limits with the help

of Hydroxycut ® Super Elite. With a never-before-seen

combination of ingredients and new, cutting-edge Smart

Release Microbead Technology, this powerful formula

delivers encapsulated active ingredients in a rapiddispersing

liquid compound. Experience the ultimate

neurosensory, amplified thermogenesis and extreme

energy boost after just one dose! Trust Hydroxycut ®

Super Elite to help you build the body you want today.

b

n

r

®

WEIGHT LOSS (LBS.)

10

5

®

S

n

10.95 lbs.

LOSS

a

Based on AC Nielsen FDMx sales data for Hydroxycut ® caplets.

Facebook logo is owned by Facebook Inc. Read the entire label and follow directions. © 2017

MUSCLETECH.COM
---
Presents

1ST SET

O ZONE

AMATEUR

LAS VEGAS

2017

AMAZON SPORTS NUTRITION

SPONSORS 2017

OLYMPIA

WEEKEND!

THIS YEAR'S SHOW is shaping up to be

the biggest ever with reigning, six-time Mr.

Olympia Phil Heath trying to defend his title

over a loaded lineup of hungry challengers to

win his seventh straight Sandow. Plus, Flex

Lewis goes for his sixth straight 212 Olympia

win, while Oksana Grishina (Fitness Olympia),

Juliana Malacarne (Women's Physique

Olympia), and Jeremy Buendia (Men's

Physique Olympia) go for four, and Latorya

Watts (Bikini Olympia), Danny Hester (Classic

Physique Olympia), and Courtney King (Bikini

Olympia) try to defend their titles.

Also, the first-ever Amateur Olympia in

the U.S. will be held Sept. 14 at the Orleans

Hotel and Casino Showroom. This landmark

contest is open to NPC- and IFBB-registered

competitors from across North America,

South America, Central America, and the

Caribbean, with two IFBB Pro League cards

up for grabs in each division for the overall

winner and first finalist: bikini, bodybuilding,

classic bodybuilding, classic physique, and

men's physique.

RETAIL GIANT

AMAZON IS TITLE

SPONSOR OF THE

FITNESS INDUSTRY'S

BIGGEST EVENT

At the Olympia Expo, which boasts

500,000 square feet of the Las Vegas

Convention Center, health and fitness

enthusiasts from all over the world can

discover the latest in sports nutrition, try

the newest workout gear, and meet

superstar bodybuilding and fitness athletes,

as well as celebrities like Hollywood mega

movie star Dwayne Johnson and others

in person. With a record-setting 60,000-

plus in attendance and more than 1,100

exhibitor booths last year, the Olympia Expo

continues to grow as even more

fans and brands are expected in 2017.

"Amazon is the world's premier online

retailer, and we couldn't think of a better

sponsor for Olympia Weekend," said AMI

Chairman, CEO, and President, David J.

Pecker. "Amazon has shown they are behind

the sport of bodybuilding and the fitness

and wellness culture that has grown with it.

Amazon will surely take Olympia Weekend to

the next level, and we look forward to its

continued involvement."

A FREE VIP TRIP

TO THIS YEAR'S

MR. OLYMPIA,

taking place Sept.

14–17 in Las Vegas.

The winning package

includes reserved VIP

seating, early entry to

the Olympia Weekend

Expo, early entry to

Meet the Olympians,

hotel, airfare, and

more! For details on

how to enter, go to

FLEXonline.com/

olympiacontest. For

more on the Olympia

itself, check out

mrolympia.com.

PER BERNAL; ERICA SCHULTZ

52 FLEX | JULY/AUG '17
---
MORE EXPLOSIVE

THAN EVER!

1

1

Ten years ago, MuscleTech ® researchers

redefined the pre-workout category. Now

they've done it again with VaporX5 Next Gen

– the ultimate pre-workout experience! This

powerful 5-in-1 formula delivers explosive

energy, an intense sensory experience,

enhanced strength and performance, plus

scientifically proven musclebuilding power! It

also contains the research-backed ingredient

Nitrosigine ® to increase plasma nitric oxide

levels for powerful pumps. So build more

muscle and crush through every single rep

with VaporX5 Next Gen! Try it today!

1

FIND THE VAPORX5 TM THAT SUITS YOU

1

Per 2 scoops

VAPOR

VAPOR

NEURO

VAPOR

RIPPED

ENERGY

NEUROSENSORY

ENDURANCE

MUSCULAR

POWER

PUMP

FROM L-CITRULLINE

ALSO AVAILABLE:

VaporX5 RIPPED

This powerful formula combines

more than just pre-workout and sensory

ingredients to deliver a truly complete

experience unlike anything you've

tried before!

ALSO AVAILABLE:

VaporX5 NEURO

This potent formula delivers a supercharged

neurosensory matrix, powerful pumps and

scientifically tested musclebuilding power,

plus extreme energy to get you amped up

for your toughest workouts!

SPECIAL

FUNNEL

SCOOP

VaporX5 TM Next Gen

provides you with a

brand-new funnel scoop.

It allows you to measure

out the powder and easily

dispense it for on-the-go

convenience!

Blue Raspberry

Fusion

PUMP

FROM NITROSIGINE ®

CREATINE

MONOHYDRATE

MODERATE

AVAILABLE IN 6 DELICIOUS FLAVORS:

Fruit Punch

Blast

ADVANCED

EXTREME

Icy Rocket

Freeze ® Watermelon Pineapple Lemonade

EXTREME ENERGY & SENSORY INTENSE PUMPS ENHANCES STRENGTH

MuscleTech ® is America's #1 Selling Bodybuilding Supplement Brand based on cumulative wholesale dollar sales 2001 to present.

Facebook logo is owned by Facebook Inc. Read the entire label and follow directions. © 2017

MUSCLETECH.COM
---
1ST SET

ASK MERLIN

BY ERIC "MERLIN" BROSER

Follow on Instagram:

@coachericbroser

FLYING SOLO

INTENSITY

TECHNIQUES FOR

TRAINERS WHO

WORK OUT ALONE

DO YOU FEEL ONE CAN

MAKE IT TO THE HIGHEST

LEVELS OF BODYBUILDING

WITHOUT HAVING A

TRAINING PARTNER? I

DESPERATELY WANT TO

COMPETE SUCCESSFULLY

AND MAKE A NAME FOR

MYSELF IN THIS INDUSTRY,

BUT MY PARTICULAR JOB

FORCES ME TO TRAIN IN

THE MIDDLE OF THE NIGHT

WHEN EVERYONE ELSE IS

FAST ASLEEP.

Before I explore this interesting

query further, I will cut to the chase

and tell you straight away that you

most certainly can be a successful,

high-level bodybuilding competitor/

champion while training all by

yourself! Of course, there are

obvious disadvantages to flying

solo in the gym, such as not being

able to utilize certain effective

intensity techniques (like forced

reps or negatives) and needing to

stop short of complete failure on

major exercises like bench presses,

leg presses, and squats—but this

certainly does not mean you cannot

still train "balls to the wall," my friend!

While I have had several

amazing training partners in my

25-plus years in the gym, I have lifted

on my own for the majority of my

career and yet managed to win

several titles, earn a natural pro

card, and carve out a successful

career in the fitness industry.

The keys to attacking the

weights all by your lonesome lie in

these three vital things: 1) choosing

the right exercises—dumbbell

movements, machines, cables,

2) utilizing intensity amplifiers that do

not require the aid of a partner

(cheat reps, partials, rest-pause,

supersets, dropsets), and most

important, 3) learning to be 100%

self-motivated while consistently

fostering the necessary drive/

passion to push yourself to your

utmost limits in the gym day in and day

out. In bodybuilding, it is the individual

who is singularly responsible for his/

her own success or failure.

2

2

2

2

2

2

/ ³

In fact, I can honestly say

that my most intense, gut-wrenching,

vomit-inducing workouts have taken

place while training all alone, with loud

music blasting in my ears, blood

rushing through my veins, and no

knowledge of anything else going on

around me! So stop worrying about

not having a partner and instead

embrace and appreciate getting to

face the battle with iron all on your

own, because your greatest ally in the

gym is none other than you.

JASON BREEZE

54 FLEX | JULY/AUG '17
---
THE PERFECT FUEL TO HELP

BUILD

THE BODY YOU WANT

GET THE GAINS YOU WANT AND

THE PERFORMANCE YOU NEED

Gain more muscle and strength with Amino Build ® Next Gen.

This advanced BCAA+ formula contains clinically-backed

key ingredients that will enhance your muscle, strength and

performance! And on days you need an extra boost, you can

trust Amino Build ® Next Gen Energized. It contains a naturally

sourced dose of caffeine for enhanced energy and focus.

Amplify your performance with Amino Build ® Next Gen today!

4

3

2

1

Lean Body Mass Gained in 6 Weeks

Amino Build ® Next Gen

3.75 lbs.

Study subjects using the

same clinical dose of

betaine in Amino Build ®

Next Gen put on 3.75 lbs.

of lean muscle in 6 weeks

in leading university

research published in

the Journal of the

International Society

of Sports Nutrition.

NEW! AMINO BUILD ®

NEXT GEN RIPPED

Subjects built

3.75 lbs. of

lean muscle

Shown to boost

strength by 40%

BCAAs

4g

Leucine

2.5g

Betaine

First dose boost

in endurance

0mg

Caffeine

Per 2 scoops

Per 2 scoops

MuscleTech ® is America's #1 Selling Bodybuilding Supplement Brand based on cumulative wholesale dollar sales 2001 to present.

Facebook logo is owned by Facebook Inc. Read the entire label and follow directions. © 2017

MUSCLETECH.COM
---
1ST SET

ASK THE CHAMP

BY FLEX LEWIS, FIVE-TIME

OLYMPIA 212 SHOWDOWN WINNER

GROWTH

INDUSTRY

THE 212

O CHAMP

EXERCISES

HIS BUSINESS

ACUMEN

YOU LAUNCHED

A NEW COMPANY

AT THE ARNOLD

CLASSIC. WHAT

IS THE NEW

COMPANY AND

HOW MANY

DIFFERENT

BUSINESSES

DO YOU HAVE?

I've enjoyed working on

the entrepreneurial side

of the industry and take

some pride in the

companies I've been

involved in creating.

Bodybuilding has been

at the center of it all.

Here's a quick overview:

At the 2017 Arnold,

my business partner,

Scott James, and

I were showcasing a

new company, Dragon

Neutraceuticals

(dragonnutra.com),

which specializes in

topical creams.

We have products such

as PharmaLean, an

anticellulite firming

cream that is available in

a roll-on form and in a

precision pen, and

PharmaFreeze, which is

a topical muscle rub.

Arsenal Strength

(myarsenalstrength

.com) offers Americanmade

gym equipment,

specializing in strength

performance. It's

a line of ergonomically

designed equipment,

like plate-loaded,

pin-select, specialty

benches, which

are fully adjustable.

Arsenal Strength

offers gym design

services, too, and

there's also a lot of

amazing apparel.

Sinister Labs

(sinisterlabs.co), which

is branded as the

world's first hardcore

food company, is a

functional food

company. Basically it's

food for people who

train: caffeine-infused

spreads and powders.

There are almond and

peanut spreads and

chocolate and honey

powders, and it comes

in flavors like Caramel,

Vanilla, and White

Chocolate.

The Flex Lewis

brand (flexlewis.net)

includes Project Flex,

the Flextraordinary

label, my training DVDs,

accessories, clothes,

and all that stuff that

has to do most directly

with my own career.

The website is a place

where fans can find out

the latest in regard to

what irons I've got in the

fire, whether it's social

media, charities I'm

supporting, or events

coming up.

CHARLES LOWTHIAN

56 FLEX | JULY/AUG '17
---
THE CLEAR PILL THAT DELIVERS

MASSIVE

MUSCLE GAINS

JESSE HOBBS

BODYBUILDER

@jessehobbsbodybuilding

5HDG-HVVH·VVWRU\DW

MUSCLETECH.COM

SUBJECTS GAINED 16 LBS. OF

MUSCLE WITH CLEAR MUSCLE ®

For unprecedented lean muscle gains, Jesse

relies on vigorous training and the most effective

musclebuilder on the planet, Clear Muscle ® . It's the

first formula ever to contain the extremely powerful

musclebuilding compound BetaTOR ® , which

helped hard-training athletes gain 16 lbs. of muscle

in just 12 weeks! Clear Muscle ® puts you in the

perfect anabolic state by amplifying protein

synthesis and reducing muscle breakdown, so you

can pack on muscle like never before. There's no

other supplement like it, and it's from MuscleTech ® !

SUBJECTS BUILT 16 LBS. OF MUSCLE

Lean Muscle Gained (Lbs.)

16

14

12

10

8

6

4

2

16.3 LBS.

®

4.6 LBS.

Placebo

BREAKTHROUGH

RESEARCH FROM THE

UNIVERSITY OF TAMPA

Unlike other so-called "revolutionary

ingredients" that are only backed

by animal studies, researchers

at the prestigious University of

Tampa in Florida conducted a

randomized, double-blind,

placebo-controlled clinical study

on very well-trained bodybuilders.

BetaTOR ®

Supply

Contains patented

BetaTOR ® in a clear

liquid pill

Revolutionary formula

for the most muscle

and strength

Clinically dosed based

on research from The

University of Tampa

INCREASE MUSCLE SIZE ENHANCE STRENGTH IMPROVE RECOVERY

+

MuscleTech ® is America's #1 Selling Bodybuilding Supplement Brand based on cumulative wholesale dollar sales 2001 to present.

BetaTOR ® is a registered trademark of Metabolic Technologies, Inc., and use of HMB is licensed from Metabolic Technologies, Inc. Uses of HMB are

covered by pending patent applications owned by Metabolic Technologies, Inc., and U.S. patent number 6,103,764 licensed by Metabolic Technologies, Inc.

Facebook logo is owned by Facebook Inc. Read the entire label and follow directions. © 2017
---
1ST SET

RETRO ATHLETE

BY GREG MERRITT

FRANCIS

BENFATTO

THIS PARADIGM

OF CLASSICAL

BODYBUILDING WAS

BOTH BEHIND AND

AHEAD OF HIS TIME

BORN IN 1957, Francis

Benfatto was a man out of time

when he made his pro debut in

1988. If he had been born a

decade prior, his classical

physique may have allowed him

to challenge the similarly

constructed Frank Zane for the

Olympia title. And if he had been

born three decades later, he

might be a favorite for this year's

Classic Physique

FLEX FACT

IN THE 1992 O,

BENFATTO

BEAT FUTURE

EIGHT-TIME

MR. O RONNIE

COLEMAN.

Olympia. Instead,

over 19 pro shows

from 1988 to

1993, the 5'6"

Frenchman

struggled to carve

out his own niche

as size standards

expanded. He found his greatest

success on the Olympia stage,

finishing sixth in the drug-tested

1990 O and seventh the following

year. Always, he maintained his

classical shape: narrow hips,

V-shape torso, flowing lines,

artistic poses. His legs lagged,

but his delts and arms could win

shots. In 2006, at age 48 and after

13 years away from the stage (and

a torn pec), he made a surprising

comeback in the Australian Pro,

finishing a respectable sixth and

leaving us to wonder what

could've been if only he'd been

born earlier or later.

BENFATTO

ON BICEPS

TRAINING

CHRIS LUND

58 FLEX | JULY/AUG '17
---
CHEST DAY

'Twas the morning of chest day

excitement in the air!

Until I HOPPED IN THE shower

no hot water in there!

I MADE A big breakfasT, a super clean meal

Then MY dog EATS it all - another ordeal

For better results, I KNOW energy is KEY

That's why MuscleTech ®

Protein Cookies

are THE SOLUTION FOR ME!

iEarnedIt

ALSO AVAILABLE IN THESE DELICIOUS FLAVORS:

18g

PROTEIN

WHEY

PROTEIN

PRIMARY SOURCE

8g

FIBER

GLUTEN

FREE

NO ARTIFICIAL

COLORS OR

FLAVORS

TRIPLE

CHOCOLATE

PEANUT BUTTER

CHIP

BIRTHDAY

CAKE

AVAILABLE SOON!

MuscleTech ® is America's #1 Selling Bodybuilding Supplement Brand based on cumulative wholesale dollar sales 2001 to present.

Facebook logo is owned by Facebook Inc. Read the entire label and follow directions. © 2017

MUSCLETECH.COM
---
1ST SET

DANY

GARCIA

WHICH DO YOU RELY

ON MORE, FREE

WEIGHTS OR

MACHINES? WHY?

On most occasions,

my workout routines

are balanced equally

between both. Many

times the amount of

weight and joint stability

I require for the

movement will dictate

whether I will need to

move to a machine.

RHODEN

DO YOU WORK OUT IN

THE MORNINGS OR

EVENINGS? IF IN THE

MORNINGS, DO YOU

EAT BEFOREHAND?

I always look to

train in the morning,

approximately an hour

after eating. Getting that

done early clears the

way for everything else

I hope to accomplish

during the day.

A LOT OF US WERE EXPECTING TO

SEE YOU AT THE ARNOLD CLASSIC

IN COLUMBUS. WHAT HAPPENED?

I never requested to compete at the

2017 Arnold Classic in Ohio—that was

just a misunderstanding. Early on,

my name was put on the list in error.

I competed at the Olympia Europe

after a very busy end of the season,

and to be in the Arnold Classic

I would have had to jump back into

prep in January. It was going to be

too much time away from my family

after too much time away already.

I have a 21-month-old toddler at

home, and I wanted to be around

more for her.

WE HEARD YOU WENT TO

DISNEYLAND. ARE YOU A

ROLLER-COASTER FAN?

The fastest ride I go on at Disneyland

is the Pirates of the Caribbean. You'll

never catch me on a roller coaster.

WILLIAM BONAC

FROM TOP: ALEX ARDENTI; JAMES PATRICK; PER BERNAL

60 FLEX | JULY/AUG '17
---
FOR ME, SUCCESS IS BEING

BIGGER

& STRONGER THAN EVER

AJ SHUKOORI

IFBB PRO

@AJFitnow

Read AJ's story at

MUSCLETECH.COM

GET BIGGER & STRONGER THAN EVER

WITH MASS-TECH ® EXTREME 2000

For AJ, size and strength matters most. This is why he takes

MASS-TECH ® EXTREME 2000 – the ultimate 100% whey

protein + mass gainer. This supercharged 5-in-1 formula is

designed for the extreme hardgainer. It's a scientifically

superior formula to help build the size and strength you're

looking for. Plus, it contains no inferior protein sources and

has proven musclebuilding ingredients. MASS-TECH ®

EXTREME 2000 has everything you need to bulk up, pack

SUPERIOR

GAINER

FORMULA

80g

High-Quality

Protein 1

8.2g

10g

Musclebuilding

Creatine

Gains in Body Mass (lbs.)

7

6

5

4

3

2

1

6.8 lbs.

Calories in Mass-Tech ®

Extreme 2000 & skim milk

5X

THE

MASS

Control

BASED ON RESEARCH AT A LEADING

In an 8-week study, subjects consuming a

®

EXTREME 2000 combined

with 20 oz. of skim milk) to their regimen.

The results were examined and, on

average, subjects gained 6.8 lbs. of mass

while control subjects gained 1.3 lbs.

Calories 1

Over

400g

Multi-Phase

Carb Complex

1

When mixed with 20 oz.

of skim milk.

Triple Chocolate

Brownie

Milkshake

Delicious

Strawberry

EXTREME MASS GAINS EXPLOSIVE STRENGTH UNBEATABLE 5-IN-1 FORMULA

MuscleTech ® is America's #1 Selling Bodybuilding Supplement Brand based on cumulative wholesale dollar sales 2001 to present.

Facebook logo is owned by Facebook Inc. Read the entire label and follow directions. © 2017
---
1ST SET

WEIDER ATHLETES WEIGH IN

STEVE KUCLO

AS YOU'VE GOTTEN

OLDER, WHAT SORTS

OF MODIFICATIONS

HAVE YOU MADE TO

YOUR DIET?

One of the things I have

noticed is that my

appetite is not quite as

strong as it used to be

when I was in my early

20s. Now I still eat

a lot of food, but as I

have put on more and

more muscle over the

years and "muscle

maturity" kicked in, I find

I don't quite need as

much food to maintain

my muscle mass.

Now, I do have a

really good metabolism,

so I have to make sure I

eat a lot or I will lose

weight quickly. I adapted

in ways that I don't eat

as much protein as I

used to, but my carbs

are much higher than

they used to be. I can

handle a lot of food now

and stay leaner, and I

believe that comes with

conditioning over the

years. I recall after

bodybuilding shows I

gained anywhere from

20 to 40 pounds within a

week—not fun! Now

after a show if I have a

few meals, I may go up

only five or 10 pounds.

Learning and listening to

my body over the years

is key!

JUAN MOREL

Have a question for our Weider Athletes? Ask it on the FLEX Facebook page for a chance to see it here.

PAVEL YTHJALL; PER BERNAL

62 FLEX | JULY/AUG '17
---
IN THE SPOTLIGHT THIS MONTH

THE NEXT

EVOLUTION IN

WEIGHT LOSS

Hydroxycut Hardcore®

Next Gen is an evolution in

weight loss. Key ingredient

C. canephora robusta helped

subjects lose 10.95 lbs. in 60

days with a low calorie diet

and 3.7 lbs. in an 8-week study

with calorie reduced diet and

moderate exercise. A precise

dose of caffeine delivers

explosive energy and enhanced

focus and key ingredients

provide the ultimate sensory

experience!

THE FIRST

QUINTUPLE

PRO-HORMONE

STACK!

Monster Plexx® by Innovative

Labs is one of the few legal

pro hormone complexes

that can actually give you

intense gains in strength and

size that you are looking for.

Monster Plexx consists of 5

Pro-hormones combined at

high level milligrams (250 total

milligrams) making it the first

ever "Quintuple stack."

muscletech.com

innovativelaboratories.net

NOW AVAILABLE IN

35 SERVINGS

Carnivor Mass is a scientifically-developed highly anabolic

hydrolyzed beef protein mass gainer pumped with 50g

of protein, 720 calories and 125g of carbs per serving.

Plus, there is 0 cholesterol, 0 sugar, 0 lactose, 0 gluten

and 0 gelatin.

TESTROL ® GOLD ES

ADVANCED ESTROGEN

SUPPORT TESTOSTERONE

BOOSTER

Get the Testrol Gold Test Advantage, with GAT Sport Testrol

Gold ES. This is GAT's new, advanced Testrol, the leading

dual purpose muscle & performance male supplement

trusted by men for years. ES is for Estrogen Support and

Testrol Gold ES advanced formula contains DIM to balance

estrogen, optimizing testosterone hormone levels. Plus,

it has PrimaVie®, the highly researched and acclaimed

purified shilajit test booster for increased total testosterone,

free testosterone and DHEA. Naturally support male

performance, endurance, strength, boost testosterone and

help build lean tissue & body mass with Testrol Gold ES.

Visit MuscleMedsRx.com

teamgat.com
---
LIF

TRAINING

TIPS

TO POWER

UP YOUR

WORKOUTS

68

PER BERNAL

Having a big bench press is at the

top of most wish lists...but does going too

heavy do more harm than good for

building massive pecs? Find out here!

PAGE 72

You want to be wide. No, you want

to be really, really wide. Neil Hill shows

you how to do it with these exclusive,

hard-hitting shoulder workouts.

PAGE 74

Isolate this head of the three-headed

beast known as the triceps to give

your arms that sleeve-busting,

tape-stretching look you desire.

PAGE 78

MROLYMPIA.COM 67
---
LIFT

BY GREG MERRITT

MUSCLE

MULTITASKING

WITH STAGGERED SETS, YOU WORK

TWO DIVERSE AREAS TOGETHER

abs with any other

body part. Because

you don't want your

grip lessened when

doing, say, pulldowns,

forearms should be

worked only with legs;

for similar reasons,

calves can be worked

with anything but legs.

Any staggered work

for biceps, triceps, or

deltoids should also not

rob strength from the

bigger body part. So

you can stagger in

pushdowns with legs

but not with chest

presses (which also

work triceps).

In addition, cardio

can be staggered into

your weight training.

Do 10- to 15-minute

sessions of highintensity

cardio

between body parts.

For example, work

quads, hit the StepMill

for 10 minutes, work

hams, hit the treadmill

for 10 minutes, work

calves, and finish off

with 10 minutes of

elliptical. Instead of 30

minutes of continuous

tedium, you've broken it

into more palatable

pieces and kept your

enthusiasm, focus,

and intensity elevated.

And such up-tempo

intervals are better for

burning fat than longer,

lower tempo work.

There are three ways

to do staggered sets:

STOP WASTING

TIME. There's a lot

of idleness in a workout.

All those rests

between sets are

lost opportunities to

stimulate growth. Of

course, you don't want

to take away from the

muscles you're resting,

but you can work an

unrelated muscle during

that downtime. By

hitting two body parts

in the period that you'd

normally work one,

you can multitask your

way to greater gains.

MUSCLE

MULTITASKING

As a name, "staggered

sets" is lame. "Diverse

attack" would be clearer

(and cooler), but

"staggered" means you

can work a smaller body

part by alternating its

sets with only some

of the sets of a bigger

body part. Smaller

usually means calves,

abs, and forearms,

though it might also

mean biceps, triceps, or

deltoids. You can train

Unrelated Supersets

Alternate a set for a bigger

body part, like the back, with

one for a smaller, unrelated

body part, like calves. You

probably won't want to do

as many sets for the smaller

body part, so simply skip

supersetting one or two

exercises. For example, if you

do 16 sets and four exercises

for the back, you'll do 12 sets

and three exercises for calves.

Asymmetrical Combos

Do one set for the smaller

body part for every two or

more sets for the larger body

PER BERNAL

68 FLEX | JULY/AUG '17
---
VALUE

WORTH ITS WEIGHT IN

GOLD

Compare

& Save

$

$24 97

for

2.2 lbs.

vs. 29 99 for 2.0 lbs. 1

24% Savings!

uble Rich

h

10% FREE

Premium protein at a value price.

MUSCLETECH.COM

1 Compared to other whey protein products at specialty sports nutrition retailers.

MuscleTech ® is America's #1 Selling Bodybuilding Supplement Brand based on cumulative wholesale dollar sales 2001 to present.

Facebook logo is owned by Facebook Inc. Read the entire label and follow directions. © 2017
---
LIFT

TRAINING STYLES

part. For example, complete

one set for abs between

every two sets for arms, and

after 12 sets for bi's and 12

for tri's, you'll also have

cranked out 12 for abs. This

is the classic method of

staggering.

Between Exercises

Perform one set for a smaller

body part between exercises

for larger body parts. For

example, throw in a wrist

curl set after completing

every leg exercise, and over

the course of a workout

consisting of four exercises

for quads and three for hams,

you'll squeeze in seven

sets for forearms, almost

without noticing.

FAST BUT

NOT FURIOUS

As with other types of

multitasking, staggered

sets save time. By filling

in some of your rest

periods with work, you

can reduce the length

of workouts. But

perhaps the greater

advantage is the

reduction in tedium.

Face it, some exercises

are boring. Most of us

would rather be doing

heavy incline presses

than knocking out

another high-rep set of

leg raises. This is why

too many of us focus

more on the former than

the latter. By staggering

work for calves, abs,

and forearms as well

as cardio, you don't

have to slog through a

focused routine for

those areas. In essence,

you trick yourself into

doing the work you might

have been tempted to

skimp on or skip.

There are potential

pitfalls to staggering.

First, if done incorrectly

it can rob valuable

recovery time and

strength from one or

both areas. To prevent

this, stick to our

prescriptions for

staggering calves with

upper-body muscles,

forearms with lowerbody

muscles, and abs

and cardio with

anything. Staggering can

also reduce your focus.

But this often depends

on the workout. If you're

pyramiding up to a

personal best in the

squat, don't crank out

sets of hanging leg

raises between every

two sets.

Finally, whenever

you pair two different

exercises, there may be

logistical issues. It can

be difficult to keep dibs

on two gym stations.

With staggering, this

is compounded by the

fact that you may be

doing multiple sets of

one exercise before one

set of another, and,

because you're working

diverse body parts, the

stations may be far

apart. Sometimes

you can do both in the

same spot. Other times,

because you won't have

a lot of time to wait,

prepare to change it up.

If you were staggering

in standing calf raises

but someone has

staked a claim on the

machine during your

absence, switch to a

different calf exercise.

STAGGERED

SETS BASICS

Train a smaller body part

during rest periods while

working a bigger body part.

Make certain the smaller

body part isn't stressed

during compound exercises

for the larger body part.

Abs, calves, forearms,

and cardio are the best

candidates for staggered

sets.

STAGGERED

SETS TIP SHEET

The classic method of

staggering is to alternate one

set for the smaller body part

between every two or more

sets for the larger body part.

Try to plan combinations

that you can do in the same

area. For example, dumbbell

flyes and crunches can be

done on the same bench.

Don't stagger if you need

the rest period to recover

from an exhausting set.

Superset with

Superset with

PER BERNAL

70 FLEX | JULY/AUG '17
---
EXPLOSIVE

STRENGTH

& INTENSE

ENERGY

®

®

Per 2 scoops

BETA-ALANINE

L-CITRULLINE

CREATINE HYDROCHLORIDE (HCL)

Try both delicious flavors!

Only

$

19 97

vs $ 39 99

for other

pre-workouts 1

NEW!

$

MUSCLETECH.COM

1 Compared to other premium pre-workout products respectively at specialty sports nutrition retailers.

MuscleTech ® is America's #1 Selling Bodybuilding Supplement Brand based on cumulative wholesale dollar sales 2001 to

present. Facebook logo is owned by Facebook Inc. Read the entire label and follow directions. © 2017
---
LIFT

LAB TO GYM

BY BRYAN HAYCOCK PH.DC

LIGHTEN

UP, DUDE!

WHY GOING TOO HEAVY COULD

BE BAD FOR A BIGGER CHEST

HYPOTHESIS

The bench press is

one of the most popular

gym exercises. As a

compound exercise, it

brings multiple muscle

groups—including the

delts and triceps—into

play as prime movers

and stabilizers that

must work together

to balance, direct

movement, and generate

force. It's easy to think

that the activity of the

primary muscle groups

involved would simply

increase as the load

increases. However,

recent research calls

this into question.

RESEARCH

A study published in the

Journal of Strength &

Conditioning Research

examined the impact

that increasing loads

has on the activation

and contributions of the

chest, front delt, triceps,

and lats during the

bench press. Subjects

performed consecutive

sets of a single repetition

of a bench press with

an increasing load

(about 70, 80, 90, and

100% of their 1RM) while

electromyography (EMG)

readings were taken

from the aforementioned

muscle groups.

FINDINGS

To the researcher's

surprise, the chest,

which is normally the

prime mover, changes

to a "supportive" prime

mover when the load

reaches maximum. In

other words, as the

weight increases from

80 to 90 to 100% of

the subject's 1RM, the

chest's contribution

gives way to the front

delts and triceps,

which essentially take

over as primer movers.

CONCLUSION

As the weight used

during bench press

increases from about

70 to 100% 1RM, the

shoulders and triceps

become the prime

movers of the exercise.

APPLICATION

The activation of the

chest peaked before

reaching 100% 1RM.

This tells us that the

most efficient way to

train the chest is not

with maximum loads.

To put the focus on

building the chest,

75 to 85% 1RM is

best. The authors of

the study also confirm

that to protect the

shoulders from injury

while maintaining the

effectiveness of the

exercise, the bar should

be brought down to the

nipple line, and the hand

placement should be

within 1.5 times the

biacromial width, or the

width from the far end

of the right collarbone to

the far end of the left.

PAVEL YTHJALL

72 FLEX | JULY/AUG '17
---
LIFT

NEIL "YODA" HILL

BY NEIL HILL

SHOULDER

SATURATION

WILLIAM BONAC'S 12-WEEK DELT PROGRAM

SINCE HIS FIRST open-class

Mr. Olympia appearance as part

of Team Y3T in 2014, William

Bonac has grown to become one

of the most feared athletes

onstage in bodybuilding. After his

dominating display in 2016 at the

Mr. Olympia (where he took fifth),

we came up with a game plan to

improve for 2017.

One of the key areas was

adding more width to Bonac's

already freaky deltoids in order to

emphasize that taper from the

front and back. We also wanted

to bring more width to his upper

back and posterior deltoid tie-in.

Varied Angles

With Bonac, his Y3T program will

always introduce new angles into

his workout to not only add width

and fullness to the area but also

emphasize the tie-in across his

posterior deltoids into his upper

back. This is an area where we've

really focused on this year, as

it will add more maturity and

width to Bonac's physique. For

instance, one Y3T workout might

consist of using conventional

lateral raises superset with

partial lateral raises. The next

workout might focus on lying

cable incline lateral raises. The

point is, to maximize shoulder

development there must be a

varied use of angles to target the

same muscle using the same

exercise. Another important thing

to consider in relation to angles

is range of motion. I will often

shorten the range of motion

Bonac is doing in order to keep

the target area under tension.

Rep-Tempo Manipulation

As with all Y3T workouts, one

of the key principles I focus on

is prescribing very specific rep

tempos. We've used a crosssection

of more explosive-

WORKOUTS

WEEK 1 Y3T

Seated Dumbbell Press 3 8–12

Bentover Lateral Raise 4 8–12

NOTES: Eccentric phase three seconds;

rest period between working sets 90 seconds.

WEEK 2 Y3T (ALTERNATE)

4

3

4

WEEK 2 Y3T

Standing Barbell Power Press 6 14–20

Reverse Pec Deck 4 14–20

NOTES: Eccentric phase three seconds;

rest period between working sets 90 seconds.

WEEK 3 Y3T

2

2

Cable Lateral Raise 4 14–20

Bentover Cable Lateral Raise 4 14–20

NOTES: Eccentric phase three seconds;

rest period between working sets 90 seconds.

4

4

2

Seated Dumbbell Press 4 (dropsets) 20–25

SUPERSET WITH

Overhead Cable Crossover 4 20–25

NOTES: Eccentric phase three seconds;

rest period between working sets 90 seconds.

4

IAN SPANIER

74 FLEX | JULY/AUG '17
---
ased tempos to target the

fast-twitch fibers in certain

workouts and slowed things

down significantly in other

workouts to hit slow-twitch

fibers. Some workouts there will

be a range of rep tempos used in

order to make a specific area of

the deltoids work harder. For

instance, the posterior deltoid

is harder to isolate in many

instances, therefore the rep

tempo is designed to make this

more achievable.

Rotating Rep Ranges

Usually a Y3T split will work over

three weeks focusing on lower

reps in Week 1, moderate reps in

Week 2, and higher reps in Week

3. However, the deltoids have

more slow-twitch fibers than

many other muscle groups.

As a result, to get as much

fullness into Bonac's deltoids as

possible—leading to extra width—

we've focused on more Week 2

and Week 3 Y3T workouts. We're

still doing Week 1 shoulder

workouts, but we're investing

more of his training time on

shoulders in the Week 2 and

Week 3 ranges.

Training Frequency

Bonac will have additional

posterior-deltoid work to include

within back training. This means

that this specific area of his

deltoids is being stimulated more

frequently, thus leading to quicker

improvements within the area.

Machines, Cables,

and Free Weights

Cables are a phenomenal training

tool for achieving added time

under tension, making them a

perfect choice for Week 2 and

Week 3 Y3T workouts. This lends

itself perfectly toward maximizing

sarcoplasmic hypertrophy.

However, during a Week 1 in

which we want to be more

explosive, using free weights and

machines is often favorable.

THE SCHEDULE

You can complete this shoulder

workout cycle over four weeks,

but the program is designed to

last 12 weeks. Once you have

completed all four weeks, repeat

the program again for another

four weeks, then repeat again for

another four weeks.

1

2 Week 2 Y3T (Alternate)

3

4 Week 3 Y3T

5

6 Week 2 Y3T (Alternate)

7

8 Week 3 Y3T

9

10 Week 2 Y3T (Alternate)

12 Week 3 Y3T

Subscribe to Hill's free daily e-mails

at y3tdisciple.com.
---
LIFT

ON TRIAL

BY BRYAN HAYCOCK PH.DC

HATE DOING

CARDIO BUT

WANT TO

TORCH FAT?

FOLLOW THESE TWO SIMPLE TIPS

OPENING ARGUMENTS

Defense: Whether you enjoy

cardio or not, it's a necessity

for bodybuilders who want

to significantly reduce body fat

in a reasonable period of time.

If the primary goal of doing

cardio is to burn fat, as opposed

to increasing aerobic endurance,

one should perform cardio on

an empty stomach. Insulin, which

is the body's primary storage

hormone, reduces fat mobilization

and oxidation. Insulin is higher

after eating a meal. Thus,

performing cardio while in a

fasted state should lead to the

highest level of fat oxidation.

Prosecution: Performing cardio

in a fasted state will not lead to

greater loss of body fat because

the body will adapt, and if you

burn more fat for fuel during

a given time period, you will just

burn more carbohydrates and

less fat later in the day.

EVIDENCE

Studies have shown that performing

a single bout of exercise in the fasted

states increases fat oxidation compared

with the same exercise in a fed state.

Research has shown that exercise

can increase 24-hour fat oxidation

but only if it is performed before eating

the first meal of the day.

A study looking at changes in body

composition over the course of four

weeks of training in a fasted and a fed

state failed to show statistically

significant differences between fed

and fasted cardio.

Though not statistically significant, the

same study did show 60% greater fat

loss in the fasted group compared with

the fed group over four weeks, even

though caloric intake was matched.

VERDICT

In general, doing your cardio on

an empty stomach will enhance

fat burning compared with cardio

done after a meal.

SENTENCING

Doing cardio before the first meal

of the day, when insulin is lowest,

reduces fat mobilization and

oxidation. When you first begin

your diet, do your cardio on

an empty stomach if possible.

Then, as you get closer to the

show and your body fat is low,

switch to doing cardio after a

small meal in order to preserve

muscle mass.

PER BERNAL

76 FLEX | JULY/AUG '17
---
LIFT

CROSSHAIRS

BY BRYAN HAYCOCK, PH.D.

triceps means "three heads"—

the medial, the lateral, and

the long head. The long head

is arguably larger than the

other two, so focusing on it

is a good way to develop

triceps mass. To place more

emphasis on the long head,

use movements with arms

extended above your head,

such as overhead triceps

extensions. This places the

long head in a stretched

position. Another good way

3

3

TITANIC

TRICEPS

FOCUS ON THE LONG

HEAD FOR KING-SIZE ARMS

TRICEPS

Although muscle shape

is largely determined by

genetics, ensuring that

each portion, or head, of

a muscle group is fully

developed will go a long

way toward equalizing

the differences among

them. The triceps are a

good example. The word

to activate the long head is

to use an exercise that forces

you to resist arm abduction

(that is, pulling the arms

away from the body). Two

examples of this would be

triceps kickbacks and

pushdowns with elbows held

in front of the body. Both of

these cause the long head

to contract in order to keep

the upper arm stationary

during the movement.

Alternatives: Lying triceps

extensions with arms angled

overhead. Overhead triceps

extensions using midcable

with a forward-leaning body

position.

When to focus on the long

head: Train underdeveloped

muscles at the beginning

of your workout. Warm up

the elbows with pushdowns

before going heavy.

Form and function: The

origin of the long head is on

the infraglenoid tubercle of

the scapula (the underside

of the shoulder blade near

the shoulder joint). The

insertion is at the olecranon

process of ulna (the back

of the elbow).

KEVIN HORTON

78 FLEX | JULY/AUG '17
---
Also available in:

Amino Build® Next Gen Energized

During Workout/Increase Energy

#Shatter SX-7®

Pre-Workout

Premium 100% Whey Protein Plus Isolate

Post-Workout/Anytime Protein

Premium 100% Whey Protein Plus

Daily Protein

WE'VE GOT YOUR WORKOUT COVERED!

MuscleTech®, America's #1 Selling Bodybuilding

Supplement Brand, has teamed up with

Sam's Club to deliver more of what

you love at a value price you deserve!

Introducing our all-new family of products

that meet all your supplement needs — at

a club price that can't be beat!

FOCUS V

ENERGY V

STRENGTH V

Amino Build® Next Gen Energized

During Workout/Increase Energy | 50 servings: Amino BCAAs plus energy

#Shatter SX-7®

Pre-Workout | 50 servings: Explosive energy

Premium 100% Whey Protein Plus Isolate

Post-Workout/Anytime Protein | 3 lbs: No artificial colors or flavors

Sam's Club is your one-stop shop for all your premium

MuscleTech® sports nutrition needs at club prices.

MUSCLE

Premium 100% Whey Protein Plus

Daily Protein | 5 lbs: America's best value on protein

NEW

BOTTLE FORMAT

www.SamsClub.com

MuscleTech ® is America's #1 Selling Bodybuilding Supplement Brand based on cumulative wholesale

dollar sales 2001 to present. Read the entire label and follow directions. © 2017

Exclusively at
---
®

ADVERTISEMENT
---
FOOD & SUPPS

NUTRITION TIPS TO FUEL TRAINING AND GROWTH

88

SALLY WILLIAMS/GETTY IMAGES

Not into cabbage? Then try

bok choy, the Chinese version, with

good old chicken, for a healthy meal.

PAGE 84

Who isn't sweet on tasty

sweet potatoes? Eat for energy with

these five simple recipes.

PAGE 86

Try Pre W.O. from Dymatize

for explosive training sessions and

eye-popping muscle gains.

PAGE 92

MROLYMPIA.COM 83
---
FOOD & SUPPS

MEAL OF THE MONTH

CHICKEN

BOK CHOY

SAUTE

BY DAVE RUEL

INGREDIENTS

CALORIES

DIRECTIONS

PROTEIN

CARBS

FAT

ABOUT THE CHEF

84 | JULY/AUG '17
---
The secret is out.

There is an elephant in the room that many competitors don't want us

to talk about. It's the supplement industry's dirty secret of "prop blends."

Many brands use proprietary blends to hide the fact that their formula

contains very little of the key active ingredients. Some brands will create

the illusion that they use proprietary blends to prevent competitors

from stealing the details of their "exclusive" formulas. If their formulas

were so great, wouldn't they want customers to see them?

You spend your hard-earned money on supplements expecting to get

what you're paying for. You deserve to know exactly what you are

putting into your body.

As an innovative world leader in sports supplements with 100%

transparent formulas and clinically-dosed ingredients, we are dedicated

to disrupting the industry and empowering consumers to be able to

choose potent supplements that actually contain what they say they do.

Discover the truth: Nutrabolics.com/pages/knowledgeispower
---
FOOD & SUPPS

1 FOOD, 5 WAYS

BY ROCCO DISPIRITO

A-OK

POTATOES

EAT FOR ENERGY WITH

THESE FIVE TASTY

AND HEALTHY RECIPES

4

SERVE THEM

Peel a sweet potato, then

grate on a box grater's large

holes. Place potato on a plate

and stir in 2 tbsp water.

Season with tsp ground

nutmeg and salt and pepper

to taste. Cover with wax

paper. Microwave until soft,

about 5 minutes.

1

2

3

5

COOK A

SPAETZLE

EAT THEM

GRILLED

MAKE A

TRUFFLE

NUKE THEM INTO

CHIPS

Spray a plate with nonfat

cooking spray and sprinkle

with a dash of Old Bay

Seasoning. Peel a sweet

potato, then slice inch

thick with a mandoline.

Place slices on plate in a

single layer. Sprinkle with

Old Bay and microwave

for 1 minute. Flip chips over

and microwave for an

additional minute. Repeat

process for remaining slices.

Blend 1 cup peeled grated

sweet potato, 1 tbsp cold

water, ¼ cup egg-white

powder, and salt and nutmeg

to taste. With a spatula, push

mixture through a colander

and into a pot of 6 quarts

boiling water. Cook 10

seconds; drain. Cook spaetzle

on a skillet until lightly

browned. Add chopped sage,

spinach, and chicken stock.

Cook until stock thickens.

Preheat grill to high. Peel a

sweet potato, then cut into

½-inch-thick disks. Lay them

on grill, spray with nonfat

cooking spray, and season

with salt and pepper to

taste; grill 2 minutes per

side. Mix ½ tbsp coconut

nectar with ½ tsp minced red

jalapeño. Drizzle over disks.

Top disks with 1 tbsp plain

fat-free Greek yogurt and

3 tbsp pumpkin seeds.

Place ½ cup peeled grated

sweet potato in a bowl and

microwave 2 to 3 minutes.

Stir in 2½ tsp cocoa powder,

2 packets monk fruit powder,

½ tsp coconut oil, and salt to

taste; freeze 4 minutes. In a

separate bowl, combine

2¼ tsp shredded coconut and

½ tsp erythritol. Form potato

mixture into 2 balls, place in

shredded coconut bowl, and

coat completely.

GETTY IMAGES

86 FLEX | JULY/AUG '17
---
FOOD & SUPPS

ASK THE R.D.

I DON'T LIKE SPORTS

DRINKS OR ANY OF

THAT SUGARY STUFF.

ARE THERE ANY FRUITS

I CAN HAVE POST-

WORKOUT INSTEAD?

—MICHAEL A., CARMEL, IN

CARBOHYDRATES

are very important for

stopping the catabolic

effect that training

causes. Consume them

as soon as possible

after training—if you go

without them for more

than a couple of hours

after your workout, the

window that allows for

your best gains closes

until your next lift.

There's another

reason, too. If you're

training hard, you're

depleting your muscles'

glycogen levels, which

need to be replenished.

This necessitates taking

in carbs—with some

protein mixed in—so

you can refill glycogen

stores and be fully

recovered for your next

session. (Recommended

carbs-to-protein

ratios usually range

from 2-to-1 to 4-to-1.)

According to dietitian

Chris Mohr, Ph.D.,

sports drinks are a

good choice for

endurance athletes, but

fruit is better after the

average weight-training

session. "Fruits provide

the necessary carbs,

as well as nutrients,

which are great for

your body, like fiber,

vitamin C, and a whole

slew of other powerful

vitamins, minerals, and

antioxidants," Mohr says.

It's also always

preferable to take in

some natural sugars

rather than the

processed sugars like

high-fructose corn

syrup that are added

to most sports drinks.

If you can supplement

the fruit with a

protein shake made

with skim milk (which

provides more helpful

carbs through lactose)

it should provide

optimal recovery. Or,

as Mohr suggests, just

toss the fruit into

the blender while you

make your postworkout

shake. Greek

yogurt with fruit is

another option.

As for which

particular fruits to go

for, check out our

suggestions below.

DID YOU

KNOW?

FIVE TO TRY

ORANGES BANANAS PINEAPPLES STRAWBERRIES KIWIS

SAM KAPLAN

88 FLEX | JULY/AUG '17
---
FROM AMERICA'S #1 SELLING BODY BUILDING SUPPLEMENT BRAND

Build more muscle and increase strength with Six Star ®

100% Whey Protein Plus – enhanced with core ingredients

to deliver results better than regular whey. The choice of

elite athletes, this premium shake's protein is ultra-filtered

to reduce fat, lactose and impurities. Plus, it's from the

makers of MuscleTech ® – America's #1 Selling Body

Building Supplement Brand – so you know it's a formula

you can trust. Try it in one of four flavors awarded the

Gold Medal from the American Masters of Taste.

100% WHEY

PROTEIN PLUS

60g of premium whey

protein – ideal for flexible

dosing (per 2 scoops)

Ultra-filtered to reduce fat,

lactose & impurities

Justin Hook

SIX STAR @ AMBASSADOR

@jhook25

FAST-ABSORBING, HIGHER PURITY

Delivers 100% instantized, microfiltered

whey protein with zero trans fat that is

easy to mix, digest and absorb.

8-HOUR SUSTAINED-RELEASE PROTEIN

Delivers premium protein and 100%

sustained-release casein, which helps

feed your muscles with a continued flow

of amino acids.

Available in: Available in: Available in:

70% more muscle with

clinically studied core

ingredients 1

1

In a 6-week study, subjects using the

core ingredients in Six Star ® 100% Whey

Protein Plus with a training program

gained 70% more muscle than subjects

using regular whey protein (8.8 vs. 5.1 lbs).

DECADENT

CHOCOLATE

VANILLA

CREAM

TRIPLE

CHOCOLATE

TRIPLE

CHOCOLATE

VANILLA

CREAM

STRAWBERRY

SMOOTHIE

COOKIES

& CREAM

PREMIUM SUPPLEMENTS. SMART PRICE.

Learn more about our latest initiative!

SixStarPro.com/scholarship

#GreatnessIsEarned SixStarPro.com

facebook.com/SixStar @SixStarPro sixstarpronutrition

MuscleTech ® is America's #1 Selling Body Building Supplement Brand based on cumulative wholesale dollar sales

2001 to present. Facebook logo is owned by Facebook Inc. Read the entire label and follow directions. © 2017

FROM THE MAKERS OF
---
FOOD & SUPPS

15-MINUTE FEAST

BY MIKE MANNAI

STICK 'EM UP

SKEWER THIS CLASSIC

BODYBUILDING STAPLE BY

PAIRING IT WITH A CREAMY

YET HEALTHY TZATZIKI SAUCE

SERVES 1

INGREDIENTS

DIRECTIONS

1.

CALORIES

2.

PROTEIN

3.

4.

CARBS

FAT

FLEX |
---
Javain Wilson

SIX STAR @ AMBASSADOR

@Javain.fit

FRUIT PUNCH

PINK LEMONADE

ICY ROCKET

40 SERVINGS

BONUS SIZE!

40 SERVINGS

BONUS SIZE!

WATERMELON

40 SERVINGS

BONUS SIZE!

Elevates energy & intensity –with a

scientifically researched dose of caffeine

For increased strength & pumps – it includes

creatine and arginine AKG

Muscular endurance – beta-alanine increases

muscle carnosine levels to buffer lactic acid

PRE-WORKOUT EXPLOSION PILL

Energy boost & enhanced mental focus – with

a scientifically researched dose of caffeine

Extreme muscle pumps – with the key ingredient

arginine AKG

Promotes muscular endurance – with patented

CarnoSyn ® form of beta-alanine

200mg C. canephora robusta – added key

ingredient

Explosive energy – with a scientifically

researched dose of caffeine

Ultimate sensory – with precise doses of

beta-alanine, choline, L-tyrosine and caffeine

GREATNESS IS EARNED

PREMIUM SUPPLEMENTS. SMART PRICE.

Learn more about our latest initiative!

SixStarPro.com/scholarship

#GreatnessIsEarned

SixStarPro.com

facebook.com/SixStar @SixStarPro sixstarpronutrition

®

MuscleTech is America's #1 Selling Body Building Supplement Brand based on cumulative wholesale dollar sales

2001 to present. Facebook logo is owned by Facebook Inc. Read the entire label and follow directions. © 2017

FROM THE MAKERS OF
---
FOOD & SUPPS

SUPP OF THE MONTH

BY ADAM GONZALEZ

DYNAMITE

WORKOUTS

TRY PRE W.O. FROM DYMATIZE FOR

EXPLOSIVE TRAINING SESSIONS

AND EYE-POPPING MUSCLE GAINS

TO GET THE MOST FROM

your workouts, you need more

than determination—you also need

the proper conditions to drive

faster gains. Pre W.O. from

Dymatize is formulated with

quality ingredients to help you

train harder, recover more

quickly, and build more muscle.

Citrulline and arginine

improve blood flow for

greater nutrient delivery.

Each serving of Pre W.O. provides

8 grams of citrulline malate and

1.5 grams of inositol-stabilized

arginine silicate (Nitrosigine).

These amino acids convert

readily to nitric oxide, the gas

molecule that encourages blood

vessels to relax, allowing more

blood, oxygen, and nutrients

to flow to working muscle tissue.

This leads to greater muscle

pumps and helps to flush toxins

from your well-trained muscles

for faster recovery.

Beta-alanine boosts

strength for greater muscle

stimulation and growth.

Beta-alanine is an amino acid that

combines with histidine in the

body to form carnosine. Research

shows that people with higher

levels of carnosine in muscle

tissue have improved strength

and endurance, leading to better

workouts and muscle growth.

Caffeine increases

energy and strength while

burning body fat.

Anhydrous caffeine provides

greater benefits than other types

of caffeine. Research shows

that caffeine improves not only

energy and focus but also

strength, and that it blunts the

pain associated with training.

TeaCrine increases energy

levels and fights fatigue.

Theacrine is a purine alkaloid

found in a wild tea plant called

Camellia assamica. TeaCrine, a

patented form of theacrine, is

extracted from this tea and has

been used in human studies. In

addition to providing more

energy for more effective

workouts, it was also shown to

help lower LDL cholesterol.

Each serving of

Pre W.O. delivers all

these ingredients as

well as taurine,

N-acetyl L-tyrosine,

betaine, and theacrine

(TeaCrine), among

others, with only

15 calories per onescoop

serving. For

best results, mix with

12 ounces of water and

shake until dissolved.

Then consume the

product 15 to

30 minutes before

workouts. Beginners

should start with a

half-scoop serving to

assess tolerance.

ALEX ARDENTI

92 FLEX | JULY/AUG '17
---
World's Best Workout Gear!

COMPETITION

POWER BELT

SCHIEK Rx

CROSS TRAINING

KNEE SLEEVES

• PLUSH 5mm Neoprene

for Superior Comfort

& Amazing Support!

• Available in Black or

Hot Pink

• Only $44.95/Pair

NEW NEW
---
GET A

GRIPP

USE VERSA GRIPPS

FOR MORE REPS AND

BETTER RESULTS

BY JAMES RILEY

GETTING A

GOOD GRIP is as

important as being able

to maintain that grip

throughout your next

lift. As your workout

progresses and the

weights get heavier, you

can reach a point where

your muscles are ready

for an amount of weight

that your fatigued grip

(or your wrists) isn't

capable of supporting.

To maintain the

control and balance

needed to maximize the

benefits of each

ensuing exercise (and

lessen the chances of

injury), you can turn to

workout gloves, hooks,

straps, or wrist

supports—or you can

use Versa Gripps

Professional grip-assist

gloves, which combine

the workings of all

those other gym tools

and then add some

benefits of their own.

Solid Grip,

Easy Release

The main goal with any

grip-assist equipment is

to improve your grip

enough to allow you to

lift more weight and

do more reps without

the bar moving in your

hands, which might

expose you to the

chance of injury. Versa

Gripps will lock your grip

in place—supported by

an extended grip length

that allows more of the

grip to wrap around the

bar—enhancing your

control and reducing

any worries you might

have about fatigue and

failure impacting your

workout.

At the same time, a

quick-release feature

makes it as easy to

release the bar as

opening your hand—a

feature that the safetyminded

will appreciate

as much as the

ergonomically designed

wrist support that

redistributes the weight

to the base of the hand,

away from the wrist,

providing carpal tunnel

protection. Versa

Gripps can also reduce

callusing.

Versa Gripps are

good for pushing and

pulling exercises, and

they're easy to use

single-handed, which

can be valuable for any

exercise that calls for

an overhead position.

When lifting, they're

flexible enough to allow

you to switch the way

you hold the bar while

maintaining the rigidity

needed to provide

constant support. The

1½-inch-wide strap is

made with high-density

foam and an adjustable

hook-and-loop closure

and finished with a

stainless steel buckle.

Versa Gripps are in

the gym bags of pro

bodybuilders, worldclass

weightlifters and

powerlifters, and serious

athletes everywhere

who demand great

workouts in the gym.

Visit the Versa Gripps

website for sizing

information ($55-$57,

versagripps.com).

PER BERNAL

94 FLEX | JULY/AUG '17
---
Bunny

Azzopardi

Team Nutrishop

Athlete and a

mother of 3

Paul Buceta Photography

Exceptional Service. Top Brands.

GUARANTEED LOW PRICES.

Rapidly approaching 200 locations nationwide, NUTRISHOP is one of the fastest growing national

retail nutrition chains today offering consumers Unparalleled Customer Service, Top Brands and

the Latest Cutting-Edge Nutritional Supplements with a Low Price Guarantee!

Create your dream job! According to a Harris Interactive survey, 55% of working adults

are in search of a new profession. So why not turn your passion for fitness and nutrition

into your own business? The right concept. The right opportunity. The right time.

Follow NutrishopUSA

OPEN A NUTRISHOP TODAY!

www.NutrishopUSA.com
---
YOU?

Ever dream of becoming a personal trainer?

Turn your passion to

profession like ISSA Trainer

Shannon Petralito

"With my ISSA certification I have

built my own online personal

training and nutrition business for

both, competitors and the everyday

woman wanting to learn how to live

a healthier lifestyle."

LHGFX Photography

—Shannon Petralito, ISSA CFT, SFN

shannonpetralito.com

Photo: Eva Simon

Nhat Nguyen

Impact lives like

ISSA SSC Ronny Camacho

"For me, and for those I get the opportunity to train,

fitness is life changing. Being an ISSA Certified

Fitness Trainer has given me the opportunity to

touch people's lives through fitness, motivation,

and mentoring young and old alike.

Whether it's helping the young athlete

discover his or her true potential at an

early stage of their athletic career;

preparing the high school athlete for

their college journey; or helping an

elderly individual improve their health

to decrease their medications, the reward

of achieving these results is priceless.

—Ronny Camacho, ISSA SSC

ronnycamacho.com

James Webb
---
• For nearly 30 years, ISSA has provided

fitness education to over 180,000

students and trainers in 92 countries

• Surveys show that the personal training

industry has a high degree of job

satisfaction and is one of the fastest

growing industries

• ISSA provides no-cost educational

support to all of its students, even after

program completion

ISSA.

Nationally Accredited.

Certification to Degree.

Reap the rewards like ISSA

Master Trainer Maurice Smith

"ISSA gave me the opportunity to

share my knowledge of health

and fitness with people who want

to live a healthier lifestyle. My

passion for physical fitness and

assisting others achieve their

fitness goals is truly one of the

greatest rewards of becoming an

ISSA Certified Fitness Trainer."

—Maurice Smith, ISSA Master Trainer

mauricesmithtraining.com

mention flex1707

1015 Mark Ave • Carpinteria, CA 93013

ISSAflex.com • 1.800.892.4772 • 1.805.745.8111 (intl)
---
100 FLEX | JULY/AUG '17
---
BY JOE WUEBBEN

MROLYMPIA.COM 101
---
102 FLEX | JULY/AUG '17
---
We use machines to build

things every day. Machines

build cars; they build roads;

they build computers; they

build robots. So why not build

your body with machines?

Ask a dozen trend-following New Age trainers this question, and

about 10 of them will respond emphatically, "Because machines

aren't functional."

Incorrect. Machines are without a doubt functional—that is,

functional at building lean muscle mass in all areas of the body, in

this instance the pecs. We're big fans of dumbbells and barbells

on chest day, but we're also proponents of selectorized chest

press machines, Hammer Strength equipment, and cablecrossover

stations.

Machine presses allow you to overload the pecs without calling

on as many smaller assistance muscles to help balance the load

and keep it on the right path of motion, as is the case with free

weights. More overload equals more growth potential. And cables?

Frankly, we generally prefer them to dumbbells on flye movements

because of the constant tension they provide through every inch

of every rep.

Please, don't ditch the free weights. All we're asking is that you

take a month or so to focus on machine moves for your chest

workouts using the following pec-training program. Load up the

weights on machine presses, feel the burn on cable crossovers,

and enjoy your newfound mass before refocusing on dumbbells

and barbell work to build even more size.

MACHINE-MADE PECS PROGRAM

PER BERNAL

Q Below are four separate

machine-only chest workouts

to be performed over the

course of four weeks—Workout

1 in the first week, Workout 2 in

the second week, and so on.

Q Do the workouts on whatever

day you would normally train

chest. If you typically train

another muscle group with the

chest (for example, triceps,

biceps, or shoulders), feel free

to train it as you normally would

after the chest workout.

Q These workouts were written

to be your only chest training

during the four-week period.

However, if you're dead set on

training your pecs twice per

week and/or refuse to give up

free-weight chest exercises for

an entire month, you can add

one lower-volume free-weight

chest workout to each week as

you wish; just make sure to

space the two chest workouts

at least 72 hours apart to

ensure recovery.

EXERCISE SETS REPS

Workout 1: All Straight Sets

Smith Machine

Bench Press

4 12

Cable Crossover 3 15

Workout 2: Dropsets

Smith Machine

Incline Press

Low-pulley Cable

Crossover

4

3

4 8

4 8

3 10**

3

MROLYMPIA.COM 103
---
MACHINE-MADE

PECS PROGRAM

EXERCISE SETS REPS

Workout 3: Pre-exhaust + Supersets

Pec Deck 4 12

Hammer Strength

Incline Press

superset with

C a b l e C r o s s ove r

4

3

3

10

15

Workout 4: Pre-exhaust + Supersets

+ Dropsets

Low-pulley Cable

Crossover

superset with

Hammer Strength

Incline Press

4

4

4

3

10

10

10

Pec Deck 3 12**

HAMMER STRENGTH

BENCH PRESS

HOW-TO Adjust the seat of the machine so the

handles are in line with your middle chest (not down

at your lower chest or up above your shoulders). Sit

with your back flat against the pad, feet on the floor

and grasping the handles. Contract your pecs to

press the handles out and up (the machine's fixed

path of motion). Stop just shy of elbow lockout, then

slowly lower back down without letting the weight

rest on the machine between sets.

HAMMER STRENGTH VARIANTS Hammer

Strength offers chest press machines that mimic

incline (as shown below) and decline presses; these

are great options, provided the gym you train at has

them. Utilize whatever Hammer Strength equipment

you can, alternating between different angles on a

regular basis.

SMITH MACHINE

INCLINE PRESS

HOW-TO Center an incline bench in a Smith

machine so that the bar touches your upper chest

at the bottom of each rep. Lie back on the bench,

grab the bar outside shoulder width, unhook the

latches, and begin with your arms extended. Slowly

lower the bar to your chest, touch down lightly,

then press the bar back up to the arms extended

position without locking out your elbows.

SMITH MACHINE VARIANTS Smith machine

flat and decline presses can be done by simply

adjusting the bench to the appropriate angle and

performing the same motion. When doing this, slide

the bench forward to make sure the bar touches

your middle/lower chest at the bottom of each rep.

104 FLEX | JULY/AUG '17
---
MROLYMPIA.COM 105
---
CABLE

CROSSOVER

HOW-TO

Stand in the middle

of a cablecrossover

station

with D-handles

attached to both

columns at roughly

shoulder height.

Grab the handles,

step forward to lift

the weight off the

stacks, and start

with your arms

extended out to

your sides. With

a slight bend in

your elbows and

your torso upright

throughout,

contract your

pecs to pull your

hands together

out in front of you.

When your hands

meet, squeeze

your pecs for a

count, then slowly

return to the start

position.

CABLE

CROSSOVER

VARIANTS

Crossovers

can and should

be performed

from a variety of

angles to target

all areas of

the chest. Focus

on the upper

pecs by moving

the cable pulleys

to their lowest

settings and

pulling the handles

upward so your

hands meet in

front of your

upper chest. To

target the lower

pecs, keep the

pulleys up high

and bring your

hands together

at waist height.

106 FLEX | JULY/AUG '17
---
PER BERNAL

PEC DECK

HOW-TO Adjust the seat of a

flye machine so that the handles

are at chest level. Sit on the seat

with your back flat against the

pad, grasp the handles, and begin

with your arms straight out to the

sides and your elbows slightly

bent. Contract your pecs to bring

your hands together. When your

hands touch, squeeze your pecs

hard for a count, then slowly return

to the start position without letting

the weight rest on the stack.

PEC DECK VARIANTS

Not all pec deck (also called a

machine flye) equipment is

identical, but the basic movement

is: pulling your arms together

toward the midline of your body.

Some machines keep the arms

extended, while others have

them bent with your forearms on

a vertical pad. Use whatever pec

deck or flye machine is available

at your gym.

MROLYMPIA.COM 107
---
SELECTORIZED MACHINE

CHEST PRESS

HOW-TO Adjust the seat of the machine so that the

handles are outside your chest in the down position.

Keeping your feet flat on the floor and your back

and head against the seat back, press the weight up

until your elbows are extended but not locked out.

Slowly lower your hands to the down position without

letting the weight rest on the stack between reps.

MACHINE PRESS VARIANTS Most selectorized

chest press machines involve a standard horizontal

press that mimics a flat-bench movement, as opposed

to pressing at an upward angle to target the upper pecs.

What can be varied is hand position. Experiment with

placing your hands as wide as possible on the bars and

also in close to hit the chest from different angles.

CABLE FLYE

HOW-TO Place a bench in the middle of a cablecrossover

station with D-handles attached to both

columns on the lowest level. Grab the handles, sit back on

the bench, and start with your arms extended out to your

sides. With a slight bend in your elbows, contract your

pecs to pull your hands together in a hugging motion. When

your hands meet, squeeze your pecs for a count, then

slowly return to the start position.

CABLE FLYE VARIANTS Flyes can and should be

performed from a variety of angles to target all areas of

the chest. Focus on the upper pecs by using an incline

bench, the middle pecs with a flat bench, and the lower

chest with a decline bench.

CHARLES LOWTHIAN; PAVEL YTHJALL

108 FLEX | JULY/AUG '17
---
AMERICA'S # 1 SELLING

REDEFINING RESULTS

ENHANCED MENTAL FOCUS 1 • POWERFUL WEIGHT LOSS 2 • HOURS OF ENERGY 1

"

®

RICO LOST

FEATURING

WEIGHT LOSS

HD COMPOUND

ENERGY & FOCUS

COMPLEX

Rico used the key ingredient in Hydroxycut ® HD with diet and exercise,

and was remunerated.

1 Contains caffeine to help enhance focus and increase energy.

2 Average weight loss with C. canephora robusta was 10.95 lbs. in 60 days

with a low-calorie diet, and 3.7 lbs. in 8 weeks with calorie-reduced diet

and moderate exercise.

HYDROXYCUT.COM

Based on sales of Hydroxycut ® -branded products 1995 to present.

Based on AC Nielsen FDMx unit sales for Hydroxycut ® caplets.

The Facebook logo is owned by Facebook Inc.

Read entire label before use. © 2017

AVAILABLE AT
---
GET

RIPPED

…WITH NO CARDIO!

UTILIZED CORRECTLY, THE

SAME BARBELLS, DUMBBELLS,

AND MACHINES WE USE TO

IGNITE HYPERTROPHY CAN

ALSO BE EXTREMELY

EFFECTIVE TOOLS FOR MELTING

BODY FAT LIKE ICE IN A FLAME!

110 FLEX | JULY/AUG '17
---
FLEX |
---
WORKOUT A

EXERCISE SETS REPS REST BETWEEN

SETS

Alternating Barbell Lunge 3

Barbell Squat

Stiff-leg Deadlift 4

Underhand-grip Barbell

Bent Row

Standing Military Press

Narrow-grip Bench Press

Close Underhand-grip

Pullup

Incline Bent-leg Hip Raise 3
---
WORKOUT B

EXERCISE SETS REPS

Hack Squat

superset with Weighted Dip

Leg Press

superset with Wide-grip Pullup

Alternating Dumbbell

Bench Stepup

superset with Seated Dumbbell Press

Dumbbell Stiff-leg Deadlift

superset with Barbell Curl

Lying Leg Curl

superset with

Standing Two-arm Overhead

Dumbbell Extension

Hanging Straight-leg Raise

superset with Barbell Good Morning

3

3

3

3

2

3

2

2

2

2

2

2

FLEX |
---
SPEED UP

FAT BURNING

WITH SUPERSETS

AND CIRCUITS.
---
WORKOUT C

EXERCISE

Deadlift

Incline Barbell Press

Leg Press

One-arm Dumbbell Row

Smith Alternating Reverse Lunge

Wide-grip Barbell Upright Row

Seated Leg Curl

Weighted Bench Dip

Cable Crunch

Close-grip Underhand-grip Pullup

REPS

FLEX |
---
Presents

THE

OLYMPIA

AS THE 53RD MR. OLYMPIA APPROACHES,

118 FLEX | JULY/AUG '17
---
The Mr. Olympia is like sex

or, if you prefer, pizza. Even

at its worst, it's good. But when

it's great, minds get blown. As we

prepare for the 53rd Olympia on

Sept. 15 and 16, we ranked every

previous Olympia from No. 52

to No. 1. Our judging emphasized

what enthralled fans then and

what's still captivating today—

epic battles, raging controversies,

new champs, loaded lineups.

And here's the thing: Our bottom

dozen still serve up Arnold

Schwarzenegger, Sergio Oliva,

Lee Haney, Ronnie Coleman,

and many more legends, just like

our top 10, because the quality

ranges from pretty damn

good to mind completely blown,

unforgettably awesome.

SYMBOL KEY

#

Number of

Competitors

New Winner

Controversial

Decision

Mr. O's

Competing

Mr. O's Winner

AS Arnold

Schwarzenegger

CD Chris

Dickerson

DJ Dexter

Jackson

DY Dorian Yates

FC Franco

Columbu

FZ Frank Zane

JC Jay Cutler

LH Lee Haney

LS Larry Scott

PH Phil Heath

RC Ronnie

Coleman

SB Samir Bannout

SO Sergio Oliva

RANKINGS

WE RANK THE FIRST 52 BY GREG MERRITT

MROLYMPIA.COM 119
---
52 & 51

1968 1 SO & 1971 1 AS

Good news: Sergio ('68) and

Arnold ('71) in their primes. Bad

news: no one else. Each legend

won unopposed.

Dickerson (second) and a greatly

improved Tom Platz (third).

Interesting, like a train wreck.

47

1989 LH SB

Haney's sixth in a row (yawn) and

another year in which the runnerup

couldn't hang with his width

(yawn). This time, in Italy, it was

Lee vs. Lee: Haney vs. Labrada.

46

1967 7 SO

Sergio's initial O victory lacked the

drama of his seizing the crown

from Scott. Also, Oliva wasn't yet

mythical. Harold Poole beat him

on the first ballot.

42

2004 RC JC DJ

Ronnie at his biggest—nearly

three bills—overshadowed

Cutler, just as Cutler

overshadowed everyone else.

Show was marred by a unique

format, the challenge round,

which allowed competitors to

pick poses for duels but mostly

fostered confusion.

41

1982 CD FZ SB

A previous Mr. O, Zane was

second, and a future Mr. O,

Bannout, was fourth, but

undersized Dickerson's London

victory underwhelmed.

50

1976 7 FC FZ

With Arnold retired, Franco finally

rose to the top. He beat Zane, but

the lineup was mass deficient.

Rich Gaspari

and Lee Haney

dueled three

straight years

in the '80s.

49

1966 4 LS SO

Second rendition suffered

sophomore slump. Repeat of Scott

vs. Harold Poole duel with same

result. Scott announced his

retirement onstage.

48

1981 FC CD SB

Franco returned at 40. Observers

claimed anyone else in the top five

should've beat him, including Chris

45 & 44 & 43

1986 LH & 1987 LH

& 1988 LH SB

Three years in a row, in three

diverse locales, Haney bested

Rich Gaspari. Significantly

shorter and lighter, Gaspari

never endangered Haney's

reign. The closest thing to drama:

Who would finish third?

40

(OPPOSITE PAGE,

TOP LEFT)

1983 SB LH FZ

Bannout nailed it in Munich

to secure his first (and next-tolast)

pro victory. But he was

another sub-200-pound champ,

and there was a collective

longing for more mass.

COURTESY OF WEIDER HEALTH & FITNESS

120 FLEX | JULY/AUG '17
---
In the late

'70s, classicist

Frank Zane won

Sandows with

shape and cuts.

39

1985 LH SO

Big lineup, but no one to challenge

Haney. Finishing second was

Albert Beckles. Sergio was eighth,

like the year before, but with

much less fanfare.

PREVIOUS SPREAD, CLOCKWISE FROM TOP LEFT: COURTESY OF WEIDER HEALTH & FITNESS; BILL COMSTOCK;

COURTESY OF WEIDER HEALTH & FITNESS (2); BILL COMSTOCK; CHRIS LUND (2). THIS PAGE: MICHAEL NEVEUX; CHRIS LUND

38

1973 3 AS FC

Only three competitors, but they

are legends: Arnold, Franco, and

Serge Nubret. Probably Arnold's

best look.

37 & 36 & 35

1977 8 FZ & 1978 9 FZ

& 1979 FZ CD

These were the last three O's with

two classes, so lightweight Victor

Zane—a paragon for today's men's

physique division—was pitted

against the heavyweight champs,

Robby Robinson in the first two

and Mike Mentzer in the third.

Those annual duels in Columbus,

OH, delivered drama, but the

lineups were otherwise shallow.

34

2015 PH DJ

A relatively easy Heath victory—the

fifth in a row—memorable mostly

for the surprising absence of Kai

Greene. What it lacked in tension,

it made up for with a deep lineup.

33

2002 RC DJ

A year of missed opportunities.

After his shocking second in '01,

Cutler sat this one out. He

probably would've won, because

smaller, smoother Coleman was

at his worst. But no one—including

Kevin Levrone (second), Chris

Cormier (third), or Dexter Jackson

(fourth)—could overtake the

champ. The contest launched

Günter mania when Günter

Schlierkamp rocketed to fifth

and a thunderous standing

ovation, and perhaps should have

been first. (He beat Coleman

two weeks later.)

MROLYMPIA.COM 121
---
32

2005 RC JC

Can anyone dethrone Ronnie?

At 41, he was in decline but still

won his record-tying eighth O.

Some observers, including some

judges, thought Cutler deserved

the victory. The closer-thanbefore

contest and a deep lineup

would've ranked this O higher if

not for a repeat of the challenge

round, this time as an unwanted

sideshow. (Gustavo Badell won,

as voted by past O winners.)

31

1965 3 LS

You might think the initial Olympia

should rank higher, but historical

significance can get you only so

far when there are merely three

competitors, none named Arnold

or Sergio.

Larry Scott

strikes a

trademark pose

on his way to

winning the debut

Olympia.

30

2009 JC DJ PH

All year long, after Jackson's

victory in '08, this was hyped

as a duel between him and

Heath. But Cutler roared back

to reclaim his crown with what

was arguably his best-ever

look. Branch Warren was a

surprise second, as Jackson

slipped to third, and Heath,

who was ill, dropped to fifth.

29

1990 LH SB

Drug-tested Olympia nearly

shook things up enough to

knock Haney from his throne.

Smaller but sharper Lee

Labrada led after prejudging

and may have deserved the

victory in Chicago over the

downsized champ.

28

2016 PH DJ

Heath got No. 6 over Shawn

Rhoden (second) and Jackson

(third). Oh, and fiftysomething

Levrone made a comeback.

Lacked first-callout suspense,

but possessed strongest top 10

since the early '00s.

27

2010 JC PH DJ

Heath ascended to second

behind his mentor, Cutler, but

many felt he deserved first.

Set up 2011 rematch.

26 & 25

1999 RC DJ & 2000 RC DJ JC

Lineups stacked with '90s

legends. Not much suspense

about the victor because Ronnie

was at his best ahead of Wheeler

('99) and Levrone ('00), but these

were solid shows. First Olympias

staged in the entertainment

capital, Las Vegas, where the

O has resided ever since.

24

2003 RC JC DJ

This was supposed to be the

year ascendant Cutler (who sat

out '02 after nearly winning in

'01) assumed the throne from

Coleman, who was beaten by

Schlierkamp just after the '02 O.

Instead, Ronnie remade himself as

a 287-pound colossus to relegate

Cutler to second again. Ronnie's

first appearance, so cartoonishly

huge that many in the audience

laughed with astonishment, is an

Olympia high point.

23

2007 JC DJ RC

A lot going on this time. Cutler's

win sparked controversy because

runner-up Victor Martinez was

sharper. And many thought

stunning fifth-place finisher Dennis

Wolf should've come out on top.

FROM LEFT: COURTESY OF WEIDER HEALTH & FITNESS;

PAVEL YTHJALL; KEVIN HORTON

122 FLEX | JULY/AUG '17
---
Coleman's last hurrah; his 15th

and final O.

22

1980 AS CD FZ SB

Most-debated Olympia of all time.

Making a surprise comeback,

Arnold was at his smallest, but, in

keeping with the preceding Zane

trifecta, he brought the cuts to

Australia. Was he still good enough

to win? Should the Sandow have

gone to Dickerson (second) or

defending champ Zane (third)?

And what of enigmatic Mike

Mentzer, who, after falling to fifth,

never competed again? Sometimes

you've just got to be there.

20 & 19 & 18

1995 DY & 1996 DY RC

& 1997 DY RC

Yates, Coleman, Flex Wheeler,

Kevin Levrone, Shawn Ray,

Nasser El Sonbaty, Chris Cormier,

Vince Taylor—these three O's in

three locales delivered a

cornucopia of bodybuilding

legends at or near their peak.

The last two even offered

a monstrous phenomenon in

Jean Pierre Fux. Yates peaked

in '95, when Levrone was

second, and was not far off in

'96, when Ray was second,

but his body began breaking

down, fueling a debate that

16

2001 RC JC DJ

Cutler nearly came from nowhere

(he was eighth out of 13 the year

before) to win bodybuilding's

Super Bowl. He led comfortably

after prejudging, but Ronnie

barely overtook him at the finish

line, fueling outrage and launching

a rivalry that raged for six years.

21

2008 DJ JC PH

Anything can happen in Vegas.

Having never finished higher than

third, 38-year-old journeyman

Jackson soared to a shocking

victory over two-time champ

Cutler. Just behind them, in his

Olympia debut, was Heath, as

Mr. O's—present, past, and

future—filled out the top three.

runner-up El Sonbaty

deserved the Sandow in '97,

Yates' last hurrah.

17

2011 PH JC DJ

Three

Mr. O's—Dexter

Jackson, Phil

Heath, and Jay

Cutler—in the top

three in '08.

Heath finally beat his mentor,

Cutler, and he did it while in

stupendous condition. Kai

Greene was third, setting up

future battles.

15

1993 DY

A new size paradigm was initiated

when Yates showed up in Atlanta

at a grainy 257 pounds and blew

away a stacked lineup. In his

Olympia debut, a nearly flawless

Flex Wheeler soared to second.

14

1991 LH DY SB

The passing of the torch. Haney,

at his biggest, secured his record

eighth Sandow in Orlando by

fending off O rookie Yates, who

never lost again. In addition to

three Mr. O's onstage, Coleman

was working backstage just to

be at this monumental event, and

the biggest-ever lineup included

five legends who finished second

in Olympias without winning: Lee

Labrada, Shawn Ray, Rich

Gaspari, Robby Robinson, and

Albert Beckles.

MROLYMPIA.COM 123
---
Lee Haney

reacts in 1984

to winning his

first of eight

Olympias.

Oliva and the other is Arnold

Schwarzenegger. They dueled in

three epic Olympias. These were

the first two. The 1969 contest

was close, as a greatly improved

Arnold nearly erased the Myth.

The next year, when Sergio was

smooth, Arnold, at only age 23,

launched his six-year dynasty.

4

1994 DY RC SB

Because the lineups were so

stacked in the '90s, almost any of

Yates' sextet of wins could have

made our top five. Even though

Flex Wheeler, the previous year's

runner-up, was absent, we went

with '94 because this Atlanta show

served up a three-way race. Yates

was off, while Shawn Ray (second)

was at his all-time best, and Kevin

Levrone (third) wasn't far from

his, spawning an enduring debate

about which of the divergent body

types deserved the Sandow.

13 & 12

1974 5 AS FC FZ & 1975 8 AS FC FZ

The end of the first golden era.

Arnold easily won his final two O's

(before his '80 comeback). Both

years he defeated heavyweights

Serge Nubret and Lou Ferrigno and

then lightweight victor Franco

Columbu. The 1975 contest, held in

South Africa, was chronicled in

Pumping Iron.

11

1992 DY SB RC

A new dynasty began in Helsinki as

Yates won his first O over superb

rookie Kevin Levrone. Another

neophyte, Ronnie Coleman, quietly

missed the top 15. Returning after a

17-year absence, Lou Ferrigno

finished 12th.

10 & 9 & 8

2012 PH DJ & 2013 PH DJ JC

& 2014 PH DJ

Phil vs. Kai years. Though Heath

won with straight firsts in all

three, many fans favored Greene.

The rivalry presented a stark

contrast in body types and

personalities and became so

contentious that even the preshow

press conferences were must-see,

and in the final contest, the two

nearly threw fists. The 2013 O is

also notable for the return of Cutler

(sixth) and the debut of gargantuan

Mamdouh Elssbiay.

7

1984 LH SB SO CD

Here comes the Haney dynasty.

The 24-year-old champ was at his

crisp best this year as he romped

to an easy victory over 160-pound

Mohamed Makkawy (second) and

defending champ Samir Bannout

(sixth) in front of a raucous New

York City audience. Making his

highly anticipated Olympia return

after 12 years away was 43-yearold

Sergio Oliva (eighth).

6 & 5

1969 2 SO AS & 1970 3 AS SO

Sometimes you need only two

competitors—if one is Sergio

3

2006 JC RC DJ

It finally happened, bodybuilding's

earthquake. No defending champ

had lost since 1984. But this year in

Vegas, eight-time victor Ronnie

Coleman was bested by the man

who had nearly done so in 2001 but

had instead finished second to him

in four frustrating O's. When Jay

Cutler was announced the winner,

the entire Orleans Arena audience

leaped to its feet with a deafening

roar. Unforgettable.

FROM LEFT: ZELLER/© FITNESS PUBLICATIONS INC./COURTESY OF WEIDER HEALTH & FITNESS;

KEVIN HORTON; COURTESY OF WEIDER HEALTH & FITNESS; CHRIS LUND

124 FLEX | JULY/AUG '17
---
2

1998 RC

The most anticipated Olympia in

history exceeded expectations.

Staged in New York City, where it

all began, this was the first Mr. O

since 1977 to have no defending or

previous champ in the lineup (that

hasn't occurred since), and after

eight years of Haney, then six of

Yates, bodybuilding was starved

for a new king. The four legends

who had finished second to Yates—

Flex Wheeler, Nasser El Sonbaty,

Kevin Levrone, Shawn Ray—filled

out the best-ever top five. But it

was another soon-to-be legend

who stunned even himself by

edging past Wheeler. Though he

had never previously made an

O top five, Ronnie Coleman, in the

shape of his life, rocketed to first.

1

1972 6 AS SO FZ FC

This contest, staged in Essen,

Germany, played like a

Shakespearean drama. You had

the current king, Arnold, battling

the returning, vanquished king,

Sergio. Also on the battlefield

were two future potentates,

Columbu and Zane, and a prince

from another dominion, Serge

Nubret. Arnold kept the throne,

but many contended—and

many still contend—that Sergio

bested him that day in the

most memorable bodybuilding

contest of all time.

Sergio and

Arnold battle in

1972, and fans

still debate the

result.

MROLYMPIA.COM 125
---
BARBELL

BOOT

CAMP

GET IN THE BEST DAMN SHAPE OF YOUR LIFE

WITH NOTHING MORE THAN A BARBELL SET, A

BENCH, AND YOUR METTLE BY MICHAEL BERG, N.S.C.A.-C.P.T.

CHARLES LOWTHIAN
---
For a U.S. Army Special

Forces soldier, life

without modern

amenities is expected.

Traveling through dangerous territory with nothing

more than the pack on your back as you wade

through thick jungle terrain or traverse scorching

desert stretches, passing through makeshift camps,

you're lucky to end up with a decent meal at the end

of the day. Running water is a luxury, the Internet is a

miracle, and a gym? Only in your fever dreams.

128 FLEX | JULY/AUG '17
---
at gradually acclimating your

tendons and ligaments while

promoting muscle hypertrophy

along with some muscular

endurance; the second all about

driving up your strength levels.

"During the first four weeks,

you'll do sets of six to 12 repetitions

of each exercise at 75 to 85% of

your one-rep max [1RM] for your

working sets," he explains. "Keep

your rest between sets minimal,

at 60 seconds or less. To really

shock your system, I've suggested

one to two sets of 20 reps for

some movements."

During the following four weeks,

you'll transition to sets of one to

five reps at 85 to 100% of your

1RM, extending your rest periods

MILITARY PRESS

ETUP Clean the bar to shoulder level,

you have a power rack, off pins

set high on it. Hold the barbell with an

overhand grip, palms up and elbows

pointed forward, as it rests balanced

across your upper chest. Set your feet

about shoulder-width apart or just

outside, toes angled slightly out.

ACTION From this position, explosively

drive the bar overhead to full elbow

extension, hold it there for a count, then

lower it until it contacts your upper chest.

Repeat for reps.

to three to five minutes between

your heaviest lifts. "After that,

you can either revert to the first

phase or you can shift to a

dynamic strength phase where

you introduce explosive

movements—with quick bursts

on the positive reps and a slow,

controlled negative—along with

plyometrics to further round out

your overall power and

conditioning," Kirchofner says.

Indeed, you can easily make

this program your own, depending

on your goals, by modifying the

sets, reps, intensity, rest periods,

and exercises, Kirchofner adds.

"This workout, as basic as it

may seem, will definitely get you

big and strong," he says. "It allows

you to add, take away, or even

change the exercises, as long as

you know your own physique

goals and enough about working

out to change out the exercises.

"For instance, if you have a

particular weakness in, say, your

shoulders, you can incorporate

upright rows, behind-the-neck

presses, laterals, and pike presses

with your hands on the floor and

feet on the bench," he continues.

"Also know that the suggested days

these exercises are scheduled for

are not set in stone and should

be arranged around your life. Just

make sure you do them once a

week, or accelerate that by doing

them on a five- to six-day split,

where the sixth or seventh day

begins again at the first workout."

EXERCISE SETS REPS

(PHASE 1)

SETS

5 5

REPS

(PHASE 2)

4 4

4 4

4 4

4 4

CHRIS LUND

4 4

MROLYMPIA.COM 129
---
EXERCISE SETS REPS

PHASE 1

SETS

5 5

REPS

PHASE 2

5 5

4 4

5 5

4 4

EXERCISE SETS REPS

PHASE 1

SETS

5 5

REPS

PHASE 2

5 5

5 5

4 4

4 4

EXERCISE SETS REPS

PHASE 1

SETS

5 5

REPS

PHASE 2

4 4

5 5

4 4

4 4

SHRUG

SETUP Stand holding a barbell

with an overhand grip just outside

shoulder width, elbows straight.

ACTION Keeping your chest up and

core flexed for stability, shrug your

shoulder caps straight up towar

your ears, squeezing your trap

at the top of the range of mot

Slowly reverse the movement

to lower the bar the few inches

it traveled, back to the start.

130 FLEX | JULY/AUG '17
---
EADLIFT

SETUP With your toes beneath

he barbell, squat down and grasp

with a slightly wider-thanshoulder-width

grip.Allowthebar

to rest flush against your shins.

ACTION With your chest up and

back flat, lift the barbell from the floor

by extending your hips and knees to

full extension. Be sure to keep your

elbows straight (but not locked)

throughout as you drag the bar up

your shins and thighs until you're

in a standing position. Squeeze your

back, legs, and glutes, then lower

the bar along the same path until it

touches the floor.

STA IONARY

L NGE

nd with your feet about

s width apart holding a bar

across your upper back.

ACTION Step forward with one

foot and bend your forward knee

to lower your hips straight down,

making sure that knee doesn't pass

your toes. Stop just short of your

rear knee touching the floor and

d d h h

CLOCKWISE FROM LEFT: PER BERNAL; PAVEL YTHJALL; PER BERNAL

MROLYMPIA.COM 131
---
BEST RESULTS.

CLOCKWISE FROM LEFT: CHRIS LUND(2); PER BERNAL

INE PRESS

SETUP Lie on an incline

bench set at approximately

30 to 45 degrees and place your

feet wide and flat on the floor

for support. Grasp the barbell

with an overhand grip just

outside shoulder width and

unrack it, holding it directly over

your upper pecs.

ACTION Slowly lower the bar

to your upper chest, touching

down for a brief count before

powerfully pressing it back to

full elbow extension.

CALF RAISE (not pictured)

SETUP Stand with a

barbell across your upper

back, the balls of your feet

on a step with your heels

off the edge.

ACTION Lower your heels

toward the floor as far as

you can stretch them, then

press up onto your toes

as high as possible.

132 FLEX | JULY/AUG '17
---
ent, grasp a barbell with a wide,

overhand grip. Lean forward at your

hips until your torso is at a 20- to

30-degree angle to the floor. The barbell

should hang straight down in front of

your shins.

ACTION Without raising or bouncing

your upper body, pull the barbell

up toward your abdomen, bringing

your elbows high and above the level

of your back. Hold the bar in the peakcontracted

position for a brief count,

then slowly lower it along the same path.

SQU T

SETUP w our feet about

shoulde th t, holding a bar

across u back. Your knees

should be slightly bent and your toes

turned out slightly.

ACTION Keeping your head in a neutral

position, abs tight, and torso upright,

bend at the knees and hips to slowly

lower your body as if you were going to

sit in a chair. Go as deep as you can,

ideally to a point where your thighs are

parallel or just below parallel to the floor

while maintaining your natural lowerback

arch, then forcefully drive through

your heels, extending at your hips and

knees until you arrive at the standing

position.

MROLYMPIA.COM 133
---
ARNOL

ON JULY 30, ARNOLD SCHWARZENEGGER CELEBRATES HIS

IN HIS

OWN

WORDS

70TH BIRTHDAY. IT'S BEEN A REMARKABLE 70 YEARS IN WHICH

HE ATTAINED NO. 1 STATUS IN THREE DIFFERENT ARENAS:

BODYBUILDING, HOLLYWOOD, AND CALIFORNIA POLITICS. IN THIS

FEATURE WE REVIEW THE LIFE AND EXTRAORDINARY TIMES OF

THE FORCE OF NATURE THAT IS ARNOLD THROUGH THE PRISM OF

HIS OWN WORDS. COMPILED BY PETER McGOUGH

136 FLEX | JULY/AUG '17
---
When I first started lifting

weights in 1962, my mother

cried, saying, "Where did

I go wrong? My boy has

pictures of naked oiled-up

men on his wall, and all his

friends have pictures of

girls in their rooms."

As children we would

be sitting in the classroom

with the parents at the

back. If the teacher

said something

negative about my

work, my father would

come forward and

smack me, as other

parents would do to

their kids.

never had. And I owe him

so much for bringing me to

America. Without Joe I

wouldn't have had the life

I've had.

When I was 15, I thought

the Weider Research

Clinic was a huge research

center somewhere in

California connected to

the movie industry and

full of guys wanting to

be Hercules.

At the 1972 Mr. Olympia

[which Arnold won

controversially] in Essen, it

didn't occur to Sergio Oliva

I was lonely as a child.

Now I see there was an

advantage of sitting by

myself for hours, day after

day. It gave me the chance

to think and visualize and

form my goals.

Joe [Weider] had a habit of

finishing sentences for

you. And with Joe being

Joe, if he finished the

thought, then the whole

thought became his.

I think Joe came to look

upon me as the son he

that my white body would

stand out against the dark

wall behind us, while his

would blend right in.

There will never be

another like Sergio—

that I can guarantee.

Everything after him is

fake. He was the original.

He was "the Myth."

From 1970 my instinct was

to win: Eliminate anyone

who was in competition,

destroy your enemy, and

move on without any

MROLYMPIA.COM 137
---
The Austrian Oak—a force

of nature who would

conquer the bodybuilding

world, become a global

movie star, and get

elected the governor of

California—unfurls his

lats in a lakeside setting.

hesitation at all. I was the Terminator

years before the movie was made.

The pump is like cuming. It's terrific,

right? [This maybe explains why

Arnold believed in long workout

sessions completed twice a day,

six days a week.]

People say I have "it," whatever "it"

is. My personality is a combination

of the zest for life, curiosity, being

entertaining, being in the spotlight.

Typical Leo.

Jim Lorimer and I have been

together for 47 years. We have

continually operated on a simple

handshake agreement: No

contract has been necessary and

our steadfast faith in each other

will continue.

There was talk of a sequel to the

1988 movie Twins, in which I

appeared as Danny DeVito's twin

brother. The idea was there would

be a third triplet played by Eddie

Murphy. I can see the poster. "They

found another one! Triplets! Only

their mother can tell them apart!"

138 FLEX | JULY/AUG '17

In Kindergarten Cop I played a virgin.

This took tremendous acting.

Back in the '80s I always tried to

outdo Sylvester Stallone on the

physique side; or who had the most

awesome weapons in a movie; how

many people we killed in a movie;

who killed the villain in the most

outrageous or funny way; whose

movie grossed the most. It was

crazy, intense competition, an allout

war in a sense.

When I came to America in 1968,

Sly was my English teacher.

I turned down a part in the movie The

Rock [released in 1996], which

starred Sean Connery and Nicolas

Cage. I didn't have confidence in the

script. The next thing you know it

was a great hit.

What is interesting about failure is

that it is more important as a learning

tool than a victory. If you win you

don't have to sit and think out a

different approach.

When people say to me, "I'd like to

send a letter—what's the address?"

I say, "Arnold, Earth." I always get

the letter.

Do you know what it was like for this

Austrian kid to find himself standing

with Nelson Mandela in his prison

cell in Robben Island and help

light a symbolic "Flame of Hope"

as part of a Special Olympics

event in 2001?

I know journalists very well, I sleep

with one. [Said during his marriage to

Maria Shriver.]

You know, apart from the good stuff

he did, Bill Clinton will always be

known for two things: One, he said

he smoked but didn't inhale. And

two, he got his helmet polished in

the White House.

It was like it was meant to be. I had

resigned myself to wait until '06, but

the opportunity just opened up right

before me. It was like, "Come and

get it. What, do you want a written

invitation?" [In regard to the

OPENING SPREAD FROM LEFT: COURTESY OF ARNOLD/WEIDER HEALTH & FITNESS; COURTESY OF ARNOLD: THE AMERICAN DREAM/AMI; COURTESY OF WEIDER HEALTH & FITNESS; CARUSO/COURTESY OF WEIDER HEALTH & FITNESS:

CARUSO/COURTESY OF WEIDER HEALTH & FITNESS; ZELLER/© FITNESS PUBLICATIONS INC./COURTESY OF WEIDER HEALTH & FITNESS. THIS PAGE: ALBERT BUSEK; COLOR PHOTO BY ROBERT REIFF WITH ORIGINAL IMAGE USED FOR CUTOUT

COURTESY OF WEIDER HEALTH & FITNESS
---
CLOCKWISE FROM LEFT; COURTESY OF WEIDER HEALTH & FITNESS; ALBERT BUSEK;

ZELLER/© FITNESS PUBLICATIONS INC./COURTESY OF WEIDER HEALTH & FITNESS

incumbent California governor, Gray

Davis, being recalled in 2003, causing

Arnold to enter and win the election.]

On my first day as governor, as I

walked into the office I said to myself,

"OK, I won the election, now what the

f@#k do I do?"

There is no school to go to that

teaches you how to be a governor.

Sitting in that office and that building,

with all its history, can be a little

overwhelming.

I come from a country where

everyone had health care, so

California having 8 million people

who were uninsured was totally

unacceptable to me.

The polls do not decide anything. As

an athlete, I know all about peaking.

An athlete can be out of shape in

the off-season, but as contest day

approaches, he plans to peak on that

day. So I don't worry about the scoring

on days when there is no contest.

One of the

greatest side

chest poses of

all time; joking

with Lou

Ferrigno (right)

on the set of

Pumping Iron;

leg presses at

Gold's Gym with

Ed Corney.
---
Over the seven years of being

governor of California, I gave up

maybe $200 million from potential

movies roles and spent $40 million

or so of my own money on funding

election campaigns and other

propositions.

Dieter Rauter [Arnold's movie

stand-in and close friend] is

very good to his mother...he

never goes home.

I saw the film See Arnold Run [the

2005 movie with Roland Kickinger

playing the young Arnold and Jürgen

Prochnow playing the modern-day

Arnold], and it upset me. What does

it say for my acting? I mean, this is

a movie about me, and they didn't

even ask me to play me.

Political courage is not

political suicide.

Money doesn't make you happy. I

now have $50 million, but I was just

as happy when I had $48 million.

For Expendables 2 [starring Arnold,

Sylvester Stallone, Bruce Willis,

Jason Statham, Jet Li, Dolph

Lundgren, Chuck Norris, and

Jean-Claude Van Damme], they

rounded up every action star

between the ages of 30 and 100.

I'm always interested in new ideas.

I'm like a sponge ready to absorb

any information. I'm hungry for

knowledge. I'm hungry for the

experience of doing new things.

I am a person who hates to look

back. I only want to look forward.

I only want to move forward.

I don't want to pinch myself too hard,

because I don't want to wake up and

find the whole thing was really a

dream. Can you imagine? I wake up at

5 a.m. and someone is shaking me

saying, "Komm, Arnold, Zeit für Ihre

Schicht im Stahlwerk!" [Translation:

"Come on, Arnold, time for your shift

at the steel mill."]

ZELLER/© FITNESS PUBLICATIONS, INC./COURTESY OF WEIDER HEALTH & FITNESS; COURTESY OF WEIDER HEALTH & FITNESS; COLOR

PHOTO BY ROBERT REIFF WITH ORIGINAL IMAGE FOR CUTOUT COURTESY OF WEIDER HEALTH & FITNESS

140 FLEX | JULY/AUG '17
---
PROFESSIONAL

ASS
---
FROM HOCKEY

FIGHTS TO

HIGH HEELS, IFBB

PRO BIKINI

COMPETITOR KATIE

CHUNG HUA

CONTINUES TO

REDEFINE HERSELF

AS A FORCE IN

FITNESS
---
" MY PARENTS

ALWAYS HAD ME

DOING SOMETHING.

SO, WHEN I FINISHED

HOCKEY AFTER

GETTING BURNED

OUT, MY DAD

SUGGESTED THAT I

TRY BODYBUILDING."

SHOT ON LOCATION AT GLOBAL FITNESS STUDIO, GARDENA, CA

|
---
KATIE

CHUNG HUA

HAIR & MAKEUP BY NATALIE MALCHEV

Age: 31

Height: 5'2"

Weight: 98 pounds

Best Contest: 2011

NPC Team Universe,

2nd place, Bikini

Fun Fact:

" I have a shoe theory

about guys," Hua says.

"You can tell a lot by

what a guy wears. Old

white sneakers that

are tied too tight mean

they have no style;

stylish sneaks mean

they're sporty and

have some style; and

dress shoes mean that

they take themselves

seriously."

MROLYMPIA.COM 145
---
1 MOVE

WAYS

NOT INTO DOING

BARBELL BACK

SQUATS? NO

PROBLEM. DO

ONE OF THESE

SIX SQUATTING

VARIATIONS

INSTEAD TO

MAKE UP FOR IT.
---
NE-LEGGED SMITH MACHINE SQUAT

Defining Difference Training each leg

vidually isgreatforworkingonimbalances

m side to side. Standard two-leg squats

great, but they typically don't allow you to

urately assessjusthowweakonelegis

pared with the other. With the Smith machine,

re able to load up the weight because balance

much of an issue, at least not compared

free-weight versions of one-legged squats

pistol squats and Bulgarian split squats.

Execution Stand inside a Smith machine with

bar across your upper back and your feet

hip-width apart. Lift one foot a few inches off

the floor and hold it out in front of you, then

rotate the bar to unrack it. Keeping your eyes

focused forward, chest out, and back flat,

slowly squat on your working leg until your thigh

reaches parallel with the floor. Press through

that heel to drive yourself back to standing (still

on one leg), stopping just shy of full knee lockout.

Repeat all reps on that leg, then switch legs.

When to Do It As your first squat movement

in a leg workout (alternated with front squat and

safety bar squat).

MROLYMPIA.COM 147
---
Th

no

low

exc

es

gre

of

o such thing as a good excuse

at.

we said it. Bad knees, bum

ck, lack of equipment—these

or not squatting won't cut it,

y when you consider all the

ations that exist for the "king

ses."

n't wanttoputabarbellon

your back and squat with it? OK, then

don't. But you must do some version of

the movement to build lower-body

strength; add appreciable muscle mass

to the quads, glutes, and hamstrings;

optimize core stabilization and function;

maintain adequate range of motion in

the hips, knees, and ankles; and ensure

a respectable level of overall fitness.

Squat until your thighs reach at

least parallel with the floor, then

properly use the biggest muscles in

your body to stand back up. Repeat

this many times over and you're

officially squatting, just as nature

intended. How you choose to squat is

up to you. On these pages, you'll find

six great variations, plus a sample

leg-training routine showing you

how to incorporate them. Start with

one or more of these and leave the

excuses behind.

SQUAT-CENTRIC

LEG WORKOUT

EXERCISE SETS REPS

Quads/Glutes/Hamstrings

Leg Extension

(warmup)

2–3 15

Dumbbell Lunge 3 10–12 per leg

Hamstrings

Romanian Deadlift 4 10

4

3

3

Calves

Standing Calf

Raise

4 20–25

4

*Alternate every other workout with

safety bar squat and one-legged Smith

machine squat.

148 FLEX | JULY/AUG '17
---
Defining Difference

Execution

When to Do It

MROLYMPIA.COM 149
---
3BARBELL

HACK SQUAT

Defining Difference With the

bar behind your legs, staying back

on your heels as you explode up

is fairly easy. Some may see this

move as a deadlifting alternative,

and rightfully so, but there's a

reason it has squat in its name—

because, when done correctly,

the quads take on a majority of

the load. That's not the case

with the deadlift, which hits more

of the hamstrings, glutes, and

lower back.

Execution Stand with a shoulderwidth

stance in front of a barbell

sitting on the floor. Bend your

knees and hips to lower down,

and grasp the bar with a shoulderwidth

grip.

With your back flat (not rounded)

throughout, forcefully extend your

hips and knees to stand up with

the bar, pulling it up the backs of

your legs. Finish in a standing

position with your shoulders back

and chest out, then reverse the

motion under control to lower the

bar back to the floor.

When to Do It As the second

squat movement in a leg workout

(alternated with machine hack

squat and Jefferson squat).

COURTESY OF ARTIE ZELLER/WEIDER HF

150 FLEX | JULY/AUG '17
---
CHARLES LOWTHIAN

SA T AR SQUAT

Defining Difference any people are forced

t ndar ats, not because of any

ck or

s but rather because

isting i

heir shoulders or even

quat bar, stress

minated because

nt of your body,

not behind it. A

rists, they stay in a nice,

comfortable, n

tion throughout.

Execution St

a power rack facing away

from a safety squat bar racked just below shoulder

height. Step back into the bar so that the back pad

is up against your neck and the other two pads

are over your shoulders. Unrack the bar and

start in a standing position with your hands

holding the pads over your shoulders. Keeping

your weight over your heels and your chest

out, squat down until your thighs reach slightly

past parallel with the floor. Drive back up to

standing, keeping your back flat and chest out

the entire time.

When to Do It As your first squat movement

in a leg workout (alternated with front squat and

one-legged Smith machine squat).

MROLYMPIA.COM 151
---
SQU

Defining

Difference

e move

ssenti

allows you to

place your feet

farther in front

of you to save

your knees

for a deeper,

safer squat.

Execution Step

inside a hack

squat machine,

placing your

shoulders and

back against the

pads and your

feet shoulderwidth

apart

on the platform

with your legs

extended. With

your chest out

and abs pulled in

tight, unhook

the safety bars

and slowly lower

yourself until

your knees are

past 90 degrees.

Forcefully

extend your hips

and knees to

press yourself

up to the start

position without

locking out your

knees at the top.

When to Do It

As the second

squat movement

in a leg workout

(alternated with

barbell hack

squat and

Jefferson squat).

PER BERNAL

152 FLEX | JULY/AUG '17
---
PAVEL YTHJALL

F N SQUAT

Defining Difference ar tobarbellhacksquats,

son allo

eep your weight back

r heels to

sure off both the knees

r back.

Execution Fro

g position, straddle a

floor and running

d

eet. Squattograbthebar

with

grip, onehandinfrontofyou

and one hand behind. With your core tight, chest out,

and back flat, stand up with the bar by extending your

hips and knees and pressing through your heels.

Lower the bar back to the floor by pressing your hips

back and bending your knees.

When to Do It As the second squat movement in a

leg workout (alternated with machine hack squat and

barbell hack squat).

MROLYMPIA.COM 153
---
ONE-SIDED

RESULTS

TURN WEAKNESSES

INTO STRENGTHS WITH

THE POWER OF

UNILATERAL TRAINING

PHOTOGRAPHS BY PER BERNAL

FLEX | '17
---
Q If we told you to do

just half a workout,

or give half an effort,

you'd consider us

crazy. No one gets big,

strong, and ripped by

half-assing his way

through training.
---
What we are going

to recommend next

may sound just as

ridiculous, however it

may be time to divide

all your favorite

bilateral movements

in two and do each

side of your body

unilaterally.

Sure, we love the

squat, bench, and

row as much as the

next gym rat. But

too much of a good

thing may leave

some gains on the

table. And that's just

damn wrong, by half.

ISOLATING

THE BENEFITS

Training one arm, leg, or side of

the body at a time is nothing new

for bodybuilders. We've been

isolating muscle groups to

achieve maximum size and

definition ever since the early

days of the iron game.

Reasons abound. For one, a

stronger limb can compensate

for a weaker when using a

barbell or bilateral-style

machine—your dominant arm or

leg will naturally take on a little

more than its fair share of a load

when you're pressing, pulling,

curling, or extending. That means

the weaker muscle can never

quite catch up, unless you hit it

alone with a unilateral exercise.

Second, isolation exercises

are paramount when the goal is

maximizing muscle development.

It allows unparalleled focus on

each body part, driving it to

complete momentary failure,

helping exhaust every fiber.

Think dumbbell concentration

curls, one-arm rows, or a

single-leg extension as three

good examples.

Beyond aesthetics, unilateral

training serves a very functional

purpose as well. "It's a great way

to challenge the musculature of

the core and improve the

stability of your spine and

pelvis," says Angelo J. Grinceri,

health coach, movement

practitioner, New York Citybased

trainer, and author of

Intrinsic Strength Training

(intrinsicstrengthtraining.com).

In his book, Grinceri cites

unilateral movement as a critical

component of any training

program, no matter your main

goal. "Unilateral training requires

more activity within the primary

muscle group for a given

exercise," he writes. "For

example, an EMG machine test

shows that while performing an

upright unilateral dumbbell

shoulder press, the anterior,

lateral, and posterior deltoid

all require more muscular

activation while standing, as

opposed to performing a seated

shoulder press with a barbell

using both arms."

156 FLEX | JULY/AUG '17
---
STANDING

LEG CURL

When doing the standing

leg curl, use a full range

of motion to engage the

hamstrings along their

full length. Picture your

leg like the biceps of your

arm and flex the hams

hard to form a "peak" on

every rep.

MROLYMPIA.COM 157
---
LEG

EXTENSION

On the leg

extension, avoid the

temptation to slide

your rear end

forward on the seat

to gain leverage.

Make sure your

knee aligns with the

pivot point of the

machine and keep

your hips and lower

back in contact

with the pad.

A SIDE OF

GROWTH

That said, it's a good time to think about your

own program. How balanced are your workouts?

Are you mixing a steady dose of bilateral and

unilateral exercises, or do you tend to rely on

the former a little too much?

For instance, take the following shoulder routine:

EXERCISE SETS REPS

Seated Barbell Press 4 8–12

Barbell Front Raise 3 10

Reverse Pec-deck Flye 3 10

4

3

On its own, that's a fairly solid workout. Use it and

you will develop your delts, no question. However, if

you happen to have one deltoid that's weaker than

the other, it may continue to lag because of the overreliance

on the barbell and bilateral motions. A more

balanced attack, which integrates a variety of barbell,

dumbbell, and cable moves, could look like this:

EXERCISE SETS REPS

Seated Dumbbell Press 4 8–12

Alternating Dumbbell Front Raise 3 10

Bentover One-arm Cable Raise 3 10

This way, a weaker delt or delt head will get targeted

directly at some point during the workout, without the

stronger side along for the ride to bail it out. In the

end, that's a recipe for more complete development.

4

3

SHOT ON LOCATION AT METRO FITNESS NORTH, WORTHINGWOODS, OH

158 FLEX | JULY/AUG '17
---
LEG

PRESS

Place your

working foot in

the center of

the leg press

platform—

putting it too far

to one side or

the other places

potentially

damaging

shearing forces

on the knee.

GROOMING BY CANDACE CORY AT ZENOBIA USING SK-II & NIOXIN

MROLYMPIA.COM 159
---
HAMMER

STRENGTH

INCLINE

PRESS

The beauty of the Hammer

Strength incline press

machine is its unilateral

design. Because each

side is independent of the

other, they provide equal

stimulus to both sides of

your pectorals, whether

you're incline-pressing

one side at a time (as

shown here) or pushing

both simultaneously.

160 FLEX | JULY/AUG '17
---
ONE

AND

DONE

The training plan we are

about to share with you,

designed for FLEX by

Grinceri, is not meant as a

long-term solution. No one

should be doing workouts

that solely focus on unilateral

exercises. Instead, consider

this all-unilateral session a

once-in-a-while shock

treatment, to be used to get

you in the groove of onelimb-at-a-time

training while

also hitting your muscles in a

rut-busting, mental-breakfrom-the-ordinary

way.

You'll likely notice the

circuits are in the reverse

order of what you

instinctively would do, putting

arms ahead of an overhead

dumbbell press, and leg

extensions and curls ahead

of a leg press. Grinceri has

his reasons for that unique

arrangement. "Focusing on

the isolation first will preexhaust

and get blood to

swell into the biceps, triceps,

hamstrings, and quadriceps,"

he explains. "Following those

ancillary movements with a

compound exercise will

accomplish two things: It'll

require more focus and

concentrated effort when

performing the compound

exercise, and it will improve

blood flow to the area,

enhancing the muscles' ability

to recover afterward."

And, Grinceri adds, it's

another way to keep your

body off-balance by

switching up your normal

routine. "It's a unique

challenge to the bigger body

parts because they don't

get as much help as they

normally do from the

assistive muscles, and the

smaller individual muscles will

be taxed throughout the

circuit from beginning to end.

You'll really feel the deep burn

by the time you finish the

compound movement."

MIA

HAMMER

STRENGTH

ROW

When doing the

Hammer Strength row,

shift your shoulder

blades back as you pull

to help engage the

muscles of the upper

back. You want your

back to take on the

brunt of the load versus

allowing the biceps to

dominate.

MROLYMPIA.COM 161
---
THE ONE-SIDED

CIRCUIT

WORKOUT

For each of the three circuits listed, you can either complete all sets

listed before moving on to the next grouping, or cycle through the circuits

three times through—there's no right or wrong way to tackle it. For

instance, you could do the first circuit three times, then the second three

times, and finally the third thrice. Or, you can do circuit No. 1, followed by

No. 2, followed by No. 3, then repeat. Within the circuits, only pause long

enough in between movements to change from one exercise to the next;

rest 90 seconds between circuits.

EXERCISE SETS REPS

Circuit No. 1

Right-leg

Extension

Left-leg

Standing Curl

3

3 12

3

3 12

Left-leg Press 3 12

3

LAT PULLDOWN

Consider switching up your grip from

workout to workout—or even set to set—

when doing the lat pulldown. A palmsfacing,

palms-forward, or palms-neutral

grip each elicits a slightly different

range-of-muscle fibers in the latissimus

dorsi. It may be a nuanced difference,

but every tweak can bring you better

overall development over time.

162 FLEX | JULY/AUG '17
---
MIA

DUMBBELL

PREACHER

CURL

While you should employ

a full range of motion

during the dumbbell

preacher curl, unfurling

your elbow to nearly full

extension—stopping just

short of lockout—and

then curling the weight

by bending your arm

as much as possible as

you reach initial failure,

consider tacking on

three-quarter and half

reps, even partials and

"pulse" reps on the last

set or two. They'll fry

your bi's and pump them

full of nutrient-rich blood.

MIA

MROLYMPIA.COM 163
---
THE

ONE-SIDED

CIRCUIT

WORKOUT

EXERCISE SETS REPS

Circuit No. 2

3

Right-arm

Hammer

Strength

Incline Press

Left-arm

Hammer

Strength Row

3 12

3

3 12

3

Left-arm

Lat Pulldown

3 12

OVERHEAD

DUMBBELL

PRESS

The overhead

dumbbell press can

also be attacked in

an alternating style,

holding a dumbbell

in each hand—

when one is going

up, the other is

descending.

EXERCISE SETS REPS

Circuit No. 3

Right-arm

Overhead

Dumbbell

Triceps

Extension

Left-arm

Dumbbell

Preacher Curl

3

3 15, 12,

10

3

3 15, 12,

10

3

Left-arm

Overhead

Dumbbell Press

3 15, 12,

10

164 FLEX | JULY/AUG '17
---
OVERHEAD

DUMBBELL

TRICEPS

EXTENSION

For the overhead

dumbbell triceps

extension, allow

the dumbbell

to "bottom out"

to stretch the

long head of the

triceps, which

engages the

stretch-shortening

cycle and leads to

a stronger positive

contraction on the

way back up.

MROLYMPIA.COM 165
---
BY ERIC "MERLIN" BROSER PHOTOGRAPHS BY IAN SPANIER

TRICKS & TREATS!
---
I MUST ADMIT, THIS DID

GIVE ME AN EXCELLENT

FOUNDATION FOR MY

EARLY DAYS IN THE GYM,

since I was already well-versed

in all the basic exercises,

proper form, and how to design

an effective workout. As the

years went by, however, and my

interest in lifting went from

simply "getting big" to building

a competition-level physique,

I began to ponder whether

or not I was missing something.

I would find myself looking

around the gym—at the barbells,

dumbbells, machines, cables,

and benches—conceptualizing

entirely new movements or

mentally creating unique tweaks

on the basics that I and everyone

else were performing daily. The

more profound my mind/muscle

connection became, the

more I began to understand

the need to expand my

exercise vocabulary so that I

could more completely exhaust

every fiber within a muscle.

At this point I was not only

training myself for higher levels

of bodybuilding competition but

also beginning to coach dozens

of others. The gym had become

my laboratory, and every day

was spent experimenting with

novel ways to train each muscle.

I would invent new exercises,

try varying angles of push/pull,

and often use machines to hit

body parts they were not even

intended for!

This practice (or more like

obsession) has continued to

this very day and eventually led

to one of my best clients giving

me the nickname "Merlin," for

what he claims is my "nearmagical

ability" to transform

physiques and lagging muscles.

As I walk around the Mecca of

bodybuilding, aka Gold's Gym in

Venice, CA, I am proud to see

members utilizing exercises

that I pioneered and introduced

via my articles or videos. As a

coach, there are few things

more satisfying than having a

fellow lifter come up to me and

say, "Thank you for showing

me those 'Merlin' triceps pushouts!

My arms have never been

this sore!"

Did someone mention triceps?

Well, I did promise to provide

some unique goodies to add to

your training arsenal! Let's

unwrap a few that will be sure

to add some major thickness to

the backs of your arms.

GROOMING BY KELLIE KECK FOR ZENOBIA

168 FLEX | JULY/AUG '17

SHOT ON LOCATION AT METRO FITNESS NORTH, WORTHINGTON WOODS, OH
---
TRICK

SMITH MACHINE ELBOWS-OUT

CLOSE-GRIP BENCH PRESS

MERLIN'S POWER-

REP RANGE-SHOCK

HYBRID TRICEPS

THRASHING

EXERCISES SETS REPS TEMPO

Incline High-cable

Triceps Push-out

Standing Single-arm

Shoulder-high Triceps

Extension

superset with

Concentration

Pushdown

3 6–8 3/1/X/1

1

1

1

2

2

10–12

10–12

2/1/X/2

How to Do It
---
INCLINE HIGH-CABLE

TRICEPS PUSH-OUT

How to Do It

|
---
TRICK

YOU CAN VARY THIS MOVEMENT

BY TAKING A WIDER OR CLOSER

GRIP, SUBSTITUTING A ROPE

ATTACHMENT, AND/OR ALTERING

THE ANGLE OF THE BENCH TO

CREATE A SLIGHTLY DIFFERENT

ARC OF MOTION.
---
CONCENTRATION

PUSHDOWN

How to Do It
---
TRICK

THIS IS ONE MOVEMENT IN WHICH UTILIZING

LIGHTER WEIGHT AND HIGHER REPS (10 TO 15)

WILL BE THE MOST EFFECTIVE FOR MUSCLE

GROWTH. THIS IS AN EXCELLENT EXERCISE TO

FINISH UP A TRICEPS WORKOUT, AS IT

MANIFESTS A POWERFUL PUMP AND ISOLATES

THE TRICEPS LIKE NO OTHER MOVEMENT.
---
TRICK

USE THE RESTING HAND

TO HOLD THE WORKING

TRICEPS SO YOU CAN

FEEL IT STRETCH AND

CONTRACT IN ITS

ENTIRETY THROUGHOUT

THE RANGE OF MOTION.

THIS WILL INCREASE

THE MIND/MUSCLE

CONNECTION AND FORCE

A GREATER NUMBER OF

FIBERS TO FIRE.

| JULY/AUG '17
---
STANDING SINGLE-ARM

SHOULDER-HIGH TRICEPS EXTENSION

How to Do It
---
THE MOST IMPORTANT MEAL OF THE

DAY IS NOW THE MOST DELICIOUS. THESE

PROTEIN-PACKED RECIPES GUARANTEE

YOU'LL START YOUR DAY AHEAD OF THE GAME.
---
MOCHA

PANCAKE

STACKS

SERVES 4

1)

2)

3)

368

28g

CALORIES

PROTEIN

CARBS

FAT
---
DAYBREAK

EGG TACOS

SERVES 2

CHEF'S TIP

1)

2)

3)

518

CALORIES

PROTEIN

23g

CARBS

FAT

178 FLEX | JULY/AUG '17
---
BLUEBERRY

PROTEIN

SMOOTHIE

BOWL

SERVES 1

1)

2)

382

CALORIES

PROTEIN

10g

CARBS

FAT

CHEF'S TIP
---
YOGURT

& GRANOLA

SERVES 2

1)

2)

465

CALORIES

21g

CARBS

FAT

CHEF'S TIP

FLEX |
---
MAPLE

BACON

OATMEAL

SQUARES

SERVES 4

1)

o

CHEF'S TIP

2)

3)

4)

520

CALORIES

PROTEIN

17g

CARBS

FAT

MROLYMPIA.COM 181
---
POWER-

BUILDING

COMBINE THE BEST

OF POWERLIFTING

AND BODYBUILDING

SCIENCE TO BUILD

DENSE MUSCLE AND

FREAK STRENGTH

IN SIX WEEKS

182 | JULY/AUG '17
---
MROLYMPIA.COM 183
---
W

When you've been in the

iron game awhile, you

begin to ask yourself some

tough questions: How do

I maximize size without

sacrificing strength? How

do I get stronger without

getting injured? In short,

how can a lifter have it all—

muscle, power, and painfree

joints—to enjoy the

benefits? The answer is a

combination of powerlifting

and bodybuilding

programming, colloquially

known as powerbuilding,

blended in the formula we

offer here. See results in

six weeks! Seriously.

THE DYNAMIC DUO

Our program is a mix of the

Westside Barbell powerlifting

template and old-school highvolume

bodybuilding. The

Westside Conjugate Method,

as it's known, is a system that

alternates heavy workouts and

lighter ones. The heavy days

are called max-effort sessions

because you work up to a max,

the heaviest weight you can

use for reps in the one to five

range. The lighter days can

be done in two different ways.

Most lifters who powerbuild

along the lines of a Westside

program do the lighter workouts

exclusively with higher reps and

go for the pump, and that works

fine to build muscle. Our routine

includes plenty of pump work,

but we're also making use of the

dynamic effort method (DE)—a

technique whereby you lift light

weights explosively. Even though

the weight may not feel

challenging, moving it as quickly

(and as violently) as you can

trains your nervous system to

recruit the biggest, strongest

muscle fibers, and it helps you

overcome sticking points. If

your bench press usually stalls

midway through a rep with a

heavy weight, DE can help you

develop the speed off your chest

to blast through.

LIFTING FOR LIFE

Of course, building muscle and

setting PRs isn't much fun if it

wrecks your body in the process.

Heavy training is hard on the

joints, but by rotating your main

lifts and generally changing up

the workouts on a weekly basis,

you can avoid the overuse and

overtraining injuries that plague

so many lifters. The main lift in

each max-effort workout should

be switched every week. In fact,

you can switch out practically

every exercise in the program

week to week if you like—just

follow the basic template we set

up here. (It includes two weeks of

sample workouts.)

On the first max-effort day, for

instance, when you'll train your

chest and biceps, stick to three

to four chest exercises and three

biceps lifts per session; the exact

exercises you pick are up to

you. The main lift can be a bench

press one week, an incline press

the next, then a floor press

after that if you like. Feel free to

experiment and find exercises

that work best for you and keep

the workouts fun.

Directions

THE SCHEDULE

You'll perform two

max-effort and

two dynamic-effort

workouts per week,

rotating through a

body-part split of

chest and biceps,

back, legs, and

shoulders and

triceps.

will take

to work

part wit

max- an

effort m

follow t

for how

togethe

184 FLEX | JULY/AUG '17
---
BACK EXTENSION

Be sure to hinge at the

hips when you perform

each rep. Your lower

back shouldn't round

over on the descent.

Always squeeze your

glutes as you extend

your hips to come up.

SHOT ON LOCATION AT METROFLEX GYM, LONG BEACH, CA
---
1

MACHINE FLYE

Don't let your arms

extend behind you.

Protect your shoulders.

PULLOVER

Lower the weight

until you feel a stretch

in your lats, then pull it

back over your face,

not your chest.

186 FLEX | JULY/AUG '17
---
DAY 1

CHEST,

BICEPS

(MAX EFFORT)

EXERCISE SETS REPS

4 8

5

4 8

2

4

DAY 2

BACK

(DYNAMIC EFFORT)

EXERCISE SETS REPS

8

4

4

3

Strength

MAX-EFFORT

TRAINING

Max-effort workouts focus on

improving one main lift. To do that,

you need to train heavy. Warm up

thoroughly, then choose a variant

of whatever the main exercise is

(some type of squat, bench press,

deadlift, or overhead press) and

begin working up in weight slowly.

Add weight in small increments and

keep your reps to five or fewer until

you reach a load that allows you

only three to five reps. When you've

maxed out those reps, move on to

the next exercise.

REVERSE-GRIP

PULLDOWN

Pull the bar down to your

collarbone. The palmstoward-you

grip hits the

biceps more directly than

conventional pulldowns.

MROLYMPIA.COM 187
---
1

DAY 3

CARDIO

Use the exercise of your choice

to raise your heart rate to a moderate

level (120 to 140 beats per minute)

and keep it there for 30 to 60 minutes.

Afterward, foam-roll and stretch.

DAY 4

LEGS

(MAX EFFORT)

EXERCISE SETS REPS

2

3 8

4

**

3

DIP

Try to get your

upper arms

parallel to the

floor on each rep.

You can lean

forward to

emphasize the

pecs, or try

to stay perfectly

upright to

emphasize the

triceps.

DAY 5

SHOULDERS,

TRICEPS

(DYNAMIC EFFORT)

EXERCISE SETS REPS

8 3*

4

4

4

4

188 FLEX | JULY/AUG '17
---
Speed

GOBLET

SQUAT

Focus on sitting

back with your

hips and opening

your knees to

achieve depth.

DYNAMIC-

EFFORT

TRAINING

The goal of dynamiceffort

work is to

move a weight as fast

as possible. (Note

that when doing DE

pullups on back

day, you'll be lifting

your body weight.)

Aim for 60 to 70% of

your max on these

exercises and keep

the reps to three. If

that feels too heavy,

or if your latter few

sets get sluggish,

reduce the weight.

The point is to be as

explosive as possible

while maintaining

perfect form, so

don't get eager to

add weight.

OVERHEAD

PRESS

Keep your

forearms

vertical as you

press. The bar

should be in

line with the

back of your

head in the

end position.

MROLYMPIA.COM 189
---
2

HAMMER

CURL

Keep your upper

arms at your

sides so your

elbows don't

drift forward.

Your palms face

each other.
---
DAY 1

CHEST,

BICEPS

(DYNAMIC EFFORT)

EXERCISE SETS REPS

DAY 3

CARDIO

Use the exercise of your choice to

raise your heart rate to a moderate

level (120 to 140 beats per minute)

and keep it there for 30 to 60 minutes.

Afterward, foam-roll and stretch.

8 3*

4

3

3 8

4 8

2

4

DAY 4

LEGS

(DYNAMIC EFFORT)

EXERCISE SETS REPS

4

3

3

3*

4

DAY 2

BACK

(MAX EFFORT)

EXERCISE SETS REPS

DAY 5

SHOULDERS,

TRICEPS

(MAX EFFORT)

EXERCISE SETS REPS

4

4

4

2

ABOUT

THE

TRAINER

Don Saladino is

a trainer of

celebrities and

athletes. He

owns Drive495 in

New York City.

donsaladino.com

*For pullups, simply perform reps as

explosively as possible on both the positive

and negative phases. On the unilateral leg

press, choose a moderate weight that you

can move explosively with one leg. (Perform

three reps on one leg, switch legs and do

three, then rest.) For the other exercises that

are done with dynamic effort, choose a load

that is 60 to 70% of your one-rep max. Rest

60 seconds between all dynamic-effort sets.

**If you don't have a glute-ham bench, try a

weighted back extension or a Romanian

deadlift for sets of 15.

4

4

4

4

MROLYMPIA.COM 191
---
Lean forward

a bit at the

beginning of

the rep to put

a stretch on

your lats. Then

move your

torso back

to vertical as

you row the

handle to your

sternum. Hold

for a second in

the contracted

position.

192 FLEX | JULY/AUG '17
---
NO MORE

BAD

WORKOUTS

USE INDICATOR SETS TO

ANTICIPATE WHAT YOU'RE CAPABLE

OF, THEN CUSTOMIZE YOUR

TRAINING FOR MAXIMUM RESULTS

EDGAR ARTIGA

MROLYMPIA.COM 193
---
Y

PAVEL YTHJALL

194 FLEX | JULY/AUG '17
---
As a strength coach, I

help athletes improve

performance. One of the

concepts we follow to do

that is autoregulation—

customizing workouts to

allow the athlete to progress

at his own pace based on

variations in performance.

You see, everyone who lifts

has experienced the same

pattern: Some days you feel

great in the gym and the

weights are flying up. Other

days, everything you touch

feels like a ton of bricks.

You can't always anticipate

what kind of day you'll have

before you start your

workout, and some guys will

go in determined to lift heavy

no matter what. That's a

mistake, because trying to

bull through a heavy lift when

your body isn't up to it can

cause injury. However, by

learning to autoregulate your

training, you can find out

early on in the session what

you're capable of that day

and adjust accordingly.

Here's how it works: After

you've warmed up on your

main lift for the workout

(some variation of the squat,

deadlift, or bench press),

you'll perform three sets with

a certain percentage of your

max lift. These are called

"indicator sets." The first two

sets are conservative, and

the last one is all out—perform

as many reps as you can.

Your performance on this

final set determines the rest

of your workout.

D ADLIFT

act your neck

hat your chin

s down. Drive

ugh your heels

let your body

ght fall backward

aximally activate

y r glutes and

ha strings.

MROLYMPIA.COM 195
---
FORMULA

Determine the

load to use by

calculating 70%

of your max. So if

your best deadlift

is 350 pounds,

use 245 pounds.

Complete two

indicator sets of

eight reps, and

then a third in

which eight is the

minimum—go for

as many as

possible until

your form

breaks down.

70%

x 350 LBS

245 LBS

Use this weight on all

three indicator sets

PAVEL YTHJALL

196 FLEX | JULY/AUG '17
---
75% x 350 LBS = 263 LBS

New max

percentage

(70% + 5%)

FORMULA

Let the number of reps you performed

on the final indicator set determine the

weight you use for the cluster sets.

For each rep you got above eight, add 2.5%

to the percentage of your max. So if you

performed 10 reps, the next weight you'll

load will be 263 pounds (75% of 350;

because 2.5% x two extra reps = 5%).

Best deadlift

amount

Use this weight on

your cluster sets

Now do three to five sets of one rep, resting 30 to 45 seconds between

each rep. But if you could barely manage eight reps in your final indicator

set, perform three to five sets of one with the same load (70%).

After you've done that third

indicator set to failure, you'll

perform cluster sets, as

prescribed by my colleague

Jamie Smith, a strength coach

in Boston. Clusters are a

variation of the rest-pause

method: You take a heavy

weight and do one rep, rest

briefly and do another, and

continue until you've done a

"cluster" of reps. This approach

allows you to lift a heavier

weight for more total reps

than you typically could, and

it ensures that you're fresh

enough on each rep that your

technique is at its sharpest.

The load you use on these

clusters is determined by the

all-out set you just did. For

every rep you got above the

prescribed number, you'll add

2.5% to the load and do three

to five single reps with 30 to

45 seconds of rest in between.

(See the "Formula" sidebars

for a practical example.)

In other words, the more

reps you do on the final

indicator set, the heavier you

can go on the cluster sets

and the more challenging

your workout will be. The

reverse is also true, so if

you're not feeling up to hard

training, you won't get many

reps on the last indicator set

and therefore won't have to

go heavy on the clusters.

Every workout can now be

tailored to your capabilities at

that exact moment. You now

hold the keys to a lifetime of

productive workouts.

EDGAR ARTIGA

198 FLEX | JULY/AUG '17
---
Exercises marked with a letter

("A" and "B") are alternated.

Perform one set of A, rest, then

one set of B, rest, and then repeat

for the prescribed sets. Perform

the main lifts according to the

formula on the previous pages.

DAY I

EXERCISE SETS REPS

1 Deadlift (any variation) * *

2A 3 8

2B Reverse Crunch 3 10

3A 3

3B Standing Calf Raise 3 20

DAY II

EXERCISE SETS REPS

1 Bench Press

* *

(or overhead press)

2A 3

2B 3

3A 2

3B Triceps Pushdown 2 20

4

DAY III

EXERCISE SETS REPS

1 Squat (any variation) * *

2A

3 8

2B 3

3A Barbell Hip Thrust 2 10

3B 2

*Follow the instructions for indicator sets

and clusters in the "Formula" sidebars.

**As many as needed.

EDGAR ARTIGA

200 FLEX | JULY/AUG '17
---
PROGRESSION

Each week, the

percentage of your

max and the number

of reps you perform

will change.

WEEK 1

3 sets, 8 reps with

70%,

then 3–5 sets of 1

WEEK 2

3 sets, 5 reps with

75%,

then 3–5 sets of 1

WEEK 3

3 sets, 3 reps with

80%,

then 3 sets of 1

WEEK 4

3 sets, 1 rep with

85%,

then 2 sets of 1

cable

evel.

o the

handle

Press

your

ry to

rd its

MROLYMPIA.COM 201
---
THE

MECCA

OF MUSCLE

HOW BEV FRANCIS'

BECAME THE MOST

LEGENDARY

CENTER ON

THE PLANET

BY MICHAEL BERG, N.S.C.A.-C.P.T.

202 FLEX | JULY/AUG '17
---
LEFT TO RIGHT

Matthew Acton,

Kevin English,

Juan Morel, Steve

Weinberger, Victor

Martinez, Marco

Rivera, Yeshaira

Robles, Patty Zariello,

Guy Cisternino,

Angelica Nebbia,

Bethany Wagner,

Swann Delarosa, Jon

Delarosa, Karen Morel,

Dana Linn Bailey.

MROLYMPIA.COM 203
---
BEV FRANCIS

NEVER WON THE

MS. OLYMPIA

CONTEST, THE

MOST COVETED

TITLE IN ALL

OF WOMEN'S

BODYBUILDING,

ALTHOUGH HER

CONTROVERSIAL

SECOND-PLACE

FINISH TO

LENDA MURRAY

IN 1991, AN EVENT

TELEVISED LIVE BY

ESPN, MADE HER

THE BIGGEST ICON

IN THE SPORT.

The rivalry between the

"mainstream" physique of Murray

and the highly developed body of

Francis went on to further define

a debate—immortalized a few

years prior in Pumping Iron II:

The Women, which pitted Francis

against Rachel McLish—which

has raged for generations. It cut

to the heart of the meaning of

femininity, of double standards

between the sexes, of whether

society was ready for the

advent of strong, powerful

women who refused to bow to

the expectations of others. It

also made Francis synonymous

with strength and a hero to

bodybuilding purists

everywhere.

In the midst of Francis'

competitive heyday, she and her

husband, IFBB judge and former

competitive powerlifter Steve

Weinberger, opened a small,

unassuming gym in Syosset, NY,

a suburban hamlet near Long

Island's North Shore. Weinberger

made a fateful decision when he

COURTESY OF WEIDER HEALTH & FITNESS; COURTESY OF BEV FRANCIS POWERHOUSE GYM (4)

204 FLEX | JULY/AUG '17
---
THE MECCA

Bev Francis took

muscularity and

definition to a new

level during her

competitive heyday.

Below: Bev's FLEX

cover; Weinberger

with Rich Gaspari and

Frank Sepe; Dexter

Jackson winning

Weinberger's 2016

IFBB New York Pro.

schedule, as Francis continued

to compete while the couple

promoted contests. "We started

promoting the Bev Francis

Classic Bodybuilding show in

1988, which developed into the

Bev Francis Atlantic States

Bodybuilding, Fitness, Figure,

Men's and Women's Physique,

Men's Classic Physique,

and Bikini Championships,"

Weinberger says. "Bev was

competing every year in the

Ms. Olympia, and many of the

members would go to watch her,

especially when the show was

held in New York City from 1987

to 1990."

Those fans began flocking to

Bev's to soak in the sights and

work on their own physiques.

"The hardcore training

atmosphere was attractive to

competitive bodybuilders and

other devoted trainers, and the

gym quickly became the place

for those interested in the

competitive side of the sport,"

Weinberger notes. "We designed

the gymtobeaccommodating

for the committed lifter, with a

large number of training pieces

for every body part, and made

sure to be open every day

with long hours, because from

our own experience, we knew

that serious trainers hate to

miss workouts."

From very early on, pros

from the local area made their

way to Bev's. "Albert Beckles,

who was the Mr. Olympia runnerup

to Lee Haney in 1985, was a

good friend and was the first

big-name pro to be a regular in

the gym," Weinberger recalls.

"Early regulars also included

Mike Ashley and Jim Quinn."

Famous icons from other walks

of life joined as well. Tap dancer,

actor, and singer Gregory Hines

was a regular visitor and was

actually the very first member.

That growth continued in

1990, when the gym expanded

and was rebranded as Bev

Francis Gold's Gym. In 2005,

the club—at that point already

renowned—became Bev Francis

Powerhouse Gym. Now 30,000

square feet, it boasts a full range

of physique-sculpting equipment,

including five squat racks, seven

bench-press stations, IFBB-profriendly

dumbbell racks up to

220 pounds, and a regulationsize

boxing ring.

MROLYMPIA.COM 205
---
"Over the years, we broke

down walls and took extra

spaces until the gym grew into

its current size," Weinberger

says. "We have lots of equipment

and multiples of all pieces. We

chose a variety of pieces from

different companies because

PAVEL YTHJALL; COURTESY OF BEV FRANCIS POWERHOUSE GYM

Additional reporting by Matt Tuthill.

206 FLEX | JULY/AUG '17
---
COURTESY OF BEV FRANCIS POWERHOUSE G

LEFT TO RIGHT

David Henry spots

Kevin English; Big

Steve with Phil Heath,

Juan Morel, and Hany

Rambod; Bev and

Steve with Shawn

Rhoden and his FLEX

cover; the late Baito

Abbaspour reps

out leg extensions

at the Mecca.

opportunity to catch the world's

top amateur and pro bodybuilding

competitors in their natural

habitat, training all out in their

quest for competitive success.

The men and women athletes

who have walked through the

doors make up a who's who of the

physique realm, past and present.

Six-time Mr. Olympia champ

Dorian Yates would settle in for a

month before his title defenses.

Four-time Mr. O Jay Cutler has

heaved iron there, as has threetime

Arnold Classic champ Kai

Greene and 2007 Arnold Classic

winner Victor Martinez.

"So many great pros have

trained in our gym, like Lee

Haney, Flex Wheeler, Branch

Warren, Kevin Levrone, Rich

Gaspari, Sonny Schmidt, Adela

Garcia, Anja Langer, Davana

Medina, Iris Kyle, Cory Everson,

and Rachel McLish," Weinberger

recounts. "More recent

competitors visiting the gym

include Dexter Jackson, Phil

Heath, Evan Centopani, Marco

Rivera, Roelly Winklaar, Jon

Delarosa, Hidetada Yamagishi,

Guy Cisternino, Flex Lewis, Tara

Scotti, Mark Anthony Wingson,

Latorya Watts, Camala Rodriguez-

McClure, Candice Greene, Swann

Delarosa, India Paulino, and

Jennifer Hernandez.

"We are also proud to be the

home gym for an elite group of

competitors, including Kevin

English—who is our morning gym

manager—and Juan Morel, Maxx

Charles, Arash Rahbar, Sadik

Hadzovic, Matt Acton, Angelica

Teixeira, and Juliana Malacarne."

Even WWE Superstars Dwayne

"The Rock" Johnson or Paul

"Triple H" Levesque have stopped

in to lift, as well as a number of

players from the ranks of the

NFL, NBA, and NHL. At any time,

you could look up and find that

you're repping out a set of

dumbbell presses or barbell

squats alongside a superstar.

The drive to excel is palpable.

Visit and you're almost guaranteed

the workout of your life. Once, a

workout of eight-time Mr. Olympia

Ronnie Coleman busted right

through the front doors of the

place, as he took a pair of

125-pound dumbbells into the

parking lot for his famous leg-day

finisher, the walking lunge. The

mighty Texan strode 100 yards to

the street and back without a

pause, as Weinberger recalls.

MROLYMPIA.COM 207
---
NEW YORK PRO

Victor Martinez (2nd)

and Juan Morel (1st)

from 2015. Winners

Sadik Hadzovic

(physique), Jose

Raymond (212),

Yeshaira Robles

(bikini), Juliana

Malacarne (physique),

Candice Keene

(figure), and Mamdouh

Elssbiay from 2013.

AN IRON BOND

With such feats of strength a

common sight at Bev's, those

among us of more standard

might and build might walk in

with a sense of trepidation.

Yet, as Weinberger is quick

to point out, those who

frequent Bev's create a

communal ambiance, not an

inhospitable one.

"No one's here to be

social," he once admitted to

Muscle & Fitness during

an interview about Bev's.

"But everyone's friendly, and

everyone helps one another

out. Bev always gave help to

anyone who needed it, and

that same spirit has lasted

through the years."

PER BERNAL; ISAAC HINDS

208 FLEX | JULY/AUG '17
---
Boosting T and

GH levels can

be as easy as

tweaking your

workout, diet,

and supps.

UNLOCK

YOUR

POTENTIAL

FEELING WEAKER AND LESS ENERGIZED

THAN YOU USED TO? TRY THIS

THREE-PRONGED ATTACK TO UNLOCK

YOUR BODY'S FULL POTENTIAL.

BY STEVE DOWNS, C.S.C.S.

YOU CAN'T ESCAPE IT:

You're getting older. In fact,

age-related hormonal decline can

begin as early as age 25 and

accelerate dramatically in your

30s and beyond. After 30,

studies show, male testosterone

drops 2–3% per year, and

growth hormone (GH) production

plummets 14% per decade—both of

which can promote weight gain,

leave you feeling sluggish and

weak, and do a number on your

sex drive. But there are factors

you can control. Boosting

hormone levels is easier—and

more effective—than you'd think

with this step-by-step primer.

NO. 1 TRAIN SAVVIER

Intense workouts involving large

muscle groups, heavy resistance,

and minimum rest between

sets are the best prescription

for testosterone production.

Cap each session at about 45

minutes and use this as your guide:

ERIK ISAKSON/BLEND IMAGES/OFFSET

210 FLEX | JULY/AUG '17
---
TO TARGET T LEVELS:

Choose one to two compound movements—

squats, deadlifts, bentover rows, bench

presses—per workout. Aim for four to six

sets of three to six reps using only one to

two major exercises daily.

TO TARGET T AND GH LEVELS:

Do two to three sets of multijoint moves,

such as dumbbell presses, cable rows, and

leg presses, but increase reps to eight to 10.

TO TARGET GH RELEASE:

Use higher volume and less rest between

sets; finish with 10 to 12 reps of one

to two single-joint moves. Take every

set to failure; let the rep range determine

resistance.

NO. 2 EAT BETTER

Oysters and fatty fish like

salmon and tuna can increase

testosterone release. Onions

and garlic trigger the release

of luteinizing hormone. The

cholesterol content in eggs

provides the building blocks of

testosterone. And cruciferous

veggies like broccoli are rich in

indoles, which help

break down and flush

out excess estrogen.

To increase GH, lean

beef is a great source

of the amino acids

ornithine, arginine, and

glutamine, which

are critical to GH

production and can

raise serum levels in as

few as 30 minutes.

Poultry and fish also

trigger GH release and

help reduce the dietary

fat that lowers growth

hormone levels. Fruits

like raspberries and

pineapple are

rich in melatonin

and serotonin,

respectively, both

GH boosters.

Finally, nuts,

seeds, and whole

grains contain high

levels of GABA,

which stimulates

GH release from

the pituitary gland.

MONDAY

TUESDAY

WEDNESDAY

THURSDAY

FRIDAY

SATURDAY

& SUNDAY

NO. 3 SUPP SMARTER

Although GH injections and topical

testosterone creams can be

obtained with a doctor's

prescription, upping your hormone

levels can be as simple as a quick

trip to your local Walgreens.

A rare few nutritional

supplements have been shown by

science to have a dramatic effect

on both testosterone and GH

production without serious side

effects. One of those is TestroVax,

which contains clinically

researched ingredients that

promote testosterone production,

minimize conversion to aromatase,

and reduce catabolic cortisol

levels. In a breakthrough clinical

trial, subjects who supplemented

with the functional compound in

TestroVax experienced a 42.1%

increase in serum test levels in

only 12 days.

To increase growth hormone

levels naturally, there's Growth

Factor-9, the

only supplement

clinically tested to

help increase your

serum GH by a

massive 682%.

For best results,

supplement with

both Novex Biotech products

simultaneously. Evidence shows

that the effects of testosterone

may even depend on the presence

of GH. For example, in a 2011 study

on men with testosterone and

HGH deficiency, the combined use

of testosterone and HGH therapy

stimulated muscle protein by

reducing catabolic breakdown

and oxidation.

To increase your body's natural

production of testosterone and

growth hormone, the combination

of TestroVax and Growth Factor-9

is the smart place to start. Take

TestroVax with breakfast each

morning, and Growth Factor-9

on an empty stomach at bedtime.

It's a combination that'll get you

bigger and stronger muscles,

lower body fat, and increase

your sex drive.

WHERE TO BUY:

OFFSET

MROLYMPIA.COM 211
---
LAST SET

JUDGE'S TABLE

BY MICHAEL BERG

ROUND. DO YOU

SCORE EACH ROUND

IN A CONTEST WITH

DIFFERENT CRITERIA,

OR ARE JUDGES

MEASURING

THE SAME OVERALL

BODYBUILDING

QUALITIES IN BOTH?

KNOW

THE

SCORE

HERE'S WHAT JUDGES

LOOK FOR IN EACH ROUND OF

A BODYBUILDING SHOW

I'VE HEARD

BODYBUILDING

CONTEST

ROUNDS IN

THE PAST REFERRED

TO AS THE "SYMMETRY"

ROUND AND

"MUSCULARITY"

The body is judged

in terms of muscularity

and symmetry (for

example, balance) in

every round. The

perfect bodybuilder

should have very large,

full-bellied muscles

proportionately

developed in all areas—

the upper and lower

body, right and left

sides, and front and

rear. There should

be deep, clean

separation between

the individual muscles,

and smaller lines, or

striations, across the

muscle belly itself.

Body-fat levels

should be at a

minimum, but still the

muscle itself should be

full and round. The skin

is key as well and

should be tight and

smooth with a light

sheen that emphasizes

the dark tan.

Also judged are all

movements and poses,

which should be

done with confidence

and apparent ease.

Poses are hit hard

and held with a smile.

The whole body is

involved in the pose,

and every muscle

group is flexed fully

and evenly developed.

Competitors are

judged with all these

things in mind while they

do the mandatory

poses, during their

quarter turns, and even

when they are standing

on the stage in between

comparisons. The

judges are looking for

the most "complete"

bodybuilder on that day,

no matter the round.

PER BERNAL

212 FLEX | JULY/AUG '17
---
THE SECRET TO BOOSTING

PERFORMANCE AT ANY AGE?

The secret could be as simple as boosting one

of your body's most important hormones. No,

not testosterone. You know testosterone levels

decline with age, and you know the toll it can

take both on the way your body looks and on your

ability to perform. But testosterone is just one part

of the equation, and if that's been your only focus

in your attempt to get your game back and boost

your performance to the levels you want, you

could be missing one critical piece: human growth

hormone.

Human growth hormone (hGH) has been

associated with:

PHYSICAL PERFORMANCE

MUSCLE MASS

RECOVERY

ENERGY

ENDURANCE

SEX DRIVE

REDUCED BODY FAT

Some experts believe hGH is critical to keeping us

youthful and performing at our peak. The problem

is that — just like testosterone — our body's

natural production of hGH begins a free fall that

can start as early as our mid-20s.

" Take Growth Factor-9

before bed on an empty

stomach. Combined with

regular workouts, it can

help turn your body into a

GH-making machine. † "

- Men's Fitness

Growth Factor-9 is protected by U.S. Patent Numbers 8,551,542; 8,715,752; 8,722,114;

8,734,864; 8,747,921; 8,747,922; 8,765,195; 8,808,763; 8,808,764; 8,815,311;

9,066,953; 9,198,889; 9,238,023; 9,339,490; and Canadian Patent Number: 2840809.

†

Read the entire label before use. ‡ Free standard shipping in the continental U.S.A.

only. All trademarks are the property of their respective owners. Individual results will

vary. ©2017 All Rights Reserved. BR16532-6

*These statements have not been evaluated by the Food and Drug Administration.

This product is not intended to diagnose, treat, cure, or prevent any disease.

GROWTH HORMONE ACTIVITY

GROWTH HORMONE DECLINE

0 10 20 30 40 50 60 70 80 90 100 110

AGE (IN YEARS)

SO WHAT CAN YOU DO?

You could drop some serious cash on

controversial, synthetic hGH injections, even

though some experts warn against them because

of concerns that introducing synthetic hGH into

the body may upset your natural production of

growth hormone.

HGH (% CHANGE)

GF9 STIMULATES NATURAL HGH *

600

400

200

Mean Increase

of 682% in Serum

(Blood) Levels

0 20 40 60 80 100 120

TIME (IN MIN.)

Growth Factor-9, or GF9, is an oral compound

clinically validated to increase the body's own,

natural production of hGH by a mean of 682%.*

" Finally a GH product with

impressive research and

clinical trials.

" -Men's Fitness

Or you could raise your hGH levels naturally with

Growth Factor-9 (GF9).

Rather than introducing synthetic growth

hormone, GF9 works by nourishing the pituitary

gland — where hGH is manufactured in the body

— encouraging it to produce growth hormone at

more youthful levels.*

You need to know, however, that the "established"

medical community (and of course, they know

everything) would say that the benefi ts of human

growth hormone are largely anecdotal, with

research that's preliminary. But there's no denying

that something that may boost your performance,

increase lean muscle mass, decrease body

fat, and enhance your energy and libido is an

investment worth making.

WE NEVER SETTLE AND YOU

SHOULDN'T EITHER

With our line of innovative, time-tested, researchdriven

products, Novex Biotech is hands down

the single most trusted source of body-optimizing

solutions and unsurpassed results for exercise

and enhanced performance. Our formulations can

give you the edge you need in the boardroom, in

the bedroom, in the weight room… everywhere.

We didn't settle on the development and science.

You shouldn't settle for anything less than

Novex Biotech. Never Settle

Get all the facts and see the

research at GrowthFactor9.com.

Available at GNC, BodyBuilding.com,

The Vitamin Shoppe, Walgreens,

or direct from the manufacturer

at GrowthFactor9.com or call

1-800-919-8948. A full 30-day

supply costs about $99. Use promo

code SECRET12 for free shipping! ‡

B ODYBUILDING.COM
---
LAST SET

JUDGE'S TABLE

I'D LIKE

TO DO MY

FIRST BIKINI

COMPETITION

AND I'M WONDERING,

WOULD YOU

RECOMMEND A POSING

COACH? IF SO,

HOW WOULD I GO

ABOUT FINDING

ONE IN MY AREA?

When preparing for

your first show, I

recommend first going

and watching a couple

of local shows to see

how they're organized.

This will also give you an

idea of the quality of

athletes you will be

competing against, as

well as their overall look

with regard to suit, hair,

makeup, tanning, and

other points.

Next, I would go

to the NPC website,

npcnewsonline.com,

where you'll get up-todate

information on the

organization, events in

your area, and all the

rules and regulations

for each division.

Additionally, many of the

top NPC and IFBB Pro

League competitors

have posted videos

that supply athletes

with an abundance

of information on

competition, including

preparing for your first

contest, nutritional

guidance, posing

instructions, and

training techniques.

In addition to doing

that homework, practice

posing and have

someone videotape

your practices so you

can view and compare

them to others. As you

get closer to your show,

I would suggest

practicing in your

competition suit with

heels on so you're able

to see how wearing

heels affects your

posing—it's much more

difficult than most

athletes initially

assume—and how the

suit moves with you

while posing. If the suit

rides up or otherwise

shifts, you'll know ahead

of time so you can fix it

with an adhesive.

If you think you

would feel more

comfortable with a

posing coach, contact

the NPC district

chairman in your area

for recommendations

or try the NPC's

Facebook page, where

you can reach out to

other NPC athletes for

suggestions.

PER BERNAL

214 FLEX | JULY/AUG '17
---
MRI-PERFORMANCE.COM

NEW!

NEW LOOK AND ENHANCED FORMULA!

The original NO2 that leads the way in nitric oxide formulation,

just took another leap forward!

• 3 Grams of Arginine

• Sustains Peak Power & Delays onset of Muscle Fatigue*

• With Clinically Tested Ingredients

* These statements have not been evaluated

by the Food and Drug Administration. This

product is not intended to diagnose, treat,

cure or prevent any disease.

© 2017 Medical Research Institute LLC
---
LAST SET

HARD TIMES

HARD

TIMES

NEWS, VIEWS,

AND IDLE GOSSIP

AS I WAS SAYING...

The original Hard Times column

I wrote for FLEX debuted in 1993.

In those days, you couldn't get

bodybuilding news from any other

source. The last article I wrote

for FLEX was in 2008. Surely

there's never been a decade of

activity and overall growth like

what we've experienced since

then. Back in 2008, the following

divisions did not exist: men's

physique, women's physique,

classic bodybuilding, and bikini.

Back then, social media was

not the driving force and hungry

anything-goes beast it has

become. Ben and Joe Weider

have both passed, and Big Ramy

was not so Big Ramy. Anyway,

with this debut column (and they

say there are no second acts...),

as Dorian Yates' lats say, "It's

good to be back."

KUWAIT AND SEE

The above headline is becoming more

and more relevant as bodybuilders

working out of the now world-famous

Oxygen Gym in Kuwait emerge with

exceptional improvement. The gym is

owned by Bader Boodai, who loves

bodybuilding. Big Ramy is the biggest

(in every way) name to represent the

gym, and in 2016 Ahmad Ashkanani, in his

rookie year, stormed to second place at

the 212 Olympia and in March won Arnold

Classic 212 honors to establish himself

as Flex Lewis' biggest obstacle to taking

a sixth Olympia title.

But it's not just homegrown Oxygen

members who are making waves. Many

top bodybuilders from elsewhere are

basing themselves there and coming away

The January

2008 issue

of FLEX

with great results. We're talking the

likes of Akim Williams, Roelly Winklaar,

William Bonac, Nathan De Asha, Jon

Delarosa, Victor Martinez, and, maybe

the one who showed the most

improvement, Brandon Curry. Weighing

220 pounds, Curry was 11th at the Kuwaiti

Pro on Sept. 29 last year. In December

he went to Oxygen Gym, stationed himself

there for three months, and returned to

action in March at the New Zealand Pro

and swept to a straight first victory,

tipping the scales at 246 pounds—that's

an increase of 26 pounds of quality

muscle in three months.

Of course there's a lot of needling

talk about how Oxygen Gym is enabling

bodybuilders to reinvent themselves.

The truth is that the gym is a genuine boot

camp in which the trainees work to a

strict schedule of eating, training, and

sleeping, with no distractions. There

are no women in the massive gym and

no social life of consequence. Also,

each bodybuilder is assigned a trainer

who makes Sgt. Maj. Leroy Davis (Dorian

Yates' old training partner) seem like

Mary Poppins. There is no magic water

out there; it's a case of trainees focusing

totally on bodybuilding and peaking

for a contest and nothing else. Boodai

and Oxygen Gym prove that the three

most powerful drugs in bodybuilding are

eat, train, and sleep.

PER BERNAL

216 FLEX | JULY/AUG '17
---
BY PETER MCGOUGH

NO COUNTRY FOR OLD MEN

The above film title could apply

to Kevin Levrone's 2016 comeback,

when the 52-year-old, after being

out of competition for 14 years,

made a comeback and finished

dead last at the Olympia. He cited

injuries hampering his training and

says he will compete again in

much better shape in 2017. This

year Flex Wheeler will compete

again, having been given a special

invitation to the classic physique

finals at the Olympia Weekend. It

will be interesting to see how the

Sultan of Symmetry, now 52,

fares after 13 years away from

the action.

The truth is, bodybuilding is

a sport in which physical decline

is clearly evident. Donned only

in trunks, you're going to look

different at 50 than you did at

Kevin Levrone (left)

and Flex Wheeler at

the 2000 Mr. Olympia

30—unless your name is Dexter

Jackson or, conversely, Peter

McGough. Veterans in other

sports are not so exposed (no

pun intended). Tennis greats like

John McEnroe and Björn Borg

(both in their late '50s) can still

play an entertaining few sets

without prompting cries of "They

should never have come back!"

Bodybuilding is different in that

skin tone starts to sag and legs are

the first major body part to fade

away. When the Masters Olympia

was launched in 1994, it seemed a

very good idea to have the legends

return. But it was sad to see the

likes of Casey Viator and Greg

DeFerro exhibiting physiques that

were a shadow of their heyday's.

To comeback or not comeback

is a question for the ages.

In 2016 the IFBB Pro League

launched the classic physique

division, and to be honest the

news disappointed me. In this age

of mass overpowering aesthetics,

to me it was code for saying, "OK,

if your preference is shape and

lines, here's the classic physique

division—the open class is now

for outright freaks." But as the

classic division took hold it was

refreshing to see the kind of

entrant it was attracting. The

quality has been absolutely first

rate, with veteran Danny Hester

claiming the classic physique title

at the 2016 Olympia Weekend, and

guys like Darrem Charles and Stan

McQuay coming out of retirement

to compete. Other standouts

are Lee Banks, Chris Bumstead,

Derek Farnsworth, George

Peterson, and Terrence Ruffin.

A barometer of the growth of

this division is that at last May's

New York Pro there were 14

entrants in the open division and

29 in the classic division. So it

seems my disappointment of early

2016 was as misplaced as Bill

O'Reilly opening a charm school

for genteel young ladies. Who

knows, maybe the classic division

will become the most popular

class? An old man can dream, can't

he? Boy, can I dream…ask my

psychiatrist.

FROM LEFT: SAMANTHA LUND; PER BERNAL

MROLYMPIA.COM 217
---
LAST SET

CONTEST ROUNDUP

2017 IFBB

PITTSBURGH

PRO

MAY

6

PITTSBURGH, PA

1. Raymont

Edmonds*

CLASSIC PHYSIQUE

1. Chris Bumstead*

2. Divine Wilson

3. Lee Banks

218 FLEX | JULY/AUG '17
---
*Qualified for

2017 Olympia Weekend.

1. Andrea

Pollard*

AMIR MARANDI

BIKINI

1. Michelle Sylvia*

2. Casey Samsel

3. Carolina Araujo

MROLYMPIA.COM 219
---
READERS MARKET
---
READERS MARKET

WARNING

ANYTHING STRONGER

IS ILLEGAL!!

After just one 4-week cycle, most users

understand why STERODROL ® has become one

of THE MOST POPULAR LEGAL ANABOLICS

AVAILABLE. STERODROL ® contains actual

compounds to help support the hormones that

trigger anabolism- the process by which

muscle is produced. STERODROL ® can be

especially effective during a Mass Building

Cycle where your diet and a training regimen is

focused on ATTAINING MAXIMUM SIZE AND

STRENGTH. With STERODROL ® , Fast Solid

Gains are finally a reality. STERODROL ® can be

used alone or stacked with just about anything.

STERODROL ® truly is THE REAL DEAL.

We are so confident that STERODROL

will finally give you the results you are looking for;

we back it with an ironclad

MONEY BACK GUARANTEE.

ORDER NOW!! 1 BOTTLE $79.95

OR BUY 2 GET 1 FREE $159.90

SPECIAL OFFER!!

BUY 2 GET 1 FREE!!

086&20;7

Looking to Get Ripped and Swole?

Musco-MXT ® users get Average Musco NON

ripped and swole over Strength MXT ® USERS

twice as fast as non users: Total135.16 lbs OE

More Mass - 584% Muscle Musco NON

More Strength - 228.3% Av Size 7.10 in LQ

Less Fat - 139.7% Av Mass 5.84 lbsOEV

4 weeks $40Buy 2 Get 1 Free! Fat Loss %-1.39%

$10 off 1st order. Call 1-800-367-9599 or www.Musco-MXT.com

DIAL: 1-866-468-5842

www.pharmapro.net

FAST

SHIPPING!

CANADA - DIAL: 561-416-1300

WE SHIP WORLDWIDE

¡Hablanos Espanol!

Call for your FREE PRODUCT GUIDE

ARMY • NAVY

AIR FORCE

MARINES

We ship to

all APO/FPO

addresses
---
LAST SET

POSEDOWN

MCCARVER VS.

SCHLIERKAMP

FIFTEEN YEARS AGO, GÜNTER MANIA RAGED.

COULD MCCARVER MANIA BE NEXT?

SOMETIMES, it's not how

much you win, it's who you beat.

At only 26 and in only his third pro

year, Dallas McCarver has already

won twice as many pro titles as

Günter Schlierkamp totaled in his

13-year, 39-contest career. And

yet the German giant's single

victory is the greatest upset in

bodybuilding history. Fifteen

years ago, two weeks after

finishing fifth in the 2002 Mr.

Olympia, where many enthusiastic

converts felt he deserved first,

Schlierkamp bested reigning Mr. O

Ronnie Coleman. And Günter mania

was born. Most remarkably, that

earthquake-inducing victory was

Schlierkamp's 31st show in his ninth

year, and he was 32. That places a

different context on McCarver's

current year, when many have

criticized him, despite seconds in

two shows, for failing to inspire

mania. Relax, we're still in the

initial chapters of what could be a

very long tale.

MCCARVER

SCHLIERKAMP

HEIGHT

WEIGHT

AGE 1ST

PRO WIN

PRO

YEARS

3

PRO

CONTESTS

7

PRO WINS

2

HEIGHT

WEIGHT

AGE 1ST

PRO WIN

PRO

YEARS

PRO

CONTESTS

PRO WINS

1

PER BERNAL; CHRIS LUND

222 FLEX | JULY/AUG '17
---
BY GREG MERRITT

STRENGTHS

WEAKNESSES

BEST POSE

WORST POSE

STRENGTHS

WEAKNESSES

BEST POSE

WORST POSE

PER BERNAL; CHRIS LUND

Flex (ISSN 8750-8915), Vol. 34, No.7, is published monthly except for a combined July/August issue, which counts as two of twelve in an annual subscription by Weider Publications, LLC, a division

of American Media, Inc. 4 New York Plaza, 2nd Fl, New York, NY 10004. Periodical Rates Postage Paid at the New York, NY Post Office and at additional Mailing offices. Copyright © Weider

Publications, LLC, 2017. All rights reserved. Canada Post International Publications Mail Sale Agreement No. 40028566. Canadian B.N. 88746 5102 RT0001. All accepted materials submitted

without restrictions become the sole property of Weider Publications, LLC, and shall constitute a grant to Weider Publications, LLC, to use name, likeness, story, and all other information submitted

of the person submitting the same for any and all purposes and cannot be used without permission in writing from Weider Publications, LLC. Flex is not responsible for returning unsolicited

manuscripts, photographs, letters, or other materials. Weider Publications, LLC, and American Media, publisher of Flex, does not promote or endorse any of the products or services advertised by

third-party advertisers in this publication. Nor does Weider Publications, LLC, or American Media, Inc., verify the accuracy of any claims made in conjunction with such advertisements. Copyrighted

under the Universal Copyright Convention and International Copyright Convention. Copyright reserved under the Pan-American Copyright Convention. Todos derechos reservados segúin la

convención Pan Americana de Propriedad Literaria Artística. Title trademark registered in U.S. Patent and Trademark Office. Subscription rate is $42.97 for (1 yr) 12 issues in U.S.A. In Canada (1 yr)

12 issues $59.97. Outside of U.S.A. and Canada (1 yr) $91.97 U.S. Orders outside of U.S.A. must be prepaid in U.S. funds. For Customer Service and Back issues call toll-free (800) 340-8959 or write

to: Flex, P.O. Box 37207, Boone, IA, 50037-0207. SUBSCRIBERS: If the postal service alerts us that your magazine is undeliverable, we have no further obligation unless we receive a corrected address

within one year. U.S. POSTMASTER: Send all UAA to CFS (See DMM 507.1.5.2); NON-POSTAL and MILITARY FACILITIES send U.S. Address changes to: Flex, P.O. Box 37207, Boone, IA 50037-0207.

CANADA POSTMASTER: Send address changes to American Media, Inc., PO Box 907 STN Main, Markham, ON L3P 0A7, Canada. From time to time we make our subscriber list available to companies

that sell goods and services by mail that we believe would interest our readers. If you would rather not receive such mailings, please send your current mailing label to: Flex, P.O. Box 37207, Boone,

IA 50037-0207. Reprinted by special agreement in Australia, United Kingdom, France, Canada, Holland, Italy, Greece, Romania, Russia, Spain, Germany, and Bulgaria. Printed in the U.S.A.

MROLYMPIA.COM 223
---
THE SHOT

KEVIN HORTON

A DAY TO

REMEMBER