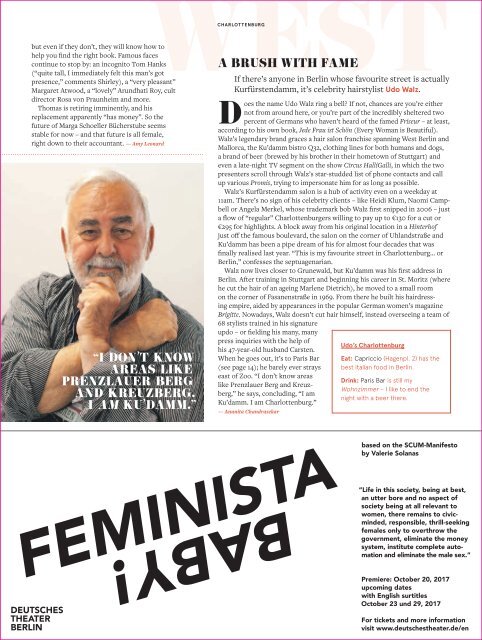 EXBERLINER Issue 164, October 2017
Do you know the secret to free website traffic?
Use this trick to increase the number of new potential customers.
CHARLOTTENBURG

but even if they don't, they will know how to

help you find the right book. Famous faces

continue to stop by: an incognito Tom Hanks

("quite tall, I immediately felt this man's got

presence," comments Shirley), a "very pleasant"

Margaret Atwood, a "lovely" Arundhati Roy, cult

director Rosa von Praunheim and more.

Thomas is retiring imminently, and his

replacement apparently "has money". So the

future of Marga Schoeller Bücherstube seems

stable for now – and that future is all female,

right down to their accountant. — Amy Leonard

"I DON''T KNOW

AREAS LIKE

PRENZLAUER BERG

AND KREUZBERG.

I 'AM' KU'DAMM.'"

A BRUSH WITH FAME

If there's anyone in Berlin whose favourite street is actually

Kurfürstendamm, it's celebrity hairstylist Udo Walz.

Does the name Udo Walz ring a bell? If not, chances are you're either

not from around here, or you're part of the incredibly sheltered two

percent of Germans who haven't heard of the famed Friseur – at least,

according to his own book, Jede Frau ist Schön (Every Woman is Beautiful).

Walz's legendary brand graces a hair salon franchise spanning West Berlin and

Mallorca, the Ku'damm bistro Q32, clothing lines for both humans and dogs,

a brand of beer (brewed by his brother in their hometown of Stuttgart) and

even a late-night TV segment on the show Circus HalliGalli, in which the two

presenters scroll through Walz's star-studded list of phone contacts and call

up various Promis, trying to impersonate him for as long as possible.

Walz's Kurfürstendamm salon is a hub of activity even on a weekday at

11am. There's no sign of his celebrity clients – like Heidi Klum, Naomi Campbell

or Angela Merkel, whose trademark bob Walz first snipped in 2006 – just

a flow of "regular" Charlottenburgers willing to pay up to €130 for a cut or

€295 for highlights. A block away from his original location in a Hinterhof

just off the famous boulevard, the salon on the corner of Uhlandstraße and

Ku'damm has been a pipe dream of his for almost four decades that was

finally realised last year. "This is my favourite street in Charlottenburg… or

Berlin," confesses the septuagenarian.

Walz now lives closer to Grunewald, but Ku'damm was his first address in

Berlin. After training in Stuttgart and beginning his career in St. Moritz (where

he cut the hair of an ageing Marlene Dietrich), he moved to a small room

on the corner of Fasanenstraße in 1969. From there he built his hairdressing

empire, aided by appearances in the popular German women's magazine

Brigitte. Nowadays, Walz doesn't cut hair himself, instead overseeing a team of

68 stylists trained in his signature

updo – or fielding his many, many

press inquiries with the help of

his 47-year-old husband Carsten.

When he goes out, it's to Paris Bar

(see page 14); he barely ever strays

east of Zoo. "I don't know areas

like Prenzlauer Berg and Kreuzberg,"

he says, concluding, "I am

Ku'damm. I am Charlottenburg."

— Anunita Chandrasekar

Udo's Charlottenburg

Eat: Capriccio (Hagenpl. 2) has the

best Italian food in Berlin.

Drink: Paris Bar is still my

Wohnzimmer – I like to end the

night with a beer there.

BABY! BABY!

FEMINISTA

OCTOBER 2017

based on the SCUM-Manifesto

by Valerie Solanas

"Life in this society, being at best,

an utter bore and no aspect of

society being at all relevant to

women, there remains to civic-

minded, responsible, thrill-seeking

females only to overthrow the

government, eliminate the money

system, institute complete automation

and eliminate the male sex."

Premiere: October 20, 2017

upcoming dates

with English surtitles

October 23 und 29, 2017

For tickets and more information9

visit www.deutschestheater.de/en