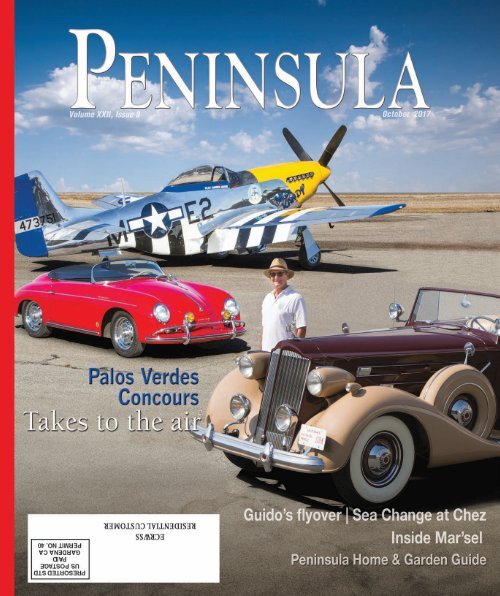 Peninsula People Oct 2017
You also want an ePaper? Increase the reach of your titles
YUMPU automatically turns print PDFs into web optimized ePapers that Google loves.
2 Peninsula • October 2017
---
October 2017 • Peninsula 3
---
PENINSULA

Volume XXII, Issue 3

October 2017

P A L O S V E R D E S P E N I N S U L A M O N T H L Y

ON THE COVER

Photograph by Stephan Cooper/

Stephan Cooper Productions

Palos Verdes Concours d'Elegance

chairperson Ray Johnson

1944 North American P-51 Mustang D

owned by Darren Moore

1958 Porsche Speedster

owned by Adam Guggenheim

1937 V12 Packard Convertible

Sedan owned by the

Automotive Driving Museum

PROFILES

18

26

32

42

66

Concours lifts off

by Esther Kang The Palos Verdes Concours d'Elegance

finds a new home at Zamperini Field to accommodate the addition

of vintage aircraft to the show.

Friendly skies

by David Mendez Vintage airplane and vintage car car

Guido Rietdyk insists his enthusiasm for flying and racing cars

comes from the camaraderie, not the adrenaline rush.

Sea Change at Chez Melange

by Richard Foss The storied Chez Melange puts itself back

at the forefront of the culinary wars with a new name and a new

menu for a new generation of dinners.

Flat out beautiful view

by Stephanie Cartozian Rolling Hills Mayor Jim Black and

wife Karen insist their favorite part of the French Provincial

style ranch home they built on 5.5 acres is the view.

Girl in the High Castle

by Bondo Wyszpolski Geanna Culbertson completes her

4th novel in the young adult Crisanta Knight fairy tale series.

70 Mar'sel without the view

by Richard Foss Despite its celebrated view Mar'sel at

Terranea might best be appreciated in the bar, where the food

can be enjoyed without the distraction of the Pacific Ocean.

HIGHLIGHTS

8 PTN Camp Escapades

12 Plein air Vanderlip

14 Under the Stars with Kenny G

24 Celebrating a giving heritage

36 Encore Circle

40 Freedom4You Freedom Breeze

74 MCHA meeting

DEPARTMENTS

49 Peninsula calendar

74 Around and about

76 Home and Garden

81 Home services

STAFF

EDITOR

Kevin Cody

PUBLISHER

Stephanie Cartozian

PUBLISHER EMERITUS

Mary Jane Schoenheider

ASSOCIATE PUBLISHER

Richard Budman

DISPLAY SALES

Tamar Gillotti,

Amy Berg,

Shelley Crawford

CLASSIFIEDS

Teri Marin

ADVERTISING

DIRECTOR

Richard Budman

ADVERTISING

COORDINATOR

Teri Marin

GRAPHIC DESIGNER

Tim Teebken

FRONT DESK

Judy Rae

DIRECTOR OF

DIGITAL MEDIA

Daniel Sofer (Hermosawave.net)

CONTACT

MAILING ADDRESS

P.O. Box 745

Hermosa Beach, CA

90254-0745

PHONE

(310) 372-4611

FAX

(424) 212-6780

WEBSITE

www.easyreadernews.com

EDITORIAL

PenPeople@

easyreadernews.com

ADVERTISING

(310) 372-4611

displayads@

easyreadernews.com

Please see the Classified Ad

Section for info.

FICTITIOUS NAME

STATEMENTS (DBA'S)

can be filed at the

office during regular

business hours.

(310) 372-4611

Peninsula is a supplemental

publication of Easy Reader, 2200

Pacific Cst. Hwy. #101, PO Box 427,

Hermosa Beach, CA. 90254-0427.

SUBSCRIPTIONS

Yearly domestic mail subscriptions

to Peninsula are $80, foreign $100

payable in advance. The entire

contents of Peninsula are copyrighted

2017 by Peninsula People,

Inc.

6 Peninsula • October 2017
---
Nathan Darling
---
S P O T L I G H T O N T H E H I L L

Coach Luke at Camp Esplanade

Support Pediatric Therapy Network

PTN spokesperson and Lakers coach Luke Walton organized a game

of basketball for kids at Camp Escapades, an innovative summer day

camp for children with developmental concerns and their siblings. The

camp is hosted by Rolling Hills Country Day School every August.

Campers enjoy a traditional summer camp experience with crafts, music,

dance and sports. The camp is staffed by pediatric occupational, physical

and speech therapists, educators and one-on-one teen volunteers who are

the campers' buddies for the week. Torrance Mayor Pat Furey, Assemblymember

Al Muratsuchi and Martin Serna, Fire Chief of Torrance were

among the volunteers.

1

PHOTOS BY TONY LABRUNO

1. Torrance Police Department.

2. Los Angeles Laker Girls.

3. Camp Escapades Purple Penguins.

4. Redondo Beach Police Chief Keith

Kaufman with the Camp Escapades

Yellow Ducks.

5. Founder and CEO of Pediatric Therapy

Network Terri Nishimura, LA Laker

coach Luke Walton, PTN staffer and

scorekeeper Paul Valenzuela, PTN Junior

Ambassador and referee Daniel

Lowe and Torrance Mayor and referee

Pat Furey.

6. Los Angeles Laker Girls.

7. Campers from Camp Escapades

and Country Day Camp line up for the

start of the game.

8. Camp Escapades Orange Octopus

Isaac receives high fives as he runs

onto the court.

9. Stephanie Walton of The TJX Companies

goes up for the jump ball

against Luke Walton and a Camp Escapades

Orange Octopus.

10. Los Angeles Kings mascot Bailey.

11. Redondo Beach Police Officer

Michael Vantrimpont helps a Camp Escapades

Yellow Duck to the basket.

12. Camp Escapes staff and volunteers

(left to right) Paul Valenzuela

(PTN staff member), Torrance Mayor

Pat Furey, Teri Nelson Carpenter (Vistas

for Children), Assemblymember Al

Muratsuchi, Torrance Fire Chief Martin

Serna, PTN CEO Terri Nishimura,

Rolling Hills United Pastor Jonathan

Chute, Tracey Peffer (Las Candalistas),

Ellery Sanders (Fire Protection Specialist

for Torrance Fire Dept.), Karin

Baker (American Honda), Stephanie

Walton (TJX Companies), Brittany Barden

(Barden Electric), guest from TJX

Companies and Brent Geppert (Educational

Insights).

13. Luke Walton and Michael

Vantrimpont help a Camp Escapades

Red Robin make a basket.

14. Assemblymember Al Muratsuchi,

Camp Escapades Yellow Duck and

Jonathan Chute.

15. Game photo with players from

the Campers and Community Champions

teams, coaches, referees, spirit

leaders and scorekeeper.

2

3

4

5

6

8 Peninsula • October 2017
---
7

8 9

10

11 12

13

14 15

October 2017 • Peninsula 9
---
FINE HOMES AND LUXURY PROPERTIES

UNOBSTRUCTED

270 ° VIEW

GUARD

GATED

COMMUNITY

CROWNVIEW

RANCHO PALOS VERDES

7 Bedroom Suites, 8.5 Bathrooms, 7,587 sq ft Home, 34,950 sq ft Lot,

Breathtaking Unobstructed View from Ocean to Harbor, Custom Built Contemporary

Mansion on Top of Hill with $600,000 of Remodeling

OFFERED AT $4,250,000

www.3323Crownview.com

CHUCKWAGON ROAD

ROLLING HILLS

5 Bedrooms, 5.5 Bathrooms, 5,571 sq ft Home, 108,225 sq ft Lot

Single Level French Country Custom Home in Prestigious Rolling Hills

Sparkling City Lights View, Huge Master Suite with Office & Retreat

OFFERED AT $3,750,000

www.5ChuckwagonRd.com

QUIET

CUL-DE-SAC

S. REDONDO

BEACH

JEWEL

VIA LEON

PALOS VERDES ESTATES

4 Bedrooms, 3 Bathrooms, Recently Updated 3,884 sq ft Home, 16,012 sq ft Land

Luxurious Custom Home with Panoramic Ocean & Catalina Views

High Vaulted Ceilings, Wood Floors, Top Quality Kitchen & Bathrooms

OFFERED AT $$2,599,000

www.1560ViaLeon.com

SOUTH IRENA AVE

REDONDO BEACH

5 Bedrooms, 4 Bathrooms, 5,317 sq ft Home, 9,476 sq ft Lot

Lofty Mansion on a Large Corner Lot, Built in 2003, Huge Master Suite, Main Floor Bedroom

Center of Activities in S. Redondo Beach

OFFERED AT $2,599,000

www.425SouthIrena.com
---
BRING YOUR CONTRACTOR OR BUILDER

PALOS VERDES REALTY

LARGE FLAT

LOT

BRING

YOUR

CONTRACTOR

LAUREL DRIVE

RANCHO PALOS VERDES

1.21 Acre Gated Vacant Lot has Large, Flat Building Pad

Panoramic Catalina, Ocean & Endless Sunset Views!

Private & Secluded Location in Lunada Pointe, Rare Find Opportunity

OFFERED AT $3,500,000

CHUCKWAGON ROAD

ROLLING HILLS

5 Bedrooms, 3 Bathrooms, 2,877 sq ft Home, 100,583 sq ft Lot

Panoramic City Lights View Home with Private Driveway

One of the Lowest Price Houses in Prestigious Rolling Hills

OFFERED AT $1,995,000

www.6Chuckwagon.com

CUSTOM

LOT

AFFORDABLE

LAND COST

CHAPPARAL LANE

RANCHO PALOS VERDES

85,180 sq ft Lot, Permit Ready for a 5,959 sq ft Home

Rare Opportunity to Build Your Dream Home with

Sparkling City Views at the End of a Private Road

OFFERED AT $995,000 - $1,150,000

COLT ROAD

RANCHO PALOS VERDES

41,997 sq ft Mostly Flat Lot with Gated Driveway

Plans Approved for a 4,470 sq ft Contemporary Home with 5 Bedroom Suites

City Lights, Harbor & Mountain Views, Located in a Quiet Cul-De-Sac

OFFERED AT $675,000
---
S P O T L I G H T O N T H E H I L L

Plein Air Master Workshop

At Villa Narcissa

Katrina Vanderlip and Daniel Pinkham, longtime friends from Palos Verdes High

School, hosted an advanced painting week in August that coincided with the solar

eclipse. Vanderlip led tours of her family's historic estate, home of the late "Father of

Palos Verdes" and now of his descendents. The artists came from all over the world to

participate in this special event to paint and socialize at the magical villa. Lunch in the

garden and evening cocktails broke up the painting. Guests viewed the partial eclipse

from the "temple" located on the highest point on the property.

PHOTOS BY STEPHANIE CARTOZIAN

1

1. Visiting artists.

2. Katrina Vanderlip with one of her watercolors.

3. Dan Pinkham with guests.

4. Soup du jour served in abalone shells.

5. Katrina Vanderlip hosts lunch prepared by

Chef Catherine Carlson.

2

3

4 5

V ilicich

Watch & Clock

Established 1947

Celebrating

Our

70 th

Anniversary!

(310) 833-6891

714 S. Weymouth Avenue

San Pedro, CA 90732

Not affiliated with Rolex USA

12 Peninsula • October 2017
---
Stocking Dealer

South Bay's oldest lumber yard

• Trim

• Doors

• Siding

• Decking

• Lumber

• Windows

• Hardware

• Referrals

Free parking in our 6th Street lot

635 Pacific Coast Highway - Hermosa Beach

310-374-3406

Call Our Dexperts
---
S P O T L I G H T O N T H E H I L L

PHOTOS BY STEPHANIE CARTOZIAN

Kenny G under the stars

For Torrance Memorial and Vistas

Grammy Award-winning saxophonist Kenny G performed for the

sold-out Honda Evening Under the Stars Gourmet Food and Wine

Festival. Over 1,000 guests, including foodies, oenophiles, philanthropists,

doctors, Vistas for Children staff and Honda executives came together

to benefit Torrance Memorial Medical Center and Vistas for

Children. Honda hosted the evening in partnership with the Torrance

Area Chamber of Commerce. Guests enjoyed offerings from over 25

premier, local restaurants and more than 80 varietals of wine.

1. Steve Morikawa, Richard

Lundquist and Craig Leach (photo by

Deidre Davidson).

2. Anthony Chen MD, Craig and Judy

Leach, Jennifer Chen, Vimal Murthy

MD and Shalini Singh.

3. Anthony Chen MD, Jennifer Chen

and George So MD.

4. Steve Morikawa, Kenny G, Donna

Duperron and Pat Furey.

5. Cindy Percz and Laura Schenasi.

6. Renuka Rasiah, Virginia Arqueta,

Priscilla Hunt, Cora Ortez and Trinity

Foliente.

7. Ann Buxton and daughter Leslie

Dunnigan.

8. P.J. Merced, Philo and Raju

Chhabria.

9. Jerry Schwartz MD and Carina

Lapins.

10. Michael Shafer and son Spencer

Shafer.

11. Barbara Lurie and Mark Lurie

MD.

12. Ron and Kimberly Compton.

1

2 3

4 5 6

7

8

9

10

11 12

14 Peninsula • October 2017
---
Introducing 417 Paseo de la Playa, Redondo Beach

For full video visit chrisadlam.com

Chris Adlam

310.493.7216

www.chrisadlam.com
---
417 Paseo de la Playa, Redondo Beach $25,000,000

One-of-a-kind compound. Two exquisite homes on

2 parcels totaling over 60,000 square feet of beachfront property.

For full video, please visit chrisadlam.com
---
Chris Adlam

310.493.7216

www.chrisadlam.com
---
y Esther Kang

For the first time in its

two-decade history, the

Palos Verdes

Concours d'Elegance

will showcase vintage

aircraft alongside over

200 classic cars

Palos Verdes Concours d'Elegance chairperson Ray Johnson.

Photo by Stephan Cooper/Stephan Cooper Productions
---
"Luxury and Speed," the theme for this year's Palos Verdes Concours

d'Elegance, describes not just the Packards and Porsches

that are this year's marque automobiles. It describes the show's

inclusion, for the first time, rare, vintage aircraft, including a WWII P51D

Mustang Single-Seat Fighter, a 1930s Stearman PT-17 Kaydet Bi-Plane and

a Grumman F-14 Tomcat Fighter Aircraft.

To accommodate the aircraft, the concours will be held on the Robinson

Helicopters runway at Louis Zamperini Field, previously known as Torrance

Airport. In recent years, the concours has been held at Los Verdes

Golf Course and Trump National Golf Club in Rancho Palos Verdes.

"So you'll see what airplanes were doing and what the cars were doing

in the same timeframe," Palos Verdes Concours Chairman Ray Johnson

said. "It's going to be way more interesting, and we think it will broaden

the appeal. It will be a different kind of crowd than what we've had in the

past."

Johnson became involved with the Palos Verdes Concours d'Elegance

about 20 years ago through the Palos Verdes Rotary Club, which founded

the annual event but is no longer involved. He has served in nearly every

capacity, from volunteering on the field to serving on the exhibition committee.

The San Luis Obispo native and longtime Palos Verdes Estates resident

became the chairperson three years ago after retiring as Vice President of

Space Launch Operations for the Aerospace Corporation in El Segundo.

Johnson still owns the 1958 Triumph TR3A sports car he purchased for

$500 when he was 16.

The addition of aircraft resulted indirectly from last year's hiatus. In

2015, after eight years at Trump National Golf Club, the concours was

moved to the nearby Los Verdes Golf Club.

"Contrary to what a lot of people think, the move to Los Verdes had nothing

to do with politics," Johnson said. "The Trump club had landed a big

PGA tournament, and there was no way the PGA would accept cars being

on the fairways a month before the PGA tournament. Trump National told

us we couldn't hold it there — basically we were disembodied."

The Los Verdes location in a dense residential area severely limited parking.

So visitors were bussed in from the Peninsula Center. However, there

were an insufficient number of county-provided buses, resulting in long

queues and a long commute to and from the event. Attendance dropped

by over 1,000.

"So we decided we would take a year off," Johnson said. "There was an

architect on the board, and he kept using the expression, 'We need to

reimagine ourselves into a new kind of event, a new venue.'"

The reimagining exercise led the board to approach Peninsula resident

Kurt Robinson about hosting the event at his Robinson Helicopters facility

at Zamperini Field. Though not as scenic as a golf course, the new venue

will be much more accommodating for both exhibitors and spectators. The

flat, paved ground will make it easy to stage automobiles and airplanes

and the site has 1,500 parking spaces.

Because of its international reputation, there are no plans to change the

concours' name. The Classic Car Club of America includes the Palos Verdes

Concours d'Elegance on its very short list of national concours events. Still,

Johnson said, he and his staff are excited to expand the event to include all

of the South Bay, not just those on the Peninsula.

"Almost all local events now are broadening their scope to include the

greater South Bay area," he said.

This years' proceeds will be donated to the Boys and Girls Club of the

Los Angeles Harbor and the Western Museum of Flight, at Zamperini Field.

The museum will be open to concours visitors.

Johnson and his 10 fellow board members and 20 exhibition committee

members have not stopped "reimagining" their show. Johnson said the rising

demand for classic cars among affluent collectors in Asia and the Middle

East threatens to make the cars unaffordable for the younger generation

of auto enthusiasts.

"To generate new interest may require rethinking how we do the show.

But I think cars will always be a hobby. It's just a question of whether interest

grows or stays fairly status quo."

The Palos Verdes Concours d'Elegance takes place Oct. 1 from 10 a.m.

to 4 p.m. at the Louis Zamperini Field (Robinson Helicopters) in Torrance. Tickets

are available at pvconcours.org for $40 before Sept. 30 and $50 at the door.

The VIP Package, which includes parking, a catered luncheon, premier seating

and drinks, is $150. PEN

310.539.6685 310.884.1870

310.326.9528

866.BEYOND.5

310.534.9560

310.539.2993

310.530.3079

310.517.0324

310.326.8530

TORRANCE

TOWNE BEAUTY

CENTER

310.539.3526

310.997.1900

www.cflu.org

CUT * COLOR * STYLE

310.539.2191

310.326.3354

310.530.4888 310.534.0220

310.326.4477

310.530.0566

424.347.7188

310.325.2960 310.891.2237

310.530.8411

310.530.5443

310.517.9366

310.530.3268

310.539.1808

WineShoppe

310.539.1055

Northwest Corner of

Crenshaw Blvd. & Pacific Coast Hwy. in Torrance

~ For Information, Call 310.534.0411

A LA CAZE DEVELOPMENT COMPANY PROJECT

©

New Smiles Dentistry

Stephen P. Tassone, DDS

310.791.2041

October 2017 • Peninsula 19
---
S P O T L I G H T O N T H E H I L L

The Heritage Society

Celebrates giving

The Heritage Society, individuals who have

included Torrance Memorial with a future

gift in their estate plan or made a contribution

annually for 10 or more consecutive years,

were acknowledged at a luncheon at Palos

Verdes Golf Club. Infectious disease specialist

Jamie McKinnell, MD described Torrance

Memorial's cutting edge fight against antibiotic

resistance. President and CEO Craig

Leach thanked members for their generous

support and also shared news of Torrance

Memorial's recent Cedars-Sinai affiliation and

Melanie and Richard Lundquist's recent $32

million gift. For more information about the

Heritage Society please contact Sandy VandenBerge,

director of Planned Giving:

Sandy.Vandenberge@tmmc.com. Or visit torrancememorial.org/plannedgiving.

1

2

PHOTOS BY DEIDRE DAVIDSON

3 4

1. Sandy VandenBerge, John Vanhara and Marcela

Vanhara.

1. Sandy VandenBerge and Larry Maizlish and Judith

Maizlish.

3. Donna and John Prysi.

4. (Seated) Bill and Andrea Gargaro and (standing)

Sam Josephson, Sally Eberhard and Sallie Josephson.

5. Craig Leach, Phyllis Scribe, Pamela Crane, Lois

and Dick Winters.

6. Maureen Dearden, Stephanie Bezner and Maude

Infantino.

7. Ralph Scriba, Sigrid and Ralph Allman.

8. Song Klein, Judith Gassner and Stephanie

Bezner.

9. Laura Schenasi, Chris and Valerie Adlam and

Nadine Bobit.

10. (Seated) Jamie McKinnell MD, Larry Maizlish

and John Sealy MD and (Standing) Daniel Hovenstine

MD and Judith Maizlish.

5

6

7

8

9

10

24 Peninsula • October 2017
---
October 2017 • Peninsula 25
---
Guido Rietdyk with his Russian-built

Yak-50 aerobatic plane and his

1959 Jaguar XK150 S.

He hopes to exhibit both at the

Palos Verdes Concours d'Elegance

at Zamparini Field on Oct. 1.

Photo by David Fairchild
---
Sky

rider

Rugby, motocross, race cars and flying in formation -- it's all

about camaraderie, claims Peninsula's Guido Rietdyk

by David Mendez

It's almost 9 p.m. mid-week and Guido Rietdyk's Rolling Hills home is

buzzing. He grabs a pair of beers from the fridge while his wife Sophie

entertains a friend from down the street.

"We're Europeans," he said, referring to his penchant for late nights and

friendly pours. "We're very much an open door family. We'll sit at home,

and have neighbors around for a drink."

It's one of the things he loves about the Peninsula. Friendships with his

neighbors are what led to his latest passion: flying classic airplanes.

The 20-year Peninsula resident is a member of Torrance's Tiger Squadron,

which flies vintage war planes in formation at events across Southern California.

"The freedom [from flying] is very addictive, and it's elevated when you

get to do it with your best friends," Rietdyk said.

Rietdyk moved to the United States from his native Netherlands to study

international business at San Jose State University. He returned home to

complete his compulsory military service, then returned to the U.S. for his

graduate degree in marketing and branding at the University of Southern

California.

"For a tiny country, both in surface and population, the only way to survive

is to trade," Rietdyk said.

What made him want to work in the States was the American ideal.

"Americans think big and unbridled, they think outside the box, and never

think something is too big to attempt," Rietdyk said.

That attitude perfectly fit his philosophy. Though hesitant to call himself

an adrenaline junkie, Rietdyk loves to get his blood pumping. Growing up,

he played soccer, and rode motocross. But rugby made his heart sing.

"Everyone is part of that chain – if you don't do well, if you become the

weakest link, the chain breaks," Rietdyk said. "You better be on your game

and look out for your buddy…it's the ultimate in camaraderie."

After the games, he and his teammates would join their opponents for

what they called the "third half." All the competitors would get together to

cheer, drink and congratulate each other on a game well played. "If I had

to do it over again, I'd play rugby again...that camaraderie doesn't happen

in soccer, sadly."

October 2017 • Peninsula 27
---
After finishing school, Rietdyk sold life insurance ("not so glamorous")

and then exported telecom equipment with a partner.

In the mid-1990s, Rietdyk's brother-in-law was selling "the remnants of

a small French knee brace company."

"I had severe knee surgery from playing soccer at USC, so I knew more

than the average person about knee braces," Rietdyk said. From his motocross

racing days, he realized there was a broad market for the braces.

Rietdyk and a partner purchased the company, EVS Sports, and their timing

couldn't have been better. The '90s saw a spike in motocross popularity.

The business moved from his living room to a small office at Santa Monica

Airport, and then to a Torrance warehouse. EVS expanded its market to industrial

workers, bull riders, and – very recently – pilots.

Rietdyk was introduced to flying by his neighbor Craig Ekberg, founder

of Tiger Squadron. That was after Rietdyk retired from racing motocross at

the age of 40, and became involved with the Porsche Owners Club and

started racing on the GT3 Cup Series.

Racing led him into the world of vintage cars. He began traveling with

Ekberg to car shows across the U.S.

"One day, I was flying in the backseat while Craig was flying low over

the water and the big rocks of Lake Powell, and I said 'this is the coolest

thing that you could possibly do.'"

He wondered, though, is this something he could learn to do later in life?

"Absolutely," Ekberg told him.

Rietdyk began flying in January 2013. The learning curve was beyond

steep, he said.

"You need to know everything: Landing, taking off, understanding what

can go wrong, emergency procedures — and be able to fly within 10 feet of

another plane," Rietdyk said.

Formation pilots aren't able to keep an eye on their instruments because

they're looking at the planes next to them.

"You have to be able to feel your plane along your spine — you use that

feeling to be one with it, like with a bike or a car," Rietdyk said.

As part of Tiger Squadron, Rietdyk has flown in formation over fundraisers

for the LA Philharmonic, over the USS Iowa and, last month, over the

USC football season opener.

Two things drive his newest passion. First, he's chasing the rush he found

racing motorcycles and cars. "You're seeking the thing that gets your heart

pumping…the more adrenaline the activity has the more fun it is," Rietdyk

said. "Flying less so, because I don't do anything too crazy anymore. This

is less dangerous than racing motocross or cars."

But more than that, it's the feeling of camaraderie that he's sought since

his rugby days.

"Whether it's racing or doing a rally, you've got everyone getting together,

sitting around, and it's just fun," Rietdyk said. "It's a warm feeling, an inclusiveness

that's just…addictive."

That addiction also explains his community volunteer work. He was recently

voted president-elect of the Cancer Support Community Redondo

Beach Board of Directors. CSCRB provides support for cancer patients and

their families and friends.

"It's completely pro-bono, all volunteers, and it's amazing — such a powerful

group," Rietdyk said. "There's a lot more we can do for people, too —

we still think we have a long ways to go."

This year, Rietdyk is also supporting The Palos Verdes Concours d'Elegance.

For the first time, the Concours is including vintage planes and is

taking place at Zamperini Field. He's submitted two entries for the event,

a Yakovlev Yak-50 Russian aerobatic plane, and a 1959 Jaguar XK150 S,

which he owns with neighbor Tony Powell.

"We're the Jaguar's third owners. It had 17,000 miles on it when we got

it. It's restored with new paint, a new interior and it's mechanically meticulous,"

Rietdyk said.

Rietdyk hopes the Tiger Squadron will perform a flyover for the Oct. 1

show, adding excitement to what he believes is already going to be a spectacular

event.

"The Palos Verdes community and the Beach Cities have an inventory of

vintage cars that rivals almost anywhere in the world," Rietdyk said. "If a

great venue and organization can put them in a place where they can be

seen with the excitement of airplanes, we have a total win. No doubt it's

going to be the coolest thing to see anywhere near Los Angeles — I guarantee

it." PEN

28 Peninsula • October 2017
---
$23,450,000
---
PRICE

REDUCTION

QUEEN'S

NECKLACE

VIEWS

GREAT

VIEW &

IMMACULATE

550 Silver Spur Rd. Suite 240, Rolling Hills Estates, CA 90275
---
Chez Melange chef Robert Bell and partner Michael Franks will reflect on Chez Melange's storied history during a retrospective dinner on Nov. 6.

Photo by Brad Jacobson (CivicCouch.com)

by Richard Foss

During a meeting between two restaurateurs

who had been business partners for

35 years, Robert Bell uttered a fateful

sentence.

"I said to Michael, 'The good news is that

everyone knows Chez Melange. The bad news is

that everyone knows Chez Melange.'"

Michael Franks agreed with his partner's assessment.

They needed to change the name and

concept of the South Bay's longest running, contemporary

restaurant. Chez Melange was groundbreaking

when it opened in 1982. In an era when

it was rare for restaurants to change their menus

every year, they did so every day. In an era when

restaurants were rigidly defined by style of service,

there you could dress casually or formally, as

you preferred. In an era when categories were

rigid, they put traditional American, Asian fusion,

and European dishes on the menu next to items

that defied categorization.

Chez Melange attracted a following immediately

and kept exploring new ideas. They pioneered

winemaker dinners, patronized local

growers, and experimented continuously. For a

long time, they had no competition because no

other local chefs were capable of the variety of

styles and techniques. As time went on and eclectic

dining mainstreamed, the local scene shifted

and they found themselves competing with their

followers. Those newcomers often branded their

operations as lounges or gastropubs, but for the

Chez team, innovation was just what they did.

As Franks put it, "Because of Robert we have

always been a chef-driven restaurant rather than

a concept-driven restaurant, and we have been

able to be flexible and interesting throughout our

existence. We have made our decisions based on

the joy of cooking and eating, on our experiences

and creativity. Our format of constantly changing

menus and eclectic items was unique when we

opened – now you can get mixed cuisines almost

everywhere."

Franks and Bell decided that a change was

needed, but not a complete one. Chez Melange

has been three restaurants in one for some time:

a casual bar and grill called Bouzy at the front, a

larger, more formal restaurant in back, and a side

room called Bar 150. Bouzy will remain the same,

but the other two will become a new restaurant

called Sea Change at Chez Melange. It's an idea

that first appears in a song in Shakespeare's The

Tempest – the original quote reads,

Nothing of him doth fade,

But doth suffer a sea-change

Into something rich and strange.

Franks doesn't go into classical allusions, but

explained, "The phrase has different meanings,

and one of them is metamorphosis. It seems like

a way of indicating that we're going from where

we are to where we want to be."

Franks mentioned two compelling reasons to

shift to this focus: there isn't another seafood

place in the area, and the fish dishes are among

the best selling items at Chez Melange. Then he

offhandedly offered a third: people like eating all

things oceanic, but are often intimidated about

making it themselves.

"People cook steaks at home, but they go out

for fish because it's delicate and easy to overcook.

That and the interest in healthy dining come together,

and they want fish for both everyday and

special occasion meals. We can still be eclectic

and original, just as we have been since 1982, but

we're going to have a focus on seafood."

Bell is emphatic that while there will be options

for simple dishes, there is no retreat from the

duo's creativity.

"The plan is to have two sections to the menu:

one where you pick the fish, the cooking method,

the sauce, and the sides. Then you'll have the

catch of the day specials, my specials, that you

can't change. I'm not thinking of classic East

Coast boardwalk – it's going to be eclectic. You

may see cioppino and zarzuela here, you may see

pork and clam dishes, kung pao lobster. I have

experience and confidence in producing an eclectic

menu, and that's what I do. If I do put a lobster

roll on the menu, I'm not going to screw with

it and turn it into something Chinese. And if I do

a Rhode Island style crabcake, that will be what

it is."

"We're going to keep a Chez Classics menu

with some of the items that people come in for,

like the fried chicken salad, steak frites, duck

schnitzel… we'll always have a good steak on the

menu."

On Nov. 6 Franks and Bell will host a food and

wine evening at which they'll share stories about

their history and reminisce about what it was like

to change our dining habits. TBoth men seem to

relish a chance to reflect on old times even as

they go forward with a new idea. Their success

has always been driven by an open minded curiosity

about flavors, and unlike most veterans

they haven't become complacent and fallen into

a rut. As Franks observed wryly, "Most creative

restaurants have young chefs, and I have an old

man working here, but we're still innovating." PEN

32 Peninsula • October 2017
---
JoAnn DeFlon

SRES, Palos Verdes Specialist

310.508.3581 call/text

joann.deflon@VistaSIR.com

CalBre #01943409

Every resource that is available to me and

Vista Sotheby's International Realty

will be utilized to present your home in an Extraordinary

and Targeted Manner.

Call me about your current home or

to find your next one.

Each office is independently

Owned and operated

October 2017 • Peninsula 33
---
"Home is everything."

It's where you come back to after a long day and

can finally relax and be with your family.

Your home is that place you've dreamed of ever

since you were a child.

It's not easy to find that perfect home.

We are here to help make that dream a reality.

Mike Levine

Mike@levine-homes.com

BRE License # 01928630

CSLB License # B985034

Anita Kapilla

Anita@levine-homes.com

BRE License # 02007684

Real Estate & Construction

310.796.9088

Rolling Hills Estates

• Built in 2016

• 3,700 Square Feet

• 4 Bedrooms & 4-1/2 Baths

• Stunning Pastoral Views

• Water Filtration System

LEVINE-HOMES.COM
---
Shopping, dining and entertainment, we've got it all!

APPAREL & ACCESSORIES

Friar Tux Shop . . . . . . . . . . . . . . . . . . (310) 534-4700

Nike Factory Store. . . . . . . . . . . . . . . (310) 326-6131

Styles of Hawaii. . . . . . . . . . . . . . . . . (310) 326-2151

Tilly's . . . . . . . . . . . . . . . . . . . . . . . . . (310) 534-1642

BEAUTY

Colours Of Joy. . . . . . . . . . . . . . . . . . (562) 794-6821

European Wax Center . . . . . . . . . . . . (310) 325-2929

Fancy Nails . . . . . . . . . . . . . . . . . . . . (310) 326-7980

Pia Hair Salon . . . . . . . . . . . . . . . . . (310) 326-0815

Rolling Hills Beauty Bar. . . . . . . . . . (310) 530-3844

Victor Anthony's Hair Studio . . . . . . (310) 326-2338

Waterside Beauty . . . . . . . . . . . . . . . (310) 534-4242

BOOKS/CARDS/GIFTS/

EDUCATIONAL MATERIALS

The Tutoring Center . . . . . . . . . . . . . (310) 530-5377

DRY CLEANING

Beltone Cleaners . . . . . . . . . . . . . . . (310) 325-2511

ENTERTAINMENT

AMC Theater Rolling Hills 20 . . . . . (888) 262-4386

FINANCIAL/BUSINESS SERVICES

Chase Bank . . . . . . . . . . . . . . . . . . . (310) 257-1997

The Postal Mart. . . . . . . . . . . . . . . . . (310) 325-6777

South Bay Credit Union . . . . . . . . . . (310) 374-3436

T-Mobile . . . . . . . . . . . . . . . . . . . . . . (310) 257-6855

GROCERY/SPECIALTY FOODS

Baskin Robbins . . . . . . . . . . . . . . . . . (310) 530-6812

BevMo! . . . . . . . . . . . . . . . . . . . . . . . (310) 257-0034

Blue Cove Olive Oil . . . . . . . . . . . . . (310) 257-4931

Friza. . . . . . . . . . . . . . . . . . . . . . . . . . (424) 226-7782

Nijiya Japanese Market . . . . . . . . . . (310) 534-3000

Peet's Coffee & Tea . . . . . . . . . . . . . . (310) 626-8008

Starbucks. . . . . . . . . . . . . . . . . . . . . . (310) 534-4835

Trader Joe's . . . . . . . . . . . . . . . . . . . . (310) 326-9520

Whole Foods Market . . . . . . . . . . . . (310) 257-8700

HEALTH & FITNESS

Arthur Murray Dance Studio . . . . . . (310) 977-0987

Great Earth Vitamins. . . . . . . . . . . . . (310) 534-8494

PV Massage . . . . . . . . . . . . . . . . . . . (310) 530-9093

24 Hour Fitness Center . . . . . . . . . . (310) 534-5100

Weight Watchers . . . . . . . . . . . . . . . (800) 651-6000

HOME FURNISHINGS

Bed, Bath & Beyond . . . . . . . . . . . . (310) 325-0432

Hitachiya. . . . . . . . . . . . . . . . . . . . . . (310) 534-3136

INSTRUCTIONAL SERVICES

Color Me Mine. . . . . . . . . . . . . . . . . (310) 325-9968

JEWELRY

Modern Jewelry Mart . . . . . . . . . . . . (310) 517-0308

MEDICAL/DENTAL SERVICES

Dr. Mylena Jl, D.D.S, Inc.. . . . . . . . . (310) 326-4691

Dr. M.G. Monzon, D.D.S. . . . . . . . . (310) 891-3303

Dr. Nolan Ng, Optometrist . . . . . . . (310) 326-2881

South Bay Pain Docs . . . . . . . . . . . . (310) 626-8037

PET & GROOMING

Grooming Wonders . . . . . . . . . . . . . (310) 534-1130

Wild Birds Unlimited . . . . . . . . . . . . (310) 326-2473

REAL ESTATE

J A Realty . . . . . . . . . . . . . . . . . . . . . (310) 539-2430

RESTAURANTS

Blaze Pizza . . . . . . . . . . . . . . . . . . . . (310) 325-9500

California Pizza Kitchen. . . . . . . . . . (310) 539-5410

Daphne's Greek Café. . . . . . . . . . . . (310) 257-1861

Fanoos Persian Restaurant . . . . . . . . (310) 530-4316

Fish Bonz Grill . . . . . . . . . . . . . . . . . (310) 325-2669

IcCho Japanese Restaurant. . . . . . . . (310) 325-7273

Ichimi An . . . . . . . . . . . . . . . . . . . . . (310) 784-0551

Islands Restaurant. . . . . . . . . . . . . . . (310) 530-5383

Joey's Smokin' B.B.Q . . . . . . . . . . . . (310) 257-1324

Kabab Curry of India . . . . . . . . . . . . (310) 539-0171

Little Sheep Mongolian Hot Pot . . . . (310) 517-9605

Mashawi Lebanese Grill . . . . . . . . . . (310) 325-3545

Nice Cafe . . . . . . . . . . . . . . . . . . . . . (310) 539-0323

Pinwheel Café Bakery . . . . . . . . . . . (310) 325-5055

Rubio's . . . . . . . . . . . . . . . . . . . . . . . (310) 891-1811

Ryo Zan Paku . . . . . . . . . . . . . . . . . . (310) 530-8720

Sushi Boy . . . . . . . . . . . . . . . . . . . . . (310) 534-4013

Veggie Grill . . . . . . . . . . . . . . . . . . . . (310) 325-6689

Yamaya . . . . . . . . . . . . . . . . . . . . . . . (310) 257-1800

Northeast Corner of Crenshaw & Pacific Coast Highway in Torrance

For Information Call (310) 534-0411

A LA CAZE DEVELOPMENT COMPANY PROJECT

October 2017 • Peninsula 35
---
S P O T L I G H T O N T H E H I L L

Encore Circle's Opening Night

Celebrating Ricky Nelson

For 35 years, The Encore Circle has provided vital support for the

Norris Theatre and the Palos Verdes Performing Arts. On September

8 at the Harlyne J. Norris Pavilion, The Encore Circle enjoyed an elegant

opening night dinner catered by Bites and Bashes. During dessert guests

enjoyed a surprise performance of scenes from the upcoming "The 25th

Annual Putnam County Spelling Bee," a Tony winning musical comedy.

The evening concluded with twin brothers Matthew and Gunnar Nelson

rocking the Norris with a multi-media performance, playing their

legendary father Ricky Nelson's most popular songs, including "Hello

Mary Lou" and "Travelin' Man."

1

PHOTOS BY STEPHANIE CARTOZIAN

1. Abby Douglass.

2. Dr. Allen Ginsburg and Charlotte Ginsburg.

3. Ray Martin, James Hill, Steve Soldoff and Pam Barrett-Hill.

4. Sandra Sanders and Maude Landon.

5. Irwin and Betty Helford, Linda and Mel Rowen.

6. Steve Moe and sister Julie Moe, Abby Douglass and Carol Mell.

7. "Ricky Nelson Remembered" starring sons Matthew and Gunnar Nelson.

2

3 4

5

6 7

36 Peninsula • October 2017
---
DERMATOLOGY & SKIN SURGERY

BEACH CITIES DERMATOLOGY

M E D I C A L C E N T E R

Say Goodbye to Stubborn Fat....

Buy One, Get One

FREE

William J. Wickwire, M.D.

Certified, American

Board of Dermatology

Neal M. Ammar, M.D.

Certified, American

Board of Dermatology

Two Coolscuplting Devices to Treat Two Areas at Once!

Specialists in Skin Cancer Detection

• Skin Cancer • Mole Removal & Mohs Surgery

• Reconstructive Facial Surgery and Scar Revision

• Acne & Accutane Treatment

• Warts, Rashes and Cysts • Leg Vein Sclerotherapy

• Hair Loss & Propecia • Restylane, Radiesse, Perlane,

Juvederm & Sculptra • Botox and Dysport Injections

• Age Spots & Sun Damage • Laser Surgery

• Microdermabrasion • Glycolic and Chemical Peels

• Ultraviolet B & PUVA • Pediatric Dermatology

310-798-1515

www.beachcitiesderm.com

South Bay's

best equipped

Dermatology

Center!

Redondo Beach —

520 N. Prospect Ave., Suite 302

Palos Verdes —

827 Deep Valley Drive, Suite 101

All PPOs Accepted

Evening & Sat.

Appts. Available

Open House Sat & Sun 1-4pm

Resort Living in your own home

27339 Eastvale Road, Palos Verdes Peninsula

• Built in 2003

• 5 Bedrooms | 2.5 Baths | 3200 SQ FT

• Master suite with Beverly Hills Housewives Closet

featuring a full wall of retractable windows and doors

• Almost half acre, private grassy yard, waterfall, 2 spas,

saltwater pool

• Impressive panoramic views

• Spacious living room with fireplace, views, dining,

billiards

• Hardwood floors in all of the family rooms

• Built-in BBQ, with fridge, ice maker, wine fridge,

cooking station with sink

• Gated private entry with large 2-car garage with

driveway for 5 more cars

October 2017 • Peninsula 37
---
2 8 4 5 V I A D E L A G U E R R A

PALOS VERDES ESTATES

WWW.2845VIADELAGUERRA.COM

4 BEDS | 2 BATHS | 1860 SQ FT | +6480 SQ FT LOT

Perfectly situated on a great Lunada Bay quiet street, this charming home boasts

4 bedrooms, including the master, 2 remodeled baths, spacious living room with

two sided fireplace and sliders to the outdoor space, dining area off the kitchen

with large bay window also enjoying the fireplace, and open and bright center island

kitchen with walk-in pantry and beautiful glass front display cabinets. There

are hardwood floors, crown moldings, recessed lighting, smooth ceilings, and great

grassy yard – perfect for family enjoyment and entertaining! You will love it!

Asking $1,450,000

1 9 6 6 U P L A N D S T R E E T

RANCHO PALOS VERDES

WWW.1966UPLAND.COM

4 BEDS | 2 BATHS | 2500 SQ FT | 7177 SQ FT LOT

Wonderful opportunity to own in the Palos Verdes school district. This great home

has 4 bedrooms plus formal living and dining and a HUGE family room addition

with fabulous harbor and water views! Enjoy the enclosed porch for casual entertaining

and the formal areas plus unbelievable storage. (AND there are hardwood

floors under the carpet - a huge plus!) Newer tile roof and lovely front grassy yard.

You cannot beat the square footage at this price!

Asking: $1,049,000

GAYLEPROBST

Re/Max Estate Properties

310-977-9711

CalBRE# 01137236

www.pvrealestate.com

A TRUSTED ADVISOR.

CLOSE AT HAND

"Preparation, turn-key real estate advice,

and the personal touch you expect."
---
1328 VIA MARGARITA | PALOS VERDES ESTATES

4 BEDROOMS | 3 BATHROOMS | 2700 SQFT | LOT SIZE: 15,224 | WWW.1328VIAMARGARITA.COM

The DeLeeuw Residence, by architects Young and Remington (1965.) Designed originally for a WWII veteran/pilot and

his family, the architects employed their modernist sensibility in creating a home that is as progressive today as the day

it was built. Perfectly situated on a 15,224 square foot view lot in the heart of Montemalaga, it is the property that you

have been waiting for. Soaring walls of glass and beamed ceilings point to views all the way from the Hollywood sign to

the ocean, Malibu, and Point Dume. A massive double sided fireplace and original wall of built-ins divides the otherwise

open plan. The now second owners took great care in their renovations, updating systems and finishes while leaving the

soul of the original design intact. Offered for the first time on the open market, and sure not to last.

ASKING $1,825,000

GAYLEPROBST

Re/Max Estate Properties

310-977-9711

CalBRE# 01137236

www.pvrealestate.com

NATECOLE

Coldwell Banker

562-673-3550

CalBRE# 0140724

www.uniquecaliforniaproperty.com
---
S P O T L I G H T O N T H E H I L L

PHOTOS BY TOM UNDERHILL

Freedom4U raises 100K Plus!

Helping kids

Freedom4U's annual 'Freedom Breeze' was held at the beautiful Palos

Verdes Estates home of Ashton Smith. Freedom4U offers programs

in creative arts, life skills, leadership and service learning across the

South Bay and Harbor Area. Over $100,000 was raised to support programs

for at-risk kids and for the teen leadership service group.

1. Toa Fonoimoana and Jennifer

Wildenberg.

2. Dr. Greg Allen, Fritz Hitchcock

(recipient of the George and Etty Allen

Lifetime Achievement Award), Ashton

Smith, and teen leader Morgan Pisano.

3. Dr. Greg Allen and Freedom4U

therapists Courtney Lawsing, Kryss

Castle, Chelsea Kuehl and Lizzette

Garcia.

4. Freedom4U Band of Pros.

5. Teen Leadership students Morgan

Pisano, Ani Stein and Ophelia Winslett.

6. Linda and Bill Lama.

7. Ridgecrest Intermediate Principal

Kellie Keller and Redondo Beach

Unified Superintendent Stephen Keller.

8. Freedom4U Videographer Rae

Wang and Teen Reporter Gabby Ruby.

9. Teen Leadership's Noelle

Kirkpatrick, peer mentor Katie

Walker and Freedom4U therapist

Courtney Lawsing.

1

2 3

4 5

6

7

8

9

40 Peninsula • October 2017
---
A home with a view

The French Farmhouse style residence sits on unusually flat, five-and-a-half acres in Rolling Hills. Photos by David Fairchild

Rolling Hills Mayor Jim Black and wife Karen built a French Provincial home with a 21st Century view

by Stephanie Cartozian

The 360 degree view is what convinced Jim and Karen Black to purchase

the small home on 5.5 acres in Rolling Hills that they looked at in 1999.

"You can see the Santa Monica Bay and the city skyline from our pool,"

Karen Black said.

But the couple had five children – two of them twins – and the house on the

property wasn't going to meet their needs. So they collaborated with J.C.C.

Homes in Torrance to build their dream home.

Karen is an internist and Jim is a plastic surgeon, specializing in oncologic and

micro reconstructive surgery. In March, Jim was elected mayor of Rolling Hills,

where he grew up. He had previously served as a city councilman for 15 years.

Karen grew up in Omaha, Nebraska, and always admired residences with copper

gutters. They symbolized having arrived, professionally and personally. The

copper gutters are just one of her contributions to the sprawling, 8,500 square

foot French Farmhouse-style estate. Karen enjoys cooking, which led her to retain

from the original residence, the large chopping block that is now well worn from

use during years of family gatherings. It sits next to an acid washed, green marble

topped kitchen island. The kitchen's other countertops are white marble. The

couple originally had concerns about whether the white marble would hold up

as well as granite in the high-use kitchen. But one of the owners of Ruggeri Marble

& Granite admitted to having marble in his own kitchen and told the couple

it would wear well. He was correct. The white marble also gives the kitchen a

soft, more French Provincial look.

Karen and Jim Black standing outside

their home on one of their covered

patios.

42 Peninsula • October 2017
---
The kitchen has wide, plank walnut

flooring and stone walls, giving the

kitchen an Old World look.

In January 2010, when the family decided to move forward with Torrance-based

architects Timothy Racisz and Richard Gould of Racisz &

Gould, Jim's mother had recently passed away, leaving his father alone in

the family home on Saddleback Road in Rolling Hills, where Jim grew up.

So Jim's dad welcomed Jim and his family into his home, giving granddad

time to enjoy his grandkids and their parents a convenient base from which

to oversee construction of their new home.

Their goal was to add an Old World, French Farmhouse sensibility to

the ranch style dictated by the city. Most importantly, they wanted the outdoor

areas to take advantage of the 360 degree view The result was over

1,800 square feet of covered patio and 2,000 square feet of trellised

porches. The 5.5 acres afforded big grassy knolls for the kids to play soccer

on, an outdoor fireplace and television, a pool and pergolas throughout.

The many outdoor pavers, as well as the foundation were by Simich Concrete

Construction in San Pedro. The Blacks replastered the large, original

pool and added fiberglass over the plaster to create a white, shimmering

effect when sunlight reflects off the water. "It also adds a layer of insulation,

keeping the pool from losing its temperature to the ground beneath

it," Jim said.

The city view and the sparkling glimmer in the pool give the sense of

old Hollywood. One can imagine Esther Williams taking a swim here and

emerging from the pool to sip a lemonade in a chaise lounge, under one of

the pergolas. The outdoor areas were drafted by Ric Dykzeul of Landscape
---
The French Farmhouse style ranch home has covered porches with flagstone flooring, providing panoramic views of both

the city and Santa Monica Bay.

Design, in Torrance. They include

an orchard featuring citrus, stone

fruit, avocado and persimmons on

the property.

The grand entry leads to wide

planked, walnut flooring installed

by Sinbad Flooring of Torrance.

"The magic here is the precision

design work," Jim said. The master

bedroom has diagonally placed

plank flooring, the landings have

rectangular and square designs.

Hafit Arafat, owner of Sinbad

Flooring, took a personal interest

in the project and added many of

the accents. Wood is emphasized

throughout the house, from the

hardwood floors, the wood

trimmed arches, wood pocket

doors and coffered ceilings, to the

wood paneling in the library. The

wood tones cast a warmth throughout

the home.

Another homey accent is the extensive

use of manufactured stone.

Fabricated stone has come a long

way and is indistinguishable from

real stone. It's also smooth on the

backside making masonry work

more precise. There is variation in

color, as there is in natural stone.

Off the kitchen is a glassed-in office

where the children used to

keep their computers and do

44 Peninsula • October 2017
---
The extensive use of wood extends to the arches and the design work in the

flooring.

homework. The Blacks believed in keeping their children's computers in

an open area. The room's location, off the kitchen and family room, provided

for functionality with oversight.

In the formal living room, beneath 17-foot high ceilings, are two grand

pianos. One was passed down from Karen's family. The original, framed

receipt shows it was purchased in 1941 for $1,060 in Omaha, Nebraska. A

drum set sits beside the two pianos.

The six fireplaces are all done in a French traditional style and are both

wood and gas burning. They are ornate on the outside, with herring bone

style brick work on the interior. Jim readily explained that they are prefabricated.

The price of six cost about the same as two custom made fireplaces.

There are no stairs in this 7 bedroom, 6 bathroom home, with 2 home

offices and a detached guest house (used as a construction trailer during

building). Consistent with the French Farmhouse architecture is a stately

green slate roof.

The original plans were for a smaller home and simpler landscaping. But

though the project "grew and grew," Jim said, they were able to keep to

their original budget, primarily because they had the good fortune of employing

the right professionals.

The Blacks recently celebrated their 25th wedding anniversary in Noosa,

and Whitsundays (Great Barrier Reef), Australia, where they went on their

honeymoon. All five children – Katy, Sherry, Jamie, Joey and Jonny, ages

16 to 21 – went with them

Now, there is just one Peninsula High schooler at home. Karen admits it

feels a little eerie.

"I watched a really silly, slapstick movie starring Dan Ackroyd the other

night with Jim and can't remember the last time we had that kind of time

to spare, laughing at something so frivolous." PEN

October 2017 • Peninsula 45
---
eventcalendar

CALENDAR OF COMMUNITY EVENTS

Compiled by Teri Marin

You can email your event to our address: penpeople@easyreadernews.com

All submissions must be sent by the 10th of each month prior to event taking place.

Ongoing

Native Plant Nursery Volunteer Days

Nurture seedlings and help shrubs grow for habitat restoration projects. RSVP

48 hours in advance. Fridays and Saturdays, 9 a.m. - noon. Sign up at

pvplc.volunteerhub.com

Rapid Response Team

Work alongside Conservancy staff protecting wildlife habitat by closing unauthorized

trails. Task include trail maintenance, building fences and installing

signage. Work at various locations around the Preserve. Directions to sites

emailed upon sign up. No experience needed. 15 and up. Visit volunteerhub.com

Saturday, September 23

60 Years of Rolling Hills Estates

Residents, friends, family, and neighbors are invited to join the daylong festivities,

including equestrian events, pony rides, a petting zoo, three-legged

races, a hay jumping pit, horseshoe matches and more as part of the city's

celebration. 9 a.m. - 1 p.m. The Music Festival will be held as part of the

City Celebration event from 1:30 – 7:30 p.m. $15 for access throughout the

venue. Food and beverage vendors, a beer & wine booth, pony rides, a petting

zoo, face painting, community and commercial booths, and more will

be available during the music festival. Free parking and shuttle bus services.

Ernie Howlett Park, 25851 Hawthorne Blvd., Rolling Hills Estates. For tickets

and information visit RememberTheMusic.org.

Sunday, September 24

Music On the Meadow

Join the Corelli Ensemble on the Upper Meadow for an afternoon of Baroque

music. 3 - 4:30 p.m. The concert will feature music of Corelli, Bach, Handel,

Vivaldi, and Telemann. Free with Garden admission. South Coast Botanic

Garden, 26300 Crenshaw Blvd., Palos Verdes Peninsula. southcoastbotanicgarden.org/

or (310) 544-1948.

Tuesday, September 26

Chez Melange Wine Dinner

Janet Trefethen of Trefethen Vineyards. Call Chez for more details (310) 540-

1222.

Taizé Service of Healing & Wholeness

St. Francis Episcopal Church hosts a meditative, multi-faith Taizé service of

Healing and Wholeness that includes candlelight, periods of silence, chants

and intercessory prayer with a Prayer Team leader, at 7 p.m. in the chapel,

followed by a reception with light refreshments. Director of Music, Youth &

Arts, Dr. Jeannie Cobb, will lead the congregation in chanting, accompanied

by USC graduate Robert Backes (a protégé of Christopher Parkening) on classical

guitar and Dr. Clayton Cobb on mandolin. Taizé services are offered

monthly throughout the year on the fourth Tuesday. Donations are welcome.

For more information, call (310) 375-4617 or visit stfrancispalosverdes.org.

October 31, 2017

Wednesday, September 27

Birding Unlimited

Wild Birds Unlimited and the Palos Verdes Peninsula Land Conservancy explore

the birds in nesting season at George F Canyon. 8:30. Free, all ages

October 2017 • Peninsula 49
---
eventcalendar

welcome. 27305 Palos Verdes Drive

East, Rolling Hills Estates. RSVP at

pvplc.org, Events & Activities.

Hip to be Square

Learn to Square Dance. Good for

mind & body. And fun! Introductory

classes at 6:30 p.m. Torrance

Woman's Club, 1422 Engracia, Torrance.

424-262-7782.

DAVID FAIRCHILD PHOTOGRAPHY

"Its Like You're There All Over Again"

310-316-5547 WWW.DAVIDFAIRCHILDSTUDIO.COM

Thursday, Sept. 28

Beaders

Azure Verde Chapter, a special interest

group of the Embroiderers'

Guild of America. Meeting focuses

on two perforated paper projects: a

Halloween and a Christmas ornament.

Visitors welcome. 9:30 a.m.

St. Francis Episcopal Church, 2200

Via Rosa, Palos Verdes Estates. For

more information, please call Idele

(310) 540-6104 or visit

azureverdeega.com/calendar.

A Fungus Among Us

LA Biomed's - Lunch and Learn Series

presents Scott Filler, MD., discussing

New Approaches to Prevent Fungal

Infection. Although the fungus Candida

albicans grows harmlessly in

most people, it causes a serious infection

in hospitalized patients.

About 40 percent of patients with invasive

Candida infections die, even

with treatment. Dr. Filler will discuss

the research at LA Biomed that has

led to a vaccine to prevent Candida

infections. Noon to 1:30 p.m.

CDCRC 1st Floor Conference Room.

Reservations required by Friday,

September 23 to Development at

(310) 974-9569 or

development@labiomed.org. Lunch

provided. Attendance is limited to

Friends members and one-time

guests.

Friday, Sept. 29

Healing weekend retreat

Retreat focuses on reclaiming the lost

treasures of our lives. It will be a time

of prayer, personal ministry and reconciliation.

Led by Patrick J. Crowley,

SSCC. From 7 p.m. Friday,

September 29 to 1:30 p.m. Sunday,

October 1. Call Marlene Velazquez

at (310) 377-4867 x234 for reservations

or information. Online registration

is available at

maryjoseph.org. Mary and Joseph

Retreat Center, 5300 Crest Road,

Rancho Palos Verdes.

50 Peninsula • October 2017
---
WENDY SUN

BROKER ASSOCIATE

310.544.7301

WWW.WENDYSUN.COM

BRE# 01729186

RE/MAX ESTATE PROPERTIES

SMASHING QUEEN'S NECKLACE VIEW IN PALOS VERDES ESTATES

LET THE VIEW SPEAK FOR ITSELF! Panoramic queen's necklace view from Santa Monica, downtown LA,

PV Golf Course to Long Beach. GATED PROPERTY, 6BR, 6.5baths, 9884 SF living area, 48,353 lot size.

North-South facing TENNIS COURT. An aesthetic balance of comfort and design is found in every room of this house.

PV lifestyle at its best!

$9,450,000
---
WENDY SUN

BROKER ASSOCIATE

310.544.7301

WWW.WENDYSUN.COM

BRE# 01729186

RE/MAX ESTATE PROPERTIES

PALOS VERDES ESTATES LIFESTYLE AT ITS BEST!

Spectacular lot in PVE with resort-like grounds. Custom Colonial architecture design exudes elegance and charm. 5BR + Library, 7

Baths, 6,039 square feet, 29,653 SF lot size. Ocean and coastline view. Lush landscaped backyard features a brick patio with open-beam

portico eating area, copper-roofed gazebo, fountains, tranquil walking path, pool, spa, and BBQ area with gas and wood-burning grills.

Absolute Privacy and Truly Estate-Like Grounds.

$4,995,000
---
Spell it like it is

The multiple Tony Award-winning musical comedy

continues through October 1 at the Norris Theatre.

A quirky group of adolescent overachievers (played

by adult actors) go head to head with each other

in a spelling bee championship, while coping with

overzealous parents, teen crushes, sabotage attempts,

and the trials and tribulations of puberty.

Performances are 8 p.m. Friday and Saturday, and

2 p.m. Sunday. $30 to $70 and student rush tickets

are $15 (plus $5 facility fee).To purchase tickets,

call the box office at (310) 544-0403 or go to

palosverdesperformingarts.com. The Norris Theatre

is located at 27570 Norris Center Drive in Rolling

Hills Estates.

Saturday, September 30

Native Plant Sale

Annual Fall native plant sale fundraiser for the South

Coast Chapter of the California Native Plant Society.

Featuring a huge selection of natives suitable

for the garden landscapes of the Palos Verdes

Peninsula and the South Bay. Madrona Marsh Nature

Center, 3201 Plaza del Amo,Torrance, 9 a.m

- 2 p.m.sccnps.org

National Public Lands Day

Join Toyota in helping the PV Land Conservancy at

the White Point Native Plant Demonstration Garden

by removing invasive weeds, watering native plants

and grooming trails.Lunch, raffle and fun, 9 a.m. –

noon. 1600 W. Paseo Del Mar, San Pedro. Sign

up at pvplc.volunteerhub.com.

Outdoor Volunteer Day

At White Point Nature Preserve, 1600 W. Paseo

Del Mar, San Pedro, 9 a.m. – noon. Help beautify

the native demonstration garden and surrounding

habitat. Sign up at pvplc.volunteerhub.com.

Grand Annex Fall Concert

Tahoe-based Everyday Outlaws kick up the country

classics with the best of Waylon Jennings, Merle

Haggard and George Jones and more. 8 p.m. The

Grand Annex, 434 W. 6th St. San Pedro, $20 to

$42. grandannex.org or (310) 833-4813. grandvision.org.

Sunday, October 1

Great Pumpkin Hunt

Take a walk through hiking trails and search for hidden

jack-o-lanterns along the way. Solve a riddle

and mark your finds and you will receive a special

prize in the Gift Shop. 9 a.m. to 5 p.m. through October

31. Free with Garden admission. South Coast

Botanic Garden, 26300 Crenshaw Boulevard,

Palos Verdes Peninsula.

eventcalendar

southcoastbotanicgarden.org or (310) 544-1948.

PV Concours d'Elegance

In addition to an impressive display of classic automobiles,

this charity event will include historic aircraft

in side-by-side displays. This year's show will

feature the marques of Packard and Porsche. 19

classes of automobiles representing the finest in

craftsmanship from all over the world will be on display.

Ticket holders will be able to tour the Western

Museum of Flight, located at Zamperini Field, at no

This 1932 Packard is among the over 200

classic cars that will be exhibited at the Palos

Verdes Concours d'Elegance at Zamperini

Field. See related stories pages 18 and 26.

54 Peninsula • October 2017
---
October 2017 • Peninsula 55
---
RPV Residents

Do you change your automobile oil and filter? If you

do, call EDCO your trash/recycling hauler and

arrange for a free pickup. Then, place your used oil

in a tightly sealed container and your filter in a sealed

ziplock bag. EDCO will pick them up and drop off a

free oil recycling kit that contains a 15-quart drip pan,

empty 1-gallon container, funnel, shop rag, cardboard

floor mat and information on used oil and filter

recycling. Call EDCO at 310-540-2977 or go to

www.rpvrecycles.com.

EDCO'S Brush Clearing Event

Starts Saturday Oct 7th

Document Shredding Event and

Electronic Waste Roundup and

Free Mulch Giveaway

Sat. October 14th from 8 am to 11 am

RPV Civic Center, 30940 Hawthorne Bl.

(RPV Residents Only)

For More information on Used Oil Recycling, go to:

1-800-CLEANUP

For Weekly Household Hazardous Waste Disposal

(including Sharps, Used Oil and

Electronic Waste Disposal) go to:

Gaffey SAFE Center

Address: 1400 N Gaffey St, San Pedro, 90731

Phone: 800.988.6942

Open Every Saturday and Sunday from 9am to 3pm

Saturday, October 7

Kenny Loggins Concert

Grammy winning singer and songwriter of such hits as "Footloose" and "This

Is It" returns for another performance in the intimate setting of the Norris Theatre.

Ticket prices for the 8 p.m. show are $275 to $300. To purchase tickets,

call the box office at (310) 544-0403 or go to

palosverdesperformingarts.com. 27570 Norris Center Drive in Rolling Hills

Estates.

Breast Cancer and the Asian Woman

Free community talk by Dr. Erin H. Lin, DO on breast cancer prevention and

screening, maintaining breast health, advanced treatment options and diet

and nutrition. Dr. Lin is an assistant clinical professor at the University of Calieventcalendar

charge. $40 when purchased in advance by Sept. 30, $50 the day of the

show. Children 13 and younger free. Parking $10, cash only. VIP package

featuring tent seating, a Mediterranean-style catered luncheon including craft

beer and premium wine; and general parking $150 per ticket. 10 a.m. to 4

p.m. Louis Zamperini Field, 3301 Airport Drive, Torrance. pvconcours.org and

on Facebook.

Sustainable Seafood Expo

Seafood samples, chef demonstration, full bar. Cabrillo Marine Aquarium,

3720 Stephen M. White Drive, San Pedro, noon - 5 p.m. Tickets at the CMA

gift shop or at sustainableseafoodexpo.org. For more visit cabrillomarineaquarium.org

or (310) 548-7562.

Blessing of the Animals

Treats for pets and owners, 4 p.m. St. Paul's Lutheran Church of Palos Verdes

31290 Palos Verdes Drive West, Rancho Palos Verdes. Next to Golden Cove

Shopping Center.

Tuesday-Thursday, October 3-5

Girls Night Out

Cancer Support Community Redondo Beach (CSCRB) celebrates its 30th anniversary

of providing free support to cancer patients and their families with

the 15th annual Girls Night Out "Fun"- raiser. This event "Just for Ladies" celebrates

the women in our lives who have been touched by cancer with an

evening of fun and humor. Festivities begin each night at 5:30 p.m. with the

opening of the bar and silent auction—followed by dinner, live auction, a fabulous

show, a world class line-up of top comedians, a fun raffle and lots of

laughs. Don your festive attire and get ready to party in pink! Proceeds from

this event will help to fund free cancer support programs at CSCRB. Reservations

are $100 per person. Call (310) 376-3550 to reserve your seat, or visit

www.GirlsNightOutCSCRB.org to purchase tickets online. The Comedy &

Magic Club 1018 Hermosa Avenue, Hermosa Beach.

Wednesday, October 4

Pen Senior Lecture series

Back by popular demand is Jean Alden and the Reader's Theater Repertory

of San Pedro with riveting performances of three small plays: Small Claims,

Larry's Latest Plan To Get Out Of Yard Work, and Einstein's Brain. 10:30 a.m.

at Hesse Park, 29301 Hawthorne Blvd.

Friday, October 6

Story Road

Story Road is four premier Irish traditional musicians: vocalist Colleen Raney

fresh off a tour with Solas; multi-instrumentalist Ryan Davidson; and Stuart

Mason and John Weed of Molly's Revenge. 8 p.m. The Grand Annex, 434

W. 6th St. San Pedro, $20 to $42, available at www.grandannex.org or

(310) 833-4813 Mon-Fri 9 to5. More info at: www.grandvision.org.

56 Peninsula • October 2017
---
October 2017 • Peninsula 57
---
eventcalendar

fornia Irvine School of Medicine and

a Board-Certified Breast Surgeon.

Her talk will be followed by a question

and answer session. Refreshments

will be served. 2 to 4 p.m.

Bread of Life Church, 2780 Lomita

Blvd., Torrance. For further information,

visit breadoflifechurch.org.

Movie Night

St.John Fisher Women's Council

presents its annual Movie Night in

Barrett Hall. The movie will be "A

Good Year" a fun, delightful and romantic

movie. Reservations and prepaid

admission of $15 can be made

in the Parish Office until Wednesday

October 4. Admission includes hot

dogs, popcorn, candy, sodas and

chips. Bring your own wine or beer.

Proceeds help support charities. Dinner

at 6 p.m., movie at 7 p.m. St.

John Fisher Church is located at

5448 Crest Road Rancho Palos

Verdes. For additional information,

call Nancy McDonough (310) 377-

1305 or Bernie Maynard (310)

541-1826.

58 Peninsula • October 2017
---
Sunday, October 8

Second Sundays At Two

Filipe Pinto-Ribeiro, one of Portugal's foremost artists, trained at the Tchaikovsky

Conservatory in Moscow, plays Modest Mussorgsky's Pictures at an Exhibition

in its original version for solo piano. Free; donations appreciated. 2 p.m.

Rolling Hills United Methodist Church, 26438 Crenshaw Blvd., Rolling Hills

Estates. www.RHUMC.org.

Wed., October 11

PV Woman's Club

The Palos Verdes Woman's Club meets at noon at the Rolling Hills Country

Club.The program will be The Magic of Don Frank. $32. For reservations and

information call Beverly Teresinski at (310) 378-1349. 27000 Palos Verdes

Drive East.

Friday, October 13

El Twanguero

Grammy and Goya award-winning guitarist Diego Garcia puts a Spanish

twist on American rock-n-roll stylings of Chet Atkins, Carl Perkins, and Les

Paul.8 p.m. $20 to $42, available at www.grandannex.org or (310) 833-

4813. The Grand Annex, 434 W. 6th St. San Pedro. www.grandvision.org.

Saturday, October 14

RPV resident clean up

Document Shredding, E-waste collection and mulch giveaway from 8 to 11

a.m. RPV City Hall, 30940 Hawthorne Blvd. For RPV residents only.

Sunday, October 15

Jester's OktoberFest

Celebrate OctoberPhest PhunDay at the Races. 11:30 a.m - 5 p.m. Lunch

noon to 2 p.m., First Race: 1 p.m. $75 donation includes: Admission & Parking,

Racing

Program and

B a r b e c u e

Lunch. Proceeds

support

The Jester &

P h a r l e y

Phund's Smiles

for Kids with

Cancer Program.

RSVP by

Sept. 28 by

mail or e-mail

to

eventcalendar

amy@thejester.org.

For

more information,

please call (310) 544-4733 by Oct. 4. Santa Anita Park Infield, 285

WQ. Huntington Drive Arcadia.

Halloween Ball

Chef Michael Shafer of The Depot Restaurant hosts the Halloween Ball under

a "ghostly" white tent in Torrance for over 800 costumed guests. This annual

fundraiser benefits the 2,500 children of Pediatric Therapy Network. Dinner,

hosted martini, wine & beer bar, live music, costume contests, live & silent auctions,

raffle prizes, infamous wine wall in front of The Depot Restaurant, 1250

Cabrillo Ave., Torrance, 4 to 9 p.m. Ticket Price: $150 per person (310)

328.0276. PediatricTherapyNetwork.org.

October 2017 • Peninsula 59
---
TRUSTS, WILLS, PROBATE

After practicing law in the

Manhattan and Hermosa Beach area for

over 28 years I'm pleased to announce the

relocation of my offices to Palos Verdes.

Please call for a free consultation.

Experience Handcrafted

Fine Mexican Cuisine

And Enjoy!

MARGARET A. JONES

Attorney At Law

655 Deep Valley Drive, Suite 125

Rolling Hills Estates, CA 90274

(310) 544-2255

Majoneslaw.com

Fresh Daily Specials Private Parties Catering

Great Selection of Beer and Wine

Open Tue-Sun at 4PM

eventcalendar

Wednesday, October 18

Confessions of a Costume Junkie

Diane Yoshitomi has created photos of gowns and accessories from the past

15 years of historical costume creations along with stories for which they were

made. She will discuss what it is like to be dressed from head to toe in 19th

Century garb. Diane has been sewing for more than 50 years and is a lifelong

student of the history of fashion. This is a Peninsula Seniors lecture series

held Wednesdays 10:30 a.m. at Hesse Park, 29301 Hawthorne Blvd.

Optimist fundraiser

Optimist Youth Homes & Family Services holds its annual fundraiser from 6-

8:30 p.m. at the South Park Center's penthouse tower, 1149 Hill St. H300,

Los Angeles. The event features 8 food stations, wineries, and a signature

cocktail made with Tito's Handmade Vodka. Silent and live auctions. Hosted

by HLN's Michaela Pereira. For tickets and info call 323-443-3022 or visit

www.oyhfs.org.

Thursday, October 19

South Coast Rose Society

South Coast Botanic Garden rose society meeting begins at 7 p.m.The

speaker is the renowned "King of the Roses" Tom Carruth, who has created

more All-America roses than any other living hybridizer, among them "Betty

Boop", "Fourth of July" and so many others.Meetings are free to the public.

For further information, please see us on Facebook. 26300 Crenshaw Boulevard,

Palos Verdes Peninsula.

Country Star Travis Tritt

The CMA and Grammy Award winning country music star performs a rare,

intimate acoustic concert at the Norris Theatre, featuring multi-platinum hits,

including "It's a Great Day to Be Alive" and "Best of Intentions." The up- close

event will be punctuated with personal stories and anecdotes about Tritt's storied

life and musical influences. 8 p.m. $95-$98. To purchase tickets, call the

box office at (310) 544-0403 or go to palosverdesperformingarts.com. The

Norris Theatre is located at 27570 Norris Center Drive in Rolling Hills Estates.

Friday, October 20

Nickel Creek's Watkins

Sean Watkins, cofounder of the Grammy Award-winning Americana trio

Nickel Creek, has collaborated with Jackson Browne, Lyle Lovett and other

groundbreaking roots-rock artists. 8 p.m. Tickets $20 to $42, available at

www.grandannex.org or (310) 833-4813. The Grand Annex, 434 W. 6th

St. San Pedro. www.grandvision.org.

Salsa Verdes

Authentic Fine Mexican Cuisine

2325 Palos Verdes Drive West

Palos Verdes Estates

(424) 206-9456

60 Peninsula • October 2017
---
Saturday, October 21

VoicePlay Concert

VoicePlay soared to fame on NBC's "The Sing-Off." The five-piece a cappella

group promises an enthralling theatrical experience not to be missed. 8 p.m.

$63-$75, with a $10 discount for youths. To purchase tickets, call the box office

at (310) 544-0403 or go to palosverdesperformingarts.com. 27570 Norris

Center Dr., Rolling Hills Estates.

Sunday, October 22

Peninsula Symphonic Winds Fall Concert

Guest conductor Dr. Berkeley Price will perform the Clarinet Concerto by

swing-era legend Artie Shaw. The concert will also feature music by leading

composers Frank Ticheli and Samuel Hazo, a suite of English folk songs by

Vaughan Williams, a selection from Symphony No. 1 "The Lord of the Rings"

by doMeij, and a new arrangement of Haydn's Surprise Symphony by Ted

eventcalendar

Marcus. 3 p.m. at the LOTH RHCC Community Center, 735 Silver Spur Road,

Rolling Hills Estates. $10 for adults Children 12 and under free with an adult.

pswinds.org for more information.

Catalina Island Conservancy art show

The works of 10 nationally recognized plein air artists will be featured at the

Catalina Island Conservancy's 7th annual Catalina: The Wild Side Art Show.

The artists each spent time on Catalina creating new works that feature the Island's

rugged wildlands, Avalon and Two Harbors in the plein air style. Exhibiting

artists include Cindy Baron, Brian Blood, Don Demers, Kathleen

Dunphy, Debra Huse, Laurie Kersey, Kim Lordier, Michael Obermeyer, Ron

Rencher and Brian Stewart. 1:30-2:30 p.m. Balboa Yacht Club, 1801 Bayside

Dr. Corona del Mar.

Registration:catalinaconservancy.org (562) 437-8555 ext. 1239.

Thursday, October 26

Table this fundraiser

Las Candalistas fall fundraiser "Creative Entertaining, A Showcase of Tabletop

Designs and Lifestyle Speakers" at the Harlyne J. Norris Pavilion 10am - 3pm.

This year featuring Aida Mollenkamp, Food Network and Cooking Channel

Chef, Author, and food and travel expert. Let us inspire you. Tickets available

at the door or www.lascandalistas.org.

Sunday, October 29

Water music

Peninsula Symphony opens its 51st season with the exuberance in Felix

Mendelssohn's Calm Sea and Prosperous Voyage, Op 27. Aleksandr

Glazunov's majestic Das Meer (The Sea), Opus 28, follows. After intermission,

the concert hall is transformed into a fairy tale lake in Anatole Liadov The Enchanted

Lake, Op 62. The concert ends with Leonard Bernstein's haunting On

the Waterfront. 6:15 p.m. for the pre-concert lecture by Maestro Berkson (members

only). 7 p.m. concert. Doors open at 6 p.m. Free. Redondo Union High

School Auditorium, 631 Vincent Street in Redondo Beach (PCH at Diamond).

For further information, please call the Symphony Office at (310) 544-0320

or visit Pensym.org.

Pier to Pier Friendship Walk

Peninsula Education Foundation, 8 a.m. check-in, 9 a.m. walk. Registration:

Skechersfriendshipwalk.com.

Harvest Fair

Peninsula Heritage School, 26944 Rolling Hills Rd., RHE., 11 a.m. - 3 p.m.

(310) 541-4795.

Prepared Peninsula Expo

Learn how to prepare for the next disaster. Prepared Peninsula Expo where

life-saving information, demonstrations and emergency survival gear will be

available to the public. Step-by-step preparedness plans for your family and

pets, survival essentials, trick or treating for the kids (wear your costumes) and

free food. Norris Pavilion, 501 Indian Peak Road, Rolling Hills Estates, 12-3

p.m. pvestates.org, rpvca.gov, rolling-hills.org.

Sunday, November 5

Journey of the Endeavour and David Benoit

"Journey of the Endeavour," by Grammy nominated, Peninsula composer

David Benoit, will be performed at the Peninsula Committee Los Angeles Philharmonic

(PCLAP) fall fundraiser at the California Science Center Samuel

Oschin Pavilion. Benoit will conduct the Asia America Youth Symphony. "Journey

of the Endeavour" will be accompanied by NASA footage of the space

shuttle's journey to its permanent home in Los Angeles. 7-10 p.m. $150 at

pclaphil.org. 700 Exposition Park Dr. Los Angeles. PEN

62 Peninsula • October 2017
---
October 2017 • Peninsula 63
---
FEE ONLY FINANCIAL PLANNER

• Are you in or approaching retirement?

• Do you want to stop worrying about your

investment portfolio?

• Do you lose sleep wondering if you may

outlive your nest egg?

• Do you want to know if you are on the

right path financially?

• Do you want to take control of your

finances?

• Do you feel you need a second opinion on

your portfolio?

If you answered "yes" to any or all of the

above questions, you may need to contact

me, to provide you with a personal financial

plan designed to help you take control

of your finances, reduce anxiety and ultimately

achieve your financial goals. There

is no cost or obligation for the initial meeting,

as it is an opportunity for you to learn

more about me, and for me to determine

if I can help you achieve your financial

goals and objectives.

As a fee-only financial planner I will be

compensated solely by my clients, I do not

accept commissions, referral fees, or

compensation from other sources, and I am committed to acting in

your best interest.

Abbas A. Heydari, CFP®

Certified Financial Planner

and Registered Investment Advisor.

Providing Financial Services

in Torrance since 1986

21515 Hawthorne Blvd., Suite 1020

Torrance, CA 90503

E-mail: aahfp@Yahoo.com

Web: www.aaheydari.com

Phone: (310)792-2090

64 Peninsula • October 2017
---
October 2017 • Peninsula 65
---
THE GIRL IN THE

HIGH CASTLE

With Book Four, Geanna Culbertson

is halfway through her

Crisanta Knight young adult series

Geanna Culbertson. Photo by Bondo Wyszpolski

by Bondo Wyszpolski

Six years ago, prior to her Sophomore year at USC, Geanna Culbertson

had a sudden thought that would change the course of her young

life. "I was literally just sitting somewhere and the exact words,

'Lady Agnue's School for Princesses and Other Female Protagonists' just

popped into my head."

A few months passed, during which time the Rancho Palos Verdes resident

took a course taught by Aimee Bender called Classic and Contemporary

Fairy Tales. Now, ideas were buzzing around in Culbertson's head

for a fairy tale of her own, or rather an entire series of them. However,

her plate was already full. She not only triple-minored while at USC, she

was the vice-president of her sorority and was interning at Nickelodeon

and Disney. She later worked at Paramount.

Are you, my reader, perchance a budding novelist, but can't seem to

find the time to write? Well, listen up; this next paragraph's for you.

"My roommate thought I was nuts," Culbertson says, "but every Friday,

without fail for the years I was in school, no matter how tired I was or

how late I went to bed the night before, every Friday morning I got up

around 4 a.m., got ready in the dark, put my hair in a ponytail, packed

up my bag, and I walked to campus. I was there before dawn, and I

worked at that Coffee Bean for about four or five hours before classes

started."

Nothing if not ambitious

That was 2011, and here we are, half a dozen productive years later.

Culbertson's third volume of her Crisanta Knight series has just been

published, and she's just wrapping up the writing of Book Four. The

books, although categorized as Juvenile/Young Adult fiction, are several

hundred pages each. "A lot of words," the author says, laughing. "A lot of

thoughts."

"The series is told mainly from the perspective of Crisanta Knight, my

title character," Culbertson explains, "and she is the daughter of Cinderella."

And where does the story take place?

"This world exists in a place called Book, where the children and

younger siblings of former fairy tale characters all live. If they're selected

as protagonists they all go to this school for protagonists (Lady Agnue's

School for Princesses and Other Female Protagonists, of course; and the

nearby Lord Channing's School for Princes and Other Young Heroes),

where they train to be main characters."

Crisanta Knight pals around with S.J., "which is short for Snow Junior,

because she's the daughter of Snow White," as well as Blue, "the younger

sister of Little Red Riding Hood." I think we can guess the color of Blue's

cloak.

"I would say I have five main characters who are in every single book,

without fail."

Children and younger siblings of well-known fairy tale characters may

be plentiful, but there are or will be many new faces, as well. Says Culbertson,

"I was very careful not to put too much of an emphasis on the

past. That's one thing that was very important to me. An overarching

theme in this series is change, and the importance of it."

In other words, Culbertson isn't simply putting a new spin on classic

fairy tales, she's moving her characters forward and making them relevant

and relatable to young people today.

Even though the stories are told from Crisanta Knight's point of view,

Culbertson says, "It's my voice, too, and so it's told with sass and with

snark, and (through) the lens of a modern girl. I always like to say that

she's a very normal girl, just in extraordinary circumstances with fantastical

things happening around her."

That is, a girl both valiant and vulnerable.

If Crisanta Knight is a strong and determined character, so is her creator.

"I'm very driven," she says. "I get up most days before the sun does.

If you love something you commit to it a hundred percent."

Her own biggest fan

The first book in the series ("Crisanta Knight: Protagonist Bound") was

published in April 2016 and the second ("Crisanta Knight: The Severance

66 Peninsula • October 2017
---
Game") in December of 2016. After

the second volume was published

Culbertson was contacted by a publicist,

"who really, really believes in

me," the author says. She arranged

a book tour, which began a couple

of weeks back to coincide with the

publication of the third volume

("Crisanta Knight: Inherent Fate").

Culbertson's stops were in Florida,

Alabama, and Louisiana; her itinerary

being schools, libraries, and

bookstores.

The fourth installment of

Crisanta Knight's adventures ("The

Liar, The Witch, & The Wormhole")

is undergoing final edits and is

scheduled for release on June 1,

2018.

"I was really excited to finish this

one because Book Four is larger

than the others by a significant degree,"

Culbertson says. "Even after

reading it so many times, I still

smile and laugh at the jokes and I'm

still into it. To me that's a good sign.

Not that I toot my own horn, but

you can take this book to the bank,

it's that good. I'm very confident

about Four; it's going to be awesome."

Maybe. In Book Four, Crisanta

Knight and her sidekicks find themselves

in different lands, and not

just in the world of Book. Culbertson

says she never wanted to go the

usual route, where writers take a

classic fairy tale and then merely

extend or add a sequel to it.

Instead, she says, "I wanted to

create a world where every version

of every fairy tale makes sense and

can co-exist. In order to do that, I

had to create a lot of very elaborate

timelines." Culbertson mentions

spreadsheets, equations, calendars

and maps. The result is 14 or 15

total worlds, she says, where famous

literary characters interact

with one another and cross back

and forth into various realms. It certainly

seems ambitious, regardless

of whether or not she can pull it off.

And then there's Book Five,

which Culbertson is on the verge of

completing. Then six, seven, and

eight, the last in the series scheduled

for the spring of 2021.

"I know where I want my characters

to end up, I know how I want

the series to end, and I know how I

want each book to end." Which

doesn't mean she won't improvise

now and again.

"It's like being Dorothy in Oz,"

Culbertson says, "but without the

Yellow Brick Road. You know you

want to get to the Emerald City and

you just don't have the exact path,

but you have the direction you want

to go in." She pauses. "Half the fun

is going into the woods, isn't it?"

A girl in the driver's seat

Culbertson was born and raised

in Palos Verdes. She attended Palos

Verdes High School and today lives

near Portuguese Bend. Not yet a full

time writer (though you'd never

know it), she has a 9 to 5 job in digital

marketing and on weekends

teaches and trains in martial arts.

Culbertson has also allied herself

with Girls on the Run, Los Angeles,

a non-profit organization with a

focus on empowering young girls to

grow up and be strong and confident

about who they are and what

they can achieve. The Crisanta

Knight series is a kind of corporate

sponsor for them and their twiceyearly

5K runs. "The reason I paired

with it in the first place," Culbertson

says, "is because it really aligns

with the values that I'm trying to instill

with my series. Not only just

girl power but also reaching your

potential."

Even when she was just writing

for herself, Culbertson says, "I had

always hoped and prayed that

someday the books I would create

would give people the joy and the

fun that my favorite series have

brought to me, where you like the

characters and you immerse yourself

in that world." She mentions

the Percy Jackson (2005-2009) and

Artemis Fowl (2001-2012) series.

This brings us to the books that

Culbertson read growing up. Most

of them, she points out, "have been

told from a male protagonist perspective

– boy heroes, as it were. I

love them, they're great, but I have

really struggled to find a book with

a female lead that I like. They don't

put the focus as much on that person's

internal journey as the male

hero's.

"Girl books tend to focus very

heavily on the romantic interest,"

Culbertson continues. "My series

will definitely have romance; it's

going to have great stuff like that

because it's fun, but I wanted a female

heroine you could pick off the

shelf and you're like, 'I don't just

like her, I want to be like her.' That

is what I'm going for: 'I like her,

and I want to be like her.' I will

close with that sentence."

The Crisanta Knight series, volumes

one through three, are available

through Amazon, BQB Publishing,

and other venues, brick-and-mortar as

well as cyberspace. Also, visit Geanna

Culbertson's website at Crisantaknight.com.

PEN

October 2017 • Peninsula 67
---
68 Peninsula • October 2017
---
October 2017 • Peninsula 69
---
More than a

pretty view

Photos by Brad Jacobson (CivicCouch.Com)

Mar'sel chef Andrew Vaughan's explorations continue a reliance on hyper-local ingredients

by Richard Foss

This week, I went to a restaurant with a spectacular view of the ocean,

but sat where I couldn't see it. Instead, on our most recent trip to

Mar'sel my wife and I dined at the bar.

That's not what we planned to do, though in retrospect it's hard to apply

any words that involve thinking in advance to that particular afternoon. We

were in the area, it was a lovely day, so we decided to drop in and see if we

could get a table. In the past I have been able to do this because many locals

forget that Mar'sel is there, a natural effect of its hidden location inside the

Terranea resort.

On this visit we could tell we might have a problem as soon as we arrived

because the entire terrace was beautifully decorated for a wedding reception.

The hostess informed us that the dining room was booked too, and

apologetically offered seats for dinner at the bar.

I can understand that, because it's a very different environment from the

dining room or terrace. Those are full of light by day and have a moonlit

sea vista by night, while the bar is in perpetual twilight and only offers

views of some dark wood paneling. As much as we enjoy the views and visuals

of the elegant dining room, we decided that we'd see what the experience

was like at the bar.

We were greeted by Julie the bartender, who doubled as our server for

the evening, and were given a paper menu for the food and a tablet with

the wines and other beverages. We discovered one of the advantages of this

seating as we discussed the first order of business, which was, of course,

cocktails. Julie knew them all, chapter and verse. After we told her our preferences

(alcohol-forward, not overly sweet), she counseled us wisely. We

had a "Dreamer's Tonic" (Lillet Rose, Botanist gin, St. Germain, orange bitters,

and Prosecco) and "Sole Fashioned" (Amontillado, genever, Demerara

syrup, and bitters). The current theme in their cocktail program is to experiment

with wine in cocktails, and in both cases it was successful. Adding

sherry to the old fashioned gave it an extra dimension of wood and nuttiness,

and if you like that classic you'll appreciate this riff on it. As for the

tonic, I've had other cocktails with gin and elderflower, but this was one of

the best, the layers of gentle floral and herbal notes with sparkling wine a

great summery splash.

Julie proved to be a fine guide to the food selections, too, which is not

surprising. Good mixologists construct drinks with the same mindset as

chefs creating entrees. We needed that guide because so many things on

this menu involve unusual and intriguing combinations. Chef Andrew

Vaughan took over from Michael Fiorelli about a year ago and has taken

the restaurant in a slightly different direction. The emphasis on hyper-local

and fresh items is still there, but the menu is a little more eclectic, a little

less Mediterranean.

Chef Vaughan obviously likes to experiment with combinations of meat

with fruit and nuts, an aesthetic popular in Renaissance Italy that has been

70 Peninsula • October 2017
---
coming back into favor. The fig and

burrata salad with green zebra

tomatoes, arugula, toasted pistachios,

carrot essence, and pork

cracklings intrigued us as a modern

take on that idea. To go with it

we considered a crab salad with

apples, pecans, and grilled avocado.

But after a conversation with

Julie we were swayed to Spanish

octopus with squid ink naan,

chickpea puree, mustard greens,

and smoked paprika aioli.

I'm a big fan of fig and cheese

salads and order them often during

the short season when the fruit can

be obtained fresh, but the carrot

essence, pistachios, and cracklings

were a novel take. The only thing

about this that didn't entirely work

was the cracklings, (called grattons

on the menu, as they are in

Vaughan's native Louisiana). The

idea of including them was fine,

but they were served in giant

chunks when they would have

been better crumbled so the flavor

could be mixed in more evenly. As

it was, you got a mouthful of

crunchy richness or none at all.

The grilled octopus had a finer

balance. Though the squid ink

naan was something of a novelty,

the dark purple bread added to the

presentation, picking up the color

in the greens, and the caramel-colored

smoky sauce on the tender

octopus added more visual interest.

The flavors all harmonized:

slightly bitter greens with rich

seafood and smoky, slightly spicy

sauce. There were more grattons

on the side as a garnish, but we

found this item fine without them.

We asked Julie for wine suggestions

and she called over the sommelier,

who recommended a

Glatzer Gruner Veltliner with the

salad and a Qupe Syrah with the

octopus. Both were sound choices

– Gruner is becoming known as a

spicy, fruity, lightly acidic alternative

to Sauvignon Blanc, and it's

superb with seafood.

By this time we trusted Julie

enough to let her talk me out of the

lobster, uni, and squash pasta that

had interested me and into ordering

Atlantic salmon with bok choy,

trumpet mushrooms, tomatoes,

eggplant, brown butter, and

macadamia nuts. I hadn't considered

it because I can get salmon in

plenty of places, but she was emphatic

about how good this was.

She was right. This was a marvelous

piece of fish, a slight herbal

crust crisp over meat that was so

rich it was almost liquid. It was a

simple item perfectly cooked,

Chef Andrew Vaughan's signature Lobster Burrata, made with Maine lobster burrata

cheese, uni, handmade pappardelle pasta, butternut squash puree and

golden raisins. Finished with cape gooseberries and basil from Terranea Resort's

herb garden.

alongside a very interesting vegetable

mix that put together fruity,

funky, and slightly bitter flavors

and made it all work. I wouldn't

have picked brown butter with lime

as a sauce for these vegetables, but

I'm glad Chef Vaughan did.

My wife ordered a pork tomahawk,

a pork chop so large that it

looked like it could be used as a

deadly weapon, over Napa coleslaw

with what was described as pretzelcheddar

spoon bread. This wasn't

like any spoon bread I have ever

seen, as they're usually moist and

puffy within – this was a bread

pudding in all but name, crunchy

on the outside, chewy pretzel textured

with veins of cheese within.

As for the chop, pork this thick can

be tricky to cook, but this was moist

through and through, and the mild

slaw was a nice companion to the

richness of both meat and bready

cheese goodness.

The sommelier came through

again with selections from the bythe-glass

list. We were both bewitched

by the Catalonian

Embruix, a red blend with rich

spicy and berryish notes. (And I

had to write that sentence after I

found that the name of the blend,

embruix, means bewitched. It's

well named because we really did

find it enchanting.) We were similarly

impressed by a Westerly

"Happy Canyon" red blend from

Santa Barbara, which had a little

more cherry and dried fruit and a

little less spice. We very happily

shared tastes to sample each with

both main courses.

We had planned to order a chiboust,

a pastry crème based

dessert that I hadn't tried before,

but the full house had decimated

the selection and they were out of

the items we most wanted to try.

We will certainly return and hope

that they have it next time, because

after seeing what they do with savories

I must try the sweets.

Dinner for two was pricey at

about $230, but worth it. As we left

I noticed some diners taking pictures

of each other with the last

bits of sunset in the background.

Mar'sel has a superb setting and

has used it artfully, but as we

found, you can have a great time

here even if you never glimpse the

ocean.

Mar'sel is at the Terranea Resort,

10 0 Te r r a n e a Wa y, Ra n c h o

Palos Verdes. Sun – Thu 5 – 9:30

p.m., Fri.-Sat. 5 – 10 p.m., Sun.

brunch 10 a.m. – 2 p.m. Full bar,

corkage $40. Wheelchair access

good. Menu at terranea.com/marsel.

(310) 265-2836. PEN

Best of The Beach 2017 Winner

Best Eclectic, American Contemporary

Daily Breeze "2015 South Bay's Favorite"

American Restaurant & Bar

" Best New Restaurant"- Richard Foss of Easy Reader

Favorite Soul Food of 2015- Daily Breeze( yeah, we were surprised

too)

Hey! We like to party, especially with YOU! Call us for your next

Occasion. We've got a Banquet Room perfect for any celebration

Call 310-378-8119 for details

October 2017 • Peninsula 71
---
October 2017 • Peninsula 73
---
30 Year Anniversary

The Palos Verdes Flower Talking Clock donated by

Michel Medawar and his family, celebrated its 30th

Year on the Palos Verdes Peninsula.

S P O T L I G H T O N T H E H I L L

Malaga Cove Homeowners

Hold Annual Meeting

The Malaga Cove Homeowners Association (MCHA) held its annual

membership meeting at the Malaga Cove Library Gallery room. The

evening began with a wine and cheese reception for Palos Verdes Estates's

new Mayor Jim Vandever, City Manager Tony Dahlerbruch and

newly elected Council Members Sandy Davidson and Kenny Kao.

Mayor Vandever discussed the City's current financial challenges. The

newly elected Directors of the MCHA are president Tricia Rapaport,

vice president Valerie Beranek, treasurer Art Fine, financial secretary

Alex Davis and recording secretary Cheryl Kohr. Susan Chang was honored

for her 17 years of MCHA service.

PHOTOS BY CHERYL KOHR

Your clock reminds you of its presence every

time you wind it. If the accuracy of the clock is

not what it used to be, or the chimes are not as

strong or rhythmic, or maybe it just stops; that means

your clock is talking to you and telling you that its endless

life is in jeopardy.

It is imperative to maintain and service your clock

regularly. Oil gets old and dry forcing the train of gears

to work twice as hard to accomplish their goal. This results

in damage that drastically shortens the life of a

fine timepiece.

Michel Medawar has been extending the lives of

timepieces for over sixty years as his father did sixty

years before. He is the inventor of the first talking clock

in the world. He is a graduate from Patek Philippe in

Geneva, Switzerland, The Theod Wagner Clock CO. in

Zeeland, Michigan. Call him so that he may come to

your and offer you a free estimate for servicing your

clock. Or bring your wall or mantel clock to out store

to see our showroom and receive the same complementary

diagnosis.

We are located at 810C Silver Spur Rd., in Rolling Hills Estates, Ca.

90274. Or call us at (310) 544-0052

1. Tricia Rapaport, Betsy Treynor,

Ela Jhaveri and Valerie Beranek.

2. Ron and Shirley Paolucci.

3. Sharon and Bob Parke.

1

2

4. Kenny Kao PVE Councilman and

Mayor James Vandever.

5. Mary and Tom Malone.

3

Open 10:00 am - 6:00 pm Tuesday - Saturday

810C Silver Spur Road • Rolling Hills Estates • CA 90274

Call 310.544.0052

4 5

74 Peninsula • October 2017
---
Concerts in the Park

The country honky tonk sounds of the Cody Bryant Show closed out the Malaga

Cove Summer concert series on Wednesday, Aug. 30. The concert was presented

by the Malaga Cove Business and Professional Association in cooperation with

the Palos Verdes Police Officer's Association. Virginia Butler and husband Les Fishman

of Coldwell Banker produce the Library Concert Series every year and have

committed to continuing the series in 2018. Malaga Bank designed and printed

the posters, flyers and programs.

Concerts in the Park has become a family tradition where patrons can put their

blankets out and reserve a space on the grassy knoll, picnic and then listen to a

wide range of different bands. To learn more visit www.malagacoveconcerts.com.

Cody Bryant

Band with Les

Fishman and

Virginia Butler.

around&about

PVP Council PTA Honorary Service Awards

Three high school graduating

seniors received

scholarship awards from

the PVP Council of PTAs:

Palos Verdes High's Perrie

Kaminskas, Rancho Del

Mar's Christopher

Somkhit-Perez, Peninsula

High's Nadia Magee

with PVP Council of PTAs

President Beth Meyerhoff.

Photo by Shari Shigenaga

The Palos Verdes Peninsula Council of PTAs celebrated its 61st year with an Honorary

Service Awards event at Trump National Golf Course. The PVP Council of

PTAs supports all sixteen school PTAs on the Palos Verdes Peninsula, representing

almost 11,000 members, with the goal of positively impacting the lives of all children

and families. One hundred and fifty people attended to recognize exemplary

PTA volunteer service to the community. State PTA President-Elect (2017-2019) Dianna

MacDonald's keynote thanked PTA members for their volunteerism and encouraged

continued commitment and leadership.

The audience at the park waiting for the show to begin. Photos by

Stephanie Cartozian

Pro surfer throws a rock 'n roll birthday for Dad

Stef Corgel and

pro surfer Alex

Gray take a break

during the rock 'n

roll birthday party

Gray threw for his

dad Dudley, who

sat in with the

band, playing

cover tunes from

the Allman Brothers

and Neil Young.

Guests signed a

surfboard birthday

card for the birthday

boy.

"Magically Mysterious"- New York Times

On the second Sundays at 2 p.m.,

Rolling Hills United Methodist Church

hosts acclaimed classical musicians in

concert. On September 10, famed Australian

flutist Catherine Gregory performed

with David Kaplan on the piano.

Catherine is a Core-Member of Decoda-

Affiliate of Carnegie Hall and Resident

Ensemble for Creative Performance at

the Guildhall School of London. The

New York Times boasts that "Ms. Gregory

leaves a deep impression-her

sound rich and fully present." Admission

New York based Catherine

Gregory. Photo by Dario Acosta

Admiral Risty's Live Entertainment

Songs such as "You've Got a Friend",

"Sweet Caroline" and "Country Roads

Take Me Home" are being performed

by Tom Bellizia 7-11 p.m. Friday

evenings in the Seaside Lounge of Admiral

Risty's Restaurant. Bellizia's playlist

of old, familiar songs goes along with a

restaurant deeply rooted in Palos Verdes

history since 1966 . Bellizia is a composer,

pianist, guitarist and vocalist. He

owns and often plays a Felipe Conde

classical guitar from one of the oldest

guitar-making families in Madrid. The

Admiral Risty offers live entertainment

Tuesdays through Sundays in the lounge.

Visit www.admiralristy.com for a schedule

of upcoming performances.

is free and donations are appreciated.

Visit www.RHUMC.org to view show

schedules.

Tom Bellizia. Photo by Kathy

Berg

October 2017 • Peninsula 75
---
Suzy Zimmerman, Agent

Insurance Lic#: OF71296

4010 Palos Verdes Dr N, Suite

103

Rolling Hills Estates, CA 90274

Bus: 310-377-9531

www.zimziminsurance.com

That's when you can count on

State Farm®.

I know life doesn't come with a schedule.

That's why at State Farm you can always

count on me for whatever you need –

24/7, 365.

GET TO A BETTER STATE.

CALL ME TODAY.

1101198.1 State Farm, Home Office, Bloomington, IL

YMCA's Adventure Guide Program

To grow and share adventurous experiences with a parent provides special memories

for children and adults alike. The

YMCA Adventure Guide program

launches children on a journey of discovery

alongside their parents to create a

bonding experience while they are still

young. Group activities include games,

crafts, songs, outdoor pursuits such as

camping, hiking, ice skating and swimming.

The goal is to spend quality oneon-one

time together to set a foundation

for a positive, lifelong relationship between

parent and child. The program

runs from September through June for

grades K-2 and parents. PEN

around&about

Matt and David Burt. Photo by

David Burt

NOW

OPEN

MATTUCCI

Plumbing

Since 1990 • License # 770059, C-36 C-34 C-42

D E P E N D A B L E • P R O F E S S I O N A L • A F F O R D A B L E

w w w . m a t t u c c i p l u m b i n g . c o m

FALL SPECIALS

$ 9 8 0

Residential Water Heater

40 gal. installed! ($1080 - 50 gal. also available)

Includes hot & cold water supply lines

Expires October 31, 2017

FULL SERVICE PLUMBING

SEWER VIDEO INSPECTION

ROOTER SERVICE

COPPER REPIPES

$ 7 5

Rooter Service - Main Line

Must have clean-out access. Some restrictions may apply.

Expires October 31, 2017

F R E E

E S T I M A T E S

M e n t i o n t h i s a d w h e n

s e t t i n g u p a p p o i n t m e n t .

3 1 0 . 5 4 3 . 2 0 0 1

q

HOME &

GARDEN GUIDE

Thank You

For Your

Vote!

ON CALL

24 HOURS

7 DAYS

76 Peninsula • October 2017

2013

r

Catalina Paints offers top quality

q Catalina Paints, formerly known as Supreme Paints, is a destination for top

quality house paints as well as wallpaper and window coverings. The Manhattan

Beach location recently started carrying Farrow and Ball paints, and both the Redondo

Beach and Manhattan locations carry Benjamin Moore, Cabot Stains,

Hunter Douglas and a whole lot more. Visit Catalinapaint.com for a complete list

of products and locations

1002 S. Pacific Coast Hwy., Redondo Beach (310) 540-4456

708 N. Sepulveda Blvd., Manhattan Beach (310) 376-2444

Catalinapaintstores.com

Custom Design & Construction makes remodeling fun

q Love your home again and love

the process too. While making a

major remodeling change to your

home is exciting and rewarding, it can

also seem overwhelming. That's why

Custom Design & Construction has created

a unique process to guide each

project from idea to reality. They begin

with a Discovery phase where they explore

all the options within your budget

range. The award-winning design

team works with you to select finish

materials and fine-tune the design

plans. Making all the decisions upfront,

allows them to present an exact

final price before work begins. That's

the benefit of working with a single

company that provides both design

and construction, all under one roof.

Ask about easy, in-house financing.

(310) 815-4815

VisitCustomDesign.com

License # 524561
---
q

HOME &

GARDEN GUIDE

r

Freighthouse a design showroom

q Freighthouse is a design showroom conceived by South Bay designer Sara

Balough as a resource for fellow designers to buy and sell goods that they need

for the individual touch their clients require and for clients to trade beautiful things

that may not work in their newly remodeled home. Freighthouse carries an everchanging

inventory of gently used designer, high end or antique items. This is Los

Angeles' go-to place for high quality art, furniture, and accessories at way below

retail prices.

2801 Pacific Coast Hwy.,Torrance

(424) 347-7331 freighthouseconsign.com

Beautiful pools, spas by Horusicky Construction

q Beautiful swimming pools, creative spas and artistic masonry work of all sizes

are offered by Horusicky Construction. Started by Michael Horusicky and now

run by son Mike Jr. and daughter Andrea, the family has been in business for over

45 years and is known for its quality work. Offering complete new pool and spa

construction and remodels, to hardscape, decking, outdoor kitchens, brick and

stone projects of all sizes as well as the landscaping. Horusicky Construction can

take care of it all with the experience and expertise that you can trust. Log onto

Horusicky.com to see their photo gallery and customer comments. Call or email

to schedule a free estimate.

(310) 544-9384 info@horusicky.com

Home & Garden Guide cont. on page 78

] u

t

Highest Quality at a Fair Price

• Stamping

• Driveways

• Pool Decks

• BBQ/Firepits

• Patios

• Stonework

• Pavers

• Foundations

LIABILITY INSURED • WORKERS COMPENSATION

Casey Lindahl - Founder & President of Lindahl Concrete Construction, Inc.

310-326-6626 LindahlConcrete.com

Lic.#531387

Showroom Available

October 2017 • Peninsula 77
---
q

HOME &

GARDEN GUIDE

r

Kitchen Collection team creates timeless results

q Jackie Balint, CKD, has been a designer in the kitchen and bath industry

since 1981 and is the owner of The Kitchen Collection in Riviera Village in Redondo

Beach. She and her daughter Debra offer years of expertise in practical

and personalized kitchens and baths. They work with clients and contractors to

create timeless projects, utilizing quality products and providing personal attention

from concept to completion. Jackie and Debra have worked on projects throughout

the country and have had many of their projects featured in architectural publications.

The Kitchen Collection is a member of the National Kitchen & Bath Association

and the Bath & Kitchen Buying Group. Jackie has served on the boards of

both organizations.

241 Avenida del Norte, Redondo Beach

(310) 540-4090

TheKitchenCollection.com

1st Windows low prices, high quality

q Find 24/7 convenience at 1stwindows.com or visit the Signal Hill showroom.

1st Windows promises the best prices in the South Bay. No games, no commissioned

salespeople, no high-pressure sales. A volume, repeat-business dealer since

1995, 1st Windows is known for its straightforward and efficient service as well

as its quality products, lines and workmanship.

1858 E. 20th Street, Signal Hill

(562) 494-9069

4203 Spencer St., Torrance, CA 90503

(310)214-5049 • www.pevelers.com

Appointment Recommended

Showroom Hours: Monday Thru Friday 10-5

Closed Saturday and Sunday

License #381992

• Serving the South

Bay for over 35 years

• Full Service Contractor

• Complete Installation

• New Construction

• Remodeling

• Second Floors

• Additions

• Cabinets

Visit Our

Kitchen &

Bath

Showroom

Lindahl Concrete's work is legendary

q Lindahl Concrete is the leading concrete and masonry company in the South

Bay. We value good relationships with our customers and producing high quality

work. View our work of driveways, pool decks, patios, sidewalks, walkways,

stairways, barbecues and more on our website. Visit their garden showroom to

see samples of colors and finishes. Workman's Comp & General Liability Insured.

Lic. #531387. Call Casey Lindahl, Founder and President of Lindahl Concrete

Construction.

Vinyl Windows

Replacement and New Construction

BUY ONLINE

AND SAVE BIG $$$

WWW.1STWINDOWS.COM

VINYL, ALUMINUM, WOODCLAD

(310) 326-6626

lindahlconcrete@aol.com

lindahlconcrete.com

Mattucci Plumbing available 24/7

q At Mattucci Plumbing, the level of service you receive is a guarantee. For

plumbing repairs and installations in the South Bay and Greater Los Angeles, Mattucci's

professional technicians are all about making services and equipment work

as great as possible. Customer satisfaction is their #1 priority. Call today or book

an appointment online. Their professional team is available whenever you need

Lowest Prices Up Front • No Games

Show Room 562-494-9069

CONTRACTOR REFERRAL • Fax 562-494-2069

78 Peninsula • October 2017
---
q

HOME &

GARDEN GUIDE

r

them and a live person will gladly assist you 24 hours a day. Call today for your

free estimate.

(310) 543-2001 mattucciplumbing.com

Pete Fer Plumbing Heating & Air Conditioning

offers repairs, remodels

q Pete Fer Plumbing is a complete mechanical contracting company, providing

plumbing, heating and air conditioning for new construction, remodeling, service

and repair to commercial and residential customers. They provide 24 hour service,

seven days a week through an automated emergency dispatch paging system.

Mention Peninsula People to one of their service technicians and receive $20 off

your first service call.

2020 S Mesa St, San Pedro

(310) 831-0737

Wholesale Woodfloor Warehouse

helps you find perfect floor

q Wholesale Woodfloor Warehouse, a family owned company, offers a huge

selection of top name brands at the lowest prices anywhere. They help you find

your perfect floors, deliver and provide installation with the quickest turnaround

times.

2217 1/2 Artesia Blvd., Redondo Beach

(424) 383-1260 Floorswww.com

r

October 2017 • Peninsula 79
---
80 Peninsula • October 2017
---
REAL ESTATE LOANS LOW RATES - FAST CLOSING

• Jumbo Loan To $10 Million

• Conventional Loans with only 1% Down (WHY RENT?)

• FHA up to $636,150

• 5+ Unit Financing

• Construction Loans

• Good Credit/Bad Credit

MILLENNIUM REAL ESTATE SERVICES

(BRE: 01275204/MLO: 1153348)

JACKIE COLLINS, Broker

800-653-1022

www.webmortgagefunder.com

609 Deep Valley Drive, Suite 200, Rolling Hills Estates, CA 90274

"Mr. Australia"

New Zealand and Fiji Too!

Your So. Bay Expert for Amazing, Customized,

Independent Travel Packages "Down-under."

For a conference or appointment:

Rick Stone, "Mr. Australia"

310-793-6013

mraustralia@verizon.net

www.MrAustralia.net

Proudly Affiliated with

Beach Travel, Hermosa Beach

Classifieds 424-269-2830

ELECTRICAL

LYNCH

ELECTRIC &

General

Building

Contractors

• Residential

Troubleshooting

• Remodel Specialist

Scott K. Lynch

P.V. Native

Licensed & Insured

Cell

310-930-9421

Office & Fax

310-325-1292

www.LynchElectric.us

Lic 701001

FLOORING

MUSIC LESSONS

Vocal Technician

Piano Teacher

Vocalist

Jeannine McDaniel

Rancho Palos Verdes

20 year experience

All Ages

310-544-0879

310-292-6341

Jeannine_mcdaniel2001@yahoo.com

PLASTERING

Patch Master

Plastering

Patch Plastering

Interior • Exterior

• Venetian Plastering

• Ceiling Removal

• Drywall Work

• Acoustic

Ceiling Removal

• Water & Fire Restoration

310-370-5589

Lic. # 687076 • C35-B1

POOLS & SPAS

POOLS • SPAS

HARDSCAPES

New Construction

& Remodeling

Excellent References

Horusicky Construction

310-544-9384

www.Horusicky.com

Credit cards accepted

Lic #309844, Bonded, Insured

ROOFING

Classifieds 424-269-2830

QUIXTAR

Concrete & Masonry

Residential & Commercial

310-534-9970

G

CONCRETE

Lic. #935981 C8 C29

classifieds

424-269-2830

D

Remodeling

Design

Kitchens

Bathrooms

Room Additions

New Construction

Reserve

your space in the

next

CONSTRUCTION

Pub Date: Oct 28

Deadline:

Oct 13

Call direct

s

(424)

269-2830

Charles Clarke

Local Owner/General Contractor

Ph: (310) 791-4150

Cell: (310) 293-9796

Fax (310) 791-0452

"Since 1990" Lic. No. 810499

CONSTRUCTION

Call us to Discuss the

ENDLESS POSSIBILITES

Extreme

Hillside Specialist

Foundation Repair Experts

Grading & Drainage

Retaining Walls,

Fences & Decks

310-212-1234

www.LambConBuilds.com

Lic. #906371

GARAGE DOORS

HANDYMAN

Handyman

Services…

Fix It Right the

First Time

We like small jobs

/ Free estimates

What we do…

Plumbing,

Electrical, Drywall,

Painting & more.

Valente Marin

310-748-8249

Unlic.

PLUMBING

Thank You South Bay for

50 Years of Patronage!

Residential • Commercial • Industrial

Plumbing 24/7 • Heating

Air Conditioning

pfplumbing.net

800-354-2705 • 310-831-0737

PLUMBING

MATTUCCI

PLUMBING • HEATING • COOLING

DEPENDABLE • PROFESSIONAL • AFFORDABLE

FULL SERVICE PLUMBING • COPPER REPIPES

SEWER VIDEO INSPECTION • HEATING

DRAIN & SEWER SERVICE • COOLING

TRENCHLESS SEWER REPLACEMENT

Tile Reroof and

repair specialist

310-847-7663

Family owned

business since 1978

Lic 831351

ON CALL

24 HOURS

7 DAYS

FREE ESTIMATES

310.543.2001

CALIFORNIA

Lic. #770059

C-36 C-20 A

2013

October 2017 • Peninsula 81