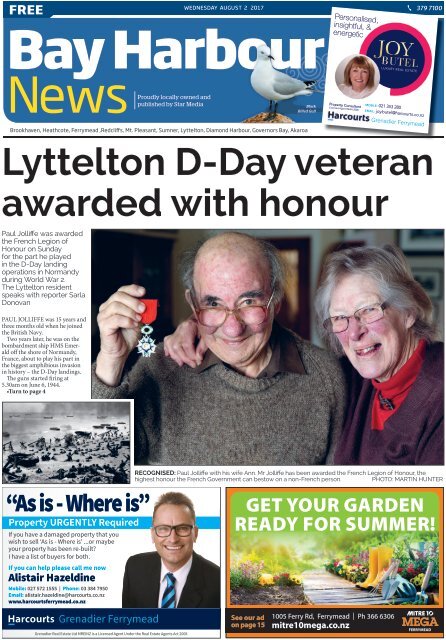 Bay Harbour: August 02, 2017
Create successful ePaper yourself
Turn your PDF publications into a flip-book with our unique Google optimized e-Paper software.
FREE

Wednesday aUGUsT 2 2017 379 7100

Bay Harbour

Personalised,

insightful, &

energetic

LUXURY REAL ESTATE

News

Proudly locally owned and

published by Star Media

Black

Billed Gull

Property Consultant

Licensed Agent REAA 2008

MOBILE: 021 353 280

EMAIL: joy.butel@harcourts.co.nz

Grenadier Ferrymead

Brookhaven, Heathcote, Ferrymead ,Redcliffs, Mt. Pleasant, Sumner, Lyttelton, Diamond Harbour, Governors Bay, Akaroa

Lyttelton D-Day veteran

awarded with honour

Paul Jolliffe was awarded

the French Legion of

Honour on Sunday

for the part he played

in the D-Day landing

operations in Normandy

during World War 2.

The Lyttelton resident

speaks with reporter Sarla

Donovan

PAUL JOLLIFFE was 15 years and

three months old when he joined

the British Navy.

Two years later, he was on the

bombardment ship HMS Emerald

off the shore of Normandy,

France, about to play his part in

the biggest amphibious invasion

in history – the D-Day landings.

The guns started firing at

5.30am on June 6, 1944.

•Turn to page 4

RECOGNISED: Paul Jolliffe with his wife Ann. Mr Jolliffe has been awarded the French Legion of Honour, the

highest honour the French Government can bestow on a non-French person.

PHOTO: MARTIN HUNTER

"As is - Where is"

Property URGENTLY Required

If you have a damaged property that you

wish to sell 'As is - Where is' ...or maybe

your property has been re-built?

I have a list of buyers for both.

If you can help please call me now

Alistair Hazeldine

Mobile: 027 572 1555 | Phone: 03 384 7950

Email: alistair.hazeldine@harcourts.co.nz

www.harcourtsferrymead.co.nz

get your garden

ready for summer!

Four Grenadier Seasons Ferrymead

Realty

Grenadier Real Estate Ltd MREINZ is a Licensed Agent Under the Real Estate Agents Act 2008

See our ad

on page 15

1005 Ferry Rd, Ferrymead | Ph 366 6306

mitre10mega.co.nz
---
PAGE 2 BAY HARBOUR

Latest Christchurch news at www.star.kiwi

Wednesday August 2 2017

Inside

FROM

THE

EDITOR'S

DESK News..................................... 3-11

PAUL JOLLIFFE was recognised

by the French at the weekend for

his part in the D-Day landings on

June 6, 1944.

On page 1 we report on Paul's

memories of that day when he was

involved in the bombardment of

the German defences at Normandy.

With him during the interview

was his wife Ann, and there is a

nice little back story to how they

met – I'll let you find out in the

article.

It's great to see war veterans

continuing to get recognition. The

French are very good at remembering

those who helped drive enemies

from their country (Mururoa

and Rainbow Warrior aside).

Paul says he was just a small

cog in a very big (war) machine,

which is true. But without the Paul

Jolliffe's of the war, the machine

wouldn't have turned.

– Barry Clarke

Banking on success OUR PEOPLE 13

Local Views.......................8

Sport....................................17,18

Community Events... 21

Health & Beauty.............23

Real Estate.....................25

GET IN TOUCH

General Inquiries Ph 379-7100

Classified Advertising Ph 379-1100

The Christchurch Star Company Ltd. PO box 1467 - Christchurch

starmedia.kiwi

NEWS

Sarla Donovan

Ph: 021 919 917

sarla.donovan@starmedia.kiwi

ADVERTISING

Javier Balcazar

Ph: 982 9308

javier.balcazar@starmedia.kiwi

ADVERTISING

Rob Davison

Ph: 021 225 8584

rob.davison@starmedia.kiwi

NEW GIFT SHOP

Opening 9th August

Wednesday from 10am

HANDMADE ARTS & CRAFTS

15 London Street, Lyttelton The Lyttel Kiwi

Secrets in the Wardrobe - Upcycled family clothing

SHOE

SALE

SHOE

SALE

SHOE

SHOP 5, 1027 FERRY ROAD (KITE LANE - CASUAL & COUNTRY COMPLEX), CHRISTCHURCH

w w w . i l o v e w i n k . c o . n z I 03 928 1690
---
Wednesday August 2 2017

Latest Christchurch news at www.star.kiwi

BAY HARBOUR

PAGE 3

News

Skate ramp plan for old pub site

• By Sarla Donovan

SUMNER skateboarders are a

step closer to having their ramp

back.

On Monday, the Linwood-

Central-Heathcote Community

Board approved the former

Marine Tavern site at 26 Nayland

St as the new

home for the ramp,

subject to resource

consent.

The temporary

Megan

Carpenter

skate ramp at 36

Wakefield Ave

was shut down on

February 10 when

it failed to comply with the city

plan's noise standards.

Debate over the new site,

which was proposed by city

council staff, lasted for 90min.

Most of those attending were

supporters of Sumner Green

and Skate Group, which has

been working with the city

council to find a place for the

ramp while plans for a more

permanent skate park structure

are put together.

Group member Charlotte

Hudson said Sumner youth

were becoming "increasingly

disillusioned and disappointed"

with the time it had taken to

find a suitable site.

"The closure of the last seven

SKATE RAMP: Sumner's temporary skate ramp will go on

the site of the former Marine Tavern if resource consent is

approved.

months for them shows a lack

of urgency and (risks) a loss of

faith in the process from youth,"

she said.

Two deputations were made

against the site. Among them

was Glen Brown, whose mother

lives 100m away and is the closest

resident to the Nayland St

site.

Mr Brown said she was

worried about the noise from

skateboarders using the wooden

ramp.

The sound from the ramp was

intrusive at its original Village

Green site and Mr Brown feared

the new location would be even

louder, as noise could echo off

nearby cliffs, he said.

Sumner Re Treat Apartments

owner Roydon Smart was concerned

at the proximity to busy

Wakefield Ave.

He also suggested that in the

summer months, skateboarders

wouldn't go home after

the ramp was locked at 9pm.

Instead, they were likely to use

the new Sumner Centre car park

opposite the site, he said. This

would create noise issues for

guests at the Sumner Bay Motel

behind the car park, he said.

City council parks recreation

planner Megan Carpenter said

as part of the resource consent,

the site would have to comply

with noise restrictions.

Community board member

Darrell Latham asked city

council staff to seek confirmation

around the safety of the

proposed site from the Christchurch

Road Policing manager.

Miss Carpenter said city

council staff could also investigate

installing a guard rail at

the edge of the half-pipe ramp to

ensure safety.

Heathcote Ward city councillor

Sara Templeton said it was

great to get the project moving

again.

In Brief

JETTY IDEAS WANTED

Ideas for the restoration of

the Governors Bay Jetty can

be submitted over the next

two weeks. A community

consultation event was held

on Sunday but the Jetty

Restoration Trust want to

hear from anybody unable to

make the event or with more

to say. The trust will compile

feedback before talking to key

stakeholders and drawing up

a brief with design engineers.

Email the trust at savethejetty@

gmail.com with your ideas for

the jetty.

SUMMIT RD FEEDBACK

Public consultation over

proposed traffic restrictions

on Summit Rd will close on

Friday. Anti-social road use

and vandalism have prompted

the city council to look at

restricting night time road

access to Summit Rd between

Rapaki and Gebbies Pass Rds

and Worsleys Rd. Proposed time

restrictions will prohibit vehicles

under 3500kg from 10pm-5am,

Thursday to Monday, and on

public holidays. The proposal

does not involve installing

physical barriers blocking access

to the road. Feedback can be

made at www.ccc.govt.nz and

closes on Friday at 4pm.

Christchurch Casino

Golden Oldies Sports Celebration

1 - 29 April, 2018

Our fee is

1%

from

min fee applies

At Smart Real Estate YOU keep the Profits

Our Smart Marketing offers Global Exposure

Full service, Free Appraisals

Phone Debra Hakaraia

027 562 0420 or

03 384 8600

Enter

On Line

Now!

Cricket Basketball Softball Football Rugby Squash Netball

Hockey Golf Lawn Bowls • For The Love Of The Game

www.christchurchgoldenoldies.com
---
PAGE 4 BAY HARBOUR

Latest Christchurch news at www.star.kiwi

Wednesday August 2 2017

ews

'It was highly organised. We knew

•From page 1

"I've never witnessed or heard

such a noise. Battleships and

rockets, everything that could

be fired was fired, Mr Jolliffe, 90,

recalled this week.

"Luckily we didn't have to

communicate all that much – we

just got the orders and shouted

them out. It was highly organised.

We knew it was a big do.

But all we actually saw was the

plotting table.

"We had a bit of relief time

every now and then and popped

up on deck for a bit of fresh air.

There was a lot of debris and

there were bodies floating around

after the first day. After that first

period, the battleships really

did them in. It was Gold Beach

we were moored at, east of the

Americans at Omaha Beach.

"I didn't feel scared. I was more

curious than anything."

The junior seaman was downstairs

in the plotting room, using

data coming in from the spotter

planes to set the direction of the

guns.

Their job was to "shoot up the

Germans" so when the Allied

troops landed, they could get on

without too much bother.

"I was in a little compartment

down in the bowels of the ship.

are you Considering

selling THis winTer?

The weather may be cooler but the property market in the seaside

suburbs certainly isn't!

From 'As Is, Where Is' properties to brand new family homes, if you

want to know the latest price of your home call Chris today for an

appraisal and market update.

FLOORING

For this professional advice and

more call Chris Moores today.

Chris Moores

Harcourts Grenadier Ferrymead

1020 Ferry Road

P: 03 384 7950 | M: 027 588 4440

E: chris.moores@harcourts.co.nz

LEFT: Mr Jolliffe shortly before D-Day, aged 17. RIGHT: At the time of his discharge from the Royal Navy, aged about 30.

My job was on high angle gun

control, setting the guns' elevation

and where they were trained.

The spotter plane dictated where

to train the guns. We spent

longer than a week down there,

had our meals there. Slept in

hammocks

"There were a huge number

of ships carrying the troops.

Lines of cruisers and battleships,

tank infantry. We were there to

destroy the German guns – and

possibly the men."

GRENADIER

Licensed Sales Consultant REAA 2008

He didn't find out until much

later, but his brother-in-law was

stationed just a couple of ships

along.

The HMS Emerald was a

cruiser – a small version of a

battleship – which carried about

800 men.

It was called back from the Indian

Ocean to Greenock, off the

west coast of Scotland not long

before the landings.

"We were so junior, they

never used to tell us anything.

Vortex Flush

T025 Now $399

From Greenock, we came down

through the Irish Sea, in very

rough weather – giant swells. The

captain told us en route we were

joining the invasion. We docked

in Southhampton to prepare the

ship. I was from Southhampton

and I remember looking over

and wondering if I'd ever see my

house again."

After World War 2 ended, the

Royal Navy "pensioned off" the

battleships and Mr Jolliffe was

sent to a navy air station near

T008 Now $289

NEW shoWroom

13b Parkhouse rd, Christchurch

All Plywood Vanity range 20% off

Open 7 Days Mon-Fri 9am - 5.30pm | Sat 9.30am - 4pm | Sun 10am-3pm

0800 MILLEN | www.millen.co.nz | 03 348 8678

SALE

NOW ON

SHOWROOM 3/954 FeRRy ROad | CHRISTCHURCH | Tel. 03 943 2001 | WWW .gReenFlOORIng.CO .nz

QUICKSTEP – LOC – ELKA – PERGO – TORLYS

Paisley, Scotland.

"I was a keen archer and we

had hares living out on the airfield.

I'd gone out one day when

I saw a balloon, so I shot it down;

it was good target practice for the

bow and arrow.

It turned out a Women's Royal

Naval Officer had spent over an

hour getting this meteorological

balloon into the air.

"So to pacify an angry Wren, I

thought I'd better ask her out to

dinner. That was my wife, Ann."

LET US HELP

YOU SAVE $$$

ON FLOORING

• TIMBER • TILE • CORK

• LAMINATE • LEATHER

laRge SeleCTIOn

FRee MeaSURe &

QUOTe

TRAdInG hOURS:

Tuesday to Thursday 8:30am to 5:30pm,

Friday 8:30am to 4:30pm, Saturday 10:00am

to 1:00pm, Sunday & Monday closed.
---
Wednesday August 2 2017

Latest Christchurch news at www.star.kiwi

BAY HARBOUR

PAGE 5

it was a big do.'

The pair emigrated to

Christchurch in 1962 with their

two young sons, Geoffrey and

Nicholas, wanting to see some

other part of the world.

Mr Jolliffe worked at the National

Airways Corporation, which

later became Air Zealand. He and

Ann have lived in Lyttelton for the

past 38 years.

"I'm no hero," Mr Jolliffe says,

reflecting on his medal. "I was

a small cog in a very big

machine."

•On June 6, 1944, a huge

military machine embarked

on the invasion of Germanoccupied

France. Its target

was the coast of Normandy.

A vast armada of ships

carried more than 130,000

men. Ahead of them, planes

and gliders transported

another 23,000. This was

the biggest amphibious

landing in history, and its

aim was to end the war in

Europe and bring victory to

the Allies.

READY FOR ACTION: The HMS Emerald, a cruiser which carried

about 800 men.

•Over 425,000 Allied and

German troops were killed,

wounded or went missing

during the battle. This figure

includes over 209,000 Allied

casualties, with nearly

37,000 dead amongst the

ground forces and a further

16,714 deaths amongst

the Allied air forces.

•Paul Jolliffe was born in

Southhampton, England on

October 7, 1926.

•He enlisted with the

British forces on January 7,

1942, serving in the Royal

Navy during World War

2. He took part in naval

operations in south-east

Asia and north-west Europe,

including serving as part of

Operation Neptune on HMS

Emerald, a bombardment

ship for the D-Day landings.

•On Sunday, in his Lyttelton

home, he was awarded

the French Legion of Honour,

the highest award the

French Government can

bestow on a non-French

person, for the part he

played in D-Day. The Legion

of Honour is given to those

who have served France or

the ideas it upholds.

Permanent safety

barriers for Main Rd

• By Sarla Donovan

PERMANENT safety barriers at

the site of a fatal crash on Main

Rd will be installed by the end of

the month.

In March, Mt Pleasant resident

Maureen Imrie, 73, died

when the vehicle her husband

was driving slammed through a

wooden barrier near Shag Rock

and plunged into the sea.

The Bay Harbour News reported

on July 19 that it could

be February before permanent

safety barriers were installed.

Linwood-Central-Heathcote

Community Board member

Darrell Latham has now been

told by city council staff permanent

barriers will be going in

"promptly" with a completion

date anticipated before the end

of August.

The barriers are part of pipe

replacement work taking place

on Main Rd.

There have also been temporary

barriers erected at the site

in the past week.

Dr Latham said he was

pleased at the developments.

"This is a very busy transit

area for both vehicles, cyclists

and pedestrians and while there

are some site and construction

SAFETY: Temporary safety

barriers have gone up at the

site of a fatal crash on Main

Rd, Sumner. Permanent

barriers will be installed by

the end of August. ​

challenges along this section of

road, public safety has to be our

number one priority."

Aaron Haymes, city council

transport operations manager

said they would put further

temporary barriers in place on

the city side of Shag Rock corner

"wherever practicable" as the

works along Main Rd progress.

NUK KORAKO

DELIVERING FOR

PORT HILLS

E

W

Nuk.Korako@national.org.nz

nukkorako.national.org.nz

facebook.com/NukKorako.PortHills

Follow us on Facebook

@Dream Doors Christchurch

for design inspiration

Amazing

Kitchen

Facelifts!

• Replacement doors

• Drawer fronts

• panels & bench tops

• or a complete brand

new kitchen, all

made to measure.

Authorised by Nuk Korako, 6/950 Ferry Road, Ferrymead, Christchurch.

Ph 03 338 1081 adrian@dreamdoors.co.nz

More than just numbers

We talk about the YOU in much of our on-line marketing. It's not

just a marketing strategy. It really is about YOU. First and foremost

you need us to listen. We do. We've got awesome ears! We want

to hear about your vision, for your business, and we want to help

you get where you want to be. It's about YOU, and it's about our

relationship with YOU - always. Drop in, our ears are waiting.

We specialise in:

- Business & Management Advice

- Owner Managed Businesses

- Individual's Tax affairs

- Investment & Rental Properties

- Business Start-Ups

- Accountancy and Tax Compliance

Your local independent MYOB Approved Partner

and Xero Certified Advisor in Ferrymead

11F Settlers Cres. Ferrymead P. 03 384 8179 M. 022 354 8218 E. info@ferrymeadaccounting.co.nz www.ferrymeadaccounting.co.nz
---
PAGE 6 BAY HARBOUR

Latest Christchurch news at www.star.kiwi

Wednesday August 2 2017

News

In Brief

Landmark building to reopen

COUNCIL HEARING FOR

SCHOOL'S LAND SWAP

A city council hearing panel

on the proposed Redcliffs

Park and Redcliffs School

land swap will take place on

Monday. Public consultation

on the potential swap closed

in June and attracted 853

submissions. Of those, 71

per cent (602) were in favour

and 22 per cent (183) were

against. Seven per cent (60)

supported the proposal but

had some concerns. The

hearing panel will listen

to submitters at Monday's

meeting before making a

recommendation to the city

council.

NEW CAFE TO OPEN IN

ORTON BRADLEY PARK

A new-look cafe will open

at Orton Bradley Park in

October, replacing the former

Victorian-themed tea rooms

which closed over summer.

Co-managers Maria Lee

and Ursina Riederer say

they plan on using locally

grown produce. They want to

engage children at Diamond

Harbour School and local

residents in growing food

for the cafe, which will serve

"innovative, wholesome

food," Ms Lee said.

• By Sarla Donovan

ANOTHER heritage landmark

is set to reopen in Lyttelton.

The Lyttelton Harbour Board

building, on the corner of

Norwich Quay and Oxford St

has undergone extensive renovations.

The building was damaged

in the February 22, 2011, earthquake.

The upper storey, including

the parapet and the roof, had

to be removed.

Brothers Aaron, Tim and

David Donaldson's property

company Water Qual bought

the building in November 2010.

Though unaffected by the

September 4, 2010, earthquake,

the damage wrought on February

22, 2011, has cost $2 million

to fix.

Builders started work on the

restoration in January last year,

and two weeks ago the leasing

sign went up.

Aaron Donaldson said the top

floor office space was already

spoken for by "port support

entities" and there were several

parties interested in the ground

floor space – suited to hospitality,

offices retail.

"We are confident of getting

tenants, Lyttelton is highly

sought after."

RESTORED: Aaron Donaldson's property company Water Qual

bought the historic harbour building in November 2010. It has

been repaired after it was badly damaged in the February 22,

2011, earthquake.

A lot of effort had gone into retaining

heritage features, he said.

"We've kept the wooden features

in the interior and outside,

a lot of work's gone into pinning

and supporting the historic brick

facade, putting up eyebrows and

moulding over the windows."

Mr Donaldson said it was

guidance and support from city

council heritage officer Brendan

Smyth and a $333,548 city council

heritage grant that had made

the restoration feasible.

Although retaining historic

features while also meeting city

council compliance standards

had been a costly and at times

"almost impossible" task, Mr

Donaldson said they had developed

a "marvellous partnership"

with the city council.

"It's a crying shame that

some make the effort to build

sympathetically while others

build monstrosities," he said,

citing the new Lyttelton Primary

School as an example.

"I think any government

department should build sympathetically.

(The school rebuild)

would have been a prime opportunity

to complement the

heritage character of the area."

The Lyttelton Harbour Board

occupied 5 Norwich Quay

from 1880 until 1962. During

that time, the ground floor had

a reading room for visiting

captains and the first floor contained

the board room.

After moving out in 1962, it

was used first for storage by the

railways before being renovated

in the mid-1980s for commercial

use. In the years immediately

prior to the February 22, 2011,

earthquake, it was home to a

cafe and offices.

HEAT PUMP

SALE NOW ON!

Amazin' WINTER Specials!!

• We will offer you the best quality brands and

option of heat pump for your home/business

• Providing Heat Pump solutions for over 15 years to Cantabrians

• We personally guarantee all our products & installs for 5 years

(providing annual maintenance has been completed)

Phone us today for your free consultation & quote

41A SHAKESPEARE RD, WALTHAM

PHONE 03 366 0525

www.enviromaster.co.nz

"A local team for local people"

Masters

HOLLYWOOD 3

28 Marriner St,

Sumner

Phone:

03 326 6102

www.hollywoodcinema.co.nz

Thursday 3rd August - Wednesday 9th August

DUNKIRK (M) Violence and offensive language

THU/FRI: 8.00pm SAT: 6.00pm, 8.15pm

SUn/MOn: 2.00pm, 6.15pm

TUE/WED: 8.00pm

HAMPSTEAD (PG) Coarse language & sexual references

THU/FRI: 1.00pm, 6.00pm SAT: 2.00pm, 4.00pm

SUn/MOn: 4.15pm TUE/WED: 2.00pm, 6.00pm

THE DINNER (M) Offensive language

THU/FRI: 1.00pm, 6.00pm, 8.15pm SAT: 3.30pm, 6.00pm, 8.15pm

SUn: 6.00pm MOn: 4.00pm, 6.15pm TUE/WED: 6.00pm, 8.15pm

ROSENCRANTZ AND GUILDENSTERN ARE DEAD (NT)

(M) violence and sexual references

SUn 2.00pm MOn/TUE/WED: 1.00pm

THE BIG SICK (M) Offensive language & sexual references

THU: 6.00pm, 8.20pm FRI: 2.15pm, 6.00pm, 8.20pm

SAT: 3.15pm, 5.30pm, 8.00pm SUn/MOn: 3.15pm, 6.00pm

TUE/WED: 3.15pm, 6.00pm, 8.20pm

LOOKING FOR INFINITY: EL CAMINO (TBA)

FRI: 1.00pm SAT/SUn/MOn/TUE/WED: 2.00pm

STATE OF THE ART HIGH DEFINITION, LICENSED BAR

Visit our new website: www.min.nz

From bare land to luxury abodes

min sarginson

is the ideal coastal realtor

COASTAL REAL ESTATE SPECIALISTS

We'll help you live the dream.

Min Sarginson Real Estate Ltd. specialises in homes, sections and

rental properties in the spectacular Lyttelton Harbour bays, and

coastal suburbs of Christchurch, New Zealand.

We'll make it so easy for you. All our sales consultants live in the

area – we can give you valuable insights into life in our thriving

coastal communities.

This is an exciting time; of promise, optimism, and opportunities

never anticipated pre-quakes. Beachfront, or hillside with

grandstand views, find the property of your dreams:

Lyttelton | Diamond Harbour | Governors Bay | Cass Bay

Charteris Bay | Church Bay | Purau Bay | Port Levy | Northshore

Southshore | New Brighton | Heathcote | Sumner | Redcliffs

Scarborough | Mount Pleasant | Clifton

Call Min Sarginson Real Estate Ltd. for free, no-obligation advice. Lyttelton: 03 329 4161, lyttelton@min.nz or Church Bay: 03 328 7273, churchbay@min.nz
---
Wednesday August 2 2017

Latest Christchurch news at www.star.kiwi

BAY HARBOUR

PAGE 7

A BRANCH OF

Michael Toomey

mft@younghunter.co.nz

Proudly providing

legal advice to

the community

for 25 years

Michelle Rossiter

mjr@younghunter.co.nz

NEW AMENITY:

Sumner's new

community

centre and

library is set to

open on August

Celebrations planned for

community centre opening

• By Sarla Donovan

SUMNER'S NEW

community centre and

library will officially open

on August 19.

Celebrations begin at

1.30pm with the library

opening from 3pm.

The $10 million Matuku

Takotako: Sumner Centre

houses a library, meeting

room and community

room on the ground floor

and a hall, activity rooms,

kitchen and museum on

the first floor.

As of last week, 14 groups

had confirmed bookings

to use the spaces. These

included yoga and fitness

classes, music, writing and

photography workshops,

as well as social groups for

seniors, under-fives, children

and young people.

Lester Wolfreys, city

council head of community

support, governance and

partnership, said the number

of bookings had exceeded

expectations, given

the facility was still several

weeks from opening.

Costs for individuals

and groups to book the

community hall and stage

or the activity rooms range

from $10.50 per hour for

not-for-profit community

programmes, to $92 per

hour for commercial

events.

City council staff will

manage the centre for the

first six months to ensure

the building is operating as

expected, Mr Wolfreys said.

"(We need) to understand

the dynamics

between different users and

how they're using the facilities.

This will inform the

most appropriate partnership

management model."

A 20-space car park is

being built behind the

centre on Nayland St.

Still Pedalling!

Trevor Crowe's been involved with cars for a

while. You can benefit from his experience at...

Subaru Specialists

Full Workshop services

WOF's | Service Checks | Wheel

Alignment | Brakes | Clutches | Tyres etc

Great range of Subarus & other

makes from $5,000 - $35,000

View at www.crowesport.co.nz

DIY supply

specialists

offer products the

professionals use

Anyone embarking on some

DIY around their property wants

to be sure it looks top-notch

when completed. But achieving

that professional-looking finish

requires the right preparation, plus

quality products.

The preparation is down

to you, while the rest can be

yours with just a few clicks

at the online, one-stop-shop,

Decorative Supplies Ltd.

Decorative Supplies is a

Christchurch-based business

that has been the numberone

supplier to both the

trade and home handyman

markets since the early

2000s. With the gear and

products the professionals

use your DIY job will have

that professional look you are

wanting.

Their easy to navigate website,

www.decorativesupplies.co.nz,

offers a full range of plastering

and decorating tools, specialty

paints, tapes, films and decorating

consumables, and with their

considerable buying power they

can provide very competitive

pricing.

Many of the products are

sourced internationally and

imported directly, while their

locally produced range includes

leading and trusted New Zealand

brands.

Placing your order online is very

simple, and you can expect to

receive the items by courier within

two to three working days.

Decorative Supplies Ltd also

offers the experience of skilled

tradesmen to find the right

decorating solution for your DIY

project. So if you need some

advice before you order, phone or

call in and talk to them about the

job you are doing and they will be

happy to help.

Decorative Supplies Ltd is

located at Unit 1, 114 Sawyers

Arms Road, Papanui, and also

at 6 Huxley Street, Sydenham.

Ph (03) 352 8575. Website

www.decorativesupplies.co.nz

Been paid out from EQC

or needing a facelift?

Buy all your DIY

painting & decorating

trade products at

affordable prices

delivered to your

doorstep.

ORDER ONLINE TODAY

decorativesupplies.co.nz

P. 384-5350

www.younghunter.co.nz

518 Moorhouse Ave (East end)

Phone 379 7615 or

email: service@crowesport.co.nz

Decorative

Supplies Ltd

″The Painters Warehouse″

Trusted by tradies for over 14 years!

114 Sawyers Arms Road, Papanui

6 Huxley Street, Sydenham

Phone 03 352 8575
---
PAGE 8 BAY HARBOUR

Latest Christchurch news at www.star.kiwi

Wednesday August 2 2017

Fresh NZ

Quality Mark

Lamb Leg Roast

Vitor Little O'z

Easy Peel Mandarins

750g Prepack

Product of Australia

Bundaberg

4 Pack 340-375ml

Speight's 24 Pack

330ml Bottles

$

12 99 kg

$

3 99 pk

$

6 49 pk

$

33 99 pk

Just Juice

Fruit Juice

2.4-2.8 Litre

www.foursquare.co.nz

$

4 79

Pams Fresh

Express Potatoes

2.5kg Prepack

Product of

New Zealand

$

4 99 pk

Quality Bakers

Nature's Fresh

Bread 700g

$

2 99 ea

Copper Kettle

Chips 150g

$

2 79 ea

Selaks Reserve

750ml

$

12 99 ea

facebook.com/FourSquareNZ

Specials available South Island only from Monday 31st July until Sunday 6th August 2017

or while stocks last. Wine and beer available at stores with an off licence. Wine and beer

purchases restricted to persons aged 18 years old and over.

Your Local Views

Conservationist calls for

the protection of gullies

Richard

Suggate,

chairman of

the Diamond

Harbour

Community

Association, writes

about a recent Bay

Harbour News story

on the review of city

council-owned land

on Banks Peninsula

• By Sarla Donovan

NUMBERS OF titi, or

sooty shearwater, continue

to rise on Banks Peninsula.

The efforts of the Banks

Peninsula Conservation

Trust have seen numbers

of nesting adults double in

just a few years.

In 2010, there were 27

adult pairs nesting. Now

that figure is up to 50,

thanks in large part to a

predator-proof fence.

Formed in 2001, the trust

arose out of a project called

Wildside, which was set

up by farmer Mark Armstrong

25 years ago.

There was only one pair

of titi left in Canterbury

in 1995, so Mr Armstrong

built a chicken wire fence

around the remaining two

birds and also established

a dense defence of predator

traps.

This was enough to

ensure the pair's survival

and six years later the first

chick fledged.

By 2009, there were 21

adult pairs nesting and

The article on July 19

refers to the city council

consulting with the Banks

Peninsula Community

Board on the sale of city

council freehold land in

Diamond Harbour. The

most significant area is the

land between the existing

housing and Bay View Rd,

between Te Papau Cres and

Hunters Rd.

This 38ha block was

bought many years ago by

an earlier city council to

provide land for housing.

In recent years, a group of

local conservationists have

started a native plant restoration

programme in two

of the gullies that bisect the

property (Morgan's and

Sam's). The restoration in

Morgan's Gully has been

supported by an Environment

Canterbury Immediate

Steps grant. In addition,

the local community has

built a path linking Waipapa

Ave and Diamond

Harbour School to provide

off-road access behind the

township.

During the District Plan

process, the Diamond

Harbour Community Association

and Paula Smith

unsuccessfully sought the

protection of the three

gullies that run through

the area.

The hearing panel rejected

initial submissions

because they were lodged

at the 'wrong' stage in the

process. A subsequent proposal

backed by city council

planners for the three

gullies to be reserved from

housing in any subdivision

was also rejected by the

panel. Direct approaches

to the city council for the

gullies to be reserved were

rejected by the property

section, as it would reduce

the value of any sale of the

land.

The community would

like assurances from the

city council that any sale of

the land results in the three

gullies being reserved, and

one chick fledging. The

following year, 27 adult

that the walking access

which has been created

will be retained in public

ownership. There are many

other matters that also

need to be considered,

including roading access,

provision of amenities and

services, and the current

use of the land for back access

to existing properties.

A careful and thorough

community consultation

process is required.

The current valuation of

$1.4 million is well below

its (goldmine) market

value. Considering the

number of sections that

can be created from the

land, it would be shortterm

folly for it to be

disposed to one developer

who, over many years, can

make a fortune from its

subdivision and sale. The

city council would achieve

greater return on its asset if

it sells it over time in three

distinct blocks (the three

ridges) as demand grows

for additional housing.

As for the use of funds

from any sale, it would be

good to see them committed

to purchasing key

pieces of coastal land in the

harbour basin to improve

public access to beaches,

or spent on providing for a

community facility on the

Godley House site.

Titi population on the rise

CHICK:

A sooty

shearwater

chick just

about to

fledge. A

300m-long

fence is

helping the

recovery

of their

numbers

on Banks

Peninsula.

pairs nested with 20 chicks

fledging.
---
Wednesday August 2 2017

Latest Christchurch news at www.star.kiwi

BAY HARBOUR

PAGE 9

OF SLIgHtLY IMPERFECt StOCK

ALL ONLY

$60

PER MEtRE

LIMITED

STOCK

Capricorn Action Berber Vouge Action Pampas Brookhaven

ALL ONLY

$70

Madison

Ashwood

LIMITED

STOCK

Alpacco Rig

Ashwood

Brookhaven

PER MEtRE

LIMITED

STOCK

LIMITED

STOCK

Canyon Ridge

Brookhaven

Brookhaven

Canyon Ridge

Brookhaven

Ashwood

ALL ONLY

$80

Columbia

LIMITED

STOCK

Riviera

York Street

Bayside twist

Cartersville

Horizon Seafog

PER MEtRE

CaLL fOr Our MObILE ShOwrOOM

TO vISIT

yOur

hOME

TODay

BuY ONE MEtRE OF SELECtED 2M

WIDE VINYL StOCK & gEt ANOtHER

FREE

CONDItIONS APPLY

312 Wilsons Road North, Waltham Phone 366 0070

www.carpetkingdom.co.nz | Mon - Fri 8am - 5pm | Sat 10am -1pm

Q Card Finance Now Available

FREE no obligation measure & quote (conditions apply.)
---
PAGE 10 BAY HARBOUR

Latest Christchurch news at www.star.kiwi

Wednesday August 2 2017

News

Banks Peninsula's volcanic soil

They may be small,

but Banks Peninsula

vineyards are starting

to show they can

match it with the

big players. Bridget

Rutherford reports

TUCKED INTO the hillside in

Charteris Bay is a little vineyard

– a vineyard that's making a

name for itself.

But it's not the only one.

What started as a hobby has

turned into success for Neil

and Jill Pattinson, with their

vineyard Whistling Buoy taking

out the top award at this year's

Wines of Canterbury awards.

Their Whistling Buoy Kokolo

Pinot Noir 2015 won the game

trophy and a gold medal.

It was later named champion

wine.

Its Kokolo Chardonnay 2015

and Kokolo Pinot Noir 2016 also

earned bronze medals.

Dr Pattinson, who is president

of Wines of Canterbury, said

there are four main vineyards

that sit within the craters of

Lyttelton and Akaroa harbours –

and all were proving their worth.

He said Banks Peninsula was

an emerging sub-wine region.

But he said it was a given

the area should produce nice

wines – the very earliest plantings

in New Zealand were in

Akaroa in 1840 when the French

settlers arrived.

"What's unique about Banks

Peninsula is the soils, the aspect,

particularly north-facing

slopes and basically being close

to large bodies of water being

Akaroa and Lyttelton harbours,

which help mitigate the ultraextremes."

He said the sea air didn't seem

to have any impact on the wine

and they rarely suffered frosts.

WORK: Viticulturist Cliff Wood

and Neil Pattinson prune the

vines at the Kokolo site of

Whistling Buoy.

PHOTO: MARTIN HUNTER

Akaroa's Meniscus Wines had

success at the same awards.

For the second year in a row,

its 2015 pinot noir won the best

pairing wine with lamb and got a

silver medal. Its 2016 riesling and

2016 pinot noir also got bronze

medals.

Owner David Epstein said they

were thrilled, especially with the

lamb trophy.

He said Banks Peninsula wines

had certain characteristics that

were starting to be recognised.

"It just shows there must be

something special in the terroir

here in the ground that is very

good for the grapes and the

growth," he said.

"The volcanic soil that exists

here from years back is giving a

special character."

They produce pinot noir,

riesling and pinot gris from the

vines on the 2.4ha block which

sits on the south edge of Akaroa.

They make between 4000-6000

bottles each year.

Mr Epstein said all the grapes

are picked by hand before being

sent to Waipara to be produced.

Major upgrade to Russley Road/Memorial Avenue intersection

The Russley Road/Memorial Avenue temporary roundabout will be removed

in early August and replaced with a new intersection with traffic lights.

EXPECT

DELAYS

4-6 AUG

The permanent change means traffic will be able to

travel to and from Christchurch International

Airport, under the new Gateway Bridge, for the first

time. It will also allow the project team to complete

the new road on top of the bridge, bringing them a

step closer to completing the upgrade.

New road signage

People travelling through the intersection will

need to pay close attention to the new signage

to ensure their vehicle is in the right lane.

Please be courteous to other drivers who will

also be getting used to the change.

Lengthy delays at Russley Road/Memorial Avenue intersection

While this is an exciting milestone there will be delays

of up to 20 minutes while the changes take place on

4-6 August.

HAREWOOD

RD

SH1 RUSSLEY RD

TO CITY

MEMORIAL

AVE

AVONHEAD RD

Route from south

Route from north

If you're travelling to the airport leave extra time to get

there or take an alternative route to avoid the work site.

NORTH

Worksite

SOUTH

People coming from the north can turn off at

Harewood Road and those coming from the south can

use the new Southern Airport Access (see map).

ORCHARD ROAD

RON GUTHERY RD

TO AIRPORT

SYD

BRADLEY

RD

GEORGE

BELLEW RD

ROAD

CLOSED

For more information about this work and to view the new road layout: www.nzta.govt.nz/russley-road

Russley Road upgrade
---
Wednesday August 2 2017

Latest Christchurch news at www.star.kiwi

BAY HARBOUR

PAGE 11

makes for great winemaking

He and his wife Gay bought

the vineyard, formerly known

as Vanstone Estate, and Crater

Rim, at the end of 2008 and

moved over from Australia.

Previously, it was owned by

Akaroa businessman Graham

Vanstone, who disappeared

without a trace in September

1999, before his first vintage was

picked.

After his disappearance, Mr

Vanstone's family rallied to

produce Vanstone Estate's wine

before leasing the vineyard. They

then sold to the Epsteins.

Mr Vanstone was never found.

Police say his missing person file

has been referred to the coroner,

who will make a ruling on his

death.

"It's just one of the mysteries of

SPECTACULAR:

At Whistling

Buoy, sheep

are used to

help maintain

the grass and

leaves, while

Meniscus Wines

looks out over

Akaroa Harbour.

Akaroa," Mr Epstein said.

The Epsteins also run a tasting

lounge for their wines on Rue

Lavaud, but come October, they

will open it on site at Meniscus.

He hoped Banks Peninsula

would become recognised as a

fine wine growing area.

The Pattinsons planted grapes

into their 2023 sq m Charteris

Bay property in the early 2000s.

They went for the pinot noir

vines to match the clay-based

soil.

The name, Whistling Buoy,

was derived from the marker

buoy that used to direct vessels

into Lyttelton Harbour.

Dr Pattinson said originally it

was a hobby, but when they produced

their first vintage in 2005

and 2006, they knew they were

onto something.

So when a neighbouring property,

Kokolo, came up for sale at

Teddington about four and a half

years ago, they decided to buy it.

The 4ha site was already planted

with pinot noir, chardonnay,

and pinot meunier grapes, which

produced wine that was exported

to Japanese restaurant chains.

Dr Pattinson said they ripped

out the pinot meunier vines to

focus on the other two.

The pinot noir grapes at

Kokolo are also used to produce

Whistling Buoy's rose.

All the grapes are sent to Greystone

Wines in Waipara to be

produced, but Dr Pattinson said

they had a lot of input into the

winemaking process.

Because of the sloping hills

the vines are planted on, and the

small distance between each,

everything is done by hand –

with a little aid.

Their next door neighbour,

Speaker of the House David

Carter, often brought his sheep

into the vineyard during leaf

plucking to maintain the grass

and leaves.

Whistling Buoy viticulturist

Cliff Wood is into his fourth

season at Whistling Buoy. Last

week, he was out pruning and

tying down the vines before they

begin to grow again.

"It's pretty labour intensive."

Dr Pattinson said they knew

the 2015 pinot noir had all the

right elements – warm weather,

low disease pressure, good

vineyard management and good

fruit.

"This particular wine's had 10

months on oak and there's new

oak in that not just old oak."

But this year they weren't so

lucky.

They didn't harvest because

it was too wet for the grapes to

ripen.

"So in the end, we just had to

walk away from it, which is quite

a big hit."

But it won't hamper the wine

stocks at supermarkets and local

restaurants.

"We've got the 2015 and the

2016 has just been released, so

we've still got plenty of wine.

I'd need to sell three cases of

wine a day to sell what we produce."

•Our People, pages 13-14
---
PAGE 12 Wednesday August 2 2017

BAY HARBOUR

Latest Christchurch news at www.star.kiwi

RediscoveR old tReasuRe

We specialise in Diamond rings, Wedding rings

and Remaking jewellery.

Remade Rings

Before

After

Customer Comments

"I have been meaning

to touch base and say

a BIG THANK YOU for the

beautiful job you made

of my new ring. I have

had many compliments

about it and are thrilled

to bits it's just gorgeous."

- Teresa

®

For more remake examples & customer's

comments visit our website www.claritydiamonds.co.nz

To enquire phone Edwin on 03 9822982

or email edwin@claritydiamonds.co.nz

THE JEwEllEry

ValuaTion SpEcialiSTS

Caring for your jewellery since 1990

• Personal service with your

professional valuer

• Qualified, experienced gemologist

& diamond graders

• All valuations completed on premises

• Validate + Research + Knowledge

= Value

New location: 2/301 lincoln Road

www.jvcvaluers.co.nz

P: (03) 332 4233 | E: jim@jvcvaluers.co.nz
---
Wednesday August 2 2017

Our People

Latest Christchurch news at www.star.kiwi

BAY HARBOUR

PAGE 13

Neil Pattinson

Making good wine a labour of love

Neil Pattinson and his wife Jill planted grapes on their

Charteris Bay property to see if they could make nice

wine. Now, more than 10 years on, Bridget Rutherford

speaks to him about producing award-winning wines

under the Whistling Buoy label

Whistling Buoy's 2015 pinot

noir was named champion wine

at the Wines of Canterbury

awards. Were you expecting it?

Of course (laughs). I'm very

pleasantly surprised, we knew it

was a good wine. I was absolutely

thrilled we got a gold medal,

then actually won best match

with game so, to me, that was

reward enough. But to actually

then be named champion wine

of the competition at the very

end, that's just the icing on the

cake.

What do you think made this

wine so good?

I think it's a vintage, so it was a

really good year and the disease

pressure was relatively low. It was

also warm so it had all the right

elements. Obviously, you've still

got to put in a lot of viticulture

to manage the site. You've got to

get good air flow and good light

penetration. So I think it was

good vineyard management, it

was a good vintage, and then

taking really good fruit and

turning it into really exquisite pinot

noir. It's all the elements that

make a really good wine. Our

winemaking is done up at Greystone

in Waipara, so we don't

do it on site. So at harvest point,

it's shipped up to Greystone. But

we do have lots of input on the

style we want and the amount of

oak and oak exposure and that

comes to the sorting of the fruit

and the whole process. It's not

hands-off. This particular wine

has had 10 months on oak and

there's new oak in that not just

old oak.

It's the second year a wine

from Banks Peninsula has

taken out the award, isn't it?

We got second last year.

Meniscus Wines in Akaroa were

the top pinot noir. The three top

pinot noirs got the top three in

that category – there was Meniscus,

Tussock Hill and ourselves.

Ours was the top chardonnay

last year. I think that's the thing

about the peninsula, because

it's on clay-based soil and pinot

noir does particularly well and

chardonnay grape does as well. If

you're going to pick wine varieties

Banks Peninsula exemplifies,

it would be pinot noir, pinot gris

and chardonnay.

And being so close to the

water in Lyttelton Harbour, do

you still get any frosts?

We do right in the middle

of winter, but not during the

important growing season or the

early start to the year. In places

like Waipara and central plains,

you've got to have frost protection

and we don't have to bother

with that. We have planted in

that French-style, the spaces

between vines and rows are quite

small. So it does mean it's very

hard to mechanise and also we're

on sloping sites, everything's

SUCCESS:

Whistling

Buoy owner

Neil Pattinson

says they were

thrilled with

their honours

at the Wines

of Canterbury

awards.

PHOTO:

MARTIN

HUNTER

done by hand. So part of that

is you're in the vineyard all the

time, you're constantly monitoring,

you're constantly tuning, so

it's a bit labour intensive, but it

means that labour of love transforms

into really good quality

fruit.

•Turn to page 14

2018 Early Birds

Book your River Cruise

with YOU Travel &

fly FREE to EUROPE! *

03 384 2700

You Travel Ferrymead

960 Ferry Road melissa@youferrymead.co.nz

*

Special conditions apply

VOtEd APt's tOP shOP 2017
---
PAGE 14 BAY HARBOUR

Latest Christchurch news at www.star.kiwi

Wednesday August 2 2017

Our People

'You don't want to be so large you lose your focus'

•From page 13

What were you doing before

you decided to put grapes in?

I'm a clinical biochemist by

training, so I worked at the

hospital for about 14 years. Ivan

Donaldson was starting up

Pegasus Bay at the time, I also

worked with a gastroenterologist

– Bruce Chapman – and they

own Terrace Edge; they put in

some olives and grapes later on.

So every medical conference

you go to – a lot are overseas

in beautiful places like France,

Switzerland and Germany – then

obviously part in parcel with

that are the evening dinners and

concerts and, of course, they're

all served with beautiful wine.

You couldn't not have an interest

in wine.

When did you decide to put in

grapes?

We had about 2ha of land at

Charteris Bay and we had sheep.

We'd gone through the typical

lifestyle block, so we started with

sheep, then we had a goat, and

our daughter had a pony. Then I

thought, why not put vines in?

Did you ever think you would

get to this point where you have

award-winning wines?

Yes and no. The initial reality

was just: Can we grow some good

grapes and produce good wine,

mainly for our own consumption

LOCAL: The grapes for Whistling Buoy's awardwinning

2015 pinot noir were grown at the Kokolo

site, which overlooks Lyttelton Harbour.

and friends and family? But

certainly, when you produce wine

you want it to be really good,

you don't want people thinking,

oh, Neil's bringing out his home

brew again. I didn't want to

make rubbish wine, we did at

that time contract a really good

winemaker – Grant Whelan

from Kaituna Valley. So basically,

it was good grapes and a really

good winemaker and the rest is

history.

What do your kids do?

Tony is in Coolangatta (Gold

Coast). He's just set up a pizzeria.

He's been over there for six

or seven years.

He started off in

Tasmania with a

restaurant called

Restaurant Red,

then he came to

Brisbane and met his partner

and now they're in Coolangatta.

They are going to have our wine

at the restaurant. Our daughter

Kate is trained as a teacher, and

she's working at Manuwera

Institute of Technology as a

departmental manager. And our

other son Chris is a winemaker.

He's now working for Sherwood

Estate in Waipara, I'm wanting

him to take

charge of the half

acre.

So before you

turned your focus

to Whistling Buoy,

where else had you

been working?

After the

hospital, I joined

a biotechnology

company called

Life Technologies,

then I became

chief executive

of Canterbury

Scientific. I resigned

from that a year

ago to focus on

building the brand

and establishing a sales

network for Whistling

Buoy. But I chair the

board of a start up

biotech company called

AuramerBio out of Victoria

University. And I've been

doing some consulting work

at Canterbury University for

the Canterbury Development

Corp. I'm just about to start a

job at ChristchurchNZ as its

senior adviser of innovation and

commercialisation.

You mentioned everything is

done by hand. Do you have a bit

of help to pick the grapes?

It's a social occasion. Here at

Kokolo, the picking, it's three

consecutive days. We have about

25 people and we fill about 10 big

400kg bins.

I hear your wife Jill does a lot

of maintenance around here?

She has her own mower, she

gets upset if I jump on it. But we

do use sheep up on the vineyard,

I do use the mulching mower, but

we have sheep as well.

Do the sheep damage the

vines at all?

You've got to be careful. There's

nothing on the vines at the

moment so they'll just chew up

the grass. But during the season,

you don't want them on bud set,

the only time you really bring

them in is when you want to leaf

pluck so when you've got fruit

set, but the berries are really hard

and green. The leaves are green

they will probably have a crack

at one or two bunches but they'll

think that's rubbish.

Do you hope to expand

Whistling Buoy?

If we can successfully establish

the brand and get a really good

route to market then, yes, it

would certainly be quite nice

to build it. But there's a balance

there, too, you don't want to be so

large you lose your focus. Being

boutique is good.

•Making wine on Banks

Peninsula, pages 10-11

Remove

cooking smells

and steam!

Ventilation Equipment

Suppliers to trade and retail

The Automotive Lamp Specialists

Remote

extraction fans

New and Used Lamps for Cars, Trucks,

Vans, 4WD and Motorhomes

NEW LOCATION ADVERT.pdf 1 1/05/2014 11:51:35 a.m.

PH 0800 225 483 | 325 Brougham Street, CHRISTCHURCH

Range Hood cupboard insert

● Domestic

● Commercial

● Industrial

VISIT OUR NEW LOCATION LOCATION

430 ST ASAPH STREET!

RECOVER YOUR LOVED FURNITURE

No job too big or small

Smooth-Air has

a wide range

of ventilation

equipment to bring

fresh air into your

home

Hours of Business: 7am-4.30pm Mon-Thurs

Fri 8am to midday

or by appointment with Keith 027 566 3909

Still able to offer

you the finest top

quality new furniture

Visit us online

www.qualityfurniture.co.nz

P. 371 7500

0800 SMOOTH (0800 766 684)

www.smooth-air.co.nz

sales@smooth-air.co.nz

264 Annex Road, Riccarton

Christchurch 8024, NZ

Ph +64 3 343 6184

Mon - Fri 7.30am - 5pm

QUALITY FURNITURE SPECIALISTS

RE - UPHOLSTERY SPECIALISTS KEITH HARTSHORNE 0275 663 909
---
Wednesday August 2 2017

Latest Christchurch news at www.star.kiwi

BAY HARBOUR

PAGE 15

GET YOUR

GARDEN SORTED

Polyanthus

Potted Colour

Choose from a selection of seasonal

varieties. 100MM pot. $1.97 Each

229338

BUY 6 FOR

$

8 97

BUY 3 FOR

$

10

Miniature Flowering Cyclamen

Easy care plants for outdoors Assorted

colours. 100MM pot. $4.77 Each

188096

Strawberry

Packs

Plant now and

pick fresh,

juicy fruit in

summer.

181646

READY TO HANG BASKETS

Pre-planted with seasonal colours

to liven up your outdoor living area.

300MM basket.

188531

Yates

Blitzem Slug &

Snail Pellets

Controls slugs and

snails for up to 5-7

days. 600G BONUS

pack. 183764

Browns

Yard & Garden

Broom

Synthetic fill with

one row of stiffer

material in the centre

complete with

1.2x22MM plain wood

handle.

324366

Jobmate

Plastic Leaf Rake

Black

H:40 x W:810 x

L:1880MM. Fanned

head design. Long

wooden handle.

292860

$

9 97 $

19 97

$

19 47

PACK OF 6

Evergreen

Azaleas

Assorted

varieties

EACH

flowering from

late winter until

early summer.

2.5L pot.

150266

EACH

Showa

Cyclone

Atlas Home

Gardening Gloves

Gardening Hand Tools

Garden Spade

Ergonomic for a comfortable

Stainless steel. Timber handle with

Short handle for close

fit. High quality latex palm for

leather strap.

work. Suitable for most

durability

203597/98/99

digging needs.

192943

144431

$

10 58

EACH

$

19 98

EACH

Tui

Tui

Tui

Garden

Citrus Food

Certified Organic

BUY 2 FOR

Waste Bag

Fertiliser 1.5kg

Compost 30L

Ideal for tidying

For all citrus trees.

Suitable for all soil

up your garden

Replenishes nutrients

types, for use in

for summer.

to encourage healthy

new gardens, and to

221640

growth.

enhance soil conditions

131788

in existing gardens.

$12.98 Each

238104

$

14 98 $

9 98

$

8 51

Big Black Sacks BUY 2 FOR Tui

Garden Rubbish

Strawberyy

Bags 103L Pack of 10. $

Mix 30L

$9.66 Each

Suitable for use in

311323

$

15 garden beds, pots

and containers;

and for other berry

varieties.

112765

$

24 99

$

3 88 $

14 98

$

11 87 $

19 98

Ferrymead

1005 Ferry Road, Phone: 366 6306

Opening Hours: Monday–Friday: 7:00am–7pm

Saturday, Sunday and Public Holidays: 8:00am–6:00pm

Offers available at Mitre10 Mega Ferrymead only, until the 9th of August, while stocks last.

mitre10mega.co.nz

If you find a lower price on an identical stocked

product locally we will beat it by 15%.

find us mitre10.co.nz

If you find the same product cheaper from another Mitre 10 store or Mitre 10 website we'll match that price. Excludes trade

and special quotes, stock liquidations and commercial quantities. The in-store price may be lower than that advertised.
---
PAGE 16 Wednesday August 2 2017

BAY HARBOUR

Latest Christchurch news at www.star.kiwi

End Of Season

STOREWIDE

WE NOW SELL ONLINE! Visit us at targetfurniture.co.nz

Disco Bedsettee

Amazing value! Ideal for

flats and apartments.

Available in red.

was $499

save

$200

now only

$299

save

$230

Moderno

Small Bookcase

The Moderno range has a

slick, minimalist design that

will modernise any room.

The slim stainless steel

frame gives this range its

stunning contemporary

look that is sure to become

the focus of any room you

put the range in.

save

$1500

was $2499

$999

Micah 3 Plus 2 Seater Suite now only

A mid-century inspired lounge suite, featuring classic wooden tapered legs and stunning

curved arm rests. The suite is available in two carefully chosen colours, truffle and mushroom.

Jayden Buffet

Modern design and

sleek style are key

elements of the

Jayden collection.

was $1169

now only

$399

save

$770

was $429

now only

$199

Chia Bedroom Collection

The Chia range offers a sleek, minimal look while brightening your space.

The matte white finish is nicely complemented by honey coloured wooden

drawers, resulting in a charming two-tone look.

save

$1700

Harper 3 Plus 2 Seater Suite

This contemporary design is both elegant and comfortable. The Harper seamlessly

blends traditional design with modern trends using artisan techniques to produce

was $2699

$999

now only

qualities such as round tapered wooden legs and piping around the cushion edges.

The Harper is available in two classic beige colours, Brindle and Ash. With these two neutral colour options, the Harper is a versatile

addition to any room

Vancouver Living Collection

Looking for something that will blend with every style in your home? You can't go past the Vancouver range.

It has an exceptional balance of rustic, traditional, and modern features, allowing it to fit in with any decor.

4 Drawer Chest (600mm Wide)

was $449

now only $199

4 Drawer Chest (800mm Wide)

was $499

now only $249

2200mm Dining Table

was $949

now only $359

Dining Chair

was $186

now only

$80

Extra Large

TV Unit

was $859

now only

$399

SALE

Cnr Blenheim & Curletts Rds, Christchurch. Ph: 03 343 3204

View our collections online: targetfurniture.co.nz

Large Coffee Table

was $689

now only $299

The Vancouver collection creates a strong presence

in any space, enhancing your interior setting with its

dark rich tones and bold square shape

Offers and product prices advertised here expire 28/08/17.

Sale excludes Manchester and accessories.

18 MONTHS

*Minimum purchase $499.

Finance offer expires 30th September 2017.

See below for terms & conditions.

6 Drawer Lowboy

(1200mm Wide)

was $649

now only

$299

INTEREST FREE

ON PURCHASES OVER $499

Minimum spend $499 using Gem Visa or Gem CreditLine. Normal credit and lending criteria and fees apply. Minimum monthly repayments must be made during the interest free period. The

minimum monthly repayment of 3% of the outstanding monthly balance or $20, whichever is more, will not be sufficient to repay the purchase amount(s) within the promotional period.

Prevailing interest rate (currently 25.99% p.a. Gem Visa/29.95% p.a. Gem CreditLine) applies to any outstanding balance on the expiry of the interest free period. Credit provided by Latitude

Financial Services Limited.
---
Wednesday August 2 2017

Latest Christchurch news at www.star.kiwi

BAY HARBOUR

PAGE 17

Nel plans to make it in red and black

From metro

MVP to

Mitre 10 Cup

• By Gordon Findlater

SUMNER'S DYLAN Nel will

now turn his attention to proving

himself in a red and black jersey

after dominating in the division

one metro competition.

Nel, 25, not only won this

year's MVP medal race, he

completely dominated it,

winning by the largest margin

in the award's history. The South

African No 8 finished with 27

points, 11 ahead of University No

8 Brad Hemopo in second.

The Sumner player also

finished as the leading try scorer

in the competition with 16, four

more than any other player.

"It's all guns blazing, the

body's feeling good. I just want

to take the momentum from the

club season into the Mitre 10

Cup," said Nel.

Nel is expected to be part of

the Canterbury squad which

will defend the Ranfurly Shield

against Mid-Canterbury in

Ashburton on Friday. He started

at No 8 and scored a try for

Canterbury in their 71-5 win

over Wanganui at AMI Stadium

in June.

He has already been part of

the Crusaders environment

after being called into the

squad earlier this year as injury

replacement for Kieran Read.

His long term goal is to secure

a permanent position in the top

flight, something he would like

to do in his adopted home, rather

than in South Africa.

"Definitely the Crusaders,

one hundred percent. The

environment in that team is

amazing," said Nel.

While has Nel captured plenty

of personal accolades, his club

were unlucky not to finish the

season with silverware.

A penalty kick on full-time

was the only thing which

separated Sumner from New

Brighton in their 17-19 plate final

loss at Rawhiti Domain.

New Brighton held a 16-10

advantage late in the game before

a drama-filled final five minutes.

"We ended up going down

their end and getting a penalty

try to go a point ahead with only

a couple of minutes left," said

Sumner coach Martin Dodgson.

"They kicked off, we tried to

hold on to the ball in our own

half and then we conceded a

penalty. The guy slotted it and

that was full-time."

Dodgson described the

team's overall play as a one of

their poorer days at the office.

However, with their two tries

being penalty tries, there was one

highlight for Sumner.

"Our scrum was phenomenal,"

SPORTS

NEXT STEP: Dylan Nel earned his second cap for Canterbury last month and is hopeful of becoming a regular in this year's Mitre

10 Cup squad. Sumner first-five Nik Cumming (right) also had a great club season as the metro competition's second highest point

scorer with 151.

PHOTOS: MARTIN HUNTER AND ROZELLE MAY

said Dodgson.

The usually robust New

Brighton pack was dominated

throughout, resulting in referee

Blair Barclay awarding the two

penalty tries at scrum time.

Like his team, Sumner first-five

Nik Cumming came within a

whisker of a season to remember,

finishing second in the leading

points scorer race with 151. He

finished just one point behind

Christchurch's Dan Dorgan.

•More sport, page 18

"I'M SO GLAD WE

MADE THE MOVE

WHEN WE DID."

See Enid & Neville's story at summerset.co.nz

"So many leave it too late and miss out."

Enid and Neville have lived at their

As Enid says, "We settled in beautifully,

Summerset retirement village apartment enjoying all the facilities, regular activities

for over five years.

and being close to friends."

Neville had suffered ill-health for some Neville's advice is, "Once you make the

time and wanted to know that Enid would decision to do it, do it."

be safe and well looked after should

anything happen to him.

Come and see why we

love the life at Summerset

Morning Tea & Tour

Wednesday 9 August, 10.30am

Summerset at Wigram

135 Awatea Road, Christchurch

Contact Anne Walker

on 03 741 0872 or 022 639 2341

wigram.sales@summerset.co.nz

Love the life

SUM0675_18x8
---
PAGE 18 BAY HARBOUR

Latest Christchurch news at www.star.kiwi

Wednesday August 2 2017

Bays claim reserve league title

• Gordon Findlater

THE FERRYMEAD Bays

reserves secured the Mainland

Premier League reserve league

title on Saturday with a 2-0 win

over FC Twenty 11.

The team completed the title

run with one round to spare

and have remained unbeaten all

season.

They have just two draws

along with 13 victories to their

name and can complete the

unbeaten season when they face

Nomads United at Tulett Park

on Saturday.

Coaches Mark McGale and

Don Saxon are extremely

proud of their players and the

enthusiasm with which they

have played. The team includes

several teenage players who will

look to make the step up to the

MPL in the near future.

Bays' MPL team kept pressure

SPORTS

on top of the table Cashmere

Technical with a 2-1 win over

FC Twenty 11 at the weekend.

Goals from Sebastian Schacht

and Mark Peers mean that, with

four round remaining, Bays trail

Cashmere by five points. However,

Bays have a game in hand.

Their next match is an away

trip to Nelson Suburbs on August

13.

CHAMPIONS: Ferrymead

Bays reserves celebrated

winning the reserve league

title at Ferrymead Park on

Saturday.

Lopas takes gold at world rowing champs

LITTLE RIVER'S Jack Lopas

has helped his crew power their

way to gold in the under-23

rowing world championships in

Plovdiv, Bulgaria.

The former Christchurch

Boys' High School student was

a member of the men's coxless

quad which won an exciting and

nail biting final.

The crew of Lopas, Jack

O'Leary, of Central, Ollie

Maclean, of Auckland, and

Jordan Parry, of Waikato, fought

back through the field to take

victory over Russia by 0.22sec.

At the 500m mark, the crew

was sitting in fifth position,

but then powered over the next

1000m to push into second place

at the 1500m mark.

The late burst of strength saw

them push into first place with a

time of 5min 41.85sec

Russia were second with a

time of 5min 42.07sec, and Italy

took bronze with a time of 5min

44sec.

RESTORE

26 JULY –

13 AUGUST

A fundraising exhibition

of spectacular limited edition,

behind-the-scenes photographs of

the Arts Centre's restoration

– taken by leading Christchurch

photographer Johannes van Kan.

OPEN TO THE PUBLIC

10AM–5PM, FREE ENTRY

Tim WraighT and Ché VinCenT

- Changing STorieS -

Both Tim Wraight and Ché Vincent live in the Motueka region in the top of the

South Island, an area of diverse landscapes and environments from which to

draw inspiration for their work.

Tim's carved wooden work for 'Changing Stories' exhibition explores the

traditions associated with the reverence given to relics and remains, using

the cultural practices of making intricate containers that different cultures

fashion to hold these precious objects, Maori wakahuia (treasure boxes)

and wakatupapaku (bone boxes) and European reliquaries which held the

bones of saints, are the starting point for these pieces. Found remains of

creatures and objects from the natural environment in his home area. Tim

has constructed stories around fictional and whimsical; taking an object and

giving it a new narrative and honouring its previous existence.

Ché's work for this exhibition is formed by his

passion for botany and natural processes;

exploring the patterns created by plant forms

by the way water changes and repeats a flow

pattern by decay and renewal. He uses recycled

copper panels through a process of serendipitous

experimentation. Ché has developed a fluid and

intuitive approach and has developed methods of

'Edges' by Ché Vincent from the

exhibition 'Changing Stories' at

Little River Gallery from August 5th

melting, beating, bending, and fusing copper into organic forms. Copper is a lovely

metal to work with; malleable and enduring with a beautiful cast of warm colours.

'Kid Who Dreamed of Leaping Through The Stars' by Tim Wraight from the exhibition 'Changing Stories ' at Little River

Gallery from August 5th

Tim Wraight | Ché Vincent

Changing Stories

5 – 30 AUGUST 2017

Boys' High building,

28 Worcester Boulevard

artscentre.org.nz/hire

Main Rd, Little River | 03 325 1944 | art@littlerivergallery.com
---
Wednesday August 2 2017

Latest Christchurch news at www.star.kiwi

BAY HARBOUR

PAGE 19

Four Grenadier Seasons Ferrymead

realty

Woolston

58 Radley Street

Stop paying rent or start collecting it! First home buyers and investors take note!

This light and bright easy care home is in a fantastic location in Woolston. Two double bedrooms with built in

wardrobes and an insulated sleepout. With the kitchen and bathroom having been updated recently there is

still plenty of scope to add value here, and with $14,033.65 being transferred for cosmetic EQC work this will be

a great opportunity to add you own style.

Auction: Thursday 10th August

View at: www.harcourts.co.nz ID#FM5208

Shaun Davey Ph 027 953 8860

2 1 1 1 Ferrymead

5 3 3 2

58 Ti Rakau Drive

The Perfect Match = 'As is' + Immediate Income. This 5 bedroom plus study family home is being sold "as is

where is" and is a brilliant opportunity for investors. My clients have enjoyed many happy years in this home

and are not quite ready to leave so will become your tenants immediately upon settlement (bond & rent to

be negotiated on or before settlement). It's a win-win situation for everyone - you are making money on your

investment straightaway and my clients don't have to pack up their home just yet!

Auction: Thursday 24th August

View at: www.harcourts.co.nz ID#FM5209

Kirsty McLeod Ph 027 226 5893

Redcliffs 26 Celia Street

Ferrymead 67 Kotuku Crescent

Ilam 21B Montclare Avenue

Riccarton 1/72 Elizabeth Street

4 3 2 1 3 2 1 2

4 2 1 2

3 1 1 1

Price: $1,375,000

View at: www.harcourts.co.nz ID#FM5187

Michelle Ward

Ph 027 203 7858

Auction: Thursday 3rd August

View at: www.harcourts.co.nz ID#FM5197

Sophia Pratt-Miller Ph 027 843 7102

Deb Beesley Ph 027 280 8837

Auction: Thursday 24th August

View at: www.harcourts.co.nz ID#FM5212

Kirsty McLeod

Ph 027 226 5893

Auction: Thursday 17th August

View at: www.harcourts.co.nz ID#FM5211

Michelle Ward

Ph 027 203 7858

AS IS,

WHERE IS

Cashmere, 10 Holliss Avenue

Westmorland 12 Sedgwick Way

Papanui 1/151 Northcote Road

Sumner 9B Kinsey Terrace

5 2 2 2 4 2 2 3

Auction: Thursday 10th August

View at: www.harcourts.co.nz ID#FM5202

Alison Carter

Ph 027 431 8960

Auction: Thursday 3rd August

View at: www.harcourts.co.nz ID#FM5204

Alison Carter

Ph 027 431 8960

2 1 1 1

Price: $369,000

View at: www.harcourts.co.nz ID#FM5213

Deb Beesley

Ph 027 280 8837

3 2 1 1

Price: $595,000

View at: www.harcourts.co.nz ID#FM5207

Alison Carter

Ph 027 431 8960

Greg Powell

Branch Manager

027 274 6157

Alison

Carter

0274 318 960

Michelle

Ward

027 203 7858

Deb

Beesley

027 280 8837

Joy

Butel

021 353 280

Chris

Moores

027 588 4440

David

Searle

021 565 950

Kirsty

McLeod

027 226 5893

Liz

Lewis

027 453 0952

Sophia

Pratt-Miller

027 843 7102

Ferrymead

Carol

Williams

027 282 4950

Dave

Elston

0274 593 165

Simon

Mutch

021 843 870

Craig

Todd

027 642 1075

Lisa

Ny

027 622 5060

Megan

Jarratt

027 841 2335

Shaun

Davey

027 953 8860

Alistair

Hazeldine

027 572 1555

Lynton

Hubber

027 433 4141

Sheryl

Briggs

021 222 2782

1020 Ferry Rd Ferrymead • Ph 384 7950 • harcourtsgrenadier.co.nz

Grenadier Real Estate Ltd MREINZ is a Licensed Agent Under the

Real Estate Agents Act 2008
---
PAGE 20 Wednesday August 2 2017

BAY HARBOUR

Latest Christchurch news at www.star.kiwi

cnr Montreal & St Asaph Streets, Christchurch

www.christchurchmitsubishi.co.nz

Sales, Service & Parts: 03 379 0588

LANCER GSR

NOW JUST $24,990 + ORC*ON SEDAN

AND HATCH

WATCH IT GO.

Performance, style and whole lot more can be yours for a price that's as sharp as the new sports

body kit with rear spoiler – just $24,990 +ORC*. You'll also enjoy 109kW of power and 7.0L per 100km

economy on Sedan and 7.2L per 100km economy on Hatch. Don't watch it pass you by.

Call 03 379 0588 or visit ChristchurchMitsubishi.co.nz to book a test drive or come in and see us.

*Price listed is for Lancer GSR sedan or hatch. Price excludes On Road Costs. See www.mmnz.co.nz for Diamond Advantage terms and conditions.

NOW YOU CAN AFFORD

TO BE DIFFERENT.

Iconic, intelligent and exciting at every turn the MINI 3-Door Hatch is

the quintessential MINI, and it's now available on an irresistible finance

offer. Made for smart and stylish driving, it hosts a unique interior cockpit

design along with the latest in technology and safety features. What's more

it comes with three years of MINI scheduled servicing, warranty plan and

roadside assistance. So take advantage of this finely tuned finance offer

and make your mark on the road.

Diamonds Are

$99

Estimated Weekly

Payment (EWP)

EWP means the estimate of the weekly cost to you

for budgeting purposes of the 35 monthly payments

required under a MINI loan agreement. An initial

deposit and final balloon payment are also required.

OFFER INFORMATION

• MINI 3-Door Hatch, Cooper (Automatic)

• Initial Deposit $9,500

• $428.24 Monthly Payments (Months 1-35), EWP $99

• Final Balloon Payment $18,889 (Month 36)

• Total Amount Payable $43,377.90

CHRISTCHURCH MINI GARAGE.

30 Manchester Street, Christchurch. 03 363 7250. CHCHMINI.CO.NZ

THE MINI 3-DOOR HATCH.

This offer is based on a retail finance agreement for a standard MINI 3-Door Hatch, Cooper

(Automatic) with an RRP of $38,550 on loan agreement. Total amount payable is $43,377.90 including

recommended on-road cost. MINI Financial Services lending criteria and terms and conditions apply.

This offers expires 31st August 2017.
---
Wednesday August 2 2017

Latest Christchurch news at www.star.kiwi

BAY HARBOUR

PAGE 21

Use it or Lose it

Wednesday, 9-9.50am

This class is for the over-50s

and is a gentle exercise class

suitable for those wanting to

improve their strength, balance

and mobility. Have fun in a

friendly atmosphere, meet new

people and get active and fit at

the same time. First class is half

price.

Redcliffs Bowling Club, James

St, Redcliffs. $5

Strength 'n' Stretch Class

Wednesday, 6-7pm

For women in their fab-50s

and beyond. Enjoy a whole body

workout at a medium level which

includes exercise to music, circuit

stations and more. First class

is half price.

St Andrews Anglican Church,

148 Main Rd, Redcliffs. $10

Running Club

Thursday, 6pm-7pm

Get active and have fun running

with like-minded people

at the Kathmandu and Salomon

event. There are various professional

coaches to help improve

your running style and encourage

you. It will also give you a

chance to learn to run on different

terrains.

Mt Vernon Valley track car

park. Free entry

Email: sarla.donovan@starmedia.kiwi

by 5pm each Wednesday

Create 'n' Connect Art and

Craft Group

Thursday, 9.30am-noon

If you're crafty or want to start

getting crafty go along to this

group. Take your own project

or go with ideas for a new one.

Others in the group are there to

offer help or advice. Meet new

like minded creative people and

learn new skills. Pass on your

tips and pick some up from other

people at the group. This event

aims to help with your projects

and meet new people. Phone

Beth on 022 678 1252 for more

information.

St Andrews Anglican Church,

148 Main Rd, Redcliffs. $3

Mainly Music

Friday, from 9.30am

If you're looking to engage

your baby or pre-schooler in

music go along to the sessions

every Friday morning for a series

of 30min sessions. The first starts

at 9.30am and the last finishes at

11.45am. This event runs during

term school times. The sessions

allow for children, parents and

caregivers to meet one another

and interact with others around

the Sumner, Redcliffs and Mt

Pleasant area. Mainly Music is a

fun and educational music and

movement session followed by

morning tea and a social and

play time. The first session is

free, $4 per session after that.

Phone Hazel on 384 1965 or

021 077 1264 for more information.

St Andrews Church, 148 Main

Rd, Redcliffs

Babytimes

Friday, 10.30am-11am

This event allows for parents

and caregivers to interact with

each other while letting the

babies learn. At these sessions,

babies learn through language,

rhymes, songs, stories and play.

The babies learn together and

build connections with each

other.

Lyttelton Library, 18 Canterbury

St. Free entry

Music Night at the Pub

Friday, 7pm

Get your groove on at the

Governors Bay Hotel this Saturday

and show your support

for the Jetty Restoration Trust.

Entry is by donation to the trust.

Four-piece band Horizone will

be playing.

Governors Bay Hotel, 52 Main

Rd

Diamond Harbour

Community Quiz

Friday, 7.30pm

Get a team of five together

and join in the fun this Friday.

Raffles and prizes on the night.

To register a team, phone Wendy

Coles 021 154 1434

Diamond Harbour Community

Hall

Repair Cafe

Sunday, 10am-2pm

The Repair Café is all about

repairing things together in a

workshop setting where tools are

available for everyone. People

can bring their broken goods to

the café and get them fixed with

the help of expert volunteers.

Not only can you then use things

for longer, you can also share

practical knowledge and learn

good repair skills for life from

ARTY: The Sumner Arts

Society Annual Exhibition

opens on Friday night with

drinks, nibbles and an

address from Port Hills MP,

Ruth Dyson. The two-day

exhibition features arts

and crafts in a wide variety

of styles and media from

both professional and

amateur artists, as well as

selected works created

by students from the local

primary schools. Friday,

5-7pm, Saturday-Sunday,

10am-4pm. Redcliffs/Mt

pleasant Bowling Club,

James St, Redcliffs. ​

one another. It is a place where

valuable practical knowledge can

be passed on from generation to

generation.

Entry by timebank credits and/

or koha.

Lyttelton Recreation Centre, 25

Winchester St

Markets:

The weekly markets have many

different attractions and delicious

treats on offer. From fresh

produce to freshly baked bread,

cheeses and free range eggs. Find

some healthy food options and

sip on a coffee while taking a

wander around any of the markets

happening in the area at the

weekend.

Lyttelton Farmers Market:

Every Saturday, 10am-1pm,

London St

Mt Pleasant Farmers

Market: Saturday, 9.30am-

12.30pm, 3 McCormacks Bay

Rd

3 Garlands Road, Woolston

DeluxeCinemas.co.nz

Christchurch's Premium Cinema Experience

Phone Bookings | Free Parking | Cafe/Licensed Bar

Online Bookings | Cinema Club | Hot Nuts/ Cheeses

03 389 5360

tHe Big sicK

tHu: 12:15pm, 8:25pm Fri, sat: 12:00pm, 8:30pm

sun: 10:00am, 2:20pm, 8:25pm Mon, tue: 12:00pm, 8:30pm

DunKirK Epic WW2 Drama

WeD: 10:00am, 12:05pm, 2:10pm, 4:15pm, 6:20pm, 8:30pm

tHu: 10:00am, 12:05pm, 2:35pm, 4:10pm, 6:15pm, 8:30pm

Fri, sat: 10:00am, 12:05pm, 2:20pm, 4:15pm, 6:25pm, 8:15pm

sun: 10:00am, 12:05pm, 2:10pm, 4:15pm, 6:20pm, 8:30pm

Mon, tue: 10:00am, 12:05pm, 2:20pm, 4:10pm, 6:25pm, 8:15pm

HaMpsteaD Diane Keaton, Brendan Gleeson

WeD: 10:10am, 2:00pm, 7:50pm tHu: 10:15am, 2:10pm, 6:30pm

Fri, sat: 10:00am, 2:10pm, 6:15pm sun: 12:20pm, 4:40pm

Mon, tue: 10:00am, 2:10pm, 6:15pm

paris can Wait Alec Baldwin, Diane Lane

WeD: 12:10pm, 6:00pm tHu: 4:40pm

Fri, sat: 4:25pm sun: 6:40pm Mon, tue: 4:25pm

MY cousin racHel Final Day

WeD: 4:00PM

special events/retro

2001: a space oDYsseY

August 27th 5:45pm

WillY WonKa anD tHe cHocolate FactorY

October 13th 12:30pm

ThE BIG SICk M Offensive language & sexual references duNkIRk M Violence &

offensive language hAMpSTEAd PG Coarse language & sexual references pARIS

CAN WAIT PG Coarse language My COuSIN RAChEl PG Violence & coarse language

NEW: SERVING FREE MORNING TEA ENjOy A FREE TEA, COFFEE

& A FREShly BAkEd BISCuIT WITh EVERy MORNING ShOW

Cafe OPEN

from 11am

Whitford's

Restaurant

NEW WINTER

MENU

HOUSIE

Tues & Sat

SATURDAY

JACKPOT

UP TO $80

Function

Facilities

TAB &

Gaming

SHUTTLE Tue - Sat

phone 0508 966 5786

WHAT'S ON

ENTERTAINMENT

RECKLESS DUO

7PM SATURDAY Whitfords Bar

LIVE JAZZ

4PM SUNDAY Sports Bar, $5 entry

NEW

WINTER

MENU

Open 7 Days from 5.30pm

WEDNESDAYS

RETRO ROAST

LUNCH

12PM-1.30PM

$10 Members / $12 Non
---
PAGE 22 Wednesday August 2 2017

BAY HARBOUR

Latest Christchurch news at www.star.kiwi

31 st July to 6 th August 2017

Fresh NZ Skin On Chicken Breast Fillets

New Season Hass Avocados

$

10 99

kg

$

2 49

ea

$

4 29

ea

Whittaker's

Chocolate Block

250g

great deal

$

2 99

ea

Wattie's Complex Mix Vegetables

650-750g

great deal

$

5 99

ea

$

2 49

ea

Hummingbird

Coffee 200g

Coke/Sprite/

Fanta/Lift/L&P

1.5L

Corned Silverside

Whole Crown Pumpkin

$

9 99

kg

$

2 99

ea

$

1 69

ea

Bluebird Original/

Thick/Thinly Cut

Chips 140/150g

$

33 99

pk

DB/Export Gold/Tui

24 x 330ml Bottles

$

11 99

ea

$

3 99

ea

Lindauer Special

Reserve/Villa Maria

Private Bin 750ml

(Excludes Pinot Noir/Syrah)

Keri Fruit Drink/

Juice 2.4-3L

svbhn0208

Owned & operated

by locals

SuperValue Lyttelton: 17 London Street, Lyttelton. Phone 328 7368. Open 7am–9pm, 7 days.

SuperValue Sumner: 3 Village Mall, Sumner. Phone 326 5688. Open 7am–9pm, 7 days.

While stocks last at SuperValue Lyttelton and Sumner only.

We reserve the right to limit quantities. Trade not supplied. For inspiration visit SuperValue.co.nz |

Please drink

responsibly
---
2

[Edition datE]

Wednesday August 2 2017

HEALTH & BEAUTY

Latest Christchurch news at www.star.kiwi

BAY HARBOUR

PAGE 23

Experience expert

dental care

Six fabulous years and still going strong!

The team of Fendalton Dental Surgery

takes this opportunity to thank their

loyal patients, the supportive Canterbury

dental fraternity and the wonderful local

community. They celebrate yet another

glorious anniversary after being forced

to relocate to this premises after the

earthquakes in 2011. It used to be called

Cambridge Dental Surgery while they

were in the CBD but since moving to this

lovely Fendalton suburb in July 2011.

Fendalton Dental Surgery, on the

high profile corner of Idris & Glandovey

Roads has been looking after the dental

needs of the local community as well

as the wider Christchurch area since

2011. Dentists Keith Chiang and Zohnia

McNeill and Oral Health Therapist, Amy

Lee offer a complete range of dental

and oral care services, all in a very calm

and relaxed environment. Supporting

them are dental nurses Simone and Jola

and the ever-efficient highly organised

practice manager, Aysha who bring with

them their very own style and range of

competencies in each and every aspect.

"We listen carefully to what our patients

tell us so we can address each of their

dental problems and help them achieve

good oral health," says Keith.

A major component of Keith's work

is under IV sedation, which is available

for people that are very nervous about

visiting the dentist. He has performed

more than 2000 Intravenous sedation

procedures and the clinic is equipped

with the latest advanced equipment for

sedation monitoring. He has a special

interest in Oral Surgery, Impacted

wisdom teeth, surgical extractions,

Placement of Implants and Intra venous

sedation.

For people with damaged or missing

teeth, Zohnia will discuss with them the

options of having crowns, permanent

implants or dentures fitted, all of which

have the added advantage of helping

clients regain their functional bite as

well as improve their smile and overall

confidence. She has a special interest in

Cosmetic dentistry, Root Canals and

Geriatric dentistry. Her calm approach

and special individual attention to detail

has helped deal with most common dental

issues in her patients.

Amy Lee, our Oral Therapist and

Hygienist specialises in the overall

maintenance of healthy teeth and gums.

She educates her patients on how to look

The team at Fendalton Dental Surgery

after their oral health, which if not taken

care of can have detrimental effects on

their overall health. The gum disease,

Gingivitis is one of the main reasons

why people lose their teeth and can be

a social stigma with bad breath, while

research also indicates that gum disease

or otherwise called Gingivitis in pregnant

women can mean a higher chance of

premature birth and low birth weight.

Dry mouth or reduced salivary flow,

which is caused by certain medications

that people take can also lead to gum

problems and tooth decay. By visiting the

hygienist regularly, gum problems can be

prevented, and consequently tooth decay

as well as more serious health issues can

be avoided.

Fendalton Dental Surgery will soon add

to its suite of advanced dental equipment

with a state-of-the-art 3D CT scanner,

which will be used to scan jaws, enabling

the dentists to give a better diagnosis of

clients' dental problems.

The Fendalton Dental Team invites

you and new patients to visit their

practice and experience Expert Care as

being one of their valued patients. Easily

accessible, highly visible and with plenty

of on-site parking, Fendalton Dental

Surgery, on the corner of Glandovey and

Idris road, is open Monday to Friday

8.30am-5pm. Phone 351 1188 for an

appointment, or simply call in.

True

Who thought

DENTURES

and false!

could look this

natural?

watch local | support local | shop local

Join our

hosts Geoff &

renee on sKy

ChaNNeL 83

Thursday

7.30pm

repeaTs friday

1.30am

& 7.30am

VEBITE

WE SHARE YOUR VISION

SKY 083 + On Demand

• Full dentures • Metal partial dentures

• First-time immediate dentures • Implant supported dentures

STUNNING: A beautiful new denture for

a young female patient

AGING GRACEFULLY: Natural teeth for

a gentleman patient in his 80's

HOLLYWOOD: It's all white for this

female patient in her 60's

These stunning lovebite full upper and

lower dentures have been expertly crafted by

internationally-recognised dental technician

Richard Greenlees at his Christchurch studio.

The combination of Richard's skill, experience

(including 15 years in London's prestigious

Harley Street) knowledge and revolutionary

techniques allow him to create beautiful

bespoke false teeth that truly resemble those

in nature and reflect each patient's individuality

and unique character.

402 Montreal Street

Christchurch | P. 379 1222

By appointment only.

Consultation fee applies.

lovebite.com

WWW.STAR.KIWI

for enquiries, contact Geoff moreton: 021 1066 177

Richard will personally guide you through the entire process to create

teeth with small nuances in the fabrication, colour and shape. Your beautiful new

lovebite dentures will boost your confidence and make you look and feel year's younger!
---
TM

PAGE 24 Wednesday August 2 2017

BAY HARBOUR

Latest Christchurch news at www.star.kiwi

BRIDALSHOW

save the date

Sun 27th Aug

10am to 3pm

Air Force Museum

45 Harvard Ave

Wigram, Chch

Tickets: $20.00

For faster service keep a hold of your

Job Reference No. 134009

Hi there,

Attached is your artwork proof. To enable us to complete your order,

we request that this form is completed, signed and returned either

in store or via email, or alternatively a quick email stating that you

have reviewed your proof, and approve for me to send it to print.

I have done my best to check all your details are correct however I'm

only human and I may have missed something, so I advise that you

double check all information thoroughly. This includes information such

as spelling, phone numbers through to dates and addresses. Please

be aware that once you sign off this proof, it is your responsibility

should anything be incorrect when your printing arrives, and any

P 0220467746

E info@gonetattoo.nz

www.tattooremovalcompany.nz

bliss

Modern

Contemporary

Hair

CREATING YOUR PERFECT WEDDING

weddings by

collective concepts

www.weddingconcepts.co.nz
---
Wednesday August 2 2017

Latest Christchurch news at www.star.kiwi

REAL ESTATE

A Fab First Home!

1/65A Tilford Street, Woolston

3 bedrooms | 1 bathroom | 1 toilet | 3 living rooms | 2 car-garage | 2 off-street parks | Listing # FM5192

Calling First Home Buyers, young families

and Investors - you will love this appealing

home which captures the afternoon sun

and is nestled well away from the hustle and

bustle of City life.

Easy care, with flowing open living, this is

a home you can move into and enjoy, while

offering potential to enhance and add value

in the future if you wish.

What else is on your wish list? Three

generous bedrooms, family bathroom,

separate laundry and lovely gardens plus

full double garage are here ready for you.

Close to the amenities of Woolston,

Eastgate and The Tannery you must simply

view this home to enjoy all that is on offer.

The out of town vendor wishes to see this

sold, to move on to the next chapter of her

life.

Open Home Dates: Saturday 5 August

2:00 p.m. - 2:30 p.m.

See you at the Open Home or for

more information or to arrange a

private viewing contact Chris Moores

of Harcourts Grenadier Ferrymead

(Licensed Agent REAA 2008) on 384 7950

or 0275 884 440

BAY HARBOUR

PAGE 25

growing with you

SprIng Is here –

It'S Sow Time

how to get the best results from

seeds and seedlings

100% NatIve In

The capItal

Unravelling the secrets of

Otari-wilton Bush

The New Zealand

landscape awards

The people behind

the projects

$7.90 incl. GST

Save our roSeS

How a rose register is protecting our heritage

September 2016 | 100%

It's time

to grow!

New look and more

content than ever!

MeeT LeSTer Brice

A Garden coach

auckland Botanic GardenS

Why we love our public grounds

now bigger than ever

The magazine for

gardeners who like to get

their hands dirty

SubScribe from

$43. 50*

*6 issues/6 months

ISSN 2423-0219

SUBSCRIPTIONS FREEPHONE

0800 77 77 10

www.gaRdeNER.kiwI
---
PAGE 26 Wednesday August 2 2017

BAY HARBOUR

Latest Christchurch news at www.star.kiwi

Breaking news,

delivered to

your pocket.

Visit www.star.kiwi

anytime, anywhere!

Fire rages, homes at risk

•news •CTV •sport •districts •schools •lifestyle •opinion •what's on

www.star.kiwi
---
Wednesday August 2 2017

Latest Christchurch news at www.star.kiwi

BAY HARBOUR

PAGE 27

Computer

Services

VIRUS REMOVAL AND

PC HEATH CHECK

$50.00

With free pick and delivery

within 10km of Redcliffs.

Phone Paul on 021495577.

Microsoft Certified Pro

with 25 years experience

Computers

ALL

YOUR

COMPUTER

WORRIES SOLVED!

*$30.00 off your first

service with this coupon!*

No problem too big or

small from home PC's to

business networks. PC

slow? An end to Viruses,

Spyware, and Clogged

Systems. Safe secure

hassle-free computing.

Lost files recovered.

Microsoft Certified,

MCSE, MCP+l. 30 years

experience. Call Andrew

Buxton this week on 326-

6740 or 027 435-7596

for $30.00 off* Custom

Computers Christchurch

Funeral Directors

Direct Natural

Funeral Provider

Funeral Insurance

Eco & personalised

caskets and urns

0800 000 121

021 511 948

www.cremorials.co.nz

enquiries@cremorials.co.nz

Classifieds Contact us today Phone our local team 03 379 1100

Gardening & Supplies

Holiday

Accommodation

QUEENSLAND SUN-

SHINE COAST AUSTRA-

LIA Resort, Ocean Views,

Balconies, Self Contained,

1 or 2 B/R Ensuite,

Heated Pool, Spa, Sauna,

Free Internet, Shops,

Restaurants, Tennis, Surf

Club & Patrolled Beach,

Public Transport at door.

Ask for our SEASONAL

SPECIALS. Phone 61 7

544-35011 Email: reception@mandolin.com.au

www.mandolin.com.au

Landscape

and Garden

Services

If you need help getting your

garden back in order after

repairs, need any type of

landscape construction work

or garden restoration.

Phone 021 272 0303

Trades & Services

RE-ROOFING

QUALITY ROOFING AT THE

BEST PRICE AROUND

Protect your home with a new Colorsteel roof.

Call for a friendly, FREE assessment and quote.

Trades & Services

EARTHWORKS

• Earthworks

• Landscaping

• Subdivision Developments

• Roading and Maintenance

• Farm Excavations and

Track Construction

Ph: 347 9045 or 021 165 1682

Email: Robinsonroofing99@gmail.com

There's no job too big or too small.

Call us today! 0279693681

admin@kedzlieconstruction.co.nz

• Roofing

• Spouting and Downpipe

• Safety rails

• Licensed Building

Practitioner

Trades & Services

WALLPAPERING

Hung by

tradesman

Free quotes

Phone Steve

326 7176 or

021 239 5879

ADD SOME

COLOUR

TO YOUR ADVERT!

GAS HOT WATER

Trades Services

Plumbing & Drainage

PLUMBING & DRAINAGE

Plumbing & Drainage

Local business for all

plumbing MTPD and drainage

Call Local Morgan business work. - 0223758506 for all

plumbing and drainage

Morgan Thomas Plumbing & Drainage Ltd

Local business for all plumbing and

drainage work.

Freework.

Free Quotes

Quotes

Free Quotes

New SkyVac

Gutter Cleaning Machine

New SkyVac

Revolutionary Gutter cleaning system.

No job too big or too small!

Gutter Cleaning Machine

Revolutionary Gutter cleaning system.

MORGAN THOMAS PLUMBING & DRAINAGE LTD

No job

Calltoo Morgan

big0223758506

or too small!

MORGAN Visit our THOMAS website PLUMBING - www.mtpd.co.nz

& DRAINAGE LTD

Email Call-Morgan morgan@mtpd.co.nz

0223758506

Visit our website - www.mtpd.co.nz

Email - morgan@mtpd.co.nz

Trades & Services

ROOF

PAINTING

Rope & harness

a speciality,

no scaffolding

required,

30 years of

breathtaking

experience.

FREE QUOTES

Exterior staining,

exterior painting,

moss and mould

treatment and

waterblasting

Phone Kevin

027 561 4629

Power savings that

will make you smile

Trades & Services

CARPET & Vinyl

lAying

Repairs, uplifting,relaying,

restretching,Email

jflattery@xtra.co.nz

ph 0800 003 181

or 027 2407416

COnCRETE

Trades & Services

FEnCing

Urban & Rural Fencing

Retaining walls,

excavation, landscaping,

decks. Contact Geoff 027

231 9463 grjarvis@xtra.

co.nz

gARDEnER

Need your home or

commercial garden tidied

up or renovated or require

long term assistance.

Phone Ruth 326-6663 or

021 272-0303

PAinTER/PlASTERER

Experienced tradesman,

quality work, free quotes,

ph Simon 027 389-1351 or

03 328-7280

PAinTing SERViCES

Mature, reliable,

conscientious &

experienced, reasonable

rates, no job too small!,

call Ron 027 434-1400

PAinTER AVAilAblE,

RAPID RESPONSE,

quality work guaranteed,

interior/exterior,

roofs, spraypainting,

waterblasting, ph Graeme

for a free quote, 027 318

2614

PAinTing

PlASTERing

Free quotes. Int/ext &

roof painting Family run

business, work guaranteed.

Pensioner discounts. Ph

Kerin or Paul 021 0249

9197 or 379-1281. Website

www.swedekiwipainting.

co.nz

PAinTER AVAilAblE

Decopave Ltd,

Canterbury owned &

operated for over 10

years, competitive rates,

full excavation, coloured,

exposed, stamped, call

Paul 027 322 6119

EARTHWORKS

EXCAVATION SERVICES

3.5 tonne digger & truck.

Geoff Jarvis 027 231 9463 RAPID RESPONSE,

informcontracting@gmail. quality work guaranteed,

com

interior/exterior,

ElECTRiCiAn.

roofs, spraypainting,

waterblasting, ph Graeme

JMP Electrical

for a free quote, 027 318

Experienced & registered..

2614

Expert in all home

PlASTERing

electrical repairs &

inTERiOR

maintence.Call James 027

no job too big or too

4401715

small, specialise in repair

work & new houses, free

quotes given, over 20 yrs

plasterering experience, ph

027 221-4066 or 384-2574

TREES big OR SMAll

tree removal, trimming,

stump grinding, shelterbelt

clean up, section clearing,

rubbish removals,

excavation work, ph Trees

Big or Small, for a free

quote, 021 061 4783

VHS ViDEO TAPES

& all camera tapes

converted to DVD, video

taping special occasions,

www.grahamsvideo.co.nz

ph 03 338-1655

WinDOW ClEAning

"Your Windows are the

eyes of your Home", for

a free no obligation quote,

call Greg Brown, Crystal

Clear Window Cleaning

ph 384-2661 or 027 616-

0331 Local Resident

Public Notices

SALE AND SUPPLY OF

ALCOHOL ACT 2012

SECTION 127 & 101

MASTERS THEATRE PROPERTIES

LIMITED, (THE LICENSEE, The

Manager, Hollywood Cinemas

Sumner, 26 Marriner St,

Sumner, Christchurch 8081),

has made application to the

District Licensing Committee

at Christchurch for the renewal

of ON-LICENCE RENEWAL in

respect of the premises situated

at 26 Marriner Street known

as HOLLYWOOD CINEMAS

SUMNER.

The general nature of the

business conducted under

the licence is: ON-LICENCE

THEATRE/CINEMA.

The days on which and the

hours during which alcohol

is sold under the licence are:

MONDAY TO SUNDAY 9.00AM

TO 11.00PM.

The application may be

inspected during ordinary

office hours at the office of the

Christchurch District Licensing

Committee, Civic Offices, 77

Hereford Street, Christchurch.

Any person who is entitled to

object and who wishes to object

to the grant of the application

may, not later than 15 working

days after the date of the first

publication of this notice, file a

notice in writing of the objection

with the Secretary of the District

Licensing Committee, PO Box

73049, Christchurch 8154.

No objection to the renewal of a

licence may be made in relation

to a matter other than a matter

specified in section 131 of the

Sale and Supply of Alcohol Act

2012.

This is the only publication of

this notice.

Do you know

where your

nearest

CIVIL DEFENCE

sector post is?

Ring your local

council to find out.

Wanted To Buy

A+ Household effects,

fridges, freezers, washing

machines, ovens. Good

cash paid. Ph Paul 022

0891 671

Pets and Supplies

• Quiet rural setting

• Modern purpose built facility

• AsureQuality approved

• Caring qualified staff

• Inspections welcome

69 Avoca Valley Road, Heathcote.

Ph. (03) 3844028 Email. info@avocacats.co.nz

www.avocacats.co.nz

Enjoy instant, unlimited hot water when you convert to gas hot water.

Pay only for the hot water you use and save money on your power bill!

GAS HOT WATER • SOLAR HOT WATER • HOT WATER HEATPUMPS • HOT WATER CYLINDERS

03 366 8426 - Call today for a free quote

www.hotwatershop.co.nz

12 months interest free

finance available
---
PAGE 28 Wednesday August 2 2017

BAY HARBOUR

Latest Christchurch news at www.star.kiwi

mid winter

kickoff!

If you're about to brave the elements for a spot of mid-winter

sport or socialising, Super Liquor has you sorted with great

rainy day savings on your favourite brews.

kick the winter blues &

get amongst it

HOT DEALS

for the big

game

CORUBA &

COLA

10 x 330ml

Bottles, 5%

$

24 99

$

19 99 ORANJEBOOM

12 x 330ml Bottles

With friends to see on

Friday night, games to

watch Saturday and

family to have over for

Sunday dinner, there's

no excuse for turning

into a hermit this

winter!

BILLY

MAVERICK

BOURBON

& COLA

18 x 250ml Cans, 7%

HOT DEAL!

$

27 99

$

29 99 STEINLAGER

18 x 330ml Bottles

THE FAMOUS

GROUSE

1 Litre

HOT DEAL!

$

34 99

BAILEYS

The number one selling

liqueur in the world,

is lush, with fresh

cream characters, a

gentle nuttiness, and a

perfectly balanced dash

of Irish whiskey. Enjoy

Baileys straight, on the

rocks with ice-cream or

in 'Irish coffee.'

1 Litre

SMOOTH TREAT

HONEY BEE

The delicious combination of honey

and whisky brings the creamy texture

of Baileys to the next level.

Pour 75ml Baileys, 25ml whisky and

2tsp honey into a cocktail shaker. Fill with ice

and shake vigorously to chill down. Strain the

silky mixture into a chilled glass and sip away!

hot

winter wine deals

STONELEIGH

Range

Distinctive, elegant

Marlborough wines

that reflect the

unique terroir of

their stone-studded

vineyards.

750ml

Includes Pinot Noir

& Stoneleigh Lighter

range

THE NED

Range

Renowned for

their fruit purity,

structure and

seamlessness;

showing distinct

regional and

varietal character.

750ml

$

12 99

$

$

39 14 99 99

130+ STORES NATIONWIDE, 100% LOCALLY OWNED & OPERATED

Amberley | Ashburton | Barrington | Belfast | Blenheim Road | Brighton | Brougham | Burnside | Colombo Street

Eastgate | East Street | Edgeware | Elmwood | Ferrymead | Halswell | Hanmer Springs | Hillmorton | Hornby | Ilam | Kaiapoi

Leeston | Lincoln | Lyttelton | Pages Road | Papanui | Parklands | Rangiora | Seaside | Shirley | Woodend | Woolston

superliquor.co.nz | 0800 SUPERL (0800 787 375)

Offers end close of trade 13th August 2017, while stocks last. Available at participating stores only. Varietals may vary by store. Limits may apply.

Trade not supplied. Terms and conditions may apply. Available 31st July - 13th August 2017 inclusive. Please see www.superliquor.co.nz for details.

SUP0485_C9_CHCH
---
Romeo

THE RYMAN HEALTHCARE SEASON OF

Juliet

A NEW BALLET

by Francesco Ventriglia

Isaac Theatre Royal

25 – 26 August

ARTISTIC DIRECTOR: PATRICIA BARKER
---
FALL IN LOVE

THIS WINTER

WITH THE ROYAL

NEW ZEALAND

BALLET'S

W O R L D

PREMIERE OF

R O M E O A N D

JULIET

A sunlit piazza, the candlelit corner of

a noble ballroom, a moonlit balcony…

when young lovers meet, the world is

stilled… then changed forever.

Italian choreographer Francesco Ventriglia creates

a new production of Shakespeare's great love story,

especially for the Royal New Zealand Ballet. This

brand new ballet, with exquisite sets and costumes

by Oscar-winning designer James Acheson (The Last

Emperor, Dangerous Liaisons) brings to life all of

the splendour and seduction of Renaissance Verona,

swept up in Prokofiev's exhilarating, passionate

score. Join us as we follow the Montagues and

Capulets in Shakespeare's original tale of two starcrossed

lovers though desire, struggle and tragedy.

Sure to be the highlight of the 2017 arts calendar

this is a production not to be missed.

CHOREOGRAPHY / FRANCESCO VENTRIGLIA

COSTUME & SET DESIGN / JAMES ACHESON

MUSIC / SERGEI PROKOFIEV

LIGHTING DESIGN / JON BUSWELL

DRAMATURG / MARIO MATTIA GIORGETTI

CHOREOGRAPHIC ASSISTANT / GILLIAN WHITTINGHAM

CONDUCTOR / HAMISH MCKEICH

ACCOMPANIED BY THE CSO

The RNZB is absolutely thrilled to have the musicians

of the Christchurch Symphony Orchestra joining

us once again for our Christchurch performances.

Christchurch born Hamish McKeich will conduct as

the CSO brings Prokofiev's beautiful ballet score

to life, filling the Isaac Theatre Royal with the

unbeatable sound of live orchestral music.

Choreographer Francesco Ventriglia, dancer Madeleine

Graham and Leading Guest Artist Sir Jon Trimmer at

Ryman Healthcare's Anthony Wilding village.

Ryman Healthcare is thrilled to once again

be associated with the creation of a major

production for the Royal New Zealand Ballet.

Ryman Chief Executive Gordon MacLeod said

residents and staff were planning a whole

lot of Romeo and Juliet-themed events to

celebrate the season.

"We're delighted to be able to support the

RNZB's production of Romeo and Juliet. We

think our residents – and the rest of New

Zealand – are in for a real treat. Our ballet

company is a national treasure and it is a

pleasure to be able to support the company

as they take their performance nationwide.''

Mr MacLeod said staff at Ryman's 30 villages

had a whole lot of events lined up to make

sure everyone gets into the swing of things.

Activities planned include balcony decorating

competitions, a grand masquerade ball in

the style of the Capulet house, Shakespeare

quizzes and residents would be encouraged

to recount their own memories of young

romance.

As part of the partnership with RNZB

members of the company visit Ryman's

villages to meet residents unable to get out

to the performances.

"Romeo and Juliet is doubly exciting because

Madeleine Graham – who we have sponsored

for a number of years – is dancing the role of

Juliet! We feel like she's part of the family.''
---
ROMEO, ROMEO, WHEREFORE ART THOU ROMEO?

ISAAC THEATRE ROYAL

Friday 25 August 7.30pm

Saturday 26 August 1.30pm

Saturday 26 August 7.30pm

BOOK AT: ticketek.co.nz /

0800 TICKETEK

3

SHOWS

ONLY

Adults $48 – $150

Children $25 – $50

The Ryman Healthcare Season of Romeo and Juliet is also touring nationally

visiting eight centres in total from 16 August to 24 September.

Find out more at rnzb.org.nz/romeo

A N E W

PRODUCTION OF

SHAKESPEARE'S

G R E A T

ROMANCE

Service fees apply to all bookings. Please check with the relevant agency at the time of booking. The Royal New

Zealand Ballet reserves the right to alter any advertised schedule of artists and/or performances without notice. All

prices are GST inclusive. Details are correct at the time of printing.

ENHANCE YOUR EXPERIENCE

Our education team offer a range of events around each tour including

pre and post-performance sessions. In Christchurch you can take

advantage of the following:

FREE PRE-PERFORMANCE MUSIC TALK

Friday 25 August – 6.30pm

Join our free presentation before Friday's show in the Level 2 Foyer, where

special guest conductor Hamish McKeich will provide an insight into preparing and

performing Prokofiev's classic ballet score. Free 30 minute event – no booking

required, just come along early on the night.

FREE POST-PERFORMANCE Q&A

Saturday 26 August, immediately after the matinee

A panel of RNZB dancers will take questions from the audience for 10–15 minutes

after the show. No registration needed, just stay in the auditorium after the show.

WARM UP, CURTAIN UP!

Saturday 26 August, 6.20pm

Watch the RNZB dancers in a short class on stage as they prepare for the evening

performance. A great opportunity to see behind the scenes and gain a greater

understanding of what happens at the theatre in the countdown to curtain up.

Gold coin donation, all are welcome, no registration needed, just turn up early.
---
Romeo Juliet

THE RYMAN HEALTHCARE SEASON OF

ARTISTIC DIRECTOR: PATRICIA BARKER

MAKEUP BY KENDYL FOUHY FOR M.A.C

HAIR BY AMY MCLENNAN

PHOTOGRAPHY BY ROSS BROWN

BOOK NOW

rnzb.org.nz

SEASON SPONSOR NATIONAL TOURING SUPPORTED BY

FEATURING PARTNER

PARTNER

EVENT