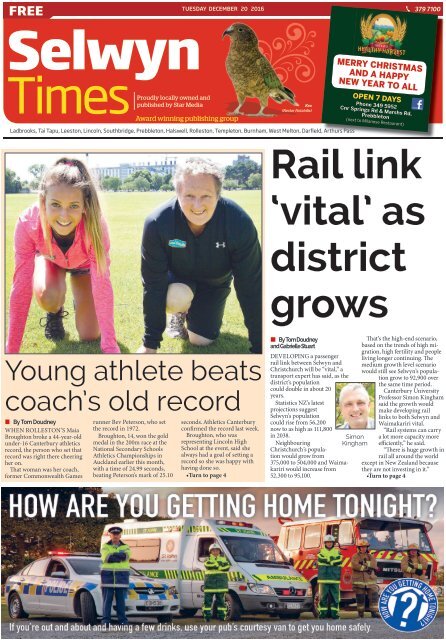 Selwyn Times: December 20, 2016
You also want an ePaper? Increase the reach of your titles
YUMPU automatically turns print PDFs into web optimized ePapers that Google loves.
FREE

TUESday dECEMBER 20 2016 379 7100

Selwyn

Times

Proudly locally owned and

published by Star Media

Award winning publishing group

Kea

(Nestor Notabilis)

MERRY CHRISTMAS

AND A HAPPY

NEW YEAR TO ALL

OPEN 7 DAYS

Phone 349 5952

Cnr Springs Rd & Marshs Rd,

Prebbleton

(next to Milanese Restaurant)

Ladbrooks, Tai Tapu, Leeston, Lincoln, Southbridge, Prebbleton, Halswell, Rolleston, Templeton, Burnham, West Melton, Darfield, Arthurs Pass

Rail link

'vital' as

district

grows

Young athlete beats

coach's old record

• By Tom Doudney

WHEN ROLLESTON'S Maia

Broughton broke a 44-year-old

under-16 Canterbury athletics

record, the person who set that

record was right there cheering

her on.

That woman was her coach,

former Commonwealth Games

runner Bev Peterson, who set

the record in 1972.

Broughton, 14, won the gold

medal in the 200m race at the

National Secondary Schools

Athletics Championships in

Auckland earlier this month,

with a time of 24.99 seconds,

beating Peterson's mark of 25.10

seconds. Athletics Canterbury

confirmed the record last week.

Broughton, who was

representing Lincoln High

School at the event, said she

always had a goal of setting a

record so she was happy with

having done so.

•Turn to page 4

• By Tom Doudney

and Gabrielle Stuart

DEVELOPING a passenger

rail link between Selwyn and

Christchurch will be "vital," a

transport expert has said, as the

district's population

could double in about 20

years.

Statistics NZ's latest

projections suggest

Selwyn's population

could rise from 56,200

now to as high as 111,800

in 2038.

Neighbouring

Christchurch's population

would grow from

375,000 to 504,000 and Waimakariri

would increase from

52,300 to 95,100.

Simon

Kingham

That's the high-end scenario,

based on the trends of high migration,

high fertility and people

living longer continuing. The

medium growth level scenario

would still see Selwyn's population

grow to 92,900 over

the same time period.

Canterbury University

Professor Simon Kingham

said the growth would

make developing rail

links to both Selwyn and

Waimakariri vital.

"Rail systems can carry

a lot more capacity more

efficiently," he said.

"There is huge growth in

rail all around the world

except in New Zealand because

they are not investing in it."

•Turn to page 4
---
2

Tuesday December 20 2016

Inside

FROM

THE

EDITOR'S

DESK

SELWYN TIMES

News........................................3-7

THERE'S A lot of merit in

thinking about a rail link between

Selwyn and Christchurch.

The population of the district

(see page 1) is likely to double by

2038 and large numbers of people

are likely to work in the city.

There are existing railway lines

through Burnham and Rolleston

from the south, and Darfield in

the west, which could easily be

transport links.

A problem will of course be the

current siting of the Christchurch

railway station – it needs to be in

the central city.

Great to see Bev Peterson's

44-year-old 200m record broken

by up and coming Rolleston athlete

Maia Broughton (see page 1).

Peterson was a sprinting icon

in her day, but as they say in the

sporting game, records are there to

be broken.

And special about this is Peterson

is Maia's coach. – Barry Clarke

Working out the cause of major fires

OUR PEOPLE 8

Our People....................... 8

Sport...........................................11

Achievers........................ 13

Community Events......15

Gardening.......................16

Community Events.....35

Driven................................31

GET IN TOUCH

General Enquiries Ph 379-7100

Classified Advertising Ph 379-1100

The Christchurch Star Company Ltd. PO box 1467 - Christchurch

starmedia.kiwi

NEWS

Tom Doudney

Ph: 371 0780

tom.doudney@starmedia.kiwi

ADVERTISING

Lynette Evans

Ph: 364 7434

lynette.evans@starmedia.kiwi

wanted

People to experience a virtually invisble German

engineered hearing aid * .

The Great Museum

Santa Search

3 December to 8 January

Do you want to understand speech in difficult

listening situations with little effort * ?

CaLL nOw FOR a FRee

HeaRInG aId deMOnStRatIOn

FRee PHOne: 0800 72 73 66

Completely disappears

Hearing Clinics available: Christchurch, Rangiora, Ashburton, Akaroa and West

Coast (Hokitika, Greymouth and Westport). Consultations by Appointment only.

*Clinically proven in two independent studies to provide better than normal hearing in certain demanding listening environments.

*Special conditions apply

Merivale Hearing Clinic

24b Church Lane, Merivale. Call: 356 2324

Greg Foote, Audiologist

Bring your family and join in the fun searching high and low for our

hidden Santas. You could go into the draw to win a great prize.

Visit our website to find out more.

Rolleston Avenue, Christchurch

General admission free; donations appreciated

www.canterburymuseum.com

Supported by
---
SELWYN TIMES Tuesday December 20 2016 3

News

Developers asked to

leave subdivisions in good state

• By Tom Doudney

DEVELOPERS leaving reserves

and plantings in a tardy state

before handing subdivisions

over to district council

management have been asked to

lift their game.

District council property and

commercial manager Douglas

Marshall

confirmed

that reserve

management

staff recently

brought the issue

to developers'

attention.

The issue was raised by

district councillor Pat McEvedy

(above) at a recent audit and risk

sub-committee meeting.

Cr McEvedy said he wanted

to make sure that ratepayers

weren't left having to cover

maintenance costs when it was

a developer's responsibility.

"It's about developers getting

something finished, completed

and then handed over in good

order," he said.

"Over the years there has

been a certain amount of things

perhaps not being as we would

MESSY: Some Rolleston residents have complained about

the state of gardens and plantings in their subdivisions. ​

like around some of the subdivisions."

Mr Marshall said the issue

had related to a small number of

developers.

"With the increasing number

of reserves being developed in

MAKE US YOUR

NO. 1 STOP FOR

FRESH FRUIT AND

VEGETABLES

We wish you all a Safe and

Happy Christmas and

New Year break.

OPEN 7 DAYS

Phone 349 5952

Cnr Springs Rd & Marshs Rd,

Prebbleton

(next to Milanese Restaurant)

GET SET FOR XMAS

Come see us for a FREE fitting on trailer,

caravan and boat trailer tyres during

December at Bridgestone Tyre Centre, Lincoln.

nine bands.

the district, council is adding

additional resource to monitor

reserve maintenance standards

while Sicon, who maintain

the majority of the reserves

taken over from developers,

have increased their staff

numbers," he said.

District councillor Craig

Watson said some Rolleston

residents had been unhappy

about the conditions of new

subdivisions on hand over by

the developer.

"We have got so much development

going on and so many

reserves and parks and berms

and so forth to maintain, so we

need developers to do their bit

as much as we need to do ours,"

Cr Watson said.

"It's important to our communities."

Mr Marshall said staff had

been pleased with developers'

response after the matter was

raised.

"It should also be noted that

some developers continue to

maintain the reserves in their

subdivisions after the standard

12-month maintenance period

is complete, which is appreciated."

•HAVE YOUR SAY: Have

you been upset by a lack

of maintenance in your local

subdivision? Send your

views to tom.doudney@

starmedia.kiwi

BRICK &

BLOCKWORK

• EQC repairs welcome

• Quality workmanship

• We leave your property

clean & tidy

• Competitive prices

All brick & block work undertaken

CALL LEE FOR

A FREE QUOTE

LEE O'NEIL

Brick & Blocklaying

TICKETS FOR A CHRISTMAS PRESENT!

one day.

027 665 8899

03 365 3700

www.leeoneilbrickandblocklaying.co.nz

ON THE DOMAIN

MARCH 4 2017 LINCOLN

LINCOLN'S FINEST SUBDIVISION

In Brief

www.selwynsounds.co.nz

DRINK DRIVERS

Two Rolleston mothers who were

recently caught drink driving with

their children in the car will appear

in Christchurch District Court this

week. One woman, who recorded a

breath alcohol reading of 696 mcg/L

when stopped with her four-yearold

child, will appear today. The

other, who recorded a reading of

1157 mcg/L when stopped with her

children aged three and nine, will

appear on Thursday.

SHED FIRE

A three-bay shed near Kirwee was

badly damaged and a tractor and car

inside were completely destroyed by

fire on Friday. Kirwee firefighters

were called out shortly after noon

and a fire communications spokesman

said they found the shed "well

involved" on arrival. The cause of the

fire was unknown but it has not been

deemed suspicious.

COES FORD TOILETS

Two new toilet blocks have been

installed at Coes Ford, which has

seen a growing number of freedom

campers in recent years. There are

now three blocks to service the

camping area. Extra cleaning and

servicing of toilets is also planned

this summer at both Coes Ford and

Chamberlains Ford.

See your

Orthodontist in Rolleston

Orthodontist Phil Murfitt is now

based at the new Rolleston Dental

Centre, Tennyson Street, opposite

Rolleston School.

Appointments/enquiries:

(03) 375 4418

phil@pgmortho.co.nz

www.pgmortho.co.nz

• Car Tyres

•

•

•

Trailer Tyres

Caravan Tyres

Motorcycle Tyres

•

Boat Trailer Tyres

• 4x4 Tyres

•

Ride-on Mower

Tyres

• Batteries

• Puncture Repairs

•

Wheel Alignment

Services

23 Gerald Street, Lincoln

325 2129

bridgestonetyres.co.nz

office@bridgestonelincoln.co.nz

Conditions apply.
---
4

Tuesday December 20 2016

News

Message from the mayor

CHRISTMAS IS a wonderful

opportunity to gather together

with family and friends we love.

It's a time when life often slows

a little and we are able to take

stock of the year that has been

and look forward to the things to

come.

For some of us this Christmas

we welcome new members into

our family through birth or marriage.

For others of us Christmas

will be tinged with sadness as we

remember those who have been

lost to us this year.

Whatever your plans, make

sure you remember to cherish

those who are gathered with you,

to smile and say hello to strangers,

to take opportunities to

heal past hurts, and to sing a few

carols and remember the reason

for Christmas.

Liz and I will be enjoying

Christmas in Tauranga this year

with her family.

I trust whatever your plans are

that you travel safely, that you

find peace in the mayhem and

you have a wonderful feed.

Merry Christmas,

Sam and Liz Broughton​

Record-breaking athlete

•From page 1

"It was really exciting,

[Peterson] ran to tell me and she

was really happy," she said.

Peterson, who has coached

a number of promising young

runners, said she had been

yelling in support of Broughton

as she ran the race.

"The way she came off the

bend and into the home straight

and powered away, I thought,

'well god, this has got to be a

good time' so it was really exciting

when we saw the results,"

she said.

Peterson had never expected

her record to stand for 44 years

and thought it was fantastic that

Broughton had been the one to

beat it.

She said Broughton had great

potential and would have the

chance to break that record

again, and others at the un-

PODIUM:

Maia

Broughton

receiving

her gold

medal in

Auckland.

der-16 level, next year as she was

still only 14.

Broughton also won the silver

medal in the 100m race at the

championships.

Light rail an option for

population growth

•From page 1

Environment Canterbury

senior manager public transport

Rob Woods said the Greater

Christchurch Joint Committee

would consider rail links next

year when the Regional Public

Transport Plan was reviewed.

However, Mr Woods said that

while rail was an option, it wasn't

necessarily essential.

"Attractive, lower cost, high

capacity bus-based systems exist

that could meet the levels of demand

that might come with this

growth," he said.

"Bus systems are more flexible

than fixed rail links and would

better meet the dispersed travel

patterns that are characteristic of

greater Christchurch."

District council chief executive

David Ward said the district

council's own projections aligned

more closely with Statistics NZ's

medium level projections rather

than the high end ones. However,

if the higher projections were

to pan out, the district council

would still be able to handle the

demand for new infrastructure

and facilities.

"Selwyn is in a particularly

good position to cater for high

growth, due to the Eastern

SELWYN TIMES

Selwyn Sewage Scheme being

designed in a modular form

which enables upgrades to be

constructed at an appropriate

time," Mr Ward said.

"With transportation, our key

roading network routes are intended

to have capacity upgrades

that dovetail into the Christchurch

Southern Motorway stage

two extension."

Canterbury Registered Master

Builders Association president

Ivan Stanicich said the large

amount of flat land in Canterbury

would be key in handling the

demand for housing.

"Rolleston, for example, is surrounded

by massive amounts of

flat land so it has that ability to

grow quite easily."

HAVE YOUR SAY: Should

passenger rail between

Christchurch and Selwyn be

introduced? Send your views

to tom.doudney@starmedia.

kiwi

Build your next home

with Artisan Homes

Your local registered Master Builder

Home building is as much about understanding the

landscape and the client as it is the plan and the

materials. From our office in Rolleston, Canterbury our

small company has built a huge range of homes that are

distinctive, stylish, durable and cost-effective.

From clever, compact homes to three bedroom townhouses

to large scale, expansive country style homes, our work

spans all types of house building.

Since 2004 we have carefully built, among other things, a

reputation for constructing high quality houses.

An artisan is someone who is highly skilled in a particular

expertise, a hands-on craftsman – someone who is

passionate about the quality results they produce.

With decades in the business the team at Artisian Homes

have worked in all areas of residential construction. There

are obvious differences between building a two-bedroom

home compared to a six bedroom one. Irrespective, our

overall approach remains the same.

While we have a sound reputation for carefully crafted

home building we also are renowned for getting the right

result no matter what the challenge. Building with difficult

access, looming timelines or tight budgets is just a fact of

life for us. All our tradespeople are qualified and registered

or licensed. Our abilities to design and build a range of

houses have increased over the years, as has our skill and

overall capacity. While we don't have the franchises of our

larger competitors we do have their networks and buying

power. Which means our clients receive the most costeffective

results possible.

At Artisan Homes, our passion is building homes for

people who appreciate the work that goes into what will,

ultimately, be a home they love to live in.

5 Broomleigh Drive in Rolleston's Faringdon

Artisan Homes' show home is open every day (Fri by Appt)

8.30am-5pm Mon-Thur,

Fri by appointment, and 12-4pm Sat/Sun.

To contact Rob: phone 374 9172,

mobile 021 324 876 or

email: robin@artisanhomes.co.nz.

Builders of

superior homes

Plans are viewable in high resolution digital at www.artisanhomes.co.nz. Let Rob and his team work with you to produce your own unique plan.

Office & Show Home- 5 Broomleigh Drive, Faringdon, Rolleston | www.artisanhomes.co.nz | Phone - 03 374 9172 or Rob 021 324 876 | E-mail - robin@artisanhomes.co.nz
---
SELWYN TIMES Tuesday December 20 2016 5

News

Mixed audit for uni

• By Tom Doudney

AN ACADEMIC audit of

Lincoln University has raised

several concerns but also

found some praise for the cashstrapped

institution.

The cycle 5 audit by the

Academic Quality Agency

produced 13 recommendations

for where the university needed

to improve, as well as four affirmations

of work being done to

address existing issues.

There were eight commendations

for exceptionally good

practice.

The audit comes at a time

when the university is grappling

with a $5 million deficit and

falling enrolments which have

forced it to propose axing 51

jobs.

AQA raised concerns over

the university's provisions and

procedures for students' appeals,

academic grievances and complaints.

"It was not immediately obvious

from the university's website

home page what a student

should do or where they should

go if they had a complaint or

grievance," the audit stated.

Other concerns addressed the

university's policies, processes

and expectations related to

GOOD AND BAD: Lincoln's latest academic audit was a mixed

bag, highlighting its good and bad practices. ​

assessment and moderation

and the audit concluded that its

approach to academic integrity

needed development.

It highlighted a need for

"much more robust strategic

planning related to teaching and

learning" and found that some

issues raised in the previous

audit had not been adequately

addressed.

However, the audit praised

Lincoln's support for international

students and those for

whom university access might

be a challenge, as well as the

open door culture of its academic

staff and the strong links

Varicose Vein Treatment

Non-surgical Vein Laser Treatments available

Tired of aching and unsightly veins?

No surgery, no scars, no stitches. No time off work

- continue normal daily activities. An affiliated provider to

Southern Cross Health Society (medical necessity

criteria apply) - check your policy for cover.

Enjoy skirts, short and cropped pants again.

Payment plans available (Conditions apply)

between management and the

students' association.

Lincoln's interim chief academic

officer Bruce McKenzie

said the university acknowledged

the areas that needed

further work and was already

implementing many of the audit

recommendations.

"Changing circumstances,

including departures of several

staff members at senior management

level, had previously led to

delays and different priorities,

but we take the recommendations

seriously and they are key

priorities for 2017," Mr McKenzie

said.

ALL SQUARE: Central Plains Water has repaid the $6.26

million it borrowed from the district council to fund design

work.

Loan paid back by CPW

CENTRAL PLAINS Water has

paid off its loan to the district

council.

The loan of up to $8 million

was approved in November last

year, following public consultation

through an amended Long-

Term Plan process.

Subsequently, Central Plains

Water progressively drew down

$6.26 million, which was repaid

in full last week along with interest

of $188,000.

The loan was provided to assist

with design work on Stage 2 of

the irrigation scheme.

Mayor Sam Broughton said

the prompt repayment of the

loan confirmed that the district

council's backing for the scheme

had been well-founded.

"Throughout our involvement

with this project the council has

been confident about supporting

the scheme, on the strength

of the potential returns to the

district," he said.

"The scheme will bring significant

benefits to the wider Selwyn

community through increased

economic activity as well the creation

of new jobs both on farms

and within related industries.

There are also significant environmental

gains to be made, as

the scheme replaces groundwater

with surface water irrigation

from alpine sources."

•HAVE YOUR SAY: Does the

repayment of the Central

Plains Water loan, with

interest, show the district

council was right to lend the

money? Send your views to

tom.doudney@starmedia.

kiwi

Free Assessment

www.transformclinic.co.nz | 52A Mandeville | 52A Mandeville St | Riccarton St | Riccarton 0800 2 Look Good | 08002lookgood or 246 654 | | 03 343 2880

Your local vet right here in the heart of Selwyn!

Selwyn Vet Centre

We are closed on the public holidays.

Other days, business as usual.

"We wish everyone a wonderful Christmas and look

forward to seeing you in the new year!

Phone: 03 347 7419 - Visit: 829 Jones Rd, Rolleston

Email: info@selwynvet.com - Web: www.selwynvet.com
---
6

Tuesday December 20 2016

SELWYN TIMES

last chance!

50 % OFF

selected

BEDS *

to grab a deal for the big day

FINAL DAYS!

BUY NEW ZEALAND

MADE QUALITY

CALIBRATE

Queensize Bed

57%

OFF QUEENSIZE

WAS $2799.99 NOW

$

1199 99

All stores open until 9pm

Wednesday, Thursday & Friday

30 to

30

52 % OFF

ALL TVS *

• PurColour • Satellite Tuner

• Quad Core Processor

• 100Hz • 3x HDMI

KU6500 SERIES

& UHF

UHD

CURVED

SMART TV

KU6500

SERIES 6

49"

SAVE

$

1250

WAS $2399.99 NOW

$

1149 99

RECLINER

CHAIRS *

20 to

35 % OFF

FRONT LOAD

WASHERS *

30 % OFF

7.5KG WASHER/

4.0KG DRYER

COMBO

WD1402CRD6

SAVE

$

700

WAS $2099.99 NOW

$

1399 99

DISHWASHER

14 place dishwasher

SMS50M22AU

SMALL

APPLIANCES *

30 % OFF

AUDIO *

20 to UP TO

SAVE

$

500

35 % OFF

SMALL

CHEST FREEZERS

& DISHWASHERS *

WAS $1799.99 NOW

$

1299 99

LAPTOPS *

• CD/Bluetooth/FM/AM/

USB/ audio in

• Power Output: 15 W + 15 W

XCM56W

SAVE

$

260

SAVE

$

350

WAS $699.99 NOW

$

349 99

CD RECEIVER

SYSTEM WITH

BLUETOOTH,

FM/AM RADIO

TUNER, USB &

AUDIO IN

SAVE

$

170

WAS $499.99 NOW

$

329 99

15.6" 1TB

LAPTOP

• Intel Pentium

N3700

Quad Core

Processor,

1.60 GHz

• 8 GB RAM

• 1 TB HDD

ES1-531

WAS $949.99 NOW

$

689 99

30 % OFF

UP TO

50 % OFF

ELITE CLASSIC

PARQUET VACUUM

CLEANER

0% INTEREST

for 50 months

on furniture $1499 & over *

0% INTEREST

for 12 months

on everything $499 & over *

SCG0351ST

smithscity.co.nz

SHOP YOUR WAY Delivered to your door or pick up instore 0800 SMITHS (0800 764 847)

COLOMBO ST MegaStore | Bush Inn MegaStore, RICCARTON | NORTHWOOD MegaStore | 38 Kermode St, ASHBURTON | 130-134 Beach Road, KAIKOURA

*Discount is off the full retail price. Exclusions, fees, terms and conditions apply. See in-store or visit smithscity.co.nz
---
SELWYN TIMES Tuesday December 20 2016 7

News

Double pass winners in Star Media's Selwyn Sounds giveaway are – Ray Thomas,

Kate Holley, Brian Walkinshaw, Anna Wilson, Andrea Dobbie, Michael Drummond,

Mark and Mishka Smorfitt, Jim Newman, Donna Mclean - Trish, Mike Murray.

Band's role to warm up Selwyn Sounds

Covers band Sign of the Firebird is used to getting

a crowd amped up but an opening slot at Lincoln's

Selwyn Sounds concert in March is likely to be its

biggest gig yet. Guitarist Rob Tate spoke to Tom

Doudney

WHEN SIGN of the Firebird

played their first gig in 2010 it

was supposed to be a side project

to their main focus – a Led

Zeppelin tribute band called

NZeppelin.

Six years later, the band members

have played more than 300

shows, almost all of them as Sign

of the Firebird.

During that time, they have

acquired a reputation as a strong

live act, playing covers of 1960s

and 70s classic rock from artists

such as Led Zeppelin, The Doors,

Deep Purple, Jimi Hendrix, Eric

Clapton and more.

The band has been a mainstay

at Rangiora's annual Muscle Car

Madness show and has played a

number of other events ranging

from motor-cycle rallies and

pubs to weddings.

The current line up consists

of Tim Martin (guitar, bass and

lead vocals), Rob Tate (guitar,

keys and vocals), Geoff Cox

(bass, keys and vocals) and Pete

Appleby (drums and vocals).

Tate said Sign of the Firebird

CROWD PLEASERS: Sign of the Firebird has made its name

playing covers from rock icons such as Led Zeppelin and

Deep Purple. The band will open the Selwyn Sounds concert

began when NZeppelin, which

had formed in 2009, was asked

to play a private function and the

hosts wanted them to play more

than just Led Zeppelin songs.

"From then on we were quite

sneaky on some occasions," Tate

said.

"At gigs we would do one set

as the NZeppelin band and we

would so a Sign of the Firebird

set beforehand for about half an

hour, almost like we were a support

band, and then we would

come on stage as NZeppelin."

When the February 2011 earthquake

put some of the venues

that NZeppelin had been playing

out of operation, the focus shifted

to Sign of the Firebird.

The band have been happy

sticking to covers in spite of the

fact that all four members have

previously written original songs

with other bands.

Tate said the key to winning

crowds over as a covers band had

been their strong musicianship.

"I am fortunate enough that

these guys with me are just su-

event which includes The Jordan Luck Band (right). ​

perb musicians," he said.

Their repertoire doesn't include

anything by the other bands

playing Selwyn Sounds – a line

up which includes New Zealand

heavyweights such as Mi-Sex,

Dragon, The Jordan Luck Band,

Jason Kerrison, Annie Crummer,

Debbie Harwood, Sharon O'Neill

and Margaret Urlich.

"It's going to be big for us to be

on the same stage as a lot of those

famous New Zealand bands

and we are there to do our bit

by warming the crowd up," Tate

said.

In fact the band may be pulling

double duty on the night, as Tate

revealed the band had been discussing

playing an after party gig

for Selwyn Sounds at Lincoln's

Famous Grouse Hotel.

"We have been asked to play

at that in the evening, so there

is a chance, I'm not saying it's

definite, it's only what the people

from the pub have told us, but

that various members of these

bands might want to come up

and sing a few of their songs,"

Tate said.

And for those who want to get

a preview of their performance at

Selwyn Sounds, the band, which

have been playing at the Famous

Grouse for more than four years

already, will be playing a Christmas

Eve gig at the pub.

•Selwyn Sounds will be held

on March 4, from 11.30am-

8.30pm. Tickets can be

purchased via Ticketek and

buyers will be able to prepurchase

a return bus ride

between pick up points in

Christchurch or Rolleston

and Lincoln Domain

boXing daY

ramp race

derbY

mon 26th december 6pm start

familY pass: (2 adults & 4 children 14Yrs & under) $40

adults $20 | seniors $10 | children $5 | under 5Yrs free

the place to be

this summer!

doubledaYs road Kaiapoi | infoline 03 364 8833 | www.woodfordglen.co.nz

SALE ENDS

CHRISTMAS

EVE

CHRISTMAS

SALE

$

1499

SAVE $700

STRADBROKE

3 seater chaise

Includes cushions.

Storm Scarlett Denim

Riccarton Megastore, 179 Blenheim Rd. Phone 341 3196 • OPEN 7 DAYS • www.bigsave.co.nz

Offers valid

30 November to

24 December 2016
---
8

Tuesday December 20 2016

Our People

Working out the cause of

Finding answers by sifting through the ruins of a

property may not be everybody's first choice as a

job, but Rolleston's Mike Gaskin, 50, said if he had

his time again he would still be a fire investigator. He

speaks with Andrew King about the biggest fire he

has fought and why he became a fire investigator

Tell us how long have you been

a fire investigator?

My fire service started in the

United Kingdom in 1984. I'm

from the north-east of England,

a heavy industrial place near

Middlesbrough. I didn't start off

as a fire investigator, I spent time

in the service before taking up

the job in April last year.

What got you into it?

I was a firefighter who rose

through the ranks in the UK.

When I moved over here, around

five years ago, I started off as a

fire safety adviser working in

risk management. Then the job

came up [fire investigator] and I

thought it would be a good use of

my skills so I applied for it. And

that is how I ended up where I

have.

Did you move here during the

earthquakes?

My wife moved over just before

the February one, and I arrived

in July. We were based in Auckland

so we missed most of the

action. We now live in Rolleston.

That's a lucky break. What is

the most rewarding aspect of

the job?

Being able to determine the

cause and origin of a fire. Every

scene is different and being able

to say whether the fire has been

deliberately lit or it was a light

switch or whatever it may be

is a great result. It is all about

answering the question, and if we

can that out it is a satisfying day

at work for me. It is not quite like

CSI on the telly but we do work

through a scientific process.

What is the worst aspect?

If you have to deal with a fatal

incident then that is not the

greatest day in the office because

someone has lost their life. But

every fire scene we go to there

is a loss of something, be it

someone's property or someone's

livelihood. So that is hard.

Can you remember your first

call?

No, I don't. It was a while ago

and I have done about 70-plus

investigations to date.

Is there any investigation that

has really stuck with you?

The Brian Ford Engineering –

Briford Trailers fire in the city a

AT HOME: Fire investigator Mike Gaskin said being part of the worldwide family that is the Fire Service

has been a privilege and a pleasure.

PHOTO: ANDREW KING

few months back. The sheer scale

of the fire is why it stands out to

me. It was a huge fire, big building

and we managed to reduce

the origin area to within 1 sq m.

It was a team effort on that one

as I worked with the insurance

fire investigator. It was one of

the larger ones I have done and

it took about three days to work

out. But very rewarding to get

that result.

What are the most inconvenient

places to investigate?

HARD WORK: Mike Gaskin and his team established an electrical fault in a tiny area had caused this massive fire at Brian Ford

Engineering – Briford Trailers, in Woolston, something he said is an achievement that has stuck with him. PHOTOS: GEOFF SLOAN

SELWYN TIMES

Roof spaces are awkward to

deal with but luckily I am built

like a racing snake so I don't

struggle like others might. You

have to prepared to get into some

pretty small places. Under

floors, in the roof. Pretty standard

stuff.

Is there any special nickname

for a fire investigator?

Not really no. The firefighters

might but we probably can't print

them (laughing).

How is the relationship with

firefighters?

I find it really good. Having

served over 27 years, you find it

is one big family worldwide. You

are respected for what you do.

Fire investigators are respected

because of their knowledge and

time in the industry. I have a fantastic

working relationship with

them. There is some tongue-incheek

joking about firefighters

destroying evidence but 99.9 per

cent of the time that's is not the

case.
---
SELWYN TIMES Tuesday December 20 2016 9

Local Views

major fires

What goes through your

head as you enter a gutted

building?

You try to walk in with an

open mind. We have to look at

all possibilities as well as the

evidence and take a scientific approach

to the situation. We will

always start outside then work

our way in. Look for the greatest

damage as that tends to indicate

it has been burning longer and

so on. But it is all about the open

mind and having a good look

around first before speaking to

those involved. You need those

few minutes to see what the

picture is telling you before I add

in others and evidence.

What's the weirdest thing

you've found while investigating?

Teeth marks in wires from rats

is one of the oddest things. Then

the usual of pots left on stoves.

Another rarity is the linseed oil

rags which can self-combust. It is

just a chemical reaction.

They can start a fire on their

own?

Oh yes. If they are not rinsed

out and put away properly, say

they are just scrunched up and

put in a pile then they could

definitely cause a fire.

What do you do about mental

blocks? How do you work

through them?

Quite often we walk away

from it for five minutes so you

can clear your head. It is the old

saying sometimes you can't see

the forest for the trees. Often you

are looking at it from too smaller

scale so you need that breather to

have a look around and, if need

be, there is a great team here in

Christchurch so I can pick up a

phone and get some good advice.

Has there ever been an investigation

that has stumped you?

There have been some where

the tin from the roof is on the

dirt floor so there is very little to

go on. Those you may be able to

find the origin but most likely

not the cause. It can be frustrating,

but at the end of the day

you can only solve what you can

solve. If the evidence doesn't

present itself, it doesn't.

INVESTIGATION: There is a lot of paperwork but Mike Gaskin

said if he could go back in time, he would do it all again.

PHOTO: ANDREW KING

How do families react with

you? It must be tough having

to deal with them so soon after

their loss?

Part of the investigation

process is to find where the fuel

is. Couches are fuel, beds are

fuel so we need to know where

those things are in the property

to determine what happened. It

is certainly hard on them and

we have to be very empathetic

but because you are there to help

find out what happened they are

normally pretty good. I am yet to

find people that have been hard

to deal with.

Have you ever assisted an

investigation overseas?

No, sadly not, but if you hear

of any (laughing). I hear Fiji is

good at this time of year.

I'll let you know if I do, so if

you had your time again would

you be a fire investigator or

would you do something else?

I would happily do it all again.

I enjoyed the time in the UK

riding on the back of the trucks

gaining knowledge about the job.

I loved it.

You must have been to some

big fires in the UK, especially

coming from an industrialbased

city?

There was a plastics factory a

number of years ago that we had

45 appliances fighting it for four

days. We had to bring foam supplies

in from Holland on ships. It

was about 1.5 sq km of burning

factories and chemical plants.

That must have been scary to

fight?

I was simply a firefighter at that

point so I just turned up and did

what I was told. It spread very

quickly.

I hear you have just turned

the big 5-0, what did you do for

it?

I actually went to The Akaroa

Cooking School, it was a present

from my wife.

Is that a reflection on your

cooking or do you enjoy it?

I love cooking. It is one of my

favourite things to do.

What is your speciality?

You can't beat a good steak I

feel.

•Firefighters honoured, p13

Readers

respond to

the district

council

providing

a car for

Mayor Sam

Broughton at

a cost of up

to $38,000

C. Mitchell, of Darfield –

I don't agree that the council

should supply a car for Mr

Broughton.

Having previously been a

councillor, he was aware that

the job did not include a car

and, indeed, has a suitable 4WD

vehicle of his own.

Starting to spend council

funds on perks for Sam wouldn't

appear to be a good start for a

new mayor.

Martha Dyksma, of

Prebbleton – I certainly agree

with a car being provided for

Sam Broughton.

Being a young man with a

family, he needs more help to

get started in such a position,

so that he can perform to his

highest standard.

Selwyn is a huge district and

this enthusiastic young man got

the majority vote of the people.

Grant Prescott, of Darfield

– After reading your article

in relation to the Mayor Sam

Broughton getting a car on

ratepayers' money is a disgrace.

Had he advised voters he was

going to get a car once he was

mayor I am sure people would

have asked 'why?' and then

voted elsewhere.

Selwyn District Council has a

large number of pool cars that

sit behind the fence unused, why

does he not use one of those?

No, I guess its because he

wants his own personal car paid

for by the ratepayer.

Shame on you Sam Broughton

and I suspect with this

behaviour your position will be

short-lived.

To state that it is just too

much to fill in paperwork is a

nonsense.

When he went for the job

there was no car and it should

remain that way. I see even some

of his colleagues disagreed,

well maybe he should ask the

ratepayers before he goes and

spends our money.

I for one vote a big no.

When I see him I will tell him

that as well.

Margaret Weaver, of

Southbridge – I feel rather

strongly that the mayor should

not have a car bought for him by

the district council.

Being a ratepayer I object

strongly that my rates will be

used to buy this vehicle as there

are more important areas that

the money can be used.

I'm sure that if he needed a

vehicle that badly, 4WD or

not, that he can use the

vehicles the council already

has in its car pool. We see

enough of them driving around

the area.

As for the comment that his

position as mayor warrants a

vehicle being provided what

a lot of tosh – it does not, he

has been in the position five

minutes and what the council,

and the mayor, for that matter

have to start realising is that the

ratepayers pay their wages and

they are meant to work for the

people of Selwyn.

I think this is quite often

forgotten.

Stuart Brannigan, of

Southbridge – I did not hear

any of the mayoral candidates

mention the need for a councilprovided

vehicle during the

recent election campaign.

If the new mayor's reasons for

one are to be believed, need to

meet with the ratepayers and

filling out forms, what has he

been doing for the last six years?

If the council provides

a vehicle, they should require

the mayor to sign a lease to buy

agreement, thus not setting a

precedent that the ratepayer will

fund every new mayor

a vehicle of their choice in

future.

•HAVE YOUR SAY: If you've

got a view on a local issue

that you'd like to share, send

it in 250 words or less to

tom.doudney@starmedia.

kiwi
---
10

Tuesday December 20 2016

SELWYN TIMES

Specials

Monday 19 December - Saturday 24 December 2016*

Whole Chickens

fresh, size 20

$

10 . 00

each

BBQ Chicken Thigh

fresh, skinless, sizzle steaks

$

12 . 99

kg

Pork Shoulder Roast

fresh, boned and rolled

$

9 . 50

kg

Streaky Bacon

1 kg packs

$

10 . 99

pack

*While stocks last

394 Blenheim Road, Christchurch

Ph: 03 349 5078 Hours: Mon - Fri 7:00 am to 6:00 pm, Sat 7:00 am to 3:00 pm

www.westmeat.co.nz

kg
---
SELWYN TIMES Tuesday December 20 2016 11

Leeston-Southbridge fall in final

• By Gordon Findlater

LEESTON-Southbridge have

gone down by four wickets

to Sefton in the Canterbury

country premier one-day final at

Rangiora's Mainpower Oval.

The Selwyn team's total of 155

was never going to be enough,

with the top order batsmen failing

to convert on starts.

Sefton chased down the total

in about 43 overs to claim backto-back

titles.

Batting first, Leeston-Southbridge

got off to a steady start

through openers Toby Doyle

(20) and Ben Chamberlain (17).

When Doyle departed in the

12th over, Chamberlain was

joined by brother Harry who hit

a quick fire 15 before being out

lbw to Sefton's Ollie Bragg.

At 61/3 in the 20th over, Chris

Beatson came to the crease and

looked to steer the side to a

decent total. Beatson and Matt

Ling put on a 55-run fourth

• By Karolyn Boon

wicket partnership, which was

broken in the 35th over when

Ling fell for 24.

Beatson top scored with 37

and, when he fell in the 41st

over, it didn't take long for

Sefton to clean up the tail as

Leeston-Southbridge were

bowled out for 155 in the 44th

over.

Sefton got off to a great start

in their run chase with the top

three batsmen – Matthew Laffey

(26), Tim Harrison (34) and

Lance Taylor (36) – all chipping

in with handy contributions.

Leeston-Southbridge's Tim

Field gave his side a glimmer of

hope in the 32nd over when he

took three wickets in the space

of just four deliveries to have

Sefton at 113/4.

The flurry of wickets wouldn't

be enough, though, as Sefton

reached the total in the 44th

over to claim a four-wicket win

and their second straight premier

one-day title.

PAIRS CHAMPIONS Brian

Chapman and Stu Boon

teamed up with Mark Ridden

on Sunday, as the Dunsandel

bowlers added the Ellesmere

Men's Open triples' trophy to

their season accomplishments.

It was the third time Chapman

and Boon had won the competition

since 2012, having played

with Murray Chamberlain in the

previous two wins.

This time, the tournament

was played at Southbridge on

an excellent green with blustery

conditions.

Of the eight-team field, there

were four qualifiers after four

rounds – two from Lincoln and

one each from Southbridge and

FAILURE TO CONVERT: Opener Toby Doyle, like the rest of

Leeston-Southbridge's top order batsmen, failed to convert

after a promising start.

Weekend results

•Premier one-day

Leeston-Southbridge –

155/10 (43.3 overs) lost to

Sefton – 159/6 (43.5 overs)

Premier two-day

Dunsandel.

The winning trio's only loss

of the day was in the first round

to defending champions Martin

Rowson, Mundy Carroll and

Michael Begg, of Lincoln.

Rowson's team beat the Southbridge

team, skippered by Brain

McCartin, in a close semi-final

battle to secure a final spot.

In the other semi-final, the

Sefton – 194/9 and 175/6

drew with Oxford – 166/10

and 80/6

Lincoln – 296/6 and

208/2 defeated South Malvern

– 251/9 and 97/10

Chapman, Boon, Ridden win Ellesmere Men's Open

Lincoln team, skippered by

Lynton Withell, took Dunsandel

to an extra end, but Dunsandel

played themselves into the final.

In the final, the game was very

even until half way when Dunsandel

picked up five.

This gave Dunsandel something

to build on and they managed

to keep ahead, winning

12-8 after 13 ends.

SPORTS

Halswell victory

leaves them top

of two-day table

HALSWELL REMAIN top of

the two-day cricket table after

comfortably dispatching Southern

Districts in the second innings at

Halswell Domain on Saturday.

Having started their second

innings 44 runs behind, Southern

were immediately on the back foot

at 26/3.

A middle order revival got them

to 110/4 before a devastating spell,

in which bowlers Mike Chatterton

and Leighton Johnston took four

wickets for eight runs, put Halswell

firmly back in the driver's seat.

A few big shots saw Southern

through to 157 all out. The figures

for Halswell's bowlers were Johnston

4/58, Geoff Barclay 3/17 and

Chatterton 3/47.

Needing 110 for victory,

Halswell's batsmen looked comfortable

chasing the runs down in

24 overs.

Barclay scored 27, while Stevie

Golding blasted an unbeaten 31

off 13 balls. Ankit Jassal, playing

just his third senior game, batted

well for 31 not out, and Halswell

reached their target for the loss of

seven wickets.

There will be no time for

Halswell to rest following the

Christmas break, with the top

three teams all very close on the

points table.

THE HOME OF GOOD BAKING

CHRISTMAS

TARTS

12pk

HOT DEAL!

2 FOR

$

8 00

CHRISTMAS

PUDDING 700g

Other sizes available.

$

7 99

EA

LARGE PAVLOVA

$

6 49

EA

CHRISTMAS

TRUFFLES 12pk &

RUMBALLS 15pk

$

5 99

PK

MILK

Dairy Dale 2L varieties.

$

5 98

2 FOR or $3.19 each

PREMIUM BREAD

White, Wholemeal, Grain & Honey.

$

5 00

3 FOR

Promotional pricing available while stocks last from 19/12/16 to 24/12/16.

Images are serving suggestions only.

Open 7 days | 8 Convenient local locations

Hornby • Barrington • Ferry Rd • Papanui • Riccarton • Upper Riccarton • New Brighton • Rangiora

BAKERIES

www.couplands.co.nz
---
12

Tuesday December 20 2016

SELWYN TIMES

BRING ON

THE WEEKEND

$

19 99

Hidrate

Soaker

Hose 7.5m

916320

$

7 99

Wetta Pro

30m Hose

with Fitting

20 year warranty

Knited hose for

improved kink

resistance

923642

$

49 99

SNAP

DEAL

Armorall

Car Detailing

Kit

242948

Persil

Laundry

Powder

Concentrate

4kg. Available

in Active

clean or

sensitive.

293501

$65

Wattyl

Forestwood

Decking

Stain 5 Litre

Available in Mission

Brown, Rustic Oak,

Black Bean or Green

359682 83 360935 32

$

24 99

Potted

92

Colour

Choose from

a selection

of seasonal

varieties

Gasmate

$

189

Cruiser Portable

Gas BBQ

Powder-coated finish with

non stick

cooking

plate.

Regulator

and hose

included.

083508

Masport

Maestro 4

Burner BBQ

Vitreous enamel

hood and

powder coated

cabinet.

Includes

cast iron

cookware.

Side and

infrared rear

burner

included.

248607

c $

5 99

$

799

229235

Weber

Family Q BBQ $

949

Sleek styling roasting

hood. Includes cart.

5 year warranty

239459

Horizon

6 Burner BBQ

Hooded. Stainless

Steel

Poinsettia

The Ultimate

Living

Christmas

Decoration

149172

$

1099

Como

5 Piece

Setting

$

1099

1050mm round table and

4 armchairs. Wicker-look with aluminium construction.

Cushions included.

!88004

Contempo

4 Piece

Sectional

Setting

Wicker

248421

$

1999

6

Hornby

370 Main South Road

Phone: 349 8497

Available from Tuesday 20th December to

Monday 26th December while stocks last.
---
SELWYN TIMES Tuesday December 20 2016 13

• By Tom Doudney

ACHIEVERS

Firefighters honoured

A HORORATA Volunteer

Fire Brigade member has

been honoured for 50 years

of service.

Graham Stewart, 76, has

just retired from his position

as a volunteer support

officer with the brigade.

At the brigade's biennial

awards ceremony, held

recently, he received a gold

star to mark the 50 years.

Mr Stewart said he

was very pleased to be

honoured for his long

service.

"Fifty years just sort of

snuck up on me, I never

thought of it, it was [fellow

brigade members] Jenni

and Roger who told me

'you've done 50' and I said

'what?'" he said.

"It's quite an honour."

Mr Stewart lived in

Hororata from 1964 until

last week when he and wife

Jan moved to a smaller

house in Christchurch.

He was an active firefighter

for many years

before moving into the

volunteer support role in

recent years which saw him

looking after vehicles as

well as doing book work

and other duties.

The ceremony was attended

by several guests of

honour including Mayor

Sam Broughton, Selwyn

MP Amy Adams and a

number of high ranking

fire officers.

The following achievements

by Hororata Volunteer

Brigade members were

also recognised.

Two year gold bars:

Volunteer support officer

Stuart Oliver for 33 years'

service; volunteer support

officer Ross Hutton for 37

years' service; senior station

officer Roger Parsons

for 35 years' service.

Two year silver bars:

WELL DONE:

Fire Region

Four area

manager Dave

Berry, right,

congratulates

Graham

Stewart on his

50 years of

service.

Firefighters Ant Sayer,

Brendon Albon and Jenni

Carter for seven years'

service; firefighter Bridget

Parsons for nine years' service;

qualified firefighters

Shane Thornely and Bruce

Sayer for 11 years' service;

firefighter Tony Chapman

for 15 years' service; station

officer Ian Eddington for

17 years' service; station

officer Mike Grotes for 21

years' service.

Five year medal: Firefighter

Jayden Freitas.

Three year certificate:

Firefighters Jarnia Kupe

and Tim Loos.

congratulations to

betty

McIlroy

of Darfield/Malvern

winner of the 2016 selwyn times

Shop scan

Congratulations

from Rosalie &

the Team from

Mason's Drapery

where Betty

entered the

competition.

WIN $2000

SHOPPING SPREE

Lincoln's –

Bears' –

–

–

–

Trust's

Joan Smith (Sales Group Manager) &

Shane Victor (Advertising Manager)

Star Media drawing the Winning Entry

Thank you to all our participating Selwyn Retailers and

Merry Christmas from the team at Star Media & Selwyn Times.
---
®

14

Tuesday December 20 2016

SELWYN TIMES

UPCOMING EVENTS

new years eve

saturday 31 december, 6.30pm – 12.30am

North Hagley Park by Victoria Lake

Enjoy family entertainment from 6.30pm including a 'kids

midnight' countdown at 8.30pm. From 9pm the party continues

with DJ's and live music including headline act The Easy Hearts

bringing you into the New Year with a midnight fireworks display.

Ingham's lazy sundays

hobnail

sunday 8 january, 3 – 4.30pm, archery lawn

Hobnail combine folk, celtic and country influences to their

superb musicianship and songwriting to blend it all into a show

that will take the audience on a dazzling ride.

Ingham's lazy sundays

mike field quintet

sunday 15 january, 3 – 4.30pm, archery lawn

Mike Field, Jazz Trumpeter born and raised in Canada, returns

to Christchurch with his bright, upbeat and energetic music. His

latest album Attic Jump (2015), reached the top of the Canadian

jazz charts.

kite day

sunday 29 january, 12noon – 3pm

new brighton beach, north of the pier

Kites of all shapes and sizes will flutter and soar over New

Brighton beach delighting all.

Make your own or grab one from The Kite Shop and enjoy a fun

family day out at the beach.

FOR MORE INFORMATION VISIT SUMMERTIMES.CO.NZ

Proudly produced by
---
SELWYN TIMES Tuesday December 20 2016 15

Email tom.doudney@starmedia.kiwi

by 5pm each Wednesday

Darfield Christmas Grotto

Tuesday to Friday, 3-6pm

Visiting children will receive

a small gift and photos can be

taken with Father Christmas.

Schools or pre-schools wishing

to arrange group visits outside

these hours can call Malvern

Community Board chairwoman

Jenny Gallagher on 027 497 0120.

Darfield Jail, West Coast Rd

Selwyn Gallery Summer

Collection

Tuesday to Sunday, 10am-4pm,

until January 29

Selwyn Gallery's Summer

Collection of artists will

showcase all mediums of art.

The variety of work on display

will include greenstone, teapots,

scarves, ceramics, jewellery and

wood carvings. Among the work

by regular contributing artists,

the gallery will also display art by

Lynda Bell and Jane Riley.

Selwyn Gallery, 17 South Tce,

Darfield. Free entry

Christmas Concert

Tuesday, 6.30pm

Get along to this concert

featuring the Selwyn Community

Choir members and Learn to

Sing Rolleston participants. The

entry cost will be the donation

of one item of non-perishable

food per person, which will go to

the Ellesmere Food Bank to help

those in need.

Rolleston Community Centre,

94 Rolleston Dr

Fragile Blue

Wednesday to Sunday, 10am-

4pm, until January 22

This art show celebrates five

years as a community-run gallery

and also highlights the fragility

of our own blue planet.

Down by the Liffey Gallery, 1

James St, Lincoln. Free entry

Babytimes/Wā Pēpi

Tuesday, 11-11.30am

Go along to the library for a

fun babytimes session. During

each session, there will be a

variety of stories, songs, rhymes,

finger-plays and other bookrelated

activities. The programme

has been aimed at under twoyear-olds.

Te Hapua Halswell Centre, 341

Halswell Rd

Weekend Markets

The local markets have a lot on

offer from fresh produce to handmade

crafts

West Melton Market:

Saturday, 9am-noon. St Paul's

Church

CHRISTMAS FUN: A twilight Christmas market will be held at the Lincoln Green, Gerald St, on

Thursday, from 4-7pm. As well as market stalls, there will be a visit from Father Christmas,

face-painting, hula-hoop fun and Christmas music from the Selwyn Community Choir at 6.15pm. ​

Lincoln Farmers' and Craft

Market: Saturday, 10am-1pm.

Gerald St, Lincoln

Darfield Market: Saturday,

10am-2pm, next to Farmlands on

South Tce, Darfield

Edendale Car Boot

Sale: Sunday, 10am-3pm,

Edendale Cafe, 888 Sandy Knolls

Rd, West Melton

Running Groups

The running groups aim to

get like-minded members of the

community fit and engaged with

each other. All running groups

have a stagnated start to cater for

different abilities

Lincoln Road Runners:

Tuesday registration from

5.30pm, starts at 6pm. 3km or

6km. Starts at Lincoln University.

Gold coin donation

Malvern Road Runners:

Tuesday registration from

5.40pm, starts at 6pm. 3km

or 6km. Starts from Malvern

Netball Centre

Prebbleton Runners:

Tuesday registration from 6pm.

3km or 6km walk or run.

Starts from Prebbleton Reserve

soccer ground. Gold coin

donation

Ellesmere Road Runners:

Wednesday registration from

5.45pm, starts at 6pm. 3km or

6km walk or run. Starts from

Leeston Physiotherapy

24 Dec - 5:30pm

At the Rolleston Clocktower

Get all 'Christmasy' with us!

PRE-CHRISTMAS FUNCTIONS,

PARTIES, WORK BREAK UPS,

CHECK THIS OUT!

TWO COURSE THREE COURSE

FESTIVE MENU FESTIVE MENU

ONLY

$

35

EACH

ONLY

$

45

EACH

AVAILABLE LUNCH & DINNER DAILY

UNTIL 24/12/16 FOR PARTIES OF 10 OR MORE

SORRY, WE ARE CLOSED CHRISTMAS DAY

RESTAURANT & CAFÉ

Christmas Day Service

10:30 am at Weedons School

(135 Weedons Ross Road)

0pen daily from 6.30am

Breakfast, Lunch & Dinner

We wish you a Merry Christmas & Happy Holidays

The

RACECOURSE HOTEL

& Motorlodge

118 Racecourse Rd, Sockburn,

Christchurch. Ph 03 342 7150

www.racecoursehotel.co.nz

03 260 1406

admin@rollestonbaptist.org.nz

www.rollestonbaptist.org.nz

H WORKINGMEN'S

CLUB

«WHAT'S ON«

FRIDAY 23 DEC 7PM

JO'S KARAOKE

NEW YEAR'S EVE

SATURDAY 31 DEC 8PM

IN THE MAIN BAR

NORM BLAND

SATURDAY 31 DEC, 8PM

IN THE HALL

DnD Showband

return with another

fun-filled evening of

song and dance.

All your favourites

from the 50's, 60's

and beyond...

even a dash of ABBA!

Tickets $5 available

at the club office

Club CAFE

OPEN 7 DAYS

LUNCH &

DINNER

Gluten Free &

Vegetarian

options

Sorry,

CLUB CLOSED

XMAS DAY

Hornby WMC | ph 03 349 9026 | 17 Carmen Road | Hornby

www.hornbyworkingmensclub.co.nz | Members, guests & affiliates welcome

by the

We'd like to welcome you

and your family to celebrate

with us!

ORNBY
---
16

Tuesday December 20 2016

Gardening

SELWYN TIMES

Now is the time to enjoy

Rachel Vogan says to keep on top of a few key tasks over the festive season, then kick

back and enjoy the fruits of your labour

WELCOME TO the silly

season!

This month it's all about

doing a few things well,

then sitting back and

enjoying it.

Make sure you pimp out

your summer pots if you

have not done so already;

look to advanced-growth

potted colour or any

flowering perennials to

add that something special

outdoors.

Using plants that are

already in bloom will give

you instant results, and

don't be frightened to add

herbs and salad crops to

your patio planters as well.

Surrounding yourself with

a living kitchen pantry will

not only look fabulous, but

make you feel good, too.

Salvia 'Bonfire'

This vibrant member of the sage family

throws up the most amazing, cheerful,

candlestick spikes of sunset-red flowers

for months on end. It is a go-to option for

anyone who has a sunny position in a pot

or front garden that wants bold colour.

Once it starts flowering it doesn't stop

for months. It is an annual, so it won't

come back next season, but don't let this

put you off, as it's just an extraordinarily

colourful character that is worthy of a

spot in your plot.

Potatoes

Early tasty tatties will be on the menu

soon; 'Jersey Benne' and 'Cliff Kidney' are

perfect waxy spuds for Christmas. Try not

to dig them too early – wait until the last

possible moment so you can maximise the

largest harvest. Over the next few weeks

keep the water up to them, especially if

you are using planters, in which the soil

will dry out more quickly than the ground.

This is also a good time to plant a new

batch of potatoes, to harvest next autumn.

Look for 'Agria' or 'Summer Delight' as

go-to varieties.

Plums and Cherries

The stone fruit season is upon us; early

plums and cherries are fattening and

ripening up nicely. Always allow the fruit

to fully ripen on the tree, because if it

is picked too early the flavour will not

fully develop. Do not expect a lot of fruit

from newly planted trees either. They

may produce a few fruit in the first year,

but normally a decent harvest will take

a season or two to appear. Add a layer of

mulch around the base of trees now and

aim to give them a deep watering (that's

about half a bucket of water per tree) once

a week, if possible.

SHUTTERSTOCK/SAYANJO65

Sweet corn

Corn needs to be in the ground soon.

Many of you will have your plants in

already. It is too late to sow seed, so

seedlings are your only option. For the

best results, work in plenty of manure or

compost to the soil prior to planting, as

corn needs loads of water for juicy cobs.

It will thrive in big tubs or planters, too.

Try growing runner beans up the stems,

as this is an easy space-saving idea.

Lilies

The fragrance of Christmas lilies

reinforces that the festive season is

here. Asian lilies are also starting to

bloom. These sturdy, shorter types

come in every shade of the rainbow,

right through to almost black. Oriental

lilies are in bloom as well – many of

these are fragrant, too. When picking

lilies, cut them in the morning and

plunge them straight into water up to

their necks. Don't forget to remove any

foliage that will sit below the water line.

Try to leave some of the stem in the

ground (don't cut the lily off at ground

level) as the bulbs need a few leaves to

photosynthesise, creating energy for

next year's blooms. Now is a good time

to apply a side-dressing of bulb food.

Tomatoes

Remove laterals as they appear and

avoid watering a little every day, because

doing that only encourages the roots

to stay near the soil surface where they

can burn and be damaged. A few deep

waterings a week is the way to go. It isn't

too late to plant seedlings out, however,

you've missed the seed-sowing boat.

gardening without guesswork

Question:

I have a couple of lemon trees in my garden that have been

there for a few years now. I haven't done much with them,

what do you suggest I do to them?

Lemon trees in the garden are very

Answer:

much a kiwi icon! They are a great

addition to any garden, their health

benefits are fantastic! As far as looking after your trees, here are the

top things you need to know.

Make sure they are planted in good soil. If you haven't added any

organic compost to the garden bed for a while, get on to this now.

Adding vital organic matter will help to keep the soil healthy, as it

creates the perfect growing environment for your tree. Sheep pellets

are an excellent addition as well.

Your tree will benefit from a regular annual feed of Intelligro Citrus

Fertiliser to help them produce their juicy fruits. Fertilise in spring

and summer, at around 300g per square metre. You will want to

sprinkle the fertiliser around the drip line (where the outer leaves

fall) and then water-well afterwards. They will also need plenty of

water at this time. By keeping on top of fertilising and watering, you will keep your plant

healthier, it will produce more fruit, and significantly reduce their chance of disease and

attacks from pests.

Pruning only really needs to be done to keep the tree tidy, to remove any damaged or

diseased areas, or to increase air circulation around the plant. Make sure you use sharp

secateurs, and make clean cuts. Prune on fine days during this time of year, and fertilise

and water afterwards. Don't go overboard with pruning – it doesn't need it!

for more information, check out our website: www.intelligro.co.nz

or visit our facebook page: www.facebook.com/igro.co.nz

Thanks to Emily for her question

WIN!

a $50

INTEllIgrO gIfT

VOuchEr!

handy hint

Send us your

question and

BE IN

Want a lemon tree but don't have a garden?

TO WIN!

Email to: info@igro.co.nz or post

your question on our Facebook page:

www.facebook.com/igro.co.nz

New questions received by Tuesday

27th December

Meyer lemon trees grow excellently in pots. If you are restricted to only having

pots and containers, then this variety is for you. Make sure you plant them in our

Patio Plus potting mix, and ask us about what fertiliser to use. There are different

fertilisers for trees and plants in pots and for those that are in garden beds!

QualITy prOducTs frOm ThE WEB TO ThE shEd!
---
SELWYN TIMES Tuesday December 20 2016 17

Pohutukawa is a plant hard to miss

• By Rachel Vogan

NO OTHER plant decorates our

country's coastlines, roadsides

and bushlines better than the

pōhutukawa.

The eruption of crimson

bottlebrush-like flowers in

summer makes this plant hard to

miss.

Flashes of red and gold

flowers paint the skyline on

the large established tree forms

of Metrosideros excelsa in the

warmest part of the country. In

cooler areas, the hardier, smaller

hybrids – such as southern rātā

and pōhutukawa cross M. excelsa

× M. umbellata 'Maungapiko'

can be found in flower. M. collina

'Tahiti', M. excelsa 'Vibrance', M.

excelsa 'Maori Maiden' and the

southern rātā, M. umbellata all

have a similar red festive cloak of

scarlet blooms.

Did you know that the name

'pōhutukawa' means 'drenched

with spray'? I am sure this refers

to the numerous beautiful trees

growing in the most random

places on craggy seaside outcrops

and in places where only birds

live.

This regal flowering monarch

deserves every accolade, and

many are not aware that it isn't

actually that fussy about where

it puts its roots. All it needs is

protection from frosts and an

area in which it can get sun pretty

much all day.

Soil-wise it is happy in light

sandy soils right through to

heavy clay soils, as long as it's not

waterlogged for any prolonged

amount of time. In pots and

containers it is pretty much the

same, just note they do have a

large fibrous root system, so a

larger pot or wine barrel is the size

you want to seek out.

When plants are young, shelter

all varieties from frost. The new

growth is quite delicate and late

frosts can easily burn and kill it,

and damaged foliage means less

flowers.

Birds and bees just love the

nectar the flowers provide, and

will often hang around the same

tree for quite some time. Putting

out a saucer of water will keep

these garden friends around even

longer, as they often leave when

they are thirsty.

The flowers are best left on the

plants because they sulk almost

immediately in a vase – so don't

plant them as a picking option.

Salty sea winds? Not a problem.

Not many plants take as kindly

as pōhutukawa to growing by

the seaside. The thick leathery

leaves are remarkably tough to

strong winds, and with such a

fibrous root system you rarely

see them topple over once they

are established; the roots seem to

have an ability to cling onto even

the craggiest of rocky areas.

Plants will germinate from

seed, but if you wish to grow

your own, cuttings are the better

option. However, you will need

to wait a few years for the plant to

be big enough to plant out. So, if

you are like me and do not want

to wait, look for a well-grown

specimen to plant out now to

enjoy your festive time in the

garden.

For something a little different,

look out for M. 'Moon Maiden'.

This one has pale creamy limegreen

flowers in clusters like the

red forms. It is compact, too, so

a good one to use as a gap filler

along the fence line.

WHOLESALE

SCREENED SOIL

MAINSCAPE

Garden Supplies

"Making your great outdoors greater"

• Soil • Compost

• Aggregates • Bark

• Decorative stone

We deliver 6 days a week or pickup from our yard

Mon & Fri 8am–5pm, Sat 8am–3pm

Eftpos available

Call us on 021 241 7908

1543 Springs Rd, Lincoln

View our range of products on our website

www.mainscapegardensupplies.co.nz

VIVID: Clockwise –

Often dubbed the

national flower of

New Zealand, this

shrub-come-tree is

adored by so many.

Vibrance is a hardier

low-growing hybrid

with brilliant silvergrey

foliage that

sets off the colourful

red flowers when

in bloom. Ideal for

smaller gardens and

pots. Metrosideros

collina (Pacific Island

pōhutukawa) looks a

picture with its bloodorange

blooms. Its fat

candle-like silver buds

just add to the plant's

charm and appeal.

The magazine for

gardeners who

like To geT Their

hands dirTy

www.gardener.kiwi

100%

Intelligro's Christmas

& New Year Opening Hours

Mon 18th - Fri 23rd December 8am - 5pm

Saturday 24th December 8am - 3pm

Sunday 25th December CLOSED

Monday 26th December CLOSED

Tuesday 27th December CLOSED

Wed 28th - Fri 30th December 8am - 5pm

Saturday 31st December 8am - 3pm

Sunday 1st January CLOSED

Monday 2nd January CLOSED

Tuesday 3rd January CLOSED

Wednesday 4th January Resume

Normal Trading

From the team at Intelligro, we wish you all a very

Merry Christmas and a safe and happy New Year.

We want to thank you for your continued support,

especially through our big changes.

We look forward to seeing you in 2017.

Visit our facebook page: www.facebook.com/igro.co.nz

www.igro.co.nz | Phone 03 347 9415
---
18 TUESDAY DECEMBER 20 2016

SELWYN TIMES

Council services over

Christmas and New Year

Here's a summary of Council services and opening hours during the holiday period.

Rubbish and recycling collections are as normal (no changes). Pines Resource Recovery Park is

closed Christmas Day and New Year's Day. On Boxing Day, 27 December, 2 and 3 January it is open

10am-4pm. Normal hours apply from 28-31 December, and resume from Wednesday 4 January.

The Council's Rolleston Headquarters close at 12 noon on Friday 23 December and reopen with

normal hours on Wednesday 4 January.

The Selwyn Aquatic Centre is closed Christmas Day, Boxing Day and New Year's Day. On

other days from 27 December – 3 January it is open from 8am-8pm. Normal hours resume from

Wednesday 4 January.

Selwyn Libraries close at 11.30am on Friday 23 December. They will reopen with normal hours on

Wednesday 4 January. Rolleston Community Centre closes at 12.30pm on Friday 23 December

and reopens with normal hours on Monday 16 January. Lincoln Event Centre closes on Monday

19 December and reopens on Monday 9 January.

The Council's helpline will be operating 24 hours a day over the Christmas and New Year break

for urgent issues – phone 347 2800 or 318 8338. We hope you and your family have a safe and

relaxing Christmas and New Year.

Fire safety over summer

If you are considering lighting an outdoor fire over summer, please check our website, www.selwyn.

govt.nz, first for advice on any fire restrictions, warnings or safety advice in place. Our local firefighters

are all volunteers who also want to spend time with their families over the Christmas break, so please

be considerate of them and follow our safety advice.

Please note that gas barbeques are the only types of fires permitted in Council or Department of

Conservation reserves – these areas include Chamberlains and Coe's Fords and other reserves.

Rain over springtime has meant there is lots of growth around. Conditions are expected to dry out in

summer, increasing the fire risk. If you have long grass on your property, now is a good time to either

mow it or graze it. If you want to mow the grass, we recommend choosing a cooler day to mow and

having a way to extinguish a fire available as sparks can ignite from machinery.

Help us keep water flowing

This summer properties connected to Council water supplies are being encouraged to adjust when they

water their lawns.

During summer water supplies can be placed under pressure as many people decide to water their lawns

and gardens at the same time. So that we can continue to supply households with good water pressure

over summer, we are asking residents on Council water supplies to try to avoid watering lawns between

6am-9am and 4pm-9pm daily. These are times when households use the most water.

If demand for water increases over summer then water restrictions may be introduced requiring

households to avoid watering lawns at specific times.

When to water your lawn...

9PM

Don't irrigate between 6-9am or 4-9pm daily

8PM

Check weather conditions before watering

We recommend you check weather conditions before

watering. Watering your lawn during the middle of the 6PM

day during hot days or when a Nor' West is blowing

results in a lot of water evaporating and watering in these

conditions is not recommended. Watering on a cooler

overcast day is a better option as it provides the best 4PM

opportunity for water to soak into your lawn or garden

Irrigate wisely

10PM

2PM

12AM

when to

water

12PM

2AM

10AM

9AM

4AM

8AM

6AM

On the roads

Roundabout installation – Byron/Kidman/Tennyson Streets

This intersection is now fully open to traffic following the replacement

of underground water race pipes. However the intersection will be

closed again from Tuesday 10 January and reopen on Wednesday 18

January to allow for a new roundabout construction.

During the January closure Byron Street and Kidman Street traffic

won't be able to travel through the intersection and will need to

detour on an alternative route (Rolleston Drive or Wordsworth Street

and Tennyson Street). Tennyson Street traffic will be able to travel

through the intersection but traffic controls will be in place and may

cause short delays.

Other works

During December and January, road works will occur on Dunns

Crossing and Burnham School Roads to install a new footpath,

kerb and channel and kea crossing outside West Rolleston School

(pictured). These roads will remain open with traffic controls operating.

Please check our website for updates on East Maddisons Road

status.

Planned work this week includes minor bridge work on Waimakariri

Gorge Bridge. Stop/go controls will operate with short delays to

be expected. Footpath repairs are planned on Ellesmere Junction

Road in Springston. Shoulder widening work will occur on Jones

Road (near the MidlandPort entrance) and tree trimming will occur

on Hartleys and Sleemans Roads, with stop/go traffic controls

operating at all sites.

Updates on road works planned in January will be available on the

Council website from 9 January onwards.

Plan your holiday journey

Traffic volumes increase significantly during December and January

and many cars will be towing trailers, caravans or boats. If you are

towing a trailer your maximum speed limit on the open road is 90 km

per hour. Keep left and pull over when it is safe to let other vehicles

pass and keep a safe following distance from the vehicle in front of you.

Driving to suit the traffic and weather conditions is crucial during the

holiday period. A national and local 'Check your speed' campaign

started in December reminding drivers to check and match their

driving speed to driving conditions. The campaign also includes a

Holiday Haiku competition – entry forms are available from Council

Service Centres or at z.co.nz/haiku.

Many key South Island routes are affected by roadworks currently.

If speed limit signs are up, please observe these. Driving slower not

only protects the road surface but reduces the chance of your losing

control or causing damage to your car. To check road conditions

before you travel visit www.nzta.govt.nz. Plan your journey to allow

for rest breaks and slower travel conditions.

Get your

camping guide!

The Council recently published

a new guide to camping spots in

Selwyn covering their locations,

services and which sites are free

to use. Copies of the free guide

are available from Council service

centres and libraries and online

at www.sensationalselwyn.co.nz

under 'brochures.'

Council Call

Selwyn District Council

Norman Kirk Drive Rolleston

Ph 347 2800 or 318 8338

Rolleston Library

Rolleston Drive, Rolleston

Ph 347 2880

Darfield Library & Service Centre

1 South Terrace, Darfield

Ph 318 8338 or 347 2780

CC191216
---
SELWYN TIMES

TUESDAY DECEMBER 20 2016 19

Notices

MOBILE LIBRARY

TIMETABLE

The next mobile visits are shown

below:

Monday 9 January

Burnham Montessori

11-11.30am

Tuesday 10 January

Kirwee 10-10.45am

West Melton Domain

12.15-12.45pm

West Melton Learning Centre

1.30-1.50pm

Cat's Pyjamas West Melton

1.50-2.20pm

Wednesday 11 January

Arthur's Pass 11.30am-12.30pm

Meetings

COUNCIL & COMMUNITY

BOARDS

Unless stated all meetings are

held at Rolleston Council Building

2017

Audit & Risk Subcommittee

Wed 1 Feb 3pm

Selwyn Waihora Zone Committee

Tue 7 Feb 1pm

Council Meeting

Wed 8 Feb 1pm

Hororata/Acheron Rural Water

Supply Subcommittee

Thurs 9 Feb 8.30am

Darfield Library/Service Centre

Malvern Hills Rural Water

Supply Subcommittee

Thurs 9 Feb 10.30am

Darfield Library/Service Centre

Water Race Subcommittee

Mon 13 Feb 1.30pm

Malvern Community Board

Mon 23 Jan 4pm

Darfield Library/Service Centre

LOCAL COMMITTEES &

ASSOCIATIONS

Doyleston Community Committee

Wed 21 Dec 7.30pm

Osborne Park Pavilion

Note changed date

Glenroy Community Hall

Committee

Tue 20 Dec 8pm

Glenroy Community Hall

Prebbleton Community

Association Inc.

Meet Your Street in 2017

Castle Hill 1.40-2.15pm

Springfield 3-3.30pm

Thursday 12 January

Council Headquarters, Rolleston

12.45-1.15pm

Rakaia Huts 2.30-3pm

Prebbleton Tavern 3.30-5.30pm

Monday 16 January

Tai Tapu Playcentre 9.30-10am

Ako Rolleston 10.30-11am

Rolly Kids 2-2.30pm

Tuesday 17 January

Glenroy Hall 11.40am-12.10pm

Glentunnel Hall 3-3.30pm

Wednesday 18 January

Hororata School 11.30am-1pm

Greendale School 1.20- 1.50pm

Tue 20 Dec 7.30pm

Prebbleton Cottage

2017

Darfield Recreation &

Community Centre Committee

Tue 7 Feb 7.30pm

Darfield Recreation Centre

Triennial Election

Dunsandel Community Committee

Mon 6 Feb 7.30pm

Dunsandel Sports Centre

Glentunnel Community Centre

Committee

Tue 24 Jan 7.30pm

Glentunnel Community Centre

Triennial Election

Glentunnel Township Committee

Mon 30 Jan 7.30pm

Glentunnel Hall

Hororata Citizens Committee

Tue 24 Jan 7.30pm, Hororata Hall

Hororata Reserve Management

Committee

Wed 1 Feb 7.30pm, Hororata Hall

Triennial Election

Kirwee Recreation Reserve

Management Committee

Mon 13 Feb 7.30pm

Kirwee Reserve Sports Pavilion

Ladbrooks Community Hall

Committee

Fri 27 Jan 7.45pm

Ladbrooks Community Hall

Triennial Election

Lake Coleridge Community

Committee

Fri 27 Jan 7.30pm

Thursday 19 January

Rolleston First Learners

11-11.30am

Paradise for Little Angels

1.30-2pm

Edukids Faringdon 2.15-2.45pm

Monday 23 January

Darfield Preschool & Nursery

10.30-11am

Sheffield Hall 2-2.30pm

Tuesday 24 January

Tai Tapu Monkeys and

Munchkins 10-10.30am

Whippersnappers Lincoln

10.45-11.15am

West Melton Learning Centre

1.30-1.50pm

West Melton Domain 2-2.30pm

Lake Coleridge Hall

Leeston Community Committee

Mon 13 Feb 7.30pm, Leeston

Library Community Room

Lincoln Community Committee

Mon 13 Feb 7pm, Lincoln Event

Centre, Fitzgerald Room

Rolleston Reserve Management

Committee

Mon 16 Jan 7.30pm

Rolleston Community Centre

Rolleston Residents

Association Inc.

Mon 30 Jan 7.30pm

Rolleston Community Centre

Cameron Warr from Council will

discuss future development and

maintenance of some Rolleston

reserves including the Clock

Tower Reserve

Springfield Township Committee

Tue 7 Feb 7.30pm, Tawera Hall

Springston Hall Committee

Thurs 2 Feb 7.30pm

Springston Hall

Waihora Park Reserve Committee

Tue 1 Feb 7pm

Waihora Bowling Club

Weedons Reserve Committee

Mon 13 Feb 7.30pm

Weedons Reserve Pavilion

West Melton Community Centre

Committee

Tue 31 Jan 7.30pm

West Melton Community Centre

This summer the Selwyn District Council's mobile barbeque is visiting 20 different locations giving

people the chance to get to know their neighbours.

Meet Your Street is a fun, informal event at a local reserve with a free sausage sizzle. It's a chance to meet

new people in your neighbourhood while enjoying some music and games for the kids. The events also

help new residents settle into their community and form connections with their neighbours which builds

stronger communities. Upcoming Meet Your Street sessions are listed below.

Date Location Town

January Meet Your Street events (running 5.30-7pm)

Tuesday 10 Corner Oaks Drive and Caulfield Crescent Lincoln

Tuesday 17 Haremoor Way Reserve, Faringdon Rolleston

Tuesday 24 Glen Oak Drive Kirwee

Tuesday 31 Reserve between Loeb Place & Blue Jean Avenue Rolleston

February Meet Your Street events (running 5.30-7pm)

Tuesday 7 Hinterland Drive Reserve Prebbleton

Tuesday 14 Royston Common Reserve West Melton

Tuesday 21 Da Vinci Avenue Reserve Leeston

Tuesday 28 Hardwell Way Reserve, Faringdon Rolleston

The 'Meet Your Street Selwyn' Facebook page has event information, photos and wet weather

postponement details for events. The Council also has small grants of up to $50 available which

people can apply for if they would like to host their own neighbourhood 'Meet Your Street' event.

Applications are open until 31 March 2017. For more information about this funding please visit

www.selwyn.govt.nz

Selwyn Events

THURSDAY

22

DECEMBER

SATURDAY

7

JANUARY

TUE-THUR

10-26

JANUARY

MON-FRI

16-20

JANUARY

WEDNESDAY

18

JANUARY

THURSDAY

19

JANUARY

SUNDAY

22

JANUARY

TUESDAY

24

JANUARY

Christmas Twilight Market

Lincoln Green (by Library), 4-7pm

Festive fun with Santa, face painting,

hula hoops with Fairy Sophie, craft

activities, Christmas songs from

Selwyn Community Choir at 6.15pm.

Artisan craft, local produce. See

www.facebook.com/lincolnmarket

Lincoln Summer Market

Lincoln Green, 10am-1pm

Market with cherries, blueberries,

raspberries, strawberries, apricots,

real fruit ice creams & sorbets, local

produce & food plus live music &

Greek dancing

Summer holiday

programmes

Selwyn District Libraries

Join one of 12 fun activities for

kids highlighting endangered birds

& animals, including MakerSpace:

LEGO ® , Makerspace: #The Flock art

& craft sessions & workshops with

award winner author Maria Gill. See

www.selwynlibraries.co.nz for details

& bookings

Pool Fest

Selwyn Aquatic Centre, 1-3pm

Your favourite water activities here for

your summer holidays! Make a splash

with giant inflatables, paddle boats,

aquatic volleyball & more

Teddy Bears' Picnic

Rolleston Community Centre,

11am-1pm

Pack a picnic & dress your teddy for a

fun family day out! With trampolines,

Pedalmania, face painting, bouncy

castles, toddler gym, House of Bricks,

Teddy Bear Parade & more

Tai Tapu Picnic in the Park

Rhodes Domain, 5.30-7.30pm

With live music, bouncy castle,

the Fun on Wheels trailer, games,

Pedalmania, prizes & free sausage

sizzle. Bring a picnic & enjoy the

summer evening

Darfield Pool Party

Darfield Pool, 2-4pm

Enjoy games, music, a sausage sizzle,

prizes & pool inflatables

Children's Theatre

Lincoln High School Hall, 10am &

11.30am

Three stories for kids aged 3-5: the

tortoise & the hare, a pirate story &

a story about being confident. $4,

proceeds to KIDSCAN – email smc@

lincoln.school.nz to book

For upcoming events, visit

www.selwyn.govt.nz/events

Leeston Library & Service Centre

19 Messines Street, Leeston

Ph 347 2871

Lincoln Library & Service Centre

Gerald Street, Lincoln

Ph 347 2876

(03) 347 2800

Darfield call free 318 8338

www.selwyn.govt.nz
---
20

Tuesday December 20 2016

SUMMER FUN IN SELWYN

SELWYN TIMES

Cooling off this Summer

Finding somewhere to swim is not too

hard in Selwyn with the Selwyn Aquatic

Centre in Rolleston and a wide range of

community pools elsewhere.

The Selwyn Aquatic Centre has some

fun activities planned for the holiday

period which will include paddle

boats and inflatables on the water for

play. They will be closed Christmas

Day, Boxing Day and New Year's Day

though open all other days with some

shortened hours so check their website:

https://www.selwyn.govt.nz/facilitiesand-parks/selwyn-aquatic-centre.

Public Swimming Pools

• Rolleston – Selwyn Aquatic Centre, 8

lane 25-metre pool plus hydrotherapy spa,

leisure, lazy river & learn-to-swim pools.

• Darfield – outdoor pool; learners' &

paddling indoor pools.

• Leeston – outdoor learners' pool.

• Prebbleton – main &learners' outdoor

pools.

• Sheffield – lane & paddling outdoor

pools.

• Southbridge – lane & paddling outdoor

pools plus hydroslide.

(Opening hours can be found at: http://

www.selwyn.govt.nz/facilities-and-parks/

selwyn-aquatic-centre and http://www.

selwyn.govt.nz/facilities-and-parks.)

Lake & River Swimming

• Selwyn River at Coes Ford, Chamberlain's

Ford, Whitecliffs and Glentunnel

depending on water flow.

• Waimakariri River unsafe in main

channels or when in flood.

• High country lakes offer a cold dip.

(Check Ecan's website for water quality

– ecan.govt.nz/services/online-services/

monitoring/swimming-water-quality/

Pages/river-warnings.aspx.)

Popular Bays & Beaches

• Akaroa Harbour – beaches in Akaroa

township or Children's Bay and at Wainui.

• Eastern Bays – Okains Bay (book ahead

for camping), Le Bons Bay, Little Akaloa,

Pigeon Bay, Port Levy.

• Lyttelton Harbour – Corsair Bay, Cass

Bay, Governor's Bay, Charteris Bay,

Diamond Harbour, Purau and Camp Bay.

• Pegasus Bay – from Taylor's Mistake and

Sumner to Waikuku.

Maronan Road, Tinwald, Ashburton

DECEMBER OPEN DAYS:

Open: 11am - 4pm

Tuesday 27th & Wednesday 28th

Vintage Railcar Rides operating, Museum Village open. Bring a picnic

lunch and enjoy the tranquil Tinwald Domain complete with Playground,

Pond and Heated Swimming Pool. Cold Drinks, Icecreams and Snacks

available from our Station Shop.

**EFTPOS ON-SITE**

Visit www.plainsrailway.co.nz or

our Facebook Page for details

Phone:

03 308 9600

The Selwyn Aquatic Centre is a great place to visit this summer. Visit us to

keep fit or have fun over the Christmas break. We're at 71 Broadlands Drive,

off Goulds Rd in Rolleston.

Christmas Hours

Saturday 24th Dec (Christmas Eve) 6am-6pm

Saturday 31st Dec (New Years Eve) 8am-6pm

Tuesday 27th Jan to Friday 30th Jan 8am-8pm

Closed Christmas Day, Boxing Day and New Year's Day

For the kids

We gave a toddlers pool, a leisure pool with lazy river and fun lanes in the Main

Pool. Come in and enjoy the inflatable on each Sunday over the holidays. Play

equipment will be available each day in the holidays.

For grown ups

Whether you are swimming lengths in the main pool, having fun with the kids in

the leisure pool,exercising in the hydrotherapy pool or relaxing in the spa pool

there is something for everyone. And if retail therapy is your thing we have an

extensive range of the latest swimwear from Speedo and Zoggs to choose from.
---
SELWYN TIMES Tuesday December 20 2016 21

SUMMER FUN IN SELWYN

Summertime in Selwyn

You don't have to go far to find exciting

things to do and see – in fact Selwyn is

jam packed full of interesting places to

visit and a wonderful playground for the

adventurous. Here are just a few ideas to fill

in your time this summer.

Christmas lit up:

• Spectacular Lights Show – Every night

until 30th December, 8.30-12pm, 650

Shands Road.

Walking, tramping, cycling and caving:

• Arthur's Pass has walkways and tramping

tracks from easy to a challenging tramp.

• Castle Hill – Marvel at, or abseil the

limestone rock formations, then explore

Cave Stream (DOC website lists equipment

needed and warns against entering cave

when river is high).

• Darfield – McHughs Forest is an easy flat

walk.

• Glentunnel's millennium track starts at

the 1870s stables and follows the old tram

line to an abandoned mine or up a hill (80

minutes return).

• Washpen Falls is a privately owned track

which transverses a volcanic canyon then

follows a creek to a waterfall.

• Orton Bradley Park has short walks and

tramps.

• Little River Rail Trail is 45 kilometres

from Hornby to Little River; join at any

point such as Motukarara, the old Kaituna

Quarry, Birdlings Flat or Lake Forsyth.

• Port Hills – Cycle tracks include Mount

Vernon and Rapaki or cycle the Summit

Road.

• Prebbleton Nature

Park is a short

walk around an old

shingle pit.

• Springfield – Kowai

Bush is an easy

short walk through

the remaining

Beech trees of a

once large forest.

Cafes, wineries and art galleries:

• Darfield – Check out Summer Collection

at the Selwyn Gallery, browse the shops

and relax over a coffee or meal.

• Lincoln – View Fragile Blue Members'

Show at Liffey Gallery before lunching and

strolling through town or around Tai Tapu.

• Hororata and Sheffield – If pies are your

fancy, hunt out the homemade pies in these

towns.

• Springfield – View the country's biggest

donut, take a stroll and have a snack at a

café.

• Banks Peninsula – Little River has cafés,

art and silo accommodation; turn right

before the township for the peninsula's

south east bays; turn left at the hilltop to

access the north east bays for swimming

and walkways; or continue onto French/

Colonial Akaroa for shopping, cafés, boat

trips and places of historical interest.

Boating, fishing and windsurfing:

• Lakes Coleridge, Georgina and Pearson

are popular fishing or windsurfing spots.

Lake Coleridge can be dangerous in

nor' westers so check the forecast before

venturing out.

• Waimakariri & Rakaia Rivers – Sea

run salmon and trout may be caught

in the Rakaia while the Waimakariri

River is known for trout fishing and

both rivers are popular for boating.

Camping in the district:

• Places to camp include: Arthur's Pass,

Glentunnel, Coes and Chamberlains Fords,

Craigieburn, Deer Valley, Kowai Pass

Domain in Springfield, Lake Ellesmere's

Lakeside Domain, Lake Pearson, Rakaia

Gorge, Rakaia Huts and Whitecliffs with

camping for self-contained vehicles at

Sheffield and Motukarara.

Christmas

Magic at

Twilight Market

Start off the holiday season by attending the

Christmas Twilight Market on Thursday,

December 22. From 4pm to 7pm a variety

of stalls will be offering Christmas goodies

with Christmas music and carol singers

from the Selwyn Community Choir creating

the perfect atmosphere.

You will find a present for everyone

among the diverse range of stalls available,

including handmade clothing, candles,

pottery, art, cards, calendars, jewellery,

wooden craft and soft toys –as well as a hot

mulled spiced drink.

For children, there will be a special

visit from Santa between 4-6pm and fun

children's activities including face painting

and hoola hoop fun with Fairy Sophie.

There's some great local food to be had,

such as cheeses, olive oil, gluten free treats,

pastries, artisan breads, preserves, wine,

fresh fruit and vegetables, and colourful

flowers and plants to decorate your home

with during this festive season.

Pack a

it ' s

Picnic,

Island

Time!

0800 436 574

www.blackcat.co.nz

Lincoln Farmers'

& Craft Market

CHRISTMAS TWILIGHT MARKET

Thursday 22nd December 4-7pm

Lots of Festive stalls & activities

Visit from Santa, Hoola Hoop Fun, Face Painting

Christmas Music by Selwyn Community Choir (6.15pm)

EXQUISITE HANDCRAFTED

GIFTS & CRAFTS

SWEET & SAVOURY TREATS

AND ARTISAN BAKING

AWARD WINNING PRODUCE

FLOWERS AND PLANTS

See www.facebook.com/lincolnmarket

for details of other exciting events over the holiday season

Discover walking tracks, native birds,

penguins, the swimming beach and

shipwrecks, all on the island that's

only 15 minutes from Christchurch!

Start Exploring

Otamahua/Quail Island today!

DEPARTS: LYTTELTON QUAIL ISLAND

Oct – Apr 10.20am 3.30pm

Dec – Feb 10.20am & 12.20pm 12.30pm & 3.30pm

FARE: adult $30 child $15 return

CRUISES

LYTTELTON & AKAROA

Celebrate

with us

the Terrace Downs way!

Let us take the stress out of your festive dining - come

and enjoy a delicious buffet and live music. Book today!

Merry

Christmas

Festive Lunch Buffet

12.30pm - 2.30pm 24th December

Enjoy an elaborate buffet of Christmas

flavours along with live music.

$79 per adult. $29 for kids under 12

Complimentary glass of bubbles or sparkling grape juice.

Christmas Eve Dinner

Revive the spirit of Christmas with our special

celebratory A'la Carte Menu accompanied with live

Christmas music

Lets bring in

the

together

new Year

Happy

Celebrate the end of

2016 in style.

Saturday 31st Dec 6pm - 8pm

Featuring a special New Years

Eve menu, live music.

Don't miss out on

Celebrating the New Year!

Sunday 1st January

12:30pm - 2:30pm

Enjoy a delicious Lunch Buffet & Live Music

$57 Adults & $20 Kids Under 12

See staff to book or contact us.

Only one hour's drive from ChCh

Phone 03 318 6943

Terrace Downs Resort, Coleridge Road

Windwhistle, Canterbury

Email: events@terracedowns.co.nz

www.terracedowns.co.nz
---
22

Tuesday December 20 2016

HOME PROFESSIONALS

SELWYN TIMES

Christmas – an evolving tradition

The tradition of decorating the house,

sharing food and beverages with family

and friends and giving presents has

evolved over time.

For Christians, Christmas represents

the coming of Christ and nativity

scenes are often included in decorated

homes, along with a star at the top of the

Christmas tree.

For Jewish people the end of November

or December is the time they celebrate

Hanukkah, marking the re-dedication of

the holy Temple in Jerusalem, after it was

won back from the Syrian-Greeks in 165

BC.

Views differ on how the tree became a

symbol of Christmas. Some link it to the

Pagan marking of Winter Solstice, others

to Saint Boniface, a monk in the 7th and

8th century who likened the fir tree to the

Holy Trinity. Decorated Christmas trees

are said to have originated in Germany in

the 15th century or by Martin Luther in

the 16th century.

The monarchy introduced decorated

Christmas trees to England; initially by

Queen Charlotte then by Queen Victoria's

Prince Albert who established the trend

there.

The tradition of hanging stockings

by the fireplace is linked to the legend

of Saint Nicholas creeping down the

chimney and slipping gold into them.

Fifty years ago, Christmas trees were

dressed with glass baubles, bells, stars,

handmade decorations and streamers.

Glitter sprayed on the pine needles added

sparkle and crepe paper or foil streamers

were hung across the ceilings and walls.

Lights once seen mainly on Christmas

trees now decorate the interiors and

exteriors of homes with some amazing

displays by a growing number of houses

joining this tradition each year.

Colours indicative of Christmas were

traditionally green, red, gold and silver

with the blue and white which we now see

in decorations here, representing winter

for those in the Northern Hemisphere.

Christmas wreathes are hung on the

front door to greet visitors to the home.

Today it is not uncommon for the

colours and trimmings adorning

manufactured Christmas trees, to

change with the year. Less common are

pine Christmas trees, which were New

Zealand's alternative to the fir tree that

stands in

many homes

overseas such

as in North

America.

Wreathes

were hung on

front doors

to welcome

guests into

the home.

Made from

fresh Holly

and Ivy, which were interwoven around

the wreath they were decorated with

small gold or silver painted pine cones,

baubles, bows and a candle.

Inside Mistletoe is still hung from

doorway or ceiling, under which

a kiss might be shared while vases

of Christmas Lillies and bright red

Bottlebrush and Pohutakawa flowers or

pots of Poinsettias add to the Christmas

theme.

Christmas decorations are to be left up

until after the twelfth night, the 5th or

6th January and if not taken down then,

should stay up for the year however those

celebrating Candlemas may leave the

decorations up until the 2nd February.

Taking Christmas decorations down

before New Year is said to be bad luck.

Christmas Lillies, Bottle Brush and

Pohutakawa flowers add to the

Christmas theme.

Glass baubles are a traditional

Christmas decoration.

Saint Nicholas was the first

Father Christmas.

merry

ChrIstmas

Happy

Holidays

to all our

customers

We will be closing on

23 rd December and will reopen

on 16 th January

Great Range Of Gifts In Store

Florist | Fresh & Silk Flowers | Wall Art | Clocks | Gifts | Vases | Lamps | Home Furnishing | Jewellery

Happy Holidays

and all the best for 2017

We will be open on Christmas Eve for last

minute gifts then closing until 4 January.

Curtains • Blinds • Upholstery

Fabrics • Cushions • Crafts

Classic Curtains & Interiors

817 Jones Road, Rolleston | Ph 03 347 4295

Shop 15 Rolleston Square Rolleston

Phone 03 347 1068

robinsnest.2009@yahoo.co.nz

Hours

Mon-Fri 9am-5pm

Sat 10am-2pm
---
SELWYN TIMES Tuesday December 20 2016 23

HOME PROFESSIONALS

A holiday Christmas

If heading on a road trip before

Christmas your thoughts may not be

just on packing togs and playthings but

how you will fit Christmas presents and

other gear needed for the holiday into the

vehicle.

Adding in a few items for decorating

your destination may not take up much

room and will add some sparkle to

Christmas Day while keeping the young

ones entertained making decorations to

hang about.

Packing some basics such as a can of

silver or gold spray paint, crepe paper,

balloons, string, and sheets of coloured

cellophane, paper and thin cardboard will

take up only a small amount of room and

offer hours of fun for all. Add in some

small candy Christmas canes to use as

decorations before eating later.

It is not uncommon to see caravans

decked with lights round Christmas

however, natural materials might also be

used. Pine cones, driftwood, shells, stones

and other interesting objects could be

painted up with the budding artists going

further than just spray painting to include

pictures which might be drawn or cut

from magazines and stuck on. Stars can

be cut out of cardboard then glitter glued

on and a short piece of string threaded

through a hole on one point of each star

so they can be hung up or on a Christmas

tree.

Green Foliage and wild flowers can be

arranged in bottles or makeshift vases,

made by cutting the top off milk bottles

which should be weighted down with

some stones to stop them toppling over.

These might also be decorated.

Christmas collages could also be

created and streamers made from loops

of coloured paper linked together, or by

cutting rolls of crepe paper into strips.

These can be hung around the holiday

home or inside the caravan awning while

some tinsel might be wrapped around

nearby trees and bushes or outside lights

used to adorn the outdoors.

If by the beach, task the children with

collecting shells that have small holes in

them to be thread onto a length string.

Knot either side to hold them in place,

then hung across an old fireplace or some

other ideal spot.

If part of a larger group of people, you

might hold a competition with prizes for

not only the most impressive display but

also the most creative. It will add to the

fun and Christmas spirit making for a

great festive season.

Christmas decorations at home need

not be just purchased glossy baubles and

the like. A personal touch may be added

with some handmade items to adorn the

house and tree. They will not only provide

a sense of satisfaction for the creators of

the pieces as well as proud parents but

can also be packed away for use in future

Festive Seasons.

FURNITURE SALE *

Spend $1500 take 10% off

Spend $2000 take 15% off

*

Terms and Conditions apply -

see instore for details

CHRISTMAS OPENING HOURS

Mon 19 th - Wed 21 st 10am - 5pm

Thurs 22 nd - Fri 23 rd 10am - 6pm

Sat 24 th 10am - 5pm

Closed all the public holidays.

www.ynots.co.nz | ynots.gifts@xtra.co.nz | 03 3476190

2239 Main South Road (5 minutes south of Rolleston)

Warm up your Winter

• Heat pump installation

• Log burners

• Solar

• I Gas servicing

• Certified gasfitters and plumbers

www.selwyngasfitters.co.nz • 03 420 1020 • 021 341 311

DUE TO LATE ARRIVALS

ALL GIFTWARE 20% OFF

Looking for

Xmas gift ideas?

We've got it covered! We have a fabulous

range of imported designer curtain & furnishing

fabrics, cushions and selected homewares.

Quality imported

fabrics at

wholesale prices

Mon-Fri 9am-5pm

Sat 10am-1.30pm

3 Gerald Street, Lincoln

Phone 325 7400

See www.facebook.com/fabricsatlincoln for late nights.
---
24

Tuesday December 20 2016

HOME PROFESSIONALS

SELWYN TIMES

Securing your home over Christmas

Your property is on the market. It has

been advertised on the Internet and in

newspapers. People know where the

property is. Good reasons to beef up the

security, especially if your home will be

empty at some point over the holiday

period.

Security consciousness is always a good

idea, even when a home is not on the

market. It is especially worth addressing

at this time of year so unwanted visitors

cannot steal the presents under the

Christmas tree or help themselves to

yummy leftovers.

With the rush of Christmas, it is easy to

forget to organise the basics that help keep

a property safe when you are not around.

1. If you have an alarm, set it. Delete

alarm codes that have been given to

workmen, delivery firms or the like.

2. Unlocked doors and open windows

make for an easy burglary so before

leaving the house for a short or longer

period, check that these are locked.

3. Ask a trusted neighbour to keep

an eye on your property; clearing the

letterbox, putting the rubbish bins out,

drawing curtains; turning lights on and

off and generally making the house look

lived in. You could also fit timers to turn

on lights.

4. If away for more than a week,

organise for the front lawns to be cut

by a friend, relative or lawn mowing

contractor.

5. Cancel the newspaper, and mail if

you are planning to be away for a decent

period of time.

6. If the house is on the market, notify

the real estate agent of your travel plans

and find out how active they are going

to be over that time, then inform a

neighbour who is likely to have a good

view of comings and goings on your

property.

7. Give neighbours your contact details

for while you are away, and a key to a

trusted neighbour, close relative or friend

(supplying the latter's contact details to

your neighbours), in case of an emergency.

For example, alarms can be activated by

flies or spiders crawling across the sensors

so having someone who can sort this is a

good idea, as is spraying the house for flies

before heading off.

8. Ensure all sensor lights are working

and that back-up batteries in the alarm or

smoke alarms are current.

9. Fit padlocks on your gates, letterbox

and even the garage door.

10. Make sure your locks are reasonably

burglar proof, fitting deadlocks to replace

older style locks.

11. Set your irrigation system timer

to meet watering restrictions or ask a

neighbour to turn the hose on your front

lawn occasionally.

12. Set up an answerphone or answering

system with your provider with a suitable

message and one that does not indicate

that you are away or out.

A few precautions may help ensure

the house is the way you left it when you

arrive home. Have a happy holiday.

Alarms can be activated by

flies or spiders crawling across

the sensors.

Cancel the newspaper & organise for your lawns to be cut while away.

Check that

alarm batteries

are current.

Manufacturers and

suppliers of superior quality

garage doors throughout

New Zealand.

• Cedar Doors

• Specialising in " one-off

custom designs"

• Negative detail /Flat Panel

and Insulated designs

• Merlin Auto Openers, repair

& Maintenance

Contact us for a free measure and quote.

Showroom: 276 Larcombs Road, Weedons

Phone 3478333 or 0800 661 366

If your house is on the market, inform your real

estate agent and a neighbour of your travel plans.

Merry Christmas

from The Outdoor Space

We thank you so much for

your clientele during 2016

Paving, Irrigation, Lawns, Planting, Fences, Pergolas, Water-features,

Outdoor fires, Raised Vege beds, Decks, Artificial grass & more...

Call Aaron & the team today! Phone: 03 3474422 or 021542402

Email: landscapeyouroutdoorspace@gmail.com

www.theoutdoorspace.co.nz

Need a Professional

Need a Professional

Electrician?

Electrician?

Call Laser Electrical!

Call Laser Electrical!

0800 438 0800 527

Call Laser Electrical 438 527 Rolleston!

Need a Professional

Electrician?

Need a Professional Electrician?

Call Laser Electrical!

www.laserelectrical.co.nz

www.laserelectrical.co.nz

• Residential • Industrial • Commercial • Rural • Dairy

24 hour on-call service

0800 438 527

www.laserelectrical.co.nz

Laser Electrical Rolleston

831 Jones Road, Rolleston

www.laserelectrical.co.nz

0800 LASER 4 U

(0800 527 374)

LE0303
---
SELWYN TIMES Tuesday December 20 2016 25

HOME PROFESSIONALS

Entertain alfresco style

On warm summer days and nights,

it is really nice socialising and dining

outdoors, soaking up the sun or enjoying

a shady spot with a gentle breeze.

If you do not already have an outdoor

entertaining area, have a look around

your yard for the best spot to locate your

barbecue and outdoor furniture. You may

even consider having two areas, to take

account of wind direction at a particular

time and allow for shade as the sun moves

around.

With established entertaining areas,

look to see what jobs need doing and also

whether an extra area might be created

for that morning coffee while reading the

newspaper, or to laze away and enjoy the

company of others.

Outdoor furniture that has had little use

over winter and spring is likely to have

gathered dust, unwelcome insects and

maybe mould or lichen. Give the barbecue

and furniture a

good hose down

and even a scrub

with some soapy

water, so it is ready

for any Christmas

Day cooking and

entertaining. Hose

and sweep down any

paving and decking

too. The latter might

also be given a fresh

coat of stain as might

any wooden furniture.

Add to the setting

with soft furnishings. Some bright

cushions and throws will help create

a summery look or highlight the

Christmas theme. Extend this to

the tableware, starting with a bright

red or Christmas design table cloth,

red or green napkins, and even a few

Christmas plates if you do not plan on

the complete Christmas dinnerware

package. A plastic table cloth might also

sit more firmly on the table.

For a table centrepiece for more formal

outdoor dining, consider a Poinsettia

in a pot or a Christmas wreath. Candles

may be used but will need to be securely

fixed in place and may not stay alight if

there is even a slight breeze so a lantern

maybe a better option.

Though a great camping favourite, it is

nice to step up from the usual sausages

Wreathes and potted Poinsettias are

ideal as outdoor table centrepieces.

on the barbecue at this time of year. Add

a little gourmet with Prawn Kebabs,

Whitebait patties, sautéed Shrimps or

even Paua patties if you are fortunate

enough to have a supply. Less exotic but

always popular are marinated Chicken

Nibbles and legs. Alternatively, rotisserie

roast a chicken or warm a cooked ham

over a low heat, for between thirty

minutes to an hour (depending on the

heat) to provide juicy hot meat that could

simply be popped in a bread roll along

with a little mustard or salad.

For dessert, strawberries are almost a

staple at this time of year. Top Meringues

with cream and strawberries or Kiwifruit,

or make up a bowl of Ambrosia or Fruit

and Sponge Trifle and serve with icecream.

All are quick and easy to prepare

in advance and always go down well.

Add some Christmas

décor to your outdoor

entertaining areas.

Add in other outdoor

areas to enjoy a

morning coffee.

Add to the outdoor setting with

some bright cushions.

WISHING YOU A

MERRY

CHRISTMAS

NOW OPEN

7 DAYS

- Landscaping plants for all gardens

- Ornamental & Specimen trees

- Canterbury's largest range of natives

- Hedging & Topiaries

- Fruit & Nut plants

Only closed on public holidays

this summer!

1133 Main South Road - 0800 800 352 - southernwoods.co.nz

design & construction

CONCRETE • paviNg & BlOCks • fENCiNg & dECks • lawN & plaNTs

Providing all of your landscaping needs from design through

to construction in the Canterbury Region.

Ph. 03 385 2377 www.innovative-landscaPes.co.nz

quotes@innovative-landscaPes.co.nz

STOP birdS

hail, leaves, snow & vermin from

blocking & damaging your spouting

Quality materials: BHP Colorbond steel mesh with unique patented

louvre which will even keep out pine needles. Will not rust or sag with age or

load. 10 year warranty, range of colours

Proven in Australia & New Zealand over the last 15 years.

FOR SAFE, PURE DRINKING WATER FROM

YOUR ROOF.

NOW AVAILABLE: STAINLESS STEEL MICRO MESH

www.gumleaf.co.nz

Call Rohan Rudd anytime Mon-Sat

for a no-obligation assessment & quote

0800 486 532 03 982 8850
---
26

Tuesday December 20 2016

HOME PROFESSIONALS

SELWYN TIMES

Local timber business sees

growth in local market

With the Southern Motorway being

extended to Rolleston, businesses fronting

Main South Road must move their

entrances to a new road that will run

alongside the railway line. These changes

have led to many businesses being

revamped or new premises constructed

and Mike and Jason at Canterbury Timber

and Hardware are really excited that work

has now begun on their new yard, at the

rear of their existing site.

Six years ago, Mike and Jason

established their business after seeing a

need for a timber and hardware supplier

that provided a high level of customer

service.

Canterbury Timber & Hardware

is a familiar site on the Main South

Road, popular with locals and fencing

contractors alike. Here you will be

served by an owner who is happy to help;

something that is appreciated by those

constructing a fence for the first time and

seasoned fencers. They stand by what they

supply providing another reason why this

business has continued to grow.

They have both worked in the timber

industry all their working lives, giving

them a thorough knowledge of timbers

available and how each wood performs.

They are only too happy to advise

a customer on what is best for their

needs, ensuring lasting satisfaction with

whatever is constructed.

As specialists in timber for residential

fencing, lifestyle blocks, large farms and

business premises, they stock everything

from palings, posts, pickets, netting and

wire fencing through to the hardware.

This includes bolts, nails, hinges and

fittings to secure gates which are all

available at this one stop fencing shop.

Canterbury Timber & Hardware's new site under development.

Canterbury Timber & Hardware

sell fencing and decking supplies.

You can also purchase decking whether

pine or hardwood, timber for landscaping

for boxing up driveways, edging for

around garden beds and materials for

constructing a retaining wall and they are

suppliers for Gallagher electric fencing.

With a wide range of stock held in their

yard and a close working relationship with

local timber merchants making it easy to

get timber delivered overnight, there will

be no delay in securing the timber for

when you want it.

If wanting timber for a project over the

holiday period, then why not head down

to Canterbury Timber & Hardware. They

are just a couple of minutes down the

road from Intelligro, making it an easy

hop from picking up your landscaping

supplies whether it is soil, hard-fill or

other materials, to collecting the timber

for the job. If needed, they run a delivery

Jason and Mike.

service which stretches from Ashburton

to North Canterbury and covers the whole

of Christchurch city.

Canterbury Timber & Hardware

is located at 1304 Main South Road

about three kilometres from Rolleston

(towards the city). They are open

Monday to Fridays, 7am-5pm and

Saturdays, 8am-12 noon and can be

contacted on: 347 7465 or by emailing:

jason@cthl.co.nz.

LET'S GET

GARDENING

INTELLIGRO OFFERS:

Expert gardening advice

High quality products

South-Hort growing mixes

VIP rewards

Buy in-store and online

Handy delivery service

For more information,

check out our website: www.igro.co.nz or visit

our facebook page: www.facebook.com/igro.co.nz

1394 Main South Road, Weedons

info@igro.co.nz | www.igro.co.nz | Phone 03 347 9415

The team at Canterbury Timber & Hardware

wish all their clients a safe & merry

Christmas and look forward to being of

service in the new year.

Decking

Retaining Wall Timber

Landscaping Timber

Trellis

Residential Fencing

Poles and Piles

H3 and H4 Timber

Dressed Timber

Christmas hours:

23rd December – 7.30am – 3pm

24th – 27th December – Closed

28th December – Open 8am – 4pm

29th December – Open 8am – 4pm

30th December – Open 8am – 4pm

31st December – 3rd January – Closed

Urban Section

HOURS

Mon - Fri: 7am - 5pm

Saturday: 8am- 12pm

Weedons Ross Rd

to Rolleston

We are here

Berketts Rd

Jason Pester 1304 Main South Road, Christchurch

jason@cthl.co.nz P 03 3477465 F 03 3477032

Trents Rd

Main South Rd / SH1

Your Local Timber Merchant

New Builds

Home Alterations

Bathrooms

Decks

BUILDERS LTD

Painting/Plastering

Renovations

Extensions

Kitchens

Re-Roofing

Insurance Work

Phone Keith:

027274 9359 or (03) 325-4452

ktmbuilders@xtra.co.nz

Fully Qualified Builder

Sharon CroftS

LandSCape d e S ign

• Consultations • Design Concepts • Planting Plans

P. 329 6229

M. 0274 311 558

s-crofts@xtra.co.nz

www.sharoncrofts.co.nz
---
SELWYN TIMES Tuesday December 20 2016 27

Moët & Chandon Brut

Impérial/Piper-Heidsieck

Brut NV 750ml

Fresh NZ Pork Leg Roast

(Excludes Free Range)

$

49 99

each

$

5 99

Have you ordered

your fresh

$

3 99

Christmas turkey?

kg

Order now for pick up from

the 21st December.

box

Oamaru Jersey

Benne Potatoes 1kg

2for

$

5 00

$

4 50

each

Coke/Sprite/Fanta/Lift/L&P 2.25L

Tip Top Ice Cream 2L

$

5 49

kg

Fresh Tegel NZ Chicken Drumsticks

$

3 99

pack

Californian Seedless Bi-Colour Grapes 500g

$

3 90

each

Mediterranean Layered/Chunky Dip 135g

$

29 99

pack

Speight's/Summit

24 x 330ml Bottles

$

8 99

each

Jacob's Creek Sparkling/Shingle Peak 750ml

(Excludes Reserve/Pinot Noir)

2

for

$

7 00

Just Juice/Citrus Tree Fruit Juice 2.4/2.8L

FreshChoice Leeston

78 High Street, Leeston.

See FreshChoice.co.nz/Supermarkets for

store hours over the Holiday Season.

Prices apply from Tuesday 20th December to

Tuesday 27th December 2016, or while stocks last.

FreshChoice.co.nz

FreshChoiceNZ

324 3788

FreshChoice Leeston

Owned and

operated

by locals

Certain products may not be

available in all stores. Savings

are based on non-promotional

price. Limits may apply.

Look for the donation

drop off trolley instore.

Help support

your community

this Christmas.

FCSELWYN2012
---
28

Tuesday December 20 2016

MY PRIDE & JOY

January is muscle

car madness month

People from around New Zealand and overseas will be attending the 27th

Trillo Metals Muscle Car Madness event at the end of January.

"Two hot rods are being shipped from

America to Auckland by Kiwi Shipping,

where they will tour their way down to

the event, before continuing onto Bluff

then back up to Taupo for another big car

display," explains Craig Stare, organiser

of the Trillo Metals Muscle Car Madness

event.

Both cars are 1932 Ford Highboy

Roadsters – one belonging to Lance

Sandford from Tracy in California and

the other owned by Dave Thomas from

Westchester in Pennsylvania.

The event organisers are also bringing

out one of Craig's favourite 'rockabilly'

bands – the 'Hillbilly Hellcats' from

Colorado. This band will play each day at

around 2.30pm, as part of a ten band lineup

that includes 'Baxter' from Australia,

'Sign of the Firebird', 'Brothers Grimm',

'Sound Control' and the 'Wingers', a great

"little kids" band with an average age of

just twelve years old.

Launched only a few years ago, the

extremely popular Saturday afternoon

Retro Beauty Competition is likely to

draw a great crowd, with classes for

all ages including the 'youngsters'. For

more information, contact Kaye, at

kabellababy@gmail.com.

This family oriented event has

everything: craft and trade stalls; all types

of food and drink; a licensed bar; a great

array of sixties clothing; and souvenirs

that include T-shirts in a range of 10

colours selling for just $25 that includes

children's sizes.

In past years, over 1,200 cars have been

on display each day, with the line-up

changing over the two days; providing

a good reason to purchase a discounted

two-day ticket at $28. These will be

available at the gate on the Saturday,

during public hours only.

Almost everything that can be thought

of in the automotive world will be there

while sixty members from Napier's

Marineland Street Rods are bringing

thirty cars as part of their club's 50th

anniversary celebrations.

Whether you like Falcons, Holdens,

Mustangs, Camaros, classic cars, hot

rods or 'blood curdling' muscle cars,

they are sure to be in the show arena,

along with a steadily growing number of

classic motorcycles and choppers. People

Two of the cars that were

at last year's show both

are local Rolleston cars.

are welcome to display their

'Pride and Joy' (if in a very tidy

condition – no junk please).

Each day around 1.15pm, the

hugely popular burnout pad

action takes place, with no other

purpose than to make noise and

destroy perfectly good tyres.

Be sure not to miss the largest

show of its type in the country.

Muscle Car Madness begins

on Thursday, 26th January

with a special 'street party' in

Rangiora's main street from

6-9pm with cars, bars, cafes and

a live band. Trade displays, then

Spectator Public viewing is from

10am on Saturday, 28th and

Sunday, 29th January 2017; adults

$16, children 5-15 $2, under-5

free; family concessions $35 (no

limit on numbers so bring all the

neighbourhood children); phone

03 312 5535 or 03 347 8388.

CANTERBURY

RADIATORS

CO LTD

LIVE BANDS

Steve Evans

and the almost

complete 1938

Barrel Nose Pick

up.

RANGIORA SHOWGROUNDS, North Canterbury

Downtown Street Party Car Show!

6pm – 9pm

Thursday Night (26th Jan)

Everything open on Rangioras Main Street

All the cars, all the fun!

Retro Dress up!

Ladies show off your

best '60s attire

+ Junior division for Girls & Boys

Adults $16 Kids $2

Dave Thomas is doing a N.Z.

tour. His roadster is from

Westchester, Pennsylvania.

SELWYN TIMES

(Under 15) (No Limit on Kids)

Top street machines like Luke

Orpwood's show winning 1960

Chevrolet Impala

YEAR

NZ's Largest Street Machine Event 27th

2017

10am - 5pm

both days

Family Pass $35

"Sparrow" Sandford is bringing

his 1932 Ford roadster from

Tracy, California.

Hillbilly Hellcats Direct From Colorado

Recliner Rockers (AKL) | Sign of the Firebird, Baxter (AUS), Sound Control, The Wingers, Brothers Grim

Stottle Promotions, PO Box 1, Rolleston, Correna Ph 03 3478 388, musclecarmadnessnz@gmail.com

Simon & Alan wish all their valued clients

a safe and Happy Christmas and

look forward to being of service in 2017

Last day Fri 23rd Dec 2016 Reopen Mon 9th Jan 2017

3 TRUCKS

3 CARS

3 LUBES

3 SERVICING

Mon - Fri 6.45am - 6pm

Sat 8am-12 noon (WOFs only)

3 FLEET WORK

3 BOATS

3 DIESEL INJECTOR

3 & PUMP SERVICING

3 ENGINE TUNING

3 BRAKES

3 MAXXIS TYRES

3 WHEEL ALIGNMENTS

3 BATTERIES

3 WOFs

3 CAMBELTS

AND MUCH MORE!

839 Jones Road, Rolleston P.O. Box 16 Rolleston

Phone Simon on 347 7110 or Mobile 027 272 9213

There is one

hot rod club

based in Selwyn

– Christchurch

Rod and Custom

Club with Bruce

McKenzie's 1941

Willys pickup one

of its top cars.

One of the younger

enthusiasts, Lincoln

based Dylan

Orpwood, displayed

his just completed

1933 Willy coupe.

Specialists in Collision Repairs

From small dings to major repairs

• Two great locations

• Collision repair specialists

• Free loan cars and vans

• Insurance repairs, smash repairs, rust

repairs, fibreglassing

• From motorbikes to horse floats

• No job is too big or small

• Open most Saturday mornings for

customer convenience

BEFORE

BEFORE

AFTER AFTER

107 St Asaph St, City Central

www.rojones.co.nz PH 0800 RO JONES
---
SELWYN TIMES Tuesday December 20 2016 29

MOTORCARE PROFESSIONALS

Remember

to have

your vehicle

checked

Bridgestone Tyre Centre

in Rolleston.

There is so much to do at this busy time of year yet most of

us just want to wind down, kick back and enjoy good times

with family and friends in the sun.

If travelling to a holiday destination, there

is one task that should not be forgotten –

ensuring the motor vehicle and any trailer

or caravan to be towed, are fit for the

journey ahead.

There are good reasons for checking your

vehicle's tyres. Low or incorrect tyre pressure

will lead to them wearing out more quickly

and higher fuel consumption. If the tyres

are worn to the point where they would not

pass a warrant of fitness, they are dangerous

as vehicle handling becomes difficult, with

stopping in time harder as the vehicle skids

along the road. Check the spare tyre too as

it will be no help when changing a puncture

if it is flat too.

The wheel alignment should also be

assessed. If all wheels are not aligned they

wear unevenly affecting how they behave

when cornering and braking, and wearing

out more quickly.

Brakes too, are critical for stopping

quickly, especially when travelling at higher

speeds so having these checked to ensure

they are up to the job, is a given.

Something we often forget to look at are

the water and oil levels yet none of us want

radiator or engine damage while having the

battery checked is also worthwhile.

An examination of your vehicle's

roadworthiness and mechanical reliability

can be quickly carried out by Bridgestone

Tyre Centre in Rolleston. This one-stop

shop sells tyres for cars, four-wheel drives,

vans and commercial vehicles (with retreads

available for the latter) as well as batteries

and they have a car grooming service,

which might also make a nice Christmas

present.

Bridgestone Tyre Centre can complete

any mechanical repairs including wheel

alignment and balancing, a warrant of

fitness, puncture repairs and general vehicle

servicing with a high level of customer

service that includes the use of a courtesy

car. There is a comfortable waiting room

with a children's corner, free coffee or hot

chocolate, television and a massage chair.

They also have a 24 hour fleet service.

Their fully qualified mechanic who has

been a Rolleston local for the last fifteen

years has 25 years' experience and their

wheel alignment technician brings 14 years'

industry experience to his position.

The team at Bridgestone Tyre Centre wish

everyone a Merry Christmas and Happy

New Year.

Bridgestone Tyre Centre can be

found at 847 Jones Road (just over the

railway lines from Rolleston). They are

open Monday-Friday, 7.30am-5pm and

Saturday mornings, 9am-12noon; and

over Christmas, being closed just for the

statutory holidays. You can call to make

a booking on 347 4702 or 0800 838 973.

Spend over $100 and they will give you

a present.

Bridgestone Tyre Centre in

Rolleston can quickly check

the roadworthiness of your

vehicle.

Not just a tyre shop!

• On-farm services - NO CALLOUT FEE (Selwyn district)

• 24 hour fleet service

• Full mechanical repairs

• Nitrogen fills, batteries, WOF, shock absorbers

• Agricultural tyres

• Car tyres, 4x4 tyres, light truck tyres, truck & bus tyres

• Wheel alignments, puncture repairs, full groom

Courtesy car available.

Kiddie's toys & entertainment.

enjoy a free coffee, massage

(chair) & tV while you wait.

Mon-Fri 7.30am-5.00pm, saturday 9am-12pm

Call 03 347 4702

or 0800 838 973

847 jones rd, rolleston • www.tasmantyres.co.nz

9198779AA

Jones Road, Rolleston, RD 7

Christchurch

Ph 347 8703 Fax 03 347 9576

Mob 027 228 2854

Email cameron.hcc@paradise.net.nz

• Panelbeating

• All insurance

claims

• Sandblasting

• Spray (Bake)

Painting

• Truck Refinishing

• Windscreen

Replacments

• Chassis

Straightening

• Motorhome

Refinishing

• Loan Cars

Jones Road Auto

Happy and safe travels this Christmas holiday season.

We will be closed from 24 December reopening on 9 January.

ALL YOUR MOTORING NEEDS

› While You Wait WOF's

› Courtesy Cars › Diagnostics

› Repairs › Servicing

› Batteries › Tyres

Phone 347 4020 851 Jones Rd, Rolleston

www.jonesroadauto.co.nz
---
30

Tuesday December 20 2016

SELWYN TIMES

SCOOP PURCHASE

2016 LANCER GSR

Hatch 2.0L Petrol

RRP $32,990 +ORC

$24,990

2016 Pajero Sport VRX

4WD 2.4L Diesel

Original RRP $58,990 +ORC

$49,990

ONLY

2

l e f

t

Christchurch Mitsubishi have a LIMITED NUMBER Brand New Pre-Registered Lancer GSR hatches and

Short-term lease returned Pajero Sports VRX (5-seats), most having travelled under 15,000kms available for immediate delivery.

Both models includes balance manufacturers warranty.

cnr Montreal & St Asaph Streets, Christchurch. Sales, Service & Parts: 03 379 0588

T Custom Ceiling Banners_Chch_2502x1000_FAem.indd 1 4/02/15 11:5
---
http://kaywa.me/Op1Vo

My Kaywa QR-Code

www.robertbrucemotors.co.nz

SELWYN TIMES Tuesday December 20 2016 31

Driven

Mitsubishi upgrades popular Outlander

• By Ross Kiddie

I KNEW the media car

evaluation fleet wouldn't escape

disruption after the devastating

earthquake which crippled

Kaikoura.

A car which I was scheduled

into was trapped north of the

township, and I guess it is still

sitting there and will remain so

until that road reopens.

That is of little consequence to

the loss of life and the devastation

those in the area are living with

every day, we Cantabrians know

full well what that is like.

All car manufacturers and distributors

are having to re-evaluate

the way they move cars through

the South Island and I'm expecting

more disruption to the media

vehicles I have scheduled.

That aside, Mitsubishi did well

to keep my diary intact, a brand

new Outlander sport utility

vehicle was placed in my care and

it filled the void until such time

as the Mirage I was originally

scheduled into becomes available.

The Outlander has just received

another major makeover; interestingly,

it's just a year or so since

the last facelift. While the shell in

which it arrives hasn't changed

a lot, there are a lot more safety

components built into the

vehicle, and it has also had engineering

changes which make it

more capable and better value for

2003 FORD FALCON BA XR6 TURBO

240kW Intercooled Turbo, Tiptronic Auto, 17" Alloys, Leather Trim,

Aircon, Cruise, Traction Control.

SALE

$16,999

2006 HOLDEN COMMODORE VE SV6

195kw Performance, 5 Speed Tiptronic,

18" Alloys, Trip Computer, Remote

Locking, Stability Control, Towbar.

MITSUBISHI OUTLANDER: New safety package.

money.

What's more, the newcomer

is available in seven, seven-seat

variants, two and four-wheeldrive,

and 2-litre, 2.4-litre and

2.3-litre (diesel) variants listing

from $32,990 to $56,990.

The test car was the entry-level

LS, albeit with 4WD capability

and the 2399cc engine.

Even though XLS and VRX

specification vehicles get a huge

technology boost, mostly for

safety, the LS misses out, but

it still has enough safety kit to

qualify for a five-star Australasian

New Car Assessment Program

safety rating.

New features on the higher

grade models include lane departure

warning, blind spot warning/

lane change assist and rear cross

traffic alert.

Elsewhere, the LS gets new 18in

alloy wheels (up an inch), keyless

$12,999 $17,999

CHRISTCHURCH'S

LEADING COMMODORE

& FALCON DEALERS

2003 FORD FALCON BA XR8 BOSS

5.4L Quadcam Boss V8, Tiptronic Sports Shift Auto, 18" Alloys, FPV Bodykit,

Sunroof, Leather, Tints, Big Bore.

$17,999 $15,999

$19,999

$18,999

2007 HOLDEN COMMODORE VE SV6

196kw Performance, 5 Speed

Tiptronic Auto, Stability Control,

A/C, SRS Airbags, Bluetooth.

2006 HOLDEN COMMODORE VE SV6

195kw 3.6L Quadcam Alloytec V6, 5

Spd Tiptronic Auto, Stability Control, CD

Player, Trip Computer, Remote Locking,

Cruise, 18" Alloys, Low 80,000km.

entry and ignition, new centre

console with electronic park

brake, upgraded infotainment

system with Android Auto and

Apple Car Play, the latter aligned

to a new central screen display

which has deep and comprehensive

graphics.

The interior certainly looks

fresher with the new additions,

and it goes a long way towards

keeping the Outlander appealing.

It feels like a new SUV

and, as I've mentioned many

times before when I've driven

Outlander, it is still a key vehicle

in this very popular part of the

market.

Under the bonnet sits a wellproven

four-cylinder petrol

engine, the twin camshaft unit

is rated by Mitsubishi at 126kW

and 224Nm, that hasn't changed

from the previous generation

model, nor has its transmission

2007 HOLDEN COMMODORE VE SV6

195kw Performance, Tiptronic Auto,

18" Alloys, Trip Computer, Stability

Control, Low 97,000kms, Immaculate!

• Price – Mitsubishi

Outlander LS, $43,990

• Dimensions – Length,

4695mm; width, 1810mm;

height, 1710mm

• Configuration – Fourcylinder,

four-wheel-drive,

2360cc, 126kW, 224Nm,

six-speed automatic

• Performance –

0-100km/h, 10.5sec

• Fuel usage – 7.2l/100km

through a continuously variable

automatic gearbox.

However, what has changed

are the transmission mapping

management protocols which

provide the driver with a more

fluid feel under wide throttle

openings, the acceleration

process is smoother and quieter.

And that has always been a

hallmark of the Outlander, it is

a smooth and responsive vehicle

to drive, and that is part of its

charm, I like CVT, and the system

is now just that much more

intuitive.

The Outlander feels even

more spritely, that's probably not

reflected in a 10.5sec standstill to

100km/h acceleration time, but

it is no slouch all the same, and

through the mid-range that big

four-potter delivers good torque

and associated strength.

On the subject of figures, the

Outlander is also a fuel thrifty

vehicle. Mitsubishi rate it with a

7.2-litre per 100km/h (39mpg)

combined cycle average, and that

fitted with the comprehensive

trip computer display in the

car, it was constantly registering

around 8.8l/100km (32mpg)

with a 6l/100km (47mpg) instantaneous

reading at 100km/h

(engine speed 1900rpm).

I didn't venture off-road in the

test car, but I did take to a series

of badly corrugated shingle roads

near Hororata and can report

it has spring and damper rates

which absorb well the big hits,

thus providing the occupants with

a controlled and comfortable ride.

When it comes time to

tackle a quick corner or two the

Outlander feels stable and strong

through the steering. Body movement

is noticeable, but it is well

controlled.

The Outlander has been a huge

success story for Mitsubishi, and

that level of acceptance doesn't

appear to be waning. I guess

some of its appeal can be attributed

to Mitsubishi's comprehensive

10-year warranty programme,

but also the fact it is a versatile

seven-seater which is big but not

oversize.

When it comes time to go full

force into another generation

model, Mitsubishi will be well

aware the current Outlander is

going to be a hard act to follow.

BUMPER

CHRISTMAS ISSUE

OUT FRIDAY DECEMBER 23

FREE

Best

Motorbuys

TM

2011 HOLDEN CApTiVA LX

3.2L Alloytec, V6, Tiptronic Auto,

Leather Trim, Sat Nav, Touchscreen,

Low 91,000kms.

SALE

$18,999

$19,999

2009 HOLDEN COMMODORE VE SV6

3.6L Quadcam V6, 5 Speed

Tiptronic Auto, Remote Locking,

Air Con, CD Player, Trip Computer.

03 366 5888

$22,999 $12,999 $15,999

2001 HOLDEN COMMODORE VX SS

5.7L Alloy V8, Big Bore Exhaust,

Alloys, Tinted Windows, Alarm,

Aircon, Beautiful Example.

SALE

$12,999

$24,999

2010 HOLDEN COMMODORE VE2 SV6

210kw Performance, 6 Speed Tiptronic, Touchscreen Entertainment,

Parking Sensors, Bluetooth, Low 63,000kms.

$13,999

2007 FORD FALCON BF XR6 Mkii

4.0L, 6 speed tiptronic auto, 19" alloys,

cruise control, sports suspension, stability

control, driving lights, only 99,000km.

2004 HOLDEN COMMODORE VY SV6 UTE

3.8L Ecotec V6, Auto, Alloys, Trip

Computer, Aircon, Sports Bar,

Remote Locking, Immaculate!

$27,999

www.robertbrucemotors.co.nz

Corner Lancaster St & Moorhouse Ave | OPEN 7 DAYS

$15,999

2008 FORD FALCON FG XR6

4.0L Twincam Engine, 6 Speed Auto,

19" Alloy Wheels, ABS and SRS

Airbags, Trip Computer.

$16,999

2008 HOLDEN CApTiVA 7 CX

3.0L Alloytec V6, Tiptronic Auto,

Alloys, 7 Seater Model, A/C, Hill

Descent, Stability Control.

$29,999

2008 HOLDEN COMMODORE VE SS-V

6.0L Alloy V8, 6 Speed Tiptronic, 20"

Alloys, Tinted Windows, Dual Zone A/C,

Trip Computer, Stability Control, Bluetooth.

2013 HOLDEN COMMODORE VF SV6

210kW, 3.6L Alloytec V6, 6 Speed Tiptronic, MyLink Touchscreen, Bluetooth,

Reversing Camera, Auto Park Assist.

PICK UP YOUR FREE COPY AVAILABLE FROM 100'S OF

OUTLETS THROUGHOUT CANTERBURY

Now view us online

www.bestmotorbuys.co.nz

Merry Christmas

& Happy New

Year from the Best

Motorbuys team!

CONTACT US NOW FOR ADVERTISING

Lea Godfrey 021 277 3086
---
32

Tuesday December 20 2016

SELWYN TIMES

Classifieds Contact us today Phone our local team 03 379 1100

Caravans, Motorhomes

& Traliers

CARAVAN around 4 to 5

berth wanted. Don't mind

repairs. 027 938 5344

CARAVAN Wanted to

buy. Up to $5000 cash

today 027 482-3559.

WE can sell your caravan

on behalf on our busy

caravan site at www.

affordablecaravans.co.nz

512 Belnheim Rd, ChCh.

03 348-6614

Computer

Services

COMPUTER

PROBLEMS? Mature

assistance. Reasonable

rates. Ph Adrien 027 589

9672

COMPUTER

PROBLEMS? Mature

assistance. Reasonable

rates. Ph Adrien 027 589

9672

For Sale

HANDBAG Genuine

Guess Leilani box bag -

CR240831 sand/neutral

colour, sz 42cm long x

22cm high, excellent

condition only $180 ono

ph 020 444 4202

Gardening

& Supplies

CHRISTMAS LILLIES.

50 cents a bud, bulk orders

welcome. Franks,214

Russley Road, Avonhead,

Ph 3427955 or

027 6055702

GARDEN DESIGN

Selwyn based qualified

Designer. Any garden any

size. Free Consultations

Tel: 0220 259929

W: creative-intentions.nz

Jewellery

WATCH Ladies Versace

brand new box, bracelet

design excellent price

$99.95, ph ChCh 020 444-

4204

WATCH Ladies Gucci

brand new in box bracelet

design excellent price only

$99.95, ph ChCh 020 444-

4204

WATCH Ladies Louis

Vuitton brand new in box

bracelet design excellent

price only $99.95 ph 020

444 4204

Massage

SENSUAL Hot Oil

Massage Rural Location

Anna 021 110-8790

Raffles

Rolleston & DistRicts

lions club

CHRISTMAS TREE

RAFFLE

Drawn December 7th

Congratulations to:

Clive Wade of Halswell

Many thanks to all who bought ticket

To Let

RENT ME!

Ideal as an extra

bedroom or office.

no bond required thiS month

Fully insulated and

double glazed for warmth.

Three convenient sizes

from $70 a week:

Standard 3.6m x 2.4m,

Large 4.2m x 2.4m

Xtra-large 4.8m x 2.4m.

Visit our website

www.justcabins.co.nz for

display cabin locations.

www.justcabins.co.nz

To Let

HOUSEME

Portable sleepout or office

available to rent..3m x

3.6m studio.

Insulated and value for

money at $75.00 per week,

you wouldn't live in

anything else. Contact

Amanda

today on 0279570920 or

houseme2015@xtra.co.nz

SHEDS To rent in Lincoln

township, 75 square

metres, $260 + GST per

month, also 295 square

metres $1300 + GST per

month, ph Sally 021 184

6823

Real Estate

WE WOULD LIKE TO WISH OUR VALUED

CLIENTS A VERY MERRY CHRISTMAS

AND FESTIVE SEASON. ALL THE BEST

FOR A SAFE AND HAPPY 2017.

- Mary Westwood and Katie Harrison -

Select Services

Hedge tRimming

& gaRden

maintenance

• Hedge Trimming

• Small Trees and Shrubs Topped,

Shaped or Removed

• Trenching and Digging Buckets

• Garden Maintenance

• Landscaping

• Cleanups Available

• Wood Splitter for Hire

JuSt Small

HedgeS

Stu Reid OWNER OPERATOR

Phone: (03) 325-4664 | Mobile: 021-500-519

hedgesandmore.co.nz

Mary Westwood

M 021 557 731 P 03 347 4711

mary.westwood@harcourts.co.nz

Katie Harrison

M 021 135 0887 P 03 347 4711

katie.harrison@harcourts.co.nz

Four Seasons Realty

www.harcourts.co.nz

Licensed Agent REAA 2008

Excavations

• Driveways

• Car Parks

• Site Cleaning

• Demolition

• Farm Tracks

• Drain Cleaning

• Stump & Hedge

Removal

• Ashpalt Concrete

Select Services

Wide range

oF TruckS

• Tennis Courts &

Swimming Pools

• Chip Seal Driveways

• Diggers – 2 Ton

up to 20 Ton

• Excavators

• Bobcat & Drilling

• For Posthole &

Fence hole

For a Free Quote

on your next project

Phone Steve on 021 338 247

or 325 7922

Free

QuoTe

HARRIS

BULLDOZING LIMITED

8915221AA

Select Services

Driveways

• Driveways

• Car Parks

• Lifestyle Blocks

• Site Clearing

& General

Earthmoving

13

Ph 347 9545

Fax 347 9549

Mark 021 345 571 or Paul 021 705 996

Email harrisbull@xtra.co.nz

All Work Guaranteed

Please phone for a free quote

Select Services

Malvern air Conditioning

& eleCtriCal ltd

Got Air Conditioning

& Electrical Needs?

• Heat Pump Supply

• Installations

• Servicing & Maintenance

• Household Electrical Work

• Business Electrical Work

Give Nigel a call now

for no obligation free quote

Ph 021 387 750

A/H 03 318 0030

Trades & Services

hay baling

services

Conventional

Individual Rounds & Squares

(03) 347 3479

Builder

FinanCe

gardening

SPOuTing

Wright Enterprises Build Limited

W.E. Build

New Homes

Renovations

Alterations

Trade Certified Builders

Family owned & operated

E info@webuildltd.co.nz

Antony Wright 021 111 1703

John Wright 0274 343 323

AH 03 347 4347

Hedge tRimming

& gaRden maintenance

• Hedge Trimming

• Small Trees and Shrubs Topped,

Shaped or Removed

• Trenching and Digging Buckets

• Garden Maintenance/Landscaping

• Cleanups Available

• Mulcher, Chipper and Wood Splitter

for Hire

JuSt Small

HedgeS

SUPPLY AND INSTALL OF

SEAMLESS

GUTTERS

Written Warranty and 10 yr NO LEAKS Guarantee

• Specialise in snow protection

• Continuous spouting made on site,

large colour range available

• High grade and thicker material used

Any type of gutters repaired, Insurance Work undertaken

No job too small or too big!

www.webuildltd.co.nz

info@themortgageshop.co.nz

03 325 2117

Stu Reid OWNER OPERATOR

Phone: (03) 325-4664

Mobile: 021-500-519

Call us NOW for FREE QUOTE

Call Danie 021 875 462

03 980-2865 / 03 344-5744

www.spouting2u.co.nz
---
SELWYN TIMES Tuesday December 20 2016 33

AUTO ELECTRICIAN

Ellesmere

Auto

Electrical

• Air Conditioning • Alternators

• Starter Motors • Wiring Repairs

• Diagnostics • Lighting • Batteries

Mobile Auto Electrician

022 644 9664

Farmlands Card Accepted

Classifieds Contact us today Phone our local team 03 379 1100

Tours

Kumara Races Day Trip

14th January

$40 per person

Tasmania – 12 days

Departs 28th March 2017

$4495.00 per person

includes flights

Call Reid Tours 0800 446 886

www.reidtours.com

EXCAVATING

Driveways

SWAINS KIWI KERB

DRIVEWAY

CONSTRUCTION

Free Measure & Quote

• Asphalt

• Driveways

• Kerb

Trades & Services

Quality Workmanship -

Over 10 Years Experience

• Chipseal

• Chip

PH 0800 081- 400 • 980-1123

Mob 0274 325 457

RE-ROOFING

QUALITY ROOFING AT THE

BEST PRICE AROUND

Protect your home with a new Colorsteel roof.

Call for a friendly, FREE assessment and quote.

Ph: 347 9045 or 021 165 1682

Email: Robinsonroofing99@gmail.com

BOUNDARY TRIMMING

Shelterbelt Trimming

Contractor

Call Tony Dempsey

Ph 03 325 3256 Mob 0274 323 943

Trades & Services

• Roofing

• Spouting and Downpipe

• Safety rails

• Licensed Building

Practitioner

Trades & Services

DealKing

Furniture

View our website for

all details of products.

Phone 03 3386 021

www.dealking.co.nz

OPENING HOURS:

Monday–Friday 8am - 4pm,

Saturday 10am - 1pm

Trades & Services

FLOORING

YES!! WE WILL BE AVAILABLE

OVER THE HOLIDAY PERIOD!

SUPPLIERS & INSTALLERS OF:

RESIDENTIAL CARPET

COMMERCIAL CARPET

UNDERLAY

VINYL

CARPET TILES

GARAGE CARPET

Friendly Service • Competitive Rates

Lynda - 03 421 6527

Nathan - 021 042 5169

Trades & Services

DIRTY

WINDOWS

Fast friendly

professional

service,

Selwyn area,

ph 021 364 664

LifestyLe

BLock

fencing

new fencing, post driving,

repairs, maintenence.

Quality workmanship

& advice.

Phone Allan 021 049 6151

allan@agrifencenz.com

Facebook: agrifencenz

Katie's Driving

Service

We provide a safe

reliable door to door

driving service for

• Shopping Trips

• Medical

appointments

• Visits

or any other

appointments

you may have.

Call Kaye

021-232-2511

Lifestyle Block

Mobile Shearing

No job to big or to small!

• Shearing • Tailing

• Crutching

• Drenching

• Foot trimming

Professional

friendly service

Call Shaun Adams

for a free quote

021 204 1274

or 03 9603112

ACE HIGH

PLUMBING

All Plumbing

Gasfitting

Drainlaying

Blocked Drains

Log Fires,

Wetbacks

Gas Hotwater

Phone

021 454 864

Trades & Services

Heatpump

Cleaning

Is your heatpump

ready for wInter?

• Save power, Save Money

• Cleaner healthier air

• Friendly, professional

service

Bemer

Heatpump

Cleaning

Rob Spink

• 0800 423 637

• (A/H) 03 325 2713

spinkfam@xtra.co.nz

PDI

GarDen

ServIceS

new client spots

available for

areas covered:

Lincoln, Halswell,

Springston, Ladbrooks,

rolleston, Prebbleton,

West Moreland, cashmere.

• Weeding, tidy and grass

• Hedges, trees & shrubs

• Free quotes and estimates

Selwyn gardening for 18 years.

also part time

gardener wanted.

call erik

0275 329 677

and leave a message

Trades & Services

CARPENTER

HANDYMAN

Small Job Specialists,

Carpentry, Repairs,

Decking & Maintenance,

40 years experience, no

job too small, Ph Warren

03 322-1103 or 027 697-

8541

CARPET & VINYL

LAYING

Repairs, uplifting,

relaying,

restretching,working thru

xmas

E mail jflattery@xtra.

co.nz,

ph 0800 003 181

or 027 2407416

FENCE PAINTING

Staining Quality at a

reasonable price. Free

quotes. Phone Warren

today on 980-1676 or 027

2014713

FENCING

Quality timber fencing -

gates & repairs, ph Ryan

027 951 8892

junk

Why go to the Dump?

Junkman comes to you!

Items too big for the

rubbish bin?

Or too heavy for you

to move?

Junkman comes

to you & takes

it away

Trades & Services

FROM $

65 *

*Prices vary depending on items and volume – minimum charge $65

0800 586 5626

www.junkman.co.nz

office@junkman.co.nz

Landscaping

landscape design & build

• Eco-sourcing specialist nursery

• Landscape design & build

• Eco-restoration services

• Maintenance services

Trades & Services

Fencing

Boundary, Executive,

Modular

All types of residential

fencing and gates

Defender Products

Ph 0800 63 80 80

www.defenderproducts.co.nz

Trades & Services

Bellamy's

Furniture

Furniture made to

order and restoration

by tradesman with

35yrs experience.

PH Stephen

021 073 2624

Phone Mike: 027 272 8058 OR 03 324 4323 A/H

g.m.contracting@xtra.co.nz www.gmcontracting.co.nz

Call us today

03 359 2458

www.waioralandscapes.co.nz

Trades & Services

Garage Doors

Insulated garage doors with

our unique fully weather

sealed system. Ask your

builder for a Defender garage

door; your first defence

against the elements.

Defender Products

Ph 0800 63 80 80

www.defenderproducts.co.nz

Trades & Services

LANDSCAPING

Paving, Lawns, Irrigation,

Decking, Fencing.

Kanga & small digger

services. Check out Squire

Landscaping on facebook.

FREE QUOTES. Ph

Arthur 347-8796, 027

220-7014 Edwin 027 220-

7154

• Irrigation • Drainage • Driveways • Auger Hole Drilling • Land Clearing & Development

• Culvert Installation • Construction Site Works • Tree & Hedge Removal • Concrete Breaker
---
34

Tuesday December 20 2016

SELWYN TIMES

Classifieds Contact us today Phone our local team 03 379 1100

Trades & Services

MASONRY

DAMAGED

MASONRY?? Rock and

Blocks Work Ltd for all

your brick, block and tile

laying needs. Friendly

service Licensed Building

Practitioner phone Devon

on 021 375-888 or 03 329-

5511

PAINTER

Qualified Tradesman,

experienced & reliable,

Mike Le Lievre, free

quotes, ph 03 317 8222 or

027 420 6125

TILING

Quality jobs done on time.

All aspects of tiling. Reg

Master Tiler. Ph Dave 027

334 4125

TREES BIG OR SMALL

tree removal, trimming,

stump grinding, shelterbelt

clean up, section clearing,

rubbish removals,

excavation work, ph Trees

Big or Small, for a free

quote, 021 061 4783

T.V. SERVICE CENTRE

Repairs, tvs, microwaves,

stereos, DVD. Aerial

installations and kitsets,

480 Moorhouse Ave, ph 03

379 1400

Situations Vacant

HEAVY TRAFFIC

LICENCE COURSE

INTEREST FREE TIME PAYMENT

(conditions apply)

FROM FULL CAR (Class 1)

TO FULL TRUCK (Class 2)

(Road code & pre-assessment driving training provided)

MONTHLY, EVENING DG COURSES

Courses in Christchurch, Invercargill,

Cromwell & Mosgiel daily.

Other areas by arrangement

OTHER COURSES/LICENCE

ENDORSEMENTS AVAILABLE ARE:

Class 3, 4 & 5, Passenger, Vehicle Recovery,

Wheels, Tracks, Rollers, Dangerous Goods,

Forklift, OSH & F

Driving Related Health & Safety Training

DRIVETECH LTD

FREEPHONE 0508 2 DRIVE (37483) OR 03 348 8481

info@drivetech.co.nz | www.drivetech.co.nz

STOREMAN/FORKLIFT

OPERATOR

Leeston Seeds Ltd is seeking a fulltime

experienced Storeman/Forklift Operator for

its seed cleaning and treatment operation in

Leeston.

Requirements for the role include:

• Forklift licence with F endorsement

• Able to work extended hours plus

weekend work

• Be accurate recording details and some

warehouse knowledge

• Be proactive with a can do attitude

• Committed attitude towards health and

safety and have good hygiene practices

• Able to work in a team environment and

take a mature approach

• Ability to learn and operate dressing and

treating machines

• Lifting is required so must be physically

fit and healthy

Wanted To Rent

Hay Shed required to

rent in the Weedons,

Kirwee, Aylesbury

areas.

Ph 03 347 8071 or 027 844 5858

Public Notices

MERRY CHRISTMAS

AND A HAPPY

NEW YEAR TO ALL

OPEN 7 DAYS

Phone 349 5952

Cnr Springs Rd & Marshs Rd,

Prebbleton

(next to Milanese Restaurant)

Situations Vacant

Public Notices

SALE AND SUPPLY OF

ALCOHOL ACT 2012

SECTION 101

Michael David Brown (Owner/

Director, 81 Lower Camside

Road, Kaiapoi) has made

application to the District

Licensing Committee at Selwyn

for the renewal of a Off Licence

in respect of the premises

situated at 45c South Terrace,

Darfield known as Thirsty

Liquor Darfield.

The general nature of the

business conducted under the

licence: Bottle Store.

The days on which and the

hours during which alcohol is

sold under the licence are:

Monday-Sunday 9am-9pm.

The application may be

inspected during ordinary

office hours at the office of

the Selwyn District Licensing

Committee at C/- Food and

Health Standards (2006)

Ltd 140 Wordsworth Street,

Sydenham, Christchurch.

Any person who is entitled

to object and who wishes

to object to the grant of the

application may, not later than

15 working days after the

date of the first publication

of this notice, file a notice in

writing of the objection with

The Secretary, Selwyn District

Licensing Committee, C/- Food

and Health Standards (2006)

Ltd, PO Box 7469, Christchurch

8240.

No objection to the renewal

of a licence may be made in

relation to a matter other than

a matter specified in section

131 of the Sale and Supply of

Alcohol Act 2012.

This is the second publication

of this notice. This notice

was first published on 13th

December, 2016.

Public Notices

NEW ZEALAND GEOGRAPHIC BOARD

NGĀ POU TAUNAHA O AOTEAROA

Public Notices

Notice of the Final Determinations of the

Minister for Land Information on Official

Geographic Names

Pursuant to sections 20(2) and 20(3) of the New Zealand Geographic Board (Ngā

Pou Taunaha o Aotearoa) Act 2008, the Minister for Land Information made final

determinations on 29 November 2016 to alter the existing geographic names listed

below, which took effect on 15 December 2016, being their date of publication in the

New Zealand Gazette.

For further information see: http://www.linz.govt.nz/regulatory/place-names/recentplace-name-decisions-and-place-names-interest/

Schedule

Canterbury Land District

Kānuka Hills Hills A group of hills approximately 3.5 km long trending north-south

bounded by Camp Stream to the north and Esk River to the

south. Approximately 15 km northeast of Waimakariri River in

the foothills of Southern Alps / Kā Tiritiri o te Moana. NZTopo50-

BV22 207422 to 215394 (heights 1110m to 914m). Alteration of

name and extent from Nigger Hill (recorded name).

Pūkio Stream Stream A stream flowing south from Mount Turnbull on The Candlesticks

(range) to Esk River, through Lochinvar Forest Conservation

Area. Approximately 15km northeast of Waimakariri River in the

foothills of Southern Alps / Kā Tiritiri o te Moana. NZTopo50-

BV22 221542 (source) to 228384 (confluence). Alteration from

Nigger Stream (recorded name).

Tawhai Hill Hill A 1395m hill rising above the northern shores of Lake Sumner

within Lake Sumner Forest Park, in the foothills of Southern Alps

/ Kā Tiritiri o te Moana. NZTopo50-BU22 349757. Alteration from

Niggerhead (recorded name).

Situations Vacant

Public Notices

Merry

Christmas

to all

Leeston Seeds Ltd is an alcohol

and drug free workplace.

Please send your CV to Leeston Seeds Ltd, 8

Station Street, Leeston 7632

or e-mail to leestonseeds@xtra.co.nz
---
SELWYN TIMES Tuesday December 20 2016 35

1st XI Boys

Football 2016 2015

First XV Rugby

The 2016 season was one of highs

and lows for the Lincoln 1st XV. On

the negative side, they had their

worst season in terms of results

with only one win and a draw. On

the positive side, the team had

fantastic community support, grew

in strength and determination

throughout the season and they were

also featured on Sky Sports 1st XV

rugby programme playing Ashburton

College.

The season didn't get off to the

best of starts, with only eight of the

expected dozen players from 2015

available to be selected. Most had

left school but there were also long

term injuries. To make matters worse,

during the pre-season campaign

there was a season ending injury and

some shorter but very troublesome

injuries meaning, that the team didn't

hit the start of the UC Championship

as well prepared as everyone hoped

for. In fact it was well into the season

before all the players returning from

the 2015 season actually made it on

to the paddock in the same game.

Despite this, the team worked hard

to improve their skills throughout the

season and they played with courage

and determination against some

much bigger sides. Every team they

played, discovered that the score

didn't reflect the physicality of the

game.

The 1st XV had 6 players selected for

the Ellesmere Under 18 side. They

also had 3 selected for Country

Under 18s and 3 were loan players

for the Mid Canterbury Under 18

team. 1 player was selected for both

the Ellesmere and Country Under 16

sides.

MVP for 2016 was Brett Gillan for the

determined way in which he played

every game. Regan Kay was the

most promising player and finally

Duncan Finlayson received the cup

for Contribution to the 1st XV for the

way in which he organised the team

both on and off the field.

The team would sincerely like to

thank all their sponsors for this

season, especially Challenge Lincoln,

Wood'n'Tree, Canon Hygiene,

Placemakers Hornby and Pak'nSave

Moorhouse Ave. Without your

support the season would have been

much harder. Thanks also to all our

families and individual sponsors.

Duncan Finlayson, Brett Gillan and Regan Kay at prizegiving

Bailey Clark

Sponsored by:

Senior A

Netball 2015

Sam Bright

Sponsored by:

Corey McKay

Josh Davidson

Bradley Morgan

Duncan Finlayson

Sponsored by:

Sponsored by:

Sponsored by:

Sponsored by:

2015

Senior A

Netball 2015

Jones Road, PO Box 34, Rolleston

Finash

Bloodstock

Tamati Thompson

Sam Robinson

Reuben Edy

Regan Kay

Sponsored by:

Sponsored by:

Sponsored by:

Sponsored by:

Main South Rd, Chch. Ph: 349 7288.

www.thehubhornby.co.nz

On the Level

BUILDERS

Registered Master Builders

Ph: 027 449 6689

12a Gerald St, Lincoln.

Ph: 325 2052

Temujin

Holdings Ltd

PROPERTY DEVELOPMENT AND

BUILDING CONSTRUCTION

Shaun Hydes

Travis Egerton

SJ Agafili

David Jackson

2015

Sponsored by:

Sponsored by:

ADVANCED

MOTOR

COMPANY

Sponsored by:

AUTOELECTRIX

Senior A

Netball 2015

ROLLESTON LTD

545 East Maddisons Rd.

Ph: 347 3332

Sponsored by:

Konor Chamberlain

Jackson Brown

Hayden Vallance

Josh Stuart

Sponsored by:

FRANKLIN

SYKES

BUILDING

Sponsored by:

Asphalt

Contractors Senior A

Netball Ltd 2015

Ph: 0274 760 937

or 0800 112 524

Sponsored by:

Sponsored by:

Frank's Brothers

Gym

SELWYN

805 Jones Rd, Rolleston.

Ph: 0800 267 724

www.franksbrothers.co.nz

Brett Gillan

Ben Kahu

Simon Lancaster

Logan Crofts

Sponsored by:

Team

Bookkeeping Senior A

Netball 2015

Tax, Payroll, Software Support,

New Business, Office Management.

www.teambookkeeping.co.nz

Sponsored by:

Sponsored by:

Factory: 2/16 Newtown St,

Bromley, Christchurch.

Ph: 027 433 1196

Sponsored by:

www.carpetcourt.co.nz
---
36

Tuesday December 20 2016

SELWYN TIMES

Check out our weekly updates on

facebook
---
SelwynTimes

Week commencing Tuesday, 20TH decemBeR, 2016

www.flemington.co.nz

OFTEN SOUGHT, SELDOM FOUND

These properties are being marketed

individually but due to the fact the

property is currently being run as one,

the option does exist to purchase the two

properties together if you are looking for

more scope and a larger land holding.

• 8ha (sub-dividable) bare land block

currently set up as a harness racing

training facility

• 4 ha block with fully renovated 285m2,

4 bedroom bungalow

See inside for further information.

Property ID: ROL53325

Price by Negotiation

Chris Moore

Contact:

Mobile: 027 288 0563

Email: chris.moore@propertybrokers.co.nz

www.chrismoorerealestate.co.nz

Address: Berketts Road, Weedons

Viewing by negotiations.

Ange brought her favourite

orange lights to us.

So we worked with her to build a

colour palette around them.

Start your own story

03 348 1994 | www.peterrayhomes.co.nz
---
2

REAL ESTATE SPECIALISTS

177 Davidsons Road, Lincoln

ONE MORE LISTED!

Taunton Gardens

Historic and Iconic!

Forget all previous pricing. Due to a change

in circumstances and the next season now

approaching faster than anticipated, motivation

to sell this piece of Canterbury history is at an

all-time high! Lot 1 consists of 2.59ha (approx.)

inclusive of all buildings. Price $1,900, 000 (plus

GST if any). Or build your dream home on Lot

2 the adjoining 5ha bare land. Price negotiable

from $550,000 (plus GST if any). Land areas

are subject to final survey. Our instructions

are clear, make no mistake, this property must

now be sold! Contact Mike Goatley for further

information on how this stunning property could

be yours.

By NEgOTIaTION

By NEgOTIaTION

Lifestyle Living in Lincoln!

This lovely lifestyle property offers an excellent opportunity to anyone wanting to escape the

city, but still be within commuting distance to amenities. Beautifully presented this three double

bedroom home offers comfortable living in a serene setting. Neutral décor throughout means

you can move straight in and personalise to suit. Ranchsliders from the living area open up to a

fantastic landscaped entertaining area. Situated on a fantastic 14688sqm block, this property has

2 road entrances, 2 paddocks plus a separate double garage. Don't delay – properties like this are

few and far between – contact Mike now for your opportunity to view.

56 Watsons Road, Leeston Enchanting Middlerigg

Country Estate

Resplendently positioned on a sizeable 5.028

ha section, this gracious home of incomparable

beauty exudes timeless appeal, and over

the years, has been skilfully updated and

lovingly enhanced to retain every ounce of its

traditional elegance and reflect the enduring

charm of yesteryear while offering modern

living convenience. Five bedrooms plus a study

provide plenty of accommodation options, along

with two elegant bathrooms, and an array of

separate formal and informal living areas. Rich

in character and encompassed by a supreme

country setting, this property offers unparalleled

lifestyle living. Located within 20 minutes

commute time from Rolleston, 5 minutes from

Leeston, schooling and conveniences, providing

By NEgOTIaTION

an enviable offering with broad appeal for many

buyers. Contact Mike for more information.

FROM

Thanks you for your support in 2016. We appreciate that.

Wishing you all a restful break and an awesome New Year!

From Mike & team at One Agency Real Estate Specialists

Mike Goatley

027 249 5561

Chris Finnerty

021 274 6041

Trevor McIvor

027 444 2814

Nicola Curtis

Administrator

Julz Sibbe

Administrator

68 Rolleston Drive, Rolleston

0800 645 346

www.oneagencyres.co.nz

Licensed Agent REAA 2008
---
3

RURAL | LIFESTYLE | RESIDENTIAL

Licenced under REAA 2008

Space To Enjoy With Potential Plus

Greendale

´Ambervale´ Offering Options

West Melton

This well-presented larger lifestyle property offers

options galore on 10.1350 hectares. The home has

large open-plan living with a separate family snug,

three bedrooms, family bathroom, en suite, walk-in

robe, laundry and extra toilet. Excellent outdoor

living and entertaining with garaging adjacent to

the home along with a three-bay shed with a sleepout

attached. There are seven fenced paddocks

and the vendors have been rearing calves for sale.

A simply excellent lifestyle property and the

location allows for an easy commute into the city

and the international airport.

www.pggwre.co.nz ID: DAR25073

$835,000

Plus GST (if any)

OPEN HOME Sunday 1.00-1.30pm

Min Cookson

B 03 341 4301

M 027 249 5417

Lifestyle property of 4ha with a permanent material

homestead set back from the road and set in a

mature garden setting. It is offering open-plan

kitchen/dining/family living with a separate formal

lounge, three bedrooms, master with en suite and

an office. Out in the yard area is a three-bay (one

bay lock-up) shed with power, a small cool store,

chook house and seven tunnel houses. The

property has its own well with a consent to irrigate

to 2033. A great opportunity here to grow a crop

of your choice and very close to Christchurch city

and the international airport.

www.pggwre.co.nz ID: DAR24714

$925,000

Plus GST (if any)

Min Cookson

B 03 341 4301

M 027 249 5417

Athol Earl

Sales Manager/Auctioneer

M 027 437 6298

Peter Crean

M 027 434 4002

Min Cookson

M 027 249 5417

Sam Davidson

M 027 488 8269

Karen Hennessy

M 027 967 0186

Wilton Atkins

M 027 606 0660

Peter McCorkindale

M 027 594 5190

John Hughes

M 021 455 488

PGG Wrightson Real Estate Ltd, Real Estate Agent, REAA 2008
---
4

Hastings McLeod Limited Licensed under the Real Estate Agents Act 2008 rolleston@propertybrokers.co.nz 03 929 0306

BARE BLOCK ON CLINTONS

BY NEGOTIATION

WEB ID ROU52181

DARFIELD

1682 Clintons Road

An incredible opportunity has arisen to purchase a 2

hectare, bare block of land on the ever-popular, Clintons

Road. Private, rear section with mountain views.

Build your dream home and reap the benefits of owning

a lifestyle block, without sacrificing proximity to

township, town water supply, and rubbish collection.

Ideally situated between Bangor Road and Mulholland

Drive.

Viewing is a must! Interested parties advised to act

quickly. Call today to arrange a time.

VIEW By Appointment

SEE MORE ON SEYMOUR

BY NEGOTIATION

WEB ID ROU53032

HORNBY

5 Seymour Street

This 3 bedroom, fully renovated 1900's home is filled

with character. Extensive works have already been

completed, meaning you can move right in and reap the

benefits. New paint inside and out, light fittings, drapes,

carpets and flooring, even sliders off the living and

dining, out onto your covered outdoor deck area. There

is too much to list! Fully fenced, private section with a

secure carport, OSP and garden shed, established

gardens and landscaping.

VIEW By Appointment

3

Lucinda Ebbett

Mobile 027 364 7958

Office 03 929 0306

lucinda@propertybrokers.co.nz

BIG IS GOOD! BUYERS $420,000+

WEB ID ROU52858

LEESTON

35 Leeston Lake Road

For those wanting space to spread out both inside and

out here is a fantastic opportunity to purchase a large

family home on an enormous section. Just check out

these super-sized features:

• 4 bedrooms and large sunroom, office or 5th bedroom

• HUGE 1454m2 section

• Spacious open plan living areas

• New carpet throughout

• Tiled entrance and bathroom

• Gas hot water

• Heat pump, panel heaters, HRV system

• Large and sunny outdoor deck

• Established gardens and vegetable patch

• Playground area with super solid fort

• Modern versatile double garage

5

VIEW By Appointment

PERMANENT RETREAT

Lucinda Ebbett

Mobile 027 364 7958

Office 03 929 0306

lucinda@propertybrokers.co.nz

BY NEGOTIATION

WEB ID ROL52703

LITTLE RIVER

308 Reynolds Valley Road

Set in the Okuti Valley amongst 3 acres of gorgeous

botanic gardens, stream ways and walking tracks this

enchanting 8ha property will tug at the heartstrings and

take you to another world. The recently renovated,

spacious 3 bedroom home is perfectly positioned for

maximum sun and stunning views. Double-glazing,

bathroom, carpet, tiling, painting, huge log burner and

outdoor decking. There is also a self-contained cottage,

2 bay shed and large dog run. An original woolshed and

accompanying stockyards add to the charm of the

property along with 5 paddocks of varying sizes and

contours.

VIEW By Appointment

1

1

3

Sarah Yeates

Mobile 027 447 2719

Office 03 929 0306

sarahy@propertybrokers.co.nz

NO EXPENSE SPARED! BUYERS $539,000+

WEB ID ROU52823

ROLLESTON

21 Fernham Way

Cleverly designed to exacting standards and perfectly

positioned on its private 545m2 rear section, those

looking for the right mix of comfort, style and easy-living

will find it right here.

• Quality 178m2 home with extra-height ceilings

• Open plan with 2 cosy living areas

• Designer kitchen, stone benchtops and walk in pantry

• Fully-tiled showers, Italian tapware & luxury

freestanding bath

• Gas Real Fire, heat pump & solar ready

• Secure, fully-fenced & alarmed

VIEW By Appointment

1

2

Sarah Yeates

Mobile 027 447 2719

Office 03 929 0306

sarahy@propertybrokers.co.nz

THIS IS THE ONE.... $1,150,000

WEB ID ROL51876

WEST MELTON

2/197 Lawford road

This quality 5 year old, 302m2 home on Lawford Road,

West Melton, offers a fantastic opportunity for those

looking for a quality lifestyle property in a highly sought

after location.

• Open plan kitchen/dining with large bi-fold doors

• Dbl sided wood burner and heatpump

• Master with WIR and ensuite

• BBQ area complete with outdoor fire

• 3 car garaging and fully self-contained 1 bedroom

granny flat

• 4ha of land, 3 bay implement shed and multiple

smaller sheds

VIEW By Appointment

1

2

4

5

Sarah Yeates

Mobile 027 447 2719

Office 03 929 0306

sarahy@propertybrokers.co.nz

2

2

Chris Moore

Mobile 027 288 0563

Office 03 929 0306

chris.moore@propertybrokers.co.nz

3

3

IN NEED OF SPACE???

BY NEGOTIATION

WEB ID ROU52695

WEST MELTON

32 Shepherd Ave

Thinking rural living, but not ready to leave the comforts

of town behind? – then look no further.

• 231m2 home on huge 3106m2 section

• Open plan kitchen/dining/living

• Master with ensuite and WIR

• Separate living with gas fire

• Double glazing, heat pump, full insulation

• Rural outlook and quality views

VIEW By Appointment

4

Chris Moore

Mobile 027 288 0563

Office 03 929 0306

chris.moore@propertybrokers.co.nz

2

2

www.propertybrokers.co.nz
---
5

LIFESTYLE

Hastings McLeod Limited Licensed under the Real Estate Agents Act 2008 rolleston@propertybrokers.co.nz 03 929 0306

CHARACTER CHARM, MODERN QUALITY

WEEDONS

88 Berketts Road

A real feel of country charm! Set upon 4ha, fenced into

9 horse proof paddocks, this delightful property offers

all of the benefits of modern living whilst retaining all of

the character of its era.

Completely renovated internally and externally in 2007,

this does provide a unique opportunity. The home is

beautifully set up for large families; the open plan

dining/living space is complete with a modern kitchen

and offers a quality family space.

The separate lounge complete with gas fire offers both

privacy and a fantastic entertainment area.

Large master bedroom includes ensuite and walk in robe

and 3 additional good sized bedrooms plus an office

allow room for families of all sizes.

4 heatpumps, a gas fire plus a log burner, full insulation

and double glazing throughout means that this will be a

warm dry and comfortable home all year round.

The additional 2 bedroom, 130m2 self contained flat is

an added bonus.

VIEW By Appointment

WEB ID ROL53325

Chris Moore

Mobile 027 288 0563

Office 03 929 0306

chris.moore@propertybrokers.co.nz

BY NEGOTIATION

4

2

5

OFTEN SOUGHT, SELDOM FOUND

WEEDONS

58 Berketts Road

Here we present a rare opportunity to purchase an 8ha

bare land block complete with excellent equine facilities.

This property bisects State Highway 1, & a private lane

off Berketts Road, offering fantastic exposure, but

complete with private, quiet building sites.

Currently set up as a harness racing training facility, this

property is complete with a modern, 390m2, 12 horse

stable complex, a Magnum 6 horse walker & a 750

metre grit fast work track. Fenced into 12 horse safe

paddocks, a 3 bay hay/implement shed & a set of cattle

yards complete the facilities.

Current zoning rules do allow for future subdivision of

this block providing the opportunity to either purchase &

enjoy the facilities or capitalise on this subdivision

potential yourself.

Whilst available for sale individually, the option does

exist to purchase the neighbouring 4ha property (see

listing ROL53325) together for someone seeking an

existing dwelling & looking for more scope.

VIEW By Appointment

WEB ID ROL53329

Chris Moore

Mobile 027 288 0563

Office 03 929 0306

chris.moore@propertybrokers.co.nz

BY NEGOTIATION

www.propertybrokers.co.nz
---
6

Reduced

Rolleston 43 Beaumont Drive

4 A 2 C 2 F 3 I

Rolleston 67 Brookside Road

4 A 1 C 2 F 2 I

3 car garaging & a family size floorplan

Motivated & Already On The Move!

Designed with modern living in mind, this 251m2 home offers

fabulous internal accommodation, much sought after drivethru

triple car garaging & an easy care 690m2 section.

Enjoying two sun filled flowing living areas that extend out on

to three separate patio areas, this home has the perfect spot

in which to relax any time of the day whether it be inside or

out. More than just an efficient work space, the crisp white

kitchen with its granite bench top, 90cms oven & walk in

scullery is a show piece & centre for entertaining. 4

generously proportioned bedrooms, a beautiful bathroom &

luxurious ensuite with double tiled shower. To top things off,

2 heat pumps & a log burner provide year round comfort.

For Sale

Offers over $629,000

View Call to view over the holiday period

www.rwrolleston.co.nz/RLL22687

Sarah Booth

027 527 8258

sarah.booth@raywhite.com

Brendan 'Big Red' Shefford

027 224 4733

Rolleston Office 03 347 9988

Town & Lifestyle Real Estate Ltd

LICENSED (REAA 2008)

Our vendors of this much loved family home are on the move,

so if you want to be in before Christmas this newly reduced

property could be for you! From the tiled entryway you are

lead into the spacious open plan living area, you also have

the added bonus of a Woodsman log fire, HRV system & a

heat pump. Two sets of French doors open out to a patio, a

large deck & established low maintenance garden. A well

organised kitchen offers plenty of storage & bench space.

There are 2 double bedrooms & a spacious master

containing an ensuite & WIR. The sizable second bedroom

also has direct access to the main bathroom, while the 4th

single bedroom could also work well as a play room or study.

For Sale

Offers over $469,000

View Call to view over the holiday period

www.rwrolleston.co.nz/RLL22622

Emma George

027 555 0568

emma.george@raywhite.com

Dwayne Bloomfield

021 163 9874

dwayne.bloomfield@raywhite.com

Rolleston Office 03 347 9988

Town & Lifestyle Real Estate Ltd

LICENSED (REAA 2008)

Rolleston 31 Sheridan Drive

MAIN HOME 260m2 - Built in 2008 (approx)

• 4 great sized bedrooms + home office.

• Open plan living/dining/kitchen area + large formal lounge.

• 3 car garaging, separate laundry with built in storage room.

• Ducted heat pump system (on 2 units), surround sound

throughout, automated irrigation, undertile heating, central

vacuum system & security system.

COTTAGE 82m2 - Built in 2013

• Large master bedroom and single bedroom.

• Open plan living with a heat pump.

• Mono-pitch roof, laundry, surround sound and gas

connection to the side of the house.

All of this positioned on a 2658m2 section - call now!

For Sale

6 A 1 D 3 F 3 I

$965,000

View Call to view over the holiday period

www.rwrolleston.co.nz/RLL22616

Leisa Webster

027 722 5537

leisa.webster@raywhite.com

Rolleston Office 03 347 9988

Town & Lifestyle Real Estate Ltd

LICENSED (REAA 2008)

Rolleston 3 Vasari Grange

See it, Love it, Buy it!

Finally, a home that ticks all the boxes! Have you been

spending your weekends searching for a home that not only

offers the space you crave, but an ideal location, and all the

modern conveniences of a new home? Look no further.

Offering four bedrooms, two bathrooms, spacious living and

a wonderfully sunny, fully secure section of 777sqm - this one

has it all. Year round comfort is assured by the heat pump,

log burner, heat transfer system and double glazing - but if

you do venture out, you will find the Rolleston shops,

community and early childhood centres all within easy

walking distance. Recently re-carpeted and beautifully

presented for sale - this home is ready for you to view!

For Sale

4 A 2 F 2 I

Offers over $529,000

View Call to view over the holiday period

www.rwrolleston.co.nz/RLL22684

Melanie Elliott

027 635 2643

melanie.elliott@raywhite.com

Rolleston Office 03 347 9988

Town & Lifestyle Real Estate Ltd

LICENSED (REAA 2008)

rwrolleston.co.nz
---
7

New Listing

Family Flat

Rolleston 26 Blue Jean Avenue

Set your scene on Blue Jean!

This contemporary, near-new 4 bedroom home is ready for the taking. With a stylish monochromatic theme

throughout, bring your personal touch & your family to this diverse space. Boasting four bedrooms, a rumpus (with

hidden wall bed) room & an annex attached for guest or relatives, this home has it all. The annex is self-contained with

open plan kitchen & lounge, adjoining bedroom & ensuite. The main home is an entertainers dream - offset pantry from

the trendy black & white kitchen. 'Fisher & Paykel' & 'Studio Solari' appliances, with a well-designed lighting system

throughout. Double glazing, sensor lights for eco-efficiency & USB charge points throughout the property making it

easy to stay on the go. It's an entertainers dream stepping into the courtyard - black & white pavers adding an artistic

feel to the area & an alluring spot under the shade sails for those hot days and long nights upon us this summer.

Pick up the phone now - so you can view this stylish home!

For Sale

6 A 2 C 3 F 2 I

Offers over $775,000

View Wednesday 21 Dec 6.00pm - 6.30pm

Call to view over the holiday period

www.rwrolleston.co.nz/RLL22691

Brendan 'Big Red' Shefford

027 224 4733

brendan.shefford@raywhite.com

Sarah Booth

027 527 8258

sarah.booth@raywhite.com

Rolleston Office 03 347 9988

Town & Lifestyle Real Estate Ltd

LICENSED (REAA 2008)

Rolleston 4 Peel Close

Want garaging without a higher price tag?....

You're sure to get excited about this home if fabulous garaging, secure off street parking & a spacious home are what

you are after! The over sized triple car garaging will house your prized car collection, whilst the boat or caravan can be

safely parked behind closed gates. Entering the property, you will appreciate the internal size of the home which, at

around 238m2, offers generous open plan living with a kitchen that the chef in the family will love, a large formal lounge,

a huge master bedroom with ensuite & WIR, together with 3 further bedrooms, a family bathroom + separate laundry.

Situated on a 795m2 section in a cul-de-sac location & within easy walking distance to local amenities, this has got to

be great buying at this price level.

For Sale

4 A 2 F 3 I

Offers over $549,000

View Call to view over the holiday period

www.rwrolleston.co.nz/RLL22681

rwrolleston.co.nzRLL22681

Brendan 'Big Red' Shefford

027 224 4733

brendan.shefford@raywhite.com

Sarah Booth

027 527 8258

sarah.booth@raywhite.com

Rolleston 03 347 9988

Town & Lifestyle Real Estate Ltd

LICENSED (REAA 2008)

rwrolleston.co.nz
---
8

Rolleston 39 Tiny Hill Drive

4 A 2 C 2 F 2 I

Rolleston 10B Masefield Drive

3 A 1 F 2 I

This home is an absolute winner for any discerning buyer,

with trendy decor, modern interior styling & a fantastic layout.

Stepping inside, a gorgeous custom wood kitchen is the

heart of the home & overlooks the main living & dining areas.

A separate lounge complements this space, & provides

another stacker door out to the rear garden & patio area.

Buyers of all ages will appreciate the 755sqm section, with

room for a game of backyard rugby or adding your own

touches to the landscaping. With 4 well proportioned

bedrooms, 2 lovely bathrooms, including the stunning tiled

ensuite, plus a separate laundry, the practicalities of everyday

life are covered. This home will be the perfect start for 2017,

so be sure to call now to view!

For Sale

$630,000

View Call to view over the holiday period

www.rwrolleston.co.nz/RLL22680

Leesa Barrie

027 947 1200

leesa.barrie@raywhite.com

Brendan 'Big Red' Shefford

027 224 4733

Rolleston Office 03 347 9988

Town & Lifestyle Real Estate Ltd

LICENSED (REAA 2008)

Privacy and Tranquility!

This immaculate 3 bedroom home is sited on a pristine

531m2 section which benefits from easy care gardens that

have been lovingly maintained. The home itself offers an

open plan kitchen/living/dining room that opens out to the

outdoor patio and entertaining area. The bathroom and

separate toilet are fresh and crisp while a separate laundry

benefits from extra storage. Behind the double internal

access double garage is a utility area where you will find the

clothesline, garden shed and an extra covered area which is

ideal to use as a hot house. Located close to the shops,

cafes and school, yet offering privacy and tranquility, this

home is sure to be a winner, so don't delay, view today!

For Sale

Offers over $459,000

View Call to view over the holiday period

www.rwrolleston.co.nz/RLL22685

Amanda Cherry

0272 244 733

amanda.cherry@raywhite.com

Brendan 'Big Red' Shefford

027 224 4733

Rolleston Office 03 347 9988

Town & Lifestyle Real Estate Ltd

LICENSED (REAA 2008)

Rolleston 48B Lewis Crescent

Your new family home awaits

Instantly appealing with its classical linea cladding, this 4

bedroom home has fabulous living spaces, spacious

bedrooms, a tiled ensuite, child & pet friendly section & lots

more! The kitchen is crisp, with a pop of colour & plenty of

bench space, whilst the living areas flow seamlessly into each

other. The sunny outdoor patio provides the perfect place to

sit back & relax. Here, you can also watch the little ones play

in the fully fenced 692sqm section. With double glazing, a

heat pump & DVS system, you will be comfortable all year

round. Add to this a fabulous price tag & you have the perfect

family home. Our vendors of this much loved home are on the

move, so its time to make it yours!

For Sale

4 A 2 C 2 F 2 I

Offers over $539,000

View Call to view over the holiday period

www.rwrolleston.co.nz/RLL22669

Leesa Barrie

027 947 1200

leesa.barrie@raywhite.com

Brendan 'Big Red' Shefford

027 224 4733

Rolleston Office 03 347 9988

Town & Lifestyle Real Estate Ltd

LICENSED (REAA 2008)

Rolleston 32 Riverstone Drive

This beautifully designed 269m2 home captures all day sun &

has a layout that has taken modern day living needs on

board. It is well positioned to take full advantage of its

fabulous indoor/outdoor flow to the covered outdoor

entertaining area and garden. Centrally located, the expertly

planned kitchen certainly has the 'wow' factor with its

extensive work tops, impressive cupboard space, 90cms

oven & walk in pantry with sink. There are many sought after

features you'll appreciate, which include superior tiled

bathrooms, a separate laundry, 4 fabulously proportioned

bedrooms, feature skylights, a log burner & two heat pumps

for year round comfort and hugely desirable 3 car garaging

with drive-thru. Don't wait too long - call now to view!

For Sale

4 A 2 F 3 I

Offers over $749,000

View Call to view over the holiday period

www.rwrolleston.co.nz/RLL22596

Sarah Booth

027 527 8258

sarah.booth@raywhite.com

Brendan 'Big Red' Shefford

027 224 4733

Rolleston Office 03 347 9988

Town & Lifestyle Real Estate Ltd

LICENSED (REAA 2008)

rwrolleston.co.nz
---
9
---
10

For Sale

OPEN HOME

Lincoln

83 Heathridge Place

734m 2

Price

Offers over $629,000

Contact

Tracy Stevenson 027 543 9029

Darfield

16 Piako Drive

5,005m 2

Price

$724,000 including GST

Contact

Kerin Pitkethley

027 698 7453

Open Homes Sunday 18 December, Wednesday 28 December, Sunday 8 January and 15

January 2.30 to 3.00pm. Three bedrooms, master with en suite. Open-plan living with modern kitchen,

great outdoor living spaces. Wider than normal hall and doorways for ease of access. Four car garaging

plus workshop. Close to local schools and shops. | Property ID LN1480

Big Is Beautiful. Four bedrooms, two living, two bathrooms plus shower room. Fully double glazed,

with log fire on wet back, heat transfer unit and under-floor heating in living, kitchen and bathrooms.

Covered verandah, internal access double garage, large vegetable garden and greenhouse. EQC repairs

have been completed. Close to local schools and shops, easy city commute. | Property ID DA1717

Loburn

62 Yaxleys Road

4.6 Hectares

Price

$675,000 plus GST (if any)

MERRY

Contact

Ron Ferguson 027 498 6256

Impressive Lifestyle. Established, exceptionally well maintained property. Three/four double bedroom

brick home, en suite, second bathroom, open-plan living/dining, new carpet, rumpus/storage room, log

fire with wet back. North-facing to capture all-day sun and set in stunning setting with sweeping lawns

and orchard. Easy Rangiora or Christchurch commute. | Property ID RA1731

TO ALL OUR VALUED CLIENTS

WISHING YOU A SAFE AND HAPPY TIME OVER THE FESTIVE SEASON AND

WE LOOK FORWARD TO BEING OF ASSISTANCE TO YOU ALL IN 2017.

Licensed under REAA 2008

New Stage Now Open

Home sites from 480m 2 - 705m 2

Priced from $175,000

First National Real Estate

Sue Mullins Barry O'Neill

021 244 1325 021 364 422

Visit Us Onsite Cnr Birches Rd & Craig Thompson Dr, Lincoln, 7 days Noon - 4pm

Progressive

www.flemington.co.nz
---
11

Your guide to Show Homes & New Sections

Marketing your property – what does it mean?

Marketing a property is more than presentation and advertising.

in the Selwyn District

Conceptually, marketing is

identifying what prospective buyers

are looking for then providing this. For

example, larger homes and sections

may appeal more to families. Young

couples starting out, generally have

tight budgets leading them to smaller

properties, while older people may be

looking to downsize.

Brand new has a particular appeal

however there will always be a market

for established homes. Having a

picture in your mind of the type of

buyer will help in determining the

features to emphasise.

If repairs and maintenance need

to be carried out before putting the

property on the market, seek the

advice of a real estate agent. They

can advise on what tasks are worth

completing and what might be

unnecessary expense.

Installing a new kitchen or changing

the carpet may lift the house but will

the expense be recouped in the sale

price? On the other hand, modernising

an outdated kitchen or bathroom

could make a huge difference to

the look of the place. Avoid going

overboard unless the capital value of

properties in the area justifies this.

Real estate agents are in contact with

prospective buyers so aware of what

they are looking for. Draw on their

expertise and advice to help make the

most of the selling opportunity.

Establishing a relevant and fair price

for a property is important. Most

agents calculate this based on the price

properties in the area have sold for,

and what a particular property has to

offer. A unique or exceptional property

may justify a higher price, though

run-down properties can gain more

than they appear to merit. This might

be due to the area or other factors that

suggest a good investment.

When promoting a property, mix it

up and be creative so your property

stands out from the rest. TradeMe

is a must; checked by most people

looking to buy. Present the features the

property offers as benefits to potential

buyers.

Erect a sign outside the property.

People stop and look at photographs

and this might spark sufficient

interest for them to visit an open

home. Spending a fortune on massive

advertising campaigns in every media

might seem a way to attract potential

buyers but may be an unnecessary

expense without the return. A better

philosophy could be a little often.

This will depend on the value of the

property, your budget and how best to

reach target buyers.

Buyer perception is also significant.

For example, properties that sit for a

while can become stale. Resting the

property by taking it off the market for

a short time, then relisting perhaps in

spring or when sales in the area appear

to lift a little, can make a difference.

However, if a property does not sell

immediately there is no need for panic

or dropping the price. It may simply be

that the right buyer has not yet come

along. If the mix is right your property

will sell.

A new home, complete on your

section for only $376,900! incl GST

Marbella 232m 2

Brick exterior cladding

Builders of superior homes.

Just one example from

our range of plans.

Plans are viewable

in high resolution

digital at

artisanhomes.co.nz

Let Rob and his

team work with

you to produce your

own unique plan.

Built to last.

Silver medal winner in Registered Master Builders 2016 House of the Year Awards

Office & Show Home: 5 Broomleigh Drive,

Faringdon, Rolleston

Phone: 03 374 9172 or Rob: 021 324 876

E-mail - robin@artisanhomes.co.nz
---
12

M-A

MATSON & ALLAN

REAL ESTATE LIMITED

'The

Selwyn

Experts'

Residential

Lifestyle

Rural Property

Licensed REAA2008

ROLLESTON - 15 Delamare Way

INCREDIBLE LIVING WITH MODERN

SELF-CONTAINED FLAT

• Main Residence - 4 Bedrooms, 2 Living, 1 bathroom,

1 separate toilet , 2 ensuite

• Flat - 1 Bedroom, 1 Living, 1 bathroom

• Stunning family residence positioned to catch all day

sun in Kajens Estate

• Stunning Kitchen, of which there are 2 in the main

home incorporating quality appliances

• Good choice of living areas which flow seamlessly

out to their own private entertaining areas

• Private inground heated self cleaning pool

• Built to high specification from LED lighting, central

vacuum system, high end carpet & drapes, underfloor

heating tiles and a dedicated gym with sauna

• Large double internal access garage, car port and

ample parking available

Price: Neg Over $1,195,000

View: www.marealestate.co.nz/069

Jackie Derrick Mb 027 636 3576

or Susan Davis Mb 027 662 2751

ROLLESTON - 39 Stanford Way

FINE CONTEMPORARY LIVING

• Architecturally designed with northern aspect

• Block, cedar & Hebel exterior

• 3 double sized bedrooms

• Beautifully specified bathrooms

• Designer kitchen

• Open plan living opens to private outdoor

entertaining

• Good heating with gas fire, double glazing,

insulation & heatpumps

• Study nook

Price: Neg Over $629,000

• Separate laundry

View: www.marealestate.co.nz/072

• Double internal access garaging

Jackie Derrick Mb 027 636 3576

• Generously sized and well landscaped 840m 2 or Susan Davis Mb 027 662 2751

ROLLESTON - 3 Melville Crescent

HIGHLY DESIRABLE FAMILY RESIDENCE

• 4 generous bedrooms

• Spacious master suite with WIR and ensuite

• Modern and sleek kitchen with walk in pantry

• Private 982m² landscaped irrigated section

• 2 car garaging with drive through

• Separate laundry

Price: Neg Over $649,000

View: www.marealestate.co.nz/056

Jackie Derrick Mb 027 636 3576

or Susan Davis Mb 027 662 2751

ROLLESTON - 30 Seymour Drive

SPACIOUS AND STYLISH FOUR

BEDROOM HOME

• 211m² 4 bedroom home

• 2 large living areas

• Kitchen with large walk in pantry

• Master with WIR & ensuite

• North facing 640m² section

• LED lighting & ample storage

• Drive through garage

• Few mins drive from supermarkets,

medical centre & schools

Price: Neg Over $549,000

View: www.marealestate.co.nz/021

Jackie Derrick Mb 027 636 3576

or Susan Davis Mb 027 662 2751

ROLLESTON - 5 Wedgewood Row

LOOKING FOR COUNTRY CHARM

IN THE TOWNSHIP?

• 1397m² secure section

• 2 living areas

• Separate lounge with log burner

• 4 bedrooms - master with ensuite

• Separate laundry

• Double internal access garage

• Ample parking

• Fantastic location

• Walking distance to Clearview School

Price: Neg Over $585,000

View: www.marealestate.co.nz/087

Jackie Derrick

Mb 027 636 3576

• 36 Lifestyle sections from 2500 – 7000m²

• The perks of town and country living

• Unique environmental focus

• Not previously available

• Full services

View:

Rolleston

Lifestyle

Sections

Price Range: $375,000 to $520,000

www.colesfields.co.nz

or 0508 sections

Andrew Taylor Mb 027 435 5930

andrew@marealestate.co.nz

YALDHURST - 613 Pound Road

ENJOY THE LOCATION AND INVEST

IN THE FUTURE

• 3 double bedrooms

• Open plan kitchen/dining & separate lounge

• HRV system & 2 heat pumps

• Double garage & excellent outbuildings

• Sand arena, undercover wash down area &

tack room

• Well subdivided paddocks with central lane

• Close to Airport & City

WEEDONS - 26 Wild Road

BACK ON MARKET DUE TO

COLLAPSED SALE

• 2 Hectares (5 acres)

• Established lifestyle property

• 240m² split level 3 bedroom, 2 bathroom home

• Amazing outlook of the garden and paddocks

from the brand new kitchen & living area

• Prime location - Situated between West Melton,

Templeton & Rolleston on a quiet side road

• Well subdivided along with excellent shelter

• Good range of outbuildings including two 32m x 8m

tunnel houses in various stages of completion, small

hayshed plus separate Skyline garage

• Be quick as this is priced to sell

Price: Neg Over $949,000 & GST (if any)

View: www.marealestate.co.nz/084

Andrew Taylor

Mb 027 435 5930

Price: Neg Over $780,000

View: www.marealestate.co.nz/049

Andrew Taylor Mb 027 435 5930

andrew@marealestate.co.nz

IRWELL - 451 Lake Road South

THE LIFESTYLE DREAM ON 3793M²

• Established mini lifestyle property

• 3 double bedroom 120m² home

• Modern kitchen & large living with log burner

• Nestled amongst cottage gardens

• Abundant fruit trees, large chicken run &

2 sheep/stock paddocks

• Excellent opportunity for gate sales of

produce as a side-line

• Large garage & stand-alone sleepout/

hideaway with its own toilet

WEST MELTON - 70 West Melton Rd

8 HECTARES BARELAND

• A hard find in this location

• Subdivisable to 2 x 4 hectare lots

• Full deer fenced

• Well sheltered on three sides

• Entrance off West Melton Road at a

location to suit the purchaser

• Well sheltered on three sides

• Realistically priced at $600,000 Plus GST

Price: Neg Over $499,000

View: www.marealestate.co.nz/085

Andrew Taylor Mb 027 435 5930

andrew@marealestate.co.nz

Price: $600,000 Plus GST

View: www.marealestate.co.nz/954

Andrew Taylor Mb 027 435 5930

andrew@marealestate.co.nz

ROLLESTON PH: 03 347 9949 LEESTON PH: 03 324 3704 DARFIELD PH: 03 318 8204 www.marealestate.co.nz

Chris Flanagan

027 433 4657

Andrew Taylor

027 435 5930

Jackie Derrick

027 636 3576

Susan Davis

027 662 2751

Stephan Knowler

027 229 9522

Cameron McRae

027 769 6696

Sue Robinson

021 409 050

Juliet

Flanagan

Connie

van der Klei