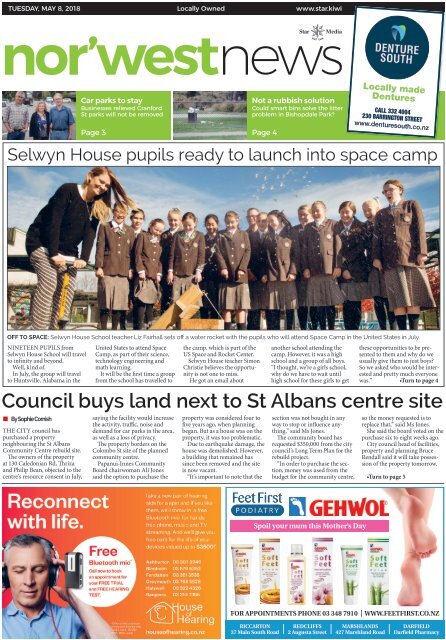 Nor'West News: May 08, 2018
You also want an ePaper? Increase the reach of your titles
YUMPU automatically turns print PDFs into web optimized ePapers that Google loves.
TUESDAY, MAY 8, 2018

Locally Owned

www.star.kiwi

Car parks to stay

Businesses relieved Cranford

St parks will not be removed

Page 3 Page 4

Not a rubbish solution

Could smart bins solve the litter

problem in Bishopdale Park?

Locally made

Dentures

call 332 4004

230 Barrington strEEt

www.denturesouth.co.nz

Selwyn House pupils ready to launch into space camp

OFF TO SPACE: Selwyn House School teacher Liz Fairhall sets off a water rocket with the pupils who will attend Space Camp in the United States in July.

NINETEEN PUPILS from

Selwyn House School will travel

to infinity and beyond.

Well, kind of.

In July, the group will travel

to Huntsville, Alabama in the

• By Sophie Cornish

THE CITY council has

purchased a property

neighbouring the St Albans

Community Centre rebuild site.

The owners of the property

at 130 Caledonian Rd, Thriza

and Philip Bean, objected to the

centre's resource consent in July,

United States to attend Space

Camp, as part of their science,

technology engineering and

math learning.

It will be the first time a group

from the school has travelled to

saying the facility would increase

the activity, traffic, noise and

demand for car parks in the area,

as well as a loss of privacy.

The property borders on the

Colombo St site of the planned

community centre.

Papanui-Innes Community

Board chairwoman Ali Jones

said the option to purchase the

the camp, which is part of the

US Space and Rocket Center.

Selwyn House teacher Simon

Christie believes the opportunity

is not one to miss.

He got an email about

property was considered four to

five years ago, when planning

began. But as a house was on the

property, it was too problematic.

Due to earthquake damage, the

house was demolished. However,

a building that remained has

since been removed and the site

is now vacant.

"It's important to note that the

another school attending the

camp. However, it was a high

school and a group of all boys.

"I thought, we're a girls school,

why do we have to wait until

high school for these girls to get

section was not bought in any

way to stop or influence anything,"

said Ms Jones.

The community board has

requested $350,000 from the city

council's Long Term Plan for the

rebuild project.

"In order to purchase the section,

money was used from the

budget for the community centre,

these opportunities to be presented

to them and why do we

usually give them to just boys?

So we asked who would be interested

and pretty much everyone

was." •Turn to page 4

Council buys land next to St Albans centre site

so the money requested is to

replace that," said Ms Jones.

She said the board voted on the

purchase six to eight weeks ago.

City council head of facilities,

property and planning Bruce

Rendall said it will take possession

of the property tomorrow.

•Turn to page 5

Spoil your mum this Mother's day

foR aPPointMentS Phone 03 348 7910 | www.feetfiRSt.co.nz

RiccaRton

37 Main South Road

RedcliffS

2 augusta Street

MaRShlandS

427 Marshland Road

daRfield

darfield Pharmacy
---
2 Tuesday May 8 2018

Latest Christchurch news at www.star.kiwi

from the reporter's desk

IT'S A win for small businesses on Cranford St.

Those located north of McFaddens Rd will not lose their onstreet

parking to cycleways.

City council informed businesses and residents last year of

new plans which would see cycleways replace on-street parking

as part of the Northern Arterial development.

However, business owners fought tooth and nail in the consultation

process, and now the city council has listened.

Small World Preschool and Nursery owner Keith Wayman

said it is good news, as he once feared his business may have to

shut its doors if its on-street parking was lost.

The backing of Fletcher Construction, which owns Cranford

St businesses PlaceMakers and Mico Plumbing, may have played

some role in the decision.

Read more about the result on page 3.

–Sophie Cornish

get in touch

GENERAL ENQUIRIES Ph 379 7100

CLASSIFIED ADVERTISING Ph 379 1100

The Christchurch Star Company Ltd

PO box 1467, Christchurch

starmedia.kiwi

Papanui heritage

The Langdon connection

Read the second part of Murray Williams' investigation

into the history of Langdons Rd and its namesake Thomas

Langdon.

Page 8

Sports

SBHS lose tight match against Christ's

Shirley Boys' High School have suffered an opening

round defeat in the UC Championship, losing 27-34 to

Christ's College.

Page 11

Community events

NOR'WEST NEWS

Help with your tech

Do you struggle with technology and would like some free

help? Go along to a drop-in sessions at the Upper Riccarton

Library.

NEWS

Sophie Cornish

Ph: 364 7437

sophie.cornish@starmedia.kiwi

ADVERTISING

Monique Maynard

Ph: 364 7474

monique.maynard@

starmedia.kiwi

Geoff Moreton

Ph: 353 4595

geoff.moreton@

starmedia.kiwi

Page 15

The best-read local newspaper, delivered to

16,717 homes every Tuesday

Harewood, Burnside, Bishopdale, Bryndwr, Fendalton, Merivale,

St Albans, Mairehau, Papanui, Casebrook, Redwood, Regents

Park, Styx Mill, Northwood, Belfast, Strowan.

Changes around

Cranford Street

How do we prepare for the new motorway? We'd like to hear your

views. Come and talk to us at one of our drop in sessions.

Monday 7 May

Anytime between 4pm – 7pm

St Albans School, 17 Sheppard Place,

St Albans

Thursday 10 May

Anytime between 10am – 2pm

English Park, Cranford Street, St Albans

Have your say today

ccc.govt.nz/haveyoursay

Wednesday 16 May

Anytime between 4pm – 7pm

Paparoa Street School, 120 Paparoa St,

Papanui

Thursday 17 May

Anytime between 10am – 2pm

Edgeware Bowling Club, St Albans Park,

6 Forfar St, Edgeware

Attending the opening of the

expanded Tūhauora – Christchurch

Central Service last month

cemented for me the success of

this valuable initiative. The mentalhealth

and addiction services

resource centre was opened two

years ago by then Health Minister

Jonathan Coleman and was led by

the Odyssey House Trust. I took up

the opportunity at the opening of the

expanded services to follow through

with a visit to Odyssey House to

see in person, as Spokesperson for

Mental Health, how the organisation

changes lives. The visit has

strengthened my belief that we need

a cross-party, adaptive approach to

mental health that is responsive to

continually changing needs.

Let me know if you agree by leaving

a comment on my Facebook page at

https://www.facebook.com/

MattDoocey.Waimakariri/

The Christchurch MultiCultural

Festival and celebration of Buddha's

birthday at the Fo Guan Shan

Buddhist Temple in Christchurch in

April presented a colourful display

of Canterbury's diversity. I enjoyed

speaking at the event and meeting

the people behind the work of

the Buddha's Light International

Association, which runs humanistic

programmes all over the world.

Catching up with Blair Benefield

as he travelled through Waimakariri

electorate on his fundraising

journey for youth mental health

and suicide prevention and veteran

support services was an inspiration.

Blair contacted me after hearing

about my mental-health event to

share his work in connecting with

our youth to spread awareness.

The ex-soldier is skateboarding

the length of New Zealand to

raise funds and awareness,

and you can follow his journey

at https://www.facebook.com/

captainradnessNZ/?fref=mentions
---
NOR'WEST NEWS Latest Christchurch news at www.star.kiwi

Tuesday May 8 2018 3

News

Cranford St businesses won't lose parks

Relief as

plan for

cycleway

amended

• By Sophie Cornish

CRANFORD ST businesses

owners are relieved the city

council will not remove their

on-street parking as part of the

Northern Arterial plans.

The city council indicated

last year cycleways could take

up on-street parking on a small

stretch of Cranford St north of

McFaddens Rd.

But the design will no longer

go ahead after the city council

said consultation with businesses

saw the plans amended.

Small World Preschool and

Nursery owner Keith Wayman

feared they would have to shut

their doors if designs went

ahead.

But now he is relieved.

"What we are hearing is good

news, we are pleased . . . and very

comfortable with where we are

at."

RESULT: Small businesses owners Andrew Norton and Sue and Keith Wayman are pleased

city council has decided to change the plan for Cranford St which would have seen their

on-street parking lost to cycleways.

PHOTO: MARTIN HUNTER

Small World Preschool was

supported by construction

firm Fletcher Building, which

owns PlaceMakers and Mico

Plumbing on Cranford St, in its

battle against the plans.

However, Mr Wayman said

the issue is still "a little up in the

air" as the plans are only drafts

at this stage and there are still

"processes to work through",

which involves consultation

with residents. City council

manager planning and delivery

transport Lynette Ellis said: "The

Christchurch Northern Corridor

Alliance amended the design

plans to include parking for this

section of Cranford St."

Ms Ellis said the plans will be

discussed further with affected

businesses and residents soon

and then a report will go to city

council for approval.

Local

News

Now

In Brief

Fire rages, homes at risk

WESTMINISTER ST REFUGE

The Papanui-Innes Community

Board is calling for a pedestrian

refuge on Westminister St. Board

chairwoman Ali Jones asked

for funding for the refuge in the

city council's Long Term Plan

funding submissions last week.

Ms Jones said the Hills Rd end of

Westminister St is an increasingly

busy area, with a large amount of

children and families regularly

crossing at the intersection of

Mahars Rd.

NORTHWOOD SURVEY

Canterbury University and

architecture organisation, Te

Putahi, want to hear from people

living in Northwood. It is seeking

survey participants to investigate

the community's connection

with the city centre. The suburb

of Hornby is also being surveyed.

A link to the eight question

survey can be found on the

Northwood Residents Association

Christchurch NZ Facebook page.

VEGE CO-OP CLOSING

Tomorrow is the last day that

the Belfast Community Network

vegetable co-op will be open. It is

closing due to small numbers and

being unable to compete with supermarkets.

If you need affordable

fruit and vegetable bags, call Food

Together on 027 232 8692.

19→27

MAY

2018

Innovation that's good for the world

Join us at over 50 Christchurch events,

more info → techweek.co.nz

#twn18 | #goodfortheworld | #ChChTWNZ18

Presenteds by

Principal sponsor

Regional partner

HEARING AIDS

THAT DELIVER

THE SOUND THAT

NATURE INTENDED

• Most Natural Own Voice

FOR

I LOvE

YOu MuM!

Get a FREE Linden

Leaves Body Oil

(RRP$59.99)

With The Purchase

of a Gift Card*

*T & C's apply

MNZ registered massage therapist and

NZASA registered acupuncturist offering:

• relaxation massage • deep tissue massage

• sports massage • aromatherapy

• reflexology • acupuncture

198 Papanui Road, Merivale. Ph 355 9888

• Crystal clear Sound

• Superior Speech

Understanding in Noise

• Tinnitus Control

• Bluetooth compatibility

• Longer battery life

NEW

Consultations by appointment only. Book your appointment today.

Merivale

Hearing Clinic

24b Church Lane.

Call now: 356 2324
---
4 Tuesday May 8 2018

Latest Christchurch news at www.star.kiwi

News

NOR'WEST NEWS

McMaster & Heap

Veterinary practice

OUR "EYE' VET…..

Its not often I write about my husband,

Steve Heap, but I must say I'm often

very proud of the work he does at our

Practice, and how he is always looking

ahead to grow, improve and provide the

best workplace for our staff. Steve has a

keen interest in all things involving "eyes"

but he's also very competent at dental

surgery too. Patients come far and wide

to see Steve for his expert advice on eyes

and compassionate, friendly service. He

sees a myriad of animals,

ranging from very expensive

thoroughbreds and alpacas,

to lions and kiwis at Orana

park and then all domestic

animals inbetween.

Steve decided to study

Ophthalmology while

we were in the UK in our

20's on a working/holiday

and it is one of the best

specialities Steve could

have chosen. Not only does

Steve really enjoy eyes, but

it has helped to grow our

business and stand it apart from others.

There are currently only 3 or 4 vets seeing

ophthalmology referrals in NZL.

Most days Steve has 3-6 Ophthalmology

surgeries. He actually gets excited at the

prospect of returning an eye to normal

function and pain free.

A few days ago was one of those "jubilant"

moments. In waltzed a very friendly 8

year old Labrador called "Arnie". Arnie was

referred to Steve with a persistent infected

discharge coming from his Left eye that

he had for 8 months. Eight months ago he

had an ulcer in the same eye which initially

cleared up, but quickly became constantly

infected, weepy, red and sore. He had been

on every eye ointment possible with no

real results. The owners claimed they were

cleaning the eye out 5 times a day. The

purulent discharge seemed to be coming

from the lower

tear ducts.

Steve suspected

a foreign

body so he

recommended

anaesthetizing

Arnie and

taking a closer

look.

Sure enough

Steve removed

a large barley

grass awn from

the left tear

duct by cutting

down into the duct. It had probably been

sitting there for the past 8 months causing a

chronic persistent eye infection. Steve is sure

Arnie will make a full recovery with no need

for eye drops. As a surgeon moments like

these are hugely rewarding because straight

away Steve has made a big difference to

Open 7 days

Cnr Hoon Hay & Coppell place

phone 338 2534, Fax 339 8624

e. mcmasterandheap@yahoo.co.nz

www.mcmasterheap.co.nz

Arnies quality of life….and his

owners.

Clients and vets alike speak

highly of Steve. His sole

purpose is to solve problems

quickly and professionally,

with skill and expertise and he

is great at explaining things

clearly and simply, so clients

really "get" what his plan is for

their pet. Clients apparently

love his scribbley little eye

diagrams they leave with, diagrammatically

describing the surgical procedure. I recently

attended a veterinary meeting and felt

very proud at all the accolades my fellow

colleagues spoke about my husband. Steve

is one of the very few vets around who

freely, 24/7 gives ophthalmology advice to

any vet in the country free of charge. He just

enjoys sharing his knowledge to benefit all

animals in need.

We are currently in the throes of building

a large, modern addition to adjoin our

current premises in Hoon Hay. We are very

excited about what this will mean for us

and our patients in the future. We hope

to be seen as a referral centre, with more

specialists vets coming on board, as well

as a first opinion clinic. We have very loyal,

committed clients who often recommend

us to others. We want to improve our level

of knowledge and expertise and provide

better care by creating

separate dog and cat

treatment , consult and

waiting areas. We are

constantly looking ahead

to the future and trying

to set ourselves up to

stand alone, offering

outstanding care, service

and communication in an

ever increasing corporate

veterinary world, one

in which we will never

become part of.

Steve and I are living

the dream. What could

be better than surrounding ourselves with

animals all day, solving problems using our

skill and expertise, making people smile

again and saving animals lives. It just doesn't

get much better than that.

Dr Michele McMaster

McMaster & Heap

PROBLEM: City councillor Aaron Keown believes Bishopdale Park is a "problem

area" which could benefit from smart bins. ​

Smart bins will solve

Bishopdale Park's litter

problem – Keown

• By Sophie Cornish

SMART BINS could be

the answer to Bishopdale

Park's litter woes, city

councillor Aaron Keown

believes.

Cr Keown

is not only

pushing for

more smart bins

to be installed in

parks, but wants

community

boards to have

the power to

install them.

"Community

boards should

have delegation

to select all the

smart bin sites across

the city as we see the

overflowing bins

. . . so that we can

implement these bins

at problem sites in our

Aaron Keown

•From page 1

At the camp, the girls

will learn about space

in a variety of ways,

including simulations, and

exploration and discovery

activities.

"They have simulations

for space shuttles and

Mars-bases . . . and the

girls will get to take part

wards."

The 'Big Belly' smart

bins, distributed by Auckland

company Manco

Environmental Ltd, are

fitted with sensors that

can detect when the bins

are nearing capacity

and send an alert to

maintenance contractors

that they

need emptying.

Cr Keown said

because all the

information is

recorded, it will

highlight the areas

which need more

bins.

The solar-powered

bins are wind,

fire and pest-proof and are

currently being trialled at

the New Brighton Seaside

Playground.

"It just makes sense.

These things have been

in 'space-based' missions

on earth and learn about

all the science that would

go into those. It will be an

immersive experience,"

said Mr Christie.

Teacher Liz Fairhall

said the girls will also get

the opportunity to meet

female role models in the

field.

invented by a (NZ) company,

we should be supporting

them," he said.

Bishopdale Park is one

of the "problem areas"

which could benefit from

the bins, Cr Keown said.

"It is one of our destination

parks. People go out

of their way to go there."

Leacroft St resident

Graham Adams said

earlier this year he was

frustrated at the frequency

of bin emptying at the

park.

He said he had contacted

the city council several

times via telephone, email

and its Snap Send Solve

app to report overflowing

bins in the park.

Cr Keown will raise the

idea with the Fendalton-

Waimairi-Harewood

Community Board next

week.

Selwyn House pupils

ready for the trip of a

lifetime – space camp

"At Selwyn House,

we're really passionate

about giving STEM

opportunities to our girls.

There is a real need in the

workforce for females to be

going into it."

Mr Christie is planning

space-related classes to

prepare the girls for their

trip.
---
NOR'WEST NEWS Latest Christchurch news at www.star.kiwi

Tuesday May 8 2018 5

Edgeware village plans shelved

Businesses

feared more

disruption

PLANS TO close off the

Edgeware Rd end of Colombo

St and form a shared space have

been abandoned in the shortterm.

Instead some cost-effective

minor changes to improve

Edgeware

village could

take its place.

The

Papanui-Innes

Community

Board and

city council

Ali Jones

staff have

recommended

the project be

deferred until others in the area

are completed.

Earlier this year, city council

and the community board

held a workshop with local

businesses and residents to

discuss design and layout ideas

for the village.

One concept involved changing

the layout at the Edgeware Rd

end of Colombo St so it could be

used as a shared space to make

DEFERRED: Plans for a shared space in Edgeware Village,

which included closing the Edgeware Rd end of Colombo St,

are off the table after local businesses indicated they didn't

approve of the idea.

PHOTO: MARTIN HUNTER

the area more people-friendly

and easily closed for markets and

events.

However, community board

chairwoman Ali Jones said

there were concerns about the

impact of the proposal on village

businesses.

"The area has already suffered

considerable disruption from

roadway and drainage work and

from the construction of the

Papanui Parallel cycleway,'' she

said.

"We are also conscious of the

fact there are several projects due

for completion in the coming

years that may change the way

people use the area, such as the

Edgeware Pool development and

the new St Albans Community

Centre."

St Albans Pharmacy owner

and Edgeware Business

Association chairman, Malcolm

Pearce, did not back the plan

and is relieved to hear it won't be

going ahead.

"The businesses here didn't

think it was a good idea to

restrict access to the village and,

given all the disruption we have

had over the past few years, it's

not good timing. It's best to

put it on hold and look at other

mutually beneficial beautification

projects."

FreshChoice Edgeware owner

Stephen Anderson is also pleased

with the outcome.

"I think we can achieve a

similar result in a different way."

"They (city council) obviously

have listened to us, taken that on

board, which is very good. We

have had some major disruption

here . . . we would like to get back

to normality."

Ms Jones said the board

has asked the project team to

come up with ideas for costeffective

minor streetscape

improvements which could

enhance the area and be

completed with minimal impact

on the businesses.

"This again is in response to

feedback from those consulted,''

said Ms Jones.

Local

News

Now

Fire rages, homes at risk

Council

buys land

next to

site for

St Albans

centre

•From page 1

If the extra funding isn't

granted, Ms Jones said the

board, along with city council

staff, will have to look at ways to

save money.

"Whether that is in the building

materials, a re-design or

whatever. We will need to find

ways to save money elsewhere

in the project."

The community board will

now wait to see if the funding

is included in the LTP before

deciding what to do next.

Mr Rendall said there is still

an exception to the centre,

which will be considered by a

commissioner when the application

goes to a hearing.

"The commissioner will

determine if any changes to the

current proposal is required."

Thriza and Philip Bean could

not be reached for comment.

It doesn't have to be new to be

FABULOUS!

◆ Pre-loved and new fashion

◆ jewellery & gifts

◆ haberdashery

◆ craft classes

◆ fresh stock daily

My Favourite Things

2b Trafford Street, Harewood

(just up the road from Copenhagen Bakery)

Phone 03 360 2129 or 022 081 1001

WINTER HOURS: Tues-Thurs 11am-4pm,

Fri 11am-7pm Late Night, Sat 11am-4pm,

Sun-Mon Closed

Follow us on Facebook:

@myfavouritethingsNZ

Hugh LeLievre

Manufacturing Jeweller

reg 236

Why choose us:

• 38 years trade experience

• Honest, approachable, free appraisals

• Knowledge • Skills • Advice

• Quality work • Affordable prices

• All work carried out on premises

• Make/create your designs

• Repairs, re-makes, re-models

• Unique, one off pieces in stock

Immediate in-store quotes

2a Straven Rd (Cnr Riccarton & Straven Rds)

Ph 03 348 1135

OPEN MON-FRI, 9AM-5.30PM

Welcome Phillipa Shaw

The partners of Harmans are delighted to announce that Phillipa Shaw

has joined the firm as an Associate and now leads our renowned Seniors

Law Team. In addition to her senior law expertise, Phillipa specialises in

property and private client matters, and has built a strong following of

loyal clients throughout her career.

P 03 352 2293 A 485 Papanui Rd, PO Box 5496, Christchurch 8542

www.harmans.co.nz
---
6 Tuesday May 8 2018

Latest Christchurch news at www.star.kiwi

NOR'WEST NEWS

WORK

WITH THE

BEST!

HARCOURTS GOLD

FOLLOW US ON...
---
NOR'WEST NEWS Latest Christchurch news at www.star.kiwi

Tuesday May 8 2018 7

News

Mairehau counsellor's books

help children worldwide

• By Sophie Cornish

A COUNSELLOR from

Mairehau Primary School is

attempting to improve the lives

of people involved in child

trafficking by creating and

selling her own books.

Sue Dickson created Books For

Hope in 2016 after writing her

first book in

2015.

Since

then, she

has written

four books,

donated

money to

several

overseas

Sue Dickson

charities and

received a

message from the Pope.

"I am really passionate about

children and I wanted to be able

to give to charities which help

children who are less fortunate,

especially those who are

involved with things like child

trafficking," she said. The books,

titled Wisdom, Inner Peace, The

Little Prayer Book and Power of

the Heart, support New Zealand

based non-profit organisations,

Tent Peg Missions, Hagar New

Zealand, LIFT International and

Tearfund's work combatting

human trafficking and

exploitation.

"Each book that I've written,

50 per cent of the profits go to

charity and each book has a

different charity."

So far she has raised more

than $600. Tent Peg Missions

helps children in Uganda, and

the money Ms Dickson has

raised has gone towards supplies

at a school for children with

disabilities. Hagar New Zealand

works to rehabilitate children

who have been rescued from

child trafficking.

Ms Dickson is currently

writing two more books to add to

her collection which are sold on

her website and on Amazon.

She hopes to complete two

GOOD

CAUSE:

The profits

from Sue

Dickson's

books,

including

Wisdom,

are used to

raise money

for New

Zealand

charities

which help

children

overseas.

children's books next year as

well, and her 10-year plan is to

build schools overseas.

"That's the goal. Hopefully I

can sell enough books," she said.

Ms Dickson sent a copy of one

of her books to Pope Francis and

received a thank you letter.

"His holiness Pope Francis

was pleased to receive the gift

which was kindly sent to him.

He appreciates the devoted

sentiments which prompted this

thoughtful presentation," the

letter read. Ms Dickson said it

was a "very exciting and special

moment" in her life.

•Ms Dickson's books can be

purchased at booksforhope.

co.nz

VOLUNTEERING IS now

second nature for Edgeware's

Margaret Cone who has clocked

up 10 years of service at the

Community Energy Action

curtain bank.

Back in 2008, Miss Cone got

involved with the organisation

through a friend and has never

looked back.

Initially the curtain bank was

for sick babies and the elderly,

and this appealed to Miss Cone

who liked helping the groups.

The afternoon shift also fits in

with her lifestyle.

Miss Cone appeared on

TVNZ's Good Sorts programme

in 2016 and volunteers her time

to other charities, such as Red

Cross' Meals on Wheels, Driving

for the Blind and Multiple Sclerosis

New Zealand.

The idea of recycling and reusing

things as well as the social

contact with people is what has

kept Miss Cone coming back.

"It's a healthy thing for the

body, as it involves quite a lot of

fitness."

The work requires folding,

bagging and stacking the heavy

curtains.

The curtain Bank has been

operating for more 23 years and

provides free, recycled curtains

Local

News

Now

Fire rages, homes at risk

Celebrating a decade

of volunteering

10 YEARS: Margaret

Cone cutting the cake to

celebrate her milestone as

a Community Energy Action

curtain bank volunteer.

to those in need.

All the curtains have been

recycled by businesses in the

curtain industry or the public.

The curtains can be donated at

collection bins located all across

the city.

Miss Cone is one of two volunteers

celebrating 10 years of

service.

FLU VACCINATIONS

Come to our pharmacy

or we come to you

(Min 15 people to come to you)

$20

per person

Open Monday – Friday: 9am – 5:30pm

Instore:

Monday, Thursday,

Friday

9am - 5:30pm

Tuesday, Wednesday

2pm - 5:30pm

Wairakei

ROAD

BARNETT'S PHARMACY

4/501 Wairakei Road, Burnside 03 360 3178 03 351 3099 wairakei@barnettspharmacy.co.nz BarnettsWairakei
---
8 Tuesday May 8 2018

Latest Christchurch news at www.star.kiwi

NOR'WEST NEWS

News

Bid to get

funding for

a Belfast

library in LTP

BELFAST MAY get it's own

library and service centre if the

Papanui-Innes Community

Board gets its way.

The community board has

requested $150,000 to progress

the project in the city council's

Long Term Plan 2018-2028.

The project was deferred in

the 2015-2025 LTP and was

completely removed from the

draft 2018-2028 LTP.

"The board requests this

project is reinstated urgently

for the year 2019-2020," said

community board deputy chairwoman

Emma Norrish at a LTP

submission hearing last week.

"We note a huge population

growth in the north of Christchurch

and the need for city

council staff to identify suitable

sites for potential community

facilities."

Belfast is now home to about

7600 residents – and this number

is predicted to double by

2041 to about 15,000. The board

hopes city council will explore

partnership opportunities and

notes that there a new school is

planned for Belfast.

Langdon connection to Papanui

Papanui Heritage

Group chairman Murray

Williams writes about the

development of Langdons

Rd which is the second part

of last month's column

THOMAS LANGDON died in

1904 and, at this time, the blind

street named after him was little

more than a sleepy rural track

flanked by a few houses.

However, over the next 115

years Langdons Rd has been

notable for continually changing

land use patterns.

In 1911, a group of enterprising

citizens purchased a block of

land on Langdons Rd between

North Rd and Restell St. The

Papanui bowling, tennis and

croquet club was formed and it

prevailed until the late 1960s on

a site now dominated by retail

outlets.

In 1926, the Education Department

acquired 6.2ha of agricultural

land fronting on Langdons

Rd alongside the northern

railway. However, it took the

government another 10 years

to approve, plan and complete

the school first known as the

Papanui branch of the Christchurch

Technical College.

In 1953, the school became Papanui

High School to acknowledge

its change to a modern

multi-course high school.

In 1948, the American Firestone

Tire and Rubber Company

purchased and developed a block

of orcharding land to the northwest

of the railway and eventually

became Papanui's largest

employer.

On the opposite side of the

street, Sanitarium, with an even

longer history in the area, was

also a major employer, although

it is now undergoing a phased

withdrawal from Papanui.

Currently, the former Firestone

site is undergoing a further

change in land use, as some of

the industrial buildings have

been demolished to allow for the

development of the Northfield

Business Park, which includes

new facilities for a range of

enterprises, such as a pre-school,

a gym and the Trade Union

Centre.

Prior to this in 2001, further

to the north, Langstone Lane

was developed as a site for warehouses.

However, the northern end of

Langdons Rd is still dominated

by residential properties, many

of which were built as part of an

extensive government housing

project in the early and mid-

1950s.

Other forms of land use included

the development of a corner

site on the Main North Rd by

the local branch of the RSA.

After World War 1, surplus

army buildings were combined

into one structure and in the

mid-1940s a new art deco façade

HISTORY: Papanui

Technical College

from Langdons Rd

in the 1940s. The

view of the original

buildings has since

been obscured

by subsequent

development.

PHOTO: PAPANUI

HIGH SCHOOL

ARCHIVES

was added as part of a general

refurbishment. Eventually this

building was demolished and,

since 1995, the Westpac Bank

has occupied the site.

The Papanui Library and

Community Service Centre

on the corner of Restell St was

established in 1995. However, the

dominant feature of the southern

end of Langdons Road is the

Northlands Shopping Centre. Its

growth continues today with the

provision of further restaurant

and bar facilities, a development

which is to be named Langdons

Quarter, a further connection to

Thomas Langdon and the street

to which he gave his name.

•References: Wises

Directories, Papers Past,

Christine Grant for extra

research

Men

"The question of the power of men has been very topical

in the past year with changes in political leadership,

#MeToo and other associated movements. In images

used in the media of significant male politicians or male

professional leaders these men more often than not

wear a suit albeit maybe without a tie these days. The

suits these men wear convey power. Do these men wear

suits because they are a symbol of power? Do corporate

woman feel they have to emulate men in the way they

dress to achieve power? Why in fact is there such a

historical difference in the clothes of men and woman?

Do men have an advantage in society because there

exists this type of uniform that gives them an unspoken

air of authority that there is not something equivalent of

for woman?

The history of menswear suits, over-coats, trousers,

shirts and ties can be traced back several centuries

and remain very traditional and recognisable in the 21st

century. The shape of the lapel, the size of the tie, the

quality of the material and the way they are produced

may have changed but the form and its associations are

immediately identifiable. Sombre colours of greys and

black suits still dominate. These suits are trans-seasonal.

It is a code of dress that is universally recognisable. By its

continued widespread use it isn't likely to change. These

suits are not necessarily worn for comfort so are they

still in such dominant use because of the symbols they

convey?

Here seventy men are dressed in traditional suits then

they deviate playing with shape and form, eccentricity,

personality and individualism also drawing at times on

more feminine influences of colour and pattern. It is an

unresolved exploration of menswear and its implications

in contemporary society." Gill Hay.

Gill attended Canterbury University School of Fine Arts

in the early 1980s and has been exhibiting widely in New

Zealand and overseas for the past 20 years. She lives in

Lyttelton where she has a studio in her home overlooking

the inner harbour.

GROCERIES & muCh mORE

Look for weekly and monthly

specials on our Facebook Page

Pies & Drinks range

Starts from $1

Wide range of

Lollies available

E-liquids

starts from $4.99

'CEREC' & cosmetic dentistry

Wisdom tooth removal

Painless, high quality dentistry

Sedation dentistry

Experienced, conscientious team

Experienced hygienists

OPEn

7 DayS

Warrington Discounter

68 Warrington St • 03 386 2222

(Easy Parking)

SIm Cards

and Top ups

Cheap milk

and Bread

Vaping Kit

starts from $19.99

Commissioned by

OPEN SATURDAYS

355 9380

144 Cranford Street

www.stalbansdentalcentre.co.nz
---
NOR'WEST NEWS Latest Christchurch news at www.star.kiwi

Tuesday May 8 2018 9

Your Local Views

Local

News

Now

Call for community facility grows

Fire rages, homes at risk

Joanna Gould

is pushing

for a new

community

facility at 10

Shirley Rd and

puts forward

some of her

ideas for the site

I ATTENDED an antenatal class

at the Shirley Community Centre

11 years ago and have been a

local Shirley resident for the past

10 years.

I have a passion for research,

learning and community spaces.

The former Shirley Community

Centre at 10 Shirley Rd was

an iconic focal point of our

community since 1915. It was

originally Shirley Primary

School, and later on our Shirley

Community Centre, a place

for cultural, educational and

recreational activities.

It was seriously damaged in the

February 22, 2011, earthquake,

and was demolished in 2012.

Since the earthquakes, our

community has been struggling

DAMAGED: The former Shirley Community Centre site before it

was demolished in 2012.

to get our homes repaired and

rebuilt. Two primary schools

have closed, our roads are still

damaged, there are detours and

closures in place, and sucker

trucks run throughout the night

due to sewer system failures

when it rains.

The Dudley Creek flood remediation

is overdue by a year, and

the 'temporary depot/storage

yard' sites at 10 Shirley Rd and

40 Guild St are having a negative

impact on residents lives.

Recently we learnt that the new

QE II campus, built to relocate

Avonside Girls' and Shirley

Boys' High Schools, may change

'our school' zones, which will

deny our children access to 'our

schools'.

And now, after years of waiting

for the rebuild to start for

our community centre, we have

been dealt another blow. We find

out that the funding granted

by the city council has not been

included in the draft Long Term

Plan.

The 10 Shirley Rd site is a constant

visual reminder to me, and

the locals/road users of Shirley

Rd, that our community has been

left behind; we haven't rebuilt

from the earthquakes.

What message are we sending

to the children at Shirley Primary

School and the children from

other schools that travel past this

area?

That it's okay to treat your

community spaces like this?

Do our children matter to the

city council? Are they not future

Christchurch ratepayers?

Our community's health is at

stake. We can not wait 10 years.

We need our community centre

rebuilt now.

My suggestion is to combine

city council resources with funding

and donations to create a new

Shirley Library, service centre,

learning space and playground,

with the existing Shirley Playcentre.

That would lift up our community

and give us a meeting

place for all cultural, educational

and recreational activities.

I created the website

www.10shirleyroad.org.nz to collate

my research and ideas for my

submission to the city council's

Long Term Plan. Feel free to take

a look

Readers respond to a story

about the Main North Rd speed

limit potentially being lowered

Heather Wilkins – Commonsense

needs to prevail. In places like where

it's motorway, it should

be 80km/h or 100km/h.

50km/h or 60km/h is

good, but the problem is

if you make it 60km/h,

cars will do 70km/h. I

have seen it on Carmen

Rd from Main South

Rd. Down Carmen Rd,

they do 60km/h when

it's 50km/h. Past the

Carmen and Buchanans

Rds intersection it's

60km/h but people do 70km/h if not

faster.

Scotty Ogilvie – It should be

60km/h . . . most Christchurch locals

drive at 60km/h everywhere.

Sarah Spencer Smith – I'm

confused, isn't this a motorway?

Rob E Wilton – 55km/h, directly

the middle number.

Neil Hawker – Very

rarely do you ever get

to 60km/h, most of the

time people do 50km/h

in 60km/h areas. So, if

reduced to 50km/h, you

will end up doing 40km/h

and simply add to the

normal frustrations of

driving in Christchurch,

and still you will get the

normal incompetent

drivers crashing as

usual. Just leave it as is, I can't see

any advantage to once again catering

for stupid drivers at the expense and

frustration of the normal ones. But I

guess it's going to happen anyway, so

waste of time even complaining.

UNCLEAR: Part of Main North Rd could have its speed limit dropped to 50km/h.

PHOTO: MARTIN HUNTER

Hagley Junior Open Night

Looking at high school options for 2019?

Join us for our Junior College Open Evening and discover

more about what Hagley can offer you!

TUESDAY, MAY 8TH | Please join us at either 4.30pm or 5.30pm

A maximum of 125 places available in Year 9 for 2019.

Currently no places available in Year 10 for 2019

Phone us on (03) 379 3090 ext 884 or visit www.hagley.school.nz

for more information about Junior Enrolments.
---
10 Tuesday May 8 2018

Latest Christchurch news at www.star.kiwi

NOR'WEST NEWS

Spoil Mum

sunday

13th May

this

Mother's Day

So comfortable and

so relaxing

Massive savings on

all Stress Free and

Zedere Chairs

Stress Free Chairs are all $1599

and Zedere Chairs $1999

Style at the

best price

cranford central

484 cranford st - 03 354 5026

queenstown

remarkables park town centre - 03 442 3435

Plus we deliver within

48 hours (conditions apply)
---
NOR'WEST NEWS Latest Christchurch news at www.star.kiwi

Tuesday May 8 2018 11

Taspale Valavaia of SBHS looks to pass to team mate Waitangi

Tuisuga as he is tackled during their match on Saturday.

Evan Blyth

is tackled

by Zach

Gallagher

of Christ's

College.

SBHS lose close encounter to Christ's

SPORTS

• By Gordon Findlater

SHIRLEY BOYS' High School

have suffered an opening

round defeat in the UC

Championship, losing 27-34 to

Christ's College.

Hosting one of the competition

powerhouses on Saturday, Shirley

Boys led 24-20 midway through

the second half.

However, the tides quickly

turned when they conceded a

penalty try and were reduced to 14

men after intentionally

sending the ball dead in their

own in goal area. Shirley captain

Mitchell Barry, who scored a

first half try and went five from

including an effort from

halfway, then levelled the scores

27-27 after a penalty

conversion with just over

10min remaining.

In the dying stages of the

game Shirley found themselves

camped in their own 22, fighting

to fend off constant pressure from

Christ's.

The visitors power up front

proved too much in the end

though as they bundled their way

over the line to steal victory on

the final whistle.

On Saturday Shirley travel

to Lincoln to face Lincoln

Combined.

SBHS perform a haka prior to the start of their match on Saturday.

FOR 8 YEARS AND OLDER

402A Main North Road Redwood

- Christchurch

03 595 2641

Follow us on Facebook

LET'S GO SHOPPING

Preloved & quality

• Clothing /Footwear

• Bricabrac

• Furniture

• Household items

Thankyou

for your

support

Late night Thurs resuming Thurs 4th October to 6.30pm

1 Amyes Rd, Hornby Ph. 349 4163

Hours: Mon - Fri 9am-4.30pm, Sat 9.30am-1.30pm

335b Riccarton Rd, Church Cnr Ph. 341 8539

Hours: Mon - Fri 9.30am-5pm, Sat 9.30am-2.30pm

Like us on Facebook Hornby Family Store and Riccarton Family Store
---
12 Tuesday May 8 2018

Latest Christchurch news at www.star.kiwi

REAL ESTATE

NOR'WEST NEWS

WORK

WITH THE

BEST!

HARCOURTS GOLD

Lynette McFadden

Harcourts Gold Business Owner

Harcourts NZ Inspirational Women Ambassador

FOLLOW US ON...
---
NOR'WEST NEWS Latest Christchurch news at www.star.kiwi

Tuesday May 8 2018 13

Big influence for young Rams

star and Papanui High old boy

• By Jacob Page

FORMER PAPANUI High

School star Taylor Britt needs

to look no further for a spark

than his Rams coach and mentor

Mark Dickel.

The 21-year-old will play his

first full season for the NBL

franchise having been part of

their development programme

in 2015. His first game saw him

contributes six points, three

rebounds and two steals as

the Rams downed the Super

City Rangers 100-95 at Cowles

Stadium.

The 1.89m guard shares the

same court position as his coach

did for his illustrious career.

Britt said Dickel had been

a major influence in his

development so far.

"Mark has worked with me

for the past four years and has

been a key part in moulding me

into the player I am and want to

become," he said.

Britt said he felt more equipped

to handle the physical NBL-style

after his American stint.

He started 58 of his 62 games

for Southeast Community

College in Nebraska.

"The games were faster,

the American guys were big

and use their bodies a lot," Britt

said.

STAR: Taylor Britt is making an impact with the Canterbury

Rams.

PHOTO: CANTERBURY RAMS

Britt was known as a guard

who liked to attack the rim to try

to create space for his teammates

to shoot.

He hoped to continue to

learn from Dickel and imports

Winston Shepard and Xavier

Thames in the hopes of securing

an Australian NBL development

contract.

STUDENTS FROM Rangi Ruru

Girls' School and St Margaret's

College have been fighting it out

on the waters of Lake Karapiro.

Year 12 students Amber

Williams and Millie Knight

from Rangi, and Gaby McKellar

and Claudia Bethell from St

Margaret's were all selected

for the under-18 South Island

rowing team, which beat the

North Island team in the

under-18 north v south regatta.

Fourteen girls and boys from

both islands raced in the regatta

last month.

Amber captained the squad

to win all of their races in the

under-18 women's eight-plus and

four-plus crews.

SPORTS

SUCCESS:

Year 12

rowers Amber

Williams,

Claudia

Bethell, Gaby

McKellar, Millie

Knight from

St Margaret's

College and

Rangi Ruru

Girls' School

have had

success at the

under-18 north

v south regatta.

Success for rowers

Rangi director of rowing Mark

Cotham said it has been an

intense season.

"Being part of the under-18

South Island team has been a

wonderful experience for the

girls. The campaign aims to

work as a stepping stone to high

performance pathways through

to New Zealand rowing," he

said.

Mr Cotham was one of our

coaches selected to attend the

regatta.

The South Island were

the ultimate winners of the

two-day competition, winning

10 of the 16 events; 71 points

in total to South and 61 to the

north.

Best

Motorbuys

TM

ANYTHING

WITH A

MOTOR!

The South Island's leading motoring publication

FREE every Friday at hundreds of locations

around the South Island, and it's available online!

www.bestmotorbuys.co.nz

For advertising enquiries, ph Lea Godfrey 021 277 3086

Beautiful Teeth

Meet the

Owner

Ryan Carlton

Natural Smile

Free Consultation, No Obligation

• Full Dentures • Dentures Repaired • Implant Assisted Dentures

• Injection Moulded Flexible Partials • Relines

• Mouthguards • Additions/Repairs

• Purchase cleaning and care products from our website.

All dentures personally

designed and created to ensure

a comfortable natural fit.

DENTURES PLUS (2014) LTD

Denture Clinic and Laboratory

396 Innes Road, St Albans. Phone 385 5517.

Email: denturesplus@paradise.net.nz

www.denturesplus.co.nz

Orbiter Bus stops Innes Road
---
14 Tuesday May 8 2018

Latest Christchurch news at www.star.kiwi

NOR'WEST NEWS

GIFTS

FOR MUM

$

9 99 Orchid

$

39 97 $ 13 76

$

22 98

Gerbera

1.5L

307889

12cm

149069

Gardening

Gloves

105818, 148728,

148727

$

2

99

Gardena

Secateurs

EACH

304506

$

29

Bloom

99

Hedge

Shears

292681

Spathiphyllum

120mm pot

149430

$

29 99

EACH

Karcher

Window Vac

306947

$

BONUS

4X 20ML OF

DETERGENT

Chrysanthemum

17cm 296880

120

$

69 $

24 77

Daphne

Princess

2.5L

928154

Stanley

62 Piece

Tool Set

319241

PICK HER UP A

GIFT

CARD

* PHOTOS TAKEN AT HORNBY - DISPLAYS MAY CHANGE

ST070518

Available from Wednesday

9th May until Monday

14th May 2018, while

stocks last.

Mitre10 MEGA Hornby

Ph: 03 349 8497

*If you find a lower price on an identical stocked

product locally we will beat it by 15%

Mitre10 MEGA Papanui

Ph: 03 359 5443

*If you find the same product cheaper from another Mitre 10 store or Mitre 10 website

we'll match that price. Excludes trade and special quotes, stock liquidations and

commercial quantities. The in-store price may be lower than that advertised.
---
NOR'WEST NEWS Latest Christchurch news at www.star.kiwi

Tuesday May 8 2018 15

Email gilbert.wealleans@starmedia.kiwi

by 5pm each Wednesday

JP Clinic

Tuesday, 10am-1pm

A justice of the peace will

be available to members of

the community to witness

signatures and documents,

certify document copies, hear

oaths, declarations, affidavits

or affirmations as well as sign

citizenship, sponsorship or rates

rebates applications. There is no

charge for this service.

Fendalton, Shirley and Papanui

libraries

GenConnect

Tuesday, 12.10-12.40pm

Connecting generations by

sharing knowledge. Do you

have questions about your iPad,

smart phone or tablet? Or maybe

you want to know how to use

Skype, Facebook, or share your

photos with family or friends?

Ask an expert. Papanui High

School students will be available

every Tuesday during term time

from 12.10-12.40pm to help

you find answers to all your

questions.

Papanui Library, 35 Langdons

Rd

Reading to Dogs

Tuesday, 3.30-4.30pm

These sessions have been

designed to provide a relaxed and

non-threatening atmosphere to

encourage children to practice

their reading skills and develop a

love of reading.

This programme uses dogs

which are the pets of the city

council animal management

team and have been trained

and tested for health, safety

and temperament. Sessions are

15min. Phone 941 7923 to book

a spot.

Shirley Library, 36 Marshland

Rd

Fendalton Library Book Talk

Wednesday, 11am-noon

For those who love reading

and want to share in discussion

with other friendly book lovers.

The group subscribes to the book

discussion scheme so there is a

cost involved.

Places are limited so phone 941

7923 to inquire about availability

and cost.

Fendalton Library, 4 Jeffreys Rd

Bishopdale Bridge Club

Wednesday, 11am-2.30pm

Go along and join in with this

social group which meets every

Wednesday for a game or two of

bridge. Table fees $5. Phone Janet

for more information on 352

1440.

Ōrauwhata: Bishopdale Library

and Community Centre, 13

Bishopdale Court

Knit 'n' Yarn

Thursday, 2-3pm

Go along and enjoy a chat with

other as you knit. For anyone

who loves to knit or wants to

learn.

Fendalton Library, 4 Jeffreys Rd

Christchurch Women's

Toastmasters

Friday, 12.30-1.30pm

Want to advance your career?

Have the confidence to speak

up for issues you care about? A

friendly group of women meets

weekly to help women succeed

through developing speaking

and leadership skills. Visit www.

cwctoastmasters.org.nz for more

information.

St Pauls, behind in Tennis

Pavilion, 1 Harewood Rd

Bedtime Stories at the Library

Friday, 6.30-7.15pm

Go and join Margot for some

Friday night fun. Themed stories,

songs and simple crafts will

Do you struggle with

technology and would like

some free help? Go along

to a drop-in sessions at the

Upper Riccarton Library. You

will be able to get help with

specific issues such as using

email, searching the internet,

using the library catalogue,

electronic resources and any

other general computerrelated

queries. Go along

with your laptop, tablet,

smartphone or use one of

the desktop computers if

you need help with anything

digital. Sessions take place on

Thursdays, between 11am and

noon.

entertain your four to sevenyear-olds,

but the whole family

is welcome. Don't forget to wear

your PJs.

Fendalton Library

Super Saturday Storytimes

Saturday, 11-11.45am

Encourage learning through

a love for stories and craft.

Storytimes is an interactive. free

programme including stories,

songs, rhymes and play.

Shirley Library, 36 Marshland Rd

WWW .VI S I O N C O LLE G E.CO. N Z

LEARN

MODERN OFFICE

COMPUTER SKILLS

We design your jewelery unique

to your style and personality.

We offer a resize and redesign service.

FREE 20 week course.

NZ Certificate in Business (Admin & Computing).

This course will cover Windows 10 and Microsoft Office

(Word, Excel and Publisher). Taught within a business context,

this programme will prepare you for the modern office.

Hours are flexible and can include night classes.

ENROL

NOW

PHONE US NOW ON:

0800 834 834

txt OFFICE to 027 557 8839

COLLEGE

50 Hazeldean Rd,

Addington, Christchurch

A division of ATC New Zealand. (Est 1984). NZQA Accredited.

Merivale Mall | ChristChurCh

Phone 356 2377
---
2

[Edition datE]

Tuesday May 8 2018

16

Latest Christchurch news at www.star.kiwi

HEALTH & BEAUTY

NOR'WEST NEWS

A gut feeling

Digestive health is becoming increasingly important

for improving our overall wellbeing. As there is a

distinct connection between our tummy and our

moods, immunity and even our behaviours, it pays

to follow your gut if you feel out of sorts with these

nutritional enhancer

Dietary fibre is made up of three

types and each play a different role

throughout the digestive tract. it's often

a case of balancing them all and not only

supplementing with just one. to ensure

you get enough fibre in your diet: women

should aim for 25 grams to 30 grams

and men 30 grams to 38 grams each day.

Soluble fibre are found in oats, psyllium,

vegetables, fruits with their skin on and

supplements like Metamucil. insoluble

fibre can be found in wheat bran pasta

and quinoa. resistant starch is contained

in cold cooked pasta, potatoes and firm,

fresh bananas.

Probiotics and prebiotic foods can

help keep the correct pH balance(acidity

to alkalinity) in our intestines. These

'good' bacteria assist with breaking down

fibre in the bowel and produce healthy

stool movements. Probiotics can be

found in supplements, cultured yoghurt,

kombucha drinks and fermented

vegetables. Prebiotic foods are Jerusalem

artichokes and raw garlic, leeks and

onions.

Poor gut health could be caused by,

but not limited to, high stress levels,

caffeine, smoking or inadequate water

consumption. if you suffer from

prolonged periods of reflux, constipation,

diarrhoea or cramping and nausea, seek

medical advice. your doctor may help

identify possible intolerances or allergies.

True

Who thought

DENTURES

and false!

could look this

natural?

• Full dentures • Metal partial dentures

• First-time immediate dentures • Implant supported dentures

03 349 5050

STUNNING: A beautiful new denture for

a young female patient

These stunning lovebite full upper and

lower dentures have been expertly crafted by

internationally-recognised dental technician

Richard Greenlees at his Christchurch studio.

The combination of Richard's skill, experience

(including 15 years in London's prestigious

Harley Street) knowledge and revolutionary

techniques allow him to create beautiful

bespoke false teeth that truly resemble those

in nature and reflect each patient's individuality

and unique character.

New Dentures > Relines > Repairs >

6 Brynley Street, Hornby, Christchurch

www.betterdenture.co.nz

AGING GRACEFULLY: Natural teeth for

a gentleman patient in his 80's

402 Montreal Street

Christchurch | P. 379 1222

By appointment only.

Consultation fee applies.

HOLLYWOOD: It's all white for this

female patient in her 60's

lovebite.com

Richard will personally guide you through the entire process to create

teeth with small nuances in the fabrication, colour and shape. Your beautiful new

lovebite dentures will boost your confidence and make you look and feel year's younger!
---
NOR'WEST NEWS Latest Christchurch news at www.star.kiwi

Tuesday May 8 2018 17

REAL ESTATE

Premium Prebbleton

10 Farthing Drive, Prebbleton

4 bedrooms | 2 bathrooms | 2 toilets | 1 living room | 1 dining room | 2 car-garage | 4 off-street parks | Listing #FM5413

In a world of sameness, the cream always

rises to the top, and this extraordinary home

is no exception.

Upon entry, the scale and space is

immediately apparent. Built with deliberate

specifications, defined around the ultimate in

family living and freedom, there is no doubt

this property is one of a kind in Prebbleton.

The living area, with huge proportions,

sets the tone for the rest of the house. Full

length windows with sliding doors extend

the already massive living outside into a

generous paved patio, and back yard. High

ceilings amplify the space, which leads to an

entertainer's dream of a kitchen, complete

with engineered stone benchtops, belling

stove, and a big scullery and pantry set off

the main kitchen. Sleek modern design

complements the other living features,

including remote controlled blinds, speaker

system, and TV above the large gas fireplace.

With four bedrooms, options abound for

either family, work from home or guests.

All bedrooms have ample storage, with the

master boasting a king-size walk in robe and

beautifully appointed ensuite with double

shower. A sliding door from the master to a

private spa tops off the experience that awaits.

The yard has been designed to maximise

lawn and living, and planted to allow for

privacy. Vege patches are an added extra for

those with green thumbs.

Heating is more than covered with two

heat pumps to complement the gas fire, and

under tile heating gives the added touch of

luxury. Double glazing throughout ensures

that the home retains its heat with minimal

input required.

The double garage has been designed with

added space either size, allowing for extra

storage, and even has a large wardrobe set in

to cleverly utilise space. The laundry is a great

size, once again with added storage outside of

the main thoroughfares in the house which

cleverly creates cleaner lines and less clutter.

Only a short walk into the Prebbleton

Village, and short drive to the motorway

into the city, this location is popular for very

good reason. Schools and childcare nearby

also give great options for families, and the

neighbourhood is very quiet and family

oriented.

Open Homes Wednesday, Saturday and

Sunday 1:00pm - 1:45pm.

See you at the Open Homes or to arrange

a private viewing of this property call Joy

Butel or Alistair Hazeldine of Harcourts

Grenadier Ferrymead (Licensed Agent

REAA 2008) on 384 7950 or Joy mob: 021

353 280 or Alistair mob: 027 572 1555

Visit www.star.kiwi

anytime, anywhere!

Breaking news,

delivered to

your pocket.

Fire rages, homes at risk

•news •CTV •sport •districts •schools •lifestyle •opinion •what's on

www.star.kiwi
---
18

Latest Christchurch news at www.star.kiwi

Tuesday May 8 2018

NOR'WEST NEWS

Classifieds Contact us today Phone our local team 03 379 1100

Situations Vacant

Trades & Services

Trades & Services

Trades & Services

ADVERTISING

ACCOUNT MANAGER

If your serious about selling and like to

achieve outstanding results, then you are

the person we are looking for!

We are looking for someone who has:

• Experience in selling B2B

• Proven success record of winning new

business

• Maintain and grow existing client base

• Listen and relate well to our clients to

provide the best solutions

We will offer you an excellent base salary as

well as a commission system with no cap.

You will be part of a successful team

selling our free newspapers, magazines

and digital solutions to our clients, which

are all experiencing strong growth in our

marketplace.

I am keen to hear from you, if you can

take me through your proven sales process

and deliver an intelligent sales solution to

customers.

It's an exciting and fun time to join our

media team.

You will get support and structure provided,

to ensure your success in our team.

Please send your application and CV via

email to Steve McCaughan

steve@starmedia.kiwi

Community Events

ALCOHOLICS

ANONYMOUS, If you

want to have a drink that's

your business. If you want

to stop, we can help. Phone

0800 229-6757

Gardening

& Supplies

A GARDEN OR

LANDSCAPING TIDY

UP? Shrub, hedge &

tree pruning, Lawns,

Gardening, consistently

reliable general property

upkeep, Dip. Hort. 10

yrs experience, One off

tidy ups or on-going

service. Nick's Property

Computers

ALL

YOUR

COMPUTER

Maintenance. Keeping

WORRIES SOLVED! your garden beautiful.

*$30.00 off your first Free Quote. Ph. 942-4440

service with this coupon!*

No problem too big or

small from home PC's to Holiday

business networks. PC Accommodation

slow? An end to Viruses,

Spyware, and Clogged

Systems. Safe secure

hassle-free computing.

Lost files recovered.

Microsoft Certified,

MCSE, MCP+l. 30 years

QUEENSLAND SUNexperience.

Call Andrew

SHINE COAST AUSTRA-

Buxton this week on 326-

LIA Resort, Ocean Views,

6740 or 027 435-7596 Balconies, Self Contained,

1 or 2 B/R Ensuite,

for $30.00 off* Custom

Computers Christchurch Heated Pool, Spa, Sauna,

Free Internet, Shops,

Community Events Restaurants, Tennis, Surf

Club & Patrolled Beach,

ALCOHOLICS

ANONYMOUS, If you

want to have a drink that's

Public Transport at door.

Ask for our SEASONAL

SPECIALS. Phone 61 7

your business. If you want 544-35011 Email: reception@mandolin.com.au

to stop, we can help. Phone

www.mandolin.com.au

0800 229-6757

DRIVEWAYS

Exposed Aggregate

Stamped Concrete Plain

Concrete Resurfacing

Things we offer...

Competitive/affordable pricing

Attention to detail

Professional service

free quotes/insurance scopes

Cell 0278 145 848

www.drivecrete.co.nz

EXTERIOR PLASTERING

Quality

Workmanship

at Competitive Pricing

Free Quotes

Aynsley Frewer

M: 027 201 1296

E: aynsleyfrewer@xtra.co.nz

PO Box 20534 Bishopdale

PAINTER

Michael Kelly Painters

Locally owned and

operated family

business.

25+ years Experience

• Painting • Wallpapering

• Interior • Exterior

Free Quotes

Phone

Michael 0212 649 492

michaelkellypainter@hotmail.co.nz

Real Estate

TOWNHOUSE

WANTED House or

Townhouse wanted in

Girls High/Boys High

zone. 3 bedrooms two

toilets/bathrooms.

Looking for my Mum to

move closer to us. Cash

buyer, up to 550k. Please

phone 021 372 479

TOWNHOUSE

WANTED House or

Townhouse wanted in

Girls High/Boys High

zone. 3 bedrooms two

toilets/bathrooms.

Looking for my Mum to

move closer to us. Cash

buyer, up to 550k. Please

phone 021 372 479

Trades & Services

Kali's

Landscape

Services

• Lawnmowing

• Boxing Edges

• Section

Clearing

• Trimming/

Pruning

• Garden cleanouts

• Waterblasting

Phone:

021 081 18807

junk

Why go to the Dump? Junkman comes to you!

Items too big for the rubbish bin?

Or too heavy for you to move?

Junkman comes to FROM

you & takes it away $

65 *

Trades & Services

ROOF

PAINTING

Rope & harness

a speciality,

no scaffolding

required,

30 years of

breathtaking

experience.

FREE QUOTES

Exterior staining,

exterior painting,

moss and mould

treatment and

waterblasting

Phone Kevin

027 561 4629

Looking for

experienced

painters &

decorators

who will provide

the best result

and are a pleasure

to have at home?

- Clean & tidy

- Punctual

- Over 20 years working

in Christchurch

- Quality assured

call clayton on

027 2210 555

email:

info@a1decorating.co.nz

Visit:

www.a1decorating.co.nz

*Prices vary depending on items and volume – minimum charge $65

0800 586 5626

www.junkman.co.nz office@junkman.co.nz

Trades & Services

BLOCKED

DRAINS?

• VIDEO INSPECTION

• WATERBLASTING

• LIQUID WASTE

PH: 03 365 7960

24 hours // 7 days

info@h20jet.co.nz

www.h20jet.co.nz

CHIMNEY SWEEP

Txt 027 669 4681.$50

CLEANING SERVICES

C-L

Cleaners.

Domestic,one offs, spring

cleaning, rentals, builders,

commercial cleans. GST

reg.No contracts. Ph/

txt Cristie 027 4376383.

cristie-lynn@xtra.co.nz

ELECTRICIAN

Registered, electrical

installation and repairs,

Gorbie Electrical, ph 021

026 73375 or 03 322 4209

LAWNS & GARDENS

Get in quick for winter

clean ups. Gardens,

hedges, lawns, yards.

Friendly efficient service.

Ph 021 799 299 or 027 528

4311

PAINTING

& Decorating Wingfields

Contracting, all interior

& exterior painting & all

forms of interior plastering

& jib fixing, ph Mark 021

171-1586 or 355-5994

PAINTER

Quality work, I stand by

Canterbury Ph Wayne 03

385-4348 or 027 274 3541

PAINTER AVAILABLE

All aspects in painting.

Very competitive in roofs

and fences. Please call 027

241-7471 or 335-0265

PAINTING

30 years experience,

workmanship guaranteed,

pensioners discounts, free

quotes, ph Robert 021 026-

30757

PLASTERER

Gib Stopping, Small

job specialty. 30 + years

experience. Ring 0800

387-369

PLUMBER

AAA HANDYMAN

licensed carpenter

LBP, all property and

building maintenance,

repairs, bathroom/shower

installations, with free

quotes 03 383 1927 or 027

245 5226 ciey@xtra.co.nz

AUTUMN

Tidy Up Special. Nth/West

Tidy Ups. Ph Graeme 027

341-8596 / 342-5151

BUILDER

For all building work

but specialist in bathroom

renovations, 30 yrs

experience, with service

and integrity. Free Quotes.

Ph Lachlan 383-1723 or

0274 367-067.

**************** ALF THORPE

CARPET & VINYL PLUMBING Certifying

Laying. Repairs, uplifting, Plumber for all types of

relaying, restretching. plumbing, maintenance,

Email jflattery@xtra.co.nz

ph 0800 003 181 or 027

2407416

spouting, alterations etc.

Phone 352-7402 or 0274-

350-231

DIRTY

TILES &

GROUT?

Our unique restoration processes will make your

tiled areas look BRAND NEW again!

We provide cost effective makeovers for showers,

bathrooms, kitchens or any other tiled areas.

Tiled Shower Makeovers

Professional Tile & Grout Cleaning

Re-Colouring of existing Grout

Tile/Grout Sealing

Tile/Grout Repairs

Silicone Replacement

Garage Carpet Installation

For your FREE no obligation quote contact

DARRYL

0800 882 772

darryl.p@groutpro.co.nz

Trades & Services

ROOFING REPAIRS

Fully qualified, over 40

yrs experience. Ph John

027 432-3822 or 351-

9147 email johnchmill@

outlook.com

SHOE REPAIRS

Belfast engraving. Shoe

repairs, key cutting &

engraving. (10 yrs exp)

683 Main North Rd, ph

027 3113423

SPOUTING CLEANING

Spouting Unblocked,

Cleaned Out and Flushed

Out. Also Full Handyman

Services Available. Call

Trevor 332 8949 or 021

043 2034

STONEMASON

BRICK

BLOCKLAYER,

Earthquake Repairs, Grind

Out & Repoint, River/

Oamaru stone, Schist,

Volcanic Rock, Paving,

all Alterations new & old,

Quality Workmanship,

visit www.featureworks.

co.nz or ph 027 601-3145

Trades & Services

TILER/CARPENTER

35 years exp, no job

too small. Ph Ross 027

4311440.

T.V. SERVICE CENTRE

Repairs, tvs, microwaves,

stereos, DVD. Aerial

installations and kitsets,

480 Moorhouse Ave, ph 03

379 1400

VHS VIDEO TAPES

& all camera tapes

converted to DVD, video

taping special occasions,

www.grahamsvideo.co.nz

ph 03 338-1655

WINDOW CLEANING

Average 3 bdrm house

inside or out $40. Both

& $70. Phone Trevor 344-

2170

Wanted To Buy

TOOLS Garden,

garage, woodworking,

mechanical, engineering,

sawbenches, lathes, cash

buyer, ph 355-2045

ADVERTISE

YOUR

BUSINESS

HERE

Phone for further details

(03) 379 1100
---
NOR'WEST NEWS Latest Christchurch news at www.star.kiwi

Tuesday May 8 2018 19

What's On

Entertainment

To advertise, contact

Jo Fuller 027 458 8590

jo.fuller@starmedia.kiwi

Celebrating five decades

of making music

NZ COUNTRY music legend, Brendan

Dugan, celebrates 50 years of

entertaining with a special anniversary

concert at the Hornby WMC on Sunday

27th May.

Brendan became an overnight

sensation when he won TV talent show,

New Faces in 1968.

Since then he has performed

countless live shows (both here and

overseas); made numerous TV

appearances; and has an impressive

catalogue of recordings to his credit.

Recognised for his efforts, Brendan

has been honoured with the prestigious

title of NZ Entertainer of the Year. He

has also been awarded with a Scroll of

Honour by the NZ Variety Artists Club.

For the 50th Anniversary Concert

Brendan will be joined on stage by his

father Pat Dugan, sister Annette Dugan

Mick, and well known country music

artists Jodi Vaughan, Aly Cook, and

Maree Humphries. Providing the

backing is e Andy Gilmour Band

with Wayne Allen & Cameron Walsh.

e show, that takes place at the

Hornby WMC on Sunday 27th May,

starts at 2pm. Tickets $20 on sale now at

the club office, Carmen Rd, phone 03

349 9026.

'Famous for their roasts!'

RESTAURANT & CAFÉ

Cooked Breakfasts

Check out our extensive breakfast

menu from Continental to Cooked

We are open from 6.30am

Seniors SPECIAL

Two courses $20

Soup/Roast or

Roast/Dessert

Special available lunch only

Monday - Saturday 12pm - 2.30pm

What's On

TUESDAYS &

THURSDAYS

MEMBERS LUCKY

CARD DRAW

CLUB

BISTRO

DOWNSTAIRS

Open Tuesday to Saturday

12pm - 2pm & from 5pm.

$19

UPSTAIRS

The

RACECOURSE HOTEL

& Motorlodge

118 Racecourse Rd, Sockburn,

www.racecoursehotel.co.nz

Dine by the Beach

PIERVIEW

RESTAURANT

Open from 5.30pm Friday, Saturday

and Sunday, and for Sunday Brunch

from 10.30am to 2pm.

BUFFET LUNCH

Don't forget Mum!

Mother's Day

Sunday 13th May

TREAT THE

FAMILY!

Kid's

2 course

special

$13

Christchurch. Ph 03 342 7150

MONTH-END

SUNDAY NIGHT

BUFFET $25pp

Sunday 27th MAY,

from 5.30pm

BOOK NOW!

SUNDAY 13th MAY

from 11.30am

Bookings essential on 388 9416.

$25 PP

Due to Mother's Day, the restaurant will not be open for our

regular Sunday Brunch, and will be open for normal a la carte

dinner on Sunday night.

202 Marine Pde | Ph 388 9416 | www.newbrightonclub.co.nz | Members, guests & affiliates welcome

Lunch & Dinner

All you can eat, 7 days

Bookings Essential

PH 386 0088

fb.com/GardenHotelRestaurant

www.gardenhotel.co.nz

SERVING

HAPPY HOUR

5PM - 7PM DAILY

OUR CABINET ITEMS

ARE HOMEMADE

CREATED FRESH ON SITE DAILY

$12

LUNCH

SPECIALS

Live Music:

6PM.SAT 12-MAY

COFFEE

HAPPY

H O U R

2PM-4PM

DAILY

$3.50

Offer available for a limited time

and includes tea, hot chocolate

MON: ROAST MEAL

TUE: FISH & CHIPS

WED: FISH BURGER

THU: ROAST MEAL

SAT: FISH & CHIPS

AVAILABLE

FROM

11.30AM-2PM

FOR A

LIMITED TIME

PHONE 385 8880 FIND US ON FACEBOOK fb.com/GBCCHCH

THE GARDEN HOTEL COMPLEX | 110 MARSHLAND RD

www.gardenhotel.co.nz | phone 385 3132

H ORNBY

WORKINGMEN'S

CLUB

FAMILY FRIENDLY DINING

Club CAFE

OPEN DAILY

LUNCH & DINNER

GF & V options available

Chalmers Restaurant

CARVERY DINNER $22.50

EVERY FRIDAY & SATURDAY FROM 5.30PM

Early Bird Special

5.30pm - 6.30PM

Family Friendly

FREE

DESSERT

PLAYING

THIS WEEKEND

SATURDAY

4.30PM: BARROSS

8PM: IAN MAC

SATURDAY

7.30PM: UPSTAIRS

RETRO ROCKIN'

TICKETS $20. DOOR SALES $25

COMING UP

SUNDAY 27 MAY

BRENDAN DUGAN

50TH ANNIVERSARY SHOW

feat. FAMILY & FRIENDS

2PM. TICKETS $20

SATURDAY 9 JUNE

A TRICK OF THE LIGHT

THE PINK FLOYD PROJECT

SATURDAY 23 JUNE

STARS IN THEIR EYES

feat TONY WELLINGTON

AS ROY ORBISON and

EDDIE SIMON AS LEO SAYER

The Hornby Club | ph 03 349 9026 | 17 Carmen Rd | Hornby

www.hornbywmc.co.nz | Members, guests & affiliates welcome
---
20 Tuesday May 8 2018

Latest Christchurch news at www.star.kiwi

NOR'WEST NEWS

STOREWIDE

BED BLITZ

Moorhouse Ave and Hornby Stores Only!

All Hornby Floor Models Must Go

CLEARANCE SANCTUARY

RANGE,

UP

TO

50%OFF

FLOOR MODELS AND

CLEARANCE STOCK

SERENITY CARNATION

FIRM

• Pocket Spring system

• Nuvole Pure Comfort Fibre

• Eco-friendly Dreamfoam ®

• Comfort edge

SERENITY ROSE

10 ONLY

AT THIS

AMAZING PRICE

TOP

SELLER

QUEEN SET

Only $1,699

QUEEN SET

Only $1,999

CHIROPRACTIC HD DUKE

PLUSH

• Torquezone ® HD

• Endorsed by the New Zealand

Chiropractors' Association

• Fusion Graphene

• NZ Wool + Silk

• Latex Gold ®

• DreamfoamGel ®

CHIROPRACTIC LORD

FIRM

• Torquezone ® Spring system

• Endorsed by the New Zealand

Chiropractors' Association

• Fusion Graphene

• NZ Wool + Silk

• Latex Gold ®

• DreamfoamGel ®

SUPER

BUY

SWISSTEK BRIGITTA

MEDIUM FIRM

• 7 Zone Pocket Spring

• Silverline + Bamboo

Premium Knit

• Latex Gold ®

• Dreamfoam ®

QUEEN SET

Only $2,899

QUEEN SET

Only $1,299

QUEEN SET

Only $2,699

BEDS R US

HORNBY

40 Carmen Road,

Hornby

PH: 03 595 2360

BEDS R US

MOORHOUSE

166 Moorhouse Avenue,

(Next to Noel Leeming)

Ph 03 379 5110