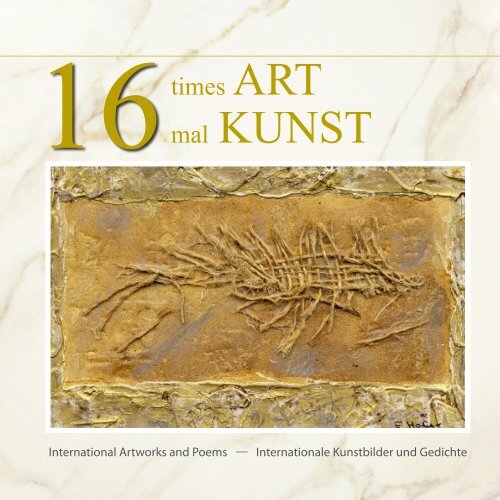 16 times ART - 16 mal KUNST
Belgium, Germany, Estonia, France, Greece, Israel, Italy, Japan, Luxembourg, Austria, Mexico, Netherlands, Norway, Singapore, South Africa, United States Alexander Gurevitch: spiced with delicate humor; Amaryllis Siniossoglou: in the flow; April Ng Kiow Ngor: bizarre landscapes; Asuna Yamauchi: eery bones; Eleanora Hofer: beyond words; Elvira Clément: surrounded by the glow of light; Gerhard Rasser: the passion of loneliness; Hee Sook Kim: dream of an earthly paradise; Ida-Marie Hellenes: white nights; Josée Wuyts & Frans de Groot: enigmatic geometric symbols; Juttamarie Fricke: weavings of dualism; Liliana Rizo: images in dynamic motion; Maria Rita Onofri: relief-like collages; Maud du Jeu: physical expression and tenderness; Monica Romero: pure wax painting; Reti Saks: drawn stories; Serge Koch: reflections; Wouter Tacq: in search of an answer The printed book is available in the book trade and in internet bookshops. Hardcover: ISBN 978-3-96103-504-5, Publisher: Re Di Roma-Verlag, Language: English, German, Size: 21 x 21 cm Belgien, Deutschland, Estland, Frankreich, Griechenland, Israel, Italien, Japan, Luxemburg, Österreich, Mexiko, Niederlande, Norwegen, Singapur, Südafrika, USA Alexander Gurevitch: Mit feinem Humor gewürzt; Amaryllis Siniossoglou: Im Fließen; April Ng Kiow Ngor: Bizarre Landschaften; Asuna Yamauchi: Unheimliche Knochen; Eleanora Hofer: Jenseits des Sagbaren; Elvira Clément: Umfangen von Lichtschein; Gerhard Rasser: Passion Einsamkeit; Hee Sook Kim: Traum vom irdischen Paradies; Ida-Marie Hellenes: Weiße Nächte; Josée Wuyts & Frans de Groot: Rätselhafte geometrische Zeichen; Juttamarie Fricke: Verwobener Dualismus; Liliana Rizo: Dynamische Bildbewegung; Maria Rita Onofri: Reliefartige Collagen; Maud du Jeu: Körperlicher Ausdruck und Zartheit; Monica Romero: Reine Malerei in Wachs; Reti Saks: Gezeichnete Geschichten; Serge Koch: Reflexionen; Wouter Tacq: Auf der Suche nach einer Antwort
Belgium, Germany, Estonia, France, Greece, Israel, Italy, Japan, Luxembourg, Austria, Mexico, Netherlands, Norway, Singapore, South Africa, United States

Alexander Gurevitch: spiced with delicate humor; Amaryllis Siniossoglou: in the flow; April Ng Kiow Ngor: bizarre landscapes; Asuna Yamauchi: eery bones; Eleanora Hofer: beyond words; Elvira Clément: surrounded by the glow of light; Gerhard Rasser: the passion of loneliness; Hee Sook Kim: dream of an earthly paradise; Ida-Marie Hellenes: white nights; Josée Wuyts & Frans de Groot: enigmatic geometric symbols; Juttamarie Fricke: weavings of dualism; Liliana Rizo: images in dynamic motion; Maria Rita Onofri: relief-like collages; Maud du Jeu: physical expression and tenderness; Monica Romero: pure wax painting; Reti Saks: drawn stories; Serge Koch: reflections; Wouter Tacq: in search of an answer

The printed book is available in the book trade and in internet bookshops. Hardcover: ISBN 978-3-96103-504-5, Publisher: Re Di Roma-Verlag, Language: English, German, Size: 21 x 21 cm

Belgien, Deutschland, Estland, Frankreich, Griechenland, Israel, Italien, Japan, Luxemburg, Österreich, Mexiko, Niederlande, Norwegen, Singapur, Südafrika, USA

Alexander Gurevitch: Mit feinem Humor gewürzt; Amaryllis Siniossoglou: Im Fließen; April Ng Kiow Ngor: Bizarre Landschaften; Asuna Yamauchi: Unheimliche Knochen; Eleanora Hofer: Jenseits des Sagbaren; Elvira Clément: Umfangen von Lichtschein; Gerhard Rasser: Passion Einsamkeit; Hee Sook Kim: Traum vom irdischen Paradies; Ida-Marie Hellenes: Weiße Nächte; Josée Wuyts & Frans de Groot: Rätselhafte geometrische Zeichen; Juttamarie Fricke: Verwobener Dualismus; Liliana Rizo: Dynamische Bildbewegung; Maria Rita Onofri: Reliefartige Collagen; Maud du Jeu: Körperlicher Ausdruck und Zartheit; Monica Romero: Reine Malerei in Wachs; Reti Saks: Gezeichnete Geschichten; Serge Koch: Reflexionen; Wouter Tacq: Auf der Suche nach einer Antwort
SHOW MORE
SHOW LESS
Do you know the secret to free website traffic?
Use this trick to increase the number of new potential customers.
16

times ART

mal KUNST

International Artworks and Poems —

Internationale Kunstbilder und Gedichte

1
---
16 times ART 16 mal KUNST

Relax and Rejoice with Art and Poetry from Sixteen Countries

Entspannung und Genuss mit Kunst und Poesie aus sechszehn Ländern

72 artworks

32 haiku poems

72 Kunstbilder

32 Haiku-Gedichte

2
---
Contents

Inhaltsverzeichnis

Foreword

Amaryllis Siniossoglou, Greece .......................................... 4, 10 - 11

Alexander Gurevich, Israel ................................................. 4, 12 - 13

April Ng Kiow Ngor, Singapore .......................................... 4, 16 - 17

Asuna Yamauchi, Japan ........................................................ 4, 18 - 19

Eleanora Hofer, South Africa ............................................... 4, 20 - 21

Elvira Clément, Germany (Art and Poetry) ................... 4, 22 - 23

Gerhard Rasser, Austria ........................................................ 5, 24 - 25

Hee Sook Kim, USA ................................................................ 5, 26 - 27

Ida-Marie Hellenes, Norway ............................................... 5, 28 - 29

Josée Wuyts & Frans de Groot, The Netherlands ......... 5, 32 - 33

Liliana Rizo, Mexico ................................................................ 5, 34 - 35

Maria Rita Onofri, Italy .......................................................... 5, 36 - 37

Juttamarie Fricke, Germany (Art and Poetry) .............. 5, 38 - 39

Maud du Jeu, France ............................................................ 6, 40 - 41

Monica Romero, Mexico ..................................................... 6, 42 - 43

Reti Saks, Estonia ................................................................... 6, 44 - 45

Serge Koch, Luxembourg ...................................................... 6, 48 - 49

Wouter Tacq, Belgium ........................................................... 6, 50 - 51

Haiku-Poems:

Reinhard Harbaum, Germany ................................................ 14 - 15

Youetta de Jager, The Netherlands ....................................... 30 - 31

Gabriele Walter, Germany ....................................................... 46 - 47

Imprint

.............................................................................................................. 4

.................................................................................................. 52

Cover: Eleanora Hofer

Back of the book: Hee Sook Kim

Title page: Alexander Gurevich

Vorwort

Amaryllis Siniossoglou, Griechenland ..................................... 7, 10 - 11

Alexander Gurevich, Israel .......................................................... 7, 12 - 13

April Ng Kiow Ngor, Singapur ..................................................... 7, 16 - 17

Asuna Yamauchi, Japan

Eleanora Hofer, Südafrika

................................................................ 7, 18 - 19

............................................................. 7, 20 - 21

Elvira Clément, Deutschland (Kunst und Poesie) ................ 7, 22 - 23

Gerhard Rasser, Österreich ......................................................... 8, 24 - 25

Hee Sook Kim, USA ........................................................................ 8, 26 - 27

Ida-Marie Hellenes, Norwegen ................................................. 8, 28 - 29

Josée Wuyts & Frans de Groot, Niederlande ......................... 8, 32 - 33

Liliana Rizo, Mexiko ....................................................................... 8, 34 - 35

Maria Rita Onofri, Italien .............................................................. 9, 36 - 37

Juttamarie Fricke, Deutschland (Kunst und Poesie) ........... 8, 38 - 39

Maud du Jeu, Frankreich

Monica Romero, Mexiko

............................................................. 9, 40 - 41

.............................................................. 9, 42 - 43

Reti Saks, Estland ........................................................................... 9, 44 - 45

Serge Koch, Luxemburg ................................................................. 9, 48 - 49

Wouter Tacq, Belgien ..................................................................... 9, 50 - 51

Haiku-Gedichte:

Reinhard Harbaum, Deutschland .................................................. 14 - 15

Youetta de Jager, Niederlande ....................................................... 30 - 31

Gabriele Walter, Deutschland ........................................................ 46 - 47

Impressum

........................................................................................................................... 7

.................................................................................................... 52

Cover: Eleanora Hofer

Cover-Rückseite: Hee Sook Kim

Titelseite: Alexander Gurevich

Übersetzung der Drucktechniken

acrylic - Acrylmalerei

dry point – Kaltnadel (Tiefdrucktechnik)

encaustic on paper – Wachsmalerei auf Papier

etching - Radierung

ink - Tusche

intaglio – Tiefdruck (säurefrei)

print - Druck

viscosity – Hoch- und Tiefdrucktechnik (kombiniert)

watercolor - Aquarell

The international art exhibition series "Enter into Art" features both art and poetry. Gabriele Walter and Kurt Ries have been organizing it since 2015, supporting

the event as artists, poets and PR journalists, creative brains, and promoters. Under the title of each exhibition, a catalogue is published designed as an art and gift

book including poetry in addition to some of the visual artworks shown at the exhibition. The catalogue is available online and in brick-and-mortar book stores.

We wish you a wonderful trip around the world of art and poetry. On our website www.meditaterra.de featuring the blog www.bernsteinrose-blog.de visitors

find a series of blog entries about the catalogue, as well as additional information about the "Enter into Art" exhibition series, whose intercultural nature is especially

important to us.

Die internationalen "Enter into Art"-Kunstausstellungen sind eine Melange aus Kunst und Poesie. Seit 2015 werden sie von Kurt Ries und Gabriele Walter veranstaltet,

die sie als Künstler, Dichterin und PR-Journalisten in kreativer und kunstfördernder Weise begleiten. Unter dem jeweiligen Ausstellungstitel wird ein Katalog

herausgegeben, der nach den Ausstellungen in Form eines Kunst- und Geschenkbuches mit Lyrik und Poesie erscheint und sowohl im Buchhandel als auch im Internet

erhältlich ist.

Wir wünschen Ihnen eine wunderschöne Kunst- und Poesiereise um die ganze Welt. Auf unserer Website www.meditaterra.de mit dem integrierten Blog-Journal

www.bernsteinrose-blog.de finden Sie eine Blogbeitragsreihe zum Buch und nähere Informationen über die "Enter into Art"-Ausstellungen, bei denen uns vor allem

auch die interkulturelle Zusammensetzung am Herzen liegt.

4 5
---
Foreword

The art and gift book "16 times art" introduces

eighteen artists from sixteen countries by

presenting four small works per artist. The group

exhibition under the same title was held from 25

June-21 August 2018 in the light-flooded foyer of

Weißenthurm's townhall on the left bank of the

Rhine. In addition to the visual artworks shown at

the exhibition the book also features several haiku

poems from Germany and the Netherlands. As two

of the poets are also visual artists, their work is presented

under the heading: "art and poetry". During

the exhibition, three artists received an "honorable

mention" and are featured more prominently on the

cover, title page, and back of the book.

In Alexander Gurevich's series of etchings,

the theme of the muse plays a central role.

Through the visual power of the key moments

chosen by the artist, the events depicted appeal

to viewers on a personal level, while the subtly

sarcastic mode of narration evokes a heightened

readiness to take them in. In Gurevich's drawings,

the line serves as an expressive gesture: Varying

degrees of thickness and shading lead to a sense of

three-dimensionality and movement. This makes

his works unfold like plays and turns viewers into

spectators. The motifs confidently drawn with an

etching needle are remindful of historical and mythological

themes, and spiced with a delicate sense

of humor that evokes specific emotional responses.

Besides including autobiographical self-portraits,

the ambiguous nature of the motifs allows for a

broad spectrum of individual interpretations, which

makes these works so effective. p. 12 - 13

(www.gurevich-art.com)

On a subjective level, artist Amaryllis

Siniossoglou gives a lot of room to the imagination.

Impressions of nature are visualized in a misty,

blurred style, to which the medium of watercolor

seems perfectly suited. Creatively transformed

landscapes conjure up mental images that reveal

beauty inside a melancholy world. The subject turns

into a motif as different scenes are depicted against

the same background. Amaryllis Siniossoglou uses

suggestive color temperatures based on the functions

of sound and space, to visualize the forces of

nature. Tones of violet seemingly cover everything

with a misty veil muffling all contrast, and finally

making the world dissolve into immateriality.

p. 10 - 11 (www.amaryllissiniossoglou.com)

Spontaneity, playfulness, and a strong sense of

harmony mark art professor April Ng Kiow

Ngor's intaglio etchings. For her series "new

tracks", she perforated her printing plates to produce

striking white dots running across the pictures.

Her compositions use irregular shapes and organic

lines. The luminous tracks of dots shine from the

dark background like stars or bubbles, magically

catching the viewer's eye. In the broadest sense,

one may feel inclined to perceive elements of landscape

but in the end, the high degree of abstraction

makes it impossible. Flower branches, valleys, and

rocks seem to appear, as one imagines an old door

panel from a quaint mountain village serving as a

printing plate. p. 16 - 17

(www.aprilkiowngor.weebly.com)

Asuna Yamauchi's realistic landscape

compositions featuring mysterious oversized bones

resist the temptation of color, and, in this sense,

could be seen as representatives of a kind of "antipainting".

Pleasant scenery is not her subject. In the

foreground, ghastly bones are positioned close to

the viewer. These appear either in front of seascapes

with a high horizontal line (worm's eye view) or like

rock formations in the woods. The sculpture-like

bone structures are darkly remindful of cenotaphs.

Intentionally displaced, they become surreal elements

of landscape staffage, palely lit, and void

of people. A primordeal ocean, coldly and wildly

foaming, threatens to overwhelm and swallow up

the viewer. The woods exude an equally fateful magnetism.

p. 18 - 19 (www001.upp.so-net.

ne.jp/asuna-yamauchi/index.html)

Eleanora Hofer's collages mesmerize

viewers with their aesthetic appeal. Shreds of old

letters are arranged in squares. Indecipherable

handwriting serves as a backdrop to enigmatic

compositions. The pictures in this series appear like

small sections of a chaotic whole, like the individual

verses of a poem. They resemble sonnets containing

melodious words, and radiating intellectual and

poetic spirit. In her rectangular works, the artist

prominently positions plant parts against haptic

background textures. Her abstract images are charged

with the realistic presence of found objects put

together in calm, traditional compositions. The harmonious

golden-brown sandstone colors add a dynastic,

fossil-like touch of magic to Hofer's collages.

p. 20 - 21

Elvira Clément's artworks and short

poems call for an intuitive mode of reception. The

objective is to express the essence of an interesting

moment of nature with a minimum of words

and abstract shapes. Weaving lyrical abstraction

into her art, aesthetic composition congeals with

random shapes as the artist's style is marked by

subconscious stimulation and associative impulse.

Resembling prisms from which human shapes appear

in surprising ways, the artist uses motifs with

organic shapes surrounded by the sheen of a joyful

natural paradise. Reminded of shimmering water

reflections or dew drops on fragrant calyxes, the

viewer steps into the beauty of a biotope. Nothing

could be suited to this mode of expression more

perfectly than monotype on glass. p. 22 - 23

Almost void of human presence, Gerhard

Rasser's tryptichs tap into an otherworldly, spiritual

realm. Characterized by an expansive serenity,

they invite viewers to "immerse themselves" in their

beachscapes and experience moments of meditation

in the stillness of their fascinating silence. Material

elements of nature are set against the purity of

large colored expanses. Denying the human signature

of his brush work, the artist appeals to distant

horizons to offer an answer to the longings of our

time, illuminated by the radiant beauty of the sun

or the moon. Rasser's artistic work combines beauty,

balance, harmony of shapes, and the gentleness

of velvety colors to communicate a joyous affinity

for a life of hermitage that could be experienced

alone or as a couple in an atmosphere of calm, mutual

trust. p. 24 - 25

(www.blickfang-gerhardrasser.com)

As a rule, Hee Sook Kim's paintings can

be viewed from two sides. Her ten miniatures are

exemplary for her masterful use of patterns, sequences,

and variations. The transition between

meaningful signifiers and abstract ornaments is fluid.

The poetic magic of her artwork lies in her individual

artistic style. Plant shapes are reduced to floral

ornaments. Approaching the area of abstract painting,

the artist's need to express herself is reflected

in her use of shapes and colors. Colors change disregarding

solid outlines. Kim's style is marked by the

Asian influence of orchestrated symphonics, as well

as her otherworldly feel for art and harmonious color

composition that is solely concerned with beauty.

p. 26 - 27 (www.heesookkim.com)

The atmosphere in Ida-Marie Hellene's

art is a clear reference to her Scandinavian origins.

One need only look at the colors – indigo, yellow,

and falu red – to identify their geographical background,

even though the colors are relatively muted,

reflecting the monotonous light of white nights.

The lone huts, houses, and buildings appear silent

and void of humans. The artist's abstract mode of

expression embodies the loneliness and expansiveness

of Scandinavian landscapes. At first sight,

the viewer may feel disillusioned. As a long term

resident of her homeland, however, the artist probably

gleans these impressions from her own daily

observations, and after a while, they begin to exude

a certain appeal verging on intimacy. p. 28 - 29

Josée Wuyts & Frans de Groot, two

artists with very different personalities, symbiotically

collaborate to create an enigmatic collage

showing two inexplicable signs printed on top of

each other. Their improvisational momentum produces

hieroglyphic structures that remain void of

recognizable shapes in spite of their geometric elements.

The duo's works seem to be dictated by the

subconscious, spontaneously unleashed under the

influence of expressive gestures or even scribbles.

This leads to grotesque constructions or strongly

distorted images. Through horizontal and vertical

lines, the images' seemingly chaotic nature gains

stability. Upon longer observation, they turn into

the corners of rudimentary buildings lacking right

angles. p. 32 - 33 (www.wuyts-degroot.nl)

The appeal of Juttamarie Fricke's visual

art and short poems lies in their multi-layered

composition. While containing elements of surrealism,

her etchings weave together objects and

materials producing an overall result that seems

loosely based on Picasso's drawings. Bulls seem to

merge with humans. The artist's portraits, on the

other hand, are vaguely remindful of antique, possibly

Egyptian deities. The female idol appears both

classical and modern. Fricke's etchings are characterized

by the dualism of interwoven shapes and

figures. Caught in the loose mesh of large fishing

nets, the figures express dance-like dynamics. Her

animalization or bullization of female nudes is a

stroke of genius: Almost unnoticeably, two figures

emerge from the texture of the painting. p. 38 - 39

(www.juttamarie.eu)

Radiance of color and shape marks the unique

floating magic of Liliana Rizo's paintings. The

wonderful connection of shapes and colors freed of

their association with specific objects leads to abstract,

Orphic motifs. Random impulses and reflexes

create dynamic, even rapid movements inside the

images that resemble random sections of space

and time, while containing an involuntary element

of representationialsm. Three-dimensionality and

light are suggested using nothing but color. Overlay

and transparency consolidate the luminous play of

colors culminating in lyrical bliss as spontaneous

brush strokes evoke dance and butterflies. p. 34 - 35

Maria Rita Onofri applies the sophisticated

mastery of her craft to an idiosyncratic collage

technique. Her works feature schematically

reduced representations of nature that speak their

own unique language. The metallic materials incorporated

in the pictures play with intensity and

multitude of color and reveal an affinity with the

artisanal side of art. Giving no heed to their "correct"

everyday associations, the artist's colors radiate a

sensual power. Individual parts of shapes and figures

physically protrude from otherwise planar

works, underpinning their object-like character.

Maria Rita Onofri also works as a sculptor and as a

goldsmith. Her collages are intent on guiding observers

toward beauty and being radiant gems illuminating

human living spaces. p. 36 - 37

(www.mariaritaonofri.it)

6 7
---
Maud du Jeu is a skilled exponent of the

ancient, honorable art of drawing. Featuring calming

mudras, her motifs are all representations

of the human body. Her creative theme is closely

limited to the realistic representation of the human

shape, in which hands symbolize expressive

gestures. Exact anatomical outlines are drawn in

a purposeful and calm manner, colors are applied

with monochrome elegance. Maud du Jeus' artistic

background is in figurative bronze sculptures, but

she has turned to drawing, the traditional foundation

of sculpting, with the same intensity, adding it

to her work as an equally important mode of artistic

expression. p. 40 - 41 (maud.dujeu.free.fr)

Monica Romero's figures, human forms,

and landscapes almost unnoticeably emerge from

seemingly moving, homogeneous material structures.

Form becomes action, expressed in spontaneous

brush strokes, or the rough outlines of objects.

The interwoven colors, shapes, and elements of

nature evoke water, mountains, and dunes, as well

as space and light. The freely invented poetic titles

evoke associations with exotic regions and natural

phenomena. At the same time, the encaustic pictures

tempt viewers to see real sceneries in them. Her

barely recognizable contours are a perfect example

of how the art of painting can be used to communicate

impressions of nature and poetry. p. 42 - 43

(Monicaromerodavila.wordpress.com)

The harsh black and white contrasts in Reti

Saks' etchings exude an immediate emotional response

in the viewer, telling stories whose content

is reflected in the intensity of their mood. The lines

seem to vibrate, evoking images of pins or games of

Mikado. At the same time, they add an upbeat vitality

that marks the artist's individual style. The narrative

images communicate a universal message of

reverence and respect. They seem to admonish viewers,

while simultaneously expressing helplessness

in the face of being approached or touched, and

exude a quiet, fearful sadness. The block-like series

tells stories without conclusions, leading viewers

into enigmatic situations. Lost looks slide past them

into emptiness. p. 44 - 45 (reti.ee)

The series "reflection" by artist Serge Koch

puts the biomorphic structures of organic life on

display, showing patterns of movement in stills of

subtle color variations. They seem like microscopically

enlarged samples. The slight lack of focus indicates

flowing movements possibly representing

the flow of life itself. The motifs resemble an active

molecular mass vibrating at a certain frequency and

charged with energy. It could be quartz, malachite,

or agate deposited in colorful layers. In this sense

Serge Koch's pictures reach out to viewers on a physical

level. Through the connection of nature and its

vibrations they transmit power and strength for a

new start. p. 48 - 49 (www.sergekoch.com)

Wouter Tacq's traditional acrylic paintings

contain an element of mysticism. The artist does

not lose himself in naturalist detail but instead strives

for geometric symmetry and simplification. The

shapes of his figures and objects have clear outlines.

At the same time, however, he indicates that life

resembles a game of chess, and we can never predict

how it will unfold beyond the next few moves.

Besides this element of tragedy, the subject of the

series presents a mysterious riddle while simultaneously

calling for a solution. The blue color scheme

is remindful of icon-paintings and murals inside

churches. The focus on the center of the image reinforces

the theme of enlightenment and truth.

The power of the paintings lies in the sound of the

impenetrable secret they contain, and the spiritual

atmosphere they exude. p. 50 - 51

(www.woutertacq.be)

Vorwort

Das Kunst- und Geschenkbuch "16 mal Kunst"

stellt achtzehn ausgewählte Künstlerinnen und

Künstler mit jeweils vier kleinformatigen Bildern

aus sechszehn Ländern etwas näher vor. Die gleichnamige

Gruppenausstellung fand vom 25. Juni – 21.

August 2018 im lichtdurchfluteten Rathaus-Foyer

der Verbandsgemeinde Weißenthurm am Rhein

statt. Darüber hinaus enthält das Buch Haiku-

Gedichte aus Deutschland und den Niederlanden.

Zwei Dichterinnen sind gleichzeitig auch Künstlerinnen.

Unter dem Motto "Kunst und Poesie"

erhielten sie eine entsprechende Präsentation. Im

Rahmen der Ausstellung wurden drei Preisträger

mit je einer "Ehrenvollen Erwähnung" prämiert. Sie

wurden bei der Gestaltung des Covers, der Cover-

Rückseite und der Titelseite besonders hervorgehoben.

In Alexander Gurevichs Bildserie

spielt das Thema der Muse eine bedeutende Rolle.

Durch anschauliche Schlüsselmomente wird das

Geschehen nahe an den Betrachter herangerückt,

wobei durch eine subtile sarkastische Erzählweise

Empfänglichkeit geweckt wird. Zeichnerisch umgesetzt

dient die Linie als ausdrucksstarke Geste:

Unterschiedliche Strichstärken und Schattierungen

schaffen Räumlichkeit und erwecken den Eindruck

von Bewegung. Wie in einem Theater wird der

Betrachter zum Zuschauer. Die souverän mit der

Radiernadel gezeichneten Motive erinnern an historische

oder mythologische Geschichten, die mit

feinem Humor gewürzt und dadurch emotional

besetzt sind. Neben dem Entdecken autobiographischer

Selbstbildnisse lässt die Mehrdeutigkeit

der Motive verschiedene Interpretationen offen,

wodurch die Kunstwerke ihre Wirkung erhalten.

S. 12 - 13 (www.gurevich-art.com)

Subjektiv betrachtet gesteht die Künstlerin

Amaryllis Siniossoglou der Fantasie viel

Raum zu. Neblig verschwommen werden Natureindrücke

veranschaulicht, wozu die Aquarelltechnik

beste Voraussetzungen bietet. Die fantasievollen

Landschaftstransformationen erzeugen mentale

Bilder, bei denen die Schönheit in der Melancholie

zu suchen ist. Das Sujet wird zum Motiv, indem

verschiedene Szenen am gleichen Schauplatz

dargestellt werden. Dabei bedient sich Amaryllis

Siniossoglou suggestiver Farbtemperaturen, welche

auf der klanglichen und räumlichen Funktionalität

beruhen und die Wirkkräfte von Naturschauspielen

sichtbar machen. In violetter Tonigkeit ist

alles von einem Schleier überzogen, der aus Dunst

gewebt zu sein scheint, alle Kontraste dämpft und

die Welt schließlich ins Immaterielle verschwimmen

lässt. S. 10 - 11

(www.amaryllissiniossoglou.com)

Spontanäität und spielerisches Gestalten sowie

ein sicheres Gefühl für Harmonie zeichnen die Intaglio-Radierungen

der Kunstdozentin April Ng

Kiow Ngor aus. Für die Bildserie "New Tracks"

(Neue Spuren) hat sie durchlöcherte Druckplatten

eingesetzt, wodurch in den Motiven markante weiße

Punkte entstanden sind. Die Bildkompositionen

bauen sich aus unregelmäßigen Formen und organischen

Linien auf. Gleich Sternen oder Luftblasen

leuchten die Punktanhäufungen aus dem dunklen

Untergrund heraus und ziehen den Blick magisch

an. Im weitesten Sinn möchte man vielleicht Landschaftselemente

wahrnehmen und muss doch am

Abstrahierungsgrad scheitern. Blütenzweige, Täler

und Felsen meint man zu erkennen. Ein altes Türblech

aus einem urigen Bergdorf könnte als Druckplatte

gedient haben. S. 16 - 17

(www.aprilkiowngor.weebly.com)

Die realistischen Landschaftskompositionen

mit überdimensionalen rätselhaften Knochen von

Asuna Yamauchi widerstehen den Verlockungen

von Farbigkeit und lassen sich in diesem

Sinne eher als "Anti-Malerei" verstehen. Keine paradiesische

Landschaft wird gezeigt. Im Vordergrund

werden schauerliche Knochen ganz nah an den Betrachter

herangerückt. Entweder sind sie vor einer

weiten Meereslandschaft mit hoher Horizontlinie

(Froschperspektive) oder wie eine Felsenformation

im Wald platziert. In beklemmender Weise erinnern

die skulpturenhaften Knochengebilde an Mahnmale.

Gewollt deplatziert werden sie zu einer surrealen,

menschenleeren Landschaftsstaffage mit

fadem Licht. Ein wildes, kalt schäumendes Urmeer

will den Betrachter übermannen und fortreißen.

Auch in dem Wald glaubt man sich zu verlieren.

S. 18 - 19 (www001.upp.so-net.ne.jp/

asuna-yamauchi/index.html)

Eleanora Hofers Collagen bezaubern

durch ihre ästhetische Ausstrahlung. Die quadratischen

Bilder bestehen aus alten Brieffetzen. Nicht

entzifferbare Handschriften bilden den Hintergrund

für rätselhafte Kompositionen. Als wären es Ausschnitte

aus einem großen Chaos wirken die Serienbilder

wie die Strophen eines Gedichtes. Gleich

Sonetten, die klangvolle Worte in sich tragen, entströmt

ihnen Geistigkeit und Poesie. Bei den rechteckigen

Collagen sind dagegen pflanzliche Objekte

auf einer haptischen Struktur als Blickfang eingearbeitet.

Die abstrakten Bilder sind mit realistischen

Fundstücken aufgeladen und in einem ruhigen,

klassischen Kompositionschema aufgebaut. Farbliche

Harmonie in goldbraunen Sandsteintönen

überzieht die Collagen mit einem dynastischen und

gleichzeitig fossilen Zauber. S. 20 - 21

Elvira Cléments Kunstwerke und Kurzgedichte

möchten intuitiv erfasst werden. Dabei

8 9
---
geht es vor allem darum, einen reizvollen Moment

der Natur mit wenigen Worten und abstrakten

Formen auf den Punkt zu bringen. Durchwoben

von lyrischer Abstraktion verbindet sich ästhetische

Gestaltung mit zufälligen Formen, wobei sich

der künstlerische Duktus sowohl von unbewusster

Stimulation als auch von assoziativen Anstößen

führen lässt. Prismen gleichend, aus denen in überraschender

Weise menschliche Gestalten hervortreten,

zeigt die Künstlerin Motive mit organischen

Formen – umfangen vom Lichtschein eines genussvollen

Naturparadieses. An schillernde Wasserspiegelungen

oder Tautropfen in duftenden Blütenkelchen

erinnert tritt man ein in die Schönheit eines

Biotops. Und nichts könnte besser dazu passen, als

die Technik der Monotypie auf gläsernem Grund.

S. 22 - 23

Weltflüchtig, fast menschenleer verbinden sich

Gerhard Rassers Triptychen mit Spiritualität.

Eine große Schweigsamkeit macht ihren Charakter

aus, welche den Betrachter einlädt, sich in seine

Strandbilder zu "versenken" und im Zauber einer

faszinierenden Stille meditativ innezuhalten. Dabei

verquickt sich Materie mit der Reinheit flächenhafter

Farben. Widergegeben unter Verleugnung des

persönlichen Pinselduktus beantworten ferne Horizonte

die Sehnsuchtsfrage unserer Zeit, umfangen

von der lichtvollen Schönheit der Sonne oder des

Monds. Rassers künstlerisches Schaffen erzählt von

einer Verzückung eremitischer Zurückgezogenheit,

die man allein oder vertrauensvoll zu zweit verleben

kann – in formschöner Harmonie und Ausgewogenheit

und mit der Zartheit samtener Farben.

S. 24 - 25 (www.blickfang-gerhardrasser.

com)

Hee Sook Kims Bilder kann man in der Regel

von zwei Seiten betrachten. In den zehn Miniaturen

zeigt sich beispielhaft ihr virtuoser Umgang

mit Mustern, Reihungen und Variationen. Dabei

sind die Übergänge zwischen sinnhaften Bedeutungsträgern

und abstrakten Ornamenten fließend.

Der poetische Zauber ihrer Kunstwerke liegt in der

ihr eigenen künstlerischen Handschrift. Pflanzenformen

werden auf florales Dekor reduziert. Sie

stehen an der Schwelle zur abstrakten Malerei,

wobei das Ausdrucksbedürfnis der Künstlerin in

ihrem Bedürfnis nach Farbe und Form reflektiert

wird. Unabhängig von der Geschlossenheit der Umrisse

wechselt sie die Farben. Dies alles wird mit der

orchestrierten Symphonik asiatischer Einflüsse und

einem paradiesischen Empfinden für Farbklänge

und Kunst zur Schau getragen, die sich allein um

ihre Schönheit sorgt. S. 26 - 27

(www.heesookkim.com)

Mit ihren Stimmungsmotiven nimmt die Künstlerin

Ida-Marie Hellene Bezug auf ihre skandinavische

Heimat. Schon allein die Farbgebung in

Indigoblau, Gelb und Falunrot verrät den geographischen

Hintergrund. Dabei handelt es sich eher

um gedämpfte Farbtöne, welche die monotone

Lichtstimmung weißer Nächte wiedergeben. Still

und menschenleer erscheinen die singulären Hütten,

Wohnhäuser und Gebäude. Auch ihre abstrahierte

Darstellungsweise verkörpert die Einsamkeit

und Weite skandinavischer Landschaften. Im ersten

Moment mag der Betrachter ernüchtert sein. Als

ständige Bewohnerin gewinnt die Künstlerin ihre

Eindrücke aber sicher aus einem eigenen Blickwinkel.

Beim längeren Versenken in die ausgewogenen

Kompositionen erwacht der Reiz der Bilder und fordert

zum Einvernehmen auf. S. 28 - 29

Zwei unterschiedliche Künstlercharaktere,

Josée Wuyts & Frans de Groot, kommen

symbiotisch zusammen bei der Schöpfung einer

rätselhaften Collage aus zwei übereinander gedruckten

unerklärlichen Zeichen. Mit improvisatorischem

Schwung entstehen hieroglyphisch anmutende

Gebilde, welche zwar geometrisierend, aber

dann doch wieder ohne präzise erkennbare Form

sind. Vielleicht unter dem Diktat des Unbewussten

werden sie spontan gestaltet und mit expressiver

Gestik bis zur Kritzelei entfesselt. Dabei entstehen

groteske Konstruktionen oder stark verfremdete

Bildnisse. Durch waagerechte und senkrechte Linien

wird ihnen in ihrer scheinbaren Wirrnis Stabilität

verliehen. Bei längerem Betrachten verwandeln

sich die seltsamen Gebilde in rudimentäre Gebäude,

denen allerdings der rechte Winkel fehlt.

S. 32 - 33 (www.wuyts-degroot.nl)

Juttamarie Frickes Kunstwerke und

Kurzgedichte bezaubern durch vergeistigte Mehrschichtigkeit.

Die zum Teil surrealistisch anmutenden

Bilder sind als großartige Flächengewebe konzipiert,

bei denen es sich auch um freie Variationen

von Zeichnungen Picassos handeln könnte. Stiere

scheinen sich mit Menschenleibern zu verweben.

Die Potraits der Künstlerin wecken hingegen vage

Assoziationen mit antiken, ja vielleicht ägyptischen

Gottheiten. Das weibliche Idol wirkt klassisch und

heutig in einem. Die Bilder werden vom Dualismus

der Verwobenheit von Formen und Figuren beherrscht.

Die sich in grobmaschigen Fischernetzen

verfangenen Figuren vermitteln eine tänzerische

Dynamik. Genial ist die Vertierung bzw. Verstierung

weiblicher Akte: Kaum merklich entwachsen der

Bildstruktur zwei Gestalten. S. 38 - 39

(www.juttamarie.eu)

Dem besonderen schwebenden Zauber der

Malerei von Liliana Rizo kommt die Strahlkraft

von Farbe und Form zugute. Die wundervolle

Verbindung der vom Gegenstand befreiten Form

mit der vom Gegenstand befreiten Farbe führt zu

abstrakten, orphistischen Motiven. Willkürliche

Impulse und zufällige Reflexe schaffen dynamische,

ja rasante Bildbewegungen, welche zufälligen Ausschnitten

aus Raum und Zeit gleichen und dennoch

ganz unwillkürlich die Vorstellung von Gegenständlichkeit

vermitteln. Räumlichkeit und Licht werden

durch das alleinige Mittel der Farbe suggeriert.

Überlagerungen und Transparenzen verstärken das

leuchtende Farbenspiel bis hin zur lyrischen Wonnigkeit,

wo spontane Pinselstriche zu Tanz oder

Schmetterlingen tendieren. S. 34 - 35

Mit raffinierter handwerklicher Umsetzung

schafft die Künstlerin Maria Rita Onofri in

ihrer speziellen Collage-Technik schematisch reduzierte

Abbilder der Natur, die eine losgelöste Sprache

sprechen. Die metallischen Materialien, welche

in die Bilder einverleibt werden, spielen mit Buntheit

und intensiven Farben und verbinden die Malerei

mit dem Kunsthandwerk. Ohne Rücksicht auf

Richtigkeit strahlen die Farben eine sinnliche Kraft

aus. Einzelne Teile von Formen und Figuren sind

plastisch vorgewölbt, wodurch sich ihre Objekthaftigkeit

verstärkt. Maria Rita Onofri ist nicht nur Malerin

sondern auch Bildhauerin und Goldschmiedin.

Ihre Collagen möchten die Einbildungskraft des Betrachters

zum Schönen hinleiten und ein strahlendes

Schmuckstück im Wohnraum sein. S. 36 - 37

(www.mariaritaonofri.it)

Die Künstlerin Maud du Jeu bedient sich

der alten ehrwürdigen Kunstform der Zeichnung.

Ihre Motive sind Darstellungen des menschlichen

Körpers, die häufig beruhigende Mudras enthalten.

Dabei bleibt die Schaffensthematik eng begrenzt

auf die menschliche Figur in realistischer Darstellung,

wobei die Hände ausdrucksstarke Gesten

symbolisieren. Die anatomisch exakte Umrisslinie

ist wohlbedacht und ruhig gezogen, monochrom

und edel koloriert. Maud du Jeus künstlerischer

Schwerpunkt ist die figurative Plastik in Bronze

gegossen. Mit gleicher Intensität hat sie sich

der Zeichnung zugewandt, welche die klassische

Grundlage der Bildhauerei ist. Somit steht ihr bildnerisches

Schaffen als gleichwertige Disziplin neben

der modellierten Figur. S. 40 - 41

(maud.dujeu.free.fr)

Kaum merklich entwächst der Bildstruktur bei

Monica Romero die Gestalt der Motive, welche

sich durch die in sich bewegte homogene Materie

als menschliche oder andere Figuren und Landschaften

erweisen. Die Form hat hier nicht mehr

den Charakter von Form, sondern von Aktion, von

spontanen Pinselstrichen und umrissenen Gebilden.

Die Verwobenheit von Farbe, Form und Natur

evoziert dann schließlich auch Wasser, Berge und

Dünen sowie Raum und Licht. Frei erfunden deuten

die poetischen Bildtitel auf exotische Landstriche

und Naturerscheinungen hin. Und doch ist man verführt,

im Bild eine durchaus reale Szenerien zu erkennen.

Die kaum kenntlichen Konturen vermitteln

in malerischer Weise Natur und Poesie. S.42- 43

(Monicaromerodavila.wordpress.com)

Allein schon mit ihren harten Schwarz-Weiß-

Kontrasten strahlen die Bilder von Reti Saks

eine enorm suggestive Wirkung aus. Sie erzählen

Geschichten, deren Inhalte in agitatorischer Weise

gespiegelt werden. Das eigentümliche Vibrieren

der Linien erinnert an feine Stecknadeln oder an ein

Mikadospiel. Gleichzeitig wird damit ein magischer

Touch erzeugt, welcher keinen Zweifel an einer eigenen

zeichnerischen Handschrift der Künstlerin

lässt. Die Bildgeschichten vermitteln die unbedingte

Botschaft von Achtung und Respekt. Zugleich

werden Zurechtweisung bei gleichzeitiger Hilflosigkeit

vor dem Zugriff des Zunahetretens sowie stille

ängstliche Traurigkeit reflektiert. Die blockartige

Bildserie mit unabschließbar gedachten Erzählungen

führt den Betrachter in rätselhafte Situationen

hinein. Versunkene Blicke gleiten an ihm vorbei in

die Leere. S. 44 - 45 (reti.ee)

Als wären biomorphe Strukturen organischen

Lebens sichtbar gemacht erscheinen in der "Reflection"-

Serie des Künstlers Serge Koch Bewegungsmuster,

welche zu subtilen farblichen Variationen

erstarrt sind. Sie wirken wie Ausschnitte

aus mikroskopischen Vergrößerungen. Die leichte

Unschärfe deutet fließende Bewegung an, vielleicht

den geheimnisvollen Strom des Lebens darstellend.

Die Motive gleichen einer aktiven, in einer

bestimmten Frequenz schwingenden molekularen

Masse, welche mit Energie aufgeladen ist. Es könnte

sich um Quarze, Malachite oder Achate handeln,

die sich in farbigen Schichten abgelagert haben. In

diesem Sinne mögen Serge Kochs Bilder den Betrachter

auch auf körperlicher Ebene ansprechen.

Durch die Verbindung zur Natur und ihren Schwingungen

möchten sie Kraft für einen Neubeginn

geben. S. 48 - 49 (www.sergekoch.com)

Traditionell im Stil mag man die Acrylbilder von

Wouter Tacq als mystisch empfinden. Dabei

verliert sich der Künstler nicht in naturalistischen

Details, sondern strebt geometrische Symmetrie

und Vereinfachung an. Figuren und Gegenstände

zeigen klar umgrenzte Formen. Gleichwohl möchte

er signalisieren, dass das Leben einem Schachspiel

gleicht, dessen Verlauf nicht zu Ende deutbar ist.

Neben der Tragik trägt das Sujet der Bildserie ein

rätselhaftes Geheimnis in sich, verbunden mit dem

Ruf nach einem Lösungsweg. In ihrer Blautönigkeit

erinnern die Kunstwerke an Ikonenmalerei, sie gleichen

Wandbildzyklen in heiligen Räumen. Auch die

Konzentration auf die Mitte verstärkt den Ausdruck

von Erleuchtung und Wahrheit. Der Klang der Bilder

liegt im undurchdringlichen Geheimnis und in der

spirituellen Stimmung zugleich. S. 50 - 51

(www.woutertacq.be)

10 11
---
Amaryllis Siniossoglou

Greece / Griechenland

1. Flow IX, 2018

Watercolor, 13 x 13

2. Flow I, 2018

Watercolor, 13 x 13

3. Flow II, 2018

Watercolor, 13 x 13

4. Flow IV, 2018

Watercolor, 13 x 13

3

1

2 4

10 11
---
Alexander Gurevich Israel

2

3

1

1. Dragon, 2014

Etching, 17 x 13 cm

2. Sn. Sebastian, 2013

Etching, 13 x 9 cm

3. Muze, 1991

Etching, 16 x 11 cm

4. Susanna, 2004

Etching, 12 x 16 cm

4

12 13
---
Reinhard Harbaum

Germany / Deutschland

Herons

Reiher

Morning without sound

The flying herons make no

mark on its silence

From the thinnest bough

of the birch tree the heron

scans marshes for food

Geräuschlos ist der

Morgen – auch der Reiherflug

ändert nichts daran

Vom dünnsten Ast der

Birke hält der Reiher heut

Ausschau nach Eßbarem

Fresh fish awaiting

the heron's noble nature

shaded by the sun

The great white heron

with his dashing cioffure taps

and taps the meadow

Ansitz auf Frischfisch -

das Wesen des Reihers in

der Sonne schattiert

Der Silberreiher –

mit verwegenem Schopf

punktiert er die Wiese

The herons staring

at the river can see it -

one mile to Heaven.

Grey heron out there

in the meadow - without a

thought of the New Year

Die Reiher starren

in den Fluß – zum Himmelreich

ein Kilometer

Der Graureiher auf

der Wiese – er weiß nichts

vom Neuen Jahr

On a carpet of

sedges the Great White Heron

proudly strides ahead

The hay is ready -

in blue heat the heron has

taken up his post

Seggenboden – der

Silberreiher stakst durchs Ried

als feiner Herr

Das Heu ist gemacht –

in blauer Hitze hat sich

der Reiher postiert

14 15
---
April Ng Kiow Ngor

Singapore / Singapur

1. Creating New Tracks #01, 2018

Intaglio Print, 15 x 15 cm

2. Creating New Tracks #01, 2018

Intaglio Print, 15 x 15 cm

3. Creating New Tracks #01, 2018

Intaglio Print, 15 x 15 cm

4. Creating New Tracks #01, 2018

Intaglio Print, 15 x 15 cm

2

1

3

4

16 17
---
Asuna Yamauchi

Japan

1. Pale Pink Bones: Deep Forest 2, 2018

Etching, Aquatint, 15 x 15 cm

2. Pale Pink Bones: Sea 14, 2017

Etching, Aquatint, 10 x 10 cm

3. Pale Pink Bones: Sea 3, 2018

Etching, Aquatint, 14 x 14 cm

4. Pale Pink Bones: Deep Forest 2, 2018

Etching, Aquatint, 15 x 15 cm

3

1

2 4

18 19
---
Eleanora Hofer

South Africa / Südafrika

1. Emblem I, 2018

Collage, 15 x 10 cm

2. Emblem IV, 2018

Collage, 15 x 10 cm

3. Beyond Words I, 2018

Collage, 10,5 x 10,5 cm

4. Letters from Afar I, 2018

Collage, 10,5 x 10,5 cm

3

1

2 4

20 21
---
Elvira Clément

Germany / Deutschland

Art and poetry

Kunst und Poesie

Light speckled with shade

greets the dreamy day. A feast

of colorful notes

Buntschattiges Hell

begrüßt den träumenden Tag

Farbklanggenüsse

Morgenhell, 2018, Monotypie, 15 x 15 cm

Traveling light through

the budding season of spring

thinking and sensing

Mit leichtem Gepäck

den aufkeimenden Frühling

sinnend bereisen

Metamorphose, 2018, Monotypie, 15 x 15 cm

Sun goes down. Breathing

out another day of life

The rest wants to grow

Sonne geht unter

den gelebten Tag ausatmen

was bleibt will wachsen

The Blink of an Eye

condensing the words needed

to get the essence

AugenBlicksZwinkern

mit nur wenigen Silben

Essenz gewinnen

Tanz 3, 2018, Monotypie, 15 x 15 cm

Buntschatten, 2018, Monotypie, 15 x 15 cm

22 23
---
Gerhard Rasser

Austria / Österreich

1. The Big Journey II-1

Mixed Media, 14 x 14 cm

2. The Big Journey I-2

Mixed Media, 14 x 14 cm

3. The Big Journey III-1

Mixed Media, 14 x 14 cm

4. The Big Journey III-2

Mixed Media, 14 x 14 cm

2

1

3 4

24 25
---
Hee Sook Kim

USA

1. Re Paradise Between P5, 2017

Digital Print, 10 x 10 cm

2. Re Paradise Between P1, 2017

Digital Print, 10 x 10 cm

3. Re Paradise Between P8, 2017

Etching, 13 x 13 cm

4. Re Paradise Between P7, 2017

Woodcut, 13 x 13 cm

3

1

2 4

26 27
---
Ida-Marie Hellenes

Norway / Norwegen

1. Lighthouse I, 2014

Etching, 10 x 10 cm

2. Storehouse, 2013

Etching, 10 x 10 cm

3. Boats, 2018

Etching, 10 x 10 cm

4. Neighbor, 2009

Etching, 10 x 10 cm

3

1

2 4

28 29
---
Youetta de Jager

The Netherlands / Niederlande

The heat is waning

White moon climbing carefully

A raven's faint call

Joy

Brave heart

Carried by the wind

De warmte wijkt nu

Witte maan klimt voorzichtig

Een raaf roept van ver

Vreugde

Moedig hart

door wind gedragen

A moon

upon the waves

between dreaming and waking

The park in silence

Dreamer around midday

The stones that carry him

Een maan

op de golven

Ruimte tussen droom en waken

Het park in stilte

dromer rond het middaguur

de steen die hem draagt

How a blossom

between rocks

unfolds

Let it go

true heart and soul

free falling

Als bloesem

tegen stenen

zich ontvouwt

Loslaten

waar hart en ziel

vrij vallen

Spring dancing

inside

tempting the lips

So light

a heart breaking

through the darkness

Lente danst

naar binnen

krult de lippen

Zo licht

een brekend hart

door duisternis

30 31
---
Josée Wuyts & Frans de Groot The Netherlands / Niederlande

2

1. Tower Signal, 2011

Dry Point, Etching

11 x 8 cm

2. THouse Tower, 2011

Dry Point, Etching

11 x 8 cm

3. Blue Icon, 2010

Dry Point, Etching

15 x 10 cm

4. Blue Icon, 2010

Dry Point, Etching

5 x 10 cm

1

3

4

32 33
---
Liliana Rizo

Mexico / Mexiko

2

3

1. Fragment, 2018

Encaustic on Paper 13.5 x 10 cm

2. Beginning, 2018

Encaustic on Paper 9 x 11.5 cm

3. Waiting, 2018

Encaustic on Paper 10.5 x 13.7 cm

1

4. Mist, 2018

Encaustic on Paper, 14.5 x 9.5 cm

4

34 35
---
Maria Rita Onofri

Italy / Italien

1. Wheat, 2018

Acrylic, Spatula with Worked Metal

15 x 15 cm

2. Seagulls, 2018

Acrylic, Spatula with Worked Metal

15 x 15 cm

3. Olive, 2018

Acrylic, Spatula with Worked Metal

15 x 15 cm

2

4. Window The Sky, 2018

Acrylic, Spatula with Worked Metal

15 x 15 cm

1

3 4

36 37
---
Juttamarie Fricke

Germany / Deutschland

Art and poetry

Kunst und Poesie

painted images

are like silent scraps of words

they, too, ask questions

gemalte bilder

sind wie stumme wortfetzen

sie stellen fragen

Der Biss, 2014, Etching, 15 x 15 cm

puppet on a string

must be played lest it becomes

a motionless heap

marionetten

wenn nicht bewegt an fäden

fallen zusammen

Doppel, 2014, Etching, 10 x 10 cm

silence gushing out

with diluvial thunder

astounded shivers

laut gießt sie sich aus

überschwemmende stille

erstauntes frösteln

Verwoben 3, 2011, Etching, 10 x 10 cm

old wrinkly worn out

beauty lies in the past but

youth lives in the heart

alt faltig verlebt

vergangene schönheit doch

jugend im herzen

Incarnation, 2013, Etching, 10 x 10 cm

38 39
---
Maud du Jeu

France / Frankreich

1. No Title, 2018

Ink and Wash Drawing, 15 x 15 cm

2. No Title, 2018

Ink and Wash Drawing, 15 x 20 cm

3. No Title, 2018

Ink and Wash Drawing, 15 x 15 cm

4. No Title, 2018

Ink and Wash Drawing, 15 x 15 cm

3

1

2 4

40 41
---
Monica Romero

Mexico / Mexiko

1. The Eye of the Storm, 2018

Encaustic, 15 x 15 cm

2. Imaginary Landscape, 2018

Encaustic, 15 x 15 cm

3. Popocatépetl Vulcano, 2018

Encaustic, 13 x 14,7 cm

4. Waterlilies, 2018

Encaustc, 11,2 x 14,7 cm

3

1

2 4

42 43
---
Reti Saks

Estonia / Estland

1. Eye, Fourth, 2006

Etching, 15 x 10 cm

2. Tiny Thing Taking a Walk, 2010

Etching, 10 x 9 cm

3. Art in Hand, 2014

Intaglio Printing, 9,8 x 7 cm

4. Print Whisperer, 2016

Etching, Aquatint 10 x 10 cm

3

1

2 4

44 45
---
Gabriele Walter

Germany / Deutschland

Autumnal Voices

Stimmen vom Herbst

Just four goldenrods

still standing between the reeds

glowing to be touched.

The poplar has left

three leaves right there

on the white bench.

Noch vier kleine

Goldrutenblüten am Schilfteich

Leuchten zum Streicheln.

Die Pappel drei Blätter

Dort auf der weißen Bank

Liegen gelassen.

Willow trees wilting

so softly– like the barn owl

in the moonlight's veil.

A veiled, misty sleep

cried by a thousand dew drops -

tears down blades of grass.

Die Weidenbäume

Welken sanft - wie die Schleiereule

Im Mondschein.

Nebligen Schlaf

Des Grases tausende Tropfen

Tauend weinen.

Yellow hollyhock

still treats me to its fragrance.

Thank you!

Festively adorned

the colorful avenues

in the lustrous rain.

Die gelbe Stockrose

Noch immer mir schenkt ihren Duft.

Dankeschön!

Festlich geschmückt

Die bunten Alleenstraßen

Im Glitzerregen.

A duck draws a line

across the autumnal wood's

shining reflection.

The seagulls silent

in the gray murmur - out there

nothing but a boat.

Ein Entlein auf dem

Spiegelbild des Herbstwaldes

Seine Spur zieht.

Wie still die Möwen

Im Plätschergrau – weit draußen

Nur ein Fischerboot.

46 47
---
Serge Koch

Luxembourg / Luxemburg

1. Reflection IV, 2018

Digital Print, 12 x 12 cm

2. Reflection V, 2018

Digital Print, 12 x 12 cm

3. Reflection II, 2018

Digital Print, 12 x 12 cm

4. Reflection VI, 2018

Digital Print, 12 x 12 cm

2

1

3

4

48 49
---
Wouter Tacq

Belgium / Belgien

1. Hope, 2018

Aquarell & Acryl, 14 x 14 cm

2. Illumination, 2018

Aquarell & Acryl, 15 x 15 cm

3. Reflections on Identity – Pawn, 2017

Aquarell & Acryl, 11 x 15 cm

4. Reflections on Identity – King, 2017

Aquarell & Acryl, 11 x 15 cm

3

1

2 4

50 51
---
16 times ART

16 mal KUNST

Relax and Rejoice with Art and Poetry

from Sixteen Countries

Entspannung und Genuss mit Kunst

und Poesie aus sechszehn Ländern

Relax and Rejoice with Art and Poetry

from Sixteen Countries

Published by: Gabriele Walter and Kurt Ries

Imprint

Foreword by: Gabriele Walter

Photos and design by: Kurt Ries

Translated into English by: Anna Sanner

Copyright:

Gabriele Walter, Kurt Ries

Pützstücker Straße 45

D-53639 Königswinter

Tel. 0049 2244 872161

www.meditaterra.de

www.enterintoart.com

Entspannung und Genuss mit Kunst und Poesie

aus sechszehn Ländern

Herausgeber: Gabriele Walter und Kurt Ries

Impressum:

Vorwort: Gabriele Walter

Fotos und Buchgestaltung: Kurt Ries

Übersetzung ins Englische: Anna Sanner

Copyright:

Gabriele Walter, Kurt Ries

Pützstücker Straße 45

D-53639 Königswinter

Tel. 0049-2244-872161

www.meditaterra.de

www.enterintoart.com

Belgium, Germany, Estonia, France, Greece, Israel, Italy, Japan,

Luxembourg, Austria, Mexico, Netherlands, Norway,

Singapore, South Africa, United States

Alexander Gurevich: spiced with delicate humor;

Amaryllis Siniossoglou: in the flow; April Ng Kiow

Ngor: bizarre landscapes; Asuna Yamauchi: eery bones;

Eleanora Hofer: beyond words; Elvira Clément: surrounded

by the glow of light; Gerhard Rasser: the passion of loneliness;

Hee Sook Kim: dream of an earthly paradise; Ida-

Marie Hellenes: white nights; Josée Wuyts & Frans de

Groot: enigmatic geometric symbols; Juttamarie Fricke:

weavings of dualism; Liliana Rizo: images in dynamic motion;

Maria Rita Onofri: relief-like collages; Maud du Jeu:

physical expression and tenderness; Monica Romero:

pure wax painting; Reti Saks: drawn stories; Serge Koch:

reflections; Wouter Tacq: in search of an answer

Belgien, Deutschland, Estland, Frankreich, Griechenland,

Israel, Italien, Japan, Luxemburg, Österreich, Mexiko,

Niederlande, Norwegen, Singapur, Südafrika, USA

Alexander Gurevich: Mit feinem Humor gewürzt;

Amaryllis Siniossoglou: Im Fließen; April Ng Kiow Ngor:

Bizarre Landschaften; Asuna Yamauchi: Unheimliche

Knochen; Eleanora Hofer: Jenseits des Sagbaren; Elvira

Clément: Umfangen von Lichtschein; Gerhard Rasser:

Passion Einsamkeit; Hee Sook Kim: Traum vom irdischen

Paradies; Ida-Marie Hellenes: Weiße Nächte; Josée Wuyts

& Frans de Groot: Rätselhafte geometrische Zeichen;

Juttamarie Fricke: Verwobener Dualismus; Liliana Rizo:

Dynamische Bildbewegung; Maria Rita Onofri: Reliefartige

Collagen; Maud du Jeu: Körperlicher Ausdruck und

Zartheit; Monica Romero: Reine Malerei in Wachs; Reti

Saks: Gezeichnete Geschichten; Serge Koch: Reflexionen;

Wouter Tacq: Auf der Suche nach einer Antwort

© Königswinter, 2018

All rights reserved. Any reprinting in full or in part, any distribution by film, broadcasting, or television, any publication

on the internet, or through photomechanical reproduction, sound recording, or data processing systems of any kind

requires the written consent of the publisher.

Alle Rechte vorbehalten. Nachdruck, auch auszugsweise, sowie die Verbreitung durch Film, Funk, Fernsehen und Internet,

durch fotomechanische Wiedergabe, Tonträger und Datenverarbeitungssysteme jeglicher Art nur mit schriftlicher

Genehmigung der Herausgeber.

Bibliographic information of the German National Library. The German National Library lists this publication in the

German National Bibliography; detailed bibliographic data are available on the Internet – http://dnb.ddb.de

52