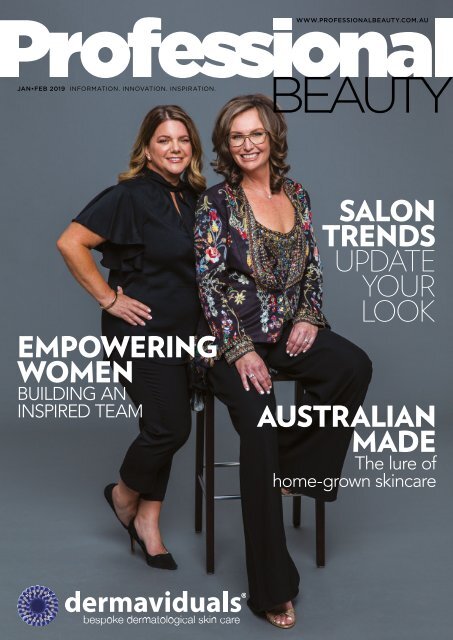 Professional Beauty January/February 2019
Create successful ePaper yourself
Turn your PDF publications into a flip-book with our unique Google optimized e-Paper software.
WWW.PROFESSIONALBEAUTY.COM.AU

JAN•FEB 2019 INFORMATION. INNOVATION. INSPIRATION.

EMPOWERING

WOMEN

BUILDING AN

INSPIRED TEAM

SALON

TRENDS

UPDATE

YOUR

LOOK

AUSTRALIAN

MADE

The lure of

home-grown skincare
---
AUTHENTIC CERTIFIED ULFIT

NATURAL-LOOKING & LONG-LASTING RESULTS

ONLY FROM CRYOMED AESTHETICS

WORLD'S NO.1

MFU-HIFU PORTABLE FACE & BODY CONTOURING SYSTEM

KEY FEATURES & BENEFITS

Regenerates, lifts & tightens most areas of the face

Lifts, tightens & contours most areas of the body

Provides immediate short & long term results

Elliptic MFU transducer technology (next gen of HIFU tech)

Low discomfort & low patient downtime

Clinically proven

www.cryomed.com.au

UN-PARRALLED POST-PURCHASE TRAINING & SUPPORT

Two days of comprehensive clinical training

Operator certification

Complimentary patient brochures

Access to marketing movies

Ongoing technical support

7 Day phone support

24/7 Access to COOLNET VIP Portal
---
NON

SURGICAL

LIFTING, TIGHTENING

& CONTOURING

THE GOLD STANDARD

MEDICAL GRADE SYSTEM

FOR THE FACE & BODY

www.cryomed.com.au

DERMAL-THERAPISTS & CLINICIANS

CAN USE WITH TWO GROUND-BREAKING

TECHNOLOGIES IN ONE DEVICE.

MFU (Micro-Focused Ultrasound)

for eyes, face, neck, body lifting & tightening

MFCU (Macro-Focused Circular Ultrasound)

for face & body contouring

for More Information

1300 346 448

info@cryomed.com.au
---
INTRODUCING NEW!

rapid reveal peel

reveal

your most

radiant skin

A professional-grade at-home peel

that kick-starts skin renewal for

instant radiance, speeding removal

of dull cells on skins surface to

reveal brighter, smoother, healthier

looking skin below.

Call 1800 659 118 for more information.
---
INTRODUCING NEW!

pro power peel

the peel

experience,

redefined

3 customisable chemical peels

that work in synergy to deliver

unparalleled medical-grade results.

Targeting a range of concerns from

fine lines and wrinkles to acne and

hyperpigmentation.

www.dermalogica.com.au
---
AS SEEN IN MAJOR

FASHION MAGAZINES

AGE PREVENTION SKINCARE

Protect your skin from BLUE LIGHT

Constant exposure to blue light from screens, a lack of natural light

and not enough sleep can alter our skins biorhythms causing wrinkles,

dehydrated skin and a dull complexion

THE SKIN LOOKS REJUVENATED 76%

IN THE MORNING THE SKIN LOOKS RESTED 95%

WRINKLES AND FINE LINES ARE SMOOTHED 71%

CLINICALLY TESTED

Source : Satisfaction test carried out under dermatological control on 21 volunteers who use screens and do not get enough sleep. Daily application for 28 days. % of volunteers who noticed the effect.

BEAUTY IN MOTION SINCE 1920
---
EXCLUSIVE TO YOUR PAYOT SALON & SPA

Call 1300 367 969 or 02 9874 1166 for the location of your nearest Payot Salon & Spa.

www. payot.com | join us payotaustralia
---
CONTENTS

January/February 2019

Contents

9 Editor's letter

10 What's on PB radar

12 News

20 Cover story – Derma Aesthetics

birthday celebrations

22 Viewpoint – The value of

celebrity endorsements

24 Skincare - Travel packs

32 Salon view – Ultraderm

34 Trends to watch out for

36 New Makeup

38 Makeup - SPF foundation

40 Tanning

41 Tanning Products

42 Nails - Pretty In Pink

44 New products

46 Nail Trends

48 Valentine's Makeup inspiration

70

94

48

104

40

54 Style File Nicole Thompson

56 Professional Perceptions - The

Value of Australian Made

70 Model Behaviour Elle Macpherson

exclusive interview

75 Industry Roundtable -

Empowering Women

88 Waxing

92 Industry Insider

94 Real Life - Sister Act

96 Career How I Got Here

98 Interiors - Trend Forecast

100 Technology

102 Wellness

104 Vida Glow with Anna Lahey

106 Salon View -Inskin Medispa

108 Cosmoprof Hong Kong

112 Beauty Escape Tokyo

114 Last Word - Natalie Lucas

ON THE COVER

This year Derma Aesthetics turns nine and

is celebrating the success of its modern

approach to skincare. Co Founders Reika

Roberts and Simone Vescio share their

business journey on page 20.

8 | WWW.PROFESSIONALBEAUTY.COM.AU
---
PUBLISHER

BHA MEDIA

BHA MEDIA

PUBLISHER + COMMERCIAL

MANAGER

Glenn Silburn

gsilburn@intermedia.com.au

EDITOR

Anita Quade

aquade@intermedia.com.au

BEAUTY EDITOR

Michelle Ruzzene

mruzzene@intermedia.com.au

ONLINE AND NEWS EDITOR

Jenny Berich

jberich@intermedia.com.au

PRODUCTION MANAGER

Jacqui Cooper

GROUP ART DIRECTOR

Sanja Spuzanic

HEAD OF CIRCULATION

Chris Blacklock

cblacklock@intermedia.com.au

WELCOME TO THE first edition of 2019. We thought what better way

to start off the year than to recognise our own homegrown talent and

find out why being Australian Made is a major drawcard on a local and

international scale. The demand from international markets to buy our

products and source ingredients in this land down under is booming. We

chat to industry experts and discuss the benefits of being true blue from

manufacturing in Australia to the issues they face on a production level.

Find out what they had to say on page 56.

When it comes to Aussie beauty we couldn't think of anyone that sums

up the all Australian woman and female entrepreneur than supermodel

Elle Macpherson. The muse and mother of two sat down with us to chat

about why she launched her salon stocked ingestible range Super Elixir with local company WelleCo, her

business plans and why Australia is leading the way in the health and wellness industry. Read our exclusive

interview on page 70.

Speaking of celebrities – it is no secret bloggers, instagrammers and Hollywood stars only have to post a

selfie or mention a beauty brand to create a consumer stampede and send sales soaring. Think – Meghan

Markle and her love of Jane Iredale's blush and the pre-wedding Dermalux treatments, Bradley Cooper

and his go-to tan by Vita Liberta used for his hit A Star is Born. We investigate the power of celebrity

endorsement and the effect it can have on your sales. Turn to page 22.

We also sat down with a selection of Australia's most inspiring beauty entrepreneurs over a roundtable

lunch to discuss the importance of empowering women in the workforce. Hearing their stories of triumphs

and tribulations as they struggled to get their business off the ground was a heartening reminder that

nothing comes without hard work and how important it is to empower a team to create a winning

company. They all agreed on one major point to survive in a tough market – don't ever give up - just keep

going! (page 75.) So with that in mind – here's to the success of the New Year.

FOLLOW US:

EDITOR'S LETTER

Professional Beauty magazine is published by

BHA MEDIA

ABN 23142047943

41 Bridge Road, Glebe NSW 2037

Ph: 02 9660 2113 Fax: 02 9660 4419

www.intermedia.com.au

AUSTRALIAN

SUBSCRIPTION RATES

1yr (6 issues) for $89.00 (inc GST)

2yrs (12 issues) for $160.20 (inc GST)

3yrs (18 issues) for $213.60 (inc GST)

To subscribe and to view other overseas rates

visit www.intermedia.com.au or

Call: 1800 651 422

Email: subscriptions@intermedia.com.au

Average Total Distribution: 8,879

AMAA/CAB Yearly Audit

Period ending 31 March 2018.

Copyright © 2019

BHA MEDIA Pty Ltd.

Brandee Meier

Is a Commercial/ Advertising &

Editorial photographer with more

than 20 years experience and

has contributed to PB for over 10

years. "You'll find me shooting

mostly in my studio on the Lower

North Shore or on location around

Sydney. The best part about

shooting for January's beauty

shoot (page 24) is collaborating

with PB on the look of the shots."

Tye Bate

CONTRIBUTORS

You would have seen Tye's work in Professional Beauty (he helps produce our Industry

Roundtable Series). Tye's a Sydney-based creative and entrepreneur that quite simply has

the dream job - including filming models in Los Angeles and New York. For this edition of

Professional Beauty he filmed our Empowering Women session on page 75. "I felt proud to

capture the latest Roundtable on empowering women, I love filming with the Pro Beauty

team and this is an example of the good values they hold and share with their audience".

Sarah Laidlaw

She's the current Australian

Makeup Artist of the Year and

Session Hair Stylist of the Year

2018 so Sarah Laidlaw has her

finger on the pulse of all things

beauty. "I always love chatting

to the Professional Beauty team

about makeup and Valentines

Day is such a fun excuse to get all

glammed up in the most romantic

looks of the season." Page 48.

This publication is published by BHA MEDIA, a division of The Intermedia Group Pty Ltd (the "Publisher"). Materials in this publication have been created by a variety of different entities and, to the extent permitted by law,

the Publisher accepts no liability for materials created by others. All materials should be considered protected by Australian and international intellectual property laws. Unless you are authorised by law or the copyright owner to

do so, you may not copy any of the materials. The mention of a product or service, person or company in this publication does not indicate the Publisher's endorsement. The views expressed in this publication do not necessarily

represent the opinion of the Publisher, its agents, company officers or employees. Any use of the information contained in this publication is at the sole risk of the person using that information. The user should make independent

enquiries as to the accuracy of the information before relying on that information. All express or implied terms, conditions, warranties, statements, assurances and representations in relation to the Publisher, its publications and its

services are expressly excluded save for those conditions and warranties which must be implied under the laws of any State of Australia or the provisions of Division 2 of Part V of the Trade Practices Act 1974 and any statutory

modification or re-enactment thereof. To the extent permitted by law, the Publisher will not be liable for any damages including special, exemplary, punitive or consequential damages (including but not limited to economic loss

or loss of profit or revenue or loss of opportunity) or indirect loss or damage of any kind arising in contract, tort or otherwise, even if advised of the possibility of such loss of profits or damages. While we use our best endeavours

to ensure accuracy of the materials we create, to the extent permitted by law, the Publisher excludes all liability for loss resulting from any inaccuracies or false or misleading statements that may appear in this publication.

PROFESSIONAL BEAUTY | 9
---
PB RADAR

On our

RADAR

THE PEOPLE, PLACES AND EVENTS THAT

PRO BEAUTY IS CURRENTLY CRUSHING ON

MAGNETIC

LASHES

Google has revealed 'How to

apply magnetic lashes' was the

top searched beauty query in

2018. Although it's 2019, we're

still stumped on this one…

1

KAT VON D

Lolita shade

TWITTERSPHERE

This cleaning

hack is a game

–changer for lazy

sponge washers;

apparently

microwaving your

BeautyBlender

leaves it looking

like new.

@Jaycoko_

is sold EVERY MINUTE

AROUND THE

world

CORAL

Living Coral, a totally insta-worthy colour described as 'a lifeaffirming

shade of orange with a golden undertone', has been

named Pantone's Colour of the Year for 2019. Makeup artist

Hung Vanngo nails it on the stunning Emily Ratajkowski.

MODEL BEHAVIOUR

No surprises here. Miranda Kerr has taken out the title of the

most-followed Aussie model on Instagram with an impressive

11.8m followers.

mirandakerr

hungvanngo

FOLLOW PROFESSIONAL BEAUTY:

facebook.com/ProfessionalBeautyAust

@pro_beauty_aus

@ProBeauty_Aust

linkedin.com/company/professional-beauty

10 | WWW.PROFESSIONALBEAUTY.COM.AU
---
200 + Brands

20 + Education Sessions

20 + Stage Shows

1 Brand New Advice Hub

Early Bird ends on 18 January 2019

23-24 MARCH 2019

melbourne convention and exhibition centre

Melbourne's Professional

Beauty Event

Register at

beautymelbourne.com.au
---
NEWS

SLA PARIS AIMS FOR 'TOP 5' STATUS

Thirteen years after its arrival in the Australian

market, SLA Paris has revealed plans to become

one of Australia's 'Top Five' makeup brands.

During her visit to Sydney, SLA international

sales director Olivia Voisin told Professional

Beauty that the French brand is planning to

increase its presence in the salon market and

move into the consumer retail space.

The French brand, which has been

distributed by Sydney-based Encore Beauty

in Australia since 2006, is currently sold in

around 50 spas and beauty salons, and stocked

by numerous makeup artists, TV stations

and TAFES.

Voisin said SLA's "main plan is to support

the current Encore Beauty salon accounts and

open new doors" but also "explore retail so we

can be accessible to all beauty addicts in Oz".

Currently available online

slamakeupstudio.com.au, encorebeauty.com.au

and zianibeauty.com.au , the brand will soon

launch on lookfantastic.com.au, ry.com.au, and

facialco.com.au.

In addition Encore Beauty is in discussions

"with two major department store chains" to

stock the brand around Australia and is planning

to launch its own SLA Boutique in an as yetundecided-location

in Sydney.

SLA's move into Australia's retail market

follows similar moves by the company in its

other markets – the brand is now stocked

online in most of its 30 export markets and

SLA Paris Boutiques have been been opened

in France (two in Paris and one in Valence),

Cyprus, Canada, Lithuania, Indonesia,

Poland with more planned to open in the next

12 months.

According to Voisin, the company began

its expansion in to the retail market about three

years ago to meet consumers' growing demand

professional grade products.

"Social media has driven makeup demand,

particularly among the younger generation

who often don't want a natural look but a more

professional face."

Encore Beauty general manager Shannon

Earls said the brand will continue to support and

grow its salon and spa market but moving into

the broader retail market (including online) will

help increase brand awareness.

BEAUTY MELBOURNE IS ON ITS WAY

Victoria's premier trade show for the beauty industry, Beauty Expo Melbourne, has

been rebranded Beauty Melbourne.

The "subtle name change" is designed to help differentiate the event from its

national counterpart, Beauty Expo Australia, which is held in Sydney.

Announcing the change, Event director Cory Watson said Reed Exhibitions

was "so excited to bring a refreshed Beauty Melbourne to Victoria".

"The team has been working hard to rejuvenate the event features, improve the

visitor offering and ensure we have a mixture of inspiring education and premium

brands that Victorian professionals want to do business with,"she said.

"We look forward to bringing a more bespoke offering to Melbourne that

mirrors the city's stylish, modern vibe."

PBS

TAKES ON

ECOCOCO

Professional

Beauty Solutions

has added

EcoCoco – an

Australian face,

body and tanning

range built around

100 percent

Certified Organic Coconut Oil – to its stable of brands.

Launched in 2014 by Stefan Ackerie, the founder of Stefan Hair Fashions

(Australia's largest hairdressing chain with 37 salons in Queensland),

EcoCoco is based on the belief that 100 percent Certified Organic Coconut

Oil is the key to a healthy and functional beauty regime.

In the four years since its launch the brand has grown from a "small range of

body products" into a full range of face, body and tanning solutions for both

the retail and professional salon market.

Apart from 100 percent Certified Organic Coconut Oil, EcoCoco products

are formulated with "a whole range of organic botanicals and mineral salts"

including Kakadu Plum, Goji Berry, Rosehip Oil, Dilo Oil and Acai" as well as

lime, lavender, peppermint, geranium, orange and patchouli essential oils.

Professional Beauty Solutions CEO Matt Williams says the brand strives

to deliver innovative products that empower women to look and feel their

best in a healthy and natural way.

""EcoCoco signature treatments are designed to fit into any salons current

business model, as an add-on or as a complete body treatment range while

their beautifully packaged retail products will have clients falling in love,

making them an easy-to- retail addition to boost profits."

12 | WWW.PROFESSIONALBEAUTY.COM.AU
---
NEWS

THE NEW FACE OF BEAUTY?

Gender diverse makeup is the new face of

beauty, according a report by the world's most

popular makeup app, Perfect365.

Following a survey of 481 millennial and

Generation Z, the report concludes that gender

diversity is now "mainstream".

Almost 60 percent of respondents told the

researchers they felt that gender inclusivity for

beauty products is "not just a passing fad, but in

fact is the future of the industry".

According to Perfect365, "in light of global

economic beauty trends, it's not surprising that

younger generations are embracing a growing

male makeup industry with ease".

"Their responses likely reflect a personal

experience or connection with male makeup –

around 54 percent of respondents said that they

personally know a man who wears cosmetics."

"While the industry still has a long way to go

to market to men on the same level as women,

more than half (53 percent) of respondents said

that they thought brands were doing enough to

include all genders in their advertisements."

The survey respondents named MAC,

CoverGirl and MILK Makeup as the most

'gender inclusive' brands. Other 'gender

inclusive' beauty brands mentioned by the

respondents included Anastasia Beverly Hills,

NYX Cosmetics, Make Up Forever, Tarte,

Enter Pronoun, JECCA and Fluide Beauty.

Perfect365 confidently predicts that the

male grooming industry, which was valued at

US$50 billion in 2016, will continue its steady

upward growth trajectory in the coming years as

the "socio-political environment becomes more

inclusive and tolerant".

The company cites CoverGirl, MAC

Cosmetics, Maybelline and MILK Makeup

as brands that have already stepped up "to

adequately represent the burgeoning market".

CoverGirl – introduced James Charles

(pictured) as its first male 'CoverBoy' in 2016.

MAC Cosmetics – launched makeup

collection in collaboration with beauty

influencer Patrick Starrr in 2017

Maybelline – introduced Manny Gutierrez as

its first male 'CoverBoy' in 2017

MILK Makeup – launched 'Blur the Lines'

campaign featuring male modelswith a message

to stop gendering beauty products in 2017.

A STAR IS REBORN

Vita Liberata pHenomenal 2-3 Week Tan Mousse is enjoying a boom in sales

thanks to a starring role on the big screen.

The mousse, which has been the "the number 1 selling self-tan product in

the Vita Liberata range" around the world since its launch in 2011, was used to

give Bradley Cooper a rugged look in his role as a cowboy-rockstar in A Star

is Born.

On October 5, the day the highly-anticipated film was released in the

US, Cooper's makeup artist Ve Neill revealed the secret to his rugged

transformation for the role to Refinery29.

"I tanned him every day," she said. "I had him do full-body [spray] tans

every other week, then every morning I would re-tan him in the chair [with the

Vita Liberata pHenomenal 2-3 Week Tan Mousse]."

Since then the makeup artist's revelation has been reported on numerous

news and social media pages around the world as well as Vita Liberta's own

Facebook and Instagram pages in the UK, US and Australia - and sales of the

self-tanner have skyrocketed.

Shannon Earls, general manager of Encore Beauty (the distributor of Vita

Liberata in Australia) said sales of the self-tanner increased "by over ten times

in the two months" after the revelatioon. ".

AST TAKES ON DERMAQUEST

Just one month after adding SkinBetter

Science to its extensive lineup of

clinical skincare brands, Australian

Skin Technology has taken on the

distributorship of DermaQuest.

Australian Skin Technology CEO

Heather Harrison said the company, which

distributes 15 other professional skincare

brands including Aspect, Cosmedix, PCA

Skin and Rejuvaphyl in Australia and New

Zealand, took on the brand as it offers "some of the most advanced skincare formulas

available for professional and home use".

"I feel privileged and excited that we are partnering with DermaQuest," she

said. "Aside from our shared passions and philosophies, this partnership is a

sensible and strategic move for both brands.

"We both share underlying knowledge and experience in the cosmeceutical

industry, which creates a solid foundation for the partnership.

Launched in the US in 1999, DermaQuest is "widely known as the trailblazer of

plant stem cell technology, innovative product and advanced delivery systems".

The range incorporates a number of "technologically advanced ingredients

including peptides, plant stem cells, enzymes and potent antioxidants to achieve

optimum results".

14 | WWW.PROFESSIONALBEAUTY.COM.AU
---
NEWS

AUSTRALIAN SKIN CLINICS

LAUNCHES CLUBBLUE

Australian Skin Clinics has launched Australia's

first medi-aesthetic rewards program – clubblue

– into its 49 franchises around the country.

The program works on a credits-based

system, allowing clients to earn a percentage of

their spend on treatments and products back in

credits called 'bluedollars'.

Australian Skin Clinics chief marketing

officer Christie Harris said the program was built

to reward clients for rewarding themselves.

"We wanted to find a way to show our

customers that they deserve the best service

and reward them for coming to us for their

medi-aesthetic treatments," she said.

"This program has been in the works for

over 12 months, with clubblue really coming

to life over the last six months thanks to a lot

of hard work behind the scenes to ensure the

introduction was a smooth transition for our

franchisees and entire network."

The program categorises clients into three

tiers - Turquoise (any client who makes a

purchase between $1-$1000), Sapphire (clients

who spend $1000- $2000 in a 12-month period)

and Blue Diamond (clients who spend over

$2000 in a 12-month period) – with the amount

of blue dollars earned increasing at each level.

For example, a Turquoise client spending $300

on a treatment would earn 9 bluedollars while a

Sapphire client would earn 18 bluedollars and a

Blue Diamond client would earn 30 bluedollars

for spending the same amount.

Harris said each blue dollar is worth one

Australian dollar to "make the program simple"

and "give clients a sense of earning and

spending real money with real value".

"We have all been involved with loyalty or

rewards programs where 50,000 points will buy

you a toaster, which is not what we wanted to

give our clients," she said.

"Even clients who visit infrequently will

be rewarded because everyone deserves it,

no matter how much you spend with us. The

program is an investment into our clients

because ultimately, they come first."

BELLEZZA TAKES ON GORGEOUS COSMETICS

Bellezza Australia, the new beauty and hair product distributorship set up

by Bodyography founder Rob Tamburro, has taken on the distributorship of

Gorgeous Cosmetics.

The Australian brand is the second makeup brand that Bellezza has taken on since

its formation last year – the company took on America's Palladio in September.

Tamburro said he has taken on Gorgeous Cosmetics, which was founded

by Australian makeup artist David McConnell in 1999, as it is perfect fit for his

new company.

"Over the years I have watched Gorgeous grow and really loved their concept

of their education background through the Academy of Makeup and also their own

concept stores," he explained.

"Our businesses were almost aligned and I just loved the energy about the brand, so

I thought it would be the perfect fit for the portfolio of Bellezza brands."

"Up until now, the company Gorgeous Cosmetics has maintained control and

managed distribution of the brand, as it's been very important to them to do this.

However, they have been waiting for the perfect partnership, like Bellezza, to present

itself and we're thrilled that we've been able to develop this exciting relationship with

them now."

Currently stocked in 500 hair and beauty salons around the country, the Gorgeous

Cosmetics is also sold online stores as well as in its Australian Academy of Makeup

campuses in Melbourne Sydney and Brisbane.

The brand, which launched into the US in 2012, skyrocketed in popularity in 2016

when Kym and Kylie Kardashian swatched its 'Ever Metallic' eyeshadow palette and

declared it 'life-changing' on Keeping up with the Kardashians.

Tamburro said Bellezza will continue to "build on the great work that Gorgeous has

already done in Australia".

"The aim will be to turn Gorgeous into the leading professional brand in Australia."

COVERGIRL OPENS

FIRST STORE

The 60-year-old Covergirl

cosmetics brand has opened

its first brick-and-mortar store

− in the centre of New York.

Located in Times Square,

the 3048 square-metre store

is "physical embodiment of

the brand's new 'I Am What I

Make Up' brand philosophy which inspires people "to embrace their unique

identities and unapologetically create any version of themselves"..

Coty Consumer Beauty chief marketing officer Ukonwa Ojo said the

Covergirl "is the first mass legacy beauty brand to launch a flagship store in

North America".

Highlights in the store include a virtual greeter called 'Olivia' and

augmented reality glam stations which allows shoppers to virtually try on

makeup by placing their colour choices in a tray.

16 | WWW.PROFESSIONALBEAUTY.COM.AU
---
Meet the #1 Software

for Salons and Spas

Simple, flexible and powerful booking software

for your business, it's totally FREE!

www.shedul.com
---
NEWS

ASYMMETRY GROWS WITH AGE

A new study by a US plastic surgeon has

revealed some bad news for those in pursuit of

beauty's Holy Grail – facial symmetry.

According to the study by Dr Helena Taylor

and colleagues from Mount Auburn Hospital

in Massachusetts, asymmetry between the two

sides of the face increases at a steady rate of

appoximately 0.06mm each decade.

The amount might seem small but, according

to Dr Taylor, it is a "significant increase over

time" as facial symmetry is commonly regarded

as a key component of human attractiveness.

Published in the latest issue of the Plastic and

Reconstructive Surgery journal, the study also

found that the changes were more significant in

the lower two-thirds of the face.

During the study, researchers used threedimensional

photogrammetry to scan the faces

of 191 volunteers ranging in age from four

months to 88 years.

They then calculated the "root mean square

deviation" (RMSD) to quantify the degree of

asymmetry between the two sides of each face.

They found that the RMSD of facial

symmetry clustered between 0.4 and 1.3 mm -

the RMSD of the upper facial third ranged from

0.2-1.2 mm, the RMSD of the middle facial third

ranged from 0.2-1.4 mm and the RMSD of the

lower facial third ranged from 00.2 -1.2mm.

Despite finding "a highly significant positive

correlation between increasing age and facial

asymmetry," Dr Taylor said the causes were

not so easily identifiable but "may include

asymmetric skeletal remodeling along with

differential deflation and descent of the

soft tissues".

"Although facial symmetry is thought to

reflect genetic and molecular development, it

may be perturbed by environmental factors,

nutrition, illness, and behaviour," she said.

"Some degree of facial asymmetry is

attractive and inherent in any face, but in excess,

it is unnatural and unattractive and correlates

with a decline in well-being."

The researchers concluded that "the

observed correlation between increasing

facial asymmetry and age can be useful as

a guide in plastic surgery to produce agematched

features".

LORÉAL

LAUNCHES

DIGITAL SUN

PROTECTOR

Loréal has launched

the world's first

battery-free wearable

UV sensor - The La

Roche-Posay My Skin

Track UV. The 12mm

x 6mm waterproof

sensor comes with a

wire clip so that it can

be attached to clothing

or accessories.

Guive Balooch, the

global vice president

and head of L'Oréal's Technology Incubator, said the company's research "has long

indicated the need for better consumer understanding of personal UV exposure".

"We created this battery-free sensor to seamlessly integrate into the lives, and daily

routines, of those using it.

"We hope it makes it easier for people to make smart, sun-safe choices."

My Skin Track UV is activated by the sun and powered by the user's

smartphone using near-field communication. The sensor measures both UVA and

UVB rays and provides instant status updates to its accompanying app when users

tap it against their smartphone.

The launch of My Skin Track UV follows La Roche-Posay's 2016 launch of the

first stretchable skin sensor to monitor UV exposure, My UV Patch..

WRINKLES

SCHMINKLES WINS

TGA APPROVAL

Three years after

launching onto the

Australian market,

Wrinkles Schminkles has

won TGA approval for

its medical-grade silicone

pads which "treat and

prevent the formation

of lines, creases

and wrinkles".

Despite the brand's

success around the

country, company

founder Gabrielle

Requena says she

applied for the brand's

inclusion in the Australian Register of Therapeutic Goods to meet the needs

of the changing market.

"Anti-ageing consumers are getting smarter," she says.

"They are learning one product is not like another, one laser treatment

is not like another… and they are learning to ask the right questions before

spending excessive amounts on treatments and products that might not

deliver the promised results."

Requena says inclusion in the ARTG gives the brand's stockists

and consumers "reassurance that the range meets the highest

Australian standards".

"It isn't very common for home-care, retail products like ours to get listed

in the ARTG so it says a lot about our range that it has been."

18 | WWW.PROFESSIONALBEAUTY.COM.AU
---
DERMA AESTHETICS

birthday celebrations

This year Derma Aesthetics will turn nine and celebrate the success of its modern

skincare approach. In 2010, Co-Founders Reika Roberts & Simone Vescio sat

around a dining room table with the collective dream of changing the way people

approach skincare. Today they run a multi-million dollar business across Australia and

New Zealand, which employs over 25 people and their products are featured and sold

in over 300 skincare clinics. They chat about their modern approach to skincare.

Tell us about why you introduced

dermaviduals & corneotherapy

to Australia…

S: "We've always done things our way and have

never wavered with our standards or values, no

matter what might be considered the next fad

or trend within the industry. When we first

introduced dermaviduals and the skin treatment

philosophy of Corneotherapy to the Australian and

New Zealand market, we were basically laughed

at. After all, peeling and microdermabrasion was

seen as the only way to achieve fresh, glowing skin!

No-one was particularly interested in preserving

the epidermis. Certainly there was little concern

for product ingredients and whether any might

actually be influencing cells and systems in a

negative way."

R: "We've since seen the industry turned on its head, with the focus now

firmly on maintaining the skin barrier. This is tremendously satisfying and we

like to think that Derma Aesthetics has played a large role in bringing about

this positive change."

Education is one of the main tenets of Derma Aesthetics,

can you tell us why?

R: "Education is at the core of all we do at Derma Aesthetics. We never

stop furthering our own knowledge and then sharing what we learn with

our customers. We always encourage them to continually question what is

marketed towards them. This ensures that they are informed and in turn

passionate clinicians. Educating our partner clinics brings us much joy, as

does creating opportunities for like-minded skin treatment therapists to unite,

learn and better this amazing industry."

S: "Education is actually the foundation of how we, as a company, came about

as well. Reika and I met at an advanced skin education seminar hosted by

Florence Barrett-Hill. Over a shared love of skin, Derma Aesthetics was born!

20 | WWW.PROFESSIONALBEAUTY.COM.AU
---
Fast forward nine years and we are constantly working towards advancing

the level of knowledge in cosmetic chemistry, advanced skin analysis and

Corneotherapy throughout Australia and New Zealand. We strive to ensure

best practice and to train a new generation of engaged and inspired therapists.

We are proud to be known as a provider of quality education designed for

enhancing post-graduate knowledge. We are passionate about the structure

of the skin and how to make it function at its best. It's so rewarding seeing

skin treatment therapists develop and adopt this same passion for the skin and

beauty industry."

R: "We've also always stayed resolute on the standard of partners we bring on

board. We're thrilled that lots of clinics want dermaviduals in their clinic, but

if they can't demonstrate a certain standard of knowledge or commitment to

education, then unfortunately that clinic isn't for us. With 'like attracting like',

our Derma Aesthetics staff have the same values of education and knowledge.

We're extremely excited to be heading over to Germany for the 6th International

Corneotherapy Symposium at the start of May with around 30 passionate

dermaviduals partners and staff. The topic is Enzymes In & Around The Skin

and we cannot wait to pass everything we learn onto our clients!"

What drives your passion for customer service?

S: "Coming from a clinic background, I know exceptional customer service

is vital. The support you receive from your product distributors can make or

break your business. Reika and I set out to provide service and support that

made a real difference to the industry. Our partners tell us that any other

distributor doesn't offer our bespoke business solutions and the support we

provide. One of our partners, Fiona King, was kind enough to send this

through to us recently: "Peninsula Skin and Beauty Clinic is a new stockist of

dermaviduals & dermaviduals deco and I can say with no hesitation that it is

the best decision I have made for the salon to date. The products are of course

amazing but I have to talk about the customer care we have been given from

the time of my initial enquiry to becoming a stockist to date. Every single

person I have spoken to along the way has been terrific. The culture in this

company is obviously fantastic from the top all the way through because you

just don't get this level of overall care without that! Our BDM is by far the

best that I've had the pleasure of dealing with. We have been totally taken

care of and feel confident and assured with the derma team by our side. It is

a very scary time opening a salon with many unknowns and I wish I'd had

this level of customer support from the start of my clinic days. Thank you

everyone at Derma Aesthetics for your passion in helping us succeed. It may

all be in a day's work for you, but the kindness and helpfulness you have

shown me is actually life changing as I forward with my salon."

R: "We are the proud recipients of multiple global customer service awards,

including the MyFaceMyBody Awards. However, we will never rest on our

laurels so this remains a core focus for us. Our

quest is to constantly question and stretch

ourselves to improve is strong!"

With everything being available

on the Internet now, why have you

decided to keep dermaviduals offline?

R: "By not allowing online sales, we support our

industry and the expert status that therapists and

aestheticians have accomplished through extensive

training and education. dermaviduals was developed

by a doctor and a team of scientists and as such is

based on proven scientific findings at peer level, as

opposed to exploiting concepts for marketing and

self-promotion. As professionals, it is essential to be

able to identify fact from fiction, information from

hype, and honesty within claims."

S: "Today's clients are well informed and conduct

their own research, but will still look to you, as

therapists, for knowledge. It is imperative that

one has a thorough understanding of the product

line, ingredients and treatment methodologies you

recommend. Our partners love that we don't allow

online sales, ensuring their sales remain in-clinic

and the integrity of the product range is not

tarnished by consumers using the products without

first having a thorough skin analysis and a tailored

skin prescription."

We know that dermaviduals has

always been cruelty-free, what

inspired this?

R: "We're so proud that dermaviduals has never been

tested on animals - all test patches are conducted

on human volunteers and dermaviduals would have

never considered doing it any other way."

Derma Aesthetics seems to continually

buck the trend when it comes to

skincare and business, what advice can

you give to other businesses?

R: "Trust your team and encourage a culture that

will both support and challenge you."

S: "Our workplace is not a popularity contest nor

is it a game of power playing. We work very hard

to bring out the best by sharing our unique skills

and working together to achieve company goals

not individual agendas. If this is your focus, it will

show in your work."

R: "Lastly, practice 'Fear Forward'! Do things that

challenge you. If you think you can't – work hard

to change your mindset because your thoughts

truly do become your reality."

S&R: "So if you're looking to change your clinic's

future and want to join a supportive family of

outstanding therapists, look no further - you have

found your tribe."n

To find out more visit: www.dermaviduals.com.au,

www.dermacit.au or phone: 1300 420223.

COVER STORY

PROFESSIONAL BEAUTY | 21
---
VIEWPOINT

DON'T YOU KNOW

WHO I AM?

The power of celebrity endorsement can send your sales soaring – Anita Quade

checks out the midas touch stars can have on your beauty brand.

CELEBRITIES, BLOGGERS AND

instagrammers only have to whisper about

a product they have on their bathroom

vanity or their 'can't live without' favourite

and boom you have a number one seller

and sellout on your hands. We take a look

at some of the latest celebrities who have

taken products and treatments to another

level by association.

Meghan Markle - The External

Glow Of Royalty

Can there be anything more powerful

than the endorsement of royalty? We saw

it with the 'Diana effect' and the latest

royal addition Meghan Markle is proving

a PR powerhouse for beauty brands. On

a recent trip to Australia it was revealed

by a former makeup artist the Duchess

is a fan of Jane Iredale's bronzer and

Dermalux face treatments.

Dermalux's Alison Mattock,

Marketing & Public Relations

Coordinator for Professional Beauty

Solutions (the distributor of Dermalux

LED in Australia) said: "We have

certainly seen an increase in demand for

Dermalux LED in the salon market since

the Meghan Markle effect hit, with salon

owners calling to find out more about

the brand, to even just the increased

enquiries we have been receiving on social

media. We have already noticed an influx

of people recommending LED light on

online forums, social media groups and

face-to-face, as the solution to many

problematic skin conditions, including

acne and psoriasis. And this has just been

accelerated by Meghan bringing it to the

forefront of mainstream media outlets.

The response has been incredible!"

The media have been fascinated by the

natural beauty of the former Hollywood

actress and her former makeup artist

revealed she gets her glow from Jane

Iredale Peaches & Cream Bronzer. Artist

Min Min Ma says that she created "a

sun-kissed complexion, soft smoky eyes

in bronzy, earthy tones and soft nude

pink/coral lips" that brought out her eyes

and "complemented her natural features

without overwhelming them" for her

TV appearance on Suits, and then added

the Jane Iredale Bronzer in Peaches and

Cream to "get her glowy, sun-kissed

complexion". Since then Jane Iredale has

lightly promoted the royal connection –

it has posted a 'Glow like the Duchess

of Sussex!' article on its website

recommending the bronzer and two other

products to "help you recreate Meghan's

gorgeous, natural glow".

Megan's makeup artist Min Min Ma

also posted an image of the makeup look

she created featuring the Jane Iredale

bronzer on her instagram account (left).

Kylie Jenner - The Real Reality

Star Effect

With a beauty empire worth more

than $900 million thanks to her Kylie

Cosmetics company, her endorsement can

result in products selling out in minutes.

The star created a tanning frenzy in

August, last year when she posted a selfie

on Instagram alerting her 112 million

followers to "my new favourite at home

self-tan all the way from Australia" – it

was a promotion for Bondi Sands selftanning

foam.

The PR effect wasn't lost on the

company – it experienced a 500 percent

increase in online sales," following

the post.

The sponsored post (above), which was

labelled an "#ad" by Kylie, is rumoured to

have cost the Melbourne-based company

around US$1 million.

Last month Kylie topped the 2018

Instagram Rich List compiled by Hopper

HQ, an automated Instagram scheduler.

The report estimates that Kylie's

sponsored posts now cost US$1 million

each – up from US$400,000 in 2017.

Although not willing to reveal how

much the company paid for its post,

Bondi Sand's head of sales and business

development, Jordan Mylius, was happy

to share its insta-effect on the brand.

Just three days after the Instagram

Mylius said the post had already received

over 5.4 million 'likes'.

"Our objective of massive brand

awareness was achieved with an increase

in Bondi Sands Instagram following of

over 20,000 in a 24-hour period," he said.

"We have also seen a significant

uplift in sales of Bondi Sands in all

retailers globally since the post as well

as over a 500 percent increase in online

sales globally."

And despite the fact that the Dark

Self Tanning Foam shown on Kylie's

22 | WWW.PROFESSIONALBEAUTY.COM.AU
---
EXPECT MORE FROM

YOUR SKIN CARE

post is sold in retailers such as Priceline in Australia,

the post has also positively impacted on Bond Sands'

professional products.

"The demand has also filtered into the salon market,"

said Mylius.

"We have already seen an increase in demand for salon

spray tans with our Professional Salon Dark Solution which

delivers the same results as the Dark Self Tanning Foam

which Kylie posted about."

Mylius said that company approached Kylie because she

resonated with the target consumer and especially in the

USA because it was a market they were entering in 2018.

Launched five years ago, Bondi Sands has "the strongest

ambassador program and social media following of any self

tanning brand globally with over 500 loyal key influencers"

including Tammy Hembrow, Natalie Halcro, Charlotte

Crosby, Holly Hagan, Gary Beadle, Megan McKenna, and

Michael Finch promoting its products.

Bradley Cooper - The Big ScreenTreatment

What better way to boost sales than a Hollywood celebrity

and a sales office box hit. Actor and director Bradley Cooper

caused a sales boom when it is was revealed her used Vita

Liberata Phenomenal 2-3 Week Tan Mousse for his starring

role on the big screen in A Star is Born.

The mousse, which has been the "the number 1 selling

self-tan product in the Vita Liberata range" around the

world since its launch in 2011, was used to give Bradley

Cooper a rugged look in his role as a cowboy-rockstar in the

hit film featuring Lady Gaga.

On October 5 last year, the same day the highlyanticipated

film was released in the US and two weeks

ahead of its release in Australia, Cooper's Oscar winning

makeup artist Ve Neill revealed the secret to his rugged

transformation for the role to Refinery29.

"I tanned him every day," she said.

"I had him do full-body [spray] tans every other week,

then every morning I would re-tan him in the chair [with

the Vita Liberata pHenomenal 2-3 Week Tan Mousse]."

Since then the makeup artist's revelation has been

reported on numerous news and social media pages around

the world as well as Vita Liberta's own Facebook and

Instagram pages in the UK, US and Australia and sales of

the self-tanner have skyrocketed.

Shannon Earls, general manager of Encore Beauty (the

distributor of Vita Liberata in Australia) said sales of the

self-tanner had increased "by over ten times in the last two

months" – although some of the increase could also be

attributed to the brand's recent launch into Adore Beauty.

Earls stressed that although Bradley Cooper has garnered

the most publicity for the Irish brand, he was not the first,

and is unlikely to be the last, celebrity to enjoy its long

lasting glow.

"There are a huge number of celebrities that love Vita

Liberata,"she says.

"Some of our long-time celebrity fans include Sophia

Vergara, Emma Watson, Alicia Keys, Hailey Baldwin and

Ashley Graham." n

DermaScan

Patented Ultrasound Technology

A unique and complimentary opportunity to monitor and

keep track of your clients progress with before and after skin

deep photos when using Beauté Pacifique products.

Ask us for more information!

(03) 9562 0513

Cosmeceuticals

Scientifically

Proven Results

Anti-Age

Reduces signs of

Sun Damage and

Age Degeneration

Packed under

GMPack certification

100% mark-up

INFO.AU@BEAUTE-PACIFIQUE.COM

BEAUTEPACIFIQUEAUSTRALIA.COM

MADE IN DENMARK

Beauté Pacifique Australia

beautepacifique_australia
---
SKINCARE

JET, SET, GO

These travel-size sets make it easy to

stay gorgeous on-the-go and abroad.

24 | WWW.PROFESSIONALBEAUTY.COM.AU
---
LEFT

La Clinica Firming Lift Skin Kit - La Clinica 03 9799 8803

Thalgo Discovery Kit Silicium Marin Life & Firm - BLC Cosmetics 02 9430 2200

Dermaviduals Travel Kit High Classic Plus - Dermaviduals 02 9960 1300

ABOVE

Ultraderm Skin Renew Ultra Mini Kit - Ultraderm 1300 660 297

Image Skincare Ormedic Travel Kit - Professional Beauty Solutions 1800 625 387

Sothys Dehydrated Skin Travel Pack - Sothys 02 9477 7844

Gernétic International Essential Luxury Travel Set - Gernétic International 1300 437 638

PROFESSIONAL BEAUTY | 25
---
SKINCARE

Intraceuticals Complete Travel Essentials Opulence - Intraceuticals 1300 725 660

Anesi Beaute DNA Rejuvenation Travel Set - International Beauty Supplies 03 9486 3211

Bioelements The Essential Weekend Kit of Age Activists - Absolute Spa 1300 262 275

Guinot Body Softening Kit - Hamaya International 02 9737 987

26 | WWW.PROFESSIONALBEAUTY.COM.AU
---
Doctor Babor Booster Travel Set - Babor Cosmetics Australia 1800 139 139

Peter Thomas Roth Jet, Set, Facial - Peter Thomas Roth 0011 1800 787 7546

Pure Fiji Travel Set - Professional Beauty Solutions 1800 625 387

California Mango To Go Travel Kit - International Beauty Supplies 03 9486 3211

PROFESSIONAL BEAUTY | 27
---
SKINCARE

28 | WWW.PROFESSIONALBEAUTY.COM.AU
---
Stand FIRM

Lift, tighten and smooth skin

with these anti-cellulite creams

Image Skincare Body Spa Cell.U.Lift Firming Body Crème - Professional Beauty Solutions 1800 625 387

Gernétic International Vasco Artera Orange Skin Body Cream - Gernétic International 1300 437 638

Clarins Body Fit Anti-Cellulite Contouring Expert - Clarins 1800 861 888

Mesoestetic Bodyshock Total Reducer - Advanced Cosmeceuticals 08 9409 5433

Doctor Babor Repair Cellular Ultimate Reforming Body Cream - Babor Cosmetics Australia 1800 139 139

La Clinica Detox & Tone Body Contour Cellulite Gel - La Clinica 03 9799 8803

Environ Body Profile - Sensa Skincare 02 8765 0169

Comfort Zone Body Strategist Cream Gel - BLC Cometics 02 9430 2200

Guinot Minceur Rapide Cellulite And Fluid Retention Cream - Hamaya International 02 9737 9872

Doctor Eckstein Beautipharm Lotion Anticellulite - Eckstein Australia Real Skin Care 1800 026 306

Indemne Gimme Smooth - Encore Beauty 02 9686 3488

Phyt's Silhoutte Expert Cellulite - Phyt's 02 9906 1001

PROFESSIONAL BEAUTY | 29
---
Alpha-H Essential Skin

Perfecting Moisturiser

Alpha-H 1800 659 777

AO Skincare #1

Prepare Cleanser

Cryomed Aesthetics

1300 346 448

Payot Blue Techni

Liss Peeling - Payot

Cosmetics 02 9874 1166

Dermalogica Intensive

Moisture Cleanser

Dermalogica 1800 659 118

Dr Spiller Argan Oil Deluxe

Dr Spiller 03 9645 0200

Dermatonics Gentle

Cream Cleanser

Dermatoincs 0430 582 508

Genie Beauty Exfoliate

3 Triple Action - Genie

Beauty 1800 860 513

Anesi Urban Blue Defense

Serum - International Beauty

Supplies 1800 358 999

Ella Baché Floral Oil Face

and Body Cleansing Oil

Ella Baché 1800 789 234

Li'Tya Vitality Facial Elixir

Li'Tya 03 9587 7088

30 | WWW.PROFESSIONALBEAUTY.COM.AU
---
SKINCARE

Murad Technoceuticals

Professional Wrinkle

Solution - Murad 1800 687 237

O Cosmedics Hydra

Plus Sleep-In Mask

Inskin Cosmedics

02 9712 8188

Medik8 Micellar Mousse

Advanced Cosmeceuticals

08 9409 5433

Priori TTC fx340 Skin

Restore Crème - True Solutions

1800 808 993

Cosmedix Professional

Sculpted Mask

Advanced Skin Technology

1800 648 851

Serum Factory Party Peel

Skin Juice 02 4960 8980

Usana Celavive

Hydrating + Lifting

Sheet Mask - Usana

Australia 1800 687 872

Rejuvaphyl Pore

Perfecting Complex

Advanced Skin Technology

1800 648 851

Ultraceuticals

Smoothing Pore

Refiner - Ultraceuticals

1800 355 890

PROFESSIONAL BEAUTY | 31
---
SALON VIEW

Skin

SPECIALISTS

Margaret Young's clients range from eight to 82 in age. The Skin Spa medispa director

catches up with Michelle Ruzzene to talk technology, treatments and therapy.

How did you get into beauty?

"I was approached by a salon owner in High

Street Armadale in Melbourne, when I was around

18. The owner thought that I had the right nature

for beauty. That's 32 years ago and I still get the

same enjoyment now in driving skin improvement

results for our clients."

When was Skin Spa established?

"Skin Spa opened in 2005. Unlike the premises

which looks great, the business itself was

misaligned with new technology. We have owned

it for the last six years and have driven many

significant technological improvements since then.

The Skin Spa branding attracted us, but systems

were old, communication with our clients was not

modern and the service menu was irrelevant to

demand. We stocked about five different brands

of skincare that no-one understood, let alone

could commercialise. We now have Ultraderm and

Ultraderm only."

MARGARET YOUNG'S QUALIFICATIONS:

• Diploma Beauty (Melbourne Beauty College)

• Diploma Beauty (Electrolysis)

• Diploma Clinical Aesthetics (Capillary Diathermy)

• Diploma Guinot Product Treatments

• Graduate Certificate in IPL / Laser Therapy

• IPL / Laser Safety Officers Certificate

• Certificate IV in Training and Assessment

Tell us about your staff?

"There are between five and six of us that make up the Skin Spa team with

most of our staff having been longer term members. Adair, our most recent

team member, undertook three courses of study at once and has a tenacious

appetite for dermal treatment knowledge. She's calming, elegant and serious

about her career in dermal skin treatments. Katt she has several laser

accreditations, has worked with cosmetic doctors and performed well over

10,000 treatments. Tamika has modelled internationally in about six countries,

understands contemporary trends with brows and lashes and has around

140,000 followers on her social media. We also have other clever advisory

32 | WWW.PROFESSIONALBEAUTY.COM.AU
---
people that informally make up the team from medical, legal and financial

backgrounds. Keeping our staff motivated is easy. We believe we reward them

well. We inspire them with new technology solutions to drive results with

our customers, training from Ultraderm's product range and specific training

related to our equipment, customer service and communicating with our

customers. We provide regular feedback to them on areas for improvement."

How important is training and education?

"All Skin Spa staff are encouraged in their own time to use our technology

on themselves. We have found that understanding how it feels and what

effect it has increases our ability to provide better quality service. Of course,

education is vitally important with our team. Diploma and post graduate

qualified, we ensure that everyone is up to date, compliant and seeking that

next learning opportunity."

Who is your typical clientele?

"Skin Spa's clientele ranges from eight-year-olds requiring their skin to be

decongested to 82-year-olds that want to try our latest anti-ageing and skin

tightening technology. But in most cases our clientele are professional people

including many doctors of varying specialisations, physiotherapists, solicitors,

dentists, television journalists and most importantly, local mums seeking

smoother, clearer skin. They travel far and wide too, from active military

service in Afghanistan, remote islands in the Pacific and Caribbean and

remote mining operations. One of our favourite client's drives a 4WD more

than six hours to see us, booking twice in two days, dodging feral pigs and

kangaroos along the way."

Most popular and signature treatments?

"This varies by the season, but decongesting

skin, tightening skin and anti-ageing skin is

where we get our best results for our customers.

We deliver the latest dermal technology such

as the Rezenerate dermal treatments, RF (radio

frequency), peels and LED therapy to assist us

in driving results. When this is combined with

quality home care, our clients are rewarded with

superior results."

Why do you stock Ultraderm solely?

"Not only has Ultraderm transformed the quality

of the services we offer, the feedback from our

customers has been overwhelming. We have many

clients that are camera-facing each day for their

roles as television journalists who love the antireflective

sunscreen."

Skin Spa highlights?

"There have been many. Partnering with

internationally published scientific author and

experienced medical doctor Dr Andrew Clarke

has been a highlight for Skin Spa and our clients.

Some of the more notable, emotional highlights

have been helping people rid themselves of

problematic and severe acne conditions, when

prescription medicine has resulted in depression. It

is very rewarding when we begin to get results in

just a few treatments." n

Skin Spa, 2/20 Stewart Rd, Ashgrove, Queensland, 4060.

www.skinspa.com.au 07 3366 1800

PROFESSIONAL BEAUTY | 33
---
BUSINESS

Managing business

LIKE A BOSS

Now is the chance to look forward and start planning a few business basics.

Jeanette Galyer reveals how to set your goals and stay ahead of the game.

WHEN I THINK about my younger years,

admittedly they are now a bit fuzzy, I don't

remember ever saying "I can't believe how quickly

the year has gone". But with life now hurtling by

at a blistering pace I'm sure as you read this, you'll

be joining in me wondering exactly that! This is

the perfect time of year to take control of your

business success. Here are just a few of the things

I'll be looking at in the year ahead.

Marketing matters

Plan your 2019 marketing strategy for the year

now. Check your website – (I'm assuming you

have one because if you're not online in today's

world you're not really in business). Here is a mini

checklist to make sure you are up to date.

• Is all the information current?

• Are there spelling errors? – I always get a

little twitch when I see what is an otherwise

beautifully designed website with text errors.

• Have any of the prices changed for your

products and services?

• Can your clients book online?

• Do you have a click and collect service? There is

little point spending time and money directing

potential clients to an outdated website.

Get Social

Plan your social media campaign – how often will

you post, what will you post, how many of those

posts will you boost? Prepare posts now to be used at a later date when either

business is slow and you need a boost, or you're too busy to write a post but

need to maintain a regular schedule.

The Green revolution continues

Climate change continues to be a hot topic, and consumers are more aware

than ever of their impact on the environment. While our clients are happy

to embrace technology in our treatments, increasingly they are reverting to

natural, sustainable ingredients in the products we use. With the Internet

always on hand (or switched to silent in their bag during the treatment),

clients have access to far more information about ingredients and their origins

than ever before. Vegan products were originally thought to be niche market,

but this is now a fast-growing sector which will only continue to increase.

Now is the perfect time to consider the products you use, and retail

products you stock. What are the ingredients, are they sustainable; is

the product produced ethically; are they recognised as cruelty-free; is the

packaging recyclable; is there excessive packaging? Don't forget your clients

will be googling this.

Injectables intelligence

It is unlikely that the media coverage concerning Australia's first case of

blindness due to injectables will deter many new or existing clients from

continuing to have these treatments. What we can expect is that clients

will become far more discerning in who they choose to provide this service.

Customer testimonials will have a far greater impact when new clients are

choosing who to trust. If you don't already collect testimonials, now is the

time to start! Check online for existing reviews and see all the options

available to you. We can also expect far greater scrutiny from regulators

concerning the provision of treatments, as well as the introduction of

new regulations.

34 | WWW.PROFESSIONALBEAUTY.COM.AU
---
Training Package update

The Training Package for the beauty industry is in the process of being

updated. Training Packages are generally reviewed at least every five

years to ensure they are keeping pace with new technology and current

industry practices. In addition to reviewing the current qualifications and

units of competency, two new qualifications have been proposed to cover

skills where new and additional training needs have been identified. A

new, stand-alone qualification in Cosmetic Tattooing is being considered,

with additional content to cover microblading, feathering, use of products

and treatment of adverse effects. There will also be a completely new

qualification to cover skin rejuvenation treatments. This new qualification

will cover treatments not included in the current SHB training package

such as skin needling to 1mm, chemical peels, LED, and IPL and laser for

skin rejuvenation.

Taking part in this review allows you to have a say in what the new

generation of beauty therapists will be trained in. There will be two

rounds of national industry consultation, with the first round commencing

in the coming months. The draft Training Package Products will be

available for public comment via SkillsIQ Feedback Forum. SkillsIQ will

also be conducting national workshops and webinars. The best way to get

involved and stay up to date is to sign up with SkillsIQ to receive updates

( www.skillsiq.com.au ). The project is anticipated for submission in late

2019. It's important to make sure you are aware of any changes that are

occurring to keep yourself and staff ahead of the game.

Business necessities

The time-consuming, mundane basics of running a

business. Check out your compliance with awards.

Anecdotal evidence suggests as many as 47% of

small businesses aren't paying their employees

correctly. Another of the boring but always

constant facts of life when running a business

is account and record keeping. The Australian

Taxation Office recently received additional

funding to investigate areas of non-compliance

and fraudulent claims. The most common errors

made by small business and sole traders relates to

unsubstantiated expense claims, and not reporting

cash income. Check with your accountant on what

is and isn't claimable. n

Jeanette Galyer is the Sales and Marketing Director

of Eckstein Australia Real Skin

Care Pty Ltd, the importers and

distributors of Doctor Eckstein

BioKosmetik range in Australia

and New Zealand.

Visit: www.eckstein.com.au

It's easy to switch

& save on your

Business Insurance.

Use code

BEAUTY25

to get

$25 off *

Compare

Insure

Save

FREE multiple quotes

online in minutes

your business & receive

your documents instantly

yourself time and money,

backed by our Price Promise

Ready to compare?

bizcover.com.au 1300 952 846

*$25 discount cannot be used in conjunction with any other offer. This information is general advice only and doesn't take into consideration your particular objectives, financial situation or needs.

Before making a decision please consider the relevant Policy Wording. BizCover Pty Ltd (ABN 68 127 707 975; AFSL 501769). © 2018 BizCover. BC1114

PROFESSIONAL BEAUTY | 35
---
MAKEUP

Artdeco Color

Booster Lip Balm

Rosé - United Brands

Australia 1300 552 924

Nee Makeup Milano

Perfection UV SPF50+

Base Primer - Masters Beauty

International 1300 470 648

Luzern Broad Spectrum SPF

30 Mineral Sunscreen - Luzern

Laboratories Australia 1300 367 969

Curtis Collection Radiant

Glow Illuminator - Rose Gold

Curtis Collection 03 9421 5577

Mukti Tinted Moisturiser

Mukti Organics 1300 306 554

Kat Von D Beauty

Dagger Tattoo Liner

Kat Von D 0011 1844 500 5832

Vani-T Highlighter

Drops Ivory

Vani-T 08 8206 8700

Asap Pure Beauty

Blender - Asap Skin

Products 03 8683 3333

Lou Lou Lips Alias

Lipstick Robert - Lou Lou

Lips hello@louloulips.com

Paintbox Nine Well Blush

Palette Ember Glow - Paintbox

Cosmetics 03 9614 0129

Nouveau Lashes

Enhance Mascara

Bio Beauty Concepts

02 8218 4500

Nu Colour Bronzing Pearls

Nu Skin 1300 687 546

36 | WWW.PROFESSIONALBEAUTY.COM.AU
---
MORE THAN

MAKEUP

DISCOVER WHY CURTIS COLLECTION

IS AUSTRALIA'S FASTEST GROWING

MAKEUP BRAND

AUSTRALIAN OWNED

SALON EXCLUSIVE BRAND

ON TREND PRODUCTS

SKINCARE MAKEUP

PHARMACEUTICAL GRADE MINERALS

CRUELTY FREE

HYPOALLERGENIC

PARABEN FREE

curtiscollection.com.au

@curtiscollection

TO BECOME A CURTIS COLLECTION

STOCKIST CALL 03 9421 5577 OR EMAIL

INFO@CURTISCOLLECTION.COM.AU
---
MAKEUP

Sun

WORSHIPPER

Stay protected all summer long with these

SPF-infused foundations to keep you pretty

and protected

38 | WWW.PROFESSIONALBEAUTY.COM.AU
---
LEFT

Lycogel Breathable Camouflage Sand SPF 30

Advanced Cosmeceuticals 1800 242 011

Elizabeth Arden Pro Triple Action Protector with

Sunscreens - True Solutions 1800 808 993

Image Skincare I Conceal Flawless Foundation SPF 30

Professional Beauty Solutions 1800 625 387

Curtis Collection by Victoria Naked Glow BB Cream

Medium Deep SPF 30 - Curtis Collection 03 9421 5577

Jane Iredale Dream Tint Medium SPF 15

Margifox Distributors 1300 850 008

Ella Baché Great Sunguard Foundation Dark Beige SPF 40

Ella Baché 1800 789 234

Hydropeptide Solar Defense Tinted Face Guard

True Solutions 1800 808 993

Youngblood Natural Loose Mineral Foundation Honey

SPF 15+ - Professional Beauty Solutions 1800 625 387

ABOVE

Adorn Cosmetics Loose Mineral Foundation Fair SPF 20

Adorn Cosmetics 03 9808 4422

Guinot Creme Hydra Finish Cream SPF 15

Hamaya International 02 9737 9872

Marc Jacobs Shameless Youthful Look Longwear Foundation

SPF 25 Fair - Kendo 02 9295 9000

Esmi Skin Minerals Mineral Foundation SPF 15

Makeup Cartel 1300 661 176

One Drop Miracle 1 Foundation SPF 20

Glamaco 1300 343 572

Invisible Zinc Sheer Defence Light SPF 50

Invisible Zinc 1800 630 056

Charlotte Tilbury Youth Boosting Perfect Skin Foundation

Fair SPF 15 - Charlotte Tilbury 0011 44 1202 629527

SLA BB Glow Medium SPF 20 - Encore Beauty 02 9686 3488

La Glam Minerals – 2 in 1 Wet/Dry Mineral Foundation Miami

SPF 15+ - La Glam Minerals 1800 524 526

PROFESSIONAL BEAUTY | 39
---
TANNING

Golden GIRL

Long summer days call for the best in bronzed beauty.

Our advice – fake it. Here's what's new in the world of tanning

40 | WWW.PROFESSIONALBEAUTY.COM.AU
---
Endota Organics

Coconut Oil & Shea

Butter Instant Tanner

Endota Spa 03 5971 8700

80% – 90%

of women

will suffer

from cellulite

after puberty 1

Bondi Sands After

Sun Aloe Vera SPF 30

Sunscreen Spray – Bondi

Sands 1300 961 385

Introducing the

Z Wave Pro

Cellulite reduction & skin tightening

Natural Look Summer Kiss

Gradual Tanning Lotion

Artav Australia 08 8300 1999

The Z Wave Pro is a radial

pulse technology that delivers

acoustic shockwaves to reduce

the appearance of cellulite.

The Z Wave Pro can also be

used as a post body contouring

protocol for improved clearance

of destroyed fat cells, increasing

lymphatic drainage to deliver

optimal results.

Sunescape 'Summer in Santorini'

Ultra Dark Professional Tanning

Solution – Professional Beauty

Solutions 1800 625 387

Hempitan

Organic Hemp

Body Tanning

Water – Eco Tan

1300 596 118

For reduction of cellulite

30 Minute Treatments

Non-invasive

No patient downtime

Comfortable application

Easy to delegate

procedure

Visible results

MoroccanTan

Instant Exotic

Tanning Mousse

BSB Pacific

1300 867 826

For more information about Z Wave Pro contact

infoaustralia@cynosure.com

Exclusive to and proudly brought to you by

1.Data on file, commissioned by ASAPS. © 2018 Hologic, Inc. ALL RIGHTS RESERVED. Cynosure Australia

is the exclusive distributor for the marketing, sales and delivery of the Z Wave Pro in AUS|NZ. Cynosure is a

registered trademark of Hologic, Inc.
---
NAILS

42 | WWW.PROFESSIONALBEAUTY.COM.AU
---
Pretty IN PINK

Unleash the inner Barbie with these

sweet polishes

TOP ROW

Faby Nail Lacquer Sweet as Faby and This is my Dream - International Beauty Supplies 03 9486 3211

SLA Paris Pink Peach and Pink Pearl - Encore Beauty 1300 770 428

Orly Lacquer Head in the Clouds and Pep In Your Step - Hawley International 02 8667 1700

BOTOM ROW

CND Creative Play Pinkle Twinkle and Oh Flamingo - Pacific Nail & Beauty 07 5597 4555

Zoya Professional Lacquer Minnie - SA Beauty Supplies 1300 855 644

Jessica Custom Nail Colour Pinkies Up - Masters Beauty International 1300 470 648

Cuccio Colour Pinky Swear and Pink Lady - Absolute Spa 1300 262 275

PROFESSIONAL BEAUTY | 43
---
NAILS

Evo2 by Biosculpture Noelene

Bio Beauty Concepts 1300 246 435

Payot Crème Mains Douceur

Payot Cosmetics 02 9874 1166

CND Vinylux

Chandelier - Pacific Nail

& Beauty 07 5597 4555

Mavala Nail Color Pearl Blueberry

Mavala Australia 03 9645 1933

Grace Pedicure Spa

Comfortel 02 9966 5900

Biosculpture Gel and Gemini

Polish Triginta - Bio Beauty

Concepts 1300 246 435

Young Nails Airbrush Kit

Young Nails 1300 766 121

BeautyPro Corn Planer

Dateline Imports 02 9666 3611

44 | WWW.PROFESSIONALBEAUTY.COM.AU
---
2019

COSMOPROF

BOLOGNA, ITALY – FAIR DISTRICT

14 – 17 MARCH 15 – 18 MARCH

A new world for beauty

Bologna, Hong Kong,

Las Vegas, Mumbai

cosmoprof.com

Organised

BolognaFiere Cosmoprof S.p.a.

Milan, Italy

T +39 02 796 420

F +39 02 795 036

info@cosmoprof.it

Company of

In partnership with

With the participation of
---
NAILS

NAIL TRENDS

for your radar

This year, get ready for subtle sparkle and nude nails that can be paired with just

about every look. CND's Education Ambassadors reveal a sneak peek at what's hot

this season.

NAIL STYLE #1

HEAD INTO THE NEW YEAR WITH

THESE NUDE TALONS AND JUST A

TOUCH OF SPARKLE TO GET YOU

IN THE MOOD.

CND LIQUID & POWDER || CND

SHELLAC® in Bellini & Field Fox

Skye Mcintyre

CND Education Ambassador

NAIL STYLE #2

THESE NAILS WERE CREATED USING

CND SHELLAC AND GLITTER

AND FOIL.....A PLAY IN LIGHT WAS

USED TO FINISH THE EFFECT WITH

MATTE TOP COAT GIVING THE NAIL

A NEW YEAR, NEW YOU TWIST.....

Cherie Pollard

Team CND

CND Education Ambassador

46 | WWW.PROFESSIONALBEAUTY.COM.AU
---
NAIL STYLE #3

THESE NAILS ARE SIMPLE, CLEAN AND

FULL OF LIFE FOR A MORE DARING

EFFECT – THE GLITTER REFLECTS AND

BOUNCES THE LIGHT AROUND FOR

YOUR OWN PARTY.

Cherie Pollard

Team CND

CND Education Ambassador

7FREE

CRUELTY FREE

MADE IN USA

VEGAN

NAIL STYLE #4

THESE NAILS ARE CREATED USING CND

SHELLAC® CREAM PUFF AND FIELD FOX

COLOURS.....THE MARBLE FEATURE IS

CLASSIC AND MODERN AND WILL PAIR

WITH JUST ABOUT ANY OUTFIT.

Cherie Pollard

Team CND

CND Education Ambassador

YOU ONLY GET

ONE CHANCE

Perfect

TO BE

JESSICA COSMETICS

AUSTRALIA

PRO NAIL CARE – STUNNING COLOUR

1300 470 648

admin@jessicacosmetics.com.au

PROFESSIONAL BEAUTY | 47
---
Valentine's

MAKEUP

It's time to make a bold statement this February – so get ready to be

noticed with siren red lips, glowing skin and pretty nail art. Australian

Makeup Artist of the Year 2018 Sarah Laidlaw shares her guide to

getting it right for your clients.

Skin

"More than ever before, the quality and

texture of your client's skin is in the spotlight.

Healthy, just-had-a-facial skin is what everyone

wants and skin care treatments and products have

become the star of the show. The glowing, hydrated

skin look is part diet, part skincare regime and part

deftly placed makeup products. The trick is

to focus on caring for skin so prep with a

gleaming primer and lighten up on

the foundation."

48 | WWW.PROFESSIONALBEAUTY.COM.AU
---
PROFESSIONAL BEAUTY | 49

MAKEUP
---
Lips

"It's far from groundbreaking, but the red

lip is firmly embedded in fashion as a staple

look. The French Girl Red statement lip was on the

international runways in all its bright and bold glory.

In Spring we saw glossy red lips, in Summer we saw

perfectly hydrated old-world Hollywood reds. Try

using a long-lasting formulation on your clients for

Valentines Day. The latest products give a velvety

finish that isn't drying — and will last through

multiple drinks, dinner and a sweet

Valentines kiss."

50 | WWW.PROFESSIONALBEAUTY.COM.AU
---
MAKEUP

Nails

"If you're game, it's all about

sensual colours and nail art right

now. From a pretty airbrushed ombre to

handpainted designs to astonish, anything goes

when it comes to a manicure. Try a romantic twist

on this fun trend and go for designs using pink,

red, hearts and flowers for max instagram-ability

for your salon. For clients who want less

look-at-me then a pinky-nude polish

is a perfect go-to for the

romantic."

PROFESSIONAL BEAUTY | 51
---
BUSINESS

Insta-worthy ways

TO GROW YOUR BUSINESS

Try these tips to reach your clients and boost sales on Instagram by Heather Porter

BUSINESS OWNERS AND social media

managers are quickly realising that social media

is a "pay to play" game, or more simply put, if you

want to get your message out there you need to

spend some money promoting your posts. Get

started by using what the influencers rely on to

grow their brands.

Tip #1: Make sure you have a

business profile

A personal profile is great for sharing personal

updates with friends and family, but if you want to

grow your business you need a business account.

You can either create a new one from scratch that

is separate from your personal account, or make

your personal account into a business one by

updating the settings inside your Instagram app.

Plus make sure you enable locations so people

can check in when they visit you. You can create

your location inside of Facebook.

Tip #2: Include a call to action in your bio

You are allowed one link in your bio so use it

wisely. Instead of putting a link to your website

home page, promote something – a special of the

month, a blog post that is promoting one of your

treatments or even a link to your online booking

system. You can, and should, change it often too

depending on what you are promoting.

Tip #3: Add hashtags to your captions

Hashtags are the language of Instagram so you

should be using them in your captions. They

help you to be found in the different communities

of Instagram.

Tip #4: Create stories

Stories are 15-second video clips that have builtin

scarcity because they expire after 24 hours. By

posting them you encourage more people to watch

or they know they might miss out on something

from you. The great news with stories is that you

can be more candid in them and don't need to

worry about fancy editing. Why? They disappear

and people expect them to be off the cuff.

Tip #5: Don't forget to sell from your

social posts

Do you sell products on your site? Create

shoppable posts where you can link straight to

YOUR INSTAGRAM DAILY CHECKLIST FOR SUCCESS

To grow your business on Insta make these 5 steps a daily habit.

1. Create 1-3 stories each day mixing video and image clips

2. Post once a day on your grid and alternate your own content with

user generated content

3. Check the link in your bio – can you update it for a new promotion?

4. Research and use new hashtags in your captions

5. Try the "follow – like – comment" strategy where you search for a

new hashtag, find 3 prominent users of that hashtag, follow their

profile, like 3 of their posts and comment on 1. You will see your

engagement and followers grow.

your cart for products you show in posts. If you are promoting your services

then mention that there is a link in your bio straight to that page. Do you have

more than 10,000 followers? Then you are allowed to include a link inside a

story to your website.

Tip #6: Share UGC (User Generated Content)

The Instagram algorithm rewards people who are social by suggesting their

profile and showing their posts in the explore tab. One of the easiest ways to

be social is by sharing other people's content.

You can either share content from people who tag you in or use your

hashtag in their posts or just choose content by influencers you think would

make a nice addition to your grid.

Tip #7: Use apps and tools

From editing images and videos to planning your content, here are a few apps

and tools you might want to ad into your toolkit:

• Captiona: helps you come up with clever captions for your posts

• Planoly: a tool that helps you visually plan, manage and schedule

your posts

• Clips: helps you add annotations to your videos for those who like to read

what you say instead of listen

• Continual: lets you take a long video and break it up into 15 sec clips to

create multiple stories

• Canva: create animated GIFS or short videos with text animation

The key for using Instagram to build your business overall is to be

consistent, be engaging and engage with others, give great value and from time

to time don't forgot to ask people to buy or book an appointment. Best of

luck to all you insta-stars! n

Heather Porter has run events for speakers such as Tony

Robbins and is now the founder of a website development

company, co-host of 2 podcasts, co-author of 4 business books

and host of That Social Media Show on the Bizversity app. For

details check out: www.heatherporter.com

52 | WWW.PROFESSIONALBEAUTY.COM.AU
---
STYLE FILE

NICOLE 'PINKY'

THOMPSON

Acclaimed makeup artist and global brand ambassador for

MAC, Nicole 'Pinky' Thompson, has just released her first

book Making It Up – Makeup Minus the Rules.

The 36-year-old shares with Michelle Ruzzene how

she inspires beauty junkies around the world to break the

makeup rules, embrace diversity and live life colourfully.

WHY BEAUTY?

"The constant change! Trends come and go, but I

feel lucky to be able to make people feel really good

about themselves with the blend of a brush or the pat

of a shimmer."

MAINTAINING PASSION:

"How could I not – I've never had any two

days the same in my entire career. My

passion comes from being inspired, and I'm

fortunate to be surrounded with those with

the capacity to do that."

FAVE PRODUCT:

"My eyelash curler is hands-down my

favourite product, because eyelashes

are the easiest part of your face you can

make beautiful instantly and on the run."

PERSONAL MANTRA:

"True beauty is on the inside but there

is nothing wrong with throwing a bit of

glitter on it!"

WHAT'S BEEN THE MOST REWARDING

THING IN YOUR CAREER?

"Writing Making It Up is my full circle moment for my

career where I get to pass on so much of the knowledge

I have inherited over the years. Not to mention the fact

that I got to work with some of my best friends in making

the project possible."

MAKEUP ICON:

"Depends on my mood – Kevin Aucoin, the

original make up pioneer whose books I have

collected over the years that still inspire me. From

Val Garland, Tom Pecheax and Kabuki to my

peers I work alongside everyday, I happily draw

inspo from everywhere."

FAVE GO-TO SUMMER LOOK:

"My personal go to is to cover every inch of my

body in sunscreen, because otherwise I start

resembling a lobster. But on others anything

long-wearing because 'shvitzing' is a thing and it

is not kind to make up."

THE BOOK:

"We break the rules! I have poured my makeup brain onto

the pages. I wanted to share all the little tricks I have learned

during my 15 years doing makeup and show people out

there how to have FUN with their beauty look. It does NOT

have to be complicated. You CAN wear that colour, and

that glitter - go for it! "

CELEBRITY CRUSH:

"I love Lady Gaga because she

has grown into her look and

embraced her age over time

without going beige."

MAKEUP PHILOSOPHY:

"Make up is less about how

you look but more about how

it makes you feel when you

wear it."

FAVE INSTA ACCOUNT:

"@valgarland is my makeup hero

so if social media didn't exist and

she was putting polaroids of her

work on messenger pigeons, I

would collect all the pigeons for

my very own viewing pleasure."

SIGNATURE LOOKS:

"I get a lot of work due to not

being afraid to play with colour

but I always make sure I pair that

with really good skin. So when it

comes to signature looks – Good

Skin is always in."

54 | WWW.PROFESSIONALBEAUTY.COM.AU
---
Moving to Timely was the

best thing I ever did

I'm the least tech person ever, I basically hate computers. But moving

to Timely was the best thing I ever did. I love that if I get stuck, I know

their Support team are just a phone call or email away.

All you have to do is say yes. — Jazz Pampling, Brow Artist

Say yes, and we'll take care of the rest.

Talk to us on (03) 8518 4957, or visit gettimely.com to get started.
---
TALKING POINT

THE

AUSTRALIAN WAY

The lure of Australian Made beauty products is evident with more and more

international markets turning to Australia because of their high quality innovations and

ingredients. Industry experts share their views on why they are proudly homegrown

and the challenges they face. By Anita Quade

LYCON COSMETICS

How has the perception changed of homegrown cosmetics over the past few years?

"We've noticed that buyers are beginning to become more consumer conscious. Instead of focusing solely on the price point, consumers

are now looking more closely into where products are from, how they are made and the quality standards of the brand. We feel as though

there is a shift in consumers looking to buy locally, to support brands that are made by Australians, in their own backyard instead of fully

imported products."

With globalisation how is it viable to keep costs manageable in Australia?

"While manufacturing costs in Australia are higher, we find that manufacturing onsite allows for production to be monitored which, in turn

provides a more consistent and high-quality product.

A premium product may end up costing a little extra, however it becomes viable as it can be used more

efficiently and achieve a greater result as opposed to a cheaper, imported product that can often be inferior and of a

lower quality."

LYCON Cosmetics

Lydia Jordane, Founder

www.lycon.com.au

56 | WWW.PROFESSIONALBEAUTY.COM.AU
---
Call today for an obligation free consultation on how Pelactiv can increase sales and services in your business.
---
TALKING POINT

INSKIN COSMEDICS

What is the drawcard of Australian Made brands?

"Traditionally Australians were attracted to buying local in support

of the economy and keeping jobs at home; and whilst this is no

less important today in recent years both the Australian and the

overseas consumer associates Australian Made with authentic,

premium quality products that originate from a clean and green

living appreciation, made to demanding Australian standards.

Our brands O Cosmedics and GINGER&ME are made

under Good Manufacturing Practise (GMP) standards; a set

of principles and procedures that when followed helps ensure

that therapeutic goods are of high quality. As a result, batches

are consistent, quality is guaranteed, and consumers are safe in

the knowledge they are putting quality care on their skin. We

ensure the actives we use come from reputable sources, are

consumer preferred (we are just as strict about what goes into

our products as those that don't) and are used in their functional

dose that make a skin difference, and this is a big reason why

Australian brands are building a strong following for products

that work. Australian Made generally reflects and is strictly for O

Cosmedics and GINGER&ME animal cruelty, vegan and gluten

free – we listen to the consumer and what matters to them. Buying

Australian also means buying into the Australian way and culture;

brands with a personality. Typically, Australian brands connect

with consumers in a transparent manner, giving them a chance

to be heard and understood, ultimately building brand trust

and loyalty across diverse backgrounds. Living in Australia is a

multicultural experience reflected in the demographics of our skin

care purchases. As manufacturers we design our products for the

modern Australian whose background is diverse hence making us a

good fit for international markets too."

What is one of the biggest challenges of creating or selling

Australian Made?

"Without a doubt the costs of goods and labour expenses.

Manufacturing in Australia is expensive. Whilst our manufacturing,

quality control and finished product is of a very high level the

choice and price options when it comes to actives, packaging,

printing is limited and very expensive. Australia has a poor

selection of packaging options which means it mostly needs to

come from overseas. Our brands will not buy from China hence

we pay top dollar for packaging out of Korea and Italy. Australian

active ingredients are also limited and again we must turn to

overseas suppliers for quality products and a greater selection.

Pricing is a major challenge, actives can increase as much as 50%

without notice, freight costs go up and of course pricing is further

influenced by the fluctuation of the currency. These costs are often

absorbed by us given we cannot change our pricing as often as

costs go up. The other hidden challenge is time frames in relation

to receiving both packaging and ingredients from overseas. This

can vary from 3 months to as much as 9 months. Until actives

and packaging are in our hands a lot of the

process is out of our control which makes

manufacturing in Australia a major challenge

at times."

INSKIN COSMEDICS

Maria Enna-Cocciolone, CEO & Founder

www.inskincosmedics.com.au

58 | WWW.PROFESSIONALBEAUTY.COM.AU
---
TALKING POINT

ARTAV AUSTRALIA

How has the perception changed of homegrown cosmetics

over the past few years?

"The skincare industry is one that is constantly evolving! In

the past, consumers desire for high efficiency skincare has

been greatly influenced by international brands, as Australian

products were thought to be of lesser or inferior quality in

comparison, however this is no longer the case.

The Australian Cosmetic industry is now recognised for

creating sustainable products that have gained a reputation

the world-over for being some of the best skincare brands

in the industry. Not only are they made sustainably, using

environmentally-conscious products and practices but they can

also compete with any leading non-natural beauty brand.

Consumers have become much more aware of where and

how their products are being produced, as natural and organic

trends along with the shift in environmental awareness are

becoming a driving force behind skincare.

Homegrown ingredients have become sought after within

the cosmetics market and Australia has so much to offer in

terms of natural and organic optioins, with our homegrown

ingredients now regarded as some of the best on the

market worldwide.

This has been very beneficial for the Australian Made

cosmetics industry, as trust has become prevalent in consumer

choices, with today's generation wanting to be confident in

the products they use. Australia's product safety rules and

standards are second to none, so buying homegrown cosmetics

ensures this trust."

What unique Australian ingredients are in your products?

"Being proudly Australian owned and manufacturing our

products locally in South Australia, we like to use as many

homegrown ingredients as possible, as we believe our country

has some of the best organic ingredients in the market. Take

Kakadu Plum, for example, which has the highest Vitamin

C content of any fruit in the world, but also many complex

antioxidants. We use many other Australian botanical

ingredients in our products, such as Eucalyptus, Tea Tree Oil,

Papaya and Lemon Myrtle.

But there is more: many of our products use our exclusive

herbal complex of leaves, flowers, fruits, herbs and roots,

including Balm Mint, Juniper, Pine Leaf, Gentian, St. John's

Wort, Arnica Montana, Red Clover and Alfalfa. This is a

blend made in Australia with locally sourced products that is

exclusively made for Artav Australia and brings you the best

that Australian nature has to offer."

Artav Australia

Anthony & Andrew Taverna,

Directors

www.artav.com.au

60 | WWW.PROFESSIONALBEAUTY.COM.AU
---
TALKING POINT

INTRACEUTICALS

How does your brand represent true Australian values?

"Intraceuticals was founded over 15 years ago in Melbourne,

Australia. There are a few standout Australian values that align with

our brand.

1. SIMPLE LIFE/MINIMALISTIC

Less is more with carefully selected ingredients that have a purpose

in each formulation, therefore no 'filler' ingredients and higher

concentration of advanced active ingredients. Our skincare range

is simple to navigate and understand, it is all about ensuring we

deliver results-driven skincare. There are no strict guidelines. Our

core philosophy is our proprietary Hyaluronic Layering system and

our skincare regime is based on this system.

2. LOVE FOR WATER

All our treatments and products are water-based formulas. This

allows us to create lightweight products which hydrate the skin

without leaving any oily residue. Formulating in this way also allows

us to use high levels of water-soluble actives such as sodium

hyaluronate to help us create our high efficacy products.

3. MATESHIP/PATRIOTISM

We partner with the largest and most respected Australian

suppliers to source high quality ingredients from all over the world.

It is important for us to support Australian businesses. We believe

in building long term positive relationships with those we work with

– our team, our customers and our suppliers.

4. EMBRACING INDIVIDUALITY

Our skincare range is condensed but effective with rapid and

visible results for all skin types. The upcoming launch of Retouch

is the next generation in skincare, which allows high level

customisation. The five serums are formulated with the latest

technology in active ingredients for targeted solutions, focused

on specific features of the face. Our products are designed with a

unique 3-step system that allows each consumer to customise their

regime based on their own specific needs.

What unique Australian ingredients are in your products?

"Intraceuticals is an Australian owned and made brand. We are

known for high-quality ingredients and this has given Australian

made products a fantastic reputation overseas, which has

been particularly important in the growth of Intraceuticals in

overseas markets.

We are proud to feature and hero Australian ingredients such

as the Kakadu Plum from outback Australia. We have known for

many years about its high concentration of Vitamin C and the

consequent benefits to the skin. The integrity of the ingredients we

are using is critical to the results achieved from using our products.

Our team travelled to the harvesting location of the Kakadu Plums

with the CEO of our Australian supplier to visit and learn more

about the harvesting methods and the community.

We have always believed in the importance of having a team of

scientists at our Global HQ in Melbourne focusing on new product

development and quality control of all Intraceuticals products. This

is an integral part of our business even though 90% of our sales are

generated in other markets (predominantly in North America). We

are able to formulate and test all new products in our laboratory

and receive instant feedback from our team and testers, this allows

us to make any changes and finesse the final product swiftly.

We work with many botanical ingredients from Australia and are

constantly on the lookout for new Australian native ingredients for our

new product development pipeline. We believe

that our native ingredients are really unique as

they come from such a unique landscape."'

Intraceuticals

Anthony McMahon, CEO

www.intraceuticals.com

62 | WWW.PROFESSIONALBEAUTY.COM.AU
---
there is

nothing

ordinary

ABOUT O COSMEDICS

• Australian Made

• Medical Strength

• Functional Actives

• Cell Optimisation

• Endorsed by Skin Experts

World Wide

• No Online Price War

• Social Media Industry Leaders

• No Nasties

• Cruelty, Vegan & Gluten Free

TO BOOK YOUR PERSONAL PRESENTATION AND RECEIVE A FREE TRIAL KIT

CONTACT US AND QUOTE 'SKINHEALTH'

INSKINCOSMEDICS.COM TEAM@INSKINCOSMEDICS.COM 02 9712 8188
---
TALKING POINT

JAX WAX AUSTRALIA

What is one of the biggest challenges of creating or selling

Australian Made?

"Being able to source raw and packaging materials that are made

in Australia. We have recently obtained the right to use the

Australian Made kangaroo symbol. Every product that we sell

is manufactured by us in Australia but unfortunately virtually all

our raw materials come from overseas. This has nothing to do

with cost – they are just no longer made here. Manufacturing

locally is very difficult especially since the decline of the large

manufacturing industries – cars, white goods, brown goods, etc.

There is less need for local support services – engineering for

example, due to this decline and because of this it is hard to source

locally made machinery. We also have to compete with companies

that manufacture cheaply in Asia – we pay our staff properly and

have to provide holidays, sick pay, superannuation, payroll tax,

safety legislation and the list goes on and many of our off-shore

competitors do not have to do any of these things. Because of

these factors we are generally more expensive than products

from overseas and it is difficult to get consumers (both public and

professional) to see the value in supporting locally made – even

though these consumers still expect to be employed locally and

complain about not enough jobs for their families and friends.

How does your brand represent true Australian values?

"We spend considerable time visiting our customers overseas and

know how valuable an asset being Australian is. Unfortunately,

there are companies overseas that try to cash in on an Australian

theme even though they actually have nothing to do with Australia.

Because of this we are passionate about making sure that all our

branding reflects that we are genuinely Australian. We feature

Australian flora on all our packaging with reference to Aboriginal

uses for each of these plants. We are very focused on supporting

those less fortunate than ourselves and pride ourselves on our

mateship values. We donate both time and money to supporting

indigenous groups – Michele Hetherington our head trainer is

Aboriginal, and we take advice from her as to who, what and how

to best help. We are currently involved with a project in Sydney

that will focus on training Aboriginal persons for a future career

within the beauty industry.

Australian's have a reputation for being honest – somewhat

blunt sometimes – and we strive to be honest in our dealing with

our stakeholders – staff, customers and suppliers and in the way

that we advertise our brand around the world – we do not make

claims or promises that we cannot keep.

Australian's are ethical, and I like to think that

we are an ethical company."

Jax Wax Australia

Tina Copland, Managing Director

www.jaxwaxaustralia.com

64 | WWW.PROFESSIONALBEAUTY.COM.AU
---
PELACTIV

What is the drawcard of Australian Made brands?

"Australia has long held a reputation for clean, quality

products, excellence in manufacturing standards and an

innovative approach to product development.

Whether it be skin care, food, pharmaceutical

products or supplements – the whole world wants a

piece of Australia.

Without a doubt I would have to say our

manufacturing standards overall are excellent which

is why so many international brands seek to get their

products manufactured here in Australia. The standard

of our ingredients in Australia is incredibly high and

also deemed very 'clean'. International consumers are

constantly looking for "Australian Made" branding – as

this assures them they are buying a quality product.

Australia has some of the most beautiful, active

ingredients native to our country that are so beneficial

to skin care – Kakadu Plum, Quandong, Native Nipan

and wonderfully active oils such as Lavender and Tea

Tree are just a few that play a part in the Pelactiv

skincare range. The history of the usage of these

ingredients lies with the Aboriginals – who for centuries

unlocked the secrets to their incredible healing,

medicinal and rejuvenating benefits. That's why

Pelactiv love using these beautifully unique ingredients

to enhance the amazing skincare results from using

our skincare."

How do Australian products, safety rules and

standards compare to the rest of the world?

"In Australia there are no industry standards for

cosmetics. With sunscreens, these are governed by the

TGA. However if you market a beauty product you

need to ensure compliance with ACCC (Australian

Competition and Consumer Commission) and

NICNAS (National Industrial Chemicals Notification

and Assessment Scheme) - but otherwise there is not

an industry standard.

As a proud quality brand though, Pelactiv have

chosen to manufacture their products in their own

Australian manufacturing company with GMP ISO

22716 accreditations. Our factory is audited yearly by

an international body to ensure quality compliance.

Pelactiv customers can rest assured that their

products are made with high quality controls in place

to ensure consistency and quality in the delivery of

their products. We are proud to say that Pelactiv

are probably one of only a few Australian skincare

companies that manufacture their own products."

RESULTS ORIENTED

Instant and long-term results

with no down time

NANOTECH

Developer of the renowned Rezenerate

NanoFacial (Rez Golden Ration) TM

BEAUTY THERAPIST SAFE

Created by and for Beauty Therapists

& other skin care professionals

PRODUCT NEUTRAL

Improves the efficacy of your

preferred product line

GLOBAL SKIN TYPES

Amazing benefits for entire

Fitzpatrick scale

NOW

AVAILABLE IN

AUSTRALIA

MODALITY NEUTRAL

Combine with any modality

(LED, Dermaplane, Microcurrent, Microderm etc.)

Pelactiv

Kerry-Anne Raiola, CEO

www.pelactiv.com

IN2SKIN PH 1300 660 297

www.rezenerate.com.au

PROFESSIONAL BEAUTY | 65
---
TALKING POINT

ULTRADERM

What is the drawcard of Australian

Made brands?'

"We love being an Australian owned and

made brand for several reasons. Over the 10

years that Ultraderm has been in business we

have seen Australian Made skincare brands

grow and flourish.

We too have grown from small beginnings

to where we are today. We believe that

Australians are embracing home-grown

skincare brands as they feel that their skin

concerns, many of which can attributed to

our extreme climatic conditions are best

dealt with ingredients, formulas and products

developed by locals for locals. There is also the

commitment to high quality finished products

and ingredient safety that we are known for.

Australian Made brands are also well

placed to be responsive to product trends

and consumer demand for example when

salons provide us with feedback on the types

of products their clients are looking for, we

can get a new product out relatively quickly if

we feel that the demand is there. It can be a

rapid process from idea, to product creation,

formulation and market launch which would

not necessarily be possible with overseas

brands. Indeed some of our best sellers have

been created as a result of client requests."

What is one of the biggest challenges of

creating or selling Australian Made?

As with all business there are many challenges

in the skincare industry. One of the main ones

relates to selling and marketing a start-up

brand. When we first launched Ultraderm we

were entering a very crowded market with

long established mainly overseas salon skincare

brands. The challenge was to find our niche,

introduce a small unknown brand into the

marketplace and grow the business on a small

budget. We had to meet both the needs of

salon owners as well as consumers in terms

of product suitability, visible results and price

whilst still staying true to our vision of creating

a brand that would be known for being resultsdriven

and giving value for money. Skincare

clients are very well informed on trends and

skincare ingredients and formulations and

will not remain loyal just to support a local

brand so one has to keep

innovating and delivering

on client expectations.

Ultraderm

Pauline Valle, Founder

www.ultraderm.com.au
---
Our products

are made from NaturAL

& Organic IngredientS.

we do not test on

animals. WE are

proudly VEGAN FRIENDLY,

Australian Made

& OWNED.

skin care • waxing • tanning • manicure • pedicure • paraffin

naturallook.com.au
---
BUSINESS

The homegrown

ADVANTAGE

Aussie beauty brands are keen to show off their authentic roots

and it is paying off overseas. Anita Quade chats to Ben Lazzoro,

Chief Executive, Australian Made Campaign Ltd to find out how

companies can reap the rewards.

Tell us about how you became Chief Executive of

Australian Made Campaign Limited?

"I have a chemical engineering and communications background

with more than 15 years experience across a variety of

manufacturing, management, sales, marketing and communications

roles in consultancy and in-house capacities. After working as

an engineer in manufacturing and technology-based facilities

for a number of years, I then moved into the PR and marketing

area where I was able to help promote the achievements of local

manufacturers and technology developers.

In 2011, I joined Australian Made as Marketing &

Communications Manager – a rewarding role that aligned with my

manufacturing and marketing experience.

In 2016 took on the role of Deputy Chief Executive, and in August

2018, I was appointed Chief Executive."

How does it feel to be in this role?

"It's a real honour to be given the opportunity to lead the

organisation responsible for administering one of Australia's most

recognised and trusted brands."

What are some of the most memorable

achievements of the Australian Made Campaign?

"Since its establishment in 1999, the Australian Made Campaign

Limited (AMCL) has helped thousands of brands communicate

their Australian Made credentials with authority and credibility.

The logo is an effective sales and marketing asset for any business

making or growing products here in Australia and helps those

brands sell their products – here and overseas."

How has the reputation of the Campaign grown?

"Over the years, AMCL along with its licensees, has built the

reputation with the logo. It is now recognised by 99% of Australians

and trusted by 86% (Roy Morgan Research 2018). Those are

enviable figures that some brands can only dream about."

Let us in on some key milestones?

"Some of the most memorable of these include:

• the introduction of the Australian Grown descriptor in 2007

• Between 2004 and 2010, AMCL conducted an export program

aimed at showcasing Australian Made products and opening up

sales channels for Aussie manufacturers in key overseas markets.

• In 2012, AMCL established the largest searchable online Aussie

BEAUTY BRANDS BOOMING FROM BEING

AUSTRALIAN MADE

"We're absolutely loving being affiliated with Australian Made

and seeing an increase in traffic coming from our listing on

the site which is fantastic!" - Heather Wilkinson, Managing

Director, At One Skincare.

Manufacturing the products locally is a key business strategy

for Little Innoscents because it allows them to source "top

quality" ingredients to make a "far superior" product.

We have been registered to use the AMAG logo for two

years now. It carries a lot of weight. It is highly recognised by

consumers both here and abroad, and it also considered trust

worthy," - Antonette Goldikidis, Founder Little Innoscents.

Other businesses that have products licensed to carry the

Australian Made logo include: Endota Spa, Kora Organics and

Synergie Skin."

product directory at www.australianmade.com.au. It provides

information on the products and their makers, and generates

online traffic back to the websites and e-commerce platforms of

Australian Made licensees.

• In recent times, AMCL has also amassed a huge following

across its online, social media and loyalty club platforms. We

have an audience of nearly 400,000 consumers actively seeking

information on genuine Aussie products. All licensees have access

to these potential customers.

• AMCL has established partnerships with key retailers, opening

Australian Made logo-branded retail shops in Melbourne, Sydney,

Adelaide, Perth and Cairns airports, as well as online and offline

retail outlets in China and South Korea.

• Over the years the logo has been used as pavilion and event

branding for a number of high-profile events both in Australia

and overseas.

What are some of the key benefits of skincare and

beauty companies being Australian Made?

"Australia is renowned for its clean, green environment and pristine

production regions, as well as its high-quality manufacturing

standards. As a result, genuine Aussie products are in high demand

by consumers, here and overseas.

68 | WWW.PROFESSIONALBEAUTY.COM.AU
---
This is particularly important for health and beauty products

which are consumed, rubbed into the skin or applied directly to the

body. Quality, safety and trustworthiness are all key attributes brands

in the health and beauty sector can leverage. The Australian Made

logo helps deliver this message."

How can you help companies invest in becoming

100 percent Australian made?

"Australian Made has the largest searchable online Aussie product

directory at www.australianmade.com.au. It provides information

on the products as well as contact information for over 2700

manufacturers of genuine Australian products. We always try to

encourage businesses looking for suppliers of Australian ingredients

and components to use this online database resource when sourcing

local inputs."

What is the lure of brands using the Australian

Made logo?

"The Australian Made logo makes the 'Australian connection'

instantly and clearly. It's a solution for shoppers who want to quickly

and easily identify Aussie products and be assured that those goods

meet certain standards – brands understand this and leverage the

logo accordingly.

Brands are also attracted to AMCL's huge online shopper

audiences across its website, social media platforms and loyalty club.

It's important t remember that access to these platforms is exclusive

to Australian Made licensees."

Do you see it as a great advantage to have the

Australian made logo when brands are looking to

export overseas?

"This logo is well regarded overseas – the kangaroo provides

an unmistakable connection back to Australia. In China, where

Australian-made health and beauty products are held in high

regard, the Australian Made logo provides brands with an enormous

advantage. Recent qualitative and quantitative consumer research

commissioned by AMCL and undertaken by Horizon Consumer

Science in Shanghai and Guangzhou, China. Consumers indicated

the logo communicated the following attributes."

While many beauty brands would like to be

Australian Made they feel that often it is a costly

exercise to be 100 percent Australian Made – do

you think it can be a financial challenge for many

companies?

"We understand that Australia can be a high-cost country for

manufacturers, presenting financial challenges. However, Australianmade

products often fetch a premium in the marketplace which

can go some way to off-setting what can sometimes be higher

manufacturing costs." n

PROFESSIONAL

EYEBROW TINTING

elleebana

PEACE • TRANQUILITY • BEAUTY

• NATURAL EYEBROW

TINTING WITH

TATTOO EFFECT

• LOW COST PER

APPLICATION, OVER

100 + APPLICATIONS

PER BOTTLE

• GENTLE AND

INNOVATIVE

FORMULATION

• STAYS ON HAIR

UP TO 6 WEEKS

• NO HYDROGEN

PEROXIDE

A luxurious palette of

natural shades which can

be used individually or

mixed together to create

the ultimate brow colour

for your client.

Elleebana's innovative

formula helps to

strengthen hair, restore

growth and the natural

shape of the eyebrows.

To find your closest distributor, contact:

info@elleebana.com www.elleebana.com @elleebana
---
Model

BEHAVIOUR

Supermodel and Co-founder of WelleCo, Elle Macpherson chats to Anita Quade about

her range of beauty ingestibles and why she loves using Australian sourced ingredients.

THERE IS A reason Elle Macpherson is known as 'The Body'

– the five time cover girl of Sports Illustrated and countless glossy

magazines looks the epitomy of health. While a strict beauty and

exercise regime has helped keep her in shape she also reveals it's

been her green approach to ingestibles that give her a glow. In 2014,

she had a beauty business light bulb moment and decided to launch

her own powerful formula known as the Super Elixir Greens with

Australian company WelleCo which is stocked in beauty salons

nationally. Here she reveals her beauty secrets and plans for 2019.

Tell us why you launched the Super Elixir?

"I've always been captivated by the idea of merging health and

beauty with pure natural products and resources, so as Co-Founder,

WelleCo's initial concept was a natural personal evolution.

In 2014, when I turned 50, I decided to celebrate by sharing a

transformative super greens formula I had been taking created

with my nutritionist Dr Simone Laubscher PhD. The results I

experienced whilst taking it changed my life, so much so, that it

then went on to become WelleCo's standout hero product, the

Super Elixir Greens."

With so many years being in the spotlight how

important is it for you to lead a healthy lifestyle?

"Adopting a plant-based diet, healthy lifestyle choices, balanced

physical and emotional health, and discovering the body's ability

to heal itself – it provided the right environment and proved a real

turning point for me. I realised the power of taking responsibility

for my own health and wellness journey. This has since become a

foundational core value of our company WelleCo. Our aim is help

empower people to positively influence their health."

What has the reaction been like to the range?

"Our loyal and ever-growing list of global customers has confidence

in our elixirs, love the products, and see and feel the benefits every

day. Twenty-somethings rave about its skin-boosting qualities and

digestive support – and busy mothers' notice increased vitality and

recognise how our all-in-one Elixir, full of vitamins and minerals,

and our clean plant protein powder, can help with nutrition, time

management and flexibility around meal times."

Are the ingredients sourced in Australia?

Premium plant-based nutrients are at the very core of our products,

so wherever the very best ingredients can be found is where we

source them from, be it in Australia (our seaweed is from Tasmania

and Kakadu Plum from the Northern Territory) or abroad.

What do you think is the lure of this Australian

based beauty company?

"Australians are renowned for being discerning, health conscious,

curious and authentic. Because we search for what's clean and best

for our health, we ask lots of questions – is this ingredient sustainably

sourced and where did it come from? What practices were used to

make this food? What is in our food? and how will it benefit my

body? As an Australian-based company that prides itself on only

using premium wholefood nutrients formulated by nutritional doctors,

we ask, and answer these questions for our customers. I feel that this,

combined with being a brand that has spearheaded the ingestible

wellness and plant-based movement, has allowed us to formulate

products that answer those questions. I believe this is why our

customers are so committed to our elixirs."

How important are ingestibles as part of a healthy

regime in everyday life?

"The modern consumer cares about the appearance of their skin,

accelerated ageing and invests in a quality regime; it makes perfect

sense that this regime includes nourishment from within and at

a cellular level. Since launching in 2014, the industry has gained

significant momentum, especially at the premium end, and plantbased

supplements remain key to our business. We are proud to have

led this revolutionary change in the wellness sector."

Tell us your best piece of beauty advice...

"For a healthy complexion getting a good night's sleep is a must! I

have learned to be a better sleeper in recent years – I am a solid 7

hours a night girl now. We need our beauty sleep, it's a scientific

fact. I learned from Dr Laubscher, that amongst other detoxes and

regeneration, the outer or top layer of our skin comprises tightlypacked

dead skin cells, which are constantly shed throughout the day.

During deep sleep, the skin's metabolic rate speeds up which helps

with repair. Whether it's damage from factors such as ultraviolet rays

or internal toxic overload from too many late nights, we really do need

our 'beauty sleep'."

Any pre-sleep rituals?

"For quality beauty sleep, I brew a pot of WelleCo Sleep Welle

Calming Tea and spritz Sleep Welle Calming Mist. The lavender

scent really adds to the sense of calm I try to create before bed. If

I still have trouble calming my mind, I'll lie on my back, place my

feet up the wall, and stretch my arms (like the yoga pose viparita

karani). It has an immediate meditative effect on me. All I need is five

minutes like that and I'm calm and ready for sleep."

You are known for your natural beauty – are there

any products that you simply can't live without?

"It sounds obvious but water is essential to brain health, overall

wellness and for great skin because our bodies are made up of trillions

of tiny cells which all need to be hydrated. By drinking two to three

litres of water a day (everyone is different apparently in how much

they need) This translates to the way our skin looks and how our body

functions. I drink about 3 litres of water a day – sipped all day."

70 | WWW.PROFESSIONALBEAUTY.COM.AU
---
AUSTRALIANS ARE

RENOWNED FOR BEING

DISCERNING, HEALTH

CONSCIOUS, CURIOUS

AND AUTHENTIC.

EXCLUSIVE INTERVIEW

Typically I love RMS concealers and cheek glow. They're organic

and have a similar texture to the skin, so always look fresh but don't

clog my pores or sit on top of my skin like a mask. This, along with

a dusting of light powder applied with a fine brush, is all I need to

feel face dressed."

What is beauty to you?

"Over the years my idea of beauty has changed. In my 20s, I

believed there was a correlation between beauty and youth, but

as I've matured I've realised that beauty and wellness are more

aligned. Consistently re-evaluating personal, business, beauty and

wellness choices help me evolve and stay relevant. Most importantly

in my 50's, (I'm 54) I've learned to laugh and not take things too

personally these days."

Favourite beauty treatment?

"I'm more of a wellness girl. And the great thing I've discovered is

that if you look after your body from the inside, the skin and body

looks after itself. I believe in wellness as a prevention from illness.

A home treatment that I find phenomenal for the quality of my

skin and the capacity of my body to detox, regenerate and function

well is my infrared sauna. I'll meditate, read or call a friend for a

catch up whilst sitting in it in the evenings. There's a great company

called Therasage, who sell a portable version where your head stays

out, which is nice because it gets up to 140 to 170 degrees. I also

love a good massage to get the lymph system going and blood

flowing – I feel it's really important to nurture the spirit and body -

and regular massage is a great way to start."

Can you share with us your plans for business

expansion in 2019?

"Our new line of super boosters is currently launching. They are

therapeutic bioactive formulations designed for targeted support.

There are seven to choose from, including Aquatic Collagen Skin

+ Hair + Nails, Bone Strength + Joint Health, and Immune System

Support with Kakadu Plum. I listen to what my body needs and

choose the appropriate booster. I either add a single vial to water or

combine with my daily WelleCo Super Elixir Greens.

For instant energy I like Women's Libido + Hormone Support

Super Booster. It's a medicinal blend of herbs and adaptogens that

help balance hormones naturally and increase vitality and libido.

And it tastes deliciously of fresh raspberries and peach flesh!" n

PROFESSIONAL BEAUTY | 71
---
THE SCIENCE

of Skin Ageing

The anti-ageing segment is big beauty business – so how do salons own a part of

this ever-growing market? Dr Leslie Baumann reveals the causes of ageing and

how to treat it.

AGEING SKIN IS one of the most common skin care

troubles that both women and men seek to improve.

It's important to help your clients understand some

of the science behind skin ageing and what causes

it. Here are some important tips on how to explain a

skincare regime and some lifestyle recommendations

for your patients.

DNA Damage

This is one of the largest contributors to ageing skin

and is primarily caused by UV damage from the sun.

While more and more people now understand the

importance of regular sunscreen use, this has not

always been the case. Many older patients did not

wear sunscreen as children and are now struggling

to improve age spots, uneven skin tone, texture

and wrinkles.

UV radiation causes damage to the mitochondria of skin cells,

which, in turn, produce free radicals and cause even more damage. This

sets off a chain reaction of cells that are unable to effectively repair

themselves, leading to signs of skin ageing like wrinkles, skin laxity, and

discoloration.

Sunscreen use is key to preventing DNA damage to your skin.

Patients with sensitive or acne-prone skin who may not tolerate

chemical sunscreens as well can use physical sunscreens that contain

zinc oxide and/or titanium dioxide. These ingredients are typically

well-tolerated by patients with acne, rosacea, and other sensitive

skin subtypes.

If prevention is no longer an option because the damage has already

occurred, the use of topical antioxidants can help to neutralise free radical

damage and aid in cellular repair. Research shows that antioxidants like

polypodium leucotomos, ascorbic acid, niacinamide, and green tea have

protective effects on the skin against DNA damage caused by UV light

and free radicals. foods and dietary supplements can improve the skin.

72 | WWW.PROFESSIONALBEAUTY.COM.AU
---
SKINCARE

Free Radicals

These are responsible for DNA damage, as well as a plethora of other

detrimental effects on the entire body, including glycation, oxidation and

lysosomal damage. Avoidance of environmental factors that can produce

free radicals is one step that your patients can take to reduce skin damage

and signs of ageing caused by scavenging free radicals. These include:

• Sun exposure

• Air pollution

• Smoking

• Sugar

• Pesticides

In addition, antioxidants are the best defense against free radical damage

and its unwanted effects on the skin. In particular, coenzyme Q10 (CoQ10)

is beneficial because skin cells already naturally produce it. As we age and

if we take cholesterol lowering statin drugs, production of this antioxidant

decreases. Both topical and oral formulations of CoQ10 have been shown

to effectively neutralise free radicals that could otherwise damage important

proteins like collagen and elastin, which are necessary for firm, youthfullooking

skin.

Glycation

The term "glycation" refers to a non-enzymatic

chemical reaction in which sugar molecules attach to

and damage proteins throughout the body, including

the collagen and elastin found in the skin. This is the

same process that causes food to turn brown when

heated. The accumulation of advanced glycation end

products (AGEs) causes accelerated skin ageing,

as well as other health-related conditions. AGE

formation can be caused by both extrinsic and

intrinsic factors, including sun exposure, cigarette

smoke, air pollution, diet, and genetics.

Although many skin care products claim to be

able to treat the effects of glycation, this process is

not reversible – therefore prevention is crucial.

Quick facts

Helping your patients understand what causes the

skin to show signs of ageing is key to improving

ANTIOXIDANTS ARE THE BEST DEFENSE

AGAINST FREE RADICAL DAMAGE AND

ITS UNWANTED EFFECTS ON THE SKIN

Inflammation

Inflammation is another key contributor to skin ageing, in addition to

a number of other conditions like atopic dermatitis, rosacea, psoriasis,

and acne. Many different pathways can lead to inflammation, but once

inflammatory factors are triggered, they can be difficult to "shut off " again.

Reactive oxygen species (ROS) caused by free radicals can initiate a cycle of

inflammatory responses within the skin.

There is a variety of anti-inflammatory ingredients that have been

proven effective at breaking this cycle and reducing inflammation

within the skin. Argan oil, caffeine, chamomile, feverfew, green tea, aloe,

niacinamide, and safflower oil are among the most effective. By nature,

these anti-inflammatory skin care ingredients can also help to calm

redness, itching, and irritation. Glycolic acid has also been shown to block

inflammatory signals within the skin.

Lifestyle changes can also play an important role in curbing chronic

inflammation. Encourage patients to:

• Reduce sugar intake

• Eat anti-inflammatory foods like salmon, ginger, and walnuts

• Stop smoking

• Get regular exercise

outcomes. Studies have shown that patient education

is one of the most effective ways to increase patient

compliance and outcomes.

Your patients do not necessarily need to

understand the technical science behind what is

making their skin look and act the way it does,

but they should have a basic understanding. Then

when you urge them to stay out of the sun and wear

sunscreen, for example, patients not only understand

why but they also know the consequences —

increased skin aging and risk of skin cancer. Share

with them this information about the main causes of

skin aging and what they can do to prevent and treat

signs of ageing. n

Dr Leslie Baumann is a board certified

dermatologist and a New York Times

best-selling author.

Visit www.derm.net or

www.LeslieBaumannMD.com

PROFESSIONAL BEAUTY | 73
---
empower

| ɪmˈpaʊə, ɛmˈpaʊə |

verb

make (someone) stronger and more confident,

especially in controlling their life and claiming their rights

At Jax Wax Australia the quality of their

products is paramount.

But where would a forward thinking company be,

without strong ethics and practices that

support social responsibility?

Jax Wax Australia's products are Vegan Friendly,

Not Tested on Animals and are FREE from

Palm Oil, Parabens and Polymers.

They are also proud to be involved with an

Indigenous Support Project which

empowers young women.

PARABEN

PALM OIL

VEGAN

CRUELTY

MADE IN

EMPOWERING

F R E E

CO M M U N ITI E S

F R E E

F R I E N D LY

F R E E

AUSTRALIA

For more information call 03 5943 2422 or visit

www.jaxwaxaustralia.com
---
ROUNDTABLE

Emma-Rose Dermody

Ivy Brow Co

Sonya Annesley

InnerSense Beauty

& Day Spa

Tina Copland

Jax Wax Australia

Carley Dowdle Mandy Gray Yvette Wyeth

asap Skin Products True Solutions

Activeskin

EMPOWERING WOMEN

Female talent is the pillar of the global beauty industry

Watch all of the dynamic Industry Roundtable videos online at www.professionalbeauty.com.au/roundtable

PROFESSIONAL BEAUTY | 75
---
ROUNDTABLE

QUESTION: The beauty industry is positively brimming

with leading ladies that we look up to. Identify one woman

who has inspired your career in the beauty industry and

explain her influence.

LEARNING: ANYONE CAN MAKE A DIFFERENCE

TO THE WORLD IN THEIR LIFETIME, REGARDLESS

OF AGE, PROFESSION OR LOCATION.

Main course is served.

Tina: "My greatest inspiration in my professional life is my

mother. She did not come from the beauty industry. My

whole professional life has been spent in the manufacturing

industry and it just so happens that

at the moment, beauty is what we're

manufacturing. I was brought up to

believe that I could do whatever I

wanted. I knew I was going to be doing

something professional and that I was

going to be in charge of people. Very

much my mother is well and truly my

influence for me."

Mandy: "One was a lady called

Natalia Michalun who wrote Milady's

Skin Care and Cosmetic Ingredients

Dictionary. She taught me about the

science of skincare, whereas before I

was into the fluffy stuff. Also, a lady

called Tracy May-Harriot, who still

travels internationally for Priori. She

introduced me to equipment like Omnilux light therapy. I was

very lucky to have some mentoring from those people."

Yvette: "My inspiration is here on this roundtable; Carley. I

met Carley 12 years ago when she came to the helm of Asap

and I had just recently launched my online side of the business.

We immediately connected and Carley is always bursting with

energy, inspiration and motivation. Whenever I balk at a business

initiative, she'll always encourage me to go after it and chase

the dream. I love that

Carley is very invested in

education and she went

as far as to become a

cosmetic chemist, which

I found truly inspiring in

this industry."

Carley: "My inspiration

is my business partner

who's also my mother,

Leanne. We have very

different skill sets but

she really thought I

could be anything. She had a background in beauty and saw an

opportunity – there were needs that weren't being fulfilled and

she really didn't take no for an answer. At the time the business

was founded, it was very male-dominant. The cosmetic chemists

were mostly male and a lot of them couldn't understand what

women were looking for. I know when I came to the industry I was

surprised that there were 80-year-old men who had never worn

makeup trying to tell you what you should be doing."

Emma: "My mum has been my biggest inspiration. I've been

very lucky to grow up in the industry. She's always pushed me to

keep educating myself and to keep training."

Sonya: "My

mother. I grew up

in a very isolated

farm in Central

West New South

Wales. I was the

only girl. My

mother was an

Avon lady and she

used to go around

the properties and

sell Avon. She was

very glamorous

even though we

were a long way from town. She made her life out there with my

dad and with my brothers and me. She's 82 now and absolutely

loves it that I own a day spa. I've been doing this for 37 years all

thanks to my beautiful mum."

WOMEN ARE VERY POWERFUL AND RUN THE

INDUSTRY – THEY UNDERSTAND WHAT WOMEN

WANT, AND THE PROCESS OF AGEING AND

MATURITY. THEY KNOW WHAT THE DEMANDS

ON THE SKIN ARE FOR WOMEN. THEY COME

FROM A KNOWLEDGEABLE PLACE AND ARE

GOOD LISTENERS.

- Noella Gabriel, co-founder and president of Elemis.

Sonya Annesley laughs with other guests.

76 | WWW.PROFESSIONALBEAUTY.COM.AU
---
Deep in conversation before the roundtable begins.

QUESTION: The progress of women in the workplace

has no doubt come a long way, but there are still so many

hurdles such as pay parity; to creating high-paying jobs for

women; to equity at home with regards to unpaid domestic

work; to initiatives that would ensure talented women can

reach the highest levels of business. What is the one thing

you'd like to see change in your workplace in 2019?

LEARNING: THE MORE YOU GIVE, THE MORE YOU

GET BACK. FLEXIBILITY IS KEY.

Sonya: "We have already implemented changes into our

workplace and it's been that way for a long time. I was a single

mum for 20 years with my business, so I know how hard it is

to be a working mum. What we need in today's workplace is

flexibility in working hours. If we don't have that flexibility, we

lose these amazing women that are so incredible at their jobs.

They're compassionate, they're experienced, and they're very

good at multi-tasking. They really want to work, they want to be

in the industry, and they want to stay in the industry. We've had

three pregnant staff members in the last 18 months. We have

a WhatsApp and the night before it goes out and it shows you

what you've got in the next day. If someone's sick the next day

or they have a sick child, that's put on the WhatsApp. There's

always someone to cover the shift. My staff gives me 100% when

they're there."

Tina: "We're a factory environment so it's difficult to do certain

things, but we're very flexible with our staff. Geoff and I want to

give everybody a day off a month so they can get their hair done,

go to the dentist, take their kids out for a day, whatever. We're

pretty sure we could work it and that we're flexible enough to be

able to do that. We also incentivise staff with travel. I've got a staff

member who's desperate to lose some weight for health purposes.

We're giving her a trip to Alaska if she does it. We set people goals

that are achievable that benefit everybody. I don't want my staff

member to not turn up at work because she's too sick."

Carley: "It's about being flexible in the workplace. We would

rather have more part-time people so that we can have a

fantastic skill set. We encourage not just mums to go to school

events, but also dads. Everybody should have a work-life balance.

Twenty years ago it was very rigid. Everybody had to work fulltime

or you couldn't have a role."

Emma: "We've got a beauty therapist that's got a background in

childcare. We have set hours during the week where I am able to

bring in my son, who is still breastfeeding. My clients are also able

to bring their children in. We've found there's a huge demand for

young mums that are unable to get time for themselves. So we've

got a little kids area set up. It's worked really, really well for us."

Yvette: "We encourage lots of flexibility with our mums and

many of our staff. We've had staff for more than 12 years that

have gone and had babies and come back multiple times. We're

very open to what hours work around their family rather than the

hours working just for the business. We let them know that. We

want them to feel eally safe and secure with their hours."

Mandy: "Flexibility is very important, not only for women,

but also for men. But the thing I would most like to encourage

women to do is to work collaboratively because we're not good

that. Men network much better than women do. We need to

give women an environment in which they can collaborate."

PROFESSIONAL BEAUTY | 77
---
ROUNDTABLE

QUESTION: What advice would you share with female

rising stars of the Australian aesthetics industry? Include a

favourite quote that best describes your philosophy.

LEARNING: FOLLOW YOUR PASSION. BE

FLEXIBLE. BE KIND.

Yvette Wyeth mingles with other guests.

Emma: "Find your niche market, an area that you love and are

passionate about. Continue to educate and train yourself in that

area. I've always found that specialising in something, especially

in the salon, has always worked best for us. Also, keeping up to

date with marketing techniques and trends. Something that's

been a bit of a game-changer in our business is social media."

Tina Copland explains her point during filming.

Tina: "Never, ever, ever, give up. Never give up. It doesn't

matter how much stuff bashes you down, get up again because

it's never as bad as you think it is. You also have to be sure what

your philosophy is. You can't be all things to everybody. You have

to decide who your target market is and what your philosophy is

behind that work. Are you a natural, clean, green type or are you

a cutting-edge, out there type?

That's really important."

you work with. If you're thinking of your customers, you have to

give choice. Consumers want to be able to choose. You've got

to think who are the most successful in our beauty industry? It's

Mecca. Are their products really better than what is at David

Jones? No, but they offer the consumer choices."

Sonya: "A successful woman is only successful if she has a tribe

of women who have her back. I think women are fantastic at

supporting each other. My BDMs come in, they motivate you,

and it motivates the staff. My staff look after the salon when I'm

not there. I know my clients are looked after, my clients know

that they have their back as well. Don't be afraid of competition,

embrace it, because we all want to work together, there is enough

for everybody."

Yvette: "Never say never. You can set out with a plan in business

or in life and something happens one day. You've got to be able

to change course and evolve your business."

Tina: "I have two quotes. One is the man who never made a

mistake never made anything. The other is always be nice on the

way up because you're going to meet them on the way down."

Mandy: "Make changes

because sometimes we can get

stuck. People think 'Oh, we've

always done it this way'. The only

thing that limits them is their fear

at taking a step off the cliff. Even

if this has worked for you, why

don't we try it this way? You have

to be prepared to make changes.

You have to add newness.

Twenty percent of everything

that you do has to be new if

you're prepared to take that risk.

You might as well while you've

got 80 percent okay. Because

at one point, you'll be forced to

make a change. You might as

well make a change as you're

going along. Choose wisely who

From left: Emma-Rose Dermody, Carley

Dowdle, Glenn Silburn, Yvette Wyeth,

Mandy Gray and Sonya Annesley.

78 | WWW.PROFESSIONALBEAUTY.COM.AU
---
Australia's no.1 cosmeceutical skincare

BUILD YOUR

BUSINESS

ASAP

BENEFITS FOR YOUR BUSINESS

Australian made + owned

100% rrp mark-up

Latest cosmeceutical technology

Comprehensive training

No minimum ongoing orders

Sold by accredited skincare

professionals only

Exceptional customer service

and business building support

COMPLIMENTARY

PROFESSIONAL

PEEL KIT

Partner with asap before 30 th

April to receive an asap Peel

Kit valued at $249, offering

a business return of

$10,000

w

asapskinproducts.com asapskinproducts @asapskinproducts
---
ROUNDTABLE

QUESTION: Describe an honest tale of struggle in your

beauty industry career and how you were able to overcome

the trials and tribulations to ultimately achieve a positive

outcome for yourself and your business.

LEARNING: YOU CAN'T BE ALL THINGS TO

EVERYBODY. IT'S CRUCIAL TO BUILD TRUST AND

RELATIONSHIPS IN BUSINESS.

Carley: "For us, it was as a business. Asap was originally based

on the Gold Coast in Queensland. We came to a point where

we had to decide whether to keep it Australia made as we'd

outgrown our manufacturing capability. We decided that it

was very important. Ultimately, we had to relocate the business

to Melbourne. That meant that we couldn't take some of our

amazing team with us, which was really difficult. It was hard

starting with a whole new team in Melbourne. Even the same

product formulas made with a different mixer were hard to get

right. We planned how much space we needed for the next five

years. Then 18 months later we ran out of space. It sounds like

a great problem to have but it's a difficult problem. Where are

you going to put your stock and what happens if your place burns

down? It's making sure that you're spreading your eggs in enough

baskets and really thinking long-term about the business."

Emma-Rose Dermody, Carley Dowdle and Glenn Silburn.

Yvette Wyeth at

the roundtable.

Yvette: "There have been many evolutions of our business.

Around 20 years ago we were heavily invested in a spastyle

business, which had about 10 staff. Then the internet

happened. This was a real turning point for us and we pretty

much jumped on it straight away. We had some suppliers that

really supported our move and some that didn't. We had to

really build our relationships with our suppliers to build trust

with them. That now is the key to our success in the businesses.

Everyone needs to feel comfortable and safe and like they're

both winning. "

Lunch at The Nag's Head.

Sonya: "A number of years ago, I bought a sleep apnoea

franchise and I ran that right down the coast. It was crazy

three years. What it made me realise was how much I loved

beauty therapy. So when I went back full-time into the salon,

I realised that gone are the days of the manis and pedis -

people want results, you have to diversify. You have to give

clients something more. I had a fortuitous day when a lovely

lady called Judith came in and asked us if we would like to put

Omnilux in and I transformed my business. It stepped it up a

notch. Then we went into laser and now we do fat cavitation,

microdermabrasions etc. Forming partnerships with different

80 | WWW.PROFESSIONALBEAUTY.COM.AU
---
companies made the biggest difference to our

business. It saved our business because if I just kept

doing basic facials or a bit of a waxing, there is no

way I could survive. I needed to get big or I needed

to get out. That's a tough decision but when you start

getting the results with putting in new product, it's

incredible. It's been a lifesaver."

Clinics are generating

over $1,500 per week

with Omnilux

Mandy: "It's knowing your limitations or accepting

limitations. I know everyone wants to reach for the

sky but it's about focusing on an area that you're

an expert in. Sometimes support comes from the

least expected."

Tina: "We're great at manufacturing. But we partner

with wholesalers because we're not good at selling to

individual sellers. That's not really what we do. We

took this step a long time ago that we really support

our wholesalers. People will ring me complaining they

can buy it cheaper from the wholesaler and I'll say

that's because we really look after our wholesalers.

That's our business model. But the worst thing that

we had was about two years ago when we lost our

trademark. We had a trademark infringement taken

Tina Copland listens intently.

ARTG: 150023

With over 12 years of in-market

credibility, Omnilux continues to be the

number one choice of LED light therapy.

out against us in Europe. We used to sell under the

Adam and Eve brand. I applied for a trademark

in Europe only to find out that a German beauty

salon had the trademark, Adam and Eve. They

were taking us to court so we hired lawyers in the

UK to look after us. In the end, under legal advice,

we rebranded, which in the end has been good for

us, because we really focused. We decided after

travelling that so many people were cashing in on

brand Australia that our new brand was going to

focus on being home grown."

40 clinical papers | No downtime

All skin types | Easy application

You could generate over $1,500 per

week in revenue by offering the best of

the best in LED light therapy.

Omnilux starts at just $22,000 or

finance for less than $200 per week.

Contact True Solutions International

1800 808 993 | omnilux.com.au
---
ROUNDTABLE

Our esteemed roundtable guests.

QUESTION: Whether a female is Gen-Z, Millennial,

or Boomer-aged, women overwhelmingly want to see

themselves depicted accurately in marketing – because

authenticity matters for female consumers. Increasingly

campaigns prove that real women are worth investing in.

What responsibility should brands take to ensure their

consumers' voices are being heard – and reflected in

their marketing?

LEARNING: OUR INDUSTRY DEALS WITH REAL

PEOPLE. THE MARKETING NEEDS TO REFLECT THAT.

Yvette: "This rings true with where I want to take Activeskin.

We have all been slammed on social media with these unrealistic

and unattainable images of women. We've been guilty of this too

on our social media accounts and there's a lot of conversations

now we're having within our business about authenticity and

real women. I'm a mother of three girls, and my eldest daughter

who is 12 is on social media often. I'm sometimes very fearful

of the impact of what social media can have on her and my

other two daughters in the future. So I feel that if we can start

portraying our social media accounts with the real and authentic

woman then we're on the right path. I feel sad when I see young

influencers in their early 20s who have had a lot of work done, like

injectables. I find it very worrying."

Flowers from Flowers on the Point.

Mandy: "It's about being authentic but, in the end, we're all

looking for something inspirational or aspirational. One of the

things we need to highlight is expertise. We talk all about our

products without saying there's an expert behind the product.

We need to promote the therapist, rather than the brand, so a

consumer knows if they go to a professional, they will get you

Emma-Rose Dermody taking

part in the roundtable.

82 | WWW.PROFESSIONALBEAUTY.COM.AU
---
IT'S ABOUT BEING

AUTHENTIC BUT, IN THE END,

WE'RE ALL LOOKING FOR

SOMETHING INSPIRATIONAL

OR ASPIRATIONAL.

the advice they are looking for. Kids today are

savvy, they know if they're being marketed to.

They're more socially aware and they want to know

information about the product, like if the packaging

is recyclable. There's a cry for that genuine voice."

Carley: "It comes down to before and afters.

We would never alter a before and after but I see

them retouched all the time. It's giving people

false expectations and it's damaging us as an

industry. People don't just doubt that brand, they

doubt overall what is around. It really is about

keeping it real. I agree people don't want an image

of themselves; they want somebody better than

themselves to aspire to. They want results that are

going to enhance their life."

Sonya Annesley, Emma-Rose Dermody and Tina Copland

Yvette Wyeth, Mandy Gray

and Sonya Annesley.

Tina: "It needs to be realistic. My skin has changed,

I'm menopausal, and I'm never going to get the

skin of a 20-year-old back. It doesn't matter what

amazing magic portion you try to sell me, you could

put a before and after picture of me, I'm never

going to look like that regardless. I can make myself

look as best as I can but some of the advertising

that you see, that certain companies put out,

where X percent of women use this and their skin

loses all their wrinkles - that sort of advertising is

infuriating. Another thing I find

frustrating is people who are cashing

in on brand Australia when they're

manufacturing in Spain or Italy. It

is really infuriating. All of our range

is now vegan because we saw that's

what consumers were starting

to demand."

Post-filimg lunch at The Nag's Head.

Emma: "I get a lot of the younger

clients. Then anyone above about

30, they always gravitate towards

my mum and feel more comfortable

with her. We judge the client and

accommodate them. We use

Instagram stories and Facebook

live. I find it's a really good tool with

marketing because we haven't gone

and edited it. It's live and realistic."

PROFESSIONAL BEAUTY | 83
---
ROUNDTABLE

QUESTION: How can the Australian beauty industry better

celebrate women's achievements?

LEARNING: LISTEN, LEARN AND MENTOR.

Tina: "I would love to see Professional Beauty magazine start a

foundation that we can use for helping somebody or a group of

disadvantaged people that would like to make a career in the beauty

industry. Where we choose women from within the industry who

would offer their time and their expertise to help people who can't

manage it by themselves. Maybe name it after an inspiring woman

within the industry."

Yvette: "There's nothing better than recognition and listening to

other women's stories, whether it will be from successful business

I WOULD LOVE TO SEE PROFESSIONAL

BEAUTY START A FOUNDATION THAT

WE CAN USE FOR HELPING SOMEBODY

OR A GROUP OF DISADVANTAGED

PEOPLE THAT WOULD LIKE TO MAKE A

CAREER IN THE BEAUTY INDUSTRY.

owners and product developers, to amazing therapists

in our industry. Even listening to client stories and how

they're being touched by our industry. Not only their

successes but also the failures of those women and the

everyday struggles."

Mandy: "Forums like the roundtable are great because

they make an effort to recognise women in the industry.

Might only be one at a time but at least someone's

pointing out that these people exist and highlighting

their voice. We need to continue to do that and make

sure that these experts are committing to doing some

mentoring – it's badly needed out there."

Thought leader Mandy Gray.

Sonya: "Recently my youngest team member, Tori,

participated in the Work Skills Games, competing against

other Tafe students. She worked so incredibly hard with

her mentor and ended up winning silver - she's number

two in Australia. That sort of thing needs support

because young people get a bad rep sometimes. When I

saw what they were doing, young guys, young girls, it was

a very, very stressful situation they were handling it with

pure professionalism. The ceremony at the end of it was

absolutely fantastic." n

Cheers to another great Industry Roundtable,

84 | WWW.PROFESSIONALBEAUTY.COM.AU
---
LOVE YOUR INDUSTRY

Stay in touch

Register to receive our complimentary email newsletter:

www.professionalbeauty. com.au/subscribe

FOLLOW US:
---
+

Take your practice to the next level with

our complementary device package

Purchase a GentleMax Pro and a Zimmer Cryo-6

and receive a FREE eTwo valued at $59,990

From just $890 * per week

No deposit needed

Includes 3 year warranty

GentleMax Pro

For the treatment of:

Permanent hair reduction

Pigmented lesions

Vascular lesions

Skin tightening

SAVE

$59,990

eTwo

For the treatment of:

Acne and acne scars

Facial wrinkles and

skin resurfacing

Striae (stretch marks)

Talk to us about how this offer could benefit your clinic.

Visit www.syneron-candela.com or call 1300 (CANDELA) 226 335.
---
GentleMax Pro Clinical Results

Laser hair removal

Facial and leg veins

¯

Before

Photos: Dr Hutton

After

Before Photos: Dr E. Victor Ross.

After

Benign pigmented lesions

Benign pigmented lesions

¯

Before Photos: Dr Crane

After

Before

Photos: Dr Jill Waibel After

eTwo Clinical Results

Wrinkles (combination treatment)

Acne scars (sublative treatment)

¯

Before

Photos: Ruthie Amir, M.D.

After 2 treatments

Before Photos: Sasha Jazayeri, M.D. .

After 3 treatments

Mild active acne (sublative treatment)

Striae (sublative treatment)

¯

Before Photos: Davin Lim, M.D.

After 3 treatments

Before

Photos: Tsai, M.D. After 3 treatments

* Approximate cost based on a 60 month contract term and subject to finance approval.

©2018. All rights reserved. This marketing material may include registered trademarks, trade-names and

brands in certain jurisdictions of Syneron - Candela group of companies. SYNCAN0089

SCIENCE. RESULTS. TRUST.
---
WAXING

Waxing

Products new to the world of hair removal

Lycon Strip Wax Tins

Lycon Cosmetics

07 3004 6200

Jax Wax Cooktown Orchid Depilatory Strip

/ Soft Wax - Jax Wax Australia 03 5943 2422

La Clinica Ingrown Hair

Treatment Lotion

La Clinica 03 9799 8803

Natural Look Silver Sensation

Wax - Artav Australia 08 8300 1999

Hi Lift Tuscan Olive Oil Strip

Wax - M&U Imports 03 9555 1533

Xanitalia Strip-Less Hard

Wax Discs Blue - Dateline

Imports 02 9666 3611

88 | WWW.PROFESSIONALBEAUTY.COM.AU
---
PROFESSIONAL

professional XXX hard film wax

1kg

hard wax beads

NEW ADVANCED

SUPER GRIP

NO STRIP

HYBRID FORMULA

Made in Italy

Available in Bianco, Azure & Berry

• Enriched With Titanium Dioxide • Suitable For Sensitive & Delicate Skin

• Reduces Redness & Inflammation • Ultra Flexible

• Spreads Super Thin

Hi Lift Professional Products

hi_lift_professional

(03) 9555 1533 | sales@muimports.com.au | www.muimports.com.au | 662 South Rd, Moorabbin Victoria 3189 Australia
---
WAXING

Get set for a

SMOOTH

SUMMER AHEAD

With summer temperatures soaring and holiday

season in full swing, salons can expect a rise in waxing

appointments. Michele Hetherington reveals her top

tips to ensure a smooth season ahead.

WITH SUMMER NOW here, living in the tropics

also has intense humidity which can make waxing

very difficult. With the warmer weather salons

will see a significant increase in waxing treatments,

especially full leg and intimate waxing. However,

if you are well prepared for the increase in waxing

appointments and temperatures – you will ensure

happy clients and improved salon profit.

Here are some considerations for every salon:

Training: Demonstration workshops, or in-salon

training for Brazilian waxing can benefit new or

inexperienced staff to gain confidence in performing

the treatment with greater speed and efficiency.

Designated Waxing Rooms: Having specific

rooms assigned for waxing can help streamline the

treatment. Make sure it is a cool well-ventilated

room, with good lighting, trolleys should be set

up close to the waxing bed so that the therapist

can move quickly and comfortably when applying

the wax.

Are you using the best wax? Formulas have

improved over the years and modern waxes have

been designed for different climates, therapists

and skin types. Don't be afraid to try something

new or learn something different, after all

your clients deserve quality products that offer

exceptional results.

Summer Treatment Tips:

Ask your clients to come in 5-10 minutes prior to

their appointment so they can sit in a cool salon

with a glass of cold water to bring down their core

body temperature.

In hot, humid weather the wax room should

have adequate cooling to avoid sticky situations. It

is important that wax is not applied to skin that

is perspiring or over heated. To cool large areas

prior to waxing, you may consider applying a cold

compress, or cool water spray before application of

skin cleanser. Talcum powder or cornstarch applied prior to waxing can help

keep skin dry, protected and aid in lifting the hair up off the skin.

Sunburnt skin and waxing treatments are never a good combination. Before

you commence any waxing make sure clients are not sunburnt. It is important

to educate your clients about the risk of post inflammatory hyperpigmentation

if they intend to relax in the sun after they have just been waxed.

When waxing eyebrows or upper lip with hot wax, apply cotton rounds

soaked in cold water before and after waxing to cool the surface of the skin.

Use a light pre-wax oil which has been designed to be used with hot wax

application to protect delicate skin before waxing. For mature or reactive skin

types, you may need to apply a fine layer of talcum powder or cornstarch

prior to hot wax. When the wax is removed use a cotton round soaked in cold

water as a light compress before applying after-wax lotion, apply a natural

sunscreen with a physical block such as a mineral foundation to protect

against hyperpigmentation.

When performing an intimate wax spray the area first with pre-wax skin

cleanser, allow to air dry then spray a fine layer of pre-wax oil to soften and

protect delicate areas. When the skin is overheated and there is too much

moisture apply a light dusting of talcum powder or cornstarch to further

protect and aid in raising the hair away from the skin. If moisture returns

during the treatment from client perspiration, you may need to repeat the

above steps in some areas to maintain skin protection.

Wax pots – Hot and strip waxes perform within a variable temperature

range, in winter waxes need to be at the higher end of the range while in

summer the pots should be at the lower end. Topping up your wax pots before

they get close to the bottom of the pot will help to maintain a more consistent

working temperature. We recommend you have your wax pots a little cooler

in summer to ensure effective application and removal. Be sure to do a test

patch on your wrist to test the temperature of the wax before commencing

the treatment.

Waxing requires a common-sense approach in summer months. Prior

to any waxing always inspect the skin which is being waxed, use only the

recommended pre and post care products and make sure

your client knows the correct aftercare treatment. n

Michele Hetherington

Jax Wax Australia

National Training Manager

www.jaxwaxaustralia.com

90 | WWW.PROFESSIONALBEAUTY.COM.AU
---
Bringing fashion back

to beauty uniforms

Easy care

Long lasting

Sustainable

Sweat resistant

Luxurious

beauty uniforms

New collection available online now.

Exclusive to THE UNIFORM STYLIST

www.theuniformstylist.com

1300 416 718
---
INDUSTRY INSIDER

INDUSTRY

INSIDER

Body Catalyst founder and CEO

Samantha Barakat Light reveals the

inspiration behind her growing body

business and her goal to create a healthier

mindset for her clients. By Anita Quade.

Tell us what inspired you to set up Body Catalyst?

"I started Body Catalyst three years ago after I found that

irrespective of how well people ate or how much they

exercised, they would still retain weight in certain areas.

Coming from a Health Science background, the disconnect

between the two fascinated me as much as it frustrated me.

What was even more concerning was how this disconnect

affected people's confidence (including my own). In-fact, the

harder we work at keeping our bodies healthy and happy,

the more frustrating it is to have pockets of fat insistent on

sticking around."

What was the treatment that sparked a

'lightbulb' moment for you?

"When I learned of cryolipolysis (non-surgical liposuction),

I was excited to find a treatment that helped this very

issue by stimulating and working with the body's natural

processes. Up until then, changing the shape of the body

was a luxury reserved for the likes of celebrities or the very

wealthy. My vision was to make this technology accessible to

everyone – and with Body Catalyst I achieved that."

How does Body Catalyst differ from other

clinics offering fat loss treatments?

"Body Catalyst has been built around offering a holistic

approach to helping our customers reach their body goals,

combining leading technology with expertise in nutrition,

health and wellness. All of our therapists are qualified

nutritionists. We are fully invested in helping our clients not

only reach their body goals but maintaining them."

WE ARE FULLY INVESTED IN

HELPING OUR CLIENTS NOT ONLY

REACH THEIR BODY GOALS BUT

MAINTAINING THEM.

92 | WWW.PROFESSIONALBEAUTY.COM.AU
---
What are some of the most commonly asked

for procedures?

"Fat Freezing (Cryolipolysis) is a non-surgical alternative to

liposuction, medically proven to reduce fat in treated areas

by 20-30%. A special vacuumed applicator is applied to an

area of the body and a controlled cooling technique lowers

the treatment area to -9C. As fat cells cannot survive at this

temperature, the fat cells crystallize, die and over a period

of 3 months naturally eliminate from the body, making

way for a new body shape to appear. So basically you kill

the fat. Body Catalyst was the first business to pioneer this

technology outside of plastic surgeries, so we have been

able to make this service more accessible and affordable for

our clients."

Have you noticed a dramatic rise in people

looking for fat loss alternatives?

"People are always looking at ways to make themselves the

best versions of themselves that they can be – physically,

emotionally and spiritually. Body Contouring is not an

alternative to traditional fat loss methods such as healthy

eating and regular exercise, rather it is a beautiful adjunct

treatment that can greatly accelerate fat loss results. It also

gives people the ability to target specific areas on their body,

which diet and exercise has not been able to shift."

What has been your most memorable

moment in business?

"The most memorable moment was the realisation that

that we don't only offer our clients a physical shift in their

bodies, rather we offer them an emotional shift about the

way they feel about themselves. I think this is the most

rewarding part of my business – hearing how changes to our

customers bodies has helped their confidence and in turn

acted as a catalyst for positive change. For this, I'm grateful."

Anything you wish you had have known when

starting out?

"Oh boy, where do we start? That once you start a business

– you're in. There is no turning back! That as the owner you

get stuck with all the tasks that no one else wants to do."

You don't have to have all the answers (and I surely don't).

Just ask the right people the right questions. Surround

yourself with amazing staff and experts in their fields and

they will help you build a beautiful and successful business."

What are some of the highlights of your role

as founder?

"Last year was a pretty momentous year as we opened seven

new clinics, rebranded, developed two new websites and

implemented two new CRM systems. We also quadrupled

our workforce and opened clinics in shopping centres."

Any advice to other budding entrepreneurs?

"Just do it. Too many people spend too much time thinking

BUSINESS AND ENVIRONMENTS

ARE FOREVER CHANGING SO IT

DOESN'T MATTER HOW MUCH

YOU PLAN YOU ALWAYS HAVE TO

PIVOT AND ADAPT.

and not doing. Business and environments are forever

changing so it doesn't matter how much you plan you always

have to pivot and adapt. So get started, be persistent and get

ready to be resilient."

If you hadn't founded Body Catalyst what

would we find you doing?

"Having started some other business. At the time I came

across body contouring I was also looking at an Inner City

Cellar Door and a Co-Working Business."

What are your plans for the business in 2019?

"Opening new clinics, increasing efficiencies within current

clinics, constantly looking at ways of improving the customer

experience and the employee experience and learning how to

manage from afar with the addition of my second child." n

PROFESSIONAL BEAUTY | 93
---
SISTER

ACT

Sister duo Asli Isler and

Derya Koch decided to

combine their passion for beauty

and looking good by launching

the Dermal Hub in 2016 – a

platform offering innovative

beauty products.

ONE OF THEIR first developments is Halo –

an idea born out of a holiday to Bali where they

wanted to be sun safe but couldn't find what they

were looking for and opted to launch the fashion

forward visor. It is a meeting of talents with Derya

being a Dermal Clinician and Clinic owner, and

Asli being a busy working mum of three – both are

driven by getting the healthiest skin possible. They

reveal the best part about working with family and

their beauty inspiration…

The best thing about working with my

sister is...

Derya - "We have so much fun! There is a deep

understanding, trust and friendship."

I have always had a love of beauty because....

Derya - "I have been in the cosmetic industry for the past 12 years, with a true

passion for skin and all things beauty. Throughout my career having seen first

hand the result of ultraviolet and the related skin damage caused I feel very

passionate about launching our debut product HALO."

Asli - "Being from a generation where sun worshipping was a ritual, beautiful

skin and beauty was seen only for those that had time and connections in

the very expensive skin industry. When I started being able to make my

own fashion and skincare decisions I was drawn to those beautiful women I

admired growing up with clear glowing complexions."

We created Dermal Hub in 2016 with the purpose of...

Derya - "To create a platform for products that preserve and protect the skin

while outdoors. Creating the freedom to be able to enjoy the Australian coastal

lifestyle and still look chic and cool in the process."

As a busy working mum of three the thing I find most

challenging juggling work and life balance is...

Asli - "Time for me, exhaustion, along with pursuing a passion in an area I

have always found exciting and innovative. Between a hectic work schedule,

three children under 8 and a fur baby and all the activities that go with this is

a time struggle. The one thing that I struggle most is the guilt that goes with

being a working mum who also has a passion and appreciation in creating

beautiful objects that are aesthetically beautiful yet serve a purpose. So time

with the kids is precious."

The inspiration for the Halo was born....

Asli - "We both have skin conditions that are exacerbated by sun exposure, we

did not feel there was any product that served this purpose adequately. Whilst

on holiday we were discussing our skin concerns and the need for practical yet

94 | WWW.PROFESSIONALBEAUTY.COM.AU
---
fashionable items. We sought to find a cool elegant product that protected the

delicate face skin, with no luck, hence a gap was discovered."

REAL LIFE

At Dermal Hub we want to make it a platform for...

Derya - "Awareness and appreciation of simple solutions to an ever

increasing complex world."

Our company ethos is...

Asli - "Daring to be different! Providing high quality products that are

innovative yet functional and accessible to everyone looking to shield and

beautify their skin."

One thing I wished we had known when starting out...

Derya - "How much time, time and more time is needed to see an idea

through to market."

The thing I love most about being an entrepreneur is...

Asli - "The creative and freedom aspect along with you being the driver of

your journey."

We think Halo is going to be most popular with....

Derya - "A skin conscious fashion forward market, we are far more aware

about the effects of solar radiation and the related skin conditions and general

ageing effects. It's for people looking to prevent further damage to the face.!

This year the company plans to....

Derya - "Get the word out about how amazing

this product is, feels on and actually works in

shielding your most valuable asset, your SKIN!

Down the track adding products that are in

line with our purpose. The aim is to combine

skin health and protection." n

PROFESSIONAL BEAUTY | 95
---
HOW I GOT HERE:

CINDY LUKEN

CEO & Founder of Lük Beautifood

You have the mantra 'live the life you love' and

in 2012 launched lük beautifood tell us what

inspired you to launch a beauty range?

"Good question because if you know me I rarely wear makeup!

In 2005 I ran a 'natural body care' business for a friend and

witnessed first-hand how beauty products were formulated

and became concerned about what we were piling on our

skin – chemicals, and the lack of knowledge we had about the

ingredients used in products and the effect on our bodies. So

many of us had made the connection between eating for health

but were yet to make the connection with "what goes on our skin

goes in" despite knowing that medicines and nicotine for example

are delivered into our bloodstream via patches on our skin."

So was this your business lightbulb moment?

"I quickly realised there was no point eating well if you still

slathered on body care products and painted your face with a

toxic cocktail of fragrances, synthetic dyes, chemical preservatives

and petroleum (aka plastic) ingredients when evidence was

starting to show that they were known endocrine disruptors,

carcinogens or linked to cancer or caused allergies and

skin sensitivities.

In 2012 with lukbeautifood.com I officially entered into new

territory – making makeup made from food, sharing my food,

cooking and nutrition knowledge, giving fresh hope to beauty,

and pioneering a healthier way to live that encompassed a

woman's whole body.

You have an interesting CV; food scientist, chef

and former biscuit baker – how do you go from

this to becoming a beauty entrepreneur?

"I've always been an advocate of healthy eating and living well

- taking nothing to extremes nor missing out on the good life.

Food has been my world from cooking as a child and studying

food science and nutrition to cooking for one of Australia's

pioneering caterers and building the successful biscuit empire

Lüken & May."

You mention you were shocked to see how

lipstick was made…

"As a food scientist I was intrigued and curious to delve deeper. I

quickly understood that lipsticks are made of oils, waxes, butters,

binders, colours and flavours and that the recipe looked a lot like

a chemical cocktail, not the skin healthy recipe it could be.

For me it comes down to the simple fact "If we eat clean and

healthy food why aren't we putting it on our skin – as what goes

on, goes in." This inspired me to create innovative makeup

swapping in high quality skin foods without adding synthetics

and hazardous chemicals for outer beauty and inner health."

Creating lipstick from food is quite an

effort – how did you develop the concept to

end product?

"With a craving to have another business and armed with this

insight, my science qualifications and experience with developing

new products (in the lab at Sara Lee and with the creation of

80+ biscuit lines for Luken & May my first business) I set up a

test kitchen at home and started experimenting with formulating

all natural, skin healthy lipsticks. It was a 'no-brainer' that lippies

could be made from food instead of synthetics. I scoped out my

first product range, found packaging, an eco-designer and world

class manufacturer in Melbourne."

Was this a long process to finally seeing your

product on the shelf?

"The path took 4 or more years from the concept to launch.

Which is understandable when I was only working 15 hrs a week

with two preschool kids and I also escaped for 18 months to live

on a barge in France with my family."

Do you think the staying power of the lipsticks is

comparable to others on the market?

"Lip Nourish is designed for the understated woman and for the

woman that is tired of having dry lips that constantly needs a

swipe of lip balm. Lip Nourish glides on with an incredibly soft,

creamy yet weightless texture that's not too shiny or pigmented

so it is ideal for everyday wear. Use it 'as is' on a bare face for

home and when exercising or for an instant 'lift' or as part of

your fresh, healthy-look face."

How extensive is your product range?

"There are 12 universal nudes and neutrals on the menu made

from super rich active goodies to nourish, moisturise and protect,

and as you would expect, free from irritating synthetic colours

and preservatives, drying petroleum and other hazardous toxins.

And, because they are in a slim stick, they easily fit into your

pocket or purse and their sheer shades means you don't always

need a mirror to apply. They are fabulous for on-the-go!"

What are the benefits of using 100% natural, toxin free lipstick

created from food?

"Actively avoiding makeup made with hazardous ingredients

enables us to care for our whole body. People are becoming

96 | WWW.PROFESSIONALBEAUTY.COM.AU
---
CAREER

increasingly concerned about their skincare rituals hence the big

move towards naturals and organics, but the majority of women

are still applying foundation, mascara and other products that

contain synthetics and preservatives. Remember, our skin is our

largest organ and we absorb 60% of what we put on it within

30 seconds. That's scary when you know research has linked

many ingredients to cancer, developmental and reproductive

toxicity, endocrine disruption and allergens / irritants. When

we take a more mindful approach regarding cosmetics we can

avoid troublesome chemicals that potentially harm us, such as

synthetics, colours and preservatives, propylene glycol (PEG's)

and phthalates."

Tell us about your ingredients?

"The key difference is that my Lip Nourish is made from the

foods you eat for clear, beautiful skin. Each ingredient contains

nutrients that work synergistically. The avocado, sesame oils

and cacao butter deeply nourish while beeswax and lecithin lock

in moisture. I chose ginger and spices as they're rich in antiinflammatories

and the delicious citrus is rich in antioxidant

Vitamin c which helps neutralise free radicals.

Our products are 100% natural, toxin free, cruelty free, gluten

free, vegetarian, non GMO or nut oils. The list of what's not

in Lip Nourish is longer than the list of what's is in them!

It's just clean food, pure plant oils, mineral pigments, food

active ingredients."

Do you also source in Australia?

"We source locally as much as possible, but for some particular

ingredients, they come from sources outside Australia - all

are ethically procured with the guidance of our Australian

manufacture who is based in Melbourne.

Everything we can source from Australia we do! It is our

trusted source of clean, green ingredients. I am proud of our

country and want to support innovation and our manufacturing

industry. Keeping production local also helps minimise the use

of unnecessary resources like fuel and the production of carbon.

It gives an international marketing advantage. I really think

Australia is leading the way with health and wellness."

OUR SKIN IS OUR LARGEST

ORGAN AND WE ABSORB

60% OF WHAT WE PUT ON IT

WITHIN 30 SECONDS.

How important is it to be a pioneer of Clean

Beauty in Australia?

"I'd have to say that it's the passion behind sharing the

knowledge, educating women on what's in beauty and food

products (the good, bad and the ugly) and the effect on your

body is at my core and why I started the lük Beauty Kitchen. I

have always believed there is 'beauty in food' and eating well is

central to mindfulness and performance. Glowing skin, vitality

and confidence are what I believe defines a beautiful woman.

The courage to be herself. I have always been asked throughout

CINDY'S TOP BUSINESS HABITS

• HABIT #1: I do what I feel truly passionate about

From a young age, I always had a keen interest in the

relationship between food and health and how we can

cultivate so many benefits for our mind and bodies simply

from eating the right, nourishing foods. I loved

experimenting with delicious flavours and food medleys

and I loved knowing what different foods could do for

your body. This fascination lead me to become a lifelong

advocate of healthy eating and living. Food has been my

world from cooking as a child and studying food science

and nutrition at uni to cooking for one of Australia's

pioneering caterers and building a biscuit empire. And

now here I am!

• HABIT #2: I maintain a balance

Yes, it can be easy to fall off the bandwagon, become

burnt out and highly stressed especially with family and

work commitments. But you will never find consistent, true

happiness this way, especially if you have no energy left

to laugh and smile or your body is chock-ful of chemicals.

I attribute my accomplishments in business and life to

eating well and balancing my work and family life, not to

mention engaging in holistic and meaningful practices. A

balance of body, mind and even spirit is essential. Inspired

by Timothy Ferriss' New York Times best seller "4 Hour

Work Week" I sat down in early 2011 and week by week

for a couple of months wrote a business plan to work 20

hrs a week. I've stuck to this way of living ever since and it's

helped me oh-so-much from operating in over drive 24/7.

my life what my secret is. So I share my recipe for natural beauty

….and it just happens to be living well so I guess lük is a natural

beauty and lifestyle brand! This mantra is resonating at a high

level now with Australians, and also the rest of the world."

Where do you get your inspiration?

"That's a great question as looking back, I've always lived a pretty

simple and outdoorsy life and eaten healthy, nourishing foods.

I've never been a glossy magazine, mainstream media consumer

influenced by what everyone else is doing. I have just lived from

the heart - I have always found that mother nature is the most

inspiring creator so let her beauty shine – from ingredients to

form and function."

What have been some of the challenges?

"First is funding, working out what funds you need and where

it will come from. Next is the challenge of having too many

ideas and also too much to do when all of the business functions

come from 'you' – IT, sales and marketing, financial, production,

shipping and customer service.

Getting your message into market is a universal challenge and

what can take up the lion's share of your time in the beginning.

These challenges though bring the greatest rewards you can

experience. The small wins feel like you've moved mountains!

The big wins are incredibly satisfying."

PROFESSIONAL BEAUTY | 97
---
TALKING TRENDS WITH:

Lisa Feleppa

Brand Marketing Manager Comfortel

Our Favourite Interior looks of 2019

FIND A STYLE YOU LOVE AND EMBRACE IT WITH THESE TOP SIX TRENDING LOOKS FOR SALONS

IN 2019. A LOOK YOU LOVE WILL NEVER GO OUT OF STYLE, SO HERE'S SOME INSPIRATION TO

TRANSFORM YOUR SPACE OR TAKE ELEMENTS TO MAKE IT YOUR OWN…

NATURAL

SCANDI

Naturally pampering with a

Scandinavian twist, this salon look

is all about simplicity. A light look

with natural timbers a must-have,

the Scandi look salon is designed to

prioritise function while embracing

clean line furniture that is simple in

form. Don't forget a hint of indoor

plants to add an organic feel.

Designer Tip: Less is more with the

Scandi look, so look at removing

any pieces or items that don't work

or make the space feel cluttered.

Lavish Hair & Beauty Bar

www.lavishhairandbeautybar.com.au

@lavishhairbeautybar

Comfortel's Natural

Scandi Range

Endota Spa

www.endotaspa.com.au @endotaspa

Sol Spa, Vaucluse

www.thebotanicavaucluse.com.au

sol-spa @solspa.vaucluse

Little Company

www.littlecompany.com.au

@_littlecompany

BOHO BEAUTY

A neutral, laid-back style that's earthen luxury,

the Boho Beauty salon interior is perfect if

you love Scandi but want to add some more

texture and colour in your salon. The look is

very much about playing with natural textures

and a rustic colour palette. Many elements of

this relaxed style are finding their way into the

salon – including the current love for organic

materials such as raw timbers and textured

looking décor & furnishing.

Designer Tip: Byron Bay is your design

muse. Start with a neutral palette and

inject pops of earthy textures and colours.

The finishing touch… a gorgeous array of

tropical greens.

PARISIAN CHIC

Reinvent classy luxury just like the

Parisians with this luxe salon look.

Structural furnishings of black and white

that features luxe textures; think faux

marble, stone, concrete and a mix of

matte and gloss finishes are chosen to

create depth and texture. Timeless quilted

textures are key, combining a rich and

luxurious palette monochrome design

of marble, cool metallics and detailed

wall panelling. Lavish light fittings and

designer decor will complete this look.

Designer Tip: This look is about

luxury. Focus on items that are simple

in form and let the texture or finish

provide the interest.

Melanie Grant

www.melaniegrant.com

@melaniegrantskin

All Saints Clinic

www.allsaintsclinic.com.au

@allsaintsclinic

98 | WWW.PROFESSIONALBEAUTY.COM.AU
---
THE WHITE

PUREST

White, the purest of colours,

lustres a timeless tale of simplicity

and elegance. Whether you call

it modern minimalism, the clinical

look or just a sheer love affair with

neutrals, the white on white salon

trend works on the principle that

less is more. Creating texture is

key to this design trend by layering

different white, ivory or even

sand tones and finishes. The idea

is not to distract or detract from

its simplicity.

Designer Tip: Add hints of

nature with light white washed

wood, stones, marble or floral

arrangements to bring warmth

into the interior.

Skin Angel

www.skinangel.com.au

@skin.angel

Face Plus MediSpa

www.faceplus.com.au

@faceplusmedispa

ESTÉTICA by Chavez & Chavez

www.estetica.com.au

INTERIORS

Willow Urban Retreat

www.willowurbanretreat.com.au

@willowurbanretreat

Pérla Studio

www.perla.com.au

@perla_whitening

Comma

www.commabyron.com

@commabyron

THE URBAN

DAY SPA

The day spa has had a makeover

where simplicity combined with

modern natural materials become

soothing, rustic touches and the

focus of the space. Enjoy tranquillity

surrounded by stonework and an

array of other textures that feel

natural and organic. The look

is stripped down to its essential

elements and simplicity of the space

is left to make the design statement.

Soft furnishings with earthy tones

completes the look.

Designer Tip: Use colour

sparingly, the idea is not to

distract or detract from its

simplicity. Let the natural

textures be the design focus.

THE

ROMANTIC

Blush is staying in 2019 for

salons and takes a dramatic turn

with added feminine neutrals

and midnight tones for this

romantic salon look. Soft and

elegant, yet unexpectedly

mature, complement it with lush

velvet fabrics, brass or marble,

dark salon furniture and loads

of florals (think bouquets and

prints) in what will become a

rich and feminine vibe ..and an

Instagram fav.

Designer Tip: Brass is your

best friend if you want to give

the look a sense of elegance.

Textures like velvet and fur

give it that glam look you want.

The beautique by jessica peris

www.the-beautique.com.au

@thebeautique.byjessicaperis

TKAY Studio

www.tkaystudio.com

@tkaystudio

The beautique by jessica peris

www.the-beautique.com.au

@thebeautique.byjessicaperis

PROFESSIONAL BEAUTY | 99
---
TECH SAVVY

Technology trends for 2019, as a general rule, will see an even greater focus on painfree

treatments, with no downtime, no consumables, that can be customised and

promoted as quick/lunchtime procedures reveals Catherine Biedermann.

WANTING TO KNOW the key technology

trends for year ahead? Read on.

• LED phototherapy systems: LED or low

level light therapy has proven extremely

beneficial in treating multiple skin concerns,

easily and effectively as both a stand-alone

treatment as well as an adjunctive therapy.

LED works by harnessing light energy which

is transmitted at particular wavelengths and

it is the understanding of how the different

wavelengths work in treating different

indications, that will be an area that continues to grow and evolve.

Low-Level Light Therapy (LLLT) is the therapeutic use of incident

light to photomodulate cellular function, improving healing times,

relieving pain, subsiding active acne, promoting skin rejuvenation,

and more. Harnessing the properties of different wavelengths by

LED technology is what enables light to be properly delivered and

concentrated, treating effectively without possibility of physical trauma

or thermal damage. The combination of different wavelengths treats a

wide range of aesthetic and medical conditions without heat, ensuring

no risk of burning or other damage to tissue, which is beneficial to

both patient and practitioner.

100 | WWW.PROFESSIONALBEAUTY.COM.AU
---
TECHNOLOGY

DEVICES ARE BECOMING

MORE ADVANCED

BY COMBINING

MODALITIES IN A SINGLE

TREATMENT ENABLING A

MULTILAYERED APPROACH.

• Radiofrequency devices for body

contouring: These painless, non-invasive

body-sculpting treatments with proven,

visible results will continue to be a drawcard

in 2019. Radiofrequency (RF) delivers

sound wave energy to areas of unwanted

fat by driving controlled heat deep into the

cells to cause mechanical disruption and

subsequently destroy them. The heat of RF

works mainly on the skin's deepest layer, the

dermis, without affecting the upper layers,

such as the epidermis. Some aspects to

consider could be whether the RF technology

is biopolar, energy travelling from one part

of the handpiece to another penetrating

the epidermis, or monopolar, energy that

travels from the handpiece to a return plate

penetrating through to the dermis, effecting both skin and

subcutaneous fat. There is also the consideration of resistive

or capacitive RF, which determines the area being treated.

Resistive RF will penetrate deeper and will facilitate

drainage and microcirculation. Capacitive RF heats top

and middle layers of the skin and promotes collagen

production. The controlled heating of deep tissue layers

makes it possible to reach fatty tissue, which helps increase

micro-circulation and lipolytic drainage properties ideal for

cellulite, reshaping the figure and localised fat.

• Skin tightening: There is a huge and growing

demand for skin tightening procedures that are minimally

invasive. The combination of procedures such as

radiofrequency and microneedling that effectively stimulate collagen

production and elastin is gaining traction and will continue to do

so in the upcoming year. Devices are becoming more advanced by

combining modalities in a single treatment enabling a multilayered

approach. This means customised treatments that are quick, have

minimal downtime and can offer greater comfort than traditional skin

tightening procedures. Technology that can effectively heat the deeper

dermis to produce collagen and ultimately encourage tightening of the

skin, while miminising risks by protecting the epidermis also results in

the ability to treat all skin types. n

Catherine Biedermann, Managing Director of Advanced

Cosmeceuticals has always had an interest in the science of

skincare so in 2006, Catherine pursued

her passion and established

Advanced Cosmeceuticals.

www.advancedcosmeceuticals.com.au

PROFESSIONAL BEAUTY | 101
---
WELLNESS

HEALTH AND

These products are essential

for top to toe well-being

Wellness

Hempz Aromabody Milk and

Honey Exfoliating Herbal Body

Whip - Solaire 03 5245 8367

Rose Quartz Face Rollers

Salt by Hendrix 0452 183 503

Ultrasonic Diffuser

Oil Garden 1300 650 981

Wellness Blend 100%

Pure Essential Oil

La Clinica 03 9799 8803

102 | WWW.PROFESSIONALBEAUTY.COM.AU
---
Managing staff

WELLNESS

WELLBEING

Staff productivity can be affected by

mental health and anxiety. HABA

reveals how to handle team wellness.

MANAGING MENTAL HEALTH in salons

and spa's continues to be an ongoing issue for

business owners in the beauty industry. With

around one million Australian adults currently

living with depression and over two million

suffering from anxiety, statistics show that an

average of one in five women and one in eight

men will experience depression in their lifetime.

Chances are that you currently have or previously

have had a staff member within your spa who

suffers from either depression or anxiety. This

means that there is a higher rate of absenteeism,

reduced productivity at work and increased

turnover, along with the social impacts on

workplace relationships and team cohesion.

The key to handling your team's mental health

is centred around three steps – identify, address

and manage.

BY SUPPORTING STAFF

WITH MENTAL HEALTH

ISSUES, YOU ARE ABLE

TO RETAIN THEIR SKILLS

AND EXPERIENCE WITHIN

YOUR BUSINESS

Identify

First, work out if a staff member is suffering from

anxiety or depression. Check for behavioural

indicators of mental health issues, including

withdrawal from social activities, rudeness, signs of

stress and lack of sleep.

Anxiety and depression can be both ongoing

and triggered by individual incidents. If there

is a marked change in a staff member, consider

whether they might be having some kind of

personal crisis, like a divorce or family issue, or

whether it might be a case of substance abuse.

Once you have observed and identified that

there is indeed a greater instance of depression

or anxiety at play, then you need to move onto

addressing it with your team member.

Address

It's important to speak to your staff member on a

one-to-one basis about their anxiety or depression.

Take time to sit with them and offer them help

and support, letting them know that you are there

for them. If they are happy to talk about it, this may be a good time to offer

your team member practical solutions that may help them in the salon as well

as offering suggestions on where they can get professional help and advice.

We strongly recommend that salon owners document any and all

conversations, meetings or chats with their staff about any issues surrounding

mental health. This ensures that the employer can prove, if need be, that the

issue was addressed in salon and that they have fulfilled their duty of care.

When you speak to your staff member, it's important to highlight incidents

that are either out of character or not in compliance with how the salon is run

or how a situation should be handled. The reaction of your staff member will

also be very telling as to how you can anticipate them to move forward – if

they shut down, refuse to accept critiscism and don't communicate well with

you, it could pose issues down the line.

Manage

While many employees can successfully manage their anxiety and depression

without it impacting their work, some may need adjustments to the workplace

or job to help them continue their role. Others may need time off, and

while we appreciate that this incurs a cost for employees, it is important that

flexibility is taken into account in these circumstances.

Sometimes simple actions like changing workloads, changing work types

or shifting clients from one staff member to another can be enough to make

a change. Other times, it may simply become unfeasible for your business to

continue to support a staff member who cannot work within the boundaries of

your business. If a team member who is suffering with anxiety and depression

is having a negative impact on your business and team, then there may be

grounds for dismissal, depending on their actions.

For businesses supporting their staff through depression and anxiety, there

are many benefits. Not only do you have an opportunity to share with all your

employees that they are cared for and valued through your actions, but you are

able to create a strong workplace culture that puts the team first. As a business

owner, by supporting staff with mental health issues, you are able to retain

their skills and experience within your business and avoid the costs associated

with hiring and retraining staff members. These are significant costs in terms

of time and money, and so it's important that you consider carefully the overall

impact on your business that your team member may have if they stay or if you

ask them to leave.

Ultimately, as a business owner you must consider the impact that anxiety

and depression suffered by staff will have on your business. Employers should

also consider whether any changes to workplace practices or procedures

that could help address any communication issues, such as clear guidance

on expectations, responsibilities and deadlines, should be outlined in a salon

policy and procedures manual. Call the team at HABA on 02 9221 9911

for any advice you may need on managing depression and anxiety within

the workplace. n

Adrian Boothman is the industrial relations advisor for Hair

and Beauty Australia, the peak national not-for-profit industry

association servicing members from hair and beauty salons, day

spas and training colleges. Contact www.askhaba.com.au

PROFESSIONAL BEAUTY | 103
---
HOW TO BE A

GLOW GETTER

When Anna Lahey discovered

natural marine collagen as the

source of Japanese youthful

radiance she set about creating

her own brand called Vida

Glow. She tells Anita Quade

about her holistic journey from

creating supplements to a new

skincare range.

I WAS INSPIRED TO A LAUNCH THE VIDA

GLOW CONCEPT BECAUSE…

"I discovered marine collagen in Japan. Collagen

supplements are readily available there in

pharmacies and supermarkets. I noticed collagen

drinks available at the gym, and was even asked

at a restaurant if I wanted my soup infused with

collagen. At the time I really didn't understand

what a collagen supplement was so I decided to

speak to a qualified pharmacist who detailed some

of the benefits to me. She explained that Japanese

women have been using marine collagen for its

health benefits for over 300 years. Her skin was

glowing, although Japanese women in general

seemed to have amazing skin, so I took it with a

grain of salt. I was intrigued enough to purchase

some of this so called miracle collagen. My lifestyle

habits hadn't changed, and within three weeks,

I began seeing results. The very first noticeable

difference I personally experienced was a dramatic

decrease in my hair loss. Within four weeks I had

noticed an improvement in my skin – it had cleared and felt significantly

more hydrated and my complexion looked plumped. I was hooked and there

really wasn't anything like it in Australia, so this sparked an idea."

NATURAL BEAUTY HAS ALWAYS INSPIRED ME…

"This is largely thanks to my mum, who is such a glamorous woman. I loved

watching her get ready, we would have girly days doing our hair and nails and

I loved going through her makeup and products. I've always done my friends

hair and makeup for events, and advised them on which products to buy. I love

all things beauty. I think beauty is all about being confident in your own skin.

I also have a very "less is more" approach to beauty. I'm not into contouring or

heavy makeup. So an inside out approach is key. Our skin is our largest organ,

so if you're healthy on the inside this will portray on the skin."

I BELIEVE MARINE COLLAGEN SUPPLEMENTS ARE KEY TO

GETTING A GLOW…

"These are very effective! They work very differently to most hair, skin and

nail supplements or skincare. Once ingested it passes through the lining of the

stomach and is absorbed by the bloodstream. Travelling through blood vessels

to the collagen matrix underneath the dermis, the inner layer of the skin. Here

it stimulates fibroblast proliferation, the cells that produce collagen. So it does

two things; increases collagen levels by the extra collagen being ingested and

most importantly stimulates the body's natural production of collagen."

I DISCOVERED IT WAS HARD TO GET THE RIGHT INGREDIENT

LEVELS NEEDED TO BE EFFECTIVE…

"Vida Glow's marine collagen is hydrolysed. The hydrolysation process

ensures a low molecular weight, the lower the molecular weight the higher the

absorption rate. The molecule weight of our collagen is 4000 Daltons, which

is very low, meaning it is extremely bioavailable, with an absorption rate above

90%. We are very particular about sourcing, and our ingredients. Quality is

104 | WWW.PROFESSIONALBEAUTY.COM.AU
---
WELLNESS

our number one priority. Vida Glow's philosophy

is "offering products of exceptional quality that

delivers visible results". The success of Vida Glow

has simply been because our products work, and

they do so in a short frame of time. Our customers

see results in two to three weeks, so our repeat

customer rate is high, as is word of mouth."

THERE IS NOW SUCH A BIG MOVEMENT

TOWARDS INGESTIBLE BEAUTY …

"So it goes to show that there are no quick fixes.

Beauty is about health and health begins within.

The growing trend of ingestible beauty highlights

that consumers are becoming more health conscious

and aware of what they're putting in their bodies.

People are reading the nutritional information

panels on the back of labels, and taking a greater

interest in how they "feel" not just on how they

look. I congratulate consumers on that."

I BELIEVE EDUCATION IS KEY AND I ENJOY

THIS AS PART OF MY ROLE…

"I love the area of education and I love the

opportunity to talk to customers, PR, distributors,

buyers etc. and educate them on what Vida Glow

products are, how they work and how positively

they can impact their health."

WE LAUNCHED A COLLAGEN BEAUTY

BAR ALSO AS PART OF OUR RANGE…

"This is a healthy, nutritious snack that was filling

and good for you. Adding collagen differentiated

our bars from others, this is a Beauty Bar!"

OUR LATEST ADDITION IS THE MARINE

COLLAGEN SKINCARE RANGE …

"It's been a major passion of mine for well over 12

months now from formulation to packaging design.

I have overseen every detail."

ALL OF OUR VIDA GLOW PRODUCTS ARE

MADE IN AUSTRALIA...

"Our beauty powders use local Australian

ingredients where possible, and all of them are

Australian Certified Organic, vegan, with no added sugars or artificial

ingredients, Non GMO, No soy, No Fillers and highly bio-available. One of

the largest challenge in sourcing quality ingredients is the cost, we use plant

based pre and probiotics, and specific ingredients such as Sea Buckthorn and

Digestive Enzymes (to mention two) which are hard to source and expensive

to acquire.

Our collagen is hydrolysed in France, as they're the world leaders in this

technology, one that Australia doesn't have yet."

MY BEAUTY INSPIRATION IS…

"My mum is my beauty inspiration. She is effortlessly beautiful, in a natural

and sophisticated way. Her nails are always done, her hair always groomed.

She dresses elegantly, but never over the top. Her makeup is natural and her

skin glows. She's also my stylist."

MY FAVOURITE ITEM IN THE NEW SKINCARE COLLECTION IS…

"The Vitamin C Serum and I cannot live without Marine Collagen."

THE ADVICE I'D OFFER TO BUDDING BEAUTY

ENTREPRENEURS IS...

"Build a village. Your business's success depends on a lot of people, like

your business partners, and very importantly, your staff. Recognise and

acknowledge work well done by staff. These are the people that are

imperative to building your business. Treat them well, be approachable, have

a relationship with these people outside of telling them what to do or being

their boss.

On another note, success takes time. Vida Glow was not built overnight; it

has taken a lot of hard work. We believed in what we were offering so that got

us through the hard times. The time of "fad" products is over in my opinion."

AUSTRALIANS ARE SO FAR ADVANCED IN HEALTHY, BEAUTY

AND WELLNESS WHEN IT COMES TO OVERSEAS MARKETS…

"Maybe it's our weather, but Australia is a strong market for us. We are

actively engaged in improving ourselves and for us, in this industry, this

Australian trend, it serves us well."

MY BEAUTY MANTRA IS…

"Simplicity is key."

THIS YEAR I PLAN TO…

"2019 is going to be bigger than ever for Vida Glow. We will be launching

our hair and body ranges along with a number of innovative and first of

their kind ingestible beauty products as we strive to be at the forefront of the

ingestible beauty category." n

PROFESSIONAL BEAUTY | 105
---
SALON VIEW

IN TO SKIN

The Inskin Medi Spa

team's dedication

to keeping up with

new techniques,

products, trends

and technology is

paying off, writes

Michelle Ruzzene.

JACQUELINE BRENNAN'S PHILOSOPHY is

simple: treat your skin by being gentle, consistent

and respectful.

It's this utmost respect and fascination for skin

that inspired the 34-year-old to open Inskin Medi

Spa three years ago, and she hasn't looked back.

"I have always been obsessed with skin," she said.

"The skin doesn't lie, I can tell a lot by looking

at a client's skin tone, if a person has a healthy diet

and lifestyle or if they smoke - it fascinates me.

"To have the creative freedom to treat skin my

way has been extremely professionally fulfilling."

Jacqueline originally studied to be a skin

therapist in Ireland, but made the permanent move

Down Under a number of years ago.

She said her salon, located in the heart of

Neutral Bay, offered a wide range of services

at the salon including facials, anti-wrinkle

injections, massage, waxing, LED light therapy,

microneedling, cosmetic tattooing and eyelash

extensions, but her signature skin treatment was

the Laser Genesis.

"Laser Genesis Skin Therapy is an advanced

way to promote vibrant and healthy looking skin in

both men and women," she said.

"It can promote a more youthful appearance

by treating conditions that are typically associated

RETAIL BRANDS STOCKED:

• Medik8

• Payot

• DNA Renewal

with premature signs of ageing and • The Beauty Chef

sun damage.

"We combine this with a 20% glycolic treatment to thoroughly refresh

and smooth the skin, followed by our Healite Led Light Therapy which

works beneath the surface of the skin to stimulate collagen and elastin

production for a noticeably plump, radiant complexion.

"This treatment is a total workout for the skin - the results are undeniable."

Jacqueline said what set her apart from her competitors was technology.

"Inskin combine products and facials, but we really marry them with

lasers," she said.

"We are a boutique luxury skin clinic staffed by a team of highly creative

and experienced individuals."

Building a great rapport with clients was also key.

"When I first opened in the lower north shore I noticed immediately

women and men take their health and beauty very seriously and are not

afraid of doing anything and everything to maintain themselves," she said.

"We are customer focused, so our clients become our friends.

"The goal is for clients to leave feeling good, achieving results in a

relaxing atmosphere."

Staff relationships are extremely important to Jacqueline, who refers to

her team at Inskin as her "extended family".

"We encourage each other, constantly training and educating together in

an open, positive environment," she said.

"The team are growing professionally and personally, I always encourage

and support this in every way I can."

One challenge Jacqueline identified with being in the beauty industry was

the abundance of misinformation dished out to consumers.

106 | WWW.PROFESSIONALBEAUTY.COM.AU
---
"We are living in a time of beauty bloggers, vloggers and

more home facial gadgets than ever before," she said.

"Information and products are constantly at our finger tips

but not all the information is correct and not all the gadgets

are good for your skin.

"We see a lot of over worked skin or incorrect use of these

products that have caused sensitivity, hyper-pigmentation

and dehydration."

She said she always drummed home with her clients the

importance of quality home care.

"Home care is vital and consistency is key, especially at

night time because your body absorbs more while you're

resting," she said.

Every week the Professional Beauty

email newsletter offers salon owners,

managers and therapists an industry

update on trade events, expert

opinions, technology advancements,

and new product releases.

"Applying serums and a moisturiser you need based on

your concerns and needs every night will help prevent the

development of fine lines and wrinkles.

"More importantly, daily sunscreen use can help to prevent

the formation of certain skin cancers.

"We advise all our clients what products are best suited for

their individual needs to achieve the best results."

There's no doubt the dedication to her clients and staff,

combined with her complete passion for skin and technology,

will keep Jacqueline servicing the people of Neutral Bay and

its surrounds for many more years to come. n

Register today for free at:

www.professionalbeauty.com.au/subscribe

Inskin Medi Spa 3/48 Yeo St, Neutral Bay NSW 2089

02 8095 9317 www.inskinmedispa.com.au

PROFESSIONAL BEAUTY | 107
---
PROMOTION

RECORD-BREAKING NUMBERS

FOR THE 2018 EDITION OF

COSMOPROF ASIA

Cosmoprof and Cosmopack Asia registered 87,284 attendees from 135 countries and regions and 3,030 exhibiting

companies from 53 countries and regions proving its success continues year after year.

COSMOPROF ASIA'S "ONE Fair, Two Venues" formula proved

successful yet again in its 23rd edition, exceeding expectations

and maintaining the exhibition's distinctive position as the ultimate

meeting point for beauty professionals, industry insiders and

innovative brands in Asia.

Cosmopack Asia, which took place at the AsiaWorld-Expo

(AWE) from 13 to 15 November, hosted exhibitors from the

avant-garde supply chain: leaders in raw materials and ingredients,

machinery and automation, primary and secondary packaging,

contract manufacturing, applicators and private labels. Meanwhile,

Cosmoprof Asia took place at the Hong Kong Convention &

Exhibition Centre (HKCEC) from 14 to 16 November and focused

on finished goods across all the main cosmetic sectors: perfumery

and cosmetics, beauty salon and spa, hair, nail, and accessories, as

well as natural and organic.

87,284 attendees from 135 countries and regions of the global

beauty industry visited the two show venues, marking an increase of

4.2% from 2017. Among them 62,964 came from abroad, up 3.2%

from last year. Attendees were given a chance to engage with 3,030

exhibitors from 53 countries and regions to see and experience new

trends and products for Asian markets. The show floor space for the

leading B2B event occupied an exhibition area up to 113,800 sqm

(up 5% from last year).

Pavilions representing 24 countries and groups increased the

exhibition's international appeal and included Australia, Belgium,

California, China, France, Germany, Greece, Hong Kong, Israel,

Italy, Japan, Korea, Pakistan, Poland, Singapore, Spain, Switzerland,

Taiwan, Thailand, Turkey, UK, USA, and, for the first time, Malaysia

and New Zealand.

"This year's visitor numbers, fair exhibitors and products confirm

what the global trends are telling us, that as an industry beauty

and cosmetics are not only continually pushing the boundaries of

innovation and science, but also that the Asia market is full of savvy

consumers keen to understand and invest in cutting-edge products,"

says David Bondi, Director, Cosmoprof Asia and Senior Vice

President, UBM Asia. "We are delighted to share that this recordbreaking

year brought together more exhibitors, attendees and

business than ever before, to both our AsiaWorld-Expo and Hong

Kong Convention & Exhibition Centre venues, and trend forecasts

suggest 2019 will continue building on this year's success."

"We are honored to announce record-breaking numbers

of Cosmoprof Asia 2018," says Antonio Bruzzone, General

Manager BolognaFiere. "This exhibition is the perfect stage

for companies, retailers, importers, buyers and distributors

interested in new business opportunities in Asia. The success

of Cosmoprof Asia is the result of a profitable collaboration

between BolognaFiere Group, organiser of the events of the

Cosmoprof international network, and UBM Asia Ltd. We

are working together to aid the development of the beauty

industry worldwide."

108 | WWW.PROFESSIONALBEAUTY.COM.AU
---
COSMOPACK ASIA SPOTLIGHTS

(13 – 15 November)

Cosmopack Asia at AWE brought together 903 suppliers and

manufacturers showcasing their professional expertise alongside

every step of the production process.

Cosmopack Asia provided ample opportunities to discover the

latest trends in the beauty supply chain and to learn about market

forecasts for the Asia-Pacific region, thanks to the rich calendar

of seminars and talks offered by CosmoTalks, hosting key opinion

leaders and international experts.

Targeted initiatives were also scheduled to add additional value

to the exhibition offerings.

"SKINTONIC – The Factory", the special initiative of

Cosmopack Asia, achieved great success as it allowed visitors

to observe the entire manufacturing process of an exclusive

dual-effect serum. From the producing of the serum to the

packaging process and the finished product, SKINTONIC - The

Factory emphasised the perfect combination of innovation and

technology. SKINTONIC - The Factory was made possible

thanks to the manufacturing expertise of Citus Kalix– a Coesia

Company (France) for the machinery and equipment, Homer

Printing (China) for the deluxe folding cardboard box, LTU-Tech

(France) for the image recognition app, Pinkfrogs Cosmetics

(Italy) for the formulation, and Quadpack (Spain) for its

innovative packaging solutions and Centdegrés for the artistic

direction and design of the project.

The COSMOLAB area also attracted many visitors. Thanks

to the collaboration with Opal Cosmetics, attendees could

interact with an A.I. (Artificial Intelligence) robot that captured

analytics based on hair types and other features to create a

unique formulated shampoo sample (40ml) as a personalised

gift. COSMOLAB focused on the latest manufacturing

processes and automated and data-driven manufacturing

technologies, including A.I. and Industry 4.0.

COSMOPROF ASIA SPOTLIGHTS

(14 - 16 November)

HKCEC hosted 2,127 exhibitors from 51 countries and regions,

presenting finished beauty products from every sector: Cosmetics

and Toiletries, Beauty Salon, Natural & Organic, Nail & Accessories

and Hair Salon.

Special attention was given to green and organic beauty. The

Natural & Organic zone (Hall 3G, HKCEC) hosted companies

from all over the world, presenting green, eco-friendly, organic

products, supplements, and halal cosmetics. Green beauty was

the primary focus of the Natural & Organic Symposium, with talks

dedicated to on-trend topics like sustainability and opportunities in

organic certification.

The latest product trends, market updates and regulations were

the main points of CosmoTalks at HKCEC.

Cosmoprof Asia also gave a preview of what's next for retail

distribution in the Asia-Pacific region. After the discovery of the

serum production at Cosmopack Asia at AWE, visitors could

continue their journey at "SKINTONIC – The Shop", the concept

store of the future, featuring elements of virtual and augmented

reality as well as IoP (Internet of Product). Visitors could discover,

test and take away their own exclusive skincare serum, enjoying a

unique consumer experience.

The Hong Kong Professional Nailist Union Competition

2018, organised by the Hong Kong Professional Nailist Union,

involved over 200 contestants from around the world for a

challenging contest.

HKCEC also hosted the 5th edition of BOUTIQUE, Cosmoprof

Asia's charity initiative. Visitors could choose seven travel-size

products from 10 exhibiting companies participating in the initiative.

The products were presented in a deluxe gift bag sponsored by

Baralan, for a symbolic cost of HKD100. Proceeds from this initiative

are donated to the Chi Heng Foundation, a Hong Kong-based

charity dedicated to addressing children impacted by AIDS and to

AIDS prevention and education.

SAVE THE DATE FOR THE NEXT EDITION!

Cosmopack Asia – 12 to 14 November 2019

Cosmoprof Asia – 13 to 15 November 2019

For more information about the show, visit www.cosmoprof-asia.com

PROMOTION

PROFESSIONAL BEAUTY | 109
---
PROMOTION

MADE-OVER:

INTRODUCING THE

NEW BEAUTY MELBOURNE

Here's what you can experience

at this year's show

VICTORIA'S PREMIER TRADE show for the

beauty industry is back! And we've got a brand

spanking new identity and updated features set

for 2019.

Beauty Melbourne is the new name for Beauty

Expo Melbourne, a subtle change designed to

differentiate the event from its national counterpart,

Beauty Expo Australia. Beauty Melbourne will take

place at the Melbourne Convention and Exhibition

Centre (MCEC) from 23-24 March 2019.

"We are so excited to bring a refreshed Beauty

Melbourne to Victoria this year" said Cory Watson,

Event Director. "The team has been working hard

to rejuvenate the event features, improve the visitor

offering and ensure we have a mixture of inspiring

education and premium brands that Victorian professionals

want to do business with. We look forward to bringing a more

bespoke offering to Melbourne that mirrors the city's stylish,

modern vibe."

So what's new?

All-Access Education Pass offers latest

skills for less

Beauty Melbourne will offer a one-stop-shop for beauty

professionals to update their skills and ensure they're ahead of

the competition in 2019. The new All-Access Education Pass

provides access to a non-stop schedule of Look 'n' Learn-style

education sessions over the weekend that you can pick and

choose to attend, depending on your preferences. The All-

Access pass also includes entry into Beauty Melbourne, with

sessions taking place within one dedicated education room, in

the midst of the action on the show floor.

Whether it be subjects in aesthetics, skincare, brows, lashes,

makeup, clean beauty and wellness, or business; the All-Access

Education Pass will provide beauty professionals with 18 Look 'n'

Learn-style education sessions over the course of the weekend

for just $189.

Educators presenting at the show include Dermalogica

educator Lisa Paone, who will immerse you in the world of

chemical peels; cosmetic tattoo guru Gordana Poljak, who will

demonstrate how to make cosmetic tattoos appear natural and

social media expert Heather Porter, who will delve into the power

of Instagram for business.

Beauty brands show specials and innovations

You can do business with leading brands at Beauty Melbourne,

with a range of exciting exhibitors set to showcase their

innovations in beauty on the show floor. Covering the

spectrum of beauty and aesthetics, visitors can expect brands

like Dermalogica, Inglot Cosmetics, Pevonia, Murad, Lycon

Cosmetics, Lash Sublime, The Global Beauty Group, Crown

Brush, Eco Tan, and many more.

The new Advice Hub

Have you ever struggled with the administration side of your

business and wished there was an easy way to get advice on

how to manage it day-to-day? To develop more resources

for beauty business owners and entrepreneurs, Beauty

Melbourne is delighted to offer a free Advice Hub in 2019. A

selection of experts in business topics like tax, bookkeeping,

accounting, salon insurance and workplace relations will be

available throughout the event for complimentary one-on-one

consultations with visitors.

Getting hands-on with in-depth learning

Beauty Melbourne will also be offering a selection of workshops

for those wanting hands-on education at the event. Yasmin

Johnson will lead a practical microblading workshop; Heather

Porter will show business owners how to get social-media savvy

in her advanced social media bootcamp; and Renee Gurney will

lead a hands-on henna brow workshop.

For tickets visit: www.beautymelbourne.com.au

110 | WWW.PROFESSIONALBEAUTY.COM.AU
---
THE BEAUTY INDUSTRY OF

THE FUTURE AT COSMOPROF

WORLDWIDE BOLOGNA 2019

Cosmoprof Worldwide Bologna, the leading B2B exhibition in the world for the beauty

industry, announces a new look for the 2019 edition.

PROMOTION

OVER 250,000 PROFESSIONALS from all corners of the globe

come to Bologna to discover cutting-edge technologies, innovative

products, and eco-friendly proposals of the future. To facilitate

their visit, business opportunities, and networking with over 2,800

exhibitors, Cosmoprof 2019 confirms the targeted opening dates and

reinforces the distinction of each area according to product sectors,

with a new and more functional layout of the halls.

From Thursday 14 to Sunday 17 March 2019, Cosmopack and

Cosmo | Perfumery & Cosmetics will open its doors for producers

and specialists of the supply chain, finished product companies,

and buyers/retailers, with the latter focusing on the Perfumery and

Cosmetics sector, Green & Organic Beauty, and Cosmoprime, the

area dedicated to high-end cosmetics. From Friday 15 to Monday

18 March, the show opens for the professional distribution channels

of Cosmo | Hair & Nail & Beauty Salon, with the participation of

salon owners and beauty centers, hair stylists, hairdressers, nail

technicians, and distributors specialized in these segments.

The international Country Halls, featuring small and

medium-sized beauty companies from all over the world, will also

follow a division by sector to increase networking opportunities

of attendees.

The focus of the 2019 edition will be on sustainability and the

circular economy; the cosmetics industry is called upon to find

new production solutions to reduce the environmental impact of

production processes using renewable energy sources.

COSMOPACK

This exhibition, dedicated to contract manufacturing and private

label, machinery, primary and secondary packaging, applicators,

ingredients, and raw materials, displays continual growth. With the

main concern for Cosmopack 2019 being the circular economy: The

Factory project will explore the most eco-friendly industrial solutions,

showing the entire circularity of plastic recovery.

COSMO|PERFUMERY & COSMETICS

From Thursday 14 to Sunday 17 March, the exhibition will open

its doors for hall 14 for Cosmoprime. It is dedicated to high-end

cosmetics with a selective distribution, specifically in luxury concept

stores, collects the latest trends in the sector in a new hall, Hall 14.

The area will offer Italian and international retailers a preview of the

perfumery of the future: emerging brands, suggestions from around

the world, trends, and innovations that will shape the concept of retail

for tomorrow.

A new area, Zoom On Emerging Prime, will be dedicated to

young companies that are first-time exhibitors at Cosmoprof and

are looking to meet buyers, distributors, and retailers of the most

important cosmetics companies in the world.

From Thursday 14 to Sunday 17 March, there will be space for

companies, buyers, and distributors for mass market perfumery and

cosmetics. Hall 21 hosts exhibitors with green proposals, while in

halls 22 and 26, international perfumery companies will showcase.

Hall 26 presents new emerging brands from all over the world, thus

renewing the brand list available to distributors, wholesalers, and

sales agents specialised in mass market. Thanks to the research

and the investments imposed by market developments, the quality

standard of mass-market product continues to grow, maintaining a

functional quality-price ratio.

A significant role is played by small and medium-sized

international companies, which thanks to the activities of the local

industry associations, can network with buyers from all over the

world. Most of the new proposals come from the Asian continent,

with an increase in companies representing Japan and specific areas

dedicated to exhibitors from China and Korea. Significant interest in

exhibiting at Cosmoprof has been shown by companies in Northern

Europe and Scandinavia. It will be a show to be remembered!

For further information, www.cosmoprof.com

PROFESSIONAL BEAUTY | 111
---
TAKING ON

Every beauty enthusiast needs

to put Tokyo on their travel list

for 2019 if day spa Carju Rajah

Tiado is anything to go by,

reveals Michelle Ruzzene.

Tokyo

SITTING IN ONE of the quiet, partitioned pods on the 14th floor of the

Capitol Hotel Tokyu, sipping on a Japanese green tea overlooking the vast

Tokyo landscape, is a true zen experience.

With the hotel nestled between the Japanese Prime Minister's official

residence and the impressive 500-year-old Hie Shrine, the view is a mix of

ancient architecture, modern masterpieces and futuristic fantasy where old

and new collide.

The scenery can be enjoyed either pre or post treatment when you visit the

hotel's day spa, Carju Rajah Tiado.

Like traditional Japanese culture, the spa

incorporates a celebration of nature, architecture

and incredible attention to detail.

Spa manager Yukie Machida said the emphasis

was on "tranquillity and luxury" throughout.

"Everything, including our treatment methods,

interior, sound, aroma, and drinks are carefully

selected in order for the guests to really relax and

to liberate their five senses," she said.

The salon is furnished in a 'Japonism style'

(Westernised Japanese taste) according to Yukie,

which reflects the theme of the guest rooms at the

hotel that incorporate traditional Japanese elements

including sliding doors and partitioning shoji

paper screens.

Yukie said clients that visited the spa were

offered a complete holistic and clinical experience.

"The time our guests spend at the spa is

invaluable for obtaining true beauty and health,"

she said.

"We offer an holistic or whole approach,

which is the basis of Oriental medicine, combined

with clinical elements using cutting-edge

medicine topically."

112 | WWW.PROFESSIONALBEAUTY.COM.AU
---
BEAUTY ESCAPE

The spa treatment menu

offers a range of body treatments,

facials, signature packages and

men's treatments.

There is a barber room that

performs men's haircuts as well as

shaving for both men and women.

Body treatments include a range

of massages and scrubs using Japanese

essential oils to adjust a person's qi

(vital energy), while facials include

an anti-ageing retinol facial, an

anti-stress option and a premium

whitening facial.

"Our aim is to give our clients

beautiful skin, no matter what age, to

help improve both their confidence and happiness," Yukie explained.

"By making full use of the latest beauty ingredients, devices and hand

techniques of skilled aestheticians, our treatments are designed to leave you

feeling relaxed and radiant."

A standout feature of the spa is the private salt bath and sauna.

Clients can unwind before their treatment has even begun by taking a soak in

the onsen, surrounded by candles.

"This spa helps to augment the effect of the treatment," Yukie explained.

"The blood circulation and metabolism can be promoted by bathing in a salt

bath, together with a combination of low-temperature mist sauna, around 55 -60

degrees Celsius, which is full of negative ions," Yukie explained.

Yukie said the spa usually attracted executive guests because of the location of

the hotel.

"There are so many offices around the hotel, including the Houses of

Parliament and political institutions, so a lot of VIPs often come to the spa and

barber," Yukie said.

"A lot of our business is by word of mouth by clients who have visited our spa."

There are various private make-up rooms, fully stocked with a range of

skincare, cosmetics and toiletries that guests can use post-treatment to do any

touch-ups required if they are heading back to work or straight out.

THE CAPITOL HOTEL TOKYU:

• The hotel's main lobby was designed by

renowned architect Kengo Kuma, who is also

responsible for the new Olympic stadium

• It features three restaurants, a bar, pastry

boutique, five banquet rooms, fitness

facilities and a 20-metre indoor swimming

pool and spa

• It was originally opened as Tokyo Hotel Hilton

• You can experience a geisha hosted dinner at

the hotel, as well as a traditional tea ceremony

• Guests can partake in a scared Shinto ritual

in the neighbouring Hie Shrine

• The hotel has direct access to the Tokyo Metro

RETAIL BRANDS STOCKED:

• Covermark

• Acseine

• Kesalan Patharan

• Maria Galland Paris

"We are committed to pursuing the essence of

beauty and promise the ultimate level of hospitality

and healing," Yukie said.

A visit to Carju Rajah Tiado promises not only

a blissful day of pampering but a real 'omotenashi'

experience (respectful Japanese hospitality) unlike

any other. n

The Capitol Hotel Tokyu

2 Chome-10-3 Nagatacho,

Chiyoda, Tokyo 100-0014, Japan

+81 3-3503-0109

www.tokyuhotels.co.jp/capitol-h

PROFESSIONAL BEAUTY | 113
---
LAST WORD

NATALIE

LUCAS

After working as a makeup artist for a number of years,

Natalie founded From Luxe With Love, an online

destination for all things fashion and beauty, as a way

to share some must-have beauty products and fashion

finds. With an eye for flatlays and content creation, she

has built a loyal Insta following and also shoots content

for well known beauty brands including NudeByNature.

My favourite Australian made

beauty buy is…

The Nude by Nature lip products

– I love the whole range!

I could never live without…

"Concealer and mascara – they make such a

difference to my face, even if I only have 30

seconds to spare!"

My favourite beauty

inspiration is…

"All over the place! Runways,

makeup artists, social media

– inspiration comes in so

many different forms."

The best inflight travel

products are….

"A face mist for rehydrating

during a flight, hand cream

and a good lip balm."

The one thing I love about

collaborating with Australian owned

NudeByNature is….

"I love that they're an Australian brand that

uses only natural, good-for-you ingredients.

I know when I'm using Nude By Nature

products that what I'm putting on my skin

isn't going to do any harm."

My best beauty hack is….

"A cream lipstick doubles as a

great blush if you're on the go and

only have one product on hand."

My favourite thing about the beauty

industry is…

"Getting to meet lots of amazing people!

I've definitely made some great friends

from the beauty industry."

The best beauty

influencers are…

"Inspiring and genuine."

The best trick I learnt

as a model and makeup

artist…

"Running a nude or white

coloured eye pencil through

the waterline instantly

brightens the eyes and is

a quick fix for tired eyes

on those days when you're

lacking bit of sleep."

114 | WWW.PROFESSIONALBEAUTY.COM.AU
---
EVENTS

FASHION FORWARD VISOR LAUNCH

Halo by Dermal Hub was launched to an exclusive crowd at La

Port Deux in Sydney's Rosebery. Guests mingled with founders

Asli Isler and Derya Koch at the launch over champagne and

canapes. They were invited to try on the luxury beauty visor,

available in a variety of coloured lenses.

THE LASER LOUNGE ANNUAL AWARDS

The Laser Lounge held their annual awards night at Urban Winery Sydney in The

Entertainment Quarter at Moore Park. The Laser Lounge Balmain took out the

coveted 'Established Clinic of the Year' title, with many other awards given out for

social responsibility, innovation, retail, technicians, managers and client choice.

116 | WWW.PROFESSIONALBEAUTY.COM.AU
---
LUXURY LUNCH FOR LIBERTY BELLE RX

Dr Chris Moss and his wife Andrea flew up to Sydney from

Melbourne to launch their highly anticipated skincare range

Liberty Belle Rx over an exclusive lunch at La Porte Space. At

the launch media and guests were given their own personalised

surgeon's coats to put on while nibbling on canapes and

sipping champagne. They then sat down to a variety of shared

plates while Dr Moss and Andrea informed and educated

guests about the range. Each guest was given a skin diagnosis

and given the new range to take home and try for themselves.

CLEAN SKINCARE

SOIREE

Cryomed Aesthetics held

a launch event celebrate its

new Ao Skincare range. The

clean skincare brand, created

by New Zealander Dr Gray,

contains powerful active

botanicals, super-antioxidants,

vitamins and peptides. The

event brought together some

of Australia's top aesthetic

professionals who endorsed

the Ao Skincare range.

PROFESSIONAL BEAUTY | 117
---
EVENTS

BEAUTY BAZAAR BREAKFAST

TVSN held a Beauty Bazaar breakfast at Centennial Homestead, Centennial Park. Guests heard about the latest product

innovations from the likes of MineTan, Alpha H, Dr Daniel Lanzer's skincare range D'Lumiere Esthetique, Genie Beauty, and

many more. Guests were given the chance to meet and greet with many of the brand's founders and were give a generous goodie

bag to take home.

BEAUTY MYTHS BUSTED

Media and influencers gathered to hear Paula's Choice founder Paula Begoun talk

all about truth in beauty. Paula debunked a number of beauty myths over breakfast

at Cafe Sydney, and educated guests about her new Defense range. Following the

presentation, Paula held an intimate Q and A session.

118 | WWW.PROFESSIONALBEAUTY.COM.AU
---
MASTERCLASS UNDER THE BIG TOP

Influencer agency MaxConnectors partnered with Sephora to host

their MaxInstitute beauty masterclass at Sydney's iconic Luna

Park Big Top. The event allowed beauty fans access to tips and

tricks from some leading beauty icons. Guests were then invited

to discover the latest products, trends and experiences in makeup,

skincare and fragrance at a meet and greet session.

TAIWAN TRADE PROMOTION

More than 20 exhibitors showcased a wide range of products at the

Taiwan Health & Beauty Trade Mission, held at Sheraton Grand Sydney

Hyde Park. The exhibitors flew from Taiwan to Australia and New

Zealand to build and strengthen relationships and seek out suitable

distributors. It was organised by Taiwan External Trade Development

Council (TAITRA), a non-profit trade promotion organisation. There was

free admission for guests, with refreshments and lunch included.

Hosted or attended a great beauty event? We'd love to hear from you. Please email your clear

photos with a brief description of the event to be considered for inclusion in Professional Beauty to

our beauty editor, Michelle Ruzzene, at mruzzene@intermedia.com.au.

PROFESSIONAL BEAUTY | 119
---
THE BIGGEST BEAUT

STEP ASIDE SHELLAC, THIS YEAR IS

ALL ABOUT POWDER DIP NAILS,

ACCORDING TO PINTEREST. WE'VE

ROUNDED UP THE TOP TRENDS

EXPECTED FOR 2109, GENERATED BY

250 MILLION PEOPLE FROM AROUND

THE WORLD EACH MONTH, WHO

HAVE PINNED TO MORE THAN THREE

BILLION BOARDS.

DOUBLE DIP

Wave goodbye to chipped nails. Powder

dipping lasts longer than traditional gels,

and is way easier to remove. (Searches

for powder-dip nails +442%)

GO GLOSSY

From lips to lids, gloss is

helping people make their best

features shine. (Searches for

glossy make-up +89%)

OOH-LA-LASHES

People are giving their lashes a lift with natural

solutions – think castor oil, grapeseed oil and

aloe vera. (Searches for natural lash lifts +52%)

120 | WWW.PROFESSIONALBEAUTY.COM.AU
---
Y TRENDS FOR 2019

THE STANDOUT POUT

Smart mouths everywhere are pairing

barely-there make-up with a bold red

kisser for added attention. (Searches for

standout lip colour +467%)

ALMOND JOY

Here's a nutty new manicure trend: almond

nails, named after the rounded shape of

the nut. (Searches for almond nails +97%)

BRING ON THE BAKUCHIOL

Bakuchiol, the natural, gentler alternative to

retinol, is the clear-skin choice among skincare

buffs. (Searches for bakuchiol +275%)

PROFESSIONAL BEAUTY | 121
---
AD INDEX

index

Age Delay.....................123

asap skin products............... 79

Barneys Salon Supplies........... 53

Beaute Pacifique Australia........ 23

Bellezza Australia ............... 19

Biz Cover...................... 35

Brandee Meier Photography...... 95

Cosmoprof Asia ............108-109

Cosmoprof Bologna.......... 45, 111

Cryomed Aesthetics.............2-3

Curtis Collection................ 37

Cynosure...................... 41

Dermalogica .................. 4-5

Dermaviduals...... front cover, 20-21

Eckstein Cosmetics.............. 15

EFP Beauté....................115

Ex-Import Niche Products........ 73

Inskin Cosmedics................ 63

Intraceuticals................... 59

Jax Wax Australia............... 74

Jessica Cosmetics............... 47

Kitomba........Outside Back Cover

Lycon Cosmetics................ 61

M&U Imports. . . . . . . . . . . . . . . . . . .89

Payot Cosmetics............... 6-7

Pelactiv........................ 57

Professional Beauty.......... 85, 107

Professional Beauty Solutions......13

Reed Exhibitions............. 11, 110

Shedul..........................17

Syneron-Candela ............ 86-87

The Uniform Stylist.............. 91

Timely Salon & Spa Software ..... 55

True Solutions.................. 81

Ultraderm...................... 65

122 | WWW.PROFESSIONALBEAUTY.COM.AU
---
Comfortable Fat Reduction HIFU System