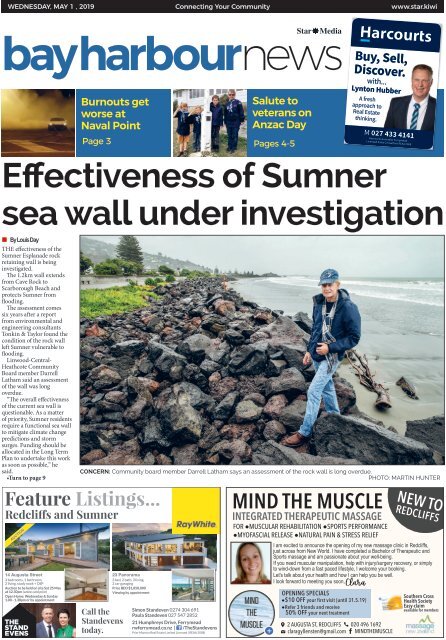 Bay Harbour: May 01, 2019
Do you know the secret to free website traffic?
Use this trick to increase the number of new potential customers.
WEDNESDAY, MAY 1 , 2019

Connecting Your Community

www.star.kiwi

Burnouts get

worse at

Naval Point

Page 3

Salute to

veterans on

Anzac Day

Pages 4-5

Buy, Sell,

Discover.

with...

Lynton Hubber

A fresh

approach to

Real Estate

thinking.

M 027 433 4141

Harcourts Grenadier Ferrymead -

Licensed Sales Consultant REAA 2008

Fo

Effectiveness of Sumner

sea wall under investigation

• By Louis Day

THE effectiveness of the

Sumner Esplanade rock

retaining wall is being

investigated.

The 1.2km wall extends

from Cave Rock to

Scarborough Beach and

protects Sumner from

flooding.

The assessment comes

six years after a report

from environmental and

engineering consultants

Tonkin & Taylor found the

condition of the rock wall

left Sumner vulnerable to

flooding.

Linwood-Central-

Heathcote Community

Board member Darrell

Latham said an assessment

of the wall was long

overdue.

"The overall effectiveness

of the current sea wall is

questionable. As a matter

of priority, Sumner residents

require a functional sea wall

to mitigate climate change

predictions and storm

surges. Funding should be

allocated in the Long Term

Plan to undertake this work

as soon as possible," he

said.

•Turn to page 9

CONCERN: Community board member Darrell Latham says an assessment of the rock wall is long overdue.

PHOTO: MARTIN HUNTER

Feature Listings...

Redcliffs and Sumner

AUCTION

14 Augusta Street

3 bedrooms, 1 bathroom,

2 living, study nook + OSP

Auction to be held on site Sat 25 May

at 12.30pm (unless sold prior)

Open Home: Wednesday & Sunday

1.00 - 1.30pm or by appointment

Call the

Standevens

23 Panorama

3 bed, 2 bath, 3 living,

2 car garaging

Price BEO $1,850,000

Viewing by appointment

Simon Standeven 0274 304 691

Paula Standeven 027 547 2852

21 Humphreys Drive, Ferrymead

rwferrymead.co.nz | /TheStandevens

today. Prier Manson Real Estate Limited Licensed ( REAA 2008)

MIND THE MUSCLE

INTEGRATED THERAPEUTIC MASSAGE

FOR ●MUSCULAR REHABILITATION ●SPORTS PERFORMANCE

●MYOFASCIAL RELEASE ●NATURAL PAIN & STRESS RELIEF

2 AUGUSTA ST, REDCLIFFS 020 496 1692

claragyllensten@gmail.com MINDTHEMUSCLE

NEW TO

REDCLIFFS

I am excited to announce the opening of my new massage clinic in Redcliffs,

just across from New World. I have completed a Bachelor of Therapeutic and

Sports massage and am passionate about your well-being.

If you need muscular manipulation, help with injury/surgery recovery, or simply

to wind-down from a fast paced lifestyle, I welcome your booking.

Let's talk about your health and how I can help you be well.

I look forward to meeting you soon,

OPENING SPECIALS

●$10 OFF your first visit (until 31.5.19)

●Refer 3 friends and receive

50% OFF your next treatment

Southern Cross

Health Society

Easy-claim

available for members
---
PAGE 2 Wednesday May 1 2019

BAY HARBOUR

Latest Christchurch news at www.star.kiwi

get in touch

from the editor's desk

WE HAVE a great spread of photos from

the various Anzac Day services in the Bay

Harbour News area (see pages 4-5).

As usual the services were well

patronised by young and old alike.

It must have been a tremendously proud feeling for those who

have personal ties to the services, and for those who have had

family fight in long gone conflicts and wars.

Sumner Redcliffs RSA's Bernie Godden also reflects on Anzac

Day in the aftermath of the city's terrorist attack.

He says: "The decision to go ahead with the Anzac Day parade

was unanimous, unequivocal. Those attending were not to be

bowed by the horrific events of March 15."

And thanks to the RSAs which sent in photos for our spread.

– Barry Clarke

GENERAL INQUIRIES Ph 379 7100

CLASSIFIED ADVERTISING Ph 379 1100

Star Media, a division of Allied Press Ltd

PO box 1467, Christchurch

starmedia.kiwi

NEWS

Louis Day

Ph: 021 919 917

louis.day@starmedia.kiwi

ADVERTISING

Jo-Anne Fuller

Ph: 364 7425

jo.fuller@

starmedia.kiwi

Rob Davison

Ph: 021 225 8584

rob.davison@

starmedia.kiwi

news

History of seaplanes in harbour

As a plan to bring seaplanes to Lyttelton Harbour gets under

way, we look at previous 'flying boat' visits.

Page 6

sport

Flat spell ends just in time

Check out Aaron Lock's surf report to keep up with all the

action and competitions out on the water.

Page 15

community events

Knit with friends

Go along to Knit 'n' Yarn today, 10am-noon, at the Lyttelton

Library.

Page 19

The best-read local newspaper, delivered to

10,056 homes, RDs and farms every Wednesday

Brookhaven, Heathcote, Ferrymead, Redcliffs, Mt Pleasant,

Sumner, Lyttelton, Diamond Harbour, Governors Bay, Akaroa.

A BRANCH OF

Overseas Investment

in New Zealand

What's your perspective?

The Government is proposing to reform the Overseas Investment

Act, to better ensure that it supports New Zealanders' wellbeing.

A consultation document has been released which outlines a

range of options. These options explore issues related to: what

investment is screened, who is screened and how screening occurs.

This is an important topic for all New Zealanders, so the Treasury

is holding a public meeting so that individuals and organisations

can share their views.

If you're unable to attend the

event, but would like to share

your views, please email us

at OverseasInvestment@

treasury.govt.nz

To register for the event and to

see the consultation document

or a short summary visit:

treasury.govt.nz/overseasinvestment-consultation

When:

8 May 2019, 5pm

Where:

Crowne Plaza Christchurch

764 Colombo Street

Adam Curtin

Solicitor

akc@younghunter.co.nz

Michelle Rossiter

Legal Executive

mjr@younghunter.co.nz

Proudly providing legal advice

to the community for over 25 years

P 03 384 5350

www.younghunter.co.nz

CAREGIVERS

Earn £££ to fund your travels

Use your nursing/caregiving background in a flexible work situation of short-term

assignments, caring for UK clients in their own home.

• Free induction training and paid ongoing training

• Free lodging in our Oxford Aunts dedicated house whilst training

• Earn up to £7896 for 12 weeks work

• Holiday pay and good time off

• Experience English life in city or countryside

locations: Oxford, the Home Counties and more

To be eligible to work for us in the UK you must have one

of the following:

• Valid British or EU passport

• Youth Mobility Visa for commonwealth citizens aged 30 or under

• Ancestry Visa by virtue of having a UK grandparent

TO APPLY: www.oxfordaunts.co.uk/carer-application

186 Main Road, Redcliffs

For more information contact: + 44 1865 791017

enquiries@oxfordaunts.co.uk
---
Wednesday May 1 2019

News

Boy racers burn up Naval Point

• By Louis Day

BURNOUTS IN the early hours

of the morning are upsetting

campers and nearby residents at

Naval Point.

Boy racers have been an ongoing

issue at Naval Point since the

barrier arm was removed by the

city council since in November.

A nearby resident

who wished to

remain anonymous

said the situation

had been getting

progressively worse

since then.

Andrew

Rutledge

"You have 20

freedom campers

lined up in their

vans and you get two or three

cars that come in and intimidate

everybody, I watched one guy

who burnt up so much that he

blew his tyres out and drive back

to Lyttelton on his rims," they

said.

Sergeant Franco Lovrich said

boy racers found to be causing a

disturbance would be fined $600.

"It is a nuisance and there is

enforcement action that will be

taken if those responsible are

found doing it," he said.

Several reviews complaining

about the behaviour of boy racers

at the site have been left on the

tree trouble?

call us 384 9630

www.fourseasonstreecare.co.nz

CamperMate website by freedom

campers.

"Do not camp here! Car racers

zooming past till 3am in the

morning. Some even stopped

and started giving us abuse and

banging on the van! Only place

in New Zealand where I actually

felt scared to be there," one freedom

camper said.

"The place is fine, the toilets are

Latest Christchurch news at www.star.kiwi

BURNOUTS: Boy racers at Naval Point have been upsetting nearby residents and freedom

campers.

clean . . . on a Saturday though

the place gets very loud. People

making donuts/playing loud music

. . . if here on weekend avoid."

"Stayed here on Saturday and

was unfortunately woken up at

2am by boy racers doing donuts

and racing in the camp site!?

What on earth?! It was disgraceful

and dangerous so will never

return here again."

City council head of parks

Andrew Rutledge said the barrier

arm was removed because constant

damage was costing the city

council $15,000 a year in repairs.

Mr Rutledge said there was a

development plan under way for

the Naval Point area and that

consideration of public access

would go out for consultation

later in the year.

Host an event

during Christchurch Heritage Festival*

7-28 October

BAY HARBOUR

Local

News

Now

In Brief

PAGE 3

Fire rages, homes at risk

STABILISATION WORK

Slope Stabilisation work on

Jubilee Rd, Wainui, consisting of

mesh and anchors, to remediate

and stabilise a slope that has

suffered land damage will start on

Monday. A landslip has occurred

within the road reserve. The city

council is stabilising the slope to

prevent future land damage to

this site. The work is expected to

be completed by June 14.

LIGHTHOUSE RESTORATION

The Lyttelton Port Company

intends to restore the Lyttelton

Lighthouse and place it close to its

original location. However, it will

no longer be operational. LPC

is hoping to have the lighthouse

restored and in place by the time

the new cruise berth is opened in

2020.

PORT CEO TO RETIRE

Lyttelton Port Company chief

executive Peter Davie announced

on Monday that he will be

retiring at the end of the year.

After 16 years as chief executive

at LPC Mr Davie said it was time

to move on to new endeavours.

Mr Davie plans to sail the South

Pacific with his wife next year.

During Mr Davie's time at the

company, container volumes

through Lyttelton Port tripled to

be over 50 per cent of the South

Island's container movements.

t h e t r e e p e o p l e

f o u r s e a s o n s t r e e C a r e

We're reaching out to community groups,

businesses and individuals - anyone who may

have a great idea for a festival event in October.

We'd love you to join us at a community meeting

– it's an opportunity to share ideas, ask questions

and to consider how you might like to be involved.

Join us at the Christchurch Heritage Festival

community meeting.

DEADLINE SALE

Tuesday 7 May

5pm–6pm

Christchurch City Council

Te Hononga Civic Building

53 Hereford Street

Uldale Place, Westmorland 3 2 1 2

Full Service – Free Appraisals | www.smartrealestate.co.nz

Debra Hakaraia

Mob: 0275 620 420 | Tel: 03 384 8600 Licensed Agent REAA 2008

ccc.govt.nz/heritagefestival

*Formerly Heritage Week
---
PAGE 4 Wednesday May 1 2019

BAY HARBOUR

Latest Christchurch news at www.star.kiwi

Anzac Day services

Anzac Day services went ahead as usual and were well attended across the Bay Harbour News area.

Past and present members of the military, war veterans and descendants of those lost in conflict

came together to commemorate the occasion. Here are some images from the Sumner, Lyttelton and

Diamond Harbour events.

FULL VOLUME: The City of Christchurch Highland Pipe Band at the

Lyttelton service.

LEGEND: World War 2 veteran and Private William Joker watches on during the

Sumner service.

STRENGTH IN

NUMBERS: The

memorial parade

in Lyttelton was

well attended by

men and women

in uniform and

members of the

public.

PRIDE: Tim Hobbs holds the war medals of his late father during the Sumner parade.

Showing respect and a plea for peace

Sumner

Redcliffs

RSA's Bernie

Godden

reflects on

Anzac Day in

the aftermath

of the March 15 shootings

THE DECISION to go ahead

with the Sumner Anzac Day

parade was unanimous,

unequivocal.

Those attending were not to be

bowed by the horrific events of

March 15.

So many familiar faces turned

up and a lot of new ones too.

Representatives from all the

services past and present took

part in the parade along Wakefield

Ave to the Sumner Redcliffs

RSA memorial gates, where the

service was held, the reassuringly

familiar laying of wreaths, the

sounding of the Last Post, the

lowering of the flags, followed by

a minute's silence.

Then the Ode to the Fallen, recited

by the president Pat Boland.

The Sumner Silver Band burst

forth with the Reveille as the flags

go back up.

The Reverend Thomas Brauer

then led the Lord's Prayer, inviting

people of all faiths, and those

without, to plea for peace. It was a

poignant recital.

The guest speaker Colonel

Craig Duane, is a man with considerable

military experience. He

highlighted the many conflicts in

which New Zealand servicemen

have taken part over the years

and continue to this day. They

defend our principles across the

globe. They have our respect. Let

us not forget that many need our

continuing support.

Following the Thanksgiving

and Benediction, the crowd

joined in the singing of the

National Anthems of the United

Kingdom, Australia and New

Zealand, bringing the event to a

fitting conclusion.

SOLIDARITY: Sumner Redcliffs RSA president Pat Boland

makes her way to the memorial gates on Wakefield Ave.
---
Wednesday May 1 2019

Latest Christchurch news at www.star.kiwi

BAY HARBOUR

PAGE 5

Local

News

Now

Fire rages, homes at risk

SERVICE: Lieutenant-Colonel Jeremy Smith, Merchant Navy Captain Malcolm

Pearson and Airforce Squadron Leader John Barry share a moment before the

Diamond Harbour parade.

FAMILY AFFAIR: Diamond Harbour Volunteer Fire Brigade chief Bob Palmer

stands alongside his sons, recruit firefighter Rohin Palmer and senior

firefighter Jeremy Palmer.

LEST WE FORGET: Major Steve Hall lays a wreath outside

the Diamond Harbour community hall.

REMEMBERANCE: Banks Peninsula Community

Board member Felix Dawson pays his respects.

SALUTE: Diamond Harbour Cubs Benjamin,

Josh and Felix stand beside the flagpole with

Cub leader Annabelle Wear.

OUTGOING: Port Hills MP Ruth Dyson and National list MP Nuk Korako were at the Lyttelton service. Ms Dyson won't be standing in next year's election, Mr Korako

is in the midst of leaving Parliament. •Korako's last column, page 11
---
PAGE 6 Wednesday May 1 2019

BAY HARBOUR

Latest Christchurch news at www.star.kiwi

News

Hollywood to Redcliffs for cinema owner

• By Julia Evans

A FORMER writer for major

Hollywood film studios who left

the bright lights of Los Angeles

for love is getting ready to open

the new Arts Centre cinema.

Redcliffs resident Max

Hoffman co-owns the Lumiere

Cinemas with cinephile Nick

Paris. It is expected to show its

first film soon – although it was

planned to open by Easter.

"It will open

very soon, within

the next couple

of months, but

we really want to

get it right."

The pair have

been hands-on

Max

Hoffman

throughout the

whole process,

travelling to

China to work

with the manufacturer on every

centimetre of the Lumiere's fit

out.

"We went over and sat in

the chairs. You can try and

order things online, but we had

everything custom done."

But before moving to

Christchurch after the

February 22, 2011, earthquake,

Mr Hoffman worked as a

screenwriter for 20th Century

Fox and Disney studios.

He was not credited for the

AT THE MOVIES: The new Lumiere Cinemas will open soon in the Arts Centre.

work, which included re-writing

scripts.

"I was an in-house writer with

the writers' guild for 10 years . . .

it's hard work and if I'm honest,

it was thankless," Mr Hoffman

said.

He left the Hollywood industry

five years before moving to

Christchurch.

"I'd done it, it was a hard job,

and as a writer, I just didn't

have anything else to say," Mr

Hoffman said.

"Then I met my husband, he

was a Kiwi travelling in LA."

Mr Hoffman left his

home in LA to live with his

husband Sebastian Stapleton

in Christchurch after the

earthquake.

"I said I'm going to move there

and help you. I'd never been here

before, I didn't know where it

was, which is embarrassing to say

now."

Mr Hoffman then fell in love

again.

"It truly is the best city in the

world. There's no better city than

Christchurch."

He met Mr Paris on a visit to

Christchurch's iconic Alice in

Videoland, which is where the

idea for Lumiere Cinema was

hatched.

Mr Paris has worked in local

cinema for the last 40 years -

from being a cinema projectionist

to helping ensure the Isaac

Theatre Royal was equipped for

screen movies.

"I got to meet Nick, who has

this incredible passion for film

and my husband, and I knew we

had to get behind him," he said.

"Christchurch is very fortunate

to have Nick running and

programming the Lumiere as

his depth of knowledge in film is

most impressive and people who

love movies will be able to benefit

from that when they talk with

him."

When it opens, the cinema will

feature two theatres and a bar

overlooking the Botanic Gardens.

Mr Hoffman said it would also

host outreach programmes for

prospective film makers.

"They used to do that at the

Arts Centre, so we want to bring

it back," he said.

'Flying boats' part of Lyttelton Harbour's past

Bay Harbour News

reported last week on

a plan to bring

seaplanes to Lyttelton

Harbour – but it would

not be the first time

they have taken off

in the area. Louis Day

looks at previous visits

PENINSULA AIR Ltd is working

to bring seaplanes to the harbour.

If the Rangiora-based company

is successful, it would not be the

first time seaplanes have operated

in the area.

On January 3, 1938, a flying

boat from

Wellington

was welcomed

by thousands

of spectators

at Lyttelton

Harbour.

It took just over

Maryanne

Jackson

90min for the

plane to complete

its journey from

Wellington.

The Imperial Airways flyingboat

Centaurus was the largest

aeroplane to enter the South

Island at the time.

It came from the south-west,

flying swiftly over Gebbies Pass

and landing near Erskine Point

less than 2min after it was first

spotted by the crowd standing on

the port wharves.

The flying boat had successfully

completed what was the longest

flight in the history of British

commercial aviation three days

before arriving in Lyttelton,

making the journey from

England to Wellington.

Former Lyttelton resident

Maryanne Jackson remembers

several seaplanes coming into the

harbour during the 1950s.

"I would have been in primary

school at the time. I remember

them coming and landing, it

happened a few times."

"It was quite exciting for us, we

were quite young and we had not

seen a plane land in the sea," she

said.

•HAVE YOUR SAY: Do

you remember seaplanes

in Lyttelton Harbour? Email

your recollections to

louis.day@starmedia.kiwi

CRAFT: The flying

boat Centaurus

anchored at

Lyttelton Harbour

in 1939.

WONDER: Crowds

of spectators

gathered at

Lyttelton Wharf

to watch the

Centaurus land in

the South Island

for the first time.
---
Wednesday May 1 2019

Latest Christchurch news at www.star.kiwi

BAY HARBOUR

PAGE 7

29 th April to 5 th May 2019

$

10 99

kg

Fresh NZ Skinless

Chicken Breast

Fillets

$

3 99

kg

Loose Red Kumara

CHANGE: Restrictions on property owners in the Port Hills could reduce.

Proposal to ease restrictions

on Port Hills properties

• By Louis Day

PROPERTY restrictions

on Port Hills' homeowners

could be reduced.

The city council has

agreed to ask Minister for

Greater Christchurch Regeneration

Megan Woods

to update the slope instability

overlays in the District

Plan to reflect the changed

risk profile.

The proposal is expected

to be handed to Dr Woods

in July and she will have a

month to make a decision.

After the earthquakes,

slope instability modelling

was carried out on the Port

• By Louis Day

A DECISION on the

funding of Sumner's crime

cameras will not be made

until August 5.

A key figure behind the

bid to bring crime cameras

to the suburb said this was

too long to wait.

Chief executive of security

company October

Protection

and Sumner

resident Matt

Wood, was

ready to

supply Safer

Sumner with

security

cameras after they raised

$4000.

However, the cost of

the cameras skyrocketed

to $20,000 after police

requested the cameras be

aligned with their system.

This led to Safer Sumner

approaching the Linwood-

Central-Heathcote

Community Board in

December.

Hills to identify properties

affected by – or potentially

at risk from – rockfall, cliff

collapse or movement.

However, the current

outdated slope instability

overlays are imposing unnecessary

restrictions on

Port Hills homeowners.

Deputy Mayor Andrew

Turner said the updated

overlays would reduce

restrictions on affected

homeowners.

"It would give the property

owner more flexibility

and it, therefore, means

when the property is sold

it gives the future owner

more flexibility, which may

The community board

requested further technical

information on the

cameras following their

presentation.

Safer Sumner made

a formal application to

the Strengthening Communities

Fund once the

community board received

the technical information

which will be decided on in

August.

"We have had a measure

to reduce crime, I have

purchased the cameras,

they are sitting in my office

well be reflected in property

values," he said.

The city council's regulatory

performance committee

said without an amendment

to the slope instability

overlays, affected property

owners would continue to

have unnecessary restrictions,

costs and uncertainty

imposed on them.

"This may result

in property owners

being unable to carry

out activities on their

properties, may hinder

property sales and may

be affecting property

values,'' a report from the

committee said.

Decision on crime cameras

will be made in August

Matt Wood

when they could have deterred

a serious amount of

crime and we just continue

to face red tape," Mr Wood

said.

Mr Wood said Sumner

desperately needed some

form of crime prevention.

"Criminals look for

weakness and wealth.

Sumner portrays wealth

and the absence of cameras

and a permanent police

presence in Sumner is

creating weakness and

therefore opening ourselves

up to crime."

99 ¢ ea

Wattie's Whole,

Crushed or Chopped

Tomatoes 400g

$

2 99

ea

Nestlé Chocolate

Block 140-200g

$

22 99

pk

Owned &

operated

by locals

Heineken

12 x 330ml Bottles

$

2 49

ea

Coca-Cola,

Sprite, Fanta,

Lift or L&P

1.5L

$

3 99

ea

Keri Original or

Premium Juice or

Drink 2.4-3L

$

9 99

ea

Montana Classic

750ml

SuperValue Lyttelton, Sumner

For inspiration visit SuperValue.co.nz |

While stocks last at SuperValue Lyttelton and Sumner only.

Please drink

responsibly

svbhn0105
---
PAGE 8 Wednesday May 1 2019

BAY HARBOUR

Latest Christchurch news at www.star.kiwi

Four Grenadier seasons Ferrymead realty & Sumner

St Martins

3 1 1 2 Redcliffs

4 3 2 2

15 Lascelles Street

With the owner now having one house too many - buyers are advised to act quickly as this home WILL BE SOLD.

Enjoying the perfect combination of position and presentation this 3 bedroom home is situated in the ever popular St

Martins suburb.

Superbly figured double glazed home with combined kitchen/dining, 3 good sized bedrooms and separate lounge with

French doors opening out to the sun-drenched patio. The section is totally fenced for peace of mind for family and pets

alike and has double garage plus ample off street parking down the driveway.

Auction: Thursday 9th May From 12pm

View at: www.harcourts.co.nz ID#FM5520

Liz Lewis Ph 027 453 0952

114 McCormacks Bay Road

Proudly positioned within a multi award winning garden this contemporary home offers 280sqm of easy living on a

721sqm freehold slice of prime real estate located in a sheltered seaside area overlooking an established park.

Upon arrival, an imposing double height entrance foyer alludes to the voluminous and interesting spaces that lie

beyond. Internal double doors leading you into the heart of the home with two interconnecting living areas.

Our owner is heading overseas and is now offering this large well presented home designed by Ross Maguire for sale

with urgency. Ignore GV, present all offers as this needs to be sold!

Price: $859,000

View at: www.harcourts.co.nz ID#SM0185

Alison Carter Ph 027 431 8960

Redcliffs 44 Augusta Street

Sumner 39 Stoke Street

Opawa 55 Ford Road

Mt Pleasant 15 Tama Terrace

4 2 3 1

4 2 1 2

3 1 1 1

3 1 2 4

Price: $950,000

View at: www.harcourts.co.nz ID#SM0175

Price: NPM

View at: www.harcourts.co.nz ID#SM0188

Deadline Treaty: Thursday 23rd May 4pm

View at: www.harcourts.co.nz ID#FM5501

Price: $765,000

View at: www.harcourts.co.nz ID#SM0179

Alison Carter

Ph 027 431 8960

Michelle Ward

Ph 027 203 7858

Joy Butel Ph 021 353 280

Alistair Hazeldine Ph 027 572 155

Alison Carter

Ph 027 431 8960

Redcliffs 105 Bay View Road

Redcliffs 41 Main Road

Redcliffs 23 Celia Street

Woolston 11 Sheldon Street

4 1 1 2

4 2 1 2

3 1 1 2

3 1 1

1

Price: $649,000

View at: www.harcourts.co.nz ID#SM0177

Alison Carter

Ph 027 431 8960

Price: $625,000

View at: www.harcourts.co.nz ID#SM0142

Michelle Ward

Ph 027 203 7858

Auction: Thursday 9th May From 12pm

View at: www.harcourts.co.nz ID#FM5513

Joy Butel Ph 021 353 280

Alistair Hazeldine Ph 027 572 155

Price: NPM

View at: www.harcourts.co.nz ID#SM0189

Michelle Ward Ph 027 203 7858

Shaun Davey Ph 027 953 8860

Greg Powell

Branch Manager

027 274 6157

Alison

Carter

027 431 8960

Michelle

Ward

027 203 7858

Deb

Beesley

027 280 8837

Joy

Butel

021 353 280

Chris

Moores

027 588 4440

Kirsty

McLeod

027 226 5893

Liz

Lewis

027 453 0952

Megan

Looyer

027 841 2335

Mandi

Ussher

022 621 5758

Carol

Williams

027 282 4950

Dave

Elston

0274 593 165

Claire

Savage

0210 314 342

Steve

Liebert

021 138 8401

Shaun

Davey

027 953 8860

Alistair

Hazeldine

027 572 1555

Lynton

Hubber

027 433 4141

Prue

Dacombe

021 752 348

Suzanne

Robin

027 271 4906

Sam

Ansell

021 160 6254

Josh

Westland

021 258 4410

Ferrymead

& sumner

1020 Ferry Rd Ferrymead • Ph 384 7950 • harcourtsgrenadier.co.nz

Grenadier Real Estate Ltd MREINZ is a Licensed Agent Under the

Real Estate Agents Act 2008
---
Wednesday May 1 2019

News

Latest Christchurch news at www.star.kiwi

BAY HARBOUR

Local

News

Now

PAGE 9

Fire rages, homes at risk

HISTORY: The footpath along the rock wall following a storm in July 1978.

Sea wall investigation

•From page 1

Emails obtained by Bay

Harbour News show the purpose

of the assessment was to report

on the present condition of the

rock wall and identify the best

way to restore its effectiveness.

The report from Tonkin &

Taylor stated the rock wall was

likely to be overtopped during a

one per cent annual exceedance

probability event, resulting

in seawater flowing over the

Esplanade and potentially

flooding the first row of houses

in the area.

AEP is the probability of a

certain size of flood occurring

in a single year.

A one per cent AEP flood flow

has a one per cent chance of

occurring in any one year and a

10 per cent chance of occurring

in any 10-year period.

Dr Latham said the

community board was not

informed about the assessment

before it was undertaken.

"I had to hear about the

project details through

unofficial sources and I'm

angry that the city council did

not take the time to update the

community board or the

Sumner community about

the scope and significance of

the assessment before it was

undertaken."

Dr Latham said he would be

requesting that the findings of

the assessment be made public

once completed.

BOOST: John McLister with a group of seafarers from the

Philippines outside the Lyttelton Seafarers' Centre.

Seafarers' centre may

get more funding

• By Louis Day

THE LYTTELTON Seafarers'

Centre could receive a boost.

Mayor Lianne Dalziel has met

with Lyttelton Port Company

chairwoman Margaret Delvin to

discuss ongoing funding options

for the centre.

The city council has also

requested Christchurch City

Holdings Ltd engage with LPC to

support the centre.

Further discussions with the

Banks Peninsula Community

Board will happen before a

final decision is made on future

funding.

LPC currently gives $5000

to the centre every year, while

Christchurch City Holdings Ltd

does not provide the centre with

funding.

The centre has had more than

10,000 visits from seafarers since

it opened three years ago.

Lyttelton Seafarers' Centre

Charitable Trust chairman

John McLister said more funding

will allow the centre to offer a

more complete service. "With

the current limited funding

we have, we can only be open

certain nights of the week. More

funding would mean we could do

longer hours and provide a better

service," Rev McLister said.

HAGLEY SPORTS CENTRE - HAGLEY PARK

CRICKET PAVILLION - OPPOSITE THE HOSPITAL

THIS SAT & SUN

SAT 4 MAY 8AM - 6PM • SUN 5 MAY 8AM - 4PM

MASSIVE RANGE OF NEW SKIS SNOWBOARDS AND BOOTS

HUNDREDS OF JACKETS AND PANTS ALL WITH HUGE REDUCTIONS

PLUS HELMETS GOGGLES GLOVES

BE FITTED OUT BY SNOW INDUSTRY PROFESSIONALS

BUY WITH TOTAL CONFIDENCE - ALL PRODUCTS SOLD WITH BACKUP SERVICE
---
PAGE 10 Wednesday May 1 2019

BAY HARBOUR

Latest Christchurch news at www.star.kiwi

Dining Chair

NOW $

85 Club Chair

NOW $

135 Tractor Seat Barstool NOW $

69

Grey Espresso Ivory Navy Espresso Grey

Vintage.

Mix it up. Match it up.

Retro is back and better

than ever.

Round Dining Table NOW $

459 School Chair

NOW $ 120

Emerald

Grey

Z Barstool

NOW $

89 Gaslift Barstool

NOW $

99 Dining Table

NOW $ 399

Espresso

Grey

Espresso

Grey

STOREWIDE SALE NOW ON

Ends 06.05.19. Sale

excludes Manchester &

Accessories

Shop

Online

Nationwide

Delivery

Finance

Options

targetfurniture.co.nz

Cnr Blenheim & Curletts Rds, Christchurch

Ph: 0800 TARGET (0800 827438)

Offers and product prices advertised here expire 06/05/19.

Sale excludes Manchester and Accessories.
---
Wednesday May 1 2019

Latest Christchurch news at www.star.kiwi

BAY HARBOUR

PAGE 11

Your Local Views

Rotary sells daffodils and prints

Lyttelton Rotary Club

member Barry Toomey

provides readers with an

update of what has been

happening at the club

LYTTELTON Rotary has been

blooming daffodil bulbs as our

first fundraising project of the

year.

Thank you to all of you who

have purchased our quality

bulbs – we are aiming to make

this an annual fundraiser as it

has been a sell-out this year.

We will be blooming again

next year so come to us for your

supplies in March or April.

Lyttelton Rotary's 2019

Rotary Youth Leadership Award

candidate was Candice Milner,

an enterprising young Lyttelton

woman who is really going

places.

Candice reported at our

last meeting that she had a

great time at the RYLAs and

was inspired by the speakers,

activities and super group of

participants she meet there.

The club currently also has a

limited amount of numbered

prints of Lyttelton 1987 for sale.

This was a commissioned

painting by Roger Haynes

Hume, which is based on the

John Gibbs painting of Lyttelton

a century earlier but was

Port Hills

National

list MP Nuk

Korako

reflects on

his time in

Parliament

AS I DELIVER my valedictory

speech in Parliament today

and sign-off from my role as an

MP, it is with a sense of pride

that I write my last article as

a Parliamentarian who has

worked for our Port Hills

community.

As autumn descends, the days

shorten, and the temperature

HISTORY: Long-serving Lyttelton Rotary Club members Ray

Adams and Dick Brown with a limited Lyttelton 1987 print.

brought up to date for 1987.

The Lyttelton Rotary Club is

privileged to have Ray Adams, a

true Lytteltonian, as one of our

members.

Ray's local knowledge is

amazing, and he spent time

researching the changes which

occurred over the century since

the Gibbs painting was done.

lowers I feel the same sense of

'change' for my own political

career. But while this is the

autumn of my political career,

it is in fact the spring of my new

life.

I could in this article

talk about all the amazing

experiences I have had.

I could write about my

accomplishments.

But this article is about you –

my Port Hills community. What

an honour to have worked for

you and with you, and to have

had your support.

We have been through so

much together. From the

hardships of the earthquakes,

Each print sold has a copy of

this attached for your own

reference. The port landscape

has changed again, though, with

the earthquakes and the changes

which have followed from this in

the area. At $50 per print, this is

a great deal when you consider

the relevance this artwork has to

Lyttelton.

To purchase one of these

numbered, limited edition prints

to put in your home, or if you

wish to know anything about

Lyttelton Rotary, feel free to give

me a call on 027 479 9678.

the tragedy of the Port Hills

fire, through to the horrors of

the attack on our Christchurch

Muslim community – we have

walked the path together.

We in the Port Hills are

defined by the multitude of

individuals that make up our

wonderful electorate.

And that is no better

illustrated than by our local

community organisations

and businesses, driven by

hardworking people.

As an early morning person,

I have met many of those

hardworking people, from the

tradies, health workers, business

owners, council workers and

New activities, events

to lift visitor numbers

at Lyttelton rec centre

THE LYTTELTON Recreation

Centre is offering a fresh

programme of events, classes

and activities.

It comes after the city council

partnered with Project Lyttelton

to revitalise the centre.

City council head of

community support,

governance and partnerships

John Filsell said he felt

the centre could be put

to better use if it was

actively managed by a

community group.

"Since reopening in

2016, it was clear the

centre wasn't achieving

the numbers it had

enjoyed pre-quake," he

said.

"We reached out to

Project Lyttelton to see

if they'd be interested to form

a partnership to activate and

manage the centre."

Project Lyttelton chairwoman

Margaret Jefferies said the

partnership would help bring

the community together.

"The Lyttelton Recreation

Centre is the largest facility

available for community use

Korako bids farewell to life as a Port Hills list MP

many more at the Hoon Hay

BP Station, when I too wait in

line for my morning caffeine fix,

being served by the night shift

of Nepalese, Pakistani, Indian,

Sri Lankan, Filipino, Maori, and

pakeha.

We are all just New Zealanders

getting on with making

Christchurch and the Port Hills

a great place to live.

What unites us is that we

sit as one family in the Port

Hills, irrespective of where our

heritage might once have come

from. That is who we are.

That is the Port Hills I chose to

work for.

I may be retiring from

in Lyttelton. In years past, it

had high use for recreational

sport, community groups and

occasional hire. Many a child's

birthday party was held at the

rec centre."

"We're delighted to partner

with the city council and

the Lyttelton community to

transform our much-loved

recreation centre into a

thriving, self-sustaining

hub."

Project Lyttelton has

been funded through the

city council's resilience

partnerships fund to

manage the reactivation

of the centre.

The reactivation

John Filsell

project was started last

year with a programme

of new, regular activities,

and has already seen a 53 per

cent uptake in users from last

year.

The recreation centre project

is the first partnership of its

kind as city council explores

ways to give communities a

bigger role in the long-term

management of their local

facilities.

Parliament, but there is much

more that I want to do, especially

for our Maori people, and I plan

to spend more time with my

whanau.

I was privileged to be a

Parliamentarian and will hold

the experience as a milestone in

my life. Thank you to those who

supported me and to those who

did not but gave me the reason

why that was so. I always enjoyed

listening to all sides.

Chris, myself and our four

young men wish you, your

friends and whanau the very

best and I look forward to

seeing you in our unique area of

Christchurch.

Visit our new website: www.min.nz

A professional realtor with

local expertise

and a personal touch

COASTAL REAL ESTATE SPECIALISTS

We'll help you live the dream.

Min Sarginson Real Estate Ltd. specialises in homes, sections and

rental properties in the spectacular Lyttelton Harbour bays, and

coastal suburbs of Christchurch, New Zealand.

We'll make it so easy for you. All our sales consultants live in the

area – we can give you valuable insights into life in our thriving

coastal communities.

This is an exciting time; of promise, optimism, and opportunities

never anticipated pre-quakes. Beachfront, or hillside with

grandstand views, find the property of your dreams:

Lyttelton | Diamond Harbour | Governors Bay | Cass Bay

Charteris Bay | Church Bay | Purau Bay | Port Levy | Northshore

Southshore | New Brighton | Heathcote | Sumner | Redcliffs

Scarborough | Mount Pleasant | Clifton

Call Min Sarginson Real Estate Ltd. for free, no-obligation advice. Lyttelton: 03 328 7273, lyttelton@min.nz or Church Bay: 03 329 4161, churchbay@min.nz
---
PAGE 12 Wednesday May 1 2019

BAY HARBOUR

Latest Christchurch news at www.star.kiwi

SCOOP PURCHASE SPECIALS

VRX 2.4L 4WD

$39,990 * • 6-Speed Manual

DRIVE AWAY

• 7 Leather-faced Seats

• 2.4L Petrol Engine

• Ultrasonic mis-acceleration Mitigation System.

• 18" Alloy Wheels

• Reversing Camera

*Christchurch Mitsubishi have a LIMITED NUMBER of Short-term lease

returned 2018 Outlander 2.4L VRX, most having travelled under 25,000kms

available for immediate delivery. Includes balance manufacturers warranty.

GLX-R 2WD Double Cab

Wellside Manual

$26,078 +GST DRIVE AWAY

• Reversing Camera

• Daytime Running Lights

• Smartphone Connectivity

• Sports Suspension

GLX 4WD Double Cab

Wellside Auto

$32,608 +GST DRIVE AWAY

• 5-Speed Automatic

• Easy Select 4WD with rear diff lock

• Keyless Entry

• Cruise Control

• Vinyl floor

GLX 4WD Double Cab

Chassis Manual

$32,608 +GST DRIVE AWAY

• 6-Speed Manual

• 3.5 Tonne Towing Capacity**

• 1,135kg Payload

• Easy Select 4WD with rear diff lock

CHRISTCHURCH MITSUBISHI

386 Moorhouse Avenue, Christchurch.

03 379 0588 | christchurchmitsubishi.co.nz

Prices listed are for Triton 2WD GLX-R double cab wellside manual, Triton 4WD GLX double cab wellside auto and Triton 4WD GLX double

cab chassis manual. Prices include GST and on road costs, which inludes WoF, registraiotn, 1,000km road user charged and a full tank

of fuel. Visit mmnz.co.nz for full Diamond Advantage terms & conditions. **3.5 tonne towing is only possible with a 3-axle braked trailer,

towball vertical load of no grater than 4% and an approved MMNZ towbar.

10 year / 160,000km Powertrain Warranty (whichever comes

first) (non transferable). 5 year / 130,000km New Vehicle

Warranty (whichever comes first) (non transferable).
---
Wednesday May 1 2019

Latest Christchurch news at www.star.kiwi

BAY HARBOUR

PAGE 13

Balancing sugar intake

I HOPE you've all had an

awesome Easter break and

ate more chocolate than I

did.

Not that I didn't have

heaps, I'm just generous

with my hopes.

Maybe it's because she's

our first child but Laura

and I are pretty strict on

how much sugar we let

Vittoria have. If we're

having something sweet to

eat in front of her, she'll get

a wee bit to taste, but we

don't normally give her one

of her own.

Secretly, I think we

limit it so that she might

continue being a healthier

eater than us for her

lifetime.

Long story short, Vittoria

did not get an Easter egg.

However, she did eat

a lot of good food at

multiple family meals and

even scoffed a few pieces

of Laura's mum's famous

italian prune cake (once

erroneously translated

as "mum's sweet affair of

prunes" by Facebook).

Her other little Easter

treat was getting to take

one of mum's new dogs

for a walk to work off the

meals. She was super cute

leading the wee pooch

about with the lead.

Didn't last a whole walk,

Discover Christchurch's

best pet

accommodation

• Daycare - all breeds

• Long stay/short stay

Call now to

book in your

fur baby,

inspections

welcome

anytime!

ALAMEDA

KENNELS & CATTERY

271 Dyers Road | Ph 384 1297

www.alameda.nz

YOUR LOCAL

ACCOUNTANT

I COME

TO YOU

Financial Statement Preparation

Tax Preparation & Compliance

Xero & MYOB Specialist

Steven Clarke Ltd. 7 Margot Lane

Mount Pleasant, Christchurch

Phone 03 384 4633 Cell 021 677 670

steven@sclarke.co.nz

she eventually just got over

it and dropped the lead.

Recently, we've begun

noticing a new behaviour

in Vittoria; jealousy –

especially of Laura.

If I'm holding Vittoria

and Laura comes up for a

hug too, Vittoria pushes her

hand into her face to shove

her away.

Last week, Laura and I

were sitting and chatting,

Laura leaning into me. All

of a sudden, Vittoria gets

all whingy, runs over,

jumps onto me and starts

VITTORIA

& Matt

WALKIES:

Petal

on the

lead with

Vittoria.

shoving Laura away all over

again.

It's pretty cute and funny

for me, but I can only

imagine that it must hurt

Laura a little.

Hopefully, Vittoria start

realising that her mum isn't

stealing her daddy away

from her. Or at least stop

shoving her in the face.

•Former Bay Harbour

News journalist Matt

Salmons has become

a stay-at-home dad.

We follow his journey

weekly.

Still Pedalling!

Trevor Crowe's been repairing &

improving vehicles for 70 years.

You can benefit from his

experience at...

Subaru Specialists

Electric and

Hybrid Vehicles

We have a great range of Leaf's and

Prius's hand picked for the best

battery health. Sensible prices,

easy finance options. Backed up by

our expert technical team.

Visit online at

www.crowesport.co.nz

518 Moorhouse Ave (East End)

Phone 379 7615

Quick & Easy

Puhoi Valley Yoghurt

450g

Satsuma Mandarins

Loose

Product of New Zealand

Dinner

for 4

$

4 79 ea

Pams

Confectionery

140-260g (excludes

Chocolate Peanuts

& Raisins)

$

1 99 ea

$

6 49 kg

Available at participating Four Square stores.

Rolling Meadow Cheese

1kg Edam, Mild or Colby

Dole Bananas Loose

Product of Philippines or

Ecuador

www.foursquare.co.nz

Tip Top Bakery

Supersoft Bread

700g

$

2 99 ea

$

8 99 ea

$

2 49 kg

facebook.com/FourSquareNZ

Specials available South Island only from Monday 29th April until 5th May 2019 or while stocks last.

Wine and beer available at stores with an off licence. Wine and beer purchases restricted to persons

aged 18 years old and over.
---
PAGE 14 Wednesday May 1 2019

BAY HARBOUR

Latest Christchurch news at www.star.kiwi

Big first-up test for Lincoln Combined

• By Jacob Page

Tom

Hooper

LINCOLN COMBINED will

start their UC Championship

rugby campaign with a tricky

home assignment on Saturday.

Under new coach Tom Hooper,

they will take on last year's semifinalists

Rangiora High School.

Lincoln Combined had their

most successful season in the

competition last year, finishing

seventh but challenging for a

top-four spot over

the majority of the

season. They were

also undefeated

at their Lincoln

High School-base

during the roundrobin.

Lincoln

Combined beat

Waitaki Boys'

High School 17-7 on Saturday in

their final preseason game.

Hooper, who takes over from

Mike Wilson, said he is happy

with the squad's preseason

work, which has seen them train

together for the past eight weeks

and get a 37-0 win over Mid-

Canterbury Combined.

The squad has 15 players

returning from last season,

including captain and playmaker

Wil Gualter.

Hooper said with the cyclical

nature of secondary school rugby

teams, he is keen to focus on

what his team does well to get off

to a strong start this season.

TEAM: Lincoln Combined are looking to improve on last year's UC Championship rugby

campaign in which they finished seventh.

"Overall, I'm really pleased

with how the preseason has

gone," he said.

"The squad is fit and any

preseason niggles we had are

clearing up and we have a good

base of players in our squad to

start the season," he said.

He said it will be important

for his team to make the most of

their home games this season.

Hooper said if any teams

underestimate them, particularly

in the forwards where they have

been traditionally under-size, he

will welcome the challenge.

"We'll be going into every

game respecting the teams we're

playing and expecting to come

up against some really good

sides. We wanted to have a squad

that we felt could go the full

70min and we are confident we

have that."

Hooper said he hopes the

boys who have returned from

last season have learnt from

their experiences playing

against traditional competition

heavyweights, like Christchurch

Boys' High School and Christ's

College, to improve their play in

crucial moments.

The team will face several

road trips this season with two

to Timaru to take on Roncalli

Combined on May 18 and

Timaru Boys' High School on

July 6.

They'll also head to Ashburton

to play Mid-Canterbury

Combined on June 1, and play

their penultimate round-robin

fixture in Nelson against Waimea

Combined on July 27.

Saturday's game against

Rangiora High School at Lincoln

High School kicks-off at 2.30pm.

Lincoln Combined wider

squad

Wil Gualter, Adam Gualter,

Andre des Forges, Ben

Hooper, Blair Royal, Blake

Evans, Brandyn Boyle, Caleb

McStay, Callum Murdoch,

Callum Vallance, Cameron

Morris, Cam Radford, Dylan

Flatman, Jack Dawson, Jack

Johnston, Jacob Jones, Jake

SPORT

Lincoln Combined's

2019 UC Championship

campaign

•May 4: Home v Rangiora

High School

•May 11: Away v Shirley

Boys' High School

•May 18: Away v Roncalli

Combined

•May 25: Home v Christ's

College

•June 1: Away v Mid-

Canterbury Combined

•June 7: Away v St

Thomas of Canterbury

•June 15: Home v St

Bede's College

•June 22: Home v

Marlborough Boys' College

•June 29: Away v St

Andrew's College

•July 6: Away v Timaru

Boys' High School

•July 27: Away v Waimea

Combined

•August 3: Home v

Nelson College

Pluck, Jared Wilson, Jesse

Waswo, Jonathan Allen,

Jordan Lill, Josh Brown,

Kaleb Whitelaw, Macauley

Hamlin, Reagan Le Roux,

Sam Scott, Scott Happer,

Tommy Hamilton, Wayde

Van Vuuren.

JOIN US NOW!

See website for details

HALLENSTEINS

Chinos and Jeans now $30.

While stocks last. Conditions apply.

CANTERBURY

All remaining rugby boots to clear at $30.

While stocks last.

THE BAG LAB

$40 fashion bags - up to 75% off RRP. Exclusions apply.

STYLES MAY DIFFER TO IMAGE SHOWN

MAX

Nothing over $39.99 summer clearance.

While stocks last.

FILA

Men's and Women's snap pants were $80 now $30.

While stocks last.

BENDON OUTLET

'Amazing Bra Sale' with bras starting from $15 &

briefs from $10.

CUTLER & CO

Summer clearance short and long sleeve shirts NOW

$69.95 or 2 for $100. New seasons jackets were up

to $499.95 NOW from $149.95.

While stocks last. Conditions apply.

Sign up to Smart Deals & be in the monthly draw for a $100 Dress-Smart gift card!

Be one of the first to hear about the latest deals, sent straight to your inbox each week!

CHRISTCHURCH 409 Main South Road, Hornby

www.dress-smart.co.nz

Open 10am-5pm, 7 Days 03 349 5750
---
Wednesday May 1 2019

Aaron's Surf Report

A PROLONGED flat spell

through the school holidays

was broken just in time for the

Exit Surf Canterbury men's surf

championships over the weekend.

THe contest started in 60cm

waves at New Brighton and was

moved to Taylors Mistake for the

finals day. This was the first time

the event had been at Taylors for

many years and it was great to

see New Zealand's top surfers

ripping it up on our beach.

After a messy and windy start

to the day, conditions turned

it on for the finals with winds

swinging offshore and a low tide

creating punchy, peeling left and

right-handers across the bay.

Gisborne's Maz Quinn put

on a clinical display of high

performance surfing to win

the open men's. Local surfers

performed well, too, with Rodney

Somogyvari (Sumner) winning

the over-30s, Mike Oakely (New

Brighton) winning the over-45s,

and young Jack Tyro (Sumner)

winning the under-14s. Hugh

Ritchie (New Brighton) won the

longboard division with a great

mix of traditional and modern

longboard surfing. With this

DO IT ONCE - DO IT RIGHT

•Retaining Walls

•Drain-laying

•Driveways

•Trenching

The Christchurch branch of Civil Construction Ltd

takes great pride in delivering high quality civil

works, drainage and general contracting solutions

through the Canterbury region.

win Hugh claimed the national

longboarding series for this

season.

The Seventhwave Canterbury

women's surf championships

were held a few weeks ago in

60cm waves at New Brighton

Pier. The event has been

rejuvenated this year by the

newly-formed Southern Wahine

Boardriders club. More than 64

entrants came from all across the

South Island to compete in more

than 10 divisions.

Alethea Lock (Sumner) made

her comeback to competition,

winning the Seventhwave open

women's. Other local surfers also

performed well, with Amelie

Wink (Sumner) winning the PPC

standup paddleboard division.

The Emersons South Island

•Over 60 years

professional

experience

•Modern

Machinery

Latest Christchurch news at www.star.kiwi

Waves arrive in time for champs

SPORT

Our success is built on obtaining respect

and repeat business for our honesty,

skills and innovation.

For enquiries and a free quote contact

Peter on 03 344 2596

peter@civilconstruction.co.nz

www.civilconstruction.co.nz

surf championships were held

in Dunedin over Easter, which

attracted a strong field from all

over New Zealand.

Sumner surfers performed

well, with Estella Hungerford

winning the open women's,

and Donna Henderson the

women's longboarding. Hugh

Ritchie (New Brighton) won

the longboarding and managed

to knock himself out of the

shortboard division, literally, by

head-butting the sand on the

shallow inside section. Luckily

for Hugh, he recovered quickly to

Ferrymead

YOUNGSTER:

Jack Tyro won

the under-14

boys title at

the Canterbury

men's surf

championships.

PHOTO: CORY,

NZ SURFING

MAGAZINE

go on and win the longboard.

Looking ahead, the Joyce and

Co Winter Freeze will be held

at Waikuku Beach on May 11

and 12 and then the Canterbury

scholastic surf championships on

May 19. The South Island surfing

circuit concludes with the grand

finale in Kaikoura over Queen's

Birthday weekend.

Wave wise May can be one of

our best months for surf. The

water temperature is still hanging

in there with a reasonable 15 deg

C. This should drop gradually

through May. A large high

pressure system is dominating

the weather this week and we

should enjoy some nice little

north swells from the current

weather pattern before the winter

southerlies really kick in.

Sea People, The Puzzle of Polynesia

by Christina Thompson

For more than a millennium, Polynesians occupied the remotest islands in the

Pacific Ocean, an enormous triangle stretching from Hawaii to New Zealand to

Easter Island. Polynesians today can trace their roots back to a group of epic

voyagers who first explored this vast expanse Sailing in large, double-hulled

canoes, they were the first and, until the era of European discovery, the

only people ever to have reached this part of the globe. Today, they

are widely acknowledged as the world's greatest navigators.

But how did these ancient mariners find all these islands?

How did they reach them? Diving deep into the history of the

Pacific, Christina Thompson uncovers who these voyagers

were, where they came from, and how they managed to

colonise every habitable island in Remote Oceania. A thrilling

intellectual detective story, Sea People combines the thrill of

exploration, the wonder of pursuit, and the drama of a gripping

historical puzzle.

'Wonderfully researched and beautifully written' Philip Hoare, author of Leviathan

'Succeeds in conjuring a lost world' Dava Sobel, author of Longitude

The Never Game

by Jeffery Deaver

Escape or die trying…

No.1 international bestseller Jeffery Deaver returns with a stunning new thriller –

the first in an exciting series featuring enigmatic investigator Colter Shaw.

A student kidnapped from the park.

Nineteen-year-old Sophie disappears one summer afternoon. She wakes up to find

herself locked inside a derelict warehouse, surrounded by five objects. If she uses

them wisely, she will escape her prison. Otherwise she will die.

An investigator running out of time.

Sophie's distraught father calls in the one man who can help find his daughter:

unique investigator Colter Shaw. Raised in the wilderness by survivalist parents,

he is an expert tracker with a forensic mind trained to solve the most challenging

cases. But this will be a test even for him.

A killer playing a dangerous game.

Soon a blogger called Henry is abducted – left to die in the dark heart of a remote

forest – and the whole case gets turned on its head. Because this killer isn't

following the rules; he's changing them. One murder at a time…

WIN THIS BOOK

ENTER TO

BAY HARBOUR

Big blow to

Sumner's

metro rugby

top six hopes

• By Gordon Findlater

A PLACE IN the top six appears

to be out of reach for Sumner

after they fell to their fifth

straight defeat in the premier

metro rugby competition.

Sumner once again conceded

a flurry of late tries at the

weekend to go down 15-37 to

Belfast at Sheldon Park. They

now head into Saturday's match

against competition frontrunners

Lincoln University

without a win.

Sumner trailed by just one

point at half-time against Belfast

after tries to Alistair Crossdale

and Eiji Kaneda. However, they

were only able to amass an

early penalty in the second half

before Belfast retook the lead

and never relinquished it.

Sumner coach Martin

Dodgson said they will now

readdress their goals for the

season with a top six place all

but out of reach.

However, Sumner's division

two side won their first match

in almost two years when they

claimed the 'golden jandal' from

Suburbs in a 40-14 win at Hoon

Hay Park.

•Sumner v Lincoln University

kicks off at St Leonards Square

at 2.45pm.

WIN

THIS BOOK

PAGE 15

book

release

We have one copy of Sea People to give away, courtesy of Take Note Ferrymead. To be in the draw, email

giveaways@starmedia.kiwi with Sea People in the subject line or write to Take Note Book Giveaway, Sea

People, Star Media, PO Box 1467, Christchurch 8140. To be eligible for the draw, all entries must include your

name, address and contact number. Entries close Tuesday, May 14. Winner of Bosh is Susan Truscott of Lyttelton.
---
PAGE 16 Wednesday May 1 2019

BAY HARBOUR

Latest Christchurch news at www.star.kiwi

hornby shoe

outlet

sale

$15

with any

purchase

logan

$219.90 $199.90

Q8948-107

$169.90

lola

$189.90

bon

$109.90

18d358c

$279.90 $229.90

582-23

$259.90 $199.90

a021-49

$279.90 $199.90

y5865-1

$279.90 $229.90

ys6186-23

$289.90 $229.90

a022-21

$279.90 $199.90

a021-10

$259.90 $199.90

108-7sr-1

$279.90 $229.90

633-41

$259.90 $199.90

068-32

$249.90 $199.90

218-01

$279.90 $229.90

28938-115

$169.90

322-1

$179.90

1901-2

$279.90 $229.90

638-28a

$199.90

a068-139

$199.90

Use the code "WELCOME15" and get an extra $15 off an online purchase - www.collectiveoutlet.co.nz

bishopdale court, bishopdale village | 383 main south road, hornby

open monday to friday 9am-5pm, saturday 10am-4pm, sunday 10am-3pm
---
Wednesday May 1 2019

Latest Christchurch news at www.star.kiwi

BAY HARBOUR

PAGE 17

Nothing prickly about Citroen's Cactus

Motoring

Ross Kiddie

WHEN CITROEN'S Cactus

first made its way onto the

global market it raised eyebrows

everywhere with its styling.

The cheeky five-door hatchback

was unorthodox, to say the least,

with its heavy frontal styling and

controversial bubble wrap-type

Airbumps on the doors which

protected the bodywork from

damage. Nevertheless, buyers

warmed to the Cactus, and it has

been pretty much a success in all

of the markets it's been sold in.

In New Zealand Citroen isn't

a big player, but if you study the

product line-up you'll find practical,

affordable vehicles which are

thoroughly appealing through

design flair. I guess, you'd expect

nothing less from this French car

maker which has had a reputation

for bold styling cues as they are a

considerable part of the appeal.

A new Cactus has just been

released, and while it incorporates

the styling elements of its predecessor,

it is a little more orthodox

and gone are the Airbumps which

were a major talking point on the

original.

That's a bit of a disappointment

to me, I liked the concept,

and anything practical on a car

that keeps it looking fresh and

dent-free certainly finds favour

with me.

Gone, too, is the predecessor's

diesel engine, the Cactus arrives

here in just one specification and

it gets a 1.2-litre turbocharged

three-cylinder engine which is also

used in Citroen's C3 and Peugeot's

2008. I've experienced this engine

before in both those cars and can

safely say it is one of my favourite

engines of this design, it is quiet,

smooth, and doesn't overly let

the occupants know of its design

through the harmonics often associated

with its three-pot layout.

The twin-camshaft petrol

engine is listed with a 81kW

and 205Nm rating, these are

healthy outputs, and if you take

into account the light weight of

the Cactus at just 1090kg, it is

a lively model under acceleration.

Citroen claim a standstill to

100km/h time of 10.9sec which

is all the acceleration you need in

today's motoring environment.

Drive is channelled through a

conventional six-speed automatic

transmission, together there is

reasonable harmony and gearing

CITROEN CACTUS: Economical three-cylinder engine.

which manufactures that lively

performance along with healthy

fuel economy.

The latter is listed by Citroen

at 5.3-litres usage per 100km

(53mpg) on a combined cycle

average. The evaluation car's dash

display was constantly sitting

around 6.7l/100km (42mpg).

If you also take into consideration

the Cactus' weight, then it

has benefits in all areas, the engine

isn't working hard to maintain

momentum, hence the light fuel

load, and there is a feel through

the chassis and suspension that

promotes a sporty sensation.

The suspension deserves a worthy

mention. Anyone familiar with

Citroen product will relate to the

hydropneumatic and air suspensions

systems of eras gone by.

The Cactus doesn't get anything

quite to sophisticated; however, it

• Price – Citroen C4 Cactus,

$35,990

• Dimensions – Length,

4170mm; width, 1710mm;

height, 1480mm

• Configuration – Threecylinder,

front-wheeldrive,

1199cc, 81kW,

205Nm, six-speed

automatic.

• Performance –

0-100km/h, 10.9sec

• Fuel usage – 5.3l/100km

does get what Citroen describe as

magic carpet ride engineering.

Put simply, what appear to be

conventional shock absorbers

actually incorporate two hydraulic

stops, one for compression and

one for decompression, they dissipate

energy from road bumps,

helping to create a smooth ride.

In effect, the ride is well cushioned,

I had an errand to run

over the far east side of the city,

and broken roads on that journey

were a good test for the suspension,

the Cactus has a controlled,

comfortable ride. It can also

attack corners, there is strong

steering feel, turn-in is also direct

and precise.

In my introduction I mentioned

the Cactus' styling. It isn't

radical as it could be, but it is a

departure from the norm. The

interior is modernistic and minimalist

in its detailing, however,

it all works cosmetically. You can

also mix and match with interior

trim colours and materials.

I particularly like the permanently

exposed panoramic roof

which is out-of-the-ordinary but

also adds to the character of the

car, it was a $1500 option, but it

represents the ideology of Cactus.

In terms of specification, the

Cactus is also well appointed. You

get all of the kit you'd expect on a

$35k car with many of the functions

operated by voice recognition

technology. I guess one omission

is the lack of tachometer.

That aside, the Cactus

incorporates all things practical

in a modern, stylish package. It's

a compact five-seater, but also a

funky purchase for anyone who

dares to be different. The last

model sold well in New Zealand,

and I'm expecting the newcomer

to be just as popular.

WIN

$1000 *

TOWARDS YOUR

BATHROOM

TRANSFORMATION

Go into the draw to win this

great prize by requesting a no

obligation measure and quote

for a HomePlus shower today.

*Promotion closes end of May 2019.

HomePlus custom

made showers

maximise use of

available space,

creating a look of

stunning luxury.

Measured, made

and installed by our

team of experts.

5 year warranty.

88 Gasson St, Sydenham | 03 379 3740 | www.homeplus.co.nz
---
PAGE 18 Wednesday May 1 2019

BAY HARBOUR

Latest Christchurch news at www.star.kiwi

PARA PARA PARA PARA PARA PARA PARA PARA PARA PARA PARA PARA PARA

PARA PARA PARA PARA PARA PARA PARA PARA PARA

AUTUMN sPEciAls

10kg pool

chlorine

mattresses for

all occasions

cut Foam

Front Door

Ideal for squabs & Mat inside/

replacing couch foam outside

75 x 45cm

20% off

when you mention this Was $ 39.99

advt at time of purchase

paving tiles

50mm square

with groved

back for water

drainage

Was $ 22.99

$

18 .99

$

99 .99

Was $ 89.99

$

$

59 .99 29 .99

overlays

convulted

toppers

60mm or 40mm

thickness

20% off

• Camping

• Caravans

• Sleepovers

• Spare rooms

20% off

Priced from

interlink

tile Mat

910mm x 910mm

Was $ 59.99

$

29 .99

127 Blenheim Rd

No rainchecks. Cash sales only.

PHONE 343 9820

Microfibre

bath Mats

50% off

Monday-Friday

8.30–5

Saturday 9–4

Sunday 10–4

(All items while

stocks last)

blenheiM

clarence

Matipo

PARA PARA PARA PARA PARA PARA PARA PARA PARA

PARA PARA PARA PARA PARA PARA PARA PARA PARA PARA PARA PARA PARA
---
Wednesday May 1 2019

Latest Christchurch news at www.star.kiwi

BAY HARBOUR

PAGE 19

Tai Chi

Friday, 7-8.30pm

Tai Chi is a gentle exercise

for people of all ages and fitness

levels, bringing many health and

other benefits. All are welcome

to attend this weekly class. Phone

Lucida for more information 022

697 7420

105 Bridle Path Rd

Heathcote Valley School Craft

Market

Sunday 10am-1pm

Join local artists and crafters

who will be showcasing their

unique, one of a kind creations

nestled in the beautiful surroundings

of Heathcote Valley.

Jewellery, artisan felt accessories

and homewares, greetings cards,

altered books, purses, winter

warmers, candles. The market is

a fundraiser for Heathcote Valley

School senior camp.

Heathcote Valley School Hall,

Bridle Path Rd

Following the Sumner Rd:

an exploration of its past and

present

Today, all day

Learn more about this essential

link between the communities of

Lyttelton and Sumner by visiting

dual exhibitions about the Sumner

Rd at Lyttelton Library, and

at Matuku Takotako: Sumner

Centre.

Email louis.day@starmedia.kiwi by 5pm

each Wednesday

Mt Pleasant Tennis Club

Monday- Friday, 9am-5pm and

Saturday, 9am-4pm

Mt Pleasant Tennis Club is

looking for both new junior and

senior members. Casual players

are also welcome.

For information phone club

captain Jeff Long, 384 8463

Akaroa Craft Group

Monday, 1.30-2.30pm

Go along and join the friendly

Akaroa Craft Group. Sit in the

beautiful library on the comfortable

chairs and have a relaxing

chat while working on your

craft project. Share skills like

needlework, knitting, quilting,

handicrafts, making dolls, teddy

bears and spinning.

Akaroa Library

JP Clinic at Sumner

Saturday, 10am-noon

A justice of the peace will be

available to members of the community

to witness signatures and

documents, certify document

copies, hear oaths, declarations,

affidavits or affirmations, as well

as sign citizenship, sponsorship or

rates rebates applications. There is

no charge for this service.

Matuku Takotako: Sumner

Centre

Sumner Bridge Club

Monday, 7.15pm, Wednesday,

12.45pm

Do you play bridge? Go along

and join the Sumner Bridge Club

at 57 Dryden St.

For information phone Julie on

027 434 6678.

Shoreline Toastmasters

Monday 7.30pm–9pm

Nervous about speaking? Go

along to gain confidence by

practising speaking, listening,

learning and laughing – in a

warm, friendly non-threatening

environment.

Mt Pleasant Yacht Club

Autumn Craft

All day Tuesday

Create your own tiny village

using recycled materials.

Lyttelton Library

Mt Pleasant Walking Group

Tuesdays and Thursdays-9.30am.

A mix of flat and hill walks for

those with a medium level

of fitness. Walks are in nearby

areas and further afield. Car

pooling, with shared costs. For

further information and/or

programmes, please phone Judy

384 1269.

Depart from Mt Pleasant Community

Centre

Wā Pēpi: Babytimes

Tuesday, 10.30am-11am

An interactive programme

including music, movement,

rhymes and a story. Recommended

for under twos. Free.

Matuku Takotako: Sumner

Centre

Social Games Club

Monday, 10am-11.30am

Want to play a game of Scrabble,

Chess, or Rummikub? Go

and join the friendly group.

Matuku Takotako: Sumner

Centre

Knit 'n' Yarn, today,

10am-noon.

Go along to

Lyttelton Library for

the friendly craft

sessions. Take your

knitting, crochet

or other portable

craft project and

enjoy time with

other crafters.

Have a look at the

range of books

to get ideas for

your next project.

Free, no bookings

required. Beginners

welcome.

Near & Far: Diamond

Harbour Painting Group Show

Friday, Saturday and Sunday

10am-4pm.

The exhibition features some

beautiful works by talented local

artists. Show opens this Friday

and will continue throughout

May.

Stoddart Cottage Gallery, 2a

Waipapa Ave, Diamond Harbour

Domestic Bits:

Archaeological finds from

Stoddart Cottage

Friday, Saturday and Sunday

10am-4pm

An exhibition of interesting

artefacts found during the 2017

earthquake repairs at Stoddart

Cottage to coincide with

Archaeology Week April 27 to

May 5, 2019.

History Room, Stoddart

Cottage Gallery, 2a Waipapa Ave,

Diamond Harbour.

I chose 'The Anatomy of Melancholy'

as the title for the trilogy because I

feel that it best represents my work

and the person I am.

*Melancholy: a feeling of pensive

sadness, typically with no obvious

cause.

Part I: Identity 2018

Part II: Dissectum 2019

Part III: Lost & Found 2020

Dissectum means 'deeply cut' and

in its original meaning refers to the

deep cuts in foliage. For me the

deep cuts are not just the ones we

need to make to understand the

workings of an organism but also

the potential deep cuts we need to

consider when we have to make

big decisions (as in: 'Murderous

Intent'). To be deeply cut can also

be the result of our experiences in

life. And with deep cuts comes the

need to heal, to find ways to put

what is left back together again or to

form a 'new'.

The exhibition is in two parts –

the front of the gallery is 'The

Wunderkammer*' where various

objects, boxes and other curios are

shown.

*Wunderkammer: A cabinet of

scientific curiosities, especially

during the Renaissance

In the back of the gallery I am

exhibiting a series of, mainly

charcoal drawings, all working with

or referring to 'Dissectum', plus

4 small bird paintings embellished

with embroidery.

Simon van der Sluijs is an artist

of Dutch descent and traditional

painting and drawing training.

His themes are deeply personal,

unconventional, dark, humorous and

disturbing.

The AnATomy of melAncholy

PArT II: DIssecT u m

Drawings & Objects

by

Simon van der Sluijs

4 – 29 MAY 2019

Main Rd, Little River | 03 325 1944

art@littlerivergallery.com
---
PAGE 20 Wednesday May 1 2019

BAY HARBOUR

Latest Christchurch news at www.star.kiwi

Exhibitors

Book now

Don't miss your opportunity to

showcase your business in front of

10,000+ qualified attendees

lisa.lynch@starmedia.kiwi or 021 800 809
---
Wednesday May 1 2019

Latest Christchurch news at www.star.kiwi

BAY HARBOUR

REAL ESTATE

Sensational, spacious and seriously selling

125 Main Road, Governors Bay

Price: Negotiation over $499,000

3 bedrooms | 1 bathroom | 2 car garage | Listing Number: 8983

PAGE 21

This 1980's Governor's Bay charmer, set on

a 1000m2 section occupies a prime position

right in the heart of the bay with stunning

harbour and hill views. This is a serious

opportunity for the astute buyer to snap up

something wonderful. Opportunities like

this at this price level don't come along often

in the bay, a family sized house with lovely

history and ample options to add value

whenever suits whilst still being completely

practical for everyday living now.

Last on the market in 1948, this was home

to one of our much loved local identities.

This comfortable family home offers 3

bedrooms, wood-burner and heat-pump,

large open-plan living to wrap-around

verandah, a quirky retro bathroom and a

functional kitchen with views to the heads

and a big section to landscape as you see

fit. Plus there is easy, sealed access to a

detached double garage, carport and ample

outbuildings including a woodshed. Title for

the property still to issue.

Governors Bay has a wonderful primary

school, great high school zoning and is only

15 minutes to the city and Lyttelton.

For a private viewing, please contact

Emma Dunningham of Min Sarginson

Real Estate (Licensed Agent REAA 2008),

phone 027 631 1570 or 328 7273

Time for Pre-winter

Plumbing & Gas Check

With winter coming, the

professionals at Laser Plumbing

Christchurch East in Ferrymead

suggest that now is a good time to

prepare by ensuring that your gas

appliances are safe and in good

working order.

Leaks can happen over time causing

a reduction in efficiency of the

appliance, more gas to be used and,

most importantly, create a danger to

those living in the home.

For your safety they recommend

annual servicing and a safety

inspection of:

• Gas fires

• Gas water heaters

• Gas hobs

• Outdoor fires and BBQ's

This can be done quickly and

efficiently by Laser Plumbing's

qualified technicians.

The business is owned and

operated by Sumner locals Chris

Dick and his wife Carol McCann.

Chris has 40 years' experience in

the industry, and as he says, a small

amount of time spent now can help

to avoid nasty surprises later on.

"The last thing you want are issues

mid-winter when you need hot

water and heating the most."

In fact, if you have any plumbingrelated

concerns around your home,

give Chris a call. He will be happy

to offer advice and sort out the

problem, which may very well be a

simple job.

WINTER ChECkLIST

1. Gas appliance check.

2. Drains – if you have an older

home with ceramic pipes

and you haven't had a free

drainage check yet, make sure

you call and book this in. EQC

are still covering the cost of

earthquake-damaged drainage

repairs and Laser Plumbing

are experts at helping clients

deal with the EQC process and

making it all seem very easy.

3. Gutters and downpipes –

autumn leaves can get caught

in guttering and downpipes,

which can cause water leakage

into your home. To prevent

this from happening, they

recommend clearing these

out at least once a year. If you

need help to do this, give

them a call.

CLIENT fEEDBACk:

"Thanks for the work. Was impressed at your

speed of service." Mark

"Thanks for the work that was done, guys

were very professional and friendly." Nicholas

PLUMBING, GAS

DRAINAGE

Sumner locals,

Chris and Carol.

40 years experience.

"Many thanks to reception… I found the girls

extremely helpful and pleasant to deal with.

I would recommend Laser Plumbing to my

friends and family - 10 out of 10." Phil

Laser Plumbing Christchurch East, Unit 3, 11 Tussock Lane

03 376 5322 | chcheast@laserplumbing.co.nz
---
PAGE 22 Wednesday May 1 2019

BAY HARBOUR

Latest Christchurch news at www.star.kiwi

Calling for exhibitors

weddingshow

Sunday 25th August, 2019 Air Force Museum, Christchurch

To exhibit at this fantastic show, please email mark.sinclair@starmedia.kiwi for more info.
---
Wednesday May 1 2019 CES Advertising Form 2019 Elections – Bay Harbour News

Latest Christchurch news at www.star.kiwi

BAY HARBOUR

PAGE 23

ADD SOME

COLOUR

TO YOUR ADVERT!

2019 SCHOOL BOARD OF TRUSTEES ELECTIONS

Classifieds Contact us today Phone our local team 03 379 1100

Nominations are invited for the election of parent representatives to the Board of Trustees of

Classic Cars & Motorcycles

Towing

For safe, damage free

car transportation

Mt Pleasant School

call Ashley's Tow Taxi

Special care for special cars

ASHLEY'S TOW TAXI

Breakdown & Relocation

0800 TOW TAXI • 0800 869 8294

Computer

Services

VIRUS REMOVAL AND

PC HEATH CHECK

$50.00 With free pick

and delivery within 10km

of Redcliffs. Phone Paul

on 021495577. Microsoft

Certified Pro with 25 years

experience. Visit www.

seracnz.com

Gardening

& Supplies

A GARDEN OR

LANDSCAPING TIDY

UP? Shrub, hedge &

tree pruning, Lawns,

Gardening, consistently

reliable general property

upkeep, Dip. Hort. 10

yrs experience, One off

tidy ups or on-going

service. Nick's Garden

Maintenance. Keeping

your garden beautiful.

Free Quote. Ph. 942-4440

& 022 264 7452

To Let

SUMNER Furnished

granny flat available

now until around 5th

June.$380pw including

power. Ph 0272626631

To Let

RENT ME!

Ideal as an extra

bedroom or office.

no bond required

Fully insulated and double glazed for warmth.

Three convenient sizes from $70 a week:

Standard 3.6m x 2.4m

Large 4.2m x 2.4m | Xtra-large 4.8m x 2.4m

the following schools.

A nomination form and information will be posted Trades to all eligible & Services voters. Nomination forms can

be obtained from the school office. Nominations close at 12 noon 24th May 2019 and should

be accompanied by a candidate statement. The voting roll is open for inspection at the school

and can be viewed during normal Your school hours. local There professional

will also be a list candidates' names

for inspection at the school. The poll closes at 12 noon 7th June 2019.

2 elected parent representatives: FOR ALL YOUR

Heathcote Valley School

3 elected parent representatives:

Lyttelton Primary School

5 elected parent representatives:

Governors Bay School

Sumner School

Visit our website

www.justcabins.co.nz

for display cabin locations

www.justcabins.co.nz

Trades & Services

PLUMBING,

GAS &

DRAINAGE

• Bathroom repairs

• Renovations

• Leaks

• Blocked drains

• Gas and drainage

Wayne Jamieson, Returning Officer: CES, 89 Nazareth Ave, PO Box 414, CHRISTCHURCH

Phone: (03) 338 4444 - Fax: (03) 338 4447

Carol and Chris

mobility scooters

Get on to

our service

database

for service

when you

want it...

We come to you!

Visit us:

29 Shakespeare Road, Waltham

Open Monday to Friday, 8:30am – 5pm

03 366 8815 | www.mobilitysystems.co.nz

PLUMBING &

DRAINAGE

SERVING

CHRISTCHURCH

AND WIDER

CANTERBURY REGION

WITH QUALITY

WORKMANSHIP

AND SERVICE.

PHONE HAMISH BALDWIN

027 636 3499

Phone 376 5322 or email

chcheast@laserplumbing.co.nz

Custom

modifications

available

Trades & Services

rooF

painting

Book now for

Summer and receive

20% discount.

Rope and harness a

speciality.

No scaffolding required.

30 years experience.

Free quotes, call

Craig 021 060 2392

Landscape

and Garden

Services

Need help with

your garden?

We provide a quality

service for all your

Garden Maintenance

(hedges, lawns,

line trimming, weeding)

and Landscaping needs,

(fencing, paths, drives,

retaining and earthworks).

Full Arborist Service

Ph 021 272 0303

House & Garden

Property services Ltd

Tree and hedge

trimming

Tree removal

Gardening

Landscaping

CALL us 021 405 277

Trades & Services

junk

Tuition

PIANO LESSONS

Catherine Bracegirdle

DipABRSM ATCL AIRMT

51A Colenso St, Sumner

Ph. 021 044 5102

www.pianoandtheory.co.nz

catherine.bracegirdle@gmail.com

Trades & Services

ROOF

PAINTING

Rope & harness

a speciality,

no scaffolding

required,

30 years of

breathtaking

experience. Volcanic Rock, Paving,

FREE Proof QUOTES read by:_______________________________

all Alterations new & old,

Quality Workmanship,

Exterior staining, visit www.featureworks.

exterior painting, co.nz or ph 027 601-3145

moss and mould

treatment and

waterblasting

Phone job: Kevin

advertising proof

C63948

027 561 4629

:ezis 8 x 2

skip bin for your

BW

Why go to the Dump? Junkman comes to you!

Items too big for the rubbish bin?

Or too heavy for you to move?

Junkman comes to FROM

you & takes it away $

65 *

*Prices vary depending on items and volume – minimum charge $65

0800 586 5626

www.junkman.co.nz office@junkman.co.nz

2019 SCHOOL BOARD OF TRUSTEES ELECTIONS

Nominations are invited for the election of parent

representatives to the Board of Trustees of the following

schools.

A nomination form and information will be posted to all

eligible voters. Nomination forms can be obtained from

the school office. Nominations close at 12 noon 24th

May 2019 and should be accompanied by a candidate

statement. The voting roll is open for inspection at the

school and can be viewed during normal school hours.

There will also be a list of candidates' names for inspection

at the school. The poll closes at 12 noon 7th June 2019.

2 elected parent representatives:

Heathcote Valley School

3 elected parent representatives:

Lyttelton Primary School

Mt Pleasant School

5 elected parent representatives:

Governors Bay School

Sumner School

Wayne Jamieson, Returning Officer:

CES, 89 Nazareth Ave, PO Box 414, CHRISTCHURCH

Phone: (03) 338 4444 - Fax: (03) 338 4447

With: _______________________________ Date:_____________________

2019

:tamrof

ADVERTISE YOUR BUSINESS HERE

Public Notices

CARPET & Vinyl

publication

lAying

run date position sort cost (excl

Exp. Repairs, uplifting, Bay Harbour rubbish, News we do

relaying, restretching. the work for you

Wed 1 May public notices $126.8

Email jflattery@xtra.co.nz EASY!

ph John on 0800 003 181

or you load it,

or 027 2407416

we dump it.

COnCRETE CUTTing

Give us a try

Affordable Concrete

Cutting with Quality, and

removal work. Free quote.

No job to small. Phone 027

442-2219, Fax 359-6052

a/h 359- 4605

ElECTRiCiAn

JMP Electrical.

Experienced & registered..

Expert in all home

electrical repairs &

maintenance.Call James

027 4401715

gARDEnER

Need your home or

commercial garden tidied

up or renovated or require

long term assistance.

Phone Ruth 326-6663 or

021 272-0303

lAWnMOWing

You Grow I Mow. Free

quotes. Ph / text Chris 021

252 1801

PlASTERing

INTERIOR, no job too big

or too small, specialise in

repair work & new houses,

free quotes given, over 20

yrs plastering experience,

ph Peter 027 221-4066 or

384-2574

Trades & Services

SHEEP SHEARing

MOBilE

Fast friendly professional

service. 25 yrs exp.

Shearing, drenching, hoof

trimming etc. Call Shaun

021 204 1274

STOnEMASOn,

BRiCK BlOCKlAyER,

Earthquake Repairs, Grind

Out & Repoint, River/

Oamaru stone, Schist,

RUbbiSH

REMoVAL

Get a Bin Co trailer

green/garden waste

and general rubbish.

We load your

bin co

Ph: 383-0646

027 2131 733

PLUMBER

AvAilAble for:

Hot water cylinder

replacements

Gas conversions

Top quality full

house filtration to

protect all your

plumbing and your

health from chlorine.

Phone Mike

021 132 8929

Wanted To Buy

AAA Buying goods

quality furniture, beds,

stoves, washing machines,

fridge freezers. Same day

service. Selwyn Dealers.

Phone 980 5812 or 027

313 8156

Phone for further details

(03) 379 1100
---
PAGE 24 Wednesday May 1 2019

BAY HARBOUR

Latest Christchurch news at www.star.kiwi

raNGiora • Northwood • st martiNs • tower juNctioN • BishoPdaLe • raNGiora • Northwood

Northwood • st martiNs • tower juNctioN • BishoPdaLe • raNGiora • Northwood • st martiNs • tower juNctioN • BishoPdaLe •

MASSIVE

Mother's Day Sale

100s OF GIFTS FOR EVERY MUM!

UP

TO

LATEST READS

FOR MUM

30 % off

Best prices in Canterbury!

RRP $39.99

$

29 .99

The Path Made Clear

Oprah Winfrey

Health, Fitness, Gardening, Art,

Craft, Home Decor & more!

RRP $35.00

$

27 .99

Busy As F*ck

Karen Nimmo

*Applies to a selected range of product and stock may vary from store-to-store

A Life Of

Her Own

Fiona

McCallum

RRP $39.99

$

32 .99

Smart

Mothering

Dr Natalie

Flynn

RRP $34.99

$

27 .99

The Butterfly Room

Lucinda Riley

RRP $32.99

$

24 .99

The Tiger Catcher

Paullina Simons

*

New release books not available at Paper Tree Local stores.

A Dream

Of Italy

Nicky

Pellegrino

RRP $34.99

$

27 .99

RRP $34.99

$

27 .99

Silent Night

Danielle Steel

RRP $36.99

$

29 .99

Follow us on Facebook:

@papertreestores

For Daughter, Mum and Grandma!

FIFTY SHADES

SERIES

E L James

HOT

GIFT

The Mister

E L James

RRP $24.00

$

17 .99

*Applies to a selected range of product and

stock may vary from store-to-store

RRP $19.99

our price

$

16 .00

tower junction, off Clarence St, Riccarton | Bishopdale, 31 Bishopdale Court, Bishopdale | rangiora, 206 High Street, Rangiora

Northwood supa centre, Main North Road, Belfast | st martins shopping centre, Wilsons Road, St Martins

each

NEW

• st martiNs • tower juNctioN • BishoPdaLe • raNGiora • Northwood • st martiNs • tower juNctioN • BishoPdaLe • raNGiora