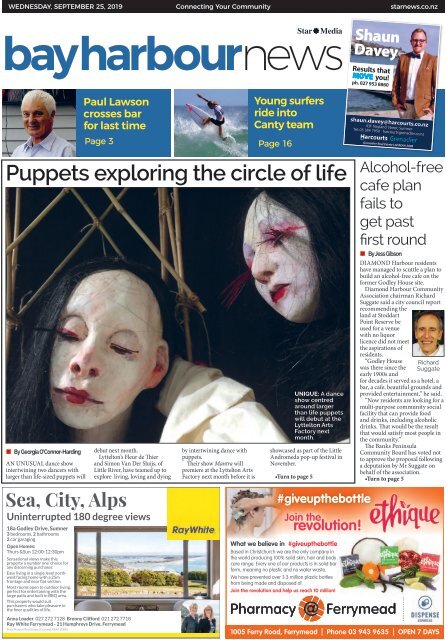 Bay Harbour: September 25, 2019
You also want an ePaper? Increase the reach of your titles
YUMPU automatically turns print PDFs into web optimized ePapers that Google loves.
WEDNESDAY, SEPTEMBER 25, 2019

Connecting Your Community

starnews.co.nz

Shaun

Davey

Results that

MOVE you!

ph. 027 953 8860

Paul Lawson

crosses bar

for last time

Page 3

Young surfers

ride into

Canty team

Page 16

shaun.davey@harcourts.co.nz

43F Nayland Street, Sumner

Tel. 03 384 7950 harcourtsgrenadier.co.nz

Grenadier Real Estate Ltd REAA 2008

Puppets exploring the circle of life

• By Georgia O'Connor-Harding

AN UNUSUAL dance show

intertwining two dancers with

larger than life-sized puppets will

Sea, City, Alps

Uninterrupted 180 degree views

18a Godley Drive, Sumner

3 bedrooms, 2 bathrooms

2 car garaging

Open Homes:

Thurs &Sun 12:00-12:30pm

Sensational views make this

property a number one' choice for

any discerning purchaser.

Easy living in a single level northwest

facing home with a 25m

frontage and near flat section.

Most rooms open to outdoor living,

perfect for entertaining with the

large patio and built in BBQ area.

This property would suit

purchasers who take pleasure in

the finer qualities of life.

Anna Loader 027 272 7128 Bronny Clifford 021 272 7718

Ray White Ferrymead - 21 Humphreys Drive, Ferrymead

Prier Manson Real Estate (Licensed REAA 2008)

debut next month.

Lyttelton's Fleur de Thier

and Simon Van Der Sluijs, of

Little River, have teamed up to

explore living, loving and dying

by intertwining dance with

puppets.

Their show Mantra will

premiere at the Lyttelton Arts

Factory next month before it is

UNIQUE: A dance

show centred

around larger

than life puppets

will debut at the

Lyttelton Arts

Factory next

month.

showcased as part of the Little

Andromeda pop-up festival in

November.

•Turn to page 5

#giveupthebottle

Join the

revolution!

What we believe in #giveupthebottle

Based in Christchurch we are the only company in

the world producing 100% solid skin, hair and body

care range. Every one of our products is in solid bar

form, meaning no plastic and no water waste.

We have prevented over 3.3 million plastic bottles

from being made and disposed of.

Join the revolution and help us reach 10 million!

Alcohol-free

cafe plan

fails to

get past

first round

• By Jess Gibson

DIAMOND Harbour residents

have managed to scuttle a plan to

build an alcohol-free cafe on the

former Godley House site.

Diamond Harbour Community

Association chairman Richard

Suggate said a city council report

recommending the

land at Stoddart

Point Reserve be

used for a venue

with no liquor

licence did not meet

the aspirations of

residents.

"Godley House

was there since the

early 1900s and

Richard

Suggate

for decades it served as a hotel, a

bar, a cafe, beautiful grounds and

provided entertainment," he said.

"Now residents are looking for a

multi-purpose community social

facility that can provide food

and drinks, including alcoholic

drinks. That would be the result

that would satisfy most people in

the community."

The Banks Peninsula

Community Board has voted not

to approve the proposal following

a deputation by Mr Suggate on

behalf of the association.

•Turn to page 5

1005 Ferry Road, Ferrymead | Phone 03 943 9635 | OPEN 7 DAYS
---
PAGE 2 Wednesday September 25 2019

BAY HARBOUR

Latest Canterbury news at starnews.co.nz

get in touch

from the editor's desk

GOOD ON Diamond Harbour residents

for digging their toes in over Godley House

(see page 1).

Godley House was once the watering

hole where issues of the day were discussed

over an ale or three.

And for most partaking, the location meant it was a leisurely

stroll home.

But hold the phone – city council staff have tried to put a

spanner in the works by making a cafe planned for the site

alcohol-free!

So the good folk of Diamond Harbour have rebelled and now

have the backing of the Banks Peninsula Community Board:

The cafe must have a liquor licence it says.

Let's hope common sense prevails and the city council agrees

with the board decision. That way drinkers and non-drinkers

will be happy.

– Barry Clarke

GENERAL INQUIRIES Ph 379 7100

CLASSIFIED ADVERTISING Ph 379 1100

Star Media, a division of Allied Press Ltd

PO box 1467, Christchurch

starmedia.kiwi

NEWS

Jess Gibson

Ph: 021 914 169

jess.gibson@starmedia.kiwi

ADVERTISING

Jo-Anne Fuller

Ph: 364 7425

jo.fuller@

starmedia.kiwi

Rob Davison

Ph: 021 225 8584

rob.davison@

starmedia.kiwi

your local views

Get veges 'on tap'

David Bryce provides a few tips on how to start your own

eco-friendly vege garen.

Page 12

community events

Yarn while you knit

Meet like-minded people at One Stitch at a Time tomorrow from

10am until noon at the Mt Pleasant Community Centre.

Page 15

tasty bites

Traditional American dessert

Lime pie is a well-known Florida dish, it can be made even

better with a box of fresh New Zealand limes.

Page 18

The best-read local newspaper, delivered to

10,056 homes, RDs and farms every Wednesday

Brookhaven, Heathcote, Ferrymead, Redcliffs, Mt Pleasant,

Sumner, Lyttelton, Diamond Harbour, Governors Bay, Akaroa.

more homeS

wanted for Strong

buyer demand!

Spring is the time of plans and projects!

If your plans include buying or selling a

home/investment then I am ready to help.

Demand is high for As Is Where Is properties to brand new

family homes - if you want to know the latest value of your

home call Chris today for a free appraisal and market update.

Chris moores Licensed Sales Consultant REAA 2008

Harcourts Grenadier Ferrymead, 1020 Ferry Road

P: 03 384 7950 | m: 027 588 4440

e: chris.moores@harcourts.co.nz

GRENADIER

Conditions apply

tree trouble?

call us 384 9630

www.fourseasonstreecare.co.nz

t h e t r e e p e o p l e

f o u r s e a s o n s t r e e C a r e

FREE

MOTORISATION

UPGRADE ON

NEW BLINDS

ORDERED

BEFORE 10 OCT. 2019

HURRY - JUST 2 WEEKS TO GO!

Hunter junior

(Leather)

Great new colours from size 7.

From $105 each

47c Garlands Road, Woolston

Phone 389 3431

www.thefootwearfactory.co.nz

SHOP 6, THE ESTUARY

21 HUMPHREYS DRIVE

FERRYMEAD

PHONE 384 7094
---
Wednesday September 25 2019

News

Latest Canterbury news at starnews.co.nz

BAY HARBOUR

PAGE 3

Crossing the bar one last time

• By Christine Toner

SUMNER LIFEBOAT legend

Paul Lawson died on September

17.

He was a former coxswain and

president and his contributions

over 21 years with Sumner

Lifeboat Institution and

Coastguard New Zealand were

huge.

Paul was always destined for

a maritime life. At the age of 15

he attended a seafaring school

in England, joined the British

Merchant Navy and embarked

on a seafaring career across the

globe. Saving lives at sea became

a passion when he joined a busy

unit of the RNLI (the United

Kingdom's lifeboat institution)

based near Plymouth.

The latter part of his career

was spent with Lyttelton Port

Company, most recently as a

tugboat master.

He joined the Sumner Lifeboat

Institution in 1998. Peter

McDonald, coxswain at the

time, said that Paul's experience

was invaluable as the Thames

class lifeboat – Lyttelton Port

Company Rescue – arrived the

same year and was a sea-change

from the earlier lifeboats.

Paul helped train the crews on

the different techniques needed

to operate the new vessel. "Paul

was the right person at the right

RATE INCREASES ARE NOT SUSTAINABLE

þ Rates are projected to rise by more than 52% by 2028.

Over the last three years, average rate rises have hit 5.25%.

And that's not factoring in the compounding effect of those

increases.

þ

þ

þ

REPAIR THE ROADS AND FOOTPATHS

Eight years on from the quakes we still have endless

roadworks, questionable sewage systems and fresh

water that is compromised.

I SUPPORT AN INTEGRATED WATER STRATEGY

Water supply, waste water, storm water and water infrastructure

are critically important. Our waterways and coastal water form a

major part of the landscape and lives of the community.

A CHANGE OF CULTURE IS REQUIRED

Ratepayers want transparency and accountability without

resorting to Official Information Act procedures. The Council

has been branded as "the most secretive in the country."

LEGACY: Paul Lawson's work with Sumner Lifeboat has saved

many lives at sea.

time for Sumner Lifeboat."

As training officer then

coxswain, Paul led Sumner

Lifeboat crew on many a

challenging and rewarding

training session and was always

ready to give support and advice.

As leader of volunteer search

and rescue crew, his priority was

to provide good gear and to train

people well.

By 2005 he had led the

Darrell

LATHAM

Forü Council

I WILL SEEK

ACCOUNTABILITY

REVIEW ALL COUNCIL EXPENDITURE

þ Income and expenditure needs to be reviewed

with urgency. The Council needs to comprehensively

review how it manages assets to avoid soaring debt.

INNER CITY DEVELOPMENT

þ Central City residential developments are creating

masses of on street car parking. These developments

require off street parking areas.

þ

þ

commissioning of a new,

purpose-built jet boat – Hamilton

Jet Rescue – refurbishment

of the buildings and facilities,

and acquisition of a new jet

ski, Southern Trust Rescue. He

also led the restructuring of the

management committee and a

constitution update.

Paul's influence was felt in

Coastguard New Zealand too. As

a member of the southern region

board from 2003 to 2012 and

chairman from 2005 to 2011, he

oversaw significant changes in

the organisation.

He was also a National

Coastguard assessor and a

Coastguard search and rescue

adviser to the police.

In that vein, his lifeboat legacy

lives on. He was instrumental

in the planning, design,

commissioning and building of

Blue Arrow Rescue, Sumner's

12.5m, all weather slipwaylaunched

rescue vessel.

This twin-water jet-propelled

craft was the first of the now

established Sumner Class

subsequently adopted by the

Bluff and North Canterbury

Coastguard units.

Paul's lifeboat legacy will be

remembered, his influence has

been far reaching. His actions,

knowledge and his generous

giving of time has led to the

saving of many lives at sea.

CITY ACCESS, PARKING AND CONGESTION

A smart city is an accessible city. The Council must listen

to business people and road users and create a more

user friendly accessible city.

CLIMATE CHANGE

We need individual and collective action to minimise

climate change. Mitigation and adaptive management

strategies are part of that discussion.

In Brief

SUMNER ROAD WORKS

The road works which have been

impacting Sumner businesses

are set to be completed this week.

The Sumner Village Master Plan

enhancement work has been

pushing shop owners to the limit

since it began in March. Wakefield

Ave, which was reduced to one lane

during the works, is now open to

two-way traffic. Most of the seats,

cycle stands, planting and signage

is in place and the final stages are

due to be finished by Friday.

LEASE FOR SURF CLUB

A lease has been granted to the

Taylors Mistake Surf Life Saving

Club to facilitate its $3 million

club rebuild. The Linwood-

Central-Heathcote Community

Board approved the club's use

of land at Taylors Mistake beach

last week. The new pavilion will

be constructed following the

demolition of the old, earthquakedamaged

clubrooms.

STUDENT GRANTS

Three Woolston students have

received grants towards upcoming

trips. The Linwood-Central-

Heathcote Community Board

approved $150 for Haddasah Timo's

trip to Samoa from Sunday until

October 12. It also approved $200

to Linwood College students Mapu

O-Moungatonga Uasi and Sione Lei

Uasi for the southern zone rugby

league under-19 tournament in

Dunedin on Saturday and Sunday.

þDecisive

þDetermined

þDependable

Your choice

for

Heathcote

Better

Councils

Make

Better

Communities

Authorised by Dr Darrell Latham,

53 Colenso St, Sumner, Christchurch 8081
---
PAGE 4 Wednesday September 25 2019

BAY HARBOUR

Latest Canterbury news at starnews.co.nz

Best for Christchurch

"I love Christchurch and am

confident about our future.

With my experience and inclusive style

of leadership, we can tackle any

challenges that lie ahead, while

seizing every opportunity that

comes our way.

Together, we will build a legacy

for generations to come."

Remember to Vote

Re-elect

Lianne Dalziel

Christchurch Mayor

Authorised by A. Campbell, c/- Lvl 1/394 Riccarton Rd, Chch

lianne.co.nz
---
Wednesday September 25 2019

Latest Canterbury news at starnews.co.nz

BAY HARBOUR

PAGE 5

News

•From page 1

The city council report stated

alcohol could not be sold on

the land due to its recreation

reserve status and there was "no

real viable option to change to a

different type which would suit

the community's aspirations

for a local centre to gather and

socialise."

But Mr Suggate said in his

deputation the land could

still be protected and used

recreationally with a local

purpose reserve status. He said

the report did not correspond

well with the analysis of 241

submissions received by the city

council on the site.

•From page 1

The unique concept will see

the two large puppets controlled

by professional dancers

Aleasha Seaward and

Mariafelix Fuenzalida.

"The dancers are

the only ones that will

control them, there are

no strings. They represent

a man and woman . . . we

are trying to form a love

affair," de Their said.

But the show strictly is

not for children. "I think it will

HAVE YOUR SAY: What do you think should be built at the former

Godley House site? Email your views to jess.gibson@starmedia.kiwi

Community rejects Godley House site plan

Fleur de

Thier

Forty-one submitters said

they wanted a library. But the

option was ruled out due to a

lack of funding.

Mr Suggate said the city

council should continue looking

be hauntingly beautiful, but I

think for young children it will

be scary," de Their said.

She described the

puppets as having

a real presence and

could understand

how people could

become "weirded

out" by them.

She said the best

part about working

on Mantra has been

collaborating with

Van Der Sluijs.

at the costs and benefits of a

library on the site rather than

dismissing it prematurely.

The community board has

asked city council staff to work

closely with the association to

Dancing puppets 'hauntingly beautiful but scary'

"Normally as a choreographer

I am driving things myself so it is

lovely to be feeding off someone

else's ideas," she said.

In spite of being based

at the Hagley Theatre

Company for about 20

years, de Their has no

desire to leave.

"I am working with

post-secondary students

who have all chosen to

do dance and drama

as part of their career

pathway so they want to be there

Simon Van

Der Sluijs

ASPIRATION:

Diamond

Harbour

residents

want to

see the

old Godley

House site

transformed

into a

community

social facility.

find a solution that better meets

the community's aspirations.

It also asked staff to

investigate and report back

on whether there may be an

opportunity within the Greater

Christchurch Regeneration Act

to change the reserve status.

A report with an update on

progress will come back to the

new community board at its

first meeting after the October

local body elections.

Community board member

John McLister, who pushed

hard for the outcome, said while

he thought the city council

proposal was good, it did not

reflect the community's desires.

•Mantra will be performed

at LAF on October 25

and 26 and at Little

Andromeda on November

13. To book tickets go to

www.laf.co.nz and https://

littleandromeda.co.nz/

and are really hungry to learn,"

she said.

Both Seaward and

Fuenzalida are Hagley graduates.

Skate park

designs

being finalised

• By Jess Gibson

CONCEPT DESIGNS are being

finalised for a new skate park in

Sumner.

The development of the site at

26 Nayland St is ballparked to cost

about $500,000 – it will include

skate and scooter park elements

and minor landscaping works.

Ideas from public consultation

held from April 18 to May 20 have

been incorporated into a draft

design.

When the designs are complete,

further consultation will go out

over the summer period.

Once the feedback comes in,

city council staff will present a

report to the Linwood-Central-

Heathcote Community Board

in March or April. It will decide

whether to approve the final design

and if it goes through construction

will start.

City council head of parks

Andrew Rutledge said the end

date for construction will be

determined by the complexity of

the design.

The community board approved

the skate park's location in November

following a failed bid by

a Sumner motel owner to stop it

from being built across the road

from his business.

(Until 4th October)
---
PAGE 6 Wednesday September 25 2019

BAY HARBOUR

Latest Canterbury news at starnews.co.nz

NEW RELEASES

GREAT

Spring

READS

INSTORE!

GREAT READS INSTORE NOW

Our Dogs, Ourselves

The Story of a Singular Bond by

Alexandra Horowitz

We keep dogs and are kept by them. We love dogs and (we

assume) we are loved by them. We buy them sweaters, toys,

shoes; we are concerned with their social lives, their food, and their

health. The story of humans and dogs is thousands of years old but

is far from understood. In Our Dogs, Ourselves, Alexandra Horowitz

explores all aspects of this unique and complex interspecies pairing.

As Horowitz considers the current culture of dogdom, she reveals

the odd, surprising, and contradictory ways we live with dogs. We

celebrate their individuality but breed them for sameness. Despite

our deep emotional relationships with dogs, legally they are property

to be bought, sold, abandoned, or euthanized as we wish. Even the

way we speak to our dogs is at once perplexing and delightful.

In thirteen thoughtful and charming chapters, Our Dogs, Ourselves

affirms our profound affection for this most charismatic of animals

and opens our eyes to the companions at our sides as never before.

Native Son

The Writer's Memoir by Witi Ihimaera

The revealing sequel to the award-winning memoir Maori Boy.

This is the second volume of memoir by this remarkable Maori

writer and of the living myths that inspired him at the beginning of

his career. Look at him, the young man on the cover. The year is

1972, he is 28, his first book is about to be published, and he has

every reason to kick up his heels.

But behind that joyful smile, and the image of a writer footing it in

the Pakeha world, there is another narrative, one that Witi has not

told before. The story of a native son, struggling to find a place, a

voice and an identity, and to put a secret past to rest. This sequel

to his award-winning memoir picks up where Maori Boy stopped,

following Witi through his triumphs and failures at school and

university, to experimenting sexually, searching for love and purpose

and to becoming our first Maori novelist.

Ian McKellen: The Biography

by Garry O'Connor

The intimate and definitive biography of Ian McKellen, theatrical

knight and a national treasure.

Few actors achieve in their lifetime what Sir Ian McKellen has.

A repertoire of vast commercial success coupled with critically

acclaimed and authoritative Shakespearian roles. A man whose

gargantuan personality and varied achievements inspire both

admiration and affection. McKellen has been feted and admired

in every country across the globe, and has been knighted by, and

received the Companionship of Honour from Queen Elizabeth II. He

is an icon of, and ardent campaigner in, the cause for LGBT rights.

Many of us know of McKellen through his depiction of Gandalf in

LORD OF THE RINGS. Garry O'Connor's definitive biography reveals

the man behind McKellen the actor. The inside story of the person

himself: a constantly developing drama and a work in progress. Yet

Garry O'Connor pulls no punches: some of his revelations may be

controversial to his fans, even explosive, given McKellen's constant

ability to shock and surprise.

"It's all about celebrating really

good, tasty food that just

happens to be meat-free."

~ Jamie Oliver

Veg

easy & delicious Meals for everyone

by Jamie Oliver

Jamie is back with brilliantly easy, flavour-packed, and accessible

veg recipes.

From simple suppers and family favourites to weekend dishes for

sharing with friends, this book is packed full of phenomenal food

- pure and simple. Whether it's embracing a meat-free day or two

each week, living a vegetarian lifestyle, or just wanting to try some

brilliant new flavour combinations, this book ticks all the boxes.

Sharing simple tips and tricks that will excite the taste buds, this

book will also give people the confidence to up their veg intake and

widen their recipe repertoire, safe in that knowledge that it'll taste

absolutely delicious.

A book for everyone, this is the perfect moment for Jamie to inspire

every kind of cook with his super-tasty, brilliantly simple, but

inventive veg dishes.

1005 Ferry rd

Ph 384 2063

while stocks last (see instore for terms and conditions)

Barry & kerry
---
Wednesday September 25 2019

Latest Canterbury news at starnews.co.nz

BAY HARBOUR

PAGE 7

News

Community service honoured

• By Jess Gibson

INVOLVEMENT: Akaroa/Wairewa community

governance manager Penelope Goldstone (left)

presents Pam Richardson with a plaque recognising

services to the Banks Peninsula Community Board.

PLAQUES HAVE been

presented to outgoing

Banks Peninsula

Community Board

members in honour of their

service to the community.

Chairwoman Pam

Richardson and members

Felix Dawson, Janis Haley,

John McLister and Jed

O'Donoghue all gave

valedictory speeches before

bowing out of their final

community board meeting

last Monday.

Each of them noted the

respectful and cooperative

way in which members had

worked over the past three

years.

Ms Richardson has been

involved with the community

board for 12 years.

"I will miss the networks

that I've had. We were a

good working board and

we had fun along the way,"

she said.

Ms Richardson has

experienced many changes

over her years on the

community board, which

started just after the Banks

Peninsula District Council

amalgamated with the city

council in 2006.

Low level of remuneration

and time commitments

of the role are

among the reasons which

have contributed to some

members' decision to not

stand for re-election.

As it stands, community

boards with bigger populations

get higher remuneration,

as the current

remuneration model is set

by population.

By this model, Banks

Peninsula Community

Board members would

receive $9864 and the

chairperson $19,729 after

the elections.

However, the

remuneration of the

community boards will

be decided when the new

city council decides on the

allocation of a $1,843,200

governance pool.

BUY A PAMS LaRGE Hot

Cooked CHICKEN

+ COCA COLA

1.5L for only

Vitor LittleO'z

Easy Peel Mandarins

750g Prepack

Product of Australia

$

4 49 pk

Fresh NZ Skinless

Chicken Breast

Fillets

$

13 99

AVAILABLE AT

SELECTED

STORES

$

12 99 kg

Christchurch

Heritage

Festival

Meadow Fresh Yoghurt

6 Pack (excludes Thick &

Creamy and Divine Desserts)

$

3 99

pk

The Natural

Confectionery

Company 200-260g

$

2 69 ea

Encounter

our stories

Over 80 special events! Discover heritage tours,

walks, talks, workshops, music, food and more

with the Christchurch Heritage Festival.

7–28 October 2019

ccc.govt.nz/heritagefestival

Quality Bakers

Nature's Fresh Bread

700g

$

3 19

ea

INCLUDES

FREE

GAME CARDS

&

COLLECTOR'S

CASE

1X

PRIZE

P A C K

STORE

www.foursquare.co.nz

PASS ON TO

CARD COLLECTORS

PASS ON TO

CARD

Stoneleigh 750ml

(excludes Latitude,

Wild Valley &

Rapaura Series)

$

12 99

1X

PRIZE

P A C K

STORE

Specials available South Island only from Monday 23rd September until Sunday 29th

September 2019 or while stocks last. Wine and beer available at stores with an off

licence. Wine and beer purchases restricted to persons aged 18 years old and over.

PER

INCLUDES

FREE

OFFICIAL CARDS

&

COLLECTORS

CASE

COLLECTORS

ea

SEE

INSTORE

FOR DETAILS

facebook.com/FourSquareNZ

PER

PASS ON TO

CARD

COLLECTORS
---
PAGE 8 Wednesday September 25 2019

BAY HARBOUR

Latest Canterbury news at starnews.co.nz

News

New toilets

for Cass Bay

• By Jess Gibson

A NEW $225,000 toilet block will be

installed in Cass Bay.

The Banks Peninsula Community

Board approved the construction

of the public toilets beside the playground

at 50 Bayview Pl during its

most recent meeting.

New facilities will include two

unisex toilets which can be used as

changing rooms, two external showers,

signage in braille and a timber

cladding design.

The current toilet block is nearing

the end of its life and given the increasing

popularity of Cass Bay, the

area needed facilities which could

keep up with future demands.

Parking at Cass Bay is currently

being considered and city council

staff have been asked to work with

the Cass Bay Reserve management

committee regarding a suggestion to

install a sensory garden.

Staff were also asked to consider

including showers with all new or

replacement toilet blocks planned

for the Banks Peninsula in the

future.

Construction will begin in

December and is expected to be

complete by about May next year.

Meanwhile, Lyttelton residents are

hoping to get more toilets installed

before a new cruise berth brings in

large vessels next October.

Neighbourhood barbecues on the menu

• By Louis Day

COMMUNITY BOARDS have

taken little notice of Darryll

Park's idea to cut funding to

neighbourhood barbecues in

order to decrease rates.

At a major mayoral debate

on September 11, Mr Park said

he would need to cut $100 million

over three years from the

city council budget in order to

achieve his fundamental campaign

promise of zero rates.

When asked how he would

do this he said he would look

at cutting community funding,

such as neighbourhood

barbecues. This sparked a public

• By Jess Gibson

POLITICAL pamphlets

described as "racist propaganda"

are being distributed to

letterboxes in Lyttelton.

The flyer, produced by

lobby group Hobson's Pledge,

urges voters to question

local body election candidates

where they stand on racial

separatism.

Hobson's Pledge, lead by

former National Party and Act

leader Don Brash, campaigns

against what it claims to

be preferential treatment

backlash and was ridiculed

by incumbent mayor Lianne

Dalziel during the debate.

Since Mr Park made his

towards Māori.

A woman who discovered

the pamphlet in her letterbox

made a post to the Lyttelton

Facebook page calling it "racist

propaganda" and "uninformed

fear-mongering."

The pamphlet, which is being

delivered to areas with the

highest interest in local body

voting, reads: "Want your rates

spent on racial separatism?"

"Mayors, councillors and

bureaucrats were intent on

dividing communities, handing

power and money out according

comments, 79 barbecues have

been approved by community

boards.

The Banks Peninsula

to ancestry and ethnicity," it

said.

The pamphlet challenges

the principals of the Treaty

of Waitangi, which ensures

councils provide a fair

representation of Maori.

"Maori do not need racebased

representation to achieve

success. It's condescending to

suggest that if we have Maori

ancestry, we must be appointed

or gifted council seats or voting

rights instead of standing on

our own merit."

The New Zealand

Community Board has

approved $1250 funding

towards barbecues.

Community board deputy

chairman Tyrone Fields

labelled Mr Park's comments as

"moronic."

"The barbecues cost very little

and the social outcomes from

them massively outweigh the

costs," he said.

The Papanui-Innes Community

Board approved $4000 for

barbecues.

John Stringer was the only

member of the board to vote

against the applications.

Mr Stringer said he favoured

Mr Park's proposal.

Political flyers labelled as 'racist propaganda'

Maori Council asked the

Human Rights Commission to

investigate Hobson's Pledge in

May over its behaviour, which

was believed to incite racism

and violence.

However, an HRC

spokeswoman told Bay Harbour

News it does not investigate

such complaints.

Hobson's Pledge

spokeswoman Fiona Mackenzie

said there was "absolutely no

racism in the Hobson Pledge's

pamphlet," nor the group's

philosophy.

PaiNt It

ReD!

And heLp SupPorT

Red nOSe Day!

naTiVe planT

nursery

Trees for CanTerbury

YOUR LOCAL

ACCOUNTANT

I COME

TO YOU

Buy any red Resene testpot and we'll

donate $1 to Cure Kids Red Nose day!

Offer applies to all Resene red 60ml testpots (excludes metallic and wood stains)

purchased by retail customers until 30 September 2019 at Resene owned ColorShops.

Come in and see us today at

your local Resene ColorShop!

0800 737 363 www.resene.co.nz/colorshops

speCialisTs in

• Groundcovers

• Ferns

• Grasses

• Small to big

sized shrubs

• Shelterbelts

• ALL grades

• Expert advice

• Planting now

Ask us about Super

Gold Card discounts

Helping our community grow

42 Charlesworth Street

Ph/Fax (03) 982-1028

OPEN 7 DAYS

www.treesforcanterbury.org.nz

Financial Statement Preparation

Tax Preparation & Compliance

Xero & MYOB Specialist

Steven Clarke Ltd. 7 Margot Lane

Mount Pleasant, Christchurch

Phone 03 384 4633 Cell 021 677 670

steven@sclarke.co.nz

Grab your girlfriends, mum

or daughters for a great day out!

5 & 6 October, 10am–5pm

Horncastle Arena, Christchurch

2-for-1

tickets on

Everything from gourmet food, tea and artisan

products to fashion, beauty, travel and more!

• 200 Exhibitors • Artisan Craft Zone

• Vivo Hair & Beauty Lounge • Taste Zone

• Little Biddy School of Gin Lounge

• Southern Reflexology Relaxation Lounge

• Goodie Bags • Door Sales $10 • Kids Under 12 FREE

womenslifestyleexpo.co.nz

Dilmah is celebrating the

amazing women of New Zealand

with the gift of tea. Stop by our

stand to nominate the unsung

heroes in your life!
---
Wednesday September 25 2019

Latest Canterbury news at starnews.co.nz

Where the

BAY HARBOUR

PAGE 9

best deals

q Card Finance Now Available

FREE no obligation measure & quote (conditions apply)

are done

Selected products only. Terms and conditions apply.

½ Price

Carpet

Remnants

Hundreds of small to large

lounge size pieces available

Nylon Carpet Sale

26oz Rivera $75.00

36oz Windsor $99.90

36oz Cable Bay $99.90

50oz Grange Fell $119.90

Polyester Carpet

22oz Washington $55.00

50oz Idaho $95.00

28oz Vermont $69.90

Lancaster

Park

312 Wilsons Road North, Waltham Phone 366 0070

Open Monday to Friday 8am-5pm and Saturday 10am-1pm

Check out our website www.carpetkingdom.co.nz

for even more CRAZY INSTORE DEALS!

Railway Line

Alpine Ice

Skating

ASk FOR OuR FREE NO ObLIgATION MEASuRE AND quOTE SERvICE
---
PAGE 10 BAY HARBOUR

Latest Canterbury news at starnews.co.nz

Wednesday September 25 2019

News

Surgeon thanked with book

• By Claire Booker

JACKIE SMART couldn't tell

the difference between shampoo

and conditioner in the shower

without her glasses, now she

can see the horizon without any

trouble.

As a token of her and husband

Peter Smart's gratitude, they

gifted an 88-year-old book on

ophthalmology to Mrs Smart's

surgeon at St George's Hospital,

Merivale Dr Paul Baddeley.

The Akaroa couple were

delighted with the results of the

surgery, and Mrs Smart no longer

wears the thick spectacles she

once needed.

"It's a miracle, I couldn't see

anything at all. It's changed my

life, you know," she said.

The book was made before it

was possible to photograph the

back of the eye, so all the images

are hand-drawn.

Dr Baddeley has been an

ophthalmologist for 17 years, and

he said the gift of the book was a

very nice thought.

"Patients usually send a letter

of thanks rather than gifts,

but it's extremely nice of the

Smart's to gift this to myself and

to St George's. Myself and my

colleagues will treasure it and

keep it in our department," he

said.

The treatment for Mrs Smart's

THANK YOU: Peter and Jackie Smart gifted an 88-year-old

book to Mrs Smart's ophthalmologist Dr Paul Baddeley (right)

as a token of their gratitude. PHOTO: GEOFF SLOAN

case was a similar approach to

cataract surgery after a report

found some forms of glaucoma

could be treated this way, without

as many risks as laser treatment.

"I think it's a wonderful,

beautiful gift for our department,

and it just reminds us that

there were times before, when

photographing the back of the

eye was near impossible. It's just

a lovely thing for the Smarts to

gift," Dr Baddeley said.

Mr Smart, who is a retired

doctor, used to receive gifts

when he worked as a general

practitioner and has been

collecting old medical equipment

over many years.

"The reason for giving the

book to Paul is as a token of our

appreciation for his kindness and

professional services and because

Jackie and I are so delighted with

the results of his surgery," Dr

Smart said.

Weeds invade river

• By Matt Slaughter

INVASIVE WEEDS are posing

a threat to the Heathcote River.

The city council is supporting

the need to act urgently

to remove invasive weed species

from the river and other

Christchurch waterways.

City council land drainage

manager Keith Davison said invasive

weeds, including hanging

sedge, reed sweet grass, yellow

flag iris and reed canary grass,

have been an issue in the river

"for a very long time" and the

problem has got worse.

"In recent years more aggressive

weeds have arrived

that pose ever greater threats/

challenges. These weeds rapidly

colonise the margins, displacing

native and exotic vegetation.

They may also grow into the

river, forming large rafts of

vegetation clogging the river,"

he said.

Mr Davison said if these sorts

of weeds are just left "the river

would likely be encroached by

the fast-spreading weeds and

larger plant species with native

plants being forced out.

"This could impact on the

river by capturing sediment and

diverting flows," he said.

Spreydon-Cashmere Community

Board member Helene

Mautner said invasive weeds are

so widespread they may not be

THREAT: Invasive weeds in

the Heathcote River and on

its banks are spreading and

damaging it.

PHOTO: GEOFF SLOAN ​

able to be completely removed.

"I think there are some weeds

that are so well established now

that it might not be possible

even to remove them at this

stage."

She said something has to be

done now to at least stop the issue

from getting worse.

Mr Davison said city council

staff have a strategy to address

the weed problem but how

much this will cost is "yet to be

determined.''

"Plans are in place to control

the worst weeds through a

combination of herbicide and

physical removal as part of

council's Heathcote River bank

stabilisation and sediment

removal project," Mr Davison

said.
---
Wednesday September 25 2019

Latest Canterbury news at starnews.co.nz

BAY HARBOUR

PAGE 11

EARLY BIRD DEAL

Save $300pp

Bookings deposited

by 31 October 2019*

COME SHARE OUR LOVE OF EUROPE

SMALL GROUPS | LONGER STAYS | GENUINELY INCLUSIVE | 'MY TIME' GUARANTEED | UNIQUE ACCOMMODATION

Sardinia & Corsica, the Lands of

Myths and Legends

Hidden Italy, the Lands

of the Etruscans

Rhine Castles, Moselle Vineyards

& Ancient Cologne

14 Days - Cagliari to Calvi or Bastia

25 Apr, 16 & 30 May, 29 Aug and 26 Sep 2020

Price from $7,237 pp twin share

Single Supplement from $1,350pp

Two islands, so different, so intriguing. One Italian, one

French, both fiercely independent. Visit 3,500 year old

huge stone 'Nuraghe' Tower villages, cruise to the

beautiful Neptune's Caves, enjoy stunning cliff top

coastal drives, take 4WDs deep into rugged ravines

for a shepherd's picnic lunch. Visit colourful Bosa,

'bandit' Orgosolo, Catalan Alghero, the exquisite

Costa Smeralda, the staggering cliff top town of

Bonifacio, Napoleon's Ajaccio and...best of all…3 nights

in remarkable Su Gologone.

NEW TOUR FOR 2020

10 Days - Rome to Rome

23 May, 13 Jun, 4 Jul, 22 Aug, 5 & 19 Sep 2020

Price from $4,457pp twin share

Single Supplement from $500pp

A hidden land with ancient Etruscan cities and

frescoed tombs, spectacular perched medieval

towns, catacomb labyrinths, water cascades, a

colossal man-made waterfall, and a park full of

giants and monsters. Sip Prosecco in 1300-year-old

Abbey ruins, dine in amazing locations, explore the

undulating Tuscan Hills of the Val d'Orcia which so

inspired the Renaissance painters. So different – so

absolutely delightful!

NEW TOUR FOR 2020

11 Days - Amsterdam to Frankfurt

15 May, 10 Jun, 2 & 16 Jul, 26 Aug and 10 Sep 2020

Price from $5,507pp twin share

Single Supplement from $820pp

Explore the spectacular castles, steep hill clinging

vineyards and delightful riverside towns of the Rhine

and Moselle Rivers. Stay in Germany's ancient towns

of Trier and inspiring Cologne. Visit Luxembourg,

Koblenz and Aachen, cruise down the Rhine, relax in

Rüdesheim, dine on vine covered terraces and stand

on a massive 'treehouse platform' with sweeping

views down over the River Saar. And in July… We have

special departures that include a superb André Rieu

concert in Maastricht.

" TOGETHER WE CAN MAKE YOUR NEXT HOLIDAY EVEN BETTER"

BETTER TOGETHER

987 FERRY ROAD, FERRYMEAD VILLAGE I 376 4022 I FERRYMEAD@HOT.CO.NZ

*Pricing is in New Zealand dollars and are per person twin share for the land tour only. Airfares are additional and can be arranged by House of Travel. Tour dates & availability are subject to change at the time of booking.
---
PAGE 12 Wednesday September 25 2019

BAY HARBOUR

Latest Canterbury news at starnews.co.nz

Your Local Views

Get veges 'on tap'

The Redcliffs Residents' Association has launched an eco-village initiative in response to

the climate and ecological emergency. Each month the association will write about a topic

chosen by the 'ginger group' of volunteers leading the initiative

David Bryce

provides a few

tips on how

to start your

own vegetable

garden and

the benefits it has for

your family and the

environment

public meeting

/Agm

Monday, 30 September 2019

at 7. 30pm

(Refreshments from 7.15pm)

HOMEGROWN: Old recycling bins are an easy and efficient

way to start your vegetable garden.

IT'S SPRING. Time for planting.

September is the time to sow

seeds, and start your own

vegetable garden if you don't

have one already.

A vegetable garden has all

sorts of benefits for you and your

family.

You can get nutrient-rich

vegetables 'on-tap' and fresh for

dinner, recycle your garden and

kitchen scraps, increase carbon

in your soil instead of warming

the atmosphere, catch and

use your rainwater and regularly

de-stress by caring for plants.

Vegetable growing can

also make for a great family

activity, in which you can learn

more about nature and the

environment together.

But first, you need to decide

what size and type of starter garden

you want. You can choose

organic or non-organic – using

anything from a small container

to a medium raised bed, a large

natural soil bed or, if you're feeling

really confident, a food forest

garden.

If you are a beginner, you may

want to use the popular and easy

method of a vegetable garden

planted in an old recycling bin.

One plus is a container this

size can be placed anywhere.

A handy hint is to always

mulch your soil. This reduces

weeds, temperature extremes,

soil erosion and bird diggings,

and retains soil moisture,

while adding carbon to feed

microorganisms which release

minerals for plants.

Want to get started? Or

can you help others? Phone

Dave Bryce on 021363498.

VITTORIA

& Matt

From cheers to tears

PEOPLE MUST think I'm an

alcoholic or something.

Vittoria loves to make little

toasts, she'll do it as soon as she

has anything like a cup or bottle

in hand. It's all perfectly innocent

I swear, but she even says "cheers".

However, when I took her for

storytimes at Tūranga on Tuesday

she started doing it with little

plastic cups in the Imagination

Station.

There were plenty of parents

around, yet not one said

anything like "that's cute". A

clear indication that they think

I'm home all day setting a bad

example.

It's been a quiet and thankfully

normal first week back to postholiday

normality, and Vittoria's

antics would have almost

been the highlight if I hadn't

experienced my first serious

temper tantrum.

The wee darling was in an outof-sorts

kind of way and when

I served up her lunch it was full

blown tears and heavy sobbing.

For an entire hour Vittoria was

completely lost to the tantrum,

wandering the house utterly

distraught. Occasionally writhing

about on the floor or crying in a

corner.

Nothing I could do would calm

her – singing, cuddles, talking

calmly, changing the food or

bringing out some normally

popular fruit. No joy.

In desperation, I turned to

showing her videos of herself on

my phone.

Which, weirdly, worked almost

straight away. She stopped crying

and screaming, picked herself up

and started laughing at a video of

her dancing.

It got her eating her lunch and

back on the good behaviour train.

I like the really good behaviour

train. I just asked her if she

wanted a nap after lunch and she

just waved goodbye to her toys,

jumped into my arms and was

asleep within 15min.

She then slept for an hour and a

half and then was a total angel all

afternoon and evening.

•Former Bay Harbour News

journalist Matt Salmons has

become a stay-at-home

dad. We follow his journey

weekly.

Dr Tim Lindley

For Heathcote Community Board

GUEST SPEAKER:

Prof Philippa Mein Smith

"A History of Ihutai/

Avon-Heathcote Estuary

and why its recovery

is important."

"For communities

you'll love to live in"

@timlindleychch

Authorised by Tim Lindley, 28 Patmos Pl, Mt Pleasant, Christchurch 8081

oN sAle Now!

Mt Pleasant Community Centre

3 McCormacks Bay Road, Mt Pleasant

Easy Parking • Laybuy Welcome

17 Lillian Street, Halswell

03 322 4548

Open Mon-Fri 9.30am - 5.00pm

Saturday 10.00am - 1.00pm

Now only

$35.80

Plus $5 P&H per copy

AvAilAble from stAr mediA:

Level One, 359 Lincoln Road

Addington, Christchurch

Phone 379 7100
---
Wednesday September 25 2019

Latest Canterbury news at starnews.co.nz

BAY HARBOUR

PAGE 13

SUPER

DEAL

50"

Markdown

Prices slashed on beds,

furniture & appliances.

Madness

50" 4K Smart UHD TV RU7400

Now

$ 1388

less

than

per

$ 15 week #<

15.6"

$ 859

+

BONUS

Weekender 4 BBQ

WORTH $599

Ios 5 Piece

Outdoor Corner

Lounge Suite

$ 2699

less

than

per

$ 14 week #>

15.6" A6 Laptop DB0182AU

8GB RAM, 256GB SSD, AMD A6-9225

Dual-Core processor, Windows 10

Home 64 operating system.

HOT

PRICE!

less

than

Save

$ 340

$ 11

per

week #<

Smooth Finish

Ceramic

Straightener

S3505AU

Now

$ 19

99

AX7 Dual Sim Smartphone

Available in Glaze Blue & Glaring Gold

$ 319

Save

$ 30

Quality and comfort combined.

Check out our great range in-store and online like this retro suite

Trend Fabric 5 Seater Lounge Suite

Accessories not included

$ 2999

Save

less per

than

$ 16 week

$ 1500

#>

6.5KG

DIAMOND

DRUM

FOR POWERFUL

YET GENTLE

WASHING

PERFORMANCE

6.5kg Top Load

Washing Machine

WA65F5S6DRW

$ 599

Save

$ 350

less

than

per

$ 8 week #<

50 months

interest free

on furniture & beds $999 and over #

24 months

interest free

on everything $499 and over #

Easy repayments

with affordable finance,

EVERYDAY!

Proudly New Zealand owned, helping Kiwis feel at home since 1918

Some products on display in selected stores only – please call us on 0800 764 847 to check for availability at your local store. All offers in this mailer are valid Wednesday 25th Sept until Tuesday 1st Oct 2019, while stocks last or unless otherwise stated. *Discount is off our full retail price and not in conjunction with any other offer.

* 1 Discount is off our full retail price, not in conjunction with any other offer and the prices listed are for queensize only. See in-store or online for other sizes. # Apple products, selected computers, game consoles, gift cards, clearance items and some promotional items are not available in conjunction with interest free offers.

Flooring available on a maximum of 18 months interest free. Exclusions, fees, terms, conditions and credit criteria apply. Available in-store only. Equal instalment amounts include one-off booking fee of $45.00, annual fees of $45.00 p.a., and security registration fee of $8.05, and exclude insurance. Current interest rate of

23.95% applies to any unpaid balance after expiry of (any) interest free period. See in-store or visit smithscity.co.nz for details. < Instalment amount based on a 24 month finance period. > Instalment amount based on a 50 month finance period.

JT5985

550 Colombo Street | Cnr Belfast and Radcliffe Road Northwood, CHRISTCHURCH MEGASTORES
---
Advert: svbhn2509

Newspaper: Bay Harbour News

PAGE 14 BAY HARBOUR

Latest Canterbury news at starnews.co.nz

Wednesday September 25 2019

Nĭ hăo, Welcome to Chinese Language Week!

23 rd to 29 th September 2019

Fresh NZ Chicken Drumsticks

Fresh Cut Broccoli

$

4 50

kg

$

1 80

ea

$

2 00

ea

Starburst Confectionery

104-180g

$

1 50

ea

$

2 00

ea

Arnott's Shortbread 250g or

Creams Biscuits 200-250g

3 for

$

3 00

Mars, Snickers, Bounty

or Twix 35-57g

Eta Ripple Cut Chips

150g

Dole Philippine Tropical Gold Pineapples

$

8 50

pk

$

3 50

ea

$

4 50

ea

Hellers Classics Range

Sausages 6/10 Pack

Palmolive Shower Gel 500ml,

Soap 6 Pack, Natural Shampoo

& Conditioner 350ml

$

23 90

pk

$

12 00

ea

$

6 00

pk

Heineken or

Monteith's Beer

12 x 330ml Bottles

Giesen 750ml

(Excludes Sparkling & Organic)

Cotton Softs Toilet Tissue

12 Pack or Extra Long

6 Pack

svbhn2509

Make daylight saving

life saving.

Find out more at

FireAndEmergency.nz

Working smoke alarms are your only voice. Don't forget to check your smoke alarm batteries this daylight savings.

Owned &

operated

by locals

SuperValue Lyttelton: 17 London Street, Lyttelton. Phone 328 7368. Open 7am – 9pm, 7 days.

SuperValue Sumner: 3 Village Mall, Sumner. Phone 326 5688. Open 7am – 9pm, 7 days.

Prices apply 23rd - 29th September 2019, or while stocks last

at SuperValue Lyttelton and Sumner.

For inspiration visit SuperValue.co.nz |

Please drink

responsibly
---
Wednesday September 25 2019

Latest Canterbury news at starnews.co.nz

BAY HARBOUR

PAGE 15

Storytimes

Today, 10.30-11am, at Sumner

Encourage learning

through a love of stories at

this interactive programme,

including songs, rhymes and

play. Free session.

Matuku Takotako: Sumner

Centre

Diamond Harbour Bridge

Club

Tuesday, 1.30, at the rugby

club, Wednesday, 6.40pm, at the

bowling club

New players welcome. There

will also be a chance to learn

to play bridge at lessons on

Tuesdays at 7pm in the green

room of the Memorial Hall

on Waipapa Ave. For more

information phone Pauline on

329 4414 or 027 363 6302.

Diamond Harbour Bowling

Club, 20 Purau Ave, Diamond

Harbour Rugby Club, 2a

Waipapa Ave

JP Clinics

Tomorrow, 11am-12.30pm, at

Little River, and Saturday, 10amnoon,

at Sumner

A justice of the peace will

be available to members of

the community to witness

signatures and documents,

certify document copies, hear

oaths, declarations, affidavits

or affirmations, as well as sign

citizenship, sponsorship or rates

rebates applications.

Little River Library and

Matuku Takotako: Sumner

Centre

Ferrymead Sumner Probus Club

Tomorrow, 10am

Email jess.gibson@starmedia.kiwi by

5pm each Wednesday

Go along and enjoy the

fellowship and friendship of

like-minded men on the fourth

Thursday of each month. The

programme consists of a mini

speaker from within the club

followed by morning tea, then

you can listen to a guest speaker

from within the Canterbury

region. For more information,

phone Allan Hughey 021 499 675

or Bryan Kaschula 326 3048.

Redcliffs Bowling Club, 9 James

Street

Create 'n' Connect

Thursday, 9.30am-noon

Enjoy some great company

and explore your creativity.

Phone Beth on 022 678 1252.

St Andrews Church, 148 Main

Rd, Redcliffs

A Very Pleasant Playgroup

Tomorrow, 9.30-11.30am

This drop-in playgroup is for

pre-schoolers and their grownups.

Stay for the whole session or

drop-in when it suits.

Mt Pleasant Community

Centre

Tai Chi

Friday, 7-8.30pm

This is a gentle exercise for

people of all ages and fitness

levels, bringing many health

and other benefits. All are

welcome to attend this weekly

class. Phone Lucida for more

information on 022 697 7420.

105 Bridle Path Rd

New Works by Bays Quilters

Friday, Saturday and Sunday,

10am-4pm

See rich colourful quilts and

Have a natter over your needles at One Stitch at a Time tomorrow from 10am until noon at

the Mt Pleasant Community Centre. All are welcome to join the class – from people who

have never crafted and aren't sure it is for them to experienced crafters who feel like a bit of

a chat while they sew, knit and weave.

intriguing quilt-based crafts

on show in the main gallery at

historic Stoddart Cottage. Free

Entry. Hop on the bus and catch

the ferry across from Lyttelton or

go for a scenic drive to Diamond

Harbour. This exhibition runs

until the end of September.

Many items in the exhibition are

for sale.

Stoddart Cottage Gallery, 2a

Waipapa Ave, Diamond Harbour

Shoreline Toastmasters

Monday, 7.30-9pm

Nervous about speaking? Go

along to gain confidence by

practising speaking, listening,

learning and laughing – in

a warm, friendly nonthreatening

environment.

For information shoreline@

toastmasters.org.nz

Mt Pleasant Yacht Club, 21

Main Rd

Indoor Bowls at Tui Club

Monday, 12.45-3.45pm

Go along for a fun and

inclusive environment at indoor

bowls. The first day is free and is

$3 thereafter. All equipment is

supplied. No previous experience

necessary as coaching is given.

Soft-soled shoes should be worn.

Phone Sue on 389 1849.

Woolston Club, 43 Hargood St

Woolston

Technology Help Sessions

Monday, 2-3pm

If you need help using your

computer, smartphone, iPad,

or tablet, go along to a drop-in

session. Take your laptop, tablet,

or smartphone, or use one of the

centre's computers. No bookings

required at this free event.

Matuku Takotako: Sumner

Centre

Mt Pleasant Walking

Group

Tuesday and Thursday, 9.30am

A mix of flat and hill walks for

people with a medium level of

fitness. Walks are in nearby areas

and further afield. There will be

car-pooling with shared costs.

Phone Judy on 384 1269.

Various locations

Knit 'n' Yarn

Today, 10am-noon, at Lyttelton

Take your knitting, crochet or

other portable craft project and

enjoy time at knit 'n' yarn. Free,

no bookings required.

Lyttelton Library
---
PAGE 16 Wednesday September 25 2019

BAY HARBOUR

Latest Canterbury news at starnews.co.nz

Surf team named for national champs

THE CANTERBURY schools'

team has been named to compete

at the national scholastic surf

champs in Raglan next month.

The team was selected from

a pool of Canterbury's top

secondary school wave riders.

"These young surfers have

been training hard all winter,

taking on Arctic-like waves and

weather," said co-coach Nick

Black.

They are looking forward to

competing on world class Raglan

waves, against the best scholastic

competition in New Zealand, he

said.

The team is coached by Black

and Mark Perana.

"We are grateful for generous

support from Southern Trust,

NZ Community Trust, Exit

Surf, Against the Grain Screen

Printing and all the individuals

that supported our other

fundraising," he said.

The competition runs from

October 7 to 11, with 10 regional

teams encompassing the very

best school-aged surfers from

Northland, Auckland, Waikato,

Coromandel, Bay of Plenty,

Gisborne, Taranaki, Wellington,

Canterbury and Otago.

The team is:

Under-18 boys – Neko

Tohiariki (St Bede's College),

Riley Gibson (St Bede's College).

Under-16 boys – Myka Black

(Shirley Boys' High School), Jai

Oakley (Papanui High School),

HOT SHOT: Myka Black, of Shirley Boys' High School, will

compete in the national scholastic surf champs under-16

section.

PHOTO: WWW.SURFERSWALL.COM ​

SPORT

Reuben Lyons (Kaikoura

High School), James Millar (St

Bede's College), Koby Cameron

(Kaiapoi High School).

Under-14 boys – Tyler Perry

(Kaikoura High School).

Under-18 girls – Tegan Bishop

(Rangiora High School), Estella

Hungerford (Haeata Community

Campus).

Under-16 girls – Leah Wilson

(Avonside Girls' High School).

Under-14 girls – Ava

Henderson (Avonside Girls' High

School).

Travelling reserve – Eloise

Addison (Rangi Ruru Girls'

School).

SURF'S UP: Estella Hungerford, of Haeata Community

Campus, will compete in the under-18 section.

PHOTO: MARK STEVENSON

YOUNG GUN: Avonside's Ava Henderson will be a favourite in

the under-14 section. PHOTO: COL/SURF2SURF.COM

Andrew Turner

Council Banks Peninsula

Seven retirement villages

in Canterbury

Reuben Davidson

Community Board Lyttelton

Tyrone Fields

Community Board Lyttelton

Phil Clearwater

Environment Canterbury - South/Owhanga

James Dann Macbeth

Environment Canterbury - South/Owhanga

• Halswell • • Rangiora •

• Mairehau •

The

People's

Choice.

• Beckenham • • Riccarton • • Papanui • • Hornby •

Authorised by J McLellan, Braddon Street Addington

www.rymanhealthcare.co.nz • 0800 000 290
---
Wednesday September 25 2019

Latest Canterbury news at starnews.co.nz

BAY HARBOUR

PAGE 17

WITH MARY IN FAITH

TĀTOU KO MERE E WHAKAPONO ANA

MESSAGE FROM THE PRINCIPAL

This term has been a wonderful celebration

of Marian's Special Character and school

culture. When girls are involved in school

life, which is rich with celebrations and

traditions, we see improvements in student

learning, participation and wellbeing.

This term we had Feast Day, which is the

most anticipated religious event on the

Marian College calendar and includes

Mass, a house group singing competition,

talent quest and plenty of fun.

Our kapa haka team has combined with

brother school St Bede's College to

produce a 'super group' which gave a

moving performance at the Secondary

Schools' Kapa Haka Whakataetae

Regionals. For many, it was a 'first time on

the stage' experience.

We are also underway exploring our

school's cultural narrative. As well as

relocating Marian College in 2023 and

all we represent, building a new school

involves weaving the history and story

of mana whenua into the fabric of our

buildings and environment.

On a recent staff only day, we traced the

journey of the school; key women, role

models from our past and shared stories

and memories of the school from its

beginning up to today. We look forward

to future work on our cultural narrative as

plans for our new school develop.

For the latest Marian news and information,

please check our website and follow us on

Facebook. Enjoy the read!

Mary-Lou Davidson

Marian College Principal

Tū whitia te hopo, mairangitia te angitū – feel the fear, do it anyway!

Marian College St Bede's Kapa Haka group performed at the Secondary

Schools Kapa Haka Whakataetae Regionals for Waitaha Canterbury.

HITOMI STAYS ON

The Marian College First XI won the New Zealand Secondary Schools Girls'

Football Gary Sowden Winter Tournament in Timaru recently. Congratulations to

the girls, coaches, manager, parents, caregivers, staff and supporters – what a

fantastic result!

FRANCESCA RELEASES FIRST SINGLE

Our talented Head of Culture

Francesca Humphries has written

recorded and released her first

single. Her beautiful song 'I had

a dream' is available now on

iTunes, Spotify and Google Play.

Fran was selected to participate in

an artist development programme

with Nathan Phillips Vocals and

the results are breath-taking.

Well done Fran, we are very

proud of you! You can follow

Francesca @fraaancescaaamusic

on Instagram.

Rising Japanese rugby star, Hitomi Oka,

has enjoyed the International Rugby

Programme (IRP) so much, she is staying

on at Marian College.

"Both in terms of my rugby and my life

in general, I think I have become far more

resilient and self-driven," Hitomi says.

"What I like best about Marian College is

that teachers and students are very kind and

welcoming to me."

Marian College Principal Mary-Lou

Davidson says the IRP is an amazing

opportunity for students from all over

the world to come together for high

performance sport development.

"Our Marian students are exposed to the

opportunities sport at this level brings.

They make connections through the

enjoyment of playing sport, develop

manaakitanga and make long-lasting

friendships," Mrs Davidson says.

Marian has partnered with St Bede's

College to host the International Rugby

Programme (IRP) from 2019. The 17-yearold

high-performance programme makes

use of the latest technologies and practice.

International students participate in a

combination of rugby training, coaching

and academic learning.

Like and

follow us!

@mariancollegechch

www.mariancollege.school.nz | 03 385 8449 | exec@mariancollege.school.nz
---
PAGE 18 BAY HARBOUR

Latest Canterbury news at starnews.co.nz

Wednesday September 25 2019

Tasty Bites

American dessert to top off Kiwi main

This well-known Florida

dessert can be made even

better with a box of fresh

New Zealand limes

Lime Pie

Serves 8-10

Ingredients

250g digestive biscuits, well

crushed

100g butter, melted

Filling

390g sweetened condensed milk

4 egg yolks

1 tsp lime zest

½ cup fresh lime juice

Pinch of salt

300ml cream, whipped

Equipment

20cm pie dish

Directions

Heat the oven to 180 deg C.

Begin by crushing the biscuits

to a fine crumb.

Add the melted butter and mix

well so all the crumbs are coated

in the butter. Press firmly into

the pie dish covering the sides.

Bake for 15min. Remove and

cool.

To make the filling, mix the

condensed milk with the egg

yolks, lime juice and zest. Mix

thoroughly and pour into the

prepared pie crust.

Bake the pie for 15min or until

set. Remove from the oven and

cool completely.

Refrigerate for at least 4 hours,

but preferably overnight.

When ready to serve,

traditionally it is covered with

cream or you can serve it

alongside if desired.

The pie is a great way to top

off a classic South Island main

with meat and three veg

Venison fillet

Serves 4

Ingredients

850g venison fillet

500ml extra virgin olive oil

2 sprigs rosemary

1/2 head cauliflower

1 litre cream

8 heads bok choi

100ml tamari or soy sauce

250g carrots

500g agria potatoes

2 litres beef stock

1 litre chicken stock

500ml red wine (pinot

noir)

Salt, butter and cooking oil

Directions

First cut the venison fillet into

four 200g portions and marinate

in olive oil and rosemary.

Overnight is best, but for at least

a couple of hours.

Put stock and red wine in a

pot and reduce until medium

thickness and sticky, should

have a deep meaty flavour. This

may take an hour or so of rapid

boiling/reduction.

Slice potatoes as thin as

possible and layer into a baking

dish with a light sprinkle of salt

every few layers.

Bring cream to a boil and pour

over potatoes, place in oven at

165 deg C for about one hour

or until golden and cooked

through.

This can be set aside and

reheated or served fresh.

Peel carrots, toss in olive oil

and season. These can cook in

the oven with the potatoes, and

should be golden and soft to the

bite when finished.

Boil cauliflower florets in salty

water with a dash of cream or

milk in the water to make it

cloudy.

Boil for 5-8min until soft, then

blitz in food processor with a

few spoons of butter and salt to

taste until smooth. This can be

easily reheated in a saucepan.

Sear venison in cooking oil in a

hot skillet then transfer to oven

for 5min Saute bok choi in a hot

pan and deglaze with tamari –

that should steam the bok choi

through and add a nice sticky

glaze. Serve cauliflower puree,

venison and jus (gravy) on one

plate and the sides to share are

served in separate bowls.

Serve with red wine vinegar on

the side to help cut through the

gaminess of the venison.

Don't assume your smoke alarms are working.

Push the button to check them this daylight saving weekend.

FNZ0032_180x260
---
Wednesday September 25 2019

Shop

Win

& Relax

Latest Canterbury news at starnews.co.nz

BAY HARBOUR

WIN

1 OF 5 FAMILY

GETAWAYS TO

HANMER SPRINGS

morE

chancEs

to win!

PAGE 19

Enter every time you shop at any

of these participating businesses

68-100 Ferrymead Park Drive

Ph: 376 5350

www.ferrymeadgolf.co.nz

Bring in this coupon for

GIFT CARDS

BUY ONE

ONE FREE

GET

• Barrington Mall

• The Hub, Hornby

• New Brighton Mall

• South City Centre

Conditions apply, free gift card same price or less, one deal per coupon. Offer expires 20th October, 2019.

The Body's Youth Protein

NEOCELL COLLAGEN SUPPORTS:

- Reduction in lines & wrinkles - improved skin elasticity

- Strong hair & nails, may help reduce hair loss

- Supports bone, ligaments, tendons & joint health

MARSHALLS HEALTH & NATURAL THERAPY

CONSULTING - PRESCRIBING - DISPENSING -

MANUFACTURING - MEDICAL HERBALISTS

101 SEAVIEW RD, NEW BRIGHTON • PH 03 388 5757

Email: enquiry@marshallshealthshop.co.nz

LYTTELTON'S

ONLY

Gardening

injuries?

Get them sorted before

spring fully kicks in and

the garden gets away.

NEOCELL PREMIUM COLLAGEN IS

CLINICALLY RESEARCHED

FOR SUPERIOR RESULTS

SUPER LOW PRicE!

120's only $36.90, save $5.75

250's only $56.90, save $9.75

Mail Order Available

Bringing You the Best in

Natural Health!

- WE ARE ALWAYS HAPPY

TO HELP! -

THE LYTTELTON TOP CLUB

THE CLUB OFFERING MILLION DOLLAR VIEWS AT CLUB PRICES

We are open weekdays from 2pm and from 12pm weekends.

- BIG SCREEN SKY SPORT - GAMING ROOM -

- HOUSIE Tue 7pm - MEMBER'S DRAW Thu 5.30pm

TOP CLUB BISTRO

Open Wed & Thu 5-8pm, Fri 5-9pm,

Sat 12-9pm and Sun 12-8pm.

WEDNESDAY NIGHT SPECIAL

ALL YOU CAN EAT

DUMPLINGS $18 pp

Check out our other weekly specials!

23 Dublin St, Lyttelton. Ph: 03 328 8740. Member, Guests & Affiliates welcome.

We're not just books

OPEN 7 DAYS | 1005 FErrY rD | Ph 384 2063

your local...friendly pharmacy

with world class service

• Emergency

Contraceptive Pill

• Passports Photos

• Ear Piercing

• Gifts and Wrapping

• Natural Health

• Scarves, Hats,

Gloves and more

Tayla, Kellie, Grant (Pharmacist, Owner), Regan, Lil and Orla

1005 Ferry Road, Ferrymead | Phone 03 943 9635 | OPEN 7 DAYS

KO-1 sushi

Buy any 8 piece Sushi pack, say

"Bay HarBour SHop & Win" and get a

FREE

misO

sOup

Expires 9 th October 2019

Shop 9, 1005 Ferry Road | Ph. 384 2422

Sushi &

Hot Bento Box

Delivering tranquil and relaxed treatments, beauty and

massage therapy in a warm and inviting atmosphere

NO Referral necessary,

call us to get back on track.

We can help you

love the skin

you're in!

1063 Ferry Rd. Ferrymead

www.physioevolved.co.nz

P. 03 384 4766 89b Main Road, Redcliffs | Phone 03 384 4729

www.redcliffsbodycare.co.nz
---
PAGE 20 Wednesday September 25 2019

BAY HARBOUR

Latest Canterbury news at starnews.co.nz

Tough choices for Mazda3 buyer

Motoring

Ross Kiddie

WHEN I recently evaluated the

entry-level Mazda3 with its 2-litre

engine, I wrote that it was the car

for me.

For one, I particularly like the

hatchback/sedan concept and,

for another, its affordable price

and build quality makes it a very

tempting proposition.

However, I've since changed

my mind, after driving the next

level up in the series I've discovered

that it is even more tempting.

The Mazda3 GTX shares much

the same specification as the

entry-level model, but its 2.5-litre

engine is an absolute stunner and

I'd be prepared to pay extra for it.

To recap, the all-new Mazda3

lands in six variations, there

are three hatchbacksand three

sedans, all priced similarly. There's

a choice of a 2-litre or 2.5-litre

engine in both body styles, with

Limited variations rounding out

the series at $48,795.

The base model GSX lands

at $36,595, while the mid-spec

model which has really captured

my attention sits at $40,795.

When I say mid-spec, it doesn't

miss out on much. Sure it doesn't

get leather trim nor electric seat

adjustment, but that suits me

fine. I've often written that some

MAZDA3 GTX HATCHBACK: Effortless power from 2.5-litre

engine.

buyers don't want all the bells and

whistles and that's me, I'm very

much drawn to those models

which provide the best value.

The Mazda3 GTX benefits from

its bigger engine. It does everything

just so easily and never feels

strained, also fuel usage isn't compromised.

Mazda claims 6.6-litre

per 100km (43mpg) combined

cycle average for the 2.5, that's

opposed to a 6.2l/100km (45mpg)

figure for the 2-litre engine. That

being the case, the difference is

marginal.

During my time with the GTX

it was constantly sitting around

7.8l/100km (36mpg), which was

much the same as those I recorded

in the GSX. At 100km/h

the instantaneous readout sits

at 5l/100km (56mpg) with the

engine turning over at a leisurely1900rpm,

reinforcing my statement

that the engine is largely

under stressed, and that accounts

for the efficiency.

On the subject of figures,

Mazda claims 139kW and 252Nm

power outputs for the 2.5 (2-litre,

114kW and 200Nm). While the

2-litre punches above its weight,

the extra torque of the 2.5 really

shows, the GTX is also lightweight

at 1368kg, so the powerto-weight

equation is biased

well towards performance. The

GTX will scamper to 100km/h in

8.8sec, and will cut out a highway

overtake in 4.9sec (80-120km/h).

Drive is channelled through a

six-speed automatic transmission,

that is the only gearbox in the

range.

It stands out for its quick,

smooth shifts andratios which

always seem to have the engine

in the right zone for response to

throttle request.

The GTX doesn't get paddle

shifters, but they are pretty much

a luxury and are included on the

Limited. However, if the driver

wants to be involved in the gearshift

process sequential shifts can

be manipulated from the main

gearshift lever.

I took the evaluation car inland

to Methven, it's good to see the

gateway to Mt Hutt vibrant on a

Sunday afternoon. The roads were

a little tricky with frost still showing

on the grass berms, and water

on the road that looked like it was

on the point of freezing over with

ice.

Nevertheless, the Mazda3

travelled the tricky sections with

surety. There is a lot of rubber on

the road (215/45 x 18in), consequently,

there is a lot of feedback

through the steering wheel and

positive turn-in when corners

arrive.

I mentioned in my last evaluation

that the new Mazda3 has

a torsion beam rear suspension,

that's a departure from the previous

generation model, nevertheless,

the more I'm in the new 3 the

more I'm enjoying the chassis and

suspension dynamics.

The rear doesn't quite have the

freedom of the past, but it's not

disgraced, and occupant comfort

• Price – Mazda3 GTX

hatchback, $40,795

• Dimensions – Length,

4460mm; width, 1795mm;

height, 1435mm

• Configuration – Fourcylinder,

front-wheel-drive,

2488cc, 139kW, 252Nm,

six-speed automatic.

• Performance –

0-100km/h, 8.8sec

• Fuel usage – 6.6l/100km

has certainly not been jeopardised.

The Mazda3's handling

qualities are certainly up to par.

I particularly liked the way it

steers and drives out of a corner, it

is sports-like, and I guess that's no

surprise given Mazda's heritage

with performance vehicles.

For its price the GTX is well

specced. It gets satellite navigation,

idle stop-start, head-up

display and radar cruise control,

the latter part of a huge safety

package Mazda label I-Activesense

that easily earns it a five-star

Australasian New Car Assessment

Program rating.

The new Mazda3 hatchback

stands out for one other reason,

its styling is bold and captures

attention. The rear quarter is

almost chunky, but such is its flow

it doesn't look awkward.

If its styling is too bold for some

then the sedan could well be the

way into the range. I'm due to

drive it soon, and I simply can't

wait.
---
Wednesday September 25 2019

Locations such as this are rarely available.

Here is your opportunity to settle in a

beautiful home looking across the harbour.

In a park like setting with gently sloping

lawns and lush, established gardens the

property connects directly to the waterfront

via a pathway. With nothing in the way, it's

a magnificent panorama out to the Lyttelton

Harbour and surrounding hills. Peaceful

and ever changing, this must be the ultimate

antidote to life's daily stresses.

The classic homestead sits at the top of

the property enjoying the best of the views

and sun. Built with family in mind there

are four bedrooms, two living, 2 sunrooms

and a large library/office that could be a

fifth bedroom. The two bathrooms are of

high quality, one being ensuite. The main

family area is open plan with a huge kitchen

at the heart. Granite benches and state of

the art appliances make this a home-cook's

paradise. The dining area and adjoining

living both open directly to a large deck

and the ever-present vista. A wood burner

with a feature stone surround adds the

Latest Canterbury news at starnews.co.nz

REAL ESTATE

Paradise found…

13 Cholmondeley Lane, Governor's Bay

Price: By negotiation

4 bedrooms | 2 bathrooms | 2 living rooms | 1 kitchen | 2 sunrooms + conservatory

1 large library/office | 2 car-garage | 2 off-street park | Listing #: BE193376

cosy warmth of real flame. Adjoining these

spaces is the second living room, which

in turn connects to a sunny rear facing

conservatory and courtyard. Upstairs is the

master suite, library and a second sunroom

with views right to Godley Head - the

perfect spot to watch ships come and go,

with yachts in the foreground and kids

jumping off the pier at the bottom of your

garden.

Two car garaging and good off-street

parking complete this desirable home. Set in

the small harbour community of Governors

Bay the property is an easy commute to

central Christchurch, and a short stroll from

all the community amenities including bars

and cafes, the school and the local pool.

Open Homes - Saturday and Sunday

11.30am - 12 noon.

See you at the open home or to arrange

a private viewing of this property call

Debbie Pettigrew on 027 777 0411

from Harcourts Grenadier Beckenham

(Licensed Agent REAA 2008) or phone the

office 337 1316

BAY HARBOUR

PAGE 21

Dyers Road Landscape

& Garden Supplies

• Barks • Peastraw • Composts - we supply the best available

• Aggregates - Chip, Round and Basecourse

• Pavers & Schist products • Pungas

• Decorative Stones & Landscaping Rocks

• Trailer Hire first hour free with purchase

• Bag & Bulk - pick up or delivered

David, Carol & Mike

We will deliver!

SOIL

AND

HARDFILL

DUMPING

Phone: 03 384 6540

183 Dyers Rd, Bromley • OPEN 7 DAYS

Weekdays 7.30am-5pm. Weekends 8.30am-3pm

www.dyersroadandlandscapes.co.nz

Visit our new website: www.min.nz

With thriving communities and

picturesque views,

the bays are truly spectacular

COASTAL REAL ESTATE SPECIALISTS

We'll help you live the dream.

Min Sarginson Real Estate Ltd. specialises in homes, sections and

rental properties in the spectacular Lyttelton Harbour bays, and

coastal suburbs of Christchurch, New Zealand.

We'll make it so easy for you. All our sales consultants live in the

area – we can give you valuable insights into life in our thriving

coastal communities.

This is an exciting time; of promise, optimism, and opportunities

never anticipated pre-quakes. Beachfront, or hillside with

grandstand views, find the property of your dreams:

Lyttelton | Diamond Harbour | Governors Bay | Cass Bay

Charteris Bay | Church Bay | Purau Bay | Port Levy | Northshore

Southshore | New Brighton | Heathcote | Sumner | Redcliffs

Scarborough | Mount Pleasant | Clifton

Call Min Sarginson Real Estate Ltd. for free, no-obligation advice. Lyttelton: 03 328 7273, lyttelton@min.nz or Church Bay: 03 329 4161, churchbay@min.nz
---
PAGE 22 Wednesday September 25 2019

BAY HARBOUR

Latest Canterbury news at starnews.co.nz

We're for

local

arts

From Kaikoura,

to Christchurch,

to Ashburton,

we have it covered
---
Wednesday September 25 2019

Latest Canterbury news at starnews.co.nz

BAY HARBOUR

PAGE 23

Computer

Services

VIRUS REMOVAL AND

PC HEATH CHECK

$50.00 With free pick

and delivery within 10km

of Redcliffs. Phone Paul

on 021495577. Microsoft

Certified Pro with 25 years

experience. Visit www.

seracnz.com

Gardening

& Supplies

A GARDEN OR

LANDSCAPING TIDY

UP? Shrub, hedge &

tree pruning, Lawns,

Gardening, consistently

reliable general property

upkeep, Dip. Hort. 10

yrs experience, One off

tidy ups or on-going

service. Nick's Garden

Maintenance. Keeping

your garden beautiful.

Free Quote. Ph. 942-4440

& 022 264 7452

GARDENER

Need your home or

commercial garden tidied

up or renovated or require

long term assistance.

Phone Ruth 326-6663 or

021 272-0303

Holiday

Accommodation

Australia QLD

SUNSHINE

COAST

RESORT

ALEXANDRA HEADLAND

All Units Have Ocean Views.

Heated Pools, Spa & Sauna,

Free Wifi, Tennis

& Mini Golf.

CHECK OUR GREAT

WINTER SPECIALS

www.mandolin.com.au

0061 7 5443 5011

JUNE to AUG temps 20C

ADD SOME

COLOUR

TO YOUR ADVERT!

Classifieds Contact us today Phone our local team 03 379 1100

To Let

RENT ME!

Ideal as an extra

bedroom or office.

no bond required

Fully insulated and double glazed for warmth.

Three convenient sizes from $70 a week:

Standard 3.6m x 2.4m

Large 4.2m x 2.4m | Xtra-large 4.8m x 2.4m

Visit our website

www.justcabins.co.nz

for display cabin locations

www.justcabins.co.nz

Trades & Services

PLUMBING &

DRAINAGE

SERVING

CHRISTCHURCH

AND WIDER

CANTERBURY REGION

WITH QUALITY

WORKMANSHIP

AND SERVICE.

PHONE HAMISH BALDWIN

027 636 3499

PLUMBING & DRAINAGE

Gas FittinG & GuttEr CLEaninG

New Skyvac Machine.

Revolutionary gutter cleaning system.

Local business for all plumbing,

drainage & gas work.

Free Quotes

Call Morgan 0223 758 506

Visit our website - www.mtpd.co.nz

Email - morgan@mtpd.co.nz

Trades & Services

Landscape

and Garden

Services

Need help with

your garden?

We provide a quality

service for all your

Garden Maintenance

(hedges, lawns,

line trimming, weeding)

and Landscaping needs,

(fencing, paths, drives,

retaining and earthworks).

Full Arborist Service

Ph 021 272 0303

Trades & Services

WINDOW TINTING

tintawindow

advanced film solutions

99% uv block

fade protection

heat control

reduce glare

25 Years Experience

privacy films

frosting designs

non-darkening films

Workmanship Guaranteed

Lifetime Warranties on Most Films

UV

block

Free Quotes Canterbury and Districts

03 365 3653 0800 368 468

ROOF

PAINTING

Rope & harness

a speciality,

no scaffolding

required,

30 years of

breathtaking

experience.

FREE QUOTES

Exterior staining,

exterior painting,

moss and mould

treatment and

waterblasting

Phone Kevin

027 561 4629

Trades & Services

rooF

painting

Book now for

Summer and

receive 20%

discount.

Rope and harness

a speciality.

No scaffolding

required.

30 years

experience.

Free quotes,

call Craig

021 060 2392

BRICKLAYER

George Lockyer. Over

40 years bricklaying

experience.Uk trained.

Insurance work, EQC

repairs. Heritage

brickwork & stonework

a speciality. No job too

small. Governers Bay.

Home 329 9344. Cell

027 684 4046. E mail

georgelockyer@xtra.co.nz

BUILDER

Qual builder, over 40 yrs

exp. Avail for all sorts

of building construction

work incl decks, fences,

carports, bthrm, kitchens &

general maintenance jobs.

For a free quote contact 03

925 0876 or 027 641 3681.

Email donaldlord626@

gmail.com

Trades & Services

BUILDING

MAINtENANCE

& Repair, timber, brick,

concrete, tree care,

welding, painting, gutters,

fences & anything else.

20 yrs exp. free quotes,

Lyttelton based, ph Mark

027 4370 048

CARPEt LAYING

Exp. Repairs, uplifting,

relaying, restretching.

Phone John on 0800

003181, 027 240 7416

jflattery@xtra.co.nz

CONCREtE CUttING

Affordable Concrete

Cutting with Quality, and

removal work. Free quote.

No job to small. Phone 027

442-2219, Fax 359-6052

a/h 359- 4605

ELECtRICIAN

JMP Electrical.

Experienced & registered..

Expert in all home

electrical repairs &

maintenance.Call James

027 4401715

INtERIOR

PLAStERING

From small jobs to new

housing.32 yrs experience

.Ph 027 666 2174

LAWNMOWING

You Grow I Mow. Free

quotes. Ph / text Chris 021

252 1801

PAINtING SERVICES

Mature, reliable,

conscientious &

experienced, reasonable

rates, no job too small!,

call Ron 027 434-1400

PAINtING

DECORAtING

All types of int/ext

painting undertaken. 30 +

yrs exp. Ph Michael 027

665 4654

PLAStERING

INtERIOR

no job too big or too

small, specialise in repair

work & new houses,

free quotes given,

over 20 yrs plastering

experience, ph Peter 027

221-4066 or 384-2574

PLAStERING

INtERIOR

no job too big or too

small, specialise in repair

work & new houses, free

quotes given, over 20 yrs

plastering experience, ph

Peter 027 221-4066 or

384-2574

Wanted To Buy

AAA Buying goods

quality furniture, beds,

stoves, washing machines,

fridge freezers. Same day

service. Selwyn Dealers.

Phone 980 5812 or 027

313 8156

DRIVETECH LTD

"TRAINING TOMORROWS DRIVERS TODAY"

HEAVY TRAFFIC CLASSES 2, 3, 4 & 5

FROM FULL CAR (Class 1)

TO FULL TRUCK (Class 2) in 2 days

(Road code & pre-assessment driving training provided)

FORKLIFT ENDORSEMENT (F & OSH)

CAR DRIVING LESSONS

Train with a knowledgable, experienced assessor that will work with you

through your theory and practical steps.

Driving Related Health & Safety Training

Passenger, Logbook & Load Security Training

OTHER COURSES/LICENCES & ENDORSEMENTS AVAILABLE ARE:

Vehicle Recovery, Wheels, Tracks, Rollers & Dangerous Goods

Courses in Christchurch, Invercargill,

Cromwell & Mosgiel daily.

Other areas by arrangement

INTEREST FREE TIME PAYMENTS

(Terms & Conditions apply)

FREEPHONE 0508 2 37483

or 03 348 8481, 027 510 0684

info@drivetech.co.nz / www.drivetech.co.nz

ADVERTISE YOUR

BUSINESS HERE

Situations Vacant

Tuition

PIANO LESSONS

Catherine Bracegirdle

DipABRSM ATCL AIRMT

12 Ridgeway Pl, Richmond Hill, Sumner

PH. 021 044 5102

www.pianoandtheory.co.nz

catherine.bracegirdle@gmail.com

Phone for further details

(03) 379 1100

3 issues $20 • 6 issues $44.50 • 10 issues $65

rugbynews.co.nz 0800 77 77 10
---
PAGE 24 Wednesday September 25 2019

BAY HARBOUR

Latest Canterbury news at starnews.co.nz

FINAL WEEK!!

SPRING CLEAN

SALE

SUPER SPRING DEALS NOW ON!

ENDS 30.09.19

SPRING

CLEAN

DEAL

$

449

That's 1/2 price!

$

2499

Bianca Corner Sofa – Storm

WAS $3999

SPRING

CLEAN

DEAL

SPRING

CLEAN

DEAL

$

499

Carson 3 Seater – Light Grey

WAS $899

MONACO BLACK

Tallboy WAS $ 749

Bedside WAS $ 299

$

199

SPRING

CLEAN

DEAL

Cruz Dining Table – W210

$

399

WAS $749

Cruz Dining Chair

WAS $175

Vika Sofa Bed

WAS $999

$

599

SPRING

CLEAN

DEAL

Capri Modular Daybed

WAS $1749

$

1099

$

75

SPRING

CLEAN

DEAL

SPRING CLEAN SALE ENDS 30.09.19.

Shop

Online

Nationwide

Delivery

Finance

Options

targetfurniture.co.nz

Cnr Blenheim & Curletts Rds, Christchurch

Ph: 0800 TARGET (0800 827438)

Offers and product prices advertised here expire 30/09/19.

Sale excludes Manchester and Accessories.
---
Wednesday September 25 2019

Latest Canterbury news at starnews.co.nz

BAY HARBOUR

PAGE 25

Curtains & Blinds

Bright & bold or plain & classic, we can help you find the

perfect window treatment for your windows.

BOOK NOW FOR YOUR FREE CONSULTATION, MEASURE & QUOTE.

curtains + blinds + cushions + wallpaper + fabric + furniture + bedlinen + homewares

1027 FERRY ROAD, FERRYMEAD, CHRISTCHURCH

03 384 4880

STORE@CASUALANDCOUNTRY.CO.NZ

WWW.CASUALANDCOUNTRY.CO.NZ
---
PAGE 26 Wednesday September 25 2019

BAY HARBOUR

Latest Canterbury news at starnews.co.nz

ESTE MUTED CORAL CUSHION

CHARLIE 3 SEATER SOFA

Fresh styles

for Spring

HUE BLUE CLOCK

FORM TRIANGLE LAMP

WOODROW STORAGE

STOOL

LISH SIDEBOARD

LOBBY GREEN CHAIR

1027 FERRY ROAD, FERRYMEAD, CHRISTCHURCH

03 384 4880

STORE@CASUALANDCOUNTRY.CO.NZ

WWW.CASUALANDCOUNTRY.CO.NZ
---
Wednesday September 25 2019

Latest Canterbury news at starnews.co.nz

BAY HARBOUR

PAGE 27

ten27's Delicious, New Spring Menu

MORNING

NOON

Available from 7am - 2.30pm, 8am - 3pm Saturday & Sunday

Toast & Jam, sourdough or grain toast, marmalade

or marmite (v)(vg)(df)(gf option available)

Poached Eggs on Toast, two poached eggs, avocado,

2 roasted tomatoes, toast, mixed seeds

(white roasted sesame, flax seeds & poppy seeds) (v)

Low GI Breakfast, poached eggs, sweet potato & carrot

fritter, eye fillet bacon, avocado (df)(gf)

Lemon Ricotta Pancakes, sour cherry & blueberry

compote, lemon curd, roasted white chocolate, lemon

curd, lemon mascarpone (v)

Two Egg Omelette, asparagus, kale, feta,

green herb pesto (v)(gf)

add smoked ham

Classic Lambs Fry, house-made hashbrown, bacon,

onions, mushroom, jus (gf option available)

Eggs Benedict, available in half or full size,

bacon or smoked salmon or mushroom (v)

poached eggs, hollandaise sauce, fresh spinach,

toasted ciabatta (gf option available)

ten27 Big Breakfast, thick cut toast, 2 eggs your way,

bacon, sausage, mushrooms, roasted tomato,

house-made hashbrown

House Made Granola, coconut yoghurt, fruit compote,

toasted hazelnuts & honey (v)(df)(gf)

Fresh Fruit Smoothie Bowl, Chef's choice, your server

will let you know (v)(df)(gf)

Salmon & Avocado Bowl, cold smoked salmon,

sautéed broccolini, asparagus, avocado, marinated kale,

salsa verde, lemon (df)(gf)

Roasted Cauliflower Bowl, seasoned roasted cauliflower,

brown rice, beetroot hummus, pickled red cabbage,

mix seed, lemon (v)(df)(gf)

Superfood Bowl, edamame, mushroom, capsicum,

courgette, spinach, herb & apple, coconut oil (v)(df)(gf)

25

15

17

24

19

19

Available from 11am - 2.30pm, 8am - 3pm Saturday & Sunday

7 Warm Grilled Chicken & Quinoa Salad, feta,

asparagus, spinach, goddess dressing, barley (df)

24

15 Spiced Lentil & Chickpea Salad, grilled halloumi, 22

red onion, cherry tomatoes, fresh mint, creamy tahini &

harissa dressing (v)(df)

22 Bocconcini Salad, avocado, roasted capsicum,

22

cherry tomatoes, cucumber, garlic croutons, caper,

22 basil, red wine dressing (v)

Crab Pasta, fresh chilli, garlic, courgette, tomato & 26

fresh mix herbs (df)

20 Beef Burger, cos lettuce, tomato, beetroot relish, 25

gruyère cheese, pickle, aioli, spinach bun, waffle fries

+5 Beer Battered or Grilled Fish & Waffle Fries, green 25

25 salad tossed with pickled vegetables, caper mayo, lemon

Sliders, 3 of today's flavour

20

17/ 22 Seasonal Soup, warm bread roll

12

Chef's Seasonal Special, fresh seasonal ingredients

KIDS' MENU

Available until 2.30pm weekdays, 3pm Saturday & Sunday

Kid's Egg on Toast, 1 egg poached or scrambled

or fried, on toast (gf option available) add bacon

Little ten27 Breakfast, 1 egg poached or scrambled

or fried, bacon, house-made hashbrown

Fish & Chips, beer battered or grilled fish, waffle fries,

tomato sauce, salad greens

Crispy Chicken Bites, waffle fries, tomato sauce,

salad greens

Cheese Burger, beef pattie, waffle fries, tomato sauce,

salad greens

Kids Sundae, vanilla ice cream, mixed berry

or chocolate sauce

1027 FERRY ROAD, FERRYMEAD, CHRISTCHURCH

03 595 2428

TEXT YOUR COFFEE ORDER TO 027 4455 775

WWW.TEN27.CO.NZ

Price will be advised

6

+3

12

12

12

12

6
---
PAGE 28 Wednesday September 25 2019

BAY HARBOUR

Latest Canterbury news at starnews.co.nz

Dinner & Live Music Every Friday

SHARING PLATES

Available from 11am

Mezze Platter Full or 1/2 Size, smoked salmon,

prosciutto, salami, sundried tomato, marinated olives,

artichoke, cheese, toasted flat bread, dips

Vegetarian Mezze Platter Full or 1/2 Size, vegetable

tagine, sundried tomato, marinated olives, artichoke,

charred capsicum, cheese, toasted flat bread, dips (v)

Sliders, three of today's flavour

Crispy Chicken Bites, smoked chipotle mayo,

spring onion, lemon

Smoky Eggplant Tagine, lemon, dried apricot, bark (v)

Flat Bread, chilli, garlic & herb butter (v)

French Fries, aioli & tomato sauce

add truffle salt & parmesan (v)

Sweet Potato Wedges, tahini cream, avocado (v)

Waffle Fries, aioli, tomato sauce (v)

MAINS

Available from 5.30pm - 8.30pm Friday

Warm Grilled Chicken & Quinoa Salad, feta,

asparagus, spinach, goddess dressing, barley (df)

Bocconcini Salad, avocado, roasted capsicum, cherry

tomato, cucumber, garlic croutons, caper, basil,

red wine dressing (v)

Crab Pasta, fresh chilli, garlic, courgette, tomato &

fresh mix herbs

Beef fillet, cooked to your liking, broccolini, beans, confit

potatoes, port wine jus (gf)

Beer Battered or Grilled Fish & Waffle Fries, green

salad tossed with pickled vegetables, caper mayo, lemon

Beef Burger, cos lettuce, tomato, beetroot relish,

gruyère cheese, pickle, aioli, spinach bun, waffle fries

49/29

45/25

20

15

12

12

8

+2

12

8

24

22

26

39

25

25

TEN27'S LIVE MUSIC FRIDAY LINE-UP

27th September

4th October

11th October

18th October

25th October

1st November

8th November

15th November

22nd November

29th November

6th December

13th December

20th December

Taylor & Song

Graham Wardrop

Diego Hariswara

Liz Braggins

Bow Street

John Sanchez Lloyd

DSuss2 Duo

King Tubbs

Ali Mander & John Bevin

Graham Wardrop

Natalie Elms

John Sanchez Lloyd

Graham Wardrop

BOOK NOW FOR A FUN & RELAXED

FRIDAY EVENING AT TEN27

MON - THURS 6.30AM - 5.30PM

FRIDAYS 6.30AM - LATE

LIVE MUSIC & DINNER FROM

5.30PM FRIDAYS

SATURDAY & SUNDAY 7.30AM - 5PM