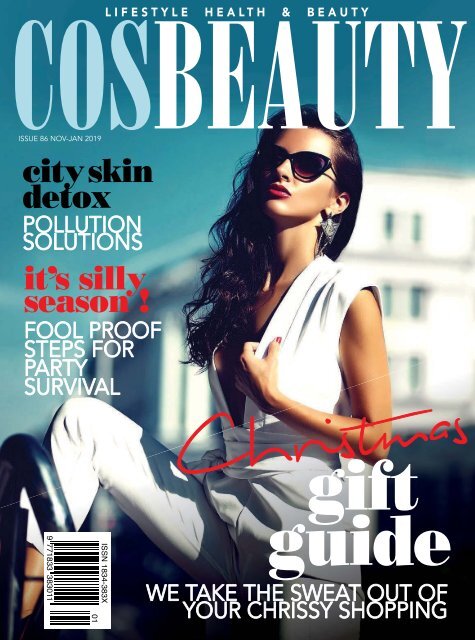 CosBeauty Magazine #86
CosBeauty is the #BeautyAddict's guide to lifestyle, health and beauty in Australia. In this issue: - The 2019 Christmas Gift Guide - City Skin Detox - Fool Proof Steps for Party Survival - Diet is a Dirty Word - Hair Trends from Catwalk Zimmerman - Fertility Options for Cancer Survivors
CosBeauty is the #BeautyAddict's guide to lifestyle, health and beauty in Australia.
In this issue:
- The 2019 Christmas Gift Guide
- City Skin Detox
- Fool Proof Steps for Party Survival
- Diet is a Dirty Word
- Hair Trends from Catwalk Zimmerman
- Fertility Options for Cancer Survivors
SHOW MORE
SHOW LESS
You also want an ePaper? Increase the reach of your titles
YUMPU automatically turns print PDFs into web optimized ePapers that Google loves.
COSBEAUTY

LIFESTYLE HEALTH & BEAUTY

ISSUE 86 NOV-JAN 2019

city skin

detox

POLLUTION

SOLUTIONS

it's silly

season !

FOOL PROOF

STEPS FOR

PARTY

SURVIVAL

Christmas

gift

guide

WE TAKE THE SWEAT OUT OF

YOUR CHRISSY SHOPPING
---
CLEAR + BRILLIANT

now

available

with

nicole

As we age, the amount of maintenance required to keep a youthful look will increase,

but getting started early is a huge advantage. Filling the gap between over-the-counter

treatments and more aggressive laser offerings, Clear + Brilliant creates and defi nes an

entirely new category of laser aesthetic treatments for clients moving along the skincare

continuum. Clear + Brilliant helps prevent and address early signs of ageing, resulting in a

brighter, more even skin tone. Treatments are comfortable, fast, effective and suitable for

all skin types. The results are both immediate and progressive, depending on the age and

condition of the skin. It is also great for those who are looking for short downtime and a quick

skin 'pick-me-up'. Call Nicole now to take advantage of an opening offer.

02 9327 7728

mobile 0410 627 767

mobile 0410 627 767

nicole@nicolesbeautysalon.com.au

nicole@nicolesbeautysalon.com.au

Shop 8, 401 - 407 New South Head Rd,

Shop 8, 401 - 407 New South Head Rd,

Double Bay NSW 2028

Double Bay NSW 2028

www.nicolesbeautysalon.com.au

www.nicolesbeautysalon.com.au
---
MEET THE EXPERTS IN

MEET THE VITAMIN EXPERTS A IN

VITAMIN A

We understand the exceptional importance of vitamin A to skin. This powerful molecule family helps to combat fine lines

and wrinkles while promoting a brighter, more even-toned complexion. Discover more today.

We understand the exceptional importance of vitamin A to skin. This powerful molecule family helps to combat fine lines

www.medik8.com.au

@medik8australia

and wrinkles while promoting a brighter, more even-toned complexion. Discover more today.

1800 242 011

www.medik8.com.au

1800 242 011

@medik8australia
---
&

Radiate

beauty

confidence

Using the latest technologies, our team of experts

is committed to help you achieve natural-looking

results in a relaxed and friendly setting.

Come in and experience the Skin Renu difference.

Our comprehensive treatment menu includes:

world-class wrinkle reduction and

lip enhancement

laser skin rejuvenation

CoolSculpting non-surgical fat reduction

Thermage non-surgical face lifting

medical peels

clinic-only premium skincare

Call us to book a complimentary consultation

02 9555 9506

www.skinrenu.com.au

16B Beattie St, Balmain, Sydney
---
cutting edge sun protection for all skin types

The new mesoprotech ® technology provides complete protection from a broad

solar spectrum. Innovative formulas combining UVA and UVB filters with biological

filters to protect from oxidation. Textures suited to the needs of every skin type.

Dermatologically tested.

#Itrustmesoestetic

Advanced Cosmeceuticals

1800 242 011 | advancedcosmeceuticals.com.au
---
REGULARS

8 Editor's Letter

10 Beauty Insider

124 Ed's Faves

FEATURES

22 Who Nose?

It's hard to tell which celebrities

have had a nose job. You be

the judge.

64 Bare Beauty

After months of jeans and

jumpers, our hair removal

routine often requires some

attention as spring replaces

winter. We look at the best

defuzzing options.

70 Hair Trends From The Catwalk

Zimmermann brought the

Australian summer heat to

hairstyles at this year's NYFW.

80 Silly Season Survival

Here are our tried and tested

ways to survive this summer in

good shape.

94 Debbie Delgado

Her artistic eye and professional

expertise are key to the

amazing transformations she

achieves with makeup and

passion.

94 2019 Christmas Gift Guide

No matter who you need to buy

a gift for this Christmas, we've

got you covered. If you end up

spoiling yourself in the process,

then that's ok too!

116 Fertility options after a

cancer diagnosis

A cancer diagnosis often comes

out of the blue and starting

or extending your family will

probably be the last thing

on your mind. However, it's

important to consider your

options for the future, explains

Shonagh Walker.

BEAUTY

24 City Skin Detox

It's not called 'The Big Smoke' for

nothing. Our skin is at the mercy

of pollution and environmental

forces. We show you how to

minimise damage.

32 Eye Wonder

Not everyone is born with a

perfect set of peepers. If you

feel your eyes could do with a

little optical illusion, we live in an

age where the possibilities for

makeup are endless. With a few

expert techniques and products,

a steady hand can create ways to

really make your eyes pop.

36 All Dressed Up & Ready To Go

With the festive season just

around the corner, we're dishing

out some handy makeup tricks to

keep you looking fierce, fabulous

and oh so fine!

54 Bag It! Makeup In A Stick

We all love fuss-free makeup

sticks and when they come

in such attractive packaging,

they're a cinch to take with you!

Throw them in your bag to take

everywhere!
---
88 You Glow Girl

We are all torn between wanting

to look bronzed and glam and

knowing spending time in the

sun is not a healthy choice. Here

we give you the best options for

that 'juststepped- off-the-planefrom-the

mediterranean' look.

WELLNESS & LIFESTYLE

76

Inner Confidence

Vaginal rejuvenation is often

misunderstood as purely

aesthetic but Adelaide Pelvic

Reconstructive Surgeon

Dr Oseka Onuma explains

how surgery down below can

improve a woman's life.

112 Diet Is A Dirty Word

Keira Rumble, founder of

Krumbled Foods and a certified

nutrition and wellness advisor,

explains why she never uses the

word 'diet'.

www.cosbeauty.com.au 7
---
From the

Editor

Summer is nearly here and I'm a happy girl! I love the warm

weather and the longer days mean I can get out of bed for my

early walk and also enjoy some leisure time in the sun after

work. Perfect!! Now all I have to do is survive the silly season

and thankfully we have a guide to just that in this issue.

We also have plenty of articles to help us look our best at this

time, from party makeup (page 36), sunless tanning (page 88) and city skin detox

(page 24) to endless options for hair removal (page 64).

We also bring you the latest in hair trends straight from the Zimmermann

NYFW catwalk where Renya Xydis, Wella Professionals Global Creative Artist,

drew upon the fun and beachy hues of the Wavelength collection to create an

inherently Australian summer look (page 70).

Our profile on celebrity makeup artist Debbie Delgado from New Zealand and

her client before and afters highlight the amazing transformational power of

makeup – it's difficult to believe the difference (page 94).

This year our Christmas Gift Guide is a whopper. We have 12 pages of over 65

beautiful goodies to covet, so if you're looking for a beautiful present for someone

(or for yourself!), we've done the work for you (page 100).

And it's not just about surviving; it's about having a fabulous time and enjoying

everything the festivities hold. It's about family and celebration and enjoying

the company of friends – and being grateful for everything we have in this lucky

country we call home.

From all of us at Bella Media, have a wonderful Christmas season and a safe and

happy New Year!

Issue 86

November 2019 - January 2020

Editor-in-Chief

Michelle Kearney

Art Director

Debbie Pilarinos

Writers

Catherine Hale, David Hickie,

Maria Leahy, Shonagh Walker

Photographers

Debbie Pilarinos, ShutterStock

Distribution &

Subscription Enquiries

Bill Dunk

Phone 02 8095 6265 Mob 0410 528 582

Email bill@bellamedia.com.au

Advertising Enquiries

Michelle Kearney

Phone 02 8095 6265 Mob 0419 624 246

Email michelle@bellamedia.com.au

Editorial Enquiries

Michelle Kearney

Phone 02 8095 6265 Mob 0419 624 246

Email michelle@bellamedia.com.au

Produced & Published by Bella Media

ABN 86 082 157 695

Managing Director

Michelle Kearney

Chief Operating Officer

Bill Dunk

Public Relations, Marketing

& Event Organisation

Phone 02 8095 6265

Office address

Suite 2201, Level 22 Westfield Tower 2

101 Grafton St,

Bondi Junction NSW, 2022

Phone +61 2 8095 6265

www.bellamedia.com.au

STOP PRESS

find us on Facebook

cosbeauty

Watch out for our new website launching soon. It is the

trusted online resource to: research procedures; find a skilled

practitioner; read real reviews; and have questions answered.

You will be able to find out everything you want to know

about different aesthetic treatments, products and news.

Read the online edition

plus more great aRTicles @

www.cosbeauty.com.au

follow us on Instagram

cosbeauty

Reproduction in whole or in part is not permitted without the

written authorisation of the publisher. All reasonable efforts have

been made to trace copyright holders. All manuscripts and articles

submitted for publication remain the property of The Bella Media

Group. This magazine contains general information only and

does not purport to be a substitute for medical advice. All readers

are advised to seek medical advice from a doctor if considering

cosmetic surgery. The publisher and the authors do not accept

any liability whatsoever in respect of an action taken by readers in

reliance on the recommendations set out in this magazine. Except

where specified in captions, photographs depict models who have

not necessarily received treatments described in this magazine.

Any 'before and after' photographs in CosBeauty Magazine

articles are of genuine patients. It is important to understand

that they represent one person's experience and there is

no guarantee that any other patient will experience similar results.
---
world's leading professional

depigmentation method

cosmelan ® is a professional, topical skin brightening treatment that

helps to visibly reduce and eliminate dark spots and blemishes caused

by excess melanin in the skin. It's cutting edge formula has been

After

designed to achieve DNARenewal: maximum efficacy, THE while FOUNDER it helps to balance skin

Before

tone and increase skin Dr. Ronald luminosity. L. Moy, The renowned cosmelan scientist, ® application researcher, acts on dermatologist, and cosmetic surgeon,

the cells that are responsible has dedicated for his skin life's pigmentation, work to understanding helping to the reduce impact of photo damage on skin's health and aging.

melanin production Today, in hyperpigmented DNARenewal marks areas the and culmination thereby helping of his passion to to create a clinically proven regimen that

remove or lighten unsightly effectively blemishes helps repair and photodamaged spots. aging skin.
---
@cosbeauty

Beauty insider

THE WHO'S WHO AND WHAT'S NEW IN BEAUTY.

44 SHADES OF FOUNDATION

Inspired by ZOEVA Founder Zoe

Boikou's vision that every woman

should feel comfortable, beautiful and

confident, Zoeva Authentik Skin Natural

Luminous Foundation is designed

to allow you to build your perfect

natural-looking coverage whenever and

wherever you feel you need it. Enriched

with the nourishing power of Rose Hip

Oil, the foundation glides on to deliver

a medium, buildable coverage with a

silky smooth, and all-day-long finish.

Available in 44 inclusive shades with a

variety of warm, cool or

neutral undertones, the radiant

foundation has an innovative

lightweight formula designed to

maintain the skin's natural protective

barrier while evening out complexion

and allowing your skin's natural

luminosity to shine through.Whether

your foundation shade is Brave,

Generous, Magical or Spirited, your

authentic self always shines through.

Launching on 9 September 2019 on

www.zoevacosmetics.com, in-store at

Sephora and on sephora.com.au.
---
@cosbeauty

ASPECT INTRODUCES ASPECT

SKINCARE AND SLEEK NEW

PACKAGING

It's no secret that Aspect and

Aspect Dr have helped shape

the cosmeceutical industry into what

it is today.

Heather Harrison, founder Aspect

Skincare explains: 'When we

launched into the market in 2007,

Aspect was developed specifically for

clinics and salons and Aspect Dr was

developed for physicians and doctors.

It was our aim to develop two superior

Australian cosmeceutical brands

which offered quality home care and

solutions for professionals that target a

wide variety of skin concerns.

'Today, these two incredible brands

have become the most respected and

widely known brands available. The

huge success of Aspect and Aspect

Dr has led us to streamline our

collections and create a new parent

category called Aspect Skincare.

The process has been rewarding; we

have bolstered the ingredients to our

formulations, we have introduced new

products to each brand category, and

we have also taken some away. We

introduced our newest range Aspect

Sun and we have re-designed our

packaging. There has been a lot of

positive work over the past few years!

'I believe our new offering is

reflective of who we are – innovative,

premium and superior. Seeing these

brands grow and evolve is truly

exciting. I am extremely proud'.

Kirsty Sinclair, marketing manager

Advanced Skin Technology adds: 'So

much has been going on behind the

scenes at Aspect Skincare and we are

thrilled to finally unveil our new look

and share, in more detail, our newest

brand category Aspect Sun.'

Introduced in August 2019, Aspect

Sun is a comprehensive range of

SPF 50 and 50+ sunscreens. This

four-piece sunscreen collection has

been designed to be ultra-hydrating,

lightweight and fast absorbing. They

are designed to elevate your daily

routine all year round.

SUN-KISSED SKIN

Step out with bronzed, glowing skin this

summer thanks to Great Mousse Tan –

a fast absorbing, moisturising and quick

drying addition to Ella Baché's tanning

collection that develops into a sunless

golden tan within hours. Get ready for

smooth, nourished and bronzed skin

with this Australian-made mousse tan

available in two easy-application colour

variations, Medium and Dark.

Great Mousse Tan is enriched with

superfood greens - Avocado Oil, Aloe

Vera and moisture enhancing actives

to protect against dehydration while

Green Tea extract protects the skin's

surface from free radicals.

This super-lightweight, easy-to-apply

tan dries in minutes and won't transfer

onto clothes or sheets.

Say goodbye to pale skin any time of

the year with Ella Baché's Great Tanning

range. Personalised to your skin colour

with two natural tones available and no

sun required, the range is perfect for

those who want a rich, bronzed colour

without the sun damaging effects. Ella

Baché's Great Tanning range gives a

totally natural-looking, golden sunless

tan that lasts for days.

The Great Tanning range also

includes three additional products:

1. Great Facetan Without Sun – A

moisturising self-tan for the face.

2. Great Tan Without Sun – A

moisturising self-tan for the body

and face.

3. Great Sunkiss – A fast absorbing,

moisture-rich body lotion with a hint of

self-tan.

www.cosbeauty.com.au 11
---
@cosbeauty

THE SHOW SYDNEY IS COMING TO TOWN

Introducing Australia's ultimate professional

makeup, hair and beauty event, The Show

Sydney. At The International Convention

Centre on 8-9 February 2020, world-class

makeup, hair and beauty experts and brands

will showcase the latest in trends, technology

and techniques to over 5,000 expected

attendees across the weekend.

The brainchild of educational expert

Scott Lattimer and industry professional

Eliza Campagna, The Show Sydney is set to

be so much more than a typical trade show.

Eliza says: 'The Show Sydney has been created to

be an educational platform that will provide

a unique retail experience showcasing the

best-in-class brands and artists across hair,

makeup and beauty.'

'Not limited to one category, or level

of experience, our mission is to provide

professionals, enthusiasts through to students

and beauty lovers with the opportunity to equip

themselves with the latest techniques from all

areas, under the one roof,' adds Scott.

Tickets available from Sunday 27 October 2019.

HIVITA LAUNCHES LUMINOUS SKIN

ULTRA SKIN HEALTH BOOSTER,

WITH ADDED FUCOIDAN

Get ready to help enhance collagen

formation, improve skin hydration,

firmness, elasticity and support skin

health from within as hivita launches

its all-new luminous skin ultra skin

health booster, a one-a-day skin

rejuvenating supplement.

It includes Fucoidan, an Australian

Seaweed, which is highly effective

at brightening the skin due to its

antioxidant properties. The Australian

ingredient helps to decrease free

radical damage to body cells and

increases skin hydration which

promotes skin regeneration, resulting

in a fresh, radiant, ageless appearance.

Fucoidan grows in the pristine ocean

waters of Tasmania and is handharvested

on an environmentally

sustainable basis.

The two-part skincare advancement

includes unique ingredients with

patented technology to transform

in two ways: The Ultra Skin Health

Booster is a one-a-day skin

rejuvenating supplement; and the

Ultra Renewal Cream is a naturally

derived, luxurious skin renewal cream.

The two products work in harmony

above and below the skin, giving.

improved skin firmness, increased

skin hydration, improved skin

elasticity and improved skin strength

while promoting regeneration and

supporting skin integrity.
---
@cosbeauty

CLEAN, CLINICALLY ADVANCED

SKINCARE WITH A CONSCIENCE

Dermalist, a Melbourne-based

company creating cutting-edge

cosmeceutical skincare with a

difference, has just launched its first

products to market. Crafted with

professional input from a holistic

line-up of leading Australian experts

in cosmetic medicine, health and

nutrition, Dermalist's multi-functional

skincare range was primarily

designed to minimise the time,

complexity and costs associated

with achieving beautiful skin, while

delivering exceptional results.

Each product has been formulated

to address multiple skin concerns

at once (including wrinkles and fine

lines, dullness and dehydration), and

contains therapeutic levels of potent

actives that have been expertly

blended to minimise the likelihood of

consumers experiencing a breakout

or inflammation with use.

Dermalist was founded on the

belief that women deserve more

from their skincare — more efficacy,

more transparency and more

conscience. It's no surprise then that

all of Dermalist's products are vegan

and cruelty-free, and contain only

the highest-quality, responsibly

sourced and non-toxic ingredients.

While 'non-toxic' technically means

that ingredients used are not

poisonous or acutely toxic, Dermalist

goes further. Their products are

free from ingredients linked to

chronic low-dose toxic responses,

known hormone and immune

disruptors, and carcinogens, and

exclude ingredients that contribute

to chronic inflammation or disturb

the skin's microbiome.

Dermalist has assessed the

cumulative effects of the ingredients

it uses, including how they are

metabolised in the body, and also

the effect they may have on the

environment.

An impressive 90% of packaging

is recyclable, and where this is not

possible due to the need to preserve

the products (like dual-walled

airless packaging which is needed

to preserve the potency of highly

active serums) the brand offers a

refill option, allowing consumers

to repurchase inner recyclable

cartridges which slot into reusable

outer casings, at a reduced price.

BLONDI BEACH ®

HAIR RESCUE OIL

Blondi Beach sets out to define

beach cool hair with naturally

derived products formulated direct

from Bondi Beach, Australia – Hair

Rescue Oil and Repair Mini Mask.

Both products are luxuriously

nourishing treatments to help

revive dry and damaged hair.

Botanical oils multi-task to provide

intensive condition to strands.

It will help nourish the scalp for

healthy, strong hair.

Each product is multidimensional

and can work in a

number of ways including:

• Pre-shampoo for an intensive

hair treatment;

• Post-shampoo for a nourishing

hair mask;

• Pre-swim to protect strands

against salt and chlorine effects;

• Style onto dry ends and frizzy

flyaways;

• Apply for perfectly tamed

eyebrows.

Blondi Beach products are

sold exclusively via blondihair.

com, where customers can

also discover beauty tips

direct from Bondi Beach,

Australia.

For more information

www.blondihair.com

www.cosbeauty.com.au 13
---
A woman can be

beautiful as well

as intellectual.

audrey
---
hepburn
---
The beauty in a

woman is not in the

clothes she wears,

the figure that she

carries, or the way

she combs her hair.

True beauty in a

woman is reflected

in her soul.

Audrey
---
I believe in being

strong when

everything seems

to be going wrong.

I believe that

happy girls are

the prettiest girls.

I believe that

tomorrow is

another day, and I

believe in miracles.

Audrey
---
featureWhoNose

Jennifer Lawrence

Oprah Winfrey
---
Britney Spears

Jennifer Lopez

www.cosbeauty.com.au 21
---
featurehave they

Jennifer Aniston

Blake Lively
---
Jennifer Grey

Gwen Stefani

or

haven't

they

Scarlett Johansson

www.cosbeauty.com.au 23
---
eauty

It's not called

'The Big Smoke' for

nothing. Our skin

is at the mercy

of pollution and

environmental

forces.

e are

becoming

increasingly

aware of the

hazards of our

urban lifestyle on

our skin and the

cosmetics industry

has followed suit,

introducing a new crop

of products laced with

super-antioxidants and

grime-fighting city combatants.

Where scientists have seen a

hole in the ozone layer, beauty
---
companies have seen an opening in

the cosmetic market.

Spotting city skin is easy, pardon

the pun. It's dull and congested with

blocked pores and dehydrated with

patches of dryness. Stress has depleted

the skin of nutrients and it's been

over-exposed to late nights, alcohol,

tobacco and other stimulants. It's

choked with smoke and ragged thanks

to air-conditioning and other major

contributors to poor skin. However,

by protecting ourselves from ultraviolet

radiation and photo-ageing by

using the correct formulations and

the most effective method to deliver

our skincare, while supplementing

with vitamins and antioxidants, we

can significantly improve sallow skin.

Skin is made up of tiny pores that

ensure the skin can breathe and

regulate body temperature, among

other tasks; but they also filter out

the grime and debris associated with

everyday life. Of course, that means

that we city slickers have skin coated

with a fine layer of nasty toxins from

the pollution.

According to a University of

California, Berkeley study, skin

ailments are most certainly linked

to air pollution in cities. It found

www.cosbeauty.com.au 25
---
eauty

the ozone rapidly strips Vitamin E,

an important component of healthy

skin, from the uppermost skin

layer. Skin conditions aggravated

in urban environments include

atopic dermatitis, psoriasis and other

ailments which generate itchy, red,

inflamed and scaly skin.

The researchers examined the

stratum corneum, a thin layer at

the surface that accounts for less

than five percent of the skin. Long

considered an inert layer of dead skin,

the stratum corneum is now receiving

considerable attention as the gateway

to underlying body tissues.

'Skincare companies know if

you have dry skin, it's your stratum

corneum that's in trouble,' says

Berkeley researcher Dr Jens Thiele.

'Everything you apply on the skin has

to pass through that layer.'

The urban environment causes

destruction of the skin's natural

barrier function, which regulates

the movement of materials in and

out of the skin. It is also thought

the increased formation of harmful

chemicals from the breakdown of

the skin's fatty lipids triggers an

inflammatory response in underlying

skin layers.

Dr Neil Sadick, a clinical professor

of dermatology in New York, agrees:

'With the changes in the ozone layer

we're getting more instant ultra-violet

radiation, as well as more damage

from environmental pollutants. In

my practice we're definitely seeing

more patients, and younger ones,

with damaged skin. To repair it, and

to guard against further threats, the

two major factors necessary are a

broad-spectrum sunscreen and a highpotency

antioxidant formula.' cbm

1.

26 www.cosbeauty.com.au
---
Back

to

Cleansers

5.

2. 3.

6.

basics

1. 4.

7.

Fear not – it's not quite as dire as it

sounds. There are several simple things

you can do to equalise the effects of

city living on your skin. First up, your

epidermis will thank you every day for

a basic twice-daily skincare routine. Get

skin in tip-top condition by cleansing,

toning and moisturising every morning

before applying makeup (it should go

without saying that falling asleep with

your makeup on is a no-no). Exfoliation

to slough away dead cells and brighten

the complexion can be done at home,

or with micro-dermabrasion or a peel at

a salon to remove surface debris.

Improving the skin's resistance to

pollution is the name of the game. Use

sun protection and a moisturiser rich

with ingredients to improve the skin's

surface strength.

Cosmetics are often blamed for

clogging pores, but they can actually

protect against pollution because they

provide a fine layer of resistance; so

don't steer clear of your makeup bag.

Oh, and keep hand cream in your bag

to soothe chapped hands.

1. Skinstitut Microbiome Micellar Water, $39, 2. Medik8

Micellar Mousse 150ml, $49, 3. Napoleon Perdis Rebirth

of Venus Skin Renewal Cleansing Oil, $39, 4. Skin Health

Science Carbo Cleanser 100ml, $72, 5. Clarins Extra-Comfort

Anti-Pollution Cleansing Cream 200ml $52, 6. Skin Regimen

Cleansing Cream, antipollution face wash, $60, 7. Arbonne

Bio-Hydria Gel Cleanser, $35

Masks &

Scrubs

1. Maaemo The Elimination Mask, $49.95,

2. Napoleon Perdis Bentonite Clay

And Kaolin Face Mask, $35, 3. Indie Lee

Clearing Mask, $85, 4. Revision Skincare

Black Mask, $59.99, 5. Retreatment

Botanics Instant Glow Face Masque

75ml, $65 , 6. asap Revitalising Bodyscrub

200ml, $45, 7. Bobbi Brown Instant Detox

Face Mask 75ml, $78, 8. Edible Beauty &

Sleeping Beauty Purifying Mousse Mask

50ml, $60

3.

2.

4.

5.

6.

7.

8.

www.cosbeauty.com.au 27
---
BEAUTY

Moisturisers

&

Sunscreens

1. Medik8 Advanced Day Total

Protect 50ml, $119, 2. La Roche-

Posay Effaclar K+ Anti Blackhead Care

40ml, $31.95, 3. Elizabeth Arden Eight

Hour Great 8 Daily Defense Moisturiser,

$50, 4. Salt By Hendrix Mermaid

Facial Oil, $39.95, 5. Jojoba ultimate

day cream $49.95, 6. asap Revitalising

Bodymoist 200ml, $45, 7. Environ A, C

& E Body Cream, $86, 8. mesoprotech

melan 130 pigment control 50ml,

$79.80, 9. Sisley SisleYouth Anti-

Pollution 40ml, $230, 10. La Mer The

Reparative Body Lotion, $280 11.

Alpha H Essential Skin Perfecting

Moisturiser SPF 15 50ml, $60, 12. Peter

Thomas Roth Potent-C Bright & Plump

Moisturizer $106, 13. Arbonne CC

Cream, $56, 14. Aspect Sun Hydrating

Face SPF 50+ 75ml, $59, 15. Ole

Henriksen 'PHAT Glow Facial', $68, 16.

Arbonne Bio-Hydria Gel Cream, $59,

17. Marc Jacobs Beauty Youthquake

Hydra-Full Retexturizing Gel Crème

Moisturiser $78, 18. Lancôme Absolue

Soft Cream Refillable 60ml, $400, 19.

Dermalogica Prisma Protect spf15

light-activated skin defense 50ml, $98

1.

2.

8.

13.

6.

9.

3.

14.

10.

4.

7.

5.

11.

12.

15.

19.

17.

18.

16.

28 www.cosbeauty.com.au
---
Pollution

solutions

Just think of a sliced apple turning brown to

visualise the urban impact of oxidisation on your

skin. Research is increasingly pointing the blame

for ageing and illness towards oxidative cell

damage caused by the environment. Here is where

antioxidants step in to defend the skin, providing it

with a fighting chance of repairing existing damage

and defending itself against future ageing.

Antioxidants are compounds that counteract the

damaging effects of free radicals on cell structures,

as well as cellular DNA. Free radicals accelerate

the ageing process and are the result of oxygen

molecules being oxidised; but they can also be

created by exposure to various environmental

factors, smoking and UV radiation. They are unstable

cells that, if left unchecked, can compromise your

health and potentially lead to cancer.

When pollution damages the skin, the cells release

superoxide free radicals and other molecules that

unleash their energy at random, like a stray bullet.

For years the leading antioxidants in topical beauty

products were Vitamins A, C and E. The list now

also includes alpha hydroxyl acids, hyaluronic acid,

peptides, coenzyme Q10, idebenone, resveratrol

and coffeeberry, many of which are found in the

latest grime-fighting products – from the cosmetic

giants to the natural and organic boutique lines.

www.cosbeauty.com.au 29
---
SERUMS

BEAUTY

1. asap Revitalising DNA Renewal

Treatment 30ml, $129, 2. Aspect

Pigment Punch+ 30ml, $149.49, 3.

Clarins V Shaping Lift Serum, $110,

4. Retreatment Botanics Refining

Face Polish 75ml, $55, 5. Murad

Environmental Shield Rapid Age

Spot Correcting Serum 30ml, $105,

6. Skinceuticals metacell renewal

b3 50ml, $221.95, 7. Skin Regimen

1.0 Tea Tree Booster, Imperfections

Concentrate, $145, 8. Non Gender

Specific Everything Serum 50 mL

$89, 9. mesoestetic aox ferulic 30ml,

$199, 10. The Ordinary Antioxidants,

Resveratrol 3% + Ferulic Acid 3% 30ml,

$7.90, 11. Medik8 Clarity Peptides

30ml, $89, 12. Babor Stress Control

Ampoule 7x2ml, $98, 13. mesoestetic

new pollution defense ampoules 10

x 2ml, $106, 14. Lancôme Advanced

Génifique Anti-Aging Serum 30Ml,

$105, 15. Arbonne Bio-Hydria Liquid

Serum, $66

2. 3.

6.

7.

8.

9.

1.

5.

4.

30 www.cosbeauty.com.au
---
OTHER

hydraters

2.

1.

3.

4.

5.

6.

7.

8.

9.

10.

10.

11.

12.

13.

14.

15.

1. Burt's Bees Watermelon Lip Balm, $6.99,

2. Lancôme Advanced Génifique Light Pearl

Youth Activating Eye & Lash Concentrate

20ml, $115, 3. Arbonne Bio-Hydria Eye Gel,

$62, 4. Aspect Hydrating Lip Balm, $15.40,

5. Paula's Choice Antioxidant Pore Purifier,

$41, 6. Ella Baché Daily Hydration Mist

Coconut 100mL, $39, 7. Lancôme Tonique

Confort Comforting Facial Toner 400Ml,

$89, 8. Maaemo Revitalize Face Mist 100Ml,

$49.95, 9. La Roche-Posay Serozinc 50

mL, $12.99, 10. Neutrogena Hydro Boost

Hydrating Facial Gel Mist, $26.95

www.cosbeauty.com.au 31
---
BEAUTY

eye
---
NOT EVERYONE IS

BORN WITH A PERFECT

SET OF PEEPERS. IF

YOU FEEL YOUR EYES

COULD DO WITH

A LITTLE OPTICAL

ILLUSION, WE LIVE IN

AN AGE WHERE THE

POSSIBILITIES FOR

MAKEUP ARE ENDLESS.

WITH A FEW EXPERT

TECHNIQUES AND

PRODUCTS, A STEADY

HAND CAN CREATE

WAYS TO REALLY MAKE

YOUR EYES POP.

www.cosbeauty.com.au 33
---
1.

BEAUTY

2.

3.

4.

1. Bobbi Brown Smokey Eye Mascara,

$50, 2. Charlotte Tilbury Full Fat Lashes 5

Star Mascara, $48, 3. Clarins Supra Volume

Mascara, $42, 4. Napoleon Perdis 'Phat

Volume' Madame Fantasia Mascara, $39, 5.

jane iredale Longest Lash Mascara, $60,

6. Lancôme Grandiôse Mascara in Noir

Mirifique, $58, 7. Modelrock Uptown Lash

Mascara, $22, 8. Australis Fake It! Volumising

Mascara $16.95, 9. Ardell Mega Volume

Never Flat Mascara $19.99, 10. asap pure

mineral mascara, $27.30.

MASCARA

It's the one beauty staple no girl

can live without, yet the next

generation of mascara is anything

but basic. Employing the best in lash

lengthening, volumising and growth

technologies, these innovative

products will work a treat for anyone

who's not quite ready to commit

to a more durable form of lash

enhancement.

6.

5.

7.

8.

9.

10.
---
FAKE IT

Party up with fake

lashes. They're flirty and

playful and no amount

of mascara can create

the same drama.

Modelrock uptown

opulence china doll,

$16, Ardell Naked

Lashes, $12.99

13.

11.

12.

14.

11. Napoleon Perdis eye

pencil in Brown Sugar, $30,

12. Marc Jacobs Beauty

Fineliner Ultra Skinny Gel Eye

Crayon, in Truffled, $36, 13.

Charlotte Tilbury Rock 'N'

Kohl in Barbarella Brown, $43,

14. Marc Jacobs Beauty

Highliner Gel Eye Crayon

Eyeliner in 80 In the Buff, $36,

15. Bobbi Brown Long Wear

Gel Eyeliner, $40, 16. Clarins

4-Colour Eyeshadow Palette

in Shade-02 rosewood, $68,

17. Marc Jacobs Beauty

Under(cover) Perfecting

Coconut Eye Primer, $37,

18. Fenty Beauty Flyliner

Longwear Liquid Eyeliner,

$30, 19. Modelrock rock

chic wings out loud felt tip

eyeliner, $19.95, 20. jane

iredale Mystikol Powedered

17.

Eyeliner, $52, 21. Kat Von

D Dagger Tattoo Liner

Waterproof Liquid Eyeliner,

$20, 22. Clarins Waterproof

Eye Pencil in Shade-06

smoked wood, $38.

15.

16.

18.

LINERS

An easy way to glam up a bare eye is to intensify your look

with eyeliner. If a smouldering look is what you're after, use

an eyeliner pencil around the entire eye and on the inner

rim. For a quick smokey look, smudge it off using a crease/

smudge brush. For more of a clean, strong line, create a

winged liner using a gel or liquid eyeliner. This, combined

with generous lashings of mascara, will instantly glam up

your look and get you party ready! A really great makeup

trick is to use eyeliner to fill in the tiny spaces between

upper eyelashes. This helps eyes look fuller and more alive

and lends an amazing frame to the eyes.

22.

21.

20.

19.

www.cosbeauty.com.au 35
---
BEAUTY

36 www.cosbeauty.com.au
---
ALL

dressed

&

up

READY

to go!

WITH THE FESTIVE SEASON JUST AROUND THE CORNER, WE'RE

DISHING OUT SOME HANDY MAKEUP TRICKS TO KEEP YOU LOOKING

FIERCE, FABULOUS AND OH SO FINE!

www.cosbeauty.com.au 37
---
BEAUTY

There's so much to learn about

makeup and beauty even

we fi nd ourselves a little

overwhelmed at times.

But whether you're a master of the

liquid liner or a beginner who's still

fi guring things out, our step-by-step

guide to powering up your party face

is guaranteed to have you dazzling on

the dance fl oor come New Year's Eve.

Lycogel Breathable

Camouflage SPF 30 , $108

PRIME

Perfect party makeup always starts

with a smooth canvas. Airbrush fi ne

lines and pores with a primer to leave

the skin with a soft, velvety fi nish.

This will allow your foundation

to glide on, creating a more even,

radiant looking complexion. In

addition to smoothing fi ne lines,

pores and wrinkles, primer increases

your foundation's staying power,

ensuring you look fresh all night long.

Clarins Fix Make-Up, $40

Skindinavia The Makeup

Primer Spray 118ml, $49

Lancôme Prep & Hydrate

Illuminating Make-Up

Primer 24h Hydration

25ml, $62
---
COVER

A quality foundation provides good

coverage and helps conceal any

blemishes, discolouration or uneven

skin tone issues which may be

keeping you from feeling your best.

It's essential to buy foundation that

is the right shade for your skin tone,

so head over to a beauty counter and

have a professional help you out. For

a glowing look with ultimate staying

power, opt for a base with a longlasting,

dewy fi nish.

When it comes to foundation,

the application process is just as

important as the product itself. Use a

beauty blender or a stippling brush to

carefully blend the foundation onto

the face, down the neck and back

towards the ears.

CONCEAL

Use a colour corrector to address

any redness or dark circles before

applying a cream concealer to keep

the area moisturised. Remember to

use a patting rather than dragging

motion when applying both

corrector and concealer, and to

be extra gentle with the delicate

under-eye area. Don't be afraid to

take your concealer over the top of

your eyelid, as it will help cover up

any veins and act as a great base for

your eyeshadow.

Bobbi Brown Skin Long Wear

Weightless Foundation, $72,

Charlotte Tilbury Airbrush

Flawless Foundation, $65,

Clarins Everlasting Youth Fluid

Foundation SPF 15, $65,

Lancôme Teint Idole Ultra Wear

Deluxe Sample 24h Long Wear

Spf 15 Velvet Matte Finish in

Beige Lin, $60

LUV IT!

Frank body Party

Starters Kit, Shimmer

Scrub, Shimmer Lip

Gloss Scrub and Magic

Shimmer Oil, $49.95

www.cosbeauty.com.au 39
---
BEAUTY

HIGHLIGHT

One of the best ways to take your

look from average to amazing is to

strategically place highlighter on the

high points of the face. Dab a small

amount of product onto the tops of

your cheekbones – working from the

apple of each cheek up towards the

hairline. This adds light, makes skin

appear more hydrated and decreases

the look of fi ne lines. It will create

a gorgeous pearlescent glow that

fl awlessly refl ects light from all angles.

Dusting a shimmer powder on

your décolletage is another surefi re

way to get the party started. Apply it

beneath the brow bone to lift the eye

or add a touch of product to the eye's

inner corner for a fresh, modern look.

Softly highlighted cheeks are

always a winner. Using a fan brush,

dust a powdered bronzer onto the

cheeks before applying a shimmery

cream or powder blush. Remember,

creams can work in tandem with

powders once the application remains

light.

Fenty Beauty Killawatt

Freestyle Highlighter

Duo, $54

jane iredale

24-karat gold

dust, $31

QUICK TIP

Dab a bit of shimmer on

the top of your cheeks

to instantly brighten and

illuminate your face. Be sure

to choose just one feature

to accentuate, so your

highlighting stays subtle.

Clarins Glow

2 Go Blush &

Highlighter

Duo, $44

ICONIC London

Prep-Set-Glow

120ml, $50

Bobbi Brown

Pot Rouge in Pale

Pink, $54

Bobbi Brown

Shimmer Brick in

Rose, $78
---
Bobbi Brown Luxe Lip Rich Lustre long wearing

lipstick in Crystal Ball and Sparkling Sand, $56

Charlotte Tilbury Pillow Talk Diamonds, $49

LUSCIOUS LIPS

One of the easiest ways to

acknowledge the glitz and glam of the

party season is to add a pop of colour

to your makeup. If heavy eye shadows

aren't your thing, use a vibrant lip

shade with a gloss or matte fi nish.

Painted pouts are the ultimate pickme-up

and speak of grooming and

attention to detail.

QUICK TIP

Our fave colours this

season are beachy and

bold – think fuschias

and corals.

NAILED IT

Complete your party look with a

slick of colour on your nails. From

classic red to glittering festive glosses,

applying nail polish is an easy way to

jazz up any outfi t.

Fenty Beauty Stunna Lip Paint Longwear Fluid

Lipstick, $36, Sisley Le Phyto Rouge in 32 Orange

Calvi, $68, Lancôme L'Absolu Rouge Ruby Cream

Long-Lasting Lipstick in Bad Blood Ruby, $54

OPI Limited-Edition Neons

in Orange You a Rock Star?,

V-I-Pink Passes, Dance Party

'Teal Dawn, $22.95 each

Mavala Magic Stardust

Collection in Magic Sari,

Magic Spice and Magic

Snow, $8.50 each

www.cosbeauty.com.au 41
---
Lancôme Hypnôse Eyeshadow

Palette in French Nude, $85

BEAUTY

EYES ON THE PRIZE

An easy way to glam up a bare eye is to

intensify your look with eyeliner. If a

smouldering style is what you're after, use

an eyeliner pencil around the entire eye

and on the inner rim.

Transition this look into a smokier

style by smudging the eyeliner using a

crease brush. For a sharper fi nish, use

a gel or liquid liner to create a wing.

Combine with generous lashings of

mascara for instant, party-ready glam.

QUICK TIP

A really great makeup trick is

to use eyeliner to fill in the tiny

spaces between the upper

eyelashes.

This lends an amazing frame

to the eyes, making them look

fuller and more defined.

Napoleon Perdis

Loose Eye Dust in

'Starlight', $35

DEFINED

Use a brow powder or pencil to defi ne

your eyebrows and frame the eye. For

a more sculpted look, apply bronzer to

the crevice below the cheekbone then

identify the apples of the cheeks using

your blush of choice.

LASH OUT!

Party up with fake lashes. They're

fl irty, playful and no amount of

mascara can create the same amount

of drama. If falsies aren't your thing,

opt for an eyelash curler to create

beautifully curled lashes that will

defi ne, dazzle and enhance your eyes.

jane iredale

PurePressed Eye

Shadow Kit –

Solar Flare, $92

Lancôme

Hypnôse

Mascara in

Noir, $55

QUICK TIP

Dab a band of concealer

beneath the eyes – starting

from the mid-face and taking

it up towards the temples. The

lighter colour will help lift the

eyes and make your face pop.

42 www.cosbeauty.com.au
---
Sisley Phyto Eye

Twist in 15 Baby

Pink, $55

Marc Jacobs Beauty

Highliner Glam

Glitter Gel Eye

Crayon in All that

Glitters, $36

Charlotte Tilbury Walk of

Shame Luxury Palette, $80,

Charlotte Tilbury Starry Eyes to

Hypnotise, $120, Clarins Ready

in a Flash Eyes & Brows Palette,

$50, ICONIC London Sunset to

Sunrise Palette, $99, Arbonne

It's All In The Eyes Eyeshadow

Palette, $86

www.cosbeauty.com.au 43
---
Skin

Sunscreen

that

respects

your skin

type

No longer must we rely on regulation

'one-size-fits-all' sunscreen for protection

against the harmful UVA and UVB rays

that can leave skin damaged and feeling

chemically imbalanced.

The latest offering from the mesoestetic Pharma

Group laboratory, headquartered in Barcelona, is a

complete range of next generation sunscreens for

all skin types. The five unique products utilise the most

innovative technology in sun protection and are the result

of months of research and collaboration. mesoprotech ® is

fast becoming the new gold standard for sun protection

through its focus on the unique requirements of different

skin types and corresponding concerns.

'What makes this line of sunscreens unique is that each

client can find the most suitable product from the range

with a texture that suits their skin type. There is at least

one product in the range suitable for every skin type!'

explains mesoestetic International Trainer, Sabine Wallez.
---
mesoprotech ® Formulas

All products in the new range feature mesoprotech ®

complex, a broad-spectrum sun protection formula that

combines physical, biological and/or chemical filters for

maximum protection against UVB and UVA radiation.

This combination protects the skin on all fronts from

the harmful effects of sun exposure including actinic

damage, oxidation and premature ageing. All five products

are very high factor sunscreens (SPF 50+) and tested for

water resistance.

Innovative Ingredients

This new range features a number of core components

that place it a cut above other sun-protection alternatives

on the market.

• Mattifying particles eliminate excess oil and shine

and leave the skin with a velvety matt finish.

• Chia seed oil, rich in omega 3 and 6, provides

elasticity and nutrition while strengthening the skin's

barrier function.

• Hyaluronic acid and silicon provide hydrating action

at the epidermal level and enhance the elasticity and

firmness of tissues.

• Pigment System helps to prevent the appearance of

sunspots and produces a more even skin tone.

• Rosa canina fruit essential oil helps boost epidermal

repair mechanisms.

Collagen Pro-shield

mesoprotech ® 's five innovative sunscreens are formulated

with the 'collagen pro shield' which provides antioxidant

protection that helps to neutralise free radicals. The

collagen pro shield helps prevent photo-ageing and

improves firmness of the skin.

Anti-ageing Sunscreens

1. mineral matt anti-ageing fluid is specifically for

combination, oily and sensitive skin types. The formula

contains mattifying particles and mineral filters that

eliminate excess shine and leave the skin with a velvety

matt finish. It has an innovative non-greasy fluid texture

that turns into a powdery emulsion on the skin.

2. light water anti-ageing veil is designed for normal and

combination skin types. It is formulated with hyaluronic

acid and silicon to provide hydrating action, enhancing

elasticity and firmness. Its ultra-light emulsion texture is

rapidly absorbed to create an invisible protective veil.

3. nourishing anti-ageing oil is intended for dry, mature

skin. It is formulated with chia seed oil and therefore

rich in omega 3 and 6. ' There are not many oil-based

sunscreen products on the market and I wear this one all

www.cosbeauty.com.au 45
---
the time,' said Sabine Wallez. This innovative protective

oil provides elasticity and nutrition to the skin while

strengthening the skin's barrier function. It has a light oil

gel texture that melts into the skin leaving a dry finish.

Skin

Pigmentation Concerns

melan 130 pigment control is for skin with

pigmentation concerns, skin undergoing cosmetic

treatment, skin affected by hormonal changes,

photosensitive skin and more. It helps prevent the

appearance of sunspots and promotes a more even

and brighter tone. The ultra-fluid texture contains

pigments to avoid leaving a white residue on the skin,

while minimising imperfections and providing a tinted

lightweight, natural tone. According to Sabine Wallez

this is one of her favourites: ' This would be the perfect

choice for a woman who wants her sunscreen and at the

same time, a little bit of makeup!'

Maximum protection for

Sensitive Areas

sun stick 100 is specifically for those sensitive areas such

as lips, eye contour, scars, etc. It incorporates rosehip

oil to boost skin regeneration and comes in a practical,

solid stick form that enables application anytime with

comfort and ease. For Sabine Wallez, the sun stick 100

is her number one pick: ' It's my absolute favourite and

is great for extra protection if you're going out to lunch

and could burn easily on the nose or if you have hyperpigmentation.'

Clinically Tested

Scientists conducted in vivo tests for UVB protection

where a subject's back was exposed to rays and treated

with the product. The test measured the additional time

during which the sunscreen provided protection before

sunburn occurred. Water resistence was also tested in vivo

where the subject was immersed in water for 20 minutes

with a 15 minute interim. The subject's skin retained

more than 50% of the protection applied.

In vitro tests were conducted for UVA protection where

a dish treated with the product was exposed to UVA

radiation to evaluate its absorption capacity. The efficacy

of the collagen pro shield was also tested with studies on

human fibroblast cultures.

With its dermatologically tested formulas and

innovative textures designed to suit the needs and

demands of each skin type, mesoprotech ® is at the

forefront of next-generation sun protection against UVA

and UVB.

WHERE

TO GET IT

mesoprotech ® is available

at select skin clinics across

Australia. For stockists, visit www.

advancedcosmeceuticals.com.au

or call 1800 242 011
---
[ ]

AestheticAdvisor is Australia's trusted online resource to

research procedures, find a skilled practitioner, read real

reviews and have questions answered.

Launching soon!

AestheticAdvisor is the brainchild of Bella Media, Australia's

#1 communications expert in the cosmetic enhancement

and beauty industries. It is the zenith of 20 years experience

at the forefront of the aesthetics industry and joins Bella

Media's stable of established industry benchmarks – including

CosBeauty, Aesthetic Medical Practitioner and Cosmedicon.

AestheticAdvisor is the online destination for everyone

considering an elective treatment and wanting to investigate

and evaluate procedures, share their experiences, read or

leave product and doctor reviews and connect with a

like-minded community.

AestheticAdvisor delivers authoritative information on every

aesthetic treatment and is an integral part of informed

decision making.

The AestheticAdvisor

site provides:

• detailed search functions

with capability to research

by product, treatment or

symptom;

• a sophisticated roll over

feature for male and female

procedures;

• tabs to

– locate a practitioner

– ask questions

– leave or read reviews on

products, treatments and

practitioners

– join an online forum or

– browse through over 1000

articles on relevant topics.

www.aestheticadvisor.com.au
---
Skin

A

Vitamin
---
est

in

class

Vitamin A is arguably the

single-most important

ingredient to prevent,

restore, normalise and

help repair damaged skin.

Medical research shows that ageing of the

skin is accelerated by the loss of lightsensitive

vitamins destroyed by sun,

stress and pollution. These lost vitamins include

Vitamin A, together with key antioxidants and

Vitamins C, E, pro-vitamin B5 and beta-carotene.

These all work to normalise the skin, assisting it

to reverse the signs of ageing, and to make it look

younger and smoother.

Vitamin A in particular helps smooth both

wrinkles and fine lines, while increasing skin

hydration and collagen production. It evens out

skin texture, at the same time as increasing skin

thickness and improving its elasticity. Vitamin A

also improves acne, natural exfoliation and overall

skin tone, diminishing mottled pigmentation.

Since our body does not make Vitamin A, our

skin becomes deficient over time. In particular, the

sun depletes the skin of Vitamin A and this is one

of the reasons those who super-expose their skin to

sun damage age faster than those who do not (and

another reason to always use broad-spectrum SPF

every single day, rain, hail or shine).

Vitamin A (as well as other key vitamins and

antioxidants) need to be replaced every day to

reduce the damage from sunlight. The best way to

replace these vitamins is by topical application.

Formulations containing Vitamin A are

beneficial to skin of all ages as it helps repair

injured skin and improves its water barrier

properties, making it soft and supple. It is also

effective in treating acne, as well as dry, scaly or

cracked skin.

Vitamin A in skincare

As our skin gets thinner with age, it gradually

becomes less effective as a barrier, which leads to

signs of ageing such as lines and rough patches.

Vitamin A is critical in the maintenance of

healthy skin. Regular application of Vitamin A,

which regulates skin cell growth, stimulates the

skin's renewal process and causes it to thicken and

appear younger and healthier.

www.cosbeauty.com.au 49
---
Skin

Cell-communicating ingredients use receptor

sites or cellular pathways to interact with skin

cells to signal them to function optimally.

Retinoids (including retinol), which are

derivatives of Vitamin A, are the best known.

They act as antioxidants and neutralise the

free radicals that result from exposure to ultraviolet

light. In addition, they increase cellular

turnover, stimulate a thickening of the epidermis

and promote the removal of excess pigment.

Retinol is a Vitamin A (retinoic acid)

derivative that is an effective and widely used

topical anti-ageing solution. It has been shown

to reduce many visible signs of skin ageing,

especially fine lines and wrinkles, encouraging

better cell turnover in the upper layers and

normalising skin turnover.

In the form of stabilised retinol (retinol

molecular), it enables surface hyper-pigmented

cells to be sloughed off evenly, in addition

to reversing the damaging effects of UV

light on the skin cells, which result in hyperpigmentation.

Retinoids are also responsible

for tyrosinase inhibition, reducing clumping

of melanin and reducing melanosome size to

further improve pigmented spots.

Medical research has also documented that

the use of retinol on the skin can create new

collagen deposition, greater proliferation of new

blood vessels and capillary formation. Dramatic

improvements have also been observed with

regard to skin smoothness, evening of skin tones

and overall skin rejuvenation. Retinol also plays

a role in conditioning the skin prior to many

cosmetic procedures such as facial surgery, laser

resurfacing and chemical peels.

'

It has been shown

to reduce many visible

signs of skin ageing,

especially fine lines and

wrinkles.

'

Varying forms of

Vitamin A

It's well known skin rejuvenation can be

achieved by applying Vitamin A to the skin;

but sometimes the various types of Vitamin A

on the market may make it confusing when

selecting which type to use on the skin. There

are a number of related molecules with Vitamin

A activity and these are classed under the family

name of retinoids.

Prescription retinoids include tretinoin (trans

retinoic acid); the over-the-counter retinoid is

retinol. Both convert to retinoic acid in the skin.

Trans retinoic acid is the most irritant form of

Vitamin A.

It's no secret that a common side effect after

starting topical Vitamin A treatment is temporary

redness, irritation and flakiness; most users will

need to build up a tolerance to retinoids over

several weeks. Retinol skincare has fewer side

effects than retinoic acid prescription products

due to lower biological activity, among other

factors. It also goes without saying that stabilised

high-concentration retinol formulations will be
---
Did you know?

Retinol is proven to be a

potent tool in treating acne, by

preventing the cells that line

the follicular canal from sticking

together and creating the

solid impactions that block the

follicle - thereby addressing the

underlying mechanisms that

contribute to acne.

more effective than run-of-the-mill

retinol products, but will also typically

be more irritating to the skin.

Thankfully, any irritation at all may

be a thing of the past. Manufacturers

are now developing different effective

forms of Vitamin A which are less

irritating, if at all.

It's no wonder that Vitamin A (in

its various forms) is an important

and necessary ingredient in all

quality anti-ageing product lines.

And with new molecules and new

product formulations constantly being

developed, this skincare stalwart is

fast becoming the gold standard antiageing

product.

The facts about

Vitamin A

1.

Vitamin A is a central driving

factor in the development of

normal, healthy human tissue,

including all parts of the skin. This

continues from conception to death.

If Vitamin A disappeared tomorrow,

no more humans would be born in

the normal, recognisable form.

Skin becomes thin because of a

2. general lack of Vitamin A, sun

damage, loss of sex hormones and

general ageing.

Retinoids (class of Vitamin A

3. derivatives) are a proven method

to increase the thickness of the

dermis – the deep layer of skin where

wrinkles form.

Despite contrary belief, retinoids

4. do not make skin more sensitive

to the sun. The reason some product

labels recommend 'pm' use only is

because retinoids are unstable in

sunlight, thereby rendering daytime

use ineffectual.

www.cosbeauty.com.au 51
---
Skin

The

Answer to

Youthful

Skin is

Crystal

Clear

heads are turning for

the truly incredible

skin-tightening

benefits of Medik8's

award winning antiageing

serum, Crystal

Retinal.

Vitamin A is a powerful

skincare ingredient that helps

effectively fight visible signs

of ageing. Medik8's next-generation

anti-ageing product, Crystal

Retinal is a ground-breaking night

serum which helps firm, plump and

resurface the skin, visibly minimising

fine lines and wrinkles to deliver a

more youthful-looking and eventoned

complexion.

Crystal Retinal is formulated

with retinaldehyde, a super-charged

derivative of Vitamin A that works

in synergy with skin to help promote

cellular turnover.

Retinoids may cause mild irritation

when you start using them including

redness, irritation and flaking. This

is normal and a sign that your skin

is adjusting to having an abundant

source of beneficial Vitamin A.

However, Medik8's time-release

stability system ensures that Crystal

Retinal TM is released slowly and

steadily throughout the night,

meaning it won't overwhelm the

skin. It's also now easier to help

your skin adjust to the powerful

effects of retinaldehyde with a

recent expansion of the Crystal

Retinal family.

The range now incorporates four

different strengths of the serum which

provide a stepping-stone to the higher

and more effective levels of Crystal

Retinal 6 & 10. Medik8 Head of

Research, Daniel Isaacs, explained

the importance of building up the

level of Vitamin A over time: 'It is

extremely important to ease your skin

into using retinoids gently. Starting

52 www.cosbeauty.com.au
---
at a lower level will allow your skin some

time to get used to Vitamin A, and you

can then introduce higher strengths as

your skin becomes accustomed to it.'

Other non-prescription Vitamin A

treatments, such as retinol, have a similar

beneficial skin-lifting effect; however

this needs to be converted into retinoic

acid by the skin before it can take

effect, a process that requires a two-step

conversion. Unlike retinol, Crystal

Retinal only requires one conversion to

retinoic acid which means it can deliver

results up to 11 times faster!

Crystal Retinal works by

capturing the powerful active ingredient,

retinaldehyde, into a crystal molecular

vehicle that is broken down by the

skin's natural enzymes upon contact.

This unique action controls the release

of Vitamin A-rich retinaldehyde to

ensure that the formula remains stable

and is absorbed constantly throughout

the night.

At the same time as delivering the

powerful anti-ageing benefits of Vitamin

A, Crystal Retinal contains multiweight

hyaluronic acid and Vitamin E

which hydrates the skin and reinforces

the skin's barrier to keep moisture locked

in tight.

Unlike many other forms of Vitamin A,

retinaldehyde also boasts direct, powerful

anti-bacterial properties, making it the

ideal anti-ageing product for blemishprone

skin. When used over time, Crystal

Retinal helps to diminish P. acnes,

the bacteria responsible for breakouts,

promoting a healthy-looking, balanced

complexion. CBM

WHERE

TO GET IT

Medik8 is available at select

skin clinics across Australia. For

stockists, visit www.medik8.com.au

or call 1800 242 011

Retinol Q&A with Medik8

Director of Research

Daniel Isaacs

What is Retinol?

Retinol is the form of Vitamin A traditionally used in

skincare products throughout the beauty industry.

There are different types of retinol derivatives such as

retinol, retinaldehyde, retinoic acid, retinyl palmitate

and retinyl retinoate.

What sort of retinol is in Crystal

Retinal?

We use retinaldehyde in the Crystal Retinal range, a

form of Vitamin A which has been proven to improve

skin condition in credible studies published in scientific

journals. This is why we do not use traditional retinol

esters such as retinyl palmitate, where clinical trials show

little-to-zero effects.

How does Crystal Retinal work?

Retinaldehyde in Crystal Retinal works up to 11 times

faster than traditional retinol and has anti-bacterial

properties which are great for blemish-prone skin

types. It works directly on the skin to produce a plumping

and tightening effect and helps speed up

the skin renewal process.

Why use Crystal Retinal at night

time?

Retinaldehyde is inherently sensitive to the sun. When

exposed to UV rays it breaks down and becomes

ineffective. Applying retinaldehyde in the morning may

cause it to breakdown before producing those really

beneficial effects of Vitamin A and therefore we always

recommend applying the serum at night time.

Are there side effects?

Retinoids can cause mild irritation when you first start

using them, but this is completely normal and is an

indication that your skin is adjusting to having an

abundant source of this beneficial vitamin. These side

effects include redness, irritation and flaking of the skin

as the retinoid is stimulating skin renewal. This is why it

is so important to utilise the different strengths within

the Crystal Retinal range and ease into the benefits of

using Vitamin A on your skin.

Who should not use Retinol

Products?

Retinol products are not advised for use during

pregnancy and breastfeeding.

www.cosbeauty.com.au 53
---
Lancôme Teint Idole Ultra Wear Stick

Foundation SPF 15, $55, Arbonne Sheer

Glow Highlight Stick, $69, Bobbi Brown

Skin Foundation Stick, $72

BEAUTY

Yves Saint Laurent Volupté

Plump-in-Color Plumping Lip

Balm in Mad Nude, $39, NARS

The Multiple for eyes, cheeks,

lips and body in Maui, $39,

Charlotte Tilbury Beach Stick

in Moon Beach, $55
---
ICONIC London Strobing

Stick in Tanned Gold, $60

Bag it!

MAKEUP

IN A STICK

WE ALL LOVE FUSS-FREE MAKEUP

STICKS AND WHEN THEY COME IN SUCH

ATTRACTIVE PACKAGING, THEY'RE A CINCH

TO TAKE WITH YOU! THROW THEM IN YOUR

BAG TO TAKE EVERYWHERE!

Bobbi Brown Long Wear

Cream Shadow Stick in

Vanilla, $49, Charlotte

Tilbury Colour Chameleon,

$37, Clarins Glow-to-Go

Highlighter Stick A 2-in-1

blusher stick, $44

Fenty Beauty Match

Stix Shimmer Skinsticks,

$32, Sisley Phyto-Blush

Twist Long-lasting

cream-to-powder

blush in Fushia, $82,

Clinique Chubby Stick

Cheek Colour Balm in

Plumped Up Peony, $25

www.cosbeauty.com.au 55
---
Shining

Skin

the light

on

Dark Spots

Although prevention is better than cure, and

sunscreen and a hat are our 'must-haves' in summer,

when the damage is already done cosmelan ® from

mesoestetic ® is our first choice for treating

hyperpigmentation and dark spots.

Most people are bothered

by hyperpigmentation at

some point in their life. In

its various forms, hyperpigmentation

affects over 80 per cent of women over

the age of 25 and is rated the number

two skin concern after facial wrinkles.

As we age and expose ourselves to the

sun, brown spots and marks tend to

appear more frequently and have in the

past proven difficult to treat.

There are four major types of

hyperpigmentation:

Post-inflammatory

hyperpigmentation

(PIH)

This is caused by trauma to the skin

like a cut from shaving, acne or some

aggressive aesthetic treatments. In

response, the skin initiates a healing

response or inflammation, and there is

a healing rush of immune cells, blood

and nutrients to the site of attack.

PIH usually heals of its own accord,

although in some cases it can last for a

long time, and may need treatment

to encourage its resolution.

Age Spots

(or liver spots)

These are the annoying spots we

accumulate with age from exposure

to the sun or pollution. Unlike PIH,

age spots occur with no incidence of

trauma; instead their creation stems

from years of just living in our harsh

environment. Stressors such as UV

light and air pollution accelerate the

ageing of the skin cells, causing the

production of melanin. Many say

this form of hyperpigmentation is a

tell-tale sign of age, but now you

can treat it effectively.

Freckles

Our freckles are caused by an excess

of melanin on the skin. They can be

the result of genetics or from excess

sun exposure. Many of us love our

'beauty spots' but others find them

uncomfortable to live with.
---
www.cosbeauty.com.au 57
---
Skin

Melasma

Sufferers of melasma often

seek treatment for this type of

hyperpigmentation. It sits deeper in

the skin's dermis and often appears

on the face as larger brown patches

with a non-distinct border. More

common in women, the exact cause

of melasma is unknown but is often

linked to hormonal imbalances.

It can be made worse with sun

exposure, some medications,

pregnancy and stress.

To prevent future

hyperpigmentation, make sure

to apply a high sun protection such

as mesoprotech ® , which has five

innovative formulations, each with

the 'collagen pro shield' to provide

antioxidant protection that helps

neutralise free radicals. All products

in the mesoprotech ® range combine

physical, biological and/or chemical

filters for maximum protection against

UVB and UVA radiation.

Treating

pigmentation

We recommend cosmelan ® for

the professional treatment of

troublesome pigmentation spots.

Developed by mesoestetic ® and

distributed in Australia by Advanced

Cosmeceuticals, cosmelan ® is a new

generation depigmentation treatment

that finally offers clinically proven

results in all types of pigmentation,

including melasma. It is a 'one-off' in

clinic treatment with a home

care regime, that not only helps

visibly reduce dark spots, it also

restores radiance and luminosity

to the skin while equalising skin

tone. The treatment works by

helping to decrease the skin's

melanin production.

cosmelan ® has an impressive

clearance rate, helping to reduce age

spots by up to 95% in nearly all cases.

The treatments are suitable for all

Fitzpatrick skin types and can be

used all year around.

And it gets better – cosmelan ®

has a dual action. It has a short-term

action to improve the appearance

of superficial pigmentation via

chemical exfoliation and a longer

term action which gives it an

advantage over other products, in

that its ingredients actually help to

reduce melanin production.

Although you need to prepare

yourself for some downtime, if you're

a lifelong pigmentation sufferer, you

will know the possibility of having

smooth and clear skin far outweighs

the short downtime.

cosmelan ® uses kojic acid (KA),

which is a natural chelation agent.

This KA complex is partnered

with a high antioxidant vitamin

complex, which can help the skin

look rejuvenated and renewed, and

diminish the appearance of age spots

and pigmentation.

A vegetable extract complex is

used to hydrate and soothe the skin.

Notably, cosmelan ® also includes an

exfoliating agent to help accelerate

the natural renewal of the skin's

upper layers and further reduce the

appearance of age spots.

The cosmelan ® Professional

Treatment affords an effective and

fast track solution to the clearance of

melasma pigmentation. CBM

WHERE

TO GET IT

cosmelan is available at select

skin clinics across Australia.

For stockists, visit www.

advancedcosmeceuticals.com.au

or call 1800 242 011

What to expect

The cosmelan ® treatment

consists of two phases and

it is imperative both be used

according to the directions to

achieve complete success.

Phase 1 – in the

clinic

The cosmelan ® 1 mask is applied

in the clinic and left on the skin

for a period of time, which is

determined by the professional

according to your skin colour

and type. This is usually around

8-12 hours.

Phase 2 – home

maintenance

The mask is removed at

home with warm water and

followed by an application of

melan recovery. cosmelan ® 2

maintenance cream is applied

at home according to the

recommended protocol of the

professional. The objective of

this highly effective maintenance

cream is to help the continued

brightening of the complexion,

while restoring luminosity.

Follow daily with melan recovery

and mesoprotech ® melan 130

pigment control.

Peeling of the treated skin

begins in approximately

48-72 hours and lasts about

three days. hydra-vital factor

k is provided for multiple

applications during the day

and night. Follow up is in 7-10

days and the cosmelan ® home

maintenance program must be

adhered to for effective results.
---
skin

Deep

Skin

hydrafacial results

in such smooth and

radiant skin It may well

be the only facial you'll

ever want again!

The HydraFacial is no ordinary

facial. It incorporates

spa therapy with medical

technology to create truly

exceptional skin revitalisation

results. It's a facial cleanse, microdermabrasion,

skin resurfacing

treatment and antioxidant boost i

n one quick, easy and pleasant

skincare session.

Suitable for all skin types, the

HydraFacial improves the appearance

of fine lines, wrinkles, congested and

enlarged pores, oily or acne prone

skin, hyper-pigmentation and brown

spots. Each treatment noticeably

decongests and shrinks pores, and

plumps the skin with antioxidant

and hyaluronic acid infusions.

Even the most sensitive skin

can benefit from a HydraFacial

treatment. The skincare professional

conducts a comprehensive skin

evaluation and sensitivity test,

then chooses the specific serums to

customise the treatment for your

unique skin conditions and needs.

In addition to helping problem

skin, the HydraFacial can be used

to revive dull, dehydrated or lifeless

complexions. Best of all, it is suitable

for women and men of all ages and

requires no downtime.

Immediately after a HydraFacial the

skin looks and feels dewy and gently

plumped. Fine to moderate lines are

smoother and less visible, and there

is a notable glow or radiance from

the complexion. Makeup is easier

to apply, which is what makes this

treatment so great to have before an

important social event. With repeated

treatments over time, the skin not

only looks healthier, but behaves

better – congested skin settles down,

pore size reduces, texture and tone

improve, and pigmentation becomes

more even.

While totally non-invasive,

relaxing and gentle, the HydraFacial

remains amazingly effective. Its

results are not only seen on the skin's

surface, but also in the machine's

waste jar, where the dirt and dead

skin cell detritus is collected and can

be viewed after treatment. CBM

WHERE

TO GET IT

To find a HydraFacial

practitioner in your area, visit

www.likeyourlook.com.au

www.cosbeauty.com.au 59
---
skin

fPut

your

ace

forward

best

for summer
---
I

enjoy the benefits

of skin tightening

and the softening of

wrinkles and fine

lines with No Needles

and No Surgery.

t's not all talk, there really is a way to

effectively combat the ageing effects of

gravity and oxidation on your skin

without surgery.

Thermage FLX is the #1 provider of

skin tightening treatments worldwide and

addresses the visible signs of ageing in

minutes. Thermage's newest generation of

advanced skin repair technology, the FLX

is a skin tightening treatment with more

than two million procedures worldwide

under its belt. Thermage FLX works by

stimulating the formation of collagen

to tone and tighten, giving you a more

youthful appearance.

Thermage FLX's improved level of

comfort sets it apart from previous

treatments with its vibrating handpieces

and cryogen-cooled applicator tips. Each

session is also 25% faster with a typical

face and neck treatment taking under

an hour and an eye treatment taking

around 20 minutes. Thermage FLX is

perfect for treating the whole face and

neck, the abdomen, buttocks, arms,

knees and thighs.

This exciting device uses patented

skin tightening technology that not only

www.cosbeauty.com.au 61
---
FACE

FACE

Softened lines lines around the the mouth, eyes, eyes, forehead;

Softened

improved lines

definition

lines around on

the on jawline

the mouth, and and eyes, under forehead;

the the chin. chin.

improved definition on on jawline and and under the the chin.

FACE

Softened lines lines around the the mouth, eyes, eyes, forehead;

improved definition on on jawline and and under the the chin. chin.

skin

B efore B efore Thermage

After After Thermage

B efore B efore

EYES

EYES

Thermage

Reduced wrinkles and and decreased "hooding" for for a a

BEFORE B efore B efore Thermage

Reduced

more more awakened wrinkles look.

and look. and decreased "hooding" for for a a

more awakened look.

EYES

AFTER Thermage After After Thermage

Reduced wrinkles and and decreased "hooding" for for a a

more more awakened look. look.

After After Thermage

BEFORE

AFTER Thermage

stimulates existing collagen to produce

instant results, but also promotes the

production of new collagen growth

over time so that your skin's appearance

† †

† †

† †

continues to improve after treatment!

Impressive results are achieved using

radio frequency energy to heat deep

layers of the skin, making them contract

and tighten over a 4 to 6 month period.

Areas are softened and rejuvenated

around the mouth, eyes and forehead

with improved definition to the jawline

and chin.

Thermage FLX is also effective

for reducing cellulite around the

stomach and thighs. For most patients,

measurable results appear gradually in

the two to six months following a single

treatment session and can last for 1-2

years depending on your skin condition

and ageing process.

The obvious advantage to this newgeneration

skin treatment is that it has a

genuine tightening effect without surgery

or injections and little to no downtime

– and only one treatment is typically

required for lasting results. Best of all,

results continue to improve over time.

Looking as young as you feel has never

been so effortless, so embrace tighter,

healthier, more beautiful skin instantly

and easily with Thermage FLX. CBM

B efore B efore Thermage

BEFOREB efore B efore

BODY

BODY

Thermage

Improved B efore

B efore Thermage

contours and and appearance of of crepey After After skin; Thermage skin;

Improved

smoother contours

skin skin on on the

and the and

abdomen

appearance and and of

legs.

of legs. crepey skin; skin;

smoother skin skin on on the the abdomen and and legs. legs.

Improved contours and and appearance of of crepey skin; skin;

smoother skin skin on on the the abdomen and and legs. legs.

WHERE

BODY

TO GET IT

After After Thermage

AFTER ThermageAfter

After Thermage

The Clinic

Bondi Junction, Sydney – 02 9386 1533

www.theclinic.net.au

Skin Renu Balmain

Balmain, Sydney – 02 9555 9506

www.skinrenu.com.au

MD Cosmedical Solutions

Sydney City – 02 9283 5344

Wahroonga – 02 9489 1633

Bwww.mdcosmedicalsolutions.com.au

efore B efore Thermage

After After Thermage

BAll Babyface efore BAll before before Thermage

and and after Skin after photos photos Renu have have not not been been retouched.

After After Thermage

Individual

Haymarket, results results may

Sydney

may vary. vary.

All

– 02 8385 5268

B All before B Thermage and and after after photos have have not not been been retouched.

After After Thermage

Individual results may may vary. vary.

All MiYoungs All before before and and after after Skin photos photos Clinic have have not not been been retouched.

Individual Sydney results City may – may vary. 02 vary. 8283 1635

www.miyoungs.com.au

Bare Laser and Skin Clinic

Hampton, Bayside Melbourne – 03 9598 5495

www.barelaserandskin.com.au

Thermage

Thermage

Thermage

THR.0035.AU.19
---
9

THR.0035.AU.19 G247-84801
---
feature

B

are

Beauty
---
After months of jeans

and jumpers, our hair

removal routine often

requires some attention

as spring replaces winter.

We look at the best defuzzing

options.

With bikini season just around the corner, the

thought of slipping into shorts after winter can

be daunting. It's easy to neglect hair removal

when you're covered in layers, but it's not so easy to hide

while you're sitting at the beach.

Being hair-free no longer seems to be a trend, but the

norm. Doctors have seen a steady increase in the number

of patients requesting permanent hair reduction, with the

'Brazilian' still among the most popular treatments for

female patients.

Depending on whether you want to fight the war on

body hair every few days or no more than once a month,

there's a hair removal method that's right for you.

www.cosbeauty.com.au 65
---
feature

Shaving

Shaving is a quick, convenient option

for those of us who live busy lifestyles.

However, shaving only cuts the hairs, it

doesn't remove them from the root. The

hairs also tend to grow back much faster

than other hair removal methods. You'll

probably find you need to shave every

day or so to maintain silky smooth skin.
---
Philips SC1983

Lumea Essential

IPL Hair Removal

System, $549

Epilator

Delivering the same smooth results as waxing,

epilators feature tiny tweezers that grasp multiple

hairs and pull them out as you roll the epilator

over your skin. Be sure to exfoliate before and

after epilator treatment, as dead skin cells can

clog the affected hair pores to form pimples and

irritation on the skin.

Depilatory creams

Once known for their nasty odour, depilatory creams have come a long way.

Now these creams smell like tropical blends or spa treatments, and they

commonly possess moisturising and nourishing properties. Like shaving,

depilatory creams fail to remove hair from the root, so hair will grow back

quite quickly. It is important to use depilatory creams towards the end of

your shower or bath, as hydrated hair is easier to remove than dry hair.

Waxing

After waxing, you will generally be

left with silky, smooth legs for up to

six weeks. However, when hair does

grow back, you'll need to let it grow

to a certain length (at least half an

inch) before the next wax. Because

waxing removes hair from the root,

hair shouldn't feel spiky as it returns

and regular waxing has the potential

to reduce the amount of hair that

does grow back.

www.cosbeauty.com.au 67
---
FEATURE

Laser

The most permanent method of

de-fuzzing, laser hair removal lends

long-term results in achieving silky,

hair-free pins.

Today, a variety of lasers and lightbased

devices can be used to reduce hair

growth in unwanted areas. Although not

a permanent solution to hair removal,

after a treatment cycle only occasional

maintenance is needed.

The laser designed for hair removal

releases a wavelength of energy which

is absorbed by the pigment in the hair

follicles. By targeting the pigment,

the surrounding skin is not damaged

as the energy is absorbed by the hair

follicle only.

Prior to laser hair removal, it's

important not to wax or pluck the

treatment area for at least six weeks.

This ensures hair is present, as without

it the laser will not achieve the desired

effect. The hair growth cycle plays an

important role in the success of laser

hair removal, and therefore multiple

treatments will be needed in order to

achieve long-term hair loss.

Hair follicles grow in a cycle, which is

commonly described in three stages. The

fi rst stage is referred to as anagen, or the

growth phase. Around 85 percent of all

hairs are in the growing stage at any one

time and, depending on the individual,

this may last for between two and three

weeks. Anagen is followed by catagen, or

the transitional phase, when the follicle

shrinks, and is partly destroyed. Finally,

the telogen phase describes a period of

rest, when the hair does not grow.

Laser has the greatest effect on growing

hairs. Because not all hairs are growing at

the same time – some are in transition,

and others are resting – it can take a

number of treatments to successfully

reduce the hair in any one area. Multiple

treatments are therefore typically spaced

several weeks apart to ensure the growth

phase of the hair is targeted. CBM

How to

prevent

ingrown

hairs

Ingrown hairs are hairs that have curled around

and grown back into your skin instead of rising

up from it. Sometimes, dead skin can clog up a

hair follicle, forcing the hair inside it to grow

sideways under the skin rather than upward and

outward.

For those pesky red bumps and other

irritations caused by shaving and waxing, daily

application of ingrown hair creams can prevent

them happening. Using an exfoliating scrub or

pumice stone on soapy skin should also help

reduce the occurrence of ingrown hairs.
---
1.

SOME ESSENTIALS

3.

2.

1. Remington i-LIGHT Smooth

Sense, $899.95

4.

2. Medik8 Nourishing Body

Cream 250ml, $66

3. mesoestetic stemCell

Body Serum 200ml, $120

4. Philips SatinShave Advanced

Wet & Dry Electric Shaver, $69.95

5.

5. Philips BRI956/00 Lumea Prestige

IPL Hair Removal Device, $799

6.

Our

picks

6. Braun SE9980 Senso Smart

Silk 9 Epilator, $329

7. Aspect Soothing Gel 118ml, $33

8. Nair Hair Removal Cream

with 100% Coconut Oil and

Vitamin E, 357g, $15

9. Nair Leg Mask, 227g, $15

10. PCA Skin Body Therapy, $104

11. Skinstitut Laser Aid, Cools,

reduces redness and swelling, $49

7 .

10 .

12. Dermalogica Thermofoliant

Body Scrub $87.50

9 .

8 .

11 .

12 .

www.cosbeauty.com.au 69
---
feature

hair

trends

from the catwalk

Zimmermann brought the Australian summer

heat to hairstyles at this year's NYFW.

The Wavelength collection, inspired by the

excitement of summer as a child in the 60s

and 70s, explores vibrant summer hues, from

burnt oranges and citruses, to sea foam green,

aqua and magentas. The collection's warm colours are

supplemented by the season's hero poster print, where

Zimmermann features girl surfers, along with Batik and

Ikat developed prints, shell adornments and shark tooth

accessories, emanating from the surfer culture of the

Australian summer.

Nicky Zimmermann, Creative Director, Zimmermann

said, 'We wanted a collection that was fun, sexy and a little

cheeky. Something that embraced a mood of neverending

summers. Our looks needed to embody the Australian

summer, the heat and the waves.' 'Renya and the Wella

Professionals team were amazing as always this year,

knowing exactly how to create a look that embodies the

sexiness and fun of our Zimmermann girls. Once again

they helped bring our vision to life, finishing the looks with

vibrant, surfy styles that took us back to the 70s, with a

modern twist,' adds Zimmermann.

Hair styling by Renya Xydis, Wella Professionals Global Creative Artist
---
www.cosbeauty.com.au 71
---
the look

feature

Renya Xydis, Wella Professionals Global Creative

Artist drew upon the fun and beachy hues of the

Wavelength collection to create an inherently

Australian summer look for Zimmermann. Using

the EIMI Ocean Spritz salt spray to enhance texture

at the root area, Renya created a loose, beachy

wave. She then used EIMI Mistify Me Strong to

set the hair into a textured wave and layered with

EIMI Dry Me, to work into a manageable, matte

texture. Taking the tousled, beachy waves and

complementing with SP Luxe Oil and Reverse

Regenerating Spray Conditioner, Renya finished

the look with a polished shimmer. Renya says of

the look, 'This style is true to my heart and very

Australian. I know it's something wearable, cool and

sexy and echoes the vibrancy of the Wavelength

collection.' 'I wanted to create something that

refreshed and modernized the surf wave to evoke

a true Aussie vibe, while also celebrating the

beautiful and effortless style of Zimmermann's

beach girl,' she adds.

72 www.cosbeauty.com.au
---
www.cosbeauty.com.au 73

Hair styling by Renya Xydis, Wella Professionals Global Creative Artist
---
feature

74 www.cosbeauty.com.au
---
Hero hair products used at Zimmermann NYFW:

• EIMI Ocean Spritz

• EIMI Mistify Me Strong

• EIMI Dry Me

• EIMI Glam Mist

• Wella SP Luxe Oil

• Wella SP Reverse Regenerating Spray Conditioner

Hair styling by Renya Xydis, Wella Professionals Global Creative Artist

www.cosbeauty.com.au 75
---
wellness
---
Inner

confidence

Vaginal Rejuvenation is often

misunderstood as purely aesthetic, but

Adelaide Pelvic Reconstructive Surgeon

Dr Oseka Onuma explains how surgery down

below can improve a woman's life.

Sexual health has a massive influence over women's

mental health and psychological wellbeing. Even

though it is not openly discussed in mainstream

media, or even between friends, genital surgery can

often help alleviate pain and improve quality of life for

many women.

Questions surrounding the appearance and function

of the vagina and urinary system can plague women of

all ages, yet talking openly about these concerns can be

challenging. A blanket of taboo means there is a lack of

open and honest public dialogue that makes it difficult

for some women to seek successful treatment – or even

know there are treatment options available.

Adelaide gynaecologist and pelvic reconstructive

surgeon Dr Oseka Onuma believes vaginal rejuvenation

has been misrepresented in mainstream media and, partly

because of this, women receive little support in making

a decision that may be necessary to ease discomfort or

improve self-confidence.

'The number of women patronised by mainstream

media and even by some members of the medical

www.cosbeauty.com.au 77
---
'

I believe in empowering

women through knowledge,

choice and access to

world-class care.

'

wellness

Vaginal

Rejuvenation

for Sexual

DYsfunction

What are the options?

Some women suffer from a lack of sexual

pleasure due to significant vaginal laxity, offhandedly

referred to as a 'loose vagina'. This is

often a direct result of childbirth and can deeply

impact upon relationships and women's overall

mental well-being. These days women don't

have to put up with sexual dysfunction, surgical

and non-surgical procedures can help.

"Surgery for female sexual dysfunction

should only be contemplated when a physical

cause for that dysfunction has been clearly

identified," stresses Dr Onuma.

There is a range of surgical and non-surgical

options available that can address and hopefully

resolve these problems. For example both

surgical or laser reduction labioplasty can

sculpt the elongated or unequal labial minora

as desired. The vulvar structures (including

the labia minora, labia majora, mons pubis,

perineum, entrance to the vagina and hymen)

can be surgically enhanced, both functionally

and aesthetically.

Non-surgical laser vaginal rejuvenation

can effectively enhance vaginal muscle tone,

strength and control. For example a nonsurgical

treatment can be used to treat prolapse

and/or relaxation of the vaginal walls, which

results in dyspareunia or reduced sensation.

"Female sexual dysfunction is complex and

does not always imply abnormality. Affected

women should seek help – women should never

accept that it's 'just part of being a woman'," Dr

Onuma concludes.
---
The Australian Centre for Female

Pelvic & Vaginal Rejuvenation

community when seeking help is disappointing,' he says.

'The majority of my patients seeking vaginal rejuvenation

are not motivated by the aesthetic, but a growing

dislike of pain during intercourse or discomfort when

participating in everyday activities.

'I believe in empowering women through knowledge,

choice and access to world-class care,' he continues.

'Many people say "it's all part of being a woman"

and "just put up with it", but why should you, when

you have options?'

Oversized, elongated or asymmetrical labia minora can

also lead to aesthetic concerns and self-consciousness.

It can cause discomfort during sex and hinder certain

activities such as bike riding and horse riding, and often

makes wearing certain clothes such as swimwear, jeans or

tights uncomfortable.

'Genital surgery can increase a woman's confidence

in herself and her relationships,' Dr Onuma explains.

'Women may not find it easy to talk to strangers, doctors

or friends about a loose vagina, labial discomfort or lack

of vaginal sensation but these issues need to be raised and

explored in order to provide the options for improving

quality of life.

'Some women live with the discomfort of oversized

labia for many years, and often when they come to see

me for a labiaplasty they have only recently become

aware they can have something done to improve the

situation,' he says.

In some cases, functional and cosmetic concerns go

hand-in-hand in genital surgery. The shape and anatomy

of genitalia are unique to every woman and the effects of

child bearing and age can take their toll on some women

more than others.

Many women suffer problems with their genitalia

after childbirth that can contribute to feelings of selfconsciousness

and affect their relationship with sexual

partners. 'With childbirth, the shape and tone of vaginal

tissue changes, sometimes resulting in embarrassment

or loss of sexual satisfaction,' Dr Onuma says. 'After

childbirth, there can sometimes be a reduced ability to

contract the vaginal walls and a feeling of "looseness" or

reduced sensation during intercourse.

'Each patient will have different motivations, concerns

and expectations in seeking genital surgery,' Dr Onuma

explains. 'It is important to listen to the concerns of

the individual patient, assess them with appropriate

examinations and offer a series of potential solutions.'

There are a number of options available, both surgical

and non-surgical, to address these problems. Taking

action can help restore self-confidence, boost self-image

and improve quality of life. csbm

EMPOWERING WOMEN THROUGH

KNOWLEGE, CHOICE AND ACCESS

TO WORLD CLASS CARE

DR OSEKA ONUMA

Gynaecologist and Pelvic

Reconstructive Surgeon

BSc. (Hons), MJur., CCST,

MBBS, FRANZCOG, FRCOG

4 Robe Terrace,

Medindie SA 5081

08 8344 6085

reception@dronuma.com.au

www.dronuma.com.au

www.cosbeauty.com.au 79

ADELAIDE • SYDNEY • DARWIN
---
feature

silly season s
---
urvival

Here are our tried

and tested ways

to survive this

summer in good

shape.

another year has passed

and it's that time again.

Christmas parties, New

Year celebrations, day

after day of hot weather

and school holidays

conspire against the

best efforts to stay trim,

healthy and, above all,

sane. Here are some

ideas for making it

through in one piece.

www.cosbeauty.com.au 81
---
Pick your battles

FEATURE

It's neither fair nor feasible to maintain a strict diet

all the way through the party season. Choose two

or three occasions when you will allow yourself

to indulge and then revert back to healthy eating

for the remainder of the summer. For example,

sticking to a salad and a mineral water at the office

Christmas lunch might do more to damage your

relationship with colleagues than a blow-out would

to your waistline. No one likes a party pooper.

Christmas calorie

catastrophes

The old-fashioned Christmas feast with roast turkey, hot

vegetables and Yorkshire pudding, all smothered with

lashings of bread sauce and rich gravy is a delightful idea

for those dining in the chilly Northern Hemisphere.

However, for those celebrating in the sunshine of an

Australian summer, it just doesn't make much sense.

Follow the lead of clever Aussie families by abandoning

hot and heavy Christmas lunches in favour of a summery

selection of seafood and salad. In terms of calorie counting,

a light lunch of lobster, prawns and salad doesn't even

compare with the old-fashioned Christmas fare. Make sure

you have some treats for guests who aren't worried about

their weight. A cheese board is a great idea, as it can be left

out from the time guests arrive until the end of the day. As

a guide, include a good cheddar, a creamy Brie, a mild blue

vein and perhaps a hunk of something strongly flavoured.

Accompany that with some sliced pear, dried fruits, quince

paste and a selection of crackers.

For dessert, put out platters of seasonal summer fruits

such as strawberries drizzled with balsamic vinegar, sliced

melon, mango, kiwifruit, pineapple and paw paw and big

bowls of cold grapes in different colours. Set out a couple

of dipping bowls of King Island Creme Fraiche for a bit of

extra indulgence.

If you're hosting the festivities, get rid of the leftovers

when your guests depart. Often it isn't Christmas Day that

adds the extra kilos; it's the week that follows of grazing

endlessly on all the goodies left in the fridge.
---
Liquid calories

A huge health trap to watch out for during the

holiday season is alcohol consumption. Even if

you watch what you eat and sometimes even

skip meals as the year winds up to warp speed,

all the celebratory drinks will add up and

eventually take their toll on your weight and

your health. Alcohol is loaded with calories in

the form of carbohydrates. One 200ml glass of

white wine contains around 135 calories – that's

the same calorie count as a bowl of Coco Pops.

Stick to one glass of your chosen tipple at

any party (aside from the few you've chosen as

your 'blow-out' events) and opt for low-calorie

drinks where possible. Choose a diet mixer

rather than the full sugar version and light

beer instead of full strength. Avoid drinking

sparkling wine on an empty stomach, as the

bubbles encourage the stomach to absorb the

alcohol more quickly.

www.cosbeauty.com.au 83
---
The morning after

feature

Despite your best efforts, there will

inevitably be mornings during the

coming season when you'll wake a

little the worse for wear. Hangovers

are the result of a number of factors,

most commonly lack of sleep,

dehydration of the brain, thiamine

(Vitamin B1) depletion and high

levels of intermediate metabolites of

alcohol still in the blood.

Thiamine is essential for

metabolising carbohydrates

(including alcohol) and for the

membrane polarisation and

depolarisation process involved in

nerve transmission.

Without sending your brain into

a tailspin, here's what happens

when you drink more than two or

three alcoholic drinks in one sitting.

All available thiamine in the body

is diverted away from the brain

to metabolise the alcohol as it is

consumed. By-products of the

alcohol breakdown, many of which

are toxic in large quantities, float

around the body and enter the brain.

Once the body's supply of

thiamine is exhausted, the alcohol

in the blood is converted to fat. The

body draws water from its tissues,

including the brain, in an effort to

dilute the excess alcohol and the byproducts

of its breakdown.

The drinker wakes up the

following morning with a pounding

headache (the result of a shrivelledup

brain), nausea, a dry mouth and a

few extra fat deposits.

The best plan for cheating a

hangover (aside from not drinking

too much in the first place) is twofold:

Firstly, load up on thiamine

before you start drinking. Keep

levels up throughout the night

and then replenish your stores

the following morning. The other

obvious rule is to stay hydrated. For

every glass of alcohol you drink, add

a glass of water.

Thiamine-rich foods include

Vegemite, pork (hence the classic

bacon breakfast cure), brown rice,

wholegrain cereals and beer nuts. It's

also readily available in supplement

form from chemists and health food

stores. Thiamine is water soluble so

you can't overdose – any excess will

simply be excreted by the body in

your urine.

This takes care of the hangover

from the inside. The outside,

however, might take a little more

work. Staying hydrated should help

with the problem of dull, dry skin

the following day. If you can manage

it, remove your makeup and apply

a rich moisturiser before you go to

bed. Keep some makeup removal

wipes and a night cream on your

bedside table, in case a trip to the

bathroom to wash your face is just

too much to handle.

The next morning, start your day

with a cool shower and finish up with

a blast of icy water on your face. This

should get your circulation flowing

and help reduce any puffiness

around the eyes.

If your face still looks like a halfdeflated

party balloon, lie down

with a cold compress over your

eyes. Buy a reusable gel eye mask

and keep it in the fridge ready for

beauty first aid emergencies. Failing

that, soak a face washer in icy cold

water with a dash of elderflower

water, lie down and place it over

your whole face. Banish puffy bags

and dark circles with cold slices of

raw potato or wet tea bags straight

from the fridge.
---
Incidental

exercise

December and January fly by in

a flash, with gym sessions easily

replaced by parties, long lunches and

lazy days by the pool. If you don't

want to suffer the consequences come

March, make sure you get in as much

incidental exercise as you can.

Instead of catching up with friends

for a boozy lunch, suggest a day of

tennis (okay, with maybe a Pimm's

afterwards). Walk instead of driving

or catching public transport. Enjoy

the sunshine and the warm balmy

evenings while they're here and go

for a stroll. Climb the stairs instead of

taking the lift.

Use grocery bags as weights and

do some bicep curls on the way

home from the supermarket. Clench

your bottom cheeks together while

you're standing in line to see Father

Christmas with the kids. Brace

your stomach muscles as you walk,

wherever you are, to improve your

core strength.

www.cosbeauty.com.au 85
---
feature

Slip slop slap

No feature on surviving summer

holiday season would be complete

without hammering the point of sun

protection. You. Must. Cover. Up.

Every single day. It's as simple, and

as inconvenient, as that.

Item one on your summer

shopping list should be a broadspectrum

sun block. Broad-spectrum

protection blocks both UVA and

UVB rays from the sun, and an SPF

factor of at least 30 is essential.

Sun protection isn't just an issue

at the beach or by the pool. Every

morning apply a sunscreen to all

exposed areas, including your

face. These days there are plenty

of good-quality sunscreens for the

face, so there's no excuse for not

applying one. To boost protection,

apply a topical antioxidant serum

containing free-radical guzzling

goodies such as Vitamin C.

Reapplying during the day is

admittedly not a viable option for

those who wear makeup to work.

To keep your protection levels

going, touch up with mineral

makeup, which acts as a sunblock,

during the day.

If you're in the sun for an

extended period, you'll need to

cover up with more than just a

lotion. Wear loose long-sleeved

clothing, sunglasses with UV

protection and a hat.
---
Don't sweat it

Whether you sweat, perspire or glow,

it's a normal and

essential bodily

function that

prevents us from

overheating when it

gets too warm; but damp

patches under the arms, runny

makeup and lank hair are not good

looks for the party season.

Here's how to keep your cool:

• Wear an anti-perspirant as opposed to a

deodorant. An anti-perspirant contains

aluminium, which temporarily blocks

the pores from which your perspiration

flows. A deodorant only masks the odour

of perspiration.

• Carry a pack of wet body wipes in your

handbag to freshen up during the

day. Personal hygiene is a must during

summer. Daily showers are essential

and, as the days start to really heat up,

a shower before bed. Body powder

helps to soak up excess perspiration on

the feet, body and scalp. There are talc

and talc-free options available, with or

without fragrance. Dust yourself after your

morning shower to stay fresh throughout

the day.

• Stay hydrated. The more you perspire, the

more dehydrated you become. Not only

that, essential salts are excreted. If you

perspire too heavily without replenishing

what you are losing, the result might be

muscle cramps and headaches.

www.cosbeauty.com.au 87
---
eauty

You

Glow

Girl

We are all torn between

wanting to look bronzed and

glam and knowing spending

time in the sun is not a healthy

choice. here we give you the

best options for that 'juststepped-off-the-plane-from-the

mediterranean' look.

A

little on the milky side? More than

57 percent of women say a tan makes them

feel more attractive, confident and slimmer.

Put simply, a tan makes everything look

better and can make your skin look flawless

and more toned. Get a gorgeous glow the right way

– that is, with a spray tan or self-tanning product.
---
www.cosbeauty.com.au 89
---
BEAUTY

Self tanning

Bali Body Self Tanning

Mousse, $29.95

Bali Body Gradual Tan, $25.95

Sunescape Instant Self-Tan

Mousse, $44.95

We all know how harmful the sun's rays can be, so

why not bluff your way to being a bronze goddess?

There's nothing like a faux tan to make legs look

longer, leaner, shapelier and detract attention

from lumps, bumps, veins and other perceived

imperfections.

In the past few years, fake tans have come a long

way so there's less chance of turning out the colour

of a carrot. The fi rst rule of a fl awless fake tan is

exfoliation. The night before your tan, use a body

scrub or exfoliating lather to remove any dry, fl aky

skin. This will ensure that your tan is applied to

a smooth, even canvas, resulting in a consistent,

natural-looking glow.

Before applying fake tan, slip on latex gloves

or a tanning mitt; orange palms are an obvious

fake-tan giveaway. It's also important the gloves

fi t tightly, as loose gloves may leave streaks when

applying tan to skin.

Wait at least 15 minutes for the fake tan to dry

before putting clothes on. Most tans take between

two to eight hours to develop, so try to stay dry –

don't shower, swim or work out – before then.

And remember: by keeping your skin hydrated

with a quality moisturiser every day, your skin will

be less likely to peel and the precious pigment will

be sealed in for as long as possible.
---
Ella Baché Great Mousse Tan

Dark 150ml, $29 and Great

Tanning Mitt, $9.90

A PERFECT SELF-TANNING OUTCOME

ISN'T ALWAYS GUARANTEED. HERE ARE

OUR TIPS FOR MAKING YOUR FAUX GLOW

LOOK AUTHENTICALLY SUN-KISSED.

Jergens

Natural Glow

Wet Skin

Moisturiser

221ml, $14.99

1.

EXFOLIATE

Use an exfoliating mitt and product to

slough off the dead skin prior to using

self-tanner. Concentrate on the thicker

areas such as the heels, elbows and

knees to avoid product build up. TIP:

If you have sensitive skin, shave the

night before you apply, as even the most

sensitive self-tanners could possibly

irritate your skin.

2.

DRY YOUR SKIN

Before you do anything, make sure

your skin is dry and avoid applying

moisturisers to anywhere apart from the

backs of your heels, elbows and knees.

And remember, no deodorant!

3.

DON'T MISS A SPOT

The best way to apply fake tan is in

sections, massaging skin in a circular

motion to achieve a natural, even look.

4.

WEAR GLOVES OR USE

A MITT

To avoid orange palms or having to

wash your hands after applying each

section, a tanning mitt is your best bet!

5.

DRY IT OUT

Wait at least 10 minutes before

getting dressed. For the next few

hours wear loose, dark clothing

and try to avoid sweating.

St Tropez Self Tan Watermelon

Infusion Mousse 200ml, $59.95

St Tropez Gradual Tan Watermelon

Infusion Moisture Miracle Body

Lotion 200ml, $34

TanGO Exfoliating

Mitt, $22.95

www.cosbeauty.com.au 91
---
eauty

Bronze

&Shine
---
Bronzers are like sunshine in a jar.

A subtle golden glow in the cooler

months can add a touch of radiance

and highlight your own beauty.

A strategic and gentle application

will create soft diffused warmth.

Try using a metallic bronze as a soft

liner under your lower lash line. You

can also lightly sweep a dusting of

shimmery shadow on upper lids – but

try not to go above the crease line

with highly metallic shades.

One of our favourite looks is softly

highlighted cheeks. Dust on a powder

bronzer with a fan brush fi rst, then go

over it with either a shimmery cream

blush or another powder blush in a

bright shade.

It's fi ne to mix textures – creams

can work in tandem with powders if

the application is light. Dab a bit of

shimmer on the top of your cheeks

to instantly brighten and illuminate

your face.

Be sure to choose just one feature

to accentuate, so your shimmer

stays subtle and undetected. It's all

about slowly building layers of colour,

so avoid heavy application

of metallic shadows!

A nifty highlighter is perfect to

combat dull or dehydrated skin

(especially after work). Dab small

amounts on top of your cheekbone –

from the apple of the cheek and up

through to the hairline. This makes

skin look hydrated while the diffused

light decreases the look of fi ne lines.

Also use small amounts on the inner

corner of the eye to add freshness and

under brow bone to lift the eye.

Accentuate your cheekbones by

applying a bronzer under them, to

create a more sculpted look.

Bronze all over in all the spots the

sun would touch (if we'd let it!). Do

it in a number 33 pattern – forehead

then under cheekbones then down

to the jaw line and fi nally under the

chin for sculpting.

Fenty Beauty

Sun Stalk'r Instant

Warmth Bronzer in

Caramel Cutie, $46

Bali Body

Shimmering

Body Oil, $29.95

La Mer The

New Glow

Highlighter $140

Iconic London

Illuminator 13.5ml,

in Glow, $68

Napoleon Perdis

Matte Bronze $60

jane iredale Moonglow

Bronzer Refill Only RRP

$83 and Moonglow

Bronzer & Silver

Compact, $103

Charlotte Tilbury

Supermodel Body, $88

Marc Jacobs

Beauty O!Mega

Bronzer Perfect

Tantric, $72

Marc Jacobs

Beauty Dew

Drops Coconut

Gel Highlighter

in Tantalize

24ml, $64

www.cosbeauty.com.au 93
---
FEATURE

Debbie

DELGADO

HER ARTISTIC EYE AND PROFESSIONAL

EXPERTISE ARE KEY TO THE AMAZING

TRANSFORMATIONS SHE ACHIEVES WITH

MAKEUP AND PASSION.

Debbie Delgado is a

professional makeup

artist, educator and

entrepreneur with

25 years international

experience. With a

global career in the beauty

industry, Debbie has worked

in Peru, Venezuela, the United

States, Asia, Australia and New Zealand.

Widely respected as New Zealand's

top eyebrow threader, Debbie has made

her mark nationwide with television &

magazine appearances displaying her

remarkable beauty techniques.

Debbie continually strives to provide
---
Photographer @chanelledickinsonphotography

fresh ideas through her craft, and is

passionate about uplifting

and supporting women to be the

best they can be.

She explains: 'My passion for

makeup goes beyond making people

look good; my goal is also to make

them feel good about themselves.

Makeup can transform a woman's

look and increase her confi dence

levels. With just a few strokes of a

makeup brush and a splash of colour,

a woman can enhance her natural

beauty or create a whole new look'.

BRIDES

With a wealth of experience in

the beauty industry including

advertising, TV and fashion, Debbie

Delgado understands the unique

requirements of bridal make-up

and the value of having long

lasting and fl awless make-up that

looks spectacular for hours, both

in person and in photographs that

last a lifetime. Debbie often travels

internationally to be a part of many

a bride's special day.

Debbie Delgado is famous for her

'before' and 'after' transformations.

Images speak for themselves, and

there is no trick photography or

surgical intervention.

Debbie's philosophy with these

make-overs is to capture the best of

you and capture it forever (when

combining these makeovers with

a photoshoot), working with your

natural attributes to capture your

inner beauty.

The amazing results are a

transformation from the 'everyday

you' to an enhanced, more

radiant and 'picture perfect'

version of yourself.

CLASSES

One of Debbie's passions is teaching

and sharing her skills with as many

women as possible. She travels

around New Zealand doing several

make-up workshops a year where

she shares her craft with hundreds

of women.

She notes: 'The application of

make-up is a skill that women are

expected to possess, and yet one in

which they very rarely receive any

formal training. We are often reliant

on a process of learning through

trial and error; often an expensive

path in a world where products are

marketed on the basis of brand, not

their suitability to different skin tones

or bone structure. The secret of a

beautiful face isn't an expensively

assembled make-up bag, or

complicated application techniques;

it's about using the right products in

the right places to bring your natural

beauty to the fore.'

Debbie Delgado's make-up lessons

are designed to help strip away the

mystery of make-up, and simplify the

number of products and application

techniques that are right for you as

an individual.

Debbie Delgado Cosmetics: After

many years working with the best

make-up brands, Debbie decided

it was time to create her own, to

ensure she was going to achieve the

best results. A big part of getting an

amazing, long lasting result when

doing makeup, is using good quality

products. Debbie Delgado Cosmetics

prides itself on quality and holds

the mantra that beauty should not

come at the expense of animal

testing. Debbie Delgado Cosmetics

can stand up against the top players

www.cosbeauty.com.au 95
---
Photographer @chanelledickinsonphotography

feature
---
in the industry, but without the ethical

compromise. Debbie Delgado Cosmetics

are available for worldwide shipping from

www.debbiedelgado.co.nz

Social media

In the last few years Debbie has become

an ambassador for several well known

brands in New Zealand and has a large

following on several platforms. Instagram:

@bydebbiedelgado / Debbie Delgado

Facebook page. Also recently, she has

started a new Facebook Group 'Debbie

Delgado VIPs' where every Saturday

she does LIVE make up tutorials, so

people around the world can have free

access to her classes.

Debbie's influence across her

extensive social media and marketing

platforms has provided many

opportunities and developed an

experienced and strong skill set

in modelling, public speaking and

promotion, event production, and closest

to her heart, charity contributions.

Debbie practices and promotes her

highest ethic of grattitude throughout

her life. Debbie views her authentic

audience as a privilege and is passionate

and committed to utilising her skillset

to uplift, enhance and promote others

to a better self. This is evidenced in her

commitment to her projects, content

creation, audience connectivity and

retention and regularity in reach and

response. CBM

WHERE

IS IT?

For more information or to buy

products contact Debbie on

+64 272218686 or email

debbie@debbiedelgado.co.nz

instagram: @bydebbiedelgado

www.cosbeauty.com.au 97
---
feature

Indian

Brides

with indian weddings lasting at least

three days, or even a week, the bride is the

showpiece for the myriad of guests and

colourful celebrations. since her face will

be on show and in hundreds of photos, her

makeup needs to be spot on.
---
www.cosbeauty.com.au 99

Photographer @chanelledickinsonphotography
---
feature
---
2019

Gift

Christmas

Guide

no matter who you need to buy a gift for

this christmas, we've got you covered. If

you end up spoiling yourself in the process,

then that's ok too!

www.cosbeauty.com.au 101
---
3.

FEATURE

1.

2.

4.

6.

5.

7.

8.

9.
---
1.Jean Paul Gaultier Holiday Collectors, Classique, $169, 2.Lancôme La Vie Est Belle En Rose EDT 100ML $159, 3. Viktor

& Rolf Flowerbomb Christmas Limited Edition 100ml $210, 4. Salvatore Ferragamo Signorina Ribelle 50ml, $122 &

100ml, $167, 5. Ralph Lauren Woman Intense EDP $199, 6. Jo Malone London Rose & Magnolia Cologne 100ml, $199, 7.

Trudon EDP 100ml, $299, 8. Amouage Portrayal Woman EDP100ml, $449, 9. Alien Couture Set, $112.

www.cosbeauty.com.au 103
---
3.

1.

2.

FEATURE

4.

5.

6.

7.
---
8.

9.

7.

10.

11.

10.

12.

13.

1. Keratin Protect Undone Waves, for the beach wave fanatic, $39.95, 2. VS Sassoon Digital Sensor Hot Air Styler,

for the vivacious and voluminous gal, $99.95, 3. Frizz Defense Straightening Brush, for the girl on the go, $69.95, 4.

Mermade Hair Waver, $89, 5. VS Sassoon Curl Secret Optimum, for the curl lover, $129.95 6. Cloud Nine The Alchemy

Limited Edition collection, The Original Iron Gift Set, $355, 7. ghd gold ® rose gold gift set, $295, 8. evo thank goodness,

volume, $80, 9. Schwarzkopf Professional BC Color Freeze Silver Set, $54.95, 10. OGX haircare Christmas gift packs,

Nourishing + Coconut Milk Collection, $19.99 and Smoothing + Liquid Pearl Collection, $29.99, 11. Batiste Wildflower

Gift Set RRP $9.95, 200ml, 12. Davines Oi Trio Shampoo, Conditioner and All in one milk, $85.90, 13. evo ho, ho, ho bon

bons, smooth, $15.95

www.cosbeauty.com.au 105
---
2.

3.

1.

FEATURE

4.

5.

7.

6.

8.

12.

11.

10.

9.

13.

14.
---
1. Zoe Alexandria Gold Gemstone Gypsy Hoops Earrings, $119, 2. Palm Beach Collection, Mini Trio Candle Pack 2019,

$34.95, 3. Palm Beach Collection, Prosecco Rose Mini Candle, $16.95, 4. Glasshouse Night Before Christmas, 250ml

Fragrance Diffuser, $49.95, 5. SLIP Travel Set, $140, 6. Glasshouse Night Before Christmas, 760g Luxury Candle, $99.95,

7. ECOYA Christmas Mini Diffuser Fresh, $25.95, 8. ECOYA Christmas Madison Jar Wild Strawberry Frosé, $42.95, 9.

Burt's Bees Nourishing Collection, Vanilla and Pomegranate, $9.99, 10. ECOYA Christmas Tea Light Set Wild Strawberry

Frosé, $14.95, 11. LOVEBYT Cinnamon & Clove toothpaste, $19.95, 12. Burt's Bees Cool Collection, Kissable Colour,

$14.99, 13. In Essence Mini USB Ultrasonic Diffuser, $54.95, 14. Lano Lips Coconutter Cracker, $19.95

www.cosbeauty.com.au 107
---
1.

2.

FEATURE

3.

4.

5.

6.

7.

1. Charlotte Tilbury Filmstar Bronze and Glow, $109, 2. Jo Malone London Scented Bedtime Collection, $100, 3. Bobbi

Brown Luxe Gems Eye Shadow Palette, $115, 4. Bobbi Brown Essentials Travel Brush Set, $180, 5. Charlotte Tilbury

Mini Lipstick Handbag Trio, $40, 6. Charlotte Tilbury Magic Dreams, $135, 7. Nude by Nature Crackers Vibrant Essential

6 Piece Brush Set, $29.95, 8. Nude by Nature Daylight 3 Piece Mini Complexion Set, $19.95, 9. Jo Malone London

Ultimate Christmas Cracker, $78, 10. Jane Iredale Be Rosy Kit Including Blush, Mini Hydration Spray & Lip Gloss, Limited

Edition Honeycomb Bag, $129, 11. Nude by Nature Glisten Good For You Essential Collection, $49.95, 12. Nude

by Nature Glimmer Moisture Shine Lipstick Trio, $39.95, 13. Charlotte Tilbury Advent Calendar, $295, 14. Synergie

Minerals Summer Glow Bronzer and Luminiser Duo, $59
---
8.

9.

10.

11.

12.

13.

14.

www.cosbeauty.com.au 109
---
2.

FEATURE

1.

5.

3.

4.

8.

7.

6.

1. Dermalogica Holiday Collection, Be Bright containing Daily Microfoliant, $23, 2. Ella Baché Bon Bon Bold

Collection 2019, Crème Jojoba 20ml & Special Eye Cream 15ml, $19, 3. Dermalogica Holiday Collection, The

Ultimate Cleanse & Glow Trio containing PreCleanse, Special Cleansing Gel and Daily Microfoliant, $137, 4. Dr.

LeWinn's Private Formula Nourish & Renew Gift Set, $59.95, 5. Jojoba Summer-Essentials Xmas-Pack, $29.95,

6. Bali Body Late Night Lover Bundle, $105.95, 7. mesoestetic ® radiance DNA trio pack – global anti-ageing

solution, contains radiance DNA intensive cream 50ml + radiance DNA essence 30ml + mesoestetic ® radiance

DNA eye contour 15ml free, $305, 8. Murad Holiday Vibes, All Star Vibes containing AHA/BHA Exfoliating

Cleanser, Retinol Youth Renewal Serum, Hydro Dynamic Ultimate Moisture and Multi Vitamin Infusion Oil, $80,
---
9.

10.

4.

11.

12.

13.

14.

15.

9. Skinstitut Be Radiant, $95, 10. Ella Baché Hydrating Skin Collection including Hydra Velvety Soft Cream 50ml, Hydra

Hyaluronic Cellular Serum 15ml, Hydra Cationic Skin Elixir 15ml, $110, 11. Sisleÿa L'Integral Anti-Ageing Collection

includes L'Intégral Anti-Age 50ml, Essential Skincare Lotion 15ml, Anti-Aging Concentrated Firming Serum 4ml, L'Integral

Eye & Lip Contour Cream 2ml and L'Intégral Anti-Age 5ml, $575, 12. BABOR Ampoule Concentrates Advent calendar,

24-day countdown to that special holiday glow, $198, 13. Biologi Christmas Gift Pack – Limited Edition includes Biologi

Bk Eye Rejuvenation Serum, Br Rosehip Oil, Bqk Radiance Serums, Bf Body Hydration Serum and Bd Face Luminosity

Serum, $205, 14. Peter Thomas Roth Mix, Mask & Hydrate 6 piece kit, $117, 15. Biossance Top-shelfies Kit, includes five

bestselling clean beauty skin essentials, $91

www.cosbeauty.com.au 111
---
wellness

Diet

is a dirty word

Keira Rumble, founder of

Krumbled Foods and a

certified nutrition and

wellness advisor, explains

why SHE NEVER USES THE

WORD 'diet'.

eto, Atkins, Paleo, 5:2, Intermittent Fasting,

low carb diet, are all buzz diet words we see

flashed across our screens and magazines

daily, and with those New Year's resolutions

fast approaching, get ready to see the 'new

year, new you' phrase popping up more

and more.

So why is the word 'diet' such a dirty

word? Technically speaking, the word

diet should refer to the way someone

eats, not what they eat to lose weight.

Yet in today's day and age, the word
---
diet is tightly linked to weight loss

and restrictive eating, which can lead

to body image issues, body shaming,

eating disorders and other mental

health issues.

After seeing first-hand just how

detrimental being fixated on a specific

diet could be for your mental health,

I personally refuse to use the word

'diet' in my vocabulary. Instead, my

approach to food is to live life in

balance, focusing on micro-nutrients

just as much as macro-nutrients,

being active, being conscious about

how much sugar is in pre-packaged

snacks, looking after your mind, and

most of all, getting guidance from a

qualified professional when you feel

you need help with your health.

What scares me even more about

the 'weight loss industry' is the shift

from the word 'diet. The word has

been replaced with clever marketing

spin, coining up new names like keto,

Atkins, paleo, no grains and so on.

Now, that is not to say that I don't

think 'diets' don't work, that isn't the

point of this article. My point is that

the word 'diet' has been manipulated

over the years to represent something

much more than what you are eating;

it now in my opinion, can lead to

an array of mental health and body

image issues.

With summer fast approaching,

it is so easy to fall into the idea

of a quick summer shred. But

rather than a quick fix that will

result in restrictions, here are my

tips for a year-round healthy lifestyle

that is manageable.

www.cosbeauty.com.au 113
---
wellness

Get moving

No matter what your fitness

level is, waking up a little

bit earlier and going for a

morning walk, or doing a

5-10 minute stretch before

the family wakes, is a great

way to start your day with

movement.

Colours on your plate

Don't be afraid to get creative with your meals! I am a big

believer that healthy food doesn't have to be boring! We live

in a wonderful digital world where there are literally millions

of recipes that will inspire us to move outside of our comfort

zone with beautiful fresh produce. So rather than focusing solely

on your macros (if that is your thing), expand that into micronutrients,

and look to food as something to nourish you from the

inside out.
---
How much sugar is

in your snack?

Sugar is huge part of our day-to-day

consumption; according to studies 1 the

average Australian is consuming over 14

teaspoons of sugar a day. Sugar can not

only lead to obesity, but can also play

a huge roll in your mental health. A

simple way to reduce your sugar intake

is by looking at the back of packets. Be

cautious of foods labelled as 'healthy', as

there are a lot of products on the market

that actually have more sugar than your

standard Mars bar.

This rise in 'healthy snacks' that

actually weren't healthy was a reason

why I started my food business Krumbled

Foods. I set out on a mission to create low

sugar, functional natural foods. My Beauty

Bites have only 2.8g sugar per serve

(opposed to other collagen products that

have over 18g sugar per serve – which is

nearly your recommended sugar intake per

day in one bar). CBM

Opt for low

sugar health

snacks like

Beauty Bites

1. https://www.abs.gov.au/ausstats/abs@.nsf/Lookup/

4364.0.55.011main+features12011-12

WHERE

TO FIND

BEAUTY

BITES?

For more information visit

www.krumbledfoods.com

www.cosbeauty.com.au 115
---
feature

Fertility

options

after a

cancer

diagnosis

A cancer diagnosis often comes out of

the blue and starting or extending your

family will probably be the last thing on

your mind. However, it's important to

consider your options for the future,

explains Shonagh wAlker.

A

cancer diagnosis is a

frightening enough prospect,

not to mention the thought

of months of gruelling treatment.

On top of this, many young girls

and women discover they have just

a tiny window to decide on their

future fertility options. It's something

they may not have even planned

to consider for many years to come,

particularly if they're pre-pubescent.

However, with medical

advancements and technology being

more effective and more readily

available than ever before, this

window of hope is widening and

allowing increasing numbers of cancer

patients the chance to realise their

dreams of starting or extending their

family. Here, experts share their best

advice on preserving your fertility in

the face of a cancer diagnosis.
---
Don't be afraid to

ask questions

For many women, the situation is

daunting enough, so important questions

can frequently be forgotten. Also, there

are some doctors who aren't wellversed

in the fertility issues surrounding

cancer treatments, or who may see the

importance lies in treating the disease

first and foremost. The lesson here is,

'there are no silly questions', so ask

everything and anything!

Naturally, cancer is a scary prospect for

any woman to face, says Krystal Barter,

founder and CEO of Pink Hope. 'For

those who develop cancer at a young

age or carry a genetic predisposition, it

is often doubly scary,' she says. 'You are

dealing with your own health, difficult

decisions and are often confronted with

the very real likelihood that the decisions

you make will affect your ability to have

children in the future. All this at an age

where having children mightn't even be

on the radar.

'Taking preventative measures often

means that high-risk women can live

cancer free and go on to have happy,

healthy pregnancies,' says Krystal.

'However, for many women in the Pink

Hope community impacted by a highrisk

mutation or carrying a BRCA gene,

cancer can strike at a young age and

aggressively, leaving you little time to

make the necessary decisions about future

family plans.

'Women and their partners need more

information and better consultation

with their doctor around their fertility

before considering preventative measures

and, most importantly, women with

cancer need to be given urgent fertility

preservation opportunities,' she says.

What are your

options?

For the majority of women facing

a cancer diagnosis and subsequent

treatment, hope for a family is tangible,

especially if they are of fertile age, stresses

Dr Raewyn Teirney, Australia's leading

fertility specialist and gynaecologist.

'Couples, and indeed single women,

should know that all is not lost,' says Dr

Jess and Travers on their wedding day with their 'groomsdog' Ari.

www.cosbeauty.com.au 117
---
feature

Teirney. 'I regularly see patients

with cancer to help them continue

or begin their fertility journey once

their treatment is complete and they

are in remission.

'Women are sent to us for urgent egg

retrieval and we can then harvest and

freeze their eggs, which at a later date we

can inseminate with their partner's sperm

and create a beautiful healthy baby.'

According to Dr Teirney, there are

typically two options available:

1. Egg freezing

'We often do this for single women

who are about to undergo chemotherapy

for cancer, which can send them into

menopause,' she explains. 'It gives

them peace of mind that they may be

able to have a healthy, happy family

later in life, either with donor sperm,

or a future partner.

'If a woman is diagnosed with cancer,

their oncologist can refer them for this

procedure typically within 24 to 48 hours.

IVF Australia has methods in place to

fast-track such cases, as we understand

just how stressful these situations can be.

We also have minimised your out-ofpocket

costs for your fertility preservation

treatment, which can be discussed in

more detail during your appointment.'

2. Embryo Freezing

'We look at this for couples,' explains

Dr Teirney. 'We look at having an urgent

IVF cycle and creating embryos that

we then freeze for couples to implant

at a later date. The uterus is normally

unaffected by most cancer treatments

and to implant an embryo, we administer

hormones to maintain a healthy

pregnancy, teamed with regular checkups

and the correct pregnancy vitamins.'

While every case is an individual one,

the younger the woman and her eggs, the

better the chances are of a pregnancy and

healthy baby. Dr Teirney estimates that:

• For a woman aged 35 or under, one

stimulated IVF cycle would result

in the collection of 10 to 12 eggs, of

which between seven and nine would

be suitable for vitrification and storage;

'

Jess and Travers regularly campaign to raise funds and awareness for cancer research.

IVF Australia has methods

in place to fast-track such

cases, as we understand

just how stressful these

situations can be.

'
---
Dr Raewyn Teirney and one of

her specialised fertility nurses.s.

Dr Raewyn Teirney

• Approximately 80-90% of eggs

would survive warming in the future;

• Approximately 50-80% of surviving

eggs would fertilise;

• Approximately 80-90% of fertilised

eggs would develop into embryos;

and

• A single embryo would have a

20-35% chance of developing into

a pregnancy.

(Source: IVF Australia)

'So, we see that medically, many

women who have been diagnosed with

cancer are able to achieve their dreams

of conceiving, enjoying a healthy

pregnancy and becoming a mother,'

says Dr Teirney.

Often there are only a few days

between diagnosis and beginning

treatment, explains Professor Bill

Ledger who heads up the Fertility

Research Centre at the Royal

Hospital for Women in Sydney. 'It is

something the oncologists want to

do quickly for obvious reasons. If the

cancer is aggressive, they might not

have much time.

'The likelihood of these women

achieving their dreams of having a

family is generally quite good,' says

Professor Ledger. 'If we can freeze

five or six embryos, or 12 eggs from

someone under 35, then her chance of

having at least one child is better than

fifty-fifty. You can never guarantee,

of course. Things can go wrong –

eggs don't always fertilise, embryos

don't always implant, but if we get a

reasonable number in the bank and she

is younger, then it is a better chance.

If a woman is 40 or over then of course

the chances aren't as high.'

Pre-teens and

pre-pubescent girls

But what of girls who haven't yet

reached puberty? What are their

options? Australian-led technology

is proving to pave the way globally

for such patients, by freezing ovarian

tissue from pre-pubescent girls with

the plan to graft it once cancer

treatment is completed and when

fertility is required. Melbourne fertility

specialist, Dr Kate Stern, is leading

the advancements in this area and,

to date, her group has taken tissue

from over 400 women and young girls

facing infertility as a result of their

cancer treatment.

'We have been storing ovarian

tissue for 20 years now,' she says.

'Obviously, in the early days, we

weren't as confident of success,

but in the last few years there has

been enormous progress in research.

Our first birth – twins – was in 2014.

We have now put tissue back into

around 26 patients and have had

five babies. We have only been

storing tissue taken from young

girls for a few years, in collaboration

with the team at the Royal Children's

Hospital. We have not yet had

any requests to graft tissue into

women who were children at the

time of their cancer treatment.

These patients have not yet reached

an age where they are ready to

become parents, however we are

optimistic that the technology will

be very successful'.

We now get referrals to help

preserve fertility for children and

young women, especially those with

breast cancer, which is one of the

commonest cancers in women of

reproductive age. For these women

with breast cancer, we mainly still

do egg freezing. However there have

been some women who have not

had enough time, so we have taken

ovarian tissue. For some women we

do both.

'We also currently have a grant

with the Sony Foundation which,

for young patients aged between

13 and 30, covers the cost of transport

and processing, allowing young

people now the opportunity for best

practice fertility preservation, even

if they live a long way away from a

major city. This is such an exciting

opportunity to expand access to care

for all young people who need our

specialised services.'

www.cosbeauty.com.au 119
---
Jess's Story

feature

Two days after her 30th birthday in

2017, Jess Braude was riding high.

She had just enjoyed wonderful

birthday celebrations with beloved

family and friends and was looking

forward to a year of happiness,

love and joy with her childhood

sweetheart Travers Marony, also 30 at

the time. Neither of them could have

imagined their world would be turned

upside down just two days later.

But then, the unthinkable

happened. Doctors found a lump in

her breast.

'It was two days after my birthday

– can you believe it?' she asks with

a wry smile. 'I mean, I knew there

may have always been a chance – I

discovered that I had the BRCA2

gene in October 2016, so I was having

six-monthly testing anyway. But to

find out so close to my birthday was a

bit of a rude shock!

'On my second-ever test in July

2017, they found a one-centimetre

lump. It turned out to be breast

cancer, specifically triple-negative

breast cancer. Triple-negative breast

cancer is a cancer that tests negative

for oestrogen, progesterone and HER2

receptors.

'Put simply, it's the worst kind, as

it's considered to be more aggressive

and have a poorer prognosis than

other types of breast cancer, mainly

because there are no targeted

medicines that treat triple-negative

breast cancer.'

If there was a silver lining, it was

probably that Jess and Travers had

been together for over a decade,

so the conversation about fertility

preservation wasn't as highly

pressured as it might be for those

who'd just started a relationship, or

indeed, those who are single.

'Travers and I had been together

for 12 years, so we were in a lifelong

Jess and Travers remain positive and bouyant
---
Jess when she was undergoing cancer treatment.

'

commitment anyway,' says Jess. 'I am

so lucky I was in that position. I have

spoken to other women who aren't in

relationships and it is an added layer

of complexity having to have that

conversation. It is hard enough to

meet someone without knowing you

have to explain all of this too!'

With a family history, Jess was well

armed with the facts.

'My paternal grandmother had

died of breast cancer at 34, when my

dad was five years old. We had heard

of this testing and my cousin was

keen. She had mentioned it to my

family, so my dad and uncle did the

genetic screening first and both had

Jess's positivity stayed with

her throughout the entire ordeal

and she remains as buoyant

as ever today.

'

the BRCA gene. My sister then got

screened and, yep, we both have the

gene too.'

From there it was a matter of

screening every six months. Rather

than wallow in self-pity or fear, Jess

and her sister decided to make a sixmonthly

event of the tests.

'We thought we would have

this 'date' every six months, to do

something for ourselves and make

it special. That way it was no more

routine than a pap smear, but we also

had some sisterly bonding to look

forward to.'

'You have a mammogram and

an ultrasound, and at six-monthly

intervals, an MRI. I had the

mammogram and ultrasound in

December and had the MRI in July,

which is when they picked it up. It

was deep within my breast and wasn't

detectable to touch. Because of my

age and dense breast tissue it may not

have been there six months before,

but it may have been and was just not

detectable.'

Jess's positivity stayed with her

throughout the entire ordeal and she

remains as buoyant as ever today.

'I am one hundred per cent one of

the lucky ones – for some reason fate

had it and I knew to have the test. A

lot of people don't have the luxury of

being able to intervene so early. It was

the family thing that threw us a little

though.

'At some point, of course we

wanted a family, but I wanted to be

the one to choose when the time

was right. Travers and I are both very

practical. We are not deep talkers –

we didn't even talk about it. We just

knew we were going to go down the

path of fertility preservation. Neither

of us had the energy or time to have

an in-depth conversation about it.

We were told that 'this is what we

should do', so that is what we did!

'I was told early on that chemo

could 'fry my eggs'. My biggest fear

was that chemotherapy would place

me into early menopause and I

would become infertile. I had the

opportunity to do one round of IVF

before chemotherapy started, but

I experienced a looming sensation

that that was the only option I would

have.

'I was given a monthly injection

of Zoladex, which switches off the

ovaries and puts them to sleep. I

had that and even though there

was every chance it wouldn't work;

it was successful, and I was able to

do another round of IVF after my

chemotherapy was over. I was so

www.cosbeauty.com.au 121
---
feature

lucky that my breast surgeon, Dr

Kylie Snook, was open with me from

the start and was well schooled in all

options available to me. She was the

one who made me the appointment –

she was like my case manager.

'Straight after my first surgery she

told me I would need to do a round

of IVF as an 'insurance policy' as

chemotherapy was the only treatment

for my type of cancer and she made

me an appointment to see the IVF

doctor. And then of course, my IVF

doctor recommended I take Zoladex

during chemotherapy, which turned

my ovaries off through the duration of

the treatment and protected my eggs.

'Even though Travers and I were

in a long-term relationship, having

children was way down the list of

priorities for both of us at the time.

We had just moved to Singapore

for his work and I was about to

start a two-year master's program.

The doctor recommended creating

and freezing embryos as there was

a higher success rate when it came

to implanting them. Obviously, this

was not my area of expertise, nor my

partner's, so we basically went with

what the doctor recommended.

'And so, I had a lumpectomy

followed by one round of IVF, which

took about two weeks. The following

week I started chemo. The most

painful part was having to deal with

the fact that suddenly I was staring

down the barrel of a future I'd had no

part in writing.

'In terms of the medical side,

I basically became a human pin

cushion. There were daily injections

for two weeks to stimulate my

ovaries, along with blood tests and

ultrasounds every couple of days to

track my progress. This was followed
---
'

Despite her traumatic ordeal, Jess

remains hopeful and happy and is

overjoyed that through her experience,

she can help others.

'

by day surgery under a light sedation

to retrieve the eggs. Other side effects

I experienced were bloating, stomach

cramps and mood swings.'

Despite her traumatic ordeal,

Jess remains hopeful and happy

and is overjoyed that through her

experience, she can help others.

'It helped me to connect with

other young women who were going

through this and that is how I found

the Pink Hope community. My

friends and family, as supportive as

they were, had no idea what I was

going through and were not able to

provide me with advice.

'Pink Hope fosters a community

where there is no judgement –

something that is rare among young

women in today's society. Through

this community I have met other

young women who have provided me

with the knowledge, coping skills and

support to get me through what has

been the hardest time of my life.

And as for her future, Jess holds

nothing but high hopes!

'I am really lucky that the

injections I had during chemotherapy

worked for me, and Travers and I just

completed a second round of IVF.

This is because we were fortunate

enough to be able to genetically test

the four embryos we create at the

start of this process. Less fortunately,

three of them had the BRCA gene,

which meant we were left with one

embryo that had a 40 per cent chance

of working. During this second

round we were able to get five more

embryos, three of which don't have

the gene. This places us in a really

good position to be able to have a

family!'

'Travers and I got married in

October last year, and my little dog

Ari was in the wedding party. We

know have four embryos that we

can use to start our family. Everyone

wants to know when we are going to

start. It is a hard one because we were

living overseas when it was diagnosed.

I had come back for my 30th and to

get the MRI and I was not at a time

in my life where I could have a child.

Not that there is ever a good time!

'Cancer ruined my fricken plans!!

There is still a lot to do before I have

kids and can't do what I want to do.

This sounds selfish but it is the way

it is. The 'kids' are there ready to go

when I need them! At the moment,

I need my sleep. I can't be up all

night with a crying baby. Maybe in

six months, maybe in a year… at the

moment it's a bit daunting.

'I am back at work full-time and

I feel really good. I am trying to get

back into a normal routine, although

my energy levels are not where they

were. But I am doing really well, and I

am so grateful!'

www.cosbeauty.com.au 123
---
BEAUTY

Burt's Bees

Watermelon Lip

Balm, $6.99

Davines Dede

Delicate Daily

Shampoo 250ml,

$33.95 & Delicate

Daily Conditioner

250ml, $42.95

E

d's

d's

Giorgio

fa d's vess

Giorgio Armani Eyes

To Kill Quad, $105

Giorgio Armani

Ecstasy Shine in

Icon, $56

John Frieda

Violet Crush

for Blondes

250ml, $17.99

Jean Paul

Gaultier

Scandal EDP

80ml, $179

Ella Baché

Great Mousse

Tan 150ml, $29

Glasshouse A Tahaa Affair 30g

Candle Christmas Bauble, $14.95