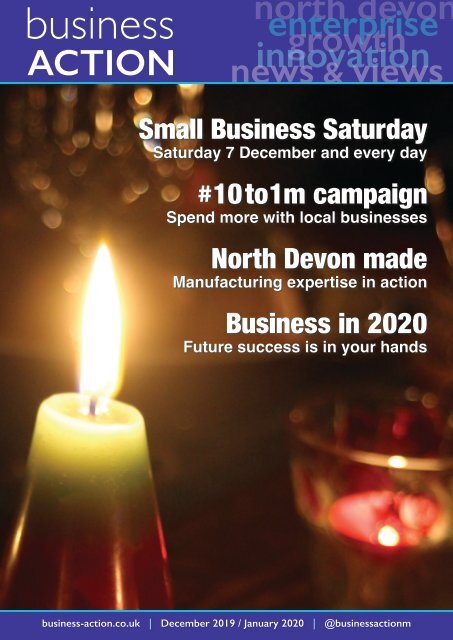 Business Action | December 2019 / January 2020
December 2019 / January 2020 issue of the independent North Devon-based business magazine covering news about business and enterprise in Barnstaple, Bideford, Braunton, Chulmleigh, Combe Martin, Holsworthy, Ilfracombe, Lynmouth, Lynton, South Molton, Torrington, Woolacombe and more. This issue includes the event guide for the BBxpo business exhibition and networking event in Bideford on Thursday 24 October 2019. Business Action Plan and magazine subscribers receive priority access of new issues of Business Action on publication. Subscribe at http://www.business-action.co.uk/plans
December 2019 / January 2020 issue of the independent North Devon-based business magazine covering news about business and enterprise in Barnstaple, Bideford, Braunton, Chulmleigh, Combe Martin, Holsworthy, Ilfracombe, Lynmouth, Lynton, South Molton, Torrington, Woolacombe and more.

This issue includes the event guide for the BBxpo business exhibition and networking event in Bideford on Thursday 24 October 2019.

Business Action Plan and magazine subscribers receive priority access of new issues of Business Action on publication. Subscribe at http://www.business-action.co.uk/plans
SHOW MORE
SHOW LESS
You also want an ePaper? Increase the reach of your titles
YUMPU automatically turns print PDFs into web optimized ePapers that Google loves.
usiness

ACTION

north enterprise

devon

growth

innovation

news & views

Small Business Saturday

Saturday 7 December and every day

#10to1m campaign

Spend more with local businesses

North Devon made

Manufacturing expertise in action

Business in 2020

Future success is in your hands

business-action.co.uk | December 2019 / January 2020 | @businessactionm
---
CONTENTS

Web site | business-action.co.uk

Online version | business-action.uk

Vol 1 Issue 6 – Dec 2019 / Jan 2020 – distribution 2,500

Future success is in your hands................................................................... 1

Workforce diversity attracts purple pounds............................................ 2

Protection from cybercrime............................................................................ 2

Multi-trade building group's new offices.................................................. 3

Small Business Saturday................................................................................. 4

Support small and local businesses all year round............................. 4

No nonsense health & safety......................................................................... 4

Refill store offers natural products for a healthy life........................... 5

Marketing fix for small businesses.............................................................. 5

A competitive edge for independents......................................................... 6

Open all year in Lynmouth............................................................................... 7

In the hot seat: Helen Pedlar of Pedlars Home Hardware................. 8

Saving you time to spend on running your business.......................... 9

BBxpo 2019............................................................................................................ 10

New web site for North Devon Show........................................................... 13

Manufacturer always moving forward........................................................ 14

Manufacturing apprentices celebrate success...................................... 15

Engineering firm continues to invest in apprentices........................... 15

New regional technology institute gets green light.............................. 16

Success in manufacturing awards............................................................... 16

From the Punjab via Exmoor across the world...................................... 17

People....................................................................................................................... 18

Business directory – find products and services ................................ 19

New technical service for dairy farmers.................................................... 20

Support for improving health services...................................................... 20

Business Action advertising plans.............................................................. 21

From £10 to £1 million #10to1m.................................................................... 22

© Need it Find it 2019. All information in this magazine is published in good faith.

Any views expressed are not necessarily those of the publisher, Need it Find it.

Readers are strongly recommended to seek advice from an appropriate professional

before taking any action on any topic discussed in the magazine and to check full

terms and conditions of any products or services promoted in advertisements.

Investment property to Let?

• Competitive commission rates

• Local, friendly, expert advice and support

• Comprehensive marketing

• Fully managed services to suit your needs

• NEW! Mobile-optimised website

• Over 97% of our owners would

recommend us - find out why...

Contact us today on 01271 813777

for your homeowner recruitment pack

ii

marsdens.co.uk

business action | December 2019 / January 2020 | business-action.co.uk
---
ENTERPRISE

business

ACTION

Future success is in your hands

Can we do it? Yes, we have!

From Alan Williams' idea to

hold a business exhibition came

BBxpo in October 2018.

From that first BBxpo event

came the drive to publish the

first issue of Business Action,

in February this year, after

Robert Zarywacz had been

thinking about it.

Here we are a year later,

having held the second, more

successful BBxpo and having

published our first year's worth

of magazines.

Did we have a plan? Sort of,

but, more importantly, we had

a vision and the determination

to achieve it.

We have adapted our plan,

so that we started out with big

ideas for North Devon Enterprise

Day, but diverted our

energies when selected as one

of Small Business Saturday's

#SmallBiz100 from businesses

ADVERTISING

Alan Williams

Advertising, Distribution & Publisher

t: 07970 671192

e: alan@business-action.co.uk

across the UK. It's essential to

be flexible in business so that

you can adapt to changing

circumstances and take up

unexpected opportunities.

Can you do it? Yes, you can!

How about your business? Is

it doing well or do you need

EDITORIAL

Robert Zarywacz

Editor, Designer & Publisher

t: 07971 176044

e: robertz@business-action.co.uk

@robertz

to work on it to achieve your

goals? Actually, everyone needs

to work on their business.

If we can make a success of

BBxpo and Business Action,

we believe anyone can succeed

when they put their mind to it

and we are pleased to support

North Devon entrepreneurs.

Use all available resources

There are many initiatives and

sources of help for your business

– use them all:

➤➤Small Business Saturday

➤ ➤£10 to £1 million

➤➤Support agencies

➤➤Networking

➤➤And more . . .

Running a business in uncertain

times requires us to be

vigilant and positive.

Remember that every other

business is experiencing the

same uncertainty as you and

none of us is alone.

North Devon is a business

powerhouse and Business

Action is here to shout about it.

We believe 2020 will bring

many opportunities, so let's

prepare to take these up and

make a success of them.

FOCUS ON

MANUFACTURING

Small Business Saturday is

the national campaign to build

support for small businesses –

this year on 7 December.

Register to join for free at

smallbusinesssaturdayuk.com

Business Action has been

selected as a #SmallBiz100 –

one of 100 UK businesses – and

will represent North Devon at a

House of Lords reception.

In this issue we celebrate

small businesses across North

Devon. We will also be active

on social media on the day and

running a competition with

a prize of free PR advice for

businesses – follow us on social

media for a chance to win.

>>> PAGES 4 – 9

BBxpo is North Devon's

biggest business-to-business

exhibition and networking

event and opened its doors

to visitors on Thursday 24

October 2019.

Read about the businesses

who exhibited, visited,

attended the free presentations

and training, and enjoyed

networking over the biggest

free lunch in North Devon.

BBxpo returns for its third

year on Thursday 29 October

2020. Past exhibitors are

already keen to rebook their

stands, so contact us now

to ensure your place – book

stands online at bbxpo.uk.

>>> PAGES 10 – 13

Manufacturing is a key sector

contributing substantially to

the success of the North Devon

economy, but it is sometimes

forgotten because much of

this activity takes place hidden

from view in large buildings

tucked away on business parks.

It has always been Business

Action's intention to give

manufacturers the publicity

they deserve and in this issue

we make several site visits to

learn about their achievements.

If you are a manufacturer

and would welcome a site visit

and interview for a future

article, please contact us. We'll

be pleased to visit.

From 10 to a million – that's

what we can achieve if just

over half the population of

North Devon and Torridge

switch £10 of spending from

an online giant or national

company to a local business on

one day – £1 million.

Sounds crazy, but it is

achievable. All we have to do

is pause before we make any

purchase – either personal or

for business – and consider

whether we can buy from a

local business.

And when we do buy

locally to share it with the

#10to1m hashtag.

Let's do it!

>>> PAGES 14 – 17 >>> PAGE 22

@businessactionm | December 2019 / January 2020 | business action 1
---
NEWS

Workforce diversity attracts purple pounds

A new support service

aims to help businesses tap

into £249 billion a year of

spending power, which many

are ignoring. That's the value of

annual purchases by disabled

people and their families, which

they are more likely to spend

with businesses who employ a

more diverse workforce.

The aim of the Be Ready

Employer Hub is to support

Devon-based businesses,

charities and social enterprises

who can provide meaningful

employment opportunities for

people with a disability or longterm

health condition.

It is a two-year pilot project

jointly funded by Devon County

Council (Learn Devon) and

the Department for Work and

Pensions (DWP). The aim is to

create a central hub of specialist

knowledge and information,

supported by employers, service

providers and Jobcentre Plus,

with contributions from individuals

with 'lived experience'

of working with a disability or

long-term health condition.

Help and advice

The Be Ready Employer Hub

will provide practical assistance

and knowledge through:

➤➤An online knowledge

resource hub providing all

the information and links

for employers who are ready

to take the next step but not

sure where to start.

➤➤Training – either delivered

on-site (for larger organisations)

or as a group bringing

together smaller businesses,

covering topics such as the

Access to Work scheme,

the Equality Act 2010

(Disability as a Protected

Characteristic), what

'reasonable adjustments' are

and how easy and low cost

they can be to implement.

➤➤A telephone helpline (callback

service) for specific

Cyber security is a growing

concern for many businesses

and was the topic of a recent

workshop organised by the

South West Police Regional

Cyber Crime Unit (SW

ROCU) and Lineal Software

Solutions Ltd.

30 business people from

across the South West took

part in Lego-based group

exercises highlighting key

concepts in cybersecurity,

as they sought to protect a

fictional utilities company

from a common real-world

cyber crime attack. This was

followed by a short Q&A

including advice for businesses

on related topics such

as network best practice, password

policy, physical security,

and the Government's new

Cyber Essentials certification.

Designed to raise awareness

of coordinated digital threats,

the workshop is part of a new

educational initiative being

run by the Police in the region.

The winning team defended

their company by spending

their budget on the correct

countermeasures at each stage

of the exercise and strategically

limiting the damage from

questions about any aspect

of inclusive recruitment for

people with a disability.

➤➤Peer networking groups for

employers to share experience,

ideas and have open

and honest conversations

about employing individuals

with a disability.

➤➤Opportunities to achieve

the different levels of

the Disability Confident

scheme, which is often seen

as a 'badge of honour' by

many disabled people when

making buying decisions.

Good business sense

One of the project's key objectives

is to show employers that

it makes good business sense

to work with a more diverse

workforce, such as attracting

some of the £249 billion a year

spend. Having people working

in the business who think

Protection from cybercrime

any breaches in security.

Supported by five Police

forces, SW ROCU delivers

specialist capabilities to target

and disrupt serious and organised

crime.

Lineal's head of technical

services, Matt Norris, said:

"We were to delighted to be

able to organise the Cyber

Crime Unit to run this very

special workshop for local

companies. Many businesses

struggle to grapple with cybersecurity

but help and expertise

are accessible."

differently, have developed

their skills by overcoming

adversity and have 'lived experience'

of the disabled 'target

market' is a major competitive

advantage.

By focusing on ability and

talent, rather than the disability

or health condition, employers

will see the business benefits of

valuing difference and diversity.

The Be Ready Employer

Hub goes live in February 2020

and while in set-up phase, the

project team are hosting focus

groups around the county to

get the opinions of businesses

as to what the service should

cover. The North Devon focus

group was held in December,

but the team still want to hear

from more businesses.

For more details on how

to become involved in the Be

Ready Employer Hub, contact

project manager Debbie Stafford

(debbie.stafford@devon.

gov.uk) or project co-ordinator

Sue Windley (susan.windley@

devon.gov.uk).

■■Details readydevon.org.uk

Protect officer Samantha

Parsons from the SW Regional

Cyber Crime Unit explained:

"The overwhelming majority

of businesses are reliant on

online services, which exposes

them to cyber security risks.

Despite 43% of businesses

reporting breaches or attacks

in 2018, only 27% had a formal

policy or policies covering

cyber security risks. It was

great to see so many organisations

attend the workshop,

wanting to understand more

about cyber security and how

they can protect themselves."

■■Details 01271 375999 or

lineal.co.uk

2 business action | December 2019 / January 2020 | business-action.co.uk
---
NEWS

your link to success

covering Temporary, Permanent and Contract

in Manufacturing, Sales and Marketing and Business Support

offices in Barnstaple and Somerset 01271 349 745

www.coopergolding.co.uk

Boden Group managing

director Steve Boden

and former local MP Peter

Heaton-Jones officially

opened the company's newly

refurbished offices in Barnstaple

in November. Peter

also discussed the company's

significant growth across the

South West over the past 10

years with the Boden team.

Established in 2009, the

Boden Group has achieved

rapid expansion to become a

regional leader in providing

multi-trade building services

to commercial, governmental

and residential clients. The

group has established itself

as a trusted partner working

(from left) former North Devon MP Peter Heaton-Jones with the Boden Group team at its newly refurbished office

Multi-trade building

group's new offices

within the Ministry of Defence

(MOD), health, education,

local government and leisure

sectors across Southern and

South West England as well as

providing services for largescale

contracts across the UK.

The group has three core

divisions – Boden Facilities

Management, Boden Fire &

Security and Boden Construction

– and is the only company

in the region to hold such

an extensive range of supply,

installation and maintenance

services under one roof.

The newly refurbished

offices offer all staff a kitchen

seating area for their lunches,

new storage facilities and

increased office space with

more desks to support the

company's expansion.

Boden Group has also

created a purpose-built

office and storage area for its

sponsored charity Chemohero,

which enables it to create and

pack boxes of kindness given

to chemotherapy patients

across North Devon.

Peter Heaton-Jones,

former MP, said that Boden

was "another example of a

hidden gem in North Devon's

economy: an important local

employer providing a vital

service across the region".

Steve Boden said, "Our

plans going forward are ambitious

and we aim to continue

our story of success through

further growth across the

South West and nationwide."

■■Details 0845 646 0112 or

bodengroup.co.uk

The Fox at Fremington

Bar, café, pub

Sunday Carvery £10.95

(£14.95 including desert)

Booking advisable

01271 344161

Church Hill, Fremington, Barnstaple, EX31 2NT

facebook.com/thefoxfremington

@businessactionm | December 2019 / January 2020 | business action 3
---
SMALL BUSINESS

Register your business No nonsense health & safety

As a #SmallBiz100 – one

of 100 businesses in the UK

selected to promote Small

Business Saturday on 7

December – Business Action

urges all small businesses in

North Devon to join the campaign

and for all consumers to

support their small businesses.

If you miss it for 2019,

register for 2020 – small businesses

need support 365 days

of the year.

Registering enables your

business to be featured on

the Small Business Saturday

map to promote you, as

well as giving you access to

marketing materials including

a downloadable poster you

can print out. There is also a

Small Business Saturday app

and you can send details of

any special events you plan

for Small Business Saturday to

the campaign to be shared on

social media.

You might even want to

consider applying for the

#SmallBiz100 yourself in 2020

– we are the only business

selected in Devon and we need

more businesses to represent

the county in future years.

Social media

We'll be tweeting from

@businessactionm before

and on the day and you can

follow @SmallBizSatUK and

use hashtag #SmallBizSatUK.

We'll also post on Facebook,

Instagram and LinkedIn.

■■Register your business and

benefit from the campaign at

smallbusinesssaturdayuk.com

Health and safety doesn't have

to be so complicated that it

limits businesses in what they

do, according to health and

safety consultant Jane Bass.

Jane, who moved to Combe

Martin from the Midlands,

has considerable experience

of delivering health and safety

consultancy and training, and

has enjoyed roles with a further

education college, a printing

equipment supplier and with a

national consultancy. Now she

has started her own business:

JI Health & Safety Consultancy.

Jane believes health and

safety need not be a burden

for businesses and applies a

common sense approach. She

aims to build trust with clients

so that she can offer informal,

friendly advice. Her qualifications

include the NEBOSH

National Diploma in Occupational

Health and Safety and

Small Business Saturday is

a valuable initiative and to

maintain support for small

and local businesses all year

round, we've launched the

'£10 to £1 million' campaign

to encourage buyers to switch

spending to local providers.

Anyone can join in for free

– all you have to do is post on

social media channels whenever

you buy local and add the

hashtag #10to1m.

See details on the back

cover, which you can also

use to display as a poster or

National General Certificate,

and she has delivered training

herself on topics including

manual handling, working at

height, fire warden and fire

safety, accident reporting and

investigation. With a particular

interest in training director and

senior management teams in

legal compliance, she has also

delivered the Institution of

Occupational Safety and Health

(IOSH) Managing Safely course.

Now aiming to focus on

delivering services locally in

North Devon and the South

West, Jane says: "I would like

to expand my business and can

offer a wide range of services

including health and safety

audits, assistance with implementing

tailored management

systems, including the provision

of documentation, and

training and assistance with the

Contractors Health and Safety

Assessment Scheme (CHAS)

and Safety Schemes In Procurement

(SSIP) accreditations."

While getting to grips with

health and safety may feel

daunting, Jane assures that

"taking a sensible step-by-step

approach will help employers

to fulfil their legal duty to

protect staff."

■■Details 07732 328222

Support small and local

businesses all year round

download one from the web

site at 10to1m.co.uk

MicroBizMatters Day

Another day that celebrates

and supports small businesses

employing 0–9 people

is #MicroBizMatters Day on

Friday 11 January 2020.

Organised by micro business

champion Tony Robinson

OBE and Tina Boden, this

year's event takes place in

Hull, but any business can join

in anywhere.

■■Visit microbizmatters.co.uk

4 business action | December 2019 / January 2020 | business-action.co.uk
---
With the trend for eliminating

unnecessary packaging

growing fast, Chris and Gill

Darling have brought the

concept to Ilfracombe High

Street by opening Darlings

Natural Health.

"My background is in the

health business," says Gill.

"I owned a health clinic

from 2000, then managed a

health food store in Buckinghamshire.

I have completed

many courses covering the

use and recommendation of

vitamins and minerals. My

qualifications include diet and

nutrition, counselling and

aromatherapy, and I became a

Reiki Healer in 2004, qualifying

as a Master in 2018.

"Both Chris and I have

family in Ilfracombe and I

used to live in Bideford and

then Fremington in the 1980s

before moving to Buckinghamshire.

We always planned

to return to Devon and finally

decided the time was right for

a new challenge.

"We are both passionate

about looking after ourselves

and the planet. Like most

people we are horrified

with the damage to our

planet with the overuse of

single-use plastic. We want a

better environment for our

grandchildren.

"Our aim is to encourage

people to stop using singleuse

plastic, to look after their

health, and stop or reduce the

reliance on pharmaceutical

drugs and antibiotics. We all

need to look after our planet,

sea and air."

The ethos of Darlings

Natural Health is to encourage

and help customers to do this.

It stocks a range of organic

SMALL BUSINESS

Refill store offers natural

products for a healthy life

Chris Darling of Darlings Natural Health in Ilfracombe

oats, nuts, seeds, pulses,

pasta and dried fruits, and

encourages customers to bring

their own containers and

refill them. Household refills

include washing-up liquid,

laundry liquid, softener,

toilet cleaner, multi-purpose

cleaner and sanitiser. Again,

customers can bring their own

containers to refill.

The personal range

comprises mainly Faith in

Nature shampoo, conditioner,

body wash and hand wash.

Marketing fix for small businesses

North Devon's community

attracts many people to start

their own business here. After

spotting a gap in the market,

Kerrie Anson has launched her

new business: Marketing Fix.

"Growing up in Ilfracombe

and starting out working for

the local theatres, I have always

been drawn to immersing

myself in the local community

with projects such as connecting

the theatres to local schools,"

says Kerrie. "Getting back to

what I love and working in the

community again was important

to me and I noticed that

there are plenty of wonderful

local businesses, but that some

lack the ability to fully market

themselves. At Marketing Fix I

love working with sole traders

looking to raise their business

profile with digital marketing.

This could be social media,

email marketing, web site

creation or content creation,

all of which are my areas of

strength, having worked in the

industry for nine years.

"My aim for 2020 is to work

with more businesses who need

a Marketing Fix. There are not

enough hours in the day when

running a business on your own

or with a small team. Marketing

Fix can be that helping hand."

■■Details 07814 338170 or

getmarketingfix.co.uk

The focus is on products

that are cruelty-free and

100% natural with no SLS

or parabens. The pre-packed

range Just Natural uses plasticfree

packaging that is plant

based and officially certified

compostable.

The store's range continues

to grow and plans include

installing at least 10 more

refill units, a Reiki room and

a free healing centre.

Chris and Gill say the

business has received a good

response in their first month

and is growing gradually as

people get used to having a

refill shop in the high street.

They are currently developing

their web site and are looking

to offer a local retail / wholesale

delivery service. They

already sell on eBay but will

also open their own online

store as well.

Gill adds: "We love local

produce and would like to

increase our range. At present

we have Ilfracombe honey and

Woolacombe organic eggs.

We are also looking to start

in-store demonstrations from

our suppliers."

■■Details 07484 747068 or

darlingsnaturalhealth.com

Call 01271 326694.

info@boomboomedia.co.uk

visit www.boomboommedia.co.uk

@businessactionm | December 2019 / January 2020 | business action 5
---
SMALL BUSINESS

Finding Jobs for People and People for Jobs

Temporary & Permanent recruitment solutions throughout North Devon!

01237 439500

Britain's largest dealerowned

supplier for independently

owned hardware and

DIY stores, based in Barnstaple,

held its 2019 annual

general meeting, conference

and trade show over a weekend

at the Woolacombe Bay Hotel.

Home Hardware, founded in

North Devon by local independent

retailers in the mid-1960s,

now has more than 400

independent hardware retailers,

housewares shops, cook shops,

ironmongers and garden

centres as its members across

the UK. The Woolacombe event

attracted member retailers

from across the country to

www.simplerecruitmentltd.co.uk

network, attend sessions

discussing industry topics and

talk to the 50 suppliers exhibiting

their products.

Home Hardware chief executive

Martin Elliott explained

that the group was established

to support independent retailers

following the appearance of the

first supermarkets. As a result of

fast growth it acquired its first

warehouse in Bideford before

moving to its present premises

in Barnstaple. Together

with its second warehouse in

Bedford, this gives the group a

nationwide reach, delivering to

member retailers from the Isles

of Scilly to Northumberland.

No nonsense approach to health and safety

H&S

JI Health & Safety Consultancy

H&S Audit

H&S Training

Tailored H&S Management Systems

Assistance with SSIPs Accreditations

Risk Assessment / Risk Management

Jane Bass 07732 328222

DipNEBOSH jinnes2@sky.com

"We buy product in bulk

so that independent members

can compete with multiples,"

said Martin. "Everyone buys at

the same price and enjoys the

same service with a delivery

once a week."

Home Hardware membership

gives retailers access to

20,000 products from 300

named brands stocked in its

warehouses, with even more

available direct from suppliers.

More importantly, it can help

support a new retailer as

they establish their business,

reducing the start-up risk. This

includes helping with business

plans and other advice.

Follow us:

A competitive edge for independents

Home Hardware's Barnstaple warehouse

Best stand winner: (from left) Chris Adams (national sales manager,

Price's Candles), David Adams (chairman of Home Hardware)

and Michael Hollings (sales agent, Price's Candles)

"Retailing can be a lonely

business, so this weekend is a

good networking opportunity

to share ideas," Martin added.

Home Hardware's success is

demonstrated by winning the

title of Britain's Best Wholesaler

in the Housewares Innovation

Awards for three years running

in 2017, 2018 and 2019.

Now employing 80+

employees in Barnstaple and a

further 30+ in Bedford, Home

Hardware enables independent

retailers to survive and thrive

in today's challenging high

street environment.

■■Details 01271 337479 or

homehardware.co.uk

HOME HARDWARE INDEPENDENT RETAILERS

Bideford – Blanchards Home Hardware, 51 Mill Street

Bradworthy – Martin & Co, The Square

Braunton – Slees Home Hardware, 11-12 The Square

Crediton – Adams Home Hardware, 119-121 High Street

Great Torrington – Duffys Home Hardware, 3 High Street

Ilfracombe – Chas N Pedlar & Son, 27 High Street

Okehampton – DIY Supplies Home Hardware, 17 St James Street

South Molton – Exmoor Hardware, 135 East Street

Tiverton – Heard & Sendell Ltd, The Old Saw Mills, Leat Street

6 business action | December 2019 / January 2020 | business-action.co.uk
---
John Loveless first worked

at Caravel in Lynmouth as

a summer job at the age of

16, but his family had been

involved with the store even

before that.

"It was almost a calling,"

says John. "My sister had

worked there for the previous

two years and my mother had

worked there, as a bookkeeper,

for the previous owner.

"My job was selling ice

cream, candy floss and fudge.

It wasn't a career choice; I

was studying for extra O

levels and later electronics,

mechanics and photography,

so the seasonal position fitted

in well."

As well as confectionery,

the shop also sold off-licence

products, basketware, jumpers

and kitchen stoneware.

"Even then, I had recognised

that Caravel is in an

excellent position with an

entrance on both Riverside

Road and Lynmouth Street.

The shop has the appearance

of two knocked into one, but

in fact the front was a back

storeroom until after the

Lynmouth flood in 1952.

"It has interior supporting

walls which create a meandering

throughway, an

advantage because it slows the

customer, giving them time to

see everything. The drawback

is that it attracts class A rates

at both entrances."

After experiencing city life

as a student, John decided he

preferred rural life and started

a photography business,

publishing postcards and

books which he sells around

Exmoor and Dartmoor. He

had returned to Caravel in

his holidays and became

permanent when one of the

managers stepped back. In

time, John and the other

manager bought out the

owners, with John eventually

buying the business outright.

"We flourished in the

90s and started opening all

year. Winter trade boosted

the turnover and I kept my

photography business running

as well.

"A new format was

working; the confectionery

and off licence remained on

one side, but we'd changed to

ladies evening wear and home

gifts on the other. Trade was

still very seasonally weighted

but the winters were slowly

becoming busier.

"The recession changed

our customer base so I had

to change the stock again.

Evening wear and home gifts

were sold off and I started

stocking a few traditional

wooden toys and games and

children's clothes, keeping the

confectionery and off licence.

"The toys were popular so I

increased the range but kept to

products in the birth to eightyears-old

region. I found I had

to 'cherry pick' from many

different companies to achieve

the look I wanted."

SMALL BUSINESS

John Loveless of Caravel in Lynmouth

Open all year

in Lynmouth

A well-established shop in Lynmouth, owner John Loveless

talks about how Caravel has adapted to changing tastes and

circumstances to continue delighting residents and visitors alike

John keeps plastics to a

minimum and concentrates

on sustainable wooden toys,

which are very tactile.

"I like them to have some

educational value and the

books must encourage the

child to pick it up in the first

place. In the new season I will

be stocking organic children's

clothes from a company in

Dorset."

Wherever possible, John

aims to use local producers for

ciders, beers and gins as well

as for confectionery. Caravel

stocks more than 35 flavours

of loose fudge and traditional

confectionery displayed in

glass stopper jars.

John acknowledges the

challenges of the retail sector

as well as the frustrations.

"You have to be different;

find products that are not

widely available but have a

general theme, accurately

assess your customer demographic

and cater for it."

To supplement the retail

business, John renovated the

flat above in 2014 as a holiday

let. This is a useful addition,

especially when in winter

footfall falls by 95%. Even

so, Caravel remains open,

although for reduced hours.

"I wish more shops would

remain open through the

winter. You may think it's a

bonus to have a monopoly, but

it does the town no favours.

If tourists only see one or two

shops open in a town, they are

less likely to stop – they need

something that makes it worth

getting out of their car on

cold, wet January days."

John puts a sign on the

door showing the shorter

opening hours.

"That's what you have to do

so people know if it's worth

waiting. A Lynmouth business

needs to be super-efficient

in the winter. You won't take

anything if you're shut.

"I even opened during the

snow falls in March 2018. The

two-mile walk from home

included negotiating a fivemetre

high snowdrift! I had

posted on social media that we

would be open and residents

and visitors who were snowedin

in Lynmouth made the day

worth the effort."

Caravel's web site gives a

taster of what it offers, but the

only way to appreciate its large

range is to visit. John posts

regularly on social media

and receives a good response,

affectionately referring to

customers as 'Caravellians'.

Although not his original

career choice, John enjoys

running Caravel.

"I like teasing the

customers and reps. I love the

look of excitement on children's

faces when they come in

the toy shop, and the look on

adults' faces when they find an

alcohol section, like an oasis,

in the middle of it.

"It all enables me to live

where I want and I enjoy the

freedom to sell what I want. It

may not be the fastest selling

stock, but I have confidence

in the products and I can

make a difference."

■■Details 01598 752369 or

caravellynmouth.co.uk

@businessactionm | December 2019 / January 2020 | business action 7
---
IN THE HOT SEAT

Helen Pedlar of Pedlars, Ilfracombe

1. What was your first job?

From about the age of five

my Dad had me in the shop

dusting and re-filling shelves!

But my very first paid job – at

£1.10 an hour! – was dressing

up as Bubbles the Bear at

Watermouth Castle theme park

meeting and greeting the visitors

at the entrance.

2. What is the best

business advice you've

ever received?

Always keep your staff happy.

They are the frontline of the

business and if they are happy

and content, then it shows

through to the customers

and the staff will always work

harder for you if you show

them you genuinely care.

Customer service is paramount.

If you go the extra

mile for the customer, the rest

will fall into place. Customers

always remember how much

you've helped them and return

business follows.

3. What do you enjoy most

about business?

Every single day is different

in here. Every day has its

own challenges and I learn

something new. I love the

shop being such a big part of

the community and seeing

so many generations pass

through. It's a privilege.

4. What essential

technology could your

business never be without?

Pen and paper! We are old

school and still write lots of

lists and do paper orders. We

still hand write all our ledgers,

although the accountant tells

me we have to computerise

Each issue we put a North Devon business personality in the hot

seat and ask them 10 questions. This issue we asked Helen Pedlar of

Pedlars Home Hardware in Ilfracombe

very soon. We have all our

handwritten ledgers since

1860. Imagine if they had been

on floppy disk – we would

have no way of looking back at

our history.

5. Describe your business

management / style

Friendly and open. I like to

think that staff and customers

can come to me with anything.

I would never ask the staff

to do anything I wouldn't do

Right Way HR Services

Safeguard your business

• Advice on all aspects of employment law

• Contracts of employment

• Staff handbook • HR policies

• Letters, templates and documents

Call Richard on 07825 090782

e-mail: richard@rwhrs.com

myself. I still mop the doorways

and the pavement every

morning with the staff, as we

all work together.

6. How do you go about

personal development?

I encourage learning through

the workplace. I like to include

the staff in meeting reps,

visiting trade shows and having

A deceptively small department

store, this shop is a

positive cornucopia of useful,

interesting, beautiful and

essential items.

Hardware, electricals,

china, gifts, gardening,

camping, outdoor leisure,

menswear and school

uniforms are all sold here.

The family business, dating

back 150 years and now in its

sixth generation, is part of the

fabric of the history of Ilfracombe.

Nowadays, the friendly

and helpful staff are still happy

to be of assistance and always

an input on the products we

sell. I like to see the staff get

excited about a new product.

Enthusiasm sells!

7. Is there anything about

yourself that you would like

to change?

My time management. There

never seems to be enough

hours in the day.

8. Social media: yes or no?

Preferred network?

Yes. We use Facebook and

Instagram to promote the shop.

We have found that this is really

helping us to put us out there

and show people who haven't

shopped with us before the

wide variety of goods we stock.

9. How do you wind down

when not working?

To be honest, I never stop. My

shop is always on my mind, that

and an active seven-year-old.

I do like to make sure I take

at least one family holiday a

year abroad as I love travel and

the heat. It also makes sure I

can't be called on.

I love gardening with my

son, Ollie. He loves the spring

when we can plant the veggies

and he's in charge of making

sure we have a good crop.

10. Do you have a motto or

favourite quotation?

I don't get tired of my work

because you can't get tired of

something you love and enjoy.

You can never go wrong

when you have a great team to

work with.

Anyone for coffee?

ABOUT PEDLARS HOME HARDWARE

prepared to go that extra mile

to ensure satisfaction with all

customers' purchases.

As a proud member of the

national Home Hardware

group – named Britain's Best

Wholesaler in 2017, 2018 and

2019 – prices remain competitive

compared with the large

national retailers.

From traditional to quirky

and modern, Pedlars is well

worth a visit for anyone living

in or visiting Ilfracombe.

■ ■ Details 01271 863509 or

facebook.com/pedlarshomehardware

8 business action | December 2019 / January 2020 | business-action.co.uk
---
After 32 years of working in

administration and finance,

Vanessa Glover retains her

enthusiasm for making businesses

run smoothly, which

she now achieves through her

own business, Exmoorfern.

VA and audio transcription

Exmoorfern provides a range

of virtual assistance services,

from email newsletter set-up

and maintenance to CRM

management, creation and

re-purposing of marketing

material, task analysis and

office manual creation. Along

with these, Vanessa specialises

in audio transcription. While

her introduction to this was

through her doing the actual

dictating when working in

the finance department of

Portsmouth City Council,

Vanessa started transcribing

after moving to Devon in roles

as a doctors' receptionist and

as a legal secretary.

Vanessa says, "I contentedly

spent every day connected to

my headphones and foot pedal

– pretty much as I do today

when transcribing dictated

formal reports for architects,

conservators and other professionals,

which typically run to

75 pages."

Now also transcribing

for surveyors, engineers and

medical consultants, Vanessa

is particularly keen to work

with creative and culinary

artisans, caterers, photographers,

florists and milliners,

as she takes a keen interest in

these professions.

Following a career break

after the birth of her son,

Vanessa took on the role of

PA, bookkeeper and office

manager to a preeminent

timber conservator doing

everything he didn't want,

SMALL BUSINESS

Saving you time to spend

on running your business

or have time, to do. This

shaped her role as a VA, as she

realises first-hand the benefit

of her services for high-value

professionals and sole traders

working under pressure, who

never seem to have enough

hours in the day to get everything

done.

Productivity and profits

Vanessa approaches her work

with a passionate commitment

to standardising processes

to bring increased efficiency,

productivity and profits for

her clients.

"My services mean clients

can delegate their mundane

admin and accomplish things

on their 'to do' list rather than

neglecting them or decisively

and proactively implement

their next project.

"It thrills me that technology

enables me to work

remotely, which also represents

a salary saving to my clients."

RNLI ambassador

In addition to office administration,

Vanessa is a passionate

RNLI ambassador as a result

of her spectacular rescue by

the RNLI from the flooded

River Taw in Umberleigh on 23

December 2012 – see the video

on her web site. She supports

the cause on behalf of her volunteer

rescuers who received

RNLI Bronze Medals for Gallantry

and the Pride of Britain

999 Emergency Services Award

for saving her life.

■■Details 01598 740210 or

exmoorfern.co.uk

NEW YEAR

NEW DREAMS

NEW ADVENTURES

NEW CAREERS

NEW OPPORTUNITIES

NEW CHALLENGES

NEW START

@businessactionm | December 2019 / January 2020 | business action 9
---
BBxpo

Clarity Copiers North Devon has supported both BBxpo events

(from left) organisers Alan Williams and Robert Zarywacz at BBxpo

On Thursday 24 October, organisers Alan Williams and Robert

Zarywacz welcomed exhibitors and visitors from North Devon

and far afield to the second Bideford Business Expo at Devon Hall,

Bideford College.

BBxpo was Alan's idea and the pair organised the first event in

2018 to favourable response and were determined to make this

year's event bigger and better.

"We're grateful to exhibitors like Paul O'Brien of Clarity

Copiers, who was the first exhibitor in 2018 to book his stand for

this year and promoted it widely at networking events," says Alan.

This year's event featured a business exhibition, presentations

and the famous free networking buffet – the largest free lunch in

North Devon.

"We'd like to thank Bideford College for their warm welcome

and excellent facilities and we look forward to BBxpo returning in

2020," says Robert.

Book for 2020 and enjoy earlybird prices

If you missed out this year – BBxpo will return on Thursday 29

October 2020 and stand space is available to book now.

Book and pay for a small stand for £75 or a large stand for £125

before 30 April 2020 to enjoy earlybird prices, at the same level as

this year's. Stand prices will increase to £85 and £145 from 1 May.

Book for 2020 at bbxpo.uk

The team from Marsdens Devon Cottages brighten up the event

The team from Petroc offered advice on apprenticeships

10 business action | December 2019 / January 2020 | business-action.co.uk
---
BBxpo

Finance providers network at BBxpo

Bringing businesses together through networking

One of the main aims of BBxpo is to provide opportunities for

networking and to build new relationships.

Co-organiser Alan Williams was delighted to be able to introduce

a number of finance providers from across the South West.

SWIG Finance was an exhibitor at the show, while Jeannie Cain

from ASC had travelled from Truro, and Emily Gibson and Mary

MacMillan of Leasing Programmes had travelled from Wellington.

"Mary and I found BBxpo very beneficial," says Emily. "We

were instantly welcomed by Alan and introduced to people we

could connect with. There was a good mix of businesses exhibiting,

and all were friendly and approachable. The seminars were well

thought out and the ones we attended worthwhile and helpful to

our business. We would love to a part of next year's."

Jeannie says: "I found it very worthwhile. I caught up with a few

old contacts and developed some great new connections too. I was

particularly impressed with the diverse businesses in attendance,

and the incredible amount of energy and engagement from all

the exhibitors. ASC Finance for Business are very much looking

forward to securing more finance for businesses in North Devon."

Advice on all aspects of business

Finding business advice can be a challenge in North Devon and

a number of support agencies and business consultancies were

present to discuss help and support available.

From Petroc discussing how apprenticeships can help businesses

to the Heart of the South West Growth Hub showcasing

the range of support available across the region, there were many

opportunities for businesses to find the advice they needed.

Jobcentre Plus attended for a second year to raise awareness of

the Disability Confident programme that helps businesses discover

the pool of untapped talent that disabled people offer as employees.

And consultancies such as Fitzgerald HR showcased how they

help employers manage, develop and retain their people.

Deep in conversation at the SWIG Finance stand

Fitzgerald HR was on hand to discuss managing and developing people

The Heart of the South West Growth Hub promoted business support on offer

Jobcentre Plus offered advice on the Disability Confident programme

@businessactionm | December 2019 / January 2020 | business action 11
---
BBxpo

The Sign Maker returned to BBxpo with its stand packed with the many

varieties of signs it manufactures in North Devon

Safety Supplies Direct exhibited a small sample of all the products

available from its Pottington store and through its web site

Robin Glover of Towergate discussed its range of business insurance

services including cyber insurance

Free online training: (from left) Alan Williams with Google Digital Garage

trainer Silvia Paloschi and Robert Zarywacz

Plumbing supplies for trade and homeowners from Barnstaple and Ilfracombe

Steve Bearman started Bearman's Plumbing Centre at Mullacott when, as a plumber, he had to drive to Barnstaple every time he wanted a

specific item. He exhibited at BBxpo to promote both the branches he operates, having also opened up in Brannam Crescent, Barnstaple.

Customers are mostly plumbers and heating engineers, although more DIYers are buying from the stores and Steve is looking to

increase this trade. He finds his experience and knowledge as an ex-plumber a great advantage in that plumbers and DIYers feel confident

in asking him for advice about products. Product knowledge is essential in this business.

Bearman's specialises in stocking or obtaining items that most plumbers merchants do not. As well as the products most customers

expect, it carries more unusual items, such as tap cartridges, shower spares and a greater variety of fittings, and it has the ability to source

almost everything plumbing and heating related.

12 business action | December 2019 / January 2020 | business-action.co.uk
---
BBxpo

Thank you

Alan and Robert would like to thank Andy Francis at Tarkatography

for capturing the day's activities in the photos featured on

these pages – find more details of Andy's photographic services at

tarkatography.co.uk.

We would also to thank Paulo Symons for recording and

editing the BBxpo video, which is now available on the BBxpo web

site, YouTube and other sites – find more details of Paulo's video

marketing services at panotion.co.uk.

Thank you too to Marley Comms for supplying wifi for the

event – find out details of Marley Comms at marleycomms.co.uk.

And, finally, thank you to all our exhibitors, presenters and visitors

– we hope to see you all again next year at BBxpo 2020.

Book for 2020 at bbxpo.uk

The Peak Online team ran a champagne prize draw at BBxpo

Sponsorship deal: (from left) Andrew Bowers of Peak Online

with Theresa Soanes, show secretary for the North Devon Show

New web site for North Devon Show

BBxpo exhibitor Peak Online

has partnered with the North

Devon Show with a five-year

web site sponsorship deal.

The web site is a pivotal

marketing tool for the show

and with continued mobile

use increasing, it was time to

act in time for the 2020 show.

Show secretary Theresa

Soanes says: "The North

Devon Show continues to

invest in improvements to the

show and we are delighted to

work with Andrew from Peak

Online, and thank them for

their valued sponsorship and

support."

Andrew Bowers of Peak

Online says: "Peak Online is

excited to announce the fiveyear

web site sponsorship deal

with the North Devon Show.

"It works out to be a

great deal for both parties.

They were in need of a web

site upgrade and in return

it's great exposure for Peak

Online to the North Devon

community.

"The deal includes a new

responsive web site and

ongoing support to maintain

its presence for years to come.

"I am very much looking

forward to meeting everyone

involved with the show at the

AGM in February next year."

BBxpo experience

Commenting on BBxpo,

Andrew says: "This was Peak

Online's first BBxpo and we

will definitely return for 2020.

Everyone involved was very

friendly and welcoming. It

gave us the platform to reach

out to North Devon businesses

and discuss how we can help

them with their web sites and

digital marketing strategies.

"We have already began

working with a few new

clients because of our stand

and hopefully a few more will

follow. I would like to thank

Robert and Alan for putting

on a fantastic show."

■■Details 01237 721256 or

northdevon.peak-online.uk.com

Cranford Business

Services Limited

www.accountsindevon.co.uk

Old Stone, Cranford, Bideford, Devon, EX39 5QW

07896 204 857

Does your accountant...

Listen to you and act on your needs?

Explain your accounts in terms you understand?

Arrange meeting at your convenience?

Leaving you free to concentrate on what you do best!

@businessactionm | December 2019 / January 2020 | business action 13
---
graphics design teams produce

fully functional prototypes so

that each design can be tested

to ensure that shapes, folds,

assembly and visual appearance

combine to provide the best

possible product for the client.

The importance of people

Complementing this investment

in equipment and technology,

Jason emphasises the

importance of all the people

working in the business.

"We have a very loyal

workforce," says Jason. "Many

people have been with us for

over 20 years."

While it's a challenge to

keep everyone happy, Jason

adds that the company aims to

demonstrate its appreciation

for everyone's hard work. This

includes providing an impressive

range of benefits including

MANUFACTURING

Manufacturer always moving forward

Atlas Packaging, like many

manufacturers, operates a

sophisticated, modern business

hidden away on a business park.

As a result, few people in North

Devon may realise that, as an

independent corrugated cardboard

packaging specialist, Atlas

Packaging supplies packaging

to household brands including

Riverford Organics, St Austell

Brewery, Adidas, Asda, Baileys

and Johnnie Walker.

Inside the Atlas Packaging

plant at Roundswell, Barnstaple,

a team of 150 works to

design, print and manufacture

a range of packaging that is

shipped to customers across

the country. The company's

success has enabled the team to

grow from 130 two years ago,

while continued investment has

increased its capabilities and

capacity. In 2012, it invested

£2.5 million in new machinery

with further investments of

£500,000 in 2014 and £1.75m

in 2016. Planned investment

in 2020 will increase capacity

even more.

Technology in packaging

Managing director Jason

Sharman acknowledges that

there is never certainty in

business and that all businesses

need to be prepared to respond

to changing circumstances,

whatever they may be: "We

are always looking at the next

requirement. Our approach

to business is always to try to

move forward."

Atlas Packaging approaches

this in a number of ways. In

addition to investing in efficient

machines that print, cut and

fold cardboard into packaging

that looks like a work of art,

Atlas has a fully equipped

structural design studio which

uses CAD technology to push

cardboard engineering innovation

to its limits. This enables it

to develop tailored designs for

individual packaging products

optimised for transportation,

storage, assembly and display.

Alongside this, the graphics

design team uses proprietary

and specialist design software to

ensure that packaging looks as

good as it functions. Working

together, the structural and

Manufacturers play a vital role in the North Devon economy, but

because many don't supply consumers their success is not always

visible. As part of Business Action's mission to cover all areas of

business, editor Robert Zarywacz met Jason Sharman, managing

director of Atlas Packaging, to find out more about the company

The Atlas Packaging team in Barnstaple

free gym membership, cycleto-work

scheme, free fruit

and childcare vouchers. It also

provides extensive performance

data on the company so

that everyone can understand

the importance of working

well as a team to maintain high

standards and productivity in

a very competitive marketplace.

As a growing business,

Atlas Packaging invests in

its people and continues to

employ apprentices to learn

and develop valuable workplace

skills on the job. Recognising

the common challenge of

attracting new talent to

manufacturing, it plays an

active part in the community

and has partnered with local

charity Chemohero for 2020. It

also sponsors the 'Our School

Orchard' project to support

Philip Sweetland (second left) and Jason Sharman (to his right) receiving

Atlas Packaging's Careers Excellence Award from the Gatsby Foundation

primary school students in

planting and maintaining

small school orchards and is

sponsor of the Annual Bideford

Cardboard Boat Regatta. As

well as supplying free cardboard

to teams constructing

vessels, in 2019 Atlas Packaging

enabled three students – Fahren

Woollacott, Callum Rippon

and Joe Passmore, all aged 15

– to develop their concept and

design it with CAD software

before building it as part of

their work experience. Their

boat still sank!

The company has also

aligned with Ilfracombe

Academy and recently participated

in its Year 7 roadshow

to demonstrate the breadth of

manufacturing careers available,

from accounts and drivers to

machine operators, designers

and IT. As a result of this

commitment to future manufacturers,

it was recently awarded

the Small Employer of the Year

Award at the Careers Excellence

Awards 2019 in London run

by the Careers & Enterprise

Company in partnership with

the Gatsby Foundation.

Environmental care

Jason adds that Atlas Packaging

is fully aware of its environmental

responsibilities as a

packaging manufacturer. While

corrugated cardboard is one

of the most environmentally

friendly materials, there is

no complacency. As well as

holding both ISO 9001-2015

and BRC – 2015 Certification

accreditation for quality

control, the company has

achieved ISO14001 environmental

management system

certification. In addition, its

FSC® Chain of Custody certification

ensures checks at every

stage of the supply chain so that

customers can be confident

they are purchasing genuine

FSC-certified goods.

With this commitment

to the environment and its

approach to investing in technology

and its people, Atlas

Packaging maintains its readiness

to meet the challenges that

future manufacturers will face.

■■Details 01271 344055 or

atlaspackaging.co.uk

14 business action | December 2019 / January 2020 | business-action.co.uk
---
Engineering firm continues to invest in apprentices

(from left) Lilley Precision Engineering's Suzanne Lilley, Jacob Bartynski

with his apprenticeship award and managing director Darrian Lilley

Jacob Bartynski, one of two

apprentices at Lilley Precision

Engineering in Barnstaple,

was recently awarded Group

Training & Development's

Apprentice of the Year Award –

3rd Year Mechanical.

Lilley Precision has been

working with Group Training

& Development since 2011 and

has provided opportunities for

four apprentices to date.

"The apprenticeships work

really well and we feel proud to

be able to provide them with

Manufacturing apprenticeship

specialist Group Training &

Development recently held its

annual awards event, attended

by more than 100 employers,

apprentices and family

members, to celebrate the

successes of all its engineering

apprenticeship completions

and award winners.

Guest speaker Tim Puttick,

manufacturing director of

TDK Lambda, Ilfracombe,

gave an inspirational speech

to students just starting out in

their careers in engineering.

Sponsored and supported

by local engineering companies,

the event reaffirmed the

important role GTD plays in

providing quality apprenticeship

training to engineering

companies across the North

Devon area.

2019 awards winners

1st Year Electrical/Electronic

Nathan Sinclair – NDE

1st Year Mechanical

Victoria Morton – Whiteland

Engineering

2nd Year Electrical/Electronic

Lara Brett – TT Electronics

2nd Year Mechanical

Karl Moore – TDK Lambda

the ability to learn a variety of

skills at the start of their career

path," says administration and

quality manager Suzanne Lilley.

"Being a small business, our

team all work closely together

and we do feel like a family.

"It is always sad to see our

apprentices move on but we

love that they always keep in

touch with us."

Steve Killner, training

officer with Group Training

& Development Ltd, adds:

"Lilley Precision and Group

Winning manufacturing apprentices at Group Training & Development's annual awards celebration

Manufacturing apprentices celebrate success

3rd Year Electrical/Electronic

Charlie White – Eurofins

3rd Year Mechanical

Jacob Bartynski – Lilley

Precision Engineering

4th Year Electrical/Electronic

Lewis Burton – SEA Ltd

4th Year Mechanical

Jamie Witherington – SEA Ltd

Special Achievement Award

Thomas Maslen – Brimar

Technique

About GTD

GTD was established more

than 40 years ago by a number

of like-minded North Devon

Training & Development have

worked closely together for

many years training, mentoring

and supporting engineering

apprentices with their learning

to enable them to obtain

engineering skills and qualifications

that will stay with them

throughout their career. We

look forward to continuing to

work alongside Lilley Precision

to train more apprentices

which will help to strengthen

their business and increase the

pool of engineering talent in

North Devon."

manufacturing companies

to promote and advance the

provision of apprenticeships,

primarily within engineering,

and to provide apprenticeship

training support to local

employers and their trainees.

GTD continues to work

closely with local businesses

in a multitude of engineering

and manufacturing disciplines

by supporting them in the

selection of apprentices and

by tailoring apprenticeships to

meet the individual training

needs of each of their trainees.

■■Details 07805 696783 or

gtdev.co.uk

Lilley Precision is also

committed to working with

local schools including the

Park, Pilton, South Molton,

Ilfracombe and Torrington to

provide work experience placements

for students.

"We've provided work

experience every year for the

past 10 years and it works

well," adds Darrian. "One of

our previous apprentices was

as a result of one of our work

experience placements."

■■Details 01271 370601 or

lilleyprecisionengineering.co.uk

Looking for independent financial advice?

Call us on 01237 426450

for a free initial consultation

contact@dscottfinancial.co.uk

https://dscottfinancial.co.uk

Your home may be repossessed if you do not keep up repayments on your mortgage.

@businessactionm | December 2019 / January 2020 | business action 15
---
Universities, colleges and

employers across the South

West have signed a partnership

agreement signalling a

multi-million-pound investment

in the region. The South

West Institute of Technology

(SWIOT) will train thousands

of students in technical

subjects across the region,

bringing unparalleled skills

development and career opportunities.

The government has

plans for 12 new IOTs to equip

the British workforce with

skills across key sectors.

The SWIOT is a unique

collaboration between a

number of partner organisations,

including Petroc, the

University of Exeter, University

of Plymouth, Bridgwater &

Taunton College, City College

Plymouth, Exeter College and

Truro & Penwith College. Each

will invest in the development

of state-of-the-art facilities for

training in technical subjects to

create Britain's next generation

of highly skilled technicians

and engineers.

The SWIOT also draws

on expertise from a group of

'anchor employers' who will

lead its strategic direction

and ensure focus on the latest

industry skills. These include

TDK Lambda in Ilfracombe,

Oxygen House and the Met

Office in Exeter, and Babcock

in Plymouth. Investment will

be provided through the Local

Enterprise Partnerships (LEPs)

for the Heart of the South

Barnstaple-based SEA Ltd

has triumphed in the regional

heats of a major national manufacturing

awards programme

organised by Make UK, the

manufacturers' organisation.

The Future Manufacturing

Awards recognise manufacturing

excellence in six

categories as well as in two

apprentice categories. The

awards were presented at the

South annual dinner of Make

UK, sponsored by Japanese IT

solutions provider Hulft and

Menzies LLP.

Innovation award win

SEA Ltd, a world-leading

electronic systems provider

to the defence, transport and

offshore energy market, was

announced regional winner

in the Innovation category

sponsored by HVM Catapult.

The judges commented:

"This company sought to

develop a miniaturised

underwater acoustic sensing

solution, reducing the size

dramatically so it could be

deployed from much smaller

vessels, opening up a wider

range of potential applications

in UK and export markets.

Whilst the project overcame

technical and supply chain

challenges, to deliver a prototype

as swiftly as they did was

quite remarkable."

MANUFACTURING

New regional technology institute gets green light

NEWS IN BRIEF

Gradsouthwest has launched

its South West Graduate

Scheme Directory, which

provides a guide to graduate

schemes, graduate programmes

and graduate traineeships

available across the region.

The Graduate Scheme

Directory aims to help graduates

wanting to work in the

South West find graduate

employment. The directory has

three sections – a full listing

of employers offering schemes

with a graduate web address,

and then listings by county

area and by sector.

Student interest

Gradsouthwest has produced

the directory in response to

student requests for more

information about what is

available in the region. Its aim

is to provide a quick, easy-toread

guide for students and

graduates that helps them

find schemes in the region. It

does not guarantee that every

graduate scheme is included.

In addition, Gradsouthwest

continues to advertise

hundreds of graduate job

vacancies throughout the

year, both graduate schemes

and single job vacancies.

Entries are free to recruiting

employers – they just have to

run a scheme offering job roles

in South West England.

■■Details gradsouthwest.com

West and Cornwall and the

Isles of Scilly.

Catering for up to 2,500

students in apprenticeship and

full-time courses, from post-16

to Master's degree level, the

SWIOT's combined facilities

will match the best available in

the UK and help put the South

West region at the forefront

of digital and engineering

education. Facilities will

include virtual and augmented

reality environments, digital

learning laboratories, artificial

intelligence arenas, new clean

workspaces, workshops, emergent

manufacturing spaces

with industry level equipment,

and shared learning spaces.

Speaking about the multimillion-pound

partnership

Success in manufacturing awards

Triple finalist

HepcoMotion, in Tiverton,

was runner-up in three categories.

Maurice Porter, group

training manager, was named

runner-up in the Leadership

award and Andrew Crew, a

final year engineering apprentice,

also received recognition.

The third award placed HepcoMotion

as runner-up in the

Developing Future Talent category,

with judges commenting:

"HepcoMotion's approach to

talent development gives back

to the community by taking

unemployed people, training

them and injecting a huge

level of enthusiasm".

Caroline Milton, partner

and manufacturing specialist

at Menzies, says: "UK manufacturing

is a great British

success story. A healthy sector

is instrumental in driving

economic growth and plays a

critical role in rebalancing the

economy. The Future Manufacturing

awards recognise the

importance of manufacturers

and apprentices across Britain,

reminding us of their contribution

and the hard work,

dedication and ambition going

on in every part of this vibrant

sector. We congratulate all

winners for their achievements

and wish them the best

of luck at the national finals."

Dick Elsy CBE, chief execu-

deal for South West Institute

of Technology, Paul Swan,

financial director at TDK-

Lambda UK, says: "As a design

and manufacturing enterprise

based in North Devon, some

distance from large cities and

universities, attracting and

retaining sufficient engineering

talent can often be

difficult.

"The South West Institute

of Technology partnership

fosters the growth of and

augments the collaboration

within the region. We are

delighted to be involved and

excited about the new opportunities

it will bring to young

people in the South West."

■■Details 01271 856600 or

emea.lambda.tdk.com/uk

tive of the High Value Manufacturing

Catapult, added:

"Innovation is the beating

heart of a thriving company.

Mastering its rhythm is key

to developing great products,

achieving outstanding productivity

and putting a business

ahead of the pack. Innovators

are the drivers of opportunity.

They create robust, sustainable

growth, whatever the

economic outlook, and deserve

our recognition and praise."

Russell Kirby, senior

director, Business Development

EMEA at Hulf, said:

"Britain is one of the world's

biggest manufacturing nations,

and it is a great privilege to

be working with Make UK to

help support and champion

UK manufacturing. The sector

is facing significant change,

as a result of what is being

referred to as the 4th industrial

revolution, and it is important

that businesses are given the

right opportunities to properly

position themselves for the

future. We are looking forward

to getting out to meet Make

UK's members and being part

of such an important and credible

awards programme."

As a winner, SEA Ltd will

go forward to the national

finals to be judged in London

in December.

■■Details makeuk.org

16 business action | December 2019 / January 2020 | business-action.co.uk
---
MANUFACTURING

The Aramis digital scrum machine developed and manufactured in North Devon

A family business: (from left) Roshni, Ryan and Vic Mahajan

From the Punjab via Exmoor across the world

When it comes to rugby

equipment, all roads lead to

South Molton where, just off

the A361, Aramis Rugby has its

global headquarters.

A family business established

in India in 1927, it first

manufactured hockey sticks

for the Olympics team before

making cricket bats.

The present company is one

of the world's leading manufacturers

of rugby equipment,

supplying 3,000 rugby clubs,

rugby schools and universities

in 23 countries across the world.

Husband and wife team Vic

and Roshni Mahajan head the

business, operating their own

factories in India and the UK.

Vic has travelled extensively,

taking his Master's in International

Business in Germany

and initially settling in France

to expand the business into

the European market, which

led to naming Aramis after

the famous musketeer. It was

through Australian connections

established by Vic's

brother, Ajay, that the business

moved into rugby equipment

and started manufacturing in

the UK.

Vic moved to Devon in 2003

and, following an arranged

marriage in India, which

surprised some people here,

Roshni joined him in South

Molton. After the birth of their

son Ryan, Roshni became fully

involved in the business.

"South Molton is home now.

We all feel part of the community

and our son goes to the

local school," says Roshni. "It's

a very beautiful place to live."

Building the Aramis brand

A major step Vic and Roshni

took in 2012 was to stop

manufacturing for other brands

to concentrate on establishing

Aramis itself as a major, high

quality, international brand.

Another step was the development

and manufacture of its

own scrum machines in South

Molton. The company already

produced rugby balls, training

equipment and high performance

kit and clothing – being

official supplier to many UK

and worldwide rugby premiership

teams – when it developed

its scrum machines in 2013.

"Scrum machines have existed,

in one form or another, for

a while now," says Vic. "But

we wanted to take the scrum

machine on to the next phase, a

'next generation', and the incentive

to do that has come from

people within the game."

Digital scrum machines

In 2015, ex-England International

and British Lion Nigel

Horton joined Aramis as an

adviser, while Ajay was keen to

use the latest technology.

Nigel used his experience

of the game to identify

what rugby players wanted.

Roshni adds that he suggested

developing a scrum machine

that would "not only measure

weight and force but record

and analyse figures".

Vic's inventive skills brought

together Nigel's knowledge of

the game, Ajay's engineering

input and Roshni's AutoCad

abilities, enabling Aramis to

launch a model that displays

the forces exerted, records

them digitally and preserves a

timeline for further analysis.

Following an approach by

sponsors of the Six Nations and

Scottish Rugby Union for fanfriendly

models, Aramis scrum

machines have been featured

at Murrayfield, the Hong Kong

Sevens tournament in 2018

and the Premiership Final at

Twickenham in 2018 and 2019.

With input from global corporations

including Airbus and

the European Space Agency,

Aramis' scrum machines are

now leaders in the field.

Record breakers

Vic and Roshni are keen that the

business supports the community,

both in terms of grassroots

rugby and the local economy. To

achieve this they are pursuing

initiatives such as manufacturing

the world's biggest rugby

ball, which recently put South

Molton under the international

media spotlight.

They are also keen to invest

in local skills through apprenticeships

and create local

employment so that Aramis

has the technical, engineering

and manufacturing capabilities

to develop the full potential

of manufacturing scrum

machines in North Devon both

for the UK and export markets.

■■Details 01769 550284 or

aramisrugby.co.uk

@businessactionm | December 2019 / January 2020 | business action 17
---
Glover Stanbury will be saying

a fond farewell to senior

manager Paul Dean at Christmas

this year when he retires

after no less than 41 years with

the firm and its predecessors.

Paul has always been based

in the chartered accountants'

Bideford Office in Bridgeland

Street, stretching all the way

back to 1978.

Glover Stanbury is also

very pleased to welcome Toby

Vanstone, who joins them as

a manager from another local

firm. Toby will be taking over

Paul's clients from January.

Slee Blackwell has welcomed

Andrew Wood to its Clinical

Negligence department to add

his many years of experience of

pursuing compensation claims

for people who have suffered

medical accidents.

Andrew began his career

working in central London

before moving in the late 1990s

to a firm in Kent to specialise

in personal injury and clinical

negligence law. He was chair

of the management committee

of his local Headway branch,

a charity that supports victims

of traumatic head and brain

injury. Andrew has dealt with

a large number and variety

of cases since then, many of

which have involved claimants

who have suffered life-changing

injuries, recovering significant

sums of compensation in the

process. He has successfully

pursued negligence claims

against GPs, dentists, and

specialist medical practitioners,

and is looking to build upon

that success with Slee Blackwell

in North Devon.

Oliver Thorne, head of the

firm's Clinical Negligence team

said, "On the back of another

PEOPLE

All change: (from left) Paul Dean and Toby Vanstone outside

Glover Stanbury Chartered Accountants in Bridgeland Street, Bideford

The first of new appointments at Slee Blackwell: (from left) Andrew Wood

has joined the firm's Clinical Negligence department

while Cathy O'Grady has joined its Family Law team

busy year, we've had an influx

of people asking for our help.

We've therefore been looking

for someone with experience

in this specialised area of law

who is empathetic and understanding

to our clients' needs.

Andrew is a great addition to

the team and brings a wealth of

experience with him."

Another new face is Cathy

O'Grady, who has joined the

Family Law team in Barnstaple.

Cathy specialises in domestic

abuse cases and children law,

including care proceedings.

Senior partner Steve Pearce

comments: "A number of us

have worked with Paul for

almost all of those 41 years

and are amazed how quickly

time has flown. Everyone

at Glover Stanbury wishes

Paul a very long and happy

retirement, including one of

his sons, Stephen Dean, who

followed in his father's footsteps

as a chartered accountant

based in our Barnstaple

office. We will all miss Paul

and, personally, my turn to

follow him is, rather disturbingly,

not too far away."

The law is Cathy's second

career and follows 20 years

spent in the non-profit sector

designing and managing

projects for children affected by

war. She has travelled widely,

living in Africa, Asia, Eastern

Europe and the former Soviet

Union.

Partner Paul Jordan, who

heads up Slee Blackwell's

Family Law department,

welcomed Cathy to the team,

commenting, "We are thrilled

that Cathy has joined our team

of specialist family lawyers. She

is a very talented individual

who brings with her many

years of professional experience

devoted to the needs and

interests of children globally.

Cathy is now applying that

valuable experience for the

benefit of children and parents

at our offices across Devon and

Somerset."

This expansion of the firm's

operation in North Devon

reflects the success the practice

has enjoyed recently and

the partners are planning to

announce further staff acquisitions

in key areas during the

firm's centenary year.

18 business action | December 2019 / January 2020 | business-action.co.uk
---
DIRECTORY

ACCOUNTANTS

Glover Stanbury

Barnstaple & Bideford

t: 01271 375271 / 01237 471881

w: gloverstanbury.co.uk

ADMINISTRATIVe SERVICES

Exmoorfern

South Molton

t: 01598 740210

w: exmoorfern.co.uk

ARCHITECTS

Sam Nolan RIBA Architect

North Devon & UK

t: 01271 325 236

w: northdevonarchitects.com

Brewery

GT Ales

Chivenor

t: 01271 267420

w: gtales.co.uk

Business Advisor

Susie Kevern

North Devon

t: 07801 199671

w: poundlane.co.uk

Commercial Property

James Doble Commercial

North Devon

t: 01237 424053

w: jd-commercial.co.uk

Copiers & Printers

Clarity Copiers North Devon

Barnstaple & North Devon

t: 01237 374061

w: claritynorthdevon.co.uk

Copywriting & communications

Zarywacz

North Devon & UK

t: 01271 879100

w: z2z.com

Counselling & Psychotherapy

North Devon Counselling

Barnstaple

t: 07872 501606

w: northdevoncounselling.co.uk

HealTh & SAFETY

JI Health & Safety Consultancy

Combe Martin

t: 07732 328222

Hotels

The Carlton

Ilfracombe

t: 01271 862446

w: ilfracombecarlton.co.uk

Human Resources

Fitzgerald HR

Barnstaple, Exeter, London &

Wellington

t: 01271 859267

w: fitzgeraldhr.co.uk

Right Way HR Services

Highampton

t: 07825 090782

Hypnotherapy

New Life Hypnotherapy

South Molton

t: 01769 57471

w: newlifehypnotherapy.org

Insurance

Towergate

Bideford

t: 01237 429978

w: towergate.com/locations/bideford

Together Insurance Solutions

Barnstaple

t: 01271 347147

w: togetherinsurancesolutions.co.uk

Locksmiths

MJS Locksmith

Bideford

t: 07532 139388

w: northdevonlocksmith.co.uk

SW Locksmiths

Holsworthy / Bude

t: 01409 255533

w: swlocksmiths.com

Networking groups

Business Networking in Barnstaple

Barnstaple

t: 0843 289 1339

w: bnibarnstaple.co.uk

Devon Partnerships

Devon

t: 07393 149855

w: devonpartnerships.co.uk

North Devon Networking Group

Barnstaple

w: northdevonnetworking.co.uk

Rise

Barnstaple

e: martin@duchyifa.co.uk

Torridge Business Network

Westward Ho!

w: torridgebusinessnetwork.co.uk

Office Supplies

South West Office Supplies

North Devon

t: 01271 889337

w: swofficesupplies.co.uk

BUSINESS LISTINGS

Photography

Tarkatography

Westward Ho!

t: 07977 414798

w: tarkatography.co.uk

Printing

Jamaica Press

Buckland Brewer

t: 01237 452333

w: jamaicapress.co.uk

Recruitment

Cooper Golding

Barnstaple

t: 01271 349745

w: coopergolding.co.uk

Simple Recruitment

Bideford

t: 01237 439500

w: simplerecruitmentltd.co.uk

Friendly, Reliable, Affordable

• Accounts

• Bookkeeping

• Limited Companies

• Tax

• VAT

• Payroll / CIS

Over 20 years experience - Free initial meeting

mail@garethpollardaccountancyservices.com

T: 01409 254817 M: 07811 164428

The Old Orchard | Holsworthy | Devon | EX22 6LT

TRAVEL AGENT

Clare Flint – Travel Counsellors

North Devon & UK

t: 01271 828990

w: travelcounsellors.co.uk/clare.flint

Web SITES & DIGITAL

Itseeze North Devon

North Devon

Tel: 07890 633458

Web: itseeze-northdevon.co.uk

Peak Online

Bideford

t: 01237 721256

w: northdevon.peak-online.uk.com

Welding & Sandblasting

Nott's Welding

Ilfracombe & North Devon

t: 07706 595955

Wills

Wills at Home

West Yelland

t: 01271 860105

w: wills-athome.co.uk

List your business all year!

£50 Business Action Plan

The £50 annual Business

Action Plan promotes your

business throughout the year

in this magazine – see listings

above – and online in our

needitfindit.uk directory.

➤➤Magazine listing, including

name, business type, phone

number, web site and

address, printed in 6 issues.

➤➤Online listing including

name, business type, phone

number, web site and

address, description and

logo for one year.

➤➤6 issues of magazine mailed

direct to your UK address.

BOOK YOUR LISTING NOW AT

business-action.co.uk/plans

WE OFFER ASSISTANCE WITH:

Valuations

Cost Management

Bills of Quantities Tendering

Procurement

Invoice Reconciliation

CALL TODAY for an informal chat:

01271 603053

futuredimensions.uk

info@futuredimensions.uk

Sunday Carvery £10.95

(£14.95 including desert)

01237 473399

49 Torrington Street, East the Water, EX39 4DP

www.theriverbankbistro.co.uk

email@theriverbankbistro.co.uk

@businessactionm | December 2019 / January 2020 | business action 19
---
Chartered accountants and

business advisers Thomas

Westcott has launched a new

technical service for dairy

farmers. The service gives

farmers in-depth analysis of

their milk data and provides

technical advice on how yield

can be increased and operations

made more efficient.

The Thomas Westcott team

reports on a farm's milk yield

and uses the data to identify

how to improve performance

and profitability. Each month,

a report analyses areas such as

milk production and feeding

efficiencies, milk quality and

energy requirements, somatic

cell count and fertility.

The team began developing

the Dairy Technical Service in

October 2018. Now that it has

been tested and developed for

optimum use, they are offering

it to clients across the region.

Peter Brown, director of

Thomas Westcott's Agricultural

Consultancy Service, says: "We

launched the Dairy Technical

Service to enable a quick

response to the milk data that

is collected every month.

"There is so much data when

it comes to milk recording,

which can be confusing. Our

programme analyses the data

and produces a report with key

action points.

"The level of interest from

clients has been high, with

people asking that our regular

visits coincide with the production

of the latest reports."

Farms using the service

include Battledown Farm, near

HEADER NEWS

New technical service

for dairy farmers

Battledown Farm: (from left) Thomas Westcott's Peter Brown with Kate Dymond

Shebbear. Peter Brown and

colleague Nikki Smale have

been working closely with Kate

Dymond and her family on the

farm for the past three years.

Yields are increasing monthly

and feed utilisation improving.

Reporting has been a big factor

in these improvements.

The farm has 250 cows, as

well as 100 young stock, and

farms more than 145 hectares

– 39 of which are owned by

the family. It supplies Crediton

Dairy with milk, with 80% of

its income from milk sales.

Kate says: "Working with

the Agricultural Consultancy

Service has driven us forward,

made us more sustainable and

given me more confidence.

"Thomas Westcott provide

us with a rounded service.

Other consultancy firms would

simply come in and give us

information, then leave us to it.

Peter, on the other hand, will

be constantly available, helping

us to assess what we have done

and advising us on what we

plan to do next.

"Peter has pushed us to

focus on improving cow

comfort, which has led to

much improved cow welfare

including reduced cases

of lameness, mastitis and

metabolic diseases. We have

also seen much higher levels

of milk yield per cow and

reduced calving index, which

is something that milk buyers

and consumers now focus

more on."

■■Details 01409 253297 or

thomaswestcott.co.uk

Virtual Business Partners

Support for improving health services

Because running a business

can be a lonely journey!

Why work with a Virtual Business Partner?

What's the Benefit?

If you are a solopreneur, entrepreneur or SME we can help

you to:

• Consolidate your position - stabilise or expand, depending on the

health of your business

• Streamline your business, across - processes, procedures, systems

and people

• Invigorate and energise your reasons for starting this journey -

through coaching and collaboration

How do we do this?

• By listening - to what's working and what's not, and to your end

goal vision.

• By offering practical advice and actually doing what's needed - we

are not just all talk, we are not gurus, we actually do the work.

With the added potential benefit of virtual assistance.

• By bringing extensive experience and a proven track record to the

table.

Are you ready to take your start-up or SME to the next level?

If so, contact us to discuss whether working with a Virtual Business

Partner is right for you.

Contact details: email: nfo@virtualbusinesspartners.co.uk

tel: 01271 603078 or 07788 181419

www.virtualbusinesspartners.co.uk

(from left) Healthwatch champion Sam Scott with Slee Blackwell's Oliver Thorne

Slee Blackwell has been

working with Healthwatch

Devon since 2016 to help

improve local health services

in Devon.

Healthwatch Devon is the

independent champion for

people using health and care

services. It listens to what

people like about services

and what improvements they

suggest and shares these views

with those with the power to

make change happen.

Slee Blackwell partner

Oliver Thorne says, "We are

proud to have strong links

with Healthwatch Devon and

feel we are suitably placed to

help them with their goal of

improving patient services."

Sam Scott, Healthwatch

champion for North Devon,

added, "Healthwatch champions

listen to people's experience

of health and social care

and help support clients to

have voices heard."

■■For more information visit

healthwatchdevon.co.uk

20 business action | December 2019 / January 2020 | business-action.co.uk
---
SERVICES

Promote your business all year round with our

Business Action Plans

All plans include

➤➤6 adverts (if selected)

➤➤6 magazine listings

➤➤online listing

➤➤6 mailed magazines

➤➤plus more

Select plan

£50 Business Action Plan – 6 magazine listings

£150 Business Action Plan – 6 business card adverts

£275 Business Action Plan – 6 banner adverts

£400 Business Action Plan – 6 quarter page adverts

£750 Business Action Plan – 6 half page adverts

£1,375 Business Action Plan – 6 full page adverts

Payment options

Pay in full or by

12 monthly instalments –

with no extra charges.

Put yourself in front of

North Devon businesses.

Book online at business-action.co.uk/plans or call Alan on 07970 671192

01271 267420 | info@gtales.co.uk

Attract customer

Attention!

with your marketing, PR

and communications

Wills Property Trusts (in will)

Children's Trusts (in will) Funeral Plans

Probate Lasting Powers of Attorney

Wills: £70 Single / £105 Joint

u business journalism u technical writing u

u case studies u blogs & online content u

u magazine production u campaigns u

u events u project management u

Call Robert Zarywacz on

01271 879100

25 years of business communication

Z

A

R

Y

W

C

COMMUNICATE IN SPEECH, PRINT & ONLINE

A

Z

@businessactionm | December 2019 / January 2020 | business action 21
---
#10to1m

From £10 to £1 million

Support local businesses

by switching £10 of your spending

each month, week or day

100 people switching £10 of spending to a local business

on one day would inject £1,000 back into the economy

1,000 people switching would inject £10,000

100,000 people switching would inject £1,000,000

100,000 people switching most weeks

would inject £50,000,000 a year

Make that switch happen with #10to1m

Share your local purchases on social media

with the #10to1m hashtag

Join in at

10to1m.co.uk