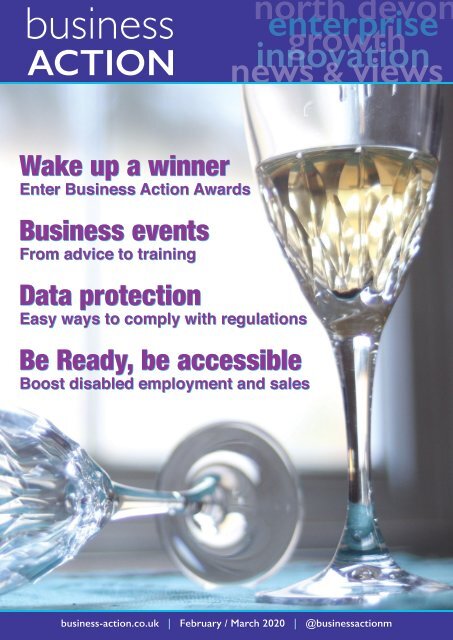 Business Action | February / March 2020
February / March 2020 issue of the independent North Devon-based business magazine covering news about business and enterprise in Barnstaple, Bideford, Braunton, Chulmleigh, Combe Martin, Holsworthy, Ilfracombe, Lynmouth, Lynton, South Molton, Torrington, Woolacombe and more. This issue includes the Business Action Awards 2020, North Devon's independent business awards.
February / March 2020 issue of the independent North Devon-based business magazine covering news about business and enterprise in Barnstaple, Bideford, Braunton, Chulmleigh, Combe Martin, Holsworthy, Ilfracombe, Lynmouth, Lynton, South Molton, Torrington, Woolacombe and more.

This issue includes the Business Action Awards 2020, North Devon's independent business awards.
SHOW MORE
SHOW LESS
Do you know the secret to free website traffic?
Use this trick to increase the number of new potential customers.
usiness

ACTION

north enterprise

devon

growth

innovation

news & views

Wake up a winner

Enter Business Action Awards

Business events

From advice to training

Data protection

Easy ways to comply with regulations

Be Ready, be accessible

Boost disabled employment and sales

business-action.co.uk | February / March 2020 | @businessactionm
---
CONTENTS

Virtual Business Partners

Because running a business

can be a lonely journey!

Why work with a Virtual Business Partner?

What's the Benefit?

If you are a solopreneur, entrepreneur or SME we can help

you to:

• Consolidate your position - stabilise or expand, depending on the

health of your business

• Streamline your business, across - processes, procedures, systems

and people

• Invigorate and energise your reasons for starting this journey -

through coaching and collaboration

How do we do this?

• By listening - to what's working and what's not, and to your end

goal vision.

• By offering practical advice and actually doing what's needed - we

are not just all talk, we are not gurus, we actually do the work.

With the added potential benefit of virtual assistance.

• By bringing extensive experience and a proven track record to the

table.

Are you ready to take your start-up or SME to the next level?

If so, contact us to discuss whether working with a Virtual Business

Partner is right for you.

Contact details: email: info@virtualbusinesspartners.co.uk

tel: 01271 603078 or 07788 181419

www.virtualbusinesspartners.co.uk

Web site | business-action.co.uk

Online version | business-action.uk

Vol 2 Issue 1 – February / March 2020 – distribution 2,500

You have to be in it to win it............................................................................ 1

Independent food firm expands UK reach................................................ 2

Award win for manufacturer........................................................................... 2

New year, new office for design agency.................................................... 3

Business group's new chairman.................................................................. 3

Flower shop blooms under new ownership............................................. 4

Bring Your Dog to Work Day sponsor........................................................ 4

Be Ready to attract more Purple Pounds................................................. 5

BBxpo earlybird exhibition stand offer...................................................... 5

Privacy: sorting fact from fiction.................................................................. 6

Business Action advertising plans.............................................................. 7

Making accurate sales predictions.............................................................. 7

Healthy life, healthy business........................................................................ 8

Business directory – find products and services................................. 9

Business Action Awards 2020....................................................................... 10

Headline sponsor................................................................................................. 11

Awards categories and sponsors................................................................. 12

Top tips on winning business awards........................................................ 17

In the hot seat: Jason Sharman of Atlas Packaging............................ 18

Are you still typing invoice data into your accounts?......................... 19

From £10 to £1 million #10to1m.................................................................... 19

Hotel events support local food producers............................................. 20

Petroc: technology centre launch, business drop-ins

and apprenticeship event................................................................................. 20

Devon Chamber Access to Finance Fair................................................... 21

International trade training ............................................................................. 21

© Need it Find it 2020. All information in this magazine is published in good faith.

Any views expressed are not necessarily those of the publisher, Need it Find it.

Readers are strongly recommended to seek advice from an appropriate professional

before taking any action on any topic discussed in the magazine and to check full

terms and conditions of any products or services promoted in advertisements.

Set Your

Business

Apart

The UK's Largest

Trading Standards Run

Business Approval Scheme

ii

Backed by more than 50 local authority

Trading Standards Services nationwide,

Buy With Confidence supports honest

and trustworthy businesses, setting your

company apart from your competitors

Find out more: www.buywithconfidence.gov.uk

business action | February / March 2020 | business-action.co.uk
---
ENTERPRISE

business

ACTION

You have to be in it to win it

On Thursday 5 December

2019, Alan Williams and

Robert Zarywacz shared

copies of Business Action with

businesses from across the UK

at Small Business Saturday's

House of Lords reception for its

#SmallBiz100 winners.

Business Action was only

able to win because we entered.

We won in 2019, so which

North Devon business can win

in 2020? We'll only have another

winner if you enter.

That is why we have

launched our own business

awards – to encourage more

North Devon businesses to

seek recognition by entering

the many sector and regional,

national and international business

awards programmes.

If you haven't ever entered

an award or think that you

have no chance of winning, you

need to do two things:

SMALL BUSINESS SATURDAY #SMALLBIZ100

Robert Zarywacz

Editor, Designer & Publisher

t: 07971 176044

e: robertz@business-action.co.uk

@robertz

1. Enter the Business Action

Awards – 11 categories

covering every type of business

– see page 10.

Alan Williams

Advertising, Distribution & Publisher

t: 07970 671192

e: alan@business-action.co.uk

2. Read Denise O'Leary's

book 'WINNING – How to

Win Business Awards' – see

page 17 to read Denise's top

tips on entering awards and

a review of her book.

In the spotlight

We hope our awards will

inspire you to put your business

in the spotlight, locally

and further afield.

At the same time, we will

continue to feature businesses

across the area in this magazine

and look forward to even more

stories of achievement in 2020.

We think what makes Business

Action different is that we

include all businesses, from

individuals just starting out to

bigger, established business.

We don't charge for editorial

coverage, as we believe in

publishing stories that deserve

to be told.

That is why we are so

grateful to all our advertisers

who enable us to publish Business

Action for you.

BUSINESS

DIRECTORY

BUSINESS

SUPPORT

Many businesses are worried

about the implications of

employing an individual with

a disability when they can

often be the most committed

employees, needing less

practical adjustments in the

workplace than imagined.

Devon's 'Be Ready'

Employer Hub is launching in

April to help employers take on

more people with disabilities

for the benefit of both.

It will also help businesses

tap into the Purple Pound – the

£249 billion a year that disabled

people, their families and

friends spend with businesses.

Read about how 'Be Ready'

can help your business.

>>> PAGE 5

Promoting your business

without spending a fortune is

what many businesses seek,

especially when starting up.

We're now developing our

business directory in this

magazine, which gives you

a listing including contact

details for six issues (over one

year) for £50.

Businesses also receive a

listing at needitfindit.uk as

well as a copy of each magazine

mailed direct to their

address every two months.

All our promotional

packages are designed to be

affordable so that any business

can promote themselves

throughout the year.

>>> PAGE 9

Awards offer an opportunity

to promote your business more

widely and the Business Action

Awards offer 11 categories for

you to enter.

These are outlined in this

section so that you can see

which awards are suitable for

you to enter. Businesses based

in or operating in North Devon

can enter as many categories as

they like.

There are also profiles of

our generous awards sponsors,

without whom these awards

would not take place.

Plus there's tips on entering

awards if you have never put

your business forward before.

Good luck!

Development is vital for every

business and there is a wide

range of events and training

available from a number of

organisations.

This issue we focus on food

and drink events hosted by the

Carlton Hotel in Ilfracombe

to increase support for local

foods producers.

We also feature two Devon

Chamber initiatives covering

finance and international

trade training.

Plus there's a number of

events at Petroc, including

the launch of its new Cotie

technology centre, its apprenticeship

event and regular

business drop-in sessions.

>>> PAGES 10 – 17 >>> PAGES 20 – 21

@businessactionm | February / March 2020 | business action 1
---
NEWS

Finding Jobs for People and People for Jobs

Temporary & Permanent recruitment solutions throughout North Devon!

01237 439500

Independent food firm expands UK reach

Family-owned food

wholesaler Philip Dennis

Foodservice has invested £1.5

million in a new transport

and warehousing depot in the

West Midlands.

With depots in the South

West, Oxfordshire and

Midlands, the business has

invested heavily in its infrastructure

and people over the

last year to support its ambitious

growth plans.

The purchase of the new

premises on Shaw Road,

Dudley comes as the company

is seeing a significant increase

in its foodservice business

particularly across pubs,

restaurants, hotels, schools

and coffee shops.

Lisa Vermeulen, Philip

Dennis Foodservice regional

sales manager for the

Midlands, says: "This is a very

exciting time for the business.

Ilfracombe-based TDK-

Lambda UK was named Tech

Company of the Year at the

recent Tech South West Awards

2019, which celebrate the

region's fastest growing sector.

TDK-Lambda won the

award in the category for

companies with a revenue of

more than £5 million per year,

beating competition from

fellow finalists Amdaris and

Open Bionics.

The company was

commended for its commitment

to developing its

Ilfracombe facility. Following

recent investment, the site has

a £1.2 million EMC centre,

which enables the company to

carry out essential EMC testing

in-house in order to provide

customers with an even more

comprehensive service. The

www.simplerecruitmentltd.co.uk

Philip Dennis Foodservice's Midlands sales team: (from left)

Jacob McCathie, Kim Smith, John Bateman, Lisa Vermeulen and Steve Redding

We've invested heavily in this

new depot as we've seen a

large increase in demand for

Philip Dennis products within

the area. The business has

experienced rapid growth in

recent years, and we wanted

company has also recently

invested in new equipment,

including a state-of-the-art

Yamaha 3D optical inspection

a base in the West Midlands

that would allow us to offer an

increased level of service to

our customers."

The location of the new

premises also offers easier

access for the company's

Award win for manufacturer

Tech Company of the Year 2019: (from left) Martin Coates, engineering project

manager and Alex Knill, product performance manager, TDK-Lambda UK

system, to further enhance

product quality.

Geoff Wilby, managing

director at TDK-Lambda UK,

Follow us:

distribution fleet. Philip

Dennis Foodservice logistics

manager Lyndon Didlock

adds: "We're always looking

to improve the level of our

delivery service and with the

central location of the new

depot we can now manage our

fleet much more effectively."

Philip Dennis Foodservice

is a member of the Caterforce

buying group and supplies

a full range of foodservice

products including groceries,

frozen and chilled food, as

well as a range of non-food

items such as cleaning solutions

and environmentally

friendly food cartons. It also

offers bespoke butchery and

fishmonger services through

its Dennis Family Butchers

and Dennis Family Fishmonger

companies.

■■Details 01271 864 136 or

philipdennis.co.uk

says: "We are honoured to

receive this award, and see it as a

testament to the work we've put

into developing our operations.

In the past year, we have made

significant investments not only

in new technology but also in

our facilities, for example, by

installing 90kW solar panels to

improve sustainability.

"We have also been

actively involved with local

STEM initiatives, such as the

recently announced South

West Institute of Technology,

to help nurture future talent

for the local industries. The

technology landscape in the

South West is seeing rapid

development, and we are

proud to be part of this vibrant

community."

■■Details 01271 856600 or

uk.tdk-lambda.com

2

business action | February / March 2020 | business-action.co.uk
---
New year, new office

for design agency

The Federation of Small

Businesses has appointed Lee

Nathan as the new regional

chairman of its local teams

across the South West, from

Cornwall to Gloucester.

Lee's creative design agency,

Studiovine, has offices in

Plymouth and Bristol.

The FSB is Britain's biggest

business representation group

and the 35-year-old sees his

role as vital to ensuring the

needs of small businesses

throughout the South West

region remain firmly on the

radar of the powers-that-be.

term client relationships built

on customer service.

"Some of our clients have

been with me for over 20 years

now. It's like working with

friends," says Frank of Clevera's

clients, "and makes coming to

the studio a real pleasure."

This approach is very

important to Frank, who loves

running his own business and

living in North Devon. Being

happy, satisfied and providing

for family are key motivations,

and the resulting working

atmosphere generates work

for Clevera through repeat

business and referrals from

contented clients.

The new offices are also

creating new opportunities

and forging a closer working

relationship between Clevera

and Kameleon Digital, who

are moving to the top floor

of the Workhouse to make

collaboration even easier on

projects combining print and

digital activities for shared

NEWS

2020 has already brought big

changes for Barnstaple-based

design agency Clevera. After

closing the doors to their

old office for the Christmas

break, in January they opened

the doors to their brand new

offices at the Workhouse,

Brannam Square.

Owner Frank Stone has

lived and worked in Barnstaple

since early childhood and the

new premises mark the 20th

anniversary of him first setting

up in business, leading to the

formation of Clevera in 2012.

With a team of four focused

sharply on all aspects of design

and print, Clevera has worked

steadily to build up its clientele,

which includes local organisations

such as Webbers Estate

Agents, Castle Hill Estate and

Savona Food Service, as well

as international brands such as

Drayton Controls and ITT inc.

This reflects the outlook

of quietly-spoken Frank, who

believes in developing longclients.

With meeting facilities

providing space for working

on concepts together, Frank is

looking forward to the shared

environment boosting creative

output even further.

Now entering his third

Business group's new chairman

Clevera's multi-level creative workspace at the Workhouse, Brannam Square

decade in business in North

Devon, Frank welcomes clients

old and new to discuss their

design requirements at Clevera's

new home.

■■Details 01271 346759 or

clevera.co.uk

Lee says: "I'm delighted to

have been appointed to this

key role and I hope the fact

that I am in my 30s sends a

positive and clear sign that

the FSB is a forward-thinking

organisation determined to do

everything to help and support

our members whatever their

background or business.

Lee was the youngest

person to hold senior FSB

member positions in Devon

and is now the youngest FSB

regional chair across the whole

of the country.

■■Details fsb.org.uk

@businessactionm | February / March 2020 | business action 3
---
Retirement is a major challenge

the retail sector needs

to overcome. Many of our

finest shops have been run for

decades by owners who eventually

need to retire. Either

they have to find a buyer to

continue the business or else

close. Sadly, many good shops

close when new buyers cannot

be found. There is a need to

inspire more younger people

to come forward and continue

the great tradition of highquality

independent retailing.

This situation occurred

recently when the owner of

Exmoor Flowers, Stephanie

Kingston, decided to retire

after running the shop as a

newsagent and than as a florist

since 2005. Staff member

Laura Dyer was devastated

at the thought of not dealing

with flowers anymore and

ended up buying the business.

"I'd never thought about

running my own florist,"

says Laura. "I never had the

confidence to but, after a bit

of persuasion, guidance and

a good old confidence boost,

in September 2019 I bought

Exmoor Flowers and relocated

to 42 Lee Road, Lynton."

Many of Laura's family

had lived in Lynton for years

before her parents moved

there in 2006. She followed

and completed her degree in

theatre and performance at

Plymouth University and was

planning to return to London

Canine Cottages, operated by

The Travel Chapter in Bideford,

has been named headline

sponsor of national Bring Your

Dog To Work Day on 26 June.

This year the campaign will

be raising money for All Dogs

Matter and Animals Asia.

Simon Lockyer of Canine

until she married and had two

children. Her introduction

to Exmoor Flowers was as a

part-time assistant covering

a member of staff 's sick leave,

but four years later she was a

full-time member of staff with

experienced knowledge of all

things floristry. After countless

weddings and funerals, Laura

loves her work so much that

she decided to buy the business

so that she could continue

doing what she loves.

"It was a massive step

for me. I was always used to

working for other people, but

with help and marketing from

NEWS

Flower shop blooms

under new ownership

Laura Dyer of Exmoor Flowers, Lynton

my husband, who works next

door to me, I slowly started

to grow more confidence and

get into the swing of being a

business owner.

"I knew that one of the

keys to success was social

media and from day dot I've

put almost every bouquet,

arrangement, wedding and

funeral tribute on my Instagram

and Facebook pages and

the clients came flooding in.

"My flowers come from a

wholesaler called St Mellion

Flowers based in Saltash,

Cornwall. They come to North

Devon several times a week

Bring your dog to work day sponsor

Cottages says: "We've been

taking part in Bring Your Dog

To Work Day for a number of

years now and are thrilled to

be the headline sponsors for

2020 to support the important

work of the two charities. We

specialise in taking dogs and

their humans on holiday, but of

course we can't be on holiday

all the time, so the next best

thing is to be able to take your

dog to work."

■■bringyourdogtoworkday.co.uk

with the freshest of flowers

from all over the world, but

mainly Holland and the UK.

"Red roses for Valentine's

come from Colombia. They

are soil grown, not factory

produced, so they aren't cheap,

but are exceptionally beautiful

and long lasting.

"I have a varied range of

customers from local hotels

and restaurants, to recurring

customers, local and

non-local."

Laura adds that trends

change fast and that currently

English-grown flowers are

popular: "Bohemian/botanical

wild flowers, hedgerow, bushy

and plenty of foliage especially

eucalyptus – it's everywhere

and every bride wants it!

"I'm constantly trying

to think of new and quirky

floristry ideas . . . pumpkin

arrangements at Halloween

were a massive hit – locals

went crazy for them. It was a

messy job, however."

Laura works by herself,

although is supported by

her cousin for deliveries and

is delighted that Stephanie

helps her out when she needs

floristry advice.

"I have amazing friends and

family that are always around

for constant support. It's hard

work getting the people in, but

I've never felt so happy."

■■Details 01598 753 322 or

exmoorflowers.co.uk

Beautiful candles – Handmade in Devon

SHOWROOM & STUDIO

Lyn Candles . Lynton . N. Devon . EX35 6BS

Tel: 01598 753321 www.lyncandles.com

e-mail: lyncandles@btopenworld.com

4

business action | February / March 2020 | business-action.co.uk
---
NEWS

The Carlton, Ilfracombe

• 24 hour delegate rates available

• Fully catered team building

• Michelin dining experience

• Participative courses

• Business facilities

Call today for our training

packages, price & information

01271 862446 ilfracombecarlton.co.uk

Be Ready to attract more Purple Pounds

Devon's 'Be Ready' Employer

Hub service is preparing its

formal launch around the

county with an event planned

for Barnstaple in April when

North Devon businesses, charities

and social enterprises are

invited to find out how it can

help them – watch for the date

here in Business Action.

The 'Be Ready' Employer

Hub aims to help employers

understand how they can

provide meaningful employment

opportunities for people

with a disability or long-term

health condition. Along with

practical assistance (via online

info hub and telephone helpline),

learning opportunities

(disability awareness training)

and networking opportunities

– all free – it will share facts and

figures to overcome the misconceptions

about employing

people with disabilities.

Did you know?

➤➤According to the Government's

2018 Family

Resource Survey, there are

13.9 million disabled people

in the UK (ie individuals

who reported they have

a disability, which means

the actual number will be

higher). In the South West,

20% of the population are

disabled (just slightly below

the UK's 21%).

➤➤In 2019, 7.6 million people

of working age (16-64)

reported having a disability

– 18% of the working age

population. BUT disabled

people have a much higher

rate of unemployment (8.0%

in January-March 2019

compared with 3.3% for

people without disabilities).

The majority of disabled

people want to work.

➤➤83% of disabilities are

gained while of working age.

➤➤By the year 2030, 40% of

working age adults will have

a long-term health condition.

If you think your business

would have to make big

changes to employ a person

with a disability, think again.

What do you think of

when the word 'disability' is

mentioned? Most of us think of

someone in a wheelchair – but

less than 10% of disabled people

are wheelchair users. 80% of

disabled people have invisible or

hidden disabilities (eg hearing

loss, Crohn's and Colitis). And

often the changes needed are

minor – just as adaptations are

made for anyone joining as a

new employee.

Are you missing sales?

How well do you know your

customers? If a fifth of the UK

population has a disability,

how many of your existing

customers have a disability?

The 'Be Ready' Employer

Hub will also show businesses

how to access the 'Purple

Pound' market. This is the

spending power of disabled

people, their family and

friends, worth £249 billion a

year. By ignoring the needs of

disabled people, businesses are

losing money without knowing

it. For example, how accessible

is your web site? Up to 75% of

potential customers who are

disabled have walked away

from shops or clicked away

from web sites because of the

barriers put in their way.

Want to know more?

Get in touch with Debbie Stafford

(debbie.stafford@devon.

gov.uk) or project co-ordinator

Sue Windley (susan.windley@

devon.gov.uk).

■■Details readydevon.org.uk

Biggest local B2B

event returns on

Thursday 29 October

➤➤Where can you discover

new businesses and make

new contacts?

➤➤Where can you see a

showcase of products and

services of value to your

business?

➤➤Where can you find the

advice and support you

need to grow your North

Devon business?

Now in its third year, Bideford

Business Expo is North

Devon's business exhibition

combining presentations,

promotion and networking to:

➤➤build business relationships

➤➤create new opportunities

➤➤provide business advice

➤➤support business growth

Earlybird stand prices

Exhibitor stands available now

at early bird prices – £75 and

£125 – when booked and paid

before 30 April 2020.

■■Book at bbxpo.uk

Friendly, Reliable, Affordable

• Accounts

• Bookkeeping

• Limited Companies • VAT

• Tax

• Payroll / CIS

Over 20 years experience - Free initial meeting

mail@garethpollardaccountancyservices.com

T: 01409 254817 M: 07811 164428

The Old Orchard | Holsworthy | Devon | EX22 6LT

Sunday Carvery £10.95

(£14.95 including desert)

01237 473399

49 Torrington Street, East the Water, EX39 4DP

www.theriverbankbistro.co.uk

email@theriverbankbistro.co.uk

@businessactionm | February / March 2020 | business action 5
---
PRIVACY

Privacy: sorting fact from fiction

Some 18 months after the

introduction of new data protection

legislation – General

Data Protection Regulation

(GDPR), Data Protection Act

2018 and Data Protection

(Charges and Information)

Regulations 2018 – on 25 May

2018, North Devon-based

data protection practitioner

Nigel Hellewell AMBCS is not

surprised that the myths surrounding

them are still 'doing

the rounds'.

So what are some of the

common myths and how does

he respond?

The GDPR replaced the

Data Protection Act

With reference to the

updated guidance from the

UK supervisory authority's

(ICO) web site, Nigel says:

The Data Protection Act

2018 (DPA2018) sets out the

framework for data protection

law in the UK. It updates and

replaces the Data Protection

Act 1998, and came into effect

in May 2018. It sits alongside

the GDPR, and tailors how the

GDPR applies in the UK – for

example, by providing exemptions.

It also updates the level

of some of the likely offences

from civil to criminal offences.

The data protection

legislation doesn't apply to

sole traders

It applies to all organisations,

including sole traders and

micro businesses: there are no

exceptions. In fact, the ICO

provides a self-assessment

checklist that will help sole

traders and self-employed

individuals to assess their

compliance. They may also

have to pay the data protection

fee – part of the Data

Protection (Charges and

Information) Regulations

2018), although there are

exemptions to this.

I've only got a small web

site with a contact form

and email address. Surely

it doesn't apply to that?

The data protection legislation

applies to any business activities,

whether operating a web

site or otherwise 'processing

personal data'.

Nigel adds that, for many

people starting their business,

the data protection

and privacy legislation was

never at the forefront of their

minds: "I'm well aware that

the topic can quickly send

people to sleep and/or lose

focus, but it's vitally important

to get to grips with as

there can be consequences for

non-compliance."

Looking at the myths in

reverse order, Nigel believes

that cost-effective web site

development and hosting can

definitely help those starting

their business. Opting for free

software packages including

the very popular WordPress

content management system

(CMS) can assist even more.

However, having been a developer

in his previous career, he

knows that WordPress, like so

many 'out-of-the-box' CMSs,

is not necessarily compliant

with the legislation and needs

additional security measures

and must be maintained and

updated regularly.

Guide to privacy and

WordPress

Nigel has written an e-book

guide 'WordPress and the

Data Protection & Privacy

Legislation (Including Direct

Marketing)' to help with compliance

for those considering

using WordPress or already

using it. It introduces the legislation

to readers, then looks

at applying it to WordPress.

Online training

Similarly, being a sole trader

himself, Nigel knows that

there's never enough time to

attend seminars, seek advice

or find specific training on

data protection and privacy

when starting or running a

business. This is especially

common now that the 'hype'

surrounding GDPR is dying

down and many of the online

options concentrated on

GDPR and ignored the Data

Protection Act 2018 and other

legislation.

For sole traders and smaller

SMEs, Nigel has developed

an online learning web site.

There's no need to complete

courses in one go and learners

can stop and start whenever

they need so they can progress

at a pace that suits them.

Training for employees

The courses are also available

to larger organisations for new

starters (who need training

within one month of starting,

according to the ICO's guidelines)

and for refresher training

(which should be undertaken

every two years or less, depending

on the individual's role).

Results can be reported and

kept with training records as

part of the GDPR's 'accountability'

principle.

Privacy in the future

Returning to the first myth,

Nigel simply states that GDPR

is simply about "Getting Data

Protection Right!".

With Britain having left the

European Union, Nigel will

be keeping abreast of privacy

developments, ensuring that

he will be a knowledgeable

source for North Devon businesses

needing practical advice

on remaining compliant with

privacy legislation.

■■Nigel's e-Book is available at

wpdataprotection.com

■■e-Learning courses available

at enaychlearning.co.uk

Cranford Business

Services Limited

WE OFFER ASSISTANCE WITH:

Valuations

Cost Management

Bills of Quantities Tendering

Procurement

Invoice Reconciliation

CALL TODAY for an informal chat:

01271 603053

futuredimensions.uk

info@futuredimensions.uk

www.accountsindevon.co.uk

Old Stone, Cranford, Bideford, Devon, EX39 5QW

07896 204 857

Does your accountant...

Listen to you and act on your needs?

Explain your accounts in terms you understand?

Arrange meeting at your convenience?

Leaving you free to concentrate on what you do best!

6

business action | February / March 2020 | business-action.co.uk
---
FORECASTING

Promote your business all year round with our

Business Action Plans

All plans include

➤➤6 adverts (if selected)

➤➤6 magazine listings

➤➤online listing

➤➤6 mailed magazines

➤➤plus more

Select plan

£50 Business Action Plan – 6 magazine listings

£150 Business Action Plan – 6 business card adverts

£275 Business Action Plan – 6 banner adverts

£400 Business Action Plan – 6 quarter page adverts

£750 Business Action Plan – 6 half page adverts

£1,375 Business Action Plan – 6 full page adverts

Payment options

Pay in full or by

12 monthly instalments –

with no extra charges.

Put yourself in front of

North Devon businesses.

Book online at business-action.co.uk/plans or call Alan on 07970 671192

Making accurate sales predictions

The seasonal nature of many

Devon businesses, especially

those in the food and drink

sector, can introduce considerable

uncertainty. How can

you accurately predict sales

demand, understand consumer

trends and manage supply,

distribution and service

expectations? Foresite SPA,

a cloud-based software tool

developed in Devon, aims to

provide the answer.

With its headquarters

in London and its development

base in Devon, Foresite

SPA was established by chief

executive Brian Hawkes, who

has a successful track record

of designing and prototyping

business development software

with international blue-chip

clients in the USA and Scandinavia.

With these clients

outperforming competitors and

markets in sales growth, Brian

joined forces with Chris Mellor

in 2004 to bring these tools to

small and medium-sized businesses

in the form of Foresite.

"It was Brian's brainchild

Foresite SPA sponsored the Taste of the West 'Ready Meals' Award 2019:

Foresite's Colin Slade (left) and Chris Mellor (right)

with winners Natural Branscombe

and he came up with the

concept, having done this for

multinationals," says Chris. "I

was the project manager for

turning the concept into a sellable

product.

"Foresite provides visibility

into the sales pipeline, helping

the people driving and

growing businesses to achieve

their goals."

Foresite was always going

to be web-based and Chris'

move to near Crediton 13 years

ago presented the challenge of

operating over a broadband

connection with speeds of

under 0.5Mbps. This turned

out to be a great benefit as

Foresite has been optimised

to maintain high performance

where connectivity is poor,

meaning that it is ideal for

rural businesses based in

remote locations.

As chief technical officer,

Chris completed the mathematics

calculations for Foresite

from scratch and, now enjoying

a much a faster broadband

connection of 300Mbps, he is

focusing on increasing product

take-up. Foresite already has

customers in Germany, Italy

and Scandinavia in a number

of sectors and, with his base in

Devon, Chris is keen to help

local businesses with their

demand planning, especially

the food and drink sector.

A meeting with Colin Slade,

who retired after a long career,

including roles with South

West Business Expo and the

Best of Exeter, brought him

back as the face of Foresite to

build contacts, network and

explain the benefits of the

software to local businesses.

This has included exhibiting

at events and sponsoring the

Taste of the West Awards

'Ready Meals' category in 2019.

Keen to support businesses

in Devon, Chris and Colin are

always enthusiastic to discuss

the challenges businesses

face here and to explore how

Foresite can help with these.

■■Details 020 3858 9650 or

foresitespa.com

Looking for independent financial advice?

Call us on 01237 426450

for a free initial consultation

contact@dscottfinancial.co.uk

https://dscottfinancial.co.uk

Your home may be repossessed if you do not keep up repayments on your mortgage.

@businessactionm | February / March 2020 | business action 7
---
FITNESS

Healthy life, healthy business

Just the mention of the word

'gym' can strike terror into

anyone who has had a bad

experience, perhaps long ago

when they were in school.

Kula Fitness in Ilfracombe is

on a mission to resolve this

by breaking down barriers to

exercise and enabling anyone

to adopt a healthy lifestyle.

Founder Russell Port has

22 years' experience of the

fitness industry, but his love

of sport began as a child when

his mum was a PE teacher and

his dad was a footballer. In

1993, he played for the England

Rugby Development squad and

joined Cardiff Blues as a young

aspirational player, and studied

sports science at Cardiff

University. However, Russell's

promising rugby career stalled

when injury hit him. Thinking

that joining a health club would

help him regain the level of

fitness needed to play rugby at

the highest level, it redirected

him on to an entirely new

career path.

Over 20 years, Russell

worked across the UK for one

of the world's biggest chains of

health clubs. He oversaw the

management of 96 clubs and in

2002 won the 'Health Club of

the Year' award at the Fitness

Industry National Awards. He

has managed clubs in Ireland

and Malaysia and reached a

point where he was driving

50,000 miles a year for business.

This led Russell to realise

it was time to achieve two

long-held ambitions of running

his own business and living

in North Devon where he

had holidayed as a child. First

coming down to rent accom-

modation as a trial and then

leaving his employer, Russell

decided to go back to his roots

as a personal trainer, working

direct with clients. He started

Kula Fitness in September 2017.

"It has probably been more

stressful managing this than

big health clubs," says Russell.

"After having 400 personal

trainers in a team, I started all

alone, trying to learn about

being off the beaten track."

No nonsense approach to health and safety

H&S

JI Health & Safety Consultancy

H&S Audit

H&S Training

Tailored H&S Management Systems

Assistance with SSIPs Accreditations

Risk Assessment / Risk Management

Jane Bass 07732 328222

DipNEBOSH jinnes2@sky.com

Kula Fitness, Ilfracombe: (from left) Emily Shreeves and founder Russell Port

Russell was soon joined

by partner Emily. Russell's

qualification include Personal

Fitness Trainer and Certificate

in Understanding Autism and

he is also a qualified children's

fitness instructor, England

Boxing coach, Rugby Ready

coach, Boxercise Ltd instructor

and suspension training

instructor. Emily is a certified

Level 3 personal trainer and

nutrition advisor.

Together they provide oneto-one

training (or two-to-one

maximum) in the privacy of

their fully-equipped studio in

Ilfracombe High Street.

"We set the studio up to be

private and non-intimidating,"

says Russell, understanding

that clients need to feel

comfortable when coming in

to train.

As well as removing

barriers to fitness, such as

poor childhood experiences,

Russell realises that time is also

an issue for busy people. To

address this Kula Fitness offers

flexible appointments, even

starting at 6am.

The aim of making fitness

available to everyone is demonstrated

by the age range of

clients, starting at five years old

and rising to 72 years. Russell's

qualifications enable him to

provide appropriate training

for different age groups, which

differ considerably.

Russell also works with

individuals with disabilities

and long-term health conditions,

and is especially keen to

work with those with special

needs such as autism. This has

led to working with an Exmoor

school involving children with

special needs.

Emily has an interest in

working with women, especially

mothers who want to

regain their fitness.

When starting the business,

Russell selected the Sanskrit

word 'kula' as its name, because

of its meaning: community.

This reflects the aim to

encourage everyone to achieve

and maintain fitness, whatever

their present condition or

circumstances.

The first step for a new client

is a free consultation at which

they can satisfy themselves

that they feel comfortable

for Russell and Emily to map

out their path to a happier

and healthier lifestyle. Next a

personal programme is tailored

to meet their individual needs

and aspirations. This is also

designed to educate the client

about the right exercise and

lifestyle changes that will help

them achieve their fitness goals.

While Kula Fitness focuses on

one-to-one training, it has links

with other professionals and can

organise group classes, family

classes and distance support if

that's what a client wants.

This approach continues to

attract new clients who achieve

their personal fitness goals with

Kula Fitness. It is a big change

to managing multiple health

clubs across different countries,

but Russell believes Kula

Fitness is making a difference

to the health of the community.

■■Details 07923 142 457 or

kulafitness.co.uk

8

business action | February / March 2020 | business-action.co.uk
---
DIRECTORY

ACCOUNTANTS

Glover Stanbury

Barnstaple & Bideford

t: 01271 375271 / 01237 471881

w: gloverstanbury.co.uk

ADMINISTRATIVe SERVICES

Exmoorfern

South Molton

t: 01598 740210

w: exmoorfern.co.uk

ARCHITECTS

Sam Nolan RIBA Architect

North Devon & UK

t: 01271 325 236

w: northdevonarchitects.com

Brewery

GT Ales

Chivenor

t: 01271 267420

w: gtales.co.uk

Business Advisor

Susie Kevern

North Devon

t: 07801 199671

w: poundlane.co.uk

Commercial Property

James Doble Commercial

North Devon

t: 01237 424053

w: jd-commercial.co.uk

Copiers & Printers

Clarity Copiers North Devon

Barnstaple & North Devon

t: 01237 374061

w: claritynorthdevon.co.uk

Copywriting & communications

Zarywacz

North Devon & UK

t: 01271 879100

w: z2z.com

Counselling & Psychotherapy

North Devon Counselling

Barnstaple

t: 07872 501606

w: northdevoncounselling.co.uk

HealTh & SAFETY

JI Health & Safety Consultancy

Combe Martin

t: 07732 328222

Hotels

The Carlton

Ilfracombe

t: 01271 862446

w: ilfracombecarlton.co.uk

Human Resources

Fitzgerald HR

Barnstaple, Exeter, London &

Wellington

t: 01271 859267

w: fitzgeraldhr.co.uk

Right Way HR Services

Highampton

t: 07825 090782

Hypnotherapy

New Life Hypnotherapy

South Molton

t: 01769 57471

w: newlifehypnotherapy.org

Insurance

Towergate

Bideford

t: 01237 429978

w: towergate.com/locations/bideford

Together Insurance Solutions

Barnstaple

t: 01271 347147

w: togetherinsurancesolutions.co.uk

Locksmiths

MJS Locksmith

Bideford

t: 07532 139388

w: northdevonlocksmith.co.uk

SW Locksmiths

Holsworthy / Bude

t: 01409 255533

w: swlocksmiths.com

Networking groups

Business Networking in Barnstaple

Barnstaple

t: 0843 289 1339

w: bnibarnstaple.co.uk

Devon Partnerships

Devon

t: 07393 149855

w: devonpartnerships.co.uk

North Devon Networking Group

Barnstaple

w: northdevonnetworking.co.uk

Rise

Barnstaple

e: martin@duchyifa.co.uk

Torridge Business Network

Westward Ho!

w: torridgebusinessnetwork.co.uk

Office Supplies

South West Office Supplies

North Devon

t: 01271 889337

w: swofficesupplies.co.uk

BUSINESS LISTINGS

Photography

Tarkatography

Westward Ho!

t: 07977 414798

w: tarkatography.co.uk

Printing

Jamaica Press

Buckland Brewer

t: 01237 452333

w: jamaicapress.co.uk

Recruitment

Cooper Golding

Barnstaple

t: 01271 349745

w: coopergolding.co.uk

Simple Recruitment

Bideford

t: 01237 439500

w: simplerecruitmentltd.co.uk

TRAVEL AGENT

Clare Flint – Travel Counsellors

North Devon & UK

t: 01271 828990

w: travelcounsellors.co.uk/clare.flint

Web SITES & DIGITAL

Itseeze North Devon

North Devon

Tel: 07890 633458

Web: itseeze-northdevon.co.uk

Peak Online

Bideford

t: 01237 721256

w: northdevon.peak-online.uk.com

Welding & Sandblasting

Nott's Welding

Ilfracombe & North Devon

t: 07706 595955

Wills

Wills at Home

West Yelland

t: 01271 860105

w: wills-athome.co.uk

List your business all year!

£50 Business Action Plan

The £50 annual Business

Action Plan promotes your

business throughout the year

in this magazine – see listings

above – and online in our

needitfindit.uk directory.

➤➤Magazine listing, including

name, business type, phone

number, web site and

address, printed in 6 issues.

➤➤Online listing including

name, business type, phone

number, web site and

address, description and

logo for one year.

➤➤6 issues of magazine mailed

direct to your UK address.

BOOK YOUR LISTING NOW AT

business-action.co.uk/plans

Call 01271 326694.

info@boomboomedia.co.uk

visit www.boomboommedia.co.uk

@businessactionm | February / March 2020 | business action 9
---
AWARDS

business

ACTION AWARDS

2020

North Devon's independent business awards

Celebrating North Devon enterprise

The inaugural Business

Action Awards, celebrating the

outstanding achievements of

businesses based or operating

in North Devon, are now open

for entries.

Independent & transparent

The awards are fully independent

and transparent to attract

entries from as many businesses

as possible of all sizes,

from all sectors, from all areas

of North Devon.

Sponsors and judges are

separate and neither will enter

the awards. This guarantees

complete impartiality and

establish essential credibility.

Why enter?

The awards are free to enter

and offer promotional opportunities

and prizes, including

advertising, to businesses

selected as finalists or winners.

The winners will be announced

at a major awards event

combining food and drink,

theatre and networking.

In addition, every business

entering the awards will have

the chance to win an advertising

package worth £150.

Awards categories

Businesses based and operating

in North Devon can enter as

many categories as they like –

deadline for entries is 23:59 on

Monday 9 March 2020.

The winner of each category

will go forward for the judging

of the overall North Devon

Business of the Year Award.

Judging and finalists

The finalists for each category

will be announced in April on

➤➤Best Employer

➤➤Best Retailer

➤➤Business-to-Business Excellence

➤➤Consumer Service Excellence

➤➤Digital and Online Achievement

➤➤Excellence in Construction

➤➤Excellence in Hospitality & Tourism

➤➤Highest Achieving Learner

➤➤Made in North Devon

➤➤Outstanding New Business

➤➤Young Entrepreneur

➤➤The winner of each category above will go forward to the

judging of the North Devon Business of the Year 2020

ENTRY DEADLINE: 23:59 MONDAY 9 MARCH

FINALISTS ANNOUNCED: APRIL ISSUE

WINNERS EVENT: THURSDAY 4 JUNE

business-action.co.uk/awards

our web site and in the April

issue of Business Action.

Winners

The winners will be announced

on Thursday 4 June 2020 at

AWARDS CATEGORIES

the Business Action Awards

event at the Landmark Theatre,

Ilfracombe, which will include

networking, buffet and an

exciting presentation in the

theatre auditorium.

ENTER NOW

➤➤Free to enter

➤➤Finalists will be featured in

the April issue of Business

Action and in the awards

event souvenir programme

+ online publicity

➤➤Award winners will enjoy

being in the spotlight at

the awards event + extensive

coverage in the June

issue of Business Action

and online publicity +

advertising prize + awards

certificate, online and print

winner's logo and promotional

material + more

prizes

➤➤Every entrant will be

entered in a prize draw for

a £150 Business Action

advertising package

■■business-action.co.uk/awards

Sponsors

We are grateful to the generosity

of each of our sponsors,

without whom these awards

would not be possible.

There are still sponsorship

opportunities available, which

include advertising, editorial

and online promotion. Contact

us if you want to snap up one

of the last remaining slots.

Celebrating enterprise

The aim of celebrating enterprise

means that we invite

entries from all businesses in

the area, from sole traders to

large companies, from start-ups

to established firms, and from

every sector. We look forward

to receiving your entries.

■■business-action.co.uk/awards

10

business action | February / March 2020 | business-action.co.uk
---
Philip J Milton & Company Plc

We are delighted and proud

to offer a fully independent

financial and investment

planning service and we advise

upon all aspects of clients'

financial affairs.

The company continues to

expand its operations and also

offers an Accountancy and

Taxation service along with a

Will Writing, Trusts, Estates

and Probate Department.

The company is authorised

and regulated by the Financial

Conduct Authority (FCA)

and is one of the largest and

longest established Independent

Financial Advisers in

North Devon.

We are regulated at one of

the highest available categories,

being one of a very few

authorised to undertake

discretionary investment

management and to hold client

money. Consequently, we are

required to maintain sizeable

and very strict financial

resources at all times.

The company's accounts are

subject to thorough independent

audit and full accounts

are published and submitted

AWARDS

NORTH DEVON BUSINESS OF THE YEAR 2020

The winners of each of the 11

award categories will progress

to judging for the overall winner

of winners title where one

will be named North Devon

Business of the Year 2020.

This headline award is

being sponsored by Philip J

Milton & Company Plc.

Philip Milton says: "As the

managing director of Philip J

Milton & Company Plc, independent

wealth managers and

financial advisers, I am very

to the FCA regularly. Also,

the Financial Ombudsman

Service and Financial Services'

sponsored by

pleased to sponsor this year's

Business Action Awards and

to celebrate the showcasing

of the marvellous variety of

successful businesses here in

North Devon.

"I look forward to congratulating

each of the category

winners and nominees on

their excellence and for

providing our young people

with aspirations of a bright

and lucrative future right here

on their doorstep."

Compensation Scheme apply

to enhance investor protection

against financial loss.

With well over three decades

of experience, we also boast

some of the highest financial

services' qualifications in the

country. Staff are encouraged

and sponsored to achieve qualifications

beyond the industry

standard to ensure that we

continue to deliver an excellent

service to clients.

Success can be attributed

largely to the company's

uncompromising commitment

to clients, including ongoing

assessment and management

of investments, a thorough

understanding of financial

markets, prudent management

and long-term financial

stability.

We do not simply 'sell

products' – we provide a

comprehensive and longlasting

service to individuals

and their families. This is an

important distinction and an

approach that is rare in today's

fast-moving landscape.

This has led to many clients

recommending family and

friends to seek our advice – the

ultimate endorsement of the

quality of our services.

■■Visit miltonpj.net

@businessactionm | February / March 2020 | business action 11
---
AWARDS

EASY TO ENTER ONLINE OR BY EMAIL

Businesses based or operating in North Devon can enter as

many of the 11 categories over the following pages as they like.

Enter using the online form for each specific category or

download, complete and email the Word entry form for that

category. Please write your entries in a word-processing app in

advance and copy into the online form to avoid losing text. See

more awards tips on page 17.

■■Visit business-action.co.uk/awards

Cooper Golding is a local,

independent provider of highquality

recruitment services.

With three offices based in

North Devon and Somerset,

our aim is to help candidates

find rewarding work opportunities

locally and further

afield. We strive to support

our clients in finding talented

individuals to drive their business

success. We work with

many leading companies both

locally, regionally and nationally,

across our core sectors

– manufacturing, engineering,

industrial, sales and marketing

and business support.

We are a group of experienced

business and recruitment

specialists here at Cooper

Golding. Professional and

passionate about helping our

candidates and clients on their

recruitment journey. Honesty

and integrity and people first

are part of our core values,

offering an approach which

is transparent and respectful,

knowledgeable and innovative.

Having been part of the

local community for the past

eight years, we understand

the struggles that clients face

while trying to find the perfect

candidate. We offer a range of

tailored recruitment services

to help our clients find the best

available talent. From permanent

to temporary staffing

solutions, we collaborate with

companies to understand their

culture, vision and goals as

well as with our candidates

to ensure we make the best

suited match. We use the latest

The 'Best

Employer

Award' seeks

to recognise

employers based

or operating in

North Devon

who are committed to providing

a fulfilling environment in

which their employees thrive.

Many of us spend a large

proportion of our time at

work and working in an environment

which is safe, healthy

and where we feel happy is

technology and data, coupled

with the personal touch

which makes our service fast,

efficient and bespoke to each

individual client's and candidate's

needs.

Cooper Golding is

committed to helping candidates

find their ideal job

by providing honest career

advice, conducting CV health

checks and offering interview

tips to ensure candidates are

promoting themselves in the

best light.

We are sponsoring 'The

BEST EMPLOYER

sponsored by

very important.

The Best

Employer Award

seeks to recognise

employers

in North Devon

who realise this

and who achieve exceptional

standards of care for their

employees.

The Best Employer Award is

open to any business in North

Devon which employs people,

from one member of staff to

hundreds or thousands.

Best Employer Award' this year

as we believe it is important

to highlight the qualities that

make a good employer. As a

local recruitment agency, we

see a range of skill shortages

within different markets every

day and believe it is increasingly

important that candidates

have a choice in who they work

for. Employers should work

towards creating a great and

positive work ethic and environment

to attract and retain

the best talent.

■■Visit coopergolding.co.uk

The Independent Corrugated

Cardboard Packaging Specialists

Passionate about our Community and supporting

our Charity of the Year 2020.

Roundswell Business Park,

Barnstaple, Devon, EX31 3TT.

+44(0)1271

344 055

sales@atlaspackaging.co.uk

www.atlaspackaging.co.uk

12

business action | February / March 2020 | business-action.co.uk
---
AWARDS

BUSINESS-TO-BUSINESS SERVICE EXCELLENCE

sponsored by

The 'Businessto-Business

Excellence

Award' recognises

North

Devon businesses

who

provide important B2B

services to other businesses.

Every business needs essential

business services to operate

successfully. While it can be

easy to consider accountancy,

legal or other B2B services

solely as costs, effective

accountants and lawyers add

value to improve the productivity,

sales and

profitability of

their clients.

The Businessto-Business

Excellence

Award is open

to any business in North

Devon providing B2B services

to other businesses, such as

accountancy, administrative,

advertising, finance, healthcare,

health and safety, insurance,

law, marketing, sales,

training, as well as advice on

everything from employment

to outsourcing.

CONSUMER SERVICE EXCELLENCE

The 'Consumer Service Excellence

Award' recognises North

Devon businesses who provide

services direct to residents and

the public.

Each of us relies on a

number of consumer businesses

in our life, from

hairdressers and barbers to

cleaners, gardeners, fitness

instructors, health practitioners

and dentists, and more.

The Consumer Service

Excellence Award is open

to any business in North

Devon providing services to

consumers.

From entertainment to

sport, leisure, healthcare and

beauty, the Consumer Service

Excellence Award highlights

businesses in North Devon

whose services support

consumers and the community.

Zero7

Zero7 provides expert business

telecoms and technical support.

We know that every business

is different and so are their

needs, which is why we provide

bespoke managed services to

suit every requirement.

Whether you are a single

line and broadband user with

one mobile or have multiple

users and large-scale telephone

systems, we can tailor and build

a solution for your business.

We work with the biggest

network providers in the

The 'Best Retailer Award' recognises

North Devon retailers

who provide the best shopping

experience and service.

Shops are the lifeblood of

our towns and villages, yet

our retailers face huge challenges

with little support from

government and councils.

Those stores who address the

needs of their customers, especially

independent shops, are

driving a resurgence in high

street retailing based on the

growing appreciation of their

BEST RETAILER

industry including Openreach,

EE and O2 so we can assist with

infrastructure and installations,

from a single line and broadband

to large-scale projects

such as commercial builds and

Gigabit Internet connections.

We believe in a customer

service-focused approach,

offering competitive pricing

and technical expertise. Our

in-house billing and customer

support teams are on hand

to help your business get

connected.

■■Visit zr7.co

personal service, willingness

to offer what customers want

and the value they give to the

community.

The Best Retailer Award is

open to any retailer in North

Devon. From village stores on

which residents depend for

essentials to specialist retailers

offering eclectic ranges of

high-quality goods, the Best

Retailer Award highlights

retailers who make the shopping

experience in North

Devon the best in the country.

@businessactionm | February / March 2020 | business action 13
---
AWARDS

EXCELLENCE IN CONSTRUCTION

sponsored by

The 'Excellence

in Construction

Award' aims to

recognise excellence

throughout

the North Devon

building and

construction sector. It highlights

exceptional standards

of built environments, which

provide high quality of life for

work, home, and play.

The Excellence in

Construction

award is open to

all businesses in

the sector based

or working in

North Devon.

From sole

traders and SMEs to large

companies, this includes

trades such as building, decorating,

carpentry, electricity,

plumbing, heating, and

landscaping.

DIGITAL AND ONLINE ACHIEVEMENT

The 'Digital and Online

Achievement Award' recognises

North Devon businesses

who are developing the full

potential of online and digital

technologies and the internet.

Technology is transforming

business. When used effectively,

it can create opportunities

for innovation, increased

productivity, greater profitability

and better working

conditions. Technology also

offers businesses in North

Devon tools that can compensate

for the area's remoteness,

which can create barriers to

reaching new markets.

The Digital and Online

Achievement Award is open to

any business in North Devon

working with digital and

internet technology, either as

a creator or user. This includes

building web sites, creating

content and using social

media for marketing and

selling, as well as integrating

cloud technology or other

online systems into business

processes to improve efficiency

and customer experience.

RGB Building Supplies

We are one of the leading independent

builders merchants in

the South West, operating out

of 20 locations across Devon,

Cornwall and Somerset. At

our branches you'll find a wide

array of high-quality products

in stock, including landscaping,

plumbing and heating, heavyside

and lightside, decorating,

and general building materials,

as well as dedicated kitchen,

bathroom and bedroom showrooms

in many locations.

Our branch teams are highly

knowledgeable and are on hand

to offer necessary technical

assistance, recommend products

from our extensive stock,

and assist with any projects

you're undertaking. Whether

it's our knowledgeable staff,

great range of products, or

authenticity and reliability, we

aim to go that extra mile.

We have been independent

since 1850, and feel that our

family roots and community

focus are at the heart of

what we do. We understand

that customers' needs are

constantly changing, so we

work hard to evolve with the

times, and make sure dealing

with us is as easy as possible.

Our stock profile includes

a wide variety of products,

enabling us to fulfil your

requirements whether you're

building, maintaining, renovating

or repairing.

Our local branches deliver

to our local communities,

providing quality products

from our trusted suppliers,

while overcoming any logistical

challenges that sites may

face. For these reasons, our

customers always trust us to

deliver, when and how we say

we will.

We are open to all,

welcoming both the trade and

public, no matter how big or

small the project. We're proud

to have been building our local

communities for the past 170

years, and look forward to

serving you in one of our 20

branches throughout Devon,

Cornwall and Somerset soon.

We're delighted to be

involved in recognising a

local hero in the construction

industry, a sector very relevant

to our business.

■■Visit rgbltd.co.uk

Visit ideaengine.co.uk to see all the

brands that we have brought to life

online, in print, outdoors and in a

whole host of other ways.

ideaengine.co.uk

01271 324594 or 07974306711

Web, Brand, Advertising, Design, Literature

14

business action | February / March 2020 | business-action.co.uk
---
AWARDS

EXCELLENCE IN HOSPITALITY AND TOURISM

sponsored by

The 'Excellence

in Hospitality

and Tourism

Award' recognises

businesses

who attract

visitors to North

Devon, offer the warmest welcome

and provide experiences

to last a lifetime.

The North Devon landscape

is so beautiful and offers so

many activities and experiences

to visitors that it is a

natural holiday destination.

The experiences visitors have

here determine what they

tell their family and friends

and whether

they will return

again. That

is why businesses

in our

hospitality and

tourism sector

are of vital importance to

North Devon's reputation as a

visitor destination.

The Excellence in Hospitality

and Tourism Award is

open to any business operating

in North Devon that works to

attract visitors and provide

hospitality services, from

accommodation to dining,

leisure activities and travel.

HIGHEST ACHIEVING LEARNER

sponsored by

The 'Highest

Achieving

Learner Award'

recognises the

achievements

of individuals

working in businesses

in North Devon who

are currently or have recently

completed training or skills

development.

Learning and skills are

essential both to developing

the full potential of individuals

so they enjoy satisfying

careers and also to creating

a skilled and productive

workforce for North Devon's

businesses.

The Highest

Achieving

Learner Award

is open to

nominations

of individuals

of any age or background

working in North Devon who

are currently taking or have

recently completed workrelated

training. This ranges

from courses to improve

numeracy and literacy to

traineeships, apprenticeships,

graduate courses, vocational

courses and specialist professional

qualifications.

Marsdens Devon Cottages

Marsdens Devon Cottages

is an independent family

business, started in 1973.

We've grown a lot since the

early days of letting our first

self-catering holiday cottages,

but our promise to provide the

very best service – as well as a

fantastic range of great places

to stay – hasn't changed one

bit. As every year goes by, our

experience continues to grow.

With over 400 holiday cottages

across North Devon and

Exmoor, Marsdens Devon

Cottages understands how to

get the most from letting your

holiday property.

Our local team offers a

professional, personal and

friendly service, plus all our

properties are graded by our

own Quality Assessment Team

to give guests confidence.

■■Visit marsdens.co.uk

Atlas Packaging

Atlas Packaging is the UK's

leading independent cardboard

box company.

Our main aim is to provide

our customers with the best

bespoke corrugated packaging

and to do this we have our own

design and production service.

This means that at every step

of the process it's conducted

accurately whilst keeping our

prices highly competitive.

We understand that long

waiting times, costs and poor

quality can harm the impression

of your businesses. At Atlas

Packaging we have the advantage

of housing both design and

manufacturing facilities on site

which allows us to fast-track

the process of making your

corrugated packaging. We keep

our prices fair and competitive

to ensure that the highest

quality standards are maintained

throughout the process.

And with constant reinvestment

and consultation we are able to

offer state-of-the-art printing

and manufacturing services to

maintain quality is at its very

best every step of the way.

■■Visit atlaspackaging.co.uk

01271 370707 www.zr7.co hello@zr7.co

LINES AND CALLS

BUSINESS BROADBAND

VOIP TELEPHONE SYSTEMS

BUSINESS MOBILES

4G CONNECTIVITY

WI-FI NETWORKS

ISDN AND PBX

CABLING AND INSTALLATIONS

LEASED LINES AND GIGABIT

IN-HOUSE BILLING AND INVOICING

LOCAL TECHNICAL SUPPORT

The Fox at Fremington

Bar, café, pub

Sunday Carvery £10.95

(£14.95 including desert)

Booking advisable

01271 344161

Church Hill, Fremington, Barnstaple, EX31 2NT

facebook.com/thefoxfremington

@businessactionm | February / March 2020 | business action 15
---
AWARDS

The 'Made in

North Devon

Award' recognises

North

Devon manufacturers

and

producers whose products are

enjoyed locally and exported

across the UK and internationally.

North Devon has a long

history of manufacturing and

production. Its manufacturing

ranges from traditional goods

and products to hi-tech

The Sign Maker

The Sign Maker manufactures

high-quality signs and

memorials to suit all budgets,

offering a huge choice in

materials, fonts and images. It

also provides a massive range

of standard safety signs, posters

and equipment.

We make so many different

signs just the way you want

them – house signs, home

signs and name plates, door

numbers, memorial plaques,

business signs and wheel

covers.

MADE IN NORTH DEVON

sponsored by

equipment and

materials used

in aviation,

medicine and

other sectors. Its

food and drink

products range from meat and

fish to speciality ciders, wines,

beers and marmalades.

The Made in North Devon

Award is open to manufacturers

or producers of physical

products, including materials,

equipment, food and drink.

Our main workshops are in

North Devon, but we send our

signs all over the world. We

know we are lucky to be situated

in the country – and on

our web site you can learn how

we Care for our Countryside.

If you need advice with any

of the signs, plaques, business

signage, memorials or gifts, do

call us on 01769 561355. And

visit our web site to see the

huge variety of signage we offer.

You can place orders by phone,

email or via our online shop.

■■Visit sign-maker.net

OUTSTANDING NEW BUSINESS

The 'Outstanding New Business

Award' recognises the

success of new North Devon

businesses as they establish

themselves.

New businesses are

essential to the success of the

North Devon economy as

new technology causes some

older industries to disappear

and the natural cycle leads to

experienced business people

retiring. New businesses are

always needed to replace

The 'Young Entrepreneur

Award' recognises successful

North Devon business owners

and directors aged 30 or

under.

The business world is

changing faster than ever

before which makes it more

difficult for young people to

predict how their careers can

develop. The small population

in a large geographical

area also limits the number

YOUNG ENTREPRENEUR

old ones and to develop the

economy for the future. Due

to its remoteness, running a

business in North Devon is a

big challenge and maintaining

a business here is a major

achievement.

The Outstanding New

Business Award is open to

any business in North Devon

started on or after 1 January

2018. This includes businesses

acquired by and transformed

by new owners.

of opportunities available

to young people. The Young

Entrepreneur Award recognises

the achievements of

young people who start their

own business or who progress

through existing job roles to

own or lead a business.

The Young Enterprise

Award is open to any North

Devon business owner or

director aged 30 years or

under on 31 March 2020.

business-action.co.uk/awards

You are invited to the official launch of our new Centre of Technology & Innovation

Excellence (Cotie) on Friday 7 February 2020. Cotie is here to provide North Devon

businesses with the tools to create their own future.

Our innovation centre is built to inspire collaboration and creativity, and contains

everything from:

• an expertly-equipped development zone with 3D manufacturing technology

• a relaxed yet professional conferencing area

• open-plan hot desks area complete with high spec and fully loaded PCs and Macs

• a state-of-the-art cleanroom

• two crisply modern design pods

OFFICIAL

LAUNCH

7 FEBRUARY 2020

8-10am

The event will run from 8-10am with a welcome address from Sean Mackney, Petroc

Principal & CEO at 8.30am. Refreshments will be available.

We look forward to welcoming you on the day.

PLEASE REGISTER YOUR ATTENDANCE:

www.eventbrite.co.uk/e/cotie-official-launchtickets-90301396909

Petroc

Old Sticklepath Hill

Barnstaple

Devon

EX31 2BQ

INNOVATION LAUNCHPAD
---
AWARDS

Top tips on winning business awards

Always wanted to win a

business award? Don't know

where to start or what you

should include in your entry?

Winning an award can also

boost team morale, drive

competitive advantage and

secure trust in your business.

Multi-award winner Denise

O'Leary of Purpol Marketing

explains how to consistently

win business awards for your

business and leverage the great

PR opportunities they present.

What do you want to be

known for?

When trying to decide which

award or category of an award

to enter, you need to consider

the relevance that the award

can have to your business. If

you have limited resources,

then target the one you really

want, find out the structure and

then the entry can be tweaked

for any additional submissions.

Promote your USP:

Unique Selling Point

Every company will be different

– you have got to determine

what your company USP is –

this is the Unique Selling Point

that makes you stand out and

makes your business memorable.

This is the content you

need to focus on to make your

entry impactful.

Evidence is essential

– get client testimonials

Award entries give you the

opportunity to document

your achievements, but if you

haven't done yourself justice

on that entry form, they can't

give you the credit. If someone

outside the business has been

prepared to say how great you

are, it is far more powerful.

Tailor your entries for

ultimate success

Each award is likely to be

judged individually, so we

would always recommend that

you tackle each award independently.

The entry criteria need

to be evaluated and matched

against your individual and

company attributes and then

displayed on the entry form.

Visualise that win

Understand why you want to

win. When you know this, you

can target the awards to enter.

Build an Award Calendar –

this will make it easier for time

planning.

Be honest

Always be honest with your

entry. Don't lie, make up

figures or avoid mentioning

something that the general

business community will know

about you. The judges are

usually experienced business

owners, investors and experts

in their fields. Being sincere

and explaining your challenges

is very powerful as it shows you

are constantly learning.

You can find more awards

tips in Denise's new book

'WINNER – How to Win

Business Awards' available at

winnerhowtowin.com

■■Details 01249 481411 or

purpolmarketing.co.uk

What value is there in entering and winning

awards? asks Business Action editor

Robert Zarywacz.

Well, in 2019 we entered Business

Action in the Small Business

Saturday competition to be one of its

#SmallBiz100 – 100 businesses from

across the country selected to represent

the campaign. Not only were we chosen

as the only business in Devon, but we

joined the Small Business Saturday

alumni, a group of all the #SmallBiz100

winners since the campaign began. It

was through this that I connected with

Denise O'Leary – whose business had

been selected in 2017 – on LinkedIn.

Denise told me that the book she had

written on entering awards would be

published in early 2020, coinciding with

our own awards. We kept in touch and

Denise sent me a copy to review here.

We had already realised we wanted

to publish some tips for our awards and

Denise's book covers every topic we

identified, from recognising that your

business very likely has the ability to win

awards to selecting the most suitable

awards for your business to enter. As

an experienced organiser and judge of

awards myself, I agree with Denise's practical

suggestions, including composing

your award entries offline (so you don't

lose hours of work when an online entry

form crashes) to understanding what

judges are looking for in your entry and

how to satisfy that.

Our aim in organising the Business

Action Awards is not only to recognise

the achievements of North Devon businesses,

but also to encourage more to

enter and win other industry, regional

or national awards. If you want your

business to be an award winner, I recommend

you read WINNER – How to Win

Business Awards.

If we hadn't entered the #SmallBiz100,

we wouldn't have benefited by connecting

with winners including Denise.

@businessactionm | February / March 2020 | business action 17
---
IN THE HOT SEAT

Jason Sharman of Atlas Packaging

1. What was your first job?

My first job was working

in an insurance office as an

administrator for the claims

department. It was where I first

discovered how creative people

can be with the truth!

2. What is the best

business advice you've

ever received?

The best advice I have received

in business is 'Do the right

thing'.

3. What do you enjoy most

about business?

What I love about business is

meeting a myriad of personalities

and getting an insight into

various industries and how

they operate.

4. What essential

technology could your

business never be without?

There is no way we could

operate without computers,

the thought of that gives me

the shivers!

5. Describe your business

management / style

My management / business

style is one based around

teamwork and collaboration:

you can achieve so much more

as a group.

6. How do you go about

personal development?

I gain personal development

by reading, staying abreast

of current affairs and sharing

experiences with friends

throughout the industry.

7. Is there anything about

yourself that you would like

to change?

If there was one thing I wish I

Each issue we put a North Devon business personality in the hot seat

and ask them 10 questions. This issue we asked Jason Sharman,

managing director of Atlas Packaging in Barnstaple

could change it would be to be

more considered. I tend to go

from heart rather than head a

little too much.

8. Social media: yes or no?

Preferred network?

Social media for the business,

but not for me personally. My

data is my data, although I do

have a LinkedIn profile.

9. How do you wind down

when not working?

I like to run whilst listening to

music as a way to wind down,

currently listening to 'Bicep'

and 'Hot Since 82' for some

great up-tempo tunes. I also

try to read but often failing as I

tend to fall asleep two pages in!

10. Do you have a motto or

favourite quotation?

My favourite motto has to be

'The standards you walk past are

the standards you accept' – you

can probably tell that I'm a clean

freak and I love nothing more

than a sparkling shop floor.

ATLAS PACKAGING

Atlas Packaging Ltd was

founded in 1983 and has grown

from strength to strength to

become a market leader in

the packaging industry. Atlas

has an outstanding reputation

for diversity, reliability and

superior customer service;

this has been gained through

a dedication to training, heavy

investment in modern facilities

and a company-wide drive to

deliver an exceptional standard

across the board.

This on-going commitment

to achieving the company's

aspirations for development

has embedded design and

innovation into the core of

Atlas Packaging. From basic

designs through to innovative

marketing campaigns, Atlas

is able to design and manufacture

an almost unlimited

range of bespoke packaging

solutions. As well as being able

to offer bespoke design and

manufacturing solutions, we

also have a range of standard

industry-specific products

available to order.

Because you can't provide

a top service without a top

team, all Atlas employees are

brought on board for their

enthusiasm, skill and spirit.

In return, everyone is offered

a welcoming, enjoyable and

supportive working environment.

The success of the Atlas

team is built on collaboration

and support, and this

has created a strong sense

of community among our

employees.

■■Details 01271 344055 or

atlaspackaging.co.uk

01271 267420 | info@gtales.co.uk

18

business action | February / March 2020 | business-action.co.uk
---
Are you still typing invoice

data into your accounts?

While entering all purchase

invoices into accounting

software is necessary, there are

downsides to this.

Kevin Salter, chartered

accountant and chartered tax

adviser with Glover Stanbury,

specialises in the application

of IT in business and

offers some helpful hints on

improving productivity:

Disadvantages

Manual entry is labour

intensive – many invoices now

arrive in an electronic format,

eg a PDF attached to an email.

What happens to these? They

are printed out, approved and

passed for rekeying data into

the accounts software before

being filed away.

It is expensive – what

is the direct labour cost

and other overhead costs –

employer's NI, pension, etc

– of employing someone to do

the boring, repetitive task of

processing purchase invoices?

It is prone to error – while

these are often picked up later

in the accounting process,

it can be time consuming to

track down and correct them.

Common errors include

posting invoices twice, posting

to the wrong supplier account

or miskeying figures.

Inconsistent analysis –

last year the expense may

have been coded to 'sundry

expenses', but this year

recorded in 'subscriptions',

only to go back into 'sundry

expenses' next year.

There may be delays in

Small Business Saturday

passed in December, but we

need to support our small and

local businesses all year round.

When Business Action was

selected as a #SmallBiz100,

we started our 'From 10 to a

million' campaign to persuade

more people in North Devon

and Torridge to switch £10

of spending from an online

giant or national company to a

processing the invoices – they

can mount up when bookkeeping

staff go away on leave.

Printing and storage costs –

add up all the costs of printing

them out, filing them away

and storing them for six years

– printer toner or ink, paper,

files, racking or filing cabinets,

rent of storage space, etc.

What is the alternative?

The alternative is electronic

processing and data extraction:

Paper invoices coming in

are scanned or photographed

and uploaded to a web site.

Those received electronically

can simply be forwarded to an

email address.

Data is extracted – invoice

number, supplier name, date,

gross, net, VAT etc. The transaction

can be allocated to an

expense code (or split between

multiple codes in fixed sums

or percentages). This allocation

can be 'remembered' for

future similar transactions.

The data is downloaded in

a format suitable for import

straight into the accounts

software. No more keying in.

The paper invoices can be

thrown away – really! The

scanned versions are readily

available and searchable

within the software.

If this can help your

business, Kevin would be

happy to discuss how you

can start processing invoices

electronically.

■■Details 01271 375271 /

01237 471881 or

gloverstanbury.co.uk

local business. If everyone did

this on just one day, it would

keep more than £1 million in

the local economy to support

businesses and jobs here. All

we have to do is pause before

we make any purchase and

consider whether we can buy

from a local business.

And when we do buy locally

to share it with the #10to1m

hashtag. Let's do it!

ACCOUNTS

Attract customer

Attention!

with your marketing, PR

and communications

u business journalism u technical writing u

u case studies u blogs & online content u

u magazine production u campaigns u

u events u project management u

Call Robert Zarywacz on

01271 879100

25 years of business communication

Z

A

R

Y

W

C

COMMUNICATE IN SPEECH, PRINT & ONLINE

Wills Property Trusts (in will)

Children's Trusts (in will) Funeral Plans

Probate Lasting Powers of Attorney

A

Wills: £70 Single / £105 Joint

Z

@businessactionm | February / March 2020 | business action 19
---
SUPPORT HEADER

Hotel events support local food producers

The Carlton Hotel in Ilfracombe

is hosting two events to

support local food producers.

On Monday 24 February, it

is hosting a members, prospective

members and guests

evening for Food and Drink

Devon. Producers, suppliers,

retailers, and café and restaurant

owners are welcome to

attend to find out more about

the benefits of 'keeping it local'.

Attendees can enjoy a welcome

drink and light supper while

networking. This trade event is

open to local farmers, butchers,

bakers, processors, retailers of

any size and any outlet category.

To book, email membership

@fooddrinkdevon.co.uk

On Friday 28 February, the

Carlton is teaming up with

local farmer Chris Lerwill to

host a Foodie Friday Steak

Night in the Brasserie as part of

Exmoor Food Fest.

Chris will be talking about

his family's traditional methods

of farming, including sustainable

animal husbandry and the

benefits this brings.

Guests will enjoy the finest

Exmoor Park beef from cattle

selected from breeds that

would have traditionally grazed

on the moors. Generally slower

to mature, they are still raised

in small herds on small family

farms as they have been for

generations. The Lerwill family

have been raising beef on

Exmoor since the 12th century.

➤➤How to make the most of

your levy and the transfer

options available

➤➤Tour of the college facilities,

including conference

and meeting rooms

➤➤How to join Petroc's Advisory

Groups

➤➤T-levels, Traineeships and

Work placements

➤➤Information about available

funding to upskill your

workforce

Book sessions by contacting

business@petroc.ac.uk

Apprenticeship event

Petroc is holding an apprenticeship

event to support local

and national employers with

apprenticeship vacancies on

Thursday 5 March at its North

Devon Campus.

The aim of the event is to

raise awareness of the benefit

of becoming an apprentice and

to provide an opportunity for

employers to promote specific

apprenticeship vacancies,

All their cattle are hand

reared using non-intensive

methods and benefit from a

high biodiversity structure

and varied diet. The incredibly

short journey from gate to plate

keeps Exmoor Beef 's carbon

footprint of to a minimum

compared with intensive

livestock farms and maximises

sustainability with the smallest

environmental impact.

■■Details 01271 862446 or

ilfracombecarlton.co.uk

Technology centre launch, business drop-ins and

apprenticeship event

North Devon businesses are

invited to the official launch

of Petroc's new Centre of

Technology & Innovation

Excellence (Cotie) at its North

Devon Campus in Barnstaple

on Friday 7 February.

Cotie aims to provide local

businesses with the tools to

create their own future. The

innovation centre is built to

inspire collaboration and

creativity, and its up-to-date

facilities include:

➤➤an expertly-equipped

development zone with 3D

manufacturing technology

➤➤a relaxed yet professional

conferencing area

➤➤open-plan hot desks area

complete with high-spec

and fully loaded PCs and

Macs

➤➤a state-of-the-art cleanroom

➤➤two crisply modern design

pods

There will be a welcome and

address from Sean Mackney,

Petroc principal and chief

executive officer, at 8:30am,

although businesses are

welcome to drop in at any time

between 8:00am and 10:00am

Petroc is hosting a number of events of interest to businesses

including the launch of its new technology centre, regular drop-in

sessions and an apprenticeship event

when refreshments will be

available.

■■Register at eventbrite.co.uk/

e/cotie-official-launch-tickets-

90301396909

Drop-in sessions

This session is part of Petroc's

Business Development Team's

series of regular drop-ins

where businesses can discuss

everything about skills and

training solutions.

The team have experience

of supporting employers

across the South West to set

up and maintain a learning

culture that will enhance

productivity and help businesses

grow. Topics covered

can include:

➤➤Information, advice and

guidance on upskilling your

workforce

➤➤Short courses and bespoke

training solutions to meet

your business needs

➤➤Recruiting apprentices

(Level 2 to Degree level) to

grow your future workforce

acting as a recruitment event.

Petroc will be inviting:

➤➤Parents/carers and pupils

from local secondary

schools – Year 10, 11 and

sixth form

➤➤The general public

➤➤Current Petroc learners –

from both North and Mid

Devon Campuses

➤➤In addition, parents/carers

of Petroc students will be

sent an invite as they can

play a big role in guiding

careers choices and many

know little of the fantastic

opportunities apprenticeships

offer in the area

Businesses wanting to exhibit

at this event can email marcus.

coyle@petroc.ac.uk to confirm

their space.

If you would like to talk to

a member of Petroc's Business

Engagement Team about the

various apprenticeship options

that might suit your business

before this event, Marcus can

arrange for a team member to

visit you.

■■To keep informed of the

full range of events Petroc

hosts for local businesses, visit

petroc.ac.uk/events

20

business action | February / March 2020 | business-action.co.uk
---
Devon and Plymouth Chamber

is hosting a free Access to

Finance Fair on Wednesday

25 March from 8am to 3pm at

Dartington Hall, Totnes.

Challenges of finance

Accessing finance is one of

the single largest issues facing

ambitious businesses and

social enterprises in the South

West. And ensuring your business

plans are ready to apply

for investment successfully is

often the biggest hurdle. The

world of finance is complicated

and often overwhelming.

Event aims

This event aims to unravel

some of the complex routes

to commercial investment

through a series of educational

and impartial seminars

throughout the day, as well as

information and advice from a

wide range of exhibitors from

across the finance and investment

sectors.

Event supporters

The Heart of the South West

Local Enterprise Partnership

(HotSW LEP), Devon

County Council, Plymouth

City Council and the Devon

and Plymouth Chamber of

Commerce recognise the

importance of accessing the

right financial support and

information and are all supporting

this fair.

New funding routes

Historical funding routes have

changed, with high street banks

operating under new lending

guidelines and new entrants

offering a range of viable

alternative options. However,

the market can still be very

confusing to businesses.

SUPPORT

Devon Chamber Access to Finance Fair

As the percentage of businesses

with appropriately

qualified finance directors is

small, it has been increasingly

difficult for smaller growing

businesses to identify appropriate

sources of financial

investment, with the financial

articulation of requirements

and projection of impact

falling largely upon third

parties, such as accountants.

Event sponsors

The event is sponsored by

Western Union and run

by Devon and Plymouth

Chamber of Commerce and

partners, who are providing a

platform for key professionals

from the finance, investment

and accountancy sectors to

educate and inform businesses

on how to source finance in

today's economy.

Exhibitors

Exhibitors will include US

global financial and communications

company Western

Union, which will be hosting

a seminar; South West-based

commercial finance broker

Start Point Finance, which will

also be presenting; Barclays,

which provides a range of

banking and financial services

for businesses of all sizes;

SWIG Finance, which provides

viable SMEs and start-ups

with access to finance through

dedicated business loan funds

in the South West; and Balance

for Business, a Plymouthbased

commercial financial

broker which has sourced £200

million for clients in the past

five years.

■■Entry to this event is free.

Contact 01752 220471 or visit

devonchamber.co.uk/events

In response to feedback from

North Devon members, Devon

and Plymouth Chamber is

hosting a series of six special

skills and international trade

training courses in Barnstaple.

The courses will support

businesses trading internationally

or wanting to develop trade

internationally and, accredited

by the British Chambers of

Commerce (BCC), cover the

critical steps for any new or

existing international trade.

Courses and dates

The courses scheduled are:

➤➤Introduction to International

Trade – 13 February

➤➤Customs Procedures and

Export Documentation

– 12 March

➤➤Incoterms 2020 – 30 April

➤➤International Trade Payment

Processes – 21 May

➤➤Product Classification &

Rules of Origin – 25 June

➤➤Special Customs Procedures

& Customs Audit Preparations

–16 July

Each course passed will be

certificated and success in

obtaining six credits will lead

to a Foundation Award in

International Trade, certified

by BCC, which is equivalent to

an NVQ2 qualification.

Hobart Manufacturing

The export training sessions

are hosted by chamber member

Hobart Manufacturing in its

Barnstaple factory board room.

International Trade Matters

Training is provided by local

independent company International

Trade Matters.

Who are these courses for?

These courses will suit

anyone involved in importing

and exporting goods and

services, arming you and your

employees with the knowledge

to trade internationally.

The people who attend

courses include owner/proprietors

of small businesses who

manage their own import and

export services through to

employees working in import/

export departments in larger

organisations. Some will attend

all the courses, others just

attend those relevant to their

specific role.

Training your staff to deliver

your products or services right

first time, every time, will lower

your costs and improve the

experience you deliver to your

customers. Choosing an export

training provider such as

Devon and Plymouth Chamber

of Commerce and International

Trade Matters, who both

understand about making a

profit internationally, can really

help your company take off in

your export markets.

Full details of Devon

and Plymouth Chamber's

international trade training

programme are available

at devonchamber.co.uk/

international-trade-trainingprogramme/

■■Details 01752 220471 or

devonchamber.co.uk

@businessactionm | February / March 2020 | business action 21
---
Investment property to Let?

• Competitive commission rates

• Local, friendly, expert advice and support

• Comprehensive marketing

• Fully managed services to suit your needs

• NEW! Mobile-optimised website

• Over 97% of our owners would

recommend us - find out why...

Contact us today on 01271 813777

for your homeowner recruitment pack

marsdens.co.uk

PROUD TO

SUPPORT YOU

AND YOUR BUILD

• 20 Branches throughout the South West

• Free kitchen and bathroom design service

• Build Plan Take Off Service available

• Our Technical Sales Staff can visit sites

and assist with your specific requirements

• Truss & Engineered Timber measure and supply

• Loyalty Card or Account facilities

Follow us on:

Rawle Gammon and Baker Holdings Limited. Terms & Conditions apply.