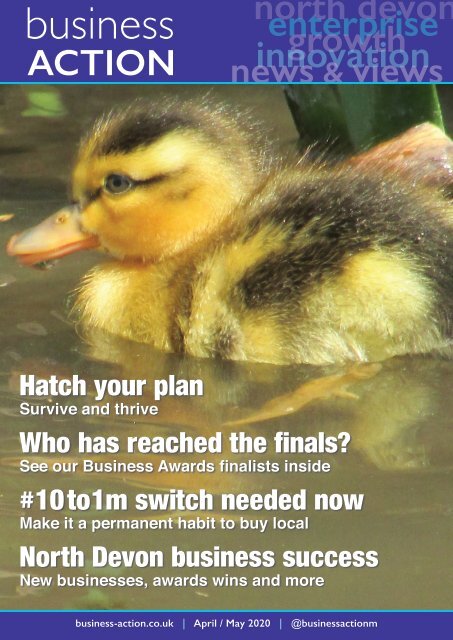 Business Action | April / May 2020
April / May 2020 issue of the independent North Devon-based business magazine covering news about business and enterprise in the area. This issue includes finalists of in the 11 categories of the Business Action Awards 2020. The area covered includes Barnstaple, Bideford, Braunton, Chulmleigh, Combe Martin, Holsworthy, Ilfracombe, Lynmouth, Lynton, South Molton, Torrington, Woolacombe and more.
April / May 2020 issue of the independent North Devon-based business magazine covering news about business and enterprise in the area.

This issue includes finalists of in the 11 categories of the Business Action Awards 2020.

The area covered includes Barnstaple, Bideford, Braunton, Chulmleigh, Combe Martin, Holsworthy, Ilfracombe, Lynmouth, Lynton, South Molton, Torrington, Woolacombe and more.
SHOW MORE
SHOW LESS
Create successful ePaper yourself
Turn your PDF publications into a flip-book with our unique Google optimized e-Paper software.
usiness

ACTION

north enterprise

devon

growth

innovation

news & views

Hatch your plan

Survive and thrive

Who has reached the finals?

See our Business Awards finalists inside

#10to1m switch needed now

Make it a permanent habit to buy local

North Devon business success

New businesses, awards wins and more

business-action.co.uk | April / May 2020 | @businessactionm
---
CONTENTS

Web site | business-action.co.uk

Online version | business-action.uk

Vol 2 Issue 2 – April / May 2020 – distribution 2,500

Why we all need your business..................................................................... 1

Coronavirus: maintaining business health ............................................. 2

Accessing government support during COVID-19.......................... 2

Packaging for food and health....................................................................... 3

Manufacturer switches to scrubs................................................................. 3

Telecoms specialist supports homeworkers........................................... 4

From £10 to £1 million #10to1m.................................................................... 4

Adapting is a sign of the times...................................................................... 5

Acupuncture practice goes online............................................................... 5

Helping travellers get home safely.............................................................. 5

Author opens relocated salon........................................................................ 6

Packaging manufacturer wins MoD contract.......................................... 6

Business directory – find products and services................................. 7

Homeware wholesaler is best in UK for fourth year............................ 8

Manufacturer wins national innovation award................................. 8

Top dogs win marketing award......................................................... 9

North Devon apprentice speaks at Westminster............................. 9

Holiday park offers warm welcome.................................................. 10

Moving across UK and Europe......................................................... 10

What's the difference between a lawyer, accountant and surveyor?... 11

Gardening goes digital....................................................................... 12

Service helps SMEs recruit graduates....................................................... 12

Going above and beyond................................................................... 13

Letting go of material possessions.................................................. 13

£10,000 skills grants for small construction businesses............... 14

£3,600 funding to help recruit STEM graduates.............................. 15

Business Action Awards: ................................................................. 16

Business Action Awards: Meet the judges.............................................. 17

Business Action Awards: finalists .............................................................. 19

© Need it Find it 2020. All information in this magazine is published in good faith.

Any views expressed are not necessarily those of the publisher, Need it Find it.

Readers are strongly recommended to seek advice from an appropriate professional

before taking any action on any topic discussed in the magazine and to check full

terms and conditions of any products or services promoted in advertisements.

Set Your

Business

Apart

The UK's Largest

Trading Standards Run

Business Approval Scheme

ii

Backed by more than 50 local authority

Trading Standards Services nationwide,

Buy With Confidence supports honest

and trustworthy businesses, setting your

company apart from your competitors

Find out more: www.buywithconfidence.gov.uk

business action | April / May 2020 | business-action.co.uk
---
ENTERPRISE

business

ACTION

Why we all need your business

Just when we thought we

had got over the crippling

political uncertainty of 2019,

Coronavirus has made 2020 the

most challenging year in most

people's memory.

In terms of business, there

are two ways of looking at this:

focus on the damage or on how

we restart the economy.

Business Action takes the

latter approach.

While the current lockdown

has closed many businesses

until it is lifted, our Business

Awards remind us just how

enterprising North Devon is.

Celebrate entrepreneurs

We have been astounded by the

response to our first Business

Action Awards, which attracted

104 entries.

What is so heartening and

inspiring is the energy and

commitment of all the busi-

ADVERTISING

Alan Williams

Advertising, Distribution & Publisher

t: 07970 671192

e: alan@business-action.co.uk

nesses who entered. Their

entries reveal the innovation

and ingenuity of people who

run businesses in the area. The

Outstanding New Business

category attracted 16 entries

while seven Young Entrepreneurs

entered. The strong spirit

of enterprise in North Devon

EDITORIAL

Robert Zarywacz

Editor, Designer & Publisher

t: 07971 176044

e: robertz@business-action.co.uk

@robertz

will be crucial to rebuilding the

local economy.

The judging panel had an

extremely tough challenge to

select the finalists and winners,

and there were robust discussions

with judges arguing

with passion as to why certain

entrants deserved to win.

While there can only be one

winner in each category, we

believe everyone who entered

is a winner and we thank you

all for participating.

Respond and rebuild

We also realise that however

good any business is, it needs

resilience to withstand the

damage caused by the Coronavirus

crisis.

We face very tough challenges

and all need to support

local businesses.

Last year we launched

our #10to1m campaign to

persuade people to switch £10

of spending to local businesses.

We need this now more than

ever and must make it permanent

so that we buy local not

just on one day but every day.

We need more than good

intentions; we need to take

Business Action.

CORONAVIRUS

SUPPORT

BUSINESS

NEWS

BUY LOCAL

#10TO1M

The sudden impact of the

Coronavirus shutdown is like

nothing current generations

have experienced.

The Government has been

quick to introduce a variety

of business support schemes,

which we outline in the magazine,

although please consult

the official web sites direct for

detailed information, as this is

changing frequently.

Also listed are the web

addresses of regional organisations

publishing details of

support schemes.

Please ensure you deal with

official organisations and only

accept business advice from

qualified advisers.

>>> PAGE 2

Lockdown has brought lots of

businesses to a standstill, but

we need to acknowledge many

of their impressive achievements

which they must go on

to replicate when the economy

can start moving again.

North Devon businesses

have been winning national

awards for innovation, manufacturing

and retailing.

Read how businesses are

using their ingenuity to adapt

to changing circumstances,

which must stand us in good

stead for inevitable changes in

the commercial environment in

the months ahead.

You can also read details of

business support programmes.

Most North Devon businesses

are small businesses

and many are inactive in the

enforced lockdown. Others

are working flat out to support

communities by manufacturing

medical or support goods

and food and drink.

It is vital that we do not

desert smaller, local businesses

when they start up

again. Business owners and

employees are our families

and friends, and our communities

will be much poorer for

the loss of their high quality

products and services.

It is vital that we all switch

to buying locally at the earliest

possible opportunity.

Good news seems in short

supply in the national media,

but there's plenty about if you

open your eyes.

Our Business Action

Awards attracted 100+ entries

from businesses who actively

look to achieve success.

We value all entries and

thank all entrants for their

time and effort in entering.

That alone makes them all

winners in business.

Inside you can read about

our panel of seven judges, all

accomplished North Devon

business people, as well as the

four finalists in each of our 11

categories – making 44 in all.

Find your inspiration here!

>>> PAGES 3 – 15 >>> PAGE 4 >>> PAGES 16 – 25

@businessactionm | April / May 2020 | business action 1
---
The Chancellor's temporary

measures to support businesses

through the disruption caused

by COVID-19, include:

➤➤Coronavirus Job Retention

Scheme

➤➤Deferring VAT and Income

Tax payments

➤➤Self-employment Income

Support Scheme

➤➤Statutory Sick Pay relief

package for small and

medium-sized businesses

(SMEs)

➤➤12-month business rates

holiday for all retail, hospitality,

leisure and nursery

businesses in England

➤➤Small business grant funding

of £10,000 for all business in

receipt of small business rate

relief or rural rate relief

SUPPORT

CORONAVIRUS: MAINTAINING BUSINESS HEALTH

Due to the impact of Coronavirus restrictions on business, the

Government has announced a number of assistance schemes, some

of which are listed here – visit official web sites below for details

Support web sites

Government Business Support web site

Dedicated web site detailing government business support

businesssupport.gov.uk

Government Guidance for businesses

Government updates on its support for business

gov.uk/government/publications/guidance-to-employers-andbusinesses-about-covid-19/covid-19-support-for-businesses

Devon County Council

The Devon County Council web site Coronavirus section for businesses

devon.gov.uk/document/coronavirus-advice-in-devon/

Heart of the South West Growth Hub

Business-focused information for businesses in Devon and Somerset

devon.gov.uk/document/coronavirus-advice-in-devon/

Coronavirus Business Information Loan Scheme

The British Business Bank web site includes a link to the Coronavirus

Business Information Loan Scheme (CBILS), which will temporarily

replace the Enterprise Finance Guarantee (EFG)

british-business-bank.co.uk/our partners/supporting-business-loansenterprise-finance-guarantee/

➤➤Grant funding of £25,000

for retail, hospitality and

leisure businesses with

property with a rateable

value between £15,000 and

£51,000

➤➤Coronavirus Business

Interruption Loan Scheme

offering loans of up to £5

million for SMEs through

the British Business Bank

➤➤New lending facility from

the Bank of England to help

support liquidity among

larger firms, helping them

bridge coronavirus disruption

to their cash flows

through loans

➤➤HMRC Time To Pay Scheme

More details

Visit the official web sites

listed in the box or consult a

professional adviser, such as a

qualified accountant, for details

or clarification – see below.

Protect your business

Please check the credentials of

business advisers you consult.

Accessing government support

The Government has been

quick off the mark to launch

support packages to help businesses

survive the COVID-19

disruption, but in recent days

the news has featured criticism

of how difficult it is proving

for small businesses to access

these support schemes.

Initial reports suggest that

only 1,000 loans have been

approved despite enquiries

topping 130,000. This has led

to the Chancellor announcing

an overhaul of the guidance

to encourage banks to lend,

but the best way of ensuring

success in any application is

to prepare thoroughly and

provide as much information

as you can first time around.

We are currently

supporting a number of

businesses with their loan

applications so here are our

tips on what to include in your

application:

1. What support do you need?

The CBILS scheme is actually

just government backing for

standard bank overdrafts and

loans so think carefully about

ways to reduce your business

spending in order to reduce

the potential loan you will

need.

during COVID-19

Chartered management accountant Susie Kevern of Pound Lane

Financial Management offers advice on accessing government

assistance schemes – download from poundlane.co.uk/covid-19/

There is a raft of new

measures to consider:

furloughing staff, deferring

VAT and requesting payment

holidays, amongst others.

2. Make your case

The days of bank managers

who keep in regular contact

with your business are long

gone so be prepared to give

the bank an introduction to

your business;

include

your last set

of accounts,

your most

recent

management

accounts and

a summary of

your recent

successes and

future plans.

Think of

this as a sales

pitch; make

the bank

manager want

to back you.

3. Outline the effects of the

disruption on your business

The bank will want to see the

effect on both your profitability

and your cashflow,

over the next 3-6 months. A

cashflow forecast is essential

for this – now, more than ever,

cash is king.

As well as the numbers

make sure you explain what

changes you expect in words.

Every business

will feel

the effects

differently

so you can't

expect the

bank manager

to know this

already.

4. What will

your business

look like after

this is over?

Do you expect

some of your

customers to

disappear?

Can you

capitalise on the changes

you've been forced to make?

Are new markets suddenly

open to you?

Most importantly you need

to extend that cashflow forecast

to (ideally) show the bank

that you expect your recovery

to allow you to repay the loan

that you're applying for.

Finally, remember to state

clearly how much money you

want to borrow based on the

forecasts above.

A more detailed guide to

accessing government support

is available on our web site,

along with a range of other

useful tools and information.

■■Details 07801 199671 or

poundlane.co.uk/covid-19/

2 business action | April / May 2020 | business-action.co.uk
---
NEWS

This issue has been a long time in preparation and, with events moving fast, some of the businesses featured may be pausing operations. In

view of this, we think it is vital to continue to recognise their business achievements in order to motivate the powering up of our economy

when current movement restrictions are lifted. So please do check out every business featured while bearing in mind the widespread

temporary shutdown. Working together, we can help to get all businesses back operating in the future

Packaging for food and health

The box-making machines

at Atlas Packaging are hard at

work as staff at the Barnstaple

manufacturing firm step up

to help the UK's supply chain

during the Coronavirus crisis.

Demand for medicine and food

packaging, particularly mail

order boxes and home delivery

vegetable boxes, has increased

as people are staying at home

and ordering online.

To be able to respond, the

cardboard packaging company

has carried out a full review of

its operations to ensure that

only the key workers involved

in the production process are at

the factory.

Jason Sharman, managing

director, explains: "We have

nothing but praise for the

professionalism of all of our

staff who have responded to

this crisis in a safe yet industrious

way. To help them work

safely we've changed the way

Heartfelt Products, which

manufactures a range of products

to aid the disabled and to

promote health in individuals,

has responded to the Coronavirus

outbreak by transferring

production from its usual

range of products to make

protective scrubs for doctors,

health workers and care staff

in North Devon.

Managing director Denise

Anstey, an award-winning

inventor and product designer,

was so concerned that the

protective garments were in

we run things here and have

split production into separate

teams as well as ensuring social

distancing at all times including

whilst operating the machinery.

"Staff are using hand

sanitisers as an additional

protection for the packaging

and our delivery drivers are

using systems for drop off

that also avoid any potential

contamination."

Atlas produces a range

of cardboard based boxes

Manufacturer switches to scrubs

such short supply that she

researched how her business

could start manufacturing

them so that they can be

supplied to key workers at a

low cost.

"I saw on social media that

some staff have no protection

and have ordered fabric

and patterns so that people

can make them from home,"

explains Denise. "We are

suspending normal business

for a few weeks and going to

and other packaging across

all industries. While it has

seen some businesses postpone

orders as firms go into

lockdown, food, drink and

pharmaceutical businesses are

producing as much as they can

to keep the UK supplied with

essential items.

Box production staff in

Barnstaple know they're helping

in this massive national effort to

keep the supermarkets stocked

as a lot of the packaging that

help support the NHS and

our carers and GPs in North

Devon.

they're making will be placed

directly on to the shelves for

increased speed of stacking.

"We've put up some photos

on our production screens

showing boxes being sent

to NHS staff and other key

workers. We really want our

teams to know that the work

they're doing is valued and an

important cog in the wheel of

how the UK is trying to overcome

the virus. Without boxes

then goods couldn't be sent so

efficiently around the country

helping people to stay home

with online deliveries and also

for chemists, supermarkets and

shops to keep their shelves full."

The company's directors

are assessing operation on a

daily basis to ensure that staff

remain safe at work and that

the machines can keep running

for the good of everyone.

■■Details 01271 344055 or

atlaspackaging.co.uk

"We will help by trying to

provide scrubs for nurses,

doctors, staff and carers. We

need to look after the people

on the front line."

Denise appealed to anyone

looking to sew from home

or anyone looking for scrubs

to email her at enquiries@

heartfelt-products.com

Denise designed her first

product, the Slik Stik walking

stick, in 2006, for which she

was named 'British Female

Inventor and Innovator 2009'.

■■Details heartfelt-products.com

Unit 1

Fletcher Industrial Estate

Clovelly Road

Bideford EX39 3EU

T 01237 459 193

M 07494 313 242

E office@sheds4you.co.uk

www.sheds4you.co.uk

@businessactionm | April / May 2020 | business action 3
---
NEWS

Telecoms and IT solutions

specialist Zero 7 is supporting

customers in North Devon

with their homeworking setups

as many employees adapt to

the Coronavirus lockdown by

working from their homes.

Based in Barnstaple, Zero7 is

ensuring that business telecoms

enable businesses to continue

communicating with customers

and suppliers to keep the

economy running.

Temporary solutions it is

providing include:

➤➤4G mobile broadband

➤➤4G routers

➤➤SIM ONLY mobile packages

➤➤Phones and tablets

➤➤Call diverting

The Carlton, Ilfracombe

• 24 hour delegate rates available

• Fully catered team building

• Michelin dining experience

• Participative courses

• Business facilities

Call today for our training

packages, price & information

01271 862446 ilfracombecarlton.co.uk

Telecoms specialist

supports homeworkers

➤➤Inbound numbers

➤➤Voicemail

➤➤Messaging services

➤➤VoIP

Zero7's Matthew Dawes

says: "During this time we will

still be here to support our

customers and ensure we keep

them connected.

"We would like to extend

this to other businesses in the

area as we shall remain operational

and willing to help all

businesses during this time.

"We can offer short-term

solutions and on average we

save our customers around

45% on their telecoms bills

when they transfer to us.

"To go further we shall

cover the transfer costs to help

businesses free up cash flow on

these essential business tools."

Zero7 can provide cost

saving reports for all businesses,

whether large or small

and in any sector. These can

cover mobiles and fixed line,

broadband and ISDN with

short-term options available.

"Whether you have a simple

line and internet service

or something much larger,

reducing these bills during this

time will be a massive advantage

and we are confident we

can help," adds Matthew.

"If a local business would

like some advice or even some

more information on what we

do and how a local telecoms

provider can help their business

now and into the future, then

we would love to hear from

them. We are all about helping

our fellow local businesses."

■■Details 01271 370707 or

zr7.co

Switch spending to local businesses now

It is a platitude that we have

heard for so long: shop local.

But not enough of us do.

Another platitude is: use it or

lose it. If we don't practise the

first platitude, the second will

come true.

Many local businesses have

suspended operations and,

while the Government has

announced support schemes,

there is no indication that

these will be successful in

keeping businesses afloat.

Meanwhile, many national

companies are raking it in as

customers have no alternative.

If customers do not switch

back to buying from local

businesses at the first opportunity,

North Devon high street

stores and village shops could

disappear and in future years

people will complain about

total domination by national

and global companies.

Do not wait for government

or councils to take action, as

from experience we know that

the business community and

individuals are more effective

at achieving necessary change.

It is up to each and every

one of us.

When you want to buy, stop

before going online. Search

to find how you can purchase

from a North Devon business.

We started our #10to1m

campaign when chosen

to represent Small Business

Saturday and we urge

everyone now to switch

spending. Support #10to1m or

start your own town or village

campaign. Just buy local!

01271 267420 | info@gtales.co.uk

4 business action | April / May 2020 | business-action.co.uk
---
Acupuncture practice goes online

Following guidance from the

British Acupuncture Council

and its own commitment

to safe practices and social

distancing, One Acupuncture

in Barnstaple is now offering

only virtual consultations

until further notice.

Since her childhood, owner

Alison Savory has always

wanted to make sick people

better, which led her into

clinical research with a First

Class degree in Biochemistry

and Molecular Biology and

a PhD in Clinical Medicine

from Cambridge.

She had a successful 15-year

career in the Pharma industry

sector, including senior global

and European commercial and

medical roles, before training

in acupuncture and Chinese

herbal medicine.

She now has a BSc

(Hons) Acupuncture and is

a full member of the British

Acupuncture Council, the

main UK regulatory body.

"I am very conscious that

many people can't currently

access their usual hands-on

treatment, such as physio,

acupuncture and massage,"

says Alison.

"I am offering Chinese

herbal medicine in this

interim, with virtual consults

online or on phone and your

personalised herbal formula

delivered to your door."

The clinic is offering a 20%

discount on all virtual herbal

consults and a 50% discount

for staff at North Devon

District Hospital.

Alison works with clients

with the desire and commitment

to make changes and

restore health and balance, so

they can reach their full potential

and live life well.

■■Details 07591 173441 or

oneacupuncture.as.me

NEWS

Adapting is a sign of the times

Like all businesses, we The Sign Maker in High Bickington is one of many manufacturers in Memorials web site

are trying to make our way North Devon adapting to changing circumstances. Here marketing Despite the hardships we are

through a very unexpected coordinator Poppy-Lee Price explains what steps the longestablished

family business is taking to keep the business running launched our UK Memorials

facing, this month we have

and unprecedented time. After

getting ourselves through

site after many months of hard

Brexit (and giving ourselves a

work. We have been making

pat on the back for doing so),

signs now for over 17 years

we have now been faced with

and within those years began

this pandemic.

the production of high quality,

We are very lucky that we

bespoke memorials.

are a family-run business who

This side of the business

live on-site in a very rural

began to grow into a considerable

section of our company.

location. It has meant we

have been able to stay open

However, it was our customers

by our office team working

who pointed out that our main

from home while we complete

orders with a very minimal

website was beginning to be so

production team.

large that it was hard to find

your way around.

Introducing precautions

So in order to improve our

Those are not the only precautions

we have taken to ensure

existing site – UK Memorials at

usability, we re-launched an

the safety of our team. In

uk-memorials.net – this time

addition, we have added stickers,

which we print ourselves,

using the WordPress platform.

We are really happy with

all over our site to inform

the site, but, as anyone in

everyone to wash their hands

constantly. We have no delivery

digital knows, the work

drivers entering the workshops

is never finished and our

Stickers available from The Sign Maker

but instead they collect and

director Kate is still beavering

deliver at a designated location come into contact with hands need budget-friendly stickers away and making improvements

all the time.

set aside from the workshops with either a bleach-based or signage in association with

with signage to instruct.

solution or a citric acid solution

three times a day.

touch and we can see how we sign-maker.net or

COVID-19, please do get in ■■Details 01769 561355 or

We are also cleaning all

door handles and surfaces that If any other businesses can help.

uk-memorials.net

Helping travellers get home safely

Clare Flint has worked in travel

for 25+ years and runs corporate

and leisure travel businesses

from her home office. Recently

she has been working all

hours for clients, following the

unprecedented travel disruption

caused by Coronavirus.

"My focus is caring for

people – my customers and

the communities I work within

- and this has never felt more

important," says Clare.

While many people adapt

to working from home, Clare is

used to working flexibly around

clients and ensuring she is there

when they need her.

She is glued to updates from

the Foreign and Commonwealth

Office, reacting to new

developments and contacting

clients affected to make

alternative travel arrangements,

re-book or refund.

She has seen customers'

holidays cut short and, working

with Travel Counsellors'

24/7 Duty Office, has worked

exhaustively to get them home.

She has also been supporting

travellers who didn't book

travel through her business but

have been stranded across the

globe and in need of help.

The crisis has highlighted

potential gaps in current

travel legislation, with travel

companies and airlines now

navigating the rules set out by

the Package Travel Regulations

for circumstances for which

they were not created.

"It's proved the value of a

'human' travel expert. With

ever-changing travel advice, it

truly pays to put your faith in

a trusted travel expert who can

look after every element of your

booking, and be there for you

wherever you are in the world,

and whatever the time zone."

■ ■ Details 01271 882990 or

travelcounsellors.co.uk/clare.flint

@businessactionm | April / May 2020 | business action 5
---
NEWS

Finding Jobs for People and People for Jobs

Temporary & Permanent recruitment solutions throughout North Devon!

01237 439500

www.simplerecruitmentltd.co.uk

Follow us:

Author opens relocated salon

Author James D. Mortain

recently cut the ribbon for the

official opening of the newly

relocated Urban Wave hairdressers

in Northam, owned

by Sandra Ramsey. The new

salon occupies the corner spot

at the junction of Fore Street

and Cross street.

James said, "We all have

dreams, which is how they

remain until you add a few

ingredients, which are a

sprinkling of luck, a heap

of self-belief, and a ton of

dedication. It's good to see that

Sandra has put all that together

because we're standing inside

Sandra's dream right now. It's

great to be part of that on this

special day."

Sandra opened her first

salon in Northam Square in

2014 and moved to Cross

street in 2018. During that

Packaging manufacturer wins MoD contract

Barum & Dewar (B&D), the

UK-based specialist packaging

company, has been awarded a

contract from the UK Ministry

of Defence (MoD) to design

and deliver a wide range of

specialist packaging solutions

in support of the New Style

of IT (Deployed) Projects

(NSoIT(D)).

NSoIT Deployed is the

MoD-designed-and-owned

deployable communications

and information system for

UK and multinational military

missions intended to rapidly

deliver improved capability to

the frontline and ensure that

operational mission services

work in a single information

environment.

New salon: (from left) owner Sandra Ramsey and author James D Mortain

cut the ribbon at the official opening

rack style cases and associated

ancillary products.

B&D will undertake all

design and development work

at its modern facilities in

North Devon while manutime

the business has established

a loyal clientele which

continues to grow. Sandra says,

"I fell in love with hairdressing

25 years ago and have been

in the business ever since. I

love my work and the amazing

The five-year contract for

hardware containerisation

begins with immediate effect

and includes the design, development

and manufacture of

ruggedised transit cases, 19"

people I get to meet. I'm so

looking forward to my journey

in Northam. It is an amazing

place and so are the people in

Devon. I'm very lucky."

Sandra achieved an A+ in

her training qualifications and

continues to train when new

courses are available, ensuring

she can accommodate all

aspects of hairdressing for men

and women including: colour,

colour correction, balayage,

hair extensions, bridal hair

and advanced colour and

cutting techniques. She is also

a fully trained barber, trichologist

and an advanced bridal

stylist. Previously, she trained

many advanced hairdressing

students at Petroc when she

taught there.

Sandra has been a big fan

of James' work for a long time.

His new book 'Dead Ringer'

was published in February and

is available at the salon.

Sandra's motto for the salon

is: Life isn't perfect but your

hair can be.

■■Details 07494 468318 or

urban-wave.business.site

facturing will be undertaken

at several sites within the UK

including B&D's dedicated

foam fabrication facility at

Southampton.

B&D managing director

David Frame says: "We are

delighted to be able to work

with the UK MoD on this challenging

and exciting project.

B&D have 20+ years' experience

in developing innovative

deployable packaging solutions

for the defence sector and

this contract recognises the

work of our dedicated team in

this specialist area. The award

is testament to the trust that

the UK MoD places in B&D to

deliver on our commitments."

■■Details barumanddewar.com

6 business action | April / May 2020 | business-action.co.uk
---
ACCOUNTANTS

Glover Stanbury

Barnstaple & Bideford

t: 01271 375271 / 01237 471881

w: gloverstanbury.co.uk

ADMINISTRATIVe SERVICES

Exmoorfern

South Molton

t: 01598 740210

w: exmoorfern.co.uk

ARCHITECTS

Sam Nolan RIBA Architect

North Devon & UK

t: 01271 325 236

w: northdevonarchitects.com

Brewery

GT Ales

Chivenor

t: 01271 267420

w: gtales.co.uk

Building Supplies

RGB Building Supplies

Branches in Barnstaple, Bideford,

Hatherleigh, Holsworthy,

Ilfracombe, Okehampton, South

Molton, Tiverton

w: rgbltd.co.uk

Business Advisor

Susie Kevern

North Devon

t: 07801 199671

w: poundlane.co.uk

Commercial Property

James Doble Commercial

North Devon

t: 01237 424053

w: jd-commercial.co.uk

Copiers & Printers

Clarity Copiers North Devon

Barnstaple & North Devon

t: 01237 374061

w: claritynorthdevon.co.uk

Copywriting & communications

Zarywacz

North Devon & UK

t: 01271 879100

w: z2z.com

Counselling & Psychotherapy

North Devon Counselling

Barnstaple

t: 07872 501606

w: northdevoncounselling.co.uk

FINANCIAL ADVISER

Philip J Milton & Co Plc

Barnstaple

t: 01271 344300

w: miltonpj.net

HealTh & SAFETY

JI Health & Safety Consultancy

Combe Martin

t: 07732 328222

Holiday cottages

Marsdens Devon Cottages

North Devon

t: 01271 813777

w: marsdens.co.uk

Hotels

The Carlton

Ilfracombe

t: 01271 862446

w: ilfracombecarlton.co.uk

Human Resources

Fitzgerald HR

Barnstaple, Exeter, London &

Wellington

t: 01271 859267

w: fitzgeraldhr.co.uk

Hypnotherapy

New Life Hypnotherapy

South Molton

t: 01769 57471

w: newlifehypnotherapy.org

Insurance

Towergate

Bideford

t: 01237 429978

w: towergate.com/locations/bideford

Together Insurance Solutions

Barnstaple

t: 01271 347147

w: togetherinsurancesolutions.co.uk

DIRECTORY

BUSINESS LISTINGS

Locksmiths

MJS Locksmith

Bideford

t: 07532 139388

w: northdevonlocksmith.co.uk

SW Locksmiths

Holsworthy / Bude

t: 01409 255533

w: swlocksmiths.com

Networking groups

Business Networking in Barnstaple

Barnstaple

t: 0843 289 1339

w: bnibarnstaple.co.uk

Devon Partnerships

Devon

t: 07393 149855

w: devonpartnerships.co.uk

North Devon Networking Group

Barnstaple

w: northdevonnetworking.co.uk

Rise

Barnstaple

e: martin@duchyifa.co.uk

Torridge Business Network

Westward Ho!

w: torridgebusinessnetwork.co.uk

Office Supplies

South West Office Supplies

North Devon

t: 01271 889337

w: swofficesupplies.co.uk

Packaging

Atlas Packaging

Barnstaple

t: 01271 344055

w: atlaspackaging.co.uk

List your business all year!

£50 Business Action Plan

The £50 annual Business

Action Plan promotes your

business throughout the year

in this magazine – see listings

above – and online in our

needitfindit.uk directory.

➤➤Magazine listing, including

name, business type, phone

number, web site and

address, printed in 6 issues.

➤➤Online listing including

name, business type, phone

number, web site and

address, description and

logo for one year.

➤➤6 issues of magazine mailed

direct to your UK address.

BOOK YOUR LISTING NOW AT

business-action.co.uk/plans

Photography

Tarkatography

Westward Ho!

t: 07977 414798

w: tarkatography.co.uk

Printing

Jamaica Press

Buckland Brewer

t: 01237 452333

w: jamaicapress.co.uk

Recruitment

Cooper Golding

Barnstaple

t: 01271 349745

w: coopergolding.co.uk

Simple Recruitment

Bideford

t: 01237 439500

w: simplerecruitmentltd.co.uk

Signs

The Sign Maker

High Bickington

t: 01769 561355

w: sign-maker.net

Solicitors

Slee Blackwell

Barnstaple, Bideford, Braunton,

South Molton

t: 0808 139 1606

w: sleeblackwell.co.uk

Telecoms

Zero7

Barnstaple

t: 01271 370707

w: zr7.co

TRAVEL AGENT

Clare Flint – Travel Counsellors

North Devon & UK

t: 01271 828990

w: travelcounsellors.co.uk/clare.flint

Web SITES & DIGITAL

Itseeze North Devon

North Devon

t: 07890 633458

w: itseeze-northdevon.co.uk

Peak Online

Bideford

t: 01237 721256

w: northdevon.peak-online.uk.com

Welding & Sandblasting

Nott's Welding

Ilfracombe & North Devon

t: 07706 595955

Wills

Wills at Home

West Yelland

t: 01271 860105

w: wills-athome.co.uk

WE OFFER ASSISTANCE WITH:

Valuations

Cost Management

Bills of Quantities Tendering

Procurement

Invoice Reconciliation

CALL TODAY for an informal chat:

01271 603053

futuredimensions.uk

info@futuredimensions.uk

Beautiful candles – Handmade in Devon

SHOWROOM & STUDIO

Lyn Candles . Lynton . N. Devon . EX35 6BS

Tel: 01598 753321 www.lyncandles.com

e-mail: lyncandles@btopenworld.com

@businessactionm | April / May 2020 | business action 7
---
Barnstaple-based Home

Hardware was recently

presented with Britain's Best

Housewares Wholesaler Award

for the fourth year running at

the Housewares Innovation

Awards dinner in Birmingham.

Home Hardware is Britain's

largest dealer-owned supplier

for independently owned

hardware and DIY stores.

Financial director Sean

Davey was delighted to collect

the award on behalf of Home

Hardware, commenting: "It

is particularly satisfying that

we won again despite strong

competition from the other UK

major wholesalers."

The awards recognise the

UK housewares industry's finest

achievements, from exceptional

products and companies to

outstanding retailers.

Chief executive officer

Martin Elliott adds: "It's a great

achievement and reflects the

commitment, effort and hard

work of all our staff throughout

the company, together with the

SEA Ltd has beaten competitors

from across the UK

in national manufacturing

awards run by Make UK, the

manufacturers' organisation.

SEA was named national

winner of the Innovation

category, sponsored by HVM

Catapult. The Barnstaple-based

company, is a world-leading

supplier of electronic systems

to the defence, transport and

offshore energy sectors.

The judges commented:

"This company sought to

develop a miniaturised underwater

acoustic sensing solution,

reducing the size dramatically

so it could be deployed from

AWARD WINS

Homeware wholesaler is

best in UK for fourth year

Four in a row: (from left) stand-up comedian Tom Ward; Sean Davey,

finance director of Home Hardware and Tony Grimshaw of Whatmore Ltd

support of our suppliers and

the commitment and loyalty

from our retailers."

In early March, Home

Hardware was able to go ahead

with its annual trade show at

Westpoint Exeter before the

full impact of Coronavirus hit.

much smaller vessels, opening

up a wider range of potential

applications in UK and export

markets. Whilst the project

overcame technical and supply

chain challenges, to deliver a

prototype as swiftly as they did

was quite remarkable.

"The company had a clear

focus on product development.

In implementing clear

objectives, the company have

improved an existing product,

expanded use and increased

turnover. It's a fantastic

success and we encourage

other businesses to speak to

SEA and to emulate the clear

focus the organisation has put

Martin Elliott comments:

"Although the attendance from

retailers was down by around

30% due to fears over the spread

of the Coronavirus, business

was actually reasonably brisk

with retailers taking advantage

of the numerous special

into innovation."

Steve Hill, managing

director, SEA, added: "The

work that the team have put

in to making the KraitArray a

'best-in-class' technology has

been phenomenal. This project

has enabled SEA to grow our

market presence in naval

sonar systems and secured

the company's reputation

as an international supplier

of cutting-edge technology

within the maritime sector.

The KraitArray has pushed

technical boundaries and is

unrivalled by its competitors,

which is why this award is so

well-deserved."

offers and extra trade show

discounts available from the

120 exhibitors in attendance.

It also proved to be an excellent

opportunity for several of

our suppliers to launch new

products to our retailers.

"Although it was unfortunate

the show attendance

was affected by concerns over

Covid-19, we were thankful

that we were still able to go

ahead as planned, with full

support from our suppliers as

there had been no Government

announcement at that point in

terms of any restrictions. If our

trade show had been scheduled

to be a week later, we would

probably have made the decision

to cancel it.

"We are currently trying to

trade through unprecedented

circumstances and although we

have numerous contingency

plans, we are just taking a

day at a time and working to

Government guidelines."

■■Details 01271 337479 or

homehardware.co.uk

Manufacturer wins national innovation award

Dick Elsy CBE, chief

executive of the High Value

Manufacturing Catapult, said:

"Innovation is the beating

heart of a thriving company.

Mastering its rhythm is key

to developing great products,

achieving outstanding productivity

and putting a business

ahead of the pack. Innovators

are the drivers of opportunity.

They create robust,

sustainable growth, whatever

the economic outlook, and

deserve our recognition and

praise. SEA is a worthy winner

of the Innovation Award."

■■Details 1271 337500 or

sea.co.uk/contact/barnstaple/

8 business action | April / May 2020 | business-action.co.uk
---
AWARD WINS

Top dogs win marketing award

Canine Cottages was declared

the winner of Best Integrated

Campaign (under £500k) for

its Canine Critics 2019 campaign

at The Travel Marketing

Awards 2020.

The dog-friendly market

has experienced massive

growth in the past few years,

with a 40% increase in the

number of dogs included on

bookings with The Travel

Chapter brands, based in

Bideford, over the past year.

With 26% of the UK

population owning a dog, the

campaign's strategy was to

target this audience through

a multi-channel approach.

Applicants were encouraged to

enter the competition through

on-site content, a social

marketing campaign and via

Canine Cottages marketing

emails. 10 winners were then

hand selected to review dogfriendly

cottages across the

UK as well as test out a range

of treats and gadgets.

There were a further 20

dogs chosen as runners-up,

receiving a voucher to stay at

the Canine Cottages property

of their choice.

The Canine Critics

campaign reached over 2

million dog owners and

featured in more than 157

online and print publications,

growing brand awareness and

increasing engagement. This

resulted in it attracting a total

of 51,850 applications.

The ages of dogs entered

ranged from six months to 21

years and the most popular

names were Bella (1,029),

Luna (948), Poppy (876), Lola

(837) and Alfie (705). Among

the more unusual names were

Princess Miriam Mobbs-

Cartner Duchess of Flintshire,

Hattie Von Schnauzer and

Professor Dexter T. Doodles

McDoody Face.

Chief marketing officer

James Starkey commented:

"We are delighted that our

team have been recognised

for the fun and innovative

campaign Canine Critics,

as well as for being a team

of exceptionally skilled and

creative people.

"The hard work from the

last year has certainly paid off

and we're incredibly proud to

have been recognised amongst

so many great brands in the

travel industry.

"Now it's time to focus on

making this year's Canine

Critics campaign bigger and

better than ever!"

The Canine Critics 2020

pre-registration stage is now

open, with Canine Cottages

set to recruit a new pack of 10

dogs this spring.

■■Details caninecottages.co.uk

North Devon apprentice speaks at Westminster

Applegate recently returned to

Parliament to celebrate apprenticeships

with the Chartered

Management Institute, particularly

the CMDA (Chartered

Manager Degree Apprenticeship),

in which Applegate has a

number of employees enrolled.

This visit is the second in

two years, with Applegate

chief executive officer Stuart

Brocklehurst (a companion

of the CMI) and apprentice

colleagues invited to speak on

both occasions.

This year's apprentice

visitor Joanna Nancekivell,

HR executive, said: "I had

the privilege of attending

the Chartered Management

At Parliament: (from left) Selaine Saxby, North Devon MP;

Stuart Brocklehurst, chief executive of Applegate

and Applegate apprentice Joanna Nancekivell

Institute event at Parliament to

speak about my experience as a

Business Management Degree

Apprentice.

"Speaking in front of a

number of people including

senior MPs was not something I

thought I could do, but I'm very

glad to have had the opportunity

and felt proud to represent

Applegate Marketplace and

show off their brilliant apprenticeship

scheme.

"We are very pleased to

work with the CMI and look

forward to grasping further

opportunities with them as

they arise."

■■Details 0345 600 7177 or

applegate.co.uk

@businessactionm | April / May 2020 | business action 9
---
NEWS

Holiday park offers warm welcome

North Devon is famous for its

friendliness and attracts many

business owners committed

to offering excellent customer

service to visitors.

Steve Whitehead and Judith

Goodwin have maintained this

commitment since acquiring

Manleigh Park holiday park at

Combe Martin in 2017. Steve

has considerable experience

of working on a park home

estate, while Judith's experience

includes hospitality and

interior design. Originally from

Sussex, the couple were looking

for a holiday park close by, but

fell in love with Manleigh Park

when they came to view it.

They run the park along

with two full-time staff from

Combe Martin along with two

seasonal wardens plus local

contractors. On average, the

park hosts 3,000 visitors a year

in its 24 letting units, which

comprise chalets, log cabins

and caravans.

Since arriving at Manleigh

Park, Judith and Steve have

started a programme of

When you move house, you

are also moving your life, so

your choice of removals company

is very important.

North Devon Removals

and Storage was established

in 1987 and is now run by Lee

Ranger with his son, Rory.

As a family-owned business,

it has built a reputation as a

trusted service provider.

"You've got to be trustworthy,"

says Lee. "People are

trusting their life's belongings

to you."

The importance of this is

reflected in the company's

Judith, Steve and Baxter, the labradoodle of Manleigh Park, Combe Martin

refurbishment of the chalets

and log cabins to ensure they

are warm, comfortable and

homely. They have also adapted

'The Bungalow' to incorporate

improved facilitities for

guests with mobility issues. It

can now accommodate up to

three guests in one kingsize

room and one single room. All

the doorways are wheelchair

friendly and the bathroom is a

'wet room' with hand rails adjacent

to the toilet and shower.

Access to the bungalow is by

level footpath via its dedicated

parking space.

As well as physical comfort,

Judith and Steve ensure that

their guests' experience begins

the moment they arrive. There is

a pint of milk in the fridge and

enough tea, coffee and sugar for

a couple of days. They also have

two toilet rolls, tea towels, oven

gloves, dishcloth, washing-up

Moving across UK and Europe

flexibile approach. While some

people prefer to pack themselves,

others, especially older

people, like to have everything

packed and unpacked for

them and Lee and his team do

their utmost to ensure they

leave customers with their

belongings where they want

them in their new homes.

liquid, dishwasher tablets and

hand soap. All beds are made

and towels are provided.

Steve says: "People come

in all stressed, but when you

mention tea and coffee, all of a

sudden they stop and it puts a

smile on their face as they relax."

Judith adds: "We just want

to make it the best it can be.

We want people to think of

Manleigh Park and think of us."

Judith and Steve work hard

to promote the area's attractions

to their guests and offer a

drop-off and collection service

for walkers.

The park is also dog friendly,

under the watchful eye of

labradoodle Baxter, who has

his own blog and Instagram

account.

With guests saying that

the park gives their children

magical memories just like the

ones family holidays with their

parents gave them, visitors are

guaranteed a warm welcome at

Manleigh Park.

■■Details 01271 883353 or

manleighparkdevon.co.uk

A member of the British

Association of Removers and

Trading Standards approved,

North Devon Removals has

a range of vehicles including

full-size pantechnicons and

smaller 3.5-tonne vans.

It undertakes domestic

and office moves across the

UK and is one of the few

companies offering international

removals, often

completing moves to and from

Austria, France, Germany and

Switzerland.

■■Details 01271 858654 or

northdevonremovals.com

Cranford Business

Services Limited

Call 01271 326694.

info@boomboomedia.co.uk

visit www.boomboommedia.co.uk

Does your accountant...

www.accountsindevon.co.uk

Old Stone, Cranford, Bideford, Devon, EX39 5QW

07896 204 857

Listen to you and act on your needs?

Explain your accounts in terms you understand?

Arrange meeting at your convenience?

Leaving you free to concentrate on what you do best!

10 business action | April / May 2020 | business-action.co.uk
---
NEGLIGENCE

Promote your business all year round with our

Business Action Plans

All plans include

➤➤6 adverts (if selected)

➤➤6 magazine listings

➤➤online listing

➤➤6 mailed magazines

➤➤plus more

Select plan

£50 Business Action Plan – 6 magazine listings

£150 Business Action Plan – 6 business card adverts

£275 Business Action Plan – 6 banner adverts

£400 Business Action Plan – 6 quarter page adverts

£750 Business Action Plan – 6 half page adverts

£1,375 Business Action Plan – 6 full page adverts

Payment options

Pay in full or by

12 monthly instalments –

with no extra charges.

Put yourself in front of

North Devon businesses.

Book online at business-action.co.uk/plans or call Alan on 07970 671192

What's the difference between a lawyer,

an accountant and a surveyor?

I would like to say that the

question above is the beginnings

of a great joke and then

sock you with a hilarious

punchline. But sadly, I can't. As

a solicitor who specialises in

professional negligence claims,

I can say that in fact, there is

very little difference between

them. Or indeed any professional.

They can all be negligent

and they can all be sued.

In fact, any individual can

be considered negligent but

when it comes to professionals

– usually defined as those who

are members of a professional

body and/or are obliged to

hold Professional Indemnity

Insurance – it is their expertise

in that profession that is being

put to the test.

So what do you need to

prove to bring a claim for

professional negligence?

Firstly, you need to show

that there was some sort of

special relationship between

Emma Slade of Slee Blackwell Solicitors on professional negligence

you and the

probably would

professional.

say payment

This can be

helps if you can

quite simple.

believe half the

If you asked

lawyer jokes

them to do

doing the rounds

something for

on the internet.

you in their

Secondly, you

professional

need to show that

capacity and

they breached

they agreed

their duty of care

to do so, they

to you. Not very

will owe you

easy because if

a duty of care

you employed

to act reasonably

and

ably don't have

them, you prob-

to a reasonable standard. that expertise yourself. But

Funnily enough, an exchange that is not the test. The test

of money (an invoice) is not to see whether a professional

always necessary to show that has been negligent is whether

a "special relationship" or duty the professional was acting in

of care is owed. You just need a manner that is acceptable

to show that the professional to a similarly qualified and

knew you would be relying experienced professional.

on their advice. Obviously, And finally, to bring a

evidence of payment does claim, you have to show that

help – but then as a solicitor, I the breach has caused you to

suffer a financial loss. Don't

think that simply because you

are out of pocket, it ticks the

box for this third requirement.

There must be a direct

and foreseeable link between

the breach and the loss. For

example, if your surveyor

missed the existence of damp

in a property, you may have

lost the opportunity of getting

a reduction in the house value.

But if you crash your car when

you hear how much it is going

to repair, you can probably see

that the cost of the car repair

is a little too remote to claim.

Although complicated, to

be honest, it is relatively easy

to find out if there is a claim.

Quite simply, call Slee Blackwell.

My team and I are more

than happy to have a chat with

you and give you a free risk

assessment of any claim you

may think you have.

■■Details 01271 372128 or

sleeblackwell.co.uk

Looking for independent financial advice?

Call us on 01237 426450

for a free initial consultation

Friendly, Reliable, Affordable

• Accounts

• Bookkeeping

• Limited Companies • VAT

• Tax

• Payroll / CIS

contact@dscottfinancial.co.uk

https://dscottfinancial.co.uk

Your home may be repossessed if you do not keep up repayments on your mortgage.

Over 20 years experience - Free initial meeting

mail@garethpollardaccountancyservices.com

T: 01409 254817 M: 07811 164428

The Old Orchard | Holsworthy | Devon | EX22 6LT

@businessactionm | April / May 2020 | business action 11
---
Successful businesses need

to innovate and the outbreak

of Coronavirus challenges all

businesses to do this now.

Alexandra Stapleton and

Ben Clisby, who started AB

SEA Services in Torrington in

2019, were already working on

how to transform gardening

maintenance and design

services using online tools.

They could not have imagined

how useful it would be

to introduce their concept

of digital garden design and

quotations at this time.

Alexandra, who is originally

from North Devon, was

working in London where

she applied her Photography

degree in picture editing and

communications agencies.

During this time she met Ben

and found that they shared

the idea of running their own

business, although saw this

was not viable in London.

As a result, they moved to

North Devon to start AB SEA

Services, combining Ben's

experience of gardening and

landscaping with Alexandra's

digital and marketing expertise.

The decision to take their

service online has provided a

valuable tool to maintain their

services at the current time.

Alexandra says: "There's a

silver lining to every cloud,

and we have found ours.

"Ben and I have been

discussing the Coronavirus

over the last few days and

we've decided to launch

B2B event planned for

Thursday 29 October

It's still a way off, but the

intention remains to stage

North Devon's biggest business

exhibition as planned,

subject to circumstances.

BBXpo offers presentations,

promotion and networking to:

➤➤build business relationships

➤➤create new opportunities

➤➤provide business advice

➤➤support business growth

■■Watch out for details at

bbxpo.uk

something unique that we

feel might evolve our business

whilst offering a new service

to local people.

"At the bottom of the

NEW BUSINESS

Gardening goes digital

Ben Clisby and Alexandra Stapleton of AB SEA Services

homepage on our web site, we

have included our new Digital

Quoting service whereby

potential clients can complete

an easy two-step process.

Gradsouthwest, the graduate

job board for South West

England, has partnered with

the new GradTalent Development

Agency to offer a range

of free recruitment services to

eligible employers.

Funded by the Office for

Students, this new initiative

aims to help local graduates

secure graduate level opportunities

across the South West.

Gradsouthwest is helping to

deliver the programme across

Devon, Dorset and Somerset

by offering eligible SMEs a

bespoke package of support

which includes free recruitment

advertising to thousands

of student and graduate candidates

who want to work locally.

The eligibility criteria are

straightforward and most local

SMEs will qualify. Local graduates

can also access expert

advice through a free CV

review and interview coaching.

While approximately two

thirds of those who study in

the South West stay in the

region after graduating, they

are not necessarily working

in graduate-level jobs. At the

same time, reports suggest that

more than two thirds of South

West employers struggle to find

skilled workers.

The GradTalent Development

Agency aims to bridge

this gap by highlighting the

"Firstly, upload five images

to our web site and then

secondly answer one round

of questions. Once that's

completed, our final quote

and availability are sent over

to you within 48 hours. That's

right – 48 hours!"

The new digital service:

➤➤speeds up quotations

➤➤eliminates homeowners

having to waste time

waiting for someone to turn

up to survey their garden

➤➤reduces visits and face-toface

contact – important

when social isolation is

required due to Coronavirus

➤➤eliminates silent treatment

often experienced after

asking for quotes

➤➤reduces AB SEA's carbon

footprint

➤➤produces beautiful results

in your garden quicker

Alexandra adds: "We are

determined to keep money

flowing through the local

economy and we will not let

this stop our business."

AB SEA Services offers

a complete garden service

from grass cutting, weeding,

fencing and maintenance to

turfing, landscaping, planting

and waste removal. It provides

these to both homeowners and

commercial customers.

■■Details 07799 478318 or

abseaservices.com

Service helps SMEs recruit graduates

opportunities available and

helping graduates to articulate

the skills they offer.

Dr Deborah Watson,

director of Gradsouthwest,

said: "We have already had a

great response to this initiative.

Local businesses welcome the

opportunity to widen their

recruitment channels on a

no-risk basis, and graduates

are thrilled to be able to access

targeted support right at the

point they need it. On a wider

level, we are passionate about

our region and delighted to

be able to do our bit for the

economy by retaining the graduate

talent on our doorstep."

■■Details gradsouthwest.com

12 business action | April / May 2020 | business-action.co.uk
---
NEW BUSINESS

Going above and beyond

Starting a business is tough at

any time, but starting a business

when so much of the economy

has been forced to shut down

is even tougher. This has not

dissuaded Carolyn Daley, who

is launching her virtual assistance

service, Daley Admin.

As Carolyn is based at her

home, she remains able to

respond to clients' needs and

is using any quiet time to learn

and grow to develop her business

skills and services.

When growing up, Carolyn's

parents ran a block paving

business and she helped out by

answering phones and emails.

This developed a strong passion

for excellent customer service,

which is what Daley Admin

aims to deliver.

"I know what a struggle it is

running a business and want to

help people," says Carolyn. "I

want to provide that extra bit of

back-up. I do what needs to be

done when people don't have

enough hours in the day."

After studying English

Literature and Media Studies at

degree level, Carolyn's experience

includes writing web site

content for a national firm of

chartered surveyors, administering

Amazon sales for an

online seller and managing

database information for a

consultancy firm. She is always

keen to do what is required

to get the job done and even

started to learn German when

her employer needed help with

translation into English.

Another benefit of being

home-based is that Carolyn,

who has cerebral palsy, is set

up to complete assignments in

her own fully-equipped office,

and can receive and send work

remotely, using the internet,

email and phone.

"I am happy to go out and

meet clients and do the work at

home," adds Carolyn.

She fully believes everyone

with a disability adds value:

"My ethos is to go above and

beyond. I am prepared to learn

anything that will help a client's

business. Virtual assistance is

my way of helping people."

■■Details 07706 028825 or

Facebook @Daleyadmin

Letting go of material possessions

Overwhelm can impact us

in many different ways. We

can be overwhelmed by news

and information, but also by

material possessions. It can be

tempting to think of hoarding

as something that other people

do, but dealing with treasured

family heirlooms that we

don't want or wrestling with

the temptation to shop when

we don't need anything is

widespread. In many cases, it

can blight people's lives as they

struggle to cope.

Natalie Hare realised this

when working in housing

support with a housing

association and decided that

it was such a big problem that

she wanted to help people to

take back control of their lives.

In 2018, supported by a grant

from the Bridge Trust, she

launched Hare to Organise,

a professional decluttering

service which organises and

simplifies "life, home and all

that surrounds it".

Having already attained

qualifications in mental

Natalie Hare of Hare to Organise

health, health and social

care, housing and counselling,

Natalie discovered the

Association of Professional

Declutterers and Organisers

(APDO) when researching

hoarding disorder and trained

with them in order to become

a full member.

APDO membership

includes insurance, a commitment

to its code of ethics, ICO

registration and recognition

by the Fire Service and health,

social care and housing agencies

and organisations. Natalie

is one of 300 APDO members

across the UK and one of only

two Devon members, the

other being based in Exmouth.

Natalie's clients range from

busy professionals with no

time to organise their homes to

individuals with mental health

issues, including hoarding

disorder, depression and

anxiety, ADHD, OCD, PTSD,

dementia and chronic disorganisation.

Often she receives

referrals from Early Help,

Social Services and Environmental

Health bodies and her

work is sometimes paid for by

community funding.

"I don't feel like I work now,

I feel I really make a difference,"

says Natalie. "Trust is

the most important thing. It

can take a lot for someone

to invite another person into

their personal space and go

through things that are private

and often painful."

Natalie's work can include

planning kitchens for functionality,

ensuring wardrobes

work for an individual or

re-organising home offices

for business people who have

become overwhelmed.

"I introduce systems

enabling people to simplify

day-to-day living or help

them to move forward

following life-changing

events, such as bereavement,

divorce, downsizing or family

crisis. My aim is to make

people feel safe when making

often tough decisions."

She likes to support people

for six weeks or so to ensure

they have systems in place

so that they don't get back

into a mess again. As well as

supporting people practically,

she draws on her experience

and qualifications to support

people emotionally.

Natalie is pleased at the

response to her service and

aims to expand the business by

training and employing people

to create more local jobs.

"It isn't about just tidying

up; it is enabling people to let

go of the emotional attachment

they have to material things."

■■Details 07528172381 or

haretoorganise.co.uk

@businessactionm | April / May 2020 | business action 13
---
CONSTRUCTION

£10,000 skills grants for small

construction businesses

The Construction Industry

Training Board (CITB) was

due to relaunch its Skills and

Training Fund in April and

has now modified this further

in view of Coronavirus.

The new scheme now offers

grants of up to £10,000 to

micro and small businesses

(with up to 100 employees)

with grants of up to £25,000

for medium businesses with

up to 250 employees.

Since 2015, CITB's Skills

and Training Fund has

awarded more than £21.6

million to some 4,800 micro

and small companies, enabling

them to access funding to

provide training. Now CITB

is increasing the amount

of funding available and

widening the scope of eligible

training, so that companies

with 100-250 employees are

also eligible for funding.

"The new CITB Skills

and Training Fund has

been refreshed to become

a wider, more flexible offer

for employers," says CITB

chief executive Sarah Beale.

"We have responded to the

urgent COVID-19 situation by

changing the focus of the fund

and offering more flexibility on

what businesses can apply for."

The fund has been

expanded to support business

sustainability, the focus being

broadened from productivity

and innovation to helping

employers with sustainability

and skill retention. These are

key concerns for the construction

industry in the current

extraordinary circumstances.

In 2020-21 the expanded

Skills and Training Fund will

allocate £10m exclusively to

micro and small businesses to

allow them to invest in new

ways of using technology,

e-learning and upskilling staff.

This figure will rise to £12m

for 2021-22 and 2022-23.

Additionally, in response

to industry stakeholders,

an additional £4m is being

allocated to medium-sized

businesses for 2020–2021.

CITB will shortly unveil a

Leadership and Management

Development Fund for larger

businesses.

"Construction companies

are under incredible pressure

as a result of COVID-19," adds

Sarah. "At the moment, the

main priority is doing all we

can to ensuring businesses and

employees are protected so

that, when the current emergency

finally comes to an end,

the sector is armed with the

skills and resources it needs to

keep Britain building."

Purpose of funding

The fund's main purpose is to

improve productivity through:

1. Support to do more and

better training

2. Funding training to

improve the business –

addressing challenges,

taking up new opportunities

or responding to the fact

that the business is growing

and needs new skills

3. Helping businesses to test

new ways of developing a

skilled workforce

4. Offering financial support

for a wide range of training

or activity (not just CITB

standardised training)

In response to the COVID-19

crisis the purpose of the fund

has been expanded to support

business sustainability, the

delivery of contingency plans

or changed training needs

resulting from the crisis.

This might include

programmes to support:

5. Retention of staff

6. A change to the type of

training needed in the

business

7. Developing the right skills to

manage change and ensure

business sustainability

Fundable activity

The fund supports a wide

range of training and other

'people development' activity:

➤➤CITB standardised (grant

eligible) training

➤➤Other training, including

'in house' training

➤➤Activity specifically aimed

at developing skills or

knowledge e.g. mentoring

➤➤Development of bespoke

training resources

➤➤Help for businesses to

understand their training

needs and develop better

training and development

plans

All training or activity must

be either construction specific

or to develop management,

leadership or supervisory

skills.

The fund supports online

learning and other forms

of people development that

do not need to be delivered

face-to-face. It also supports

businesses to develop their

own training videos or online

resources.

Activity can include, but is

not limited to:

➤➤The full cost of training

listed in the CITB Grant

scheme

➤➤Training outside of the

CITB Grant scheme –

either accredited or where

quality can be demonstrated

➤➤Business development

accreditation focused on

people/ skills development

e.g. IIP

➤➤Coaching and mentoring

delivered by an accredited

coach or mentor

It also includes development

of learning resources for the

individual company, that are

not already available in the

market, including:

➤➤Training course content

➤➤Development of a subjectspecific

learning program

➤➤Training videos or online

courses (that make use of

existing platforms)

➤➤Company specific guidance

or manuals for staff

(where the purpose is the

development of knowledge

or skills)

Funding criteria

The criteria used for approving

grants are: productivity

(improving the business),

innovation (new to the business),

impact, quality and

value for money.

Productivity is defined as

helping a business to grow

and develop and become more

efficient and profitable.

In response to COVID-19

the fund will also support projects

that are about sustaining,

rather than improving the

business. In this case training

or activity could focus on:

➤➤Sustaining the business

➤➤Retaining staff

➤➤Maintaining training,

either to address immediate

gaps or preserve skill levels

for the longer term

➤➤Equipping staff with new

skills to lead or manage in a

different context

Innovation includes not

just technology but something

that's new to the individual

business. Projects that focus

on a COVID-19 response can

include training or activity

that is not new to the business.

Full details and applications

This is a brief summary of the

Skills and Training Fund and

construction businesses can

find full details online or by

contacting CITB adviser Roy

Imeson, based in Ilfracombe.

■■Details 07770 800 954,

email roy.imeson@citb.co.uk

or visit citb.co.uk

14 business action | April / May 2020 | business-action.co.uk
---
HEADER

£3,600 funding to help recruit graduates

University of Plymouth is

offering Devon SMEs the

opportunity to recruit skilled,

recent graduates within the

STEM fields with incentive

payments of up to £3,600.

STEM Graduates into

Business, part-funded by

the European Regional

Development Fund (ERDF)

and led by the University of

Plymouth, provides access to

recent graduates with fresh,

innovative ideas and the drive

to develop professionally.

Employed as a paid intern for

either three, six or 12 months,

it offers flexibility to small and

medium businesses looking to

meet current market demands.

Recent research from the

HoTSW LEP reveals that nearly

98% of businesses in the region

employ less than 50 people and

that lack of skills, particularly

in STEM (Science, Technology,

Engineering and Mathematics)

related roles has been highlighted

as a key barrier to

productivity. Some Devon

SMEs have also admitted to

Did you know that over 65%

of students and graduates

from the region, stay in the

region*?

*Gradsouthwest.com

being unable to easily find and

acquire the necessary talent to

drive growth and innovation.

STEM Graduates into Business

aims to support businesses with

overcoming these barriers by

creating a cohort of graduate

employing SMEs in the region.

Recruitment with a difference

Working directly with STEM

Graduates into Business

removes any upfront recruitment

costs.

They co-ordinate the

recruitment process,

supporting the creation of

an eye-catching vacancy, and

advertise the vacancies on

regional and national graduate

platforms as well as exclusive

university and strategic

partner channels.

With no need to go through

the usual job sites or recruitment

agencies, you can access

recent graduates with the STEM

skills your business needs

without breaking the bank.

Return on your investment

STEM Graduates into Business

provides access to adaptable

graduates, who bring cuttingedge

sector knowledge and

determination for professional

development. A graduate can

bring state-of-the-art skills that

enable new product development

or the creation of a new

service – the perfect candidates

to boost your business growth.

■■To find out more and

recruit a graduate, visit www.

plymouth.ac.uk/STEMgrad

or email stem-graduates

@plymouth.ac.uk

@businessactionm | April / May 2020 | business action 15
---
AWARDS

business

ACTION AWARDS

2020

North Devon's independent business awards

104 entries gave our judges an

exceptionally tough task in our

first annual Business Action

Awards for North Devon.

We are astounded by the

high level of interest received

and the time and effort that

entrants put into completing

their entries.

Read about finalists

You can read about all 44

finalists, who represent towns

throughout North Devon, over

the following pages.

Thank you to judges

Our Business Action Awards

would not be possible without

the valuable assistance of our

seven judges, each of whom

has given considerable time to

reading through the entries,

researching entrants and

spending an entire working

day on meeting to decide the

finalists and winners.

Finalists revealed

Judging of the awards entries at the Chichester Arms, Bishop's Tawton

We selected each judge owners face, the decisions they

for their knowledge of their have to make, the setbacks they

sector and their day-to-day encounter and the true value of

experience of running a business.

This means that they

We also thank each of them

business owners' achievements.

all understand what business for giving up the opportunity

to enter their own business in

the awards in order to maintain

the awards' fairness and

independence.

Read about our judges and

their businesses opposite.

The judging

On the day of judging, the

judges debated vigorously,

ensuring that each entry was

considered evenly and fairly on

its own merits.

The decisions were difficult

because so many of the entries

were from very impressive

businesses.

Finally, the judges agreed on

the 44 finalists, 11 deserving

category winners and one

overall winner.

The process was very

inspiring because of the broad

range of enterprise, innovation

and hard work exhibited by all

the entrants.

We had the date booked, the

Landmark Theatre booked

and were about to start selling

tickets for our June Business

Awards Event – our big, big

party and networking evening

– when Coronavirus struck.

At the time of writing, there

is no indication of when social

business-action.co.uk/awards

Celebrating winners

isolation rules will be relaxed,

so arrangements are on hold.

We do realise that everyone,

especially those who entered,

wants to know who has won.

Don't worry. We have

a number of options for

announcing the winners and

presenting their prizes.

We also have plans for

networking among entrants

and winners, and will publish

details of these as soon as we

can confirm them.

In the meantime, read all

about our sponsors, judges

and finalists.

16 business action | April / May 2020 | business-action.co.uk
---
MANAGEMENT ACCOUNTS

Susie Kevern

Pound Lane

Financial Management

Susie Kevern is a Chartered

Management Accountant with

20 years' experience working in

businesses large and small. She

moved to Devon in 2001 and

has worked with some of the

county's leading food brands,

managing their finances so

that the decision makers have

the information they need

to control the business and

successfully execute their

growth plans.

Since setting up her own

consultancy in 2011, she has

worked with a number of small

and medium-sized businesses

in a variety of industries, from

food production to dentistry.

■■Details 07801 199671 or

poundlane.co.uk

MANUFACTURING

Vikas Mahajan

Aramis Rugby

Vikas Mahajan founded Aramis

Rugby (Europe) in 2000

and officially took on the role

of leading Aramis Rugby Ltd

(worldwide) in August 2013.

Born in India, Vikas is the

third generation in a family

business established since

1927. He graduated from

university with a degree in

Economics, Business and

Accountancy. In the midnineties,

he attained a Master's

degree in International

Business with specialisation

in trade with the European

AWARDS JUDGES

Meet the judges

Union. He then trained with

Lufthansa Airlines at its

Customer Loyalty programme

division in New Delhi. In

the late 1990s, he attained

his second Master's degree

in Business Administration

(MBA) from Bremen University,

Germany with a specialisation

in Global Management

and Entrepreneurship.

Today, all of Aramis Rugby

scrum machines sold worldwide

are manufactured at

its factory in South Molton,

Devon and then exported

worldwide.

■■Details 01769 550284 or

aramisrugby.co.uk

PERSONAL FINANCE

Rod Martin

Together Financial

Solutions

Rod Martin began his career in

finance over 25 years ago and

worked for many years in the

property investment industry

in London. He then moved in

to the banking sector, spending

several years working within

the mortgages and wealth

management sectors during

which time he also ran his own

businesses both in the UK and

overseas property markets.

Rod is now happily settled

back in Devon where he works

with Together Financial in

Barnstaple looking after clients'

pensions and investments as a

Financial Planning Adviser.

■■Details 01271 346123 or

togetherfinancialsolutions.co.uk

TECHNOLOGY

Mike Matthews

Lineal Software

Solutions

Mike Matthews is managing

director of Barnstaple-based

Lineal Software Solutions,

which began life in the 1980s

as a business application

software provider (accounts,

stock, MRP), and has grown

ever since to become a comprehensive,

multi-disciplinary

IT company with a team of

25+ employees.

Mike is former chairman

of the North Devon Federation

of Small Businesses (FSB)

and takes a keen interest in

supporting North Devon's local

businesses and economy. He is

a frequent speaker at business

events across the region.

■■Details 01271 375999 or

lineal.co.uk

RETAIL

Helen Pedlar

Pedlars Home Hardware

Helen Pedlar is part of a

150-year-old Ilfracombe family

business, now in its sixth

generation. Helen's involvement

with the store started at

an early age before she took

a break to study Textiles at

university.

Today the business is

characterised by its friendly

and helpful staff who are happy

to be of assistance and always

prepared to go that extra mile

to ensure customer satisfaction.

■■Details at Facebook

@pedlarshomehardware

DESIGN

Frank Stone

Clevera

Frank Stone is a creative

thinker who started out on the

design trail in 1994, launching

his first business 20 years ago,

and currently owning and running

design agency, Clevera.

With no formal training

or qualifications, Frank has

established a business built on

strong reputation, long-term

working relationships and

excellent customer service,

resulting in a mix of clients

large and small, local, national

and international, some of

whom have been with him

since 1999!

■■Details 01271 346759 or

clevera.co.uk

COMMERCIAL FINANCE

Rachael Taylor

SWIG Finance

Rachael Taylor has been in

finance for the past 22 years,

moving to North Devon in

2007 where she was a local

commercial manager for

Lloyds Bank.

In 2019 she started with

SWIG Finance as business

manager covering Devon where

she continues to support SMEs

with their businesses.

■■Details 01872 223883 or

swigfinance.co.uk

@businessactionm | April / May 2020 | business action 17
---
AWARDS

NORTH DEVON BUSINESS OF THE YEAR 2020

sponsored by

The North Devon Business of

the Year 2020 is being sponsored

by Philip J Milton &

Company Plc.

Philip Milton says: "As the

managing director of Philip J

Milton & Company Plc, independent

wealth managers and

financial advisers, I am very

pleased to sponsor this year's

Business Action Awards and

to celebrate the showcasing

of the marvellous variety of

successful businesses here in

North Devon.

"I look forward to congratulating

each of the category

winners and nominees on

their excellence and for

providing our young people

with aspirations of a bright

and lucrative future right here

on their doorstep."

■■Visit miltonpj.net

Thank you to all our awards sponsors

We are grateful to all our awards sponsors, without whom the

Business Action Awards would not take place. Read about them at

business-action.co.uk/awards/2020-1st/sponsors

The Independent Corrugated

Cardboard Packaging Specialists

Passionate about our Community and supporting

our Charity of the Year 2020.

01271 370707 www.zr7.co hello@zr7.co

LINES AND CALLS

BUSINESS BROADBAND

VOIP TELEPHONE SYSTEMS

BUSINESS MOBILES

4G CONNECTIVITY

WI-FI NETWORKS

ISDN AND PBX

CABLING AND INSTALLATIONS

LEASED LINES AND GIGABIT

IN-HOUSE BILLING AND INVOICING

LOCAL TECHNICAL SUPPORT

Roundswell Business Park,

Barnstaple, Devon, EX31 3TT.

+44(0)1271

344 055

sales@atlaspackaging.co.uk

www.atlaspackaging.co.uk

18 business action | April / May 2020 | business-action.co.uk
---
BARNSTAPLE

Barum and Dewar

Barum and Dewar designs,

manufactures and supplies

protective cases / containers,

custom foam inserts and 19"

racks to the defence, space and

technologies sectors.

It is an SME business with

its head office in Barnstaple and

a team of six people consisting

of design, production planning,

sales and finance. Its sister

manufacturing company B&D

Foam is based in Southampton,

employing a production team

of 10. Managing director David

Frame is based in its Scotland

office, but regularly works from

the Barnstaple site.

■■barumanddewar.com

HOLSWORTHY

Mystery Shoppers

Mystery Shoppers was set up

in 1991 by Paul Grafton, a certified

management consultant

and former British Airways

inflight product and cabin

crew training manager.

As customer experience

consultants, the company

LYNTON

Churchill House

Churchill House is an outdoor

and lifestyle shop in Lynton,

which was established in 1995

by Julie Smyth. It was run as

a clothing business 25 years

previously by Julie's parents.

As well as one clothing

shop, Julie also runs a gift shop

on Queen Street called Willow,

which she took over in 1993.

Julie employs three full-time

staff who have all been working

with her for more than 10

years. She now runs the business

with her daughter, Claire.

ILFRACOMBE / LYNTON

AWARDS FINALISTS

VISIT COOPERGOLDING.CO.UK

specialises in using its Mystery

Shopping programmes

to achieve clients' objectives

– usually continuous

improvement, compliance or

competitor monitoring.

With its headquarters in

Holsworthy, it has offices

in London and Bulgaria as

well as franchises in Kenya,

Botswana and Myanmar.

It has developed a shopper

database of 260,000+ people

and is a member of the MRS

and MSPA, strictly adhering to

WHICH FINALIST WILL WIN BEST EMPLOYER?

Clathers

Clathers is family-run business,

run by mother and son,

based in Devon and Somerset.

No nonsense approach to health and safety

H&S

business

ACTION AWARDS

2020

JI Health & Safety Consultancy

H&S Audit

H&S Training

Tailored H&S Management Systems

Assistance with SSIPs Accreditations

Risk Assessment / Risk Management

Jane Bass 07732 328222

DipNEBOSH jinnes2@sky.com

Best Employer

sponsored by

their high standards of service.

■■mystery-shoppers.co.uk

BARNSTAPLE

Tarka Holiday Park

Tarka Holiday Park is ideally

situated for a relaxing, laidback

visit. It has no clubhouse,

swimming pool or restaurant,

but does have a unique

atmosphere of serenity and

seclusion, perfect for discerning

holiday guests for whom peace

and tranquility is high on the

business

ACTION AWARDS

2020

Their vision is to maintain the

business and keep it in the

family for generations to come

■■churchillhouselynton.co.uk

Best Retailer

It retails a varied and unique

collection of clothing, footwear,

accessories, homewares

and gifts. The family pride

themselves on the quality of

service their stores provide.

The Lynton store opened

two years ago and the Ilfracombe

store opened one year

ago, following the success of

the Lynton Shop. There are

holiday wish list. Nestled in its

beautiful natural setting, Tarka

is the perfect antidote to the

everyday stresses of modern life.

The park was nominated for

its diverse, inclusive approach

to recruitment, training and

ongoing support of employees.

■■parkholidays.com/our-

parks/devon/tarka

ILFRACOMBE

The Terrace Tapas

& Wine Bar

The Terrace Tapas & Wine Bar

serves freshly cooked, authentic

Spanish tapas. It invites

customers to enjoy its warmth

of service and unhurried,

relaxed style of dining. It is

family run and family friendly.

It also welcomes dogs into the

bar area.

It provides a truly continental

atmosphere with

a glass of Rioja and good

conversation.

The Terrace Tapas & Wine

Bar is based on one site in

Ilfracombe and employs bar

staff, waiter and waitresses,

glass cleaner, chefs and KPs.

■■terracetapasbar.co.uk

the chocolatier working or see

the video of chocolate making.

There is also a free chocolate

museum to browse, with tasters

available from the chocolate

flavour wheel.

It also has a separate seaview

workshop area where groups

can pre-book and come along

to taste the different chocolates

made in the shop, learn about

the art of chocolate making,

then design and decorate their

own chocolates to take home.

■■ilfracombechocolate

emporium.co.uk

BARNSTAPLE

also two shops in Somerset. The Crafty Beer Shop

■■clathers.com

The Crafty Beer Shop was

established in March 2019 on

ILFRACOMBE the historic Butchers Row.

Ilfracombe Chocolate Its ethos is to embrace

Emporium

micro brewers, the best local

Ilfracombe Chocolate Emporium

breweries in the South West

is a pretty little Victorian and the best of British.

shop on Ilfracombe High Street. It also stocks great beers

The business makes fresh from around the world, as

chocolates on site several times well as spirits including small

a week and the kitchen is often batch gins, rums and wines.

being used so visitors can watch ■■thecraftybeershop.com

WHICH FINALIST WILL WIN BEST RETAILER?

@businessactionm | April / May 2020 | business action 19
---
BARNSTAPLE

Boden Group

The Boden Group was founded

in 2009 by managing director

Steve Boden and is now a

regional leader in providing

multi-trade building services.

The group is a trusted

partner working within the

commercial, Ministry of

Defence (MoD), health, education,

local government and

leisure sectors across Southern

and South West England while

also providing services for largescale

contracts across the UK.

It has three core divisions –

Boden Facilities Management,

Boden Fire and Security and

Boden Construction – and is

the only company in the region

to hold such an extensive range

of supply, installation and maintenance

services under one roof.

■■bodengroup.co.uk

BARNSTAPLE

ILFRACOMBE

Kula Fitness

Russell Port founded

Kula Fitness in 2017 after

researching the area and

recognising a need for private

health and fitness training. The

studio is a specific strength and

conditioning gym that Russell

manages with partner Emily.

It supports 'anybody' in the

community wanting to start

getting fit.

Based on 25 years' combined

fitness industry experience and

a number of qualifications, the

studio can look after 99% of

an individual's goals covering

health, fitness and nutrition

support. Services include goal

setting, nutrition advice and

exercise sessions.

■■kulafitness.co.uk

BIDEFORD

SHEDS 4 you

SHEDS 4 you originally

started by buying in off-theshelf

buildings and provided

an installation service for

those who were unable to do

it themselves. When demand

trebled, it started to manufacture

its own buildings, sheds

and bespoke buildings at its

premises in Clovelly Road.

Over the past three years,

the operation has grown in

reputation and size. It now

employs eight members of

staff from the fitting team,

to manufacturing and office

staff. The team pull together to

provide an all-round service

for customers, going the extra

mile and completing a lot of

extras. Services have expanded

to include installation and

erection of garden buildings,

small garden works, remedials

to customers' existing buildings,

fencing, gates, disposal of

old buildings and production

of a variety of bespoke garden

projects and buildings.

■■sheds4you.co.uk

AWARDS FINALISTS

business

ACTION AWARDS

2020

Business-to-Business Excellence

BrandLanterns

BrandLanterns was started by

Sara-Jane Williams to support

hospitality businesses, food

and drink producers, foodservice

wholesalers and catering

suppliers by making them

more profitable.

This can range from

working with cafés, restaurants

and pubs to increase

footfall and customer spend

while reducing overheads to

helping food producers and

wholesalers to grow their

sales. This is achieved through

a range of marketing, training

and mentoring services for all

sizes of business.

■■brandlanterns.co.uk

sponsored by

VISIT ZR7.CO

BARNSTAPLE

Fitzgerald HR

Fitzgerald HR started in 2008

when Lucy Fitzgerald launched

as a freelance HR consultant.

Lucy found that many of the

employers she worked with

needed more than a HR advice

line; they needed someone to

handle their HR for them.

12 years later, the business

operates from its head office

in Barnstaple and a network of

WHICH FINALIST WILL WIN B2B EXCELLENCE?

business

ACTION AWARDS

2020

Consumer Service Excellence

BARNSTAPLE

The Hair Lounge

Tori Kiff opened The Hair

Lounge in May 2014 at the age

of 22. Tori is a fully qualified

hair stylist and state registered

hairdresser. She regularly

completes training to ensure

that she keeps up to date with

the latest industry practices,

trends and product ranges, in

order to maintain a professional,

high quality service.

The salon offers hairdressing

services, including cutting,

colouring, smoothing and

styling. Services are available for

everyone and, being a smaller

salon, the aim is to offer a true

relaxation experience. This

includes one-to-one appointments,

which are perfect for

WHICH CONSUMER SERVICE FINALIST WILL WIN?

local offices across the South

West and South East, and a

growing team.

Its growth has been generated

by its ability to adapt

services to each individual

client's needs and requirements.

■■fitzgeraldhr.co.uk

BIDEFORD / BARNSTAPLE

Imaginary Space

Imaginary Space solves

business problems using

contemporary design and

strategy. Usually, these are

related to building awareness,

increasing sales, automating

or improving their internal

processes.

Imaginary Space's team

of three talks with the client

about their problem and also

who their customer is and

what they want to communicate

to them.

Then they create a piece

of media that can help them

solve their problem. This

can range from a new logo

and branding to a web site,

brochure, adverts, posters or

business cards.

■■imaginaryspace.co.uk

busy people who need time out,

people with additional needs or

with children.

■■hairloungebarnstaple.co.uk

ILFRACOMBE

Torrs Park

Dental Practice

Torrs Park is a small, independent,

family-run dental

practice. It started more than

100 years ago and has been

under the present ownership

for the past 15 years. A team of

seven runs two surgeries with

a view to expanding further.

The practice offers a range

of dental services from routine

maintenance and prevention

to advanced restorations,

with one dentist qualified at

postgraduate level in cosmetic

dentistry and pain relief. All

services are provided in a

relaxed environment where

comfort is key. Although a

private practice, it aims to be

accessible to everyone and

tries to work with clients

to enable them to access its

award-winning care.

■■Find on Facebook

@torrsparkdentalpractice

20 business action | April / May 2020 | business-action.co.uk
---
TORRINGTON

AB SEA Services

AB SEA Services began when

Alexandra Stapleton and Ben

Clisby joined forces in order

to combine their expertise and

create a unique business.

Ben brings seven+ years

of gardening experience to

the company, gained from

managing clients in Ascot and

West London.

Alexandra's background in

all things creative means she

has a natural flair for designing

outside spaces.

AB SEA Services has

launched an online garden

services quotation service,

which appears to be the only

one of its kind in the area.

■■abseaservices.com

BARNSTAPLE

eNaycH

eNaycH operates an online

ecommerce web site established

to educate organisations

using the WordPress content

management system (CMS)

about the interaction of the

CMS and data protection and

privacy legislation in a costeffective

way.

It achieves this via an

eBook-style guide, 'WordPress

and the Data Protection &

Privacy Legislation' available

for download. The guide

includes a 'Let's Get Started'

section, which creates an

imaginary scenario for owners

of new sites to use their

imagination and apply the

methodologies in the guide to

their site. It covers: security;

back-ups; ecommerce; newsletters;

privacy policy legal

requirements; cookie policy

and what needs to be included.

It also enables existing

WordPress web site owners to

re-evaluate their compliance

and take corrective/retrospective

action as required.

■■wpdataprotection.com

AWARDS FINALISTS

business

ACTION AWARDS

2020

Digital and Online Achievement

BIDEFORD

Peak Online

Peak Online started in July

2014 in Hong Kong and business

shortly followed it back to

the UK. Initially, it operated in

Cardiff and now also operates

from its Bideford office to focus

on developing new business

growth in North Devon.

It provides a complete

online solution in web design,

apps and digital marketing.

Its long-standing knowledge

and experience of all things

internet, combined with a

personalised 'customer-first'

approach to everything it does,

sets it apart from some of the

bigger service providers.

■■northdevon.peak-online.

uk.com

WHICH FINALIST WILL WIN THE DIGITAL AWARD?

CLOVELLY

The Clovelly

Soap Company

The Clovelly Soap Company

creates handmade soap, home

fragrance, bath and bodycare

products.

The business has 14

employees and two owners

and operates a retail shop in

Clovelly, Amazon sales, online

sales via Etsy and its own web

site. It uses Instagram and

Facebook to drive traffic to the

web site as well as attracting

lots of repeat business. It also

has stockists throughout the

UK and beyond.

Its products have always

been completely natural and it

has never used Sodium Lauryl

Sulfate, artificial fragrances,

colours or parabens.

The current business goal

is to increase online sales and

social media presence, using

Instagram predominantly. It

also uses a newsletter to send

information to customers

about its products and generally

healthy living.

■■theclovellysoapcompany.com

Investment property to Let?

• Competitive commission rates

• Local, friendly, expert advice and support

• Comprehensive marketing

• Fully managed services to suit your needs

• NEW! Mobile-optimised website

• Over 97% of our owners would

recommend us - find out why...

Contact us today on 01271 813777

for your homeowner recruitment pack

marsdens.co.uk

@businessactionm | April / May 2020 | business action 21
---
BARNSTAPLE

Advanced Scaffolding

Advanced Scaffolding undertakes

all types of scaffolding,

from small domestic work to

street works, temporary roofs,

large housing developments

and bespoke design works.

It currently employees 47

members of PAYE staff and is

the largest scaffolding company

in the area. All staff are fully

qualified and trained, and hold

CITB/NOCN certifications.

As well as working in North

Devon, Advanced Scaffolding

currently has projects in

Penzance, Plymouth, Exeter,

Tiverton, Hertfordshire and is

just about to start at the new

Hinkley Power site.

■■advancedscaffoldingltd.co.uk

BARNSTAPLE

Boden Group

The Boden Group was founded

in 2009 by managing director

Steve Boden and is now a

regional leader in providing

multi-trade building services.

The group is a trusted

partner working within the

AWARDS HEADER FINALISTS

business

ACTION AWARDS

2020

Excellence in Construction

commercial, Ministry of

Defence (MoD), health, education,

local government and

leisure sectors across Southern

and South West England while

also providing services for

large-scale contracts across

the UK.

It has three core divisions –

Boden Facilities Management,

Boden Fire and Security and

Boden Construction – and

is the only company in the

region to hold such an extensive

range of supply, installa-

sponsored by

VISIT RGBLTD.CO.UK

tion and maintenance services

under one roof.

■■bodengroup.co.uk

BARNSTAPLE

Lodgico

Lodgico is a family-owned business

experienced in all aspects

of building. It has a highlyskilled

team of tradespeople,

including carpenters, masons,

plumbers and decorators.

Whether customers want a

bespoke new home, extension

WHICH CONSTRUCTION FINALIST WILL WIN?

to their existing property or

just need a room decorated or

dripping tap fixed, it has the

required skills available.

Lodgico's work ranges from

bathroom adaptations for

disabled people to new build

homes and holiday lodges

on holiday parks. It is also

a distributor for Honka log

homes from Finland.

■■lodgico.co.uk

BIDEFORD

T&N Developments

South West

T&N Developments South

West offers general building

services for new builds, extensions,

conversions, alterations

and refurbishment works.

The business provides a

very high quality of workmanship

and goes beyond what

is expected of a contractor.

The team are all friendly and

knowledgeable, and sites are

always kept clean and tidy.

It also exhibits excellent

communication skills between

contractors, clients and architects

involved in projects.

■■Facebook @tandndevelopments

Slee Blackwell Solicitors are an award winning, Legal 500 recommended practice. 2020 is our

centenary year. We have come a long way in the past one hundred years, but we remain committed to

the principles of our founder Ernest Slee to provide the highest levels of professional service.

We are proud to have been awarded Lexcel accreditation, the Law Society's legal practice quality mark

for excellence in legal practice management and legal client care.

Our clients therefore have the peace of mind of knowing that their legal affairs are in safe hands and

that their interests are being looked after by an established, accredited law firm that is dedicated to

providing a first class service.

Call 0808 139 1606 or visit sleeblackwell.co.uk

22 business action | April / May 2020 | business-action.co.uk
---
BRATTON FLEMING

Exmoor Zoo

Exmoor Zoo is a collection of

rare and endangered species

from around the world. It

specialises in small and often

little-known animals and it has

a collection of 11 species of cat.

Exmoor Zoo works closely

with other zoos, nationally, in

Europe and worldwide to help

save the endangered animals of

the world while maintaining a

diverse collection. The present

owners took over from the

previous Exmoor Bird Gardens

and have increased visitors from

10,000 to 50,000. A full-time

crew of 26 staff operate the

zoo with seasonal help during

the main season. It is a family

business, with three generations

helping, and two grandchildren

in the next generation waiting

in the wings.

■■exmoorzoo.co.uk

COMBE MARTIN

Manleigh Park

Manleigh Park is a small

holiday park made up of 24

mixed letting units. It has

BARNSTAPLE

Tommy Gilroy

Advanced Scaffolding

Having worked at a number of

scaffolding businesses, Tommy

joined Advanced Scaffolding

in September 2018, holding a

basic Trainee CISRS card.

Tommy has integrated

himself well and has become

a valued part of the Advanced

Scaffolding team. He has shown

good reliability and punctuality

and a desire to learn.

Tommy is currently working

towards the CITB Part 2 Scaffolder

qualification and travels

to London up to three times a

year for two weeks at a time.

With Advanced Scaffolding's

support and his own focus on

his apprenticeship, Tommy is

on track for a great future.

■■advancedscaffoldingltd.co.uk

BARNSTAPLE

Rosie Hayton

Turquoise Thinking

Rosie joined Turquoise

Thinking to begin her Petroc

apprenticeship back in March

2019. Nearly 12 months on,

AWARDS FINALISTS

business

ACTION AWARDS

2020

Excellence in Hospitality and Tourism

a mix of chalets, log cabins

and caravans, as well as a

bungalow for guests who have

mobility issues. The park is

also dog friendly.

The current owners

purchased Manleigh Park

in 2017 and employ two

permanent members of staff,

two seasonal wardens and a

number of local contractors.

On average, the park hosts

approximately 3,000 guests

per year.

■■manleighparkdevon.co.uk

sponsored by

VISIT MARSDENS.CO.UK

ILFRACOMBE

WHICH HOSPITALITY FINALIST WILL WIN?

sponsored by

VISIT ATLASPACKAGING.CO.UK

ILFRACOMBE

she has gained a breadth of

new skills, knowledge and

experience and she has thrown

herself into various tasks and

projects within all areas of the

business from sales, marketing,

project management,

analysis and reporting.

Rosie commutes every day

from Lynton to Roundswell.

This takes her 1.5 hours on

two buses. Never has she

complained. This is testament

to her character and attitude.

■■thinkturquoise.com

The Earlsdale

The Earlsdale is a modern bed

and breakfast in Ilfracombe

with seven en-suite bedrooms,

along with an honesty bar and

large breakfast room.

The present owners took

over the property in early

2019 and run the business

themselves. They updated

and modernised the property

and business before opening

business

ACTION AWARDS

2020

Highest Achieving Learner

Thomas Maslen

Brimar Technique

Thomas was employed by

Brimar Technique in 2017 to

initially help with production

demands of the business and to

learn basic machine setting and

operating skills. After working

for the company for a short time

Thomas was offered the chance

to complete an Advanced

Apprenticeship in Mechanical

WHICH FINALIST WILL WIN LEARNER AWARD?

in April 2019. In 2019 the

Earlsdale welcomed more than

1,600 guests.

■■theearlsdale.co.uk

APPLEDORE

The Royal George

Dating back to the late 1700s,

the Royal George is a Grade

2 listed pub, located on the seawall

with stunning views over

the Taw and Torridge Estuary.

The building was completely

rebuilt and refurbished in 2017

into a contemporary pub /

restaurant over two floors, with

four en-suite letting rooms,

including two family rooms

and two double rooms. Two

rooms are dog friendly.

The restaurant can serve

more than 80 people at one

sitting and there is a firstfloor

terrace overlooking the

estuary for al fresco dining in

good weather.

The business employs

25+ people and is constantly

growing by expanding into

new markets including

mobile catering, events and

private dining.

■■trgpub.co.uk

Manufacturing Engineering

specialising in CNC setting,

programming and machining.

■■Facebook @Brimartechnique

ILFRACOMBE

Taylor Phelps

Terrace Tapas

& Wine Bar

Taylor has worked at the business

for two and a half years.

She is now bar manager,

having developed and grown

over the last few years. She has

just completed her level three

hospitality supervisor apprenticeship

and was awarded a

'distinction'. This grade is not

given out lightly and she has

just been interviewed as a case

study to help other learners.

She now manages junior

staff with confidence and

runs the bar like clockwork.

Her business confidence has

increased along with her

authority and poise. She has

a new aura about her which

is amazing to see. This has

contributed considerably to

the business and she continues

to be a true asset.

■■terracetapasbar.co.uk

@businessactionm | April / May 2020 | business action 23
---
BIDEFORD

Heritage Cob and Lime

Heritage Cob and Lime Ltd is a

family business that manufactures

quality lime mortars, lime

plasters, cob blocks and sells all

traditional building materials,

including breathable paints such

as Earthborn and Keim paints.

Specialists in building

restoration, it takes on both

small and large projects and is

happy to work to an architect's

specification. It employs 11

members of staff.

Its lime mortars are used

across the UK and its cob

blocks have been used in

Ireland. Its products have also

been used by Windsor Castle

and Buckingham Palace.

■■heritagecobandlime.com

SWIMBRIDGE

Nicola Schellander

Design

Nicola Schellander Design

produces bespoke hand-blown

and hand-cast glass lighting

and interior accessories, handmade

in England. Involving

the finest crystal and glass

BARNSTAPLE

BrandLanterns

BrandLanterns was started in

September 2018 by Sara-Jane

Williams to support hospitality

businesses, food and drink producers,

foodservice wholesalers

and catering suppliers by making

them more profitable.

This can range from

working with cafés, restaurants

and pubs to increase

footfall and customer spend

while reducing overheads to

helping food producers and

wholesalers to their grow

sales. This is achieved through

a range of marketing, training

and mentoring services for all

sizes of business.

■■brandlanterns.co.uk

BIDEFORD

Hare to Organise

Natalie Hare started Hare To

Organise in September 2018

while working full time in

housing support for a local

housing association. Currently

she works alone, but is looking

to expand and her daughter is

training with her.

AWARDS FINALISTS

business

ACTION AWARDS

2020

craftsmanship, Nicola Schellander

offers a unique service

as one of the only craftmaker

of both hand-blown, handcarved

and hand-polished

crystal and glass in the UK.

Nicola works in her own

studio, but harnesses experienced

glass-blowing and glasscasting

skills and superior

craftsmanship from an exclusive

collection of suppliers and

craftspeople with whom she

collaborates.

■■nicolaschellander.com

business

ACTION AWARDS

2020

Outstanding New Business

sponsored by

VISIT SLEEBLACKWELL.CO.UK

Natalie is the only professional

organiser in North

Devon registered with the

Association of Professional

Declutterers and Organisers.

She has a wide range of

customers from busy professionals,

working parents with

no time to organise their

homes to clients with mental

health issues, including

hoarding disorder, depression

and anxiety, ADHD, OCD,

PTSD, dementia and chronic

disorganisation. Her aim is

Made in North Devon

sponsored by

VISIT SIGN-MAKER.NET

BIDEFORD

SHEDS 4 you

SHEDS 4 you originally started

by buying in off-the-shelf

buildings and provided an

installation service for those

who were unable to do it

themselves. When demand

trebled, it started to manufacture

its own buildings, sheds

and bespoke buildings at its

premises in Clovelly Road.

Over the past three years, the

WHO WILL WIN MADE IN NORTH DEVON?

to make people feel safe when

making often tough decisions.

■■haretoorganise.co.uk

BIDEFORD

Millbrook Dairy

Company Ltd

Established in July 2018,

Millbrook Dairy Company is a

global buyer and seller of cheese

and butter, all varieties, bespoke

and generic. The company hand

selects every vat of cheese for

its extra special character from

WHICH NEW BUSINESS FINALIST WILL WIN?

operation has grown in reputation

and size. It now employs

eight members of staff from the

fitting team, to manufacturing

and office staff. The team pull

together to provide an allround

service for customers,

going the extra mile and

completing a lot of extras.

■■sheds4you.co.uk

CLOVELLY

The Clovelly

Soap Company

The Clovelly Soap Company

creates handmade soap, home

fragrance, bath and bodycare

products.

It has 14 employees and two

owners and operates a retail

shop in Clovelly, Amazon

sales, online sales via Etsy

and its own web site. It uses

Instagram and Facebook to

drive traffic to its site and has

stockists throughout the UK

and beyond.

Its products have always

been completely natural and it

has never used Sodium Lauryl

Sulfate, artificial fragrances,

colours or parabens.

■■theclovellysoapcompany.com

the tastiest noggin of farmhouse

cheddar to the crunchiest

morsel of vintage.

Millbrook sources bulk

cheese from the UK, Ireland,

Australia and New Zealand,

from one pallet to a mixed load

or 10 full trucks or containers.

■■millbrookdairy.com

BIDEFORD

Simple Recruitment

Simple Recruitment opened

the doors to its Bideford office

in July 2018, with just one

member of staff based out of a

studio office in Mill Street.

17 months later and one

member of staff has turned

into three and the company

has moved to a high street

location on Jubilee Square.

Simple Recruitment

provides a service where

all legislative protocol is

adhered to but the complexities

of recruitment are taken

away from those looking to

recruit and those seeking new

opportunities by providing the

simplest, quickest and most

efficient service possible.

■■simplerecruitmentltd.co.uk

24 business action | April / May 2020 | business-action.co.uk
---
SOUTH MOLTON

Thomas Bedford

UK Hardwoods ltd

After leaving school, Tom

chose not to go to university

but to purchase his parents'

business from them. The

business imported European

hardwood boards for flooring.

Tom's first decision as owner

was to stop importing timber

and to buy only from the

UK and only from certified

managed woodland, mainly in

Devon and Cornwall.

This was a big step, requiring

the sawmill to saw all of its

own trees. Now its timber is

sawn, seasoned, kiln dried and

prepared in its yard in Devon.

The decision has paid off

and UK Hardwoods now

specialises in producing

exceptional solid wide board

flooring with a width of up to

400mm, over double that of

most commercial sawmills.

The business has also

become renowned for the

traceability of its flooring and

other products.

■■ukhardwoods.co.uk

LYNMOUTH

Liam Drew

Hole in 1 Lynmouth

Liam's experience started at

the age of 15 or 16, working

three jobs to save as much

money as he could for when

the right opportunity arose.

One of these jobs was at a

local ice cream shop. From

then he knew that he wanted

to have his own business in

Lynmouth, selling ice cream.

He was studying law at the

time and continued with this

until 2019. That's when the

council put the putting green

up for tender. Combining his

love for ice cream and mini

golf, he researched the business

and placed a bid which was

accepted in November 2018.

■■Facebook @holein1lynmouth

AWARDS FINALISTS

business

ACTION AWARDS

2020

Young Entrepreneur

CROYDE

Will Evans

White Edge Media

Will completed a three-year

Film Production degree at the

University of Gloucestershire,

graduating in June 2019 with

first-class honours. During this

time he won an award from the

Royal Television Society and

was involved in making some

award-winning short films.

Will created White Edge

Media to combine his love for

the outdoors and passion in

filmmaking. White Edge Media

uses software such as AVID

Media Composer, DaVinci

Resolve and Adobe Creative

Suite to ensure films are

created professionally and meet

industry standards.

■■whiteedgemedia.co.uk

WHICH FINALIST WILL WIN YOUNG ENTREPRENEUR?

HOLSWORTHY

Tom Musson

T M Electrical

Services SW

Tom started up his own

electrical business after

completing his apprenticeship.

He bought his own tools

and invested in himself right

the way through his apprenticeship

to ensure that upon

completion he could venture

out on his own and create a

business that he could grow

and be proud of.

He now has a thriving VATregistered

business and would

like to hire his own apprentice.

■■Facebook @TM.ELECTRICAL.

SERVICES.SW

WATCH OUT FOR THE

AWARDS WINNERS

Arrangements for our

Awards Event are on hold

until Coronavirus movement

restrictions are relaxed. We

will announce new event

details as soon as we can.

See our web site and social

media channels for news.

PROUD TO

SUPPORT LOCAL

BUSINESSES

• 20 branches throughout the South West

• Take Off Service available

• Expert staff who can visit site and assist

with specific requirements

• Measure and supply of trusses and

engineered timber products

• Free kitchen and bathroom design service

• Account facilities

Follow us on:

Rawle Gammon and Baker Holdings Limited. Terms & Conditions apply.

@businessactionm | April / May 2020 | business action 25