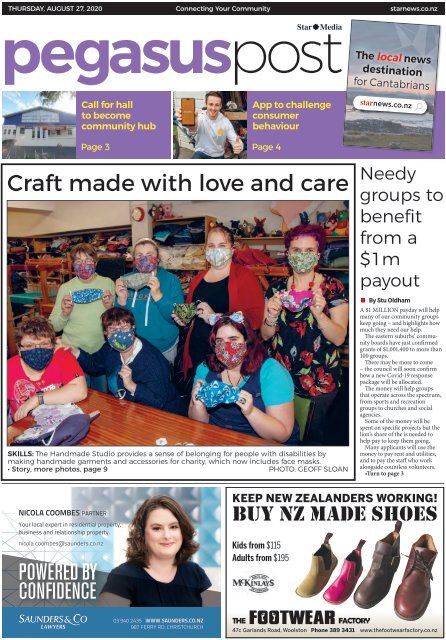 Pegasus Post: August 27, 2020
Create successful ePaper yourself
Turn your PDF publications into a flip-book with our unique Google optimized e-Paper software.
THURSDAY, AUGUST 27, 2020

Connecting Your Community

starnews.co.nz

The local news

destination

for Cantabrians

Call for hall

to become

community hub

App to challenge

consumer

behaviour

Page 3 Page 4

Craft made with love and care

SKILLS: The Handmade Studio provides a sense of belonging for people with disabilities by

making handmade garments and accessories for charity, which now includes face masks.

• Story, more photos, page 9

PHOTO: GEOFF SLOAN

Needy

groups to

benefit

from a

$1m

payout

• By Stu Oldham

A $1 MILLION payday will help

many of our community groups

keep going – and highlights how

much they need our help.

The eastern suburbs' community

boards have just confirmed

grants of $1,001,400 to more than

100 groups.

There may be more to come

– the council will soon confirm

how a new Covid-19 response

package will be allocated.

The money will help groups

that operate across the spectrum,

from sports and recreation

groups to churches and social

agencies.

Some of the money will be

spent on specific projects but the

lion's share of the is needed to

help pay to keep them going.

Many applicants will use the

money to pay rent and utilities,

and to pay the staff who work

alongside countless volunteers.

•Turn to page 3

KeeP New ZealaNders worKiNg!

BUY NZ MADE SHOES

Kids from $115

Adults from $195

47c Garlands Road, Woolston Phone 389 3431

www.thefootwearfactory.co.nz
---
2 Thursday August 27 2020

Latest Canterbury news at starnews.co.nz

GENERAL INQUIRIES Ph 379 7100

CLASSIFIED ADVERTISING Ph 379 1100

Star Media, a division of Allied Press Ltd

PO Box 1467, Christchurch

starmedia.kiwi

NEWS

Bea Gooding

Ph: 021 911 576

bea.gooding@starmedia.kiwi

ADVERTISING

Frank Greenslade

Ph: 364 7441

frank.greenslade@starmedia.kiwi

Your local community news

delivered to 17,598 homes

within The Star each week.

Linwood • Avonside • Richmond • Shirley • Bexley

Burwood • Dallington • Wainoni • Bromley

Aranui • Avondale • New Brighton • Northshore

Queenspark • Parklands • South Brighton

what's on

this week

Kawhe & Kōrero

Thursday, 10-11am

New Brighton Library

Build your confidence in te reo

Māori skills with other fellow learners.

Free, no booking required.

Wā Kōrero: Storytimes

Thursday, 10-10.30am, at Linwood,

Monday, 2-2.30pm, at New Brighton,

Tuesday, 10.30-11am, at Shirley

Linwood, New Brighton and Shirley

libraries

Storytimes is an interactive programme

including books, songs,

rhymes and play. Recommended

for children 2-years-old and up. No

bookings required.

The Zone

Thursday, 3.30-4.30pm, at Linwood,

4-5pm, at Shirley and New Brighton

Linwood, New Brighton and Shirley

libraries

Go along and get to know other

like-minded teenagers. Go headto-head

on the PlayStation, mix

music with GarageBand, get creative

with green screen or play classic

board games. Suitable for ages 12

to 19-years-old. Free, no booking

required.

Scrabble Club

Friday, 10am-noon, at Linwood,

Monday, 10-11am, at New Brighton

Linwood and New Brighton libraries

Play Scrabble with a friendly group.

All materials supplied. Head along

when you can. Free, no bookings

required.

Lions Club Fundraiser

Saturday, September 12, 9am-1pm

104 New Brighton Mall, New Brighton

The Lions Club of New Brighton is

selling pea straw and compost at New

Brighton Mall next month, with 100

per cent of proceeds going towards

Lions projects in the eastern suburbs.

In the meantime, you can place a

phone order with Don at 027 223 8101

or Neil at 021 169 7293. $10 per bale

of pea straw, $10 per bag of compost.

Free delivery.

Marshland Table Tennis Club

Monday, 7.30-9.30pm

Marshland Memorial Hall

Become a member or a casual player

with a friendly group every Monday

night. All abilities welcome. Phone

Lynley at 021 205 1106.

SeniorNet

Thursday, Tuesday, Wednesday,

10am-noon

202 Marine Parade, New Brighton

PEGASUS POST

Upskilling Course, Wednesday, 9.30-11.30am, Shirley Library.

Go along if you need to work towards your learner driver licence test and

improve your reading, writing, maths, and computer skills. Free for NZ

residents and citizens. Phone 379 1916 to enrol. ​

Go along and learn how to use

modern technology and the internet,

such as smartphones, tablets, laptops,

cameras and more. Bookings required.

Phone 382 6048 to register.

Drug Reform Referendum

Discussion Panel

Wednesday, 2pm

58 Basset Street, Burwood

A panel of experts will be discussing

the NZ cannabis referendum at

the Wainoni/Avonside Community

Services Trust. All welcome. Phone

Betty Chapman at 389 2285 for more

information.

South Brighton Voices Choir

Wednesday, 7.30-9.30pm

New Brighton Methodist Church

If you love singing, go along and

join the friendly choir each Wednesday.

New members, especially tenors

and basses, are welcome. Reading

music is helpful, but not essential.

Phone 388 3727.

JOIN US NOW!

See website for details

NEW BALANCE

Father's Day Offers:

$20 off selected styles

BENDON

Half price deals.

Selected styles.

While stocks last

Biscuit packet

Chip packet

Bread bags

STYLES MAY DIFFER TO IMAGE SHOWN

Sign up to Smart Deals & be in the monthly draw for a $100 Dress-Smart gift card!

Open 10am-5pm, 7 Days 03 349 5750

CHRISTCHURCH 409 Main South Road, Hornby

www.dress-smart.co.nz

JUST BAGZ

Up to 50% off RRP

UNDER ARMOUR

30% off the lowest

marked price on

selected jackets.

T&Cs apply

ANDREA BIANI

Ladies last pairs from

$49.90. T&Cs apply

Soft plastics

go in the red bin

That's anything you can scrunch in your hand

Thanks for bin good.

ccc.govt.nz/redbin
---
PEGASUS POST Latest Canterbury news at starnews.co.nz

Thursday August 27 2020 3

News

Call for hall to become community hub

• By Matt Slaughter

A NEW Brighton community

group leader wants Roy Stokes

Hall to become more of a hub for

community groups.

Development Christchurch

Ltd, which is owned by the city

council, owns the hall, which

The Christchurch Circus Trust

leases. It can host between 500

and 600 people.

The circus trust's director

Chris Carrow said at the moment,

it is the only organisation

which uses the space but he

wants it to be gifted back to the

community and be available for

other groups and individuals to

use.

He said the hall would be great

for hosting more performances

and concerts by entertainers

from across Christchurch and

abroad.

Carrow said funding may need

to be applied for from charitable

organisations such as the Rata

Foundation to make small

renovations to the hall to make

it appealing for these types of

events.

"We can get 500 or 600 people

in this hall, so it's not a tiny, little

hall.

"If you turn the venue into a

classy place, you get it out there

in the community and you get

it out there in the larger parts of

New Zealand so that if there's

a musician touring and it turns

into a very cool venue, they

might want to come out here,"

he said

DCL is proposing to build a

housing development on the

site.

Carrow said DCL has been

open to discussions with the circus

trust about Roy Stokes Hall

remaining there and hopes it will

consider opening it up more for

community use.

The hall sits on the old Central

New Brighton School site, which

was purchased by DCL off the

Ministry of Education in 2018.

The future of the hall, which

opened in 1977, has been uncertain

since the school closed in

2015.

DCL did not respond before

Pegasus Post went to print.

OPPORTUNITY: A call has been made for Roy Stokes Hall

to become available for more community groups and

events.

'There's a lot happening at grass roots level'

•From page 1

The Linwood-Central-Heathcote

Community Board allocated

$643,250 to 47 groups. Coastal-

Burwood allocated $358,150 to

55.

Linwood-Central-Heathcote

board chairwoman Alexandra

Davids said the groups were as

vital to the area as the funding

was to them.

Many needed help to keep the

lights going because other

funders preferred to support

specific projects, not

operating costs.

The boards' Strengthening

Communities fund

helped with the base-level

funding that kept groups

viable, she said.

Some of them were operating

in areas central government

has a strong interest, such as

Alexandra

Davids

social services and education.

It was right to support

them – but it was also

important central

government understood

how much the

community supported its

own.

"I hope central government

will look at what is being

spent and sees it might have a

greater role to play."

The city's community boards

could play a greater role in advocating

for more Government help

for local groups.

"The Government operates

at a high level, but there is a lot

happening at the grass roots level

where there is real value, and

where they can get more bang for

its buck earlier on."

Davids will raise the boards'

possible advocacy role when

the city's community board

chairs meet for their regular

forum.

She has early support from

Banks Peninsula Community

Board chairwoman Tori Peden.

Advocacy strengthens communities,

she said.

Coastal-Burwood chairman

Kelly Barber could not be

reached for comment.

oN sAle Now!

Now only

$35.80

Plus $5 P&H per copy

Up

to

16¢ off

all supermarket discount dockets

INStANt 6¢ off

Super Gold Card Discount

LpG RefILL 9kG foR $28

tRAILeR HIRe

6 hours $30 12 hours $50

Terms and conditions apply on all promotions

FREE

PRESCRIPTIONS *

AvAilAble from stAr mediA:

Level One, 359 Lincoln Road

Addington, Christchurch

Phone 379 7100

Discover Christchurch's

best pet accommodation

• Daycare - all breeds

• Long stay/short stay

Call now to book in your fur baby,

inspections welcome anytime!

175 Wainoni Road, Avondale

Phone: 03 388 4373

271 Dyers Road | Phone 384 1297 | www.alameda.nz

No $5 prescription charge

*Other charges relating to partially funded or

unfunded medicine prescriptions may apply.

EASTGATE PHARMACY

Phone (03) 963 7910

Eastgate Shopping Centre
---
4

Thursday August 27 2020

Latest Canterbury news at starnews.co.nz

PEGASUS POST

News

App to challenge consumer behaviour

• By Bea Gooding

"IMAGINE A platform where

you can rent everything as

opposed to buying brand new."

Toby Skilton's dream of developing

a renting and lending

app has come true in a matter of

months and launches next week

in a bid to challenge consumer

behaviour.

Mutu, founded by Skilton,

launches in Canterbury next

week and will enable users to

acquire or lend items on a temporary

basis – anything from

paddleboards and bikes to do-ityourself

tools and camping gear,

to name a few.

"I couldn't be more excited.

This platform is a tool to reduce

waste and really solves a massive

issue we have in New Zealand

with overconsumption."

The launch comes at a time

when people were more conscious

of their spending and

were taking the time to explore

their backyard due to Covid-19.

"It encourages tourism and

trying something new while

saving money on our platform,"

he said.

"Cantabrians can spend that

money on cafes, accommodation

and amazing outdoor adventure

facilities right on our doorstep."

Skilton said the app and

website will also enable users

DREAM: Toby Skilton's new lending and borrowing app, Mutu, will enable users to acquire

the things they need without buying brand new, reducing the amount of items sent to

landfill.

PHOTO: GEOFF SLOAN

to make money by renting the

under-utilised items they own.

"It's also giving items destined

for the landfill an opportunity to

be repurposed and slows down

manufacturing," he said.

When he was travelling

through Europe with his partner,

Elise, they discovered getting

access to gear was "incredibly

expensive and time-consuming,"

for activities they loved such as

camping, hiking, and surfing.

Having limited space to pack

the necessary gear was another

issue in its own, he said.

Their experiences couch-surfing

with locals on their travels

sparked the idea for the app.

Said Skilton: "My partner and

I – we're both into the outdoors –

packed all of our stuff and went

to Europe for a year. We stayed

with locals with garages full of

stuff they hardly ever used, so we

wanted to access it.

"They felt a huge amount of joy

out of us using their gear."

Skilton has always had an

entrepreneurial drive, going to

sleep with "a million ideas at

once."

He was excited to see one of

his ideas turn into a reality, and

the team has now expanded

to seven, working together to

develop the app over the course

of 10 months.

So far more than 1500 people

have now signed up on to their

website in anticipation of the

app's launch, highlighting that

the platform will "solve a lot of

problems for a lot of people."

"Our vision is to completely

revolutionise how people view

ownership and to make sharing

cool and normal. We're confident

we'll get there," said Skilton.

"Encouraging behaviour

change comes with challenges,

so it's important in a platform

like ours to have precautions to

enable trust, such as star ratings,

review systems and policies for

damaged equipment."

• Mutu will launch on

Tuesday. For more

information, visit https://

www.mutu.co.nz/

www.bigbrothersbigsisters.org.nz
---
PEGASUS POST Latest Canterbury news at starnews.co.nz

Thursday August 27 2020 5

Hub landscape plan approved

• By Matt Slaughter

THE LANDSCAPE plan for a

new transport hub in Linwood

has been approved.

The transport hub will

be constructed on Buckleys

Rd, Linwood, near Eastgate

Shopping Centre in an effort to

improve pedestrian and traffic

safety and efficiency.

The landscape plan was

developed using 87 submissions

on what features people would

like to see around the transport

hub. A public consultation

period took place in November

and December last year.

Features of the plan will

include replacing the 16 trees

with 32 semi-mature trees,

planting native, colourful,

drought-tolerant plants, creating

a grass area to encourage people

to sit and relax while waiting

for buses, and replenishing the

existing planting beds located at

the Eastgate Mall end of nearby

Norwich St.

As well as this, feature fencing

will be installed along the

central median island and

hornbeams will be planted along

the length of the Eastgate Mall

frontage to tie in with the existing

trees.

About 1400 passengers a day

board buses near the shopping

centre and many of those people

have to cross a very busy stretch

of Buckleys Rd.

With 470 buses using the

local stops daily, there have

been issues with buses blocking

Hon Poto WILLIAMS

MP for Christchurch East

driveways, leaving residents

frustrated.

The bus hub will include a

new bus shelter and a signalised

pedestrian crossing with traffic

lights to improve access and

safety for bus passengers using

the hub.

Bus stops to the end of Norwich

St will be moved and the

street will become a cul-de-sac.

A new section of bus lane by

the pedestrian crossing will also

be constructed.

By-election

draws seven

candidates

ENROLLED VOTERS in the

Central Ward will get to exercise

their vote twice in October.

Seven candidates have put their

names forward to represent the

Central Ward at the Linwood-

Central-Heathcote Community

Board by-election, which is being

held on October 16 – the day before

New Zealand's re-scheduled

general election.

The seven candidates are vying

for a community board seat

left vacant by the retirement of

Sally Buck due to ill health. They

are – Clive Antony (Independent

Citizens) Faimeh Burke (Independent)

Celeste Donovan (Independent)

Sunita Gautam (Labour)

Wayne Hawker (Independent)

Paul Lonsdale (Independent) John

Stringer (Independent)

The by-election will be conducted

by postal vote.

Electoral officer Jo Daly said she

was pleased so many candidates

put themselves forward.

While October 16 is the date for

the by-election, enrolled voters in

the Central Ward can start voting

once they receive their voting

papers from September 24.

People yet to get on the electoral

roll can still enrol and get a

special vote, Ms Daly said.

Restoring your confidence through your smile

For information and advice:

P 03 382 0288

E poto.williams.mp@parliament.govt.nz

Electorate office:

Level 1, Eastgate Shopping Centre.

We are currently open by

appointment only.

Full service Denture Clinic

and Laboratory

Caldent Denture Cleaner

Free Consultation

No Obligation

Authorised by Poto Williams, Parliament Buildings, Wellington

Ph: 385 5517 + 396 Innes Road, St Albans

admin@denturesplus.co.nz

+ denturesplus.co.nz
---
6 Thursday August 27 2020

Latest Canterbury news at starnews.co.nz

PEGASUS POST

What do you love about shirley intermediate?

"It's really fun and I have great friends."

"Everyone knows each other, it's like a family."

- 2020 students

No School zone

School Swimming Pool

In use October - April

Te Tahu

Rua Reo

We are

the only

Christchurch

Intermediate

with a

Bilingual

Māori /

English

Class.

60 Shirley Road, Shirley 03 385 2229 office@sis.school.nz www.sis.school.nz Shirley-Intermediate-School
---
PEGASUS POST Latest Canterbury news at starnews.co.nz

Thursday August 27 2020 7

News

Feud over clock

tower beginnings

The New Brighton

Museum has a rich

history spanning

more than 100

years. Peggy

Butterfield writes

monthly about the

historical display

at the heritage

museum

It is great to see our clock

tower back, even if the

time is only right twice a

day, but there is a lot of history

to our New Brighton

monument.

The New Brighton clock

was donated in 1934 by

Richard Green in memory

of his father, Edmund

Green.

Edmund Green had arrived

in Christchurch from

England in 1859 to install

the first telegraph system

in the South Island.

Richard Green had

already donated a similar

clock tower to Sumner, and

with the New Brighton donation,

this began a family

feud as his family believed

he was cutting them out

of his estate by spending

his wealth on statues and

clocks. His family were

in poor financial state,

including a son who had

been wounded in World

War 1.

The feud went as far as a

court case, where the magistrate

decided there was

sufficient money available

for the family as well.

There were rumours that

the family would disrupt

the ceremonies for the

laying of the foundation

BIRDS OF THE ESTUARY

Tanya Jenkins is the manager of the Avon-Heathcote

Estuary Ihutai Trust, a non-profit organisation formed in

2002 to protect one of New Zealand's most important

coastal wetlands. Each week she introduces a new bird found

in the estuary. Her column aims to raise the understanding of

the values and uniqueness of the area.

Don't let the clever

pukeko fool you

stones, but on December

14, 1934, Irene Leaver,

daughter of the thenmayor

of New Brighton,

laid the foundation stone

of the New Brighton clock

tower, accompanied by

a "glamorous hunk of a

detective."

There is no mention of a

name of this hunk, maybe

it was your Dad?

The architect for the

tower was Benjamin Ager

who designed the North

New Brighton Peace

Memorial Hall and St

Elmo's Courts.

THE PUKEKO or swamp

hen are a well-known,

heavyweight native resident

– with male birds weighing

up to 1.1kg.

Some people may call

them "dumb birds" for

getting on roads to become

roadkill, however, pukeko

are actually extremely

clever and complex birds.

Don't be fooled by the

pukeko running around

clumsily along the road as

they can swim, run and fly

extremely well.

Pukeko are commonly

seen on regularly mown

roadsides as they love the

fresh new grass shoots and

growth there.

That, paired with their

need to eat grit off the road,

(this aids them in their

digestion of tough to digest

foods like grass) puts them

at high risk of being run

down by motorists.

Pukeko live in small

community groups and

are very protective of their

territory, hence why you

can hear their loud shrieking

when they defend their

patch.

Females in the group

will lay as many as 19 eggs

in one shared nest, which

is incubated by the males.

When chicks hatch, the

entire group, whether

they are breeding and non

breeding birds, will feed

the chicks for about three

months. Now that's clever.

How can we help these

birds thrive? Keep dogs

on the lead when walking

near waterways as to not

disturb them while they are

nesting, feeding or resting.

Drive carefully along roads

where you see pukeko

regularly and slow down.

PHOTO: GETTY
---
8

Thursday August 27 2020

Latest Canterbury news at starnews.co.nz

PEGASUS POST

Richmond discount FuRnituRE

The Best Little Furniture Shop in Town

BEDS TALLBOyS MIRRORS CABINETS cHESTS STORAgE SHElvES

BOOKCASES BuFFET uNITS DINING TABLES HAll TAblES SIDE CABINETS & MORE!

7 Piece Dining Suite 1500x900

Zig Zag Bookcases

Glass

entertainment

Unit

1000x380x450H.

White

(Beachhouse)

Single Frame

Bed

Mattress not included.

Legacy Single

Frame Bed

Mattress not included.

Duchess

with

Mirror

1090x410x820

NZ made.

ONLY

$749

SMALL 1100 x 330 x 900H

ONLY $249

$199

ONLY

$300

ONLY

$300

ONLY

$599

Midi 7 Drawer

Scotch Chest

975x760x410. With metal runners.

Also available in Black.

Bedside Cabinet

With metal runners.

Also available in Black.

7 Drawer

Scotch Chest

1140x800x410.

Also available in black.

Ther-a-pedic Mattress & Base

Reversible pillowtop innersprung.

Single

$499

Solid

Timber

Free

Standing

Mirror

ONLY

$299

Large

690H x

460W x

410 D

$179

Small

510H x

460W x

410 D

$140

ONLY

$329

King Single/Double/3/4

$599

Queen

$699

WAS $169

ONLY

$129

Jumbo 4

Drawer Chest

1140x800x400. NZ made.

Metal runners. Also available in black.

Tallboy 4 Drawer

600x400x900.

Towerboy 6 Drawer

1260x460x410.

With metal

runners.

Also available

in Black.

Lowboy 6 Drawer

1130x410x820.

7 Drawer TV/

DVD Chest

760x1140x410. (Gap 150)

Pine Display Cabinet

1800x900

x400.

Legacy Bedside

Cabinet

ONLY

$299

Pine Side Table

450x450x500.

ONLY

$220

Student Desk

Available in black or white.

1000w x 690h x 500d

ONLY

$249

steelseries

emma 5 Piece Dining

1200x750

ONLY

$499 eACH

ONLY

$329

White 2 Drawer

entertainment Unit

1115 x 480H x 400D

ONLY

$599

White Bookcase

1200H x 600 x 290

$129

White Hall Table

1050 x 760H x 420

ONLY

$99

ONLY

$349

ONLY

$499

ONLY

$299

ONLY

$299

ONLY

$349

Nest of Tables

Coffee Table

1200x400x600.

Tundra entertainment Units

1600x420x450

$599

2dr / 2 shelf

1200 x 400 x 480h

$349

entertainment Units

Glass Door

1530 x 520 x 660h

$499

Pine

Bookcase

Butcher's Block

Work bench with wheels &

cupboard + drawer.

ONLY

$149

ONLY

$399

1300x420x450

$499

2dr / 4 shelf

1600 x 400 x 480h

$399

900x1800

$349

680 x 580 x 870H

$379

2 Drawer

entertainment Unit

1200x600x450.

entertainment

Unit

1100x400x480.

Glass

entertainment Unit

Side Table

450 x 450

Coffee Tables

1200 x 650 x 400H

ONLY

$199

3 Drawer Buffet

1170 x 420 x 840H

Buffet

ONLY

$449

ONLY

$299

ONLY

$299

ONLY

$89

1200 x 550 x 430H

ONLY

$149

233 STANMORE ROAD • PHONE 03 389 0536

WE ACCEPT EFTPOS, VISA AND MASTERCARD... PARKING AT REAR

OPEN MON-FRI 10AM–4.30PM SAT 10–1PM

ONLY

$449

ONLY

$299
---
PEGASUS POST Latest Canterbury news at starnews.co.nz

Thursday August 27 2020 9

News

Craft studio gives disabled independence

Myriad groups help

keep our community

moving. Reporter

Bea Gooding speaks

to the Handmade

Studio manager Tori

Peden about how the

trust helps people

with disabilities gain

independence and skills

in the craft industry

Tell me a bit about the

Handmade Studio Trust and

how it came to be what it is

today.

Handmade Studio started in

the early 80s as a place disabled

people could go to be creative,

help build their skills and gain

independence. Over time, skills

have been perfected and new

opportunities have become

available. Our completed

garments are for sale in our

showroom and at The Tannery

in Wool Yarn and Fibre. We are

hoping to build relationships

with the fashion design schools

as our fabrics are handmade and

one of a kind. Many hours of

love and care go into each piece

that is made.

What items are made at the

studio?

Woollen garments are created

by our artisans using New

Zealand wool woven through

a loom and made into many

different design fabrics. Once

the fabric is complete our

volunteers turn the raw product

into garments such as jackets,

capes, ponchos, and shawls. Any

left-over fabric from this process

is made into soft toy kiwis,

rabbits, and bears. At different

times scarfs have been created

on the looms. Other crafts are

also made in the studio, and

currently, we are working on a

group project creating a handstitched

quilt, to be donated

to another local charity when

complete.

Why is a place like this

an important asset in

Christchurch?

Places such as Handmade

Studio provide more than just

a place to work, it gives a sense

of belonging. Many different

community organisations help

support different groups within

Christchurch. Elderly, disabled,

refugee, youth, and parenting,

all have special requirements

and without these organisations,

our community would be

fragmented and cold. A real

PRIDE: Handmade

Studio manager

Tori Peden (left)

and artisan Fiona

Berry believe

the craft studio

provides a sense

of belonging

for people with

disabilities.

PHOTOS: GEOFF

SLOAN

sense of belonging and purpose

helps someone get out of bed in

the morning, be somewhere, and

be part something.

What are the current

issues impacting people with

disabilities in the craft scene,

and why?

There are a couple of issues

facing all people in the craft

space, that is having outlets

to showcase their work, and

funding to be able to provide

space for artists. Our artisans

are special in that they have a

few extra hurdles to jump when

a comes to being an artist, but

they all do it with dignity and

passion. You ask all of them and

they will tell you they love what

do and they love having friends

around them. It is a bonus to see

their creation being turned into

a garment and then going to a

home to be worn with pride.

Funding at times can be hard

to secure for a lot of community

groups and ours is no exception.

Without the generous support of

funding providers, Handmade

Studio would not be available

for our artisans. We will keep

ticking along, this year like

every year we will continue

applying for grants and hoping

to get money to carry on doing

what we do. We are incredibly

grateful for the support and local

donations we receive; it does

make a real difference.

How can the community

better support people with

disabilities wanting to enter the

craft industry?

As we have all been reminded

lately to shop local but also be

okay with spending that little bit

more on something handmade

because each handmade item

not only has a story but has been

made with love by someone who

really treasures what they do.

3 issues $20

6 issues $39

11 issues $60

SUBSCRIPTIONS FREEPHONE

0800 77 77 10

rugbynews.co.nz
---
10

Thursday August 27 2020

Latest Canterbury news at starnews.co.nz

PEGASUS POST

Be inspired with thousands of ideas under one roof!

HOME

LEISURE

NEW DATES

4 - 6 SEPTEMBER

horncastle Arena

BE IN TO

Win

ThIS

ELECTRIC CAR

worth $26,000

• Innovative Outdoor Living Area

• Free, Informative Seminars

• Show-only Specials

• New Leisure Zone

• Taste Zone

• Eco Zone

+More!

HOME

LEISURE

horncastle Arena,

4-6 September 2020

FREE ENTRY

Friday | Saturday | Sunday

10.00am - 5.00pm

Valid for two people with this coupon only
---
PEGASUS POST Latest Canterbury news at starnews.co.nz

Thursday August 27 2020 11

Classifieds Contact us today Phone our local team 03 379 1100

Caravans, Motorhomes

& Traliers

CARAVAN WANTED.

4-5 berth,UK type, dont

mind repairs .Ph 027

3679737

CARAVAN WANTED

Uk type, Ph 027 2495571

CARAVAN

We can sell your caravan

on your behalf in our busy

yard at 512 Blenheim

Road. Affordable

Caravans

Ph 03 348 6614

Collision Repairs

QEII Collision Repairs.

Free Courtesy Cars

(conditions apply),All

Insurance work, Rust

Repairs & Private work.

Spray-painting.

Free pickup & delivery.

Ph. 03 388 5187

Community Events

ALCOHOLICS

ANONYMOUS, If you

want to have a drink that's

your business. If you want

to stop, we can help. Phone

0800 229-6757

Wanted To Buy

TOOLS Garden,

garage, woodworking,

mechanical, engineering,

sawbenches, lathes, cash

buyer, ph 355-2045

ADD SOME

COLOUR

TO YOUR ADVERT!

Trades & Services

ROOF REPAIRS

Locally owned & operated with

over 30 years experience.

• Extensions & repair • Roof coating

• Concrete & clay tiles • Butynol

• Malthoid • Asbestos Certified

• Coloursteel • Old iron • Guttering

Phone Dave 981 0278

or 021 223 4200

E: dave@beaumontroofing.co.nz

BEAUMONT ROOFING LTD

WINDOW TINTING

tintawindow

advanced film solutions

99% uv block

fade protection

heat control

reduce glare

25 Years Experience

privacy films

frosting designs

non-darkening films

Workmanship Guaranteed

Lifetime Warranties on Most Films

UV

block

Free Quotes Canterbury and Districts

03 365 3653 0800 368 468

Trades & Services

FOR ALL YOUR

★Garden Clean-ups

★Pruning

★Lawn Mowing

★Garden Maintenance

Call us today for a FREE quote

PH 0800 4 546 546

(0800 4 JIMJIM)

Trades & Services

BRICKLAYER

George Lockyer. Over

40 years bricklaying

experience.Uk trained.

Insurance work, EQC

repairs. Heritage

brickwork & stonework

a speciality. No job too

small. Governers Bay.

Home 329 9344. Cell

027 684 4046. E mail

georgelockyer@xtra.co.nz

CARPET LAYING

Exp. Repairs, uplifting,

relaying, restretching.

Phone John on 0800

003181, 027 240 7416

jflattery@xtra.co.nz

ELECTRICIAN

Prompt & reliable

registered electrician

with 24 years experience

for all residential and

commercial work, new

housing and switch board

replacements. Phone Chris

027 516 0669

Trades & Services

PAINTER

New, older homes,

interior, exterior. We stand

by Canterbury. Ph Wayne

0272 743 541, 385-4348

STUMP GRINDING

Best price guarantee Tony

0275 588 895

VHS VIDEO TAPES

& all camera tapes

converted to DVD or

USB. Video taping

special occasions, www.

grahamsvideo.co.nz ph 03

338-1655

Grout &

Silicone

• Replace missing grout

• Epoxy grout shower

bases

• Replace mouldy silicones

• Stainproof grout

• Change grout colour

GroutWorx

Grout Restoration Specialists

Call Derek on 021363786

Public Notices

Are you ready to grow?

Kiwi Gardener is your practical guide

to gardening in New Zealand.

SUBSCRIPTIONS FREEPHONE

0800 77 77 10

Public Notices

SUBSCRIBE FROM

$

20

WWW.GARDENER.KIWI
---
12

Thursday August 27 2020

Latest Canterbury news at starnews.co.nz

PEGASUS POST

Christchurch

STORES

Downsizing? Decluttering?

Please help support local St John activities

by donating good quality pre-loved clothing,

jewellery, homeware, furniture and books to

one of your local St John Christchurch stores.

We welcome donations dropped of at either:

272 Lincoln Road, Addington or 180 Durham Street South, City

or please call 027 304 7821 to book a donation collection.