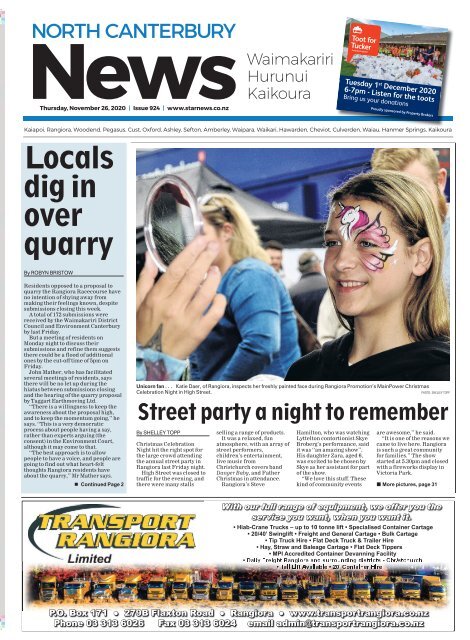 North Canterbury News: November 26, 2020
Create successful ePaper yourself
Turn your PDF publications into a flip-book with our unique Google optimized e-Paper software.
Tuesday1 st December 2020

6-7pm -Listenfor thetoots

Bring us your donations

Thursday,November26, 2020 | Issue924 | www.starnews.co.nz

Proudly sponsored by Property Brokers

Locals

dig in

over

quarry

By ROBYN BRISTOW

Residents opposed to aproposal to

quarry the Rangiora Racecourse have

no intention of shying away from

making their feelings known, despite

submissions closing this week.

Atotal of 172 submissions were

received by the Waimakariri District

Council and Environment Canterbury

by last Friday.

But ameeting of residents on

Monday night to discuss their

submissions and refine them suggests

there could be aflood of additional

ones by the cut­off time of 5pm on

Friday.

John Mather, who has facilitated

several meetings of residents, says

there will be no let up during the

hiatus between submissions closing

and the hearing of the quarry proposal

by Taggart Earthmoving Ltd.

''There is awillingness to keep the

awareness about the proposal high,

and to keep the momentum going,'' he

says. ''This is avery democratic

process about people having asay,

rather than experts arguing (the

consent) in the Environment Court,

although it may come to that.

''The best approach is to allow

people to have avoice, and people are

going to find out what heart­felt

thoughts Rangiora residents have

about the quarry,'' Mr Mather says.

Continued Page 2

Unicorn fan ... Katie Daer, of Rangiora, inspects her freshly painted face during Rangiora Promotion's MainPower Christmas

Celebration Night in High Street.

PHOTO: SHELLEY TOPP

Street party anight to remember

By SHELLEY TOPP

Christmas Celebration

Night hit the right spot for

the large crowd attending

the annual street party in

Rangiora last Friday night.

High Street was closed to

traffic for the evening, and

there were many stalls

selling arange of products.

It was arelaxed, fun

atmosphere, with an array of

street performers,

children's entertainment,

live music from

Christchurch covers band

Danger Baby,and Father

Christmas in attendance.

Rangiora's Steve

Hamilton, who was watching

Lyttelton contortionist Skye

Broberg's performance, said

it was ''an amazing show''.

His daughter Zara, aged 6,

was excited to be chosen by

Skye as her assistant for part

of the show.

''We love this stuff. These

kind of community events

are awesome,'' he said.

''It is one of the reasons we

came to live here. Rangiora

is such agreat community

for families.'' The show

started at 5.30pm and closed

with afireworks display in

Victoria Park.

More pictures, page 31

With our full range of equipment, we offer you the

service you want, when you want it.

•Hiab-Crane Trucks –upto10tonne lift •Specialised Container Cartage

•20/40' Swinglift •Freight and General Cartage •Bulk Cartage

•Tip Truck Hire •Flat Deck Truck &Trailer Hire

•Hay, Straw and Baleage Cartage •Flat Deck Tippers

•MPI Accredited Container Devanning Facility

• Daily Freight Rangiora and surrounding districts - Christchurch

• Tail Lift Available • 20' Container Hire

P.O. Box 171 ● 279B Flaxton Road ● Rangiora ● www.transportrangiora.co.nz

Phone 03 313 6026 Fax 03313 6024 email admin@transportrangiora.co.nz

2301799
---
NEWS

2 North Canterbury News, November 26, 2020

Grow

customers,

sales and

profits

with North

Canterbury's

best read

newspaper

Readership: 47,000 weekly

Circulation: 30,150 copies delivered

to EVERY farm, RD, lifestyle block

and home inWaimakariri, Hurunui

&Kaikoura every Thursday.

news

Robyn Bristow

Managing Editor

027 312 1581

robyn.bristow

@ncnews.co.nz

Reporters

Neil Clarkson, David Hill,

Shelley Topp.

advertising

DaynaBurton

Sales Co-ordinator

027 312 0089

dayna.burton

@ncnews.co.nz

Amanda Keys

Advertising

027 536 6224

amanda.keys

@ncnews.co.nz

Kerryn Clark

Advertising

021 586 138

kerryn.clark

@ncnews.co.nz

getintouch

Editorial

info@ncnews.co.nz

Advertising

sales@ncnews.co.nz

GraphicDesign

heather.hood@ncnews.co.nz

Distribution/Deliveries

03 314 8335

Amberley: 03 314 8335

119 Carters Road, Amberley

Rangiora: 03 313 2840

77-83 High Street, Rangiora

Christchurch: 03 364 7460

www.starnews.co.nz

Hopes high for Toot for Tucker

By DAVID HILL

North Canterbury's food

banks are looking forward to

receiving aboost from

Tuesday's Toot for Tucker.

Organiser Bev Wright says

the volunteers are ready to go

and now they need food to

collect when Toot for Tucker

hits the streets of Oxford,

Rangiora, Woodend, Kaiapoi

and Amberley between 6pm

and 7pm on Tuesday.

Food banks that have been

busy supporting families

struggling in the wake of

Covid­19 are hoping for a

boost to help them get

through the Christmas

period.

''What we really need is

food for the food banks, not

just for Christmas but for the

months that come after it.

''Times can get tough when

people go back to work after

Christmas and the kids go

back to school, and especially

for those who have found

themselves out of work.''

When finances are tight,

food is usually the first thing

people cut back on, Bev says.

''We are catering for the

whole community and there's

always times when people

find it abit tough.

''Budgets are pretty tough

PLUMBING -new builds, bathroom, kitchen &

laundry alterations, maintenance

LOG FIRES - installs, assessments, permits

PUMPS AND WATER TANKS

-new setups, installs and assessment

BACK FLOWS - new installs and testing

Tooting ... Volunteers will be out in force on Tuesday evening for Toot for Tucker.

for many families. You have

to keep your car on the road

and keep it insured, so you

can find work, so it means the

only real flexibility in the

budget for most people is

food or Christmas presents.''

Bev says all food collected

on the night will stay in North

Canterbury.

Toot for Tucker collections

Submissions pour

in over quarry plan

From Page 1

He saysheisimpressed with

the response to the submission

process, and the qualityof

submissions. Many submitters

have asked to speakatthe

hearing.

Mr Mather's comments

follow aprotest outsidethe

Rangiora premisesofTaggart

Earthmovinglast Saturday.

Fifty placard­waving residents

showed their opposition to the

proposal.

Many are concerned about

potential dustand noise

nuisance fromthe proposed

venture, and some living near

the racecourse fear it will

harm the value of theirhomes.

Apetition opposingthe

quarry and presented to the

WaimakaririDistrictCouncil

in September gathered more

than 4000signatures.

Taggartisseekingapproval

to quarry the racecourse land

in stagesover 15 years.

Both ECan and the

WaimakaririDistrictCouncil

have received the application

for consents to establish,

maintain and operate an

aggregate quarry at 309 West

Belt,Rangiora.

The proposed quarry will

involvetopsoil stripping,

aggregate extraction to adepth

of no more than fivemetres

belowground level, and

rehabilitation of the site by

backfilling.

Excavation and deposition of

Phone: 03312 8947

Mobile: 027 471 7479 –Warwick

or 021 149 4266 –Sue

Email: info@warwickkirwanplumbing.co.nz

in Oxford and Cust will go to

the Oxford Community

Trust's food bank, while food

collected in Rangiora and

Woodend will go to the

Rangiora Salvation Army.

Donations in Kaiapoi will

go to Kaiapoi Community

Support's food pantry and

food collected in Amberley

will stay in Amberley, which

2313388

2324567

'Your one stop shop

for that special gift'

Open 7Days 10am –5pm

35 Hall Street,

beside Cheviot Tearooms

PH Tracy: 027 7409 855

www.giftsandfinds.co.nz

PHOTO:SUPPLIED

has been added to Toot for

Tucker for the first time.

While no Toot for Tucker

bags have been provided this

year, Bev says food will be

collected in any bag.

If anyone misses getting

food collected, they can drop

it into Bev Wright at Property

Brokers Rangiora, or to their

local food bank.

Roadside protest... Quarryopponents gathered outsidethe

premises of TaggartEarthmoving Ltd last Saturday. PHOTO: NEIL CLARKSON

material willmaintain at least

one metreofseparationto

groundwater at all times.

No crushing,screening or

washing of aggregates is

proposed at the site.

According to the application,

the quarrying willbedone in at

least eight stages of no more

thantwo hectares each,over a

total area of 14.5hectares.

Other work proposed on the

site includesthe formationof

acoustic bunds, flood

mitigation, and temporary

stockpiling of aggregates.

It is proposed to manage

adverse effects by establishing

bunding, as wellasdust control

mitigation.The site will be

accessed via adedicated

accesspoint fromRiver Road.
---
NEWS

North Canterbury News, November 26, 2020

PARENTS

3

Do you haveason ason or daughter

interested inhorse riding?

✭ Courses everyweekend.

✭ 2, 5&7daySchool Holiday courses.

✭ Private lessons available

Monday toFriday

✭ One day /one night $90 child

✭ Opportunity to compete on our horses.

✭ ½day lessons and treks available.

Volunteers ... Rangiora teenagers Hayden Wafer, left, aged 15,

Amber Patterson, 15, and Rory Wafer, 13, served canapes during

the fundraiser.

PHOTO: SHELLEY TOPP

Recycled fashion

ahit with guests

By SHELLEY TOPP

Fabulousfashion for all

shapes and sizesatbargain

prices proved an irresistible

drawcardfor 153 guests at the

Cancer Society North

Canterbury's Recycle

Runway fundraiser.

The show was held in the

Rangiora Town Hall last

Saturday evening.

Eventco­ordinator Tiffany

Wafersaid it was thrilling to

see so many peopleattending

the fundraiser, which

featuredpre­lovedfashion, as

well as somenew clothing and

accessories, donated by

individuals and businesses.

''Thecrowd reallysupported

our beautiful models, all of

whom have family or friends

affected by cancer, and

listenedtoour incredible

speakers who spoke

personally about their cancer

journey. It was very emotional

and empowering.''

Whilefashionwas the focus

at the show,itwas alsoheld to

increasethe CancerSociety's

profile in North Canterbury.

''We wanted to let our

communities know the

Cancer Society is represented

in Rangiora to workwith all of

NorthCanterbury, providing

crucial support to people with

cancer and their familyand,

of course, to fundraise for

thesecrucial support

services,'' Tiffany said.

She alsothanked master of

ceremonies Jane Godfrey,

fashion commentatorSally

Mac, violinist Fiona Pears,

and the other people and

businessesthat made the

eventasuccess.

Striking footwear ... Amy Williams, of Rangiora, tries on apair

of Irregular Choice shoes.

2264064

711Island Rd View Hill, OXFORD 7495

03 312-4309 www.kowhai.co.nz

Comfort, Quality, Affordable

Thane $69

Black, White, Khaki

Retailers worried over plans for vaping shop

Plansfor avaping shop in Rangiora's

High Street have stalledafter retailers

expressedconcerns.

They took their issues to Waimakariri

District Mayor Dan Gordon.

Mr Gordon saidthe retailers' concerns

centred mainly aroundthe fit with the

existing fashion, food and beverage mix of

shops that currently dominate in High

Street.

It is understood that premises nearthe

Good Street walkway are being

consideredfor the outlet.

Mr Gordon said that while therewas

nothing wrong withavaping shop, he had

contacted the owner of the premises to

passonretailers' concerns.

Mr Gordon said the Waimakariri

district did not have asmoke or vape­free

policy at the moment.

''However, in the coming month the

council are receiving adeputation from

the CancerSociety which could leadusto

investigate this.''

Tallant $59

White/Grey,White/Orange

Selling Fast -Hurry in!

Kaiapoi Mill, Ranfurly Street, Kaiapoi

Monday –Friday 9am –5pm

Saturday 10am –1pm

Closed on Public Holidays

Ph 03 327 0576

2327143

Specialising in:

New Residential Builds

Septic Tanks

E1 Sewer Pump

NEW Christchurch

North Franchise

For afree no obligation

quote contact

Ray Vincent on

021 212 7885

or email

ray@drainpro.co.nz

2331947v1
---
NEWS

4 North Canterbury News, November 26, 2020

Cust brigade takes delivery of new tanker

By SHELLEY TOPP

The keys to anew Mills­TuiHino 500 fire tanker

havebeen officially handed over to the Cust

Volunteer FireBrigade.

Fireand EmergencyNew Zealand (FENZ)

Canterbury areacommander MikeJohns, who

is based in Rolleston, was at the Cust Fire

Stationlast Thursday evening for the handover

to Cust Volunteer Fire Brigadechief Peter

Clements.

Mikesaid it was aprivilege to hand over

anothernew vehicle to this''exceptional

brigade''.The tankersits alongside a2019 Iveco

EuroCargofire truckwhich the Cust brigade

received in May last year.

The new trucks are part of FENZ'scascade

system, which ensures the busiest firestations

havethe most efficient, high­tech fire­fighting

equipment.

Under the system, oldervehicleswhich are

still in pristine condition are passed on to

quieter stations to upgrade their equipment.

Mr Johns praised the brigade for the way it

takes care of its fire­fighting equipment.

''The recipients of yourlast truckthoughtit

was brand new,'' he said.

The diesel­poweredfire tanker cancarry

6000litresofwater. It has the abilitytorespond

to rural areas without awater source and has

already beenused on two callouts since arriving

in October.

Mr Clements says the new vehicles are agreat

asset for theNorthCanterbury community.

''For asmallbrigade like us to end up with

two new vehicles within two years is brilliant,''

he said.

FOR ALL YOUR AUTOGLASS

REPAIRS &REPLACEMENTS

DAN THE WINDSCREEN MAN.

MASTER BUILDER

LocaltoNorth Canterbury.

CALL ARTHUR 027 2451601

arthur@robertsonbuilding.co.nz

www.robertsonbuilding.co.nz

BARNS/FARM BULDINGS•RIB RAFT FLOOR SYSTEM INSTALLATION

PROJECTMANAGEMENT•ADDITIONS•NEW HOMES

HOME MAINTENANCE•EQC REPAIRS•ALTERATIONS

FREE QUOTES

MenzMedical

The Doctors For Men

Vasectomy

No Scalpel Technique

1960596

2021055

Big night for brigade ... Cust Volunteer Fire Brigade members with Cust chief fire officer Peter Clements, far left, and Rolleston­based

Canterbury area commander MikeJohns,second fromleft, duringthe official handover of anew fire tanker.

PHOTO: SHELLEY TOPP

Region takes on aChristmas flavour

By DAVID HILL

Christmas trees and all the trimmings are

adding festive cheer outside the Rangiora

service centre and the Ruataniwha Kaiapoi

Civic Centre.

The Waimakariri District Council is doing its

bit to raise Christmas spirits after achallenging

year, with alarge Christmas tree installed

outside the Rangiora service centre last week.

Kaiapoi's contribution was delayed until

Saturday to avoid disruption to weekday traffic.

Christmas flags are also going up in Rangiora,

Kaiapoi and Oxford, while little Christmas

trees have been put up on the Williams Street

bridge in Kaiapoi.

Summer flags that usually go up in early

January will arrive alittle later than usual as a

new flag system is being introduced, and the

changeover has caused ashort delay.

The ever­popular North Canterbury News

Christmas Tree Festival will relocate to the

Rangiora Town Hall this year, where up to 40

trees will be on display throughout the ground

floor from December 5to18.

Tree viewing is between 10am and 6pm each

day.

Entry is by gold coin donation and all

proceeds will go to the Order of St John and the

North Canterbury Rural Support Trust.

Eye­catching entry

... Heather Boyd

with the North

Canterbury

Patchwork Group's

winning tree in the

non­commercial

section of last

year's North

Canterbury News

Christmas Tree

Festival. PHOTO: FILE

The North Canterbury News

Christmas Tree Festival

Rangiora Town Hall

Open to the public from 5 th to 18 th December,10am –6pm daily.

Gold coin donation

2335574

$485

*Guarantee:

*See website for guarantee details

912 Colombo Street, Christchurch

Ph: 03 981 8181 or 0800 4Males (0800 462 537)

www.vasectomy.nz

2335066

Raising funds for St John Ambulance

and Rural Support Trust North Canterbury
---
NEWS

North Canterbury News, November 26, 2020

5

Mixed views on Ravenswood town-centre plan

Thinking big ... Ravenswood Developments Ltd wants to substantially increase the retail space available in its new subdivision, which would effectively create anew town centre.

Pictured is the New World supermarket under construction.

IMAGE: SUPPLIED

By DAVID HILL

Aproposal to create anew town

centre zone at Ravenswood has

been met with amixed

reaction.

The Waimakariri District

Council has expressed

concerns at the proposals in the

private plan change request

submitted by Ravenswood

Developments Ltd, which was

notified this month.

But Woodend­Sefton

Community Board chairwoman

Shona Powell suspects the

development is inevitable,

although the board has yet to

discuss the proposal.

''Personally, Isee that it

certainly has pros and cons, but

the way Ilook at it, where is the

retail going to go if it doesn't go

here? Rangiora is pushing out

in all directions and it runs the

risk of becoming disjointed,

while development opportunities

in Kaiapoi are

limited.''

The biggest challenge with

developing anew town centre

at Ravenswood is access,

because of traffic volumes on

State Highway 1, Ms Powell

says. ''It's going to happen

anyway, but the big question is

how do people get there safely?

''The only safe way to get into

Ravenswood is by private car.

There's no bus and no safe

access for walkers and

cyclists.''

With the retail developments

in the area set to grow, she

believes now is the time to look

at creating aWoodend/Pegasus

promotions group to support

local businesses.

At present, Woodend and

Pegasus come under the

Kaiapoi Promotions

Association.

''There are alot of homebased

businesses in the area

and Ithink people are

surprised at just how many

businesses there are —it's not

just retail.''

Ms Powell says the board will

be meeting this week to discuss

whether to make asubmission

before the initial consultation

period ends on December 4.

The council's development

planning manager, Trevor

Ellis, says council staff had

planned to review the zoning as

part of the District Plan review,

with aview to opening up more

commercial space.

''The council has for some

time been looking at the zoning

in the area and looking at

where the key activity centres

should be and Ravenswood is

looking to drive that forward.

''The proposal enables more

commercial floor space which

is good for the district in

potentially creating more jobs

and more commercial activity.''

Ravenswood's proposal is for

12.8 hectares to be rezoned as

business zone 1(town centre

zone), which would include

35,000 square metres of retail

floor space.

But the council has concerns

with the overall proposal and

will be making asubmission.

Concerns include ''the extent

of the floor space'' and the

potential impact on other

centres, Mr Ellis says.

''The submission will be

around the scale of the

commercial centre and seeking

amore accurate plan and

clearer objectives.''

There will be afurther

submission period in the New

Year, where interested parties

can review submissions before

public hearings in front of an

independent commissioner.

AMBERLEY

DISTRICT LIONS

This annual event will be held at

the Amberley Domain Pavilion

Saturday 12 th December

2.00pm to4.00pm

All welcome

Entertainment, raffles, afternoon

tea andFather Christmas!

Come along to afuna afternoon.

Admission free.

To assist with catering we would

appreciate an indication off numbers.

Please phone Pat03 03314314 7777

to leave amessage. a 2331722

Amberley District

Over 65's

Christmas Function

Make the Switch,

North Canterbury

Be delightedwith your hearing again

Are you curious about your

hearing and need ahearing

test? Do youwear hearing

aids? Do you have ACC

approved hearing aids?

We do itall and it's easy to

make the switch! Wecan't

wait to welcome you to

North Canterbury's Vera

Setz Hearing family.

Youcan be •Hearing assuredTests we continue •HearingtoAids maintain •ACC our Certified high standards

•

when it comes •100% to the privately healthowned and wellbeing &operated of our • patients

Make the switch today

Call 03 423 3158

Amberley |Rangiora |Hanmer Springs |Cheviot

SERVICE OF REMEMBRANCE

Tuesday 8 th December 2020, 7pm

-including service and refreshments

As Christmas approaches this is a special time to

remember those who have left us.

The staff of Gulliver and Tyler extend an invitation to you,

your wider family and friends to join us at our Service of

Remembrance.

Please bring aflower andlight acandle at the service.

Northbrook Chapel, Spark Lane,

off Northbrook Road, Rangiora.

RSVP by Thursday 3 rd December 2020.

Proudly 100% Kiwi owned and operated

2269528

2095268

Kaiapoi Lodge

Residential Care

Nursing Home, Hospital and

Respite

Person Centred Care,

Care that's built

around you

6CassStreet,Kaiapoi

Ph 03 327 7235

Ph: 03 313 8222 or Ph: 03 327 7249 Email: admin@gulliver-tyler.co.nz www.gulliver-tyler.co.nz

2334627
---
NEWS AND OPINION

6 North Canterbury News, November 26, 2020

KAIKŌURA VIEWS

MAYOR CRAIG MACKLE

Fine service acknowledged

Last week we announcedthe appointment

of our new chief executive, WillDoughty.

As we welcome Will to the role, Iwant to

acknowledge everything that outgoing

chiefexecutive Angela Oosthuizen has

achieved.

Angela arrived in the job to find apartly

builtCivic Centre withbudget issues, and

oversaw its completion.

Then the quake completely changed the

lay of the land, literally!

This is not ajob thatmany would want or

understand,but she has led the council

staffand communitythroughthe response

and recovery phase successfully.

During Angela's time as chiefexecutive,

a$38.6 million infrastructure rebuild has

been delivered on budget, she has built a

strong, capableteam of staff,and is leaving

council in amuch stronger financial

position than imagined.

Iknow that Angelaworked countless

hoursabove and beyond what was asked of

her, including nightsand weekends. As a

result we are in agood position to move

forward.

Council chief executives takealot of

flak,mostly incorrect and sometimes

personal and unfair.

Iknow that Kaikoura can rise above that

and is a''bigger'' community, so I'd like to

extend abig thank you to Angela for all

that she has done bothfor the district and

the people living there.

All ratepayerswill soon get the annual

LOST AND FOUND

The following property is reported to the

policeasbeing lostinNorth Canterbury:

About 12 keys on apig key ring

(Rangiora area), awoodenflat decktail

gate (Cheviot/Amberley area), atail gate

with "Pinto" written on it (lostbetween

Palmerstonand Waikuku Beach),a

Subarukey and 10 other keys with a

Resident Satisfaction Survey in their

mailboxes.Please take timeout to have a

cuppa and fill this in. Your feedback is

used to measure how we are going as a

council and whatweneed to improve, so it

is important we hearfrom you.

Iwould like to congratulate the North

Canterbury Transport Infrastructure

Recovery (NCTIR) alliance, the New

Zealand Transport Agency, KiwiRail and

Te Runanga oKaikoura for winning the

OutstandingPublic Sector Leadership in

Governance Award and aPrime Minister's

Award recently.

We're on the home straight withNCTIR

now. Most of its work willbefinishedby

mid­December. The canopy work south is

going to takelonger, until lateFebruary,

because of the rock there. However, the

road will be openover Christmas.

As we wrap up with NCTIR, several

community eventsare planned includinga

dawn karakia on Saturday, December 5, to

bless the Cultural ArtworkPackage along

our coast. Therewill be afun family event

on Sunday, December 13, and asign

unveiling on Tuesday, December 15.

More detailscan be found in the

Kaikoura Star and on the council

Facebook page.

The end of the NCTIR roadworks is a

milestone. It is alsoatime to reflect on

what we havebeen through together,and a

chancetomove forward as acommunity.

New chief executive, page7

yellow and grey swipeaccessfob (lost

nearMtOxford), abrown walletwith azip

on the side and an embroidered logo on

front, atan shoulderbag, asmall black

zipped purseand black frame glassesina

Quicksilver case.

The following propertyiswaiting to be

claimed: Avery largeteddy bear.

Farmers must unite to

stop being 'run over'

DearEditor,

Iamone who has longbeen wary of

the agenda and operatingmethods of

Environment Canterbury and, as a

result,have not attended meetings

involving them or respondingfarmers.

Recently, anew ECan chief executive

invitedfarmers to ameeting (North

CanterburyNews,November 12). I

decided to attend. Anew broom,anew

beginning,ashowofgood faith.

My initial reaction was one of positive

surprise and even the beginnings of

optimism, but 15 minutes into the

2 1 ⁄2­hour session,reality —anold reality

—began to reassert itself. Anew agent,

the same message.

Ilike to think in pictures.For abrief

timeIsaw in my mind's eyeawooden

horse.Isaw threelittle pigs. Isaw a

gingerbread man. It is interesting how

old fables and old realities can cut

through dynamics intendedtofudge,

and what somemay callsophistry

intended to assuretrust—atrust

alreadydepleted, atrust now totally

bereft.

Ileft the meeting thinking thatif

farmers are to haveany chance of

avoiding being ''run over'' they needto

mirrortrade unions in other industries.

Hallmarksofsuccess aresix­fold:

Singularity of focus, clearmessaging,

strength in numbers, assure resolute

leadership, absenceoffactions, and

solidarity.

Let's do it. Whatstopsus? Apathy,

fear, yes but probably not. Rather, our

verystrengths renderuspowerlessand

ripefor takeover. Thesestrengths are

fierce individualism, independenceand

selfreliance. Indeed,thesequalitiescan

onlyensure that we willbedivided and

ruled.Together, these veryattributes

are our substantial weakness.

Teamwork is our ace card. The

obituary of two of the three pigs would

havelamentedthe lack of teamwork too

late.

As for the gingerbread man, his trust

LETTERS TO THE EDITOR

and co­operative nature —his strengths

—led to his demise. If he was alive

today,and in asense perhapsheis, he

would be impressed by clever dynamics

and perhapssubtle sophistry.

He would be adept at giving the

benefit of the doubt.Hewould be second

to noneatturning the other cheekand

takingrefuge in naivety.

And as to the wooden horse?He/she

would be lavishly dining on oats, chaff,

and fresh lucerne—all products

supplied by responsiblefarmers.

Yours,

John Perriam

Greta Valley

Praise for sandpit

Dear Editor,

What agreat decision by Te Matauru

Primary Schooltoopt for agiant

sandpit, also for use by older students

(NorthCanterbury News,November 12).

Asandpitallows opportunities for a

large number of students to learn

together and to play without rules and

limitation. This is one of the cheapest

resources to provide for creativity,

engagement,co­operation, problem

solving and awide varietyofplay

choices. This is wherethe Key

Competencies of the New Zealand

Curriculum and inclusion can be seen in

actionduring every breaktime.

Many schools withlarge or multiple

sandpits have added hoses, ropes,

pulleys, buckets, funnels and ramps for

experimentation.Students oftenlike to

bring toys and objects from home which

also addstotheir learning through

sharing and managing theirpossessions.

Well done Rachele Poole and Te

Matauru School.

Yours,

Dr Llyween Couper

Canterbury University

Plants stolen from garden at BMX track in Rangiora

Something foreveryquilter, patchworker,artistand crafter!

McALPINES MITRE 10 MEGA RANGIORA -OCEAN WATCH

This

Week

Sun

Fishing

Guide

Moon

Wind

Ok

Thursday Friday Saturday Sunday Monday Tuesday Wednesday

Nov 26 Nov 27 Nov 28 Nov 29 Nov 30 Dec 1 Dec 2

Rise 5:46am

Set 8:45pm

Best 10:10am

Times 10:30pm

Set 3:59am

Rise 4:31pm

Moderate E

Wednesday2 nd December

KaikouraMemorial Centre, 32

Esplanade, Kaikoura–9.30am-3.30pm

Anyenquiries to Puddle 0210319751

Fair

Rise 5:46am

Set 8:47pm

Best 10:50am

Times 11:10pm

Set 4:19am

Rise 5:31pm

Moderate SE

Ok

Rise 5:45am

Set 8:48pm

Best 11:31am

Times 11:52pm

Set 4:41am

Rise 6:32pm

Gentle Sbecoming

moderate SE

2334579-S

Fair

Hoursoffundraising and planting

has endedinheart­break for

members of the North Canterbury

BMX Club.

About100 newly planted bronze

grasses have beenstolen from a

feature area of abank at the club's

trackbeside the Ashley River

reserve at Rangiora.

Rise 5:45am

Set 8:49pm

Best 12:14pm

Times

Set 5:05am

Rise 7:34pm

Moderate SE

becoming fresh S

Rise 5:44am

Set 8:50pm

Best 12:37am

Good

Times 1:00pm

Set 5:32am

Rise 8:37pm

Moderate SW turning

SE

Good

The $170 worthofplants,which

were just starting to get

established, were stolen last

week.They were pulled from a

barked area featuring an ''NC''

sign of black mondo grasses

surrounded by rocks, on the

second corner of the track.

Amember who spent ahuge

Rise 5:44am

Set 8:51pm

Best

Times

1:23am

1:48pm

Set 6:05am

Rise 9:39pm

Moderate Sturning

SE

Good

Rise 5:44am

Set 8:52pm

Best

Times

2:13am

2:39pm

Set 6:44am

Rise 10:38pm

Moderate S

strengthening

number of voluntary hours

helping to organisethe planting

project is frustrated by the theft.

''We want our track to lookgood

for our members, and also for the

community,''she says.

The club will hostthe South

Island BMXchampionshipson

January 16 and17.

Swell

Pegasus Bay

Tide Chart

3

2

NE 1.7 m E1.3 m E1.0 m E0.9 m E0.8 m E0.9 m E0.9 m

3 6 9 NOON 3 6 9 3 6 9 NOON 3 6 9 3 6 9 NOON 3 6 9 3 6 9 NOON 3 6 9 3 6 9 NOON 3 6 9 3 6 9 NOON 3 6 9 3 6 9 NOON 3 6 9

1

0

Highs Lows Highs Lows Highs Lows Highs Lows Highs Lows Highs Lows Highs Lows

Waimakariri 2:33am 2.2 8:44am 0.7 3:22am 2.2 9:33am 0.7 4:07am 2.2 10:20am 0.7 4:51am 2.2 11:05am 0.7 5:33am 2.2 11:48am 0.7 6:15am 2.2 12:02am 0.7 6:57am 2.2 12:44am 0.7

Mouth

2:56pm 2.2 9:08pm 0.6 3:41pm 2.2 9:52pm 0.6 4:24pm 2.1 10:36pm 0.7 5:06pm 2.1 11:19pm 0.7 5:47pm 2.1

6:30pm 2.1 12:31pm 0.7 7:14pm 2.1 1:13pm 0.7

Amberley 2:33am 2.2 8:44am 0.7 3:22am 2.2 9:33am 0.7 4:07am 2.2 10:20am 0.7 4:51am 2.2 11:05am 0.7 5:33am 2.2 11:48am 0.7 6:15am 2.2 12:02am 0.7 6:57am 2.2 12:44am 0.7

Beach

2:56pm 2.2 9:08pm 0.6 3:41pm 2.2 9:52pm 0.6 4:24pm 2.1 10:36pm 0.7 5:06pm 2.1 11:19pm 0.7 5:47pm 2.1

6:30pm 2.1 12:31pm 0.7 7:14pm 2.1 1:13pm 0.7

2:42am 2.2 8:53am 0.7 3:31am 2.2 9:42am 0.7 4:16am 2.2 10:29am 0.7 5:00am 2.2 11:14am 0.7 5:42am 2.2 11:57am 0.7 6:24am 2.2 12:11am 0.7 7:06am 2.2 12:53am 0.7

Motunau 3:05pm 2.2 9:17pm 0.6 3:50pm 2.2 10:01pm 0.6 4:33pm 2.1 10:45pm 0.7 5:15pm 2.1 11:28pm 0.7 5:56pm 2.1

6:39pm 2.1 12:40pm 0.7 7:23pm 2.1 1:22pm 0.7

2:44am 2.2 8:55am 0.7 3:33am 2.2 9:44am 0.7 4:18am 2.2 10:31am 0.7 5:02am 2.2 11:16am 0.7 5:44am 2.2 11:59am 0.7 6:26am 2.2 12:13am 0.7 7:08am 2.2 12:55am 0.7

Gore Bay 3:07pm 2.2 9:19pm 0.6 3:52pm 2.2 10:03pm 0.6 4:35pm 2.1 10:47pm 0.7 5:17pm 2.1 11:30pm 0.7 5:58pm 2.1

6:41pm 2.1 12:42pm 0.7 7:25pm 2.1 1:24pm 0.7

2:36am 1.7 8:49am 0.6 3:24am 1.7 9:37am 0.6 4:10am 1.7 10:24am 0.6 4:55am 1.7 11:09am 0.6 5:38am 1.7 11:52am 0.6 6:21am 1.7 12:06am 0.6 7:03am 1.7 12:48am 0.5

Kaikoura 3:02pm 1.7 9:12pm 0.5 3:47pm 1.6 9:56pm 0.5 4:31pm 1.6 10:40pm 0.5 5:15pm 1.6 11:23pm 0.6 5:58pm 1.6

6:42pm 1.6 12:36pm 0.5 7:26pm 1.6 1:19pm 0.5

*Not for navigational purposes. Wind and swell are based on apoint off Gore Bay. Maori Fishing Guide by Bill Hohepa. www.ofu.co.nz www.tidespy.com Graphic supplied by OceanFun Publishing Ltd.

2118223
---
Will to step into top council role

The Kaikoura District

Council has namedWill

Doughty as its new chief

executive.

He willtake over in

February from Angela

Oosthuizen, who has been

in the role for five years.

Mr Doughtyand his wife

Colette and children Olivia

and Josh have been living

in the districtfor just over

three years.

He originally cameto

Kaikoura for his role as the

council's rebuild director

after the earthquake, and

subsequently as the

environment and key

deliverables managerwith

the NorthCanterbury

Transport Infrastructure

Recovery alliance, which

has beenresponsible for

the restoration of quakedamaged

road and rail

networks.

Mayor CraigMacklesays

Mr Doughtyhas leadership

experience acrossawide

range of projects,

delivering majorwork

programmes for the

ChristchurchCity Council

and successfullymanaging

many different

relationships throughthe

Christchurch

Infrastructure Rebuild.

''During his time in

Kaikoura, Will has already

built strong relationships

in the community.He

works with people to get

thingsachievedina

collaborativeway, with the

business sense to support

this and drive us forward,''

he says.

Mr Mackle saidithad

been atough few years for

Ms Oosthuizen, who was

involved in the response

and recoveryofKaikoura

after the 2016earthquake.

''Angela has worked

really hard to get us in the

position we are now.''

Her first job, he said, was

to oversee the completion

of apartly builtCivic

Centre,before the quake

completely changed things.

The councilinfrastructure

rebuild was a

$38.6 million projectthat is

tracking on budget and

nearingcompletion.

"This is ahuge

achievement for asmall

council. As CEO, Angela

has created astrong and

capableteam of staff, and

under her leadership we

are in amuch better

financial positionthan

forecast.

''This places us in agood

position as we move

forward."

Mr Doughty is excited

about the opportunity to

take the reins of the

council.

''We liveinatruly

incredibleplace and Ilook

forwardtoleading agreat

team to help enable our

community to continue to

recover, prosper and thrive

after the many challenges

of the last few years."

Settled in Kaikoura ... Will Doughty and his family, wifeColette and children

Olivia and Josh, have lived in the district for just over three years. PHOTO: SUPPLIED

NEWS

North Canterbury News, November 26, 2020

7

Chargers to

be installed

Electric Vehiclechargerswill soon

be poppingupacrossthe

Waimakariridistrict.

The WaimakaririDistrict Council

has signed an initial agreementwith

Meridian to support the installation

of chargers in car parksinRangiora.

"Getting anetworkofcharging

infrastructure in key locations is a

great result for Waimakariri," says

Cr Niki Mealings, the council's

climate change portfolio holder.

"This initiative is just asmall part

of the council's ongoingcommitment

to sustainability and reducing

emissions in response to climate

change."

In December last year, the council

committed to supporting the uptake

of electric vehicles in the districtby

making space available for charging

infrastructure in council­owned car

parks.

Councillors, afterconsidering two

formal proposals, ultimately

accepted astaffrecommendation to

work with Meridian,which has

extensive experience with electric

vehicles and associated

infrastructure.

The first chargers willbeinstalled

in the car park behindRangiora

Libraryand willallow four vehicles

to charge simultaneously.

Once those are established, there

are plans for installing more

charging stations at Woodend,

Kaiapoiand Oxford.

The dual­socketed22kW AC

charging stations can deliver up to

120km of travelper hour of charging,

depending on the vehicle make and

model.
---
Waimakariri Events

12

DEC EVENTS

5th: Woodford Glen

South Island

SuperStock Champs

6.30pm –9.30pm,

Woodford Glen Speedway.

Don't miss SuperStock

action at its best with the

winner to be crowned

South Island SuperStock

Champion. Tickets start from

$10, children FREE.

6th: Mandeville

Craft Festival

10am –3pm,

Mandeville Sports

Centre, 431 Mandeville

Road. North

Canterbury's idyllic

market festival featuring

awide range of topquality

arts and crafts

stalls, food marquees,

live music and

entertainment. $5 per

adult, children FREE.

5th –8th: The North

Canterbury News

Christmas Tree Festival

10am –6pm, Rangiora

Town Hall, Rangiora. Peruse

Christmas trees decorated

by the community and vote

for your favourite tree. Gold

coin entry.

5th: Kaiapoi

Christmas Carnival

and Santa Parade

9.30am –3.30pm,

Williams Street,

Kaiapoi. Free family fun!

Santa Parade 1.30pm.

Kaiapoi Carnival from

9.30am

6th –24th: The Model

Railway Christmas

Grotto

10am –4.30pm, 13 Blake

Street, Rangiora.

AChristmas grotto like

never before! Experience

agrand scale Christmas

train with Santa on board,

Thomas the Tank Engine

layout, special presents from

Santa and so much more!

$2 peradult and $1 perchild.

12th: Toot NCroon

Music Night

7.45pm –10.15pm,

Rangiora RSA, Victoria

Street, Rangiora. Aband

with harmony singing bring

an evening of entertainment

with a dash of Christmas

flavour, along with many of

your favourite songs. $10

per entry.

13th: Canterbury

Half Marathon

8.30am –12.30pm,

Pegasus Town. Pegasus

will host the Canterbury Half

Marathon and 9km Run and

Walk. There will be awalking

section in both the half

marathon and 9km, and a

hybrid in the half marathon.

From $79.

13th: Oxman

7am –3pm, South Eyre

Road. Take up the challenge

of apre-Christmas event

where there is something

for everyone.Withindividual

and team options for kids

from aged 5and up to elite

athletes testyourself on this

scenic country course.Entry

from $39.

13th: Rangiora Toyota

Santa Parade

12pm –5.30pm, High

Street, Rangiora. Party in

the Park is in Rangiora's

Victoria Park from12pm-

6pm. Rangiora Toyota Santa

Parade High Street 2pm.

13th: Strawberry Fair

11am – 3pm, Kaiapoi

Food Forest, 32 Cass

Street, Kaiapoi. Everything

strawberries from fresh

fruit, cake, ice cream, ciders

and everything in between!

Sideline Swing Band,

bouncy castle for the kids

and Christmas shopping

area. This is azero-waste

event, please bring aplate

and cup.

13th: McAlpines Mitre 10

Mega's Christmas Party

in the Park

12pm –5.30pm, Victoria

Park, Rangiora. Featuring

live music, children's

entertainers, food and craft

stalls,animals, inflatables,

face painting andfun

activities for kids. Makesure

you bring your family and

friends along and join us

to celebrate themagic of

Christmas.

16th –24th: Oxford

Christmas Wonderland

Varied opening hours,

GP Hall, Showgate Drive,

Oxford. Back this year with

anew venue. Itwill be a

fantastic event for the whole

family -make sure you

check it out! $2 entry.

20th: Christmas at

the Races –Rangiora

Harness Racing Club

10pm –5.30pm, Rangiora

Racecourse, 312 Lehmans

Road. Celebrate the season

with Christmas at the Races!

An action-packed day with

ten exciting harness races,

activities for the kids and on

course entertainment for all

the family. $10 entry.

20th: Rangiora

Christmas Festival

10am–1pm, Victoria Park,

Rangiora. Lots of kids'

activities including inflatables,

rides,facepainting,games

and muchmore (allFREE),

as well as afree BBQ, coffee

and foodtrucks.

20th: Oxford 2020

Christmas Parade

12pm –2pm, Oxford

Township. "Who is your

superhero?" Prize for

best floats &fancydress.

Food caravan

along with free bouncy

castle &face painting.

24th: Sefton Christmas

Harvest Market

8am –1pm, 783

Marshmans Road, Sefton.

Aunique Christmas Eve

farmers marketwhere you

can get yourhands dirty

digging your own new

potatoes and picking fresh

peas. BYO forks and buckets.

Early bird entry 8-9am $5,

gold coin thereafter.

MARKETS

Kaiapoi Farmers Market

Morgan Williams Reserve,

Charles St, Kaiapoi.

Every Saturday 10am–12pm.

North Canterbury

Sunday Market

Rangiora Racecourse.

Every Sunday 9am–2pm.

Ohoka Farmers Market

Ohoka Domain, Mill Road,

Ohoka. Every Friday

9am–12.30pm.

Oxford Farmers Market

Main St, Oxford. Every

Sunday 9am–12pm.

Oxford Craft Market

Oxford Town Hall, Oxford.

First Sunday of each month,

10am-2pm.

Rangiora Sunday Market

Blake StCarpark, Rangiora.

Every 2nd Sunday, 10am-2pm.

*Please note markets are subject

to Christmas holiday closures over

the Christmas &New Years period.

ART EXHIBITIONS

Art on the Quay

3rd Dec –13th Jan: Earth

Sounds, 'Whatungarongaro

te tangata toihū te whenua'

by Megan Flutey and Dion

Hancy

Over 120 Stallholders

Free Parking Live Music Gourmet Food

SUNDAY DEC 6TH 10AM -3PM

MANDEVILLE SPORTS CENTRE

Tickets $5 though our website

or cash at the gate. Children under 15 FREE

www.mandevillecraftfestival.co.nz

Proudly supported by Tall Poppy Real Estate

20 th December

Rangiora Racecourse: 312 Lehmans Road

BOOK NOW

www.rangioraharness.com

Catered and self-catered sites available

More info at: www.visitwaimakariri.co.nz/events

or Kaiapoi i-SITE Visitor Centre, Phone: 03 327 3134, Email: info@kaiapoivisitorcentre.co.nz
---
December 2020

KAIAPOI

CHRISTMAS

CARNIVAL

FREE FAMILY FUN!

SATURDAY

5DECEMBER

From 9:30 AM

#KaiapoiCarnival2020

OXFORD &DISTRICTS LIONS

christmas parade

who isyour

superhero?

PRIZES FOR BEST FLOATS

1st $300 -2nd $200 -3rd $150 *Floats will be judged mid parade*

PRIZES FOR FANCY DRESS With or without abike

Girls: 1st $30 -2nd $20 -3rd $10

Boys: 1st $30 -2nd $20 -3rd $10

*Judging for Fancy Dress &Bikes commences at 12:00pm*

BOUNCY CASTLE

&FACE PAINTING

LIONS FOOD CARAVAN

SUNDAY 20th DECEMBER 2020

Starts 12:30pm from Burnett Street Oxford

For further information contact Maurice on 027 240 1718

or email enquiries to: secretary.odlc@outlook.com

AS A LIONS PROJECT WE RESERVE THE RIGHT OF ENTRY

Lions welcome volunteers to assist with this community event

BEST FLOAT WINS

Sunday 13 December - 12 - 5:30pm - 2pm Parade
---
MANDEVILLE CRAFT FESTIVAL

Festival set for record crowd

The Mandeville Craft Festival has

firmly established itself on the North

Canterbury events calendar.

The cruisy day out for families,

complete with arelaxed community

vibe, has grown into more than just a

major fundraiser for the Ohoka Rugby

Club.

It is now amuch vaunted retail

experience, where visitors can enjoy

live music, entertainment, colour and a

country atmosphere at the picturesque

Mandeville Sports Centre.

Organiser Dee Bigelow believes this

year's event on Sunday, December 6,

will see the largest crowd yet turn out

to enjoy the 130 stalls, including ahuge

array of tempting food stalls offering

everything from Mexican, barbecue and

gourmet burgers, to Sushi, hot potatoes,

dumplings and salads.

Then there are sweet treats to follow,

including pancakes, waffles, and ice

creams, along with hot and cold drinks,

juices, smoothies, and abar.

Dee has now been at the helm for five

years, ensuring acontinuation of the

work of all the people in the rugby club

who have served on the committee over

the years.

She has helped build asound platform

for the festival to flourish and believes

this year will help build momentum

toward next year's 10th anniversary

celebrations.

Dee loves the challenge of providing

exciting and tempting stalls for people to

treat themselves, or buy gifts for others.

"There will be stalls you have visited

before and love, and you can discover

new favourites," she says.

"I love it. Ilove the feedback, and love

to see people enjoying what's on offer,"

she says.

She is also excited to have three

musicians this year. Acrowd favourite,

Sharon Miller returns.

Sharon is familiar to many as a

presenter at Compass FM. She will

also multi-task on the day as she has a

regular stall, Art of Aroma.

Acoustic duo, The WaxBirds, from

Oxford, will play arange of easy

listening songs, alongside their own

material. They will donate 20 percent of

merchandise and album sales to various

New Zealand Wildlife conservation

efforts.

Mandeville's Ellen Rose has arrived

back in New Zealand and quarantined in

time to play at the festival. She has been

in the United Kingdom for the past few

years working as amusician playing at

restaurants, pubs, events and weddings,

and is "coming home", having gone

to Pony Club at the Mandeville Sports

Centre for years.

Willoughby's Creative from Rangiora

will provide ahands-on experience for

festival-goers with fibre and they will be

joined by several other activity-based

stallholders this year as Dee looks to

Crowd favourite, Sharon Miller is back again this year to entertain the crowds.

develop this area.

Dee begins organising the event in

March, with the rugby club joining her

later in the year.

She says the event is apassion because

it helps the community and provides a

platform for local crafts people sell their

products.

"It is acruisy day, atanawesome

location. There is lots of off street

parking and it is only $5 to get in."

This year Tall Poppy Real Estate

North Canterbury and Enterprise North

Canterbury are supporting the event.

Event proceeds will go toward a

proposed LED lights upgrade, jerseys

and other gear for junior and senior

teams.

ACOUNTRY FETE

-CLOSE TO TOWN

Over 120 Stallholders

Free Parking • Live Music • Gourmet Food

SUNDAY DEC 6 TH

10 AM -3 PM

MANDEVILLE SPORTS CENTRE

Buy tickets through our website or$5cash at the gate

(Children 15 and under FREE).

https://mandevillecraftfestival.co.nz/tickets-entry/

www.mandevillecraftfestival.co.nz

2333520
---
BLACK

FRIDAY

–WEEK–

SALE

NOW

$1499

MANATEE CORNER

RECLINER LOUNGE

SUITE

THE RADIUS

COLLECTION

NOW

$599

NOW

$199

IRIS 3SEATER

2DRAWER TOWER

NOW

$599

NOW $399

NOW $69

NOW $539

NOW $129

MAPLE WHITE BUNK

RIVIERA QUEENMATTRESS

LODI BARSTOOL

1600 DINING

CHAIR

ALSO

AVAILABLEIN

NOW

$1299

NOW

$1799

NOW

$299

NOW

$299

SUMNER 7PIECE DINING SET

TEKAPO 3+1+1

+TABLE &BENCH

SUMATA QUEEN

PADDED HEADBOARD

PEARL BAY 7

DRAWER HIGHBOY

ALSO

AVAILABLEININ

ALSO

AVAILABLEININ

WIN

NOW

$499

RAGLAN EGG CHAIR

NOW

$129

HAAST UMBRELLA

NOW

$129

MARLEY CHAIR

1 OF 10

ELECTRIC

SCOOTERS

For every purchase

over $ 500 go in the

draw to win.

Terms and Conditions In-store

Kugoo S3 Pro

Valued at $ 699

TERMS &CONDITIONS APPLY. SEE IN-STORE FOR DETAILS.

FIND US AT THE CORNER OF BLENHEIM

& CURLETTS ROAD, SOCKBURN

BOTANICAFURNITURE.CO.NZ 0800 268 264
---
NC COLLISION REPAIR CENTRE

12 North Canterbury News, November 26, 2020

NEWS

Launch of poetry book

By ROBYN BRISTOW

Quality work ... Staff at the North Canterbury Collision Repair Centre in Amberley, which

has just changed hands, will continue to offer the same top­notch service.

Local staff have areal

bent for collision repair

Afamiliarfacehasreturned to

Amberley's localpaintandpanel

business.

Ryan Demmocks and his partner,

KellyOwens,have bought the North

Canterbury Collision Repair Centre —a

business that Ryan did his

apprenticeship with from the age of 15.

It was then known as Amberley Panel

andPaint.

Ryanstayedwith thecompany for

eight years,before leavingtorun the

paint shop at Smith Crane and

Constructionfor fiveyears, to get more

experience on awidevariety of vehicles

Back as the boss ... Ryan Demmocks and

his partner, Kelly Owens, with their daughter

Harper Demmocks. Ryan and Kelly are the

new owners of the North Canterbury

Collision Repair Centre in Amberley.

❛Crash and repairs will be our

main work, but we are also

happy to repair farm

machinery.❜

—Ryan Demmocks

—from big cranesand trucks to work

utes.

When thebusinesscameupforsale

recently,hewasapproachedbyowner

John Hamilton to buy it,and is nowback

workinginhis home town, thistimeas

the boss.

Ryanand Kelly stressthatnothing at

the business haschanged. ''Itis

business as usual.''

Thesameteam—Stu,Tony, Mike, and

Udara —willofferthe same quality

professional workmanship the centre

has become known for, and ensure

clients enjoy afriendly, efficient

experience when their vehicles are in

forrepairs.

Ryansaysthe centre will continueto

work with allinsurance companies,

offer freequotes, acourtesy car, and

free pick­up and delivery.

It willcontinue to carryout awide

variety of panel andpaintwork, from

everyday bumpsand scrapes, to major

smashwork, rust, restorationwork, and

workonlargervehicles.

It will also continue to decreaseits

impact on the environment by using

water­based paint.

''Crash and repairs will be our main

work,but we arealsohappy to repair

farm machinery.

''Come and see us and we willsee how

we can help you,'' Ryan says.

Kelly willlookafter theaccounts side

of thebusiness.

Bernadette Hall's ''home away from

home'', the Hurunui Library, will host

the launch of her 11th collection of

poetry — Fancy Dancing —next month.

Bernadette loves the Amberley­based

library, where she is akeen member of

The Friends of the Library. Since 2008

she has curated and chaired an annual

literary festival, The Writers' Tea Party.

Bernadette will be joined at the

launch by Rangiora writer Chelsea

Houghton, whom she taught at the

Hagley Writers' Institute afew years

ago.

Chelsea gained amasters degree in

Creative Writing from Massey

University, and has had her poetry

published.

''We thought it would be fun to have a

launch which included readings and

conversation,'' Bernadette says.

Fancy Dancing contains material from

four of Bernadette's earlier books,

including Maukatere, Floating Mountain,

which was published in 2016.

There is also asubstantial number of

new poems, many of them touching on

her life at Amberley Beach.

''It's as close as I'll ever get to writing

an autobiography,'' she says.

Bernadette wonders where on earth

the ''wilful'' sonnets in the final pages of

the book have come from.

''It was such fun writing them. It was as

if Ihad kicked down the stable doors and

taken to the hills.''

Afeature of Fancy Dancing is artwork

by Christchurch artist Robyn Webster.

In 2015, Bernadette collaborated with

Robyn on Matakaea, Shag Point.

Bernadette was born and raised in

Otago.

Following along career as ahigh

school teacher in Dunedin and

Latest work ... Bernadette Hall's 11th

collection of poetry is called Fancy Dancing.

Christchurch, she has lived at Amberley

Beach for 17 years.

In 2015 she was awarded the Prime

Minister's Award for outstanding

achievement in poetry. And in 2017 she

was appointed aMember of the New

Zealand Order of Merit for services to

New Zealand literature.

The launch is from 5pm to 6pm on

Wednesday, December 9, at the library.

Entry is free. Fancy Dancing will be

available for $30. Please bring the

correct change.

Quality Collision Repairs in the

Heart ofAmberley

• Competitive Rates

• Insurance repairs

• Free Quotes

• Courtesy Vehicles

• Free Pick up and

Delivery

105 Carters Rd, Amberley

Ph: 314 8434

E: office@amberleycollision.co.nz

2333672
---
SUPERGOLD CARD

16 North Canterbury News, November 26, 2020

Advertising feature

Get agold star in savings this Christmas

The festive season is always a

good timetotreat yourselves,

and after the year we've had it's

also agreat timetosupportlocal

businesses.

The best news is that you can

do both of thosethings and save

alittle bit of money with the

help of aSuperGold card.

We know thateverylittle bit

helpswhen managingtight

budgets, and for New

Zealanders who are 65 or older,

the SuperGold card offers the

chance to stretch your money

further.

You can get special offers and

discounts across arange of

businesses and services. There

are savings on the essentials

such as fuel, food and health

costs, as well as specialoffers on

entertainment, accommodation,

tourist attractions and travel

throughout NZ.

SuperGold cardholderLaurie

findsthe supermarketdiscounts

helpful and says, "getting to the

shopsfor free on the bus is also

areal benefit".

With SuperGold, off­peak

public transportisfree in many

areas.

So, if you plan yourday right

you couldadd the trip to the

shopsoracatch­up with friends

to your listofsavings too, like

Sarah.

Sarahand her friendslike to

meet for coffeeregularly and

visit cafes thatprovide a

SuperGoldoffer.

"We love cafes thatoffer

SuperGolddiscounts", she says.

With thousands of offers

available to view at

Supergold.govt.nz, there's

something for everyone.

Offersare regularlyadded

and updated, so for the savvy

money savers out there it paysto

check backregularly.

AboutSuperGold

The SuperGold card is one

way that the government and

New Zealand businessescan

say thankyou, or tena rawa atu,

for everything our seniors have

done for Aotearoa,byraising

families,working, or helping in

the community.

There are currently more

than 790,000 SuperGold

cardholders, with around60,000

peoplegetting acard each year.

If you're 65+ and aNew

Zealand resident, the Ministry

of Social Development will

automatically send your

SuperGoldCard in the mail

once your New Zealand

Superannuation payments are

granted.

This usually takes only afew

weeks,but you may havetowait

amonth or two if you apply for

New Zealand Superannuation

beforeyour 65thbirthday.

Even if you don't get NZ

Super, you can still apply for a

SuperGold card.

It is now quickerand easierto

find savings with SuperGold.

People can look at all

available offers on the

SuperGold website(supergold.

govt.nz). Offers can be viewed by

region,categoryorbybusiness

name.

There is alsoaSuperGold

app. You can download the

SuperGoldNZapp for free, to

find out where you can get

savings.

Making themost of it ...

SuperGolddiscounts are available

from awide range of businesses

around the country. PHOTO: SUPPLIED

Thousands ofplaces

to save nationwide.

ADVERTISING

YOUR

BUSINESS?

1914343

Thursday,August2,2018 | Issue 808 | www.ncnews.co.nz

Delivered to more homes

in North Canterbury and

Kaikoura regions than any

other publication.

The best read paper in

North Canterbury!

For contact details see page 2

Petrol &Diesel

Use your SuperGold card or

supermarket docket for 12

cents off Petrol &Diesel only

COMPLETE AUTO REPAIR SERVICE

WOF

Light Engineering

Tune-ups

Repairs

Lube-Oil changes Ride-on Mowers

Full Diesel Service Pick up &Delivery

Brakes &Clutches

Sell &Sharpen

Motor Work

Horse Clippers &

Warranty Work

Sheep Shears

Oils &Automotive Accessories, Postal

Services, Hot Pies, Sandwiches, Rolls,

Groceries and Sweet Treats

For your convenience

Sefton Garage

571 Upper SeftonRoad, Sefton

North Canterbury.Ph03312-9713

Best Prices

Guaranteed

Quality Brands

We will match

any written quote –

conditions apply

WINZ Quotes

Welcome

Find golden opportunities

to save every day.

Visit www.supergold.govt.nz or download

and check the SuperGoldNZ app.

SG200130G

2335240

Hours: Monday-Friday 8am-5.30pm •Saturdays 9am-12noon

Receive your

Super Gold Card

discount here!

Cnr Ashley &Burt Sts, Rangiora.

Phone (03) 313 73 23
---
Our deals are a

KNO

KN

cCK

OUuT!

See the Good Sports.

$132.49

PER WEEK

$92.39

PER WEEK

$82.37

PER WEEK

$117.45

PER WEEK

2019 Hyundai Sonata Elite

Series 2 2359cc with 35,067kms, 5Star ANCAP,

Auto Tiptronic, Android Auto, Apple CarPlay, ESC,

GPS/NZ Sat Nav, Heated Leather Seats, Cruise,

Parking Sensors, Wireless

Phone Charging,Smart Key.

$25,990

Balance of New Car Warranty!

2014 Ford Kuga Ambiente 1.6T

EcoBoost AWD 1596cc with 74,241kms,

5Star ANCAP, Air Con, Alloys, AUX/Bluetooth/CD,

Auto Tiptronic, Cruise, ESC, High Seating Position,

ISOFIX, Multi Functional

$17,990

2018 Suzuki Swift GLXC

1242cc with 54,952kms, Auto, 6Airbags, 5Star

ANCAP, Air Con, Alloy Wheels, Android Auto, Apple

CarPlay, Bluetooth, ESC, Lane Departure Warning,

Radar Cruise, Rev. Camera,

ISOFIX, Traction Control.

Balance of New Car Warranty!

Steering Wheel, Smart Key,

$15,990

Traction Control, Turbo.

2013 Mitsubishi Outlander XLS

7Seater 4WD 2360cc with 72,493kms, ESC,

Auto, Paddle Shift, 5Star ANCAP, 7Airbags, Alloys,

Auto Air Con, USB/Bluetooth/CD, Cruise Control,

Smart Key, ISOFIX, MIVEC,

Reverse Camera, Traction

Control, Fog Lights.

$22,990

$72.34

PER WEEK

$162.56

PER WEEK

$82.37

PER WEEK

$92.39

PER WEEK

2018 Holden Barina LS

1598cc with 50,894kms, Auto Tiptronic, 6Airbags,

5Star ANCAP, Air Con, Alloys, Android Auto,

Apple CarPlay, AUX/USB/Bluetooth, MyLink

Entertainment, Cruise, ESC,

ISOFIX, Traction Control.

Balance of New Car Warranty!

$13,990

2019 Nissan X-Trail ST 4WD

2488cc with 16,479kms, Auto Tiptronic, 6Airbags,

5Star ANCAP, Air Con, Alloys, Cruise, AUX/USB/

CD/Bluetooth, Hill Descent Control, ESC, ISOFIX,

Rev. Camera, Smart Key,

Traction Control.

Balance of New Car Warranty!

$31,990

2019 MG 3Core

1498cc with 11,575kms, Auto Tiptronic, 8Airbags,

Alloys, Apple CarPlay, Bluetooth, Cruise, Emergency

Brake Assist, ESC, ISOFIX, Reverse Camera, Touch

Screen Media Interface,

Traction Control, USB Input.

Balance of New Car Warranty!

$15,990

2017 Toyota Corolla GLX 1.8

1798cc with 52,398kms, Auto Tiptronic, 7Airbags,

5Star ANCAP, Air Con, Alloys, Auto Lights, AUX/

USB/Bluetooth, Cruise, ESC, Factory Privacy Glass,

Fog Lights, Lane Departure

Warning, ISOFIX, Reverse

Camera, Traction Control. $17,990

$57.31

PER WEEK

$172.58

PER WEEK

$127.47

PER WEEK

$117.45

PER WEEK

2016 Hyundai Accent 1.6 VVTI

1591cc, Auto Tiptronic, 16" Alloys, 5Star ANCAP,

6Airbags, Air Conditioning, Auto Lights, CD Player,

AUX/USB/Bluetooth, Multi Functional Steering

Wheel, ISOFIX, ESC,

Remote Central Locking,

Traction Control. $10,990

2018 Hyundai Imax CRDi

8Seater 2497cc, 52,986kms, 4Airbags, Alloys,

Android Auto, Apple CarPlay, Auto Air Con, Cruise

Control, AUX/USB/Bluetooth, Remote Central

Locking, Trip Computer,

ISOFIX, Reverse Camera.

$33,990

Balance of New Car Warranty!

2020 Holden Trax LTZ1.4 Turbo

1364cc with 11,080kms, Auto Tiptronic, 6Airbags,

5Star ANCAP, Air Con, Alloys, Android Auto, Apple

CarPlay, Auto Lights, Bluetooth, Reverse Camera,

Cruise, ESC, Heated Seats,

ISOFIX, Smart Key.

$24,990

Balance of New Car Warranty!

2019 Kia Cerato LX

1999cc with 19,394kms, Auto Tiptronic, 6Airbags,

5Star ANCAP, Air Con, Alloys, ESC, Android Auto,

Apple CarPlay, Auto Lights, Blind Spot Monitoring,

Bluetooth, Rev. Camera,

Traction Control, Cruise.

Balance of New Car Warranty!

$22,990

2018 Holden Commodore. Safety,Comfort, Performance.

RS 2.0T Wagon RS 2.0T Sedan LT 2.0T Sedan

5StarANCAP

Safety Rating.

NZ NewTurbo.

•6Airbags

•Reverse Camera

•Lane Departure Warning

•Traction Control

•Apple CarPlay/Android Auto/Bluetooth

•MyLink Entertainment Unit

•Self Parking Mode

•Cruise Control

Stadium Cars Rangiora 03 310 7940 | stadiumcars.co.nz

609 Lineside Road, Waimakariri, Rangiora OPEN 6DAYS

*Conditions apply. Not available with any other offer. Finance offer subject to credit and lending criteria. Finance calculation

based on 60 month term. No deposit with an annual fixed interest rate of10.95%, includes an establishment fee of$370.

See our website for full disclosure.

From Just

$24,990

From only

$127.47

per week

Includes

Balance of

New Car

Warranty!
---
Day Bros Painting &Plastering -

quality handling for aquality finish

Day Bros Painters and Plasterers has been

serving the North Canterburycommunity for

more than 30 years.

The family business was established by

brothers Graham and Kevin Day back in the

1980s, with Graham's son Brett joining the

business as ateenager.

Company directors Brett and Jemma took

over in 2005 and now employ nine loyal staff,

including two apprentices, who live locally.

"Wehave managed to retain our staff through

Covid-19 and we are thankful to our loyal clients

that we have been able to do that," Jemma says.

"Wewere able to go back to work at Alert

Level 3and we followed all government

guidelines whilst doing our best to support our

staff through averydifficult time.

"Wetakehealth and safely veryseriously for

our guys and making sure they have the right

qualifications."

The couple works in closely with general

manager Davitt Joslen, who has been with the

company for two years, and since the lockdown

have added aprofessional plasterer,Sam van

Hulten,tothe team.

"Painting is the last thing that gets done in a

house, but if the plastering hasn't been done

right it can ruin the finish, so having control

over the plastering helps us with our quality

control," Brett says.

Day Bros takes on jobs between Christchurch

and Kaikoura and has done anumber of

insurance and earthquake work in recent years

in the northernpart of the region.

"Brett has worked closely with clients and

insurance companies to make sure clients are

getting what they are entitled to," Jemma says.

This experience has allowed Brett to see a

gap in the market in helping clients to manage

the overall project, whether that is kitchen or

bathroom make-overs, repair or maintenance

work and building work.

"A lot of clients don't know where to start,

so we can sit down with them and talk them

through it," Brett says.

"Weoffer the full package and take the hassle

out of aproject and we deal with other tradies

and contractors so we can arrange

for the work to getdone on

time."

Major painting projects

completed in recent

years include the

historic Highfield

Woolshed at

Outdoor

Waiau, the Waiau

Community Pool

and churches

at Waiau and

Waikari.

Living

When it comes

to hazardous

substances, the

Day Bros team

works in with

other contractors

who they can call on

for removal of asbestos

and methamphetamine

contamination.

Making amark ...The historic Highfield Woolshed restoration at Waiau is one

of many projects Day Bros Painters and Plasters has worked on since the

November 2016 earthquake. Photo: Supplied

Many landlords

are not aware

that pre-checks

are required

for insurance

purposes for any

future claims for

methamphetamine

contamination, Brett

says.

Day Bros takes on both

commercial and residential

work and can

also do airless

spraying, water blastering, roof

work and floor work, and offers arange of

paint colour options to clients from all the top

paint brands.

''Weare not the cheapest around, but we

can offer advice on different aspects of awork

project if are stuck for ideas and Brett can sit

down and help you with you colour selections,''

Jemma says.

Day Bros is amember of Master Painters

New Zealand and the team goes out of its way

to ensure they leave awork site clean and tidy.

''Wepride ourselves on that,'' Brett adds.

''And we take special care of people's property

and especially their gardens."

Landscaping

Free Quotes

Phone 027 537 2733

or 03 327 6850

www.easylawn.co.nz

2325172v1

Residential and Commercial

Installation, Repairs, Maintenance &Alterations

Services we offer for all door types:

New Garage doors: Sectional, Roller,Tilt &

Cedar

Partsand Maintenance

Door Upgrades

Supply and install automatic door openers for

sectional tilt &roller doors

Phone 027 207 6128 |03310 6577

hamish@abelgaragedoors.co.nz

www.abelgaragedoors.co.nz

2257749v1

Don't know where to start orhow to do it?

Gardens &Lawns doing their own thing –

not your thing?

Property maintenance falling behind?

No time for life on alifestyle block?

CALL IN THE EXPERT

LET AL-MOW AND MORE FOR YOU!

Regular maintenance or one off work

No job too big or small

Call Al Today!

P: 021 249 9495 |E:al@almows.co.nz

www.almows.co.nz

2325634v1

Day Bros Painters and Plasterers are able to

handle your whole job -Nomore dealing with two

different trades!

We offer free quotes and service Canterburywide.

Residential and commercial properties.

We specialise in:

painting

plastering

roof spraying

specialised coating systems

airless spraying

water blasting

Local, family owned business who has been in

business for over30years.

Members of master painters.

Please contact Brett for afree quote

on 0275 340 878

Email: office@daybrospainters.co.nz

www.daybrospainters.co.nz

2324391

Need aQuality Builder in Kaikoura, Hanmer

&Hurunui? Full Builds, Extensions and Repairs

We have offices based in Rotherham and Kaikoura.

2325750v2

Jobs Large and Small

We are happy to help!

Contact us today for a

quote or to discuss

your next project

BGBeaven Builders

03 315 6346

www.hurunuibuilders.co.nz

wbeaven@amuri.net

AUTOMOWER ®

AM305

600m 2 working area

55m 2 /h cutting capacity

Maxincline 40% (22º)

BONUS

VOUCHER

NEW! $ 2,499 * RRP

Voucher offer valid 1/09/20-31/12/20 and is to be redeemed instore at an authorised Husqvarna Elite Automower ® Dealer only. Notavailable foruse online at Husqvarna Click &CollectE-Store, or forthe

purchase of Automower ® unit.Applicable foruse towardsinstallation via an authorised Husqvarna dealer,the purchaseofaninstallation kit or your next purchase of Husqvarna branded products only.Valid for

the following modelsonly: $ 100 –AM105, AM305, AM310 $ 200 –AM315X, AM430X $ 250–AM450X, AM435XAWD, AM550, AM535AWD

Your local authorised Husqvarna Dealer:

*Pricesreferstounits only.Installationkits sold separately.Installation costs apply.

WITH BONUS IN-STORE VOUCHER

AM315X

1600m 2 working area

73m 2 /h cutting capacity

Maxincline 40% (22º)

BONUS

VOUCHER

$

100 $

3,799 * RRP

275Flaxton Road,

Southbrook

Ph: 3136640

sales@brandmowers.co.nz

5YEAR DOMESTIC WARRANTY #

#

Termsand Conditions apply,see HUSQVARNA.COM fordetails.

AM435XAWD

3500m 2 working area

146m 2 /h cutting capacity

Maxincline 70% (35º)

BONUS

VOUCHER

$

250

$

200 NEW! $ 6,499 * RRP

2314491v1
---
NICOL'S

5.5kgWashsmart

•6wash cycles

•Load

sensing

•100RPM

spin speed

201L Chest Freezer

•Adjustable temperature

control

•Small goods basket

•3.5 Star energy rating

220L Fridger Freezer

•Frost-free

freezer

•LED lighting

•Glass shelving

Series 4Dishwasher

•14place settings

•46dBA

•6wash programmes

SUPER

DEAL

$844

HOTPRICE

$529

SWEET

DEAL

$575

LIMITED

STOCK

$1049

6.5kgTop Load

Washing Machine

•7wash

programmes

•Noagitatorr

•740rpm

spinspeed

Cafe Barista

•15barpump

•Espresso,cappuccino &latte

•One touch controls

•Uses groundcoffee

Rotary R3 Shaver

•Pop-up trimmer

•Upto60 mins shavingg

•Cordless

•Rechargable

7kgSensor Dryer

•15programmes

•Timeddry options

•Rear vented

SUPER

SAVER

$688

HUGE

SAVING

$214

LIMITED

STOCK

$64

LIMITED

STOCK

$499

+12 MONTHS

INTEREST

ON PRODUCTS

FREE! $499 &OVER *

*Terms&Conditions Apply

343A FlaxtonRoad, Rangiora•Phone (03) 313 7886
---
All Prices are including GST

(X3 Only)

(X5 Only)

• 12 Months Interest FREE*

• FREE Demonstration on

your lawn*

• 23Hp Briggs V-Twin Engine

• 48" heavy duty fab deck

• Hydro-Gear ZT-3100

serviceable transmissions

• Full Suspension on all models

• 23Hp Kohler V-Twin engine

• 42" /106cm 2 blade rear discharge deck

• Foot operated hydrostatic transmission

• Big 320 litre catcher with full alarm

• Unique chute cleaning lever!

*Valid on selected products from 26 November – 01 December or while stocks last.

Terms &Conditions Apply. See instore for details.
---
Christmas giftideasfor the whole family

Men's

Women's

Christmas

Shop

Lingerie

Phone our instore

consultant for

apersonal

appointment

03 327 8029

Giftware

Top Drawer Quality

6piece Egyptian Cotton

Towel Sets

Were $59.99

ChristmasSpecial

$49.99

2332871

Photos with

Santa available

in store…

Tuesday 15 th December 1pm – 3pm

Thursday 17 th December 10am – 2pm

Sunday 20 th December 1pm – 3pm

Tuesday 22 nd December 10am – 12pm

Cnr. Williams Street & Raven Quay

Open 7 Days | Phone: 0508-45-45-45

Website: www.blackwellsdeptstore.co.nz

Christmas gift

wrapping and

gift vouchers

available.

Customer car parking

available.

Open every

day till

Christmas!
---
OUR TOWN KAIAPOI

22 North Canterbury News, November 26, 2020

Making Christmas special for everyone

By DAVID HILL

CommunityWellbeing NorthCanterbury

is gearing up to bringthe festive spirit to

families in need of alittle extra support.

The trust'sKaiapoi branch, Kaiapoi

CommunitySupport (KCS), provides

supporttomore than 100 local families in

the lead­up to Christmas each year.

KCS co­ordinator Louise Griffiths says

preparations for the annual Christmas

giving programme are welladvanced.

It includes next week's Toot for Tucker,

with Kaiapoi donations being usedto

stockupthe Kaiapoicommunity pantry.

Efforts alsoinclude collecting Christmas

presents and running theannual

Christmas raffle.

''KCSisleading Toot for Tucker in

Kaiapoi,sopeople need to be awareofit;

that there willbecarsgoing around

tooting [on Tuesday evening],'' Louise

says.

''And, if as many people as possible

couldput aside somefood, it will make a

big difference.

''Toot for Tuckerissuch afabulous

initiativeand it getsusthroughthe

Christmas period and alsosupports the

Rangiora Salvation Armyand Oxford

CommunityTrust,and Iwouldlike to

thankBev Wrightfor all the work she

does.''

Staple food items and Christmastreats

are needed for theKCS Christmas packs.

Christmas giving trees will be set up at

the Kaiapoi Library, as well as Westpac

and New World in Kaiapoi, Ray White in

Kaiapoi and Rangiora, and PAK'nSAVE in

Rangiora, to be collected and delivered by

KCS volunteers.

Therewill be otherChristmas giving

treesaround the region to support other

agencies,including at the Rangiora

Library for the Rangiora SalvationArmy

to distribute.

Festive spirit ... Kaiapoi Community Support co­ordinator Louise Griffiths, centre, and her volunteers, including, from left, Rachelle

Smith, of Rangiora, Jackie Ward, of Rangiora, Kath Smith, of Kaiapoi, and Heather Smith, of West Eyreton, are getting ready for the festive

season.

PHOTO:DAVID HILL

''Our Christmas givingprogramme is

about ensuring allfamilies in the

communitycan celebrate Christmas in a

way that is deservingofthe festive

season,'' Louise says.

Christmaspresents for all agesare

needed by December 21 so they can be

delivered in time and should be new and

unwrapped.

''We always unwrapthem if they are

wrapped so we can match it to theright

person,'' Louise says.

''And it's always nice for parents to

check them before theytake them away

and we give them some wrapping paper.

''If anybodyinNorth Canterburyisin

need of presents at Christmas, they can

pop in and see us or get in contact and get

their nameonthe list.''

With more than100 families to cater for,

KCS needsaround 500 presents.

While there tendstobeplenty of

presents for theunder 10s, items are

neededfor teenagers and mumsand dads,

who could also be grandparents.

Suggestionsinclude toiletries,

chocolates and school stationery.

Donations of food, Christmas presents

and moneycan also be dropped off at KCS,

which is based in theKaiapoiCommunity

Centre in Sewell Street.

While KCS is basedinKaiapoi,the

Christmas giving programme supports

families across the Waimakariri and

Hurunui districts.

ContactKCS on (03)327 8945 or email

kcs.coord@wellbeingnc.org.nz, or

Wellbeing North Canterbury on (03)310

6375, or manager@wellbeingnc.co.nz.

Bookings Essential

•Cars, Trailers &Motorbikes

•4WD specialists

•All mechanical repairs

•Brakes and clutches

•Lube services

•Servicing Air Conditioning

•All makes and models

•Professional friendly service

183 Ohoka Road

Kaiapoi

Ph: 327 8780

www.kaiapoiautomotiveservices.co.nz

2305626

UPHOLSTERY

SPECIALISTS

•All furniture Recoveries &Repairs

•Squabs, Cushions &Fabric Sales

•Antique and Loose Covers

•Cars, Boats, Caravans, Motor Homes

•Custom-made Bed Heads &Ottomans

2321966

FREE QUOTES, PICK UP AND

DELIVERY

32 years experience

03 327-0266

0274 840 159

72 Otaki St, Kaiapoi

recoveries@xtra.co.nz

TURN YOUR DREAM INTO AREALITY

At Misco Joinery we will work with you totake your joinery project from concept to completion

EST. 1988

62 Williams Street,

Kaiapoi 7630

www.misco.co.nz

P: 03 383 4384

E: quotes@misco.co.nz
---
OUR TOWN KAIAPOI

North Canterbury News, November 26, 2020

23

The Widest

Music Variety

Family affair ...

Grandparents

enjoyed amorning

at Kaiapoi North

School recently.

PHOTO: KAIAPOI NORTH SCHOOL

Tune in nowtolisten on

104.9 for North Canterbury

103.7 for Hanmer Springs

andKaikoura

Grandparentsreturn to school

By DAVID HILL

Grandparents travelled from

far and wide to attend a

special morning at Kaiapoi

North School recently.

Principal Jason Miles said

the school held asuccessful

grandparent's day with more

than 250 grandparents

attending the annual event.

They visited classrooms,

and attended aspecial

assembly and morning tea.

''We started holding

grandparents day around 15

years ago and it has become

an important annual event

that the children, staff and

grandparents look forward

to,'' Mr Miles says.

''It is heartwarming to see

grandparents visiting

classrooms and sharing

school stories with our

children of their childhood,

such as warm milk and using

blackboards.

''I even heard one

grandparent talking about

inkwells,'' he said.

The assembly featured

performances from the

school's kapa haka group, as

well as pasifika and items

from learning teams.

The morning finished with

ascone and acuppa kindly

provided by the PTA, Mr

Miles said.

PAINTERS

RegTradesman • Interior,exterior.

North Canterbury Painters

specialising in decorating for

over 65.

Discounts

for Seniors

Free quotes.

Covering North Canty,Oxford,

Kaiapoi, Rangiora, Amberley.

Ph Rob 03327 7899

or 027 432 3520

2289726
---
OUR TOWN KAIAPOI

24 North Canterbury News, November 26, 2020

Kaiapoi'scarnival day to step up anotch

By DAVID HILL

Families visiting this year's Kaiapoi

Christmas Carnival will get the chance to

win aplayhouse worth$3000.

To be in to win,families simplyneed to

scan the promotion'sQRcode, find Santa

on the map in this year's carnival

programme,and count the numberof

reindeer.

The winner mustbepresent at the end

of the Kaiapoi Santa Parade on Saturday,

December 5, when the winner is

announced.

''We will be parking outside schools

aroundthe regiontopromotethe carnival

and the playhouse to encouragefamilies

Catering foryour

Christmas Parties

and special occasions.

See us for Gift Hampers and

treatyour staff and clients

We are happy to provide quotesfor the

bulkpurchaseofliquor requirements.

Proudly 100%locally owned &operated

Phone: 03 375 5180

Kaiapoi@newworld-si.co.nz

2212914

to come along,'' Kaiapoi Promotions

Association(KPA) projectmanager

Martyn Cooksays.

The Lion Foundation KaiapoiCarnival

starts at 9.30am on former red zonedland,

now areserve, between Raven Quay and

Hilton Street, opposite Countdown.

There willagain be afree family fun

zonewith activities for all ages, and a

''chill zone'' (outdoor living room), where

peoplecan relax.

The ''show and shine'' car show will

onceagain be sponsored by Kaiapoi

Alignment&Tyres, where people can

showoff theirvehicles. To enter, donate a

giftunder the Christmas treeatthe

carnival.

Commercial and localvendors, as well

as food stalls, willbeonoffer, along with

buskers throwninfor good measure.

The carnival runs until4.30pm and is

suretobeabig day out as families gearup

for the festive season.

The KPA Street Market willreturnto

Williams Street from 9.30am to 12.30pm

and will feature local community groups

and businessesshowing localsand visitors

alike what they're about.

''Tracy [Inwood] does an amazingjob

tracking down stall­holdersand she's

pulled in some new and interesting stalls

alongside the old favourites,''Martyn says.

''Webudgeted on 60, which we've

already surpassedand they're still coming

in.''

Community groups areadvised to get in

quickly if theywant to have astall.

Oncethe marketisover, the race will be

on to clearthe stallsoff the footpaths as

the crowdsgather for the Santa parade,

which starts at 1.30pm.

Health and safety and security have

beenabig issue for organisers thisyear

because of Covid­19, Martyn says.

''BecauseofCovid, the health and

safety team has goneupalevel and this

Old timer ... Members of the Kaiapoi Volunteer Fire Brigade make their way along

Williams Street in afire truck from the past during last year's Kaiapoi Santa Parade.

year for the first time the Kaiapoi

Volunteer Fire Brigade has beenworking

with us.''

The health and safety teamhas also had

support from the NorthCanterbury

Coastguard and St John,while Traffic R

Us will be lookingafter the traffic

management and October Protection will

be in charge of security.

RECORD FLOAT ENTRIES FOR KAIAPOI PARADE

The McDonald'sKaiapoi Santa Parade is

on track to break all records.

Kaiapoi Promotions Association

project manager Martyn Cook says float

entries have alreadysurpassedthe more

than 60 floatsenteredover the last two

years.''We'regoing to breakthe record

for the third year in arow and that's

thanksinnosmallpart to Christchurch

not having aSanta Parade.We're getting

alot of interest out of Christchurch.''

This year the parade has anew route,

starting at 1.30pmonthe corner of

Charles and Jonesstreets,near Kaiapoi

PHOTO: FILE

''With the Covid situation,wehave to be

abit more careful and since the mosque

shootings everyone organising events has

had to up their game withsecurity,''

Martyn says.

For more information, visit

kaiapoicarnival.co.nz or visitthe Kaiapoi

Promotions Association page on

Facebook.

New World, continuing south along

Williams Street and finishingatHilton

Street.The floats will remainondisplay

at the Kaiapoi Carnival, being heldinthe

reserveoppositeCountdown.

Kaiapoi is the firstout of the blocks,

with itsparade on December 5, followed

by New Brightonthe following Saturday,

Rangiora on Sunday,December 13, and

Oxford on Sunday, December 20.

Float entriesclose on Tuesday,

December 1.

For moreinformation, visit

kaiapoicarnival.co.nz.

PLASTERER

Matt Smith

PAINT FINISH • CORNICE

• GIB COVE

New Homes, Renovations

and Extensions

FREE QUOTES

Ph 027 436 1112

www.mattsmithplastering.co.nz

2324007

Repairs,

Tarpaulins

alterations &

Sidecurtains

manufacturing Awnings •Sunblinds

Marquees &Canopies

REPAIR CALL

Boat Covers •Umbrellas

OUT SERVICE

-FREE QUOTES - Outdoor Furniture recovers

Now is the time to get your awnings made

Paul Berg •57WesleySt, Kaiapoi

Phone (03)338-1112 •0274 381-871

canvasco@xtra.co.nz

2323117

113 Raven Quay, Kaiapoi

Ph: (03) 327 7884

info@kaiapoiclub.co.nz

www.kaiapoiclub.co.nz

FOR ALL YOUR

PANELBEATING

AND SPRAYPAINTING

REQUIREMENTS

INCLUDING CLASSIC

CARS

NOW

OPEN

Dynamic

Co

Coworking

COME AND TRY OUT

OUR HOT DESKS &SHARED OFFICE.

SPECIAL OFFER* > FREE TRIAL DAY PASS

*Hot Desks *Dedicated Offices *Meeting Rooms

*Flexible Membership Plans

*Daily /Weekly /Monthly/Long term

*Collaborative Business Community

CALL ORTEXT

FOR MORE INFO OR TO VIEW!

2336011

13C STONE STREET, KAIAPOI

PH 327 8582

2283778

2/77 Hilton Street, Kaiapoi

Geoff 027 523 9953

info@dynamiccoworking.co.nz

dynamiccoworking.co.nz

*Conditions apply,offer ends 31 December 2020

2314082
---
BLACK

FRIDAY

DEALS

15%

20%

OFF

OFF

ALL

EVERYTHING

ELSE INSTORE

2 DAYS ONLY

27 TH -28 TH NOVEMBER 2020

TOWER JUNCTION

NZ's BiggestTOYWORLD

Clarence St,Riccarton, Ph 03 343 0330

MARSHLAND

199 Marshland Rd,

Ph 03 982 8697

HORNBY

Chalmers St,

Ph 03 2818127

Valid from Friday 27th toSaturday 28th Nov, 2020. Excludes sale of gift cards.
---
PEGASUS, WOODEND &WAIKUKU

26 North Canterbury News, November 26, 2020

HOt dEaLs oN NoW

$

5 40

ea

Mainland

Butter 500g

Wattie's

Sauce Refills

560-575g

3 FOR

$

5 00

Copper

Kettle Chips

140-150g

$

1 00

ea

Fresh Cut

Broccoli or

Hass Avocados

$

1 90

ea

$

4 50

pk

$

8 90

kg

Fresh NZ

Skinless

Chicken

Breast Fillets

$

8 90

ea

Alpine Mild, Colby or Edam

Cheese 1kg

Quilton

Toilet

Tissue 3Ply

12 Pack

$

1 90

ea

The Natural

Confectionery

Co. 200-260g

Elder support ...

Waikuku Beach residents discuss support available for older residents.

PHOTO: SUPPLIED

Focus on help for the elderly

Supporting older adults was thefocusofa

recentcommunity meeting at Waikuku

Beach Hall.

The meeting was organisedby

Waimakariri Age­friendly community

facilitator Madeleine Burdon in response

to concerns aboutthe health and wellbeing

of older residentsinWaikuku Beach.

''There seemedlittle knowledge of what

services were availableand how to get in

touch with them, whetheritbeamedical

allowance, transport to services or

emergency alarms,'' Madeleinesays.

''The response from agencies invited

was very positive and anumber of them

have representation on our localaccess,

age­friendly and health advisory groups.''

Partner agencies which attended the

meeting included staff fromthe Pegasus

Medical Centre,Pegasus Health,

Presbyterian Support, the Ministry of

SocialDevelopment,the police, Grey

Power, Budgeting Services North

Canterbury and Citizens AdviceBureau.

Other organisations such as Age

Concern, SeniorChefand the Waimakariri

librariesstaff sent information about

resources available for older residents.

The meetingwas alsoanopportunity for

❛There seemedlittle

knowledge of what services

were available and how to get

in touch with them.❜

HOLIDAY PARK

FUNENTERTAINMENTFORTHECHILDREN

BabyanimalsPettingZoo,Noddytrainridesandchildren's

programmeovertheChristmasperiod

•Plentyofplaygroundsforthekids •Motels,ensuiteandbudgetcabinsavailable

•Forestwalkingandbikingtracks •Relaxandlistentothesea

—Madeleine Burdon

peopletoput theirhands up to support

vulnerable older adults to be better

informed.

''We realised adaytime meeting might

exclude the people wantingtohelp in the

community, but considered we should

make atime whenthe people

experiencing the difficulties were more

likelyand/or able to attend,'' Madeleine

says.

''It wasalso important to ask what were

the difficulties being experienced bothin

staying well and in being connected in the

community.''

A''brightideas box'' where peoplecould

put in ideas for activities received agood

response, includingsuggestions for a

regular cuppa and apicnic.

ONLY20

MINUTESFROM

CHIRSTCHURCH

14WoodendBeachRd •P033127643•Ewoodendbeachhp@xtra.co.nz•www.woodendbeachholidaypark.co.nz

2332322-26/11-b

$

21 90

kg

Fresh NZ Beef Sirloin Steak

oxford

52 Main Street,Oxford.

Open 7am–9pm, 7days.

$

6 60

ea

Up to

50%

off NIVEA

products *

Nivea Day Cream Jojoba

&Vitamin ECreme 200ml

03 312 4305

FreshChoiceNZ

Savings are based on non-promotional price. Limits may apply.Prices apply from Monday 23rd to Sunday 29th November 2020,

or while stocks last. *Savings based on non-promotional price excludes sun, pre-shave, deodorant and Price Promise.

FCNC_2611

• General Dentistry

• Hygienist

• Dental Therapy

• Periodontal Therapy

• Minor Oral Surgery

• Family Dentistry

2286891

Open Monday to Friday 8.30 to 5.30 |www.pagdental.com

PAGPegasus Dental

54 Pegasus Main St Pegasus

03 920 4003

pagpegasusdental@gmail.com

• Cosmetic Dentistry

• Facial Pain

• Oral Medicine

Specialist

• Oral Cancer Detection

• Ulcer Management

•Ample parking, easy

access

•Clinicians all New

Zealand trained

•Super Gold and

Community Services

Card Discounts

PAGSilverstream Dental

4/42 Silverstream Boulevard Silverstream

03 925 8003

pagsilverstreamdental@gmail.com
---
PEGASUS, WOODEND &WAIKUKU

North Canterbury News, November 26, 2020

27

Workbegins on Woodend School traffic signals

Safety first ... Woodend School pupils

use the temporary crossing, which will be in

place while traffic signals are installed at the

permanent crossing.

PHOTO: SUPPLIED

incredible discoveries

The Mill Waikuku

Making it safer for Woodend School

students to cross State Highway 1isa

step closer.

Work on installing traffic signals

outside the school began this week.

The original crossing point has been

withdrawn and atemporary one put in

place until the traffic signals are operational

ahead of the new school year.

Representatives from the New

Zealand Transport Agency and Fulton

Hogan talked to the children about the

work on Monday.

Waimakariri District Mayor Dan

Gordon and school principal Adrienne

Simpson were also there to celebrate

the start of the work and try out the

temporary crossing.

Speeds through the area will be

reduced to 30kmh during the work.

Motorists are urged to take extra care

and follow the signs.

The work comes after lobbying from

the Woodend community for aroad

bypass, which has yet to be approved.

The agency has meanwhile agreed to

safety improvements for pupils and

other users when crossing SH1.

Mr Gordon said the signals were a

great start in making the Woodend,

Ravenswood and Pegasus communities

safer.

• WOF • Service

• Wheel Alignment

• Tyres

• Automotive Repairs

Mon – Fri 10am – 3pm

Sat & Sun 10am – 4pm

Phone 03 312 7978

2335579

Thirtyartists to exhibit in Waikuku

Eleven North Canterburyartists are

among 30 selected to exhibit 48 artworks

at an exhibition at TheMill in Waikuku

The exhibition of works in arange of

styles,sizes and mediums, including oil

paintings,ceramics, and linocut prints

on teabags, opensonNovember 28.

It has been organised by Arts

Canterbury. Its members were

encouraged to submit artworks,from

which the 48 pieceswere selected by

three independent jurors —Warren

Feeney,Joel Hart and Brent Firkin —

for the exhibition.

Members come from avarietyof

backgrounds and rangefrom

established professionalfulltime artists,

to emerging artistsand hobbyists.

Prizes have been donated by Cameo

Fine Art in Rangiora, The Drawing

Room,GordonHarris,and Id Gallery,

withGreystone Wines and Raewyn

Bishop from TotalRealtyRangiora

donating itemsfor the invitation­only

opening and awardsnight.

The exhibition, whichcloseson

December6,is supported by the

Waimakariri District Council Creative

Communities Scheme, The Woodend­

Sefton Community Board and the

Kaiapoi­TuahiwiCommunityBoard.

Artistic endeavours ... Ceramic artwork

Reaching for the stars,byWoodend artist

Penny Wright, which features in the

exhibition.

PHOTO: SUPPLIED

2327149

56 Main North Road, Woodend

03-312 7703

www.woodendautomotive.co.nz

Clearview Autoglass

Your Autoglass Specialist

021 0243 7322

Windscreen Replacements

Glasweld Stone chip Repairs

Body Glass Replacements

ADAS Calibration

18 years experience

Full mobille service

Covering the greater Christchurch

region

Cvagchch@gmail.com

2269513

ARTS

CANTERBURY

JURIED

EXHIBITION

AT THE MILL,

MAIN NORTH ROAD,

WAIKUKU.

28 NOV –6DEC

10AM –4PM DAILY

artscanterbury.org.nz

@artscanterbury

@artscanterburynz

with

thanks to

We offer an extensive range of quality landscape &garden products

for both home gardeners and trade

• Barks &Mulches • Railway Sleepers • Pea Straw • Macrocarpa Sleepers • Screened Soil

• Aggregates –White Chip, Black Chip, Teddington, Amuri, Springfield and much more.

• Composts &Garden mixes • Pavers • Pungas

• Coloured Stones • Black Mulch • Superglow

Open 7days |Delivery &Courtesy trailers available

48 Chinnerys Rd, Woodend Ph (03) 312 2003

Email: woodend.landscapesupplies@xtra.co.nz

2332869

BloomfieldCourt

Small,familyfriendlyRest Home,

providing personalised care within a

homelysetting.

Single ensuited rooms with garden

outlook nowavailable.

No surcharges applied.

Privatelyowned and operated.

Within the heartofNorth Canterbury.

134 Rangiora-Woodend Road,Woodend

Forfurther information phone Lyn-Nurse Manager 03 312 7088

Email: nmbloomfield17@gmail.com www.eldernet.co.nz/bloomfieldcourt/

2310143
---
NEWS

North Canterbury News, November 26, 2020

29

BE IN TO

WIN A$2,000

QUEENSTOWN

THE

ERRY IS

HOLIDAY *

BACK

Special honour ... North Canterbury Musicals life member Edy Lawrey has been awarded

aMusical Theatre New Zealand Merit Award to honour her outstanding achievement and

contribution to musical theatre.

PHOTO: SHELLEY TOPP

Edy'scontribution to

musical theatre noted

By SHELLEY TOPP

North Canterbury Musicals life member

Edy Lawrey has been awarded the

prestigious Musical Theatre New

Zealand (MTNZ) Merit Award.

The national award was introduced in

1993 to honour outstanding achievement

and contribution to musical theatre.

North Canterbury Musicals secretary

Angela Peverill says Edy is atreasured

member.

''We are very appreciative of the time

she has given and continues to give to

our society.''

Edy began her association with the

North Canterbury Musical Society

(NCMS), as it was known then, with her

husband, Graeme Lawrey, in 1986.

''Graeme was in the NCMS production

of Fiddler on the Roof that year,'' Edy

says. Graeme died four months ago. He

had also been alife member of the

NCMS and aMerit Award recipient.

He was instrumental in establishing

Rangiora's Northbrook Studios

performing arts buildings where North

Canterbury Musicals is based. He

negotiated with the council for the land

to establish Northbrook Studios and

organised the transportation of the

former tech block buildings from

Rangiora High School to the Northbrook

Road site in 1988.

''That is his legacy,'' Edy says.

The couple shared acommon interest

in music and the theatre. They met at the

Oamaru Operatic and Musical Society.

They were married for nearly 50 years

and their four children, including NCMS

committee member and life member

Leanne O'Mahony, all share their

interest in music and the theatre.

Edy's role has been as apianist, either

as arepetiteur or as an orchestra

member (or both).

''I have played piano for 25 shows and

concerts over the years,'' she says.

Edy also served eight years as a

committee member and was the

treasurer for two of those years.

She has also done front­of­house

ushering for many annual productions,

as did Graeme.

Edy has also been the pianist for the

weekly rehearsals of North Canterbury

Musicals' singers group, as well as their

performances, for more than 10 years.

She loves the joy that the music and

harmonies give her and revels in the

camaraderie of the group.

''They are avery friendly, social group

of people,'' she says, which has been a

great help to her since Graeme's death.

Her favourite show is Les Miserables.

''The music is very uplifting,'' she says.

Edy was born in The Netherlands and

came to New Zealand with her family

when she was five.

She inherited her love of music from

her mother, Anneke Buutveld, ''a

proficient pianist'', and her maternal

grandfather, Eduard van Vianen, a

professional violinist.

Emma Blackwell named Dux

Head girl Emma Blackwell has been named

Kaiapoi High School Dux for 2020.

The resultwas announcedatthe school's

recent prizegiving.

It was abig night for Emma,who won the TE

French Prize forDux, the Robertson Cup for

general helpfulness, the SchoolSpirit Award

for the student who best displays atrue positive

attitude and spirit and aOtago University

Leaders of Tomorrow Entrance Scholarship.

Otherprizewinners included:

The Prime Minister's Awardfor Vocational

Excellence ­Alisha Ryan.

Year 11 Excellence Award for all round

excellence ­India Jenkins.

Year 12 Excellence Award for all round

excellence ­Amber Forbes­Kean and Holly

Duff.

The Matt Doocey Awardfor All Round

Excellence in Year 13 ­Katelin Nelson.

Emma Blackwell

Purchase any

twoMainland

products to enter.

Pams

Fresh Strawberries 250g

or HydroponicLettuce

Product of New Zealand

Pams Fresh Cherry

Tomatoes 250g Prepack

ProductofNew Zealand

Bananas Loose

Product of Ecuador

$

2 99 ea

$

3 29 pk

$

2 79 kg

*Promotionn runs 16 November - 29 November 2020.

Products must be purchased in one transaction. Please see in

store for full terms and conditions. www.foursquare.co.nz

Broccoli

Product of New Zealand

Asparagus $

2 99

ea

Pams Fresh Asparagus

250g or Carrots Bunched

Product of NewZealand

Be in

to win!

Avocado

Pre-Ripened Large

Product of New Zealand

$ 1 79

ea

$

2 49 ea

nanas L $

2 79 vocado $

2 49

$50 gift

cardtobewon

in everystore

Avocado

Pre-Ripened

Large

Product of New Zealand

$

2 49

ea

GIFT

CARD$50

www.foursquare.co.nz

Purchase aAvocado Pre-RipenedLarge

andbeintowin a$50 gift card

CARD$50

GIFT

Conditions apply,see

www.foursquare.co.nz for

details.Competition runs

16.11.2020 -29.11.2020

facebook.com/FourSquareNZ

Specialsavailable South Island only from Monday 16th November until Sunday 29th

November 2020 or whilestocks last.Wine andbeeravailable at storeswithanoff

licence.Wineand beerpurchasesrestricted to personsaged 18 years old andover.
---
NEWS

30 North Canterbury News, November 26, 2020

Fun galore ... Maddison, aged 5, makes asplash at the opening of the new AquaPlay area

at the Hanmer Springs Thermal Pools and Spa.

Children make asplash

Teenage mumsand their childrenwere

giventhe honour of opening Hanmer

Springs Thermal Poolsand Spa's new

AquaPlay water playground lastweek.

Students from Kaiapoi's KarangaMai

YoungParents College and Karanga Mai

EarlyLearning Centre unveiled the

newest slide in thecomplex's dedicated

childplay area.The opening marked the

completion of the AquaPlaydevelopment

—anall­ages play area with brightly

coloured waterslides and spouts.

Poolsgeneral manager GraemeAbbot

said it was aspecialmorning hostingthe

groupfrom the teen parent unit,which

offers studyand childcare support to

youngpeople.

''Teen parents are oftenthe unsung

heroes of our society, making the bestofa

situation thatisoftennot of theirchoosing.

''Butthese mumsare doing afantastic

job so we wantedtogive them, and their

children, abit of joy. It has meant alot to

our team,'' he says.

Karanga Mai Young Parents College is

on the groundsofKaiapoiHigh School. It

offers NCEA and some tertiary courses.

The neighbouringKarangaMai Early

Learning Centre is one of the free social

and community services provided by the

CommunityWellbeing NorthCanterbury

Trust, supported by the pools enterprise.

Karanga Mai cares for thechildren of

parents attending the Young Parents

College and children fromthe community.

Community Wellbeing NorthCanterbury

Trust manager DeirdreRyan say inviting

the young parents and theirchildren wasa

fitting celebration of the work the young

parents do in caring for their youngsters.

E20/8247_2

Have youseeneitherofthese pest plants?

Broomsedge

(Whiskey grass)

Andropogon virginicus

• Erectperennial clumping

grass,
---
NEWS

North Canterbury News, November 26, 2020

31

Celebration Night packs out Rangiora

Helping hand ...

ContortionistSkye Broberg,

with her helper, Zara

Hamilton, aged 6, of Rangiora,

during her performance at the

MainPowerChristmas

Celebration Night in

Rangiora'sHighStreet on

Friday evening. PHOTOS:SHELLEY TOPP

Boxedin... SkyeBroberg preparesito extricateherself fromaglass

box, withassistancefromEvie Carey,aged 5, of Lyttelton.

Best buddies ... Caroline Boyce, of Rangiora, with Cooper, her hearing dog for

the deaf, enjoyed their outing.

Street performer ... Living statue, Yuletide Fay, on the Waimakariri District Council Service Centre

lawn in front of the Christmas tree.

Balls in the air ...

Juggler Paul Klaass

keeps the big crowd

entertained.
---
METRO

Look out for

Metro changes

Next week,Metro passengers will see

some timetablechangesand different buses

on some routes.

Newpublic transportcontracts coming

into effectonSunday29Novemberbring

with them ahostofbenefits. Passengers in

thewestern andeastern suburbs willenjoy

increasedfrequency on Route3(previously

thePurpleLine),while newelectricand low

emissionvehicles aregraduallycominginto

service acrossthe networkinthe coming

months.

Buses maylookdifferent

The change in contracts sees many

services change to adifferentoperator. The

consequence forpassengersisthatdifferent

buseswill be used on many routes from

Sunday 29 November.

If youare used to seeing aRed Bus

brandedvehicle on your route, it maynow

be aGoBus brandedvehicle instead,and

vice versa. Your busmight also be in thenew

teal livery as it continues to roll out across

thenetwork.

Checking thedestination screen on the

bus is the bestway to confirm it'syour

service.

Timetables changes from Sunday

EnvironmentCanterburyseniormanager

public transportStewart Gibbon says this

is thesecondofthree stagesoftimetable

changes.

"We've phased thechangestoreduce the

impact on ourcustomers," says Gibbon.

"Themajorityofchangesbeing made this

monthare necessary to implementthe new

operatorcontracts andtoensure compliance

with changestothe Employment Relations

Act."

Gibbon advisespassengerstocheck nowif

their timetableoroperatorischangingon29

November,and plan ahead.

"Our JourneyPlanner tool allowsyou to

forwardplan–you canplanyourtripfor 29

November onwardstosee if thetimetable

changes impact your usualjourney," he says.

Afull listofall changes, includingthe

operator foreach serviceand the timetable

from 29 Novemberonwards,isavailable at

metro.co.nz

NEWS

32 North Canterbury News, November 26, 2020

Reserve to be developed

Architect recognised for house renovation

Rangiora architectural designer Jason

Higham, from Higham Architecture, is

back in the winner's circle.

He has been awarded ahighly

commended in the Designer

Renovation category of the 2020 Trends

International Design Awards (TIDA).

Jason had earlier been shorted­listed

as aNew Zealand finalist for a

Redwood alterations project.

Higham Architecture has won more

Plans afoot ... Amaster plan is being

developing for Millton Memorial Park, which

will see undeveloped areas transformed.

Waimakariri residents will soon have an

opportunity to share their feedback on

the development of Millton Memorial

Park, alongside River Road in Rangiora.

The Rangiora­Ashley Community

Board approved consulting on adraft

plan for the area earlier this month.

Staff outlined the proposed features of

the plan during the board's November

meeting, which includes an arboretum

(an area devoted to specimen plantings

of trees and shrubs), and expansion of

the dog park with an agility area.

Aspace has also been identified for

the North Canterbury Model Railway

Club to construct anew building to

house the club's displays.

Apublic toilet is included in the plans,

and is budgeted within the council's

Long Term Plan for 2024/25.

Board chairman Jim Gerard says the

board is looking forward to sharing the

draft plan with the community and

encourages residents to tell the board

what they think, and provide ideas and

feedback to help form the final master

plan for the reserve.

During adeputation to the board in

June, Rangiora resident Trevor Wright

expressed his vision for an arboretum.

Staff are now looking into tree species

that will thrive in the stony, freedraining

soils of the area.

The board has used funds from its

General Landscaping Budget to help

seed the reserve development and get it

off the ground quicker.

''The board is very supportive of the

reserve development that will also

enhance the entrance into Rangiora for

those crossing the Ashley Bridge,'' Mr

Gerard says.

Feedback on the proposed plan will

open later this month, and more

information will be available on the

council website.

than 30 architectural awards during its

20 years in business, including ahighly

commended for anew home in the 2019

TIDA awards.

The business was also overall winner

for the Designer Renovation category

in the 2017 TIDA awards. The award

was for Jason's own Rangiora family

home renovations.

Higham Architecture is based in

Conway Lane.

Metro

network

changes

From Sunday 29 November,

look out for:

–New timetables forsomeroutes

–Adifferentoperatororbus colour

on someroutes

Visitmetro.co.nz

formoreinformation.

ADVERTISEMENT

How Marvel Health screening can

reveal the causes of chronic tiredness

The Whole-body health screening and

monitoring performed atMarvel Health

can reveal the underlying causes of

chronic tiredness.

Several health problems are associated

with tiredness.

Chronic inflammation of the gut is

awell-known cause of chronic fatigue

syndrome. Microbes such as Candida,

as well as food allergies and food

additive sensitivities, are some of the

causes of chronic inflammation of the

gut which impacts food digestion and

nutrient absorption leading tonutrient

deficiencies.

Some nutrients such asIron, Vitamin

B12, Chromium and Selenium are crucial

for generating energy inthe body.

Iron and Vitamin B12 are needed to

produce haemoglobin, the red pigment

in blood that carries oxygen to tissues.

Oxygen is also essential for generating

energy, and areduced oxygen supply to

the tissues can cause chronic tiredness.

Diseases that impact breathing, such as

asthma and chronic allergies, can cause

chronic tiredness.

Hormonal imbalances such as

reduced thyroid function and adrenal

insufficiencies are recognised causes of

tiredness and chronic fatigue syndrome.

The Marvel Health Scan examines all

the organs and tissues in the body and

uses advanced

algorithms to

determine the likely

diseases that may

be present.

It screens the body for some of

the underlying causes ofchronic

inflammation and chronic tiredness,

including harmful microbes (bacteria,

fungi, worms), food allergies and nutrient

deficiencies. Itcan determine the rate of

inflammation and degeneration ofthe

thyroid and adrenal glands and other

organs, toreveal their state ofhealth and

level ofactivity.

The scan performs adetailed

examination of the whole body and

generates acomprehensive and in-depth

report of aperson'sstate of health.

Our doctors and specialists study the

report from the scan and guide you in

ways to support the healing ofthe body.

Book AScanToday 03-669-5410

www.marvel.health

Unit 13/6 Cone Street, Rangiora, Canterbury, 7400

293 Durham Street, Awly Building, Christchurch, 8013

Theinspections from the scan is not asubstitute for medical inspections. Itisnot assigned to state the final diagnosis
---
Christmas

High Tea

Join us foraChristmas High Tea

What ayearit'sbeen. Andnow Christmasisfast

approaching.HereatSummerset, we'rebusygetting

readyfor afestive season that everyone will no doubt be

lookingforward to.

To helpkickthingsoff, we'replanning twoChristmas

High Teas andyou'reinvited.

Just popalong to Summerset at Avonheador

SummersetonCavendishany time between 10am

and2pm,oneither Friday 27 November or Friday 4

December, andenjoy arange of delicious Christmas

treats andwarmdrinksonus.

Whilst you're here,why notalsoget ataste of the

Summersetlifethatour residents love so much.

Ourteamwould love to showyou around ourstunning

villages andshowhomes.

Christmas

High Tea

Friday27November

Friday4December

10am -2pm

SummersetatAvonhead

120HawthorndenRoad, Avonhead

Call Anneon033573202

SummersetonCavendish

147Cavendish Road,Casebrook

Call Deborahon03741 3340

Formoreinformation,callAnneatAvonheadon

03 3573202, or DeborahatCasebrookon03741 3340.

We'relooking forwardtoseeingyou!

SUM2634_FP
---
EXPRESS

You're smart, hard working and reliable and you know that how you turn up each day says a lot

about you. Whatever your business, Express yourself with the all new Mitsubishi Express Van.

The new Express is packed with features, including: fold-down work station, rear view camera,

bulkhead, Bluetooth connectivity, auto rain sensing wipers and dusk sensing headlamps.

Access to the 5.2m3 cargo space is made easy with dual sliding side doors, as well as easy

loading rear barn doors.

Call 03 941 3175, visit rangioramitsubishi.co.nz or come in and Express yourself from just

1.6L Manual 2.0L Auto

$34,990 +GST

+ORC *

$38,990 +GST

+ORC *

*Prices shown exclude GST and on road costs of $800 which includes registration, WoF, 1,000km road user charges and a full tank of fuel. Metallic Silver, Metallic

Black and Red Solid paint colours are available for an additional $500. Model shown in White Solid paint. Visit www.mmnz.co.nz for full Express Warranty conditions.

Optional Accessories Shown.

rangiora MITSUBISHI

321 High Street, Rangiora | Ph: 03 941 3175 | rangioramitsubishi.co.nz

DRIVE A NEW

NISSAN FROM

$99PER WEEK*

48 MONTH | 10% DEPOSIT | 60,000KM | NFV

RESIDUAL PAYMENTS VARY BETWEEN MODELS

QASHQAI

NISSAN 150,000 KM'S

FACTORY

WARRANTY

5YR

WITH NISSAN

FUTURE

VALUE

requirements and agreed km allowance and less remediation costs) which will be applied to your nal balloon payment. Terms and conditions apply. Excludes all lease and some eet purchasers. Ooer available

on eligible vehicles ordered and delivered by 31 December 2020 or while stock lasts. Nissan reserves the right to vary, extend or withdraw this ooer. Not available in conjunction with any other ooer.

RANGIORA NISSAN, 321 High Street, Rangiora

Ph: 03 941 3175

www.rangioranissan.co.nz

rangioranissan.co.nz
---
Sister act ... The Walton sisters Sophia, left, aged 11, and

Annabelle, 8, both from Clarkville School, enjoy ice blocks after

competing with their pet lambs Lulu and Whitey at the recent

Canterbury A&P Association's children's agricultural day at

Canterbury Agricultural Park.

PHOTOS: DAVID HILL

Children and pets

get chance to shine

By DAVID HILL

Canterbury children lined

up for their annual show

experience last week after

an uncertain year.

The cancellationofthe

New Zealand Agricultural

Show because of Covid­19

did not stoplocal children

getting their annual taste of

showing, with the

Canterbury A&P

Association's children's

agricultural day going

ahead recently.

While therewere many

pet lambs, afew chooks and

apig on show, the pet calves

were notablyabsent

because of arecent reemergence

of Mycoplasma

bovis.

Senior lambs judge

JonathanCarden­Holdstock

said he was impressed by

the stockskills of the

children.

Several childrenhad

even researched the origins

of their sheep breeds,he

said.

''Thekids' knowledge is

good,their communication

skills are very good, and

theirstock skills were very

Bringing home the bacon ...

Broomfield School pupil Gus

McLachlan, aged 13, was

thrilled to have his pet pig

Pigasso at the Canterbury A&P

Association's children's

agricultural day.

good. Generally, we are very

impressedwith the

standard of entries.''

While most of the

prizewinners came from

south of the Waimakariri

River,Broomfield School's

Gus McLachlan, aged13,

won champion pig with his

pet, Pigasso.

Chris stays as co-president

Chris Herbert plans to show

cattle with his sons for a

change at next year's New

Zealand Agricultural Show.

The North Canterbury

farmer has stayed on as

Canterbury A&P Association

co­president to support the

association through a

challenging 2020 after

presiding over last year's

show and serving nearly 20

years on the cattle

committee.

This year's show was

cancelled because of Covid­

19.

Mr Herbert has agreed to

stay as co­president to

support incoming president

Chris Harris.

Over the last few years, Mr

Herbert's sons Louie, aged

17, and Charlie, 15, have

taken charge of the family's

blonde d'Aquitaine stud

cattle at showtime while dad

was busy with show duties.

"I'm looking forward to

just helping the boys with

our cattle because the whole

time the boys have been

showing, I've been on the

cattle committee and I

haven't been able to do it.

"But Idon't think you ever

really step aside; you just

move to one side. It's a

lifetime commitment," he

said, emphasising he would

continue to be involved in

some capacity.

The Herberts have taken a

year off showing while they

complete an embryo

programme through the

herd, which is based at

Omihi, north of Waipara.

But the blonde

d'Aquitaine cattle from the

family farm will be back at

the show next year, he said.

PARTS

GENUINE

&

SERVICE

WELCOME TO

FIXED-PRICE

GENUINE

AG SERVICING

RURAL LIFE

North Canterbury News, November 26, 2020

Includes Labour,Parts and FREE travel * .

35

Pair through to regional farming final

By DAVID HILL

NorthCanterbury will

have two representatives

in the 2021FMG Young

Farmer of the Year

Tasman regional final.

AmuriYoung Farmers'

Club member Dean

Gardinerqualified along

with LincolnUniversity

student Jeremy Kilgour,

of Oxford, at therecent

Tasman north district

contest at Clarkville, near

Kaiapoi.

Dean and Jeremy

previously qualified for

the 2020 regional final,

Dean Gardiner

which was cancelled

because of Covid­19.

Dean grew up on a

sheep and beef farm near

Waipara and now works

as ashepherd on a

1400­hectare sheep and

Jeremy Kilgour

beef farm at Culverden.

He has adouble

diploma in agriculture

and farm management

from LincolnUniversity.

Jeremyisoriginally

from Oxford and is

Centralised Servicing has been

developed independently from our

local branches to provide fixed price

servicing value for our Ag customers.

Centrally managed and carried out by our

trained servicemen, fixed price oil and filter

changes significantly reduce the cost of

machine servicing.

Following John Deere's service schedule,

our D&E Centralised Servicing team offer

you the best of both worlds – genuine

John Deere parts and service at fixed

pricing.

Don't risk it by using inferior parts or

lubricants, make your booking with our

servicemen today and ensure your machines

are running at peak performance, for years

to come.

E: servicing@dne.co.nz, Ph: 0800 363 737

or book online at www.dne.co.nz/service/fixed-price

studying for an agricultural

degree, having

previously studied

business at Cayuga

Community Collegein

upstate New York.

Outsidehis studies,he

jugglesagricultural

contracting and working

on his parents' pig farm.

TheTasman north

district contest was won

by LincolnUniversity

Young Farmers' Club

member Jack Taggart,

with Jeremy second and

Dean third. The Tasman

regional final is

scheduled forMarch 27.

*Terms and conditions apply,see our website for further details.
---
RURAL LIFE

36 North Canterbury News, November 26, 2020

2309605

HOMEKILL

&Wild Game

Meat Processing

313 0022

MEAT2U.NZ

HIGH COUNTRY FENCING

HILL COUNTRY SPECIALIST -

Dozer and Digger

RURAL

STOCK YARDS

EARTHWORKS

KAIKOURA RESIDENTS

–NEED ASURVEYOR?

Surveying |Engineering |Planning |Subdivisions

Topographical Surveys |Resource Management

Land Development |Civil Engineering |Project

Management |Building &Construction Setout

Mark O'Connor is available

for free, no obligation

consultations at the PGG

Wrightson Kaikoura office

Wednesday fortnightly.

Appointments required.

PHONE MARK 021 558 100

0800 802 4546 |Email: mark@bonisch.nz

ALL FARM FENCING

HIGH COUNTRY

LIFESTYLE BLOCKS

EARTHWORKS

call Scott Heasley 0275 350 302

heasleyfencing@xtra.co.nz

YOUR LOCAL CONTRACTOR

WE STAND

BY OUR

WORK

GEOFF ROGERS

021 640 748

www.highcountryfencing.co.nz

2209036

2111416

1930772

Ram sale to also benefit causes

By DAVID HILL

The Stevenson family of

Cheviotwill be looking for

champions at their annual onfarm

ram sale on Thursday,

December3.

The Gums Partnership will

donate the proceeds fromtwo

rams to charities which are

important to the family,

including The Champion

Centre in Christchurch and the

Canterbury A&P Association.

Funding for both havebeen

affected by Covid­19.

"These organisationshave

been such abig part of our lives

and we want to see them

continuewell into the future,"

Joanne Stevenson says.

Whilethe family has beena

long­time exhibitor at the

Canterbury A&P Show, Joanne

and Mark Stevenson'sson Ted,

aged 5, who has Down

Syndrome, has been attending

the ChampionCentreweekly

sincehewas anewborn.

"It'sbeen an interesting

year,for sure, but we'relucky

as finewool growers, that our

wool incomehas been

maintained as acentral part of

our business and profitability,''

Mark says.

''Through the New Zealand

Merino Company,our

relationships with retail

brands like Smartwooland

Icebreaker give us the security

to plan long­term and provide

cleardirectionfor our

breedingprogramme."

The Champion Centre

provides multi­disciplinary

Built to your budget!

-All types of fencing including:

-deer,sheep and cattle yards

-Retaining walls –Timber gates

-Full range of specialised equipment for farm fencing and

lifestyle blocks, offers you the complete land package.

Ashley: 0274 364 776 ah: 314 8541

e: A.Duckworth@xtra.co.nz

www.duckworthfencing.co.nz

Post &Rail Fencing -Looks great &

makes life easy for the Rural Lifestyler!

Young champion ... Mark Stevenson and his son Ted, aged 5, are gearing up for The Gums'on­farm

ram sale next week.

PHOTO: JOANNESTEVENSON

early intervention services in

Canterburytoinfants and

young childrenwith significant

disabilities and their families.

"TheChampion Centre has

beeninstrumental in helping

us support Ted in his

development and empowering

him with the skills and

knowledge to be his best,''

Joanne says.

''They have been ahuge

support,not only for Ted,but

for our wholefamily.''

Proceeds from the sale of a

quarterbred ram, lot No. 7, will

1972001

go to the Champion Centre,

while aDorset Downram, lot

No. 206, willbedonatedtothe

Canterbury A&P Association.

''It is critical that we

maintain opportunities for

urban peopletointeract with

the rural sector and to raise

their awareness of the livestock

and wider agricultural

sector,''Mark says.''Wesee the

show being an integral part of

this into thefuture."

The salewill be held at The

Gums property nearCheviot,

with those unabletoattend

abletoview the sale and bid

via the Bidronlineplatform.

Quarterbred,halfbred,Poll

Merino, DorsetDown and

South Dorsetrams will go

under the hammer.

Marksays the ramshave

gonethrough arigorous

selectionprocess, withfeet and

footrot resistance amajorpart

of the selectioncriteria.

For thosenot after aram,

donations can be made to The

Champion Centreat

championcentre.org.nz/

ways­to­help.html.

Award nominations open

Nominations are open for the 2021

Fonterra Dairy Woman of the Year

Award.

The winner will follow in the

footsteps of Ash­Leigh Campbell, who is

the technical farm manager for Ngai

Tahu's eight dairy farms, plus support

farms, at Eyrewell, near Oxford.

The 29­year­old said it was "a

complete shock" to be named the

youngest winner of the award this year.

Dairy women are encouraged to

nominate their role models in the

industry before February for the 10th

anniversary of the award.

Finalists will be put before ajudging

panel comprising Dairy Women's

Network trustee Sophie Stanley, 2019

Dairy Woman of the Year Trish Rankin

and representatives from Fonterra,

Global Women and Ballance Agri­

Nutrients.

Dairy Women's Network chief

executive Jules Benton hopes that the

award will open up to young women

who haven't had the on­farm experience

of previous recipients, but can

show commitment to the industry

through other avenues.

''One of our core values as an

organisation is about seizing

opportunities, and this year's recipient,

Ash­Leigh Campbell, demonstrates this

in both her work and her attitude.

''We hope that her success will

encourage other young women in the

industry to nominate their peers, and

remember that there is no age limit.''

Nominations can be made at dwn.co.

nz/fonterra­dairy­woman­of­the­year.
---
65 Main NorthRd, Woodend

PH: 03 3127927|www.canterburyhonda.co.nz

READY WORK

__

FOR

•ENGINE: 420CC OHV ENGINE

•TRANSMISSION: ELECTRIC SHIFT MANUAL

•DRIVE MODES: 2WD/ 4WD

•FRONT SUSPENSION: DOUBLE WISHBONE

•REAR SUSPENSION: SOLID AXLE SWINGARM

•GROUND CLEARANCE: 181MM

• FUEL CAPACITY: 14.7 LITRES

(INC 4.9L RESERVE)

•RACK CAPACITY: 30KG FRONT

60KG REAR

•TOWING: 385KG

$10,995

ONLY

RANCHER TRX420FE1

Price excludesGST and is forTRX420FE1. Available whilestocks

lastatparticipatingHondaat dealers.

EX GST

WORK

ON FARM.

DOMINATE

ON TRAIL.

The CRF250F is abikethat can do it all –hard work on the farm, and

play hard on the trail. The CRF250F's fuel-injected, 4-valve head engine

is designed with awide power-band, giving you asuper responsiveand

smooth bottom end, combined with plenty of top end power.The tough

twin-spar frame is lightweight, yet builtHonda tough to handle the dings

of off-road and farm riding. An electric starter makes getting underway

asnap,large wave style disc brakes gives plenty of stopping power and

the styling is right off our championship-winning CRF motocrossers.

Not too big, not too small, if there's one bike that can do it all it's

the CRF250F!

WE SELL HONDA

POWER EQUIPMENT

Price excludesGST andisfor CRF250F.Available while stockslast at participating Honda dealers.
---
SPORT

38 North Canterbury News, November 26, 2020

Weedons battle to win over Southbrook

Teams ravaged by their stars being away

on representative duty meant others had

to perform in the latest round of country

cricket at the weekend.

Weedons got back on track with ahardfought

win over Southbrook, while there

were also victories for Cheviot, Sefton

and Darfield in the CRV Ambreed

Country Premier One Day 2020/21

competition on Saturday.

Arriving at ablustery Southbrook

Park, Weedons won the toss and decided

to bowl on atricky wicket.

The home side struggled to gain much

momentum throughout its first innings,

getting contributions from batsmen

throughout the order, but no­one kicked

on for abig score.

They were bowled out in the 44th over

for 138, with Sam Clarke returning the

fine figures of 4/20 off his maximum nine

overs.

At the change of innings, Southbrook

felt about 20 runs short and, after asolid

start by Weedons openers Todd Inness

(41 runs off 52 balls) and Jayden

McIntyre (17 off 75), appeared in

desperate trouble.

But when Weedons lost four wickets in

aquick cluster, Southbrook sniffed an

outside chance of victory. The side kept

chipping away and got anervous

Weedons six down before afew lusty

blows from Arnav Deb sealed the fourwicket

win for the visitors.

Dillon's five­wicketbag

At Lincoln Domain, the visiting

Cheviot Magpies racked up 214/8 in its

allotted 45 overs.

Jack Hyde (46 off 67) and Ryan Ellis (55

off 87) set the strong foundations before

Scott Burnett whacked 42 off 27 balls to

round off the innings.

But it was 15­year­old schoolboy

Ronan Dillon, making his senior debut,

who stole the day by taking afive­wicket

bag.

Lincoln's run chase was built around a

century opening partnership between

Hugh Paterson (80 off 108) and Cameron

Powell (31 off 61).

With the run rate climbing, keeperbatsman

Liam Robinson made alate

charge but it ultimately wasn't enough,

and Cheviot secured avaluable 14­run

win.

Seftongrinds out win

Sefton ground out atough 13­run win

over North Canterbury rivals Oxford­

Rangiora at Pearson Park on the back of

quality batting by club stalwarts Tim

Harrison and Nigel Granger.

Batting in the unaccustomed position

of No. 4, Harrison anchored the Sefton

Seals' innings of 207/7, making an unbeaten

85, and combining with Granger

in a125­run sixth wicket partnership.

Chasing 208 to win, Oxford­Rangiora

fell 13 runs short, despite 67 from allrounder

Lachie Stove. The Sefton

bowlers combined well to dry up the

runs and eke out the victory.

Darfield victorious

Adepleted Leeston­Southbridge,

ravaged by players away on

representative duties, was thumped by a

ruthless Darfield.

Inserted at Leeston Park, Liam

Foulkes destroyed the makeshift

Leeston­Southbridge batting order,

claiming the remarkable figures of 6/14

off nine overs.

Chasing just 104 to win, Darfield

completed the rout, knocking off the

total inside 16 overs.

Ohoka had the bye.

Short scorecards:

Southbrook 138 (S Bing 27, MBoyles

25, AProuse 20; SClarke 4/20, J

Richards 2/23, ADeb 2/25) lost to

Weedons 142/6 (T Inness 41, JRichards

23; AProuse 2/27, JGreen 2/31).

Cheviot 214/8 (R Ellis 55, JHyde 46, S

Burnett 42; RDillon 5/38, EPaterson

2/20) beat Lincoln 200/6 (H Paterson 80,

CPowell 31, LRobinson 30, APaterson

28; WInch 2/18, SBurnett 2/24).

Sefton 207/7 (T Harrison 85no, N

Granger 59; SFleming 2/26, LStove

2/30) beat Oxford­Rangiora 194/7 (L

Stove 67, LWaghorn 33, DFulton 22, C

Scott 21; MLaffey 2/39).

Leeston­Southbridge 103 (R Parker

20 rtd hurt; LFoulkes 6/14) lost to

Darfield 107/3 (B Innes 31no, NJenkins

30; LThomson 3/36).

School teams take to river track for Rakahuri Bike Blast

Pedal power was the name of the

game for about 260 young North

Cantabrians on Monday as they

competed in the Rakahuri Bike

Blast, aSefton School fundraiser.

Atotal of 130 teams of two, from

Years 5/6 and 7/8, took to the

Rakahuri/Ashley River track to

compete in their age groups.

School pupils from throughout

the region, including from the

Hanmer Springs, Amuri Area,

Oxford Area, Clarkville,

Swannanoa, and Southbrook

schools, joined with Sefton on

their mountain bikes and had a

blast.

The teams had to ride laps of

the course over three hours,

with atag system after each lap

to ensure the workload was

shared.

Prizegiving ... The Rakahuri Bike Blastattracted morethan 260 young riders.

Change over ... Southbrook's Grace McNamara has atransponder fitted to her ankle to time her ride

during the Rakahuri Bike Blast after her team­mate Caitlin Schluter, centre, returned from her lap.

Fellow competitor Josh Marsh is in the background.

PHOTOS: KERRYN CLARK

Sponsored by...

Rangiora's own 6-hour teams

endurance mountainbike race.

Assemble your team of 2-4 riders to complete

as many laps as you can in 6 hours.

The course offers a challenge for riders of all skill levels

and the race is open to all riders 12 years & older.

www.rakahuri-rage.nz

Sunday a 7 th Marcha c 2021 2 21

Need help

fundraising?

Want to

promote

your club

or team?

Talk to us about

howwecan help

youreach your

goals faster!

For more

information email

info@ncnews.co.nz
---
North CanterburyNews

PROPERTY

Ref# TPNC9536

Secret Sanctuary in Waikuku Beach

77 Kings Avenue,Waikuku Beach

5 1 2 2 1624

Nestled beside the Ashley Reserve, is this charming four bedroom home and sleepout that isreadyfor anew family. Offering many

features such as the generous open plan, living kitchen and dining, large decking, with access from the living and bedrooms. Acovered

in deck joining the accommodation and living wings together. Large private outdoor area sheltered from the easterlywith lots of lovely

outdoor spaces to relax. Aworkshop, outbuildings, double carport and off street parking completes the picture. Viewing is amust to

fully appreciate this lovely setting and home.

Enquiries over $695,000 | Open Home: Sunday 1:00 -1:30 pm

Don't ask for fairness,

North Canterbury.

Expect it.

Richard &Michelle

R 027 536 4260 & M 027 307 4530

richard.michelle@tallpoppy.co.nz

2327141
---
North Canterbury

Woolston 5/6 Lane Street

Move in before Christmas!

Gardeners, smallfamilies, retirees and petowners alike,willlove this secluded, great value 2-bedroom rear unit and all it has to

offer. With its recentlyrefreshed interior, and easy-careappeal it is sure to be awinner.Boasting alovely, sunbathed garden

setting, and good-sized living area,itmakesfor afabulous first home option, those wishingtodownsizeand regain their

weekendsorthose lookingfor asolid investment option.Situated at the end of the driveway and hiddenaway from thehustle

and bustle of the road,you canbeforgiven forforgetting about the world around you.Enjoybarefooted summerdays on the

lawn,surrounded by alush garden while soaking up the aromas of fragrantJasmine. Just add Mojitos! Deadlinesale ends 10

December2020 at 2pm unless sold prior.

2 1 1 1

Deadline Sale closes Thursday 10th December, 2020 at 2.00pm,

(unless sold prior)

View Thu 26 Nov6.00-6.45pm

Sun 29 Nov 1.00 -1.45pm

Web pb.co.nz/RU79161

Dayan Muntz

M 021 432 926

E dayan.muntz@pb.co.nz

Rangiora 8Andrew Street

Hanmer Springs 14 Caverhill Close

Central Location -One Bedroom Wonder!

When location is so important,you will not find better. Nestledinthe

heart of Rangiora is this arealgem. Take ashort stroll and you willbe

in the town center. The 98sm homeisset on 678m2andhas one

spacious bedroom with built in storage, alovely largeliving room

opensout to the compact well planted garden. The living dining room

is openplan and leadstoagreatkitchen. Thehome is very wellheated

and is double glazed. Thecarport is ideal to store acaravan or trailer

plus asingle garage. This is amust viewwith the vendors inviting

offersover $355,000. No prior offers.

1 2

Deadline Sale closes Tuesday 15th

December, 2020 at 4.00pm

View Sun 29 Nov 3.00 -4.00pm

Web pb.co.nz/RU79267

Bev Wright

M 027 434 2486

Brilliant Hanmer holiday bach

Sunny, modern, and verywell presented this 3generous sized

bedroom cottage is just perfect forfamily holidays. Small and easy

care, yet plenty of livingspaceand lots of deckingtorelax on,onthose

hotHanmer summerdays. Asimple design with nice bathroom having

large bath and shower, plus separate toilet by the backentry door.

Laundry, open plan living withlog fire and heat pump, lovely views

from all windows and well fencedfor kids and pets. Standalonesingle

lock up garage. Located on popular Caverhill Close.

3 1

For Sale Buyers $460,000+

View By appointment

Web pb.co.nz/HSU79473

Janice Clyma

M 027 434 7090

Property Brokers Ltd Licensed REAA 2008 |pb.co.nz

Proudtobehere
---
North Canterbury

Scargill 227 Overtons Road

Horses deer or cattle

Located in the picturesqueScargillValley in NorthCanterbury, this attractive smalldeer fencedfarm,would be suitedfor any

class of stock.WithBarrhill ModeratelyDeepLoamsoil and good pasture, it has been used primarilyfor sheep andcattlein

recent times, but hasagoodset of deer yards.Afull array of buildings, include awoolshed,threebay shed, two-bay shed,four

looseboxes and the deershed.There arewellmaintained deer fencedlaneways,anarenaand there is astorage lakefor

limitedirrigation.The lovelyfour-bedroom villa enjoys asunny andsheltered position amongestablishedgrounds. Located

within acommutable distance of Christchurch City and 38km to Amberley township,where youcanaccess the supermarket,

post office, shops, cafes, takeaways and restaurants.Schoolingand localamenities areeasilyaccessible at nearby Greta

Valley. Boating andfishing opportunities can be found withinafew minutes at Motunauorthe Hurunui river.

4 1

Deadline Sale closes Wednesday 16th December, 2020 at

4.00pm, (unless sold prior)

View By appointment

Web pb.co.nz/RR79729

Hamish Anderson

M 027 678 8888

E hamisha@pb.co.nz

Maurice Newell

M 027 240 1718

E mauricen@pb.co.nz

Toot for

Tucker

Food Bank Appeal

Tuesday 1 st December 2020

Kaiapoi |Rangiora |Oxford |Amberley |Pegasus |Woodend

Be creativewith your

giving, perhaps some

Christmas treats or

small gifts forchildren.

So start gathering your donations now-Theywill be

gratefully received by the Salvation Army, Wellbeing

North Canterbury and OxfordCommunity Pantry.

Please supply your ownbags forcollection this year.

With thanks to our supporters.

Proudly sponsored by PropertyBrokers

Property Brokers Ltd Licensed REAA 2008 |pb.co.nz

Proudtobehere
---
Four Seasons Realty

Zealanders

New by

¥Voted

¥Voted

2018-2020

2018-2020

★

★

¥2018-2020

Real Estate Sales

AUCTION

AUCTION

WANTED

I'vehad abusy time sellinghomes and

nowI'm almost sold out! Ihave cash

buyers waiting fornew listings.

LET ME HELP GET YOUSOLD!

Properties in

North Canterbury

Buyerswaiting!

Call for your free no obligation market appr

aisal.

KAREN

WARD

021 221 7027

03313 6158

karen.ward@harcourts.co.nz

harcourtsfourseasons.co.nz

Four Seasons Realty 2017 Ltd|Licensed Agent REAA 2008

harcourtsfourseasons.co.nz

Your home forlocal property.
---
Dean delivers road safety message

Asafe road journey begins with

good communication.

Hurunui road safety coordinator

Dean Eades is

dedicating time to interacting

with those who use the roads in

the district.

Dean, who has recently taken

up the role, is working with the

police, New Zealand Transport

Agency, the Road Transport

Association, ACC, neighbouring

councils, and community

groups.

''It's about working together to

continually create safer roading

environments throughout our

district,'' he says.

Acommunity­led road safety

project, 1600K: Getting There

Together, is one of the focuses of

Dean's work.

Part of this project is the

interactive map that the council

uses as atool to stay familiar

with community experiences on

the networks.

Snap Send Solve is another

interactive connection between

the council and the community

which Dean is reminding people

about.

Residents can either

download the Snap Send Solve

app on to their smartphone or

use the web page in their

browser to capture and report

issues with roads or roading

infrastructure.

''If you see aproblem, you

snap it and then send it off to

council. We solve it, and get

back to you with an update. He

urges people to use it as much as

possible to report potholes,

wilding pines, road damage,

Safety first ... Dean Eades is the new road safety co­ordinator in the Hurunui district.

damaged bridge ends, or

anything else.

''We love to hear about them,

so we can fix them and make our

roads as safe as possible.''

Dean says the key to safer

roads is communication and it

works both ways —the council

and its agencies providing

messages, improvements and

support, and the community

providing feedback and local

knowledge.

''I'm looking forward to the

opportunity to see that what we

do as council, in co­operation

with our agencies, to ultimately

create areally positive outcome

on both our State Highways and

our regional roads, where

everyone can share it safely and

happily.''

Dean has afew tips for

ensuring asafe and happy

upcoming summer holiday

season:

Give yourself plenty of time

for unexpected delays;

NEWS

North Canterbury News, November 26, 2020

PHOTO: SUPPLIED

Remember that the roads will

be busy, so allow extra time;

Stick to the speed limit, and

remember simple road rules

such as safe cornering,

indicating, and using your

headlights;

For those who will be towing,

make sure the trailer or caravan

is hooked up properly and any

load is safe. Stick to the speed

limit, and pull over where

possible;

Take breaks on long journeys.

43

Projects

near end

The North Canterbury

Transport Infrastructure

Recovery (NCTIR) allianceis

preparing to wind up its work

in Kaikoura.

Several community events

are planned before NCTIR

officially hands over to the

Kaikoura District Council on

December 15 after

completing its earthquake

recoverywork.

Ablessing will be hostedby

Te Runanga oKaikoura and

NCTIR on the Kaikoura

Peninsula from 5am on

Saturday, December 5, to

officially open aseries of

coastal cultural artworks.

The final artworks are

being installed and will

feature prominentlyatthe

formal safe stopping areas

between Okiwi Bay and Oaro.

An officialopeningwill be

held at 10am at Nga Niho Pa

on Scarborough Terrace

After the official opening,

bus tours will be offered to

share the stories behindthe

designs. The buses will

depart from Nga Niho Pa at

11am, travellingboth north

and south to afew selectsites.

Acommunity farewell will

be held on December 13 from

1pm to 4pm at the Kaikoura

Racecourse. This will be a

chance for the community to

farewellthe NCTIR crew

which has been abig part of

Kaikouralife. There will be

amusements and food stalls.

NEW LISTING

Boundary lines are indicative only

Boundary lines are indicativeonly

Rangiora 229AKing Street

Oxford 820 WoodstockRoad

Game, set and match

Hatherleigh Farm

3 2 1 2

The first ball was served on the courtsatthe Rangiora

Tennis club more than 90 years ago. Nowafter careful

considerationthe Rangiora Tennis Club is on the

move. This leaves behind years of history and

memoriesfor its pastand present members but also

an incrediblyattractive development opportunity.

Situated at 229A King Street with additionalaccess

from Church Street, the approximately 5,651sqm of

land is very well positioned with acouncil reserve on

its northern boundary giving it great northerly aspect.

Zoned Residential1.

bayleys.co.nz/5513175

Auction (unlesssoldprior)

3.30pm, Thu 10 Dec2020

On Site, 118 Church Street, Rangiora

View by appointment

Brook Yates 027807 8093

brook.yates@bayleys.co.nz

Dean Pugh 027 3356303

dean.pugh@bayleys.co.nz

WHALANAND PARTNERS LTD, BAYLEYS, LICENSEDREAA2008

Hiddenamongst established trees in abeautiful

setting just afew minutes from the Oxford township is

this 22 hectare larger lifestyleblock offering plenty of

opportunity to any potentialbuyer. This property has

been well set up with ample sheds, shelter and agreat

home.Modestbyall accounts the home offers

everything you needwith an open plan kitchenand

diningand separateliving room. Three double

bedrooms and bathroom with separated toilet and

lots of storage throughout complete the picture.

Outside afivebay shed, atwo double bay shed and a

studio offer plenty of storage.

bayleys.co.nz/5513733

Deadline Sale (unless sold prior)

1pm, Thu 3Dec 2020

251-253 High Street, Rangiora

Phone for viewingtimes

Brook Yates 027807 8093

brook.yates@bayleys.co.nz

DeanPugh 027 335 6303

dean.pugh@bayleys.co.nz

WHALAN AND PARTNERSLTD, BAYLEYS, LICENSED REAA2008
---
What's happening in your

community…

Safety First for Community

The Woodend-Seon Community Board

recommended extending the Rangiora Woodend

Path along School Road to the State Highway at

their last meeting.

This plan uses the existing road to accommodate

the path and moves the traffic lanes slightly east.

It provides the opportunity for plantings, separated

with on-street parking bays, and kerbing that

acts as abuffer between people on the path and

vehicles.

Shona Powell, Board Chair says,

"This is another step in connecting paths to make

it safer for pedestrians and cyclists to move

between our communities. This will work well with

the new signalised pedestrian crossing outside the

school is in place, early next year."

Makeover for Millton Memorial Park

At the recent Rangiora Ashley Community Board

meeting it was agreed to ask the public to share

their feedback on the development of Millton

Memorial Park.

Adra plan was presented, which includes an

arboretum (an area devoted to specimen plantings

of trees and shrubs), and expansion ofthe dog

park with an agility area.

Aspace has also been identified for the North

Canterbury Model Railway Club to construct anew

building to house their displays. Apublic toilet

is included in plans, and is budgeted within the

Council's Long Term Plan for year 2024/25.

"We're looking forward to sharing the dra Plan

with the community and encourage residents to

tell us what they think and give ustheir ideas and

feedback to help form the final master plan for the

reserve." says Board Chair Jim Gerard.

New Greenspace Projects for Kaiapoi-

Tuahiwi

The Kaiapoi-Tuahiwi Community Board approved

arange of new Greenspace projects at their

November meeting, including $25,000 to develop

Tuahiwi Reserve.

The funding will allow the community to undertake

adecent size project within the reserve, and the

Council will now talk with locals, Tuahiwi School

and Ngāi Tūāhuriri about what they'd like to see

happen.

"This will be acommunity driven project" said

Deputy Board Chair Jackie Watson. "Its success will

depend on ideas coming from local residents."

Ideas already proposed include Pa Harakeke

(an area of flax for weaving) and additional

landscaping around the children's play area at the

front of the reserve.

Getting Ready for Summer

As the weather starts towarm up hopefully, you

might be thinking about visiting your favourite

swimming spots across the District.

It's good to know that our favourite rivers,

streams and beaches are regularly monitored

by Environment Canterbury. They have agreat

website that is updated regularly through summer

letting you know where is good to swim and which

areas to avoid.

As well as water quality information this site also

lets you know about changing conditions and any

health warnings the Medical Officer of Health

issues over summer. You can check out where it is

safe toswim by visiting lawa.org.nz

Oxford, your pool

opens soon!

Oxford Community Aquatic Centre opens

Saturday 28 November, enjoy asplash in

our fabulous outdoor pool this summer.

Weekly swimming &aquarobics classes also available.

waimakariri.govt.nz/aquatics

Final Week of Preschool

Sessions for 2020

It's nearly the endofthe year,socomeand joinusfor a

Babytimes:

Rangiora: Monday7

December,10.30am

Kaiapoi: Friday11

December,11am

Toddlertimes

Oxford: Tuesday8

December,10.30am

Kaiapoi: Wednesday9

December,10.30am

Storytimes

Rangiora: Tuesday

8December,10am &

Thursday10December,

10am

Oxford:

Friday

11 December,

10am

libraries.waimakariri.govt.nz

PUBLIC SCIENCE TALK SERIES

OXFORD

Tuesday 1December 2020, 7pm

Oxford Town Hall

We can't predict earthquakes,but we can

prepare for them. Hear from leading natural

hazard scientist, Professor Tom Wilson of

University of Canterbury about the likely impacts

of an Alpine Fault earthquake inour region and

how wecan be better prepared for such an event.

All welcome | Hosted by Emergency Management Canterbury

www.af8.org.nz

@Alpinefault8

C H A L L E N G E 2 0 2 0/21

Four age categories from

preschool to adult.

Pre-register online now –

waimakariri.beanstack.org

Challenge runs from 1 December

to 20 January. Win greatprizes.

COMING SOON!
---
NEWS AND CLASSIFIEDS

North Canterbury News, November 26, 2020

45

Upcoming Council

meetings

The following meetings will

be held in December 2020. All

meetings will be held in the

Function Room,(upstairs)Rangiora

Town Hall, 303 High Street,

Rangiora, unless otherwise stated.

• Council

Tuesday1December at 1pm.

• Oxford-Ohoka Community Board

Wednesday 2December at7pmatthe

OhokaHall, Mill Road,Ohoka.

(The PublicForum sectionofthe agenda

will occur from7pmto7.20pm.)

• Waimakariri Zone Committee

Monday 7December at 3.30pm at the

Ruataniwha KaiapoiCivic Centre, 176

Williams Street,Kaiapoi.

• Woodend-Seon Community Board

Monday 7December at 6pm atthe

Pegasus CommunityCentre, Main Street,

Pegasus.

• MahiTahiJoint Development Committee

Tuesday8December at11.15am

• Rangiora-Ashley Community Board

Wednesday 9December at7pm.

• Land and Water Committee

Thursday 10 December at9:30am.

• Kaiapoi-Tuahiwi Community Board

Monday 14 December at5pmatthe

Ruataniwha KaiapoiCivic Centre,176

Williams Street,Kaiapoi.

• District Planning and Regulation

Committee

Tuesday15December at 1pm.

• Community and Recreation Committee

Tuesday15December at 4pm.

• Utilities and Roading Committee

Friday 18 December at 9am.

• Council

Monday 21 December at 2pm.

Meetings will recommence in late January,

with the Council Long Term Plan Budget

Considerations at 9am onTuesday 26

January 2021.

All meetings are open tothe public.

Agendas are available two working days

prior to meeting.

Agendas and minutes for the meeting

can be found onthe Council's website:

waimakariri.govt.nz

Native beauty ... Sally and Grant Stewart's garden, which is only five years old.

Native garden apopular drawcard

By SHELLEY TOPP

Anative garden thoughtbyits owners to be tooyoung

for apublic show provedahit withmany visitors

during the sold­out Gardens of Fernside and Family

Market Day 2020 tour lastSunday.

The seventh garden in Fernside School's biennial

fundraiserisonly fiveyearsold and not yet fully

established. But it was included in the tour as an

elegant example of what canbeachieved in ashort

time.

It is owned by landscape contracting business

owners Sally and Grant Stewart.

''We thought it was too soon to show the garden,''

Sallysaid.

However, they werepersuaded to open the garden

to the public for the tour and were pleasedwith the

response received.

The spacious garden is an eclectic mix, with alarge

planted bankofnative trees andshrubs creating a

forest of shelter.

Hedging, pergolas, walkways and ahuge lawnadd

interest, with alargeentertainmentarea nestled

around the house.

It is also agardenofstatues, small and large,dotted

here and there, and prolific birdlife,including a

resident bellbird, which leftfor the day. ''No doubt it

will be back when everyone is gone,'' Sally said.

To Let

FERNSIDE

Large workshop -240 sq metres.

2roller doors, 3phase power,Office.

Easyaccess off sealed road.

Plentyofparking,turning space.

10mins to Rangiora. Viewingby appointment.

2336730

Educational

TUITION available. Primary

and secondary up to

NCEA level 3. In centre

(Rangiora) or interactive

online from your home.

Each student onanindividually

tailored programme.

Kip McGrath Rangiora has

been serving the local community

for 30 +years. Give

us acall (03 313 3638) or

book your free assessment

online https://www.

kipmcgrath.co.nz/rangiora.

A+ GARDEN hedges cut

to perfection. Tree &arbor

work. Also spraying. Free

quotes. Ph 03 312 0668 or

021 111 4322.

Gardening

Entertainment

RANGIORA Country

Music Club night to be held

on the 2nd of December.

This is our Xmas night.

Held at RSA Victoria St,

Rangiora. Startsat7pm. All

welcome. Enquiries phone

027 928 1730.

HORSE manure. Delivered

by Rangiora Lions,

Rangiora area, $5 a bag.

Please phone 313 2819 or

021 312 230.

PhoneHelen 03 313 7718

Email helenb@outlook.co.nz

Cars Wanted

CASH 4CARS

and 4WD'S

Phone

Automotive

Parts

03 313 7216

CARS, vans, 4WD's

wanted for dismantling or

repair. Phone 027 258

8366.

CASH/CASH

for anyunwanted

vehicles,phone

3479354 or

027 476 2404

WANTED to buy Ford,

Holden, Chrysler, or

Chev's, classic cars. Any

condition. Please phone

Tony 027 313 5000.

Labour of love ... Sally and Grant Stewart on their

property during last weekend's Gardens of Fernside

event.

PHOTOS: SHELLEY TOPP

When the coupleboughtthe property it was justa

new houseinapaddock. They areboth former

farmers and love the outdoors, so wantedtocreate an

indoor­outdoor flowwhen establishing the garden. It

is theirlabour­of­love weekend hobby—relaxation

away from theirbusy StewartContractingbusiness.

City'snorthern corridor to open

Vehicles will be able to travel on Christchurch's new

$290 millionmotorway fromMonday, November30.

The New Zealand Transport Agencyisset to

partiallyopen the 10km stretch of the Christchurch

Northern Corridor to helpbed in the chip sealsurface

before opening all fourlanesofthe motorway and the

adjoining shared pathinmid­December.

From Monday, November 30, to Friday,December

11, one traffic lane in eachdirectionwill be open.

Northboundtraffic can choose the corridor as an

option between 7am and 4pm, while southbound

traffic can use it between 10amand 6pm.

Atemporary50kmh speed limit will be in place

because of loosegravel.

Dependingonthe roadcondition,this may be

increased to 70kmh.The lanes will shift during the

day so all four lanesare used.

On Saturday, December12, from 2pm to 6pm,the

agency is planning an openday, wherepeople can

walk or cyclethe motorway.

Afterwards, the motorway will be closed to allowthe

finishingtouchestobeaddedaheadofits full opening

on Thursday, December 17.

The corridor extends the Northern Motorway

through to QEII Driveand Cranford Street and is

designed to make travel times in and out of

Christchurchshorter.

It has been built at acost of $290 million.

Wanted To Buy

BUYING estate type old

china, crystal, collectables,

vases. Ph 027 350 3963, or

313 1878.

PRE 1990's vehicles suitable

for resurrection and

restoration, not wrecking.

Anything considered, dead

reg ok. Ph 021 227 6878.

STANDING HAY wanted,

Sefton & surrounding

areas. Phone 027 269 9352

or 312 9018.

VINYL RECORDS

wanted by collector/seller.

7&12 inch LP'S, happyto

appraise. Also old guitars

or amps -working, broken.

Retro toys, 60's, 70's, 80's

&hot wheels &matchbox

as well. Please call Paul

022 694 5445.

$$$

Amalgamated Scrap Metal

Ltd. Specialists in farm

machineryand farm clean

ups, old vehicles etc.

100% locally owned.

Ph 0800 030 712 or

027 695 0480.

2312759

For Sale

7X200L steel drums. Ideal

to be converted into incinerators

$10 per drum.

Phone 027 440 1230.

GAZEBO 2.4m new $15,

folding camp bed &mattress

$15, Bissel furniture

shampoo machine $15,

camp chairs $5 each, Previa

car seats single & bench

$20 each, new Wilson golf

clubs 12 pieces &bag &

trundler, $300, 18" & 22

inch tv's working, $15

each, wooden hi chair, $10.

Phone 021 250 5816 Kaiapoi.

NEVER SCRUB YOUR

GLASS AGAIN Easy Clean

Glass Coatings Showers,

Glass Balustrades, Windows,

Water Stain Removal,

Up to 10 yr Warranty, Free

Quotes Phone 0800 EZClean

www.easycleanglass.co.nz

WATER TANK, 25,000L,

with pump and air flow for

cooling included. Buyer to

arrange pickup Christchurch

area; $2,400. —For details

ph. Merv, 027-288-4187.
---
CLASSIFIEDS

46 North Canterbury News, November 26, 2020

Situations Vacant

Public Notices

Customer Service –Casual

•Diverse position in adynamic and varying

environment

•Weneed abright, organised individual with a

positive "can-do" attitude

You will be working in various fast-paced, and

challenging environments including the Amberley library

where attention to detail is essential and flexibility is key.

This is an important role needing someone with great

people skills, who is resilient, efficient, enthusiastic and

quick to pick up and retain information.

Whilst experience in administration or front of house

service is advantageous, it is not essential -what's

important is acan-do attitude, strong work ethic and

willingness to learn!

Our ideal applicants will have:

•Strong computer skills -including Microsoft

Office Suite

•Excellent communication skills, both written and

verbal

•The ability to multitask and work to deadlines

with attention to detail and accuracy

•Adesire to exceed expectations and become a

valuable partofacommitted team

•Reliability,responsibility andthe ability to convey

aprofessional corporate appearance at all times

If you're looking for avaried, rewarding position that will

see you kept on your toes... you've come to the right

place!

Applicants for this position should live locally, have NZ

residency or avalid NZ work visa and be non-smokers.

For more information about the position description

contact: Naomi Woodham,

naomi.woodham@hurunui.govt.nz,

phone 029 770 9151.

To apply for this job go to: http://hdcjobs.co.nz/Vacancies

&enter ref code: 5284214.

Applications close 06 December 2020.

2335596

The North Canterbury News is the best-read and largestcirculating culating

communitynewspaper in North Canterbury. We are ownedbyAllied Press, a

New Zealandowned and operated companyproducingquality newspapers,

magazines and on-line media.

We arelooking for anew teammember to join us whoisanexcellent

communicator to helpgrow our business and sales,and ideally willhavea

goodunderstanding of the ruralsector.Part of your role willbetoprovide

sales and administration support.

Thisisafull timeposition basedinNorth Canterbury.

In order to be successful in this role,itisessential that you have:

• Sales hunting skills and atruehungertosucceed.

• The ability to listen to client needs andprovideeffective solutions.

• Afaultless workethic and be deadline driven.

• Computer literateand be confidentlearning new programmes and systems.

Youmust also be apeople personwho is:

• Passionate, positiveand proactive.

• Flexible andable to work across multiple mediaplatforms if required.

• Creativeand deliver fresh ideasfor our customers.

• Enjoy beingpart of asmall, dedicated team.

Youwillbejoining acompany that is passionate about publishing and looks

after its people.

Basesalarypackage plus incentive is on offerfor therightcandidate.

Apply in confidencewith yourCVand cover letter to:

Dayna Burton

dayna.burton@ncnews.co.nz

Applications close

5pm,Friday27November.

Thursday,August2,2018 | Issue 808 | www.ncnews.co.nz

2326806

Sales

Consultant /

Administration

Support

HANDYMAN / Builder,

part time / full time. All

rounder needed for building

&maintenance around holiday

park, Rangiora area.

Truck license an advantage.

Please telephone Rob at

Darwin Earthworks Ltd

0274 340 315 or after hours

03 313 2276.

Livestock

HOMEKILL

&Wild Game

Meat Processing

313 0022

2309602MEAT2U.NZ

QUEENSTOWN LAKEVIEW HOLIDAY PARK

GENERALMANAGER

TheBusiness

QueenstownLakeviewHolidayParkisawell-established4-star holiday park

in the centre of Queenstown. It offers44accommodation units,aswell as

poweredandnon-poweredtent, caravanandcampervansites.Queenstown

Lakeview Holiday Park is one of4holiday parks within CCR ltd inthe

QueenstownLakesDistrictarea.

TheRole

Asthegeneralmanager,yourmainresponsibilitiesare:

- Ensuringthebestpossibleholidayexperienceforyourguests;

- Financial Management(includingsetting/adhering to budgets and

payroll);

- Maintainingasafeandcomfortableenvironmentforstaffandvisitors;

- Ensuring compliance with all regulatory, legal and commercial

requirements;

- Facilitatingchangeinadynamicenvironment;

- Marketingwithinaverycompetitivebusinessenvironment.

SkillsandExperience

- Relevantqualificationsand/orexperienceinasimilarposition;

- Abilitytoworkautonomously,useinitiativeandmeetdeadlines;

- Abilitytobalanceaquality guestexperience with businessand yield

objectives;

- Excellentcommunicationskills;

- Greatteamworker;

- Capabilityofconcurrentproblemsolvingandadaptabilitytochanging

workenvironmentsandworkloads;

- TeamLeaderwhocanprovideguidancetoothers;

- Familiaritywithaccounting,payrollandreservationsystems;

What's onoffer

- Your own team to work with but also the backup of ahighly

experiencedboardand anumber of like-minded managerswithin

thecompany;

- Your chance to be part ofguiding the park through arebuild of

offeringsandthroughthepostCovidmarketplace;

- 2-bedroomon-siteaccommodation;

- Remunerationtoreflecttheexperienceandskillset.

Howtoapply

If this sounds like you, you can email your detailed application to

ccrheadoffice@gmail.com.Applicationsclose7thDecember2020at1pm.

Stock Feed

Hay making

Conventional or

round bales

Full job or partjob

2330135

Ph 0274 782 925

or 313 7938

Public Notices

2335041-S

HOMESITTERS REQUIRED

Ad# 36214

Wanted: Homesitters required

Christmas/New Year

Need achange of scenery

over the silly season?

We are looking for mature,

responsible, pet loving

people to homesit some

beautiful homes and pets.

Sits vary from 1-3 weeks in

Christchurch and surrounds.

Singles/couples only please.

Search postanote.co.nz

for more details.

Garage Sales

RANGIORA 42 Ashley

Street, Saturday 28th

November, 8am, household

items.

Ashley Rugby

Football Club

AGM

Loburn Domain

Tuesday 8 th

December

7.30pm

Any enquiries

phone

Dave Gambold

03 312 8986

All welcome

Kaiapoi Christadelphians

"The Key of Knowledge .."(Luke 11:52)

TYNDALE -ABIBLE

FOR THEPEOPLE:A

REMARKABLE TRUTH

The Bible is readily accessible throughout

the world, but is it's message appreciated?

It is ablessing that it is freely available,

and amessage of hope in aworld seeking

for answers to life's problems. A very

interesting talk on matters relevant to us

today.

DVD presentation -Sunday 29 th November,7.00pm

Kaiapoi Community Centre

Sewell Street

for information -phone03352 5453

Website -bibletruthandprophecy

2336795

TOOT NCROON

Present

aMusical Farewell

to 2020

Rangiora RSA

12 TH DECEMBER,7.45pm

$10 door sales

2333517

AMBERLEY NETBALL

CLUB AGM Will be held at

7pm on Thursday 26th of

November at the Community

Courts clubrooms in

Amberley. We have anumber

of roles available within

the committee and we would

like to welcome new members

to the committee.

Please follow us on facebook

or

email

amberleynetball@gmail.

com for more information.

2336290

PUBLIC NOTICE OF

APPLICATION FOR

ON-LICENCE

SECTION 101, SALE

AND SUPPLY OF

ALCOHOL ACT 2012

Avinash Enterprises Ltd

has made application

to the District Licensing

Committee at Rangiora

for the renewal of an On

Licence in respect of the

premises situated at 2/75

Victoria Street, Rangiora

known as La Tandoor

Restaurant &Takeaways.

The general nature of the

business conducted (or to

be conducted) under the

licence is Restaurant.

The days on which and

the hours during which

alcohol is (or is intended

to be) sold under the

licence are Monday to

Sunday 11am to Midnight.

The application may be

inspected during ordinary

office hours at the office

of the Waimakariri District

Licensing Committee

at 215 High Street,

Rangiora.

Any person who is entitled

to object and who wishes

to object to the issue of

the licence may, not later

than15working days after

the date of the publication

of this notice, file anotice

in writing of the objection

with the Secretary of

the Waimakariri District

Licensing Committee

at Private Bag 1005,

Rangiora.

No objection to the

renewal of alicence may

be made in relation to a

matter other than amatter

specified in section 131

of the sale and supply of

Alcohol Act 2012.

This is the first publication

of this notice.

2335051v1

Pets

BICHON HOMESTAY

for smaller dogs. We look

after your dog in our home.

"No kennels". Phone today

03 314 6110.

Public Notice of Adoption of the Property

Maintenance Bylaw 2020

The Council adopted its Property Maintenance Bylaw

2020 on 3 November 2020 under the provisions of

Section 145 of the Local Government Act 2002.

The bylaw comes into effect on 2December 2020.

Copies of the bylaw are available on the Council website

waimakariri.govt.nz

The bylaw encourages owners of undeveloped residential

zone sections to maintain grass and other vegetation

at alength and in acondition that does not result in a

reduction of amenity on the neighbouring area.

2332185

ABEL &Prestige Chimney

Cleaning. Nth Cant owned

& operated. Covering all

areas from Waimak to Hanmer.

Professional, guaranteed,

service. Firebox

repairs, carry most parts. Ph

0800 661 244.

AFFORDABLE concrete

cutting with quality and

removal work. Free quotes.

No job too small. Ph 027

442 2219, Fax 03 359 6052

or A/H 03 359 4605.

ALL TREE SERVICES,

chopping, pruning, firewood

cut. Affordable &

friendly service. Telephone

021 111 4322.

ARBORIST qualified.

Copper Beech Tree

Services. Tree removal,

pruning, height reduction,

hedge trimming, shaping,

tree planting, firewood.

Free quote. Contact Angus

Edwards 027 259 6741

copperbeechtreeservices@gmail.com.

BRIAN'S Tree Services.

Tree felling, topping,

shaping, firewood cut, rubbish

removed, stump grinding,

branch chipping.

Affordable rates. Phone 03

327 5505 or 021 124 4894.

BRICK &blocklaying. All

types of work undertaken,

repairs. Phone Hamish

0272 386 003 or 313 5678.

BUILDERS Father &son

team. Amac Builders are

available to help you with

your building needs. High

standards, low overheads.

No job too small. Check us

on fb. Amac Builders Ltd.

Ph 027 318 4400.

Trade &Services

CHIMNEY SWEEP...

Time to service your fire.

From $80 + gst single

storey. 0800 SWEEP ME

or 021 0277 1927.

DIRTY TILES &Grout?

Professional tile cleaning,

tiled shower restorations

mouldy silcone, shower

glass & we can even

recolour your old grout!

For all your tile and grout

issues call Grout Pro for a

free, no obligation quote.

Ph Darryl 0800 882 772.

GARDENER available -

Dip Hort, 39 years experience

in hort /15years self

employed gardener. Garden

enhancements, planting

plans, pruning and general

garden care. Please phone

027 319 9019 Serrah.

METAL WORX. Flashing,

Sheetmetal Fabrication,

Wrought Iron,

Welding, Custom Trailers,

General Metalwork. No job

too big or too small. Ph 021

265 5428 or 03 314 6908.

Find us on facebook/

Glenmark Metal Worx.

glenmarkmetalworx.ltd@gmail.com.

PAINT & wallpaper

services. Wayne Bryant,

exterior, interior. Qualified

tradesman. Free quotes. Ph

313 5337 or 027 654 4568.

PAINTER & Decorator.

25 + years experience.

Interior /exterior, roofs &

waterblasting. For a free

quote, please ph Steve 03

314 4620 or 027 477 1930.

PAINTER, qualified, local

professional. Int / Ext,

roofs, wallpaper. Call or

text Corban 027 846 5035.
---
PLASTIC WELDING

North Canterbury Specialist.

All plastic &fibreglass

repairs. Telephone James

021 180 5103.

POWER TOOLS repairs,

parts &sales for over 40

years. All main brands serviced.

Grossman Trade

Tools, 23 Watts Road,

Christchurch. Ph 389 9230.

RANGIORA Rubbish

Removal and RRR skips.

Wheelie bins any frequency

and skips from 1.5 cube to

9cube. Skips and wheelie

bins for any use, rubbish,

greenwaste, building sites

or just cleanups. Give us a

phone call 313 6957 or for

skips 021 313 255.

SHEEP SHEARING,

drenching, feet trimming.

For Lifestyle blocks. Call

Stu 027 315 6916.

WINDOW TINTING

tintawindow

advanced film solutions

99% uv block

fade protection

heat control

reduce glare

25 Years Experience

privacy films

frosting designs

non-darkening films

Workmanship Guaranteed

Lifetime Warranties on Most Films

UV

block

Free Quotes Canterbury and Districts

03 365 3653 0800 368 468

Trade &Services

LIFESTYLEBLOCK MOBILESHEARING

NO JOB TOO BIG OR TOO SMALL

•Shearing •Crutching •Tailing

•Drenching •Foot Trimming

•Single &Double Crutching Trailers

•shearing contracting •mobile shearing trailer •mobile crutching trailer

SCREEN PRINTING.

For all your printing

requirements. T-shirts,

Hoodies, Hi-Vis vests and

polos, Overalls, Caps etc.

Please phone Heather 03

313 0261 or email heather.

norstar@gmail.com.

A professional, friendly service

Call Shaun Adams for afree quote

021 204 1274 or03960 3112

adamsshearing.com

SHEARER. Hap's Farm &

Lifestyle Services. Shearing,

crutching, drenching,

tailing, feet trimming &

health check. Trailer, generator

&mobile handpiece

available. Experienced,

reliable and honest. Ph 03

4233713 or 021 267 4025.

STONEMASON, Brick

and Blocklayer. Earthquake

repairs, grind out and

repoint, River/Oamaru

stone, Schist, Volcanic

rock, paving, all alterations

- new and old. Quality

workmanship. Visit www.

featureworks.co.nz or ph

027 601 3145.

SUMMERFIELD

FENCING

IN YOUR AREA NOW.

Lifestyle or farm, sheep, cattle,

horse, all types of animals.

Fences, yards, sheds, arenas,

shelters, runs.

30+ years contract fencing.

Steve is available to help with

your design &planning.

Ph office03312 4747

2091848

CLASSIFIEDS

North Canterbury News, November 26, 2020

ANTHONY SYMONDS

Forall your painting &

plastering requirements

Local with 30 years

experience

All workmanship

Guaranteed.

Phone 021 344 023

2220615

SEPTIC TANK

CLEANING

Bill's Liquid

Waste

You dump it...

Blair pumps it...

Blair Tavendale

Ph 03 314 9371

0275 379-694

2225862

47

Pride &Quality Painting

&Decorating Services

20 yrs exp, fast and friendly

service. For all your painting

needs, phone: Martin 310

6187 or 021 128 9867

REMOVALISTS

Movemen Ltd

2Men &agood sized

truck. From $157 per hour

(incl gst). Kaiapoi based.

Call Gerard

027 668 3636

2316549

VALUATION -

Specialising in North Canterbury.

Contact Geoff at

Maxwell Valuation. Phone

03 310 8541 or email

geoff@maxval.co.nz.

Trusted Trades &

Professional Services

Guide

To book your spaceinthis guide,phoneAmanda Keys 313 2840 or email amanda.keys@ncnews.co.nz

Appliance Repairs

Builder

Butchery

Chiropractic Services

•REGISTERED TECHNICIAN

•AUTHORISEDLOCAL SERVICE

F&P, Bosch, Smeg,

ASKO,Ariston, LG,Classique,

Haier, Samsung and more....

"For best resultsbesuretouseauthorised service"

NORTHCANTERBURY APPLIANCE SERVICES

Rangiora: 03 313 4420 Kaiapoi: 03 327 3810

1913020

OxfordButchery

Shane and Leanne Frahm

We cankill&process yourstock

FourGenerations of Frahms

since 1957

Ph 312 4205

Oxford

1680439

Number one

old-fashioned bacon

&ham curing.

A/H 312 4709

Dr Carissa McGregor Chiropractor

Injury, accidents and maintenance

ACC Registered and Accredited

Monday-Thursday | 03 313 0350

Libi McKinnon Physiotherapy

privatephysio@xtra.co.nz

027 868 2574

ACC Registered Provider | Tuesday&Friday

Select Health

51 Ashley Street, Rangiora

2227883

YOU

COULD

BE

HERE

Construction &Concrete

All Construction & Concrete Work

•Driveways, patios &paths

•Bridges and Culverts

•Floors, foundations

•Sheds and buildings

•Dairy Sheds, Herd homes

•Silage pits, effluent ponds

•Excavation and cartage

•Precast concrete

•Insulated panels

Daryl Power

027 230 9401

concretepower@scorch.co.nz

www.concretepower.co.nz

2273277

Denture Clinic

AFFORDABLE DENTURE

CLINIC

(Formerly Riccarton Denture Clinic)

1843944

New Dentures

Relines

Repairs

BRYCE JWARD NZCDT

Kaiapoi

Ph (03)327-0077

Gold Card

Discount

KAIAPOI VILLAGEARCADE,

123 WILLIAMS STREET

2089195v2-4/4-S

Advertise

your business

in our Trades

and Services

Phone

Amanda Keys

on

03 313 2840

2269236

Engineering

For your Engineering needs

187d Ohoka Road, Kaiapoi

Phone 03 327 5246 |027 495 2821

toppeng@xtra.co.nz

Scaffolding

•Edge protection

•Working platform

Phone

0274 366 901

Plans for pricing

jas.rangiorascaffolding@xtra.co.nz

North Canterbury wide

1783878

Electrician

AARON HARRIS

ELECTRICAL LTD

NEW HOUSES • ALTERATIONS

ELECTRICAL INSPECTIONS • SMART WIRING

SYSTEMS AND MORE...

M: 0275 543 958 E: aaron@ahel.co.nz

Scrap Metal

CASH PAID FOR SCRAP

•Car Bodies •Scrap Steel•Specialists in Farm

Machinery•All non Ferrous

MAINLAND

METALS LTD

Ph (03)338 7000

Mike0274 818544 •Robbie0274818 027

Locally owned and operated

1902273

2020478

CAP 65

CAP 40

CAP 20

Shingle

SHINGLE SUPPLIES

Quarry Prices

DRAINAGE CHIP

from $40 per cube

from $23 per cube

from $25 per cube

from $30 per cube

all +gst

Plus all excavation and truck hire

house excavations, driveways, subdivisions

CONTRACTING

Ph: KEN 027 201 3302

Email: stress@xtra.co.nz

2009594

To book your spaceinthis guide,phone Amanda Keys 313 2840 or email amanda.keys@ncnews.co.nz
---
RangioraToyota

WANTED

Quality used late

modelToyotas.

Contactustoday

if you'relooking

to sell!

Ex-Demo 2019

Corolla SX Sedan

•1.8L Hybrid Petrol,

•Satnav,TSS, Only 150km

2012Corolla GX Wagon

•1.5LPetrol, 5-speed Manual

•Bluetooth

•Done 103,250km

WAS$33,995

NOW $ 31,995

$

9,995

2013Toyota Aqua

•1.5LHybrid PetrolAuto

•ParkingSensors NOW

•Bluetooth

2017 Corolla GX Hatch

•1.8L PetrolAuto

•Bluetooth, ReverseCamera

•Done 46,900km

Signature

CLASS

S

WAS$15,995

$

17,995

2013Toyota Prius S

•1.8L Hybrid Petrol Auto

WAS$17,995

$ •Keyless

NOW

14,995 $

12,995

•5-door Hatch

2017 Corolla GLXHatch

•1.8L PetrolAuto, Alloys

•RadarCruise, Lane Assist

•Done 29,100kms

$

19,995

2015Toyota Yaris SX

•1.5LPetrolAuto, Alloys

•ReverseCamera

•Only 24,550km

$

15,995

2008 DaihatsuSirion

•1.3LPetrol5-Speed Manual

•Aircon, AM/FM &Radio

•Done 128,890km

$

5,995

2006 Toyota Vitz

•1.3LPetrolAuto

•NZRadio, 5-Door

•Done94,750km

$

8,995

2010 Toyota Prius Silver

•1.8L Hybrid Petrol Auto

•Keyless,Bluetooth

•Done 180,650km

$

8,995

2012Toyota Yaris YR

•1.3LPetrolAuto, NZ-new

•Bluetooth/USB Connect

•Done106,400km

$

9,995

2017 CamryAtara SL

•2.5LHybrid Petrol, Alloys

•Leather,ReverseCamera

•Only 21,200kms

$

31,995

2020 Toyota Yaris GX

•1.5LPetrolAuto, Alloys

•5-star Safety,New Model

•Only 1,100km

$

24,995

2005 Aurion Sportivo SX6

•3.5LV6Auto, Alloys

•Spoiler,Sports Seats

•91,300kms

$

10,995

2018 Suzuki Swift GL

•1.2LPetrol5-SpeedManual

•NZNew,Bluetooth

•Cruise Control

$

15,995

2018 Corolla GX

•2.0L PetrolAuto

•Satnav,Bluetooth

•Alloys, only 49,000kms

$

21,995

2018 Rav4 GXL

•2.0L PetrolAuto2WD

•Alloys, Satnav,Rev.Camera

•Only 60,550km

$

27,995

2014 Rav4 GXL

•2.0 PetrolAuto2WD

•ReverseCamera, ClimateAir

•Done115,000km

$

19,995

2019 Rav4 GXL

•2.5LPetrolAutoAWD

•New Shape,SafetySense

•Only 20,100km

$

37,995

2018 Toyota C-HR AWD

•1.2LTurboPetrolAuto

•Toyota Safety Sense,Satnav

•Only 29,700km

$

31,995

2017 Rav4 Limited

•2.5LPetrolAutoAWD

•Leather,Sunroof

•Only 26,400km

$

34,995

2018 LandCruiser PradoGX

•2.8L Turbo Diesel, Satnav

•ReverseCamera

•Only 55,300km

$

52,995

2016 MitsubishiTriton GLXR

•2.4LTurboDiesel Auto, 2WD

•ReverseCamera, Towbar

•Done53,700km

$

29,995

2017 HighlanderGX

•3.5 Petrol Auto AWD, 7-seater

•Bluetooth

•Only 26,100km

$

37,995

2019 HiluxSR5 4WD

•2.8L Turbo Diesel Auto

•Satnav,ReverseCamera

•Done36,350km

$

47,995

2018 HiluxSR5Cruiser is 4WD

•2.8L Turbo Diesel Auto

•Leather,Sports Lid

•Done37,200km

$

51,995

2007 Toyota Hilux-SurfSSRX

•4.0L PetrolAuto

•4WD,Satnav

•Done 135,400kms

2019 FortunerGXL

•2.8L Turbo Diesel Auto4WD

•Satnav,ReverseCamera

•Only 23,600

2018 LandCruiserPrado VX

2017 LandCruiserPrado VX

•2.8L Turbo Diesel

2017 LandCruiserPrado VX

•2.8L Turbo Diesel

•Satnav,Leather

•Done 57,100km $

58,995

•2.8LTurbo Diesel,Leather

$ •Leather,7-seater

19,995

$ •SafetySense,Satnav

48,995

$

61,995 •Done68,100km $

•Done71,550km

57,995

Percival Street,Rangiora • Ph (03) 313-8186any time • www.rangiora.toyota.co.nz

Signature

CLASS

2325662-26/11-b

FINANCE &INSURANCE AVAILABLE