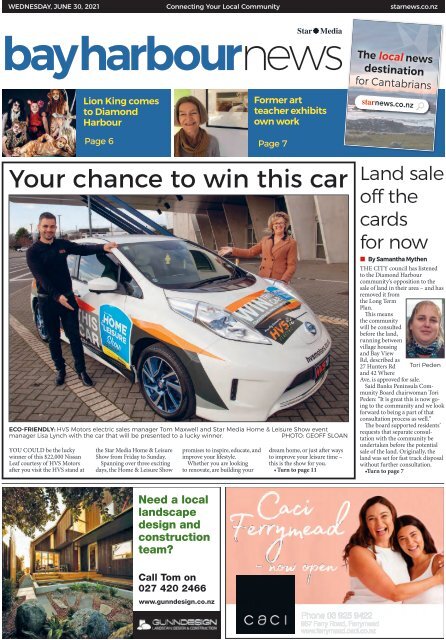 Bay Harbour: June 30, 2021
Do you know the secret to free website traffic?
Use this trick to increase the number of new potential customers.
WEDNESDAY, JUNE 30, 2021

Connecting Your Local Community

starnews.co.nz

The local news

destination

for Cantabrians

Lion King comes

to Diamond

Harbour

Page 6

Former art

teacher exhibits

own work

Page 7

Your chance to win this car

ECO-FRIENDLY: HVS Motors electric sales manager Tom Maxwell and Star Media Home & Leisure Show event

manager Lisa Lynch with the car that will be presented to a lucky winner.

PHOTO: GEOFF SLOAN

YOU COULD be the lucky

winner of this $22,000 Nissan

Leaf courtesy of HVS Motors

after you visit the HVS stand at

the Star Media Home & Leisure

Show from Friday to Sunday.

Spanning over three exciting

days, the Home & Leisure Show

promises to inspire, educate, and

improve your lifestyle.

Whether you are looking

to renovate, are building your

dream home, or just after ways

to improve your leisure time –

this is the show for you.

• Turn to page 11

Land sale

off the

cards

for now

• By Samantha Mythen

THE CITY council has listened

to the Diamond Harbour

community's opposition to the

sale of land in their area – and has

removed it from

the Long Term

Plan.

This means

the community

will be consulted

before the land,

running between

village housing

and Bay View

Rd, described as

27 Hunters Rd Tori Peden

and 42 Where

Ave, is approved for sale.

Said Banks Peninsula Community

Board chairwoman Tori

Peden: "It is great this is now going

to the community and we look

forward to being a part of that

consultation process as well."

The board supported residents'

requests that separate consultation

with the community be

undertaken before the potential

sale of the land. Originally, the

land was set for fast track disposal

without further consultation.

•Turn to page 7

Phone 03 925 9422

987 Ferry Road, Ferrymead

www.ferrymead.caci.co.nz
---
2 Bay Harbour News Wednesday June 30 2021 Latest Canterbury news at starnews.co.nz

from the editor's desk

GENERAL INQUIRIES Ph 379 7100

CLASSIFIED ADVERTISING Ph 379 1100

Star Media, a division of Allied Press Ltd

PO Box 1467, Christchurch

starmedia.kiwi

NEWS

GOOD LUCK to those

brave souls known as the

Scarborough Dippers who

will be going for a dip or

swim every day during July

(see page 8).

And we're not talking a

dip at the New Brighton hot

pools. Yes these hardy, brave,

admirable souls or whatever

else you would like to call

them target the real deal –

the sea.

The group has about 40

members and founder Kerry

Newton expects there will be

20 regular starters during its

annual Wet July Challenge.

They raise money for good

causes like the Taylors Mistake

and Sumner surf clubs.

Newton says there are

many health benefits from

cold water swimming. Those

benefits have gone up many

notches this week as the

temperature plummets.

– Barry Clarke

barry@starmedia.kiwi

Samantha Mythen

Ph: 021 919 917

samantha.mythen@starmedia.kiwi

news

ADVERTISING

Jo-Anne Fuller

Ph: 364 7425

jo.fuller@starmedia.kiwi

Dippers ready for Wet July

Scarborough Dippers will brave the elements once again this July. The

group will plunge daily into the cold surf.

Rob Davison

Ph: 021 225 8584

rob.davison@starmedia.kiwi

The best-read local newspaper,

delivered to 10,514 homes every week.

Brookhaven • Heathcote • Ferrymead

Redcliffs • Mt Pleasant • Sumner • Lyttelton

Diamond Harbour • Governors Bay • Akaroa

Page 8

community events

Celebrating Matariki

Go to the Mt Pleasant Community Centre on Friday between 5-8pm,

and take part in a shared meal for the whole family, along with

listening to an astronomer talking about the stars.

Page 17
---
Wednesday June 30 2021 Bay Harbour News

• By Samantha Mythen

A 12-MONTH trial for a nonpowered

vessel area in Rāpaki is

likely to be imposed to protect

swimmers and shellfish beds.

On Monday, with the support

of Te Hapū o Ngāti Wheke

Rāpaki and the Harbourmaster's

Office, Isaac Fahey, on behalf of

the Rāpaki community, brought

this proposal to the Banks Peninsula

Community Board.

Fahey said they would like to

see the same ban imposed as seen

in nearby Cass and Corsair bays.

He said it was a safety issue

with the area seeing an increase

in motorised vessels such as jet

skis, which often disobeyed the

five-knot speed limit within

200m from the shore.

"We do not want a death in

our waters," Fahey told the community

board.

He also said that motorised

vessels were disturbing shellfish

beds, an important source of

food gathering.

They are recommending

the area to the left side of the

Rāpaki boat ramp to Pony Point

become a non-powered vessel

area.

"This is the best decision for

Rāpaki," said Fahey.

All members of the community

board supported

Fahey's proposal and the

board said it would write

a letter of support to Environment

Canterbury.

Once ECan receives

this letter of support, it

will decide whether to

put the ban in place.

Navigation safety

officer of the Harbourmaster's

Office Gary Manch told the

meeting the ban needed the

Latest Canterbury news at starnews.co.nz

Call for powered vessel ban

Proposal to

protect Rāpaki's

swimmers and

shellfish

support of the rūnanga and the

wider community.

Fahey's deputation at the community

board meeting was to

garner the community's support.

"As the community board is

representative of the

wider community, we

look to them for either

support or not for

the area in question,"

Manch said.

If the community

board supported the

idea, Manch said ECan

could move forward on

recognising the area.

If the idea was approved,

after 12 months, the temporary

Gary Manch

SWIMMING

SAFETY:

To protect

swimmers and

shellfish beds,

the Rapaki

community

would like to

see a motorised

vessel ban in

the bay.

PHOTO: GEOFF

SLOAN

•HAVE YOUR SAY: Do you

think there should be a

non-motorised vessel area

introduced in Rāpaki or is

this something every bay

in Lyttelton Harbour could

have? Email Samantha.

mythen@starmedia.kiwi

reserve would be assessed

on whether the ban should

continue.

Community board member

Howard Needham, who lives in

Hays Bay, suggested this was a

bigger issue and is something

that could be applied to the

whole harbour.

NEWS 3

In Brief

FIRE CONCERNS REMAIN

Neighbours of Urumau Reserve

near Lyttelton are still worried

about the reserve's fire risk and

have not seen any response to

the concerns they raised with the

Banks Peninsula Community

Board at the start of March.

The board confirmed it is in

ongoing discussions with the city

council. The board has requested

a progress update from the city

council about its original request

to investigate the neighbours'

concerns.

•Urumau track, page 13

TRAPPED IN VEHICLE

A vehicle crashed at Gardener's

corner, an s-bend on the road

from Governors Bay to Rāpaki, at

3pm on Saturday. The car rolled

and a person was trapped in the

vehicle. They were assisted by the

Governors Bay Volunteer Fire

Brigade. The person had minor

injuries.

FAIR FUTURE UNCERTAIN

Orton Bradley Park is waiting to

see whether it will be able to host

its annual spring fair. In 2020

funding of $10,000 was provided

for the fair but was not available

this year. An application for

another source of funding was

made to the city council's events

and festivals sponsorship fund

and a decision is expected back on

July 8.

Care &

Compassion

We pride ourselves on the

very highest level of service

If you are thinking about the future, we can help

you explore pre-payment and pre-planning options.

Contact us for a Free Information Pack.

We offer funeral information talks to groups.

Please call us for a speaker to come to you.

(03) 379 0196 | www.simplicity.co.nz

Nick Allwright

Funeral Director

GREAT RANGE OF

BAIJA VINYL MATS

transform your home

Make signicant

savings on your

power bill with a

heat pump system

that heats water

"You could save up to 70%*

on your hot water and heating

costs when compared to traditional

water heating."

*Estimated using COP data based on BSEN14511 standard rating conditions.

LOCALLY OWNED & OPERATED HVAC SPECIALISTS

SUMNER HEAT PUMPS & ELECTRICAL

PHONE FOR A FREE QUOTE 021 228 8127 www.allaboutheat.co.nz

The POTAGERS

GIFTS - HOMEWARES

CLOTHING

ENJOY SHOPPING

LO CALLY AT

THE RED HOUSE

REDCLIFFS VILLAGE

Facebook/Instagram:

thepotagersredhouse
---
4 Bay Harbour News Wednesday June 30 2021

Winter Warmth

Big range, Low Price, Local advice

Pine Firewood

This is the most popular firewood. It

burns well when seasoned but has a

tendency to crackle and pop because

it is resinous and a soft firewood.

Oregon Firewood

One of the most popular burning

firewoods as it splits easily and burns

clean. Keep the Fire Going - Firewood

located in our Landscape Zone - 987

Ferry Road.

Pine Offcuts

Untreated Pine firewood off

cuts. Intense and fast burning.

$

12 PEr BAG

$

14 PEr BAG

$

10PEr BAG

$

45 PEr ScOOP

$

55 PEr ScOOP

$

26 PEr ScOOP

Number 8

Upright Fan

Heater 2kW

2kW heat output.

2 heat settings.

Lightweight.

326997

Nouveau

Oil Column

Heater 1.5kW

1.5kW heat output.

3 heat settings.

Adjustable thermostat.

1 year warranty.

279322

Goldair

Flat Fan Heater 2.4kW

2.4kW heat output. 2 heat and

cool fan settings. 2 year warranty.

172483

Goldair

Ceramic Wall Heater 2kW

2kW heat output. 2 heat settings. Adjustable thermostat.

2-year warranty.

224293

$19 98

$54 98 $64 98 $99 98

Goldair

Flame Effect

Heater 1.85kW

1.85kW heat output.

2 heat settings.

Freestanding and

portable. 2-year

warranty.

317687

Goldair

Eco Panel Heater

425W 2 pack

425W heat output.

Paintable surface. Wall

mounted. 2-year warranty.

369985

Nouveau

Ceramic Tower

Heater 2.2kW

2.2kW heat output. 3

heat settings. 8-hour

timer. Oscillation.

369929

Goldair

Wall Mounted

Flame Effect

Heater 2kW

2kW heat output. 2

heat settings. 2 year

warranty.

349250

$149 $179

$149 $299

Goldair

Convector

Heater

with Turbo

Fan 2kW

2kW heat

output. 3 heat

settings. 2 year

warranty.

279419

Number 8

Ceramic

Heater 1.5kW

1.5kW heat output. 2

heat settings. Safety

tip over switch.

326999

Goldair

Convector

Heater 2kW

2kW heat

output. 3

heat settings.

Overheat

protection.

380341

Black+Decker

Flat Fan Heater 1.8kW

1.8kW heat output. 2 heat settings. 2-year warranty.

349235

$99 98 $29 98 $59 98 $29 99

Prices valid until July 7th or while stocks last.

Mitre 10 MEGA Ferrymead

1005 Ferry Road. Christchurch

Phone: 366 6306

Find us at: /MEGAFerrymead

Opening Hours:

Monday – Friday:

7am – 7pm

Saturday, Sunday & Public Holidays:

8am – 6pm

www.mitre10.co.nz/local/MegaFerrymead

Ferrymead
---
Wednesday June 30 2021 Bay Harbour News

• By Samantha Mythen

SPEED LIMITS on Lyttelton's

streets are likely to be lowered

from 50km/h to 40km/h in a bid

to make the area safer.

This is part of a wider Banks

Peninsula speed limit review

project, with many more roads

in Banks Peninsula also likely to

see changes.

The Banks Peninsula Community

Board approved the

city council's recommendations

to make these changes to road

speed limits on Monday.

As part of its discussions, the

board has requested Norwich

Quay, which is State Highway

74, also be reduced to 40km/h

for consistency in the port. The

decision on its speed limit lies

with Waka Kotahi New Zealand

Transport Agency, separate to

Lyttelton's other streets, due to

its state highway status.

During the meeting, Lyttelton

subdivision board member

Tyrone Fields said the speed

reduction of 10km/h would

only add a few more seconds to

driving time.

He also mentioned people usually

cannot drive at 50km/h due

to hazards.

Lyttelton Community Association

chairman Ken Maynard

said the decision would be a

poor use of resources.

"People don't drive to the

speed limit in the narrow streets

likely be reduced to 40km/h.

anyway," he said.

"But the badly behaved drivers

will break the rules anyway. This

is just legislating what should be

people's good behaviour."

Lyttelton Harbour

Business Association

chairwoman Vicki

Tahau Paton agreed

and said it is difficult to

drive along some of Lyttelton's

streets at even

40km/h.

Community board chairwoman

Tori Peden said the project has

been a several stage approach,

with the motive behind it to

increase road user safety in the

multi-hazard areas, as well as providing

a more consistent approach

Latest Canterbury news at starnews.co.nz

Speed limit review for peninsula

SPEED REDUCTION: Lyttelton street speed limits will

Ken Maynard

to actual operating speeds.

The same proposal as Lyttelton

has been approved for Cass Bay

streets.

Six hundred meters of

Marine Drive through

Charteris Bay will be

reduced to 50km/h.

A section of Waipapa

Ave in Diamond

Harbour will be set at

30km/h.

The Purau to Port Levy

route will be lowered

from 100km/h to 60km/h, with

the reduced speed introduced

throughout Port Levy, with

40km/h through populated

areas.

It will be a 60km/h speed limit

for the Port Levy to Pigeon Bay

•HAVE YOUR SAY: Are

you happy with lower

speed limits to be

implemented throughout

Banks Peninsula? Send

your views to samantha.

mythen@starmedia.kiwi

route. Pigeon Bay itself will have

both 60km/h and 40km/h speed

limits introduced.

Kukupa, near Pigeon Bay, will

have a speed limit reduction to

40km/h from 100km/h.

Birdlings Flat, Kaitorete Spit,

Little River and Okuti Valley

roads' will also be set to 60km/h

and 40km/h depending on the

specific road.

The Western Valley Rd route,

Puaha Valley, and roads along

the Southern Bays will all be set

at 60km/h.

Akaroa and Akaroa's

backcountry roads will be set

at either 40km/h or 60km/h

depending on the specific street

or road involved, including a

standard 40km/h through the

village itself.

The initiative has been

undertaken to support the Waka

Kotahi New Zealand Transport

Agency speed management

guide and its overall road safety

strategy for the next decade.

Consultation on the speed

limit of State Highway 75 and

73 between Christchurch and

Akaroa is currently open.

NEWS 5

Centres to

remain open at

reduced capacity

• By Samantha Mythen

THE AKAROA and Lyttelton

service centres will remain open

as decreed in the city council's

10-year budget.

During consultations on the

city council's draft Long Term

Plan, it was recommended that

$24,000 be allocated annually to

each of the centres.

This would allow face-to-face

customer service to continue at

half its current capacity.

Said Banks Peninsula Community

Board chairwoman

Tori Peden: "It is great for the

communities to still have these

face-to-face services.

"We are happy with the compromise."

She said the decision also

meant the community board,

Akaroa community and city

council could look at business

models to help create a service

hub in the village's service centre

building.

The recommendation comes

after 113 submitters opposed the

service centres' closure.

Said Christchurch Mayor

Lianne Dalziel: "We have listened

to our community. Some very

clear themes came through in

the submissions which have

influenced the recommendations

I am making."

SAFER SPEED REVIEW

Christchurch to Akaroa

Have your say on safer speeds

Speed on impact determines if the people in a crash are

killed, injured or walk away unharmed.

Through Road to Zero – New Zealand's road safety

strategy – we're working towards a future where no-one

is killed or seriously injured on our roads.

Christchurch to Akaroa is Canterbury's highest-risk route

– in terms of personal safety – and in New Zealand's

top 10% where we can make the greatest difference in

reducing road deaths and serious injuries.

Do traffic speeds affect how you use the road?

Come along to a pop-up event and have your say.

Feedback closes on 27 July 2021.

Pop-up events

Te Hapua Halswell Centre

Thursday 1 July, 3–6pm

Tai Tapu Hotel

Tuesday 6 July, 10am–1pm

Little River School

Tuesday 6 July, 3–6pm

The Gaiety Hall, Akaroa

Saturday 10 July, 11am–2pm

Head to www.nzta.govt.nz/chchtoakaroa

to have your say online or email us

chchtoakaroaspeeds@nzta.govt.nz

nzta.govt.nz
---
Bay Harbour News Wednesday June 30 2021

6

NEWS

Latest Canterbury news at starnews.co.nz

King of the jungle role for young actors

LIONS: Young Simba (Kaiden) and Scar (Judd) take to

the stage with a roar in Diamond Harbour School's

latest production.

• If you would like a ticket or buy merchandise,

phone the school office for more information at

329 4842.

• By Samantha Mythen

FOR THREE days in July, the

pride lands of Africa are coming to

Diamond Harbour.

Diamond Harbour School is performing

The Lion King, with four

shows running from Thursday to

Saturday.

Acting deputy principal and the

production's director Sally Craw

said The Lion King was chosen for

its great songs and the massive

buy-in from the pupils.

It also provided all 130 pupils

with the chance to get involved

with the massive ensemble.

"We have really strong senior

singers and performers and we

wanted to provide the opportunity

for as many kids as possible to

show off their skills," said Craw.

The junior school is acting

out the grassland scenes and the

middle school is acting as Simba's

friends, singing alongside him, in

the classic, I Just Can't Wait to Be

King.

The senior school is in charge of

the lead acting roles and the larger

ensemble.

Craw said the Diamond Harbour

community rallied together

to help produce the show.

"It has been so amazing, the

whole community has pitched in.

Local artists painted the backdrops,

a student's architect father

built an amazing pride rock, many

parents have helped with sewing

PRIDE OF AFRICA: (Back row from left) – Scar (Judd), Nala

(Stella), adult Simba (Tyler). (Front row) – Banzai (Ollie), young

Simba (Kaiden), Gazelle (Daisy).

PHOTOS: KIRSTEN NAOMI PHOTOGRAPHY

costumes, a photographer mum

has taken photos," she said.

Craw's mother helped sew the

costumes of the leading roles, including

three male lions with their

mane's stitched on one individual

strand at a time, 12 lionesses and

Pumba.

The school sent out a basic pattern

to other parents, "who were

brave enough to volunteer," and

help sew other costumes, Craw

said.

Homewares store Spotlight has

also given the school discounts on

fabric.

It is the first production

Craw has been solely responsible

for.

"It has been so busy and a big

learning curve. The kids are amazing,

they are so talented and so

motivated and so hard-working,"

she said.

The production has been a part

of the school's art curriculum.

Check out our latest

deals

$ $

39 99

each

24 99

$

39 99

$

41 99

LONG WHITE

SAWMILL HAZY

STEINLAGER

ASAHI SUPER DRY Vodka Range

EAST COAST IPA

CLASSIC

24 x 330ml Bottles

$

54 99 $

59 99

6 x 330ml Bottles

24 x 330ml Bottles

Mix & match

these Kiwi vinoS

Single bottle

$14.99

HOT DEAL!

$

34 99

each

NEW

INSTORE

EVERYDAY

PRICE!

$

37 99

Discover this

super juicy

and tropical

hazy IPA.

HOT DEAL!

$

41 99

HOT DEAL!

$

49 99

15 x 320ml Bottles, 4.8%

Includes Lemon & Lime, Apple & Pear, Raspberry

2 for

$ 25

THE GLENLIVET

Founder's

Reserve

700ml

MAKER'S

MARK

1 Litre

DEWAR'S

White Label

1 Litre

FINLANDIA

1 Litre

GORDON'S Gin

1 Litre

Also available: Premium

Pink Gin, Sicilian Lemon Gin

JIM BEAM

White Label

1 Litre

TANQUERAY

London Dry Gin

1 Litre

GRAHAM NORTON'S

OWN Range

750ml

Includes Rosé, Shiraz,

Sauvignon Blanc,

WITHER HILLS RANGE

750ml

Includes Rosé, Chardonnay, Early Light

Pinot Noir Rosé, Sauvignon Blanc, Early

Light Sauvignon Blanc, Riesling, Pinot

Gris, Early Light Pinot Gris

Shop local with

AMBERLEY, ASHBURTON, BARRINGTON, BELFAST, BRIGHTON, BURNSIDE,

COLOMBO ST, EDGEWARE, ELMWOOD, FERRYMEAD, HALSWELL, HANMER

SPRINGS, HORNBY, ILAM, KAIAPOI, LEESTON, LINCOLN, METHVEN, OXFORD,

SHOP LATEST DEALS at WWW.SUPERLIQUOR.CO.NZ

NATIONWIDE PICKUP & DELIVERY NOW AVAILABLE

PAPANUI, PEGASUS, RANGIORA, SEASIDE, WOOLSTON

Exclusions may apply on some brands advertised. Offers end close of trade 4th July 2021, while stocks last. Available at participating stores only. Multi Deal only available in store. Varietals may vary

by store. Limits may apply. Wholesale (other liquor retail banners) not supplied. Terms and conditions may apply. Available 21st June - 4th July 2021 inclusive. Please see www.superliquor.co.nz for details.

SUP2283_C7
---
Wednesday June 30 2021 Bay Harbour News

Latest Canterbury news at starnews.co.nz

DEDICATED: Liz Hancock is exhibiting her own art work now that she has retired from teaching.

Ex-teacher focuses on her own art

• By Samantha Mythen

RETIREMENT has allowed

former Sumner art teacher Liz

Hancock the chance to focus

on her own work – and her

first major exhibition in several

decades.

Hancock taught art at Hillmorton

High School for more

than 40 years and led the art

faculty for at least 15 years.

"Teaching art has been a stimulating

path, which has given

me the privilege of meeting and

working with a huge number of

students, colleagues, caregivers

and parents," she said.

"I have gained so much pleasure

from seeing my students'

love of art grow into wonderful

achievements and it is lovely

when some of them still recognise

me in public."

However, teaching painting,

design and printmaking to

emerging artists left her with

little time for her own practice.

After retiring at the end of

2018, Hancock has found inspiration

and the right head space

to commit to her own paintings.

"Teaching has been so full-on,

I have exhibited sporadically

over the years, but this is the

first chance I've had to be totally

committed," said Hancock.

This has resulted in One Long

Breath, an exhibition opening

today at Down By The Liffey

Gallery in Lincoln.

"It is quite nerve-racking,"

said Hancock.

"I never really enjoyed doing

exhibitions as I paint for myself,

not for others, but I thought it

was finally time to put my money

where my mouth is."

Her artwork features

conceptual portraiture and

abstract backgrounds, inspired

by the changing patterns

and lights across the Avon-

Heathcote Ihutai Estuary,

Canterbury Plains and the

Southern Alps – views she can

see from her home.

Hancock has lived on

Panorama Rd since 1985. Her

exhibition features several

artworks, painted on a long

landscape canvas, which

she said relate to constantly

looking out at the horizon. The

exhibition runs throughout

July. It also features work from

sculptor Michael Barrow.

•'Zoomer' artists, page 14

NEWS 7

Land sale

halted after

pressure

•From page 1

Diamond Harbour resident

Richard Suggate had encouraged

his community to submit to the

draft Long Term Plan, asking for

the land to be removed.

"I am very pleased the city

council has withdrawn the LTP

sale proposal," said Suggate.

"I note they haven't said the

land won't ever be sold and that

if a sale proposal does surface

again, they will

consult in a

meaningful way

with residents."

The area

was originally

purchased by the

Banks Peninsula

council for future

zoning and it

Richard

Suggate

currently sits as

city council freehold land with

district plan zoning.

Residents were concerned about

the development of the land if it

was sold quickly under the LTP.

Suggate said the sale of the land

could result in 200-300 more

houses being built and questions

remained over how Morgan and

Sam's gullies would be protected.

He said the sale would affect the

wider community and they need a

say in how the land is developed.

ALL TIPAZ

ON SALE

ALL PARIS

ON SALE

Dining Chair

NOW $

150

Dining Table – W190

NOW $

799

SCAN QR TO SHOP ALL

SUPER DEALS OnLINE!

Caribbean Queen

Sleepset

WAS $

849

NOW

$

649

Chia 4 Drawer

– W80 WAS $ 499

NOW

$

349

Chia 8 Drawer

WAS $

749

NOW

$

599

Riley Sofa Chaise – Grey

WAS $

1699

NOW

$

1299

Lennox 2 Seater

WAS $

1499

NOW

$

1199

NOW ON! SELECT ITEMS + SUPER DEALS.

ENDS 12.7.21.

Lennox

3 Seater

NOW $

1399

Scan to find store

250 Moorhouse Ave, Christchurch

0800 TARGET (0800 827438)

targetfurniture.co.nz

Offers and product prices advertised here expire

12/07/21. Sale Excludes Accessories.
---
Bay Harbour News Wednesday June 30 2021

The Dream Is NOW at

The NZMCA Motorhome,

Caravan & Leisure Show

Christchurch

For kiwi explorers, The NZMCA Motorhome,

Caravan & Leisure Show is where you need to

be to experience everything you love about

the outdoor lifestyle and travelling around our

gorgeous country.

Now condensed over 2 jam packed days,

this show features your favourite brands

of motorhome & caravans, new products,

innovative accessories, unbeatable deals and

the best chance to talk to all the experts under

one roof over 2 days. Everything you need is

here; from fishing to camping equipment to

inflatable boats to electric bikes.

Event Manager Michele Connell is pleased to

be back in Christchurch, and with how this

year's show is shaping up "After an unexpected

break thanks to covid last year, we know visitors

are eager to get out and about, and domestic

travel around NZ is at an all-time high. There

has never been a better time for our industry

to shine and with demand from a whole new

audience at an unprecedented level, we are

looking forward to a great weekend!"

The TrailLite Theatre is back, with experts

sharing their knowledge on everything you

The one show NZ explorers

do not want to miss!

New Zealand Motor Caravan Association

ADVERTORIAL

need to know for your upcoming adventures,

you'll receive an MTF Finance eco show bag

on entry and you can be in to win over $3000

worth of prizes by finding clues around the

show. Imagine taking home a paddleboard

from Takacat, a weekend away with Off the

Beaten Track, 2 luxurious pillows from Adjusta

Mattress, bike accessories from Ezi-Rider, a

Red Belly hot spot chair from Oz Tent and a bike

cover thanks to Matamata Saddlery.

The NZMCA Event Park & Stay is open for

certified self-contained vehicles to stay onsite

at the show for only $5, and you can save by

purchasing your multi day tickets for only $20

or single entry tickets are only $12, either online

or at the show ticket office.

Make sure this summer is the one you have

always dreamed of … the Dream is Now!

Saturday 10th July: 9am – 5pm

Sunday 11th July: 9am – 4pm

Christchurch Arena, Christchurch

Go to www.nzmotorhomeshow.co.nz

for tickets, programmes and all the show

information you need.

BE IN TO WIN

We have complimentary passes to give away.

It's easy to enter, simply email: giveaways@starmedia.kiwi

Entries close 5pm Monday 5th July 2021.

To be eligible for the draw, all entries must include your name and contact number.

8

NEWS

CHILLY: Scarborough Dippers will brave the elements once again this July. ​

Hardy dippers ready

for July challenge

SCARBOROUGH Dippers

is launching its annual Wet

July challenge tomorrow

and this year, the group's

chilly endeavours will be

raising money for local

community projects.

This will be the fifth year

the group has undertaken

Wet July, where members

pledge to get into the sea

every day throughout the

month of July wearing

just togs and a smile,

irrespective of the weather

– provided conditions

allow this to be done safely.

Founding member

Kerry Newton, said the

Scarborough Dippers has

grown exponentially over

fifve years, having started

off with just four keen

dippers.

More than 40 people are

gathering for the group's

dips and she is expecting

around 20 people to commit

to Wet July, although

typically many more join

in over the weekends.

"There has been a

growing interest in wild

swimming and the health

and well-being benefifts

of cold-water swimming,

which the regulars can

certainly attest to," she

said.

"This is reflected in the

growing number of people

of all ages who are now

joining us on a daily or

weekly basis."

Last July, the

Scarborough Dippers

raised more than $6000

which was split between

the Sumner and Taylors

Mistake Surf Lifesaving

clubs.

This year, the group has

chosen to support community

projects which include

the upgrade of Sumner

Kindergarten's playground

and the surfboard library

based at The Goat Shed.

Others are yet to be confifrmed.

Said Newton: "It is

important for us to support

our local community. Most

of us are from the Sumner,

Taylors Mistake, Redcliffs

and Mt Pleasant so it makes

sense that we raise money

to support the community

that supports us."

•More information

about Wet July can

be found on the

Scarborough Dipper's

Facebook page.

Bid to retain reserve's significance

A PROPOSED drat

landscape master plan

for Takapūneke Reserve,

near Akaroa, aims to

acknowledge the area's

immense historical and

cultural signififcance.

The proposed plan has

been developed in partnership

with Ōnuku Rūnanga

and seeks to acknowledge

the importance of the site.

The landscape design

is founded on Kaupapa

Māori concepts.

Said city council head of

parks Andrew Rutledge:

"The design is intended to

help tell the story of this

land and how it has shaped

our history."

The plan will be rolled

out in stages as funding and

resources become available.

The reserve was the

scene of a massacre in

1830, ater which the site

became tapu. It also has a

signififcant association with

the European settlement of

Akaroa and the Treaty of

Waitangi and in 2002 was

registered as Wāhi Tapu

(a place of outstanding

historical or cultural

value).

Consultation on the

landscape plan is open and

closes on July 21.

ENTRY

ONLY

$12

CHRISTCHURCH ARENA

Sat 10 July 9am-5pm Sun 11 July 9am-4pm
---
Latest Canterbury news at starnews.co.nz

Wednesday June 30 2021 Bay Harbour News 9

WITH MARY IN FAITH

TĀTOU KO MERE E WHAKAPONO ANA

A message from

the Board

Tēnā Koutou

It has been a busy time for Marian

College as the planning for the new

school build moves excitingly close to

finally breaking ground. The Diocese

officially took over the land in May and

tender for the build has now closed.

One of the many benefits of utilising

the existing building on site is that poor

weather conditions aren't expected to

impact the build going forward, and we

are confident the new school will open

in 2023 as planned.

While we have been at our current

site in Barbadoes Street for almost 10

years, the North Parade site has been

a significant part of the Marian College

history and holds many memories for

our Marian College whānau.

We were thrilled to learn that the site

has been sold to The Laura Fergusson

Brain Injury Trust. The Trust, which runs

a residential home and offers services

such as assessments, rehabilitation, and

physiotherapy in other parts of the city,

will centralise its South Island services in a

new facility on the site.

It seems very fitting that there will be

another caring community using this site

which will always remain an important

part of our college's history.

Although the new build is a key focus,

there is much to celebrate within the

school already this year. We won the

coveted Bishop Lyons Shield which is a

major achievement and highlight in the

Catholic schools' calendar. Our choir

represented us beautifully at The Big

Sing – the Secondary Schools Choral

Festival, and our hockey, football and

netball teams reflected our team spirit

at Mercy Cup, a sports competition

between Catholic schools, last month.

As well as its academic, sporting, and

cultural achievements, Marian College

is committed to ensuring all individuals

feel respected, safe, and valued, which

it continues to do with its love of faith,

learning, and service within the school

community.

As a Board we look forward to

supporting the continuing success of

our students and staff.

Ngā mihi

Carmel Gregan-Ford

Marian College Board of Trustees Chair

Enrol your daughter now for 2022

Pushed outside our comfort zone:

Duke of Edinburgh Award

Enrolment Applications for Year 9 2022 close on July 30. Please visit

our website for more information. www.mariancollege.school.nz

2021 KEY DATES

30 July Applications close

June/July Preference families meet with principal

Ballot will take place if required

5 August Offers of place emailed and posted

16 August Last day to accept a place

October

Entrance testing/Orientation Day

Congratulations to all students who received their Duke of Edinburgh Award.

Marian College students support Courageous Youth

Marian College students and staff raised

$3000 recently for the Make-A-Wish

Foundation by putting their paper crane

folding skills to work.

Mazda NZ, recently held the Paper

Crane Project and pledged to donate

$1000 to the Make a Wish Foundation

for every 1000 cranes they received.

Marian College Pastoral Chaplain Olivia

Shimasaki said the challenge aligned

with the school's focus of 'Taking

Courage' this year.

"The young people who receive wishes

from the Make-A-Wish Foundation

show great courage, therefore, we

were proud to support them and the

Paper Crane Project. Our students

took this opportunity with passion

and determination, showing the

difference we can make when we work

together," Olivia said.

Six former and current Marian College

students received their Duke of Edinburgh

Awards at a ceremony last month.

Among those was former student Caitlin

Fleming who received her Gold Duke of

Edinburgh Hillary Award after three years

of hard work.

Caitlin was invited to speak at the awards

ceremony about her experience.

"I chose to get involved in the Duke of

Edinburgh Award scheme because I really

enjoy spending time with my friends. It

was a challenge to achieve the Gold Award

and I was pushed to the limit to complete

it," she says.

The Duke of Edinburgh Award consists

of four sections- voluntary service, skills,

physical recreation, and adventurous

journey, with Gold Award participants also

having to do a residential project.

"The highlight has been making new

friends and trying out activities that

challenged me. I had role models to look

up to and, through them, have found

myself being able to help people in my

own groups. Thank you to everyone who

has supported and believed in me,"

Caitlin said.

Current Marian College student Georgia

Woods also received her Silver Award at

the ceremony.

"I decided to take part in the award largely

because of the tramping opportunities it

provided which were not something I'd

had previous experience with. I worked

really hard to push myself out of my

comfort zone," Georgia said.

Mackenzie Johnston who completed the

Bronze Award agreed.

"Doing this award was a way for me to

test my determination and commitment.

This was a fun way for me to extend my

abilities and leave my comfort zone,"

Mackenzie said.

Marian College Duke

of Edinburgh Award

recipients 2021

Gold: Caitlin Fleming (past student)

Silver: Jasmine Hamilton (past

student), Gabby Ogg, Georgia Woods

Bronze: Mackenzie Johnston,

Niamh Webb

www.mariancollege.school.nz | 03 385 8449 | exec@mariancollege.school.nz
---
10 Bay Harbour News Wednesday June 30 2021 Latest Canterbury news at starnews.co.nz

GREAT

WINTER

READS

INSTORE NOW!

NEW RELEASES

The Mirror Book

by Charlotte Grimshsaw

Growing up behind the family façade. Brave, explosive, and thoughtprovoking,

this is a powerful memoir from a critically acclaimed writer. 'It's

material, make a story out of it,' was the mantra Charlotte Grimshaw grew up

with in her famous literary family. But when her life suddenly turned upsidedown,

she needed to re-examine the reality of that material. The more she

delved into her memories, the more the real characters in her life seemed to

object. So what was the truth of 'a whole life lived in fiction'? This is a vivid

account of a New Zealand upbringing, where rebellion was encouraged,

where trouble and tragedy lay ahead. It looks beyond the public face to the

'messy reality of family life - and much more'.

Tikanga

by Francis Tipene & Kaiora Tipene

Living a fulfilling life rich with tradition, connection and te ao Maori Following

on from their bestseller, Life as a Casketeer, Francis and Kaiora Tipene share

how they bring the traditional values of tikanga Maori into day-to-day living,

what they know about whanau, mahi and manaakitanga, and how they live

a life rich with the concepts of te ao Maori Known for their warm hearts, grace

and humour, the stars of the wildly popular series The Casketeers show how

the traditions of tikanga shapes their lives juggling five sons, three businesses

and a television show - all while sustaining a life filled with joy and connection.

Jacinda Ardern: Leading With Empathy

by Supriya Vani and Carl A Harte

Jacinda Ardern: Leading with Empathy is a major biography of one of the

most important and inspirational leaders of the twenty-first century, based

on interviews with the New Zealand Prime Minister herself.

Jacinda Ardern: Leading with Empathy carefully explores the influences

– personal, social, political and emotional – that have shaped Ardern.

Acclaimed peace activist and journalist Supriya Vani and writer Carl A Harte

build their narrative through Vani's personal interviews with Ardern, as well

as the prime minister's public statements and speeches and the words of

those who know her. We visit the places, meet the people and understand

the events that propelled the daughter of a small-town Mormon policeman

into a committed social democrat, a passionate Labour Party politician, and

a model modern leader.

Kiwi Farmers' Guide To Life

rural Tales from the Heartland by Tim Fulton

Kiwi Farmers' Guide to Life does just that, telling stories of New

Zealand farmers, agribusiness entrepreneurs and even a couple

of scientists. Each one knows about sweat, quick thinking and the

importance of a sense of humour in the world of agriculture. From

a dive into farming history to a probe of modern agri issues, Kiwi

Farmers' Guide to Life shows farmers at their finest and in some

cases - at their most vulnerable. At heart, these stories explore why

farmers do what they do, rather than how. So, put on your gumboots

and let's take that road less travelled.

Knock Knock: Confessions of a Kiwi Interviewer

by Trish Palmer

Extraordinary stories from a lifetime spent conducting interviews. This is the

world of the dreaded door-knock from the other side of the door. Trish Palmer

has been working as an interviewer and area manager for market research

companies for over 20 years, invited into the homes and private lives of an

astonishing array of folk from every lifestyle imaginable. Her experiences on

the job entail everything from bare bottoms to angry cats, the desperately

struggling to the well-off, and everyone in between. There is comedy and

sadness, surprises and the downright odd, from witches to boat-builders,

dope growers and more. Poignant, hilarious, and always thought-provoking,

this is a highly entertaining read.

1005 Ferry rd

Ph 384 2063

while stocks last (see instore for terms and conditions)

Barry & kerry
---
Latest Canterbury news at starnews.co.nz

Chance to bid for tiny dwelling

at Home & Leisure Show

THE HOME and Leisure

Show opens on Friday and this

year you'll find thousands of

ideas and inspiration to build

that new home, or to renovate.

Admire the indoor and

outdoor displays, discover

new innovative products to

improve your leisure time and

take part in a live auction – all

under one roof.

Travel through the eco zone,

rest and have a coffee in the

outdoor landscaped living area

and try new products in the

taste zone.

Plus you also have the

chance to step inside a twobedroom

mega tiny home that

will be auctioned on the last

day.

Experience the warm,

surprisingly spacious

50 sq m dwelling supplied by

Cosy Homes and get inspired.

The live auction will take

place at the show on Sunday at

1pm outside the Cosy Homes

stand.

•For more information on

the home and to register

your interest in bidding,

please visit www.

cosyhomes.co.nz/auction

IN ASSOCIATION WITH

Christchurch Arena, 10am-5pm,

Friday to Sunday

COSY: This

50 sq m

home is

surprisingly

spacious.

It goes up

for auction

at 1pm on

Sunday.

• From page 1

There will be something for

everyone at the show, including

children.

Ray White Bishopdale and

Strowan will be running a 'house

hunt' that encourages kids to

search for the hidden letters

amongst the stands to form a

secret word.

The completed forms can then

be handed to the Ray White

Bishopdale and Strowan stand

(#199) to go in the draw to win

an iPad.

Wednesday June 30 2021 Bay Harbour News

NEWS 11

POPULAR: Pick up some bargains or ideas at the Star

Media Home & Leisure Show.

Get your kids looking

for the secret word

Be sure to get your house hunt

entry forms upon arrival as you

grab a complimentary goodie

bag.

There will be a range of

show-only specials on offer, too.

For a full list of specials head

to the official Facebook page

@TheStarHomeandLeisureShow

which is updated daily.

Tickets will be $8 at the door,

or look out for your free double

pass in this paper, or visit www.

starhomeshow.kiwi to download

your free pass today.

YOUR LOCAL

ACCOUNTANT

I COME

TO YOU

Financial Statement Preparation

Tax Preparation & Compliance

Xero & MYOB Specialist

Steven Clarke Ltd. 7 Margot Lane

Mount Pleasant, Christchurch

Phone 03 384 4633 Cell 021 677 670

steven@sclarke.co.nz

SOIL AND

HARDFILL

DUMPING

oN sAle Now!

Now only

$35.80

Plus $5 P&H per copy

AvAilAble from stAr mediA:

Level One, 359 Lincoln Road

Addington, Christchurch

Phone 379 7100

WE NOW HIRE

LANDSCAPING AND

GARDEN EQUIPMENT

DIGGERS, TRUCKS, WOOD CHIPPERS, POLE SAWS,

BREAKERS, WATER BLASTERS, ETC.

PLUS WE SUPPLY THE BEST

LANDSCAPE & GARDEN SUPPLIES

•BARKS •COMPOSTS

•AGGREGATES - CHIP, ROUND & BASECOURSE

•SCHIST PRODUCTS •PUNGAS

•DECORATIVE STONE & LANDSCAPING ROCKS

•TRAILER HIRE - FIRST HOUR FREE WITH PURCHASE

•BAG & BULK - PICK UP OR DELIVERED

DYERS ROAD LANDSCAPE & HIRE

PHONE: 03 384 6540

183 DYERS RD, BROMLEY ● OPEN 7 DAYS

Weekdays 7.30am-5pm. Weekends 8.30am-3pm

www.dyersroadlandscape.co.nz

LIVING HISTORY SHOW

Saturday, July 24, 2021 - 9am to 4pm

Riccarton Park Raceway, Christchurch

WWI and WWII 'Lemon Squeezer'

worn by New Zealander's serving in

Europe and the Pacific theatres

Fall in love

with your favourite

furniture all over again!

• Recover your chairs and couches

and save money!

• Excellent range of fabrics

• Quality workmanship guaranteed

• Free quotes available

• Over 30 years experience

before

Somerfield Upholstery welcome you to email a

photo for a quote online: somerfielduph@gmail.com

Buy…..Sell…..Trade…..Displays

Firearms | Antiques | Medals

Badges | Uniforms | Swords | Bayonets

Scale Models | Books | Military Vehicles

Campsite Re-enactments

War Gaming | Hunting and Shooting

Special Features:

Military and Pioneer/Early History

Admission: Adults $10 / 16 and under free

Free parking | Free Valuations

g.barber303@gmail.com | Website: www.gunshows.co.nz

after

Somerfield Upholstery Ltd

FURNITURE RECOVERY SPECIALIST

6/47 Sonter Road, Wigram | Ph 021 251 6200 | 349 0456
---
12 Bay Harbour News Wednesday June 30 2021 Latest Canterbury news at starnews.co.nz

CHRISTCHURCH MITSUBISHI

386 Moorhouse Avenue, Christchurch

Ph: 03 379 0588

christchurchmitsubishi.co.nz

10 year / 160,000km Powertrain Warranty (whichever comes

first) (non transferable). 5 year / 130,000km New Vehicle

Warranty (whichever comes first) (non transferable).

FROM

$

33,990+ORC*

ST

ST-L

MIDNIGHT EDITION

Ti

$33,990 +orc* $41,990 +orc* $42,500 +orc* $46,990 +orc*

Stock available for immediate delivery

*Prices shown are available while stock lasts plus on road costs.. Nissan reserves the right to vary, extend or withdraw this offer. Not available in conjunction with any other offer.

CHRISTCHURCH NISSAN, 392 Moorhouse Avenue, Christchurch

Ph: 03 595 6820

www.christchurchnissan.co.nz

NISSAN 150,000 KM'S

5YR FACTORY

WARRANTY

christchurchnissan.co.nz
---
• By Samantha Mythen

THERE WILL be further

progress on formalising a track

in Urumau Reserve by August.

Joshua Merriam, on behalf

of the Lyttelton Mountain Bike

Club, requested

the Banks

Peninsula Community

Board

approve the track

upgrades at the

reserve's entrance

at a meeting in

March.

He spoke again

at the board meeting on Monday

asking for an update on his

request.

Community board chairwoman

Tori Peden said they were

waiting for the city council head

of parks Paul Devlin to come

back to them with a report

outlining how to move forward

with the track's formalisation.

This report will include time

frames and a budget to make

the track "wider and more user-friendly,"

Peden said.

They are due to receive the

report by the beginning of

August.

Merriam became a member

of the Lyttelton Reserve Management

Committee, which

oversees Urumau Reserve's

Meet one of our doctors…

Introducing...

DR FIONA KUANG

Fiona is a GP Fellow originally from North Canterbury.

She has postgraduate qualifications in Child Health and is

part way through postgraduate studies in Women's Health.

She fits IUDs and contraceptive implants.

Fiona is committed to improving Women's health.

NEW PATIENTS WELCOME!!

Dr Brendan Smith Dr Sophia Harris

Dr Emma Baird Dr Simon Morley Dr Maria Barosso Sevillano*

FERRYMEAD MEDICAL CENTRE

Latest Canterbury news at starnews.co.nz

Progress on formalising track

Joshua

Merriam

management, in March. He said

the group was meant to formally

recommend to the community

board that the track be formalised.

Frustrated by their inaction,

he went to the community

board to personally recommend

the track be formalised himself.

"This really shows their patterns

of delay and never being

able to move forward," he said at

providing high quality care to you and your family

Unit 10, 2 Waterman Place, Ferrymead, Christchurch | Phone 03 384 5484

Open Monday to Friday 8.30am-5.30pm | www.ferrymeadmc.co.nz

the meeting.

The track is a component of

the 2018 Urumau Development

Plan and its formalisation has

been a long-time coming.

The community board approved

the plan in August 2018,

including the entrance track.

However, the track has remained

classified as a "proposed

track," in spite of being used by

both mountain bikers and walkers

alike to access the track.

Inaction from discussions

with the LRMC prompted

Merriam to take this project to

the board in March, including

a petition with more than 100

signatures for formalising the

track.

Approving the track would

allow for increased engagement

with the reserve and it

would complete the entrance

connection from Foster Tce to

the Urumau traverse track.

Native trees planted in a bid to attract tūī

• By Samantha Mythen

MORE THAN 3600 native trees

have been planted at Living

Springs by 100 local volunteers

as part of the Tūī Corridor

Project.

On June 19, the "tūī

tucker" was planted in the

hope of bringing back tūī to

Christchurch backyards.

Canterbury's tūī population

died out in the 1970s, most likely

due to habitat loss and predation.

Since then, the region

has received visiting tūī, but

there have been no established

populations.

The initiative aims to plant

11,000 tūī-friendly plants this

year between Banks Peninsula

and the central city.

The vegetation will provide

food for the tūī to eat.

It was launched in September

last year, with 3000 native trees

planted by volunteers at the

Christchurch Adventure Park.

The project is a partnership

between Meridian Energy and

The Christchurch Foundation.

In 2009 and 2010, 72 birds

were released at Hinewai

Reserve near Akaroa and the

small population are often

sighted.

Brendan Charlotte Gort

*Dr Maria Barosso Sevillano is currently here as a locum and will be joining us permanently in October.

Wednesday June 30 2021 Bay Harbour News

WE ARE

MOVE A

Providing

high quality

care to you and

your family

NEWS 13

Te Ahu Pātiki

partnership

established

A PARTNERSHIP agreement

has been reached between Orton

Bradley Park, Te Hapū o Ngāti

Wheke and the Rod Donald

Banks Peninsula Trust for

ownership and management of

the new Te Ahu Pātiki park.

The partnership has begun with

the signing of an memorandum

of understanding outlining key

governance, conservation and

management principles, forming

an agreement in principle.

In the first instance, the ownership

of the Te Ahu Pātiki land

will transfer to Rod Donald Trust

tomorrow.

Trust manager Suky Thompson

said the groups will continue

working together to establish a

new co-ownership and governance

entity ensuring manawhenua

and local organisations can work

together.

Said Thompson: "We are excited

to be working together to shape

the future of this highly significant

land as a place that our tamariki,

mokopuna and generations

to come can enjoy, cherish and

learn from, and where our native

biodiversity can flourish."

It is aiming to have the new

TO A NEW

FERRYM

EARTHQU

entity in place and to transfer

ownership of the land to it by

December 1.

WATCH

We will keep

new address.

If you w

and t

• Women's health • C

WE OFFER ADvICE AND • Older per

TREATMENT FOR: • Warrant of fi

• Women's health • Drug testing

• Helping patients

• Children's and teenage health and wellbeing

• Helping patients manage long • term Removal medical problems of skin le

• Stopping smoking support

• Older persons health • Lifestyle advice

• Occupational an

• Travel vaccinations • Pre-employment

•

• Warrant of fitness checks for men and women

• Pre-employment medicals

• Removal of skin lesions

• Occupational and company medicine

New patients w

Ferrymead

C E N T R E

fer

medIc

MEDICAL
---
Bay Harbour News Wednesday June 30 2021

14

NEWS

Play at

BounceForBucks.co.nz

Promotion runs 28 June until 25 July 2021. One game ticket will be issued for every $25 spent on

Qualifying Purchases (exclusions apply). Max 10 game tickets per transaction. You must be 18+

and retain original game ticket and receipt. Visit foursquare.co.nz for full Terms & Conditions.

www.foursquare.co.nz

facebook.com/FourSquareNZ

Ends 25 July 2021. See foursquare.co.nz for full Terms & Conditions.

ZOOMERS: Breana Vosper, Hinnie Hobeyn, Bronte Lovell and Joel Graham

will be exhibiting their artwork at Stoddart Cottage throughout July. ​

Young artists collaborate

for Zoomers exhibition

• By Samantha Mythen

FOUR talented young

Diamond Harbour artists

from Generation Z are

showcasing their work at a

new exhibition they have

called Zoomers.

The opening event will

be held on Friday from

5-7pm at Stoddart Cottage

in Diamond Harbour.

Breana Vosper, Bronte

Lovell, Hinnie Hobeyn

and Joel Graham, who all

attend Cashmere High

School, have followed

an open theme for the

exhibition.

Brena comes from a

family of artists and has

been painting for most

of her life. Currently,

she is working with oils,

watercolour and acrylic to

paint scenes of nature and

different light forms.

Bronte's favourite art

form is creating comics,

characters and stories

with digital art, however,

in Zoomers, she has

experimented with

painting.

Stoddart Cottage is

hosting a series of

winter workshops

to help get the

community's creative

juices flowing.

Said Stoddart

Cottage gallery

manager Dr Jo

Burzynska: "We're

really excited about

the workshops, as it's

the first time we've

run a programme of

this kind."

Joel Graham's digital

artwork

Hinnie is a self-taught

artist who started drawing

as soon as she could hold

a pencil. Pencil drawings

and line art remain her

favourite style, but she

creates art using a wide

variety of mediums.

Joel spent his childhood

living in Afghanistan,

where his parents worked

in aid and development,

working to help trafficked

The workshops

have been supported

by funding from

Creative Communities

allowing them to

remain affordable.

No previous

experience is required

to take part.

Matariki Lantern

Making – Sunday,

1-4pm, $5

Under the Sea

– Children's Clay

Workshop – July

women and children. This

greatly influences the

digital art and animation

he creates, focusing on

portraiture and figures.

The exhibition has

been organised by Artists

Against Slavery, a group

that uses creative arts

to fundraise for antitrafficking

organisation

Hagar International.

The young artists will

be donating 10 per cent

of the sale price of their

artworks sold to the

group.

Janie Porter, who

helped to organise the

show said: "It is always

good for young people

to have encouragement

from galleries to show

their work and rise to the

challenge involved with

exhibitions.

"There is no point of

painting something and

then putting it into a

drawer."

People can view the

exhibition at Stoddart

Cottage throughout July.

Winter workshops at

Stoddart Cottage

15, 10am-noon, $15

(booking essential via

eventbrite)

Natural Dyes for

Every Home and

Artist – July 18,

3-4pm, koha

Temple of

Flora – Botanical

Assemblage – July

31 – 1.30-4pm, $45

(booking essential via

eventbrite)

There is also an

August programme.
---
Latest Canterbury news at starnews.co.nz

Wednesday June 30 2021 Bay Harbour News 15

CArE SUITES ALSO AVAILAbLE NOW!

For inquiries: Anne (Sales)

M: 027 727 4770 W: 03 943 6006

E: anneb@archer.org.nz www.archer.org.nz

VILLA DISCOUNTED TO

$399,900
---
16 Bay Harbour News Wednesday June 30 2021

It's not

spam!

We're texting people in

Group 3 this week.

If you get a text, that means

you're in Group 3.

COVID-19 Vaccination

The text will confirm you're in Group 3 and you'll receive an invitation to

book your vaccination appointment by the end of July.

You might get more than one text – that's okay!

There are more than 170,000 people in Group 3 in Canterbury, so vaccinations

for this Group will continue until mid-September.

There's no cut-off date to get your vaccination, and there's plenty of vaccine

for everyone.

Thank you for your patience.

We're now vaccinating people in Groups 1, 2 and 3:

Group 1

Group 2

Group 3

Group 4

Includes border and MIQ workers and their household contacts.

Includes frontline health workers, people working and living in long-term residential care,

Māori and Pacific people aged 70 and over, the people they live with and their carers.

Includes people aged 65 and over; people with some underlying health conditions;

pregnant people; people with disabilities and their carers, plus older Māori and Pacific

people, the people they live with and their carers.

Includes everyone, aged 16 or over.

If you are in Group 3 but don't receive a text before 5 July, please check your eligibility on our website:

www.VaccinateCanterburyWestCoast.nz

If you don't have a cell phone, you will receive a letter or an email either advising you're in Group 3 or inviting you to book

your appointment.

If you believe you have been inadvertently missed or you don't have a GP,

email COVID19@cdhb.health.nz to register your details.

CDHB28Jun21 CP
---
Latest Canterbury news at starnews.co.nz

Wednesday June 30 2021 Bay Harbour News 17

Speaker's Corner with Tony

Alridge

Today, 7.30pm

This speaker's corner will

feature former Mt Pleasant

resident Tony Alridge. Tony, a

former industrial statistician,

will be sharing his ambitious

project to map the rebuild of the

area after the February 22, 2011,

earthquake. His talk will include

mapping damage and recovery

in the Mt Pleasant area and the

results of the surveys.

Mt Pleasant Community Centre

Hall

Creative Wednesdays

Wednesday, 11.30am-2.30pm

All welcome and you can come

and go as you please. This group

is focused on bringing people

together and getting creative,

no matter what level your art

practice is, beginner or expert.

Go along to this event to make

connections and express yourself

freely. Every Wednesday.

The Rock, 10 Wakefield Ave,

Sumner

Heathcote Community

Morning Tea

Wednesday, 10am-noon

Everyone is invited to pop in

for a cuppa, some fresh baking

and to get to know some of the

locals. Every Wednesday.

Heathcote Community Centre

Email samantha.mythen@starmedia.

kiwi by 5pm each Wednesday

Pottery Social Night

Wednesday, 7-9.15pm

This is a local, equitable opportunity

for those with pottery

experience to pot, have fun and

make connections with others.

They have two clay rooms all set

up for you to work on your own

projects. Tuition is not provided.

Three electric pottery wheels,

just take your own clay, glazes,

tools and ideas.

Sumner Hub, 57 Nayland St

Harbour Singers

Wednesday, 7pm

Practice with Rachel Bayliss.

World music taught in a supportive

and friendly atmosphere.

Phone Margie Dickinson 329

3331 or Joy McLeod 329 4119.

Green Room, Diamond

Harbour Community

Centre

Sumner Silver Band

Thursday, 7pm - 8.30pm

All welcome to attend the

band's regular rehearsals to either

just listen or to become part

of the band. They can provide

instruments and encourage returning

players of all ages. Phone

Peter Croft 384 9534.

Redcliffs School, Beachville Rd

Community Garden Working

Bee

Thursday, 10am-11.30am

Contribute time and sweat to

the Mt Pleasant community garden.

Join Jocelyn at this weekly

working bee.

Mt Pleasant Community Centre

Garden

Bridle Path Track Working

Bee

Sunday, 9.30am-12.30pm

Take part in planting natives

along the much-loved and wellused

Bridle Path, Please take a

spade if you have got one, plus

gloves, and sturdy shoes. Meet

bottom of the Bridle Path near

the gondola.

Bridle Path Track

Sumner Community

Mid-Winter Dip

Sunday, 11am

Head along for a great vibe,

and take part in this fun event

with do with family and friends.

This is a fantastic way to celebrate

Matariki and the fact that

the days will now be getting

longer. Meet at the Esplanade

end of Hardwicke St. Prizegiving

at the Village Inn Sumner afterwards.

Sumner Esplanade

Sumner Bridge Club

Monday 7.15pm, Wednesday

1pm

For fun, friendly and competitive

Bridge. If you have any

questions, send an email to sumnerbridgeclub@gmail.com

57 Dryden St, Sumner

Lyttelton Harbour TimeBank

Drop-in Session

Tuesday, 10am-noon

The Lyttelton Harbour

TimeBank exists to help build a

stronger, more connected harbour

community. Come in for

a chat – get help with joining or

managing your account, posting

Matariki Celebrations, Friday,

5-8pm. Go along to the

Mt Pleasant community's

favourite celebrations of

the year and take part in a

shared meal for the whole

family. Kai is provided by

the community centre and

all are welcome. There will

be a storyteller and a face

painter for the younger

children. There will also

be an astronomer talking

about the stars. Entry is by

paper koha at the door. Go

alone or take the whole

family to this warm and

friendly event. If you'd like to

volunteer, email Di market@

mpcc.org.nz. Mt Pleasant

Community Centre.

an offer or request, or anything

else.

Lyttelton Library

9 for 9 Group Art Exhibition

Tuesday-Friday, 11am-5pm,

Saturday, 1-4pm, Sunday, 11am-

4pm

Nine artists feature for the 9th

annual container art exhibition.

The exhibition includes Philip

Trusttum, who was recently

awarded an ONZM for his services

to art. The exhibition runs

until the end of July.

LEstrange Gallery, 17 Marriner

St, Sumner

Mt Pleasant Tennis

Tuesdays, 10-11.30am and

Thursdays, 3pm

Casual adult tennis is played

throughout the winter. Head

along and play a game. Visit

www.mtpleasant.co.nz

Quarry Rd

NEW LAND ROVER DEFENDER 90

THE NEW DISCOVERY SPORT

CAPABLE OF GREAT THINGS CONFIDENT IN

ALL CONDITIONS

AVAILABLE NOW

New Land Rover Defender relishes challenges and doesn't care much for impossibilities, and now the two-door Defender 90

version promises even more agility and adventure.

Tested in every condition, in every environment, and on every surface you might encounter, it always comes out the

other side, ready for the next challenge. The new Defender crowned 2021 World Car Design of the Year as unstoppable

all-terrain model beats shortlisted rivals to win coveted award. Defender. An icon in a category of one.

To book a test drive, please contact Corey Gray at Archibalds.

38 Tuam St, Christchurch | 03 377 5200 | archibalds.co.nz

Own a pre-2015 Land Rover Defender? Book a service now from just $425. Call our team on 03 977 8146.

*Terms and conditions apply. The standard scheduled 5 Year servicing is included (different terms and conditions apply to different models). Contact Archibalds for more details or visit www.landrover.co.nz.

THE MOST VERSATILE AND COMPACT SUV
---
Bay Harbour News Wednesday June 30 2021

18

PUZZLES

CRYPTIC CROSSWORD

1 2 3 4

5 6

7 8 9

10

11 12

13

14 15

16 17

18 19 20

21

22 23

24

QUICK CROSSWORD

1 2 3 4 5 6 7

2/7

Latest Canterbury news at starnews.co.nz

Across

1. Ready for action, though poor in a

late turnout (11)

7. Father, having solar trouble, needs its

protection (7)

9. Pretend to be an attitude one might

adopt (4)

11. Be the reason behind a principle

that's fought for (5)

12. Ridge might form round top of leg,

this being worn (6)

14. Competitive sort of body-work? (11)

18. To feel discontent will get peer in

trouble (6)

20. Bible reference one would expect to

rhyme (5)

22. It may be the informer that will

annoy one (4)

23. Throwing a game that originated in

Ireland (7)

24. Afraid merry-go-round will be given

to milk producer (5,6)

Down

2. Might it put us right, one in the

chase? (7)

3. How jouster would compete for tip

(4)

4. Spoken in dual form - nothing in it!

(5)

5. First sparrow will jab bill at bit of dust

(5)

6. Have great enjoyment turning the bar

over (5)

8. Bombardment as means of getting

peas from pods (8)

10. Find out that the record is finished

(8)

13. Tale has no alternative but to show

place is filthy (3)

15. Such slavish use one perhaps

reviles (7)

16. Allow student the necessary to

pursue his studies (5)

17. It will nearly be a strip at the

roadside (5)

19. A pram used for going to town for

ham (5)

21. One left the boss so that he could

work at the range (4)

SUDOKU

Fill the grid so that every column, every row and 3x3

box contains the digits 1 to 9.

8

9 10

11 12 13

14 15

16

17 18 19

20

21 22 23

24 25

Across

1. Tastelessly showy or

loud (6)

4. Stretch out (6)

9. Soup spoon (5)

10. Inactivity (7)

11. Lewd (7)

13. Merit (4)

14. Mixture (11)

17. Sausage (Aus) (4)

18. Peculiar (7)

21. Continue to live (7)

22. Juvenile (5)

24. Moped (6)

25. Close-fitting hat (6)

Down

1. Holler (6)

2. Sum up (3)

3. Strainer (5)

5. Gift (7)

6. Post Meridiem (9)

7. Tilt (4)

8. Childhood game

(4-3-4)

12. Rogue (9)

15. Charm, enchant (7)

16. Music style (6)

19. Verse (5)

20. Queries (4)

23. Vase (3)

CODECRACKER

QUICK CROSSWORD

Across: 1. Brassy, 4. Sprawl, 9. Ladle, 10. Inertia, 11.

Obscene, 13. Earn, 14. Combination, 17. Snag, 18. Strange,

21. Survive, 22. Young, 24. Sulked, 25. Beanie.

Down: 1. Bellow, 2. Add, 3. Sieve, 5. Present, 6. Afternoon,

7. Lean, 8. Hide-and-seek, 12. Scoundrel, 15. Beguile, 16.

Reggae, 19. Rhyme, 20. Asks, 23. Urn.

CRYPTIC CROSSWORD

Across: 1. Operational 7. Parasol 9. Pose 11. Cause 12. Girdle

14. Athleticism 18. Repine 20. Verse 22. Nark 23. Hurling 24.

Dairy farmer.

Down: 2. Pursuit 3. Tilt 4. Aloud 5. Speck 6. Revel 8. Shelling

10. Discover 13. Sty 15. Servile 16. Grant 17. Verge 19.

Parma 21. Chef.

TARGET

armed dame derma dram drama

dream dreamt earmark kame

karma made make maker marae

mare mark marked marker

market marred mart mate mated

mead meat ream rearm remark

tame tamed tamer team term

TRADEMARK tram

MEDIUM HARD

EASY

TARGET

A T R

K M R

A E D

Good 18

Very Good 25

Excellent 30+

ALL PUZZLES © THE PUZZLE COMPANY

How many words of four letters or more can you

make? There is at least one nine-letter word.

Each letter may be used only once and all

words must contain the centre letter.

No words starting with a capital, no plurals

ending in s unless the word is also a verb, e.g.

he fires the gun.

Mon-Thurs: 7am - 4pm

Fri-Sun: 7am - 5pm
---
REAL ESTATE

A Lifestyle of Luxury

9 Beachville Road, Redcliffs

Auction Thurs 15 July from 11am,

in rooms, 76 Hereford St (Unless sold prior)

4 bedrooms, 2 living, 1 study, 4 bathrooms,

3 car garaging

www.rwferrymead.co.nz/OPA30011

Open Homes: Thursday 5pm - 6pm,

Sat 1pm - 1:30 pm and Sun 1pm - 1:30 pm

Enjoying a prime yet private position off the

prestigious Redcliffs waterfront, this luxuriously

appointed residence responds magnificently

to the needs of modern lifestyles and achieves

comfort and flexibility within a skilfully

composed floor plan.

Designed by local architect Marcus Stufkens,

the two-level layout has been exquisitely

arranged with well-considered spaces and

serves up exceptional living and accommodation

options across both floors.

The home's upper level is dedicated to

everyday living and hosts the primary openplan

entertaining area, which exudes modern

appeal and steps outdoors to two sheltered

balconies that capture views of the water. An

attractive family bathroom and two of the

home's four bedrooms are also situated

upstairs, including the master suite that comes

complete with a luxurious walk-in wardrobe

and ensuite.

An alternative living zone and additional

kitchen occupy the ground floor, which is

favourable for families craving space, or

buyers simply seeking a well-appointed area

where they can work from home or have

extended guests. Further bedrooms and

bathrooms are positioned downstairs,

ensuring your options are cleverly distributed

across both floors.

Entertaining in style outdoors is assured with

a supreme alfresco environment that

comprises a volcanic stone fireplace and spa,

while the outdoor shower provides the perfect

spot to freshen up after a day at the beach.

Versatility is heightened by the presence of a

media room and dedicated study with stunning

in-built cabinetry, while an extensive three-car

garage, ample on-site parking and a sauna

round out this endlessly appealing residence.

Set across from the water's edge, this property

embraces a desirable coastal lifestyle and is

within moments of the Coastal Pathway and

local amenities of Redcliffs and Sumner Village.

For definite sale - owners relocating.

Wednesday June 30 2021 Bay Harbour News 19

ADVERTISING FEATURE

No.1 Sales Consultants 2017-2021

Ray White Ferrymead

RW Elite NZ Sales Performers

Simon and Paula Standeven

0274 304 691

thestandevens@raywhite.com

Up to

50 % Off

*Call for Terms

& Conditions

Off

*

ADJUSTABLE MASSAGE BED

by
---
20 Bay Harbour News Wednesday June 30 2021 Latest Canterbury news at starnews.co.nz

Be inspired with thousands of ideas under one roof!

2 – 4 July 2021

IN ASSOCIATION WITH

Free informative seminars

thanks to !

Complimentary goodie bags!

show-only specials & giveaways!

Place a bid in the live AUCTION!

This MEGA tiny home could be YOUrs!

have an EV worth

$

22,000

TO

GIVE AWAY!

CUT THIS AD OUT FOR

1x FREE DOUBLE PASS

Join us at the Home & Leisure show, stand number 176.

Appliances, beds, furniture & tech.

Everything you need for your home.

2 - 4 July 2021 • 10am - 5pm • Christchurch Arena • www.starhomeshow.kiwi
---
Latest Canterbury news at starnews.co.nz

Wednesday June 30 2021 Bay Harbour News 21

Ford's cheeky Puma ready to pounce

WHILE THE sport utility market

is ever-expanding, the cars within

it are shrinking.

Ford's newcomer into that

segment is the Puma, a cheeky,

squat SUV that is bulbous and

well rounded; if you think

Nissan Juke then the two aren't

dissimilar, although my son

likens the front of the Puma's

design, especially the way the

lights are angled, to Porsche's

Macan.

Of course, the Puma is built

for a completely different

market, it will attract a wide

cross-section of buyers, those

from the younger generation

who like its trendy style, right

through to those in retirement

who will benefit from its ease

of access and easy-to-drive

characteristics.

Sitting at just 4.2mm, the

Puma is a compact five-seater,

but there's good load space so

that the belongings we tend to

carry with us can be adequately

stored. Ford claims a 410-litre

load space capacity extending to

1170-litres if the rear seats are

folded forward.

At the other end sits a 999cc

three-cylinder turbocharged

engine.

This configuration is somewhat

the direction Ford has been

travelling in lately – no pun

intended. Some Focus models

have three-cylinder engines, and

I'm sure as other models come

through, so will engines of this

size be utilised.

Even though it is just 1-litre, the

Puma's unit is quite feisty. Ford

rate it with healthy power outputs

of 92kW and 170Nm, as is the

case with most new-generation

turbo units, it has strong midrange

performance, the torque

figure is broad, being available

all of the way from 1400rpm to

4500rpm.

Adding in the proximity of

ratios through a seven-speed

automatic transmission means

there is little chance of the engine

going off-boost during the

acceleration process.

The Puma lands in two

specification variants. The

evaluation car was the ST-Line

model which lands at $37,990, the

base model car lists at $34,990

and shouldn't be dismissed, it too

has all of the features which make

FORD PUMA: Healthy fuel usage figures..

today's modern car so appealing.

The ST-Line Puma is

recognised by its high level of

fitment even though cloth trim

greets the occupants. The seat

fabric has red stitching which

fits with the ST (sport tuned)

specification. Satellite navigation

is fitted along with Apple CarPlay

and Android Auto connectivity,

keyless entry and ignition, voice

control and wireless mobile

phone charging. It also gets

adaptive cruise control which is

part of a five-star Australasian

New Car Assessment Program

safety rating, the Puma is

chock full of the electronic and

mechanical functions that keep

you safe in the first instance and

to protect you in a collision.

The Puma is built in

Romania, it shares many of

the characteristics which make

European Fords so desirable,

especially so with the way it feels

connected to the road and the

associated satisfaction you get as

a driver.

Sure, the power outputs are

such that the Puma will never

set the world alight with its

acceleration or speed, but it

handles beautifully, a lot of

that is attributable to the sport

suspension settings. However,

don't be put off, ST specification

doesn't mean a hard ride, I still

rate in-cabin comfort as perfectly

acceptable and, of course, the

base model Puma has standard

spring and damper rates.

Three-cylinder engines are

generally built to enhance

• Price – Ford Puma ST-Line,

$37,990

• Dimensions – Length,

4186mm; width, 1805mm;

height, 1550mm

• Configuration – Threecylinder,

front-wheeldrive,

999cc, 92kW,

170Nm, seven-speed

automatic

• Performance –

0-100km/h, 11sec

• Fuel usage – 5.3l/100km

economy and lower emissions.

That can certainly be said for

the Puma's unit, with little in

the way of reciprocating mass it

contributes to the light weight of

the car in total (1285kg).

That being the case, there are

fairly healthy fuel usage figures

to report. Ford claim up to

5.3l/100km can be achieved on a

combined cycle average.

My time in the evaluation car

consisted of several suburb to city

commutes and a long highway

excursion. The fuel usage readout

was listing at 6.4l/100km when I

took the car back to the Sockburn

dealership. At 100km/h the

readout sits at 4.4l/100km, the

engine spinning over gently at

just 2000rpm in seventh gear.

The Puma is effectively a

replacement for the popular Ford

EcoSport. That car sold well in

New Zealand, it's my guess the

Puma will pick up where the

EcoSport left off.

NEVER

MISS AN

ISSUE

SUBSCRIBE

FROM $49

Subscribe:

classicdriver.co.nz

0800 624 295
---
22 Bay Harbour News Wednesday June 30 2021 Latest Canterbury news at starnews.co.nz

BE IN TO WIN

A SONY x90h ANdROId Tv WORTh $2,500!

FREE FIRST XV SEASON PREVIEW MAGAZINE INSIDE

MAY 2021

TONY JOHNSON

ON THE COMING OF

MOANA PASIFIKA

AARON SMITH

'WHY I RATE

DUPONT'

SEAN FITZPATRICK

'WE NEED MONEY TO

SUSTAIN THE GAME'

rrp $10.99

SEILALA MAPUSUA INTERVIEW: HIS VISION FOR MANU SAMOA

DAN

CARTER

CRUSADERS

FIVE OF THE BEST

REFLECTING ON A

GREAT CAREER

TONY

JOHNSON

CAN THE

SABBATICAL

JEROME

KAINO

SORTED FOR

LIFE AFTER

RUGBY

BEEGEE'S

DREAM

WHY MOANA

PASIFIKA WILL BE A

GAME-CHANGER

• PHIL GIFFORD: THE BEST

SCHOOLBOY STARS HE SAW

• DARYL GIBSON: HIS VISION

FOR THE BOP STEAMERS

JUNE 2021

SAM CANE

THE LONG

ROAD BACK

WAYNE PIVAC

FROM THE OUTHOUSE

TO THE PENTHOUSE

Subscribe to New Zealand's

premier rugby read for six

issues or more to go in the

draw. Ten lucky subscribers

will also win one of five All

Blacks jerseys, Lone Star

and Joe's Garage vouchers.

9 416770 121325

rrp $10.99

• WHERE ARE THEY NOW:

MATTHEW COOPER

• SARAH HIRINI:

BRINGING THE MANA

9 416770 121325

SIx ISSUES

$39

SAvE 41%

+ ChANCE

TO WIN A Tv

& mORE!

*Competition runs till July 31st 2021. Offer only applies to NZ residents

and subscription periods of six issues or more.

SUBSCRIBE AT RUGBYNEWS.CO.NZ OR 0800 77 77 10

AvAIlABlE AT All GOOd BOOkSTORES ANd SUpERmARkETS
---
Latest Canterbury news at starnews.co.nz

Wednesday June 30 2021 Bay Harbour News 23

Cars Wanted

$$ CASH PAID $$

Buying cars & trucks for

wrecking. Ph / txt Zac 021

1056 797.

Gardening

& Supplies

Gardener available for

maintenance, weeding

pruning, spraying,

planting, advice. Qual &

exp.Pensioner discount

25%. Ph Richard 0274 918

234, 03 349 4022

Grazing

GRAZING

WANTED

Grazing wanted for two

sweet Saanen does,

aged 9mths. Needs to be

deer fenced and have

water. If you might have

something in the Mt

Pleasant, Redcliffs,

Sumner, Heathcote area,

please ph 027 909 8950

KATANG

Classifieds Contact us today Phone our local team 03 379 1100

Health & Beauty

Fitness

Tues 9.15am-10.15am

To Let

RENT ME!

Ideal as an extra

bedroom or office.

no bond required

Sumner Community

Centre (above library)

$5 per class.

Concession cards available.

For more info

contact Katrina

381 1704 or

027 4966 845

Fully insulated and double glazed for warmth.

Three convenient sizes from $80 a week:

Standard 3.6m x 2.4m

Large 4.2m x 2.4m | Xtra-large 4.8m x 2.4m

Visit our website

www.justcabins.co.nz

for display cabin locations

www.justcabins.co.nz

Tuition

PIANO LESSONS

Catherine Bracegirdle

DipABRSM ATCL AIRMT

12 Ridgeway Pl, Richmond Hill, Sumner

PH. 021 044 5102

www.pianoandtheory.co.nz

catherine.bracegirdle@gmail.com

Trades & Services

Trades & Services

CARPET LAYING

Exp. Repairs, uplifting,

relaying, restretching.

Phone John on 0800

003181, 027 240 7416

jflattery@xtra.co.nz

DECKS

Fences, retaining, 2nd

hand kitchen installs

incl stone bench rework,

sleepouts, alterations,

paths and more. Greg 022

475 8227

ELECTRICIAN

JMP Electrical.

Experienced & registered..

Expert in all home

electrical repairs &

maintenance.Call James

027 4401715

ELECTRICIAN

Andrew Martin Electrical.

25 years experience.

Specialize in home

renovations, repairs and

maintenance. Call Andrew

0274 331 183

SCRAP METAL

Dominion Trading Co Ltd

• Scrap metal buyers

• Canterbury owned & operated

• Top prices paid $$$

• Open Saturday morning

Open Mon-Fri 8am – 4.30pm Sat. 8.30am-12.30pm

www.happyscrappy.co.nz

03 343 9993 333 Blenheim Rd

Trades & Services

ADD SOME

COLOUR

TO YOUR ADVERT!

WINDOW TINTING

tintawindow

advanced film solutions

99% uv block

fade protection

heat control

reduce glare

25 Years Experience

Trades & Services

Atkinson Construction Ltd

• Local qualified builder

• Over 30 years experience

• Building alterations

• Maintenance

• No job too big or small

Dean: 021 480 093

atkinsonconstruction@xtra.co.nz

Your local professional

FOR ALL YOUR

PLUMBING,

GAS &

DRAINAGE

• Bathroom repairs

• Renovations

• Leaks

• Blocked drains

• Gas and drainage

Carol and Chris

Phone 376 5322 or email

chcheast@laserplumbing.co.nz

Trades & Services

GUTTER CLEANING

HOUSE WASH

Total gutter / spouting

clear out & clean. House

wash & windows. For a

professioanl & reliable

service call Greg Brown

A1 Spouting Cleaning 027

616 0331 or 384 2661

PAINTING SERVICES

Mature, reliable,

conscientious &

experienced, reasonable

rates, no job too small!,

call Ron 027 434-1400

STONEMASON,

BRICK BLOCKLAYER,

Earthquake Repairs, Grind

Out & Repoint, River/

Oamaru stone, Schist,

Volcanic Rock, Paving,

all Alterations new & old,

Quality Workmanship,

visit www.featureworks.

co.nz or ph 027 601-3145

Wanted To Buy

AAA Buying goods

quality furniture, beds,

stoves, washing machines,

fridge freezers. Same day

service. Selwyn Dealers.

Phone 980 5812 or 027

313 8156

privacy films

frosting designs

non-darkening films

Workmanship Guaranteed

Lifetime Warranties on Most Films

UV

block

Real Estate

HOME WANTED 3-4

bedrooms. Looking in Nor

West areas, Beckenham

or Somerfield. Prefer

permanent material brick

and post 1990 build. Don't

mind if it needs some TLC

- anything considered.

Cashed up buyer. Phone

021 372 479

Public Notices

Free Quotes Canterbury and Districts

03 365 3653 0800 368 468

Trades & Services

DIRTY TILES

& GROUT?

Our unique restoration

processes will make your

tiled areas look NEW again!

We specialise in professional

cost effective solutions for

all your tile & grout issues.

• Tiled shower makeovers

• Re-colouring old grout

• Mouldy silicone replacement

• Professional tile/grout

cleaning, sealing & repairs

Call today for a FREE quote on 0800 882 772

www.theprogroup.co.nz/dpc9385

Situations Vacant

Public Notices

Sorry, we are

no longer accepting

cheques

Star Media wish to advise

we no longer accept cheques as

payment for advertising, events

or accounts due to changes in

bank processes.

We do offer a range of other

payment options including cash,

EFTPOS, Visa, Mastercard, debit

card and online.

www.starnews.co.nz

Reporter - Christchurch

• Great media opportunity

• Be part of an award winning team

• A media company which is growing its reach

Who we are

Allied Press Limited employs over 450 people on a permanent basis

across our 15 sites in the South Island. We operate across multiple

media platforms (print, on-line, digital) delivering news, information and

entertainment through our various regional and city publications, including

Christchurch-based Star Media.

The role

We are seeking someone who is looking to take the next step in their

journalism career.

Reporting to the editor, the main purpose of the position is to file

community-based news, sport and people articles for both print

publications and online platforms.

Your skills and experience

We are looking for a journalist who has already displayed the qualities

and drive to become a topline journalist. In addition to your interest in

equity and diversity you will demonstrate:

• A great work ethic

• A competitive nature

• An eye for detail

• Accuracy

Further details

This is a full time, permanent position.

We can offer you a great team environment, professional development

opportunities and an opportunity to grow.

If you think this role is for you, please apply by way of CV and a

covering letter to barry@starmedia.kiwi. Informal inquiries about the

role are welcome and should be directed to Editor in Chief Barry

Clarke 021 359-426.

All applications will be treated in the strictest confidence.

Please note you must have the right to work in New Zealand to

apply for this role.

Disclaimer: Allied Press does not accept unsolicited agency resumes.

Allied Press is not responsible for any fees related to unsolicited resumes.

ADVERTISE YOUR BUSINESS HERE

Phone for further details

(03) 379 1100
---
24 Bay Harbour News Wednesday June 30 2021 Latest Canterbury news at starnews.co.nz

STYLE & QUALITY

FOR LESS

WWW.AFFORDABLEFURNITURE.NZ

SUPER

Available in

Green

Blue

Grey

SPECIAL SUPER

SPECIAL

Luna Corner Suite

FROM

$ WAS $1929

429

$

1789

Iris Sofa

3 Seater $809 $749

2 Seater $679 $629

1 Seater $459 $429

Luna 3 Seater $859 $799

Luna 2 Seater $719 $669

SUPER

SPECIAL SUPER

SPECIAL SUPER

SPECIAL SUPER

SPECIAL SUPER

SPECIAL

Linden

Bar Stool

Willow

Bar Stool

Cove

Bar stool

Coronet

Bar stool

Sling

Bar stool

WAS $89

$

69

WAS $89

$

79

WAS $149

$

129

WAS $189

$

179

WAS $189

$

169

SUPER

SPECIAL

SUPER

SPECIAL

Sumata

Fabric Headboard

Maple

Collection

Maui

Recliner

3 Colour

available

WAS $999

$

899

FROM

$

349 Queen $379 $349

King $399 $369

California King $479 $439

Bunk $899 $829

3 Drawer Lowboy $509 $469

5 Drawer Lingerie Chest $489 $449

6 Drawer Tallboy $639 $589

3 Year Warranty

5 Year Warranty

10 Year Warranty

Continuous Spring

Pilllow Top

Coiled Fibre

Wave Foam

Comfort Foam

Pocket Spring

Euro Top

Quilt Fibre

Wave Foam

Comfort Foam

Zoned Pocket Spring

Euro Top

Latex Foam

Pillow Soft Foam

Wave Foam

FROM

$

279

Single $299 $279

King Single $349 $329

Double $399 $369

FROM

Melody Mattress Cloud Rest Mattress Comfort Latex Mattress

Queen $439 $399

King $839 $779

King $469 $439

Super King $899 $839

$

499

King Single $539 $499

Double $679 $629

Queen $759 $709

FROM

$

1299

Queen $1399 $1299

King $1509 $1399

FREE

CARPARKING

SOUTH CITY

BATH ST

WE ARE

HERE

255 MOORHOUSE AVE

REBEL SPORT

COLOMBO ST

MON-FRI 9:30AM – 5:30PM

SAT-SUN 10AM – 5:30PM

0800 268 264

www.affordablefurniture.nz
---
WEDNESDAY, JUNE 30, 2021

Connecting Your Local Community

starnews.co.nz

YOUR LOCAL

INSIDE

What's on offer this year?

THIS FrIDAy,

SATUrDAy & SUnDAy!

2 – 4 July 2021

IN ASSOCIATION WITH

Be inspired with thousands

of ideas under one roof!

FREE

DOUBLE PASS!

CUT THIS AD OUT FOR

1x FREE DOUBLE PASS

Join us at the Home & Leisure show, stand number 176.

Appliances, beds, furniture & tech.

Everything you need for your home.

2 - 4 July 2021 • 10am - 5pm • Christchurch Arena • www.starhomeshow.kiwi
---
Explore Our Unique Zones!

IN ASSOCIATION WITH

IN ASSOCIATION WITH

Sip, taste and try new products before you buy.

Discover liquorice, gourmet dips, fruit juices, local wine

and more!

Learn about eco friendly products and services including

solar power, pellet fires, energy efficient homes, LED lighting,

electric bikes, light therapy, alternative energy and more!

Be inspired by landscaping plans, pools, spas, outdoor

furniture, fencing, garden ornaments, decking, glass

and more!

Take a look inside several tiny homes, mega tiny

homes, modular homes and place a bid in a live

auction!

Upgrade your leisure time with boats,

camper vans, caravans, jet skis and even an

off road vehicle in our NEW Leisure Zone!

Discover Sea-Doo personal watercraft

and Live The Good Life with a Sea-Doo.

Learn more on the exciting models

2021, features and specs. Models: Spark,

Spark Trixx, Wake Pro 230, GTI, GTI SE

Can-Am ATVs and side-by-side vehicles

are designed to outperform, no matter

what. From the trails to fields, dunes to

mountaintops, this beautiful, challenging,

exciting place is for those who dare to

venture off-road for work or play.

CARAVANS

Come visit us and see our display

which will include Caravan and

camping accessories.

Visit our stand where we will be

displaying three Motorhomes for

you to walk through.

Stockists of:

Welcome to the world of boating

with Mr Boats, the South Islands

leading marine retailer. Stockists of

premier brands of pleasure craft,

marine engines and accessories.

2 - 4 July 2021 • 10am - 5pm • Christchurch Arena • www.starhomeshow.kiwi
---
IN ASSOCIATION WITH

Informative seminars brought to you by

On every day — Friday, Saturday and Sunday

IN ASSOCIATION WITH

Buildright

11.00am

Covering renovations for your home - whether it be your bathroom, kitchen,

reconfiguration of existing rooms or extensions.

Sunshine Solar

11.30am

Learn if solar is right for you, what type of solar is best for what applications

and how you can make money off solar with little or no money down. Covering

commercial solar as well as residential and batteries.

Resene

12.00pm

Discover how to take your favourite colours and confidently design colour

schemes to suit you, your home and your lifestyle. Make the most of your

space and maximise the appeal of your home.

Kitchen Studio

12.30pm

From inspiration to installation, take note of our tips and tricks when updating

your kitchen to ensure it fits in with rest of your house.

Whitehouse

Builders

1.00pm

Ever wondered how to build an energy efficient home? Learn the 5 passive

house principles that contribute to a truly efficient home.

NZ Home Loans

1.30pm

Discover the tools that will allow you to become debt free faster, purchase a

property in Christchurch, either a 1st home, construction, or investment.

Some of our Show-only Specials & Giveaways!

For a full list of show specials, visit our facebook page @TheStarHomeandLeisureShow - updated daily!

Are offering a

FREE car diffuser

to their first 50

customers.

Visit the Resene stand or get

a Resene showbag and enjoy

show savings on products,

plus you can redeem it for a

free Resene fashion colour

fandeck, with the latest

colours for your walls.

The Fudge Cottage will have a

show special of 3 Fudge Bars

for $16.50

From our Taste Zone #6 stand.

Visit us at stand 47

Save 20% off a

Sensibo Make

ANY heatpump

SMART with

Sensibo.

Pick up your entry form upon arrival, find

the hidden word and hand in your completed

form to the Ray White Bishopdale & Strowan

stand #199 to go into the draw to win an iPad!

WIN!

*Sample image

Kids'

house hunt

Competition!

Go in the draw to win 2 nights

explorer package at Hermitage

Hotel, Mt Cook

visit www.hallmarkhomes.co.nz/app to find out how!

Visit us at the show and receive $30 off your next shower top!

That's only $209 + $7 courier, for a

DIY kit that comes with everything you

need including easy peel fixing rails

and shower door seal. Installation extra.

Enter your details at the stand to win the Ultimate

OH Bubbles pack valued at $500! Includes Red

Maker, 3 Soda Syrups and a large 60L gas bottle.

2 - 4 July 2021 • 10am - 5pm • Christchurch Arena • www.starhomeshow.kiwi
---
Our 2021 Exhibitors

IN ASSOCIATION WITH

General Exhibitors

• AA House Checks

• Active Flow

• Adjustamattress

• Affordable Furniture

• Affordable Modular Homes

• Allied Press Magazines

• Aspiring Kitchens

• ATL Electrical

• Bambillo Beds

• Beam Built In Central Vacuum

• Buildright

• Café Italiano

• Canterbury Spa and Pool

• Carpet Mill

• Comfort Glaze

• Coopers Strip Club

• Damon Puddy Art

• Duzzall Beezwax

• DVS

• Emuology

• Entertainment Technology Ltd

• EuroBlade Infrared heaters

• EVS Window Technology

• Fire and Emergency

• FryAir

• G J Gardner

• Golden Homes

• Handzon

• Home Show Products

• HRV

• HVS Electric

• Insulmax

• Intelligro

• Jalmac

• Kaha Scooters

• Kitchen Studio

• Kiwi Artisan Co

• Laser Focus

• Lifestyle Landscape Solutions

• Little Giant Ladders

• Living House NZ

• Loan Market Agile

• Logan Smythe and Associates

• Maintenance Men Ltd

• Maverick Bond

• Michael Calder of Bayleys Canterbury

• Mulberry Silk Bedding

• My Build Sorted

• NZ Living Homes

• NZ Tint

• Nanoclear

• Nutrimetics

• NZHL

• Oderings

• OH Bubbles

• Plus 2 WP

• Pool Land

• Portable Spas

• Pzazz Building

• Qestral Corporation Ltd

• Ray White

• ReadyLawn

• Resene

• Rockaroma

• Shuzi

• Sistaco Nails

• Smart Grass

• Smiths City

• Snaphappy Marketing

• Step Forward Orthotics

• Strathclyde

• Surface Protect

• Swiper Shower Tops

• Tebo Massage Chairs

• Tenspro Retail

• The Better Back Company

• The Great Bungee

• The Original Smoke And Spice

Company

• Thermomix

• Thin Lizzy

• Trident Homes

• UPVC Windows and Doors

• Venluree

• Warmth NZ

• Condensation Control

• Solarcorp

• Whitehouse Builders

• Williams Corporation

• WindoWow E-Blade

• Woll Cookware

• Zenteq

Our Unique Zones

Tiny Home, BIG Impact

• Cosy Homes

• NZ Tiny Living

Taste Zone

• Aoraki Liquorice

• Brandhouse

• Cannon Hill Gourmet

• Eden Juice

• X50 Greentea

• Maori Point Wines Ltd

• Straight 8 Estate

• The Fudge Cottage

• Viberi

Eco Zone

• Aquapick

• Bioptron

• E Energy

• E megastore

• Hallmark Homes

• LED Christchurch

• Sunshine Solar

• The Alternative Energy Co Ltd

Landscaped Outdoor Living Zone

• A Drop In Time

• Coffee Cart

• Get A Gate

• Gutter Solutionz

• Hotspring Spas Christchurch

• Paragon Fencing

• Pure By The Barrelman

• Roxstar Glass Art

Leisure Zone

• Action Power Sports

• Can-Am

• Mr Boats

• Nationwide RV

• U K Caravans

Visit the HVS stand to go in the

draw to win this $22,000 EV!

CUT THIS AD OUT FOR

1x FREE DOUBLE PASS

Join us at the Home & Leisure show, stand number 176.

Appliances, beds, furniture & tech.

Everything you need for your home.

2 - 4 July 2021 • 10am - 5pm • Christchurch Arena • www.starhomeshow.kiwi