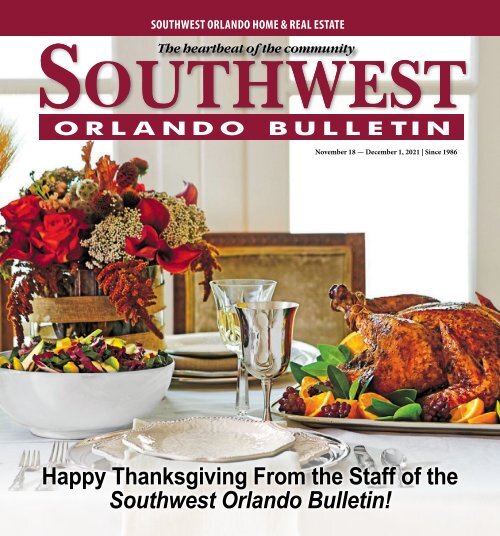 111821 SWB DIGITAL EDITION
You also want an ePaper? Increase the reach of your titles
YUMPU automatically turns print PDFs into web optimized ePapers that Google loves.
O

SOUTHWEST ORLANDO HOME & REAL ESTATE

The heartbeat of the community

ORLANDO BULLETIN

November 18 — December 1, 2021 | Since 1986

Happy Thanksgiving From the Staff of the

Southwest Orlando Bulletin!
---
When you want it SOLD

Darrell Nunnelley

407-467-8069

BROKER

Under Contract

2730 Midsummer Dr.

Windermere FL 34786

4 bed / 3 bath * Tiki Bar *

Huge Pool * Double Boat Dock

Over 130 feet directly on Lake Down

with access to the Butler Chain

For Rent - $3,500 P/Month

2630 Stanton Hall - The Manors

SOLD in 2 Days

Multiple Offers - The Willows

SOLD in 3 Days

11129 Lake Butler Blvd

3 Beds - 2 Bath - Separate Office

For Rent - Lake Sheen 3 Bed 2 Bath

$2,500 P/Month

DarrellSells.com

501 Main Street – Windermere

Local office
---
www.SouthwestOrlandoBulletin.com x November 18 — December 1, 2021 x 3
---
4 x November 18 — December 1, 2021 x www.SouthwestOrlandoBulletin.com

TABLE OF CONTENTS

HOW TO .......................................................................................... 5

Carve a Turkey

2021 HOLIDAY GIFT GUIDE ............................................................... 6

NEWS & BUSINESS BRIEFS ................................................................ 9

SOUTHWEST ORLANDO HOME & REAL ESTATE ................................ 11

Make Your Home More Inviting This Holiday Season!

Saving Money by Refinancing

Eye-Catching Ways to Update Your Home

SOUTHWEST SPORTS ...................................................................... 16

OBSTETRICS & GYNECOLOGY

NOW OFFERING:

• Pregnancy

• Contraception

• Menopause

• Menstrual Disorders

• In-office Surgery

AESTHETICS

• PRP -PLATELET-

RICH-PLASMA

• O-SHOT TM

• DOUBLE CHIN

TREATMENT

• LASER RESURFACING

SCHOOL NEWS SEEN .................................................................... 19

Oakland Avenue Charter School Partners with Bloom & Grow

COMMUNITY BULLETIN BOARD ....................................................... 20

SOUTHWEST SERVICE DIRECTORY ................................................... 22

November 18, 2021

Volume XXXVI, No. 2

P.O. Box 851

Windermere, FL 34786

407-351-1573

www.southwestorlandobulletin.com

PRESIDENT & PUBLISHER

Rick V. Martin

VICE PRESIDENT

Yvette Martin

MANAGING EDITOR

Lisa Sagers

EDITORIAL ASSISTANT

Lauren Salinero

CIRCULATION

Robert Barlow

MARKETING CONSULTANTS

Madeline DeVito

407-351-1573, option 1

mdevito@kearneypublishing.com

The Southwest Orlando Bulletin is published semimonthly by

Cornerstone Publishing & Multi-Media LLC. No material may be reproduced

without written permission. Subscriptions are available in the U.S. and Puerto

Rico for $25.56 per year and in Canada for $31.80 per year. For foreign

surface mailing, add $20 per year.

Neither the publishers nor the advertisers are responsible or liable for

typographical errors, misinformation, misprints, etc., unintentionally contained

herein. All letters received become the property of Cornerstone Publishing &

Multi-Media LLC and may be reproduced and edited without consent.

©2021/Cornerstone Publishing & Multi-Media LLC

Michelle Oakes

321-277-3467

michelle

@cornerstonepublishinggroup.com
---
Thanksgiving is a time to gather

with family members and friends,

reflecting on our lives and giving

thanks for what we have. For

some, it's a time to give back to

their communities. For others, it

marks the beginning of the holiday

season. Many foods are traditionally

served on Thanksgiving,

but the star of the show is usually

the turkey. You may roast it, stuff

it, deep fry it or braise it, but turkey

is oftentimes the centerpiece

of a Thanksgiving meal, making

it important to create a good presentation.

Many of us don't cook

a full bird except this one time

each year, so getting it right can

be tricky. The key to a perfectly

presented turkey is carving it efficiently

and cleanly.

Prepare your carving station

with a cutting board and sharp

chef's knife. Using a sharp knife

is essential in carving the turkey

smoothly. It'll need to slice

through joints and thick sections

of meat easily. Also, have paper

towels on hand to clean up as you

go as there will be lots of juices.

You can also use the paper towels

as a barrier while you handle the

meat. Regardless, be sure to thoroughly

wash your hands before

touching any food.

Before you cut into your turkey,

let it rest for 15-30 minutes, depending

on its size. Remove any

trussing strings and stuffing, and

arrange it so the turkey's legs are

facing you. You can either work

on one side at a time to keep from

constantly rotating your bird, or

work on one element of the bird

HOW

This Thanksgiving, present a perfectly carved turkey.

at a time. This is a personal preference

and will make no difference

in the end result.

First, remove the legs and

thighs. Make a cut through the

skin between each leg and the

breast. Pull the leg out and push

down on the joint until it pops out.

Slice around the thigh to sever

the leg completely. Repeat on the

other side. Turn the leg skin-side

down, so you can see where the

drumstick and thigh meet. Pull

the drumstick down, so the joint

becomes visible. Sever the drumstick

from the thigh by cutting at

the joint. Carve around the thigh

bone to remove as much meat

www.SouthwestOrlandoBulletin.com x November 18 — December 1, 2021 x 5

TO ...

Carve a Turkey

Impress Your Dinner Guests This Thanksgiving

by Lauren Salinero

as possible. Once removed, set

aside each drumstick and the

thigh meat.

Thank Youto all

eXp Realty Orlando

Next, remove the wishbone from

the front end of the breast, making

it easier to cut the breast meat.

Make a long, deep cut down either

side of the breastbone and

along the rib cage. Making your

cut as closely to the bone as you

can allows you to section off as

much meat as possible. Set the

breast meat aside.

Remove the wings by pulling

them back and away from the

body of the turkey. Slice through

the joint to sever the wings, and

cut off the wingtips. You can either

save the wingtips and remaining

turkey carcass to make broth

or dispose of them.

Take the breast meat you've set

aside and place it skin-side up.

Smoothly carve against the grain

in about 1/4-inch-thick slices.

Arrange the drumsticks, wings,

thigh meat and sliced breast

meat on your serving platter.

Carving the turkey will cool the

meat drastically, so serve immediately

after you've arranged it on

the platter. ª

my friends and neighbors for voting me

a Best of Southwest Realtor for the 7th year in a row!

Visit our site today to:

• Find a Home with real time MLS property search;

• Request a Free and Fast Home Valuation;

• Use the Mortgage Calculator to prepare for monthly expenses;

• Request a Free Buyer or Seller's Guide;

• Learn about the Rent-to-Own Program;

• Stay current with local real estate trends;

• And so much more!

Nurse Practitioners:

Esther Pelissier, ARPN-BC

Irene Gan, PMHNP

Raykha Crag-Chaderton, PMHNP-BC

Rachael Pittala, ARPN-BC

Therapists:

Michael Kellogg, LMHC, ATR-BC

Randie Morillo, LCSW, ACSW

Amy Singleton, LMHC

Brooke Parker, LMHC

Cristal Daniel, LMHC

Rachael Pittala

Esther Pelissier
---
6 x November 18 — December 1, 2021 x www.SouthwestOrlandoBulletin.com

2021

With Thanksgiving and Black Friday just around the corner, Southwest

Orlando residents are gearing up their searches for amazing holiday gifts

for the people on their lists. Southwest Orlando Bulletin's Holiday Gift

Guide provides a comprehensive listing of various local offers and gift

ideas — from always-handy gift cards to opportunities for fun activities and

more — that are sure to please everyone this holiday season.

Downtown

Winter Garden

Kick off the holiday shopping season

at the daylong Downtown

Winter Garden Small Business

Saturday Sidewalk Sale on Nov. 27.

Enjoy the festive charm of historic

downtown while keeping your spending

dollars local to make your community

stronger. The unique shops

in historic downtown are perfect for

finding those one-of-a-kind gifts, and

the expansive outdoor dining patios

are ideal for enjoying local cuisine.

Stay until dark for the free Holiday

Moonlight Movie at the Downtown

Pavilion. For more information, visit

www.downtownwg.com.

Lori Lambert, M.D.

Put your best face forward this

winter, and share the gift of beautiful

skin with a friend or loved one.

Lori Lambert, M.D., is a boardcertified

OB-GYN physician. Her

office is conveniently located on Dr.

Phillips Boulevard across from the

Dr. P. Phillips YMCA Family Center.

CONTINUED ON PAGE 8

MISSION SUSTAINERS

MISSION INVESTORS

MISSION PARTNERS

December 3–5 | 16–19

SPONSORED BY

ANNUAL PARTNERS

drphillipscenter.org | 4O7.839.O119 | orlandoballet.org

The Martin Andersen-

Gracia Andersen

Foundation
---
www.SouthwestOrlandoBulletin.com x November 18 — December 1, 2021 x 7

At Jackson Law we have made it our philosophy to create a

legal environment for clients where legal representation is not about

lawyers and legal staff controlling and dictating the representative

needs of clients, but rather about joining forces and standing

together with clients to strengthen the ability to best represent

their interests and achieve for them and their families a positive

result. To memorialize this philosophy so that it will continue to

be practiced and not be forgotten by those who work for our firm,

we have registered the trademark… "Together We Stand ® ". So the

next time you need legal representation for you or your family,

visit our firm and together we will roll up our sleeves and take

care of your needs.

Kristen Jackson

Attorney At Law

Estate Planning

Wills, Trusts, Probate, Living Wills, Powers of Attorney, Health Care Directives,

Pre-Need Guardians, Trust Administration, Pet (Animal) Trusts

Probate

With or without a Last Will, in order to obtain assets, pay debts and taxes and distribute

remaining assets to the heirs or beneficiaries, the deceased's estate requires the

assistance of an attorney to manage the court supervised administration.

Corporation & Business Law

Contracts, Start-ups, Purchase or Sales, Corporations (Inc.), Limited Liability

Companies (LLC's), Trademarks, Copyrights, Franchise Agreements

Real Estate

Closings, Title Insurance, Sales & Purchases, Leases, Contract Review,

Contract Preparation

(407)363-9020

www.JacksonLawPA.com

Offices: Orlando

Credit Cards Accepted
---
8 x November 18 — December 1, 2021 x www.SouthwestOrlandoBulletin.com

CONTINUED FROM PAGE 6

advance tickets are $20. For more

information, visit sunsetwalk.com.

Royal

Landscape Nursery

Historic Downtown Winter Garden Sidewalk Sale

Holiday Shopping Kickoff

Special Savings and Promotions

Charming Winter Wonderland

Unique Gifts at One-of-a-Kind Shops

FREE ADMISSION

SATURDAY

NOVEMBER 27

When you shop small, it helps big because a greater portion of your money

spent stays local! Remember to support the independently owned businesses

in your community this holiday season and throughout the year.

www.cwgdn.com

2021

Holiday Moonlight Movie

a free community event

Expansive Outdoor Dining Patios

Seasonal Menus at

Locally-Owned Restaurants

Shop Early and Stay Late

Train Ride for Tots and Preshow Activities – 5:30 pm

Movie – 7:00 pm

Downtown Pavilion, 104 S. Lakeview Avenue

Bring chairs and blankets!

www.downtownwg.com

FREE ADMISSION

Her services include well-woman

exams and screenings, office-based

and minimally invasive surgeries, as

well as obstetrical care and in-office

ultrasounds. Dr. Lambert offers vaginal

rejuvenation laser treatment using

the Juliet laser and the O-Shot

and other PRP procedures in the office.

The office carries a full line of

SkinCeuticals professional skin care

products. Stop by to see its holiday

specials on SkinCeuticals. For more

information, call 407-363-2000.

Promenade

at Sunset Walk

Join Promenade at Sunset

Walk Orlando, located at 3251

Margaritaville Blvd. in Kissimmee,

for Rocking New Year 2022 The

Experience, featuring Scotty B &

Project: DJ Slam, dancers, live musicians

and vocalists. Central Florida's

most immersive, nonstop New Year's

Eve street party also boasts a midnight

fireworks spectacular, confetti

storm, street performers, Orlando's

largest dance floor, complimentary

party favors and more. Limited

Royal Landscape Nursery

has a great selection of beautiful

plants, shrubs, trees, palms, citrus

and other great ideas to give that

special person something different

this holiday. Show your loved ones

you care and give them a gift that

keeps giving and growing all year

long. Visit Royal Landscape at 2204

Hempel Ave. in Gotha to handpick

the right gift to express your

love or appreciation. Operating

hours are Monday-Friday from

7 a.m.-4 p.m., and Saturday from

8 a.m.-noon. For more information,

call 407-296-3042.

Subway

The big refresh has arrived! Stop

by your nearest Subway and try

the brand-new angus roast beef on

freshly baked bread. While you're

at it, purchase a $25 gift card for

that special someone and get a

free 6-inch sub. This offer is valid

through Dec. 31, 2021. For more information,

visit subway.com. ª
---
n Kiwanis Club gives out

$160,000 in grants

Kiwanis Club of Orlando, one

of Central Florida's most active and

involved community service organizations,

celebrated 100 years of

helping children by awarding a total

of $160,000 to four organizations.

The presentation evening started

NEWS & BUSINESS BRIEFS

open judicial dependency case in

Orange County.

To donate, email Kathleen

Downs at kathleen.downs@

roberthalf.com. Gift card donations

www.SouthwestOrlandoBulletin.com x November 18 — December 1, 2021 x 9

compiled by Lauren Salinero

n Governor's grant will

benefit veterans

Veterans in Central Florida will

benefit from a $38,000 award

Orlando

Repertory Theatre

receives a

$100,000 grant

from Kiwanis Club

of Orlando.

earned by the region's workforce

board for its excellence in connecting

veterans with employment

and career training. For the third

consecutive year, CareerSource

Central Florida was honored by

Gov. Ron DeSantis with the

Veterans' Performance Incentive

Award, which includes a $38,000

grant that will be used to further

enhance career readiness

programs offered to the region's

veterans.

Established by the Jobs Veterans

Act, these awards are granted to

organizations that encourage the improvement

of employment, training

and placement services for veterans

and recognize local workforce development

boards for excellence or

demonstrated improvements in the

provision of employment and training

opportunities to thousands of

veterans.

For more information, call 800-

757-4598 or visit www.career

sourcecentralflorida.com.

with classical music provided by the

Florida Symphony Youth Orchestra

and concluded with announcing the

winner of the $100,000 grand prize

— Orlando Repertory Theatre.

With the grant, the REP plans to

open a licensing and commissioning

arm to create new works of

theater for young audiences. This

will allow the organization to develop

plays that speak directly to

the intellectual and social-emotional

needs of children and help them

understand and embrace the world

around them.

n Legal Aid Society celebrates

60th anniversary

The Legal Aid Society of the

Orange County Bar Association

Inc. celebrates its 60th anniversary

this year. To commemorate the occasion,

the organization is holding

fundraisers, contests and giveaways.

Its Guardian ad Litem Bike Event will

take place in Audubon Park on Dec.

4 from 9 a.m.-noon. Community

members can donate bikes that will

be given to children who have an

are also accepted for teens in foster

care. Those wanting to participate

can email Ronnie Syme, GAL program

director of legal services, at

rsyme@legalaidocba.org.

For more information, call 407-841-

8310 or visit www.legalaidocba.org.

n Donation helps expand

low-vision services

Lighthouse Central Florida, a nonprofit

that provides vision rehabilitation

services to Central Floridians

living with vision impairment or

blindness, received a $15,000 grant

from the Chesley G. Magruder

Foundation. The funds will support

the organization's youth services

program for up to 150 infants, children

and teens, from birth through

age 22, who are living with vision

loss. They will also allow the

nonprofit to expand its services to

include low-vision services to benefit

clients and families and help

additional children in need of vision

rehabilitation.

For more information, visit www.

lighthousecfl.org.

CONTINUED ON PAGE 10
---
10 x November 18 — December 1, 2021 x www.SouthwestOrlandoBulletin.com

CONTINUED FROM PAGE 9

BUSINESS BRIEFS

West Orange Chamber

of Commerce ambassadors

held a groundbreaking for Inland

Transport in Ocoee. WOCC builds

partnerships, strong businesses and

commitment to the community by

serving as the leading business advocate

in Central Florida, facilitating

opportunity to nearly 1,000 member

businesses. For more information

about WOCC, call 407-656-1304

or visit wochamber.com.

Earlier this month, officials of

Encore Capital Management, Hilton

Hotels, Experience Kissimmee and

Osceola County government officially

broke ground on the new

Embassy Suites by Hilton

Orlando Sunset Walk resort,

opening fall 2022. When completed,

Embassy Suites By Hilton

Orlando Sunset Walk will offer

vacation condominiums, featuring

a sophisticated contemporary

design and the finest in amenities.

The resort is slated to open

in 2022, but those looking to purchase

one of the stylish condos

can visit the sales gallery located

at the Promenade at Sunset Walk

Orlando. For more information, visit

www.sunsetwalk.com/promenade.

photo courtesy of WOCC

West

Orange

Chamber of

Commerce

ambassadors

break ground

on Inland

Transport in

Ocoee.

Orlando Ballet will perform

Giselle to live music by Orlando

Philharmonic Orchestra in Steinmetz

Hall at the Dr. Phillips Center for the

Performing Arts over Valentine's Day

weekend next year. The special pairing

of Orlando Ballet with OPO was

made possible by Central Florida philanthropists

Laurence and Susan

Costin, longtime supporters of the performing

arts. The couple provided the

funds necessary to support the orchestra's

performance, ensuring live music

to accompany the dancers. Tickets are

now on sale and can be purchased

online at drphillipscenter.org. ª
---
SOUTHWEST ORLANDO

Home & Real Estate

Volume 2, Issue 9 — November 2021

Eye-Catching

Ways to Update

Your Home

A Product of the

Southwest Orlando Bulletin

Make Your Home

More Inviting This

Holiday Season!

Saving Money by

Refinancing
---
2 | November 2021 | Southwest Orlando Home & Real Estate

While you may primarily associate

insect invasions with warmer

weather, bugs are liable to make

themselves at home in your living

spaces during all seasons.

In fact, it is actually common

to see an uptick in spider activity

in your home during the colder

months around their mating season.

What's more, most bugs are

far more resilient than you may realize

and can survive on little food

and under strange conditions. (A

cockroach can live for an entire

week without its head!)

To make your holiday guests'

stay more pleasant, banish these

unwanted visitors by taking the following

steps:

• Clean up. The holiday season

means more meats, crumbly

sweets and sugary treats around

the house. But most bugs don't

need much food to survive. In

fact, a cockroach can survive for

months on a single crumb of food.

After cooking and baking, be sure

to wipe down surfaces and sweep

up crumbs thoroughly. You should

Make Your Home More

Inviting This Holiday Season!

An inviting home means keeping uninvited bugs at bay.

©UnexpectedBlessings (Jenny Ashbay)

also shake out carpets and vacuum

rugs in your dining room or anywhere

crumbly cookies and cakes

are enjoyed.

• Defend entry points. Did you

know that many of the steps you can

take to improve energy efficiency in

cool weather have the added benefit

of helping to keep bugs out of

your home? Keep entry points of

your home sealed, such as the garage

door, and caulk small cracks in

your home's foundation and siding.

These measures will go a long way

toward regulating the temperature

in your home and also toward preventing

insect infestation.

• Banish bugs without hesitation.

While many traditional bug

sprays direct you to clear

the room during and after

use, there are effective alternatives

that allow you

to spray and stay that

won't disrupt your holiday

festivities. Zevo, a

brand of nature-inspired

insect control products,

has sprays for spiders,

ants, wasps and whatever

other critters are

hunkered down in your

house this season. Zevo's

BioSelective technology,

made of essential oils, targets

and shuts down biological

pathways found

in bugs. It's safe for use

around people and pets

when used as directed.

• Mind firewood.

Every one loves a roaring

fire during the holidays.

However, bugs can commonly

make their way into your

home via firewood. Store firewood

outdoors under a tarp to keep it

dry (moist firewood attracts bugs),

and don't bring it inside until you

plan to burn it.

While the holiday season is all

about welcoming guests, you don't

need to extend that invitation to

pests. Make your home more inviting

to your friends and family

by taking steps to keep bugs

at bay.

(StatePoint) ª

WE THINK BEYOND TRADITIONAL EDUCATION

TO TRANSFORM LEARNING

WE THINK WE BEYOND TRADITIONAL THINK EDUCATION BEYOND TRADITIO

TO TRANSFORM LEARNING

International Baccalaureate Diploma & Certificate Program

Collaborations with MIT, The Juilliard School, and UNICEF

TO TRANSFORM

SCHEDULE A TOUR TODAY!

100% College Acceptance Rate

(407) 905-7737

Differentiated Curriculum for PreK-3 to Grade 12

International info@windermereprep.com

Award winning Baccalaureate International Fine Arts programs Diploma & Certificate Program Baccalaureate Diploma & Certificat

Collaborations Athletic program Collaborations with that MIT, offers The over Juilliard 21 different School, sports and UNICEF SCHEDULE windermereprep.com with A TOUR TODAY! MIT, The Juilliard School, and

100% for Grade College 6 - Grade Acceptance 100% 12 Rate College Acceptance Rate

(407) 905-7737

Differentiated Curriculum Differentiated for PreK-3 to Grade 12 Curriculum for PreK-3 to Grade 12

info@windermereprep.com

Award winning Award Fine Arts programs winning Fine Arts programs

Athletic program Athletic that offers over 21 different sports program windermereprep.com that offers over 21 different spo
---
Despite mortgage rates hitting historic

lows during the last year, many

homeowners still haven't considered refinancing

their mortgage — essentially,

replacing an existing mortgage with a

new mortgage loan that has new terms

and potentially a lower interest rate.

Homeowners in lower-income brackets

may be convinced they won't qualify for

refinancing because of high debt compared

to income, poor credit scores or

lack of savings to cover closing costs.

However, new refinancing options

are available to help make monthly

housing payments more affordable.

Fannie Mae — which helps make the

30-year fixed-rate mortgage and affordable

rental housing possible for millions

of people in America — recently

released RefiNow, an option that makes

it easier for lenders to help eligible

homeowners earning at or below 80%

of the area median income refinance at

a lower interest rate and reduce their

monthly mortgage payment.

"Lower-income borrowers typically

refinance at a slower pace than highincome

borrowers," said Katrina

Jones, vice president of Racial Equity,

Saving Money by Refinancing

Refinancing your home is an option regardless of

income level.

Strategy & Impact at Fannie Mae.

"Especially for those who have a high

or adjustable interest rate loan, refinancing

may help make housing costs

more affordable and sustainable by

lowering their mortgage payments, reducing

the total amount of interest paid

over the life of the loan, or providing

Southwest Orlando Home & Real Estate | November 2021 | 3

more stable monthly mortgage

payments."

The new RefiNow option requires

that eligible homeowners

achieve a savings of at

least $50 in their monthly mortgage

payment, but they can

potentially save up to $100-

$250 per month, according to

representatives of the Federal

Housing Finance Agency.

It also offers savings on upfront

out-of-pocket appraisal

expenses up to $500.

"We can put money-saving

refinance options in reach for

more homeowners by removing

some perceived barriers — such as

appraisal costs — to improve affordability

and promote sustainable homeownership,"

Jones said.

She provided three reasons to consider

refinancing now:

• Interest rates are low. Mortgage

rates remain low, despite moderate

increases. According to Fannie Mae

research, experts expect the 30-year

fixed mortgage rate to average 3%

through this year before beginning to

rise in 2022. The takeaway for homeowners?

There's still time to consider

refinancing.

• Lower your monthly mortgage payments.

Refinancing at a lower interest

rate may help decrease monthly mortgage

payments, which could increase

monthly savings. Refinancing may also

help reduce the total amount of interest

paid over the life of the loan, depending

on the terms of the new loan and

the existing loan.

• Getting started is a phone call

away. Homeowners should contact

several mortgage lenders to discuss

refinance options to find the best option

and terms for their situation, and

they should always compare offers and

shop around.

Homeowners wondering if refinancing

makes financial sense can access

Fannie Mae's Refinance Calculator and

learn more about refinancing options at

knowyouroptions.com.

(BPT) ª

Visit Visit Royal for for the the

best best quality and and

best best priced plants!
---
4 | November 2021 | Southwest Orlando Home & Real Estate

Your home is a reflection of you,

and your decor should match your

tastes. With some simple home upgrades,

you can create the perfect

space for you and your family, even

if your design preferences change

over time.

"When we're designing our ideal

home, too often we may only think

about what we want others to see

and enjoy when they visit," said

Jack Goldman, president and

CEO of the Hearth, Patio & Barbecue

Association (HPBA). "The reality is

visitors account for less than 1% of

your in-home time."

Consider the following ideas to

get started:

Add a Fresh Coat of Paint

One of the easiest home improvement

projects, a fresh coat of paint

can change the entire look of a

room. Whether you choose to paint

the entire space one new color,

opt for an accent wall in a vibrant

shade, or simply freshen up the trim,

paint can go a long way toward

adding visual appeal and reflecting

Your idea of investing today

may be different tomorrow.

We get that.

Our Windermere office has options

and guidance that grow with you.

Here in Windermere, Michael is just one of

many Schwab Branch Leaders ready to offer

guidance and a wide range of investment

options for your changing needs. Michael

works to put you first. Even if you're not

sure what comes next.

Eye-Catching

Ways to Update Your Home

courtesy of Getty Images

Small updates to your home can personalize it to your taste.

your personality. Patterned wallpaper,

board and batten, stone and tile

can also be added

to create textured

accents.

Bring Warmth

and Ambiance

With a Fireplace

"A fireplace is for

you and your family,

a personal addition

that serves you

and your household

in more ways than

you may realize,"

Goldman said.

More than 3 in 5

homeowners have

a fireplace or other

hearth product in

their homes, according

to HPBA, and

including a fireplace

in your construction or renovation

plans is a gift of warmth, comfort

and ambiance you can give yourself.

Whether it's a centerpiece for your

living room or family room or an

accent to your bedroom, bathroom

or study, a fireplace can provide an

artful design element for your home

and a safe, reliable heat source in

the event of unexpected weather.

Update Lighting Fixtures

Proper lighting can bring rooms to

life and make spaces look larger and

more welcoming. You can brighten

up your home in a variety of ways,

from strategically placing table and

floor lamps that fit your design style

to replacing older ceiling and wallmounted

fixtures with more modern

styles.

Give Cabinetry a Fresh Look

There are numerous easy ways to

change your kitchen and bathroom

cabinets to create a more updated

look. One of the easiest is swapping

out older cabinet pulls and knobs for

more modern options. With a variety

of finishes — stainless, bronze,

brushed nickel, black, copper and

more — and styles available, you

can match your cabinets to nearly

any design style in a matter of minutes.

Adding a coat of stain or paint

is also a relatively quick and easy

way to update some of the mostused

spaces in your home without

completely replacing the cabinets.

Update Colors

You can breathe new life into your

current furniture by making simple

changes. The easiest would be simply

rearranging your pieces and

moving some to different rooms to

create an updated look. You can

also add decorative covers to sofas,

chairs, throw pillows and more. You

can take your creativity a step further

and refinish a bookshelf, table

or other wooden furniture with a

fresh coat of paint or stain, or give

it a more weathered look with some

sandpaper.

Find more ideas for upgrading

your home at hpba.org/

house-warming.

Source: Hearth, Patio & Barbecue Association

(Family Features) ª

Michael Wytiaz, CFP ®

Branch Leader

Get started at schwab.com/windermere

4848 S. Apopka Vineland Rd., Suite 204

Orlando, FL 32819

407-909-0485

© 2021 Charles Schwab & Co., Inc. ("Schwab") Member SIPC. All rights reserved. (1120-0JP6) SCH3790-16 (6/21)
---
www.SouthwestOrlandoBulletin.com x November 18 — December 1, 2021 x 15

THE BEST GIFTS

COME IN SMALL

BATCHES.

THE FINEST HANDCRAFTED

BOURBON WHISKEY MONEY CAN BUY.

SHOPGARRISONBROS.COM
---
16 x November 18 — December 1, 2021 x www.SouthwestOrlandoBulletin.com

Windermere Preparatory

School held a Dads and Daughters

Workout last month. More than 20

fathers and daughters participated

in the free event, designed and organized

by Micah Kurtz, WPS

director of sports performance. The

daughters coached their fathers in

strength and conditioning exercises.

The purpose of the event was to

SOUTHWEST SPORTS

empower young females to know

that they can do anything and be

strong in all areas of life. One of

coach Kurtz's goals is for them to be

strong in their physical, emotional

compiled by Lauren Salinero

and mental health. Showing their

fathers how strong they are in the

weight room empowered the girls

with more confidence for all areas

of life.

The First Academy Class of

2017 alumnus Chaundee Brown

Jr. signed with the Los Angeles

Lakers after playing in the Summer

League games. He is the first TFA

graduate to play in the NBA. While

playing basketball at TFA, Brown

was named the Royal Athlete of the

Year and 4A player of the year. He

attended the University of Michigan

for his senior collegiate year and

helped lead the team to the NCAA

Tournament's Elite Eight in 2021.

The 2021 Orlando Jingle Bell

Run will take place Dec. 11 at

Baldwin Park in Orlando. Festivities

begin at 7:30 a.m., and the 5K/1-

mile run starts at 8:30 a.m. The Jingle

Bell Run is a holiday-themed run/

walk to raise awareness and funds.

All proceeds from the event benefit

the Arthritis Foundation's mission to

Females students at Windermere Preparatory School coach their fathers during the Dads and Daughters Workout event.

CONTINUED ON PAGE 18

Offering MOH's and

Superficial Radiation Therapy

Appointments are now available

407-566-1616
---
www.SouthwestOrlandoBulletin.com x November 18 — December 1, 2021 x 17
---
18 x November 18 — December 1, 2021 x www.SouthwestOrlandoBulletin.com

CONTINUED FROM PAGE 16

provide vital resources and tools to

the community and fund research for

a cure for arthritis. For more information,

visit www.jbr.org/orlando.

Ana Laura Iatauro of Winter

Garden is a player on Monmouth

College's volleyball team. As part

of the squad, she helped the Fighting

Scots secure a spot in the Midwest

Conference Tournament for the first

time since 2012, which the team

competed in earlier this month.

The Hilton Grand Vacations

Tournament of Champions, formerly

known as the Diamond Resorts

Tournament of Champions, will

take place at Lake Nona Golf &

Country Club on Jan. 20-23, 2022.

Nicknamed the Ladies Professional

Golf Association's "Party on Tour,"

the tournament's distinctive format

brings LPGA Tour winners together

with more than 50 beloved celebrities,

athletes and entertainers to play

side-by-side for an event unlike any

other. It will be televised live, airing

Thursday and Friday, on Golf

Channel and Saturday and Sunday

on NBC.

For more information, visit

hgvlpga.com.

Tickets are on sale for the 39th

USA Water Ski & Wake Sports

Hall of Fame Ceremony, a semiformal

event that will be held at

RP Funding Center in Lakeland on

March 5, 2022. Tickets purchased

for the 2020 Hall of Fame also will

be valid for this 2022 event.

A social night will be held Friday,

March 4. Saturday's social hour with

a cash bar starts at 5:30 p.m., followed

by dinner at 6:45 p.m., and the

ceremony at 7:15 p.m. Tickets for just

the Friday night social are $50, for

only the reception and banquet are

$175, and for both days are $195.

For more information, visit

usa-wwf.org or email info@waterski

halloffame.com.

TK Photography

Winter Garden resident and Class of

2015 West Orange High School alumna

Thai Floyd is the first female announcer for

WOHS's JV football games.

Dr. Phillips High School alumnus

Oliver "Oli" Marmol was

selected as manager of the St. Louis

Cardinals baseball team after Mike

Shildt was dismissed from the

position Oct. 14 due to philosophical

differences. At 35, Marmol is the

youngest Cardinals manager since

2003, and he is the youngest manager

in the majors. He was groomed

by the Cardinals for years after his

2007 sixth-round MLB draft quickly

turned into a coaching position.

"I've never thought of my age as

something that has an impact one

way or another, positive or negative,"

Marmol said. "When it comes down

to leadership and just overall having

the respect of that clubhouse, a couple

things come to mind. If the player

knows that you care, the player knows

that you're prepared, and you have

your thoughts organized when you

approach them, and you can make

them better, they listen to you."

Although we try to ensure that all information presented

above is the most current, correct and dependable

available, we do rely on others for the source of

our news. Therefore, the Southwest Orlando Bulletin

and Cornerstone Publishing & Multi-Media LLC cannot

be held responsible for the validity of the information

presented here, nor does mentioning it constitute an

endorsement. Sports information is welcome and may

be mailed to P.O. Box 851, Windermere, FL 34786; or

emailed to Lauren@kearneypublishing.com. ª

30th annual holiday

short-story contest.

Winners will be published in

the Dec. 16 issue. Email

original short stories (max: 600

words) with the author's

name, age, neighborhood and

phone number to:

Lauren@kearneypublishing.com

Deadline: November 24, 2021

Cash Prizes

EXTERIOR HOME CLEANING

AND SPECIALTY

COATING SERVICES

PRESSURE WASHING

DECORATIVE SCORED CONCRETE

PAVER SEALING

POOL DECK COATING

321-947-2541

Imperial Outdoor Living, LLC

Facebook.com/imperialoutdoorliving
---
www.SouthwestOrlandoBulletin.com x November 18 — December 1, 2021 x 19

School News

SEEN

Throughout the past few years, club members of Bloom & Grow have become increasingly aware of the plight of the monarch

butterfly, the numbers of which are declining rapidly due to loss of natural habitat. The endangerment of butterflies and other

pollinators present a great learning opportunity when studying land stewardship, climate change, and how insects live and

thrive. This promotes Bloom & Grow's mission statement "to stimulate a knowledge and love of gardening through promotion

and sponsorship of community projects and the protection and sustainability of native habitat; to promote and sponsor

educational horticultural experiences; and civic involvement." Bloom & Grow members have embarked on a monarch

preservation project to encourage students and their families to join the effort. Together with partners Healthy West Orange

and Orlando Health, Oakland Avenue Charter School joined the school partnership program developed for public and

private schools in Orange County. Last month, OACS staff members picked up way stations to create two locations for

milkweed. Tropical milkweed, native milkweed and pollinator plants are grown specifically for this project by local nurseries

that support Bloom & Grow's various community programs. Each way station contains 10 plants, which are essential to the life

cycle of a monarch. Bloom & Grow experts assisted in identifying locations for the gardens to ensure sunlight, access to

watering and more, and the cost of the plants was covered by Orlando Health. A kit of materials essential to maintaining a

successful butterfly garden, including print materials, netting and installation instructions, was provided by Healthy West

Orange. For each school partnership, a member of Bloom & Grow is assigned as a liaison to assist with information on

planting, troubleshooting, disseminating information to parents wishing to garden at home, and more.

www.footworksdancestudio.com

• Dance With Me

• Twinkle Star

Creative

Movement

• Wee Hop

• Ballet

• Jazz

• Contemporary'

• Hip Hop

• Musical

Theater

• Pointe

• Aerial Silks

• Acro

• Award

Winning

Competition

Team

1201 Winter Garden-Vineland Rd. • S.R. 535 and Hwy. 50

Follow us on Facebook @footworksds
---
20 x November 18 — December 1, 2021 x www.SouthwestOrlandoBulletin.com

n Classes/Programs

Ongoing — Wednesdays At St. Luke's

St. Luke's United Methodist Church, 4851 S. Apopka-

Vineland Road, Orlando, hosts Wednesdays at St.

Luke's, including creative rotations for children in

grades K-5, a middle school youth group, life together

groups and studies, and child care available for

infants-PreK. Time: Wednesdays at 6:30 p.m. For more

information or to register, visit st.lukes.org/wednesday.

n Event/Performance

Nov. 27 & 28 — FusionFest

Downtown Orlando hosts FusionFest, a free two-day

festival that includes more than 1,000 local artists

and draws people from more than 100 different cultures

to experience music, dance, food, visual arts,

spoken word, children's activities, games and interactive

activities. Time: Saturday at 10 a.m. and Sunday

at noon. Admission is free. For more information, call

407-836-5540 or visit www.fusionfest.org.

n Holiday Happenings

Through Nov. 21 — Festival Of Trees

The Council of 101 presents the 35th anniversary

of the Festival of Trees with the theme

"Sparkling Holiday Traditions" at Orlando

Museum of Art, 2416 N. Mills Ave., Orlando.

This year's platinum sponsor is Orlando Health

Orlando Regional Medical Center. Visitors can

see more than 25 designer-inspired decorated

trees, all available for purchase, as well as

gingerbread houses, wreaths and more. There

are a holiday shopping experience, pop-up

shops and live entertainment, as well as several

special events, including the lighting of a tree,

Breakfast With Santa and a children's Reindeer

Romp party. Time: 10 a.m.-5 p.m. Cost: $20,

adults; $12, senior citizens, military personnel

and first responders with valid IDs; and $8, children

3-12. For more information or to purchase

tickets, visit councilof101.org.

Through Dec. 18 — Sinatra Christmas

My Way Performances

Winter Park Playhouse, 711 Orange Ave., Suite C,

Winter Park, presents Sinatra Christmas My Way,

a Rat Pack-style musical of holiday performances

featuring 40 popular hits. Showtimes and ticket

prices vary. For more information, call 407-645-

0145, email mail@winterparkplayhouse.org or visit

winterparkplayhouse.org.

Nominate Your

Favorite Teacher for

Southwest Orlando Bulletin's

Teacher of the Month!

Each month, a deserving teacher from a Southwest Orlando

school will be recognized for his or her hard work

and dedication to students.

To submit a nomination,

send the teacher's name,

school and why they deserve to be

Teacher of the Month to

lauren@kearneypublishing.com.

COMMUNITY BULLETIN BOARD

compiled by Lisa Sagers

Through Jan. 2, 2022 — Night Of A

Million Lights

Night of a Million Lights enables guests to

immerse themselves in a decorated fairy tale

neighborhood that Wish families call home during

their stays at Give Kids The World Village,

where they can view a 360-degree dancing

lights show set to music, explore a sparkling tree

trail, view larger-than-life displays, take photos

at various photo stations, visit Santa in a holiday

marketplace, and take part in a guided storytelling

tour of dozens of lit villas from the comfort of

a tram, included in the price of the ticket. Time:

5-10 p.m. daily, with entry times staggered to

prevent crowding. Ticket prices vary by date.

For more information or to purchase tickets, visit

gktw.org/lights/index.php.

Nov. 19-Jan. 9, 2022 — Dazzling Nights

Harry P. Leu Gardens, 1920 N. Forest Ave.,

Orlando, hosts Dazzling Lights, presented by

AdventHealth and including a forest lit with the

flickering of hundreds of handmade Moroccan

lanterns, a 7,000-square-foot light maze, a forest

of neon trees, a 65-foot tunnel of 12-foot-tall stars,

brand-new entertainment and food offerings, and

more. There is also a sensory-friendly option with

adjusted lighting and sound. Time: Timed entry

takes place from 5:30-9 p.m. Cost: $22 per person,

$25 peak nights. On-site parking is available

for a small fee. For more information or to

purchase tickets, visit www.dazzlingorlando.com.

Nov. 27 — Clare And The Chocolate

Nutcracker Performance

The Walt Disney Theater at Dr. Phillips Center

for the Performing Arts, 445 S. Magnolia Ave.,

Orlando, hosts a performance of Orlando

Community Arts Inc.'s Clare and the Chocolate

Nutcracker, featuring 150 children and youth from

Central Florida. Time: 7 p.m. For more information,

visit www.clareandthechocolatenutcracker.com.

Nov. 30-Jan. 3, 2022 — Trees Of The

Season

The town of Oakland hosts its first-ever holiday

tree decorating contest, Trees of the Season,

at the Healthy West Orange Arts and Heritage

Center, 126 W. Petris Ave., Oakland. Visitors

have a chance to vote for their favorite tree

through Dec. 16, and the winner is announced

on the center's social media page. The event

features several personally decorated trees full

of colorful lights and ornaments by members

of the community and local businesses. Trees

of the Season is part of this year's Santa's Lane

on Dec. 4, which features holiday lights, a DJ,

socially distanced games and activities, and

more. For more information, call 407-656-1117

or visit www.oaklandfl.gov/artsandheritage.

Dec. 1 — Holiday On I-Drive

Icon Park Orlando on International Drive kicks

off the season with the lighting of the official

I-Drive District's 50-foot holiday tree. Other

festivities include special performances, singing

and dancing, free 3-D holiday glasses,

The Santa Workshop Experience, and more.

Time: 6 p.m. The Santa Workshop Experience

is purchased separately for holiday photos

with Santa; however, advance reservations are

required. Children participating in The Santa

Workshop Experience receive a free ticket to

ride The Wheel. For more information, visit

www.thesantaworkshopexperience.com.

Dec. 2 — Christmas In The Park

The city of Winter Park and The Charles Hosmer

Morse Museum of American Art co-sponsor the

43rd annual Christmas in the Park, a two-hour

program in Central Park that includes the lighting

of eight turn-of--the-century Tiffany windows

as the Bach Festival Choir performs in concert

on the main stage. There are pods in the park

for attendees to use on a first-come, first-saved

basis to reduce crowding. Time: 6:15 p.m.

For more information, visit morsemuseum.org/

programs-events/christmas-in-the-park.

Dec. 3-5 & 16-18 — The Nutcracker

Performances

Orlando Ballet presents its annual performances

of The Nutcracker, a holiday tradition, at

the Dr. Phillips Center for the Performing Arts,

445 S. Magnolia Ave., Orlando. Showtimes

and ticket prices vary. For more information,

visit www.drphillipscenter.org/events/

tickets/2021/ob-nutcracker.

Dec. 4 — Jingle Jolly Jog 5K

Oakland Park in Winter Garden hosts West

Orange Junior Service League's 12th annual

Jingle Jolly Jog, Run, Walk Race through the

festive decorations in the Oakland Park community.

There is a virtual option, too. Other

festivities include Santa and his elves, food

trucks, a live DJ, bounce house and more. Each

registered 5K participant receives a timed race,

T-shirt, goodie bag, finisher's medal and postrace

snacks. There is a costume contest with

prizes for those who come dressed in their

best holiday-spirited attire. Time: 5 p.m. for

a kids fun run for 10-younger, 6 p.m. for the

5K run/walk. Proceeds benefit nonprofit charities

throughout west Orange County. For more

information or to register, visit bit.ly/3bcZxp9.

Dec. 4 & 5 — A Gift For The King

Concerts

St. Luke's United Methodist Church, 4851 S.

Apopka-Vineland Road, Orlando, presents
---
A Gift for the King concerts, featuring a full

choir and orchestra, children's and youth

choirs, dancers and holiday scenery. Time:

Saturday at 5:30 p.m. and 7:30 p.m., and

Sunday at 5:30 p.m. Cost: $12, adults; $6.50,

children under 12. For more information, visit

www.st.lukes.org/christmasconcert.

Dec. 11 — Holiday Amaryllis Festival

Historic Nehrling Gardens, 2267 Hempel

Ave., Gotha, hosts its Holiday Amaryllis

Festival, a free community event that includes

amaryllis flowers and bulbs for sale, naturethemed

vendors, eco-activities for children,

food and live music. Attendees are encouraged

to donate a food item or new toy

for a chance to win a raffle prize. Time:

9 a.m.-3 p.m. For more information, visit

www.nehrlinggardens.org.

Dec. 11 — Violectric Holiday Show

The Walt Disney Ampitheatre in downtown

Orlando's Lake Eola Park, 99 N. Rosalind

Ave., Orlando, hosts the ninth annual

Violectric Holiday Show, a family- and

pet-friendly outdoor concert performed by

classic musicians who rock. Time: 7 p.m.

Admission is free; however, donations are

accepted in support of the Pet Alliance of

Greater Orlando. For more information, visit

violectric.net.

n Miscellaneous

Through Dec. 30 — Virtual Pints &

Parables

St. Luke's United Methodist Church invites adults

to join its Pints & Parables, a weekly online community

that discusses the matters of life in today's

world, faith, philosophy, theology and more.

Registration is required to receive a Zoom link.

Time: Thursdays at 8 p.m. For more information

or to register, email lvasquez@st.lukes.org or

visit www.st.lukes.org/adults.

Through Dec. 30 — Virtual Nerd Church

St. Luke's United Methodist Church invites adults

to participate in Nerd Church, an opportunity

to engage in meaningful discussion about

biblical concepts through the lens of comics,

video games and movies. Registration

is required to receive a Zoom link. Time:

Mondays at 8 p.m. For more information or

to register, email lvasquez@st.lukes.org or visit

www.st.lukes.org/adults.

Dec. 7 — Open Houses

The First Academy, 2667 Bruton Blvd., Orlando,

hosts open houses for prospective families.

Reservations are required. Time: 8:30 a.m.,

10:30 a.m. or 1 p.m. For more information

or to RSVP, call 407-206-8602, email

www.SouthwestOrlandoBulletin.com x November 18 — December 1, 2021 x 21

admissions@thefirstacademy.org or visit

thefirstacademy.org/new.

Dec. 23 — MetroWest Food Truck

Connection

MetroWest Golf Club, 2100 S. Hiawassee

Road, Orlando, hosts the MetroWest Food Truck

Connections, including food, fun and music.

Social-distancing guidelines are observed.

Time: the fourth Thursday of every month

from 5:30-9 p.m. For more information, visit

www.metrowestcommunity.com.

n Networking/Clubs

Ongoing — Members Wanted

The West Orange Women seeks women of all

ages to join its group for fun, friendship and

philanthropy. Annual dues are $20. For more

information, call Mary Borgan, 407-929-3030;

or visit www.westorangewomen.com.

Nov. 23 & 30 — Tuesday Hybrid

Networking Meetings

The Blake at Hamlin, 4814 Hamlin Groves Trail,

Winter Garden, hosts West Orange Chamber

of Commerce's Tuesday Hybrid Networking

Meetings. Masks are required. Zoom meetings

are also available. Time: 8-9 a.m. For

more information or to get Zoom info, email

adam@markowitzaccounting.com.

Nov. 23, 30, Dec. 7, 14 & 21 — Virtual

Toastmasters Meetings

Windermere Toastmasters Club No. 4662754

holds Zoom meetings. Attendees learn to

develop their oral communication and leadership

skills in a supportive and positive learning

environment. Time: Tuesdays from 7-8:30

p.m. For more information or to request online

Zoom meeting details, visit www.4662754.

toastmastersclubs.org and click "Contact Us."

Nov. 24 — Horizon West Hybrid

Networking Meeting

The Blake at Hamlin, 4814 Hamlin Groves Trail,

Winter Garden, hosts West Orange Chamber of

Commerce's Horizon West Hybrid Networking

Meeting. Masks are required. Zoom meetings

are also available. Time: 8-9 a.m. For

more information or to get Zoom info, email

kcolon@maventri.com.

Nov. 24, Dec. 1, 8, 15, 22 & 29 —

Virtual Toastmasters Meetings

The Turnpike Toastmasters Club holds Zoom

meetings. Time: Wednesdays from noon-1 p.m.

CONTINUED ON PAGE 22
---
22 x November 18 — December 1, 2021 x www.SouthwestOrlandoBulletin.com

CONTINUED FROM PAGE 21

For more information or to register for a virtual

meeting, visit 2362.toastmastersclubs.org and

click "Contact Us" at least one day before the

event.

Dec. 2 — Retired Educators Meeting

College Park United Methodist Church, 644 W.

Princeton St., Orlando, hosts a meeting of the

Orange County Retired Education Association,

during which Horizon High School's chorus —

under the direction of Linda Boot — puts on a

holiday presentation. Masks are required, and

food and drinks are not allowed. Time: 10:30

a.m. For more information, call 407-843-6909

or visit www.ocreafl.org.

Dec. 2, 9, 16, 23 & 30 — Virtual

Toastmasters Meetings

The Vista Toastmasters Club holds Zoom meetings.

Time: Thursdays from 7-8:30 p.m. For more

information, email vistatoastmasters.zoom@

gmail.com or visit www.vistatoastmasters.org.

Dec. 9 — West Orange Republican

Women Luncheon

The West Orange Republican Women,

Federated holds a luncheon meeting, featuring

a guest speaker, at Arnold Palmer Bay Hill

Club & Lodge, 9000 Bay Hill Blvd., Orlando.

Reservations are required. Time: 11 a.m. Cost:

$35, cash or check only. For more information

or to RSVP, email worw.federated@gmail.com.

n Volunteer

Opportunities

Ongoing — Virtual Volunteers Needed

RSVP seeks volunteers to help make masks for

Cornerstone Hospice & Palliative Care. For more

information or if interested, call Tyler VanBuren,

630-335-3084; or email tvanburen@vcifl.org.

Ongoing — Volunteers Needed

The Foster Grandparent Program seeks limitedincome

volunteers 55-older to join in helping

children in schools all around Central

Florida. For more information, call 407-298-

4180 or visit volunteersforcommunityimpact.

org/wp-content/uploads/2020/01/FGP

-Info-Flyer-1-13-20.pdf.

Ongoing — Pet Foster Homes Needed

As part of its Pet Peace of Mind program,

Cornerstone Hospice seeks foster homes for

pets left behind after their owners pass away.

For more information or to receive an application

to foster, email ppom@cshospice.org.

For more information about hospice volunteer

opportunities, call Sharon Smith, 404-290-

1583; or email ssmith@vcifl.org.

Ongoing — Volunteers/Docents Needed

Oakland Nature Preserve, 747 Machete

Trail, Oakland, seeks adults interested in

learning about the history, wildlife, plants

and restoration efforts at ONP to volunteer

at the preserve to greet visitors, help answer

questions and lead a tour from time to time.

Workdays are Mondays and/or Saturdays.

For more information, email outreach@

oaklandnaturepreserve.org or visit www.

oaklandnaturepreserve.org/guide. To register

online, visit oaklandnaturepreserve.org.

Ongoing — Volunteer Veterans Needed

Cornerstone Hospice seeks volunteers who

are veterans of America's armed forces to

honor patients who are veterans by visiting

them in their homes, a facility or a hospital.

Cornerstone Hospice is a four-star level member

of the We Honor Veterans program, a

national initiative to provide veterans in hospice

care with specialized services. All volunteers

must participate in mandatory training that

includes an overview of what is hospice care

and how volunteers play an important role in

caring for patients. For more information, call

Olivia Davidson, 407-206-5060; or email

odavidso@cshospice.org.

Ongoing — Volunteers Needed

The Mustard Seed of Central Florida, 12

Mustard Seed Lane, Orlando, seeks volunteers

who can help with donation sorting,

mattress recycling, warehouse maintenance,

administrative work, special events or general

maintenance. For more information,

call 407-875-2040, ext. 110; or email

jessi@mustardseedfla.org.

Ongoing — Volunteers Needed

The town of Oakland seeks volunteers to assist in

various fun and fulfilling roles at The Healthy West

Orange Arts and Heritage Center. Applicants

must consent to a criminal background check. For

more information, call Pamela Stewart, 407-656-

1117, ext. 2112; email arts&heritage@oaklandfl.

gov; or visit bit.ly/artsandheritagecenter.

Ongoing — Volunteers Needed

My Brother's Keeper seeks volunteers — especially

adult men (18-older) of color — who can

serve as positive role models and mentor boys

and young men of color. For more information,

email Grace, gdearden@vcifl.org, at Volunteers

for Community Impact.

Contributions to Community Bulletin Board are welcome.

Please send information six weeks before the event to P.O.

Box 851, Windermere, FL 34787; call 407-351-1573,

option 5; or email Lisa@kearneypublishing.com. ª

License number 236778

Seniors Way, Inc.

Companion / Homemaker

Services

407-340-4120

carmen@seniorswayinc.com

Free in Home Consultation

Locally Owned & Operated

The West Orange Chamber of Commerce

FACILITATING OPPORTUNITY FOR OVER 45 YEARS

Dr. Phillips | Gotha | Horizon West | Lake Avalon | MetroWest | Oakland

Ocoee | Orlo Vista | Pine Hills | Windermere | Winter Garden

(407) 656-1304

Networking

Marketing

Education

Advocacy

Live and in Person.

Your Message Targeted.

Sharpen Your Saw.

Stay "In The Know" So You Can Grow.

Mention

this ad and

get 10% off

any service.

Universal Service Center

YOUR ONE-STOP, ON-THE-SPOT SERVICE CENTER.

• ASE Certified Techs

• Import Service

• Precise Diagnostics

• Tires

• Towing

• Oil Change

ALL GENERAL REPAIRS.

• Batteries

• A/C Repairs

• Brakes

5989 Turkey Lake Road • 407-345-4860

Hours of operation:

M-F 7:00 a.m. - 6:00 p.m.

Sat 7:00 a.m. - 5:00 p.m.

Sun Closed

★★★★★★★★★★★★★★★★★★★★★★★★★

★★★★★★★★★★★★★★★★★★★★★★★★★★★★★★★★★★★★★★★★★★★★★★★★★★

Ken

PROFESSIONAL HANDYMAN

Interior & Exterior Painting

All Flooring • Pressure & Chemical Cleaning • Screen Repair

Drywall • Texture • Popcorn Removal • Kitchen & Bath Remodeling

407-769-1348

All Repairs, Improvements & Odd Jobs, Large or Small

★★★★★★★★★★★★★★★★★★★★★★★★★★★★★★★★★★★★★★★★★★★★★★★★★★

★★★★★★★★★★★★★★★★★★★★★★★★★
---
FREE ADMISSION

& PARKING

Holinights

CELEBRATION

SELECT NIGHTS NOVEMBER 26 TH THRU DECEMBER 26 TH

APPEARANCES BY

Santa Claus

The Mischievous Elves

The Holinights Carolers

Towering Toy Soldiers

Holiday Craft Market,

Live Bands, DJs, Car Shows,

Street Performers and More!

OVER 2 DOZEN UNIQUE

RESTAURANTS & SHOPS

3251 Margaritaville Blvd. | Kissimmee, FL 34747. | SunsetWalk.com
---
P.O. Box 851

Windermere, FL 34786