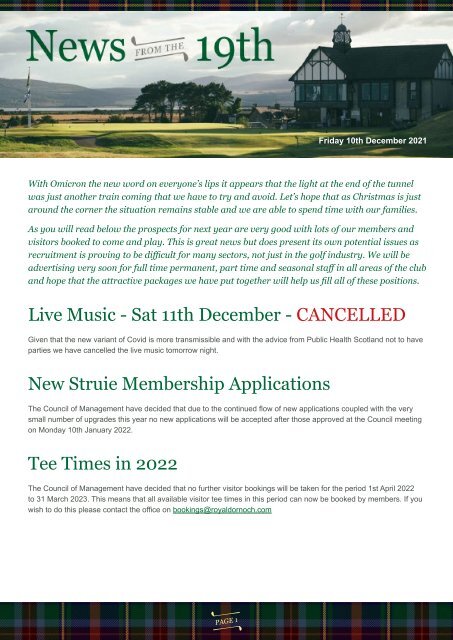 Members Weekly Newsletter 10-12-21
You also want an ePaper? Increase the reach of your titles
YUMPU automatically turns print PDFs into web optimized ePapers that Google loves.
Friday 10th December 2021

With Omicron the new word on everyone's lips it appears that the light at the end of the tunnel

was just another train coming that we have to try and avoid. Let's hope that as Christmas is just

around the corner the situation remains stable and we are able to spend time with our families.

As you will read below the prospects for next year are very good with lots of our members and

visitors booked to come and play. This is great news but does present its own potential issues as

recruitment is proving to be difficult for many sectors, not just in the golf industry. We will be

advertising very soon for full time permanent, part time and seasonal staff in all areas of the club

and hope that the attractive packages we have put together will help us fill all of these positions.

Live Music - Sat 11th December - CANCELLED

Given that the new variant of Covid is more transmissible and with the advice from Public Health Scotland not to have

parties we have cancelled the live music tomorrow night.

New Struie Membership Applications

The Council of Management have decided that due to the continued flow of new applications coupled with the very

small number of upgrades this year no new applications will be accepted after those approved at the Council meeting

on Monday 10th January 2022.

Tee Times in 2022

The Council of Management have decided that no further visitor bookings will be taken for the period 1st April 2022

to 31 March 2023. This means that all available visitor tee times in this period can now be booked by members. If you

wish to do this please contact the office on bookings@royaldornoch.com

PAGE 1
---
Junior Christmas Bash - Sat 18th December

Please see here the poster for the Christmas Bash. If you wish to enter please email gary@royaldornoch.com no later

than midday on Tuesday 14th December. The presentation, food and drinks will be in the clubhouse after play.

Prize Giving Photos

Our local photographer took a picture of every trophy winner at this year's prize giving. If you would like copies of any

of them just let me know neil@royaldornoch.com

Ladies Christmas Competition

This was held on Saturday 6th December and here is what the Lady Captain, Alison Bartlett, had to say about it:

"Well, what a fun morning we had on Saturday and the weather wasn't TOO unkind, even though Deborah and I were

jolly grateful to be out of the wind and near the fire pit as you all came in freezing!!

Thanks to everyone involved - the committee for organising, Eoin and Scott for putting up the gazebo, and the catering

team for great nibbles, not to mention the very welcome hot chocolate and Baileys!

Very kindly those who weren't able to play in the end have all donated their entry fee to the Lady Captain's charity, and

several of our visitors at the hut made a donation too. As a result I think we are going to give around the £100 mark to

Maggies Highland from the event which is brilliant.

Thought you might like to see some of these images of the day, and some of the amazing hats!! Well done everyone,

hope you had fun!!!" Click these links to see the images - Hats, Drinks, Costumes.

Pro Shop Gift Vouchers

Not sure what to get the golfer in your life then why not get give them a gift voucher so that they choose for themselves.

They can be for any amount you wish and are available direct from the shop (not online) so just contact them on +44

(0) 1862 811924 or proshop@royaldornoch.com

Covid 19

Even though we are "Beyond Level 0" of Lockdown you MUST still book a tee time, check in with the Pro Shop and

start from the 1st hole as Track and Trace remains mandatory for everyone.

Signing in is still mandatory in the Clubhouse and you can do this using the NHS Scotland App or by writing your name,

phone number and time of arrival on the sheets provided. Please remember to CHECK OUT/SIGN OUT when you

leave the Clubhouse as failure to do this may result in you being contacted by the NHS for track and trace purposes if a

case is identified on the day you were in the Clubhouse whether you were in the building at that time or not.

PAGE 2
---
Sunday Roast

To help Brian plan for Sundays if you are able to book ahead that would be great and the front of house team will be

ready for your arrival. You can still come along on the spur of the moment as there will always be enough to go round.

Please note that if you would like to come for a roast on Boxing Day you MUST pre order on or before 23rd December

by calling 01862 810219 ext. 4 or catering@royaldornoch.com

Course Condition Updates

With the thought of the colder weather approaching and the prospect that the Championship Course may be closed

due to frost or snow, or that buggies may not be allowed, then our team will be posting on the dedicated Twitter channel

to keep you all informed. You can follow us here @RDCourseStatus and you can also see the feed on the Home page

of the website.

Pizza Nights

Due to some Christmas party/dinner bookings it is not possible to provide Pizzas every week so they will be available

on the following dates: Friday 17th December, Friday 7th January and then every fortnight from then on. We will send

out an email at the start of each week that the Pizzas will be available.

Upcoming Club Events

• Sat 11th Dec - Whisky Stableford; Live Music with Stevie Rebel - CANCELLED

• Sun 12th Dec - Sunday Roast

• Tues 14th Dec - Seniors Roll Up

• Thurs 16th Dec - Pro's Stableford

• Fri 17th Dec - Pizza Night

• Sat 18th Dec - Whisky Stableford

• Sun 19th Dec - Sunday Roast

• Thurs 23rd Dec - Pro's Stableford

• Sat 25th Dec - Courses CLOSED and Clubhouse CLOSED

• Sun 26th Dec - Sunday Roast Advance bookings only and these must be made by 23rd December

• Thurs 30th Dec - Pro's Stableford Christmas Special - 15 holes Championship Course, roll up 10.30 – 12.30. The

usual ball prizes will be replaced with some liquid prizes.

• Sat 1st Jan 2022 - Clubhouse CLOSED

• Sun 2nd Jan - East of the Burn v West of the Burn; No Sunday Roast due to the competition

PAGE 3
---
Office Hours

For December the office opening hours will be 8.30am to 5.00pm Monday to Friday. It is still closed to visitors so please

contact them on 01862 810219 or bookings@royaldornoch.com

Clubhouse Bar & Catering

Winter Hours of Service:

Bar - 10am to 6pm Sunday to Thursday and 10am to 8pm on Friday and Saturday.

Catering - Closed Monday and Tuesday; 10am to 4pm Wednesday, Thursday & Sunday; 10am to 6pm on Friday and

Saturday.

Please note that the clubhouse may close earlier than these times if there are no customers.

Pro Shop

The pro shop hours for December will be from the first tee time to 4pm 7 days a week but may close earlier due to

weather or playing numbers. Contact them on 01862 811924 or email proshop@royaldornoch.com. The online store is

available for you to make purchases here and to get your members discount you have to register on the site but please

note that verification may take a day or two.

PAGE 4
---
Golf Courses

Another mixed week weather wise with some lovely mild days and frost on others.

On the Championship Course the team have finished revetting the bunkers at the 10th bunkers continue revetting the

bunkers at the top of the hill on the 17th. The revetting of the bank at the 8th tee is nearly complete and you can see

the work below.

On the Struie Course the turfing of the weak areas on the 9th, 10th and 12th green surrounds is now finished and we

have now moved onto the 11th green surround. We have also finished aerating the greens with the Air2G2 air injection

machine.

On the frosty mornings when we can't work in the ground we have started to trim the bushes on all pathways, have

removed an area on the right hand side of the 15th on the Championship Course and also been strimming any small

bushes in areas of rough at the sides of fairways.

Please note that the winter greens have been marked on the Struie Course so please treat them as Ground Under

Repair

Play from Mats - When you see a mat on a teeing ground then you MUST use this for your tee shot.

Bunkers - We have reinstated the Preferred Lie local rule for the time being.

Thanks for reading.

Happy Golfing!

Neil D. Hampton, General Manager

Stay safe. Protect others. Save lives.