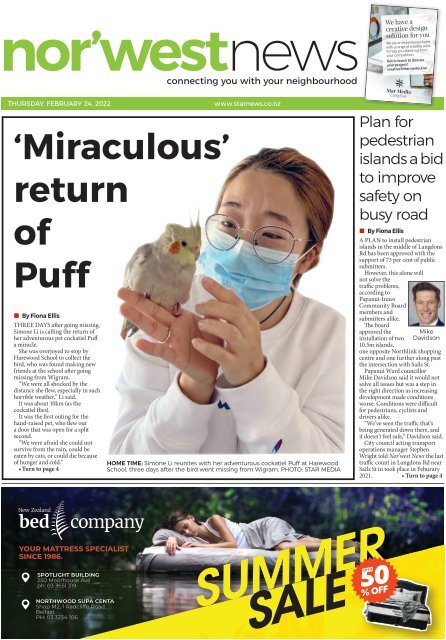 Nor'West News: February 24, 2022
Create successful ePaper yourself
Turn your PDF publications into a flip-book with our unique Google optimized e-Paper software.
connecting you with your neighbourhood

We have a

creative design

solution for you

We are an experienced team

with a range of creative skills

to help you stand out from

your competition.

Get in touch to discuss

your project!

creative@starmedia.kiwi

THURSDAY, FEBRUARY 24, 2022

'Miraculous'

return

of

Puff

• By Fiona Ellis

THREE DAYS after going missing,

Simone Li is calling the return of

her adventurous pet cockatiel Puff

a miracle.

She was overjoyed to stop by

Harewood School to collect the

bird, who was found making new

friends at the school after going

missing from Wigram.

"We were all shocked by the

distance she flew, especially in such

horrible weather," Li said.

It was about 10km (as the

cockatiel flies).

It was the first outing for the

hand-raised pet, who flew out

a door that was open for a split

second.

"We were afraid she could not

survive from the rain, could be

eaten by cats, or could die because

of hunger and cold."

• Turn to page 4

www.starnews.co.nz

HOME TIME: Simone Li reunites with her adventurous cockatiel Puff at Harewood

School, three days after the bird went missing from Wigram. PHOTO: STAR MEDIA

Plan for

pedestrian

islands a bid

to improve

safety on

busy road

• By Fiona Ellis

A PLAN to install pedestrian

islands in the middle of Langdons

Rd has been approved with the

support of 73 per cent of public

submitters.

However, this alone will

not solve the

traffic problems,

according to

Papanui-Innes

Community Board

members and

submitters alike.

THe board

approved the

installation of two

10.5m islands,

Mike

Davidson

one opposite Northlink shopping

centre and one further along past

the intersection with Sails St.

Papanui Ward councillor

Mike Davidson said it would not

solve all issues but was a step in

the right direction as increasing

development made conditions

worse. Conditions were difficult

for pedestrians, cyclists and

drivers alike.

"We've seen the traffic that's

being generated down there, and

it doesn't feel safe," Davidson said.

City council acting transport

operations manager Stephen

Wright told Nor'west News the last

traffic count in Langdons Rd near

Sails St in took place in Feburary

2021. • Turn to page 4

YOUR MATTRESS SPECIALIST

SINCE 1986.

SPOTLIGHT BUILDING

250 Moorhouse Ave

ph: 03 3651 319

NORTHWOOD SUPA CENTA

Shop M2, 1 Radcliffe Road,

Belfast

PH: 03 3234 106

50

UP TO

% OFF
---
2

Advertise locally and

target customers most

likely to shop with you!

what's on

this week

Thursday February 24 2022

Effective Ad packages start from just $99

(inclusive full colour ad, creative setting,

photography and proofing).

No contracts required.

Your local community newspaper connects

neighbours in the following suburbs

Harewood • Burnside • Bishopdale • Bryndwr

Fendalton • Merivale • St Albans • Mairehau

Papanui • Casebrook • Redwood • Styx Mill

Regents Park • Northwood • Belfast • Strowan

29,389 homes every week.

ADVERTISING

Monique Maynard

Ph: 021 372 481

monique.maynard@starmedia.kiwi

NEWS

Fiona Ellis

Ph: 021 914 407

fiona.ellis@starmedia.kiwi

GENERAL INQUIRIES Ph 379 7100

CLASSIFIED ADVERTISING Ph 379 1100

www.starmedia.kiwi

Housie

Thursday, 12.30– 2.15pm

Mary Potter Community Centre,

Durham St North.

To participate, take $2 per housie

card or take a prize to the value of

the card. Afternoon tea to follow. Go

along, meet new people, have some

fun. Gold coin donation for nonresidents

attending the community

centre please. Inquiries, phone 372

9224.

JP Clinic

Saturday, 10am-noon, at

Fendalton, Tuesday, 10 am-1

pm, at Papanui and Shirley,

Wednesday, 10 am-1 pm, at

Bishopdale

Fendalton, Papanui, Shirley and

Bishopdale Libraries

A justice of the peace will be

available to witness signatures

and documents, certify document

copies, hear oaths, declarations,

affidavits or affirmations, as well

as sign citizenship or rates rebates

applications. No charge.

Ride Forever Urban

Commuter Course

Saturday, 8.30am-12.30pm

McDonalds Airport, 512 Memorial Ave

THink you're tough in the concrete

jungle? Don't be a fool, you are

extremely vulnerable. Half-day of

training subsidised by ACC for just

$20. You will learn and practice

all the essential skills to make that

Bishopdale Thursday Book Club, Thursday, 1-2.30pm, at Bishopdale

Library. Go along and join this friendly group of readers and chat about

your current reading and old favourites. With no set book to read, this is

a relaxed and social group who meet in the library on the last Thursday of

each month. ​

commute to/from work or wherever

stress-free and enjoyable and most

importantly safer.

Cards at the Papanui Club

Monday, 1.15-3.15pm, Tuesday,

1-3.15pm, Wednesday, 1.15-3.15pm

Papanui Club, Sawyers Arms Rd

Join others for a different card

game each day. Monday is Flag 500,

Tuesday is Cribbage and Wednesday

is Euchre. All welcome for $2. Masks

are required to attend under alert

level 2. Phone Alan on 021 173 3388

for more information.

Marshland Table Tennis Club

Monday, 7.30pm

Ouruhia Hall, Guthries Rd

The Marshland Table Tennis

Club is looking for more players

to join in on the fun each week

at its new premises in Belfast. All

abilities welcome. $5 for adults, $3

for children. For more information

phone 021 205 1106.

Shirley Dungeon Delvers

Tuesday, 3.45-5.15pm

Shirley Library

Go along to this free session

for ages 10-14 and be the hero in

a tabletop role-playing campaign

where everything rests on your roll

of the dice. Create a character and

join in a shared story, where you

might find yourself adventuring

across unexplored lands, slinging

sorcerous spells, or fighting against

the dangerous denizens of dank

dungeons. Fortnightly during term

one. Bookings required.

Elizabeth Bridge Club

Wednesday, 1-4 pm

Christchurch Bridge Club Rooms, Nova

Pl

Go along and join others for a

game of bridge every Wednesday.

Arrive at 12.50pm for a 1pm start.

If you do not have a partner, phone

Maureen at 021 646 123.

It's about time this government

'

I'd love to hear from you.

joined National's leader

Minister Andrew Little's rejection of

–
---
Thursday February 24 2022 3

Great teamwork pays off

for Young Farmer winners

• By Fiona Ellis

STRONG teamwork is the key

to success for two St Bede's

College students who have won a

regional farming competition.

Year 12 students Jack Dennehy-Coles

and Finn O'Kane have

been named Tasman FMG Junior

Young Farmers of the Year.

Jack said they had done so well

in the Springston competition

on Saturday because they were a

good combination.

"We complement each other

well and we work together well,"

he said.

His strong points were dairy

farming and practical tasks,

whereas Finn was stronger on

scientific tasks, he said.

Both are boarders, with Jack

coming from a dairy farm on

the West Coast and Finn from a

dairy farm near Timaru.

Next for the duo was the grand

final competition, set to be held

in Whangarei in July.

"If we prepare well, we could

have a pretty good chance going

into it," Jack said.

Finn said the competition was

challenging at times.

A beekeeping module was difficult

as it was a subject neither of

them knew much about, so they

went by "gut instincts," he said.

"It was a bit of a surprise, I

didn't think we'd do as well as

we did."

Saint Bede's College agriculture

teacher and team supervisor

John McPhail said the boys had

a relatively short lead-in time to

prepare for the competition.

"I heard they were up quite late

last night reading through different

notes and cramming a bit of

study," he said.

"It was a tight turnaround this

year because we'd only been back

at school for two weeks before

entries were due."

McPhail has coached two

teams to grand final success, taking

out the national title of FMG

Junior Young Farmer of the Year

in 2018 and 2020.

" I will prepare them as best

as I can for what to expect when

you get there. They just have to

go out there and do the best they

can," he said.

Under the red light system,

each event at the regional final

was held separately and capped

at 35 teams on rotation to comply

with the 100 person capacity

limit.

Amelia Ridgen and Erin

Humm from Christchurch Girls'

High School were named as

the region's runner-ups for the

second year running.

WINNING: The Tasman FMG Junior Young Farmer of the

Year regional title has gone to St Bede's College students

Finn O'Kane (left) and Jack Dennehy-Coles.

In Brief

FUNDING DEADLINE

EXTENDED

Groups who have applied for

Summer With Your Neighbours

funding for community events

will be allowed an extension until

June to seek reimbursement, the

Fendalton-Waimairi-Harewood

Community Board has decided.

The board acknowledged the

community might be nervous

to hold an event in the current

pandemic circumstances.

LEASE GRANTED TO

KINDERGARTEN

The Papanui-Innes Community

Board has granted a 33-year

ground lease to a Mairehau

kindergarten for an annual rent

of $404.44 plus GST. Canterbury

Westland Kindergarten

Association Incorporated was

granted the lease for Kidsfirst

Kindergartens MacFarlane Park.

The kindergarten did not have

a current lease, with the land

now classified as a local purpose

(community building) reserve,

according to a city council report.

SAFETY VIDEO ONLINE

The Fendalton-Waimairi-

Harewood Community Board

has released a video on the results

of its Avonhead and Russley

Community Safety Initiative. A

survey was held last year asking

those who live in the area for

their thoughts about safety. Titled

Avonhead Safety Project Video,

it can be viewed on the city

council's YouTube site.

'CEREC' & cosmetic dentistry

Wisdom tooth removal

Painless, high quality dentistry

Sedation dentistry

Experienced, conscientious team

Experienced hygienists

OPEN SATURDAYS

355 9380

144 Cranford Street

www.stalbansdentalcentre.co.nz

FOR ALL YOUR

MECHANICAL

REPAIRS

Open Monday – Friday 8am – 5pm

164 Kendal Ave. Ph 358 9399

BECAUSE YOUR

FEET MATTER

• General Foot Care

• Biomechanical

• Orthotics

• Ingrown Toenails

• ACC Registered

• Diabetic Foot Care

40 years

combined

experience

45 Merrin Street, Avonhead

Ph: 03 357 0155

E: info@footmatterspodiatry.co.nz

Book Online! No referral required.

Fantastic teamwork by Cameron and his team. They

were super prompt with replies to emails and following

up with any questions.

Our sale price exceeded our expectations due to

Cameron's negotiation skills.

- Jo Corden -

Phone or text 027 555 7079

REINZ Residential Salesperson of the Year across all brands in NZ

cameron.bailey@harcourts.co.nz No.1 Harcourts Canterbury 2012-2021

No.1 Harcourts New Zealand 2017-2021

www.cameronbailey.harcourts.co.nz No.1 Harcourts International 2017-2021

Licensed Sales Consultant REAA 2008
---
4

Facebook

helps with

Puff's safe

return

• From page 1

Li was devastated by the disappearance

of the bird, which used to follow

her about the house like a dog.

She took the day off work to look

for Puff, alongside partner Ivan

Yu, but heavy rain made the search

difficult.

After looking around the

neighbourhood on foot and by car,

the couple turned their focus to

Facebook, where Li posted photos

of Puff to 'Lost & Found Pets in

Christchurch' with photos and

a message offering $100 for her

return.

Li had lost hope by the third day

when several people alerted her to a

post from Harewood School, where

a "very friendly" pet bird had been

found. She recognised the bird as

Puff by details such as a dark beak

and two broken tail feathers.

Li's photos and videos proved to

the school it was Puff, as did the

reaction of the bird. Puff jumped to

her usual spot on Li's shoulder and

began biting her finger and glasses.

"This miracle happened because

of everyone's support on the internet

and real life.

"We really appreciated everything

and felt so warm be in such a

wonderful community," Li said.

Majority of submitters approve plan

• From page 1

It showed a daily average traffic

level of 11, 713 vehicles per

day.

"Prior to the development

opening a traffic count undertaken

in March 2020 at the same

location recorded [an average] of

8,682 vehicles per day," he said.

A report contained in the

meeting agenda stated the wider

area was being investigated by

the city council's network planning

team.

This included the possibility

of signalised intersections and a

signalised entrance and pedestrian

crossing to the shopping

centre.

However,

such changes

are unlikely to

occur anytime

soon.

"Nothing

is confirmed

Emma

Norrish

at this stage

and any such

treatments are

beyond the

traffic operations team's budget

capabilities."

Public submissions on the

planned islands closed in

December, with 37 people

taking the chance to voice their

opinions, 27 in favour of the

plans.

Board chairwoman Emma

Norrish said she was pleased to

see positive public feedback.

BUSY: Langdons Rd could soon have pedestrian islands in place.

"We all know about the

safety issues on Langdons Rd

and it is going to take a lot to

fix them, but this is a quick

win."

Issues raised in the submissions

included the need for

traffic signals and signalised

crossings, cycle safety, and visibility

issues at the intersection

of Chapel St and Langdons Rd.

Submitter Sheryl Croft was

among those who predicted the

need for more changes.

"I can see that at some point

traffic and crossing lights will

probably be needed but I think

the islands are a good idea in the

Thursday February 24 2022

meantime," she said.

However, submitter Scott

Campell was among those who

did not like the design, criticising

it as "timid".

A pedestrian crossing would

be more effective as it would let

vehicles yield to pedestrians and

cyclists, he said.

A word from Ilam MP

Sarah

Pallett

I know that the news of Omicron in

the community and the subsequent

rise in COVID case numbers

has been quite confronting for

some. But even as we see case

numbers rise across the country,

it's encouraging to know that

the safeguards of the traffic light

framework and our exceptional

vaccination rates are helping to

reduce the risk and keep our most

vulnerable safe.

That said, boosters are our strongest

weapon against Omicron. The

latest data from countries like the

United States shows that boosters

make a real difference, reducing the

chances of people getting really sick

and ending up in hospital.

If you're eligible but haven't yet

had your booster dose, I'd really

encourage you to do that today.

Getting that protection as soon

as you can is the best way to

cushion our community and our

health system from the impact of

Omicron. Find a walk-in clinic near

you or book your appointment now

by calling 0800 28 29 26 or online at

bookmyvaccine.nz.

Another way to prepare is to have

a think about what you might need

at home if you are sick and need to

isolate. If you haven't already, you

may want to put together a wellness

kit including things to help you

cope with COVID-19 symptoms

—such as ibuprofen, paracetamol,

throat lozenges, cough medicine,

and ice blocks. A thermometer is

also a good addition to any wellness

pack.

It's sensible and rational to prepare,

as far as we are able. But please be

considerate of others and only buy

as much as you need.

As always, I'm here to help. Please

get in touch with my office if you

have any issues or concerns.

Funded by Parliamentary Service. Authorised by Sarah Pallett MP, Parliament Buildings, Wellington.

Restoring your confidence through your smile

Full service Denture Clinic

and Laboratory

Caldent Denture Cleaner

Free Consultation

No Obligation

Ph: 385 5517 + 396 Innes Road, St Albans

admin@denturesplus.co.nz

+ denturesplus.co.nz
---
Thursday February 24 2022 5

Leaving town: Make way for the old

• By John Cosgrove and

Susan Sandys

A GRAND two-storey Papanui

house has left town after

a mammoth removal and

transport operation.

New owner Vanessa Nikolaidis

said shifting the 11m-wide upper

and lower sections went according

to plan, bar one squashed temporary

fence and two popped tyres.

The 1920s-era building and

former eye clinic at St George's

Hospital on Papanui Rd was sold

off as the hospital plans a cancer

treatment ward at the site.

Nikolaidis loves old homes,

and was thrilled with her find,

now located in Tai Tapu.

"I wanted to build a new heritage

homestead, but I looked at

the price and then found this

lovely old house was available,"

she said.

After a two-week delay with

wet weather and a crane hold-up,

it was all go last week.

A large crane lifted the upper

section onto a transporter, before

the journey out of town, around

past the airport.

"Papanui Rd wasn't an issue.

Belfast Rd got a bit tight in a few

areas, because there was parked

cars they had to kind of wiggle

it around. Halswell Junction Rd

was quite tight as well, half on

the footpath half on the road,

hovering over people's yards to

get down there," Nikolaidis said.

PREPARING: The former eye clinic at St George's Hospital

on Papanui Rd waits to be separated in two and lowered

onto a transporter.

PHOTOS: JOHN COSGROVE/STARMEDIA

"The only thing they managed

to drop it on was a temporary

fence. We looked at it when

they picked it back up, it kind of

squished it sideways."

In addition, the trailer burst

a tyre under the weight of its

23-tonne load.

"They didn't change it, they

just kept driving."

The following night the bottom

storey was shifted and all

went well, although another tyre

blew out.

The upper and lower storeys

have been reunited at their

new Michaels Rd residence and

will be lifted in one piece onto

a new foundation when this is

completed.

Nikolaidis said she and

her partner would live in the

four-bedroom, two-lounge,

two-bathroom villa. It would be

in good company, with another

home from the 1880s already at

the property, which is a

family farm.

GENTLY DOES IT: The top half of the building is raised

then lowered onto the transporter.

HEAVY LOAD: The top half of the building is on the move.

Only

$

899

EVERYDAY

LOW

PRICE

MATTRESS

FABRIC FROM

BELGIUM

MYER

QUEEN SET

SUPERB AIR

CIRCULATION

$4879

$

2439

UP TO

50%

OFF

SPLENDOR SERENE

TEMPERATURE

CONTROL

FIRM | QUEEN SET | ALL FEELS AVAILABLE

PREVENTS

MOISTURE

60

UP TO

% OFF

$7149

$

3574

REALSILK®

UP TO

50%

OFF

BACK SUPPORTER

QUEEN SET

SPOTLIGHT BUILDING

250 Moorhouse Ave

ph: 03 3651 319

NORTHWOOD SUPA CENTA

Shop M2, 1 Radcliffe Road,

Belfast

PH: 03 3234 106

OPEN 7 DAYS

MON-SAT: 9.30AM - 5.30PM

SUNDAY : 9.30AM - 5PM

www.nzbeds.co.nz

*TERMS & CONDITIONS APPLY.
---
6

Thursday February 24 2022

Leaking water supplies still an issue

LEAKING WATER supplies

remain the most common

reason why residents of the

Papanui-Innes Community

Board area are reaching out to

the city council.

A ticket report has revealed a

breakdown of issues that residents

contacted the city council

about between December 1 and

December 30 last year.

The report shows leaking water

supplies to be the most common

cause of complaint, with

173 tickets, or jobs, undertaken

for this. Water leaks were also

the top issue last year, with 178

tickets issued between October

20 and November 19.

The second and third

most widespread issues in

the most recent report were

uncollected bins and damaged

bins, with 140 and 117 tickets

respectively.

A total 1213 tickets, or jobs,

were completed.

However at the conclusion of

the report, 429 tickets were still

open, or not completed.

Incidents fell in a range of

categories, including transport,

property information, three waters

council assets, and parks.

Phone, email and walk-in

were the most common way to

contact the council, with 912

people using these methods.

The city council website was

used by 397 people to report

their issue, while 333 did so using

Snap Send Solve.

Number of tickets (issues)

reported in the Papanui-Innes

Community Board area in

December 2021.

1 Leak (water supply) – 173

2 Bin not collected – 140

3 Damaged bin –117

4 Flooding (road) – 88

5 Litter (road) – 74

6 Residential property files –

58

7 Residential LIM – 53

8 Litter (park) – 46

9 Road asset (eg footpath,

road, furniture) 43

10 Found dog 40/

graffiti – 40

TOP ISSUES: Leaking

water supplies are

continuing to cause

problems for those

in the Papanui-

Innes Community

Board area, as are

damaged and

uncollected bins.

the reassurance of quality

The Russley Village is known for premium design, layout and extensive facilities that deliver an

uncompromised lifestyle during retirement. The reassurance of quality is built into everything we

do. At the Russley, you will live in a safe and supportive community, with freedom and independence,

while knowing that the Ashley Suites care facility is on-site to provide care up to hospital level.

Offering a blend of crafted independent villas, terraced houses, apartments and care, The Russley

is a complete and comprehensive community.

you simply have to see to fully appreciate
---
Thursday February 24 2022 7

RAY WHITE BISHOPDALE & STROWAN

Is it time to UPSIZE?

DO YOU NEED A HOME OFFICE? MORE ROOM TO ENTERTAIN?

A BIGGER BACKYARD? IT MAY BE TIME TO UPSIZE YOUR HOME.

Get in touch with Ray White Bishopdale and Strowan today.

Our expert team are ready to help you write the next chapter in your story.

0800 YELLOW

(0800 935 569)

Karen Ellis

021 519 275

Mitchell MacDonald

027 222 1292

Brent Rushworth

021 451 177

Jayne Rushworth

021 1899 177

Rachelle Morice

021 270 4897

Kirsty Llewellyn

021 198 9056

Isaac McCoubrey

027 320 9505

Brodie Fransen

027 556 3736

Grace Luo

021 0893 5311

Riley Malzard

020 4171 3289

Clarence Monsanto

027 868 8369

Daniel Purdie

022 011 4429

Ray White BS Ray White BS

Bishopdale & Bishopdale Strowan & Strowan

0800 YELLOW (0800 935 569)

0800 YELLOW (0800 935 569)

5/333 Harewood Road, Bishopdale | 55 Blighs Road, Strowan

5/333 Harewood Road, Bishopdale | 55 Blighs Road, Strowan

rwbishopdale.co.nz | rwstrowan.co.nz

rwbishopdale.co.nz | rwstrowan.co.nz

Inline Realty Limited (Licensed REAA 2008)

Inline Realty Limited (Licensed REAA 2008)

Proudly owned by

Karen Ellis

021 519 275

Barry Ellis

021 519 274
---
8

Thursday February 24 2022

CANCELLED FOR 2022

Don't stop moving though, as all entries purchased will

roll over to next year's event, set for 19 March, 2023.

For more information or to get in touch visit www.city2surf.co.nz

We would like to acknowledge and thank the sponsors of our 2022 event

Thank you to our event partners
---
Thursday February 24 2022 9

READERS' LETTERS

Final Nor'West Arc cycleway plan draws criticism

Our family has lived close to

the intersection of Aorangi and

Wairakei Rds for over 50 years

(in three different houses).

We have all made submissions

regarding the cycleway.

My main concern is the proposed

closing of the intersection

to through traffic to the other

half of Aorangi Rd and the no

right-hand turn from Aorangi

Rd into Wairakei Rd.

I also don't like the two directions

of the cycleway on the

same side of Aorangi Rd. It will

be very dangerous trying to exit

private driveways. I did get support

from three city councillors

before submissions closed. –

Phyllis A Holden

I am a resident of Aorangi Rd,

living close to the Wairakei Rd

corner.

I am not convinced that the

consultation process was particularly

fair or well-timed, as

consultation occurred with just a

few day's notice before the public

meetings.

This was in part due to the late

delivery of information pamphlets,

likely due to the August/

September Covid-19 lockdown.

However, it definitely didn't allow

much time for the public to

get involved and then comment.

I would have to agree with

Alister Metherell that the

Aorangi/Wairakei Rds intersection

plans are particularly

concerning.

In its current plan, I firmly

believe that there will be unintended

consequences in all

nearby streets with the closing

off of the majority of traffic both

in and out of Aorangi Rd.

I mentioned this in both my

written submission and in my

5min oral submission at the

online city council hearing.

I am very sceptical about the

number of cyclists who would

ever even use this cycleway (how

common is it to cycle from the

university through to Harewood

Rd), and to unnecessarily

disrupt the daily commute and

vehicle movements of thousands

of other residents for the sake of

a few cyclists seems crazy to me.

A fully signalised intersection

is the only viable option to me

and, no doubt, to many other

residents. – Jenni Holden

CROSSROADS: Traffic will be unable to turn right onto Wairakei Rd from Aorangi Rd once

the Nor'West Arc cycleway is built.

We want to hear your views

on the issues affecting life

in the nor'west suburbs

Send emails to:

fiona.ellis@starmedia.kiwi

Letters may be edited or rejected at Star Media's

discretion. Letters should be about 200 words.

A name, postal address and phone number should be

provided.

Please use your real name, not a nickname, alias, pen

name or abbreviation.

Up to

50 % Off

*Call for Terms

& Conditions

Off

*
---
10

Thursday February 24 2022

CHRISTCHURCH

CREMATORIUM

FUNERAL SERVICES

SUDOKU

Every row, column and box should

contain the digits 1 to 9.

WORDBUILDER

WordBuilder

132

6

T A C

P U E

CROSSWORD

9

1 2 3 4 5 6 7 8

232

many words of three or more letters,

How including many plurals, words can you of make three from or the more six

letters, using including each letter plurals, only once? can No you foreign

words or words beginning with a capital are

make

allowed.

from

There's

the

at

six

least

letters,

one six-letter

using

word.

each only once? TODAY

Good 20 Very Good 24 Excellent 29

No words beginning with a capital

are allowed. There's at least one

six-letter word.

Good 20 Very Good 24 Excellent 39

Solution 131: ail, aim, amyl, ani, any, inlay, inly, lain,

lam, lay, limn, limy, mail, main, MAINLY, man, manly,

many, may, mil, myna, nail, nay, nil, nim, yam, yin.

10 11

12 13

DECO

13

14 15 16 17 18

19 20 21

22 23 24 25 26

27 28

29

SOLUTION

No.132

14 15 16 17 18 19 20 21 22 23 24 25 26

G Q B V Y N Z F I E U D R

1 2 3 4 5 6 7 8 9 10 11 12 13

A L X H P W K J M S T C O

Across

1. Attainment (14)

10. Speck (5)

11. Take turns (9)

12. Irony (7)

13. Garb (7)

14. Turns to liquid (5)

16. Uncertain (9)

19. Nose; beak (9)

A B C D E F G H I J K L M N O P Q R S T U V W X Y Z

1 2 3 4 5 6 7 8 9 10 11 12 13

U T

14 15 16 17 18 19 20 21 22 23 24 25 26

Decoder

R

4 3 4 8 12 7 23 16 12 19 6

20. Mistake (5)

22. Cherubic (7)

25. In the middle of (7)

27. Relaxed, tolerant (4-5)

28. Decipher (5)

29. Disappointing (14)

13 13 1 10 19 21

8 14 20 1 23 2 13 2 3 5 21 3

Down

2. Lowest female singing voice

(9)

3. Musical drama (5)

4. Matter-of-fact (9)

5. Entomb (5)

6. Tropical storm (9)

7. Make happy (5)

8. Surgical room (7)

9. Feral pest (6)

15. Illuminate (9)

17. Longing for the past (9)

18. Variable (9)

19. Level off (7)

21. Decomposed (6)

23. Pants (5)

24. Stone damage in

paintwork (5)

26. Commencement (5)

20 12 24 21 12 4 8

3 25 23 1 17 23 19 13 12 21 2

All puzzles copyright

21 19 3 22 19

25 5 13 1 12 3 9 3 19 23 20 14

5 21 2 15 20

T H E P U Z Z L E C O M P A N Y

www.thepuzzlecompany.co.nz

11 12 26 5 12 3 7 8 12 17 3

5 1 16 13 7 2 21

T

DECODER

Each number in our DECODER grid represents a different

letter - there is a number for all 26 letters of the alphabet.

Each Enter number the given represents letters into a different all squares letter with of the matching alphabet. numbers. Write the

given

The challenge

letters into

now

all squares

is to work

with

out

matching

which letters

numbers.

are

Now

represented

work out

which

by the

letters

other

are

numbers.

represented

As you

by the

get

other

the

numbers.

letters, enter

As you

them

get

into

the

letters, write them into the main grid and the reference grid. Decoder

the main grid, and the reference grid. To keep track of the

uses all 26 letters of the alphabet.

letters you have found, cross them off the alphabet provided.

U

5 26 16 6 23 21

P

23 19 23 9 18 22 19 15 24 23 10 11

E

11 12 6 26 24 2 4

T

1 2 26 23 1 25 18 22 26 13 19 18

2 24 18 19 19 9

21 23 3 15 18 3 19 5 3 11 19 12

10 4 22 19 9 1 8 13 26 23

11 16 26 3 17

18 16 24 2 7 18 6 22 9 5

1 7 11 21 12 1

12 18 19 22 12 14 26 13 6 11 4 10

4 23 4 26 26 13 11

11 26 1 5 23 20 23 12 24 26 17 23

25 26 6 23 18 2

A B C D E F G H I J K L M N O P Q R S T U V W X Y Z

1 2 3 4 5 6 7 8 9 10 11 12 13

P

T

14 15 16 17 18 19 20 21 22 23 24 25 26

E

SOLUTION

No.131

8 21 19 21 5 8

R

2 13 7 4 23 20 11 5 21 2 7

The challenge now is to work out which letters are represented

by the other numbers. As you get the letters, enter them into

the main grid, and the reference grid. To keep track of the

letters you have found, cross them off the alphabet provided.

Each number in our DECODER grid represents a different

letter - there is a number for all 26 letters of the alphabet.

Enter the given letters into all squares with matching numbers.

133

132

1 2 3 4 5 6 7 8 9 10 11 12 13

W D N F H R Y G S P K U E

X Q L J V C B Z O M I T A

14 15 16 17 18 19 20 21 22 23 24 25 26

Crossword

Across: 1. Accomplishment,

10. Ounce, 11. Alternate,

12. Sarcasm, 13. Raiment,

14. Melts, 16. Tentative, 19.

Proboscis, 20. Error, 22.

Angelic, 25. Amongst, 27.

Easy-going, 28. Solve, 29.

Unsatisfactory.

Down: 2. Contralto, 3.

Opera, 4. Pragmatic, 5.

Inter, 6. Hurricane, 7. Elate,

8. Theatre, 9. Possum, 15.

Spotlight, 17. Nostalgia,

18. Irregular, 19. Plateau,

21. Rotten, 23. Gasps, 24.

Chips, 26. Onset.

WordBuilder

ace, act, acute, ape, apt,

ate, cap, cape, cat, cep,

cue, cup, cut, cute, eat,

eta, pace, pact, pat, pate,

pea, peat, pet, puce, put,

tap, tape, tau, taupe, tea,

TEACUP, tec, tup.

Sudoku

DECODER

133

A F Shuker

Supplied by KNIGHT FEATURES

20 Crescent Grove, London SW4 7AH

Tel: 020 7622 1467 Fax: 020 7622 1522

Email: info@knightfeatures.co.uk
---
Thursday February 24 2022 11

Classifieds Contact us today Phone our local team 03 379 1100

Trades & Services

Trades & Services

Trades & Services

Trades & Services

Wanted To Buy

HALSWELL

GLASS & GLAZING 2017 LTD

THE PET DOOR SPECIALIST

• PET DOORS

• NEW GLAZING

• FRAMELESS SHOWERS

• MIRRORS

• INSURANCE CLAIMS

• RETRO GLAZING

• BALUSTRADING

ALL SUBURBS COVERED FOR

ALL YOUR GLAZING NEEDS

PHONE GAIL ON

322 7999 OR 021 CAT DOOR

(228 3667)

ROOF

PAINTING 24/7

Rope & harness

a speciality,

no scaffolding

required,

30 years of

breathtaking

experience.

FREE QUOTES

20% OFF other

roof quotes

Exterior staining,

exterior painting,

water blasting.

Moss and mould

treatment $300.

Phone Kevin

027 561 4629

BETTER

LAWNMOWING

Better job. Better

Price. Better ring Grant

0277402508

BRICKLAYER.

George Lockyer. Over

40 years bricklaying

experience. UK trained.

Insurance work, EQC

repairs. Heritage

brickwork & stonework

a speciality. No job too

small. Governers Bay.

Home 329 9344. Cell

027 684 4046. E mail

georgelockyer@xtra.co.nz

BUILDER

New builds, alterations,

decks, fencing. 30 yrs in

the trade has given me

ability to build to a high

standard. Free quotes. Ph

Brent 027 241 7471

CARPET LAYING

Exp. Repairs, uplifting,

relaying, restretching.

Phone John on 0800

003181, 027 240 7416

jflattery@xtra.co.nz

ELECTRICIAN (CERT)

Prompt, quality. Call Jack

027 206 0080

PAINTER,QUALIfIED

local professional, int/

Ext,roofs,wallpaper, call

or text Corban 027 846

5035

STUMP GRINDING

Best price guarantee Tony

0275 588 895

TILING

Flooring - Splashbacks -

Wall incl tile removal, Ph

Dave 027 334 4125

VHS VIDEO TAPES

& all camera tapes

converted to DVD or

USB. Video taping

special occasions, www.

grahamsvideo.co.nz ph 03

338-1655

PLUMBER

NEED A PLUMBER?

• Father & son Plumbing Business with over

40 years experience.

• Bathroom alterations a specialty.

• Cylinder replacements.

• We do all small jobs.

Call us now for fast friendly service.

Get your problems sorted out

quick smart - on time!!

THOMSON PLUMBING

Phone Eugene now

Phone 03 377 1280 | Mobile 021 898 380

TREE SERVICES

CRAIGS

TREES

Our services include:

Tree felling

Branch chipping

Trimming and pruning

Crown reduction

Stump grinding

P: 027 2299 454

E: craigstrees@xtra.co.nz

www.craigstrees.co.nz

Fully insured

SCRAP METAL

Dominion Trading Co Ltd

• Scrap metal buyers

• Canterbury owned & operated

• Top prices paid $$$

• Open Saturday morning

Open Mon-Fri 8am – 4.30pm Sat. 8.30am-12.30pm

www.happyscrappy.co.nz

03 343 9993 333 Blenheim Rd

WINDOW TINTING

tintawindow

advanced film solutions

99% uv block

fade protection

heat control

reduce glare

25 Years Experience

privacy films

frosting designs

non-darkening films

Workmanship Guaranteed

Lifetime Warranties on Most Films

UV

block

Free Quotes Canterbury and Districts

03 365 3653 0800 368 468

AAA Buying goods

quality furniture, beds,

stoves, washing machines,

fridge freezers. Same day

service. Selwyn Dealers.

Phone 980 5812 or 027

313 8156

TOOLS, Garden garage,

saw benches, Lathes. Cash

buyer Phone 355-2045

ADVERTISE YOUR BUSINESS HERE

Phone for further details

(03) 379 1100

Up to

50 % Off

*Call for Terms

& Conditions

Off

*
---
12

Thursday February 24 2022

RAY WHITE PAPANUI NEWS

Love at first sight

How to make homebuyers fall in love

Some people say that love at first sight

doesn't exist, but perhaps they've never

seen a prospective buyer's eyes light up

upon stepping into their dream home.

Property styling allows your home to

shine in its best light and allow the buyers

to visualise living in the space. How can

you strike an emotional connection with

your homebuyers?

First impressions are everything

We're all about detail and so are

homebuyers. You should be putting your

best foot forward from the get-go. For

example, entrances are surprisingly one of

the most neglected spaces. Although it's

not somewhere people spend a lot of time,

it's the very first impression. It doesn't

take much to spruce up your entranceway

with a console table, statement artwork

or flowers.

Tell a story with styling

One of the big problems we see with home

styling jobs is the lack of connection from

room to room. This makes it a disjointed

and confusing experience for the buyer.

Try to use a colour theme, textures or an

artwork motif theme to tie the spaces

together.

Right on target

One thing you don't want to do is try to

impress everyone

– you won't get

anywhere trying

to style your home

for all buyer types

when for example,

your townhouse is

perfect for young

professionals. Style

your home to make

it relevant to the

buyer pool that

your home will most

likely appeal to. Not

sure who that is?

Check in with one

of the team here at

Ray White Papanui,

we would be happy

to chat further

with you about your most likely buyer

demographic.

Declutter your life

As with many things, less is more – a

decluttered home is much easier to fall in

love with.

A home should feel like a home

Don't be afraid to mix things up a bit. Aim

for a semi casual vibe so homebuyers

feel as comfortable as possible walking

through the space. Sometimes it's as

simple as draping a throw over a chair

or leaving an open book on the bedside.

These little details are essential to helping

your buyers envision their lives in the

property.

For more great tips check out

https://bowerbirdinteriors.com.au

Vanessa Golightly,

Business Owner

and Licensee Agent

Ray White Papanui

027 664 9292

Vanessa Golightly

Licensee Agent &

Business Owner

027 664 9292

Stuart Morris

Licensee Agent

& Auctioneer

027 422 6395

Claire Morris

Licensee Agent &

Business Owner

027 662 4822

Ben McNab

Licensee Salesperson

& Auctioneer

027 427 7232

The Complexity of Rental

Legislation

Today I wanted to cover

the importance of ensuring

property managers have the

knowledge and experience to

provide exceptional service

to both their landlords and

tenants. This is of course

one of the most important

considerations when making

your choice on who to manage

your investment property.

During recent years the

increased complexity of

tenancy legislation, has made

it equally important that they

can keep on top of all of the

changes, and they have robust

systems and processes in place

to ensure potentially costly errors are not

made.

Part of my role is in assisting our Morris

& Co sales team in anything related to

tenancies and the Residential Tenancies

Act and I am often privy to communication

which is sent out via other property

management companies. Unfortunately

I too often see either a complete lack of

communication or completely incorrect

information/notices being given to tenants

and landlords.

Being heavily entrenched in the industry

I am part of several different property

management online forums, I am well

supported by our corporate team who take

a keen interest in anything to do with rental

properties, so I remain up to date with what

is going on out there.

My role as operations manager allows

me time to read and digest all of the

information and pass this onto my team

who are in the field, and seemingly neverending

legislation changes.

It is equally important that there are

systems and processes in place to ensure

that everything is correct and current, as

after all we are all humans, and sometimes

errors can occur. If you ask my team they

will tell you how much I love a checklist too!

So whether you are using a property

manager, or self managing your own rental

property please ensure that when you are

issuing any notices that you are doing so

according to the RTA, and in particular the

2020 Amendments which came into effect

in February last year. The consequences of

getting it wrong could be costly!

Katrina Green,

Operations Manager

Property Management

027 606 0030

Feature Property

4/584 Cashel Street, Linwood

Tracy Thomson & Hasna Ngara

SOLD Property

43 Medway Street, Richmond

Richard Eggelton

Katrina Green

Operations Manager

Property Management

027 606 0030

Richie Eggelton

Licensee Salesperson

021 089 65594

Hasna Ngara

Licensee Salesperson

021 262 4943

Reece Billett

Licensee Salesperson

021 221 6774

Georgia Tuuta

Executive Assistant

Tracy Thomson

Licensee Salesperson

027 440 3035

Maria Paterson

Licensee Salesperson

027 543 4689

Olivia Hendry

Executive Assistant

Estelle Schuurman

Property Manager

Joy Coughlan

Mortgage Broker

027 223 3572

Level 1, 7 Winston Avenue, Papanui

Phone (03) 352 0567 | rwpapanui.co.nz | /RayWhitePapanui Morris & Co Limited | Licenced REAA 2008